Croatian Food – Discovering the delicious food of Croatia
As a tiny country nestled on the beautiful Adriatic coast, the diversity of traditional Croatian cuisine is hard to match anywhere in the world. More impressively Croatia now boasts 7 Michelin stars with more restaurants being considered for the exclusive guide each year.
The influences on authentic Croatian food come from its geography and the resulting agriculture and cuisines adopted by the various occupiers of the region over the centuries.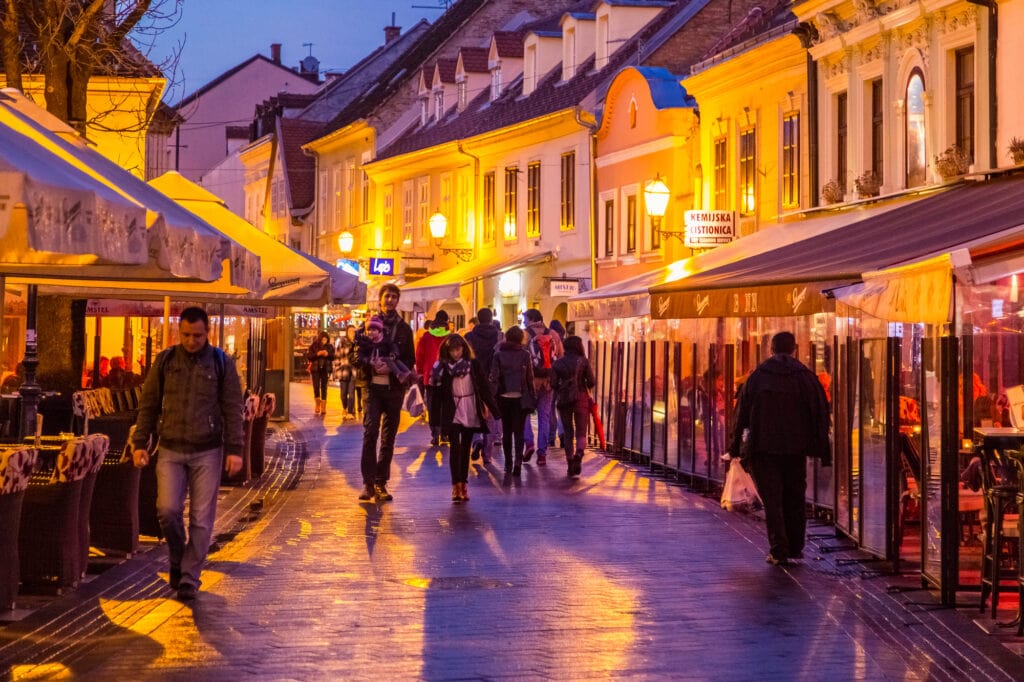 Traditional Croatian dishes are a mix of influences from the Romans, Greeks, Venetians, Turks and the Ottoman Empire along with Germany, Hungary, Italy and Austria.
Traditional Croatian food will vary greatly depending on which region you are visiting. Istria for example is famous for its version of prosciutto, the black and white truffles found there and its olive oils and of course, it is renowned for its white wines.
Vegetarian food in Croatia can be hard to come by but the country is rapidly changing and there are a wide variety of vegetarian dishes to choose from check first as some may be cooked with chicken broth or other meats.
With its stunning location on the Adriatic and over 1000 islands, you will find every kind of seafood you could hope for. From squid to prawns and fish are pulled from the sea every day. Ston near Dubrovnik is the home of some of the finest oysters that can be harvested.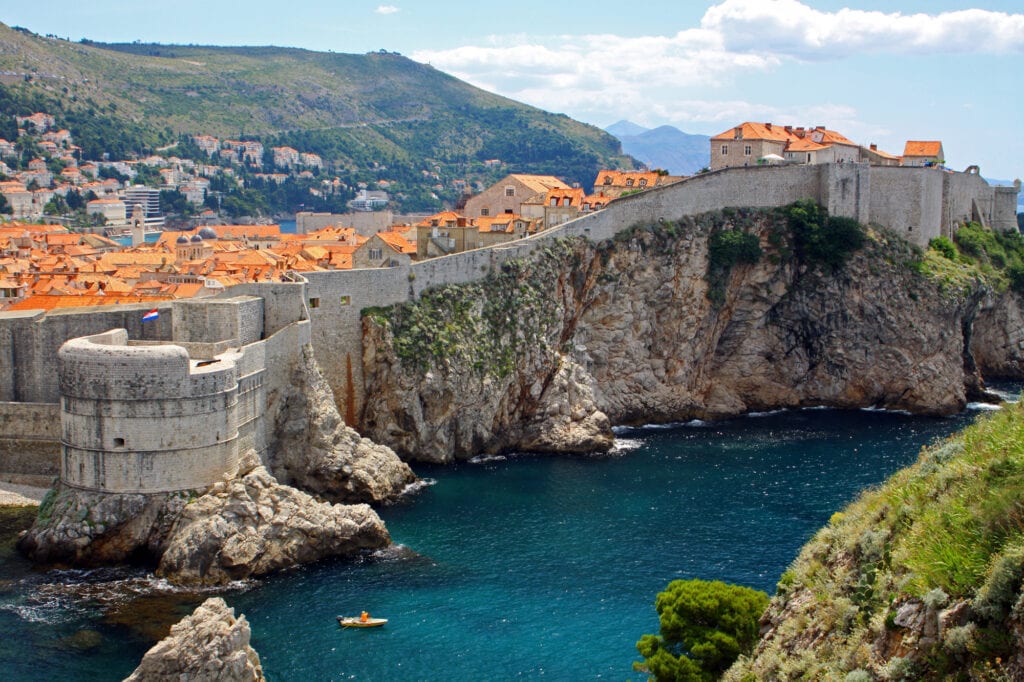 If you are looking for traditional Croatian recipes check out the Visit Croatia site.
On Pag, you will find a hard cheese called Paski Sir which is made from an ancient breed of sheep. In the mountains porcini mushrooms and polenta are traditional. In the Gulf of Kvarner frog legs and scampi are found.
Xyuandbeyond is reader-supported. When you buy through links on our site, we may earn an affiliate commission. You can read my privacy policy here.
Facts about Croatian Food Culture
Croatia produces some of the best salt in the world and the salt pans on Pag Island are mentioned in the 10th century.
Before every meal, it's customary to say "dobar tek!" (bon appetit) before you eat.
A visit to Croatia to see the Game of Thrones site should also include a trip to a Dubrovnik restaurant or two that offers menus featuring dishes that were mentioned on the show.
While filming the episode of "No Reservations" set in Croatia, Anthony Bourdain couldn't hide his excitement over Croatian food, pronouncing the local cuisine "the next big thing".
Legend says that Julius Caesar's favourite virgin olive oil came from Istria.
The most authentic cuisine in Croatia can be found in konobas, casual establishments similar to taverns, often family-owned.
Istria is also famous for its truffles the Motovun woods are known as "the land of truffles". It even holds the Guinness record for the largest white truffle ever.
All of the agricultural regions in Croatia are GMO-free.
The Zinfandel grape came to the United States from Croatia in the 19th century.
Fresh produce such as deep green blitva, a type of Swiss chard, sweet peppers, purple figs, multi-coloured carrots and giant green cabbages are popular throughout Croatian recipes.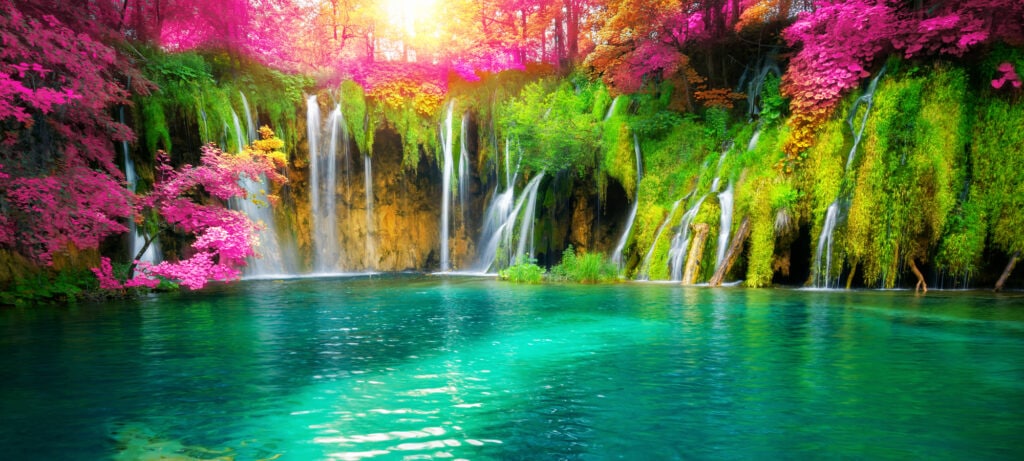 The traditional food of Croatia
What is Croatia's national dish?
Zagorski štrukli
Whether savory or sweet, boiled or baked, Zagorski štrukli is considered a national dish of Croatia. It was added to Croatia's intangible cultural heritage list by the Ministry of Culture in 2007. Štrukli can be prepared in two ways, cooked in water and by baking. The basic dough filled with cottage cheese is used in both methods, however, whilst the boiled štrukli can be sprinkled with fried breadcrumbs or served in a soup, the baked štrukli also has a coating of sweet cream.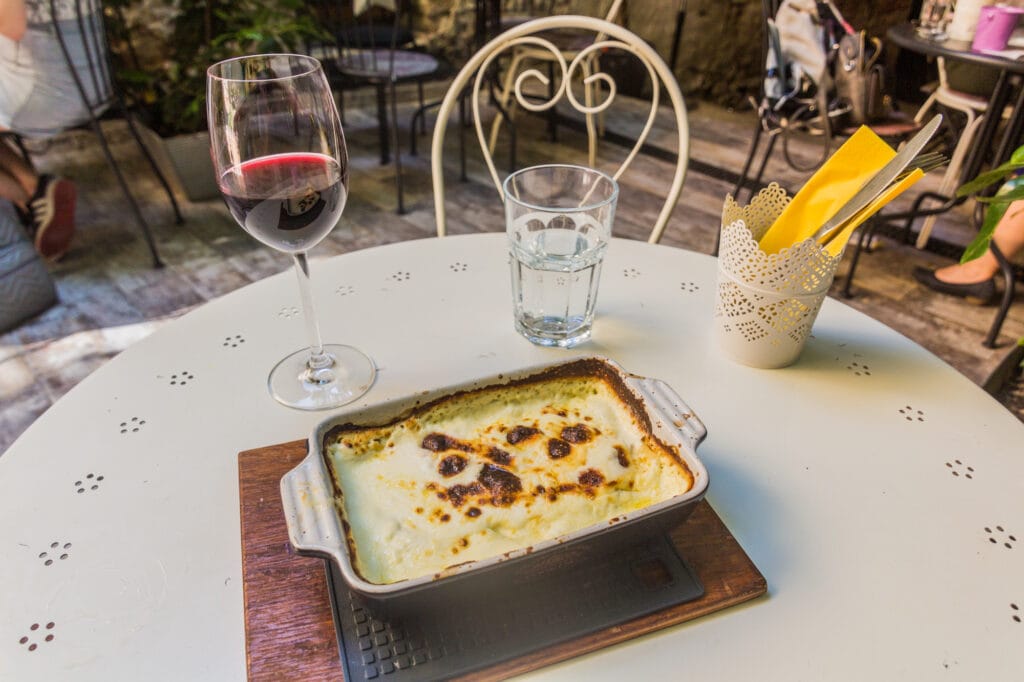 Paski Sir – Pag Cheese
This cheese is made from the milk of an ancient breed of sheep on the island of Pag. The sheep eat the few plants that are found on the hills of Pag which have been infused with sea salt and this produces uniquely flavoured milk. When the cheese is made it is left to mature for 18 months and it has a texture and consistency similar to parmesan.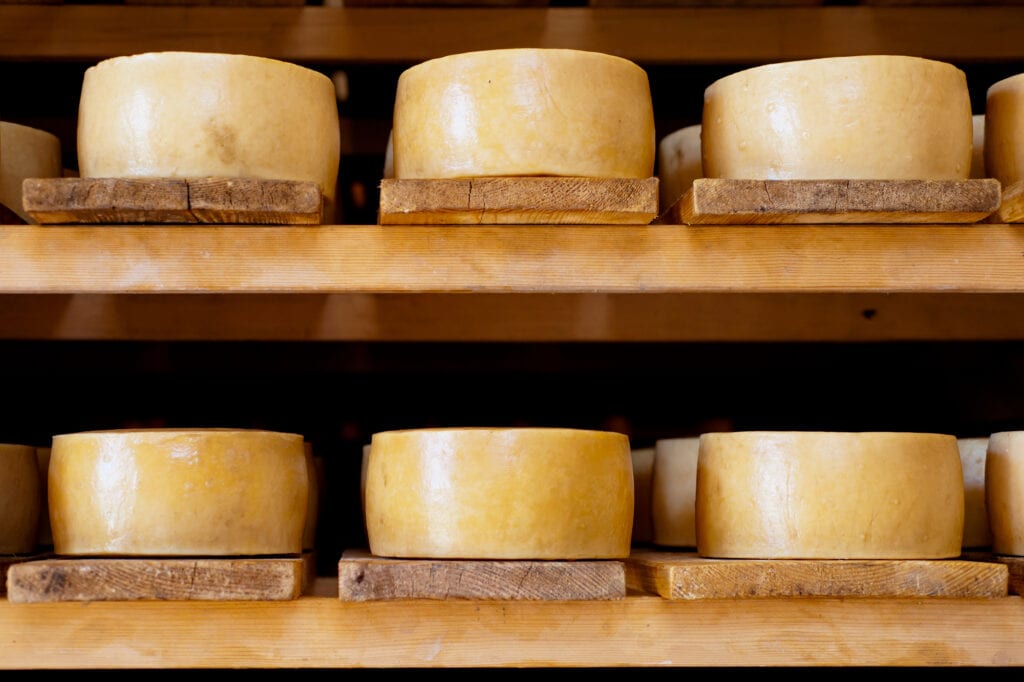 Dalmatinski pršut – Dalmation Procuitto
A famous Croatian food is Dalmatinski pršut which is a dry-cured ham very much like Proscuitto or Jamon in Spain. This is a Croatian speciality which is Wood smoked and dried for a minimum of 12 months after being salted and smoked.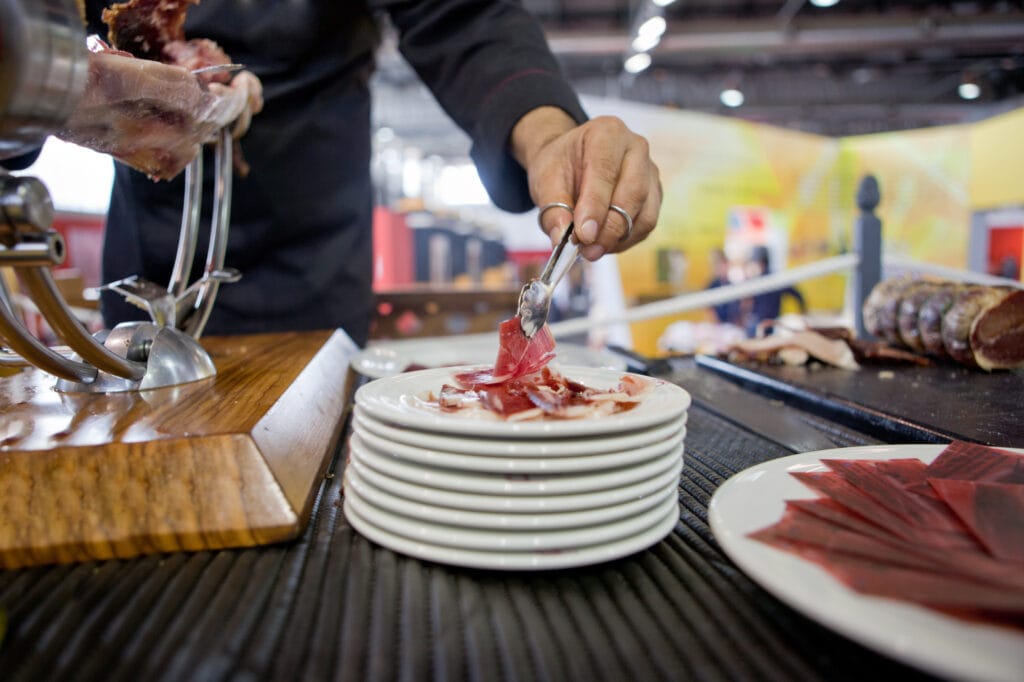 Cevapcici/ Ćevapi
Ćevapi are small sausages are fat little sausages of minced meat – ideally a beef/lamb mix and they are the most popular Croatian street food. They are grilled and stuffed into a pita type of flatbread with a red pepper relish called ajvar, cheese and onions.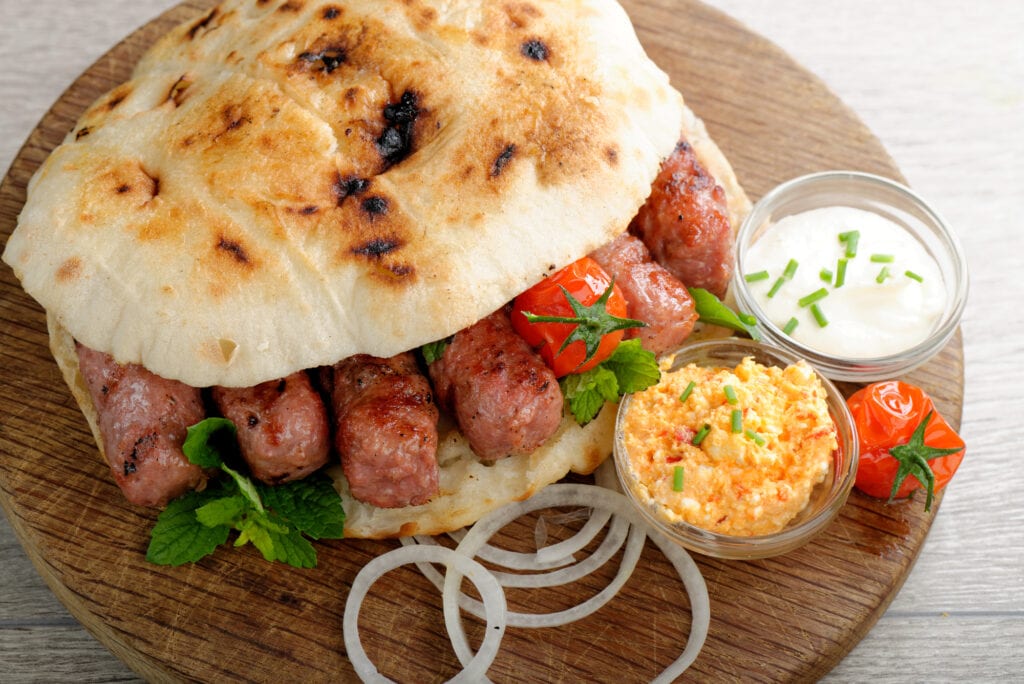 Crni rižot
This is a black risotto that is made with cuttlefish ink which has no real flavour as much as the colour. The risotto includes chunks of cuttlefish which is similar to squid.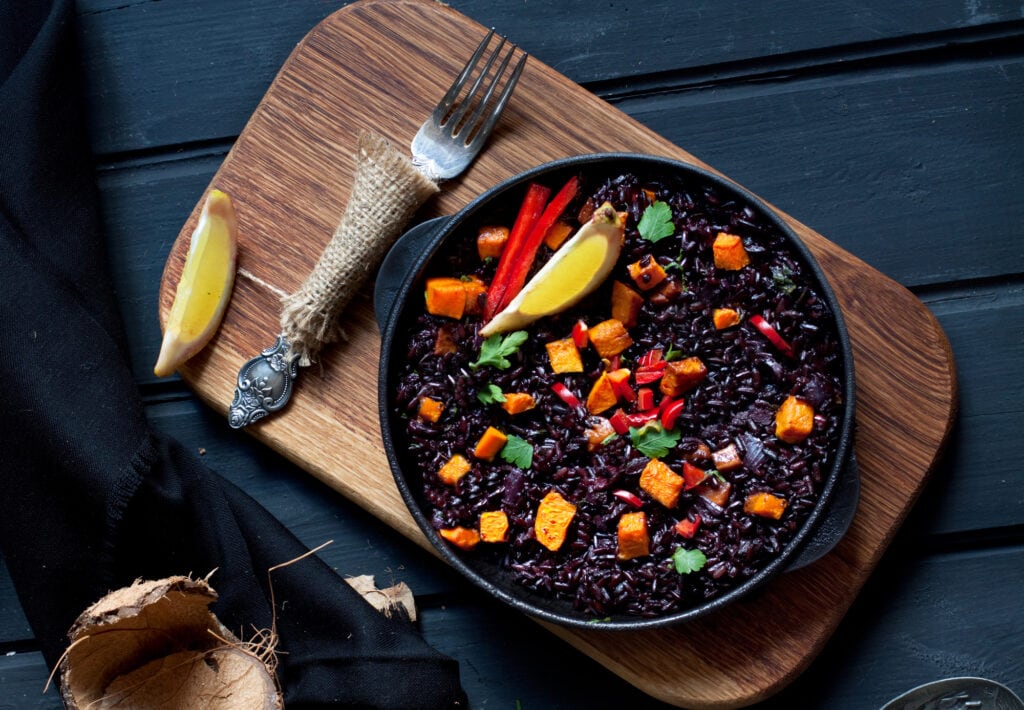 White Risotto
Typical seafood risotto is called 'white' to differentiate it from the black version. The difference is that it includes all types of seafood, garlic, wine and tomatoes.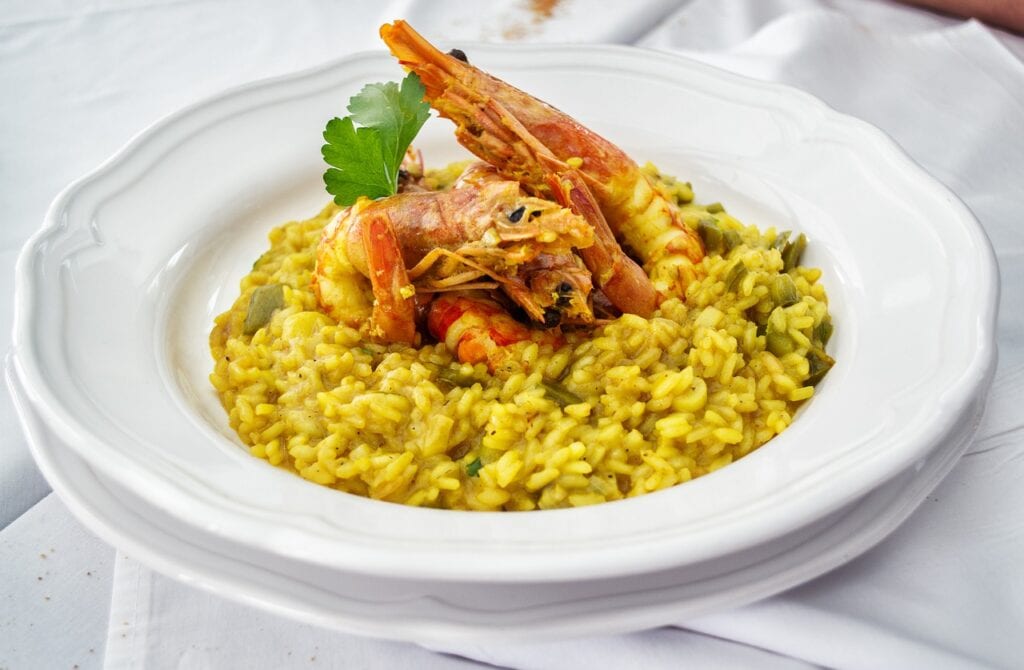 Peka
This is Croatia's famous food and a traditional Croatian dish a slow-cooked type of stew with ingredients like octopus or meats such as chicken, veal or lamb. The stew is cooked with potatoes and other vegetables. It gets its name from the type of pot it is cooked in which of course is a peka or 'bell'. Over an open fire in the fields, the pot is covered with coals and left to cook for hours to develop that melt-in-the-mouth texture.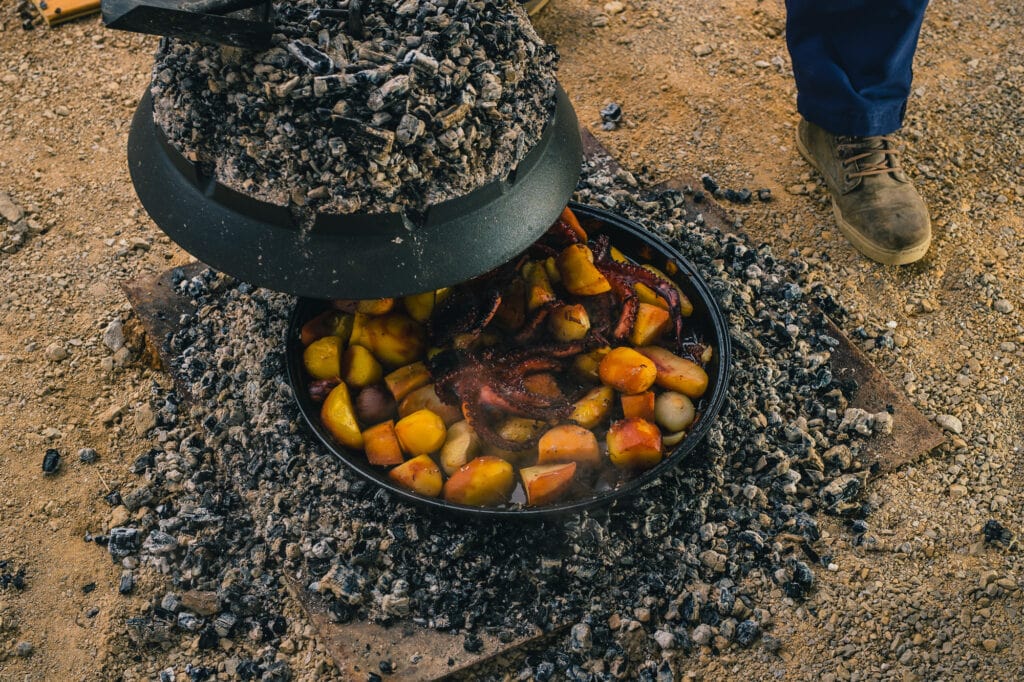 These days, it's become a bit of a high-end item, with restaurants asking you to order it in advance because of the cooking time required. If you have the time (and money), make the reservation and enjoy the experience of the waiter revealing your very own Peka at your table.
Extra Virgin Olive Oil
Croatia has a long history of producing olive oil and it is used extensively in their cooking. The oldest living olive tree is said to be 1600 years old, planted by the Romans. It sits on the Island of Brijuni and actually continues to bear fruit.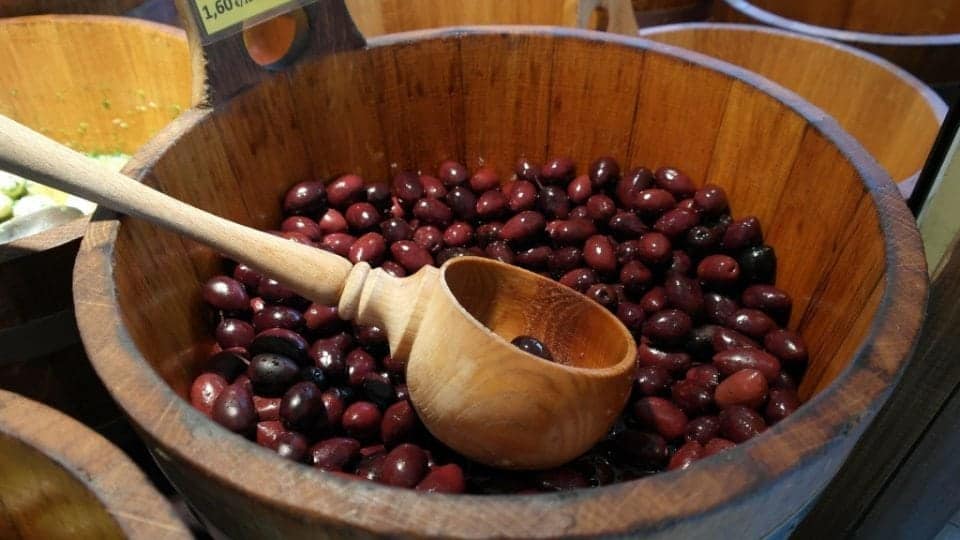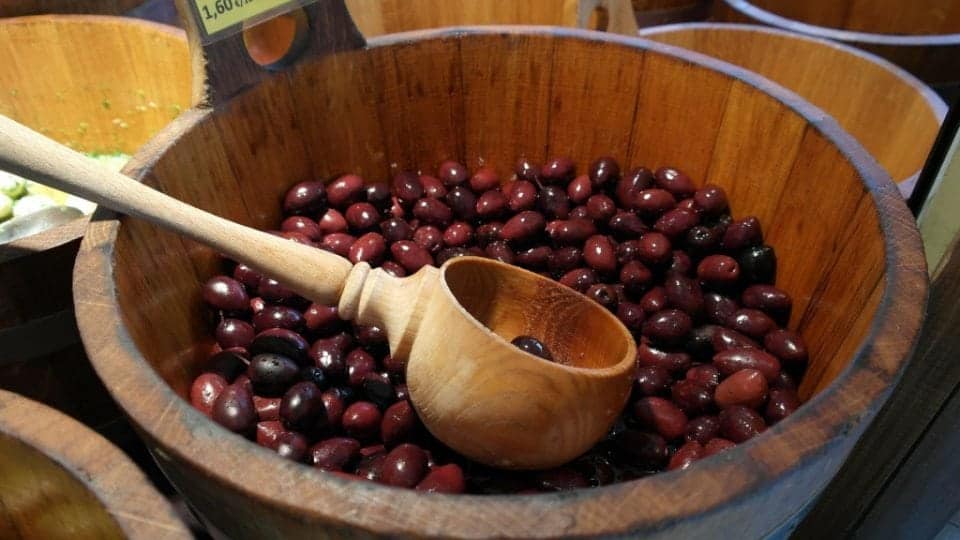 Pršut i sir – ham and cheese
This is an appetizer of the famous Croatian pršut i sir or ham and cheese which is the Istrian version of prosciutto but in Istria, the meat is smoked and not air-cured.

Kremšnita
This is a popular Croatian dessert of a layer cake similar to a millefeuille and filled with custard or vanilla cream. Kremšnite is the Croatian version and is popular throughout the Balkans and Central Europe like Hungary, Romania, Serbia, and Slovakia.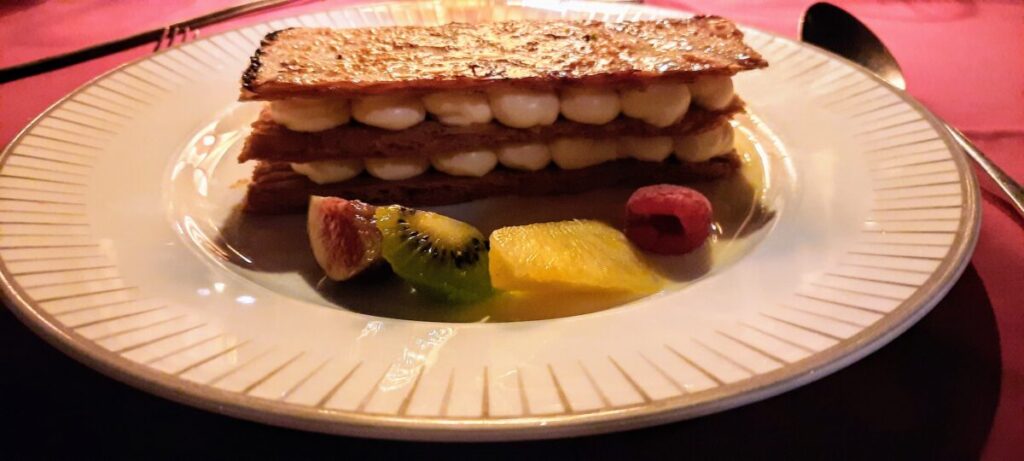 Oysters
Coastal Croatia has some of the finest seafood in Europe. The town of Ston, not far from Dubrovnik Croatia, is renowned for its oysters which are farmed in the sea just outside of Old Town.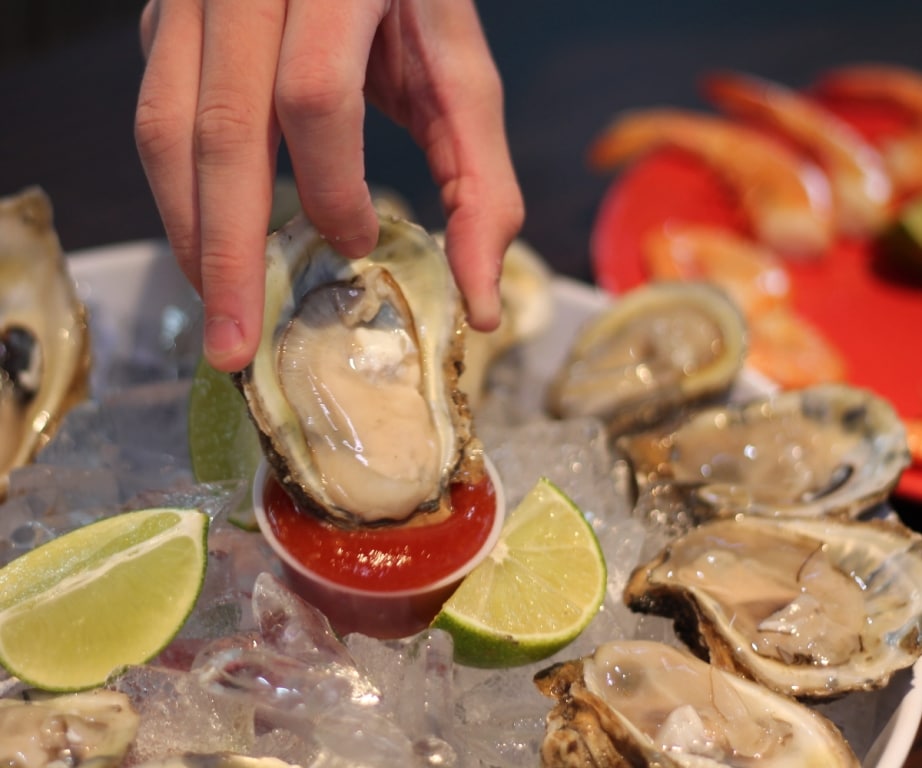 Burek
I may have mentioned in other articles that I do love a Burek this filling fabulous street food is basically thin phyllo dough stuffed with cheese or perhaps a ground meat mixture and it can also be a sweet dessert with cherries or apples.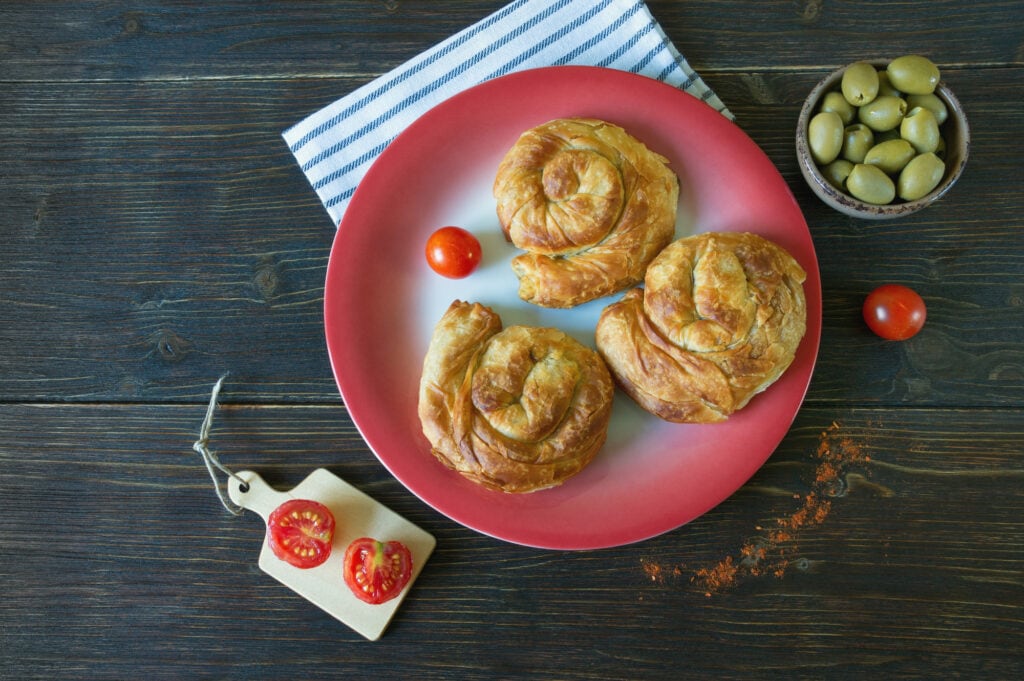 Brudet
A rich seafood stew that usually involves the catch of the day and is served all year round. The stew also includes onions and tomatoes like an Italian cioppino. The stew is served with polenta to soak up that lovely broth.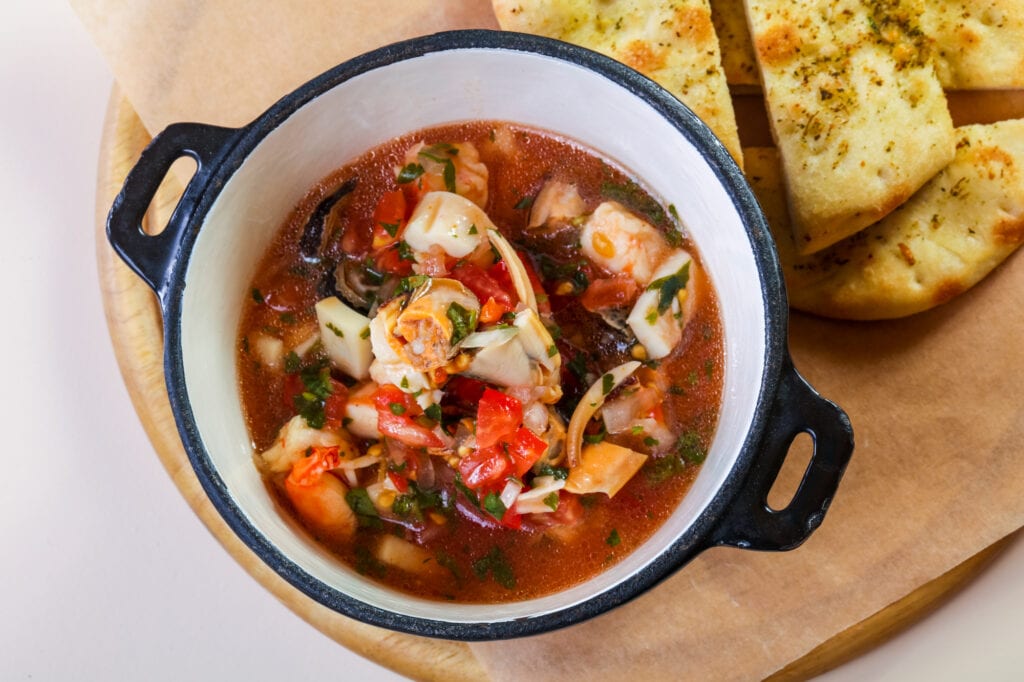 Soparnik
A very simple vegan dish made from chard, onions and parsley with a simple dough. In 2016, the European Commission listed soparnik as a non-material national heritage of Croatia
Soparnik comes from the region of Poljica on the Dalmation coast near the town of Split and there is a festival at the end of July where families present their Soparniks to win the prize of the best in Poljica.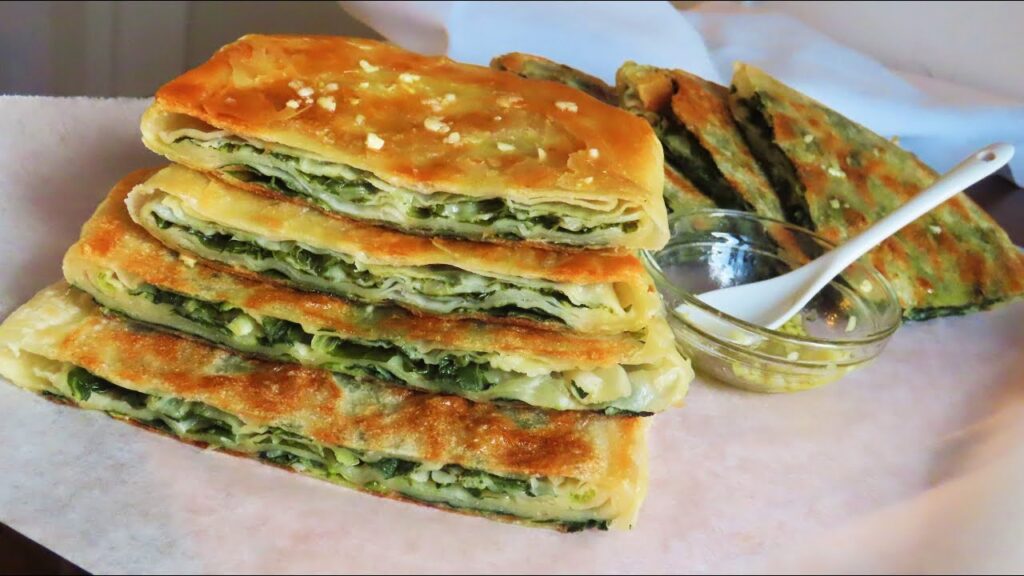 Fritule
Fritule is a Croatian national dish that's served for dessert. It's made up of little fried balls of pastry, much like doughnuts, and filled with rum and raisins dusted with icing sugar and occasionally served with a chocolate sauce.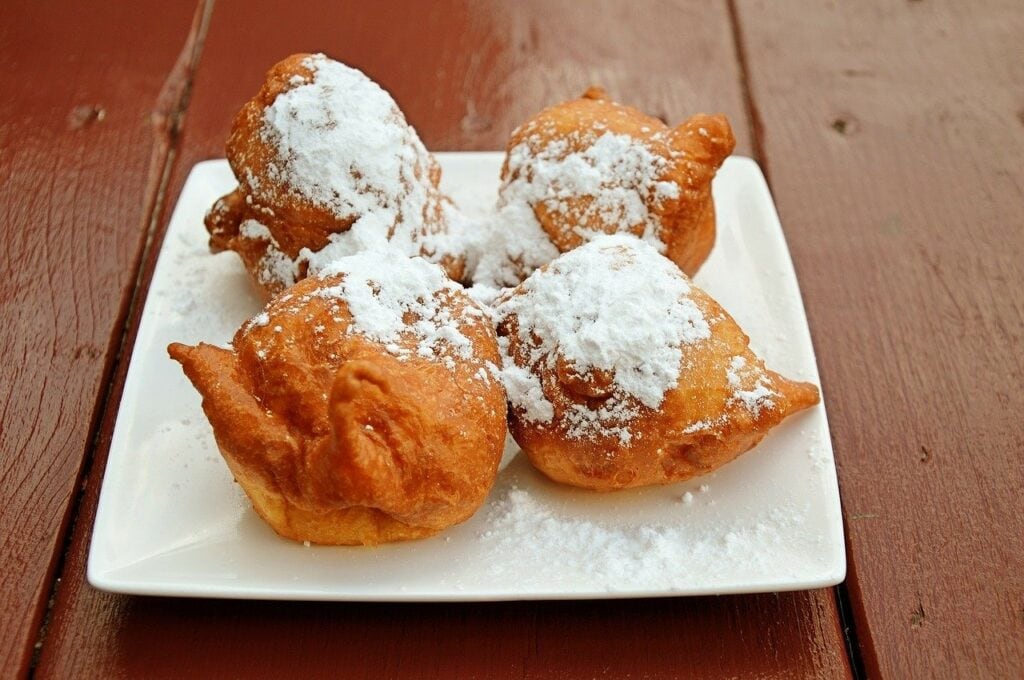 Fuži and pljukanci
A Croatian pasta dish fuzi is made by wrapping the pasta dough around the handle of a wooden spoon which gives it the traditional quill shape. The sauce can be anything from a truffle cream sauce or a tomato-based meat sauce. Pljukanci is the same type of pasta but shaped to look like a green bean.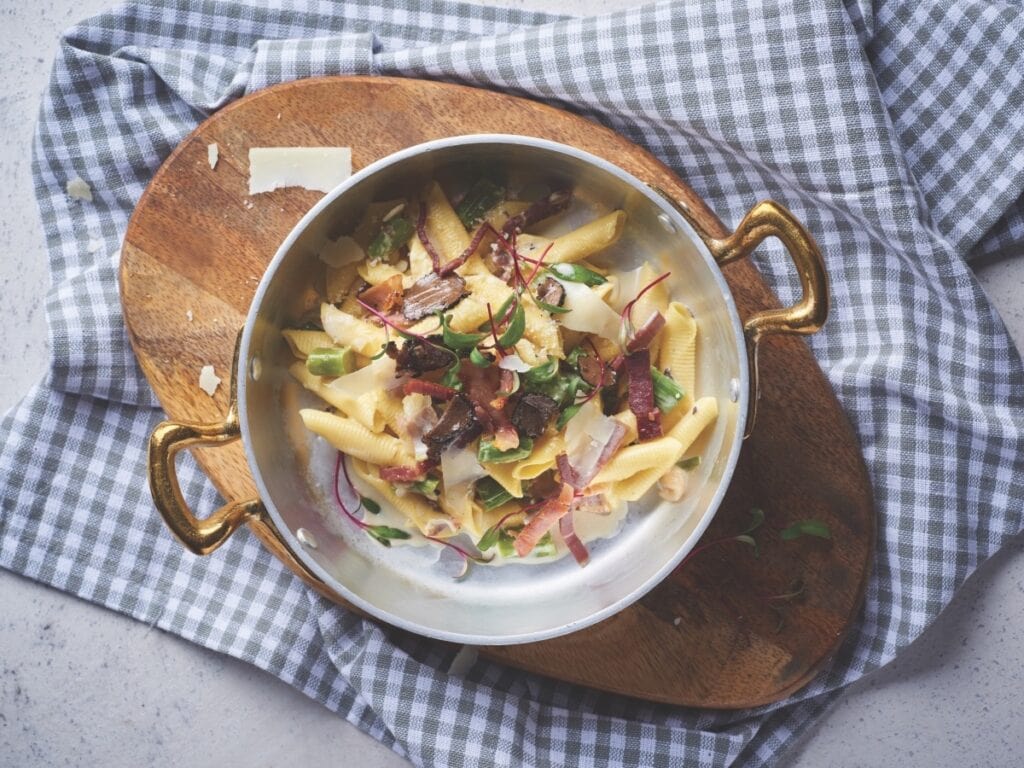 Gingerbread
The tradition of gingerbread in Croatia is part of the UNESCO List of the Intangible Cultural heritage. Made in the usual way it is the decorating and craft of gingerbread that has become famous.
Every craftsperson decorates gingerbread in a specific way, often with pictures, small mirrors and verses or messages. The gingerbread heart is the most common motif and is frequently prepared for marriages, decorated with the newlyweds' names and wedding date.
The craft has been passed on from one generation to another for centuries, initially to men, but now to both men and women.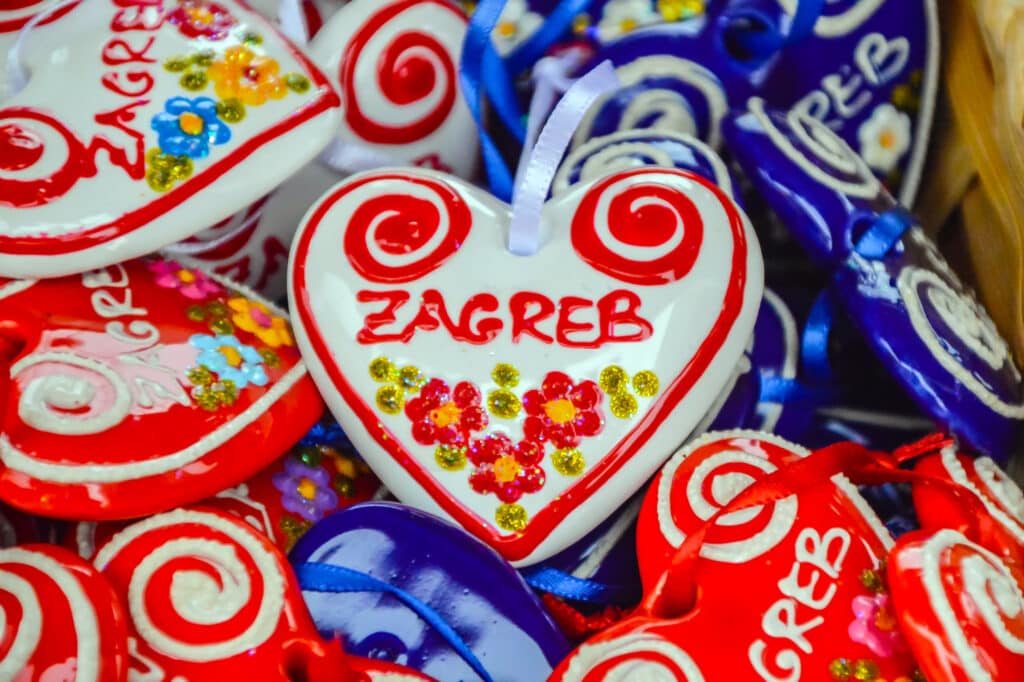 Grah
The most popular soup in Croatia is a peasant soup or stew called Grah, which translates to "bean." It is typically made with smoked sausage and contains a little paprika.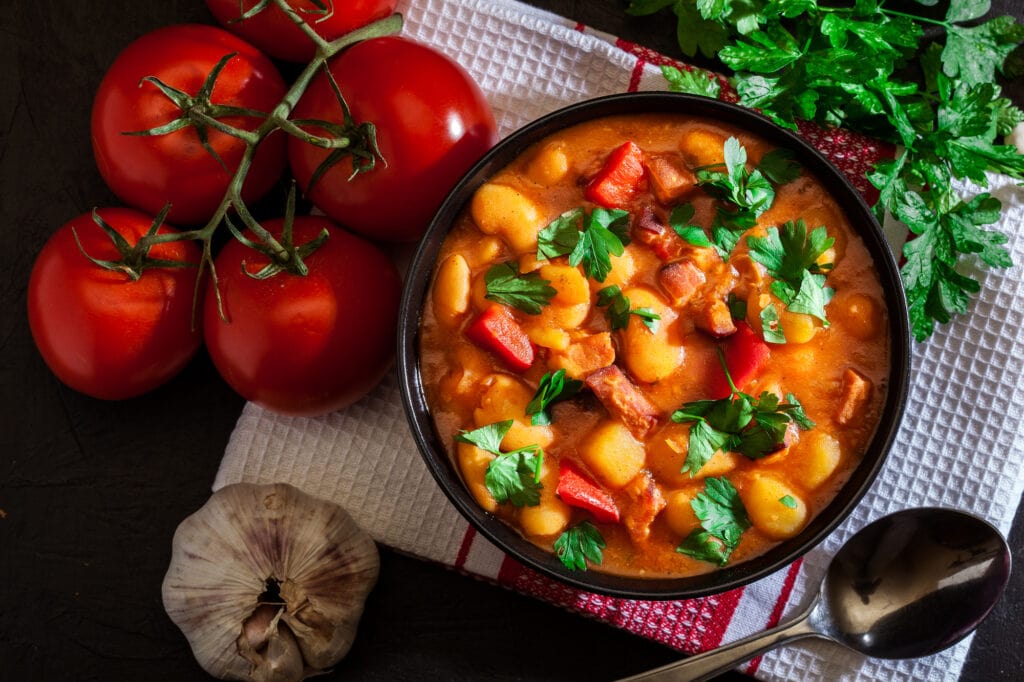 Manestra
Manestra is a 'soup of the day' like that served in Ireland. It's usually vegetable-based with beans and occasionally meat is added. The vegetables are those that are leftover from a meal, or near to the end of their shelf life but the flavours are really enjoyable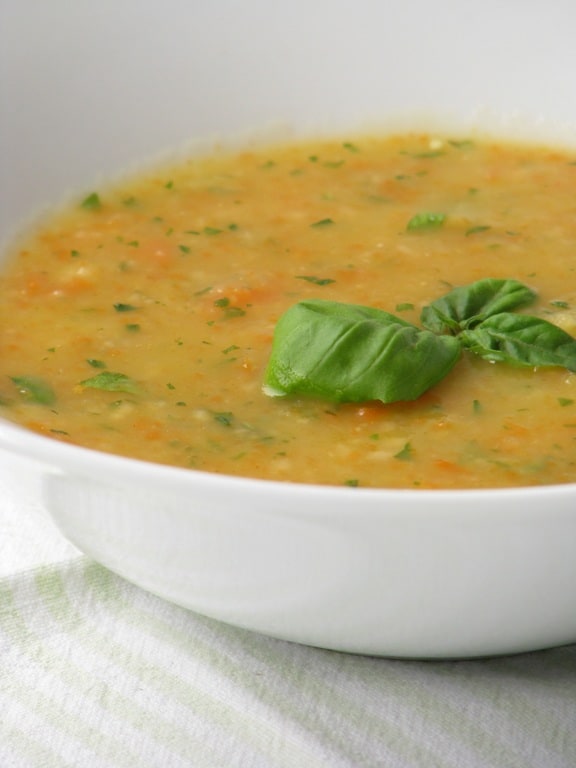 Sataras
Sataras is a delicious, vegan dish made of peppers, onions, tomatoes and olive oil. Sataras is a great side dish or a tasty appetizer and goes beautifully with Cevapi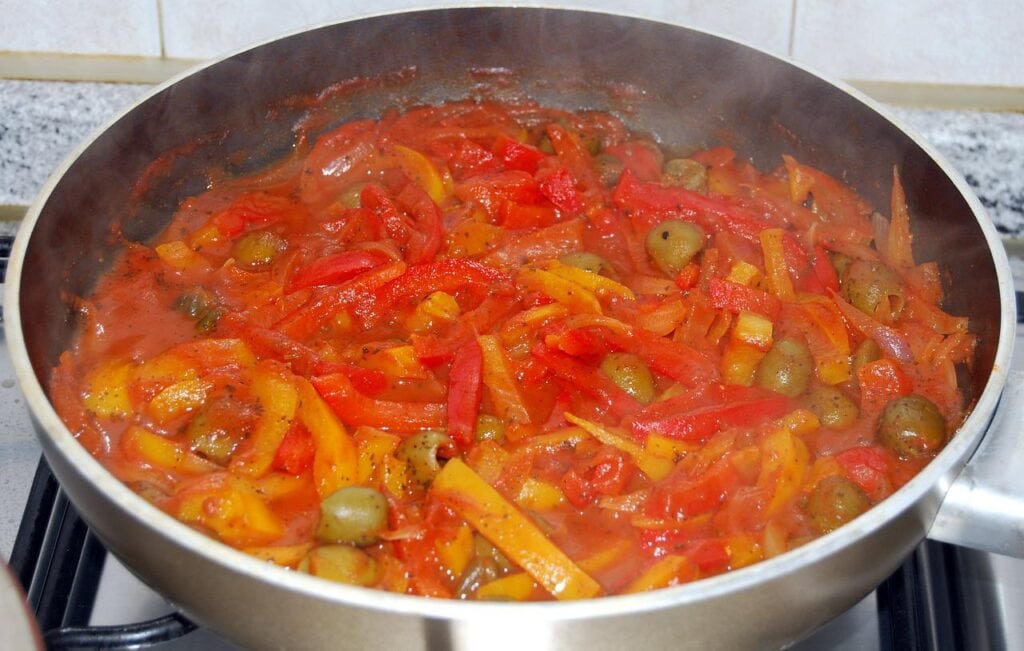 Gregada
Gregada comes from the Island of Hvar and it is a fish stew made with potatoes, garlic, capers, anchovies, white wine and a variety of white fish which is usually the catch of the day. The main culinary instruction is that the fish should be shaken in the pot and not stirred as it breaks up the meat of the fish.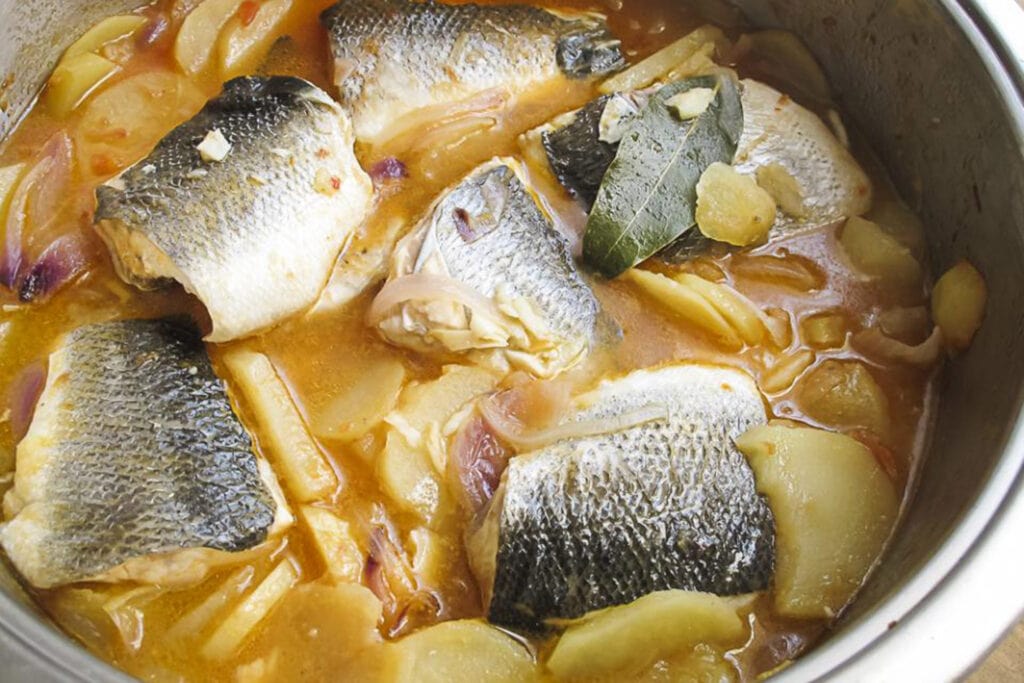 Boškarin
The Boskarin is a long-horned cattle the symbol of Istria which almost became extinct when tractors were introduced. This high-quality beef is most often prepared cooked in šugo, a gravy-like sauce, and paired with njoki or fuži (types of pasta).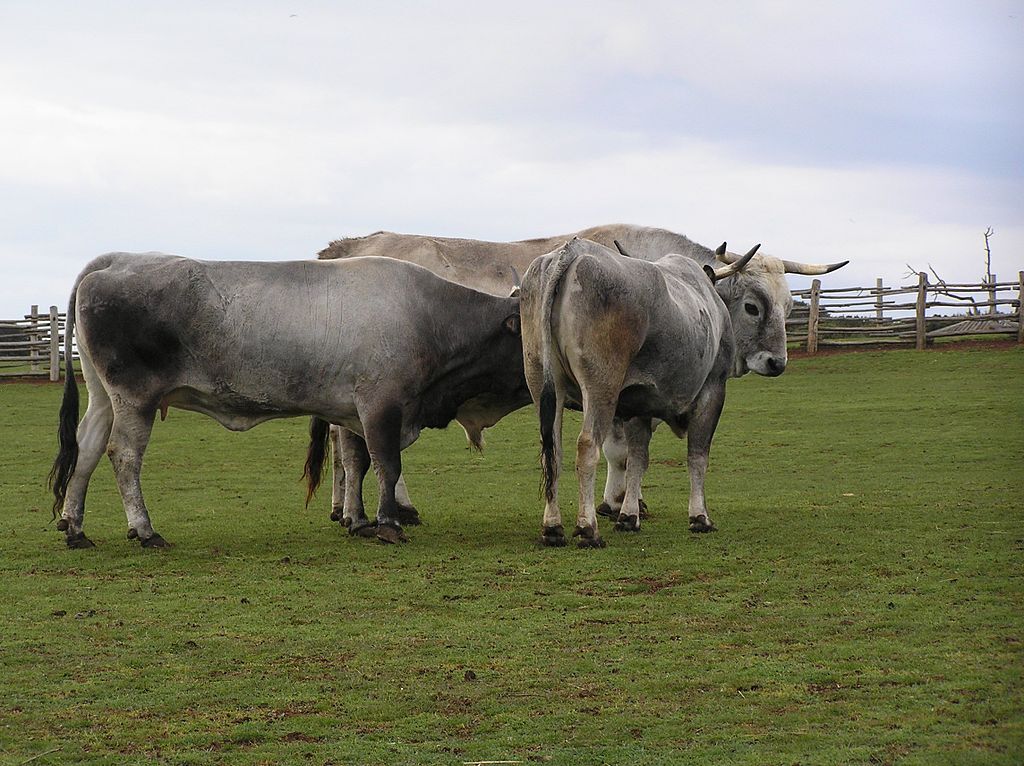 Octopus Salad
Found on virtually every menu around the coast of Croatia this dish of tender octopus is usually a very simple salad of octopus, tomato, olive oil, onion and lemon juice.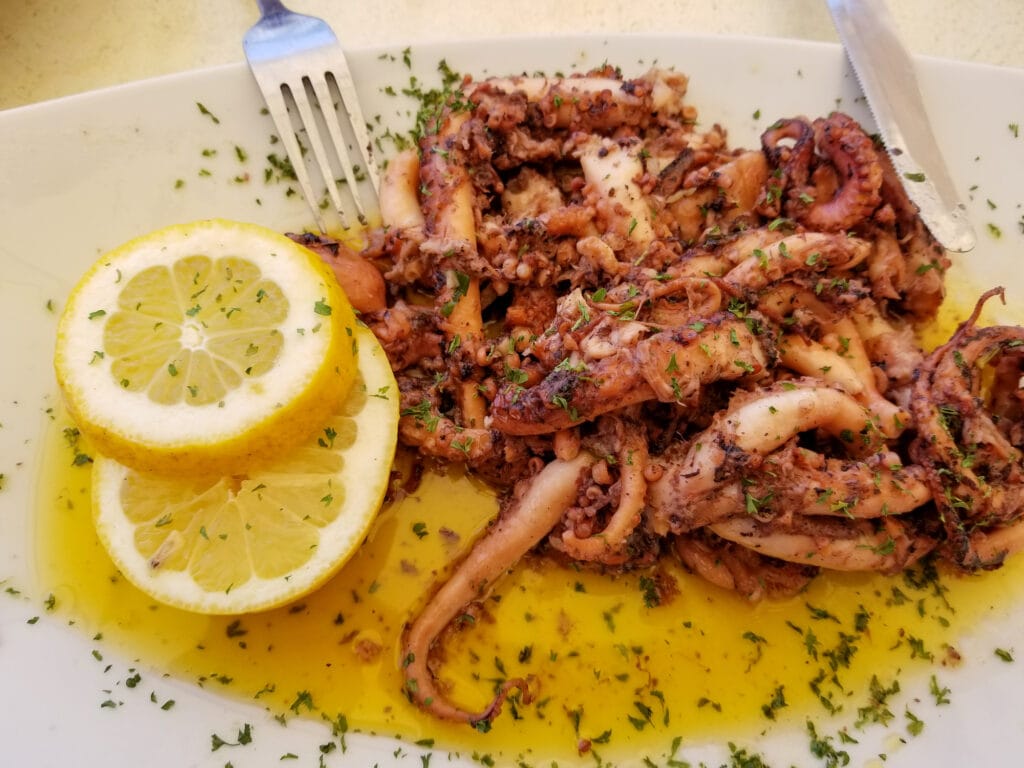 Mussels
One of Croatia's most popular dishes is mussels cooked in wine, garlic and some tomato grab some bread and enjoy.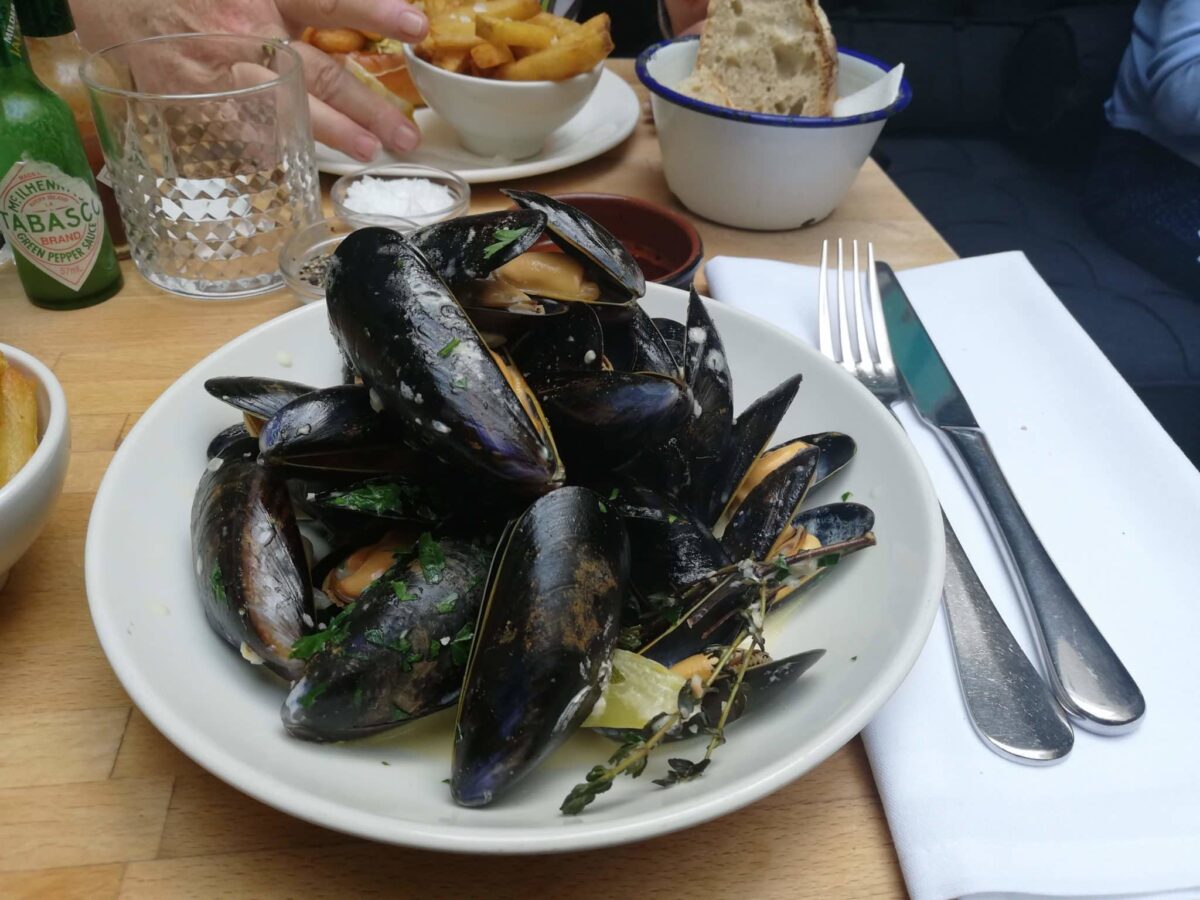 Pasticada with Gnocchi
Pasticada is a celebratory dish that takes a lot of prep work. A good top round steak is pierced with a knife and the small holes are filled with garlic, cloves and bacon. The meat is then marinated in vinegar overnight before being cooked with onions, parsley, prunes, nutmeg and bacon. Topped up with water and Dalmatian sweet wine it is cooked for around 5 hours.
The meat is then removed and the vegetables are pureed creating a subtly sweet and sour flavoured gravy. The dish is then served with gnocchi to soak up all the flavours.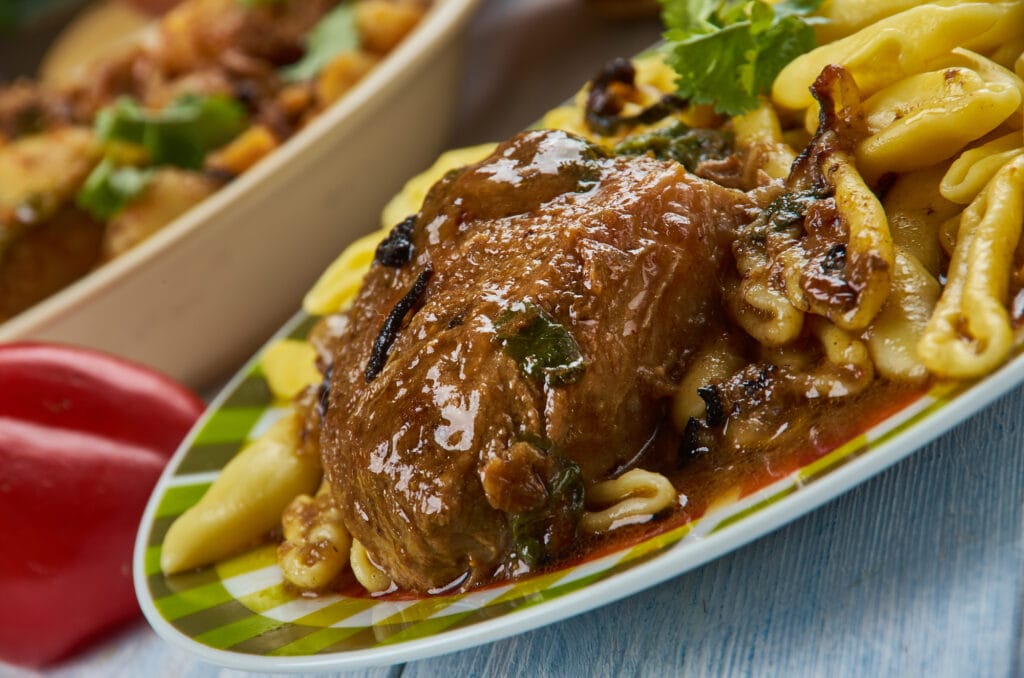 Sardines
Grilled sardines eaten on the beach with some wine and a festival celebration during the Festival of the Patron Saint of Fisherman on the Adriatic coast – nothing beats these much larger than tinned sardines.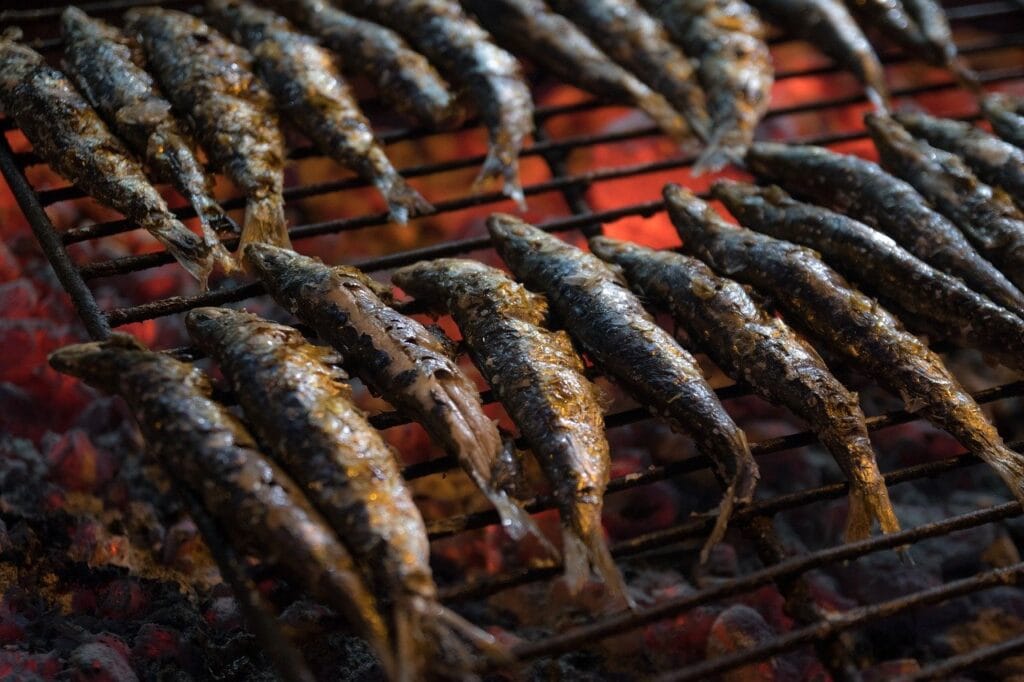 Pijeskavica & Raznijic
These are grilled meats pijeskavica is similar to a burger, and raznijic is chunks of meat on a skewer. These are traditionally served with onions, potatoes and pepper paste called Ajvar.
Avjar
Ajvar is a Croatian condiment made from sweet bell peppers and eggplant. The peppers are roasted and crushed with pureed eggplant, salt, vinegar, hot peppers and garlic.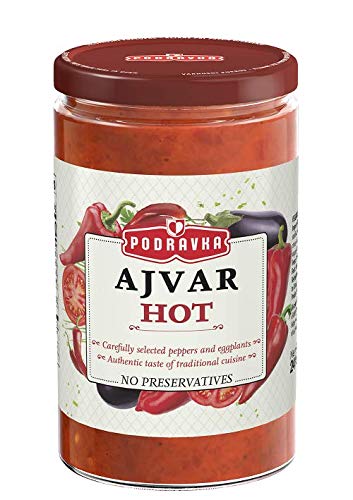 Riblji paprikaš
This is a mild spicy fish stew there are many recipes for fiš paprikaš, a paprika-flavoured fish stew, calling for multiple fishes, such as pike, perch, carp, and catfish. Fiš paprikaš is a thin, soupy stew, laden with paprika flavour, and the huge chunks of fish are often un-boned. It's generally served with pasta, similar to tagliatelle, and eaten in two courses. First, the liquid from the dish is ladled over the noodles, and eaten as a soup. Then, the chunks of fish are eaten as a main course.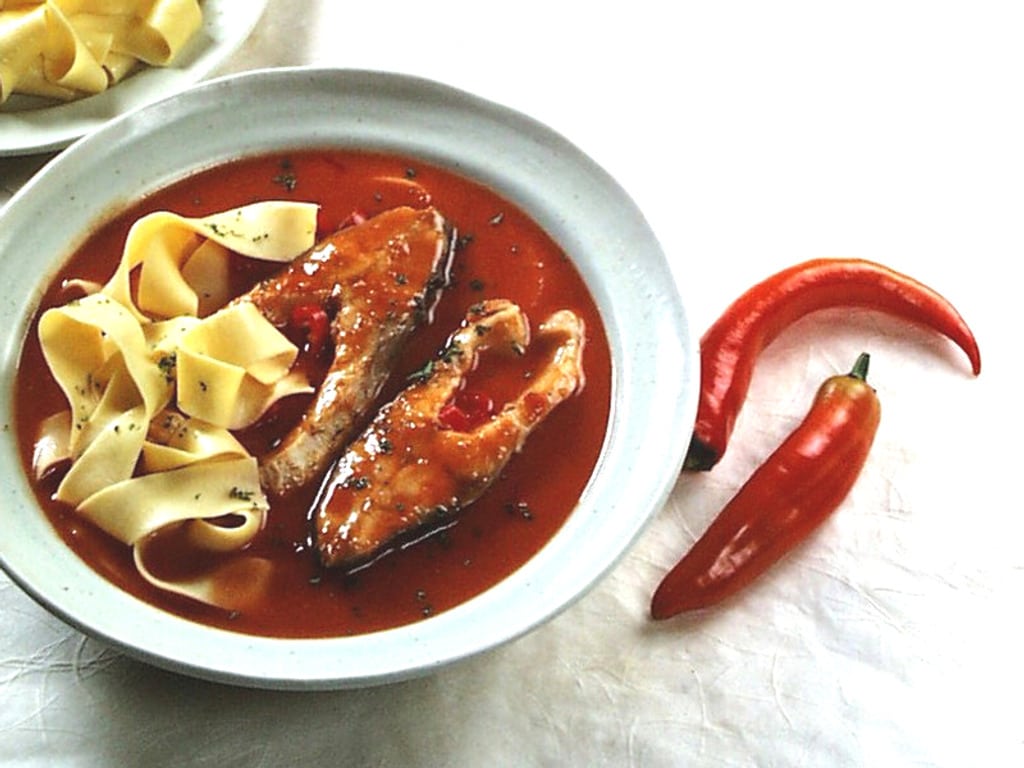 Punjene ti vice – stuffed zucchini and stuffed peppers
Hollowed-out zucchini or peppers are stuffed with ground meat, rice and spices and topped with cheese.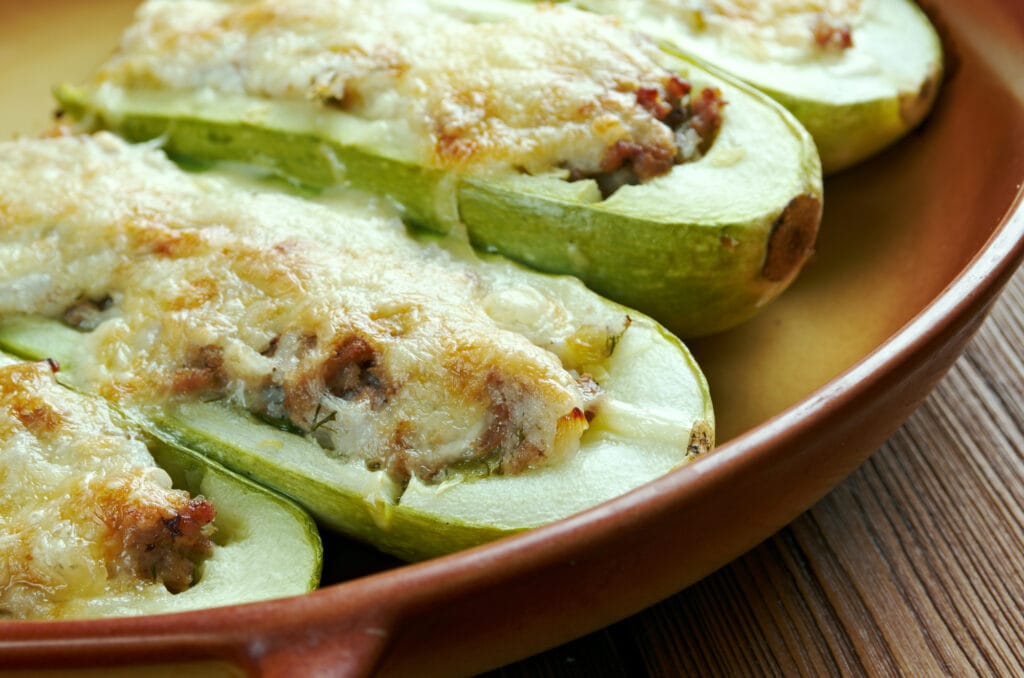 Croatian Wine
Croatia has a rich history of wine production and there are vineyards all over the islands and mainland.
Malvazija is an indigenous white wine from Istria that is always a good bet if you're stuck for choices at a restaurant.
Teran is a traditional Croatian red wine also from Istria that is popular with meat and pasta dishes.
Plavac Mali (red), and Pošip (white) are both from Dalmatia, and the popular Graševina – is an easy-drinking white wine from Slavonia.
A very popular Croatian drink is "gemišt", a cocktail of white wine with mineral water. There's also a red wine version in Southern Croatia called "bevanda".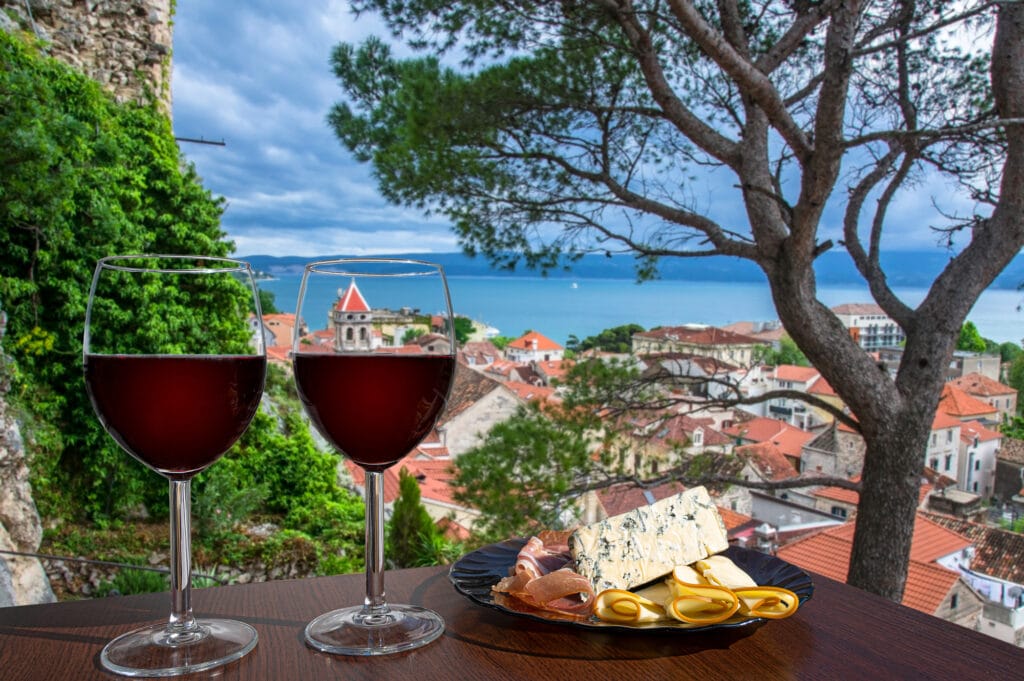 Rakija
Rakija is strong Croatian Brandy which is made from plums and sometimes pears. Slivovica or Plum brandy which is served icy cold straight from the freezer. Slivovica should be sipped at the end of your meal.
Croatian traditional food is a delicious and diverse cuisine that has been shaped by its geographical location and historical influences. From the seafood dishes of the coastal regions to the hearty stews of the inland areas, traditional Croatian dishes are a celebration of fresh ingredients, bold flavours, and time-honoured cooking techniques. Whether you're savouring a plate of peka or indulging in a slice of strudel, every bite tells a story about this rich cultural heritage. So if you find yourself in Croatia, be sure to explore its culinary offerings – you won't be disappointed!
If you are a foodie traveller then typical Croatian food will find a place in your heart. With so many authentic food traditions handed down through generations, Croatia is a fantastic place to find local, and seasonal foods. And now that you know what to eat in Croatia, make sure to try some things on your next trip!
Book your great flight and hotel deals with Cheapo Air
Food of Croatia Tours
Dubrovnik Food and Drink Walking tour
Skip the tourist traps and discover a taste of authentic Dubrovnik on a walking tour of the city's food and drink spots. Be immersed in the atmosphere as you stroll with your local guide and gain cultural insights and personalized tips as you explore. Stop off in 4 family-run restaurants to sample specialities including seafood and wine, and benefit from the small-group size for a more intimate experience. Avoid hidden costs with food and drinks included in the price Gain an intimate perspective of the city as you explore by foot Learn about the city's history and culture from your local guide Receive personalized recommendations on a small-group tour
Read more about Dubrovnik Food and Drink Walking Tour with a Local Guide
Old town Food Tour
Visit locally loved eateries, uncover the city's history and culture, and enjoy plenty of complimentary samples along the way, with the small-group size ensuring personalized service throughout. Get a real taste of Dubrovnik on this Old Town tasting tour Sample a range of Croatian delicacies, with at least five tasters, included Enjoy the more personalized experience of a small-group tour Learn about the city's culinary heritage directly from its residents
Read more about Old Town Food Tour
Private Tour: Ston and Peljesac Peninsula Day Trip with Wine Tasting
Get picked up at your hotel in Dubrovnik and then make the hour-long drive to the Pelješac peninsula, the second largest peninsula in Croatia and a landmass crammed with history, culture and plenty of wine and food. Stop in the bay-side town of Ston, famous for its oysters, to see an old salt factory and to gawk at the town's miles of medieval walls that once formed the border of the Republic of Ragusa (i.e. Dubrovnik). Visit some family-run wineries. Stroll along the sea. This private tour of Pelješac is flexible and can be tailored to your interests.
Read more about Private Tour: Ston and Peljesac Peninsula Day Trip with Wine Tasting
Traditional Cooking Class in Dubrovnik Countryside
Dalmatia boasts a unique culinary culture, but knowing where to go for insight into traditional tastes and recipes can be difficult. Take a break from the city with a round-trip transfer into the countryside, and attend a cooking class delivered by a local chef. Pick up recipes for typical dishes including peka and ražnjići, then enjoy a sit-down meal with your small group to indulge in your homemade feast.
Read more about Traditional Cooking Class in Dubrovnik Countryside
You might also like
Armenian food – 45 Armenian dishes you must try