Maltese food – the ultimate guide
We cruised into the stunning grand harbour of Malta on a beautiful sunny day. We were about to spend a couple of days in Malta and it just wasn't long enough. You really need much more than that to really appreciate the island and to find the best places to eat. But thankfully we did our fair share of enjoying Maltese cuisine and its food culture and probably gained a few pounds on the journey.
We were in Valetta where we hiked up to the main street – there are a ton of stairs from the port but we managed it and started strolling down Republic Street. It became very obvious that the Maltese believe that Maltese food and drink are to be savoured and enjoyed and rushing any kind of meal or snack is to be avoided.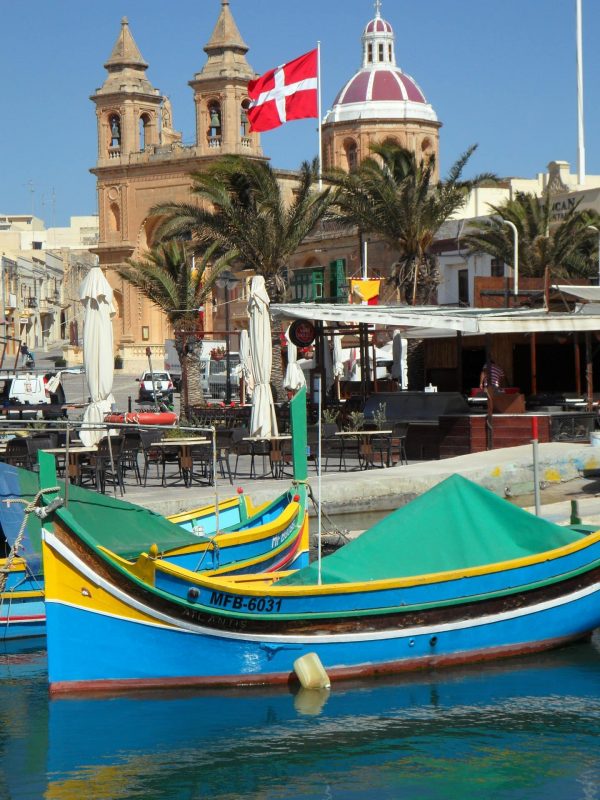 Malta's UNESCO World Heritage capital Valetta is a perfect tiny gem of a capital city. It is extremely walkable although there are many steps up and down the charming cobblestone streets. It is known as a Citadel Capital surrounded by the bluest seas you have ever seen and towered over by its 16th-century fortifications.
Malta was built by the Knights of St. John, the Knights of Malta and it has the highest density of historic sites of any country in Europe. Some sites are older than the pyramids and its famous Grand Harbour takes in tens of thousands of cruise visitors a year.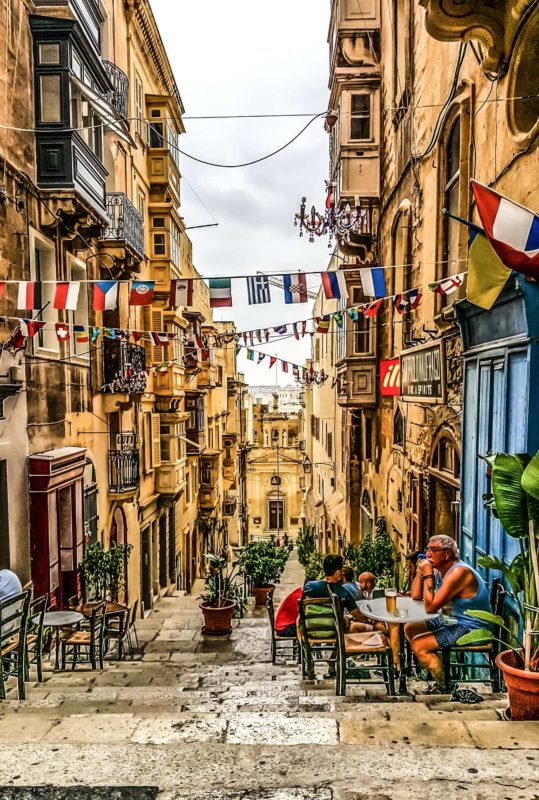 It was at Grand Harbour that scenes for Game of Thrones were filmed. On the east side of the Grand Harbour in Karkala, Fort Ricasoli doubled as the Gate of the Gods of King's Landing.
Due to its position in the Mediterranean, you can see that traditional Maltese food and Maltese cuisine have many influences from around the region. There's a trace of North African, a pinch of Italian a soupcon of Spanish and traditional Maltese dishes that hint at all of these flavours together creating a unique and truly Maltese food scene.
Xyuandbeyond is reader-supported. When you buy through links on our site, we may earn an affiliate commission. You can read my privacy policy here.
Malta food guide
In Malta, an entrée or starter is usually a dip with bread or crackers, soups in the colder weather, risotto, or antipasti.
In North America, the entrée is the main course, and appetizers or starters became the first course. In various countries in Europe – France for example, the entrée stuck with its translation which is the 'start' or 'beginning'.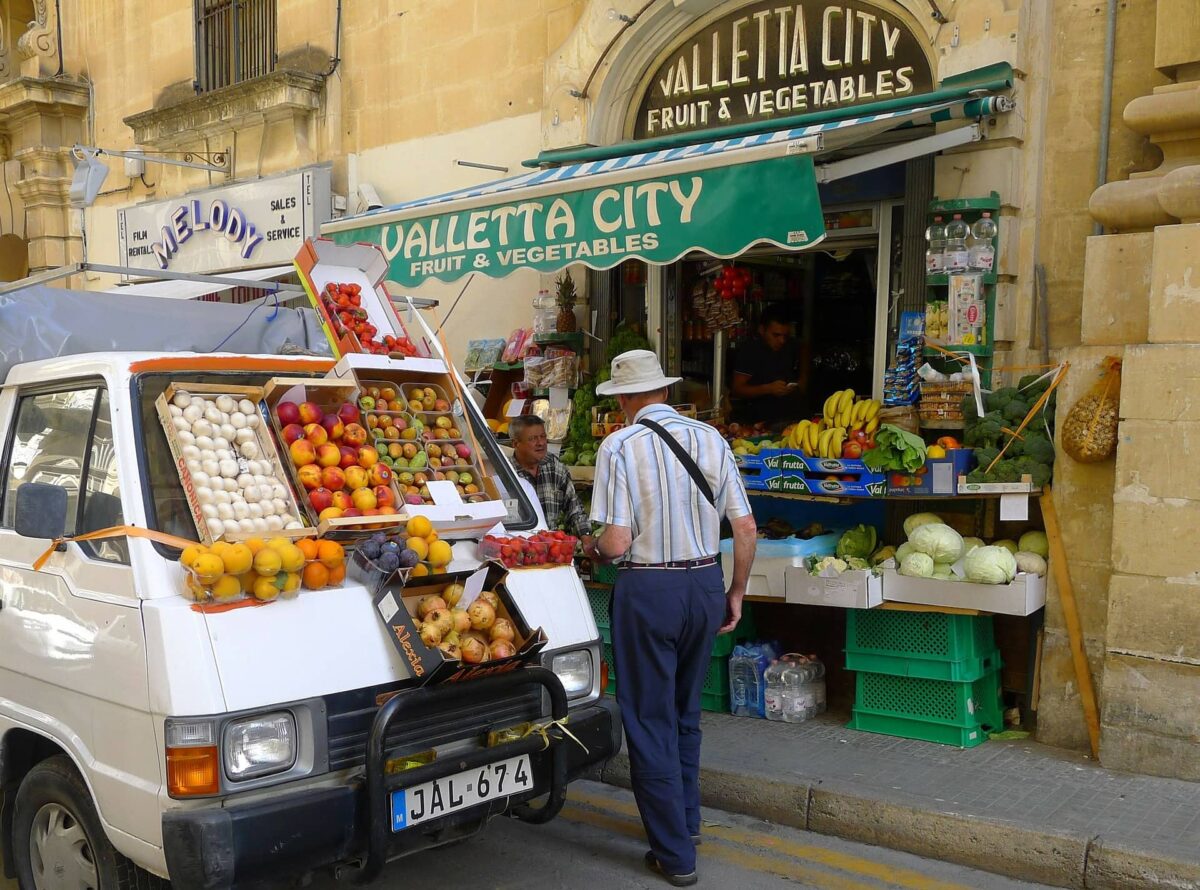 The main course in the traditional food of Malta will generally be meat or fish-based – they are an island after all. This can be accompanied by pasta, or potato – usually a starch of some kind.
When eating out you will often see that the fish available on the menu are often displayed whole and you get to choose the fish you want and how you like it cooked. This is usually prepared simply with wine or lemon with some fresh capers or tomatoes added.
Desserts – well it is said the Maltese love their sweet things and there are plenty of lovely desserts, and cookies. Religion has always played an important part in Maltese culture and many traditional Maltese sweets are baked during certain religious holidays or festivals, such as Lent, Easter or Christmas.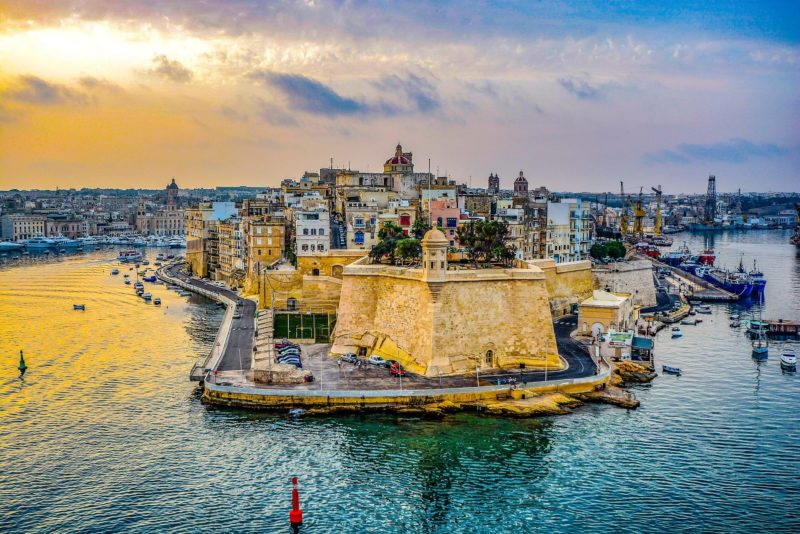 What to eat in Malta – 32 Maltese dishes you must eat
When you love food you want to learn all about the food culture of the place you are visiting. Maltese food is relatively unknown when you think of world-famous foodie destinations such as Chinese, Italian, American or British.
Maltese food is very much an undiscovered gem of the Mediterranean. It's truly dependent on what is available seasonally and locally. Remember Malta is an island and foods that have to be shipped intend to be expensive so it's much less expensive to depend on what is grown and produced locally and that's what you need to experience with the food in Malta.
Here's a list of typical Maltese food that you can taste when on the island.
Pastizzi – Savory Cheese or Pea Cakes
Qassatat – Vegetarian/vegan pies
Kwareżimal – Maltese Lenten Cookies
Figolli – Maltese Easter Biscuits
Prinjolata – cake
Qagħaq tal-Għasel – Treacle/Honey Rings
Għadam tal-Mejtin – bones of the dead
Imqaret – date-filled pastries
Biskuttini tal-Lewz – almond cookies
Kannoli – Cannoli
Cassata – ricotta cake
Pudina tal-Ħobż – Bread Pudding
Qubbajt – Nougat
Stuffat tal-Fenek – Rabbit Stew
Fitira Bread
Braġioli – Beef Olives
Torta tal-Lampuki – Lampuki Pie
Aljotta – Maltese Fish Soup
Pixxispad – Grilled Swordfish
Stuffat tal-Qarnita – octopus stew
Spaghetti biz-Zalza tal-Qarnit
Soppa tal-Armla – Widow's Soup
Kusksu Bil-Ful – Broad bean and pasta soup
Imqarrun il-Forn – Mac & Cheese
Timpana – Pasta Bake Wrapped in Pastry
Spaghetti Rizzi – Spaghetti with sea urchins
Platt Malti – Maltese Platter
Bigilla – Maltese Bean Paste
Zalzett Malti – Maltese sausage
Gbejna – sheep's cheese
Qarabaghli Mimli fil-forn – Stuffed squash
Bungiel Mimli – Stuffed Eggplant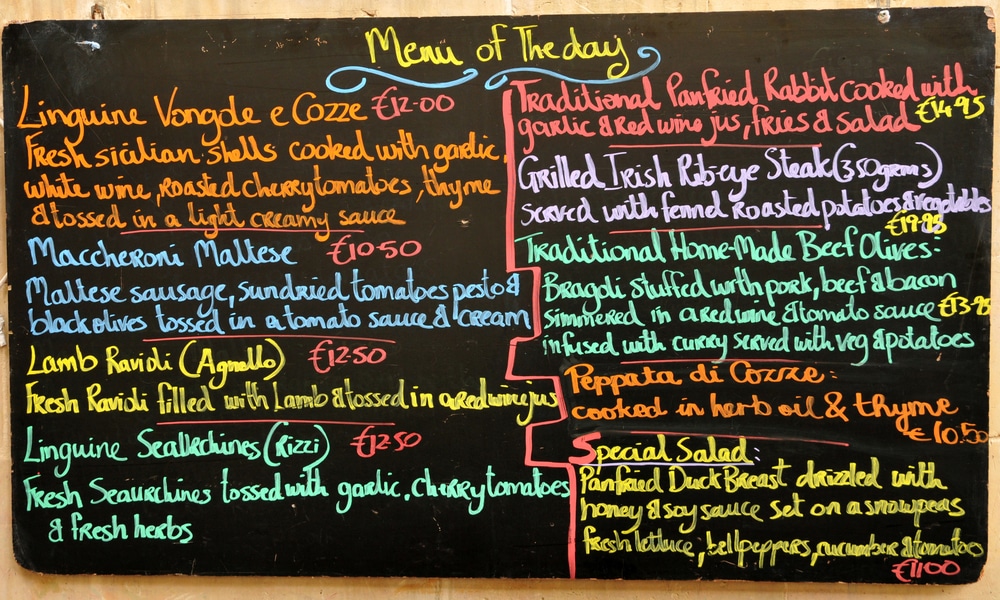 Coffee and pastries
Located in an old palazzo in the bustling streets of Valletta, Caffe Cordina traces its origins back to a small tea shop in Bormla, it has since grown and become a beacon for foodies going to Malta. This is absolutely where you must enjoy a Coffee and pastry or a light lunch.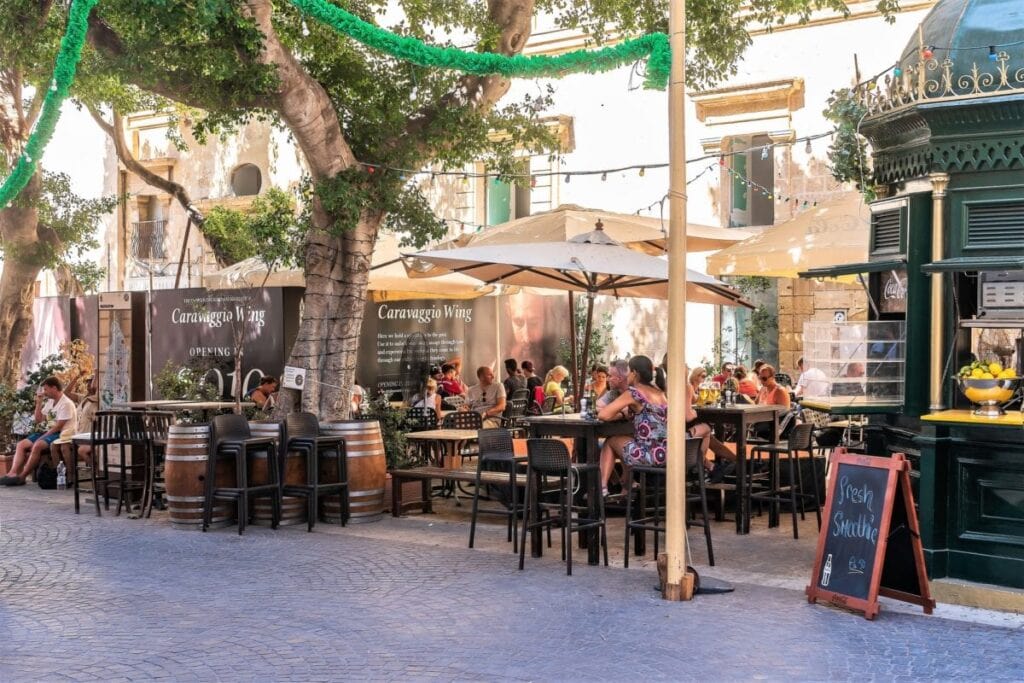 Food tours of Malta
The Valletta Food Tour Experience, a private tour: sample Maltese munch that you might otherwise miss on a private food and walking tour of Valletta. Rather than researching food hotspots and making your own reservations, you'll follow your guide on a culinary journey through the culture and history of Malta's capital city.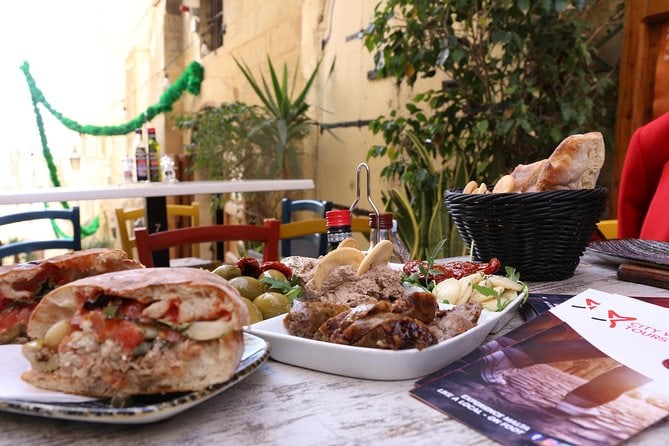 Read more about The Valletta Food Tour Experience, a private tour
Maltese food: Pastizzi and other savoury pastry snacks
Maltese pastizzi
A Maltese favourite food Pastizzi was the first thing I had to have in Malta. Here not only is this a typical Maltese street food but when sitting down with a coffee in the café one usually has a selection of pastizzi with the coffee.
Pastizzi is essentially a filo pastry dough stuffed with ricotta or a pea paste called piżelli in Maltese. Pastizzi pastry is stretched and folded with layers of fat in between each layer resulting is a glorious crunchy, flaky crust.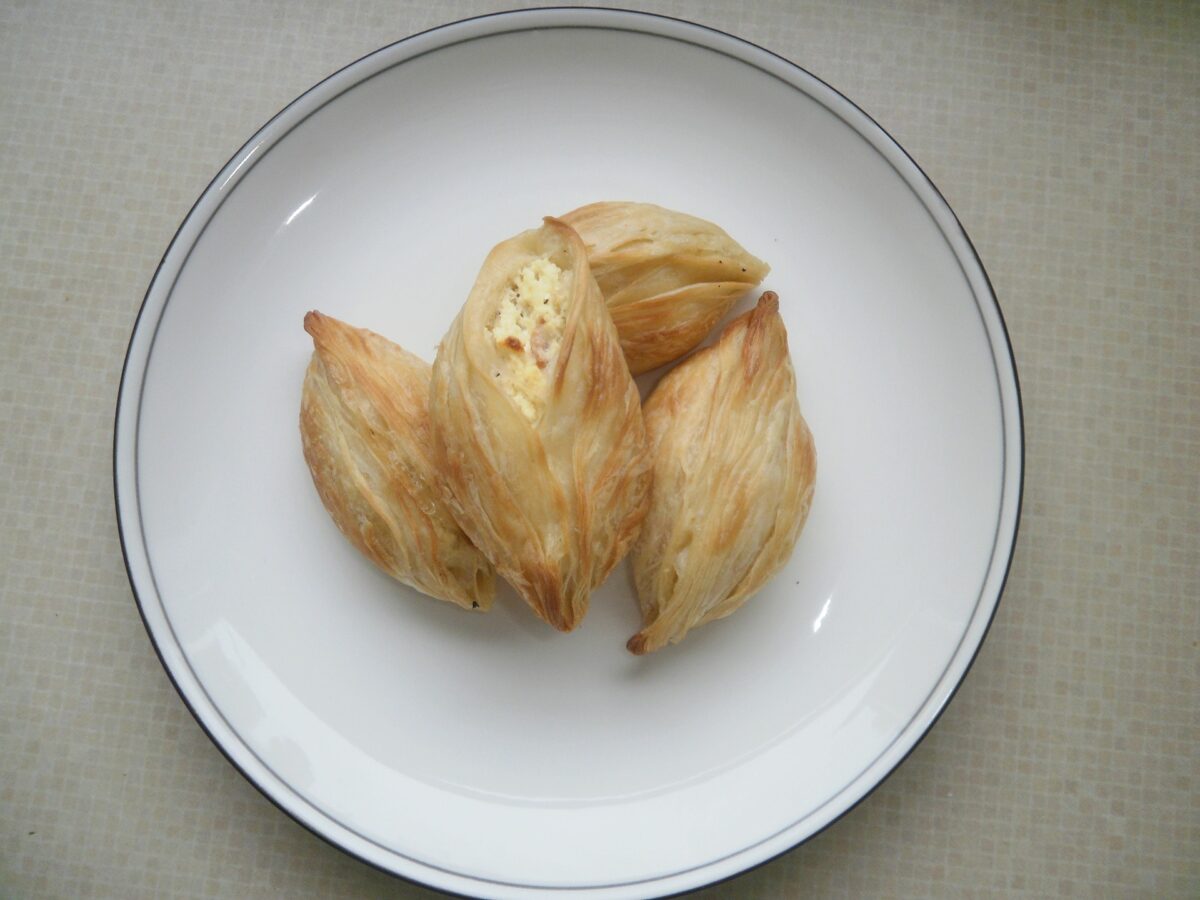 Each pastizzi are folded together in a specific way which indicates the filling. Traditionally the ricotta pastizzi are folded down the middle but the pizelli are folded down the side. There is also a puff pastry version known as tax-xema that comes in round and half-moon formats respectively.
Qassatat
Similar to pastizzi but a little larger, qassatat have a more shortcrust pastry casing and are filled with the same ricotta or pea fillings but they can also be filled with ricotta and a variety of other fillings like sautéed onions, fava beans, spinach or anchovies. or a variety of other fillings.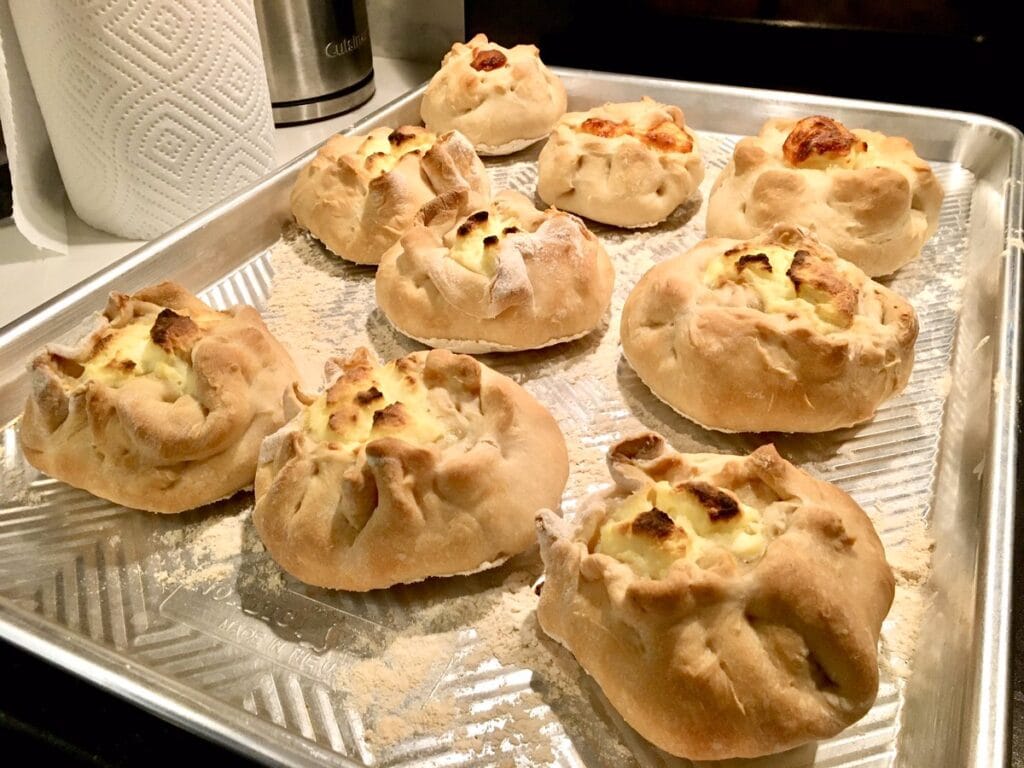 Kwareżimal
Kwareżimal are a traditional Maltese cookie that is widely available during Lent. It is a vegan cookie that doesn't contain any dairy or meat products. Made from ingredients that include intrita which is a ground almond paste, flour, sugar, cinnamon, honey, and orange zest. These Lenten cookies were introduced by the Knights of Malta, and people still love them today.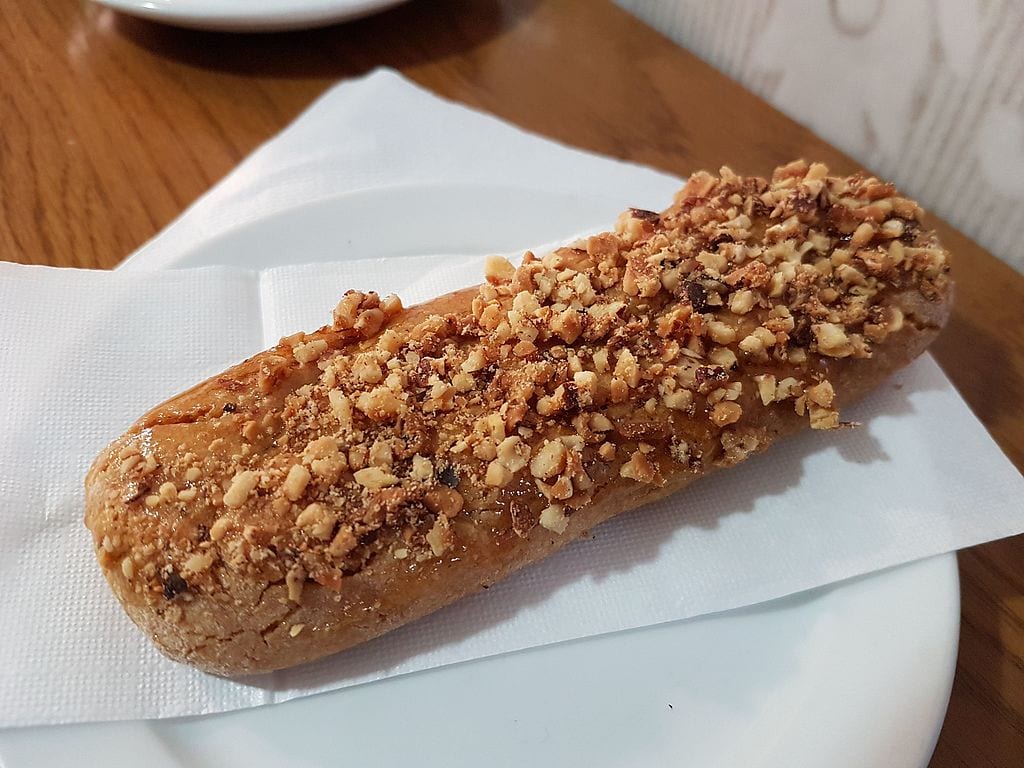 Figolli
Figolli is a Maltese Easter Biscuit that is baked during Easter celebrations. They are a flat almost cake-like cookie that is made in the shape of a lamb or rabbit. A simple dough of flour, sugar, egg yolks and butter filled with almond paste and topped with either icing sugar or melted chocolate sweet-toothed heaven of a cookie.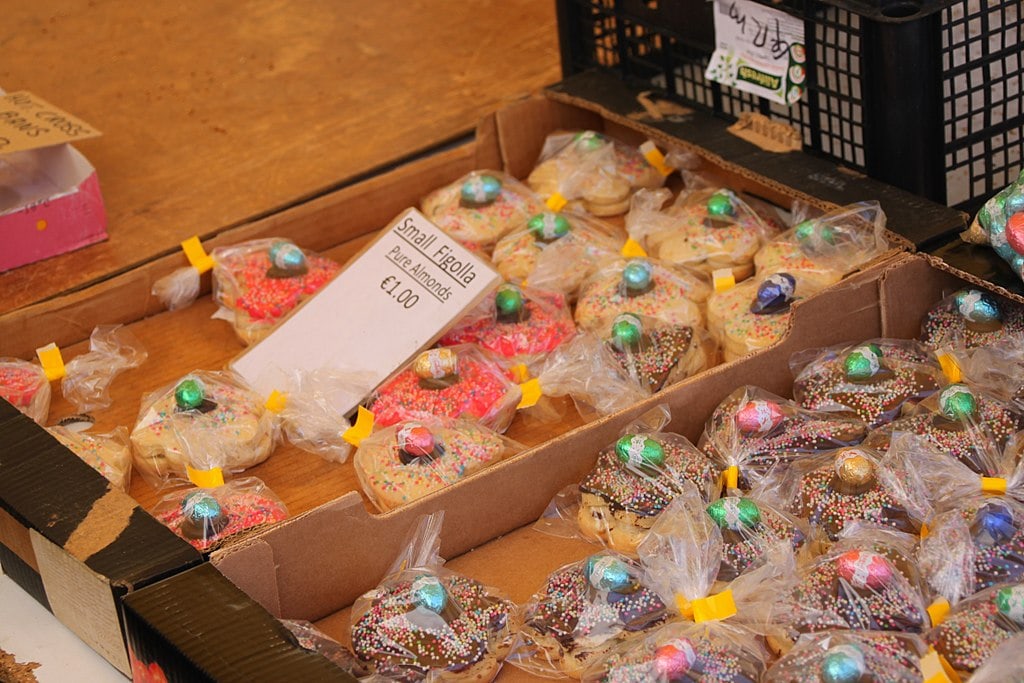 Prinjolata
Prinjolata is a small mountain of sugar it's a cake that is coated with cream, decorated with glace cherries and drizzled with chocolate. Usually made at Carnival time which takes place before Lent.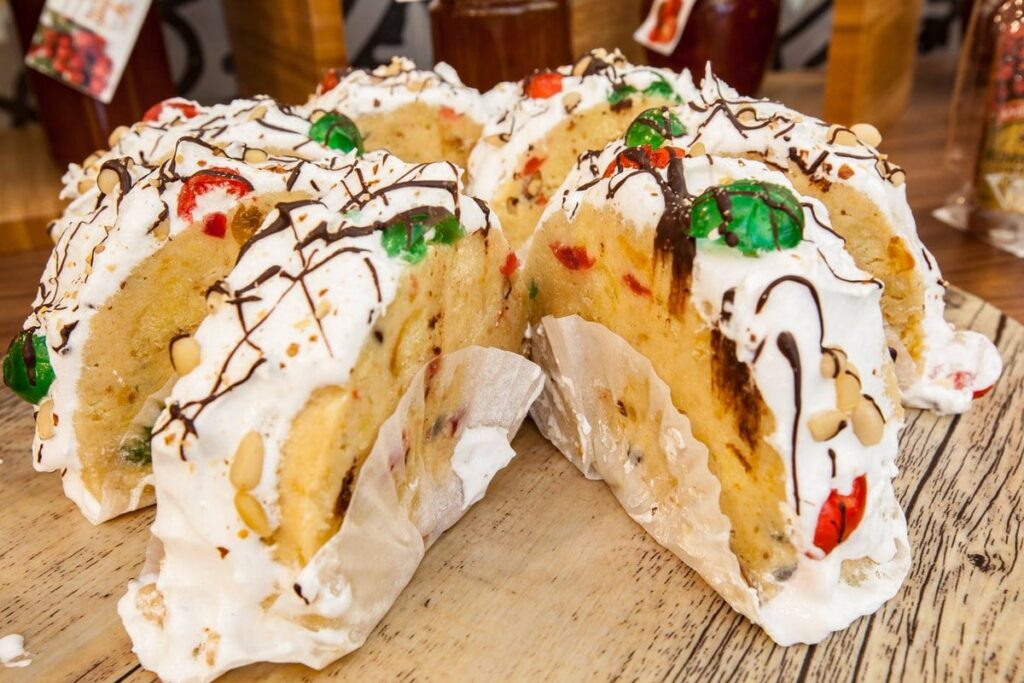 Qagħaq tal-għasel – honey rings
Honey rings or Qagħaq tal-għasel are circular in shape and filled with black treacle. Generally made for Christmas originally they can now be found all year round. Treacle is a thick, sticky dark syrup made from partly refined sugar similar to molasses but lighter and slightly sweeter.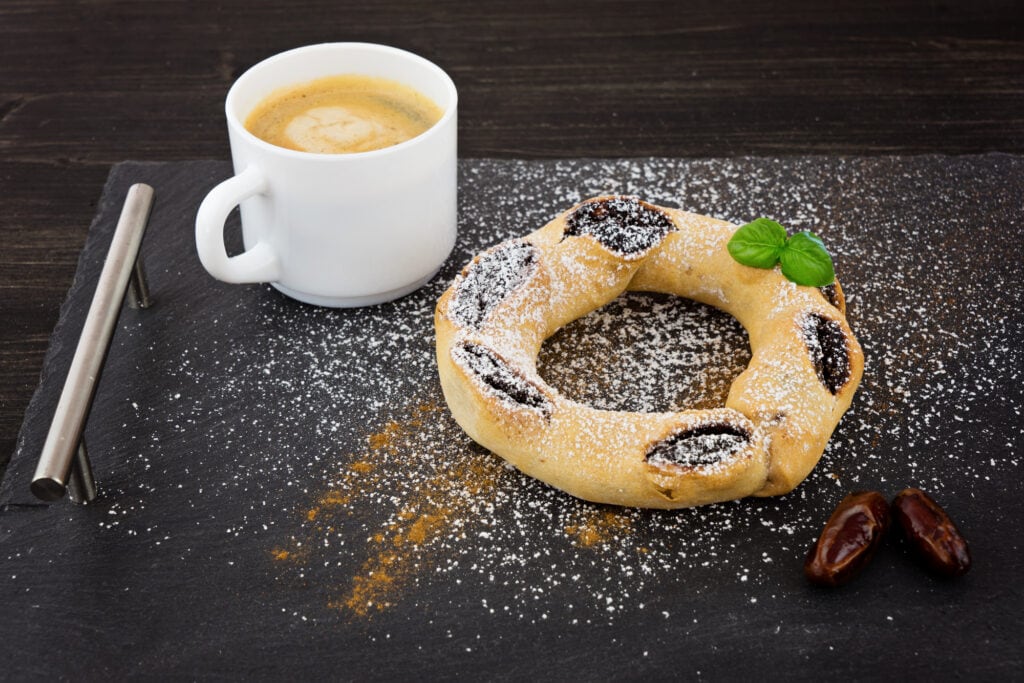 Għadam tal-Mejtin – bones of the dead
Bones of the Dead or Għadam tal-Mejtin is baked around Halloween or All Souls' Day which is celebrated on the 2nd of November. This is a bone-shaped cookie filled with marzipan to emulate marrow.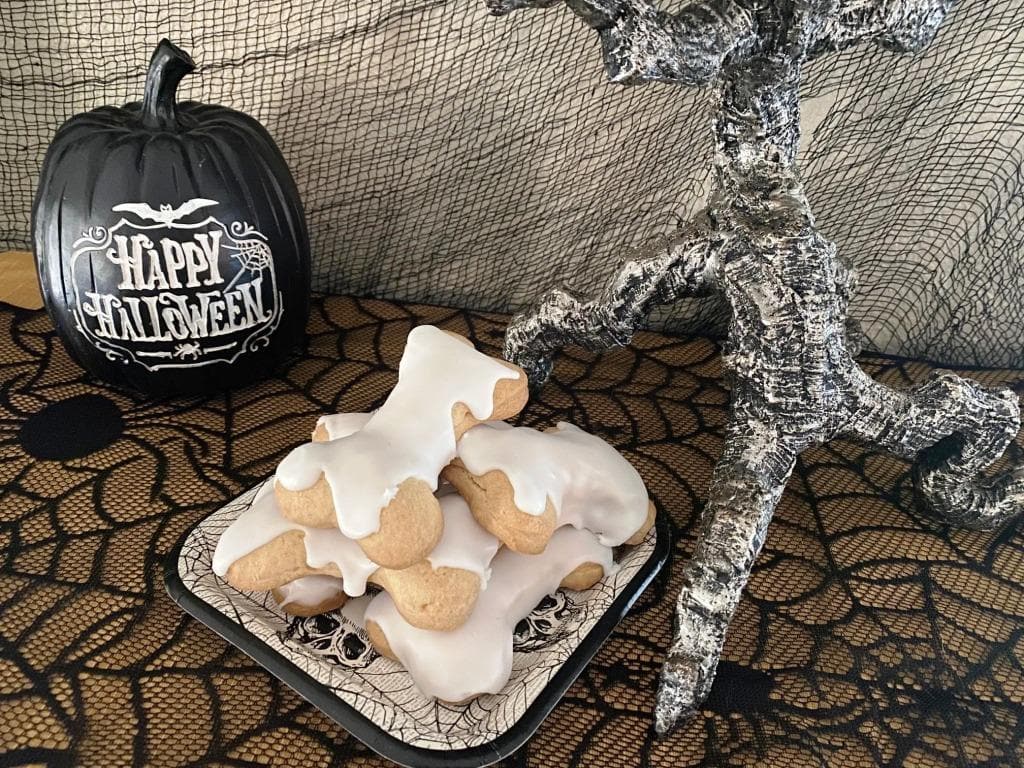 Imqaret – date-filled pastries
Imqaret is a fried pastry dough stuffed with date paste. Imqaret is one of the Maltese food traditions that originated from the Arabic world. These super-sweet pastries are cut into a diamond shape and the name imqaret is the plural of 'maqrut' which derives from the Arabic word meaning diamond. My husband thinks they are a version of Fig Newtons on steroids.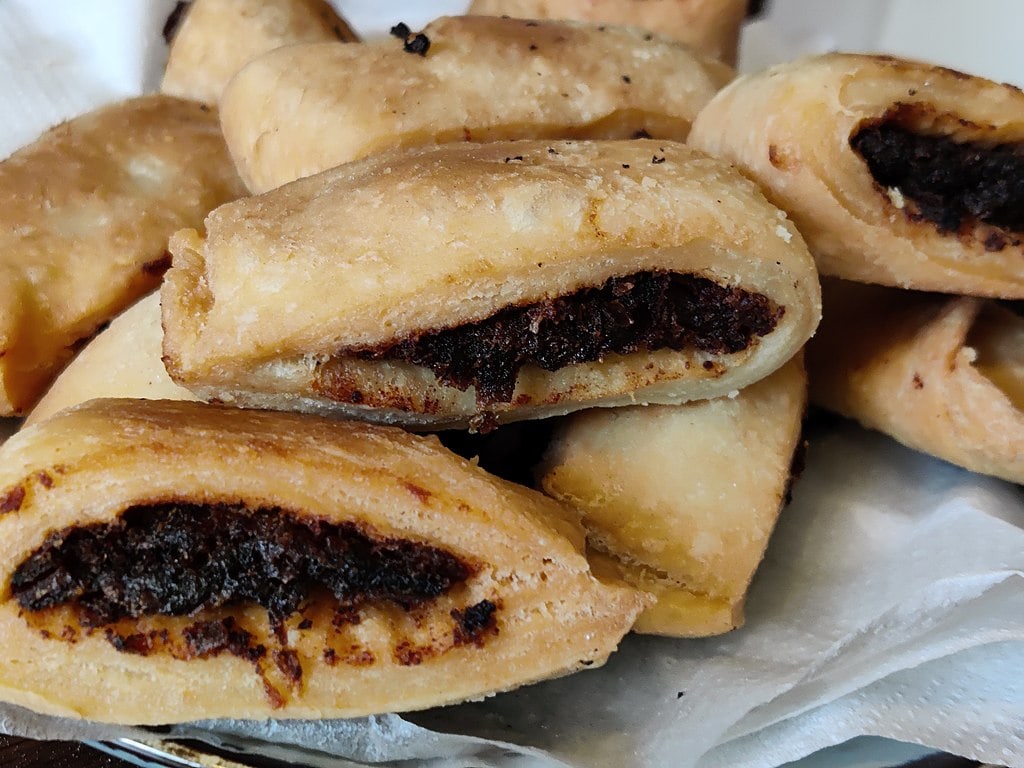 Biskuttini tal-Lewz – almond cookies
Biskuttini tal-Lewz similar to a thumbprint biscuit from England is a soft cookie made with almond flour, which means they are a soft biscuit and usually decorated with a whole almond on top or a glace cherry.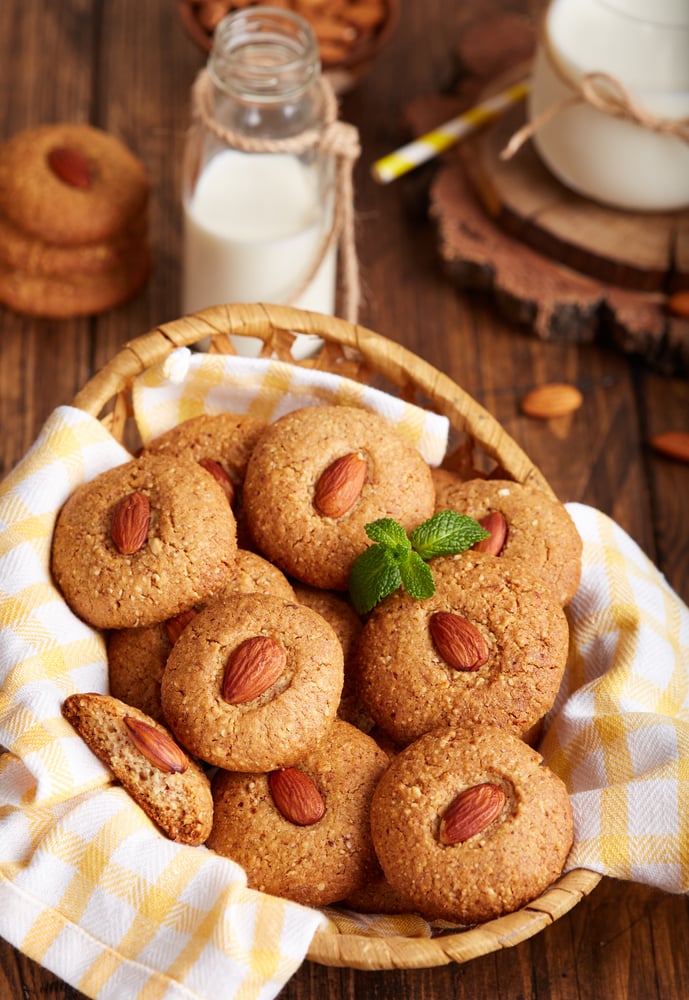 Cannoli or Kannoli
A massive favourite of the Maltese these gorgeous tubes of heaven are found in every Maltese bakery. They are filled with creamy cheese with the addition of dark chocolate, cherries, nuts or citrus fruit decorations. These are the Kannoli of dreams.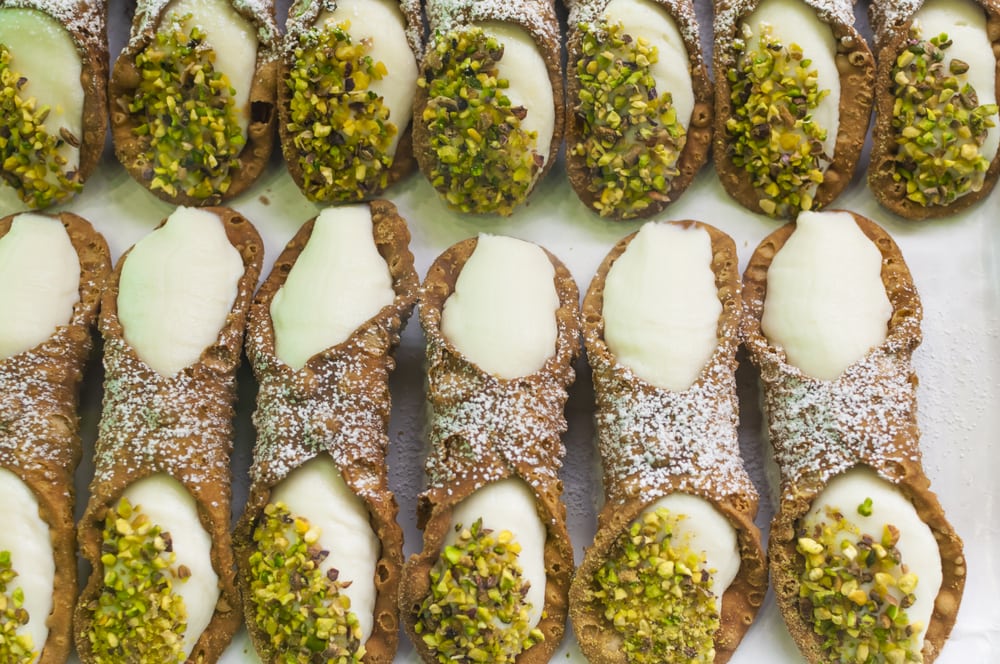 Cassata – ricotta cake
This is a particular favourite at Christmas which is not traditionally Maltese but Italian. A light ricotta-filled sponge cake scented and flavoured with marzipan.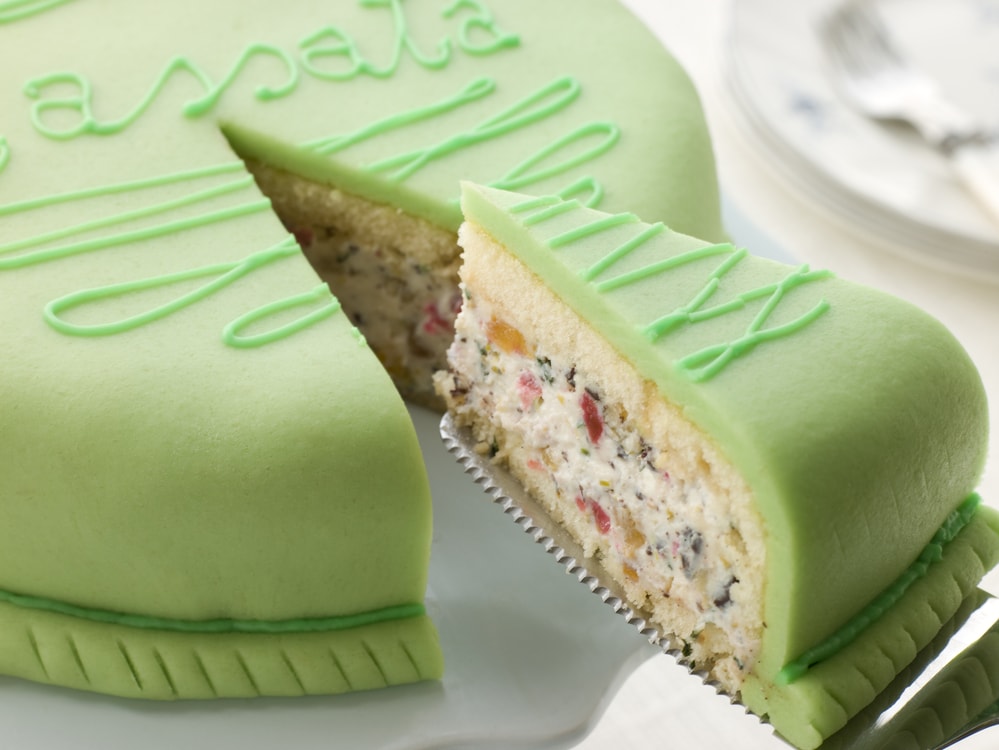 Pudina tal-Ħobż – Bread Pudding
If you need something a little bit more filling then a bread pudding is a sure-fire filler. As with most bread pudding recipes, this dates back to the 18th century when stale bread needed to be used. The bread is soaked in a mixture of sugar, butter, a hot chocolate powder, vanilla and sometimes lemon and orange rinds, raisins and additional spices.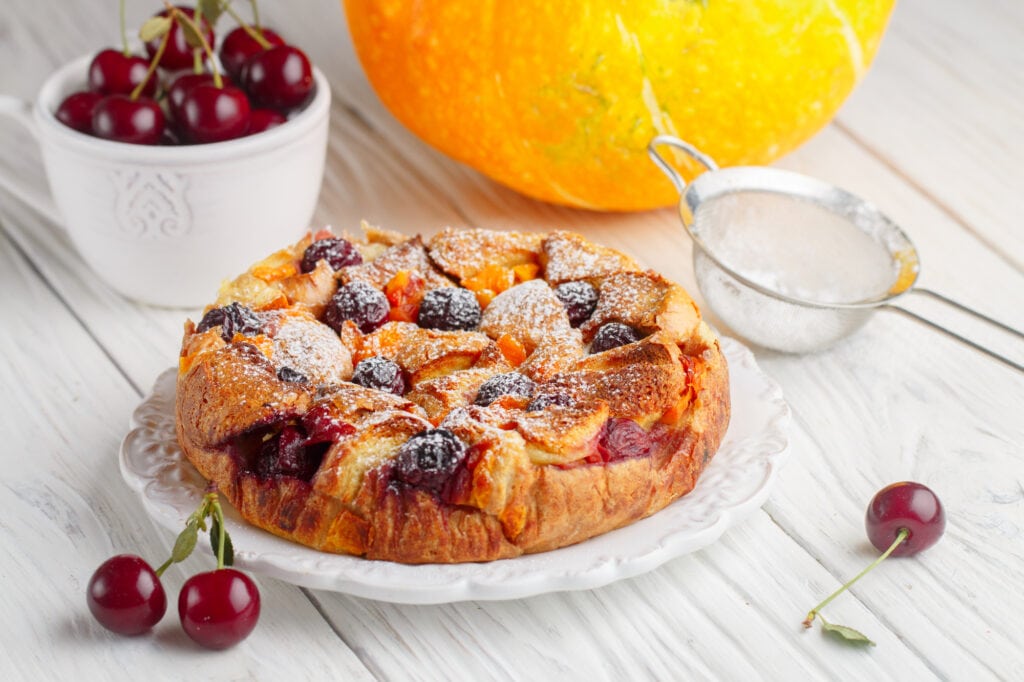 Qubbajt – Malta nougat
Nougat has been a part of Malta's culinary heritage for centuries, possibly introduced during the island's Arabic rule. This ancient almond and honey (or sugar) based confection is found in several southern European countries. In Malta, the name comes from the Arabic qubbayt and it is thought that nougat was part of the medieval Arabic culinary tradition in Spain and Sicily, which eventually made it to Malta.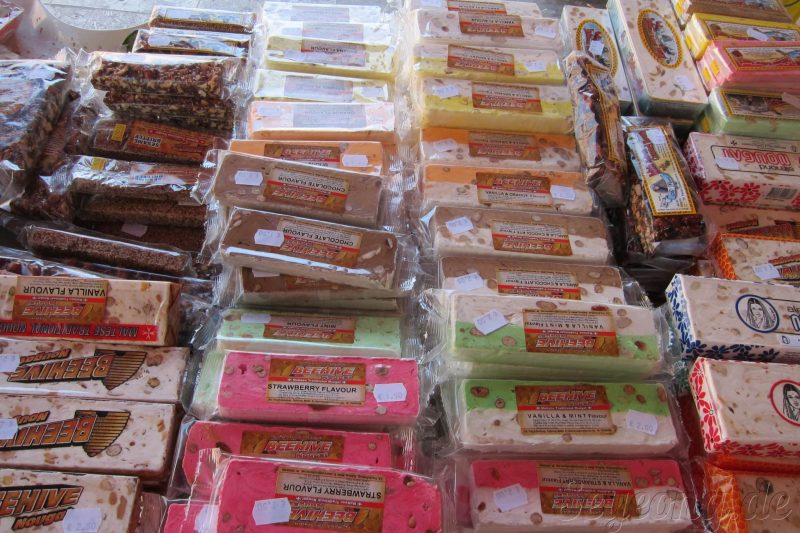 Maltese Christmas food
The typical Maltese Christmas log consists of a wonderful mix of ingredients consisting of crushed biscuits, dried cherries, nuts and liqueur. These are then mixed together with condensed milk, rolled into the shape of a log and coated with melted chocolate. The log is then refrigerated overnight and served fresh the next day as a delectable after-lunch treat.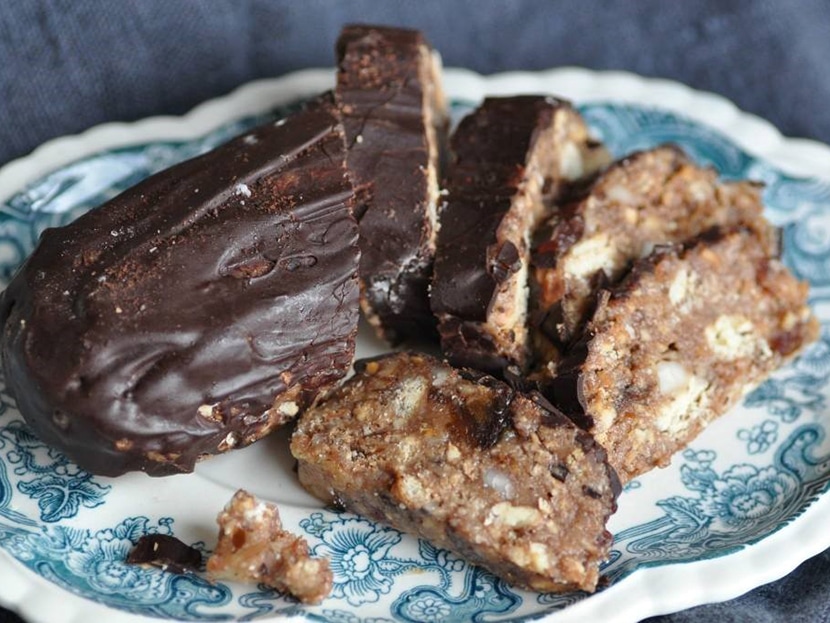 Traditional Maltese Food
If you cruise into Malta a word of warning do not be tempted to eat on the waterfront near your ship. There are much better restaurants in town and you will find the prices much lower. Be aware though that many of the restaurants are closed on Sunday evenings.
Traditional Maltese food is rustic and based on the seasons. Look out for Lampuki Pie (fish pie), Rabbit Stew, Bragioli (beef olives), Kapunata, (Maltese version of ratatouille), and widow's soup, which includes a small round of Gbejniet (sheep or goat's cheese).
Stuffat tal-Fenek – rabbit stew
The national dish of Malta and a top favourite among the Maltese people is stuffat tal-fenek (rabbit stew), often identified as the national dish. Legend has it that it started off as a form of resistance to the Knights of St. John who imposed strict hunting laws.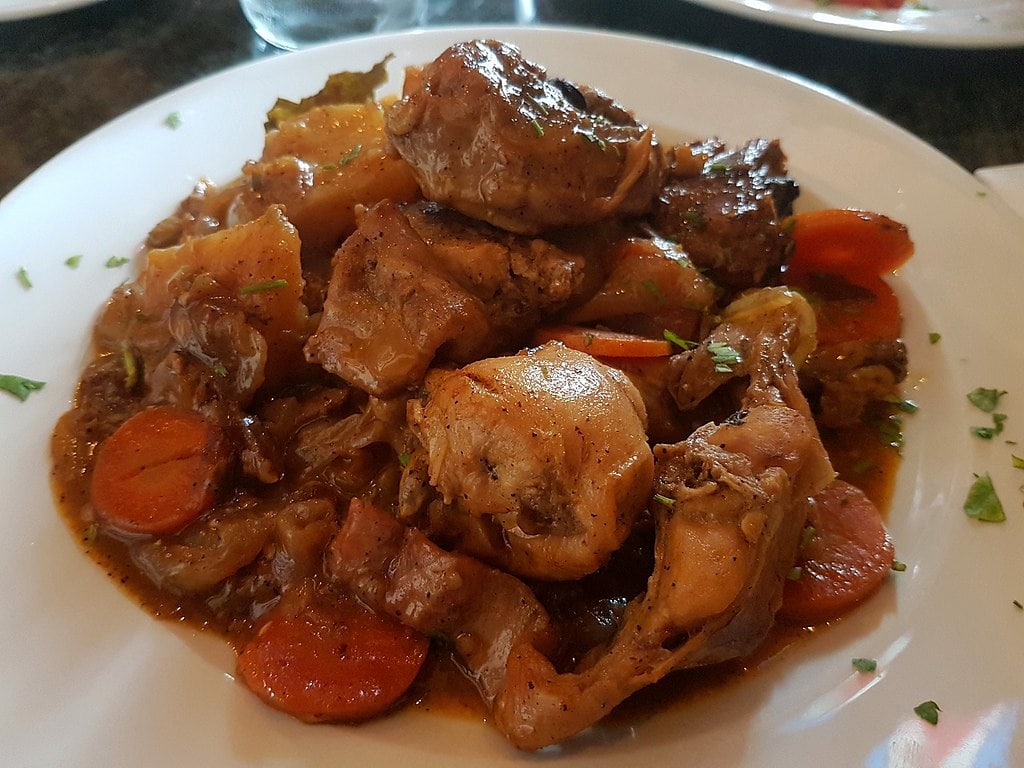 Ftira Bread
Ftira, which is bread is a staple of Maltese cuisine. Ftira is a ring-shaped, leavened, Maltese bread, usually eaten with a filling like fresh tomatoes and onions, tuna, sardines or even potato. In Gozo, they eat Ftire like a pizza with thin slices of potato on top. Ftire was added to UNESCO's Intangible Cultural Heritage List and it dates back to the 16th century.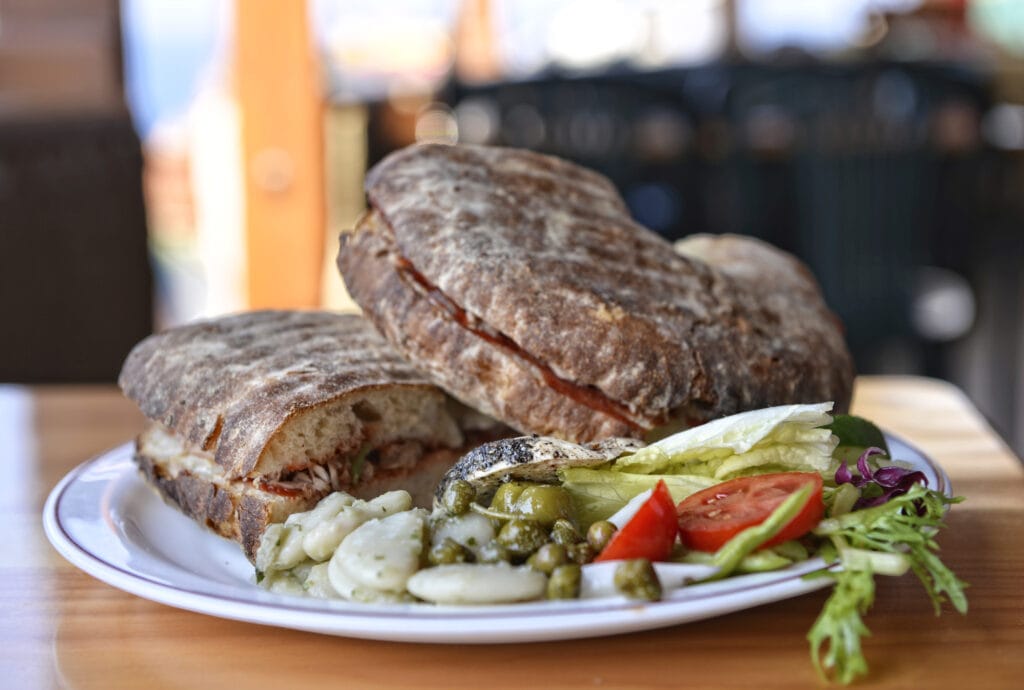 Braġioli – Beef Olives
Baġioli really has nothing to do with Olives except for the fact that they resemble stuffed olives. The beef is sliced thin rolled and stuffed with a hardboiled egg, garlic, bread crumbs and parsley. You will find this on most Maltese menus island-wide.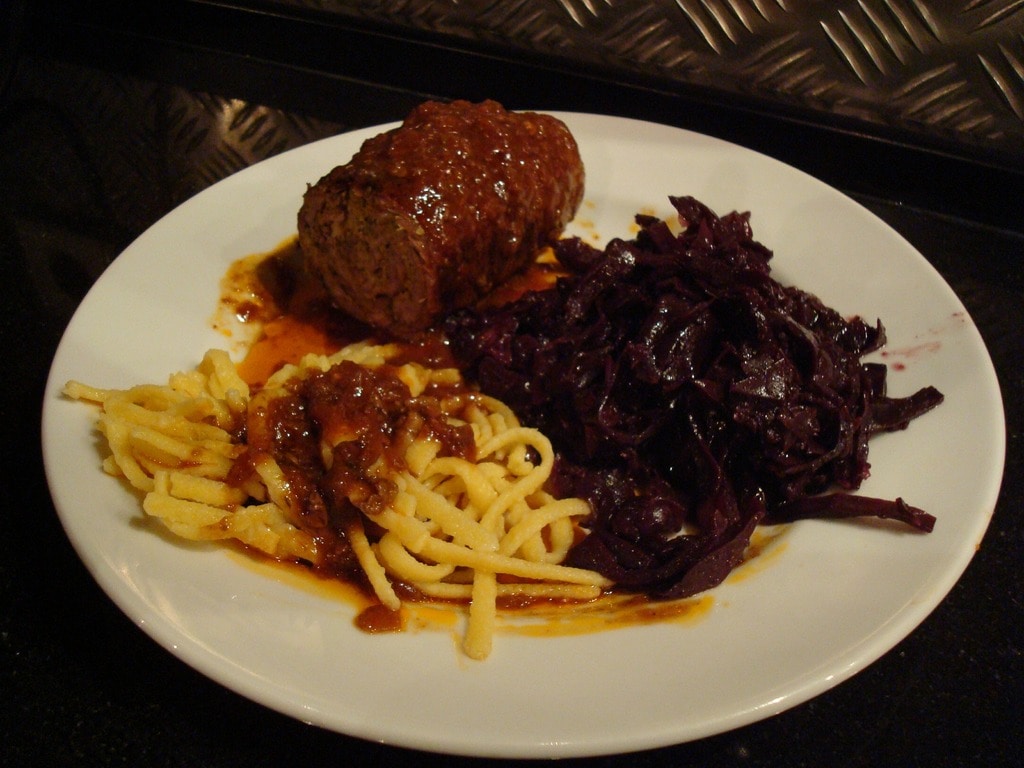 Lampuki/torta tal-Lampuki – grilled fish or fish pie
Lampuki is a fish that is known worldwide as mahi-mahi or dorado. A very meaty white fish in Malta it can be found from August through to December. Lampuki is best served grilled and in Malta, it is served with a garlic sauce or in a pie called Torta tal-Lampuki. The pie is filled with fish alongside vegetables and olives.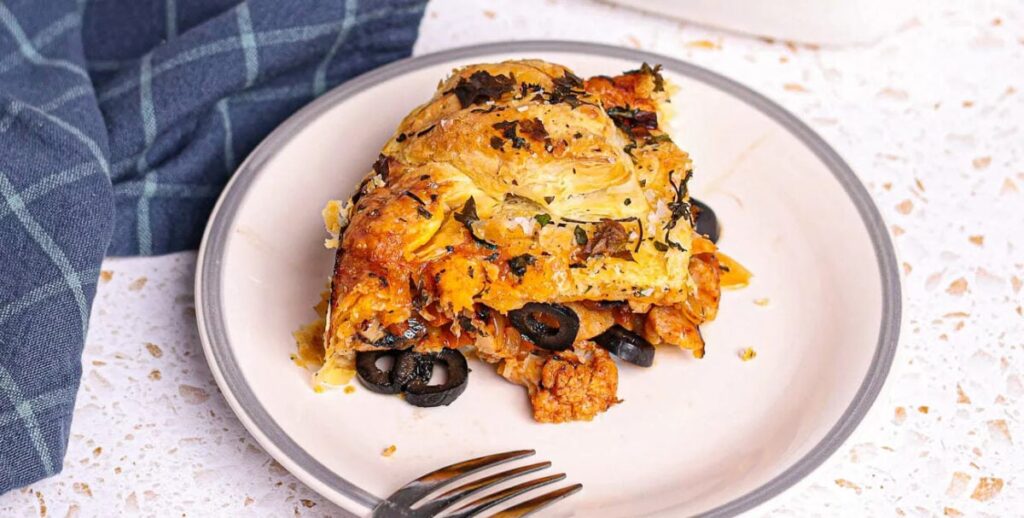 Aljotta – fish stew
Aljotta is a fish and tomato stew similar to a bouillabaisse but it uses very small fish filled with small pieces of fish, some shrimp and white rice along with tomatoes and onions.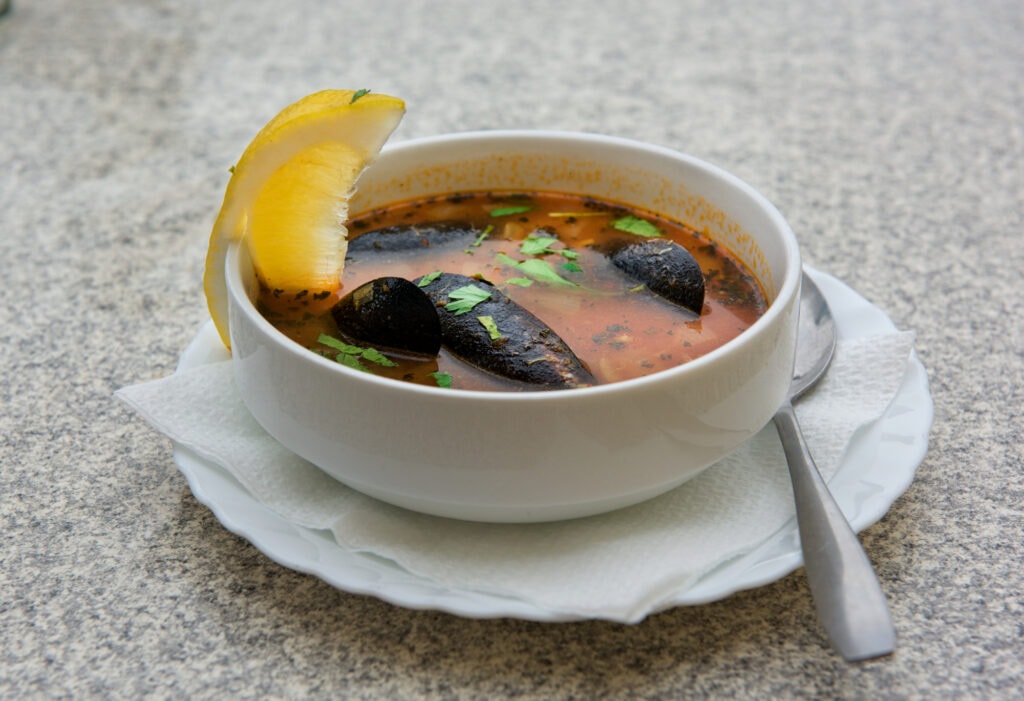 Pixxispad – Grilled Swordfish
Another simple but full-flavoured dish is the grilled swordfish. Grilled with the skin on usually in baking paper and flavoured with lemon, pepper, salt, olive oil and sometimes capers this is a mouth-watering dish when sitting on a seafront terrace.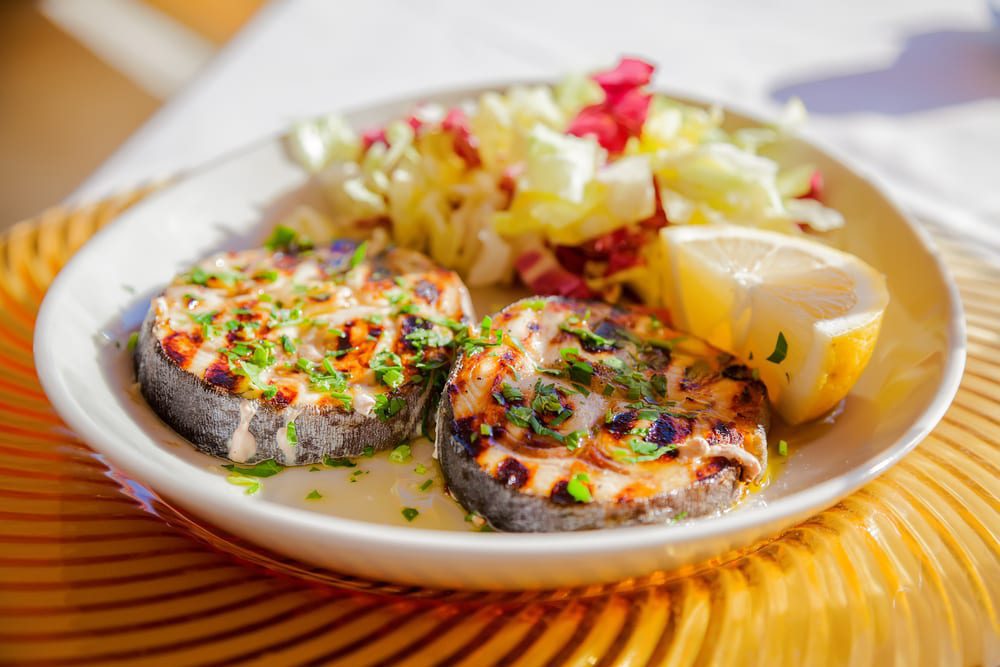 Stuffat tal-Qarnita – octopus stew
This is an octopus stew that is very common in Maltese cuisine and is served in several different ways. In Malta, the octopus is frozen for a few days before being cut into pieces and boiled in salted water. It is then cooked in a broth that includes olive oil, chopped tomatoes, tomato paste, lemon and orange rinds and parsley. A bowl of this stew is usually served with bread.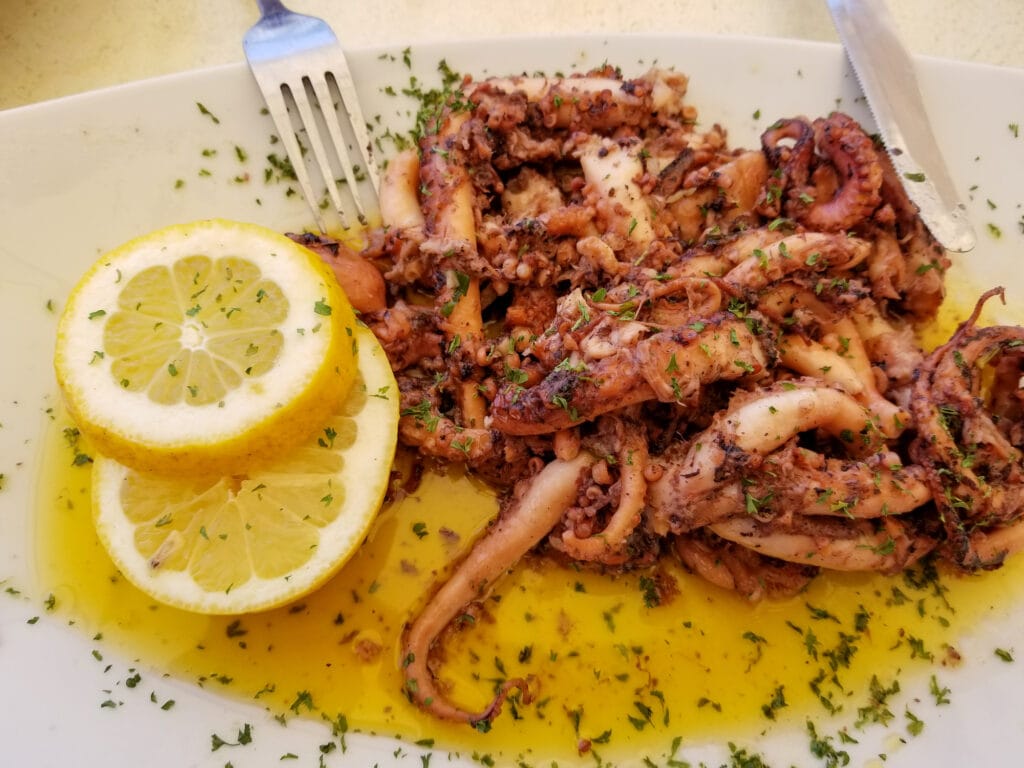 Spaghetti biz-Zalza tal-Qarnit
The octopus stew above when thickened is also used for a spaghetti dish which is very popular in Malta.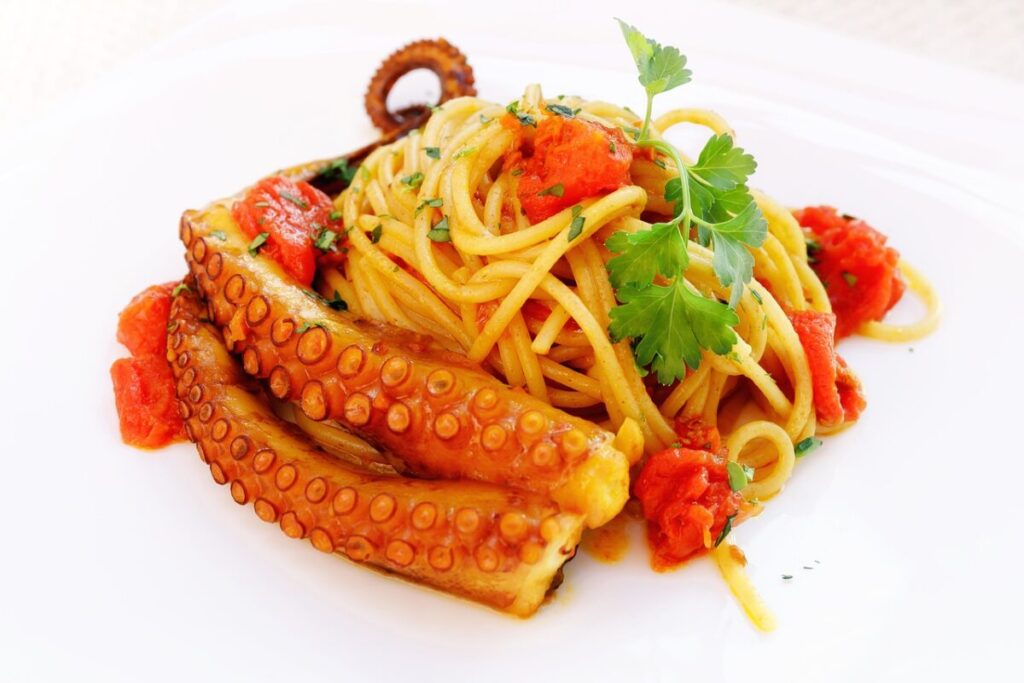 Soppa tal-Armla – Widow's Soup
Soppa tal-Armla is a traditional Maltese dish dating back many years. During hard times such as WWII, this dish was the mainstay of many a Maltese diet. It consists of seasonal vegetables that can include peas, broad beans, potatoes, onions, carrots and any others that are available.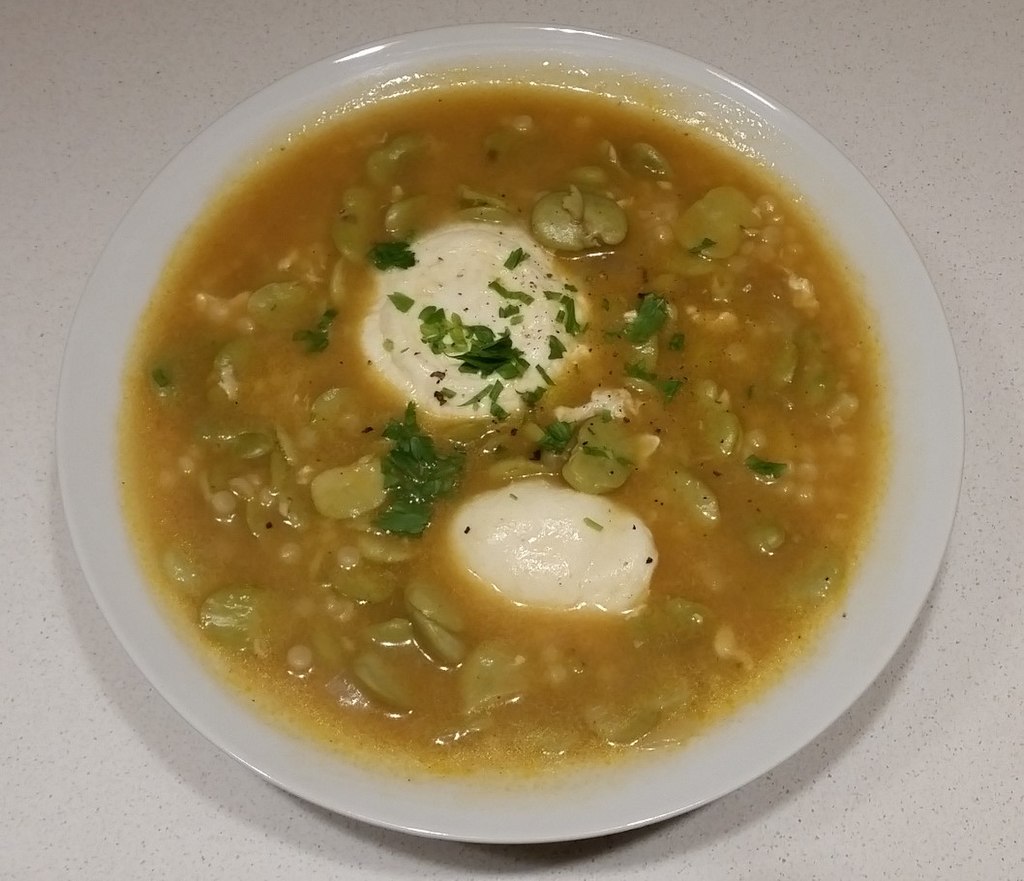 Pasta dishes in Malta
Kusksu Bil-Ful – Broad bean and pasta soup
This soup is made using a large grain of couscous which is actually pasta. The soup combines broad beans, tomato paste and lots of herbs with the usual vegetables such as onion and carrot.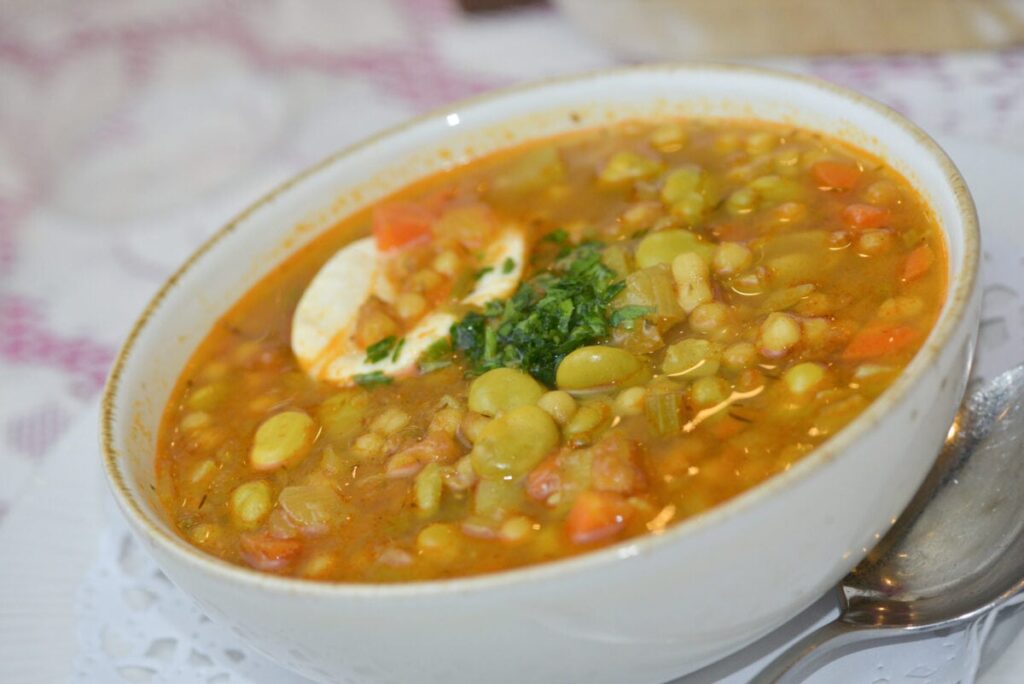 Imqarrun il-Forn – Maltese baked macaroni
Obviously, Italian-inspired everyone loves mac and cheese, but the Maltese version isn't much different from others around the world. Macaroni pasta cooked in a lovely cheesy creamy sauce with a deep brown crispy topping – my personal favourite.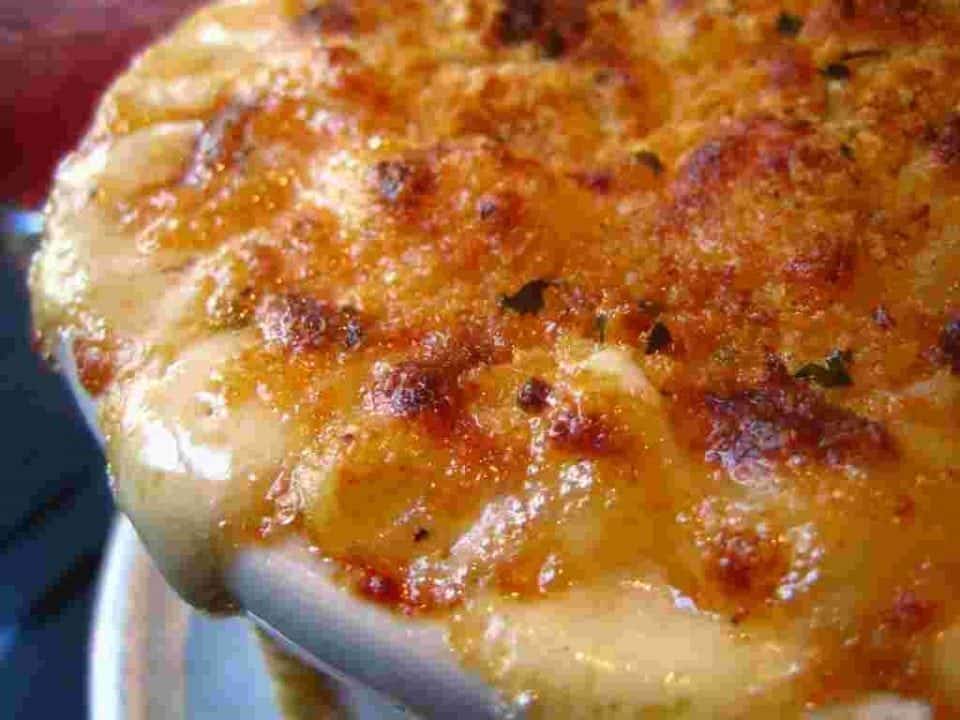 Timpana – Pasta Bake in Pastry
Maltese specialities include another Italian-inspired dish but with a twist – this is a macaroni dish bathed in a Bolognese sauce and then baked in pastry. The cooked pasta is coated with the sauce and lots of cheese then covered with puff pastry.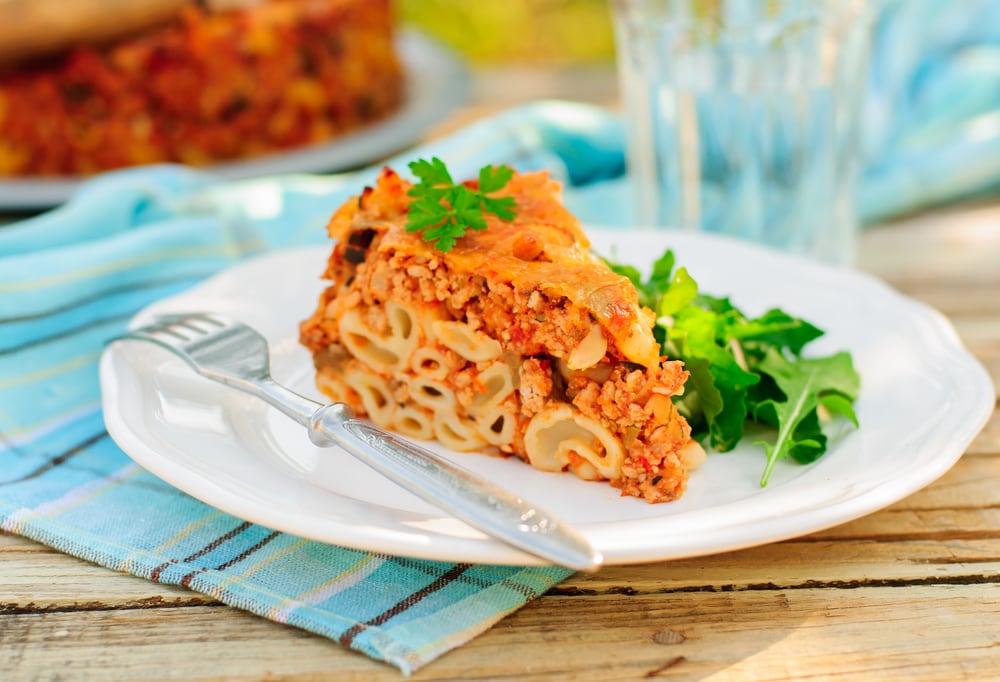 Spaghetti Rizzi – Spaghetti with sea urchins
An interesting dish if you love sea urchins. The dish is perfectly simple just sea urchin tossed with thin spaghetti, olive oil, tomato, herbs and lemon juice. The sea urchin melts down into a rich creamy but light sauce bathing the pasta.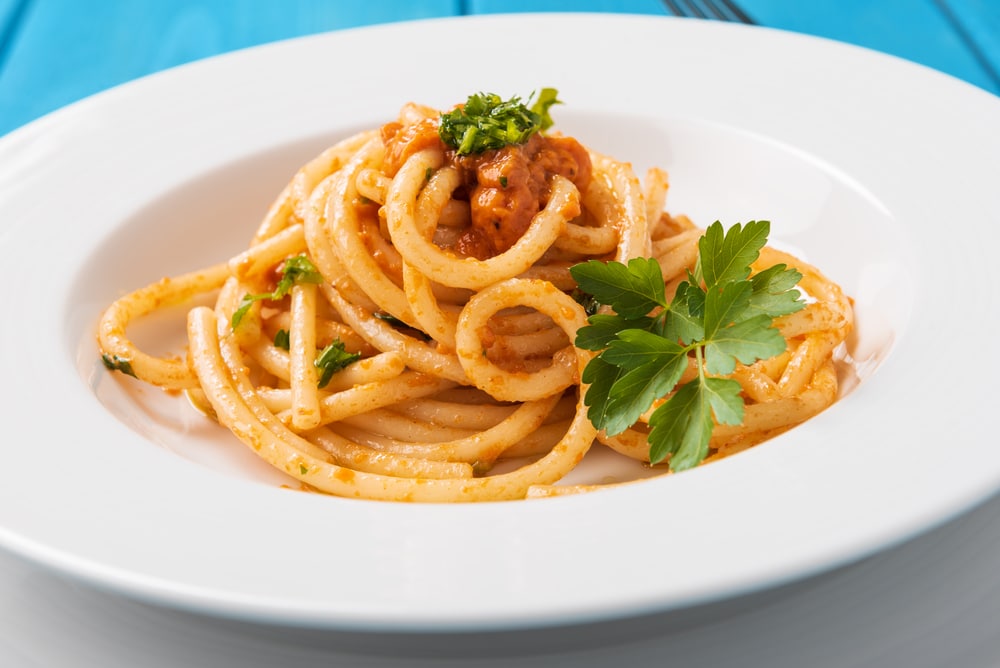 Platt Malti – Maltese Meze Platter
Very similar to the mezze platters of Greece and Cyprus the Platt Malti offers a wide selection of tasty bites. These could include stuffed olives, Maltese sausages (see below), a Maltese version of caponata called Kapunata, Bigilla paste (see below) and sundried tomatoes and maybe some gbejna.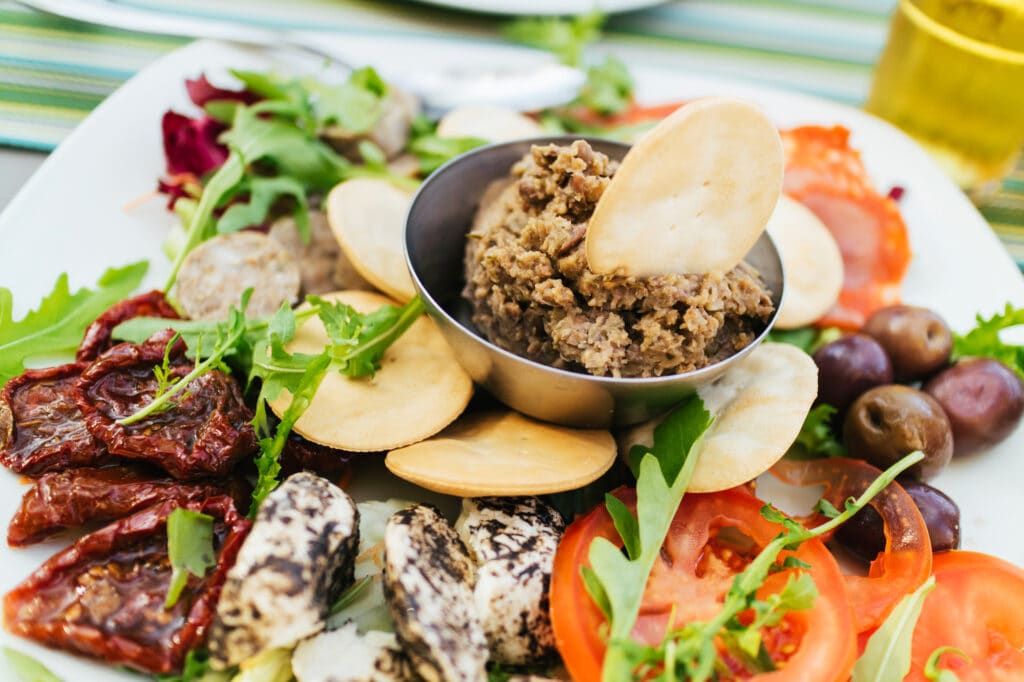 Bigilla – Maltese Bean Paste
Bigilla is a Maltese pureed bean paste very much like hummus and served either as an appetizer or a condiment. It is broad beans that are mashed with parsley, garlic and other herbs like basil or mint and combined with olive oil.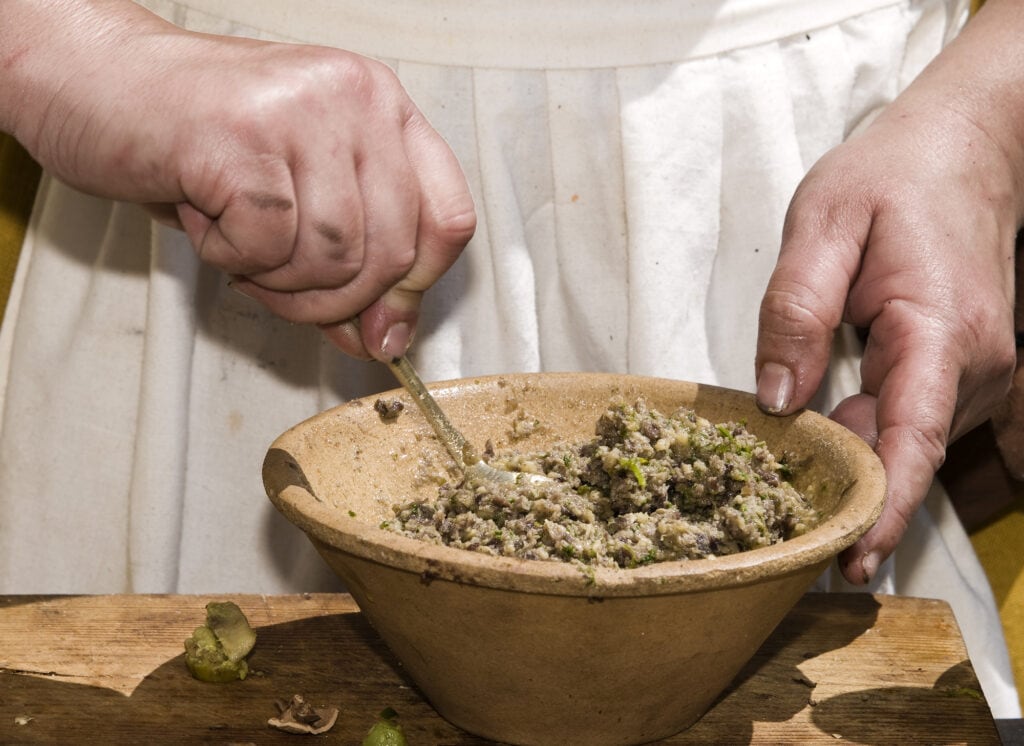 Zalzett Malti – Maltese sausage
The zalzett tal-Malti, the traditional fresh Maltese sausage, made from ground pork, sea salt, crushed black peppercorns and coriander seeds, garlic and sometimes parsley, it is considered a staple in Malta.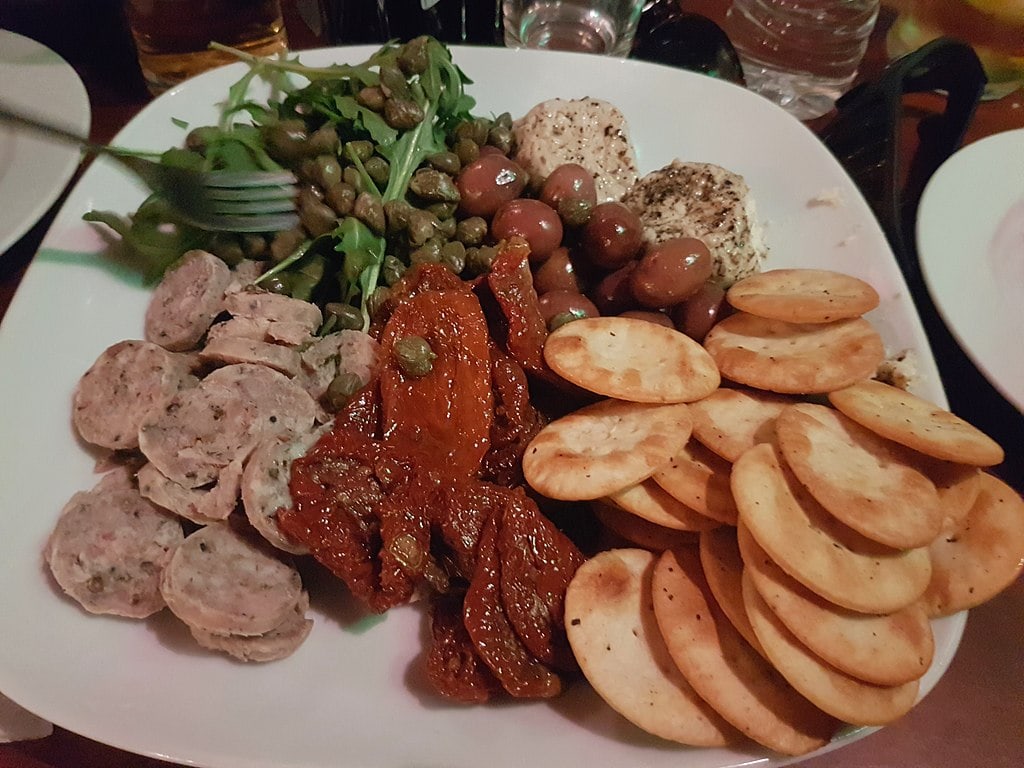 Gbejna – sheep's cheese
A small round of sheep's cheese is served fresh on a platter or wrapped in a pastizzi. Served on a platter with tomato, capers, olives and onions along with a lovely Maltese wine.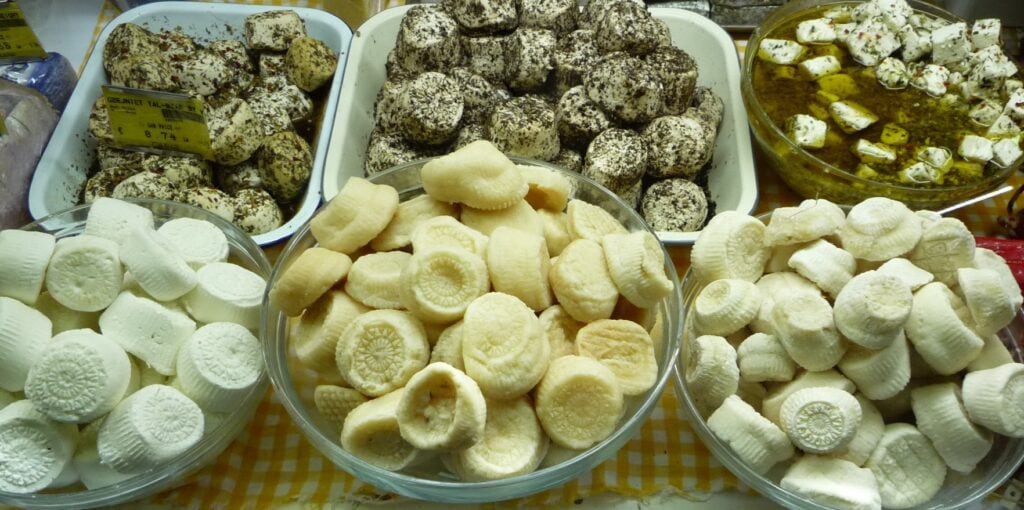 Qarabaghli Mimli fil-forn – Stuffed squash
Any time of squash can be stuffed with this tasty mix of pork, beef and Maltese sausages. The mix usually contains garlic, herbs, onion, tomato paste and cheese which is then stuffed into either a whole squash or sliced rounds of zucchini or long squashes.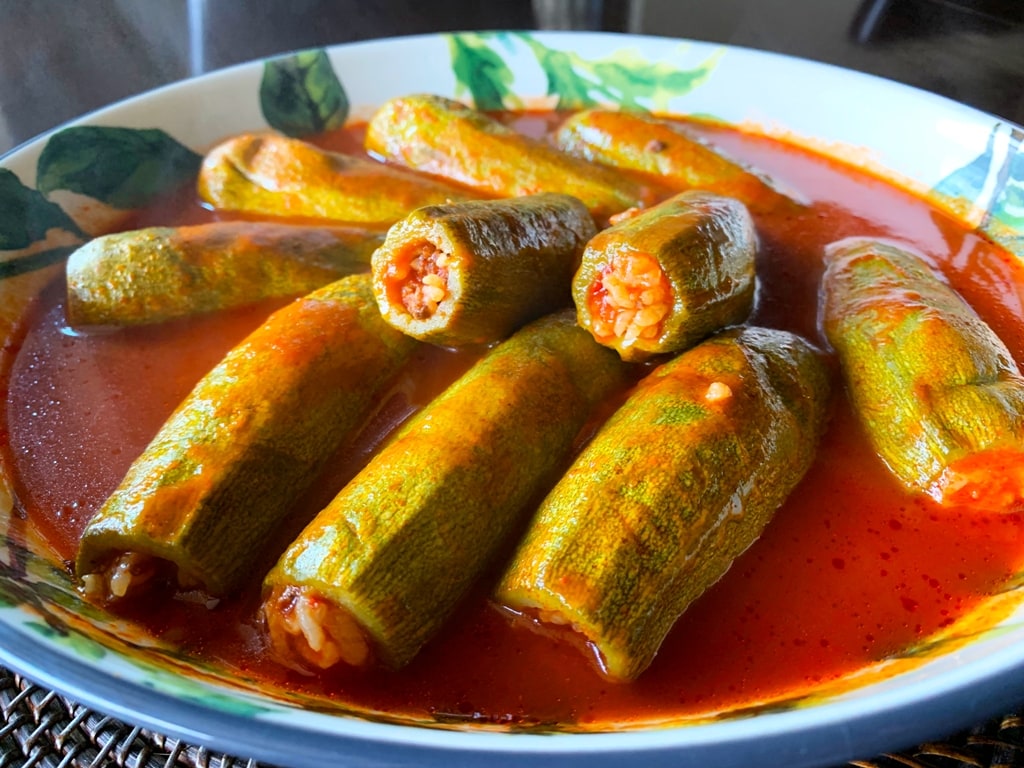 Bungiel Mimli – Stuffed Eggplant
Very much the same as the stuffed squash above the eggplants are baked with a crispy topping of breadcrumbs flavoured with herbs and garlic.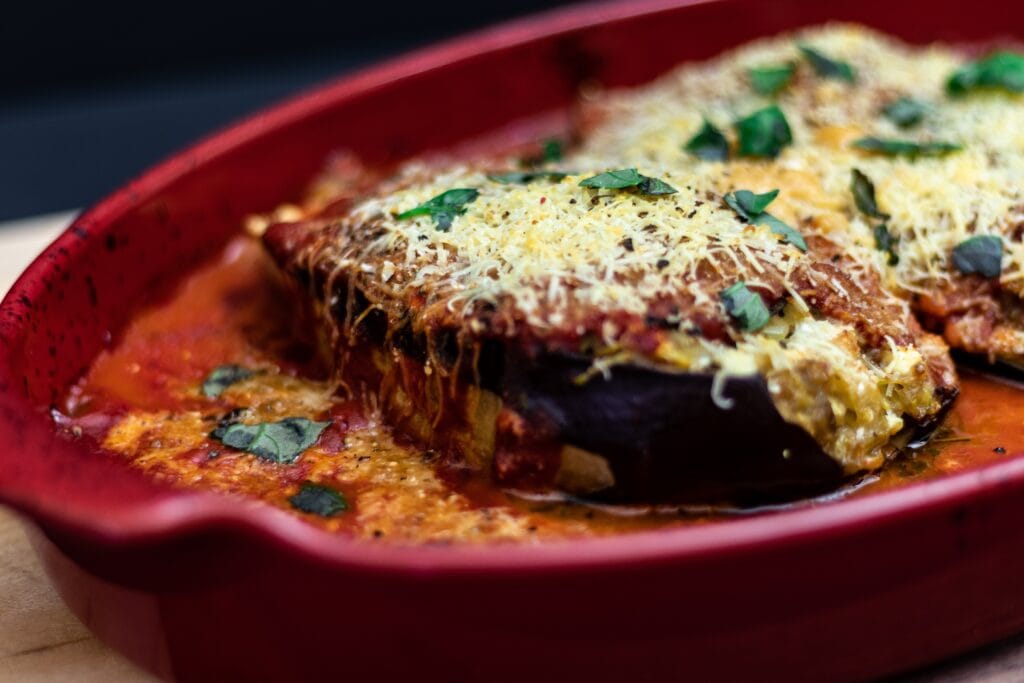 What to drink in Malta
Kinnie – the national drink of Malta
Kinnie the national soft drink of Malta was introduced to Malta in 1952 and it's made from bitter oranges and wormwood extract. To me, it tasted like Jaegermeister and it was horrible. But some love it and supposedly the Maltese adore it.

Ċisk
Ċisk is a local lager type of beer, very light and perfect for those hot Malta days. There is a low-carb version along with a Chill Lemon and Chill Berry variety available.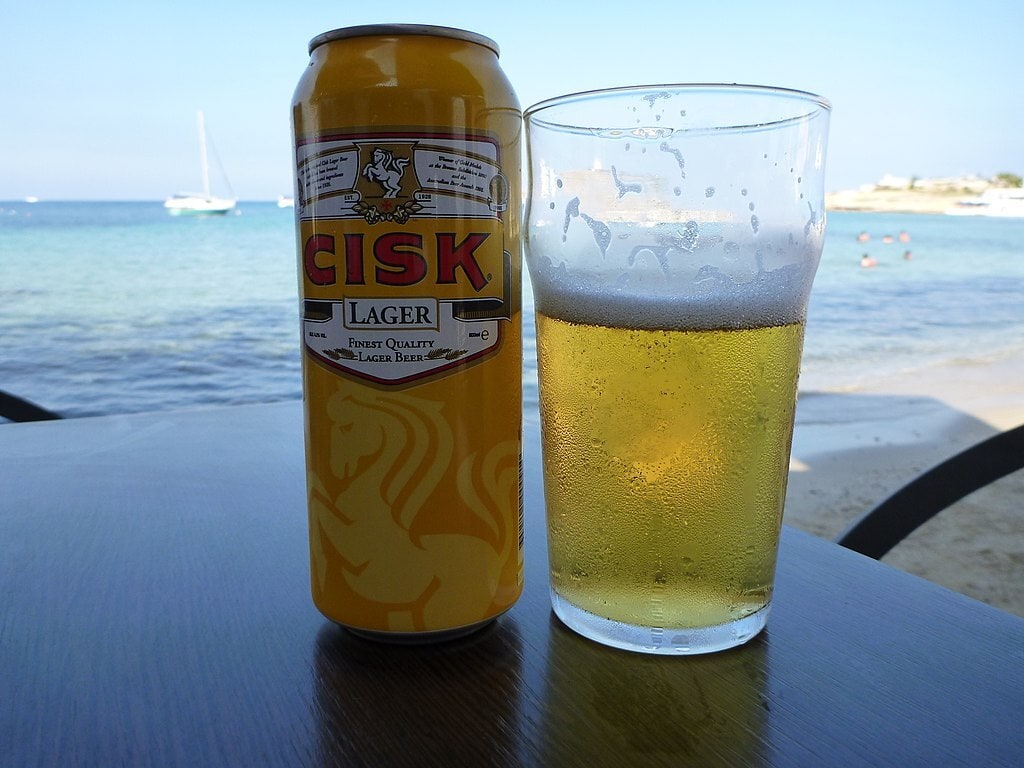 Where to eat in Malta – best places to eat in Malta
Here's a selection of some of the top places to taste authentic Maltese food.
Nenu the Artisan Baker
Nenu's is a very popular restaurant in Valetta and it offers a menu of authentic Maltese food. Said by the Maltese to be just like granny's the restaurant also offers In the workshop, visitors have the opportunity to participate in a hands-on experience of ftira-making.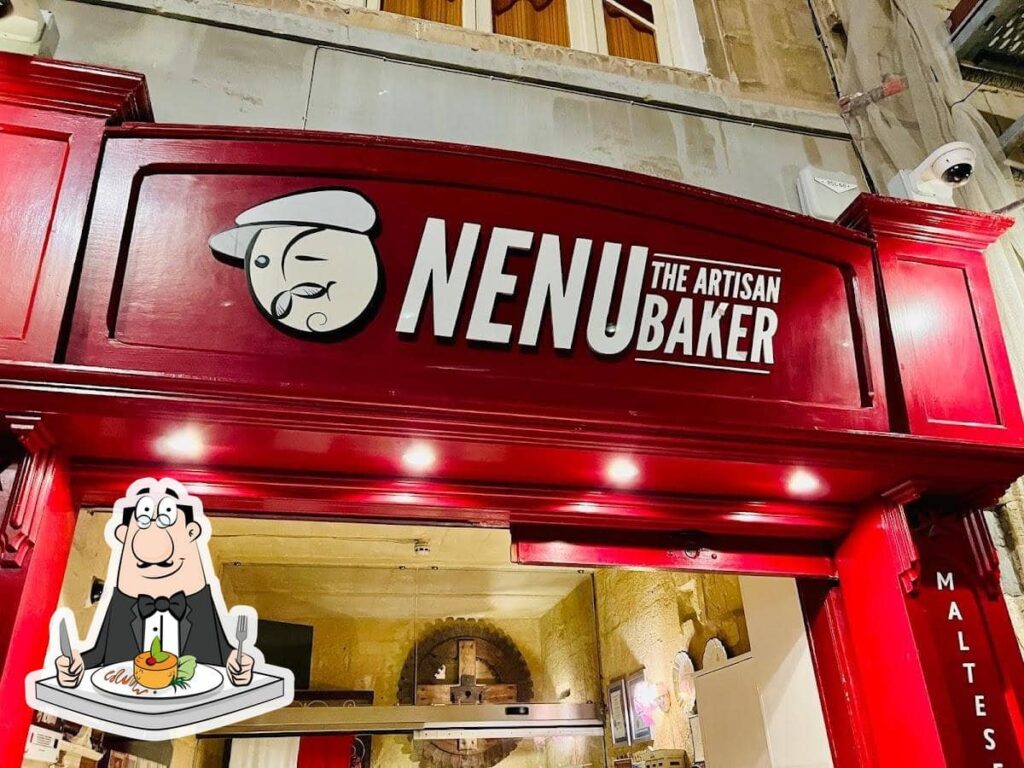 Caffe Gordina
Caffe Gordina Founded in 1837, the Cordina family started off from a small outlet in Bormla, where the shop began to specialize in the baking and preparation of traditional Maltese sweet delicacies. The shop re-located to Valetta in 1944 and became the place to stop for a coffee or tea and some fine pastries.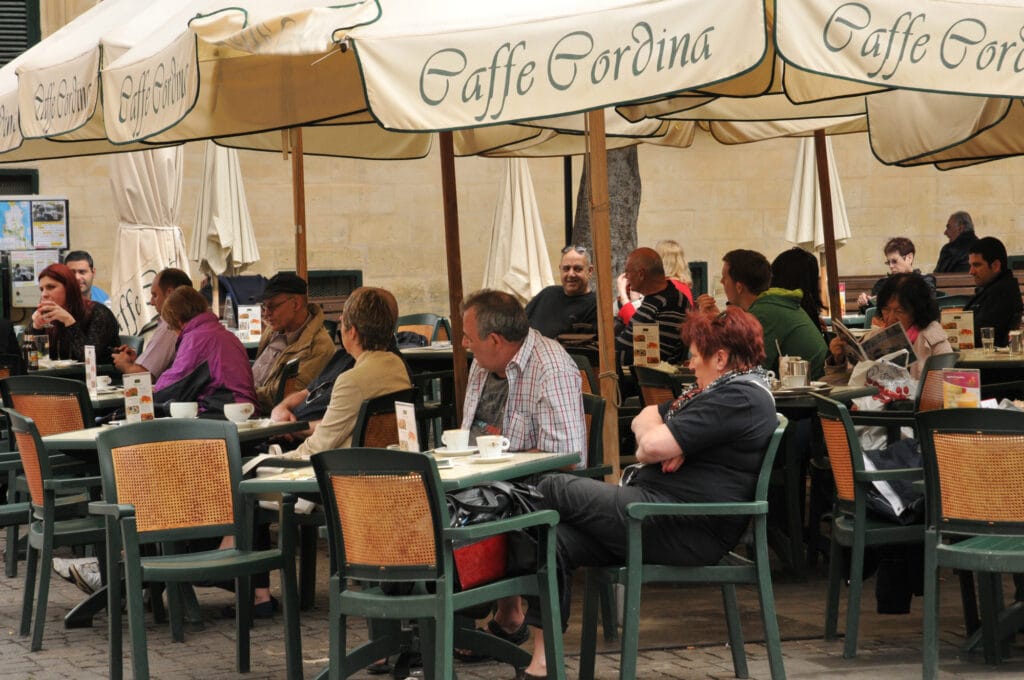 Rubina
One of the best traditional restaurants in Valletta is Rubino. Opened to clients in 1906, Rubino is one of the oldest establishments in Valletta. Originally a confectionery run by Vincenzo Rubino from Palermo, Sicily, it soon became a Valletta landmark. The restaurant serves many traditional Maltese dishes including many of those mentioned in this article. One of the best places in Malta for rabbit it is also famous for its ricotta-based cassata Siciliana.
Legligin
Chris, the owner of Legligin which is a wine bar, is a knowledgeable Francophile who has an impressive cellar full of wines from all over the world. The venue is a small and cosy room with rustic decorations and background of old French songs and jazz, the favourite music of the place. To accompany your wine, a variety of mezes are offered for tasting, with recipes inspired by the entire Mediterranean including hummus, marinated tuna, marinated mussels, and other Maltese favourites.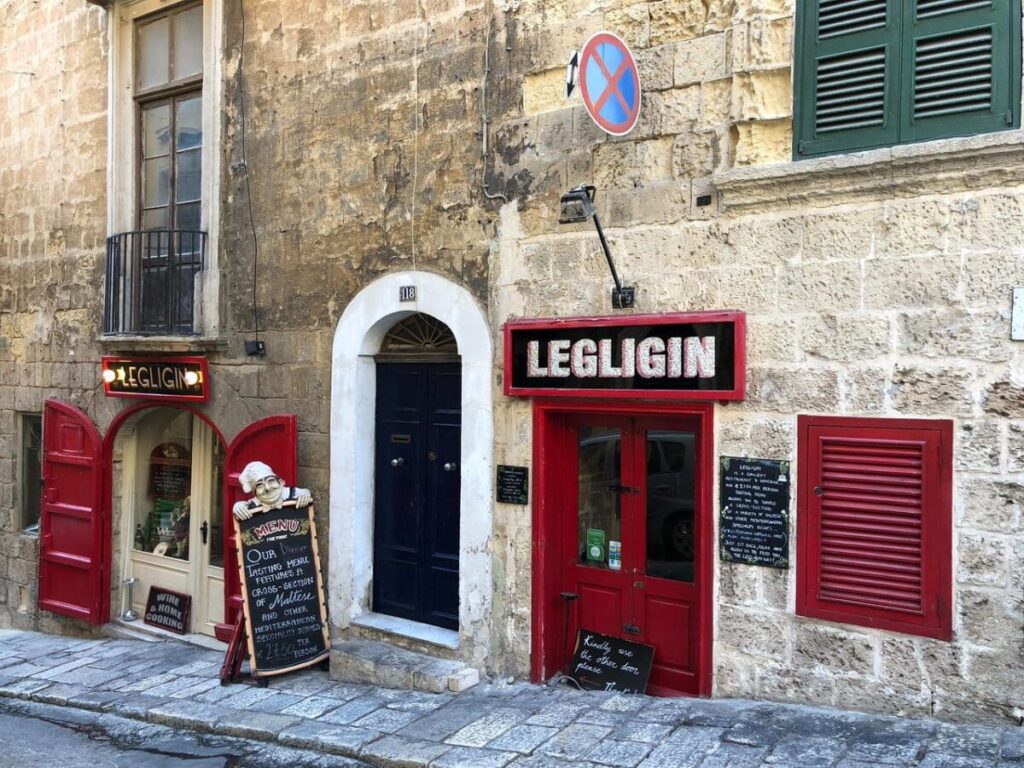 Maltese cuisine is a delightful fusion of Mediterranean flavours and influences that will tantalize your taste buds. From the comforting pastizzi to the mouth-watering rabbit stew, there's something for everyone to enjoy. So next time you find yourself on this beautiful island, don't forget to indulge in some of the local delicacies. Trust us, your stomach will thank you! Just make sure you pack some stretchy pants because once you start eating Maltese food, it's hard to stop. Bon appétit!
You might also like
How to Spend a fabulous 2 Days visiting Malta
Armenian food – 45 Armenian dishes you must try
36 Traditional Egyptian Foods to whet your appetite
Best tips for visiting Malta solo
Have you made it to Malta yet?