Finding Hidden Gems in Europe: 39 Unique Places to Get off the Beaten Path Europe
Once you've seen all the major sites in Europe, London, Paris, Rome, Dublin, Barcelona, Amsterdam, and maybe done the cruise route to Egypt, Malta, Italy and Greece perhaps it's time you got off the beaten path of Europe? There are many underrated European cities but you have to dig them out, in this article you will find 39 of the best-hidden gems in Europe to explore written by travel writers and locals.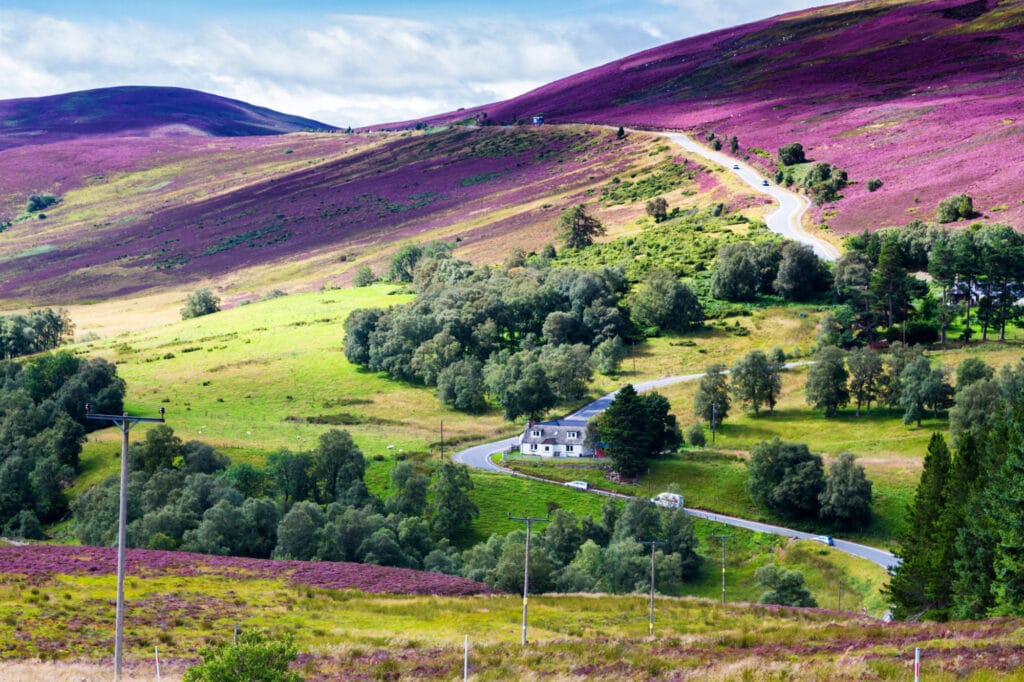 If you are looking for those magical places why not think about visiting some of Europe's best kept secrets? These are some of the top underrated destinations in Europe. All of these have been visited by top travel writers and bloggers and many are now on my Europe bucket list.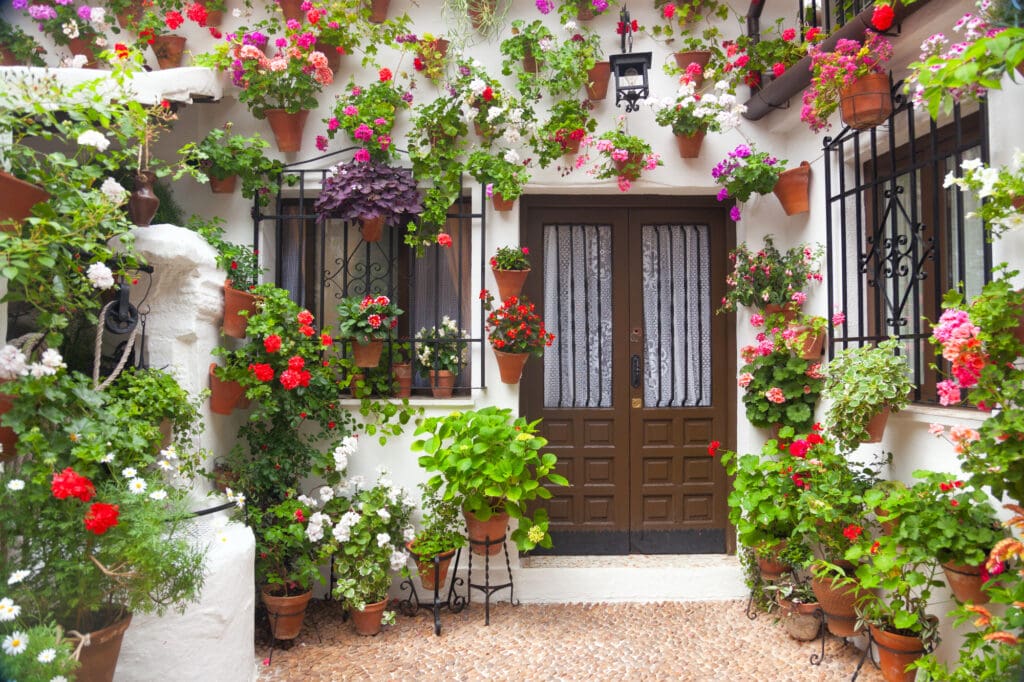 39 off the beaten path and best hidden gems in Europe
So if you are thinking of how to get off the beaten track in Europe here are 35 unique places to visit in Europe. There are so many places in the very best of Europe you haven't visited yet and here are some great European hidden gems to add to your bucket list.
Xyuandbeyond is reader-supported. When you buy through links on our site, we may earn an affiliate commission. You can read my privacy policy here.
Europe off the beaten path is said to be the goal of travellers for the upcoming years by the travel media. Folks are tired of tourist traps, too many crowds, overpriced hotels and meals and want more once-in-a-lifetime experiences in Europe I know this is a pretty long article to get through but 39 of my fellow travel writers contributed their favourite unexplored places in Europe to visit that you may love..
Kefalonia – Greece
The island of Kefalonia Greece is full of nice sights and scenery, and it's not as busy or crowded with tourists as some of the other Greek islands, like Zakynthos or Santorini. This is one of the hidden gems of travelling in Greece.
Kefalonia (also spelt Cephalonia) is located in the Ionian Sea west of mainland Greece, and it's a relatively large island, so you'll want to spend at least three or four days exploring everything.
Any list of the best things to do in Kefalonia would have to include the amazing Melissani cave. It has an underground lake which you can tour with a short paddleboat trip, and it's unique and wonderful.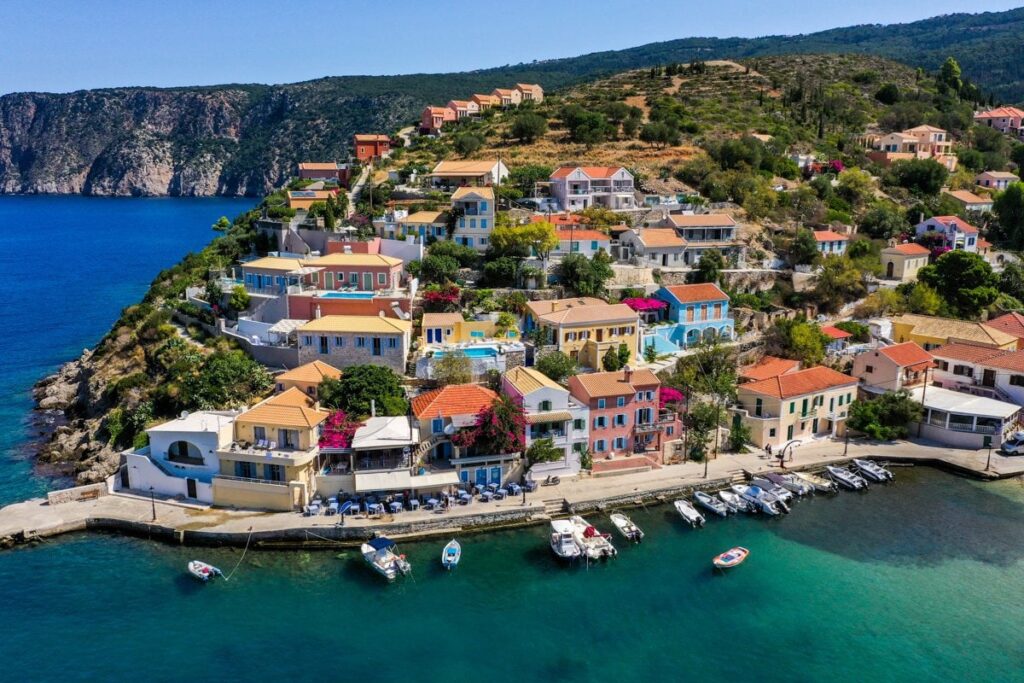 Nearby, you can relax at the family-friendly Antisamos beach. It's easy to reach from the town of Sami, and there are plenty of amenities. The water is clear and great for swimming!
Last, but not least, you should see the Myrtos viewpoint and beach. This is a spectacular roadside viewpoint with amazing scenery above Myrtos beach, which is a white pebble beach surrounded by steep cliffs on all sides.
Kefalonia island can be reached by flight or ferry. There are daily nonstop flights from Athens, as well as some international cities like Amsterdam, London, and Munich! Contributed by David & Intan of The World Travel Guy
Greek Food Guide: 49 Traditional Dishes to Look For in Greece
Vejer – Spain
Vejer is one of the famous white towns in Spain full of breathtaking views. The city is famous for monuments, nature, beaches, and its small white villages. We will take you on a virtual tour of the tourist spots of the city and what you can do there.
Visit the castle of Vejer to witness the astonishing views. In addition, you can see the sunset from the terrace. Also, take a walk through the castle garden. Go to Vejer de la Frontera for a shopping day. You can find artisan and clothing shops.
Calle de la Corredera is a great place to eat and drink. Moreover, Califa tapas is best to taste some Moorish-inspired tapas dishes. Pay a visit to Puerta de la Segur to have a glance at medieval times.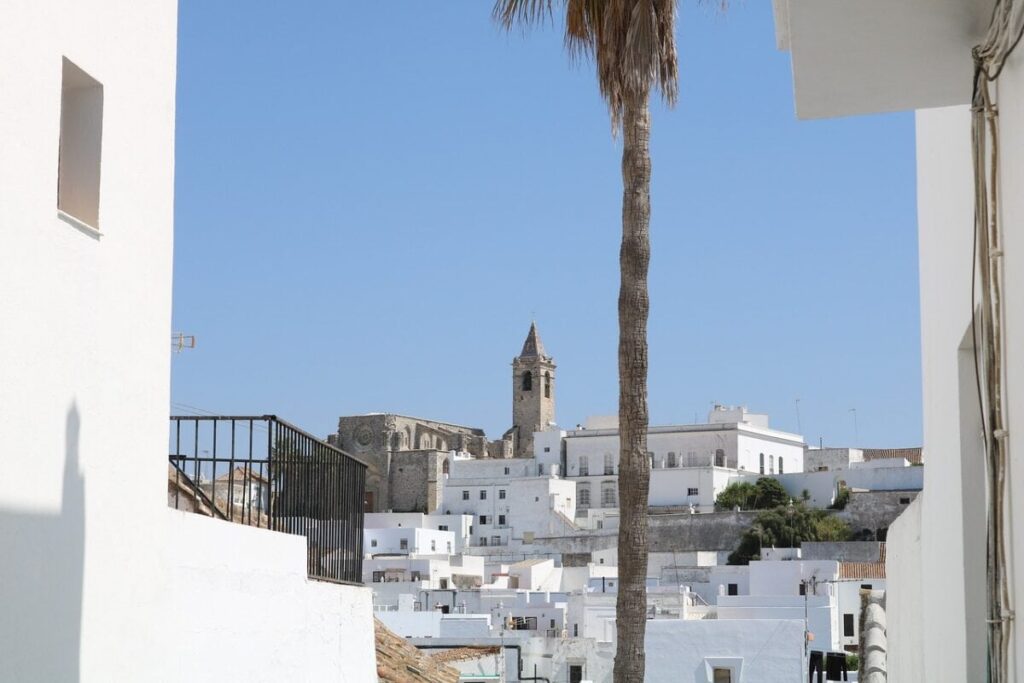 When in Spain, don't miss out on the white villages in Andalucia. Setenil de las Bodegas, lovers, Ubrique, etc are some of the stunning villages in town. Furthermore, Vejer de la Frontera is a perfect place for hiking. San Francisco and San Antoni, San José are the best options.
Go to Arcos de la Judería to take photos of picturesque locations. Stroll along the paths of Mirador de la Corredera. El Zoco de Castillo is one of the popular tourist spots. Contributed by Paulina of Paulina on the road.
Ultimate Southern Spain Road Trip
Cavtat – Croatia
One of the best hidden gems in Crotia is Cavtat. A short trip down the coast from crowded Dubrovnik lies Cavtat, Croatia. This less famous- but arguably more charming- European destination offers all the amenities of an ancient seaside city without the crowds or the high prices.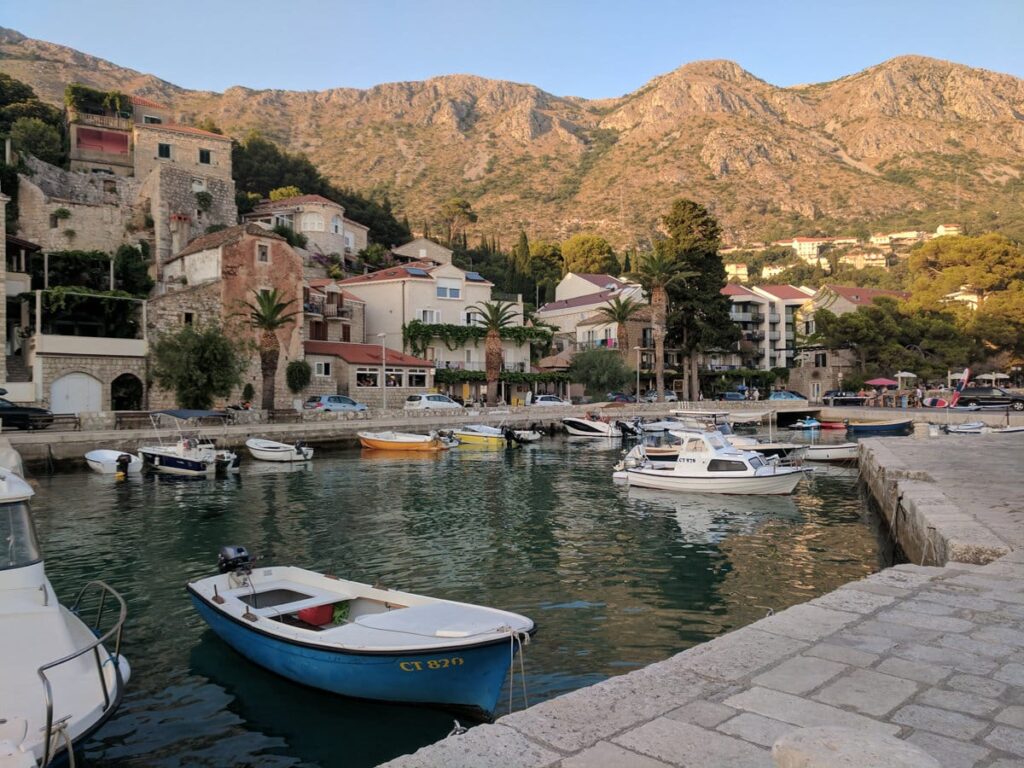 Even during peak tourist season, travellers will have the streets, steps, and passages of Cavtat's walled city mostly to themselves. After exploring the city, travellers will find a tranquil harbour with restaurants, guesthouses, and a marina- all positioned for enjoying the perfect view of a sunset over the Adriatic Sea.
Cavtat is best enjoyed as a quieter, slower-paced option for travellers who want to visit Dubrovnik and nearby Lokrum Island while mostly avoiding overcrowded tourist spots. Despite being a lower-priced option than Dubrovnik, Cavtat offers a huge number of dining options and art-filled shots (thanks to the yachters who prefer this marina over the more industrial docks to the north).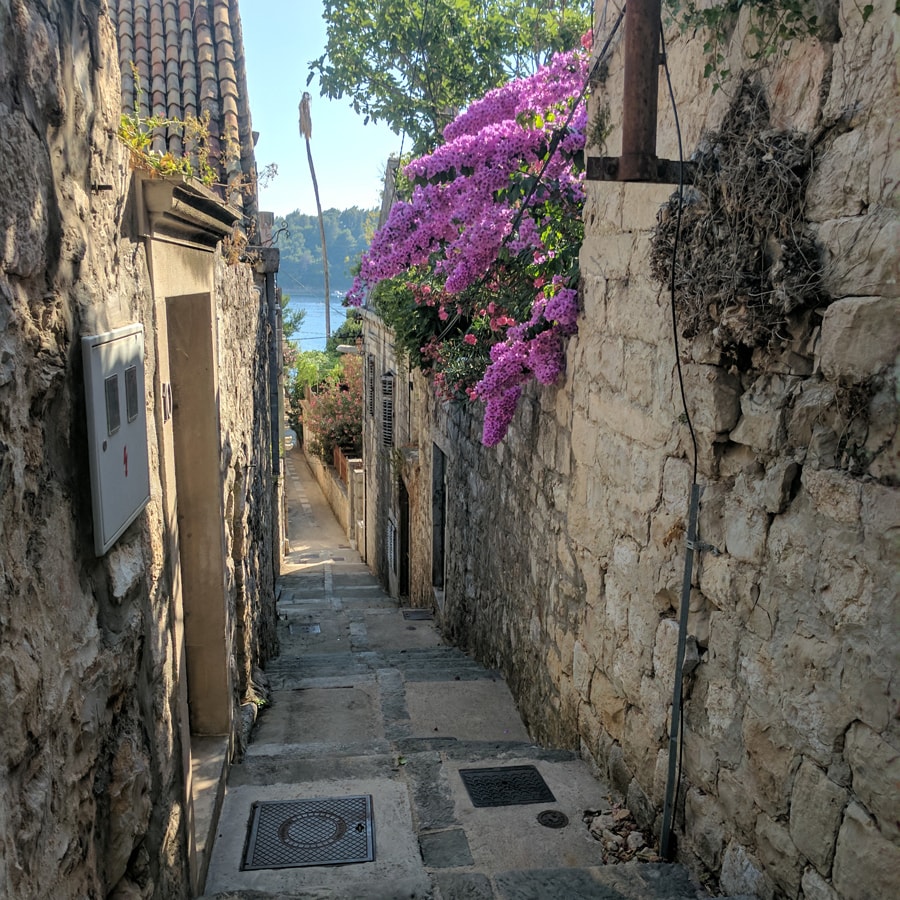 Getting between Cavtat and Dubrovnik is easy, affordable, and stylish- speedboat water taxis leave the harbour hourly. After a quick trip along the coast, travellers have the dramatic and delightful experience of arriving at Dubrovnik's famous old port by sea. Contributed by Lynli of WanderBig.com
Croatian food – Discovering the delicious food of Croatia
Westman Islands – Iceland
Easily one of the best-hidden gems in Europe, the Westman Islands is an incredible group of 16 islands that are located around 4 miles away from the southern coast of Iceland.
Enshrouded in mist, these are some of the prettiest islands in the country and are well-located near many of the south coast's top attractions.
They are also incredibly easy to access by ferry. Just hop aboard the Westman Islands Ferry at Thorlakshofn during the winter and Landeyjahöfn in the summer and expect to spend around $90 USD for two people and a car.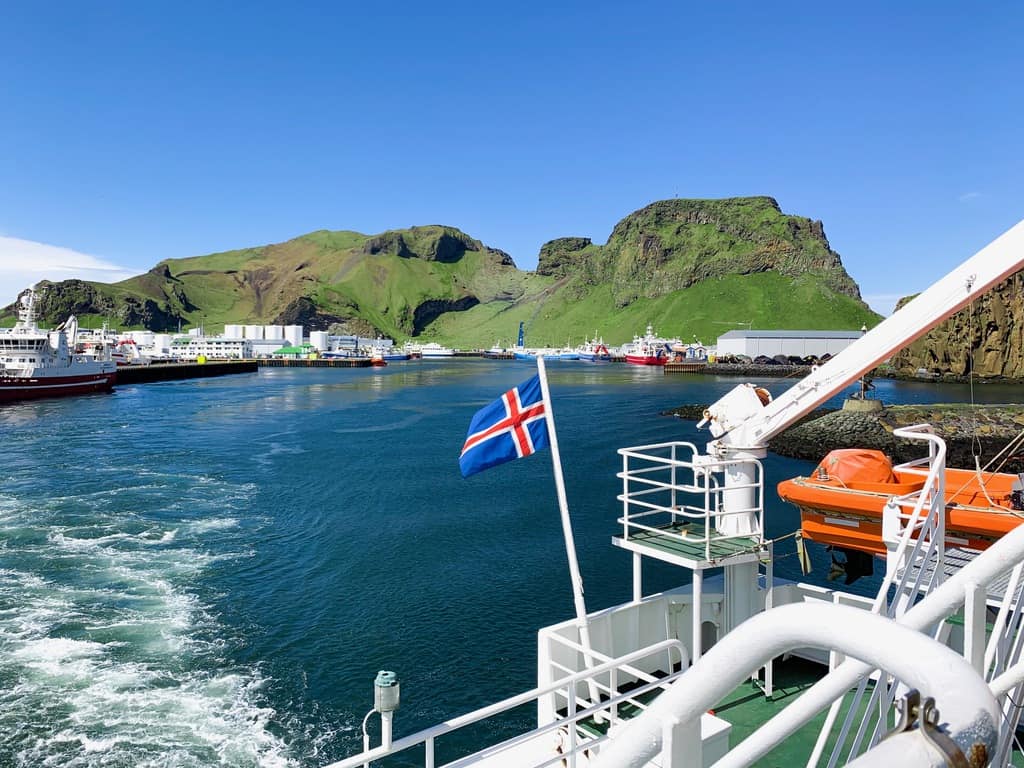 Then, once on the islands, plan to spend around two days here so that you can enjoy area highlights like the Heimaey Stave Church. In fact, this is actually the only Stave church in the entire country and is not to be missed while visiting the islands.
Next, head to Stórhöfði which is known for being the windiest place in Europe and the southernmost spot in the country. Feel free to walk along the cliffs here and take in sweeping views of the surrounding islands.
Then make your way to Stórhöfði and say hello to upwards of 700,000 puffins that call this place home all summer long. Just try and time your visit for either early in the morning or late at night since these wonderful creatures tend to spend much of the day fishing in the ocean." Contributed by Victoria of Iceland Trippers
Traditional food of Iceland – 36 dishes to try
Alberobello – Italy
With its rich cultural heritage Italy is one of those places that is a must visit. But if you want to avoid the tourist crowds why not choose the most beautiful places in Europe including Alberobello. Charming Alberobello, in the region of Puglia in southeastern Italy, is one of the prettiest places in Italy. The small town of Alberobello seems like a fairytale town. Alberobello is famous for its unique Trulli houses that appear like hobbit houses.
The town of Alberobello has only about 10.000 residents but more than 1.600 trulli houses. Thus, Alberobello is often called the hobbit town in Italy. Trulli (pl., trullo sg) are traditional dry stone houses with domed or conical roofs and circular bases. Tulli huts were historical agricultural storage places and residential homes of peasants of Alberobello.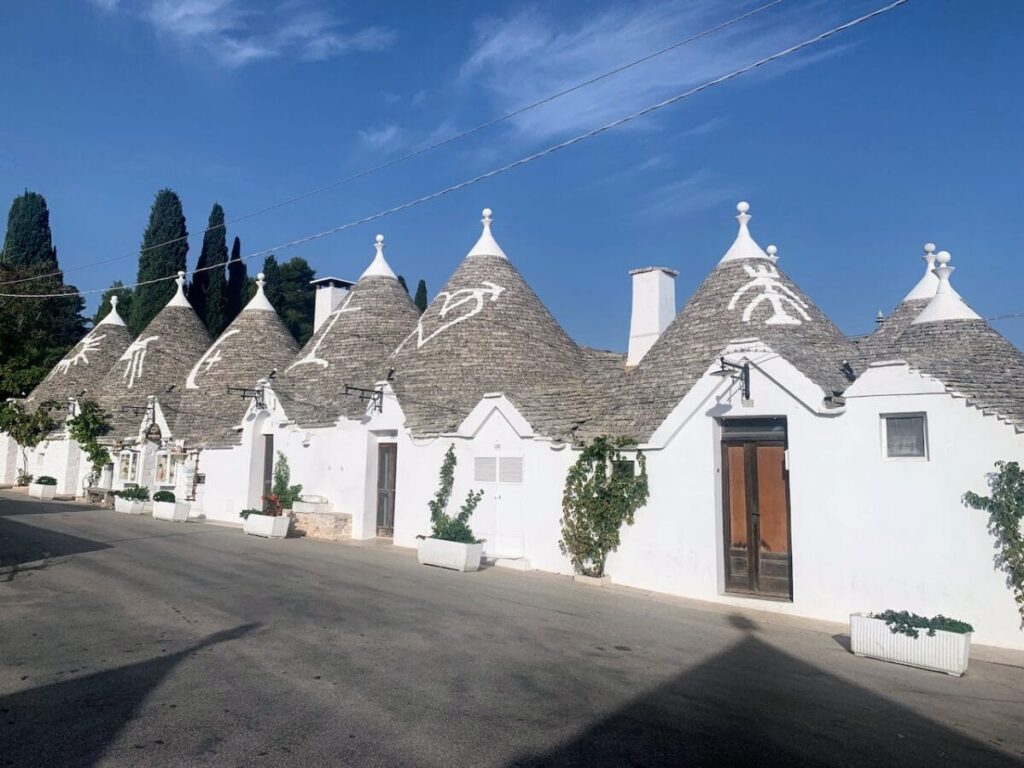 1996 UNESCO declared trulli of Alberobello a World Heritage Site. Today many trulli huts are converted into rental holiday homes, boutique hotels, bars, restaurants, and souvenir shops.
A visit to tiny Alberobell takes a few hours on average. Wandering around the adorable trulli houses of Rione Monti and Rione Aia Piccola, visiting the unique trullo church of St Anthony, and lovely Trullo Sovrano and Trullo Siamese are some of the best things to do in Alberobello.
While tourist crowds head to cities like Rome, Florence, or Venice, charming Alberobello is still off the tourists' radar. However, Alberobello is getting more and more on the popularity each day. So, if you want to see one of the most charming places in Italy, head to Alberobello before the crowds arrive.
Alberobello is 55 km/34 mi from Bari in southeastern Italy and is among the most popular day trips from Bari. Contributed by Milijana of World Travel Connector. Contributed by Lowri of Many Other Roads
Dining in Italy – 19 Do's and Don'ts
Dolgellau – Wales
If you're looking for a place to explore in Europe that's off the beaten path, then look no further than Dolgellau in Snowdonia!
You will find Dolgellau hidden in Snowdonia National Park in Wales, UK. What makes it so special is its impressive natural beauty, from lush green mountains to peaceful blue lakes and cascading waterfalls.
It's a great destination for outdoor enthusiasts looking for some adventure. It offers its visitors an amazing range of outdoor activities such as kayaking, rock climbing, mountain biking and more – there's something for all ages, from thrill seekers wanting to explore the area's rugged landscapes to those looking for a relaxing walk along one of the many enchanting riverside trails.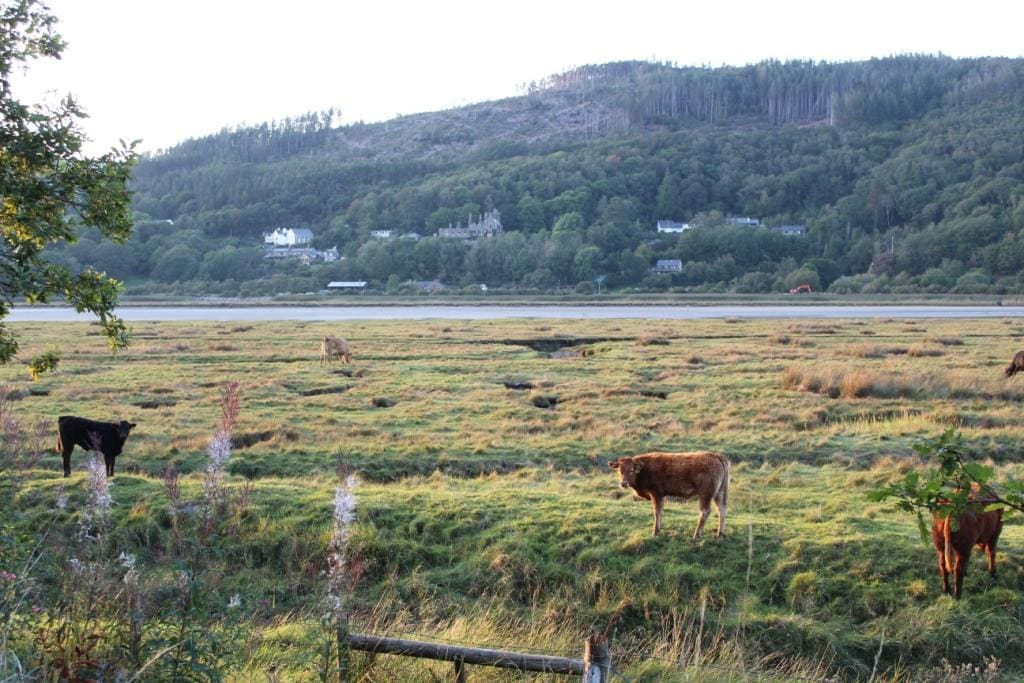 You'll also find an array of cultural attractions, including a monthly farmers market, interesting museums, stately castles and charming traditional pubs. So no matter what type of trip you want, you can find it all here.
The best time to plan a visit to this part of the UK is the summer months (June-early September). The weather is usually a lot warmer and there is less rain. However, you always need to pack a raincoat when visiting Wales. This hidden gem also has some fantastic places to stay for all-even the dog!
Finally, the wonderful people who call this place home make Dolgellau an even more inviting destination. Whether you're after a quiet getaway or an active trip full of exploration and discovery, you won't regret heading off the beaten track to visit this hidden gem in Snowdonia!
22 Historic Towns in Wales You Should Visit Now
Best Castles in Wales to Visit
North Wales coast path: the Pilgrims way Wales
29 Awe-inspiring things to do in Wales
Traditional Welsh food: 25 Most popular Welsh foods
Avrig – Romania
If you're thinking of visiting Eastern Europe and looking for a hidden gem, consider Avrig, Romania. In the Olt Valley and at the foothills of Fagaras Mountains, in Romania's Transylvania region, you'll find a tiny city called Avrig. Just 26 km from Sibiu, Avrig can easily be explored on a day trip and also combined with visiting the Clay Castle in Fairies Valley.
Brukenthal Palace is the main attraction. The ballroom is used for a lot of events, including the Transylvania Tango Experience, which takes place annually and is dedicated to tango dancers in Romania and abroad. If you want to meet the tango instructors from Transylvania (including myself and my partner), this is the place to come in April each year!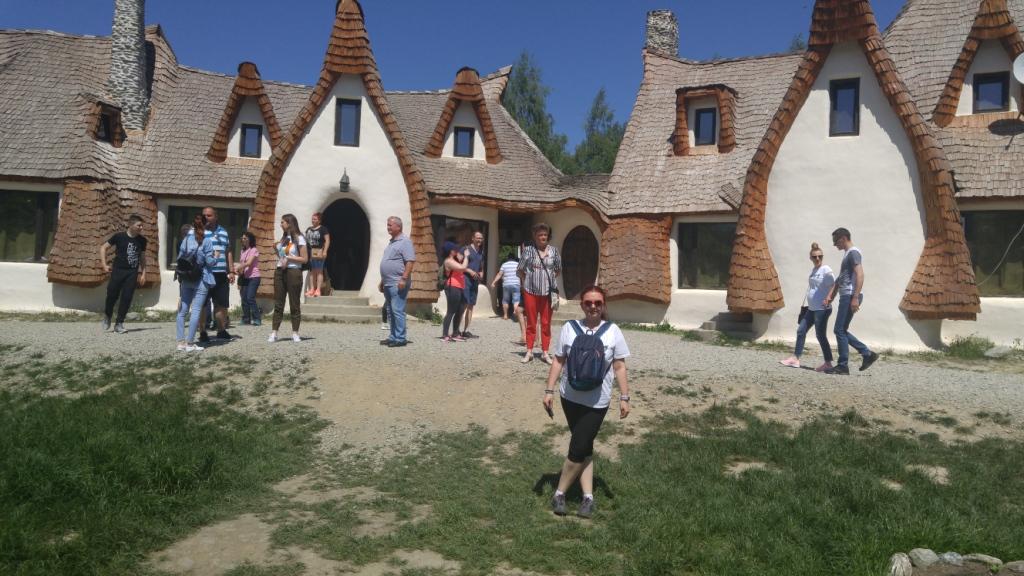 There's accommodation available on-site, as well as a restaurant (with slim pickings for vegans, though). The castle can be visited (provided there's a reservation made in advance) but the gardens can be explored without any restrictions.
A popular place to explore while you are in the area is the Clay Castle in Porumbacu de Sus, about 20 min by car from Avrig. It's a highly popular destination for day-trippers so you might want to avoid visiting over the weekend. The castle is tiny and you don't need to spend too much time here, but it makes for some nice pics (and if you travel with kids, they'd be delighted by the experience).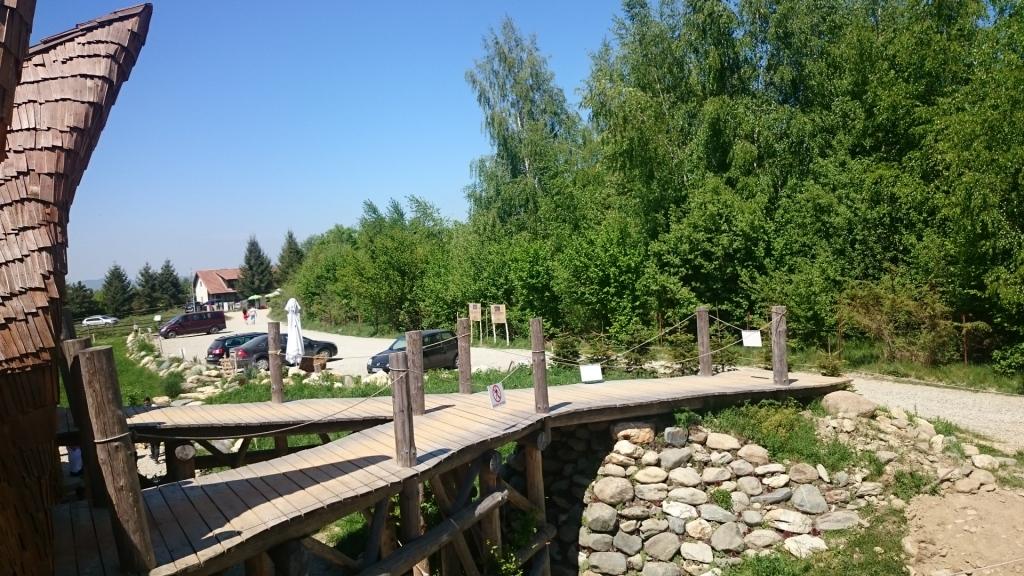 If you don't want to stay at the castle, Avrig has quite a few accommodation options. Or better yet, stay in Porumbacu de Jos (literally in the mountains, with access to plenty of hiking trails) or Sibiu (which is a bigger city with loads of things to do, including more tango if you wish). Contributed by Cris of LooknWalk
20 Awesome Things to Do in Bucharest
Zakopane – Poland
If you're travelling to Poland or looking to visit a hidden gem near Krakow, then consider making your way to the small town of Zakopane. Located in the Tatra Mountains in the southern part of Poland, Zakopane is the perfect destination for anyone looking to take a break from the fast pace of Krakow.
This cosy highland village may be a small town but has plenty to offer visitors. For example, visitors to the area will likely notice that most buildings are made out of wood. This is because the area is famous for its Zakopane-style architecture, which dates back centuries ago. Thus, it's worth going around to admire the gorgeous woodwork of the wooden chalets and buildings!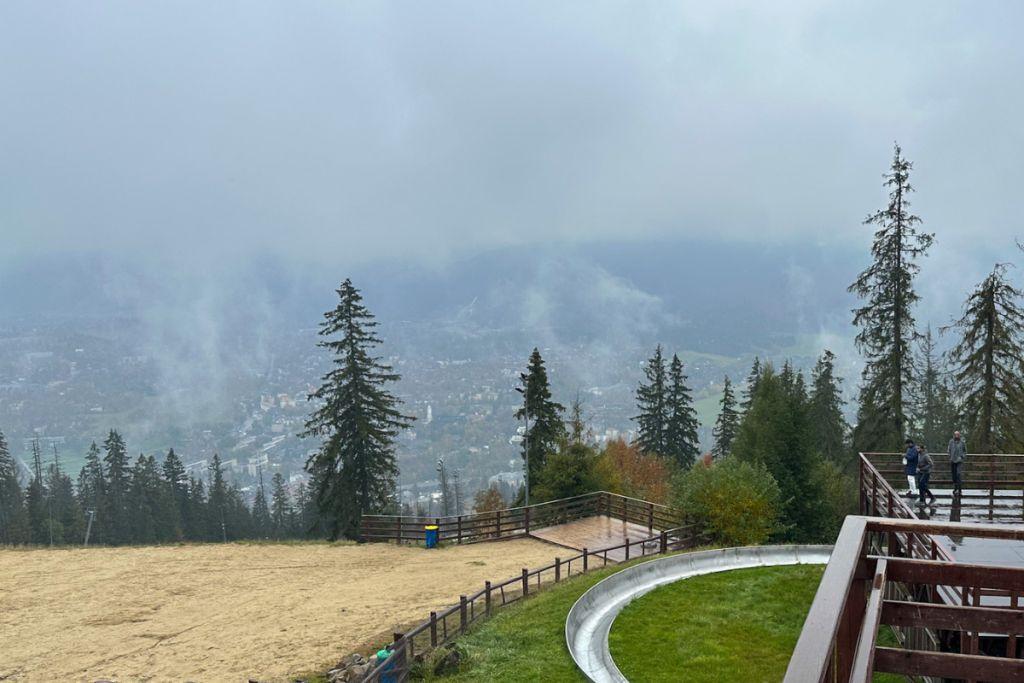 For those looking for outdoor activities to get your heart rate up, Zakopane is the perfect place to go hiking during the summer or skiing in the winter. The small town is home to many trails that pass along the Tatra Mountains and offer incredible views. Meanwhile, these mountains are covered in snow in the winter months, making the town heaven for anyone who loves skiing.
Therefore, if you're ready to escape into the gorgeous outdoors, consider heading to the lovely town of Zakopane! Contributed by Kristin of Global Travel Escapades
The absolute best things to eat in Krakow Poland
Ugljan Island -Croatia
Ugljan is a beautiful island in Croatia and definitely still one of the best-hidden gems in Europe. This pearl is located in the Zadar region of Dalmatia. Although the island is only 20 minutes by ferry away from the famous coastal city of Zadar, this authentic place is far from mass tourism. The special thing here is the peaceful atmosphere as well as the perfect natural landscape with numerous Mediterranean forests and many charming beaches.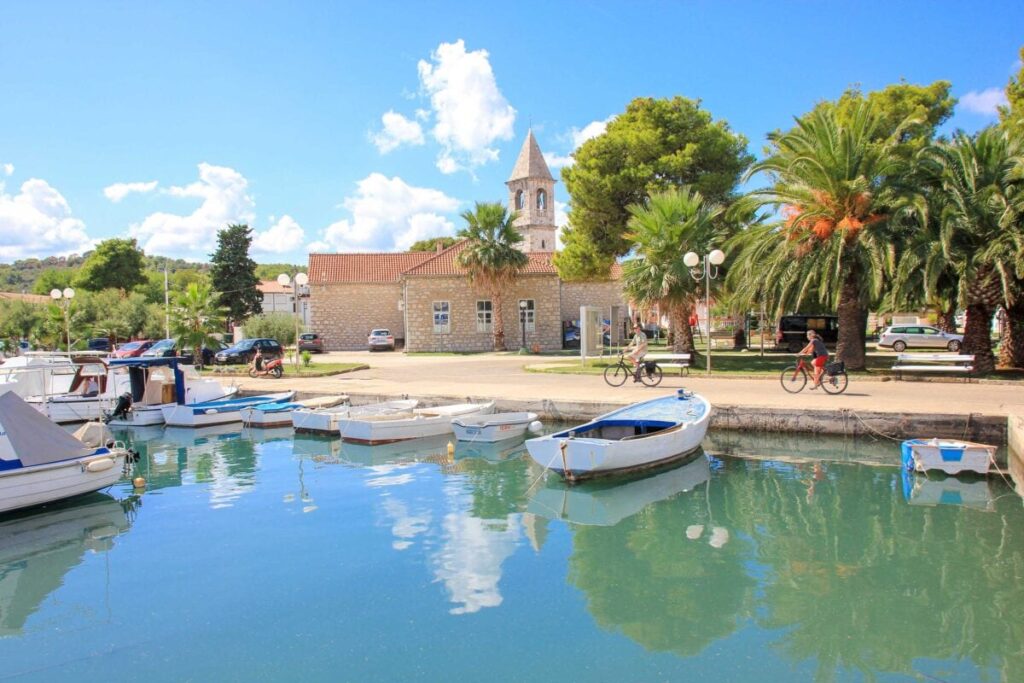 Impressive and truly unique are the many small, romantic fishing villages on the east coast, which provide an unforgettable time by the sea. The best place in Ugljan is probably the village of Preko. This beautiful Dalmatian old town invites unforgettable days by the sea. From there you should also visit the monastery island of Galovac.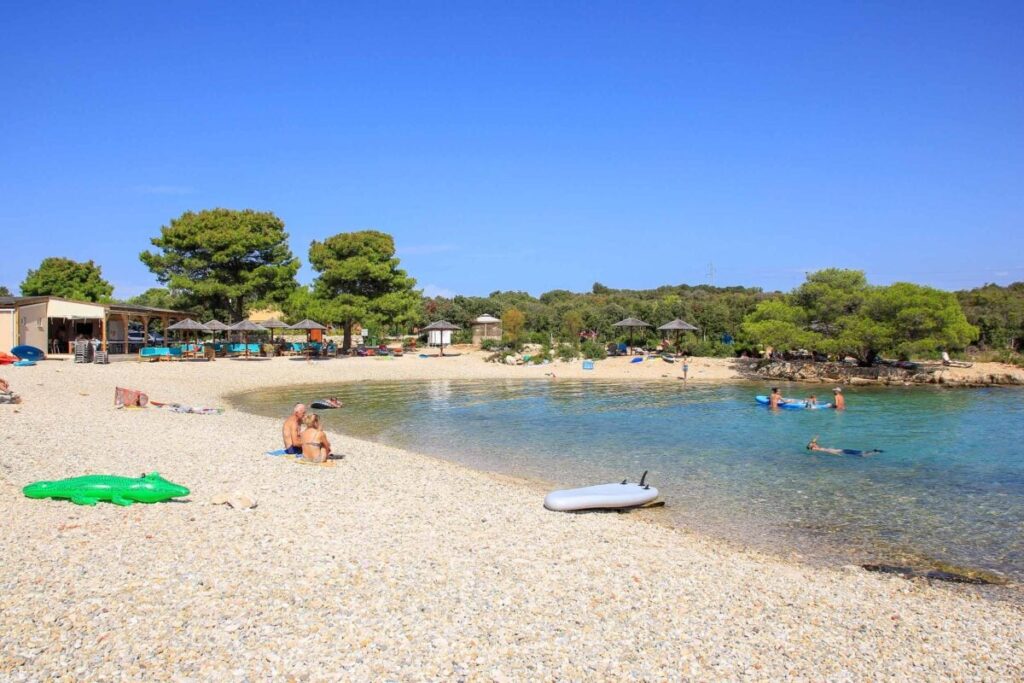 Another highlight of the island of Ugljan is the fortress of St. Michael which dates to the 6th century. It is especially worth a visit at sunset, as you can experience the most stunning panoramas from here. Another gem worth seeing is the pretty harbour town of Kukljica. With its colourful houses, it is truly picturesque, and thanks to the many excellent restaurants, it is the perfect place for an unforgettable dinner. Contributed by Martina of PlacesofJuma
The Ultimate 7-Day Croatia Itinerary
Zabljak – Montenegro
Zabljak is a true hidden gem of the Balkans. This small town is tucked away in the mountains of Montenegro and is a true nature lover's paradise. Located in the Durmitor mountain range, this is the highest town in all over the Balkans.
One of the top attractions in Zabljak is the black lake, which has the shape of an 8 and is surrounded by trees. The Black lake is unique because the colour of the water changes, and sometimes has a deep turquoise colour (depending on when you visit). There is a trail that goes around the perimeter of the lake and takes around an hour and 20 minutes to complete, or you can simply enjoy the views of the lake at the restaurant on site.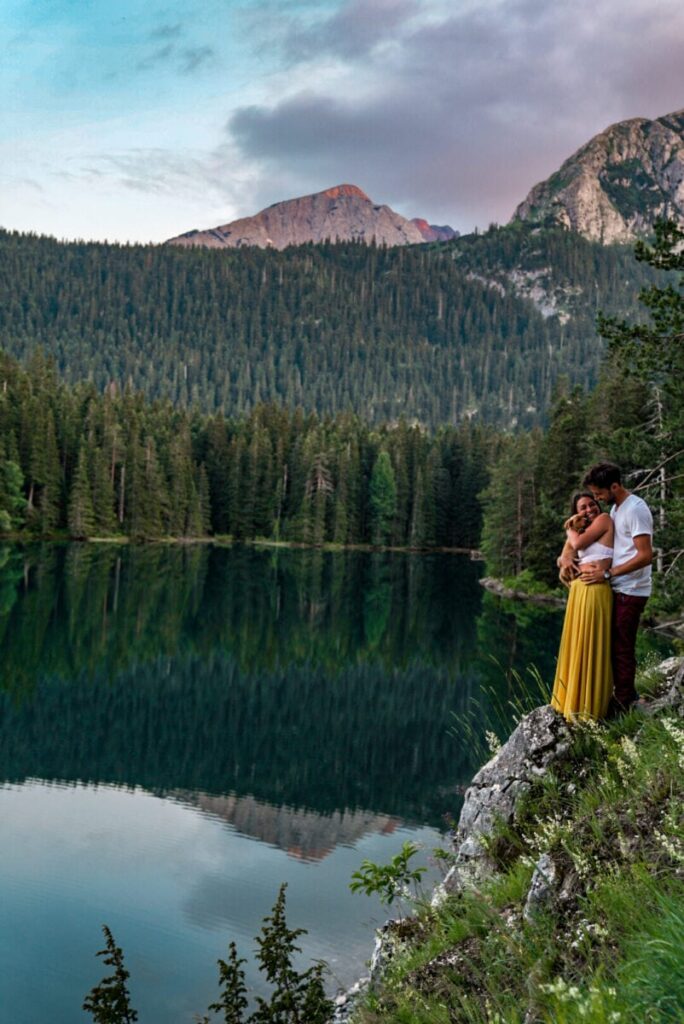 Zabljak is known for its beautiful landscapes, and it's great to drive around and explore the viewpoints and canyons, as well as to go on one of epic hikes such as "Bobotov Kuk". The town of Zabljak is small and is full of adorable mountain homes with locals hosting them.
There are plenty of tours that you can take, one of our favourite day trips being rafting. You can sign up for them online in advance, or simply speak to your host upon arrival.
Want to learn more about Zabljak? You can check the full guide by Scratch Your Mapa by clicking here. Contributed by Danielle of Scratch Your Mapa
Aber Falls – Wales
Hidden in the northern part of Snowdonia National Park, Aber Falls is an amazing place and one of the best secret spots in Europe. Surrounded by Carneddau mountain and located 2 miles from the nearest village Abergwyngregyn require a bit of effort to get there.
Half an hour's hike from Aber Falls Car Park will take you to bluebell woodland in one of the ancient forests in North Wales. Then, a 37 m tall waterfall will emerge between lush greenery and the rocky landscape of Snowdonia.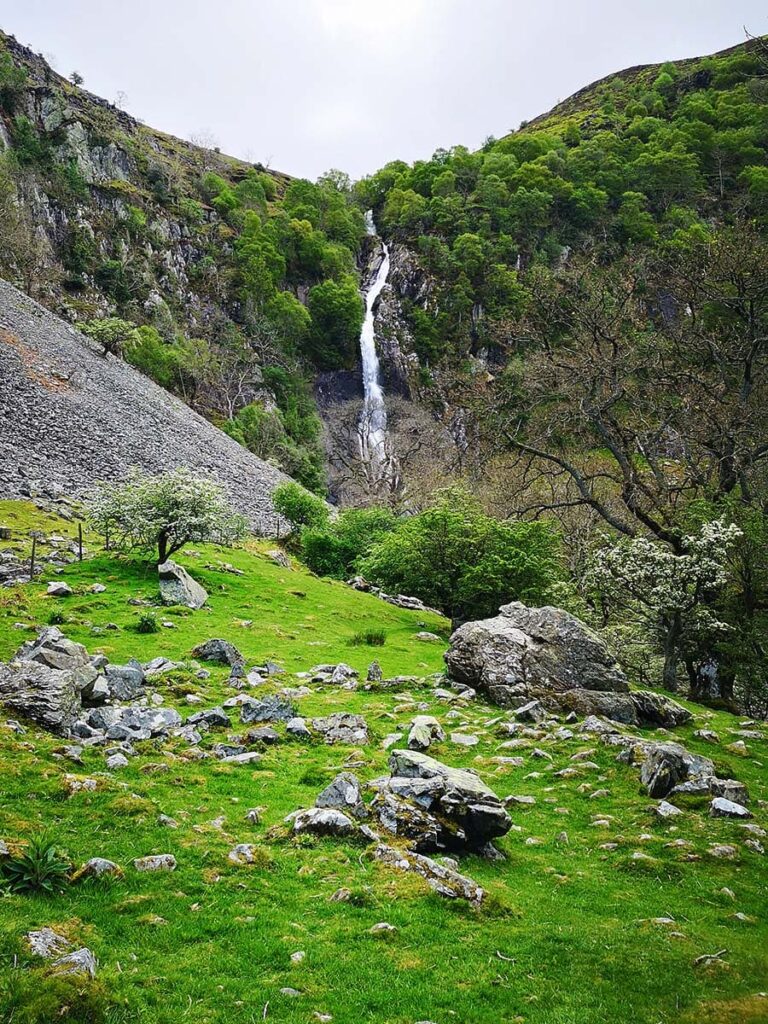 Visit to Aber Falls is a great way to begin your journey of exploring some of the best waterfalls in Wales. This waterfall country has plenty of hidden gems that are still unexplored by many tourists due to other popular locations like Iceland.
Getting to North Wales is much easier than many tourists would expect. All you need to do is to book a flight to Liverpool Airport, rent a car and drive less than 2 hours to get to Aber Falls. Make sure to also visit Aber Falls Distillery dating back to the early 1900s. It is one of the first to be opened in North Wales and there are only four of them in the whole country. Contributed by Paulina of the UK Every Day
25 Traditional Welsh food dishes
Zierikzee – Netherlands
Zierikzee was never really on our radar. To tell you the truth, if it wasn't for our friends who lived in the area, we probably would never have made it to this quaint little town.
Located in the Dutch province of Zeeland, Zierikzee gets most of its tourist footfall during summer when the days are warmer and the beaches nearby are more attractive. We arrived at the fag end of winter and the wind really whipped through the town. Not that it wasn't beautiful mind you, it is just that people head to Zeeland for the beaches and this hidden gem gets rather overlooked.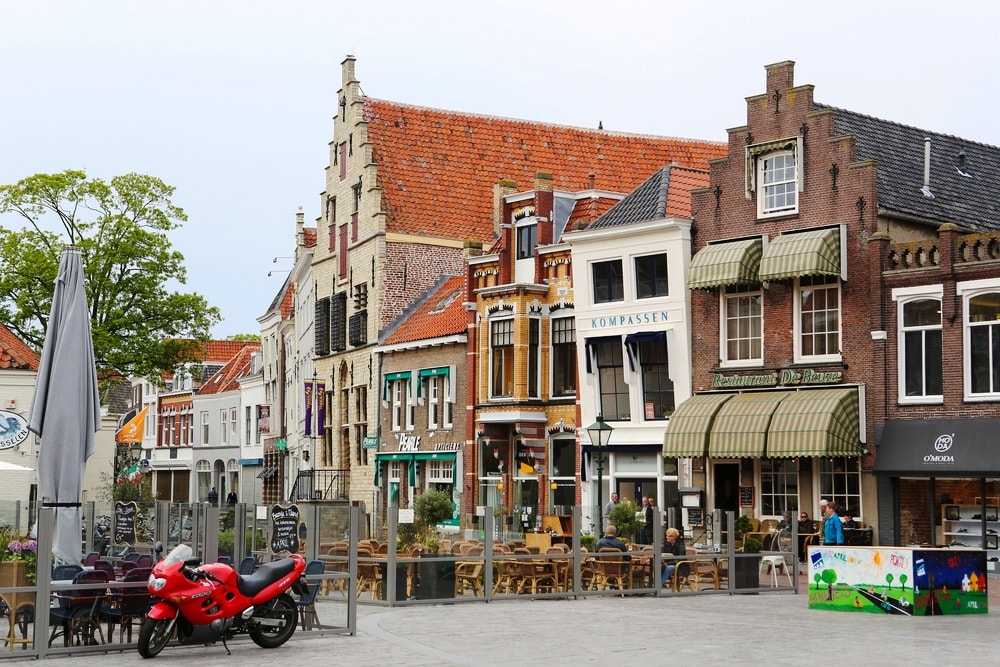 With over 500 historical monuments, there are loads of things to do and see in the Zierikzee. In addition to the really scenic cobbled streets, canals and myriad of boats, you will find that Zierikzee has a number of museums too. The Maritime Museum and the Huis Van Sinterklaas are popular favourites.
Like all Dutch towns, Zierikzee has its own windmill which as you can guess gets its own share of attention when tourists come to town. We particularly loved sitting in the cafes and enjoying watching the world go by while chatting with our friends. With a six-month-old in tow, it was the perfect quiet spot for us. Zierikzee is beautiful and if you are in the area, I highly recommend stopping by. By Penny from GlobeTrove
Best Cities to visit in the Netherlands
Xativa – Spain
Xativa is one of the most beautiful places in Europe that I have been to. Xativa is an absolutely stunning town in Eastern Spain, within the province of Valencia and one of the true hidden gems of Europe. Easily accessed via a beautiful scenic car ride just one hour and fifteen minutes from Valencia city or one hour and thirty minutes from Alicante, Xativa is a superb destination for a day trip that takes you away from the tourist traps and into the heart of traditional Spanish culture.
The most majestic feature in Xativa has to be the magnificent castle ruins, set high above the town on the surrounding mountains. Lit up at night, it is simply magical. A delightful tourist train takes you up the steep road to where the castle awaits your arrival. Xativa Castle predates Roman times.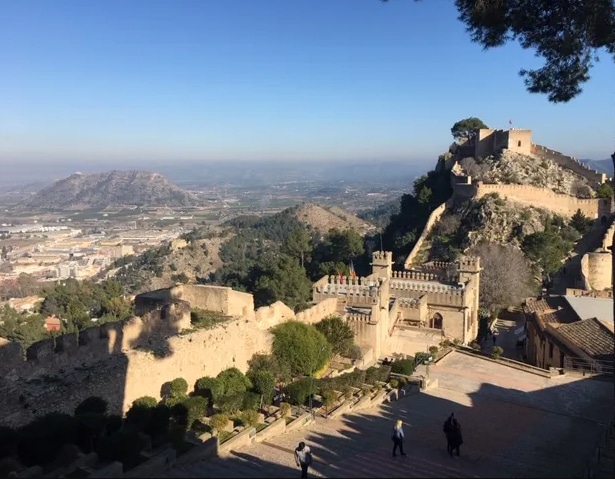 The strategically positioned twin fortress has been the scene and spectator of a host of battles over many years. Gradually expanded and fortified by the successive cultures that have inhabited these lands, the castle is divided into the Castell Menor, which sits upon Roman remains, and the Castell Major. Up here you are rewarded with breathtaking views across the town and much further.
Back down in the main town, There are countless bars, cafés and restaurants offering traditional Spanish, and more specifically Valencian, drinks, tapas and meals.
There is a large bustling market held in the heart of the town each Tuesday, and here you will find all manner of fresh produce and homemade gifts and treats. No trip to Valencia is complete without a visit to Xativa. Contributed by Nikki of Things to do in Orlando
Fabulous holidays on the Costa Almeria Spain
Calcata – Italy
One of the best places to go when you go to Italy is to explore the Tuscia region. About 50 km north of Rome there is a region of Italy still off the beaten path, Tuscia. This region is characterized by dense forests and deep valleys, large tufa cliffs on which preserved medieval towns stand. One of these, Calcata, is one of the most unique places to visit in Italy and the world.
Here the landscape is breathtaking. As you drive along the only road leading to the town, the landscape changes abruptly from the typical Roman countryside to forests so dense they evoke a tropical forest. The village sits on a huge flat boulder of tufa rock; in ancient times one had to cross a drawbridge to reach it.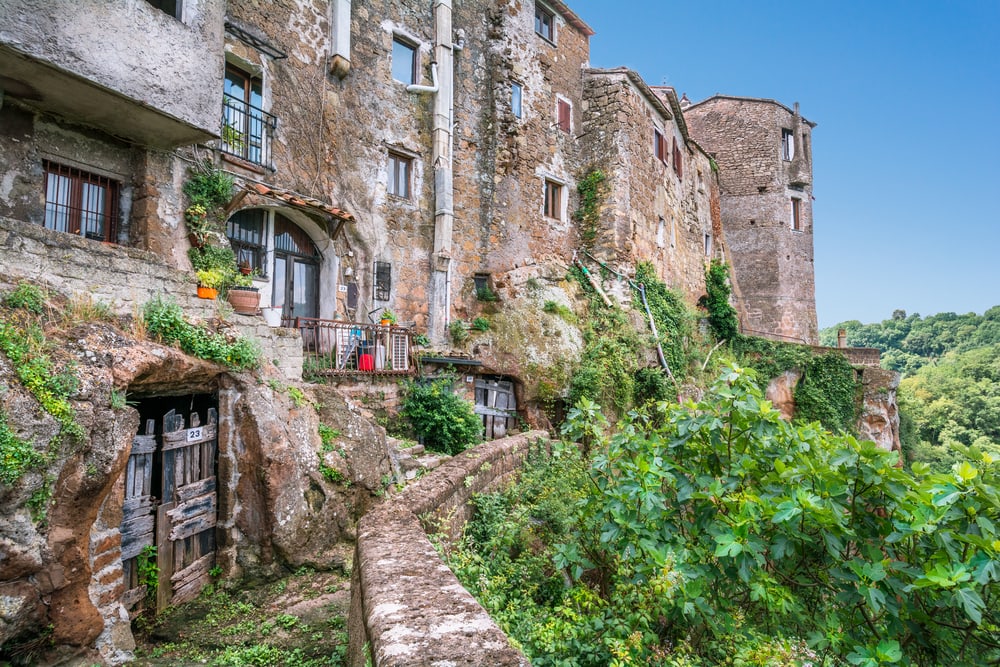 All around, the lush Treja River Valley dominates the view, with its canyons and the sound of flowing water. Calcata's architecture is medieval: the town is entered through a single "gate" that is part of the defensive walls of the Anguillara Palace, dating back to the 11th century.
In the mid-1950s, the provincial government, after doing some technical research, declared that the cliff on which the village stood was about to collapse. The farmers who lived there left their old houses and moved 2 km away to the hamlet that is now called "Calcata Nuova." The historic centre of Calcata was doomed to decay.
Rumours spread that it had been abandoned, and a community of artists and alternative individuals began to repopulate it. These free spirits had seen Calcata as the ideal place to live by making art while the cities were falling prey to industrialization.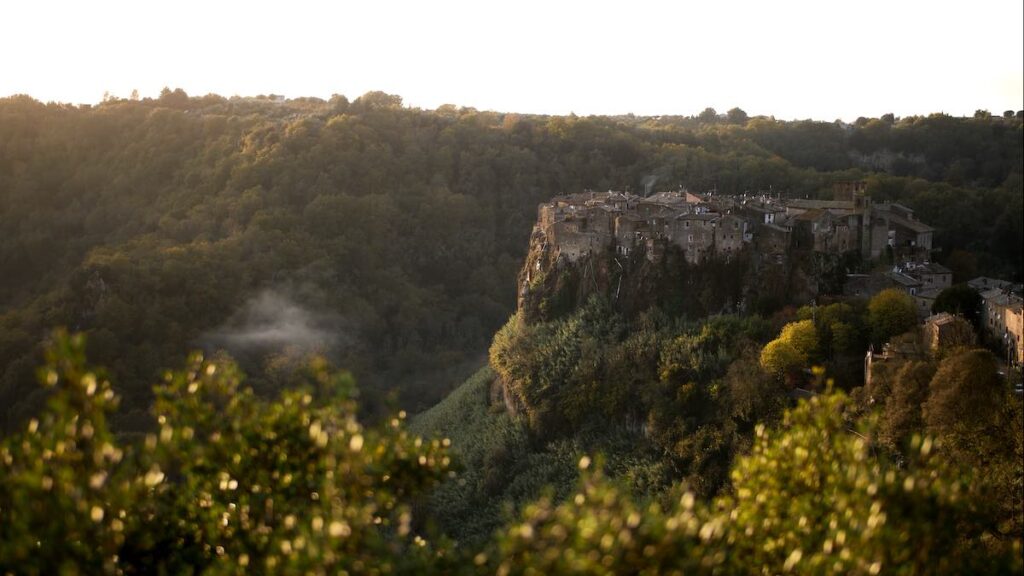 Those artists and many of their sons are still in Calcata today. Strolling through the historic centre of the town, where about 70 souls live, you can visit the artists' workshops and have a chat with them. At sunset, they usually sit in the town's only square, in front of the church and the 3 thrones sculpted by Costantino Morosin, one of the greatest contemporary Italian sculptors.
The village has no shortage of small restaurants offering typical regional dishes, such as homemade pasta, wild boar ragout, and porcini mushrooms. The best times to visit Calcata are spring and fall when you can combine a walk through the alleys of the centre with a hike in the surrounding forest, where the remains of a temple and rock tombs from pre-Roman times are hidden. Contributed by Annalisa of Travel Connect Experience
Cinque Terre Villages Italy – Things to do
Sibiu – Romania
Sibiu is one of the most beautiful cities in Romania. Located in Transylvania, you can easily get to Sibiu by train, from Bucharest. There are two or three trains that connect the two cities daily. Also, you can reach Sibiu directly from Budapest, by night train.
Even if Sibiu is not a big city, there are plenty of things to do around. The city centre is quite compact, which makes it very easy to be explored on foot. The main centre is divided between the Big and the Small Square, connected by the Council Tower.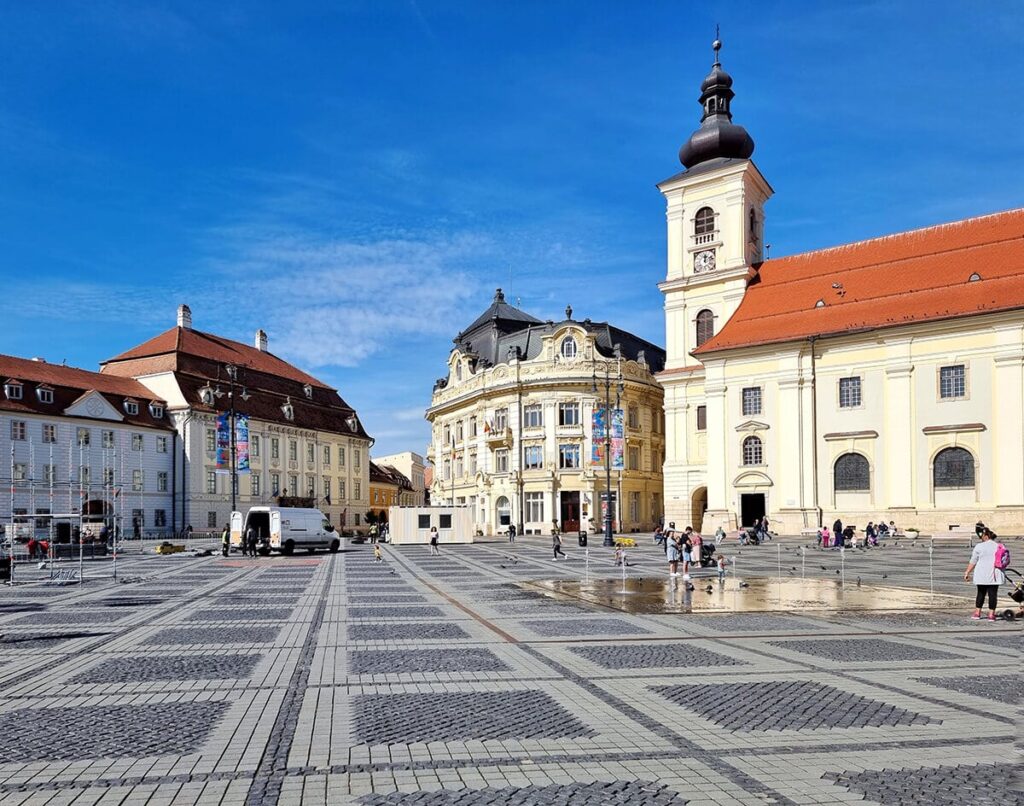 You can climb up the Council Tower, for a beautiful panorama of the city. In the Small Square, you will also find the Bridge of Lies. There are a few legends about why the bridge got this name. more realistic one says that the bridge used to be the meeting point for lovers. The men would tell their girlfriends that they will get married once they return from the war. Some never returned, and some of the ones who didn't want to marry anymore, therefore making their promises lies.
The Small Square is also a great place to try some of the local Romanian cuisines, including the national dish – the sarmale. There are plenty of great Romanian restaurants here.
Another great place to see and learn more about the history of the city is the old fortress wall. The towers host a museum, and you can walk between them on a suspended walkway. This is also one of the most beautiful streets in Sibiu. Contributed by Joanna from The Romanian Cookbook
Merano – Italy
The pretty town of Merano is a true gem in northern Italy, lying close to the Austrian border. This is a botanical heaven full of floral sculptures. Merano/Meran is a bilingual town, like the almost whole of South Tyrol.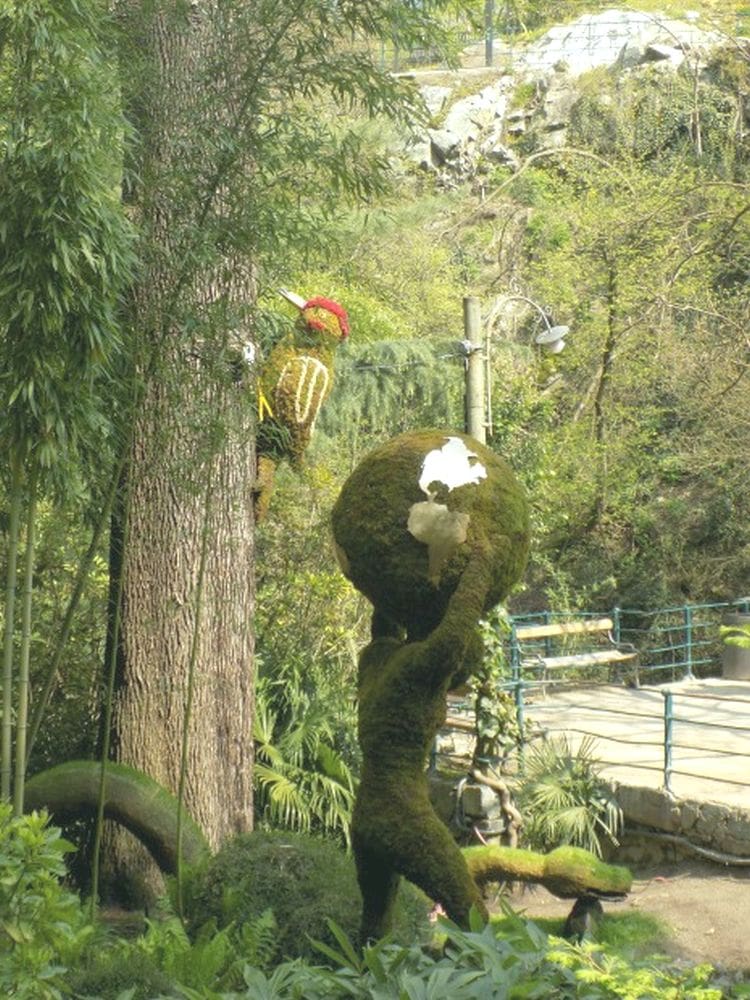 The pastel colours of the streets make its arcades so gracious. The popular Portici is full of lovely shops, bars and restaurants. The Kurhaus is one of the most notable buildings in Merano, open only to various events. The Powder Tower stretches right above the charming church with stunning views of Merano.
Merano became the favourite town of Princess Elisabeth or Sissi. Her residence was the Castle Trauttmansdorff, which today holds the exquisite botanical gardens. The castle is located on the hills above Merano. Now it serves as a Museum of tourism.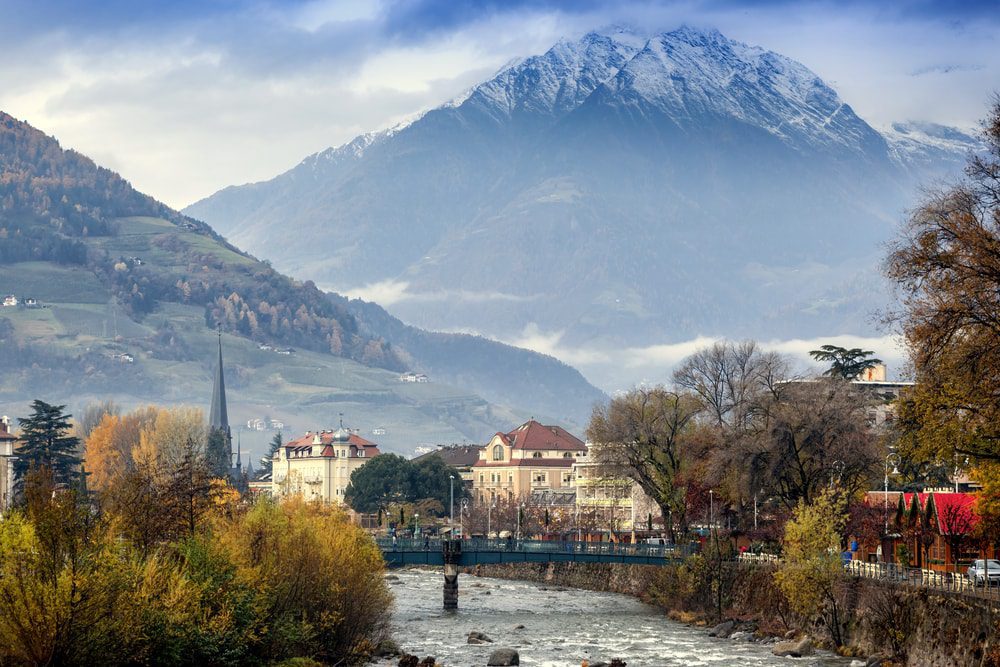 Known as the spa town, the Thermal Baths brighten up the heart of Merano. Several promenades near the river Passirio are so refreshing. Some of them are Summer and Winter Promenade, Gilf Promenade, Tappeiner Promenade. Admiring the local artists at Wandelhalle is your task in the Winter promenade. While watching the mountain views, the lovely blooms will enchant you in the springtime.
Some of the marvellous hiking paths near Merano include Scena, Knottkino in Verano and Falkner Promenade. Contributed by Gabi from Under Flowery Sky
Cinque Terre Villages Italy – Things to do
Nis – Serbia
Serbia is often overlooked as a tourist destination in Europe, especially compared to its neighbouring countries like Croatia or Montenegro.
Nis, the biggest city in the southern part of Serbia, is the host for a few festivals held in the country, and that's only one of the many reasons why it's a hidden gem you can find in Europe. Located close to the Greece and Bulgaria border, you can reach Nis by bus or train from many European cities.
Take in the unique experience of a Jazz Festival and Film Encounters Festival in Nis. While Nisville Jazz Festival is the annual festival that presents the fusion of traditional jazz with ethnic traditions, especially those from the Balkans, Film Encounters Festival has been the biggest film festival since the Yugoslavia era. Both festivals always take place at the Ancient Nis Fortress as the venue.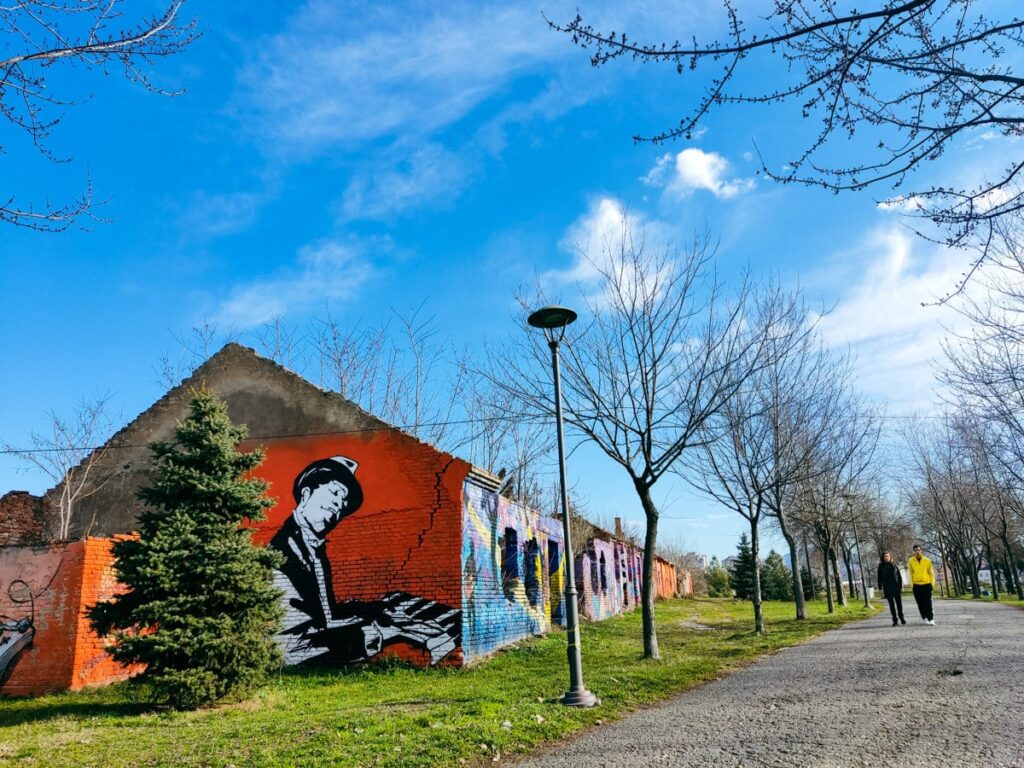 Nis Fortress is the city's most important landmark. Situated on the banks of the Nisava river, it's a great place to stroll around even if you're not in Nis for the festivals. The current fortification is of Ottoman origin, and you can still see the former Hammam buildings and arsenals from that era.
Outside the fortress, you can also visit some historical buildings and monuments in Nis, including Crveni Krst Concentration Camp and Cele Kula. If you're more interested in trying out the local food instead, Nis is a food heaven with delicious and affordable restaurants you can find around the city! Contributed by Marya of The BeauTraveler
Ticino – Switzerland
Prepare to be mesmerized! The Maggia Valley in Ticino, Switzerland is a hidden gem in Europe that will take your breath away. From lush green vegetation and unspoiled nature to majestic peaks, get ready for an unforgettable experience full of typical Ticino villages, historical strength, and culture! This is truly one of the most beautiful hidden secrets in Europe.
Vallemaggia is the largest valley in Switzerland, speaking Italian. It is home to three remarkable side valleys that you can reach by turning at Cevio – the heart of Vallemaggia – and going towards Val Rovana.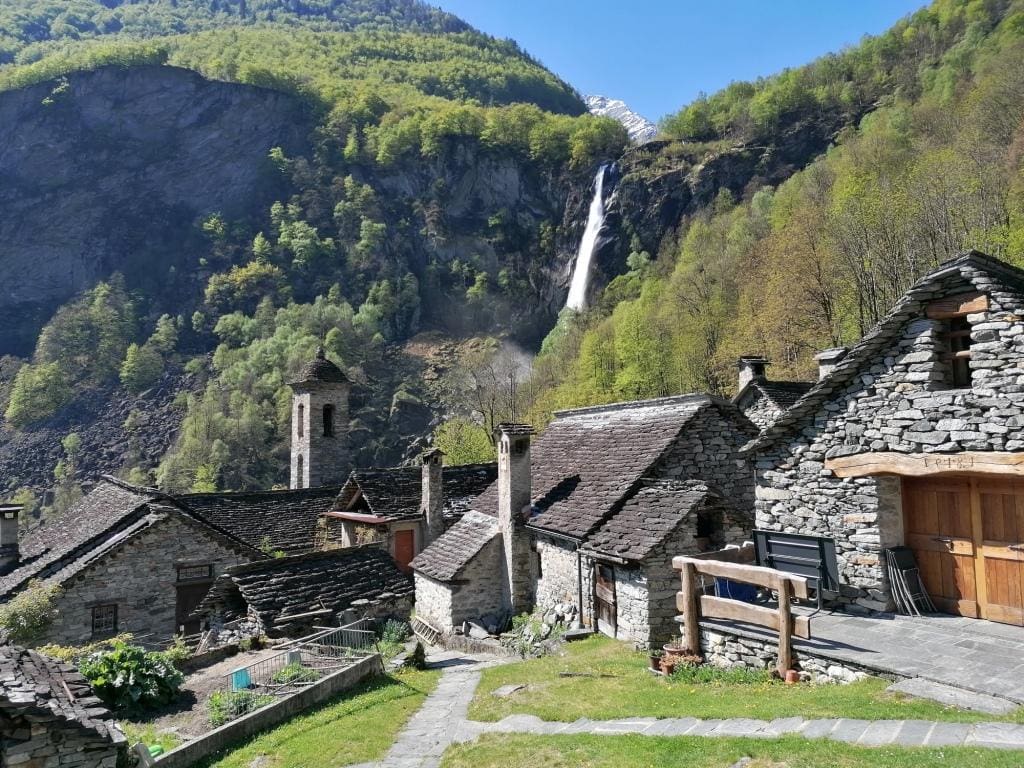 After exploring the final village in Vallemaggia, Cavergno, you can choose to venture left into the breathtakingly beautiful Val Bavona. If you remain on your current path from Cavergno, it will lead you straight to the magical Val Lavizzara.
Situated in a corner of the world, is Lodano Valley: an enchanting place that boasts native beech forests and shelters rare plant and animal species. It has been rightfully declared to be a UNESCO World Heritage Site since 2021 due to its remarkable beauty.
Take a hike through the dense forests and colourful meadows, and swim in crystal-clear mountain lakes. Explore thunderous majestical waterfalls, and white beaches along the green Maggia River, and gaze at the breathtaking mountain peaks that soar above. Don't forget to stop by the stone houses, picturesque village squares, and traditional grotti that will tantalize your taste buds with local dishes!
With so much beauty in one place, the Maggia Valley is a must-see destination for anyone looking to explore Europe's hidden gems. Contributed by Giorgy of Gextreme Travel.
Mantua – Italy
One of my favourite hidden gems in Europe is Mantua in Italy. Located in the Lombardy region, Mantua, Italy, is a hidden gem waiting for you to discover it. Mantua, along with Sabbioneta, is a UNESCO World Heritage Site.
As one of the best medieval towns in Europe Mantua offers many spectacular sights, all blissfully free of crowds even in high season, and makes for a fabulous day trip by train from Bologna or Milan. Or you can visit on a cruise from Venice because Mantua still features canals.
The Palazzo Ducale is the top attraction in Mantua. Built by the ruling Gonzaga family as their residence, the palazzo contains beautiful frescoes and ornate ceilings. The complex contains many works of art by Andrea Montagna, who was the court artist here for a time.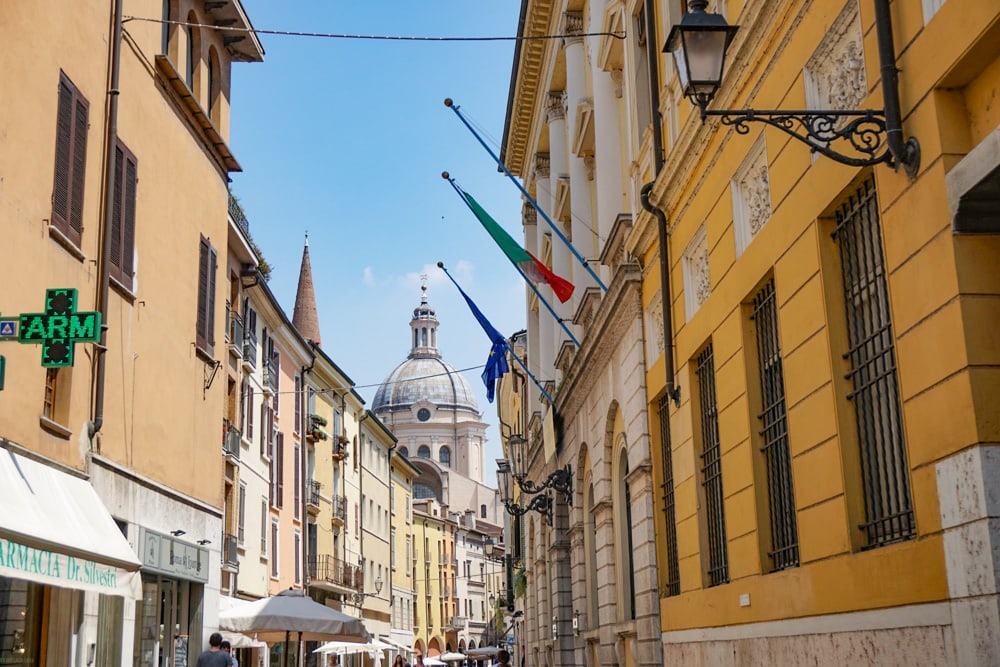 Palazzo Te is another palace to put on your itinerary for Mantua. The frescoes in the Sala dei Giganti (Room of Giants) are stunning.
The Basilica of Sant'Andrea, the co-cathedral, is considered a Renaissance masterpiece. It is famous for holding a vial of what's considered Christ's blood. Wandering the uncrowded pretty streets of the historic core is also a must! There are other churches you can visit if you enjoy art and architecture.
For lunch, be sure to try the pumpkin pasta with nutmeg. It's a Mantua speciality and melts in your mouth! Contributed by Dhara of It's Not About the Miles
Ptuj – Slovenia
Ptuj is a historical town in the eastern parts of Slovenia. It has been around since Roman times, making it the oldest-known town in Slovenia. At its peak, and before it was plundered by the Huns in the year 450, Ptuj was an important roman hub with a population of 40,000.
During the medieval period, it became part of the Habsburg region and this can be still evidently seen on a visit to this mysterious town. Colourful buildings with orange-red roofs and a castle on the hilltop, make this town a pretty sight.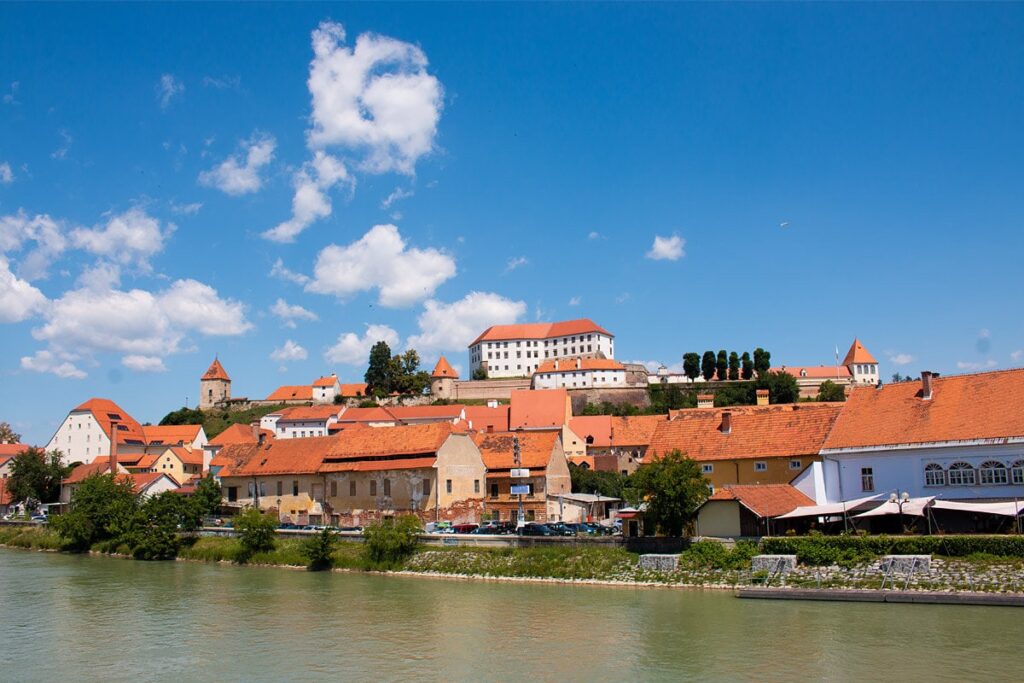 The Drava river splits the old town in two and from the bridge, you can take a lovely photo of Ptuj. A walk through the tight cobblestone roads will reveal small locally run boutiques with handmade products and regional delicacies.
Wine has an age-old tradition here, and the district is known for the best whine wine in Slovenia. The winery of Ptuj is the oldest in the country and a guided tour and wine-tasting session should be on your bucket list when in Ptuj.
Look out for the tight passage up to the castle. From there you get some unforgettable views of the city and region. The castle museum tells the story and customs of the city. A special exhibition about local carnival costumes and Krampus can be visited. Moreover, the weaponry and the musical exhibition are worth a visit to the castle.
At the end of a busy day in Ptuj, you can enjoy the healing thermal waters of the local public spa. Contributed by Paul of Paulmarina.
Clermont-Ferrand, France
A must visit when in France Clermont-Ferrand is a gem of a city located in the Auvergne region of central France. Known for its charming medieval streets and picturesque setting at the foot of the Puy de Dôme, Clermont-Ferrand is a must-visit destination for anyone travelling in France and wanting to explore the country outside Paris.
One of the city's most notable attractions is the Clermont-Ferrand Cathedral, a stunning 13th-century Gothic cathedral that towers over the city. The cathedral is known for its intricate carvings, and stained glass windows considered some of France's finest examples of medieval art. But what draws the eyes are the black volcanic rocks used for its construction and give its unusual dark aspect.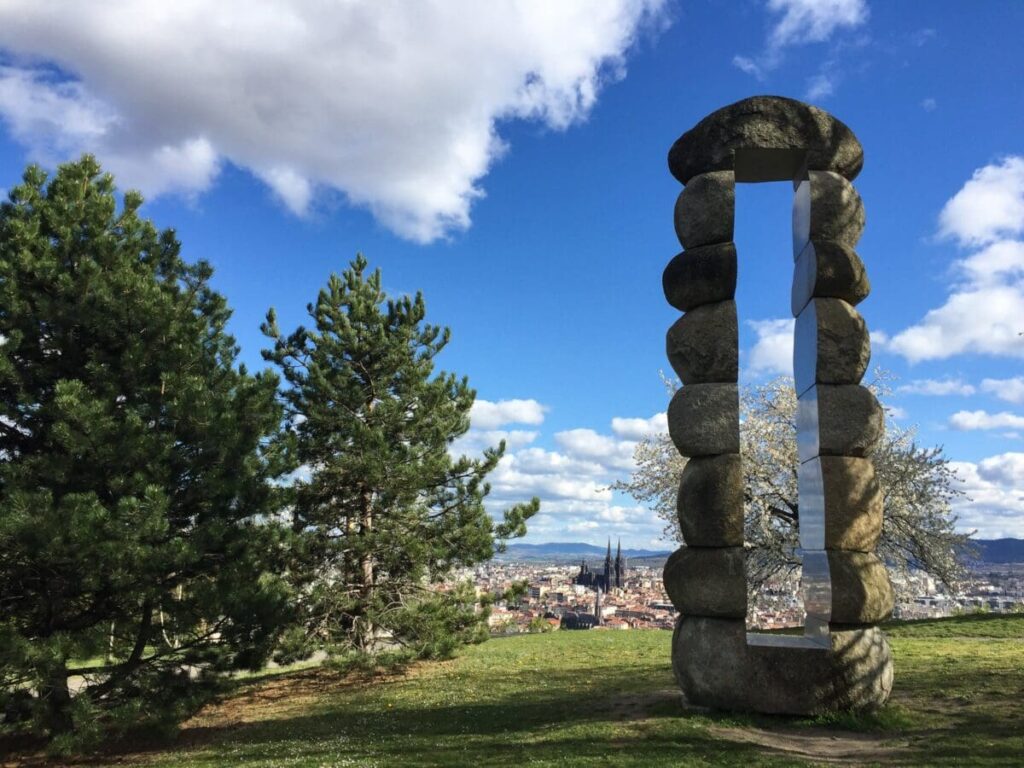 Other popular attractions in Clermont-Ferrand include L'Aventure Michelin, a museum about the history of the famous Michelin tires; the hilltop Parc de Montjuzet for excellent views of the city; the shops and restaurants around Place the Jaude and its Vercingetorix Statue, celebrating the life of the Celtic war chief who won a battle against Caesar's Roman army, and the 6th century Romanesque Basilique Notre-Dame-du-Port.
Another must-see is the Puy de Dôme, a dormant volcano that offers breathtaking views of the surrounding Chaîne des Puys mountain range, part of the Auvergne Volcanoes Regional Nature Park. Board the Panoramique des Dômes train to the top of the mountain or hike to the summit along the Sentier des Muletiers or the Sentier des Chèvres to enjoy panoramic views of the Auvergne region.
In addition to its natural beauty and historical landmarks, Clermont-Ferrand is also known for its world-class cuisine. The region is famous for its delicious cheeses, such as Cantal and Bleu d'Auvergne, and its excellent cuisine with meals like Truffade, Potée Auvergnate, Petit Salé aux Lentilles.
Overall, Clermont-Ferrand is a truly special place that offers something for everyone. Whether interested in history, nature, or good food, you will indeed find plenty to see and do in this delightful French city. Contributed by Patricia of Ze Wandering Frogs
French Food Culture: The Ultimate Guide
Blanes – Spain
Blanes, Spain is not only one of the hidden gems in Europe but also a very easy day trip from Barcelona, you can do it by train. It's about one hour from Barcelona on the R1 regional train, northbound along the coast.
Wander down the old town roads towards the beach and enjoy a glass of wine and some tapas at one of the many beachfront restaurants before your adventure starts. You'll see many locals hanging out here, especially on weekends and bank holidays.
Then stroll along the bay and either hike up to the castle or continue along the road to the Botanical Gardens Marimurtra to find shade, peace and some spectacular views of the clear-water coves of the Costa Brava, Spain's "Wild Coast" with its rugged cliffs embraced by turquoise water and several beautiful beaches.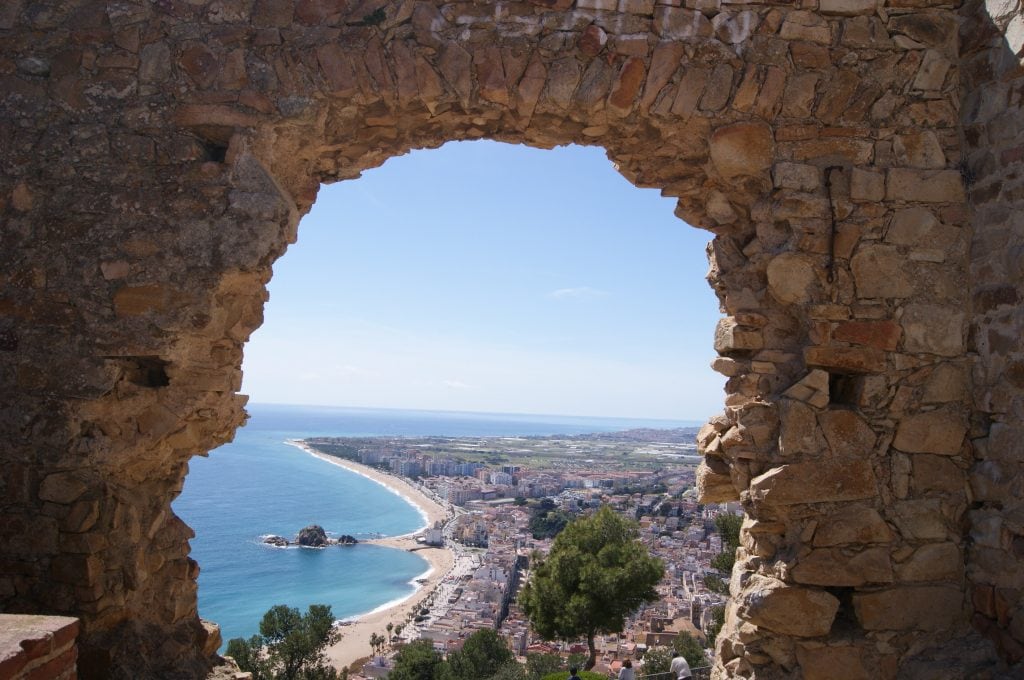 If time allows, follow the road past the Botanical Gardens and look out for a sign to the "Cami de Ronda" on your right. This is a coastal hiking trail that stretches along the entire Mediterranean coast of Catalonia. Winding steps up and down the cliffs take you to the next beach and onwards, surrounded by the smell of pine trees and salty seawater.
After you return to town, finish your day trip by hiking up to the gigantic rock sitting in the sea but still connected to the Blanes beach by a path to take in panoramic views of the town, sea and mountain backdrop. Contributed by Christin of Christin has Fernweh
Spanish Food: 40 of the best foods in Spain
Ghent – Belgium
Ghent, located in the heart of Belgium, is truly a hidden gem for tourists looking for an unforgettable experience. Ghent grew in prosperity during the Middle Ages and its distinct complexion of old-world charm and modern amenities sets it apart from other tourist destinations. Ghent is the perfect example of a city that has managed to keep its historic roots while still being modern and vibrant. Today, amongst romantic canals and decidedly medieval architecture is a buzzing university city, full of cool cafes and some incredible restaurants.
For those looking to avoid the touristy atmosphere of popular cities like Bruges, Ghent is the perfect alternative with its own unique attractions and experiences. Ghent is a compact city that is easily reached by train, so it can be explored in a day trip.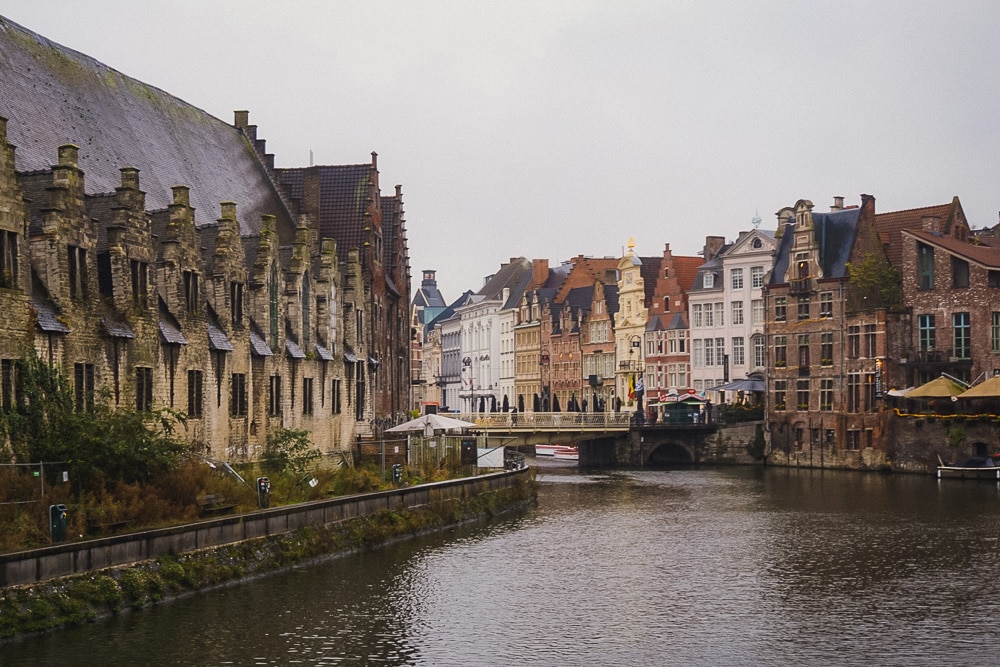 Start your day off with a beautiful view of the city from atop the Ghent Belfry. When you're done, touring the Castle of the Counts is also an absolute must. This imposing medieval fortress is incredibly interesting and there is a unique, engaging audio guide available that recounts the castle's rather grim past history with surprising humour.
Make sure to stop by St. Bavo's Cathedral, which is famous for the Ghent Altarpiece – don't forget to look up when walking around inside, too! When you're done, hop on a boat tour along the city's canals, where you can learn more about this interesting city.
If you have time, go on a street art walk to take in some of Ghent's vibrant artsy vibes, or head over to STAM: Ghent City Museum and explore centuries of rich history in one afternoon. Don't forget to stop at Butchers' Hall – while small, it has its own unique atmosphere – then treat yourself by having some traditional frites for dinner! Contributed by Isabelle of Cultured Voyages
Kobarid – Slovenia
Kobarid is a small town in the Slovenian Soca Valley. This valley is famous for the crystal blue waters of the Soca River and for its white-water kayaking. It is surely a paradise in nature, offering various adventurous outdoor activities, such as hiking, mountain biking, wild water rafting, and paragliding. All these activities can be booked in one of the outdoor tour offices in the town centre.
But don't worry if you aren't adventurous because this underrated European small town offers something for everyone. If you are interested in history you can discover the impressive history of the area by visiting the Kobarid Museum or by taking an easy circular walk along the Kobarid Historical Trail. This road covers the Italian Charnel House, the Tonovcov Grad archaeological site, the Kozjak waterfall and Napoleon's Bridge.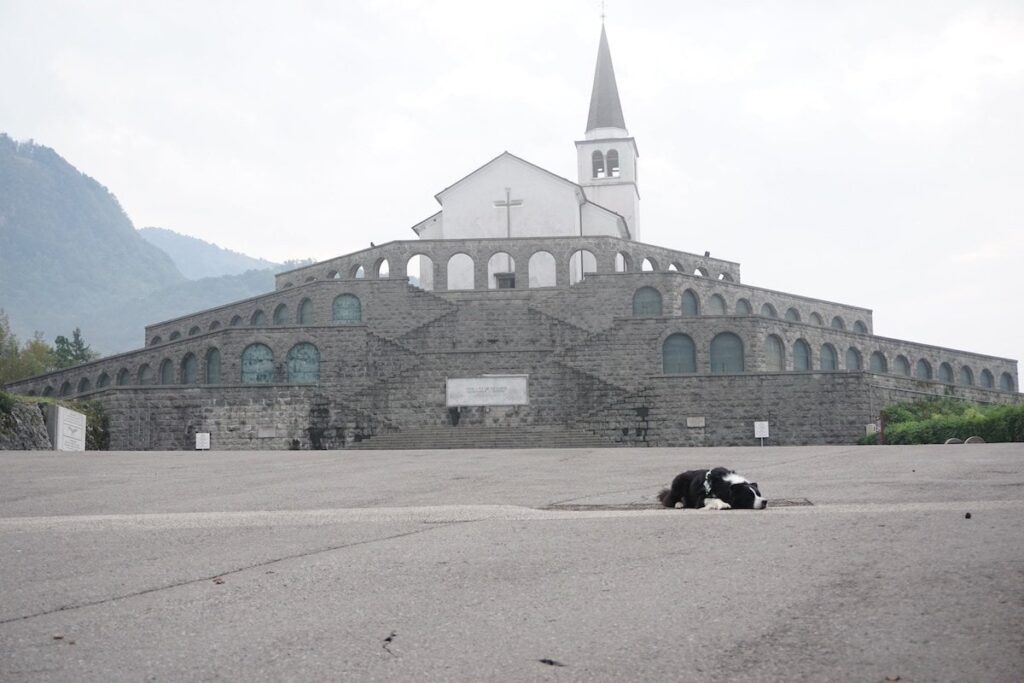 Culinary enjoyers also find their activities in Kobarid, since it has a cheese museum, where you can learn about the traditional cheese making in this mountain valley. At the Planika shop next to the museum you can buy locally produced organic products.
The diversity of activities as well as its stunning natural surroundings makes Kobarid the perfect place to unwind.
You can reach Kobarid from the Austrian town of Villach via train and bus. This 5-hour and 30-minute journey over the Vrsic Pass offers magnificent views of the mountains and is absolutely worth it. Or from the Slovenian capital Ljubljana also by bus, which takes around 2 hours 30 minutes. Travelling to Kobarid by public transportation is doable. Contributed by Lisi of Escaping Worlds.
Amersfoot – Netherlands
If you are looking for a typical Dutch city that looks like Amsterdam, with its canals, canal houses, cheese markets, and of course, the stroopwafel (traditional Dutch cookies), but that lacks the crazy amount of tourists, then Amersfoort is the place to go.
The best thing about Amersfoort is that it's only 50km away from Amsterdam, a mere 50-minute train ride to escape the crowds, soak in the Dutch culture, and take beautiful photos.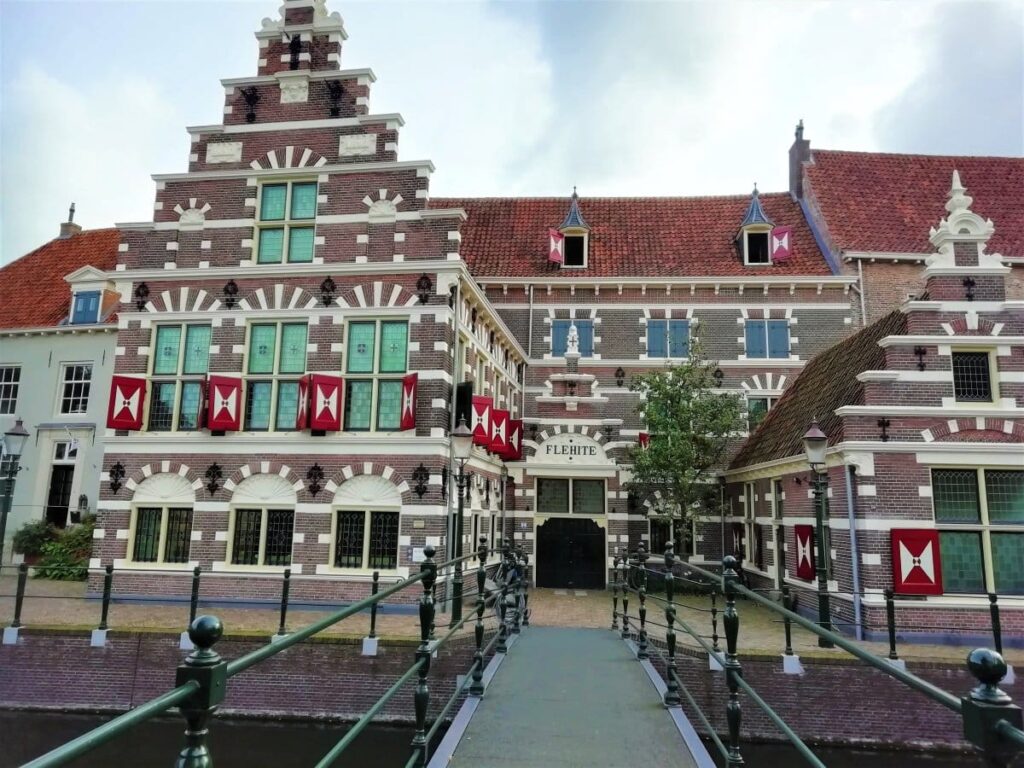 That brings us to the number one thing to do in Amersfoort; wander around the city centre, admire its beauty, and take photos. The city is more than a thousand years old and used to be fortified. From that time only two gates remain; the Koppelpoort and Monnikendam, which are both must-visit. Next, make sure you check out the gothic Church of Our Lady (Onze-Lieve Vrouwetoren) and Saint George Church (Sint Joriskerk).
For traditional Dutch cafes head over to the main square (Het Hof) and try a Heineken or one of the locally brewed beers (for example De Drie Ringen).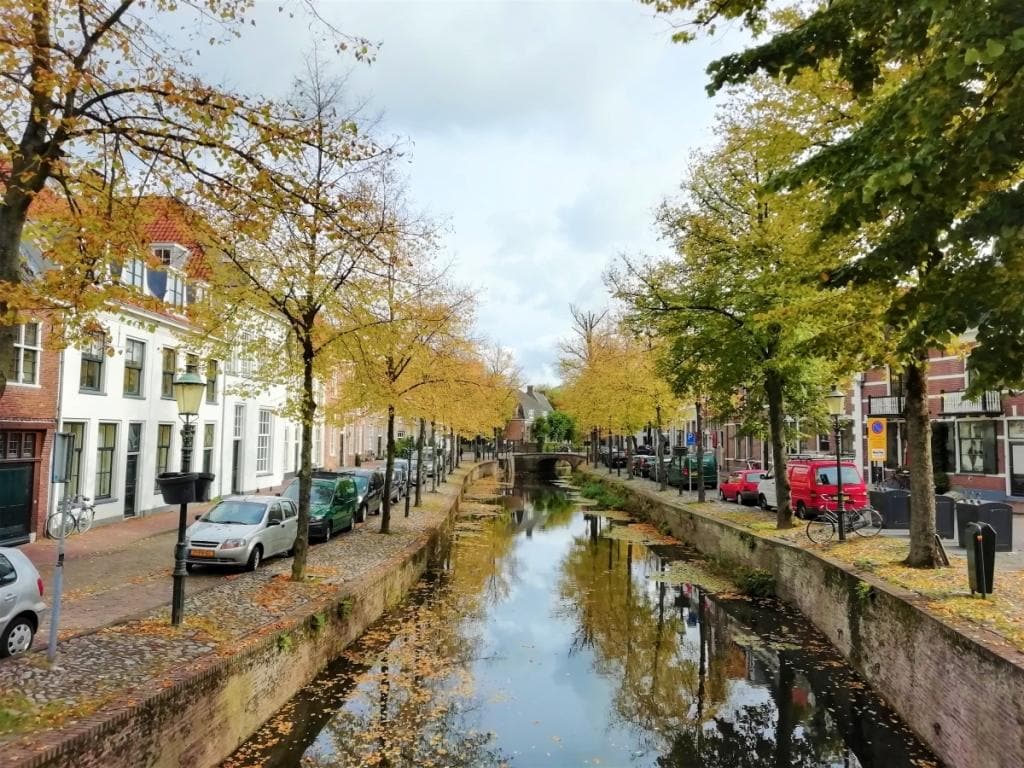 The wall houses (muurhuizen) are houses that are built where the original wall stood, you can visit some of them inside. The most popular one is the Flehite museum, which is also a cool museum to learn more about the history of Amersfoort and check out the art. And lastly, if you're into art, The Mondriaan House (the birth house of the abstract Dutch painter Piet Mondriaan) is a must. Contributed by Lara of The Best Travel Gifts
18 traditional Dutch foods to eat in the Netherlands
Senja – Norway
Did you know that there's an island in Norway that has jagged mountain peaks and tiny fishing villages, and experiences the Midnight Sun during the summer and the Northern Lights during the winter? It's called Senja, and unless you're from Norway, there's a good chance you've never heard of it as it truly is one of those secret places in Europe that you must visit.
Several places are firmly on the tourist trail in Norway, but the island of Senja still feels relatively undiscovered by mass tourism. Which definitely makes it a hidden gem!
Located roughly a 3-hour drive from the northern city of Tromso (or a 1-hour drive and 40-minute ferry ride in the summer months), Senja makes for a great escape in northern Norway.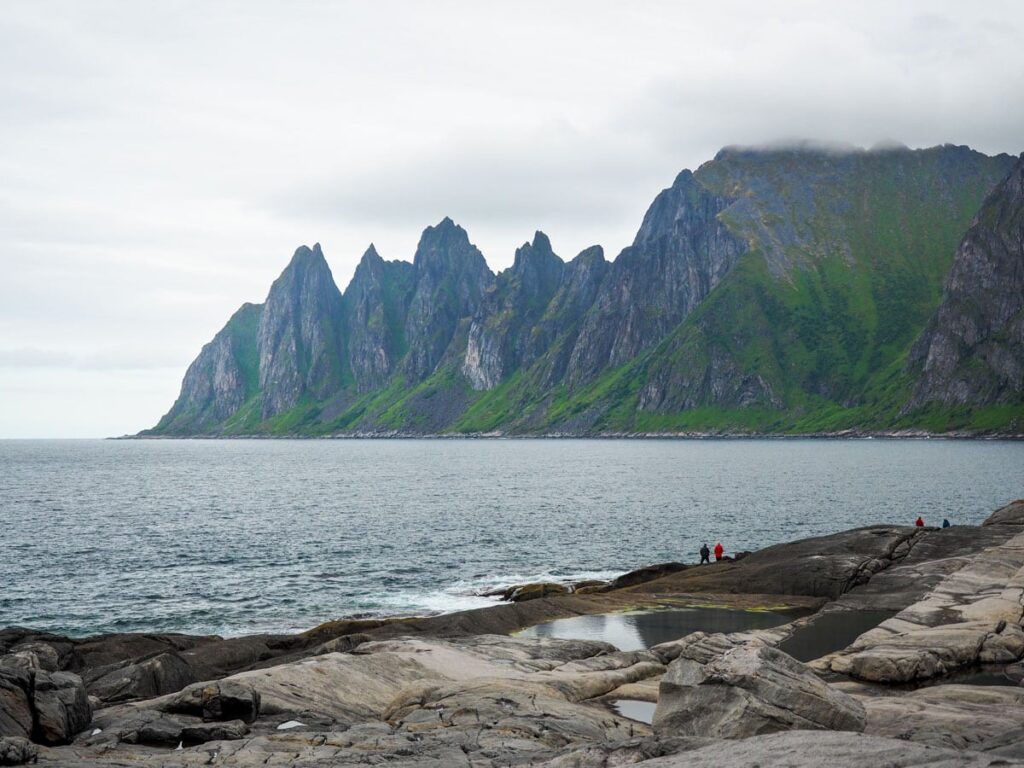 The top things to do in Senja revolve around the island's incredible landscapes and nature. You can drive the Senja National Tourist Route, stopping at stunning viewpoints like Tungeneset and Bergsbotn, enjoying Arctic beaches like Ersfjord Beach, and seeing fishing towns like Husøy and Gryllefjord.
You can also go on a boat tour to look for white-tailed sea eagles in summer, or even go dogsledding in winter. And if you're staying overnight on Senja, Hamn I Senja makes a great base and offers a lot of other activities and tours you can book. By Amanda from A Dangerous Business Travel Blog
Acebuchal – Spain
Acebuchal is a small town located in the province of Málaga, in Andalusia, Spain. It is situated in the Sierra de Mijas, a mountain range that runs along the Mediterranean coast of Andalusia.
Acebuchal is known as a lost village and was abandoned after the Spanish civil war and uninhabited for more than 40 years. Today, it's been restored by descendants of former residents and once again has a permanent community that live there.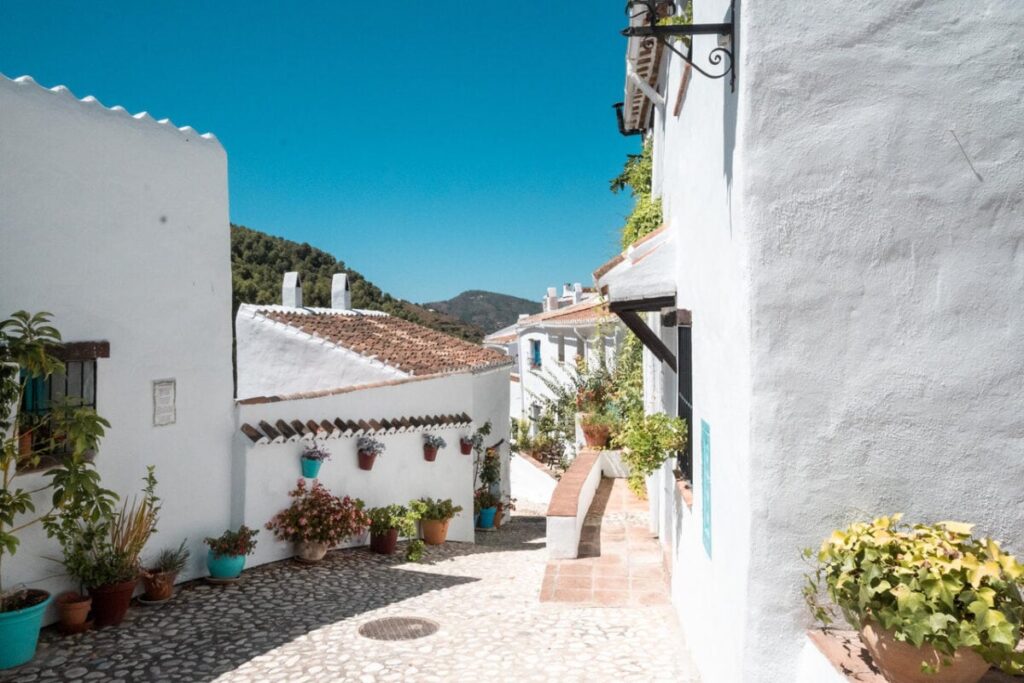 Acebuchal is known for its natural beauty and peaceful atmosphere, making it a great destination for a day trip. The town is surrounded by forests, olive groves, and rolling hills, providing plenty of opportunities for outdoor activities such as hiking, biking, and birdwatching.
One of the main attractions in Acebuchal is the Parque Natural de la Sierra de Mijas, a protected natural area that covers over 6,000 hectares. The park is home to a diverse range of flora and fauna, including many species of birds, mammals, and reptiles. Visitors can explore the park on foot, by bike, or on horseback, and enjoy the stunning views of the surrounding landscape.
In addition to its natural beauty, Acebuchal is also home to a number of cultural and historical attractions. The town is home to a number of traditional Andalusian houses, some of which have been converted into charming bed and breakfasts. Visitors can also visit the Acebuchal chapel, which dates back to the 18th century and is a beautiful example of Andalusian architecture.
Acebuchal is a great destination for a day trip, offering a combination of natural beauty, cultural attractions, and delicious local cuisine. Whether you're looking for a peaceful escape from the city or an adventure in the great outdoors, Acebuchal has something to offer everyone. Victoria of guideyourtravel.com
Celebrating Christmas in Spain – 22 traditional Spanish customs
Tsikhisdziri – Georgia
One of Europe's best hidden secrets is Tsikhisdziri a small town in Georgia (the country!) on the Black Sea Coast. It is often overlooked by travellers as a specific destination due to the close proximity of touristic areas like the town of Kobuleti and the city of Batumi. There are, however, a lot of features that make this little town a place that is not to be missed!
The main touristic sight of Tsikhisdziri is the archaeological site of the Petra Fortress. It was constructed in the sixth century and consists of a citadel, a basilica, and the remains of an urban settlement. From the hill on which the Fortress is located, you have a beautiful view across the Black Sea.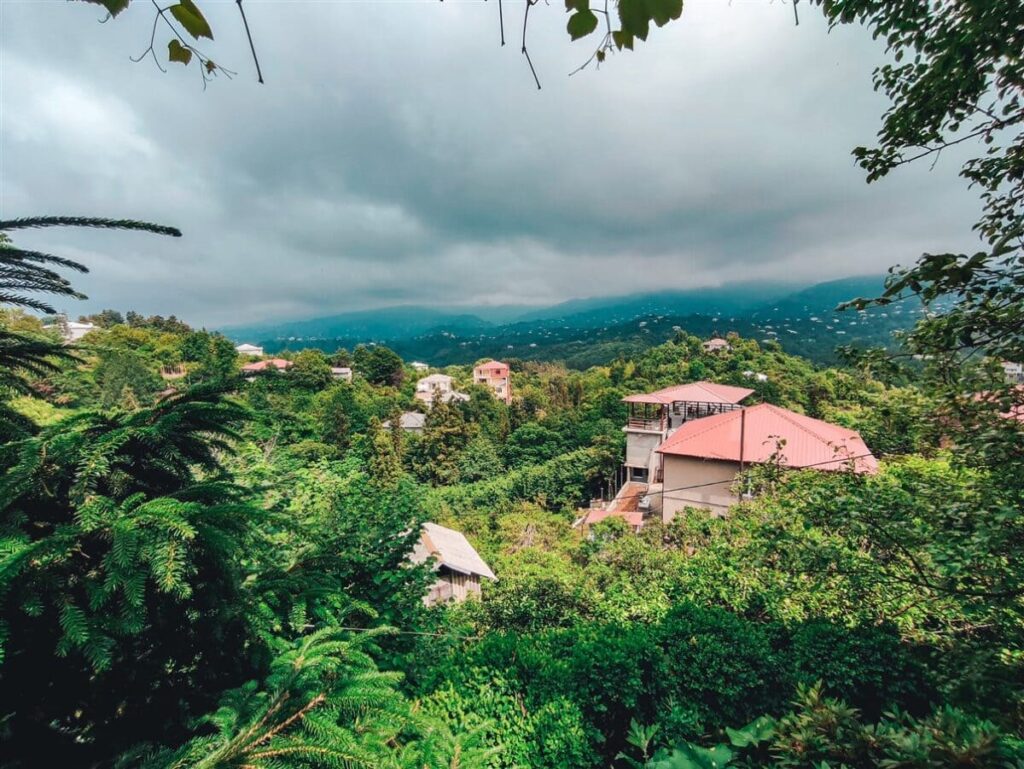 Tsikhisdziri also has four beaches, one even more beautiful than the other. To reach most of the beaches, you'll have to make your way through a maze of small pathways, forested roads, and bamboo trails. It also requires you to cross a working railroad which makes this activity extra-adventurous!
Other things that can be done in Tsikhisdziri are visiting the town centre to catch an amazing view of the mountains, urbexing at an abandoned hotel, and taking a day trip to Batumi or the nearby Mtirala National Park. Accommodation options are few in Tsikhisdziri. The best place to stay is a wooden cottage nearby the beaches that can be rented through Airbnb. For a more luxurious option, you can opt to stay at Castello Mare Hotel and Wellness Resort. The best restaurant in town is the outdoor restaurant Shukura. Contributed by Annelies from Travelers & Dreamers
Keszthely in Hungary
A unique city and best unknown places to visit Keszthely is a city on the banks of Lake Balaton, the largest lake in Central Europe. Locally, it's called the Hungarian seaside because, despite being a landlocked country, Keszthely has all the trappings for a beach holiday. There are lots of beaches, beautiful countryside, tourist attractions and fun things to do.
The city is home to Festetics Palace, a beautiful baroque palace with splendid gardens. The palace is fantastic to learn some Hungarian history, and the site is home to some museums, including one specialising in carriages used by the aristocracy. Fő tér is the main town square in Keszthely and is rather beautiful to see. It has churches, theatres and a monastery and nearby there are lots of quirky museums to visit.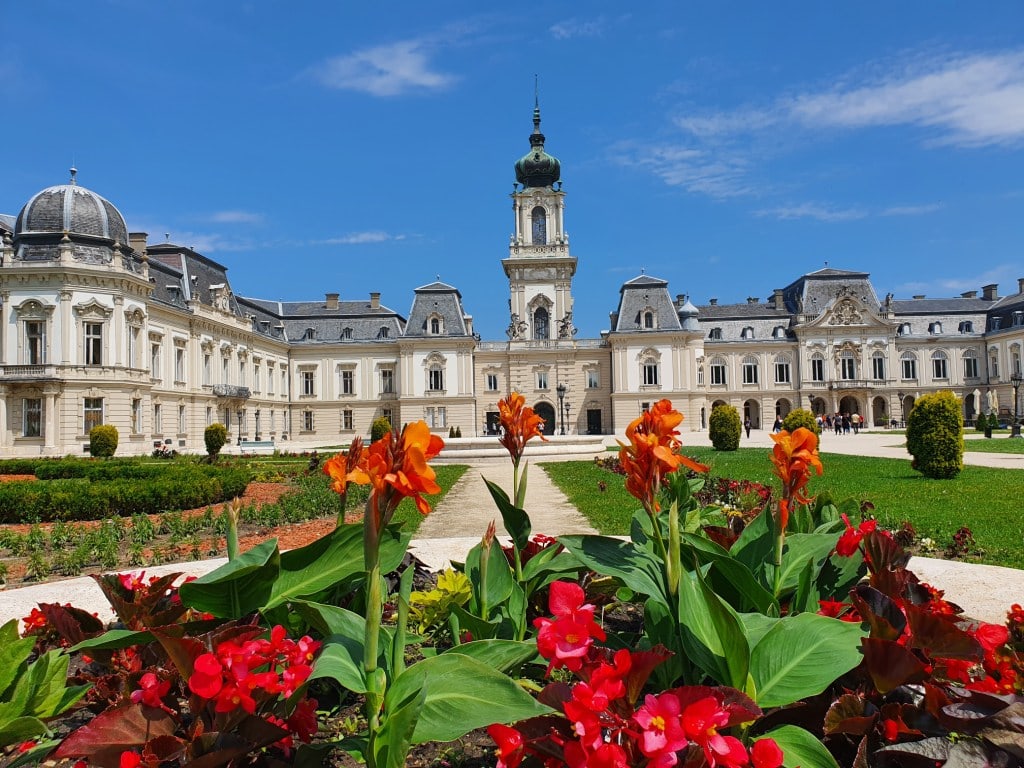 The lake has many beaches around Keszthely including The Stand which is the most popular. It's great for swimming and watersport. There are also plenty of lakeside places for refreshments. A local speciality is eating deep-fried lake fish at the local restaurants or the famous fish soup.
Hungary is known for thermal water and has many thermal baths. In the nearby town is the Thermal Lake of Hévíz. This is a fantastic place to go for relaxation in the warm lake and is very easy to reach from Keszthely. Contributed By Rich of RJontour.com
Noto – Sicily
One of the most underrated places in Europe is Noto, Sicily is a gorgeous historic town in southern Sicily that is definitely worth a visit. The town is small in size, but it is full of towering churches, cathedrals, theatres, and palaces that are immensely photogenic.
The buildings in Noto are uniquely Baroque in style. Many of them date back to the 17th and 18th centuries and are characterized by a high degree of decoration, ornamentation, and flourishes. The interior of the buildings, particularly the churches, are similarly decorated with highly stylized Baroque statues and paintings.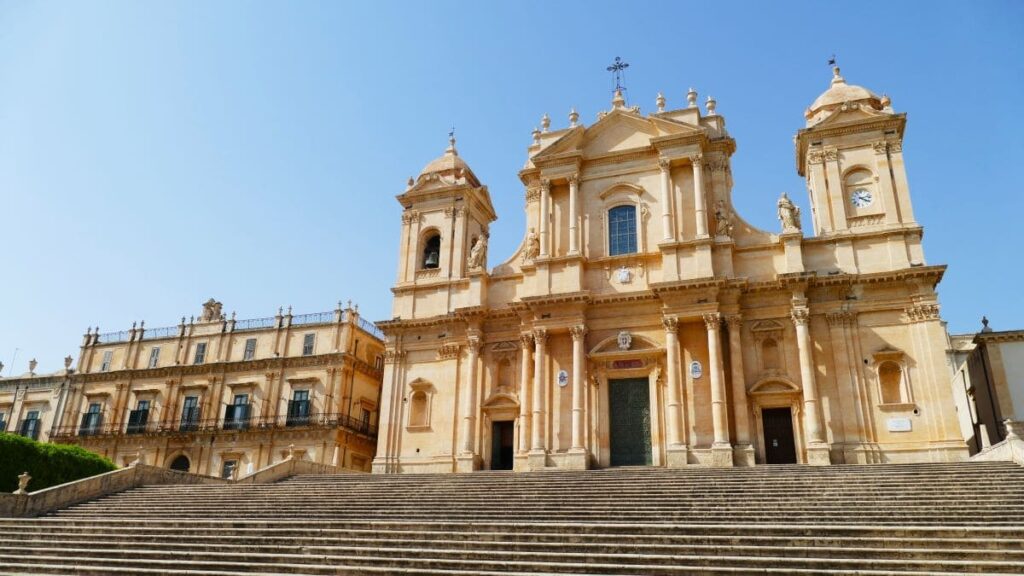 Many of Noto's treasures can be easily visited by simply travelling along Corso Emanuele Vittorio III, which is the historic walking street that runs through the middle of the town. Some of the major attractions include St. Nicholas Cathedral, Chiesa Santa Chiara, and Palazzo Nicolaci. There is also a lovely park and grand arch at one end of the Corso.
Noto is noticeably much quieter and smaller than many of its bustling neighbours like Syracuse and Catania. It provides visitors with a more peaceful atmosphere to soak in the culture and history of the Sicilian island.
Noto is located about 38 kilometres south of Syracuse, 92 kilometres south of Catania, and 145 kilometres south of Taormina. You can reach the town by car or book a guided tour from Catania or Taormina. Many of the tours will also stop in nearby historic Syracuse. Contributed by Merry of Virginia Vacation Guide
Gothenburg, Sweden
A medium-sized city on the southwestern coast of Sweden, Gothenburg is one of the best destinations and a true gem of Sweden. The main walking area is filled with unique cafes and storefronts, with some pop-up storefronts lining the streets at different times of the year. There is a sense of nature and calm in the city, as the city itself sits on the North Sea, and has a truly sea-like feel to it. The canals in the city slightly parallel the feel of Amsterdam, however, with many fewer tourists and many more trees.
Liseberg, an amusement park in Gothenburg is a fun park for individuals and families. While not exceptionally big, the park has been voted as one of the best in the world. There is a great mix of varied rides for individuals of all ages. Since much of the park is forested, there is an outdoorsy feel to it that makes it different from many other amusement parks.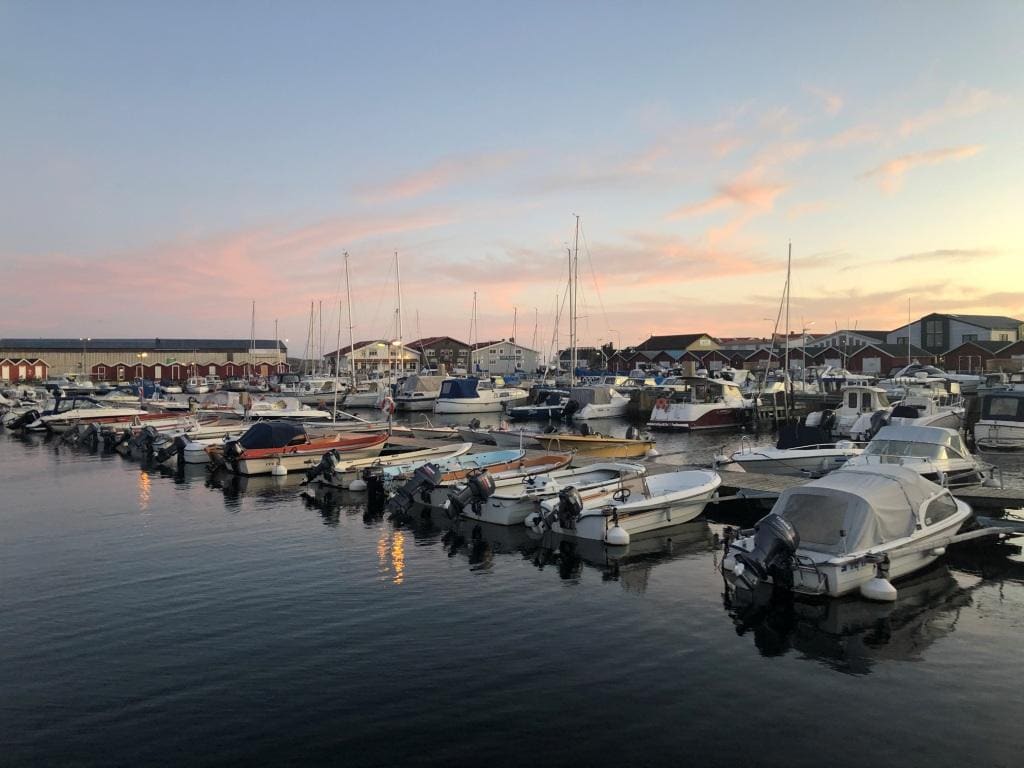 Gothenburg is also a great stepping stone for the small islands immediately west of the city. Many boats are directly driven on, where cars can easily access lanes on the boat and be taken across many of the islands around Gothenburg. The island of Hono is a great choice and additional ferries can take visitors to other smaller islands where they can experience a truly Nordic way of life. Contributed by Diana of Travels in Poland
Bourtange – Netherlands
Bourtange is a small village (population ~50) right on the border between the Netherlands and Germany in the province of Drenthe. What makes this little place special is that it is a fortress as well. It was built in the late 16th century for the purpose of cutting off supply lines to the Spanish in the Eighty Years' War (1566-1648).
It's not just any fortress, though; it's star-shaped. Returned to its 1742 appearance, Bourtange is picture-perfect today, with its streets in a pentagonal grid inside the five-pointed star of the walls and the five-pointed moats outside the walls. Stroll its cobbled streets, admiring the brick cottages and their lovely gardens.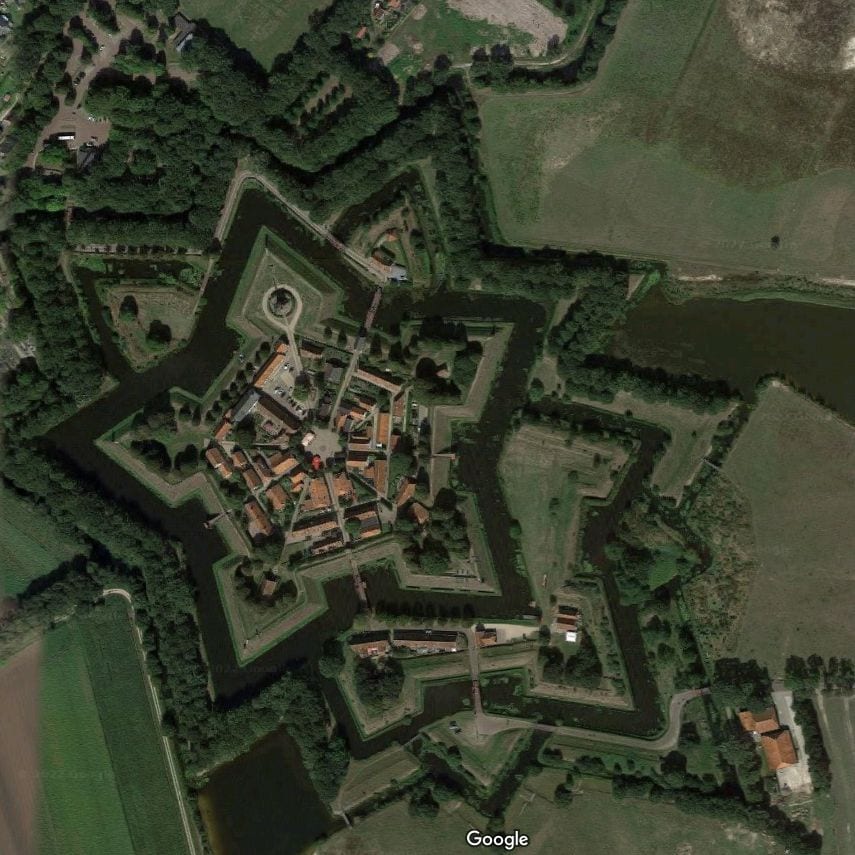 When you reach the central square, browse the handful of cute shops and rest in a café with a drink or enjoy traditional Dutch pancakes. Walk along the tops of the walls – which don't look like walls, by the way, since they're made of earth, not stone – and admire the views over the village and the surrounding countryside. Visit the little museum, the tiny synagogue, and the even tinier windmill.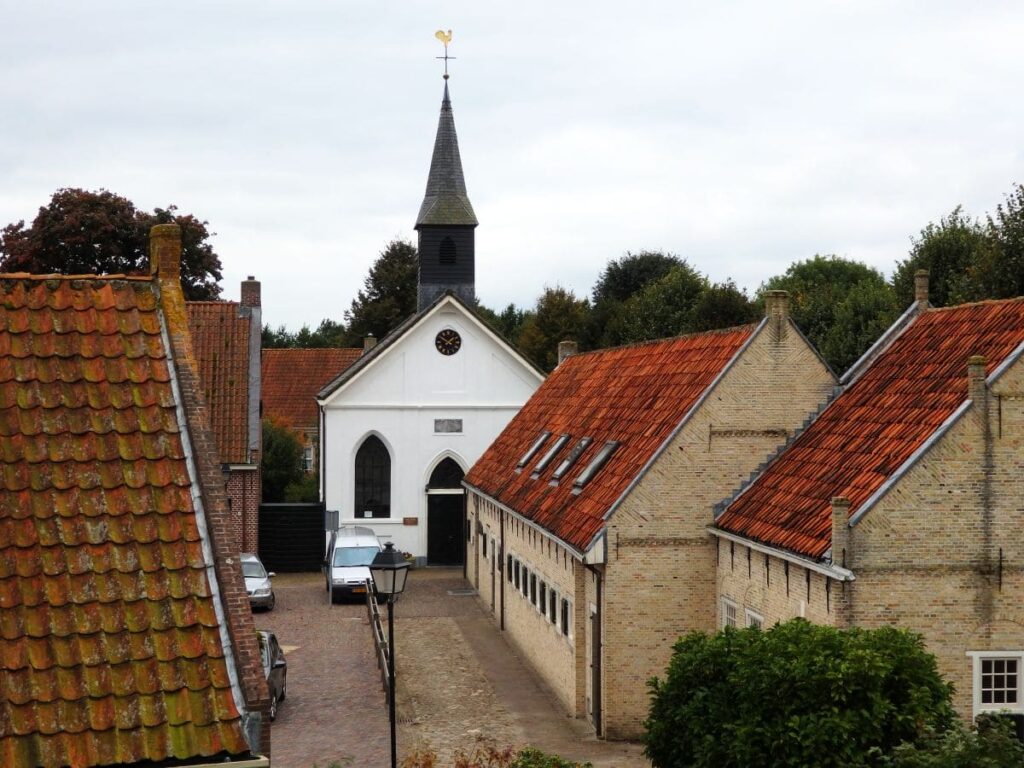 While Bourtange can get crowded for events like their Christmas market or battle reenactments, most of the time it only attracts a handful of local or German tourists. Many Dutch people haven't even heard of the place, but it feels magical! Contributed by Rachel of World Heritage Sites
Alta – Norway
Located well above the Arctic Circle, the hidden gem of Alta, Norway is known as the "town of the Northern lights". Alta has a population of 20,000 people and is the largest town in the Finnmark County of Norway.
In summer, Alta experiences the midnight sun when it is bright all day and night, but in winter it experiences the opposite, the polar night. Meaning for several months the sun doesn't rise at all and it is pitch black most of the day. Both situations take some getting used to but in winter, the darkness encourages the perfect conditions to view the Northern lights.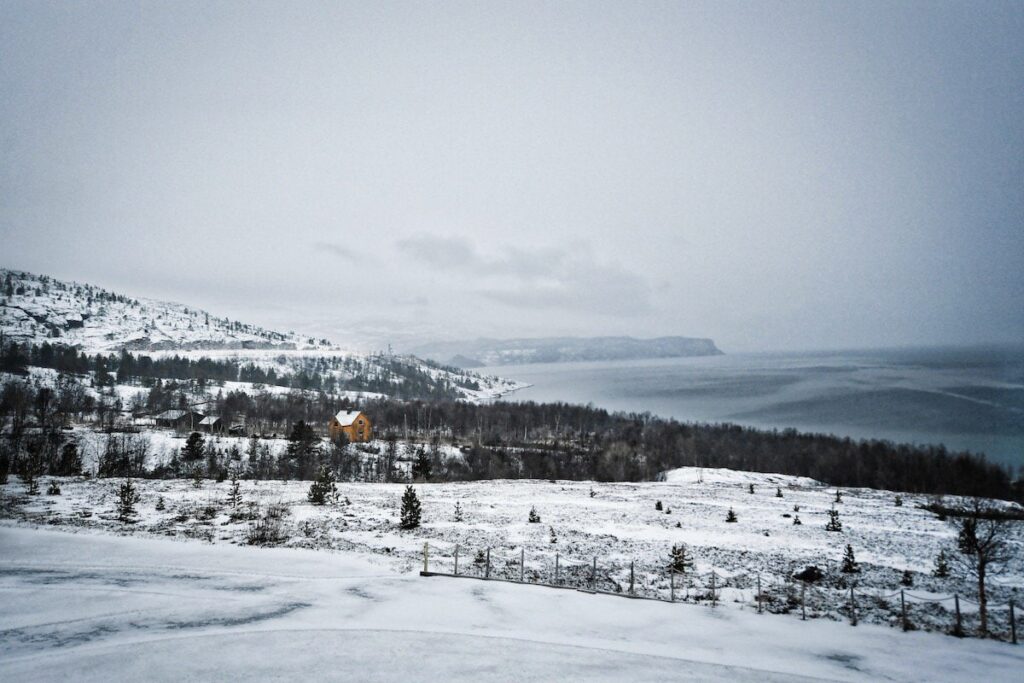 Other popular winter activities in Alta include snowmobiling, snowshoeing, ice fishing, dogsledding, cross-country skiing, and reindeer sledding. There are also some great landmarks to visit such as the Northern Lights Cathedral, Alta Museum and the famous canyon.
There are plenty of cool places to stay (or just visit for a drink!) including the unique igloo hotel at Sorrisniva, which is rebuilt from scratch each year with a new design. Another must-visit is Trasti and Trine, a boutique hotel with some of the best dog sledding in Alta, and an incredible restaurant with a locally sourced menu. Contributed by Roshni of TheWanderlustWithin.
Muiden – Netherlands
One of the most magical hidden gems in the Netherlands sits right outside the bustling city centre of Amsterdam.
The town of Muiden is a small, quaint town about a 20-minute car ride from Amsterdam. It is filled with locals, and you won't find many tourists here. In fact, most inhabitants of the town commute into Amsterdam via bike, so you could also take a leisurely 45-minute bike ride from Amsterdam to Muiden.
Muiden is best known for the Muiderslot, a castle founded by Floris V in the 17th century. The Amsterdam Castle Muiderslot as it's known today is incredibly well-preserved. Visitors can take tours through the rooms of the castle, walk around the moat, and meander through gardens.
A few minutes away from Muiderslot, the town centre is made up of just a few cobblestone streets. Sit outside along the Vecht river as you enjoy lunch from one of the many tasty restaurants. The beautiful cafes and restaurants here are so used to serving locals that they have to rustle around in order to find a menu written in English.
Your peaceful afternoon can also be spent watching yachts and other boats come and go through the swinging bridge in the centre of town, taking a quick boat ride to the island of Pampus, or visiting the local fort.
If you're spending a few days in Amsterdam, you definitely want to plan a quick visit to Muiden. Contributed by Taylor from Traverse With Taylor.
Plovdiv – Bulgaria
One of the oldest cities in Europe, Plovdiv, is a cultural and hidden gem among places in Europe. The city is also considered to be the most beautiful city in Bulgaria and has been occupied since ancient times.
Like many cities founded at its time, it was built along seven hills and its history has seen many different cultures and people pass through the area. You'll see influences from various different cultures such as the Thracians, Persians, Romans and Ottomans.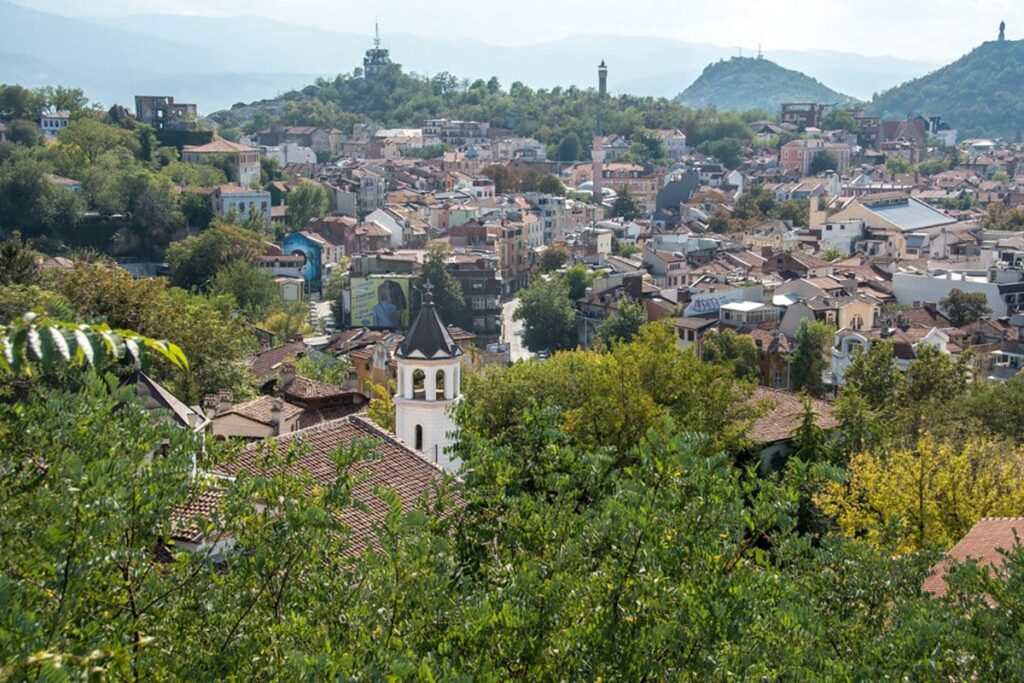 There are many things to do when visiting the city. Exploring the historic town is one of the main highlights. There are an incredible array of ancient homes, fountains, and structures to visit. Among those, the Roman theatre of Philippopolis is one of the best-preserved ancient Roman theatres.
There are several museums to explore in the city such as the Ethnographic Museum and Archaeological Museum. Plovdiv is a popular place for shopping and eating as the city centre has a large array of restaurants both regional and global to select from.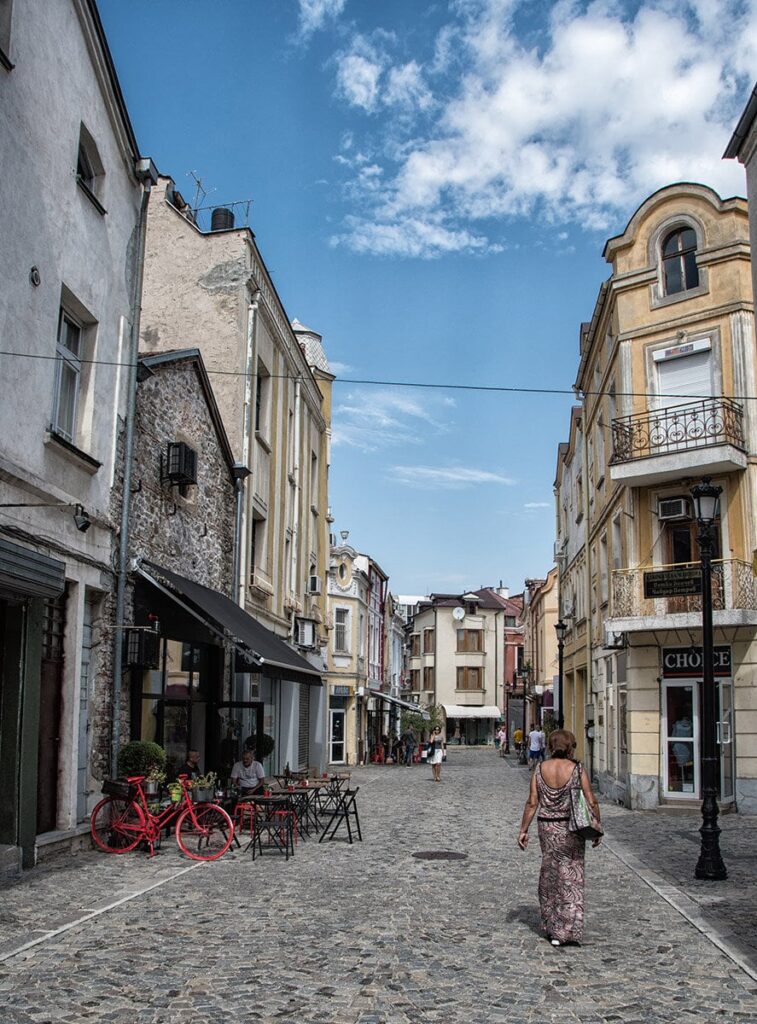 The city is a perfect weekend trip in Bulgaria or also makes a great day trip from Sofia. You'll be amazed at the gem that is Plovdiv and surprised that more people don't know about it. It was also selected as the European City of Culture in 2019, and it'll be easy to understand why. Contributed by Anwar of Beyond my Door.
Monopoli – Italy
Monopoli is often overlooked by tourists heading to Bari, the main city in Puglia, but it is well worth a visit! Stroll through the charming Old Town, with its whitewashed houses, coffee bars, and hidden churches. Spend some time at the Piazza Giuseppe Garibaldi, where you can set up at a cafe or restaurant for some delicious food, a nice glass of wine, and great people-watching, especially in the evening when the square becomes even more lively.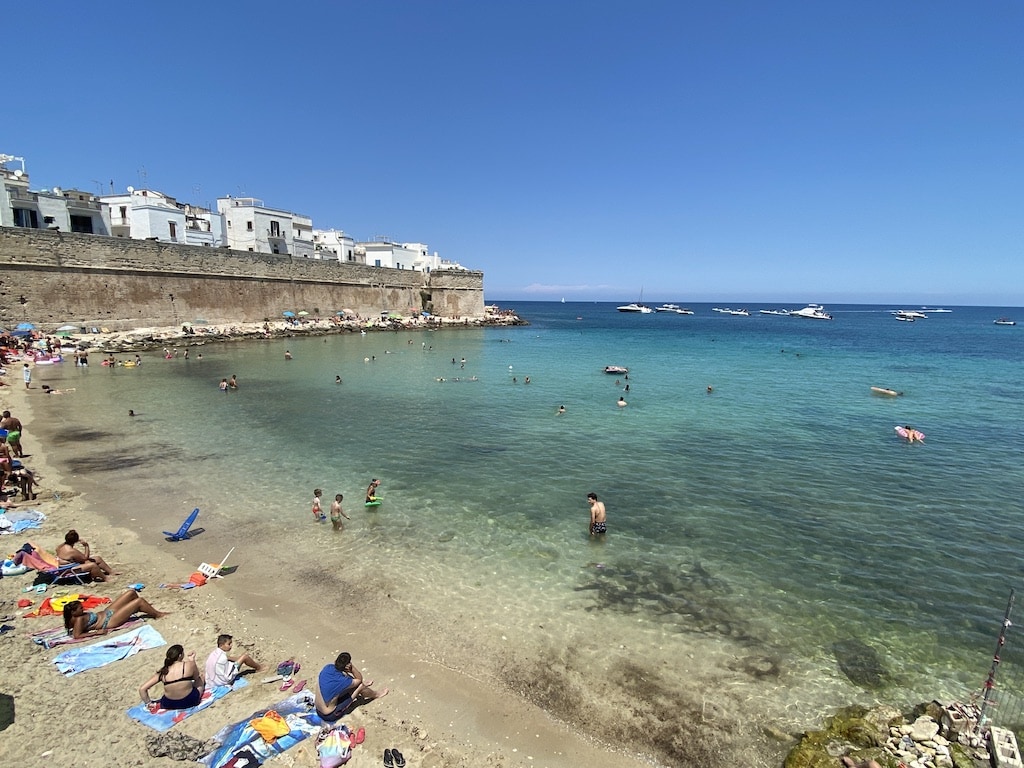 There are several fascinating historical sites throughout Monopoli, such as the Castle of Charles V; the Basilica of the Madonna della Madia, the main cathedral; Il Bastione del Molino, the ruins of a fortress built to protect the city from invaders from the sea; and Monopoli's oldest church, Chiesa di San Salvatore, said to be built around 313 CE.
For history lovers, don't miss visiting Egnazia Archaeological Park, where you'll find amazing artefacts and ruins from a settlement first inhabited in the 13th century BCE. Monopoli is also famous for its fantastic beaches! Enjoy the gorgeous blue and green waters of the Adriatic and soak up some rays on one of the many nearby beaches. You can also rent a sun lounger for a more comfortable setup, and many beaches have bars and snack stands where you can grab a tasty treat while you relax the day away. Contributed by Megan of Megan & Aram.
Mijas Pueblo – Spain
Mijas Pueblo is a charming town in Costa del Sol, in the south of Spain. There are many reasons to visit this small mountainside town, but two are its panoramic views of the Mediterranean coast and its picturesque streets with hanging blue pots with bright flowers.
It is an excellent day trip from Malaga or Fuengirola, and there are many fantastic things to do in Mijas Pueblo – from soaking up its atmosphere and scenic views to tasting the local cuisine.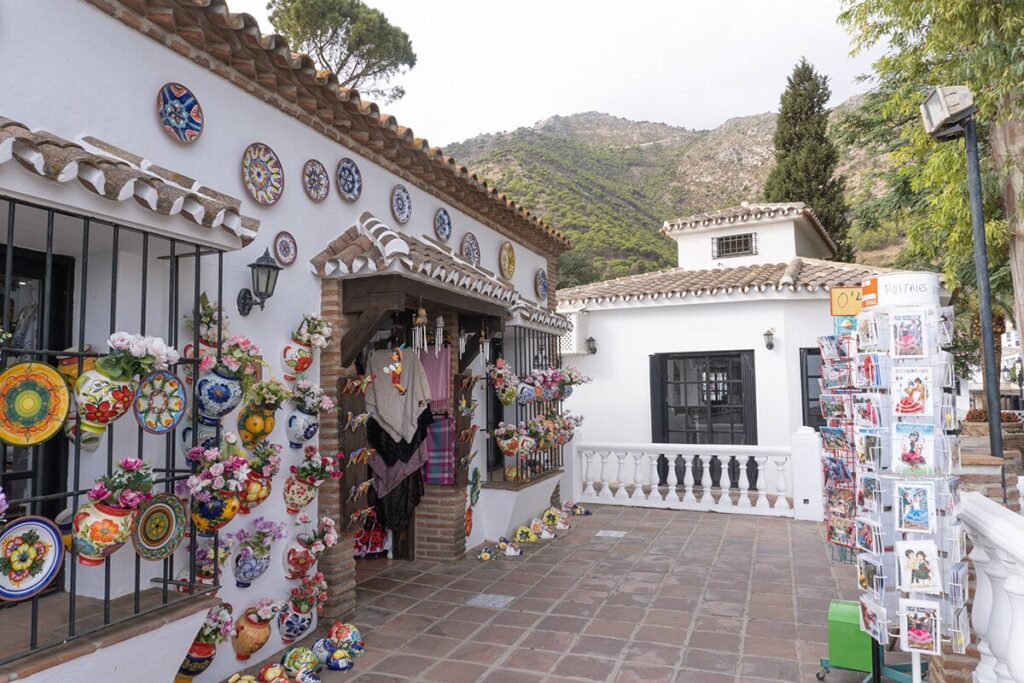 Some of the places you might want to add to your list are Ermita de la Virgen de la Peña Church, La Muralla Park, and CAC Mijas, which is home to Dalí and Picasso's paintings. If you have a sweet tooth, don't miss out on the opportunity to try almendras garrapiñadas which consist of traditional candied almonds.
Although the best way to explore the town is on foot, you can opt for a tuk-tuk tour. Donkey rides are also popular in Mijas, and although I don't recommend them, it's important to mention because these animals have been crucial to transport materials and people in the past, and this is why you will see a donkey statue next to the tourism office.
Overall, Mijas is a fantastic place to visit, and although you'll find tourists, you can also have a good experience, especially if you go to Mijas in winter. Contributed by Cristina of My Little World of Travelling.
Mojácar Spain: the perfect guide to this charming village
Darmstadt – Germany
If you're looking for amazing day trips from Frankfurt, visiting Darmstadt is a must. While it's not exactly a tourist destination, this city is home to some of the most unusual buildings you'll ever see!
There's the impressive Wedding Tower, a seven-storey building crowned with five fingers. Built in the early 1900s, the tower was commissioned by Grand Duke Ernst Ludwig to commemorate his marriage to Princess Eleonore. During the day, you can climb to the top of the tower to enjoy some panoramic views of the city. You can also admire the beautiful mosaics that decorate the walls of the entrance hall.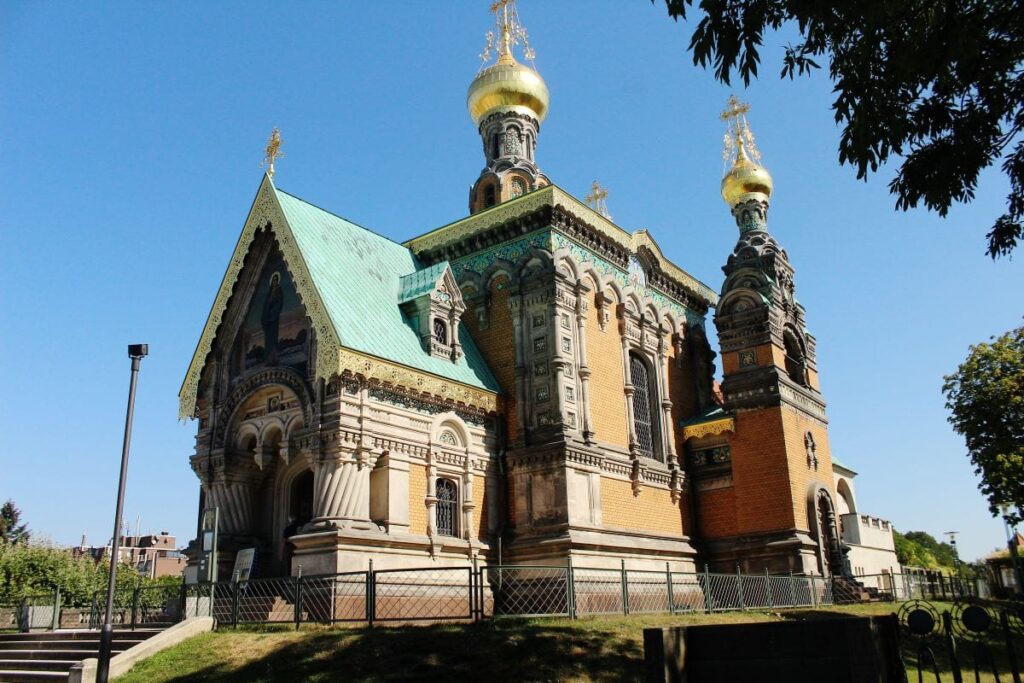 Next to the tower, you'll find the Russian Chapel, with its gilded domes and ornate walls. It was built in the late 1800s and used as a private place of worship by Nicholas II, the last Emperor of Russia.
Another interesting attraction is the Waldspirale. Designed by Austrian artist Friedensreich Hundertwasser, this residential building features a twisting roof, curved walls, and over 1,000 windows in different shapes and sizes.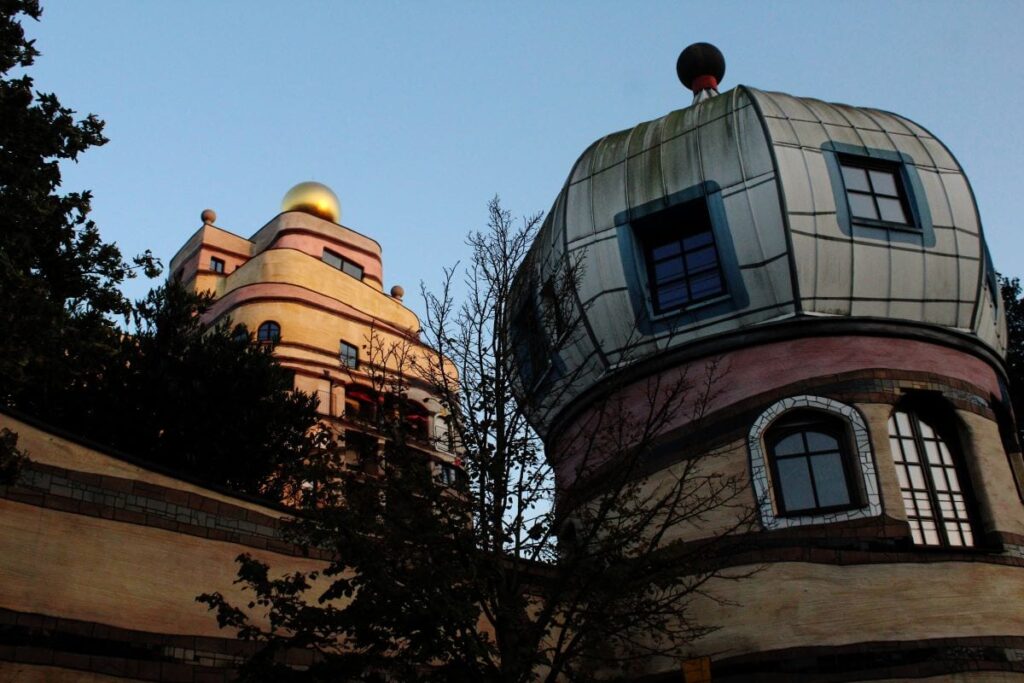 On a nice day, you can go for a stroll through one of the parks in the city. Herrngarten is a large green area with trees, a pond, and a music pavilion. There's also Rosenhöhe, a 19th-century park with roses and historic structures.
Plus, the city centre is brimming with cafes and shops. You can enjoy a nice meal in the main square and watch the world go by. Contributed by Daniela of Grumpy Camel.
Germany travel guide – 21 places to visit in Germany
Maastricht – Netherlands
Mostly famous for being the city where the Treaty on European Union was signed, Maastricht still remains off the radar for many tourists visiting Europe. Nonetheless, Maastricht will surprise the visitor with its rich historical heritage, as the city is one of the oldest settlements in the Netherlands.
Located in the southernmost Dutch province of Limburg, Maastricht doesn't look like your typical Dutch city. You won't find there regular canals and stepped-gable houses. Instead, you will be welcomed by a laid-back city of special Southern charm, that has a certain dose of French allure in it.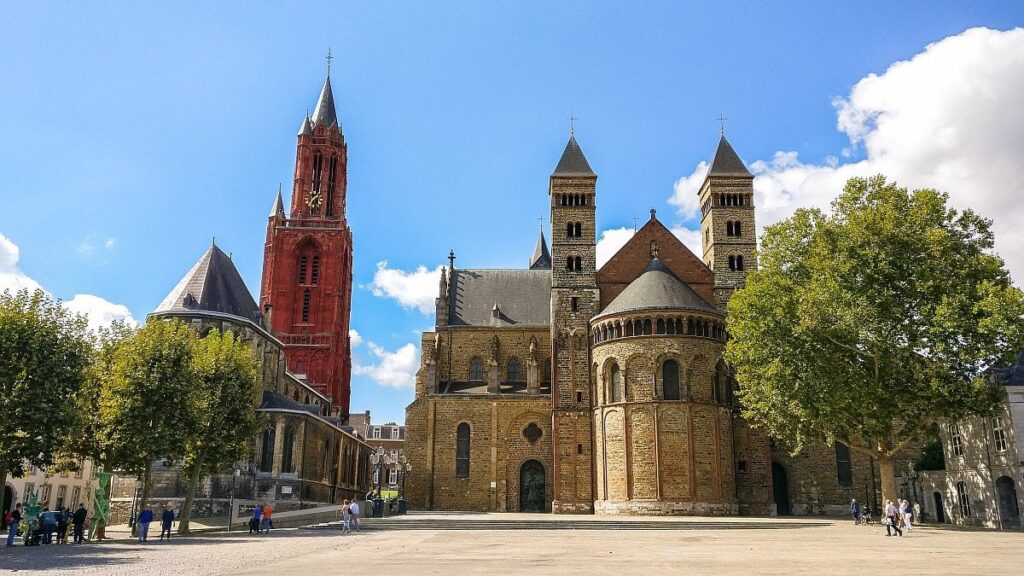 When in Maastricht visit the famous Vrijthof Square and the oldest, still functioning church in the Netherlands, the Basilica of Saint Servatius. For the best views of the city, climb the tower of St. John's Church, also on Vrijthof Square. Maastricht boasts one of the most beautiful bookstores in the world – the Dominicanen Bookstore, housed in a 13th-century Gothic church. Another attraction not to miss on your day trip to Maastricht is the Bonnefanten Museum – an interesting amalgam of historical and contemporary art, housed in a prominent modern building.
If you are into hipster culture, visit Wyck, the neighbourhood on the eastern bank of the river Meuse, across the Old Town. Numerous vintage stores, small cosy cafes, and deli stores create a lively vibe that attracts lots of local young people.
Maastricht is the perfect destination for a day trip, from anywhere in the Netherlands, as it has good train connections. Its proximity to the Belgian and German borders makes it also an easy day trip from these two countries. Contributed by Daniela of Exploring the Netherlands.
Osuna – Spain
One of the most underrated towns in Spain that definitely deserve more attention is Osuna. Situated right off the A92 between Malaga and Seville, it is easily accessible and the impressive Collegiate Church of Our Lady of the Assumption which sits elegantly on top of a hill overlooking the town is easily seen from the highway. But there is so much more to the whitewashed town.
Among the best things to do in Osuna is to visit the Old University which sits right next to the collegiate church. This is also a good place to park the car as you can easily walk to the rest of the attractions. Osuna boasts quite an incredible architecture and for the best examples of Baroque architecture, head to Calle San Pedro. The street was declared one of Europe's most beautiful streets by UNESCO and it is easy to see why.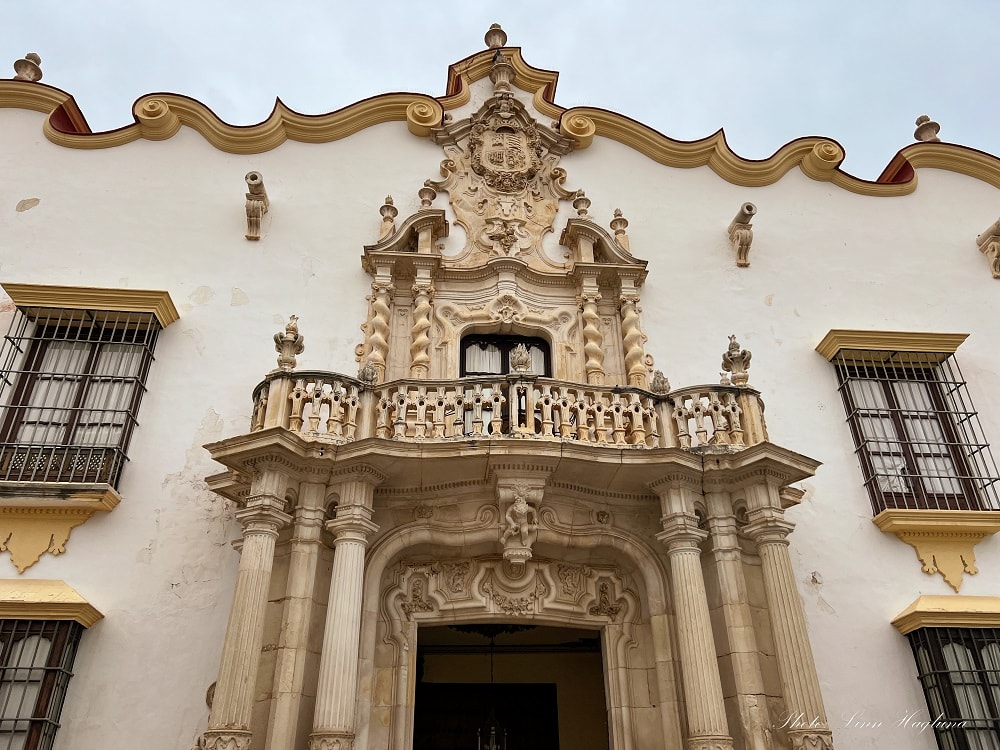 Particularly worth mentioning are the Palacio de Los Cepeda, Cilla del Cabildo, and Palace of the Marquises. The latter is now a hotel and where the crew of Game of Thrones stayed when they filed scenes in the town. If you are interested in Game of Thrones, you should not miss out on Osuna Museum. They have dedicated two entire rooms to the series and you can view artefacts that were used in the filming that was gifted to the town after they finished. Contributed by Linn of Amused by Andalucia
What is Semana Santa? Celebrating Holy Week in Spain
Finding hidden gems in Europe
If you're hoping to travel to Europe this year, I hope you will think about going beyond the usual European destinations and go off the beaten path and explore smaller unique European destinations. Europe is full of hidden gems that are waiting to be discovered.
If you have found some incredible hidden gems in Europe let me know in the comments.
Pin it to save it