Best things to do in Slovenia: 17 Incredible Attractions to visit
When people visit Slovenia, they are impressed by its rich cultural identity, gorgeous scenery, and exciting history. Many of the castles and museums in the country make people feel like they've gone back in time. Slovenia has a lot of mountains, rivers, and caves for people to explore in its natural state.
Slovenia is a small nation in the middle of Europe with more than 2 million people who live there. This country has a lot of naturally beautiful places. Slovenia is known for its scenic landscapes, lakes, and dramatic scenery. It's an excellent place for people who like to try new things and appreciate nature.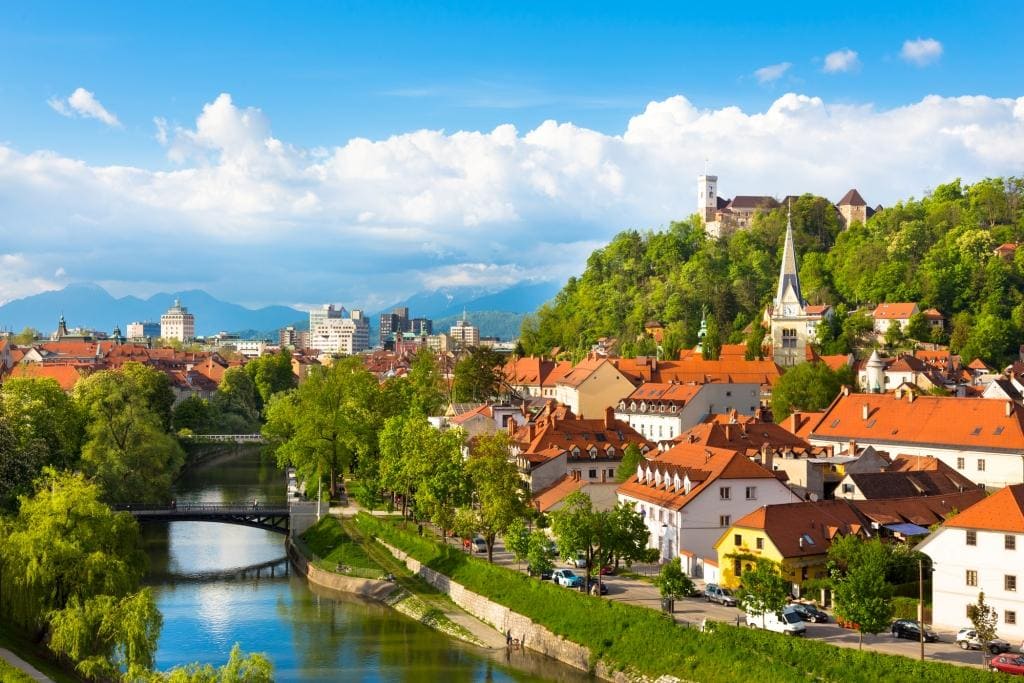 This article will discuss different tourist spots you can visit in this wonderful country. So, if you are planning to visit Slovenia or are just curious about what the country offers, continue reading!
18 Things to do in Slovenia
Portoroz
For a startup, let's start with Portoroz. The Slovenian coast is where the Gulf of Trieste is closest to the middle of Europe. Here is Portoroz, a beautiful seaside town and spa town in Slovenia. The spot is in the Municipality of Piran, which is in southwestern Slovenia. It is sometimes written as Portorose.
Locals had known about Portoroz as a health resort since the 13th century when Benedictines from the Monastery of St. Lawrence used seawater and mud from nearby salt pans to treat some diseases.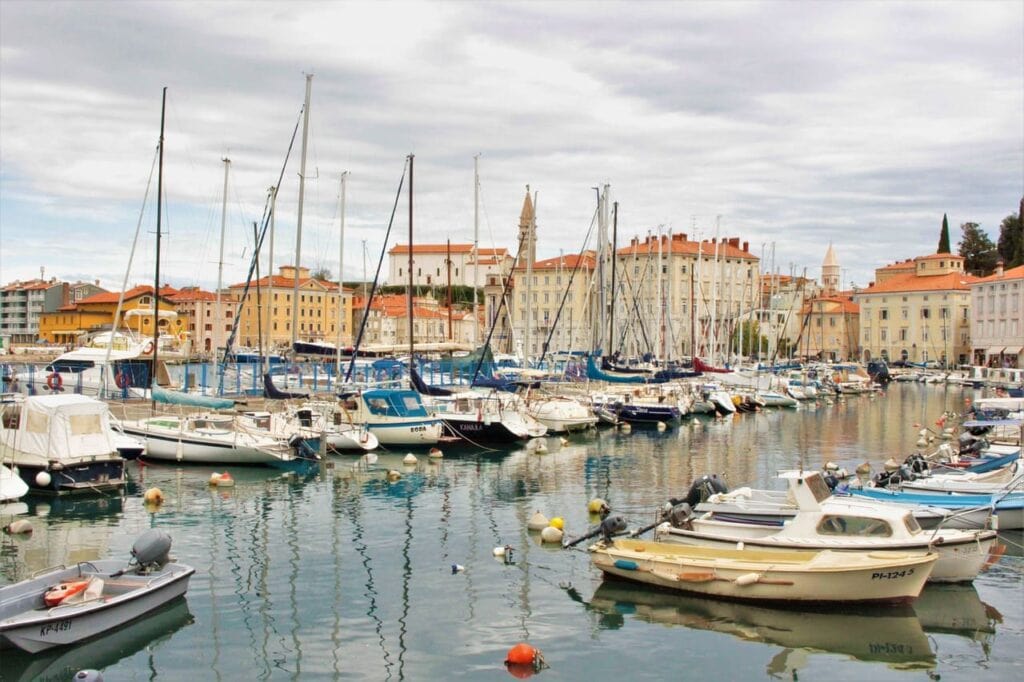 Since Portoroz is on the coast, seaside viewing is obviously the best thing to do. You can find a lot of cafes and restaurants along the coast of Portoroz. Some hotels also charge a set fee for lounge chairs, towels, and other beach amenities. But there are also places on the beach where you don't have to pay, like on the piers.
Portoroz is also an excellent place for thrill-seekers and adventurers because you can rent water scooters, tube trips for more than one person, banana boats, and speedboat rides along the whole Slovenian coast. If you are planning your vacations in Slovenia this might be one of the best beaches you can go to.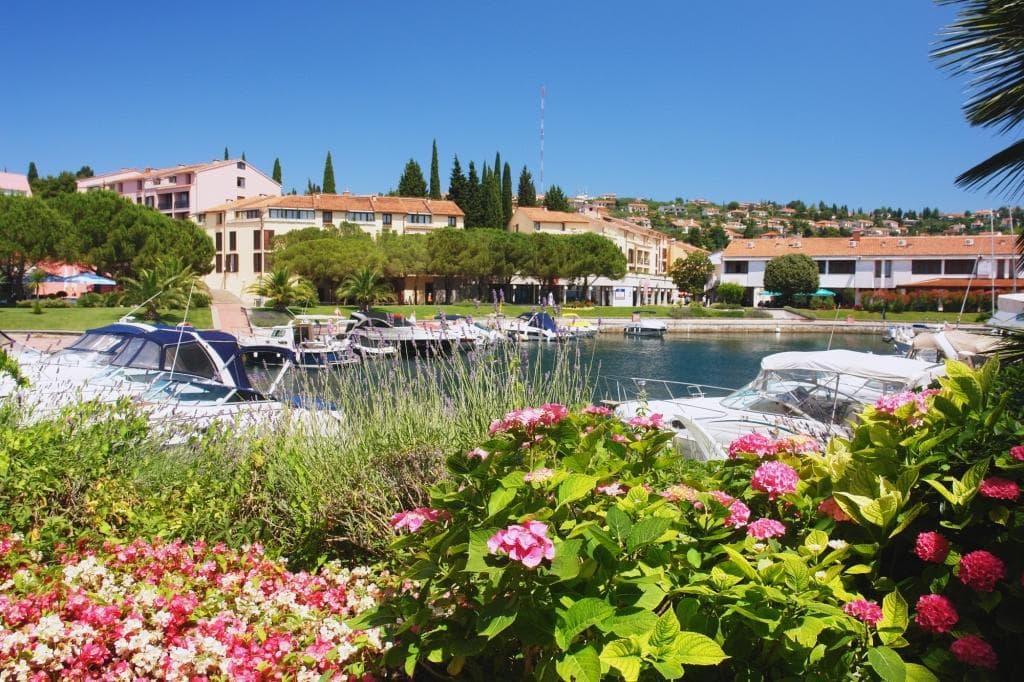 A great café called Cacao is close to Portoroz's main beach and has a great view of the beach. On their coffee list, there are a lot of ice creams and other sweets to choose from. You can also order coffee, beverages, smoothies, cocktails, cakes, and a lot more while enjoying the stunning view of the beachside.
Koper
Next on our list is Koper, the biggest city on the Slovene Riviera, also called Slovenska obala, a small stretch of sunny Adriatic coast.
As soon as you walk through Koper's Muda Gate, which used to be the entrance to the town, you'll be hit with an outburst of Slovene architectural style, art, spicy food, and lively neighbourhoods.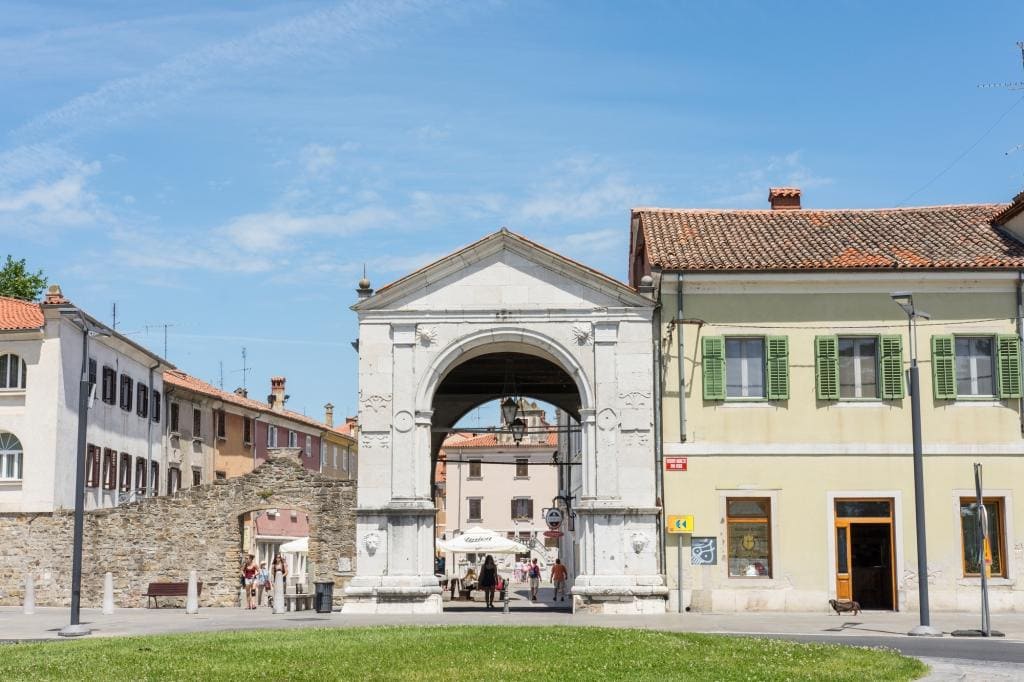 Slovenia's coast is about 30 miles long and has many beautiful spots. The port city of Koper is in the north of Slovenia. It is close to the Italian border and the city of Trieste, Italy.
In addition to its pretty cobblestone streets, squares, cosy cafes, restaurants, and grilled seafood, Koper has a lot of different architectural styles, such as Baroque, Gothic, Renaissance, and Venetian.
Koper is also a great place to start a trip to nearby towns and beautiful places like Lake Bled, Piran, or the capital, Ljubljana, which are all less than two hours away by car. Due to Slovenia's small size, you'll have more things to do during your stay than you could ever imagine.
In Koper, you can see examples of Venetian architecture, old buildings, seafood right off the boat, the mesmerizing Praetorian Palace, and more. All these things await you to discover when you visit this charming seaside town.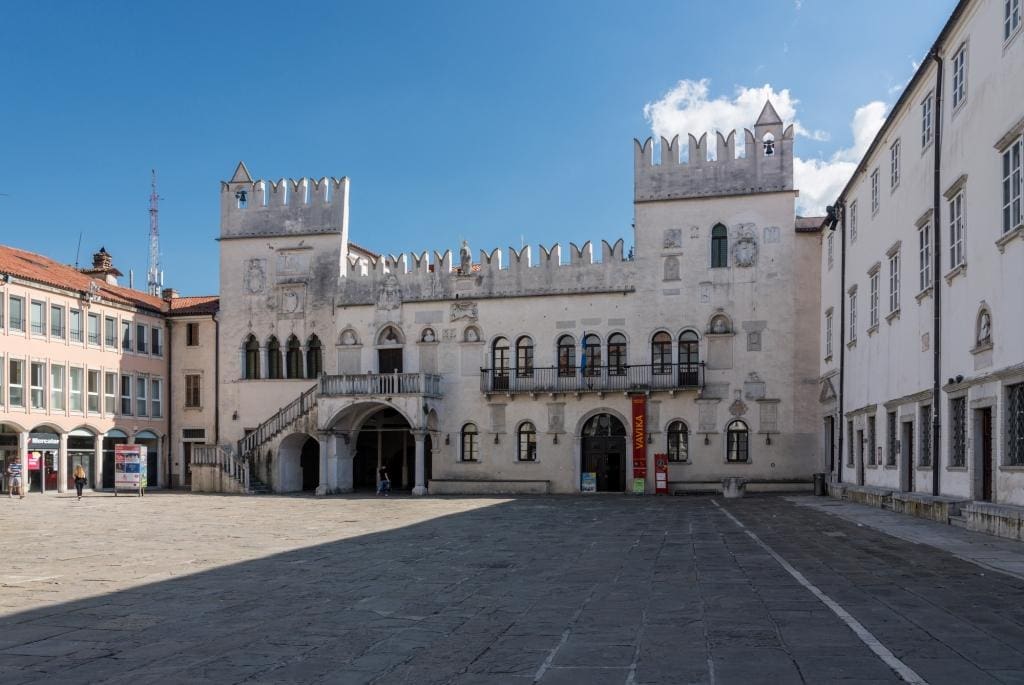 Koper serves as an archive for the diverse architectural styles that have characterized the various civilizations that have occupied or dominated this region.
Tito Square, located in Koper, is great for getting together with friends, starting a city walk, and admiring the intersections of Koper's various architectural types. The Slovene name for the plaza, Titov Trg, is still used to refer to its namesake, former Yugoslavian leader Josip Broz Tito. Titov Trg is a Venetian-style square.
Lake Bled
Of course, we cannot forget the famous Lake Bled, which is in the northwest corner of Slovenia, in between the Alps and Triglav National Park. As a sub-alpine lake, it makes sense that the water is as clear as glass, although the lake seems to be almost 30 meters deep. Around the lake, there are rolling hills with both forest and farmland on them. The first people to live around Lake Bled were Slavs. They did this back in the 7th century.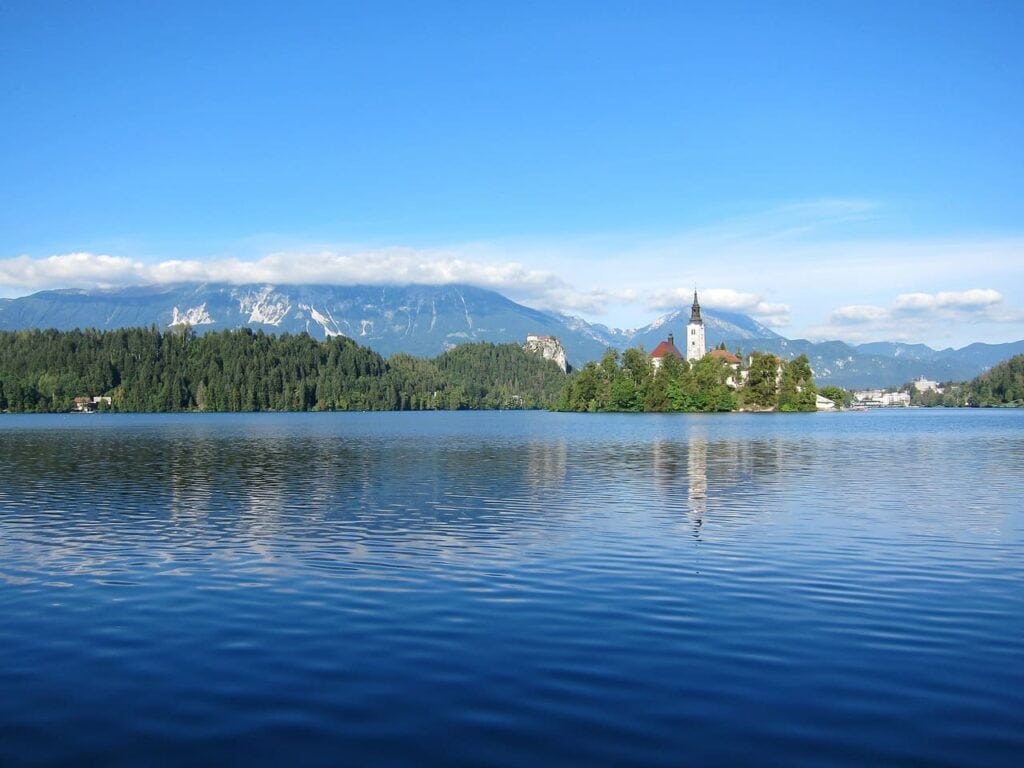 Lake Bled is one of the most wonderful spots in Slovenia if not all of Europe. This lake near the Alps is so magnificent that it seems too good to be true. There is a church on an island, a castle on top of a cliff, and beautiful mountains in the background.
The best time to visit Lake Bled probably relies on what you want to do there and how you want the scenery to look. Lake Bled changes with the seasons, but it is always beautiful no matter what. Because Lake Bled is near the Alps, it gets a lot of snow in the winter. Lake Bled often freezes over, so boats can't go out on it. When it snows, though, the lake looks like a winter wonderland.
On the other hand, during summer it has blue skies and sunny days. The forest around the lake provides a lot of shade, and you can always swim in the lake to cool off. This is the peak season at Lake Bled, of course. The weather is nice in late spring and early fall, with snow-capped mountains in the distance and a beautiful green forest.
Ljubljana
Ljubljana, the capital city of Slovenia, was named European Green Capital in 2016, and it is one of the greenest and safest capital cities on the planet. It is also one of the smallest and least populated capital cities in Europe, so there is plenty of room for you to explore Old town without feeling crowded. Ljubljana is like a friendly small town, but it has all the offerings of a big capital city.
It has a dreamy, Middle-European feel in the winter, and the summer is the best time to enjoy the city centre, which is car-free and has a Mediterranean feel.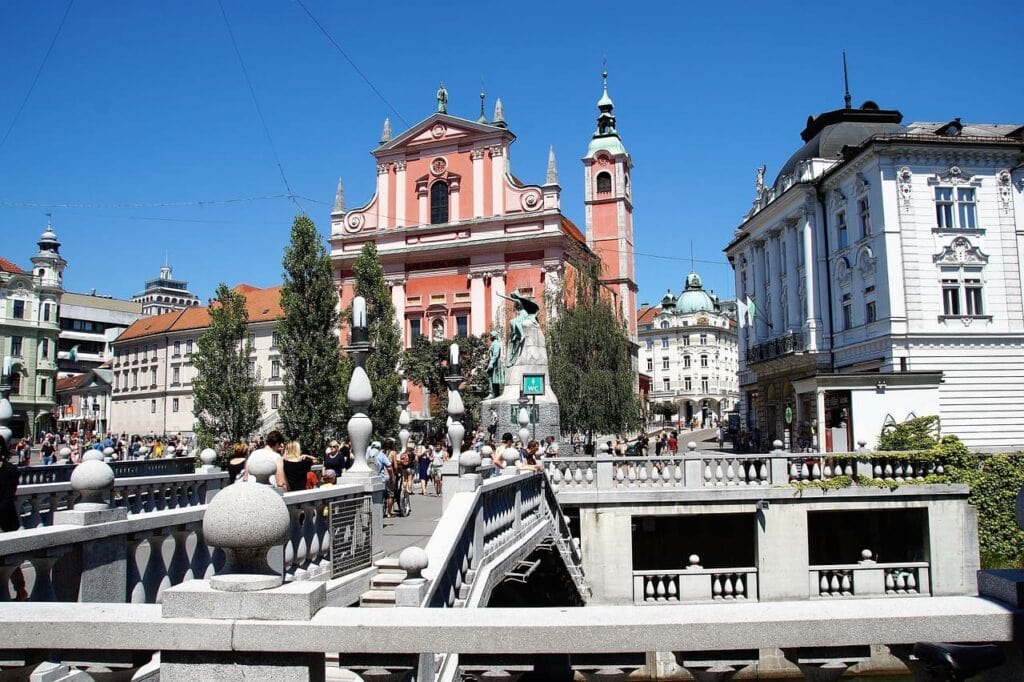 Travellers think of the city as the "diamond in the rough" of Europe. It has many things to do for an active break in nature, and you can also try a variety of local specialities. And the best place to relax is on the banks of the Ljubljanica, where there are cosy cafes where tourists can talk to locals and enjoy the view.
The old city centre is always full of people and things to do. Ljubljana has a lot to offer in terms of culture. Annually, more than 14,000 events take place there. During the hotter months, the city has free concerts, street performances, and other events. The Open Kitchen market is a popular event because it allows people to try different kinds of food.
When you look up from Ljubljana's squares, the castle, one of the city's best-known features, looks pretty high.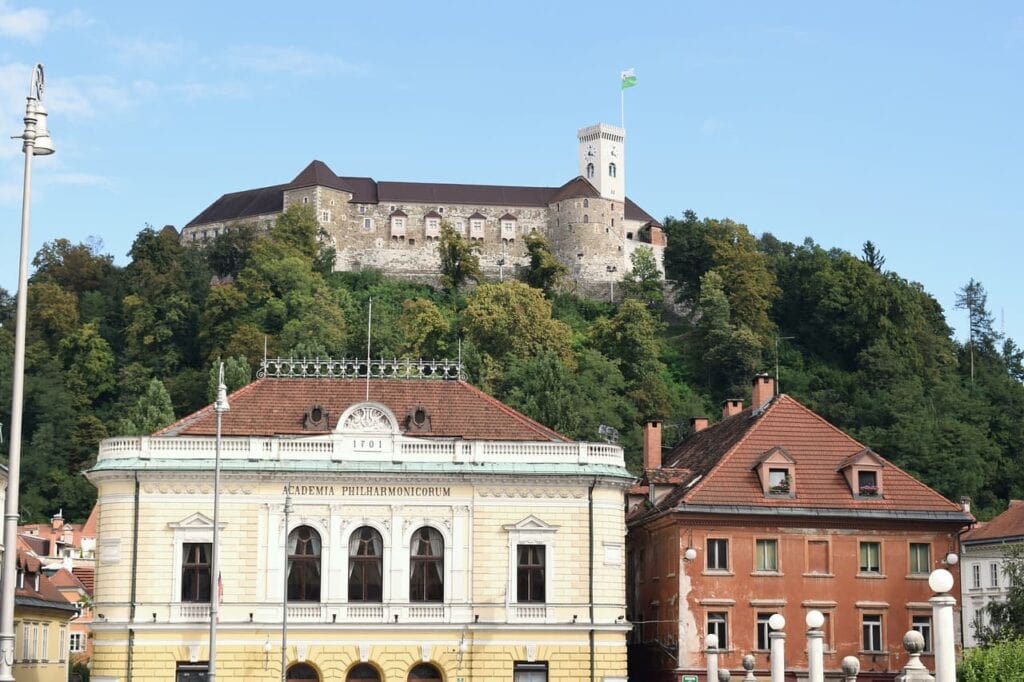 You can try to walk up there if you're courageous enough, but you can also take a tourist train or a funicular railway. Since it was first built 900 years ago it has changed substantially. More useful military buildings replaced the early stone, wood, and stone fortress. In the 16th century, it became an Arsenal to protect the area from an Ottoman invasion.
The central courtyard is free to get into and has a restaurant, cafe, nightclub, and art galleries. For a fee, you can go to the top of the watchtower and look out over Ljubljana. The "Time Machine" tour is part of the fee. This shows Ljubljana's most important historical events through 3D animations and guides dressed in the period.
Kranjska Gora
Kranjska Gora is a picturesque alpine town located in northwestern Slovenia, near the borders of Austria and Italy. Nestled within the Julian Alps, this charming destination is a haven for nature lovers and outdoor enthusiasts alike. Surrounded by majestic peaks, lush forests, and crystal-clear rivers, Kranjska Gora offers a breathtaking setting for unforgettable experiences.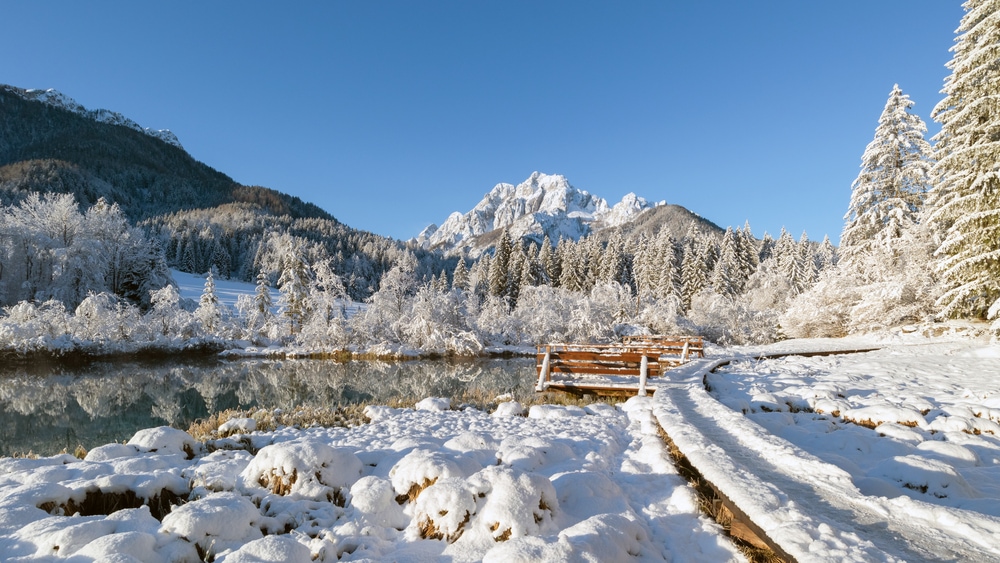 During the winter months, the town transforms into a winter wonderland, attracting skiers and snowboarders to its renowned ski slopes. The nearby ski resort of Vitranc offers a range of slopes suitable for all skill levels, making it an ideal destination for families and winter sports enthusiasts.
In addition to its natural beauty, Kranjska Gora boasts a charming town center with a blend of traditional Slovenian architecture and modern amenities. Visitors can explore local shops, taste delicious Slovenian cuisine in cozy restaurants, and immerse themselves in the warm hospitality of the locals.
Lake Jasna
Lake Jasna is the name of two interconnected artificial lakes located near Kranjska Gora along the road to the Vršič Pass. With its pristine surroundings and backdrop of limestone mountains formed by Mount Prisank and Mount Razor this makes a beautiful spot to enjoy nature at its best.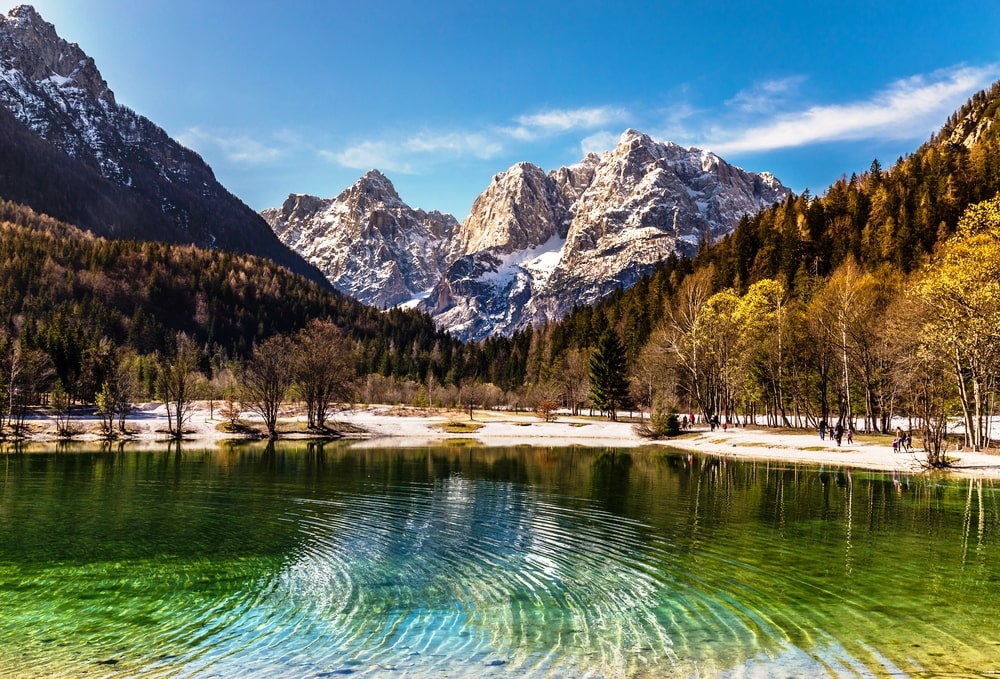 Vrsic Pass
The Vršič Mountain Pass with its 1,611m is the highest road pass in the Eastern Julian Alps. The high-mountain road from Kranjska Gora through Vršič to Trenta has 50 hairpin curves, 24 on the side of Kranjska Gora and 26 on the Trenta side.
The Vršič Pass, is a historical route constructed during 1915/16 by Russian prisoners of war, served as a crucial supply link from Austria-Hungary to the Izonzo Valley, also known as the Soca Valley in Italian. Presently, the road largely traces the path of its past, though it has undergone significant reconstruction over time. Cobblestones adorn the narrow switchbacks, particularly on the northern side of the pass and you can see a Russian Orthodox Church built by the prisoners.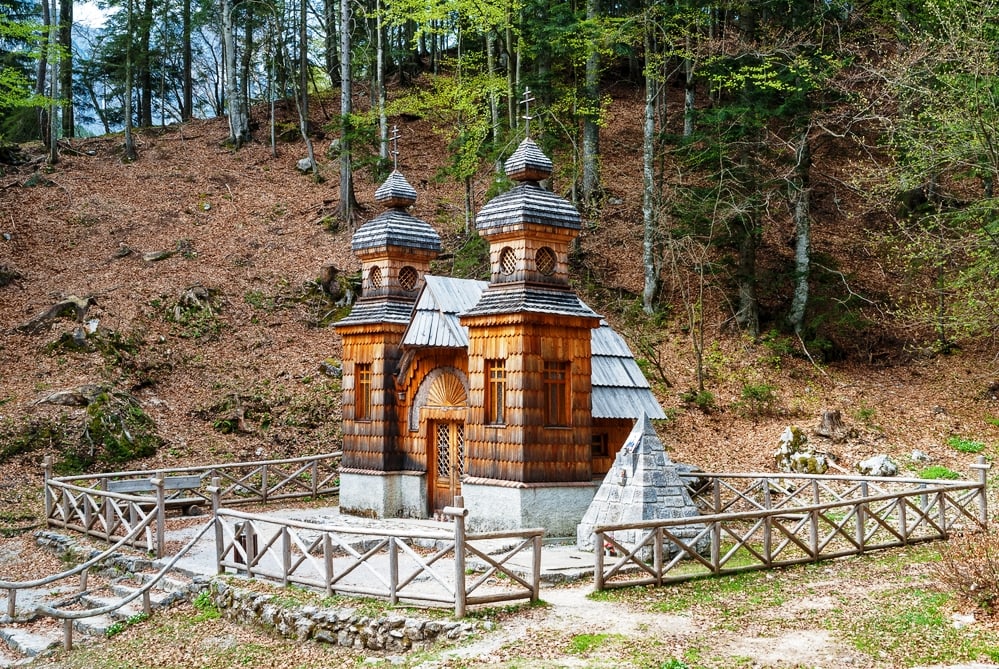 Postojna Cave
Postojna Cave is an awe-inspiring 24-kilometre-long limestone cave that the Pivka River made over three million years ago. The accessible area is almost 6 km long. About 4 km can be completed by electric train, and the other 2 km can be done on foot using walkways built for that purpose.
Take the iconic electric train to get to the walkways. This type of underground train doesn't exist anywhere else in the world; it is the first and only of its kind. It's a wonderful experience, but tall people should be careful in the lower tunnels.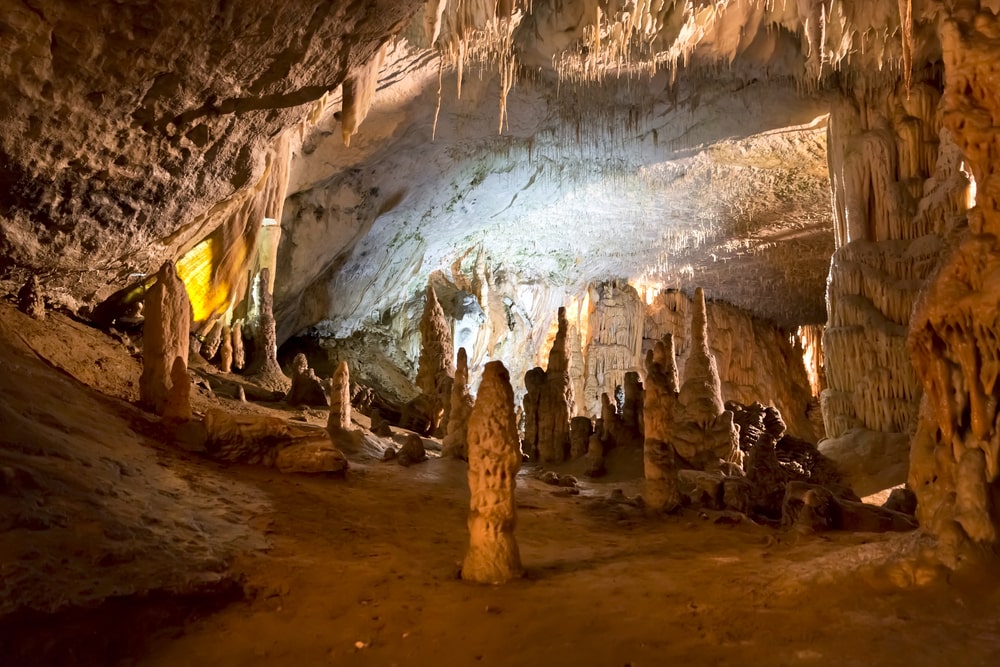 Walking through the cave, you will see all kinds of unique natural formations. The guides will discuss stalactites which form when water drips from the ceiling onto calcite, accumulating over time to make these shapes. Stalagmites are the ones that grow up from the drips above. When a stalactite and a stalagmite join together, they make columns.
And inside these structures, you'll find things like spaghetti stalactites and curtains. There are a lot of different shapes to find here. It's astounding.
The tour of the cave lasts 90 minutes. It is essential to wear comfortable shoes and clothes that will keep you warm because the cave is always around 10 C.
"Baby dragons," also called olms, live in the cave. Olms are cave-dwelling salamanders that live in water. They have underdeveloped eyes, so they are blind and have no pigmentation, which is why their skin colour is pale.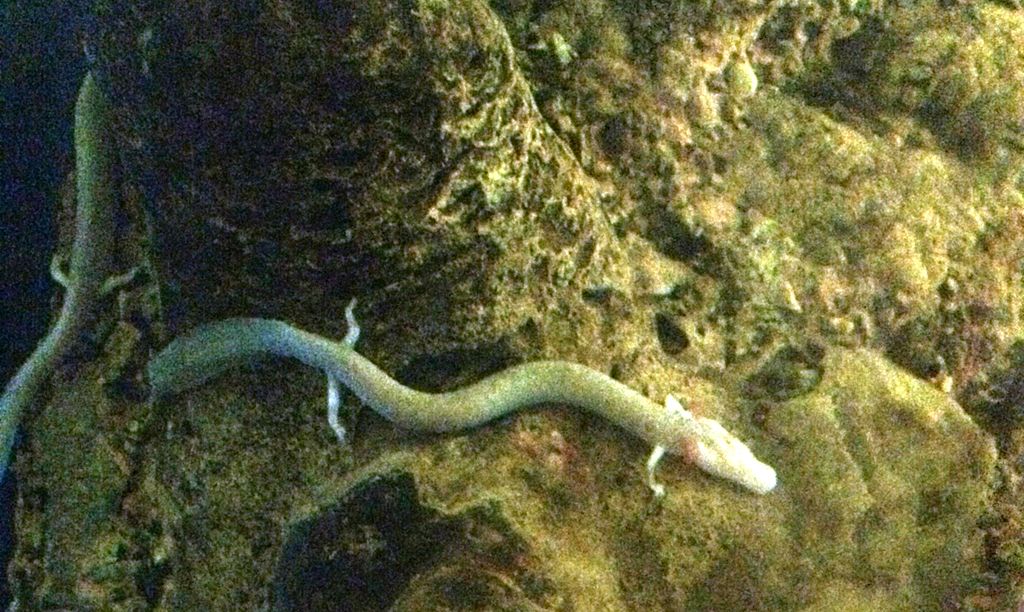 People used to think these olms were the children of a dragon living deep in the cave. You can find these baby dragons in the Postojna Cave Vivarium.
Predjama Castle
A few kilometres from Postojna Cave sits the impregnable medieval marvel the Predjama Castle. The castle is perched in the middle of a 123-metre-high cliff for over 800 years. Behind the largest cave castle in the world, there is a network of secret tunnels, from where the knight Erazem of Predjama would set out on his plundering expeditions. The Cave under Predjama Castle is the home of a colony of bats.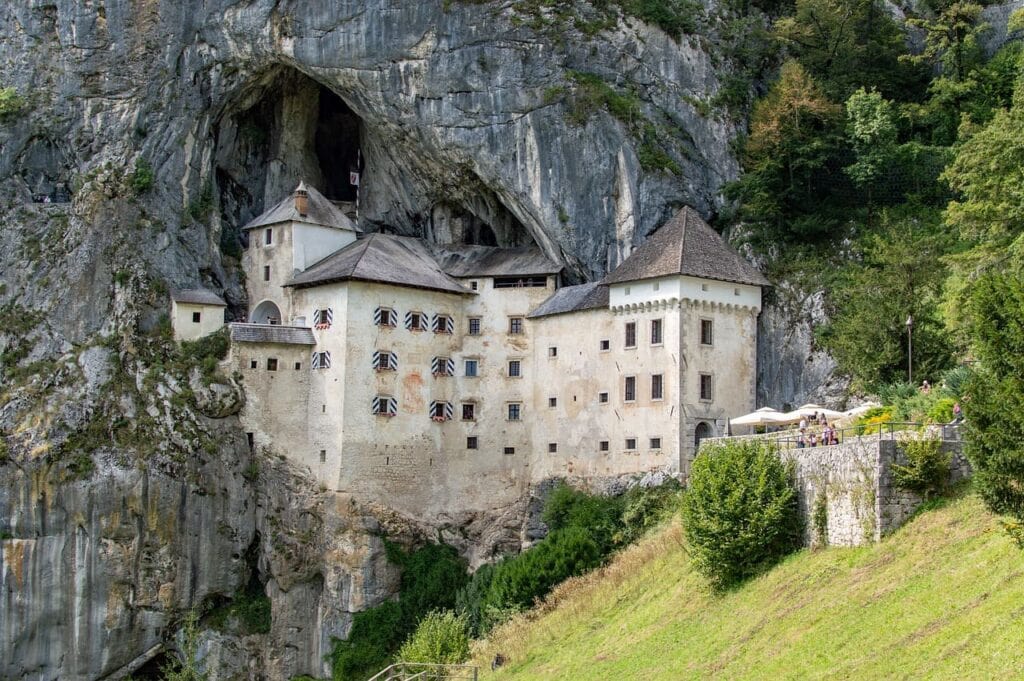 Soča River
The River Soča flows through the Soca Valley and is renowned for its enchanting emerald green hue, stands as one of Europe's most captivating waterways. Its gentle waters gracefully flow, meandering through waterfalls, small cascades, and narrow rocky gorges, leaving behind a mesmerizing landscape of surprising canyons and serene pools. The river's breathtaking charm beckons nature enthusiasts and adventurous souls alike, offering thrilling water sports opportunities such as wildwater kayaking, rafting, and canyoning.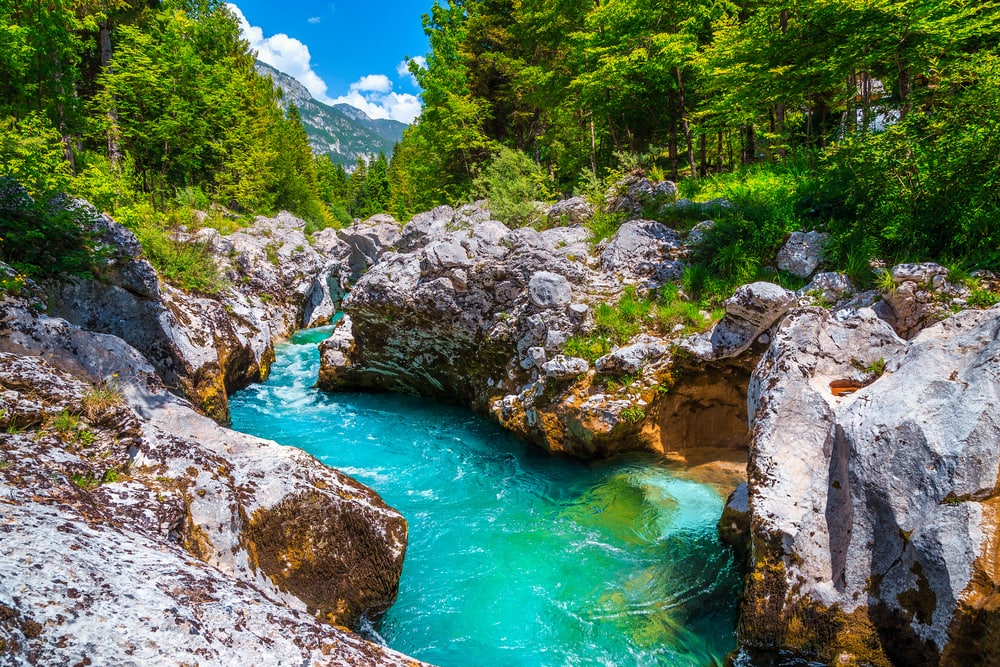 Brda Region
People say that Goriska Brda, in the northern part of Nova Gorica in Slovenia, is the Tuscany of Slovenia. The town is charming, with a long and fascinating history and, of course, wine to drink. It is surrounded by round hills, many vineyards, and different wine cellars, just like Tuscany.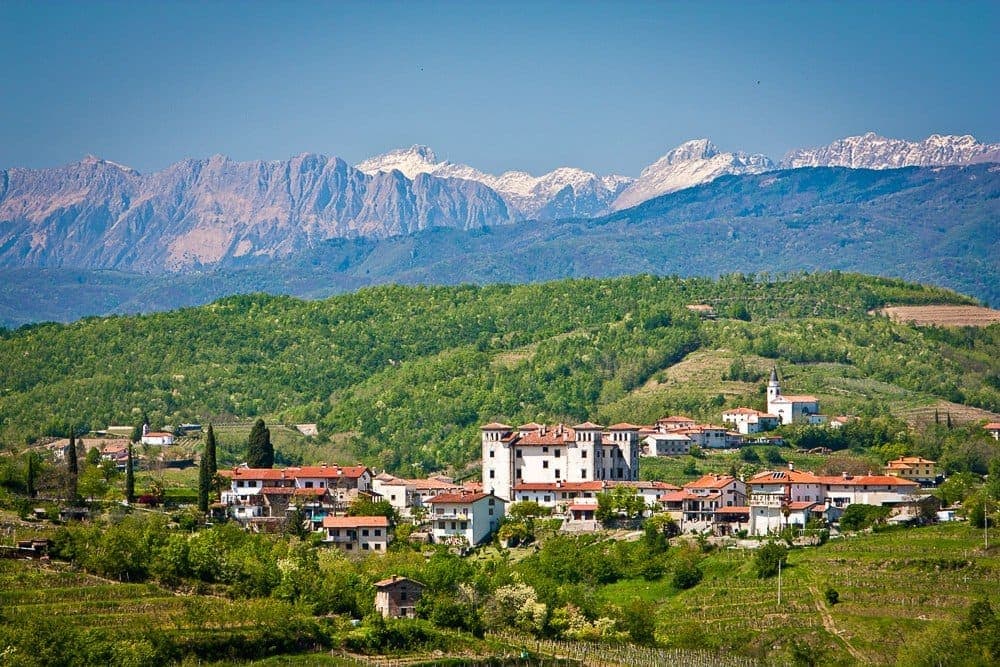 In June, the Brda hills are covered with cherry trees whose flowers are in bloom. The area is full of tree fruits like pears and apples, as well as cherries. In June, there is a festival for cherries. One of the most incredible things to do and see in the Goriska Brda is, of course, to eat and drink. It's hard not to be persuaded by the great Italian-style food or the friendly locals who offer you a glass of wine.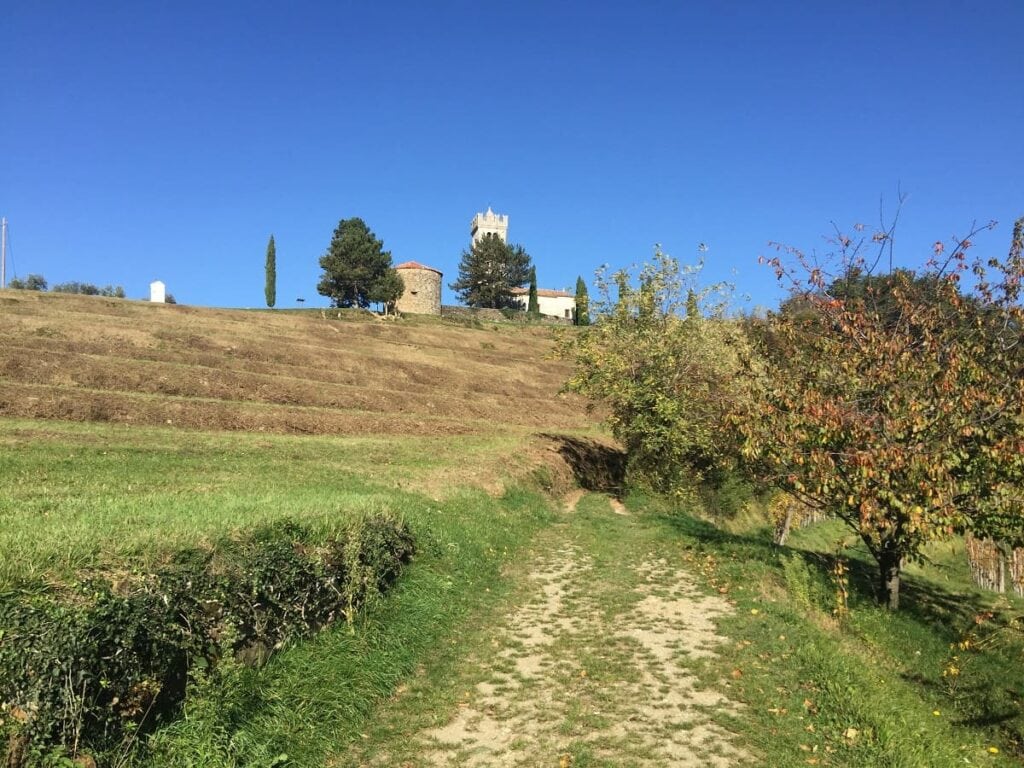 During the months of May and June, you can eat cherries and apricots. You can enjoy the stunning scenery in October. You can get peaches, figs, and the first grapes in the summer. Early in the fall, people start picking grapes, which is a busy time. When it's not too hot, temperatures and weather are best in the spring and early summer. You can cool off in the nearby emerald Soca river or the Adriatic Sea. In the fall, when the harvest is in full swing, there are many chances to try fresh must and food from the area. The Brda Wine Cellar has events all year long where people can taste wines.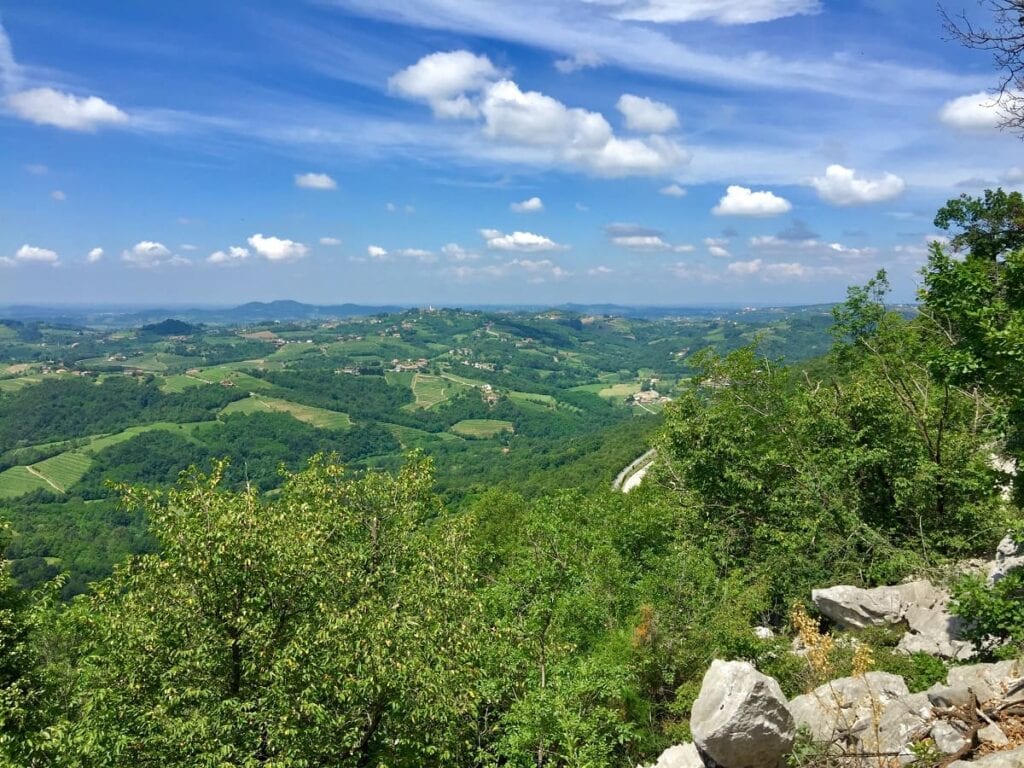 Bohinj Lake
Lake Bohinj (Bohinjsko jezero) was formed by glaciers and is Slovenia's largest permanent lake. Lake Bohinj, in Triglav National Park's Bohinj Valley, is a great place to start exploring the magnificent Julian Alps. You can bike, hike, swim, rent a kayak or stand-up paddleboard, and enjoy Slovenia's best summer spot.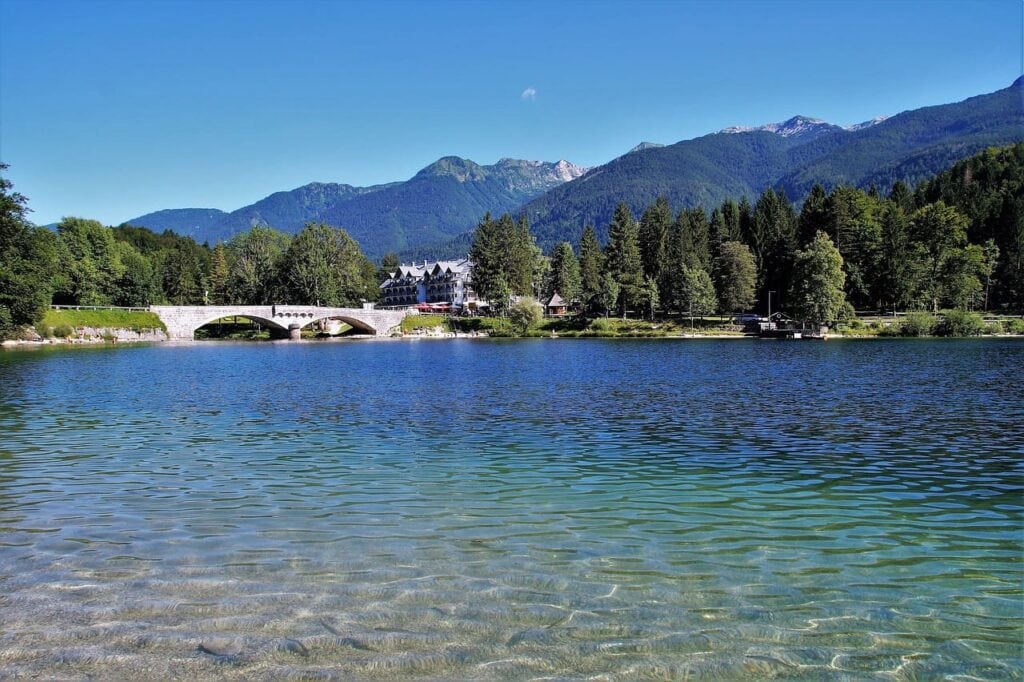 The lake basin has a steep drop-off and is mostly flat, with almost no shallows. In the summer, the lake's surface can get up to 24°C, and it often freezes over in the cooler months. When it rains a lot, the water level goes up by more than 3 meters.
Local legend says that God split the world up between his people. After splitting everything up, he realized he had forgotten a few people waiting patiently. God felt so sorry for them because they didn't make any noise or complain. He then made the decision to give them the best part of the world, which was the land he had saved for himself. The Bohinj people call God "Boh," which is where the name Bohinj comes from. Bohinj is the land of God.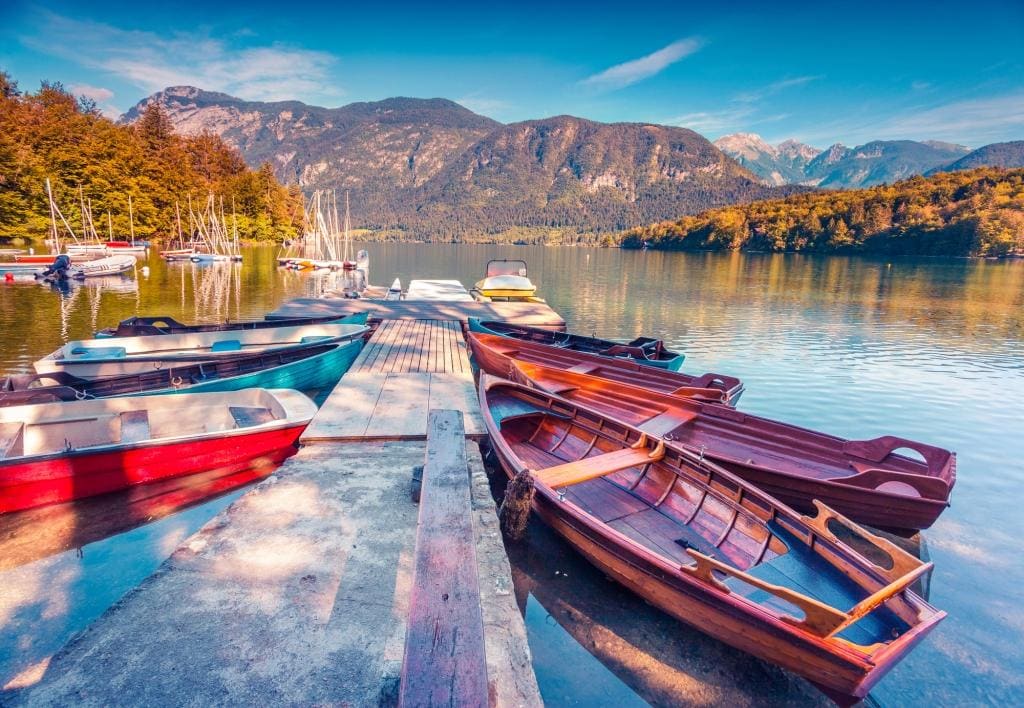 You will love going to Lake Bohinj because you can spend all day hiking in the Julian Alps and then end the day with a swim in the lake's clear waters. Since motorized boats aren't permitted on the lake, Lake Bohinj is a great place to swim because it is so quiet and clean.
Tolmin Gorge
The Tolmin Gorge was carved by the emerald waters of the Tolminka River over centuries, this narrow, rocky ravine offers a mesmerizing display of natural wonders. Take a walk along the wooden walkways and bridges that wind through the gorge, and you'll be treated to breathtaking views of cascading waterfalls, turquoise pools, and towering limestone walls.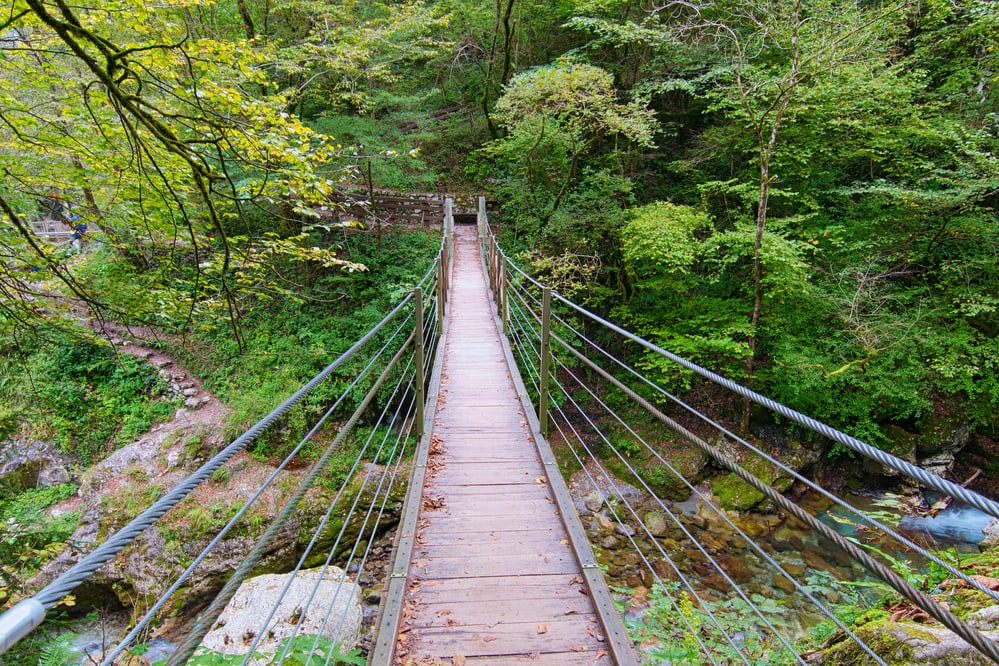 The lush greenery that blankets the surroundings adds to the enchanting atmosphere, creating a sense of tranquility and harmony with nature. For adventure seekers, the gorge also offers opportunities for hiking and exploring the pristine surroundings, making it a must-visit destination for nature lovers and outdoor enthusiasts alike. Immerse yourself in the magical beauty of the Tolmin Gorge, and you'll understand why it's considered one of Slovenia's most cherished natural treasures.
Savica Waterfall
The Savica Waterfall is a magnificent natural wonder located in the Triglav National Park in Slovenia. It is one of the most iconic and popular waterfalls in the country, drawing visitors with its mesmerizing beauty and serene surroundings.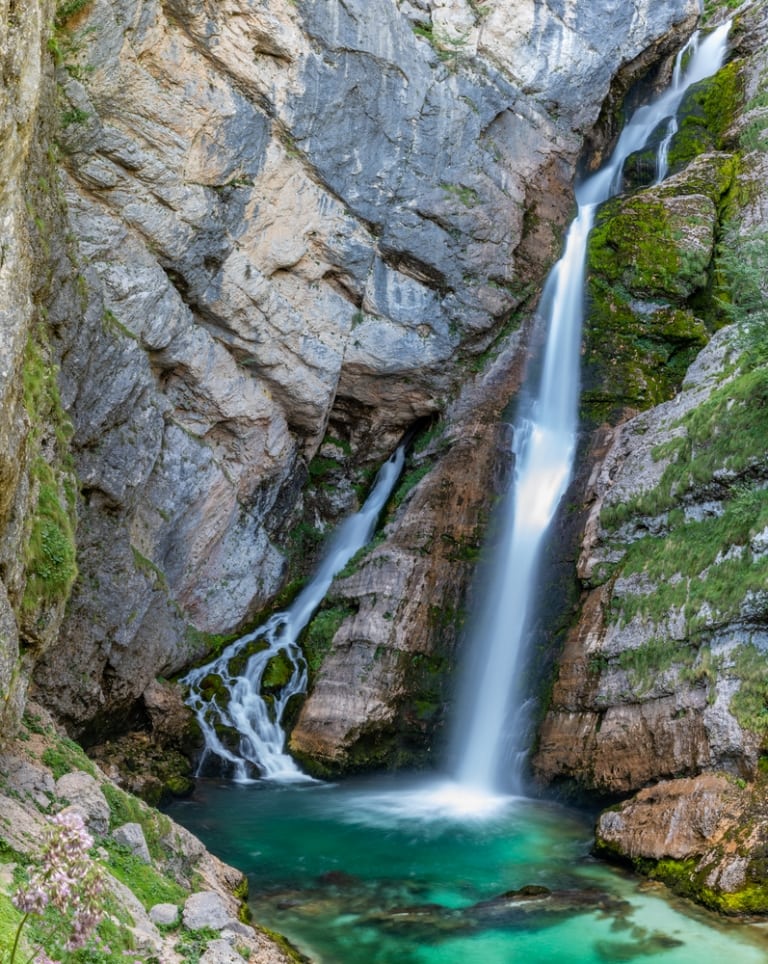 The waterfall originates from the stunning Lake Bohinj, which lies amidst the picturesque Julian Alps. The lake itself is a breathtaking sight, surrounded by lush forests and towering peaks, providing a perfect setting for the Savica Waterfall to showcase its splendor.
To reach the waterfall, visitors can take a pleasant hike through the peaceful and scenic forest trails. The journey rewards hikers with glimpses of the emerald-green waters of the Savica stream rushing through the dense vegetation, creating an anticipation for the grand spectacle that lies ahead.
UNESCO World Heritage Sites in Slovenia
1. Heritage of Mercury. Almadén and Idrija
The Heritage of Mercury UNESCO listing extends its reach across two countries, encompassing the historic mining sites of Almadén in Spain and Idrija in Slovenia. Mercury extraction dates back to ancient times in Almadén, while its discovery in Idrija traces back to the year 1490. These two exceptional locations stand as the world's largest mercury mines and operated for many centuries until more recent times.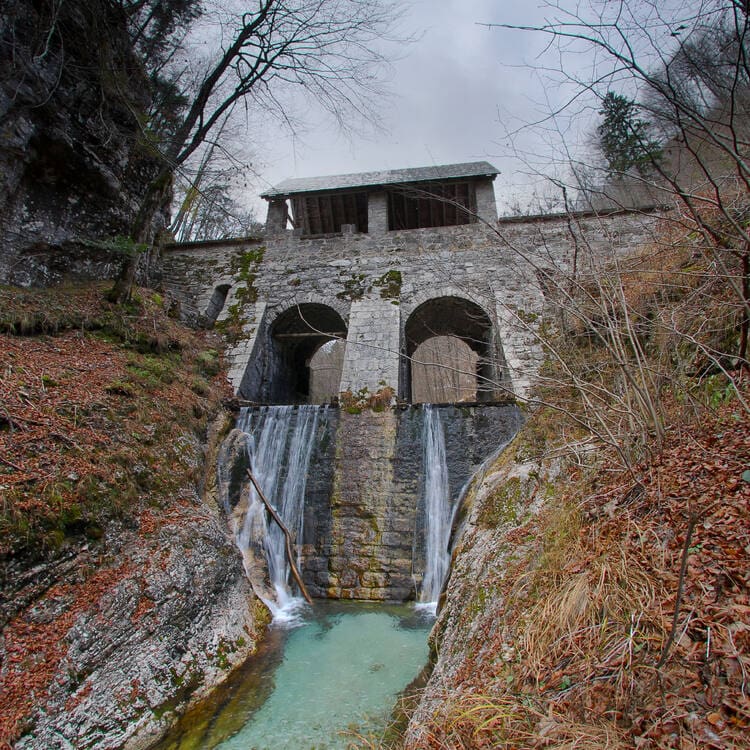 2. Prehistoric Pile Dwellings around the Alps
The Prehistoric Pile Dwellings around the Alps is a remarkable UNESCO site comprising 111 individual locations, each preserving the remains of ancient pile dwellings constructed between 5000BC and 500BC. These stilt houses were strategically positioned on the fringes of lakes, rivers, and wetlands, and while some of the sites have been excavated, many still hold untold mysteries beneath the surface.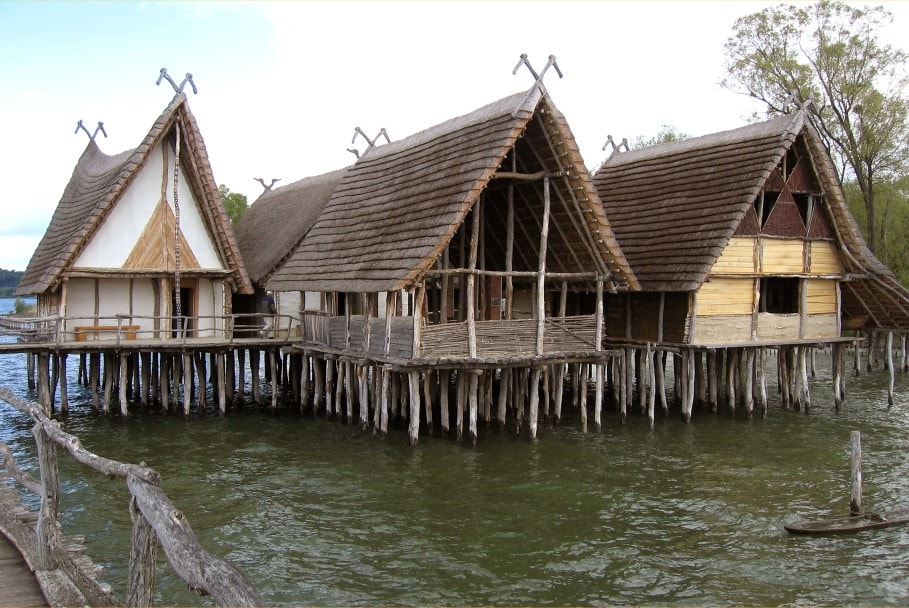 3. Ancient and Primeval Beech Forests of the Carpathians
In ancient times, expansive beech forests once blanketed more than 40% of Europe, gradually expanding from a handful of isolated areas over several millennia. In a landmark decision in 2017, UNESCO recognized the immense value of these primeval woodlands by extending the site of the Primeval Beech Forests of the Carpathians to encompass additional regions across 12 countries. These countries include Albania, Austria, Belgium, Bulgaria, Croatia, Germany, Italy, Romania, Slovakia, Slovenia, Spain, and Ukraine.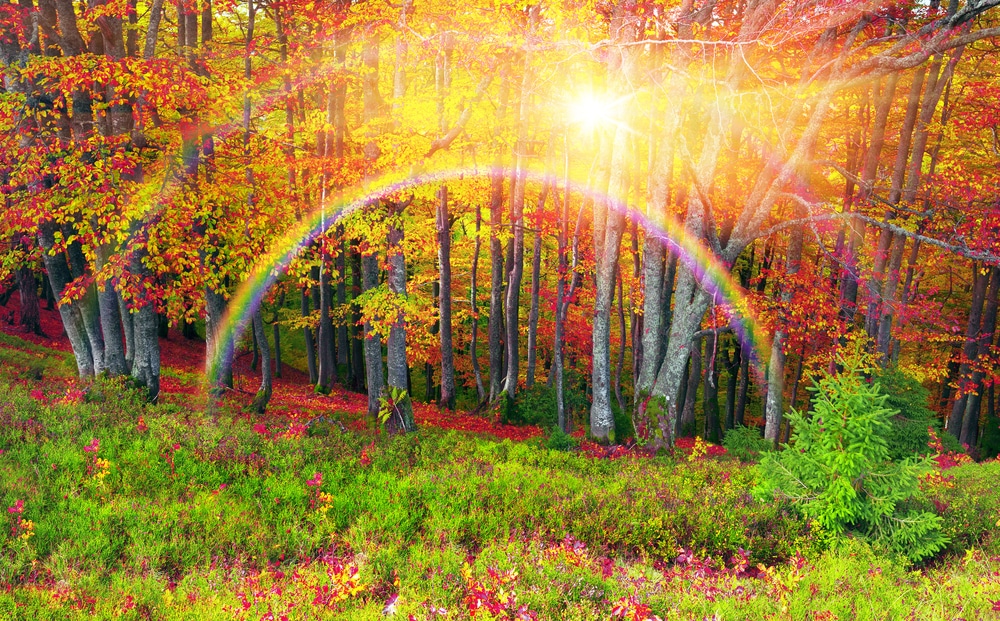 4. Škocjan Caves
The Škocjan caves are a breathtaking cave system nestled in Slovenia, stand as a true marvel and one of the Earth's greatest natural treasures. This labyrinthine network of limestone caves is a spectacle of wonder, featuring collapsed dolines, an astonishing 6 km of underground passages, mesmerizing waterfalls, and a grandiose underground chamber. The sheer size and awe-inspiring beauty of these caves are truly incredible, leaving visitors in absolute awe.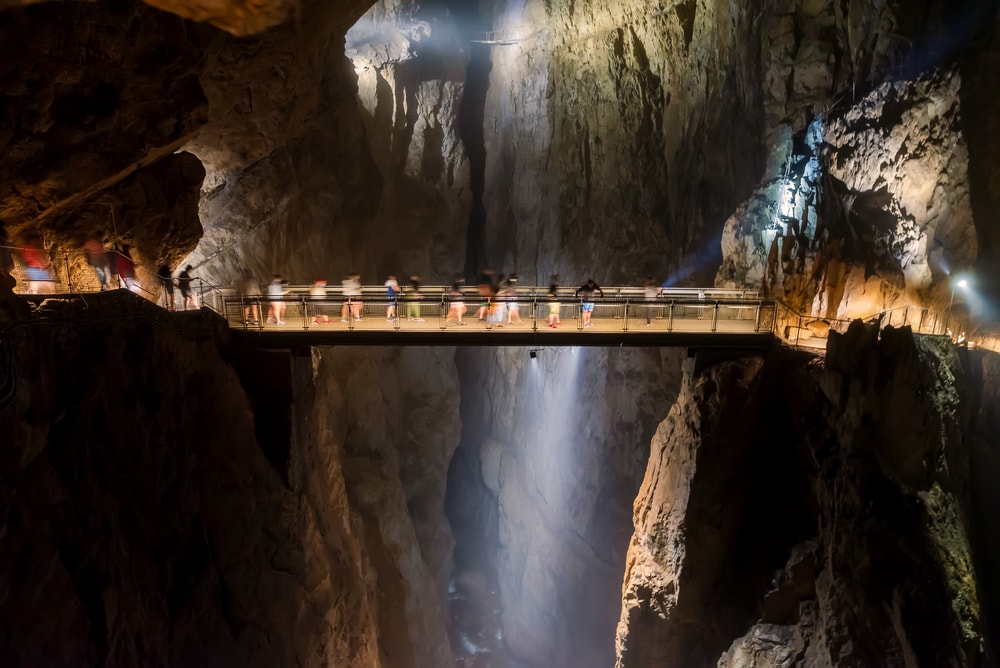 Here are some other articles you may enjoy
Armenian food – 45 Armenian dishes you must try
Absolute best things to do when you visit Yerevan Armenia
148 National Dishes of countries around the world
Pin it to save it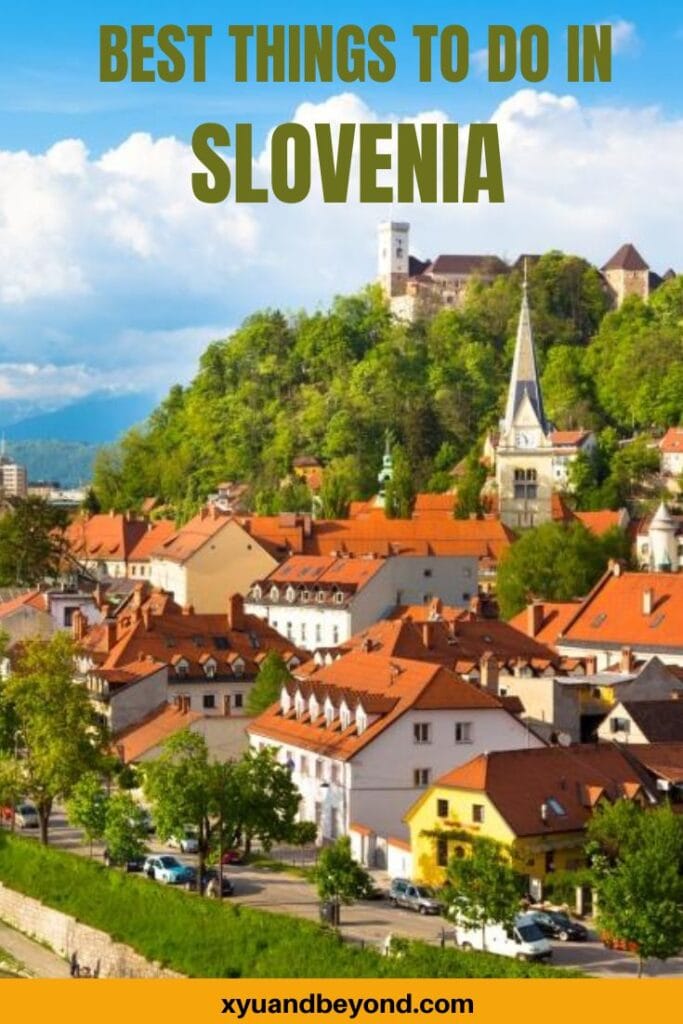 Latest posts by Faith Coates
(see all)