Is Yerevan worth visiting? All the best things to do in Armenia
At the crossroads of East and West, beautiful Armenia is a tiny country that hosts more than its share of culture, nature, friendly people, and accessibility. You could easily spend a few weeks here travelling the country and enjoying all that Armenia has to offer. Visiting the capital city you will find lots of things to do in Yerevan.
Yerevan is worth visiting with lots to do from trying its fabulous food to attending great music festivals and admiring the works of art in one of its many museums.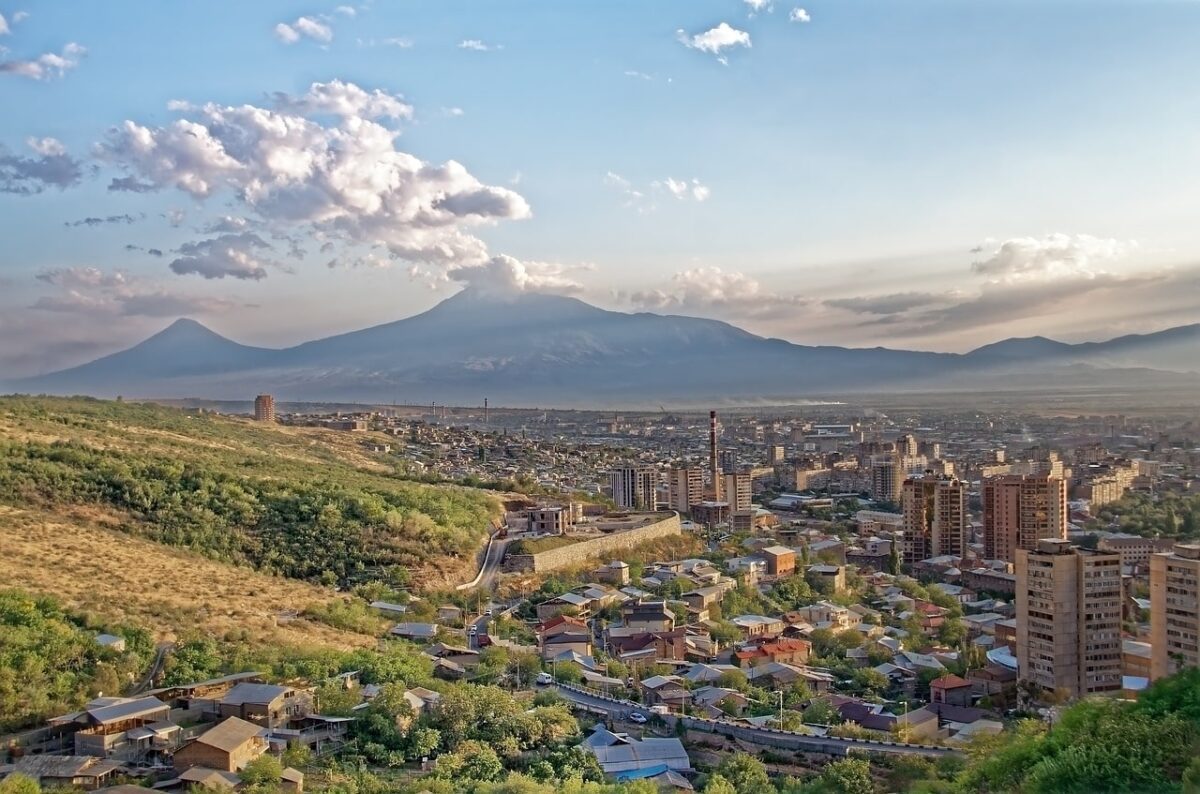 Yerevan is the capital city of Armenia – as modern as New York but even easier on pedestrians. Called the "Pink City" for its characteristic Pink "Tuf" architecture (a type of limestone), Yerevan is home to wide boulevards, Parisian-style open-air cafés, ancient churches, and stunning fountains.
The capital city is home to nearly half of the population of Armenia, yet it doesn't feel crowded. Yerevan is also host to festivals throughout the Spring and Summer months, from Jazz festivals to Wine Day, to a unique Armenian holiday where everyone throws water on each other!
One of the questions that is asked is – Is Yerevan safe? Naturally like any major city there are pickpockets and petty thefts but for the most part this is a very safe city for tourists.
Places to visit in Yerevan
10 Things to do in Yerevan
Here are 5 Yerevan attractions and why Yerevan is a city that must be on your bucket list:
Yerevan Old Quarter
Yerevan is a gem of a city. Exceptionally clean, Yerevan has an old quarter where you can see turn-of-the-century Tuf architecture and even visit inside a traditional Armenian home (now an art gallery and café).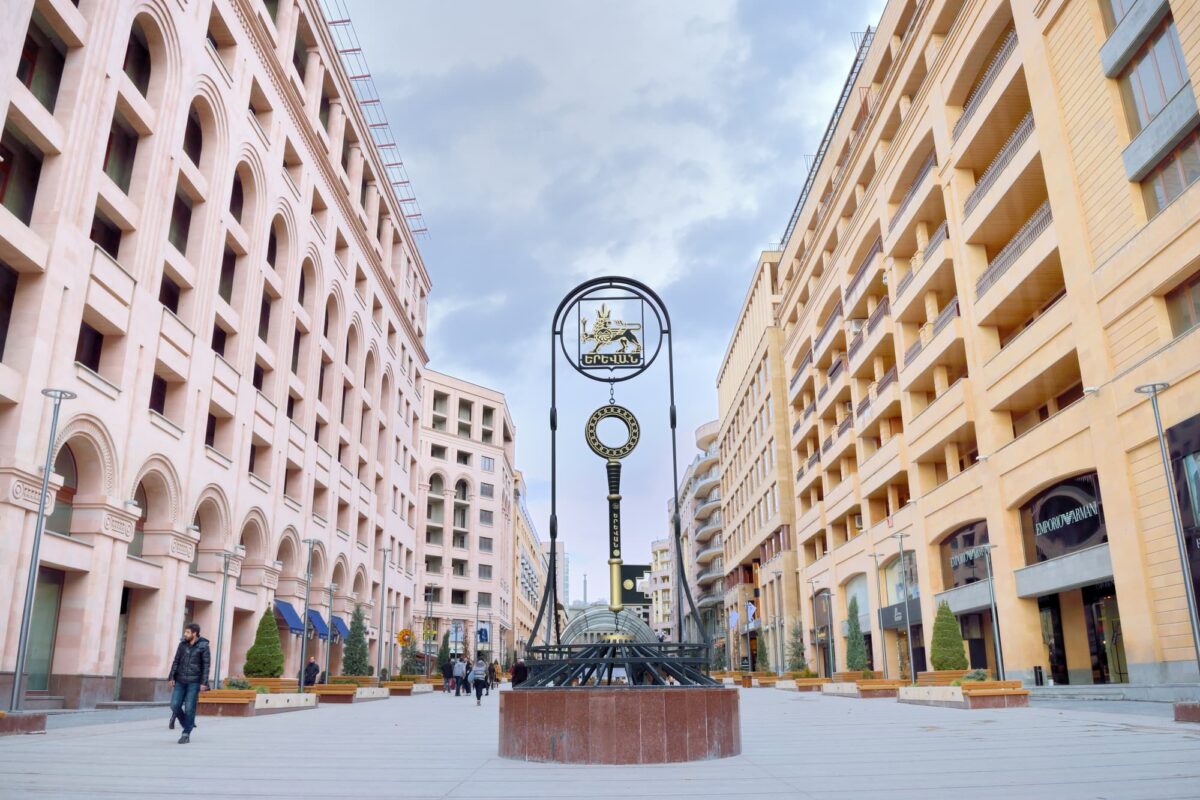 Armenia has been prone to earthquakes in its history and the Yerevan you see today is a re-built city, meaning most of the city is modern and was planned carefully for ease of transportation and commerce. In fact, the city planner is so revered by Armenians that his statue sits prominently at the base of one of the nicest areas in Yerevan, the Cascades. There may not be any other city in the world where the city planner has a monument and is a household name!
Northern Avenue
Northern Avenue in Yerevan cuts from the famous Opera House to Republic Square. Pedestrian only, with water fountains bubbling along it, Northern Avenue is home to the most expensive apartments and nicest cafes. It's a pleasant way to walk through the city and do some people-watching!
Republic Square
Republic Square is home to Yerevan's famous "singing fountains" that play music and are "choreographed" with lights most nights at 9 pm. Just off Republic Square are many fine restaurants, and behind it is one of Armenia's newest parks (complete with, naturally, more beautiful fountains!).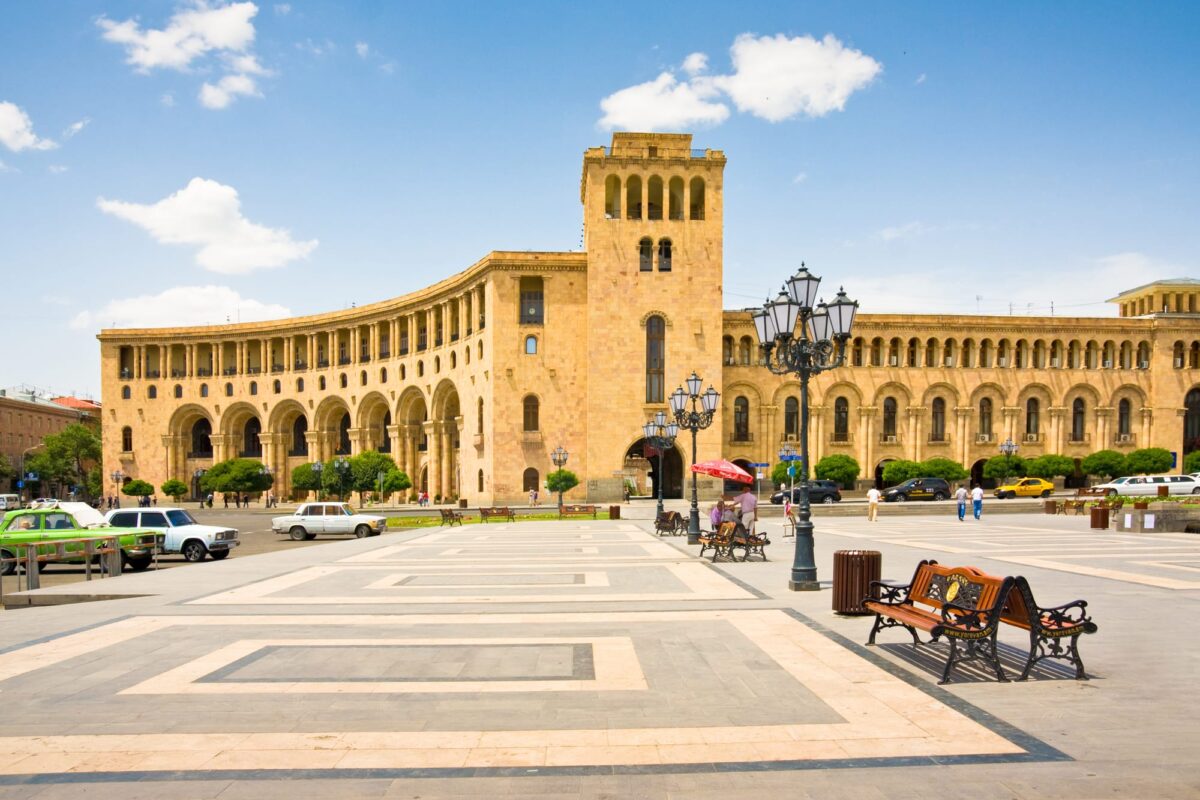 GUM Market
Yerevan's "GUM Market" is a quick walk away, where you can peruse endless varieties of dried fruit and 'lavash' – Armenian flatbread.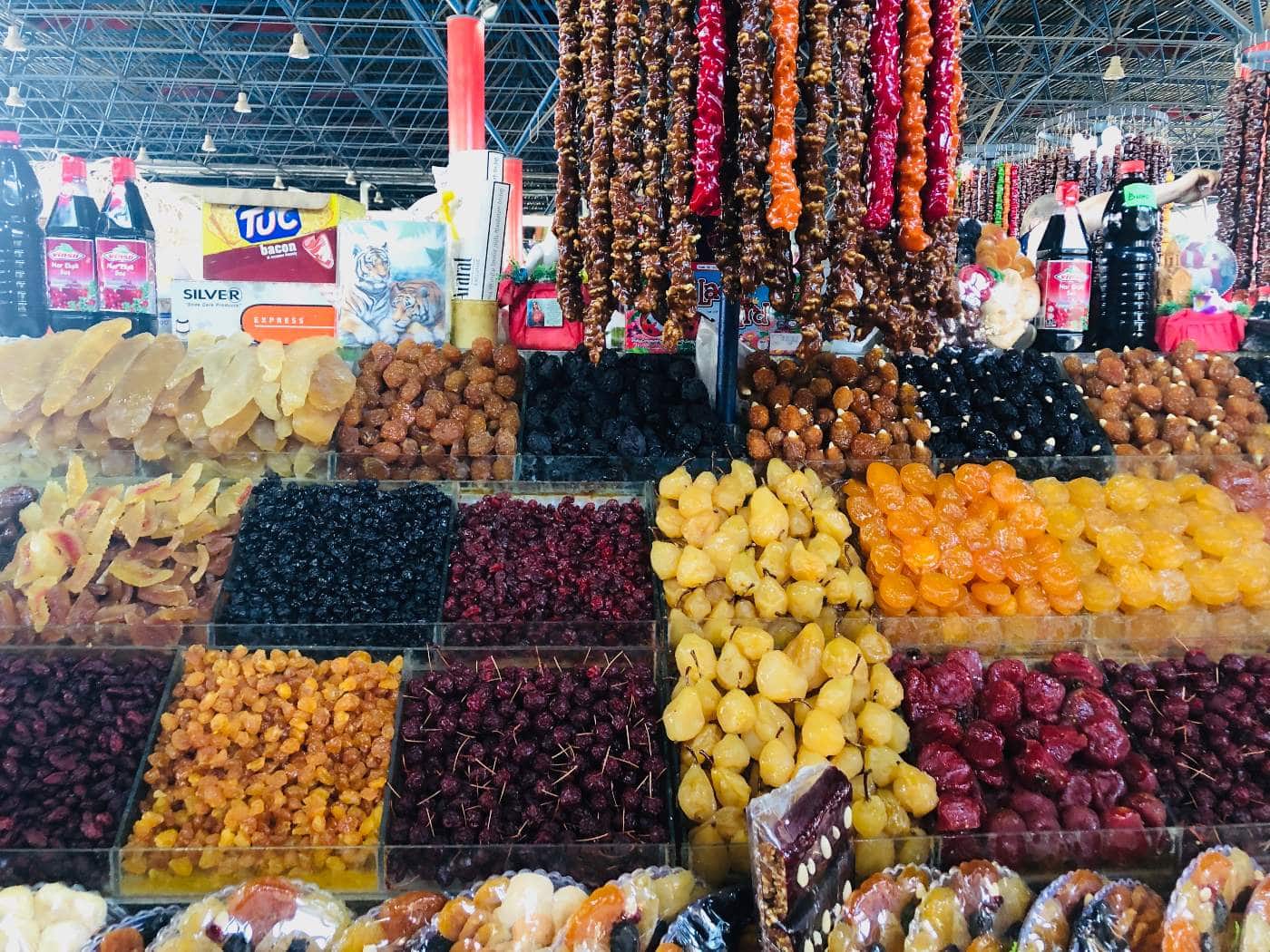 Yerevan Cascade Complex
Yerevan's other gem is the "Cascades". A free modern art complex built into a large hill, the park in front of it is filled with modern statues collected from artists all over the world. You can walk up the stairs on the outside, taking in views of the city, or take the escalators inside. Each floor also has an outdoor terrace, with fountains and more art. Inside hosts a large modern art museum that is always free.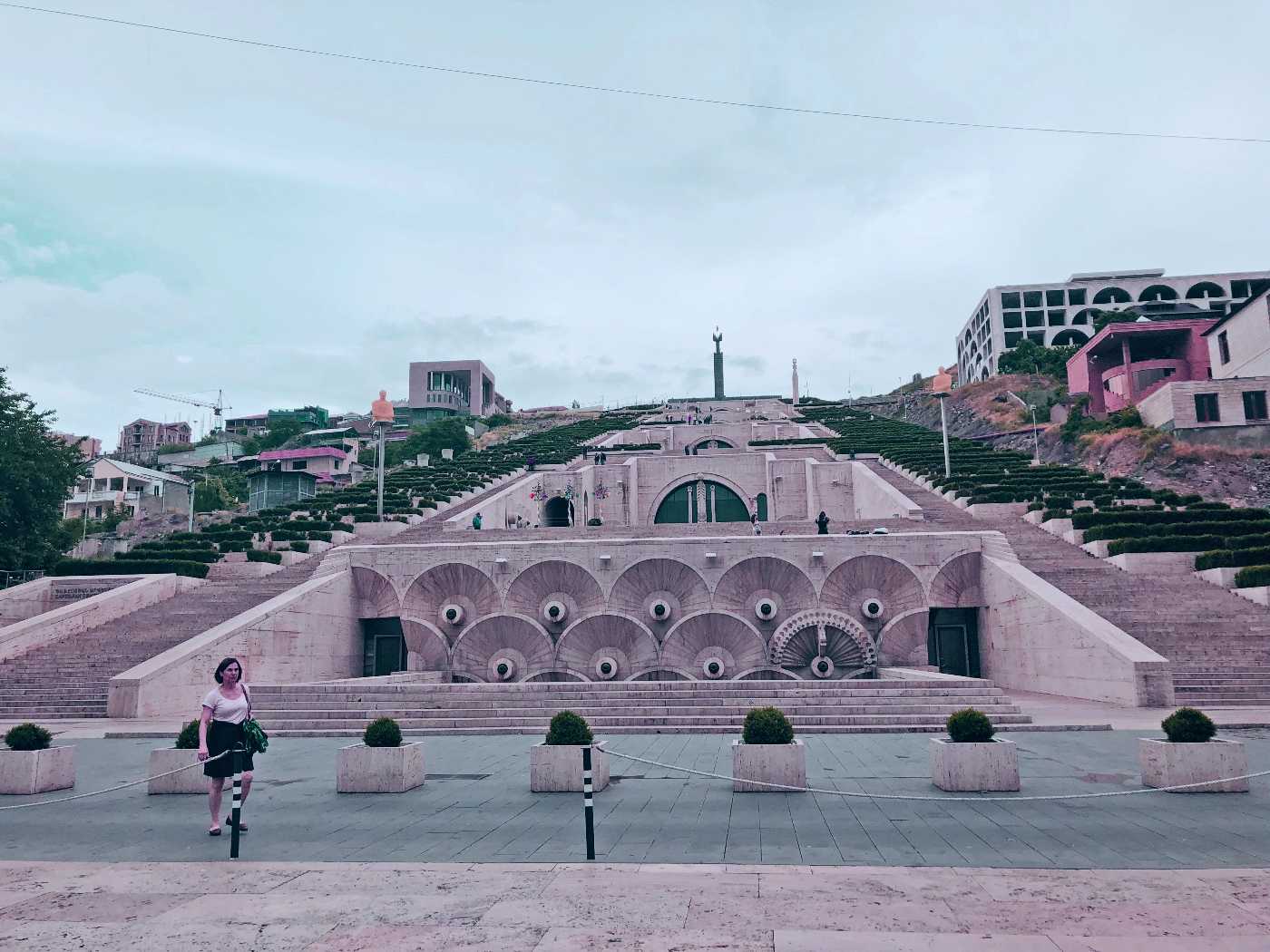 The view of the top of the Cascades is not to be missed. Some of Armenia's best cafés and European-themed restaurants are in the streets just around the Cascades.
Charles Aznavour Square
The square is named in honour of the French Armenian singer Charles Aznavour as part of the celebrations of the 10th anniversary of Armenian independence in 2001.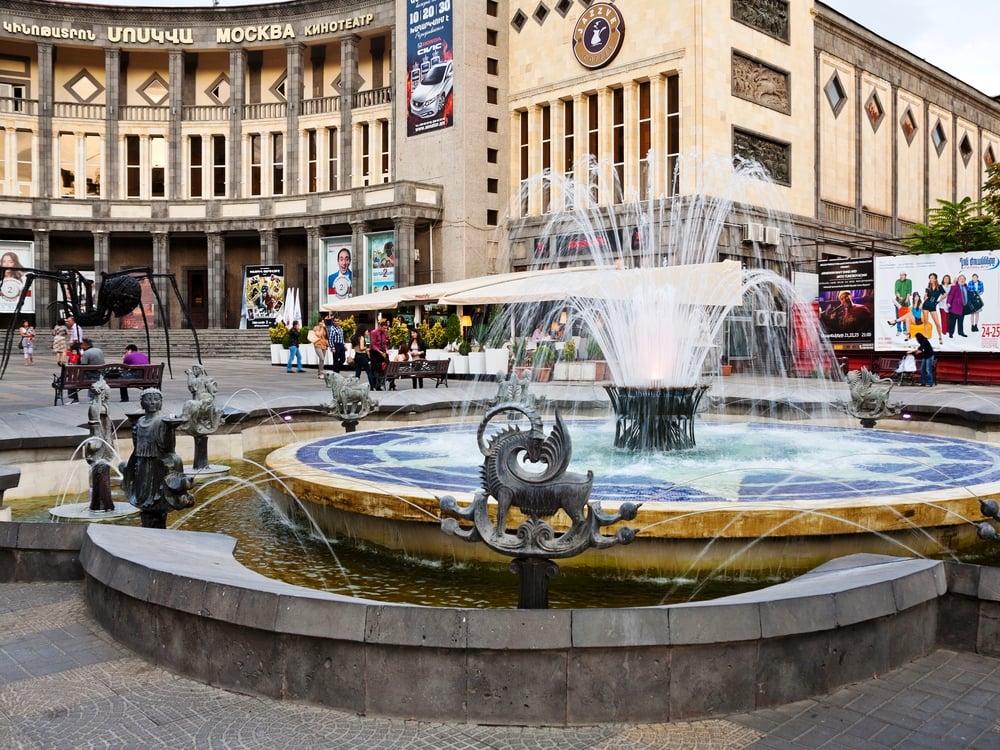 A local hero Charles Aznavour helped the country after the earthquake of 1988 through his charity, Aznavour for Armenia. Together with his brother in-law and co-author Georges Garvarentz he wrote the song "Pour toi Arménie", which was performed by a group of famous French artists and topped the charts for eighteen weeks.
World-Class museums of Yerevan
Yerevan has many fabulous museums. Some are small but extremely interesting, like the house museum of famous Armenian composer Aram Khachaturian, or the museum of the Armenian filmmaker Sergei Parajanov. Others are grand, like the Matenadaran and the History Museum of Armenia. All are world-class, and it's worth taking a few days in Yerevan to museum-hop (with plenty of stops for Armenian coffee, ice creams, and cheese & lavash along the way!).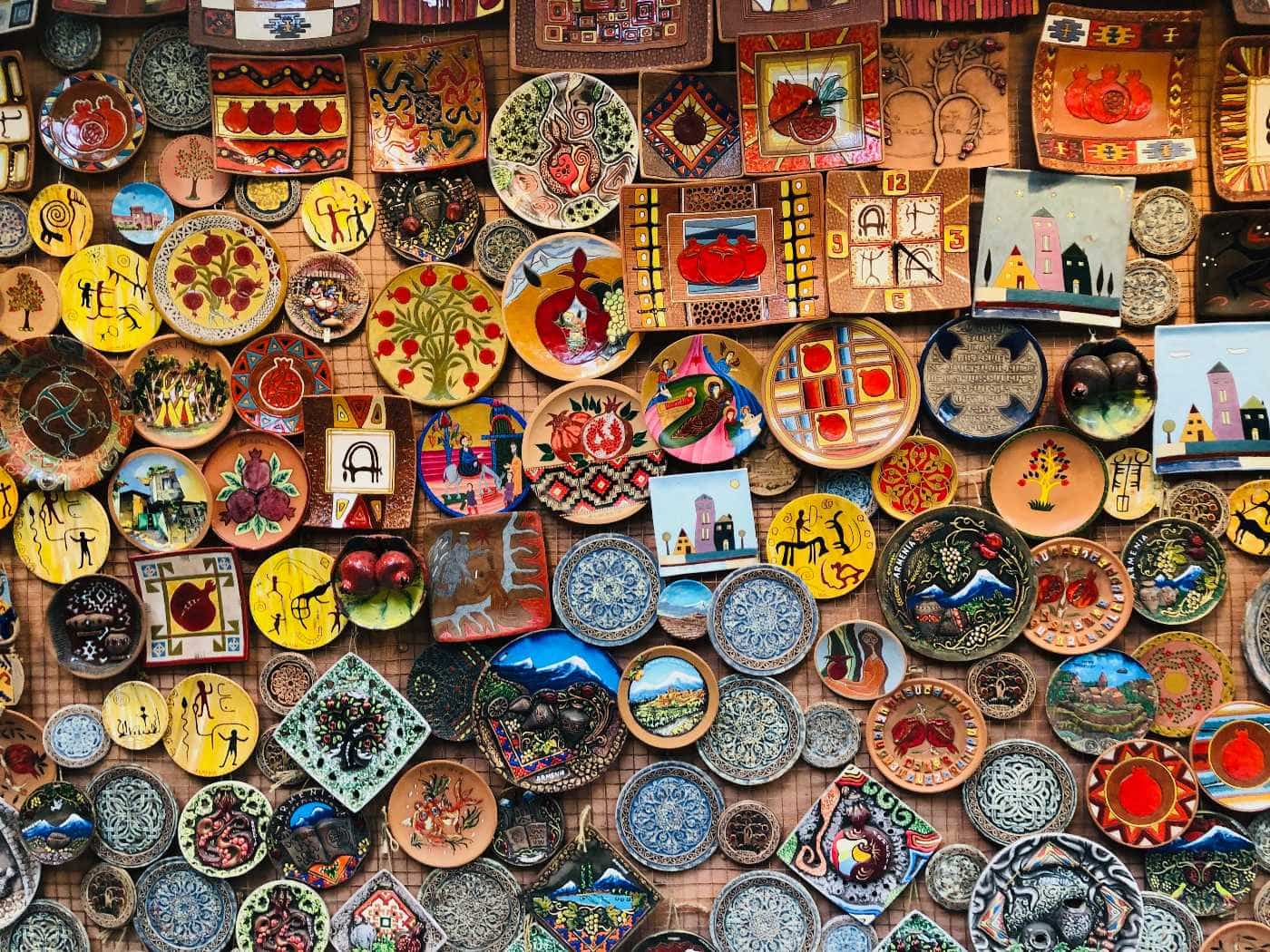 Sergei Parajanov Museum
Sergey Parajanov was an Armenian film director, screenwriter and artist.Before 1963 he directed four non-remarkable full-length feature and three short documentary films. In 1964 his «Shadows of Forgotten Ancestors» brought him world wide fame.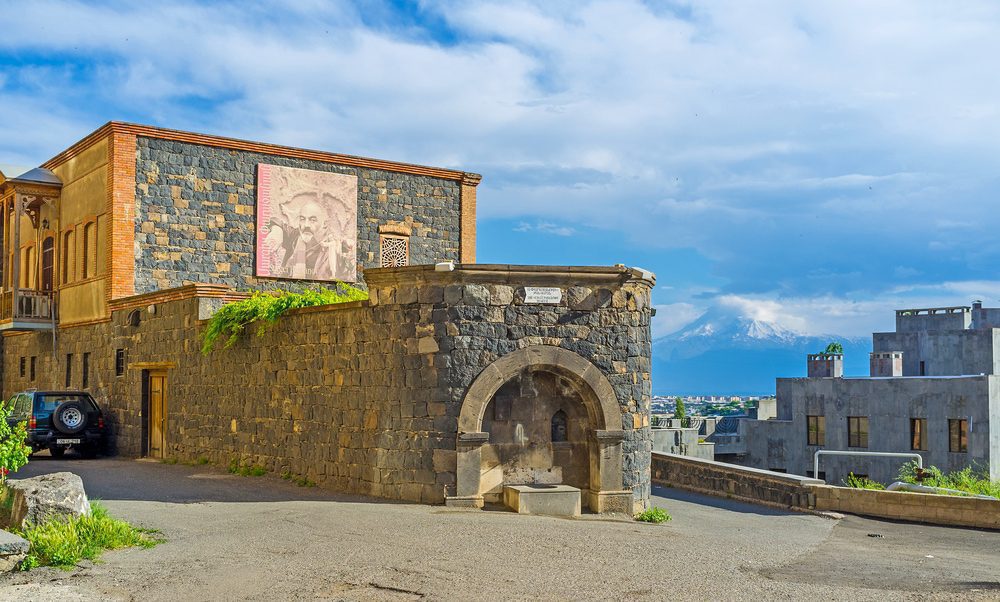 Comprising some 1,400 exhibits, the museum's collection includes installations, collages, assemblages, drawings, dolls and hats. The museum also showcases unpublished screenplays, librettos and various artworks which Parajanov created while in prison. Among the other exhibitions are original posters, festival prizes, signed letters by Federico Fellini, and gifts from the like of Vladimir Putin and Roman Balayan.
Matanadaran
Unmissable, and worth the entire trip to Armenia to see, is the Matanadaran—the second-largest repository of medieval manuscripts in the world! Located centrally in Yerevan, each room in the Matanadaran is shaped after the "gavit" or narthex of one of Armenia's famous monasteries.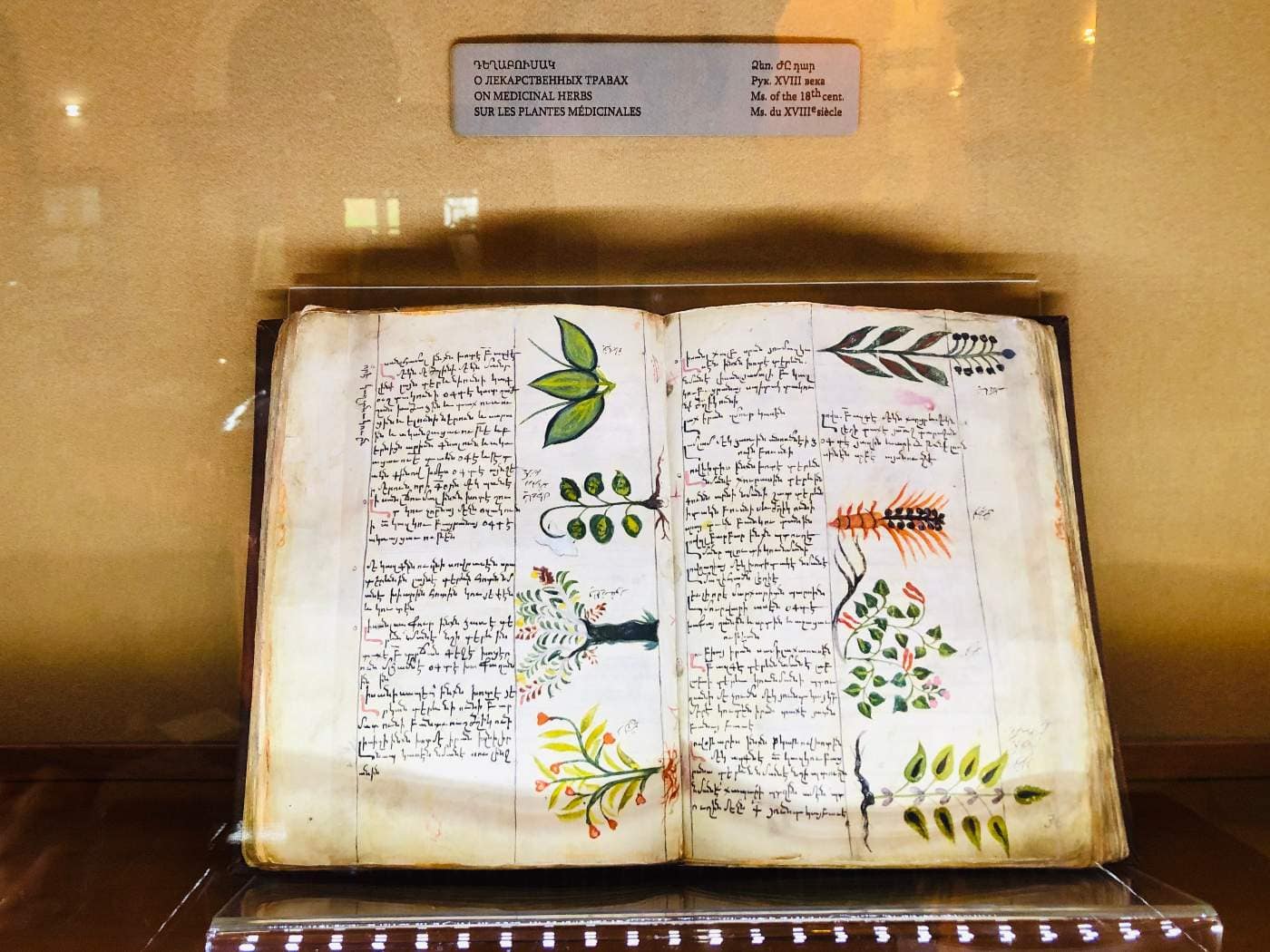 The rooms house case after case of gorgeous medieval illuminated manuscripts created in Armenia throughout history.
For about $8 US you can get a private, English-speaking guide to lead you through the museum and share the story of the most important manuscripts in the collection.
Outside the Matanadaran is a statue of the man who created the Armenian alphabet, Mesrop Mashtots. Armenians have said that the heart of their culture is: Church, Wine, Hospitality, and the Alphabet. The Matanadaran is closed on Sundays and Mondays.
History Museum of Armenia
The History Museum of Armenia is another must-see museum in Yerevan. Founded in 1920, it houses a collection of over 400,000 artefacts from Armenian history both modern and ancient. Its most famous artefact is a shoe! The oldest shoe in the world, in fact. Found in a cave near Areni, a pleasant hour and a half from Yerevan, the shoe is something Armenians take deep pride in.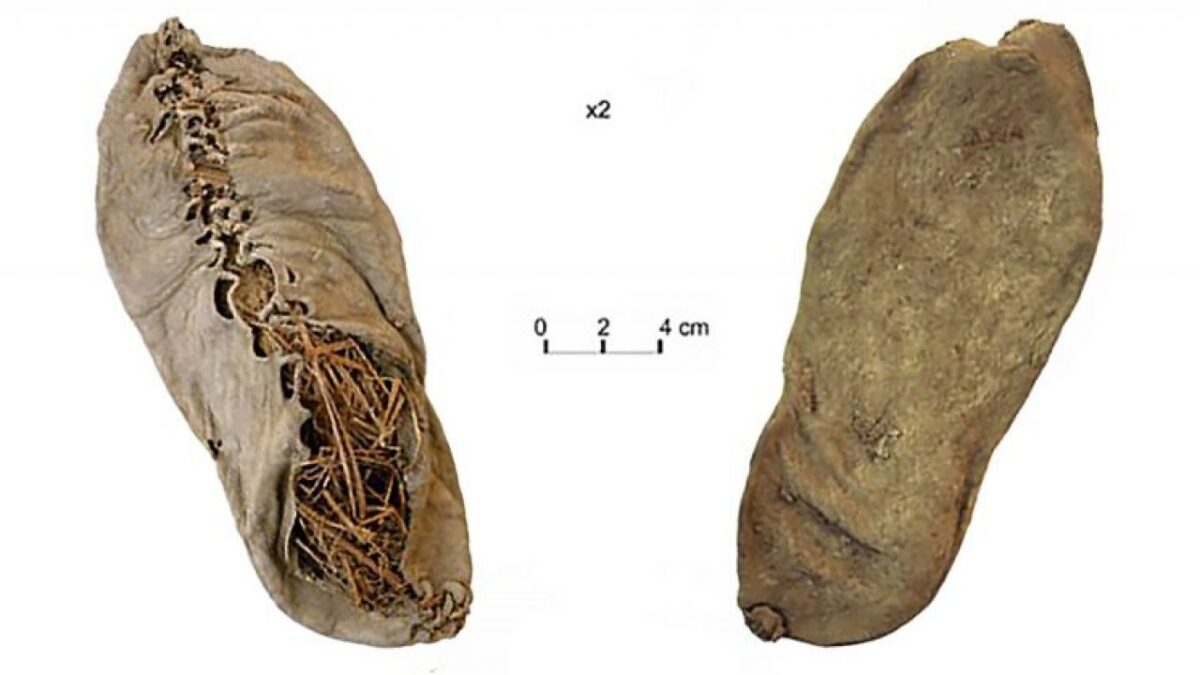 The History Museum of Armenia is located right off the main Republic Square in Yerevan. The famous 'singing fountains' are just out front.
A ticket costs 2000 drams, a little more than $4. For around $10 you can hire an English-speaking guide to take you through the highlights of the museum privately – this is a great experience and very economical! The History Museum of Armenia is closed on Mondays.
The Armenian Genocide Memorial and Museum
You can't truly say you've been to Armenia without visiting the Armenian Genocide Memorial and Museum. Free and open Tuesday-Sunday, the Armenian Genocide Museum takes one on an emotional walk-through of the infamous events of 1915 that led to the slaughter of an estimated 1.5 million Armenians.
Visiting the Armenian Genocide Memorial and Museum in Yerevan is a sombre experience. The museum is yet beautiful and deeply meaningful – giving a glimpse into life in Armenia in the early 20th century. The genocide occurred in what is now Turkey, and visiting this museum is vital to understanding both the sense of loss and pride Armenians have over their country and culture.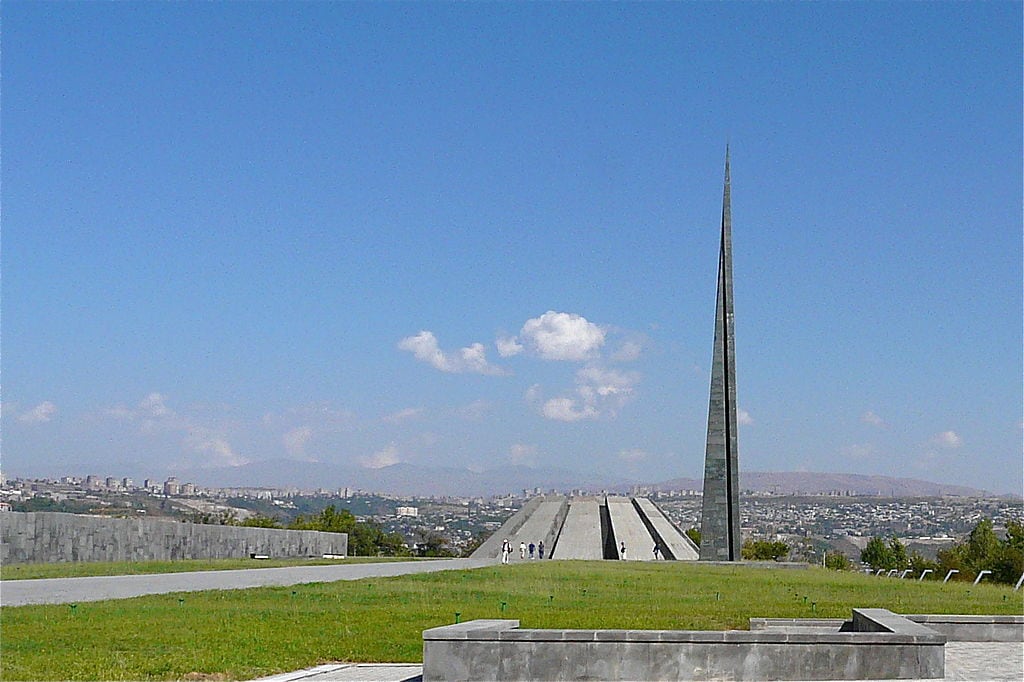 Outside of the Museum is the Memorial to the Victims of the Armenian Genocide. Laying flowers here is a sign of respect and encouragement. Heaps of carnations surround a central, eternal flame. A tower nearby is split into two parts: the smaller represents the 3 million Armenians still living in Armenia, and the 8 million represent the Armenian Diaspora, largely a result of the genocide.
Like other museums in Yerevan, you can purchase a private English-guided tour for a little over $10 USD.
Things to do in Yerevan – Incredible Opera & Arts
Yerevan is an amazing city for the arts. Chief among them is the Opera, Ballet, and Symphony. Armenians take the arts very seriously (and they take Chess quite seriously as well!) and the quality of opera performances is exceptional. Even if you aren't a die-hard opera fan, it's absolutely worth it to take in a performance at the iconic Opera House in Yerevan and can cost you as little as $10.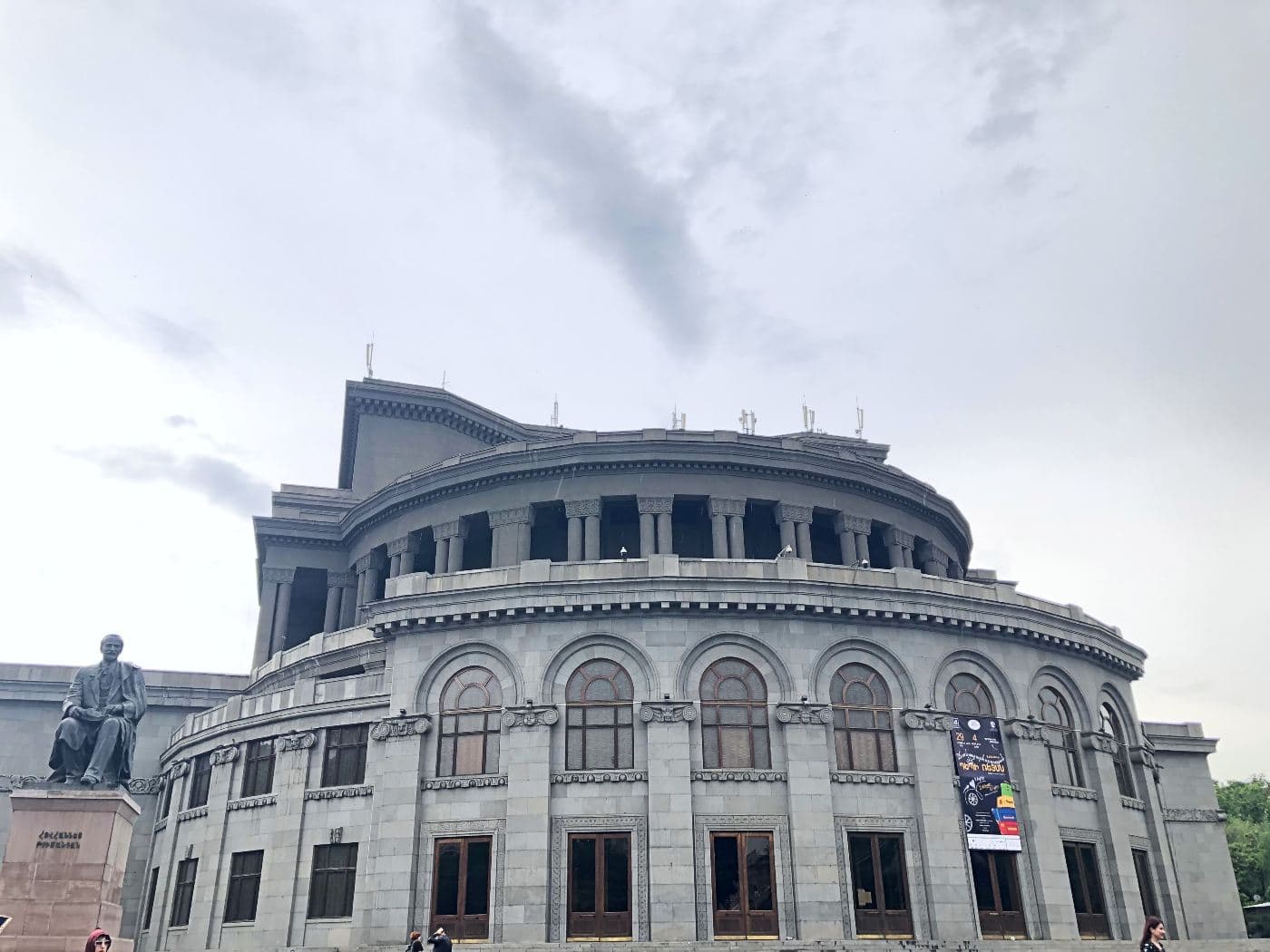 Yerevan Opera Theatre
Located in the heart of Yerevan, this building is another masterpiece of Alexander Tamanyan, that was awarded the Grand Prize at the World Exhibition in Paris. The building is considered to be the symbol of music culture in Armenia expressed through the architectural grace and classic splendour.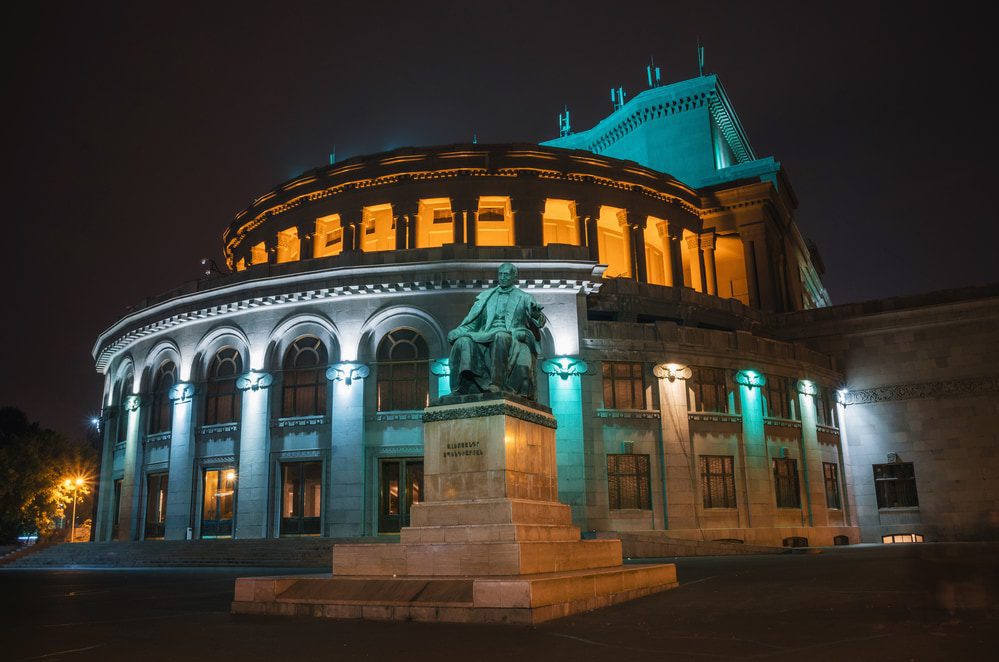 The Theatre of Opera and Ballet was officially opened on 20 January 1933. The building is round in shape. It consists of two concert halls: Aram Khachaturian concert hall with 1,400 seats and Aleksandr Spendarian Opera and Ballet National Theatre with 1,200 seats.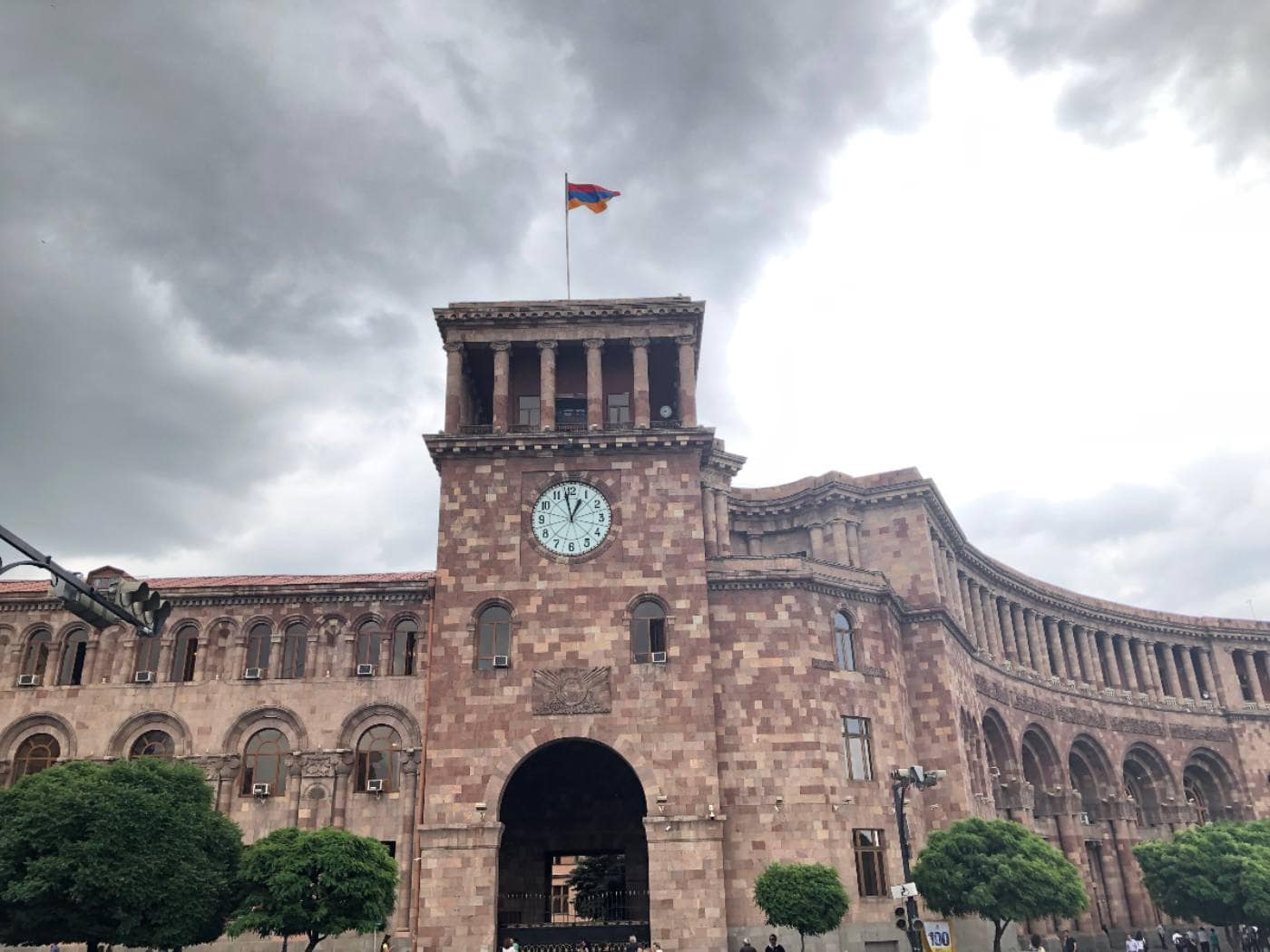 While the company performs operas from around the world, there is usually an Armenian opera to choose from – with subtitles in English. This is a great window into Armenian culture and history.
The Opera House is just off Northern Avenue with restaurants all around for a nice dinner before the show. You can buy tickets at the box office or inquire with your tour company or hotel.
Mother Armenia
Mother Armenia is a statue that was raised to celebrate the Women of Armenia and symbolizes peace through strength. It was built to commemorate the victory of the USSR in the World War II.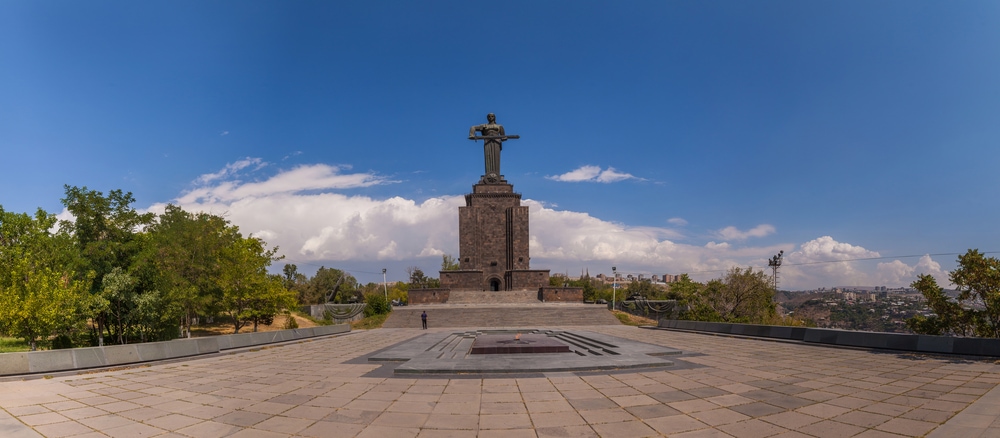 Khor Virap Monastery
The monastery is located close to the border between Armenia and Turkey, on a hill near the village of Pokr Vedi. Long ago it was the site where Artashat, the ancient Armenian capital, was located.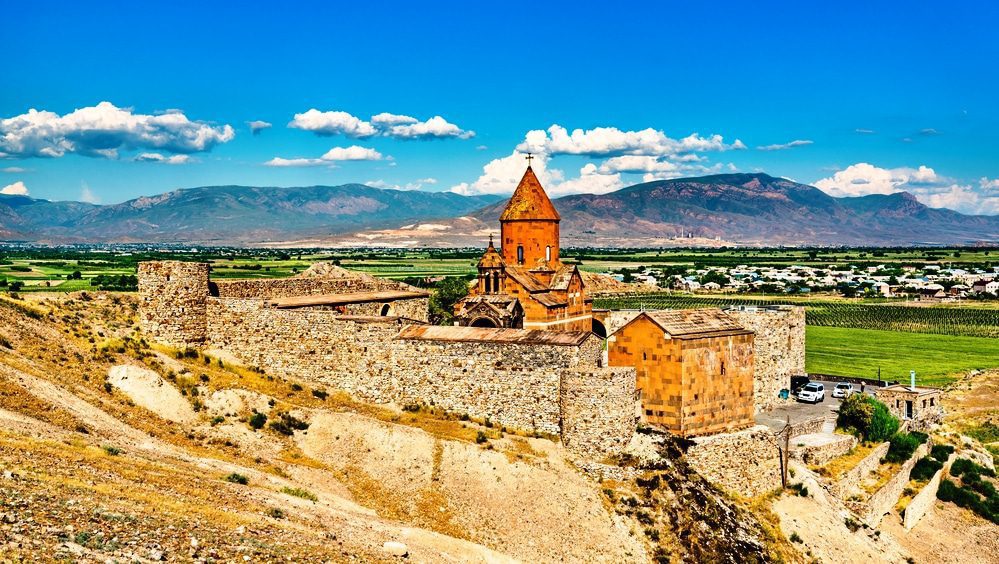 Khor Virap is one of the most sacred and visited sites in Armenia primarily due to the legend of Saint Gregory the Illuminator who was imprisoned for 13 years in Khor Virap's dungeon.
This ancient Monastery is a pilgrammage site for Armenian Catholics. The site was used for construction of the existing St. Astvatsatsin Church in 1662. Khor Virap means "deep pit", named after the prison where St. Gregory the Illuminator was held. The pit is still open for people to climb down, though all you can really experience is the darkness.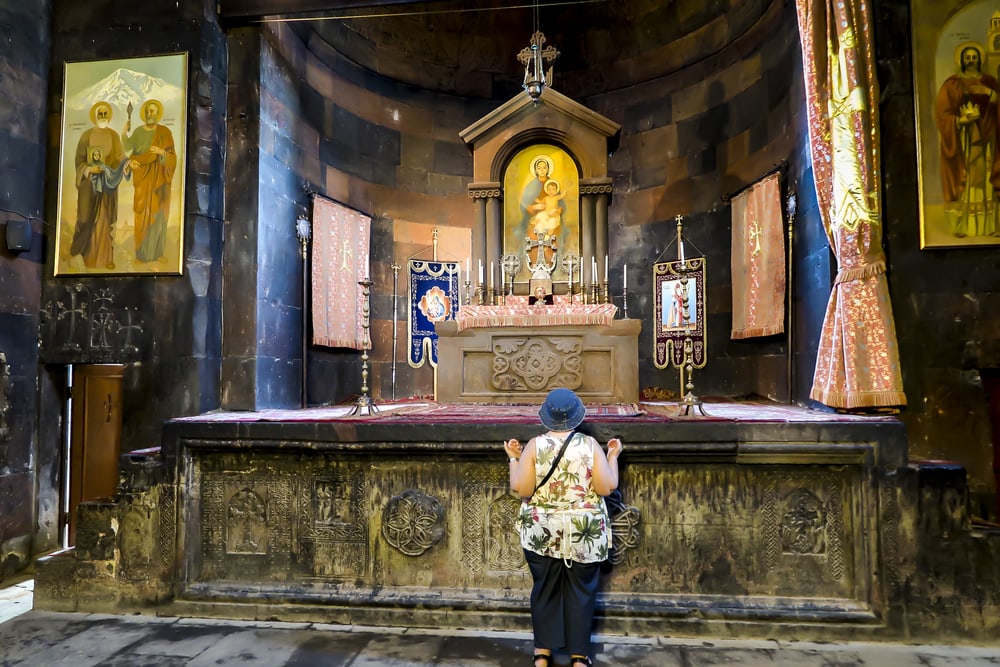 The pit dungeon is 4.4 m in diameter and 6 m deep. Tourists can descend down using a narrow ladder in order to experience the atmosphere.
Tours in Yerevan
Many of Armenia's gems lie just outside or a few hours from Yerevan. Since Armenia is such a small country, it's possible to stay in Yerevan during a week-long visit and still drive out to see Armenia's greatest UNESCO World Heritage sites and more.
Like many Eastern European countries, Armenia has some fantastic tour operators that provide safety, quality, dedicated English-speaking guides, and a lot of fun! You can choose to join group tours, a great option for solo travellers, or hire a private tour company and make your own itinerary.
These tours, both group and private, usually include a stop for lunch at a great restaurant, and private tours can be fully catered to your own interests. Love churches and monasteries? You can design an itinerary to see the best! Love mountains and nature? Also available in abundance in Armenia, just minutes from Yerevan.
There are many tour guides offering their services in Republic Square – so it's possible to get to Armenia and make your plans from there. However, you may get better value and a higher quality guide by researching and booking ahead.
Extraordinary food and wine of Armenia
Yerevan is a foodie's dream. Armenian food is rich and full of flavour, not spicy, and a perfect representation of Armenia's status as a Eurasian country. There are hints of familiar types of Middle Eastern cuisine, a love of French food, and flavours you might associate more with Central or East Asia.
Meals in Yerevan are often served family style. Armenian bread, Lavash, is always on the table and most meals begin with a cheese plate and another plate overflowing with fresh herbs. Do like the Armenians do and use the Lavash, flatbread, to wrap up a generous helping of cheese and various herbs like Basil and Tarragon and eat it all like a wrap sandwich.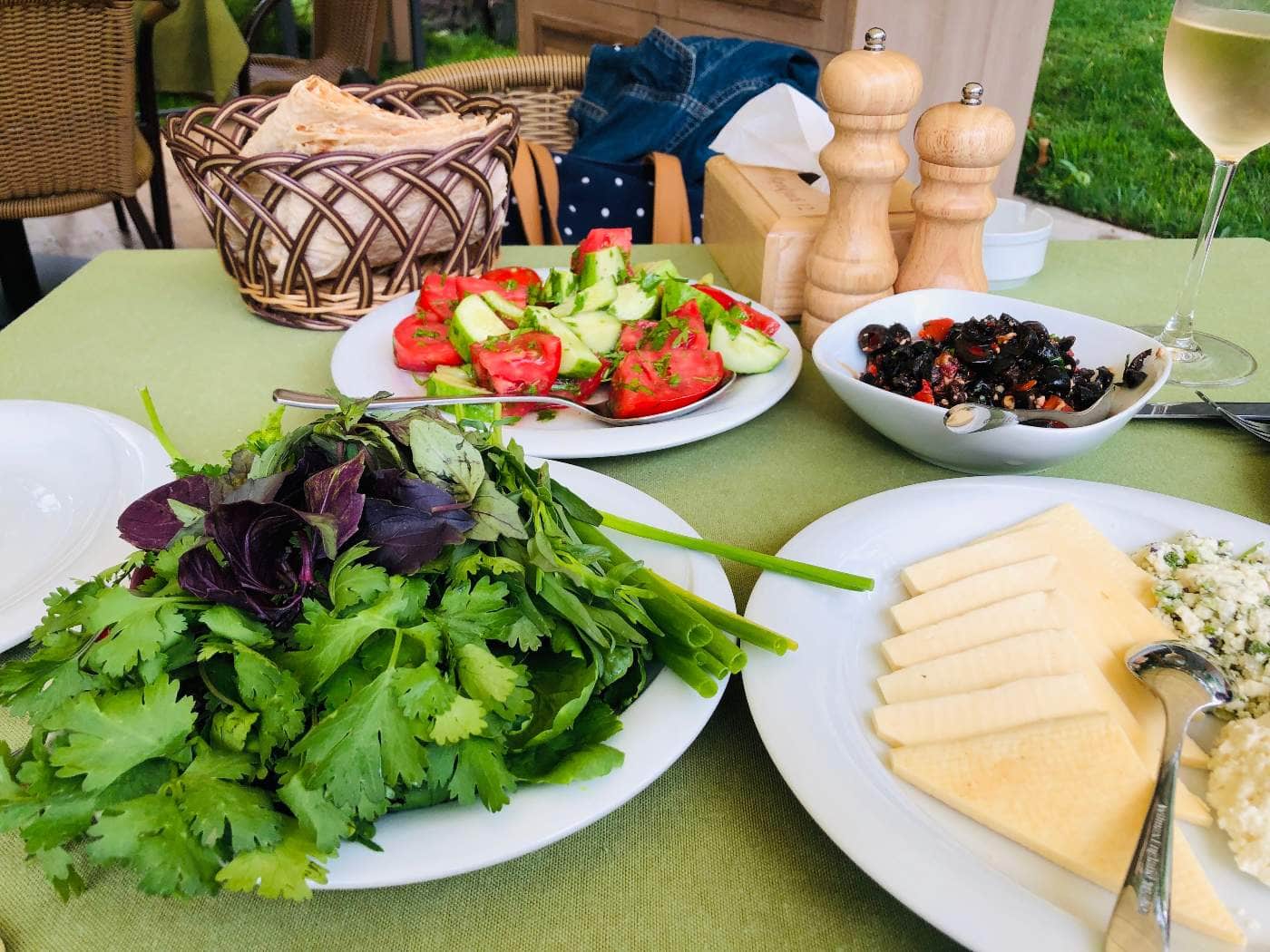 For mains, there is always Tolma – grape leaves stuffed with various types of ground meat. In the summer you can order Tolma made with peppers, cabbage, and all sorts of vegetables. Tolma is served hot in Armenia.
Khorovats, an Armenian barbecue, is exceptional. Grilled in ovens deep in the ground, you can have chicken, lamb, or pork roasted to perfection, usually served with roasted potatoes that have been cooked near the fat of the meat.
If vegetarianism is more your style, there are countless cafes in Yerevan catering to vegans and vegetarians.
Armenian wine is cheap and delicious, made using ancient technology that makes it more "amber" than white. Of course, there are plenty of European-style wineries in Armenia, as well. Most hotels even have their own house wine, easily as inexpensive as $1.50 a glass and unbelievably delicious.
Don't skip the ice cream! On every street in Yerevan, you will see cases of novelty ice creams. Armenia has 8 ice cream factories within its small borders that produce absolutely delicious, creamy ice cream. For about 30 cents you can be delighted by Cappuccino cones, chocolate-chocolate ice cream sandwiches and so much more!
When to visit Yerevan, Armenia
Yerevan has rather chilly winters and hot summers. The best times to visit are April – June, and September-October. The countryside in Armenia blossoms with poppies and wildflowers throughout the spring months, though these begin to dry up in June. In October is the Armenian Apricot harvest. There is a reason that the Latin name for the Apricot is "Prunus armenica". Armenia's apricots are world-famous, and it is quite a treat to be there in season. May is Strawberry season, and one of Armenia's famous beverages is a sweet drink made from stewing strawberries in sugar water that's so refreshing on a warm day.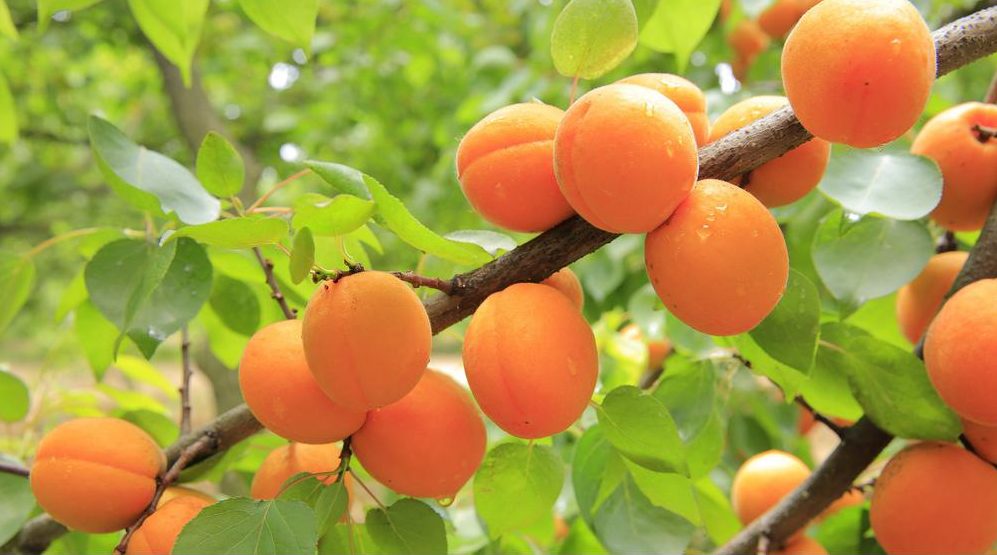 Yerevan has fabulous amenities
Accessibility
Yerevan is, with a few exceptions, a flat city with well-maintained sidewalks. Some buildings are older and do not have elevators, but on the whole, Yerevan is very accessible to those with mobility issues.
Drinkable Water
One of the best parts of visiting Yerevan is how accessible it is and the many amenities available. Armenia's water is potable, and while many tourists still buy bottled water, it isn't strictly necessary. Water fountains throughout Yerevan help to make up for the hotter summers.
Affordable, Beautiful Hotels
Yerevan is home to some absolutely lovely hotels, all at a very affordable price. A comfortable, 3-star hotel in Yerevan will run around $40-50 a night, with breakfast for two people. There are lots of options to choose from, including hostels for younger travellers, and luxury if that is your style! Some hotels, like the Silk Road Hotel in Yerevan, focus on providing cultural experiences and traditional Armenian cuisine. Others are more European and cosmopolitan in style. Readily available online, these hotels provide excellent value and it's easy to stay in the city centre for an affordable price.
Easy Transportation
It's very straightforward to get around Yerevan and the whole of Armenia. A number of Taxi apps, similar to Uber but with actual, registered Taxis, are available in Yerevan. Yandex Taxi app is a great option. Most Taxi drivers won't speak great English unless they are quite young but are very familiar with landmarks.
You can enter your destination right in the app and skip trying to explain to the driver where you want to go – he already knows! Taxi prices are very inexpensive compared to the USA and Europe, with a trip across the city averaging around $1.50 if not less.
Fast WiFi
Wifi is everywhere in Yerevan – every café boasts a quick connection and there is even free Wifi in some areas of the city. In Yerevan parks and along Abovyan street there is free Wifi, as well as in Republic Square and Freedom Square.
If you want a more stable connection, especially for leaving the city, it's easy to get a SIM card for your telephone to use while in Armenia, and the data speeds are lightning fast. For around $7 you can make a quick stop off North Boulevard on foot at Viva-Cell MTS or Beeline to get a tourist SIM. They will activate it right there and make sure it works for you. Your hotel can also guide you on how to do this.
Yerevan is one of the most delightful cities in the world – waiting to be discovered and enjoyed! It's a perfect destination for those who love a vacation that is both laid-back and culturally fascinating. Yerevan is accessible, affordable, and beautiful. There are so many reasons to visit Yerevan, Armenia on your next trip.
You might also like
Armenian food – 45 Armenian dishes you must try
148 National Dishes of countries around the world
Long term international housesitting resources
42 scrumptious heavenly Turkish foods to try
36 Traditional Egyptian Foods to whet your appetite
This post was written by Cate of Sacred Wanderings and Cate is passionate about exploring monasteries, cathedrals, and spiritual sites around the world. Cate is drawn to the so-called "thin places" where heaven and earth seem to touch. Early on in her seminary education, Cate learned that Armenia is the world's Oldest Christian Country – with one of the richest church traditions anywhere and that was when Armenia became a bucket list travel destination.

Latest posts by Faith Coates
(see all)