26 Outstanding Reasons to Visit Ireland's Dingle Peninsula
Visiting Dingle, known in Irish Gaelic as Corca Dhuibhne in County Kerry Ireland is on pretty much every traveller's Irish bucket list including mine and it was quite a trip down from Donegal but well worth the 5-hour drive. There is so much to see and do in Dingle, and I'm excited to share my top recommendations with you.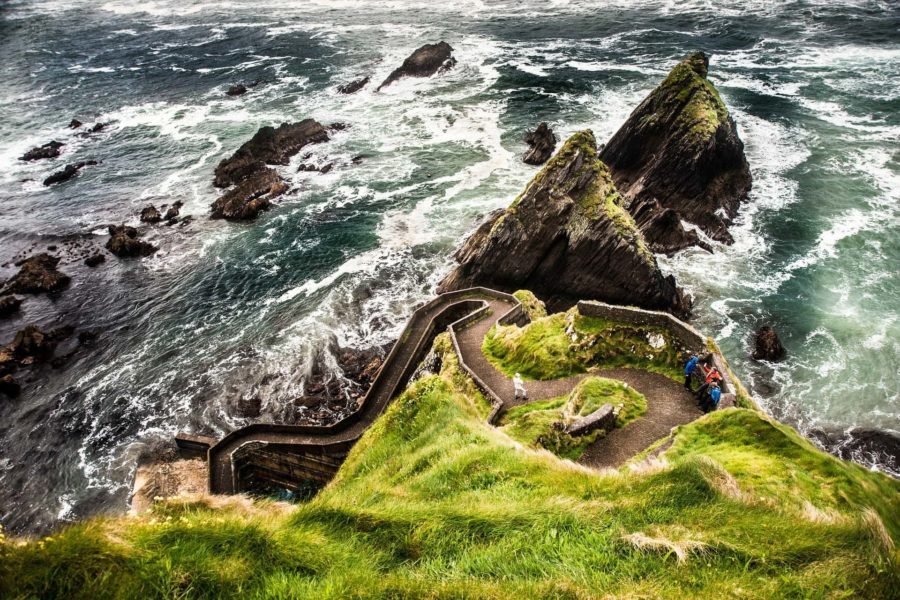 Dingle offers a range of activities and attractions for visitors to enjoy. Take a boat trip to see the Dingle dolphins, go hiking on Mount Brandon, or explore the rugged coastline on the Slea Head Drive. Immerse yourself in Irish culture at the Blasket Island Visitor Centre or the Great Blasket Centre. The town also offers a lively pub scene with traditional Irish music and delicious seafood restaurants. Don't miss out on sampling some of the famous Dingle whiskey at the Dingle Distillery, or visiting the iconic 15th-century Dingle Castle, or look for some of Ireland's off the beaten path sites.
Xyuandbeyond is reader-supported. When you buy through links on our site, we may earn an affiliate commission. You can read my privacy policy here.
Where is the Dingle Peninsula?
The Dingle Peninsula is located at the most western point of Ireland in County Kerry and it ends in the town of Dingle at Dunmore Head.
Map of Dingle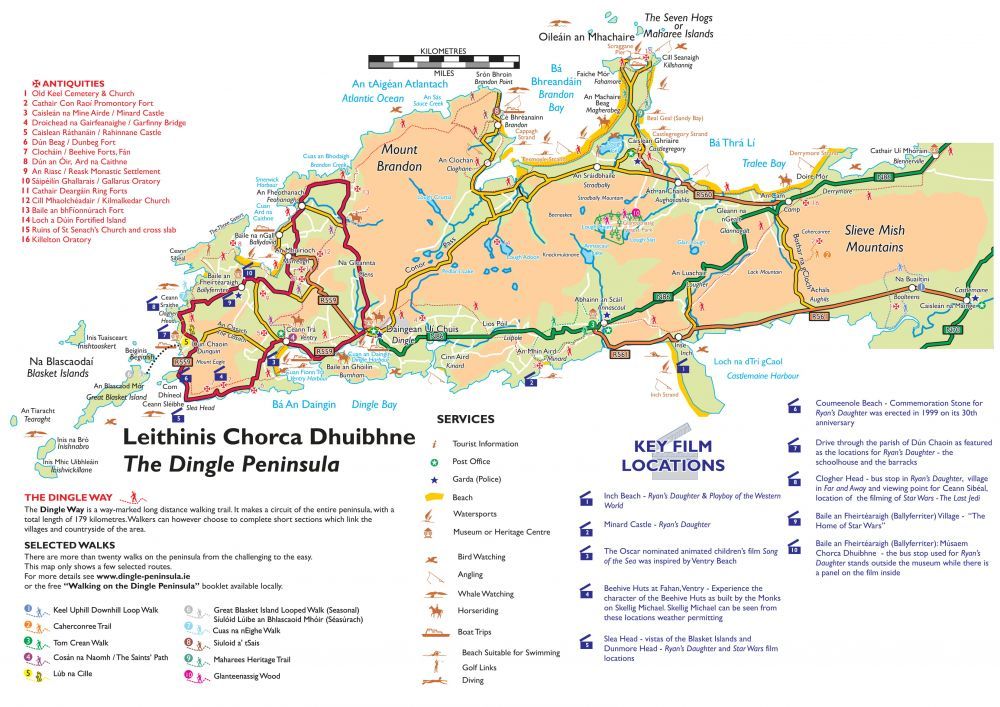 Getting to Dingle from Dublin
Killarney, Farranfore and Tralee are the nearest train stations to the Dingle Peninsula. You can get a train to Cork from Dublin and then change trains to Killarney. The train runs 5x per day and takes around 1 hour 15 minutes.
Bus connections to Dingle are from outside Tralee Station and the journey time is 1 hr. Once you are in Killarney or Tralee you can book a bus tour of the Dingle Peninsula or you can take a bus from Killarney to Dingle town and that takes around 2 hours.
Driving the Dingle Peninsula from Dingle Town
The Conor Pass
The peninsula is dominated by the range of mountains that form its spine, running from the Slieve Mish range to the Conor Pass which runs from Dingle town and Mount Brandon, Ireland's second-highest peak. The magnificent coastline consists of steep sea cliffs such as Slea Head, dramatic headlands broken by sandy beaches, with the award-winning beach at Inch in the south and the tombolo of Maharees which is a sandy spit of land to the north.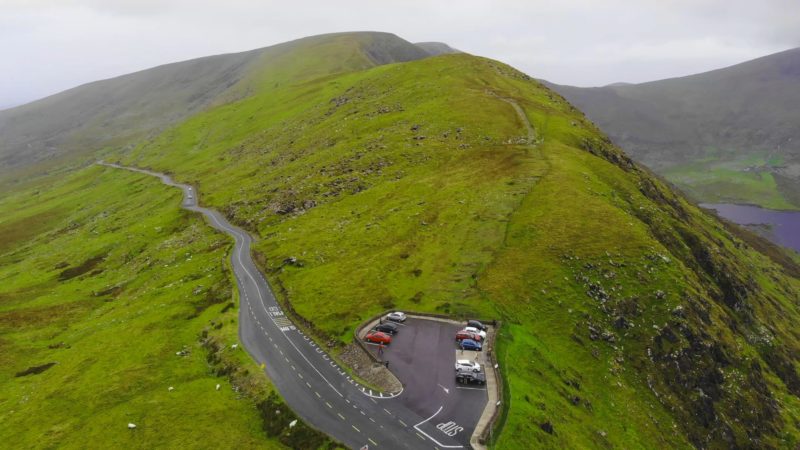 The Dingle Peninsula loop trip is about 30 miles (47 km) long and must be driven in a clockwise direction. It's easy by car. You can choose to drive the loop yourself in a rented car or take a guided tour which I talk about later in this article.
The Dingle Peninsula itself is 10 miles wide and runs 40 miles from Tralee to Slea Head. The highest point in Dingle is Mount Brandon at 3,130 feet, the second-tallest mountain in Ireland (after a nearby peak above Killarney that's almost 500 feet higher).
How long does it take to drive the Dingle Peninsula?
The Dingle Peninsula can be driven in a day and it will take around 4 hours to explore the incredible sites along the Slea Head Drive and the balance of the day exploring the rest of the area.
Things to do in Dingle
Glorious Inch Beach
Inch Beach is found almost at the start of your Dingle Peninsula Drive. This impressive stretch of beach and dune system reaches out into Dingle Bay and sits in front of the Slieve Mish Mountains.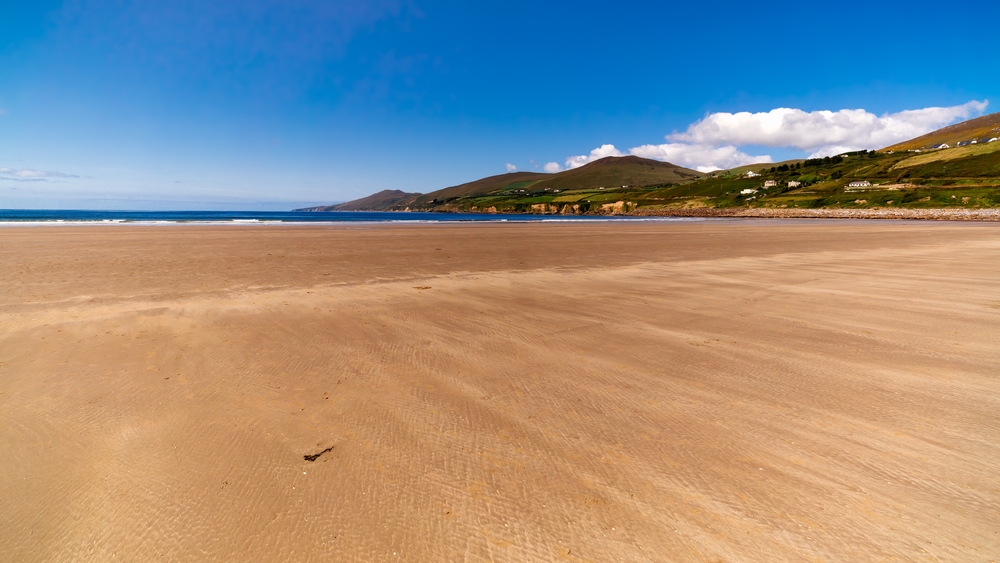 Inch or An Inse is a stunning Blue Flag beach perfect for water sports, surfing and anglers. There is a small carpark near the beach with a café and tourist shop and some B&Bs. You can park on the beach but beware some folks have been stranded when the tide comes in.
If you are feeling puckish or simply starving drop by Sammy's Restaurant with its stunning views perched on the edge of the beach. Here you can enjoy fresh fish and chips or some Dingle Bay oysters.
24 of Ireland's best beaches from coast to coast
Castle Ruins of Dingle
Located near the Gallarus Oratory Gallarus Castle was built by the FitzGeralds and is probably 15th century in date. It is one of the few surviving castles on the Dingle peninsula. It is a four-storey tower with a vaulted ceiling on the fourth floor; none of its battlements remain.
Rahinnane Castle is located northeast of Ventry Harbour and is a ruined tower house built on the site of an old ring fort.
Minard Castle sits prominently on a hill overlooking a gorgeous little bay with views across the Irish Sea to the Iveragh Peninsula, it is one of only three of the mid-16th century Fitzgerald castles built on the Dingle Peninsula (Rahinnane and Gallarus being the other two) with substantial remains.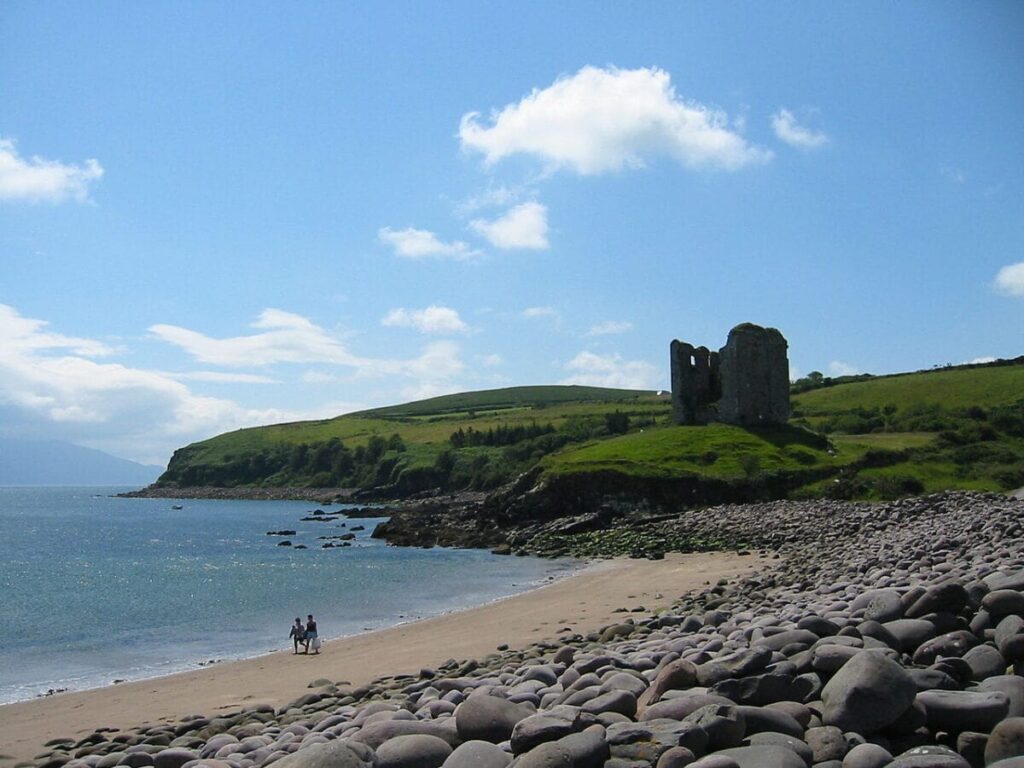 Self-Guided Tour of Dingle
Start your self-guided tour from the town of Dingle which is a charming coastal village that has plenty to offer visitors.
Visit the Dingle Oceanworld Aquarium to see a variety of marine life, including sharks, puffins and penguins. Learn about the town's history at the Dingle Distillery, where you can take a tour and sample their whiskey.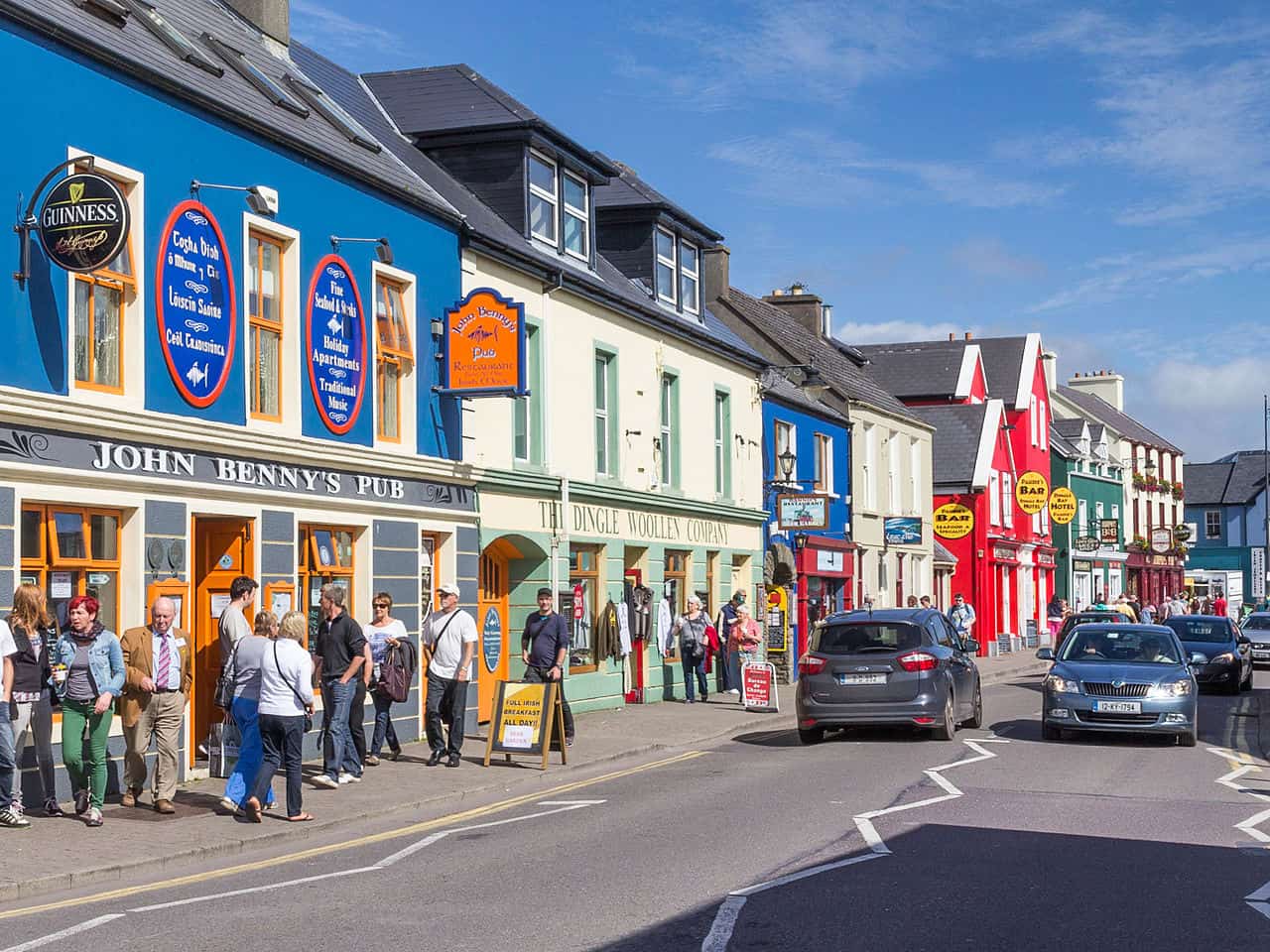 Famous Fungie and dolphins of Dingle
For a unique experience, take a boat tour to see the famous resident bottlenose dolphins in Dingle Bay. Fungie was a dolphin who hung out in Dingle Bay and charmed both residents and tourists for over 30 years but disappeared in 2020. Fungie was a teenager when he first showed up in Dingle and male bottlenose dolphins have a life expectancy of up to 40 years.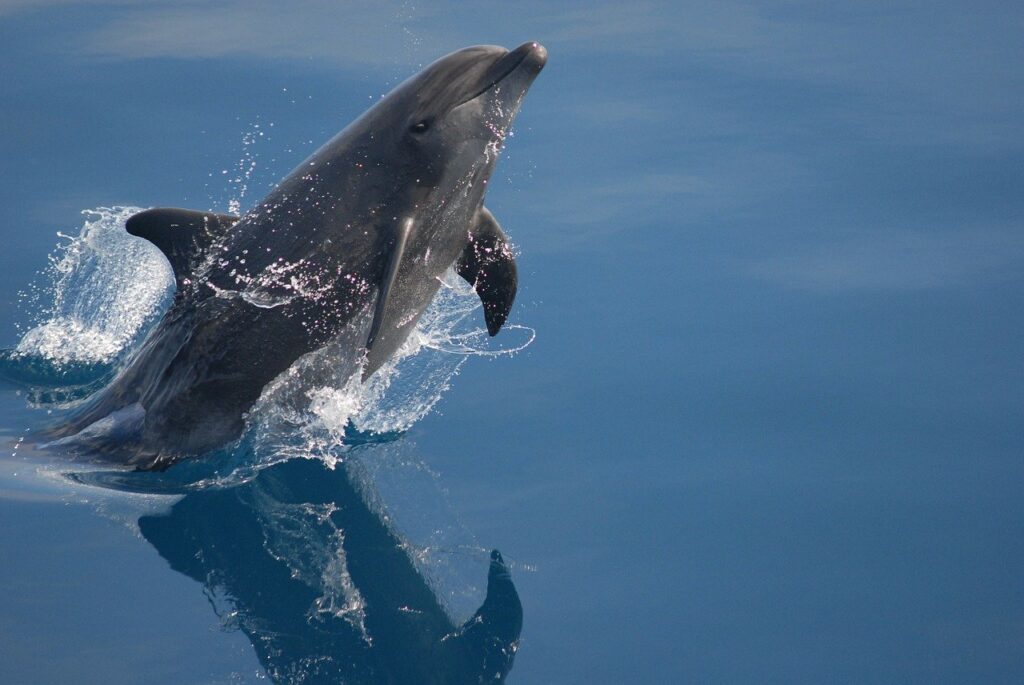 Sample local seafood
Dingle is a fishing town, so it's no surprise that the seafood here is some of the freshest and tastiest in Ireland. You'll find plenty of restaurants serving up delicious seafood dishes, such as fish and chips, seafood chowder, and grilled lobster. Be sure to try some of the local specialities, like Dingle Bay crab or smoked salmon from the nearby Smokehouse.
Traditional Irish food 25 of the most popular Irish dishes
Michelin recommended Seafood Restaurants
There are 3 Michelin Restaurants in Dingle – Land to Sea, Charthouse and Out of the Blue. Don't miss out on trying the local seafood, especially the freshly caught fish and chips from the many seafood restaurants in town.
Land to Sea comes highly recommended and in particular their Crab Salad. The chef uses produce from the surrounding fields and nearby waters to their full advantage.
Out of the Blue, this simple harbourside restaurant keeps its focus firmly on ingredients that come from the sea. Menus are decided each morning, based on the latest local catch.
Charthouse is a Bib Gourmand restaurant for great value seafood where seasonal local ingredients feature in rustic, flavoursome dishes.
Milltown House B&B
If you are looking for a special place to stay check out Milltown House B&B which is noted in the Best 100 Places to Stay in Ireland. Located on the stunning Dingle Harbour and was once home to Robert Mitchum during the filming of the famous Irish film Ryans Daughter. These days Seamus Ireland's most famous Irish Wolfhound is one of your hosts.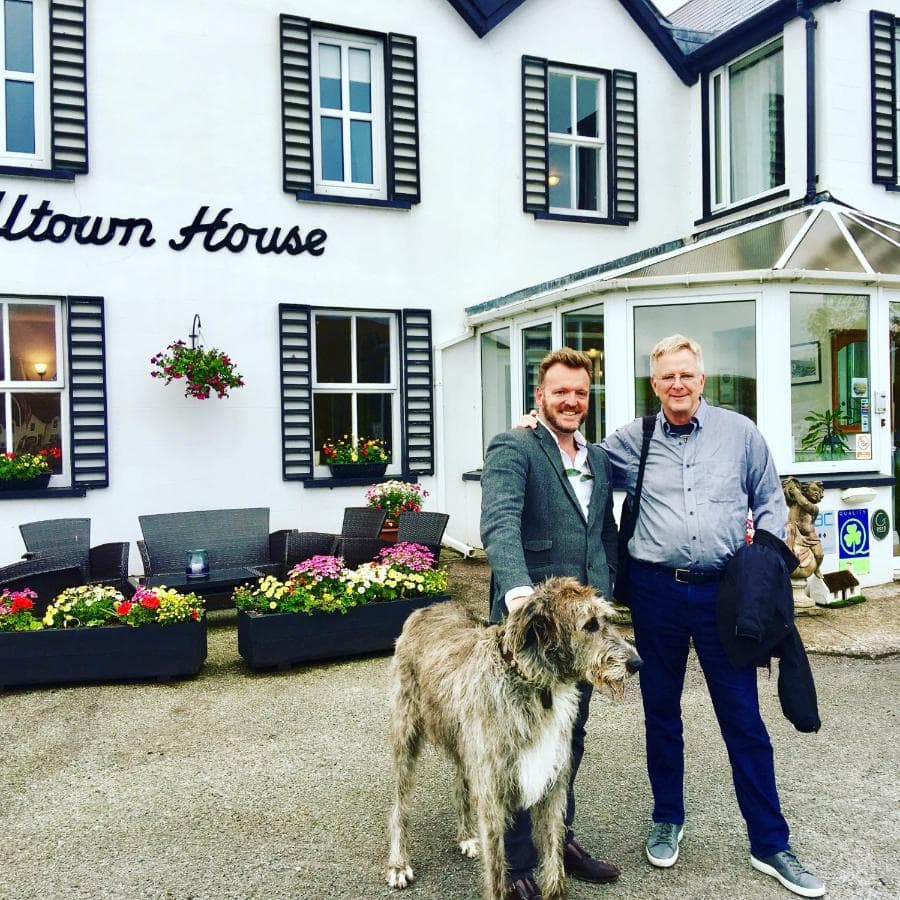 Murphy's Ice Cream
Dingle is home to one of Ireland's favourite Icecream producers, Murphy's Ice Cream, which is a cafe that serves ice cream and coffee. Murphy's makes all-natural icecream from local milk and pure ingredients, no added flavours or colourings but lots of free-range eggs, organic sugar and fresh milk.
Flavours include the iconic Irish Brown Bread, a Chocolate Whiskey, Dingle Sea Salt and an Irish Cream Liqueur flavour.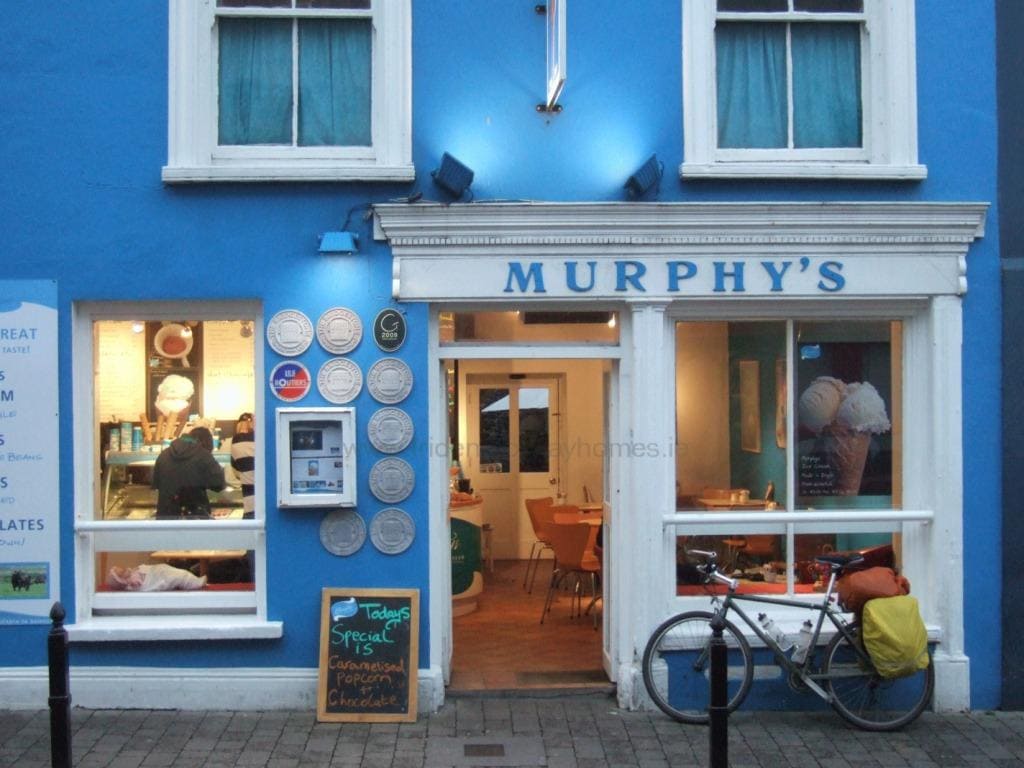 Traditional music in the best pub in Dingle
If you love traditional Irish music you have to head out to one of Dingle's fine pubs. A local favourite is Foxy John's which is part pub and part hardware store.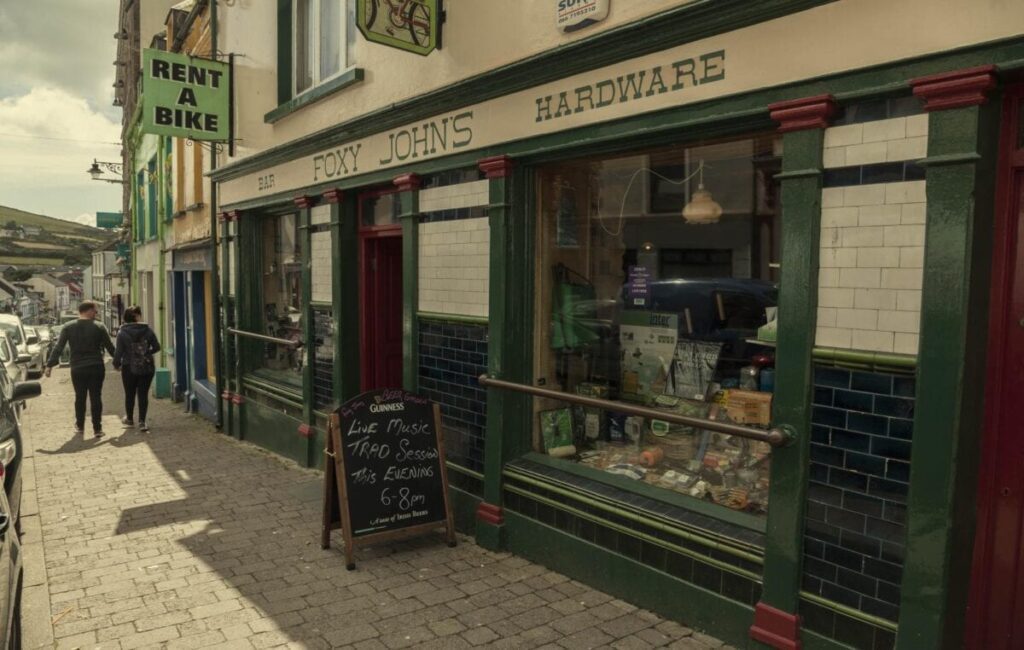 Visit the Dingle Distillery
If you're a fan of whiskey, you won't want to miss a visit to the Dingle Distillery. This small, artisan distillery produces some of the finest Irish whiskey, gin, and vodka in the country. You can take a tour of the distillery, sample some of their products, and even purchase a bottle to take home as a souvenir.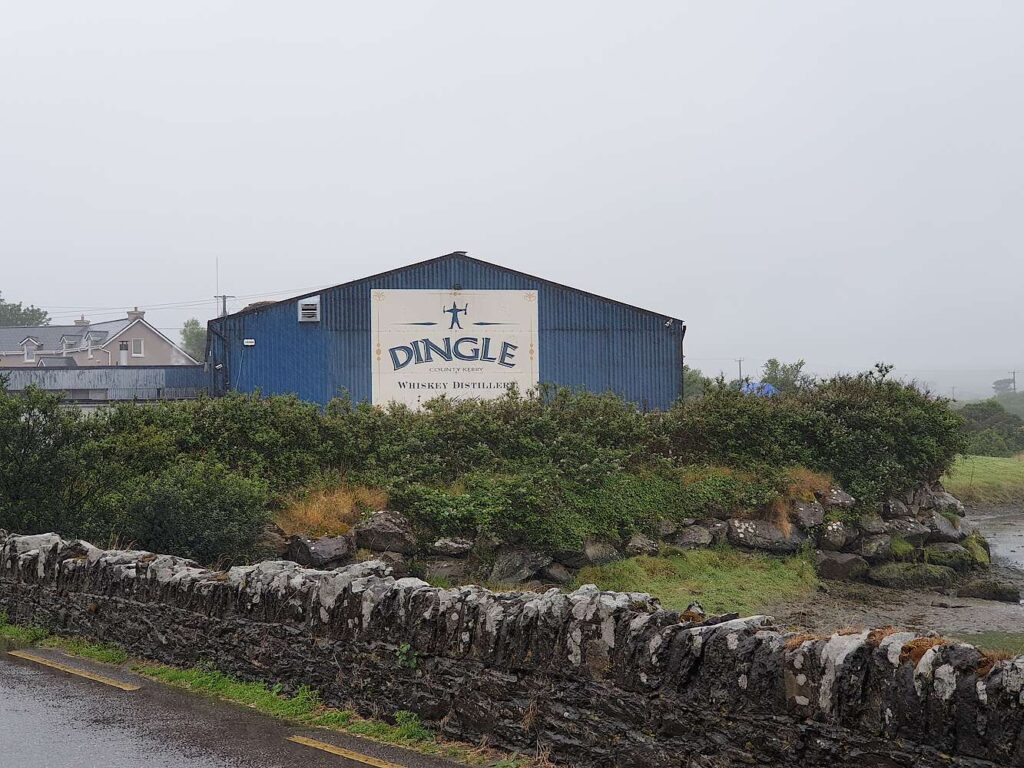 Just outside of Dingle town
You can visit Gallaunmore, a standing stone and National Monument, that lies 3 km (2 miles) to the east of Dingle town.
On the nearby Lateeve Hill (around 3 miles from Dingle) you will find the boat-shaped St. Manchan's Oratory similar to Gallarus a medieval oratory with ogham stone and souterrain.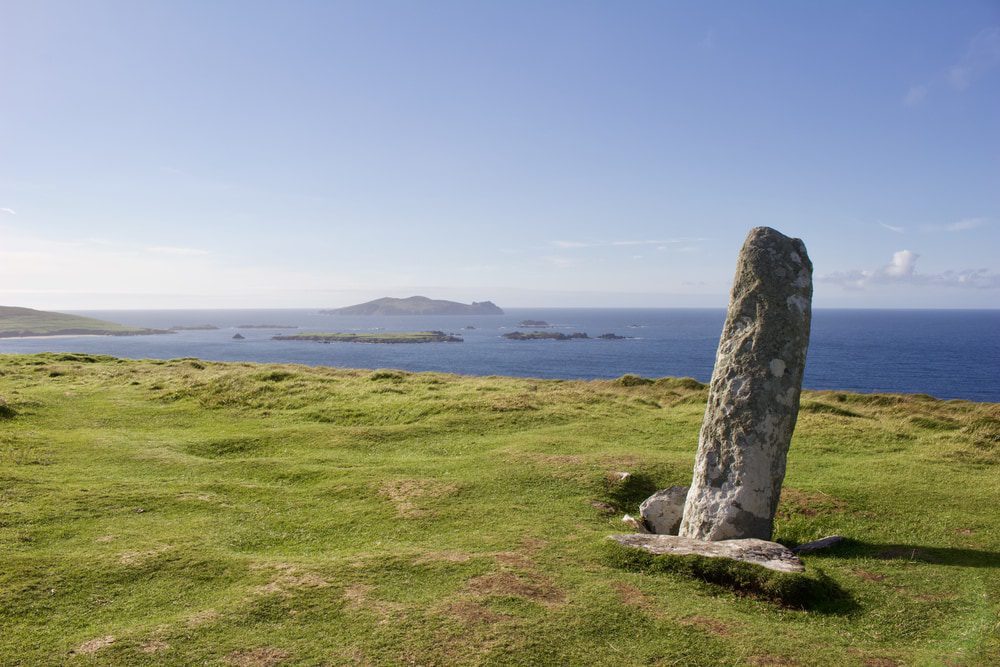 A souterrain is an underground structure which was believed to have been used by Catholic priests to hide in during the Penal era. A little to the west is Tobermanaghan a holy well.
Visit the Blasket Islands
There are 6 principal Blasket islands the Blasket Islands are a group of small islands off the coast of the Dingle Peninsula. The islands were once home to a vibrant Irish-speaking community but were abandoned in the 1950s due to declining population. Today, you can take a ferry from Dingle to visit the islands and explore the abandoned villages.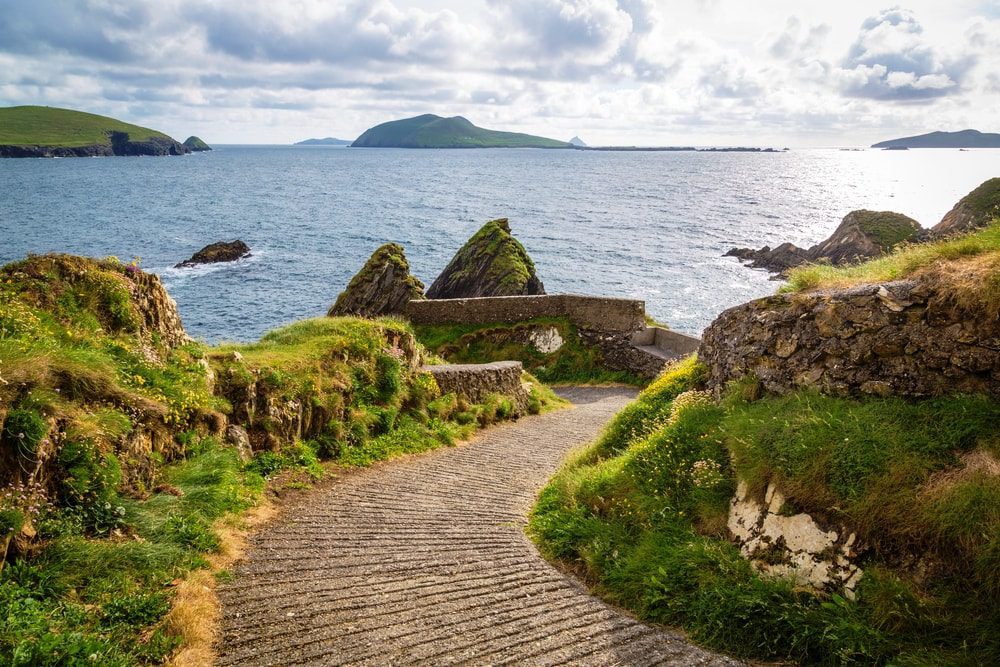 An Blascaod Mór or the Great Blasket, lies around 2 km from Dunmore Head, on the mainland. Great Blasket can be visited on a day trip or you can stay overnight on the island, ferries are available from Dingle.
The Dingle Drive highlights
Views of the Skelligs
On your way out of town you pass Ventry Bay which is a four-mile-long beach and in the distance keep your eyes peeled for views of Skellig Michael which is featured in Star Wars and is home to a 6th-century monastic settlement.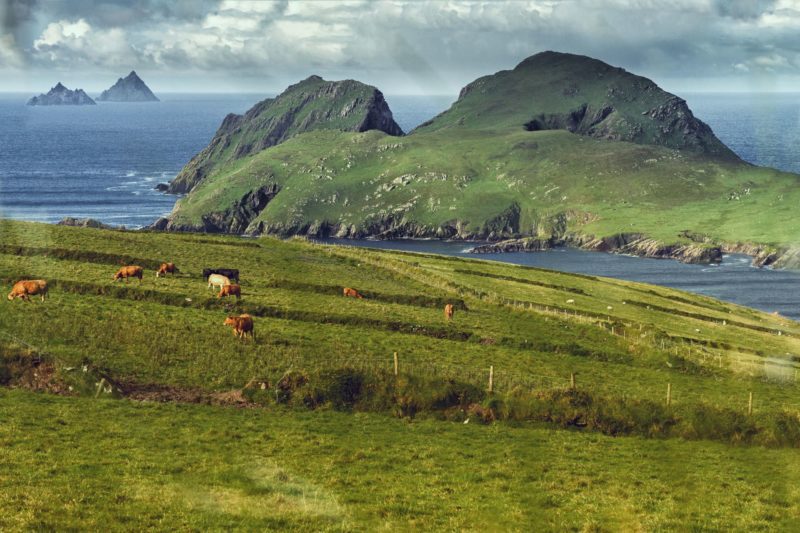 Fahan Beehive – Clochan huts
After you set off, near Dún Beag, you'll find the Fahan Beehive clochans. The Beehive Huts can be found on Slea Head.
The Fahan Beehive Huts include 19 souterrain and 18 standing clochans along with inscribed stones, sculptured crosses and earthen ring forts, all located on the Dingle Peninsula's Slea Head Road in County Kerry.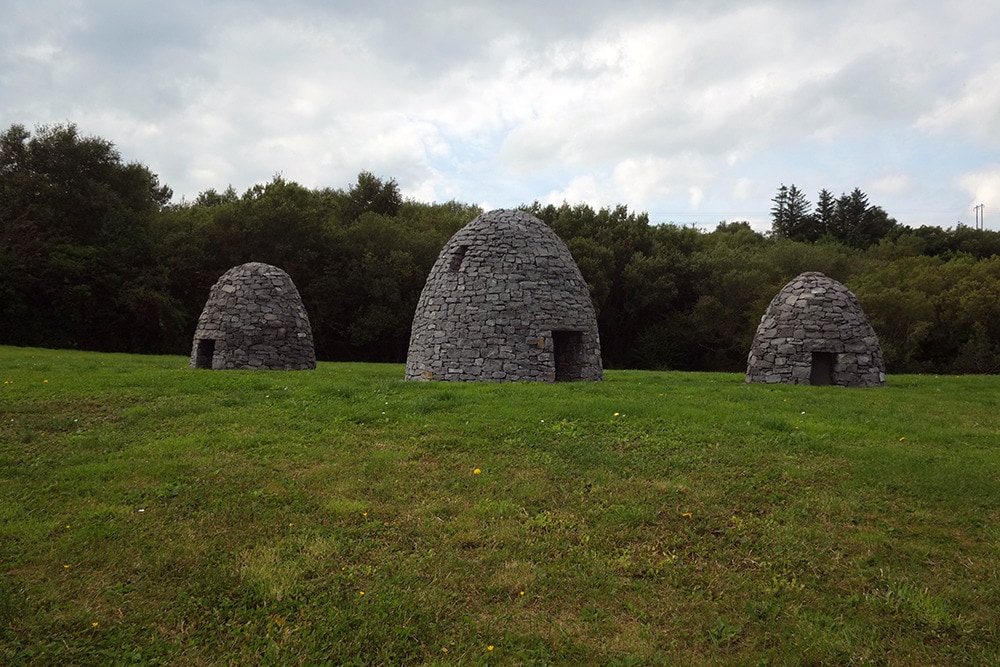 Dunbeg Fort
One of the most dramatic sites in Ireland is the Dun Beag Fort Experience where you can learn the history of this archaeological treasure with a short video presentation and information on the site itself. Dunbeg Fort, a series of defensive ramparts and ditches around a central clochan, is open to tourists at a small cost €3, daily 9:00–19:00, May–Aug until 20:00.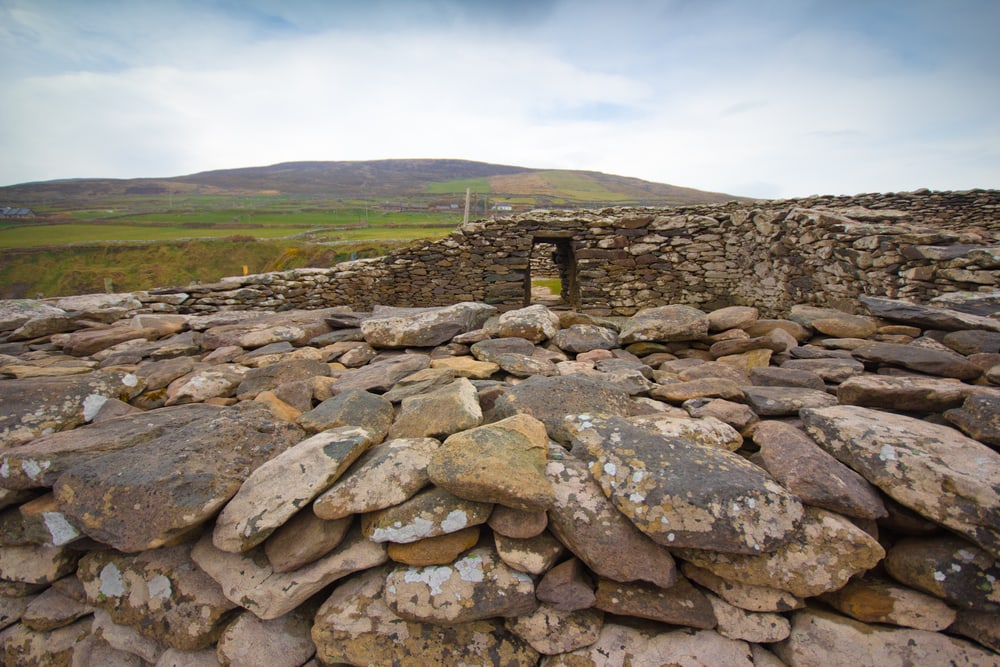 Slea Head
Slea Head is a beautiful cliff located at the tip of the Dingle Peninsula and the Slea Head Drive takes in some of Ireland's most spectacular scenery. The views from here are postcard-worthy and with some great views of Blasket Island. The winds can be very strong so make sure to take care near the edge of the cliff.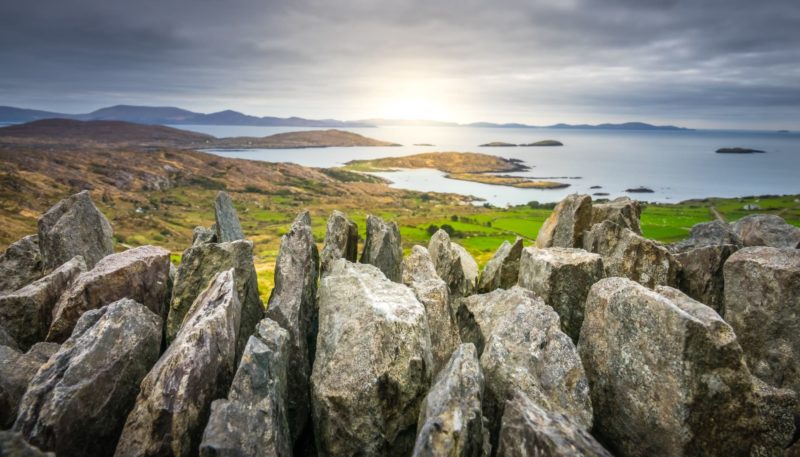 Dunquin village
The westernmost village in Europe is Dunquin a charming Irish village with the requisite Irish pubs and one of Ireland's most iconic views that of Dunquin Harbour the winding narrow road leading down to the harbour.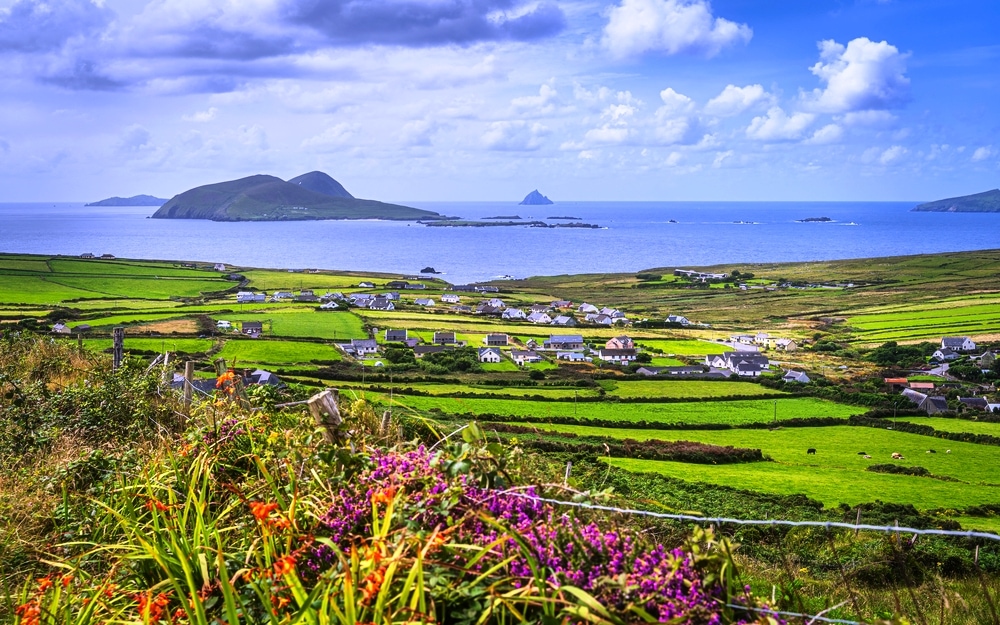 Nicknamed the next parish to America Dunquin (Dún Chaoin in Gaelic) is built at the foot of Mount Eagle, overlooking the old harbour which is two minutes outside the village. This is where you will find the ferries that visit the Blaskets.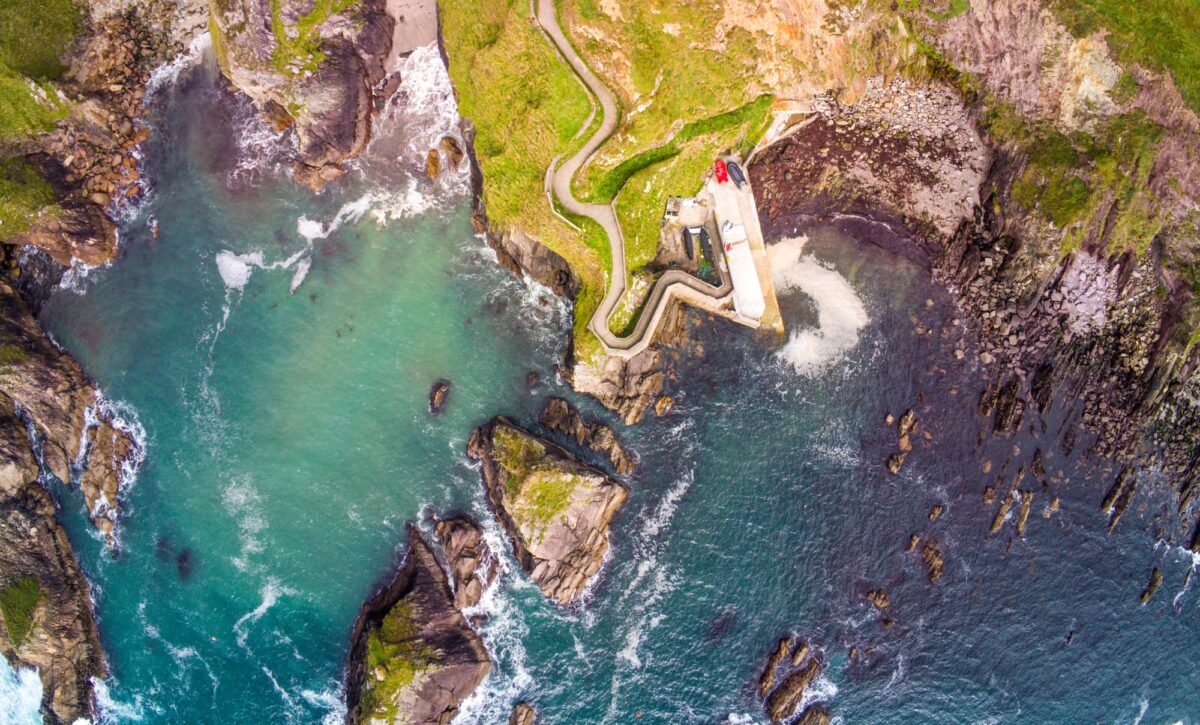 Dunquin Harbour (Dún Chaoin in Irish Gaelic) is magical, with its steep winding concrete pathway down to the pier which has often trapped an unwary driver hoping it is a real road.
Have a pint at the World Famous Kruger's Pub
The world-famous "Kruger" Kavanagh bar leader of the CAMRA (Campaign for Real Ale) is the most western pub in Europe and here the language is Gaelic and a beautiful pint of the black is served. The bar has photographs of the stars of films that made Dingle famous and you can hear some great traditional music sessions.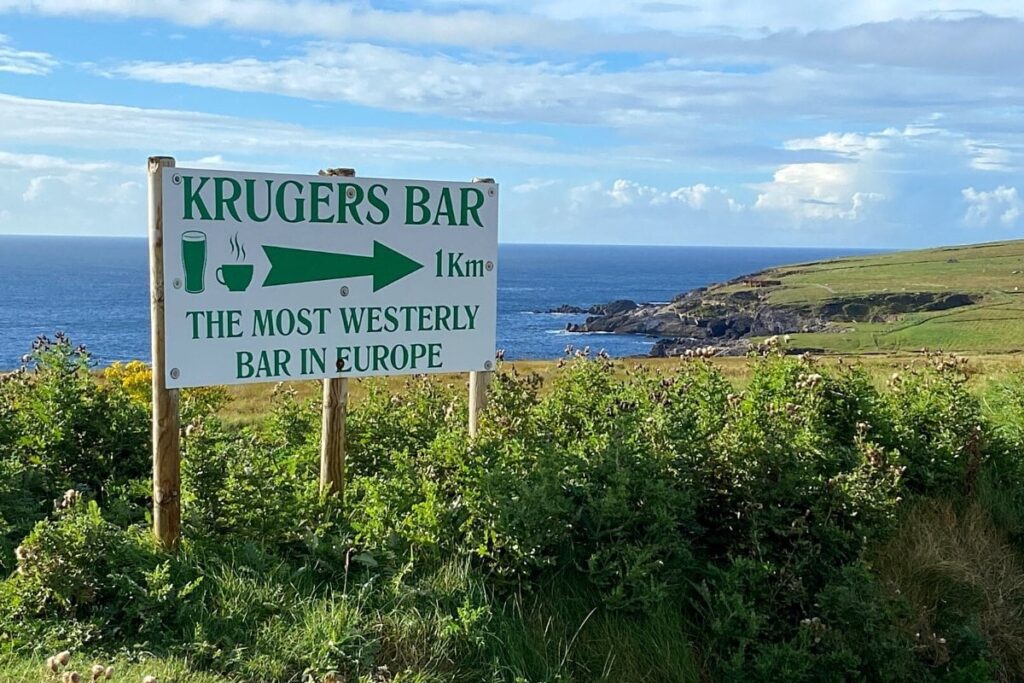 The Spanish Armada sinking
In 1588 a few Spanish Armada ships took shelter in the Blasket Sound, the area between Dunquin and the Blasket Islands. On September 21, 1588 'The Santa Maria de la Rosa' sank here with one survivor of 250 on board. A monument to the Spanish Armada was erected in Dunquin in 1988.
Step into the wild at Dunmore Head
Dunmore Head is close to Dunquin and easy to get to by car. Its wild location on top of the head features an Ogham stone overlooking the sea. Standing here you can see why it was chosen as the filming location for the hiding place of Luke Skywalkers X-Wing, Ahch-To.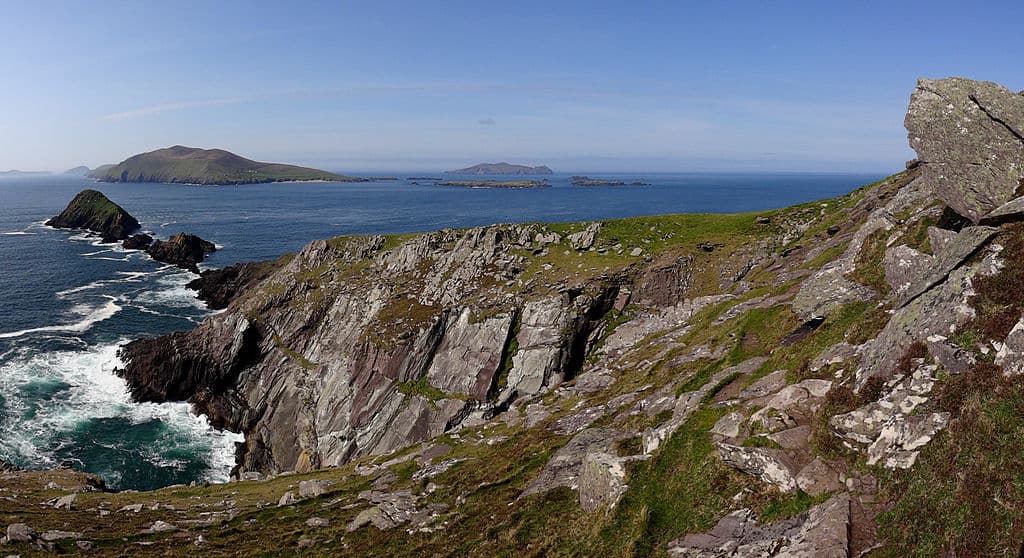 See dramatic views at Coumeenole Beach
Coumeenoole offers extraordinary views of the surrounding ocean, to the Blasket islands, and the wild waters of the Atlantic. There is a small carpark where you will see a stone that marks the site where the famous Ryan's Daughter was filmed.
Coumeenole is not a swimming beach as the tides here can be quite dangerous but you can enjoy stunning views of the jagged cliffs and the Blasket Islands.
Ballyferriter Village
The village of Ballyferriter is a Gaeltacht and is known as a centre for Irish language and students come from far and wide to practice and learn Irish. There is a replica early Christian Cross near the schoolhouse that is a fibreglass prop from Ryan's Daughter.
In 2016 Lucas Film Ltd. arrived to start filming Episode VIII, The Last Jedi and continue the story of Luke and Rey on Ach-To. This headland called Ceann Sibeál was the perfect place to recreate the monastic settlement of Skellig Michael, featured at the end of Episode VII, The Force Awakens.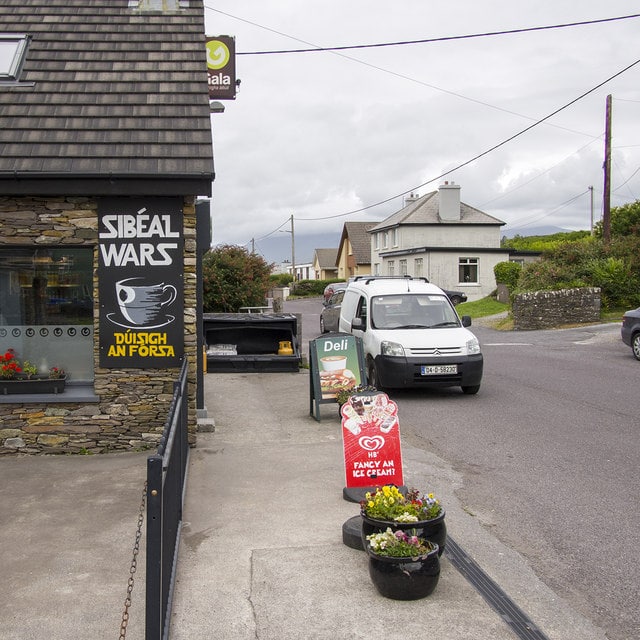 Smerwick Harbour
A few miles from Ballyferriter you will see Smerwick Harbour one of the most beautiful locations along the Wild Atlantic Way. Smerwick Harbour boasts a number of beautiful beaches. Narrow trails connect the beaches and on an extended walk, a great view of Mount Brandon and the Three Sisters can be enjoyed.
The Gallarus Oratory
The Gallarus Oratory is another famous spot in Kerry and you can park free in the tiny lot where a sign leads you to the Oratory or head to the small visitor's centre with a coffee shop and video theatre. This is a private Visitor's Centre owned by the man whose land it is on and there is a small fee to park and use the facilities.
The Gallarus Oratory was built about 1,300 years ago and is one of Ireland's best-preserved early-Christian churches. Shaped like an upturned boat, inside you will see a simple, small arched window that would have reflected the daylight onto an opposite wall where the altar would have been.
Kilmalkedar Church Ruins
The ruined church of Kilmalkedar (Cill Mhaoil-cheadair, on the left) which resembles Cormac's Chapel at the Rock of Cashel dates to the 12th century and is traditionally associated with Saint Brendan but also with a local saint, Maolcethair (Maol Céadair, Maol Céaltair, Malkedar.
It was a traditional assembly site for pilgrims, who followed the Saint's Road (Casán na Naomh) northeast to Mount Brandon.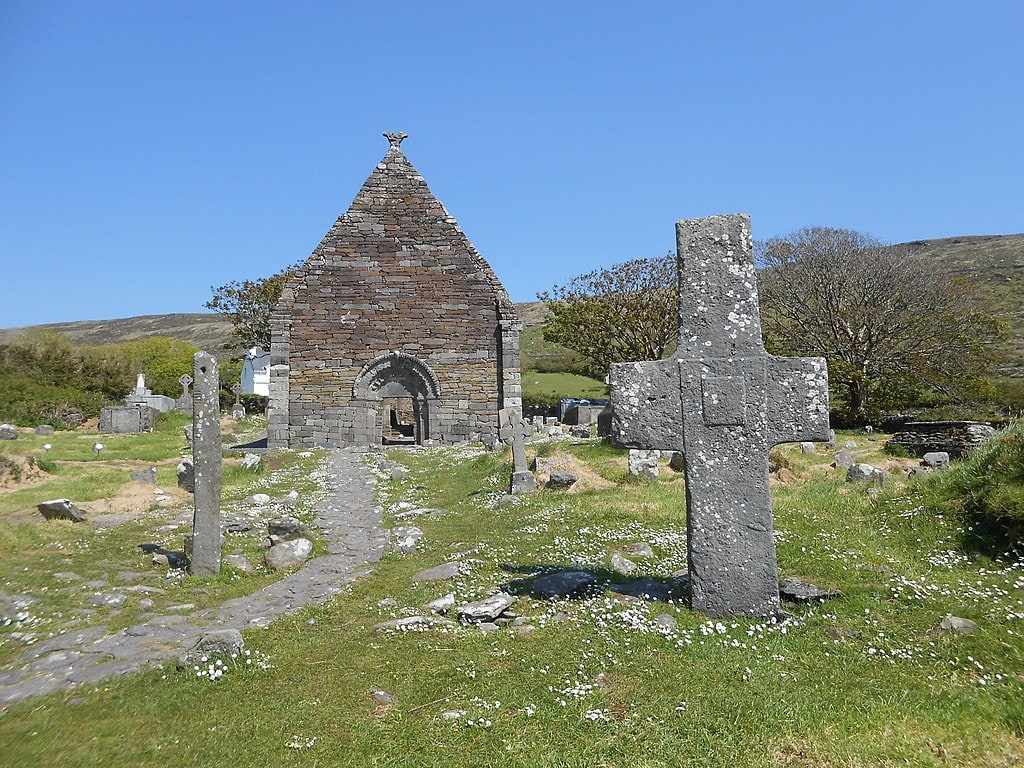 These are just a few of the many things to see and do in Dingle. Whether you're a nature lover, a foodie, or a whiskey enthusiast, there's something for everyone in this charming town. So, pack your bags and head to Dingle for an unforgettable Irish adventure!
I hope this guide has given you some inspiration for your trip to Dingle. Whether you're looking for stunning scenery, outdoor activities, delicious food, or a lively pub scene, this charming town has it all. So pack your bags, hit the Wild Atlantic Way route, and get ready to fall in love with Dingle.
Pin it to save it