Spanish Food: 43 of the best foods in Spain
Traditional Spanish food is one of the world's best food cultures and for me beats out French food for variety, inventiveness and flavour. The varied Spanish regions impact the types of dishes you will find in a particular region. The best foods in Spain will usually be found at the weekly markets that are held all over the country.
The cuisine of Spain varies from superb meat dishes to fish and seafood pulled from the Mediterranean and eaten on the same day. The Mediterranean diet is listed by UNESCO as Intangible Cultural Heritage, which describes exactly how delicious and healthy food in Spain is.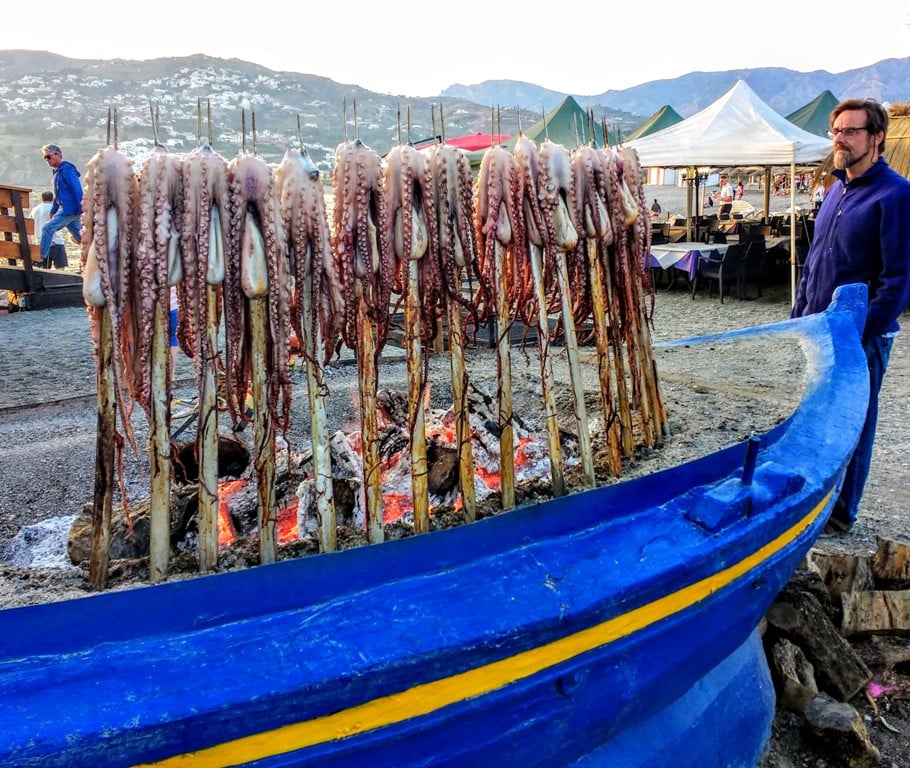 The most famous Spanish food is probably split between two things the Spanish rice dish Paella and Tapa both of which come from Southern Spain. We also can't talk about Spanish food without mentioning the superb Spanish olive oils that are produced here. These superb oils dominate virtually all Spanish cuisines and Spanish dishes. Spain produces some of the finest olive oil in the world.
A popular Spanish dish is gambas al ajillo which translates to "shrimp with garlic" or "garlic shrimp". Other popular Spanish foods include Patatas Bravas, Jamon Iberico, Manchego cheese and many others.
Spanish cuisine has much in common right across the country but each region has a distinctive food speciality such as Paella from Valencia. You will find many delicious Spanish dishes in all regions but you will also find specific Spanish foods within each region.
Spanish food regions
For food travellers, there are 8 distinctive culinary regions of Spain. Andalusia, Basque Country, Catalan/ Catalunya, Madrid, Valencia, Galicia and of course the Spanish Pyrenees and the islands of the Balearic and Canary Islands.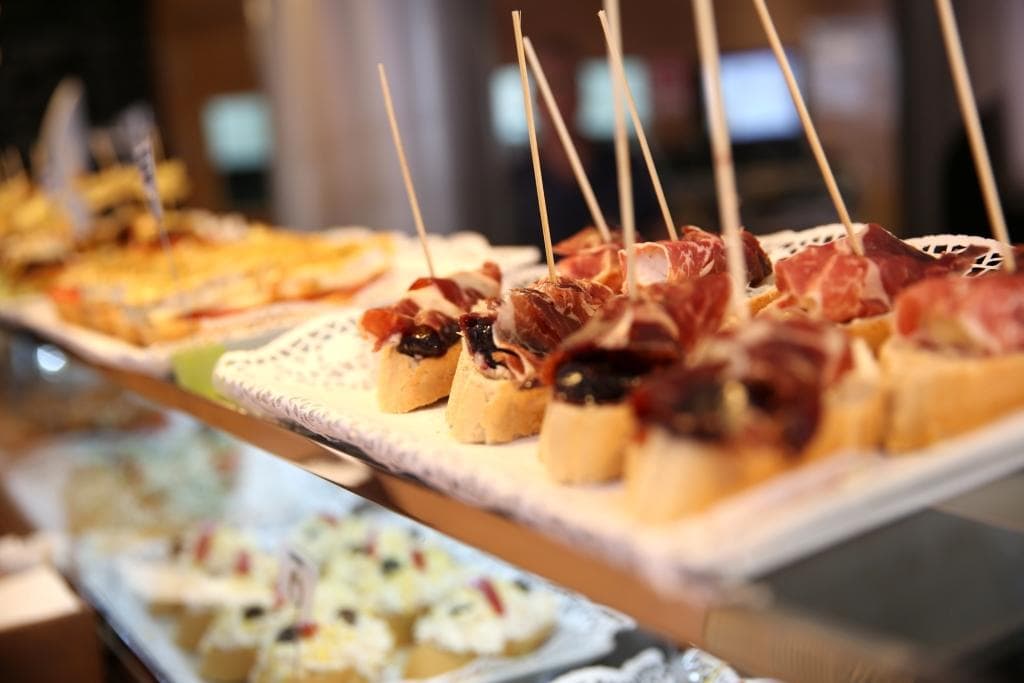 Andalusian Cuisine
Andalusian cuisine hails from the region of Southern Spain and it has been influenced by a multitude of flavours, from North African to Moorish, Christian, Jewish, and Roman.
Food plays a hugely important part in that Spanish culture and eating out is a big part of that. Andalusian cuisine is quite distinctive and relies heavily on seasonal produce and seafood fresh from the ocean.
Regional Andalusian cuisine includes; gazpacho, gambas (shrimp) right at the water's edge, octopus, paellas, almorejo (an almond soup) and a host of other delicacies.
Basque Country
In Basque Country, the traditional foods include fresh fish, salt cod dishes, and the famous sheep's cheese Idiazabal. The most typical dish, is "Piperade", a mix of tomatoes, onions and green or red peppers, spiced with Espelette pepper.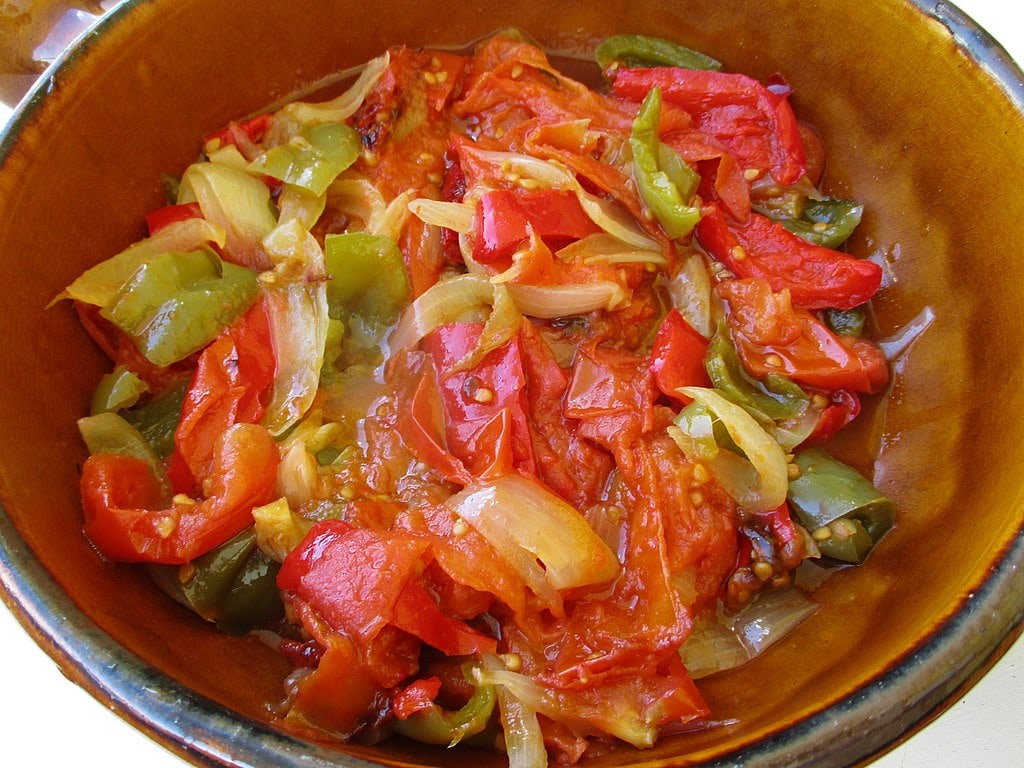 The Basque also love chaperons (tiny squid) cooked in their ink, txangurro a stuffed crab and ttoro a fish soup. In the countryside, the Basque recipes have at their heart meats such as pork, veal or lamb. Axoa is a veal and lamb dish usually paired with rice. From the rivers comes trout.
Catalan/Cataluyna
Its location on the Mediterranean coast including Barcelona and the Costa Brava gives Catalan cuisine some pretty impressive seafood dishes. However, you can also find amazing produce grown in the mountains and fields including tomatoes, peppers, eggplant, artichokes and mushrooms. Cataluyna is the home of 'surf and turf' and the idea of having meat and fish on the same plate.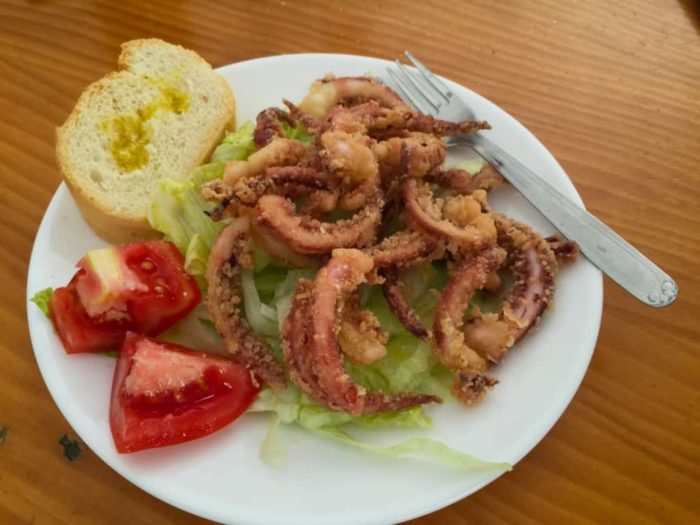 If you are vegetarian or vegan Catalan has some pretty impressive vegetable dishes such as calcots, and Escalivada which is grilled vegetables served with a drizzle of olive oil.
Catalan cooks are fond of sweet and savory combinations and of sauces flavoured and thickened with almonds, pine nuts, and hazelnuts.
Madrid – Castilla region
The Castilla region of Spain includes Madrid and although it is landlocked the Spanish cuisine here rivals the rest of the country. Fresh fish is brought in daily and the region's sheep's milk cheese Manchego is available all over Spain. Chorizo is also one of the mainstays of Castillan cooking.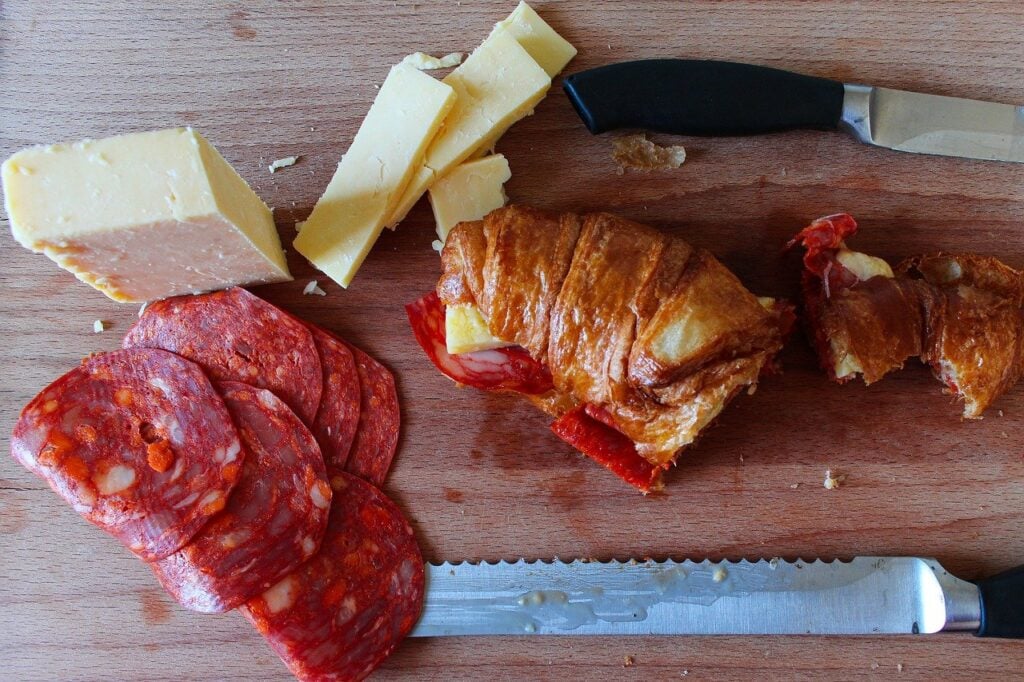 This area loves its garlic soups and bean stews, suckling pig and lamb the region's nickname is "España del Asado" (Spain of the Roast). Because this is a colder region of Spain hearty warming dishes are a mainstay of Spanish cuisine here.
No other area of Spain produces a wide variety of beans and pulses than here. There are Castilian and Pedrosillano chickpeas, lentils such as the Armuña, which is protected by the Denomination of Origin and many types of beans.
Valencia
Known for its vast orange groves and rice fields. Valencia is the true home of the most famous Spanish dish – Paella. A coastal region Valencia is renowned for its seafood dishes and interestingly Horchata which I always thought was a Mexican drink. Horchata is served with fartons a long sponge finger dusted with icing sugar.
Horchata is a popular drink that is often described as a sweet rice milk beverage. Horchata is made out of rice, milk, vanilla, and cinnamon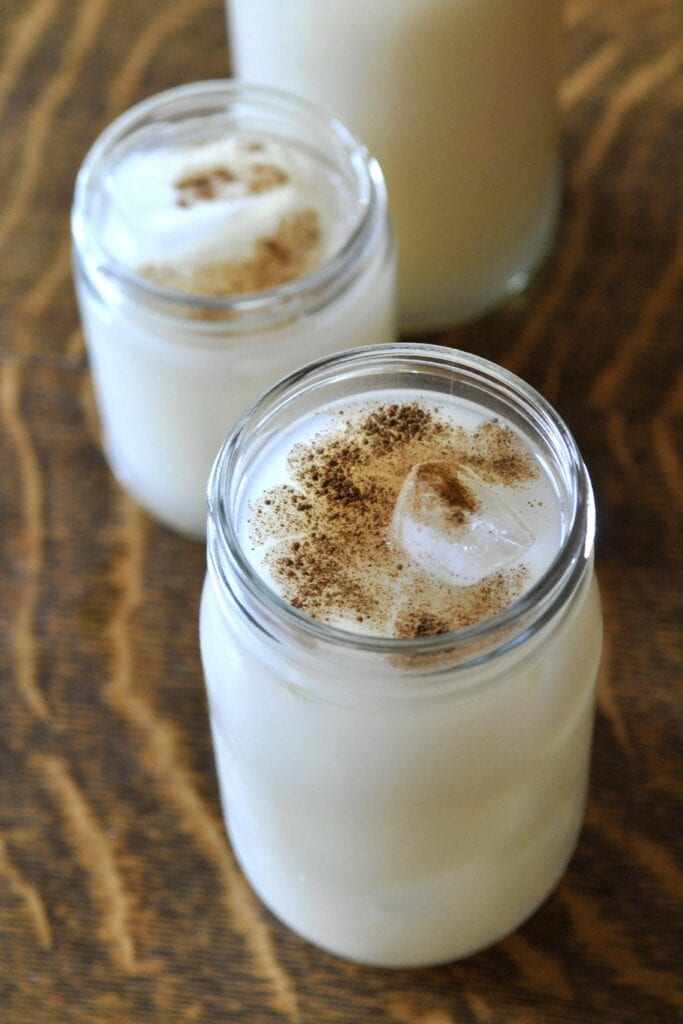 Valencia in Eastern Spain is the undisputed home of paella. It is one of the largest natural ports in the Mediterranean and has been one of the most important rice-producing areas in Spain since rice was introduced by the Moors over 1200 years ago.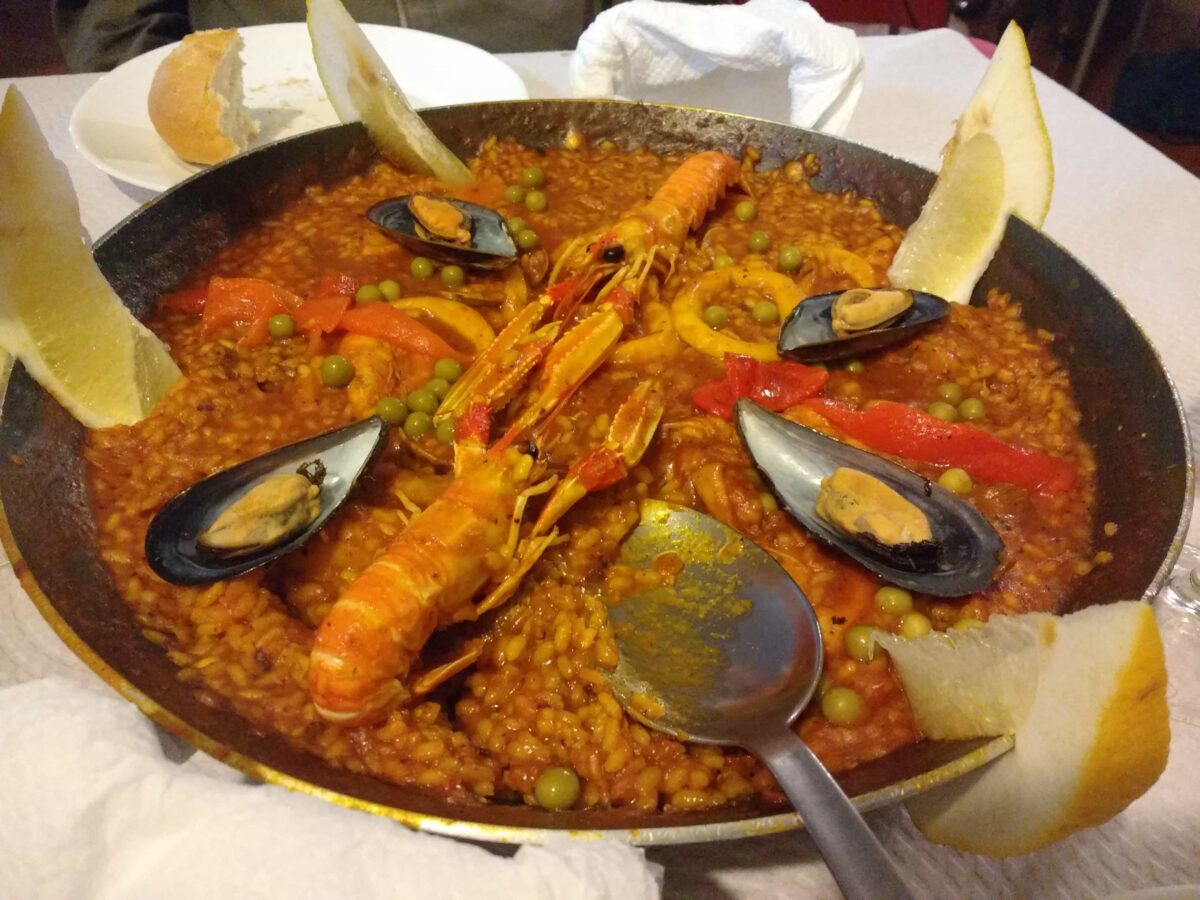 Valencians make good use of their superb oranges by making a lovely drink called Agua de Valencia. This refreshing cocktail includes Valencian orange juice, gin, vodka and cava.
A favourite dish in Valencia is Arroz al horno 'rice in the oven' which incorporates tomatoes, garlic, chickpeas, blood sausage (morcilla), potatoes, and chorizo. Fideuà is another famous Valencian seafood dish made with thin noodles mixed with a variety of seafood.
Galicia
Galicia is said to be one of the Celtic regions and identifies more with those cultures than the Spanish. This region is known for its hearty soups and stews and fantastic fresh seafood.
In Galicia, vegetable sides are more common than rice or noodles. The potato stands in for those carb-type sides. Typically in Galicia seafood is the star of the cuisine and shellfish is the most popular.
A traditional Galician favourite is pulpo a la feria which is octopus boiled in a copper pot then chopped into small pieces and served drizzled with olive oil, paprika and salt.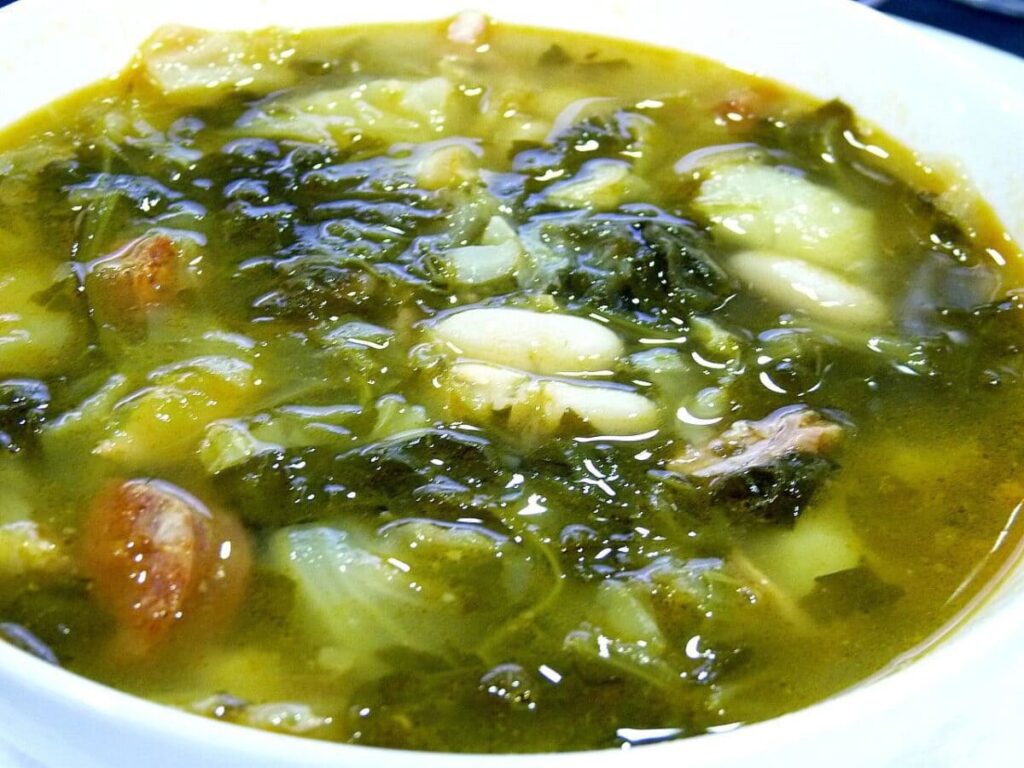 Caldo Gallego is a famous Spanish soup from the region and it is made with greens, beans, and meats. Raciones are also very popular in this area.
Spanish Pyrenees – Aragón
The Spanish Pyrenees dominate this region famous for La Rioja, trout and the running of the bulls. Regional dishes include Aschillindron stews with lots of vegetables and lamb or chicken. Piquillo peppers stuffed or simply sautéed with olive oil are one of the area's famous dishes.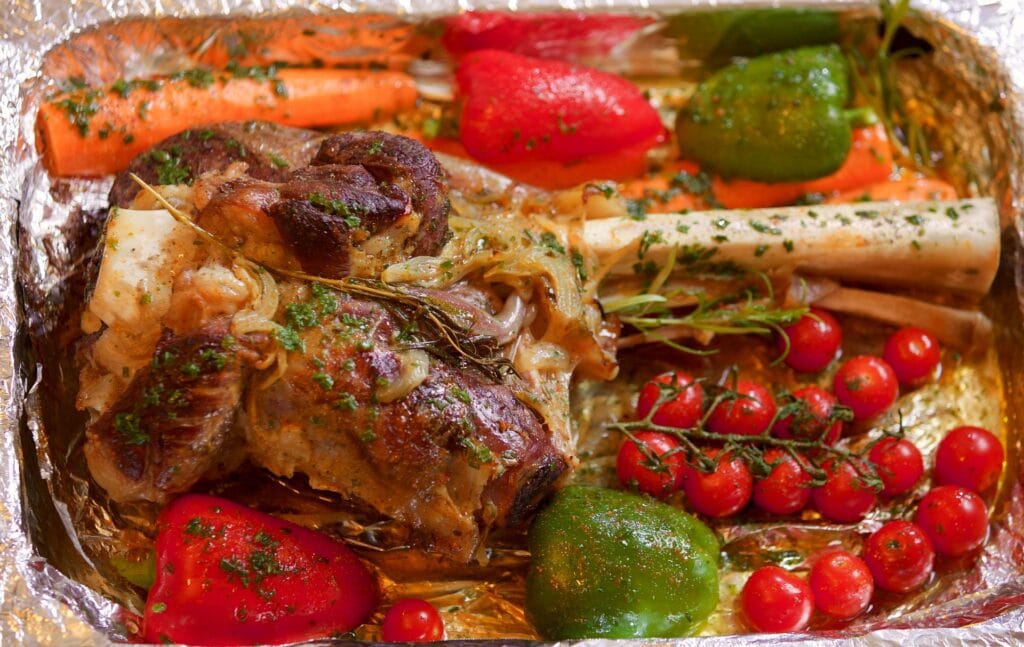 One of the most characteristic dishes of the traditional gastronomy of Aragon is roast lamb called ternasco. Another important ingredient albeit one that is imported from other areas of Spain is cod which is used in Albóndigas de bacalao.
Some of the most well-known main ingredients include jamon, olives, sweet onions and ancient vegetables including cardoon and borage.
The History of Spanish Tapas
One fine day King Alfonso XIII was visiting various parts of his kingdom and he stopped in Cadiz at the Ventorrillo del Chato. A very strong wind meant that the sand and dust was blowing into his drink of sherry. An enterprising waiter covered the Kings sherry with a slice of Jamon.
The King asked why and the waiter explained his actions the King then ordered his next drink with this cover of topping or 'tapear' which is where the name tapa comes from.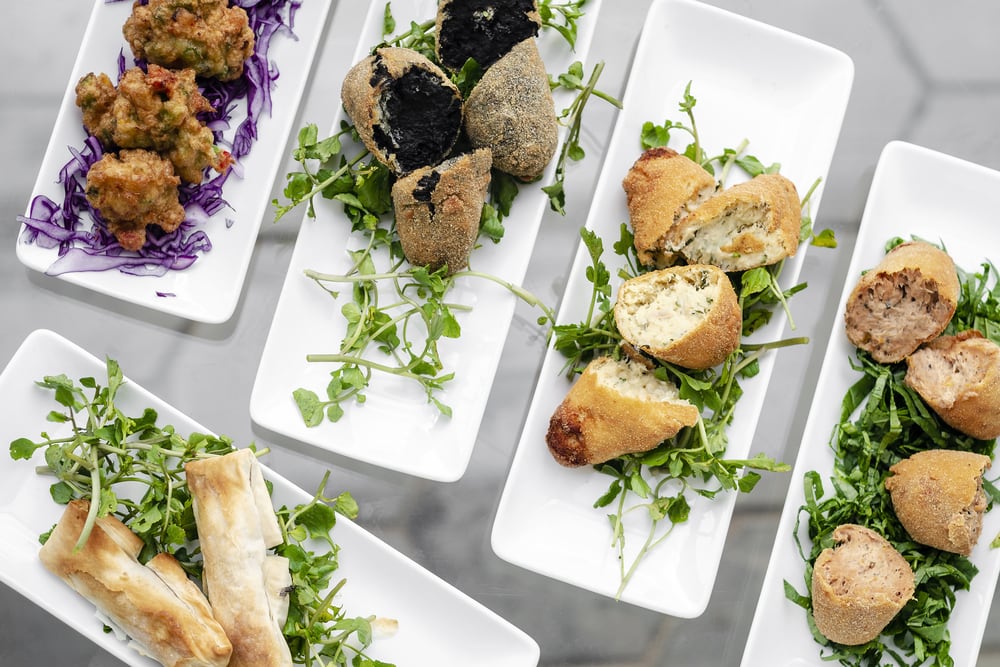 What is the difference between Pincho, Tapa and Raciones?
In the Basque country, they serve pinchos or pinxtos which comes from the Spanish verb 'pinchar', which means 'to pierce'. The main difference between pinchos and tapas is that pinchos use toothpicks to keep the food on top of the bread. If you are eating pinchos you must save your toothpick as this is how the waiter calculates your tab.
Similar to ordering Chinese food raciones are simply larger portions of the single tapas. It could be a plate of grilled sardines or anchovies, a platter of honey-drizzled eggplant or some deep-fried squid rings.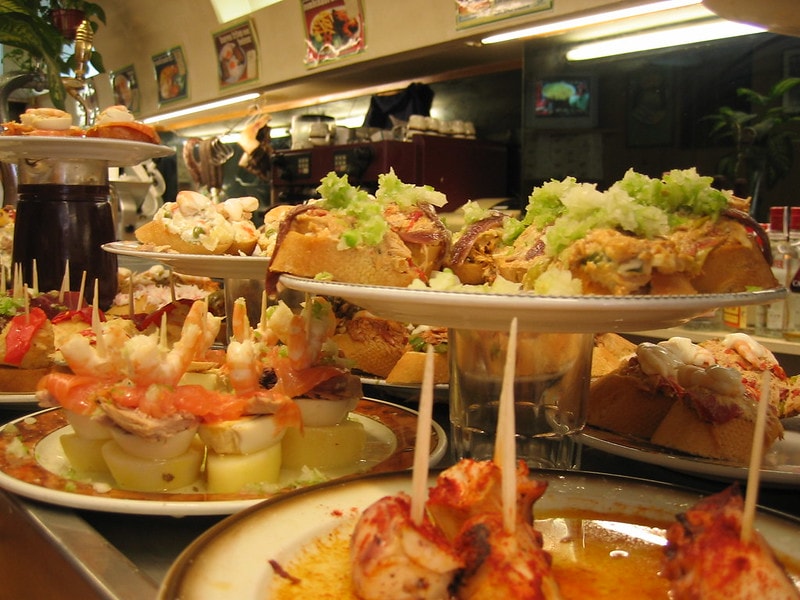 What is the National Dish of Spain?
If you don't live in Spain you might think that paella is the national dish however the National Dish of Spain is actually Tortilla de Patatas. This is a kind of Spanish omelette or quiche and traditionally it is made from sliced potatoes that are sauteed with onions and then eggs are beaten and added. The omelette is sliced and served hot or cold.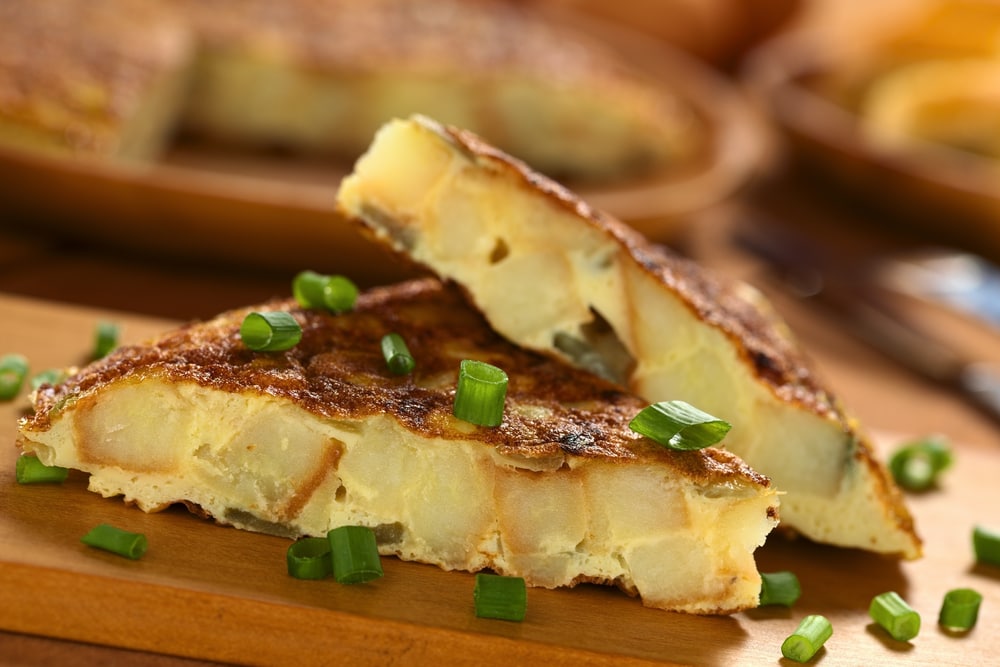 Traditional food in Spain – what to eat and when
It can be a bit confusing if you are new to the area but the Spanish have a very different way of eating throughout the day with their heaviest meal at what we consider lunchtime. Here is how a typical Andalusian day would go.
How to order coffee in Spain
Coffee in Andalusia is quite different from coffee elsewhere in Spain there are very distinct differences, particularly in the Malaga area as the photo demonstrates.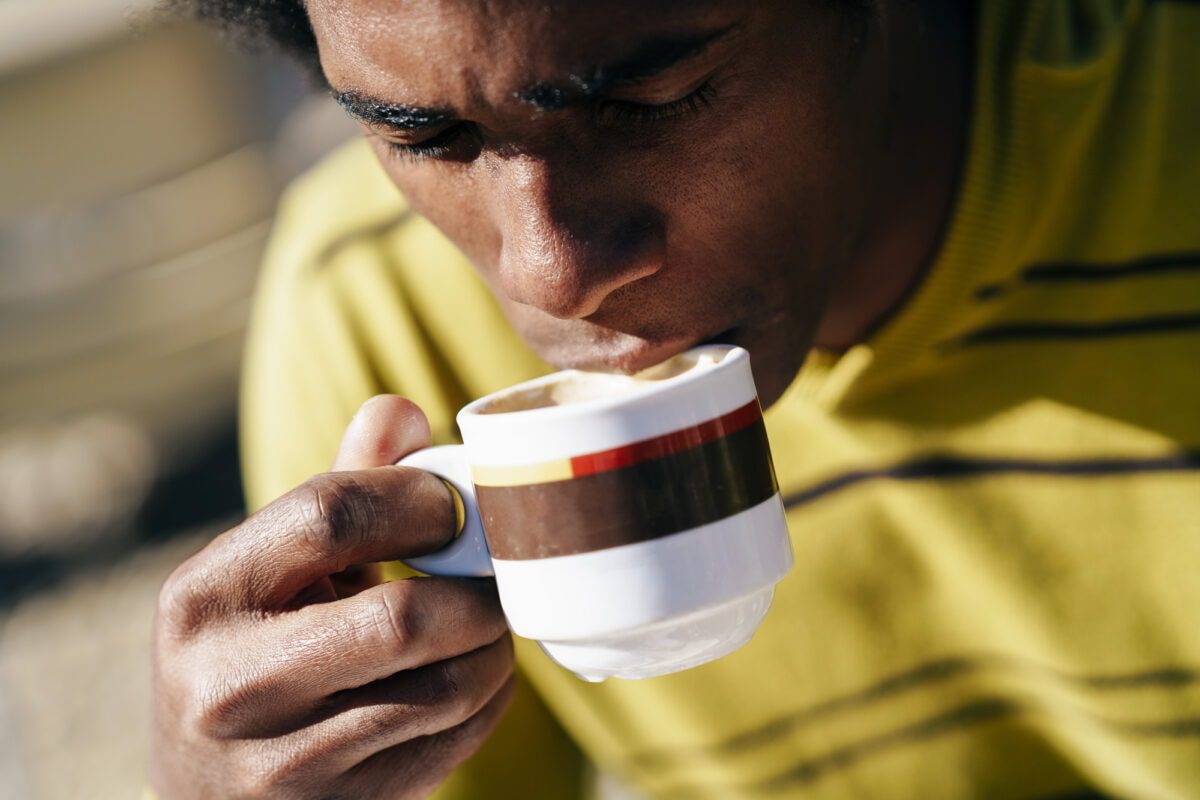 Spanish coffee variations
Café Solo is a strong, black espresso.
Café Americano basically a shot of espresso with hot water to give a milder cup of coffee.
Café Cortado is an espresso with a splash of milk
Cafe Manchao is a few drops of milk in your coffee
Cafe Nube is just enough coffee to flavour hot milk
Cafe Sombra has slightly more coffee than Nube
Café con Hielo an espresso served with a glass of ice to pour the coffee over.
Café con Leche is equal parts steamed milk and espresso.
Spanish food culture – meals what to eat in Spain and when
Breakfast in Spain – Desayuno
Unlike our heavier North American or United Kingdom-style breakfasts the Spanish tend to prefer a much lighter fare and a sweeter one. The Spanish love freshly squeezed orange juice (Naranja) and coffee for breakfast. Desayuno is usually served from 7 am until 11 am.
Lunch in Spain – La Comida
Spanish lunches usually involve the main courses in Spain and takes place from around 2 pm until 4 pm don't forget many Spanish areas still have a siesta from 2-5 pm. This is the main meal of the day, so keep your eyes out for the menú del día or set menu. These are generally a set price from around 8 Euros and up and include a soup or salad, bread, the main meal of fish or meat, a beverage, then coffee and dessert.
Dinner in Spain- Cena
Dinner in Spain is not served until quite late. 5-7 pm is the time when people go out for their paseo or afternoon stroll around town, and also when folks stop for some people-watching and a cold beverage or coffee.
Dinner or La Cena usually takes place from 9 pm-midnight. This is a much lighter version of lunch with a set menu as well. Many Spanish however simply go out for raciones or larger versions of Tapas which are popular snacks in Spain.
43 traditional Spanish dishes to try
Churros & chocolate
Similar to the doughnut and coffee breakfast in N. America the Spanish like their churros crispy and served with a sweet hot chocolate drink that tastes like a melted milk chocolate bar. Delicious when you dip your churro into your chocolate or simply sprinkle sugar on the churro and dip it into your Cafe con Leche. Who can beat a fried dough pastry?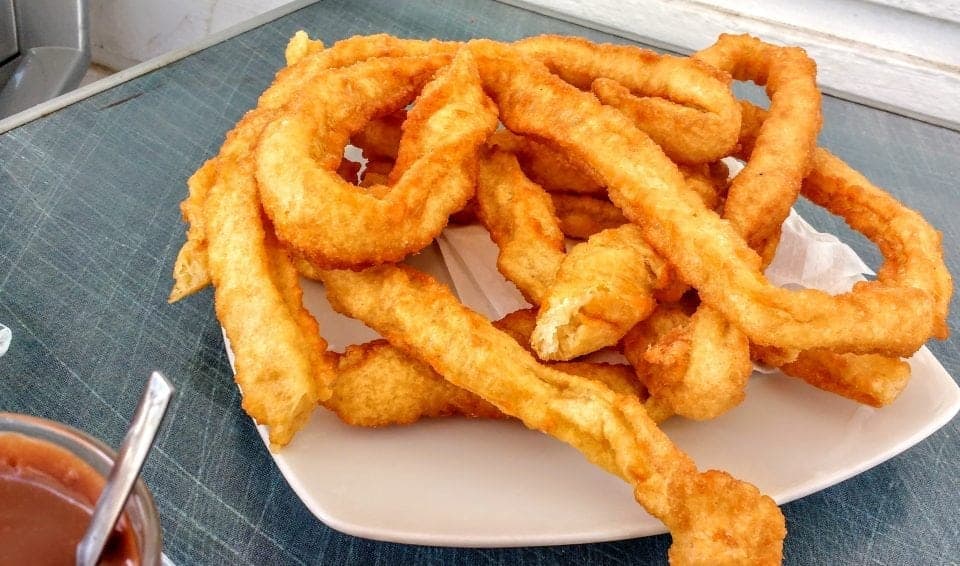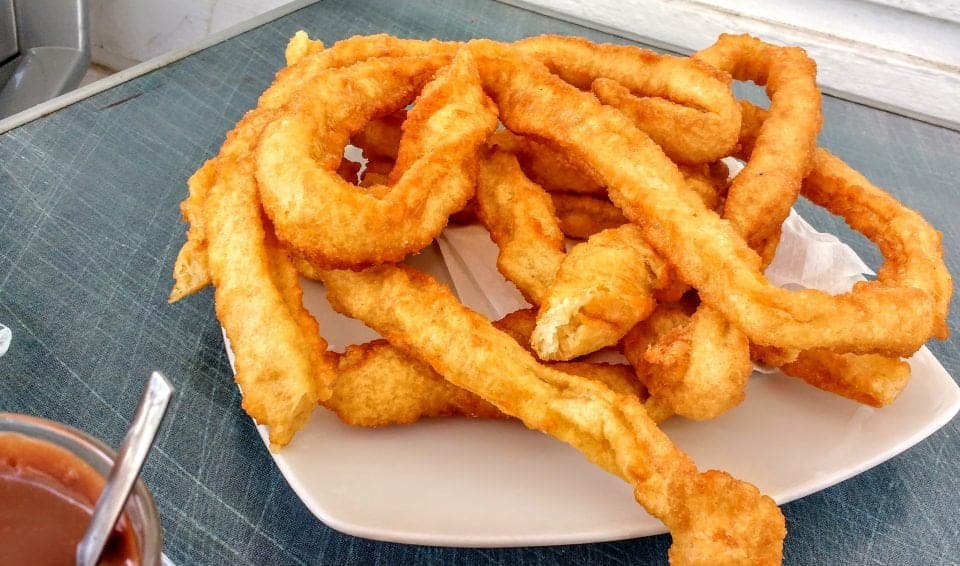 Calcots
Calçots: These baby leeks are specific to Spring – traditional parties known as 'Calçotadas' take place during this period. The vegetables are normally barbecued and served with Romesco Sauce which is a combination of red peppers, nuts, garlic, and olive oil.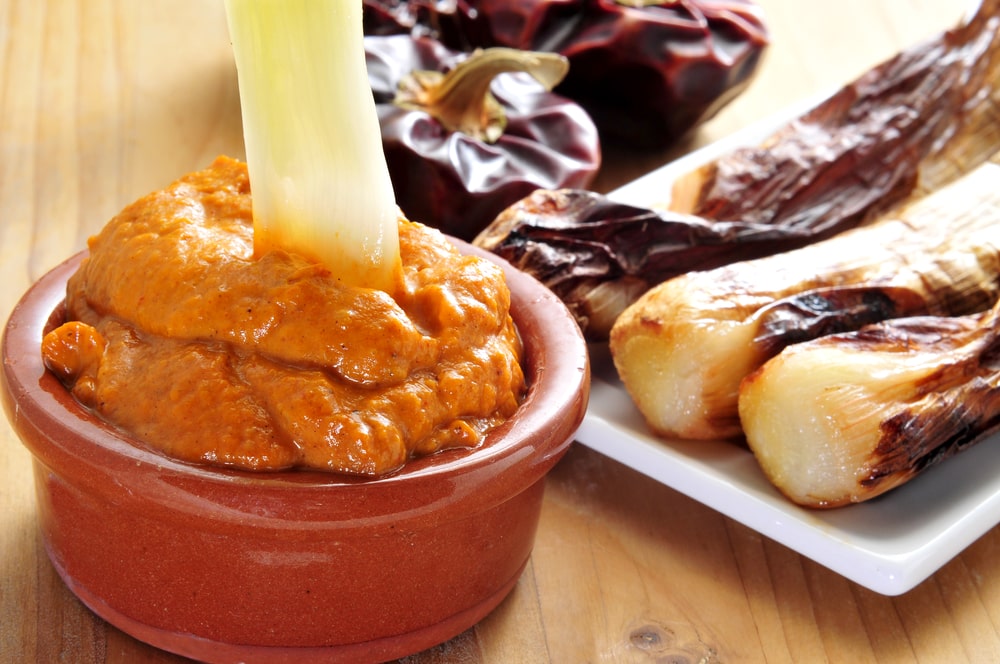 Tostada con Aceite y Tomate
Andalucian cuisine calls for a very light breakfast. A tostada is simply a toasted bun or pitufo that has been drizzled with olive oil, the bun is then topped with pureed fresh tomato and if you want you can add queso (cheese) or Jamon (ham). You can order a media which is a half order or a full order. The pitufo is an oblong-shaped thin crusty roll that is around 7-8 inches in length.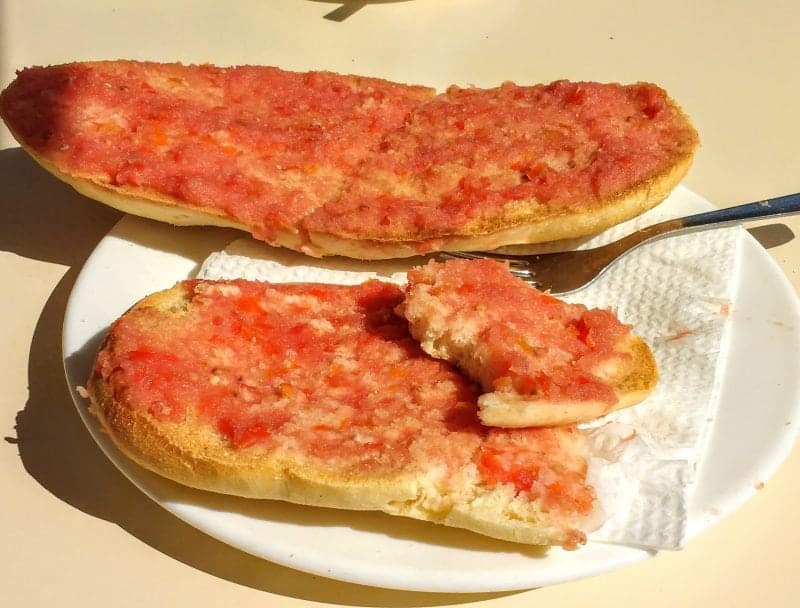 Piperade
Piperade is a vegetable stew of soft peppers and onions, with a hit of hot paprika this is also a favourite in French cuisines.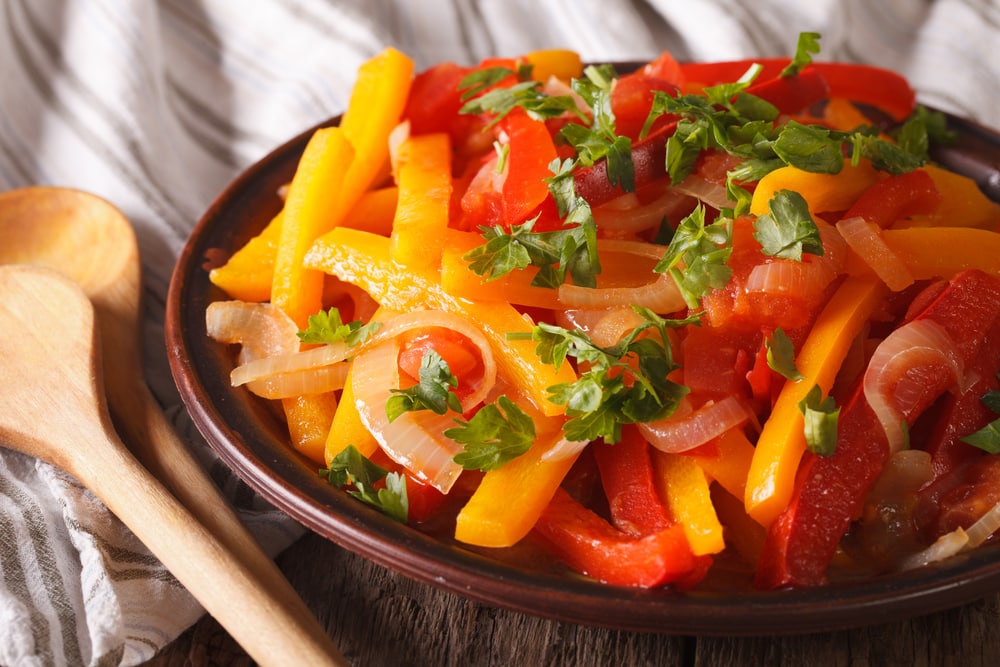 Gambas al ajillo
AKA garlic shrimp is a popular Spanish dish of prawns sauteed with loads of garlic and olive oil found mainly in the south of Spain and in many bars around the country as tapas.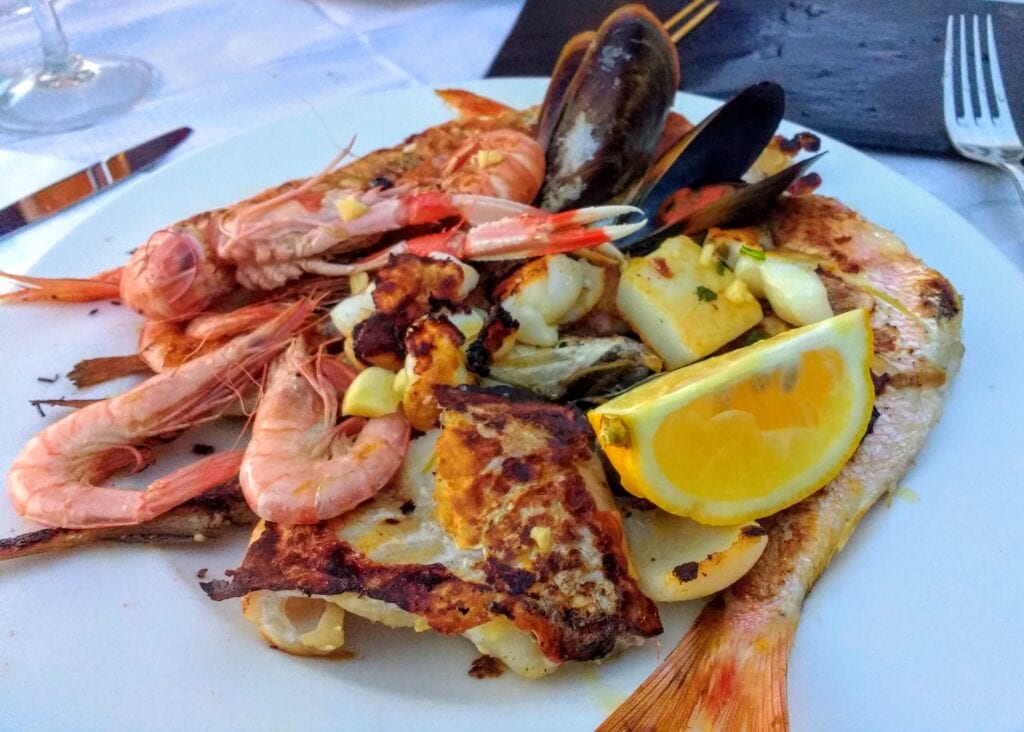 Chorizo
Found everywhere in Spain these days chorizo is a type of hard dried sausage. The red colour is due to the heavy amounts of paprika in the spice mix. Depending on the type of paprika used, Spanish chorizo can be either spicy or sweet.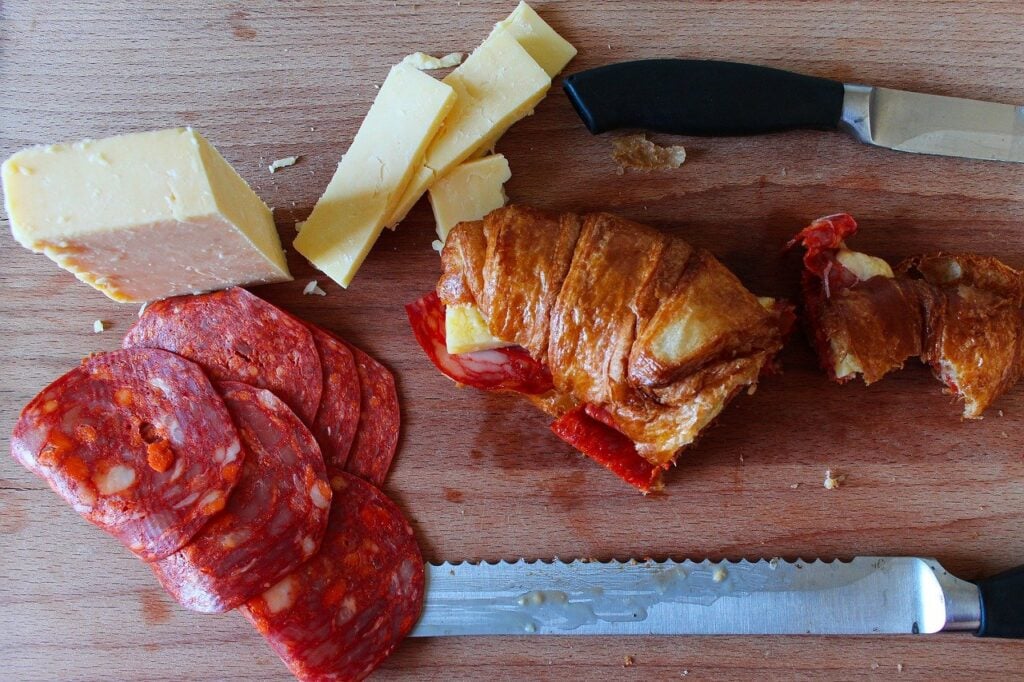 Suckling Pig
A traditional Christmas food suckling pig or a tender lamb cooked over a woodfire and served on a bed of onions and potatoes. Another main course might be sea bass or bream that has been oven baked.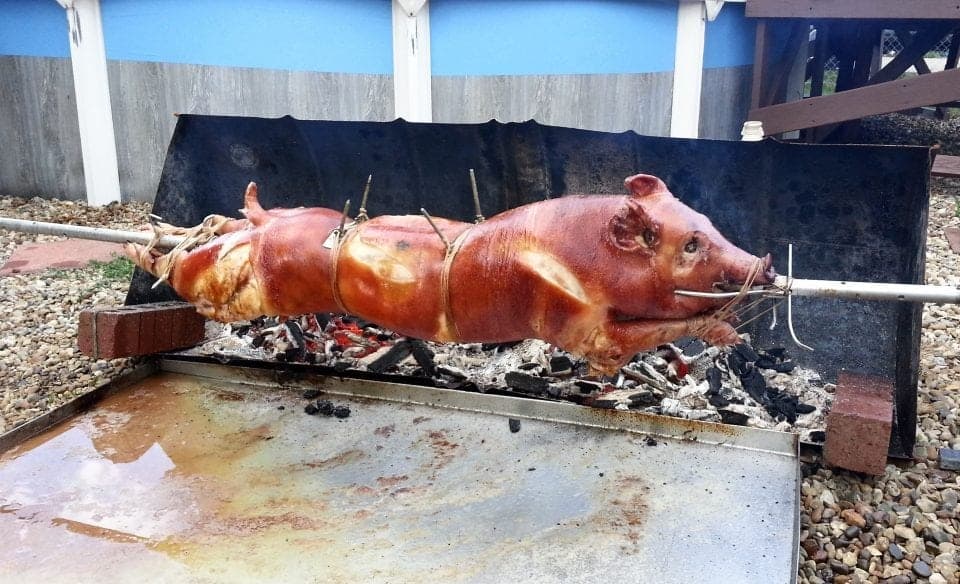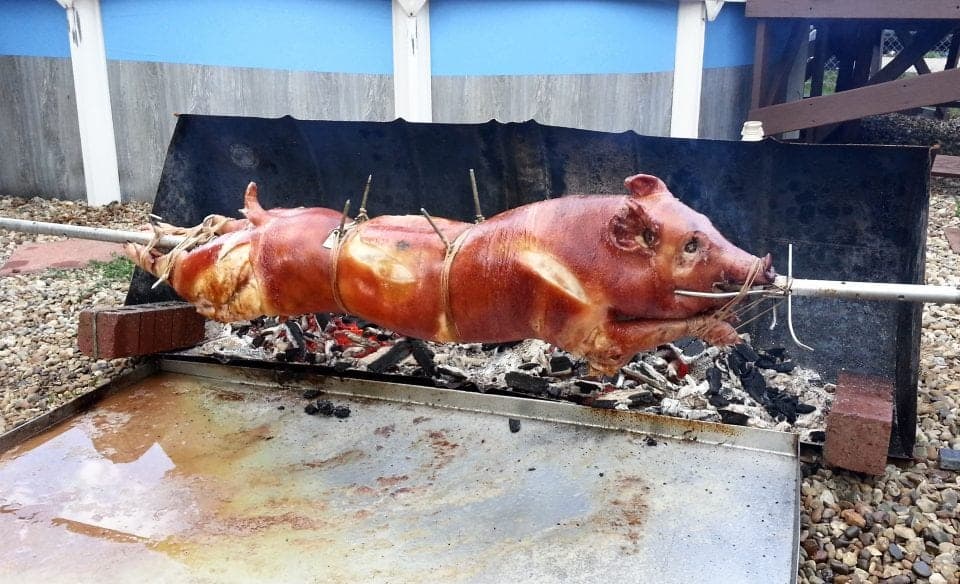 Spanish tortilla
One of the Spanish lunch favourites is the Spanish tortilla, served warm or cold as tapa it is as far removed from a Mexican tortilla as you can get. Essentially it is like a quiche but the base is fried potatoes with an egg mixture on top. The mixture can have chorizo or manchego cheese added and it makes the perfect light lunch.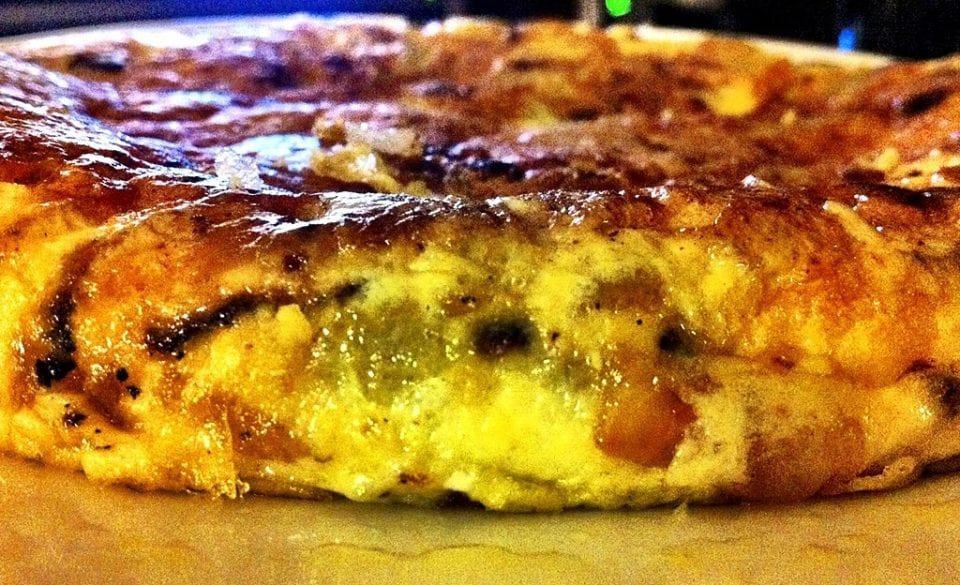 Spanish soups
I have to say a word or more here about Andalusian cold soups – can I just say from a die-hard fan of hot soup I debated trying the Spanish soups but they are simply amazing. Fresh, light, and filled with flavour a wonderful taste treat that you should try immediately.
Gazpacho Andalucia
Andalucia's trademark food is a cold soup or liquid salad made with fresh, raw vegetables, this is much more than a cold tomato soup, however.
Gazpacho Andalucia, in one form or dates back as far as the country itself. It probably derives from a Roman dish, a sort of gruel of bread and oil. The name gazpacho may come from the Latin Caspa, meaning fragments or little pieces, referring to the breadcrumbs which are such an essential ingredient.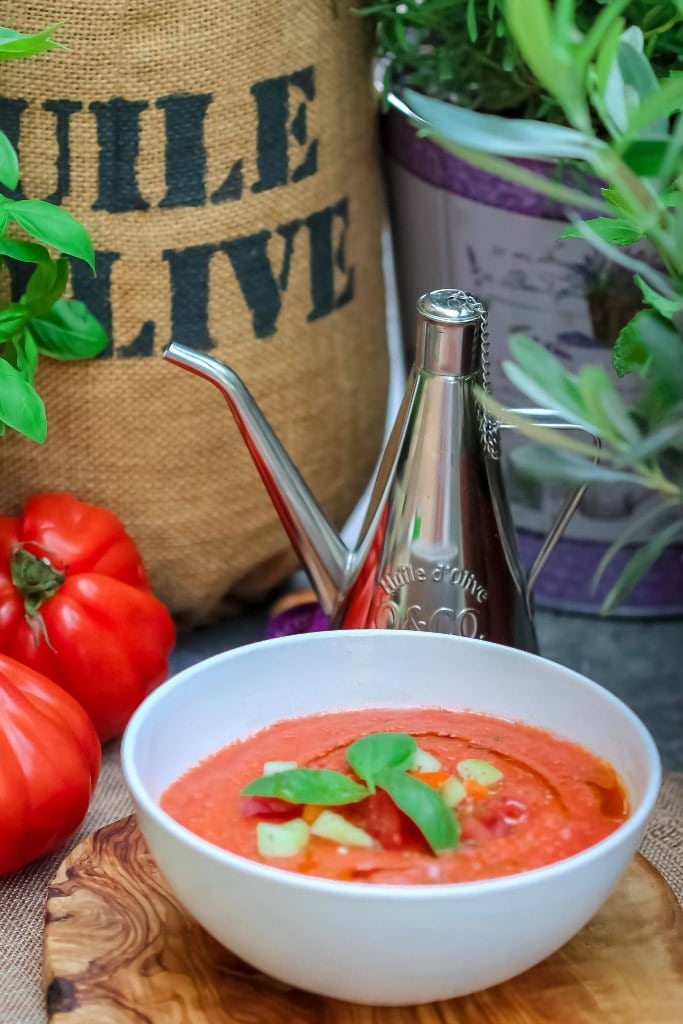 Ajo Blanco
The Moorish influence is evident too, especially in some of the variations on the basic theme, such as Ajo Blanco, made with ground almonds.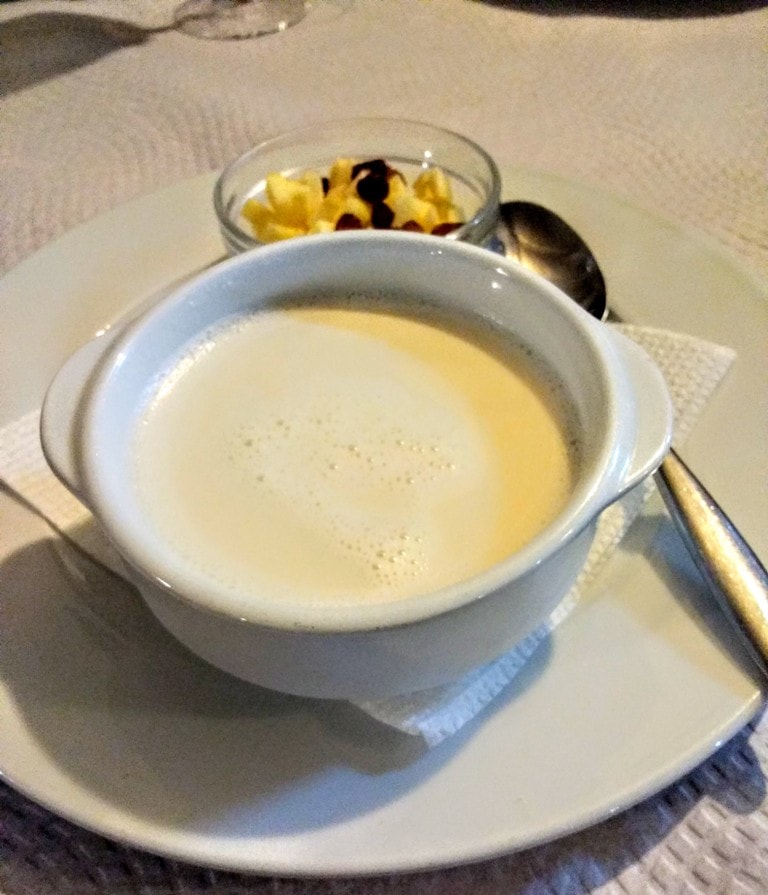 Of course, none of those forerunners of gazpacho contained tomatoes, considered basic today. That's because tomatoes were unknown in Spain, until after the discovery of the New World.
Gazpacho belongs especially to Andalusia, southern Spain. Here day labourers working in vineyards, olive plantations, citrus groves, wheat fields or cork forests were given rations of bread and oil for their meals. Bread soaked in water made a simple soup, to which was added oil, garlic and salt for flavour, plus whatever fresh vegetables were available–tomatoes, peppers and cucumbers in the summer.
Salmorejo
Andalusian Salmorejo is a cold, creamy tomato soup, originating in Córdoba, Spain and is Gazpacho's "cousin." Made with tomatoes, bread, oil, garlic and vinegar, it is a beautiful deep pink-orange, summer soup that is sure to refresh. Garnish with diced Serrano or Iberico ham and hard-boiled eggs.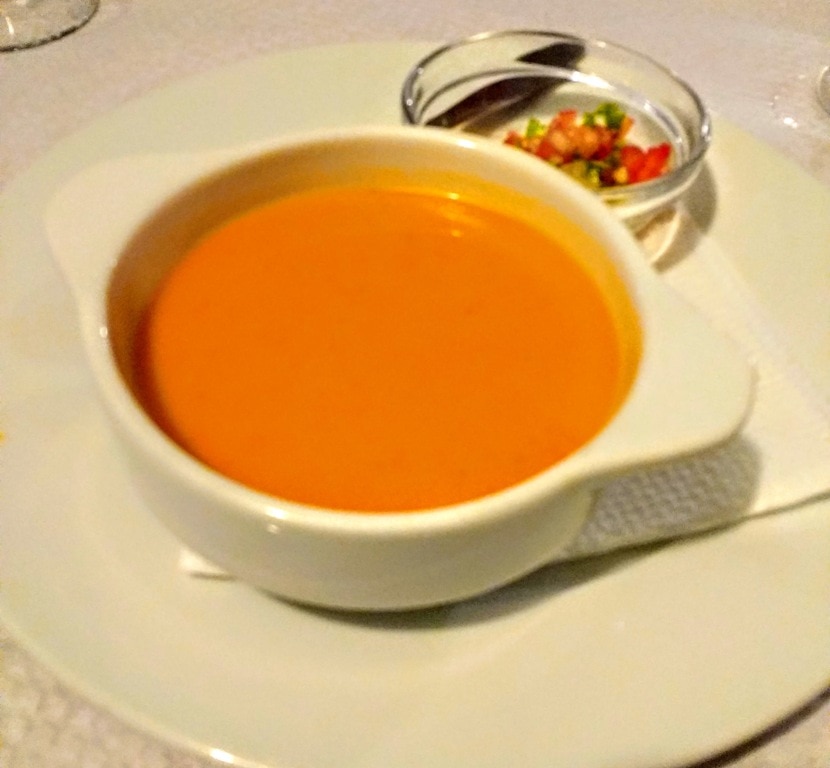 Sopa de Ajo Blanco
Cold white garlic soup or "Sopa de Ajo Blanco" is zesty, but very refreshing. It is easy, quick and healthy. Although very creamy, it contains no dairy! Almonds give this soup its creamy white texture and colour. It is served with diced apple and raisins on the side which adds a hint of sweet freshness to the soup.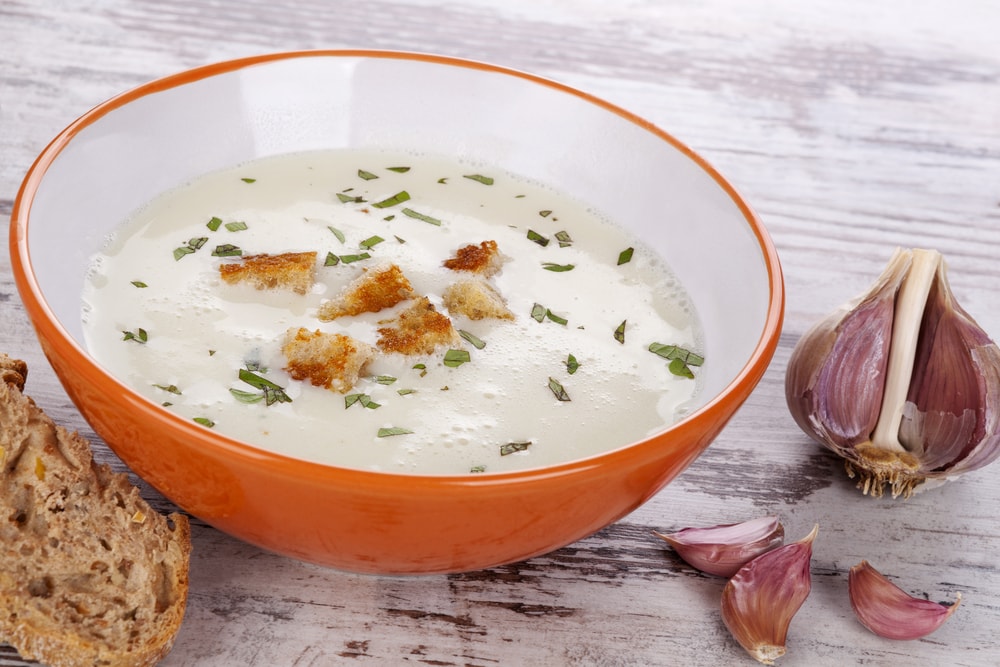 Pistou
A very traditional Spanish dish similar to ratatouille combines tomatoes, peppers, onions, zucchini and sometimes chorizo and is served with an egg on top.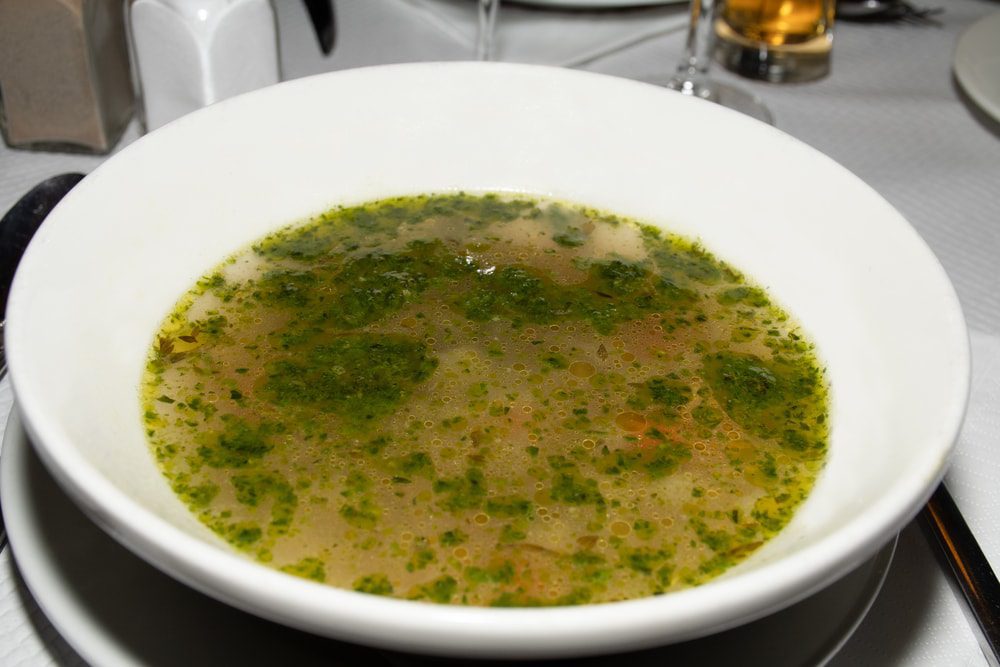 Caldo Gallego
The translation of Caldo Gallego is Galician broth. There's no specific recipe but base ingredients include vegetables such as potatoes, cabbage, white beans, turnips, turnip greens carrots with the addition of chorizo.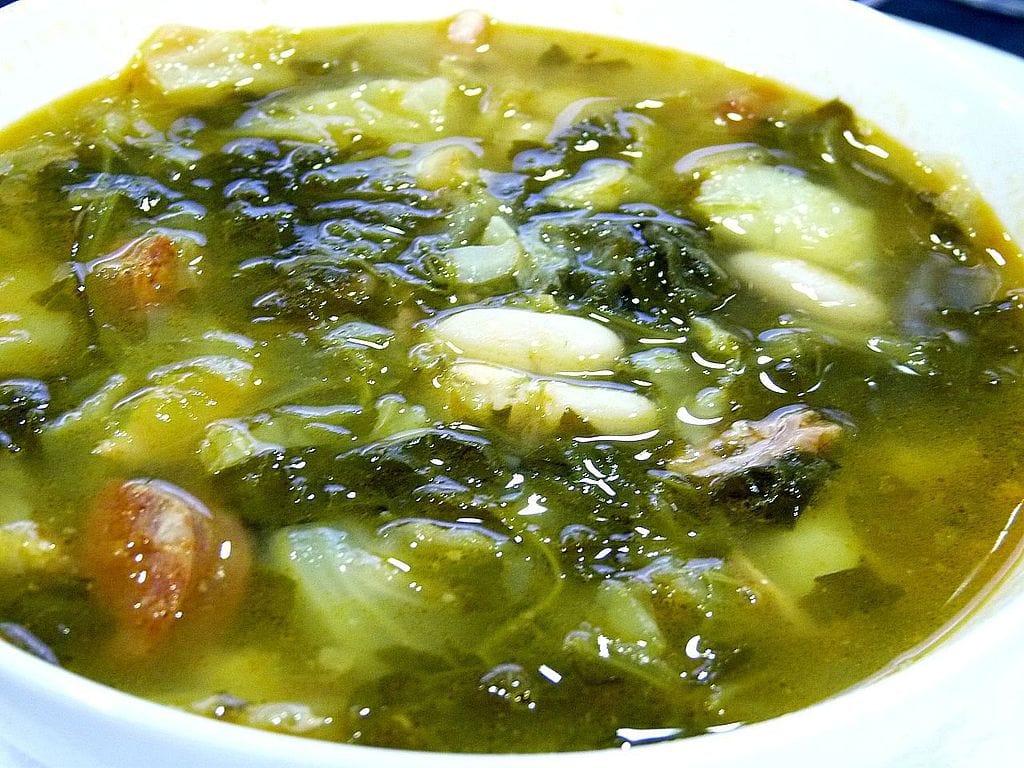 Patas Bravas
The "Patatas Bravas" are potatoes that are fried and then doused in a hot sauce heavy on the cayenne. It originated in Madrid.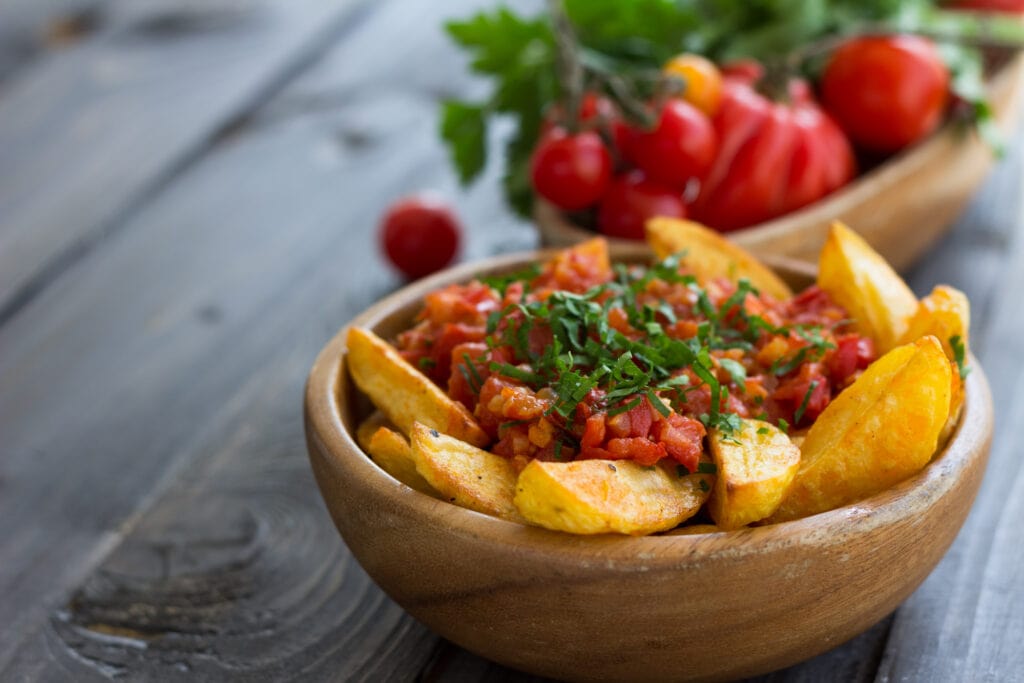 Arroz al horno
Arroz al Horno 'rice in the oven' incorporates tomatoes, garlic, chickpeas, blood sausage (morcilla), potatoes, and chorizo.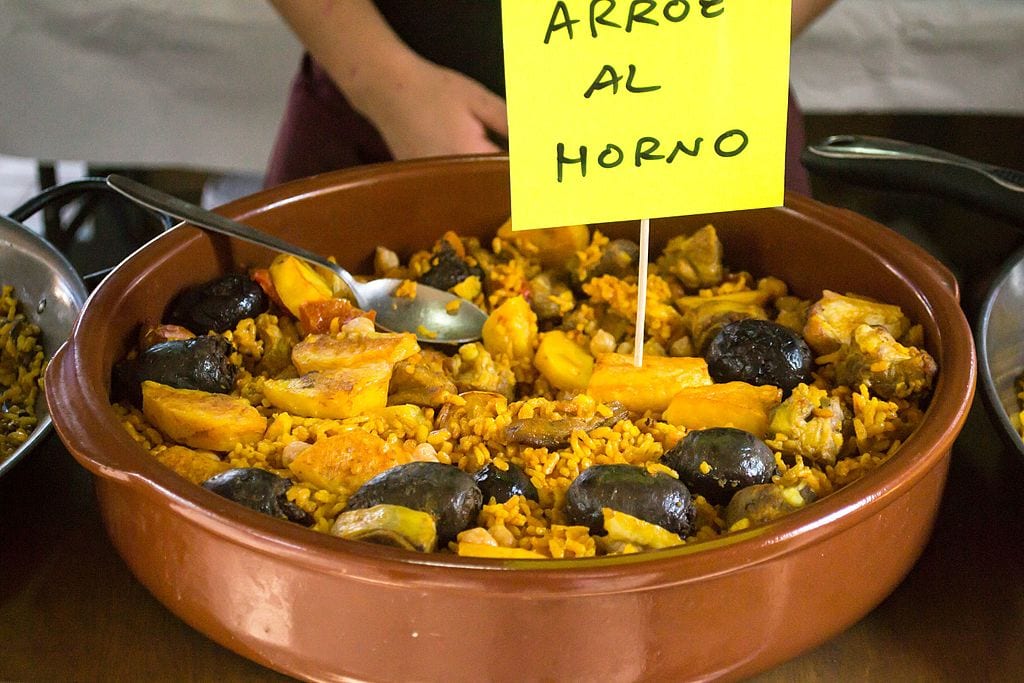 Fideuà
Fideuà is another famous Valencian seafood dish made with thin noodles mixed with a variety of seafood.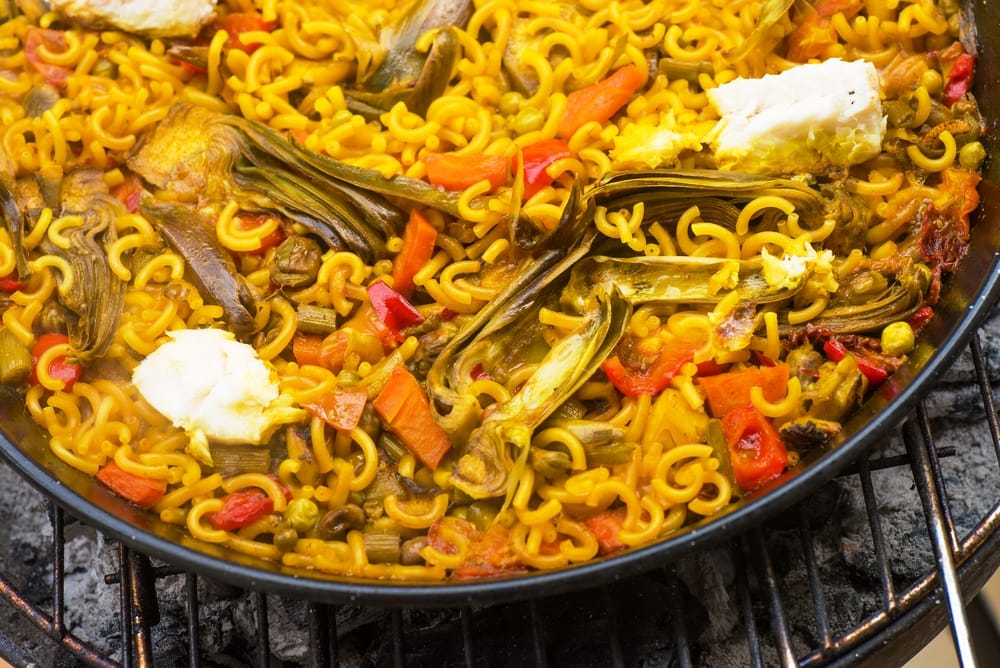 Escalivada
A popular Spanish dish in Valencia, Catalyuna, Murcia and Aragon is Escalivada. This dish is made with grilled vegetables including peppers, onions and eggplant that is served as a side dish with a drizzle of olive oil and salt.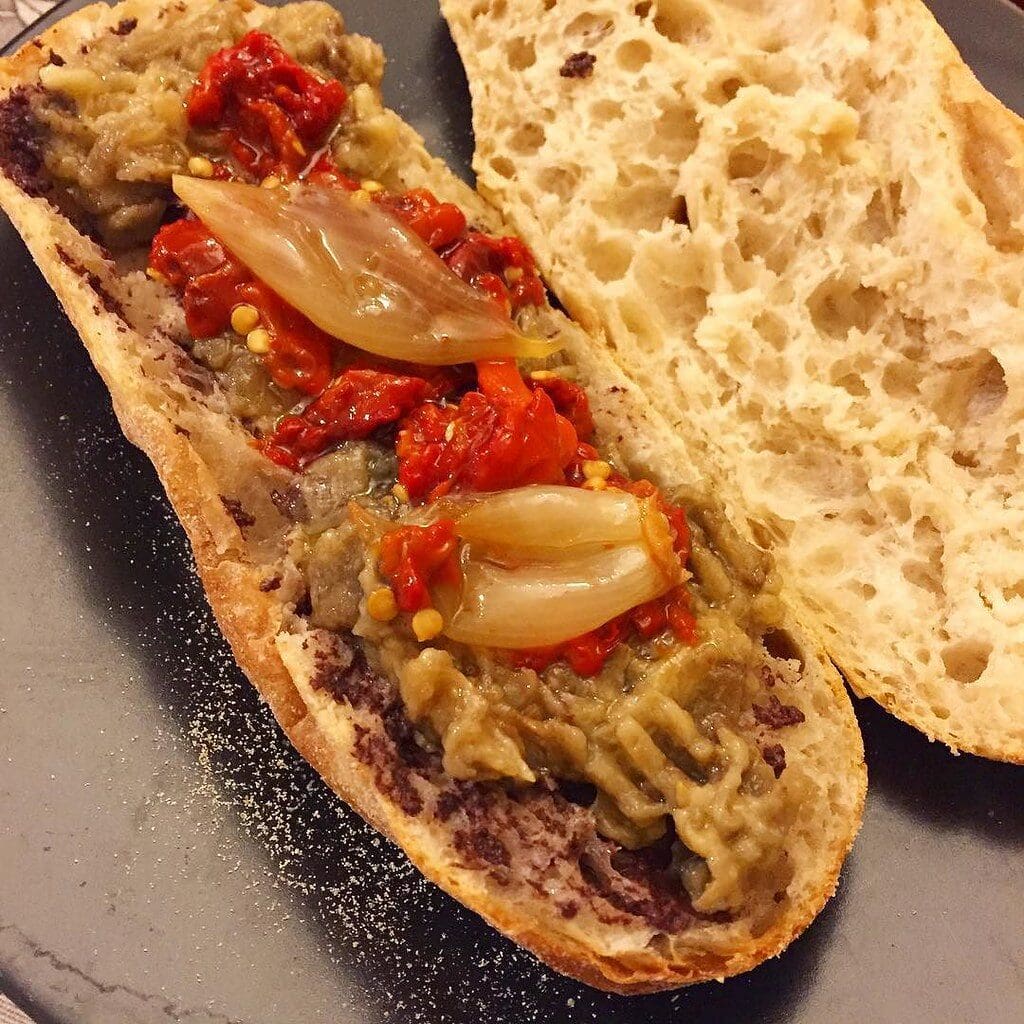 Fruit Salad
Another popular lunch dish is a fruit salad – but these salads are like nothing you have ever tasted before. Full of fresh fruit served on a platter no dressing, no salad nothing to interfere with the fabulous freshness and sweetness of Spanish grown seasonal fruits.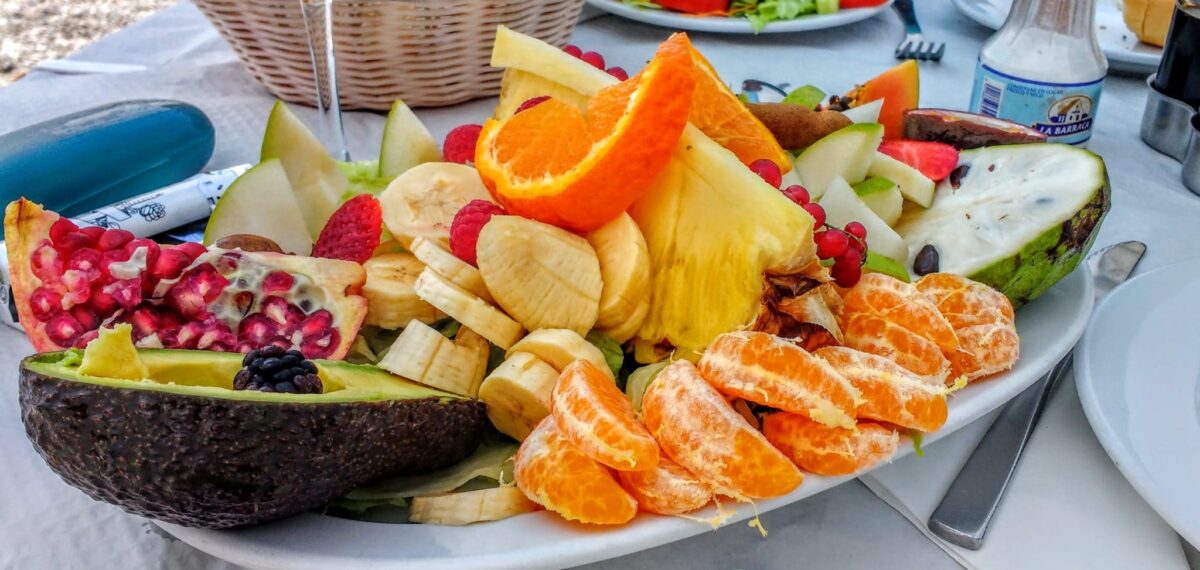 Albóndigas de bacalao
Albóndigas de bacalao the reigning dish of Aragon. These fishballs are made with salt cod (like the Portuguese ones), and potatoes, with flour and egg added to bind them and served with a simple tomato sauce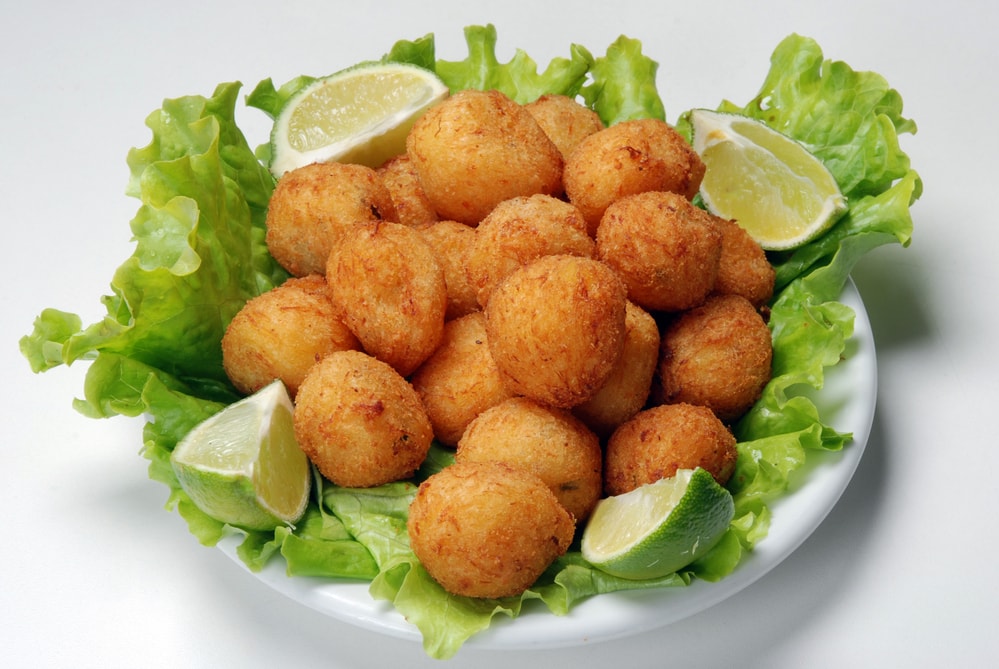 Piquillo peppers
These are small sweet pepper with a gentle heat type of pepper. They are simply roasted over hot coals and served with a sprinkling of olive oil.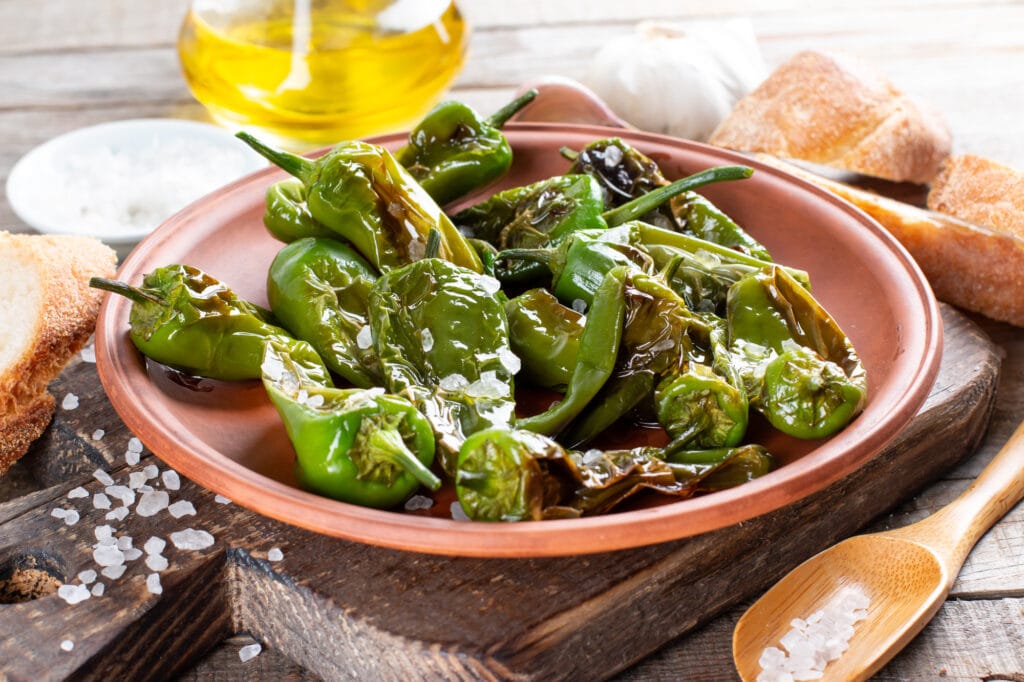 Paella
Paella is one of the most famous dishes in Spanish cuisine and there are as many versions of paella in Spain as there are doughnuts in America. Outside of Spain paella is considered the National dish but within Spain, it is specifically a Valencian dish. Paella gets its name from the traditional flat round pan that allows a crust to be formed on the bottom of the pan by the rice. Paella actually means frying pan in Valencian.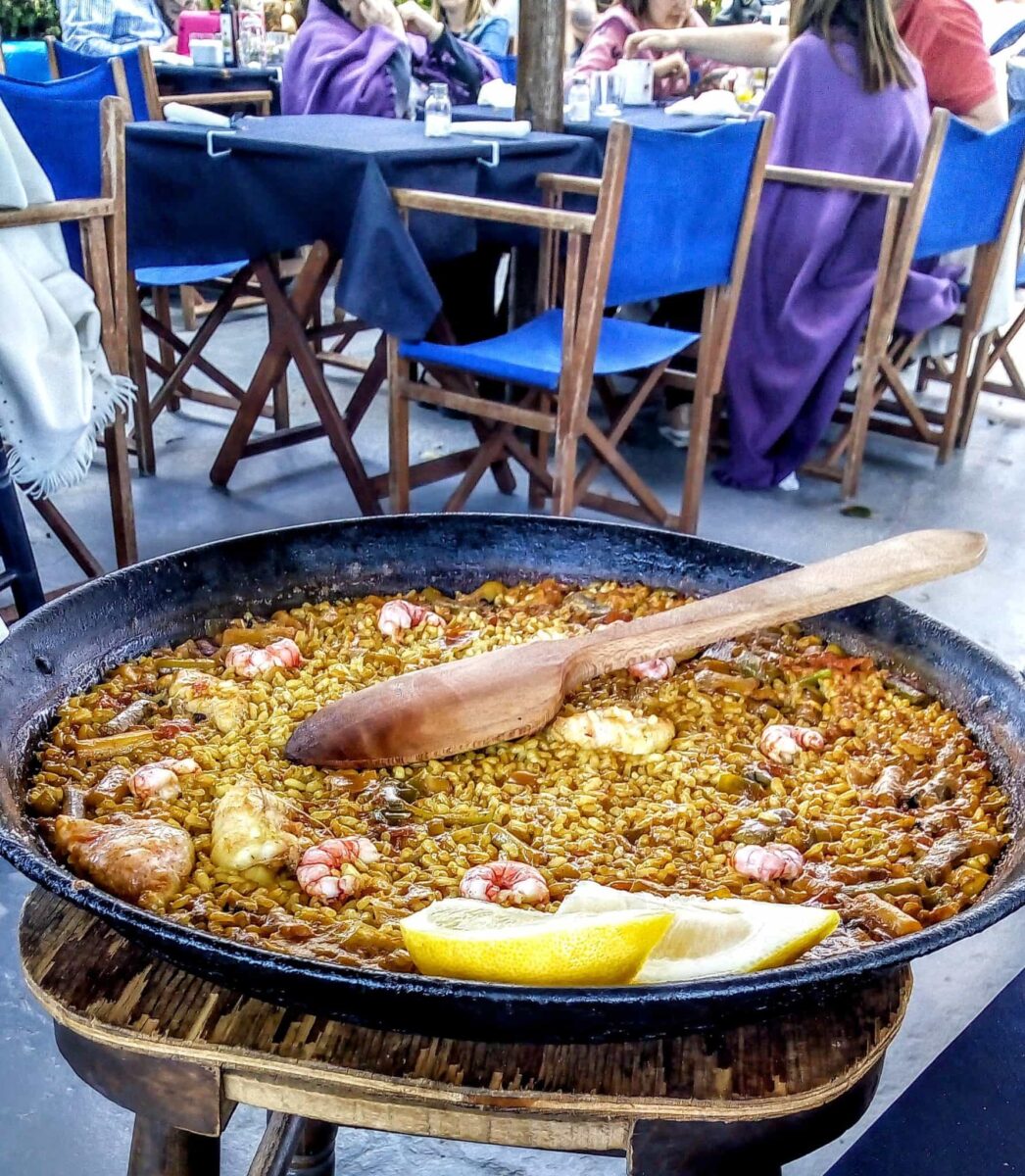 Paella Valenciana is the traditional paella of Valencia and is considered the most authentic. Traditionally the recipe is round grain rice original recipe, bajoqueta and tavella which are types of green beans, lima or butter beans, rabbit, chicken, and sometimes duck. When in season artichoke hearts are often added. The recipe always includes Olive Oil, Saffron and sometimes rosemary.
The favourite paella in Spain includes a Paella de Marisco which is seafood and can include oysters, prawns, clams, and mussels. In Garrucha, they have a paella using sweet red prawns that can only be found in that particular region. Paella Mixta is a combination of meats and beans with seasonal vegetables.
Morcilla de Burgos – blood sausage
Morcilla is a Spanish blood sausage that is made by chopping and sautéing onions with butter, then combining them with rice, lard, blood, and spices. The mixture is then used to fill the sausage casings before being cooked.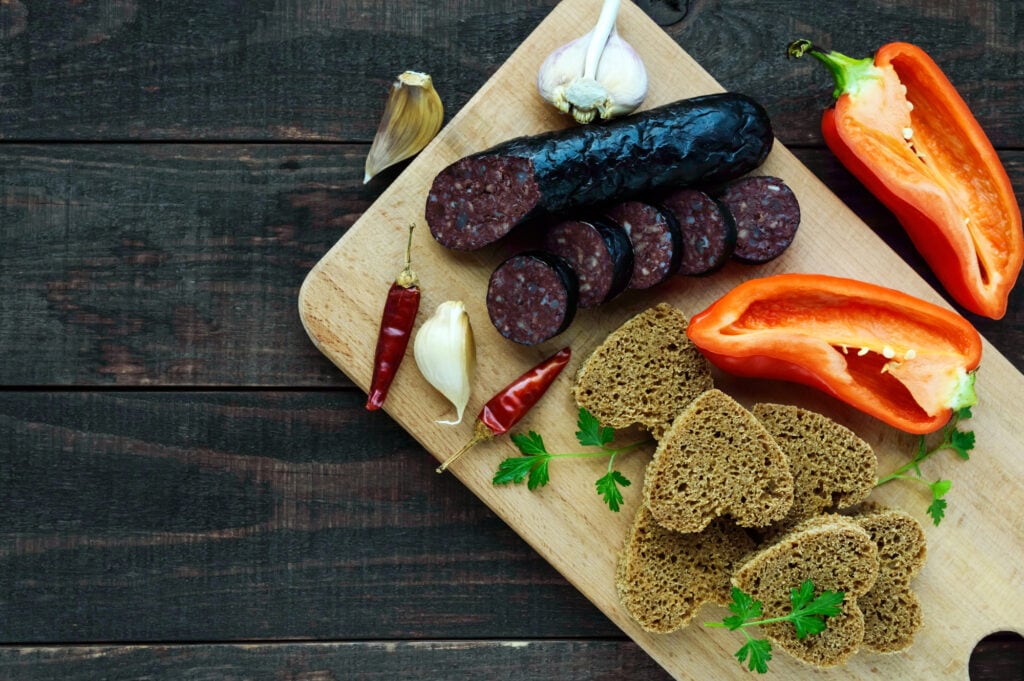 Spain is famous for what products?
Spanish Ibérico Jamón
The absolute pinnacle of Andalusian cuisine has to be the Jamón. There are four classifications of Jamón Ibérico, made from the Ibérico breed pig. The classifications reflect the breed of pig, the per cent of pure Ibérico genetics in the pig and the number of acorns they eat (the word "acorns" is translated as "bellota").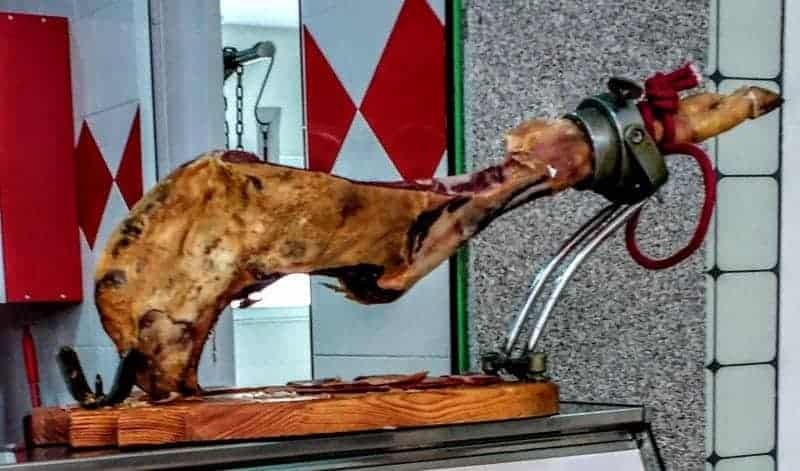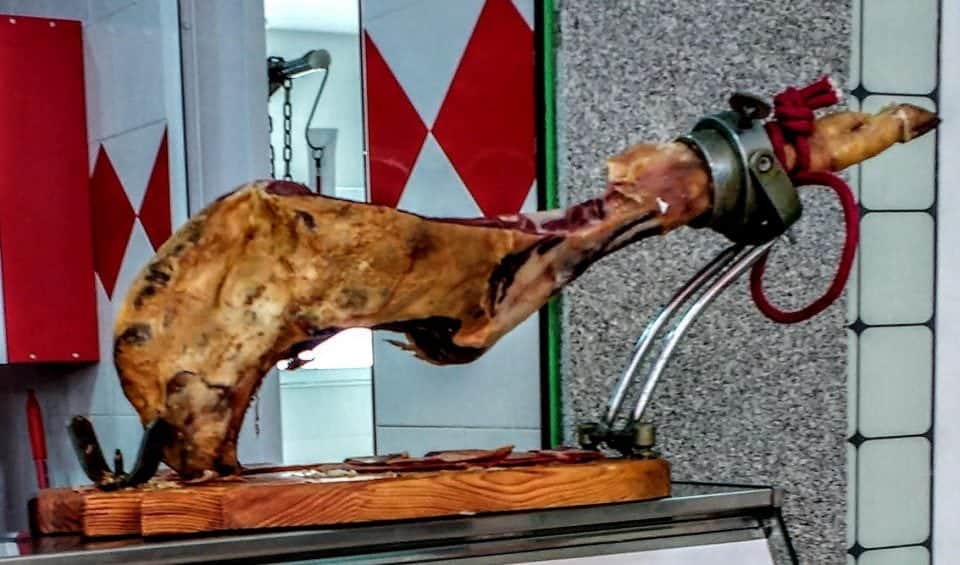 Ibérico de Bellota hams are from Ibérico pigs that are essentially free-range and live outdoors most of their lives. In the last three months before they are butchered, they spend their time feasting on the acorns in the region of Dehesa. The ham is then cured and left to age for up to 4 years.
The ham that is produced from these pigs is unique in the world: it is a nutty, rich melt in your mouth slice. The ham is deeply marbled with fat which contains healthy mono triglycerides (like olive oil) that melt at room temperature. Jamón Ibérico de Bellota as is known as the "Beluga caviar of hams."
Spanish Jamón Serrano
Jamón Serrano comes from white pigs of the Duroc or Landrace breeds. These pigs are raised on farms, rather than open ranges, and fed a diet of cereals. They are cured in Spain for 8 months to two years.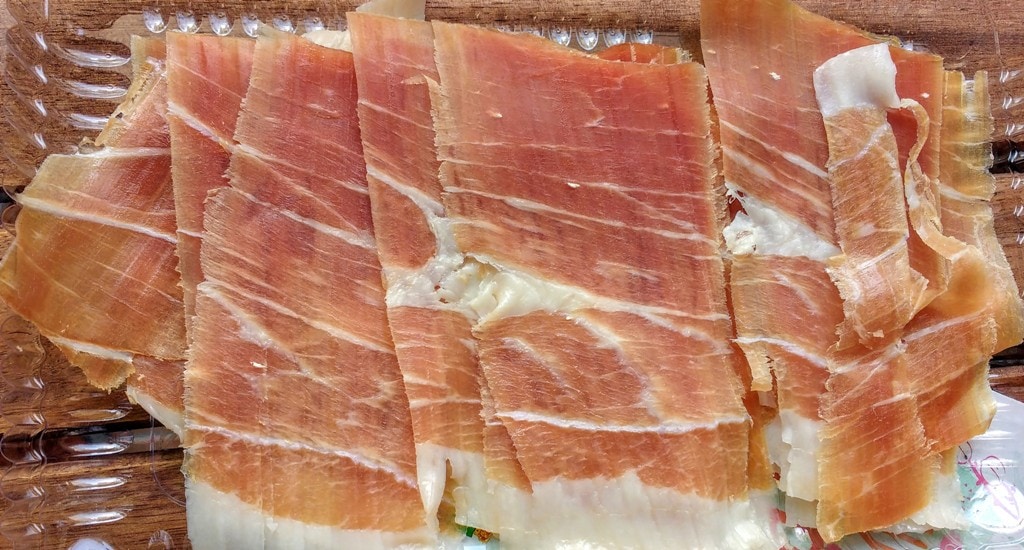 Manchego Cheese & Jamon
If you are a total cheesehead like me you will have experienced the Spanish delight called Manchego cheese, although it is made in the Western part of Spain, it is celebrated all over the country. Manchego is an unpasteurized sheep's cheese that comes in several forms from soft cheese to a hard cured wheel.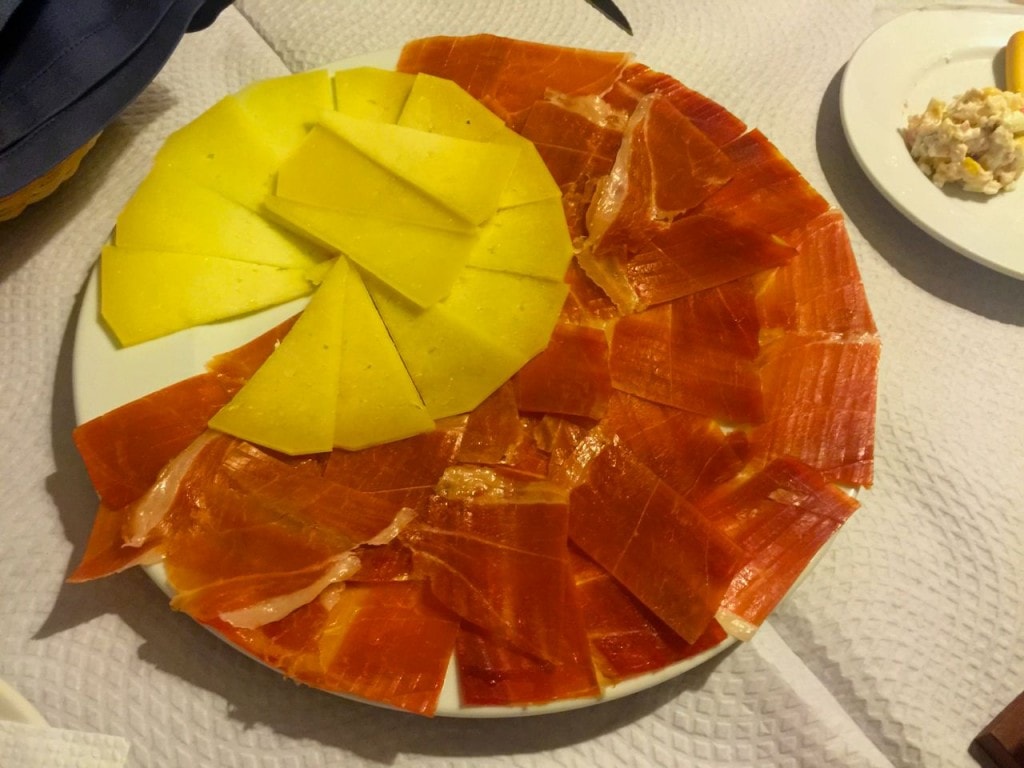 Tapas – Traditional Spanish food
Tapa is generally speaking small plates of a variety of appetizers (served all over Spain but highly praised here in Andalusia) that can be ordered direct from the menu in some restaurants or Tapas Bars these usually come at a cost of one Euro or so. Some places offer a small selection of 4 or 5 tapas that are free with a drink.
Russian Salad
Russian salad is one of the favourite tapas here and it is a simple potato salad with tuna, corn and hardboiled egg mixed with mayonnaise.
Croquettes
Another top favourite is croquette which is chopped ham and meat in a bechamel sauce which is then dipped in breadcrumbs and deep-fried.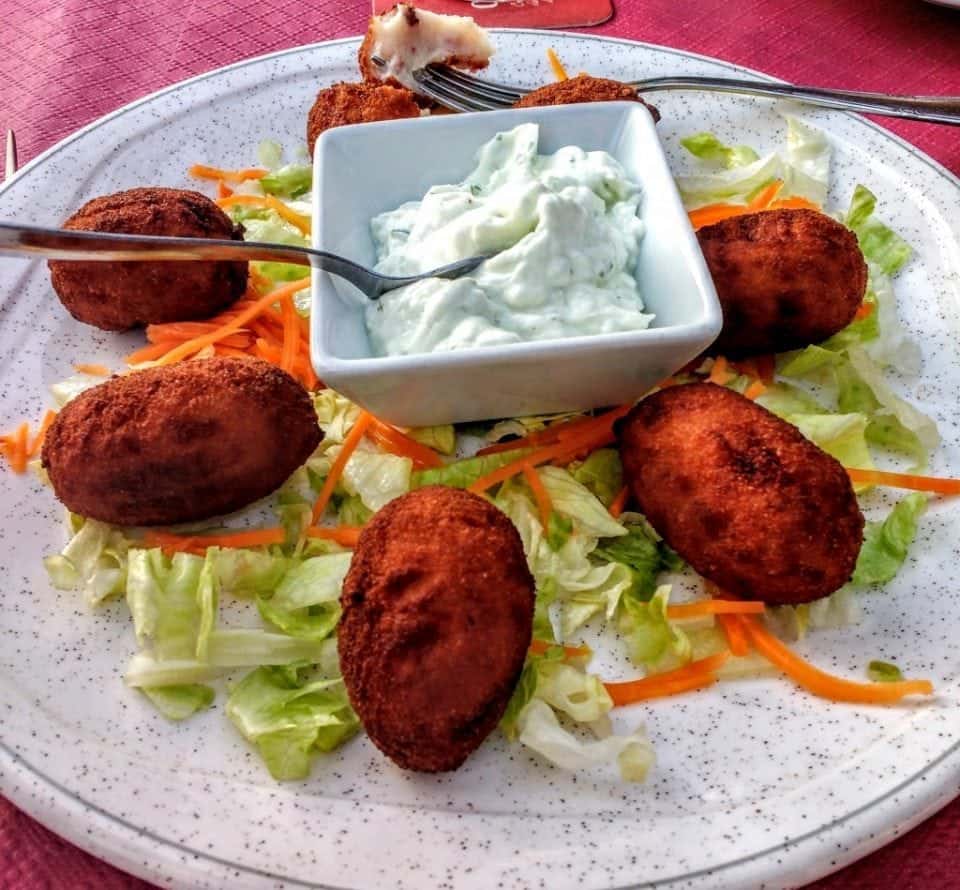 Deep-fried eggplant with sugar cane honey
A simple dish of batter-dipped and fried eggplant served drizzled with Sugar Cane honey which is only found in Andalusia and Salobrena is the region that produces it.
Originally introduced to Spain by the Moors Miel de Caña is honey or molasses derived from sugar cane which is only grown in the Andalucia region.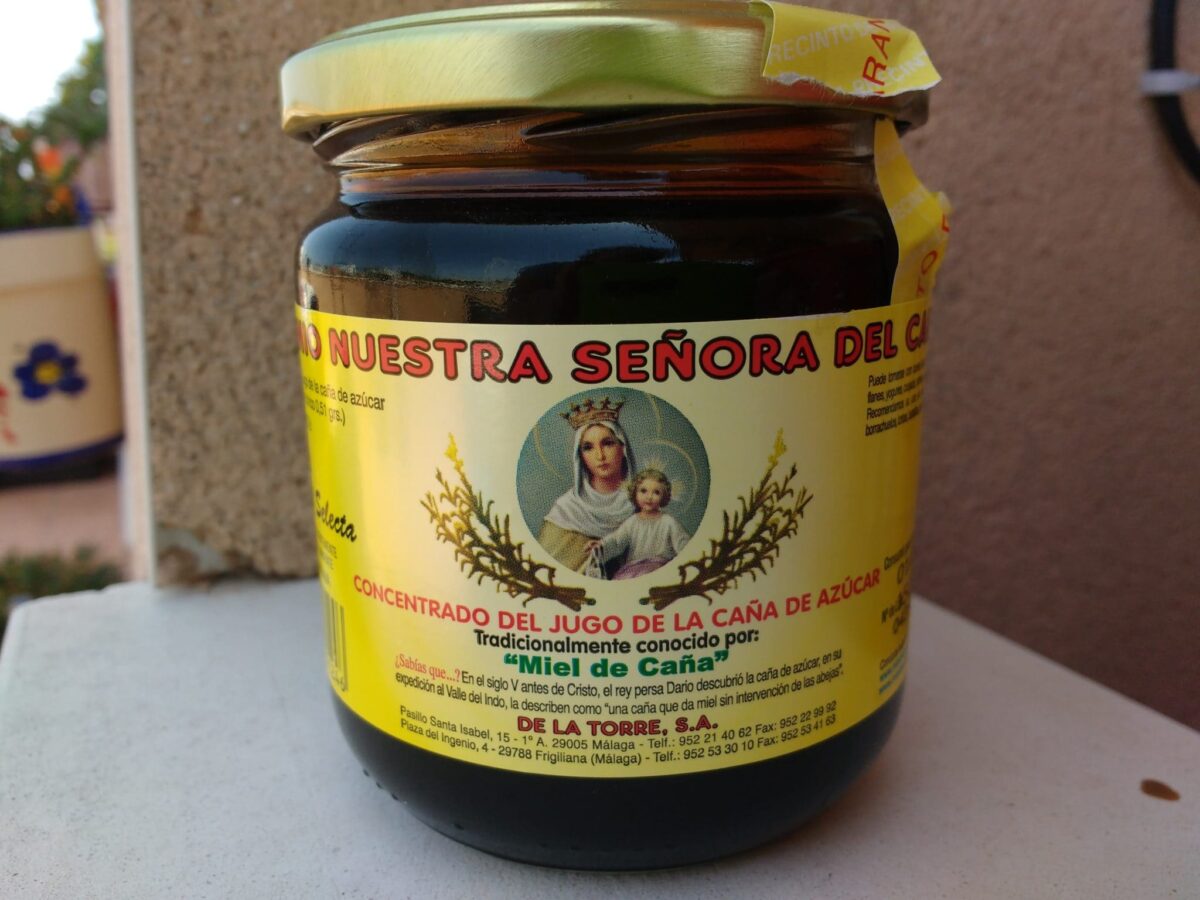 Meatball Tapa
The list is endless. The meatball tapas are great served in a light tomato sauce and usually with a side of french fries or chips to the British.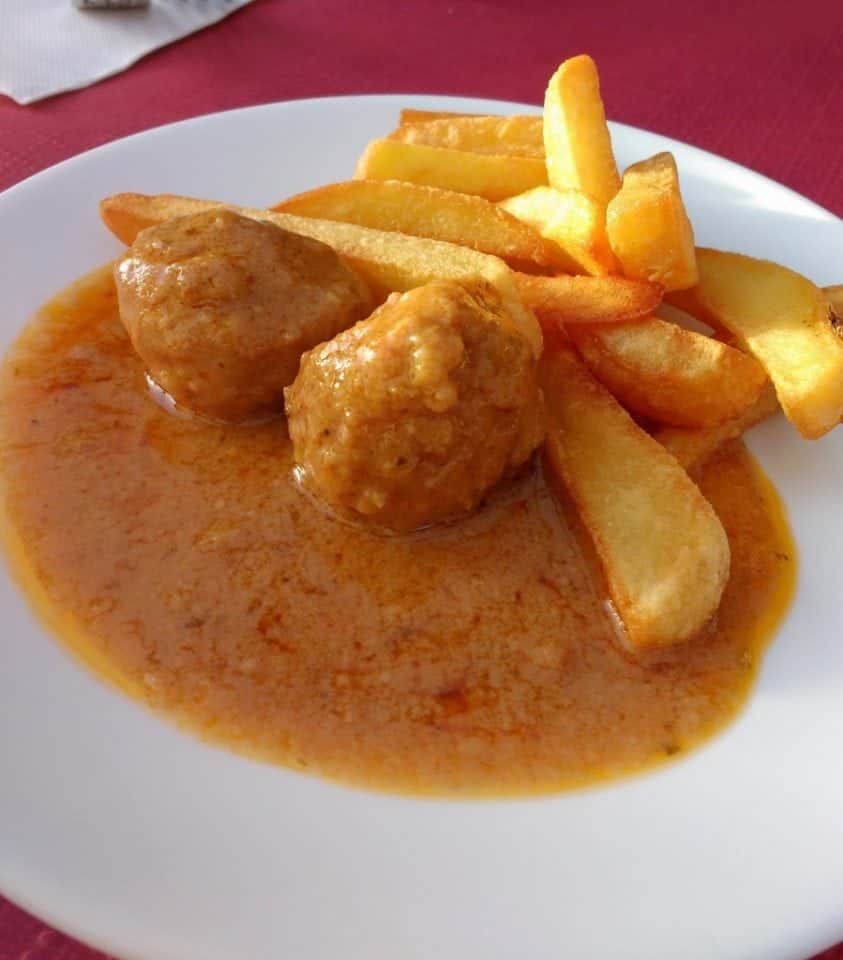 Olives
It's Spain home to some of the best olives and olive oil in the world and you can't go wrong with a plate of olives served with beer as your tapas.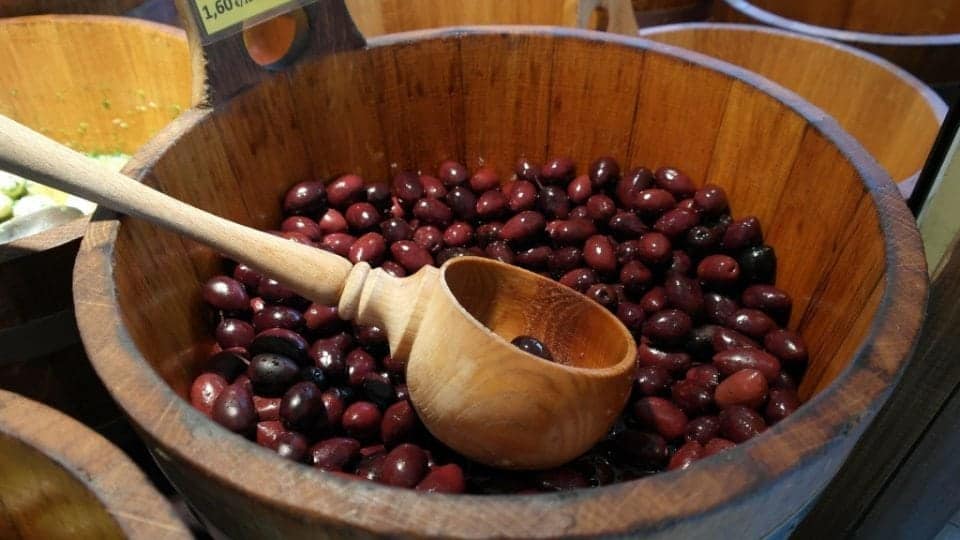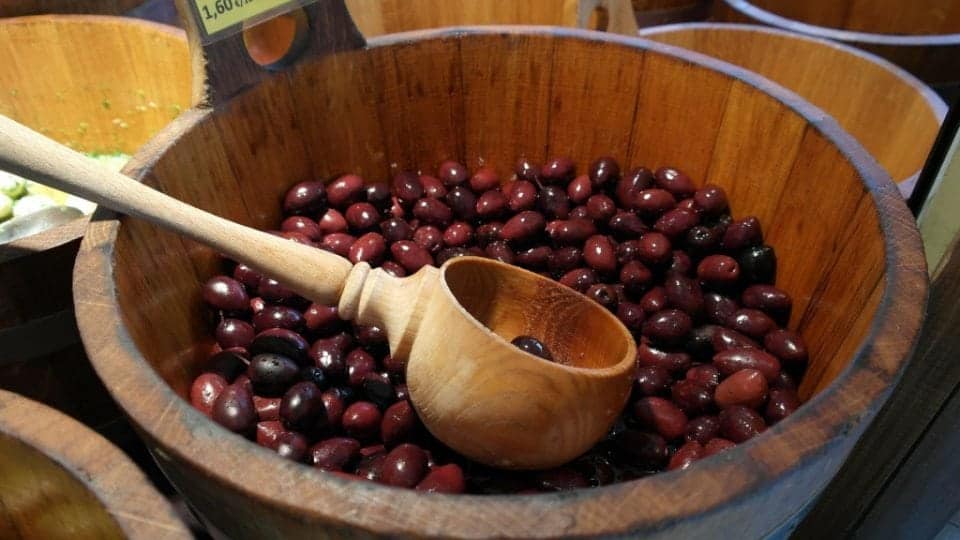 Anchovies – boquerones
Anchovies are usually served in a vinegar marinade which is olive oil, garlic and parsley. These are fresh anchovies, not sardines and are usually eaten on a piece of crusty bread. Anchovies are also served on many Spanish beaches fried over hot coals.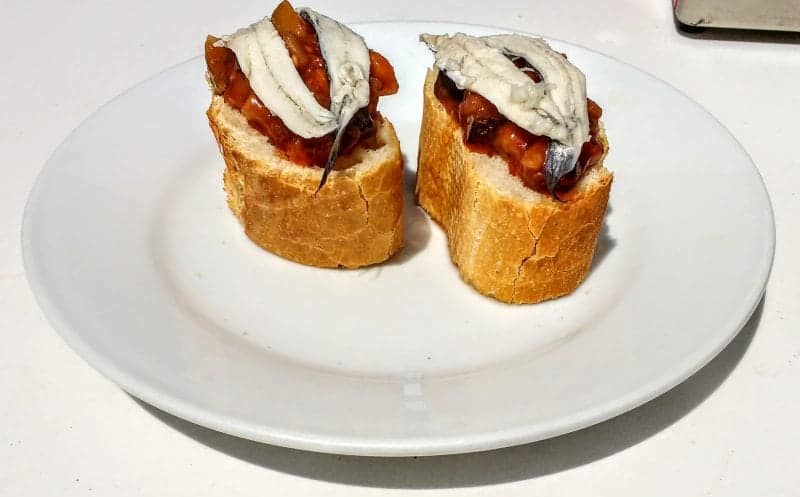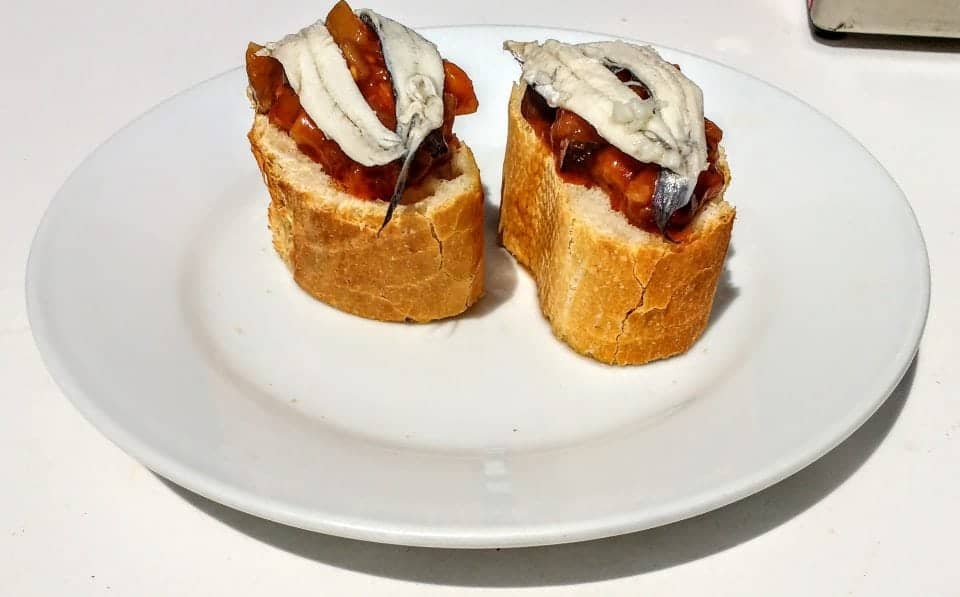 Seafood Salad
A simple salad with mayonnaise, grated carrots and surimi served with a slice of crusty bread.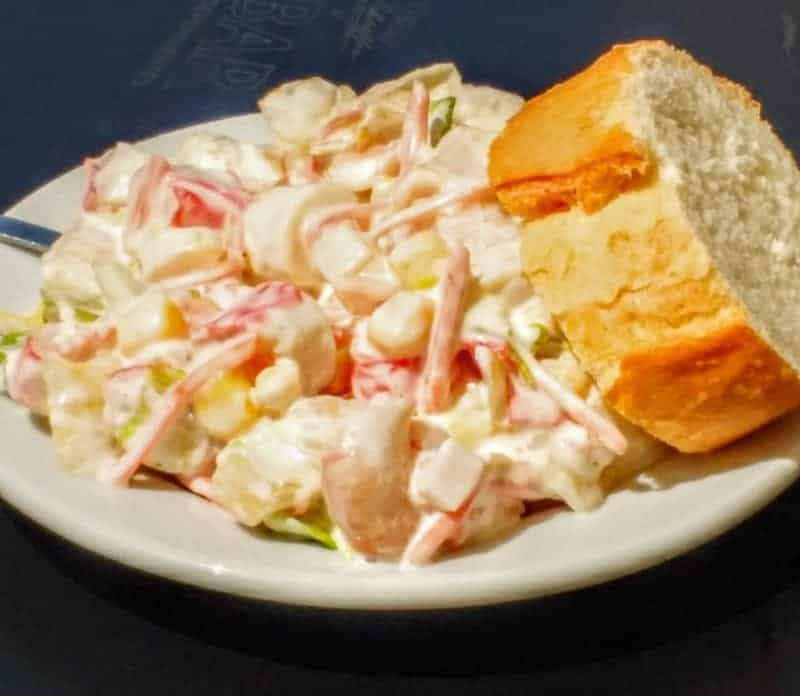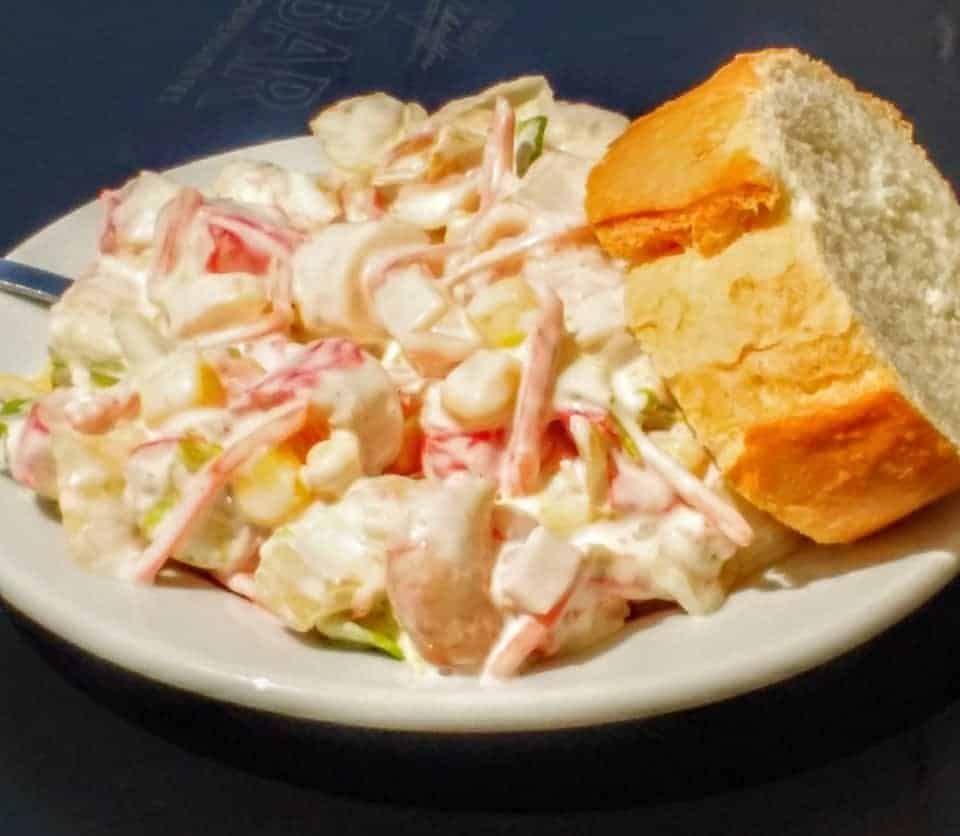 Octopus
Pulpo is another very common tapa it comes thinly sliced and sometimes battered served with sea salt and paprika on a bed of lettuce.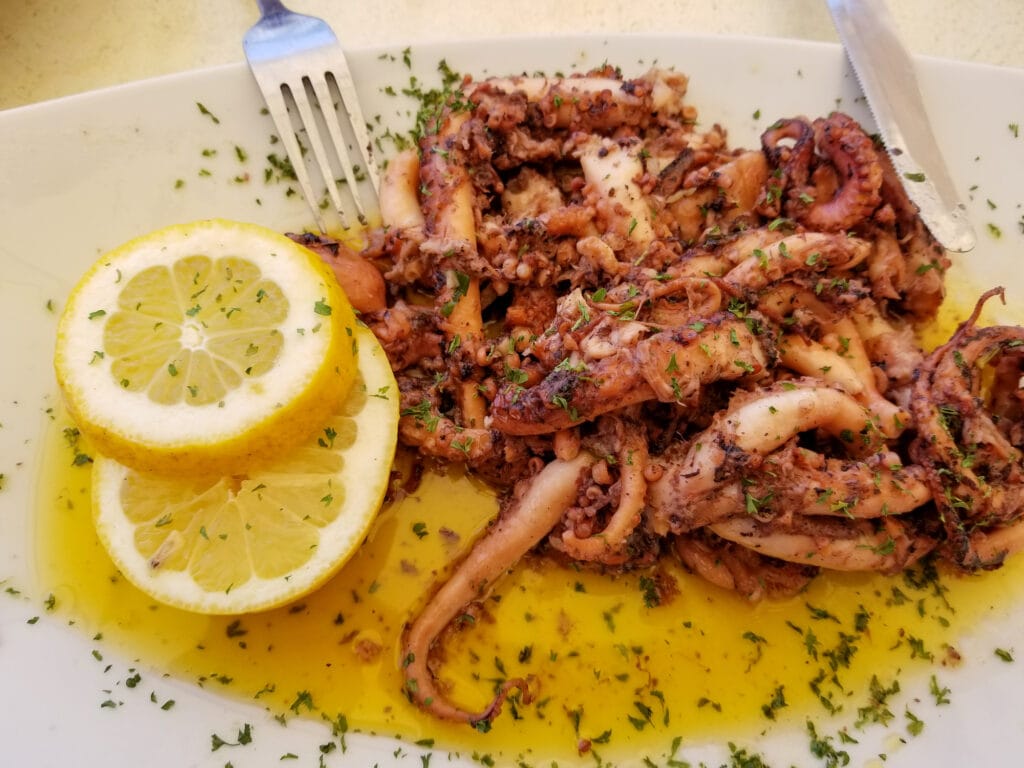 Spanish cheese
Cabrales – queso de Cabrales
This is a Spanish blue cheese made in the artisan tradition by rural dairy farmers in Asturias, Spain. This cheese can be made from pure, unpasteurized cow's milk or blended in the traditional manner with goat and/or sheep milk, which lends the cheese a stronger, spicier flavour.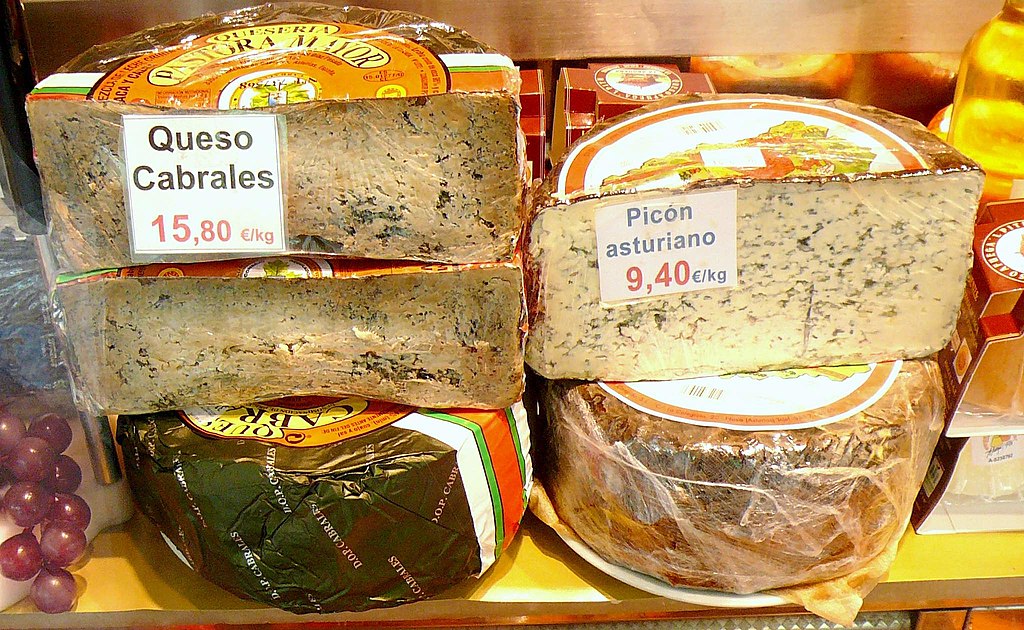 Manchego
The most famous cheese in Spain is of course Manchego which is also the National Cheese of Spain. This is a sheep's milk cheese made in the La Mancha region of Central Spain. Manchego, made from the Manchega breed of sheep, is a firm cheese aged from two months to two years and it has a scattering of small holes throughout.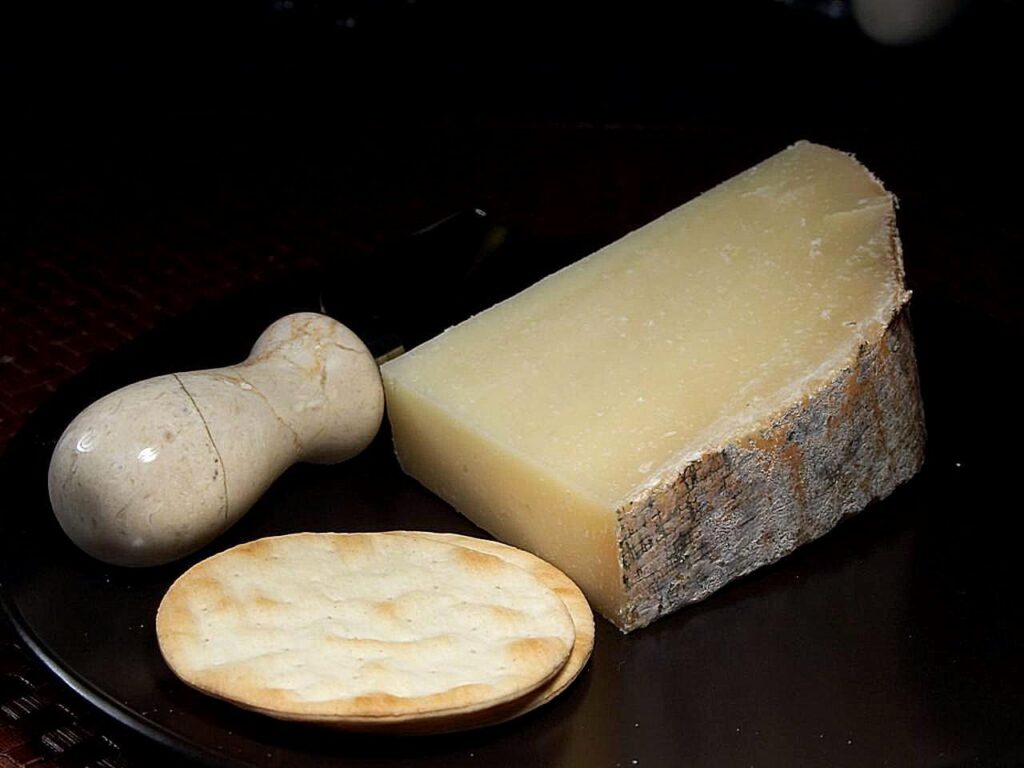 Drinks in Spain
Sangria
The perfect summer refresher Sangria is a Spanish drink of red wine mixed with lemonade, fruit, and spices.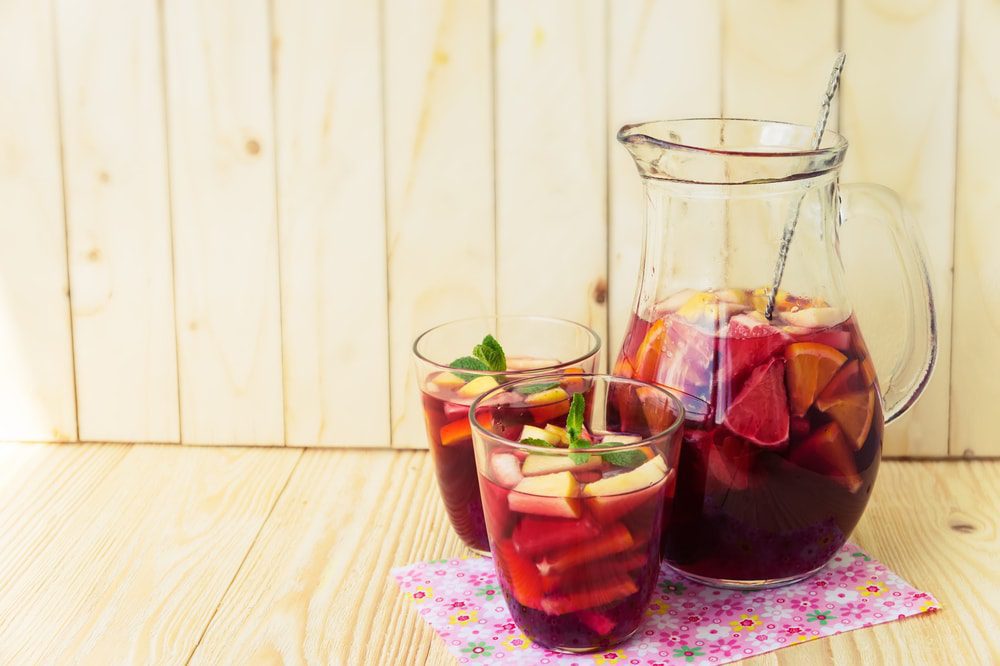 Horchata
Horchata is the juice of a tiger nut which is actually a vegetable it tastes kind of like almond milk with cinnamon added for extra flavour.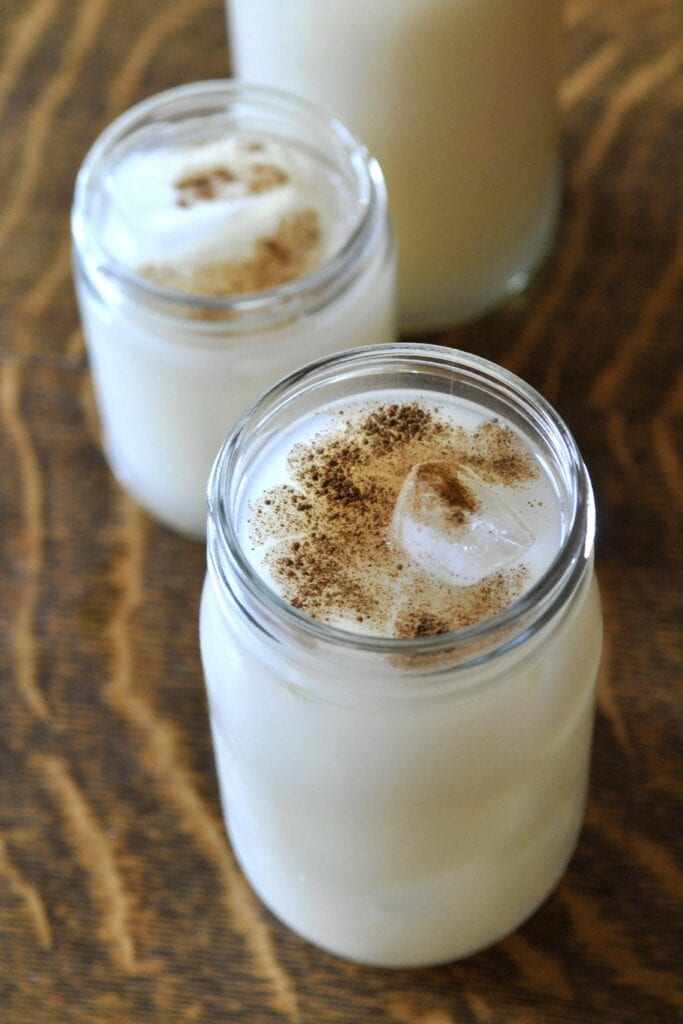 Tinto Verano
Tinto de verano translates as summer wine and is red wine mixed with a fizzy lemonade-type drink.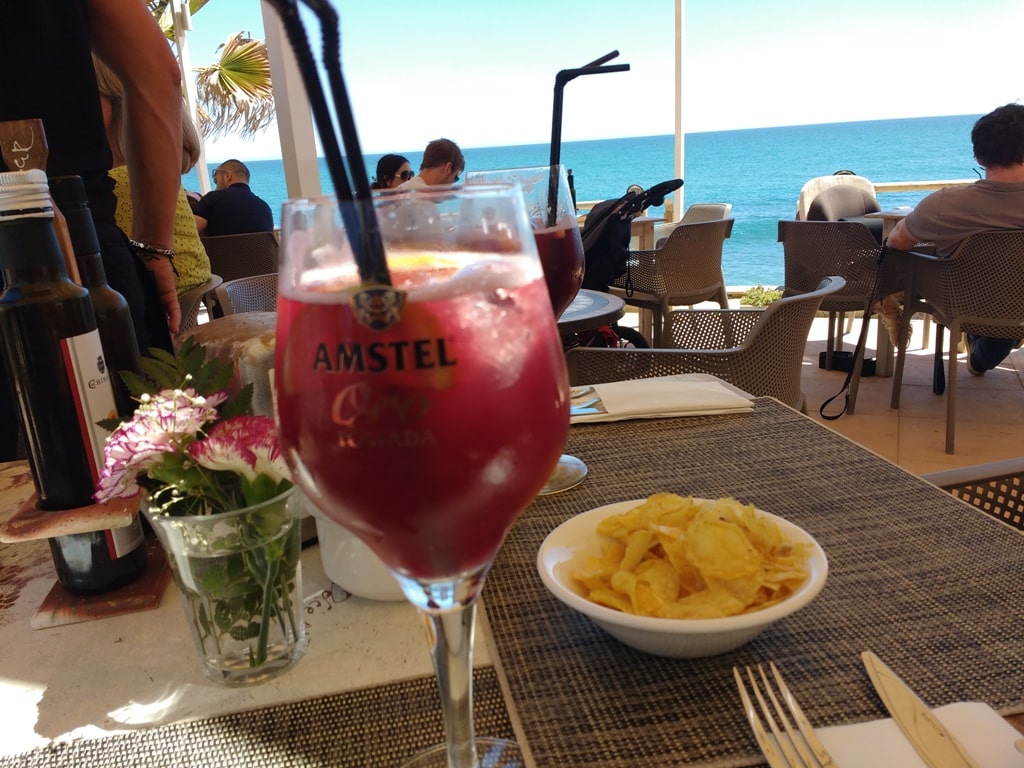 If you are a dessert person you should try some great Spanish Desserts and Cakes. The various regions of Spain, including Andalucia, have some phenomenal custards and cakes dating back to medieval times that must be tried to be appreciated.
Authentic Spanish food as you can see will vary greatly from North to South. The traditional foods in Spain come from the land in inner areas and the sea in areas that border the oceans and sea. Southern Spain is famous for its seafood and Northern Spain for its Basque cuisine, pinxtos and salt cod dishes. Regardless of where you are, there are foods eaten in Spain that you should try at least once.
Spain's cuisine is undoubtedly one of the most diverse and exciting in the world. From the tantalizing tapas to the hearty paella, there is something for everyone to enjoy. The country's rich history, geography, and culture all play a significant role in shaping its delicious dishes. Whether you are a food lover or simply looking to try something new, a trip to Spain will leave your taste buds satisfied and craving for more. So why not indulge yourself in some fabulous Spanish food today? You won't be disappointed!
You might also like.
Ultimate Southern Spain Road Trip
148 National Dishes of countries around the world
Food Travel 27 stories of food around the world
17 of the Most Unusual Foods Around the World | Weird Food
Mojácar Spain: the perfect guide to this charming village
What is Semana Santa? Celebrating Easter in Spain
Costa de Almeria Spain holidays
Have you been to Spain yet?