Hidden gems and underrated cities in Europe
Europe is full of undeniably beautiful destinations adorned by tourists all over the world. Of course destinations like Barcelona and Paris are incredible and essential to any travel bucket list. However, Europe has so much more to offer beyond its most famous destinations. Slightly off the beaten track will allow you to experience sensational destinations and beautiful places with fewer crowds. Here is our guide to some incredible underrated destinations in Europe.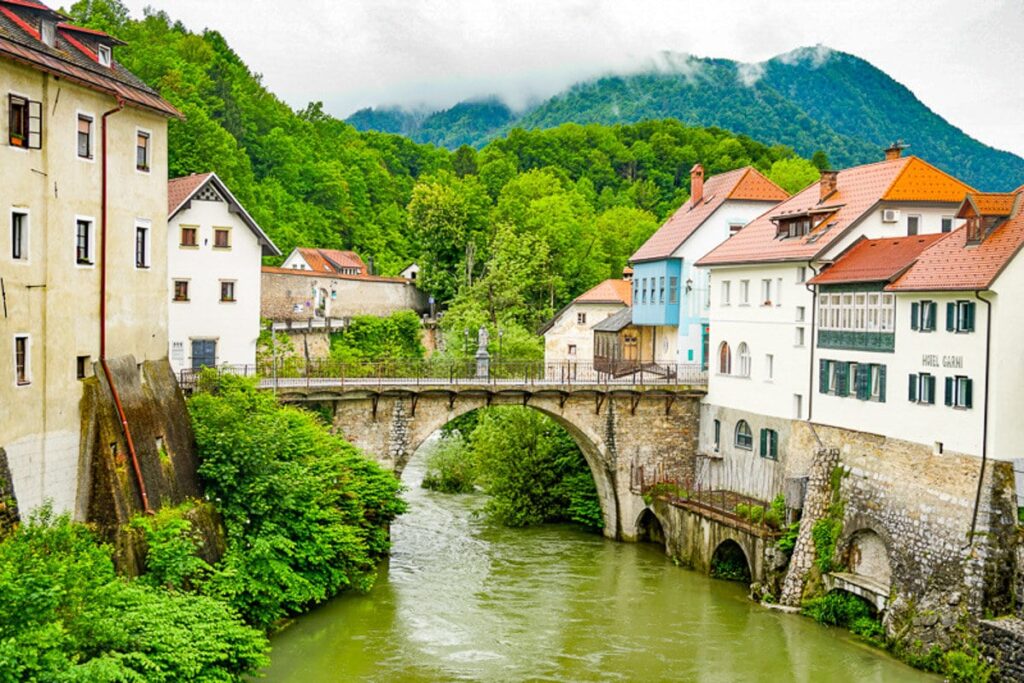 Tips for travelling in Europe
make sure you pack light and travel with just carry-on luggage.
take photocopies of your passports and carry those instead of the actual passport
wear comfortable walking shoes – there's a lot to see travelling in Europe
tell your bank where you are going so they know not to cancel any of your cards
take some cash and check with your bank if there are charges for taking out cash with your debit card
if renting a car download google maps and plan to get lost (it's much more fun that way)
don't be afraid of driving on the "wrong side" of the road – only the British and Northern Irish do that
travel in the off-season – it's much cheaper
check any visas you may need beforehand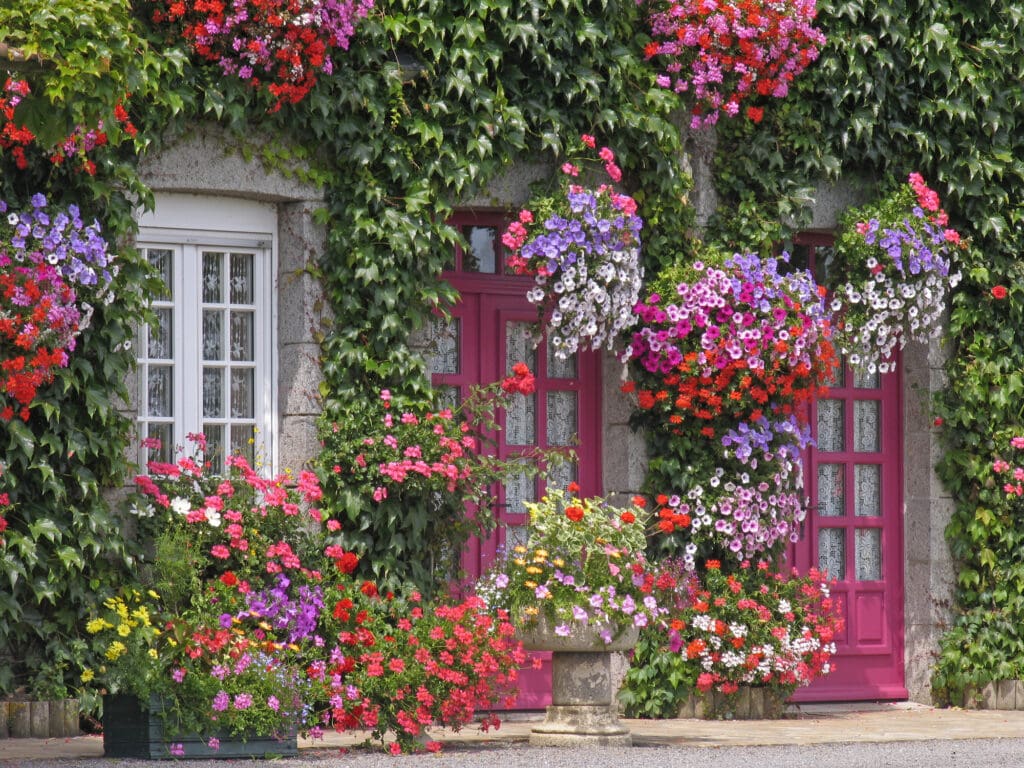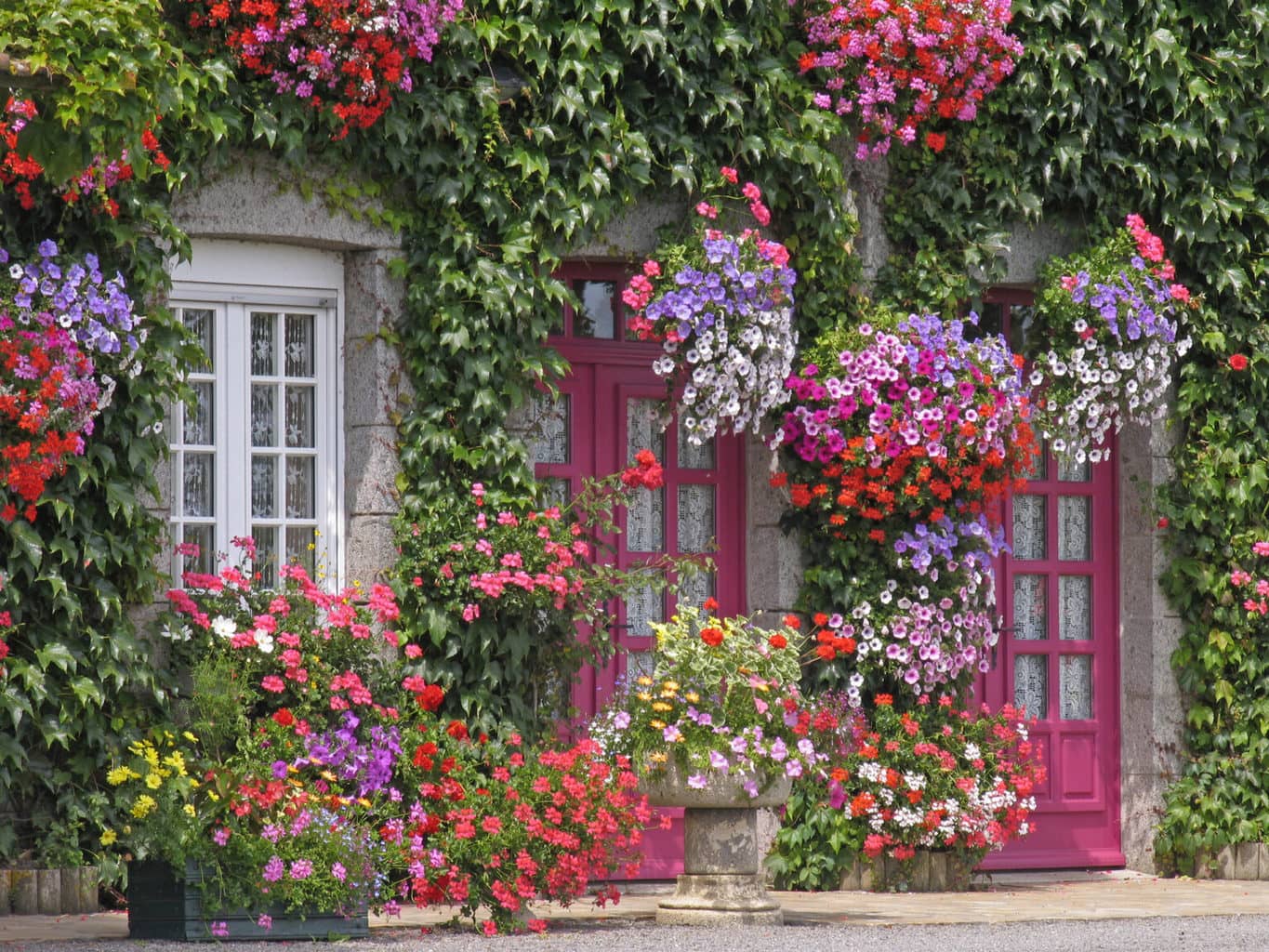 Xyuandbeyond is reader-supported. When you buy through links on our site, we may earn an affiliate commission. You can read my privacy policy here.
Destination Europe – Hidden gems and underrated cities in Europe
There are so many hidden gems in Europe that often go unnoticed by tourists. One such gem is the beautiful town of Kotor in Montenegro. With its stunning medieval architecture and breathtaking scenery surrounding the town, it is a destination not to be missed. Another hidden gem is the town of Sintra in Portugal. Famous for its fairy-tale-like palaces and lush gardens, Sintra is a UNESCO World Heritage site that offers a magical escape from the bustling city of Lisbon.
The charming village of Hallstatt in Austria is also a hidden gem that deserves more recognition. Nestled between mountains and a lake, Hallstatt is known for its picturesque beauty and historical significance. Finally, the Cliffs of Slieve League in Ireland are a hidden gem for nature lovers. These towering cliffs offer panoramic views of the Atlantic Ocean and are a sight to behold. These hidden gems in Europe are just a few examples of the many treasures that await explorers who venture off the beaten path.
Best hidden gems in europe and underrated places
Kefalonia
Kefalonia is a stunning Greek Island in the Ionian Sea and an underrated European destination. One of the best places to visit in europe this island is covered in sensational dense green foliage and rolling rugged hills. It is home to the highest mountain in the Ionian islands and the largest national park on a Greek island. Kefalonia is full of so much beauty and greenery that it really is the Gem of the Ionian Sea. This island is also home to some incredible beaches and two of the seven turtle species in existence.
In 2022 the Kefalonia-Ithaca Geopark became a UNESCO World Heritage Site.
How long do you need in Kefalonia
To get the most out of Kefalonia island and see the best sights you should spend at least a week on this incredible Greek island.
Greek Food Guide: 49 Traditional Dishes to Look For in Greece
Top 3 things to do in Kefalonia
1. Karavomylos Melissani cave
Visiting the Melissani cave in the village of Karavolmylos is a must when in Kefalonia. It is an incredible experience and one of the most beautiful things to do in Kefalonia. The cave is quite deep with an opening at the top. When the sun is at the correct height it shines through the top and illuminates the water to a bright blue. For 6 euros per person, you will be taken out on an old wooden boat around the caves. Check beforehand to determine the best time to go as this will change depending on the season.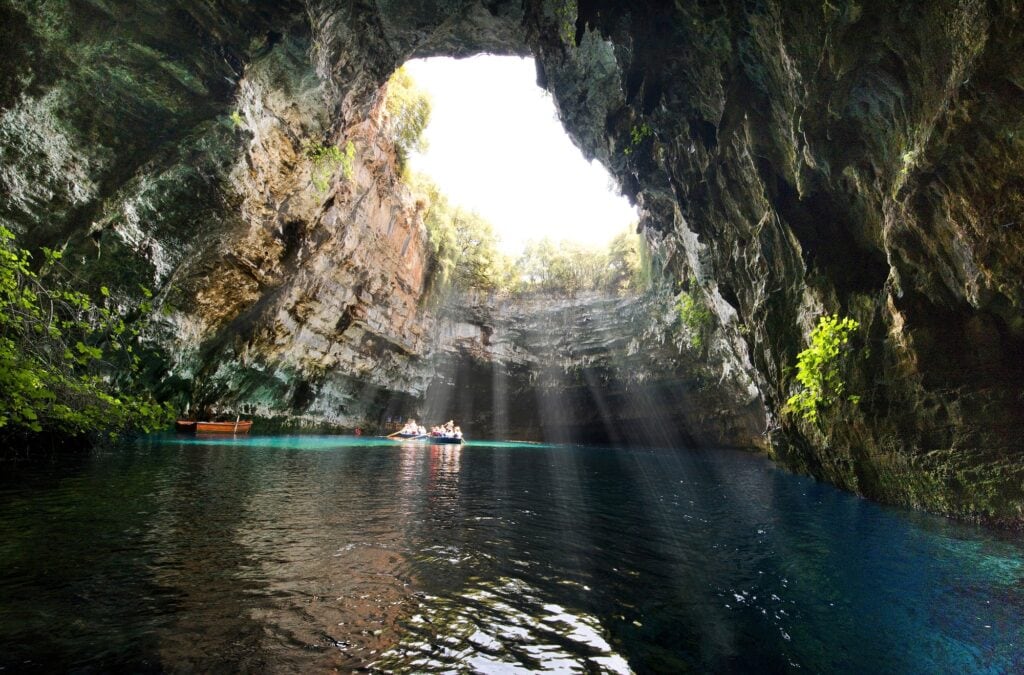 2. Mytros Beach
This beach is the most beautiful beach in Kefalonia. It sits between the feet of two mountains, Mount Agia Dynati and Mount Kalon Oros. It is this that creates such a dramatic backdrop for this stunning pebble beach. Mytros beach is well-known due to its beautiful blue water. The water here contains tiny pieces of marble. The waves pick up this marble and the sun shines causing the marble to illuminate, this beach is especially stunning! You could easily spend a whole day relaxing on this beach or combine it with a visit to the nearby iconic town of Assos.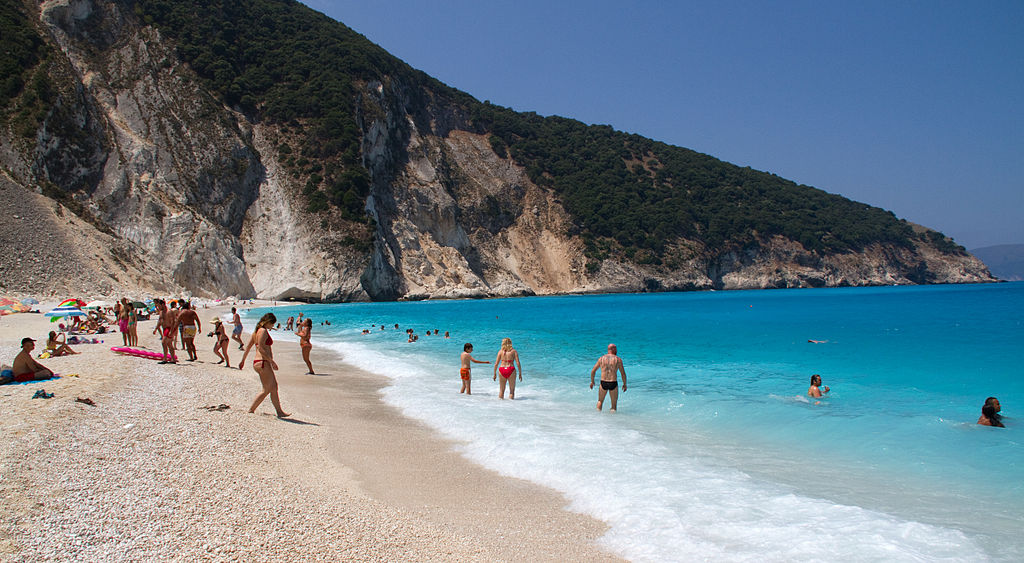 3. Explore Fiskardo
Fiskardo Harbour sits in the north of Kefalonia. It is a beautiful bay with pastel-coloured houses and a backdrop of dense forest. This bay is the perfect place for dinner or cocktails. Fiskado is home to some of the most expensive real estate in the whole of Greece! It is no surprise it attracts the most boats in the Ionian islands. Fiskardo also has many nearby beaches such as Fooki Beach or Emplisi Beach.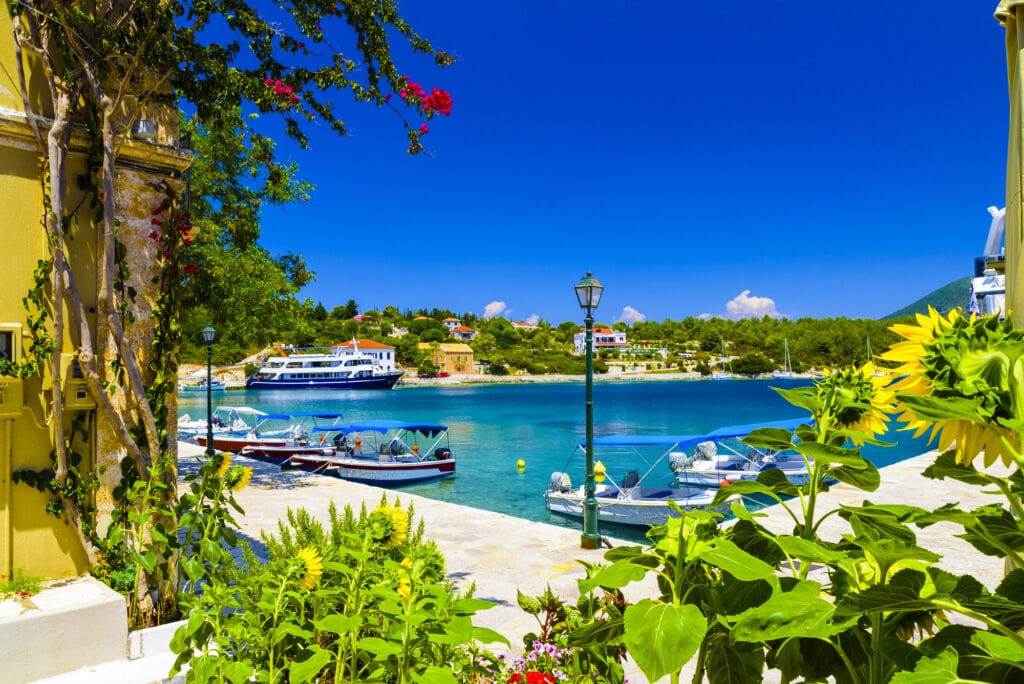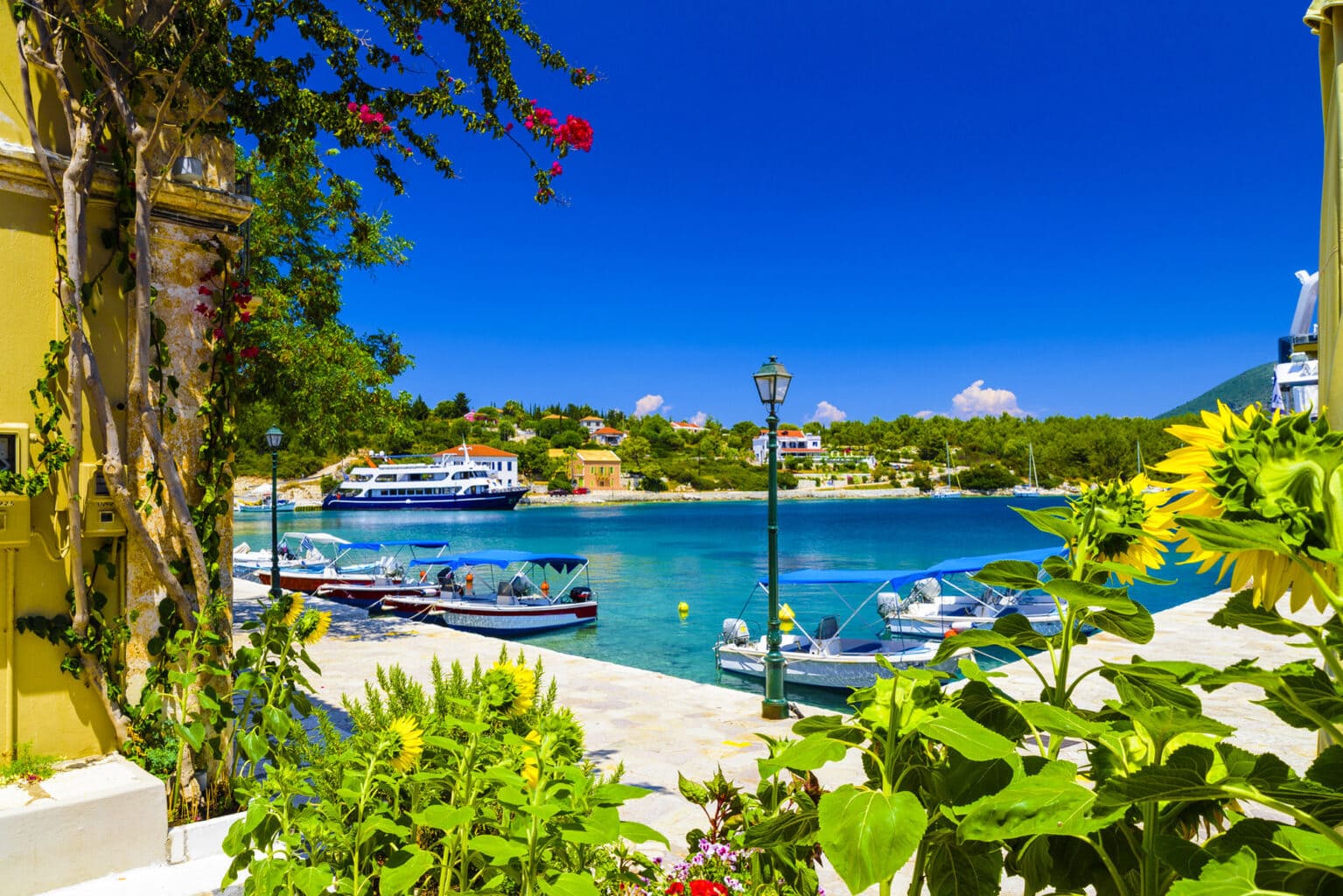 3 Days in Santorini Itinerary: A Bewitching Greek Island
Procida, Italy
Procida is a small island that sits just off the coast of Naples. One of the best hidden gems and often overlooked by its bigger neighbours Capri and Ischia, this pastel coloured island offers an authentic Italian experience. It is the smallest island in the Bay of Naples and it is also its best-kept secret. Procida is certainly the least touristy which makes it even more incredible. It is worth noting in January 2021 Procida was named the Capital culture of Italy for 2022. Therefore, it might not stay off the beaten track forever! It is still a charming destination and is likely to be less busy than its neighbours, Capri and Ischia.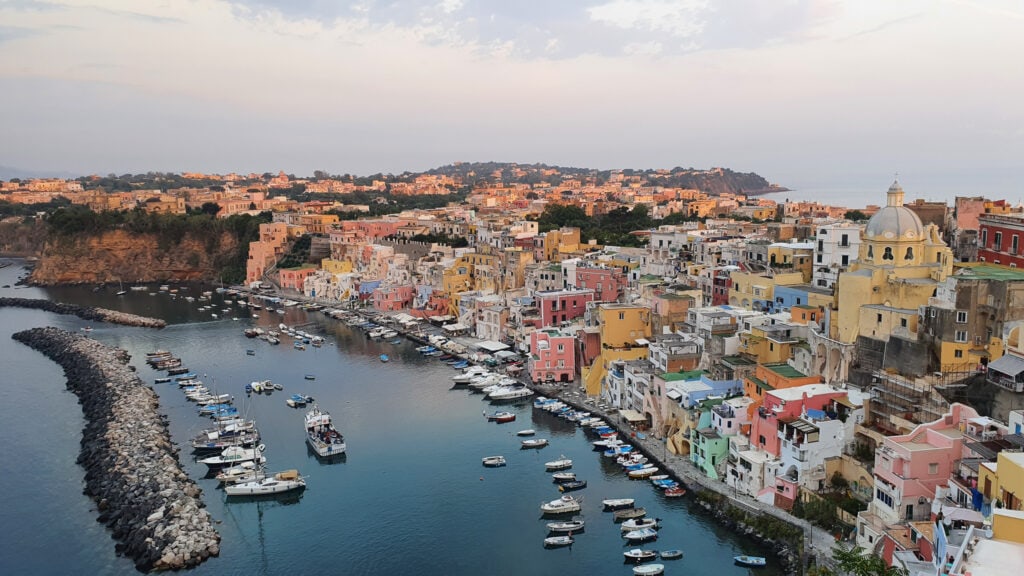 How long do you need in Procida?
Many people come here for a day trip from Naples. Whilst this is fine to experience the beauty of Corricella port to discover Procida you should stay 1-3 nights.
Top 3 things to do in Procida
1. Terra Murata Village and View Point
The village of Terra Murata is steeped in history and provides the best views over the Port. The old town has astonishingly beautiful views of the Bay of Naples, medieval fortifications, and you can see the Palazzo d'Avalos and Abbey of San Michele, which are both 16th-century structures. The viewpoint stands at 90 meters, the highest point on the island. With breathtaking views over Corricella port and the perfect sunset view, this viewpoint is a must when visiting Procida.
Terra Murata offers so much more than this incredible view, you must explore the village itself. Full of cosy narrow lanes, tall cacti and traditional houses surrounded by plant pots. There are also many more viewpoints in this tiny village to be discovered.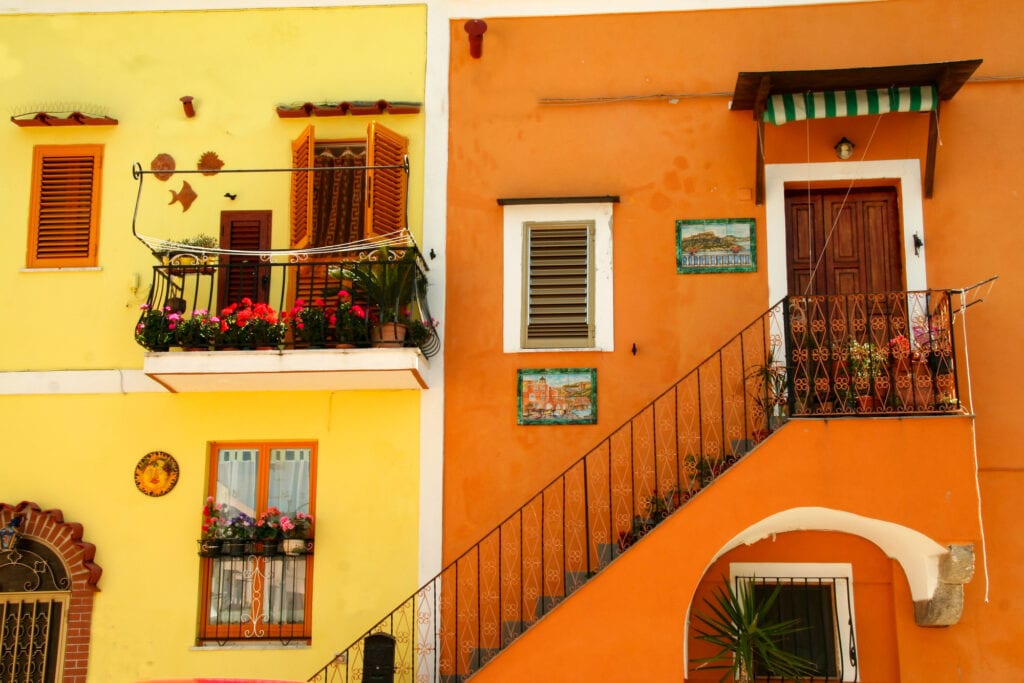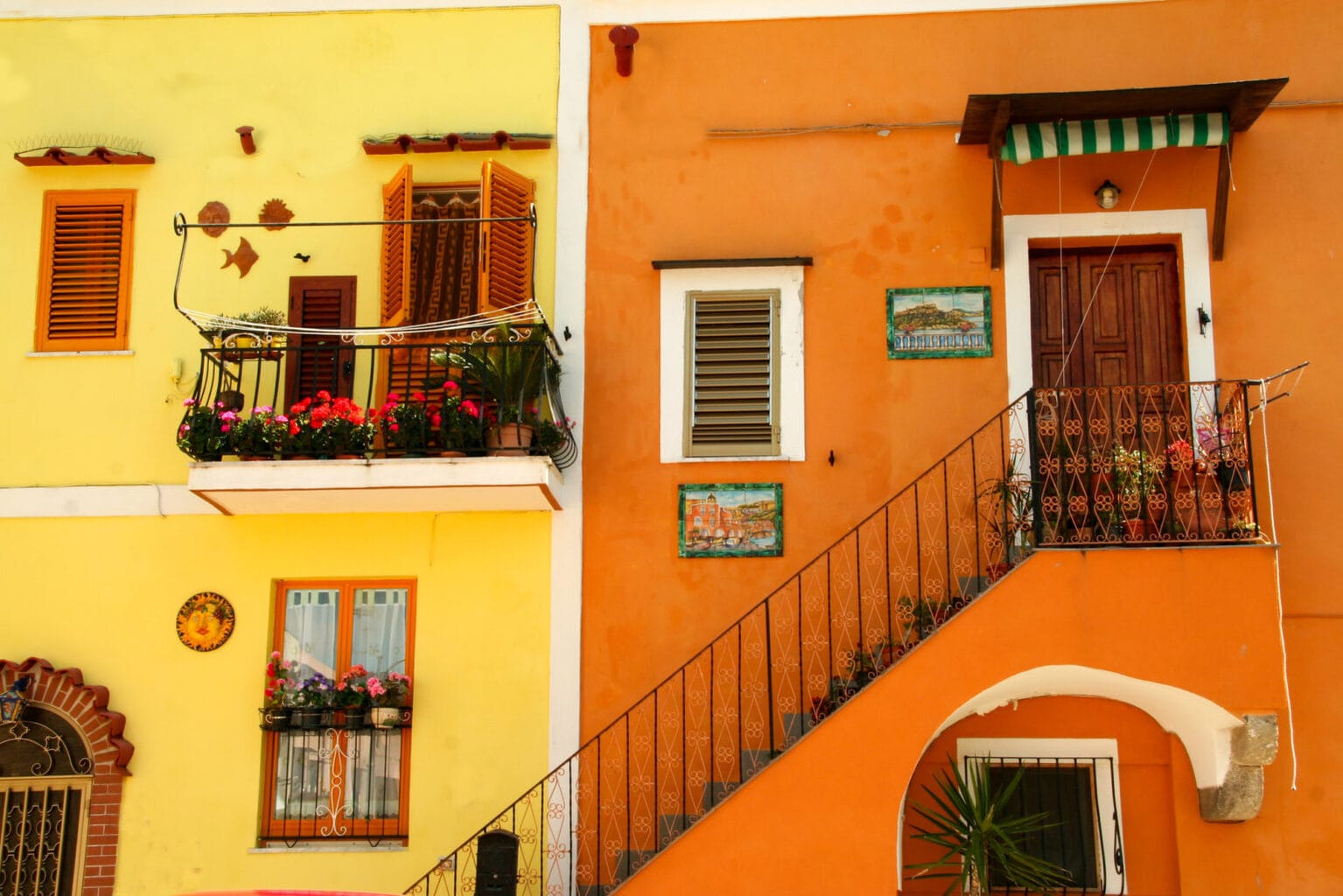 In the centre of Terra Murata is one of the island's most historic landmarks, the Palazzo d'Avlos. This building was a palace, that was then converted in 1830 to a prison. This prison was used to hold political prisoners. It was closed in 1988, you can now have a tour around the ex-prison and learn about its remarkable history.
2. Boat tour around the island
There is a small boat tour company that sits in Corricella port, they offer two-hour boat tours around Procida for 25 euros each. You will be taken to two snorkelling spots, one of which is in the Marine conservation area. It is a wonderful way to experience this stunning island and you see so much in your two-hour tour.
3. Corricella Port
Corricella port is by far the most beautiful and popular part of Procida island. It is a fishing village dotted with pastel-coloured houses that sit on the water's edge. It really is a beautiful sight. The port can get very busy especially at weekends, there are many restaurants and shops here to explore.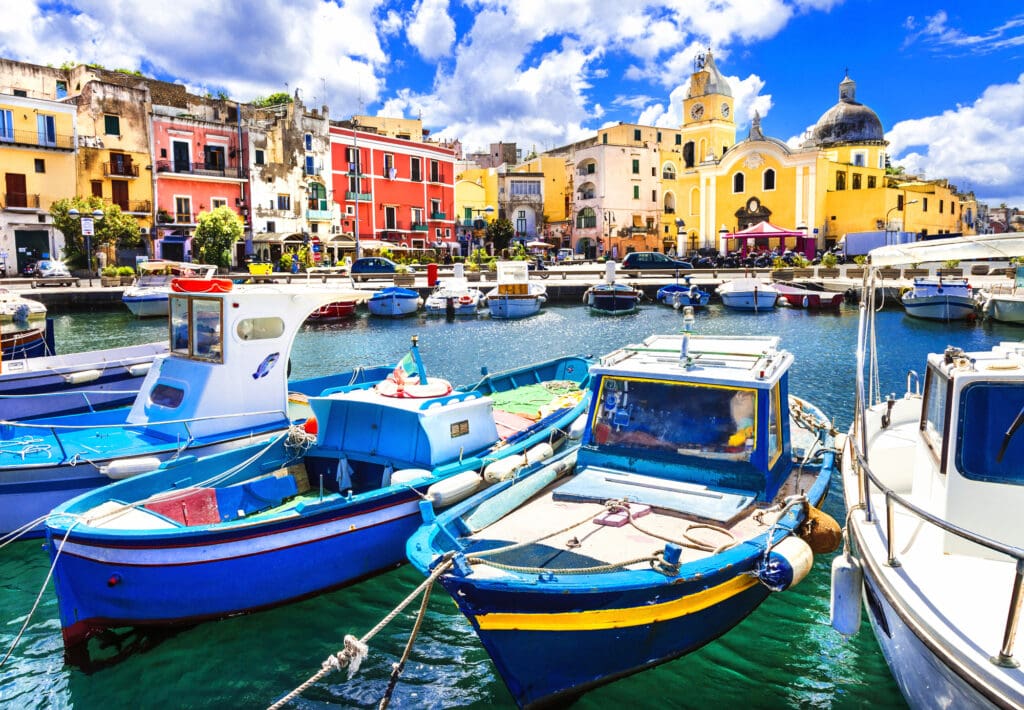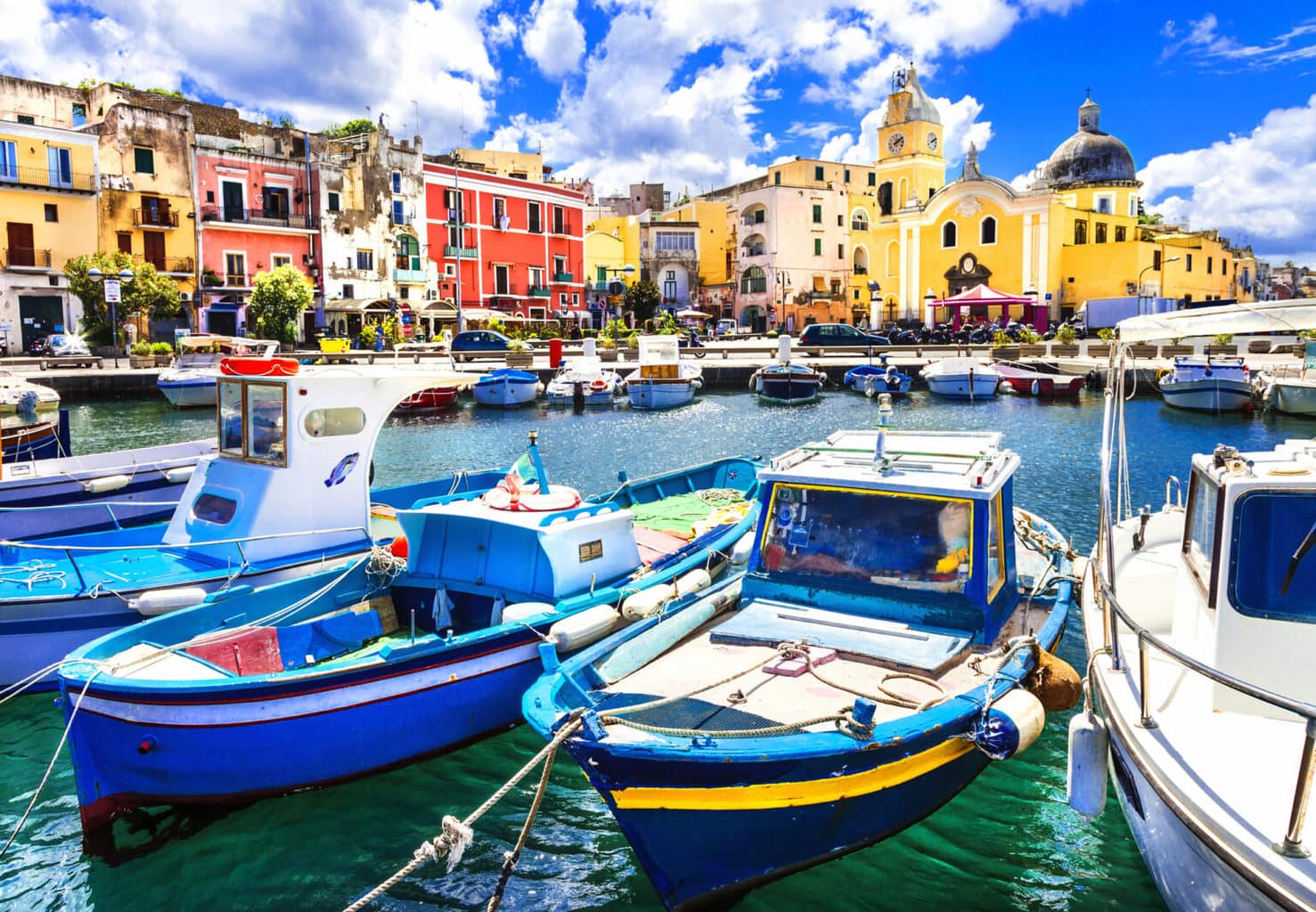 The Best Restaurants in Corricella Port
1. La Lampara is an incredible restaurant that offers dreamy views over the port. Make sure to get reservations ahead of time (and ask for a table with a good view) as this restaurant gets booked early. They offer incredible fresh fish dishes and pasta dishes for vegetarians and vegans.
2. Feugo is a great pizza restaurant in the heart of Corricella. You will get to sit right by the water's edge and eat awesome pizza. Corricella port is very popular with people from Naples. This restaurant is filled with Italians from Naples, so you know the pizza is good!
10 romantic things to do in Santorini for couples – the ultimate guide
Ghent, Belgium
Ghent is one of the most stunning European cities in Northwest Belgium. Filled with Flemish architecture and gothic features this city is an incredible destination to explore. Ghent sits between Bruges and Brussels and has a lot less footfall. Today it is a cultural hub and university town. A real highlight of Ghent is the row of guildhalls that sits on the river edge. You can travel from Brussels to Ghent in around 50 minutes by train. It is the perfect way to escape from the busy city life in Brussels. From Bruge it is only 30 minutes by train and on your way to Brussels so provides the perfect pit stop to explore.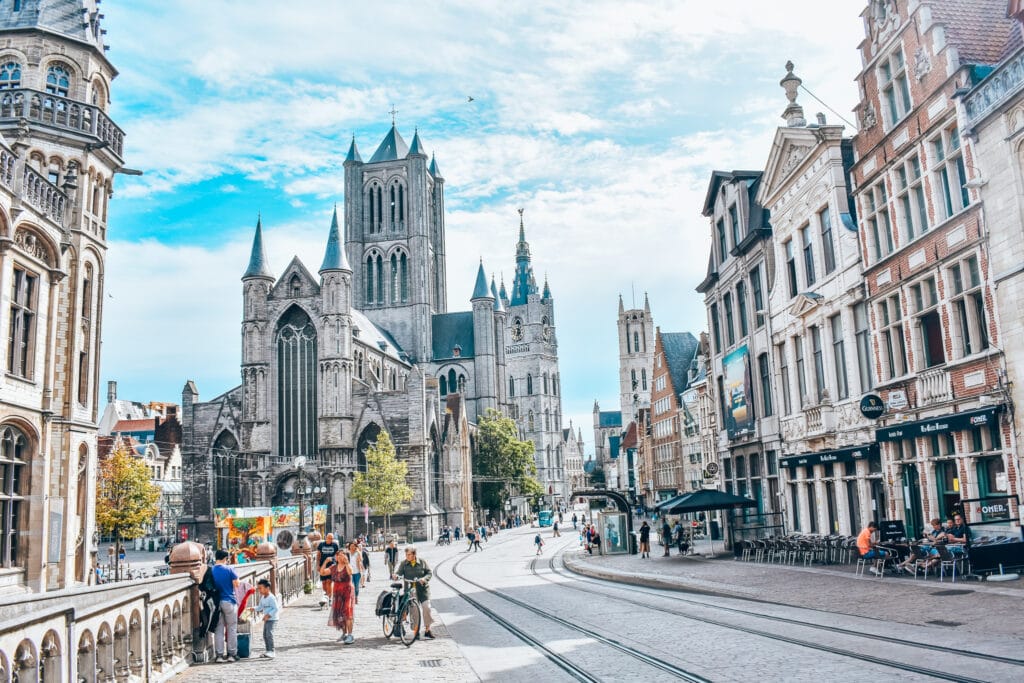 How long do you need in Ghent?
We explored most of the landmarks in a day, you could stay for a night or two. Alternatively, you could come here for a day as part of a longer trip to Belgium.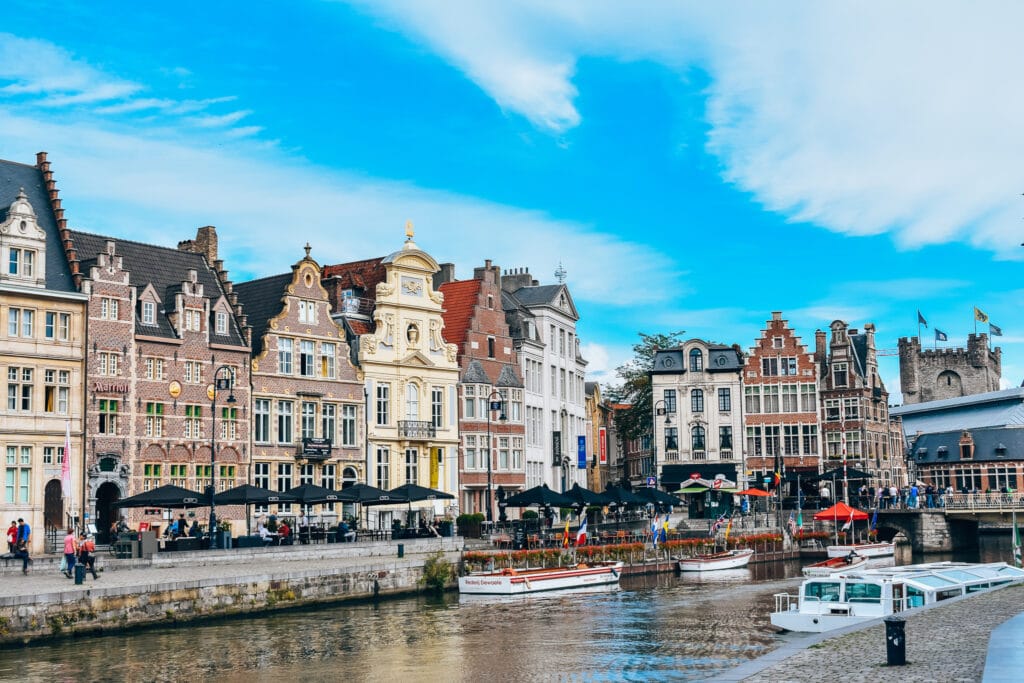 Top 3 things to do in Ghent
1. Gravensteen
This castle was built in 1180. The Castle of Counts, as it was known locally, was a symbol of horrific torture and repression. It was then resorted and became Ghent's more important attraction. Today it contains two museums. Firstly, the Museum of Judicial Objects which showcases objects used for punishment during the medieval period. The second Museum is the Museum of Arms which showcases many weapons used in times of war. After you have explored, the museums make sure to head to the rooftop to access some of the best views of the city. Entry to the Gravensteen costs 12 euros per person.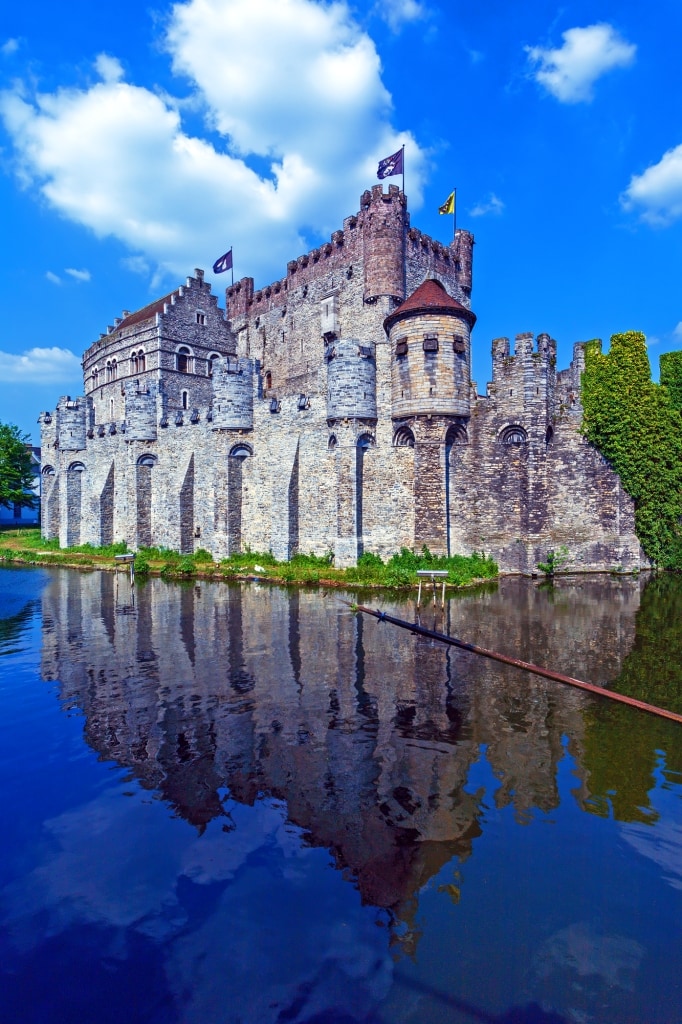 2. Visit the Vrijdagmarkt, the Friday Market.
The market is a must-visit when in Ghent. As the name indicates, the Market runs every Friday from 9 am till 1 pm. The market sits in a lovely square steeped in history with cosy cafes and restaurants. The market tradition has been functioning for centuries and has lots of local produce and textiles.
3. Try one of the Hundreds of Beers at the Tavern Dulle Griet
The Tavern Dulle Griet is a legendary bar in Ghent. They serve more than 250 Belgian beers with their offerings varying from rare beers to red ale and porter. You can even trade in your shoe as a deposit for a generous pint.
Devon, England
Devon in England is such an astounding part of the UK. Known for its Jurassic UNESCO coastline, made up of dramatic cliffs, and beautiful beaches. Devon is also full of striking waterfalls, postcard-perfect towns and villages and incredible trails.
How long do you need in Devon?
Devon is one of those destinations where there are endless things to discover. We often go for a long weekend and always find new things to do, there is still so much more to discover. Devon is the perfect weekend getaway but can also be an incredible destination for a week away.
Top 3 things to do in Devon
1. Explore the local towns and villages
Devon is made up of cosy and quaint villages and towns. Make sure to head to Clovelly, a collection of houses and cottages that cling to the Cliffside and has a beautiful harbour.
Lynton and Lynmouth are also really beautiful, they are both situated in Exmoor national park. Green foliage surrounds Lynton and it is built around a river, often known as Little Switzerland, this town is simply stunning. Lynmouth sits just below Lynton and is your traditional seaside town. It is filled with independent shops, ice cream parlours and fresh fish and chip shops on every corner. What sets Lynmouth apart from many other seaside towns is its incredible backdrop of Exmoor itself.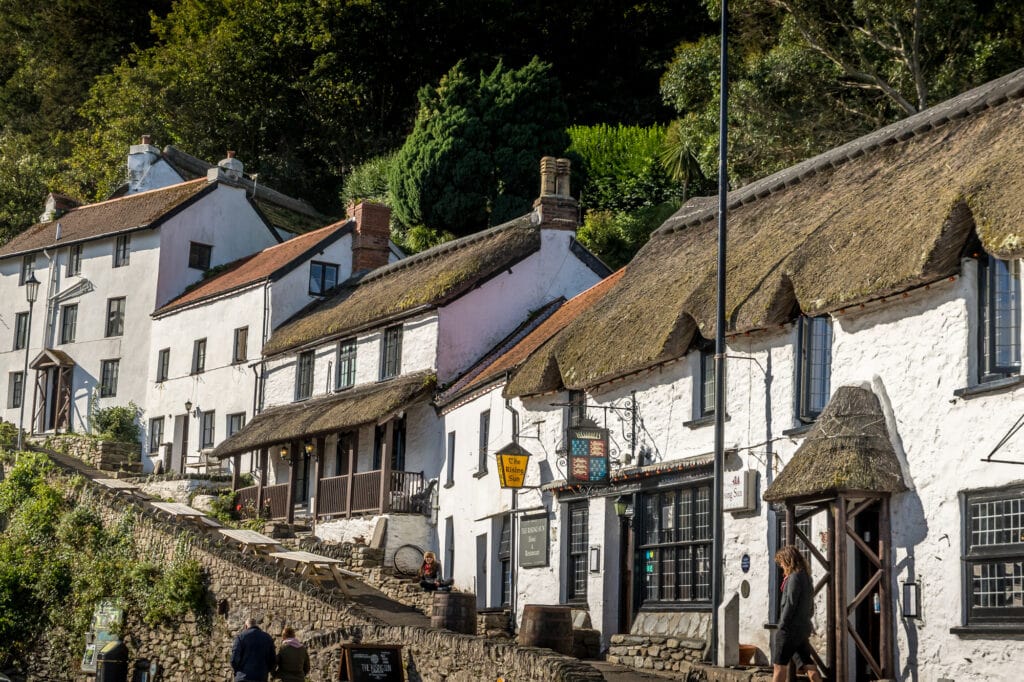 2. Hike Exmoor
The path to Dunkery Beacon is around 2.5 miles long. The trail is well-trodden and easy to navigate up towards the summit. Dunkery Beacon is the highest point in Exmoor. This viewpoint offers you some of the best views across the whole of the moorlands.
Exmoor is also home to many wild ponies. Although they are free to roam, there are a few places to check to increase your chances of sighting one of these majestic creatures.
3. Hike incredible paths and find waterfalls
Devon is full of stunning waterfalls and hikes that are absolutely breathtaking! The best waterfall in Devon has to be Speke's mill mouth. The footpath from Hartland Quay to the waterfall itself is incredible, but the waterfall is simply stunning.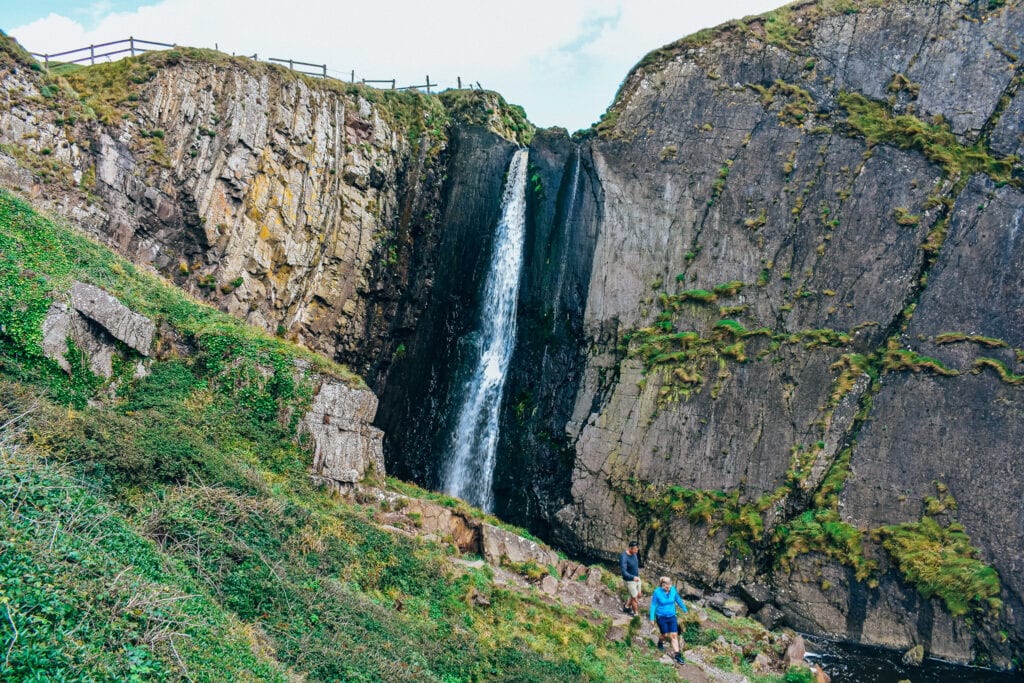 The water drops a sheer 48 meters and has three different levels. Each with powerful water cascading off each drop. To reach this awe-inspiring waterfall you have to walk from Hartland Quay and through the North Devon Biosphere. Park up at Hartland Quay. There is a small charge in peak season. For details of the full route check out this post.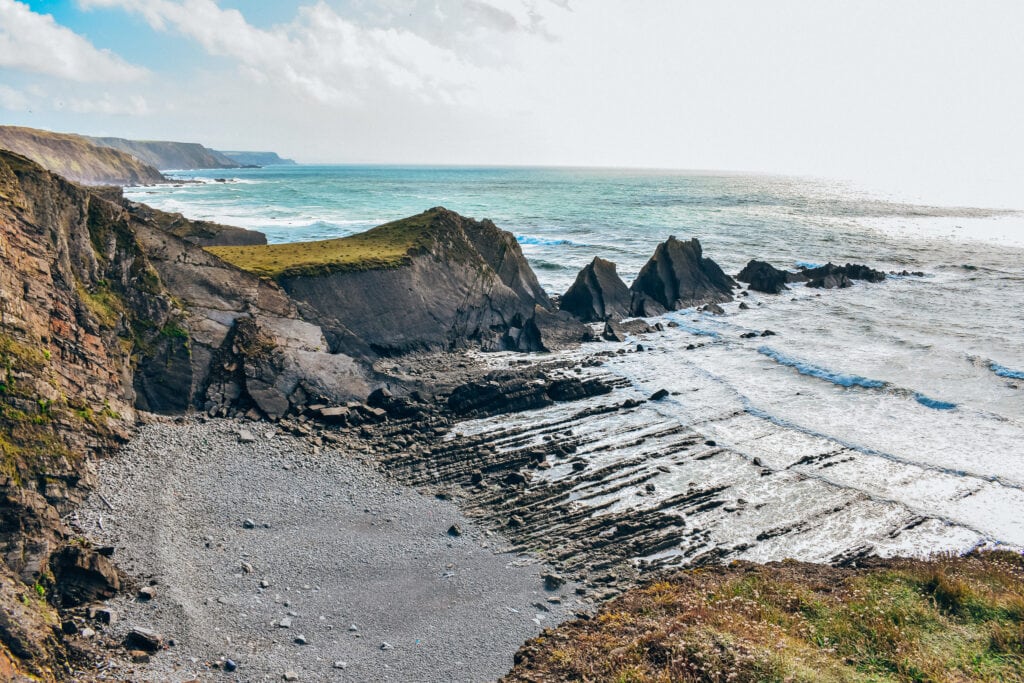 There are many other incredible walks and waterfalls in Devon, a few others of note include White Lady Waterfall, Watersmeet and Becky Falls.
Torrevieja, Spain
Torrevieja is a city in Spain's southeastern Alicante Province and one of the most underrated cities in Europe. This city sits around an hour's drive from Alicante itself. It sits on the Costa Blanca and therefore has a typically Mediterranean climate and beautiful coastline. The beaches are long and sandy, although busy resorts back them. The real highlight of coming to this part of the Costa Blanca is its incredible Nature Park and Lakes.
How long do you need in Torrevieja?
To make the most of the lakes and nature parks you only need a long weekend. However, because it is a typical Spanish beach destination you can spend longer and relax on the beach. There are also some hotels with Incredible Spas for that extra bit of relaxation.
Top 3 things to do in Torrevieja
1. The Pink Salt Lake of Torrevieja
The pink salt lake is the most breathtaking lake we have ever seen. The lake is a bright pink fringed with pure white salt that looks like snow. This lake is pink due to the bacteria in the water, it is the same bacteria that live in the Dead Sea! To see the lake in all its glory you need to have bright sunshine to illuminate the water. This lake is also the most perfect spot to watch the sunset. Set up a towel on the salt flats around the lake and watch the sunset. If you are lucky you might see flamingos in the distance. There is also a green salt lake in Torrevieja if you have the time.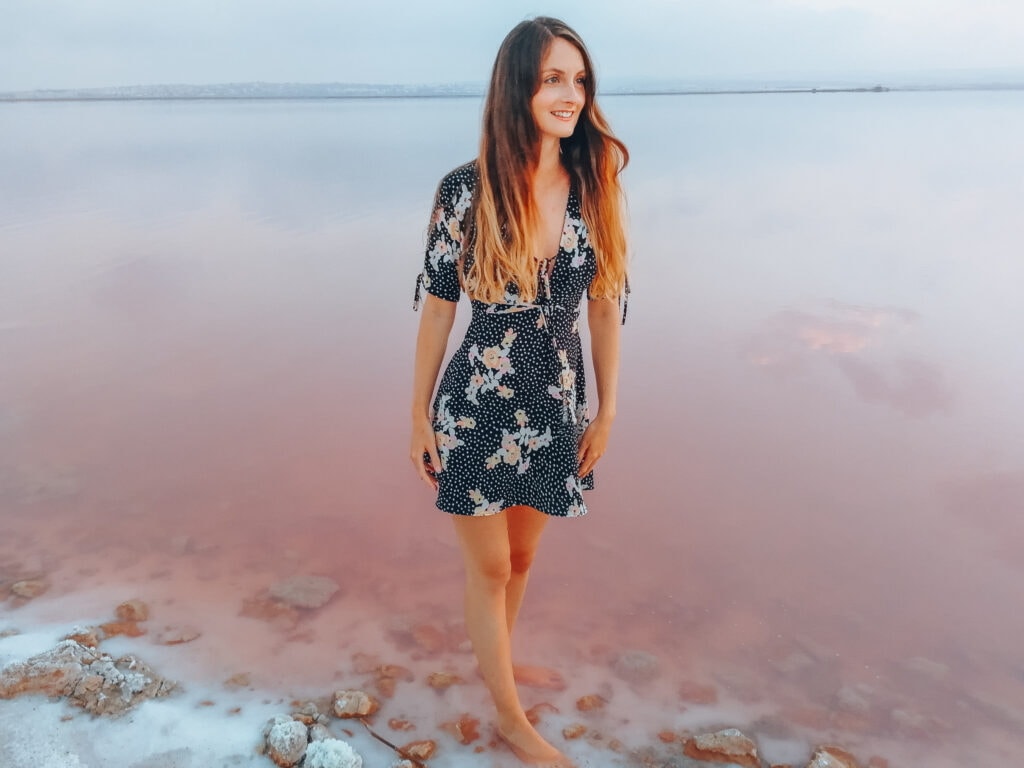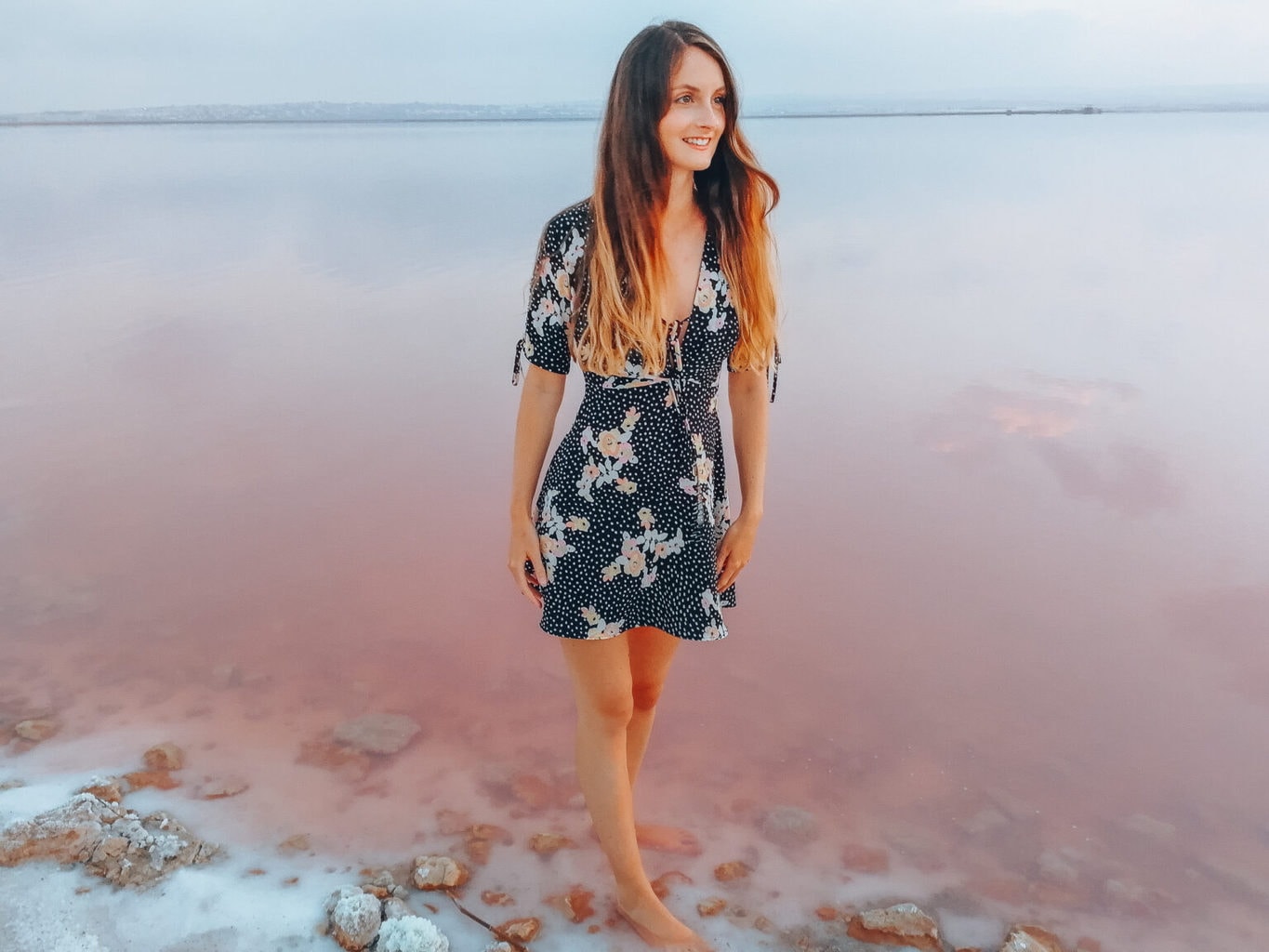 Important things to know
It is worth noting as of late 2020 you are no longer allowed to swim in the lake. Although it is certainly still worth visiting. Also, if you are coming in the summer make sure to bring lots of mosquito spray! Especially if you visit at sunset. Make sure when you walk out of the park to cover your skin as you will be bitten ALOT! The Salt is quite sharp to walk on, so make sure to bring appropriate shoes.
2. La Mata Beach
A beautiful sandy beach, backed by restaurants and places to eat. Perfect for a day of sunbathing and relaxing. Alternatively, you can head here for dinner to soak up the buzzy atmosphere.
3. Plaza de la Constitucion
This is a traditional Spanish square with a beautiful church in the heart of Torrevieja. The plaza has a really local feel and an authentic Spanish atmosphere as opposed to some other parts of Torrevjia that are touristy. There are restaurants and bars here making it the perfect place for lunch or dinner or simply stroll the square like the Spanish do. This square has been lovingly renovated, filled with palm trees and fountains. It is a perfect place to immerse yourself in the local way of life.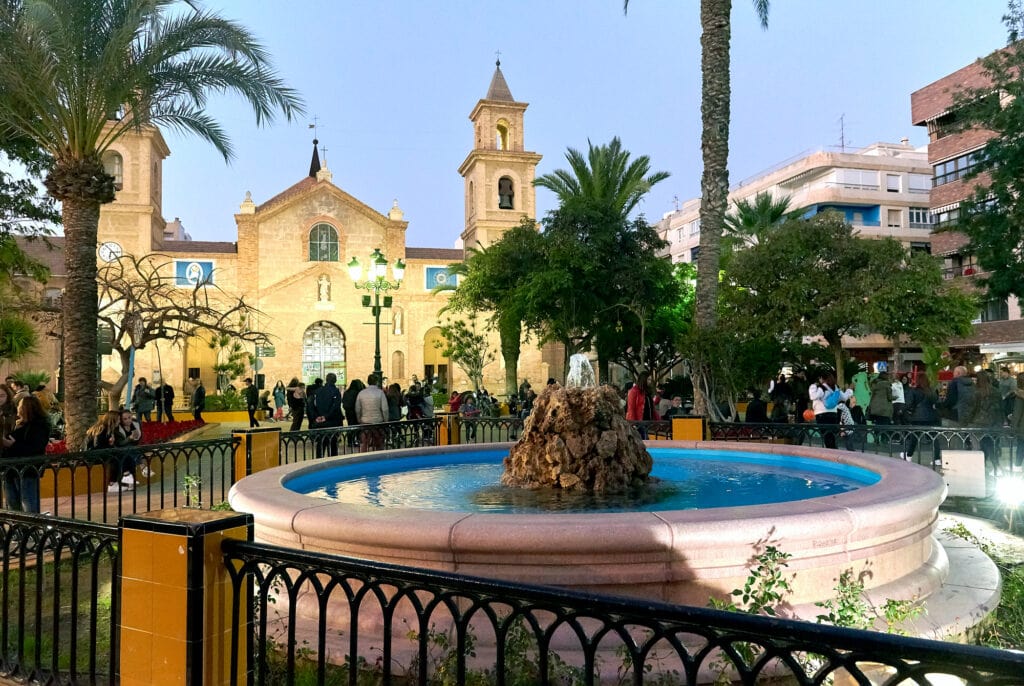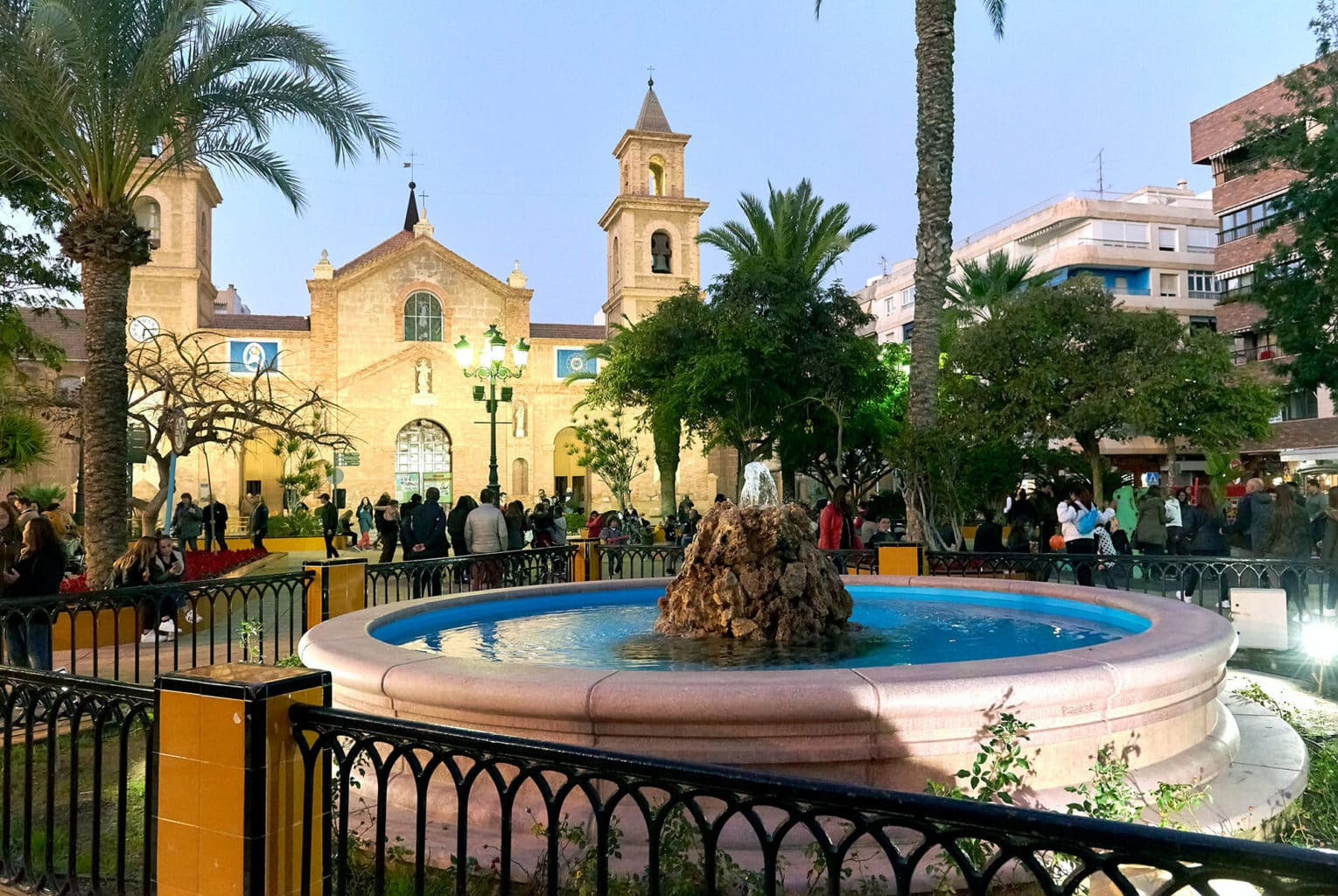 Pag Island, Croatia
These days Croatia is overrun with tourists and is no longer one of Europe's hidden gems. There are however areas of Croatia that are virtually undiscovered by tourists and the eastern Europe Pag Island is well off the beaten path and one of the unique places to visit a true hidden gems in Europe. Situated near to Zadar, Pag Island stretches for 60 kilometers, making it the fifth largest island in Croatia.
It is renowned for its desert-like landscape, reminiscent of a lunar terrain, while also captivating visitors with its ancient olive groves that have stood for 1,500 years. Pag Island is also celebrated for its salt production and its world-famous sheep's cheese, known as "Paški sir."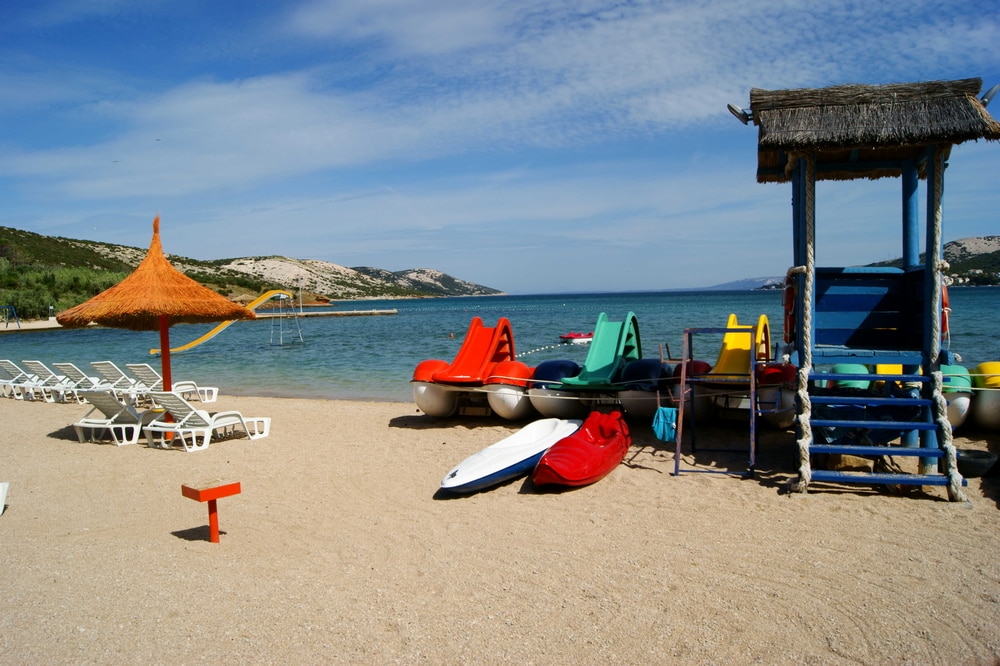 How long do you need on Pag Island?
If you want a truly relaxing beach holiday plan to stay on Pag for a week.
Top 3 things to do on Pag Island
1. The Beaches of Pag Island
Pag Island is a captivating destination and boasts a wealth of diverse beaches and bays that cater to every preference. Whether you seek intimate coves, expansive sandy shores, pebbled retreats, or coastal areas adorned with arid or verdant surroundings, Pag Island has it all.
Among the array of stunning beaches, are Strasko Beach and Lokunje Beach. Strasko Beach is surrounded by a magnificent forest, and offers a picturesque. On the other hand, Lokunje Beach boasts turquoise waters and a shallow seabed.
Planjk Beach boasts shallow waters and has a Blue Flag award. It has earned the distinction of being voted the most enchanting and inviting beach on the Adriatic multiple times.
Last but not least, Rucica Beach stands out as one of the island's most exquisite coastal gems. Tucked away in the eastern part of Pag Island and concealed behind a rocky hill, this beach offers an idyllic setting for nature enthusiasts seeking to immerse themselves in the embrace of crystal-clear waters and rugged cliffs.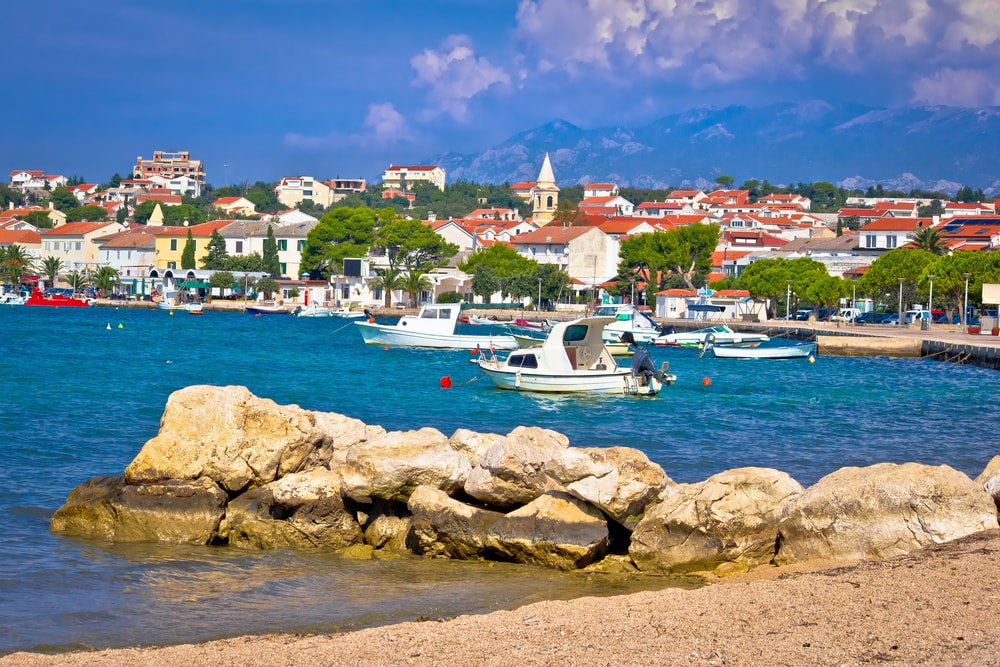 2. Visit Pag Town's Lace Gallery
Declared an 'Intangible Cultural Heritage of Humanity by UNESCO', Pag lacemaking is one of Croatia's most treasured traditions. The Pag lace is highly unique and mainly done by the Benedictine nuns. Pag town's Lace Gallery displays the best laces made by the locals, mainly the nuns.
3. Visit the Ghost Town
Just one kilometer away from the present-day Pag town, lies the hauntingly captivating ghost town of Old Town Pag. Once a bustling residential area, it was home to over 6,000 people. Despite its abandonment, remnants of its glorious past still stand in the form of beautiful historical ruins, including the Church of S. Mary and the Franciscan Monastery. Old Town Pag held great significance as a prosperous hub for the salt trade.
Sadly, the town's inhabitants eventually departed, compelled by the unforgiving circumstances, particularly the devastating impact of drought. Today, the deserted town exudes an eerie atmosphere, inviting exploration and offering a glimpse into its fascinating history.
Summary of incredible underrated cities in Europe
We hope you enjoyed our guide to the best-underrated destinations in Europe. There are so many lesser-known places including medieval villages, ruined castles and more to discover. Whether it is the Salt Lakes in Spain or a tiny island off the coast of Naples. By going slightly off the tourist track there is so much more to see.
Pin it to save it