23 Fabulous French Christmas traditions
This will be our third Christmas in France and we have picked up on the traditional French Christmas customs pretty easily. While there are some differences between the Christmas Traditions in France and celebrations in Ireland and the UK many are the same.
Some of these French traditional Christmas activities we can get used to for example seafood on Christmas eve, and a distinct lack of Christmas carols from the day after Halloween.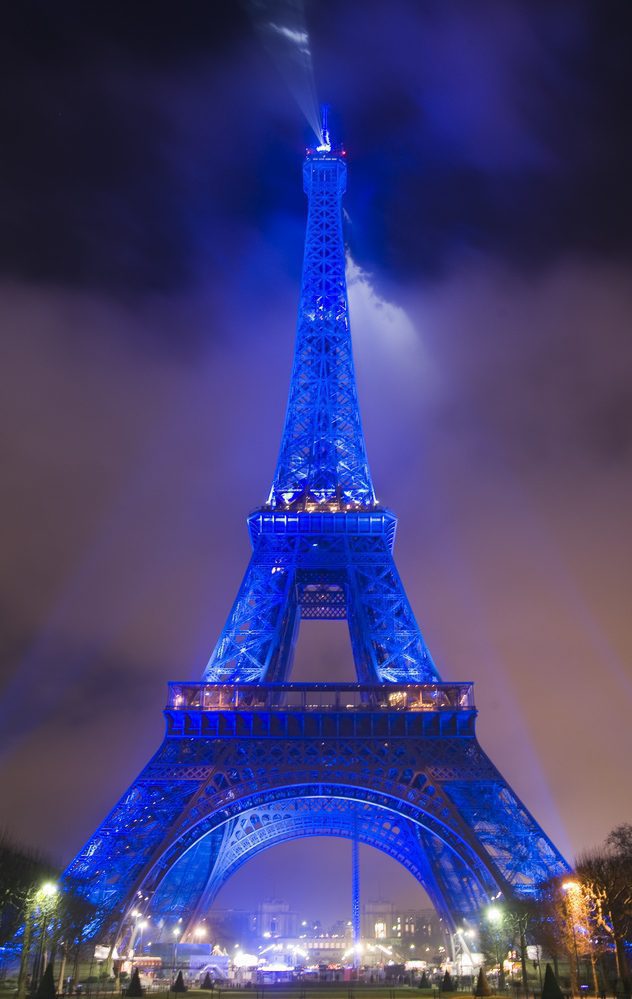 Many towns and villages here really go to great lengths to decorate with twinkling lights, illuminated cathedrals, Christmas Fetes and loads of fun for the kids.
So if you want to add a little French flair to your Christmas Celebrations here is my guide to Christmas in France.
Xyuandbeyond is reader-supported. When you buy through links on our site, we may earn an affiliate commission. You can read my privacy policy here.
Christmas in France
Christmas in France is a magical time particularly if you manage to get to Paris. Lights twinkle all over the city, and the cafes are full of people enjoying wine or mulled cider under the heated awnings. The department stores such as the Galleries Lafayette with its incredible art nouveau dome and stunning Christmas tree.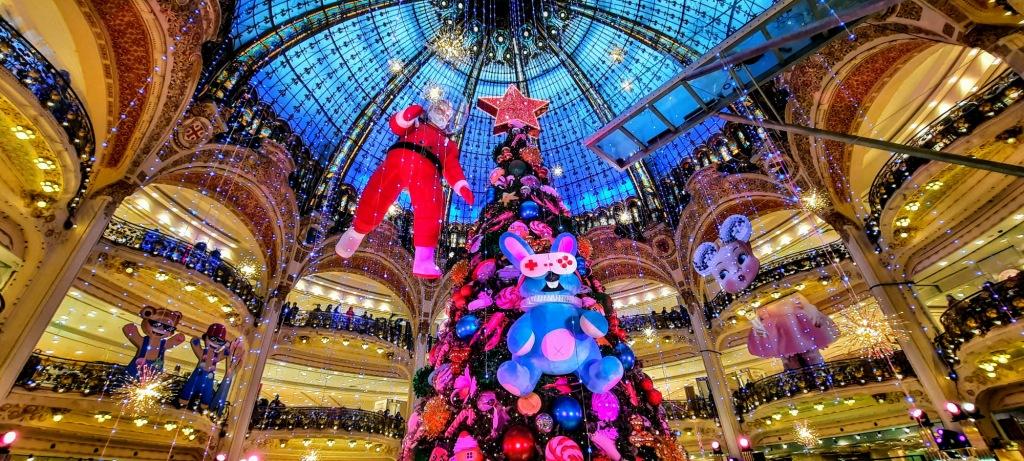 The jaw-dropping La Samaritaine after is restoration is simply incredible. The original building is incorporated in the design, with the grand staircase and breathtaking glass-topped atrium, or "Verrière", restored to their former glory. The iconic facade has also been brought back to life, this is designer shopping with a vengeance.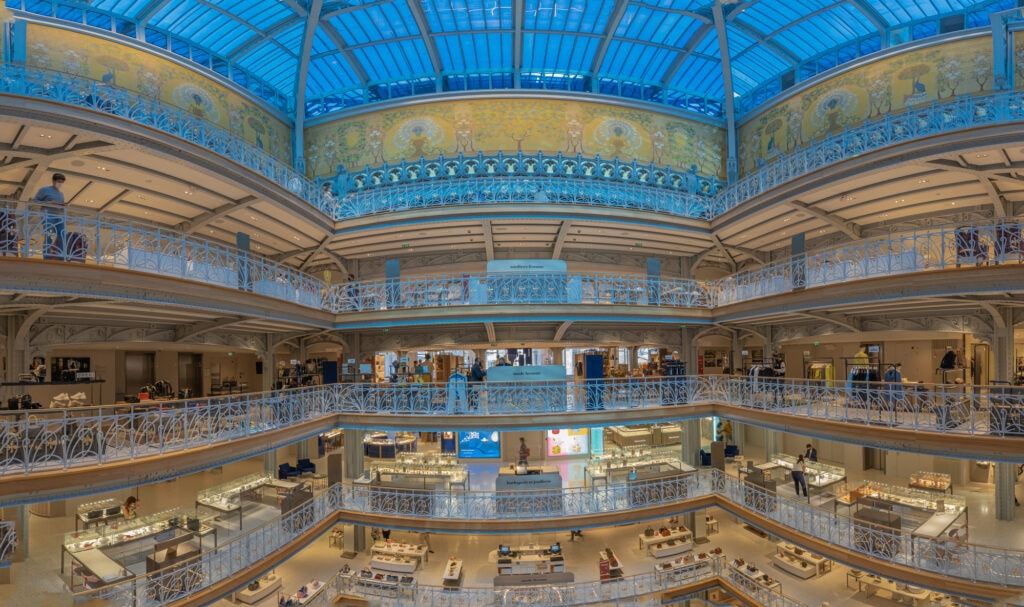 Dozens of Christmas markets pop up all over Paris in front of the Hotel de Ville (City Hall) there is a veritable children's paradise with an antique carousel, a modern climbing wall and of course visits from Pere Noel.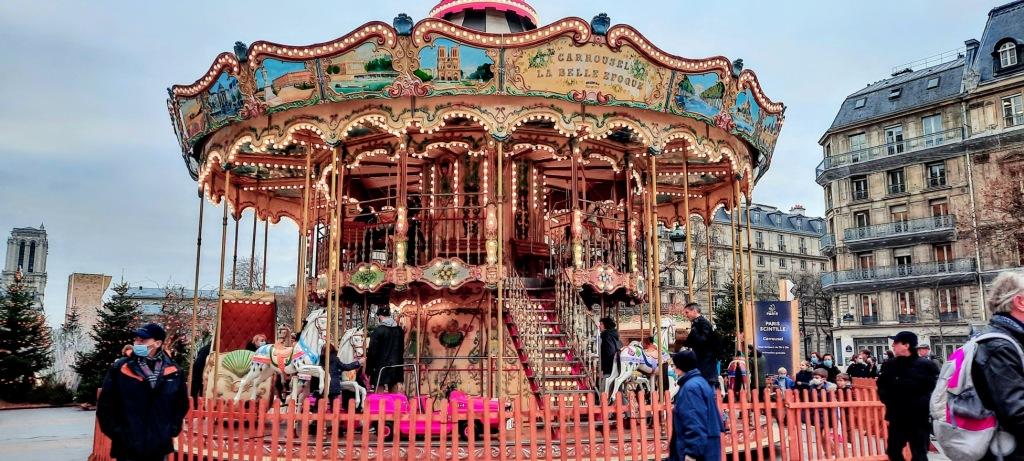 Throughout the country, a typical french Christmas includes lots of food, wine and family and a host of French traditions.
23 French Christmas traditions to enjoy
Advent
Not an unusual activity worldwide the four weeks of the Christmas countdown begin with the Advent Calendar. The tradition dates to the mid-19th century when German Protestants made chalk marks on doors or lit candles to count the days leading up to Christmas. The period of Advent represents the hope of Christmas when light conquers and expels darkness.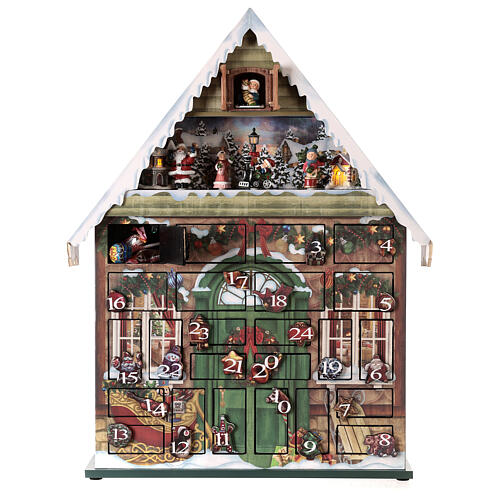 Mistletoe
Just like in Ireland the French hang mistletoe for good luck during the season. In France, for example, it's seen as a good luck charm and French people often give it to friends as a New Year gift to wish them luck in the coming 12 months.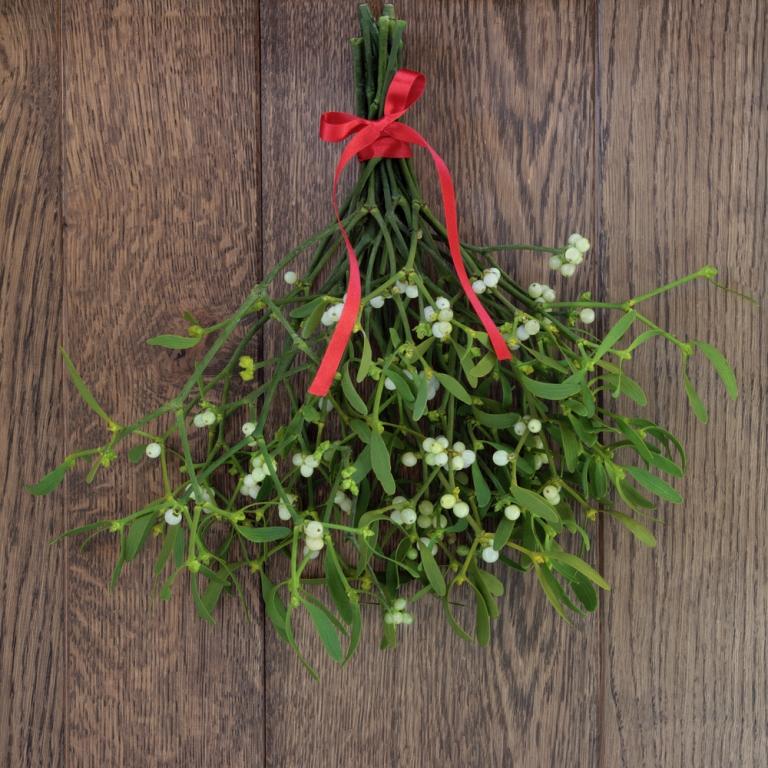 Christmas Carols
Sweet relief I have to say – here in France you are not inundated with crappy Xmas carols wherever you go. There are no elevator carols no grocery store Little Drummer Boy the French just don't go there.
Petit Papa Noël is one of the few French Christmas songs played during the season. It was written in 1944, during the Second World War. But this version is not the same as the one sung today. The lyrics of the original version were a child's prayer expressing his wish to see his father return from Germany. These days a far more secular version was performed for the first time in 1946 by Tino Rossi and the lyrics were changed to suppress the religious songs promoted by the Vichy regime.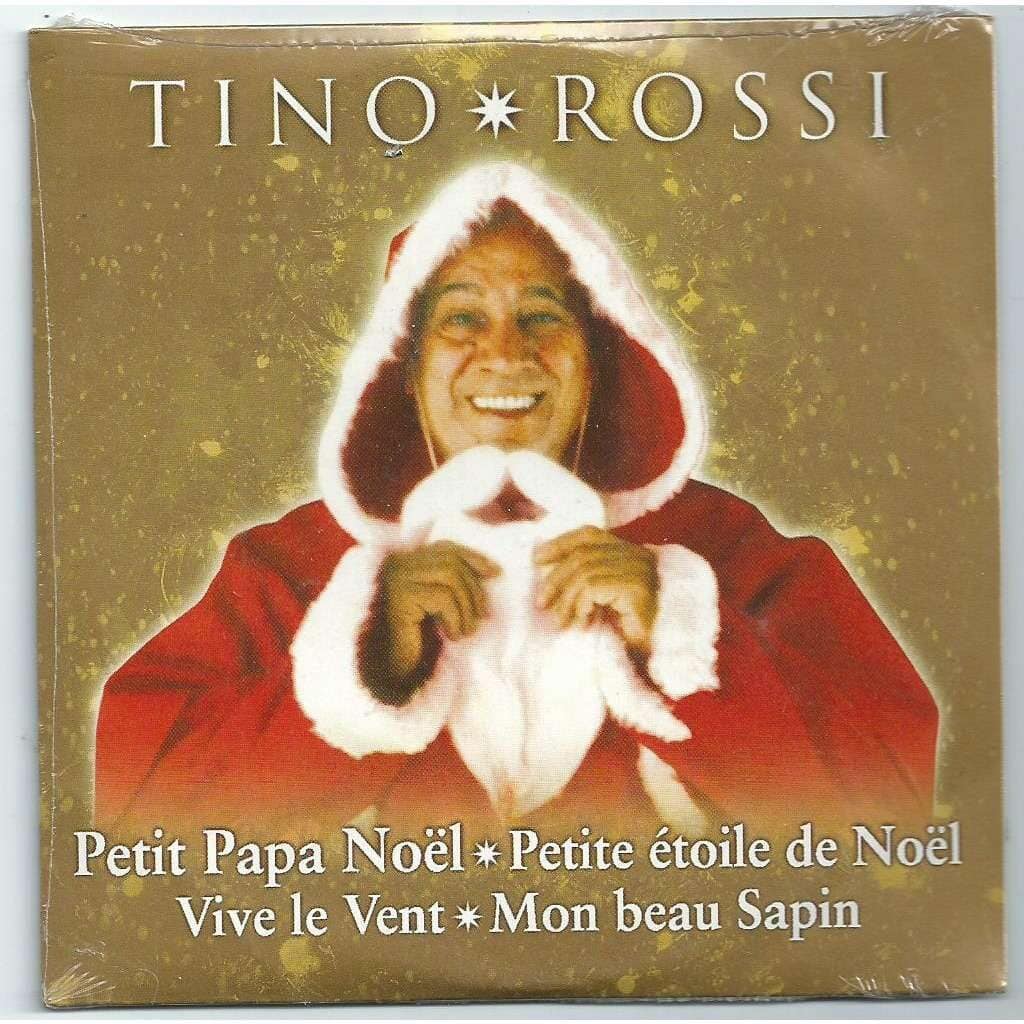 There are a few carols used, most often in the more expensive shops, they are the classics and mostly instrumental. Most of the carols are traditional French Christmas carols, and they are blessedly few and usually church hymns.
French Christmas Greetings
In France, we wish you a Bonnes Fêtes or Joyeux Noël Keep in mind though it is very unlucky here to wish someone a Happy New Year before midnight on New Years' eve as the French consider this extremely bad luck.
Christmas cards
It appears that the French don't really do Christmas cards and the selections are pretty average. In an area where there are lots of English speakers, you will find a better selection but the French prefer to send New Year's Cards.
French Christmas Trees – sapin de noël
Yes, the French love a Christmas tree and particularly a real tree and these days many of these trees are available potted so they can then be put in the garden and not in the garbage, there are also Christmas tree rental schemes which allow you to have a real tree.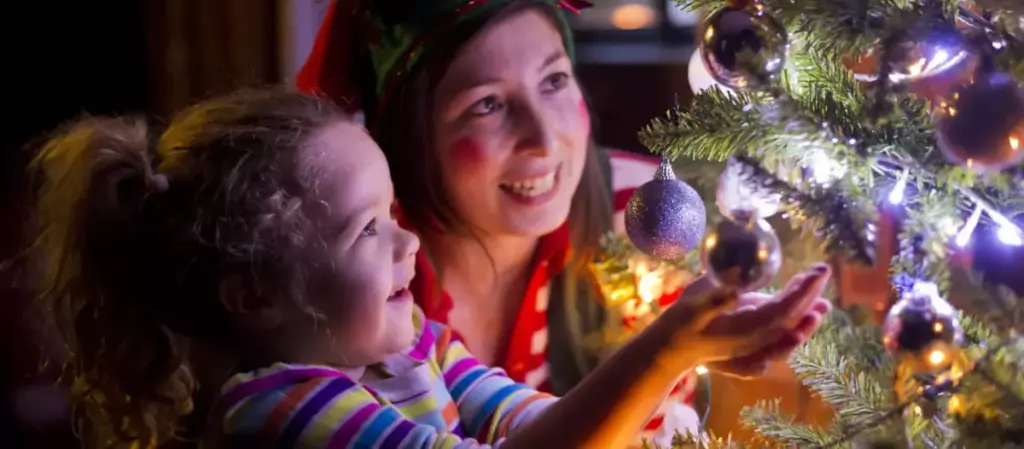 Crèche – Santons de Noël
Crèche is the French word for nativity scene that is filled with figurines of Saints or Santons de Noel. A very popular French Christmas tradition in every French home is a Christmas Creche.
These displays tend to be very religion focused with Mary, Joseph and the Baby Jesus.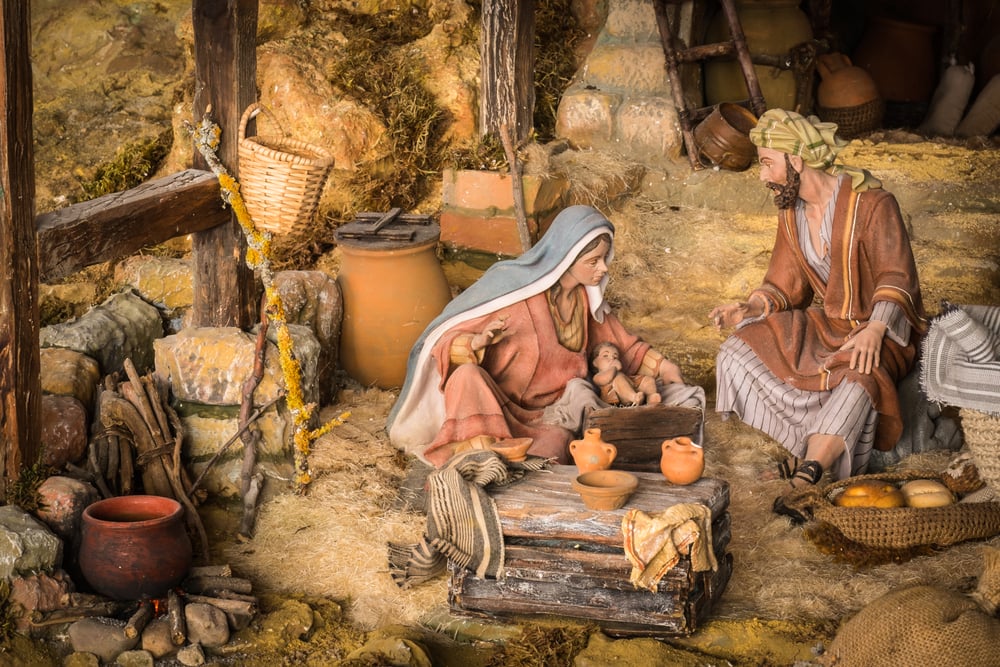 Crèche Vivante/ Pessebres
These are live nativity activities that are very popular in the southwest of France. A traditional French Christmas tradition here these live nativity scenes depict the mother and child in the manger surrounded by live animals such as donkeys, sheep and goats. They have a Living crèche in Dublin at Christmas.
French Christmas Food – Thirteen Desserts of Christmas
This French Christmas tradition comes from the Provençal region of France. As you might have guessed the thirteen desserts represents the 13 apostles.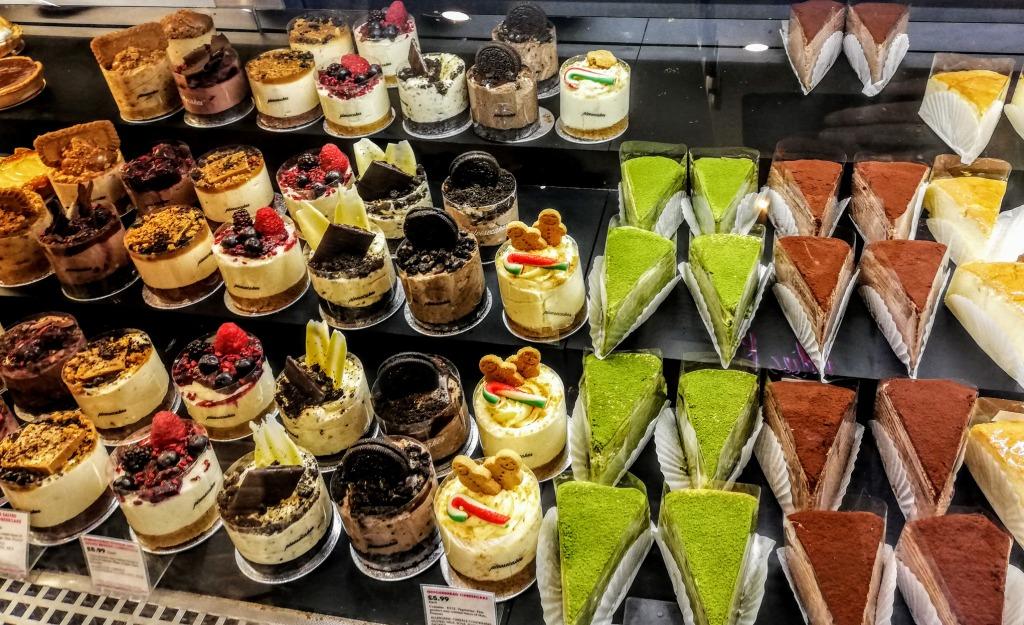 This spread is usually served on one day when the hosts have an open house for family and friends to visit. In many of the grocery stores here you will see dozens of platters of dried and candied fruits, a huge variety of nuts and nougat.
Marché de Noel
Christmas markets are everywhere in France and they usually begin the last weekend in November until Christmas Day and sometimes into the New Year.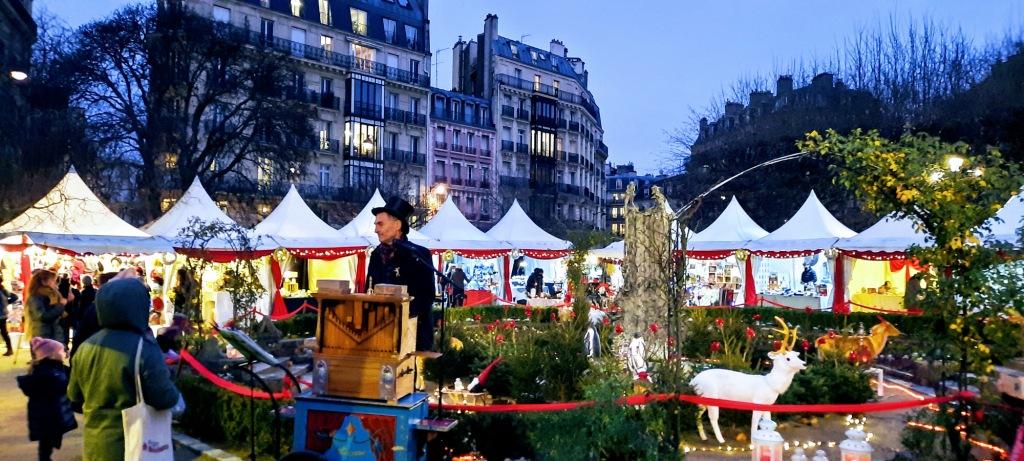 The opening usually coincides with the Christmas lights going on and you can buy all your Christmas treats from the stalls.
Apparently, the absolute best place in France for Christmas Markets is in the city of Strasbourg which has at least several markets.
Christkindelsmärik
Strasbourg in the Alsace region is home to the oldest market in France and for four centuries now, the emblematic Christkindelsmärik has been working its magic in the European capital. Over 300 wooden chalets, spread around different squares in the city, invite you to make some mesmerising discoveries in a fairytale atmosphere!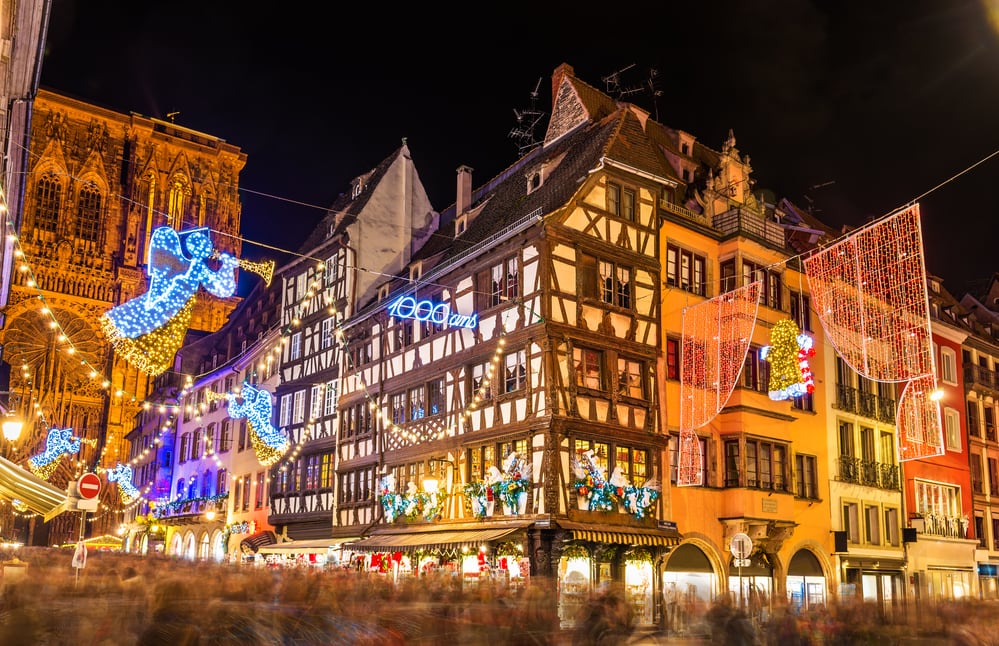 Christmas Eve – Le Réveillon
The biggest event in the French Christmas Calendar is Christmas Eve or Le Réveillon. This is a time for French families to sit down together and celebrate and enjoy a massive long feast sometimes taking up to 6 hours.
The food at this gala evening includes masses of seafood, oysters, mussels, lobster, crab, prawns and often foie gras, escargots and some kind of roast chicken or capon. Afters are platters of candies, nougat, nuts and of course the Bouche de Noel. The meal is followed up with a walk to the local church for Midnight Mass.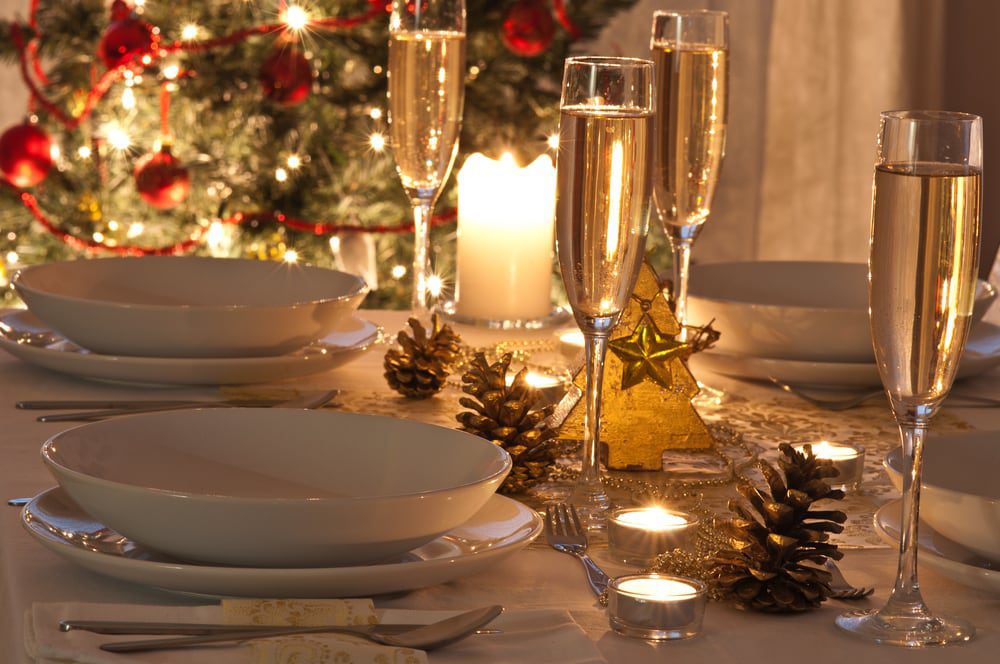 Bûche de Noël – Yule Log
A tradition that began with adding a Christmas log to the fire to bring good luck has now evolved into the bûche de Noël. This rich chocolate sponge cake in the form of a log is now the tradition here in France that is enjoyed after the Christmas Eve feast.

Table decoration
The French are obviously very chic and do love a beautiful set Christmas table. One French tradition is to put three candlesticks on the table which symbolize the Trinity. The tablecloth is also knotted on the ends so that the Devil can't cause trouble by getting under the tables.
Midnight Mass
A Catholic church service is held on Christmas Eve and it is an important Christmas tradition in France and acts as a way to bring the community together at this special time of year.
Shoes not Stockings
Shoes not stockings are set with care by the fire here in France. The children leave their shoes out and hope that Santa will fill them with lots of goodies.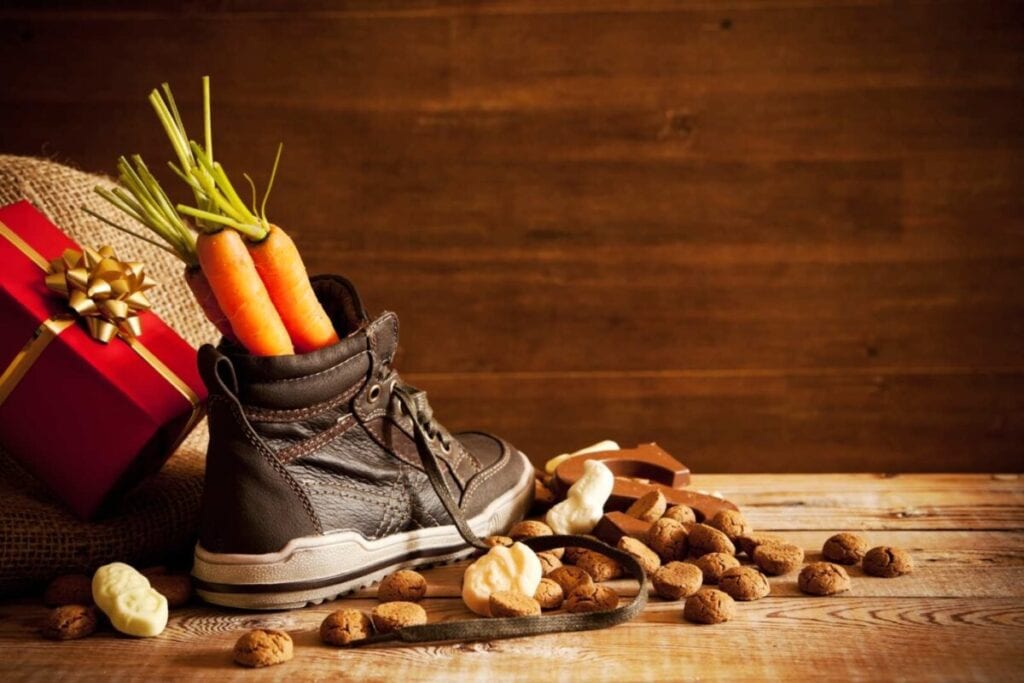 Christmas Presents – Les Cadeaux de Noël
Around the world and in France Père Noël, Santa Claus, Saint Nicholas or Father Christmas brings the children their presents at night and they are opened usually extremely early in the morning just like kids around the world.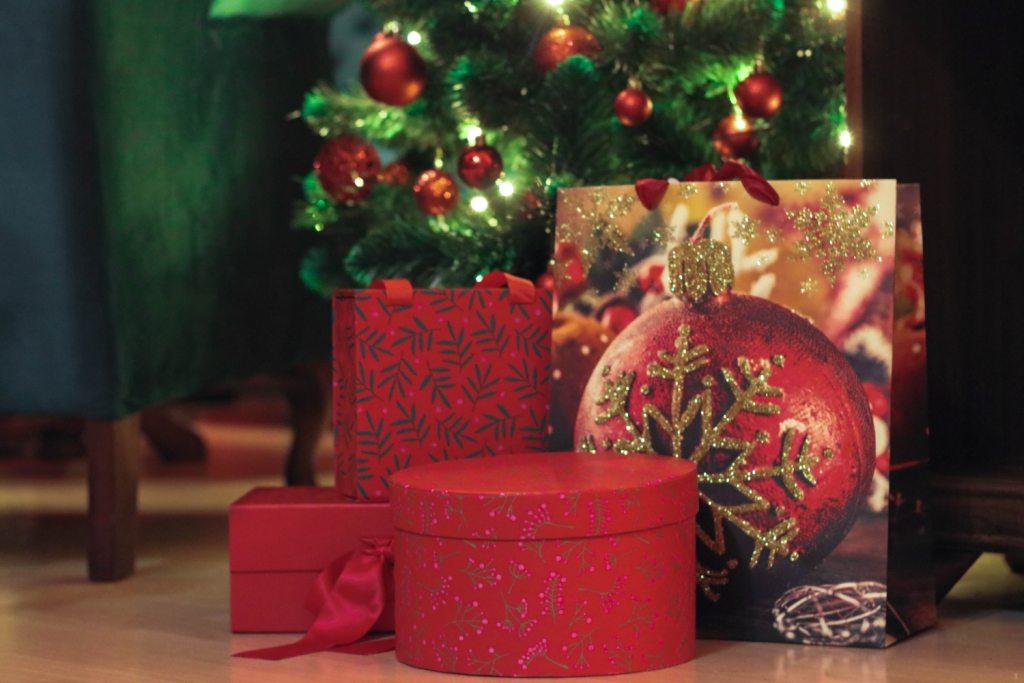 Le Père Fouettard and le Père Noël
In France, at Christmas, you won't get a lump of coal in your shoe if you have been naughty. Santa Claus's helper is called Le Le Père Fouettard or Father Whipper in English. He does exactly what his name implies for those children who misbehave.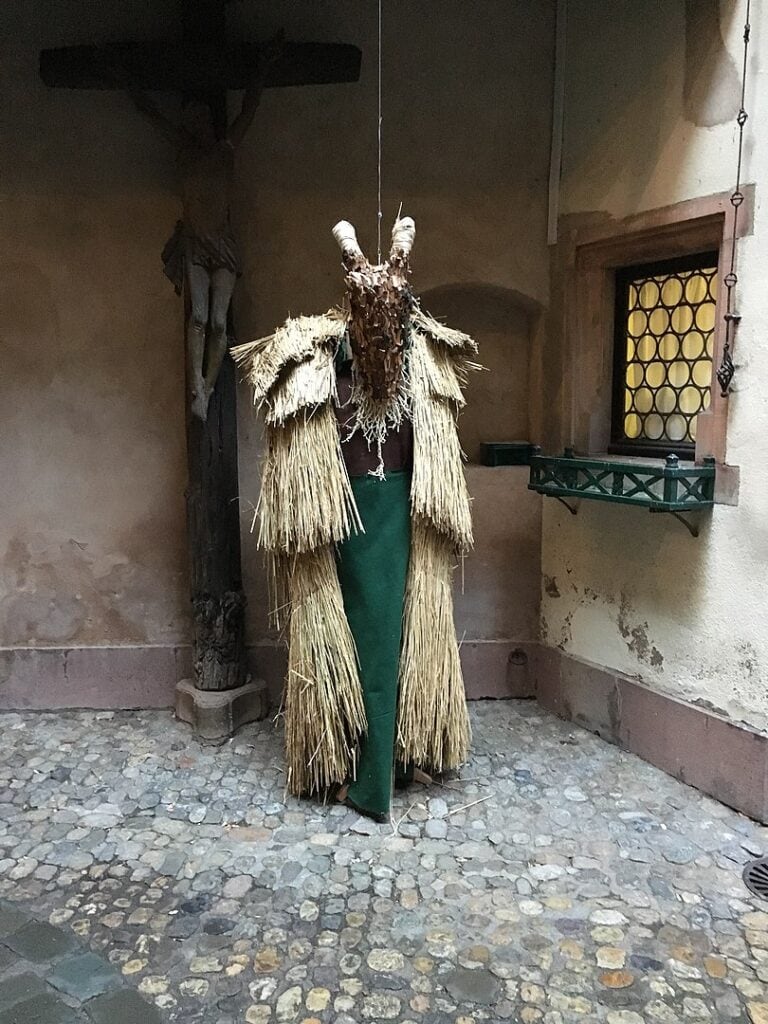 French Christmas dinner – French Christmas food
As everywhere on Christmas food is a huge part of the French Christmas tradition and what a selection of food there is.
From smoked salmon and oysters to Foie gras (goose or duck liver pate), roasted goose or capon stuffed with chestnuts, and all the usual trimmings.
For desserts out comes another La bûche de Noël, roasted chestnuts, fabulous patisseries and of course served with the meal lots and lots of wine.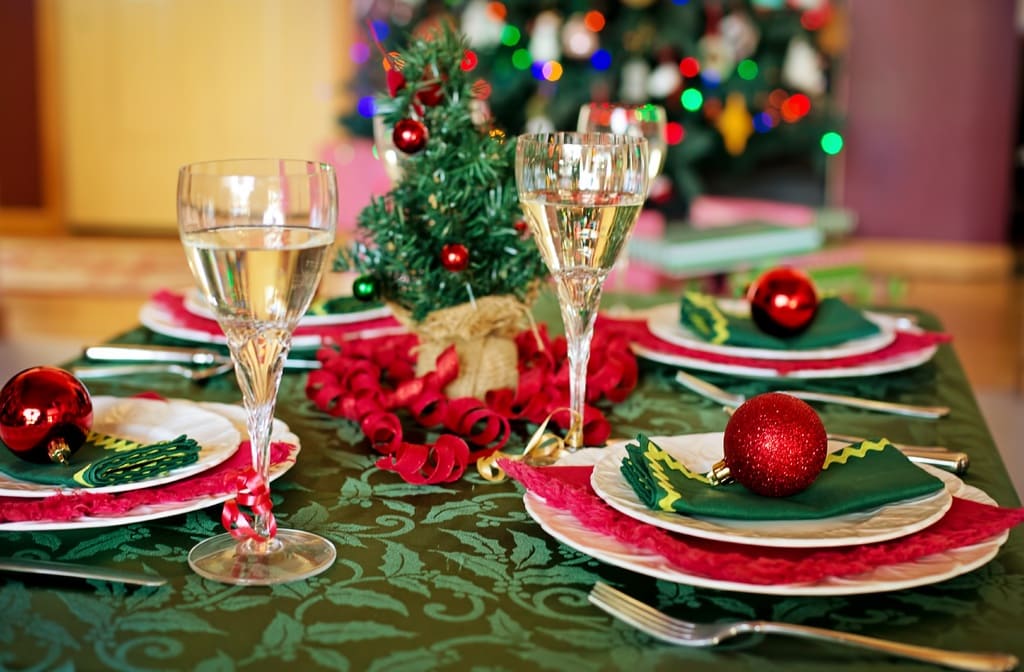 French alcohol at Christmas
Christmas Eve in France is a time for Champagne and many Sante toasts (your health) are said. Other drinks include that lovely French traditional of Kir Royale (crème de cassis topped with champagne) or Kir Breton in Brittany (crème de cassis topped with cider).
Vin Chaud or warm mulled wine is made at home by mixing good red wine with spices and cognac. Or perhaps you would prefer a Cidre chaud a mulled cider. This of course is a traditional French drink from Brittany and Normandy same idea but made with pure cider.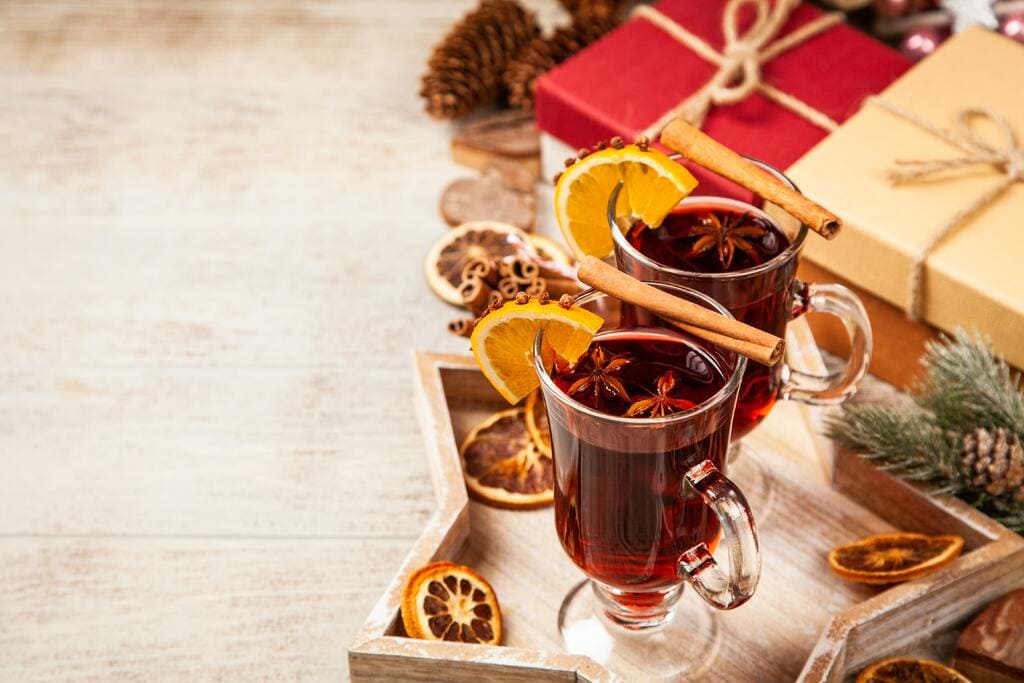 Les Papillotes
Les Papillotes de Noël are traditional, foil-wrapped French Christmas chocolates. They began in the city of Lyon in 1790 at la chocolaterie of Monsieur Papillot. The chocolate maker had a niece who lived above the shop. A young apprentice who was employed by Monsieur Papillot fell in love with her.
Inside there is a little note written on it which according to tradition in France should be a love note. You will see these in every French grocery store and they are used to decorate the French Christmas table.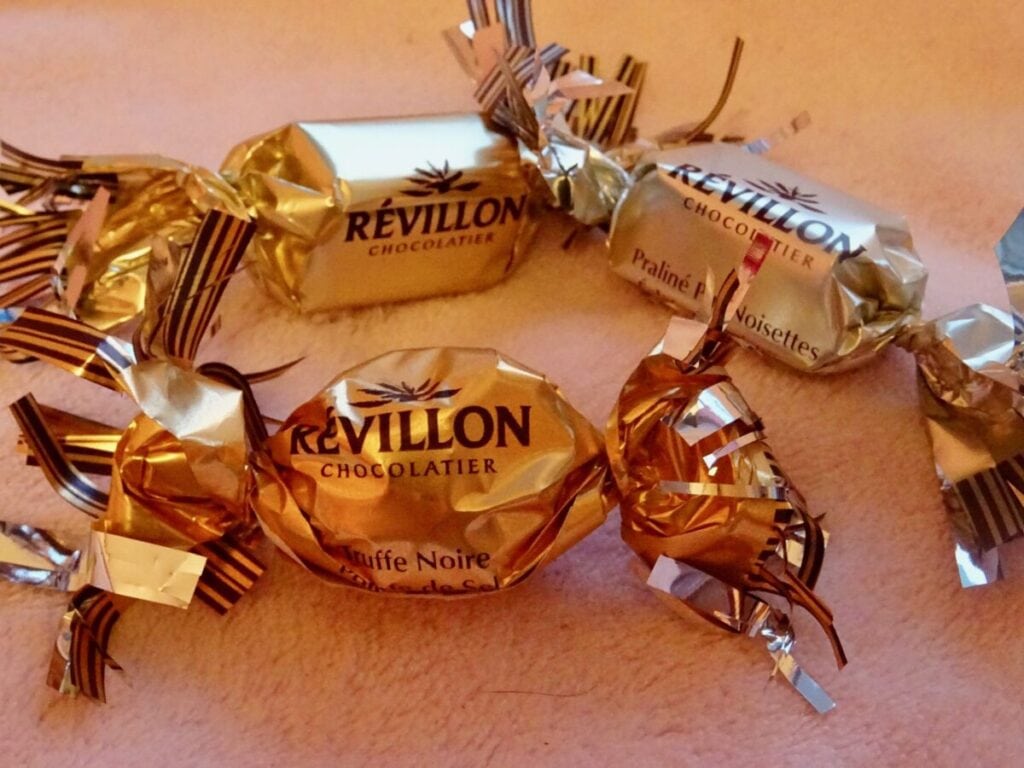 La Fête des Rois – Feast of Kings
On January 6th the French celebrate la Fête des Rois or the Feast of the Kings. La Fête des Rois isn't a national holiday, but it is celebrated with a King Cake called a Galette des Rois.
It celebrates the date of the visit of the Magi to the infant Jesus. On that day the three Wise Men arrived from the East, guided by the Star of Bethlehem, bearing gifts for the divine Infant.
In France, it is on 6 January that the Wise Men figurines in the nativity scene are placed around baby Jesus. In the lead up to this date, they were either hidden or being gradually moved closer and closer to the stable.
La Galette des Rois
The 'king's cake' celebrates Epiphany in France. There are several versions of the cake and most can be found in grocery stores wearing a glittering crown of paper.
This cake is made from puff pastry and is filled with Frangipan (almond cream) traditionally the French put a tiny figure into the cake known as a fève and the person who finds it becomes the King or Queen of the day.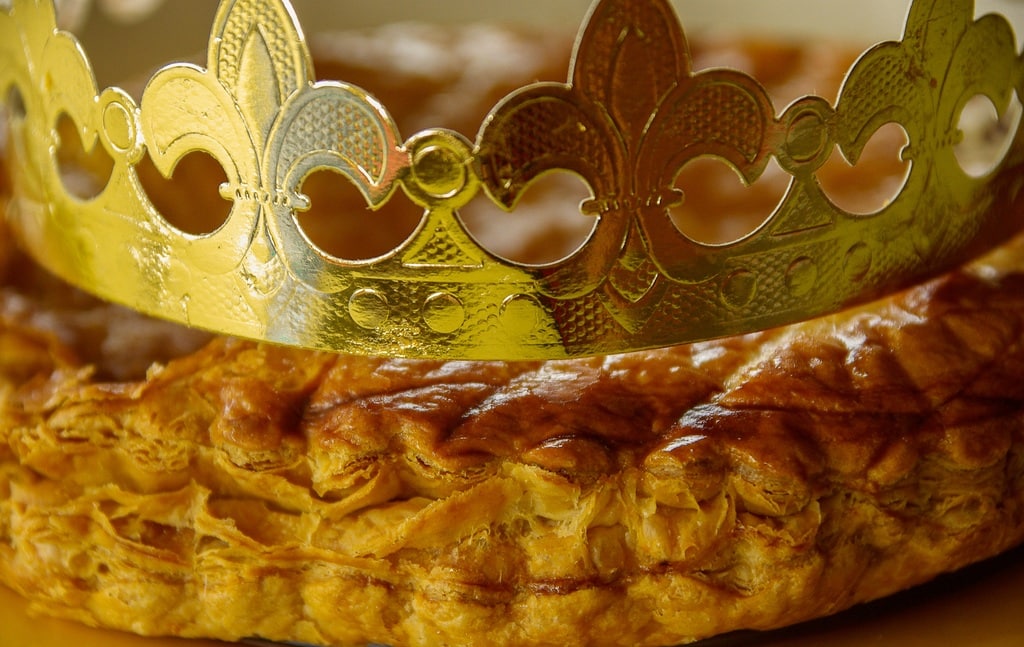 There is also a sablé galette which is a very soft almost cookie-like pastry which is the crust and then filled with berries and cream.
There you have it as you can see a French Christmas is not unlike Christmas around the world with its various traditions. The French love to spend time with their families and enjoy all the same things everyone else does when they celebrate the season. What is your favourite French Christmas tradition?
You might also like to read I have dozens of articles on travelling in France you can find here.
Touring the south of France – a guide to planning your French Road Trip
One fabulous day in Menton France
Pros and Cons of Living in France
Food in Brittany: Fall in love with the food of Bretagne
French Food Culture: The Ultimate Guide
Normandy Villages 22 of the most beautiful
14 Fabulous French Castles to visit
Pin it to save it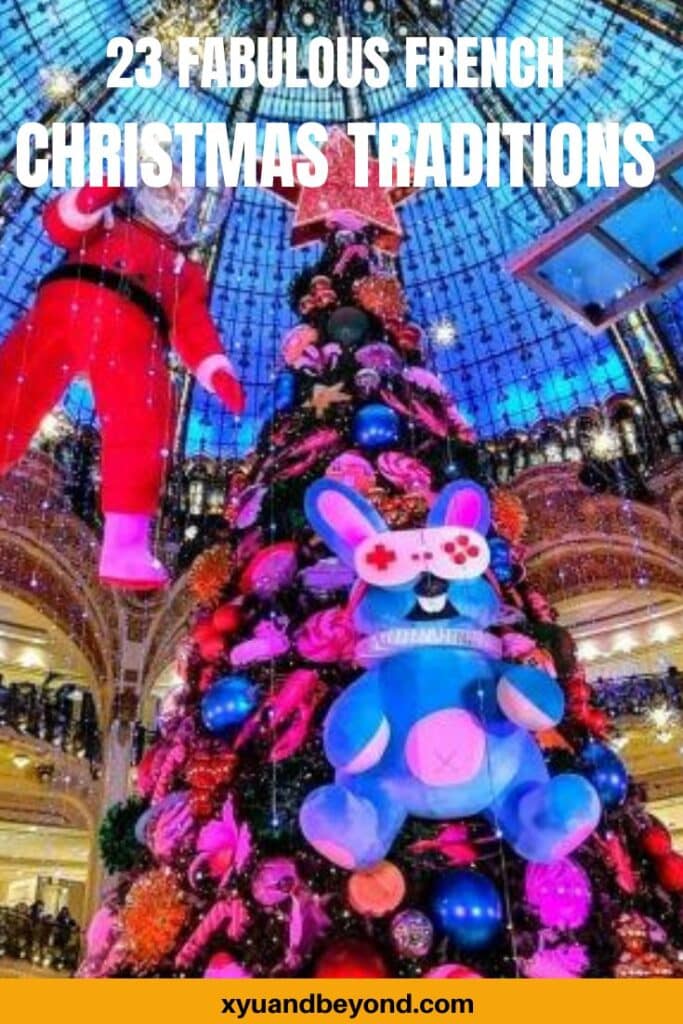 Latest posts by Faith Coates
(see all)