What to do in London at Christmas
Thinking of spending Christmas in London? Are you wondering what there is to do in London at Christmas? We simply had to check out London decorated for Christmas when we were housesitting in Berkshire. So we jumped on the train and headed into the City.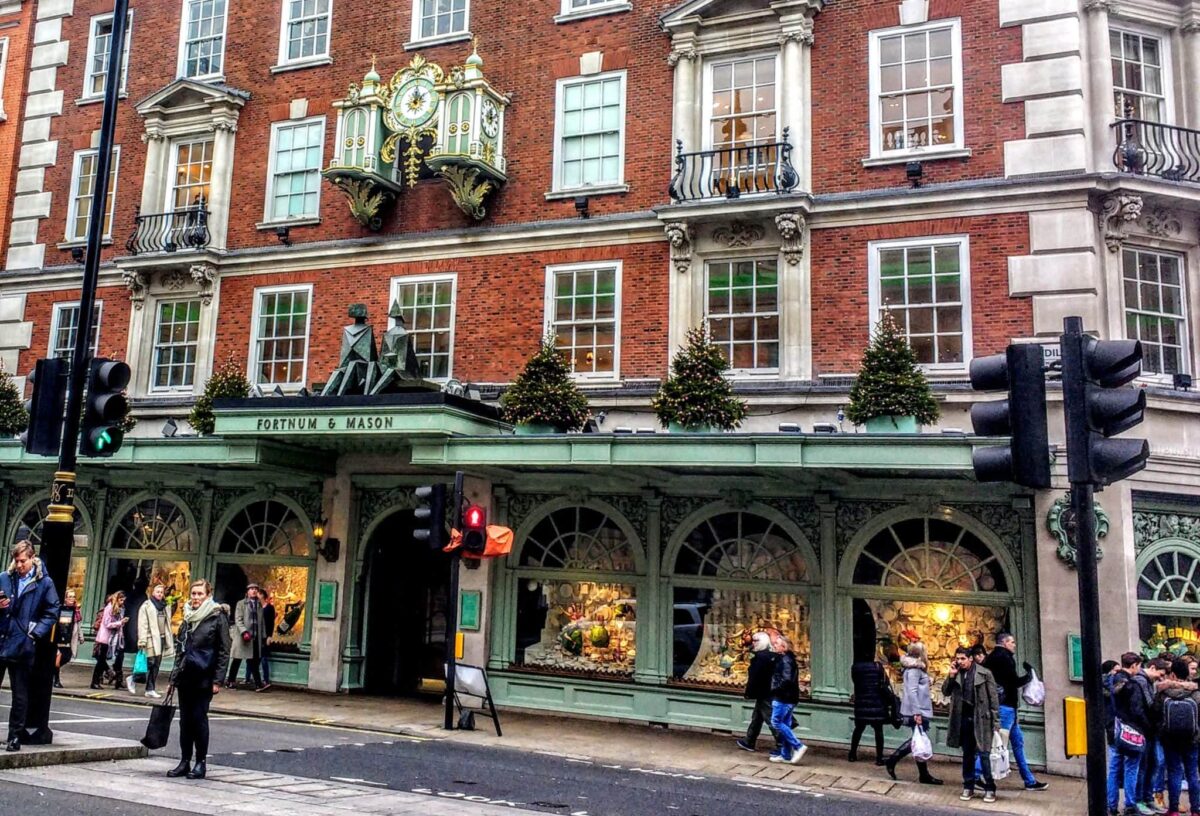 Because British weather is so changeable at this time of year we double-checked the weather forecast so as to know what to wear in London during our visit. We were smart enough to bring a small umbrella with us as yes it did rain lol.
Christmas in London
Christmas Lights from Oxford St. to Hackney
Great Christmas Trees
Christmas Shopping in London
Hyde Parks Winter Wonderland
Carols and Christmas services
Christmas Markets
12 Days of Xmas pub crawl
Christmas skates
Christmas Dip
The lights in most great cities like London and Dublin are something to behold. Indeed the lighting of the lights is a huge celebration that involves a lot of fireworks and soap opera or boyband celebrities actually throwing the switch.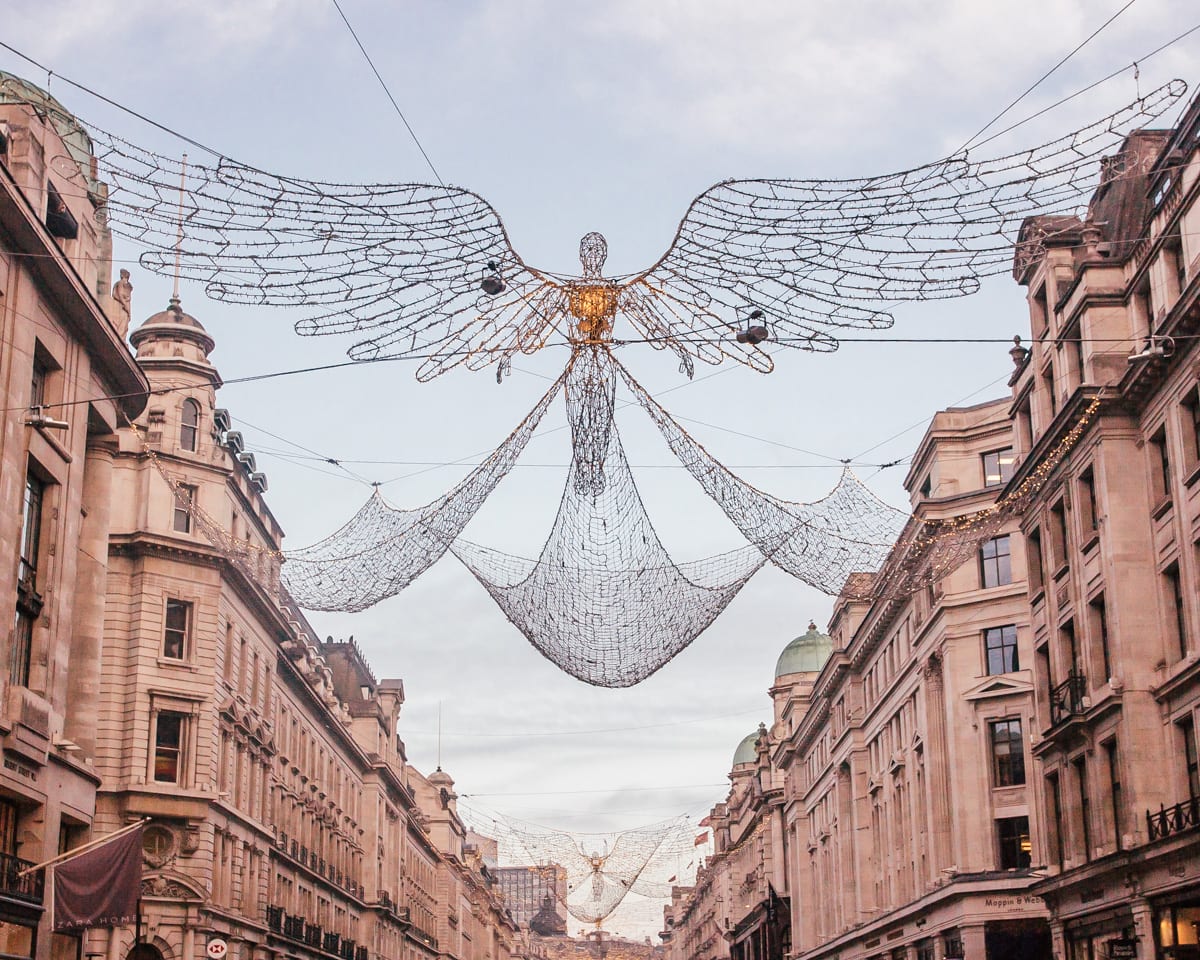 If you are flying into London to celebrate the season getting from Heathrow to London is not complicated, but you may want some inside London information before you get here.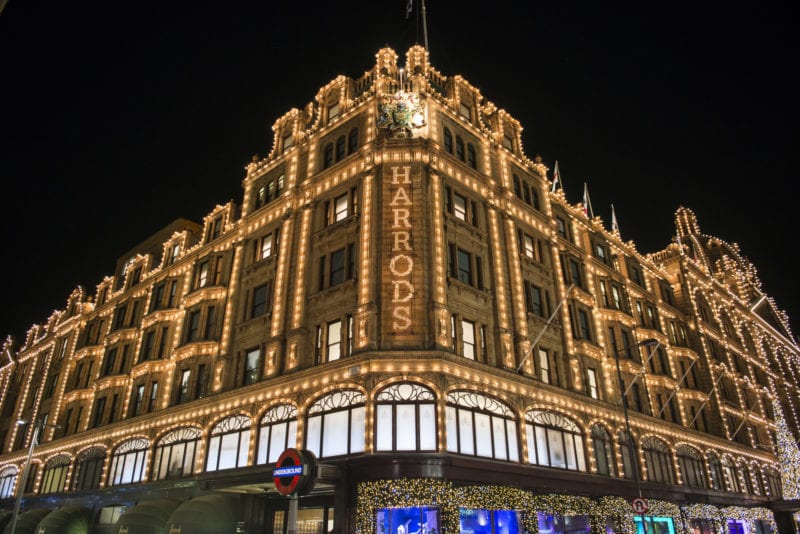 What to see in London over Christmas
London Christmas Lights
Oxford Street
The Oxford Street Christmas lights are traditionally switched on by a lineup of popular celebrities who come out to meet the crowds at the start of Christmas. The Oxford Street lights are usually the first ones turned on in London. To top of the lights, virtually every shop has a gorgeous Christmas window and many of the stores hang thousands of lights themselves to deck out the area.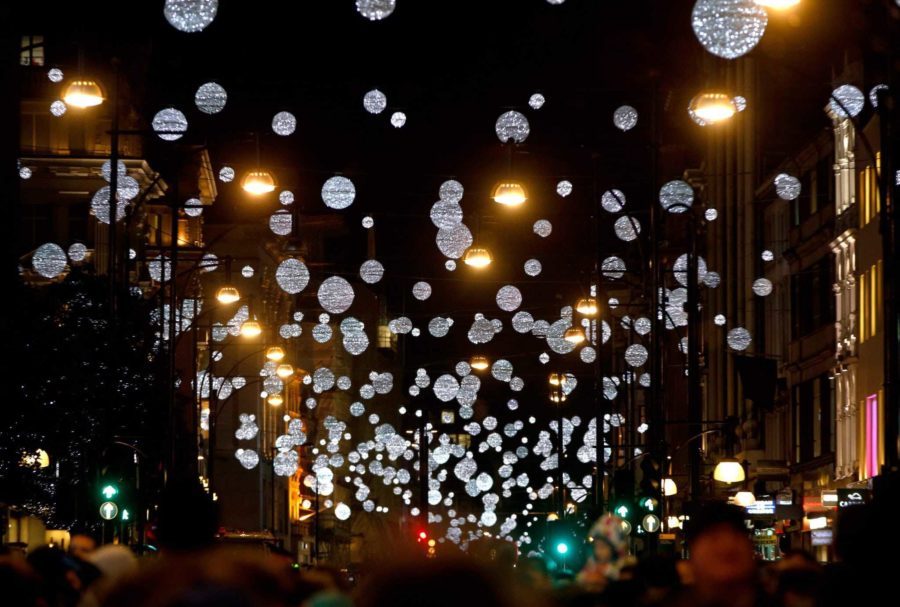 Regent Street
The spirit of Christmas sparkles and glows on Regent Street; this amazing shopping road is the home of luxury and designer shopping at its best. From Liberty's of London to H&M Regent Street has it all. The Christmas display includes over 300,000 lights and switches on November 2nd. The street closes to traffic and a celebrity switches on the lights as bands, choirs and Santa all perform for the crowds.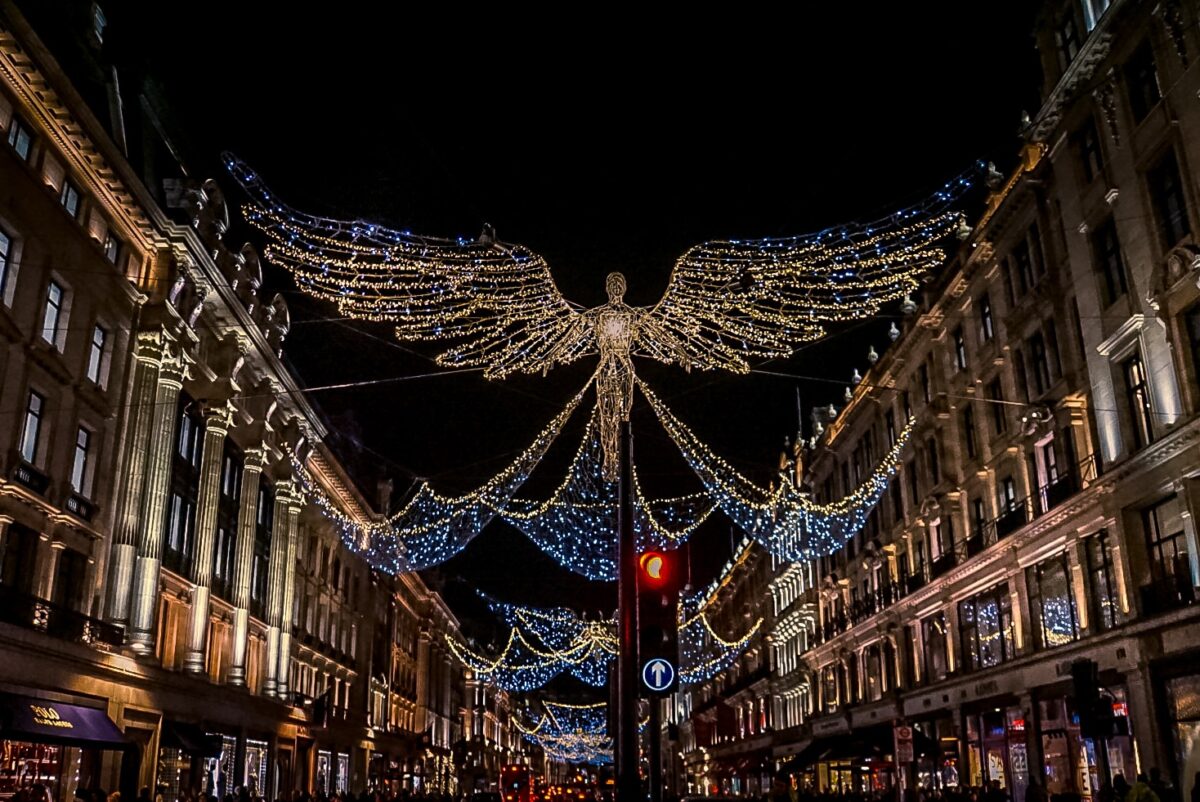 Duke of York Square
In the Chelsea, area go and check out the Duke of York Square with its magnificent tree and all the lights glowing over Chelsea. The lights here go on around the middle of November with a full day of family activities planned before the lights go on at 5 pm.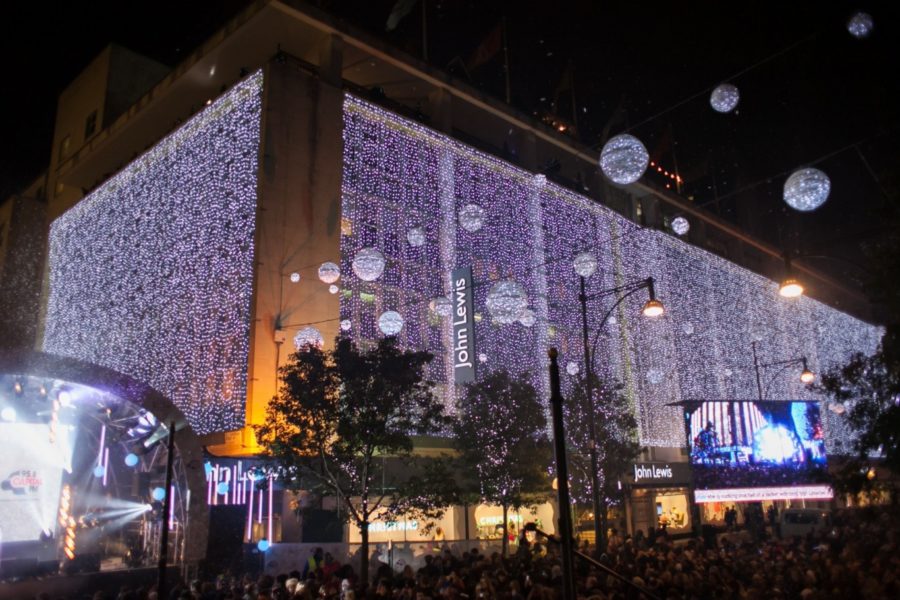 Carnaby Street
Get in the festive mood on Carnaby Street and surrounding areas as the Carnaby Christmas lights brighten up the fashionable shopping district. Unique decorations featuring some of the most unusual Christmas decorations and lights in London, the Carnaby Christmas lights always have a distinctive theme to celebrate Carnaby.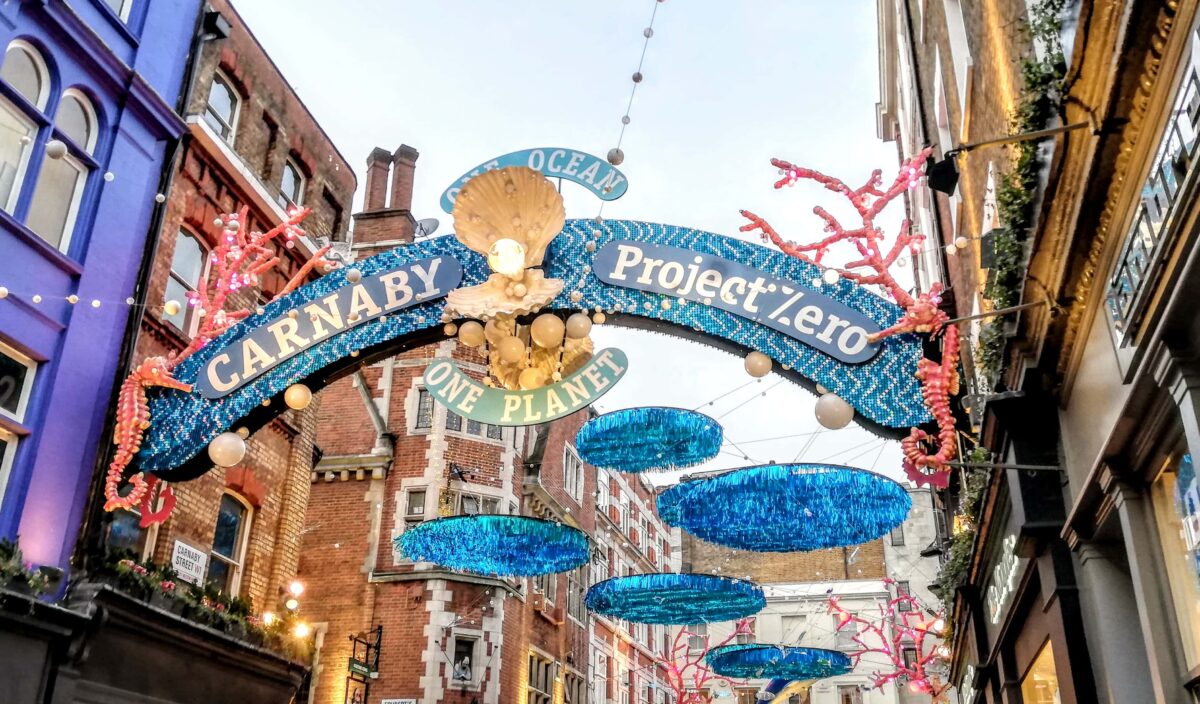 You can't miss heading to Fortnum & Masons or some of the simply fabulous Food Halls in London to have some Christmas cheer.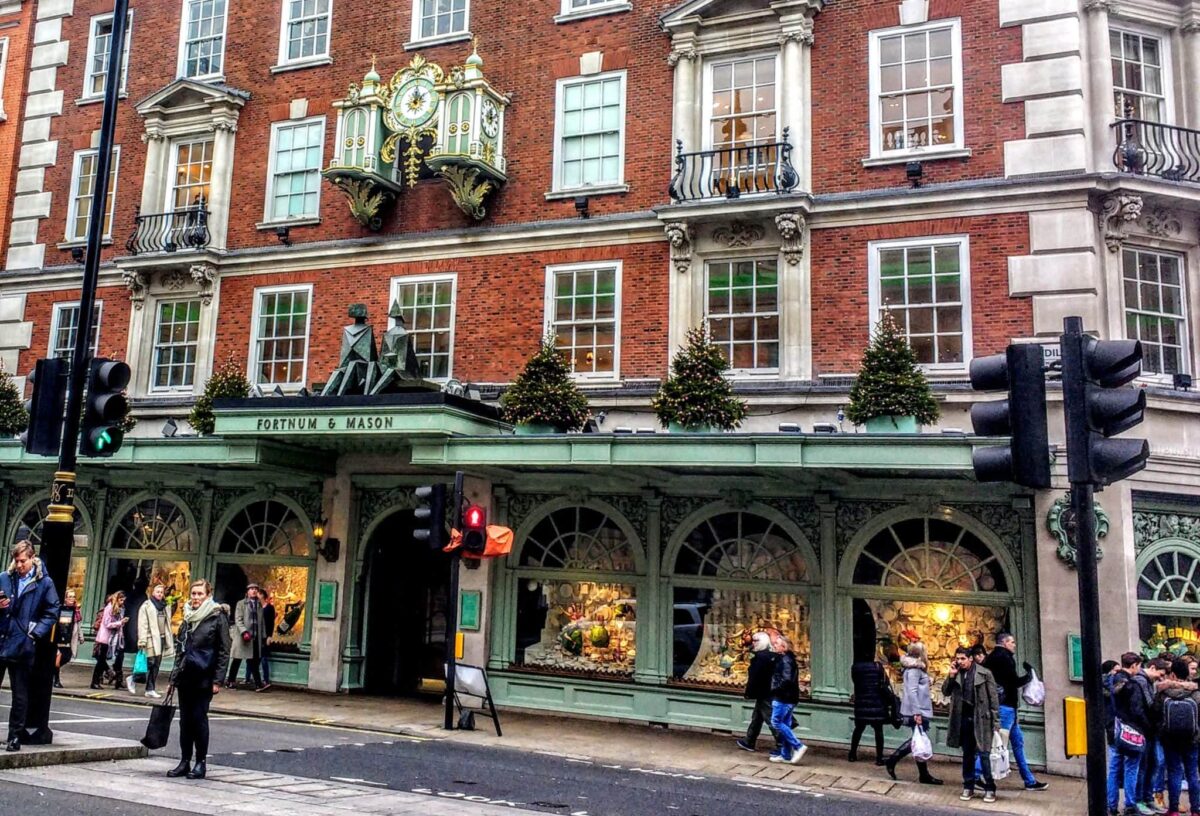 Spending Christmas in London
London's Great Christmas tree
The biggest, grandest tree in London in Trafalgar Square is a giant Norwegian spruce, which has been an annual gift to the people of Britain since 1947. In recognition of Britain's support to Norway during the Second World War. The true is traditionally decorated in Norwegian style and the lighting of the tree takes place on December 1st.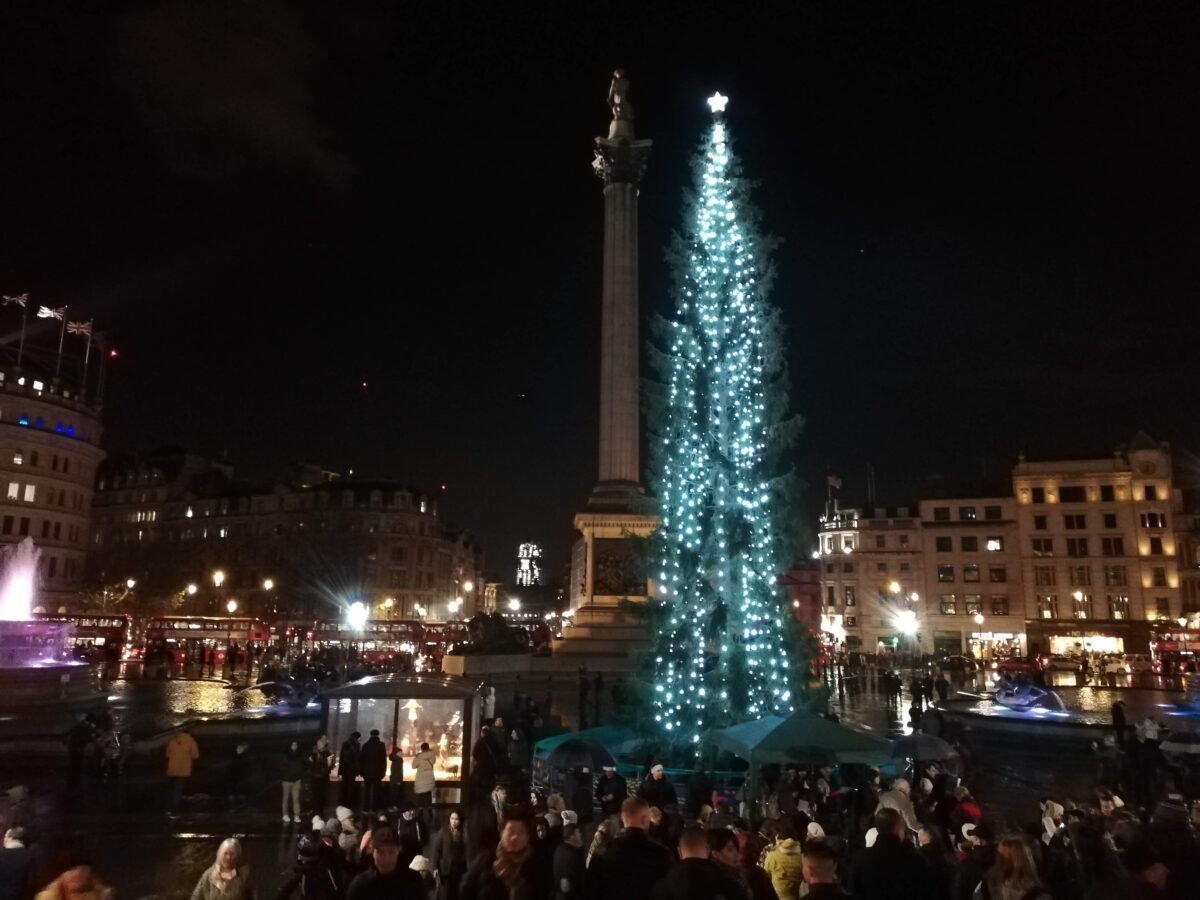 The tree is 25 metres tall (around 80 feet) and has around 900 light bulbs set around the branches. It is a magical night with lots of Christmas activities and usually a Prince or princess turns on the lights.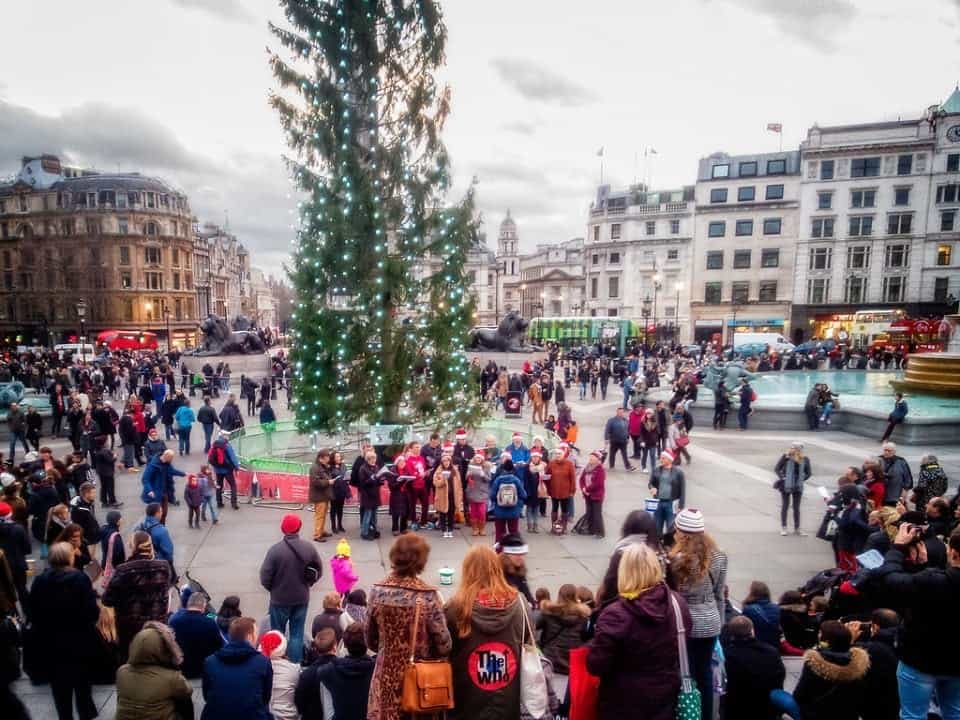 Christmas Shopping in London
The throngs of traffic and shoppers at this time of the year have been newsworthy for well over a century. In December 1882
The New York Times commented on the streets in the West End being more than usually crowded, the shops and stores full of 'wonders of nature and art, sweetmeats and fruits from every clime, toys and magic surprises of all imaginable shapes and inventions.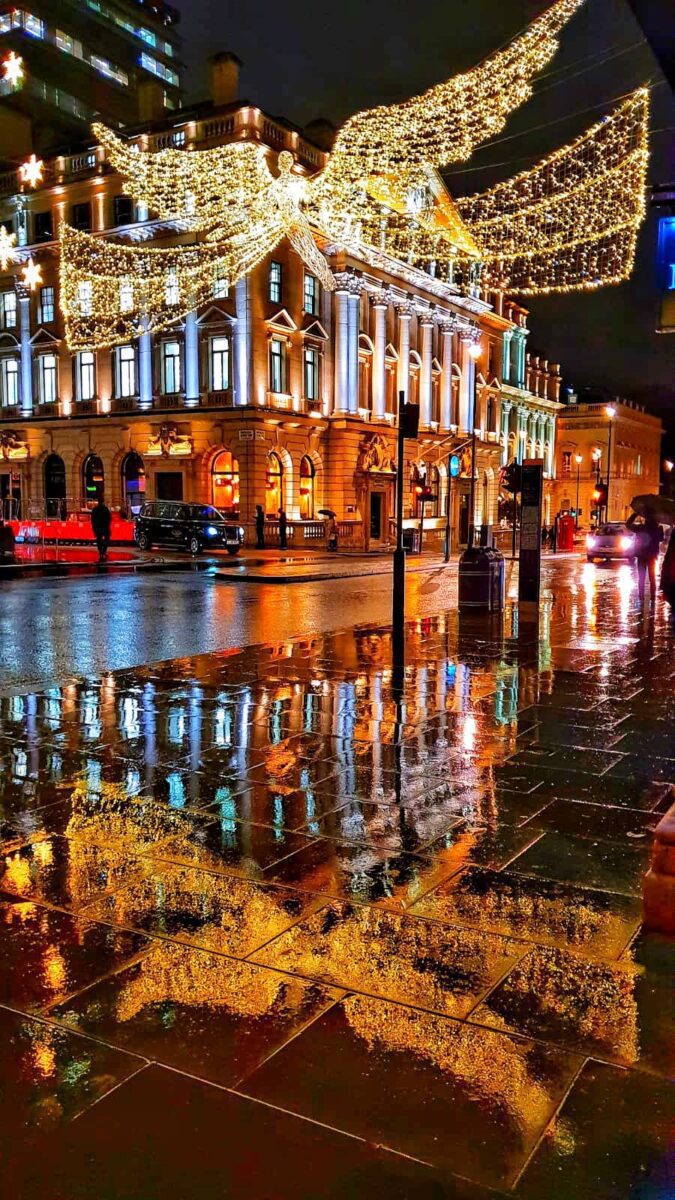 Oxford Street is not just one of London's best shopping areas; it is one of the world's. If you can't find the perfect gift here, you've probably got no chance at all.
London's Winter Wonderland
An annual event in Hyde Park Winter Wonderland is only a must-do if you have never been to a fair. The Angels market area has loads of tat for you to buy, but really don't waste your money. Created from over 500 tonnes of ice and snow, The Magical Ice Kingdom is filled to the brim with awe-inspiring snow and ice sculptures, but it's expensive.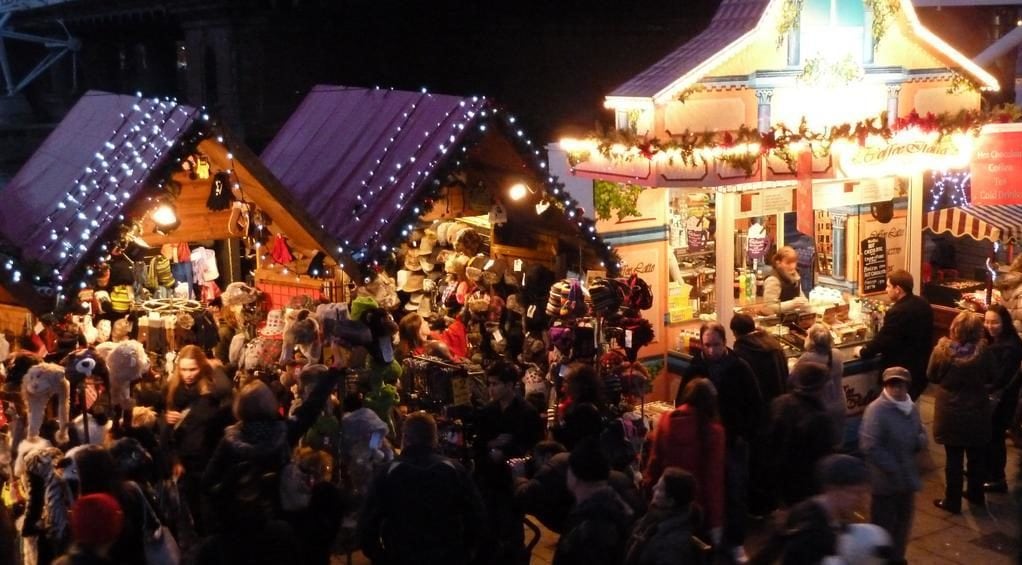 There's a giant Ferris wheel to see London's skyline, which looks pretty at night, The Nutcracker on Ice, the Ice Bar, speciality shows and entertainment galore. The truth is it is a little over-rated and much of the crowd in the evening is young folks getting drunk and trying to pick each other up.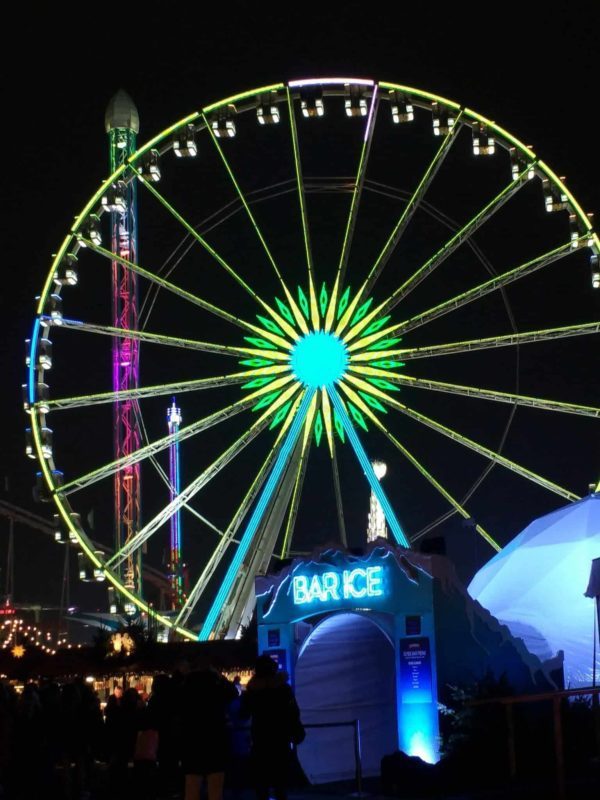 London Christmas Carols & Church Services
If you are spending Christmas in London and you may want to celebrate the festive season with Advent and Christmas in the historic St Paul's Cathedral. Sir Christopher Wren's famous church plays host to a series of musical events and traditional services over the Christmas period. Hear celebrity readings at A Celebration of Christmas, sing along to Christmas favourites with Family Carols, enjoy a traditional Christmas Carol Service, and attend the Midnight or Christmas Day Eucharist. (Most events are free)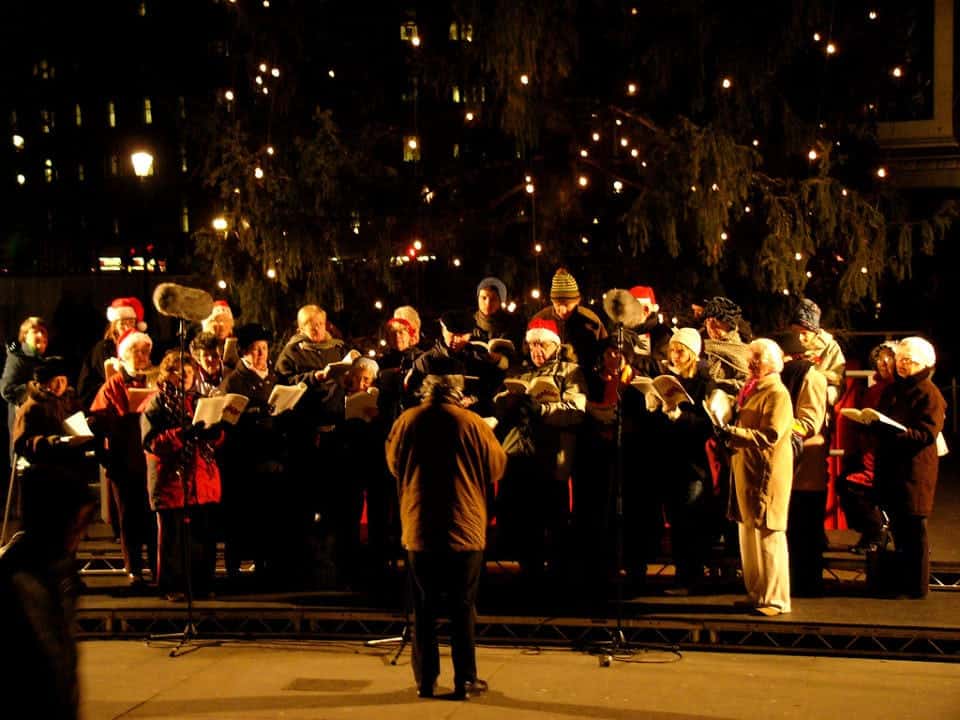 Trafalgar Square Carols: Listen to traditional carols underneath the giant Christmas tree in Trafalgar Square this festive season.
Christmas is a religious holiday for many so if you feel like attending some lovely services like Midnight Mass there are plenty of options to choose from, including the traditional service at St Martin's In The Field just off Trafalgar Square. There's an afternoon service on Christmas Eve followed by carols at 6.30 pm and the service at 11.30 pm. Or you could head for Westminster Abbey, with carols at 4 pm and service at 11.30 pm.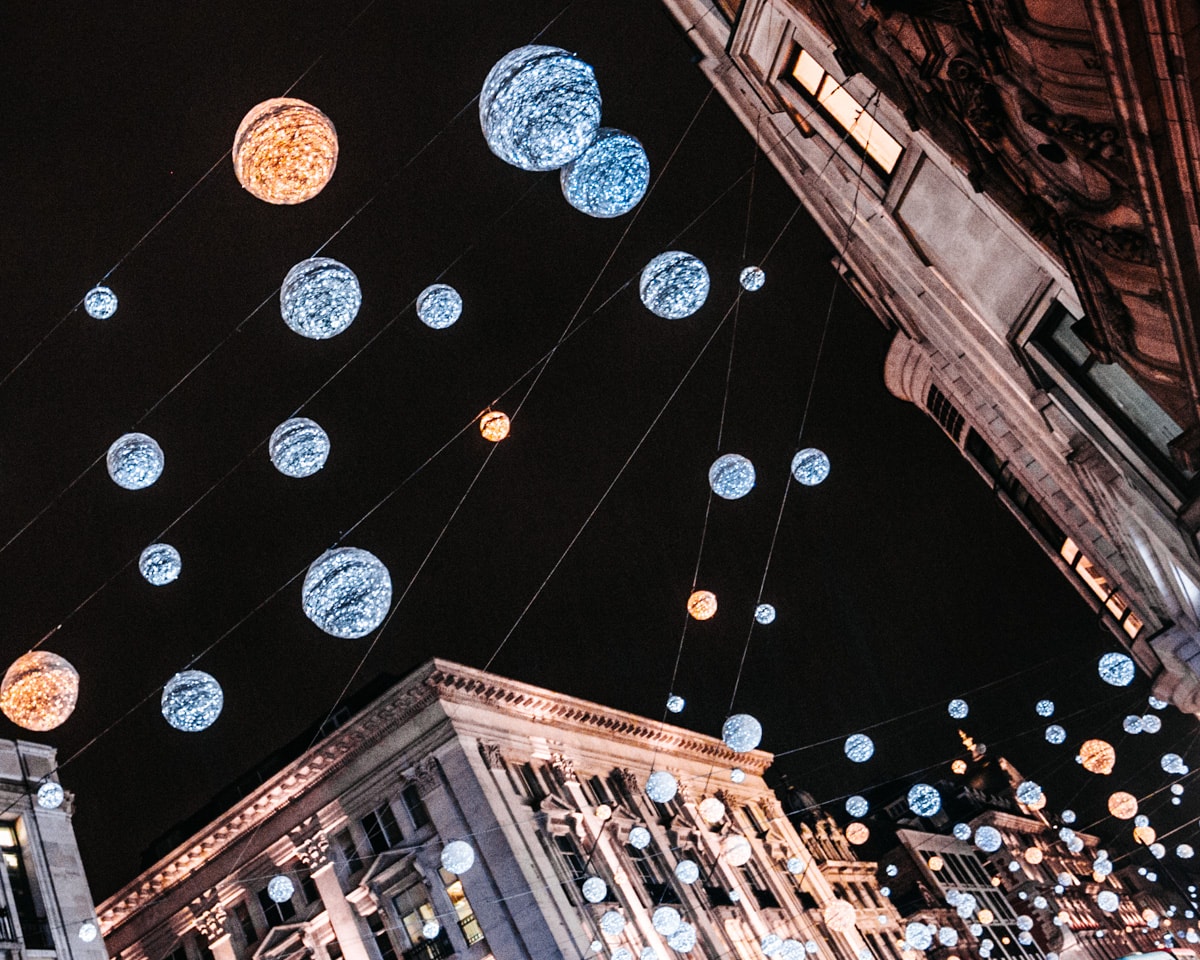 London Christmas Markets
The thing I love about being in the UK is the opportunity to visit all the Christmas markets in Europe. Most Christmas Markets are free entry although some do have speciality rides and entertainment that are ticketed. Most London Markets like Leather Lane or Borough Market will also be decorated for Christmas and you will find many a fine gift to choose from or better yet some amazing food. There is a lot to choose from when spending Christmas in London here are a few of the best.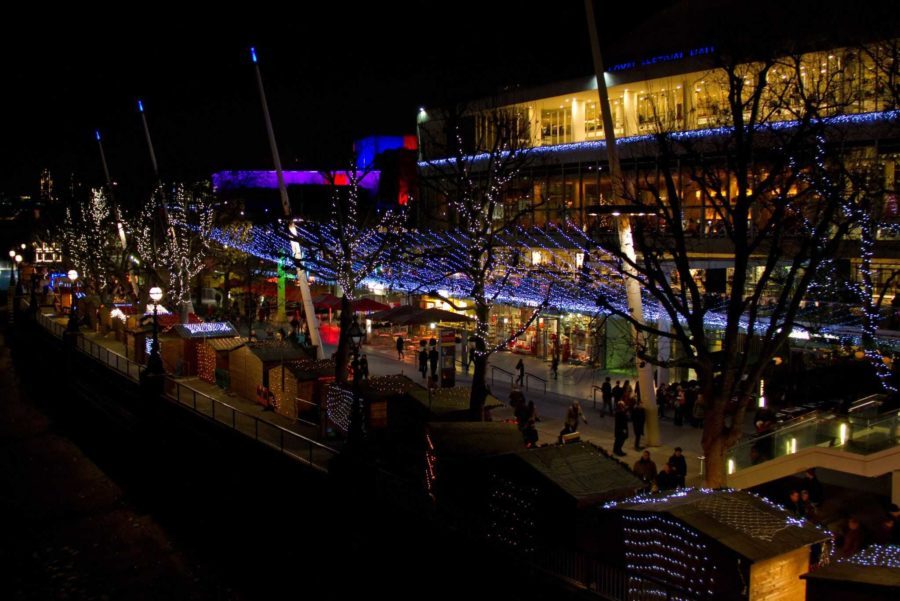 The Crafty Fox Christmas Market is known for its very 'arty' take on gifts for those difficult to shop for on your list. Full of unique handcrafted arts and unusual gifts this is the place to shop for that artistic friend.
One of the most well-known Christmas markets is the Southbank Centre Winter Market. Wooden chalets line the riverside outside the Southbank Centre with festive food, handmade crafts and lots of gift ideas. The Southbank is always busy and there is something for everyone from the antique carousel to the beautifully lit trees and Thames River view there is something to put everyone in the Christmas spirit.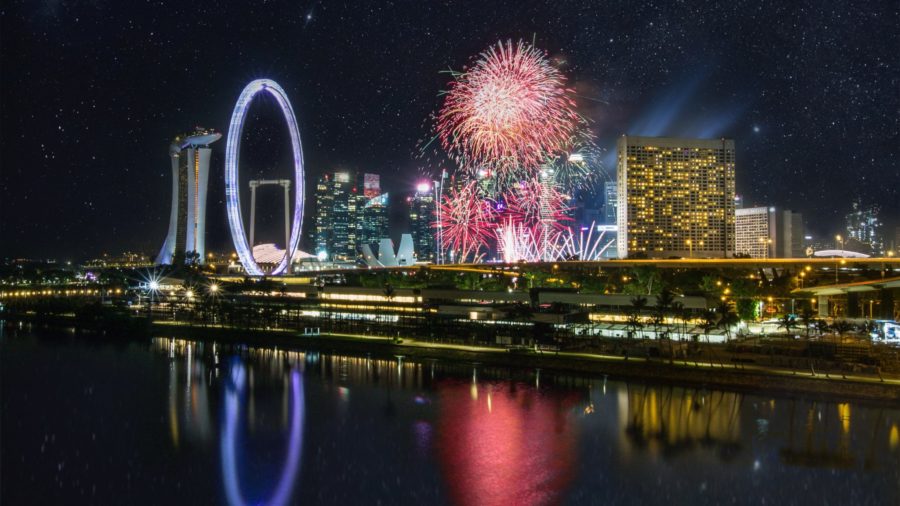 Christmas Market at Tate Modern is just down the way from Southbank. There are more wooden chalets, there are handmade decorations, jewellery, wooden toys and much more. Apparently a great place for hot fresh churros to munch whilst you shop.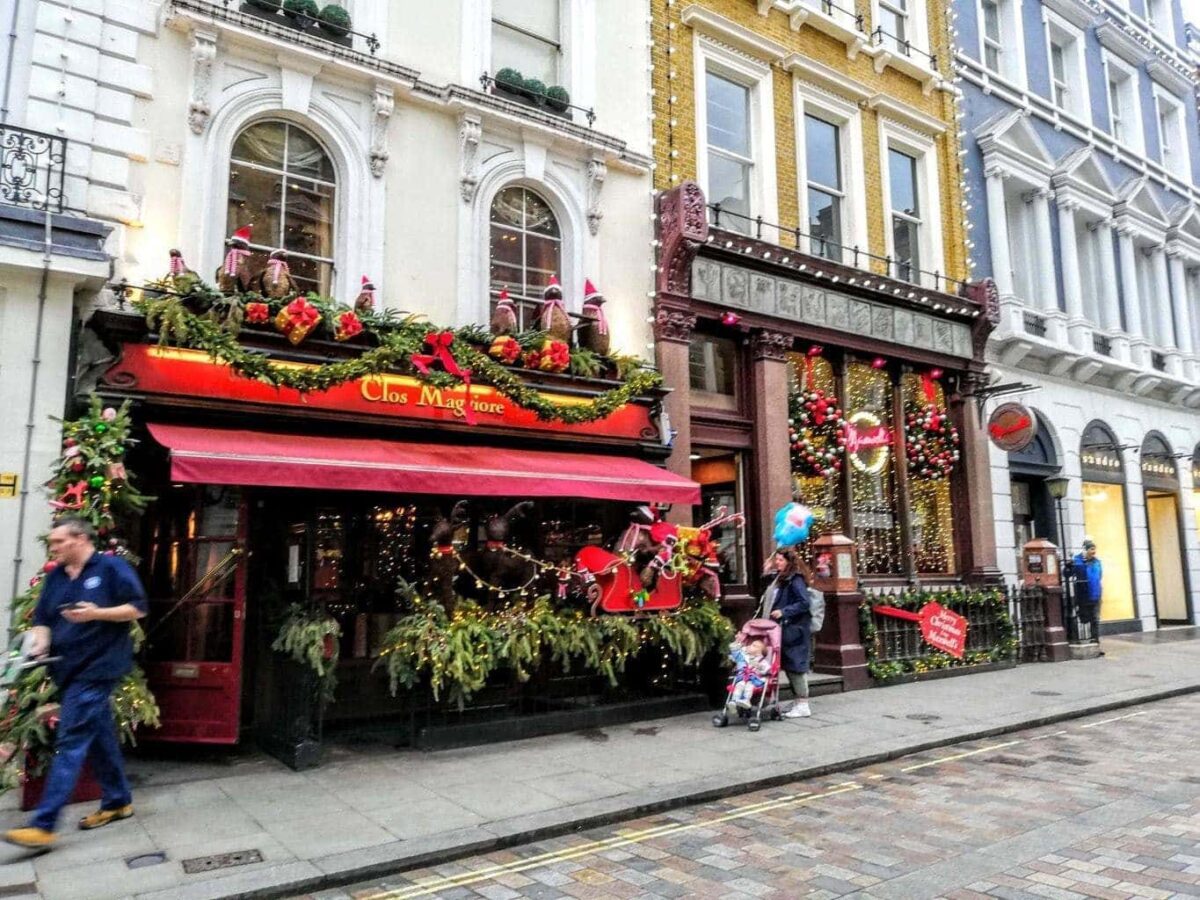 Near Tower Bridge, you will find a Tudor Market, covering most of the riverside walk between London Bridge and Tower Bridge with over 100 German-style log cabins. Loads of unique vendors, lots of twinkly lights and plenty of hot cider are guaranteed to warm your soul.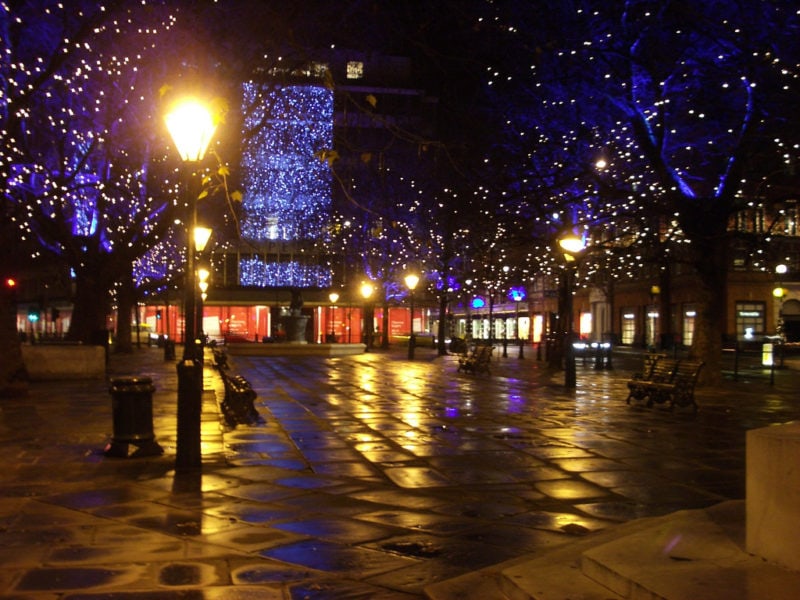 East London has a similar event in Hackney with Winterville where there's an ice rink, circus, pantomime, comedy and even crazy golf. The Christmas market has more of the wooden chalets selling cool stocking fillers. Plus there's the Pop Shop too with independent designers selling their wares. And The Bizarre Bazaar is described as a "Vaudeville-Victorian marketplace and veritable emporium" if you love Steampunk this is the place to shop.
Greenwich Market is good all year round but it turns festive after the Christmas lights are switched on by late November. There are over 100 stalls in the covered market selling crafts, jewellery, fashion, antiques and more, as well as festive street food and drinks too.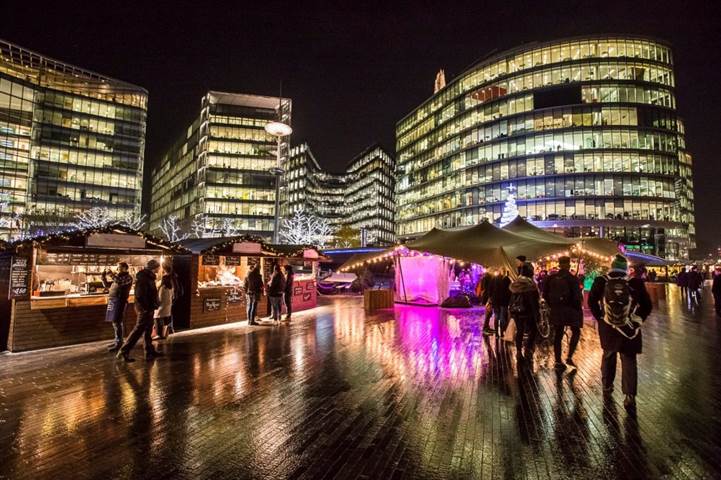 Rotherhithe hosts a Scandinavian Christmas Market outside the Finnish and Norwegian churches. You can attend a Finnish Church Christmas Fair where you can meet Moomin Troll (a huge cuddly white character the kids' love). You can buy a bottle of glögg to take home and the Finnish food at the Church is a real treat. You can buy traditional Norwegian knitwear, handmade Christmas decorations and Scandinavian food specialities.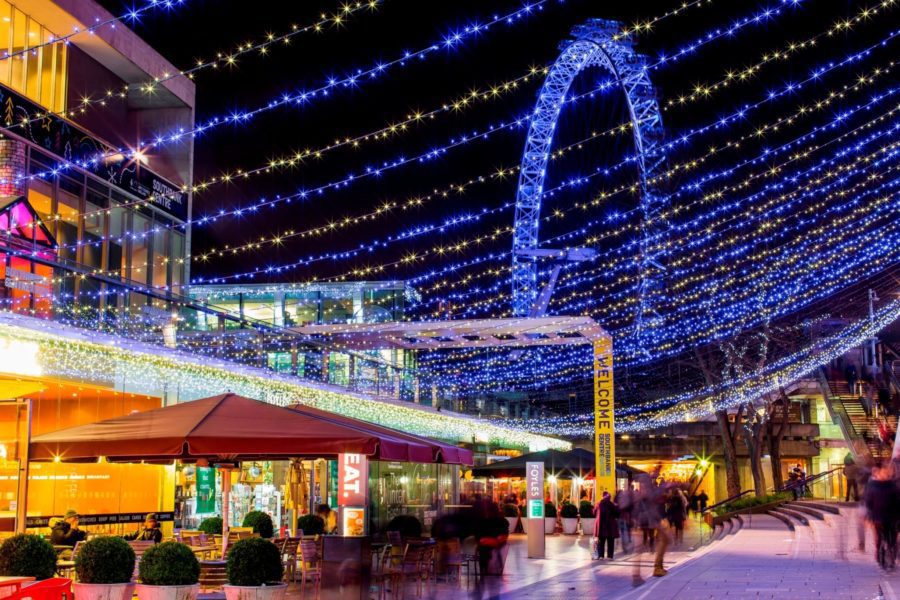 For another chance to buy direct from the makers, head to the Royal College of Art Christmas Fete. This indoor market is in the RCA's students' union and has handmade gift ideas from current and former students. It's family-friendly on Sunday and prices start from just £1.
Christmas in Leicester Square transforms the centre of bustling London into a wonderland including traditional Christmas markets with hand-crafted goods and delicious food and drinks, a Santa's Grotto where children will be able to meet the man himself. To be honest this market was really disappointing with not much to see and basic cheap souvenirs for sale.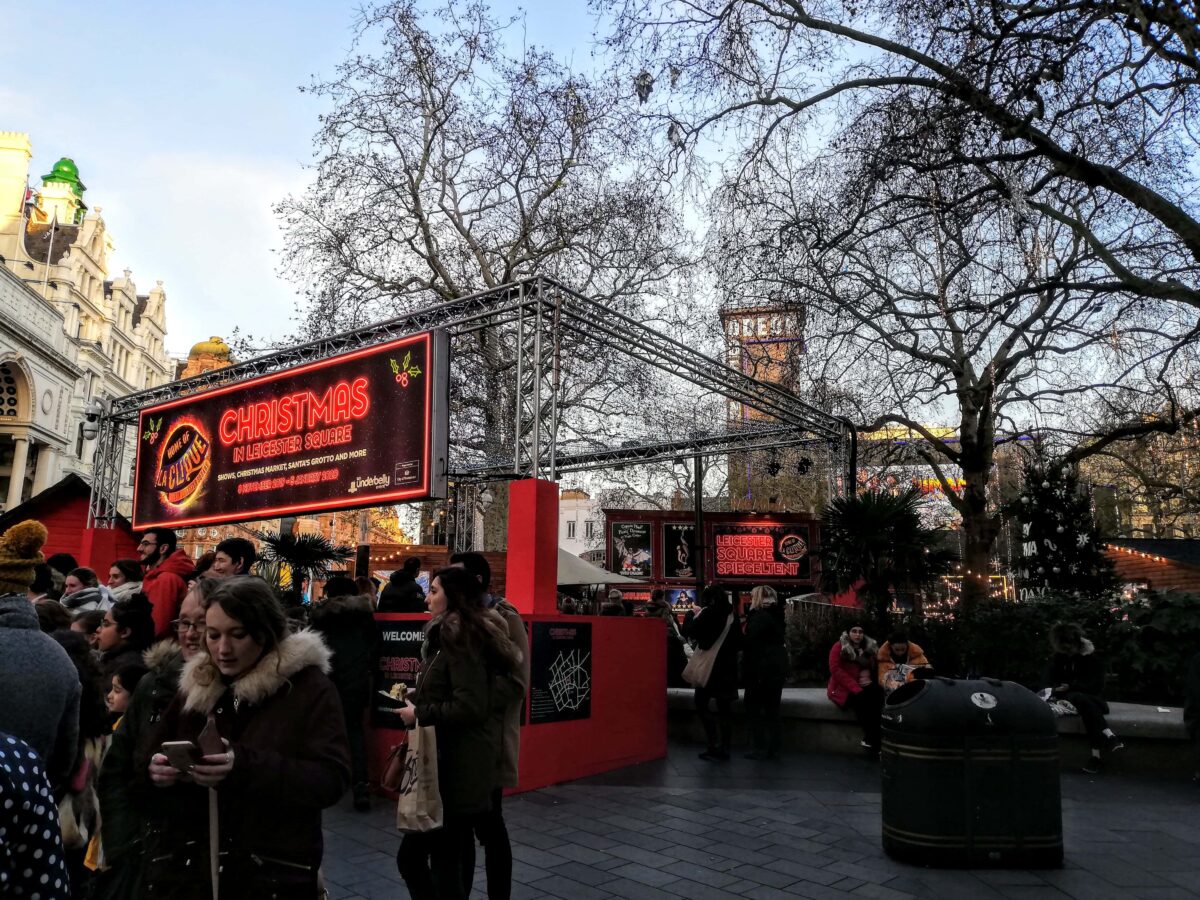 Covent Garden Market
The Christmas season officially starts in Covent Garden around the 12th of November when the Switch On Event takes place.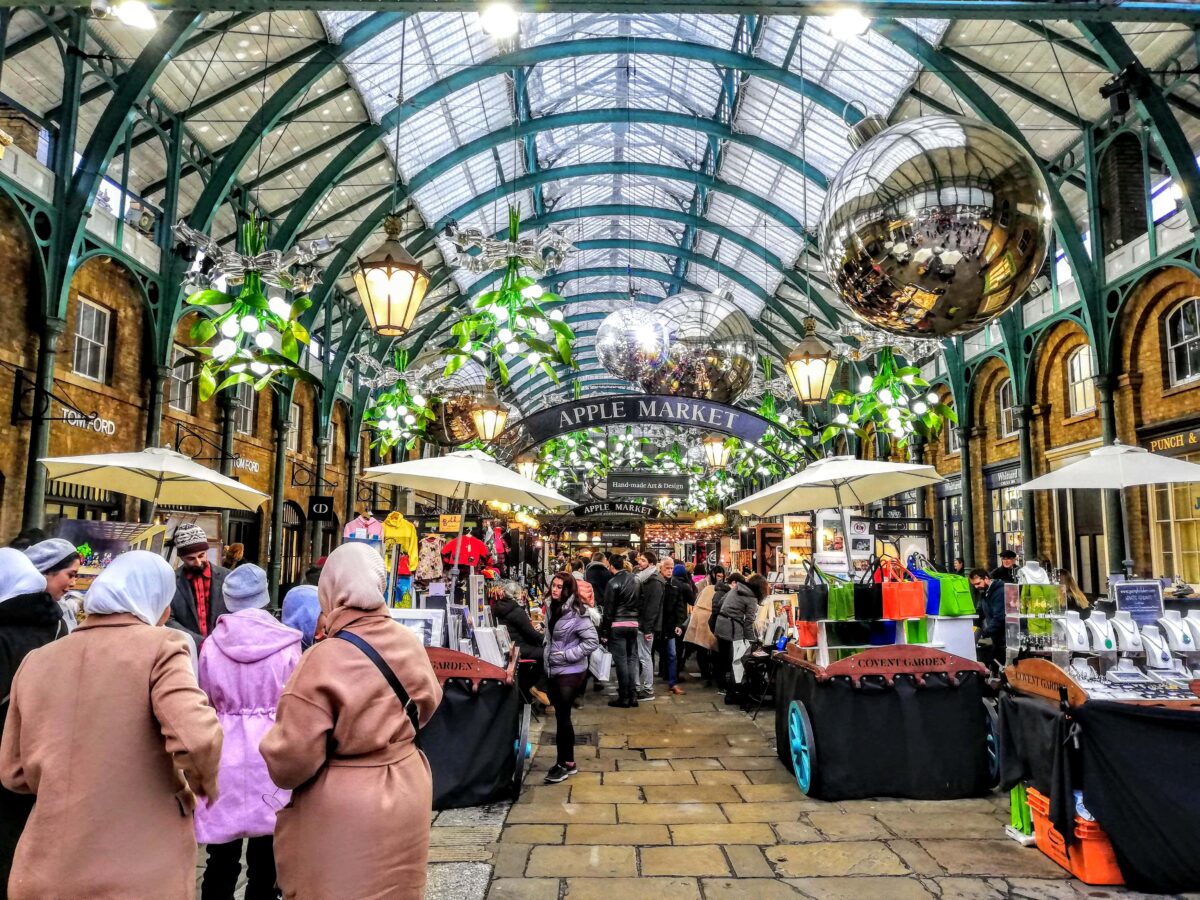 On display is the Covent Garden's iconic 55-foot British-grown handpicked Christmas tree, decorated with over 30,000 lights, and the neighbourhood is transformed into a winter wonderland glittering with 115,000 lights across the historic piazza and its adjoining streets.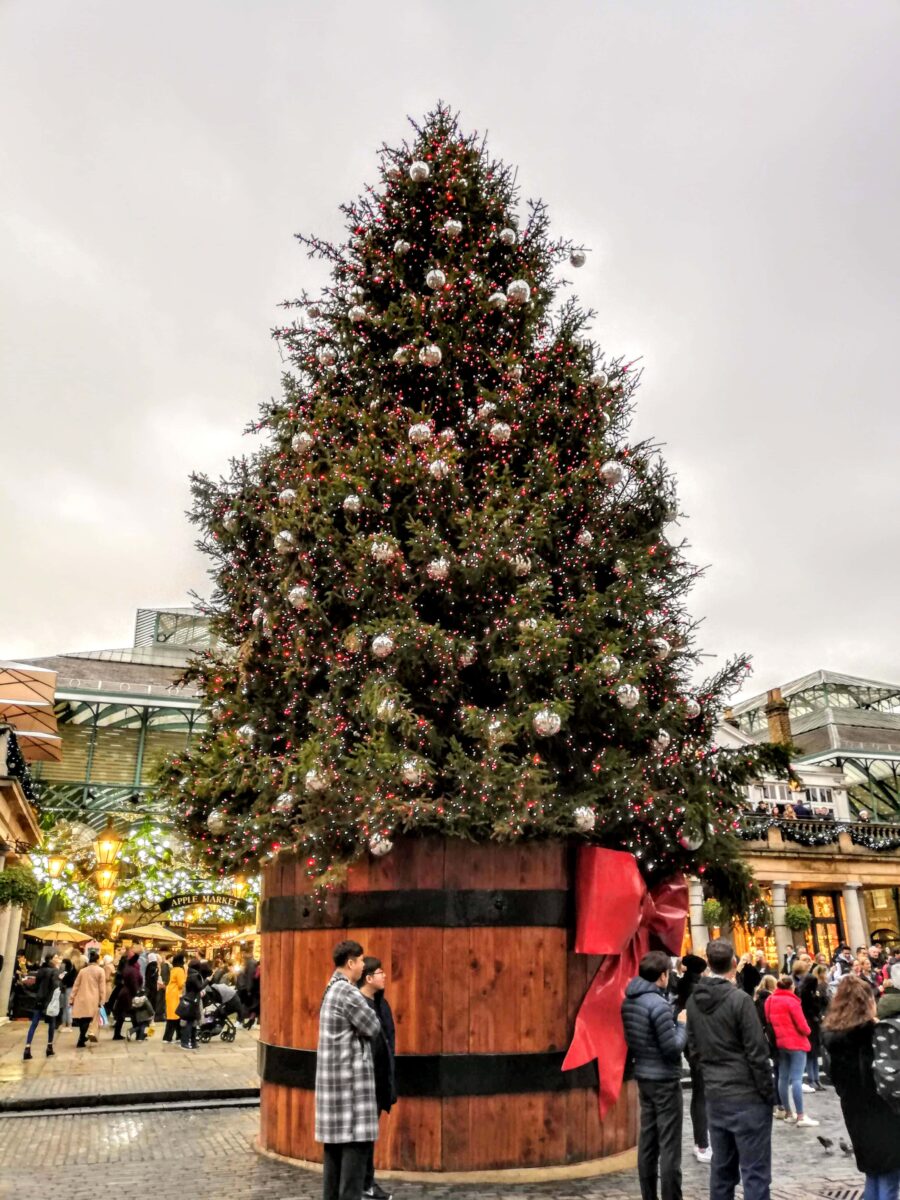 Christmas wouldn't be Christmas without mulled wine and mince pies! Lucky for us there is a Covent Garden Christmas Cart loaded with festive treats such as mulled wine, mince pies, hot chestnuts and sweets.
Christmas Pub Crawls
Pub Crawls are back and you can find Christmas pub crawls virtually everywhere in London but here is a Suggested pub crawl from The Londonist which they call an "epic challenge".
Start at The Drum. It's a Wetherspoon, so opens at 8 am, allowing you to set off early.
Catch the Overground from Leyton Midland Road to Gospel Oak and change for the Highbury train.
2. Hen and Chickens
Victoria Line to King's Cross, Piccadilly Line to Covent Garden.
3. Crusting Pipe
Walk to next venue (2 mins)
4. Royal Opera House bar
Central Line from Holborn to Bank
5. Old Tom's Bar
Bus over London Bridge and down Borough High Street
6. Blue Eyed Maid
Walk to next venue (5 mins)
7. Lord Clyde
Walk to next venue (5 mins)
8. The Ring
Jubilee Line to Westminster, change for District Line to Earls Court
9. The Blackbird
Piccadilly Line to Barons Court
10. The Pear Tree
Walk to next venue (10 mins)
11. The Swan
Walk to next venue (10 mins)
12. The Dove
And relax.
Christmas Museums
Christmas Past at Geffrye Museum celebrates the festive season with a special exhibition that tells the story of Christmas Past at Geffrye Museum. Looking back over the last 400 years of different seasonal traditions in the English home, Christmas Past sees all the different periods from 1600 upwards. Traditional Christmas In this fascinating exhibition you can find out where many of our current traditions come from.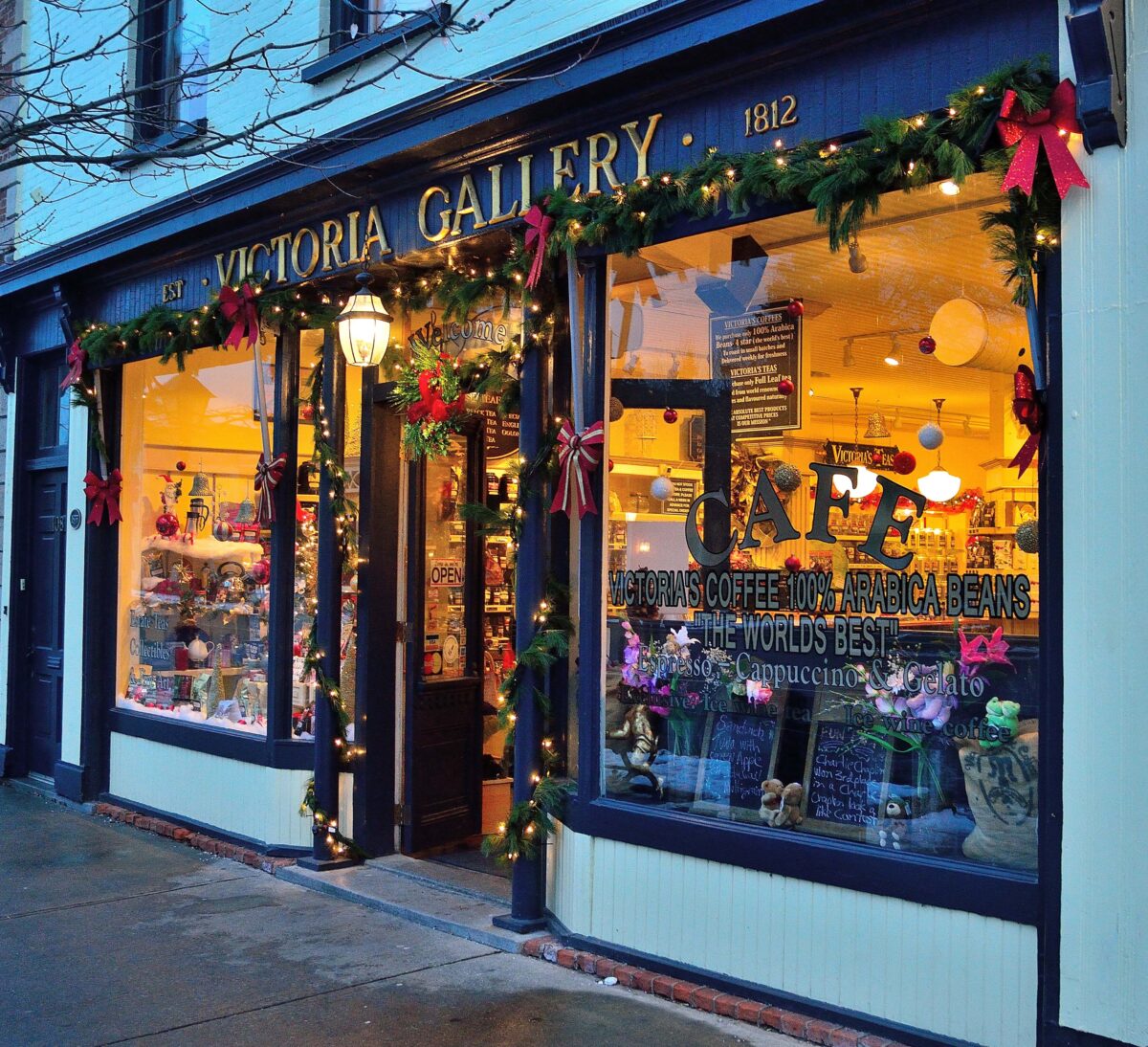 Christmas at Museum of London there is plenty for kids and families to get involved with over Christmas at the Museum of London. From storytelling sessions to interactive music groups and craft workshops, there is something to entertain everyone.
Luckily London has so many hidden secret places that many Londoners don't even know about. One such place was used in the Last Christmas Movie filmed in Covent Garden and the lovely hidden Phoenix Gardens.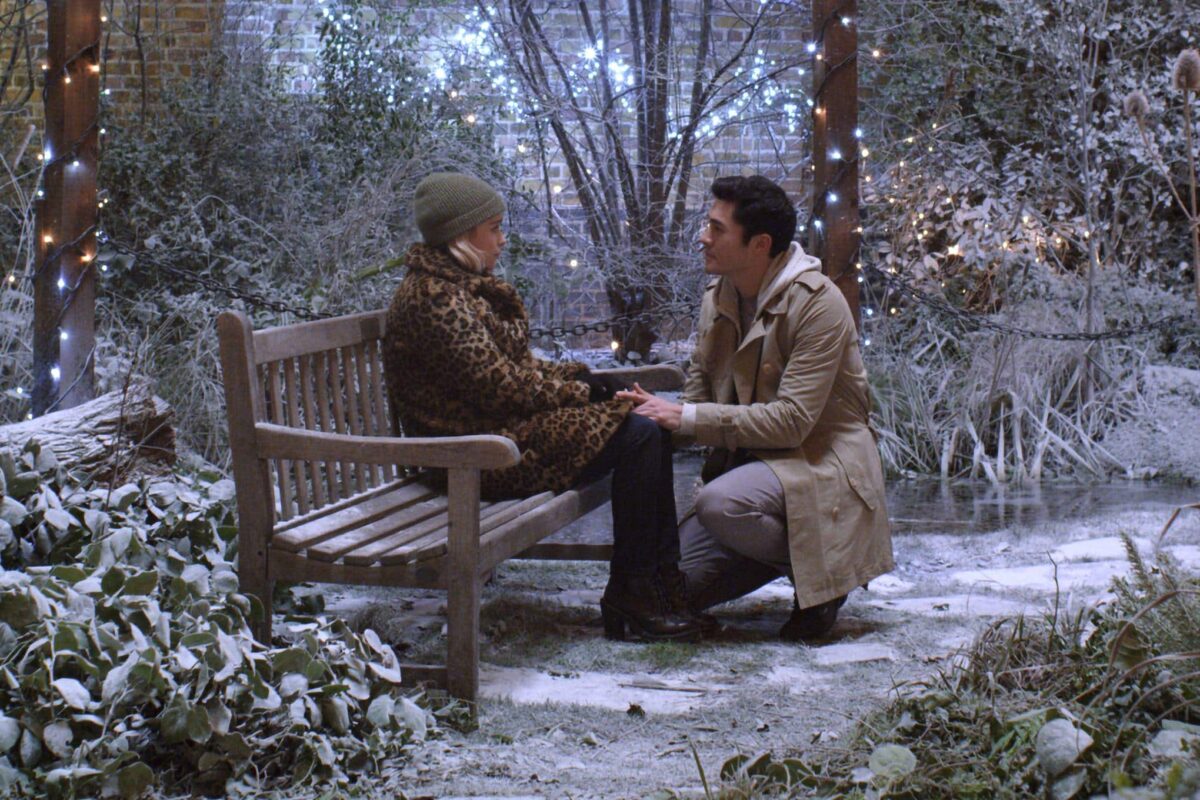 Christmas Toy Parade
Hamleys Christmas toy parade on Regent Street. Hamleys the finest toy shop in the world, is bringing the magic of Christmas to the festive shopping season in late November. London's Regent Street will be transformed into a traffic-free, all-day extravaganza for the biggest toy parade London has ever seen. Some of your favourite characters from TV and Film, marching bands, festive floating blimps, street theatre, dancers and toy vehicles accompanied with music from Magic FM – Hamleys is literally bursting out onto Regent Street.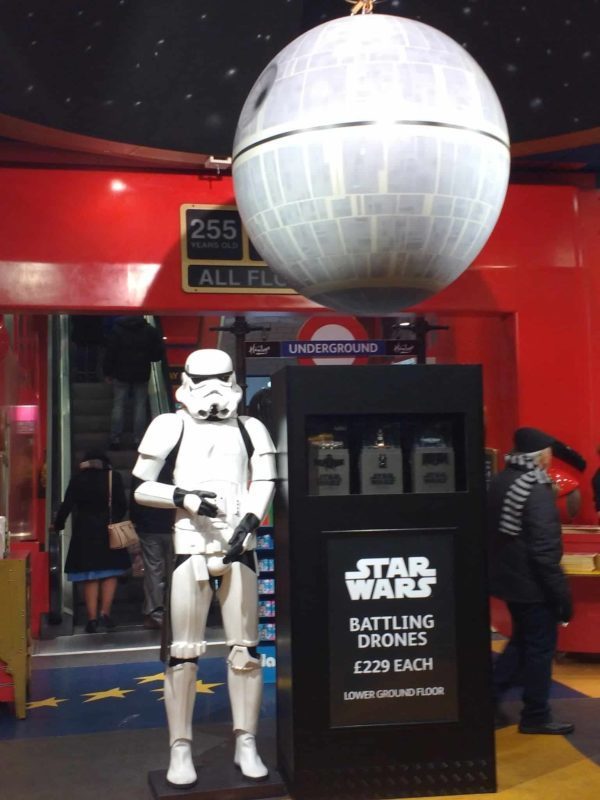 Christmas Gardens
Chelsea Physic Garden Christmas Fair Experience the delights of the Chelsea Physic Garden Christmas Fair, this fair gives you a rare chance to see the gardens in the midst of winter. The fair hosts over 100 exhibitors and they will be showcasing a range of handcrafted and designed products from Jewellery to contemporary crafts and foods. This fair does have an entry fee which goes to support the garden.
The Great Xmas Pudding Race
Great Xmas pudding Race cheer on the festively dressed teams as they race around an obstacle course without dropping the puddings, at London's 36th annual Great Christmas Pudding Race in Covent Garden. Saturday, December 10, 2022.
Watch teams of six battle it out for the highly sought-after Christmas Pudding Trophy, darting through the tricky course on a crisp December day to win prizes and raise money for Cancer Research UK.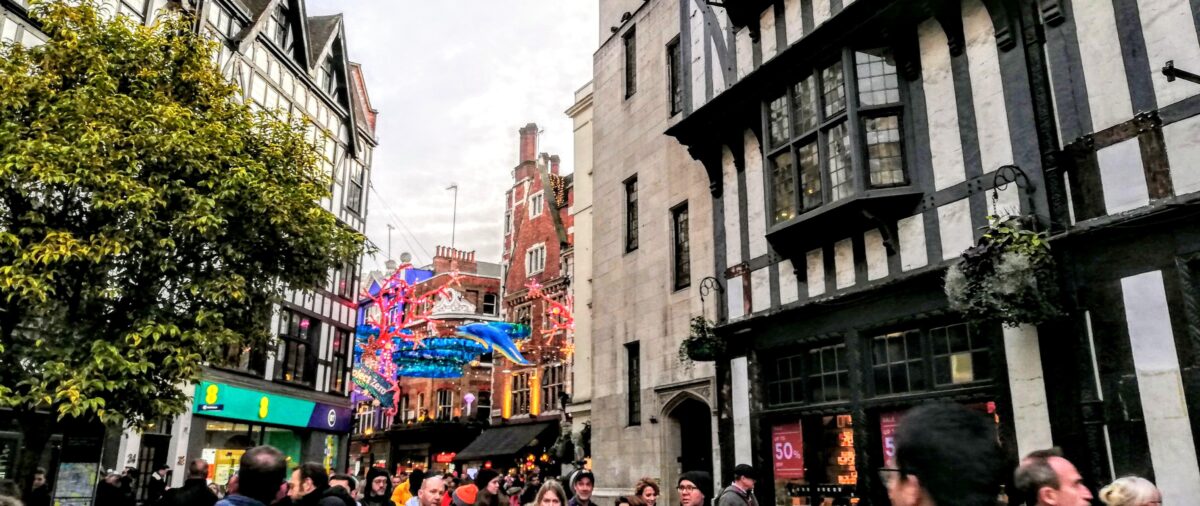 Christmas Skating rinks
Take in the dramatic surroundings as you glide around the 1,000-year-old Tower of London dry moat. The Tower of London ice offers ice skating in the setting of the historic London landmark. The Tower itself is sparkled with hundreds of tiny starry lights and the atmosphere is very reminiscent of days gone by. When you need to warm up after skating you can visit the Eis Haus pop up bar, made entirely of ice of course. Or check out the Dip-Dunk lodge for fondue.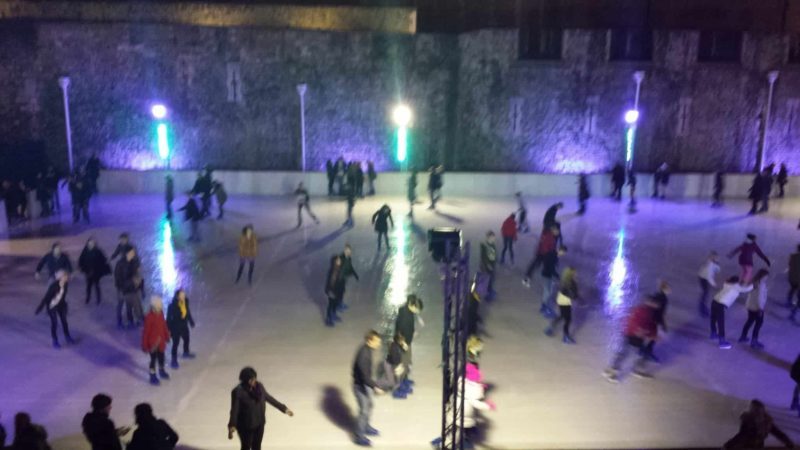 Skate in a magical winter haven in the heart of the city at the Natural History Museum's open-air ice rink. The spectacular 950-square-metre (10,225-square-feet) rink is nestled in front of the iconic South Kensington museum and surrounded by 76,000 glittering fairy lights. Visit the museum's Café Bar for winter warmers, and watch the skaters glide on the ice from the cafe's balcony.
Alexandra Palace Ice Rink is an ideal place for a festive skate – not least because it's indoors so you don't have to rely on the weather to ensure a skating session. The biggest (it has a total capacity of 1,250) and the best permanent ice rink in London, the grand indoor rink is open all year round and offers a range of other activities, such as ice hockey and figure skating classes.
The Tower of London ice rink didn't go ahead in 2021 but this Christmas, see the Tower of London transformed like never before with magical festive displays across the famous fortress.
The Tower is bringing the 12 Days of Christmas to life in a unique style. As you wander around London's iconic castle at this special time of year, see if you can spot 9 rowdy ravens, seek out a sparkling Christmas tree for each of Henry VIII's wives, or snap a photo with 3 lordly life-size lions in support of England's World Cup campaign. Pick up a special trail map and find all the song's famous verses around the site.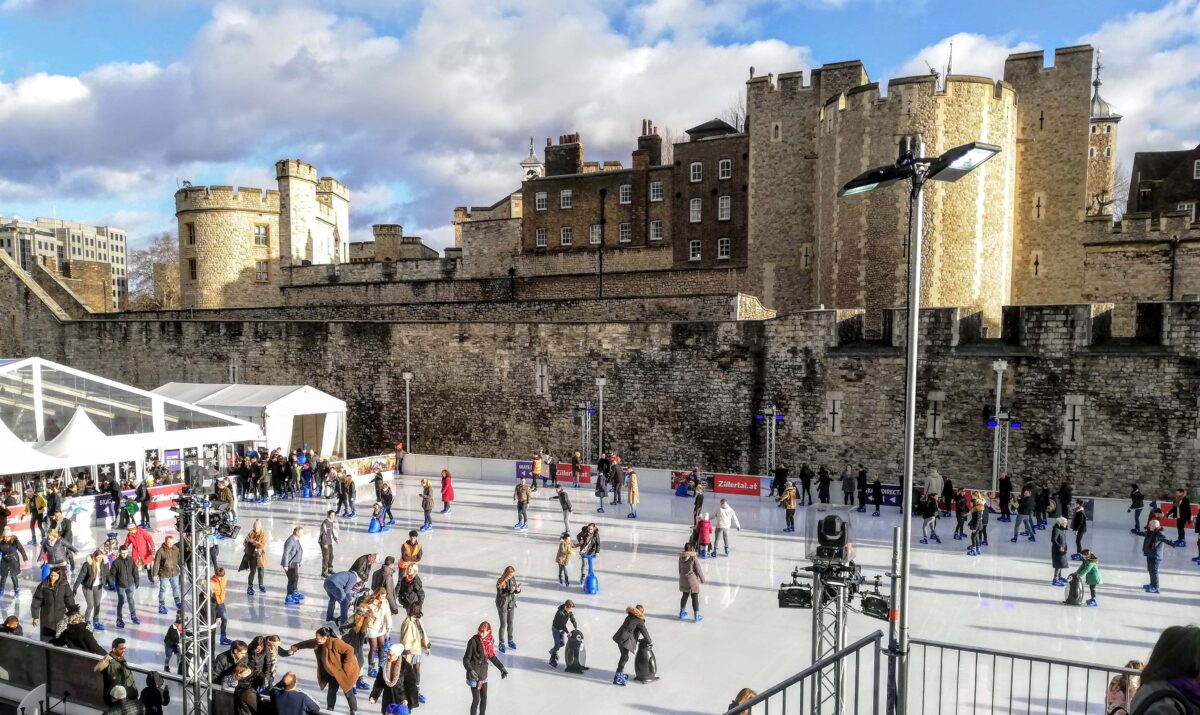 Don your skates and glide around the glittering ice rink that is set within Hyde Park Winter Wonderland around the Victorian bandstand and illuminated with over 100,000 lights. It claims to be the UK's largest outdoor rink and at 1,600 metres squared it might well be. Live music plays as skaters take to the ice for a spin and those in the giant Observation Wheel next to it get a bird's eye view of the skaters below.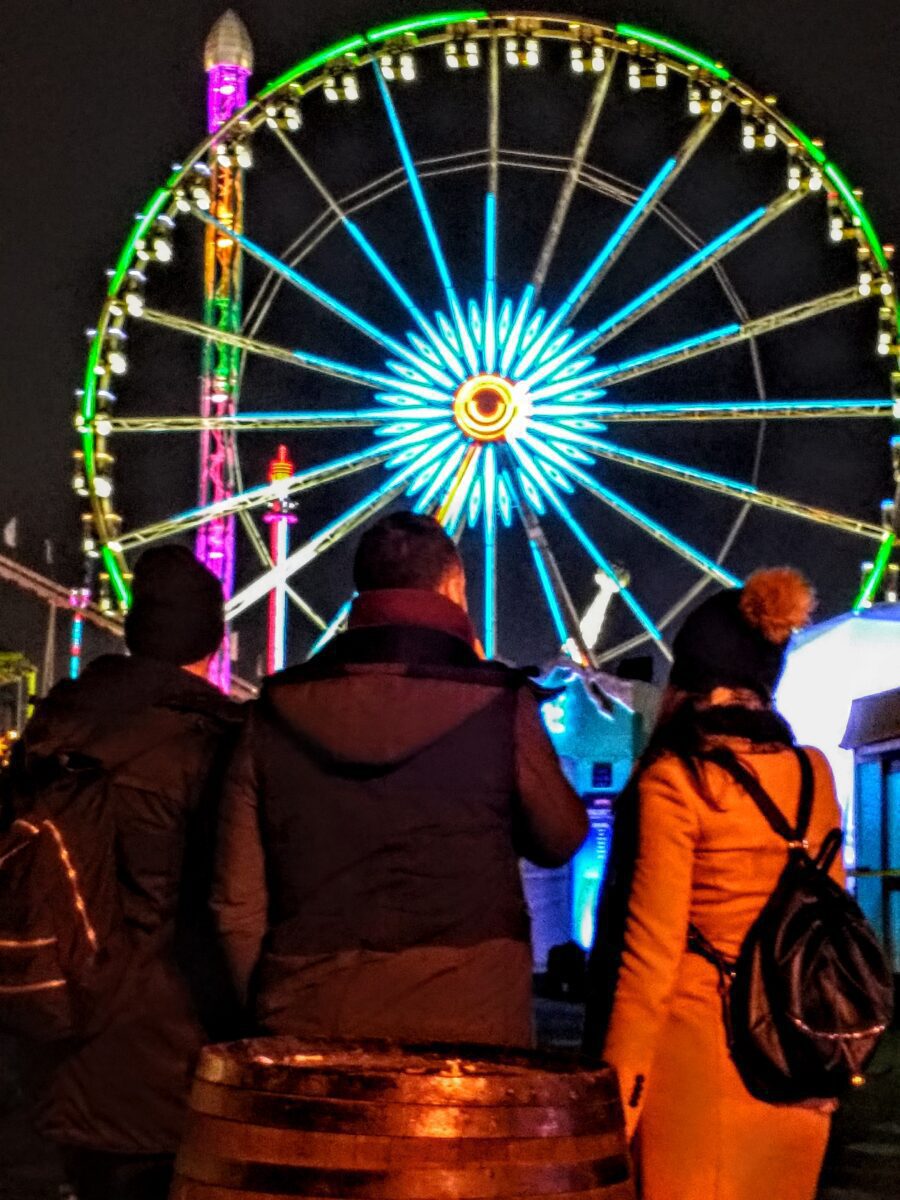 Both are part of the annual Hyde Park event which takes place throughout late November and December bringing fairground rides, a giant wheel, Zippos Circus, a Christmas market, food and drink stalls, Santa's grotto and, of course, the ice rink to this corner of Hyde Park for the holidays.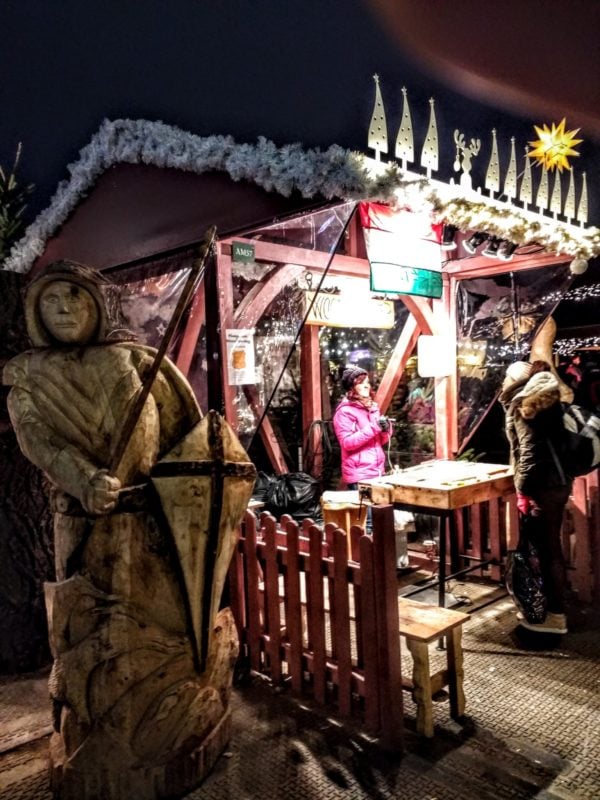 The Natural History Museum's annual icing-over of its gardens kicks off again from Fri, 22 Oct 2021 to Sun, 16 Jan 2022. The 1,000 square metre rink outside Alfred Waterhouse's imposing building is surrounded by 80,000 glowing pea-lights dangling from the overhanging trees. Additional attractions include a smaller 100-square-metre rink for youngsters, a stylish balcony cafe/bar where you can warm your hands and insides on vin chaud or hot chocolate and a classic fairground carousel.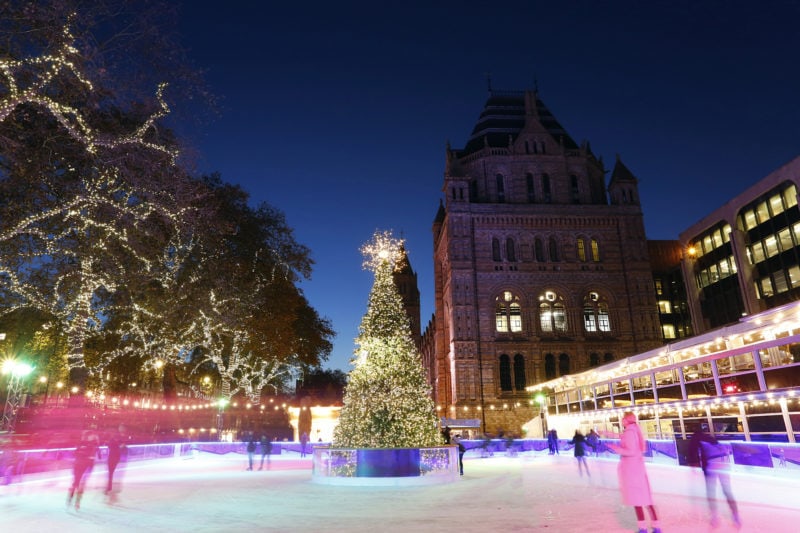 The Ice Rink and Cafe Bar are available for private hire too for a minimum of 150 guests. Big-foots amongst you will be pleased to know that skates go up to adult size 15, while penguin skate aids are available on a first-come-first-served basis.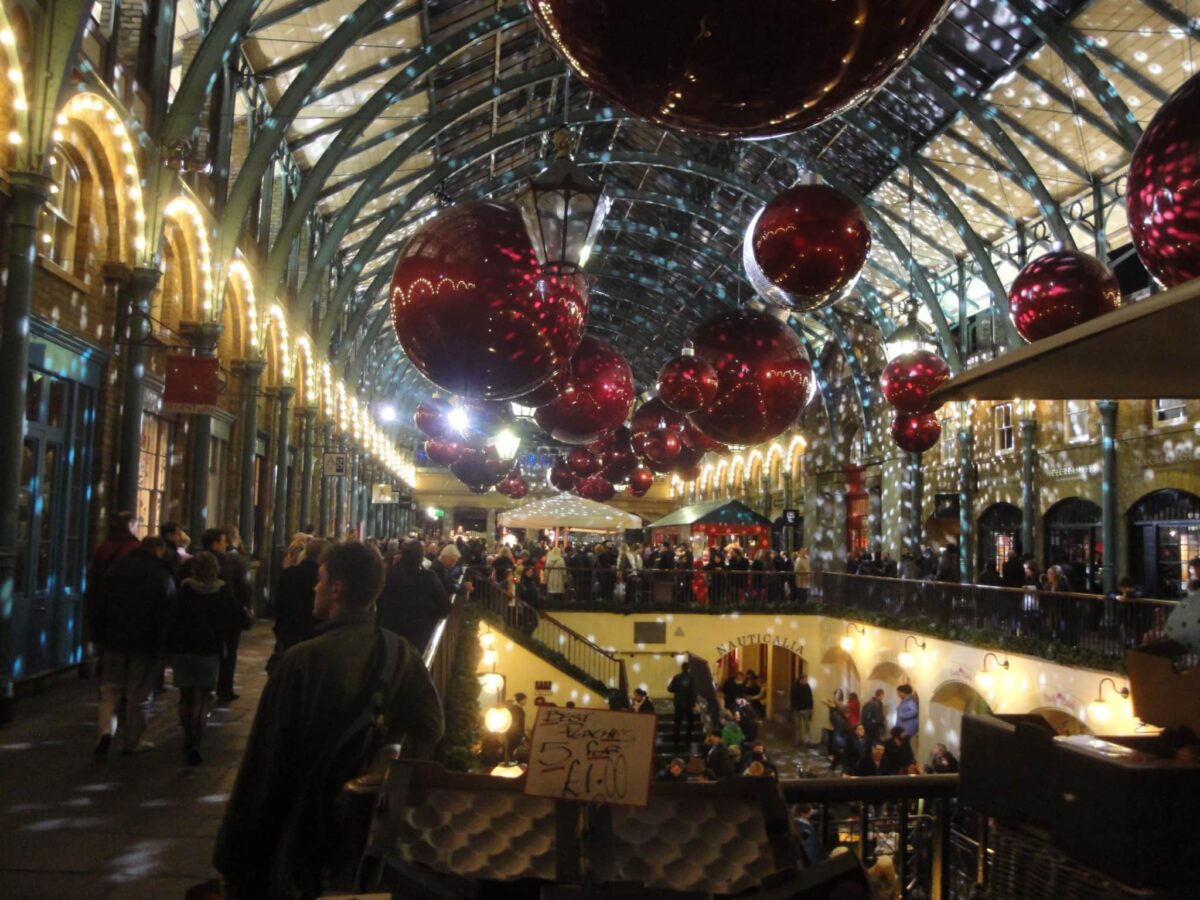 The grand 18th-century courtyard of Somerset House makes for a spectacular backdrop for one of the most popular ice rinks in town. Skating around under the 40-foot Christmas tree with a hot toddy to keep out seasonal chills is one of London's most appealing winter rituals – and a superb way to ease yourself into the festive spirit.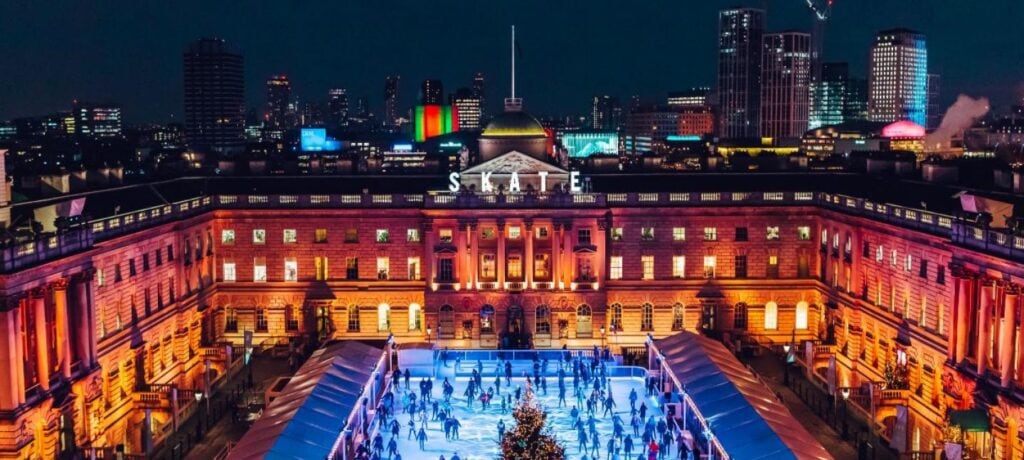 Skate at Somerset House with Moët & Chandon returns, promising a spectacular season of celebration in the heart of London. The magnificent ice rink, now with a bigger skate space, transforms the neoclassical courtyard into the essential winter destination, complete with a glorious 40ft Christmas tree, with specially curated decorations from Moët & Chandon, providing perfect picture moments.
Gourmet dining also returns at Chalet Suisse by Jimmy Garcia, providing the perfect post-skate treat at the pop-up alpine restaurant. For the ultimate rink-side seat, enjoy champagne and cocktails in the Skate Lounge by Moët & Chandon.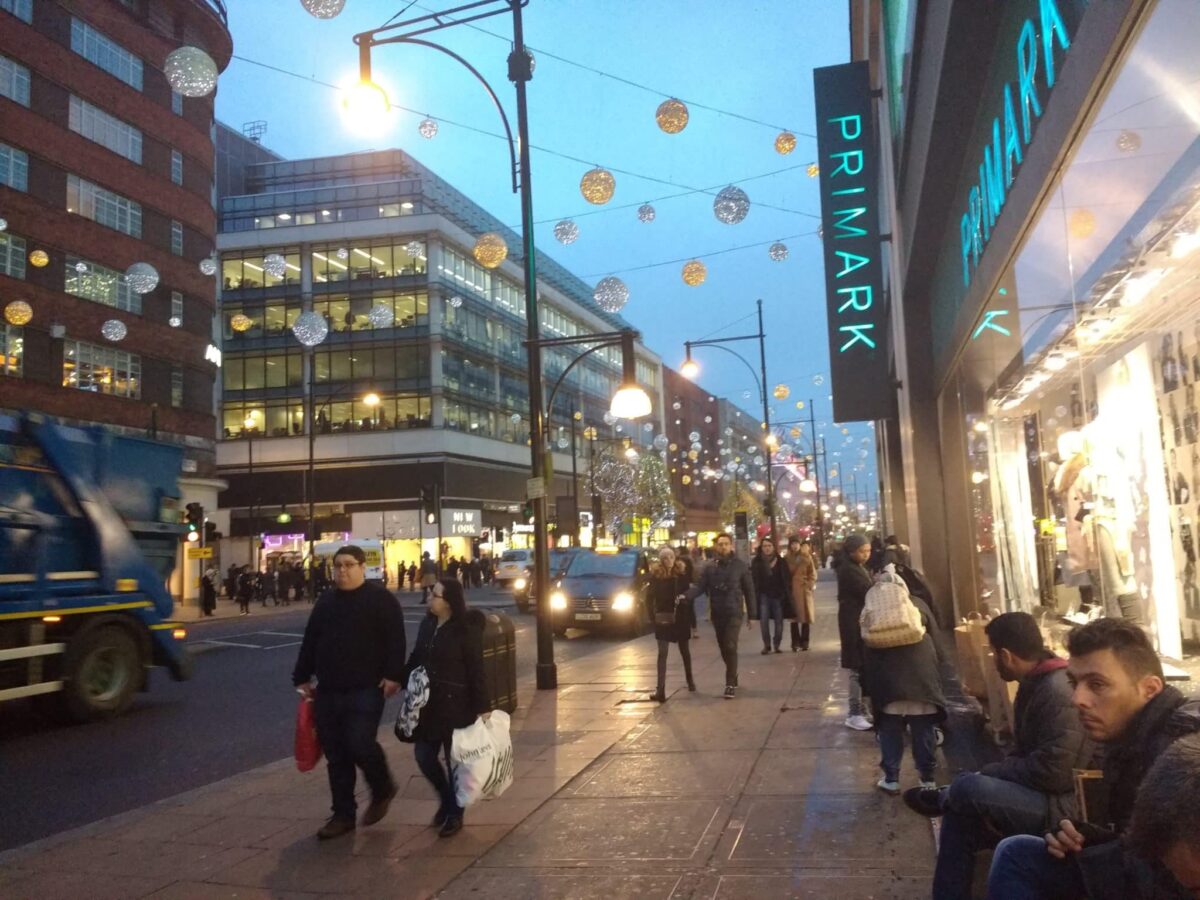 The striking Tudor facade of Hampton Court Palace provides a majestic backdrop to this popular open-air ice rink. Located on the west front of Henry VIII's historic home, the ice rink – measuring more than 1,000 metres square – affords sweeping views of its breathtaking architecture. The palace itself is adorned with festive decorations at this time of year and it's worth leaving extra time to take a look inside or explore the maze.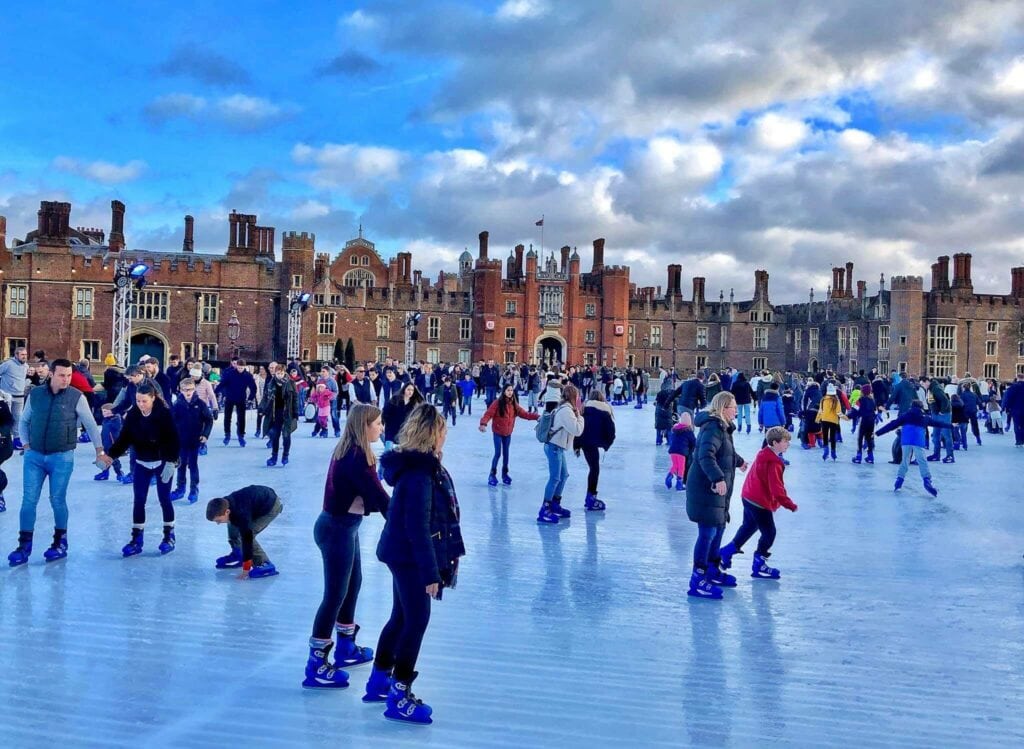 Go for a dip
Temperatures may be sub-zero on Christmas Day, but a bracing dip in the Serpentine in Hyde Park has been a festive tradition since 1864 for members of the Serpentine Swimming Club – and with other swimming events happening around the country there's no reason why you shouldn't join in too.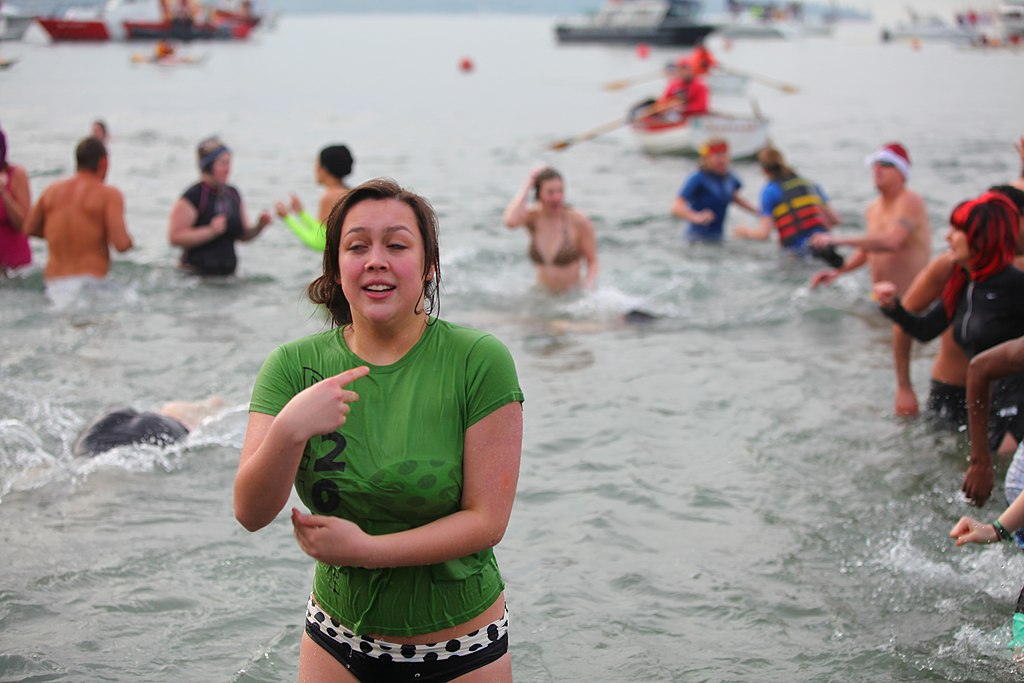 You might also like to read –
Christmas in Ireland – the best things to do in Dublin for an Irish Christmas
Women's Christmas Ireland – Nollaig na mBan
19 of the best Irish Christmas Traditions
Christmas in Belfast how to spend a fabulous holiday here
22 Winter holidays around the world
The London Postal Museum a fascinating history
Inspired to spend 12 days in London at Christmas? Pin it to save it