Best Hidden Gems in London
Looking for hidden gems in London? Will you be visiting London and longing to visit places missed by the 30 million tourists that flock here every year?
If this is your first time in London, you have come to the right spot, London is the greatest city in the world in my personal opinion. I lived on the outskirts of London for 10 years and explored every area I could find. I love this city and want to share my favourite hidden gems of London so you can explore like a local.
Get ready to discover some secret places in London! The hidden gems of London are sometimes difficult to find. London is one of the most exciting cities on the planet, full of these hidden places and gorgeous neighbourhoods. Some of the best-hidden gems in London never get seen by tourists. But if you have visited London several times and want a guide to some of the off-the-beaten-path and little-known places of London here's your guide.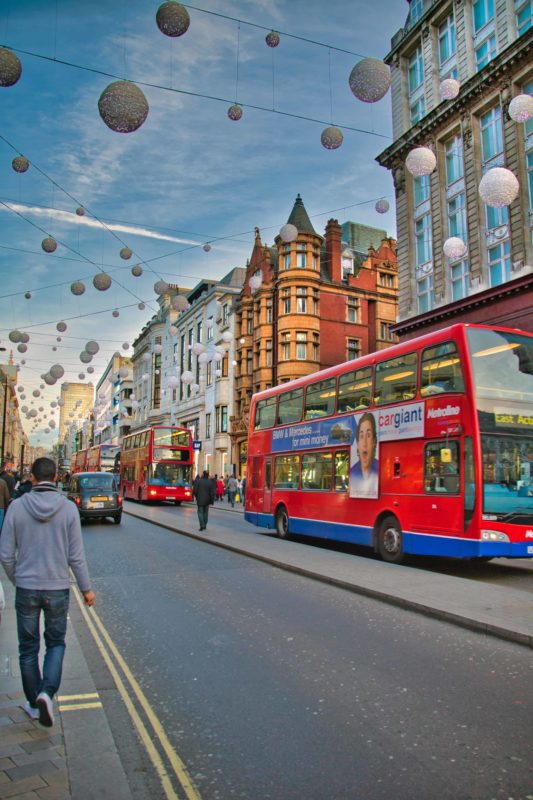 There is no shortage of free things to do in London and places to visit that are off the beaten path and if you want to explore London and experience a more local and exciting area here are 13 unique London neighbourhoods to explore, written by locals and folks in the know. To a local these so-called hidden places in London are not so hidden they are our neighbourhoods, our special places to hang out and our favourite London special places.
Off the beaten path London – London hidden gems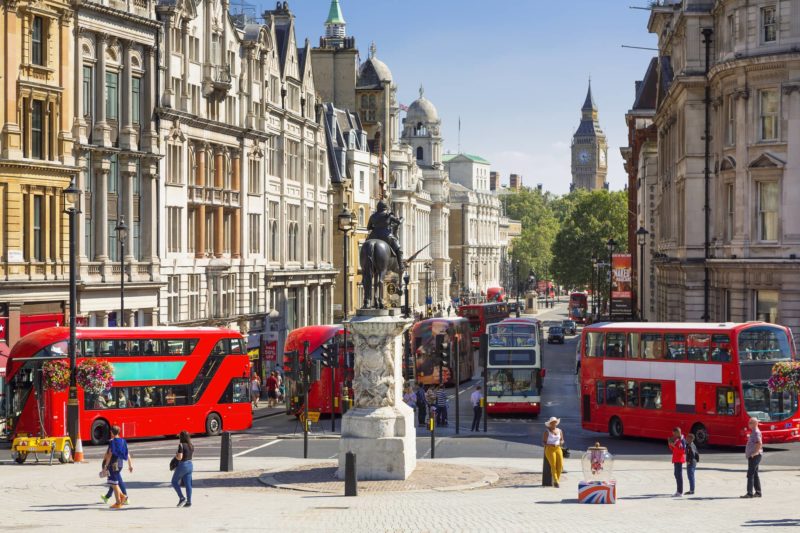 This post most likely contains affiliate links to things such as tours, transport, accommodation, products & amazon associate links. I may receive a small commission if you use the links which costs you no extra but helps keep this blog going.
London is full of hidden gems and secret places that only the locals will know about. There's plenty of history and sites to see like Buckingham Palace, Westminster, St. Pauls, and the Tower of London but why not explore the hidden gems of London? Here are 43 London secret places that locals know and actually some they don't.
Camden
Back in the 70s Camden was a rough place to hang out and it was filled with some intimidating characters. Or so it appeared, the truth was the punks that hung out in Camden were pussy cats, they wanted decent jobs, better housing and a world that didn't cater to billionaires or at that time millionaires. Sound familiar?
It was those characters that made Camden Markets the place that it is today. Whether you're an old punk into goth or retro – as in those 70's style platform boots or steampunk Camden Market has it all.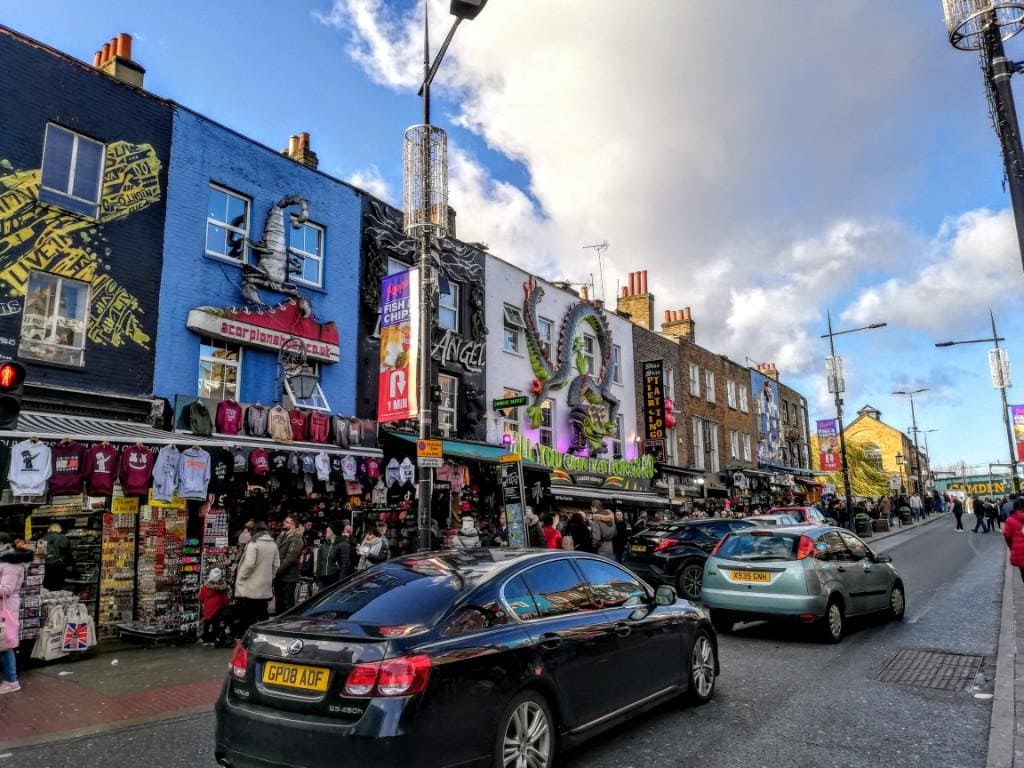 Camden has a few other claims to fame as well. Amy Winehouse once worked on a stall in Camden Market and there is a statue commemorating her. The famous Roundhouse has presented some of the greatest musical acts in the world like The Doors, Jimi Hendrix and Prince.
Camden Lock Market is also London's biggest with over 1000 stalls and it's open 7 days a week.
The Camden markets are six distinct markets and pull in over 100,000 tourists every weekend and I think I was bumped into by most of them.
Camden High Street is the main road and where you will land when exiting the tube station. Turn right and follow the crowds down Camden High Street where you will see the ultra-cool facades of some of the shops and restaurants.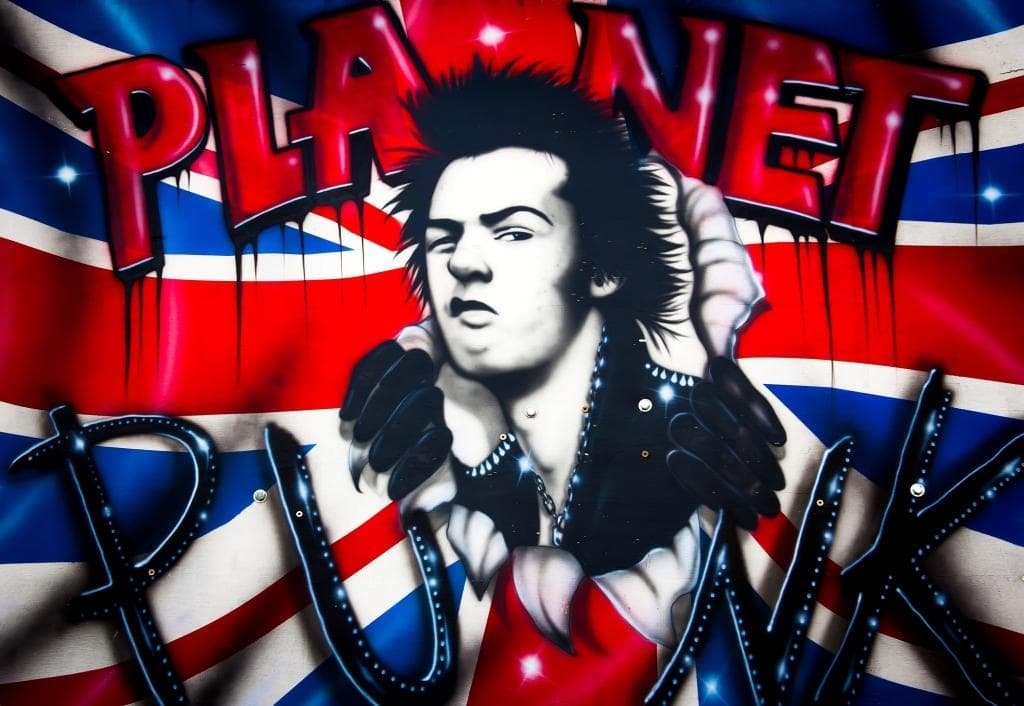 A little way down you will spot the Inverness street market on the left and if you keep on going you will soon see the famous Camden Lock sign on the steel byway above the streets. So cross the road and head into the masses to experience Camden Market.
Little Venice
Full of riverside pubs and restaurants, tranquil Little Venice is certainly a lesser-visited part of London. Escaping the crowds is a fine art in the capital but here you might just stand a chance. Named Little Venice because of its many canals, the area is a leafy suburb close to Warwick Avenue Station. Little Venice is truly one of the hidden gems of London.
Once you exit the underground station, you only need to walk two minutes towards the canal. Set your GPS for Blomfield Road and you'll soon be in the heart of this charming neighbourhood. Walk over Westbourne Terrace Road Bridge to look down over the canal.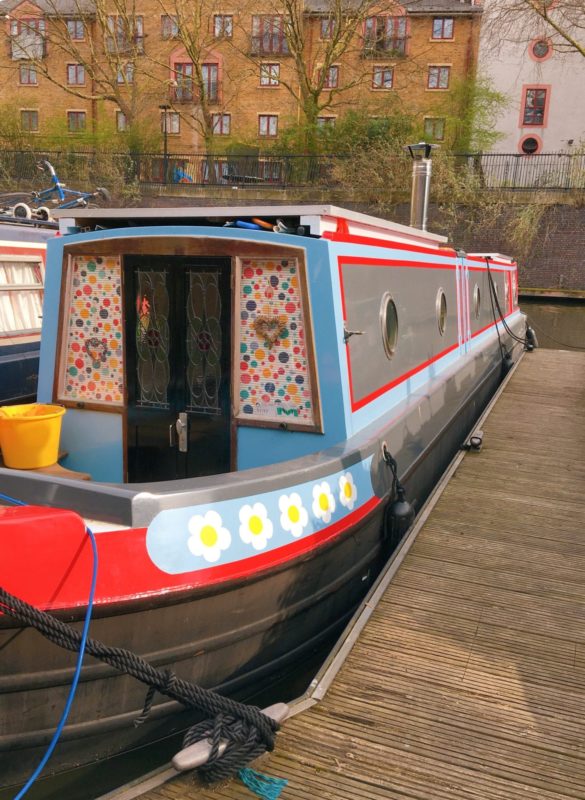 When you're not strolling the streets of Little Venice, you can take a canal boat ride from Little Venice Ferry Terminal. After all, there's no better way to explore the waterways than by boat!
To explore Little Venice extensively by foot, you can walk the Canal Path all the way from Camden, finishing or starting in either Little Venice or Camden. Along the way, you'll pass colourful canal boats bobbing beside the canal path, many painted with quirky colourful murals and boasting modest riverside gardens beside them. The complete walk takes just under 1 hour.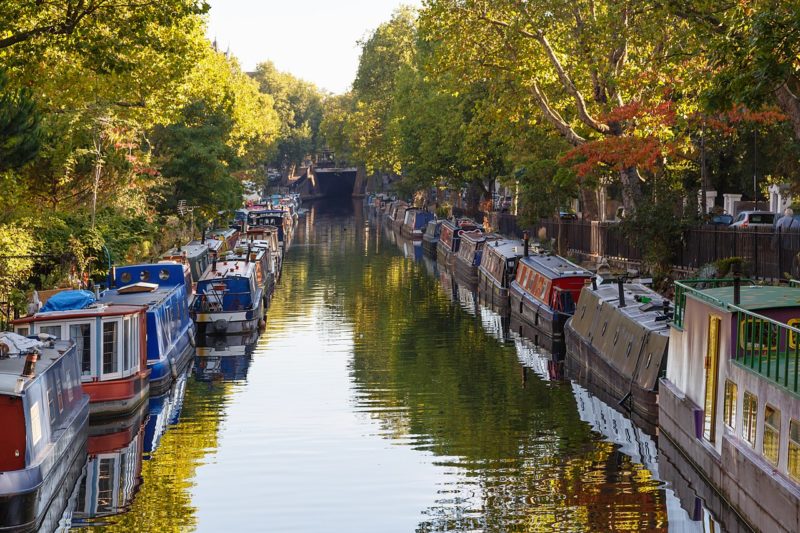 Another activity in Little Venice is visiting the many canal boat cafes. One excellent option is Darcie Green, a colourful canal boat that serves tasty brunches and excellent coffee. Sip a flat white or even a G&T and watch other boats pass by as you bob on the waters. by Rose of Wheregoesrose
Brixton
The first thing I tell anyone coming to London is don't miss Brixton! Even my own family, who have been living around London forever, give me suspicious looks when I talk about it. Sure it wasn't always pretty…
In the 1920s Brixton was a thriving shopping district attracting visitors from far and wide. But the Brixton area was bombed during World War II, contributing to a severe housing crisis, which in turn led to urban decay. This was followed by slum clearances and the building of council housing on a large scale. In the 1940s and 1950s, many immigrants settled in Brixton as it was a cheap place to live near in the capital.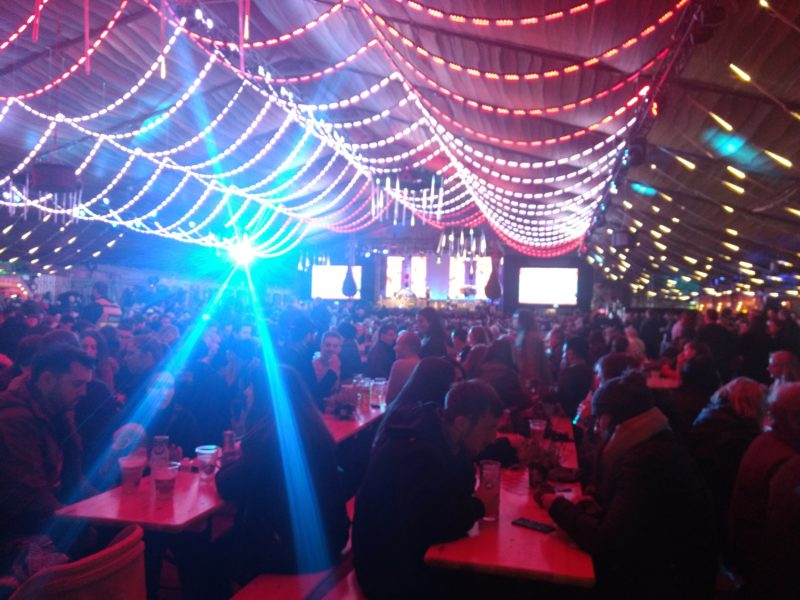 It's this rich multiculturalism that makes Brixton such a wonderfully vibrant place to visit. Nowadays Brixton is packed with trendy bars, delicious food from all over the world and independent clothing shops. It's the only place I know that you can get a Brazilian breakfast, traditional Japanese lunch, a Jerk BBQ burger for dinner and a proper English cider all for less than 25 quid! There's nowhere better to eat in London in my opinion!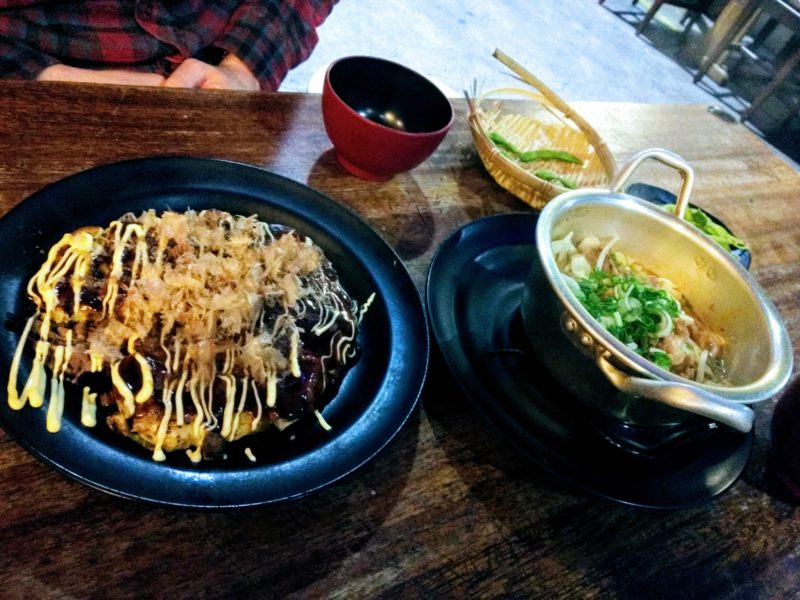 Check out Pop Brixton, an assortment of shipping containers come bars, for live music and a great evening atmosphere. Brixton Village and Brixton market are bringing back the shoppers of its heyday, now mostly famous for it's African and Caribbean food.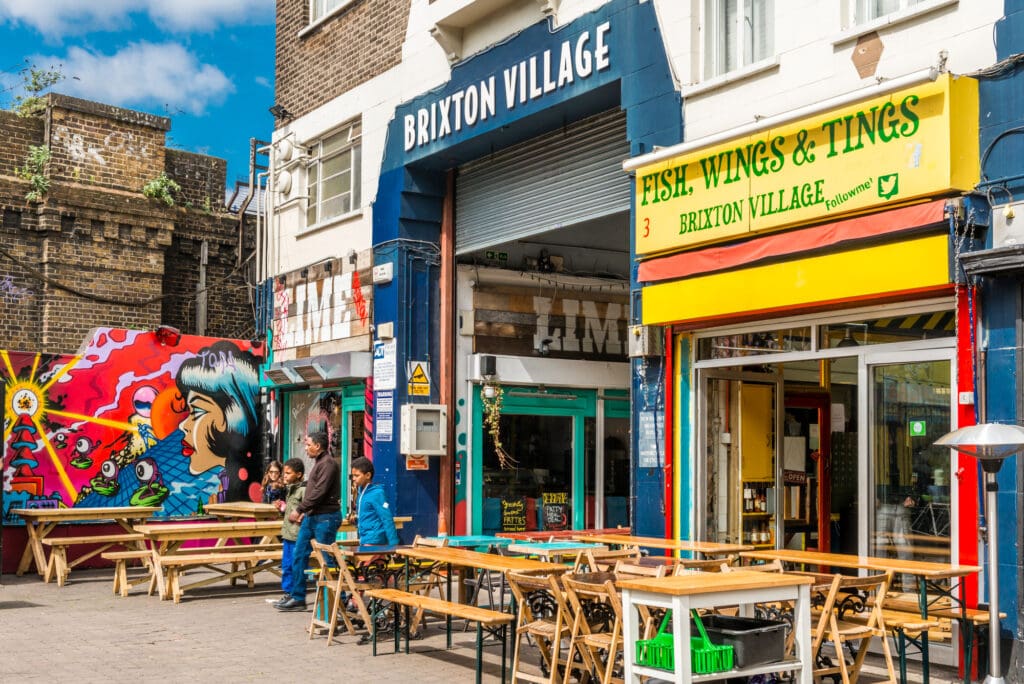 While Brixton academy is the place to go for music lovers. One of the leading music venues in London once hosting Eric Clapton, Wham and Culture Club when it opened in the 1980s, as well as the Smiths last ever performance.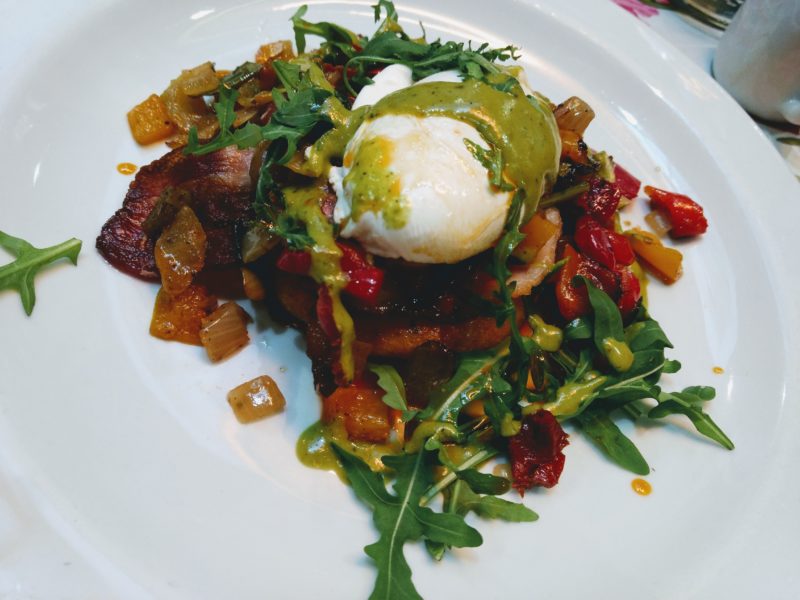 Brixton is just 30 mins from the centre on the Victoria line, great for a day trip or as a more affordable base than staying in central London. A great way to see a different side to London other than just the tourist hot spots. by Jo of LostWanders
Southbank
A good way to start your tour of Southbank is to cross the Thames on Westminster Bridge. From there follow the riverbank east towards Blackfriars Bridge.
The first area you reach on the south side is like a mini Disneyland. There you'll find the city's aquarium where you can watch shark feedings and beautiful displays of the ocean's denizens of the deep.
Next to the aquarium is the famous London Eye Ferris wheel. Ride the wheel during the daytime for distant views of the city in all its splendour. Ride it at night to see the sparkling city lights and feel like you are floating over the river.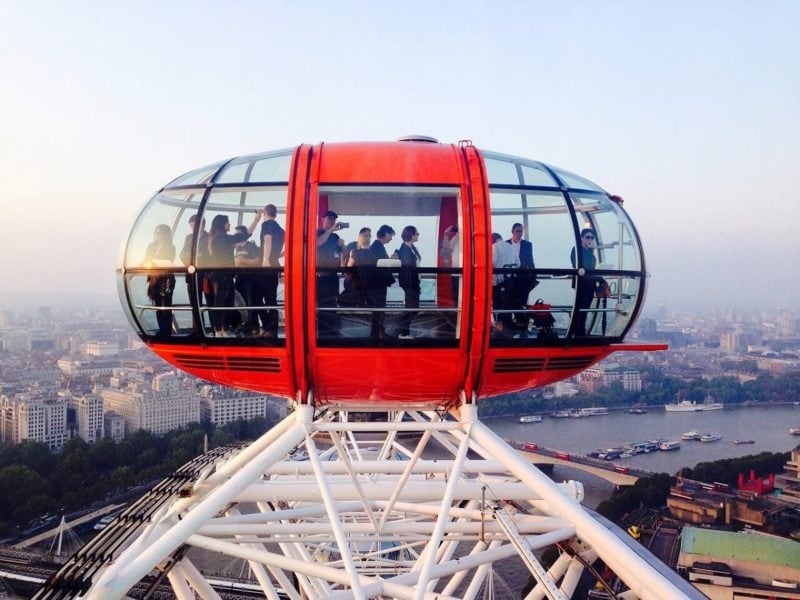 For those of us, like me, that can't resist tacky tourist horror shows, there is the London Dungeon where you'll learn about the Black Plague, London Fire and all the bad guys like Jack the Ripper.
If you need a break after the amusements, check out the Queen's Jubilee Gardens, a lovely green space with gardens and manicured lawns. Get a sandwich and enjoy this little park.
A few steps beyond and the area turns into one of the most concentrated cultural centres on earth with something for everyone no matter your tastes. The Southbank Cultural Center contains at least three cultural venues; the Royal Festival Hall, Heyward Gallery and Queen Elizabeth Hall.
The British Film Institute is the place to go for all types of films from the most Avant guard indies to vintage classics. National Theater, with its world-class performances, is also there. All within a stone's throw of each other you have art exhibits, theatre performances, dance and film.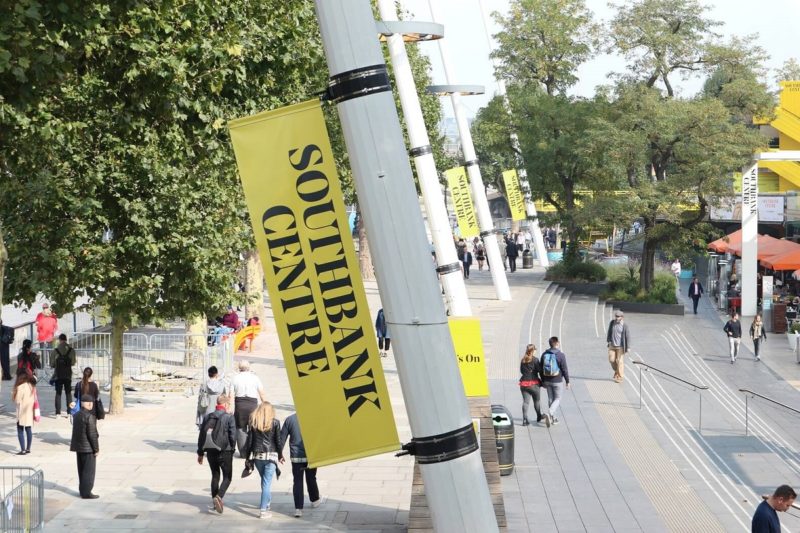 Make sure to research what's playing at the cultural centres beforehand. Make a day of it and accompany your performance with a dinner in the area in any of their restaurants from high-end to yummy ethnic snacks.
Nearby, although not officially in Southbank are the wonderful attractions of the Tate Modern Shakespeare's Globe (a few feet from its original location), and Borough Market.
A well-researched Southbank is worth at least a couple of days more in London. by Talek of TravelswithTalek
Walthamstow
Head to the very end of the Victoria line and you'll find Walthamstow (or 'awesomestow' as the locals call it) – a large northeast London suburb. You'll find so many things to do in Walthamstow as the area has undergone a lot of transformation over the years and has now become one of London's most vibrant places to visit and live.
One of the coolest things to do in the area is to visit God's Own Junkyard – a huge Instagrammable warehouse packed to the rafters with a variety of dazzling neon and vintage signs and general retro goodness, and it's free entry (open only on weekends).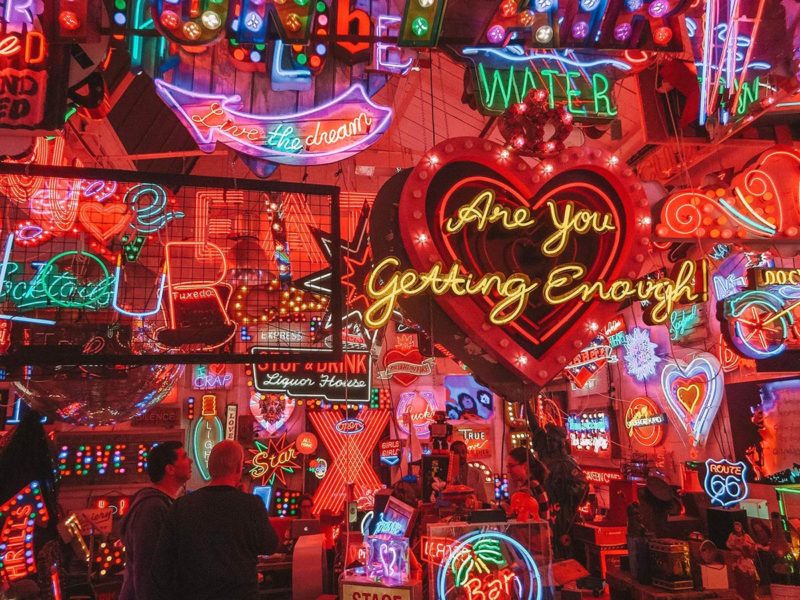 Walthamstow is also fast emerging as one of the best beer and brewery places to visit and you'll find heaps of laid-back craft beer breweries and taprooms. Check out Wildcard Brewery, The Brewer's Bar at Signature Brew and Exhale Brewery.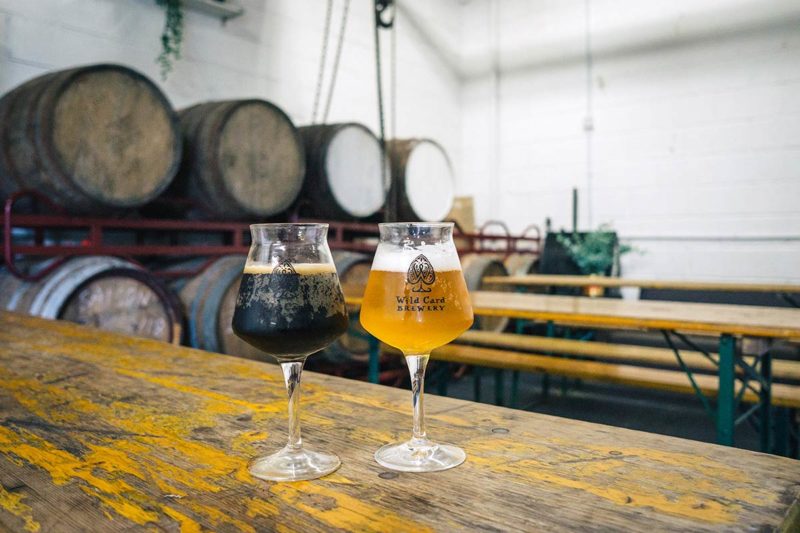 If beer isn't your thing, then head over to nearby Walthamstow Village, a charming street which has many wonderful restaurants, gastropubs and independent food and gift shops. Enjoy a Sunday roast at Eat 17 restaurant, pizza and jazz at the Nags Head pub, or a cheese platter at Froth & Rind.
If you are into nature, then Europe's largest urban wetlands is located in Walthamstow where you can enjoy long walks and get up close to some wildlife. Alternatively, you can have lunch at the Walthamstow Wetlands Larder Café which is set inside a beautifully restored Victorian Engine House.
Just down the road from the wetlands is the William Morris Gallery- a museum dedicated to the life and works of the English arts and crafts designer William Morris, housed inside a Grade II* listed building. Every Saturday the Lloyd Park food market is held outside the gallery selling local produce and street food dishes from around the world. from Caroline of CK Travels
Shoreditch
If you are on the lookout for the trendiest neighbourhoods and artsy districts, Shoreditch must be in your list of the things to do in London.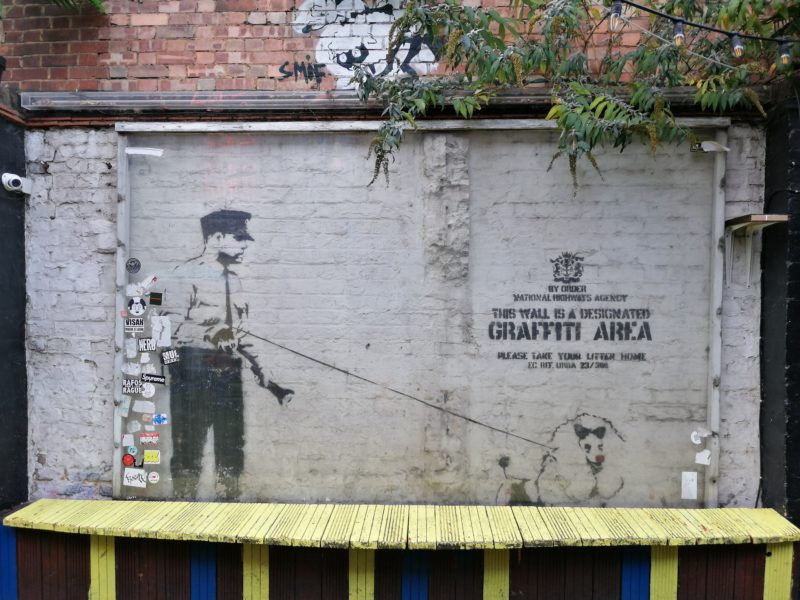 Situated in the east end side of London, from Shoreditch high street up to Hackney road, further north, this now vibrant borough went through different phases over the years. From being the location of Shakespeare's plays in Curtain theatre to the post-war decline and desolation, and then back on the spotlight again nowadays as one of the most fashionable and hipster districts.
In the past two decades, the Shoreditch borough has become a developed and trendy zone thanks to the opening of dot-com companies and fashion agencies, the consequent restoration of the old decadent building turned into modern and stylish spaces, and the flourishing of cool bars restaurants and cafes'.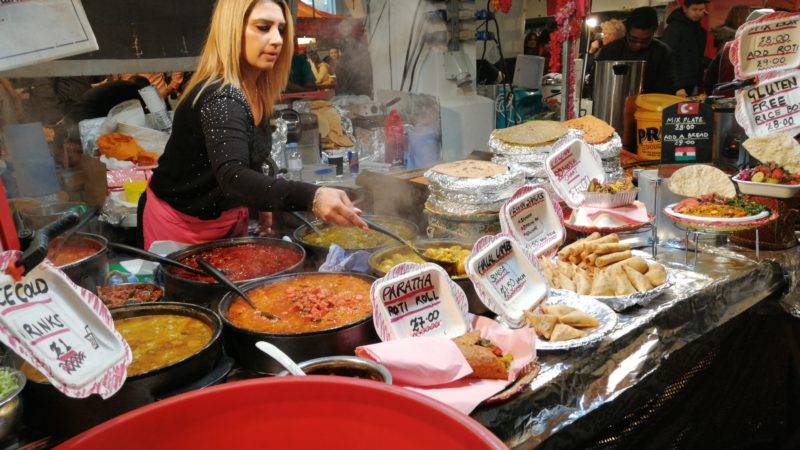 Young artists and trendsetters saw a place for their works to be seen and appreciated. Walking among the colourful and lively streets you can, in fact, admire beautiful graffitis including the world-famous artworks by the popular revolutionary artists Bansky and Ben Eine, whose stunning murals stand out among the other artworks in Rivington street, right in the heart of Shoreditch.
During my 9 days itinerary in London, I organized my visits by area, in order to save time. I picked a Sunday to visit Shoreditch because it's market day in the close-by Brick Lane market. You can, in fact, start from there. Get off the bus or the tube station in Liverpool Station, make a stop at Spitalfields market, for trendy clothing and artworks to buy, besides delicious food. from Isabella of Boundless Roads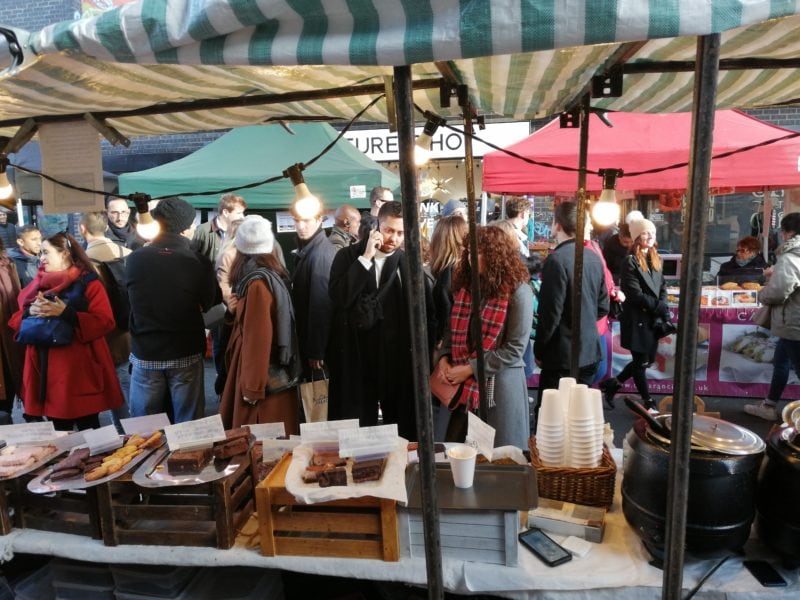 The market is roofed so you don't have to worry if it rains. Keep walking towards Brick Lane market, for great vintage goods and clothing shopping. Here the melody of talented street musicians will delight your Sunday stroll. Continue all along Brick Lane road, turn left in Bethnal Green Road and then Shoreditch high street where the party goes on.
Street vendors, lovely cafes and colourful wall art will make it a pleasant promenade towards Hackney road. Make sure you pass by Rivington street and nearby lanes where you can admire local art and be inspired by the hipster vibes.
This is, of course, Jack the Ripper's old stomping grounds. Here you can take a Haunted London tour, a Jack the Ripper Tour and Sherlock Holmes with a local expert guide. Walk in the footsteps of Jack the Ripper and inspect the murder sites, see The Old Bailey, where the Elephant Man lived and where Braveheart was tortured.
Bloomsbury
One of London's less explored areas is the neighbourhood of Bloomsbury. Located in the west end of London, most only visit Bloomsbury's most popular attraction, the British Museum. The area is full of other things to do, including more museums, beautiful squares, and streets, like Lamb's Conduit, lined with independent shops, interesting cafes, and grand Georgian architecture. If museums are what you're after consider visiting the Petrie Museum of Egyptian Archaeology which is home to over 80,000 pieces and is touted as one of the world's best collections of Egyptian artefacts.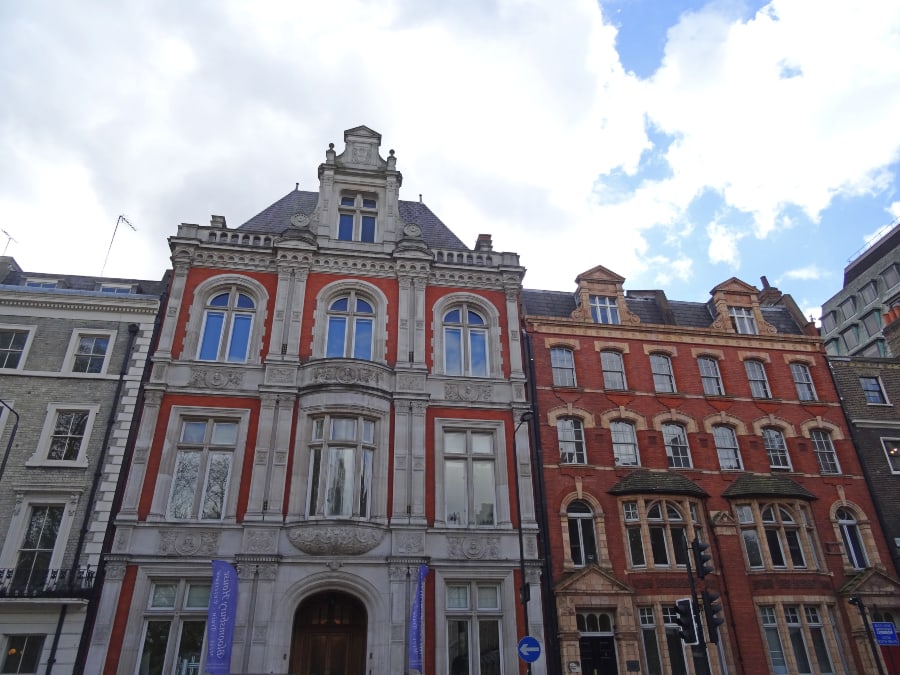 But there is so much more to this charming and historic area, especially for book lovers looking for literary stops in London. Bloomsbury was a literary and creative hub in the 18th and 19th centuries. Classic authors such as Virginia Woolf, Charles Dickens, Yeats, E.M. Forster, and Charles Darwin once called Bloomsbury home.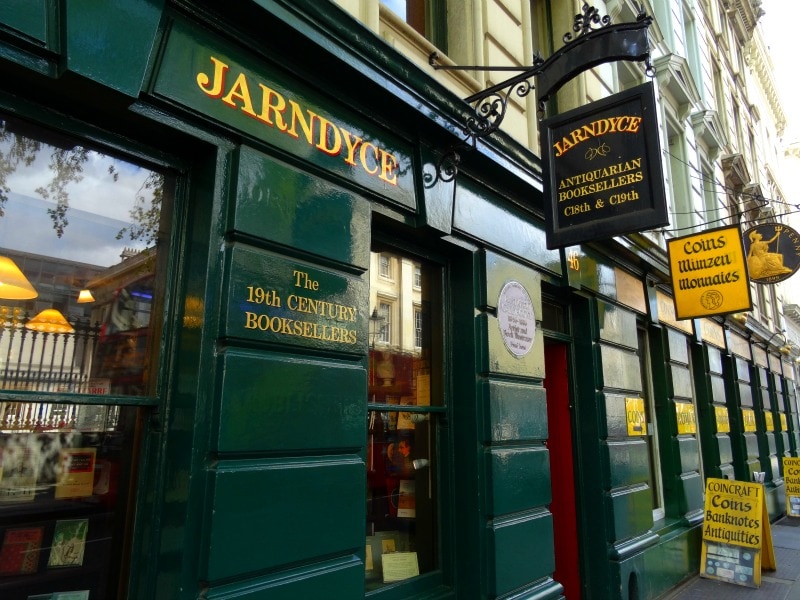 Some of these authors joined others and met in Bloomsbury Square Garden. Across the neighbourhood, you'll find plaques marking historic sites, like Bloomsbury Square Garden as well as a wealth of bookshops. Bloomsbury is also home to another fine museum, the Charles Dickens Museum, housed where he once lived and showcases everything from personal items to rare editions of his books and more.
So, if you're looking for off-the-beaten-path places to explore in London consider a wander through Bloomsbury. by Stephanie from The World As I See It
Hampstead Village
Located about half an hour from Central London, and easily accessed from the Northern Tube line Hampstead is a well-established and wealthy "village" that was and still is the home of many artists. Writers and creatives from D.H. Lawrence, Robert Louis Stevenson, Sting, Boy George, Ringo Starr and countless other creatives have resided there.
Hampstead is considered a very arty liberal place to live. It has some of the most expensive housing in the London area. We saw the proof of that in the Estate Agent's window at 10,000 sterling a week's rent. But apparently, Hampstead has more millionaires in the area than any other place in the United Kingdom.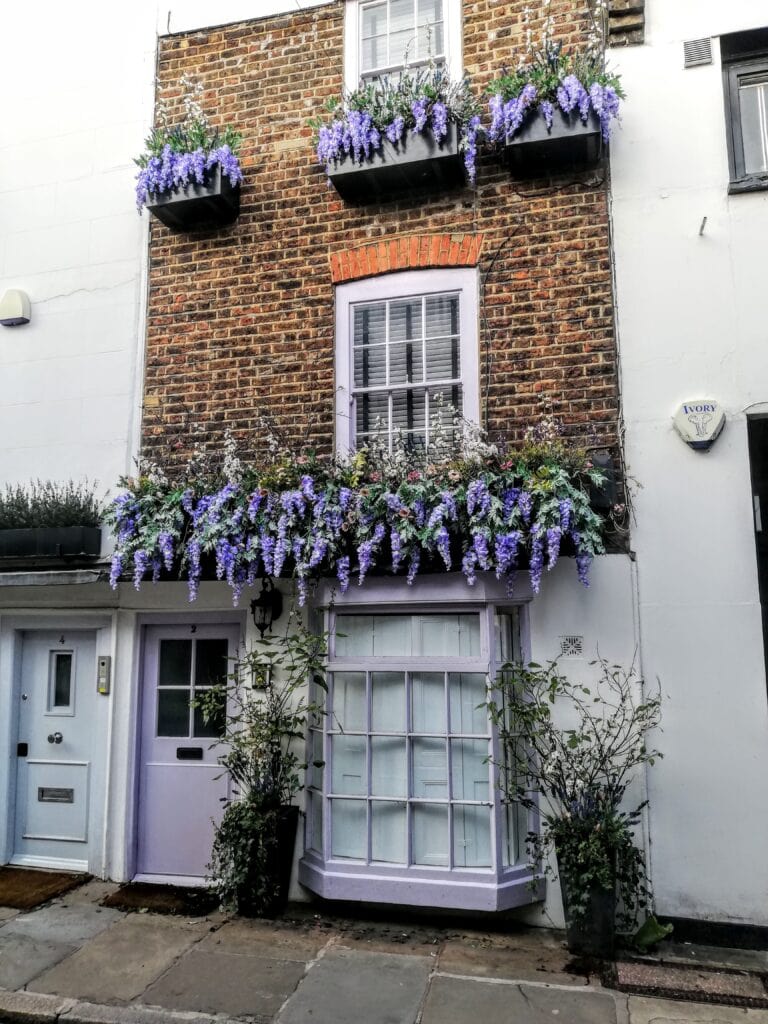 Sites in the Village include the Freud Museum, Keats House and the Hampstead Library was recently converted into a creative arts centre.
Hampstead Heath
One of the main draws in Hampstead is, of course, the spectacular Hampstead Heath. The Heath is London's largest and most ancient parkland and includes the legally-protected view of the London skyline from Parliament Hill.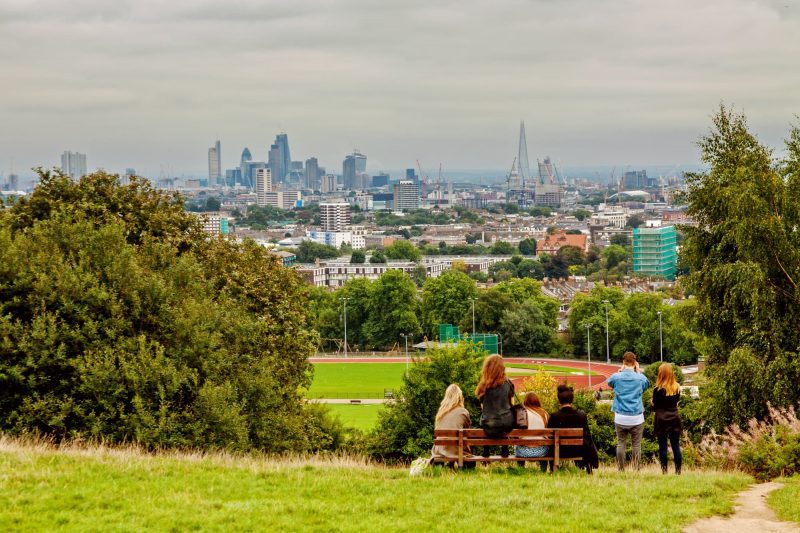 The Heath also has three open-air public swimming ponds; one for men, one for women, and one for mixed bathing, which was originally reservoirs for drinking water and the sources of the River Fleet.
The Holly Bush Pub -Hampstead
Hampstead is well known for its traditional pubs, such as The Holly Bush, gas-lit until recently and the Spaniard's Inn, Spaniard's Road, where highwayman Dick Turpin took refuge.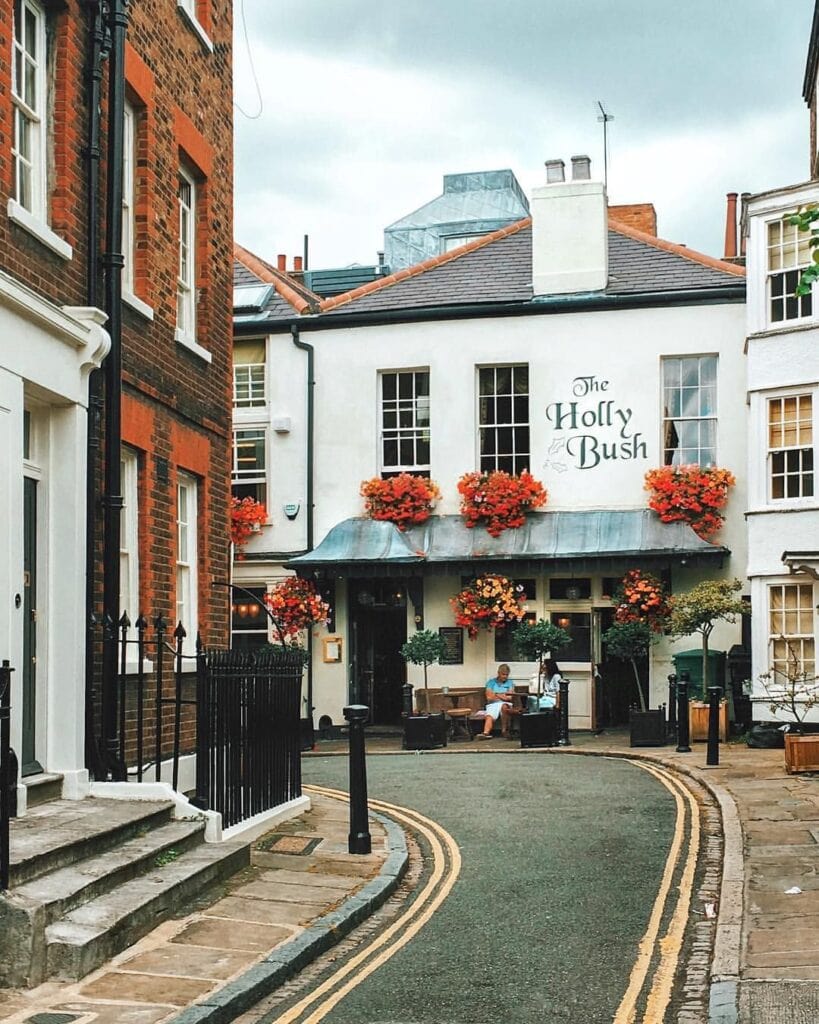 La Creperie de Hampstead
Another Hampstead Institution is the La Crêperie de Hampstead which has become a landmark in North London.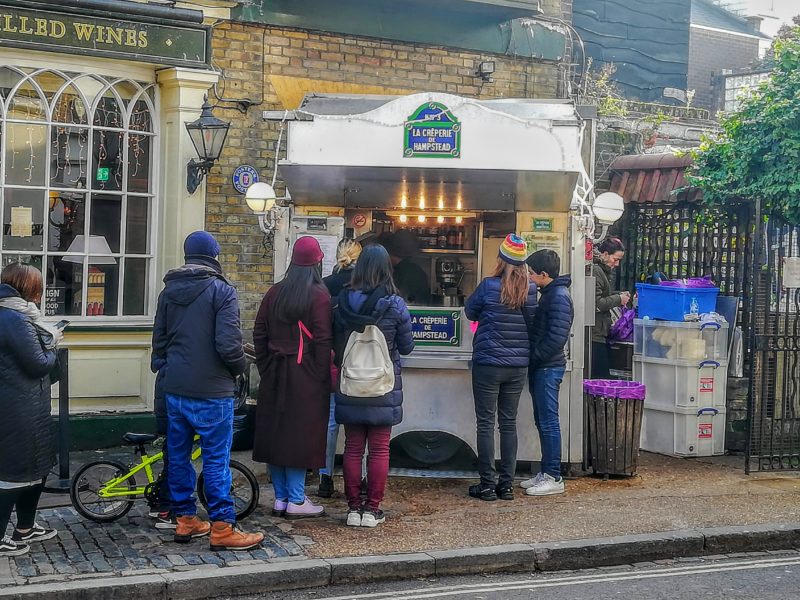 Islington
Islington has traditionally been known for its left-leaning politics, and in the 1980s it was nicknamed The Socialist Republic of Islington. Labour Party politicians including Tony Blair, Gordon Brown and Jeremy Corbyn all have homes here.
Harry Potter fans visiting London will no doubt remember that the headquarters of the Order of the Phoenix is located in Islington, at No. 12 Grimmauld Place to be exact. Unfortunately, if you're a muggle you won't be able to see it, because it's under a Fidelius Charm.
However, if you go to Claremont Square, the name by which the street is known in the muggle world, then you will be able to see the rest of the row of townhouses where the ancestral home of Sirius Black lies cleverly hidden.
Chapel Market – Islington
Chapel Market is a great place to wander around, and on Sunday it's the venue for a long-standing farmer's market. The Regent Canal runs through Islington and is a lovely place for a stroll or a bike ride. You can even follow it all the way to nearby Camden.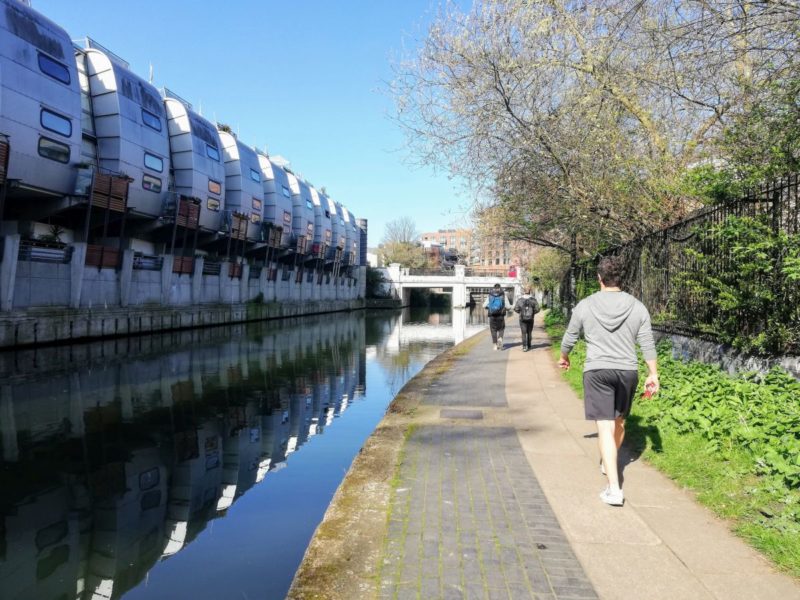 Canal Museum – Islington
Alternatively, visit the Canal Museum to learn more about the waterway's history, or book a boat trip, in which case your entry to the museum will be free! Football fans may want to catch an Arsenal FC match at their home stadium in the north of Islington, although you may have to settle for visiting the Arsenal Museum, as tickets for matches can be very hard to come by.
Peckham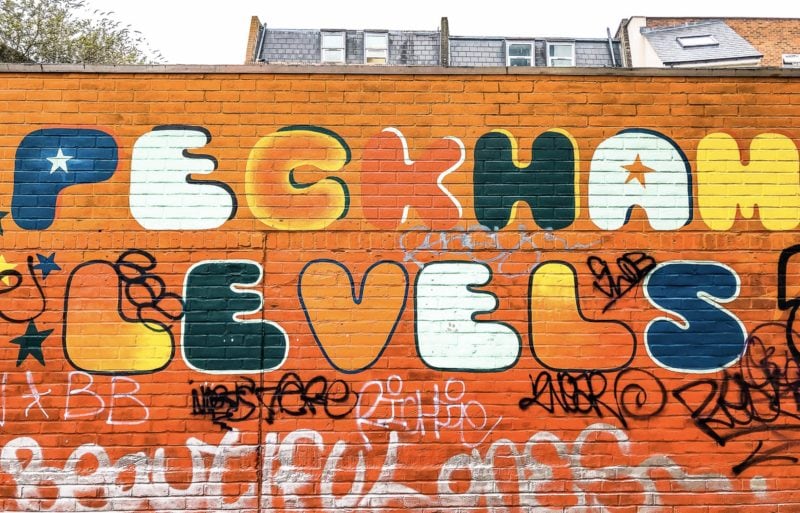 Peckham is one of London's more underrated areas, but if you are looking for authenticity, culture, great beer, and food without the crowds or price tag, of central London, then head to Peckham.
Peckham is a diverse neighbourhood in the South East and is considered one of the most vibrant areas of London. It's filled with lots of eye-catching places, quirky watering holes, and eclectic restaurants.
Peckham might not be as famous as Notting Hill, Shoreditch, or Brixton. But in recent years Peckham has fast become the go-to neighbourhood for young professional Londoners seeking cheaper rent, while still being close to central London because the area has such a good transport connection.
With these young professionals came the gentrification of Peckham. These young bucks have turned once-disused building or train arches into modern multilevel event spaces like the Bussey Building Peckham, festivals, artisan bakeries and coffee shops, galleries, and party-the-night-away clubs.
Making Peckham a fun place, with tons of variety, leaving no room for dull moments when visiting this part of London.
There are a few of the top things you can do in Peckham. Level up at Peckham levels, this creative, cultural and social hub is drawing Londoners from far and wide and allowing them a space to showcase their talents. Catch a gig or a film screening at the Bussey building.
Take in exciting art by emerging young British artists at South London Gallery. Watch the latest blockbusters for a mere £4.99 every day of the week, these are the cheap cinema tickets in London. Grab a cold beer with friends at Brick Brewery.
Peckham is a part of London where you can grab an artisan beer, eat delicious Mexican food, and party all night at the Bussey Building Peckham. All for under £30! from Donna of Hues of Delahaye
7 Dials Market
Handily located in the Covent Garden Market district the 7 Dials Market is a world unto itself. Recently in 7 Dials Kerb opened an indoor Street Food Market in an old banana packing plant. You may have read about the Cheese Conveyor Restaurant that hit all the newspapers and foodie feeds across the world.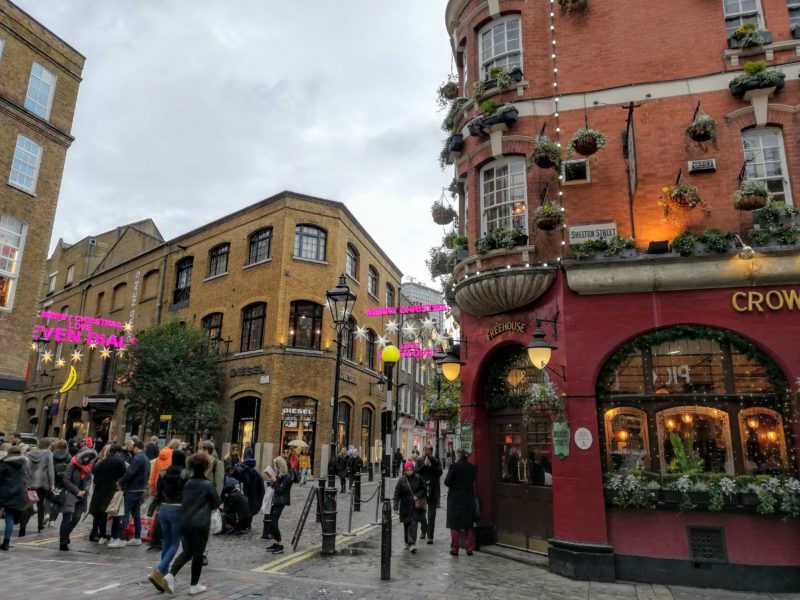 For the hipsters and Millennials, there is the East London Liquor Company and Gipsy Hill Brewing Company, serving "collaborative cocktails" and an exclusive beer, Kerb Lager, which the latter has brewed exclusively for the market. Hackney-based soft drink company Square Root Soda will also run an alcohol-free bar called the Soda Stage. All for your evening entertainment you can hang out at the market.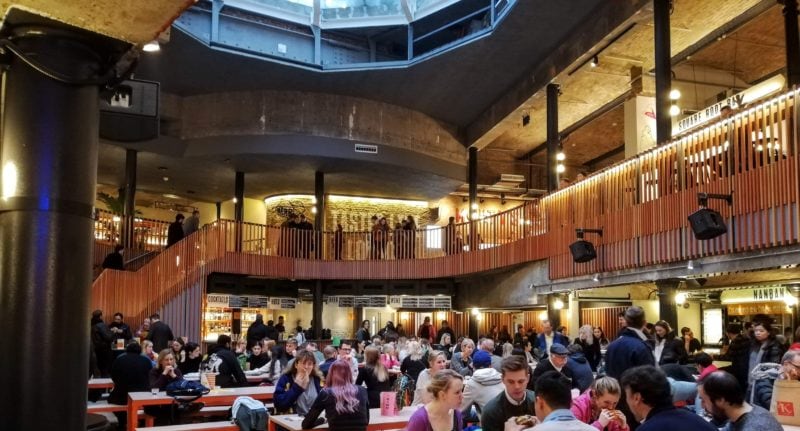 The market is also home to its own bookshop. Run in partnership with travel bookshop Stanfords, the shop stocks more than 400 food and drink-focused books and will transform at night into a private event space.
Were we impressed by 7 Dials? Not so much, we found the offerings on display disappointing, to say the least, and when we had decided upon a lunch we discovered that they only took credit cards or debit cards. No one in the food court accepts cash. So we had no choice but to go someplace else. There was a distinct buzz in the place but to be honest we didn't see much that impressed us.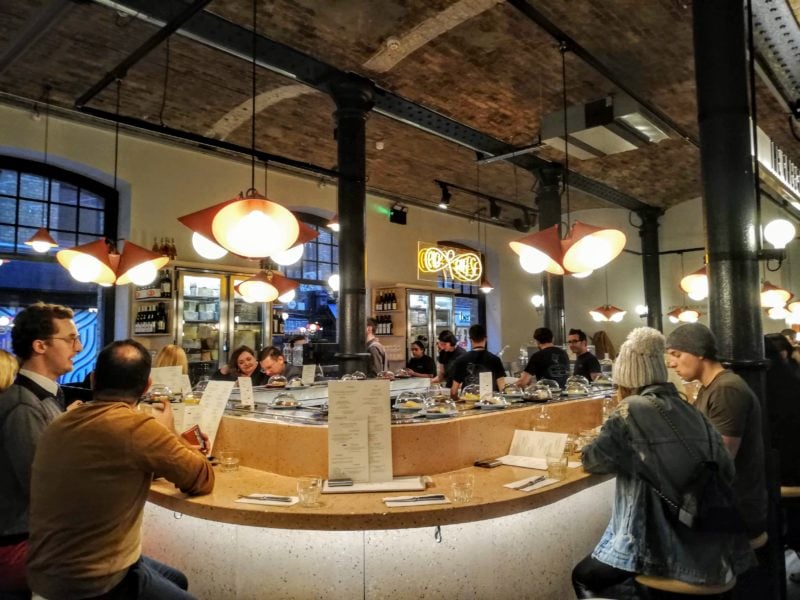 Other than that it's a pretty funky area Neal's Yard, has been the home of alternative medicine, occultism and astrologers since the 17th Century, all of whom were attracted by the sundial and the symbolic star layout of the streets. Not to mention its gorgeous Instagrammable buildings and ambience.
There are two blue plaques in 7 Dials which mark two great landmarks. Above 13 Monmouth Street, a blue plaque highlights the location where former Beatles manager Brian Epstein ran his successful management company, NEMS. In Neal's Yard, Seven Dials' other blue plaque identifies the "Monty Python, Filmmakers, lived here, 1976-1987".
We also found some pretty cool vintage shops that sold items by kilo, so I could buy a kilo of Japanese kimonos for €22 euro.
SoHo
For 200 years the Soho area was at the heart of London's sex trade. But in the 80's the area "cleaned up its act". These days its proximity to the Theatre District means that you can find many fine restaurants and bistros in the Soho district for pre and after-theatre cuisine. The SoHo food scene is outstanding and SoHo is also home to one of the best bottomless Brunches in London.
Soho was also the infamous location for the cholera water pump. It was in this area that cholera spread throughout London from the public water pump discovered by Dr John Snow. You can still see the pump to this day as a memorial to those terrible times.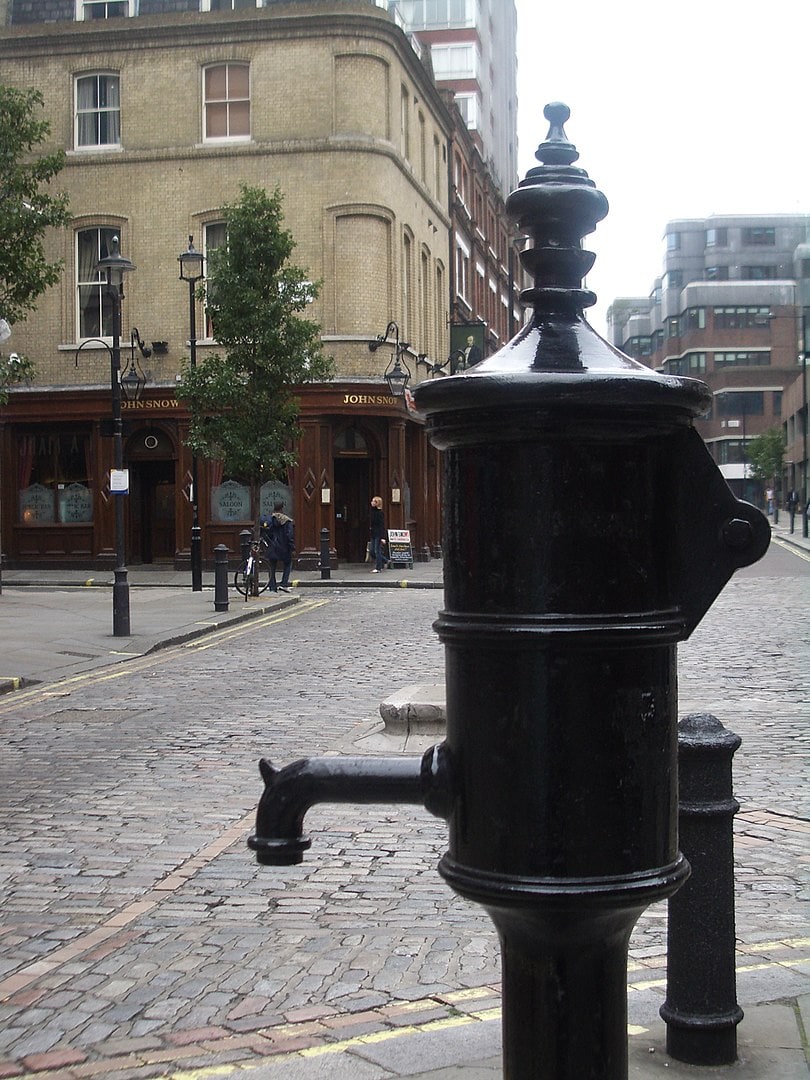 Soho was also the centre of the film and video industry beginning in the 80's many a shop set up to produce the latest music videos and there were editing locations and post-production for movies and television. England was introducing a new channel to TV and everyone held their breath.
Soho is where Elton John celebrated his engagement to David Furnish. Keith Moon hung out here back in the day and countless celebrities partied heavily in Soho clubs and bistros.
Soho's Wardour Street was the home of the Marquee Club, which opened in 1958. Bands that played there included the Rolling Stones, The Who, Jimi Hendrix, David Bowie, Led Zeppelin, Pink Floyd, Jethro Tull, AC/DC and Iron Maiden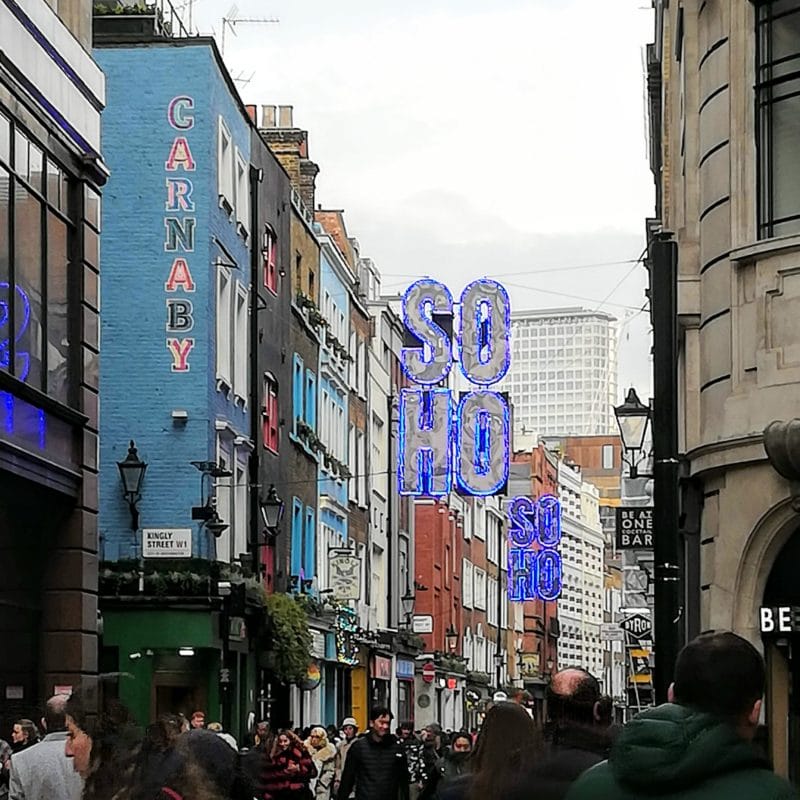 Trident Studios in Soho became immediately successful after The Beatles decided to record several tracks on The White Album there, as the facilities were better than Abbey Road studios. Queen recorded their first four albums and filmed the video for Bohemian Rhapsody at Trident.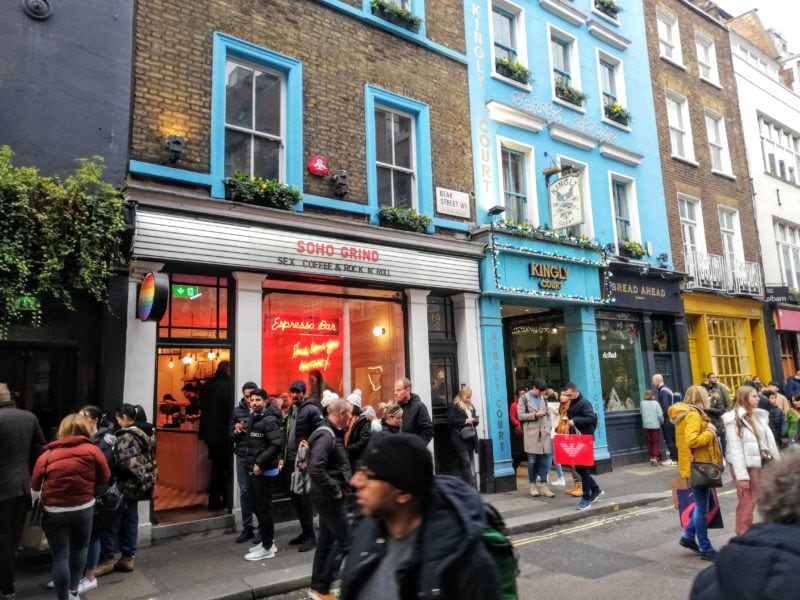 Although technically not part of Soho, the adjacent Denmark Street is nicknamed the British Tin Pan Alley due to its large concentration of shops selling musical instruments. The Sex Pistols lived beneath No. 6 and recorded their first demos there. Jimi Hendrix, the Rolling Stones and David Bowie have all recorded at studios on Denmark Street and Elton John wrote his hit "Your Song" in the street.
Richmond
Visiting London can be overwhelming, especially if you are in the capital for the first time. The city has some of the most famous monuments in the world. A visit to Big Ben and Buckingham Palace, walk around Trafalgar Square or Hyde Park, shopping in Harrods or Oxford Street and dinner in The Shard are always top on any to-do list in London. But those are also the most visited places, so expect them to be crowded!
The list of London attractions seems never to end… There are so many that even people who live here for almost all their lives have never been to many of them. Discovering new attractions is part of the fun in London. Especially if you spend a little more time exploring the city.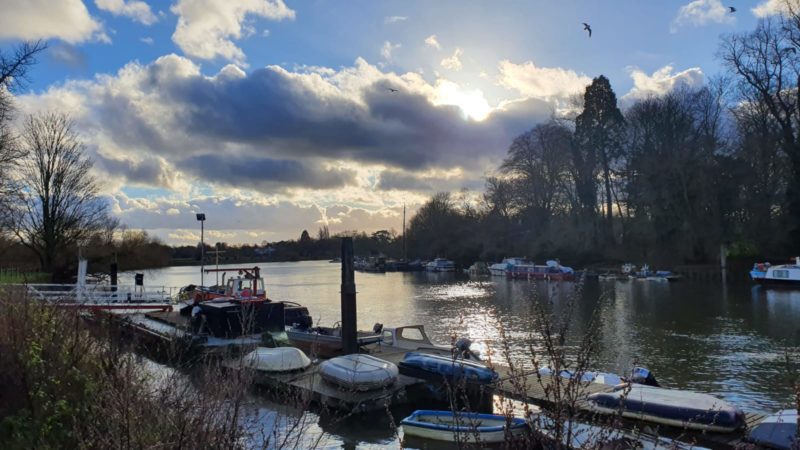 One of our favourite places in London, located a bit further away from the busy city centre, is Richmond upon Thames with its amazing park – Richmond Park, a place where deer live!
In Richmond upon Thames live some of the most prosperous and healthiest Londoners, so it's no wonder that this part of the capital was once named by Rightmove as the happiest place to live in London. Still, this is one of the lesser-explored by tourists areas of London!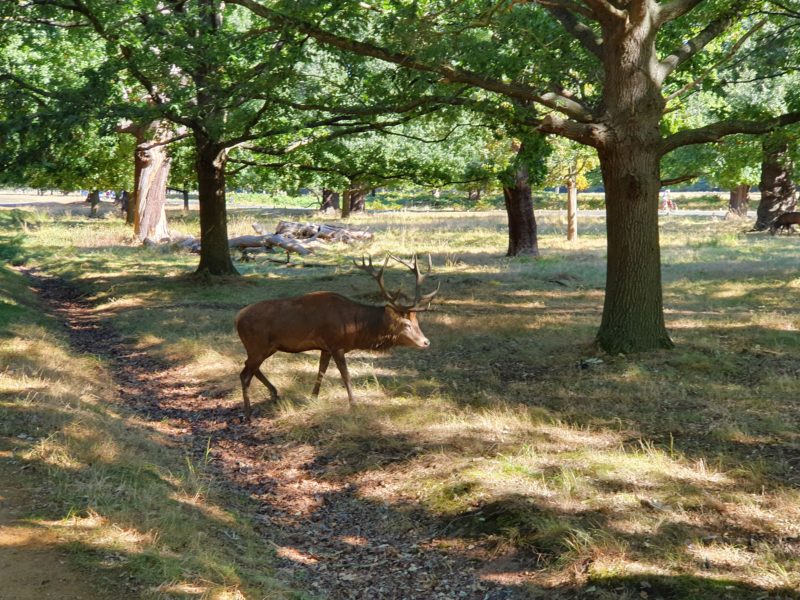 After spending a few hours in Richmond Park, you can enjoy a nice lunch at the Tide Tables Café – one of the best cafes/restaurants in Richmond. There is nothing better than a lunch with stunning views over the Thames from a leafy garden! Don't forget to get a slice of carrot cake with your 3 o'clock tea.
There will be also time to get on a river cruise if you fancy one. There are lots of transportation options to central London, so you will get a chance to see the city from a different perspective. from DarekandGosia
Phoenix Garden London
A true hidden gem this tiny little community garden is nestled between Covent Garden and Soho and behind the Phoenix Theatre. Open to the public from Monday to Sunday dawn till dusk this little oasis of calm was originally a WWII bomb site on which a carpark had been set up.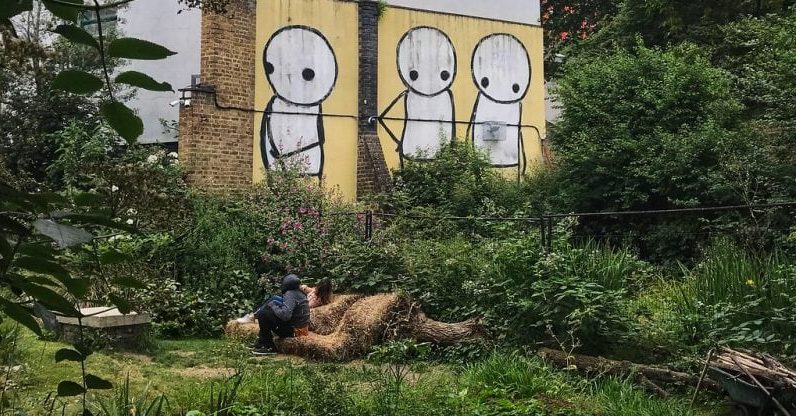 In 1984 it was set up as a community garden and operated as a charity to bring "green" into the heart of London. Regular events such as gardening workshops, yoga retreats and activities for the kids are held here. If you managed to catch the film Last Christmas which is based on the George Michael song you might recognize Phoenix Garden.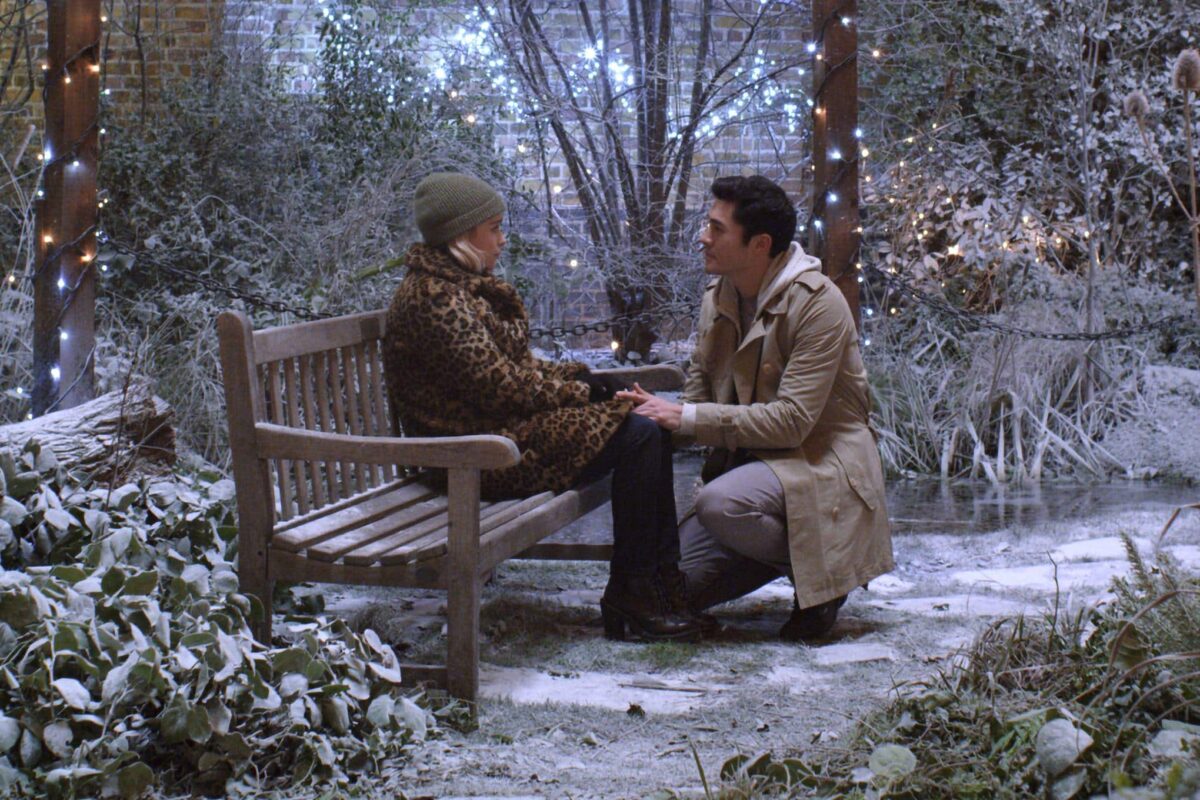 Leadenhall Market
Even I the jaded cynic admits that Leadenhall is pretty stunning. However, during the time I was there there wasn't much going on and very few shops and no market to speak of but still, if you are a Harry Potter fan it is a must.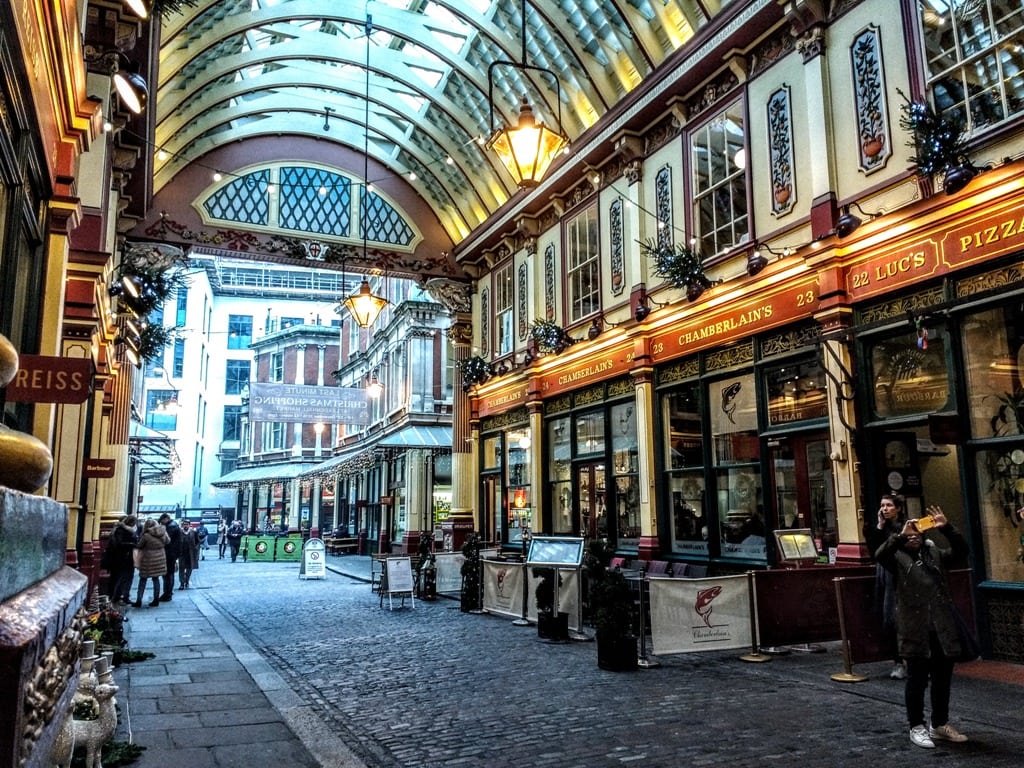 Holly Village Highgate
Holly Lodge Estate is a stunning gated community of mock Tudor houses and flats, constructed during the 1920s created by one of the richest women in Victorian England, Baroness Angela Burdett-Coutts.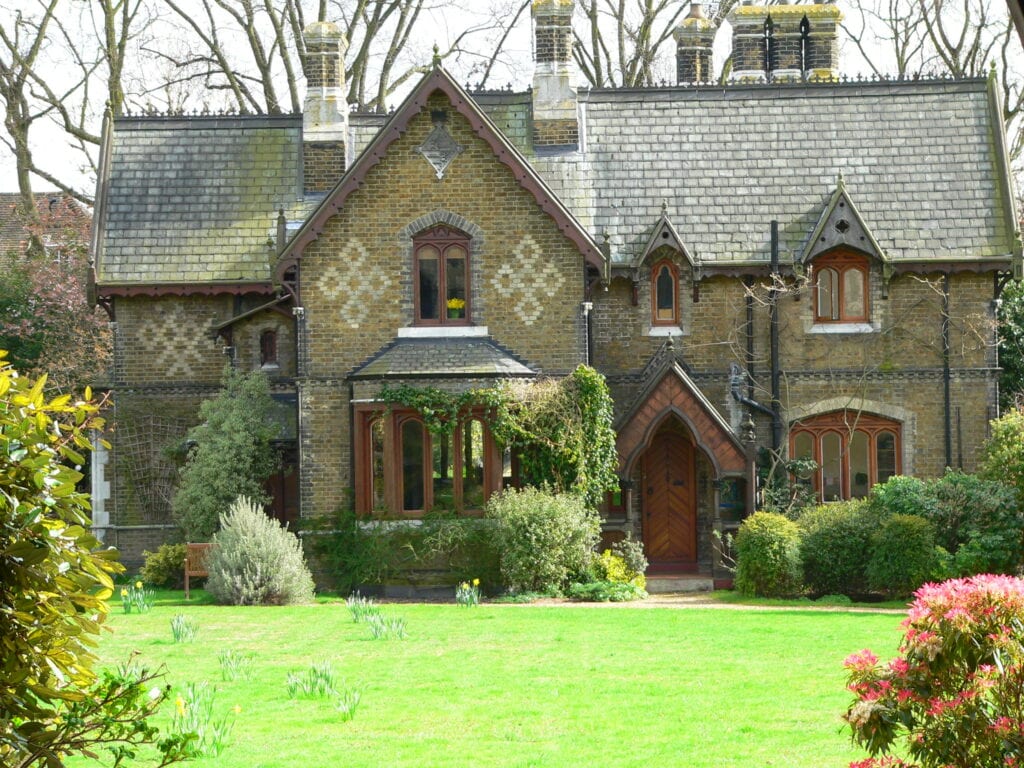 With the help of Charles Dickens and architect Henry Darbishire, Baroness Burdett-Coutts set up these 12 cottages were to be home to those from the middle class. In particular retired Coutts bank workers.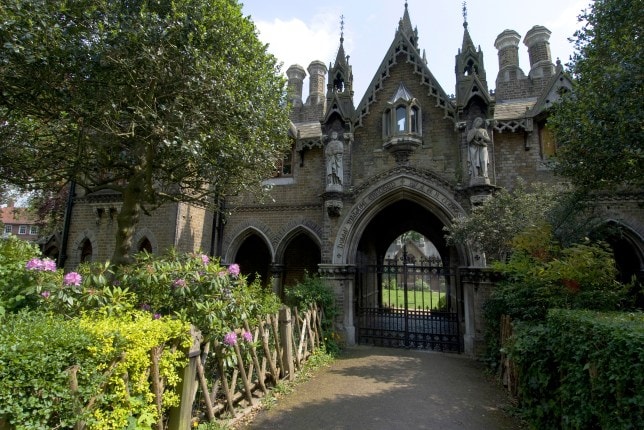 Holly Village abounds with Victorian ornate gothic architecture, and it was designed by the renowned Henry Darbishire who designed these "cottages" with wooden turrets, and stone gargoyles and hired Italian craftsmen for the spectacular wood carvings that decorate the homes. Holly Village is truly one of London's best-hidden gems and most tourists have never seen it.
Kensington Park
Kensington and Chelsea are home to some of the "poshest" and richest individuals in England. But the Borough is a lesson in contrasts. From the mega-rich shopping of the Kensington and Chelsea set with Harrods and other upmarket shops to Kensington Palace (Diana's home and memorial) the Chelsea Flower Show to the Nottinghill Carnival and the beautiful Kensington Gardens and Palace.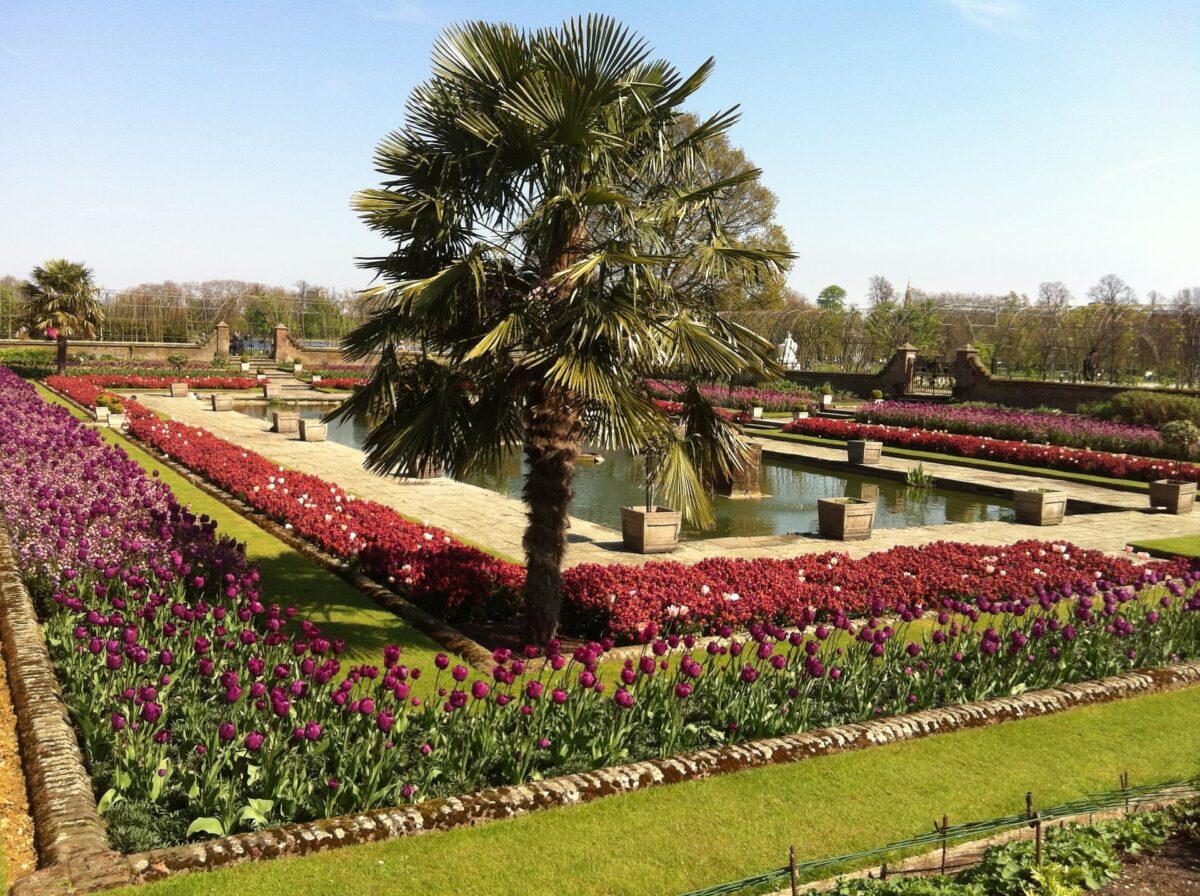 Kensington Gardens used to be a private park that is now public. Home to Kensington Palace and the Diana Princess of Wales Playground and memorial and many other attractions. The beautiful grounds include a formal Italian Garden, the Peter Pan Statue and cover over 260 acres.
Kensington Palace
At Kensington Palace, you can explore the birthplace of Queen Victoria and home to young royals for over 300 years. Walk in the footsteps of royalty in Victoria's re-imagined childhood rooms and the magnificent King's State Apartments and Queen's State Apartments.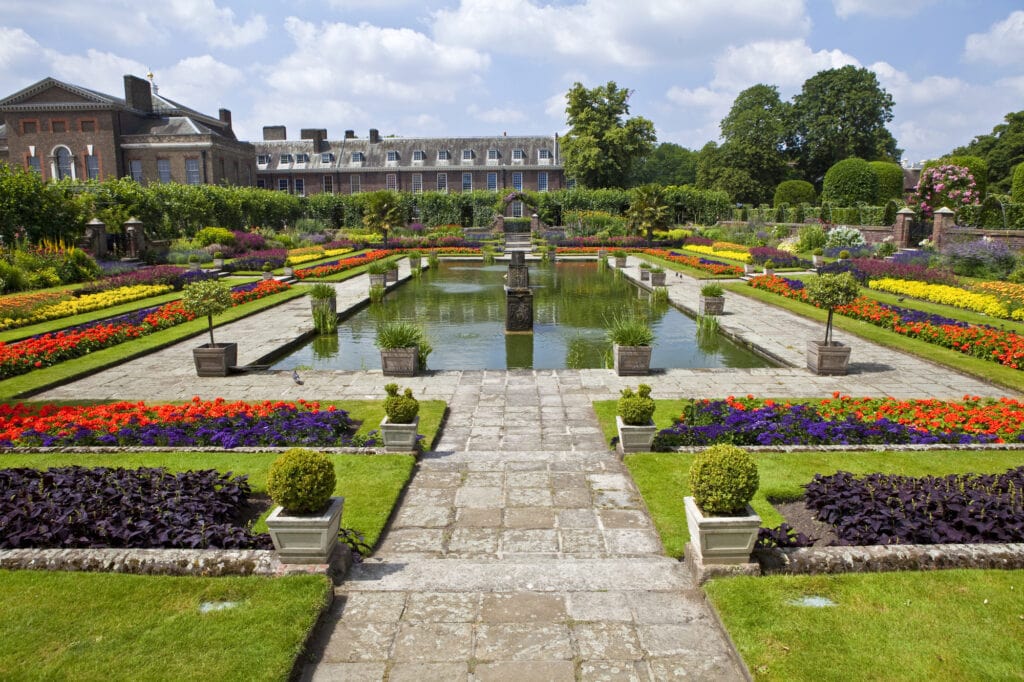 Kensington Roof Gardens
Come to Kensington Roof Gardens and enjoy the view! Located on top of the former Derry and Toms's department store and covering 1.5 acres, this is the largest roof garden in Europe. You can lose yourself in the Spanish, Tudor and English woodland-style gardens and make the most of the panoramic views over West London. You can even dine in the exclusive Babylon Restaurant. You should check that there are no private parties taking place before you go to avoid disappointment!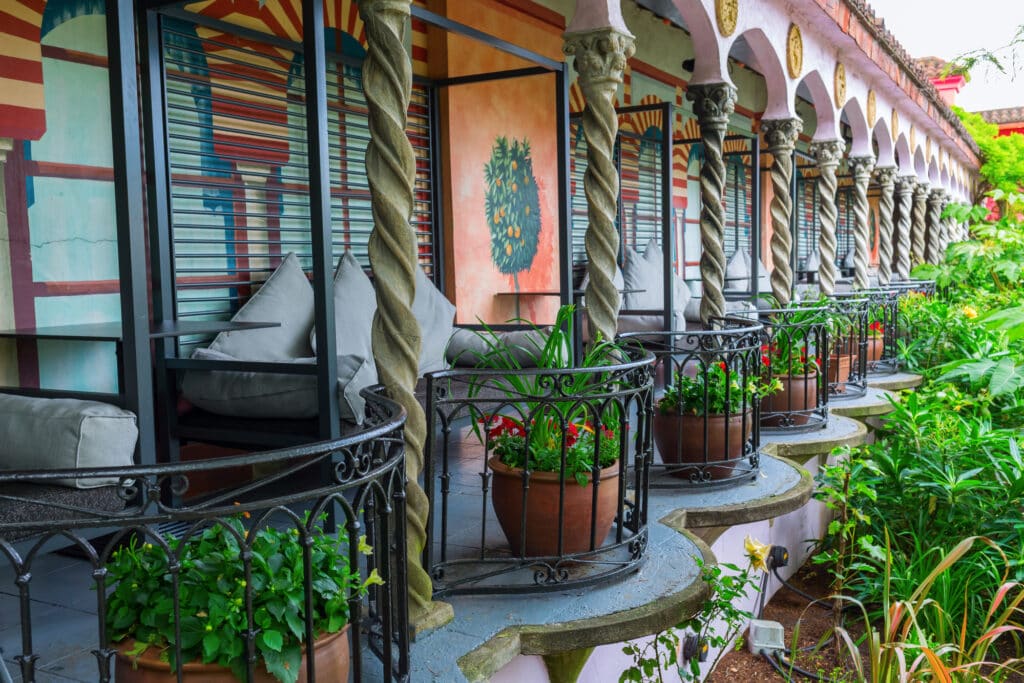 Kyoto Garden Holland Park
Holland Park was the first location in England to grow Dahlias and is free to enter. The Kyoto Garden is a recent addition that was donated by the Chamber of Commerce in Kyoto Japan in recognition of the Japan Festival held in London in 1992.
A stunning Japanese garden designed by an award-winning Japanese Horticulturist working with the Royal Borough of Kensington and Chelsea this garden is a stunning display of Japanese art, flowers, greenery and of course a lovely koi pond to relax by.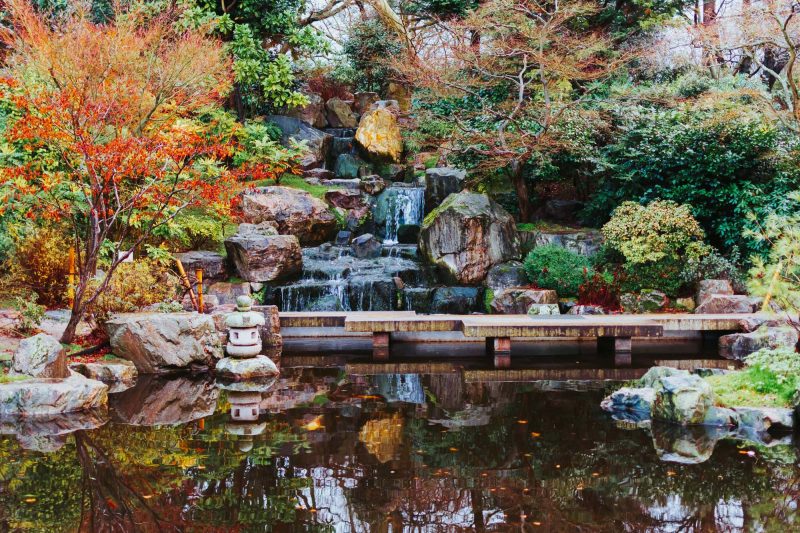 Daunt Books
An incredible bookshop located on the Marylebone High Street branch was an Edwardian bookshop reputed to be the first custom-built bookshop in the world. Complete with William Morris prints, long oak galleries, and extraordinarily beautiful skylights and stained glass.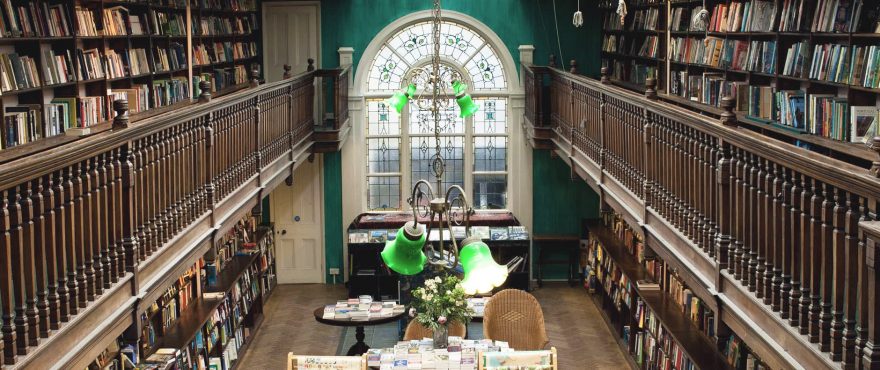 The shop was bought by James Daunt and renamed Daunt Books in 1990. It now focuses on first-run titles with a speciality of travel-related books and materials.
Sir John Soane's House
Sir John Sloan was a well-known British architect and his home has been turned into a National Museum. There is no charge to visit the museum which is open Wednesday through Sunday from 10 am to 5 pm. The exhibits include sculptures furniture, models, drawings, and some famous paintings.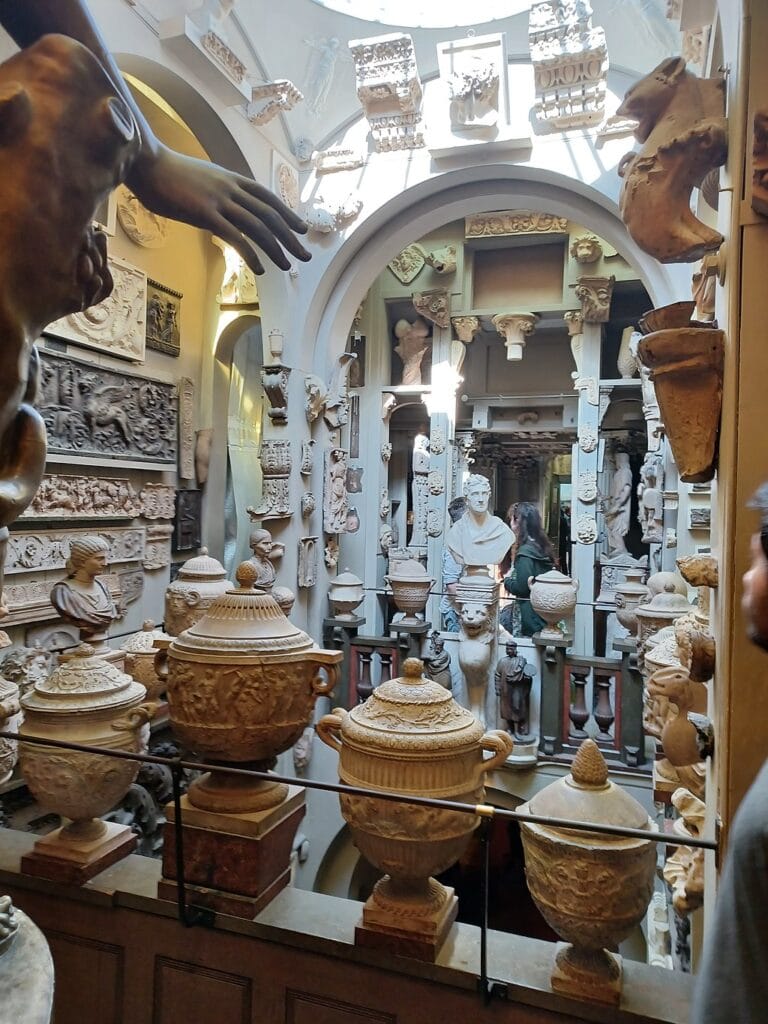 Things to do in Chelsea London – if you love a Museum Chelsea is where you need to visit
Postman Park
Near St. Paul's Cathedral this pretty little park got its name from the workers of the now long-gone General Post Office taking lunch in the park.
It is home to the famous Watts memorial, built in 1900 by the Victorian painter and philanthropist GF Watts. Watt was my kind of guy a radical socialist who worked to improve the terrible living conditions of the urban poor. To mark Queen Victoria's Jubilee year he proposed a park commemorating the 'heroic men and women' who had given their lives attempting to save others.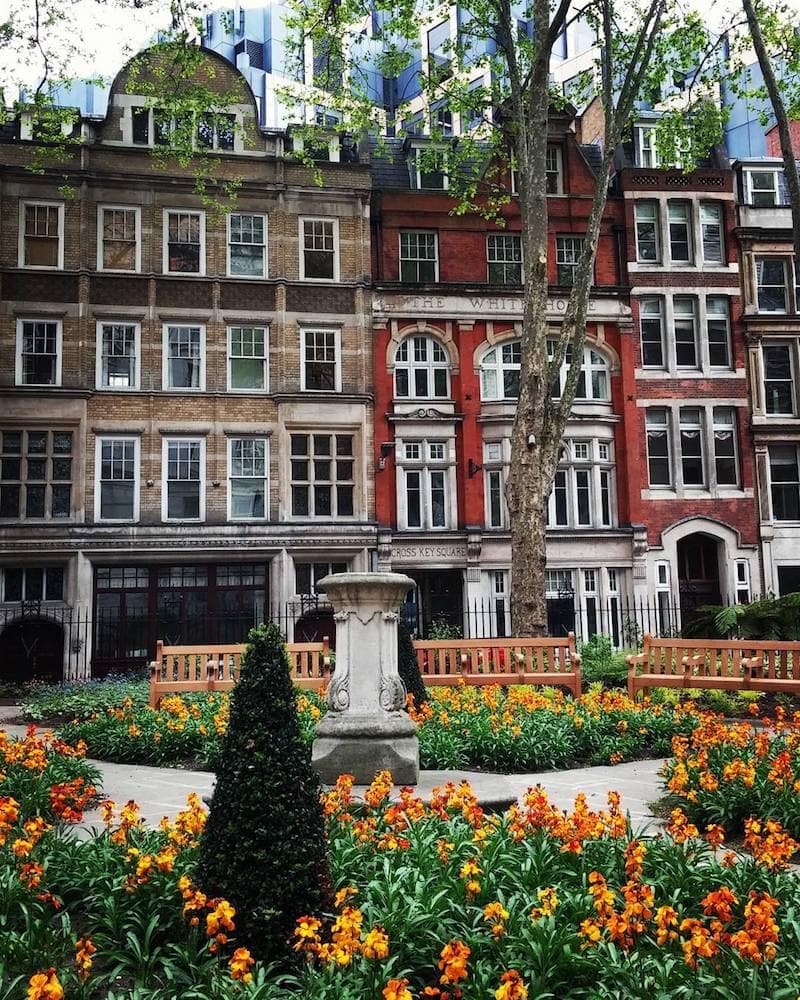 Along the walls of the gallery, he placed Royal Doulton tiles commemorating acts of bravery. Each tile tells of the tragic tales and heroic acts of the citizens of London.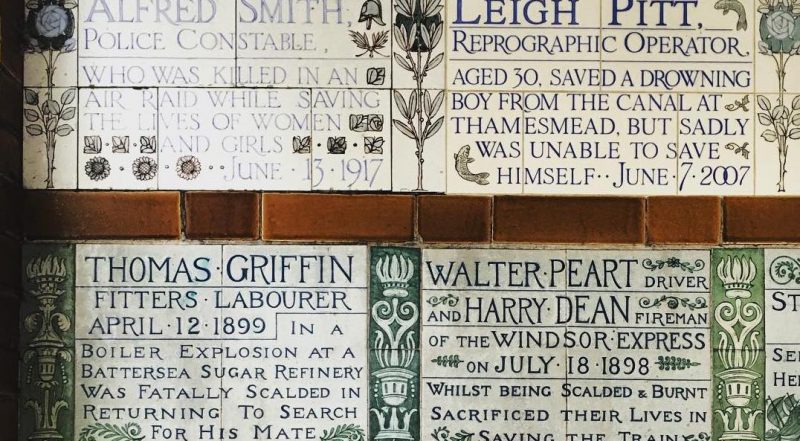 The garden itself has beautiful bright flower beds surrounding a sundial and fountain.
In 2004 the film Closer used a key plot theme featuring Postman's Park the character Alice Ayres (Natalie Portman) used the Ayreas' tablet as her name throughout the film.
Union Chapel
Designed by Cubbit who was a well-known architect of non-conformist churches and inspired by the Santa Fosca, Torcello – a Venetian Byzantium Cathedral.
A unique design of the Chapel was set up to incorporate the notion that the preachers' voices should be heard from all corners of the building. There is an organ that is built right into the walls of the chapel and hidden from view so that it seems like the music reverberates from the very building.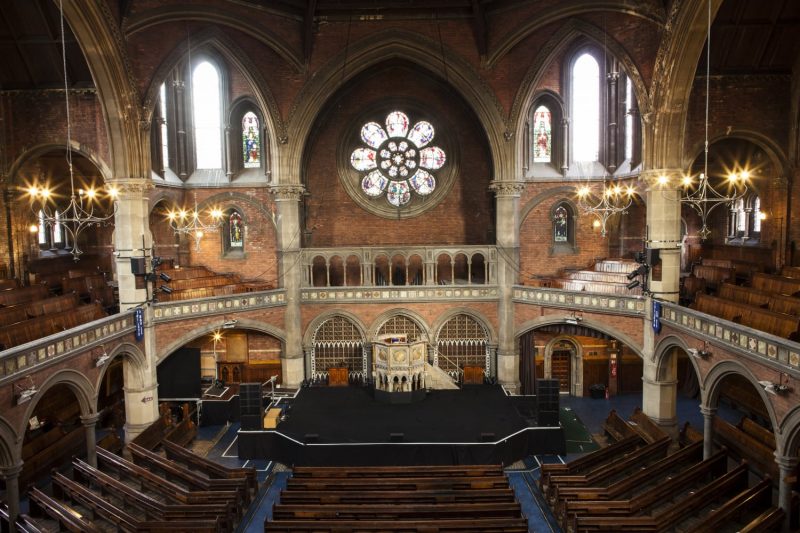 You may have seen the Chapel on television featuring performances from bands and musicians like Procol Harum, U2 and Bjork. Now known as one of London's finest live performance spaces the Union Chapel is a well-loved London landmark.
Walk Under The Thames River
Greenwich Foot Tunnel is one of London's secret places – well almost unless you live here. You can take the Greenwich tunnel near the Cutty Sark Exhibit and walk under the River Thames. It's a rather nondescript red brick building completed in 1902 and renovated in 2012 and was built to replace the ferries across the Thames which were expensive for workers. The staircase down and up are spiral so a bit of a struggle if you have walking issues.
Kew Palace
A small Palace that was a weekend retreat to George III and Queen Charlotte set in (obviously) Kew Gardens on the banks of the Thames. Only a few elements of the Palace actually survived to date. The main building the Dutch House was built atop an undercroft dating back to 1631.
Kew Palace is the smallest of all the royal palaces. It was originally built as a fashionable mansion for wealthy London silk merchant, Samuel Fortrey in 1631.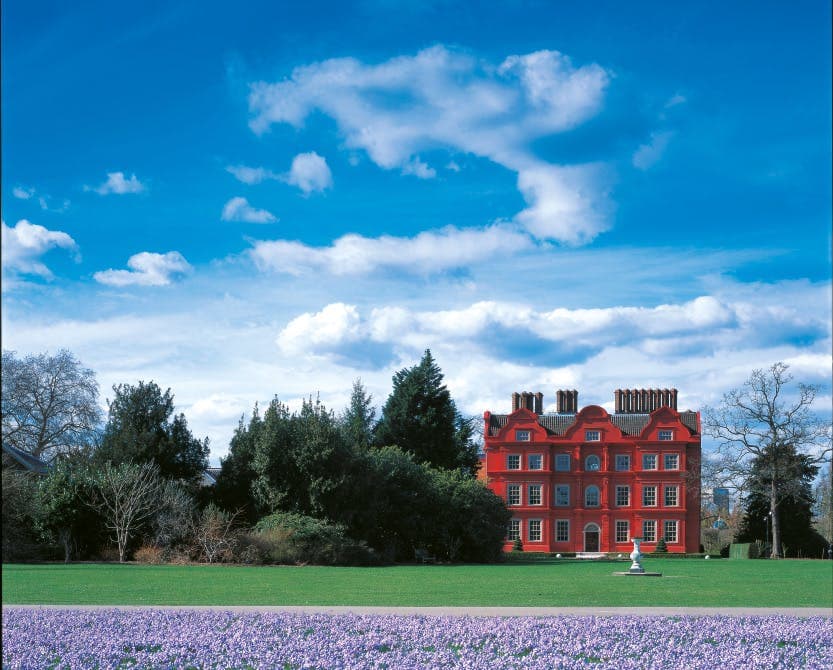 Later the house became a refuge for George III when he fell ill and was thought to have become mad. However, sadly Kew fell under the shadow of George III's mental illness when the King stayed there during his first bout of 'madness' in 1788.
Highgate Cemetery
Highgate Cemetery is a place of burial in north London, England. It occupies a spectacular south-facing hillside site slightly downhill from the top of the hill of Highgate itself, next to Waterlow Park. Designed and built originally for the wealthy of London the Cemetery is listed as Grade 1 and is one of the Magnificent Seven Cemeteries in London.
The Victorian attitude to death led to the creation of incredible Gothic tombs and buildings.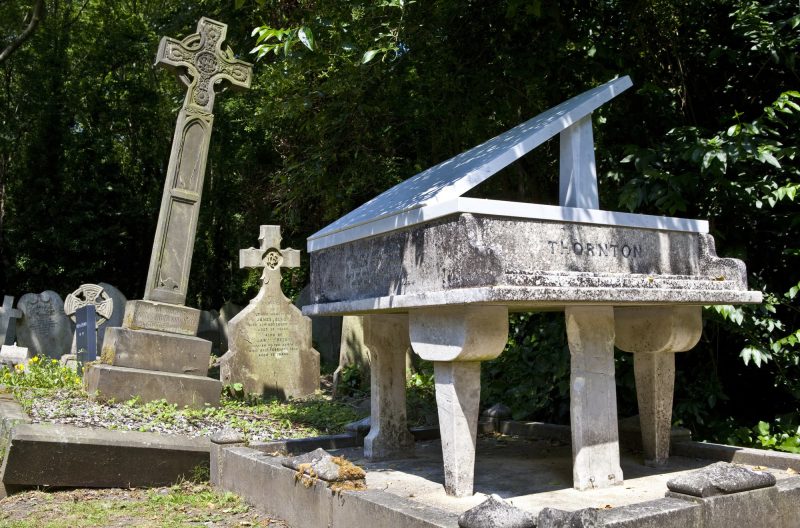 Since 1975 when The Friends of Highgate Cemetery was formed work began to clear the cemetery of undergrowth and preserve the magnificent tombs and memorials. The restoration and conservation work continues to this day.
The Cemetery is home to many famous historical figures including Karl Marx, George Eliot, Edward Richard Woodham, a survivor of the Charge of the Light Brigade, Douglas Adams, (ashes) author of The Hitchhiker's Guide to the Galaxy and other novels and many others.
To wander through Highgate is to marvel at the Victorian ability to create memorials, enjoy the true peace of a beautiful cemetery and pay homage to the many known and unknown citizens buried here.
The London Silver Vaults
Another London hidden gem is the London Silver Vaults open since the late 1880's the London Silver Vaults occupy a sprawling Victorian storage facility beneath Chancery Lane. Not many locals know about this subterranean warren. Still fewer realise that you can simply walk down the stairs and freely browse one of the largest silver markets on Earth.
The vaults not only survived a bomb hit during WWII but several criminals apparently kept their treasures in the vaults. These days you can shop for all kinds of silver including jewellery, watches and much more.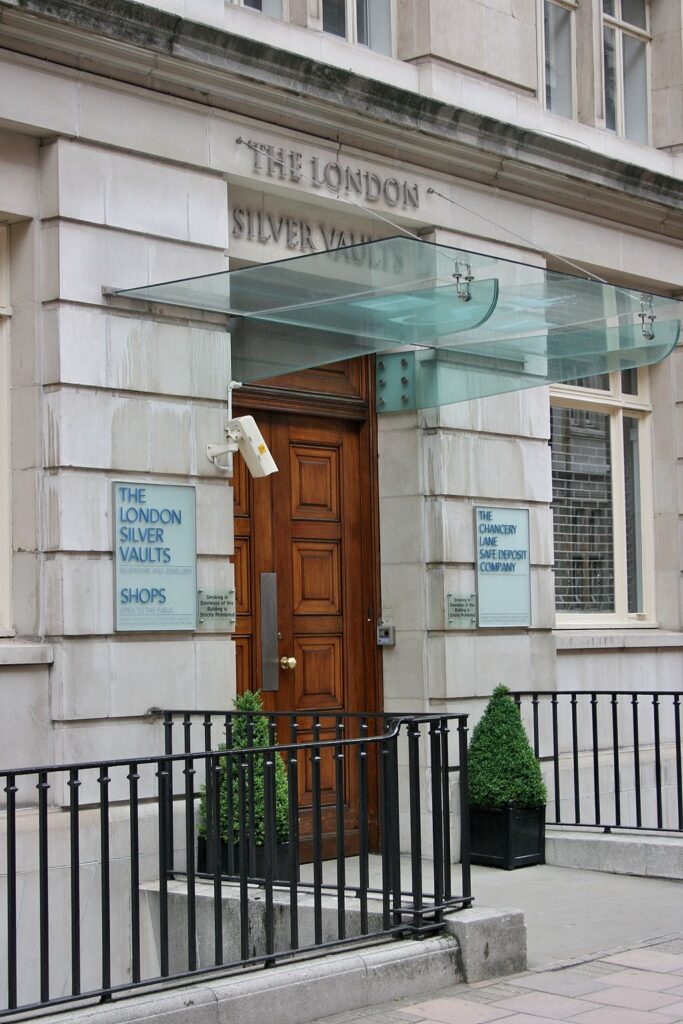 Notting Hill
Notting Hill is truly one of London's best-loved neighbourhoods to walk around. It is a popular area to live with celebrities and the wealthy side by side. The Notting Hill mews and lovely pastel-painted houses just scream London to me. The whole neighbourhood is like a movie set.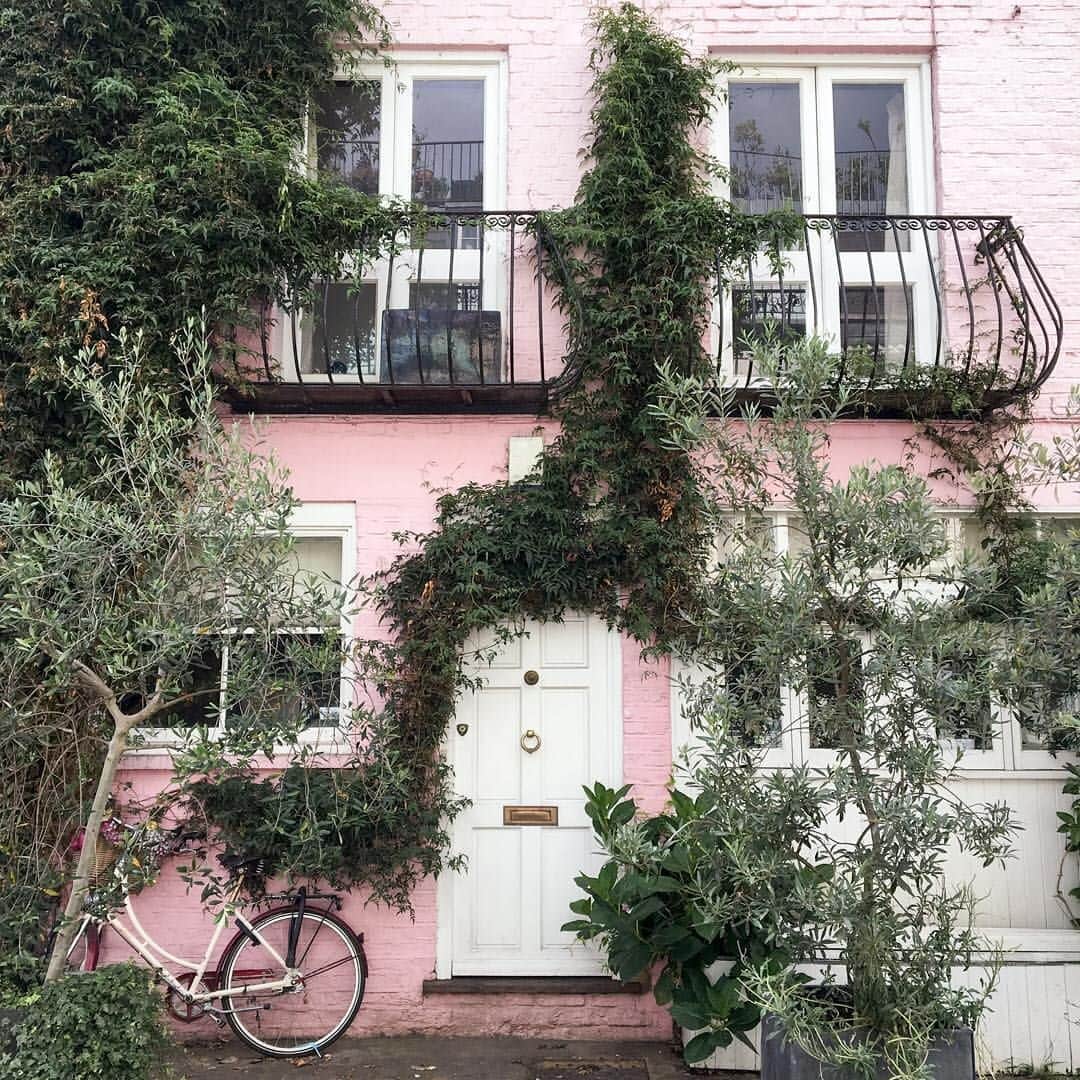 In Notting Hill, you will find super cute instagrammable houses in pastel shades around St. Luke's Mews. The Mews houses used to be where the rich stabled their horses back in the day, but these days think millions for one of these tiny little British homes. The best places to see in Notting Hall for cute and colourful houses is Lancaster Road, Denbigh Terrace, St. Luke's Mews and of course Portobello Road itself.
Portobello Road Market
Notting Hill is truly one of London's best-loved neighbourhoods to walk around. It is a popular area to live with celebrities and the wealthy side by side. The Notting Hill houses (known as mews) and lovely pastel-painted houses just scream London to me. The whole neighbourhood is like a movie set.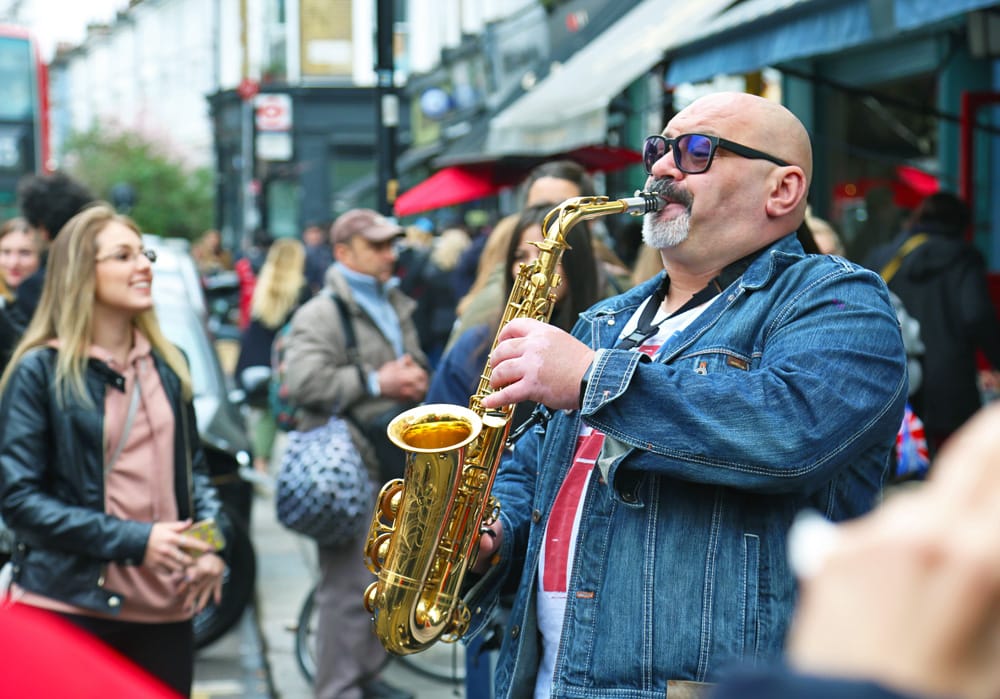 This is one of London's most iconic and famous markets. Tens of thousands of people visit Portobello Market in Notting Hill and it is alive with shops, cafes, restaurants and as diverse a clientele as you will see anywhere in London.
The World's Smallest Police Station
Contrary to popular internet myth this is not the world's smallest Police Station but it is the original communications or lookout point for the Police. In 1919 the Police installed a telephone box (wooden) in a corner of Trafalgar Square to keep an eye on things like gatherings and meetings in the Square.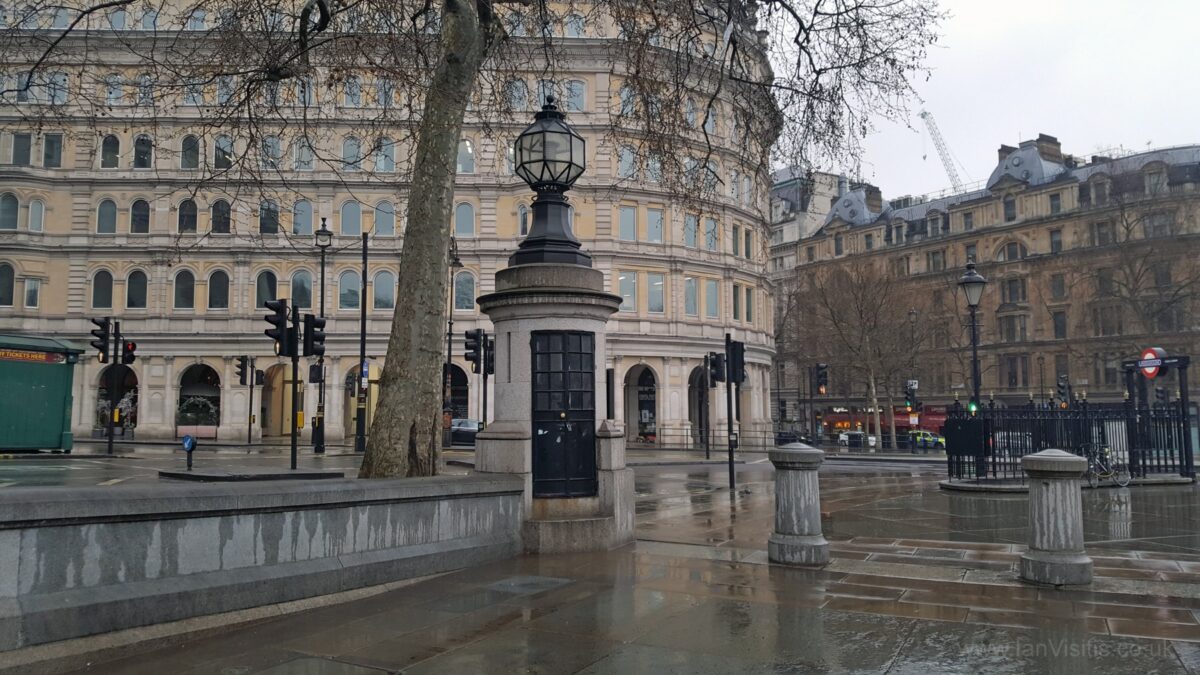 Over time the Police lobbied for a more permanent installation than a wooden box so a large granite lamp post was hollowed out and a telephone connection was installed in the space. this was in 1926 these days the space is used to store cleaners' equipment.
Benjamin Franklin's House
I'll bet you didn't know that Ben Franklin lived in London. Though he also lived in Boston, Philadelphia, and Paris, Franklin's only surviving residence is Benjamin Franklin House on Craven Street in central London. Benjamin Franklin first visited London as a teenage printer in the mid-1720s and stayed for eighteen months. He returned in 1757 as the representative of the Assembly of Pennsylvania.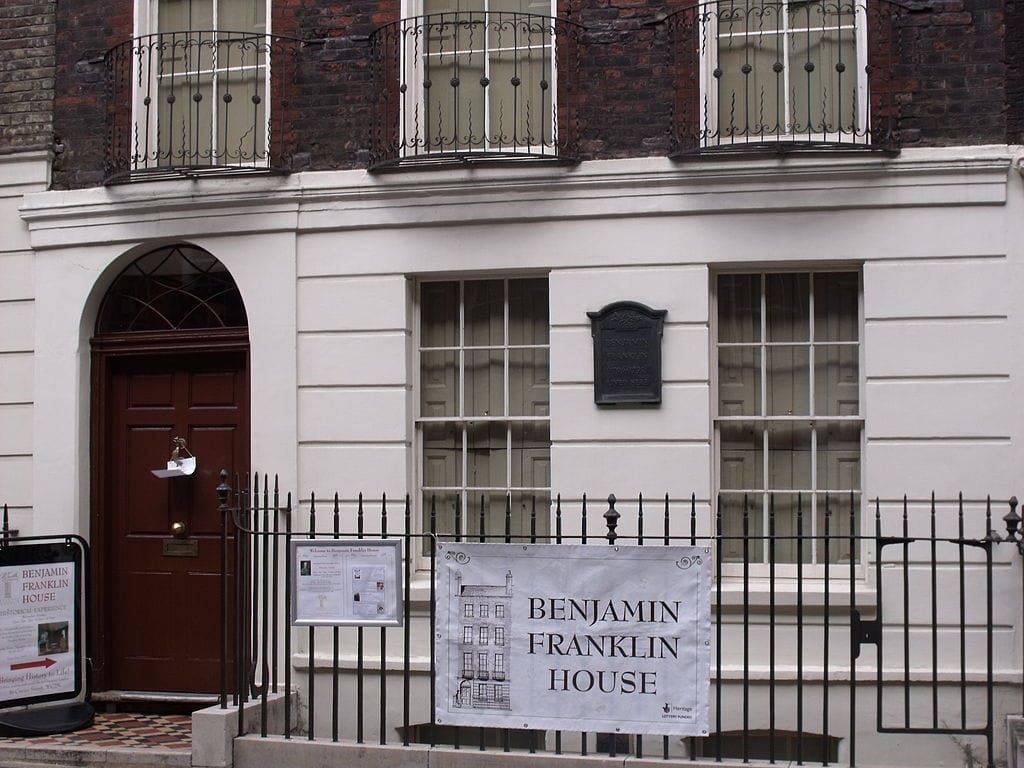 The Georgian Terraced house contains original fixtures and fittings installed by Franklin, with some offering insight into the experiments and inventive nature of one of the American Enlightenment's finest intellects.
St. Dunstan in the East
The brochures rarely mention Saint Dunstan in the East, a small church built by Sir Christopher Wren. It dates from the 12th century and sits between Tower Bridge and the Tower of London. Destroyed by the Blitz during WWII only the spire remains today. This little sanctuary is a hidden London gem with a small quiet garden disguised by buildings. Horror film fans will recognise the tower as the setting for the final scenes of the 1965 movie Children of the Damned when it, and the children, are wiped out by the military.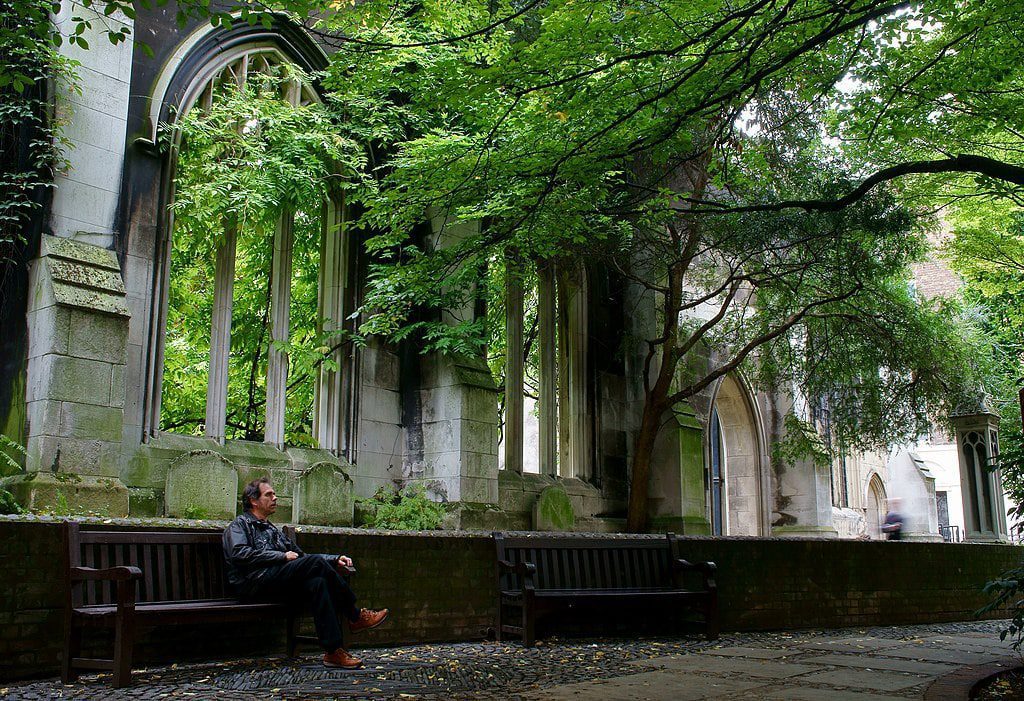 Neals Yard Covent Garden
A favourite spot of Instagram nerds Neal's Yard has been the home of alternative medicine, occultism and astrologers since the 17th Century, all of whom were attracted by the sundial and the symbolic star layout of the streets. Not to mention its gorgeous Instagrammable buildings and ambience. There are two blue plaques in 7 Dials which mark two great landmarks. Above 13 Monmouth Street, a blue plaque highlights the location where former Beatles manager Brian Epstein ran his successful management company, NEMS.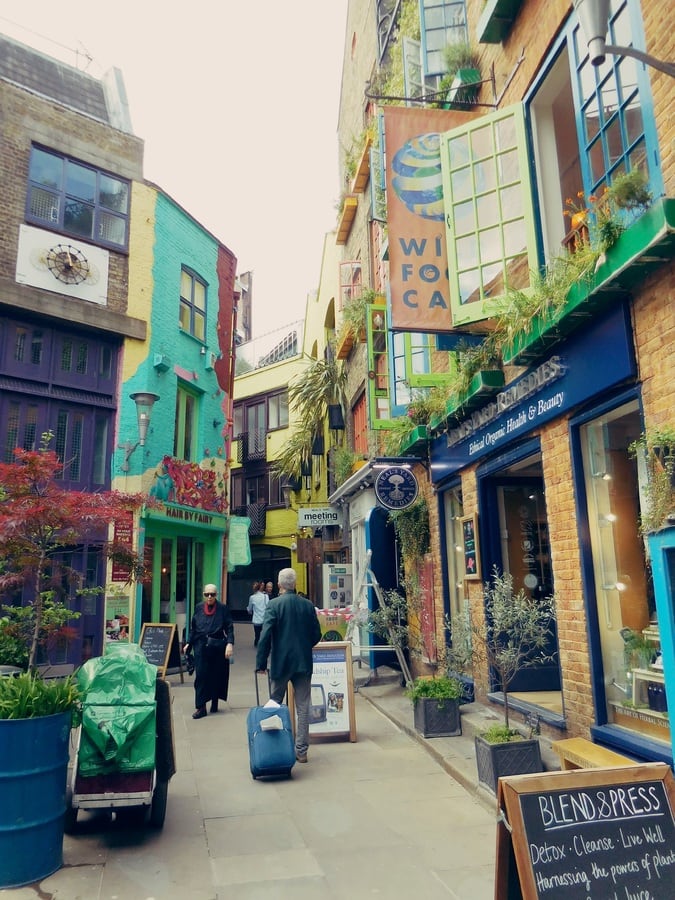 In Neal's Yard, Seven Dials' other blue plaque identifies the "Monty Python, Filmmakers, lived here, 1976-1987". Don't miss Neal's Yard an instagrammable location adjacent to Covent Garden. Lots of colour, flowers and ivy abound in this iconic little yard. Originally named after a 17th-century developer, Thomas Neale. In 1976 the derelict warehouse was bought by a radical activist and entrepreneur who started the Whole Food Warehouse.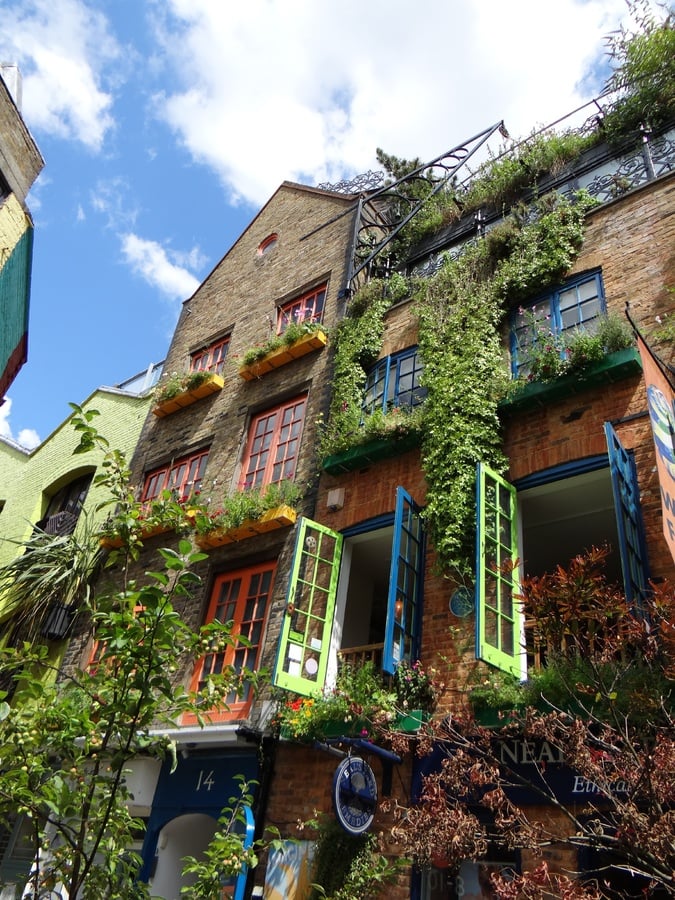 Neal's Yard Remedies shop was opened in 1981 by Romy Fraser. The shop was the first of its kind to offer dried herbs, homoeopathic products, essential oils, Bach flower remedies, and a range of toiletries based on herbs and essential oils. If you aren't careful you could spend your whole 2 days in London right here at Covent Garden market.
We also found some pretty cool vintage shops that sold items by kilo, so I could buy a kilo of Japanese kimonos for £22 sterling.
The Painted Hall – Greenwich
We stumbled upon the painted hall in Greenwich when we visited the Cutty Sark and the Greenwich maritime museum.
Designed in the early 18th century by  Sir James Thornhill, the Painted Hall features 40,000 square feet of walls and ceilings. The walls are covered in images depicting 200 figures including kings, queens and mythological creatures.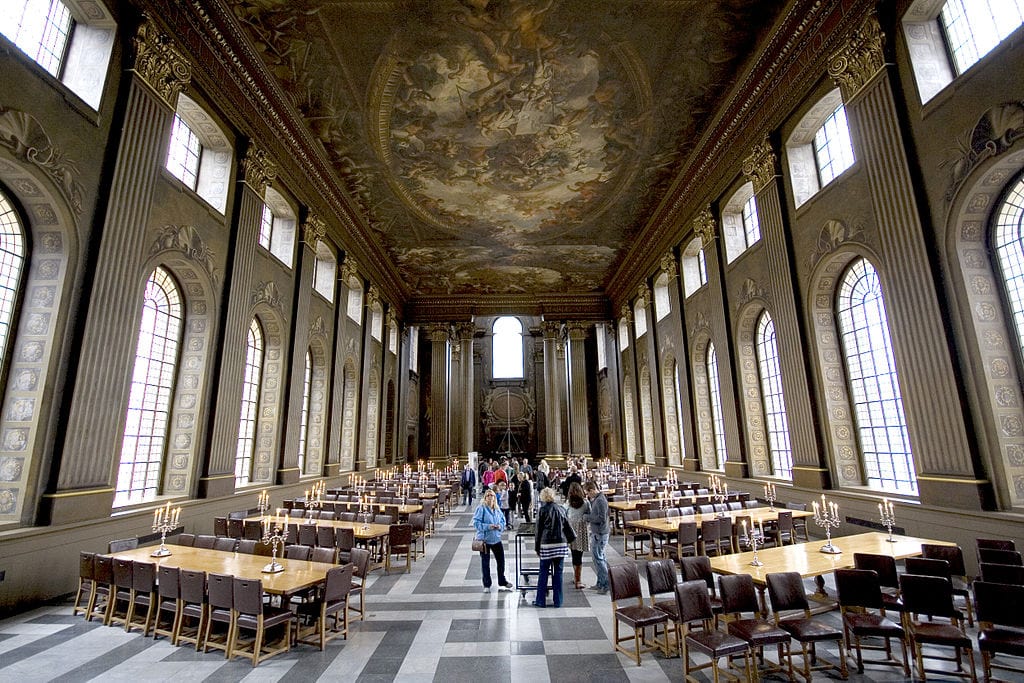 It was originally intended as an eating space for the Greenwich Pensioners who lived at the Royal Hospital, as it was called then, but it soon because a tourist attraction and was used for dining only on special occasions.
Columbia Road Flower Market
Want to see a riot of colour and smell some incredible blooms? Sunday at 8 am is the time to hit up the Colombia flower Market. The place for Instagrammers and influencers posing for photos but given the riotous colour and atmosphere still a beautiful place to see.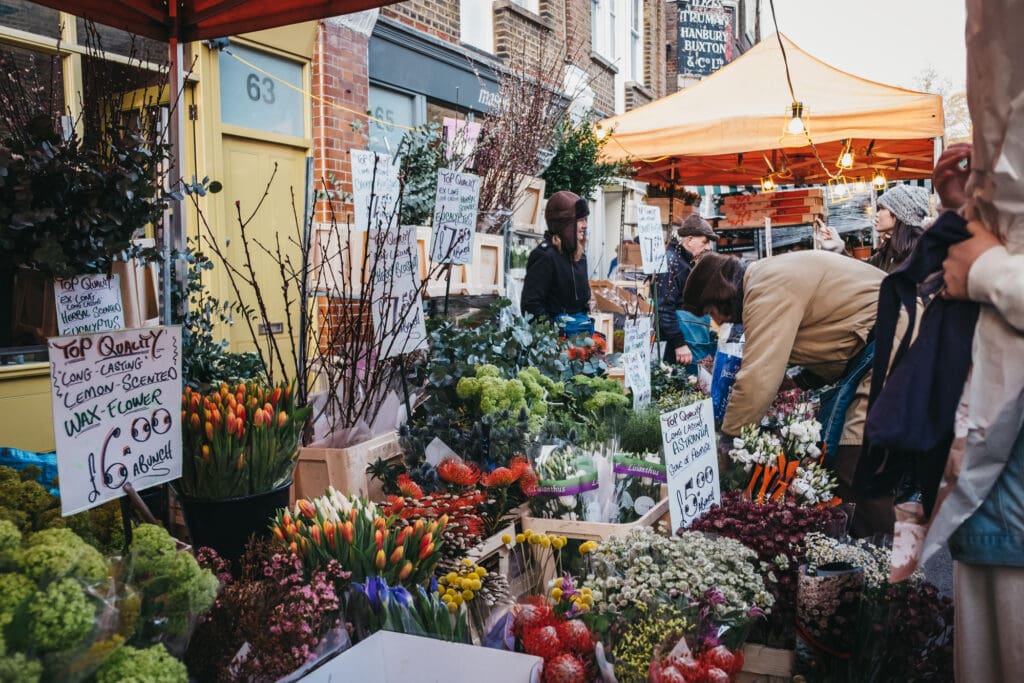 Sky Garden
Sky Garden is London's highest public garden and a brilliant place to take a breath. There are a limited number of free tickets available daily and you can book one online. The views are simply jawdropping and offer a 360-degree panorama view of London. Why go up the Shard and pay through the nose?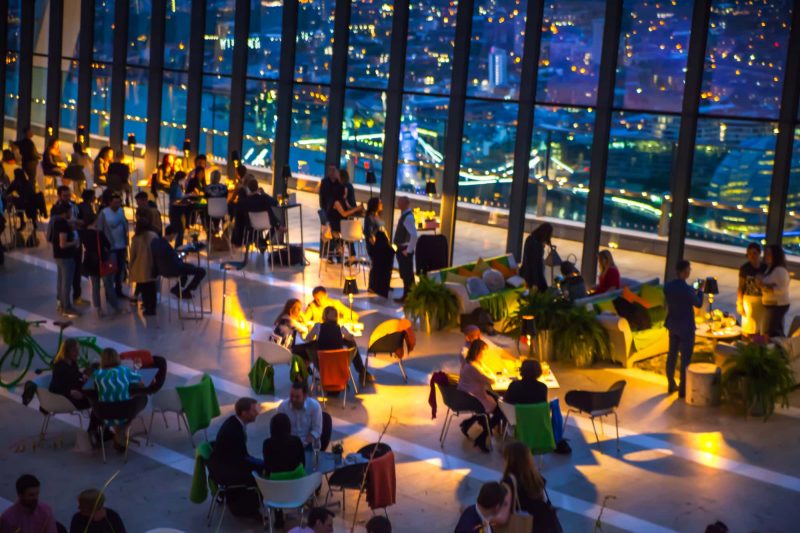 Known as the walkie-talkie due to its unique shape, there are 3 superb restaurants for grabbing a gourmet bite to eat and two cocktail bars. The Garden aspect is supposed to appear "as if you're coming across a mountain slope," with African lilies, red hot pokers and birds of paradise plants.
While it is a fascinating place the prices in the restaurants and bars will bring you right back to earth with a thud so don't expect a bargain.
Chelsea Physic Garden
This Chelsea garden is the oldest botanical garden in London, founded in 1673 for the purpose of training specialists in plant identification. Nowadays, it is one of the most important centres of botany in the world. Come to this enchanted garden to read a bit about the history of plant exchange in the British Empire and be sure to stop by the Tangerine Café for a delicious lunch overlooking this beautiful collection of greenery. The price may seem costly, however, the experience is totally worth it.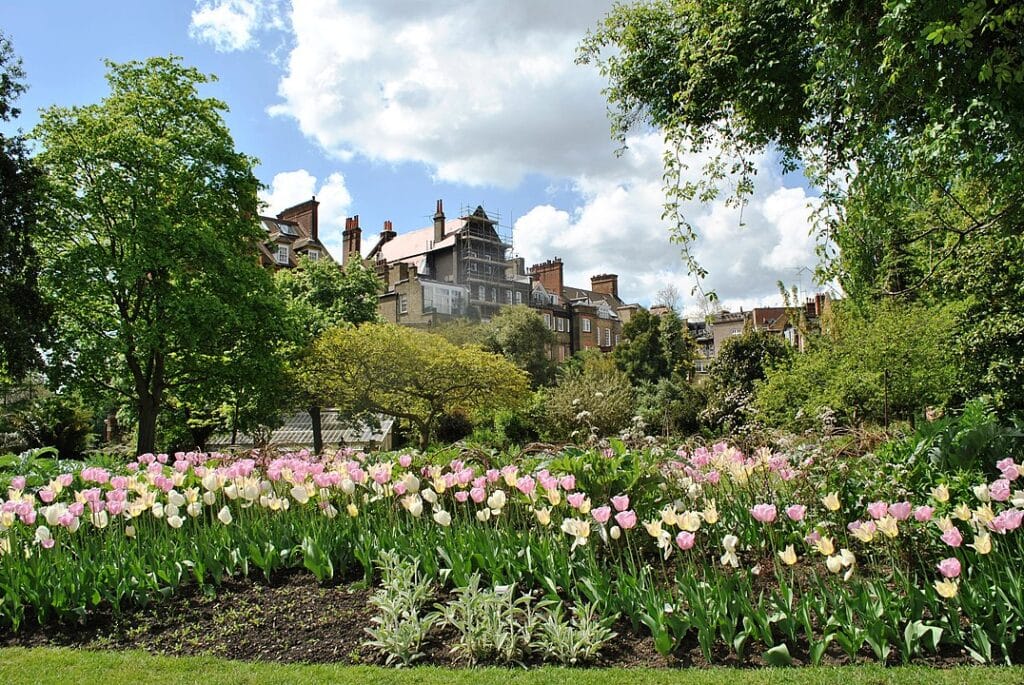 Kensington's Elfin Oak
Kensington Gardens Elfin Oak is over 900 years old and originally grew in Richmond Park. It is covered with tiny magical figures carved between 1928-30 by Ivor Innes. This most unusual tree owes its preservation to Spike Milligan.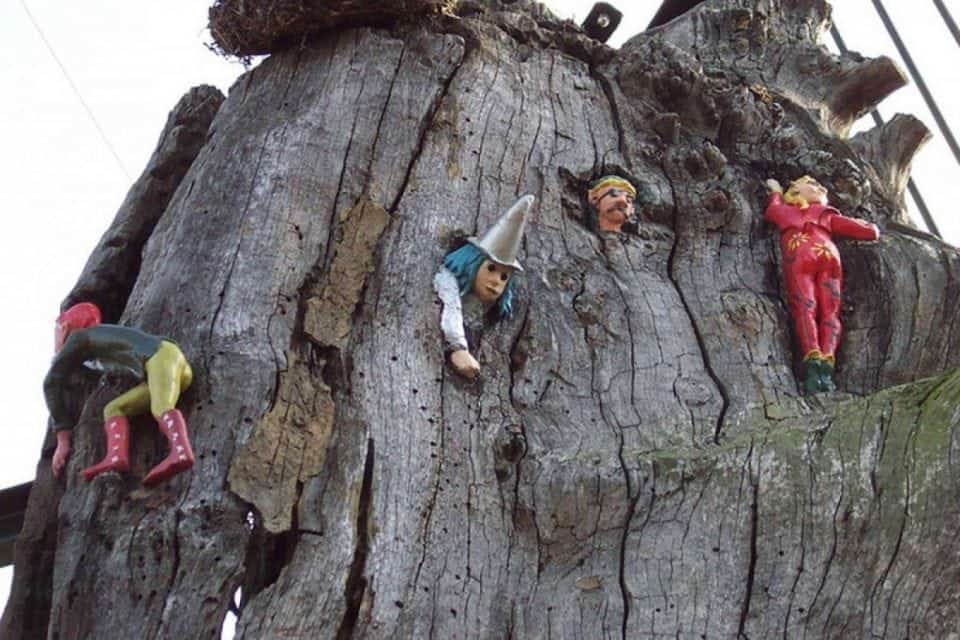 Little Venice
Not far from Paddington Station, Little Venice is an oasis of peace and tranquillity. It's thought to have been so-named by the poet, Robert Browning. In Little Venice, you will see dozens of waterfront cafes, narrowboats that are moored permanently or those travelling the Grand Union Canal.
Surrounded by stunning mansion houses you can also spot a floating art gallery, a hotel boat and the London Waterbus.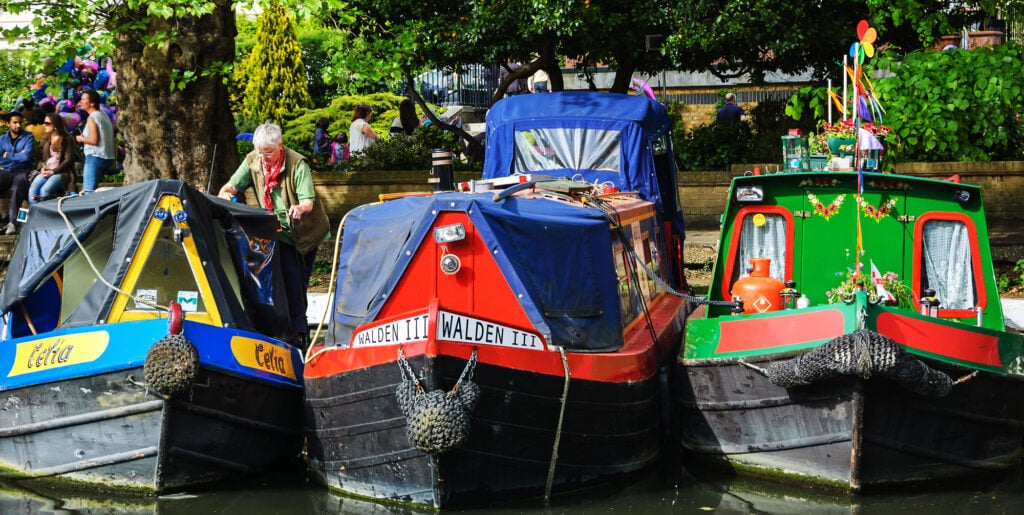 Abbey Road
Abbey Road in London is the most famous crosswalk in the world otherwise known to fans as the Beatle's Crosswalk featured on the Abbey Road Album of 1969. I am old and admit to being a massive Beatles fan when I was younger but I missed out on the hype and the beginnings because – well because I'm not that old.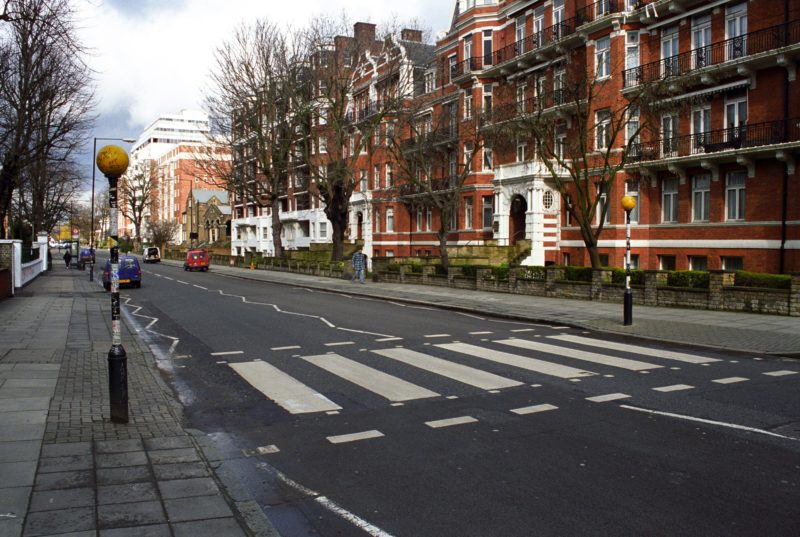 London is a city full of hidden gems waiting to be discovered. From secret gardens and historic pubs to quirky museums and unique shops, there is always something new to uncover in this vibrant metropolis. Whether you are a tourist or a local, exploring these lesser-known spots can add an exciting twist to your London experience. So next time you find yourself wandering around the city, take a detour off the beaten path and see what hidden treasures await you. What have you discovered in hidden London? Do you have other beautiful places in London to add to this list? Please leave your thoughts and suggestions in the comment section below.
Have you ever been to London? Share one highlight that was your favourite thing to do, or place to visit. What would be your top London hidden gem to visit be?
READ NEXT:
How to spend 2 awesome days in London
The London Postal Museum a fascinating history
Where to have a fabulous theme afternoon tea
The 7 Best Places to See Street Art in London
Borough Market London the best gourmet Guide for foodies
16 Fabulous food street markets in London
What to see, do and eat in Chinatown, London England
Best food markets and food halls in N. America
59 Traditional British Foods – from the sublime to the WTF
What to see, do and eat in Chinatown, London England
Love it? Pin it for later