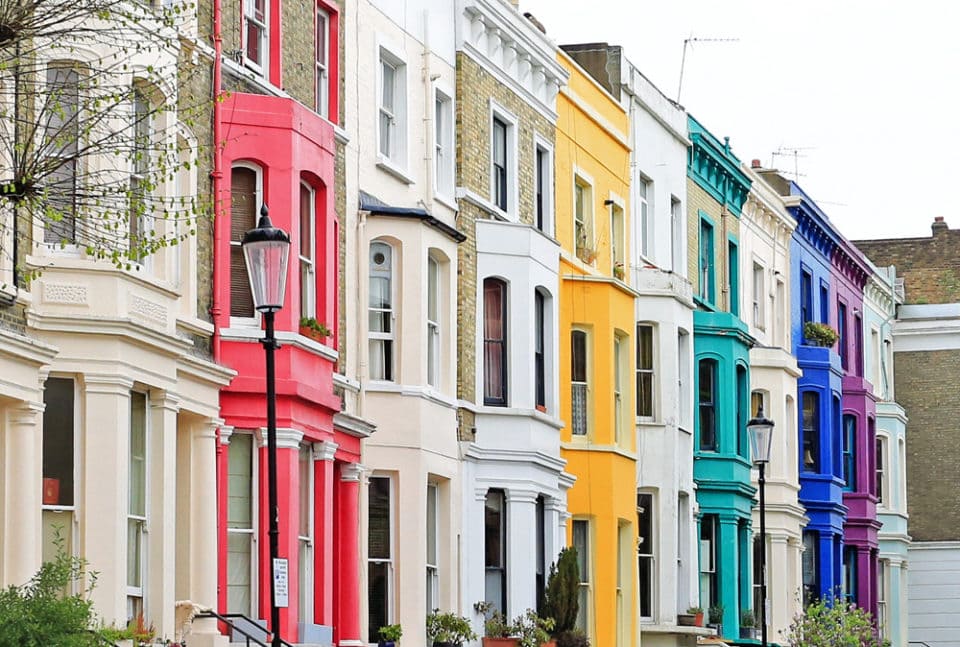 Notting Hill Guide to things to do
Visiting Notting Hill is a must when visiting London. We easily travelled to Notting Hill when housesitting in London.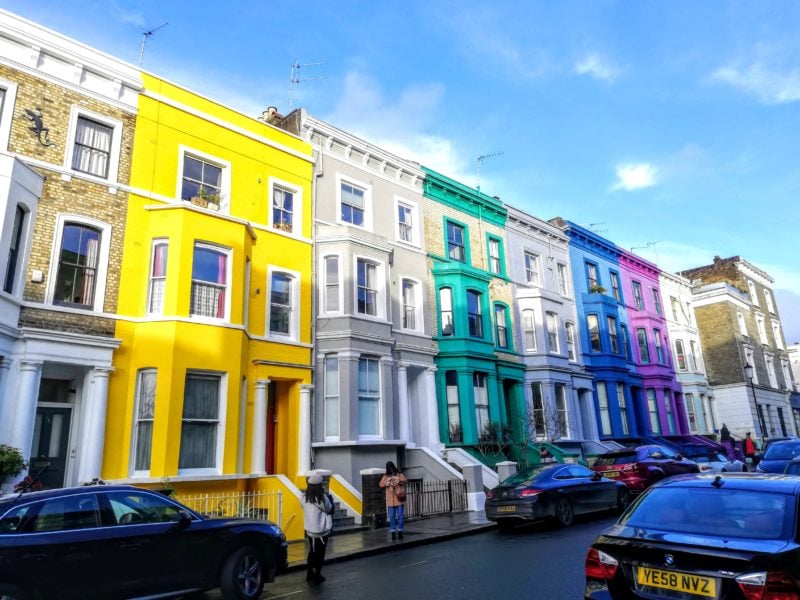 The main reason we wanted to visit the Notting Hill attractions was to see the Portobello Road Market. Of course, we also watched the movie Notting Hill before we went so we could see if we could find some of those Notting Hill attractions and all the best places in Notting Hill.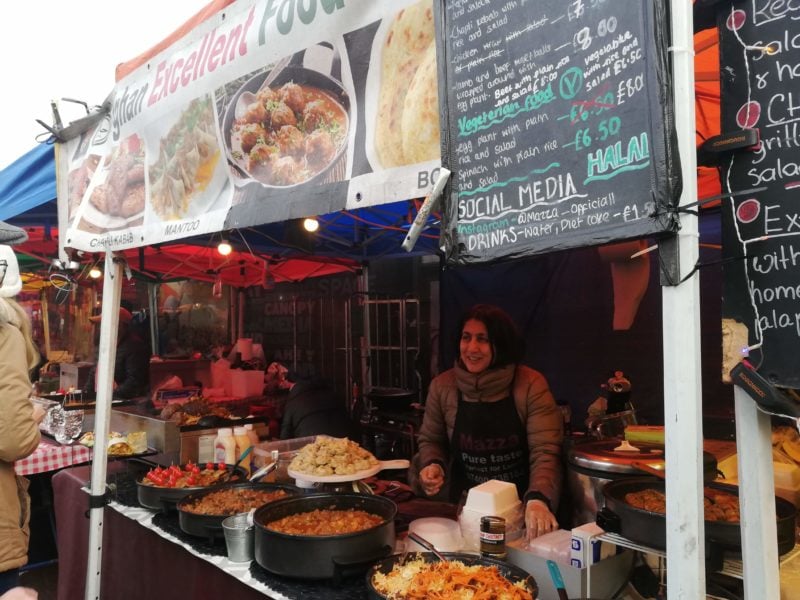 CHECK YOUR FLIGHTS TO LONDON WITH SKYSCANNER
Getting to Notting Hill is pretty easy there are 3 Tube stations to the area including Notting Hill Gate in the south and Westbourne Park and Ladbroke Grove in the north. A lot of London buses also go through various sections of the neighbourhood.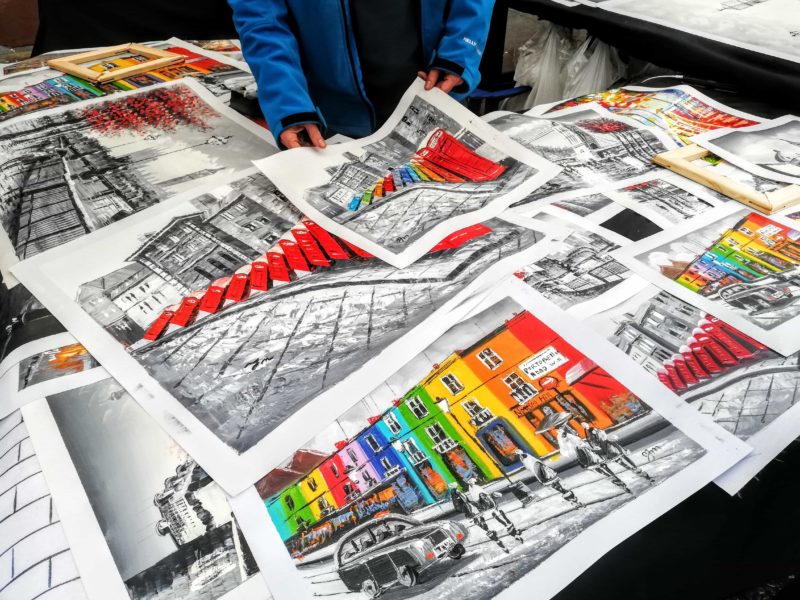 DON'T FORGET YOUR TRAVEL INSURANCE
What To Do In Notting Hill
Notting Hill is truly one of London's best-loved neighbourhoods to walk around. It is a popular area to live with celebrities and the wealthy side by side. The Notting Hill mews and lovely pastel-painted houses just scream London to me. The whole neighbourhood is like a movie set. This is my little guide to all the attractions in Notting Hill.
Portobello Road Market
Wow, what can you say about the Portobello Road Market. One of the biggest reasons to visit Notting Hill is, of course, the market. Open every day but Sunday the market but the area is a great shopping district for everything from antiques to fashion.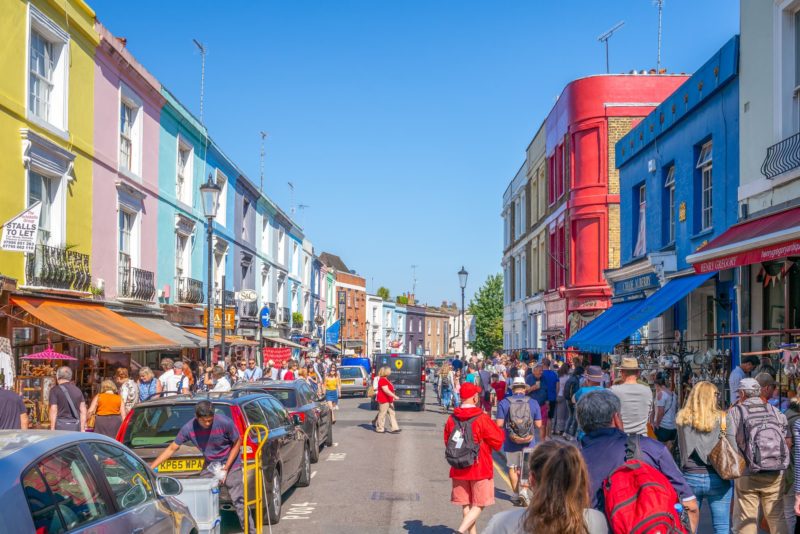 This is one of London's most iconic and famous markets. Tens of thousands of people visit Portobello Market in Notting Hill and it is alive with shops, cafes, restaurants and as diverse a clientele as you will see anywhere in London.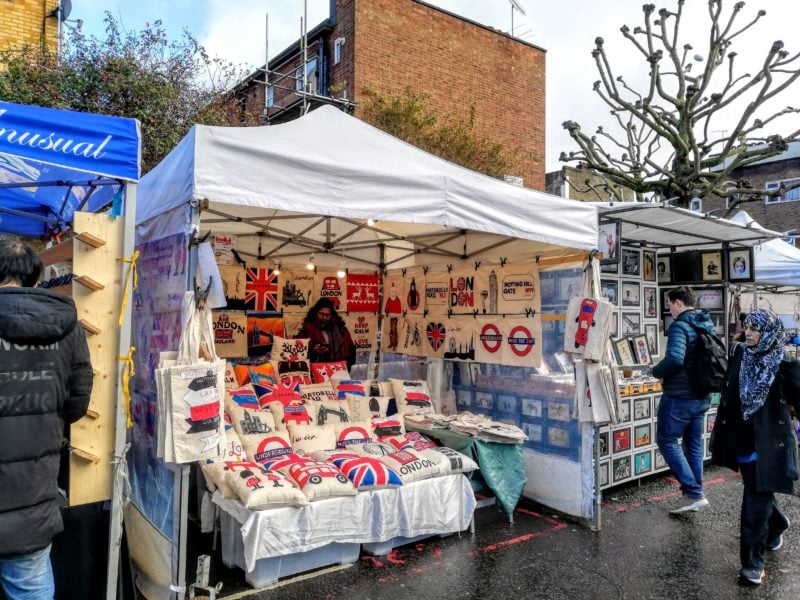 The Market took its name from Porto Bello Farm which was the original start of the area. Prior to the 1940s, Portobello was a fruit and veg market for the locals. It was in the '40s that Portobello Road began to attract the "rag and bone" men who were selling their goods from movable carts that could roam the neighbourhood.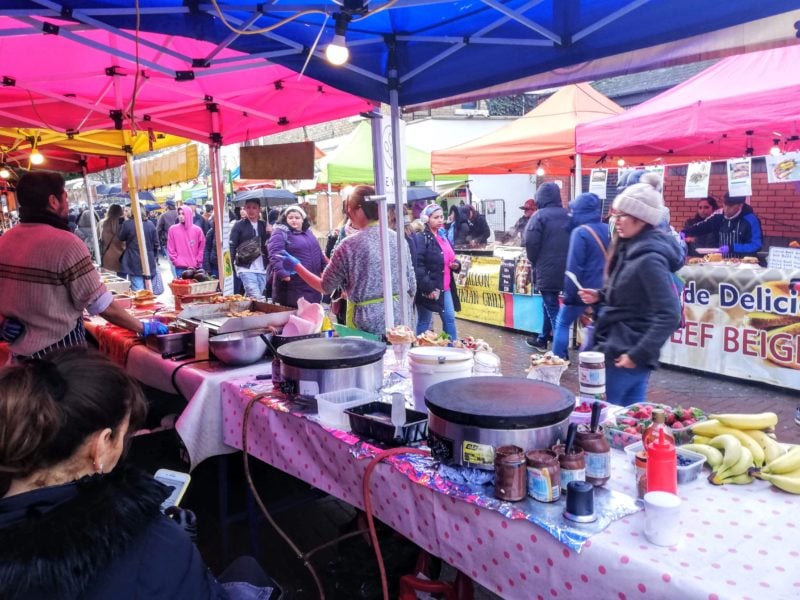 Soon other traders began selling knick-knacks and antiques and gradually over the years Notting Hill and Portobello Market became home to the antiques and vintage fashion that became popular in the 1980s.
These days there are five distinct sections of the market
Secondhand goods – Golborne Road to Westway
Clothing/fashion – Westway area
Household essentials – Westway to Talbot Road
Fruit, veg and other food – Talbot Road to Elgin Crescent
Antiques – Elgin Crescent to Chepstow Villas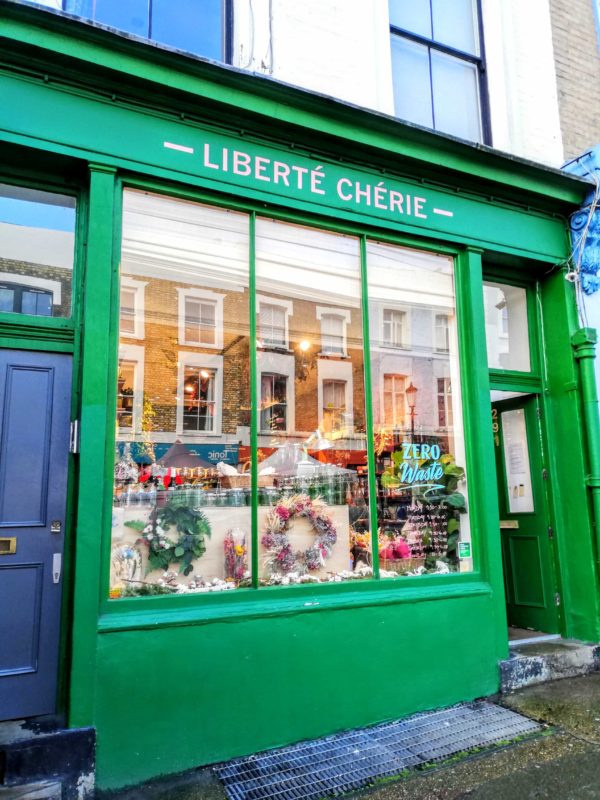 Street Food in Notting Hill
Portobello Market is also home to some of the best street food in London. From Jerk Chicken and Jamaican peas and rice to Venezuelan arepas, Spanish Paella to Octoberfest sausage and grilled cheese there is a range of portable food to keep you going for hours.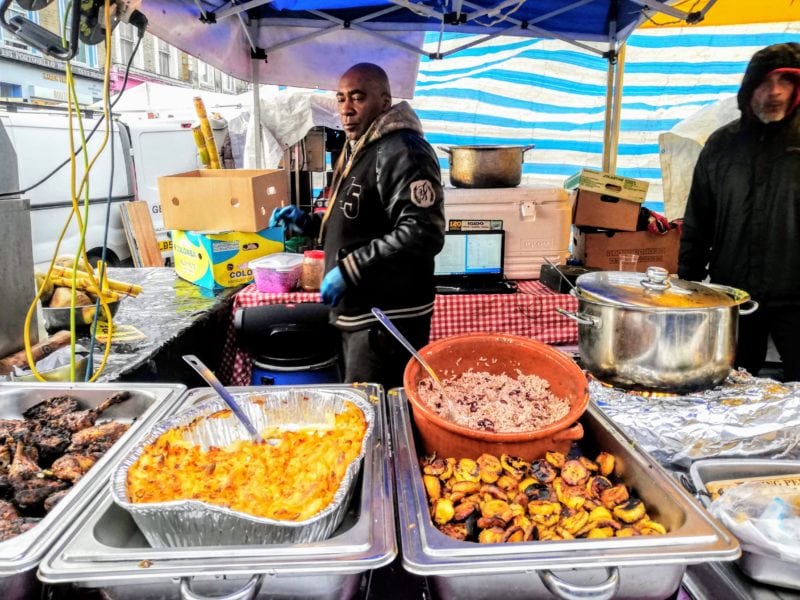 Beautifully painted houses in Notting Hill
Many of the side streets off Portobello Road are heavenly with multi-coloured houses. Lancaster Road has some incredibly vibrant homes in lime green, purple, bright blue, yellow and other colourful shades. These are definitely not your pastel cute houses.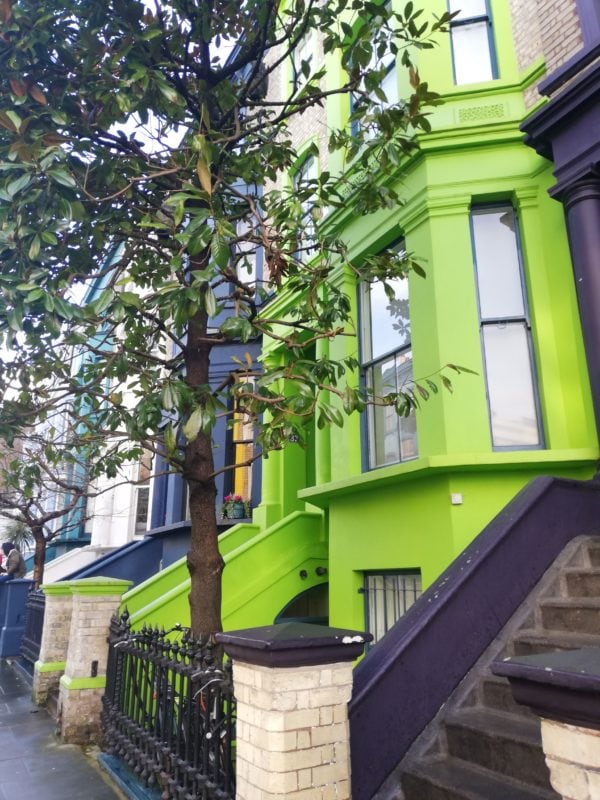 In Notting Hill, you will find the super cute instagrammable houses in pastel shades around St. Luke's Mews. The Mews houses used to be where the rich stabled their horses back in the day, but these days think millions for one of these tiny little British homes.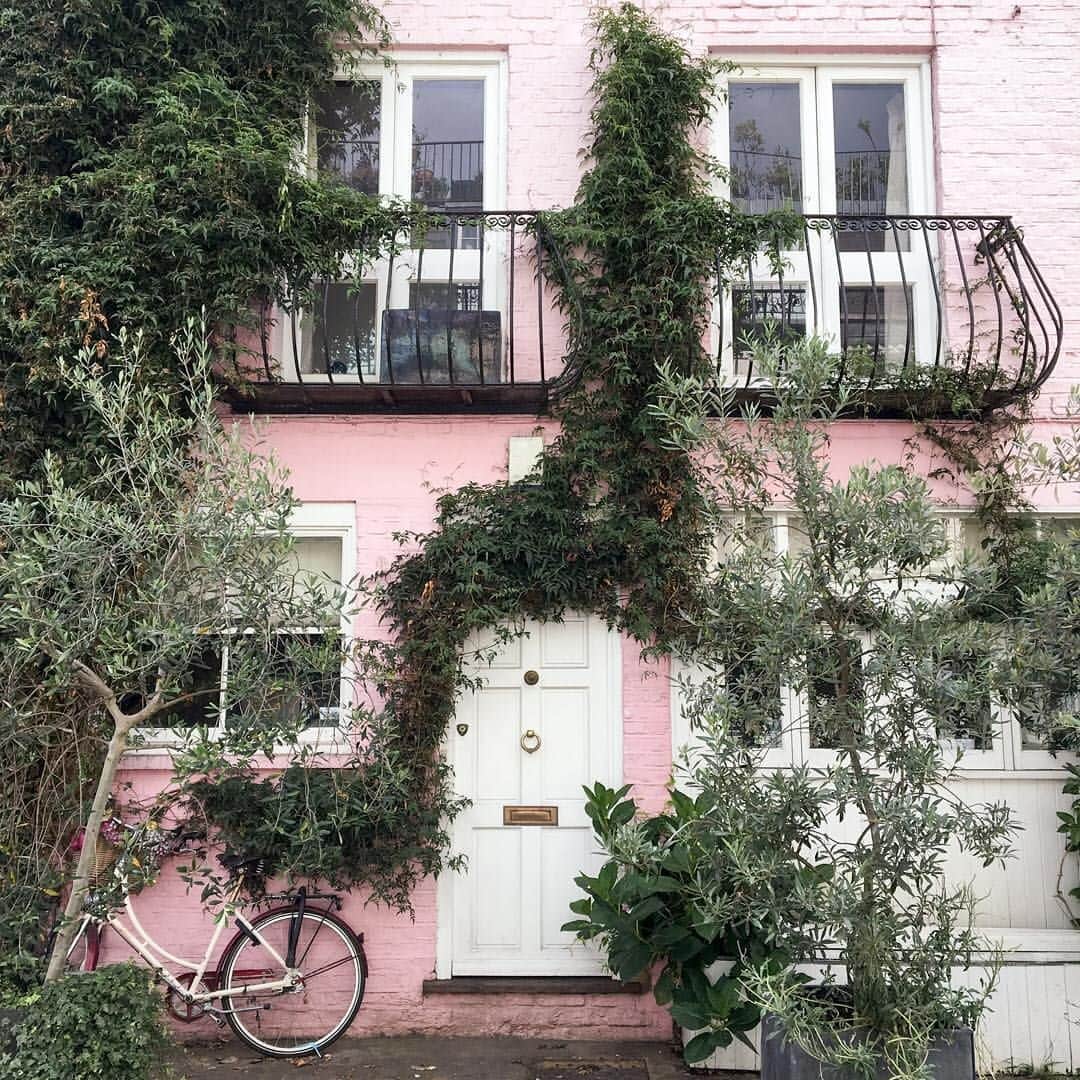 The best places to see in Notting Hall for cute and colourful houses is Lancaster Road, Denbigh Terrace, St. Luke's Mews and of course Portobello Road itself.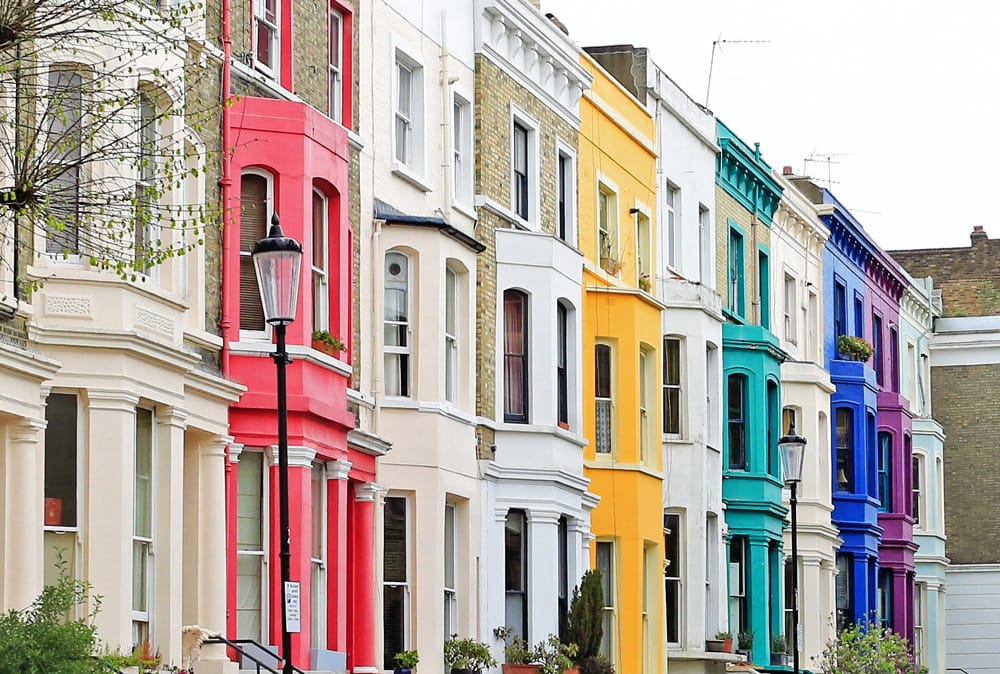 Antiques on Portobello Road
The most famous or rather most Instagrammed antique shop is Alice's. It is truly super cute if you can bear that terminology without gagging. They have a brilliant selection of teapots and ceramics and other smallish items. The shop has displays outside but inside is a true White Rabbit warren it is tiny but you are sure to find a perfect teapot to take home.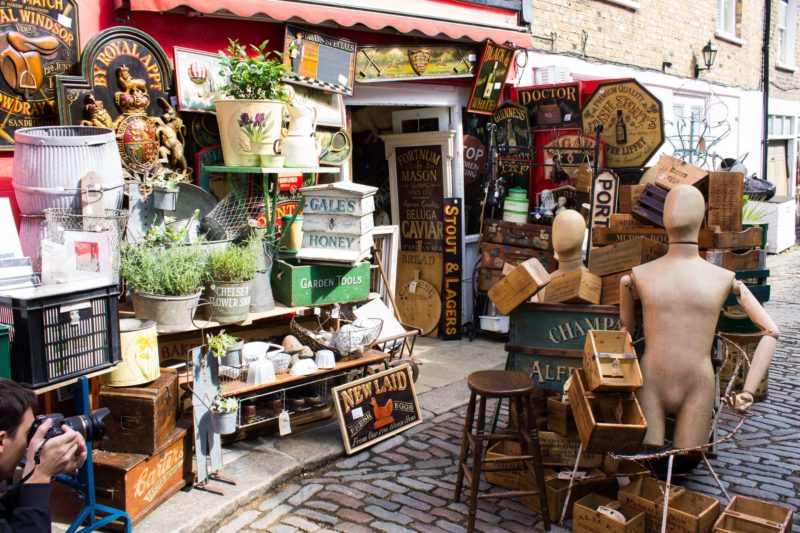 Shop for vintage clothing in Notting Hill
Portobello Road Market in Notting Hill is a mecca for vintage shoppers my hubs found the perfect aviator jacket lined with sheepskin for only 45 sadly he couldn't figure out a way to pack the damn thing sigh a bargain lost.
Under the Westway on a Friday is the perfect time for vintage browsing. Prices and quality can vary but the stallholders are all up for a chat and you can find something for every budget. Westway is the flyover road that the stalls are sheltered under and they seem to run forever.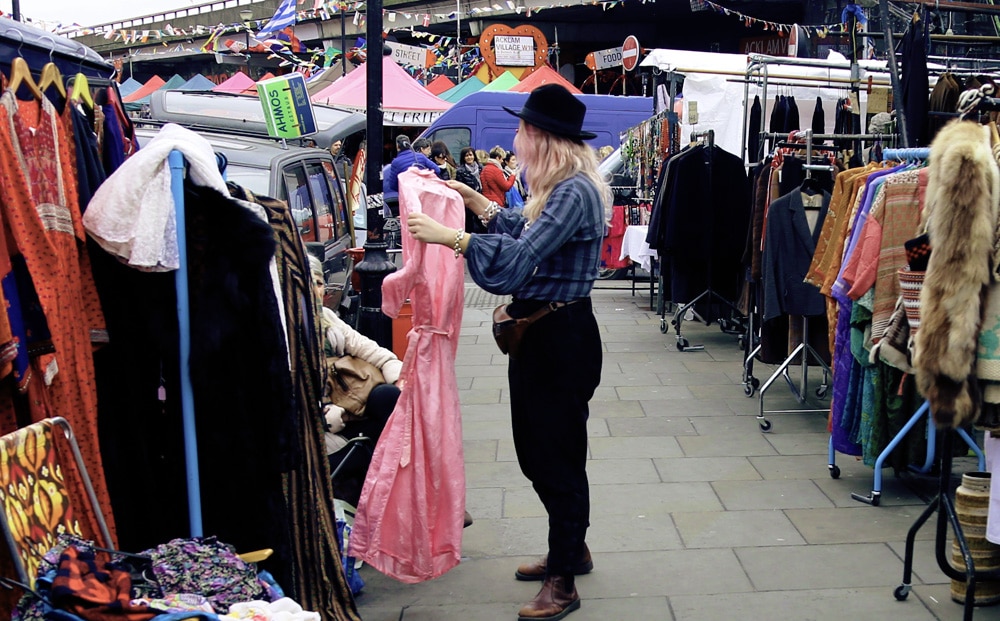 Explore the Art Galleries
The can't miss gallery is Graffik, which is where you can find works by the elusive Banksy, Catman, Dotman and other urban artists. They also do some really cool graffiti workshops.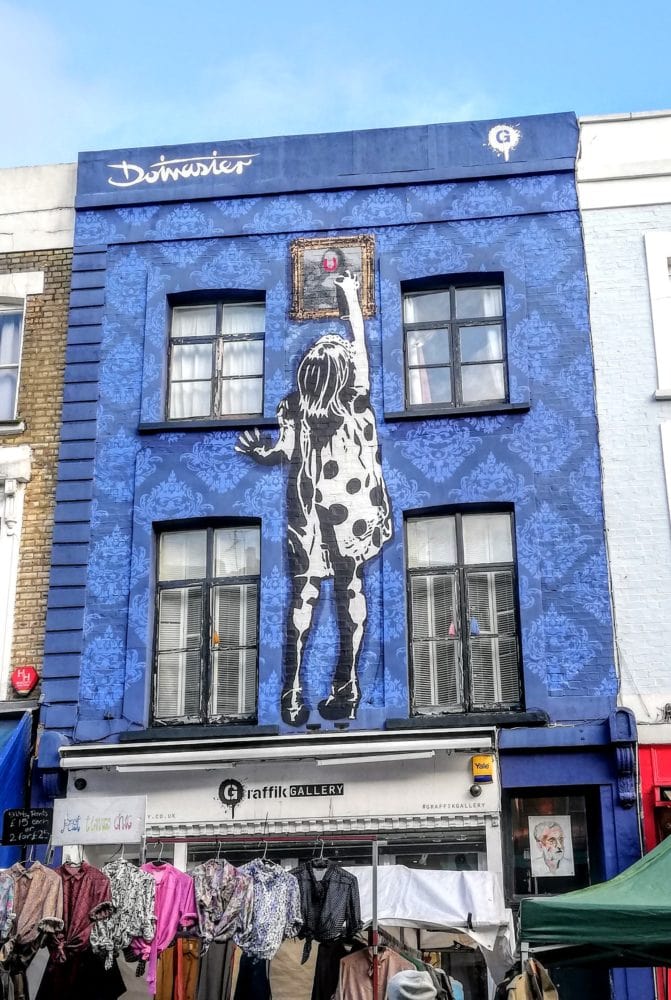 The Museum of Brands, Packaging, and Advertising
If you are into nostalgia and love antique marketing and advertising this place is for you. A treasure trove of packaging and advertising that stretches back over a hundred years. The Museum of Brands specializes in showing how brands shape – and are shaped by – people, culture and society.
If it's not raining head to the pretty garden at the back where you can sit with your coffee from their little cafe.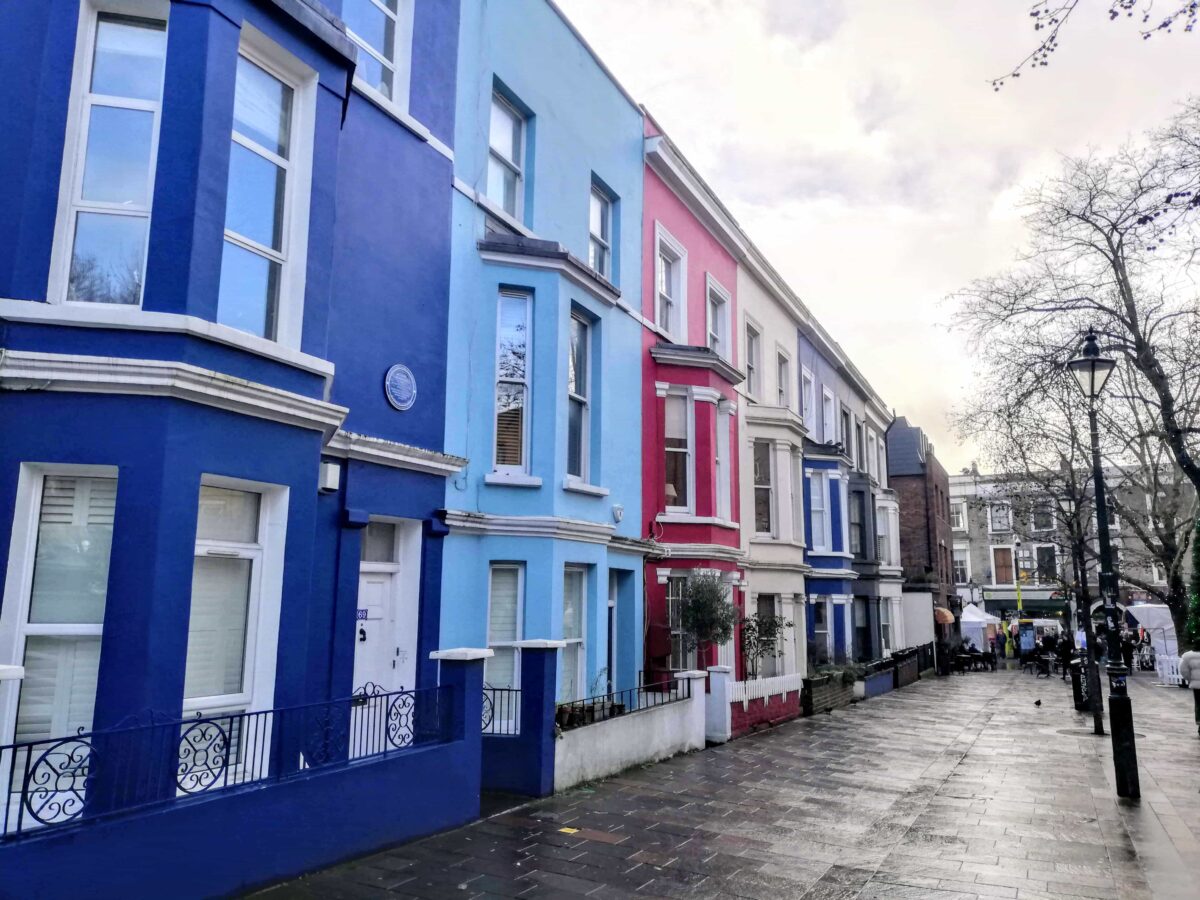 Two places that you can't visit in Notting Hill
The Travel Bookshop
This is actually a place in Notting Hill and in the film with Hugh Grant is was supposed to be his bookshop that sells – well travel books. In real life, however, the "bookshop" is a tacky tourist shop selling all things plastic and made in China.
The Blue Door
Sadly not real either although there are a lot of blue doors in Notting Hill to see that particular door was auctioned off at Christie's by the film producers.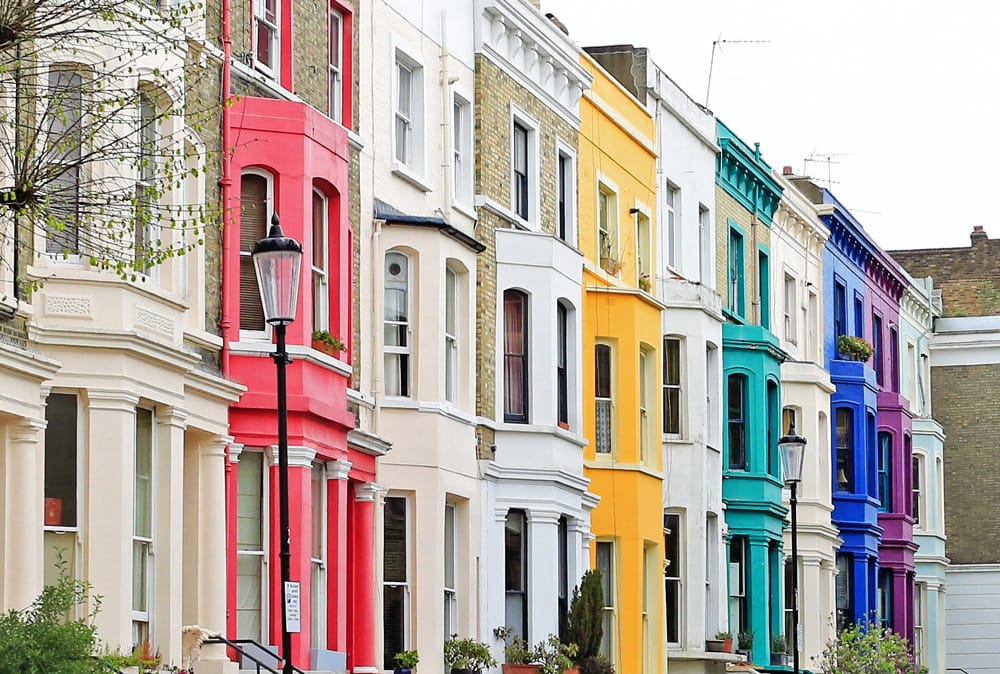 Where to Eat and Drink in Notting Hill
The Churchill Arms
One of those iconic beautiful pubs in London The Churchill Arms sits at the corner of Kensington Church Street and Campden Street. There has been a pub on the site since at least the late nineteenth century. Previously known as the "Church-on-the-Hill", the pub received its current name after the Second World Know in London and on Instagram for its exuberant floral displays, and extravagant Christmas displays it has been described as London's most colourful pub.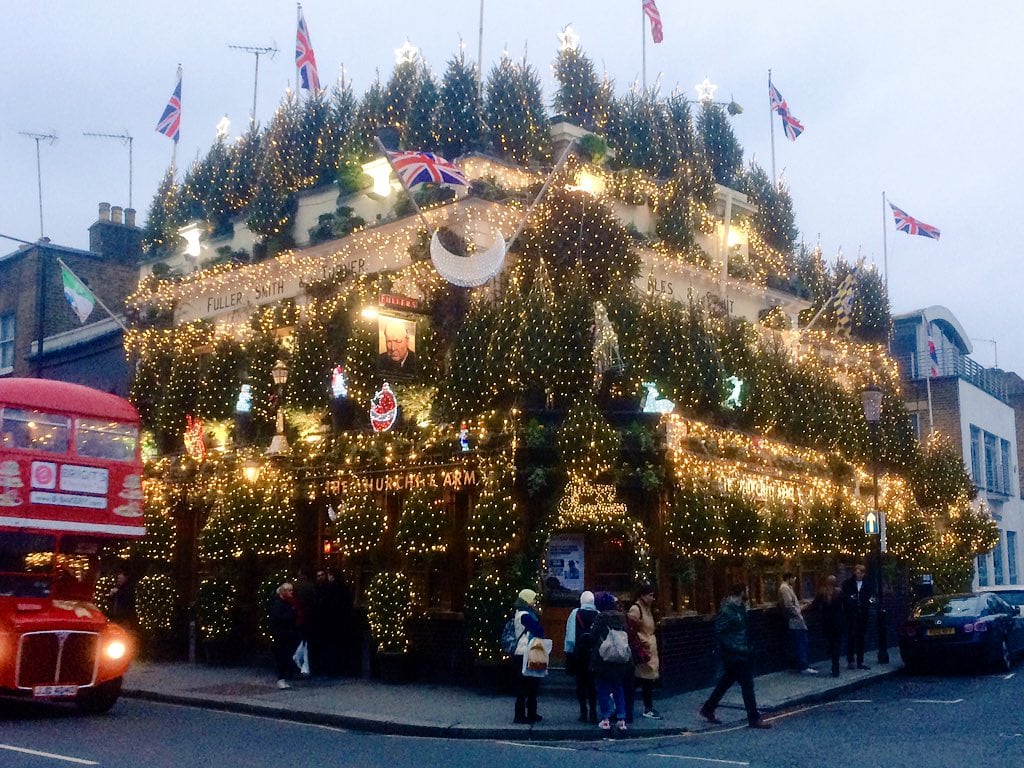 There is also a lovely Thai restaurant out the back of the pub. Oh and don't believe the hype that Winston broadcast his wartime reports from the pub it's not true. However, his grandparents the 7th Duke of Marlborough and Lady Frances Anne Emily Vane were patrons of the pub in the 19th century
Cafes in Notting Hill
Biscuiteers
A gorgeous shop that sells biscuits (cookies) that are so beautifully decorated you don't want to eat them. A perfect place for afternoon tea or perhaps taking a decorating workshop.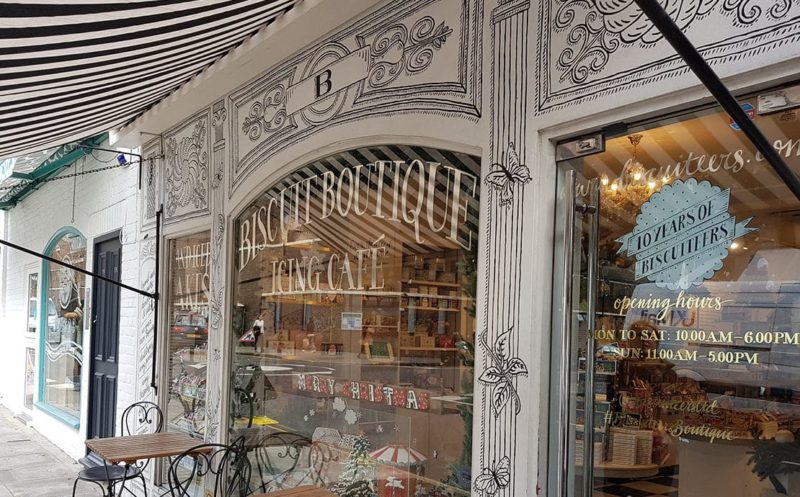 Gail's Bakery
It may be a chain but they have fabulous scones with cream and good tea and coffee. The outdoor seating makes it a perfect place to people watch.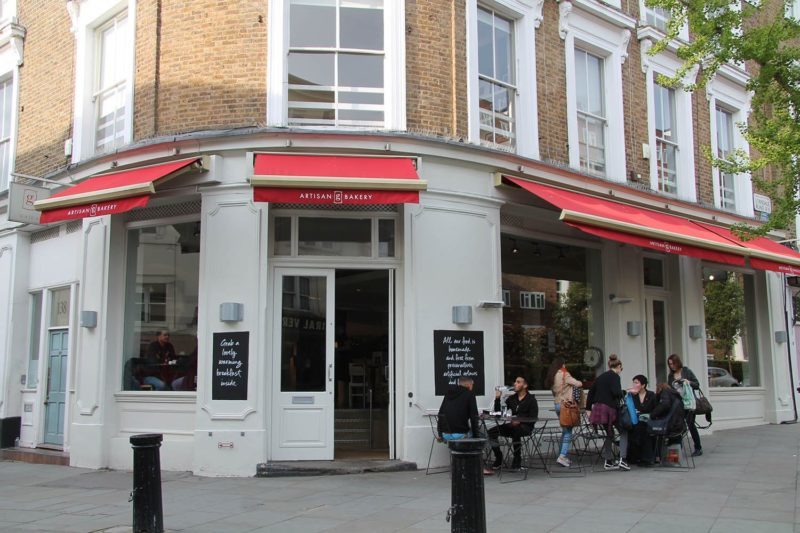 Notting Hill Carnival
Finally, if you are in Notting Hill and looking for things to do in August don't forget to attend the raucous and outstanding Notting Hill Carnival.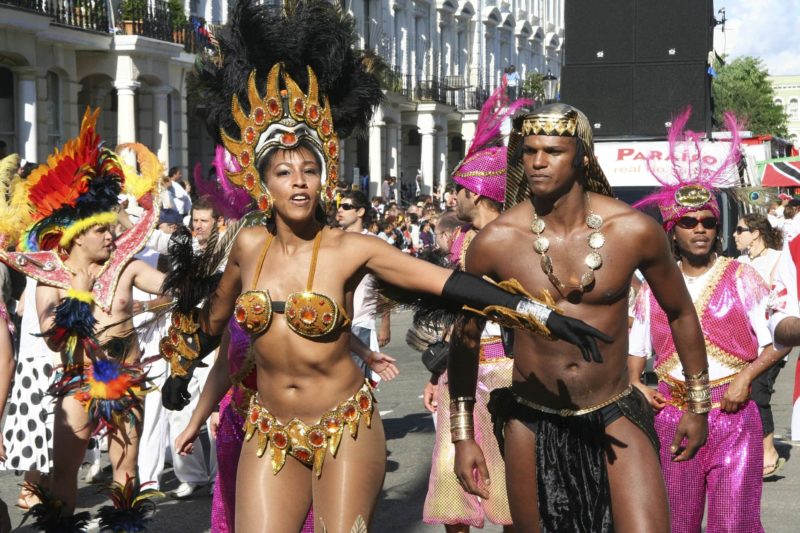 The Notting Hill Carnival is an annual event that has taken place in London since 1966 on the streets of Notting Hill, each August over two days on the August bank holiday.
Next event:
30 August 2020 – 31 August 2020.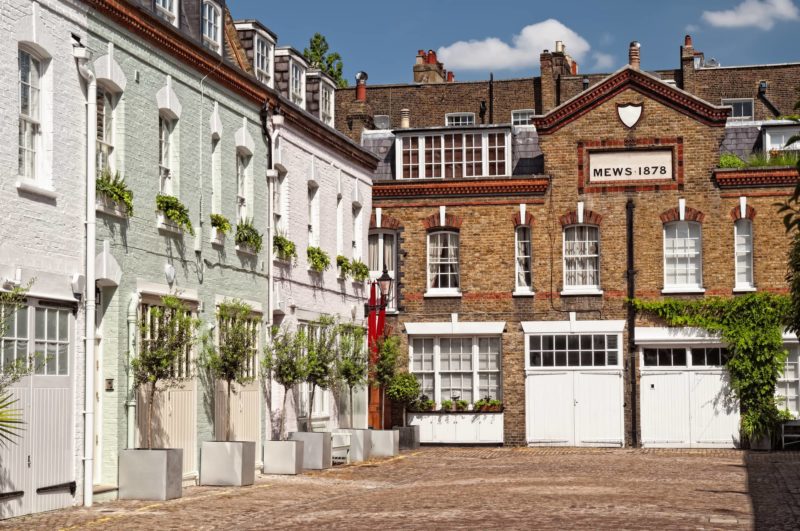 As you can see there are many reasons to seek out the best of Notting Hill activities not only will you have some fab photos for your Instagram feed you will get fed fabulous food and go home with your arms laden with goodies.
BOOK YOUR ACCOMMODATION IN NOTTING HILL
What did you buy at Notting Hill's Portobello Road Market?
Love it? Pin it for later