Street Markets In London for fabulous food, vintage & more
Traditional street markets in London have been my obsession for years. I love the fact that I can go to virtually any neighbourhood and find a great market in London. From foodie street markets to vintage clothes and antique markets to your basic get your fruit and veg here street markets. London is an absolute mecca for the street market lover.
How many markets in London? London currently has 162 markets, including traditional street markets, street food markets that specialize in takeaway foods, specialist markets for goods such as books, antiques or clothes, and farmers' and specialist food markets.
What is London's most famous and oldest Market? You will find a street market in every corner of London from the east London street markets to London's oldest market – Borough Market.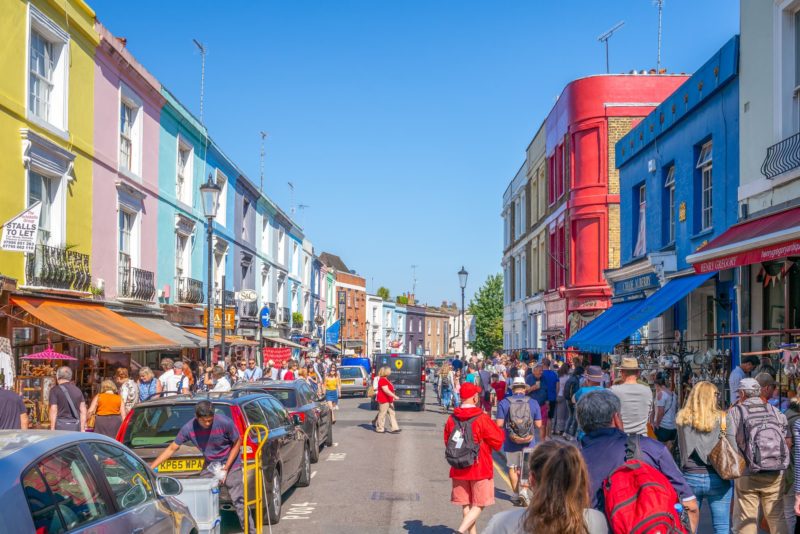 There are so many great markets in London because London is so huge and in many areas grocery stores are in outlying areas food markets hold a very important place in London's neighbourhoods and communities. London markets can be any size from huge with many vendors and covering a wide area to more community-located markets that have less than ten vendors.
Many years ago my favourite street markets were usually for basics, and by that, I mean veg, clothes, bargains of every kind and just hanging out at the caf (London speak for cheap cafe). These days I have my list of favourite street markets in London each one for a variety of different reasons.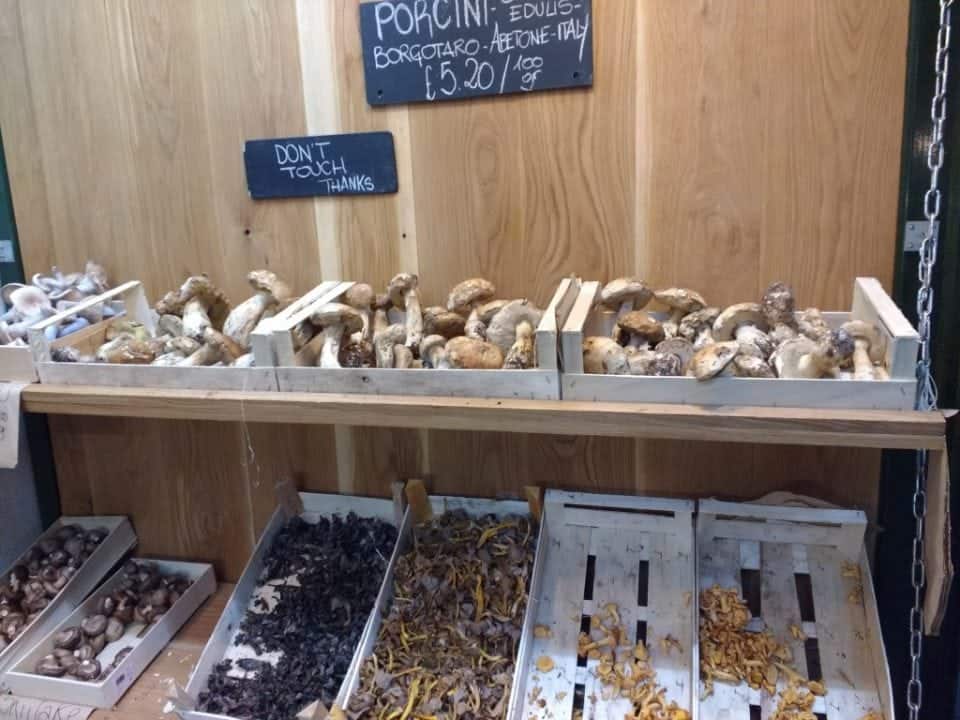 I love Borough Market for its fresh and interesting gourmet foods not to mention the food you can eat there. Leather Lane is perfect for some really unusual street foods. Portobello Road Market for vintage clothing and antiques, Camden Market to soothe my old punk soul.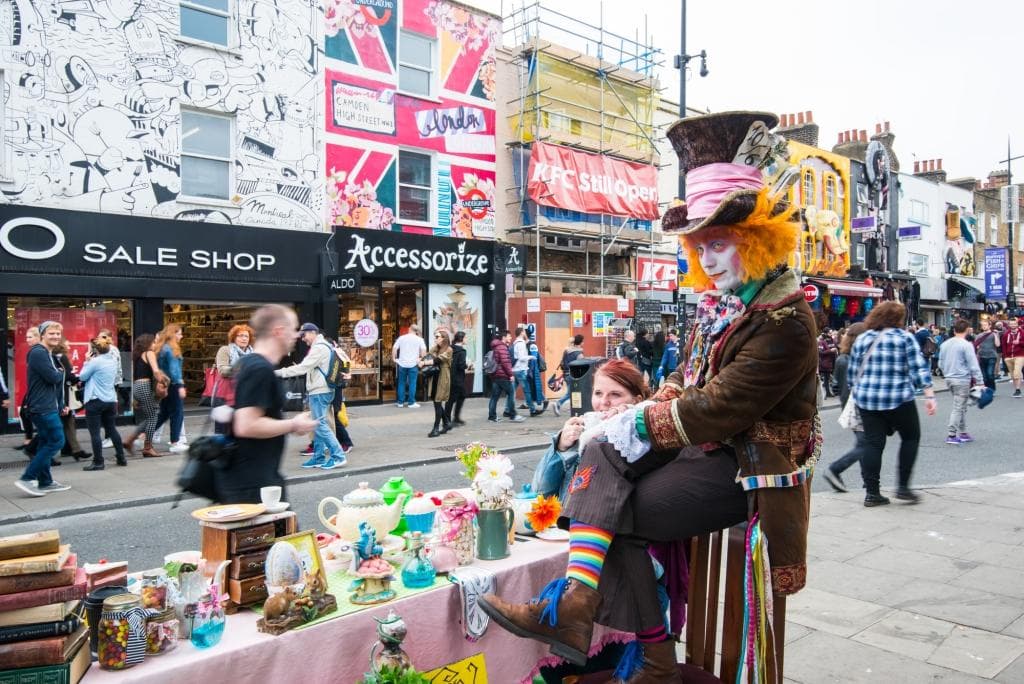 I'm constantly amazed at how markets are a major part of everyone's daily life – or in the case of some countries weekly. Markets are the cornerstones around which communities should revolve. In my hometown of London Ontario, it took the Western Fair Farmer's Market opening to help change an entire neighbourhood that was considered "the wrong side of the tracks".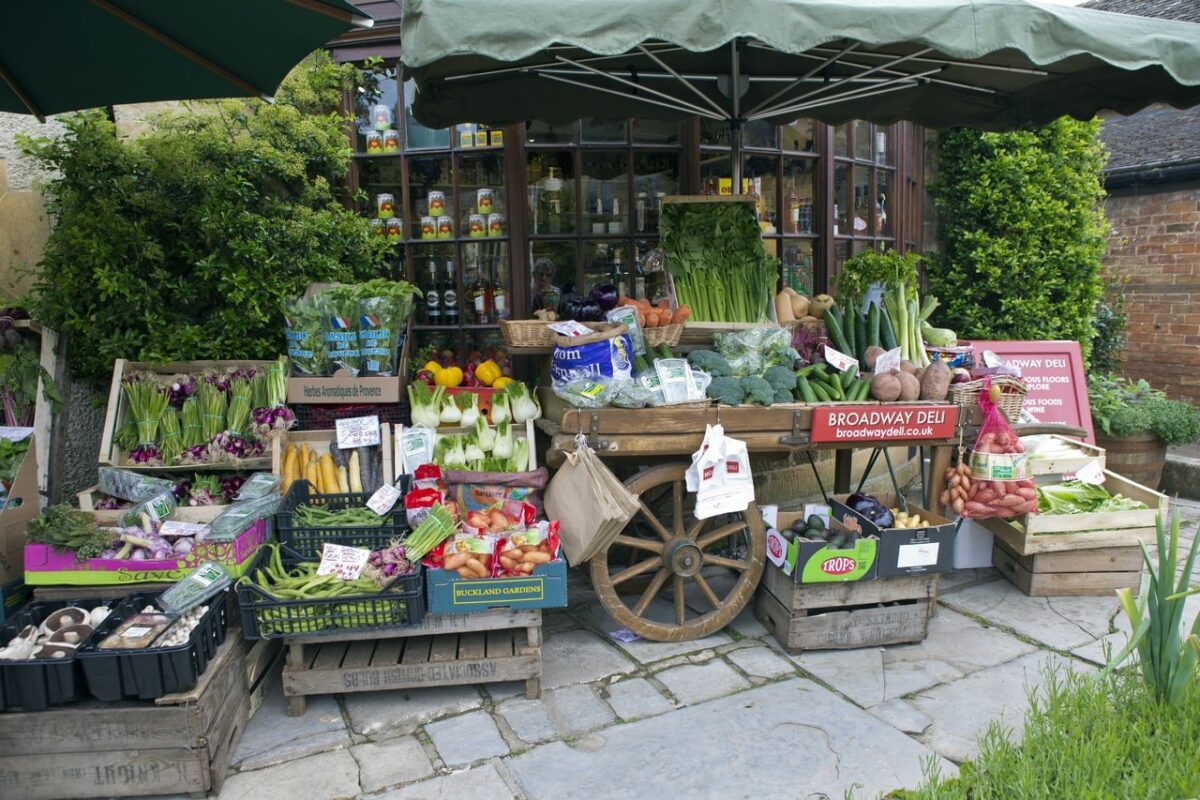 Not only do street markets bring a community together they support the local economy. So if you are a tourist in a new place head to the market. It's the best place to learn about what the community you are visiting is all about. There are several famous markets in London and I've put together a list of my top 17 markets in London today.
How to plan your trip to the UK, Ireland and Scotland
17 famous street markets in London
#1. Columbia Road Flower Market
A hard-won fight in the 1970s saved this street market from demolition. Since then this traditional flower market has become a must-visit for tourists and Londoners. Its colourful stalls and stands range all over the horticultural map.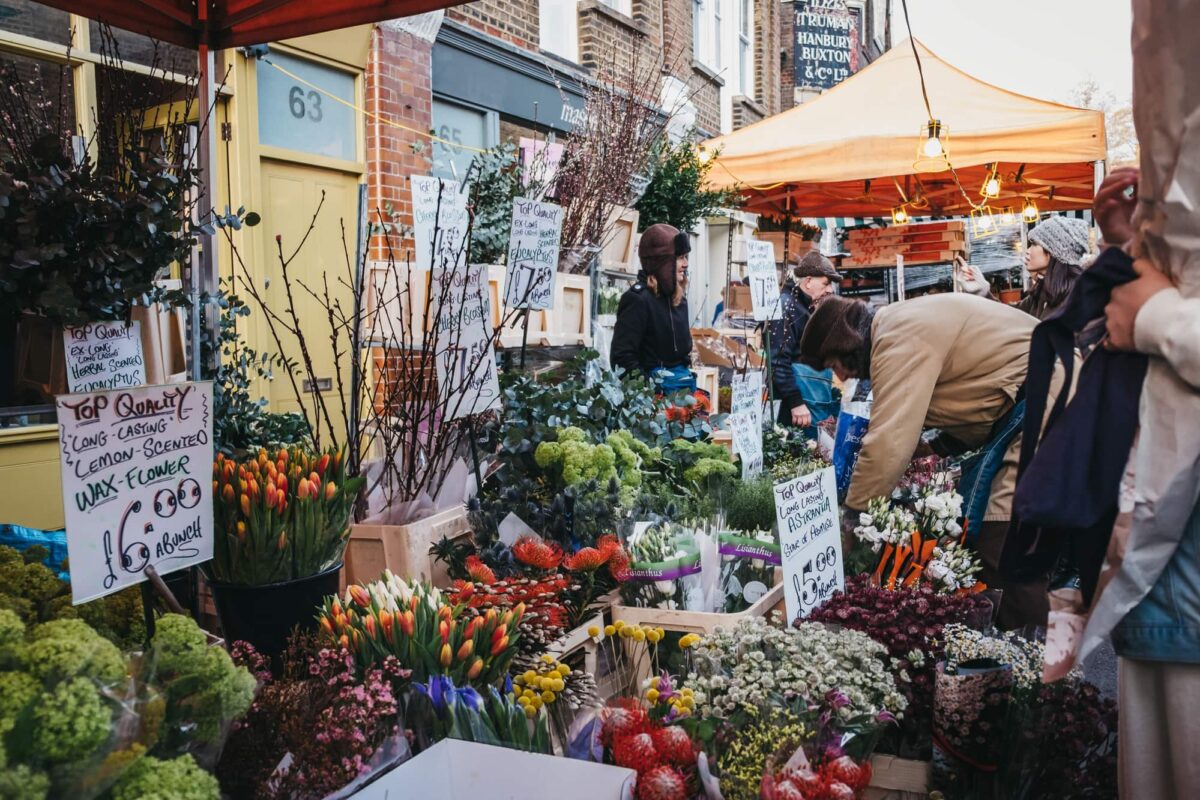 From flowers to bedding plants, herbs, trees, shrubs and some of the most glorious unusual cut flowers you can find anywhere. Not necessarily a market filled with street food stalls nevertheless you can find some great food here. From brilliant Indian food to a Sunday roast you can still find some great foodie goodies to munch on.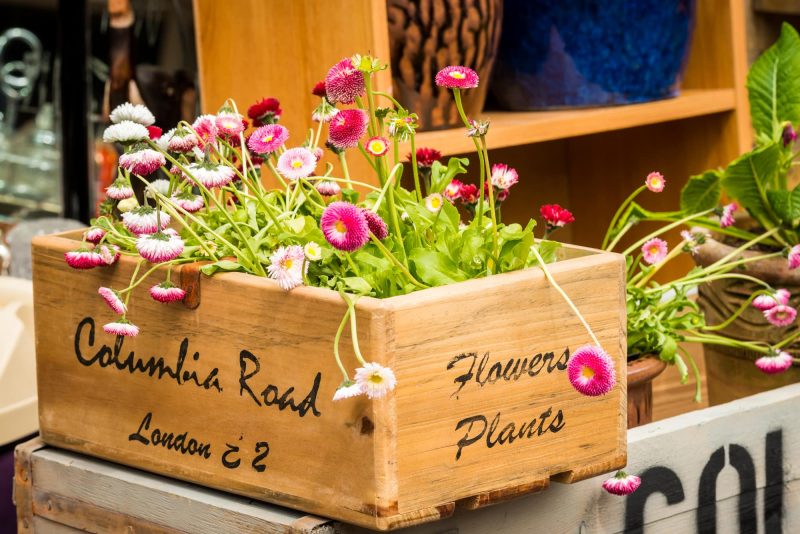 There are around 50 or more independent shops lining the outside edges of the market many of which are only open when the street market is. The best time to get there is either first thing in the morning or towards the end of the day when vendors sell huge bouquets super cheap.
Nearest Tube station: Old Street and Bethnal Green
#2. Borough Market
Borough Market has been around in different forms for around 1,000 years. The best date historians can figure out is around 1014.
What began as a food market has over the years grown into a substantial market with everything you can think of for sale. From rare mushrooms to handmade pottery and honey the variety is incredible.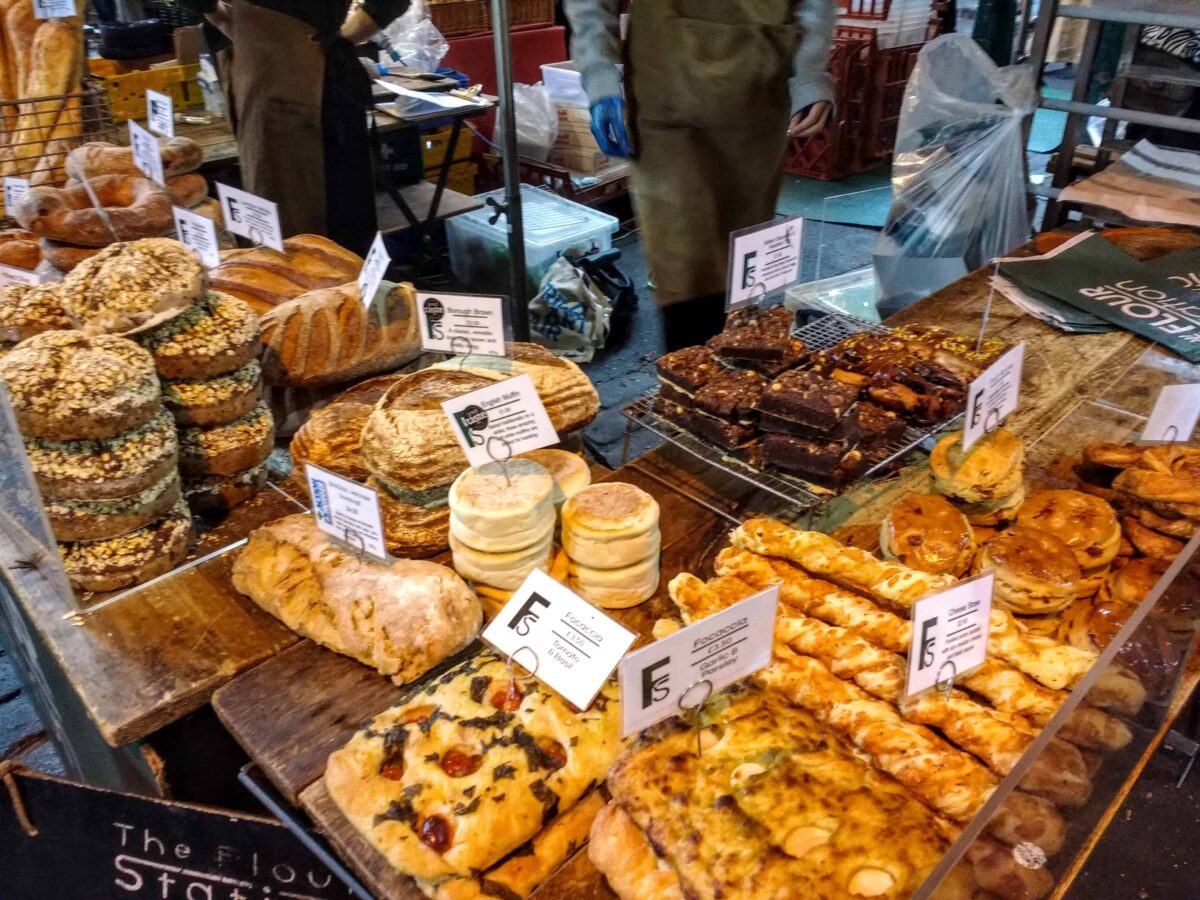 It is snuggled up next to London Bridge and it gets absolutely packed with Londoners and tourists alike.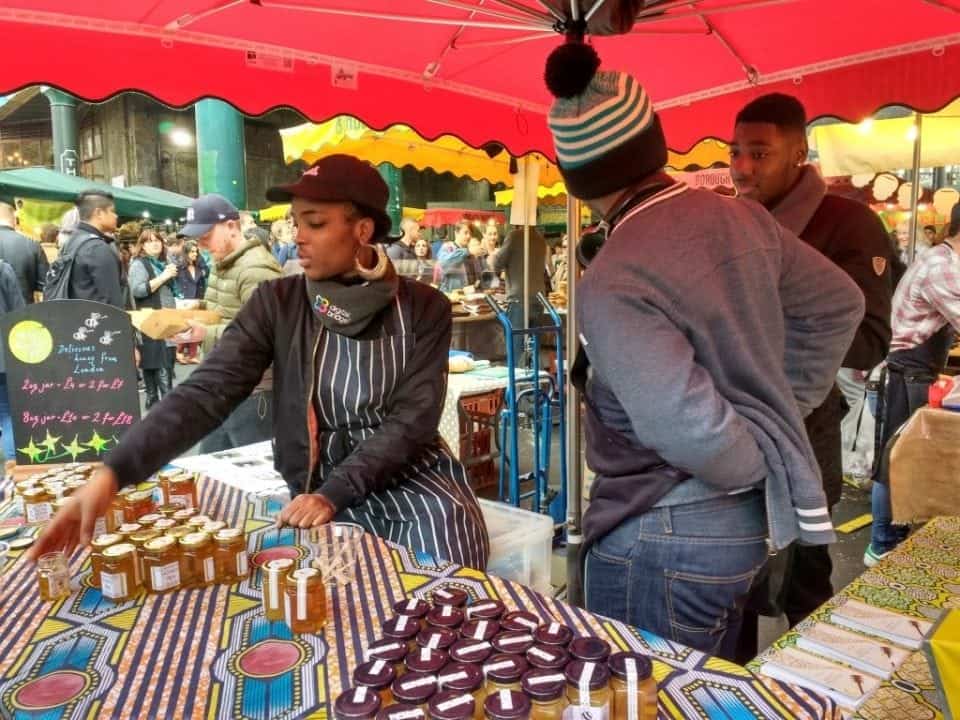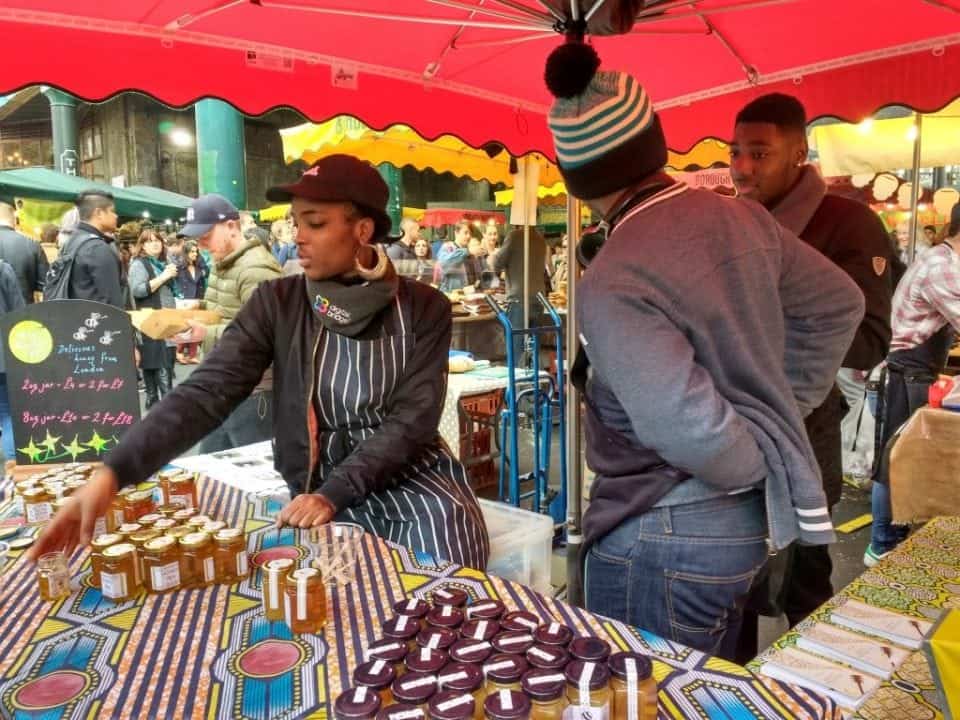 The stalls range from fishmongers to truffles and everything in between and every one offers samples to tempt you. You can sit at the restaurants under the bridge and have a pitcher of Pimms or Sangria along with your chorizo on a bun or have a good old pint with your Scotch Egg.
Nearest Tube Station: London Bridge
#3 Old Spitalfields Market
One of London's oldest markets Spitalfields was redesigned in 1991 and the old covered market sprang back to life. Now it is open 7 days a week. It hosts a vintage market each Thursday, a vinyl fair some Fridays and a general arts and craft market throughout the week continuing through to the weekend.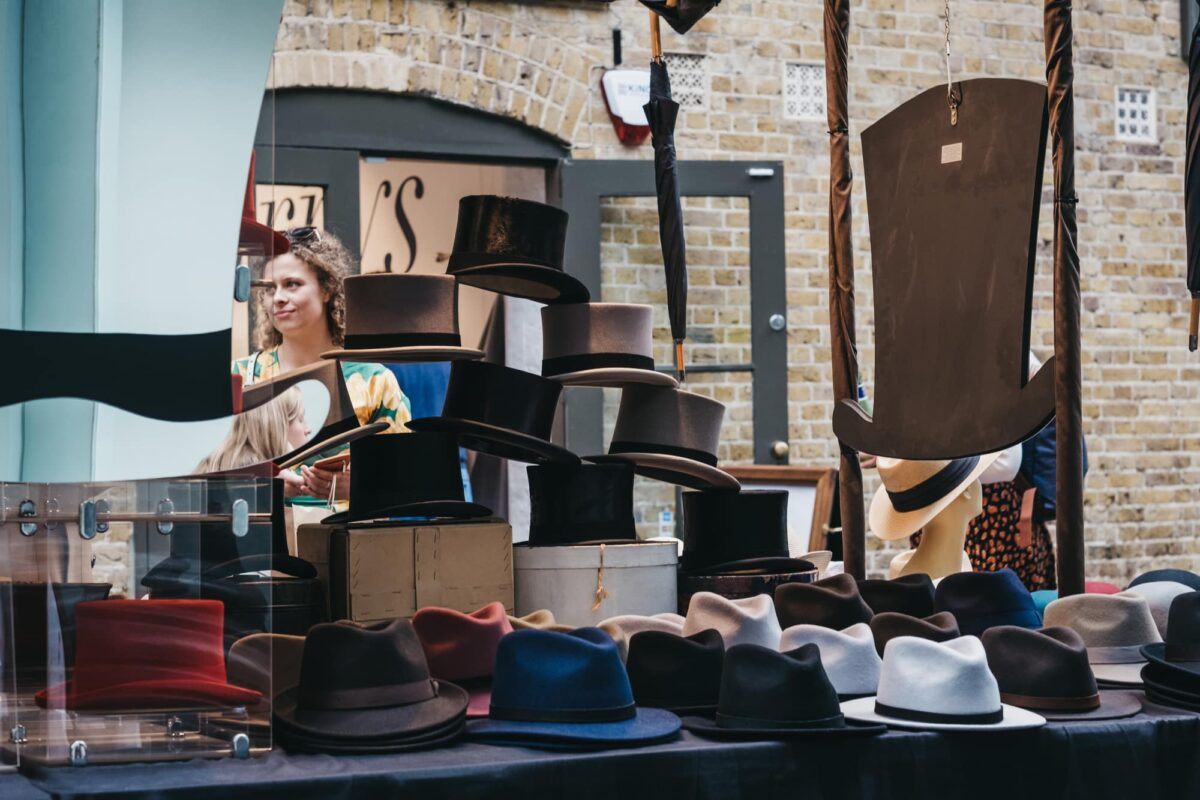 There are fabulous places to eat and stands with great artisanal products all made in the UK. The perfect foodie heaven if you are in the area.
Nearest Tube Station: Liverpool Street Station
#4 Camden Lock Market
One of my personal favourites Camden Market is one that you need to visit – just to soak up the atmosphere. The Inverness Street market, was for over 100 years a traditional street market, with stalls selling fruit and vegetables which expanded over the years to encompass many different markets.
The Camden markets are actually a number of markets joined together. Located in the historic former Pickfords stables, it is just north of the Hampstead Road Lock of the Regent's Canal. Camden Markets attract around 250,000 people each week.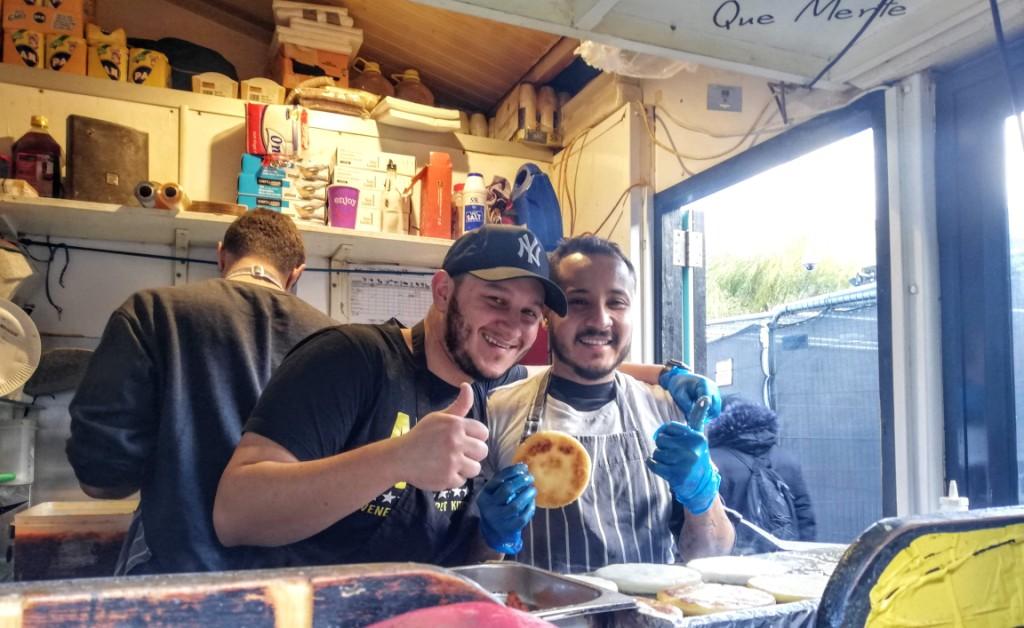 There are some brilliant shopfronts selling all manner of punk, gothic, indie, emo and rock and roll garments. Vintage and antique stores and the food I must not forget the food what an incredible selection.
Nearest Tube Station: Camden
#5 Leather Lane Market
Street Food and graffiti Alley are what this area is known for. The Leather Lane Market is an awesome place to grab some amazing street food. This is London's favourite street food market.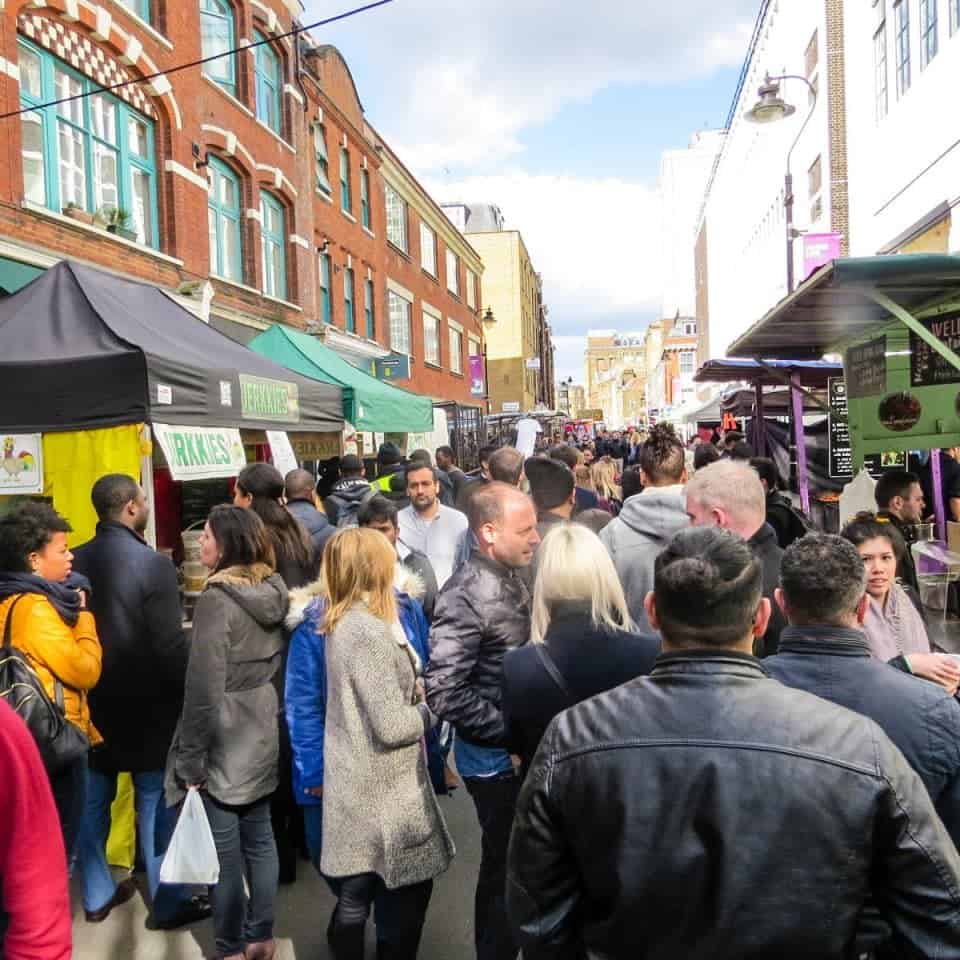 Just west of Hatton Garden, in Holborn, the market is open all weekdays and actually specialises in clothing, footwear and fruit and veg, but it has become known as the place to head to for lunch
Nearest Tube Station: Chancery Lane / Farringdon
#6 Maltby Street Market
Located in Bermondsey and becoming known as a "foodie paradise" this is a good thing for us foodies. It takes a bit to find it tucked away between London Bridge and Bermondsey stations and sheltered next to the mainline railway to London Bridge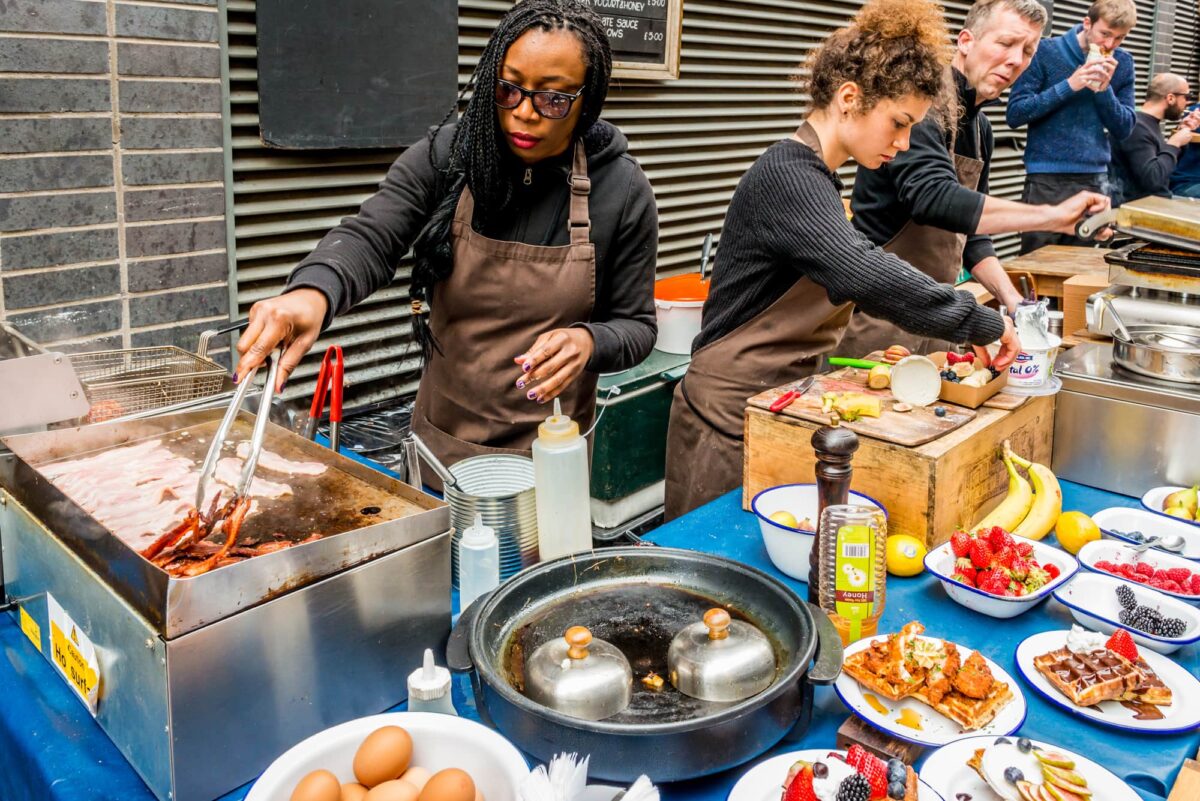 Only opened in 2010 and it doesn't open during the week so not many tourists know about it. However, find it if you can and have lunch here. There are over 30 artisan food and drink stalls that sell everything and anything from craft beer and gin to tapas and cinnamon buns.
Nearest Tube Station: London Bridge
#7 Greenwich
Located in historic Greenwich you can grab a Thames Riverboat to Greenwich and tour the area and visit the Cutty Sark and the Market. The market itself is open Monday to Sunday and has around 120 stalls selling everything from clothes to second-hand furniture.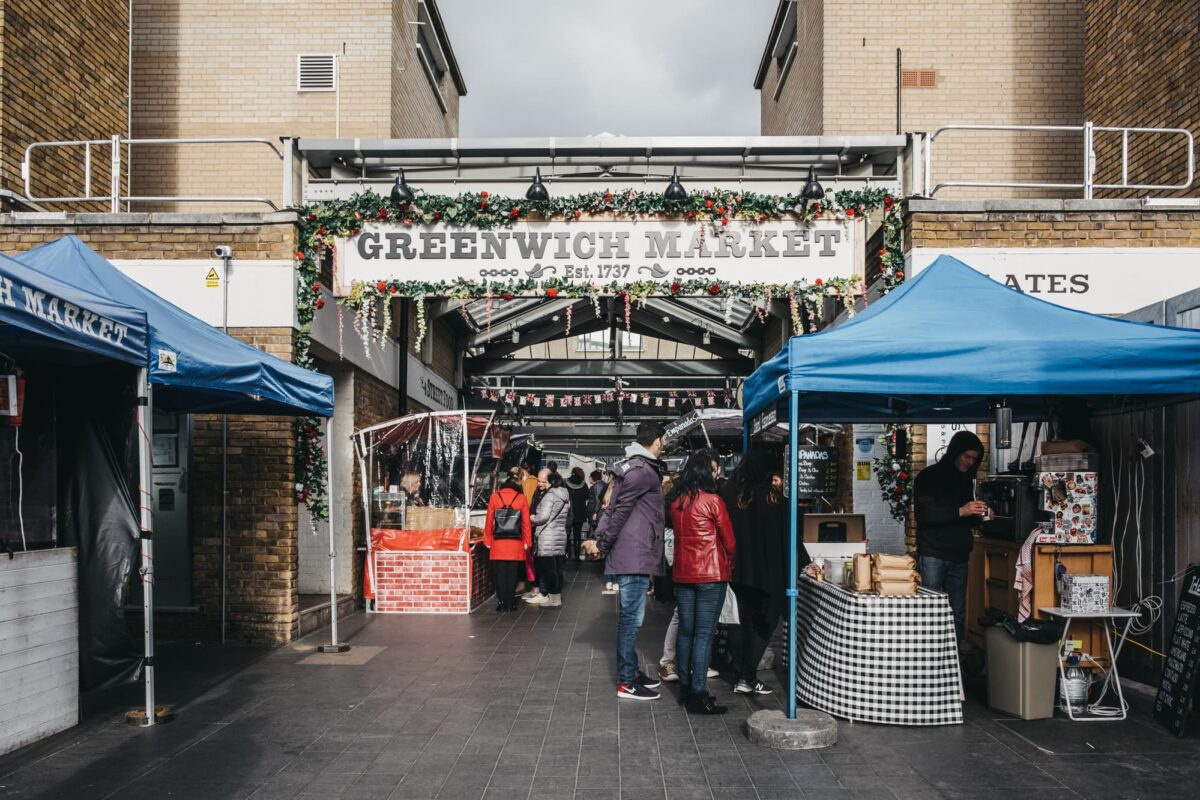 On Tuesdays and Thursdays, it features antiques and there are over 40 food and drink stalls to enjoy.
Nearest Tube Station: Cutty Sark
#8 Brixton Village and Market Row
In culturally vibrant Brixton the market has been around since the turn of the 20th century. But in 2009 city planners wanted to knock down the covered markets and create a new "modern" town centre but a campaign to stop this was successful. The buildings became Grade II listed because the markets have huge cultural significance as one of the principal hearts of the UK's Afro-Caribbean community, and the fact they are some of the few arcades of their kind left in the UK.
Renamed Brixton Village new plans created a hub of creativity and partnered with food the market became the hub of South London.
Brixton has become a place of foodie pilgrimage where you can grab a table at places serving seafood, wood-fired pizza, Caribbean flavours, European fusion cuisine and more. Not only that but you can shop till you drop through a treasure house of independent vendors selling clothing, jewellery, homeware, art, antiques and unusual gifts.
Nearest Tube station: Brixton
#9 Berwick Street Market
Located in Soho and dating back to the 1700s this is one of London's most central markets.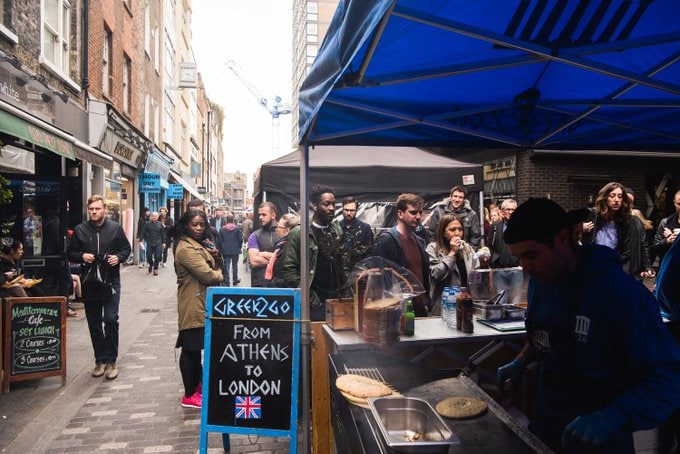 Due to its central location, you will find this market absolutely jammed during lunch. For foodies in search of the next best thing go and find Savage Salads or Jerusalem Falafel, sharing space with the fruit and veg stalls. There are artisan bakeries, fancy cakes and pastries Jamaican Jerk, Mexican, and Afghani food a great break from cruising all that central London has to offer.
Nearest Tube Station: Oxford Circus / Tottenham Court Road
#10 Chatsworth Road Market
A Sunday market only the Market dates back to before WWI but sadly many of the stalls began to wind down and the market closed in 1990. Thanks to the community and traders the market returned in 2010 and has been in operation ever since.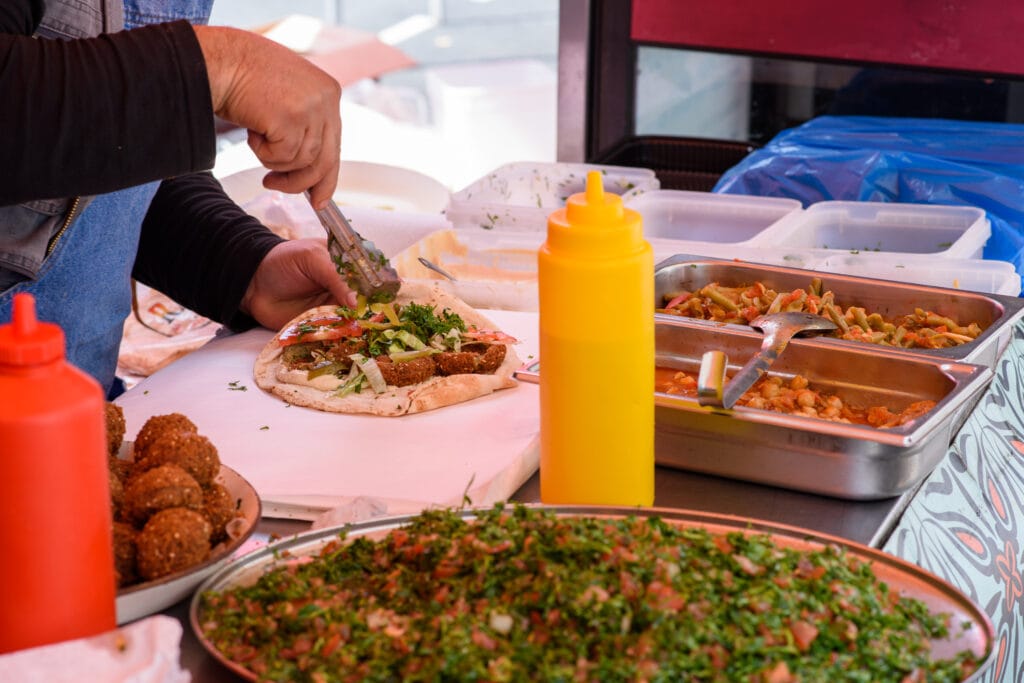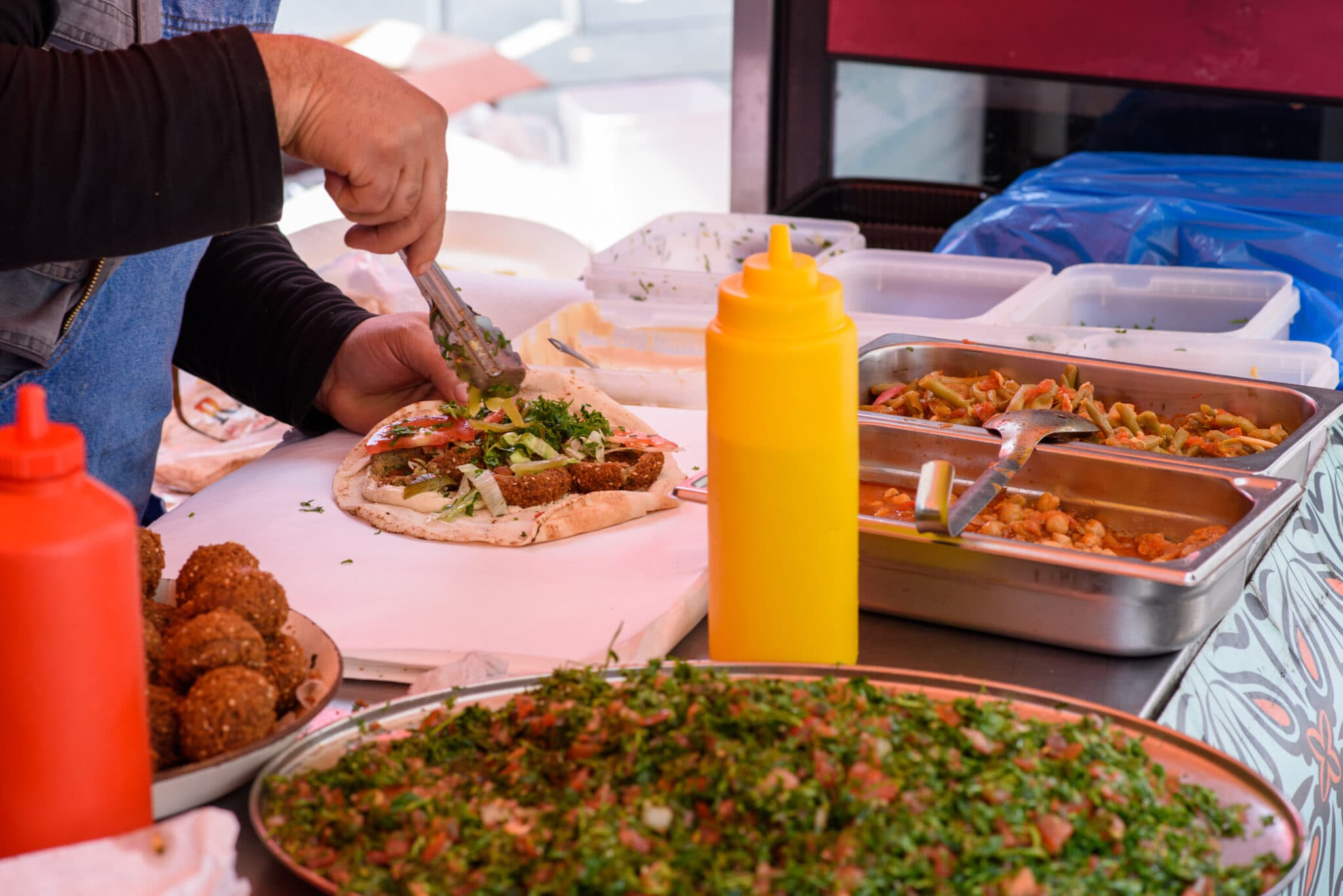 Abounding with some really interesting foodie stalls you can get superb pies, artisanal cheeses, vegan baked delights, Japanese food parcels and so much more.
You can also pick up ethically-sourced gifts, designer fashion, original art, fabulous toys and locally made clothing, gifts, bags and household decor.
Nearest Train Station: Hackney Central
#11 Broadway Market
Relaunched in 2004 this market located in Hackney is packed on Saturdays with bohemian types. You will find organic groceries, ethically sourced products, vintage clothes, freshly roasted coffees books and some truly original gifts
Broadway Market now consists of more than 150 traders providing a truly interesting and diverse shopping experience.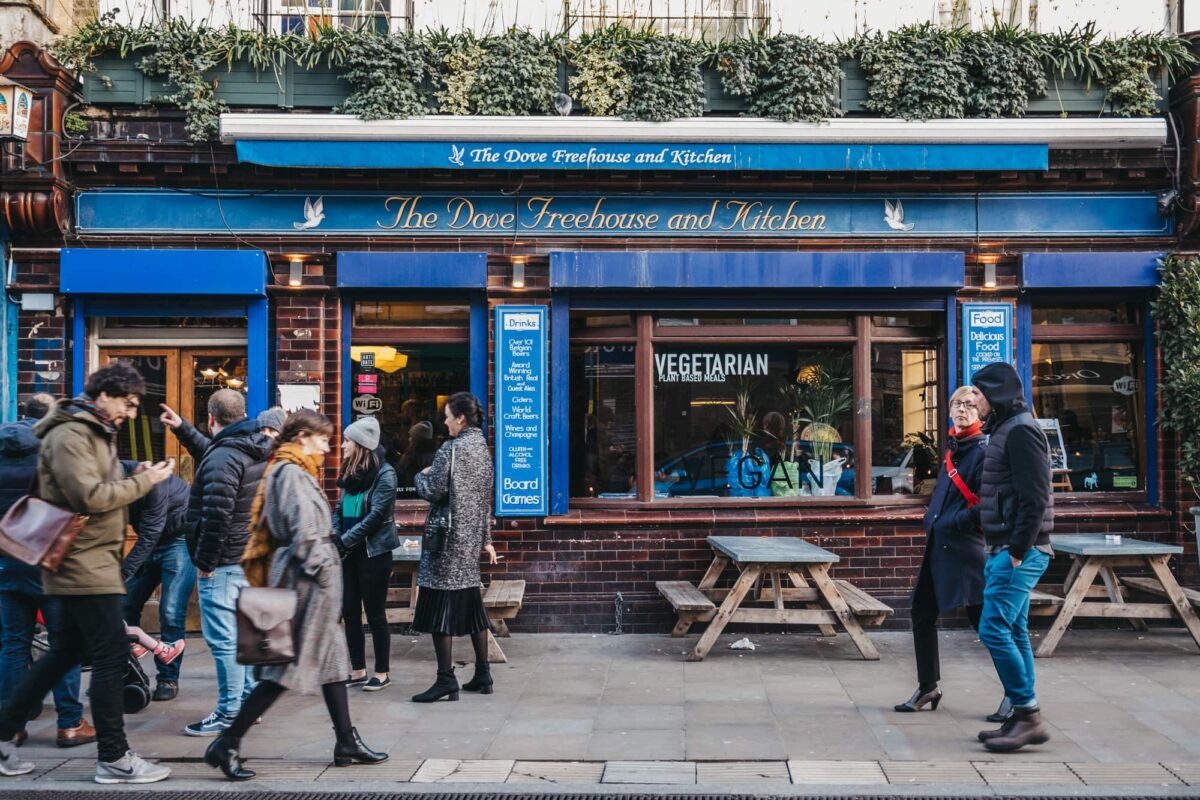 As for food well it ranges from Banh Mi to vegan jackfruit burgers, Katsu wraps, waffles, pancakes and as many vegan choices as anywhere in London.
Nearest Train Station: London Fields
#12 Whitecross Street
Whitecross Street market is a weekday food market found on Whitecross Street, spanning most of the area between the Barbican and Old Street. The wide variety of high-quality food on offer draws city workers back day after day.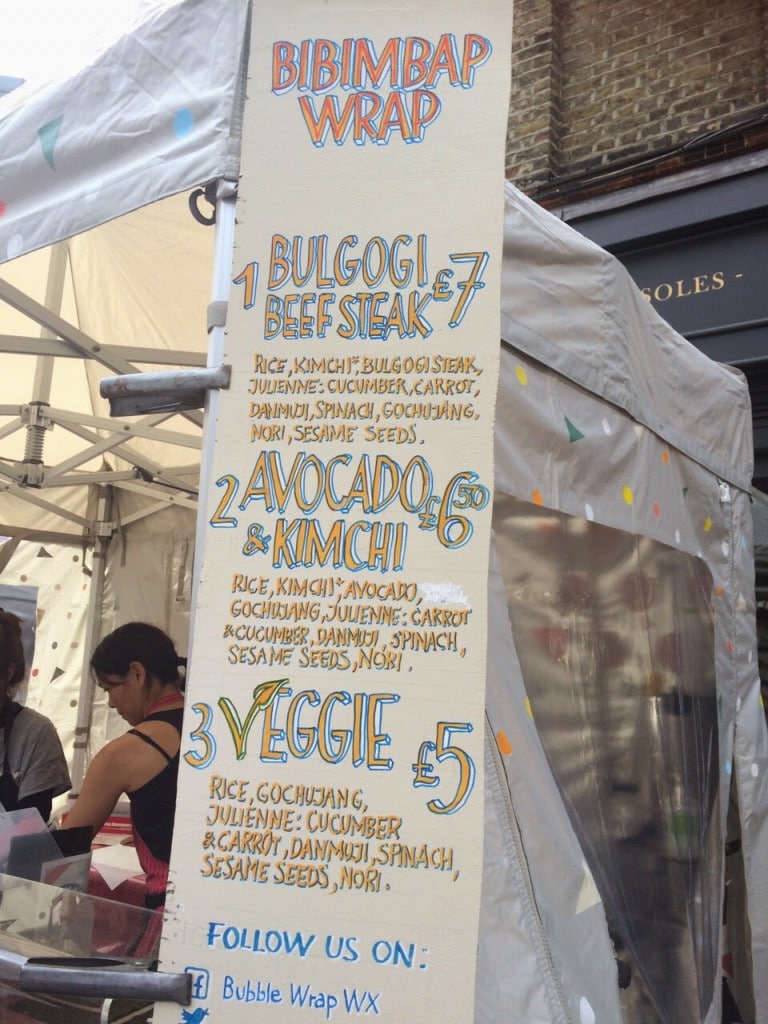 The Market has been in existence for 150 years these days it's a small food market with up to 50 stalls presenting some of the best street food in London but it is only open Monday to Friday at lunchtime.
Featuring every kind of food you can think of, loads of vegetarian and vegan options, Indian, Thai, Mexican, Turkish, Brazilian, and pies – oh god the pies.
Nearest Tube Station: Barbican / Old Street
#13 Covent Garden
It wouldn't be an article on great London Markets without mentioning Covent Garden. A London landmark since the early days this beautiful market has reinvented itself and is now a tourist destination for serious shoppers.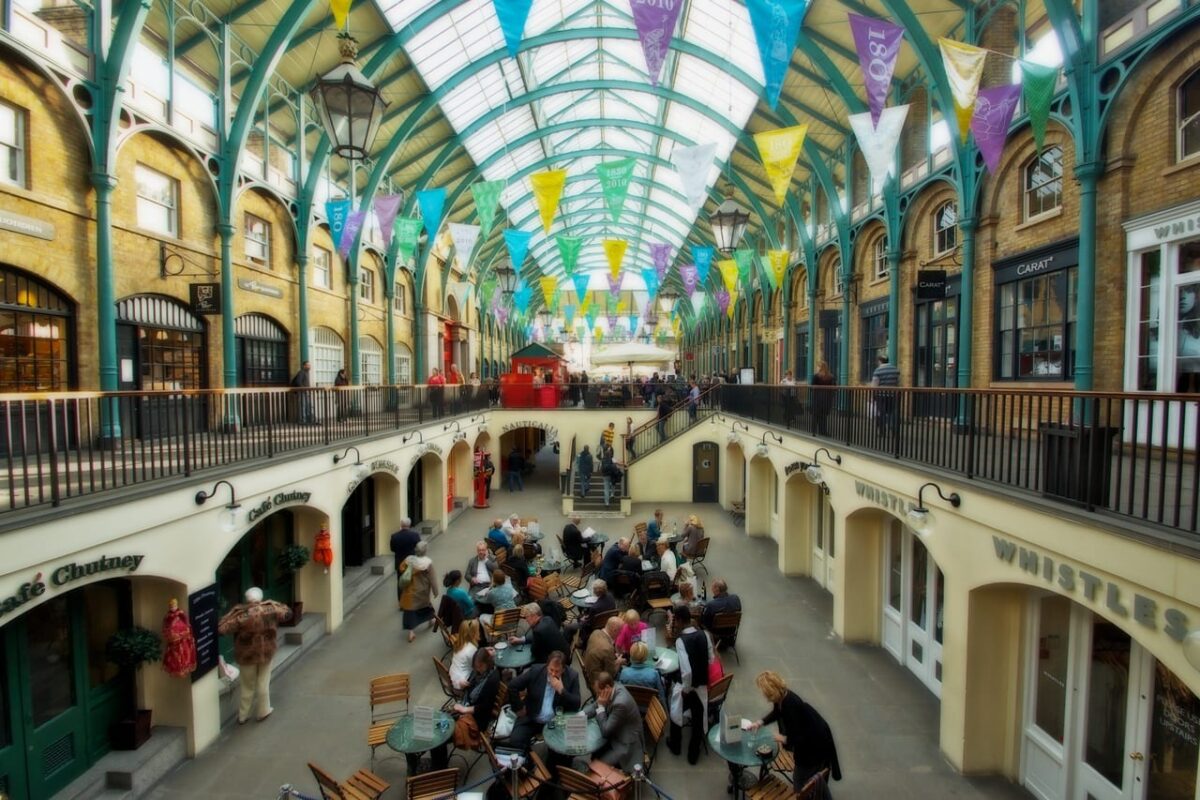 On Mondays, it is full of stalls selling collectables and antiques and from Tuesday to Sunday, it hosts everything from soaps to nuts.
Truth be told not much in the street food department but you can find a few cool little British cafs around several corners from the market serving a good cuppa and some old-time British Food like pie mash and fish and chips.
Nearest Tube Station: Covent Garden
#14 Southbank Centre Market
A weekend feature on the Southbank the market consists of stalls arranged along the northern half of the street, between Old Street and Fortune Street, with the road closed to traffic. There is a small general market and a food market of up to 50 food and drink vendors Monday–Friday lunchtime which can get very busy.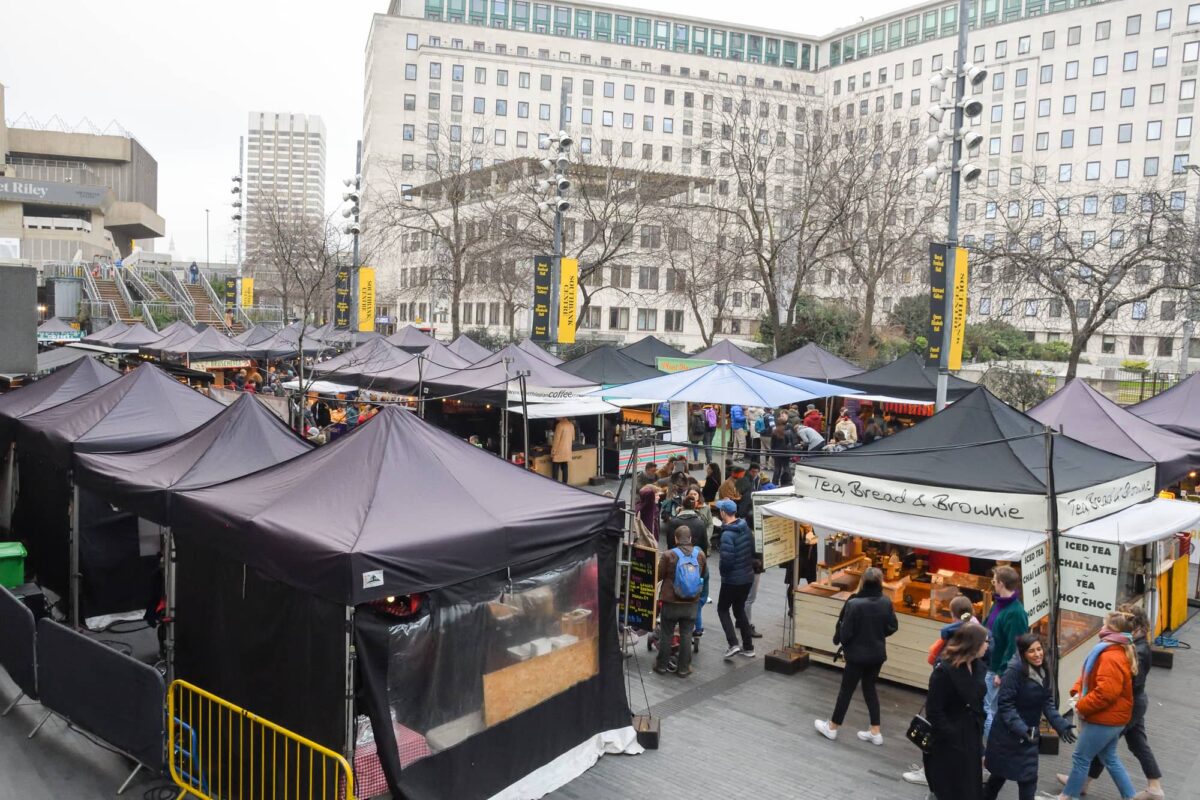 But grab some food and a bench and enjoy some unrivalled views of the Thames and some of London's famous landmarks. Then it's off for a trip on the London Eye.
Nearest Tube Station: Waterloo
#15 Portobello Road
Wow, what can you say about the Portobello Road Market? One of the biggest reasons to visit Notting Hill is, of course, the market. Open every day but Sunday the market area is a great shopping district for everything from antiques to fashion.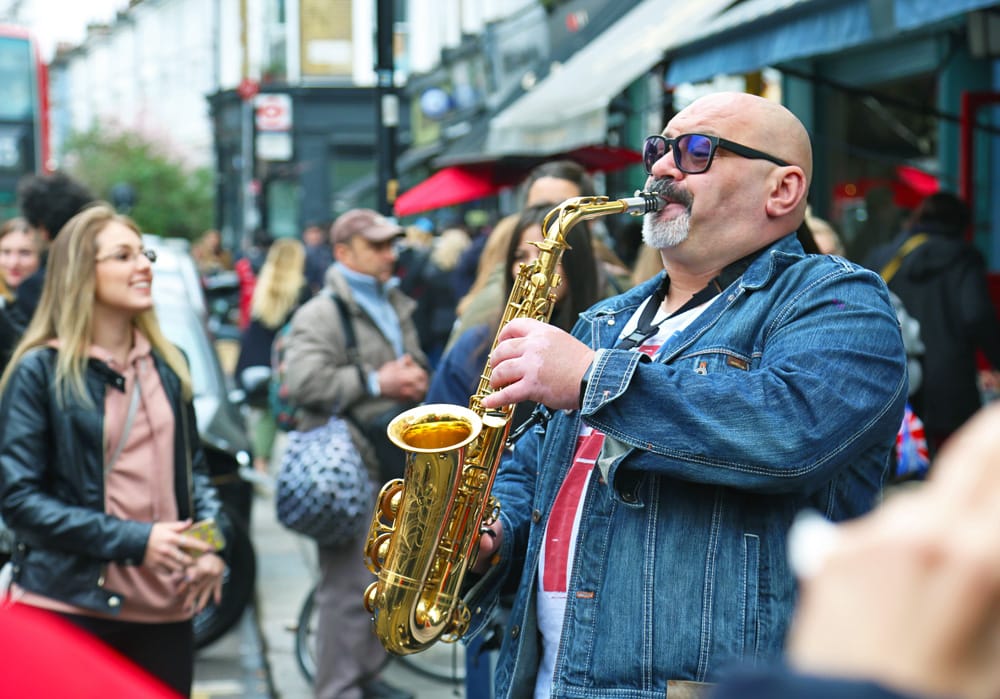 This is one of London's most iconic and famous markets. Tens of thousands of people visit Portobello Market in Notting Hill and it is alive with shops, cafes, restaurants and as diverse a clientele as you will see anywhere in London. Portobello Market is also home to some of the best street food in London. From Jerk Chicken and Jamaican peas and rice to Venezuelan arepas, Spanish Paella to Octoberfest sausage and grilled cheese there is a range of portable food to keep you going for hours.
It also hosts one of the world's largest antique and vintage markets in Notting Hill – my advice get there early as the crowds can do your head in.
#16 Brick Lane
If you are looking for London street food Brick Lane is the place to go. Famous for its curry houses and Indian Restaurants Brick Lane is also the place to go bagel hunting. Some of the best bagels in the world can be found here at Brick Lane Beigel Bake which is open 24/7.
On Sundays, Brick Lane is lined with stalls and vendors selling anything and everything. Fruit and veg, household goods, books, clothing, knick-knacks you name it you will find it here.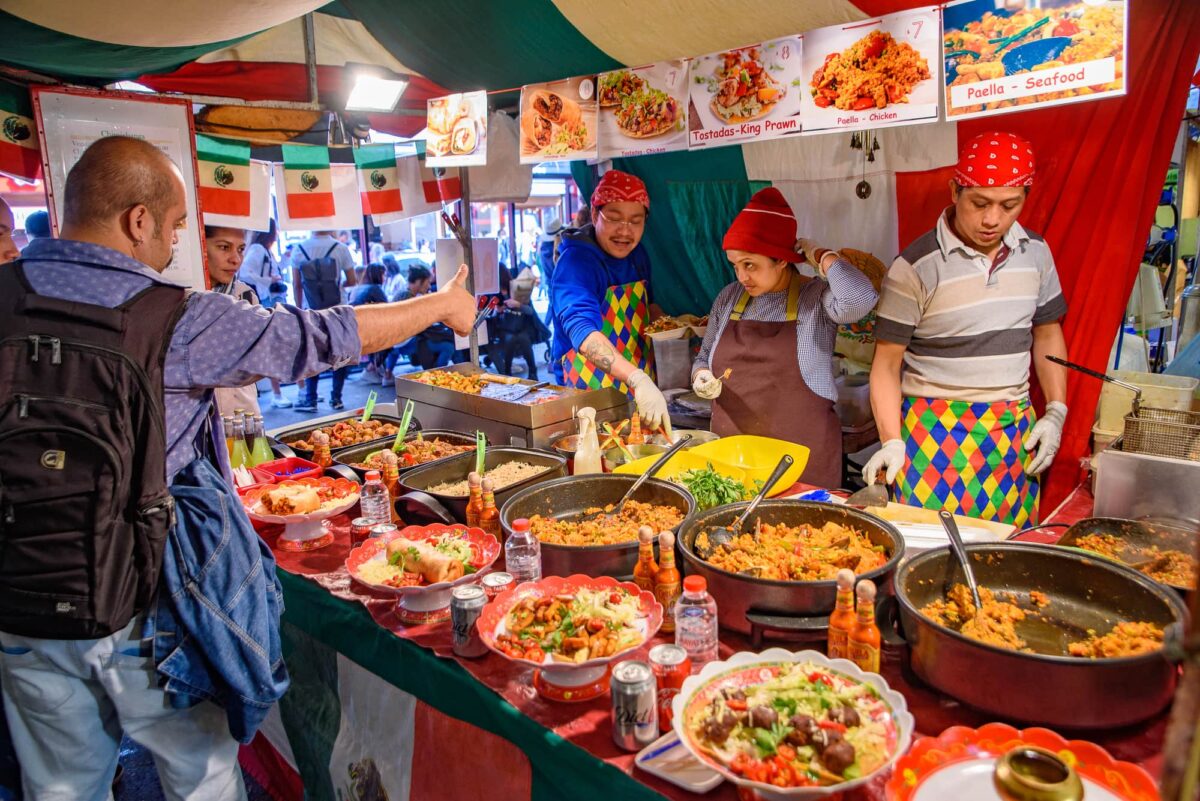 These days Brick Lane has become very trendy and there are several "markets" surrounding the Lane. Backyard Market is for arts and crafts, Sunday Upmarket is for street food and interesting gifts and over 200 stalls.
Head to the Boiler House Food Hall to try over 30 international street food vendors' offerings. Or how about the Vintage market Thursdays through Sunday.
#17 East Street Market
This was my old stomping grounds for years when I lived off Walworth Road. A market that sells it all from shoes to vegetables and everything in between. East Street Market was the first market I was introduced to in London and it was this market that gave me my love for searching out markets all over the UK and the world, to be honest.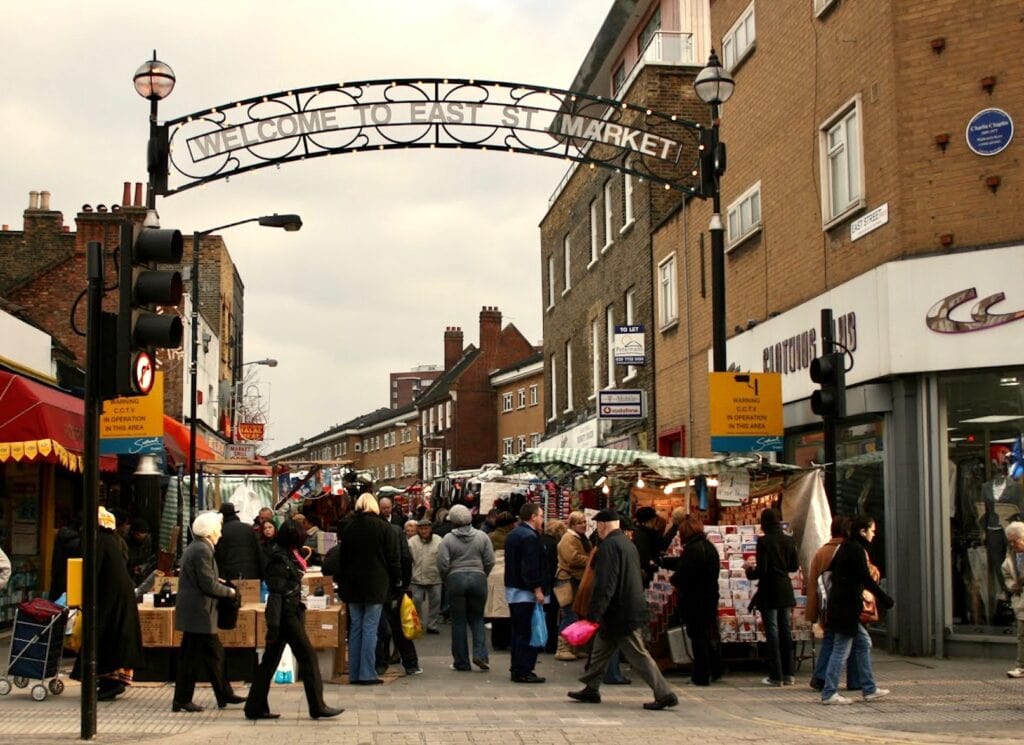 Sunday markets in London
If you are in London on a Sunday and want to hit up some markets these are a few of the Sunday markets in London to visit.
Brick Lane Market and The Old Truman Brewery Markets
Brixton Village and Market Row
Camden Market
Columbia Flower Market
Covent Garden Market
Greenwich Market
Maltby Market
Spitalfields Market
Southbank Centre Market
There you have it my favourite 17 street markets in London. With the exception of Covent Garden, every single one of these London street markets will have some street food you may never have tried before. Go on I dare you to go seek them out. Don't forget if you get a chance to visit London at Christmas time seek out some of the famous London Christmas markets.
If you love a market as I do here are some more articles and markets to visit
11 Fabulous Unusual Afternoon Teas in London
59 Traditional British Foods – from the sublime to the WTF
What to see, do and eat in Chinatown, London England
Best things to do in Covent Garden Market London
Have you ever had street food in London? What did you choose and where was your favourite place for it?
Pin it for later