Best Things to do in Chinatown, London
I love Chinatown London it's one of my favourite places in London. I mean who can fault a place that has great people watching and some of the most interesting South Asian food outside of South Asia? Chinatown is also where I appeased my appetite for dim sum and sushi that I had so missed in Ireland. There are many things to do in Chinatown, not the least of which is enjoying some of Chinatown's best restaurants.
We got very lucky at Christmas time and got to spend 2 months in London housesitting which give us the chance to wander around places that I had briefly spent time in when I lived in London.
Where is Chinatown in London?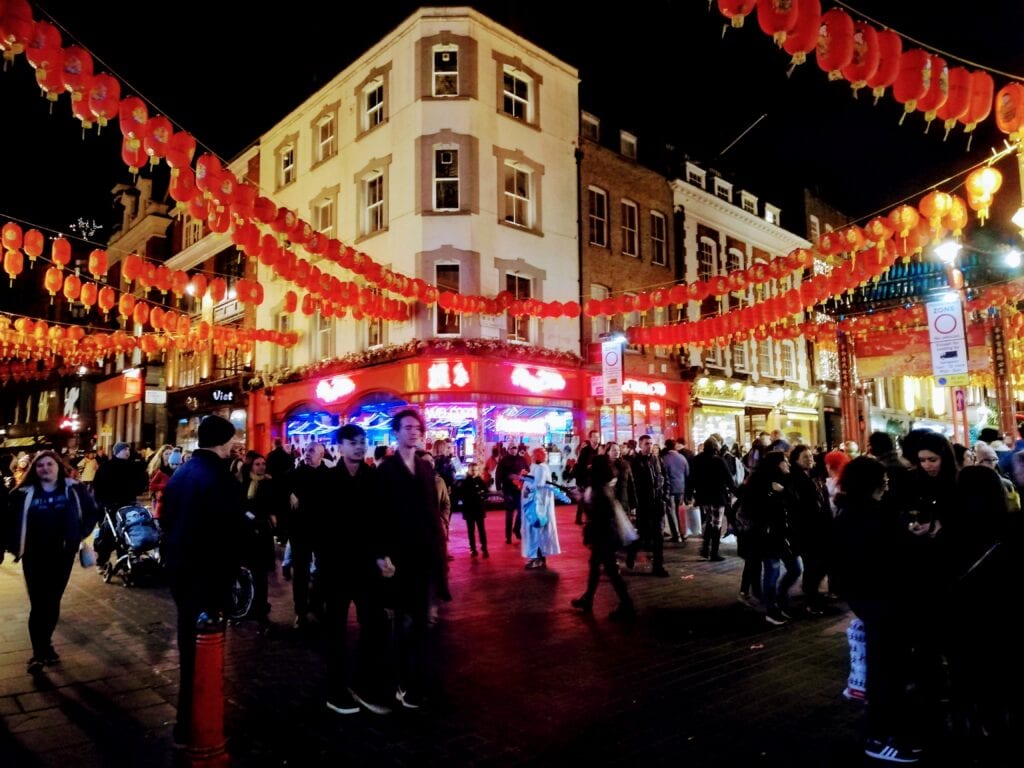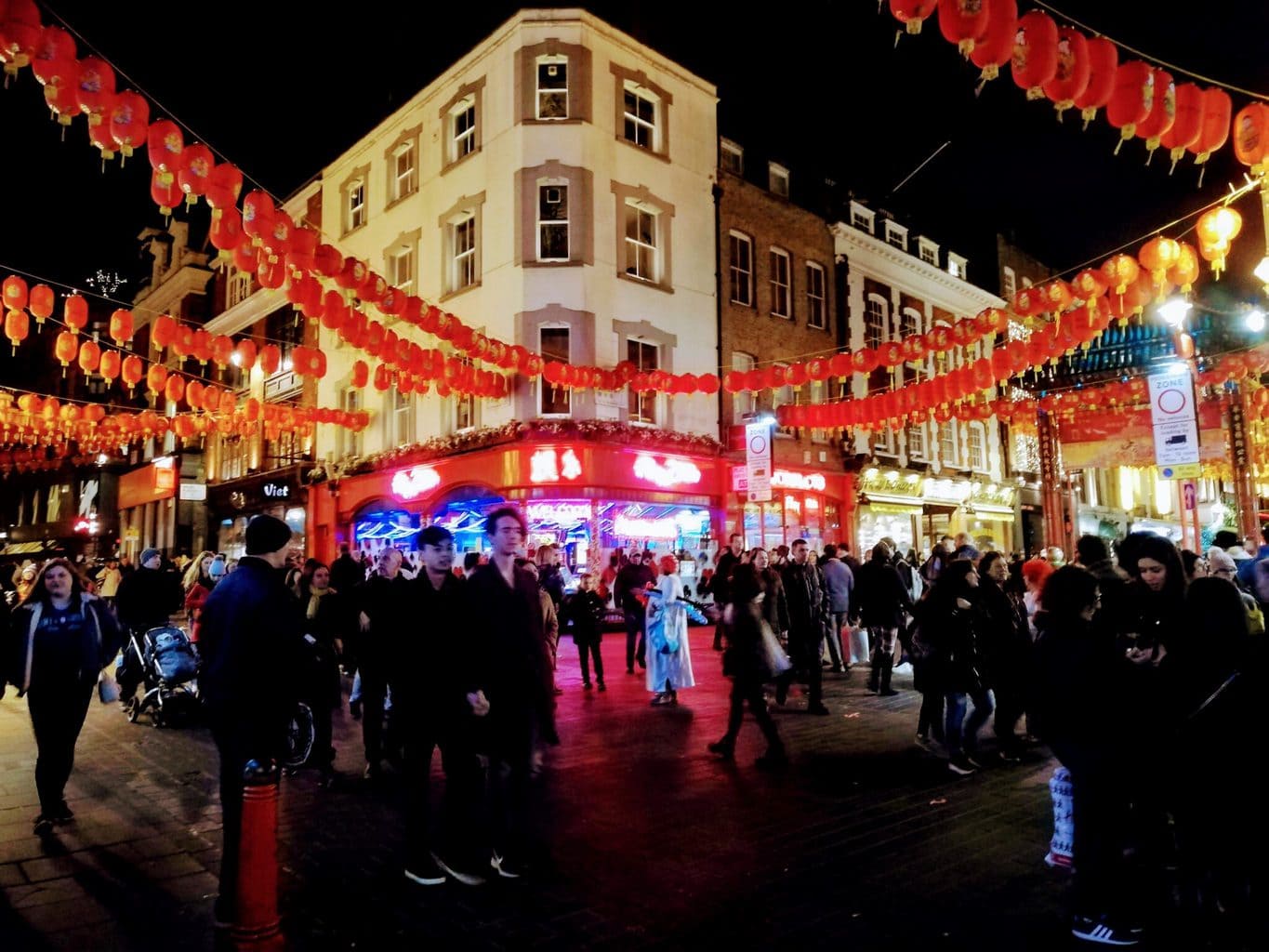 You can find Chinatown in the heart of London in the West End (London W1D). Charing Cross Road lies to the east, Shaftesbury Avenue is to the north, Rupert Street to the west and Leicester Square to the south.
Chinatown is found within walking distance of many of London's sites, it's easy to get from Chinatown to Covent Garden, Trafalgar Square and Piccadilly Circus.
Chinatown London FAQs
Map of Chinatown London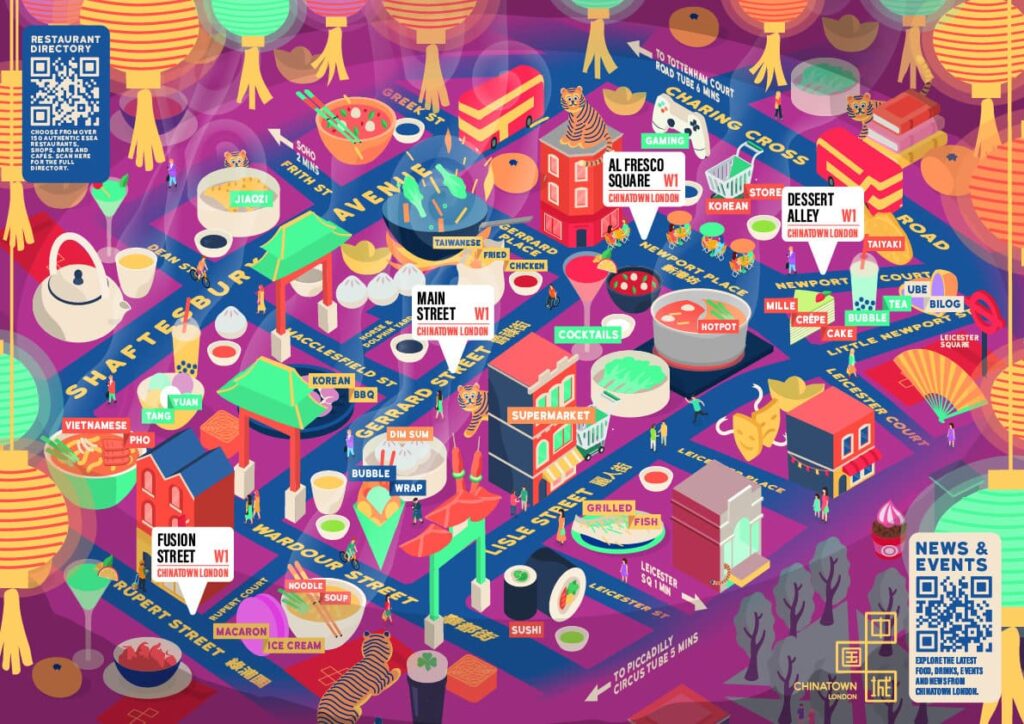 Only have 2 days in London? Here's everything you can squeeze in to see
Xyuandbeyond is reader-supported. When you buy through links on our site, we may earn an affiliate commission. You can read my privacy policy here.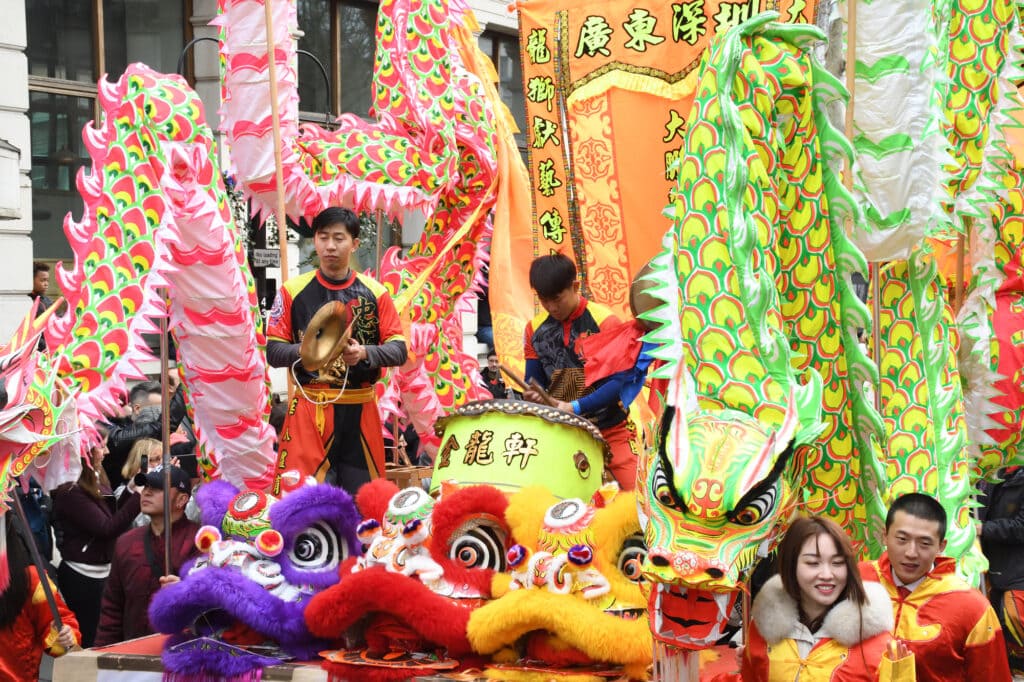 How to get to Chinatown
Train
The nearest train station is Charing Cross but it is an 11-minute or so walk from the train station.
Chinatown London tube station
The best way to get there is by Tube and you take the Northern Line tube. The walk from the Tube is about 2 minutes or so. When you get to the station make sure you head to Exit two when you walk up all you do is exit and turn the corner and you are in the heart of Chinatown. You could always take the Covent Garden tube or Piccadilly Circus which are also just a short walk away.
Bus
The TFL buses to get to Chinatown don't travel through the area as it is pedestrianised but you can stop along the streets that border the area. The Routes are 14, 19, 38, You can reach Chinatown via routes 14, 19 & N19, 38 & N 38.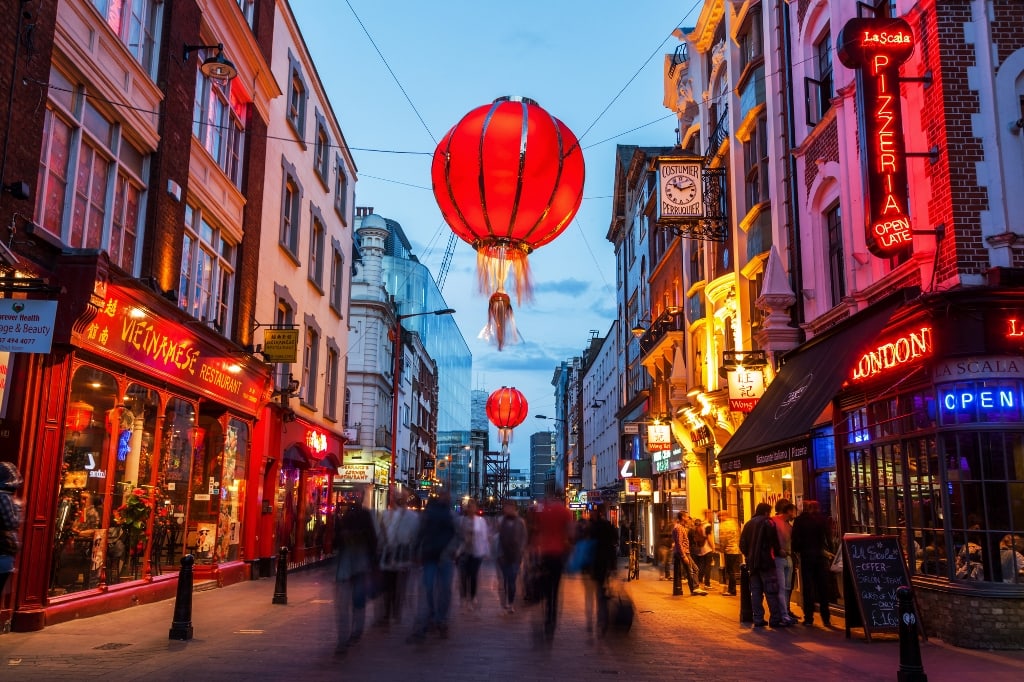 Chinatown Map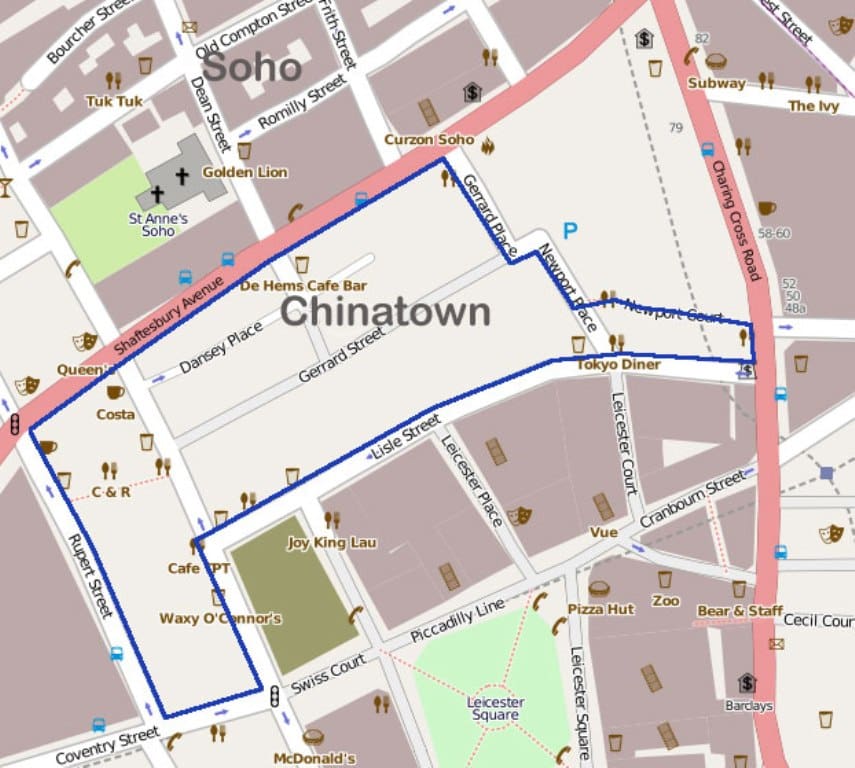 Tips for visiting Chinatown
*Come hungry but try to avoid buffets there are many excellent inexpensive restaurants here.
*Many of the bars and restaurants stay open pretty late some come prepared.
*Wear comfortable shoes although the area is not large you can spend a great deal of time just wandering and window shopping.
*Most restaurants have a posted menu outside the establishment but shop around as there are many choices.
*Short on cash – look for the Chef's Specials which will often be much less expensive.
*Lunar New Year is an exciting time to visit Chinatown, especially the 15th day when the Lantern Festival takes place.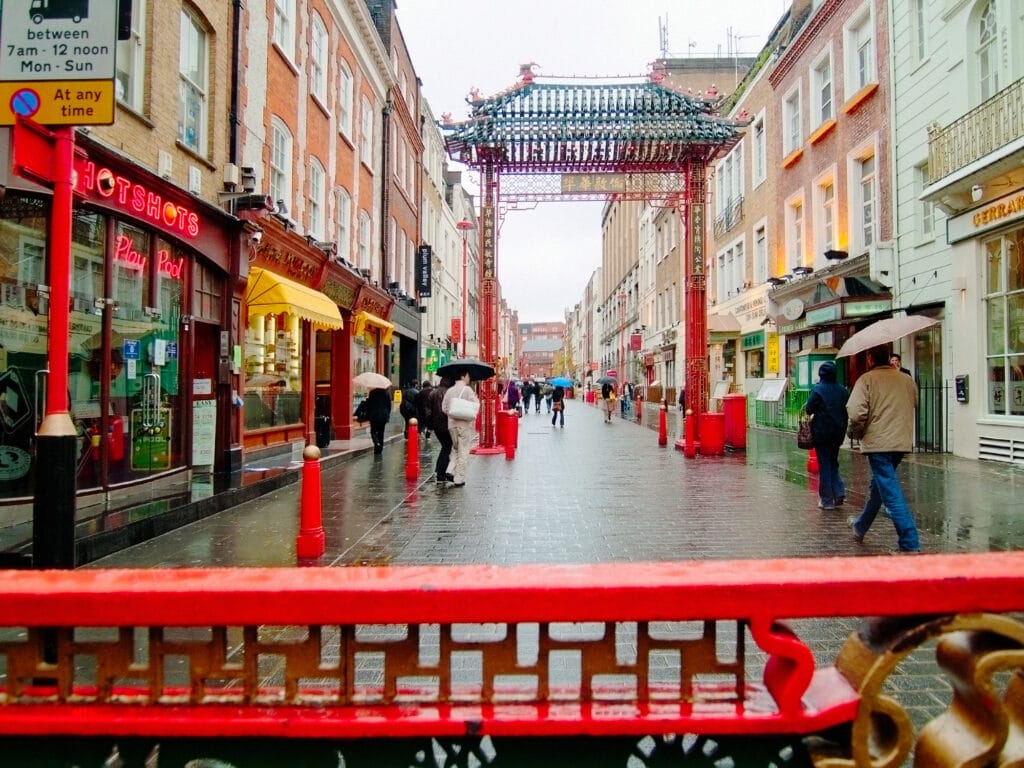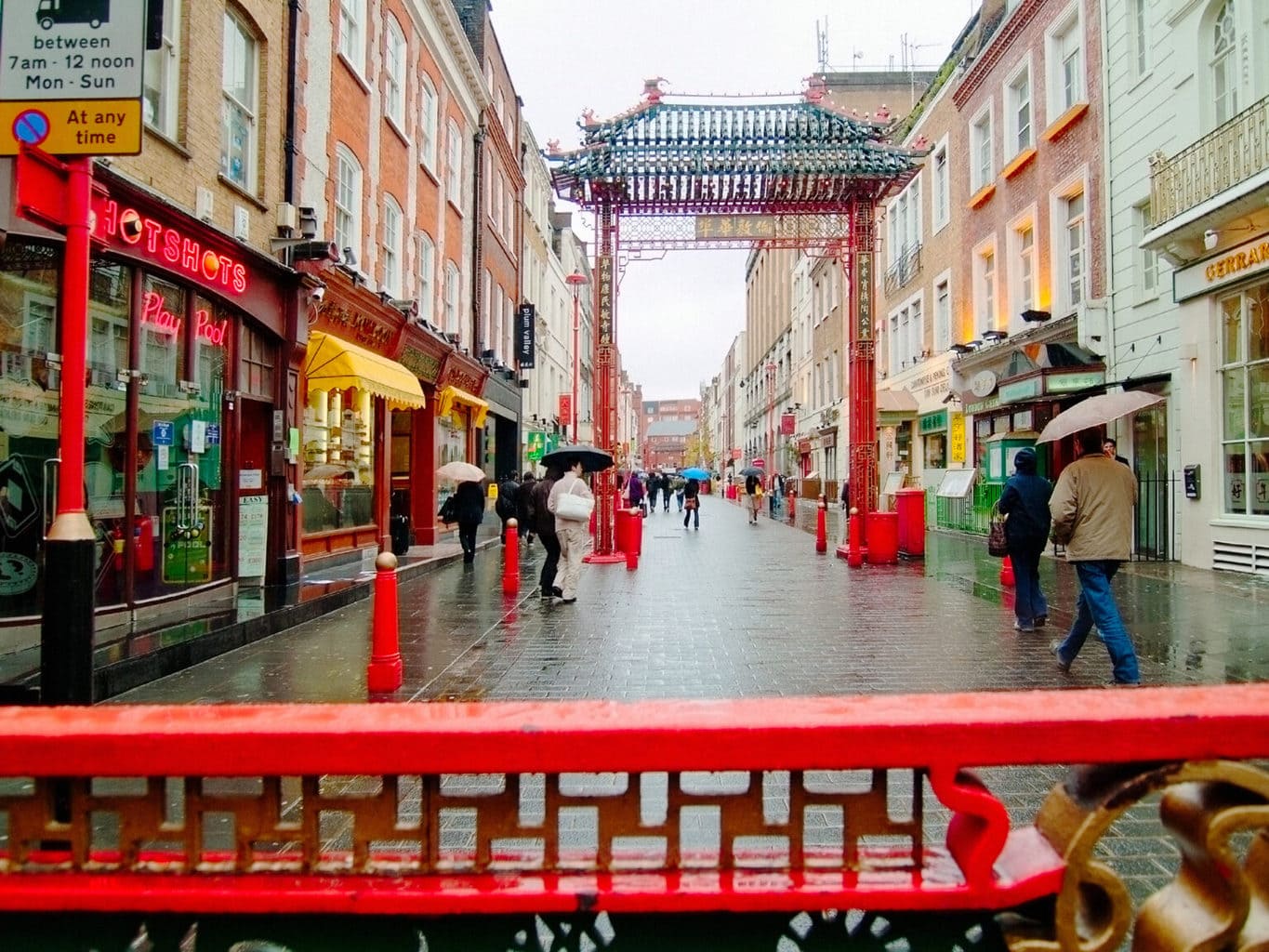 History of Chinatown London
Originally located in the Limehouse area of east London the Chinese community began setting up businesses to serve the Chinese sailors who worked and lived in the Docklands area.
Much of this area was targeted during WWII by German bombers and so many Chinese businesses moved out of the area. Chinatown itself did not become established in the Shaftesbury Avenue area until the 1970s.
In the 1980's Gerrard Street, Macclesfield Street and Newport Place became pedestrianised and the area became a thriving hub of south Asian shops, bakeries and restaurants. Chinese gates and a pavilion were built and in 2016 a beautiful new gate on Wardour Street was opened by The Duke of York.
Cool things to do in Chinatown
Chinatown is set within London's beating heart, an easy walk from other must-see places such as Covent Garden or the Theatre District there is a lot to take in.
The Four Gates of Chinatown
On the four entries to Chinatown stand incredibly ornate gates known as Paifangs. Although the gates look old they were actually built in the 1980s except for the Wardour Street one added in 2016. This Chinese gate was designed and built by Chinese artisans in the Qing Dynasty style and assembled and installed in Chinatown.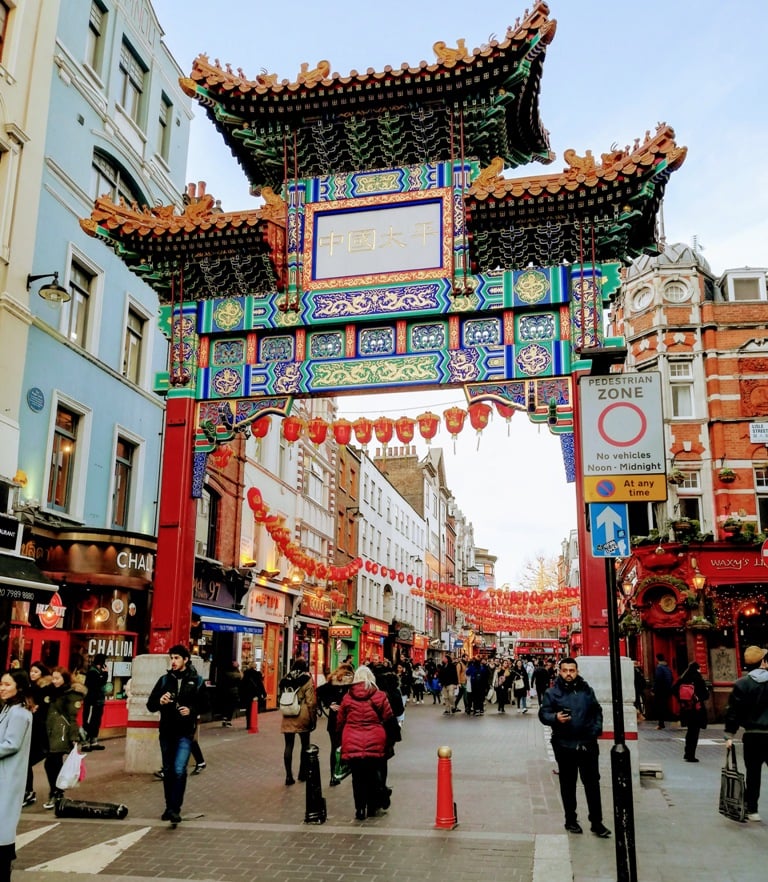 The newest gate is the largest Chinese gate in the UK and it is stunningly beautiful and you can take your insta photos in front of it and it can be found on Wardour Street. The three other gates are found on Gerrard Street these were all built in the '80s.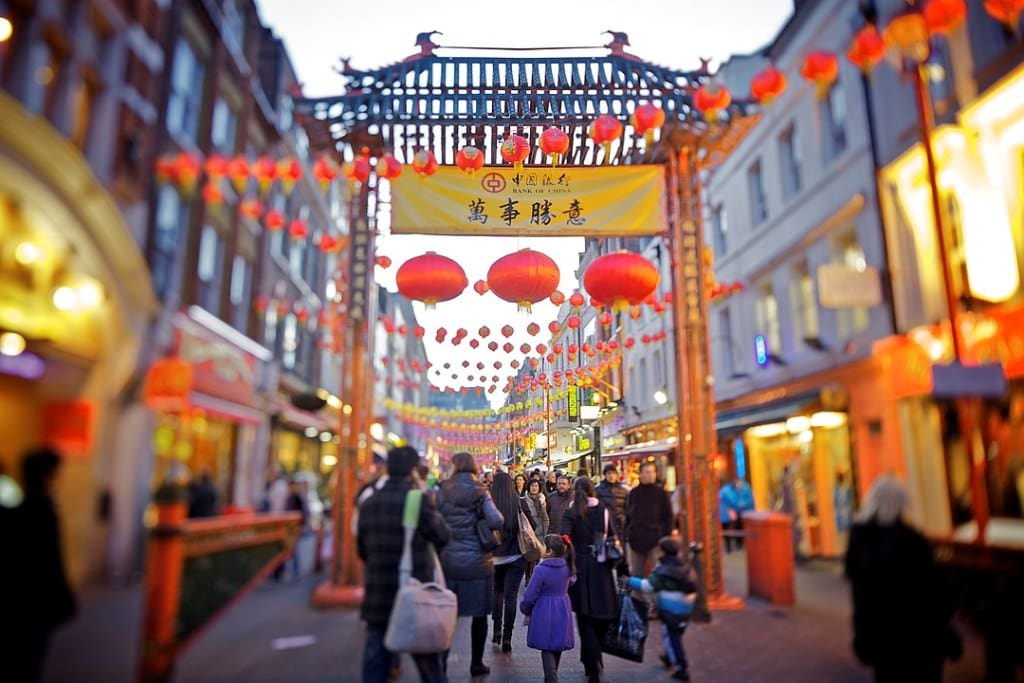 The 1888 Mural
The 1888 mural was created and unveiled on the 18th of August 2008. Comprised of 1888 photos taken by the public the mural is located in Horse and Dolphin Yard, measuring an impressive 8m by 5m.
The number 8 symbolises fortune in Chinese numerology, so a triple eight is especially good. The number one, in Cantonese, sounds like the word for 'every day'.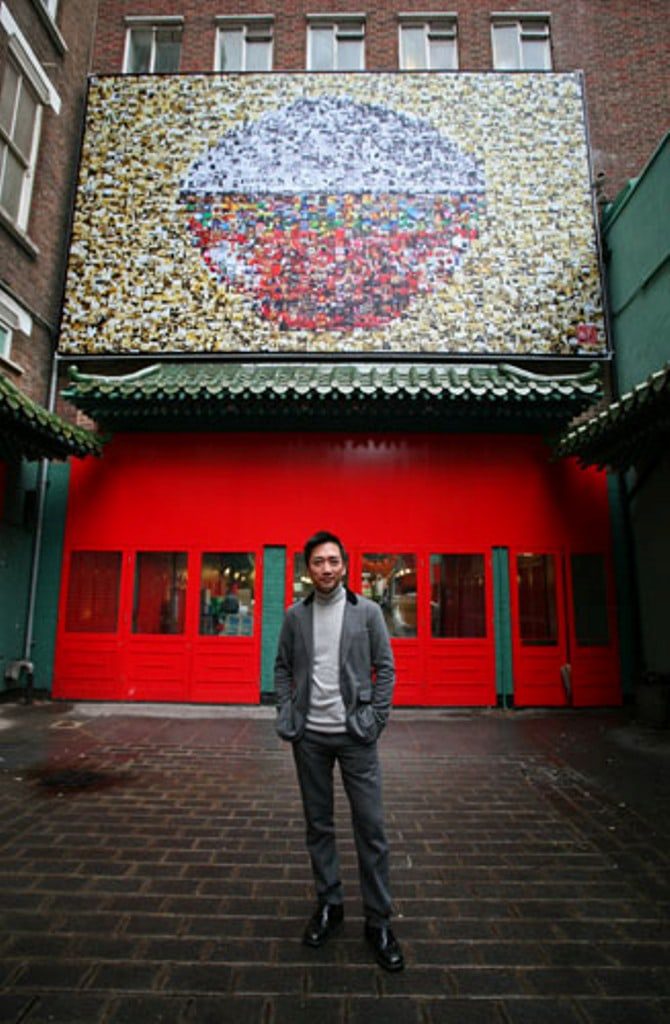 The mural appears to be a bowl of rice but at a closer look, you will see that it is made up of tiny photos that meld together to create the image.
The lion sculpture
The lion statue in Wardour Street was erected in 2009 and named the guardian of Chinatown's gateways.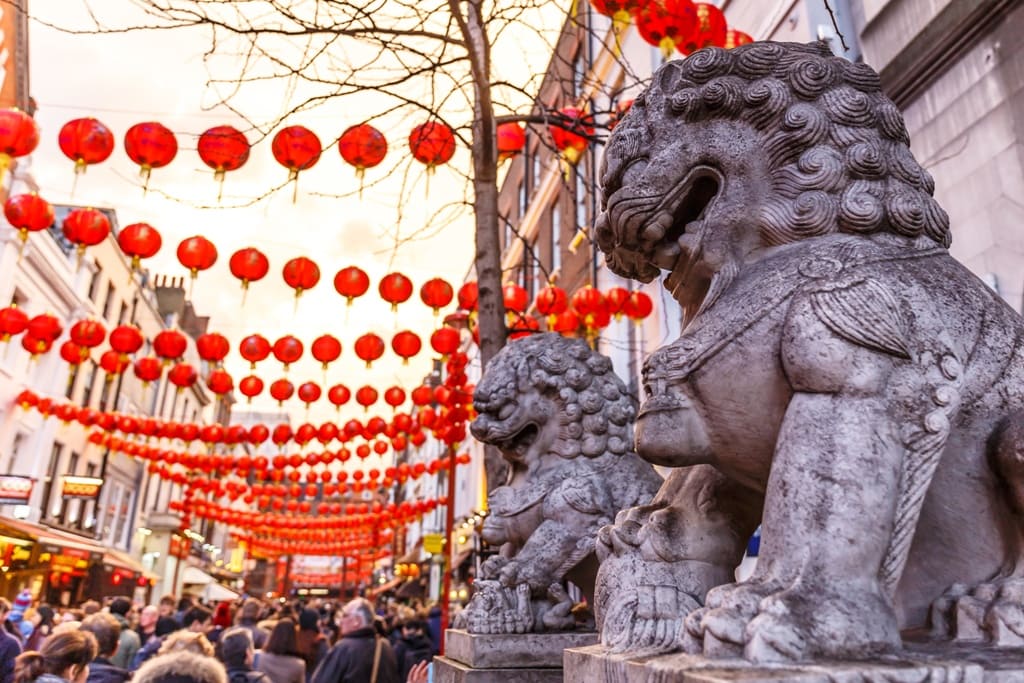 Chinatown Art Space – Chinese Art
A hub of East Asian performance was set up in Chinatown in 2005 and is called the Chinatown Art Space. It features performances and visual arts that are centred around Chinese culture, arts and storytelling.
Chinatown Chinese New Year Celebrations
In 1985 Chinatown London staged its first Chinese New Year celebrations, which have since grown and extended into other areas including Leicester Square and Trafalgar Square.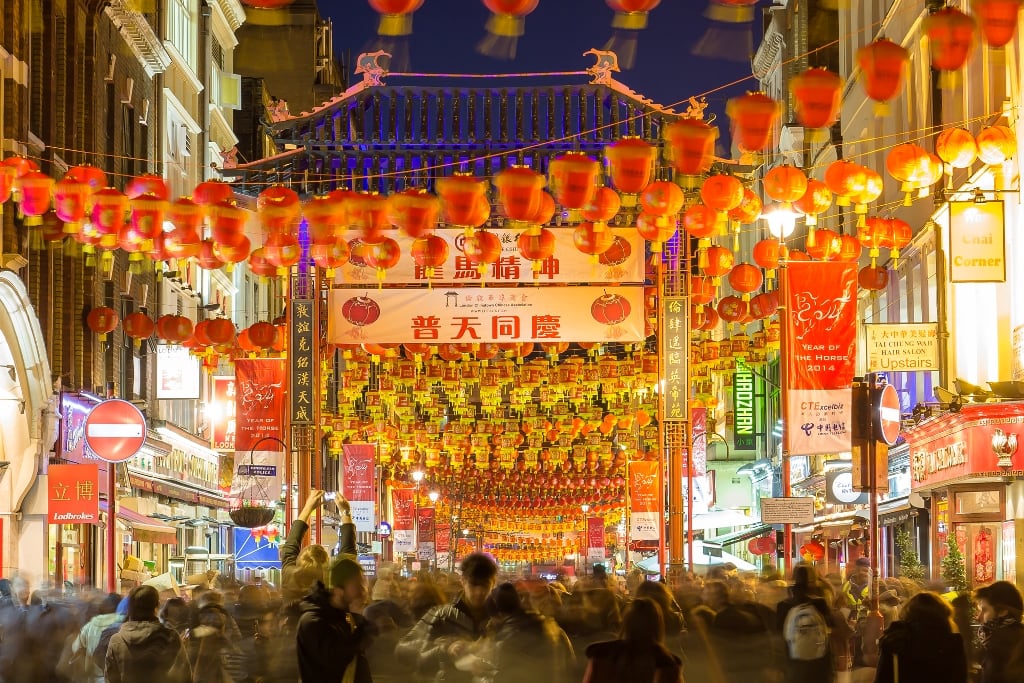 The 2021 festivities celebrate the Year of the Ox. The 2021 London Chinese New Year event programme is yet to be confirmed but traditionally there is a parade, Lantern Festival, screenings, firecrackers, lots of speeches, dragon dance, firecrackers and all the traditional Chinese New Year accompaniments. Chinese New Year is held according to the Chinese Lunar calendar, and so the date varies. It's usually held in January/February, so it's best to check the exact date in advance.
Chinese New Year parade
The Chinese New Year Parade features the largest gathering of Chinese dragons and Lions in Europe and takes place down the streets of Chinatown. The parade begins at Charing Cross Road and makes it way down through Shaftesbury Avenue, Chinatown.
In Trafalgar Square, the event begins with speeches of thanksgiving, stage performances that include Chinese dance and music and artists from China performing martial arts, Chinese Opera and much more.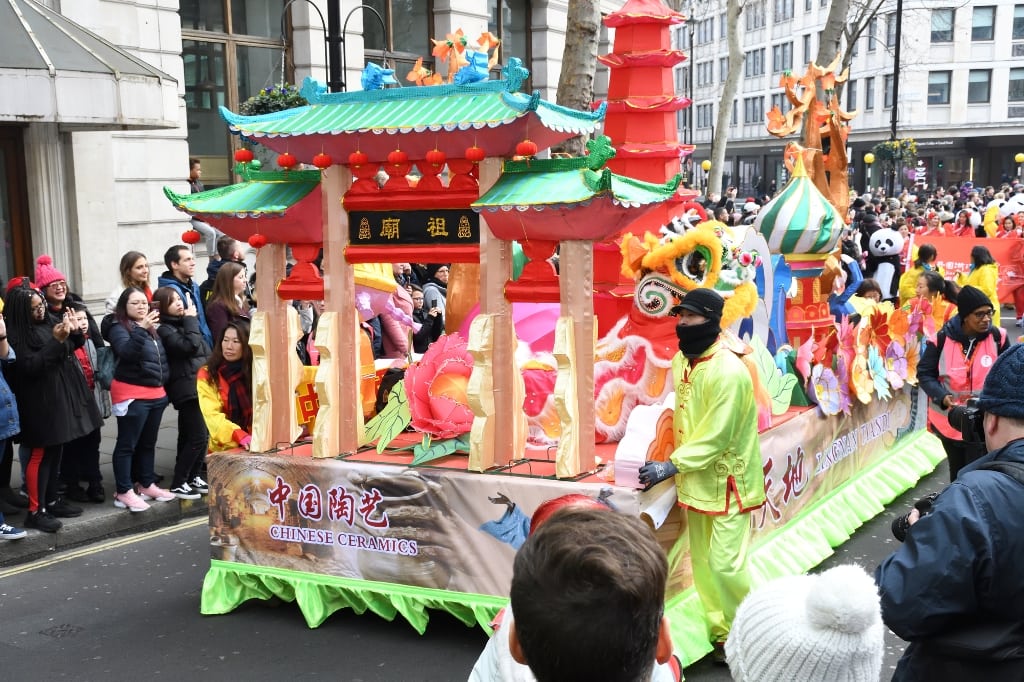 Chinatown London Shops
Traditional Chinese Goods
Shopping in Chinatown includes browsing some amazing shops for authentic Chinese and East Asian seasonings, spices and sauces, East Asian vegetables, bread and lots of sweet treats. Many of these items won't be found anywhere else in the UK. Make sure to check out the new Loon Moon supermarket one of Chinatown's biggest supermarkets.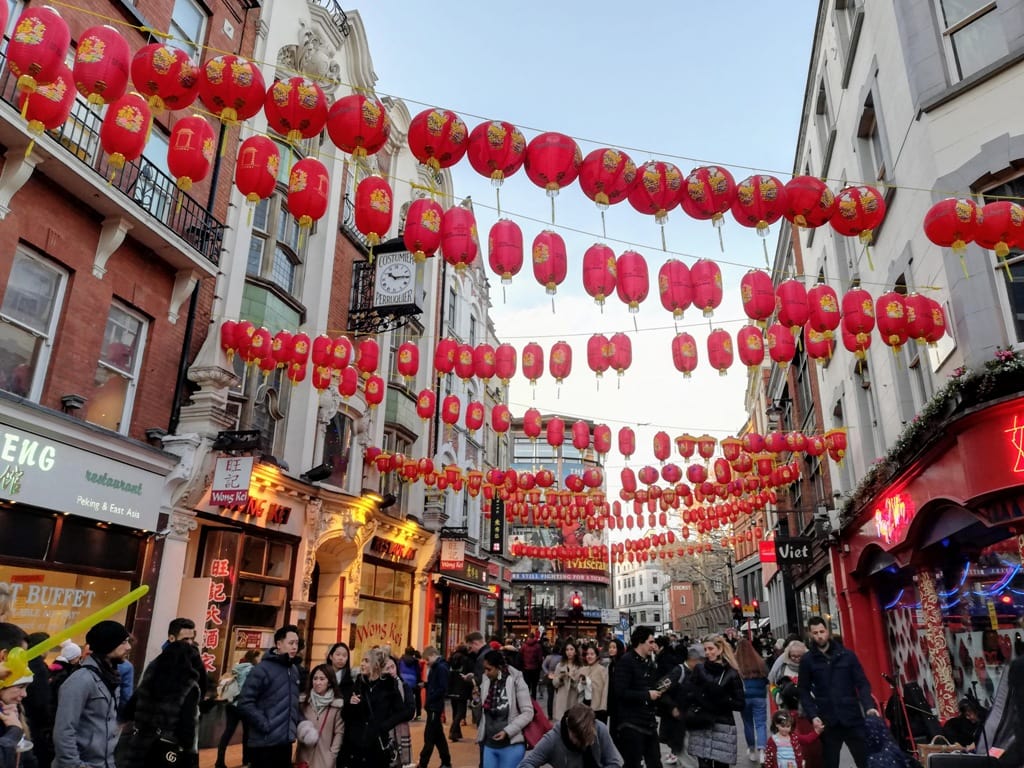 Fancy some gorgeous paper lanterns to light up your home? How about an authentic Maneki-Neko good luck cat-waving ornament? Chinatown London is a shopper's paradise for authentic Chinese and East Asian arts and crafts.
Chinese Medicine
Everwell Chinese Medical Centre
Established in 1994, Everwell is one of the most celebrated Chinese herbalist clinics in the UK and has treated more than one million patients to date.
Their wide variety of alternative treatments includes acupuncture, acupressure, Chinese herbs, cupping therapy, reflexology, ear candling and moxibustion – a practice that uses a medicinal stick of herbs aimed at enhancing circulation and improving the flow of Qi, the body's energetic life force.
Harry Potter in Chinatown?
The House of Spells
Fans and hardcore collectors of magical works beware! Step into the House of Spells and you'll be stepping into a magical world of wizards, fantastical beasts and superheroes. Harry Potter fans love to find a shop specializing in magic and from York's Shambles to Oxford Harry Potter shops are perfect for all Muggles.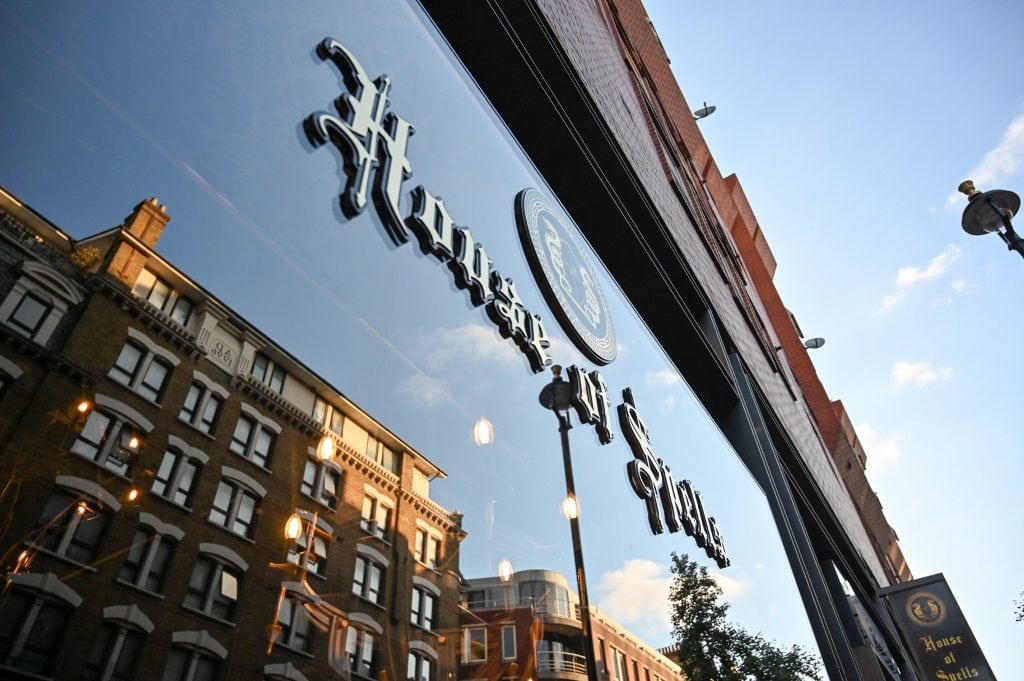 Conjure up official Harry Potter and Lord of the Rings merchandise to add to your collection, but prepare to be tricked by mirrors and other mysterious fun and games in otherworldly surroundings. You can even find the original Iron Throne from Game of Thrones! Unmelted of course.
Best places to eat Chinatown London
London Chinatown restaurants can be hit or miss if you are vegan or vegetarian though you will find plenty to choose from. Chinese food can be very meat-heavy from its famous crispy duck to beef and broccoli but there are plenty of Vegetarian and Vegan options to be found in Chinatown. The best restaurants in Chinatown are not limited to Chinese food they include Thai, Vietnamese, Japanese, Phillipino, Korean, Malaysian, Taiwanese and everything in between.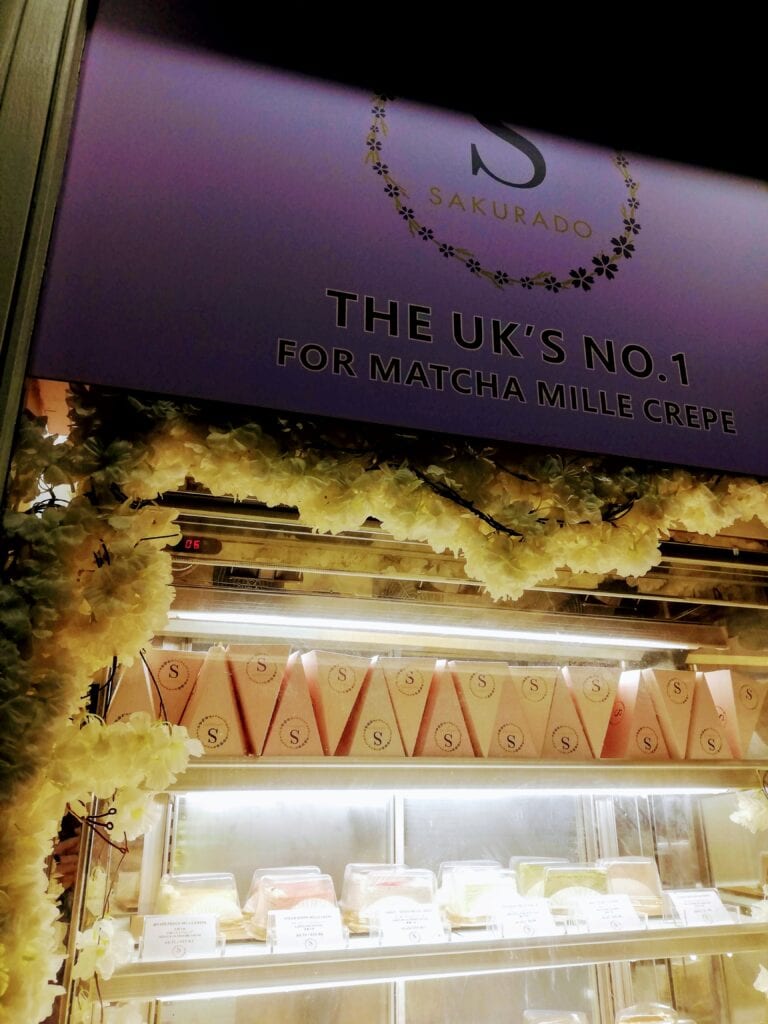 Four Seasons (Wardour Street) | Cantonese
Wardour Street's Four Seasons presents a little bit of everything from Cantonese to Sichuanese dishes. Their best seller is Jumbo Fried Golden King Prawns in Salted Egg Sauce and the specials include tapas-style small plates from Sichuan style fish slices, to a succulent Lamb Brisket with Spicy Wine Sauce. This restaurant loves spice and heat and you can pick up a fabulous roast duck to snack on.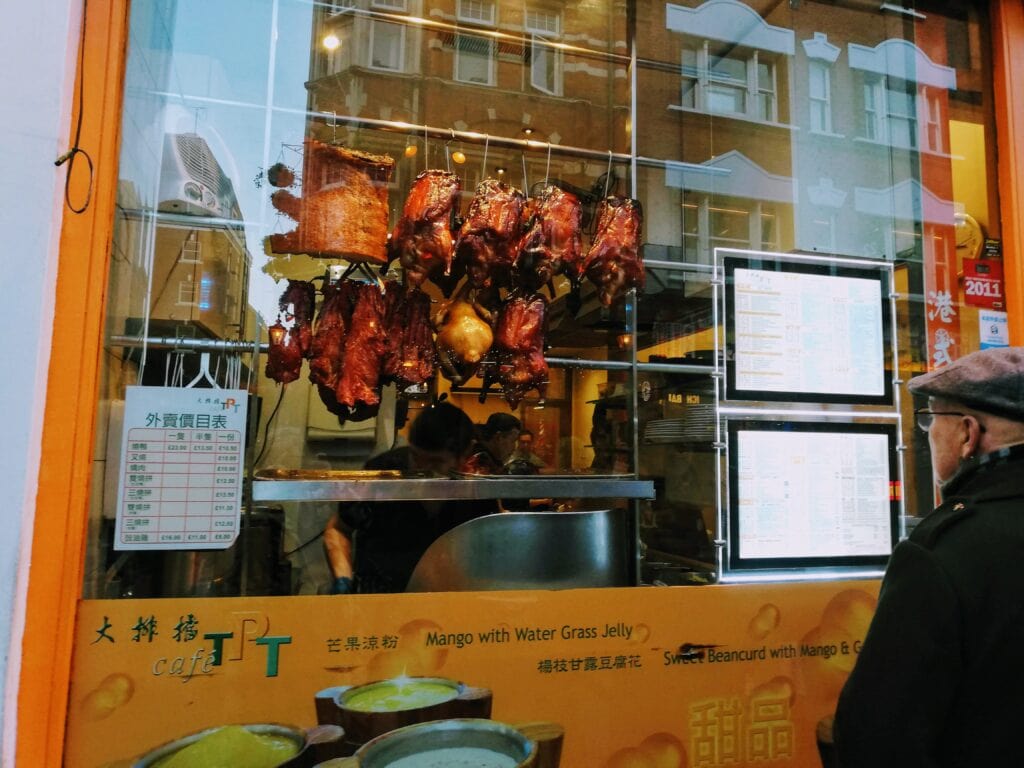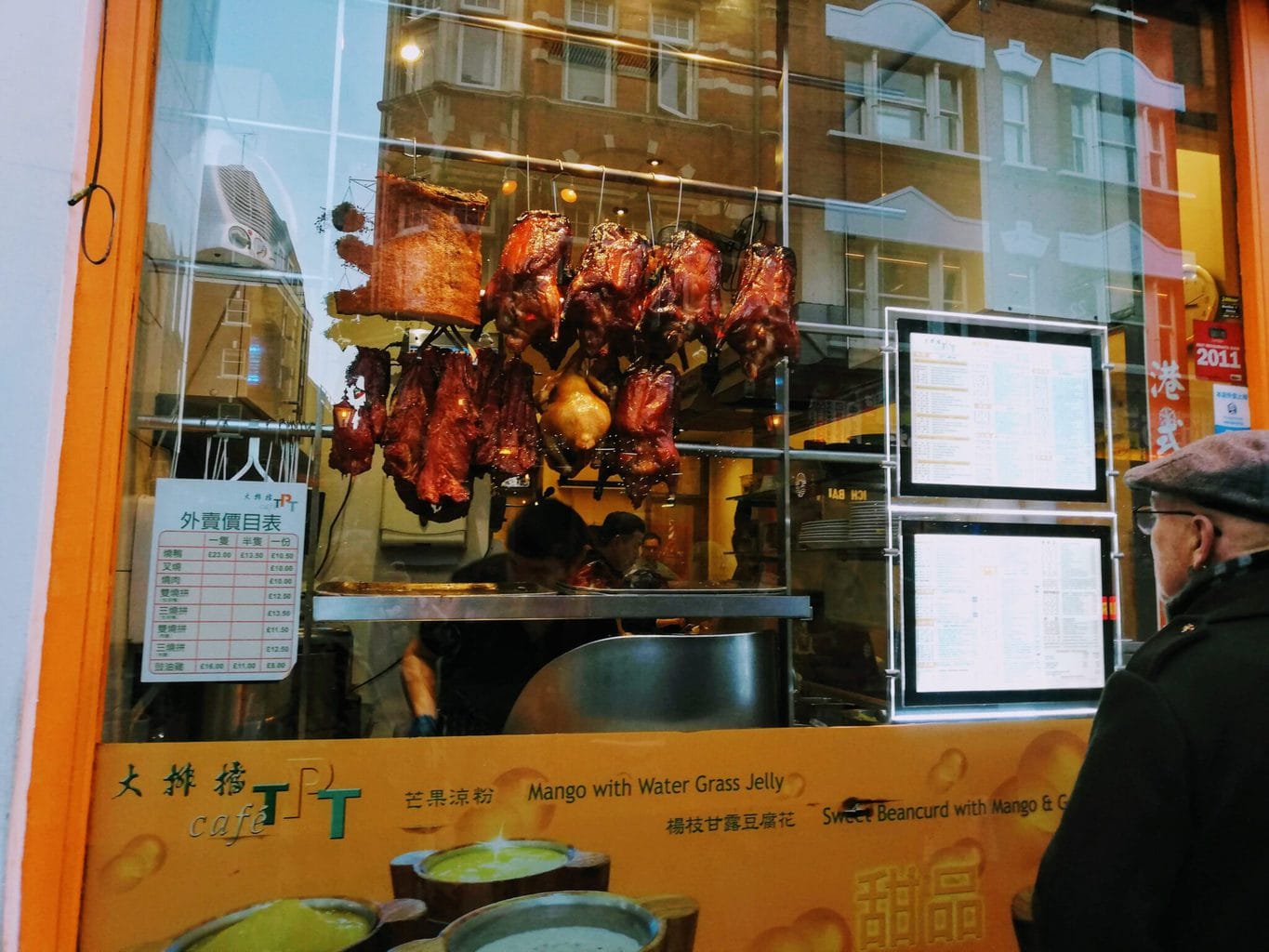 Hot Pot (Wardour Street) | Hot Pot
Hot pot is a traditional Mongolian dish dating back over 1000 years. Wardour Street's Hot Pot present a modern take on this centuries-old dish with over 60 ingredients to dunk in your hot pot. No traditional tongue, tripe or sweetbreads instead you will find wagyu beef and Scottish lobster. Indulge in a hot and sour Tom Yum or a Mushroom broth made with soy milk.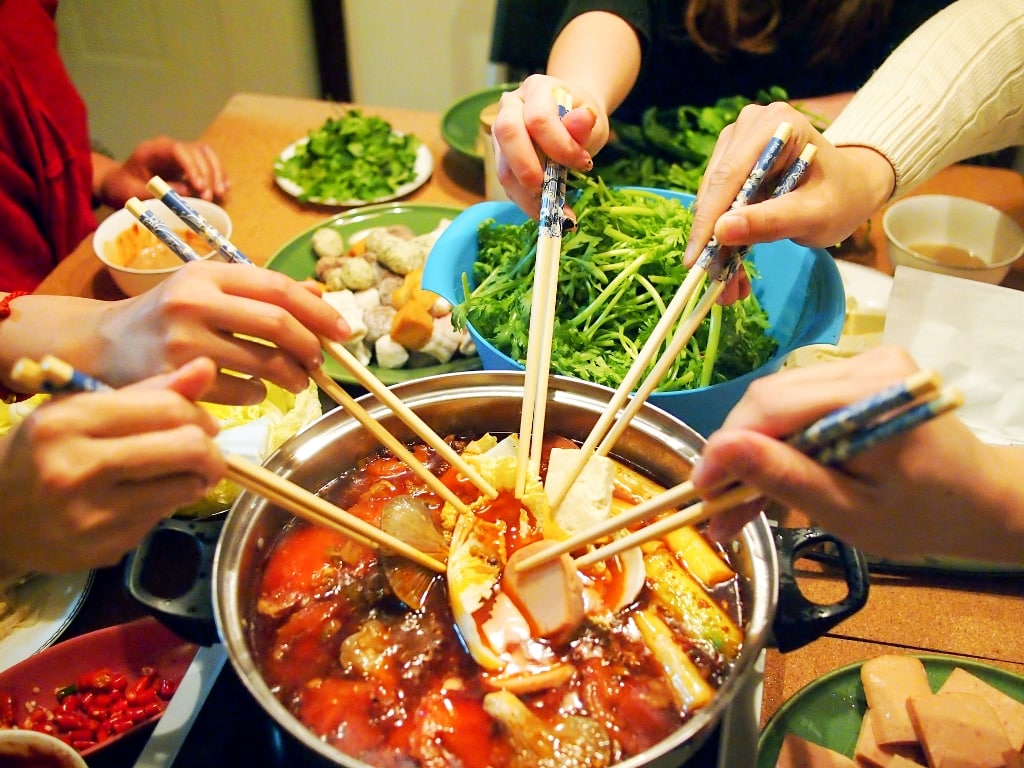 Le Hanoi (Macclesfield Street) | Vietnamese
This is pho that depends on a broth 16 hours in the making. Le Hanoi serves up 10 types of pho along with summer rolls and crispy squid. A well-deserved break from all that shopping.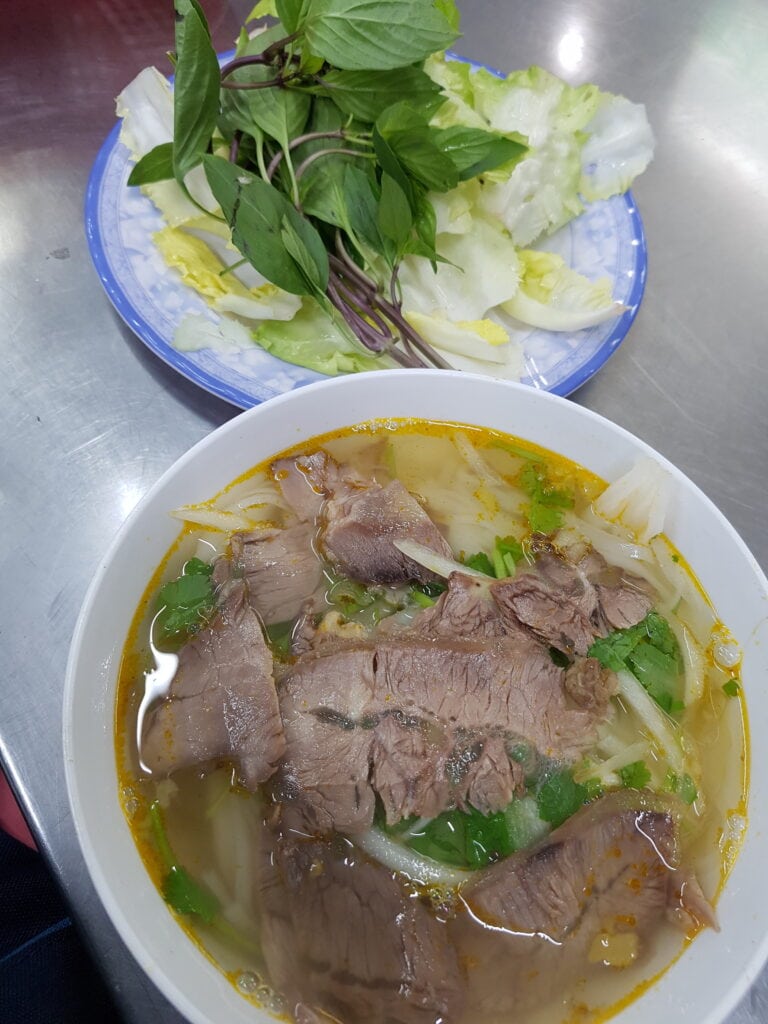 Rasa Sayang (Macclesfield Street) | Malaysian & Singaporean
Bringing the authentic taste of Malaysian and Singaporean cuisine to London the menu includes items such as Nasi Lemak, Singapore Chilli Crab and those delectable crispy shells known as Keuh Pie Tee filled with dried shrimp, chicken and fresh turnip and these are found nowhere else in Chinatown.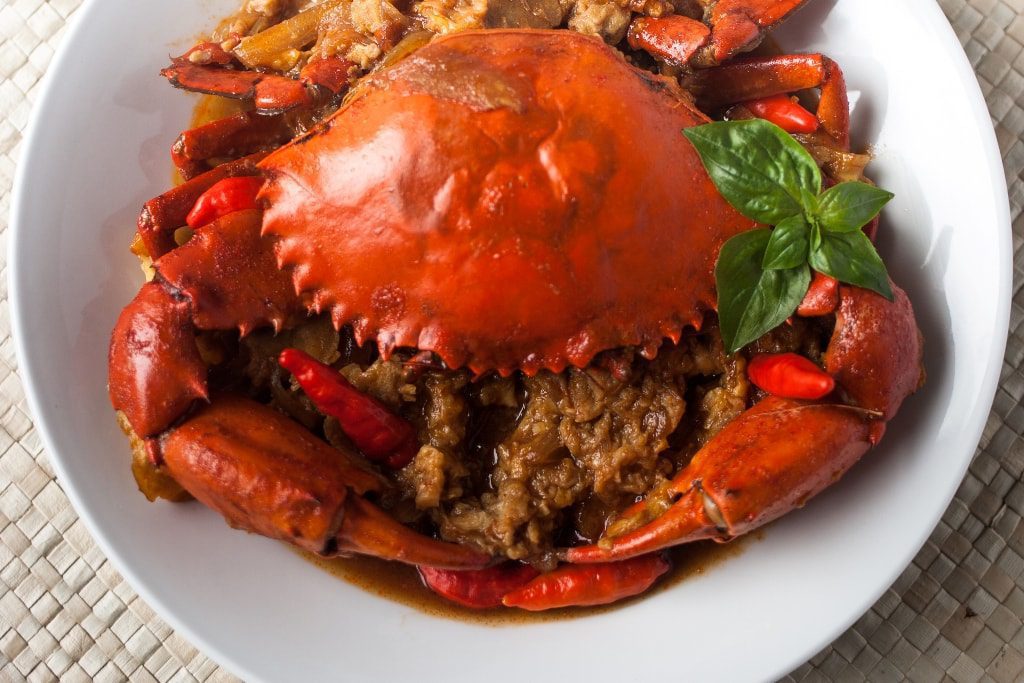 Dumplings' Legend (Gerrard Street) | Cantonese
The absolutely best place for dumplings these master chefs craft over 8000 of these gorgeous filled parcels a day. They have Vegetarian Siu Loung Bao, steamed Vegetarian dumplings filled with ginger, carrot and spring onion. The real speciality is the xiao long bao or soup dumplings. You can watch the Chefs craft these amazing dumplings through the glass window.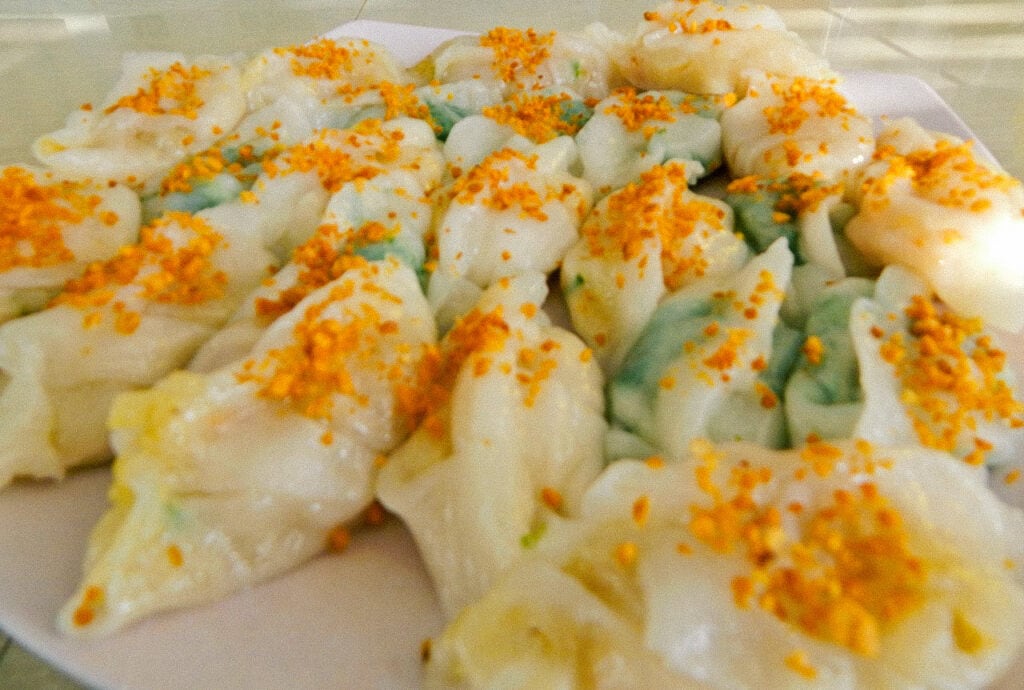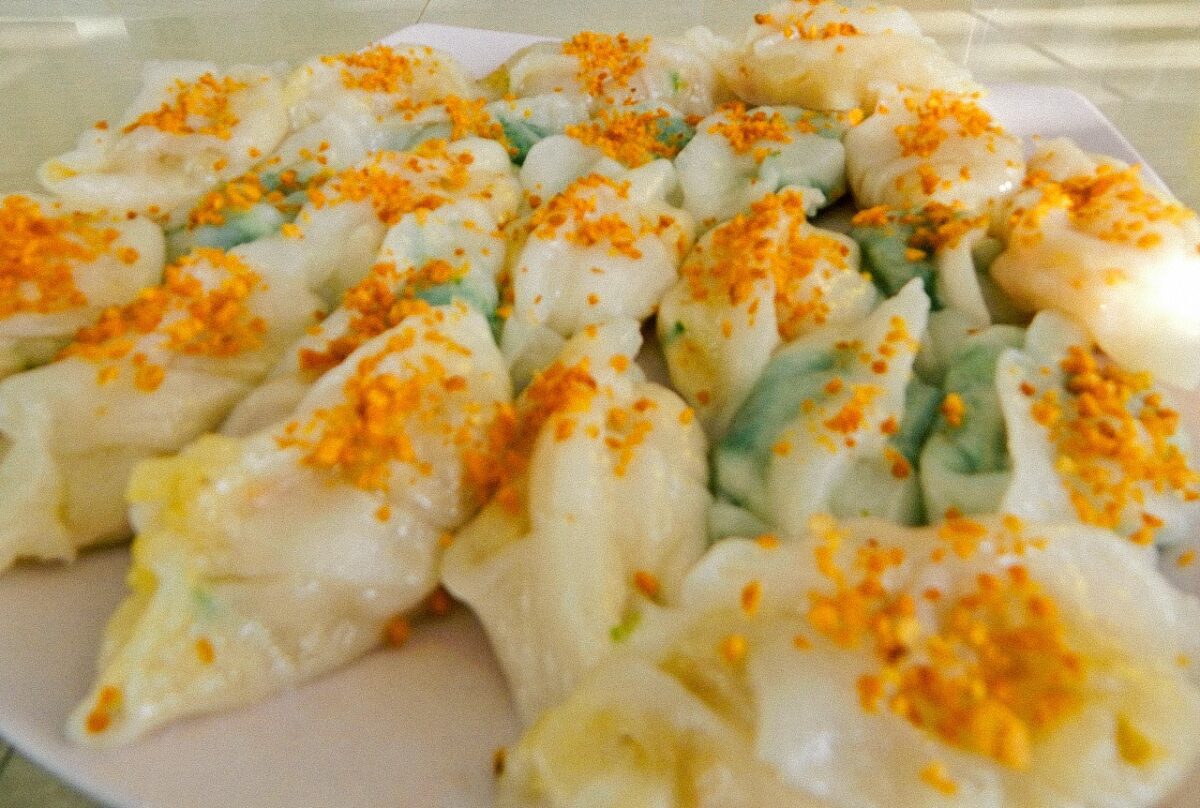 Opium (Gerrard Street) | Cocktail Bar
On 15-16 Gerrard Street look for a numberless Jade-coloured door and head inside for one of the best bars in Chinatown. Upstairs you will find the speakeasy Apothecary bar which is a tea room, drinking den and dim sum parlour with an all-vegetarian selection of goodies to munch on.
Dim sum, tea and cocktails – where could one possibly hope to find three equally disparate yet flavoursome things under one roof? Under Opium's – an exotic, secluded little bar number, tucked away from the Chinatown bustle.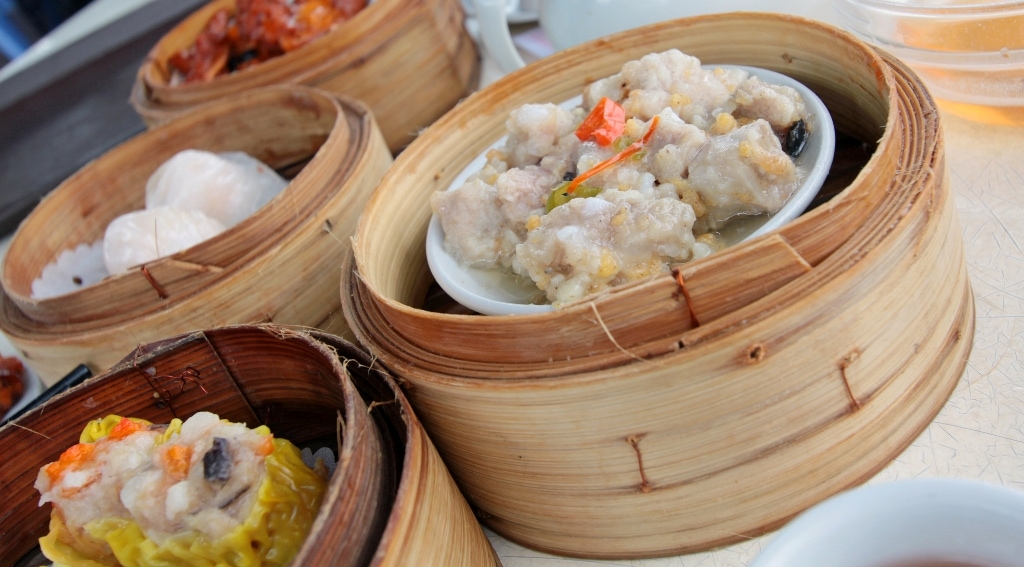 Set over two floors, it's an escapist's paradise, it juxtaposes 1960s Hong Kong and modern hipster while the sound system plays 1970s beats from American-Kung-Fu-inspired funk to 80's new age tunes.
Cocktails at the Experimental Cocktail Club
Found inconspicuously between two Chinese restaurants on Gerrard Street, once you enter you'll be transported to a Shoreditch speakeasy rather than a typical Chinatown bar. The interior boasts a blend of raw, exposed brick walls and opulent furnishings, creating a unique atmosphere.

At ECC, the menu is a testament to the art of alcohol alchemy. The house cocktails bear clever names and are expertly balanced. ECC offers a range of old-fashioned cocktails crafted from rare and elusive vintage spirits. If you're in the mood for something bubbly, they also feature an impressive selection of champagnes. And should hunger strike, fear not, for ECC offers delectable cheese and charcuterie to satisfy your palate.
Viet Food (Wardour Street) | Vietnamese
Helmed by a Michelin-starred Chef the menu at Viet Food highlight Vietnamese street food with a twist. The to-die-for vegetarian summer rolls, a vegan spicy soup with wild mushrooms and a veggie curry will make your palate sing. Loads of veggie offerings to be found here alongside some amazing Vietnamese street food.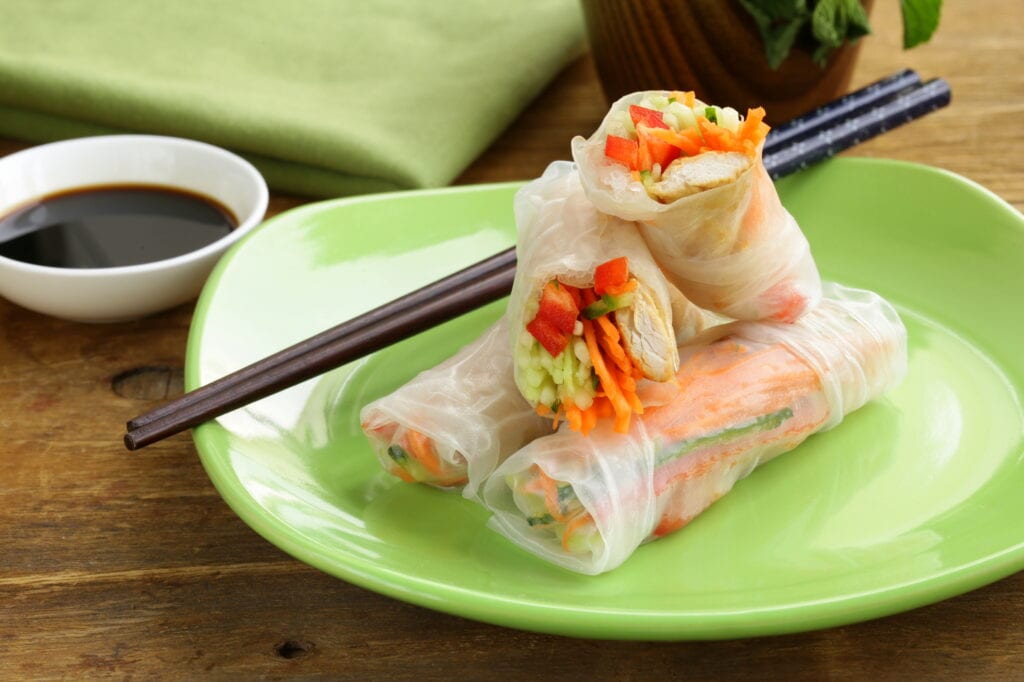 Yolkin (Rupert Street) / Cafe
East Asian flavoured icecream is the star at Yolkin. The macarons here enclose creamy to die-for slabs of mouthwateringly flavoured icecream.
Inside this beautiful shop row upon row of these "icecream macarons" call to you in flavours including Mango, Snickers, Lychee and Earl Grey. Yolkin is also now producing a line of vegan ice creams including pandan and coconut options or chose a vegan Mango Mochi or Matcha Oreo ice cream.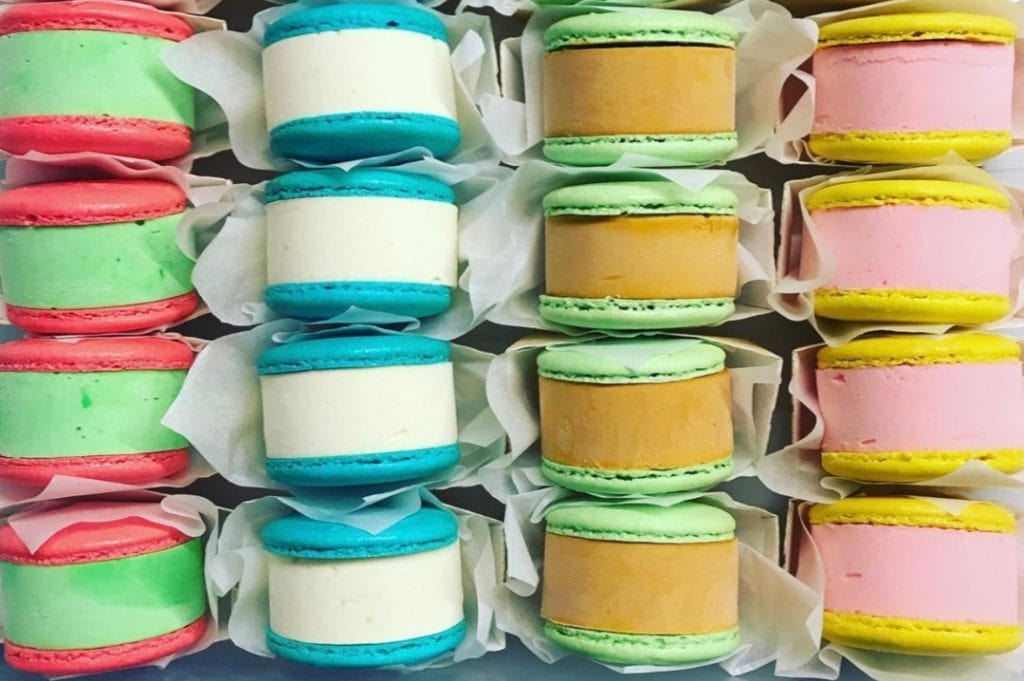 Yunique Tea | Bubble Tea
Traditionally, Bubble Tea a Taiwanese drink made from tea and powdered milk, with flavoured jelly balls at the bottom. at Yunique tea they featurie quirky flavours such as Oreo with Milk, Matcha with Grass Jelly and Coffee Latte with added Brown Sugar Bubble make this Bubble Tea shop stand out from the crowd. Quench your thirst with a Rainbow Soda or a Watermelon Tea with Lychee.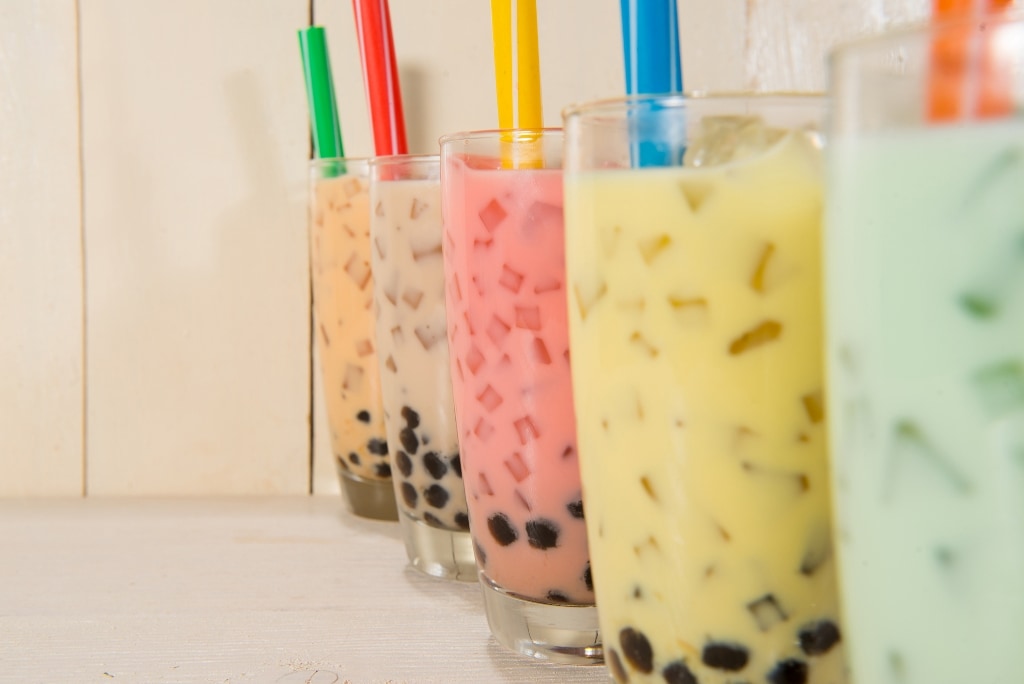 Bake (Wardour Street) | Pan-Asian Bakery
Featuring baked goods from Malaysia, China, Japan, and Korea the bakery showcases Asian goodies from the puffy, sticky Chinese Pandan Lotus Pastries and Ham and Spring Onion Buns.
Folks love the bakery's take on a Japanese Taiyaki – a fish-shaped cake but instead of cake, their Taiyaki is a fish-shaped waffle cone into which a hearty serving of soft, matcha tea ice cream is piled.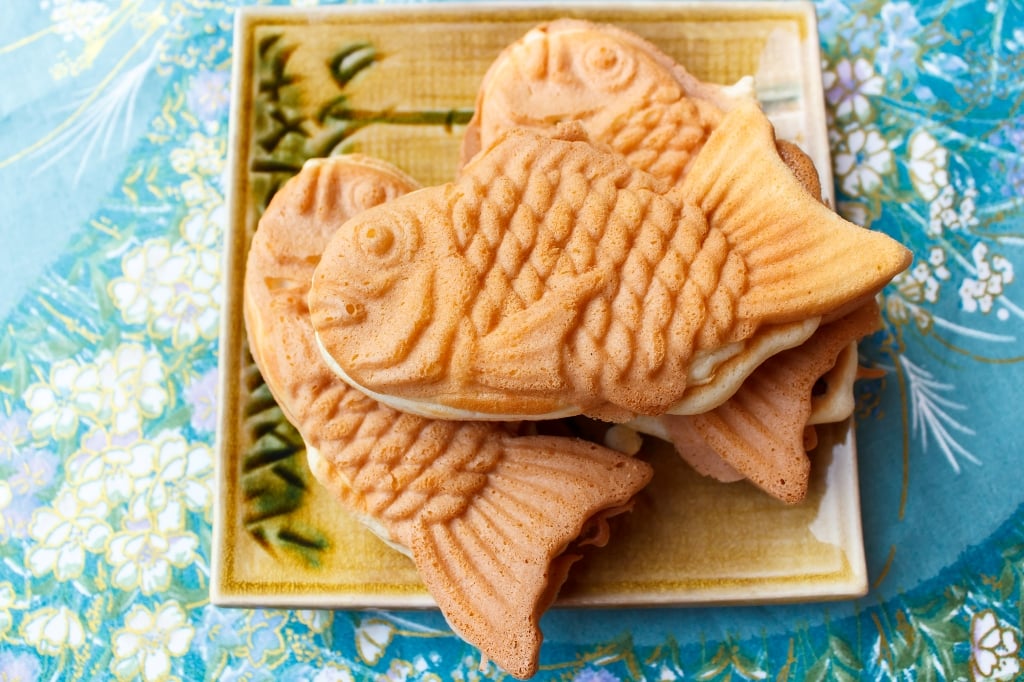 For another iced treat, try one of their twirly corn spirals, dangling from their ceiling. Entitled 'Sweet Joy', they're injected with ice cream and outstandingly delicious.
Bubblewrap (Wardour Street) | Dessert Shop
In this tiny shop you begin by choosing your waffle – plain, chocolate or matcha – then choose from a selection of fillings like strawberry cheesecake or pistachio gelato, white chocolate stars, banana and strawberry.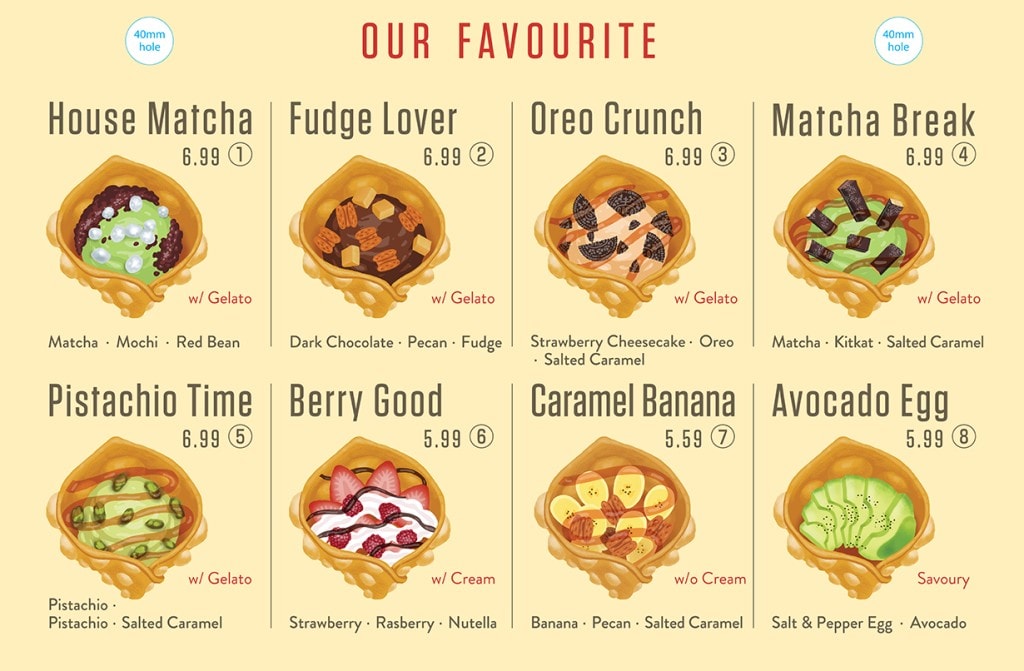 Everything is then topped off with a punch of flavour sauce such as salted caramel or red bean. Selections include all vegan gelatos which are alternated each week.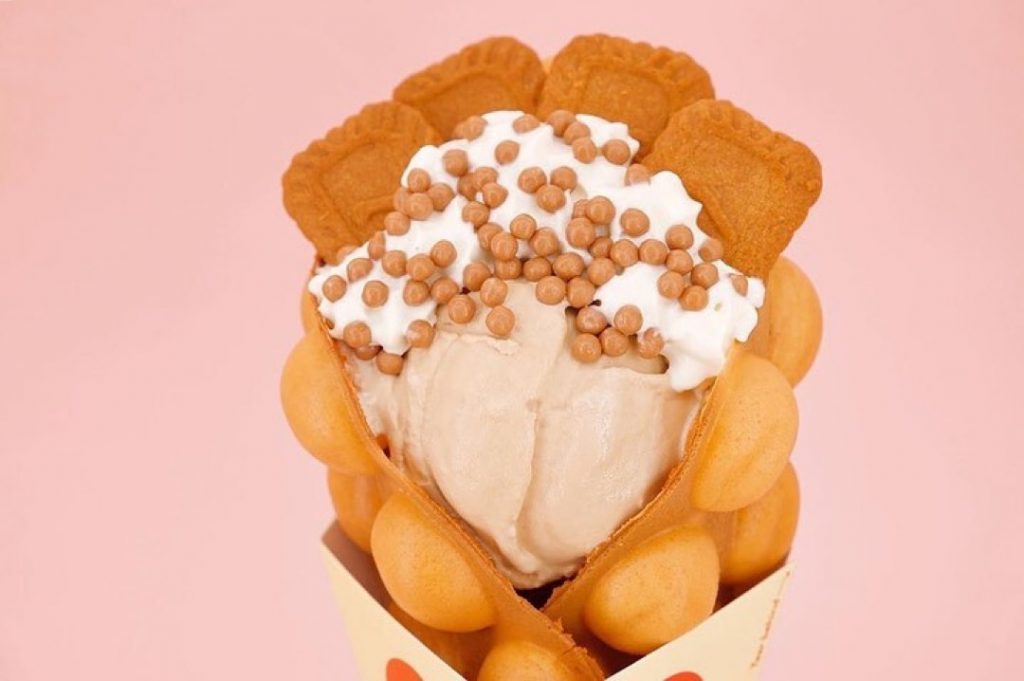 Old Tree Daiwan Bee (Rupert Street) | Taiwanese
The Old Tree serves up authentic Taiwanese street food, family-style at long tables with wooden benches. Presenting classic Taiwanese food including Taiwanese Beef Noodles platters of offal including pig's ears and stewed Duck tongue. No alcohol is served here but you will find some traditional bubble teas.
Sakurado | Japanese Cake Boutique
Famous for their Franco-Japanese 'mille crêpes', Sakurado's cakes are beautifully handmade with 30 mille crêpes carefully layered between velvety rich cream. These are a very popular Japanese delicacy and fast becoming a London favourite.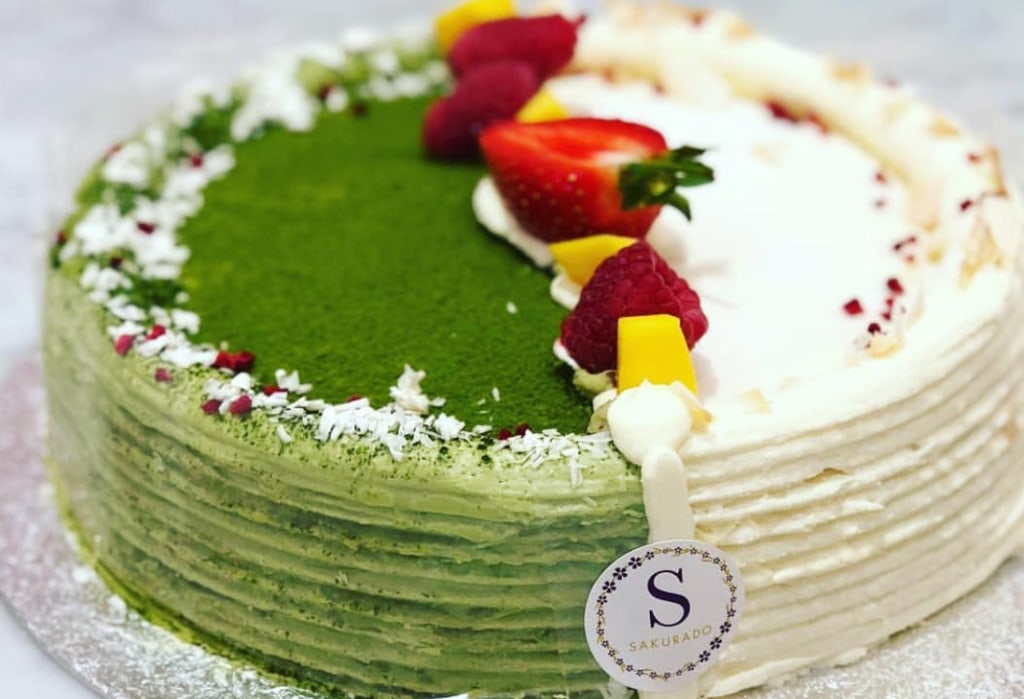 Shibuya Soho (Shaftesbury Avenue) | Japanese
Shibuya Soho is a master of all aspects of Japanese café cuisine. Dishes include the superb Matcha Roll Cake filled with whipped green tea cream or try the divine Nama Cream Strawberry Cake. They also serve savoury plates as well including Sushi favourites from California Rolls to Tempura and Maki. You will even find a great Ton Katsu Curry pork cutlet on the menu and some excellent sakes.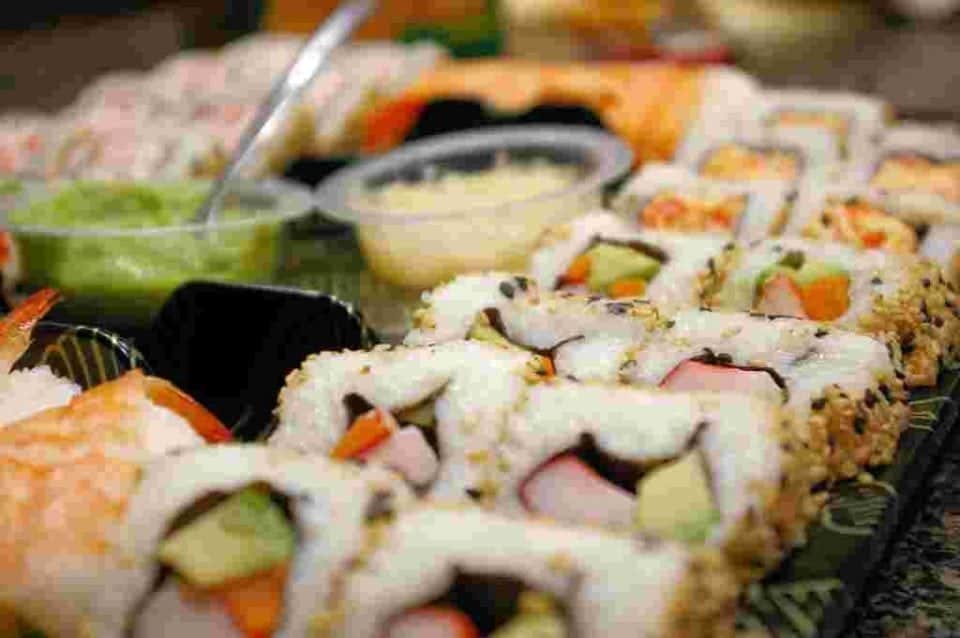 Plum Valley
Located in the heart of London's Chinatown, Plum Valley is a upscale Cantonese restaurant that exudes elegance. Step inside and you'll be greeted by stylish interiors that create a sophisticated ambiance. The restaurant takes pride in its extensive dim sum menu, offering a wide array of delectable choices to please every palate.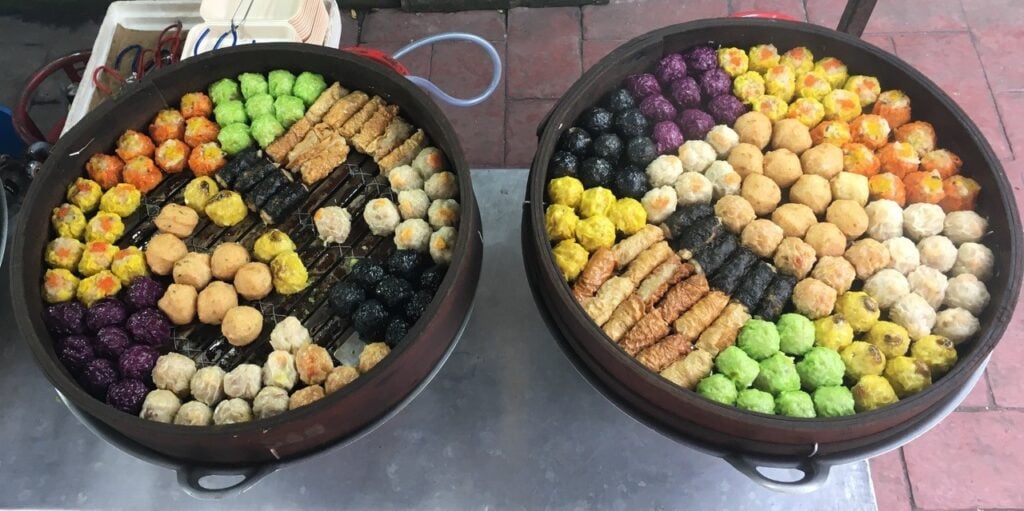 But that's not all Plum Valley has to offer. It boasts some of the most lavish Karaoke booths in the city, providing a luxurious and entertaining experience for guests. Whether you're seeking a memorable dining experience or looking to unleash your inner performer, Plum Valley promises to deliver a combination of culinary excellence and captivating entertainment.
Where to Stay in Chinatown
If Chinatown is one of the main focal points of your trip to London, then staying in the neighbourhood is ideal. However, to have a true Chinatown experience, you can also stay nearby to enjoy the vibrant atmosphere at all hours of the day and night.
Luckily, there is a huge variety of great accommodation options in and around Chinatown. So, whether you're on a budget or you're ready to splurge, there's sure to be a place for you. Check out Booking.com to find what you are looking for.
Chinatown Apartment
This charming 1 bedroom apartment is situated in the heart of it all, only minutes away from both Piccadilly Circus and Leicester Square. The interior and furnishings of the apartment have been crafted to exude our trademark 'home away from home' sentiment, while still retaining a modern, stylish feel.
Luxury Flat
A beautifully modern 2 bedroom apartment right in the centre of London — just 2 minute's walk from Chinatown, Leicester Square, Piccadilly Circus and Soho.

The apartment is bathed in natural light from the wall-to-wall windows and is a designer's dream with contemporary furniture and top-quality appliances — including a dishwasher, washing machine and dryer.
Chinatown is one of London's fascinating places to visit, once you have done the London Eye, or visited the Tower of London and St. Paul's make sure you book a day free to explore Covent Garden Market and then take a short walk up to Chinatown for some foodie delights.
Chinatown London is a vibrant and exciting neighbourhood that offers a unique blend of cultures, history and delicious food. From the brightly-lit arches to the bustling streets filled with aromatic smells, it's easy to get lost in the charm of this area. Whether you're looking for dim sum or bubble tea, traditional souvenirs or modern shops, there's something for everyone in this dynamic district. So why not pay a visit and discover all that Chinatown London has to offer? With its rich heritage and diverse community, you're sure to have an unforgettable experience!
What are you waiting for? Come and explore the culturally vibrant Chinatown.
You might also like
Cool things to do in Camden Markets London
The London Postal Museum a fascinating history
Guide to the London Eye – the giant Ferris Wheel in London
Things to do in Chelsea London
Best things to do in Covent Garden Market London
Borough Market London the best gourmet Guide for foodies
Leather Lane Market London a Delicious street food hub