The Lions of Trafalgar Square and Trafalgar Square Attractions
Seeing the Trafalgar Square lions is an absolute must-do when visiting London. As a central point to your visit to this vibrant city, Trafalgar Square London is a fascinating epicentre of culture. From the Lions of Trafalgar Square to Nelson's Column and the surrounding cultural icons Trafalgar Square London has British history etched all over the square.
We were lucky enough to be housesitting in Ireland and so we took a cheap flight across to London which was around €25 both ways you can't beat that.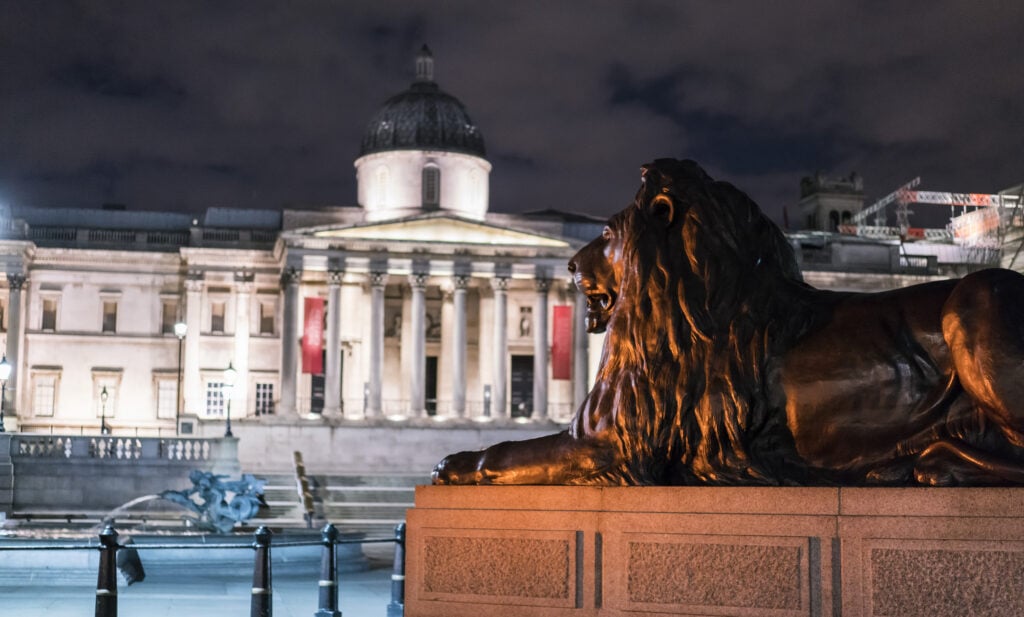 What is the significance of Trafalgar Square?
Trafalgar Square was built to memorialise Lord Horatio Nelson's victory against Napoleon's navy at the Battle of Trafalgar in 1805. During the planning of Nelson's Column, the committee in charge had decided that placing four lions at the base of the statue would represent the heroism of Lord Nelson. The Trafalgar Square lions became an iconic British symbol.
How to get to Trafalgar Square London
We took the tube to Piccadilly Circus Station where we knew it was a short walk to Trafalgar Square. Wandering out of the Piccadilly Circus Station you arrive in central London just mere steps from the Statue of Eros where selfies must be taken. Trafalgar square tube station is now known as Charing Cross.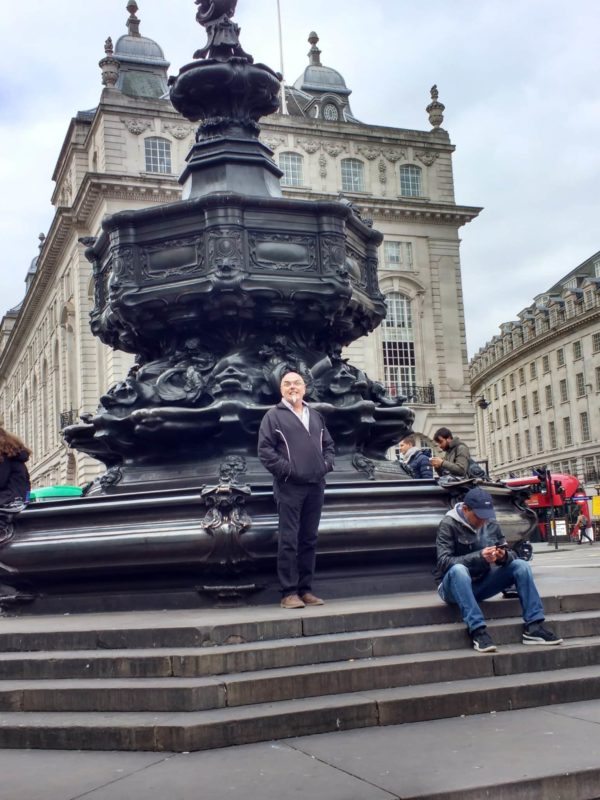 What to see in Trafalgar Square London
St. Martin's in the Fields
Trafalgar Square Lions
Lord Nelson's Column
The World's smallest Police Box
Fountains of Trafalgar Square
National Gallery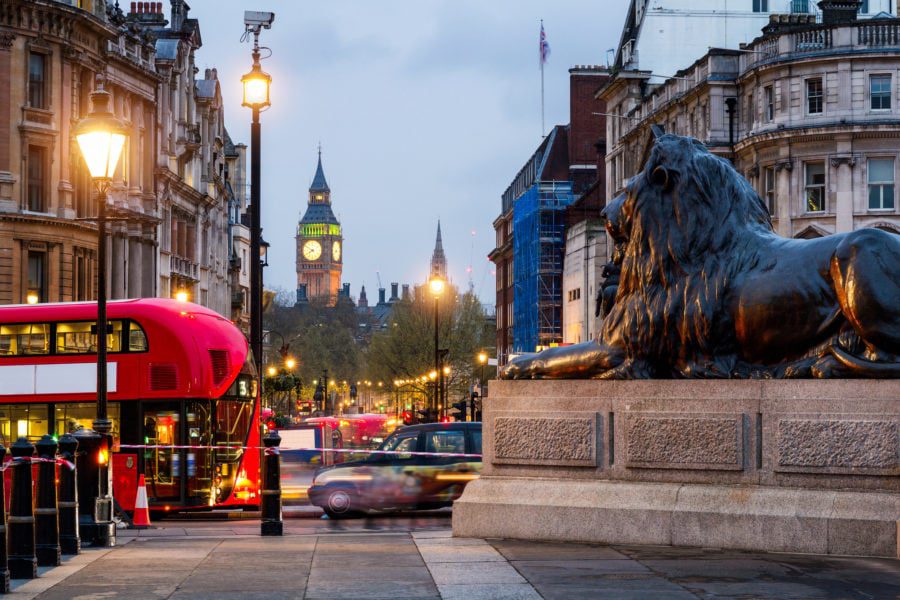 St. Martin's in the Fields
St. Martin's in the Fields an architectural gem where you can hear live concerts and have a great cuppa in the Cafe in the Crypt.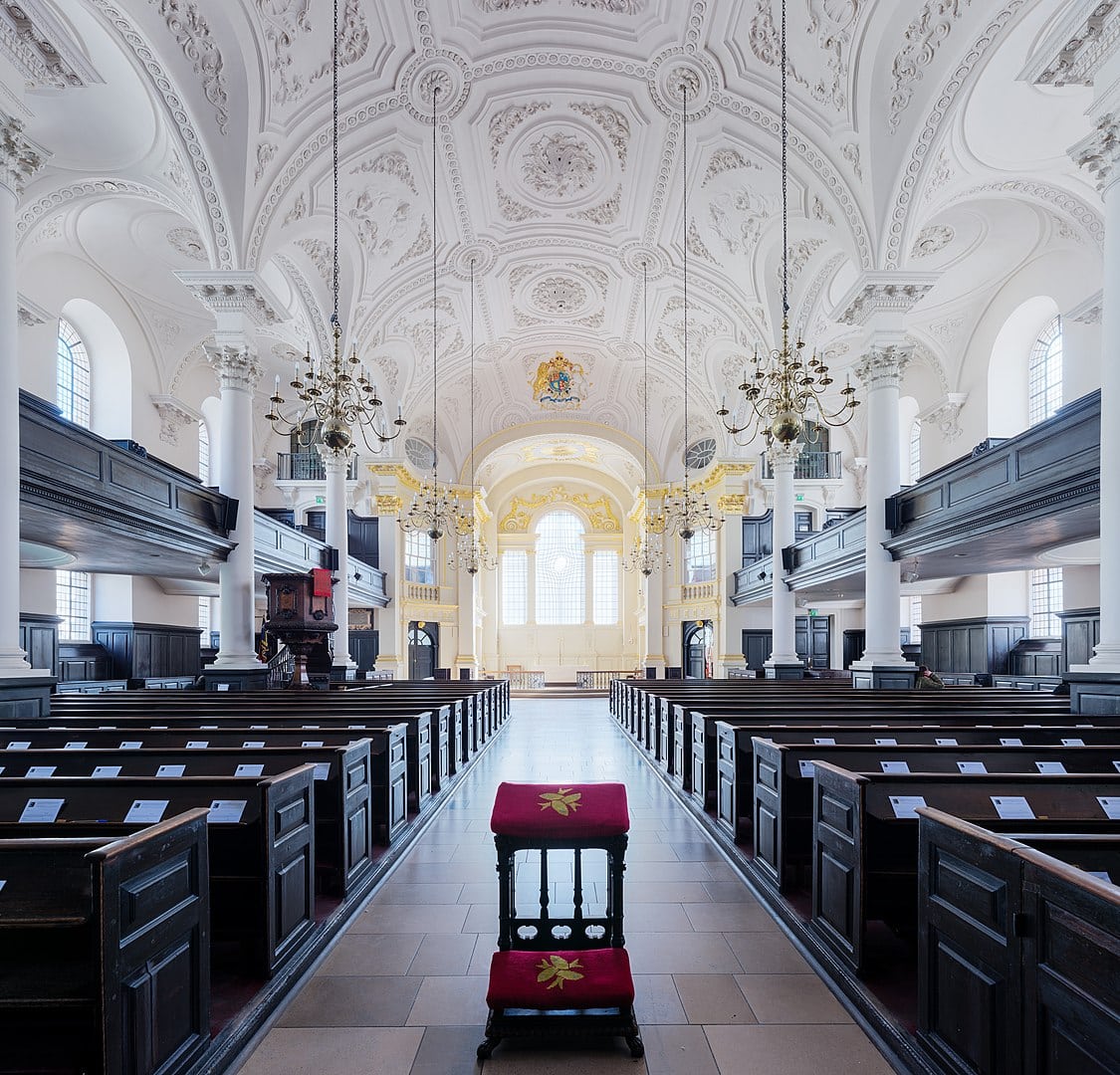 Within walking distance of Trafalgar Square you can easily go shopping in Covent Garden, have a meal in Chinatown, take a walk down Drury Lane and see the glittering West End Theatres, walk down Whitehall to Parliament Square to see the Houses of Parliament and Big Ben and walk down the Mall to Buckingham Palace.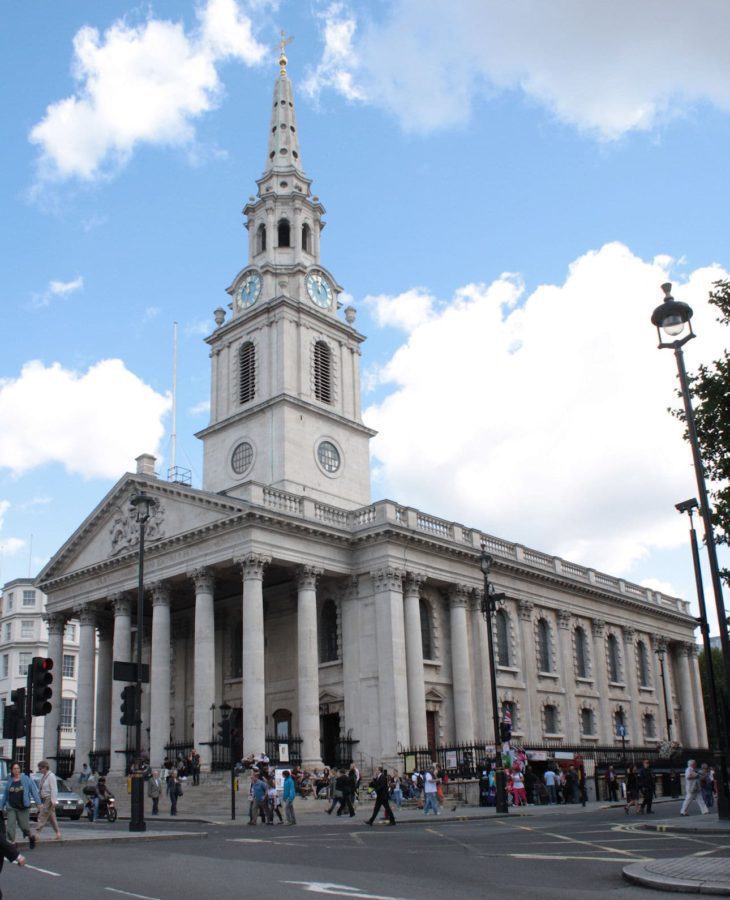 From Trafalgar Square to Drury Lane is a walk through the history of London. We began our walking tour at Piccadilly Circus where we got those all-important "selfies" in front of the statue of Eros and we followed the signs over to Trafalgar Square.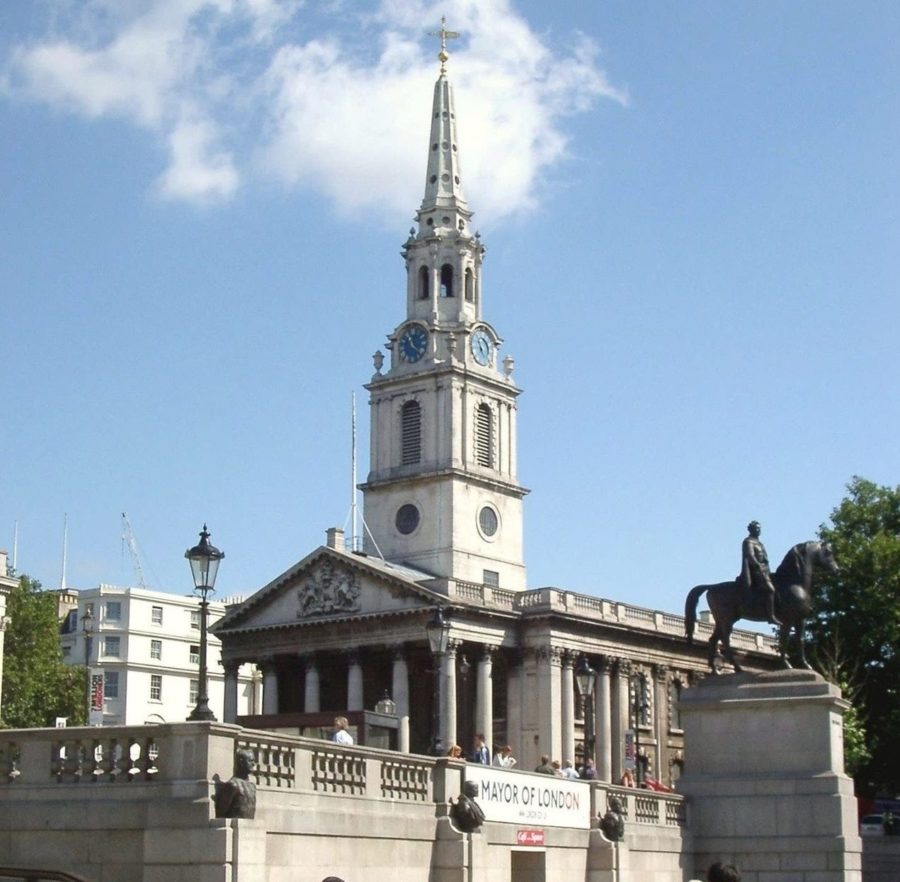 In Trafalgar Square, we gaped, literally gaped at the huge Nelson's Column and giant lions surrounding it. You could catch glimpses of the London Eye from the Square and you begin to realise that London simply isn't as big as you thought it was.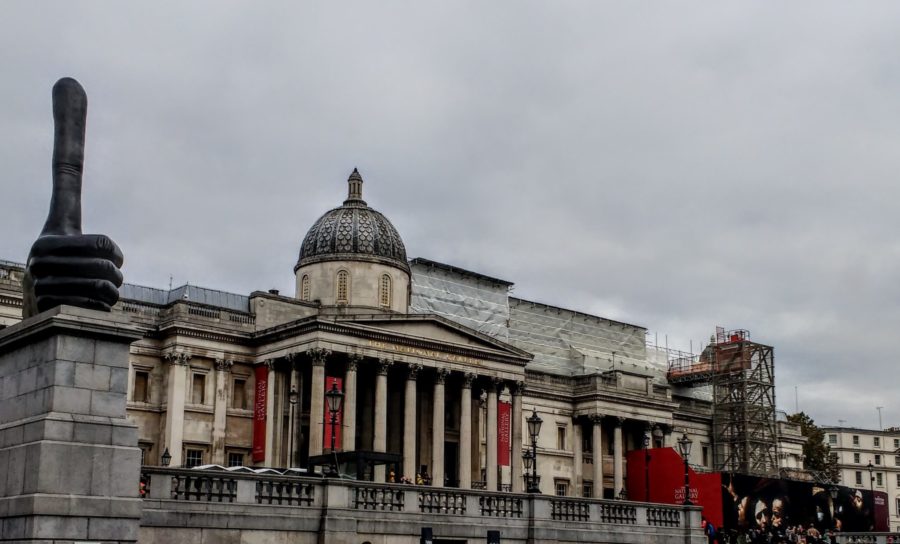 Trafalgar Square pigeons
There were far fewer pigeons than we anticipated so something must have been done to get rid of the damn vermin. The main amusements a few years ago in Trafalgar Square were feeding these indulged birds. There was a famous character named Bernie Rayner who ran a stall selling little packets of grain which tourists bought at an inflated price to feed the equally inflated pigeons. They fed so well that they bred several times a year.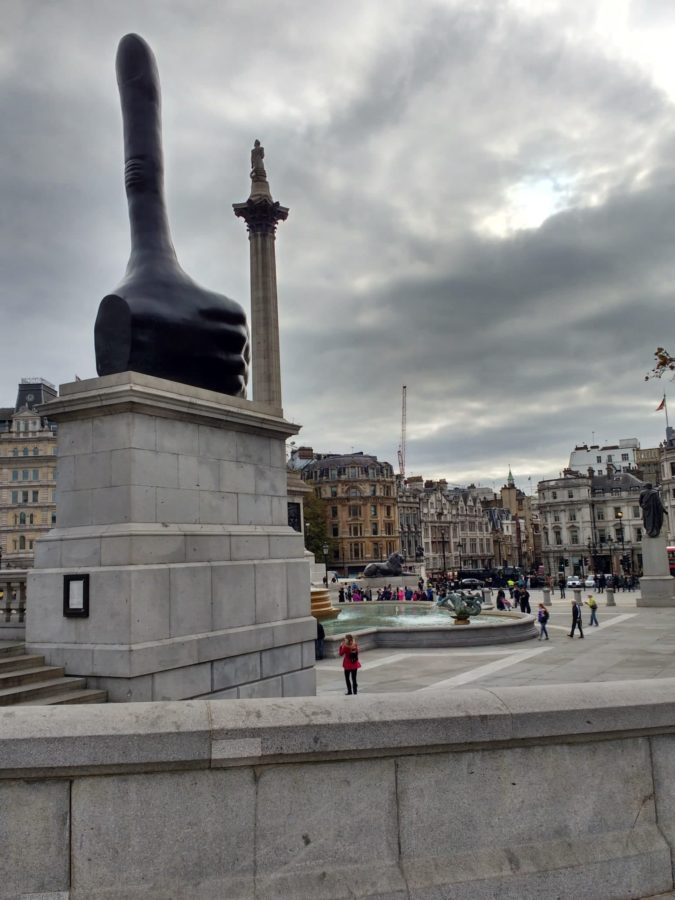 Repairing the damage to Nelson's Column caused by pigeon droppings cost £140,000. The Greater London Assembly passed a bylaw making it illegal to feed them, and introduced hawks to frighten them away, and council staff made periodic raids with giant vacuum cleaners to hoover up any grain or other food from the square's smart new paving stones.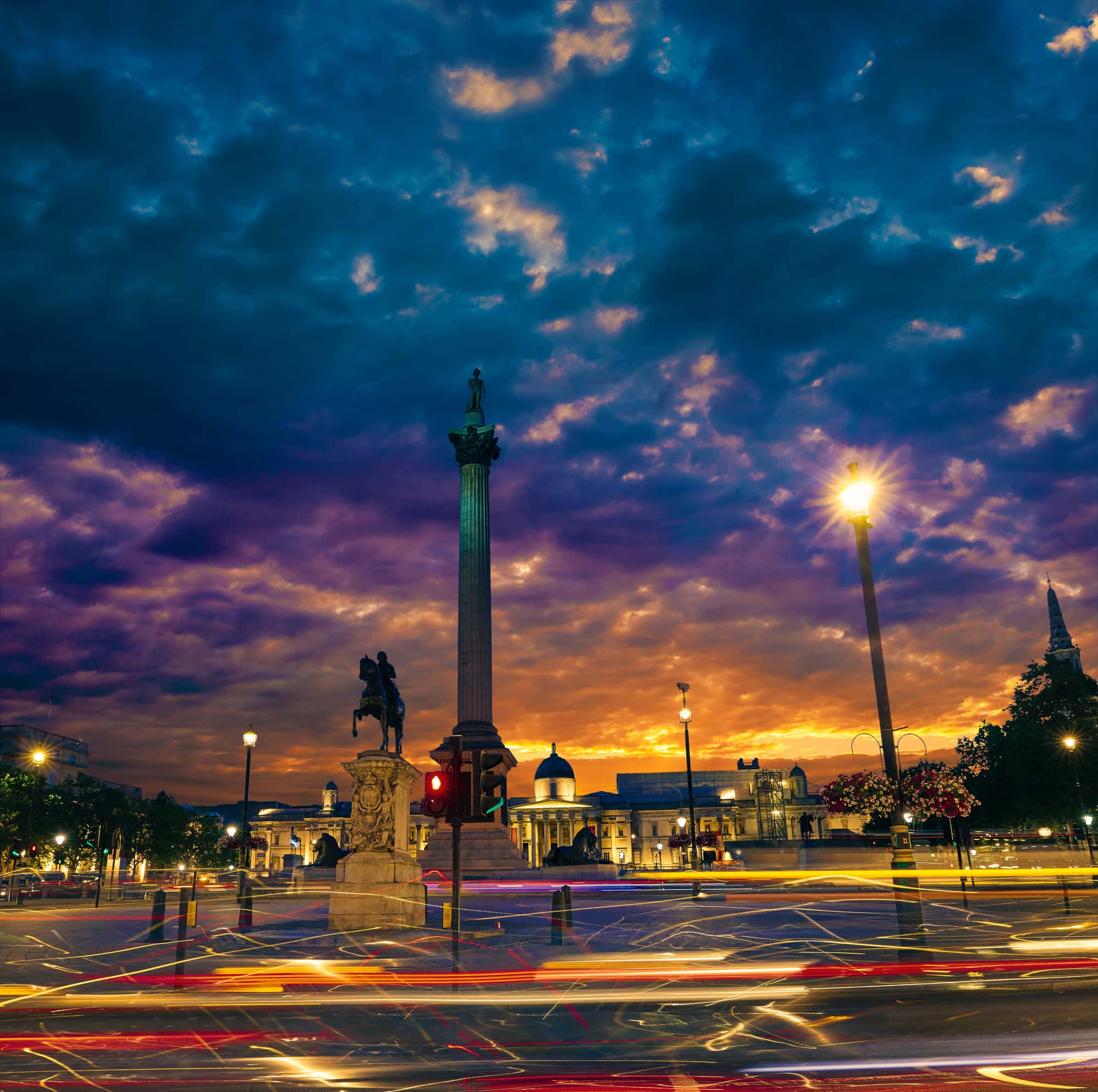 Trafalgar Square Statues
Lord Nelsons Column
Nelson's Column was the result of a design competition that was won by William Railton in 1840. The Statue and column were completed and installed in 1843.
How high is Nelson's column? The height, from top of hat to pavement is said to be 170 feet and 2 inches, the distance from Victory's main masthead to the quarterdeck.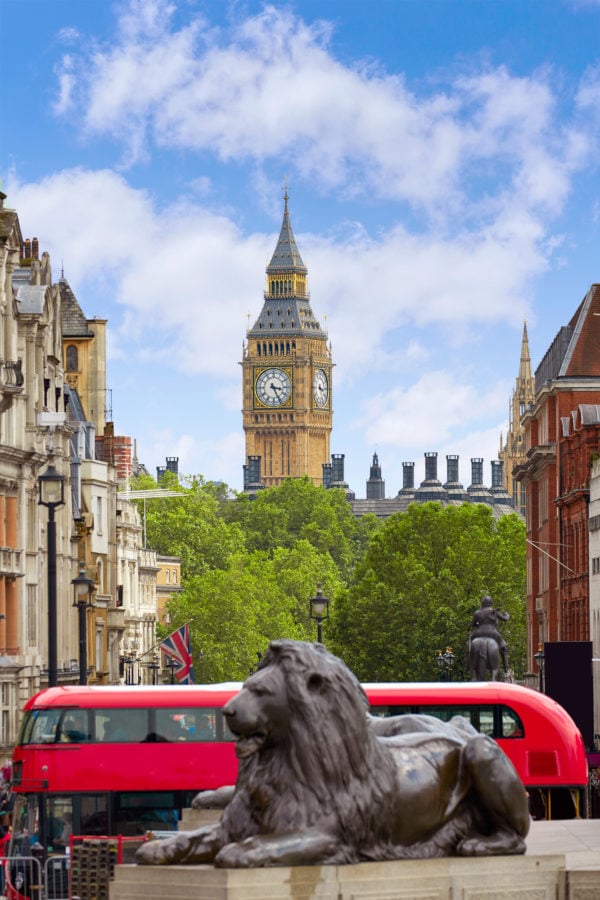 When it was first unveiled, it was called The Monument to Lord Nelson, although everyone calls it Nelson's Column these days. The column is built of granite from Devon.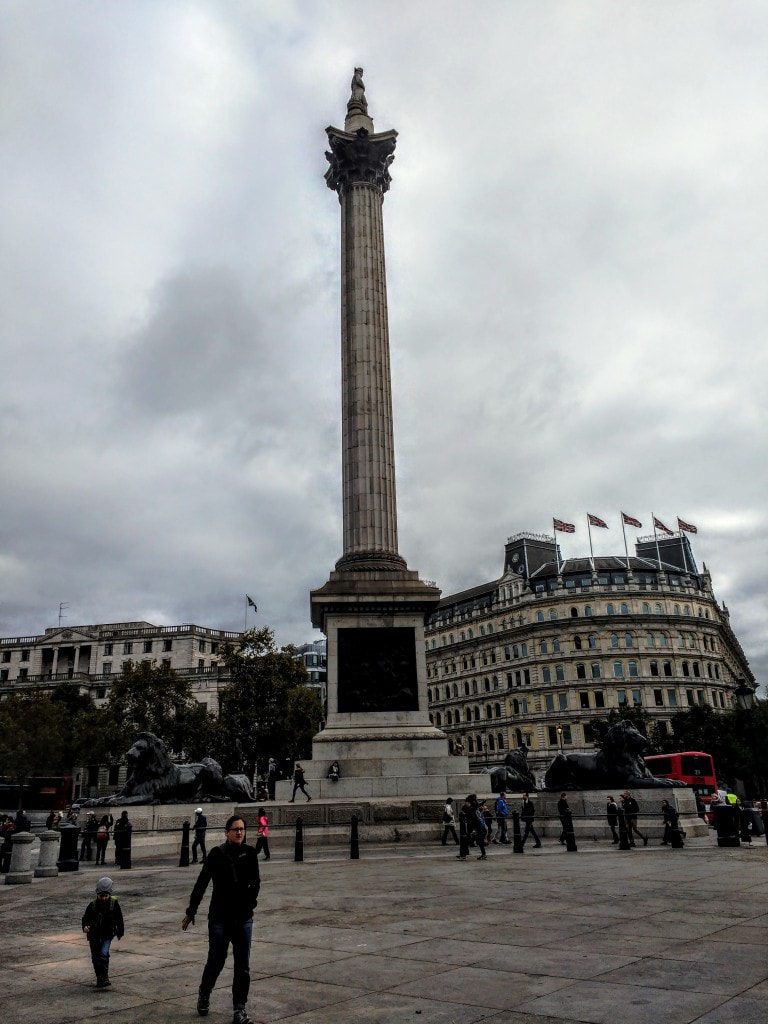 The four bronze reliefs around the base are by sculptors: Watson, Woodington, Ternouth and Carew. They show Nelson's most famous battles: St Vincent, Copenhagen, The Nile, and his death scene on The Victory.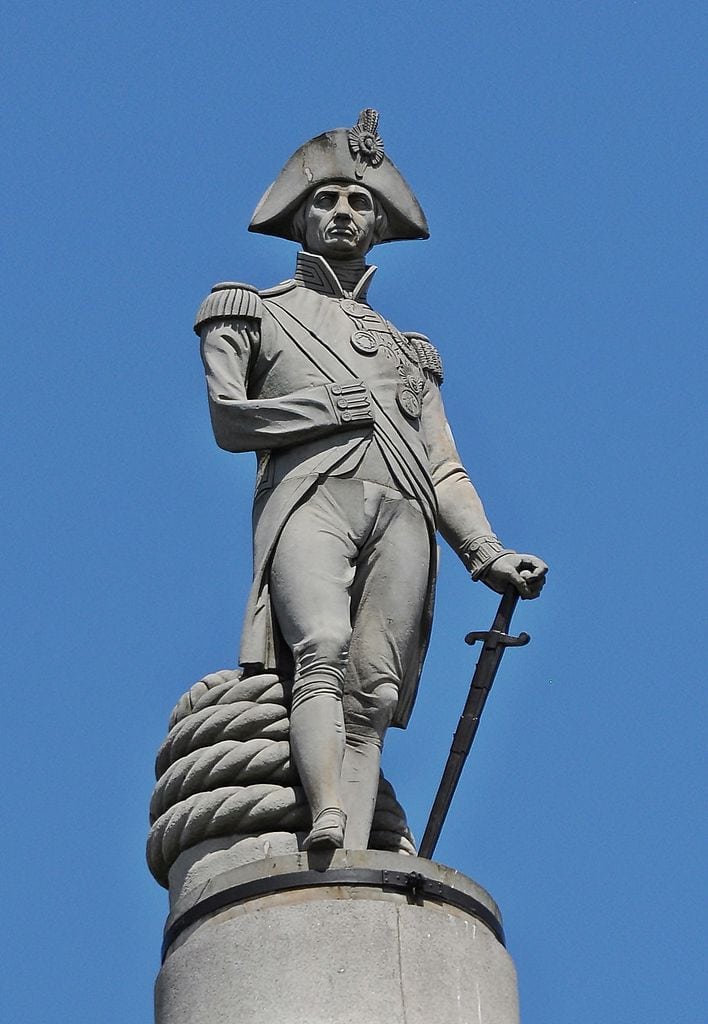 The figure of Nelson on top of the column was carved by EH Baily from Craigleith stone and is in three pieces.
The Trafalgar Square Lions
The four lions around Nelson's Column were installed 25 years later in 1868.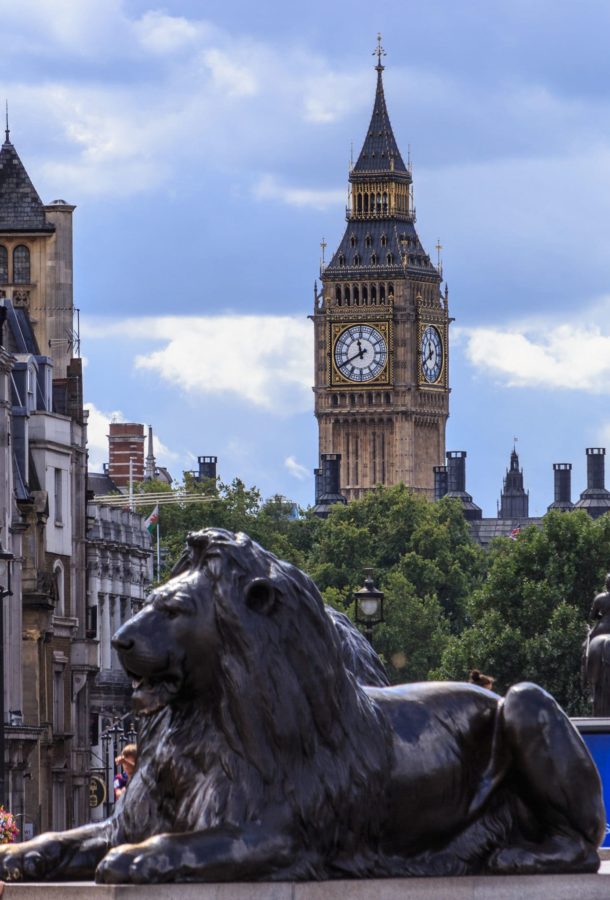 Designed by Edwin Landseer and cast in bronze by Baron Marochetti in 1867. Landseer worked from real lion corpses and casts of a lion statue in Turin. He strove for accuracy but he did make one big mistake: the lion's poses. In real life, lion's backs are convex, and not concave, when lying down.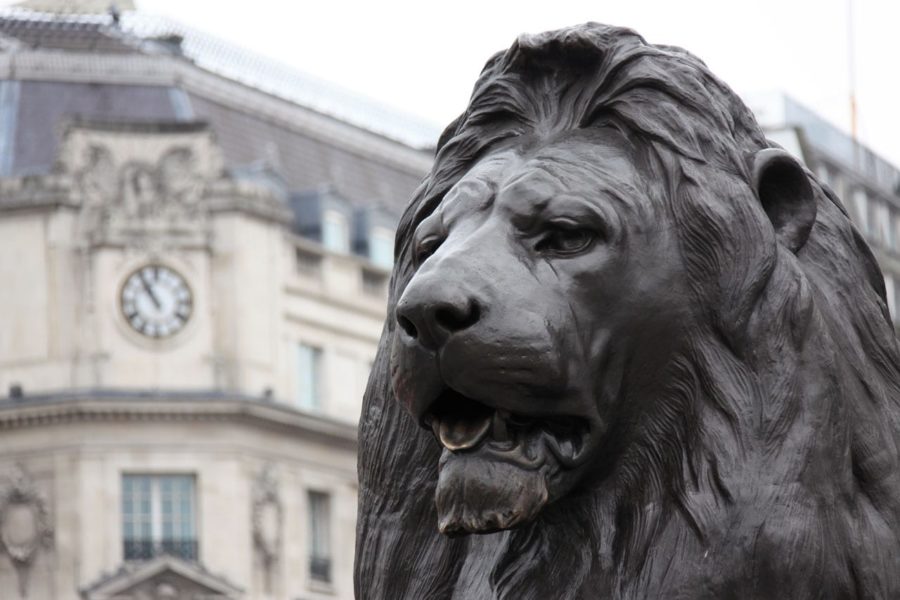 The World's Smallest Police Phone Box
Contrary to popular internet myth this is not the world's smallest Police Station but it is the original communications or lookout point for the Police. In 1919 the Police installed a telephone box (wooden) in a corner of Trafalgar Square to keep an eye on things like gatherings and meetings in the Square.
Over time the Police lobbied for a more permanent installation than a wooden box so a large granite lamp post was hollowed out and a telephone connection installed in the space. this was in 1926 these days the space is used to store cleaners' equipment.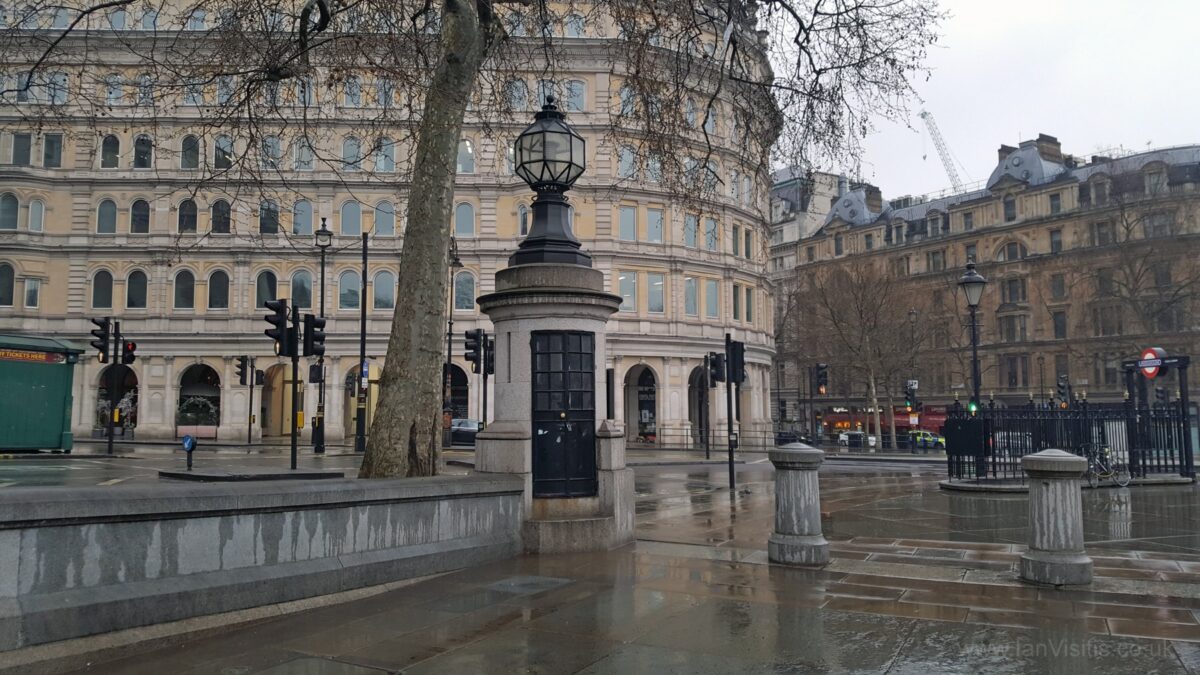 Visiting Windsor and seeing the Palace
The Fountains of Trafalgar Square
During the 19th century, the Police wanted to reduce the size of the space in Trafalgar Square for public gatherings. These gatherings of early Unionists or Suffragettes and others caused the Police some drama during these periods. Lobbying the politicians resulted in the design and installation of the fountains which were added in 1845.
When the flow of water to the fountains became unreliable it was decided to build new fountains and the central fountains were given to the Canadian Government and are now in Ottawa and Regina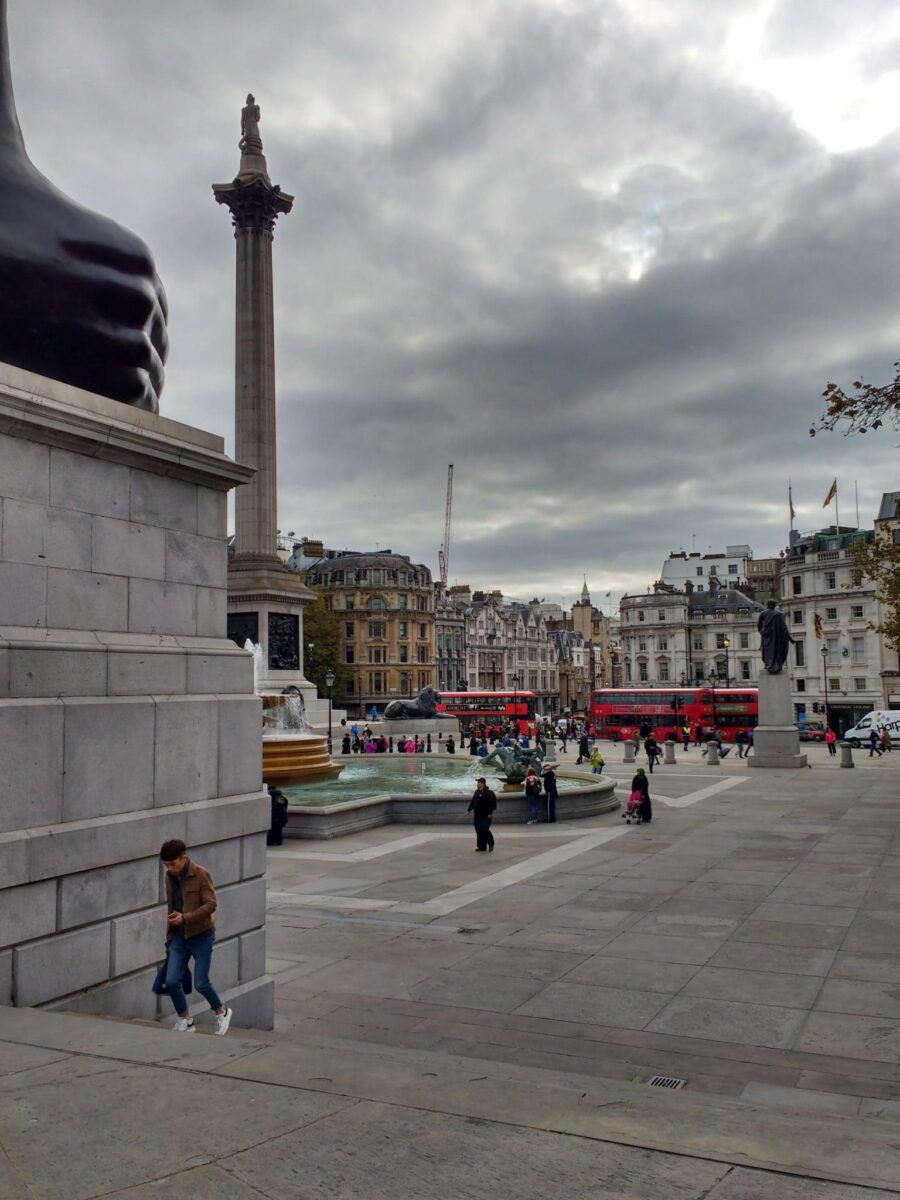 National Portrait Gallery
Surrounding Trafalgar Square you will find the iconic National Portrait Gallery which is absolutely free to enter unless you want to see any of the special exhibits.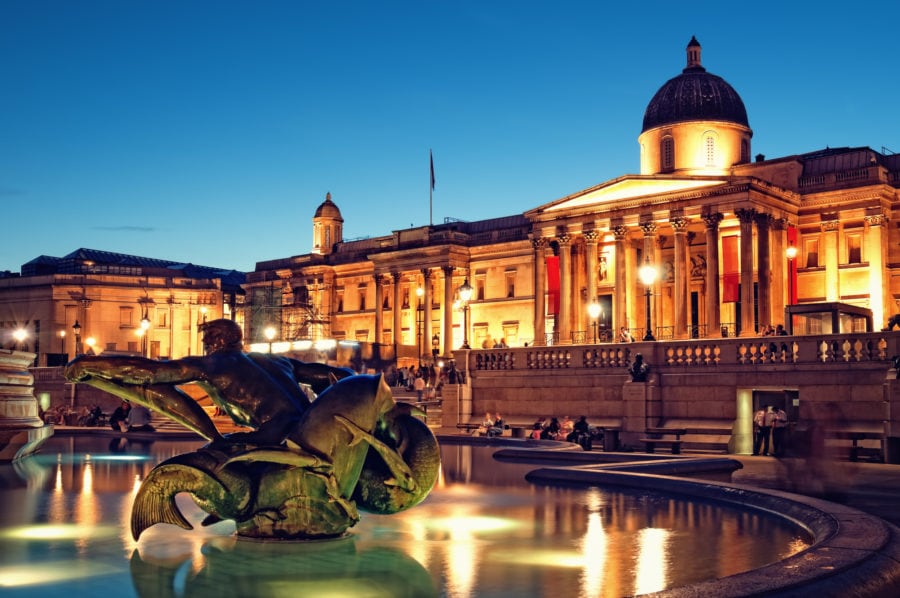 We decided to go into the National Gallery that sits right at the top of Trafalgar Square – it was free entry unless you wanted to see any of the special exhibits. So we wandered in with a hankering to see some renaissance and impressionist masters. We were not disappointed and we spent hours wandering through this huge museum searching for our favourite artists.
London is known for its incredible museums and art galleries and the National is no exception. Most of the galleries and museums are free and if you get down Kensington Way you need to check out Museum Row which could take you absolutely days to go through all the museums.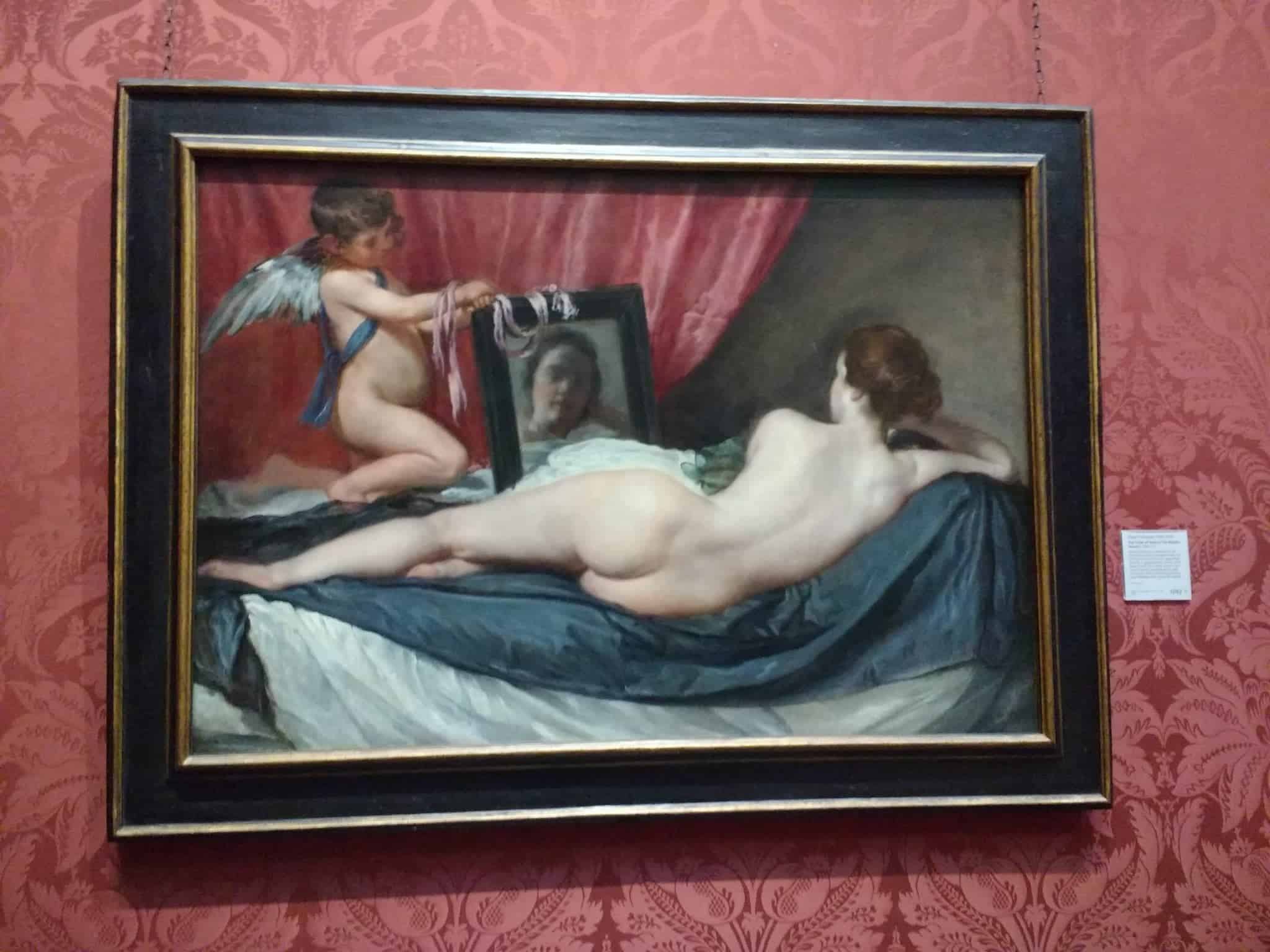 When we couldn't see straight, anymore we left the museum and walked over to have a look at St. Martin's in the Field and then on up to Regent Street in our meandering to see if we could find Covent Garden.
We strolled from Trafalgar Squares scenic people-watching across to what has become known as the Theatre district where we spent a good couple of hours putting a crick in our necks straining to see the magnificent theatres in the district.
So much to see and do in London you could spend a lifetime here.
You might like
Ultimate Inside Buckingham Palace tour
Guide to the London Eye – the giant Ferris Wheel in London
Things to do in Chelsea London
Ultimate tips for visiting the Houses of Parliament & Big Ben
Visiting St. Paul's Cathedral & what to see inside
Hidden gems of London and off the Beaten Path sites
Visiting the Tower of London – its extraordinary history

Latest posts by Faith Coates
(see all)