Best Christmas Markets in England
Get ready to dive deep into a festive wonderland, because when it comes to beautiful Christmas markets, England seriously knows how to deliver!
On a Christmas market trip around England, you'll find cobblestone streets illuminated by twinkling fairy lights, stalls overflowing with handmade crafts, and the irresistible aroma of mulled wine wafting through the crisp winter air.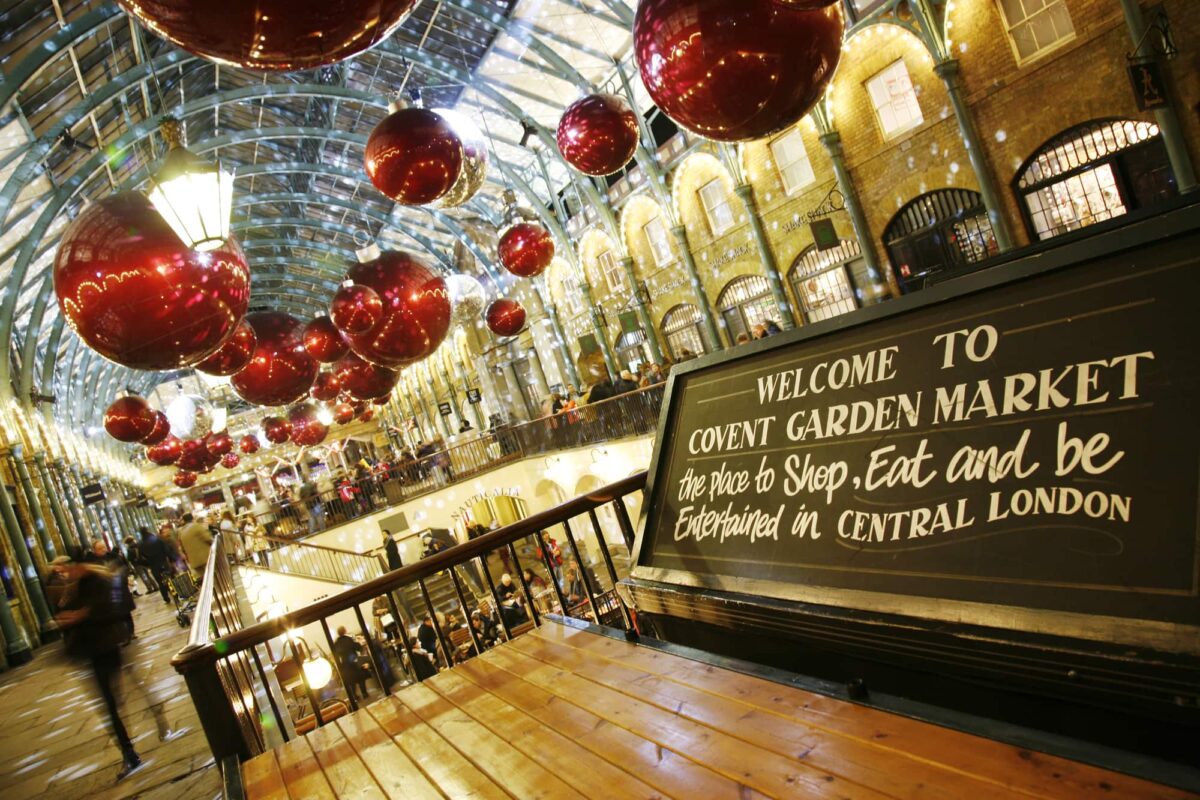 Sure, the Christmas markets in England aren't as famous as those in Germany, or as affordable as those in Poland, but what they have to offer is totally one-of-a-kind.
Every corner of England comes alive at Christmastime, and no two Christmas markets are the same. From the Christmas craziness of Manchester to the quaint squares of Bath, you're in for a treat.
So, let's unwrap the best Christmas markets that England has to offer!
14 of the best Christmas Markets in England
Would you like to experience England's finest Christmas markets? From charming Bath to the historic York, each market is a captivating tapestry of seasonal delights. You can immerse yourself in lots of mulled wine, and roasted chestnuts, enjoy traditional British desserts such as Trifle or Eaton Mess. Pick up some unique Christmas gifts and enjoy a rousing good time in the pubs and bars.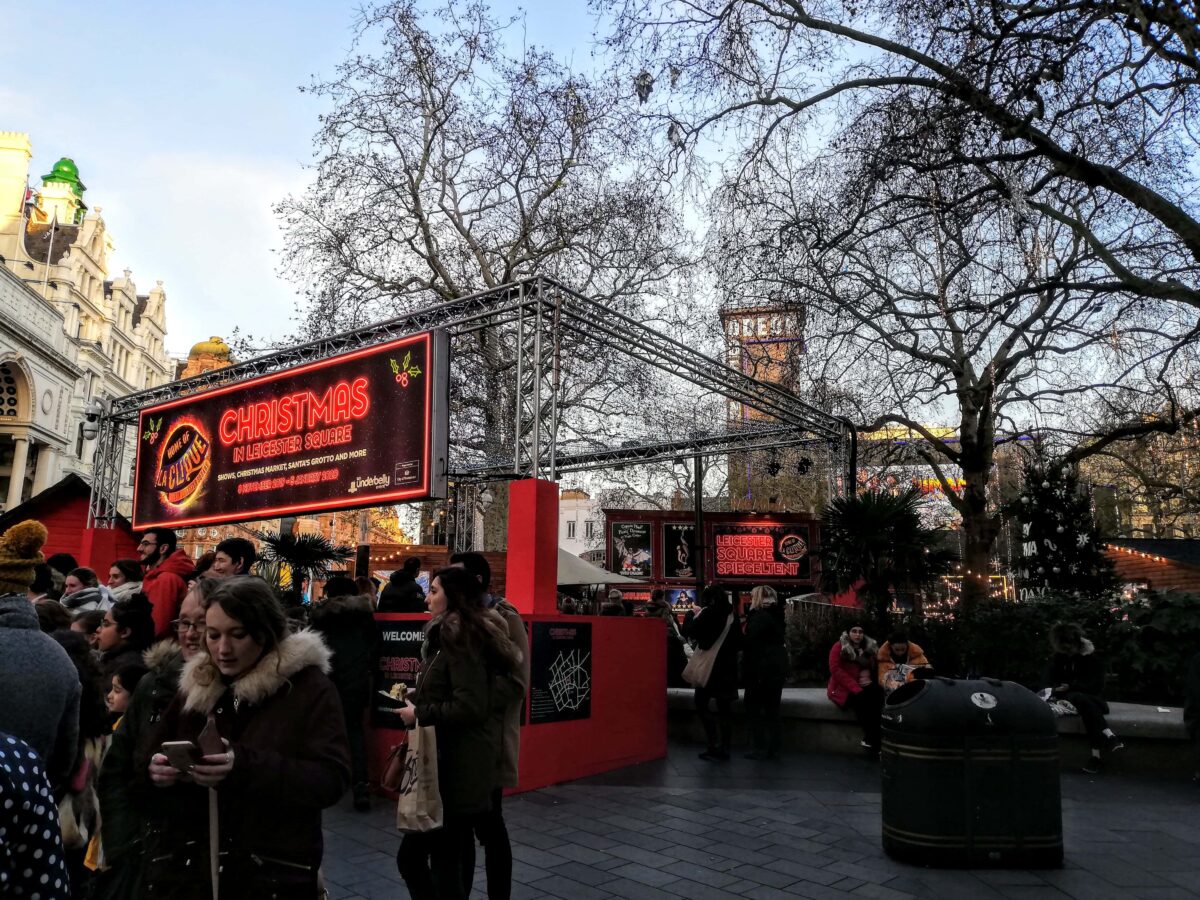 Liverpool Christmas Market
When the festive season hits, Liverpool truly knows how to turn up the Christmas magic a notch, or ten!
Set against the awe-inspiring canvas of St George's Plateau and the iconic William Brown Street, Liverpool's Christmas market is a treasure trove. With over 40 stalls to choose from, you're all but guaranteed to find the perfect festive gift on a shopping spree here.
And it's not just about the locally-made gifts: Liverpool Christmas market is one of the top places in the city to eat and drink during the festive period.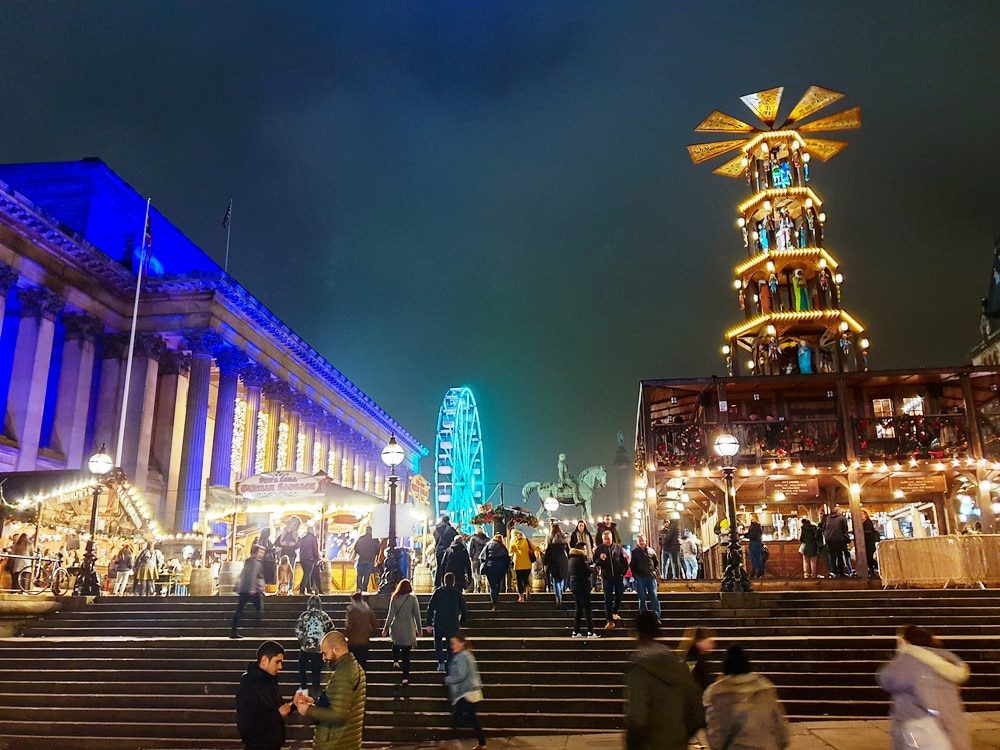 You will see traditional wooden chalets where you can find German bratwurst, steaming mugs of hot chocolate, and seemingly endless jugs of mulled wine are all on offer here at snug venues like the cosy tipi, the alpine-inspired ski bar, or the authentic Bavarian bar. If you're in the mood to party, why not try out the karaoke ski lifts?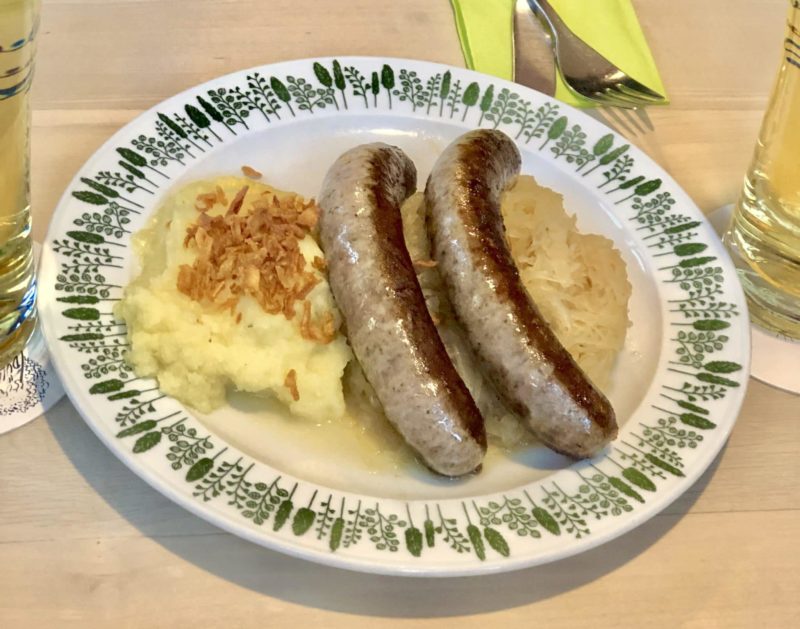 Here's a cool piece of Liverpool trivia for you: Liverpool was actually home to the world's first Santa's Grotto, and you can expand your Christmas Markets trip by heading into St John's Shopping Centre to find it. It opened in 1879!
Planning to stay the weekend in Liverpool to make the most of your trip? Great idea! Liverpool's tourism is booming all year round thanks to its connections to the band The Beatles. Beatles tours run all year round, even during the festive period, and are the perfect way to explore the city's Beatles sights, hopefully in the snow!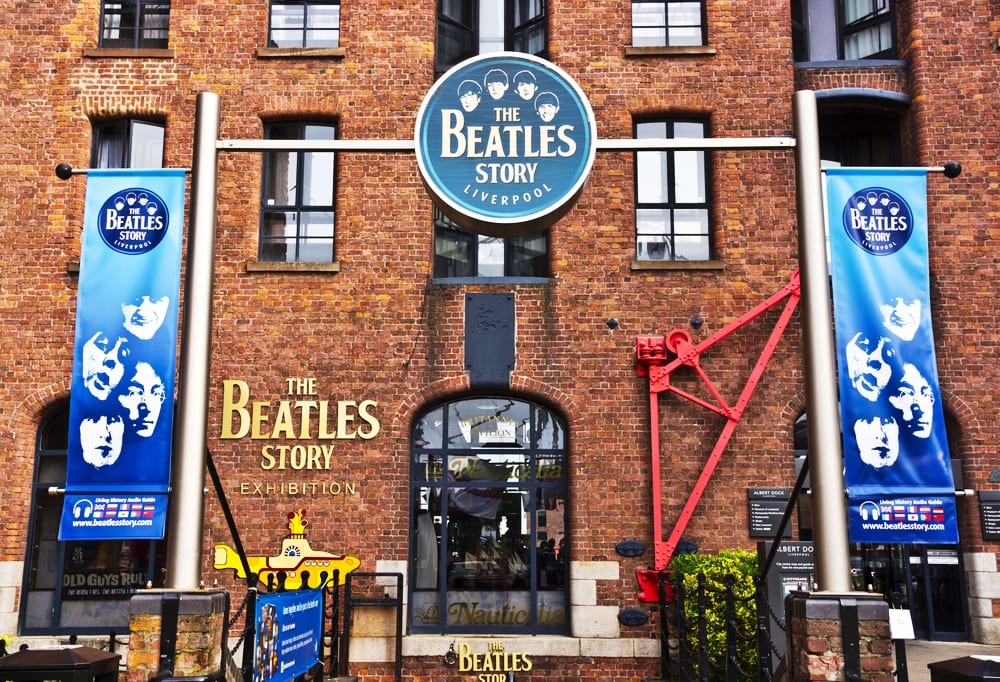 Christmas Markets in London
If you can only make it to one English city to see Christmas markets, make it London. The country's capital has more Christmas markets than you can shake a stick at, so whatever you're looking for, you'll find it in London at Christmas.
Sure, London is hardly cheap, and its Christmas Markets certainly aren't either, but they're well worth it thanks to the sheer variety you'll find at them.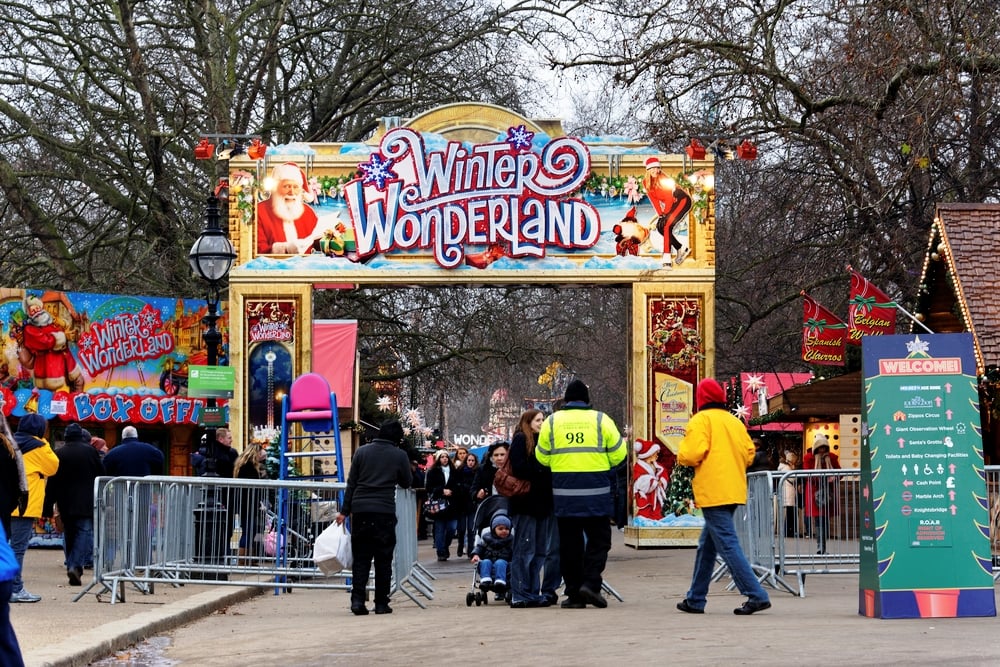 Hyde Park Winter Wonderland
Of course, Winter Wonderland in London's Hyde Park is arguably the most famous Christmas market in the country, and definitely a must-visit. It's basically one huge Christmas-themed amusement park, complete with rides, ice skating, Christmas markets… you name it!
Some people absolutely adore the crowded mayhem of Winter Wonderland, while others find it a tad overwhelming. Here's a tip from a local: for a relaxed experience, visit during midday on a weekday. On evenings and weekends, this place gets crazy.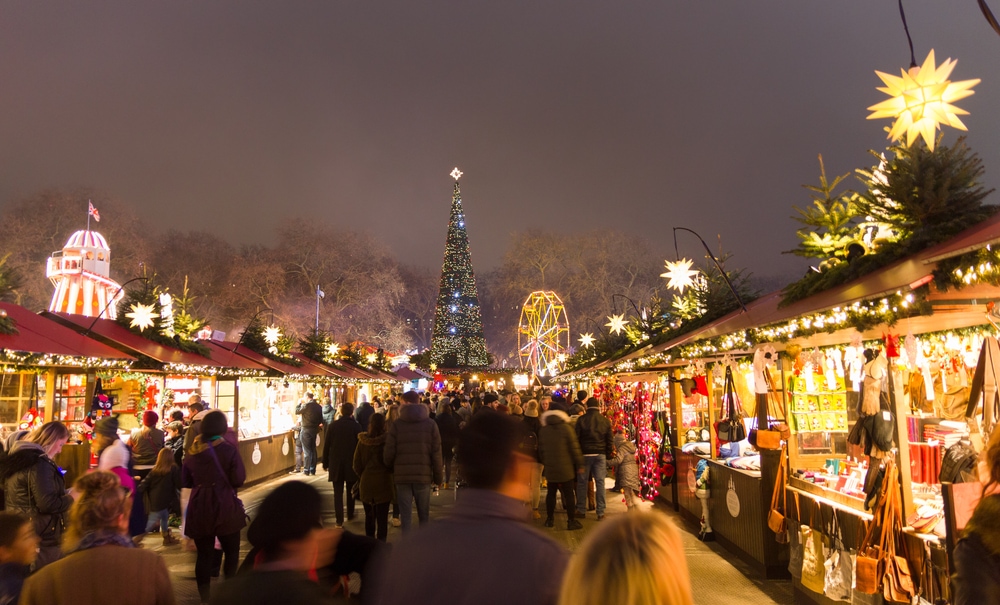 Trafalgar Square Christmas Market
For something a little more low-key, check out the Trafalgar Square Christmas Markets just in front of the National Gallery. They're cosy, calmer, and far more intimate than Winter Wonderland. Plus, you'll get to check out the famous Trafalgar Square Christmas tree whilst you're there.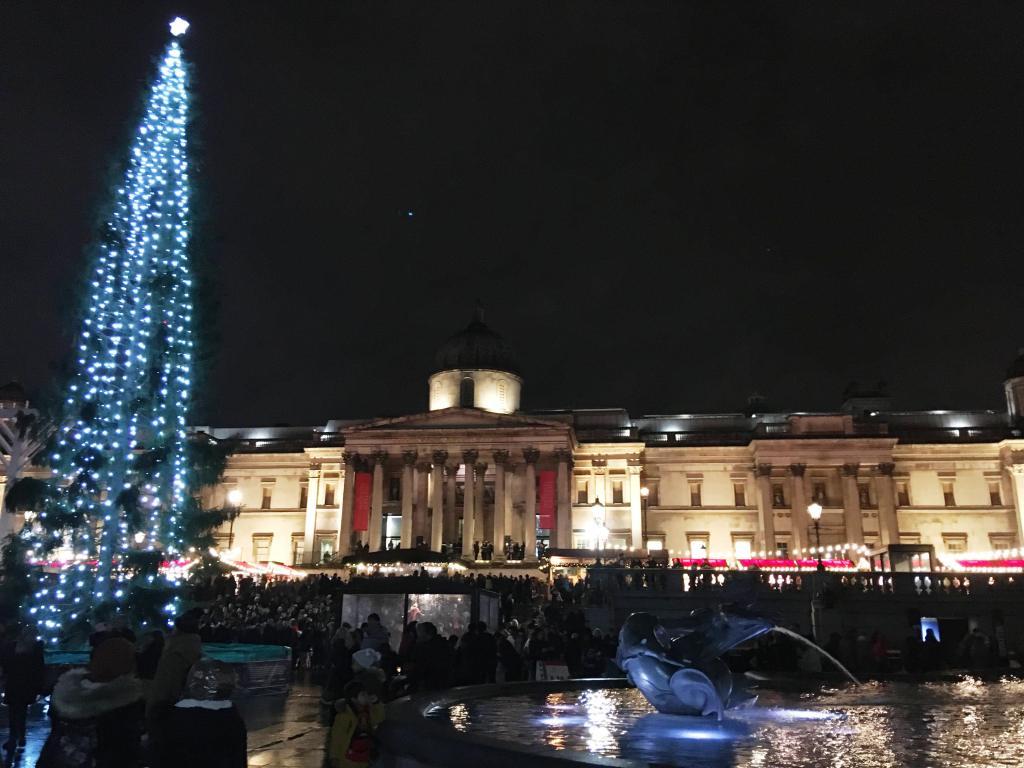 Christmas by the River market London Bridge
Even more low-key is the Christmas by the River market held in what is now called the London Bridge City, sandwiched between the iconic London Bridge and Tower Bridge. It's small, but mighty, and has everything you need: chocolate-covered strawberries, an Alpine-themed bar, hand-knitted mittens and cute London-themed baubles. It's pure magic and a very traditional Christmas market.
The fact that the twinkling River Thames is your backdrop at this market is just the icing on the cake!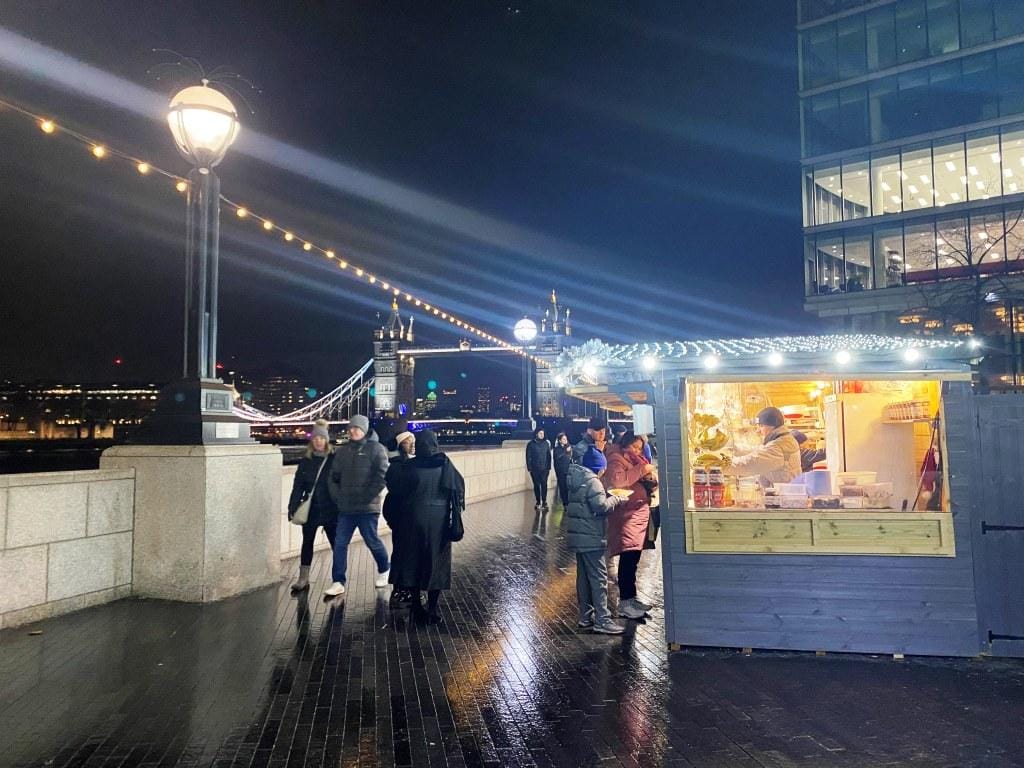 Nottingham Christmas Market
A definite must-visit is the Nottingham Christmas Market, affectionately known as Nottingham Winter Wonderland. Nottingham's Winter Wonderland encapsulates the essence of a traditional German-style market, showcasing an array of German Christmas fare, mulled wine, handcrafted gifts, and festive decorations, reminiscent of what one would find in a classic German Christmas market.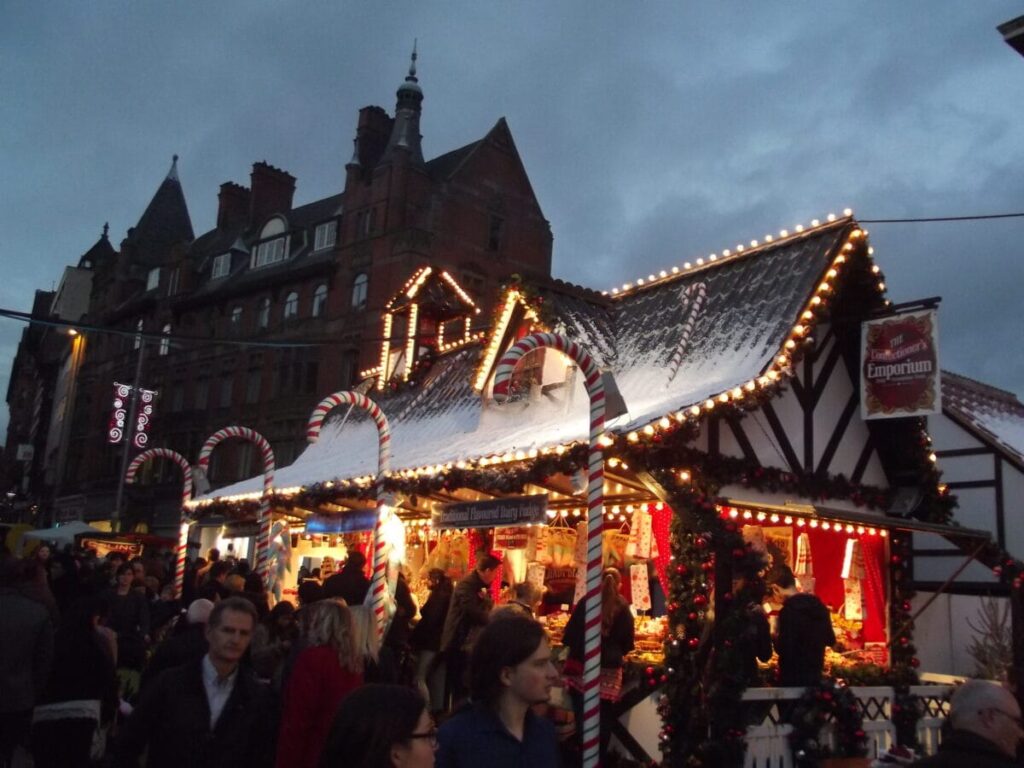 You have the option to select from a range of family-friendly rides and attractions, or rendezvous with friends for a drink at one of the seasonal bars. The market includes and ice skating rink, Toboggan slide, and an Observation Wheel.
Stratford-upon-Avon Christmas Market
For a Christmas market with a twist, you won't want to miss the Stratford upon Avon Victorian Christmas market.
This four-day Christmas market takes place over a long weekend in early December and offers up plenty of festive fun. With more than 300 stalls staffed by traders dressed in Victorian outfits, wandering around here feels like you've stepped into A Christmas Carol!
The market spreads across several streets, including Waterside, Bridge Street, and Henley Street. And if you're a foodie, head to Wood Street for some tasty treats and drinks like mulled wine, cider, and Bailey's hot chocolate.
Entertainment is pretty much constant at the Victorian market – from live Christmas carol performances to local dance group performances and a funfair with a Victorian carousel in the middle!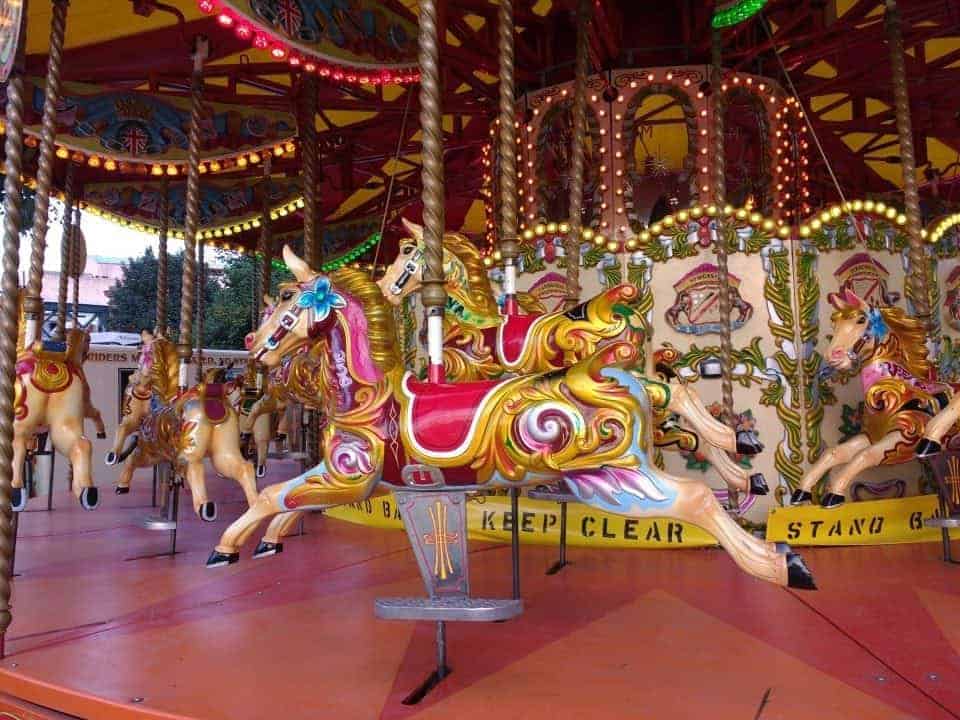 Since its start in 2017, this market has grown a lot and even snagged the title of Best Large Speciality Market in 2021. It's the perfect Christmas getaway if you fancy visiting a Christmas Market that's not German-themed (yes, they exist!).
Chester Christmas Market
the Chester Christmas Market is an annual festive event held in the historic city of Chester, England. The market typically takes place in the heart of the city, around the iconic Chester Cathedral and along the picturesque streets. Please note that there might have been developments or changes since then, so I recommend checking official sources for the most up-to-date information.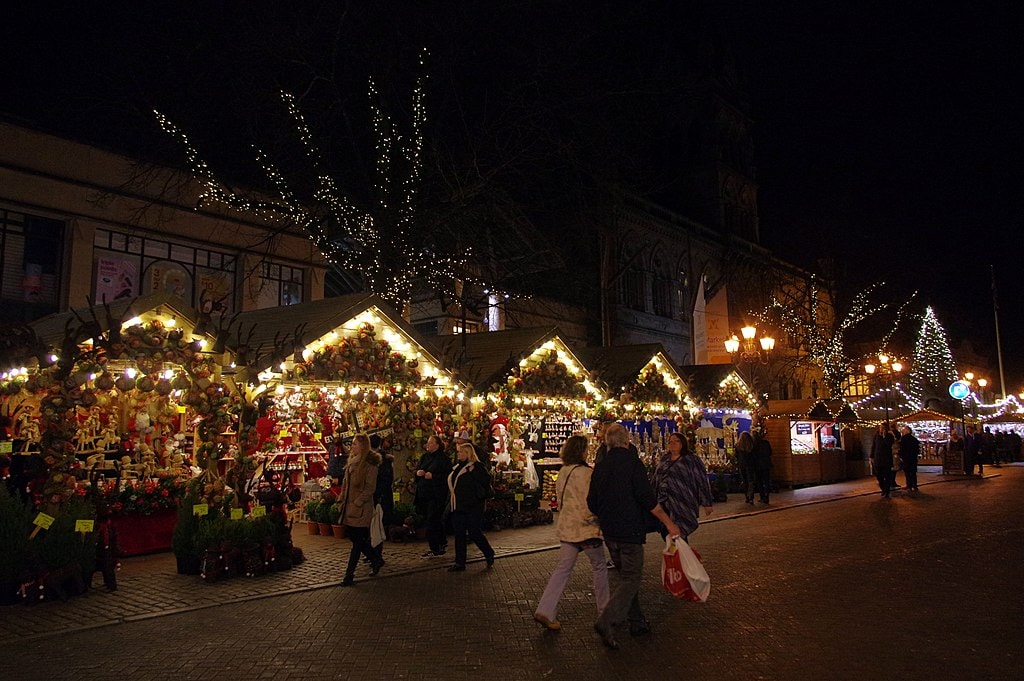 The Chester Christmas Market is known for its traditional and charming atmosphere, offering a wide array of stalls that showcase a variety of goods and treats perfect for the holiday season. Visitors can expect to find handcrafted gifts, artisanal crafts, unique decorations, local products, and a diverse selection of food and drinks.
York Christmas Market – St. Nicholas Fair
If you're visiting York at Christmas there's one place you absolutely can't miss: York St Nicholas Fair. Having earned titles like "Best Large Specialty Market" and "Britain's Most Festive City", you don't just need to take our word for it – York is amazing at Christmastime!
With over 100 Christmas market stalls here, you'll find a wide array of handcrafted gifts and festive treats, and the aroma of mulled wine and freshly-baked gingerbread is inescapable!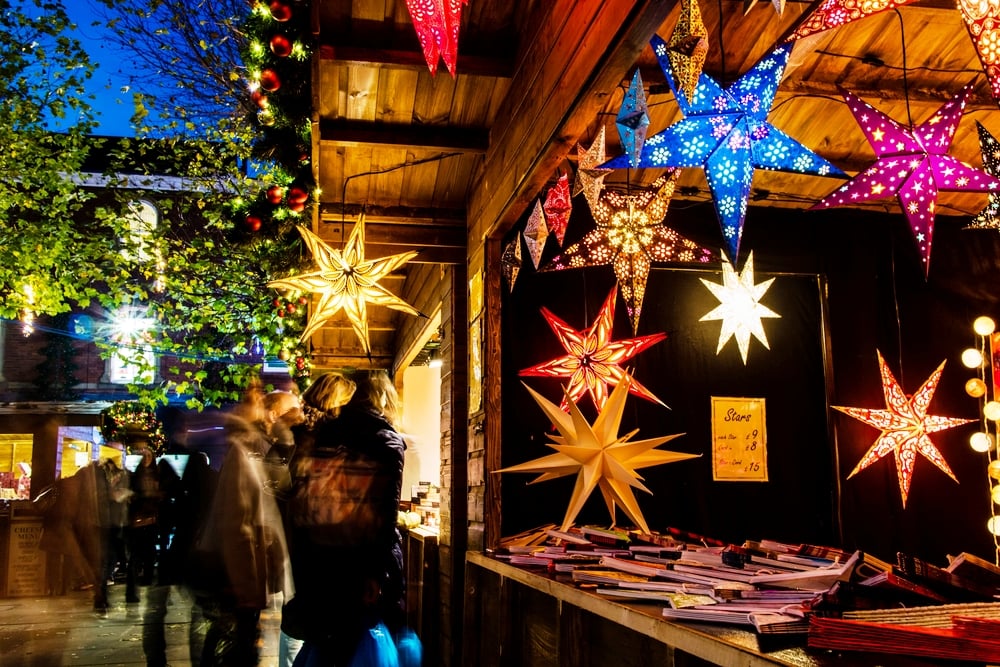 The Christmas market has been running here for almost 30 years, so you can rest assured that the organisers know how to deliver an unforgettable Christmas experience.
York looks like something straight off a Christmas card at any time of year, but, amidst the merriment, York's ancient heart looks even more fantastic. Be sure to wander along the city's famous mediaeval street, The Shambles, and admire it as it shimmers in a sea of twinkling lights, elaborate festive displays, and delightful decorations.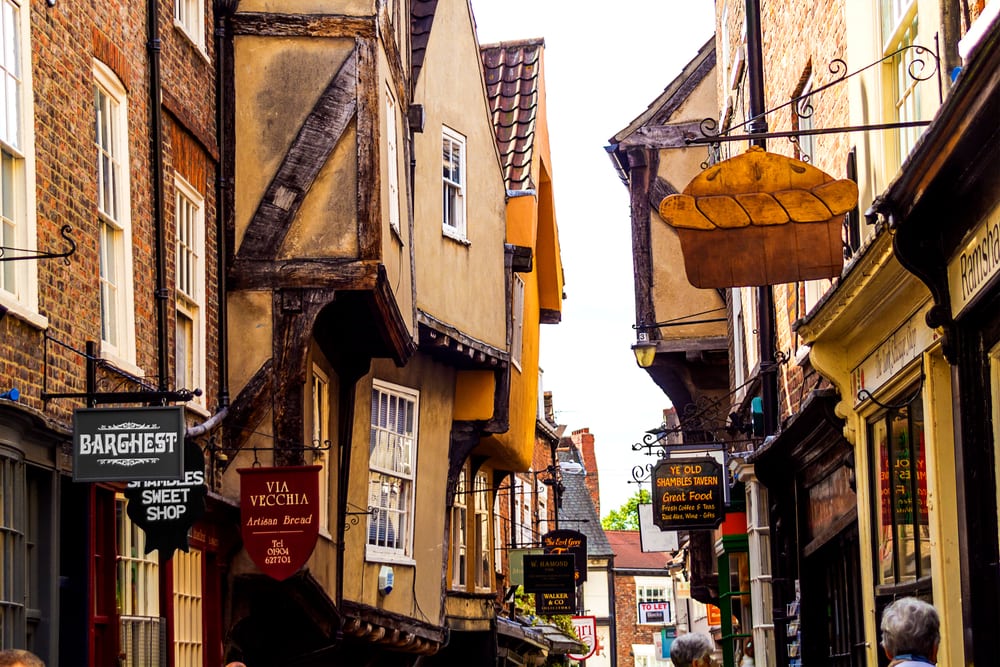 York feels like a Christmas fairy tale come to life!
Manchester Christmas Market
I'd argue that the Manchester Christmas Markets are the best in the country – they're absolutely MASSIVE and see people travelling from far and wide just to enjoy the festivities on offer here during the run-up to Christmas.
Spanning an impressive nine sites, Manchester boasts over 220 stalls that drape the city centre in holiday excitement. The Manchester Christmas Markets have been running for over two decades, since 1998, and get better every year.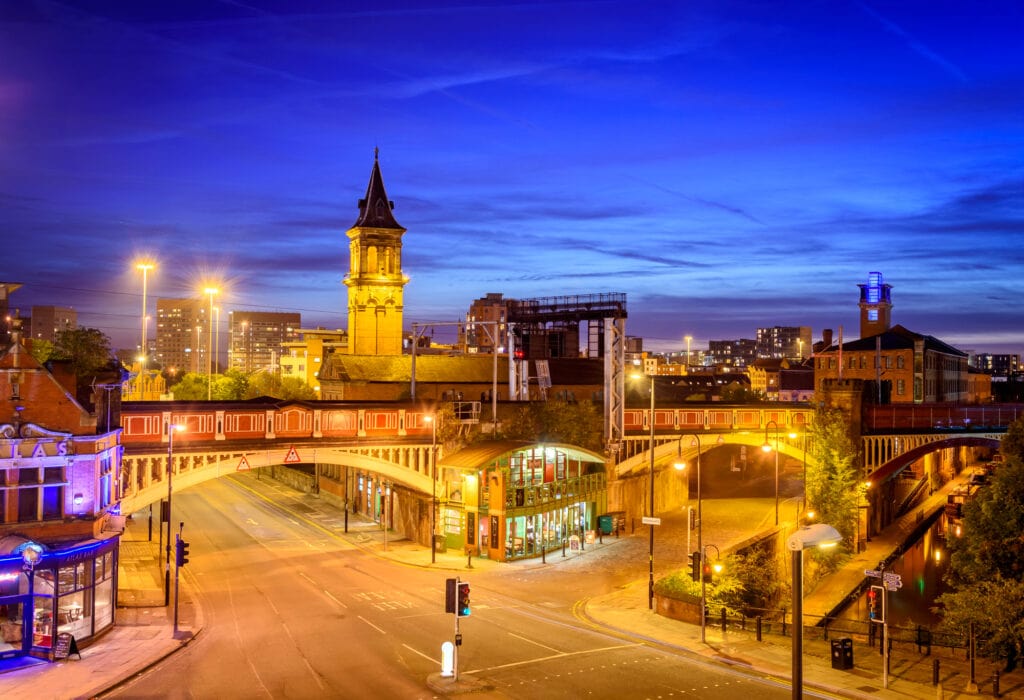 At Christmas, the iconic wooden ski chalet stalls line the streets of some of the city's key spots like the Winter Gardens in Piccadilly, Market Street, the serene Cathedral Gardens, and many more.
But it's not just about the markets. Manchester, in its festive finest, makes sure the Christmas cheer is spread far and wide thanks to its captivating Christmas lights trail. Walk amidst towering baubles, a tribute to the iconic Manchester bee, and keep an eye out for the big man himself, Santa Claus, as he oversees the festive merriment from his grand throne near the Central Library at St Peter's Square. Don't miss the photo op!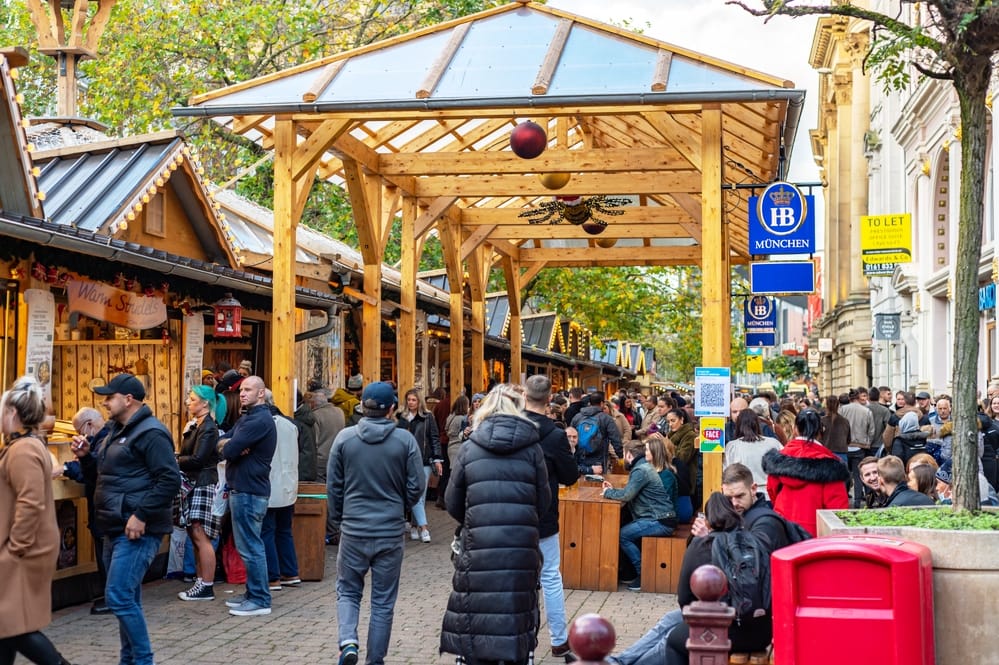 A Christmas market trip doesn't feel complete without ice skating, but Manchester has got you covered with the beloved Skate Manchester. Nestled in Cathedral Gardens, the ice skating rink, surrounded by twinkling lights welcomes skaters to circle a Christmas tree to the sounds of classic Christmas tunes.
Birmingham Christmas Market
Birmingham truly knows how to bring the festive magic straight from the heart of Europe!
Each winter, Birmingham is set alight with festive joy as the Frankfurt Christmas Market opens, drawing travellers from across the UK and even Europe to join in on the festive fun.
Its arrival on Victoria Square and New Street is like the city's own version of the first snowflake – when the Birmingham Frankfurt Christmas Market opens, you know Christmas is here!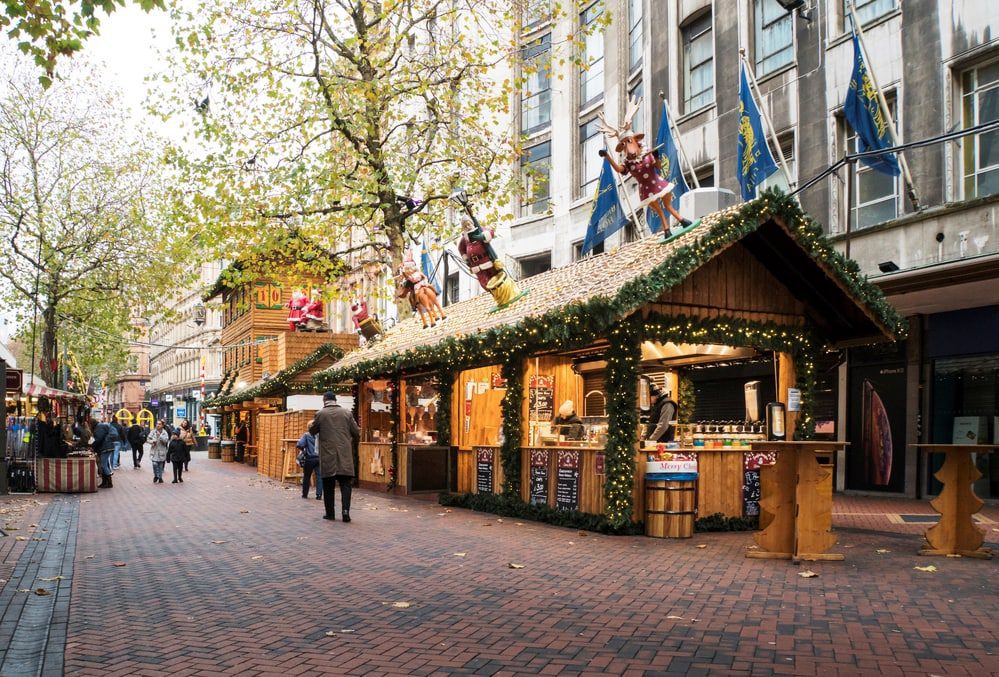 Boasting the title of the biggest and most authentic German Christmas market outside Germany and Austria, you really can't go wrong with adding this as a stop on your England Christmas markets itinerary. There's no need to head over to the world-famous Christmas markets of Nuremberg or Frankfurt itself for a taste of German festivity when you can find it right here in Birmingham!
The food here is out of this world! From the mouthwatering pretzels, juicy schnitzels, and the ever-popular bratwursts to the sweet aroma of roasted almonds, you won't go hungry here. And when you get thirsty? Reach out for a warm cup of gluhwein, a refreshing weissbier, or a creamy hot chocolate – almost every stall sells them!
Beyond the food, Birmingham Frankfurt Christmas Market is an experience! Gather with loved ones under the glow of festive lights, enjoy the serenades of live music echoing across Victoria Square, and splash the cash on a shopping spree that's distinctively Christmas.
Bath Christmas Market
Bath is gorgeous at any time of year, but at Christmas, it becomes even more beautiful than usual! The fact that it's home to one of the best Christmas markets in South England certainly doesn't hurt, either!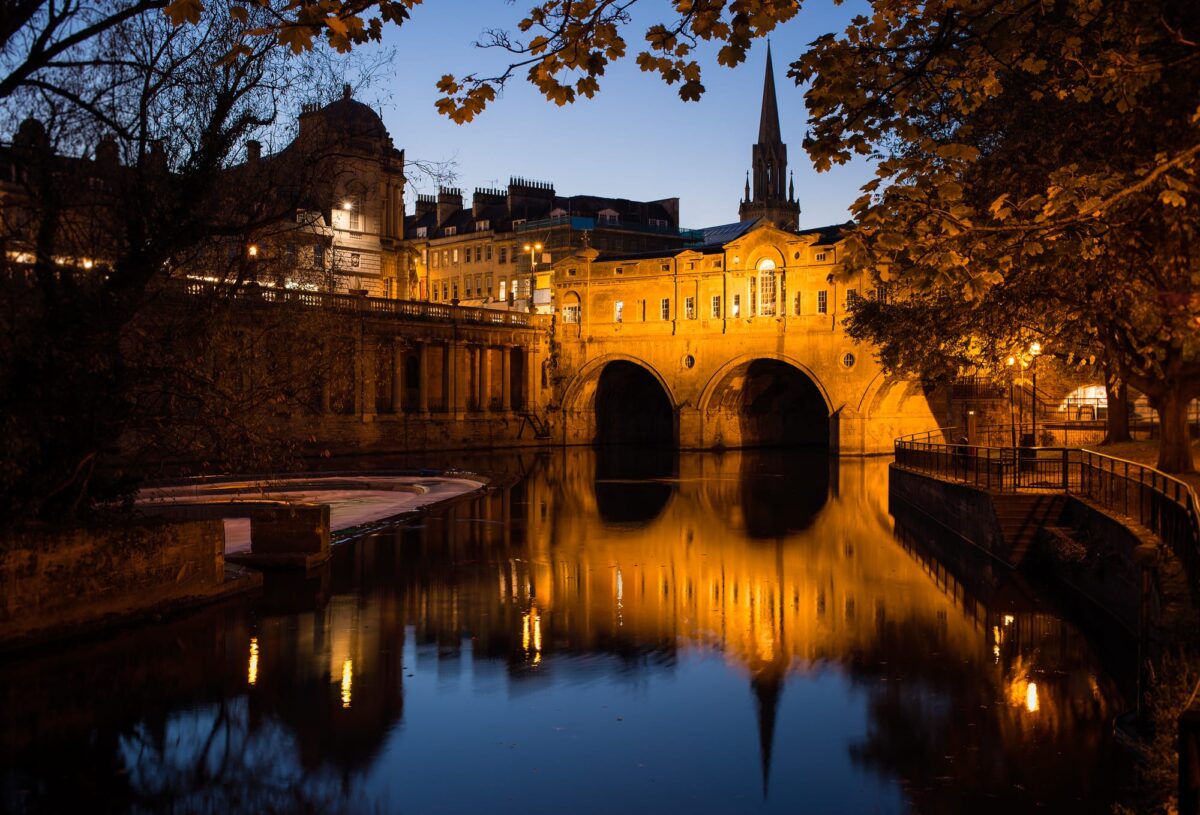 Strolling through Bath's iconic streets, lined with over 170 Christmas market wooden chalets, will give you all the warm and fuzzy Christmas feelings. Here, you'll find some of the South West's most talented crafters, each one offering something unique and hand-designed, from chic homewares and artisanal jewellery to adorable baubles for your Christmas tree.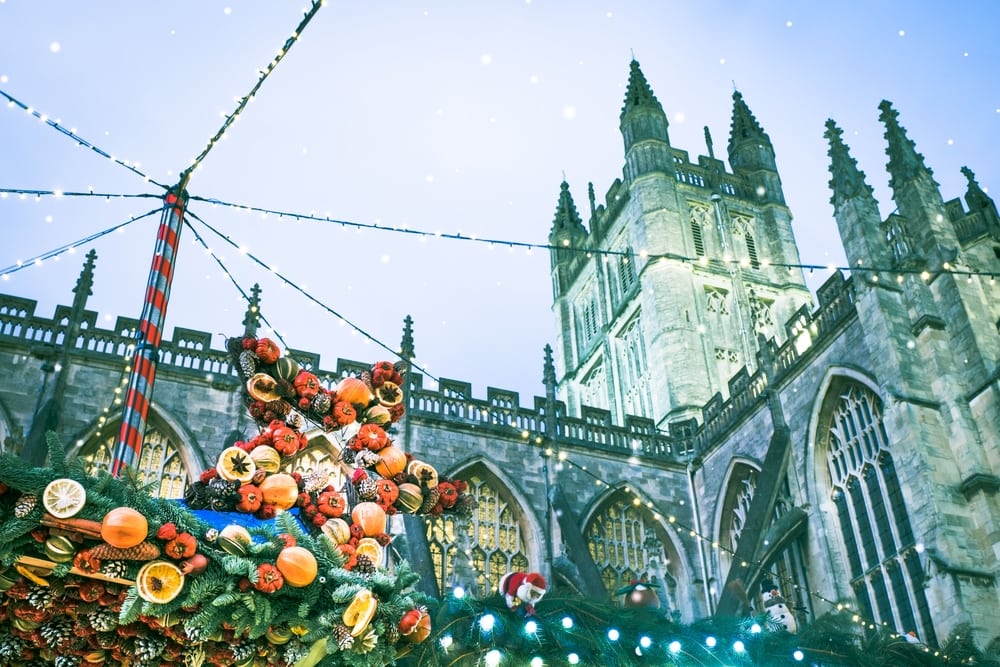 What truly sets Bath Christmas Market apart is its dedication to supporting small local businesses. It's a stage for blossoming artists, and focuses on providing opportunities for emerging talents to show off their skills.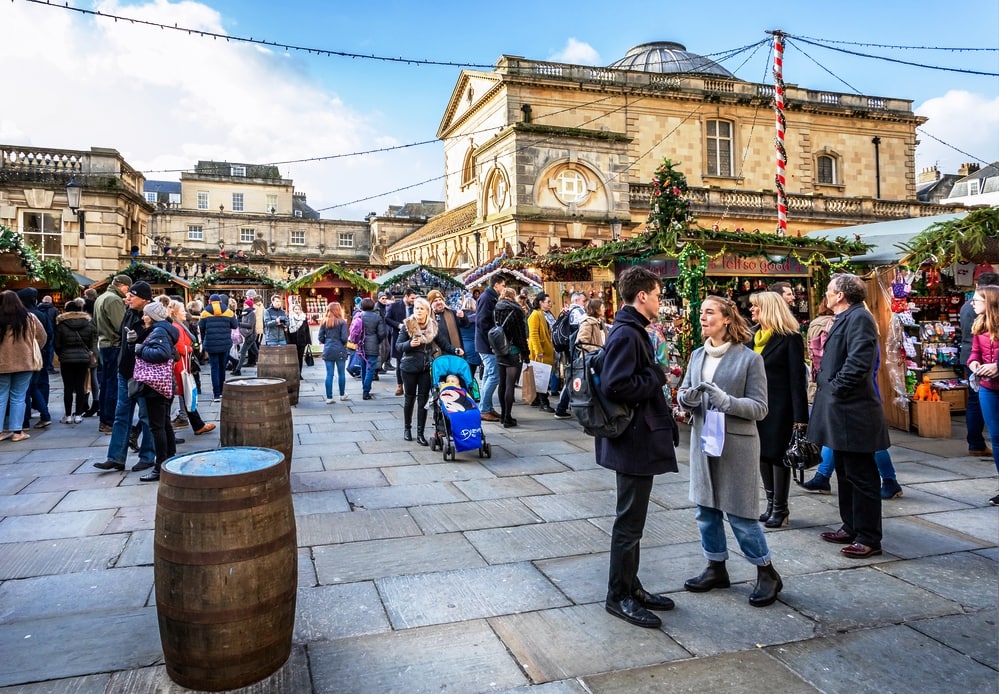 The Bath Christmas Markets are spread around the area surrounding Bath Abbey. A little tip before you go: Bath's Christmas market winds down a tad earlier than its counterparts, wrapping up around the 10th of December. So, don't wait too long!
Bristol Christmas Market
Bristol Christmas Market is right in the city centre and is the life and soul of the city's festive celebrations.
At this Christmassy heaven, you'll find 50 distinctive stalls selling crafts, holiday gifts, and of course, lots of yummy Christmas treats! It's an absolute haven for those in quest of the perfect Christmas present.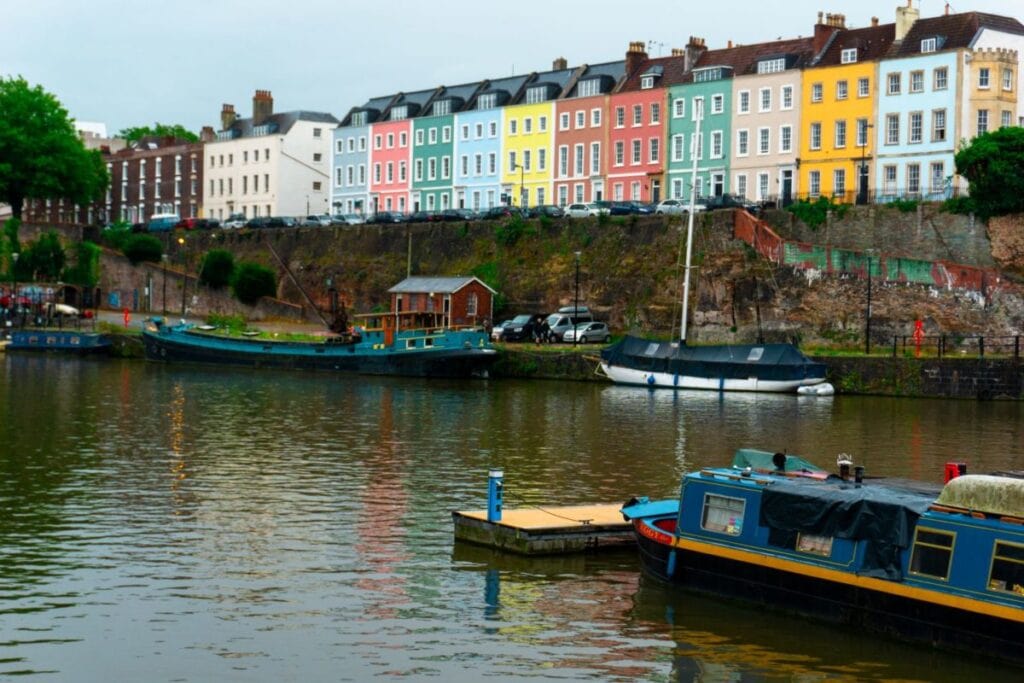 But Bristol's market isn't just about shopping and eating. It's one of the top places to enjoy a drink in the city! Nestled inside the holiday bustle is the Jäger Barn Bar, where you can meet up with friends and enjoy a couple of drinks whilst escaping the cold outside.
Fancy something slightly more special and secluded? Then you won't want to miss the private igloos, which you can book in advance for festive drinks.
Winchester Christmas Market
From mid-November until just before Christmas, the iconic Winchester Cathedral plays host to one of Europe's favourite Christmas markets.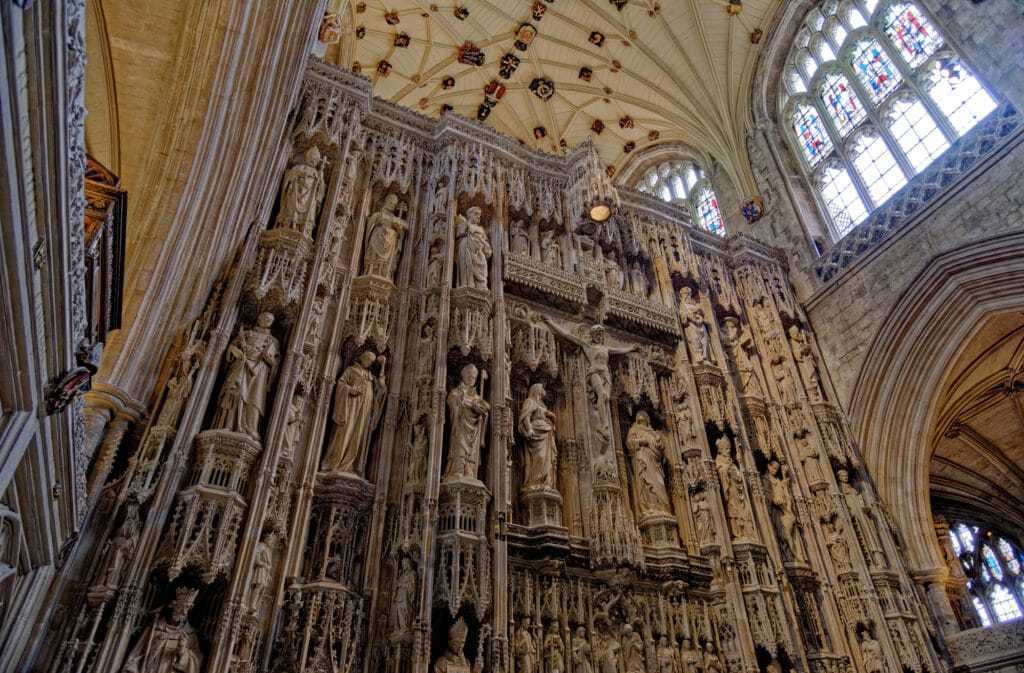 Located within the Cathedral's historic grounds, the market is jam-packed full of delightful wooden chalets laden with festive treats, cute Christmas gifts, and homemade wonders.
Strolling through these charming stalls, surrounded by twinkling lights, the melody of Christmas carols, and the scent of mulled wine spiced with cinnamon, you'll agree that a trip to this Christmas market in England was worth the journey.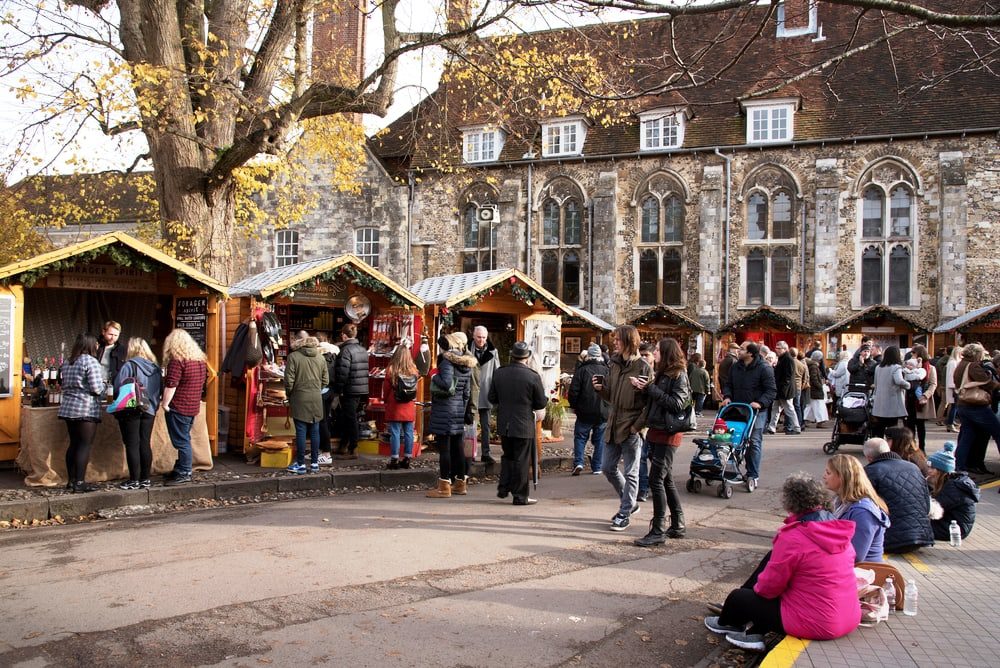 And if you're on the hunt for a traditional Christmassy atmosphere, remember, the Winchester Cathedral itself is a festive focal point. It hosts a slew of Christmas services, carol concerts, and events that'll be sure to get you in the festive mood.
So, whether you're shopping or singing, Winchester's Christmas markets will get you into the Christmas spirit in no time.
St. Ives Cornwall Christmas Market
Cornwall isn't the first place you'd think of when it comes to Christmas in England, but the charming fishing town of St Ives is the perfect place to spend Christmas by the sea.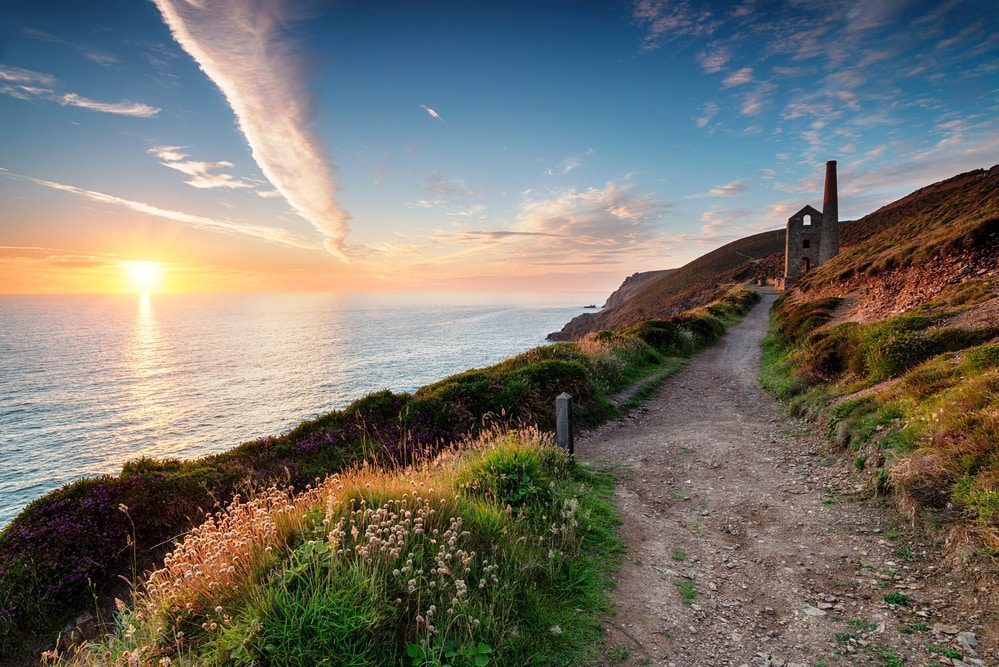 Every year, early in December, St Ives hosts a spectacular Christmas market over a long weekend. So, keep an eye out for this year's dates and plan a visit!
Home to over 30 stalls, this market is a treasure trove of art, crafts, and festive treats. As you hunt for the perfect Christmas gift, live music sets the mood, and seasonal drinks keep you refreshed. Plus, you'll get to discover the talents of local artists whilst you get a head start on your Christmas shopping. Win!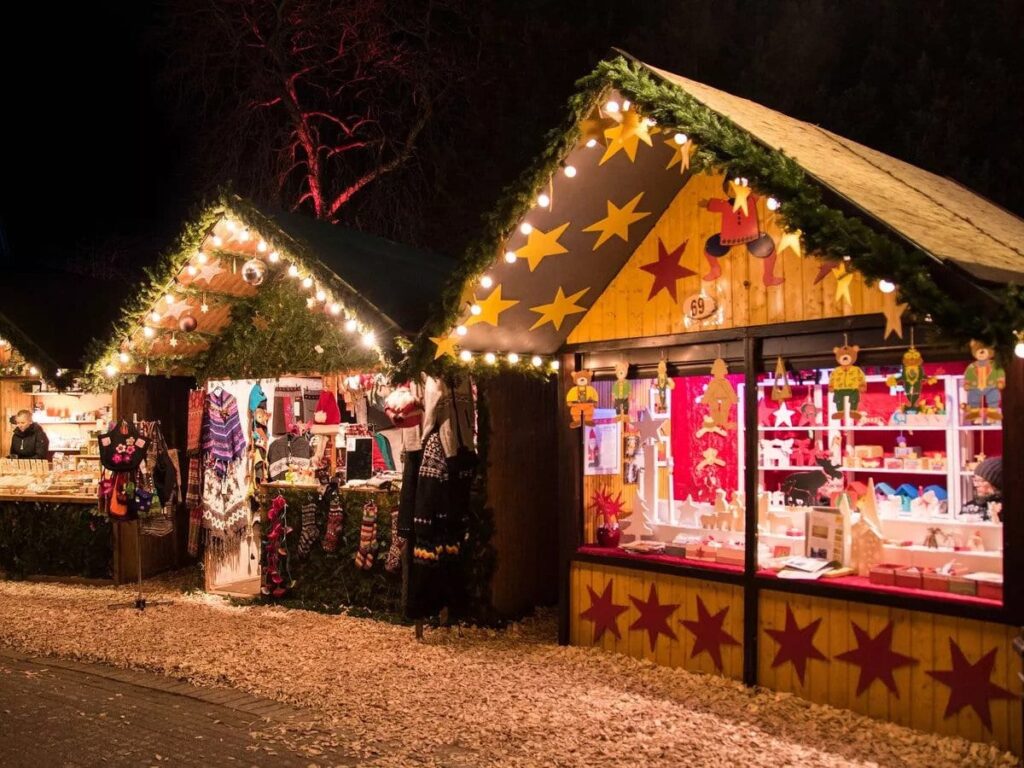 If you're around on Saturday afternoon, it's tradition for the local Kerrier male choir to serenade visitors with a mix of Christmas carols and beloved tunes. It livens up the Christmas cheer even more!
In England, Christmas markets are a tapestry of festive traditions, where historic streets come alive with the spirit of the holiday season. From the cobblestone pathways of Chester to the bustling heart of London, these markets offer a symphony of sights, sounds, and scents that transport visitors into a winter wonderland. With their array of artisanal crafts, gourmet treats, and rollicking entertainment, Christmas markets in England capture the essence of the magic of Christmas.
Pin it to save it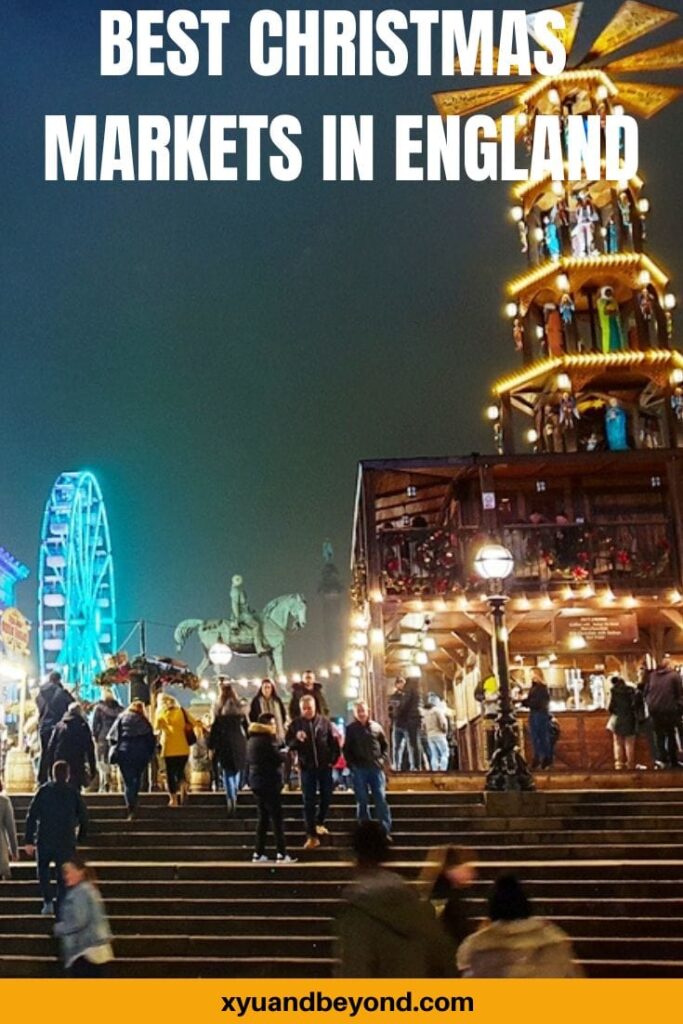 Latest posts by Faith Coates
(see all)