All the best things to do in Manchester
Manchester is considered the capital city of the north of England and attracts thousands of visitors from all over the country and a visit to Manchester is one of the best cities inside the UK for its vibrant and fun cultural scene.
Compared to London it's quite small, but you won't miss anything when you visit Manchester in terms of things to do, international cuisines to try and neighbourhoods to explore.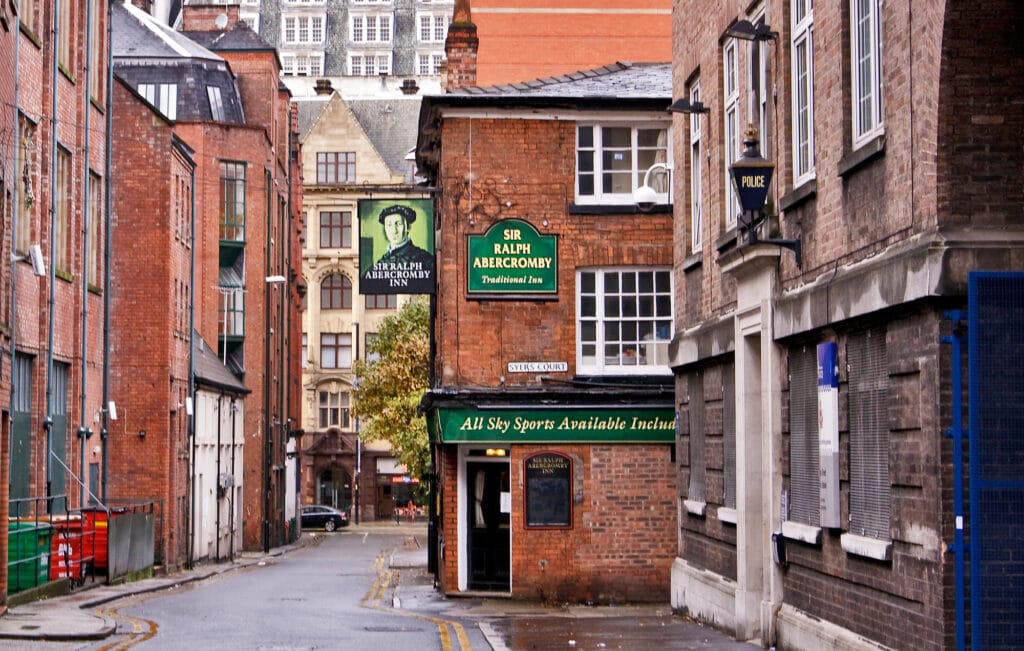 With a colourful and lively Gay Village, a buzzing Northern Quarter full of coffee shops and Castlefield, a relaxed district of the city famous for its canals, you can only have a great time in the city of Manchester!
Up until moving to Manchester in 2017, I lived in a small town close to Venice in Italy. So it has been 5 years of exploring the city and getting to know its best bits.
Xyuandbeyond is reader-supported. When you buy through links on our site, we may earn an affiliate commission. You can read my privacy policy here.
There's a long list of things you can do in Manchester and not just in the city centre. Among the best things to do in Manchester, especially if it's your first time in the city, you should visit the Science and Industry Museum and the John Ryland's Library, stop at the art gallery and go shopping at Afflecks.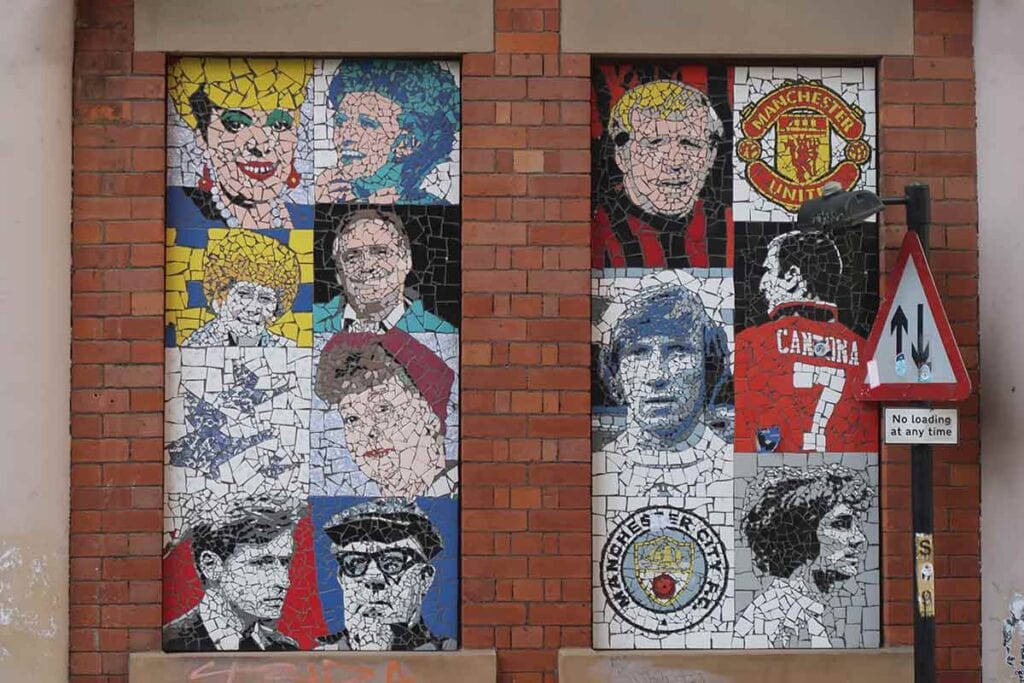 You'll soon realize that the best way to spot things to do is by walking around its streets.
Whether you're with some friends and looking for some fun activities, or a couple that wants to spend a romantic evening out, or even enjoy the crazy nightlife in Manchester, here you can find what you want.
Is Manchester worth visiting?
Manchester is a city you should visit at least once and these are some reasons why:
It is a culturally vibrant city and boasts fine museums such as the Manchester Art Gallery, which has one of England's richest art collections, and the Whitworth Gallery, the contemporary art gallery in the centre of a beautiful public park.
It's still quite convenient to travel and stay in Manchester. In fact, it's not as expensive as London, and it's well known for its industrial architecture with a pop soul. As a result: Hotel prices are more affordable than the ones in the capital city.
The bohemian Northern Quarter is an iconic place that makes Manchester such a unique place. Get lost among its old Victorian and post-Victorian buildings, admire the street art, and stop by the artists' workshops, second-hand clothing shops and independent coffee shops. Whatever your budget, you'll certainly find a way to spend your money here.
Manchester is the second gay-friendly city in the UK right after London. Clubs and restaurants are located on Canal Street, where you'll find lots of people at the bars where drinks are cheaper than in other parts of Manchester's city centre.
Manchester is also well-connected by public transport from London and other cities in the north of England. You can find direct trains to and from London at any time of the day with the company Avanti West Coast and it's only a 2 hours and 15 mins ride. Check the Northern train's website to find out how to reach the city from other northern cities.
Best Things to do in Manchester
If you're wondering what you should do during your stay in this city, here you can find a list of some of the best things to do in Manchester.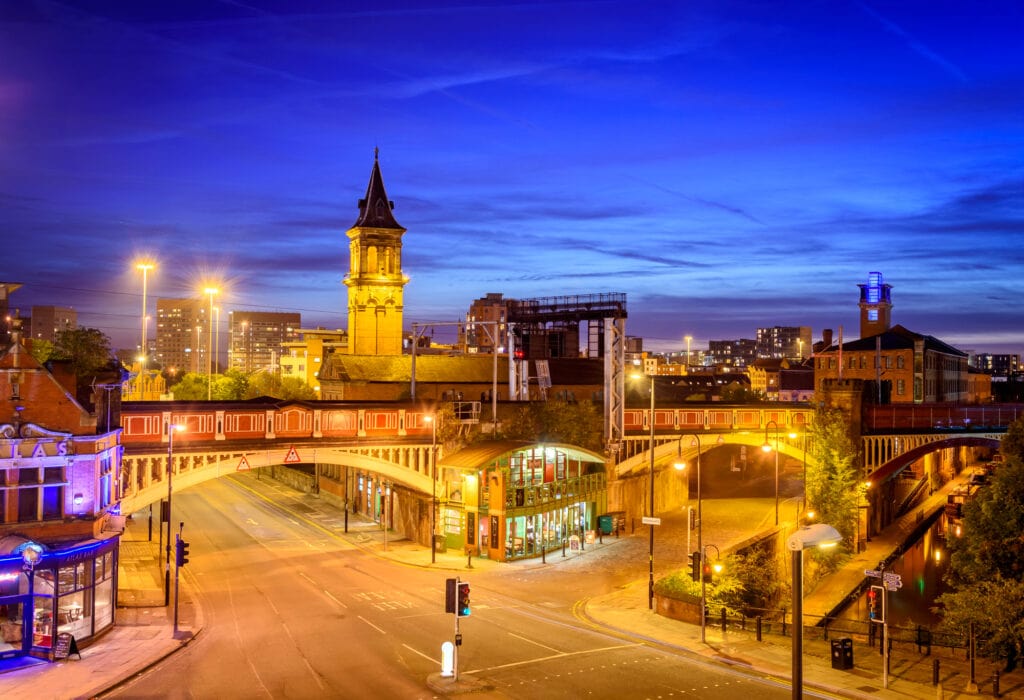 Northern Quarter
The Northern Quarter represents the alternative and Bohemian soul of Manchester. This is the neighbourhood where you can spot the best street art, vintage and second-hand clothing shops, independent music stores, and a great selection of clubs, and bars. Not to mention, some lovely coffee shops.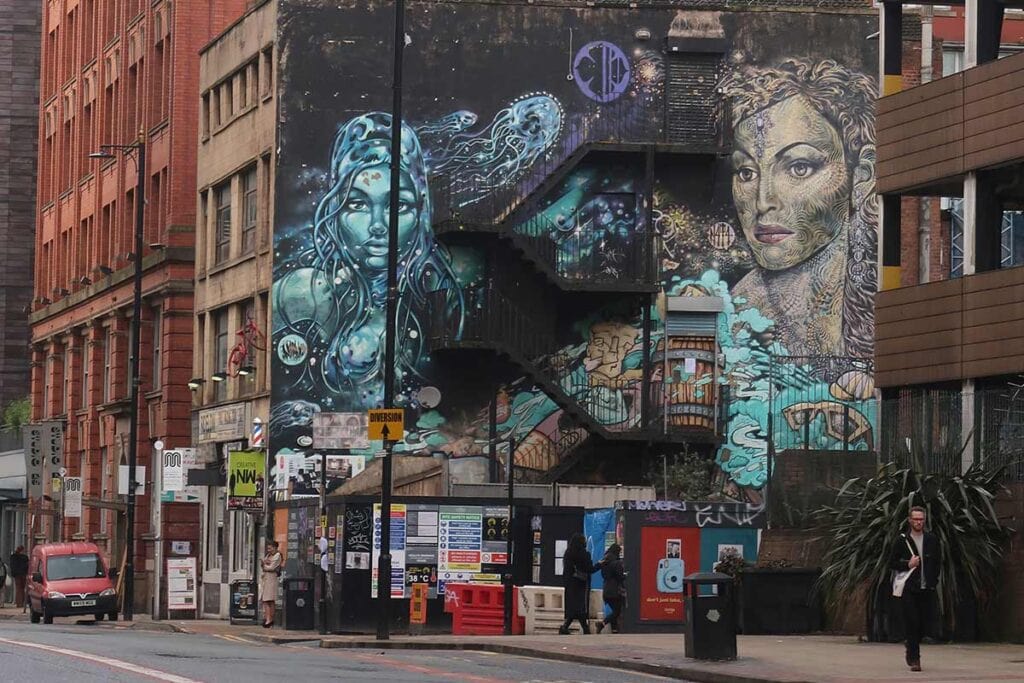 Delimited by Piccadilly Gardens and the Ring Road, the Northern Quarter is the part of the city where the first textile factories were founded in 1783, and the main hub of industrial development.
The neighbourhood was almost entirely destroyed during the Second World War, and only between the 80s and 90s began its regeneration, finding a new life in the music scene of that time.
Today the Northern Quarter is dotted with small shops selling records and vinyl, art and design galleries, vintage clothing and boutiques, bars, pubs, breweries and clubs where you can hear live music. A great district to explore the best of Manchester's vibrant nightlife.
Ancoats
Ancoats is one of the most iconic neighbourhoods of the Industrial Revolution. At the beginning of the 19th century, Ancoats was just a suburb of Manchester, and it wasn't particularly important. It was here, however, that the first weaving mills appeared that had a big role in the city's industrial development.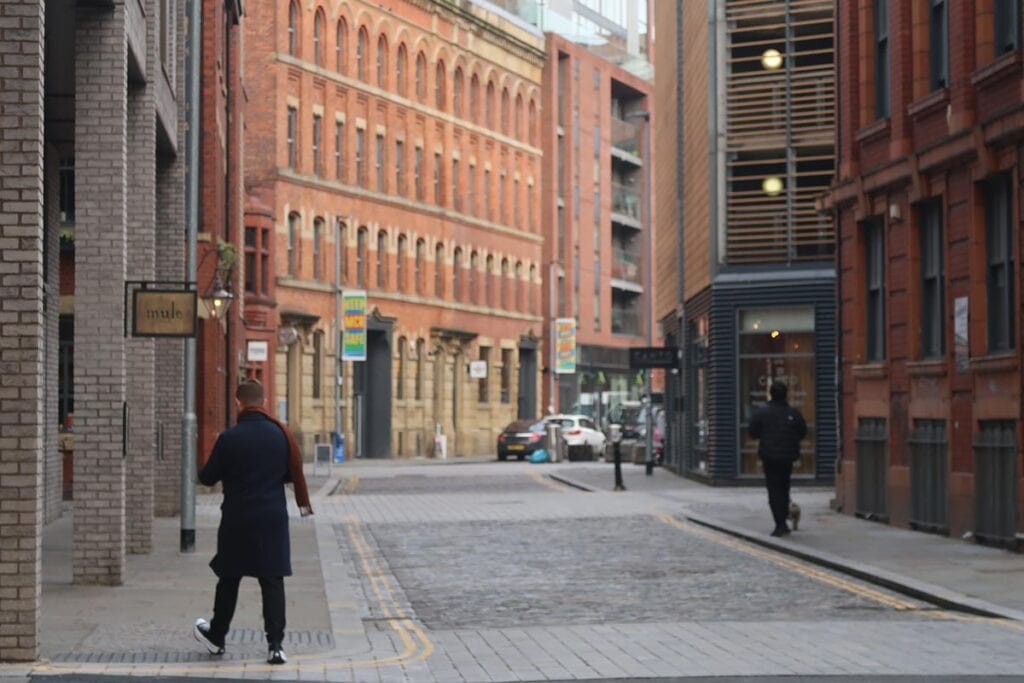 Today Ancoats is one of the most beautiful neighbourhoods of the city, in fact, the old mills have been restructured, but still, maintain the traditional red-bricks look from the outside.
The main square is called Cutting Room Square where you'll find some panels illustrating the industrial past of Manchester and close by St. Peter's Church, today a concert and event venue.
In this part of the district, you can find many new restaurants and bars that only a few years ago didn't exist. Walk past the Murray Mill, one of the oldest mills in Manchester and reach the Rochdale canal. Here you can find Pollen Bakery, a great place for breakfast that serves freshly baked croissants and cakes!
Artisanal coffee scene
Manchester would not be the same without its wide range of coffee shops. Apart from the classic Costa, Caffè Nero and Starbucks, you can really find great coffee from independent roasters.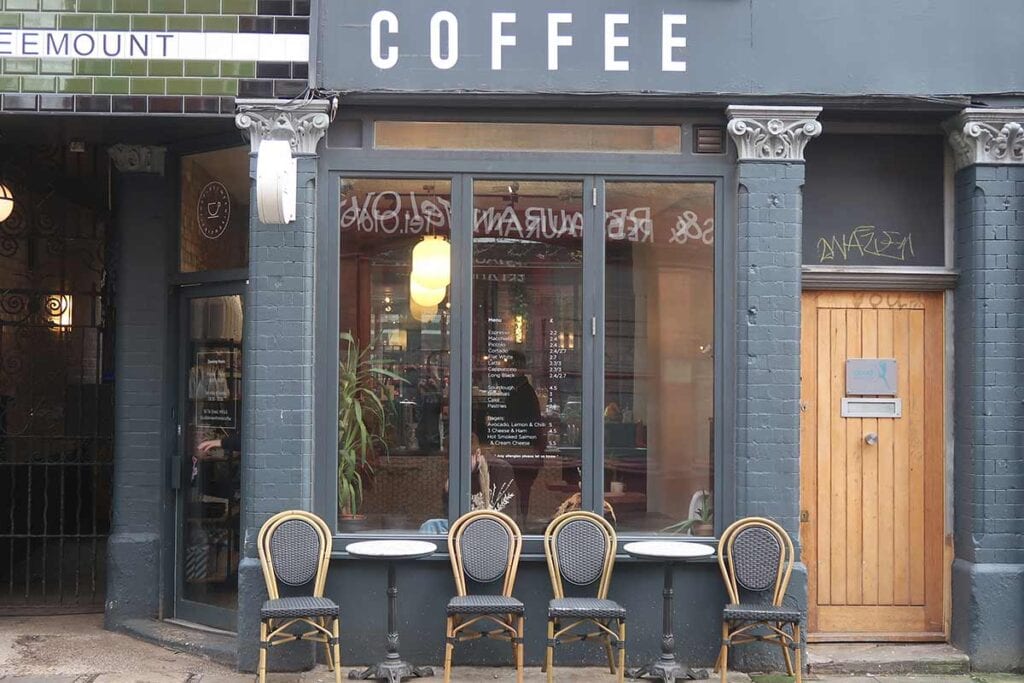 There's always a new selection of coffees coming from different parts of the world so if you love coffee, keep an eye out for the best blends and ask the barista what's on offer that day.
But coffee shops are not only about coffee, of course! These are the best places in town for breakfasts and brunches. Some of the best spots are Takk, Ezra and Gil and Federal Café in the Northern Quarter, which are all pretty much busy during the weekend.
Chinatown
Manchester's Chinatown district, nestled between Mosley and Portland Streets, is the largest Chinese district in England, established here in the early 1900s.
Among one of the largest Chinese districts even in Europe, the Mancunian one is a melting pot of colourful shops and markets where you can find spices, sweets and souvenirs, but also restaurants serving traditional dishes like dumplings and noodles.
Chinatown is all about Asian restaurants, including Thai, Nepalese and Vietnamese. If you fancy a spicy, tasty meal, this is where you should go. The giant red arch welcomes visitors to the neighbourhood, and the best time to be around here is for the Chinese New Year, when bright lanterns, festoons and dancing dragons invade the streets.
Mackie Mayor
Mackie Mayor, situated in a former meat market, is a sort of food court offering tasty, relatively cheap and quality food made from different cuisines. Here you can find both mouthwatering versions of the classic British fish and chips as well as wood oven pizza.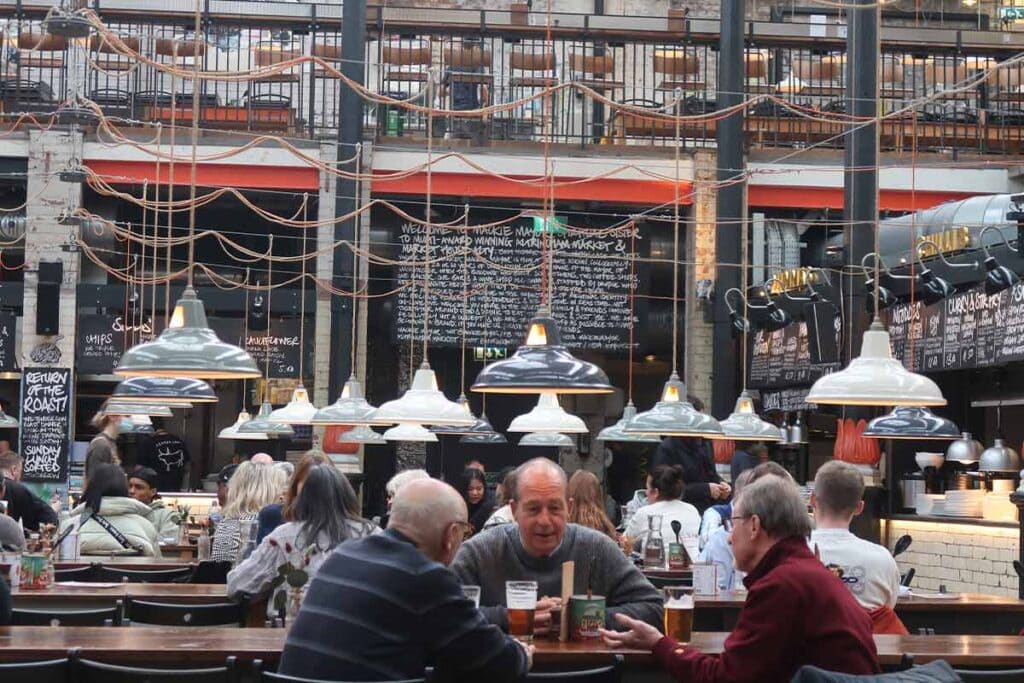 Apart from food, you can also stop by for a cocktail or a refreshing beer. It's a good place to have lunch with a wide choice of food that can please any palate. Make sure to get a table as soon as you arrive, take a seat and go to the stand to order your food with your table number.
You'll pay directly at the stand and a waiter will carry your dish to you once ready. There are long tables both upstairs and downstairs, avoid the peak times as over the last couple of years the place has become extremely popular and busy.
Albert Square & Town Hall
Manchester Town Hall is the true symbol of the city, characterized by its imposing neo-Gothic architectural structure that dominates Albert Square.
It's considered the most representative building of Victorian neo-Gothic architecture in the whole country, and the most important monument in the city of Manchester.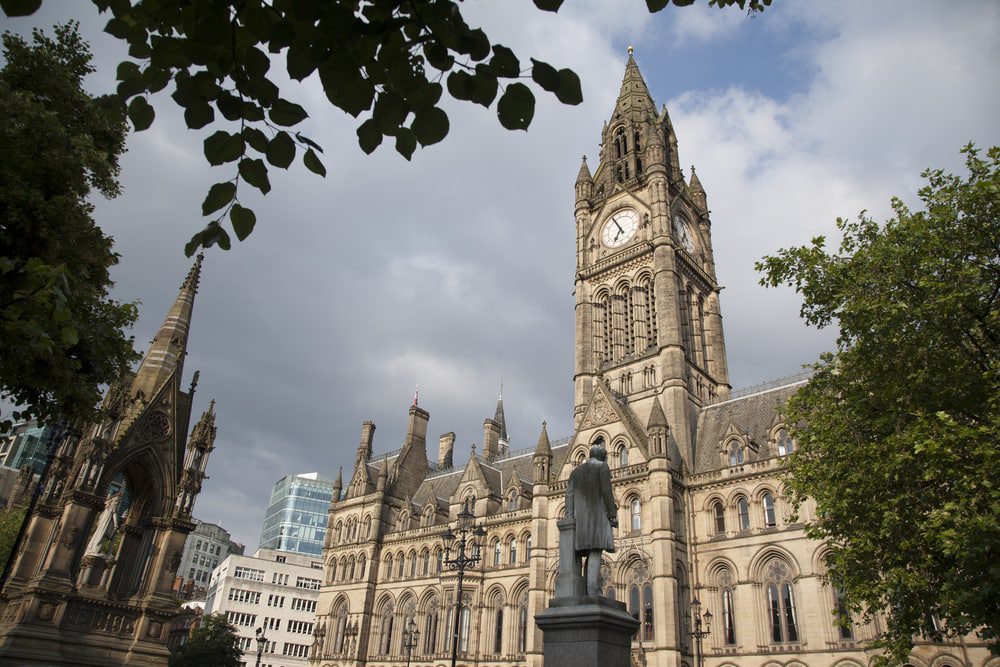 During the Christmas period, this public square changes completely as it gets filled up with Christmas markets set up right in Albert Square, in front of the main facade of the building.
Greater Manchester Police Museum
A fascinating little hidden gem in Manchester and one of the unusual things to do the Museum was founded in 1981 and is funded by Greater Manchester Police, it not only collects and preserves archive material and objects relating to the history of policing in the Greater Manchester area, but acts as an important resource for community engagement, where visitors can talk to staff and volunteers about policing. GMP Museum holds primary and secondary source information about the history and development Greater Manchester policing.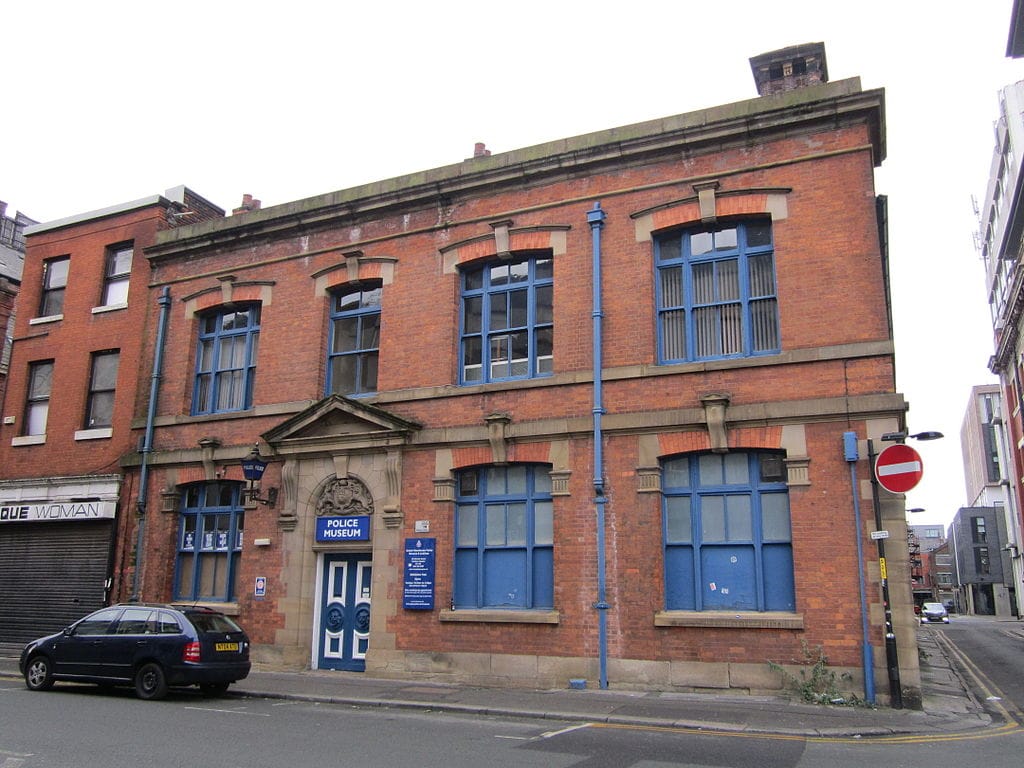 On a personal note here my dad was a Police Officer in Manchester where my sister was born and we moved to from Ireland. So exploring the city has been a great link with my families history.
Pros and Cons of Living in the UK: Expat Life in England
People's History Museum
The People's History Museum tells the story of the past, present and future of democracy in Britain. The right to vote, time to rest, fair pay – what has led to the freedoms we have today and what still needs to be done for a better future?
Visit the museum and learn about, be inspired by and get involved in ideas worth fighting for; ideas such as equality, social justice, co-operation, and a fair world for all.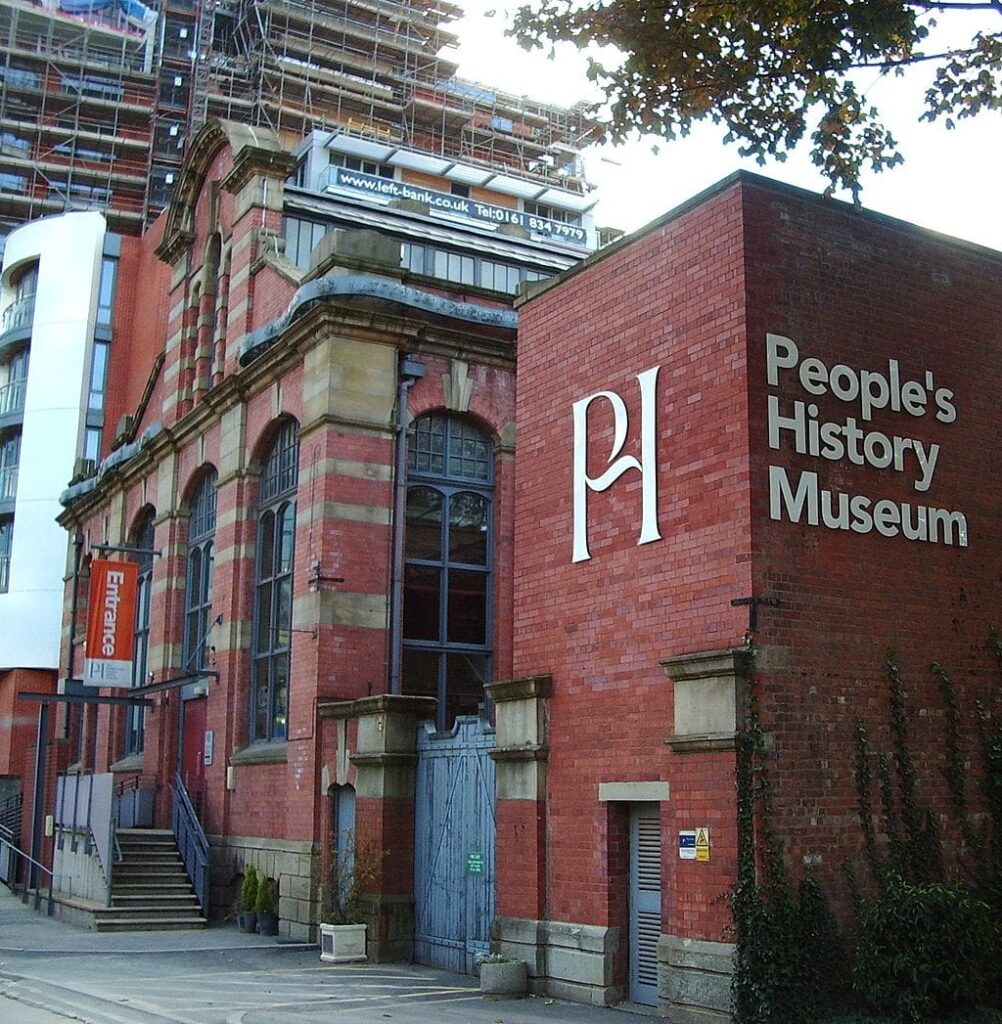 Manchester Museum
In the extensive collection of the Manchester Museum, you'll find everything from a fossilised Tyrannosaurus Rex named Stan to a tomb-like exhibition of more than 16,000 ancient Egyptian artefacts, including 20 human mummies that were taken from Luxor and Thebes.
Imperial War Museum North
Walk through a timeline of history from the First World War to the present day. The IWMN allows you to explore a vast collection of over 2,000 objects, from the First World War field gun that fired the opening British round on the Western Front, to the twisted rust-ridden steelwork retrieved from the rubble of the World Trade Center in New York.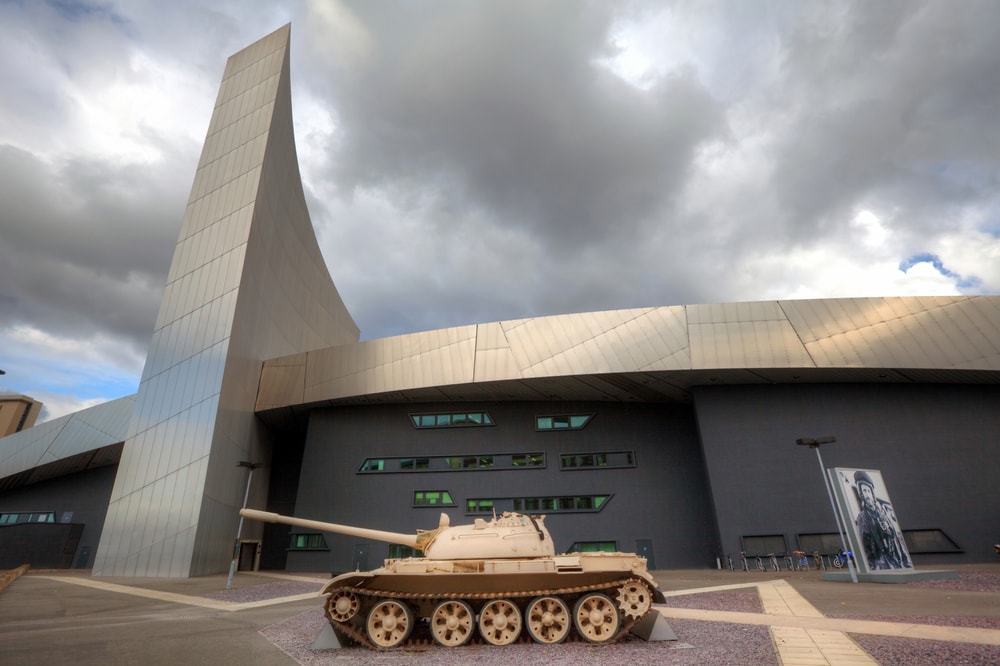 Manchester Jewish Museum
The Manchester Jewish Museum covers the history of the city's Jewish community from the 17th-century onwards, including holocaust survivors and refugees. The museum includes a new gallery, café, shop and learning studio & kitchen as well as complete restoration of a stunning Spanish and Portuguese synagogue.
Heaton Park
Heaton Park on the edge of Manchester is Europe's biggest public green space, spanning a massive 600 acres. There are lots of attractions within the park including the Animal Centre, Tram Museum, bowling greens, golf course, and a boating lake,
Visit Heaton Hall's beautifully restored interiors to get a taste of the 18th-century, with a collection of furniture, musical instruments and occasional recitals in the Music Room.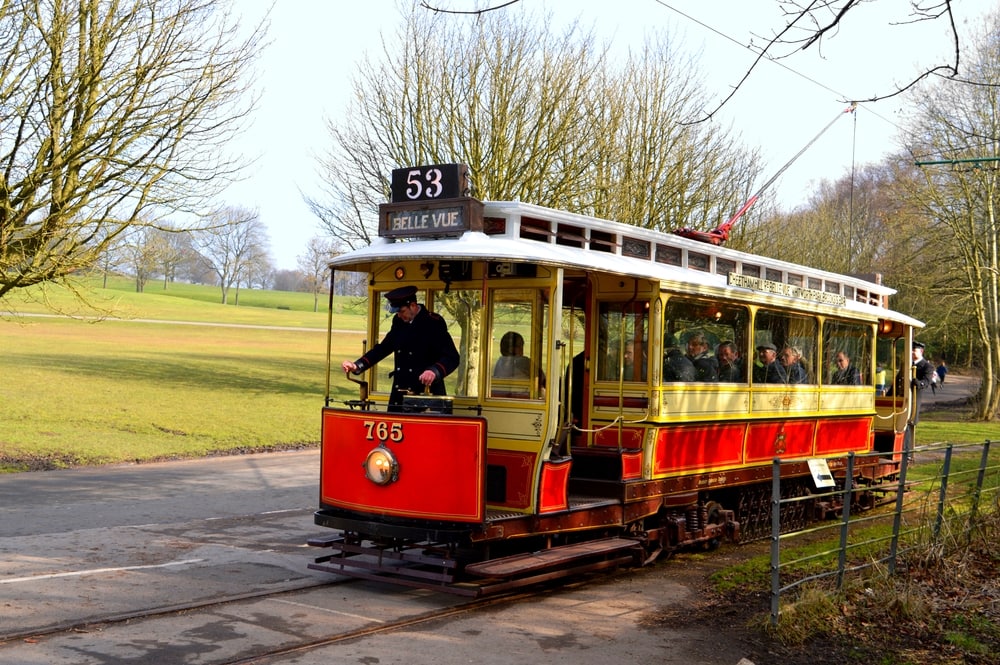 Castlefield
Castlefield is an area of Manchester with artificial canals once used to transport goods and coal to different parts of Britain during the Industrial Revolution. They somewhat remind me of being at home in Venice but without the Gondola to ride around on, of course.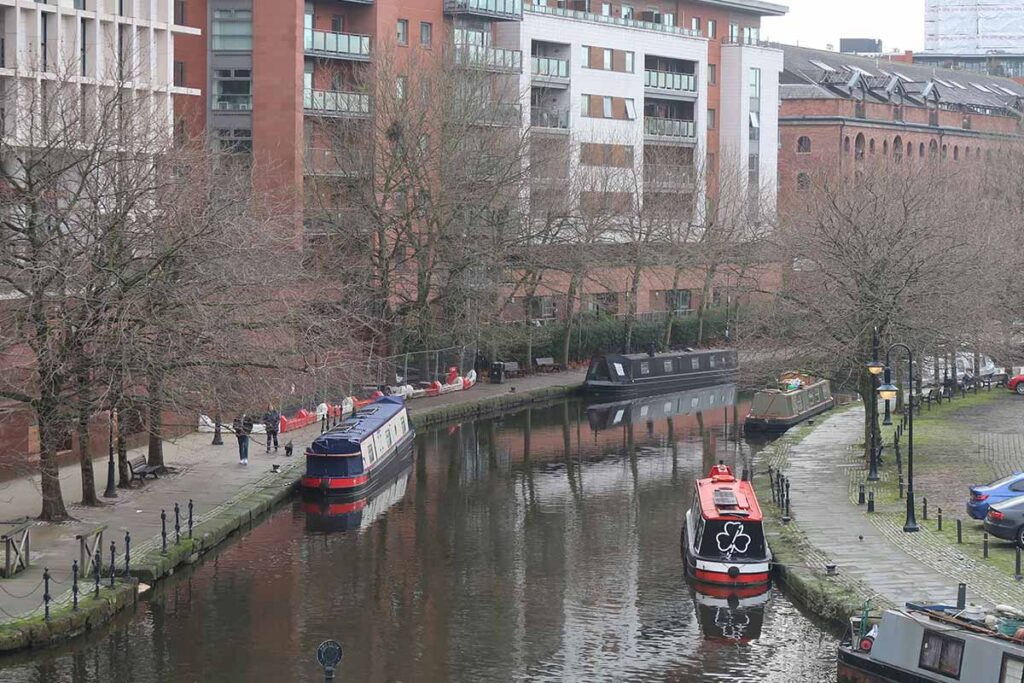 In this residential area, between red brick buildings and abandoned factories, steel and reinforced concrete bridges, railway viaducts and steamboats, you can really have a taste of the 'real' Manchester.
It was in Castlefield that the ancient Romans settled in 79 AD. building the fort of Mamucium or Mancunium, which gave Manchester its actual name.
You can still see some ancient remains and the crenellated towers. Since 1982, Castlefield has been an Urban Heritage Park, a protected area where archaeological and more recent industrial finds are preserved for everyone to admire.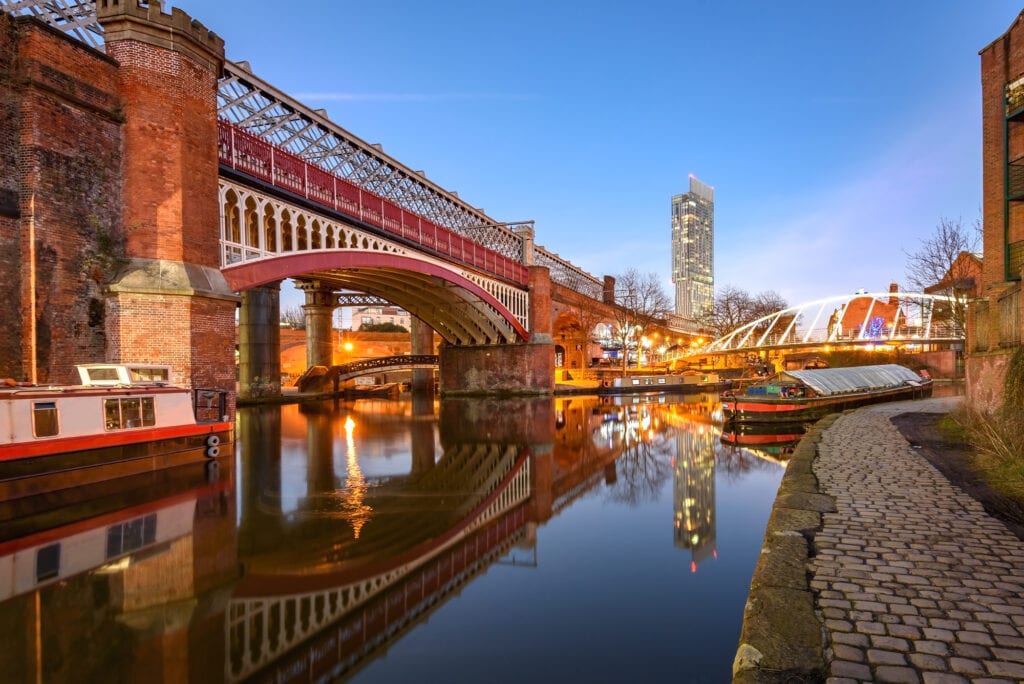 Printworks
The Printworks is located in the heart of Manchester and is a commercial and recreational gallery. Here you can find a cinema with one of the largest IMAX screens in Europe, and more than 20 pubs, bars as well as places to eat (including the famous Hard Rock).
There's also a rainforest-themed indoor golf site! Basically, it's a great place for both groups of friends and families that are looking for a fun night out. If you fancy staying out late, there are the nightclubs Cargo and The Lounge, perfect venues for dancing all night long.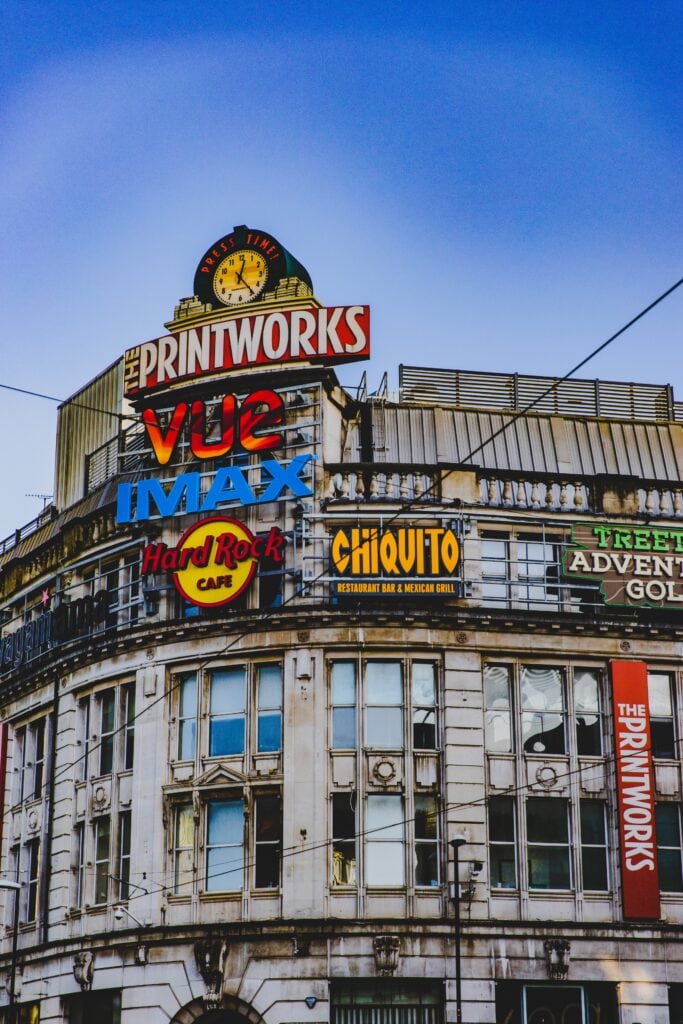 Afflecks Palace
Afflecks Palace is a must-stop in Manchester, whether you love shopping or not, it will only take 20/30 minutes or up to no more than an hour to visit it.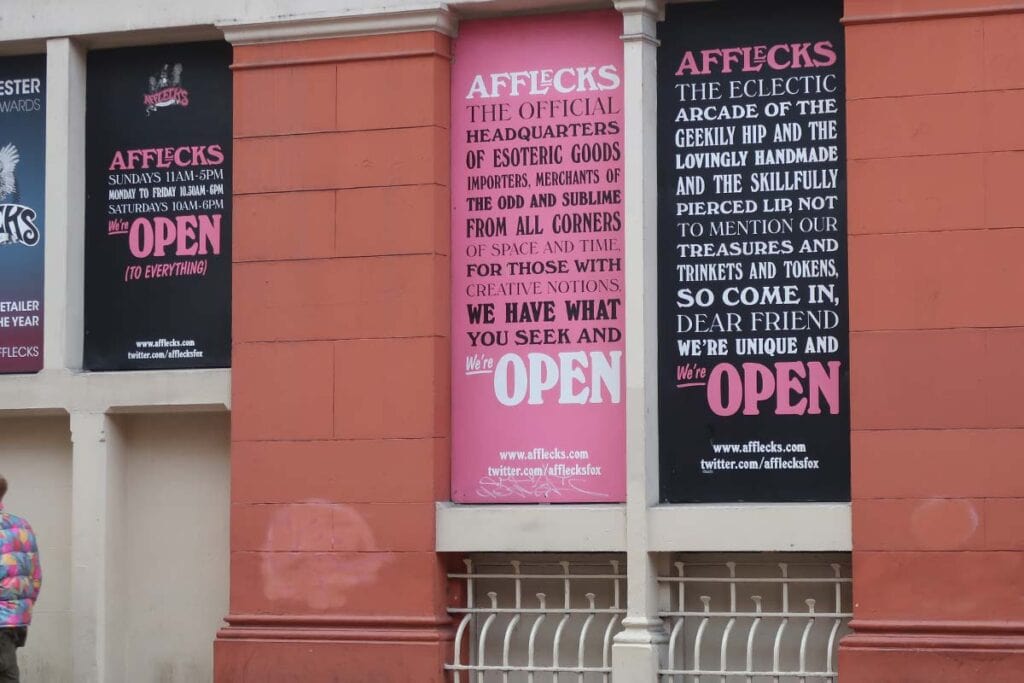 The building is located in the Northern Quarter and more precisely between Oldham Street and Tib Street. Afflecks is an alternative retail park with tens of independent shops and small businesses.
In 1860, Afflecks was only selling home textiles but during the Second World War experienced a big drop in sales that brought to closure. Only after the end of the war, somebody had decided to create a space where small merchants could sell their products. If you're looking for a souvenir or a gift to take back home with you, this is the best place to visit.
Manchester Cathedral
Manchester Cathedral is one of Manchesters oldest and most beautiful building. Also called the Cathedral and Collegiate Church of St. Mary, St Denys and St George, is one of the most fascinating places in the city centre to visit.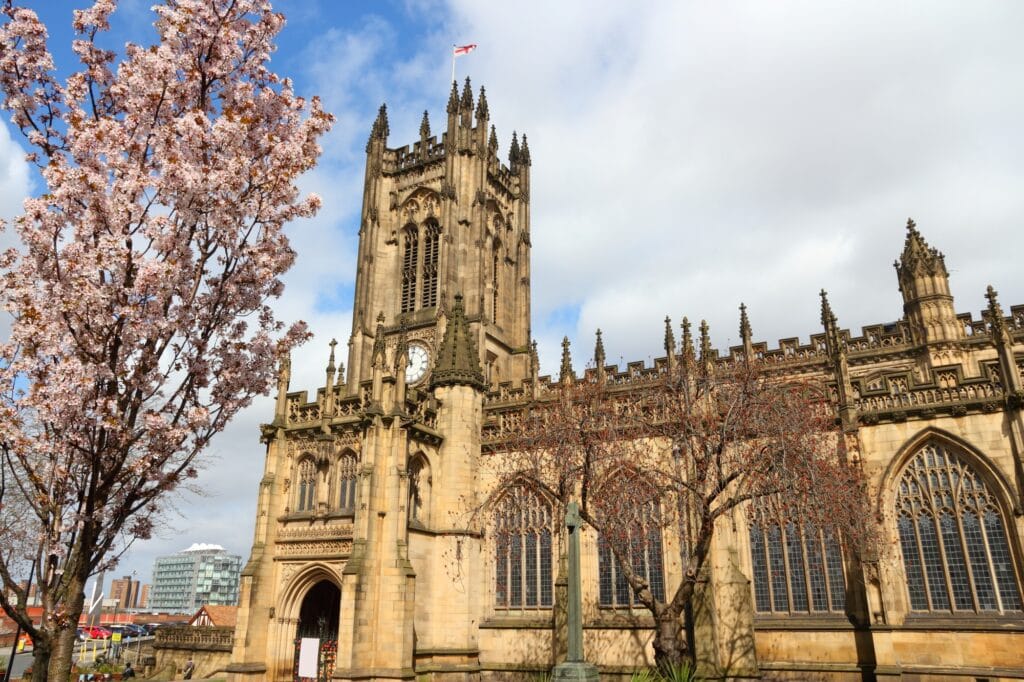 It's a splendid neo-Gothic architecture cathedral that stands out in the Mancunian urban landscape. Inside it, you'll walk through the widest nave of all the English churches and admire sculptures and wooden artefacts of considerable interest such as the pier, the choir, the stalls and the canopies.
Manchester Cathedral is home to the Angel Stone, a sandstone table depicting an angel holding parchment which testifies to the existence of a pre-existing church dating back to 700 AD. approximately.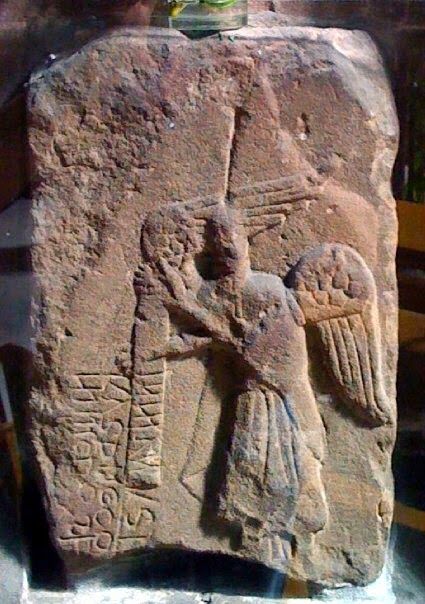 Manchester Christmas Market
Spanning an impressive nine sites, Manchester boasts over 220 Christmas Market stalls that drape the city centre in holiday excitement. The Manchester Christmas Markets have been running for over two decades, since 1998, and get better every year.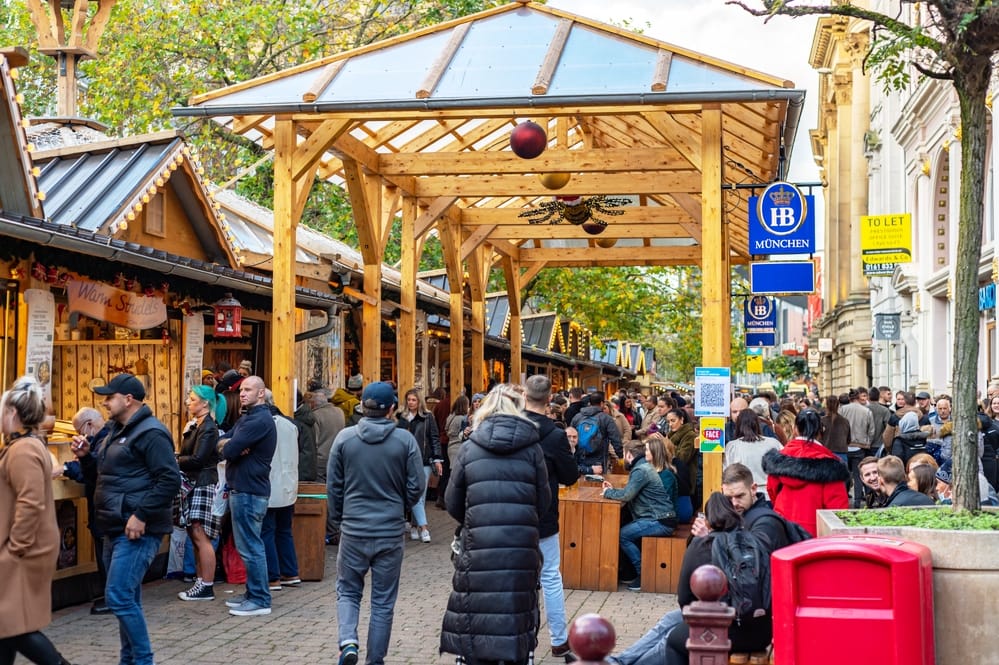 Canal Street
Walking on Canal Street is an unmissable activity to do in Manchester. This is the heart of the Gay Village and every year it hosts Manchester Pride parade and celebrations.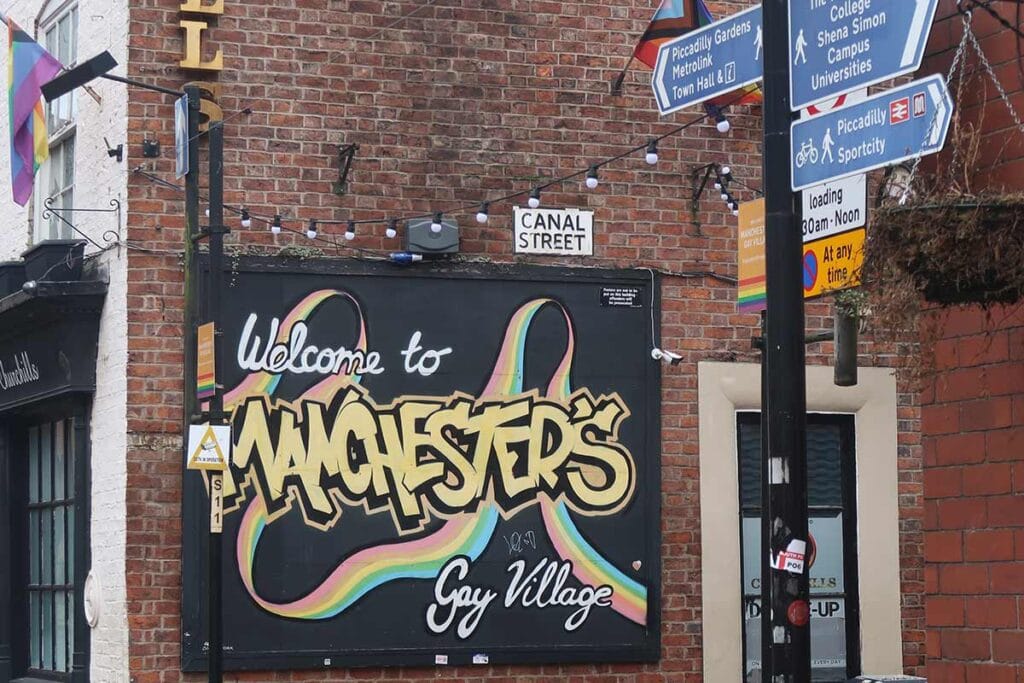 During this time, both Canal Street and nearby streets are full of people celebrating, surrounded by rainbow-coloured buntings and flags and loud music.
Here you can find many gay-friendly clubs and bars and drinks are particularly cheap. It's worth visiting the district at night when there are more people moving around and enjoying a bit of nightlife in this part of the city.
Museum of Science and Industry
Manchester was the world's first industrial city and you can explore Manchester's rich legacy of innovations and discoveries in the Revolution Manchester Gallery, find out how the city's heritage is interwoven with the cotton industry in the Textiles Gallery and see science brought to life in Experiment, the family-friendly interactive gallery.
Plus, look out for expert Explainers at Science Stops around the museum and step out into the cobbled Upper Yard to enjoy the beautiful new garden and uncover stories of the museum's historic site.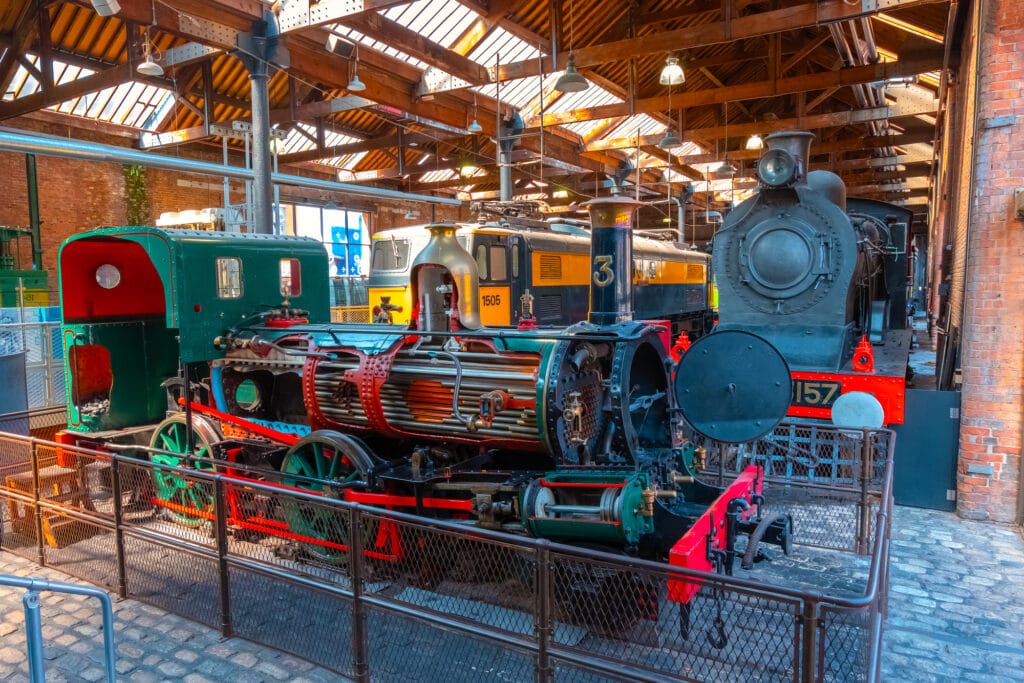 John Rylands Library
Don't miss the John Rylands Library is one of the finest examples of neo-Gothic architecture in Europe and is indisputably one of the great libraries of the world. The library became part of The University of Manchester in 1972. It now houses the majority of Special Collections of The University of Manchester Library, the third largest academic library in the United Kingdom.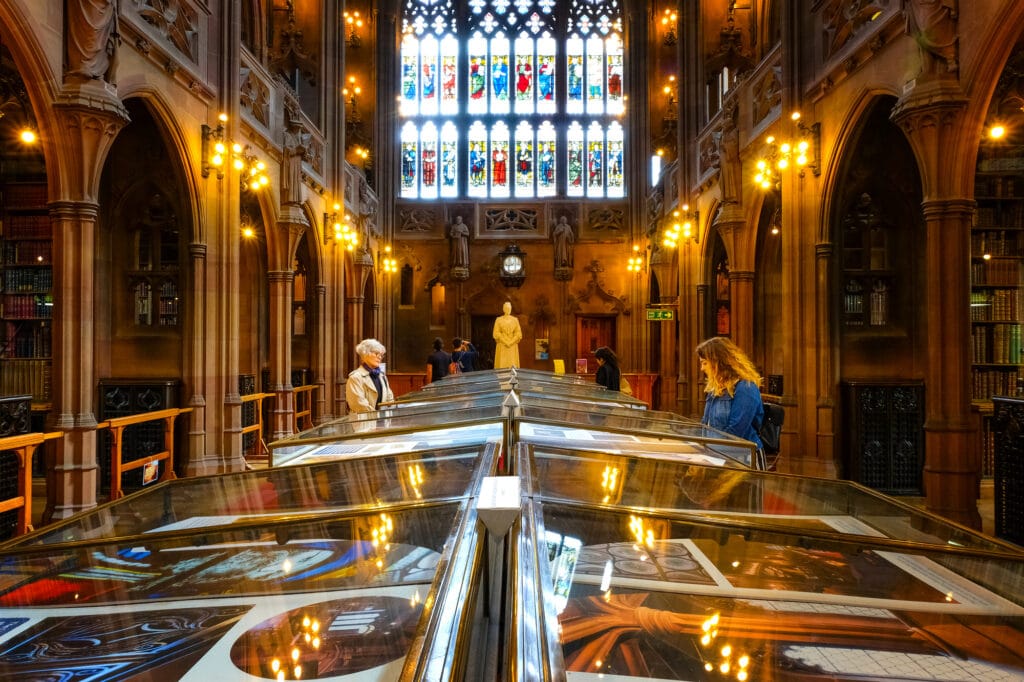 John Rylands Research Institute and Library is home to one of the world's richest and most unique collections of books, manuscripts, maps, works of art and objects. The Historic Reading Room resembles the layout of a church; however, the alcoves in this purpose-built library were designed for private study. The glass in the high windows was chosen to let light in, but obscure the view to the outside. Today, anyone can study in these inspirational spaces or wander the room to marvel at the beauty and peaceful nature of the space.
Sea Life Manchester
Another one of the fun things to do with kids is visit Sea Life Manchester. A perfect way to entertain the kids. At Sea Life Manchester get up close to thousands of creatures including majestic sharks, enchanting jellyfish plus Ernie & Cammy – the magnificent green sea turtles!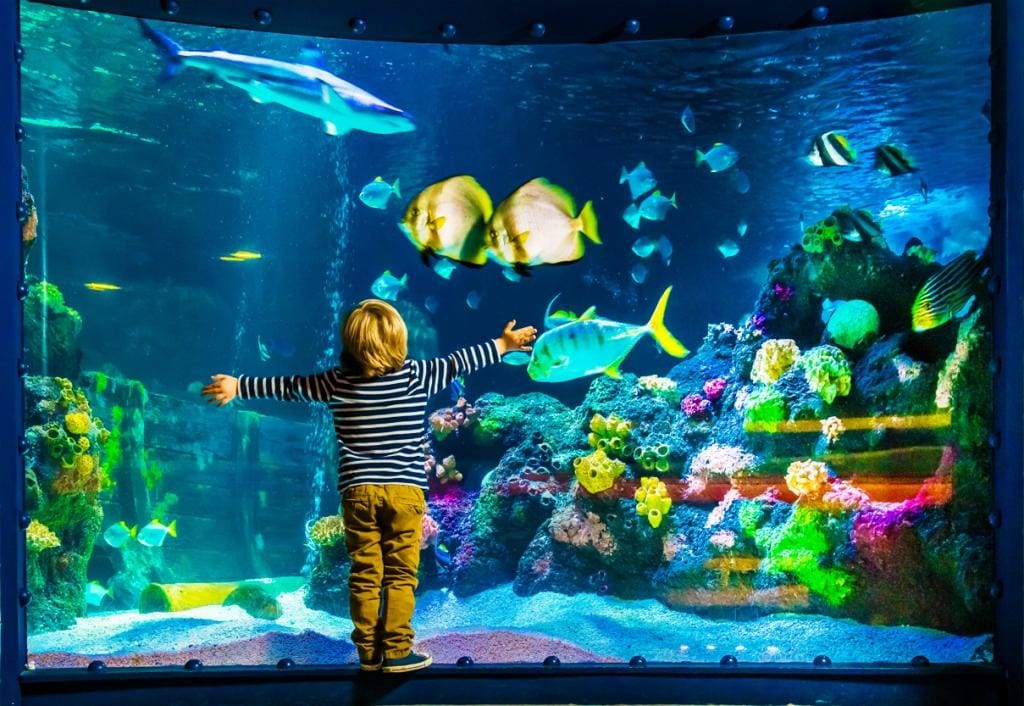 Legoland Discovery Centre
One of the best things to do in Manchester with kids is a visit to the Legoland Discovery Centre where you can be immersed in a playground of over 2 million LEGO bricks.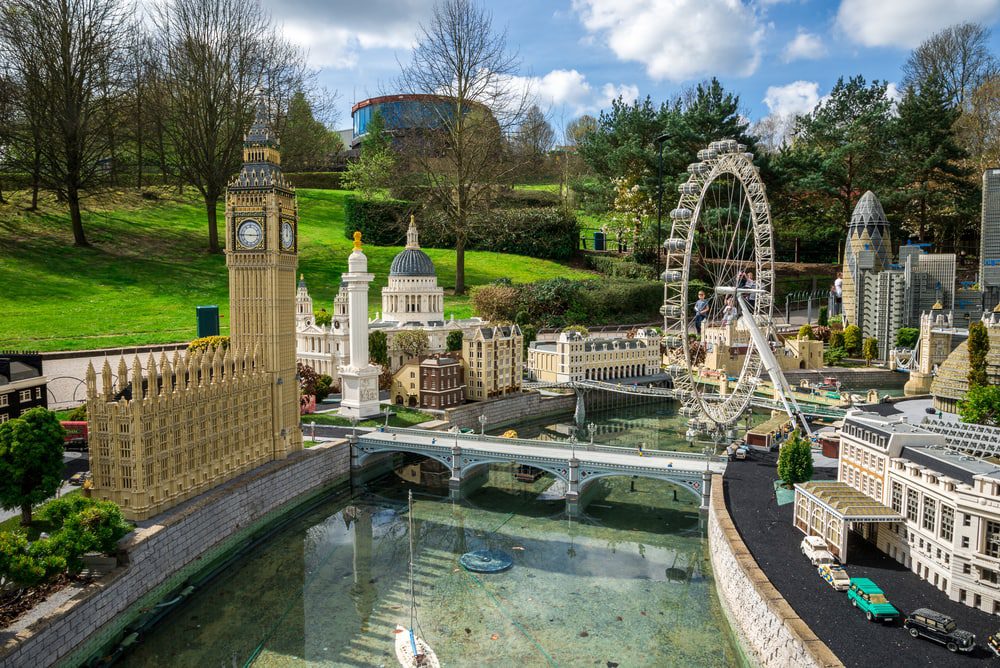 Football and Manchester
It wouldn't be a trip to Manchester without one of the best places to visit for football fans. Manchester is home to the countries best football teams, this is the home city of the famed Manchester United and Manchester City football teams. If you know anything about Manchester you probably have heard of the football teams and the Mancunian obsession with football. Of the many things to do in Manchester if you are a football fan here are 3 of the top places to visit.
Old Trafford Centre
Manchester is perhaps best known as the home to Manchester United Football Club, and fans can visit the Manchester United Museum which is open for visitors, and the Stadium Tour follows a great route, so you'll see the players' tunnel, walk next to the world-famous pitch, and visit the dugouts, before getting the view from the Ability Platform. In the museum you will see tributes to some of the best footie players in the world including my dad's favourite the Northern Irish lad George Best.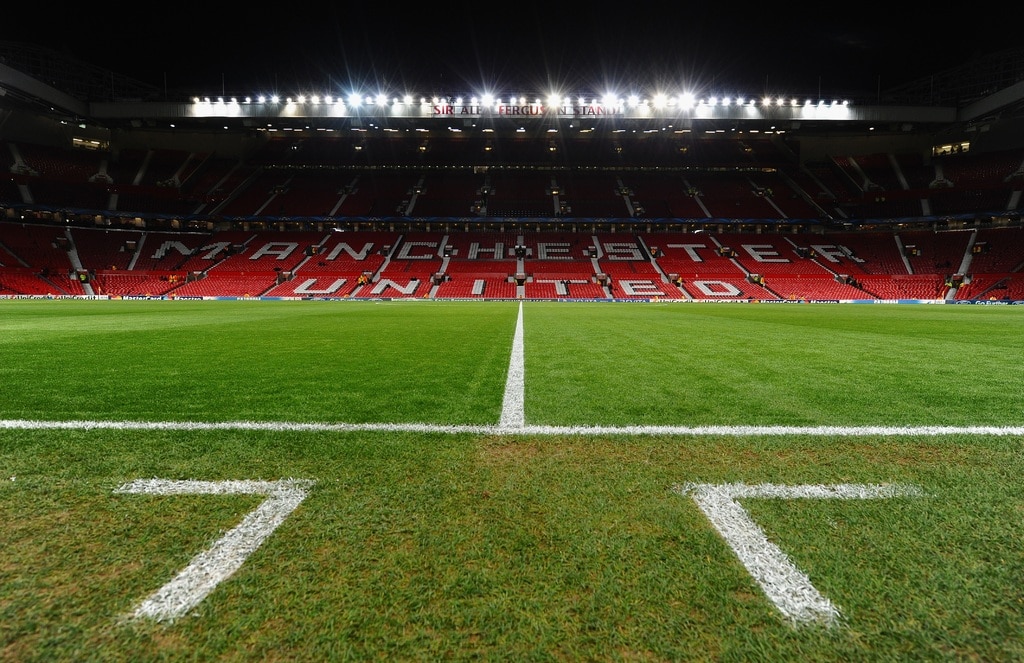 National Football Museum
The National Football Museum is the place to come if you want to learn all about Manchester's two football clubs, Manchester City and Manchester United. The Museum also has a gift shop where you can purchase your favourite footie memorabilia.
Experience the world's greatest sport at the National Football Museum. Whether you're a football fanatic, planning a visit with your family or on a weekend break to the great city of Manchester, this is the place to come and share stories about everyone's favourite game. You can explore the history of the beautiful game through the world's finest collection of football objects. From incredible FA Cup silverware to the FA's replica of the Jules Rimet, right up to the present day.
Manchester City football club
Manchester's other football team is Manchester City, and you can tour Manchester City stadium and club and learn all about their history. Tours will take you behind the scenes and you will even get the chance to see areas such as the player's dressing rooms. Tours start at £25 per adult.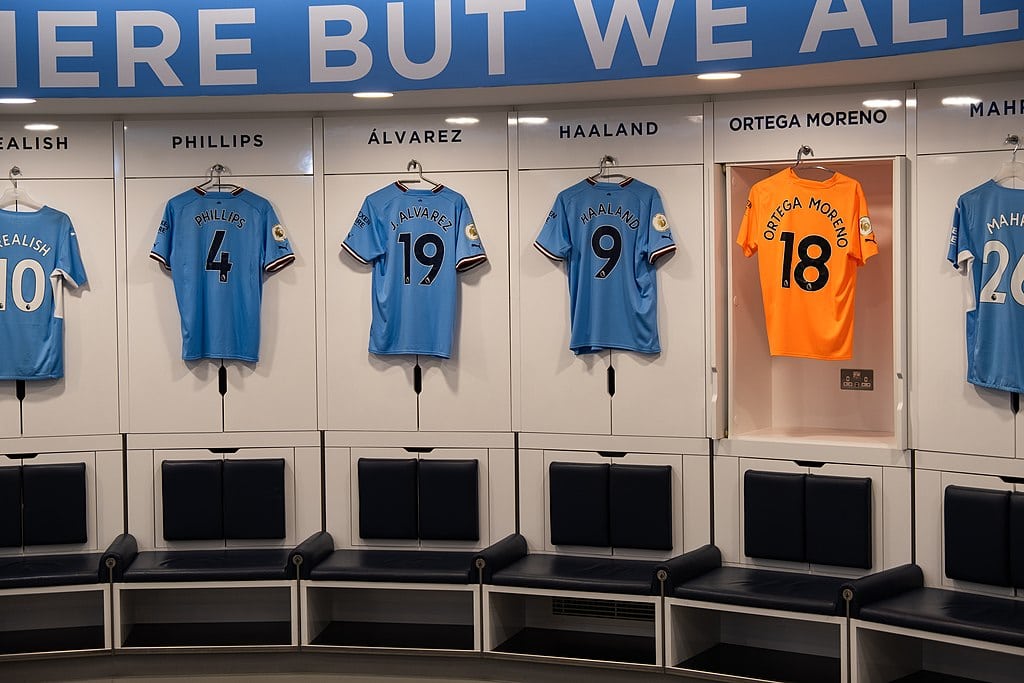 Where to Eat in Manchester?
You'll be spoiled by the huge choice of restaurants and bars in Manchester. You can find both British and ethnic places to eat, so it's really up to and based on what you're looking for.
Apart from the usual food chains, you can see all around the UK, you should give some of the Mancunian specialities a try.
First is the Manchester Egg, a dish invented by chef Ben Holden in 2010 and consisting of breaded and fried sausage and a black pudding ball containing a hard-boiled egg. Manchester Caviar, mashed peas, a side to accompany meat and fish & chips dishes. The Lancashire hotpot, a stew of lamb, potatoes and onions.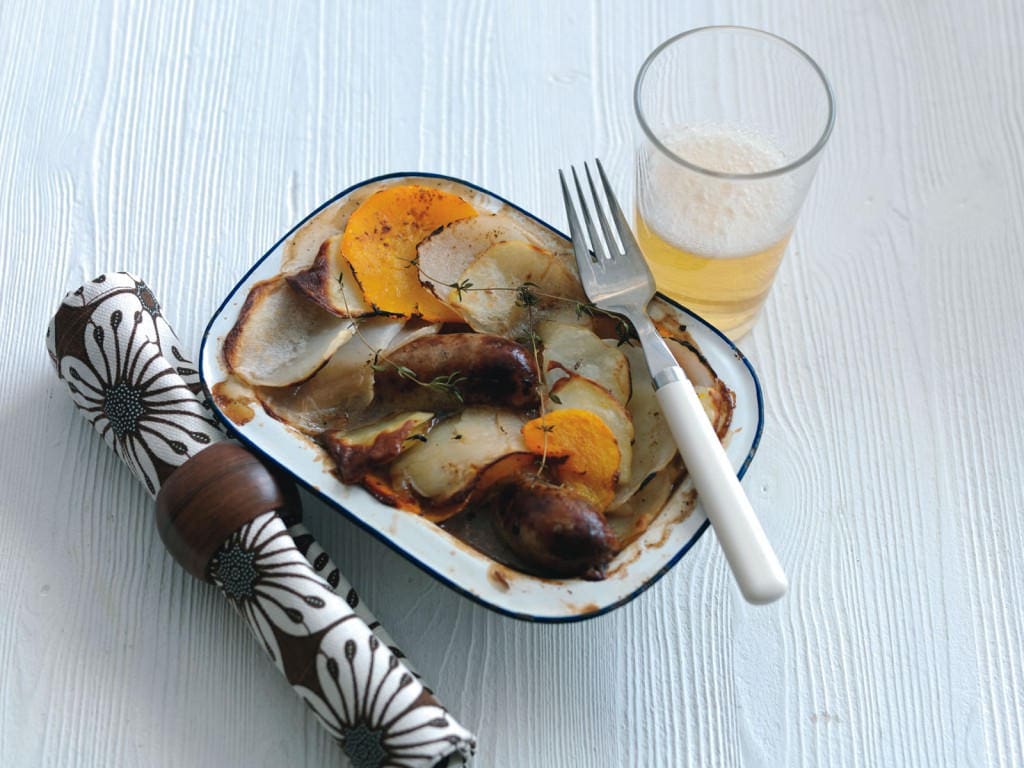 I also recommend you try the steak and ale pie at Pie Minster, or, the Pie & Ale. Also, be sure to try the best fish and chips in the city at Wright's Fish and Chips.
Places to Stay in Manchester
Unlike the capital London, Manchester is a fairly affordable city and you can find accommodation for less than £100 pounds per night.
During the low season, if you want to stay in the heart of the city you can find 3-star hotels or bed and breakfast in a double room from £40 to £70 per night, while in high season prices start from at least £50/£60 up to £80/£90 per night.
There's a wide selection of accommodation types: luxurious hotels, guest houses, B&Bs and hostels. The Northern Quarter is a good place to stay if you like being only a step away from the local hustle and bustle but still close to all the main attractions.
Staycity Aparthotels – Manchester Piccadilly
The StayCity aparthotels are superbly located just 300 metres from Canal Street and close to Piccadilly Station, Piccadilly Gardens and the Arndale Centre. The apartments are spacious, stylish and contemporary, and Staycity comforts are standard in every room. This includes fully-equipped kitchens, comfortable seating and dining areas, private bathrooms with rainfall showers, flat-screen TVs, fresh towels, bed linen and free WiFi.
Stock Exchange Hotel
In a prime location in the centre of Manchester, Stock Exchange Hotel provides air-conditioned rooms with free WiFi, private parking and room service. This 5-star hotel offers a shared lounge and a 24-hour front desk. Guests can make use of a bar.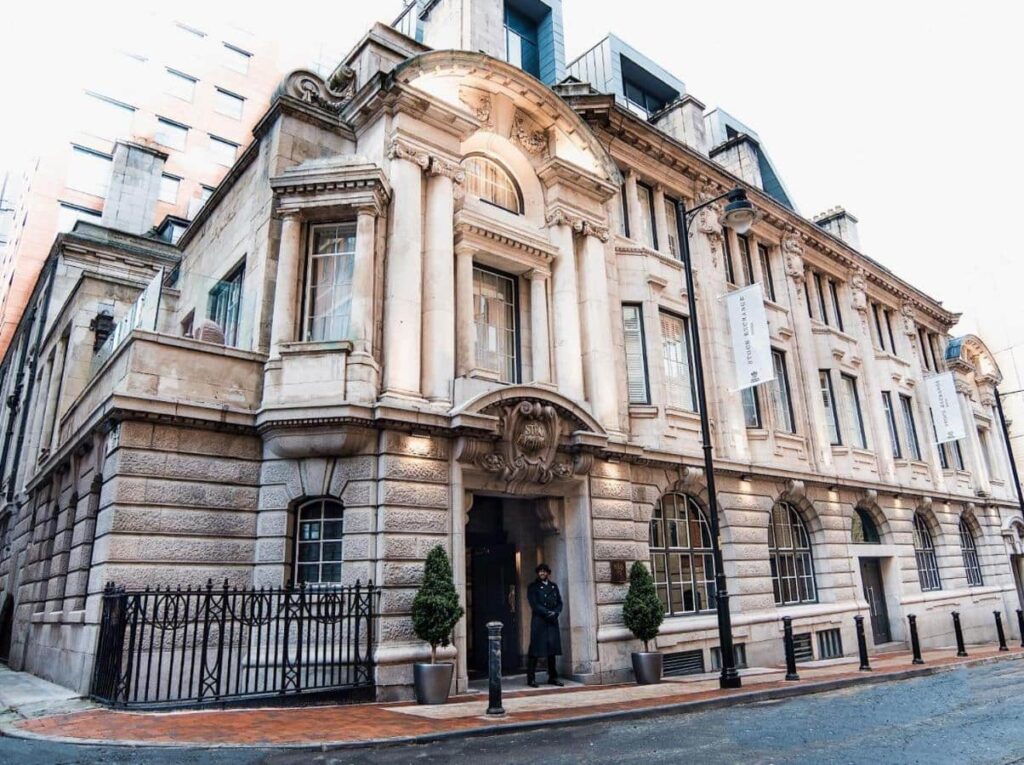 Summary
Manchester is a vibrant city you should definitely visit in England. It's the perfect weekend getaway and there's always something going on.
If you travel on the first Sunday of the month you can also find the markets around the streets of the Northern Quarter a great way to explore Manchester.
These 26 places to visit in Manchester doesn't end with this list. Make sure to visit the lesser-known but beautiful Cheetam's Library, walk around King Street and Deansgate and get a tram to Salford Quays (just 15 mins outside the city centre) where you can visit The Lowry and the IWM museum and stroll along the picturesque canals.
Guest Post Author: Residing in Northern England with her Master's Degree in Tourism studies. Maddy From Venice Travel Tips is passionate about sharing her knowledge of Venice. When she is not obsessing over canals and bridges, she is usually travelling to new parts of the world.
You might also like
Top 23 Glasgow Attractions – the best places to visit in Glasgow
The North Yorkshire Coast – 9 perfect seaside places to visit
17 of the Prettiest Cotswolds Villages
22 of the Best English cities to visit
Pin it to save it