17 of the Prettiest Cotswolds Villages to visit
Just 2 hours from London, the best Cotswold villages will make you feel like you have taken a step back in time. The pretty villages of the Cotswolds with their butter-coloured limestone houses nestled in the green rolling hills allow you to feel what the poets saw and wrote about centuries ago. The Cotswolds were designated as an Area of Outstanding Natural Beauty (AONB) in 1966.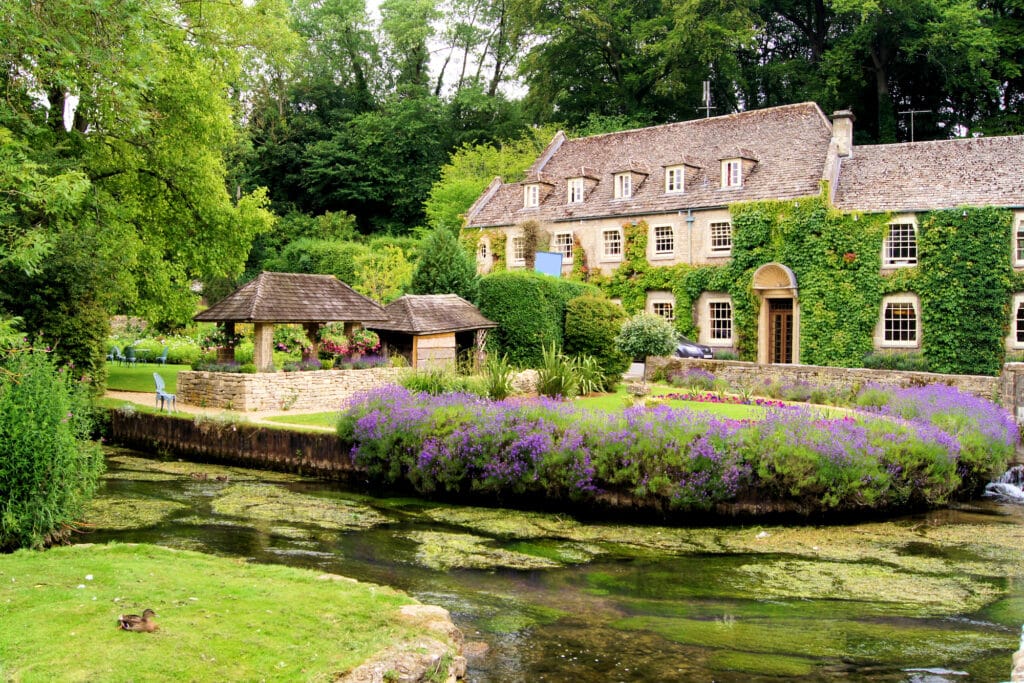 The Cotswolds run southwest to northeast through six counties, particularly Gloucestershire, west Oxfordshire and southwestern Warwickshire. On the eastern boundary lies the city of Oxford and on the west is Stroud. The area is famous for the best Cotswold villages and the history in the area of the Arts and Crafts movement.
We began our Cotswolds road trip tour while housesitting in Warwickshire and Oxfordshire. We knew we wouldn't be able to see all of the villages and towns recommended by other bloggers so we made our own list of Cotswolds Villages that we wanted to see and some we sort of stumbled across along the way.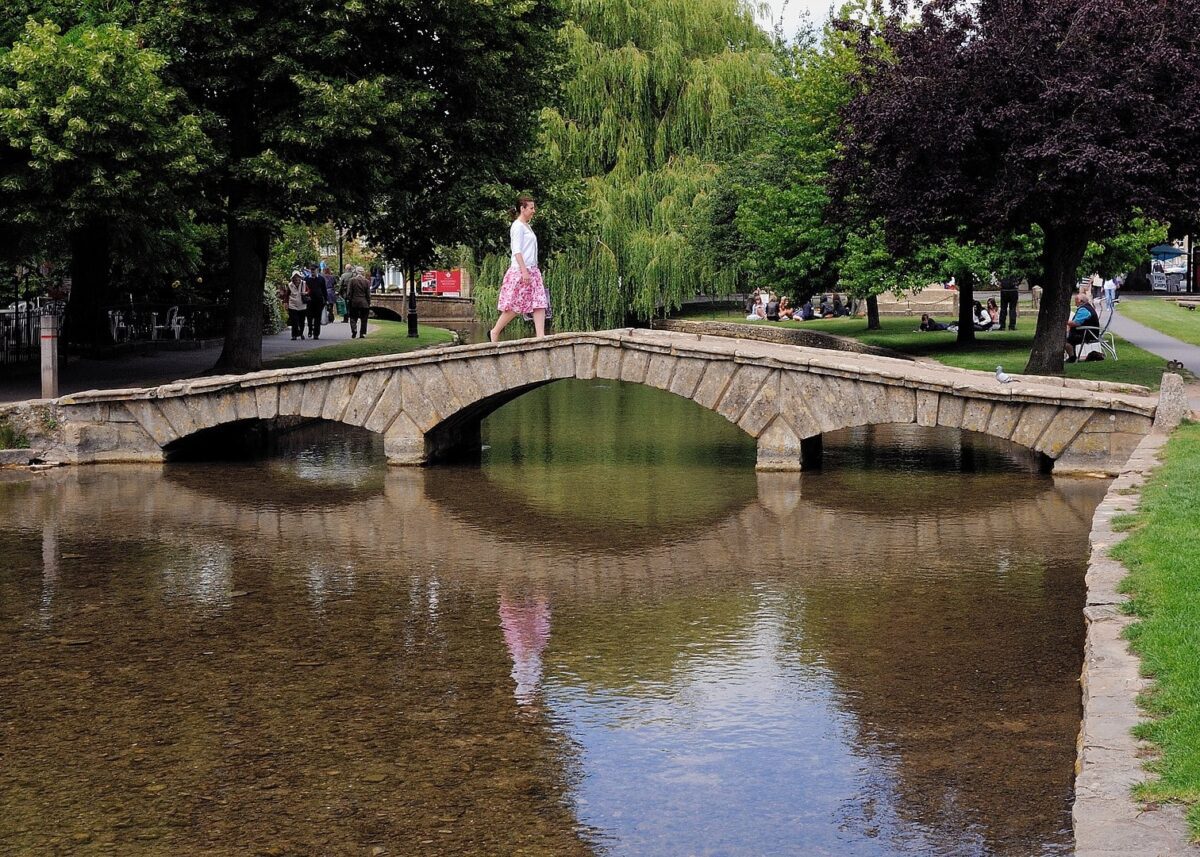 With so many amazing choices, trying to choose the best villages in Cotswolds to visit may overwhelm you a little. This list of 17 of the most picturesque villages in the cotswolds will help you figure out which ones to visit.
We visited many of the Cotswolds villages thanks to housesitting in the area. We were able to go back several times and see the villages we liked the best and try to avoid the massive tourist crowds. I don't believe there is a best village in Cotswolds to visit as each village has its own charm and character.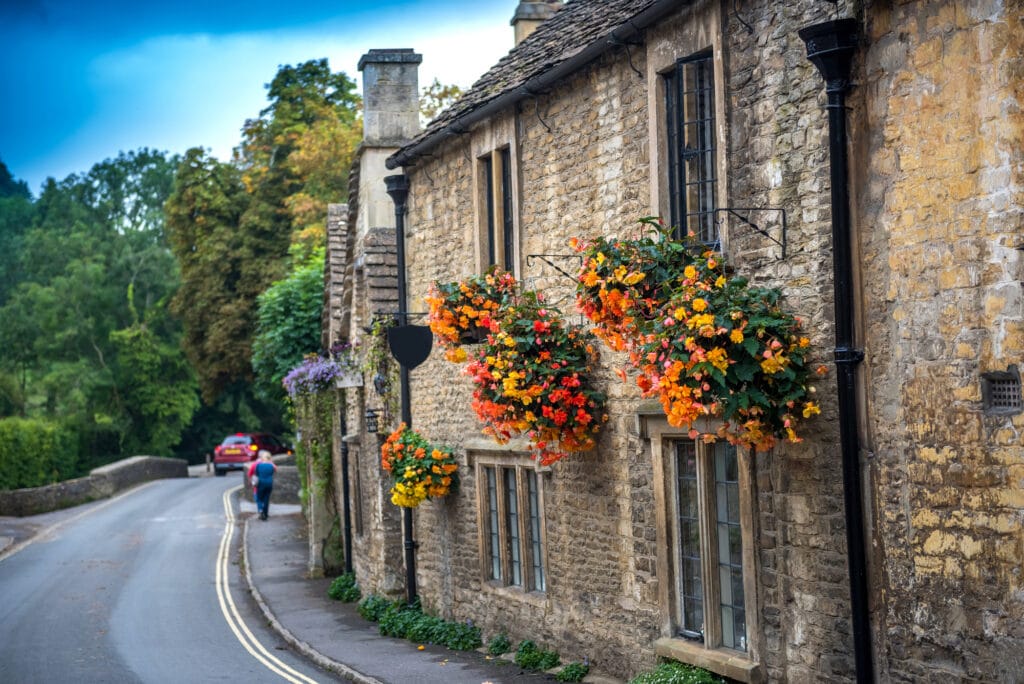 Xyuandbeyond is reader-supported. When you buy through links on our site, we may earn an affiliate commission. You can read my privacy policy here.
17 villages in the Cotswolds list
Woodstock
Witney
Minster Lovell
Swinbrook
Burford
Castle Combe
Bibury
Chedworth
Bourton on the water
Lower Slaughter
Upper slaughter
Naunton
Stow on the Wold
Snowshill
Stanton
Broadway
Broadway Tower
The Cotswolds cover a pretty vast area of the Midlands of England. Covering an area of 790 square miles in the upper part of the southwest region of England and is the country's largest officially designated 'Area of Outstanding Natural Beauty.
What is the difference between Cotswolds' villages and towns?
You may get confused when visiting the UK when it comes to describing whether you are visiting a town or a village, throw in hamlets and cities and it can be even more confusing. So here is a short description of what the differences are.
A Hamlet in Britain or to be honest anywhere in Europe is a very small collection of houses that doesn't have a Church or a community meeting centre. Villages are the opposite they will have a Church and a community meeting place or centre usually operated by the Village Town Hall. A town used to be what is called here a Market Town which literally means that it has a marketplace area, or more likely these days shops and public amenities. A City used to be a place where you would head to the Cathedral but many cities these days do not have a central cathedral.
The largest town is the picturesque market town of Cirencester, often known as the 'Capital of the Cotswolds'. Woodstock is a fine Georgian town with a distinct royal heritage, containing many attractive period buildings but neither is considered a city.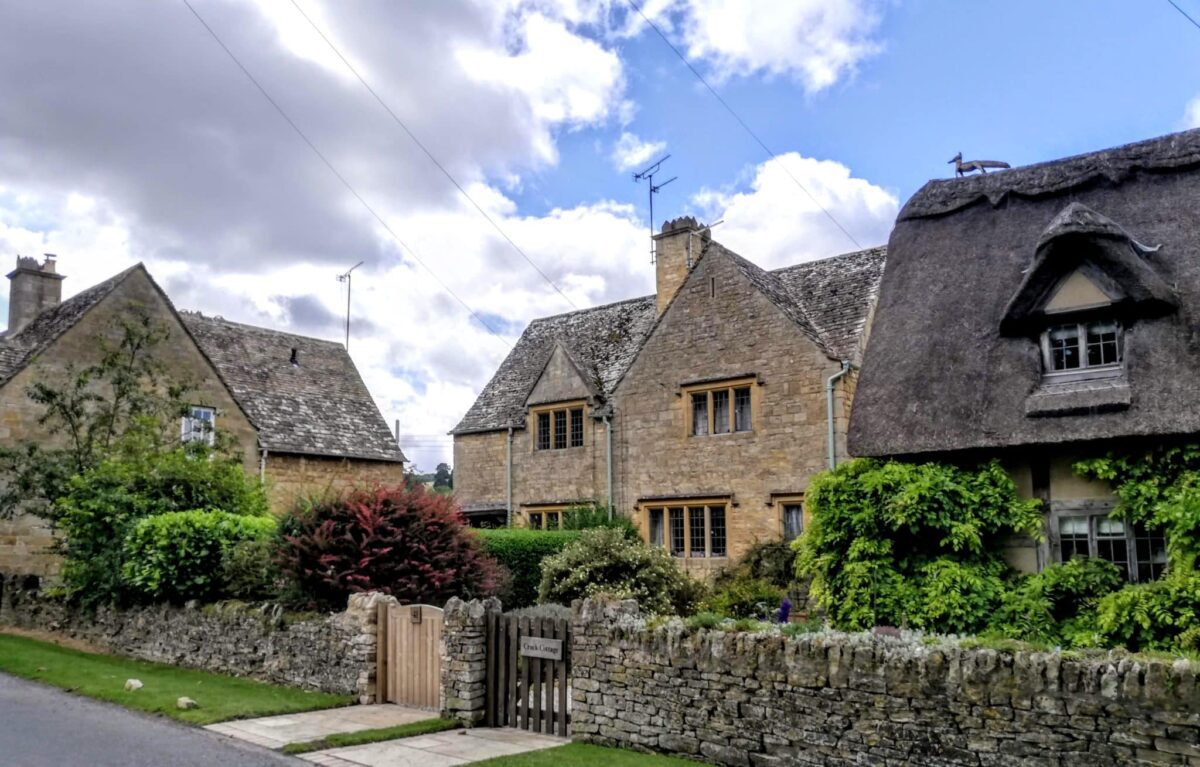 The Cotswolds area covers 5 counties that are filled with incredibly photogenic English villages, castles, manor houses, and glorious countryside. You will find a great deal of choice in accommodation in the Cotswolds and some unique Cotswolds Air BnB's to stay at. You may have noted how the British love their dogs and you will find many dog-friendly hotels in the Cotswolds.
Towns in Cotswolds
For any Anglophile, the Cotswolds Villages are a must-visit. Castle Combe has been called the prettiest village in England and it is tucked into an Area of Outstanding Natural Beauty in northwest Wiltshire. We wanted to find the best village in Cotswolds to explore which is an easy goal to accomplish as there are so many.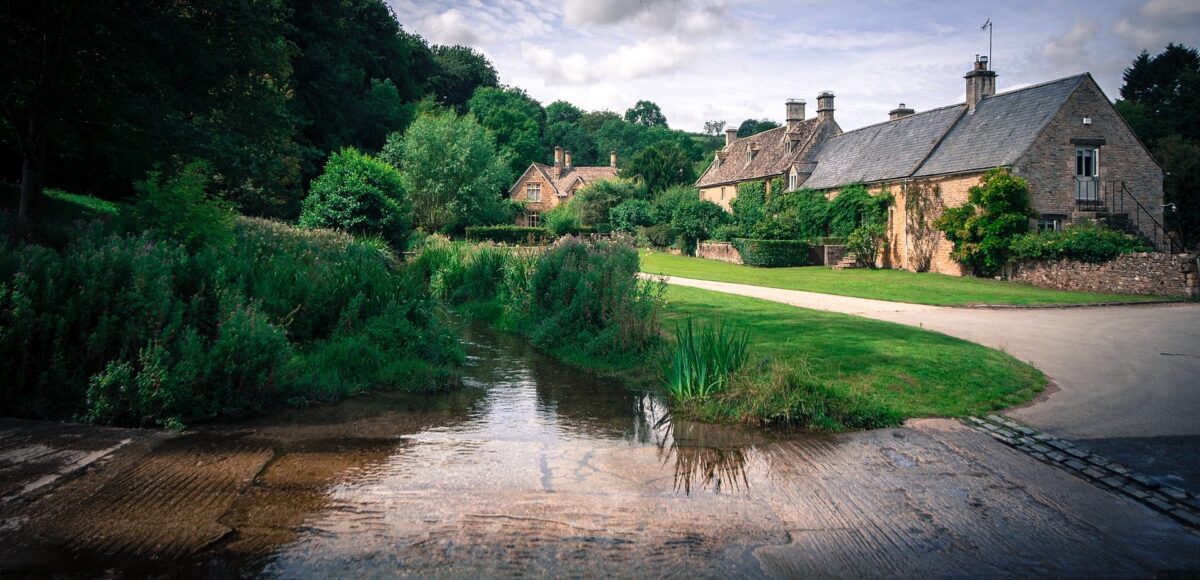 Getting to the Cotswolds
I have to say it is much easier to rent a car and get out there to tour your favourite Cotswolds Villages picks. You can, of course, get public transportation to the Cotswolds you just need a bit of planning as the area is pretty big.
The Cotswolds Line has made it easy for tourists to get here, especially as part of a day trip from London or other parts of England. You can catch this train at Paddington Station, although it does cover different parts of the Cotswolds Villages as described here you would plan your journey accordingly.
Then there is the bus service with two options the Oxford Bus Company and Oxford Tube there are different starting points to choose from.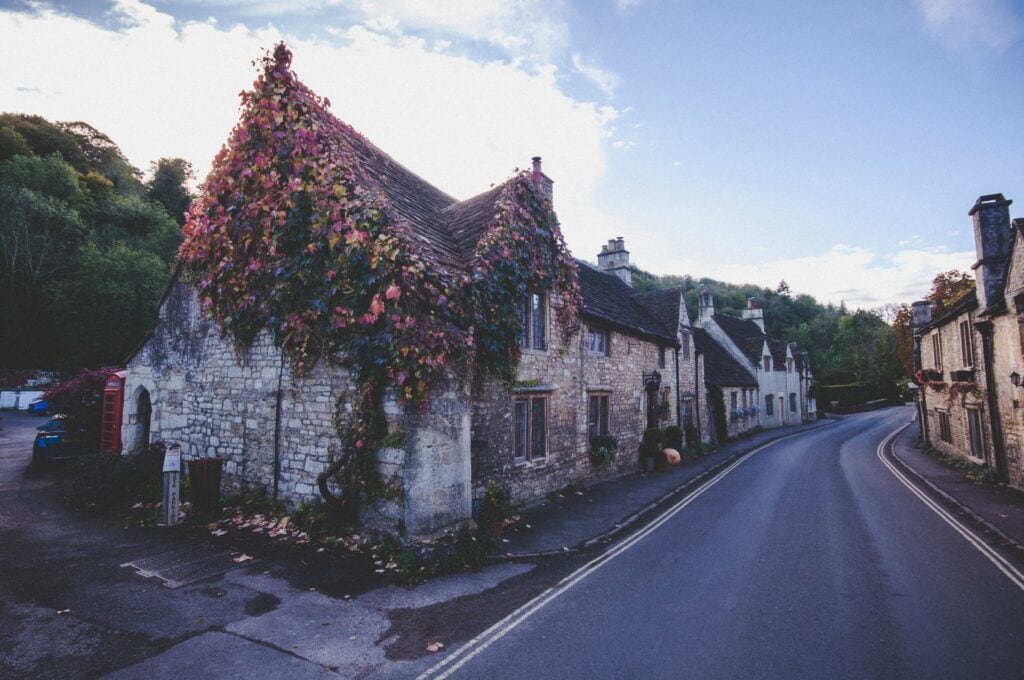 The Cotswolds Villages are easy to get to from Oxford and when you are in the region you can go and visit some amazing historical sites like Bletchley Park or Stratford upon Avon and Warwick Castle is not far either.
You can also take a Cotswolds Villages tour of which there are many to choose from.
17 Cotswolds Villages to visit
Woodstock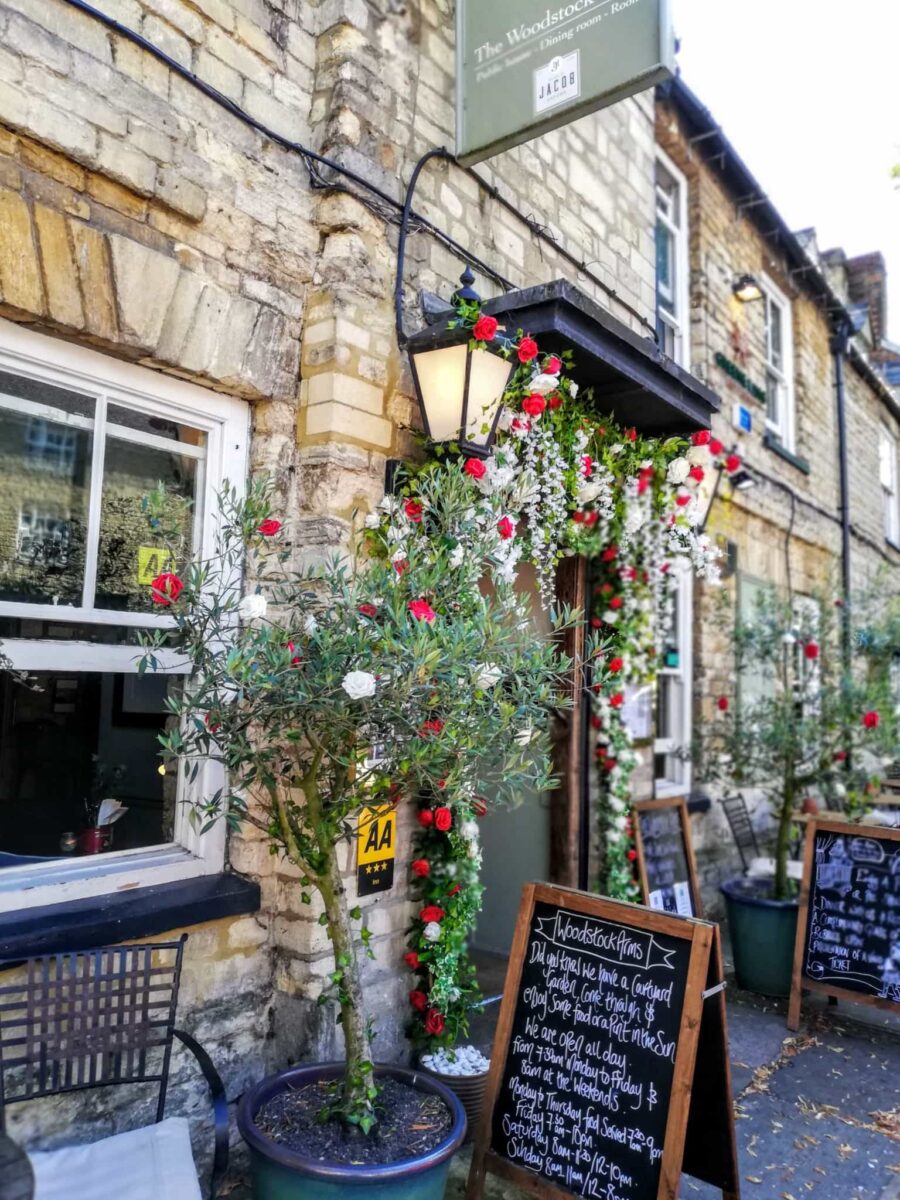 We began our tour with Woodstock which is one of the best Cotswolds Towns to visit. This is a Georgian town located in the Oxfordshire Cotswolds and home to Blenheim Palace. We strolled around the town for an hour or so and enjoyed the gorgeous architecture, the 18th-century Town Hall and the Church of St. Mary Magdalene with a clock that plays tunes on the hour.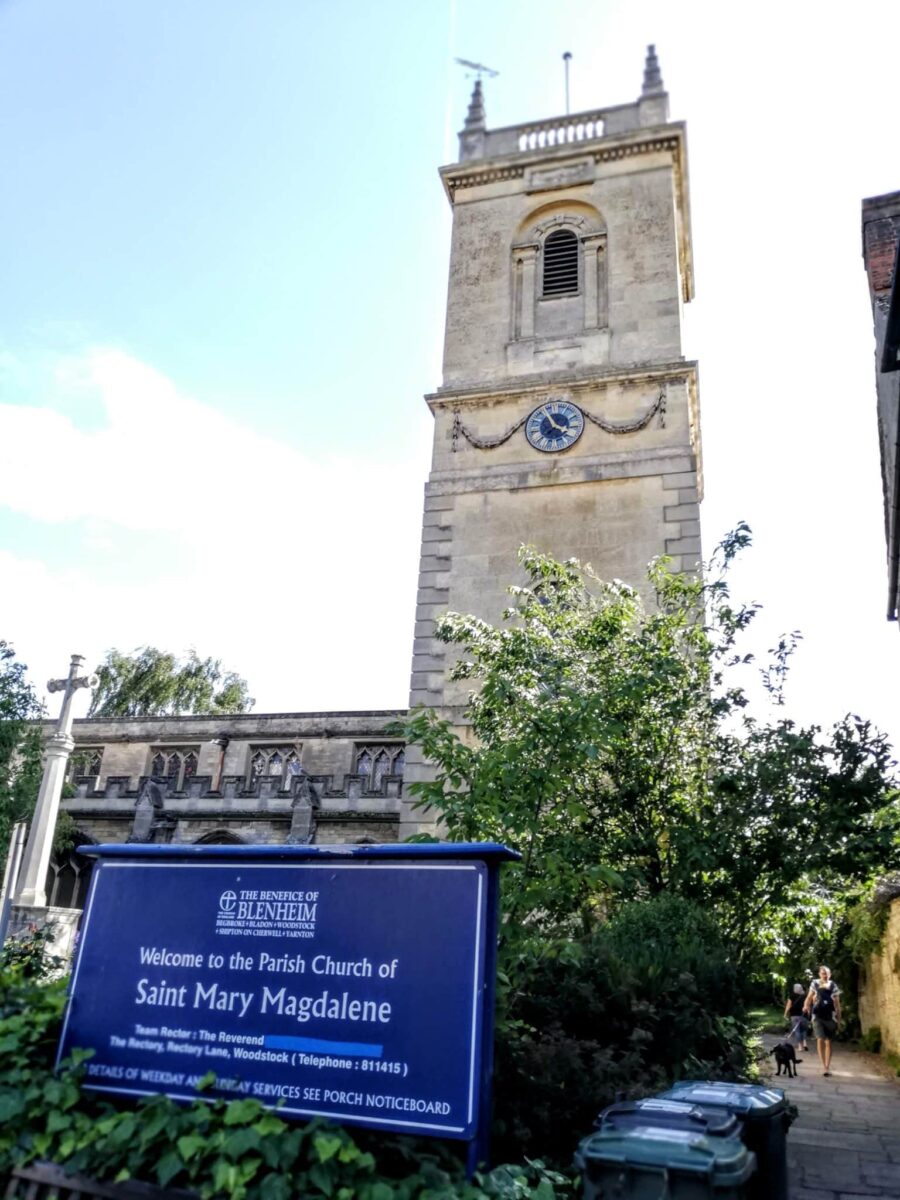 Witney
From Woodstock, we motored to Witney which took around 20 minutes or so. Witney is the largest of the market towns in the Oxfordshire Cotswolds. Witney has a lovely high street that runs from the 17th-century Butter Cross.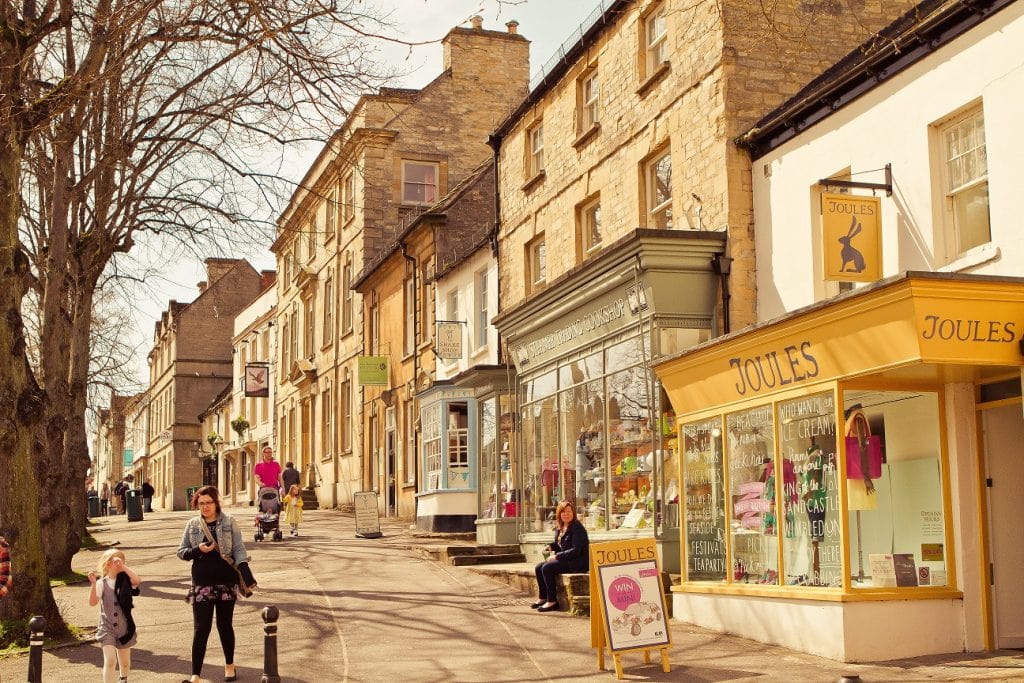 If you are in Witney you need to stop by Cogges Farm which was the filming location for Downton Abbey's Yew Tree Farm. It is a unique working museum that depicts rural life in Victorian times that is set in a Cotswold stone farm building.
Minster Lowell
Getting to Minister Lowell was easy, only 10 minutes by car from Witney. Witney is literally a one-street town, you descend into the village via a narrow road and a small bridge over the river. The streets are lined with lovely butter-coloured stone cottages and you can head directly to Minster Lovell Hall about which a mystery remains to this day.
Viscount Lovell disappeared after the Simnel Rebellion. Lambert Simnel was the man who declared himself to be one of the Princes in the Tower who was put there by King Richard III. During the reign of Henry VII, he then declared himself to be Richard, Duke of York the real heir to the throne.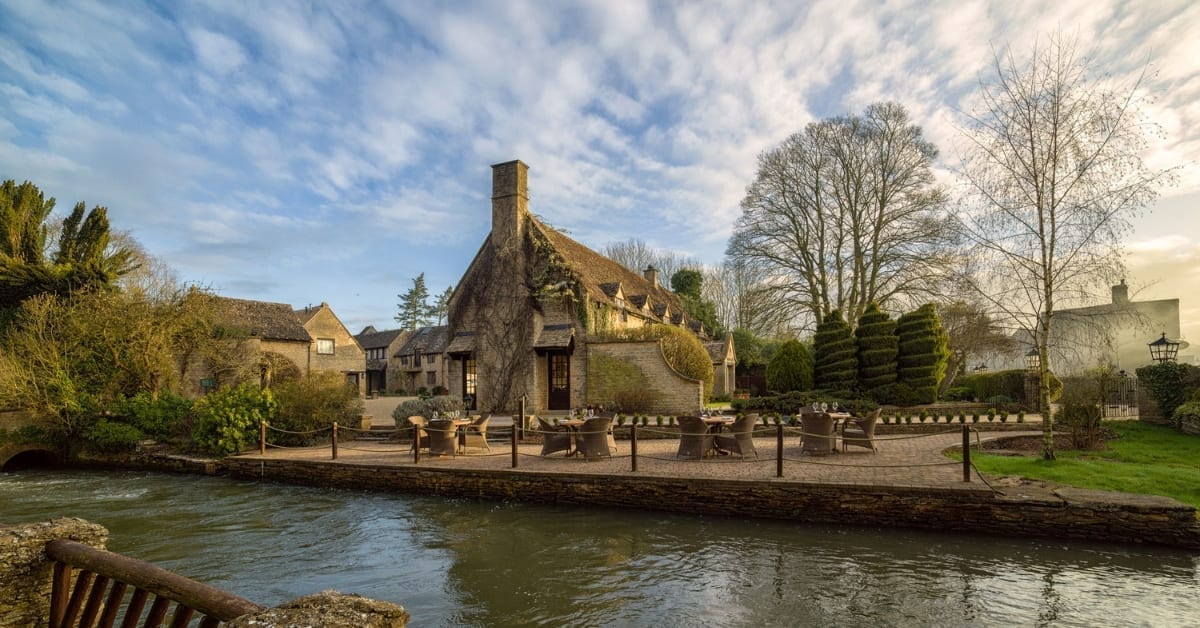 In the 18th century, according to legend, an underground room was found and in it was a skeleton sitting at a desk surrounded by papers and books. No one knows if this is actually true though as an underground room has never been found.
Swinbrook
A 10-minute drive to Swinbrook was next. Swinbrook is a small village on the River Windrush, It appears untouched by time with its hand-built stone walls in that golden Cotswold stone, a cricket pitch and an old pub next to the Stone bridge.
St Mary's Church is an interesting location it has an incredible memorial to the Fettiplace family, who owned the manor during the 17C, sort of stacked on top of each other.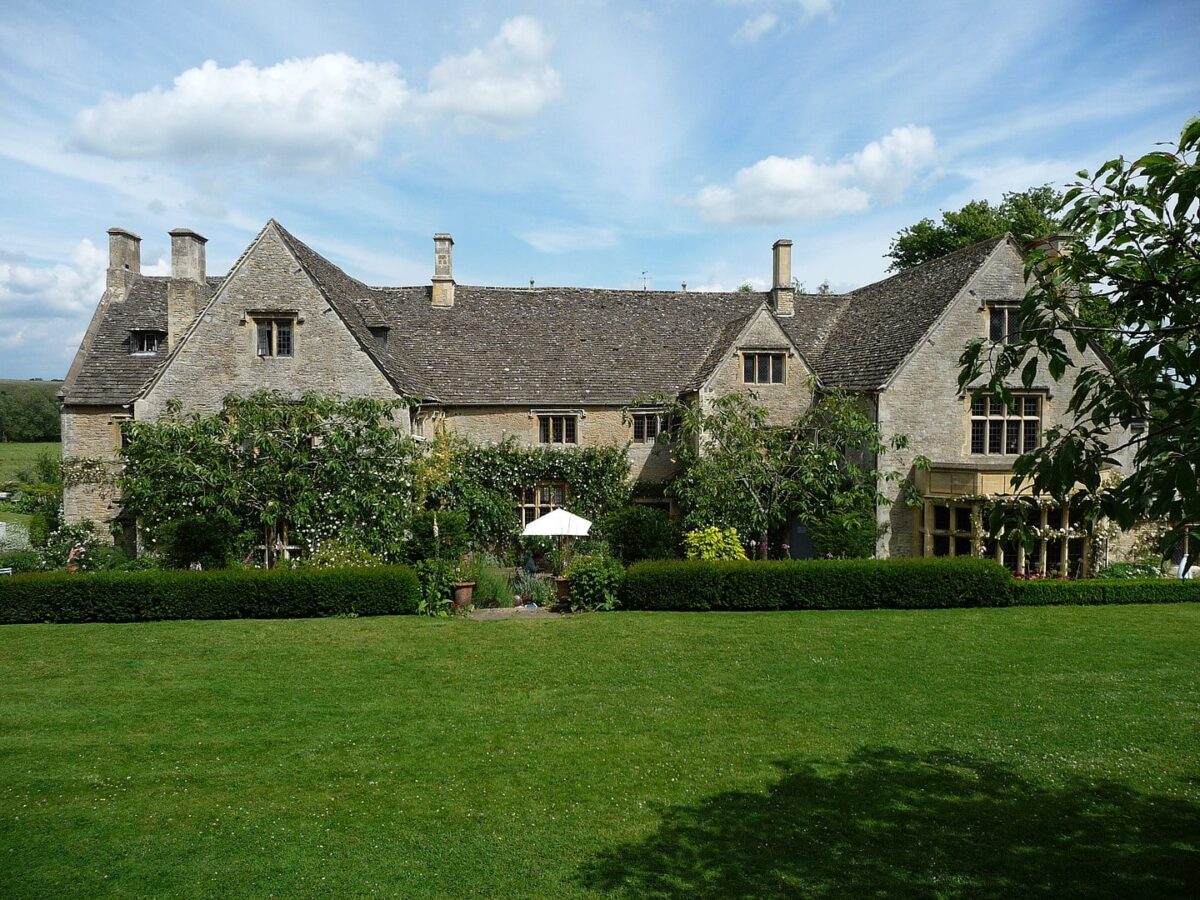 The infamous "Mitford sisters" lived at nearby Asthall Manor. They had become scandalous during the 20th century and were caricatured by a Times journalist as "Diana the Fascist, Jessica the Communist, Unity the Hitler-lover; Nancy the Novelist; Deborah the Duchess and Pamela the unobtrusive poultry connoisseur". Their graves can be found in the Churchyard. If you are a Peaky Blinders fan you will recognize the name.
Castle Combe
Castle Combe is considered (and rightly so) the prettiest village in England. In Wiltshire's Area of Outstanding Natural Beauty, there have been no new houses built here since the 1600s. It was also used for some great movies like Spielberg's War Horse and Stardust which was based on a Neil Gaiman novel and starred many a famous British movie star.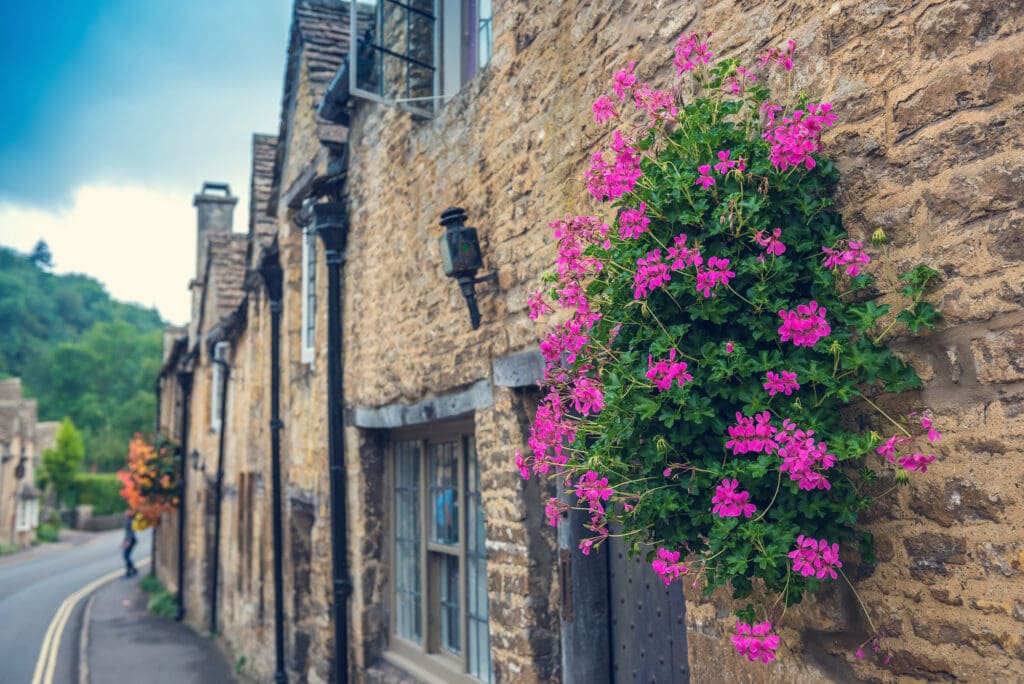 As one of the best villages in the Cotswolds, you will find it flooded with tourists all posting for photos and selfies. You will have to park in the lot at the bottom of the hill so it's a bit of a steep walk up. Don't forget to visit the faceless clock at St. Andrew's Church and enjoy tea at The Old Rectory Tea Room – it's Michelin starred.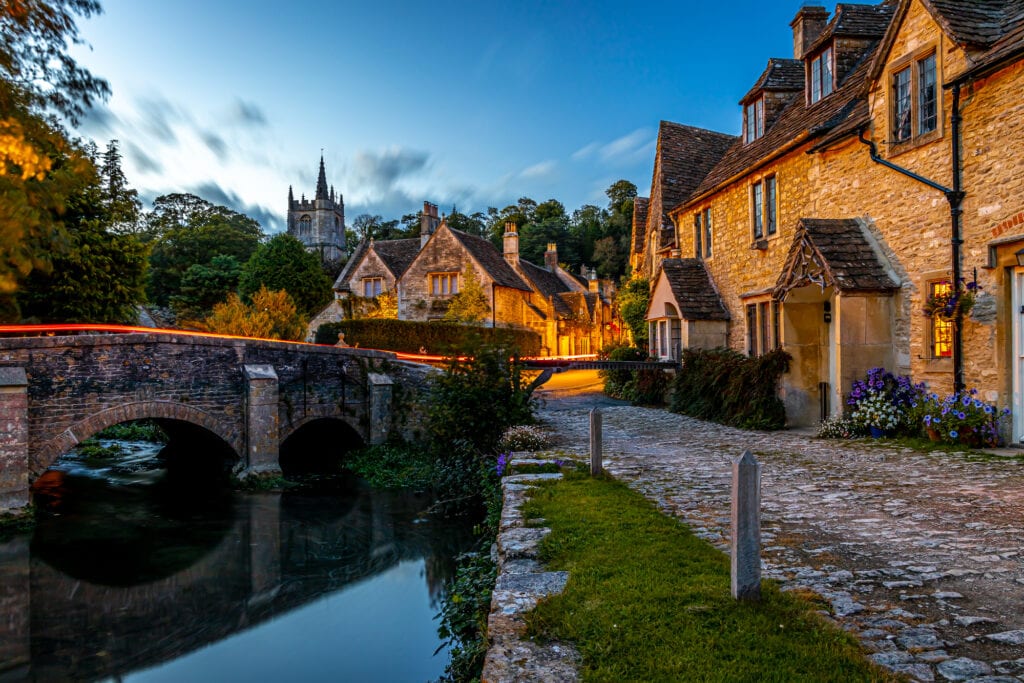 Burford
Hop in the car and another 8-10 minute drive takes you to Burford whose highstreet sweeps downhill towards the River Windrush. There is a 3 arched medieval bridge crossing the river and the street is lined by idyllic cottages and lots of independent shops.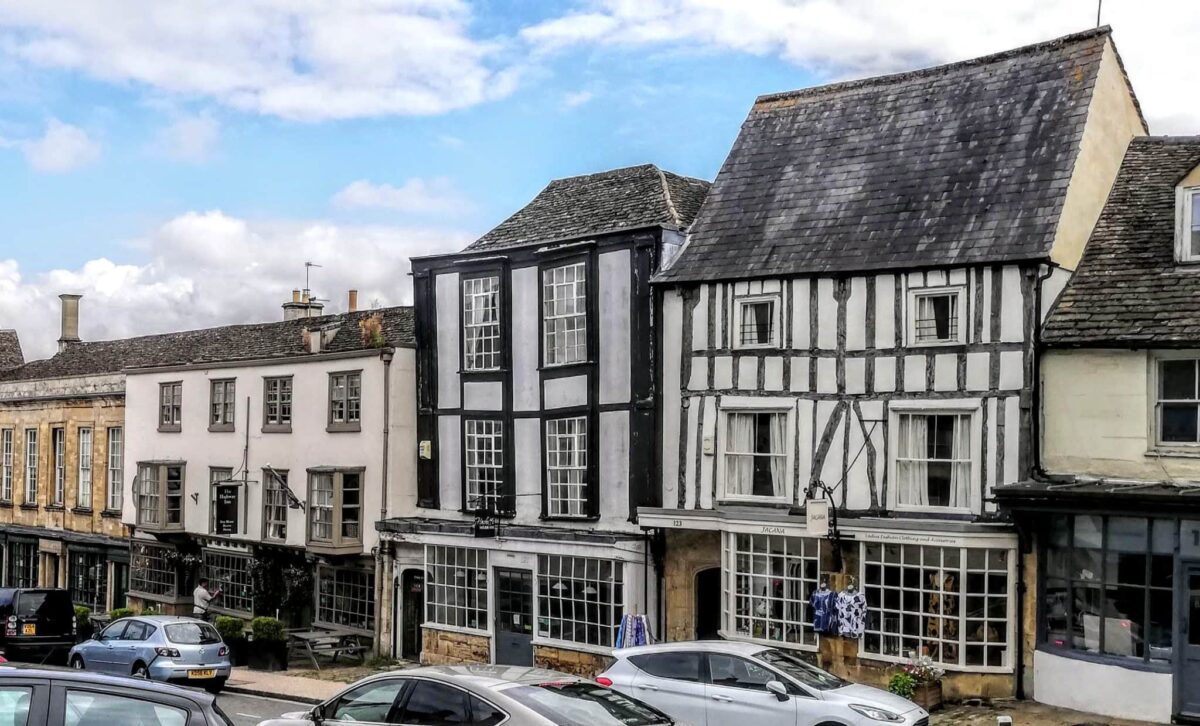 In Burford, there are many places to eat or sit and have tea while the world passes by. You can dine at a hotel that was frequented by Nell Gwynn and King Charles. Or simply visit England's oldest pharmacy.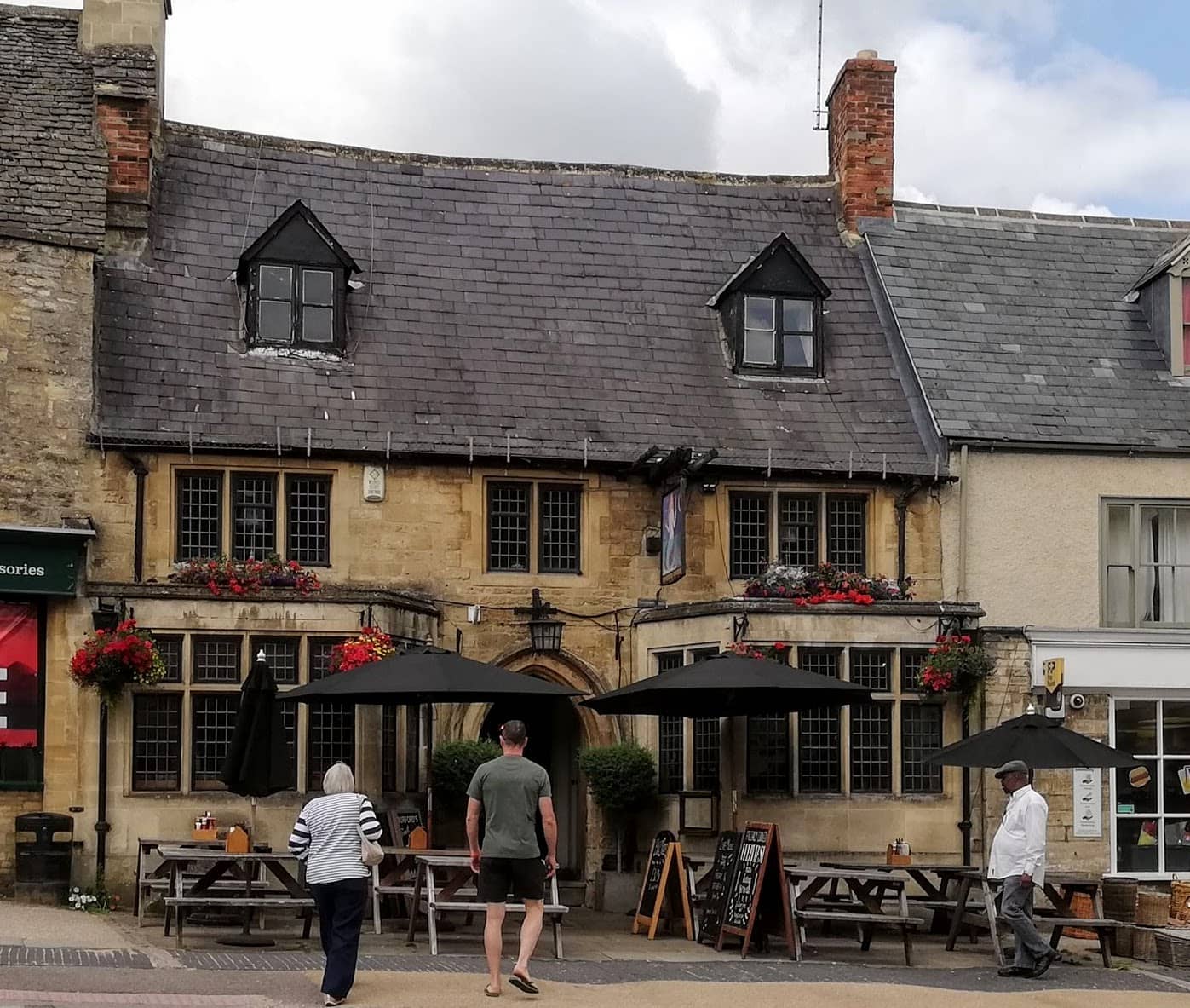 We found parking quite easily on Burford's main street and proceeded to stroll down the hill to the Church and river stopping quite frequently at some of the intriguing shops along the way.
Bibury
Back in the car after a lovely few hours in Burford, we took a 15 drive down to Bibury. This picturesque English Village was described by William Morris as "the most beautiful village in England". It is a true chocolate box village where the rightly famous Arlington row used to house 14th-century weavers the backbone of the Bibury economy for hundreds of years.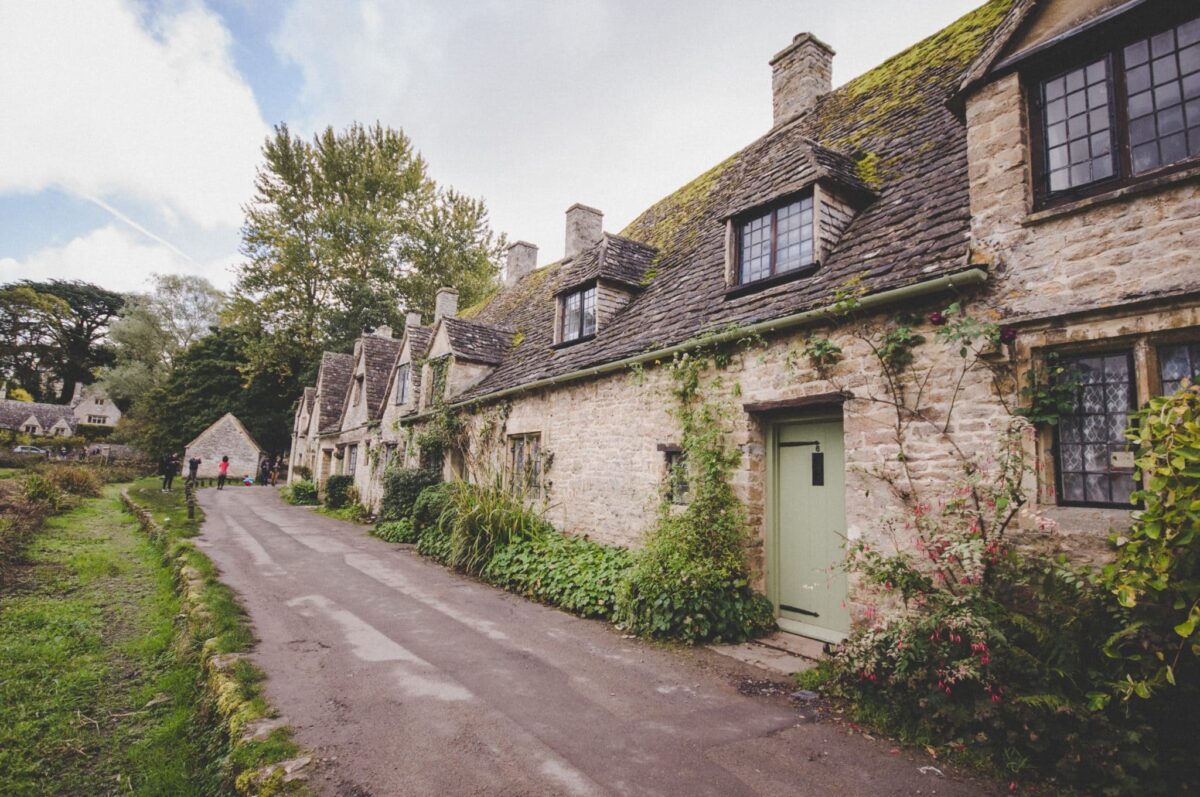 A little luxury was in order after our first full day touring the Cotswolds Villages so we chose the Swan Hotel which is a former coaching Inn beside the River. There is a lovely restaurant and beautiful country gardens to have a fabulous cocktail before dinner.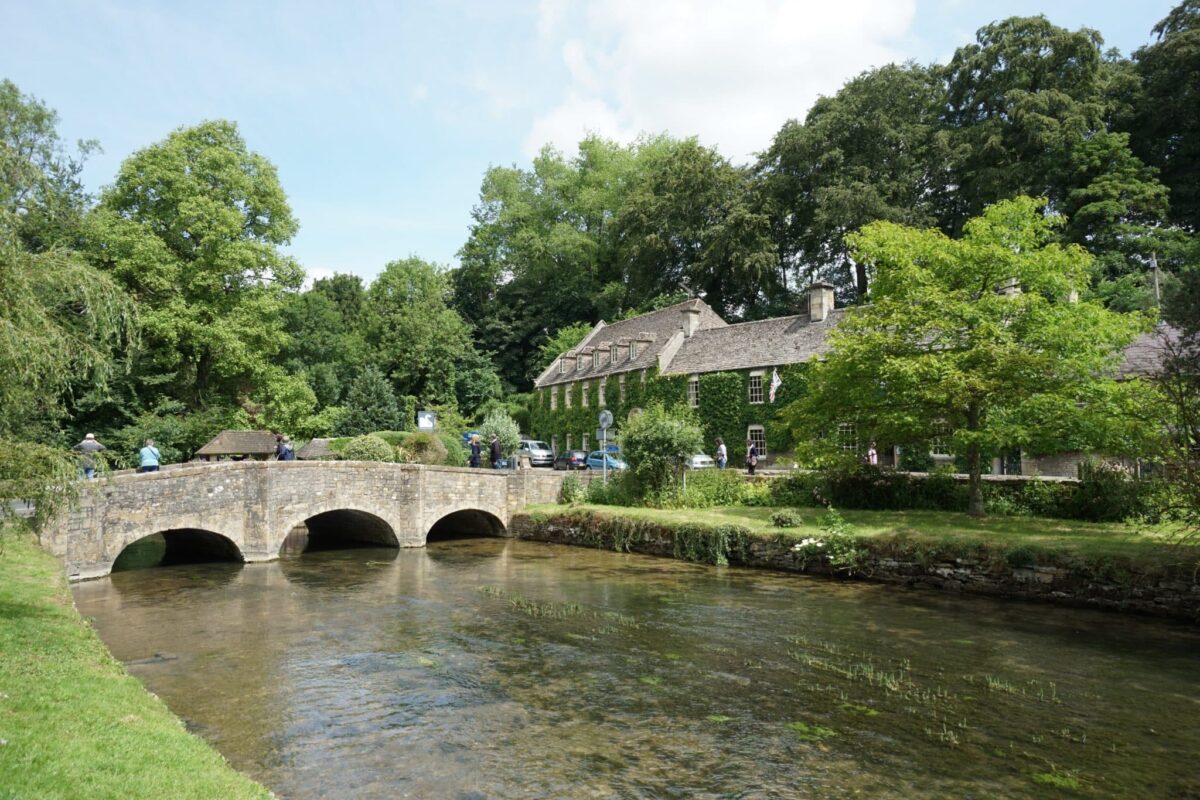 Chedworth
The next day we set off for Chedworth which turned out to be a 20-minute drive from Bibury, it may have been shorter but Google maps got us a bit lost and we ended up down some absolutely gorgeous British country lanes.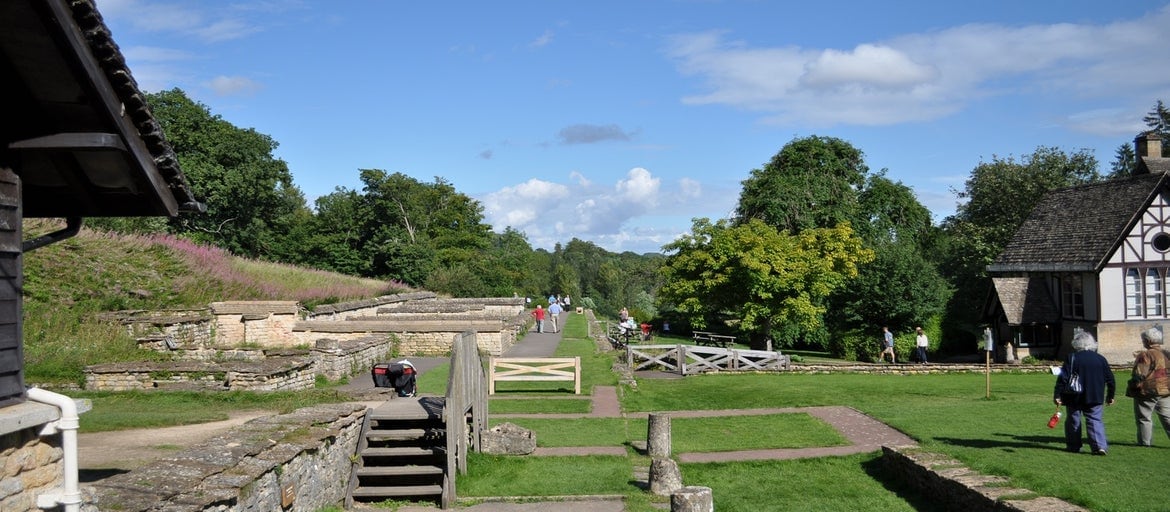 Chedworth is definitely off the beaten path I think we saw maybe 7 tourists like ourselves visiting. Chedworth doesn't have a village centre or green but it does lie close to the Chedworth Roman Villa which is worth a visit.
Chedworth Roman Villa has some of the most incredible virtually intact Roman mosaics in England. The Villa is comprised of bath-house rooms and hypocaust systems, and a Nymphaeum Water Shrine that is still fed by the same waters. You can walk along the suspended walkways to view the mosaics. There is also an onsite museum with some fascinating artefacts. The cost of an adult ticket is £13.20.
Bourton on the Water
From Chedworth it was a 20-minute drive to the famous Bourton on the Water nicknamed the Venice of England. Sadly Bourton on the Water is truly over-touristed. We drove through it several times and it was simply packed with people. My advice? Avoid at all costs during the summer months. It might not be so packed in the fall or wintertime.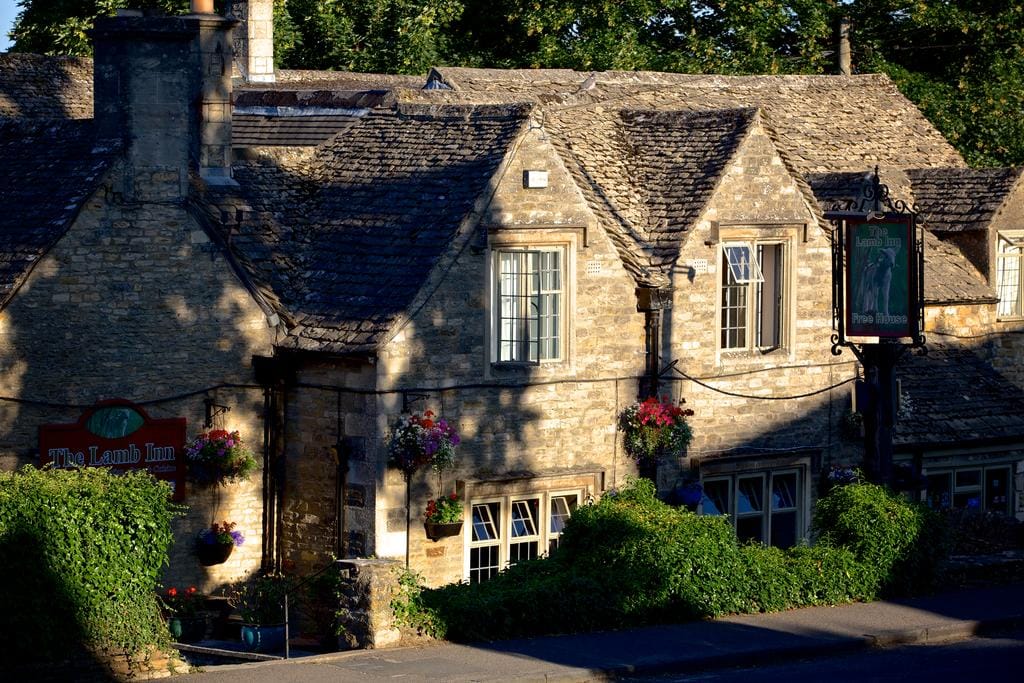 If you do manage to get there pretty early and get parked or are taking a bus tour head to the Bakery on the Water, for an excellent breakfast or some to-die-for baked goods.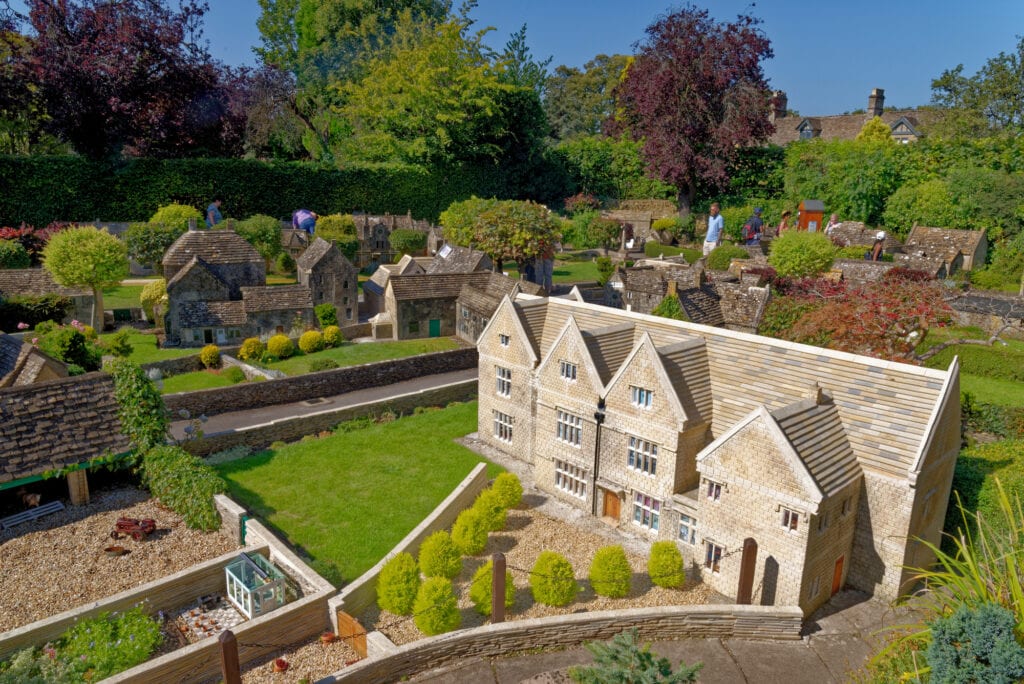 You should also visit the Model Village which is a miniaturized version of the actual village. The mini replica village is one-ninth of its full scale and contains all of the local buildings as they were in the 1930s. If you are disabled and need a wheelchair or walker you are allowed to view the Village from the side gate. Tickets to the Model Village cost Adult £4.50.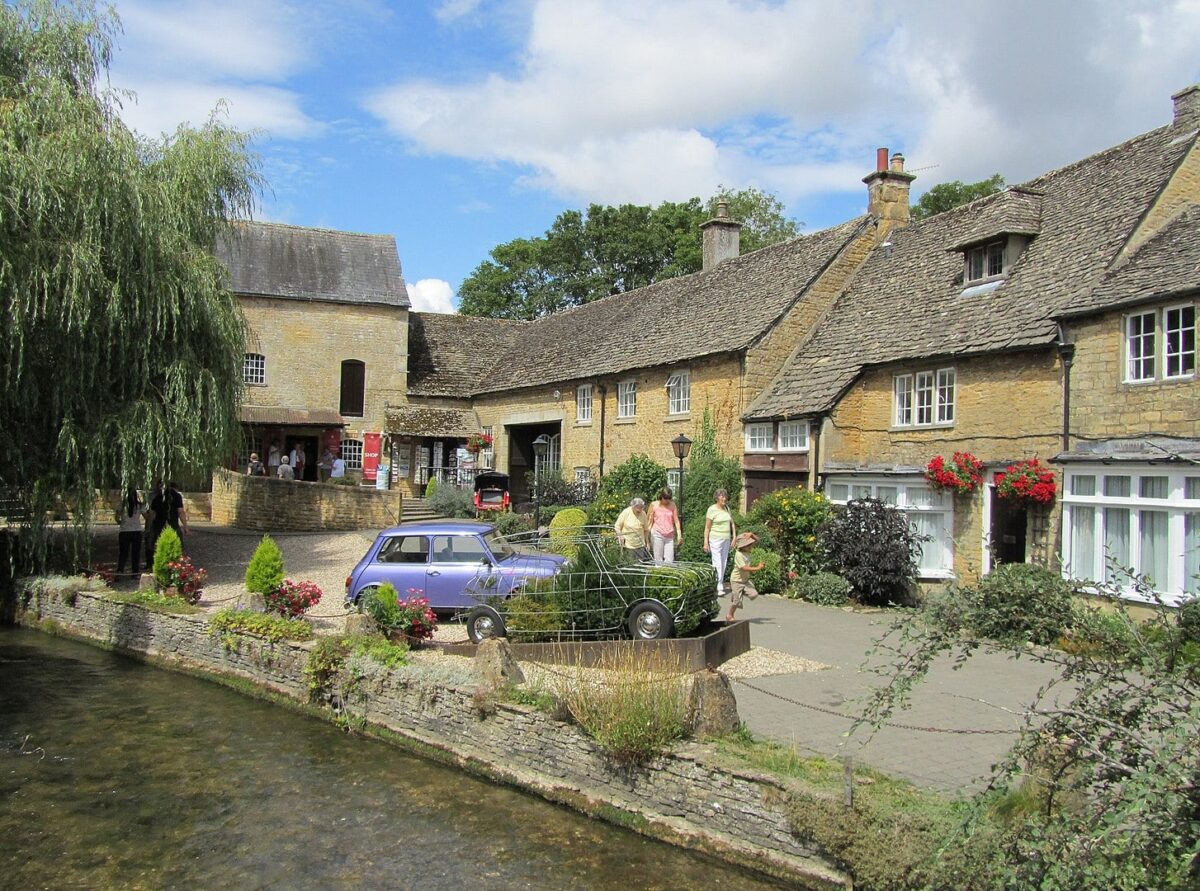 If you fancy a beautiful stay near Bourton on the Water take a short drive to Rissington and stay at the Lamb Inn. A beautiful inn in the heart of the Cotswolds, The Lamb has a range of rooms with free wifi and some of the best food in the area.
Lower and Upper Slaughter
Now you could if you wanted to walk to Lower and then onto Upper Slaughter as by car it's literally 4 minutes and 10 minutes from Bourton on the Water. This walk is part of the 14-mile Warden's Way between Winchcombe and Bourton-on-the-Water.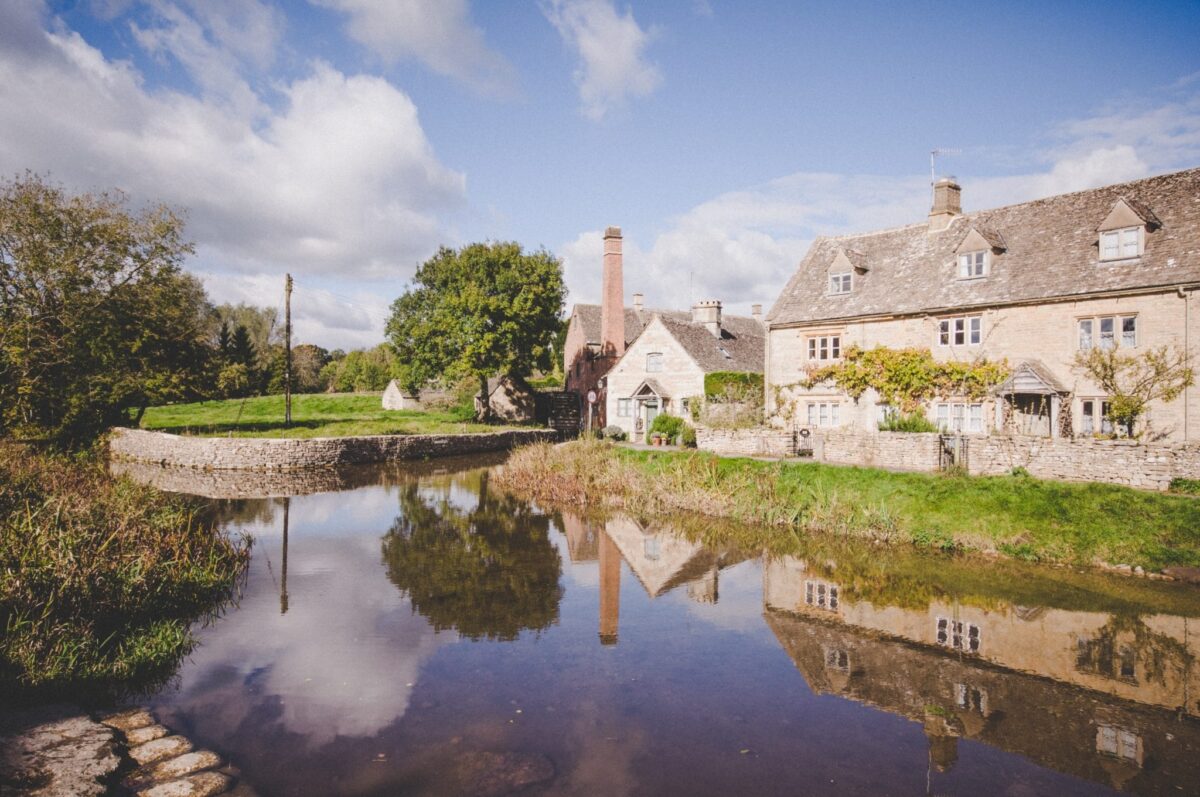 I know the name is rather "unique"? But it actually derives from the old English slough which means muddy water. Dating back to the Domesday book Lower Slaughter doesn't have a huge amount to offer except for the fact that words will fail you at attempting to describe its picturesqueness if that's an actual word. Things like quintessentially English, chocolate box cottages, charming, and pretty all tend to fail you when attempting to describe this lovely English village.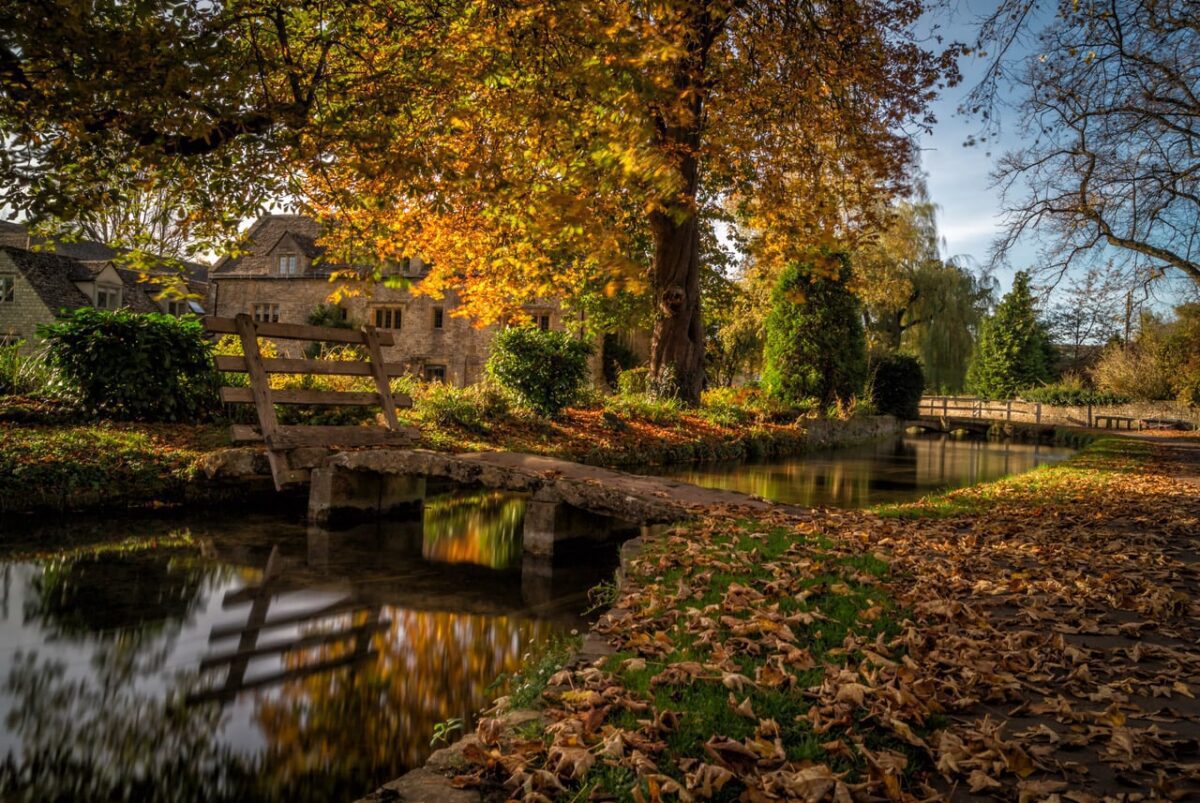 A short walk away perhaps 10 minutes for a fast walker or 25 for one like me is Upper Slaughter. Again words fail at trying to describe the perfection of this village. Climbing roses adorned every cottage if there weren't roses the wisteria was simply unimaginably massive.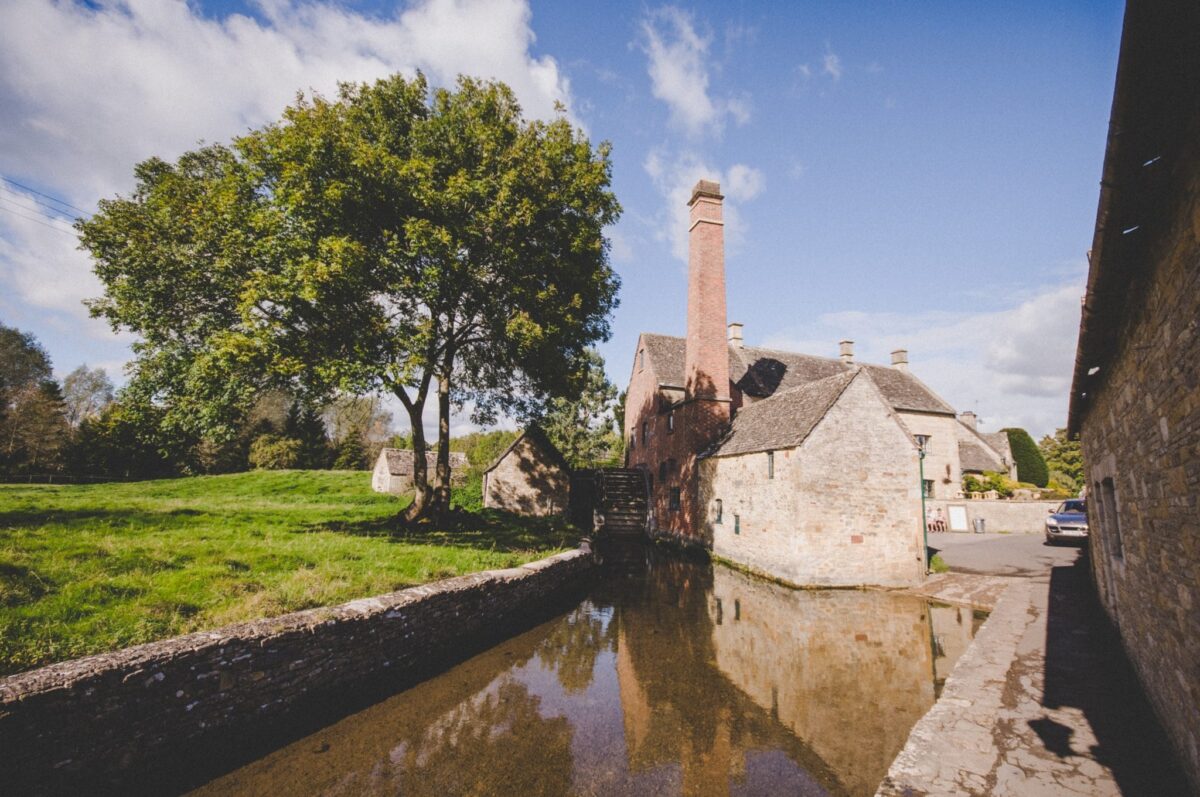 Upper Slaughter is one of only 14 villages in England that hold the title "Thankful Village" which means that during WWI and WWII it lost no men in those horrendous conflicts.
Don't forget to drop by the Old Mill at Lower Slaughter where you will find a fabulous gift shop, a museum and best of all some to die for ice cream.
Naunton
A 12-minute drive from Upper Slaughter lies Naunton. A little-visited village in the Cotswolds Naunton is picturesque and the perfect place to go for a quiet pint in a perfect English pub. The Black Horse Inn has been serving walkers for over 100 years and is a really charming and characterful pub.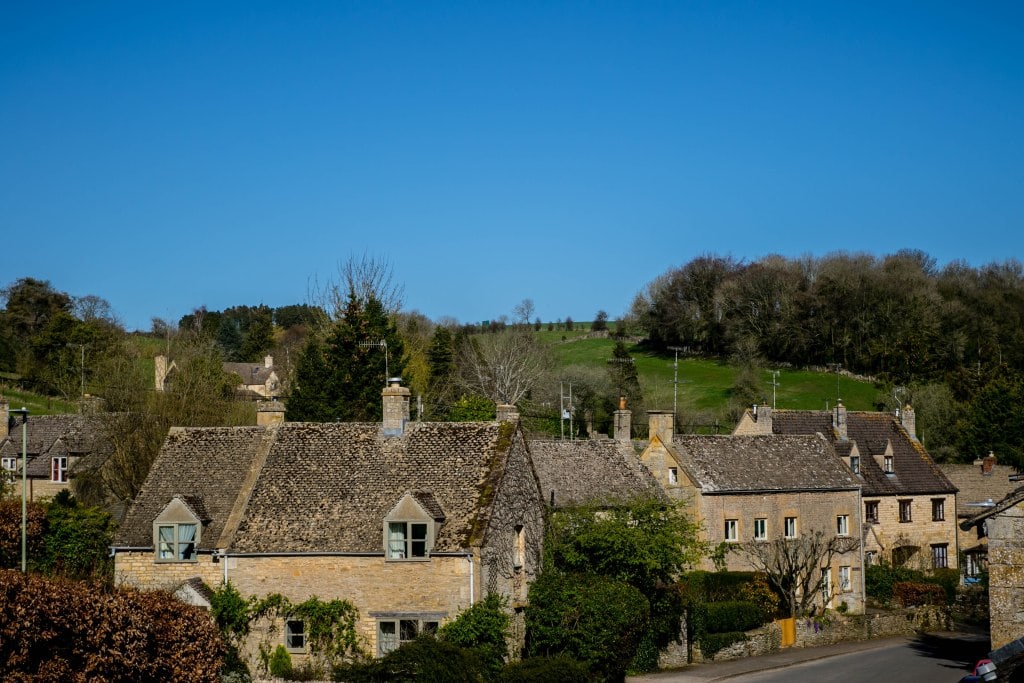 Stow on the Wold
Only 10 minutes or so by car down the road is Stow on the Wold one of my favourite Cotswolds Villages. Hubs also wanted to visit because this was the Village that John Entwhislte came from and was buried in.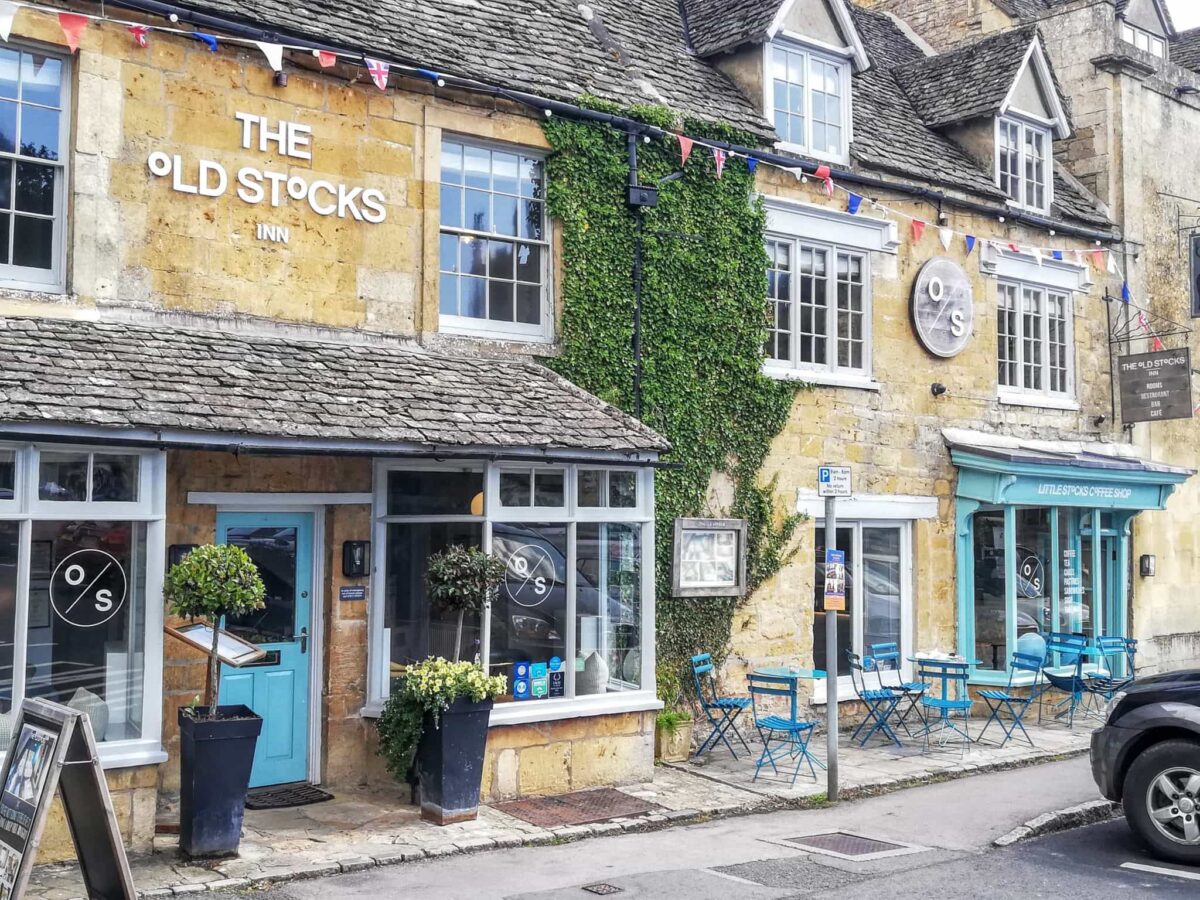 Stow-on-the-Wold is the highest of the Cotswold towns and apparently one of the most popular but we didn't find it crowded with tourists there were more locals than visitors which was really nice.
We managed to find parking near Market Square where there is an old town stock that sits by an elm tree. At the other end is the ancient cross of Stow on the Wold. This is a great shopping centre with many small independent retailers selling everything from fine clothing to cheese.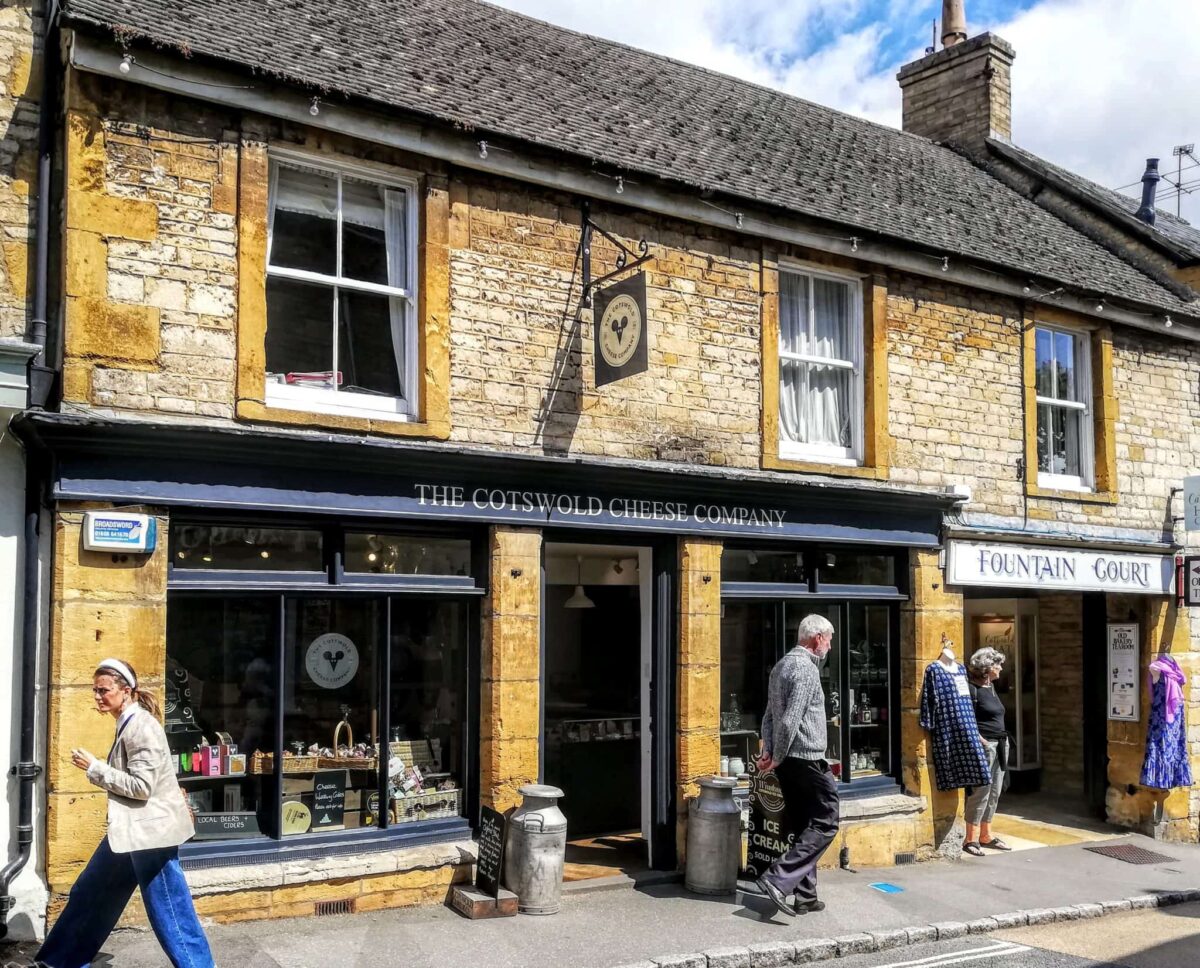 We made a stop at The Old Butchers for lunch on the off chance we could get a table. The door was plastered with great reviews on Trip Advisor and Michelin recommendations. The restaurant itself is located in a restored and renovated butcher shop which makes for some pretty interesting knick-knacks.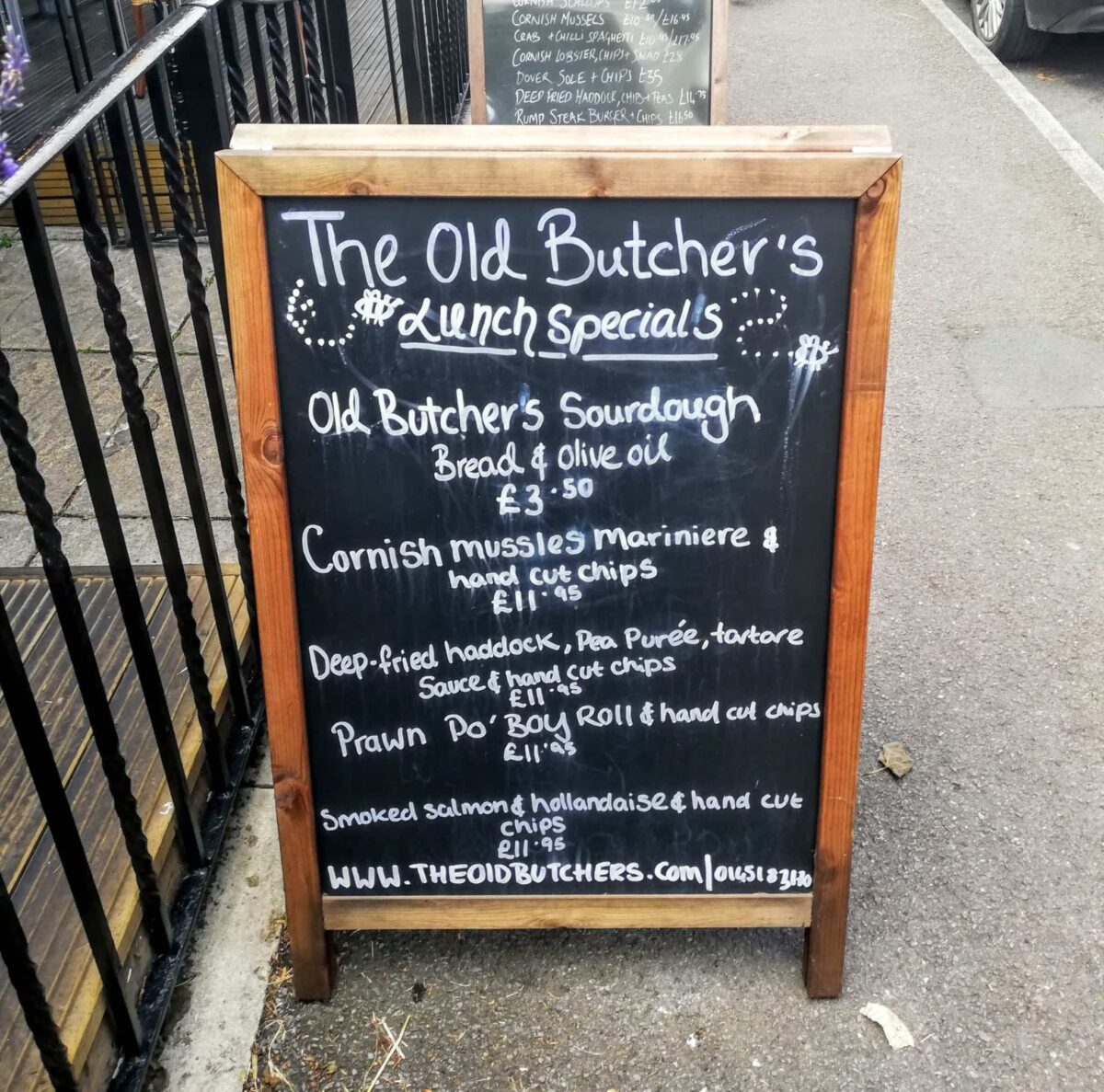 Not for nothing either the food was absolutely superb. Fresh mussels were the order of the day for hubs and I had the best Prawn Po'Boy I have ever eaten.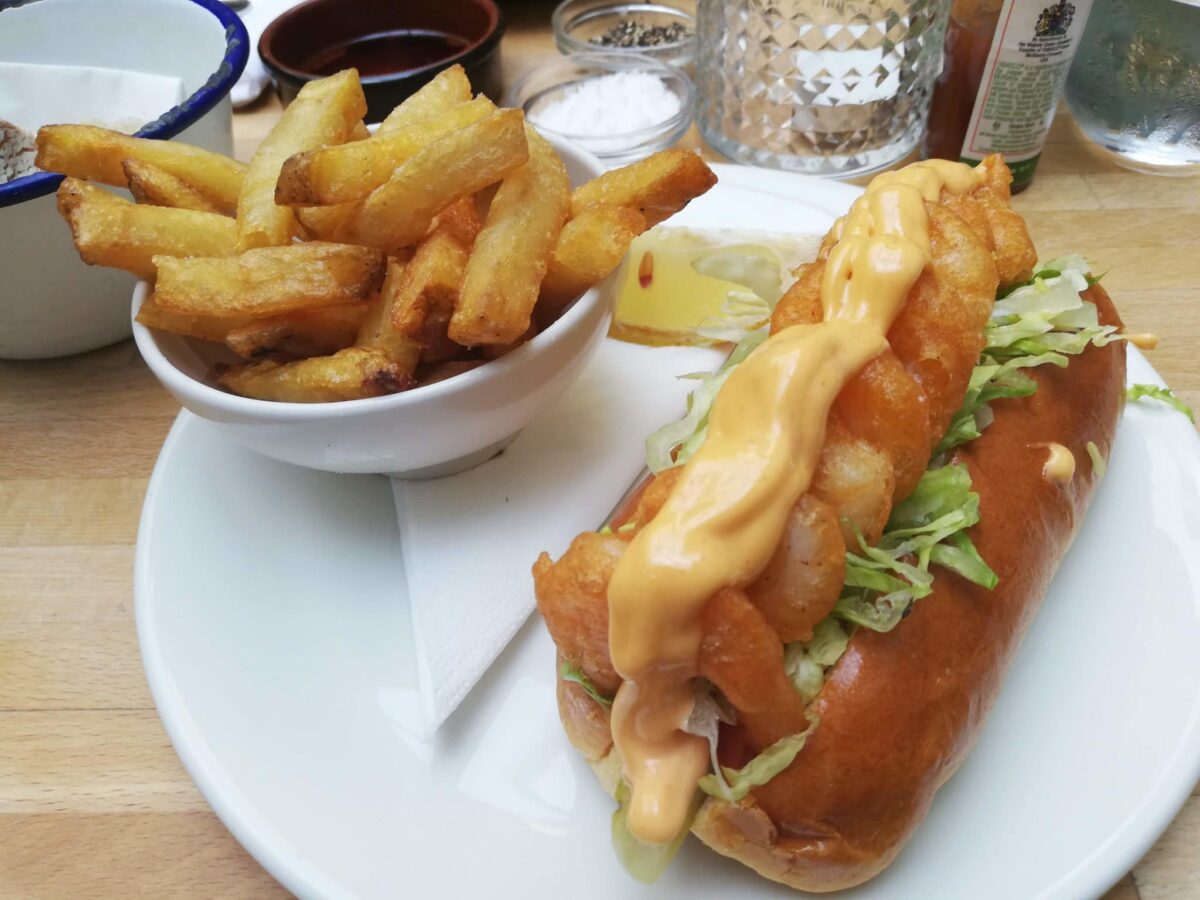 At a friend's recommendation, I suggest a stay at the Porch Inn which is the oldest inn in England dating back to 947. Timber beams, uneven doors, stone walls and a beautifully restored listed pub this charming Inn has 13 rooms to choose from and is usually fully booked during the summer months.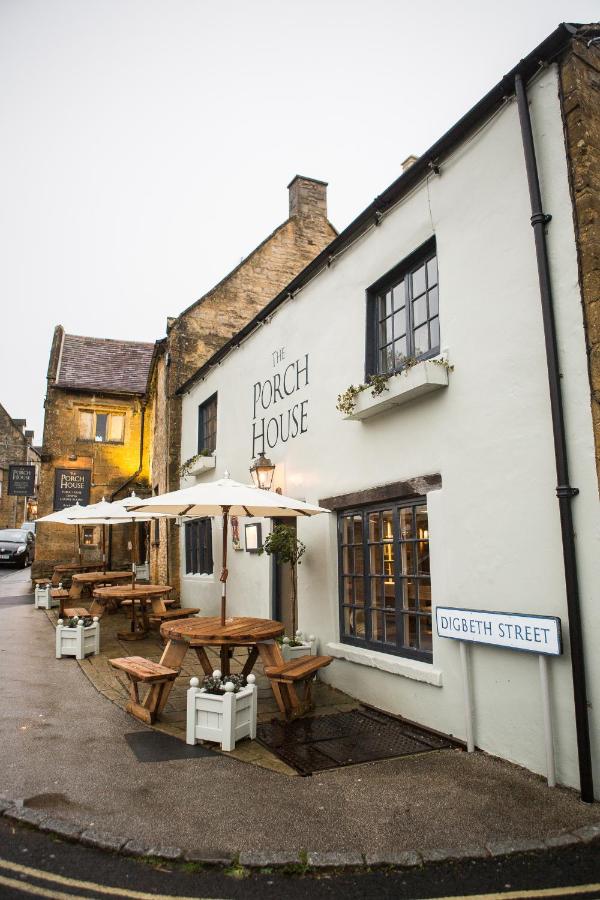 Snowshill
From Stow on the Wold, we simply drove and ended up in what I thought was the prettiest of the Cotswolds Villages and nary a tourist in sight. Snowshill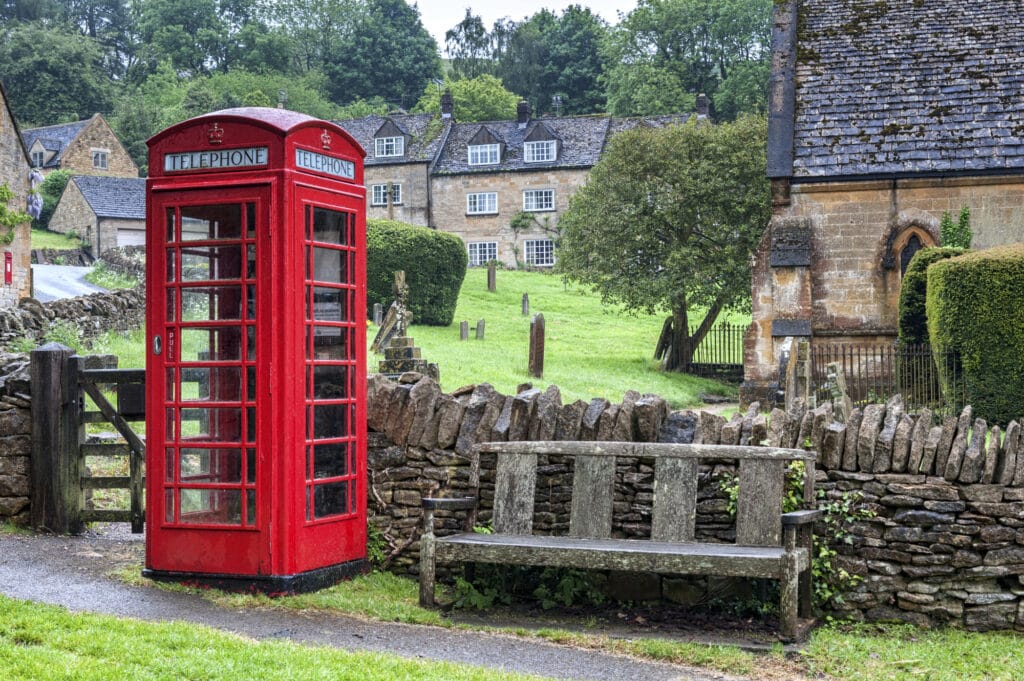 Snowshill is beautifully set in the rolling Cotswolds hills which surround it on 3 sides. The views are absolutely outstanding from the top of the Village and it is completely unspoilt.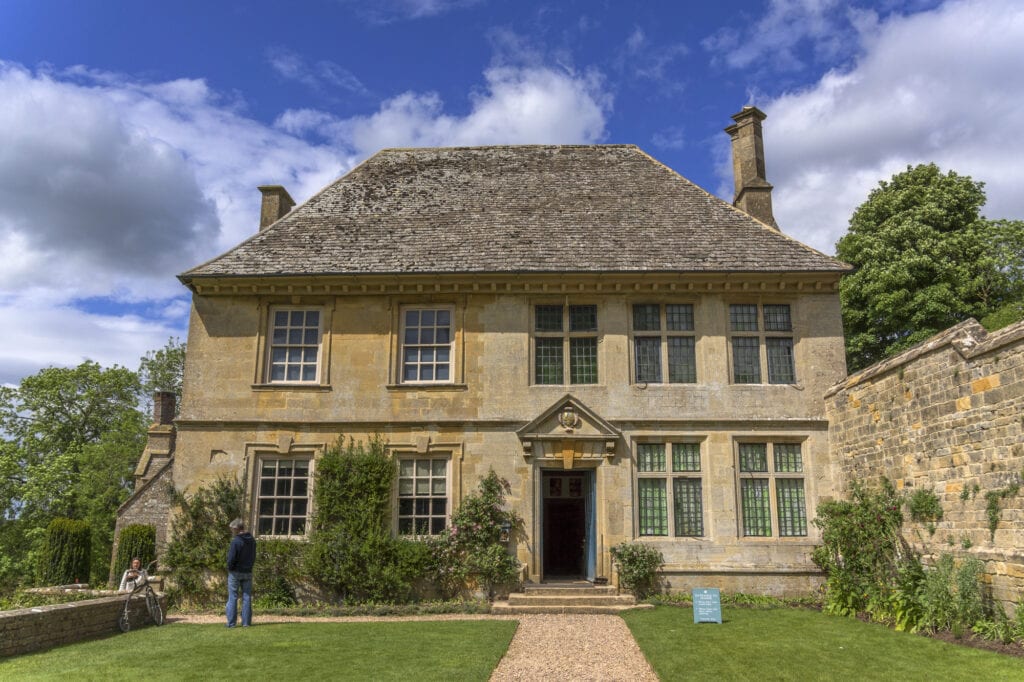 Snowshill Manor, owned by the National Trust, is a fascinating place to visit. With its fabulously picturesque gardens outside and inside the amazing and eclectic collections of Sir Charles Wade includes everything from clocks to samurai armour. Charles Wade loved to collect and the Manor is packed with his finds from around the world. There is a tearoom, stunning terraced gardens to admire and entry to the Manor house itself for a mere £12.00 per ticket.
The lavender fields of Snowshill are a beautiful sight, row upon row of nodding English lavender wave at you from around mid-June onwards. Take a break from driving at the farm where you can purchase some gorgeous lavender products.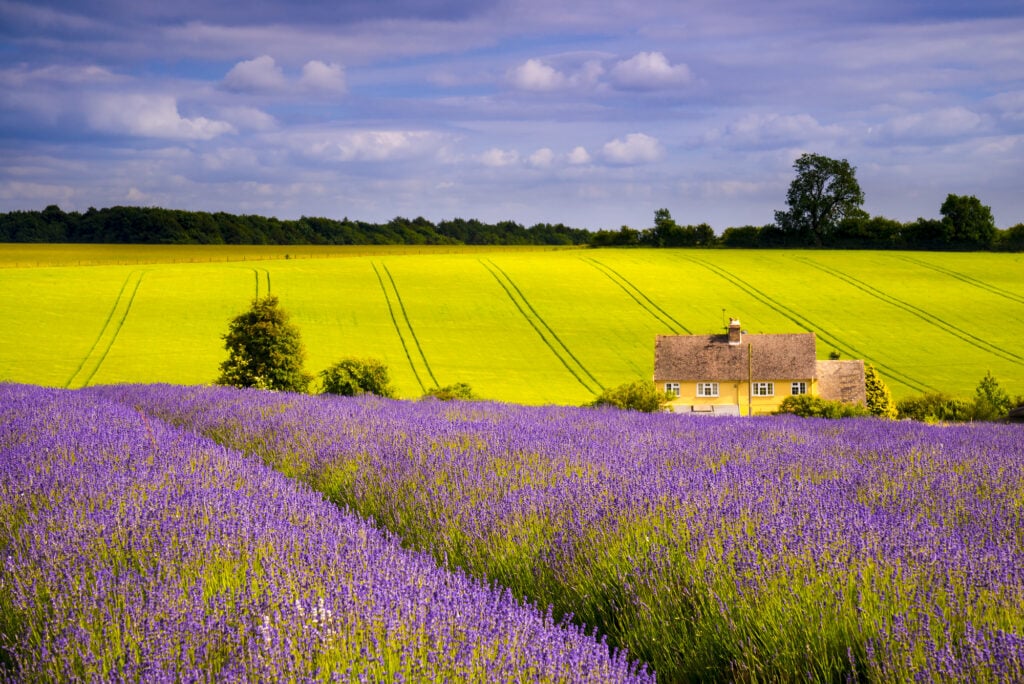 If you adore lavender take a trip to France to visit the Lavender Fields
Stanton
Tiny but absolutely perfect and probably the most beautiful Cotswold village of them all, Stanton is "refreshingly free of gift shops".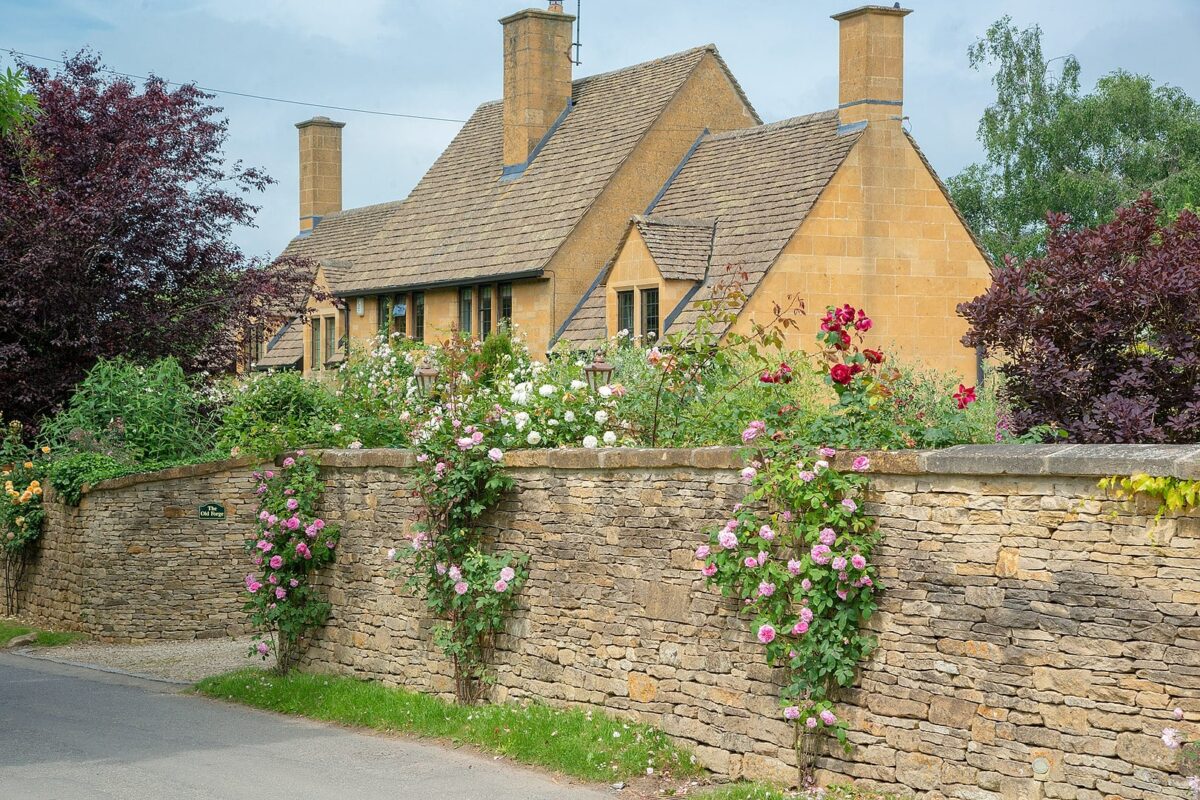 The village is built almost completely of Cotswold stone, a honey-coloured limestone. Several cottages have thatched roofs which is unusual in a Cotswolds Cottage. It has a high street, with a pub, The Mount, at the end.
The pub's unique position provides the most spectacular panoramic views across the Vale of Evesham towards the Malvern Hills & even the Black Welsh mountains beyond.
Broadway
No relation to New York's Broadway this is what I think the best village to visit in Cotswolds should look like. Relatively free of tourists early in the morning it was most definitely a picture postcard. We drove up the main streets admiring all the lovely cottages and then found parking behind the main street easily enough. The streets are lined with chestnut trees beautiful period buildings and shops.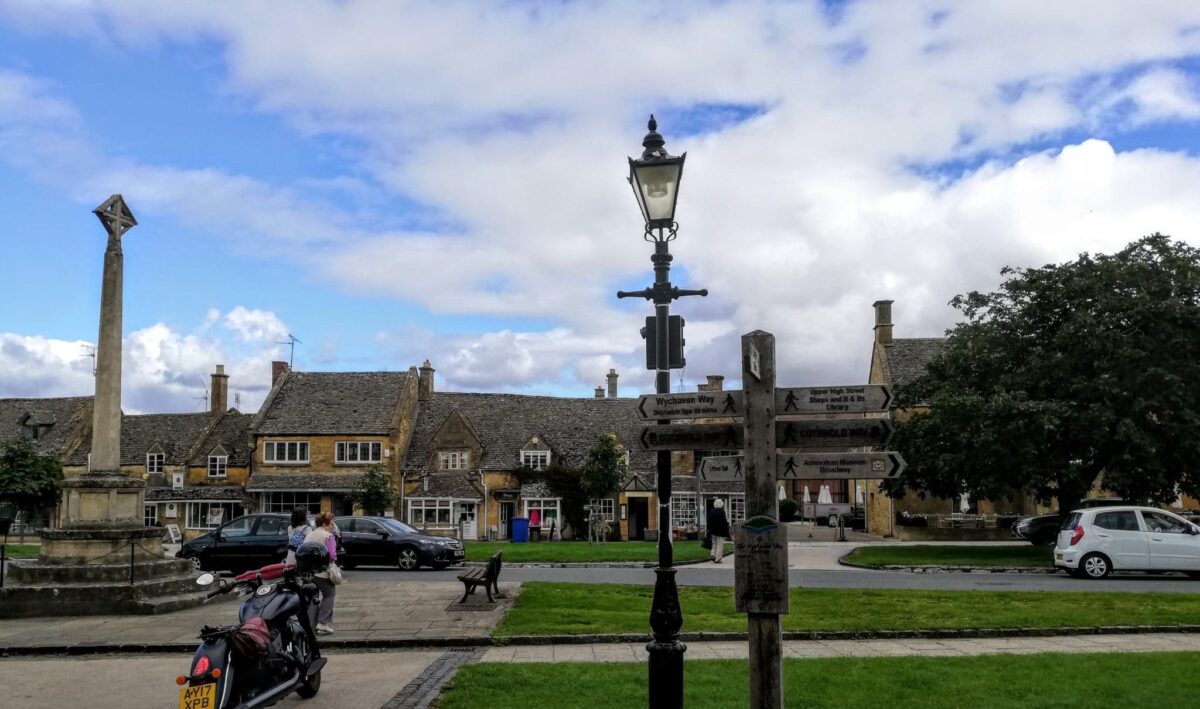 If you fancy a snack or lunch pop into the Broadway Deli where you can treat yourself to a full English Breakfast laden with tomatoes, bacon, sausage, black pudding, beans, eggs, toast and tea. Or grab yourself a sandwich to go and have a picnic on one of the many benches located around the village.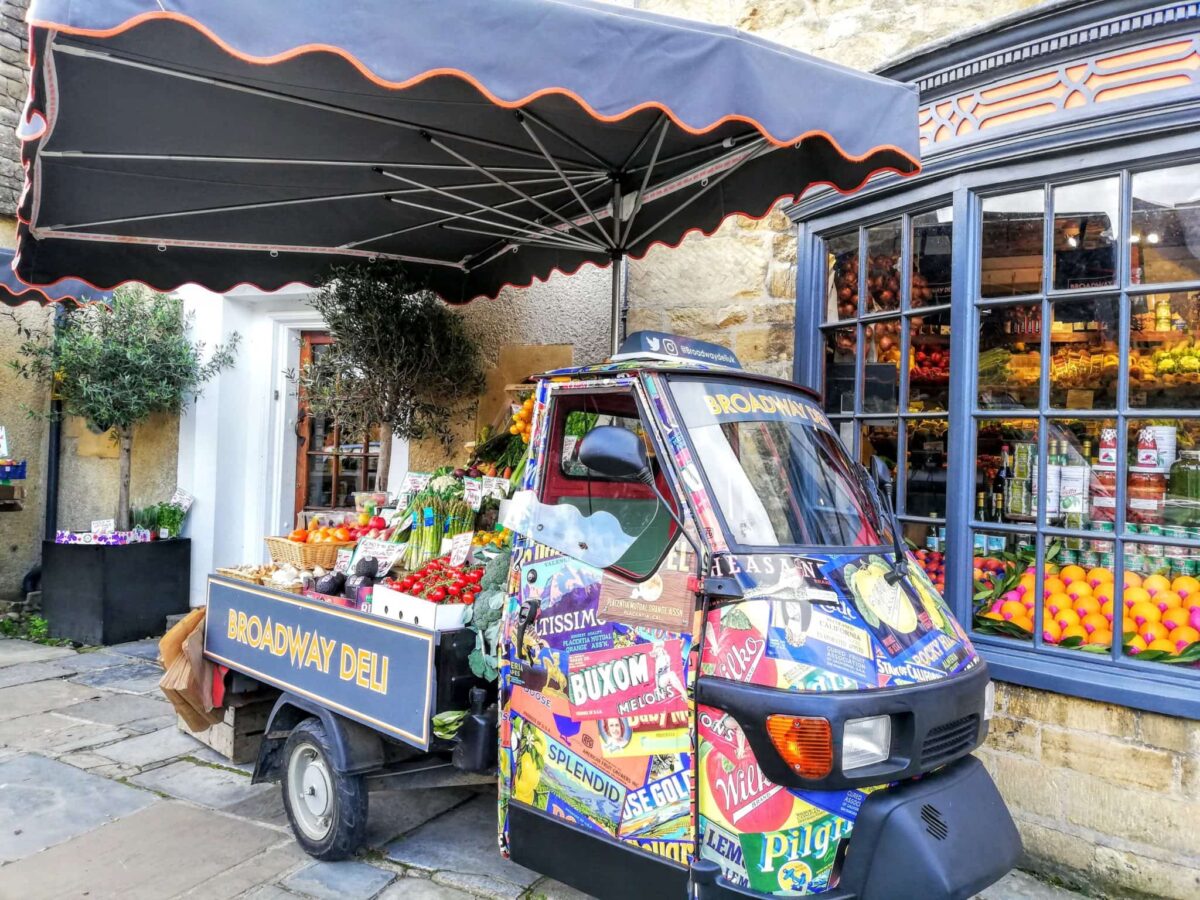 If you fancy a pint or two drop into the Old Coaching Inn or rather the Lygon Arms which dates from the 1300s. Here you can stay in the same suite that Oliver Cromwell slept in during the Battle of Worcester in 1651. A predominantly Tudor-style coaching Inn the Lygon Arms was a key connection between Wales, Worcester and London in Elizabethan times.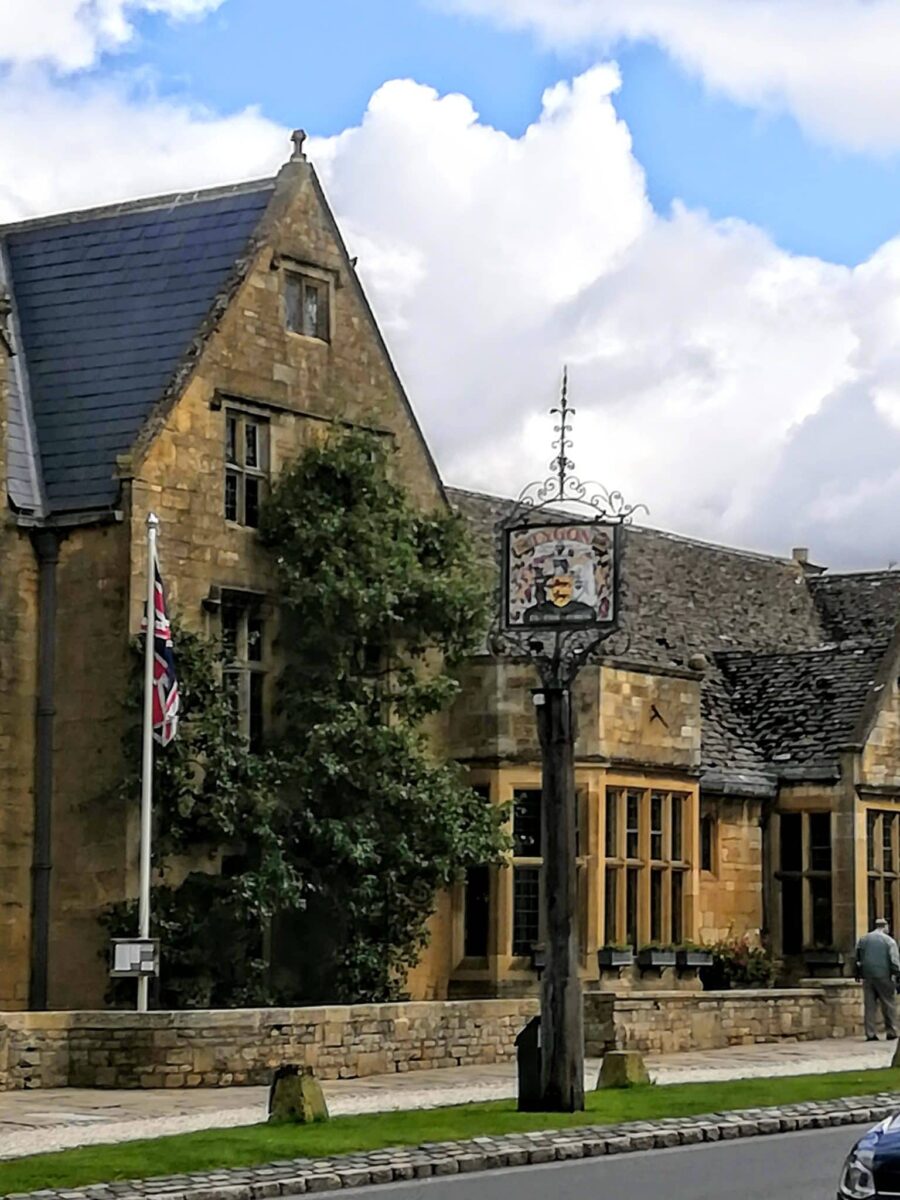 King Charles, I and his supporters would assemble at the White Hart which was what the Lygon Arms was known as back in the day. Celebrities have also sought refuge here from Mary Pickford to Liz and Richard.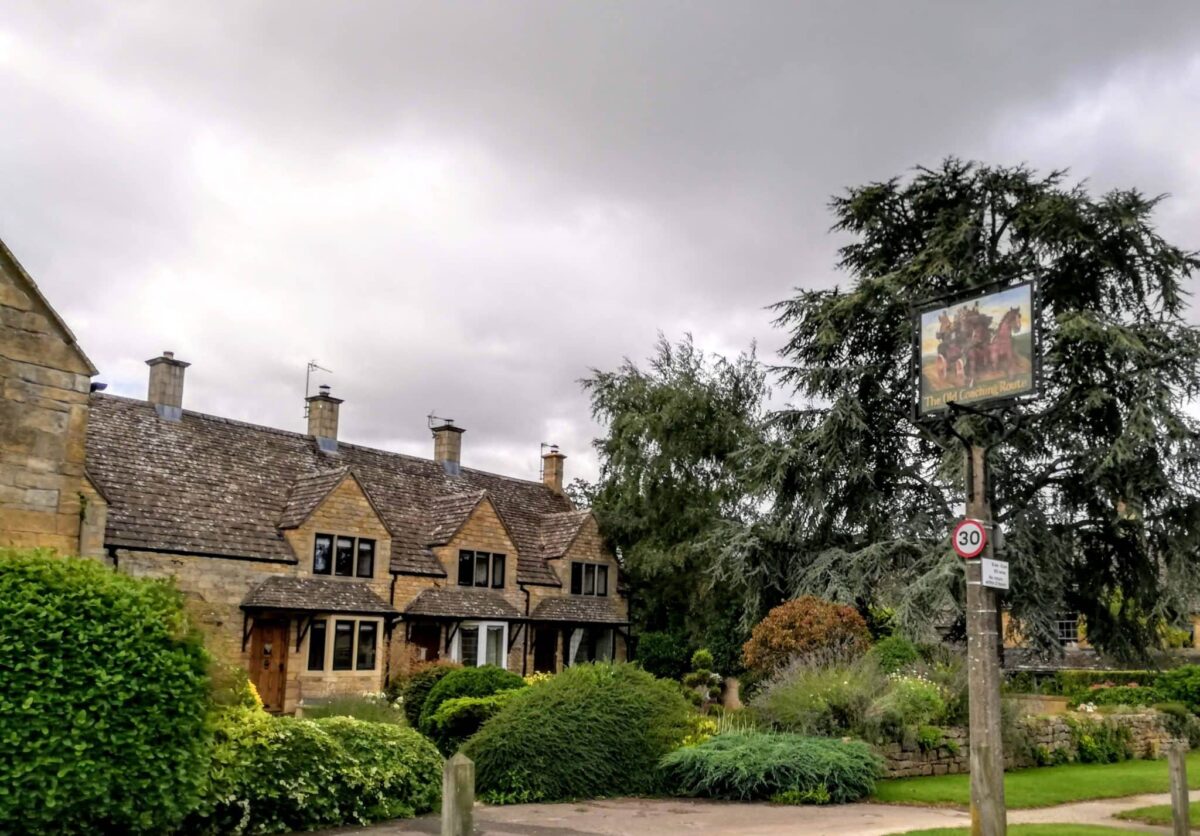 The Broadway Tower
About 7 minutes from Broadway you will spot signs for the Broadway Tower and park. This is a family-owned estate of 50 acres that includes a Deer Park, Restaurant and shop alongside a tower.
An Iconic structure the Broadway Tower has a roof platform with absolutely stunning views of the Cotswold countryside and escarpment. The Tower was the brainchild of the great 18th-century landscape designer, "Capability Brown". His vision was carried out for George William 6th Earl of Coventry with the help of renowned architect James Wyatt and completed in 1798.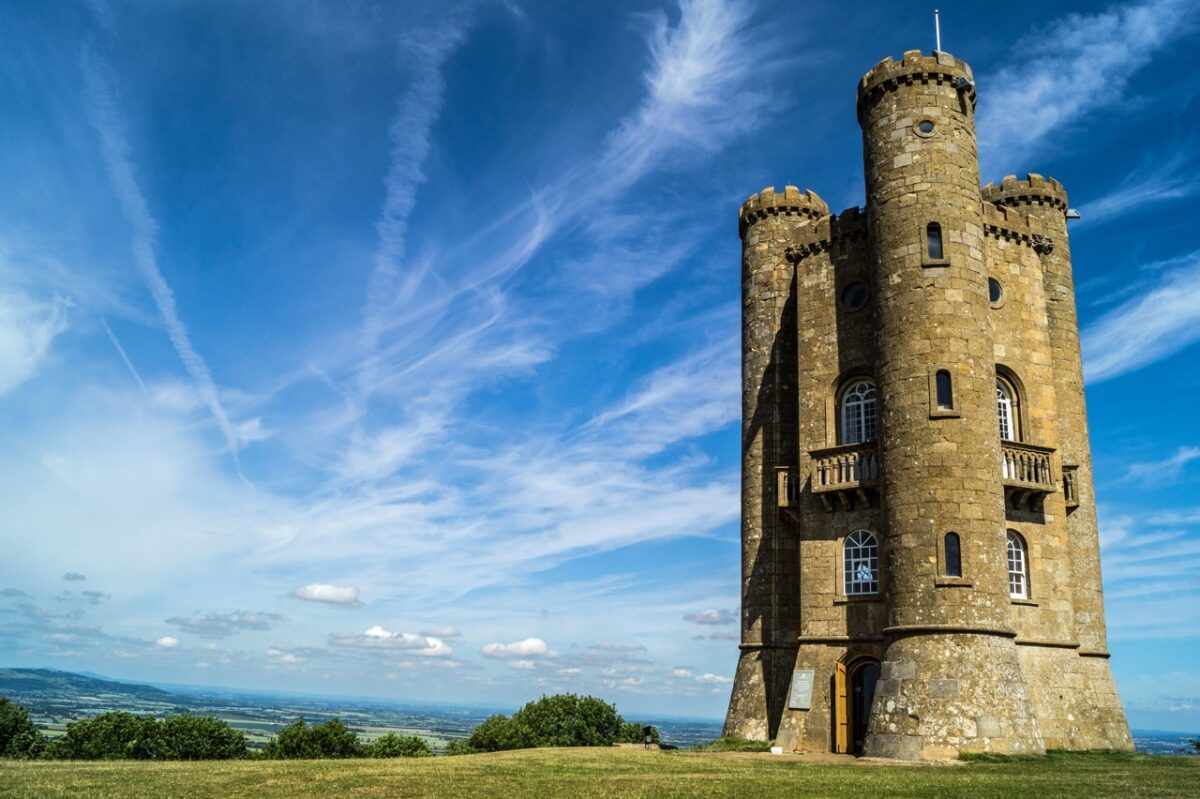 The Tower houses exhibitions on three floors about the history of its colourful past. You are able to view examples of the work of William Morris and understand the link between the Tower and the arts and crafts movements before ascending to an exhibition of the Royal Observer Corps. The cost of an adult ticket to the tower is £12.00 and just the grounds is £ 4.00.
Cotswold Way National Trail
The Cotswold Way National Trail was established in 2007. The trail covers more than 100 miles of the Cotswolds countryside. The perfect hike for those who love to walk you will see some stunning country views and get a chance to visit historic locations that include: Bath, Sudeley Castle, Hailes Abbey, and the Belas Knap neolithic burial chamber. You can walk any point in the trail but it runs between Chipping Camden and Bath.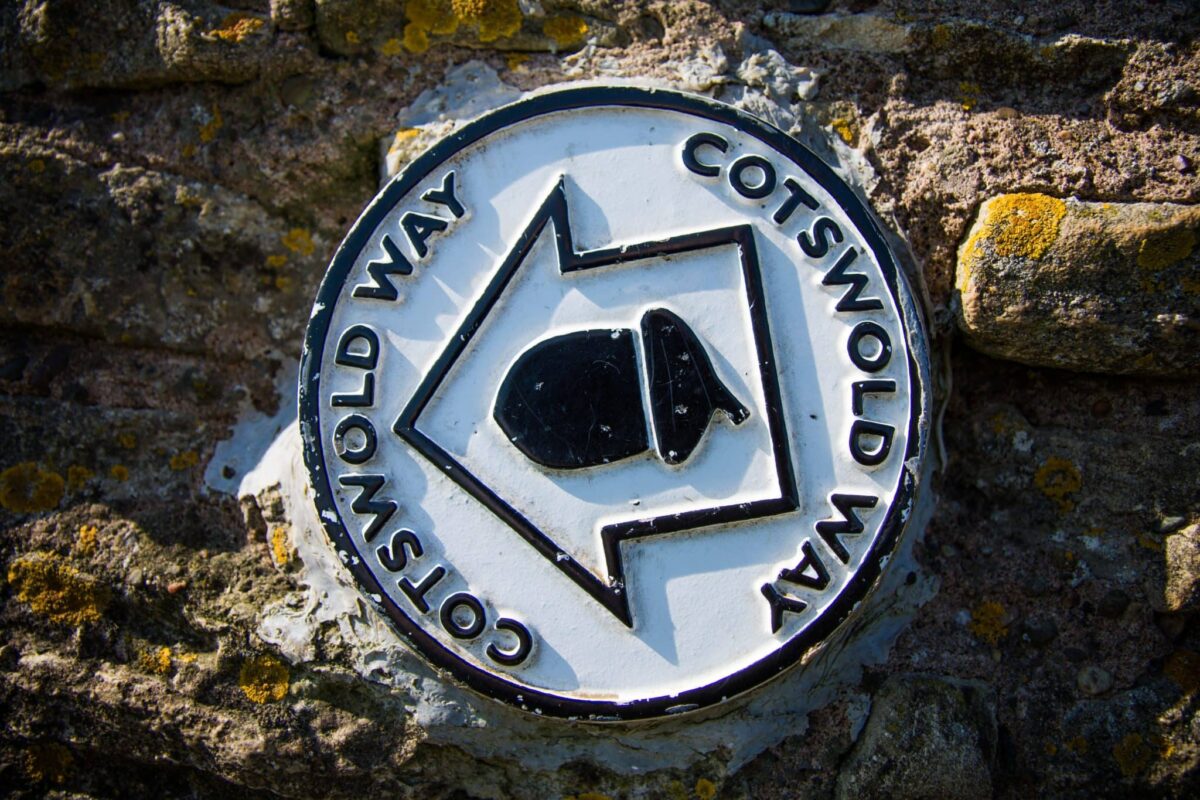 Where to stay in the Cotswolds
Nestled in the heart of Stow-on-the-Wold, The Old Stocks Inn is a recently refurbished 17th-century coaching inn that overlooks the green where the original penal stocks still stand.
The family-run Old Stocks Inn has en suite bedrooms, a bar, and a terraced patio garden for al fresco dining in good weather. There are 2 restaurants, both with friendly staff.
This boutique hotel is situated alongside the A429, a minute's drive from the charming market town of Stow-on-the-Wold. In the heart of the Cotswolds, it has free Wi-Fi and free parking.
Victoria House offers luxury boutique room-only accommodation in Stow on the Wold in The Cotswolds.
The iconic ivy-clad Swan Hotel is located on the banks of the River Coln in the heart of Bibury Village. Inside, there are 22 beautifully designed rooms (including 4 stunning Cottage suites) and each one is unique in character and comfortable down to the finest detail with large bathrooms, full-size Molton Brown toiletries and soft, cosy bathrobes to enjoy.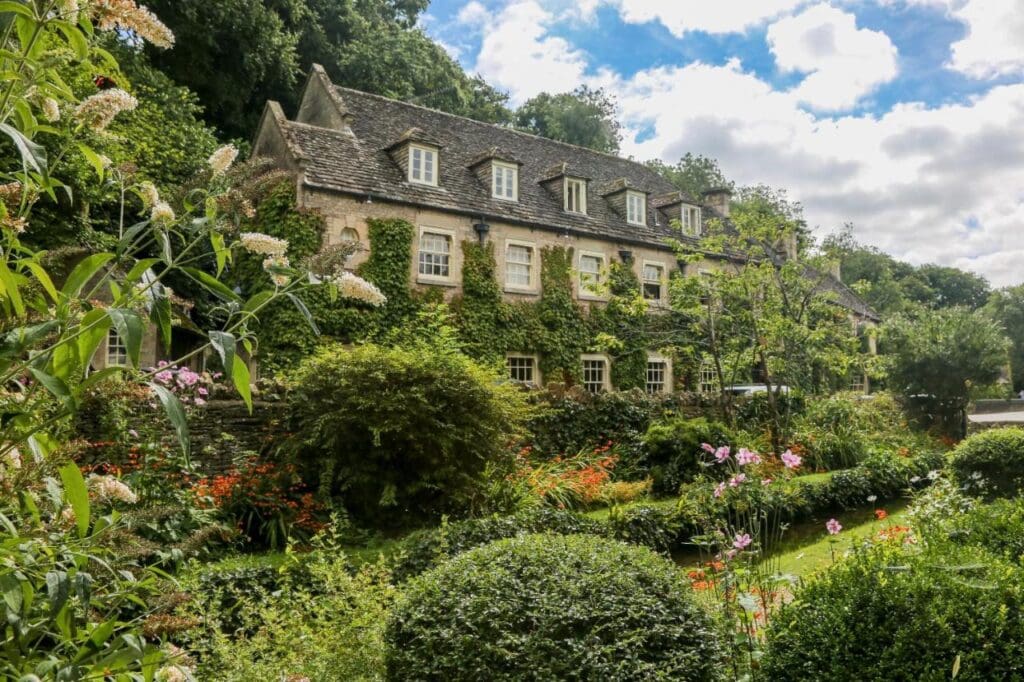 A beautiful little one-bedroom cottage makes a perfect romantic getaway in gorgeous Bibury.
In Bibury, this holiday home with a balcony and garden views has 1 bedroom, a living room, a flat-screen TV, an equipped kitchenette with a microwave and a fridge, and 1 bathroom with a shower.
The Slaughters Country Inn Upper Slaughter
With a riverside location and set in a Cotswold stone building, this 5 gold star inn serves local, seasonal produce in the restaurant. Surrounded by 4 acres of grounds, The Slaughters Country Inn has 31 individually designed bedrooms.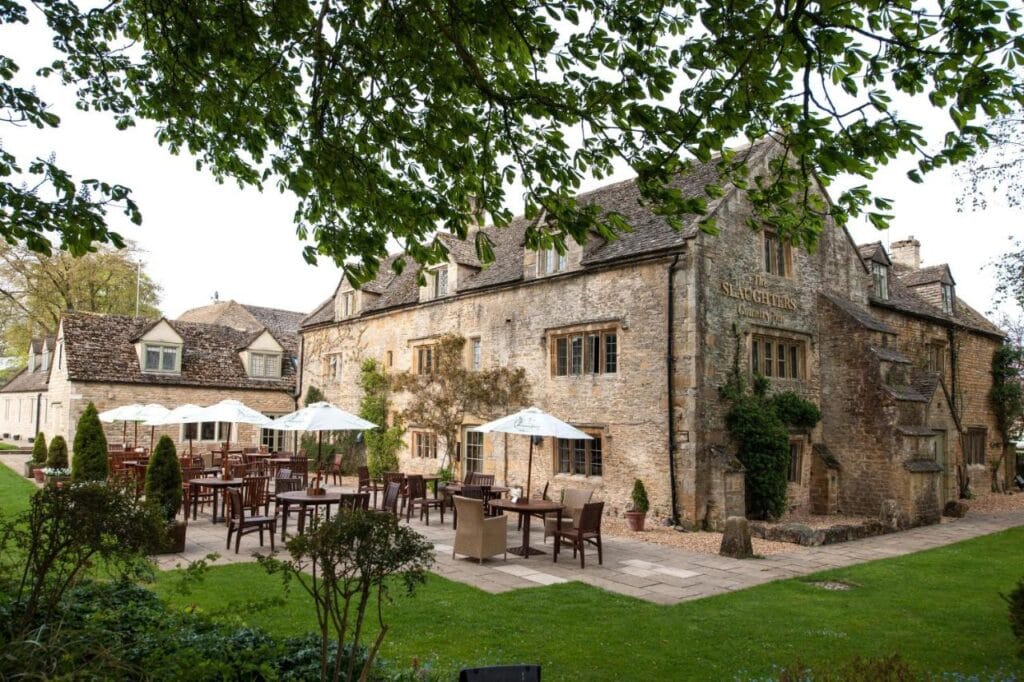 The Slaughters Manor House Lower Slaughter
Situated in the pretty Cotswolds village of Lower Slaughter, this 17th-century manor house offers free internet and free parking on site. It retains original period features and has a sophisticated, award-winning restaurant.
Moreton in Marsh is where this luxurious four-star Manor House Hotel is located. The Manor House is an enchanting 16th-century Cotswold retreat where you can revel in pure luxury and enjoy fine dining.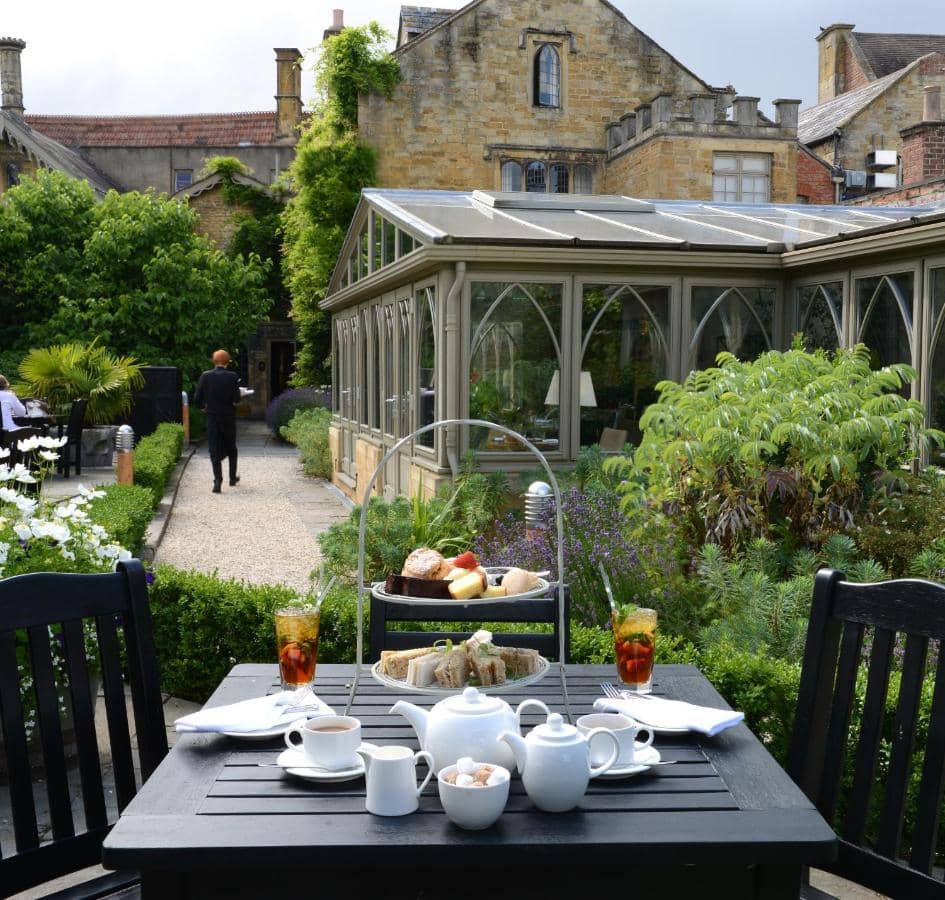 There are dozens of beautifully quaint Cotswolds Villages, so many that you would really need a week or more to be able to see all of them. These are just a few of our favourites so far, we intend to get back soon and explore some more.
Have you been to any Cotswolds Villages? I would love to know which ones and one you thought was the prettiest, feel free to talk about them in the comments.
If you have the time to explore more of the British Isles then I'd highly recommend at least visiting Yorkshire. Or even make it part of a bigger UK road trip to include Scotland or Wales.
If you're travelling elsewhere through the UK you may enjoy our following posts:
The Shambles York the oldest medieval street in the world
22 of the Best English cities to visit
38 Seaside towns in the UK to visit
The North Yorkshire Coast – 9 perfect seaside places to visit
23 Stunning English Manor Houses
Uffington White Horse, England's mysterious chalk figure
Oxford what to do – 34 attractions to visit
Visiting the extraordinary Chiltern Hills of England