23 Magnificent English Manor Houses
Manor houses, mansions, stately homes and large country estates flourish in the English countryside. I've watched the Netflix series "Bridgerton" and all the Downton Abbey shows and have vicariously enjoyed seeing some of England's grandest manor houses standing in for the various stately homes found in the show.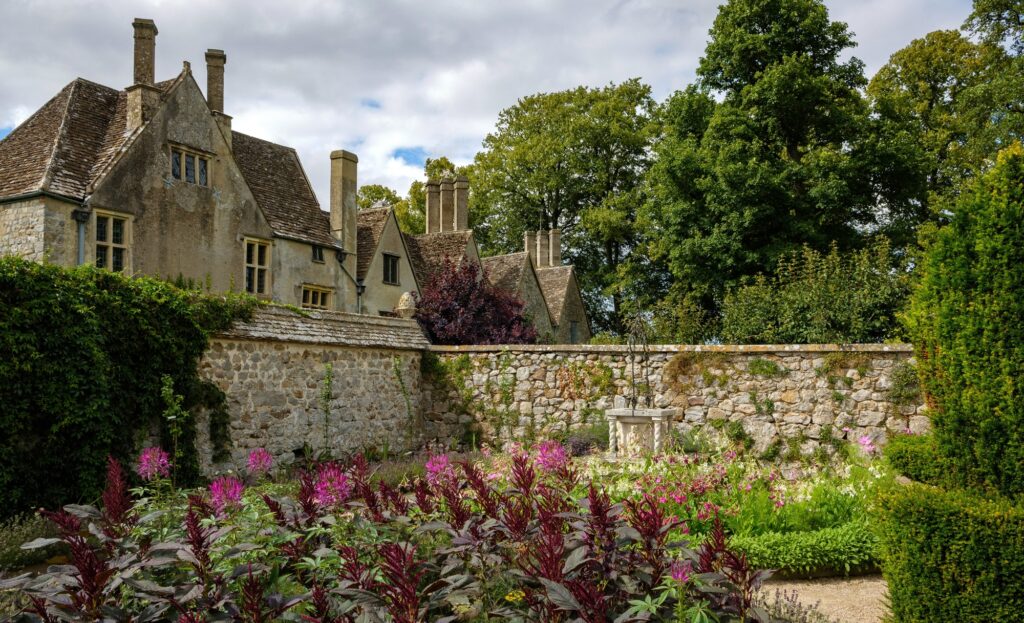 England used to be home to absolutely thousands of these grand estates. At one point in time English manor houses numbered over 5000 in the 19th century but today sadly only around 3000 remain. Of these 3000 many have been turned into tourist attractions as the cost of running such a large estate is pretty prohibitive these days.
Since many of these manor houses are "listed" buildings that mean that upkeep is exponentially more expensive due to the standards that must be maintained. Some like Highclere Castle are more stately homes than castles like Blenheim Palace.
Many British "stately homes" used to be Abbeys. Between 1536 and 1541, King Henry VIII disbanded all the monasteries and sold them off to wealthy landowners. Some converted them into homes. Others liked the land and pulled them down to use the stones to build new homes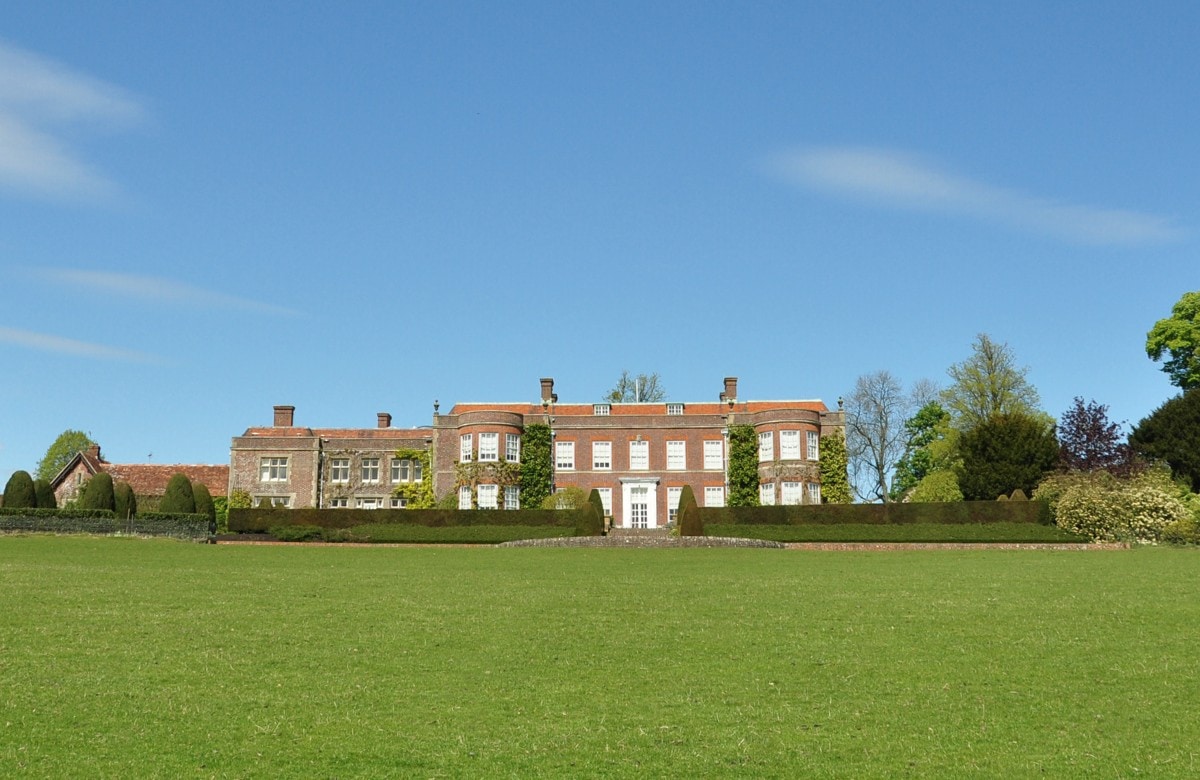 Xyuandbeyond is reader-supported. When you buy through links on our site, we may earn an affiliate commission. As an Airbnb Associate, I earn a small commission if you book through one of my links. You can read my privacy policy here.
What are "listed" English Manor Houses?
In Britain, a building is listed when it is of special architectural or historic interest and considered to be of national importance and worth protecting. English Mansions must fulfil certain conditions to be considered of national importance.
As the term implies, a listed building is actually added to a list: the National Heritage List for England.
Grade I for buildings of the highest significance, Only around 2.5% of listed buildings are Grade 1 listed
Grade II: This means the property is important and considered of more than special interest
The older the building, the more likely it is to be listed. Every property built before 1700 is listed, as are most built between 1700 and 1840. Buildings built post World War II, after 1945, are rarely listed. Buildings less than 30 years old are almost never listed.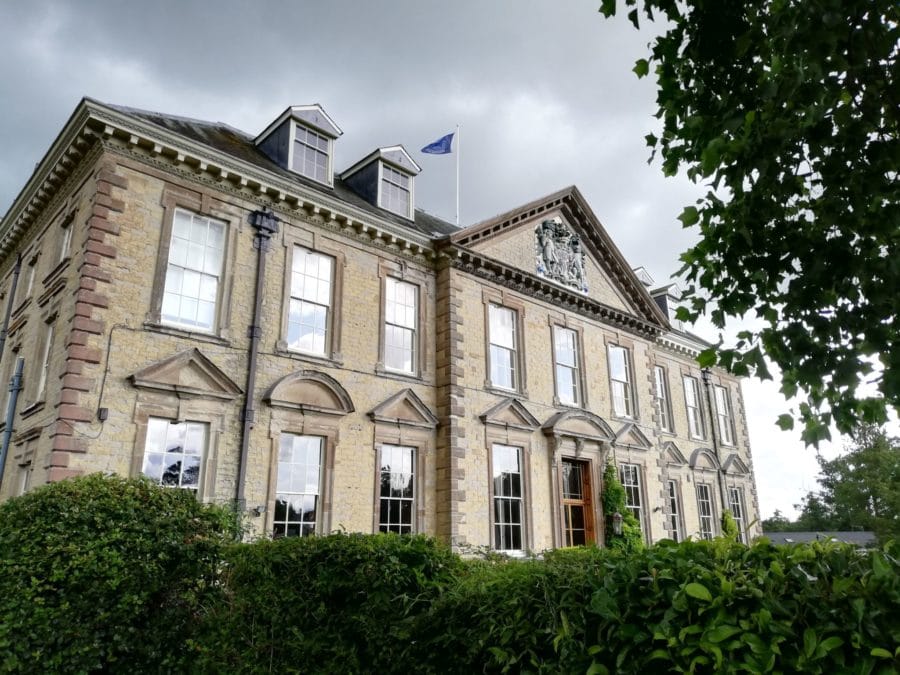 How does listing affect owners?
Listing means there will be many extra controls over what changes can be made to a building's interior and exterior. Owners need to apply for Listed Building Consent for most types of work that affect the 'special architectural or historic interest of their home.
These gorgeous stately homes and beautiful estates have been featured in many historic films or documentaries. Some locations like Highclere Castle(Downton Abbey) have become so well known that tourists have flocked to the location allowing the homeowners a way to help preserve and restore these amazing English country estates.
What makes a house a Manor?
A manor house was historically the main residence of the lord of the manor. The house formed the centre of a manor in the feudal system; and in the great hall were held the lord's courts, communal meals and great banquets.
In real estate terms, an English Manor House has at least 8,000 square feet of floor space. Dictionaries define a manor house or mansion as "a large and impressive house: the large house of a wealthy person."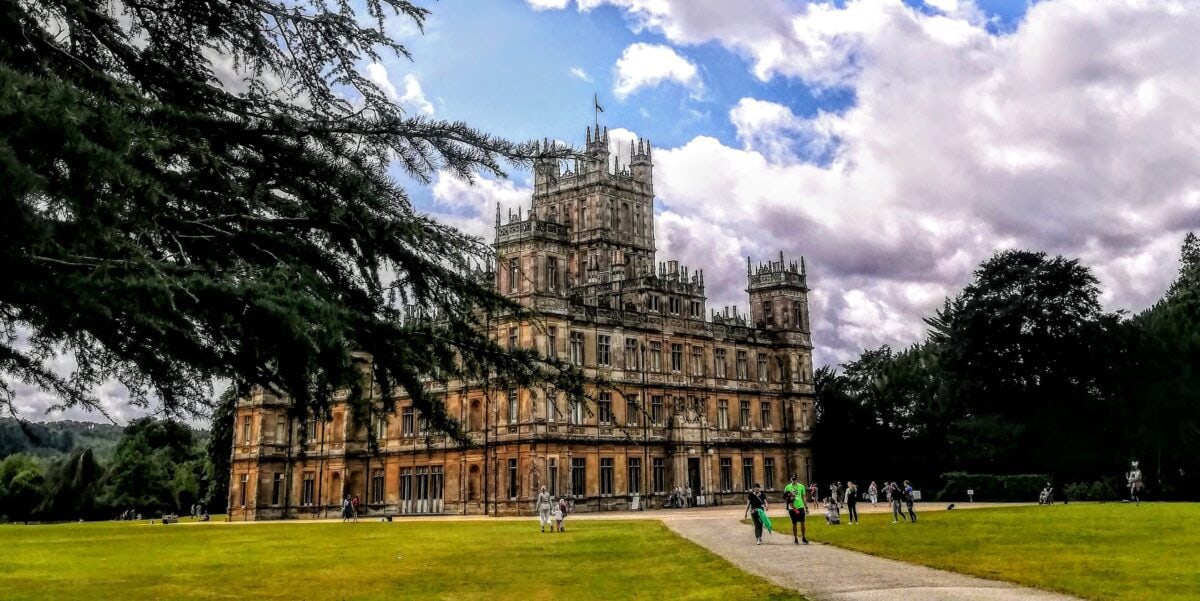 What is the difference between a Palace and a Castle?
A castle can only be called a castle when it is built on an ancient structure that was used to withstand battles. Palaces are exceptionally lavish homes for royalty that were specifically built as a home for them. So, for example, Windsor Castle was built on ancient fortifications but the UNESCO World Heritage site of Blenheim Palace was built for royalty as a home.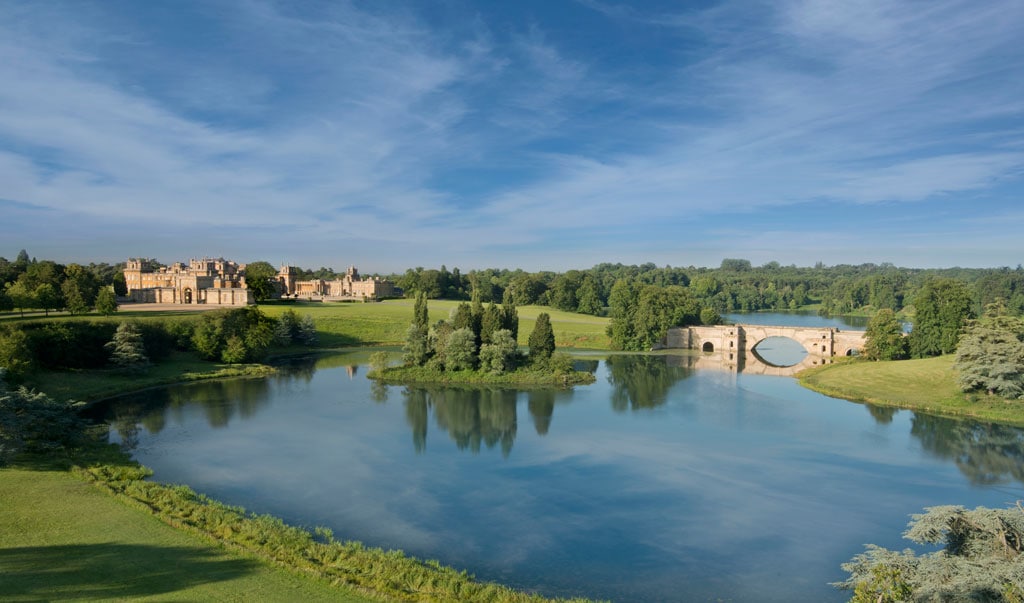 Highclere Castle (home of Downton Abbey) was originally a Manor house that was bought by the Carnarvons in 1679. The original design of the manor cannot be seen today because it was substantially remodelled in 1852 in the Jacobethan style that reflected the fashion of the day.
What to expect when visiting English stately homes?
Visiting English manor houses or stately homes is a wonderful step back in time to see how the "other half lived". These English stately homes, in many cases, are still private residences and so some areas are off-limits to the public.
Most of these English Manor Houses have facilities for parking, and access for wheelchair users, there are small cafes or Michelin-starred restaurants on site. Gift Shops and special exhibits including private art collections, sculptures and museums are often a part of the estate.
23 English country houses to visit
Bletchley Manor – Milton Keynes
Bletchley Manor within Bletchley Park, for example, was turned into a home for the code breakers during WWII. This is now a memorial to Alan Turing the famous codebreaker and all the secret work done by the men and women of WWII to defeat the Germans. The Park is also home to the National Museum of Computing.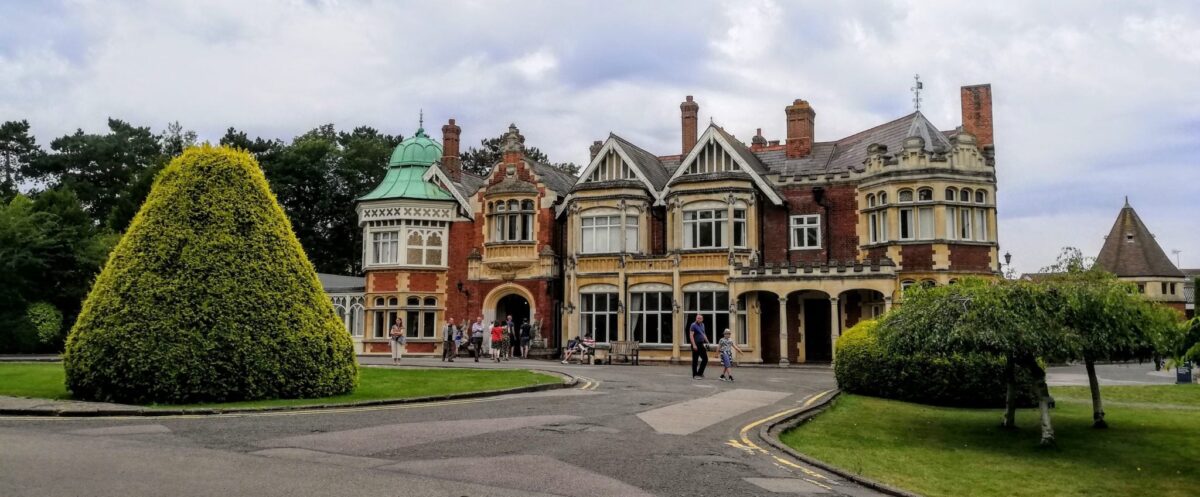 Many country estates are part of an English national charity organization like English Heritage or National Trust. This means that you can easily find visitor information and directions online.
Snowshill Manor – Cotswolds
Snowshill Manor is located in the Cotswolds in central England, midway between Cheltenham and Stratford-upon-Avon and around 40 miles from Oxford. Snowshill, managed by the National Trust, consists of a Tudor manor house set in extensive grounds which include formal gardens, orchards and farmland. There are also several other buildings to explore.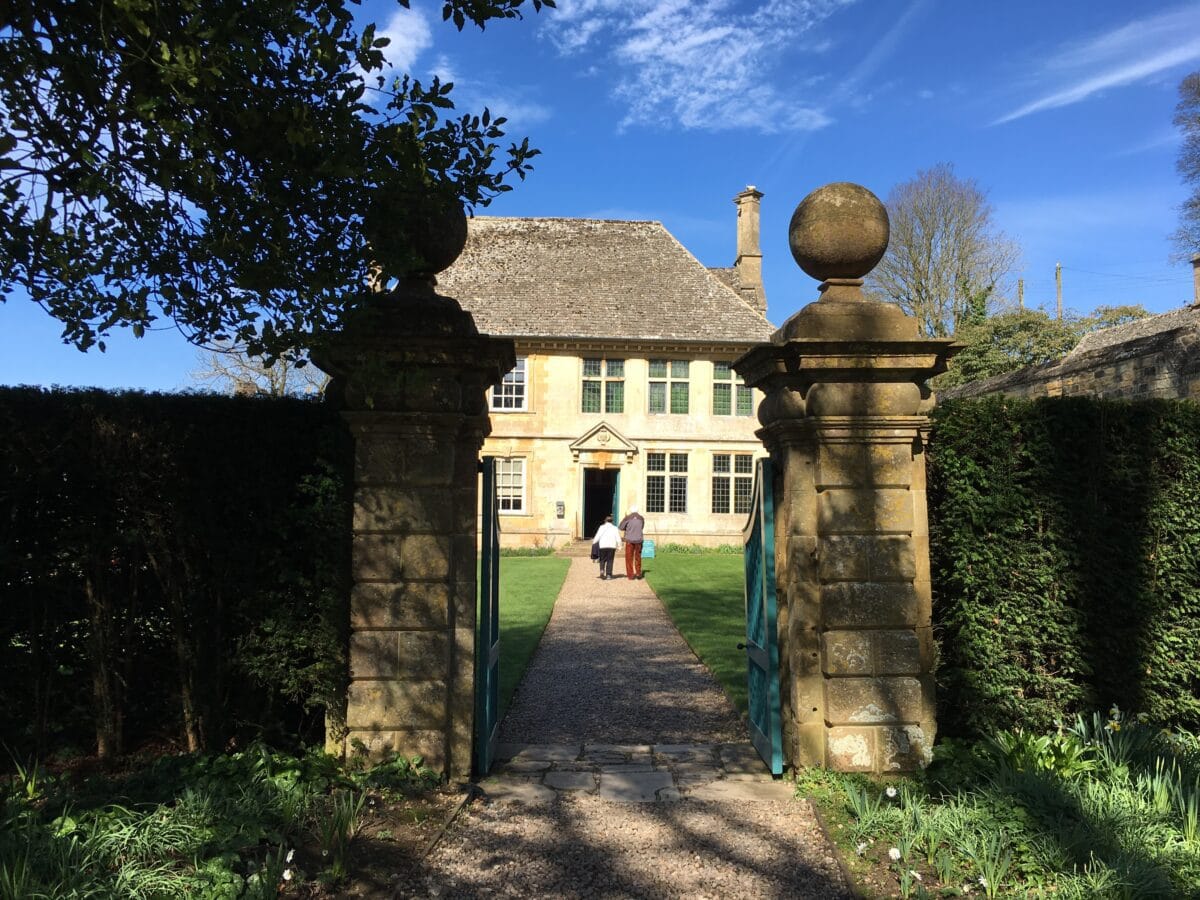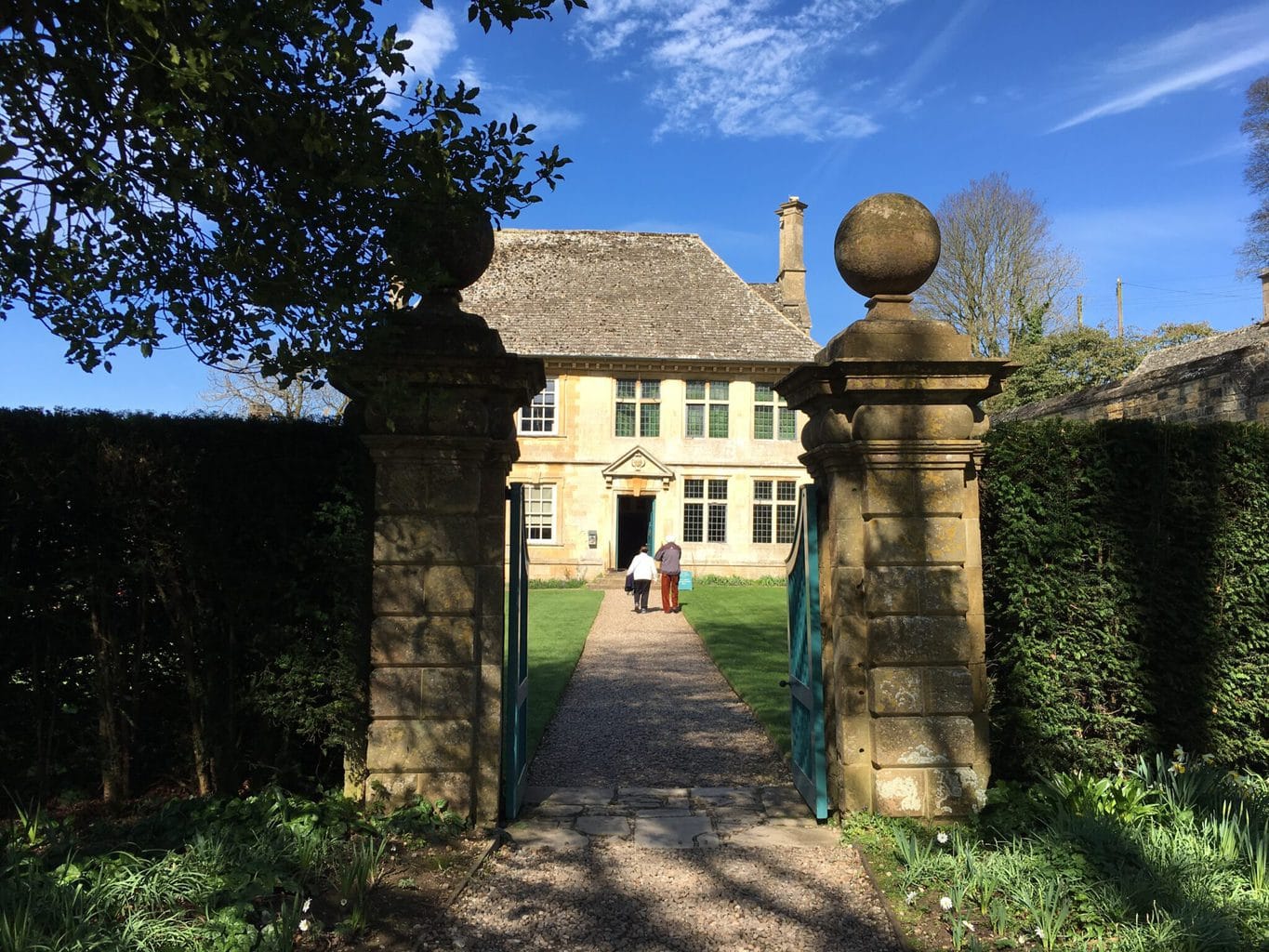 Snowshill Manor was bought by the eccentric Henry Wade after the First World War. Wade used the manor house to display his vast and eclectic collection of artefacts that he had amassed from around the world over his lifetime. On display are bicycles, a model ship, armour, and various musical instruments. Unlike some historical houses, Snowshill is fascinating for visitors of all ages – children will enjoy looking around it just as much (if not more) as adults.
Snowshill is best reached by car as it is in a remote spot, around seven miles from the nearest train station at Morton in the Marsh. There are fabulous walking routes around the tiny village of Snowshill so it's worth making a day of your trip to the manor house – the scenery is wonderful. Contributed by Annabel of Smudgedpostcard.
Kingston Lacy – Dorset
Kingston Lacy in Wimborne is owned and managed by the National Trust. The house was built after the destruction of Corfe Castle in the 1600s by the Bankes family.
Built to resemble an Italian place, the house was used as a hunting lodge and leased to favourable members of the Royal family.
Today, you can visit Kingston Lacy as a member of the National Trust free of charge, or £10 for adult non-members. House tours must be pre-booked as visits are very popular with guests.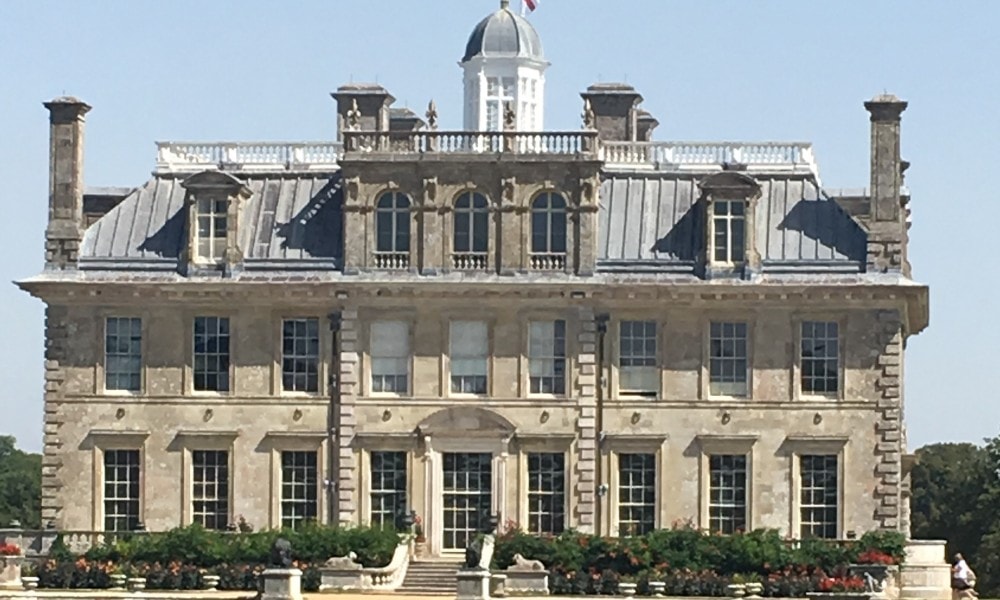 As well as the stunning house with artefacts from William John Bankes' tips to Egypt in the 1800s, you can also admire paintings from Van Dyke and Titian. Perhaps one of the most popular reasons guests visit Kingston Lacy house is to admire the Spanish room. With the gilded ceiling that was brought from the Contarini Palace in Venice, it's no wonder guests return time after time to the house. Contributed by Angela from Exploring Dorset.
Stoneleigh Manor – Warwickshire
Stoneleigh Abbey stands beside the River Avon, near Kenilworth, on lands granted to Cistercian monks by King Henry II in 1154. The Monastery was dissolved by King Henry VIII and turned into a family home for the Leigh's.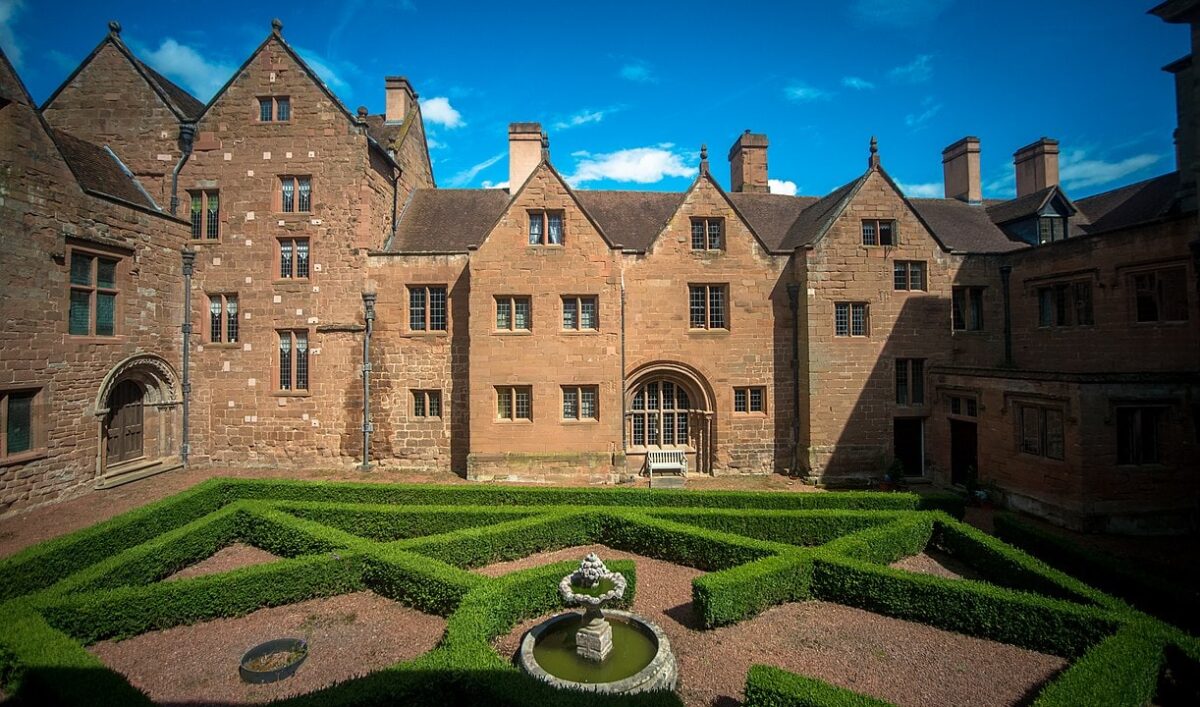 This English Mansion House is comprised of two halves; the first, made of red sandstone, (like you can see in the ruins of Kenilworth Castle) is a fine example of a Jacobean house, built from the ruins of the monastery. The second, the West Wing, was designed by famous architect Francis Smith of Warwick in the Baroque style. Stoneleigh has played host to several people of note, including King Charles I, Queen Victoria, and novelist Jane Austen. It is believed that Jane Austen modelled her novel, Mansfield Park, after Stoneleigh.
Haddon Hall – Bakewell
Haddon Hall is one of those places in England that will leave you speechless and in awe, almost as though you've transported yourself into a fairy tale. This gorgeous manor home is located in Bakewell in the Peak District and dates back to the 11th century. It's been said to be one of the best-preserved houses of the medieval ages.
Explore through 900 years of history and discover untold stories. The Tudor Hall itself was untouched for 300 years and contains some of the best-preserved furniture and tapestries in England.
Wander through the labyrinth of rooms and see gorgeous rooms elegantly decorated, a chapel, and a beautiful Elizabethan walled garden, surrounded by a forest and filled with a variety of flowers, water features, and topiaries.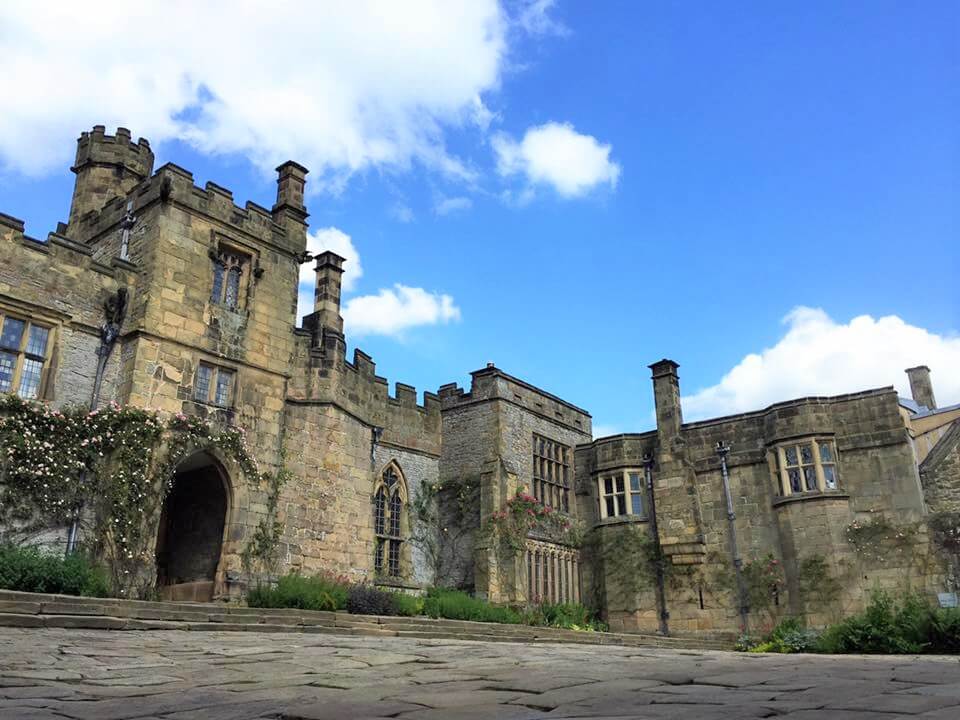 It's even been used in films such as The Princess Bride and Jane Eyre. Ponder over what life was like at this beautiful manor home hundreds of years ago while you sit at their on-site restaurant enjoying a pot of tea.
Haddon Hall is best reached by car, but train and bus routes are also available. Admission is £18.50 for adults, and guided tours are available for a few pounds more. Parking is £3.50. Historic Houses members visit for free. Written by Sarah from In Search of Sarah
Stonor Manor – Berkshire
Stonor Manor itself has been home to the Stonor family for 850 years and has changed relatively little over that time. Complete with its own ancient stone circle, a Chapel and stunning Stonor Park and gardens it overlooks some of the best views of the Chiltern countryside. As you drive up to the house you pass by two lodges built in the 1790s and the 'new' drive which was laid down in 1760.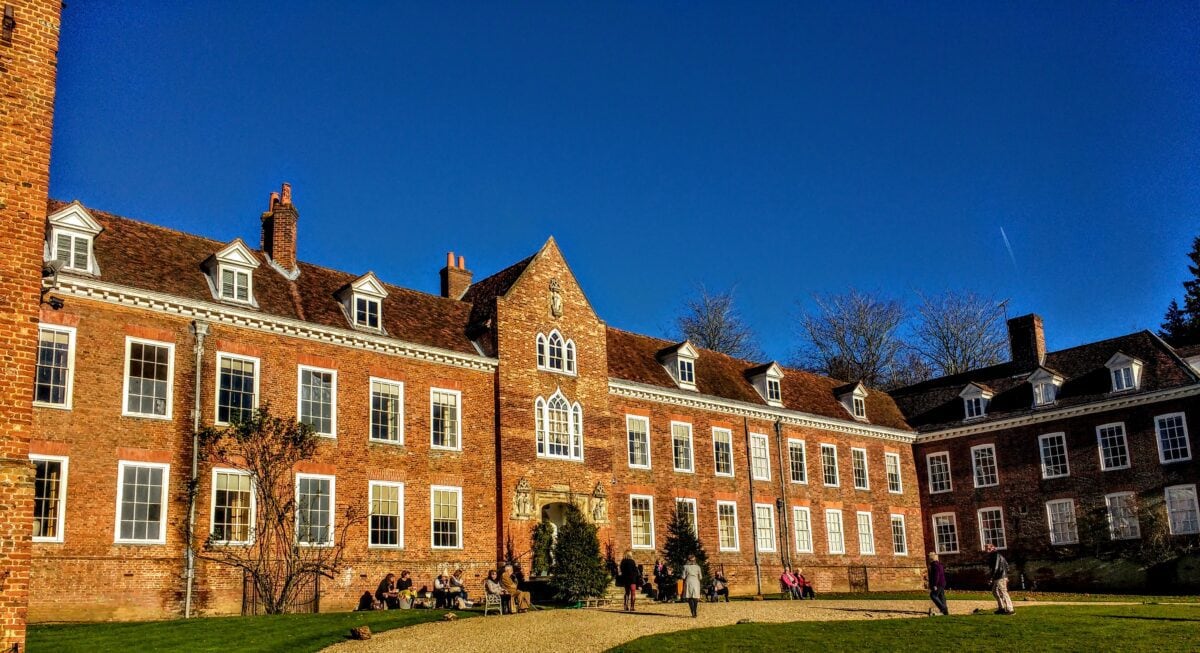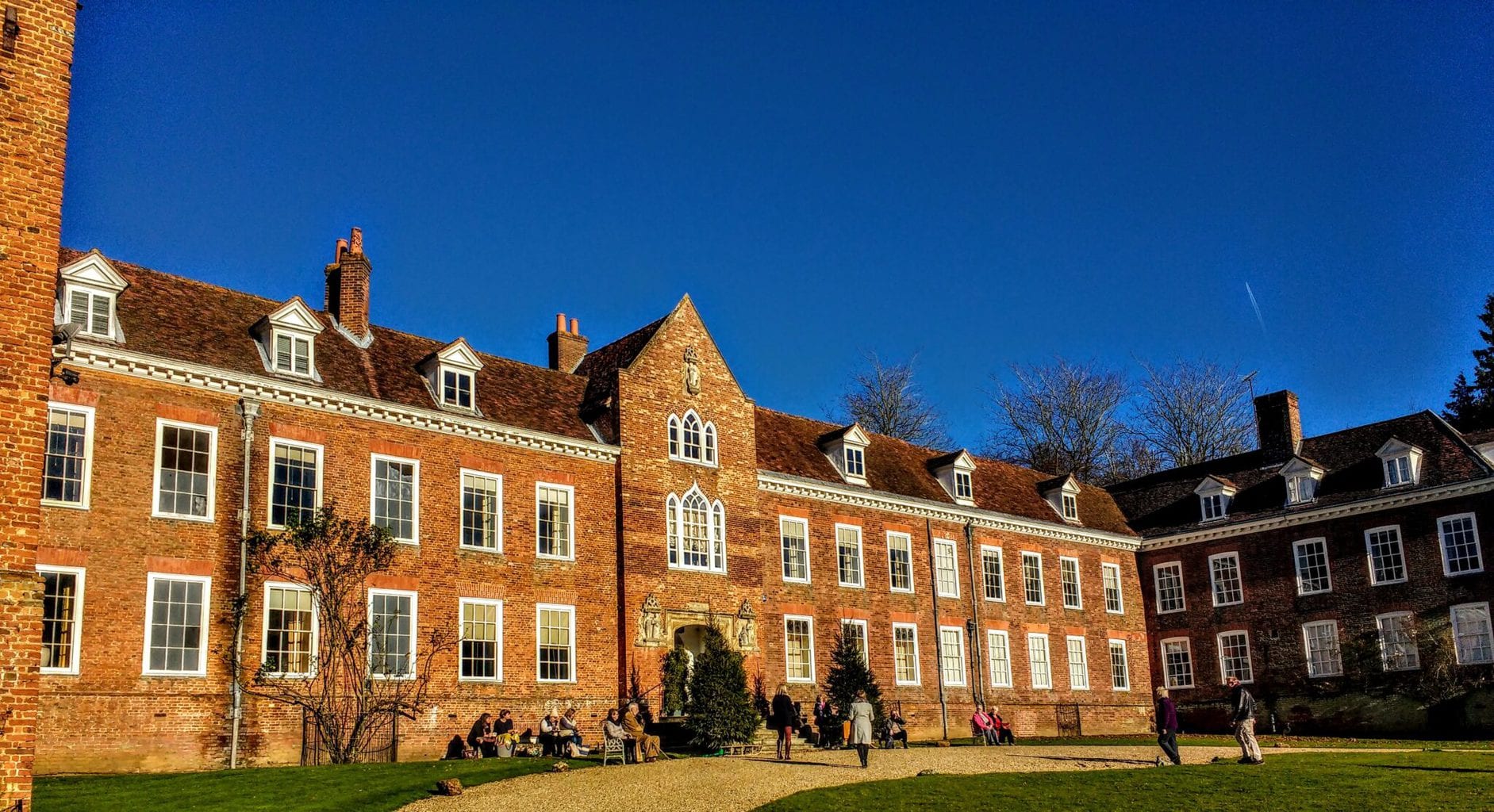 Stonor Manor has been the home of the Stonor family for more than eight centuries. The 12th-century chapel survived 250 years of anti-Catholic legislation during King Henry VIII's Reformation. The Stonor family were 'recusants' which meant that they refused to convert to the Anglican religion.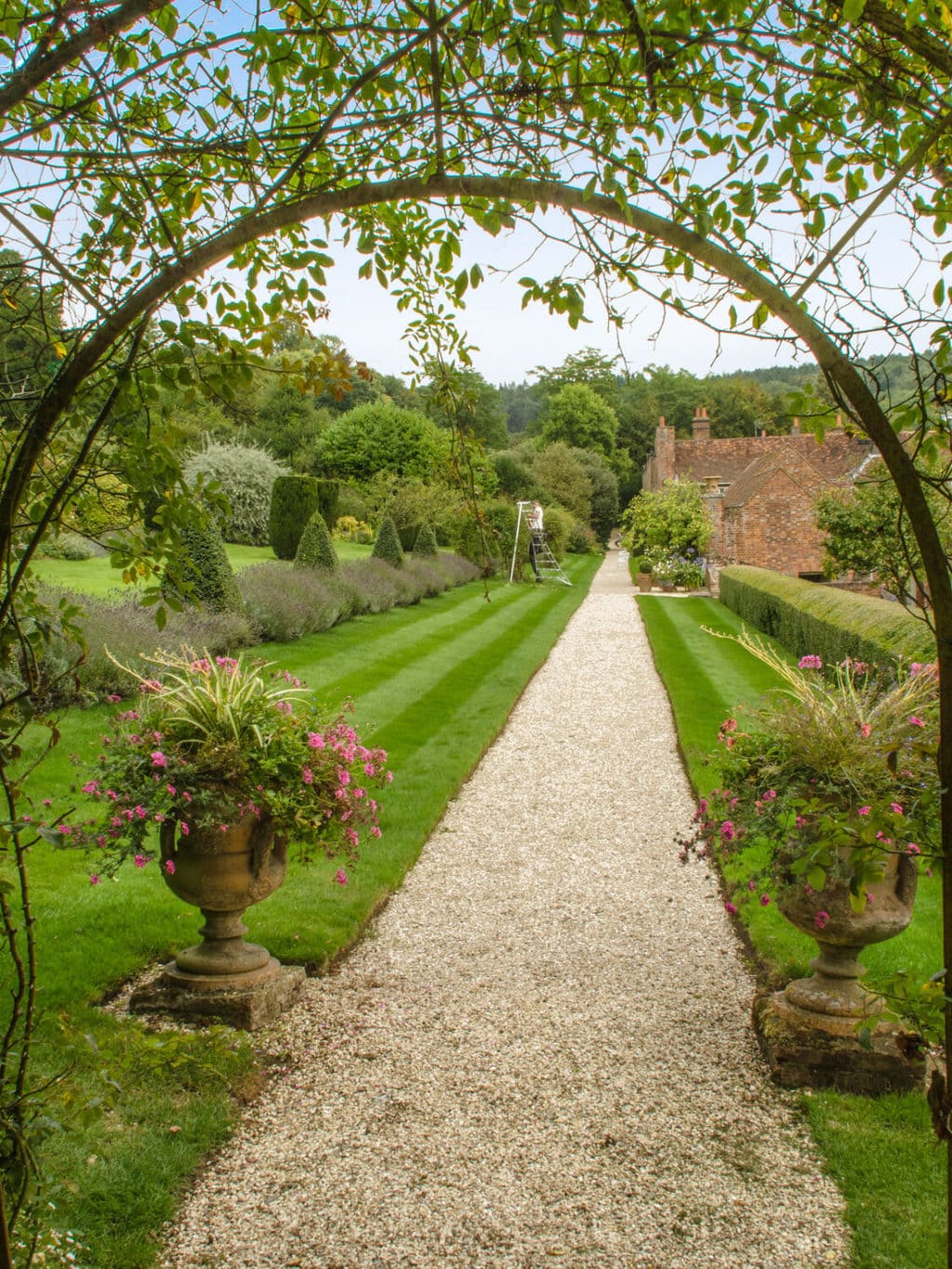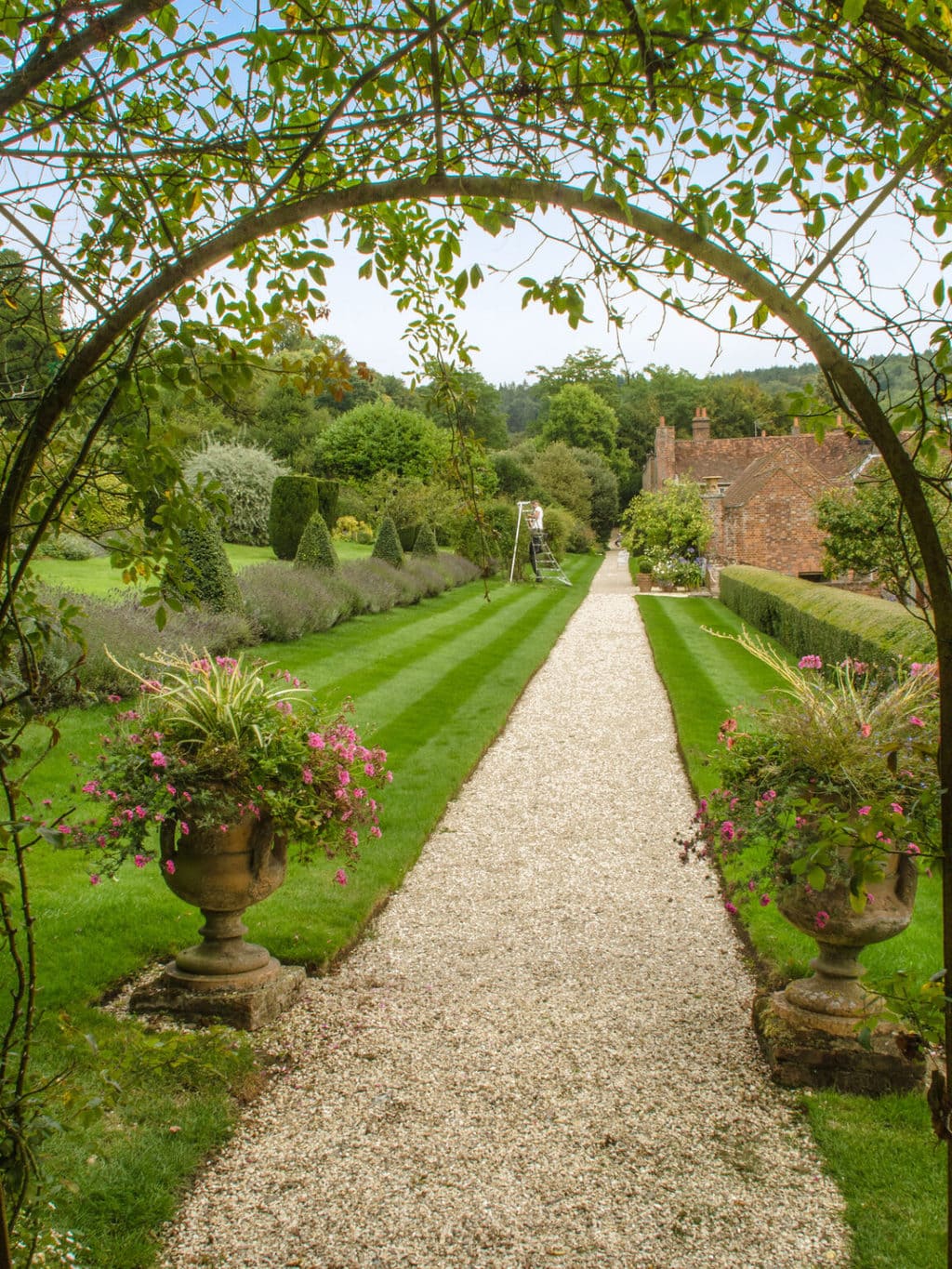 Wandering the grounds you can take in the beautiful gardens full of lavender, topiary, ponds and fountains. You will spot the standing stones to the front of the house which are approximately 5000 years old. Tickets to tour the house and gardens cost around is £20.00.
Polesden Lacey – Surrey
Polesden Lacey is an absolutely charming manor house maintained and owned by the National Trust. It's located in Great Bookham in Surrey near the Surrey Hills, which is south of London.
The manor house is worth a visit in itself for the stunning and well-maintained art, porcelain and furniture collection that belonged to the former owner, Margaret Greville. Upon her death, she gifted Polesden Lacey and her collection to the National Trust and it has since been one of their top properties for annual visitors.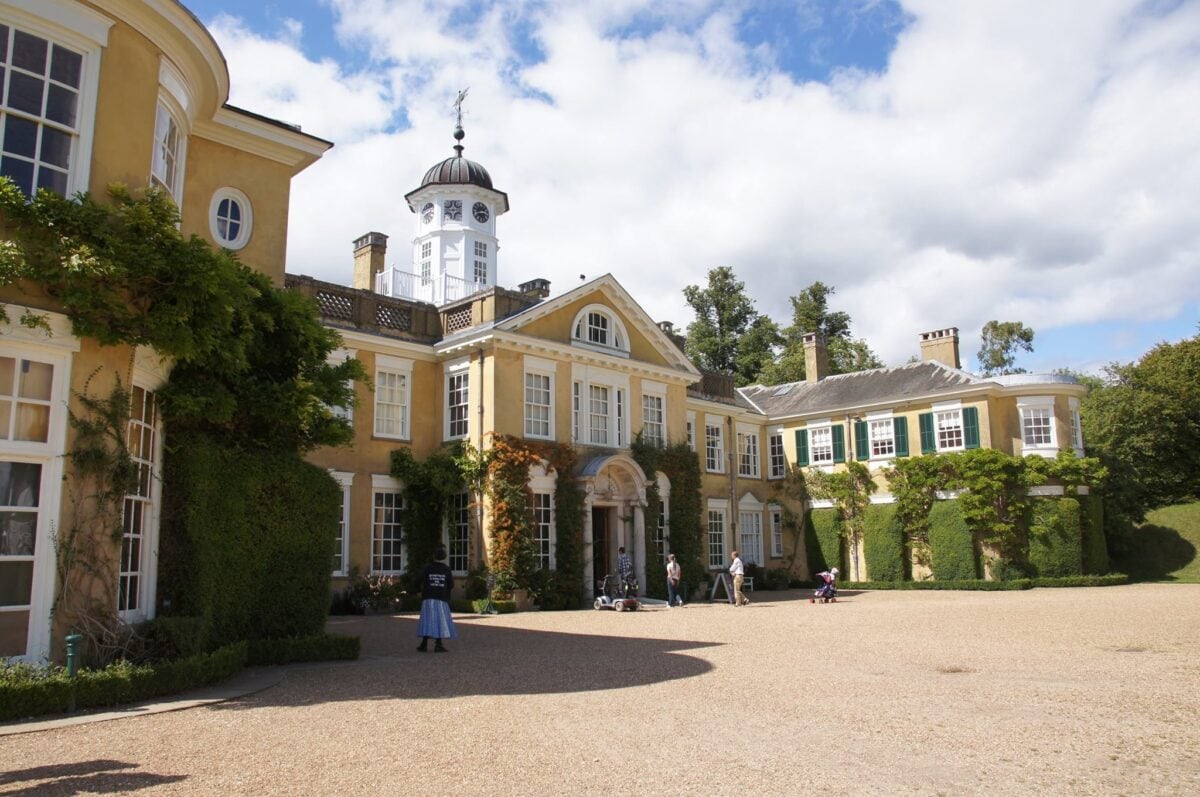 The property also includes several woodland walks and a walled rose garden that is a delight to visit in summer.
Entry cost is free to National Trust members, or £10 for an Adult and £5 for a Child. It includes entry not only to the manor house but also to the expansive grounds. Pack a picnic blanket and make an afternoon of the visit! It's especially lovely on a rare sunny day.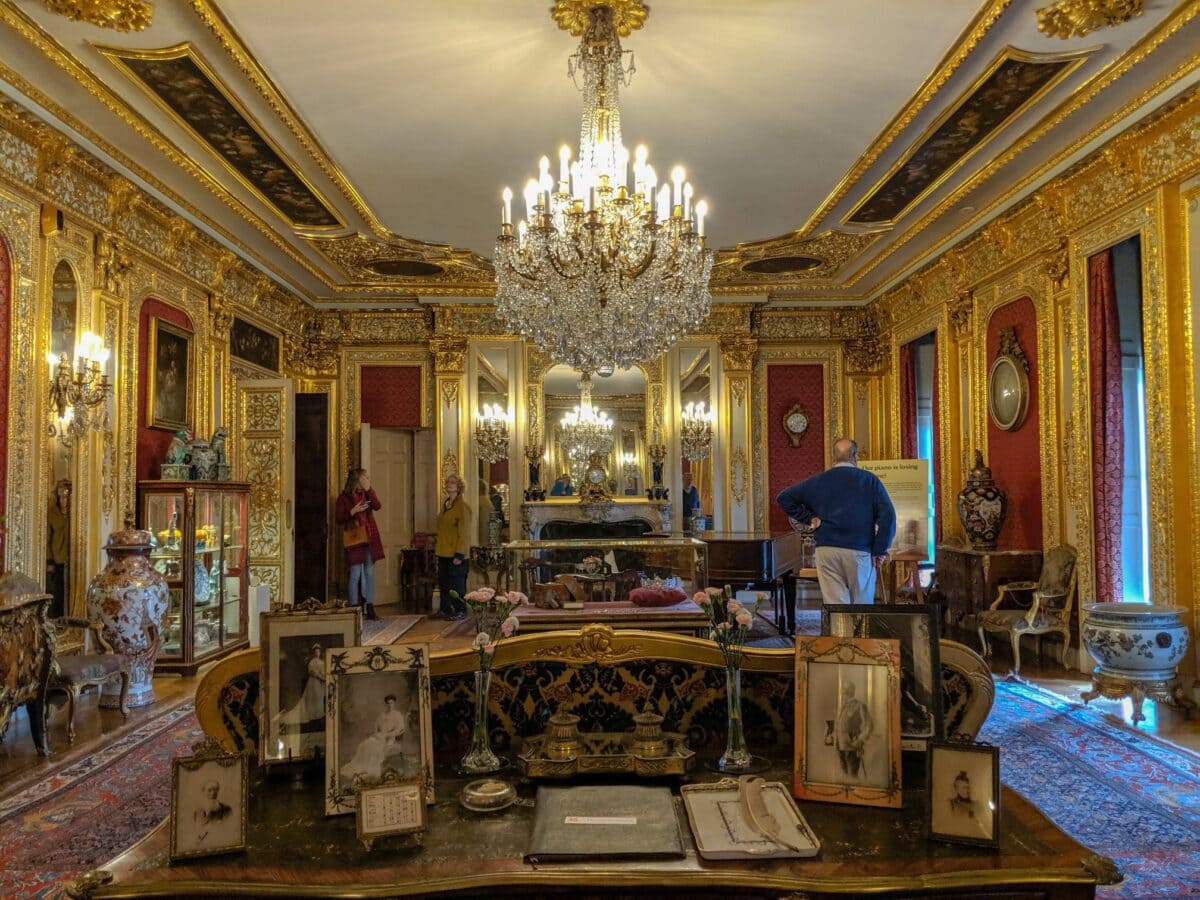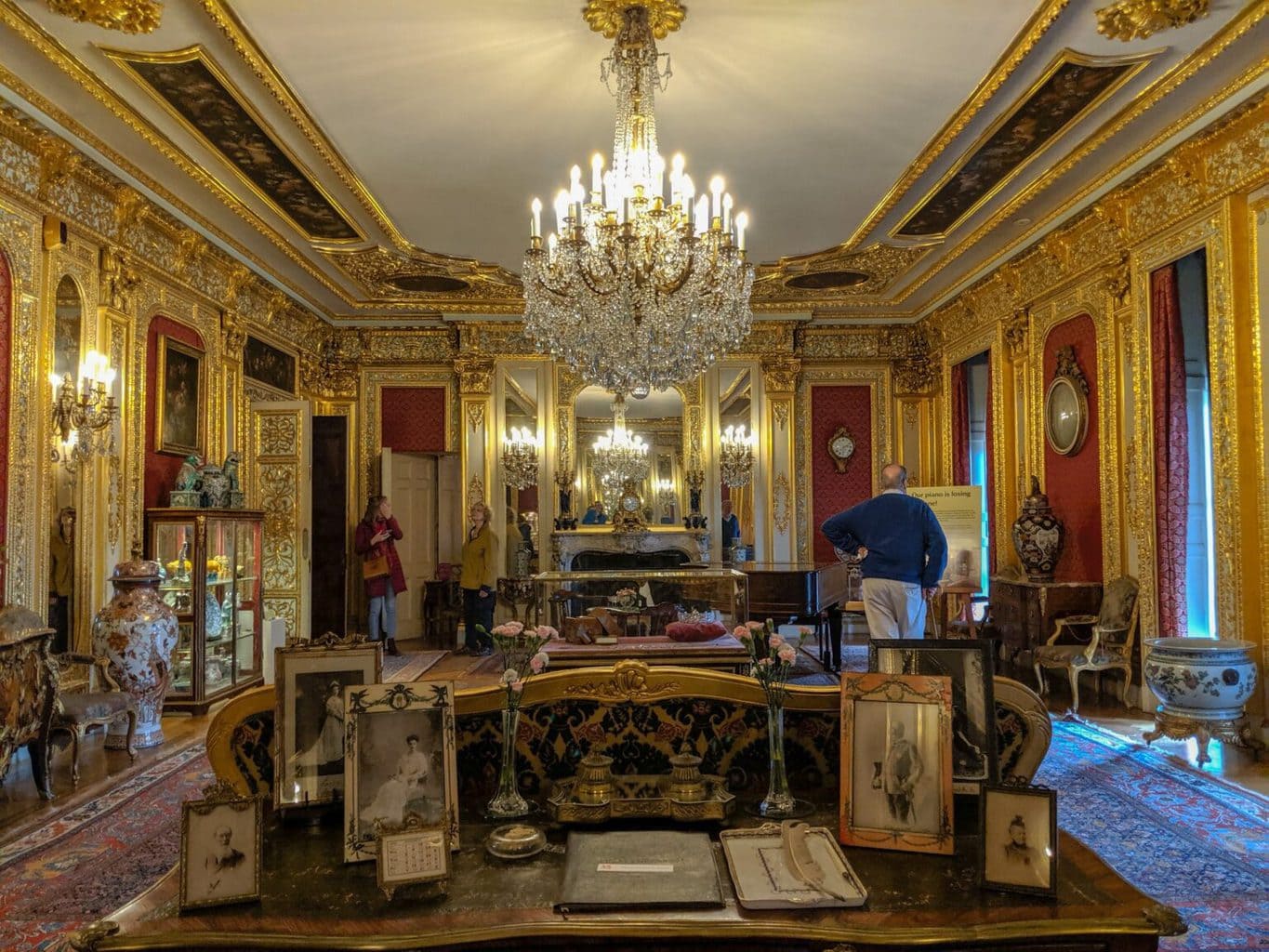 It's easiest to reach Polesden Lacey by car, but it is also 1.5 miles away from the village of Great Bookham which can be reached by bus. Tip: You're never too old to roll down the sloped lawns of Polesden Lacey. Written by Jamie of Travel Addict.
Wollaton Hall – Nottingham
Wollaton Hall is a Grade 1 listed Elizabethan Mansion set in over 500 acres of parkland just outside of Nottingham's city centre and is one of the best things to do in Nottingham.
Built between 1580-1588, you can tour the hall for £10 per person and see the reconstructed grand upper rooms with panoramic views over Nottingham city and surrounding areas. Visit the beautiful orangery overlooking the grounds and the lake, then descend into the Tudor kitchens, the old wine cellars and the hand-carved caves beneath the hall. In the old stables, you will find the Nottingham Industrial Museum which showcases the five industries that Nottingham is famous for.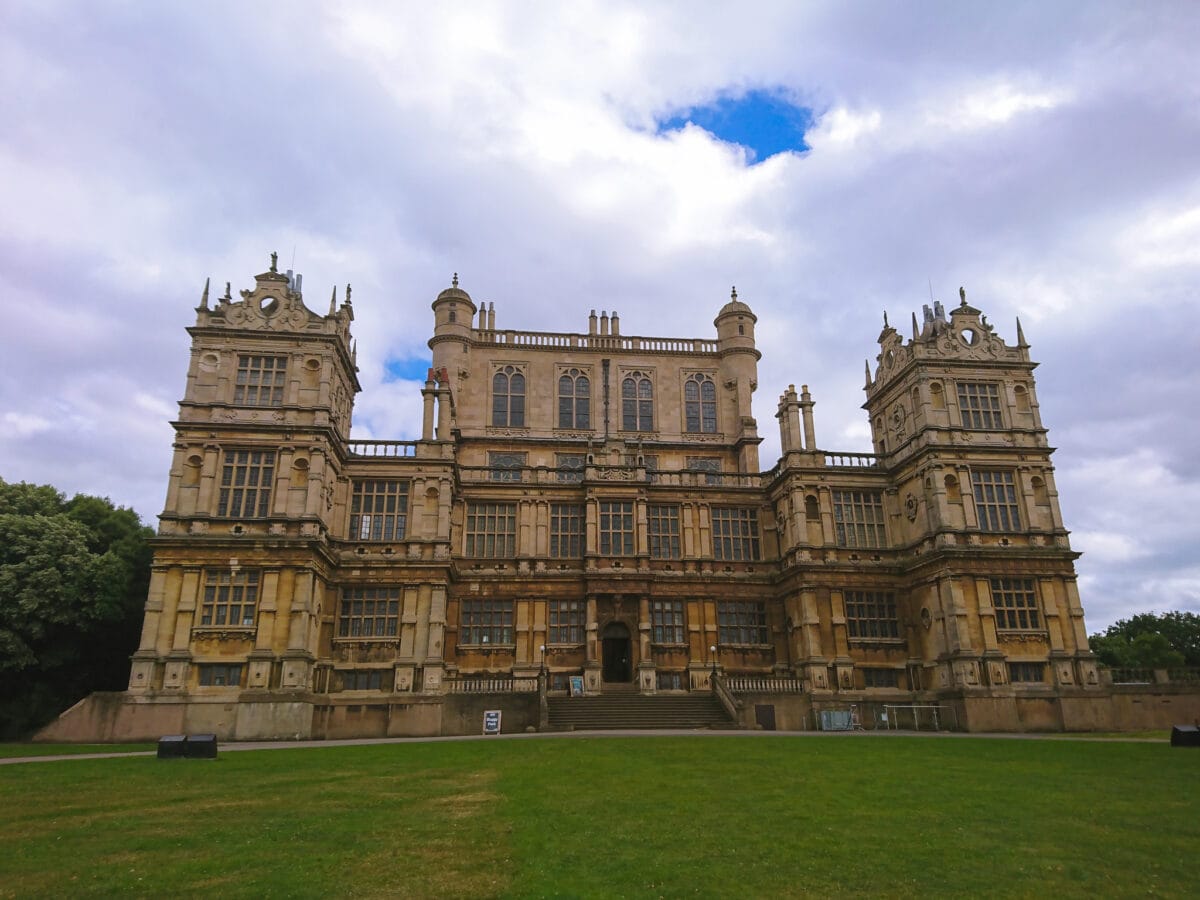 Wollaton Hall is also the whereabouts of the Nottingham Natural History Museum which is free to enter and features many stuffed animals, displays of local wildlife and the plant life of the area. On the grounds of the hall, there are free-roaming red and fallow deer which is a spectacular sight and a must for photography enthusiasts.
Wollaton Hall can be easily reached by car from junction 25 of the M1 or by public transport from Nottingham city centre. Contributed by Steph & Lewis from Book It Let's Go!
Burghley House – Lincolnshire
Burghley House is a grand sixteenth-century manor house near Stamford, Lincolnshire. Burghley House is a grand 16th-century grand English mansion. To us peasants it looks like a real castle but it is what is called an Elizabethan Prodigy House built by the Cecil family who still lives there.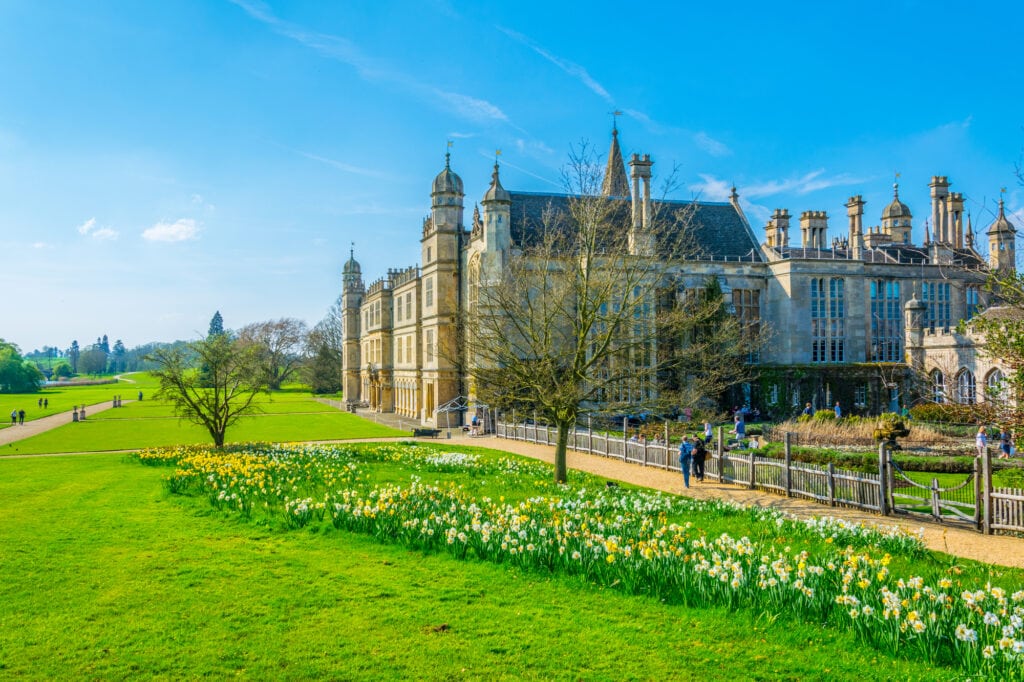 A Prodigy house is a huge and very ostentatious English manor house built in either Tudor, Elizabethan or Jacobean style. Many of the grandest of these English mansions and country homes were built with the hope of hosting Elizabeth I and her large retinue as they made their annual royal progress around England.
The exterior of Burghley House largely retains its Elizabethan appearance, but most of the interiors date from remodellings before 1800. The house is open to the public and exhibits a circuit of grand and richly furnished state apartments. Its park and gardens were laid out by Capability Brown.
Chartwell House – Kent
Just an hour outside of London, take a day trip to Kent to visit Chartwell House, the country home of famous wartime Prime Minister Winston Churchill for more than forty years.
Located on twenty acres of beautiful land, you will have a lot to explore and appreciate this beautiful manor home. Take time to wander through the rose garden, water garden, and woodlands. All of these features were lovingly planned and installed by Churchill and his wife, Lady Churchill.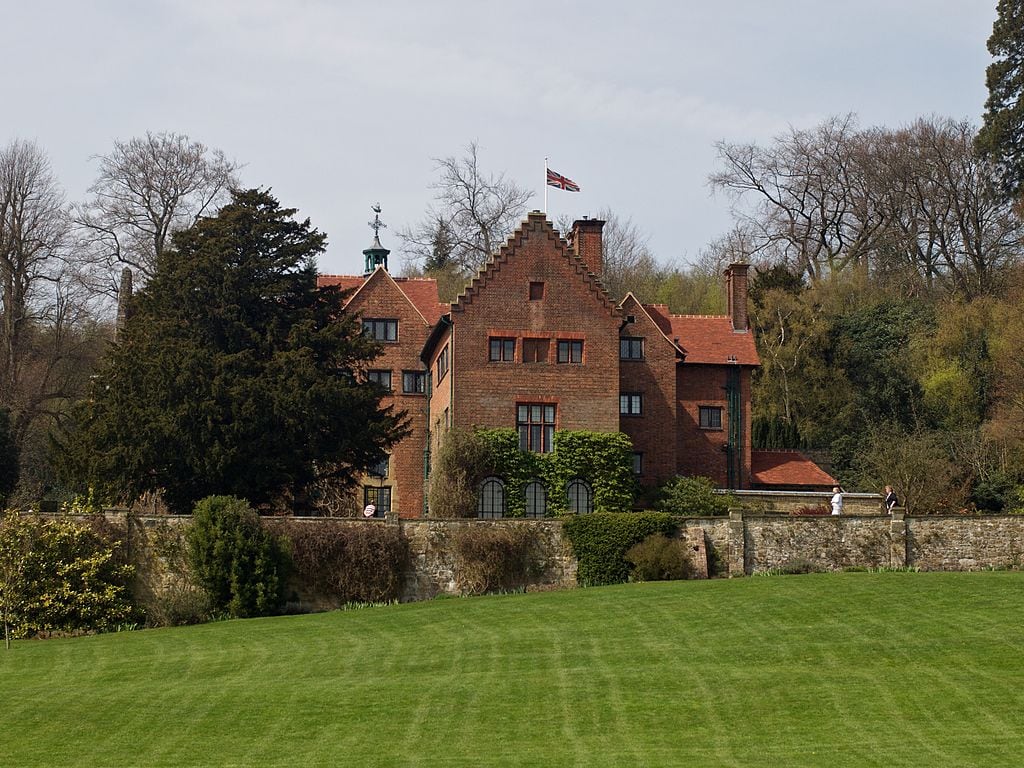 While here, avail yourself of a truly unique opportunity to learn about the many sides of the "bulldog" prime minister. The home remains much as it was when he lived there, allowing visitors an intimate peek into his personal and family life. Here, you will see the rooms in which he raised his children.
You'll see where Winston Churchill was passionate about gardens and spent his free time painting. Make sure you don't miss looking inside his painting studio, which has a sizable collection of his original paintings. This truly is a unique place to visit among the many manor houses in England. The entrance for adults is £10, £5 for children. Family rates are available. Contributed by Constance at A Well-Read Wanderer, like this guide to visiting Charles Dicken's home and museum in London.
Lydiard House – Swindon
Five minutes drive from junction 16 of the M4 motorway is the beautiful estate of Lydiard Park. Set in the 260 acres on the west of Swindon is the Grade I listed Lydiard House.
Lydiard House was the ancestral home of the Viscounts Bolingbroke. In Elizabethan times, it was the St John family who lived in the house.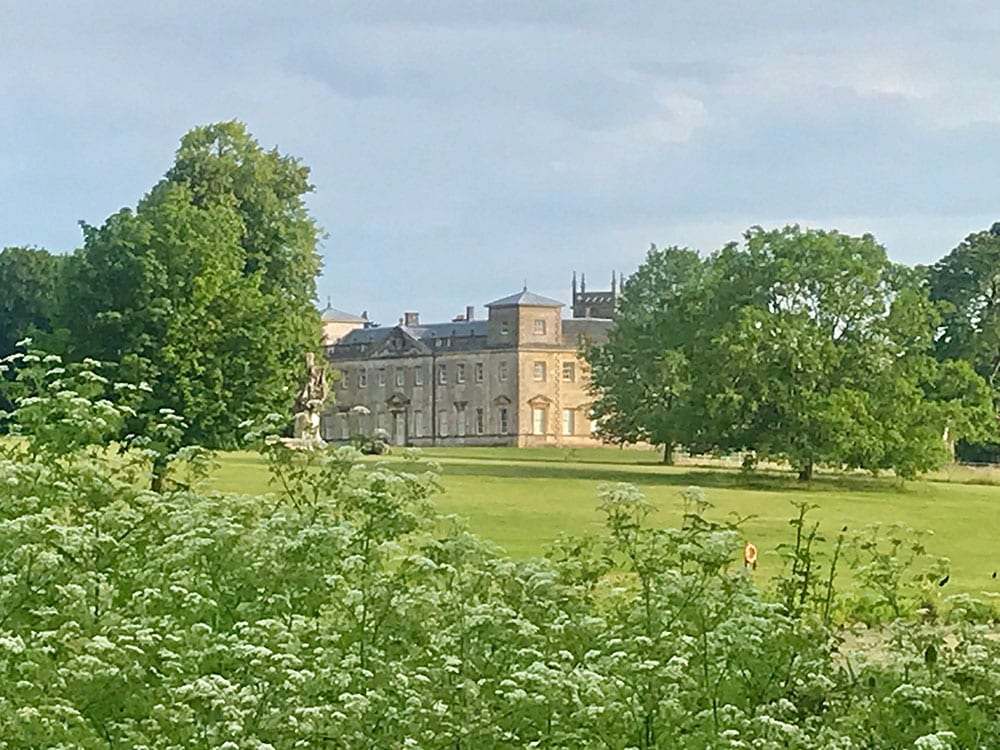 The house was redesigned in the 1740s into the current Georgian manor house with a classical Palladian façade. The symmetrical details with a grand entrance in creamy stone and corner towers look out over the park and lake.
The ground floor apartments of Lydiard House were opened to the public in 1955 after being restored. You can now wander through the rooms admiring ornate plasterwork and original family furnishings, portraits and paintings. The Dressing Room, which celebrates Diana Spencer who was the 2nd Viscountess Bolingbroke, is decorated in crisp blue and white and features a 17th Century painted window and an early 19th Century mechanical desk.
Outside you can visit the 12th Century St Mary's Church. Stroll through the parkland which includes several follies, an Ice House, the delightful Walled Garden or stop for a cup of tea in the Tea Rooms.
There is paid parking and entrance to Lydiard House costs £7.25 for an adult, £4.00 for children 3-15 and £6.75 for over 60s and students. Contributed by Larch of The Silver Nomad.
Cowley Manor – Cotswolds
Cowley Manor is situated in the Cotswolds, just outside of Cheltenham and is one of the best UK's luxury family hotels. The land here is old, passing from Edward the Confessor to various hands through the centuries. The house you can see today has its design based on the Villa Borghese in Rome and so sports a rare (for British manor houses) Italianate exterior.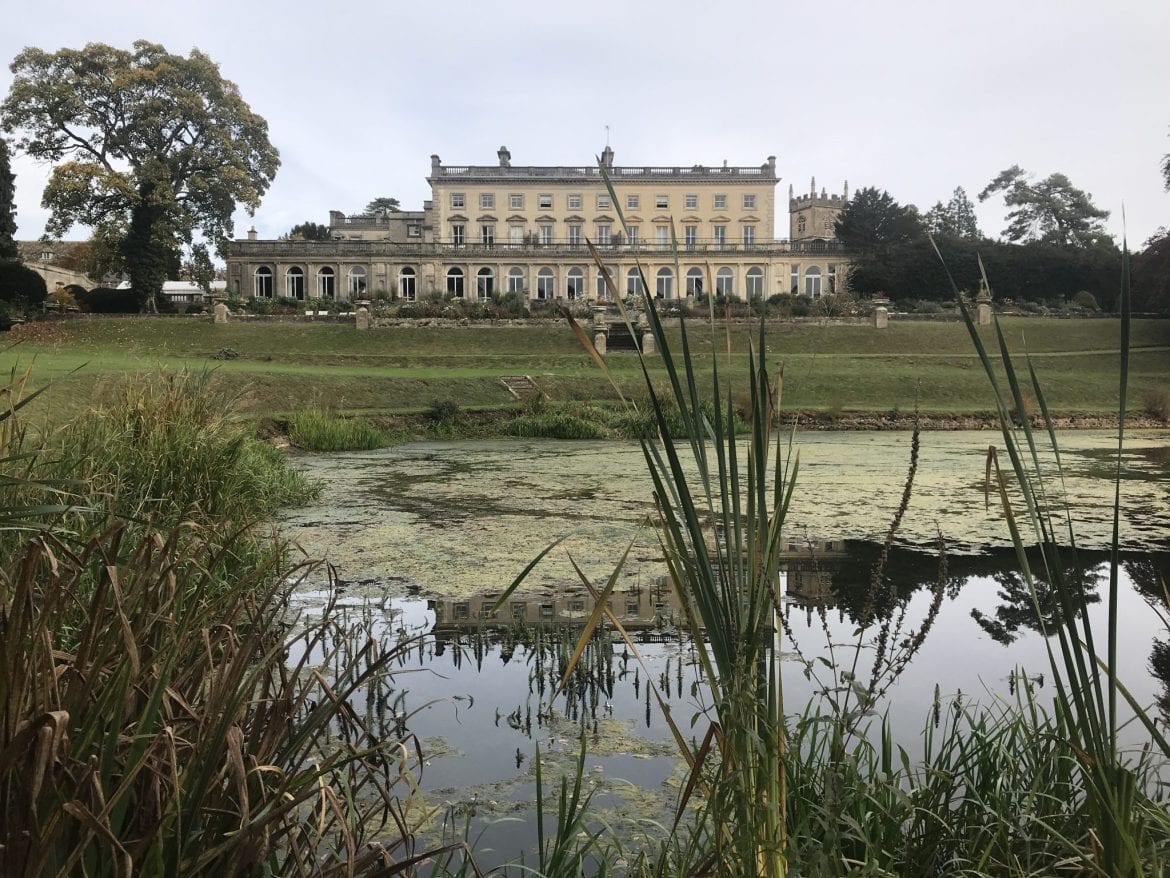 This grand building is set in beautiful grounds, dotted with contemporary artwork and two large lakes. Built in the 19th century the house you see today has been regularly at the forefront of modern technology and living, having a whole variety of steam rooms. Now a hotel, throughout the years it has had many notable guests and it is reputed that Lewis Carroll wrote Alice in Wonderland after being inspired by the grounds. Today you can visit as a guest of the hotel or visit the wonderful spa complex that still exists. Contributed by Nichola of Globalmousetravels.
Beningbrough Hall – York
Beningbrough Hall is a large Georgian manor house about 8 miles North West of York. Entry to the house and gardens is free to National Trust members, or Houses, Castle and Gardens cards but otherwise is £10 per adult and £5 per child. The gardens are extensive and are undergoing a programme of improvements headed by Andy Sturgeon, including a snowdrop walk planted with 300,000 snowdrop bulbs, and a pergola walk that will be covered in wisteria in years to come. Beningbrough also boasts a magnificent walled garden.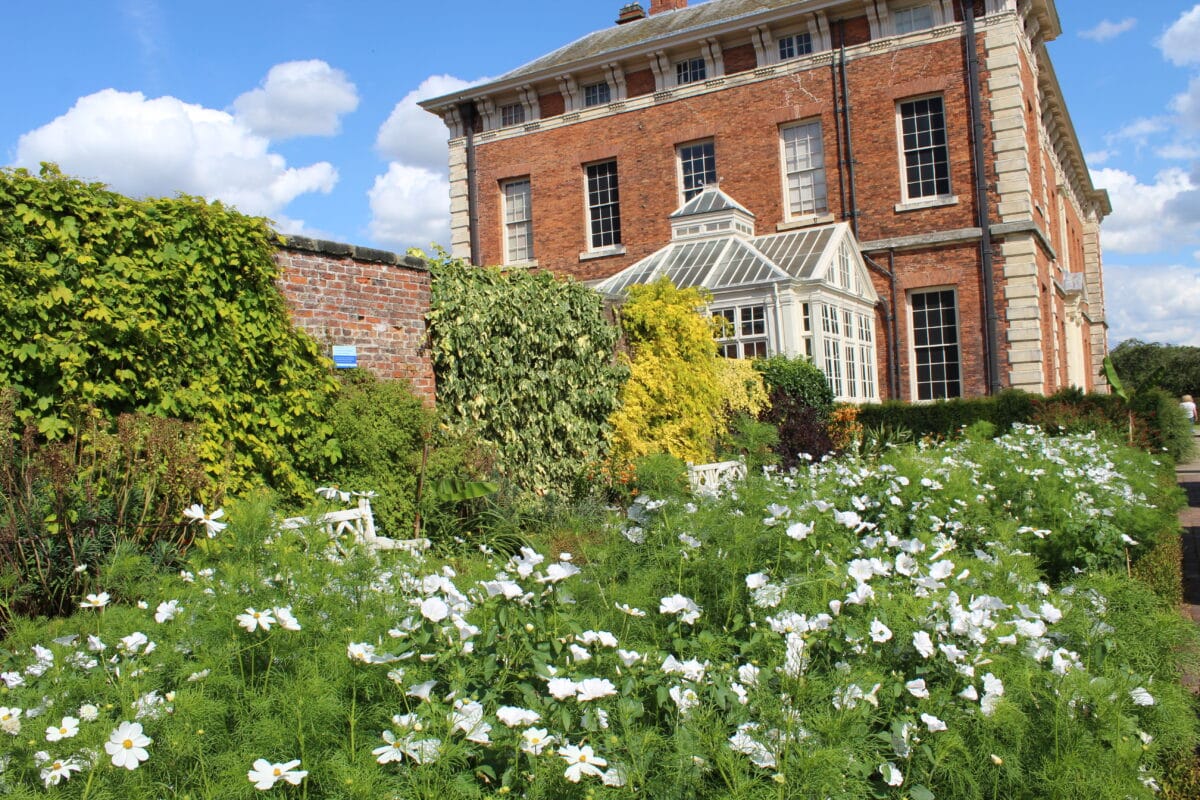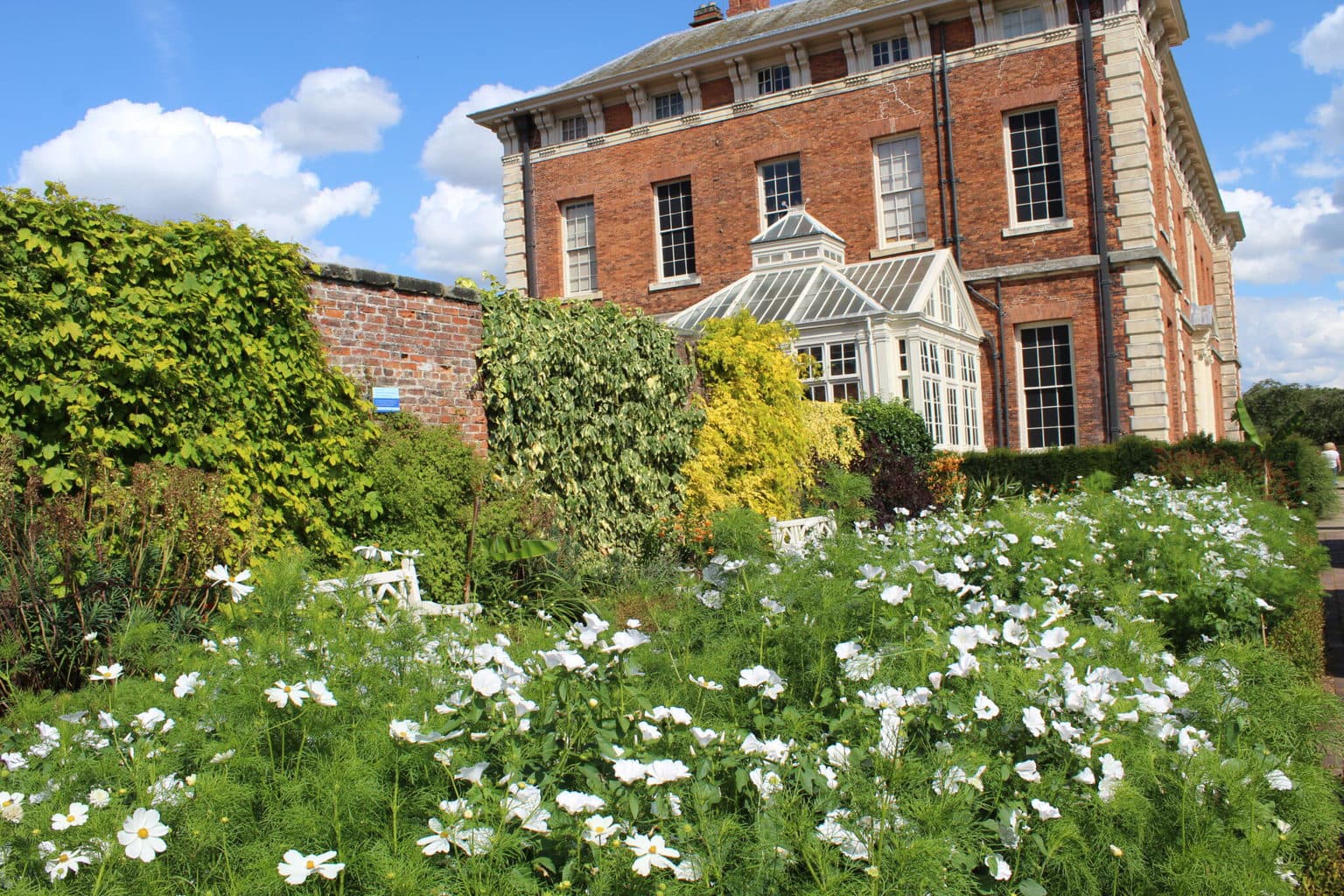 Dogs are welcome at Beningbrough Hall, and it's ideal for kids too. There is a large adventure playground for younger visitors that has been revamped over the last couple of years with a large slide, lots of swings and climbing frames and a den-building area. There is also a great coffee shop near the playground which is perfect for parents!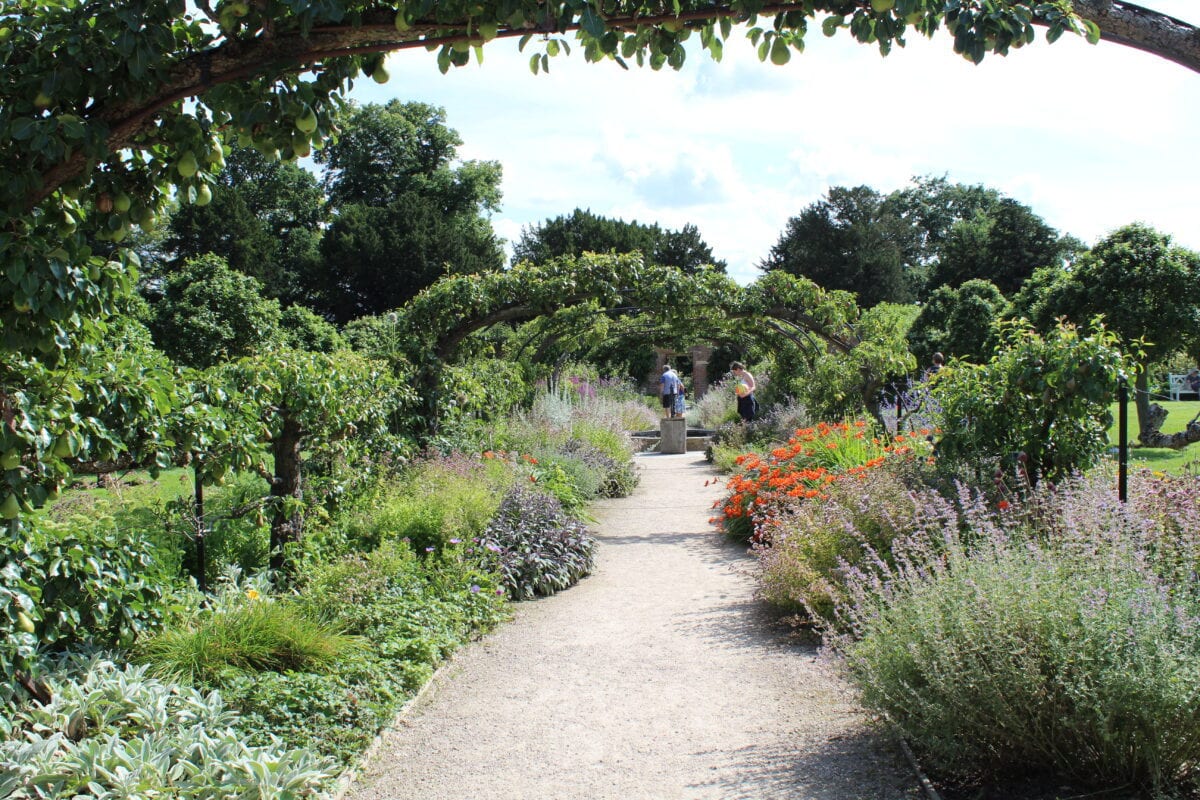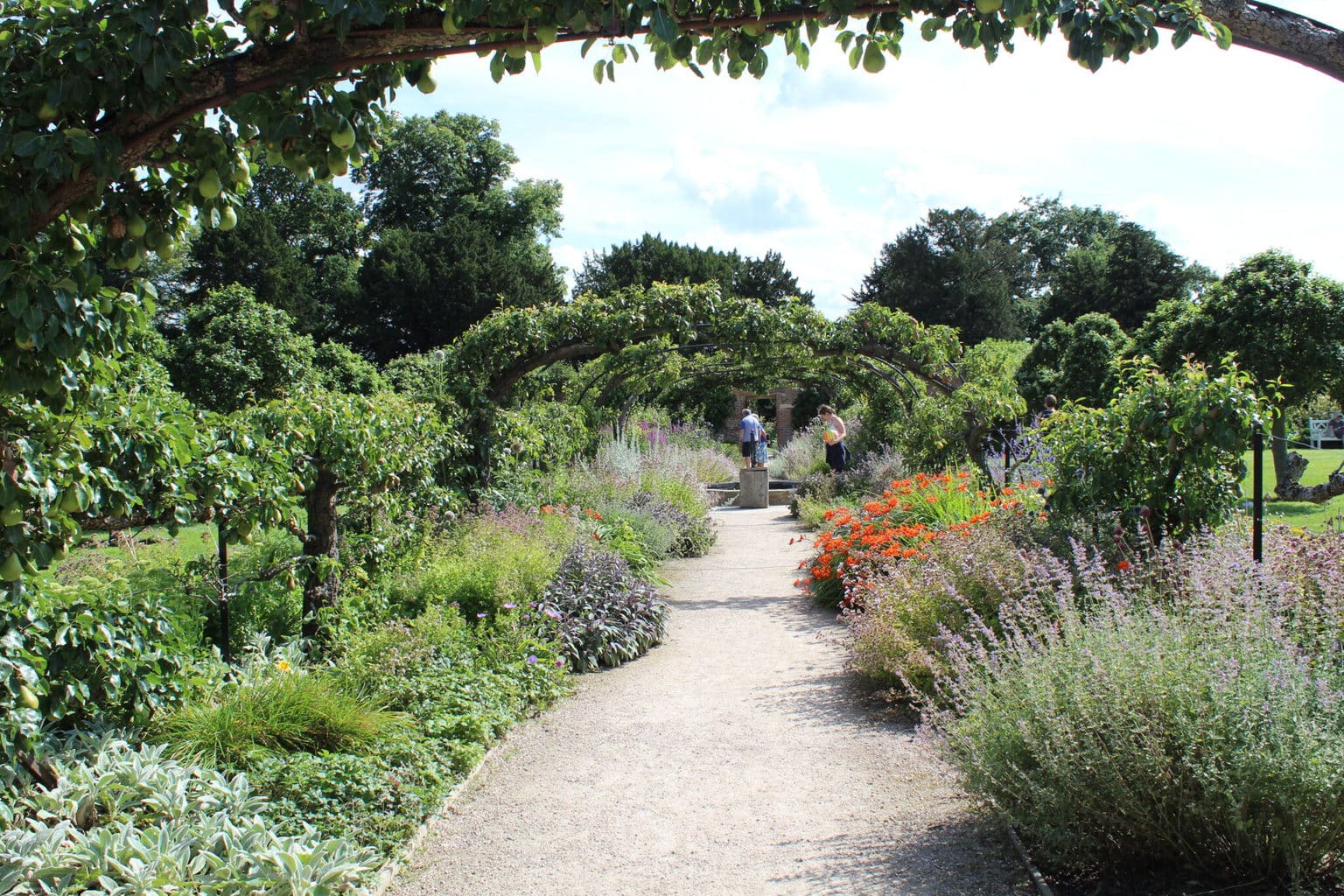 You can buy gifts and plants grown in the gardens in the retail courtyard and there is a large café for meals and snacks. Contributed by Nikki from Best Lodges with Hot Tubs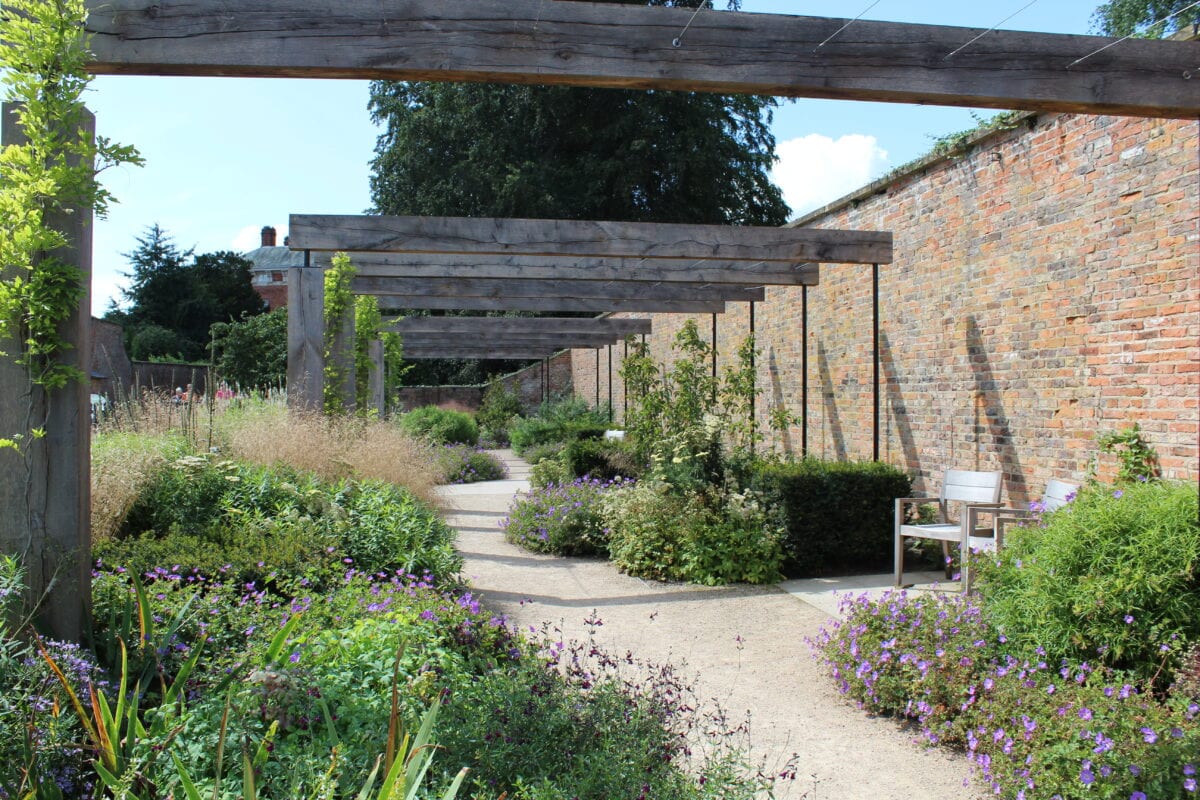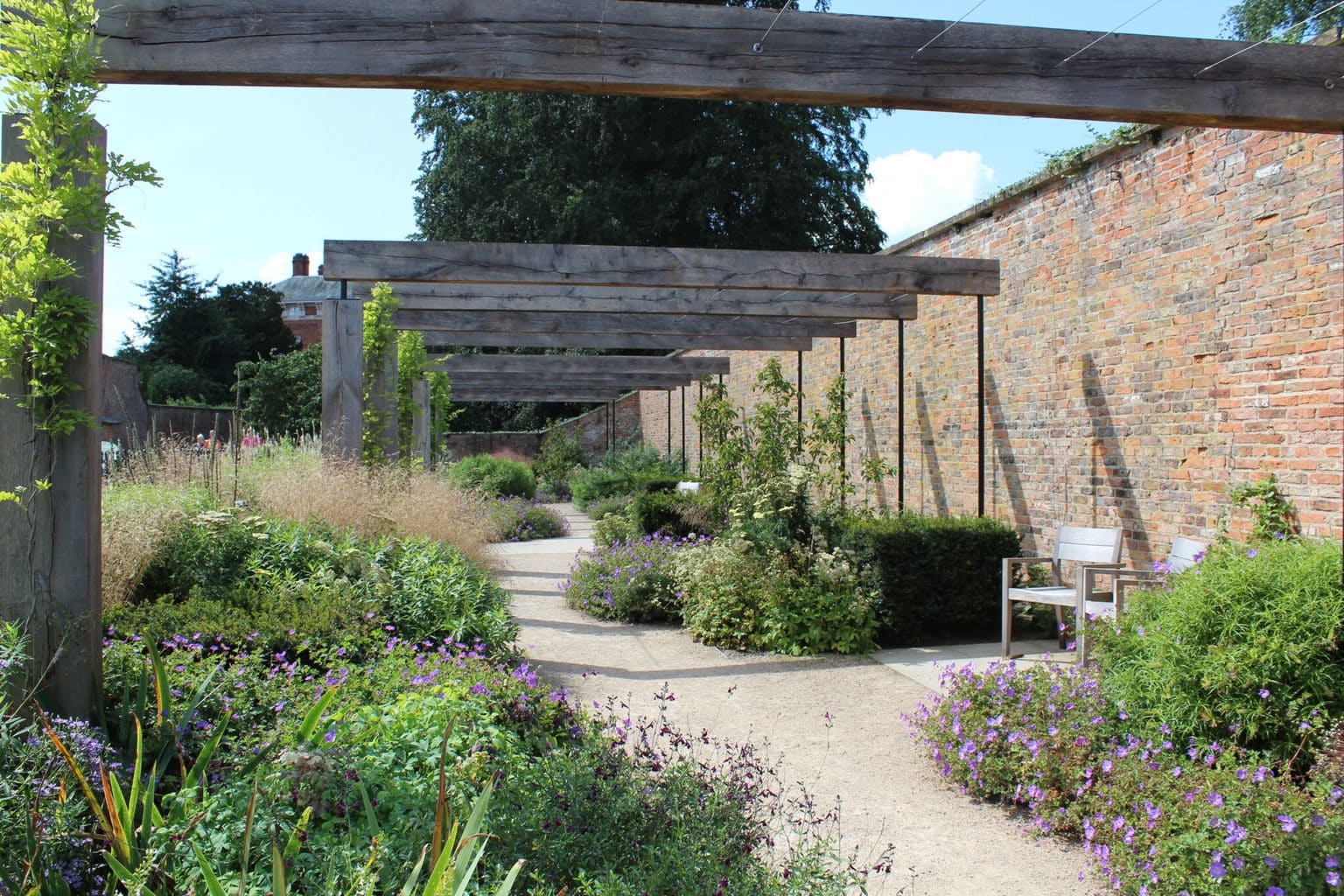 Palace House – New Forest
Palace House sits like a crown at the top of the beautiful Beaulieu River in the New Forest, a perfect stopping off place on a UK road trip This 13th-century' treasure house' was the gatehouse of the medieval Beaulieu Abbey, before being converted into a Manor House in 1538. Nowadays, after extensive remodelling, it has an eclectic style and is considered a Gothic country house with a Victorian interior.
The ancestral and current home of the Montagu family, the house has a fascinating history since its' conversion in 1538. The grounds are not only home to colourful and fragrant flower gardens and a fabulous walled kitchen garden, but also to the famous National Motor Museum, with a matchless collection of over 250 historic vehicles.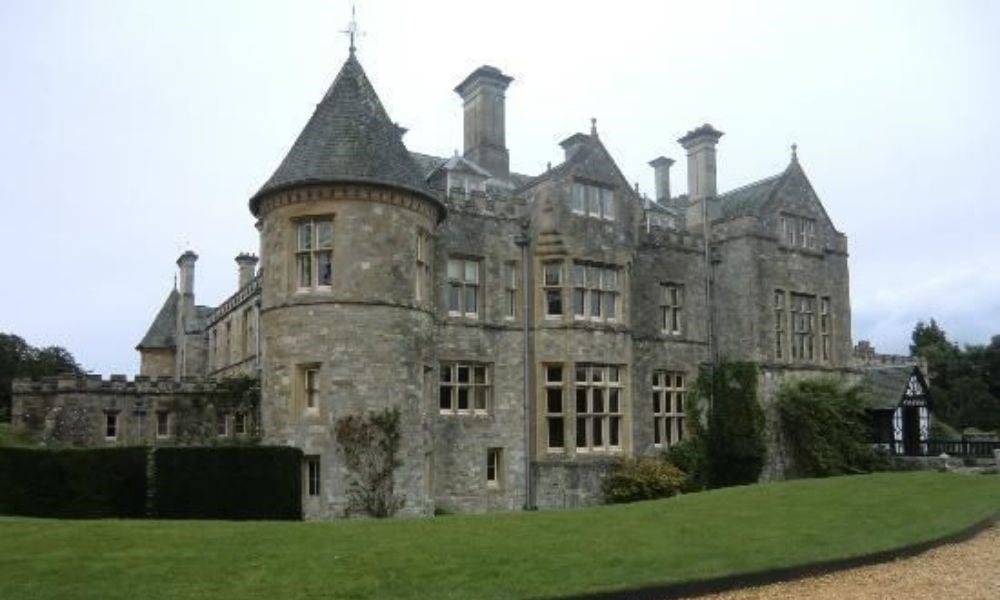 Palace House also has a fascinating war story to tell. During World War II, Palace House became a training centre for the Special Operations Executive (SOE), who trained agents in undercover work behind enemy lines. Over 3000 operatives were trained in Beaulieu before deployment overseas. Most were parachuted into France, where their work with the French Resistance movement undoubtedly turned the tide of the war.
You can visit the Palace House when you book tickets to visit the National Motor Museum, which cost £21.50 if booked online. Contributed by Izzy and Phil of the Gap Decaders.
Waddesdon Manor – Buckinghamshire
Located in the heart of Buckinghamshire is one of England's most beautiful manor houses, the Waddesdon Manor. Built in French Renaissance style in the 1870s by Baron Ferdinand de Rothschild, Waddesdon Manor is home to an exquisite collection of arts and is open to visitors throughout the year.
The estate also includes wine cellars, a number of gardens, seasonal trails and playgrounds for children. There are also cafés, restaurants and gift shops for visitors to enjoy. Some of these are not currently open to visitors due to the pandemic but otherwise are open all year throughout.
There have been 20 film and TV productions here, including hemlock Holmes: A Game of Shadows, The Queen and The Counselor.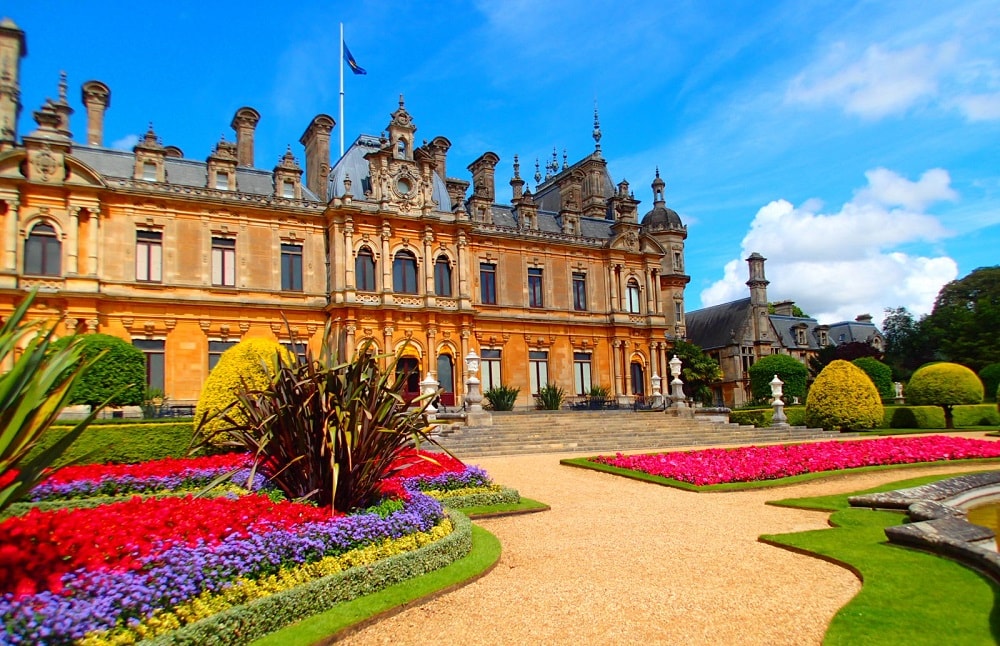 The nearest train station to Waddesdon Manor is Aylesbury Vale Parkway and there are regular services to this train station from London Marylebone. If you plan to drive down to the estate, it would take approximately 1-1.5 hours from London depending on traffic.

Entry to the house is free for members of the National Trust, Art Fund, Historic Houses and RHS. For others, the entry prices are £12 for adults and £6 for children.

Based on our visit, we would recommend setting aside a good part of the day for a leisurely exploration of the estate. Or if you carry a picnic, you could even make a wonderful day out of your visit. Contributed by Deeptha of The Globe Trotter UK.
Hinton Ampner – Winchester
Hinton Ampner is a country house near Winchester and is one of the most beautiful places to visit on a Hampshire road trip.
Surrounded by well-tended gardens, this Tudor manor has stood since the 1540s, although it was partly destroyed by a fire in the 1960s and had to undergo major restoration.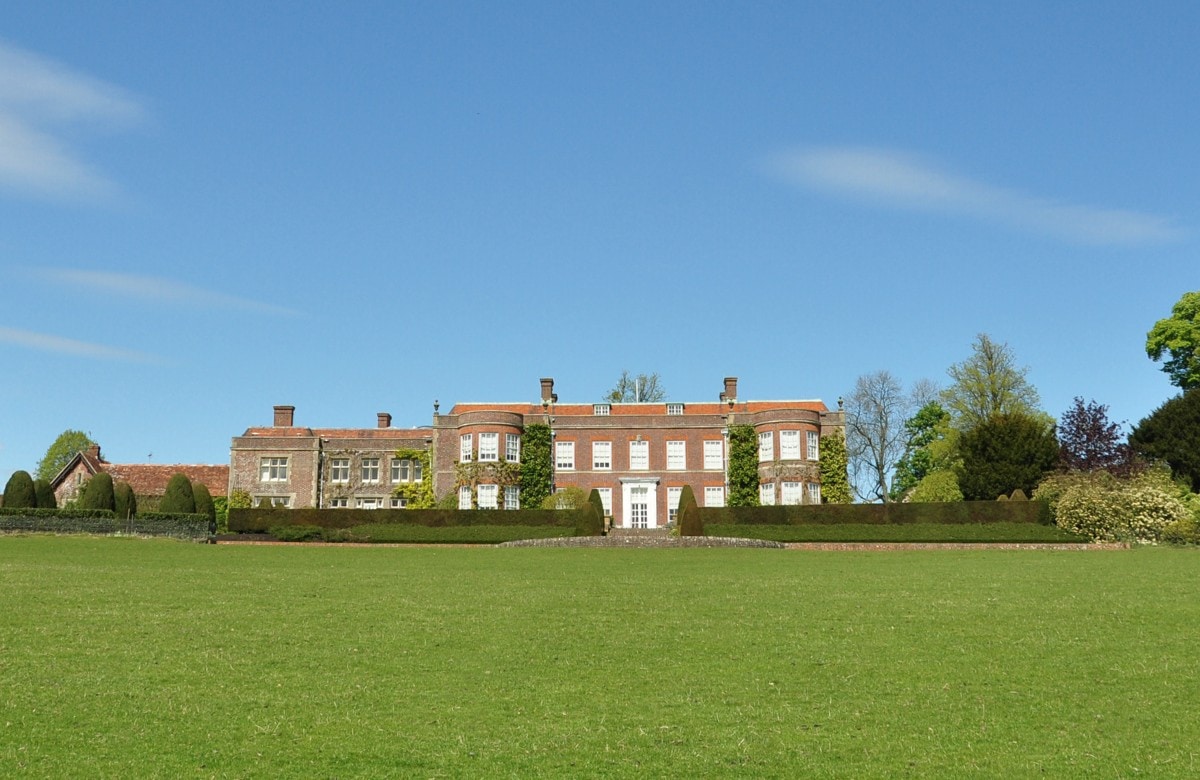 Inside the house, you can enjoy a fine display of artwork, antiques and history (some of it more flattering than others- Hinton has been around since Colonialism and slavery) but be sure to head outside to the gardens- that's where the estate really shines.
The grounds and woodlands are a wonderful place to explore on a winter's day or take and enjoy a picnic during summer. There's a walled garden and a pretty church nearby, both of which are worth a visit.
Hinton is managed by the National Trust, so members can visit for free. Non- members pay a small fee (currently £5) or can join the National Trust at the entrance.
As well as the house and gardens, there is also a shop and tea room for visitors to enjoy. Toilets and changing facilities are provided. Contributed by Kat of Wandering Bird.
Chatsworth House – Derbyshire
No article on Stately homes in England would be complete without a visit to the stunning Chatsworth House in Derbyshire. Chatsworth has been chosen as one of Britain's favourite country houses.
With its incredible gardens designed by 'Capability Brown, Chatsworth has been home to the Duke of Devonshire and the Cavendish family since 1549. With its outstanding views of the River Derwent across to the Wye and Derwent valleys, the house's setting in acres of parkland is simply breathtaking. Generally, the house and gardens can be visited for £36 which includes parking.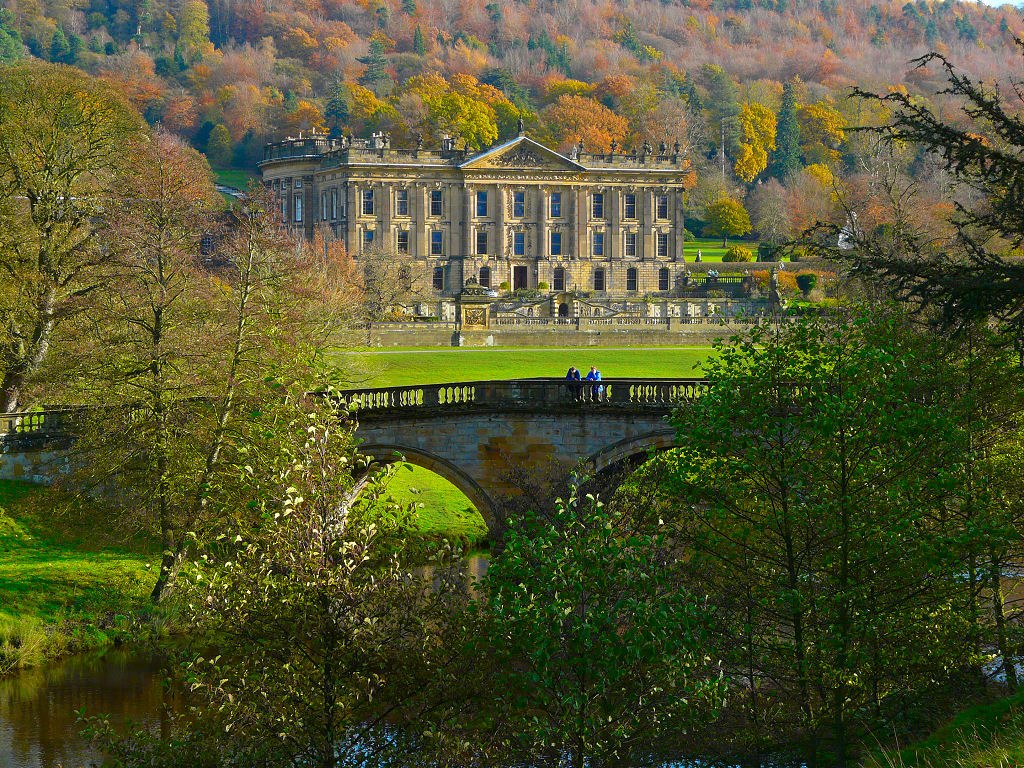 Stately Homes used in Films
Stately homes used in Bridgerton
The Ranger's House
If you are a fan of the new TV Series Bridgerton you may want to visit The Ranger's House in Greenwich. In the TV show, the house is draped in stunning purple wisteria but this is not the case in real life.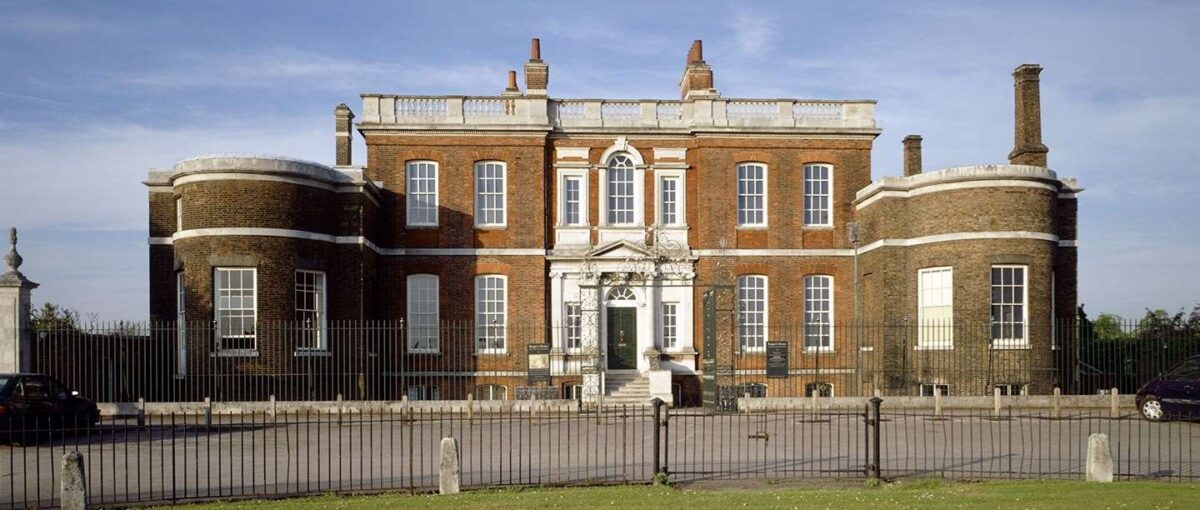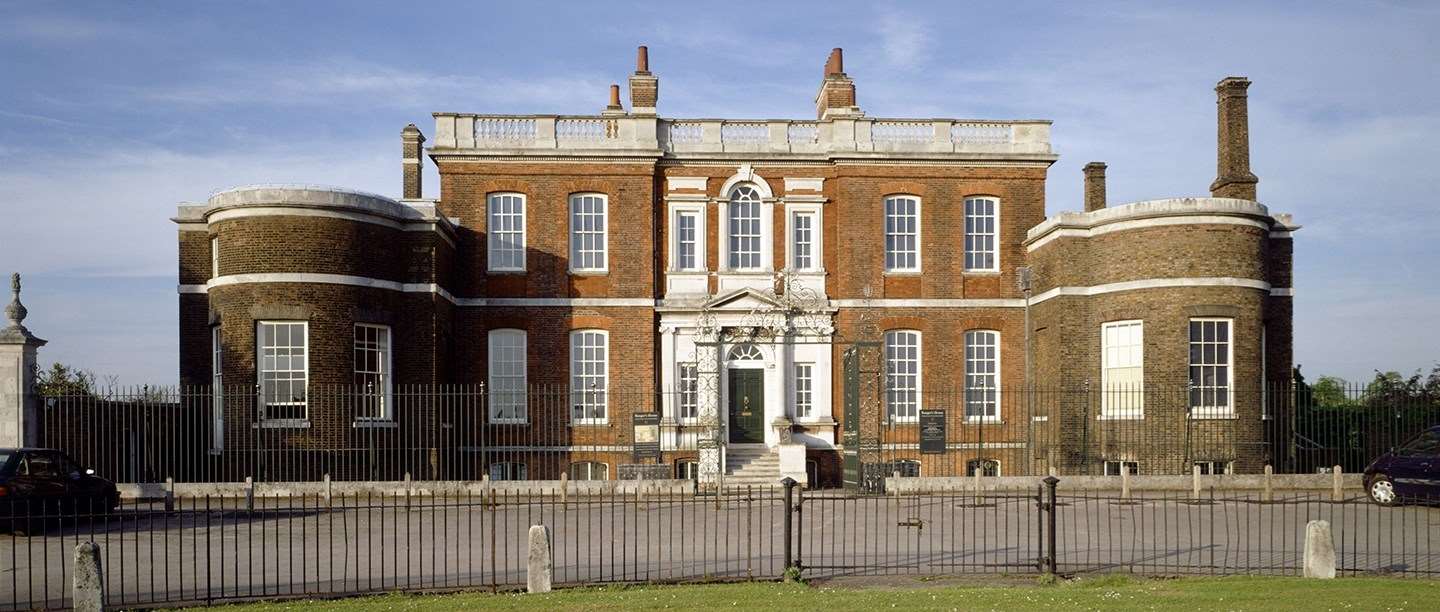 This is an English Heritage property that houses The Wernher Collection, a world-class art collection amassed by the 19th-century businessman, Sir Julius Wernher. This collection contains work by Dutch Old Masters, paintings from Sandro Botticelli's workshop and French tapestries.
Badminton House
The parlour and morning room were shot at Badminton House in Gloucestershire. Private tours for groups are offered for the house and you can take a garden tour around the stunning grounds. Tours of Badminton House gardens and the walled garden are offered at £20 per head, with a minimum group size of 15. Tea/cake is offered separately at £6 per head.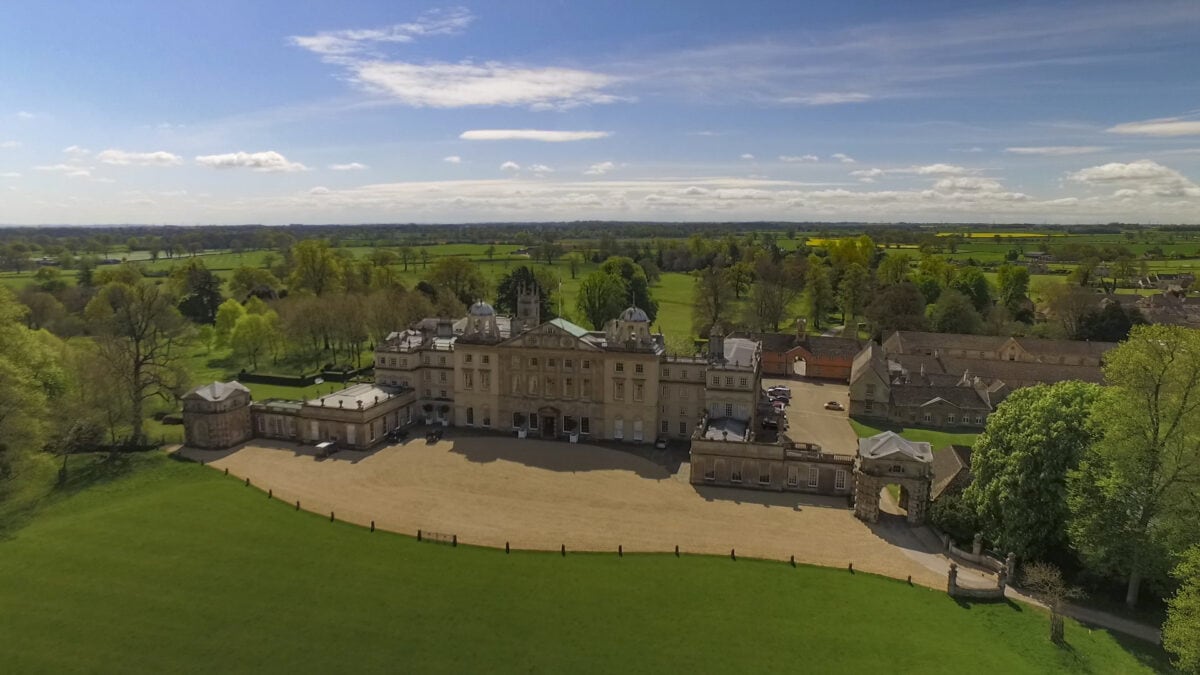 Syon House
Other interiors were filmed at Syon House in London – including the room that is the former Duke's study, and Simon's own dressing room.
Leigh Court
Some of the balls were filmed at Leigh Court these days Leigh Court is used as an incredible wedding venue, and special events and conference space. You can view Leigh Court from the outside but sadly it is reserved for corporate events and of course great British films.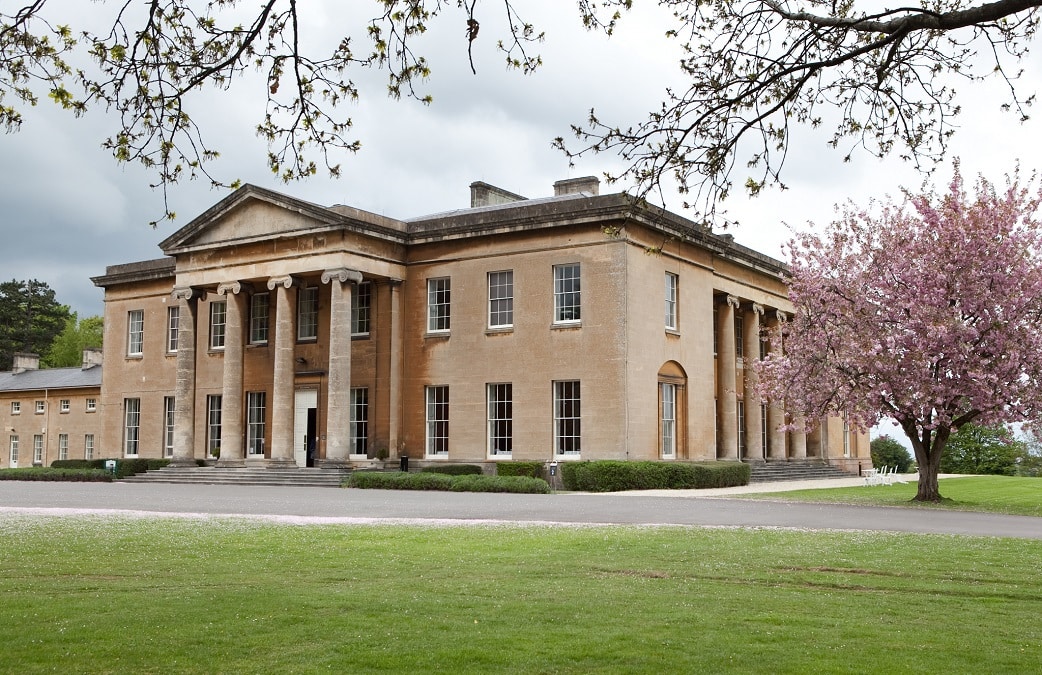 Blenheim Palace
If you have watched the new Disney Cinderella film and have been to Blenheim Palace you will recognize the incredible staterooms and views throughout this absolutely amazing Palace.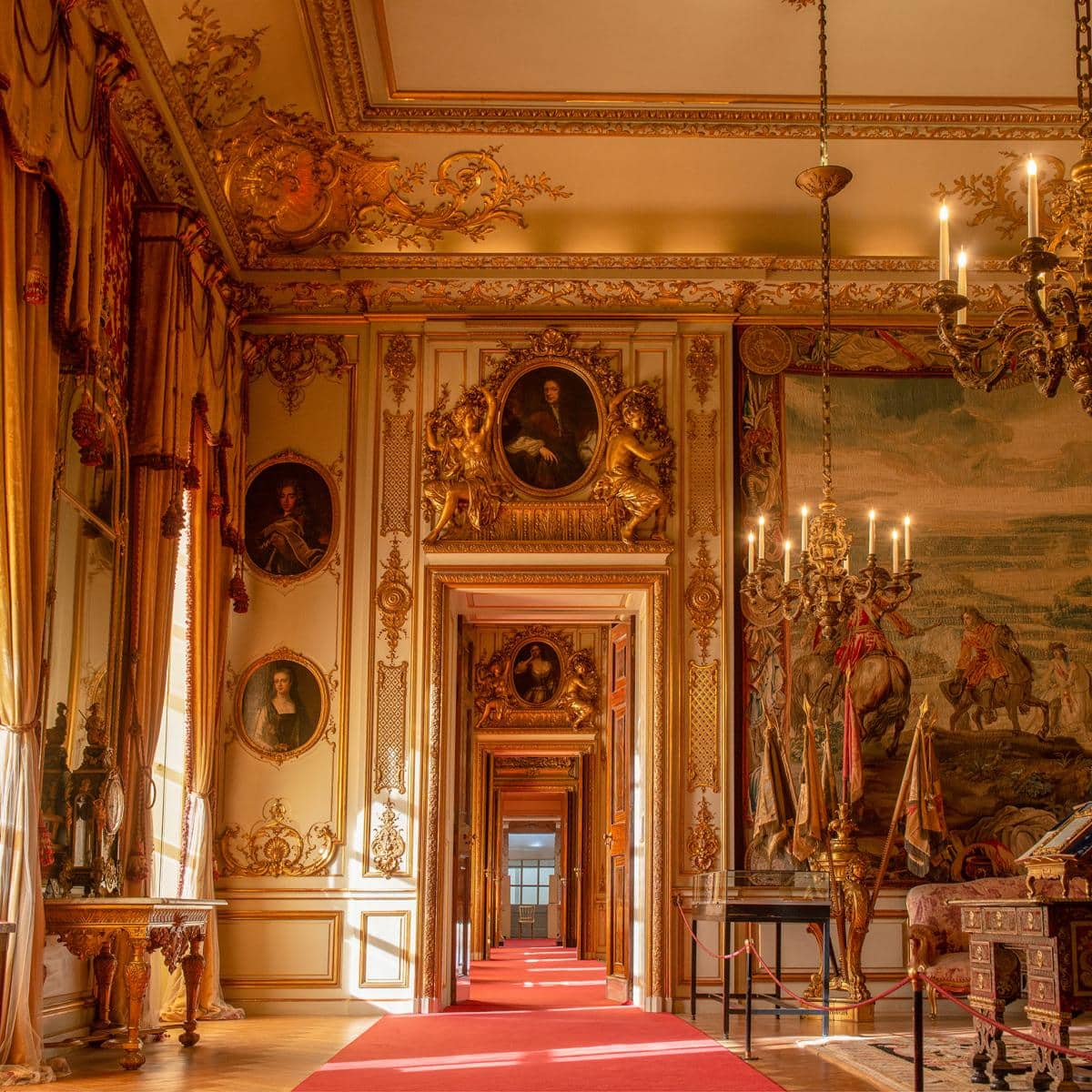 Wrotham Park – Hertfordshire
There have been 35 film and TV productions here, including Bridget Jones's Diary, Jeeves and Wooster and Kingsman: The Secret Service. Wrotham Park, a Palladian Mansion set in the heart of a 2,500-acre estate located just 17 miles from Hyde Park Corner, was designed by Isaac Ware in 1754 and built by Admiral John Byng, the fourth son of Admiral Sir George Byng. The Estate is still lived in by the Byng's today.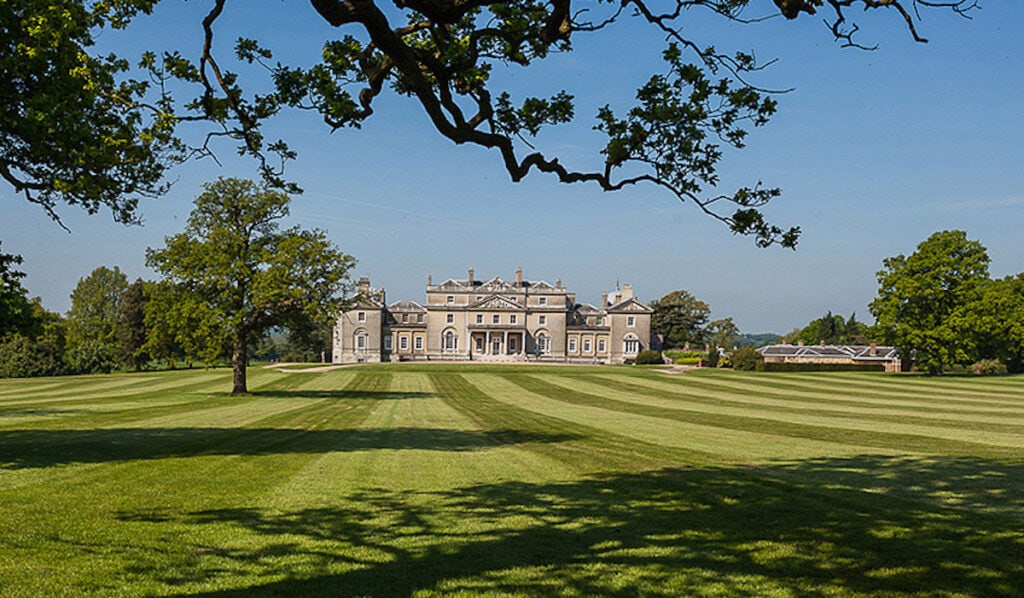 Given that there is over 3000 stately homes and manor houses in England and the UK this is just a little taster of some of the great estates you can visit.
Have you visited any British stately homes? What were your favourites?
You might also like
16 Fabulous food street markets in London
Visiting the Tower of London – its extraordinary history
Escaping London for the weekend
The best of Bath in 2 days | What to do in Bath
22 of the Best English cities to visit
Pin it to save it.