Visiting the magnificent Kenilworth Castle
Kenilworth castle rises impressively in front of you as you drive into Kenilworth Town. It is an incredibly imposing ruin its red sandstone buildings standing proud. Kenilworth Castle and the town that it sits within lay at the heart of the Midlands in Warwickshire. The town itself dates back to the Roman occupation and was mentioned in the Domesday book in 1086 AD.
Located in Warwickshire around 6 miles from Coventry and 5 miles from Warwick this is a very easy area to get to from London. Kenilworth is one of those chocolate box towns located near the Avon River in Shakespeare Country. Famous of course for Stratford on Avon and the birth of one of England's finest playwrights William Shakespeare.
Luckily for us, we were house sitting in Tanworth in Arden which is just down the road from Kenilworth and we managed to visit twice, unfortunately, it was England and it was raining both times.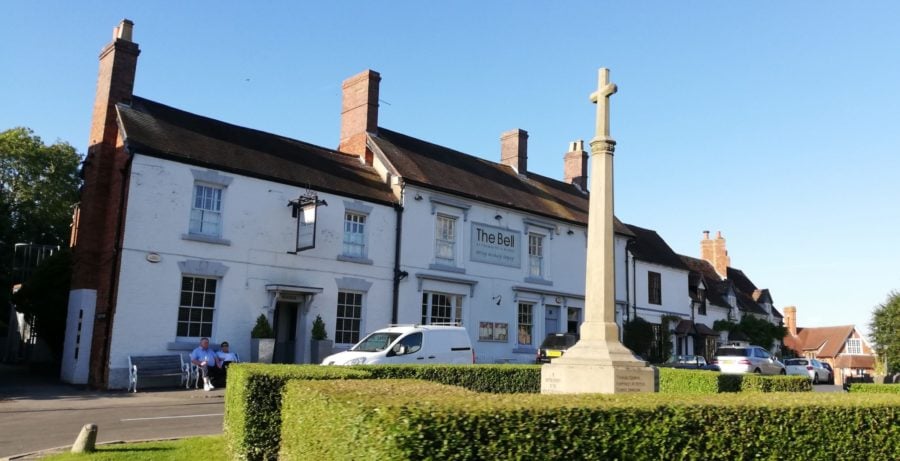 Thanks to Shakespeare's England for providing complimentary entry and dinner for the purpose of this honest review. All opinions expressed are my own and as usual brutally honest lol.
Xyuandbeyond is reader-supported. When you buy through links on our site, we may earn an affiliate commission. You can read my privacy policy here.
Kenilworth Castle History
The original castle at Kenilworth is thought to have been a motte and bailey with wooden buildings and was established in the 1120s by Geoffrey de Clinton. It wasn't until 1173 that it became a royal castle. In 1253 Henry III granted the castle to Simon de Montfort, Earl of Leicester. In 1361 the castle passed to John of Gaunt (son of Edward III), who developed it as more of a royal palace than a castle. In 1553 the castle was granted to John Dudley, Duke of Northumberland.
Kenilworth played an important historical role: it was the subject of the six-month-long siege of Kenilworth in 1266, thought to be the longest siege in Medieval English history, and formed a base for Lancastrian operations in the Wars of the Roses. Kenilworth was the scene of the removal of Edward II from the English throne, the perceived French insult to Henry V in 1414 of a gift of tennis balls (said by John Strecche to have prompted the campaign that led to the Battle of Agincourt)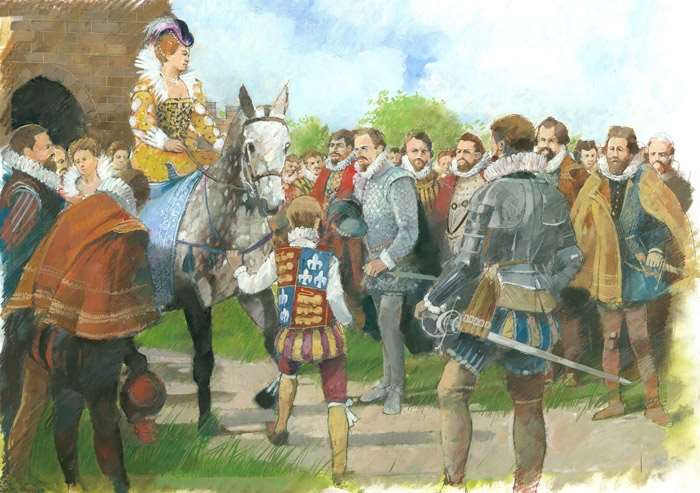 The Duke was unfortunately executed for crimes against the Crown and it was returned to the Kingdom. It was Queen Elizabeth that gave the land and Castle back to Robert Dudley who was in love with her and one of her favourites.
Kenilworth Castle ticket costs
English Heritage maintains the Castle and entry to the Castle costs £11.80 for an adult and £7.10 for a child's ticket.
Where is Kenilworth castle located?
Kenilworth is located around a 2-hour drive from London and there is Parking at the Castle entry. The parking lot can get very busy on event days so there is a free shuttle bus from Kenilworth Town. Kenilworth Castle is located off the A46 and is signposted from the town of Kenilworth. Kenilworth Train station is around a mile from the Castle.
What is Kenilworth Castle famous for?
Kenilworth Castle is one of the great historical sites in England. Built in the 1120s and a royal castle for most of its history, it was expanded by King John, John of Gaunt and Henry V. In 1563 Elizabeth I granted it to her favourite, Robert Dudley, Earl of Leicester, who converted the castle into a lavish palace fit to entertain his queen and where he hoped she would consent to marry him.
Why is Kenilworth castle in ruins?
After the end of the civil war when Parliament ordered the slighting of Kenilworth Colonel Hawkesworth who was responsible for the implementation acquired the estate for himself. The buildings were stripped of their materials to create farm buildings. 1]In 1660 Charles II was restored to the throne, and Hawkesworth was promptly evicted from Kenilworth
How was Kenilworth Castle destroyed?
The castle's eventual ruination came after it was taken by the Parliamentarian army during the Civil War in 1642. It was partly destroyed in a deliberate act of sabotage by Oliver Cromwell's troops.
How long to spend at Kenilworth Castle?
I would recommend at least 2 hours or more to see the entire Castle estate and if you had children add on another hour to dress up and play with swords while you enjoy a cup of tea and a scone.
What to see at Kenilworth Castle
There is lots of parking when you arrive at the castle ruins just outside the ancient mere and it is free. The tour is self-guided and you can obtain an audio guide at the shop and ticket area just outside the main walls.
Leicester's Great Tower
For the first time in 350 years, you can explore the full height of the tower built by Leicester to court Elizabeth I. Stand at floor level in the queen's private rooms and soak up the same spectacular views that she enjoyed.
This tower was built by Dudley specifically for Queen Elizabeth. It has outstanding views across the countryside, but I would advise if you are mobility challenged not to take the steps and platforms as they can be very slippery and don't have great handrails.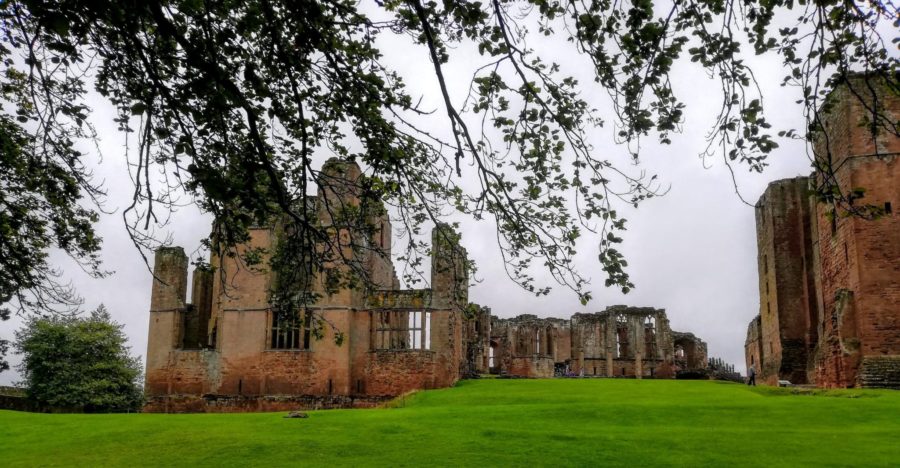 You will be able to see the queen's private staircase and the long gallery. Back in 1575 these rooms would have been incredibly sumptuous and flooded with beautiful lights from the stained glass windows.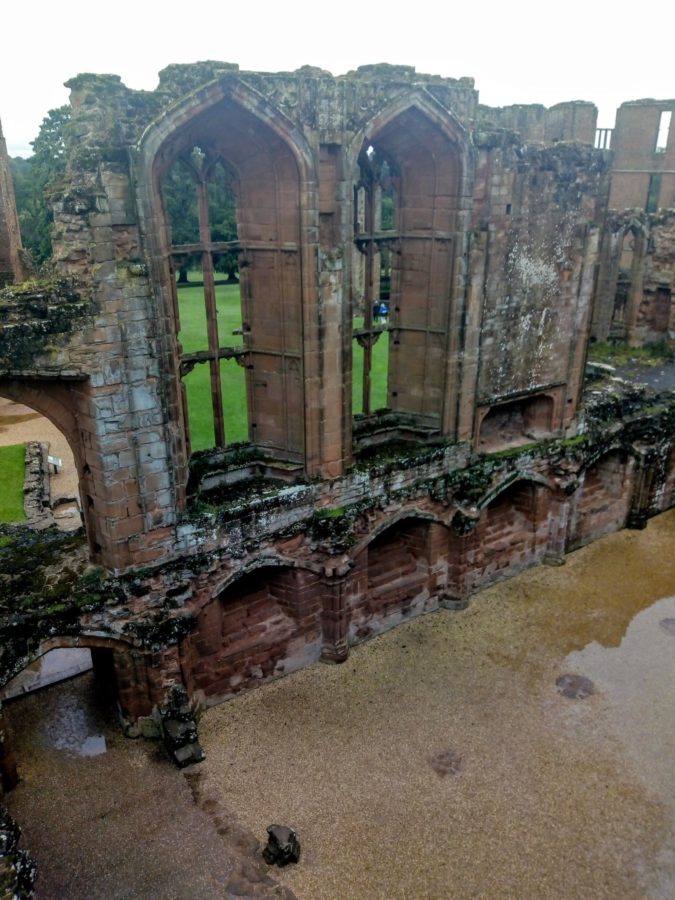 Kenilworth Castle Elizabethan Gardens
The beautifully recreated Elizabethan garden has been restored to its original location and is full of colour and walkways brushed by lavender. There is a lovely aviary at the end of the garden and some incredible garden sculptures including a marble fountain and the Earl of Leicester's emblem of a bear and ragged staff.
Kenilworth Castle gatehouse
In Leicester's Gatehouse, you can view a fascinating exhibit about the "romance" between Queen Elizabeth and her doting courtier Robert Dudley.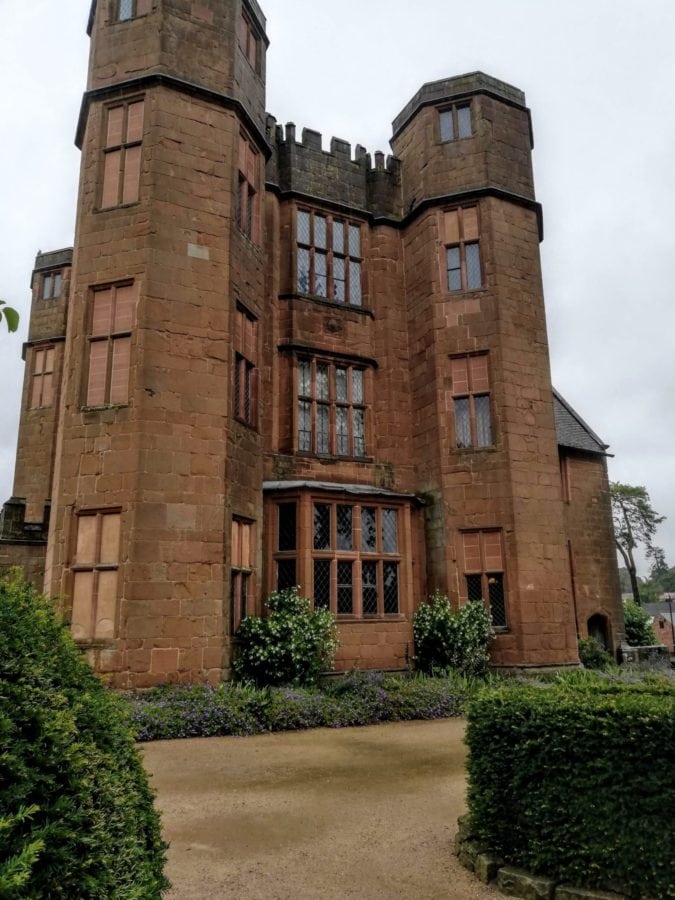 Built in the 1570s, this was the gatehouse or entrance to the Castle and after 1650 it was converted into a private house. It is almost exactly as it was left in the late 1930s. The Gatehouse is accessible with an elevator and ramps for wheelchair users and those who are mobility challenged.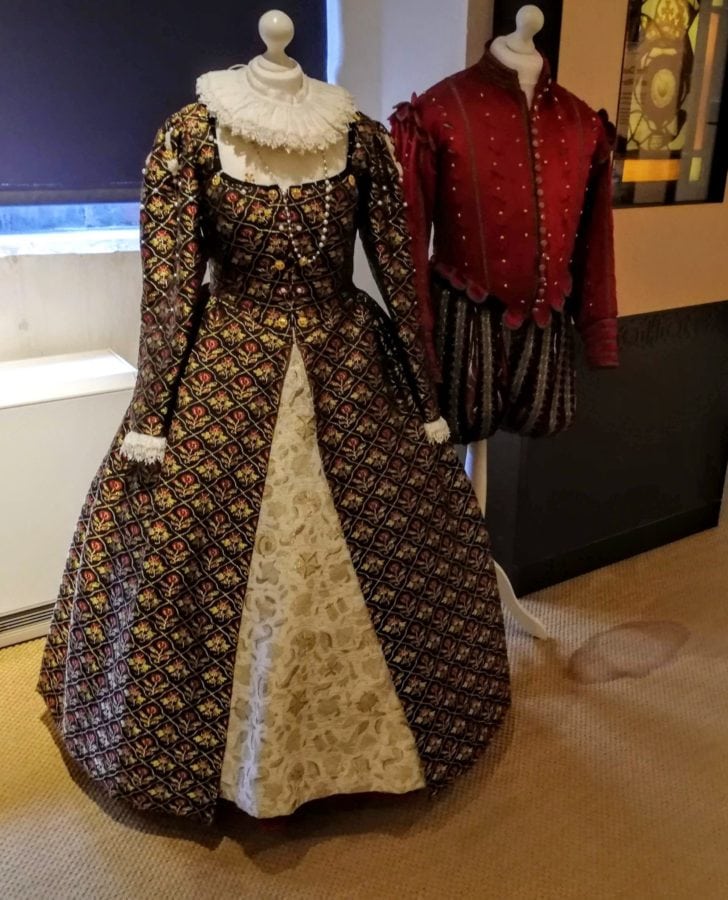 Elizabethan Bedroom & Oak Room
Explore the Elizabethan bedroom and Oak Room which contains a beautifully ornate alabaster fireplace that once stood in Elizabeth I's private rooms.
Also within the Tower is a really interesting exhibition on 'Speed and Power: John Siddeley, Pioneer of the Motor Age'. Siddeley, he of motoring and aviation fame was the 1st Baron Kenilworth who pioneered such things as the Hawker Siddley aircraft and was an obsessive motor car buff.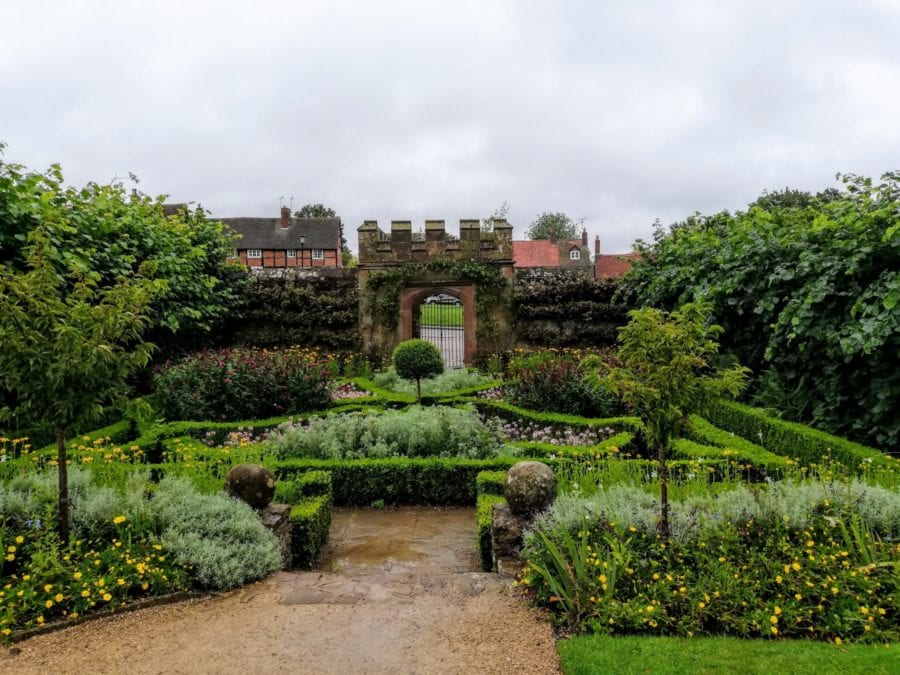 Tudor Stables
In the beautifully restored Tudor stables, there is an exhibition that details the changes and history of Kenilworth Castle dating back throughout its 900-year-old history. There is also a little cafe and tea shop within the stables to sit down and have a rest. What I really liked about this area is that there is staff on hand to entertain and educate the little visitors to the Castle.
There are dress-up clothes, colouring activities and great medieval English history lessons for the kids.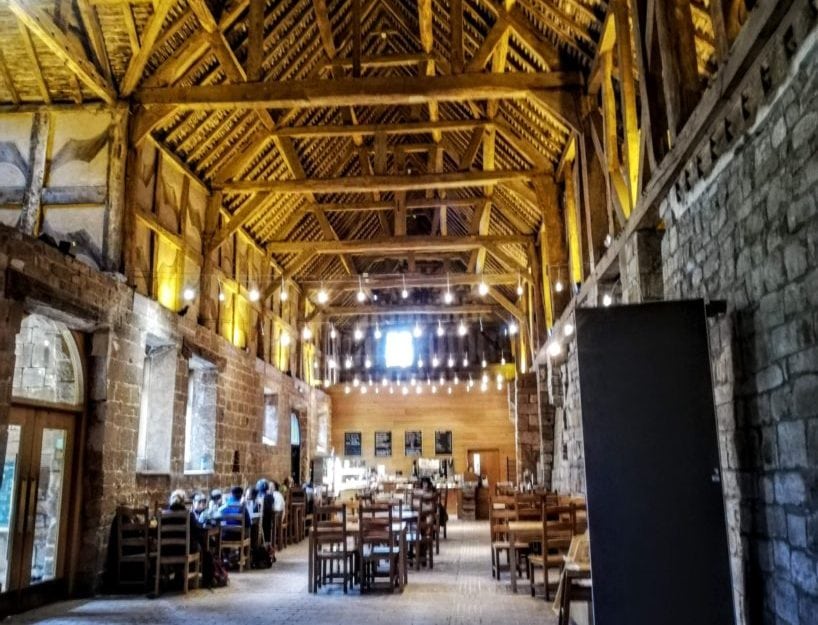 Norman Keep
The Norman Keep is still a dominant feature even though it is in ruin. Standing three stories high with walls 14 feet thick it was a defensive powerhouse in its day. Originally built in the 12th century it was strengthened by King John a century later and then Robert Dudley again modified it into what he felt was a perfect love nest for his Queen.
John of Gaunt's Great Hall
John of Gaunt's Great Hall was one of the finest of its kind in the 14th century and considered strikingly modern at the time. It was built to demonstrate Kenilworth Castle's position of wealth and power and paid host to the Tudor Kings and medieval monarchs in its time.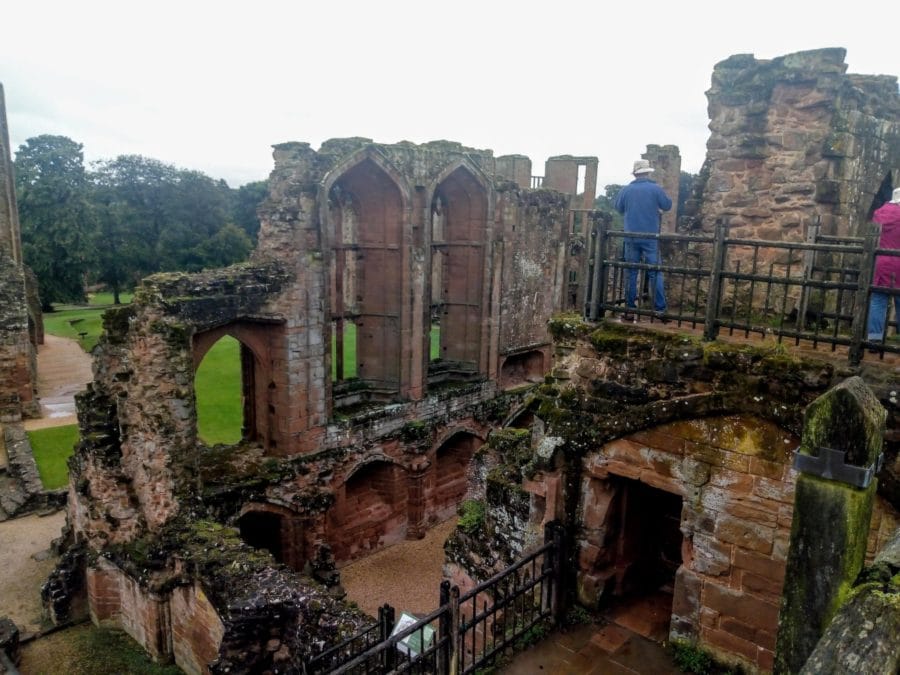 Getting to Kenilworth and Kenilworth Castle
If you happen to be flying into Birmingham International Airport the M6, M42 and M40 motorways are within 10 miles (16 km) of the town.
There is a regular bus service from Coventry and Leamington Spa and there are trains to Kenilworth Station, which also have direct links to Coventry and Leamington Spa.
Taking the time out to visit Kenilworth Castle and Kenilworth Town will enhance your trip to England in more ways than you can count. The sense of history that you get from walking the paths that Queen Elizabeth once walked will be a once in a lifetime chance to really feel that sense of awe at England's history that can sometimes be hard to find in massive crowds of tourists in London.
You might also like to read
Things to do in Kenilworth Warwickshire
8 of the best country pubs in Warwickshire a road trip
28 things to do in Stratford upon Avon
26 Places to visit in Warwickshire
Visiting Warwick Castle 1000 years of turbulent history
Pin it for later to remind yourself.