Visiting the magnificent Kenilworth Castle and Kenilworth Town
Kenilworth Castle rises impressively in front of you as you drive into Kenilworth Town. It is an incredibly imposing ruin its red sandstone buildings standing proud. Kenilworth Castle and the town that it sits within lay at the heart of the Midlands in Warwickshire. The town itself dates back to the Roman occupation and was mentioned in the Domesday book in 1086 AD.
Located in Warwickshire around 6 miles from Coventry and 5 miles from Warwick this is a very easy area to get to from London. Kenilworth is one of those chocolate box towns located near the Avon River in Shakespeare Country. Famous of course for Stratford on Avon and the birth of one of England's finest playwrights William Shakespeare.
Luckily for us, we were house sitting in Tanworth in Arden which is just down the road from Kenilworth and we managed to visit twice, unfortunately, it was England and it was raining both times.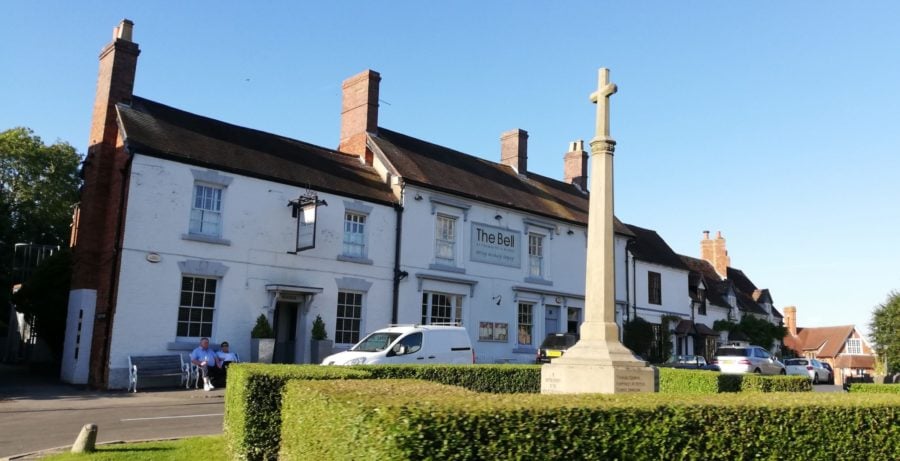 Thanks to Shakespeare's England for providing complimentary entry and dinner for the purpose of this honest review. All opinions expressed are my own and as usual brutally honest lol.
Lots of people don't discover Warwickshire and all it offers because they are so busy cramming into Stratford they totally neglect the rest of the County which is a huge shame.
Warwickshire has a lot to offer the visitor and Kenilworth Castle is just one of the outstanding historic places you must visit. Don't forget to go beyond the castle though and take a wander through Kenilworth Town I promise you won't be disappointed.
Getting to Kenilworth and Kenilworth Castle
If you happen to be flying into Birmingham International Airport the M6, M42 and M40 motorways are within 10 miles (16 km) of the town.
There is a regular bus service from Coventry and Leamington Spa and there are trains to Kenilworth Station, which also have direct links to Coventry and Leamington Spa.
Visiting Kenilworth
Kenilworth is a smallish town that dates back to Roman Times it's a lovely town with a variety of really pretty architecture you will see Tudor, Edwardian, Victorian and Georgian all side by side in the town itself.
Just off Coventry Road in Kenilworth is a field called Parliament Piece. It is believed this is where King Henry III held a parliament in 1266 when his troops where besieging Kenilworth Castle. The siege was the result of Simon de Montfort's followers holding off the King's forces from Kenilworth Castle.
The actions of this parliament led to what is known as the Dictum of Kenilworth which is a law that allows rebels of the King to recover lands that have been seized by the crown.
Throughout the centuries there have been many deer parks located near Kenilworth. These deer parks were the exclusive territory of Kings and those of noble blood. They were essentially a hunting range for sportsmen of the day to hunt deer, these deer parks often provide meat for banquets and the households that owned them.
Around 1414 King Henry V had a timber-framed hunting lodge and banquet house near the Kenilworth Castle site. This was surrounded by a moat and earthworks and was used by 15th century Kings instead of the Castle's state apartments. However, Henry VIII had the house demolished and the timber used inside the Castle.
Elizabeth I visited Robert Dudley, 1st Earl of Leicester at Kenilworth Castle several times, the last in 1575. Dudley entertained the Queen with pageants and banquets costing some £1,000 per day that surpassed anything seen in England before.
There is a beautiful gothic revival Church St. John's on the Warwick Road in Knights Meadow that was built around 1851 that is worth a visit.
In the 1800s the King's Arms and Castle Hotel was home to guest such as Sir Walter Scott who worked on his novel Kenilworth from the premises. In 1983 sadly the hotel and accompanying train station were demolished but in 2007 the King's Arms exterior was copied and re-opened as part of a chain of restaurants.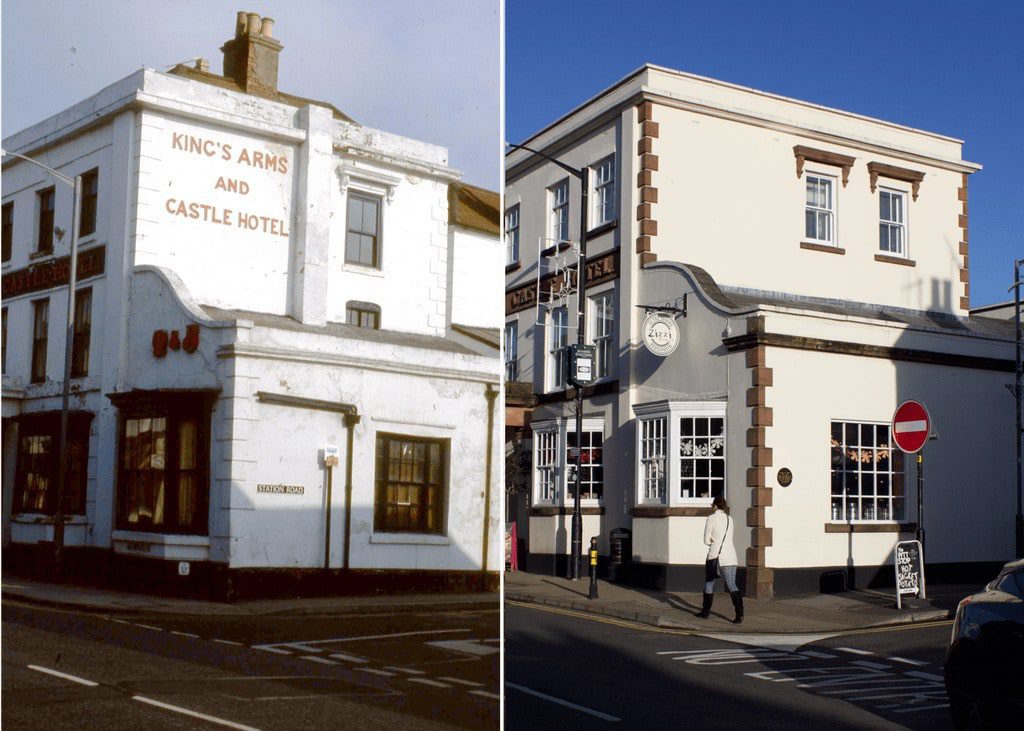 According to the Kenilworth History and Archaeology Centre, it is thought that Charles Dickens also stayed at the hotel while he was getting ready to write Dombey and Son. The novel was published in 1848 and contains the line "A stroll among the haunted ruins of Kenilworth".

The High Street and New Row in Kenilworth has the greatest concentration of unique shops and businesses. It is an absolutely charming place to take a stroll and perhaps grab a seat at a lovely outdoor cafe and enjoy a cream tea.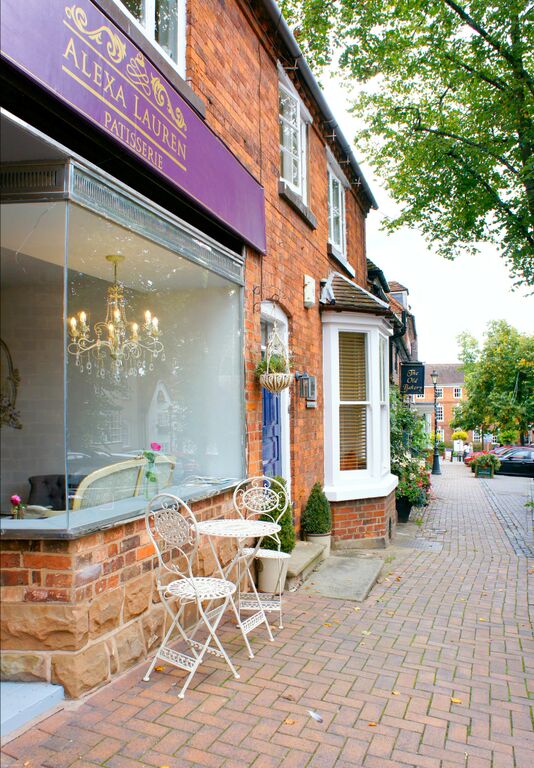 We highly recommend Alexa Lauren Patisserie on High Street. A Cordon Bleu-trained pastry Chef owns the cafe and they not only serve some of the best cakes and scones in Warwick but they have 21 loose leaf teas to choose from along with coffee, prosecco and great cakes.
On Castle Hill Road you will find Time for Tea which is a delightful cafe that serves everything from cream teas to roast beef dinners. This is the perfect place to have a great breakfast before you head to Kenilworth Castle.
We were treated to an absolutely incredible meal at the Cross Pub and Restaurant by Shakespeare County and in all honesty, is probably the best meal we have ever eaten in England.
The Cross Pub and Restaurant is a Michelin starred restaurant located on New Street Kenilworth. We began with a glass of champagne and an amuse-bouche featuring a gooseberry puree and a smoked mayonnaise to dip these little balls of deep-fried perfection in. Hubs is still trying to figure out how to smoke mayonnaise. As you can see from the photo we didn't hesitate to dig in before we took the picture.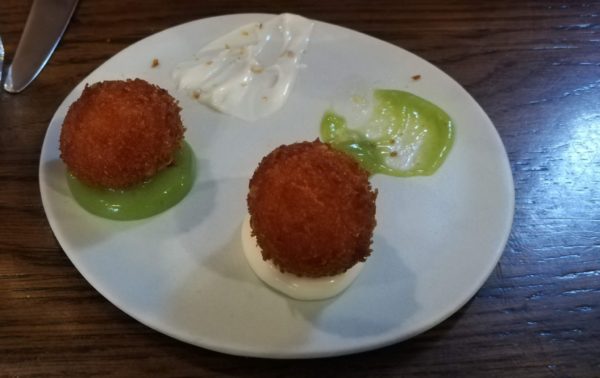 My starter was a deeply flavourful Cornish Crab soup with a saffron Rouille and fennel. A rouille is a sauce that is made of olive oil with breadcrumbs, garlic, saffron and it is served poured around the fennel at the table. The taste lingers on my tongue even today.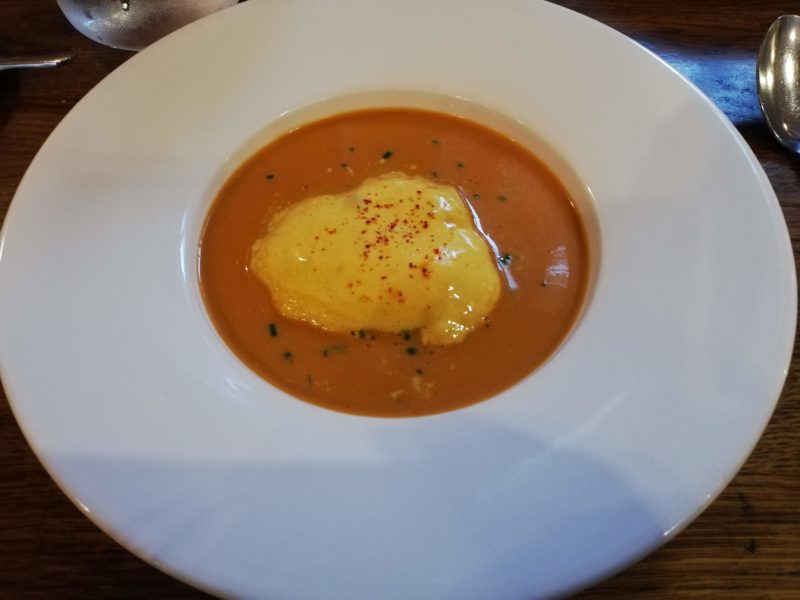 Hubs starter was a Crispy Duck Egg with smoked haddock, potato and cheese in a cream sauce. Expecting some type of Scotch egg this was simply a masterpiece. A delicate ducks eggs inside a crunchy shell that when opened the rich yolk melts into the creamy pool of haddock and potatoes. Divinely inspired.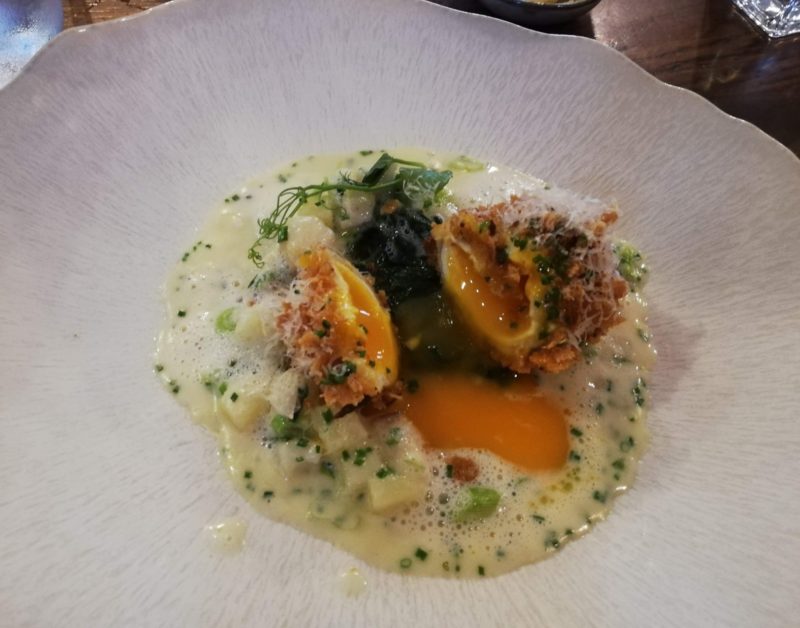 For mains Hubs had the Duo of Beef with the Cross's famous Pickled Walnut Pie and a fork-tender pave of beef sirloin. It is the first time he's had beef in many months and he was literally in heaven. The Pie is a beef one with crunchy pickled walnuts in the rich and deep sauce. That pie was a dream the pickled walnuts just adding that touch of crunch and sharpness that the dish deserved.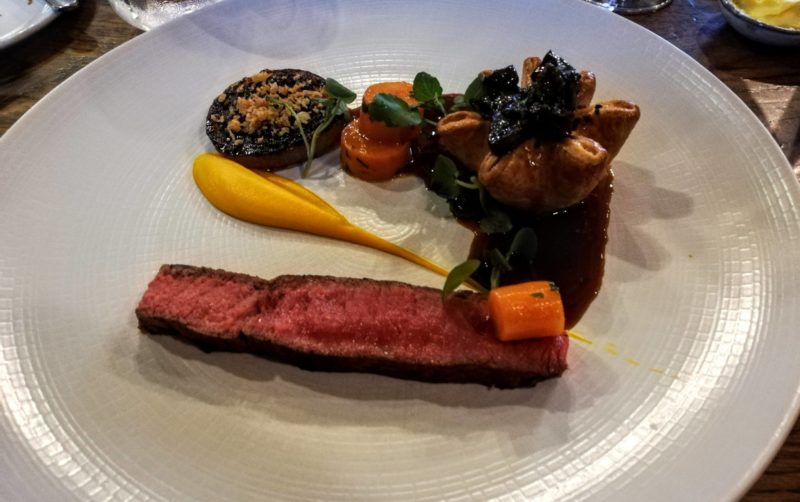 I had a Loin and croquette of free-range pork with celeriac, baby leeks and a tart gooseberry puree. What a combination of flavours. You don't ever see gooseberries in N. America and they added this sharp touch of flavour that cuts through the pork's richness and delights the palate.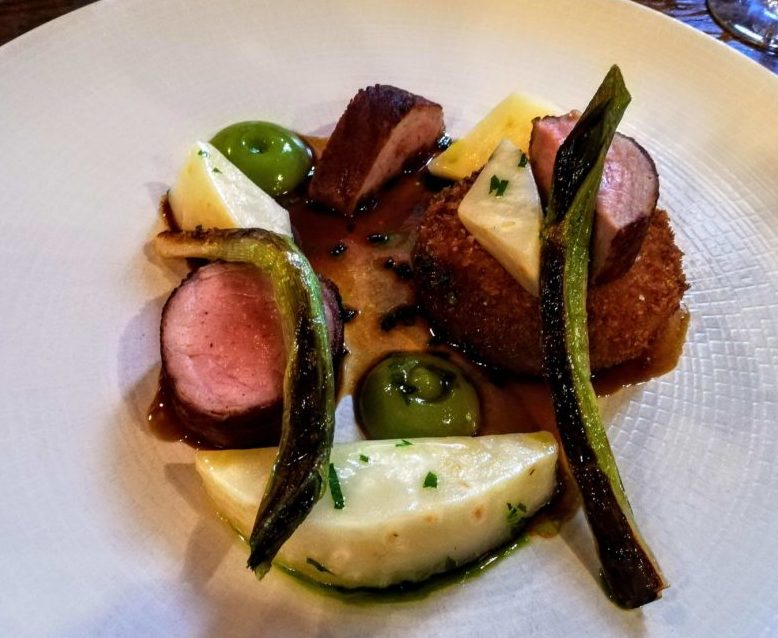 We didn't have much room for dessert but we decided to share an incredible caramel almond floating island with a superb coffee that left us hungry for more.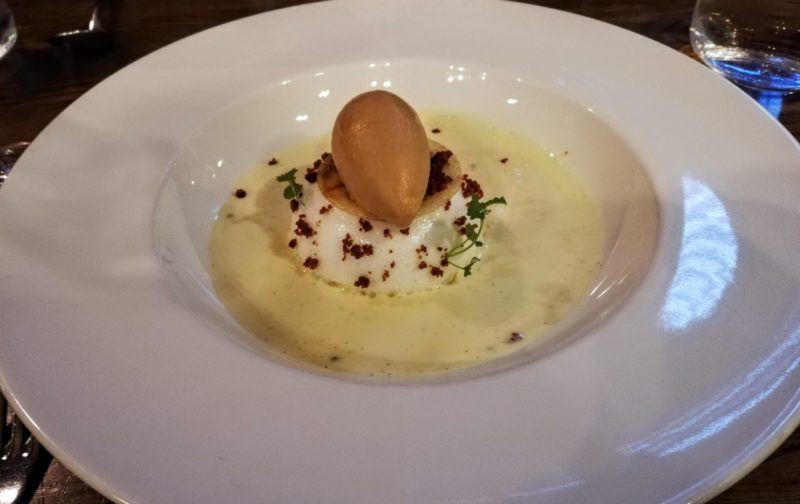 The restaurant was casual and the staff were incredible and I wouldn't hesitate to recommend this place to anyone who just loves great food. Be warned though you will be shocked at the cost of this place, it's so reasonable it makes you wonder why anyone would ever eat at a chain restaurant.
More places to visit in Kenilworth
Originally consisting of 15 cottages dating back to the 17th century this area is named after the famous potatoes brought to England by Sir Walter Raleigh who planted them here. The cottages originally housed the masons and builders employed by Robert Dudley to work on the Castle.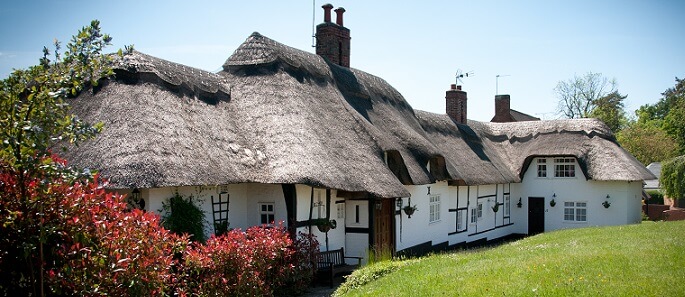 As you approach Kenilworth Castle you will see the massive ditch that surrounds it these were huge water defences that were created by damming the local streams, and the resulting fortifications proved able to withstand assaults by land and water.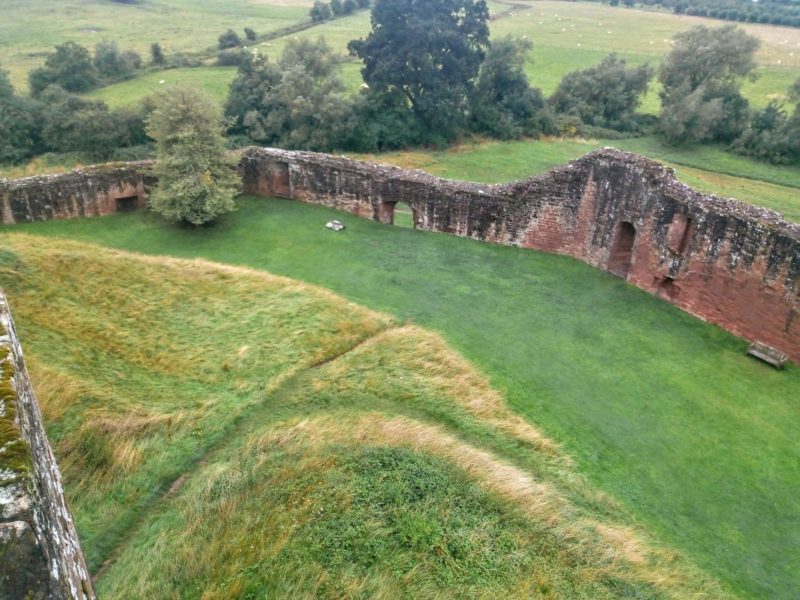 Today only the earthworks and masonry ruins remain of the 13the century barbican. this are is now the carpark for the Kenilworth castle which was once called the Tiltyard which was used for jousting in medieval times. This tiltyard acted as damn and was part of the defences of the Castle. to the East lied what used to be called the Lower Pool and to the West, a huge lake called the Great Mere. These days the Great Mere is a meadow.
Nature Reserves in Kenilworth
There are four local nature reserves in Kenilworth all with their own small eco-system.
Parliament Piece
You will see the cattle grazing on this walk and the fields are used for taking off hay crops in the traditional fashion.

Knowle Hill
Is a reserve with butterfly conservation at its heart with a recorded 25 species making their home here.
Crackley Wood
Is an ancient woodland with glades, ponds and ditches. Mature chestnuts, oaks and other ancient species are maintained in the woodland as they were in years gone by.
Kenilworth Common
In the centre of Kenilworth sits the common which is an open heathland with small eco-system pockets being slowly established to maintain species such as the common lizard and glow worms.
Stoneleigh Abbey and Stoneleigh Park
Stoneleigh Abbey stands beside the River Avon, the lands granted to Cistercian monks by King Henry II in 1154. The Monastery was dissolved by King Henry VII and turned into a family home for the Leigh's.
This English Mansion House is comprised of two halves; the first, made of red sandstone, is a fine example of a Jacobean house, built from the ruins of the monastery. The second, the West Wing, was designed by famous architect Francis Smith of Warwick in the Baroque style. Stoneleigh has played host to several people of note, including King Charles I, Queen Victoria, and novelist Jane Austen. It is believed that Jane Austen modelled her novel, Mansfield Park, after Stoneleigh.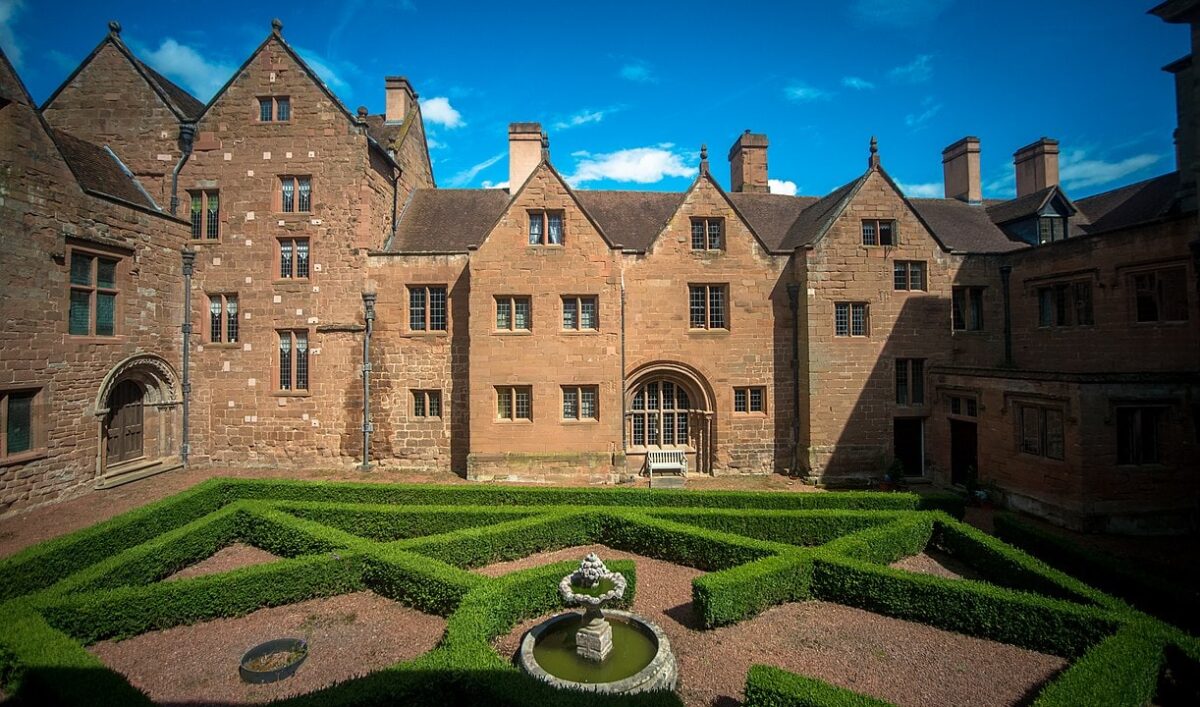 Humphry Repton was a distinguished landscape gardener; unlike Capability Brown (who landscaped the grounds of Warwick Castle) he favoured an uncluttered sweep of lawn, Repton re-introduced more formal items around a house such as flower beds, terraces and balustrades.
Repton created red leather-bound books with his watercolours detailing the gardens as they were to be laid out. One of his finest Red Books is Stoneleighs and is on display in the house.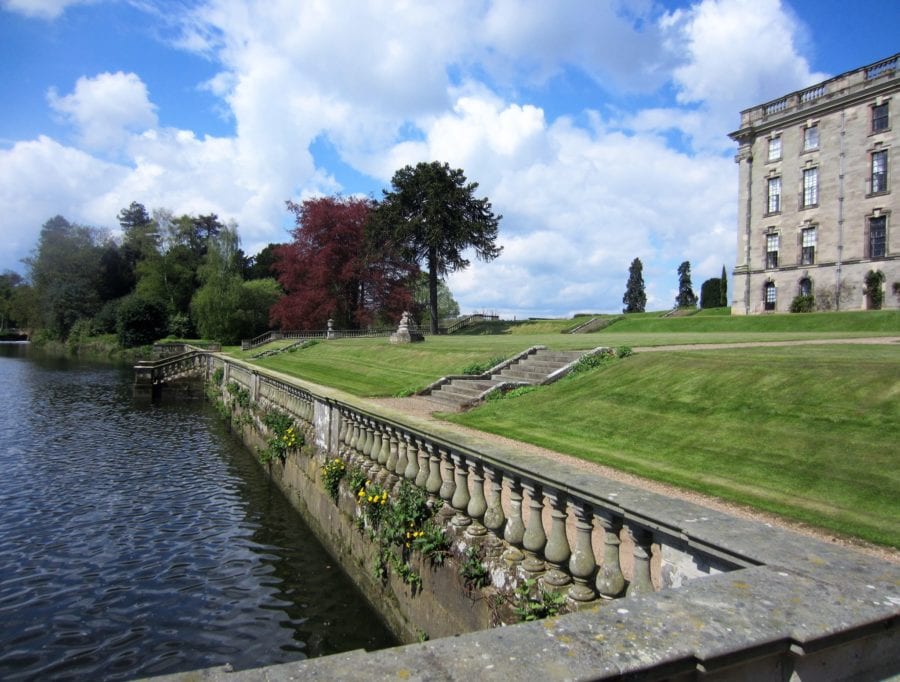 Stoneleigh also contains a lovely tearoom where you can enjoy an Elizabeth Bennet (Jane Austen's mother) tea for just £25.95 per person (which includes your grounds entry ticket).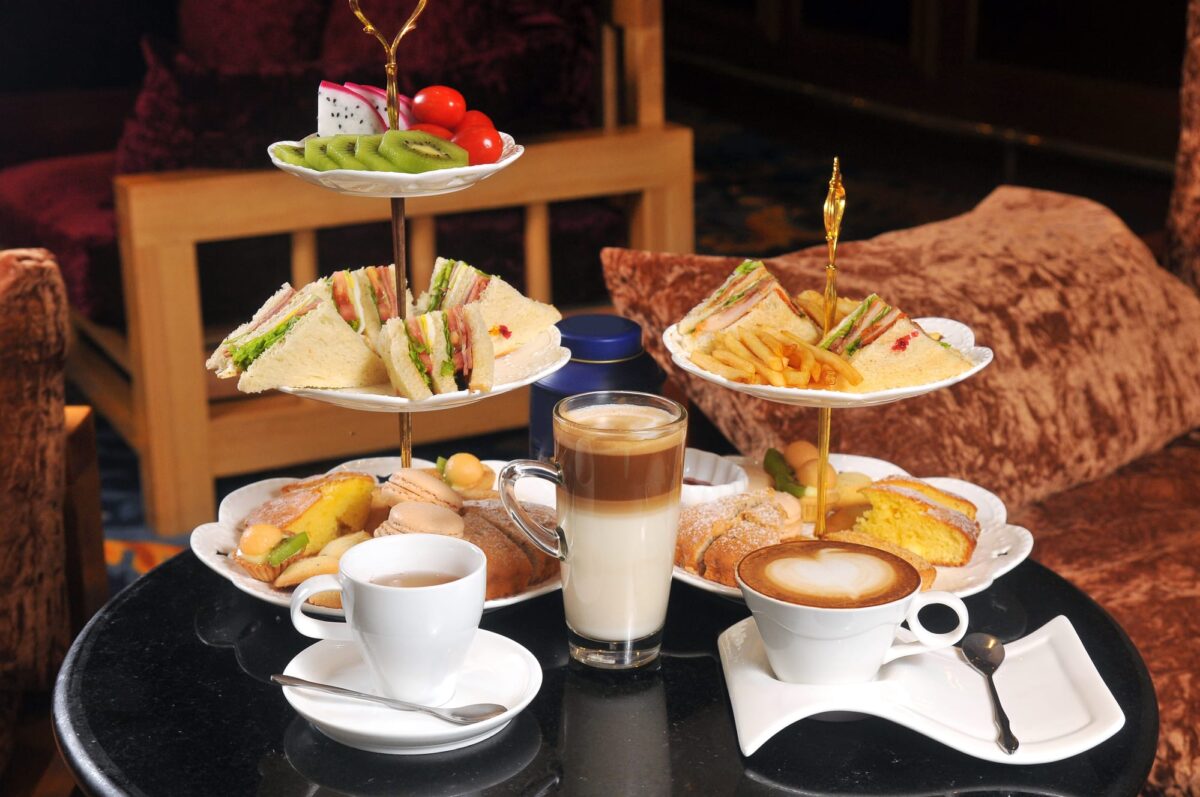 The house and grounds can be viewed by guided tours which run Sunday-Thursday at 11.30pm & 2.30pm. Tickets £6.00 for adults and if you would like a house tour add on another £6.00 it's worth it.
Kenilworth Castle
The original castle at Kenilworth is thought to have been a motte and bailey with wooden buildings and was established in the 1120s by Geoffrey de Clinton. It wasn't until 1173 that it became a royal castle. In 1253 Henry III granted the castle to Simon de Montfort, Earl of Leicester. In 1361 the castle passed to John of Gaunt (son of Edward III), who developed it as more of a royal palace than a castle. In 1553 the castle was granted to John Dudley, Duke of Northumberland.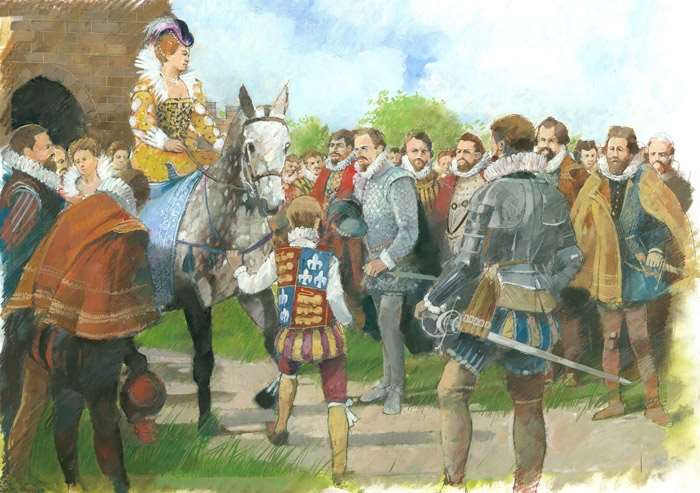 The Duke was unfortunately executed for crimes against the Crown and it was returned to the Kingdom. It was Queen Elizabeth that gave the land and Castle back to Robert Dudley who was in love with her and one of her favourites. Entry to the Castle costs £11.80 for an adult and £7.10 for a child's ticket.
There is lots of parking when you arrive at the castle just outside the ancient mere and it is free. The tour is self-guided and you can obtain an audio guide at the shop and ticket area just outside the main walls.
For the first time in 350 years, you can explore the full height of the tower built by Leicester to court Elizabeth I. Stand at floor level in the queen's private rooms and soak up the same spectacular views that she enjoyed.
This tower was built by Dudley specifically for Queen Elizabeth. It has outstanding views across the countryside, but I would advise if you are mobility challenged not to take the steps and platforms as they can be very slippery and don't have great handrails.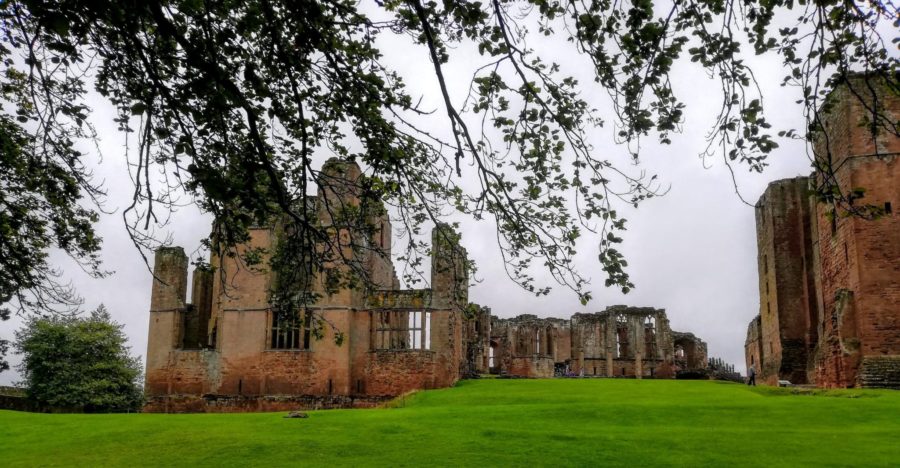 You will be able to see the queen's private staircase and the long gallery. Back in 1575 these rooms would have been incredibly sumptuous and flooded with beautiful lights from the stained glass windows.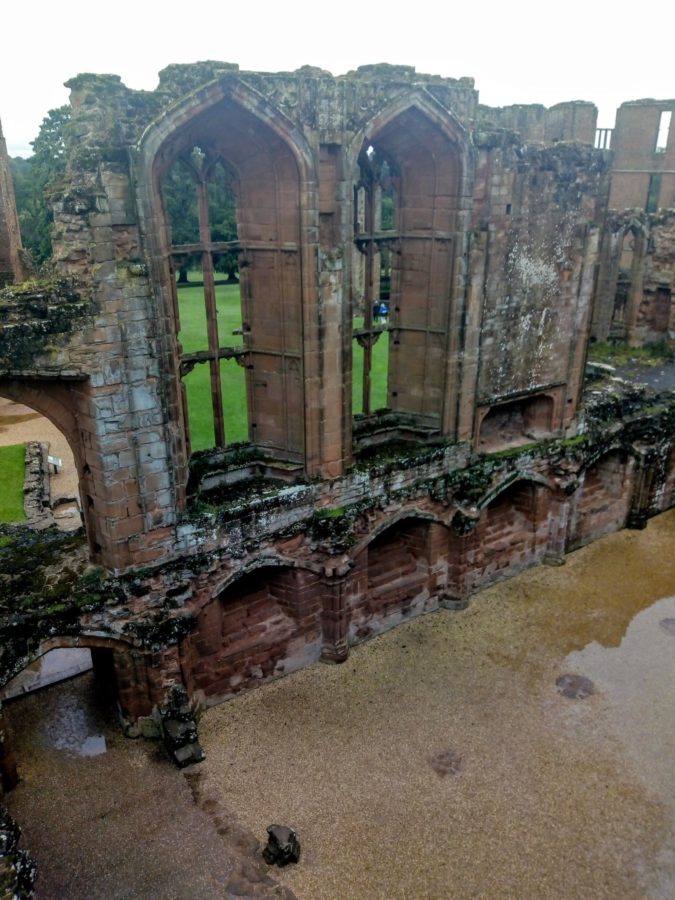 The beautifully recreated Elizabethan garden has been restored to its original location and is full of colour and walkways brushed by lavender. There is a lovely aviary at the end of the garden and some incredible garden sculptures including a marble fountain and the Earl of Leicester's emblem of a bear and ragged staff.
In Leicester's Gatehouse, you can view a really interesting exhibit about the "romance" between Queen Elizabeth and her doting courtier Robert Dudley.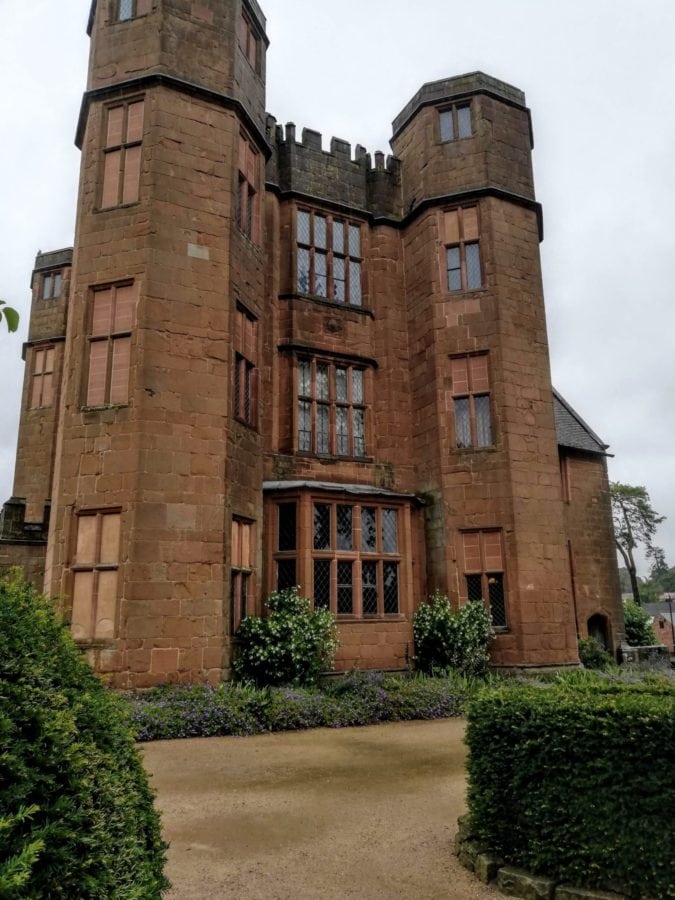 Built in the 1570s, this was the gatehouse or entrance to the Castle and after 1650 it was converted into a private house. It is almost exactly as it was left in the late 1930s. The Gatehouse is accessible with an elevator and ramps for wheelchair users and those who are mobility challenged.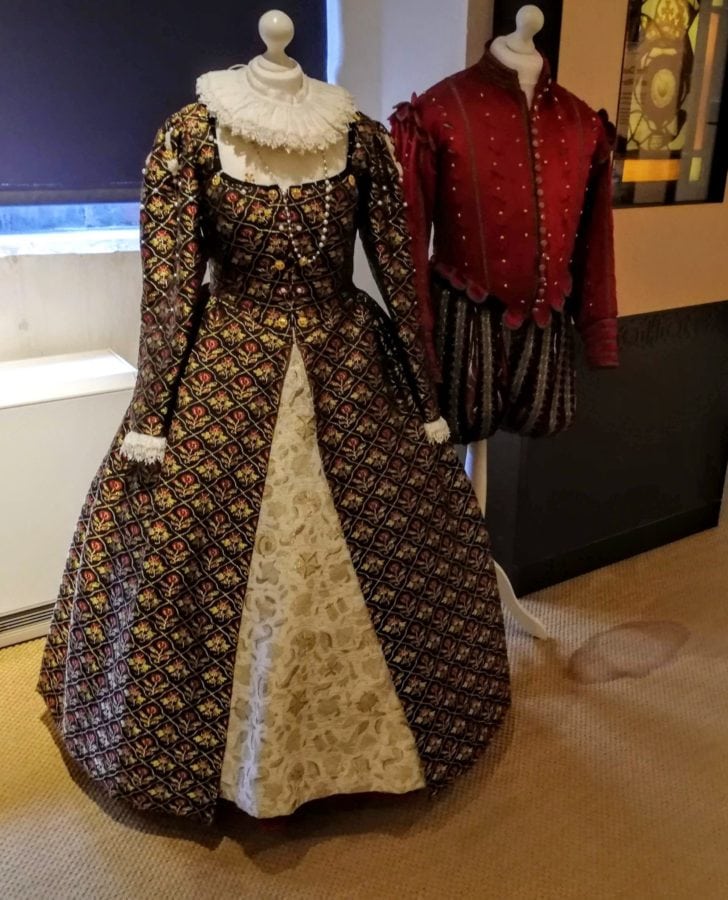 Explore the Elizabethan bedroom and Oak Room which contains a beautifully ornate alabaster fireplace which once stood in Elizabeth I's private rooms.
Also within the Tower is a really interesting exhibition on 'Speed and Power: John Siddeley, Pioneer of the Motor Age'. Siddeley, he of motoring and aviation fame was the 1st Baron Kenilworth who pioneered such things as the Hawker Siddley aircraft and was an obsessive motor car buff.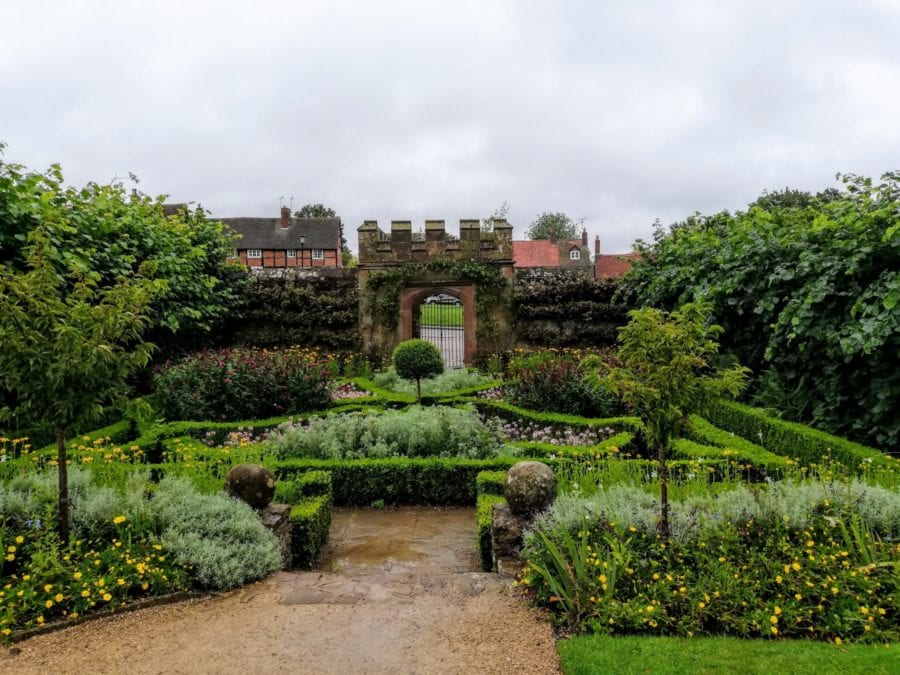 In the beautifully restored Tudor stables, there is an exhibition that details the changes and history of Kenilworth Castle dating back throughout its 900-year-old history. There is also a little cafe and tea shop within the stables to sit down and have a rest. What I really liked about this area is that there is staff on hand to entertain and educate the little visitors to the Castle.
There are dress-up clothes, colouring activities and great history lessons for the kids.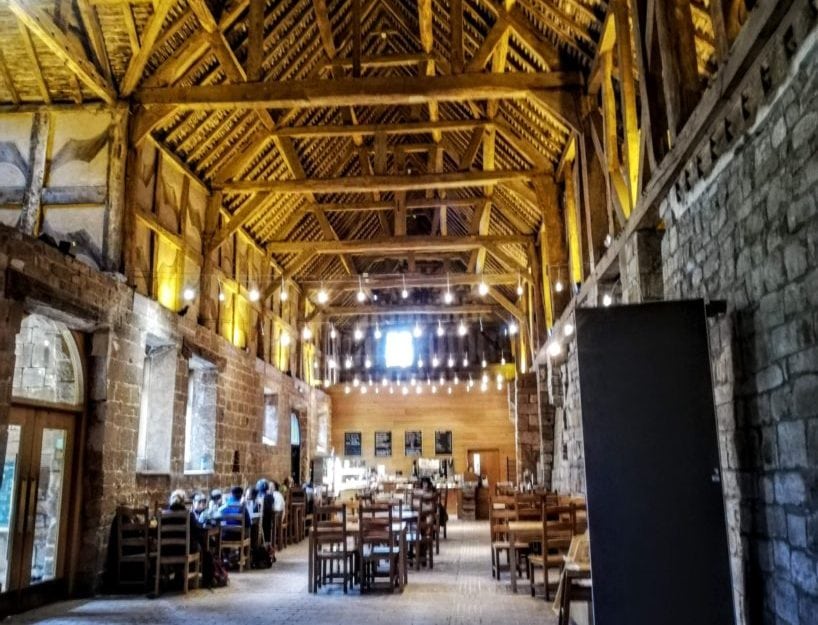 The Norman Keep is still a dominant feature even though it is in ruin. Standing three stories high with walls 14 feet thick it was a defensive powerhouse in its day. Originally built in the 12th century it was strengthed by King John a century later and then Robert Dudley again modified it into what he felt was a perfect love nest for his Queen.
John of Gaunt's Great Hall was one of the finest of its kind in the 14th century and considered strikingly modern at the time. It was built to demonstrate Kenilworth Castle's position of wealth and power and paid host to the Tudor Kings and medieval monarchs in its time.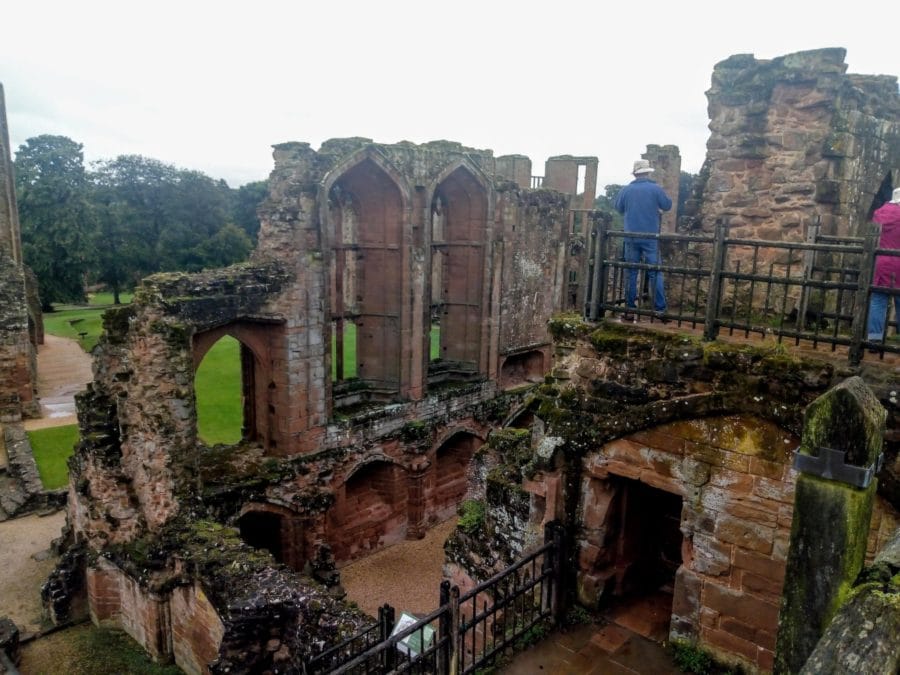 Taking the time out to visit Kenilworth Castle and Kenilworth Town will enhance your trip to England in more ways than you can count. The sense of history that you get from walking paths that Queen Elizabeth once walked will be a once in a lifetime chance to really feel that sense of awe at England's history that can sometimes be hard to find in massive crowds of tourists in London.
Pin it for later to remind yourself.