Downton Abbey Filming Locations
After hubs and I began binge-watching Downton Abbey knowing we were planning a visit we also decided to visit some of the other filming locations for the show. Luckily we were house sitting in Oxfordshire and Warwickshire and were within an easy drive of several filming locations for Downton Abbey.
The real Downton Abbey is actually Highclere Castle the Downton Abbey House is the home of the Earl and Lady Carnarvon and has been for many generations.
Where is Downton Abbey?
The actual location of Highclere House is in Hampshire where it is a working family home and estate. Highclere Castle essentially became Downton Abbey out of financial need. I mean can you imagine running a house with over 500 rooms and paying the heat bills. The Earl of Carnarvon and in particular Lady Carnarvon invested in the estate and it became a major tourist attraction in this part of England. With the start of filming of Downton Abbey in 2010, the Estate took on a new outlook.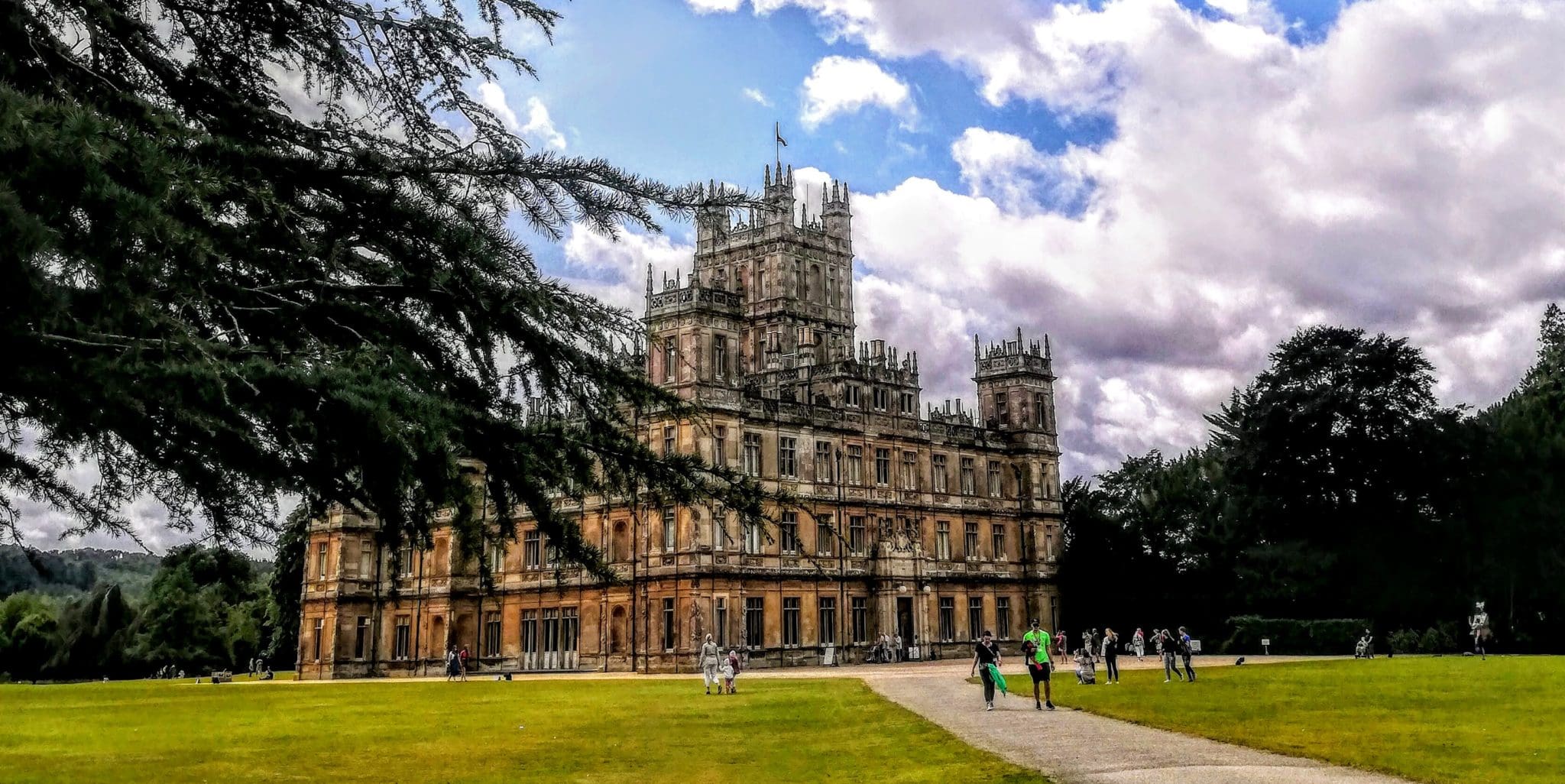 Highclere Castle is not the only filming site for Downton Abbey there are several places that you can see or visit that are involved in the production of this addictive TV show. Downton Abbey filming sites are located all over England with a few in London and Scotland so you can make the most of your Downton Abbey pilgrimage.
So here is the list of some of the Downton Abbey Filming Sites you can visit or simply take a look at from the outside.
13 Downtown Abbey Filming Locations
Highclere Castle – Downton Abbey
Bampton – Downton's Village
Yew Tree Farm Tree Farm (Cogges)
West Wycombe House, Buckinghamshire, Lady Rosamund's
Horsted Keynes station, Bluebell Railway, Downton's Rail station
Alnwick Castle – Brancaster Castle
Hall Place – Isobel Crawley's receiving room
Basildon Park – The Crawley's London Residence
Inverary Castle Scotland – A family party
Lincoln Castle, Castle Hill, Mr Bates Prison
Albert Memorial – a family picnic with Cora
Goldsmiths Hall – Rose's meeting of the King
Byfleet Manor, Mill Lane, Byfleet, Surrey, Dowager Violet's home
Highclere Castle is set in the rolling hills and beautiful area of Hampshire. You arrive at the Castle site via a long road into the estate and when you see that beautiful castle at the end of the journey you do get a little Downton Abbey thrill and begin to remember scenes from the show.
Parking is in a large field below the house where you will see the entry gates and there is a lovely little refreshment van with chairs and seating from which to observe the house at a distance from.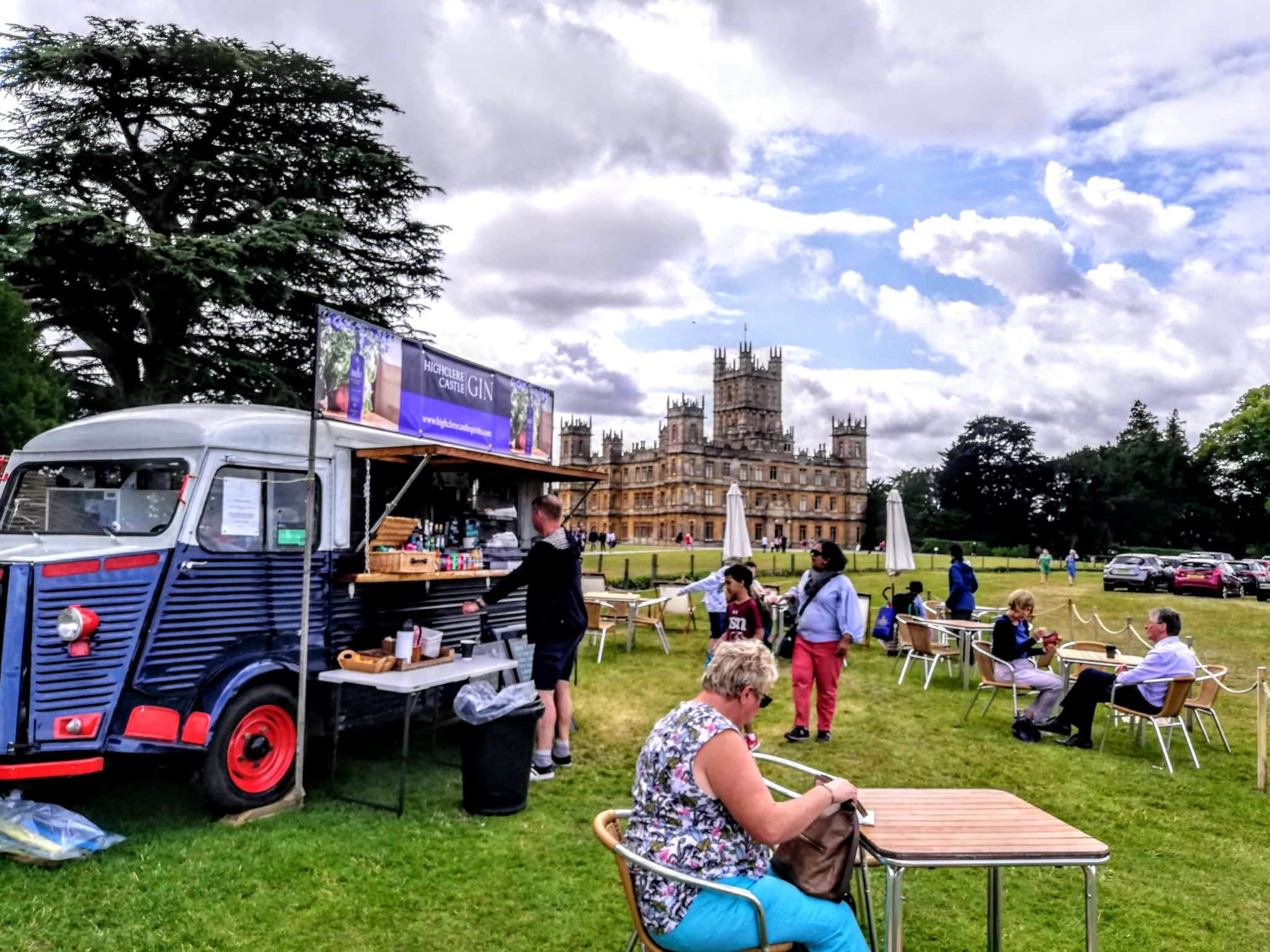 I would strongly advise that you book your tickets online and not expect to get them at the gate. The Estate is only open for a few months during the summertime and tickets do get sold out. Remember this is a family home and the Earl and Lady Carnarvon are often in residence at the estate.
Downton Village, Bampton, Oxfordshire
Bampton is set in the Oxfordshire countryside of the Cotswolds. A chocolate box village that has very few tourists it sits about 20 miles west of Oxford.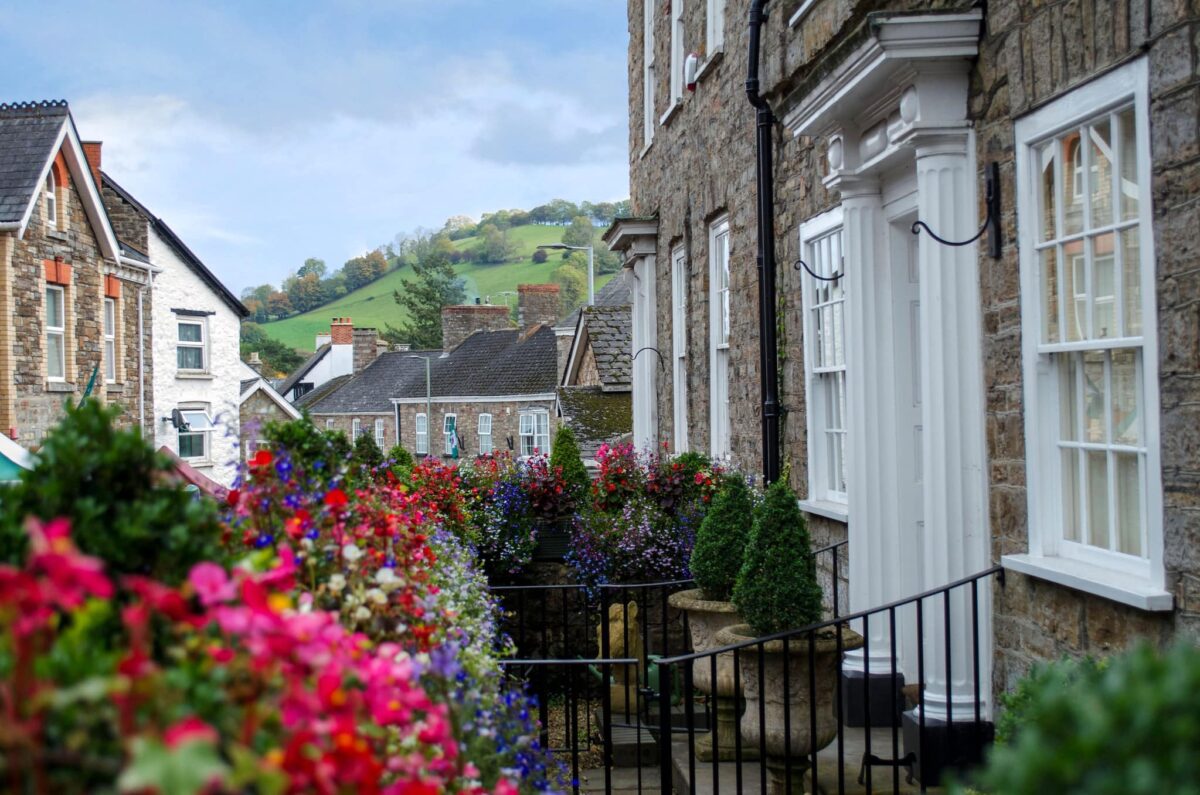 Difficult to get to unless you have a car or are on a tour Bampton is a must if you want to combine the Cotswolds with your love of Downton Abbey. Bampton or rather Downton's Village is supposedly in Yorkshire somewhere between Thirsk and Ripon.
Entering Bampton look for the signs to St. Mary's Church there is a little street parking across the road from the Church and you will immediately recognize this area as the main filming location for Downton Abbey's village scenes.
You will immediately recognize st. Mary's Church which dates back to the 12th century with its 13th-century spire and carved stone reredos of Christ and the apostle from around 1400. This is where Edith is jilted by Anthony Strallan and many scenes take place. Just think you are walking int he footsteps of Maggie Smith. The Church is called St. Michaels's and All Angels in Downton Abbey.
Mrs Isobel Crawley's house is located directly beside the Church and although the gates are usually closed you will see the exterior of the house which is in real life the Churchgate House or the old Bampton Rectory.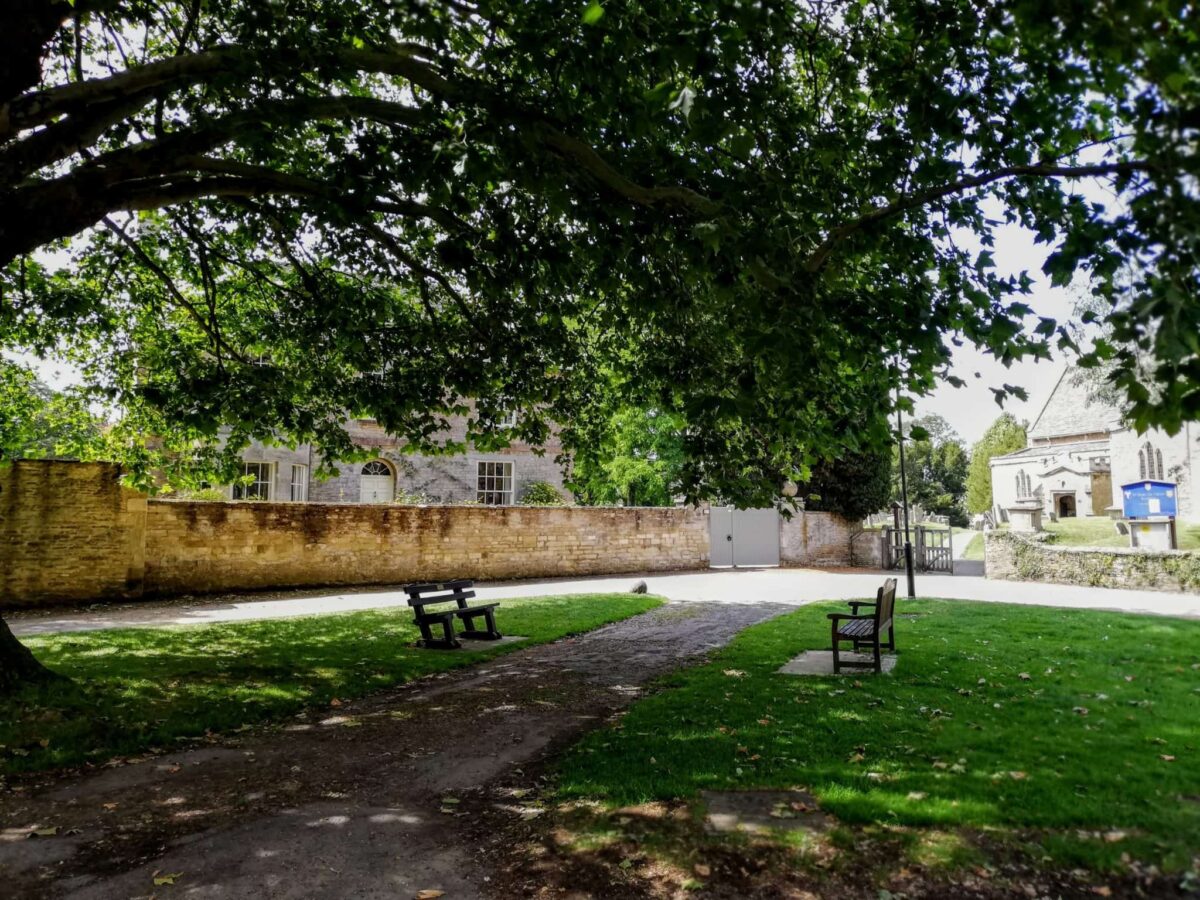 The centre of the village square is where a great deal of the outdoor scenes take place and you may think you see Thomas lounging outside the hospital which is just down from the square with the green plaque on the side of the wall.
There is a lovely little exhibition being held in the building that served as Downton's Cottage Hospital with a look behind the scenes of the filming. This is actually the old Grammar School Building which needs a new roof (please donate). It now holds the Bampton Community Archive and has a selection of Downton Abbey memorabilia for sale.
Church View has appeared regularly throughout the series and is home to two fictional pubs – The Grantham Arms and The Dog & Duck – both featured in various episodes. It was also the site of Downton Fair.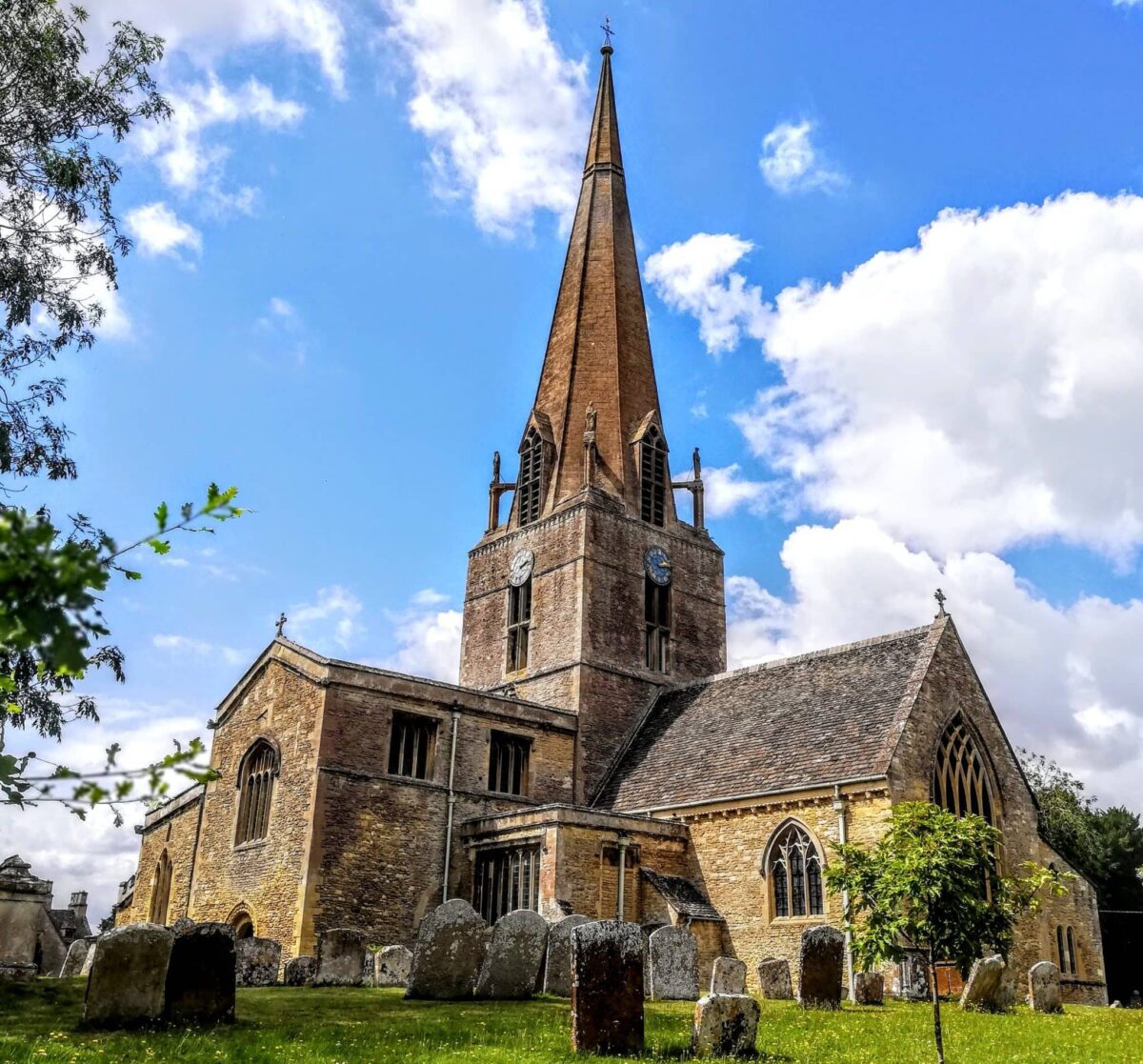 Once you have wandered and taken all the photos and donated to the Bampton cause to fund a new roof, take a little walk to the main village high street and grab a pint at the Horseshoe Inn or stop by the Bampton Coffee House for a lovely cup of tea and scone.
Yew Tree Farm Tree Farm (Cogges), Witney Oxfordshire
Cogges is a unique historic farm. With a beautiful manor house, a stunning walled garden and friendly animal residents. You can get married here, watch Shakespeare on the lawn, pet the animals and have a great coffee in the cafe.
Cogges is used as the setting of Yew Tree Farm, the home of Farmer Drewe and his wife, Margi. Lady Mary and Tom Branson visit the farm in series 4, in series 5, we found out that Farmer Drewe and his wife, were looking after Marigold, the illegitimate daughter of Lady Edith.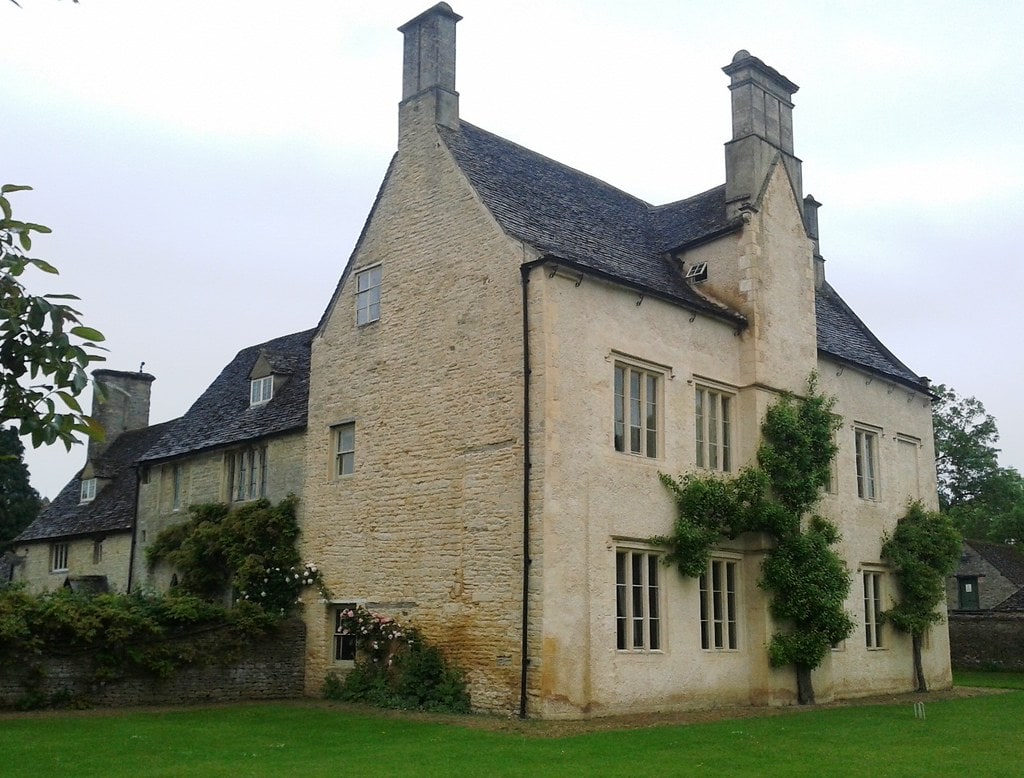 This lovely farm is turned into Yew Tree Farm Yorkshire by camera trickery and great angles. Transforming Cogges into Yew Tree Farm includes some very clever set dressing and really clever camera work to give the appearance of a small farm cottage. Add in some set pieces like a child's wooden car, a few milk churns and some laundry and the place is transformed.
West Wycombe House, Buckinghamshire, England
This grand Palladian house belongs to the Dashwoods who have owned the property for over 300 years. In Downton Abbey, it is home to Lady Rosamund and it is where the Grantham girls, Edith and Mary go when they are in London and need a shoulder to cry on or an ear to confide in.
If you're a fan of Downton Abbey you may recognise the blue drawing room with its ceiling painting of a Bacchanalian revel. You can tour the house with the National Trust from April to August if you are in England.
For all of us mega fans, Amazon has a complete boxed set of Downton Abbey available mid-September.
Horsted Keynes station, Bluebell Railway, West Sussex
This remarkable former train station was chosen as the Downton Abbey railway station. It was first opened in 1882 and today is part of the Bluebell Railway Heritage Line. This is where Mary waved goodbye to Matthew on his way to fight in WWI.
This is where Mrs Crawley goes into labour when they returned from cousin Rose's home Duneagle Castle (aka Iverary in Scotland).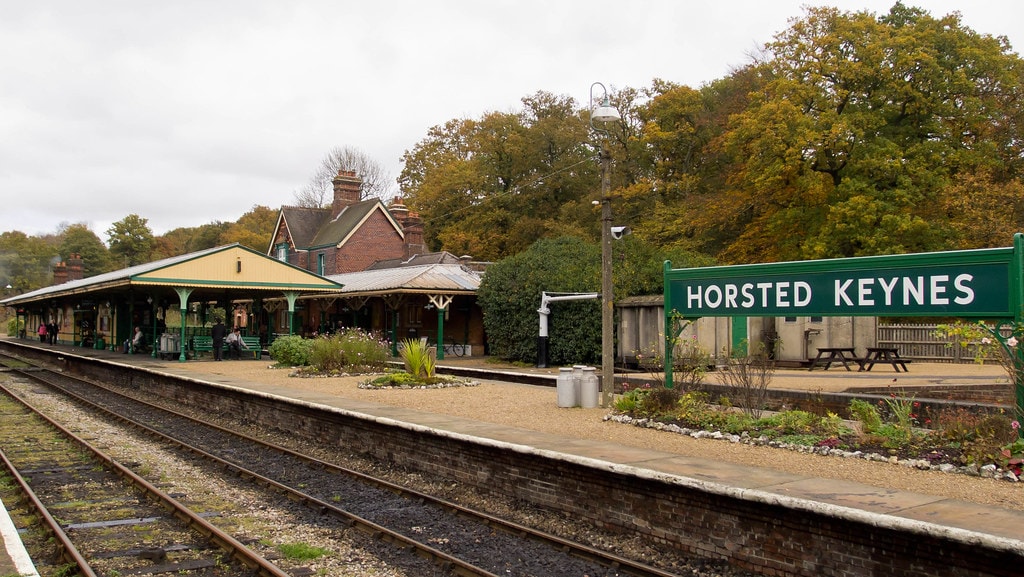 You can take a step back in time with a steam train journey and those with train obsessions can take in the Carriage & Wagon Departments Behind the Scenes Tours. Don't forget to stop in at the Green Man pub for a ploughman's lunch and a pint.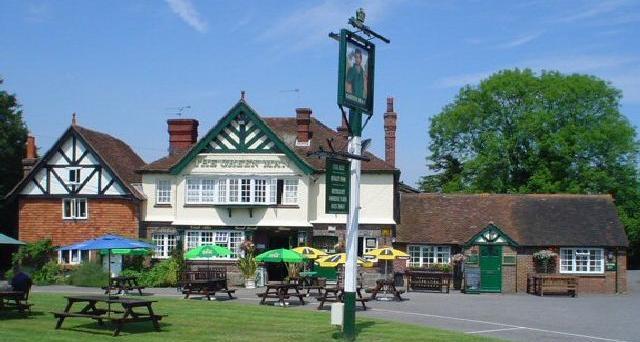 If you love the music from the show you must grab a copy of this CD which is a compilation of all the original music from Downton Abbey.
So Alnwick has not only starred in Downtown Abbey but it was also the most famous wizarding school in history – Hogwarts. The Castle is open from the end of March until November if you want to visit.
Alnwick is the seat of the Duke of Northumberland and is currently home to the current Duke and family who live in a small portion of the Castle.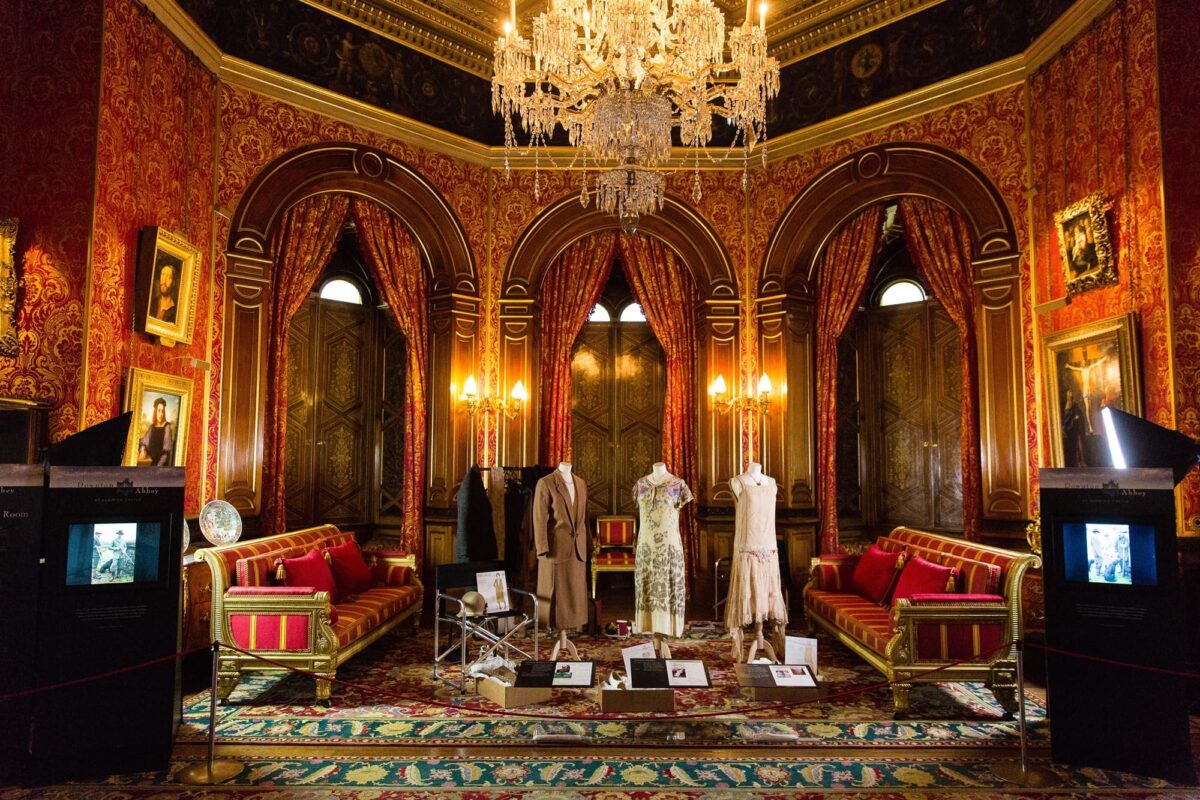 Alnwick featured in Downton Abbey as a stand-in for Brancaster Castle which featured in the episode where Lady Rose's father-in-law Lord Sinderby rented the castle for a shotting party.
It also featured as the Castle owned by Lady Edith's fiance Bertie Pelham, now Lord Hexham. Lord and Lady Grantham join Edith at Brancaster, where they meet Bertie's formidable mother and decide the future of Edith's relationship with Bertie once and for all.
Hall Place, Beaconsfield, Buckinghamshire
It is here that Mrs Crawley's receiving room is actually set (not Bampton's Rectory). This is where Matthew and Isobel come to live when they learn of his inheritance of Downton Abbey. Sadly not open to the public this Grade II listed building can be seen from the outside only. But take a walk to Beaconsfield the nearby market town where you can enjoy some Georgian architecture, shop and have a lovely English cream tea.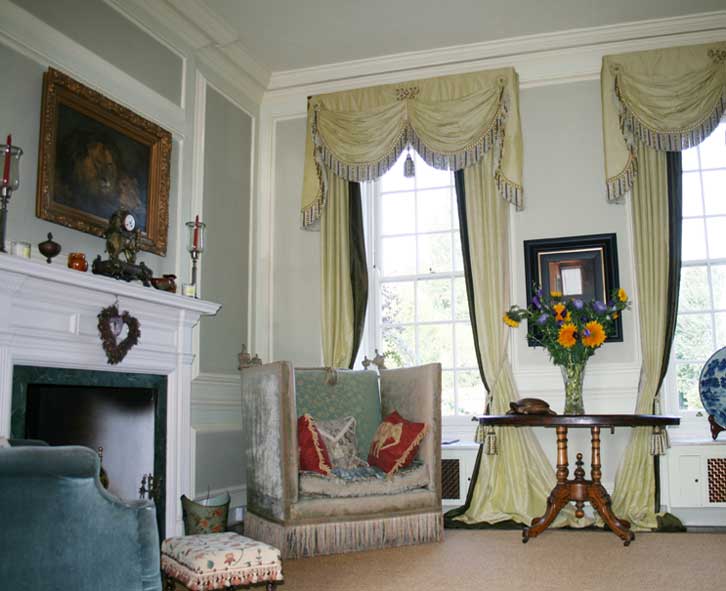 Stands in for the Crawley's London residence Grantham House. The interiors of Basildon Park are used as the Crawley family's London residence, Grantham House. In season five this elegant Georgian mansion was at the heart of Lady Rose and Atticus Aldridges' wedding.
During the London Season episode in 2013, the house was used as the location for preparing Rose for her Coming Out ball. Shirley McLaine also featured in this particular episode along with paul Giamatti as Cora's brother Harold.
The stunning 18th-century reception rooms were restored by the Iliffes in the 1950s and even the kitchen has been restored to the 18th century.
This is what I need the Downton Abbey Complete Series 1,2,3,4,5 & 6 + Bonus "Secrets of Highclere Castle" [Blu Ray LIMITED EDITION]
Inveraray Castle, Argyll and Bute, Scotland
Home to my family clan the Campbell's Inveraray Castle is set in the gorgeous landscape of Argyle and Bute in Scotland. Inveraray Castle on the banks of Loch Fyne was transformed into Duneagle Castle for the first Downton Christmas special.
It was all drama in the scenes filmed at Inverary. Edith attempting to decide to become a married man's mistress. Rose driving her mother mad with her "modern" ways. Miss O'Brien meeting her match in the Marchioness' ladies maid. Anna and Bates causing trouble "downstairs" unknowingly.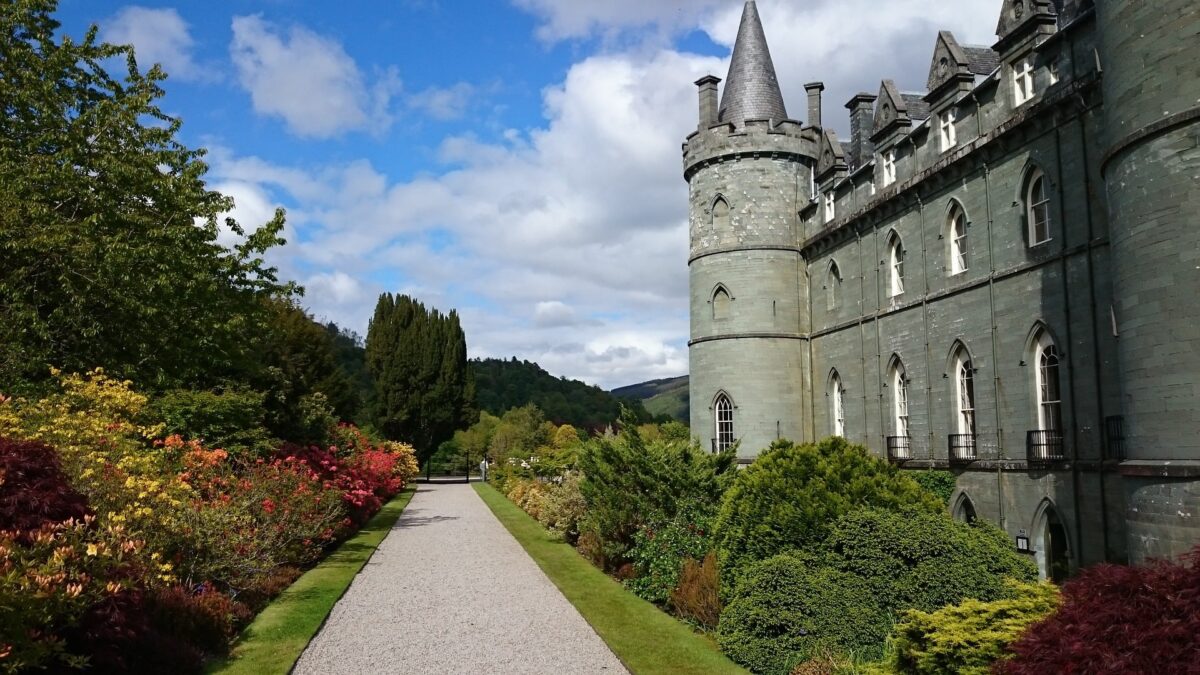 The spectacular Ghillies Ball is when the whole household comes together dressed in the Campbell tartan for an evening of Scottish dancing and a tension racked evening.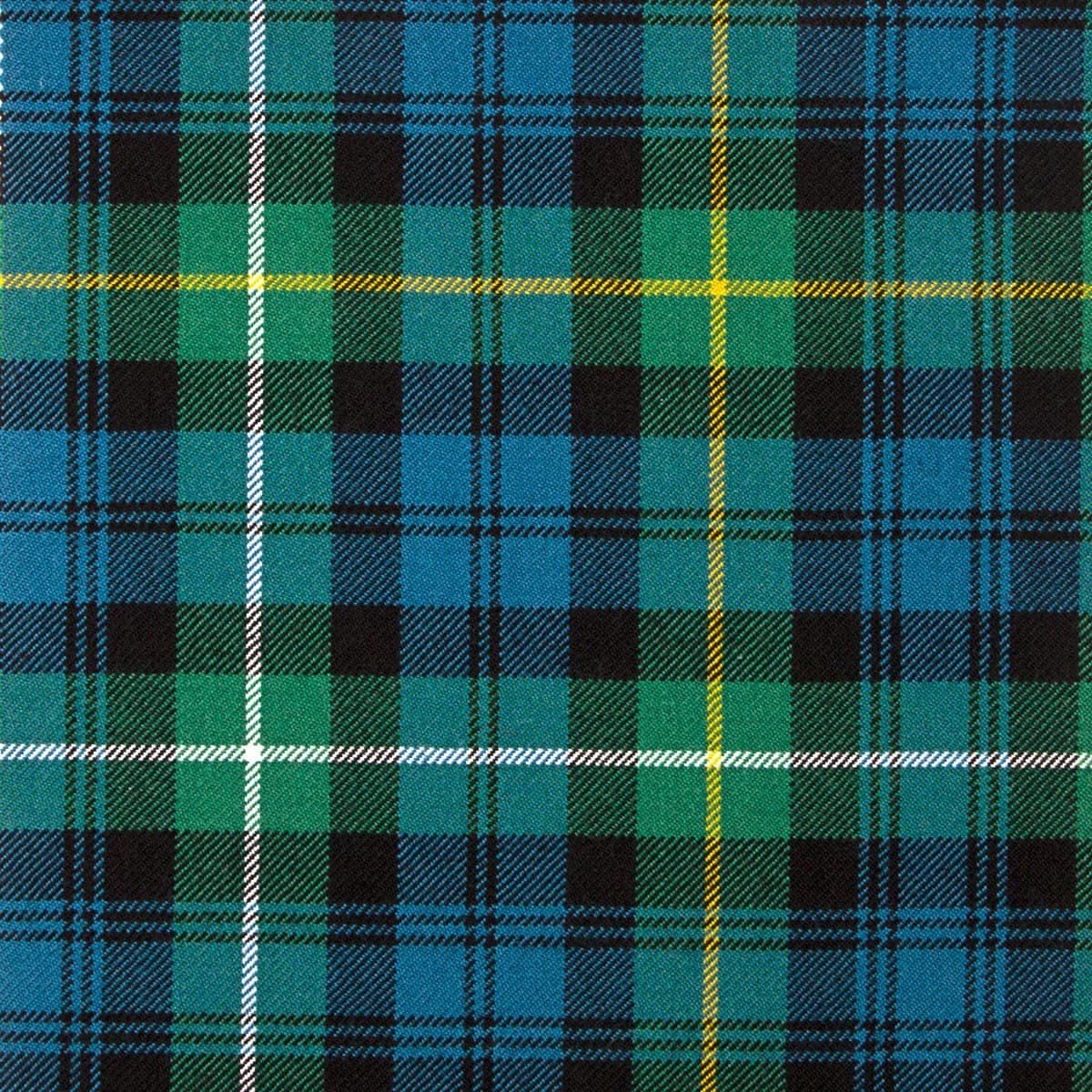 Lincoln Castle, Castle Hill, Lincoln
In season 3 Lincoln Castle was used as Mr Bate's prison when he was found guilty of murdering his wife. The Victorian prison had not been seen by the public and has since undergone a huge restoration so can now be visited.
The Castle was built in the 11th century by William the Conqueror and was still in use as a prison until 1878.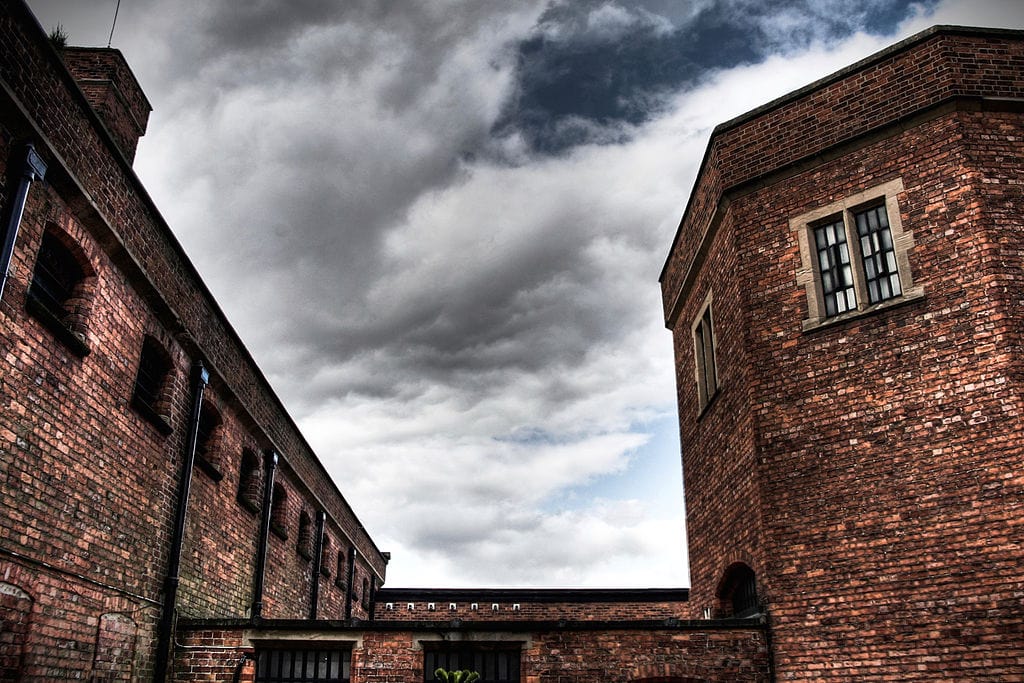 The Castle is famous for housing the original Magna Carta since 1215 and in 2012 a massive £22m restoration took place. Now, visitors can walk the full circumference of the walls for the first time. An impressive third of a mile long, the Medieval Wall Walk is a journey through the history of Lincoln and a vantage point for spectacular views across this beautiful city and surrounding countryside.

There is no finer view of Lincoln Cathedral than that from the castle's east wall battlements, which look onto the Cathedral's majestic West Front and soaring spires.
A wall calendar for 2020 would make a great Christmas gift for that Downtown Abbey fan in your house.
In the Christmas special of 2013, a picnic takes place in Kensington Gardens with Cora, her brother Harold, Madeleine and William Allsopp, Martha Levinson and Violet, all picnicking in the park in front of the Albert Memorial.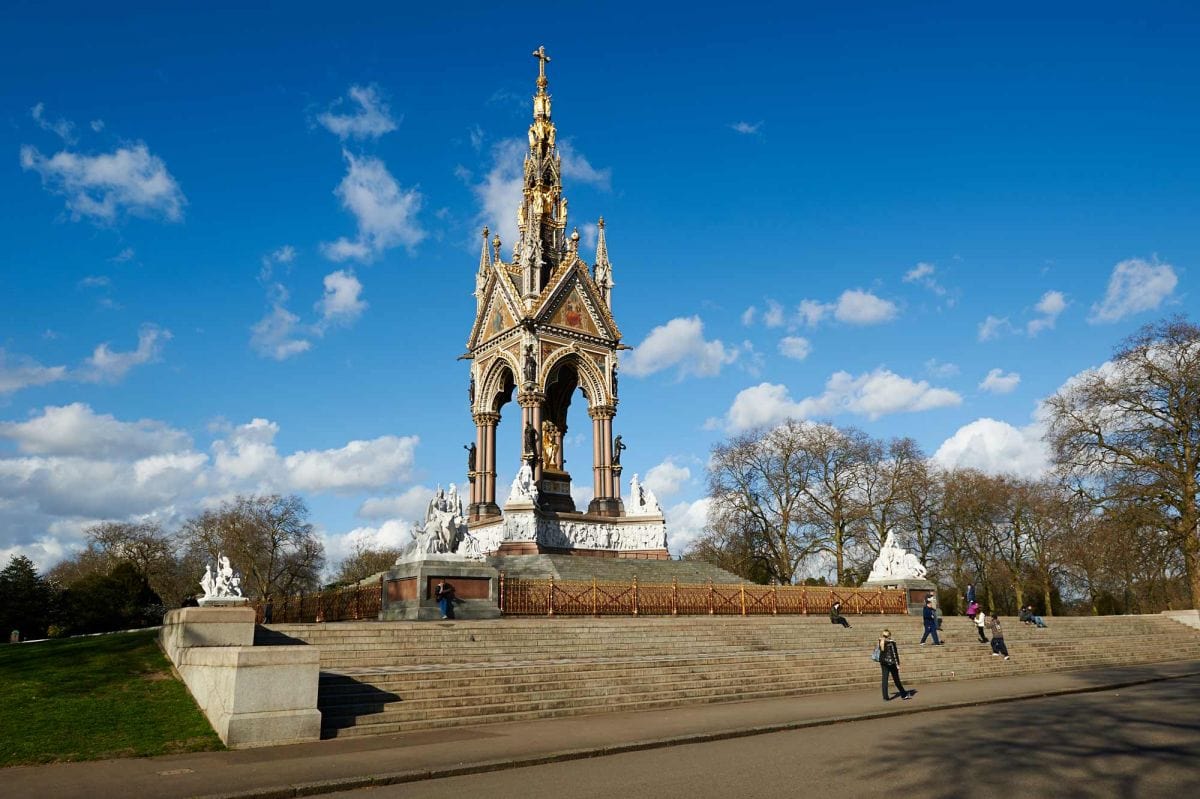 The Memorial is a Gothic monument commissioned by Queen Victoria in memory of her beloved Albert. Prince Albert sadly died of typhoid in 1861 and Victoria mourned his loss until her death.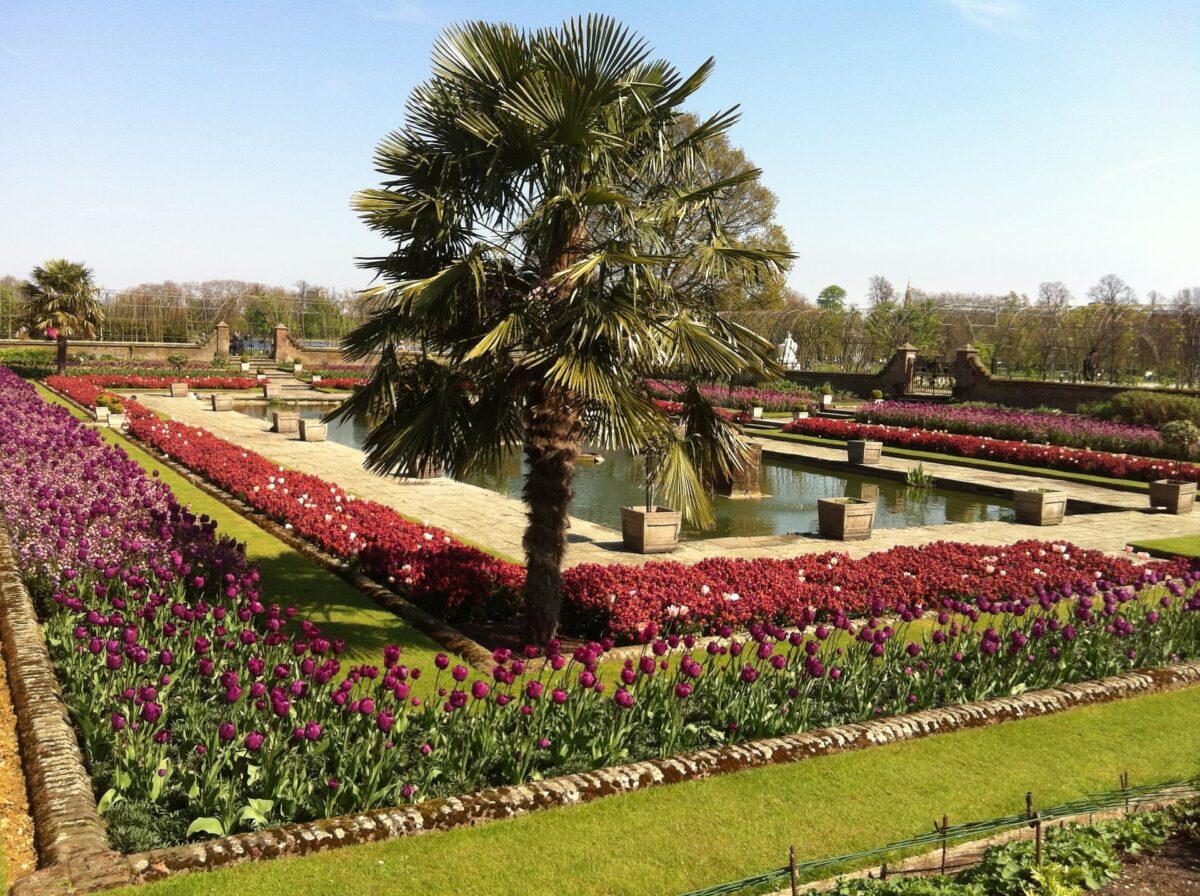 You can visit the memorial free of charge in Kensington Gardens and visit several iconic pieces of art such as the Peter Pan statue and Diana's Italian gardens.
The drinks reception following Lady Rose's presentation to the King was done in the Drawing Room at Goldsmiths' Hall.
Redesigned in 1950, following war damage, this elegant room is one of the two key reception rooms within the Hall. The most striking feature is the carpet with the Company's coat of arms in the centre, woven in 1902 as an exact replica of the 1835 original. Two magnificent seventeenth-century tapestries hang on either side of the fireplace, depicting stories from Antony and Cleopatra.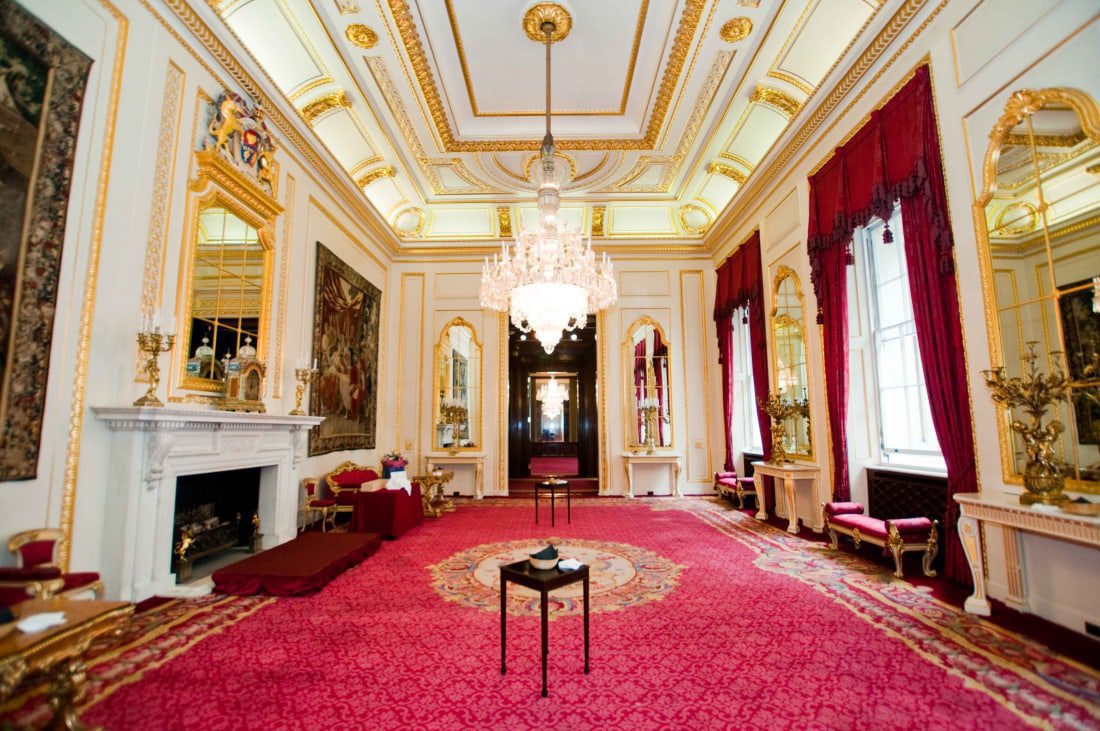 The Hall is not open to the public, except during the annual Goldsmiths' Fair. However, a number of Open Days are held during the year when guided tours of the Hall are arranged. The tours last approximately one hour. Each tour can accommodate up to 40 people at a charge of £5 per person, which will go to the Goldsmiths' Company Charity. This is payable in advance and is non-refundable.
Tours should be booked through the Hallkeeper's Office on 0207 606 7010 or via email to [email protected]
Byfleet Manor, Mill Lane, Byfleet, Surrey
Imagine getting married in the Dowager Violet's house or if not a wedding what about a delicious Afternoon Tea served in the Downton Room. You can take part in this great British tradition in this incredible family home in Surrey. Afternoon teas are available by private reservation for a minimum of 4 guests up to a maximum of 30.
You can even partake of a Downton Champagne Tea served by the "Downton crew" dressed in period costume how much fun would that be? Served on bone china with dainty finger sandwiches, scones and cream cakes you will feel like the Dowager's guest. After tea have a walk around the grounds chat with the pet pigs Delilah and Whilhomena and admire the exquisite British gardens.
There are many Downton Abbey filming locations you can visit, some are open to the public others aren't. For example, the WWI trench scenes were shot on a farm that has created the WWI trenches for many films sadly you can't visit that location.
Now all you have to do is sit back and wait for the world premiere of Downton Abbey the film due out in September 2019. In the meantime grab a copy of the Downton Abbey Official Film Guide.
What's your favourite character in Downton Abbey? For some bizarre reason, I love Thomas with his sneaky, nasty ways and I feel quite concerned for this damaged character.