42 of the best breakfasts in the world
Eating breakfast – never has a meal been so contentious. Nutrition experts and scientists debate that "breakfast is the most important meal of the day" pulling out facts, figures and studies to prove whether it is or it isn't. Breakfasts around the world vary so much that there isn't one single "perfect" breakfast to prove the point.
Every corner of the world has several types of breakfast from the French who have a light breakfast of a small croissant with coffee, sometimes a pain au chocolat but they wouldn't dream of having a Full English breakfast. In Mexico chilaquiles uses up stale tortillas for breakfast, in Asian countries breakfast is often created from leftover rice.
Some countries begin the day with a cup of coffee, others tea. A sweet breakfast of pastries and fruit breaks their fast in many places while other nations prefer a savoury protein-based meal. A traditional breakfast will vary depending on which country you travel to. A breakfast spread can be simple or a complex set of small portions of meats, cheese and pastries.
The most eaten breakfast in the world is probably a dish with eggs as they are high in protein and give us energy for a day's work.
Who invented breakfast?
Breakfast is a relatively new concept and didn't really exist until around the mid-1700s. The Romans didn't believe in breakfast and only ate one large meal a day. In medieval times meals revolved around what had been established by the monks and churches. Historians believe that the word breakfast came into use by the monks who couldn't eat until after morning mass and this was called "break the night's fast".
The Full English breakfast evolved out of religion as well. On the day before Shrove Tuesday (pancake day) there was Collop Monday where people had to use up the meat in their stores before the start of Lent. Much of this meat was pork and bacon which was eaten with the eggs that needed to be used. This wasn't actually served at breakfast time though more than likely it was prepared for lunch.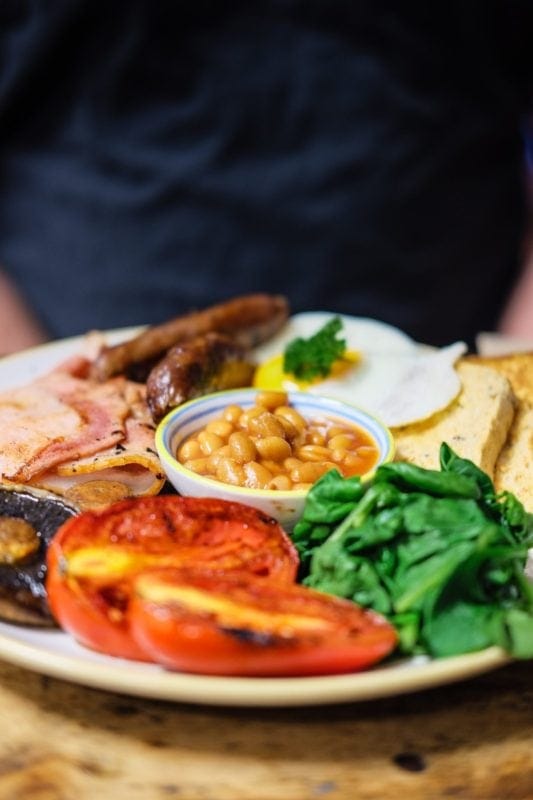 Historians say that it was in the 17th century that all classes began to eat breakfast. It was around 1740 when breakfast rooms began to appear in the houses of the rich. By the 19th century, you could have had the choice between up to 24 dishes served for breakfast as fuel for the hunt.
It wasn't until the Industrial Revolution that the workers needed an early meal to sustain them at work, they also were not allowed a lunch break so breakfast was the only meal of the day until late at night when they finished work.
In the 20th Century, the American John Harvey Kellogg revolutionized breakfast with his invention of the cornflake. There are plenty of rumours surrounding the invention of cornflakes but the boring truth is that Corn Flakes were created as an easy-to-digest breakfast food.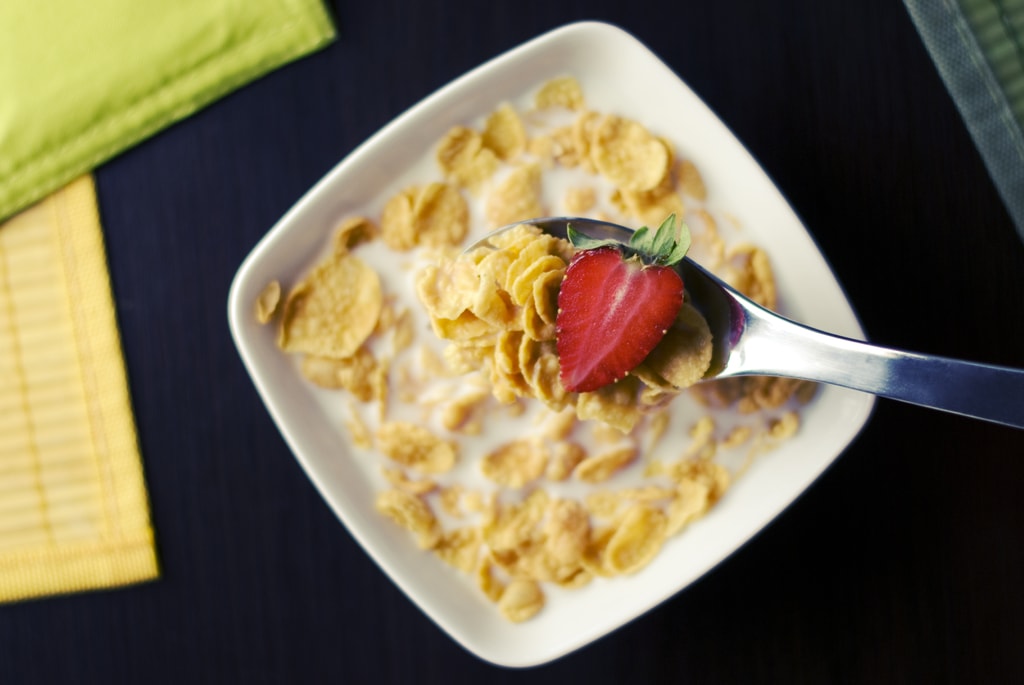 Over the years many polls and studies have been done about what the best breakfast should include and the result was that the best breakfasts in the world will include eggs – well that's dominantly in Westernized countries. Many breakfasts from around the world do include eggs and then again many don't.
42 Breakfasts from around the world
Well, if this doesn't make you hungry for a different breakfast I don't know what will. Who could possibly resist trying unfamiliar meals when travelling? Food tourism and experiencing food culture is one of the many reasons (excuses) for travelling. Trying a different breakfast is just one way to understand another culture.
From a group of my fellow travel writers here is a list of the 42 traditional breakfasts around the world.
Hagelslag – Netherlands
A great breakfast is bread with hagelslag. This is a breakfast tradition that exists in the Netherlands. People there have a slice of bread with hagelslag on it. Hagelslag are small sprinkles made of chocolate that are very tasty! Moreover, they have a shape that is cylindrical and the name hagelslag comes from the Dutch word for hail.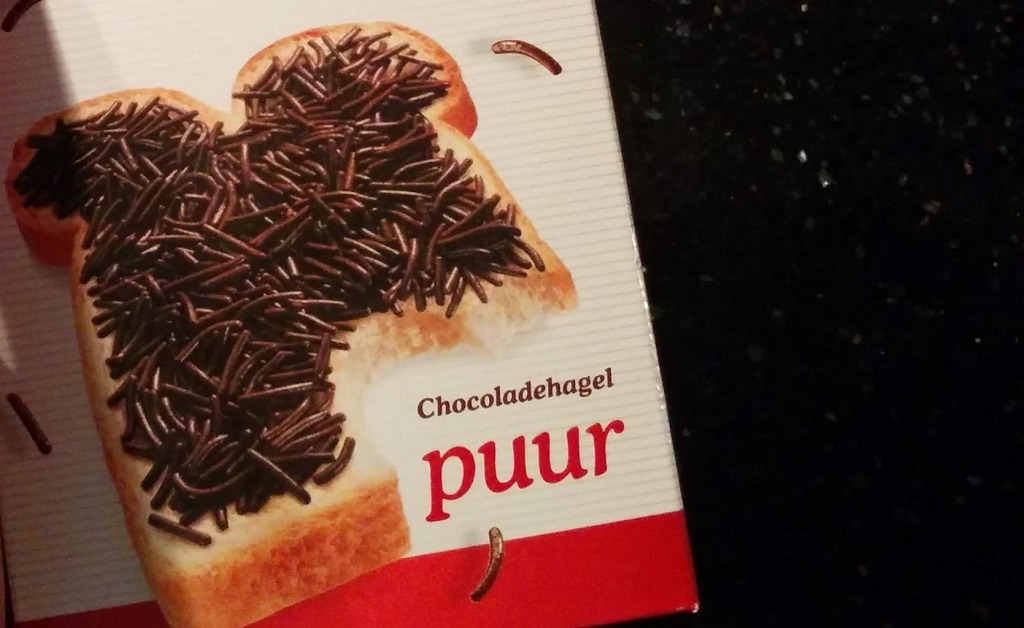 Both adults and children love this breakfast, and it is a very popular breakfast for all ages. When people eat hagelslag on a slice of bread, they usually first spread butter on the slice. This is done such that the chocolate sprinkles stick to the slice of bread. What's great is that there are several versions of hagelslag. For example, there are milk and dark chocolate variants, there is a variant that mixes both, and there are more. Hagelslag was created in 1913 and the company De Ruijter made it popular. Nowadays, it has become a common Dutch breakfast. Contributed by Dymphe of DymaAbroad.
Floating breakfast in Bali
Bali is famous for its beautiful rice terraces, excellent surfing spots and unique customs, and its foodie culture. One of the island's specials is floating breakfast.
The floating breakfast is typically served in Bali's boutique hotels, but you don't need to stay in a fancy hotel to have it. You can also book this experience in some cafes in Canggu.
The floating breakfast usually consists of a colourful spread of smoothies with roasted nuts and fresh fruit toppings, fresh juices and banana pancakes or deep-fried bananas, which are Bali's speciality. The more colours, the better. However, guests can normally choose between smoothies, pancakes or Indonesian breakfast.
The breakfast is then placed on a large tray which is meant to float in the pool. And you can sit in the pool while enjoying your breakfast. Having breakfast in the pool is definitely one of the most unique and indulging experiences in Bali. Contributed by Mal of Raw Mal Roams.
Chilaquiles – Mexico
Chilaquiles are a traditional Mexican breakfast made with tortilla chips simmered in sauce. Crispy tortilla chips usually leftover are placed in a pan and covered with either a red salsa (chilaquiles rojo) or a green salsa (chilaquiles verdes) sometimes a ground meat is added and then eggs. The chilaquiles are then served with lots of fresh queso and avocado.
Rosticceria – Sicily
One of the myths of Italy is that all over the country breakfast consists of a simple cornetto (croissant) with an espresso or a cup of cappuccino. This myth might hold true for the North of Italy but in Sicily, some good old Rosticceria or Cannolo for breakfast is nothing to be frowned upon, in fact, it is encouraged by locals!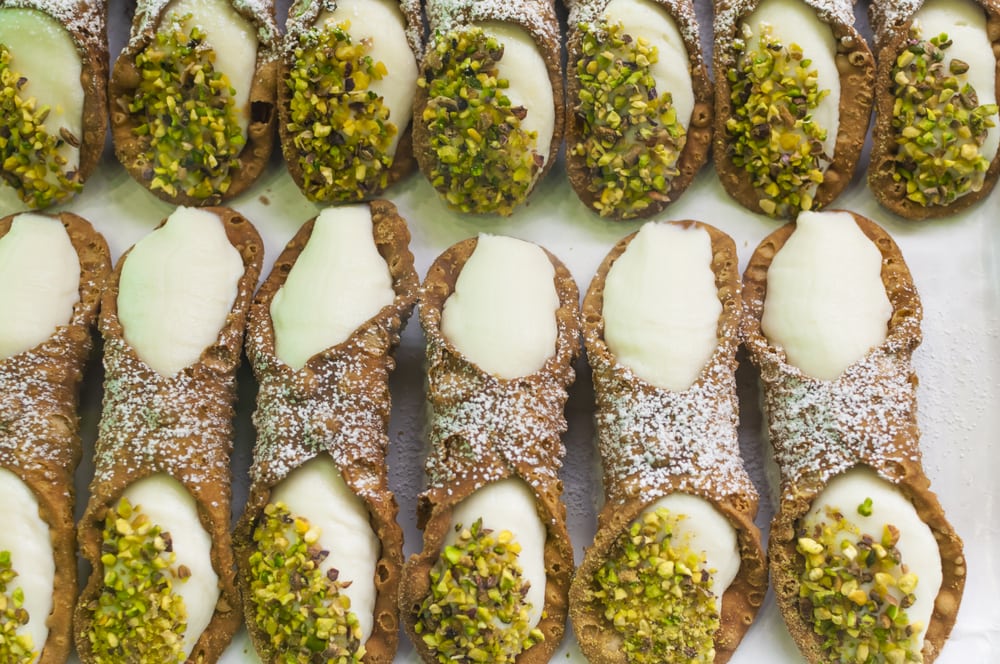 A rosticceria is a kind of savoury pastry – fried and stuffed with filling. Fillings range from a simple frankfurter sausage (Rollo con Wurstel) to a fried ball of rice with ragu (the undisputed queen of Rosticceria, an Arancine). Vegetarian can also indulge in rosticceria: Sfincione, Pane con Panelle and Crocche. These delicacies can be found in any bakery or – aptly named – Rosticceria (a shop where they sell rosticceria)
If savoury however does not strike your fancy, pop into any bar and order a finger-licking Cannolo for breakfast. It's crunchy, filled with sweet ricotta and topped with a sprinkling of pistachio. Make sure the Cannolo you order is freshly made that day. The sweetness of the ricotta will complement the bitterness of the Sicilian espresso perfectly! Contributed by Caroline of Veggie Wayfarer
Tostada – Spain
The Spanish tomato tostada is one of the most delicious ways to start your day when you visit Spain. The tostada is a very simple, but full of flavour breakfast.
Tostada is usually a small Spanish baguette (half the size of a French one) that has been toasted under the grill until the middle is crispy. It is served warm, alongside grated tomatoes, extra virgin olive oil and salt. The tomatoes used for tostada are Roma or plum, which have thick flesh and less juice. They are grated and not blended so that the result is like a thick sauce rather than a watery liquid.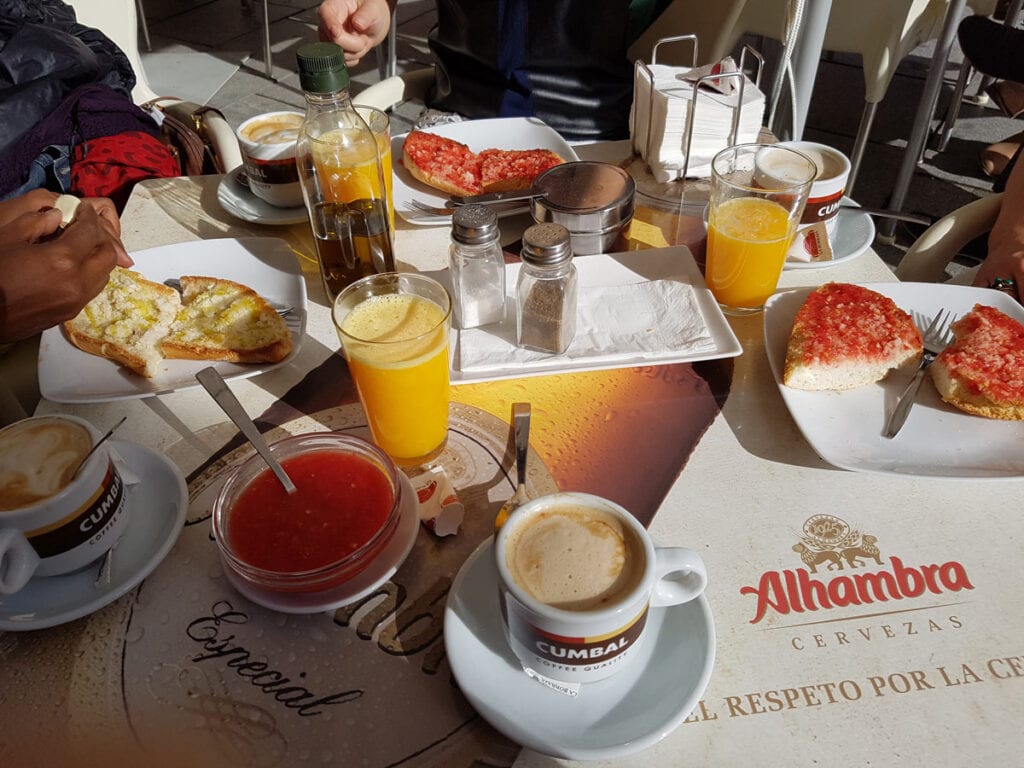 To eat the Spanish tostada, you must first drizzle the baguette with olive oil, top it with the grated tomatoes and then sprinkle salt on top. Because the bread is toasted under the grill, when the tomatoes are added it won't become soggy and it will maintain its crispiness. Contributed by Joanna from The World in My Pocket.
Portuguese Donuts – Hawaii
Malasadas, or Portuguese doughnuts, are a staple breakfast item you can't miss when you're visiting Oahu, Hawaii.
Malasadas are made from small yeast dough balls that fried are coated with granulated sugar or cinnamon sugar. They are crispy on the outside, soft and fluffy on the inside, and are best when they're served warm.
The most popular spot to get a malasada when you're in Oahu is Leonard's Bakery. Not only is Leonard's Bakery one of the best places to eat on Oahu, but it's an iconic spot that's been serving the island fresh, hot malasadas since 1953!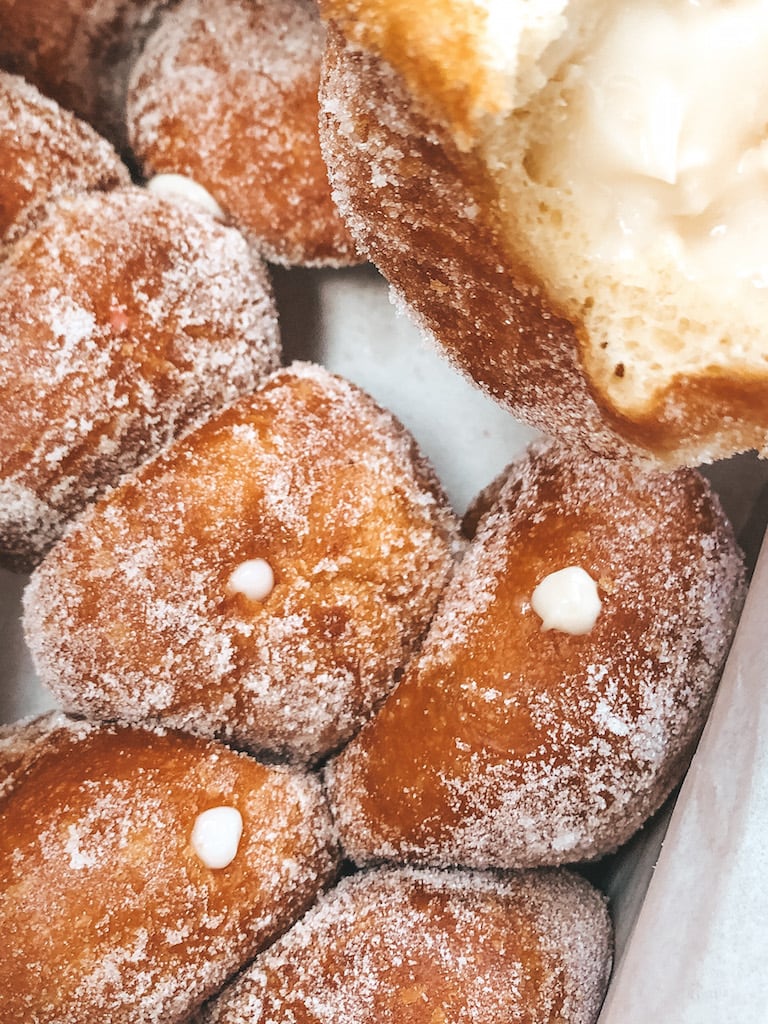 Leonard's Bakery serves more than just traditional malasadas. They also make malasadas puffs—fried dough balls stuffed with tropical custard fillings. Some of the flavours you can order include coconut, macadamia nut, and guava, or fun featured flavours like mango or pineapple.
You can't miss the chance to try a malasada from Leonard's Bakery while visiting Oahu, Hawaii. Oh, and don't be fooled by the line—it may wrap around the building, but these melt-in-your-mouth doughnuts are worth every minute of the wait! Contributed by Brittany Sawyer of Travel by Brit.
Noodle Breakfast – Laos
In southeast Asia, breakfast is a bit different to what you might be used to in the western world. Noodle soup is the most common breakfast dish in a lot of these countries, including Vietnam, Cambodia and especially Laos.
Khao Soi is a popular dish in Northern Thailand, but Lao cuisine is relatively unknown outside of Asia. Lao Khao Soi has little in common with the Thai version, instead of being more like spicy, tomato-based Vietnamese Pho served with minced meat.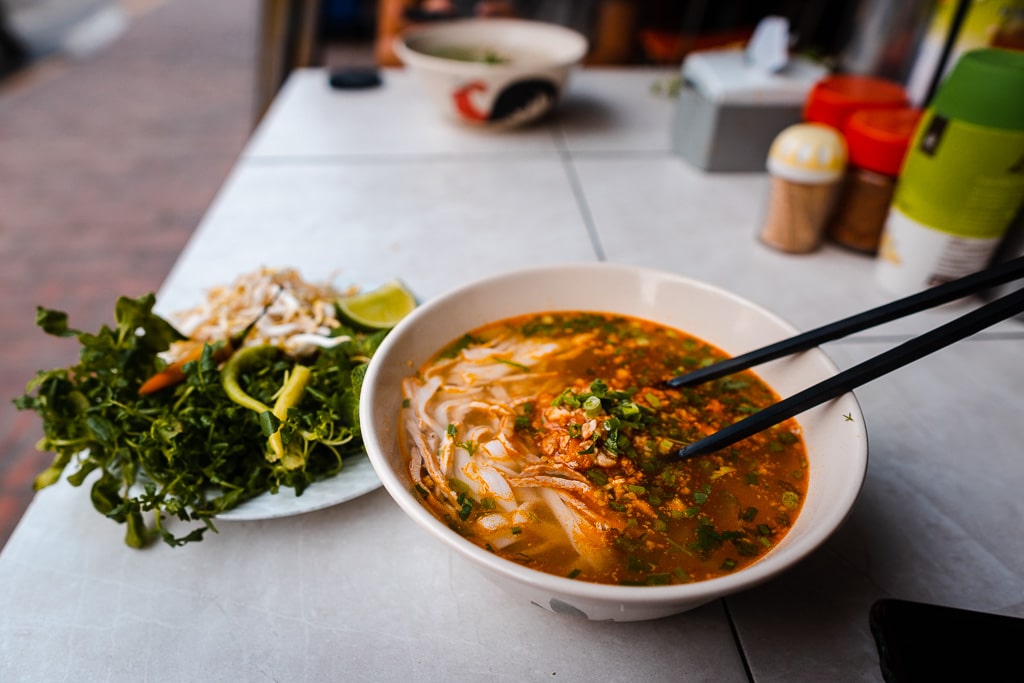 Part of enjoying Khao Soi is the experience in itself. Instead of heading for a flash cafe, your best bet is to get out of bed and find a roadside stall packed with locals sitting on tiny plastic stools. The busier it is, the better the Khao Soi (and most likely more sanitary food handling practices).
A Lao chef will scoop out a broth over rice noodles and a spicy mince mixture. You can sit down and break up a plate of herbs to stir through your Khao Soi, along with a spoonful of chilli for extra heat.
Noodle soup for breakfast takes some getting used to, but it's certainly more hearty than a bowl of cornflakes. And watching the world go by while you eat on a tiny plastic table is a special way to start the day. Contributed by Delilah of Our Travel Mix.
Iftar – Morocco
We definitely had one of the best breakfasts on our travels in Morocco! The Moroccan breakfast, better known as iftar, is generally very rich and varied. The most diverse delicacies are combined with each other and a whole variety of good things are served on one table. The food is served in many small, colourful Moroccan bowls, which gives the appearance an extra plus.
Moroccan flatbread, hard-boiled eggs, goat cheese, butter, various olives, beans, fresh vegetables and fruits, and breakfast soup are often found on a typical breakfast table. But Moroccan breakfasts also include sweets!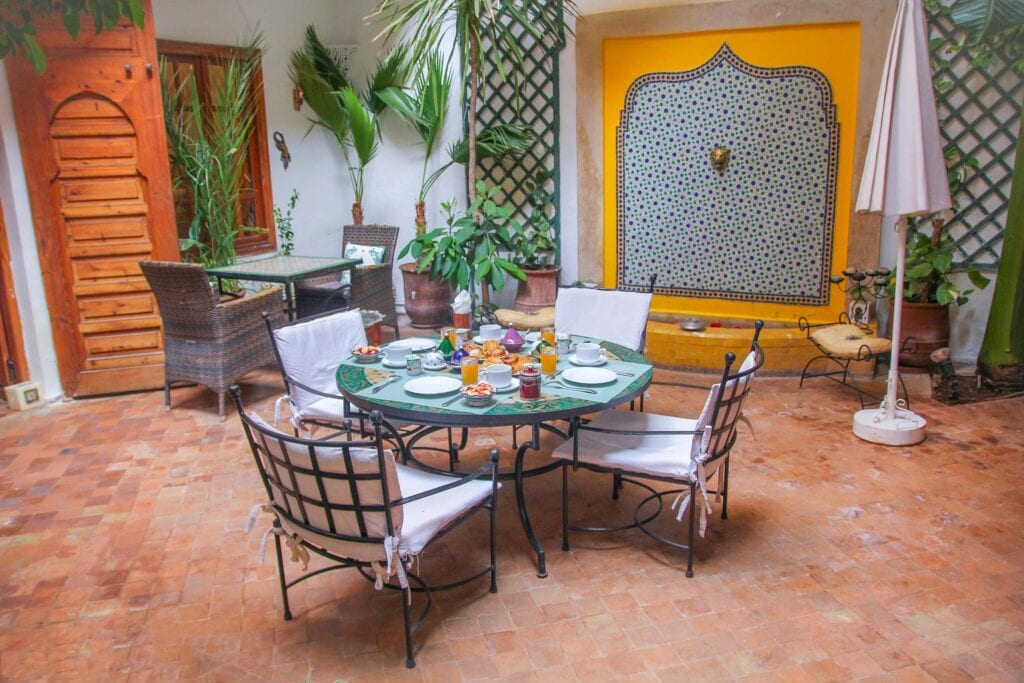 Delicious pancakes, semolina bread, cakes and sweet pastries are often served. The drinks are delicious Moroccan tea, usually mint, strong coffee (also with milk), and fresh juices. Freshly squeezed orange juice is a standard part of every breakfast in Morocco. Contributed by Martina & Jürgen of PlacesofJuma.
Eggs, Baquette, nuoc cham & Coffee – Vietnam
Vietnamese food is well-known as one of the most delicious and aromatic food in the world. Traditional Vietnamese cuisine is famous for its harmony of food textures, flavours, and fragrances.
The same goes for breakfast in Vietnam. Typical Vietnamese breakfast is rich in aromas and flavours. One of the most popular Vietnamese meals for breakfast is Vietnamese-style fried eggs with aromatic herbs and spicy fish sauce.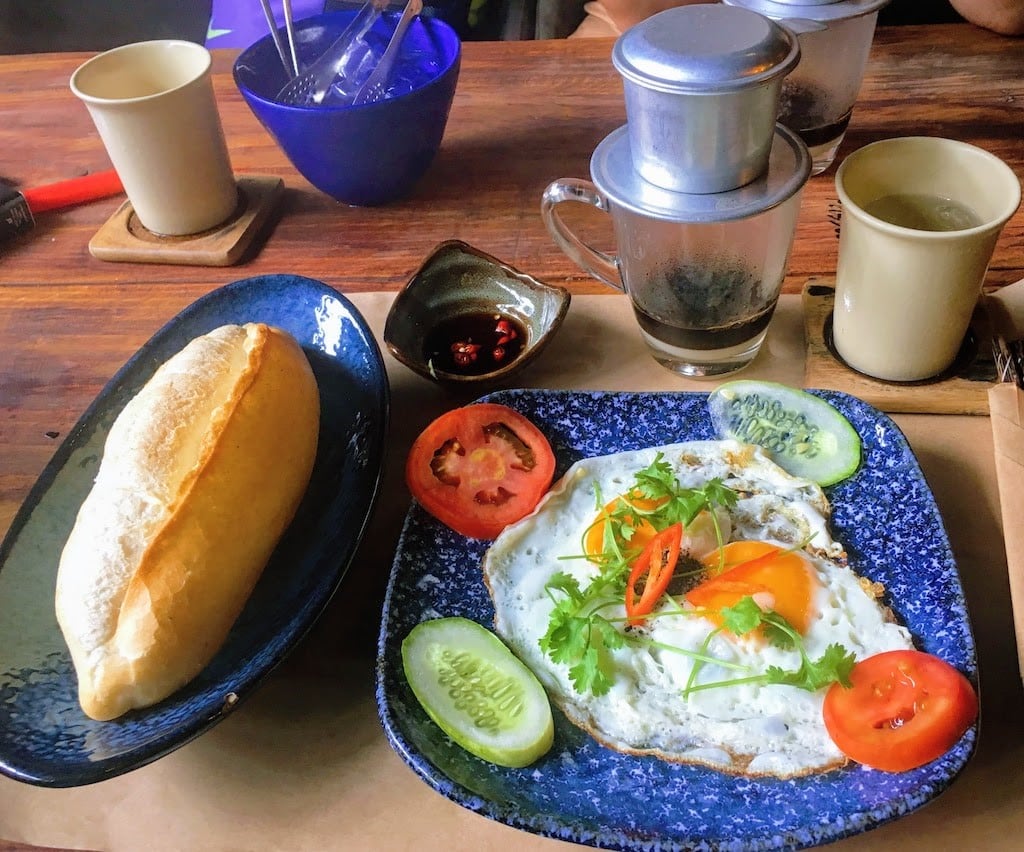 Soft egg yolks and crispy whites are typically garnished in Vietnam with citrusy cilantro, refreshing mint, spicy red chilli, sweet bell pepper, mild cucumber, and tart tomato. And they always come with an extra bowl of popular 'nuoc cham. Sweet, sour, and spicy 'nuoc cham' is a famous Vietnamese dipping sauce made from fish sauce, lime juice, chilli, garlic, and sugar.
Vietnamese fried eggs are commonly served with a classic Vietnamese baguette which is the food heritage of French Indochina times. And with regards to the accompanying beverage, traditional Vietnamese drip coffee in a fantastic Vietnamese coffee phin cup is absolutely inevitable! Contributed by Milijana Gabrić of World Travel Connector
Full English or Fry-up – United Kingdom
For me, the world's best breakfast is a full Irish or English depending on where you live. In my family, this was a Christmas breakfast treat. Fried eggs, fabulous port sausage, rashers (English bacon), mushrooms, grilled tomatoes, and occasionally baked beans and fried bread.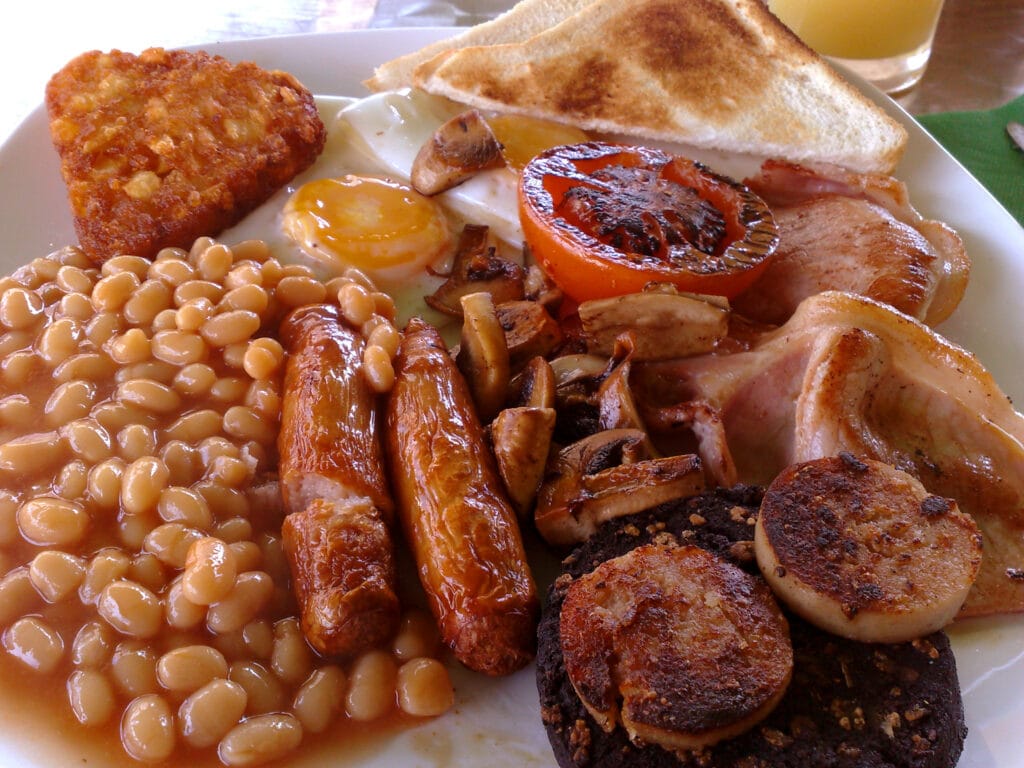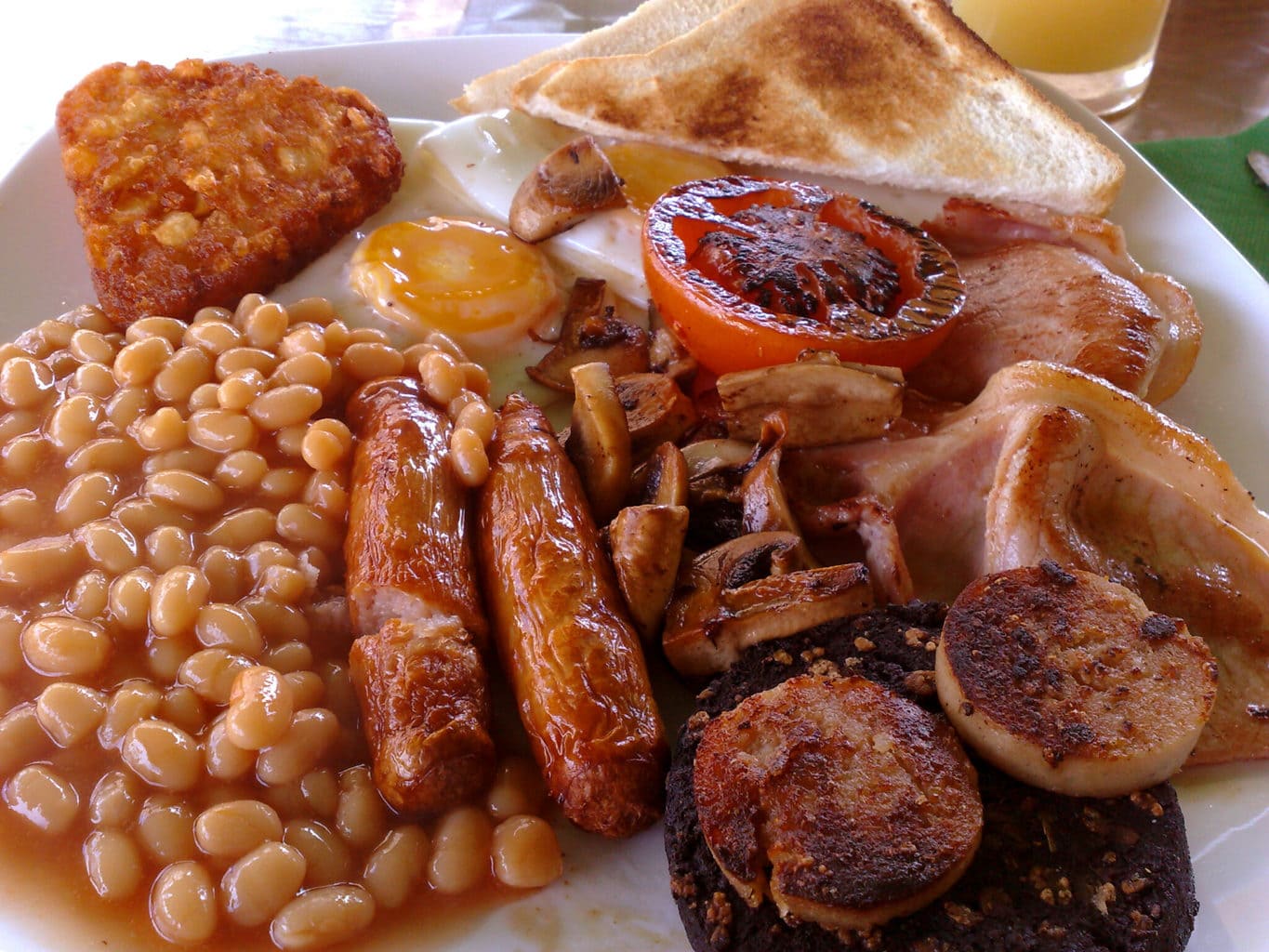 We only ever had the fried bread when Dad couldn't get Irish fadge or brown soda bread for his Full Irish Breakfast. In Canada, it used to be difficult to get black pudding, or square slice and white pudding (which the Scottish include in their breakfast), but lately, a few English shops have opened up that sell these frozen.
Grød – Denmark
Grød is a traditional Danish porridge for breakfast. The oats are cooked in milk or water and sometimes sugar and butter are added. A big bowl of grød makes for a great winter breakfast. In the warmer months, a bowl of yoghurt and fresh fruit replaces the oatmeal or a simple boiled egg and rye bread served of course with coffee. In Denmark breakfast isn't a big deal but the Danes do love to do brunch.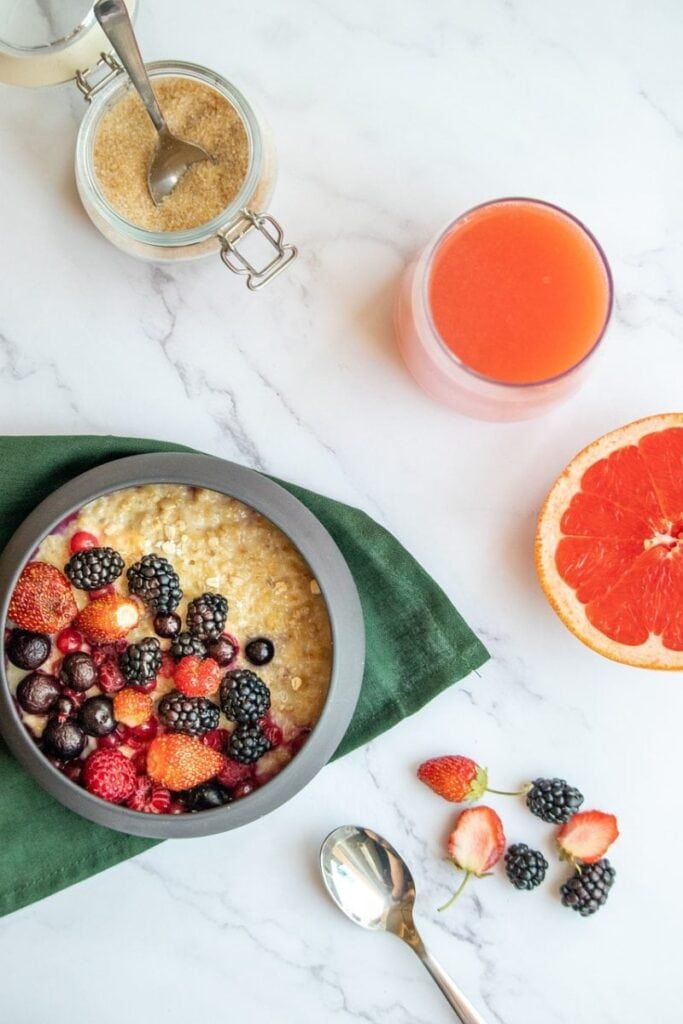 Pastry & Coffee – France
To be honest, the French don't really do breakfast for them it is not the most important meal of the day – that is reserved for lunch. Usually, breakfast here in France is a pastry such as a croissant, pain au chocolat and a strong espresso coffee if you are a tourist. Most French people don't eat a croissant a day they have une tartine which is toast spread with butter and jam or Nutella. You will find Nutella served everywhere in France. At home, the French will drink cafe au lait in a large bowl type of mug, but outside of the home, they tend to choose espresso.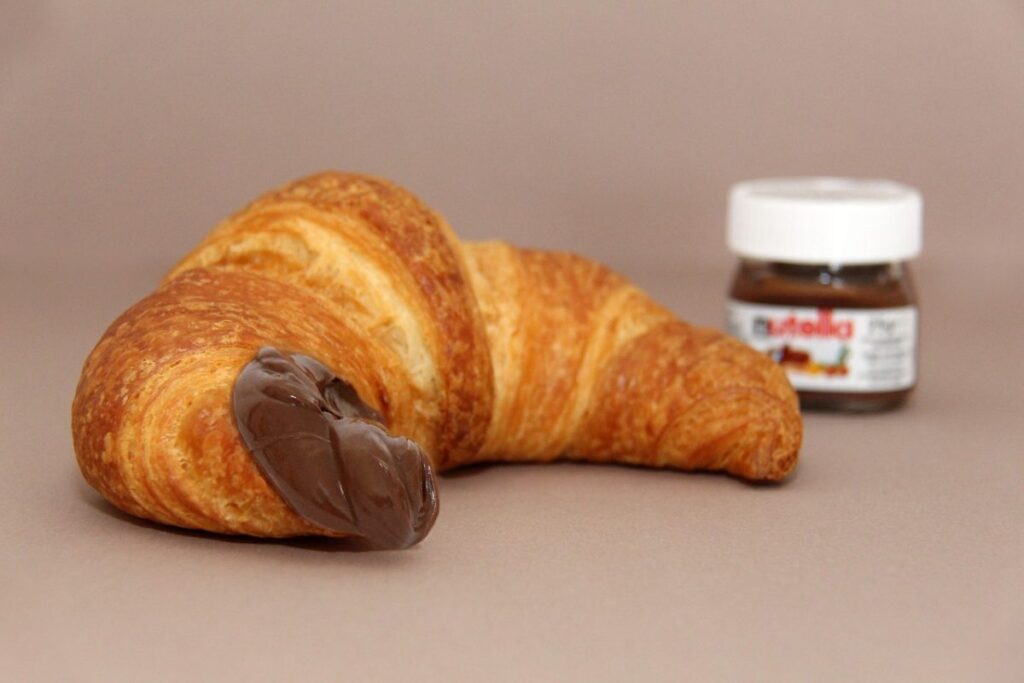 Breakfast in Japan
One of the most important things while travelling is trying local food. In Japan, we went for a typical Japanese breakfast and loved it. A Japanese breakfast consists of a bowl of miso soup, steamed rice, protein and at least 3 side dishes.
In our case, the protein was a piece of grilled salmon, a bowl of white rice, cabbage, nori (seaweed) and something that reminded me of paté terrine. Other popular side dishes are tsukemono (pickles), vegetables and soybeans.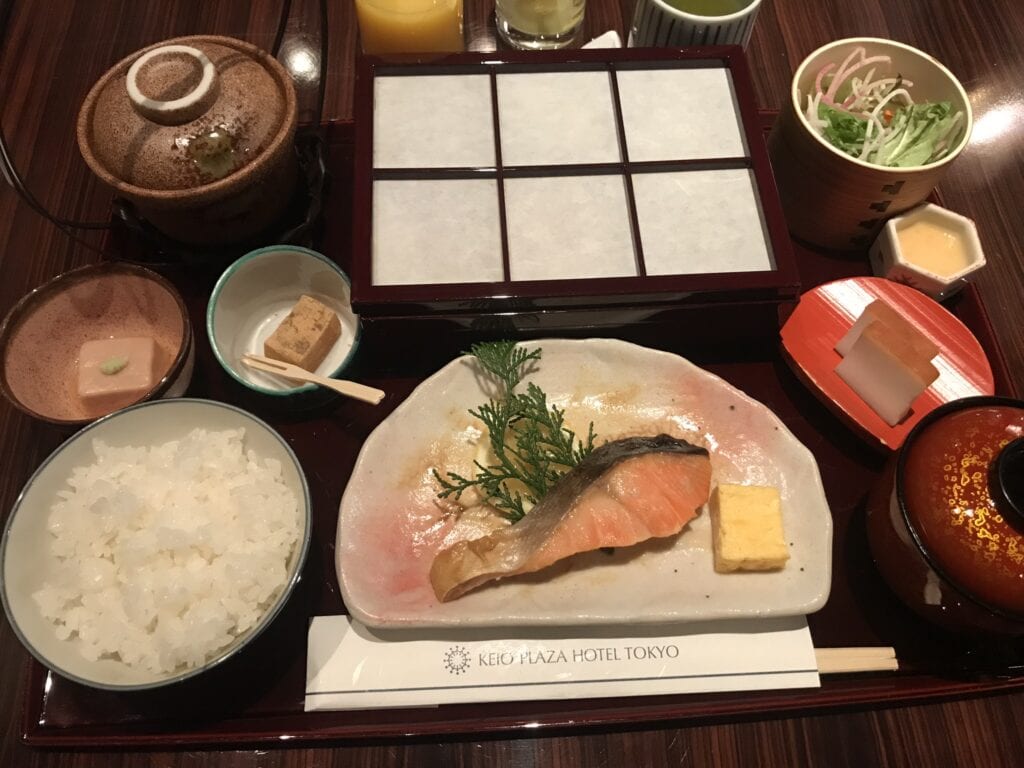 A Japanese breakfast is very healthy. It's far from the breakfast that we usually take at home but after a few days, we got used to it. Compared to our breakfast it looks more like lunch. Nevertheless, it's very light and a perfect start to the day. Contributed by Wendy of World Wide Wendy.
Khaleh Pacheh – Iran
Khaleh Pacheh is something that most travellers shy away from, but it is one of the most popular breakfasts in Persian cuisine. It is hearty, filling and fuels you up for the rest of the day. In the early morning hours, people line up at their favourite vendors that start selling steaming bowls of Khaleh Pacheh as early as 3 am. In a few hours, most vendors are sold out.
Khaleh Pacheh translates as head and hooves soup. The head is often a sheep's head with the tongues, eyes and brains still in it. This is boiled for more than 8 hours to make the meat as tender as possible. Every vendor has its unique recipe of herbs and spices that they add such as cinnamon, bay leaves and turmeric.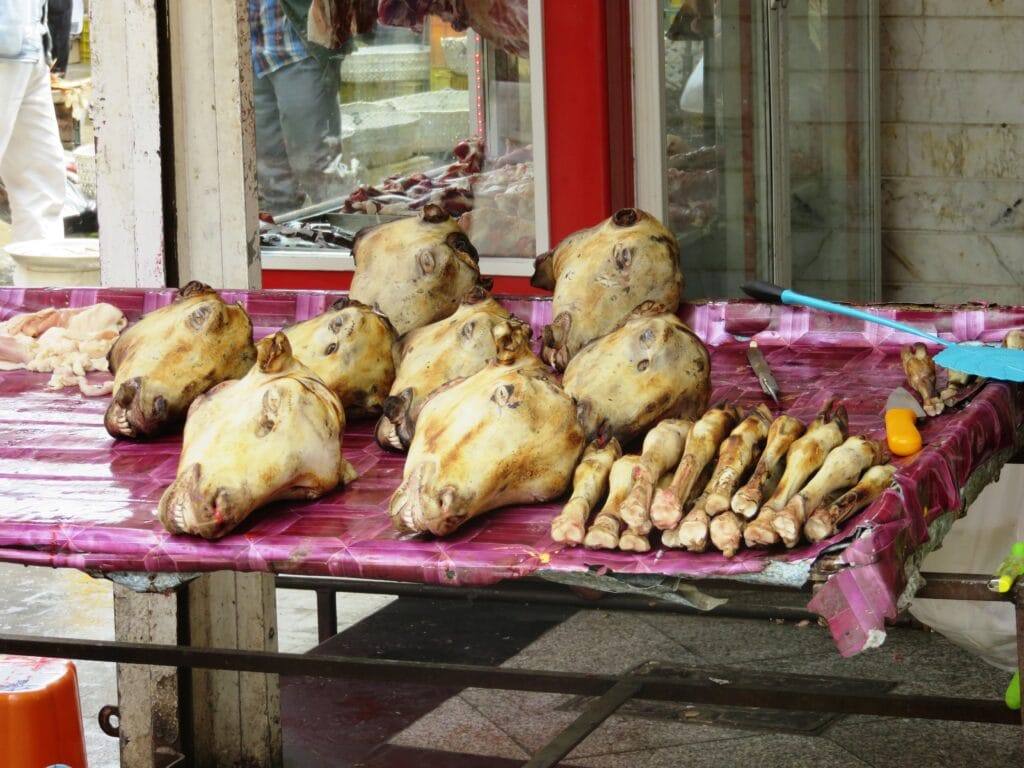 People eat it with bread to soak up the savoury broth and add lemon juice for more flavour. It definitely needs a bit of courage to try. Be aware that it is very fatty and heavy and doesn't look very appealing. The taste is superb though and definitely worth a try. By Ellis from Backpack Adventures
Bircher muesli – Switzerland
Bircher muesli was created in the early 1900s by Swiss doctor Maximilian Bircher-Brenner. These days Bircher müesli is a favourite breakfast dish not only in Switzerland but around the world and is more than likely the healthiest breakfast in the world.
If you are visiting Switzerland it is a delicious Swiss dish option you will find on breakfast menus across the country.
The dish is created by mixing milk, apple juice and yoghurt with oat flakes and is then left to soak in the fridge overnight. Additional ingredients can be added the night before such as raisins and nuts or alternatively when the müesli is served.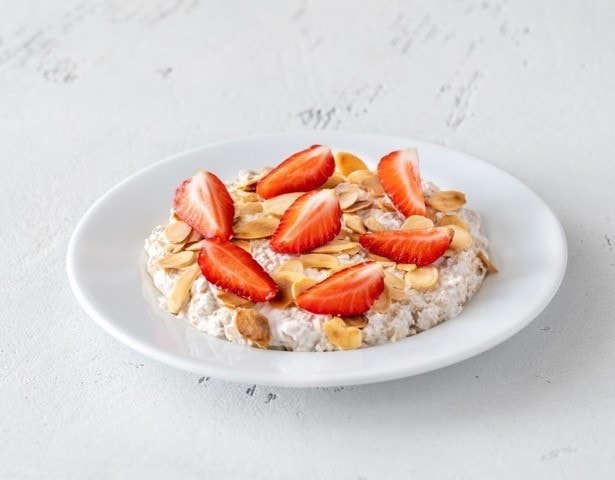 In the morning honey is added for sweetness and (if the mixture is a little thick) more milk or yoghurt. The muesli is stirred to combine all the ingredients and served with a variety of toppings.
One of the tastiest things about Bircher muesli is the toppings which should include a combination of fruits and nuts. Commonly berries including strawberries, raspberries and blueberries are added although other soft fruits such as sliced nectarines and peaches are fine too.
Bircher müesli is a tasty and healthy breakfast and the perfect option before a day of sightseeing in Switzerland. Contributed by Tracy of Tracys Travels in Time.
Khao piak sen – Laos
Whilst sticky rice is undoubtedly the staple food of Laos, Khao piak sen runs a close second. A rice noodle soup made from a flavourful pork broth, this hot soup is a renowned breakfast street food, readily available throughout the country.
Eaten year-round at any time of the morning, Khao piak sen contains super-thin slices of meat floating amidst delicious Asian herbs and chilli. However, what makes this soup distinctive is its rice noodles.
Literally meaning "wet rice", the fresh noodles (somewhat resembling Japanese udon), are made daily from a blend of rice and tapioca flours. With a toothsome chewy texture, the starchy noodles give a pleasing thickness to the satisfying soup.
Served piping hot, Khao piak sen is traditionally eaten with an abundance of condiments and fresh herbs. A veritable garden of salad leaves usually accompanies the soup, including lettuce, cabbage, mint, basil, coriander, and cilantro, together with bean sprouts, and snake beans, all topped off with slices of fiery red chilli and wedges of lime.
But it doesn't end there. Next condiments must be added and locals will tackle a range of soy sauce, fish sauce, sweet red chilli sauce, pickled vegetables, black pepper, sugar, and a strong-smelling shrimp paste. Contributed by Marie of A life without borders.
Greek pies – Greece
No Greek breakfast is complete without some traditional pies. You can choose sweet or savoury, or combine different flavours into a full breakfast.
For instance, this is a fabulous breakfast I had on Samothraki Island. Left to right in this picture, breakfast started with a feta cheese pie, continued with the hand held pie spanakopita (spinach and cheese pie), and finished with a sweet treat: bougatsa. Bougatsa is a custard pie flavoured with vanilla and sprinkled with some cinnamon. It goes really well with your coffee if you prefer a sweet breakfast, or even as a dessert or a sweet snack throughout the day. Of course, most Greeks would have a frappe instead of my hot coffee.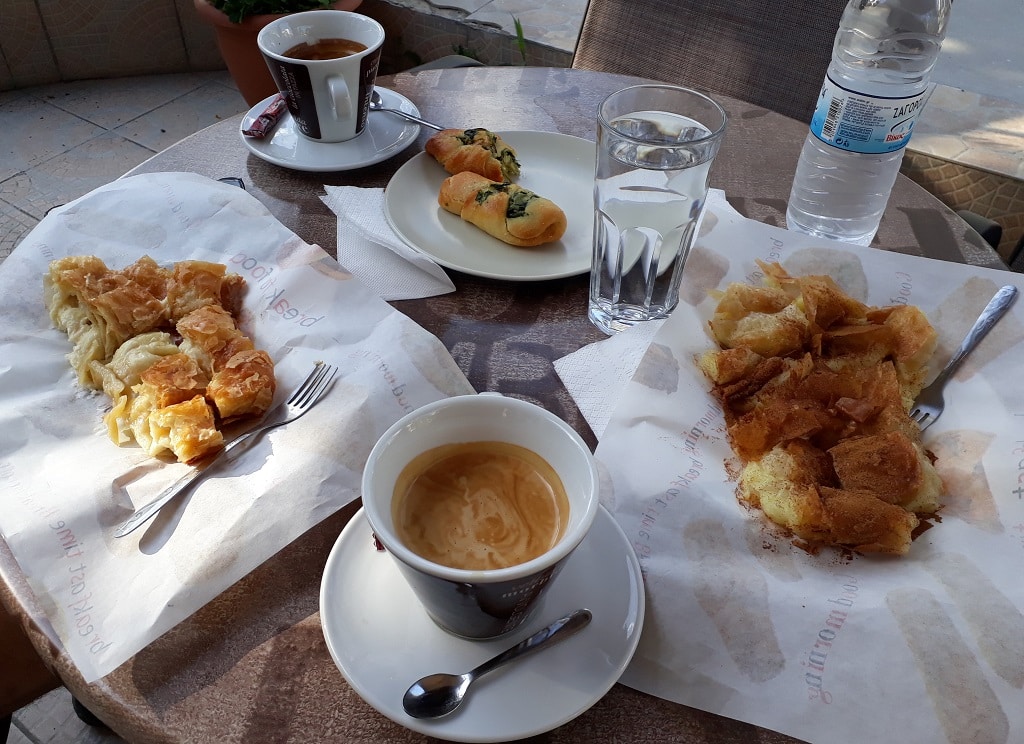 These three pies are some of the most popular choices, but there's a great variety of ingredients used to fill out those delicious pies. Ground meat, zucchini, or apples also make a perfect filling for your pie. Wherever you go in Greece, look for a busy place serving fresh pastries and coffee and you'll have a great start to your day. Contributed by Anda of Travel for a while.
Kanazawa – Japan
One morning on my solo trip to Japan, I went to Kanazawa's Omi-Cho market to find something for breakfast. At a small restaurant stall, seeing that the menu was entirely in Japanese – this was not a much-touristed spot, so I wasn't surprised – I used a tactic that had served me well before. I simply pointed at a man eating nearby and indicated that I wanted what he was having.
What I got was a bowl that was mostly filled with raw fish. Under it, I found some bits of seaweed and a chunk of sticky rice. On top was a dollop of pink roe. I also received a small cup of liquid and probably embarrassed myself when I picked it up and drank it, thinking it was miso soup. I found out later that it was meant to be combined somehow with the fish; I'm not sure if I was meant to pour it into the bowl or dip the bits of fish into it. I wasn't supposed to drink it.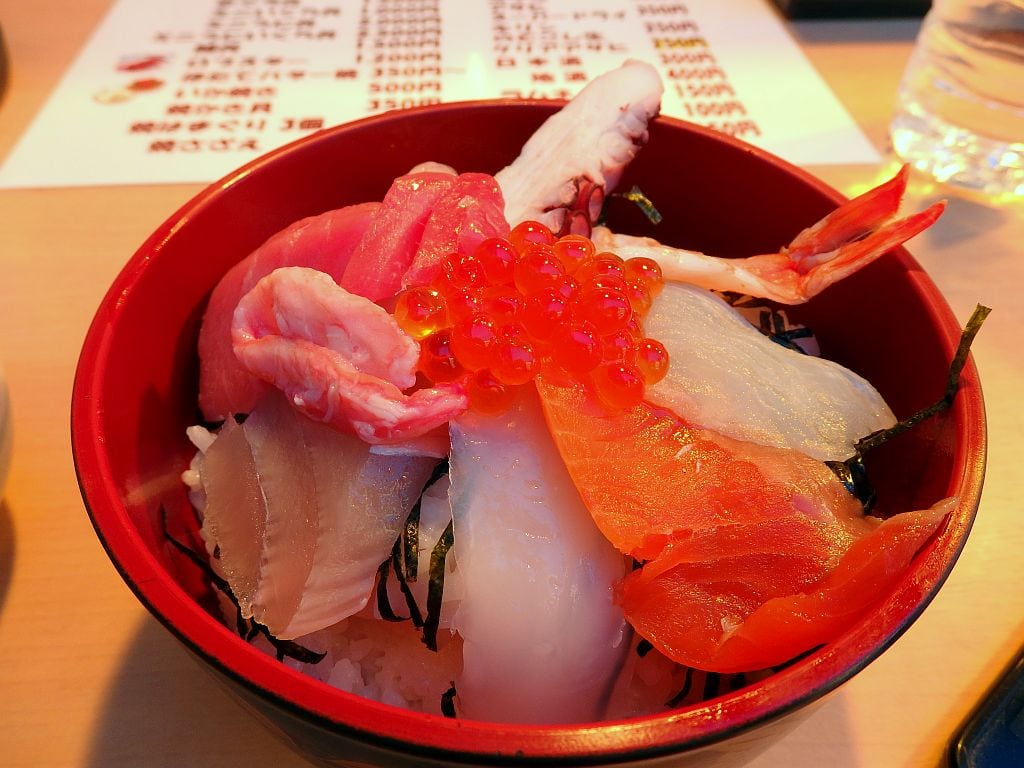 While I liked this breakfast, from my Western perspective it was a bit strange. Would I order it again? Probably not: too raw for the morning. Contributed by Rachel of Rachels Ruminations.
Silog – Philippines
When I think of my favourite Filipino foods, one group of dishes immediately comes to mind – silog. It refers to a family of breakfast dishes made with some type of meat, garlic fried rice, and a fried egg. You can think of it as the Filipino version of nasi lemak.
There are many different types of silog and they always take the name of whatever protein or viand used to make it. For example, silog made with tapa (cured beef) is called tapsilog. It's a portmanteau word for tapa + sinangag (garlic fried rice) + itlog (egg). Silog made with longganisa (Filipino sausage) is called longsilog while silog with tocino (cured pork belly) is tocilog.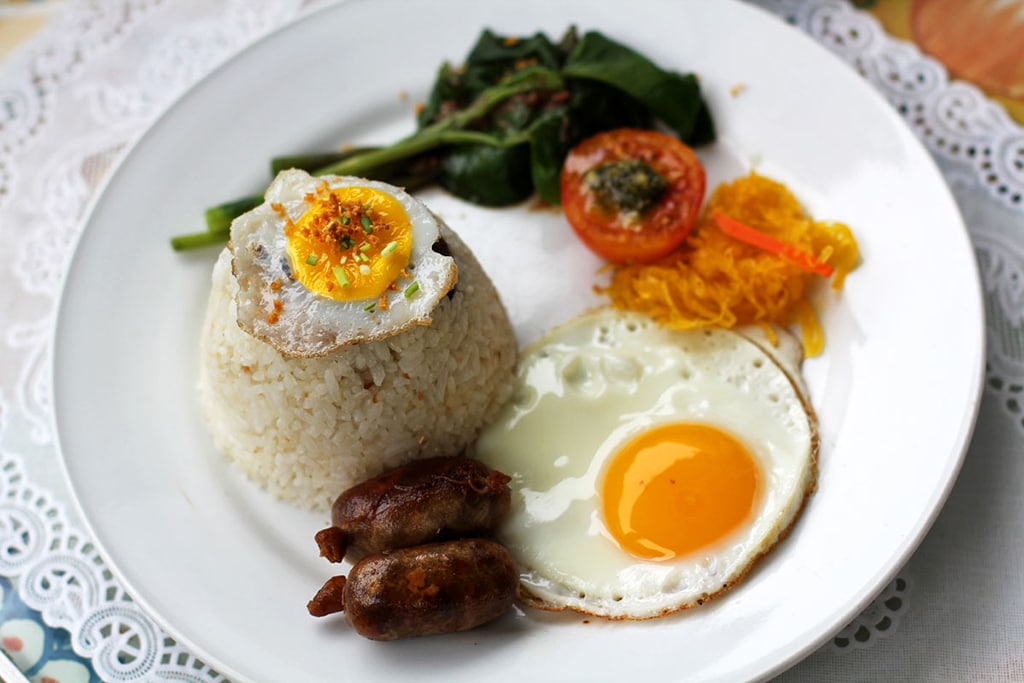 Tapsilog, longsilog, and tocilog are the three most common types of silog but you'll find many versions like cornsilog (corned beef), hotsilog (hot dog), spamsilog (SPAM), and bangsilog (Bangus, milkfish).
Silog is typically a breakfast dish but like Malaysian nasi lemak, it can be enjoyed at any time of the day. Contributed by JB of Will Fly for Food.
Kikliko in the Republic of Georgia
Despite not having a strong breakfast-brunch culture, chefs in the Republic of Georgia have a few tasty morning meals up their sleeve, most notably Kikliko. In the Georgian language, the name of the dish means 'cock-a-doodle-doo' – and just like a crowing rooster, the smell of Kikliko cooking in butter will rouse you from the deepest slumber.
Similar in some ways to Russian Grenki, Kikliko is essentially a local take on French toast. To make it, yesterday's bread is dunked in an eggy milk mix and then pan-fried to perfection. Georgian Kikliko is unique in that it's almost always served savoury, topped with salty sulguni cheese, ham, and slices of fresh tomato.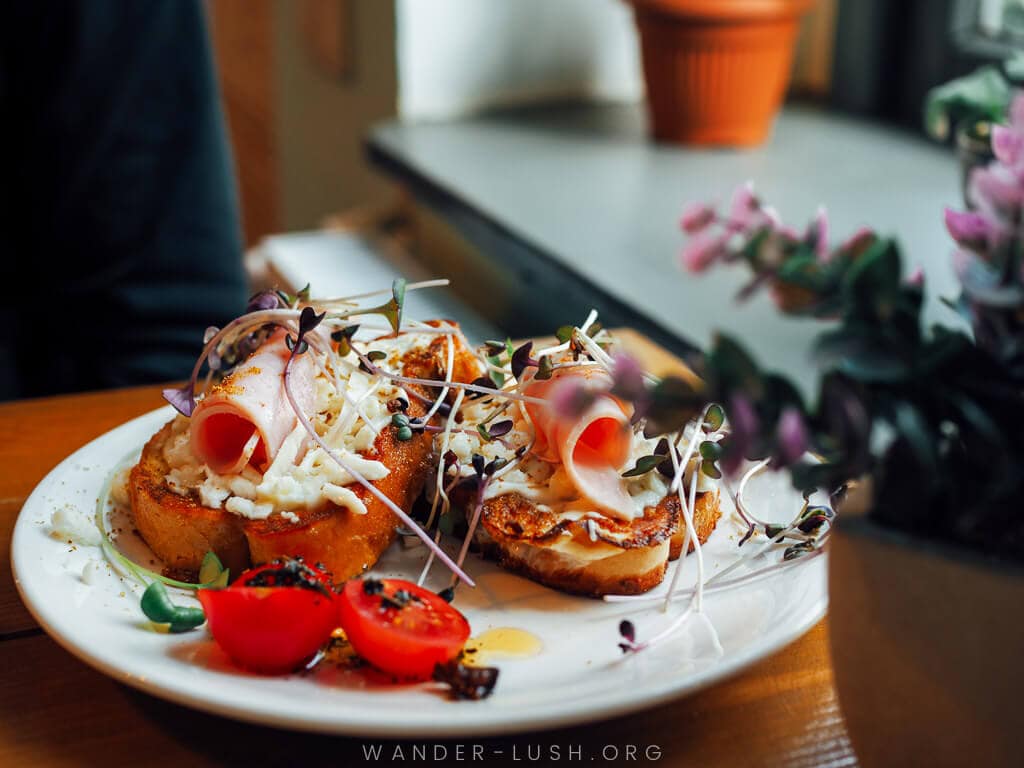 In trendy Tbilisi cafes, you can eat it with avocado and micro herbs. Sweet versions are smothered in caramel or cream and berries, while the version with Adjika, a fragrant spice blend native to Western Georgia, is a must-try if you can find it. By Emily from Wander-Lush
Traditional Japanese breakfasts served at a ryokan in Japan
Some of the most interesting breakfasts I had when spending 3 weeks in Japan were at a ryokan (traditional family-run inns) in the beautiful alpine areas of Nagano and Takayama. As an Australian, I personally start my day with either cereals, pastries or muffins with a milky beverage. In Japan, however, starting the day with savoury items I'd usually reserve for dinner is the norm.
Breakfast is included in ryokan stays and they are excellent examples of Japanese hospitality. Each of us was served immaculately presented trays featuring multiple small dishes. The high level of attention to detail is quite standard in Japan, with each dish taking on the appearance of miniature, edible artworks at times.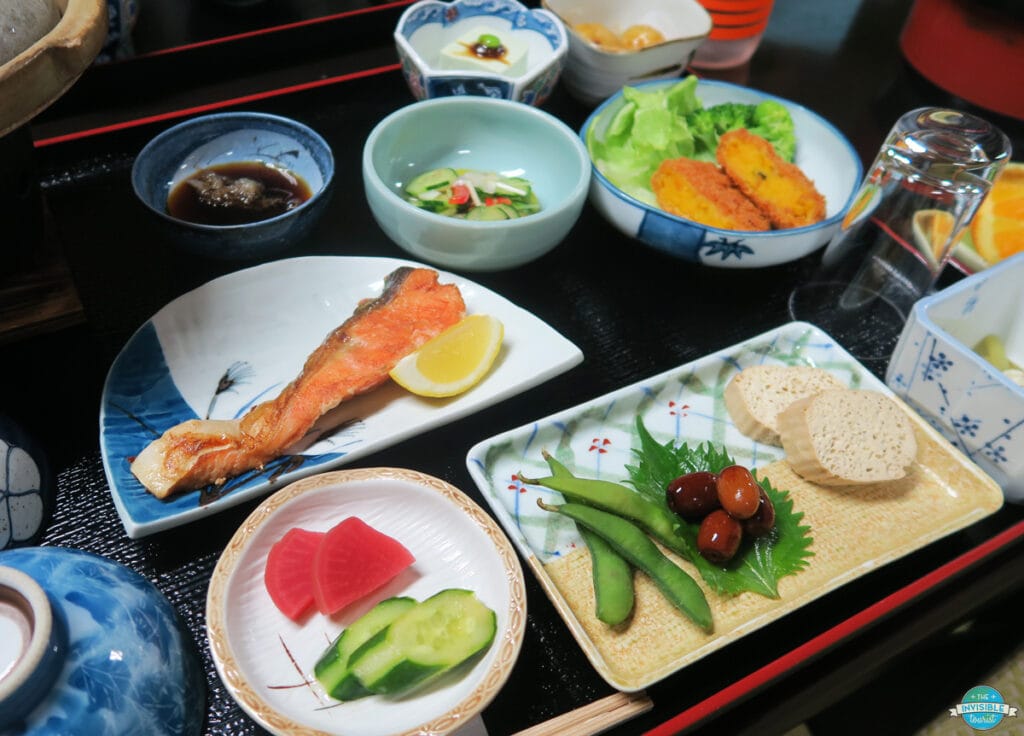 Over the course of my stays at the ryokan, my typical Japanese breakfasts consisted of boiled white rice, salty mackerel (fish), miso soup, dehydrated egg yolk, tofu, yams and pickled vegetables. Orange wedges and red grapes were also served to finish on something sweet.
Perhaps the most divisive item amongst fellow Western guests was natto – fermented soybeans served in a small plastic cup. Despite their pungent smell, natto is believed to yield multiple health benefits however their sticky, stringy texture might be a little too much for some to stomach in the early morning! Contributed by Alyse of The Invisible Tourist.
Cachupa – Cape Verde
Cachupa is a popular choice of breakfast that originated from Cape Verde. I tried this dish for the first time on my trip to Cape Verde and had a great experience. It is a Western breakfast that has great significance in Cape Verde. All the Cape Verdean Families cook it in the original recipe.
I tried this dish at Cam's Restaurante e Cafeteria in Cape Verde. They are famous for their authentic food, specifically Cachupa. You can try this dish either at this cafe or others in Cape Verde.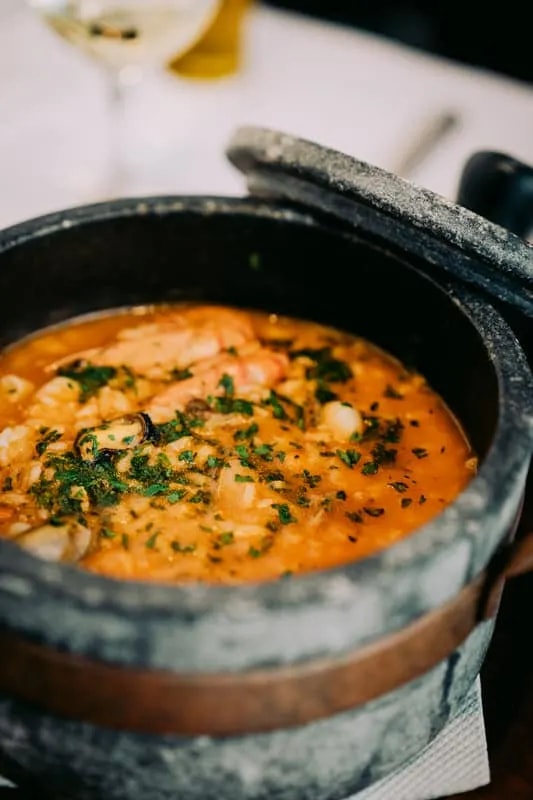 It is a slow-cooked meal that is processed from freshly-caught fish or meat of goat, chicken, or beef. However, there are various regional versions of this dish. The vegetarian version of Cachupa is cooked with beans, corn, sweet potato, and cassava. Every island in the nation has its own variety. People also fry the leftover Cachupa as Cachupa Refogadda.
There are a lot of versions. You can try the best one on a trip to Cape Verde. There are numerous things to do in Cape Verde and trying Cachupa is one of them. Contributed by Paulina of Paulina on the Road.
Koulouri – Greece
If you are taking a morning stroll through the streets of Athens, Thessaloniki, or any other Greek town, the air is filled with the gorgeous and irresistible smell of freshly baked bread – and in particular Koulouria (the plural name).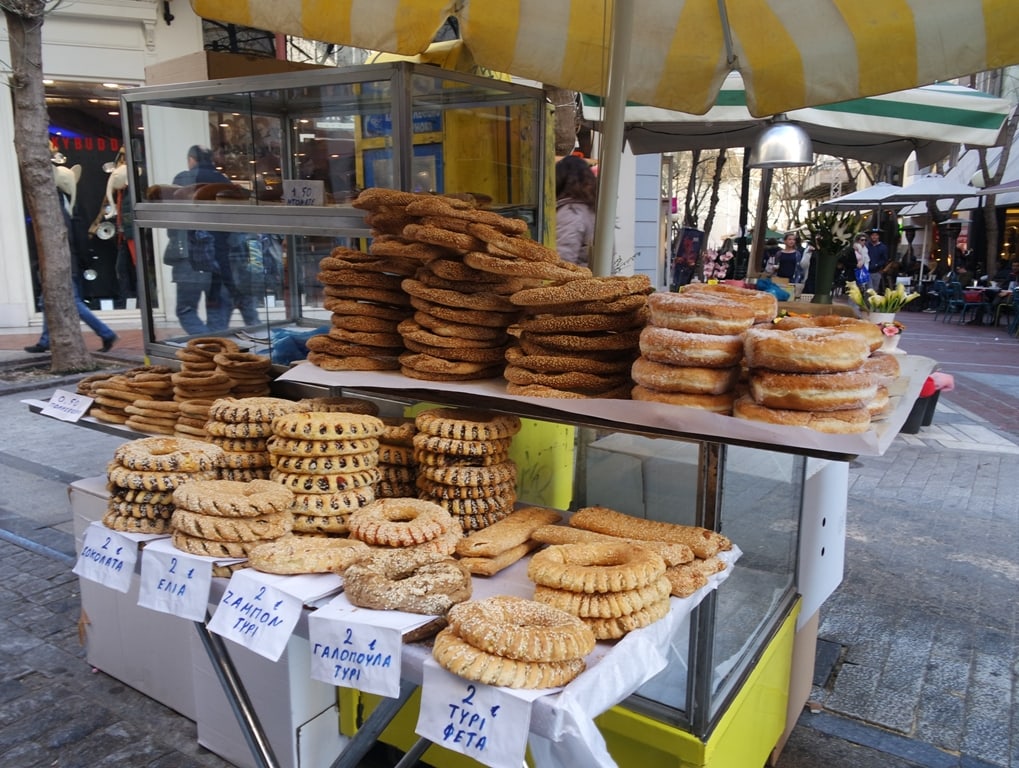 Koulouria are rings of bread (just wider than a man's hand) that are covered in toasted sesame seeds. They are the most popular street food as they make the perfect Greek breakfast! They can often be bought from street vendors as well as bakeries. To enjoy your first koulouri, simply bite into its crispy crust as inside the texture is soft and slightly chewy. You can enjoy a koulouri on its own or with a handful of olives and some slices of Greek cheese. A small cup of Greek coffee is the perfect accompaniment unless the weather is really hot when an iced coffee- Frappé – is perfect! Contributed by Chrysoula of Greece Travel Ideas
Dhosa – India
Made with fermented rice and lentil batter, Dosa is a savoury Indian crepe that is commonly available in hotel breakfast buffets throughout India. Originally belonging to the South of India, it is a made-to-order dish that is served alongside a vegetable lentil curry called sambar and coconut chutney(s).
Dosas come in multiple varieties, and the stuffings can change depending on where you go or what you order. A plain dosa is just the crispy crepe cooked on a hot pan, while a masala dosa contains a turmeric-spiced filling of boiled potatoes, onions, and curry leaves inside. Mysore dosa is similar but also has a layer of spicy red chutney along with the potato masala.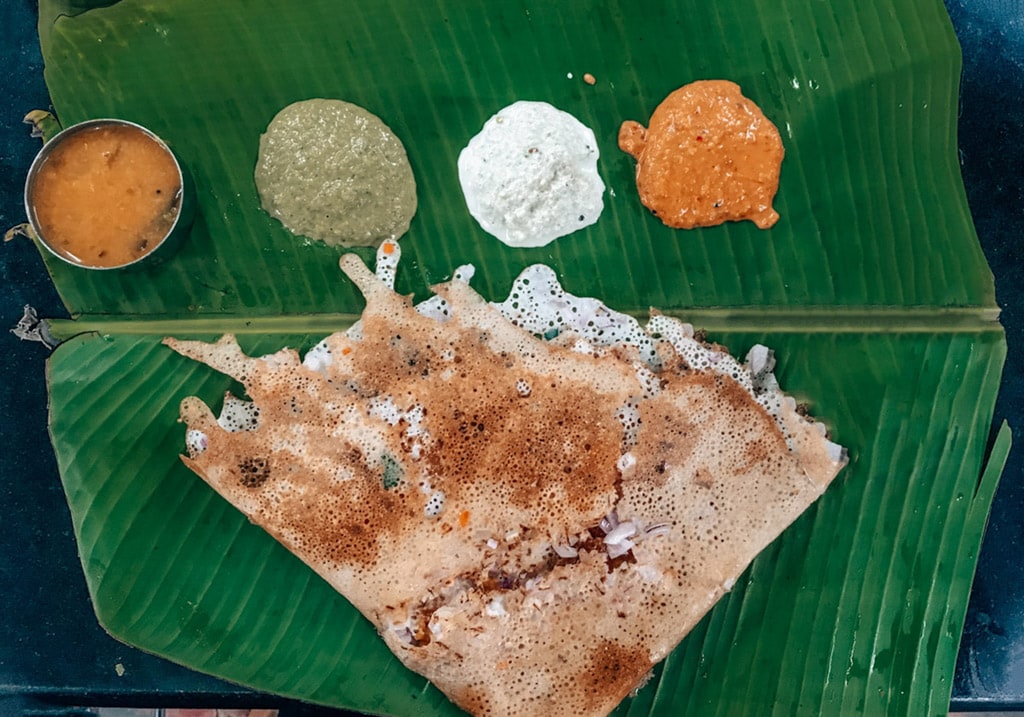 One of the unique dosas that I tried was a cone-shaped masala dosa while staying at Kumarakom Lake Resort in Kerala. Some restaurants in South India also serve them folded on a clean banana leaf with a trio of chutneys for dipping – a must-try feast if you ask me!" Contributed by Charu Goyal of Travelling with CG
Israeli Breakfast
Mediterranean breakfasts are always vibrant, exciting, and healthy, and Israeli breakfast is no different. It is served in every cafe and hotel in Israel and is always a popular choice amongst both locals and travellers.
Its origins come from the Israeli kibbutz, a collective community traditionally based on agriculture. Before going out on a long day of working in the fields, the kibbutz's residents were having this light and nutritious meal, which became a cultural staple throughout the country later on.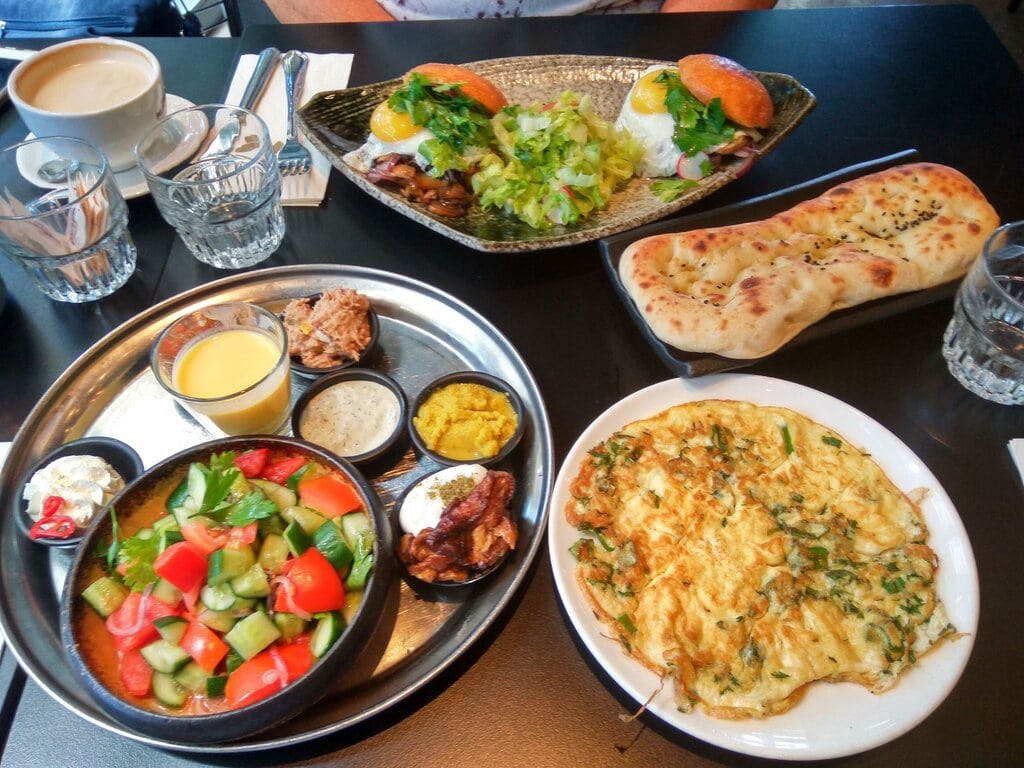 This yummy breakfast consists of eggs done to your liking (omelette/scrambled/fried), chopped salad (usually made from tomatoes, cucumbers, and onion), bread, and a mix of cheeses and spreads (like tahini) served in little ramekins.
Some cafes also add fish like smoked salmon, but you'll rarely find meat in this kind of meal because, according to Jewish dietary restrictions, it is not kosher to eat meat and dairy together (and fish are not considered meat). By Or from My Path in the World
Loco Mocos – Hawaii
In Hawaii comfort food, especially at breakfast, goes hand in hand and Loco Mocos are very popular here. For those craving a hearty breakfast on the islands, loco moco is basically rice with a huge ground beef patty smothered with lots of gravy and then fried eggs on top. Giving you a dose of gooey, meaty and salty combined and melting all into scoops of rice below.
It is very filling and so delicious for breakfast, lunch or even dinner. But if you are starting a big day on the islands like a hike or exploring then eating loco moco will start your day off right with all the carbs and energy food you'll need throughout the day.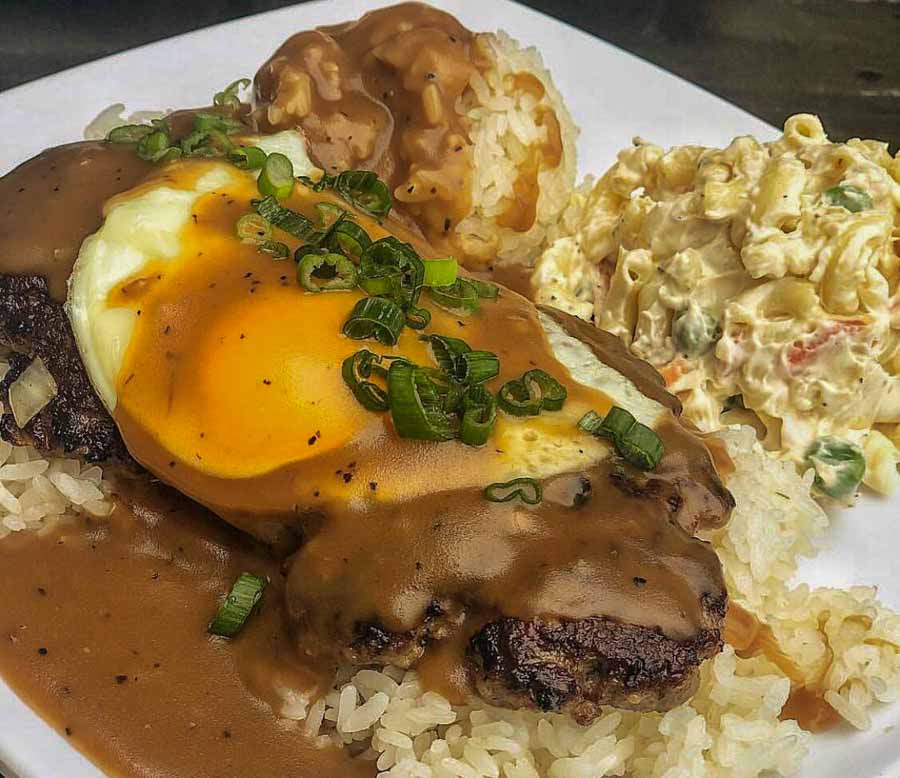 Loco moco are found all around the islands and typically served in local mom-and-pop shops, take way counters along with greasy local diners that everyone visits for breakfast to have their own loco moco to eat. The ingredients to loco moco basically stay the same with the exception of the protein which typically is a beef patty but can be switched or combined with Spam, Portuguese sausage, Teriyaki beef, bacon, tofu or even mahi-mahi or other seafood ingredients. In any case, if you are planning on visiting Hawaii and looking for local breakfast food, consider the loco moco and come here hungry. Contributed by Noel of Oahu Travel Now.
Cornetto e Cappuccino, Italy
Breakfast in Italy is a simple affair. Most people at home usually have caffellatte – hot milk with a drop of strong Italian coffee; and a sweet pastry or cake. Having breakfast at a bar (Italian for café), however, typically means "cornetto e cappuccino."
A cornetto is a pastry that is similar to a croissant in shape, but not nearly as buttery and flaky and usually filled with either apricot jam; vanilla custard or – in more recent times – Nutella or pistachio spread. Everyone knows what a cappuccino is, surely! This delicious drink of steamed milk with an espresso shot was invented by an Italian Capuchin friar – Marco da Aviano – during a trip to Vienna in the late 17th century. Displeased with the strong taste of plain coffee, he decided to mask it with milk – he must have been happy with the result, whose colour resembled that of his habit.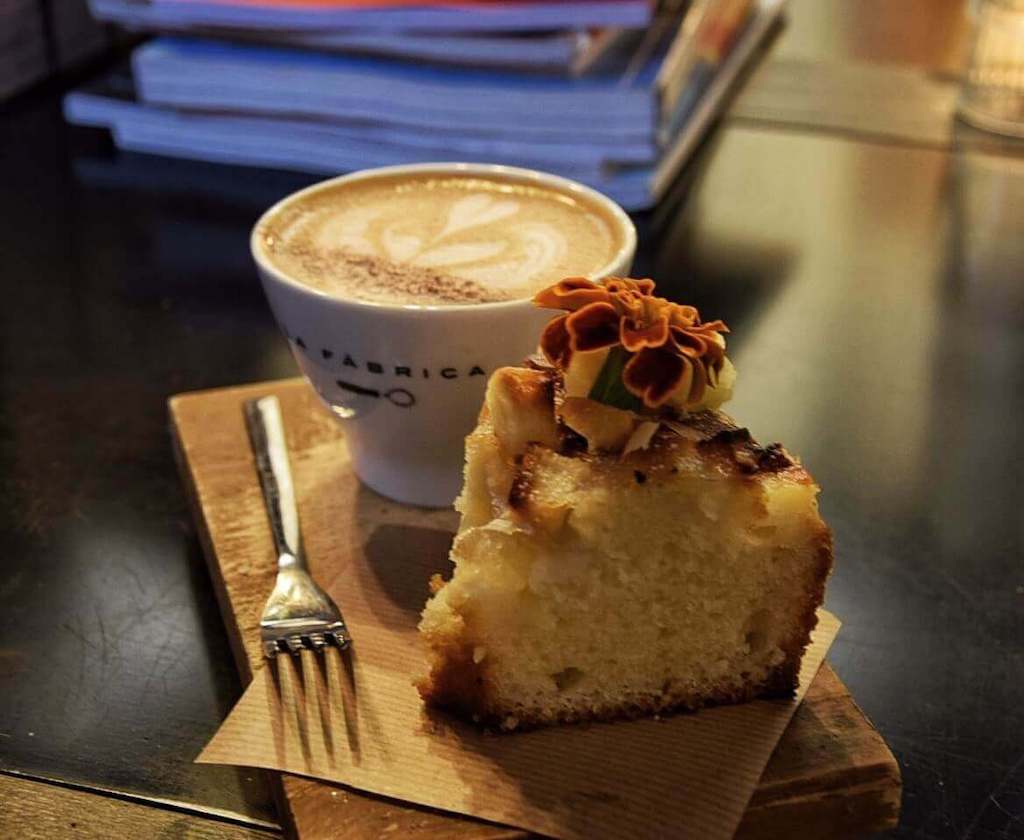 Since then, cappuccino has become a classic of Italian breakfast and has remained strictly a breakfast drink, which people in Italy will advise you not to have after 11:00 am and certainly never after a meal and even less so to accompany a meal. Claudia Tavani, My Adventures Across The World
Pa amb tomàquet in Catalonia, Spain
One of the most typical dishes in Catalonia is pa amb tomàquet, or pan con tomate ("bread with tomato"), as it is called in the rest of the country. This simple dish is quick and easy to prepare, which is probably why it is so popular among Spaniards and Catalans alike.
Basically, it is toasted white bread spread with squeezed tomatoes. In addition, a little olive oil is usually drizzled on the bread afterwards. Some also brush the bread with garlic before using the tomato or add a bit of salt.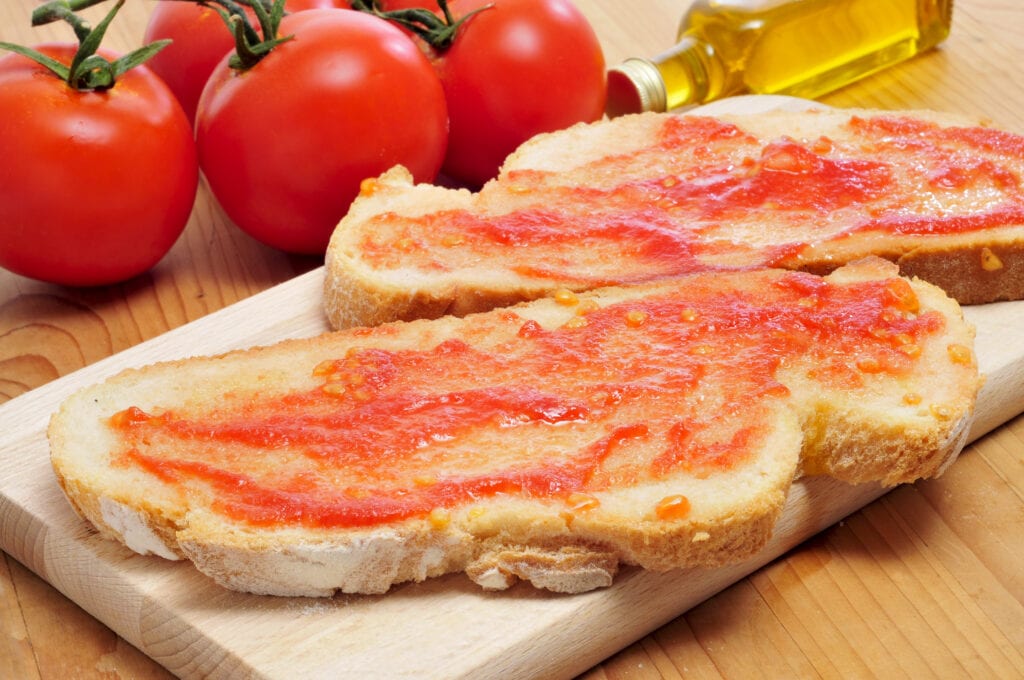 While this bread is absolutely easy to prepare, it is delicious and is therefore eaten with pleasure for breakfast all over the country. In general, Pa amb tomàquet is consequently considered one of the best foods in Spain.
If you order a sandwich for breakfast in Catalonia, you will almost always get a pa amb tomàquet instead of butter or other sauces. People like to enjoy such sandwiches with typical Catalan or Spanish delicacies such as Manchego cheese, fuet, or Serrano ham. However, some eat tomato sandwiches without any other garnish. Contributed by Vicki of Vicki Viaja.
Pastel de Nata – Portugal
Pastel de Nata is one of the food items that Portugal is most famous for and with good reason! It's a small, yummy custard tart, which is soft on the inside and crispy on the outside. It's best served warm and with a dash of cinnamon on top.
It's common to eat Pastel de Nata for breakfast in Portugal, and the delicious custard tart goes well with an espresso on the side. You can often find the delicious pastry in bakeries or in special shops dedicated to only making Pastel de Nata. One piece will set you back about €1 but expect to pay double if you want to add an espresso on the side.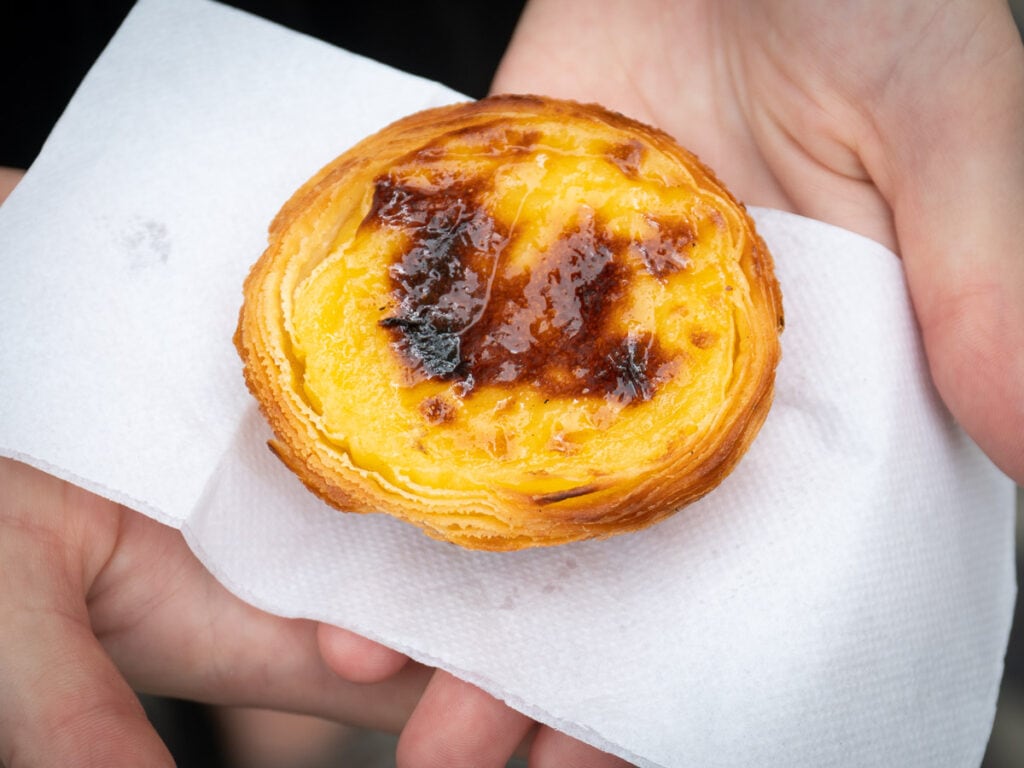 The little custard tart originates from the UNESCO World Heritage Site, Jerónimos Monastery in Belém, located just outside of Lisbon. Therefore, you will also find Pastel de Nata under the name of Pastéis de Belém.
A Pastel de Nata with an espresso on the side is the perfect small breakfast combination you can find in Portugal, and it's a must-try for all food enthusiasts. Contributed by Cecilie of Wowiwalkers
Pho in Vietnam
Pho is one of the most famous dishes in Vietnamese cuisine and a lesser-known fact about the meal is that it's a breakfast dish in Vietnam. Very far from Western breakfasts, Pho is a soup containing rice noodles, beef (sometimes chicken) and herbs in a delicious broth.
The best places to have Pho in Vietnam is street food stalls before 9 am and there is usually a stall found on the side streets with a giant pan containing the broth that has usually been brewing for several hours before the stall is open. Pho is usually the only thing on offer. You'll see plastic chairs and tables next to the stand with extra herbs, sauces and utensils to use. If you see a spot where there are locals queuing up for their Pho breakfast, it's a massive indicator that the food is going to be, not only tasty but authentic too.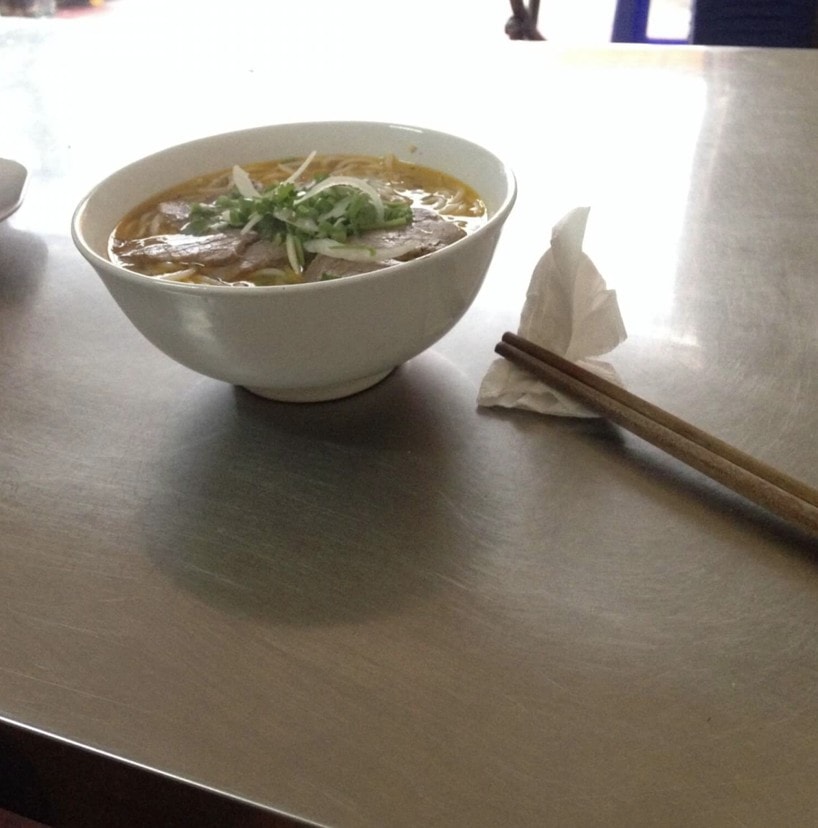 Usually, the meal costs around 45,000 Vietnamese Dong for tourists but if you have a local friend they will most likely pay less. Once you know how to find Pho in Vietnam, I guarantee you'll be enjoying this for breakfast every morning on your visit. Contributed by Shireen, The Happy Days Travels
Curry Thali – Sri Lanka
Sri Lanka is full of earthy, spicy and robust flavours like the breakfast of choice, the curry thali. Similar to the Indian thali, the plate is a combination of different curries, condiments and rice. Due to Sri Lanka's Buddhist heritage, the plates can be found mainly vegetarian or vegan, with the minority including fish and meat.
Common curries included in a thali are spiced eggplant and tomato, creamy lentil dahl, green bean, and sweet potato. The curries are then complimented with sides like Gotu kola sambol (salad) and freshly grated chili coconut sambol and topped with a fried chip called papad. This comes to you all on a bed of freshly steamed rice.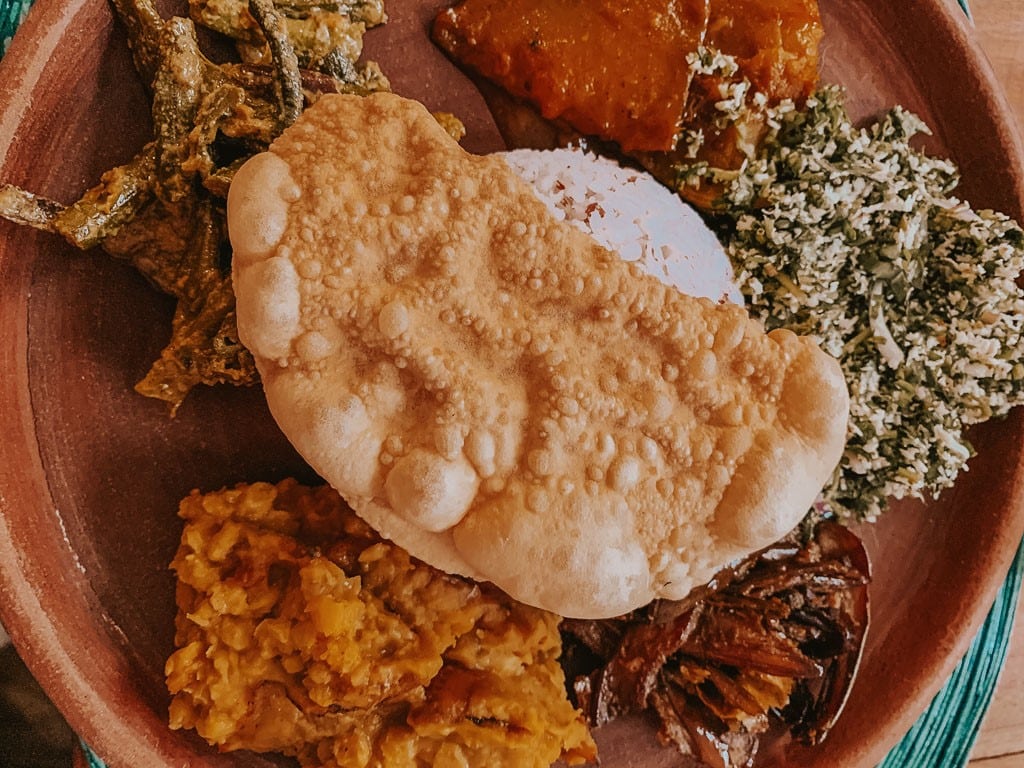 One of the best Sri Lanka travel tips is to eat this flavourful breakfast food with your hands. In particular, your right hand only. You can find the curry thali in most local 'hotels' which is actually what people in the country call restaurants. Contributed by Haley of haleyblackall.
Dan Bing – Taiwan
Taiwan has an amazingly diverse food culture, and like elsewhere in the world, you wouldn't be starting your day right without breakfast!
One of Taiwan's most popular breakfast foods is actually a humble pancake called dan bing (蛋餅). This traditional Taiwanese grub is basically a thin pancake (crepe) topped with a beaten egg and fried on a piping hot plate. Dan Bing is usually served with sticky sweet soy paste or spicy chilli sauce for a bit of extra kick.
While it might not sound like much, you'd be surprised how tasty this little dish is! The best part is that you can order Dan Bing with just about any filling imaginable! From crispy bacon and gooey cheese to pork floss to tuna and even corn – there's a variation for everyone!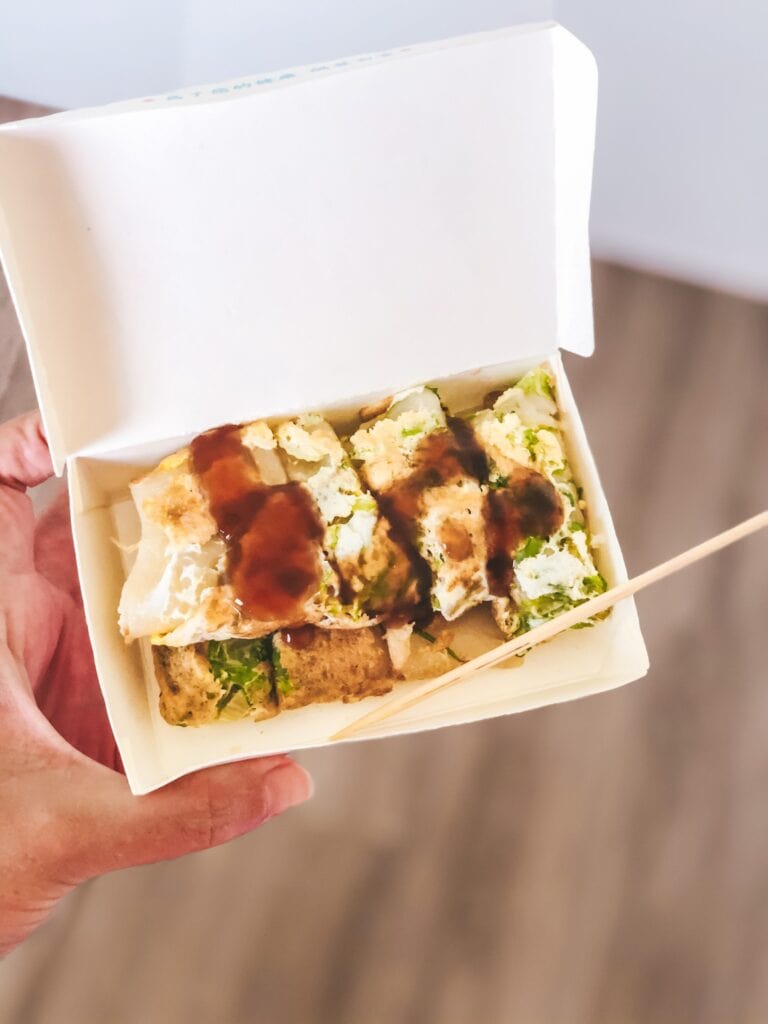 Since dan bing is very much a grab-and-go kind of breakfast, most vendors serve it in a roll similar to a sushi roll. But if you happen to dine-in, be sure to ask the vendor to cut it into bite-size pieces! It's lip-smackingly delicious!
While dan bing might not be the healthiest breakfast in the world, it's certainly one of the tastiest foods to try during your Taiwan travel itinerary! Mariza from Hoponworld
Mangalore buns from Coastal Karnataka, India
If you are looking for an authentic breakfast experience while travelling in the coastal districts of Karnataka in India, you have to try Mangalore buns.
Mangalore buns are made by kneading banana pulp into all-purpose flour along with a little sugar and salt and then deep-fried. In summer, bananas are sometimes replaced by mangoes but the banana version is always more popular. These mildly sweet fried fruit buns form an inseparable part of Mangalorean cuisine.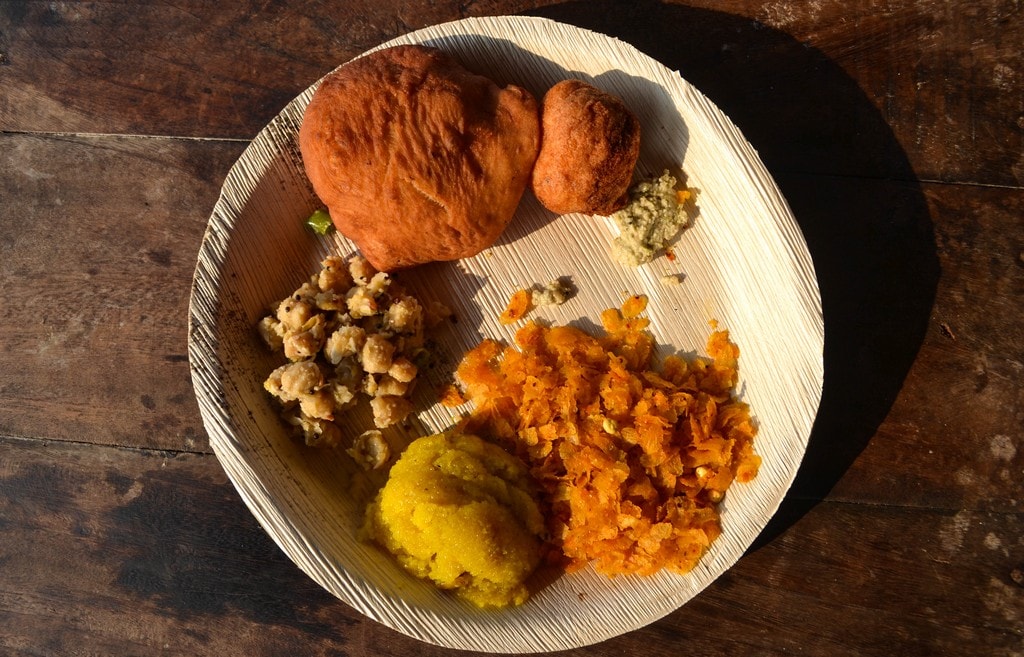 Mangalore buns go well with coconut chutney or sambar and are a common breakfast and evening snack. You will find them in abundance at all restaurants and street vendors in the coastal Karnataka region.
It is believed that Mangalore buns originated in the Udupi kitchens when a few cooks added overripe bananas to flour instead of throwing them away. What resulted was a sweet fried bun with a hint of banana that could be savoured as the perfect breakfast item. Recommended by Soumya from Stories by Soumya
Parathas from North India
When travelling in India, you'll most definitely be served parathas for breakfast, especially in North India. Parathas are unleavened flatbreads usually made with whole-wheat flour and pan-fried in ghee or oil. They are delicious and filling!
For breakfast, they are usually stuffed with vegetables. The most popular options are aloo paratha (potato), paneer paratha (cottage cheese), gobi paratha (cauliflower), mooli paratha (radish), and methi paratha (fenugreek). Parathas, stuffed and plain, are served with a dollop of butter on top along with pickle and curd. They may also be served with vegetable curry and/or lassi (cold and sweet curd drink). While they are usually served piping hot, right out of the pan, they taste good cold as well.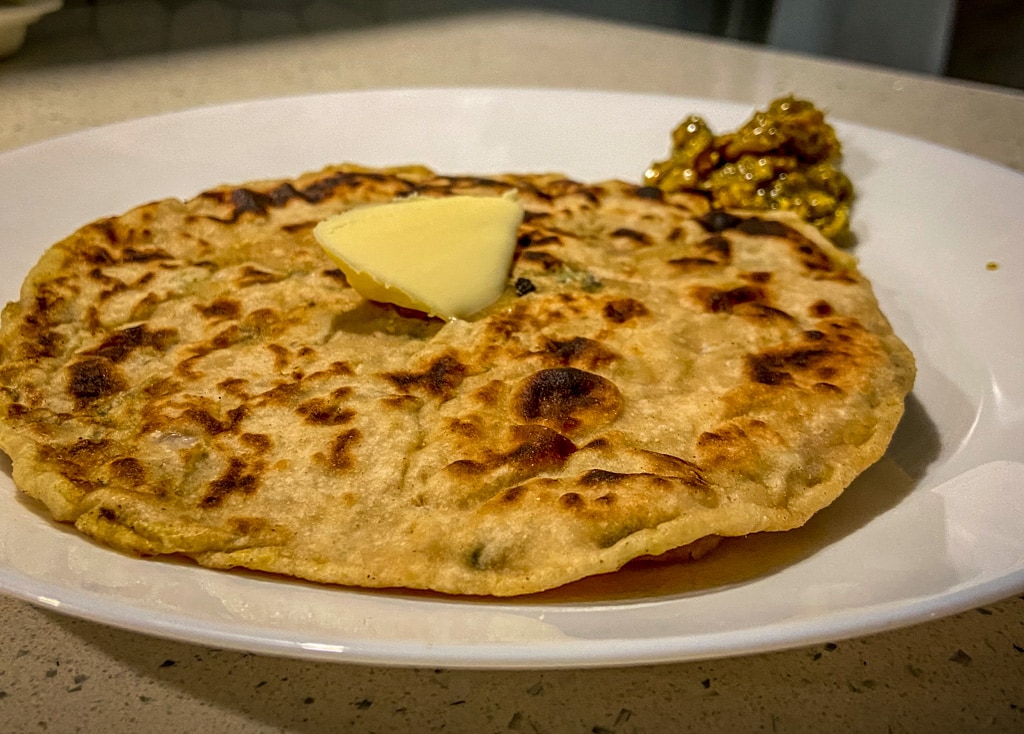 Having originated in the Indian subcontinent Parathas are a popular breakfast item not only in India but also in Pakistan, Bangladesh, Sri Lanka, Nepal and Myanmar where wheat is a traditional staple. By Trisha and Modi from Try Wandering More
Smoked Kippers – England
Breakfast on the coast of England's most northerly county of Northumberland was historically part of the major industry here in the early 1900s. Fishing for herring was a big source of employment with more than 20 fishing boats bringing their catch to the villages of Craster and Seahouses. Smoking was the traditional way of preserving these fish. To attain the name "kipper", a whole herring is sliced in half from head to tail and then gutted, salted or pickled and then smoked. This process is known as kippering. The oiliness of the herring makes it a perfect candidate for smoking.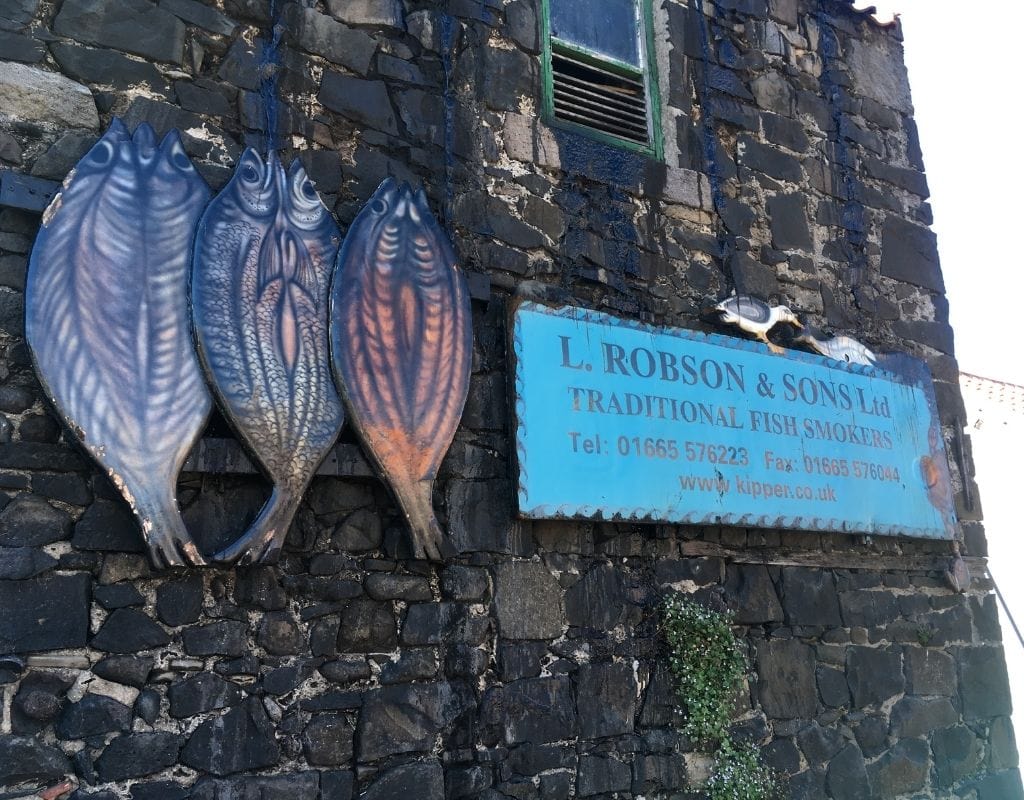 With more than 2,000 herring gutted and preserved here each day, there's little wonder this became the breakfast of choice. As the smoked kipper has already been cooked, the Northumberland breakfast is simple – smoked kippers with thickly cut and buttered brown bread and the ubiquitous cup of tea. You'll see variations of this with kippers served with scrambled eggs or kippers on toast.
It's a moreish breakfast, tasty, smoky and with flavours that very much depend on the special blend of woods, herbs and spices that the smoker infuses into the fish. There are two traditional smokehouses left in Northumberland – Robsons in Craster and Swallowfish in Seahouses which sell directly to the public and which will also ship to home addresses. Contributed by Sarah of Northumberlands Best.
Pineapple Bun – Hong Kong
A pineapple bun with butter is the ultimate breakfast for any foodie visiting Hong Kong. As a popular local Hong Kong food, the pineapple bun is famous for not tasting like pineapple or having any pineapple as an ingredient. The pineapple bun is so named because of its crispy, yet crumbly shell that resembles the exterior of a pineapple. The sweet bun with its equally sweet shell is typically served warm at Hong Kong cafes with a slab of salted butter. This sweet and savory juxtaposition is the perfect way to start any morning.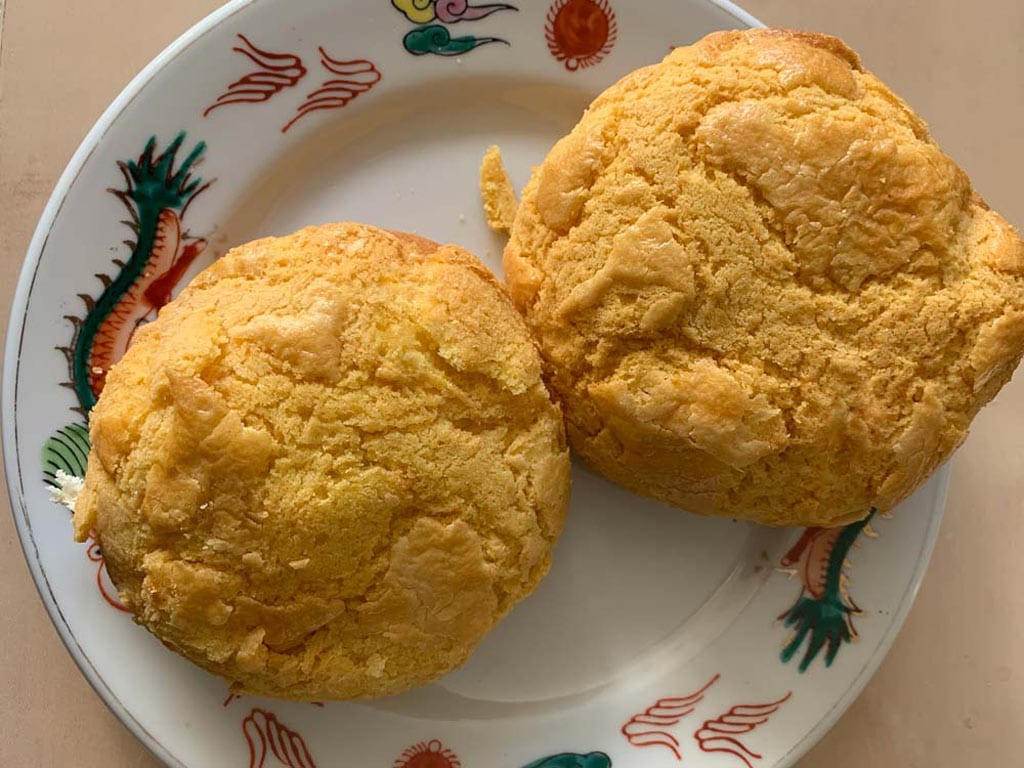 However, for those who are trying to keep things a bit healthier, the pineapple bun can also be eaten plain without butter added. Other popular versions of pineapple buns include custard fillings, red bean paste filling, taro paste filling, and even BBQ pork filling for yet another savoury and sweet combination.
These buns are so popular in Hong Kong, that they can be found at any bakery in the city along with most cha chaan teng cafes and even some dai pai dongs. Contributed by Constance of The Adventures of Panda Bear.
Dumplings – China
Food in China is simply incredible, and breakfast is no exception. A popular breakfast dish that you can enjoy all over China is steamed dumplings. These little bombs of flavour come in many different, delicious variations, depending on season and location.
Shaomai, a round, open-topped steamed dumpling is a favourite on dim sim (Chinese breakfast) menus all over the country. Ingredients for a standard shaomai would be a mixture of ground pork, chopped shrimp and mushroom or bamboo shoots, all delicately wrapped in a paper-thin layer of dough. These bite-sized pieces of art are then steamed in round bamboo baskets before being served in the same bamboo baskets. Typically, each basket will contain four to six dumplings.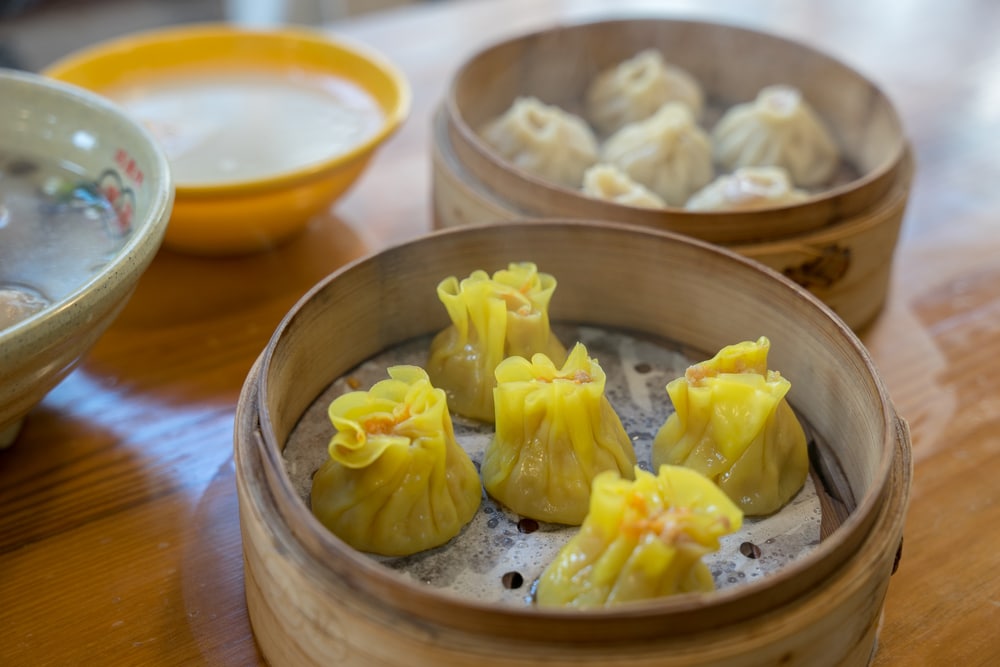 The best shaomai that we've ever had was in Hangzhou, along the shores of the beautiful West Lake. In the winter months, Hangzhou is famous for its hairy crabs, which make their way into almost all seasonal dishes in the area. A decadent shaomai stuffed with pork, shrimp, crabmeat, crab roe and bamboo shoots is indeed as good as it sounds! Contributed by De Wet & Jin Museum of Wander
Poha – India
The humble flat rice dish is a popular breakfast item in the city of Gwalior, in the state of Madhya Pradesh, India. Poha is mildly spiced with turmeric and mustard seeds and has a hint of sweetness and is served with a dash of lemon juice. Agarwal Poha Bhandar or APB, we were told, was food heaven as far as poha is concerned and we should not miss that when in Gwalior.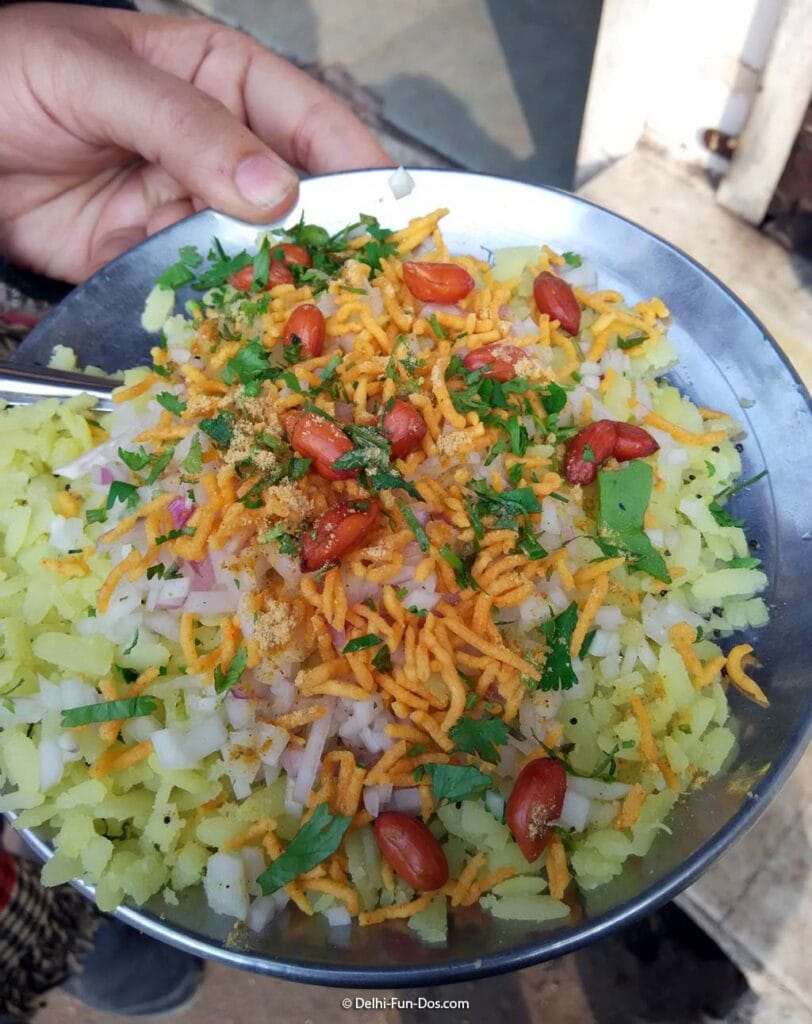 On our last day of the Gwalior Trip, we decided to try this Poha for breakfast. We woke up a little early as famous eateries tend to get crowded. The poha was freshly cooked, slightly sweet and subtle in taste and was topped with peanuts, chopped onions, coriander leaves and bhujia (an Indian savoury).
Poha, which we sometimes ate for breakfast at home, had a proper makeover at APB that made it so much more rich and tasty. It was the right fusion of taste and health, just the way an ideal breakfast should be. Submitted by Sundeep and Bedabrata from Delhi-Fun-Dos
Akara and Pap – Nigeria
In most Nigerian homes, both the Akara and pap are street foods that are bought and brought home for breakfast. Akara is a type of fritter made from bean paste and pap is made usually from millet and is like American corn grits.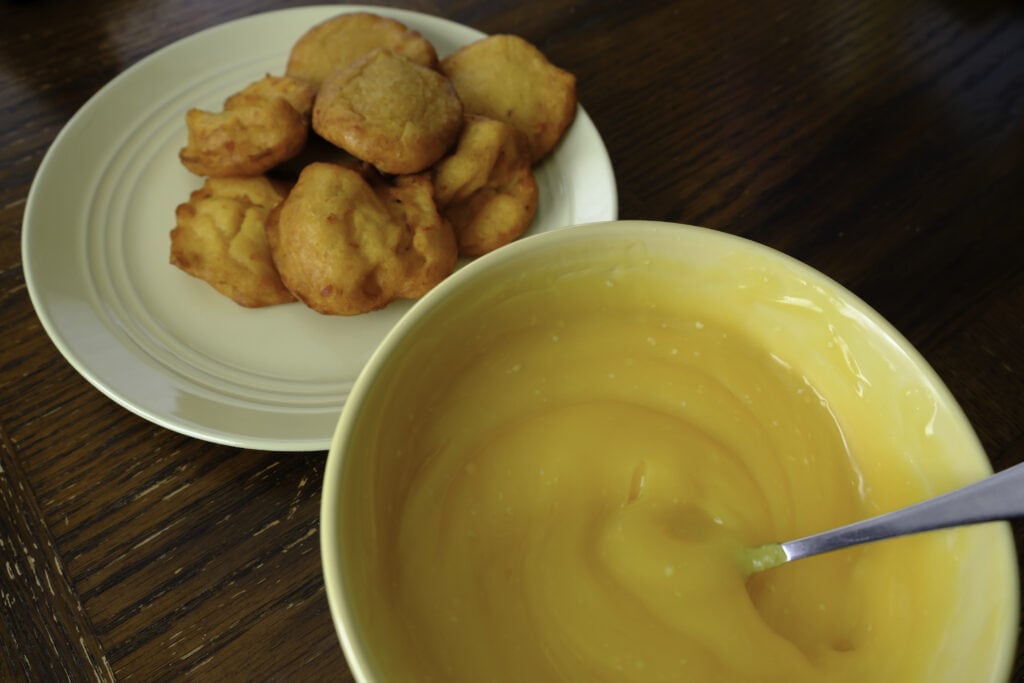 Chicken & Waffles – USA
Chicken and waffles might sound like a strange breakfast dish at first. Once you try this sweet and savory combination you will know what all the hype is about. It is the perfect mix of a doughy breakfast item, the waffle, and some meaty protein, the chicken.
The type of waffle varies but is usually a thick Belgian waffle. Fried chicken or some form of chicken strips is served right on top of the waffle. There are many varieties, but one of the tastiest is when the chicken has a spicy sauce!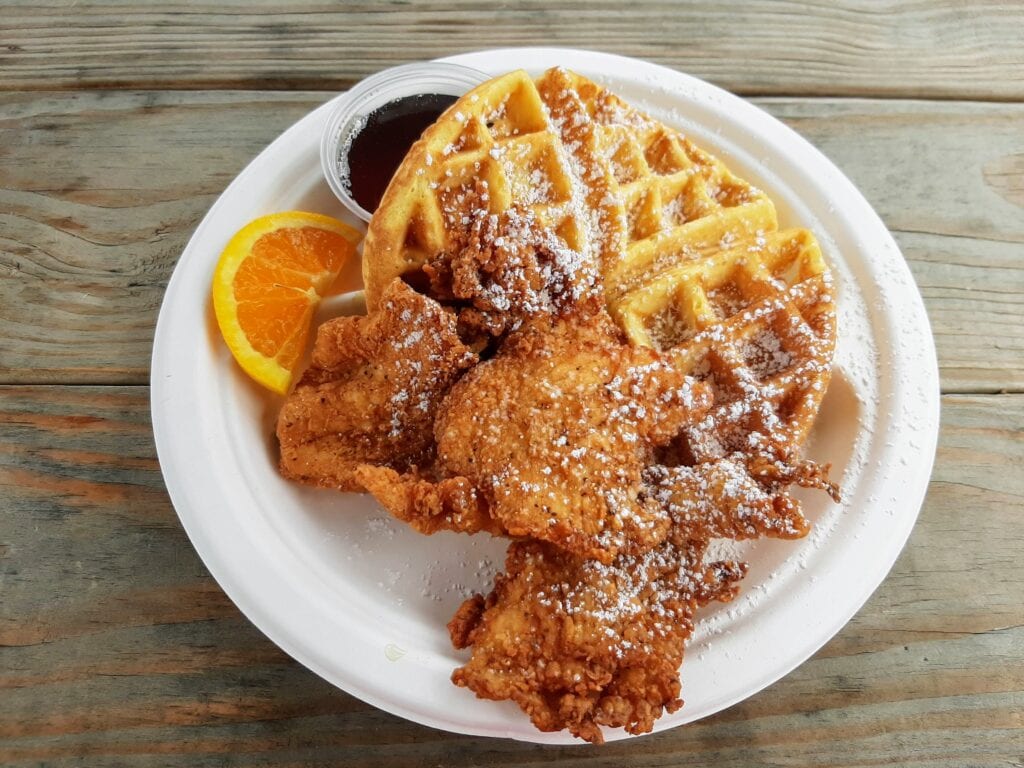 The origins of the dish are a little unclear. As the chicken is usually fried chicken, many people think it originated in the South. Most believe it actually started at jazz and supper clubs in Harlem, NYC though.
Today more and more breakfast and brunch menus around the USA feature the dish. Some of the best chicken and waffles I have enjoyed can be found in Atlanta, Georgia. Contributed by Elizabeth of The Fearless Foreigner.
K'ala Phurka – Bolivia
K'ala Phurka is a Bolivian breakfast soup from the Andes. It contains potatoes, chilli, cornflour and beef or lama. Just before serving it, the chef will drop a hot volcanic stone into the soup. That stone makes the soup boil and bubble for at least another fifteen minutes before it eventually cools down enough for you to eat it.
The soup itself is creamy and can be pretty spicy. Let your waiter know if you'd prefer a mild version, or order some extra potatoes to help against the heat. On the side, you'll also often get kernels of giant corn.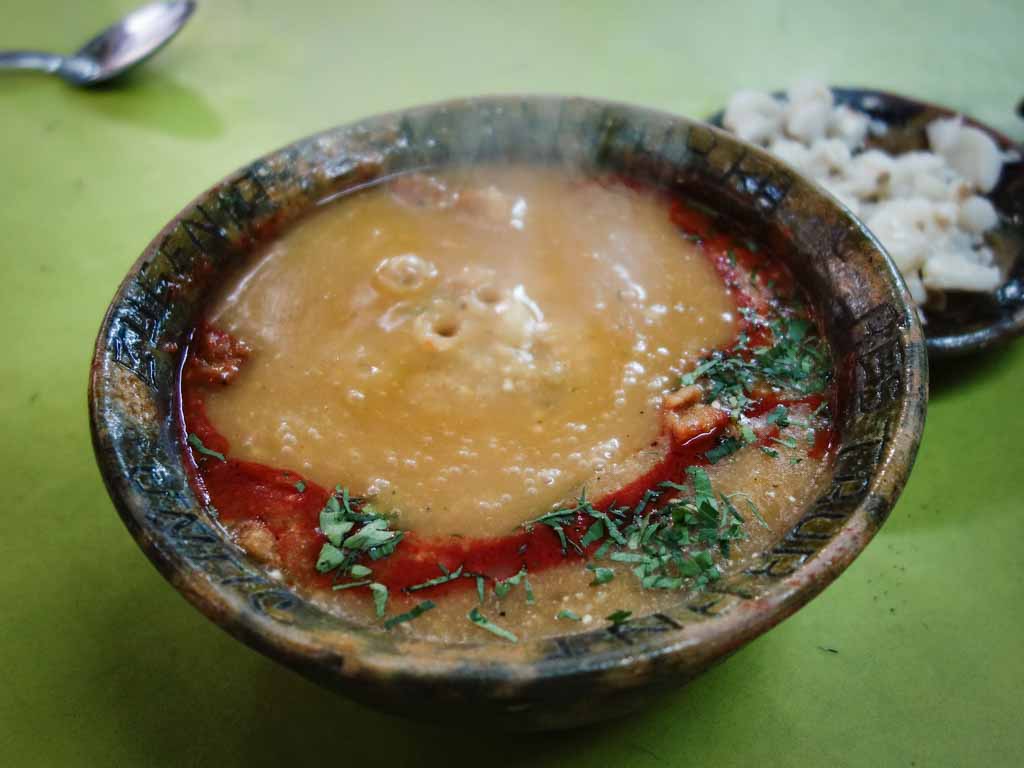 As nights and mornings in the Andes are cold, K'ala Phurka is the perfect breakfast dish. You can find it in the mining town of Potosi, and it's one of the most interesting Bolivian dishes to try there. Locals say that you can find the best K'ala Phurka in the neighbourhood next to the cemetery, so head there if you want to try this unusual breakfast soup yourself. Contributed by Daniel and Ilona from Top Travel Sights
Jolpan- Assam India
Jolpan is a traditional breakfast snack of the Assamese community in India. Apart from breakfast, it is also offered to guests during ritual ceremonies, Bihu festivals and weddings. The ingredients include different varieties of rice forms such as flattened rice (chira), puffed rice (muri/akhoi/hurung), roasted rice (xandoh) and soft glutinous rice called Kumol Saul or Bora Rice. Each of these types of rice is eaten with curd, sometimes hot milk, and jaggery or sugar. Malbhuk and Bora Rice species are the most suitable for Jolpan cuisine.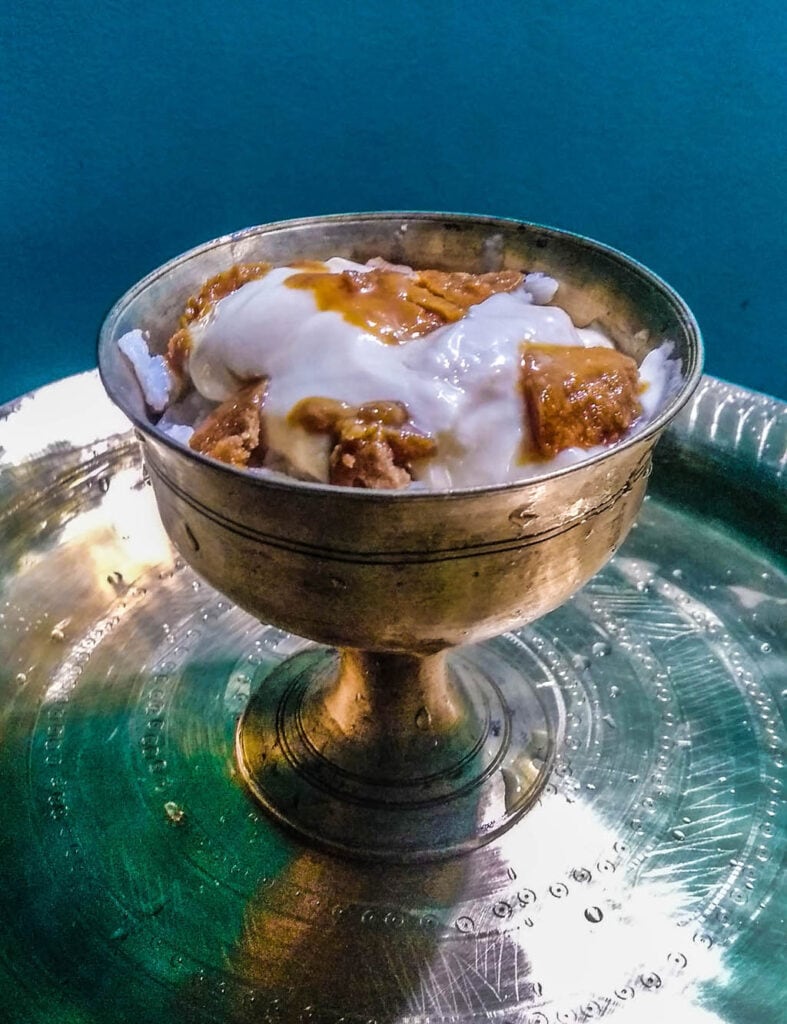 A time-saving snack, the Jolpan with Chira and Kumol Saul can be eaten easily by soaking it in the water for a few minutes. While Xandoh is ground rice that is first soaked, converted to its powdered form and eventually roasted before eating. The sticky Bora rice is also soaked at first and then boiled. A layer of Tenga-doi (curd made in earthen pots from cow milk or buffalo milk) blended with grated jaggery makes Jolpan even more delicious.
Jolpan has been traditionally served in a Baan Bati made of bell metal. Visiting an Assamese family during Bihu festivals is the best time to taste the ethnic cuisines of Assam. Contributed by Joydeep Phukan at The Gypsy Chiring.
Śniadanie – Poland
In Poland the day is usually started with a selection of cold cuts, cheese, maybe a slice of pate, boiled eggs, cucumber and tomatoes. On the side will be kefir or quark cheese to top crust Polish bread.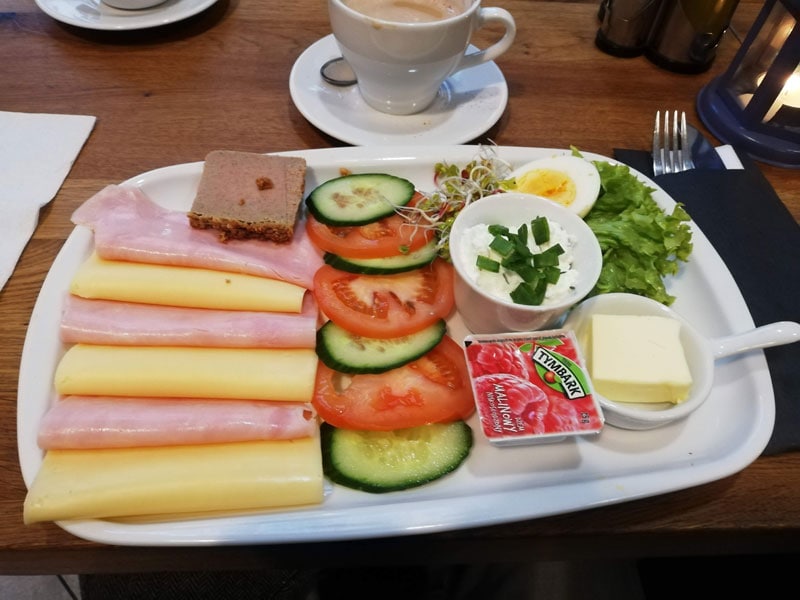 As I mentioned earlier the world's best breakfast for me personally is a full Irish, however, it must be said that I will try any food on my travels and the more interesting the better. Get your adventurous tastebuds out and try some of these breakfast foods around the world ideas. Why not explore all the best breakfasts around the world instead of sticking with your at-home favourites?
Still hungry for more?
148 National Dishes of countries around the world
Armenian food – 45 Armenian dishes you must try
UNESCO Intangible Cultural Heritage – food
Pin it to save it