45 Great British Desserts
The British may not have been known for fabulous cooking back in the day but no one can say that a great British dessert didn't exist then and now. The Brits have always been known for their fine desserts, mouth-watering pies, great puds – that's puddings to you that don't know. Traditional English desserts come in all shapes, sizes and flavours and they are not just restricted to English food culture traditions, there are many classic British desserts from Wales, Scotland and Northern Ireland to try.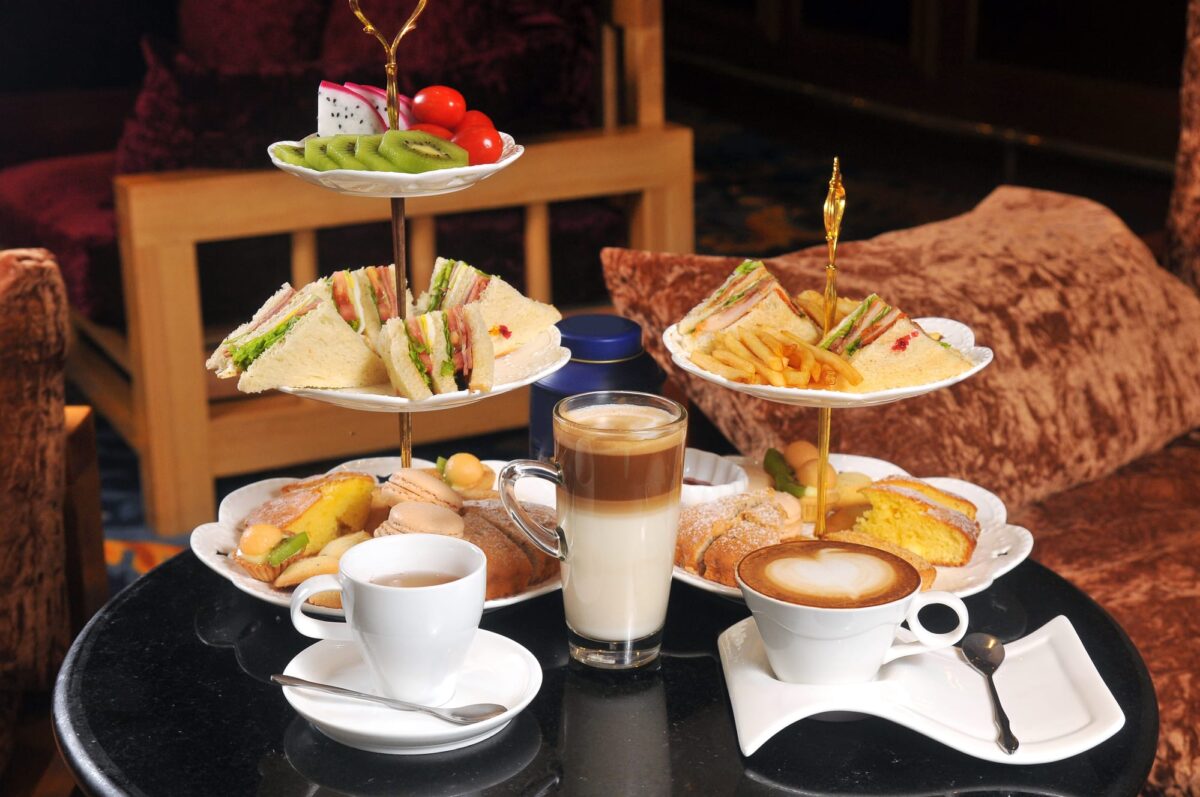 From scones to Battenburg cake, from rhubarb crumbles to that gorgeous mound of pleasure the English Trifle. In the UK they love their sweet British dessert. You may think that French patisserie is the bomb but the British know what makes a great dessert and that's why everyone wants to indulge in a High Tea or simply enjoy massive towers of whipped cream and fruit when visiting the U.K. and enjoying classic British foods.
Many traditional British desserts come from a history of using everything to hand, bread and butter pudding was created to use up stale bread, and leftover wine was added to puds and pies. Rhubarb, which grows rampant in Britain is a favourite. Scones were simply but filling and fabulous savoury or sweet – no arguments here about jam or cream first it's obviously jam. The Great British Bake Off TV show or the Great British Baking Show as it's known in the states, Americans are now being exposed to traditional desserts from England is a prime example of the UK's obsession with dessert.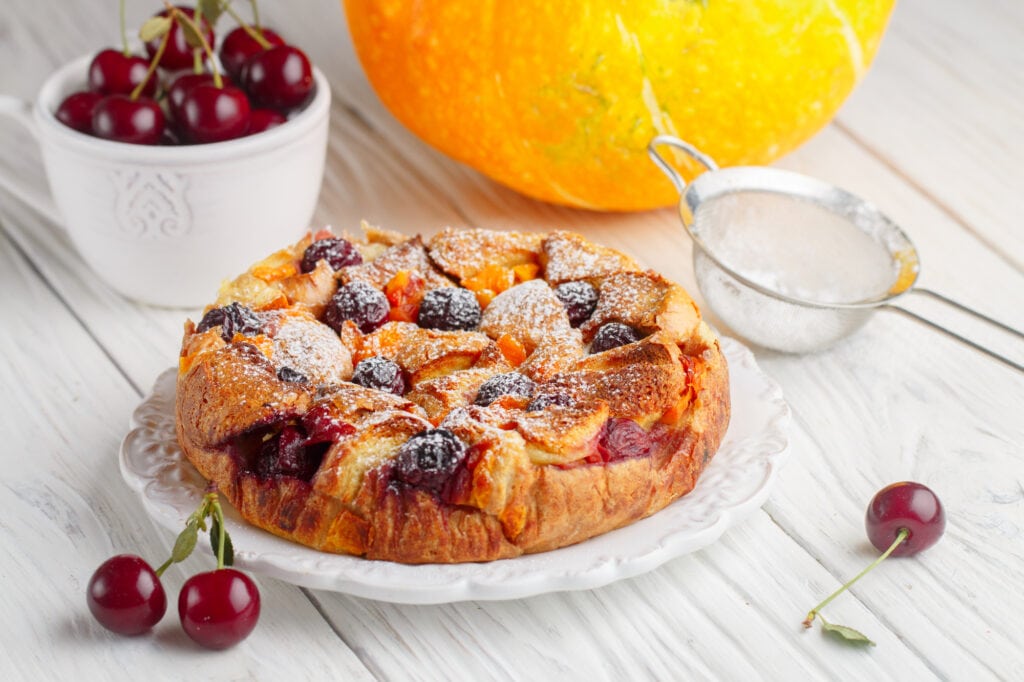 The earliest recipes for bread and butter pudding date back to the 1700s and this great English dessert was Princess Di's favourite. Sticky Toffee Pudding comes from the Lake District and was probably first made by a baker from the Hotel Sharrow Bay in the 1970s. Eton Mess gets its name from Eton College, the Windsor boarding school Its tooth-hurting ingredients include meringue and whipped cream mixed with strawberries.
According to legend Eton Mess was created in the 1920s during a cricket match. It was believed that a dog knocked over a perfect cake but the boys of Eton ate the mess that resulted. The truth is Eton Mess dates back to the late 1800s when it was included on a menu for Marlborough House and was called Eton Mess aux Fraises.
Who could forget a trifle? This quintessential British dessert English trifle dates back to around 1598 and was originally made with rosewater and cream before it became an alcohol-soaked ladyfinger and custard dessert in the 1700s.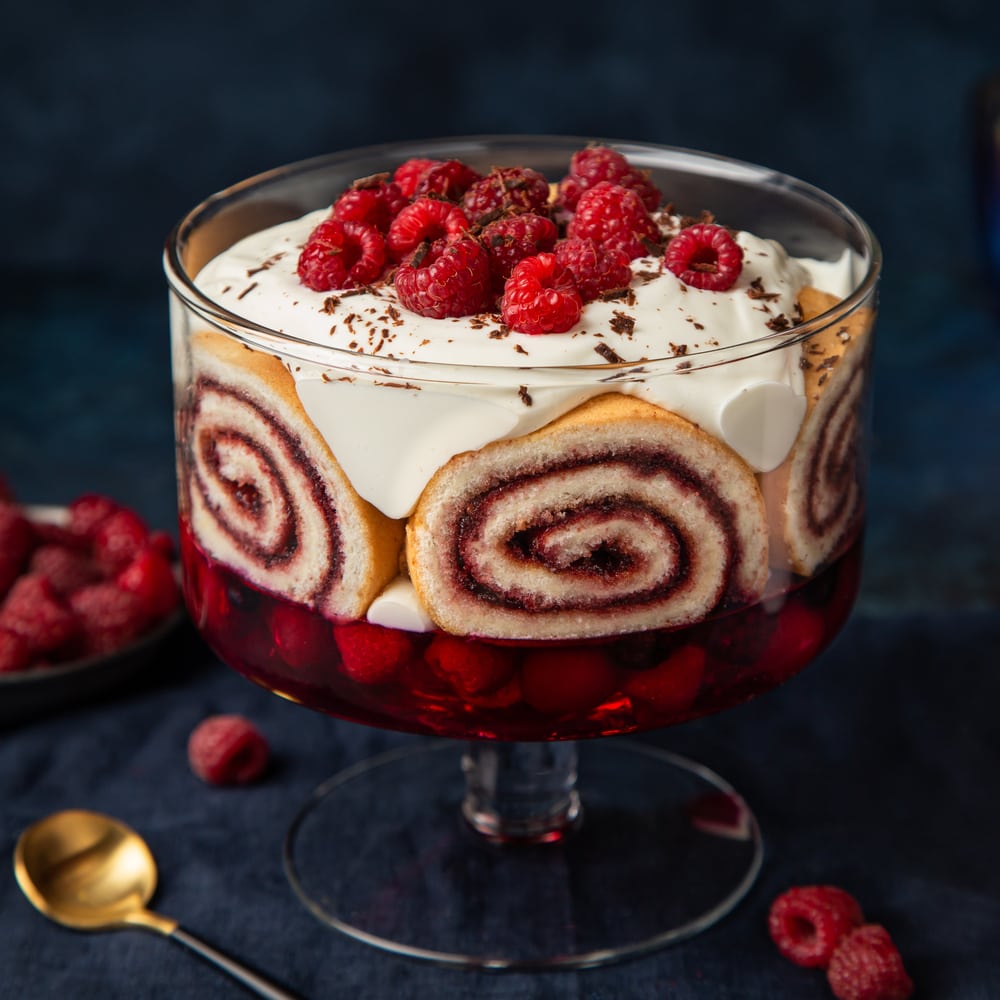 That classic of British comics Spotted Dick? That's simply a bread and butter pudding that was made with suet and spotted with raisins, sort of the poor man's bread and butter pudding.
What is clotted cream?
For those of you who don't know what clotted cream is you have no idea what you are missing. Clotted cream is a very thick cream with a much higher butterfat content than double (heavy) cream and has a long history in Devon and Cornwall.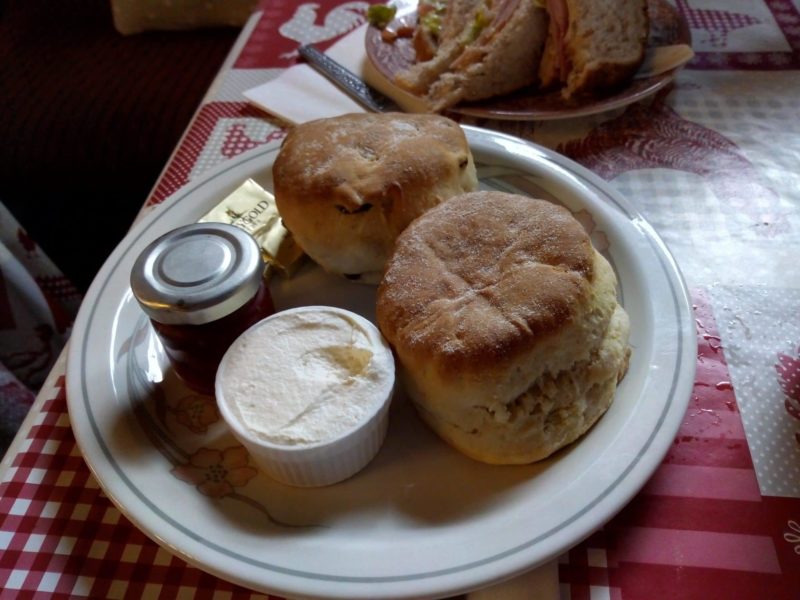 History says it was first brought to England by Phoenician settlers around 2000 years ago. The 'clotting' of the cream was a way of preserving the milk because the water was removed leaving mainly butterfat which meant that the organisms that might spoil the milk or cream are slowed substantially.
Over the years and centuries, many great famed British desserts have been enhanced and developed into new creations and incorporated ingredients that were not available to earlier bakers. Scones are a perfect example of this – brilliant for carrying flavours either sweet or savoury scones became the perfect vehicle for 'improvement'.
There are really no right or wrong British dessert recipes they are made to evolve and become family favourites no matter how they are made or what goes into them. Here are some fantastic popular British desserts recipes for you.
Xyuandbeyond is reader-supported. When you buy through links on our site, we may earn an affiliate commission. You can read my privacy policy here.
45 traditional English desserts
Knickerbocker Glory
Desserts from England run the gamut from a great British dessert the Knickerbocker Glory to a Sticky toffee Pudding.
A Knickerbocker glory is an icecream sundae layered with cream, fruit, icecream, and meringue and topped with nuts, whipped cream flavoured syrups such as chocolate or strawberry and finally topped with a cherry. Every childhood dream of an icecream sundae.
Legend has it that the knickerbocker glory was invented in New York in the early 1900s. The name knickerbocker is named after The Knickerbocker Hotel in Manhattan. During the early 1900s, the hotel was pink and cream-coloured and famous in New York. After its closure in 1920, a tall, pink, and cream-coloured dish was created in honour of the hotel.
Is it Scon or Scone?
Is it pronounced scon or scone? According to Food & Wine major dictionaries including Merriam-Webster and the Oxford Dictionary scone has two, equally correct pronunciations: one that rhymes with cone and another that rhymes with gone.
Scones are thought to have originated in Scotland in the early 1500s and the first known print reference was made by a Scottish poet in 1513. Scones were originally made using oats, shaped into a large round and scored into four or six wedges. The name 'scone' is thought to have come from the Scottish name for the Stone of Destiny, where Scottish kings were (supposedly) once crowned.
7 fabulous scone recipes
Seckel Pear & Pistachio Scones
Lovely whole grain gluten-free vegan scones for an elegant winter breakfast or brunch. Seckel pear & pistachio scones are perfectly paired with a warm mug of coffee or tea. These scones were by Rebecca of Strength and Sunshine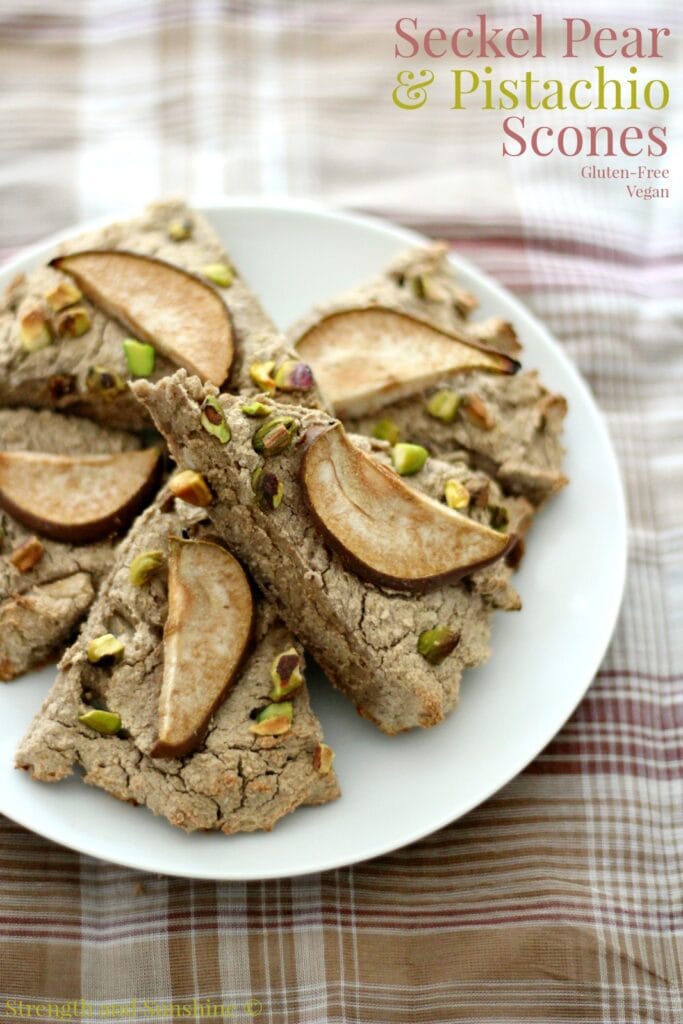 Wholemeal Scones
These wholesome, delicious, moreish wholemeal scones are perfect for afternoon tea. They're made from 50% white and 50% wholemeal flour for the perfect texture and flavour. Gorgeous! Created by Charlotte of A Mummy Too.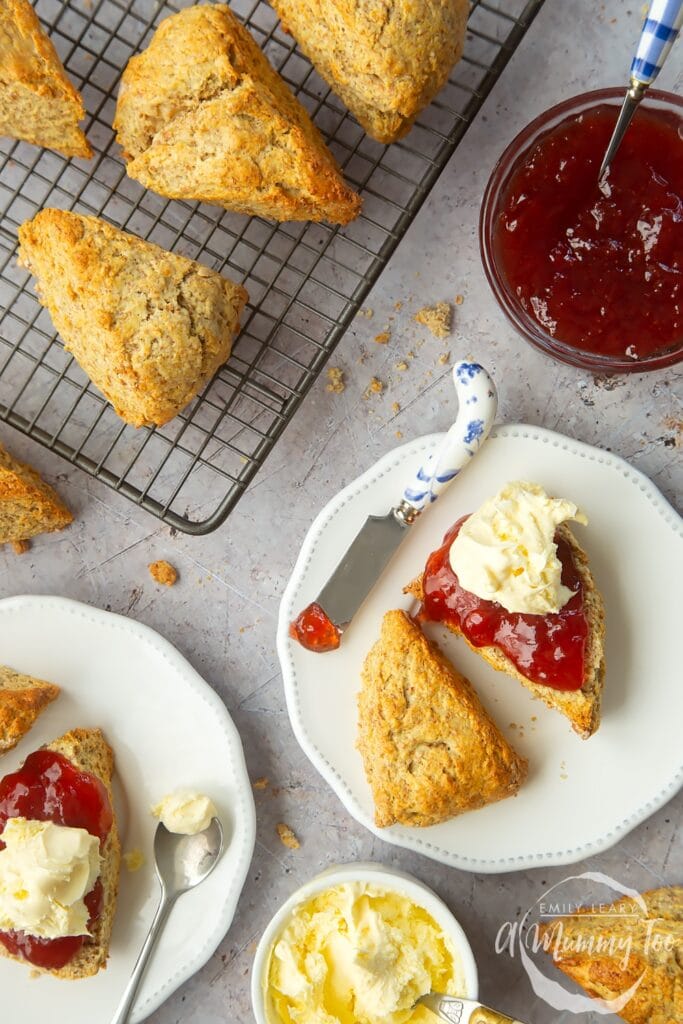 Lemon Blueberry Scones
The scones are so delicious and are also super simple to make! Cosy up with a couple of these delicious treats for your next morning's breakfast or brunch! From the author: These scones are my "go-to" breakfast treats when I have friends over. Trust me, you cannot go wrong. Your dairy-loving friends will gobble them up and ask for more. The best part about these treats is that they pair perfectly with coffee, tea, or mimosas. Each scone will cost about $.85 to make, which is quite a bargain compared to buying from a café or store. Created by Andrea of Plant Based on a Budget.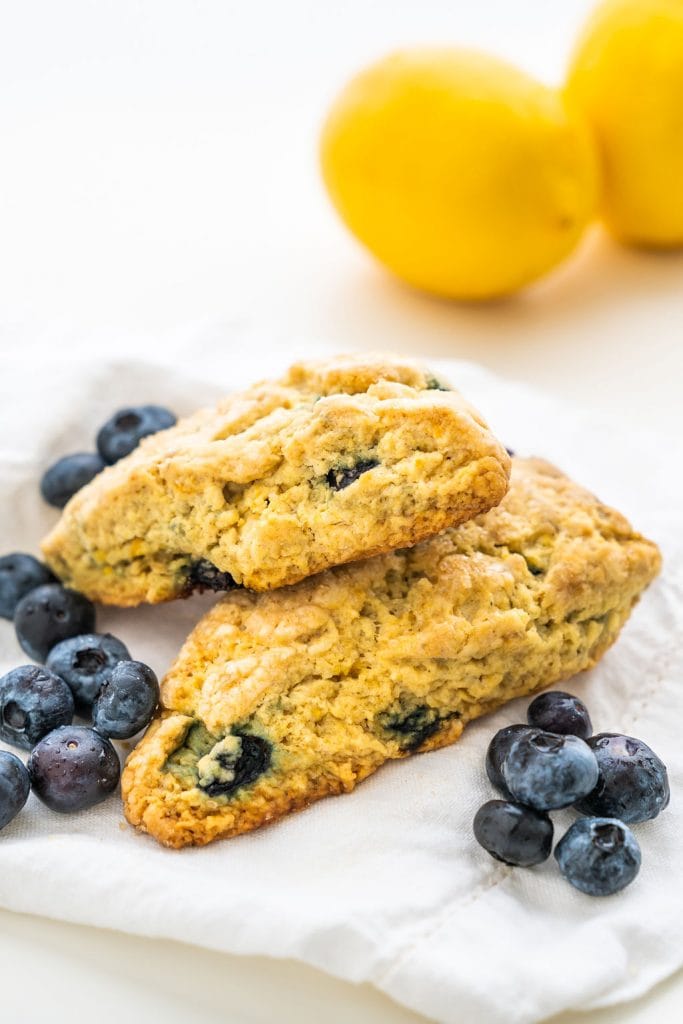 Copycat Starbucks Petite Vanilla Bean Scones Recipe
These lovely little Starbucks copycat scones will keep you coming back for more. Small and packed with flavour a lovely tiny treat. Created by Harley of Mommy Musings.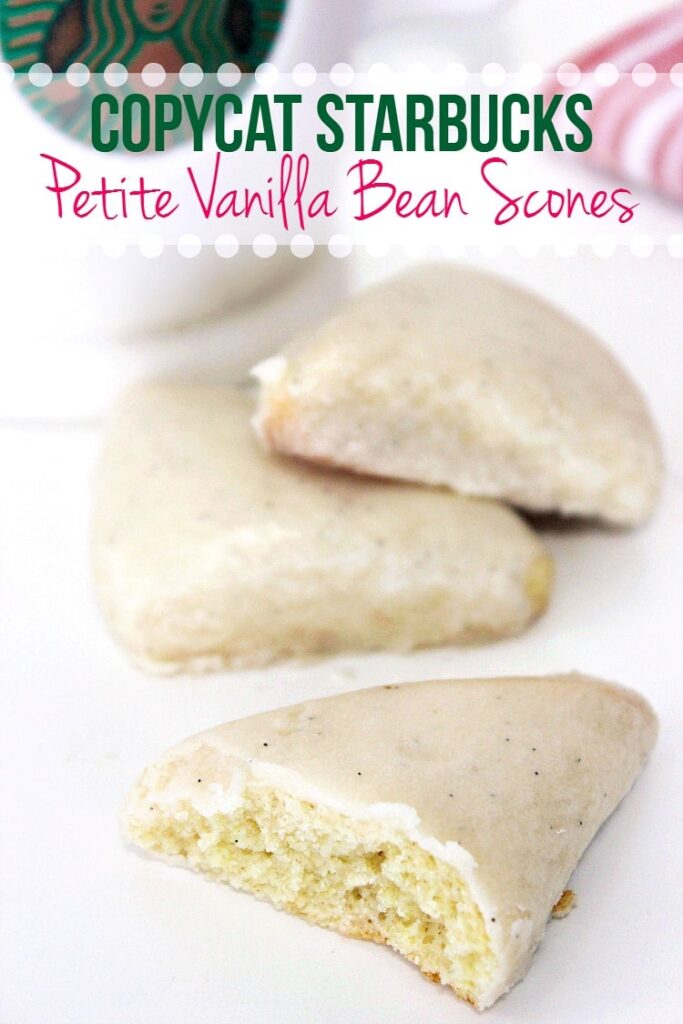 Blueberry scones
This Blueberry Scone recipe is going to take your brunch game to the next level. Perfect for pairing with a hot cup of coffee or tea! Created by Kelley of Chef Savvy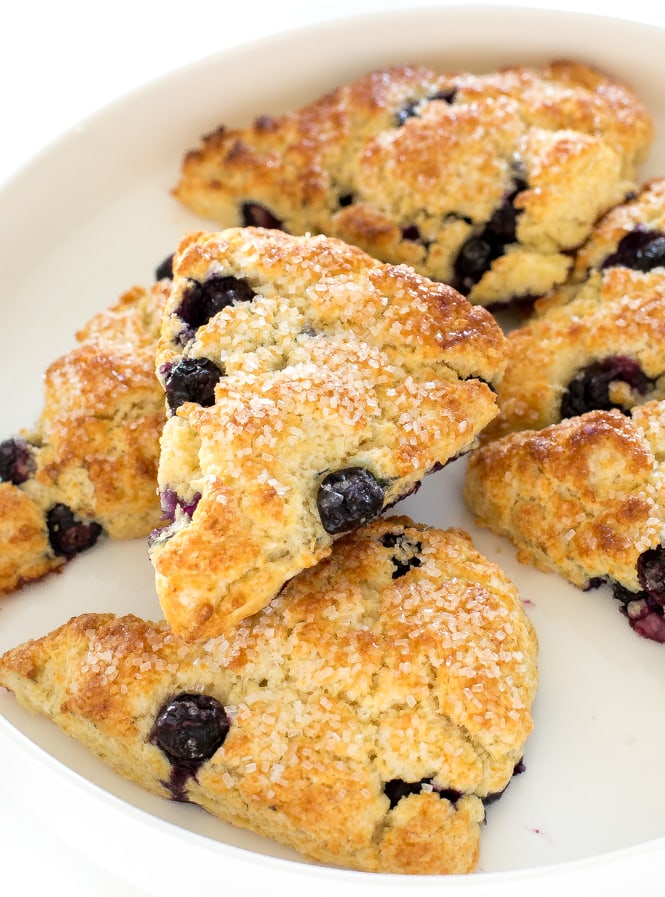 Strawberry Scones in the air fryer
Air Fryer Scones. Learn how to make British homemade scones in the air fryer. A simple English classic scones recipe that is adapted for the air fryer and easy to mix and match with favourite flavours. Created by Samantha of Recipe This.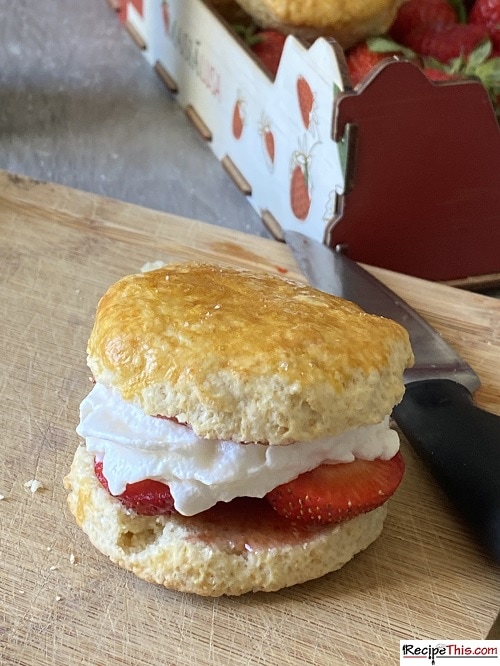 White Chocolate Raspberry Scones
These white chocolate raspberry scones are easy to make. They make a tasty breakfast as well as dessert. Created by Lisa of Fluxing Well.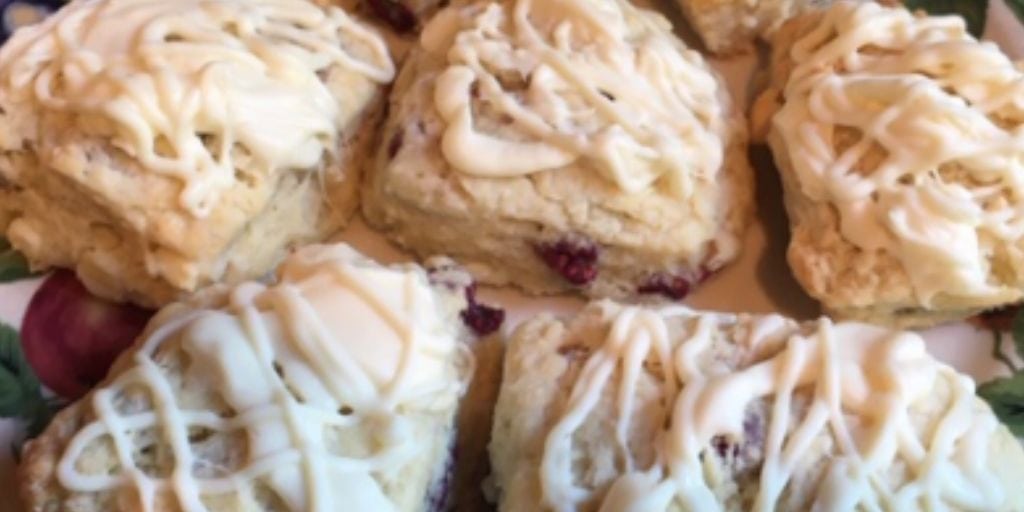 Great British pies
Banoffee Pie Recipes
The banoffee pie was created in 1971 by Nigel Mackenzie, the owner of The Hungry Monk Restaurant in Jevington, East Sussex, and his chef, Ian Dowding. The original recipe was based on an American dessert recipe called "Blum's Coffee Toffee Pie" from Blum's Bakery in San Francisco.
Vegan Banoffee Pie
The BEST vegan banoffee pie with an easy graham cracker crust and caramel without dates. An absolute taste explosion! Created by Anthea of Rainbow Nourishments.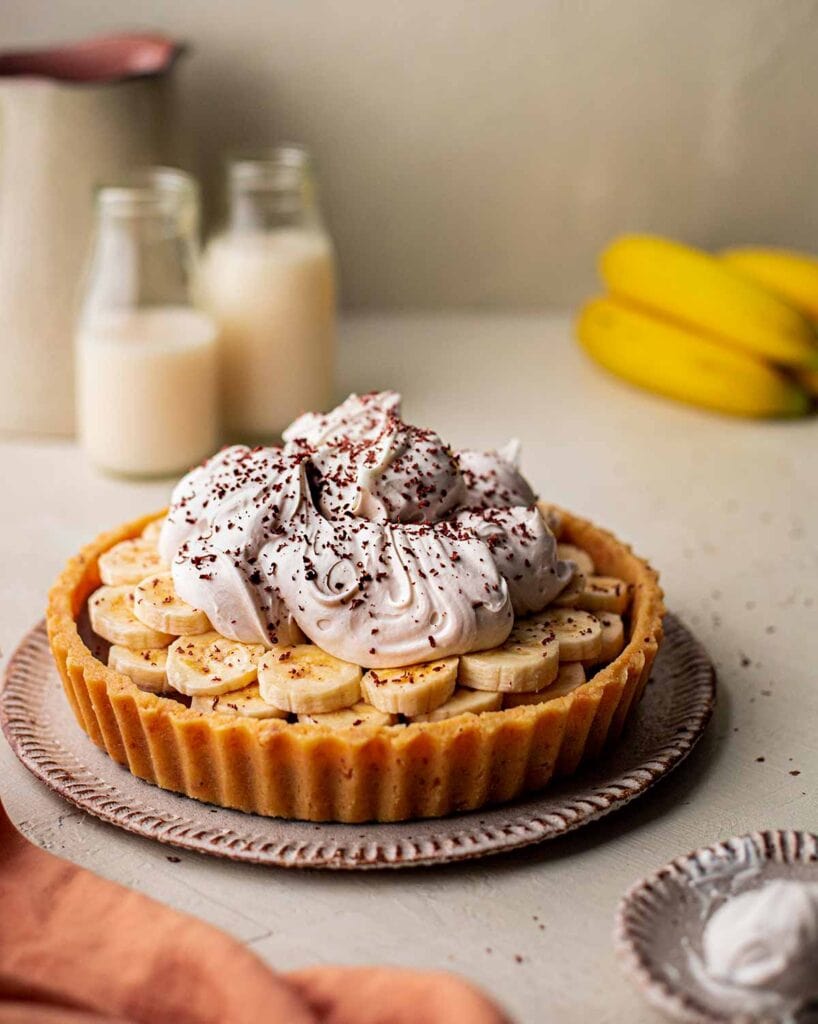 Easy Banoffee Pie
This easy Banoffee Pie is a no-cook dessert that only requires five ingredients. Popular with children and adults alike brings together bananas, caramel, and whipped cream on a buttery biscuit base. Created by Joanna of Taste Botanical.
Banoffee Cheesecake
Creamy, smooth and packed with banana flavour, you'll adore this banoffee pie cheesecake. Best of all: it's no-bake! Created by Charlotte of A Mummy Too.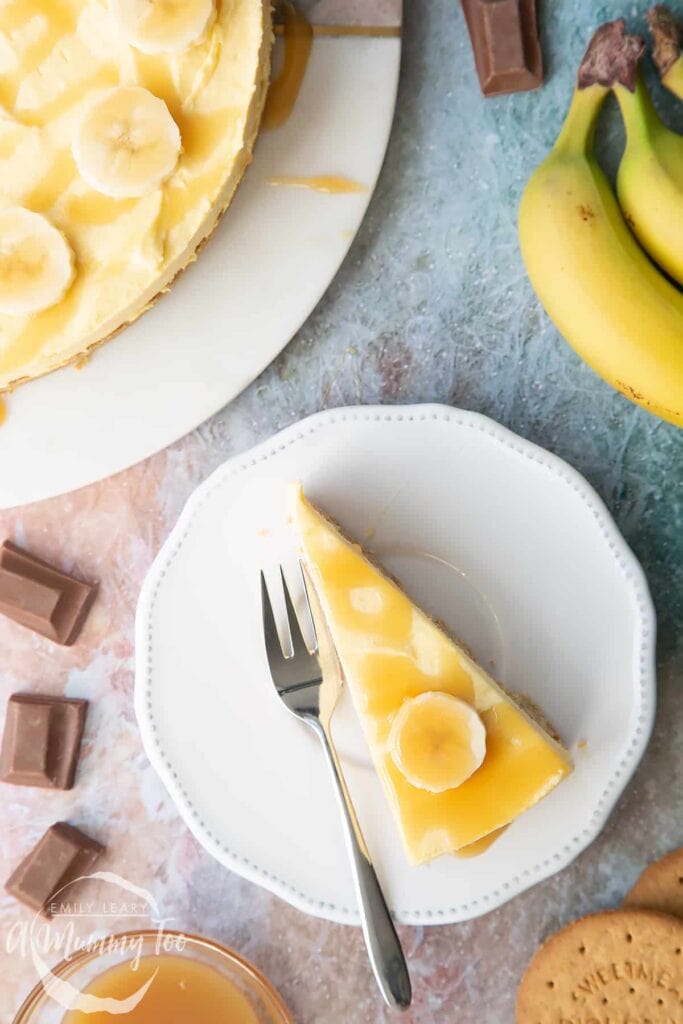 Traditional English desserts
Cranachan
The unofficial dish of Scotland, cranachan comes from the Scottish Gaelic which means to churn Originally cranachan was made to celebrate the raspberry harvests in June. It's a luscious concoction of raspberries, cream, oats and whiskey. Or as my Scottish friends call it the King of Scottish Desserts.
Originally made from crowdie cheese, which is a soft and fresh Scottish cheese made from skimmed cows' milk that was combined with lightly toasted oatmeal, cream and local honey. The dish can also be known as cream crowdie, depending on what part of Scotland you are from.
The Great Scottish Cranachan recipe
This fabulous recipe was created by Christina Conte and Sam Heughan of Outlander actually made this very recipe on Good Morning America. Christina's recipe for Cranachan
Eton Mess Recipes
Eton mess was served in the 1930s in the school's "sock shop" (tuck shop) and was originally made with either strawberries or bananas mixed with ice cream or cream the meringue was a later addition. An Eton mess can be made with many other types of summer fruit, but strawberries are regarded as more traditional.
Lemon and blueberry Eton Mess
Originally named for the boy's boarding school, Eton Mess is a layered dessert that balances sweet, tangy fruit with layers of meringue. This version, which utilizes lemon curd and blueberries, is a refreshing treat, especially on hot summer days. Created by Taylor of Whisk Averse Baking.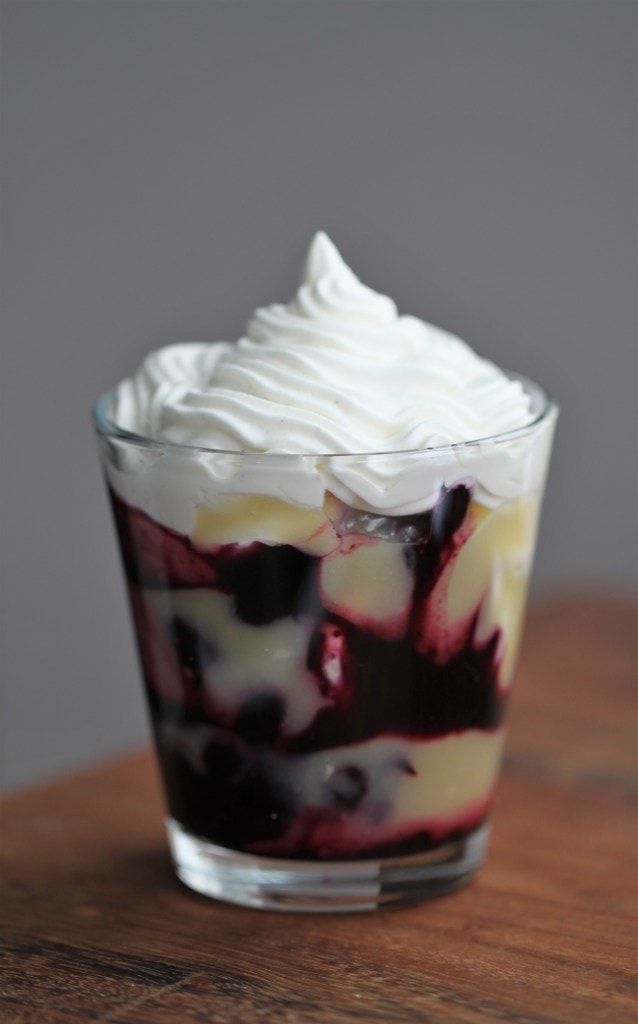 Classic Eton Mess
The classic Eton mess is a delicious summery British dessert made with fresh strawberries, whipped cream and crunchy meringues. Created by Sarah of Keep Calm and Eat Ice Cream.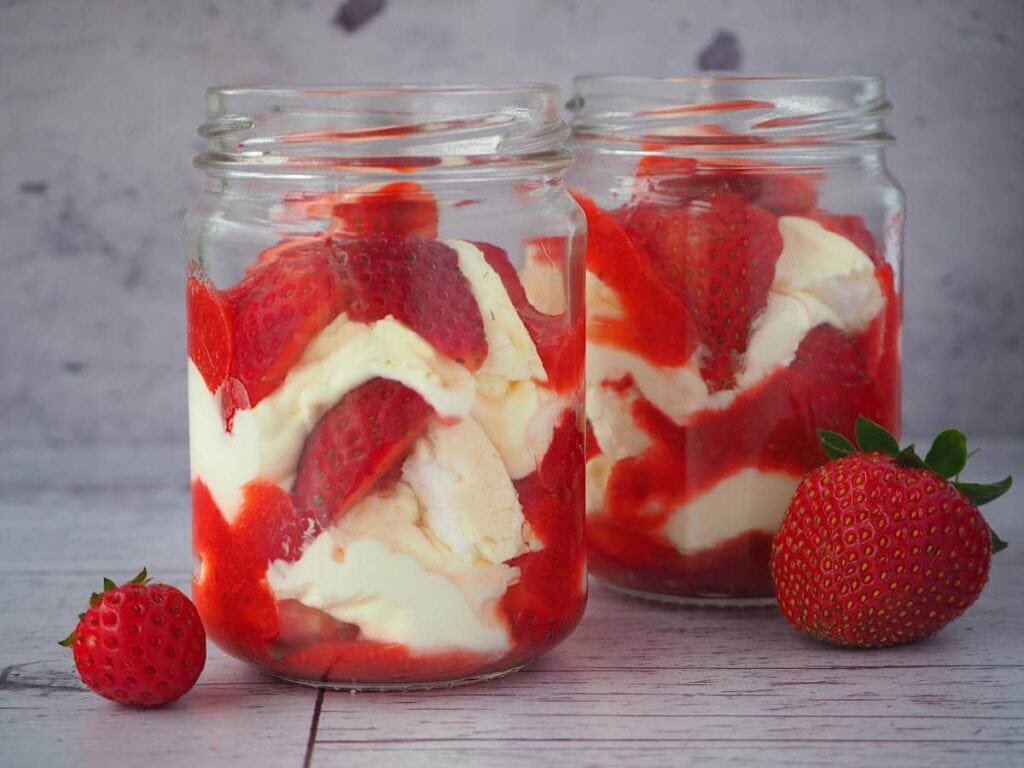 British Trifle
The earliest use of the name trifle was in a recipe for a thick cream flavoured with sugar, ginger and rosewater, in Thomas Dawson's 1585 book of English cookery The Good Huswifes Jewell. The word "trifle" comes from the old French term "trufle," and literally means something whimsical or of little consequence. A proper English trifle is made with real egg custard poured over sponge cake soaked in fruit and sherry and topped with whipped cream.
Chocolate Trifle
This decadent chocolate trifle has layers of brownies, chocolate pudding, crushed toffee bars and whipped topping. The recipe makes a large quantity to feed a crowd. Created by Lisa of Fluxing Well.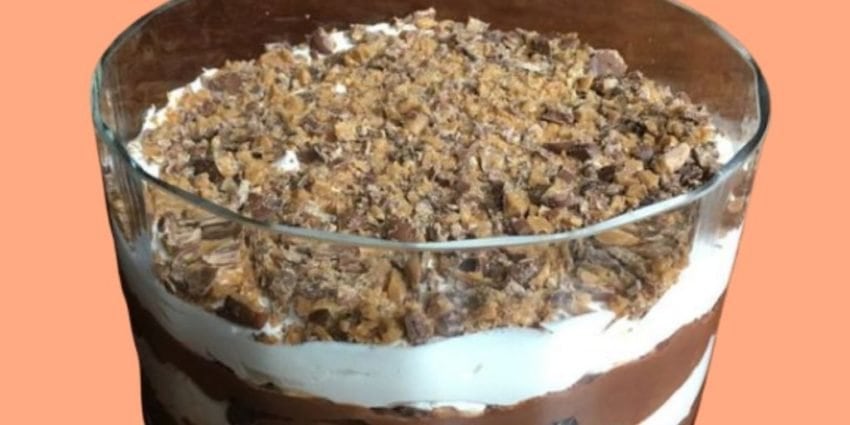 Strawberry Shortcake Trifles
These individual no-bake strawberry shortcake trifles make a wonderful summertime dessert! Created by Kelley of Chef Savvy.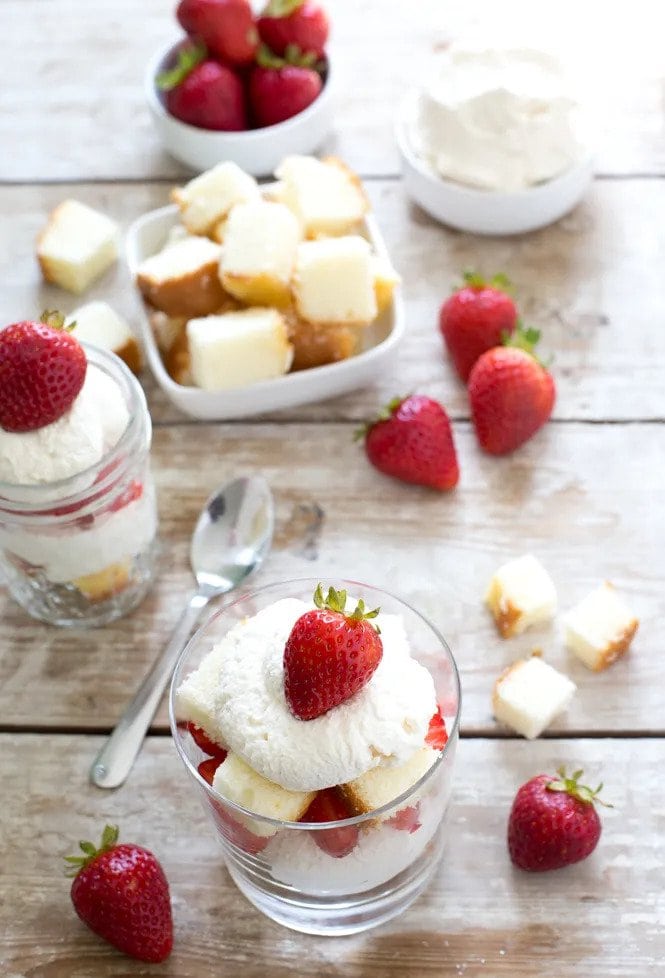 British Fools an authentic British dessert
British Fool is the name of a simple British pudding that comes from the French 'fouler' which means to crush or press fruits and gently fold them into a thick cream.
Strawberry Lemon Fool
Perfect for a summer party or BBQ! This luscious dessert is piled high with soft, sweetened whipped cream, dotted with juicy amaretto-spiked strawberries and tangy lemon curd and then topped with crushed amaretto biscuits. Created by Stacie of Simply Stacie.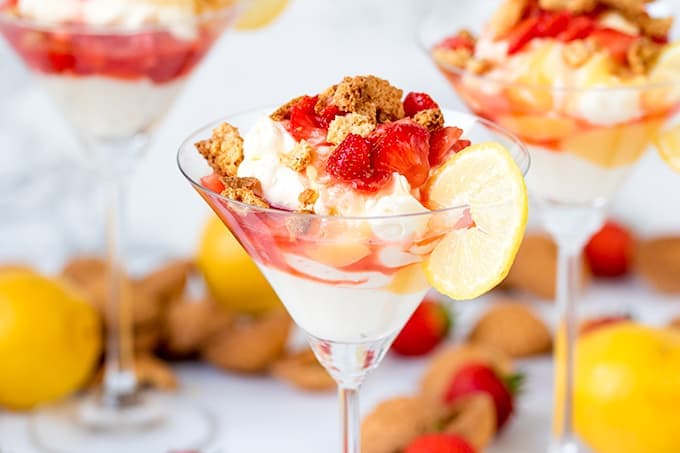 British Custard Desserts
Custard goes back to Roman times when milk and eggs were cooked together and thickened and custard tarts were very popular during the middle ages. Technically custard refers only to an egg-thickened cream and when starch is added the result is pastry cream over the years flavourings and sugar were added to become more dessert-like although a quiche is still a custard tart. The name custard came from the French 'croustade' which was actually the crust of the milk and egg filling. Here are three British custard dessert recipes.
Vegan Custard Tart
This is a lovely bakery-style vegan custard tart with a buttery shortcrust, creamy custard filling and a sprinkling of nutmeg. Easy to make, everyday ingredients and customisable! Created by Anthea of Rainbow Nourishments.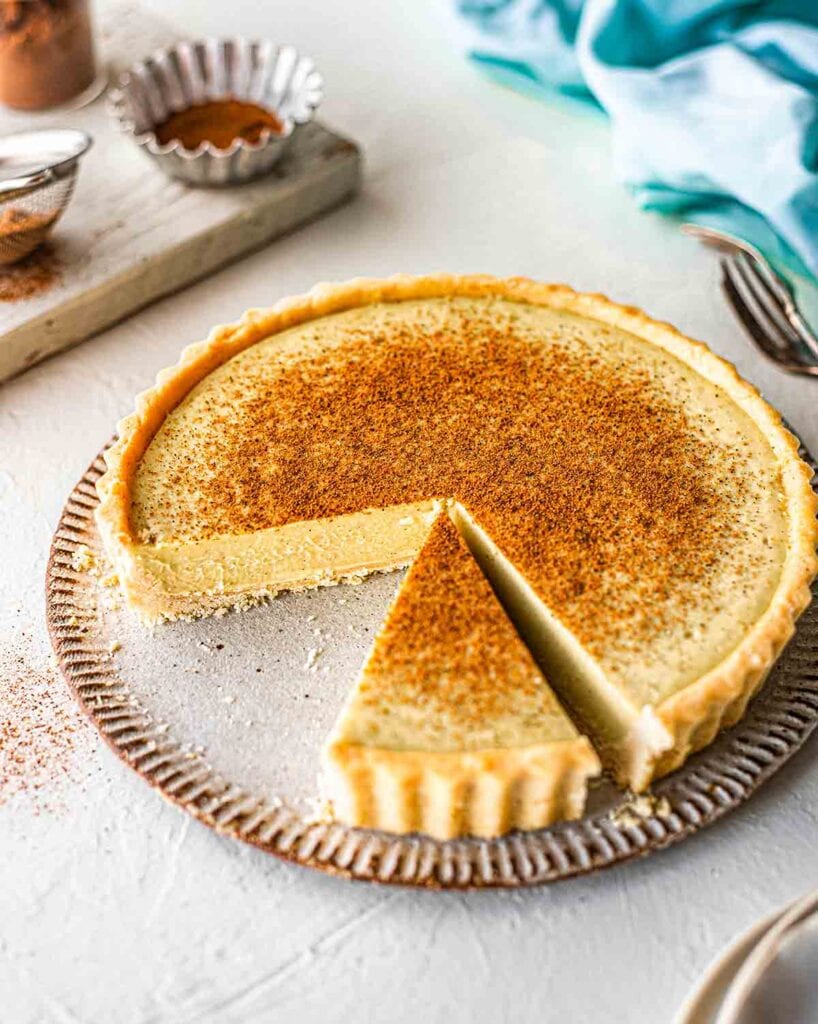 Custard Cream Biscuits
Another great development is the British Custard Cream Biscuit. This is an easy custard creams recipe, the popular, melt-in-your-mouth British double cookies filled with custard cream. Created by Adina of Where is My Spoon.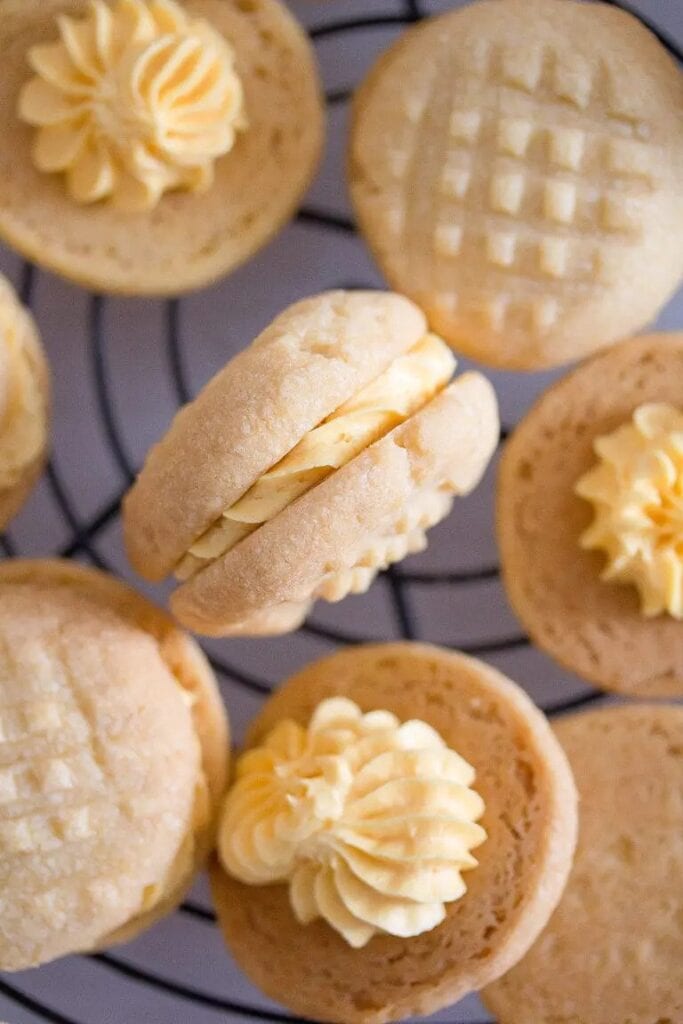 Traditional British Egg Custard Tart
Great British pastries include many kinds of tarts and pies here Eggnog fans can rejoice – all that creamy nutmeggy flavour wrapped in a pastry crust. Created by Julie of Two Bit Tart.
Classic British tarts and pies
According to legend, the tart was invented by French sisters who ran a hotel in the 1880s, in France, the actual name of the tart is "Tarte des Demoiselles Tatin". In England, the tart evolved from pies with the main difference being that tarts were to be made with shortcrust pastry.
The great British Bakewell tart appears to have been created from the Bakewell pudding. History says that Mrs Greaves, the White Horse Inn landlady, left instructions for her cook to make a jam tart. The cook didn't stir the almond paste and eggs into the pastry but spread it on top of the tart and voila the Bakewell Tart was born.
One of the most hallowed of great British desserts has to be the Treacle Tart. Originally made with Black treacle which is a less bitter version of pure molasses. These days however Treacle Tart is made with Golden Syrup which is sweeter and more of a light treacle.
Treacle Tart
Treat family and friends to a comforting treacle tart with crumbly pastry and rich filling. A classic British dessert, serve with ice cream or clotted cream from BBC Good Food.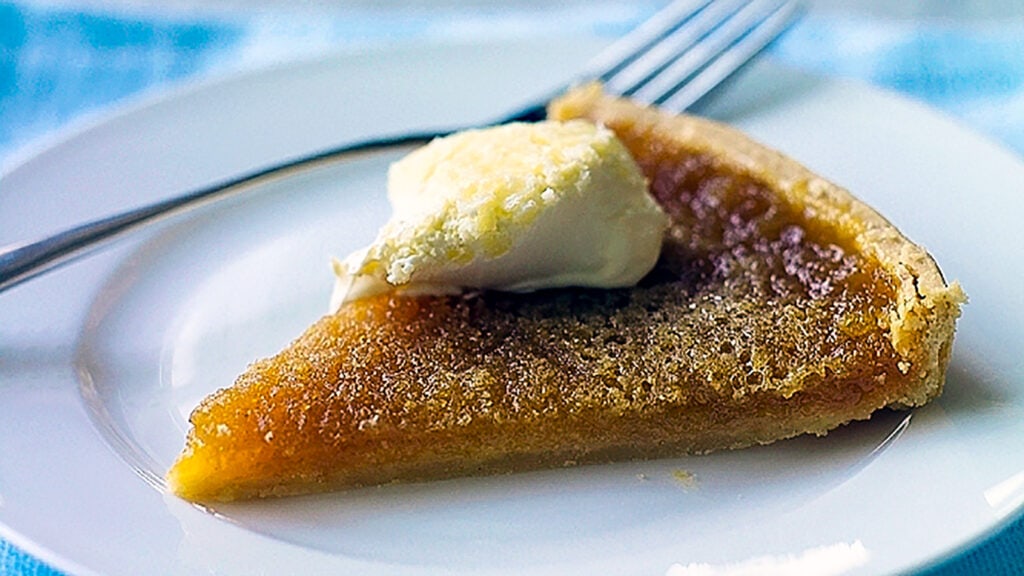 Strawberry Tarts
These mini strawberry-rhubarb tartlets are cute and delicious. The combination of sweet strawberries, tangy rhubarb and buttery crisp pastry is truly sublime. Created by Sarah of Keep calm and eat icecream.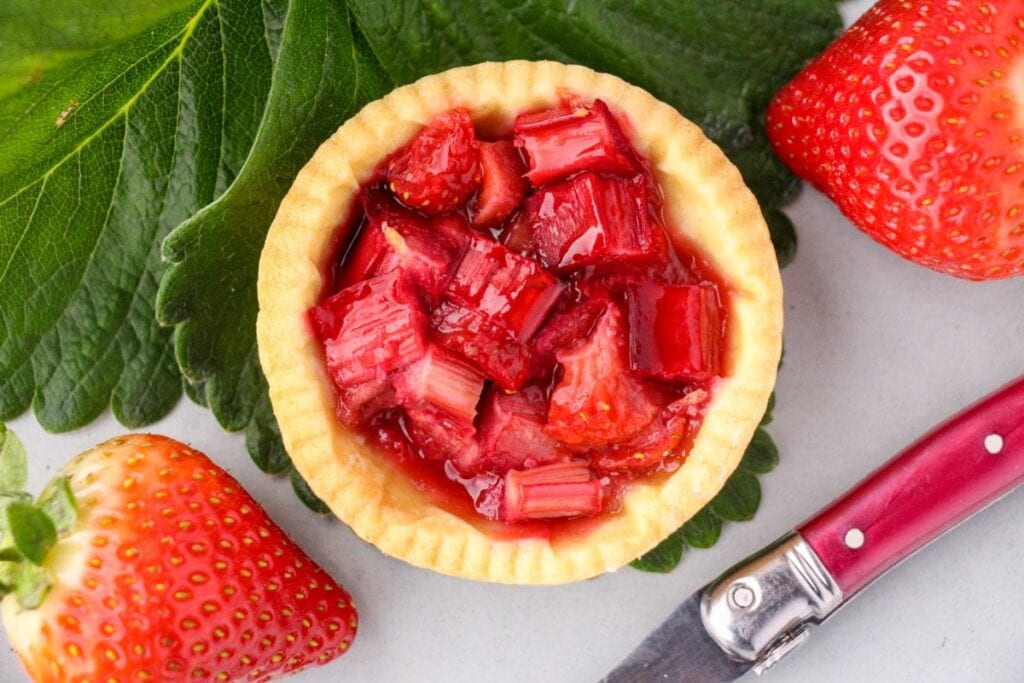 Bakewell Tarts
Use shop-bought pastry to make our easy Bakewell tarts. Simply layer jam, frangipane and icing inside a shortcrust case for a nostalgic teatime treat. BBC Good Food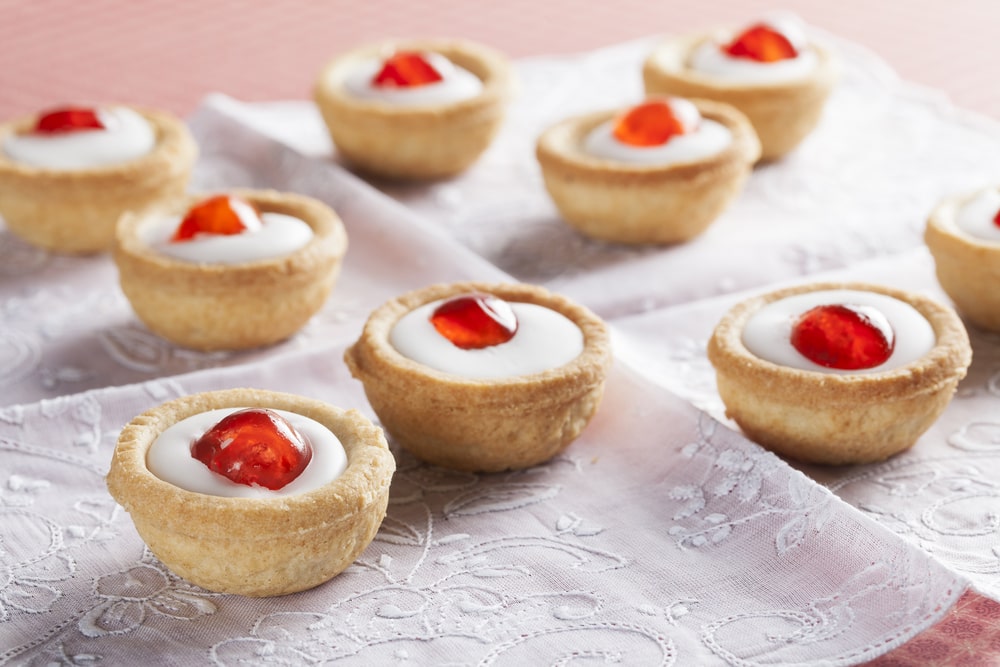 Classic British Bakewell tart
An almond sponge filled with jam, whipped cream, and cherries. This British cake recipe is glorious and easier to make than you might think! Created by Adina of Where is my spoon.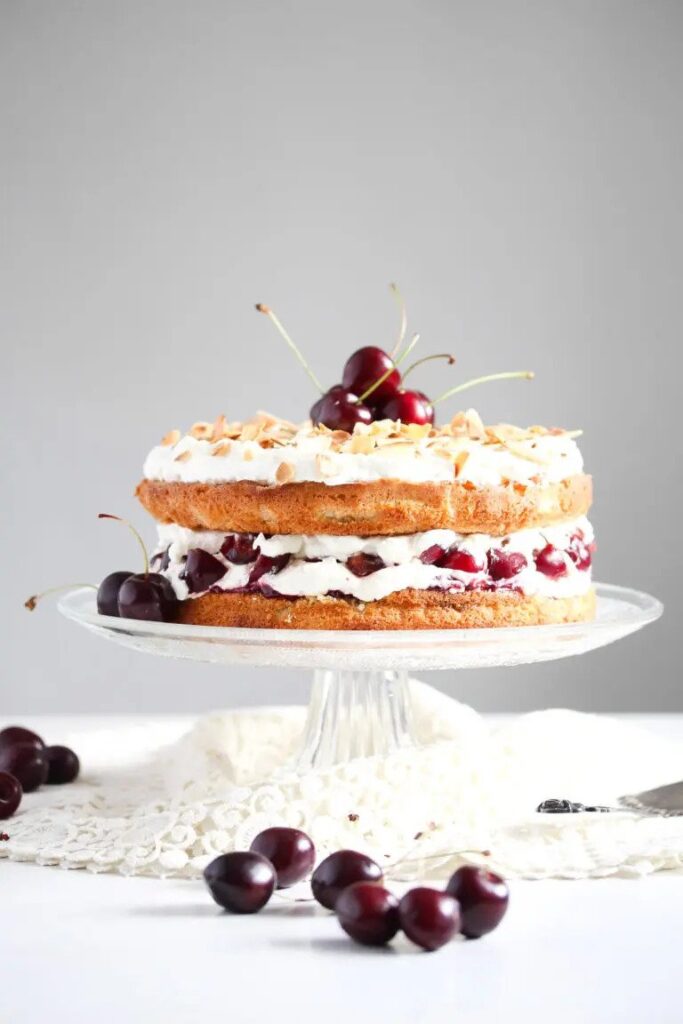 Mince pies
Speaking of Christmas who can forget mince pies? The reason mincemeat is called meat is because that's exactly what it used to be any kind of minced meat was used. Mince pies were first served in the early middle ages, and the pies were quite sizeable, filled with a mixture of finely minced meat, chopped-up fruit and a preserving liquid. Mincemeat originally came about as a good way of preserving meat, without salting, curing, smoking or drying it.
Homemade Mince Pies
An absolutely gorgeous recipe packed with currants, homemade candied orange peel, brown sugar, warming spices and brandy. It's the ideal jewelled filling to nestle in a buttery pastry crust. Maybe not entirely traditional, for me, it's London Christmas in the US suburbs. Created by Julie of Two Bit Tart.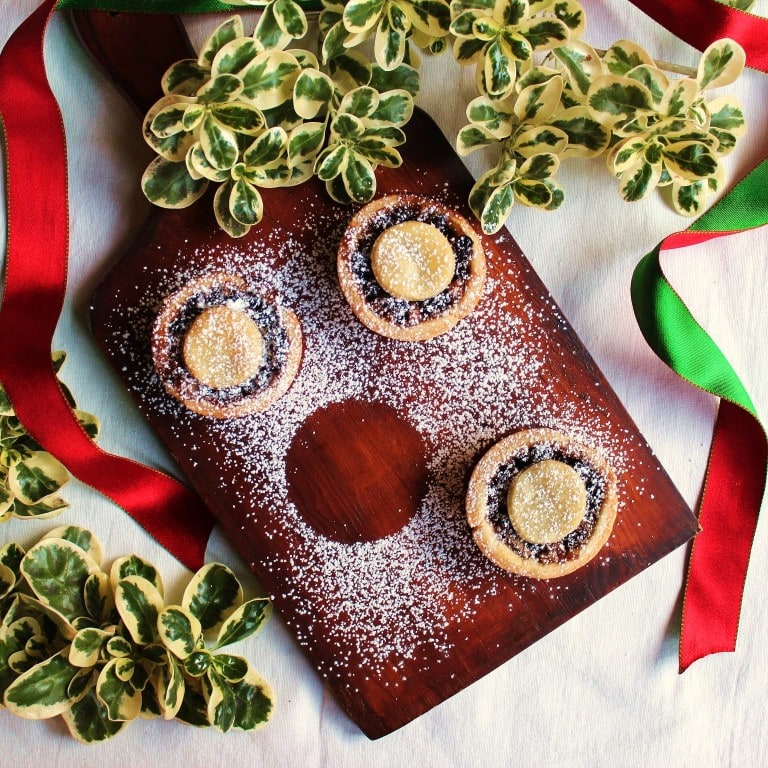 Classic British desserts -Bread and Butter Puddings
In the 11th and 12th centuries and well into the 19th century every cook worth their salt kept a large bowl into which they put stale bread that was leftover – nothing went to waste. The pudding basin as it was known Food historians trace bread pudding back to Europe in the early 11th and 12th centuries, and it has been popular in England since the 13th century when just about every kitchen had a deep bowl called a pudding basin that was used to collect scraps of stale bread.
Bread and Butter pudding is soft and custardy. It is made by arranging slices of buttered bread in a dish, pouring custard over the top and baking in the oven. The earliest bread and butter puddings were called whitepot and used either bone marrow or butter. Whitepots could also be made using rice instead of bread, giving rise to another great British dessert rice pudding.
What is the dictionary definition of a British or English pudding? "A baked or steamed sponge or suet dish, usually sweet and served as a dessert, but also savoury suet puddings (e.g. steak and kidney).
Sticky Toffee Pudding
The Udny Arms Hotel in Newburgh-on-Ythan, Scotland claim to have first served Sticky Toffee Pudding in 1967. It still appears on the menu to this day and is served with clotted cream ice cream however Yorkshire folk disagree and say it was the landlady at the Gait Inn in Millington who invented it in 1907.
To die for Sticky Toffee Pudding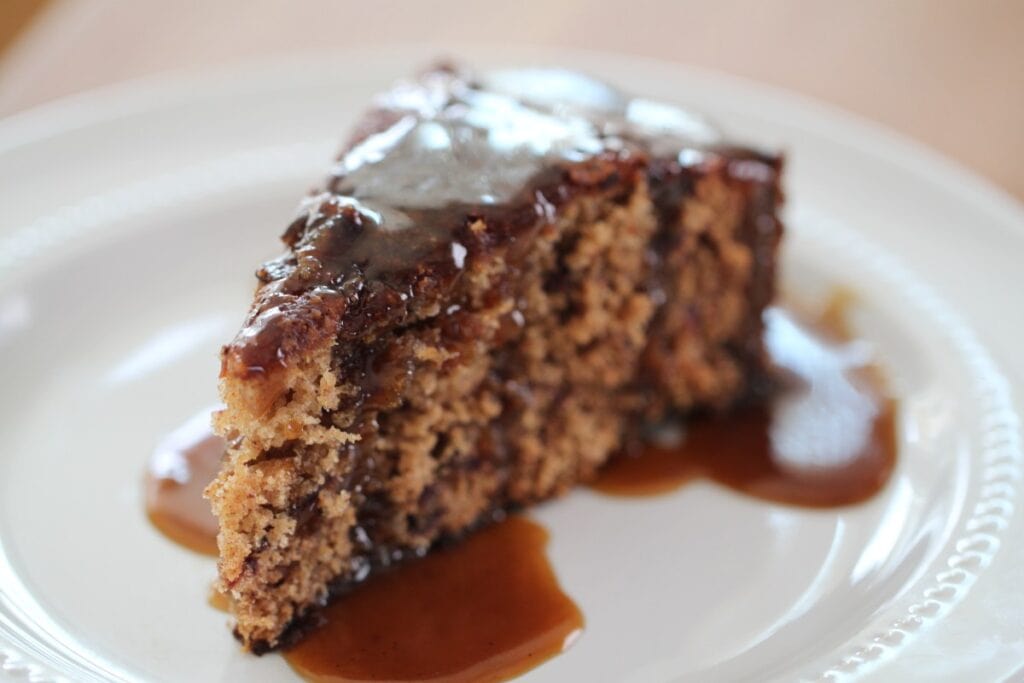 Featuring a flavorful spiced cake and a decadent toffee sauce, this sticky toffee pudding is easy to make, and yet decadent enough for even the most special occasion. Created by Taylor of Whisk Averse Baking
Rhubarb Bread and Butter Pudding
This traditional Bread and Butter Pudding is given a shot of additional flavour from zesty rhubarb jam. Created by Joanna of Taste Botanical
Figgy Pudding
Some of you may know the song – Bring us some figgy pudding – that great Xmas hit from the 16th century. Well, figgy pudding or plum pudding began as a way to preserve food – believe it or not.
Figgy pudding was a soup-like dish, that was served as a fasting meal before the great, huge Christmas feastings. Beef and mutton were mixed with raisins, plums or prunes, wines and spices. In the early 15th century grains were added to make it a porridge, and it was known as "frumenty." By the end of the 16th century fruit had become plentiful, and plum pudding went from savoury to sweet. Tiny Tim's Figgy/Plum Pudding.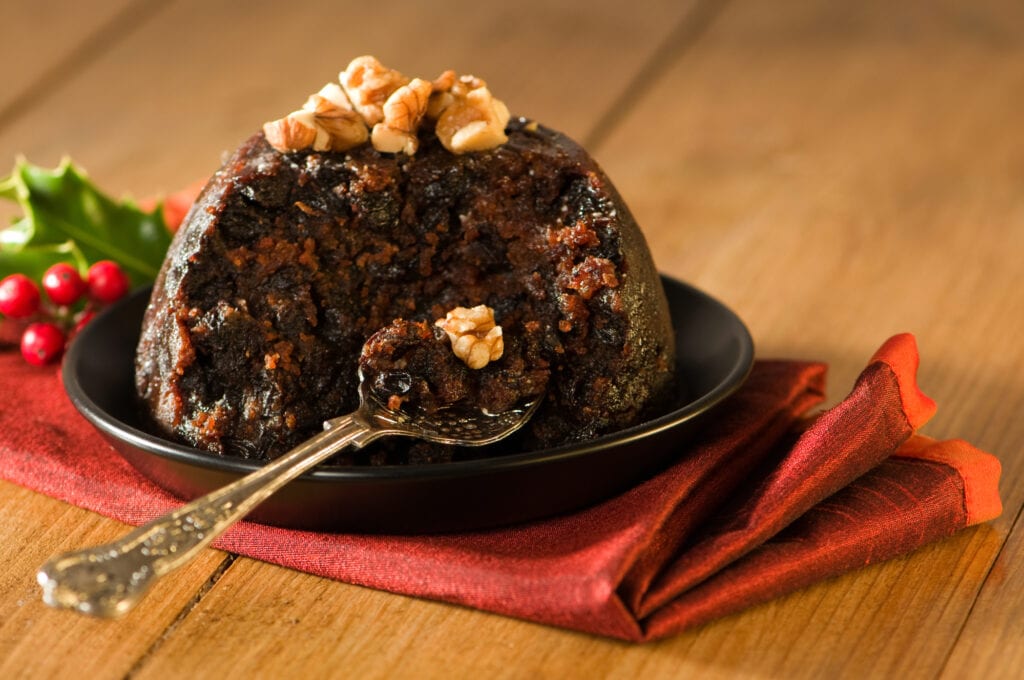 Snowdon Pudding – Wales
First created by Eliza Acton and noted in her Modern Cookery for Private Families. This is a traditional steamed Welsh pudding full of fruit and a favourite of the climbers of Snowdon, Wales. Women's Institute of Wales recipe.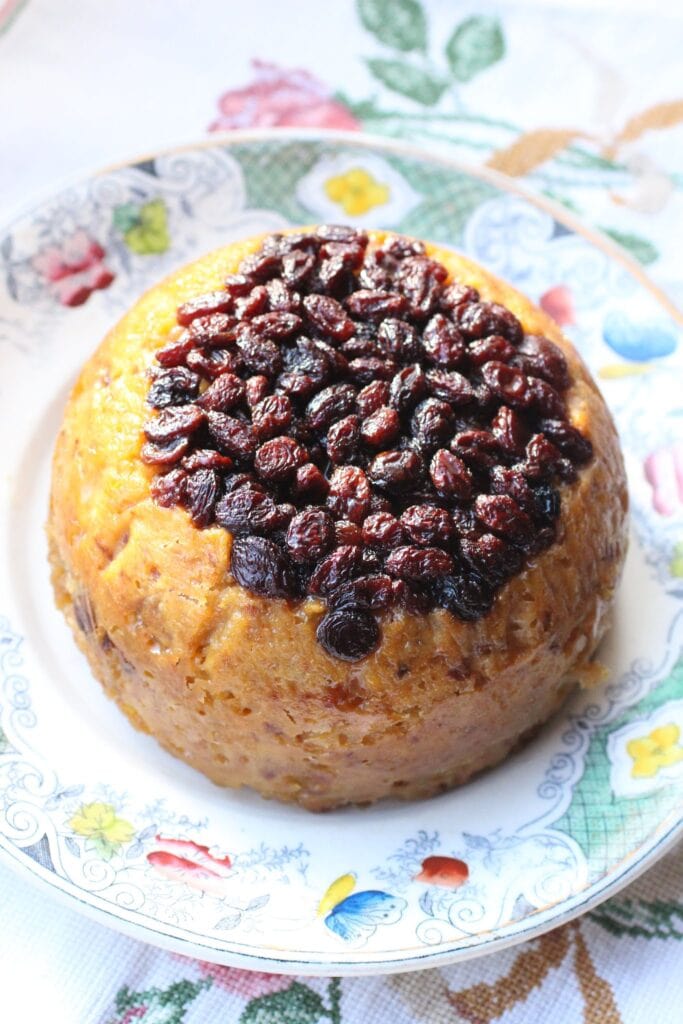 What is an English Crumble?
Crumbles first became popular in Britain during World War II, when the topping was a cheap alternative to pie because of the shortage of pastry supplies due to rationing. Crumbles take any kind of fruit available and then add a topping comprised of flour, oatmeal, sugar and butter.
Plum Crumble
This easy Plum Crumble recipe is made from fresh plums, flavoured with vanilla and star anise, with a crisp, buttery by Joanna of Taste Botanical
Classic British cakes
Victoria Sponge
Originally a sponge was a very light cake made with flour, sugar and egg whites that originated in Spain during the Renaissance. Sponge cake is thought to be one of the first cakes created that didn't use yeast. The Victorians created baking powder in 1843 and by adding it to the sponge cake batter the bakers could now use butter in the cake.
This simple cake was one of the queen's favourites. After her husband, Prince Albert, died in 1861, Queen Victoria spent time at the Queen's residence in mourning on the Isle of Wight. According to historians, it was here that the Victoria Sponge Cake was named after her.
Gluten-free Victoria Sponge
This Victoria sponge cake all in one method makes it so easy to make. Filled with smooth whipped cream and sweet jam is perfect for afternoon tea or dessert. Created by Amanda of Gluten Free Tranquility.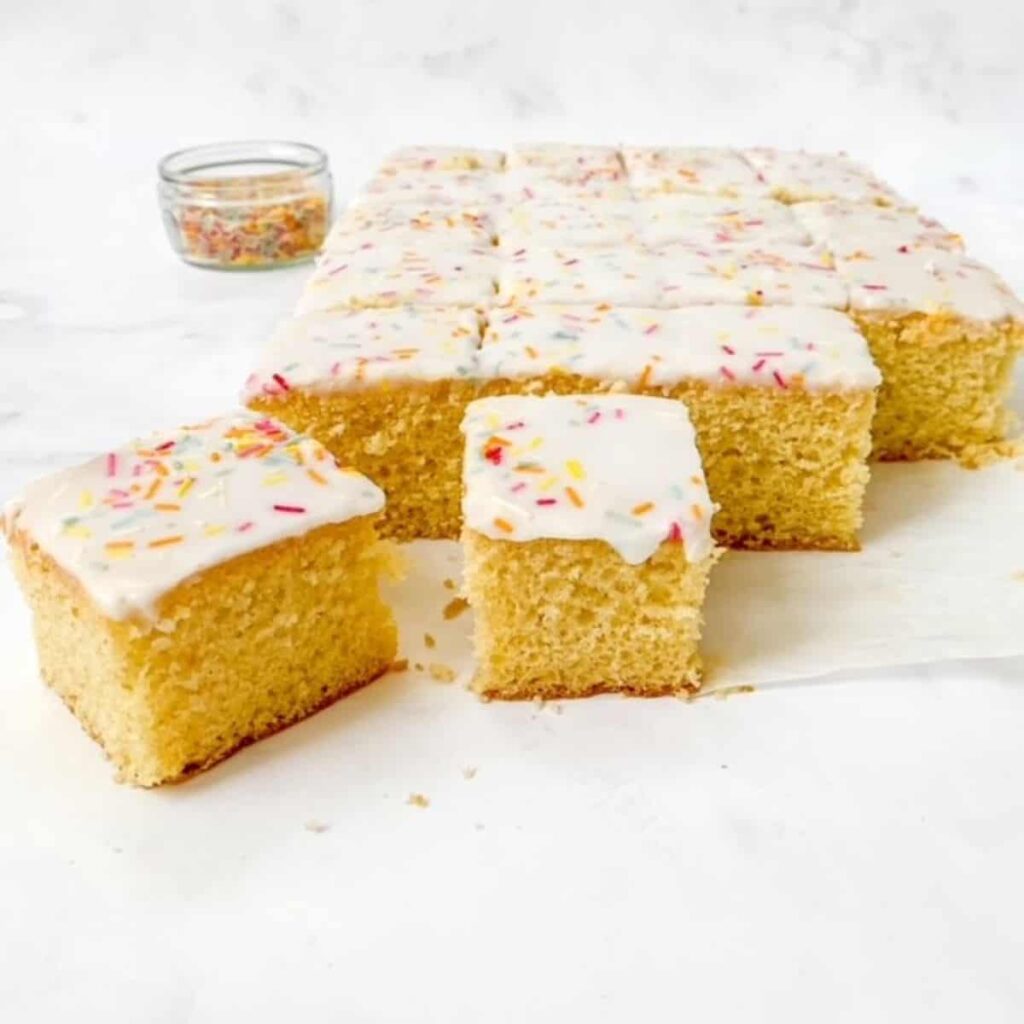 Victoria Sponge in an Air Fryer
Victoria Sponge Cake In Air Fryer. How to make a moist sponge cake in your air fryer. Easy to make from scratch and mix and match with favourite flavours and a fantastic trip down memory lane. Created by Samantha of Recipe This.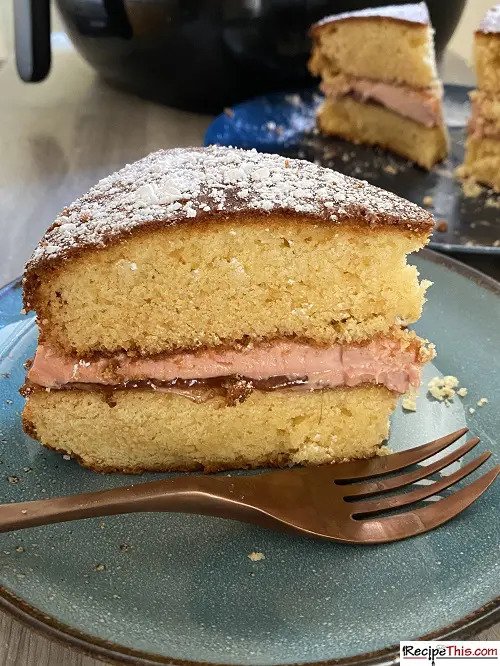 Traditional Victoria Sandwich
Victoria Sandwich is possibly the quintessential British cake and is loved by Brits across the world. Don't worry if you're no longer in the UK, now you can make this beauty in your own kitchen! Created by Christina of Christinas Cucina.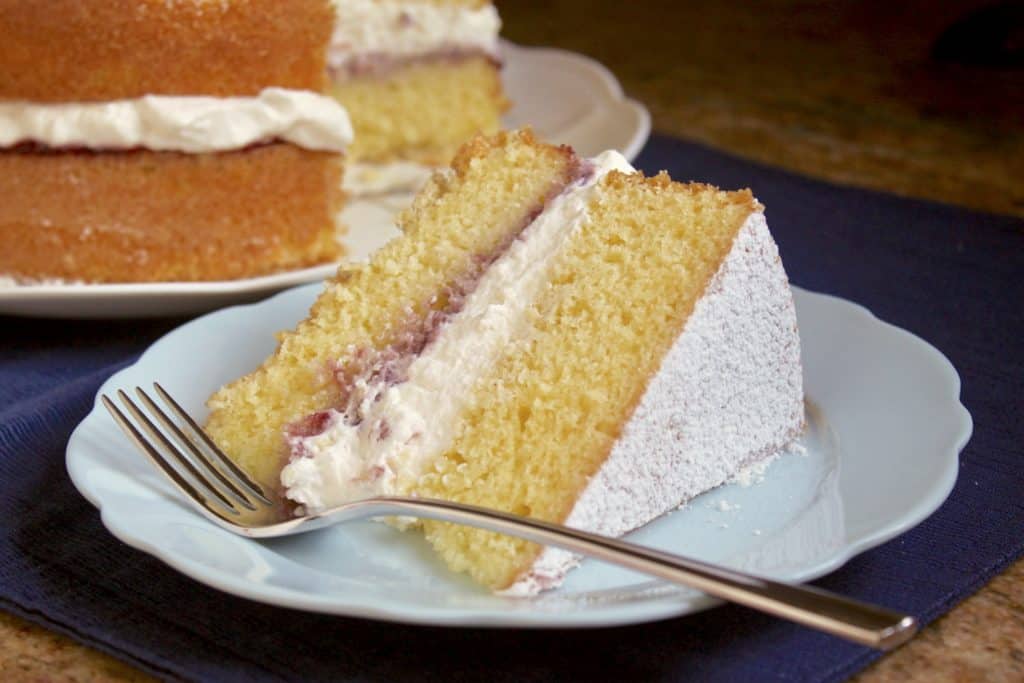 Battenburg Cake
That classic checkerboard cake of pink and yellow is said to have been created for the marriage of Princess Victoria to Prince Louis of Battenberg in 1884. However, food sleuths still debate the origins of this pretty cake.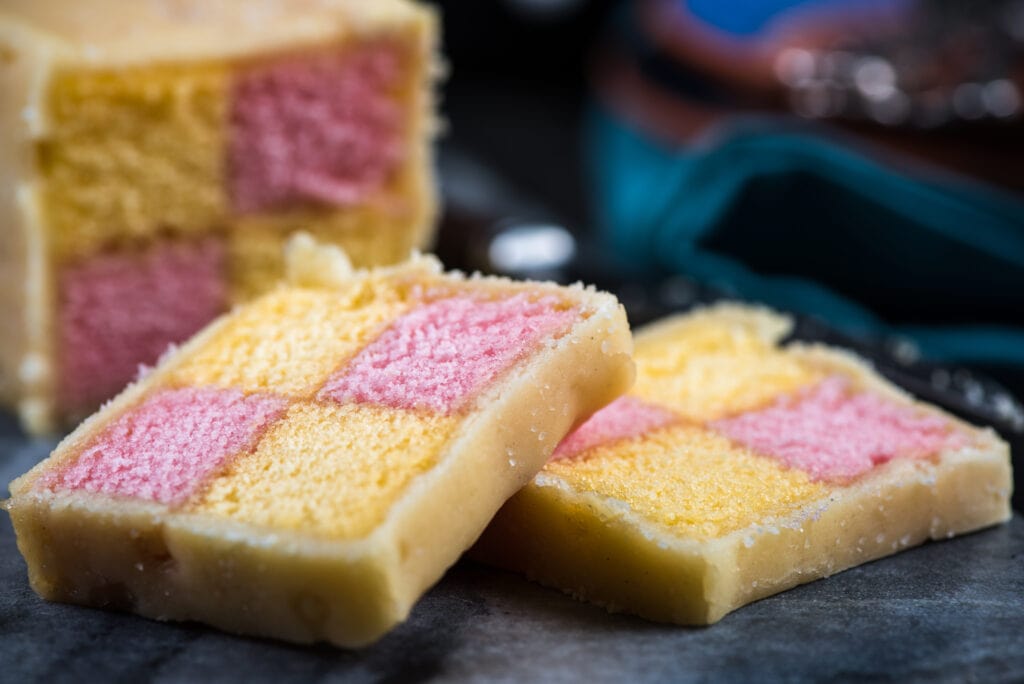 Jam Roly Poly
This traditional British pudding owes its child-like name to the fact that making it involves rolling up a suet pudding in a Swiss-role style. Probably because its other names sure don't make you want to eat it – "dead man's arm" or "dead man's" leg", just isn't that appetizing. Traditional Jam Roly Poly recipe.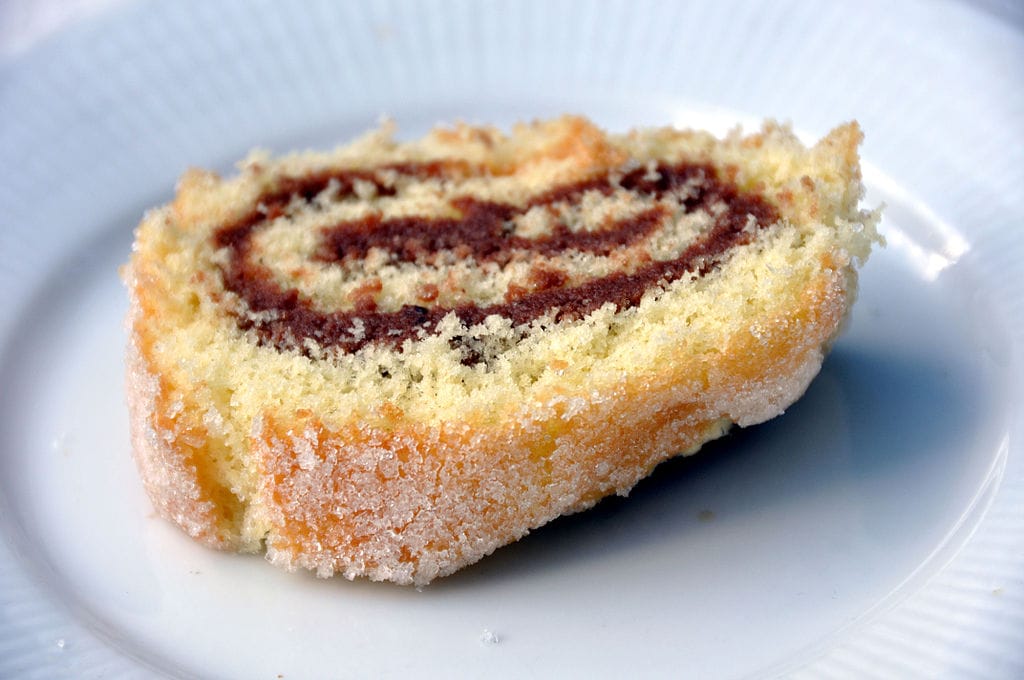 Traditional British Desserts
Across the British Isles, you will find great British desserts from Scotland, Northern Ireland, and Wales.
Fruitcakes
Fruitcake has been around since ancient Roman times. You may think that fruitcake was invented in Britain, but that's not where it came from. Various types of Fruitcake have been around since Roman times when it was made of a mix of barley mash, flour, pomegranate seeds, raisins, pine nuts and honey wine.
The tradition of making fruitcakes for special occasions such as weddings and holidays gained in popularity in the 18th and 19th centuries and due to the cost of the materials, it was a grand indulgence.
Old Fashioned Fruit cake
This old-fashioned fruit cake is my great-grandmother's recipe. It is similar to a Scottish fruit cake made without glace cherries and decorated with blanched almonds. Contributed by Sarah of Keep Calm and eat icecream.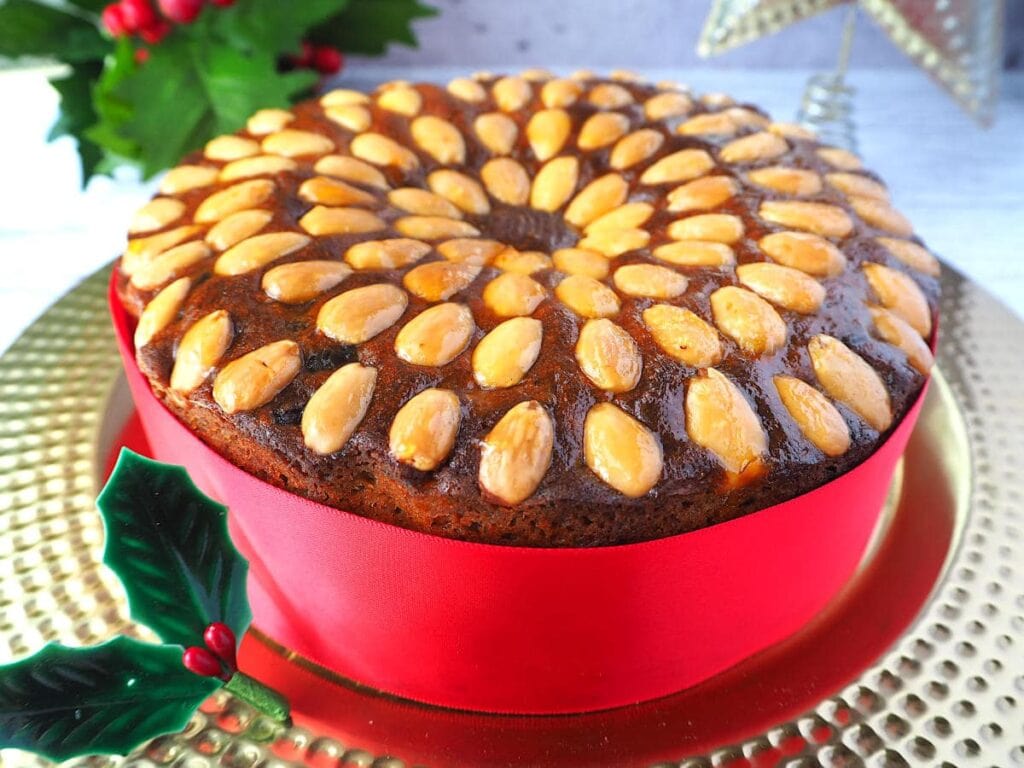 Singing Hinnies – Northern England
Singing Hinnies are scone-like griddle cakes that are traditionally made in the north of England. Created by Rachel of Little Sunny Kitchen.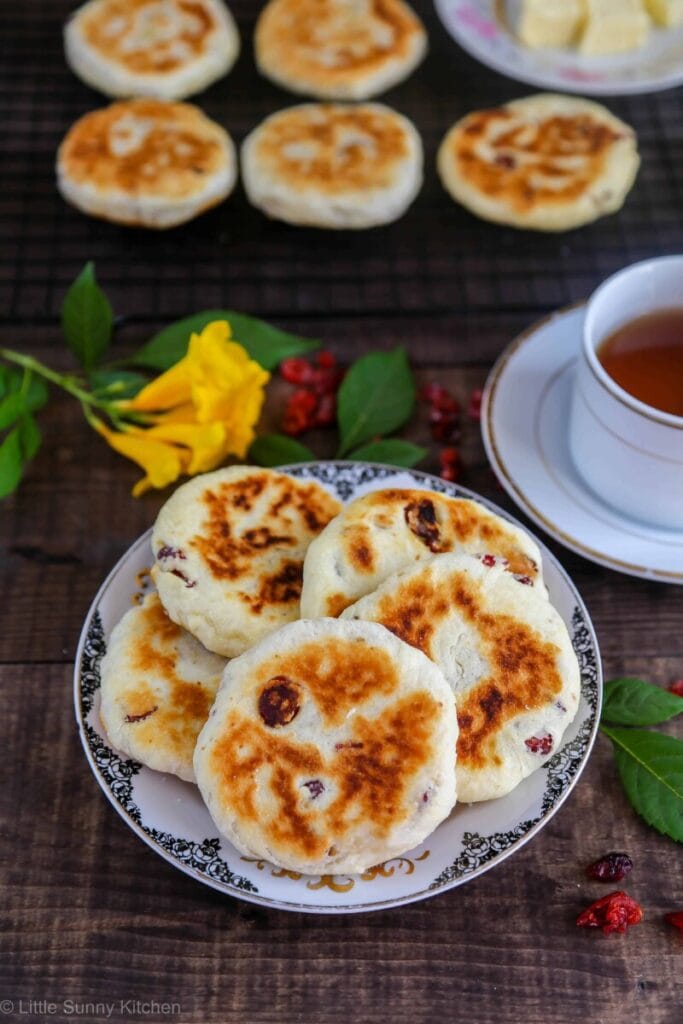 Clootie Dumpling – Scotland
A favourite of all the Scots that I know the name of this pudding comes from the cloth that it is traditionally steamed in. This Scottish pudding is made with dried fruit and spices. Enjoy on Burns night with a wee dram and custard or ice cream to serve. BBC Good Food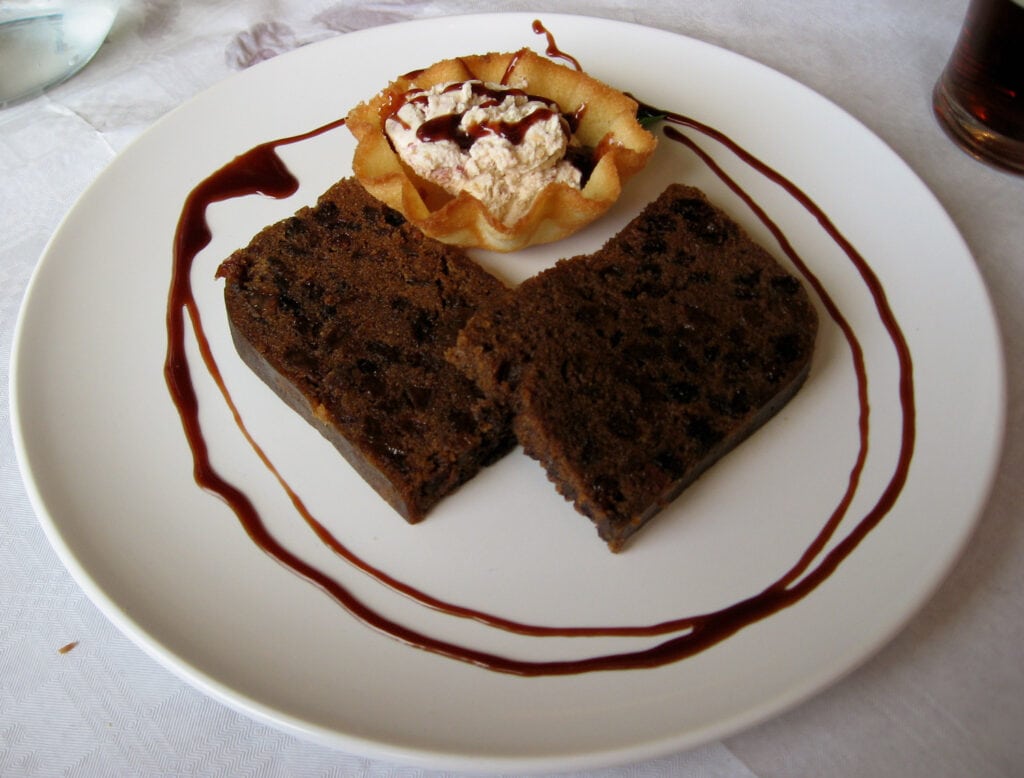 Bara Brith – Wales
Translated, bara brith means 'speckled bread' traditionally made with yeast, packed full of dried fruit and spice, and served with salted Welsh Butter. Said to have been invented by a Welsh Chef who simply added dried fruits and spices to a basic bread recipe it became a traditional Welsh tea loaf. Find traditional Bara Brith Recipes at the Welsh Museum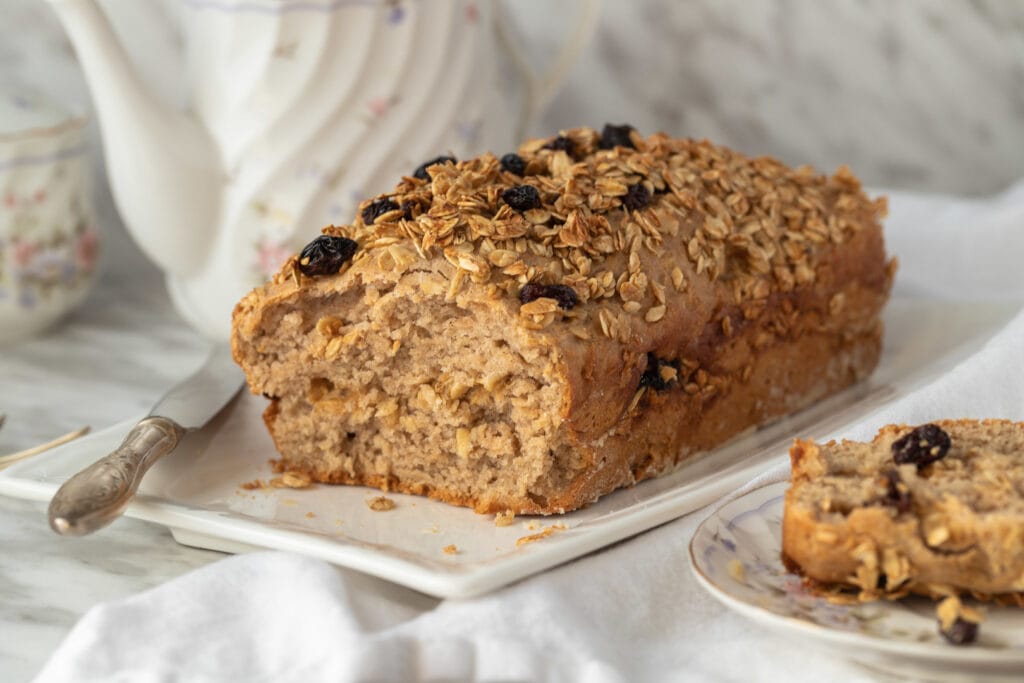 Fifteens
A no-bake Northern Irish treat these are sticky rounds of goodness. Coated in Coconut the centre yields cherries, and marshmallows. They got their name from the fact that you use 15 digestive biscuits, 15 glace cherries and 15 marshmallows to make them. Fifteens recipe at BBC Good Food.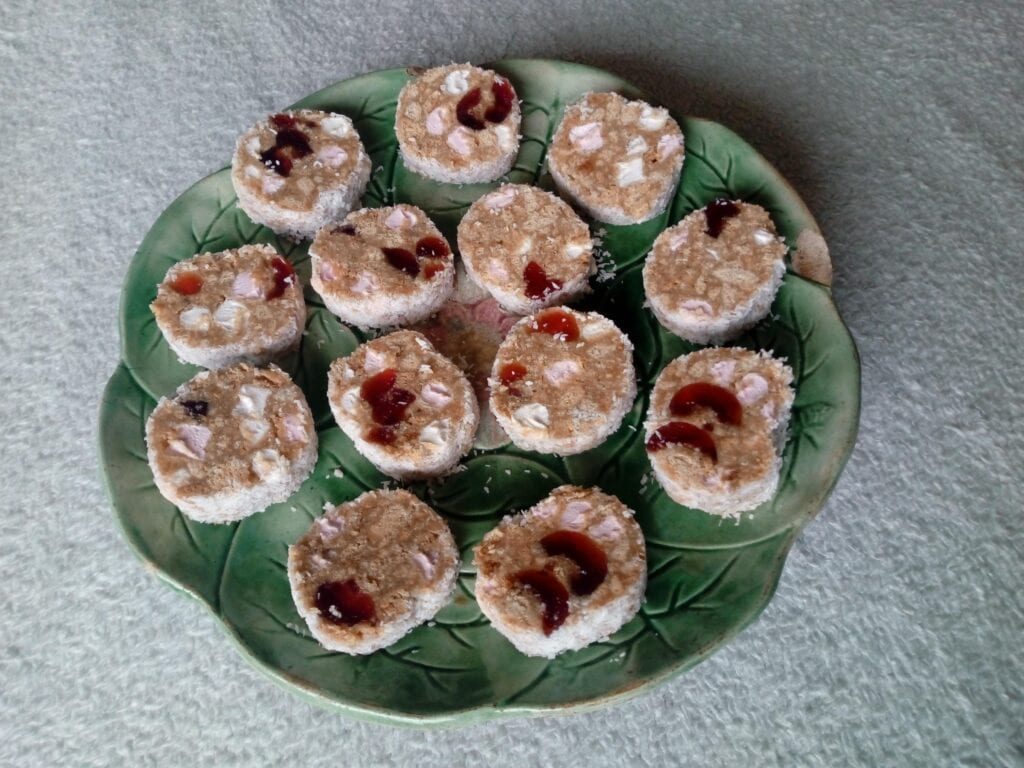 Yellow Man
If you have ever eaten a Crunchie chocolate bar you know yellow man it's that golden honeycomb inside the chocolate. A Northern Irish treat for years you will find Yellowman virtually everywhere when you visit. It is a particular favourite found at traditional markets and is often associated with the Ould Lammas Fair in Ballycastle. Yellowman recipe.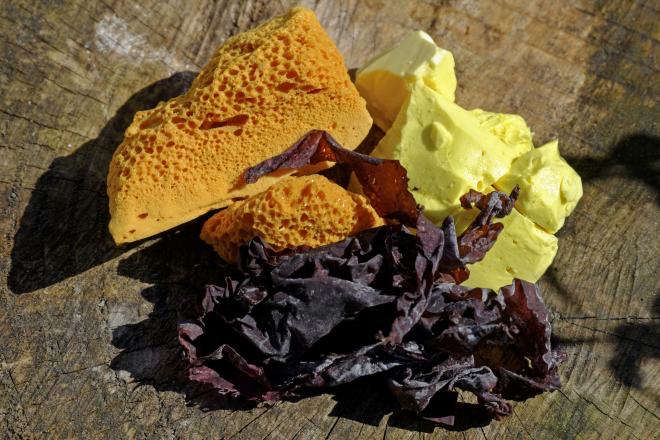 Syllabub
Originally a syllabub was made with milk that was sweetened and mixed with a sweet fortified beer similar to sherry. It was left to curdle and treated as a drink that could be served hot or cold. There was also a more solid version made with cream, wine, or spirits.
Syllabub was a fashionable drink in Colonial America and it was sipped or spooned from special syllabub glasses so that the layered effect could be appreciated by the diners. Mount Vernon Syllabub recipe.
Obviously, there are thousands of great British desserts thanks to all the inventive cooks and chefs who adapt, adjust and add to existing traditional English desserts. What is your favourite traditional British dessert?
You might also like
A Traditional Irish Breakfast – the lush full Irish breakfast
59 Traditional British Foods – from the sublime to the WTF
Scottish foods – 53 Scottish favourites
25 Traditional Welsh food dishes
The ultimate guide to coffee around the world – 33 coffee traditions and rituals
Originally published in The Worlds Kitchen
Pin it to save it