38 of the best noodle dishes around the world
A noodle is a noodle wherever it is and pasta is a noodle, but noodles are different from pasta depending on how they are made. Virtually all food cultures around the world have some kind of noodle dish. Noodles around the world will differ in texture, ingredients and how they are made and noodles are every traveller's favourite dish.
Food is culture. Food has influenced history, and in turn, historical events, customs, and traditions influence the food we eat. Things like the flavours of the dish, ingredients used, and where the ingredients are grown all have influenced the food we love and one food above all that is known over the world is the noodle.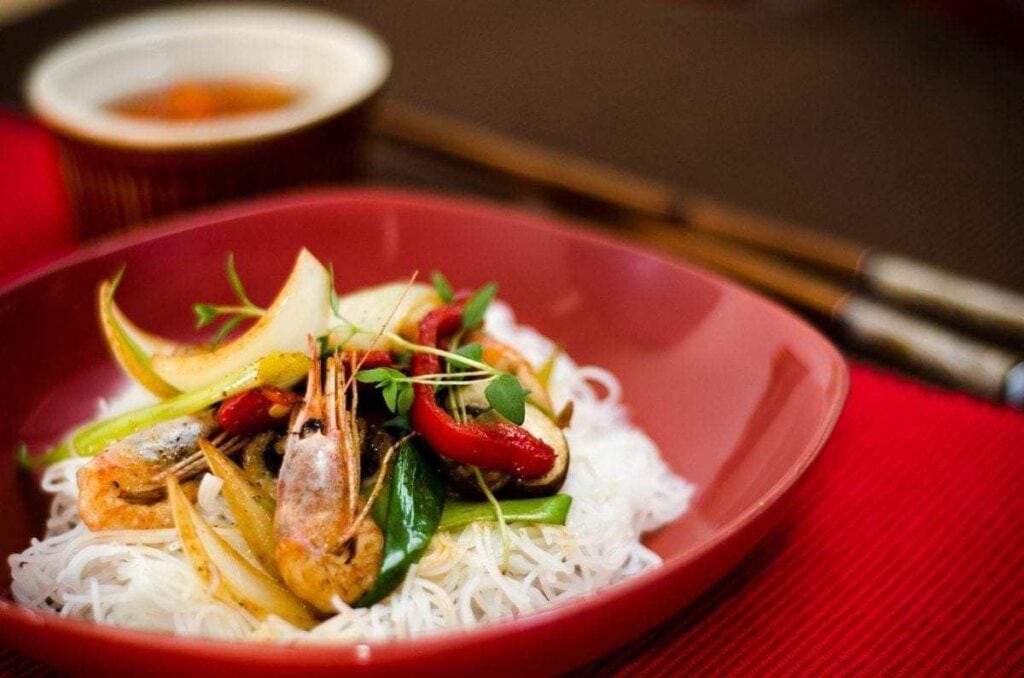 What are some of the best noodles in the world you may ask? Here is a selection of travellers' favourite noodle and pasta dishes around the world.
Xyuandbeyond is reader-supported. When you buy through links on our site, we may earn an affiliate commission. You can read my privacy policy here.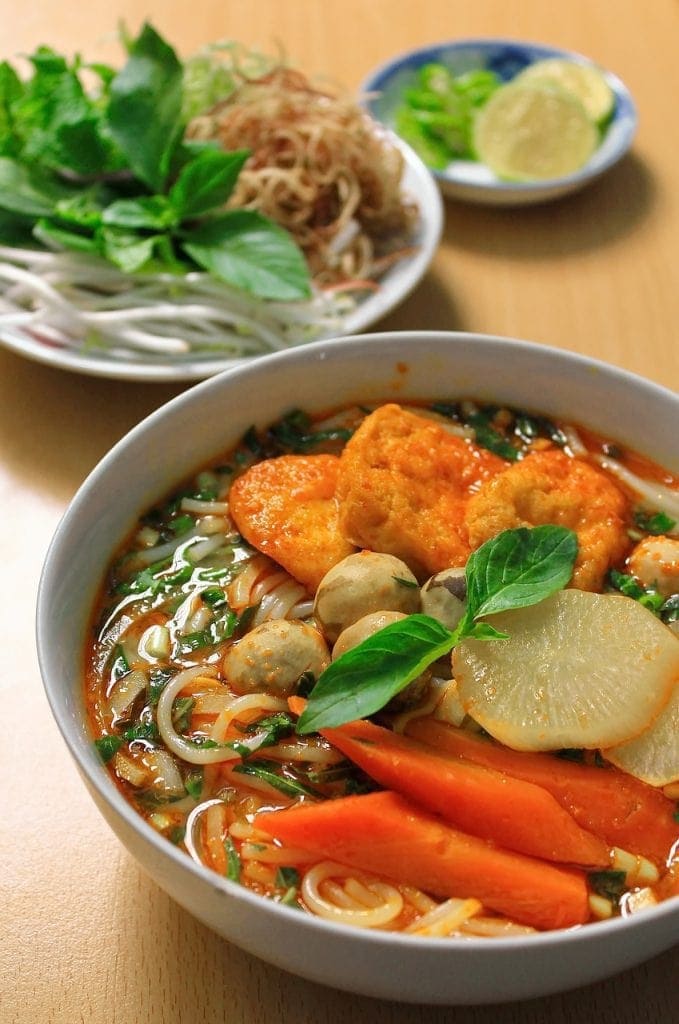 38 of the best noodles around the world
The word "noodle" is German in origin. By the mid-1400s, it appeared as Nudel in connection with dishes that were made of layers of cabbage, fruits that were dried and some kind of meat and dumplings. Nudel was used in German and Yiddish-speaking communities in Middle Europe by the 1500s.
Knödel, or, Nutel, was a dumpling and the word was used to name any dough addition to a baked or boiled dish whether shaped as long flat noodles or dumplings. Think about this – pasta or noodles are simply flour and water which is the basis of bread and if you boil that mixture instead of baking it then it becomes noodles. In cultures including Greek, Roman, Chinese, Indian and Jewish you will find a version of the noodle or pasta but in Europe, no one does pasta better than the Italians.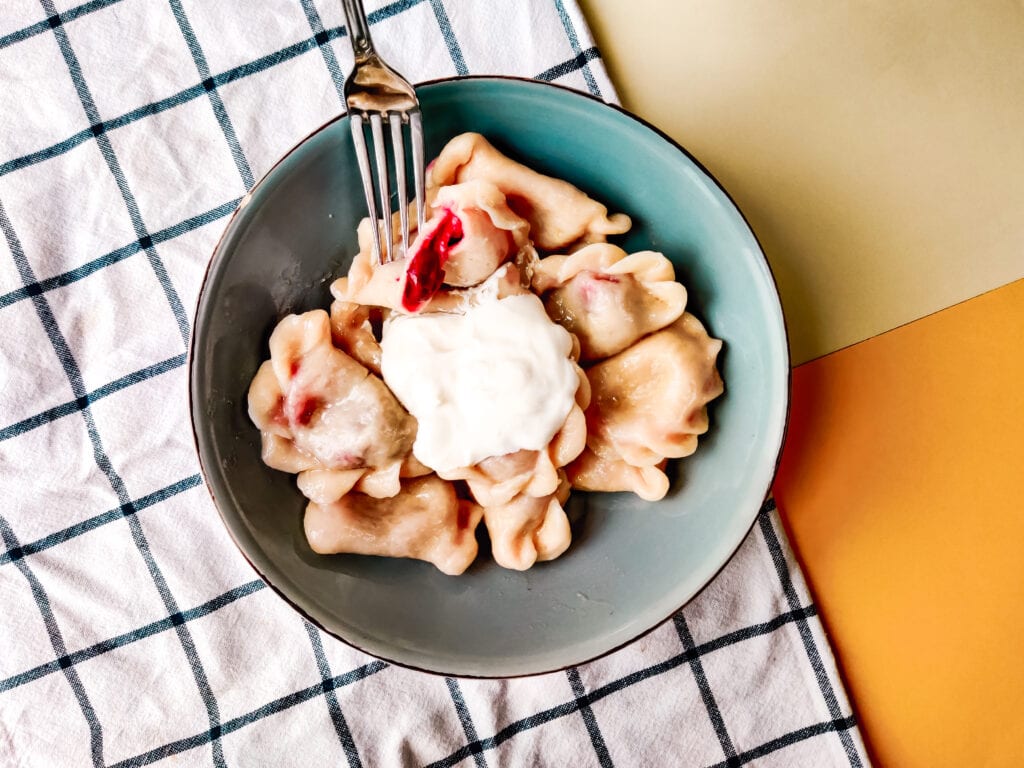 Noodles in Europe
Noodles and pasta are served all over Europe. It doesn't matter where they came from but virtually all cultures have their own special version.
Mallordeus – Sardinia
Should you decide to travel to Sardinia, you shouldn't miss a chance to try one of its staple dishes – malloreddus alla campidanese.
Called gnocchetti Sardi (Sardinian small gnocchi) for its resemblance to potato gnocchi, this pasta couldn't be more different in terms of flavour and especially texture. There are no potatoes in malloreddus – they are made with semolina, water and occasionally a bit of saffron. The pasta has a very toothy texture – in other words, it will take you a lot of effort to overcook it!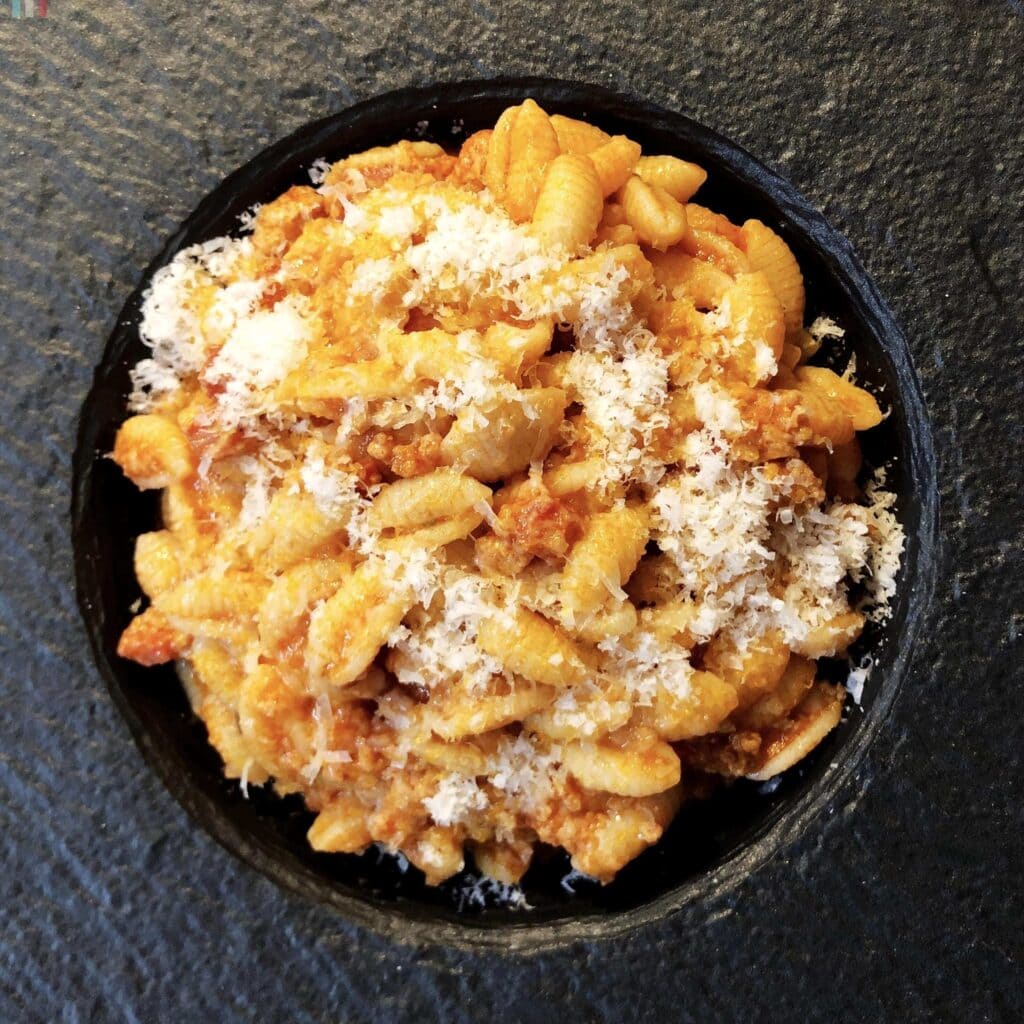 Though malloreddus are served in a variety of ways and sauces, the best way to eat them is the traditional one, with the Campidanese sauce (campidano is the region of Sardinia where the recipe originated from).
This is prepared by browning chopped onions in extra virgin olive oil, then adding fresh Sardinian pork sausage (which usually contains fennel seeds), dry sausage, some ground pork meat and finally adding tomato passata and letting it simmer for up to 3 hours. Once the malloreddus are drained, the sauce is poured over, mixed in and finally, grated Sardinian pecorino is added.
Though many places will have malloreddus on their menu, the best place to eat them will be either at home (it's a typical Sunday meal) or – should you not be so lucky to have Sardinian friends making them for you – at one of the many agriturismo you will find in Sardinia. Written by Claudia of Strictly Sardinia
Canelon – Spain
Cannelloni became popular in Catalonia in the 19th century and was renamed canelons. The pasta was filled with leftover meat from celebrations at Christmas and the dish was usually eaten on Boxing Day. In Catalonia, they are stuffed with cooked meat while in Italy they use minced meat mixed with tomatoes. The tradition of eating canelons on this day still exists; however, they can also be filled with a variety of different ingredients such as meat, fish, vegetables or cheese. The stuffed pasta is then covered with béchamel sauce, which is said to also originate from Italy and grated cheese.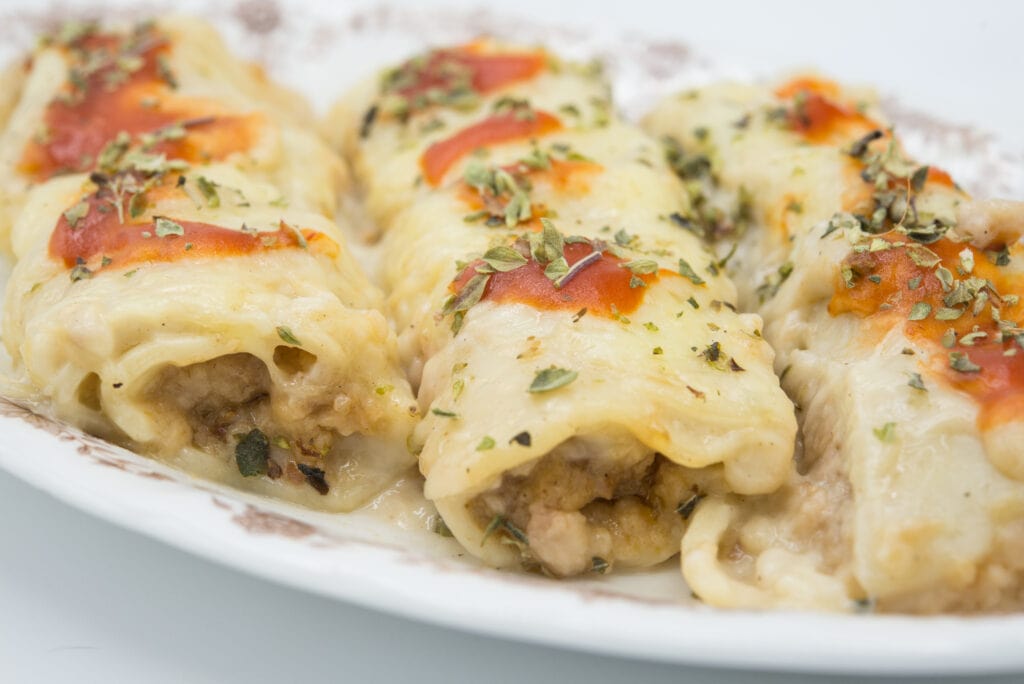 Spanish Food: 43 of the best foods in Spain
Penne all'arrabiata – Italy
Penne all' arrabbiata is one of the world's most famous pasta dishes. You won't enter many Italian restaurants that don't serve this simple yet tasty pasta. Though I prefer having pizza when I travel around Italy, I do order the odd arrabbiata pasta, and it is heaven every single time! No matter if in Rome, Tuscany, or Sicily, the Italians know how to cook their pasta.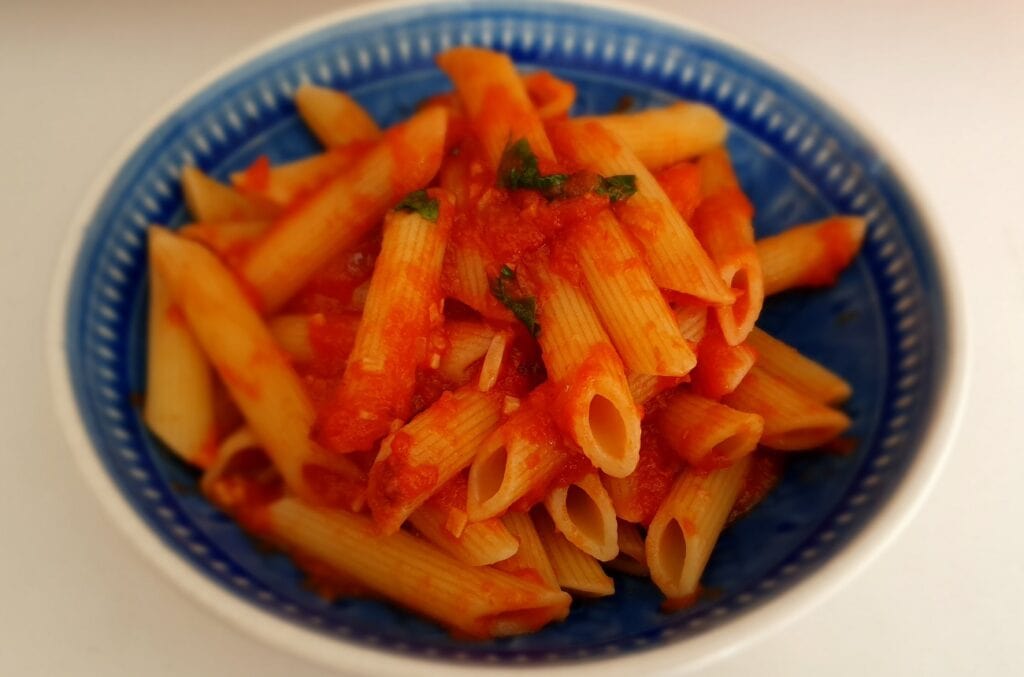 What makes Italian food so fantastic is that they only use a few simple, yet fresh ingredients and bring out the most flavorful food. This makes it easy to make at home too. However, the most common mistake people do, trying to recreate this pasta of tomato sauce, garlic, and chilli is to use the wrong pasta brands.
Most supermarkets outside Italy sell cheap, horrible (excuse my language) pasta that isn't possible to make al dente. So find the good pasta brands, pay a little more, and make sure you don't leave it a second longer in water than the packet says. I usually drain the water a minute early. This is a great trick to bring Italy into your home even when you can't travel. Written by Linn of Easy Way To Vegan
Eating in Italy – 19 Do's and Don'ts
Cacio e Pepe – Rome
If you only eat one dish during your trip to Rome, make it a plate of cacio e Pepe.
Translating to "cheese and pepper", this simple, yet exquisite dish was the first meal I sampled in Rome — setting the food bar quite high for the rest of my trip.
Hot noodles are tossed in copious amounts of sharp pecorino cheese (sheep cheese), some of the starchy pasta water, and finished with loads of black pepper.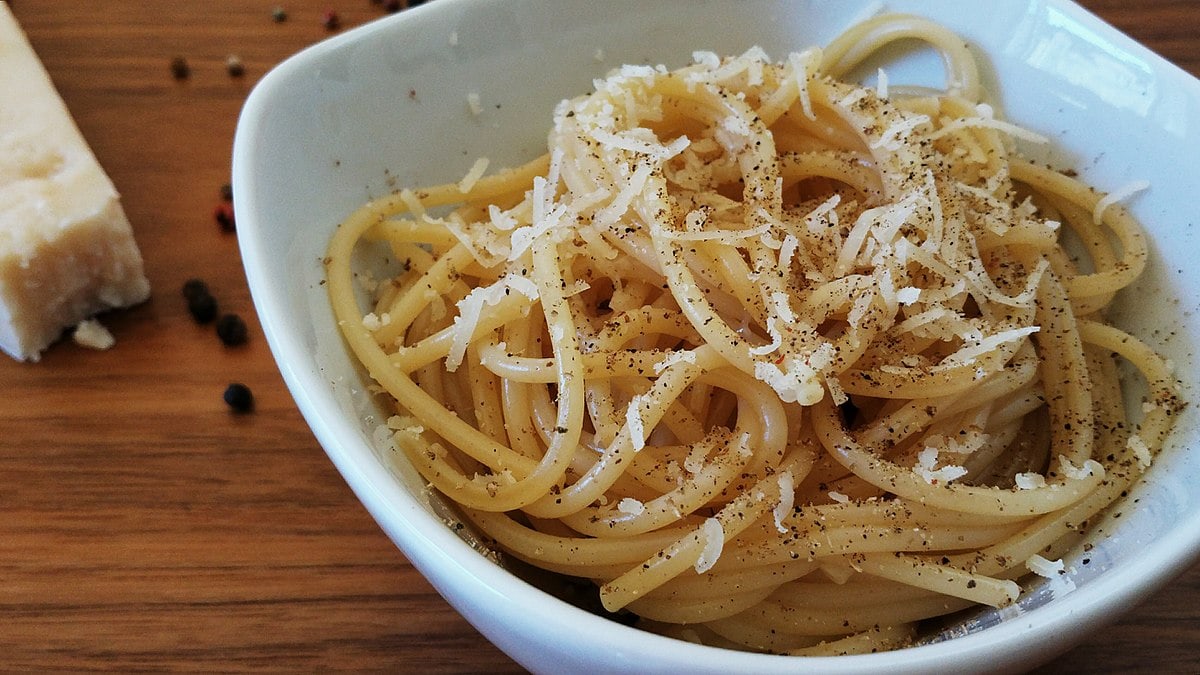 This grown-up mac n' cheese is flavourful, rich and unlike any dish I've ever tried.
Cacio e Pepe was created out of necessity. The shepherds in the countryside of Rome (who had no fixed address) needed sustenance, and the ingredients that comprise this pasta dish are not only filling, but they keep for long periods.
Traditionally, long, square pasta called tonnarelli is the noodle of choice for this dish, but you'll also find spaghetti used as well.
Among other things, Italy is known as being a country with some of the best food in the world. But, the city of Rome has its own cuisine, so make sure you sample some Roman dishes when you visit…starting with cacio e pepe." Written by Dariece of Goats On The Road
Pastitsio – Greece
Pastitsio is a Greek pasta dish that is usually served as a main dish. It is one of my favourite dishes to eat at a local taverna on a Greek island. The pasta dish is baked, and it gives the feeling of comfort food. It is usually served with a side salad and is generally quite filling.
The pastitsio is a layered pasta dish with tubular pasta as a base. Then a layer of ground beef or pork with tomato sauce is added. Be sure to ask about the meat if you are avoiding pork. The entire dish is topped with bechamel sauce. A variety of spices may be added to the sauce and meat, including cinnamon or cloves. Each restaurant might have its own take on the dish. No matter what the ingredients, you will enjoy eating this classic Greek recipe.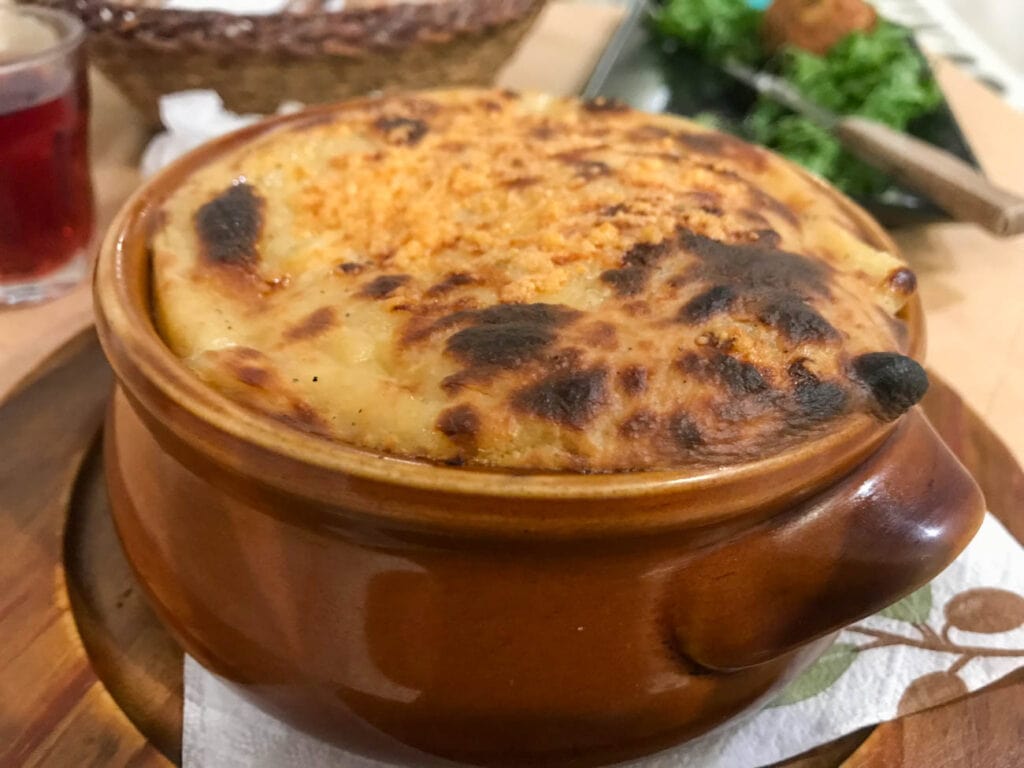 Many Greek tavernas will only make so much of the dish each day, and when it is gone, there is none left for the rest of the day. If pastitsio is on your must-eat list in Greece, go early not to miss out. Pastitsio may be served as a piece or sometimes baked individually in a terracotta pot. Either way is excellent! Written by Tiffany at A Girl and her Passport
3 Days in Santorini Itinerary: A Bewitching Greek Island
Jijig-Galnash – Chechen
Jijig-Galnash is a traditional Chechen dish eaten throughout the Chechen Republic and in the Caucasus.
The dish consists of boiled meat (either mutton, chicken or beef) served on a bed of pillowy boiled dough pieces called galnash. Somewhere between fat pasta and a very thin dumpling, galnash are made from either wheat or cornflour and conforms to a range of different shapes depending on the region and the chef's preference.
The galnash I've eaten were short and oblong-shaped, formed by hand and twisted before being dropped into boiling water. This last flourish gives them a textured surface to help catch the sauce, similar to Italian pasta.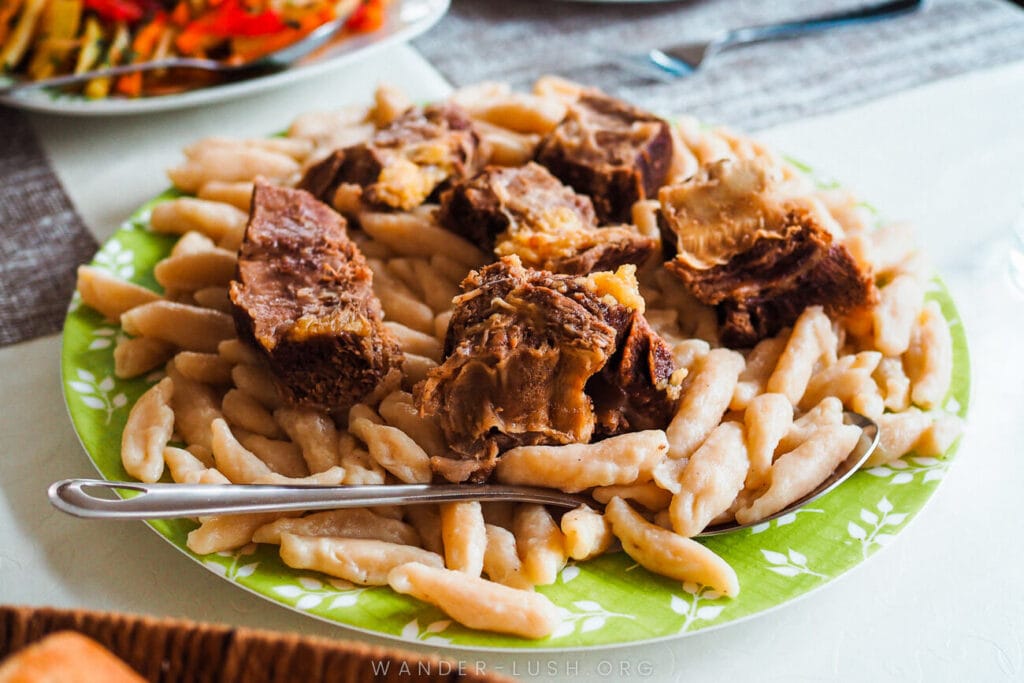 The meal is served family-style on a single shared platter with individual portions of punchy garlic sauce on the side. Topped with chunks of succulent beef still on the bone and with fresh tomato and cucumber as an accompaniment, it's extremely filling and typifies the heart-warming, homely 'mountain fare' this part of the world is known for.
My favourite rendition of the dish is made in the Republic of Georgia. You won't see Jijig-Galnash on menus in Tbilisi's restaurants, but it's a favourite in home kitchens in Pankisi Gorge, where the country's Kist community lives. Written by Emily of Wander-Lush
Canaderli – Italy.
When you think of Italy and pasta, your first impression likely isn't a hearty dumpling filled with cheese and bits of fried meat. Welcome to South Tyrol in northern Italy, where the culture and food is more Germanic than Italian. Tyrolean food, in particular, is an interesting cultural experience when it comes to both food and drink, produced by German-speaking Italians who dress in lederhosen and dirndls.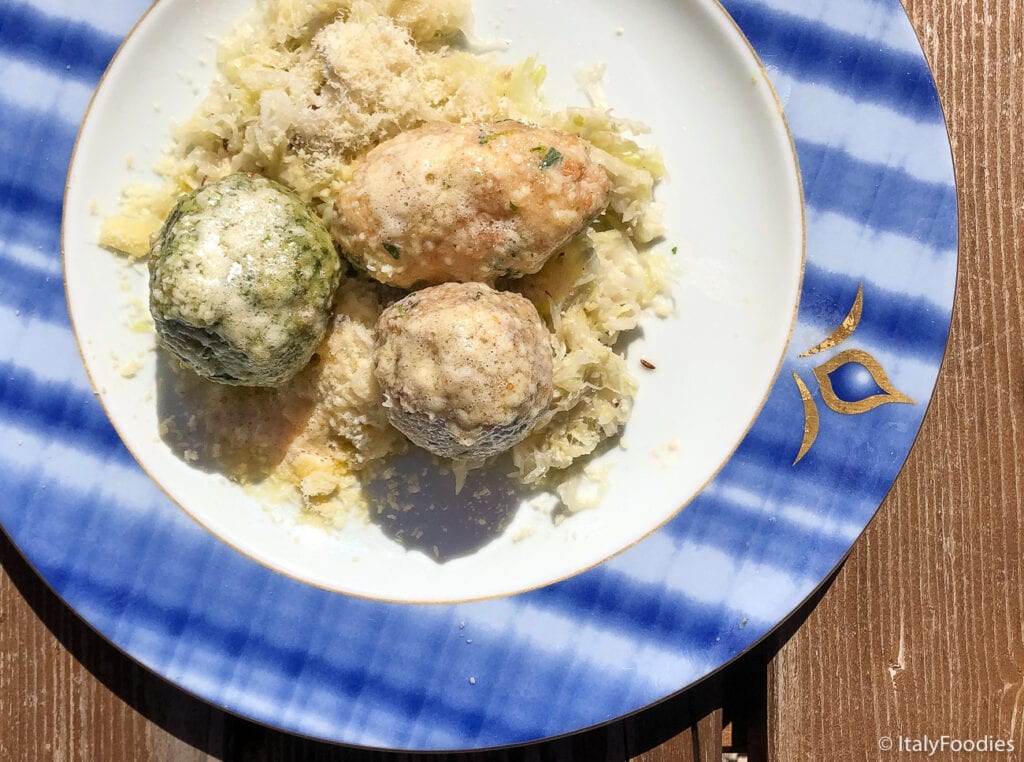 When it comes to carbs, the regional speciality you'll enjoy here is the dumpling in all shapes and sizes. Though they can sometimes be made with eggs and flour, the most popular form of dumpling is the Canaderli. Made from stale bread, this dumpling is a perfect reflection of the region's climate and culture. In fact, the word itself is derived from the German and Austrian word for noodle or knödel.
Besides the bread and eggs to bind it, Canaderli can be made with several ingredients. Traditionally, you'll find cheese, cured speck, and spinach incorporated in them, then lightly fried or steamed and served in broth. A trio of all three makes the perfect dish which you'll find in just about every restaurant and speck stube. Written by Lori from Italy Foodies
Spaetzle – Germany
One of the most common dishes in Germany is the spaetzle dish. It is especially popular in southern Germany and can be found in almost every restaurant, event and festival. Spaetzle is an egg noodle that can be made very quickly and is a good accompaniment dish to many other main courses.
Christmas markets are very commonplace to find spaetzle, as they are available at most food vendors. Oktoberfest and many beers and wine festivals are known for their festivities, there are also dozens of food vendors at these events, and spaetzle is a very popular dish served at these events.
Spaetzle is delicious, the Egg noodle is very soft and is typically served with a few different things. Cheesy egg spaetzle is very common and one of the most well-known children's dishes served in german restaurants. Spaetzle can also be served with just butter, or if you want to get very creative you can add some unconventional things such as bacon to it. Onion is also a great addition and gives it additional flavour, while a sauce or gravy on top of it is also very popular. Spaetzle is also a dish served at homes and at get-togethers. Written by Diana from Travels in Poland
Arishta – Armenia
Arishta is an interesting and unique-looking noodle that is very popular in Armenia and often called 'village noodle' or macaroni.
In Ancient Armenian centuries ago, when people in villages were hungry, they were making flour from wheat and created arishta. It eventually became a common food across Armenia due to its taste and ability to fill one up.
Arishta is made from basic, natural ingredients like water, flour, salt, and sometimes milk and eggs, depending on the region of Armenia.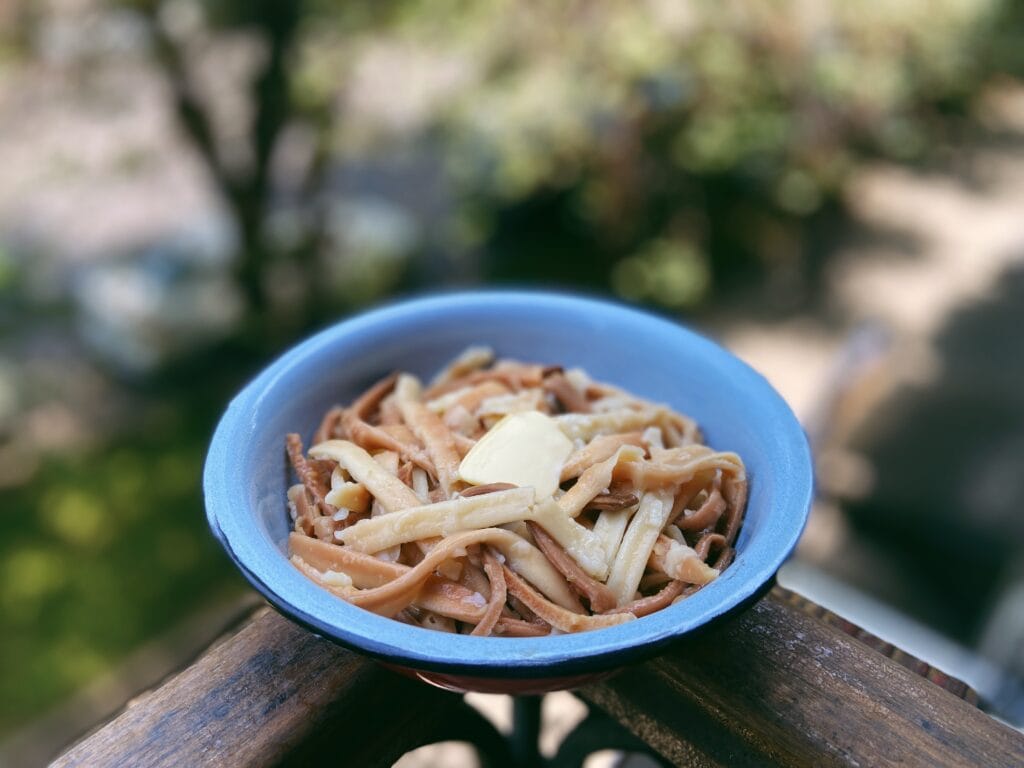 The dough must be very hard and each piece of the arishta must be not less than 1.5 millimetres. That means that it is far thicker the size of the regular noodles. In addition, the preparation process takes anywhere from 7-8 hours.
To cook already-premade arishta noodles (which are ubiquitously found in all grocery stores in Armenia), it is necessary to boil water and add the arishta only when the water is boiling. After dropping the noodles in the pot, decrease the heat, and cook it for approximately 10 minutes.
As noted above, you can find arishta all over Armenia. It is a great food to cook for those travelling to Armenia on a budget. Arishta is served covered with butter or natural oil and it is commonly served with salty, Armenian cheese. Written by Megan of Absolute Armenia
Pappardelle – Italy
One of my favourite pasta dishes here in Florence, Italy is the Pappardelle pasta and Wild Boar Ragu.
As a native dish to Tuscany, this rich and tasty meal is a must for indulging when you're on vacation in Italy. Pappardelle noodles are thick and flat perfect for sopping up every flavour on your plate
You'll find Pappardelle and Wild Boar Ragu in every town in Tuscany, and in popular destinations such as Florence, Siena, Pisa and Lucca, it's almost on every corner.
When combined with a local red Tuscan wine, 'Cinghiale' (Wild Boar) with Pappardelle is the perfect lunchtime meal, especially if you're busy sightseeing as it'll fill you up until dinner time.
Cooked to perfection in a rich sauce, homemade Pappardelle and Wild Boar is one of my favourite meals when dining out. And eating a local Tuscan dish in Tuscany heightens the experience of the meal itself and of your vacation too. Written by Matt of Its all in Italy
What makes Italian food so fantastic is that they only use a few simple, yet fresh ingredients and bring out the most flavorful food. This makes it easy to make at home too. However, the most common mistake people do, trying to recreate this pasta of tomato sauce, garlic, and chilli is to use the wrong pasta brands.
Most supermarkets outside Italy sell cheap, horrible (excuse my language) pasta that isn't possible to make al dente. So find the good pasta brands, pay a little more, and make sure you don't leave it a second longer in water than the packet says. I usually drain the water a minute early. This is a great trick to bring Italy into your home even when you can't travel. Written by Linn of Easy Way To Vegan
Erişte pasta – Turkey
When it comes to Turkish food, probably the first thing that comes to mind is either a kebab or a scrumptious lahmacun. Yet the world's top comfort food, pasta, couldn't be absent from one of the most diverse cuisines on the planet. The Turkish take on fresh pasta is erişte and that's a dish that, although not as popular as other Turkish specialities, you most definitely need to try when travelling across Turkey.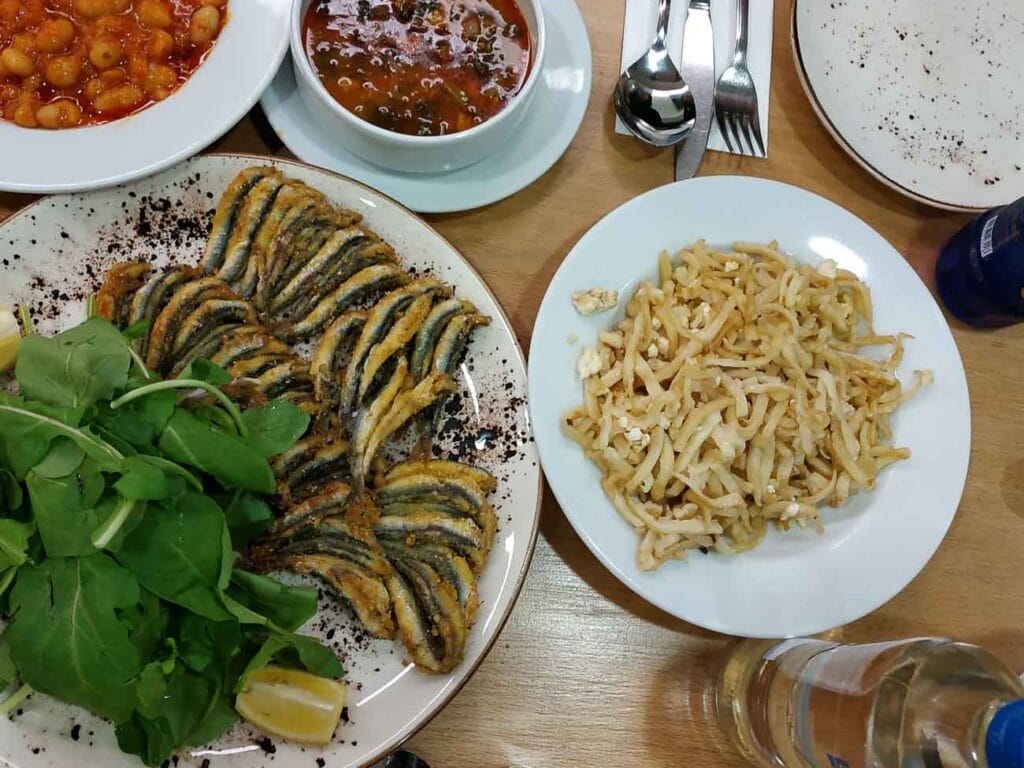 Erişte is a ridiculously simple yet filling and tasty pasta dish. The egg noodles are boiled and then butter and white cheese are added while the noodles are still hot. Alternatively, you can find erişte noodles served in a soup.
42 scrumptious traditional Turkish foods to try
Fideuà – Spain
Fideuá was created in 1915 by fisherman Joan Batiste Pascual who was from Gandia, Valencia and was more commonly known as Zabalo. This Spanish noodle dish is similar to paella but with small very thin noodles instead of rice. Fideuá is a combination of fedeos pasta with squid, prawns, pimenton and tomatoes served with a generous helping of garlic aioli. the dish is now considered a traditional dish in the province.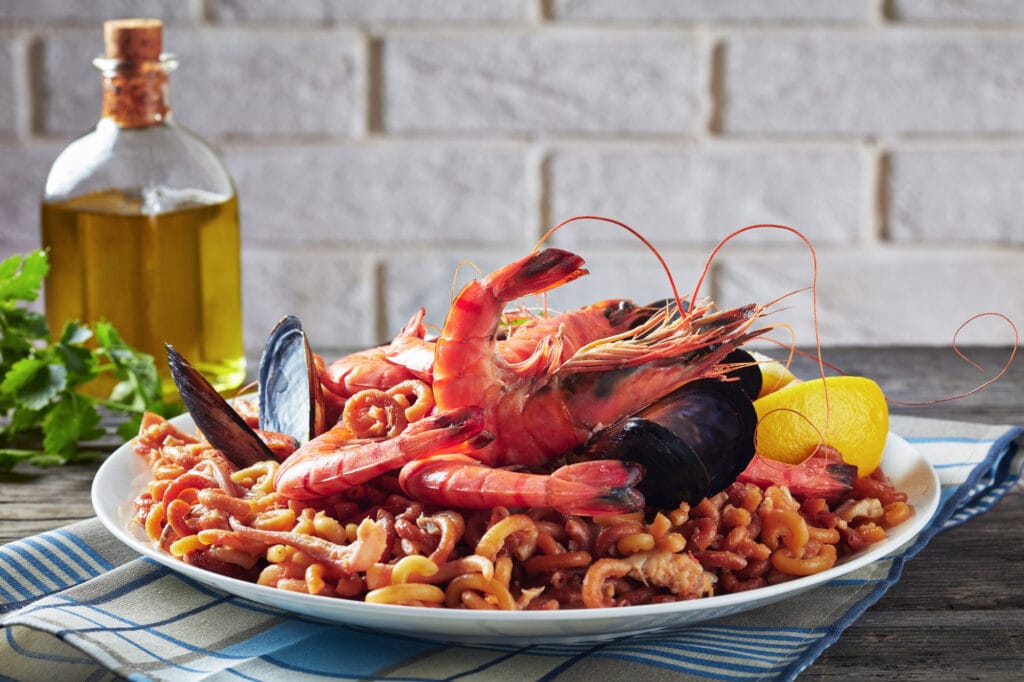 Spanish Food: 40 of the best foods in Spain
Noodles of Asia
Pad Thai – Thailand
Pad Thai is Thailand's national dish and is sold widely throughout the country at both sit-down restaurants and street food stalls. But did you know that it wasn't invented until the 1930s? The country's prime minister encouraged food vendors to sell pad Thai as part of a wider campaign to promote Thai nationalism and to minimize the influence of China in Thailand. Ironically, this dish is almost certainly derived from stir-fried noodle dishes introduced by Chinese merchants, which is perhaps why the prime minister felt the word "Thai" should be added to the name.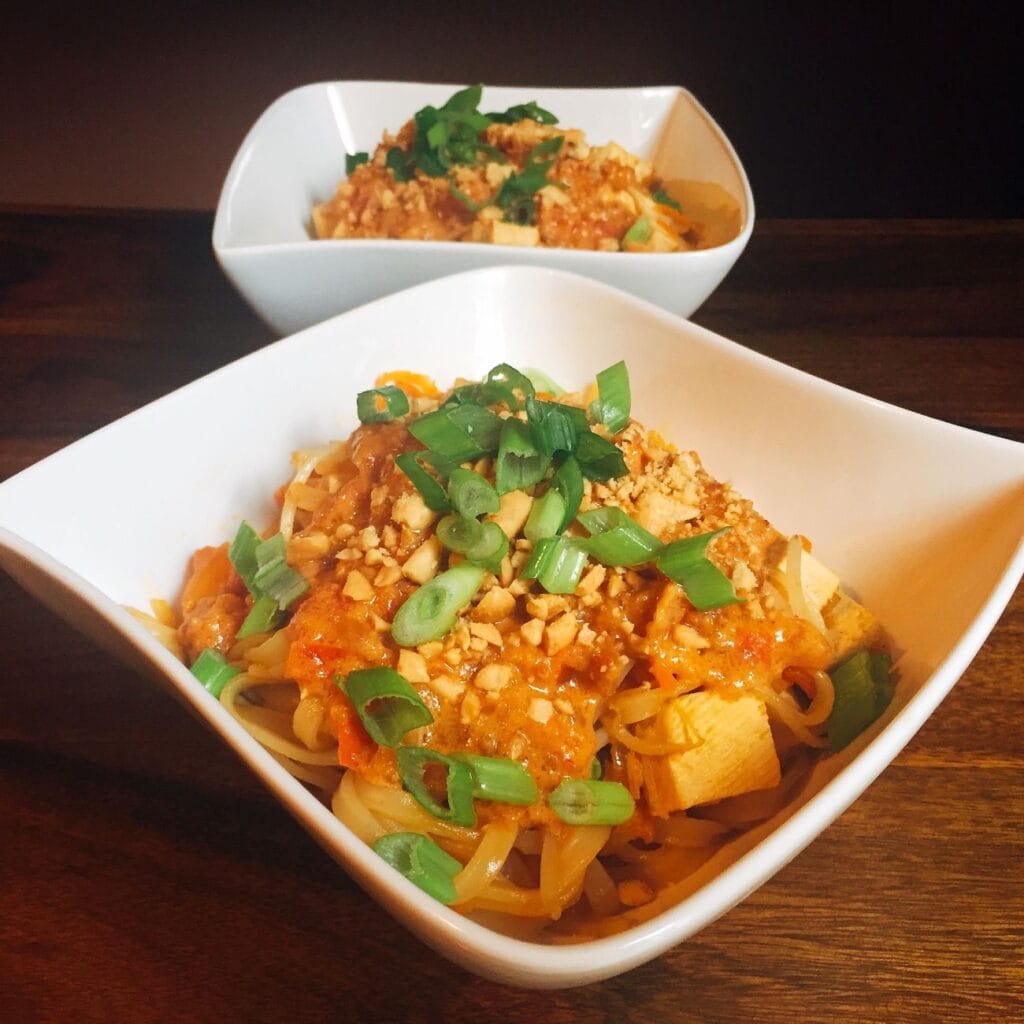 One of my fondest memories of Thailand is eating pad Thai from the ubiquitous street food stalls on Khao San Road in Bangkok, shortly after arriving in the country as a jet-lagged, inexperienced backpacker. I immediately fell in love with the dish, and years later my husband still makes it regularly when we're at home. His recipe is adapted from one in a cookbook that we bought in Bangkok at Mai Kaidee's, a wonderful vegetarian restaurant.
As much as I loved the taste combination of lime, peanuts and mung bean sprouts, as a broke backpacker, I also loved the price! Pad Thai is one of the cheapest meals you can eat in Thailand, and if you order it without meat or seafood it's even cheaper. Vegans in Thailand just need to remember to ask for no egg as well. Written by Wendy from Nomadic Vegan
Yunnan Noodles – China
China is known for its incredible food and great noodle varieties. After spending five weeks touring around China, we certainly tried our share of noodles. Our outright favourite was Yunnan Noodles, so much so, that we ate them for three days straight while we were in Kunming.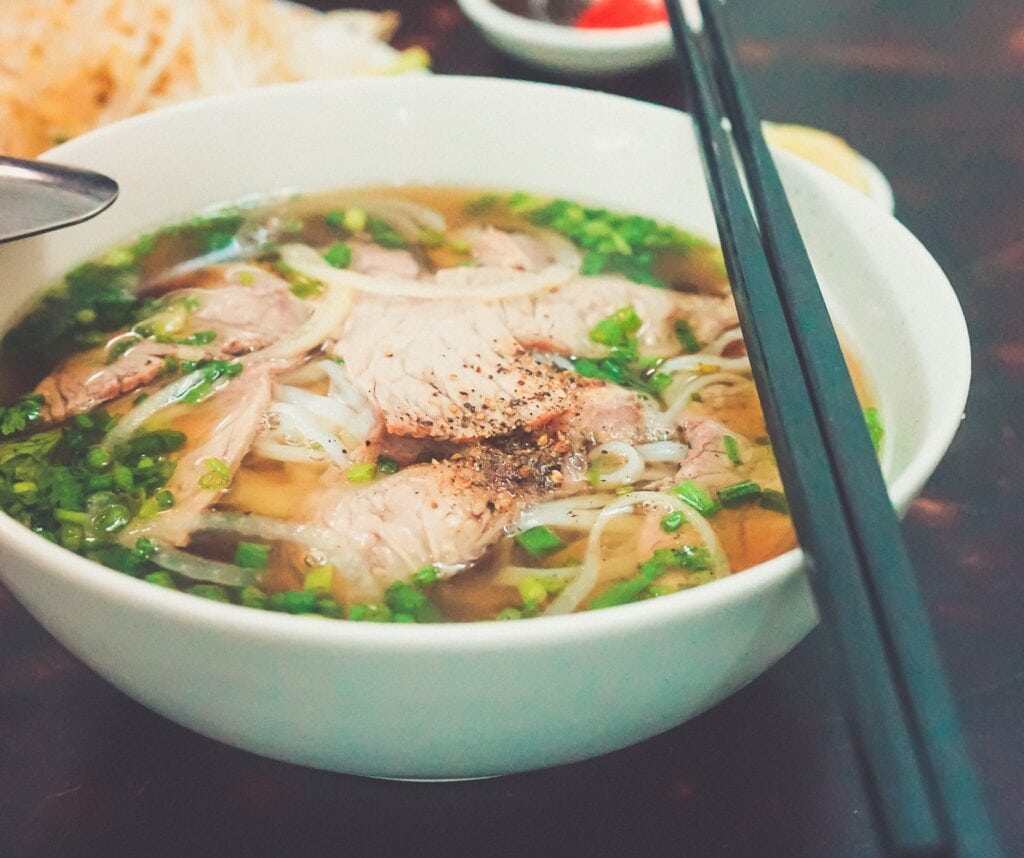 Kunming is located in the Yunnan region of the diverse southwest of China. The main food in the region is Mixian – which is rice noodles, served with Guogiao (a traditional soup) and a meat of choice – typically, chicken, fish, pickled pork, pig's kidney or liver. Yunnan Noodles, or rice noodles, are always long and served al dente.
We were fortunate to stumble upon a restaurant that served homemade Yunnan Noodles and they were exceptional. The employees spoke no English and we spoke no Chinese, except to say 'Hello', 'Thank You' and 'Good Bye' – for that reason I can't even tell you exactly what we ordered. By the third meal at the same restaurant, they knew our standing order – Noodles as they come! Written by Erin Parker, from Go Camping Plus
Matcha Soba – Japan
One of the best experiences that we had was eating matcha soba in Kyoto's Uji city in Japan. Soba is a thinner noodle made out of buckwheat or wheat flour. It's eaten in two ways – cold and with a dipping sauce or in a hot soup. Uji is a well-known area for growing tea such as matcha and sencha. Therefore, combining both of these aspects makes matcha soba extra special.
We tried matcha soba at a small soba shop in a residential area. What we loved about the experience was the simplicity of the meal. The matcha soba was served as a cold noodle to preserve the bright green matcha colour. The matcha flavour was subtle so it didn't taste bitter with each bite of noodle.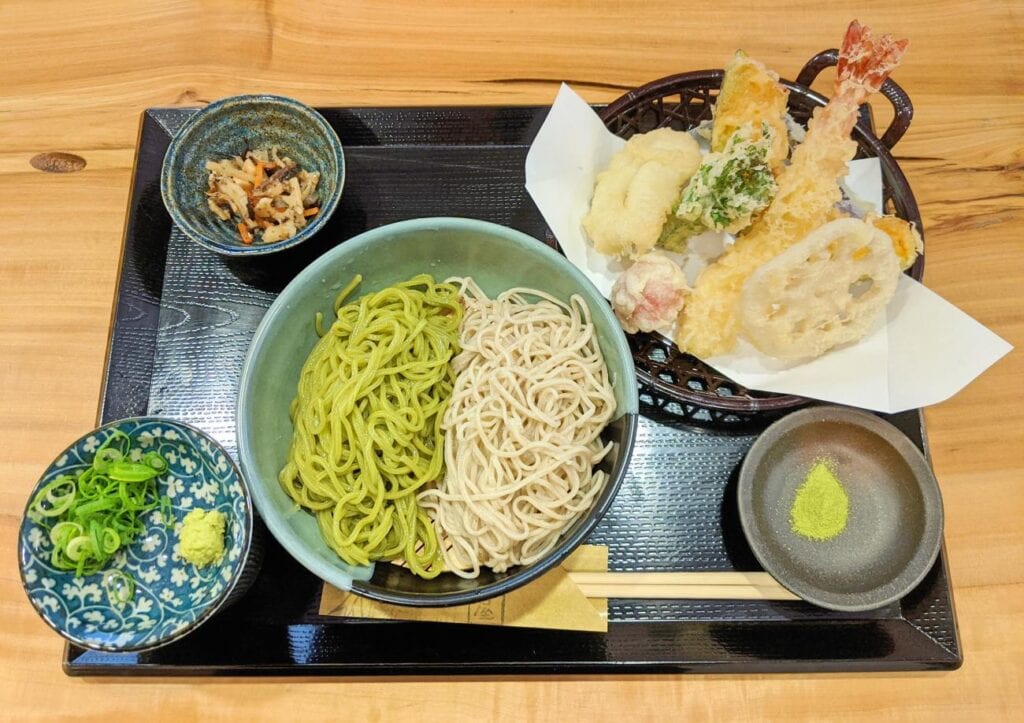 For extra flavouring, there was a small dish of salted matcha powder instead of the typical dipping sauce. The meal came with rice battered tempura (vegetables and seafood) which was delicious due to the lightness of the batter and complemented the noodles. Overall, it was a healthy and refreshing meal and we can't wait to eat it again! Written by Jackie Szeto & Justin Huynh of Life Of Doing
Miso Nikomi Udon – Japan
One of my favourite kinds of noodles are Udon noodles, the thick white wheat flour noodles you can find everywhere in Japan. They are typically served hot as soup or chilled with a dipping sauce.
And while I love tasting all the different variations my absolute favourite might just be the local Udon noodle speciality of Nagoya called Miso Nikomi Udon.
When you see the dish for the first time you might wonder if it could possibly taste any good, because of its rather unfortunate dark reddish-brown coloured soup. But it will probably be one of the most flavorful dishes you have ever tasted in Japan.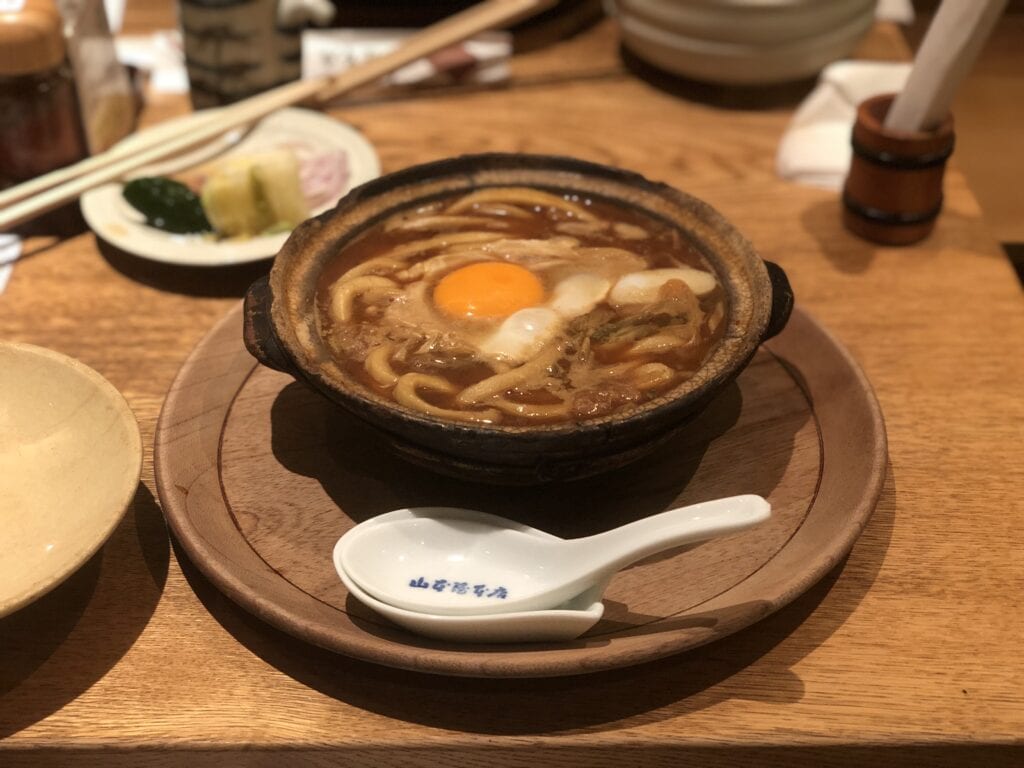 Miso Nikomi Udon is quite a simple dish. The hot broth has a Miso (fermented red bean paste) base mixed with Dashi soup stock. Ingredients usually include leek, Kamaboko (steamed fish cake), and a raw egg on top. The Udon noodles used are much firmer than your standard Udon noodle because they are made without salt giving the whole dish a very different mouth feel. Written by Lena Yamaguchi of Nagoya Foodie
Pho – Vietnam
Pho is probably the most known traditional Vietnamese food, served at every Vietnamese restaurant around the world. However, there is something special about having pho in Vietnam, sitting on a tiny plastic chair, slurping the noodles whilst a lady cooks the soup in giant pots, just off the sidewalk.
Traditionally, pho is a spiced beef broth served with rice noodles, thin slices of beef and plenty of fresh herbs on the side. It is the most popular street food in Vietnam. The noodles used in pho are flat and wide, white, and have a slightly sweet flavour because of the rice.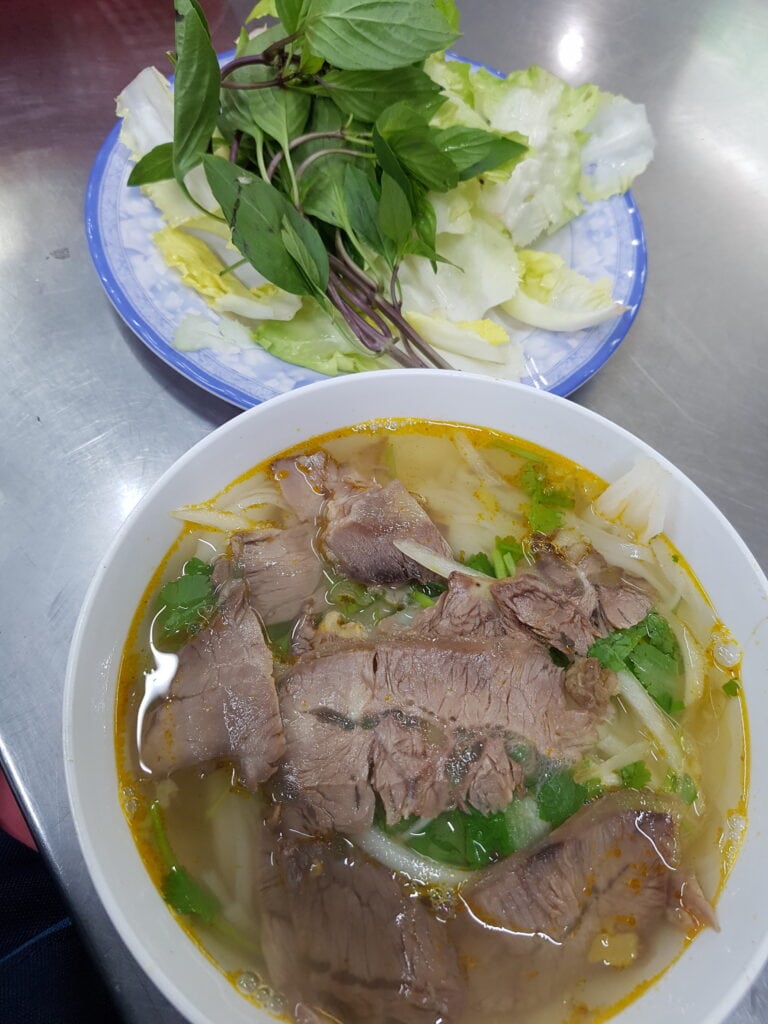 The broth is always made from scratch using beef bones, oxtail, steak, charred onions, and spices such as cinnamon, star anise, ginger, cardamom, cloves, or fennel seeds. Each cook has its own variation of spices. The broth is simmered for hours, allowing the spices to release all their flavour and infuse the soup.
Pho is usually served with coriander leaves sprinkled on top and garnishes on a separate plate. Each restaurant will offer different garnishes however, among the most popular are Thai basil, chilli peppers, lemon wedges, beansprouts and spring onions.
As Vietnam has been divided for such a long time, pho is cooked slightly differently in the North than in the South. No matter where you have it though, the pho served at street food stalls will always taste delicious. It is the perfect comfort food, something that you could eat every day without getting bored of. Written by Joanna of World in my Pocket
Mee Goreng – Bali
For me, food is an essential part of travel. Getting a taste of the local food gives me an insight into the culture and lifestyle of a place. During my 10-day Bali trip, I had the good fortune of tasting several authentic Balinese cuisine dishes. But my favourite of them all is Mee Goreng.
Mee Goreng is basically a fried noodle dish made with vegetables, chicken, prawns or any other kind of meat. It tastes best when served spicy and hot. The dish originates from Indonesia and is popular in Malaysia and Singapore as well.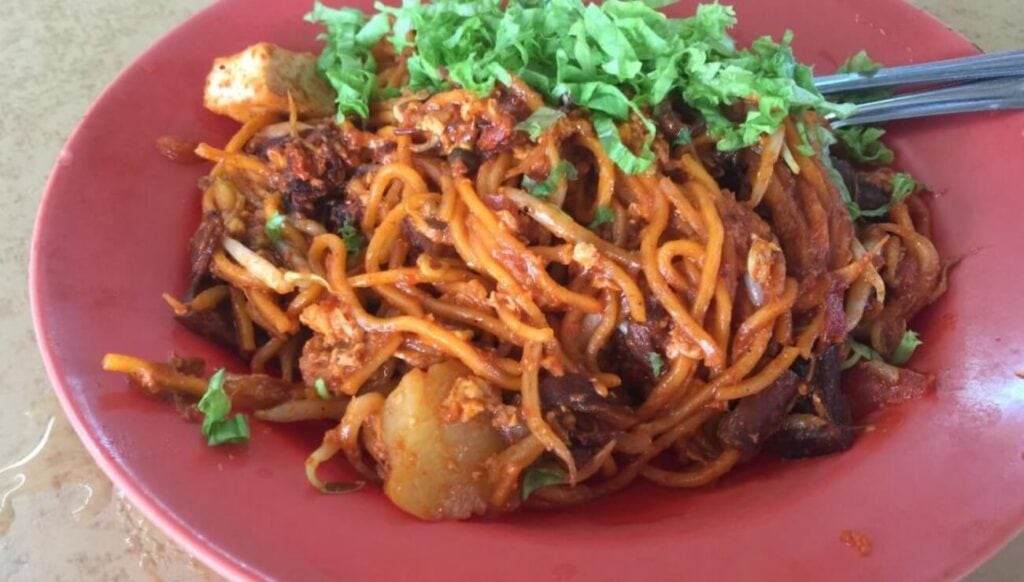 I tasted the Mee Goreng noodles at many eateries throughout Bali. But I had my best Mee Goreng noodles experience at the Pasar Sindhu night market in Sanur, Bali. What makes these noodles stand out is their beautiful, chewy texture and the delicious dark soy sauce. I love the dish mainly because of the thick, dark, soy sauce called kecap manis. It has a lovely molasses kind of flavour that makes the noodles tasty and adds colour to it. Written by Vaibhav of The Wandering Vegetable
Nepalese Noodle – Nepal
Nepal is a landlocked country between China and India which has influenced the cuisine available. Before travelling to Nepal, all I'd really heard about was dal bhat and momo's, so I was surprised by the varied and wonderful dishes that are available.
Vegetarian dishes are very common, especially when completing a tea house trek, such as the Annapurna Base Camp trek or the Everest Base Camp trek. Generally, the higher in altitude you go, the safe option it is to eat vegetarian. One such dish I kept seeing on the menu was vegetarian noodles.
The first night on the Annapurna Base Camp trek, my group stayed at a small village called Tikhedhunga. I decided to try out the noodles. The dish was made with a plain egg noodles and a delicious sauce, coupled with egg, tomato and capsicum. The dish was also topped with grated yak cheese. It was so filling and exactly what I needed after a day of trekking.
The one thing about tea house trekking in Nepal is you can order vegetarian noodles at every village and they will be different every time. But my favourite noodle meal was from Tikhedhunga because of the overall experience, as the hosts allowed us into the kitchen to watch them cook everything fresh. Written by Beth of Frugal Female Abroad
Laksa – Singapore
When we arrived in Singapore and asked the taxi driver on our way to the hotel, about his number 1 recommendation for the food we must try before we leave. "Laksa Soup" could not have come out of him quicker. Similarly, when we asked the lady at our hotel check-in desk, she mentioned that the soup is a local favourite and the blend of spices has a very long history behind them.
The dish is predominantly soup based but it is made into a full heavy meal with the addition of noodles. The noodles are usually wheat-based, but a gluten-free rice vermicelli noodle is commonly available. These are much thinner in size and are not as heavy as wheat noodles. The rich curried coconut milk gives it an amazing smell and tempts you right in to eat.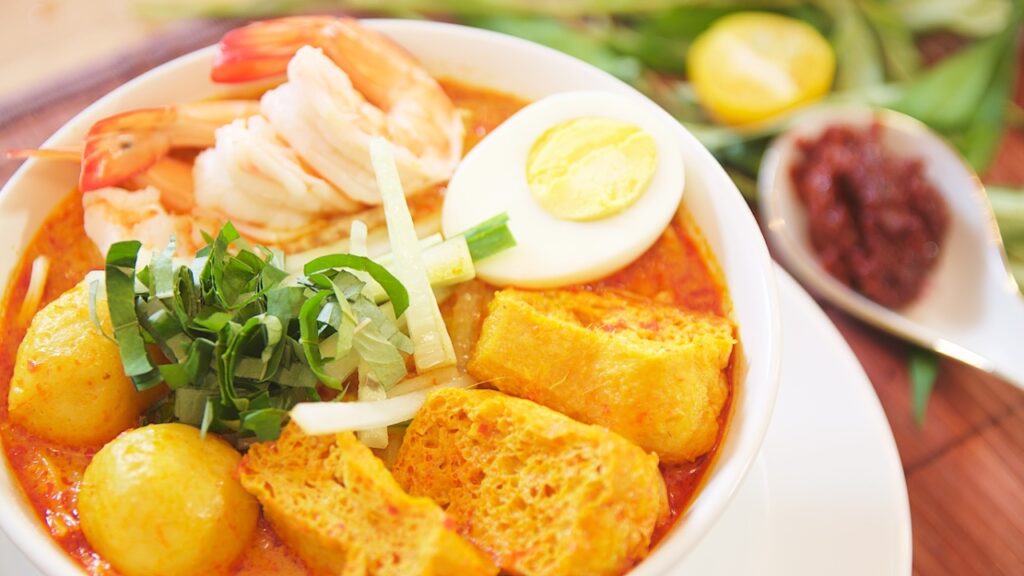 Our first taste of the Laksa was in the famous Little India region of Singapore and it was unforgettable. The extraordinary flavours made us almost able to taste the centuries of hard work that had gone into perfecting the balance of spices. Worried about your Five a day? Laksa is usually filled with an amazing amount of different of vegetables, which include lemongrass, shallots, onions, chillies, ginger and garlic. Written by Manpreet HelloManpreet
Pad Thai – Bangkok
If you are in Bangkok you will not only enjoy the cultural highlights but you will also fall in love with the local street food.
We told our hotel owner that we liked Pad Thai and she told us to eat them at Thipsamai. They serve the best Pad Thai in Bangkok. There is always a long queue. Arrive half an hour before opening to make sure you have a seat. They work at high speed so you don't have to wait too long.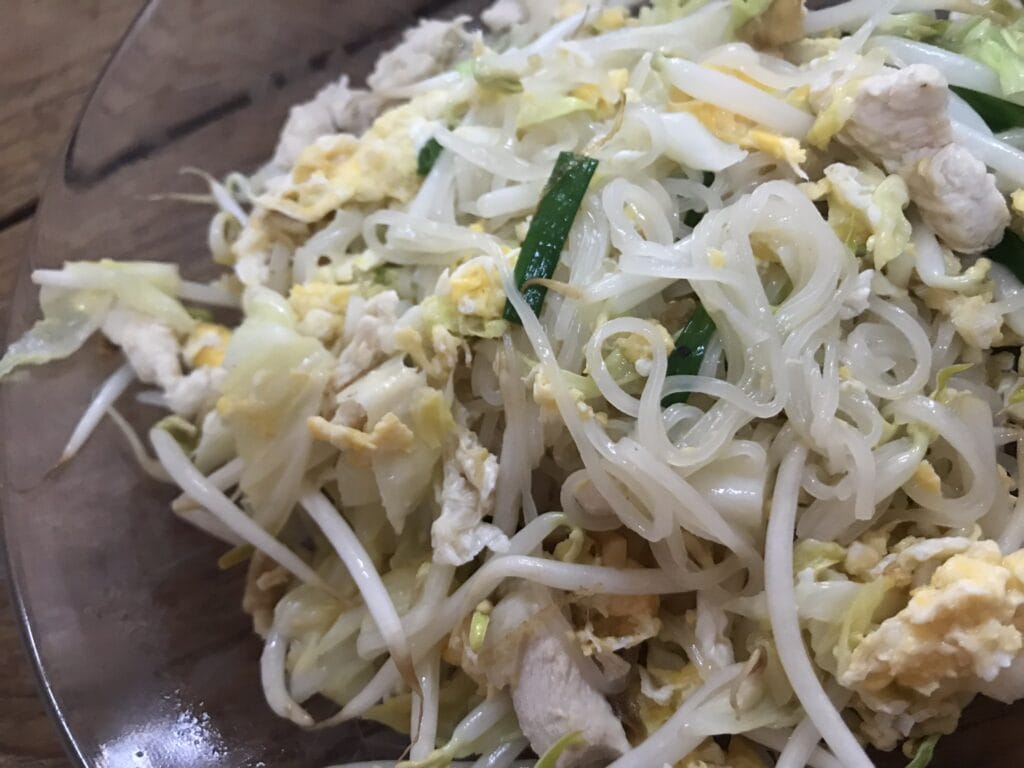 You can also try Pad Thai at Jay Fai, around the corner. She's the queen of Thai street food and received a Michelin star in 2017. She's famous for her crab omelette but her Pad Thai is amazing too. The dish is made of rice noodles and eggs. The traditional Pad Thai is served with chicken but we liked the one with shrimp the most it's not only a tasty dish but also a very cheap meal. Written by Wendy of World Wide Wendy
Penang Curry Mee – Malaysia
There's plenty of Penang Food to love, but if I have to decide what's the best Malaysian noodle dish, I'll always say "curry mee". Nothing else encapsulates the culinary mix that Malaysia offers in a noodle plate better than curry mee.
Curry Mee is, at a minimum, a bowl filled with steaming hot curry and yellow mee (noodles) that often are mixed with white bee hoon (the very thin and transparent noodles that are very popular in Singapore and are very much like angel hair pasta, but thinner).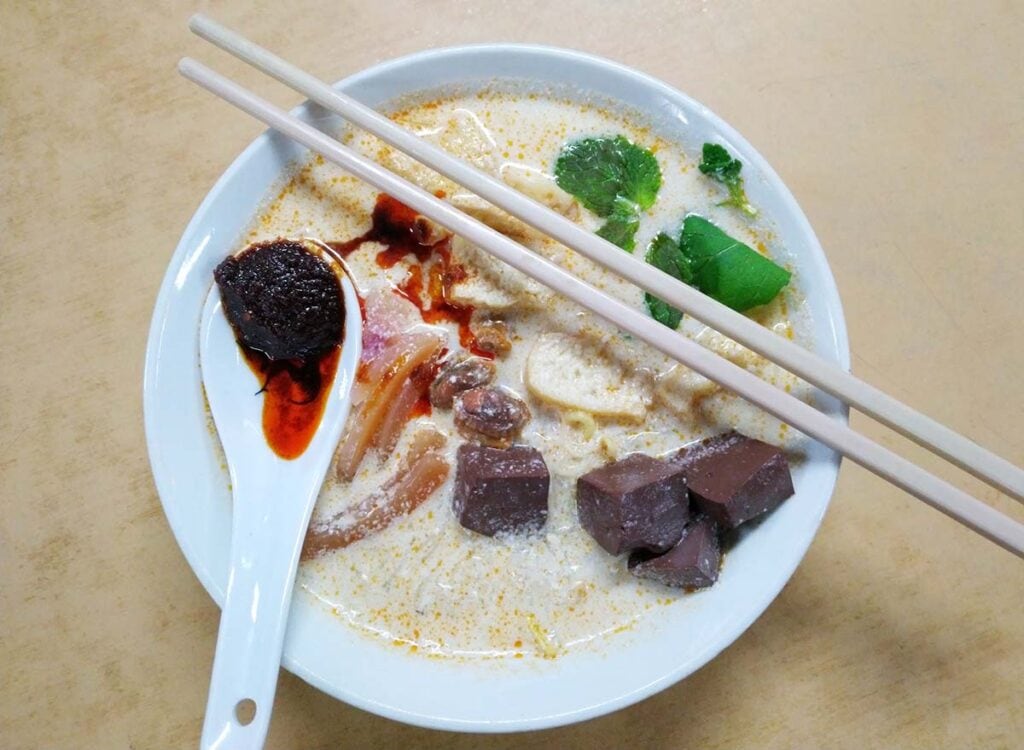 I especially love the white curry mee prepared at the food court in front of the Tan Jetty along with Pengkalan Weld in George Town. For a little more than $1, you'll get a bowl full of yellow noodles and curry, spiced up with all the ingredients above. The pork blood may sound disgusting, but here, it just melts in the mouth as if it were an extension of the curry. As a first-timer tip, don't forget to bring tissue paper: your nose will run, no matter what. By Marco Ferrarese of Penang Insider
Char Kway Teow – Singapore
Despite travelling extensively in Southeast Asia in my younger years, I had never come across char kway teow before we moved to Singapore. Here, it is somewhat of a national favourite.
Char means stir-fried in Hokkien and kway teow is a particular style of flat rice noodles. These rice noodles are traditionally stir-fried in pork fat over very high heat which gives them an almost chargrilled taste and texture. They are cooked with light and dark soy sauce, chilli, shrimp paste, prawns, cockles, chives, sausage, fishcake and bean sprouts.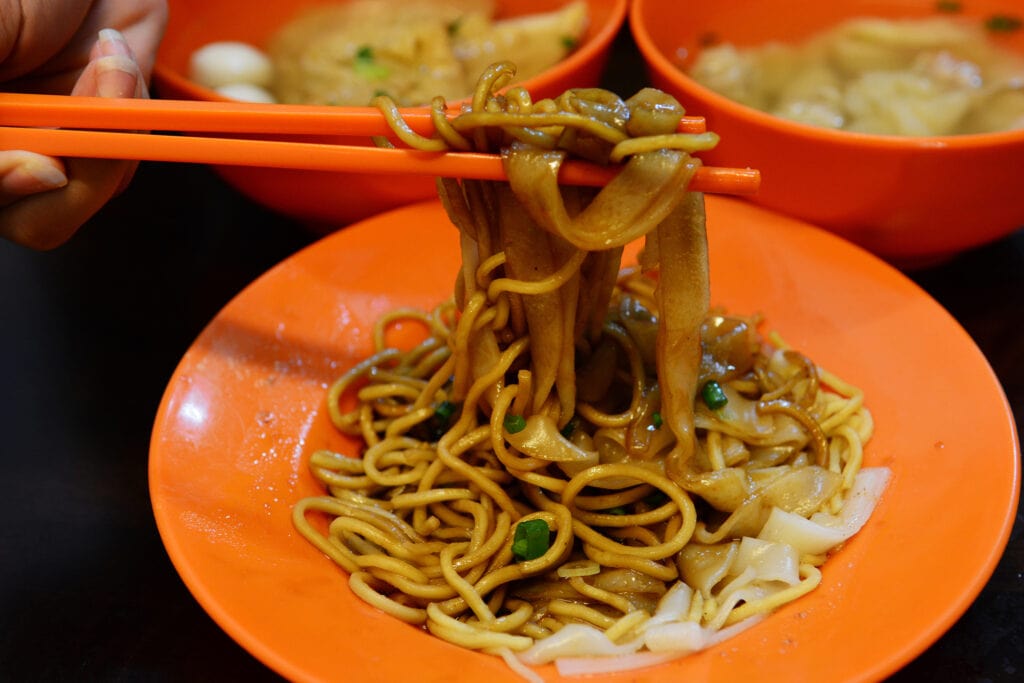 The first time I ate char kway teow was for my first meal in Singapore after moving here to live in the summer 2019. We were jet-lagged, having got off a long flight, and headed to a bustling hawker market (Newton Food Centre) for dinner with the kids. Never has a meal tasted so good! Since then we have occasionally ordered it online but it tastes the best when it is freshly cooked at a hawker market.
One of our favourite things to do in Singapore with kids is to take them to different places to eat but we always have to order at least one char kway teow! The Singapore hawker market experience overall is also definitely one I would recommend. Written by Emma of Wanderlust and Wet Wipes
Khao piak sen – Laos
Khao piak sen is the Lao version of homemade chicken noodle soup. Translated as cut rice strands, the soup has a simple chicken broth for its base, elevated with the addition of chewy, udon-like noodles and plenty of fresh herbs, chilli and spices.
Enjoyed on a daily basis by the people of Laos, this aromatic and filling dish can be eaten for either breakfast or lunch. Incredibly comforting, I first sampled Khao piak sen in Muang Sing in remote northern Laos. Perfect for those cold mountainous mornings or when you are feeling slightly under the weather. Best sampled from a simple roadside stall specialising in Khao piak sen – simply keep a lookout for the huge steel pots bubbling away over an open fire.
What makes Khao piak sen special, however, is its namesake rice-and-tapioca noodles. Always made and cut by hand, the noodles are soft, yet with an amazingly chewy, elastic texture. The noodles also serve to thicken the soup, giving it a starchy consistency. Apart from the delightful noodles, what I love about this traditional Lao soup is that you get to customise it to your taste.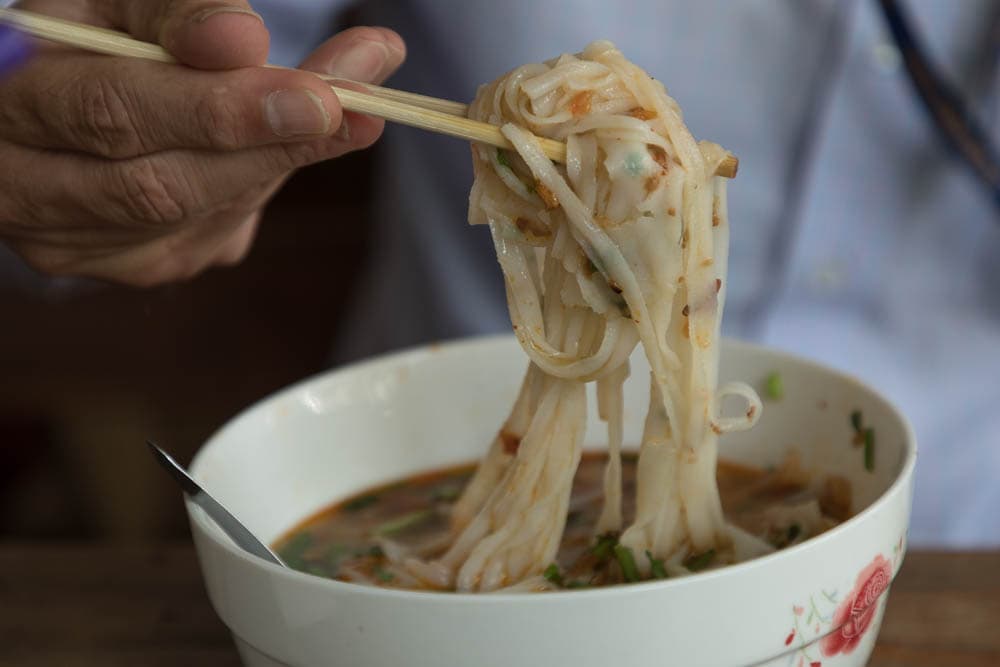 Khao piak sen is always served with a mountain of fresh herbs and salad leaves, along with a variety of toppings including fried garlic and shallots, fresh chilli, wedges of lime and often, a super-spicy chilli oil. It's then up to you how you personalise your soup. Written by Marie of A Life Without Borders
Nagashi somen – Japan
When I think back on all the memorable noodle dishes I've eaten in Japan and beyond, there's one that stands out: nagashi somen.
This dish is more than a meal – it's an experience. Nagashi means flowing, and somen are thin wheat noodles, so the name gives you a clue of what's to come.
When I think back on all the memorable noodle dishes I've eaten in Japan and beyond, there's one that stands out: nagashi somen.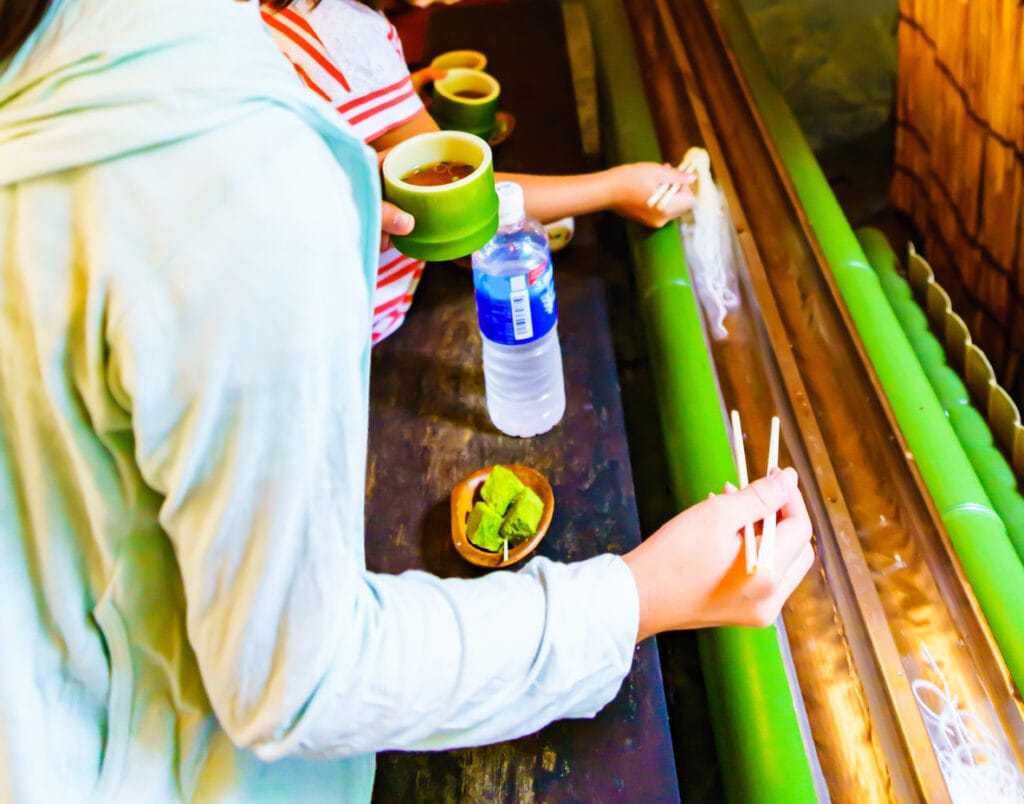 This dish is more than a meal – it's an experience. Nagashi means flowing, and somen are thin wheat noodles, so the name gives you a clue of what's to come.
At a nagashi somen restaurant, the chef drops the noodles down an open bamboo chute. You have to catch the noodles with your chopsticks as they go rushing past you in a stream of icy water. Then, you dip them into a bowl of cold soup, which you can garnish with freshly chopped spring onions, ginger and cucumber to your taste.
This is a summer dish, and it's best eaten outside. I first tried nagashi somen in a mountain resort, deep in the forests of Ehime, Shikoku island. The somen place was located in the open air, just above a waterfall – the idea is to imagine the noodles are flowing down a real mountain stream.

The first time I tried catching the noodles it was a real struggle, and I was starting to think I would go home hungry! But I soon get the hang of it, thanks to lots of pointers from my fellow diners. And this is the real highlight of nagashi somen: it's a social event, and it's impossible not to end up giggling and chatting with your neighbours as you grapple with the slippery noodles. Rebecca from Team Japanese
Jajangmyeon – Korea
Jajangmyeon is a Korean-made Chinese dish popular in South Korea. It's made of chunjang (black bean paste), diced pork, and various vegetables (cabbage, onions, and zucchini) — to be added on fresh hand-pulled noodles.
I've been hearing about Jajangmyeon even before I set foot in South Korea, but only tasted it when I went to Seoul. I'm a fan of trying different food whenever I travel, so I thought it was the best time to try it and understand the craze about it. It goes perfectly with tangsuyuk (sweet and sour pork) because it complements the salty and savoury taste of the black bean sauce and the texture of the chewy noodle.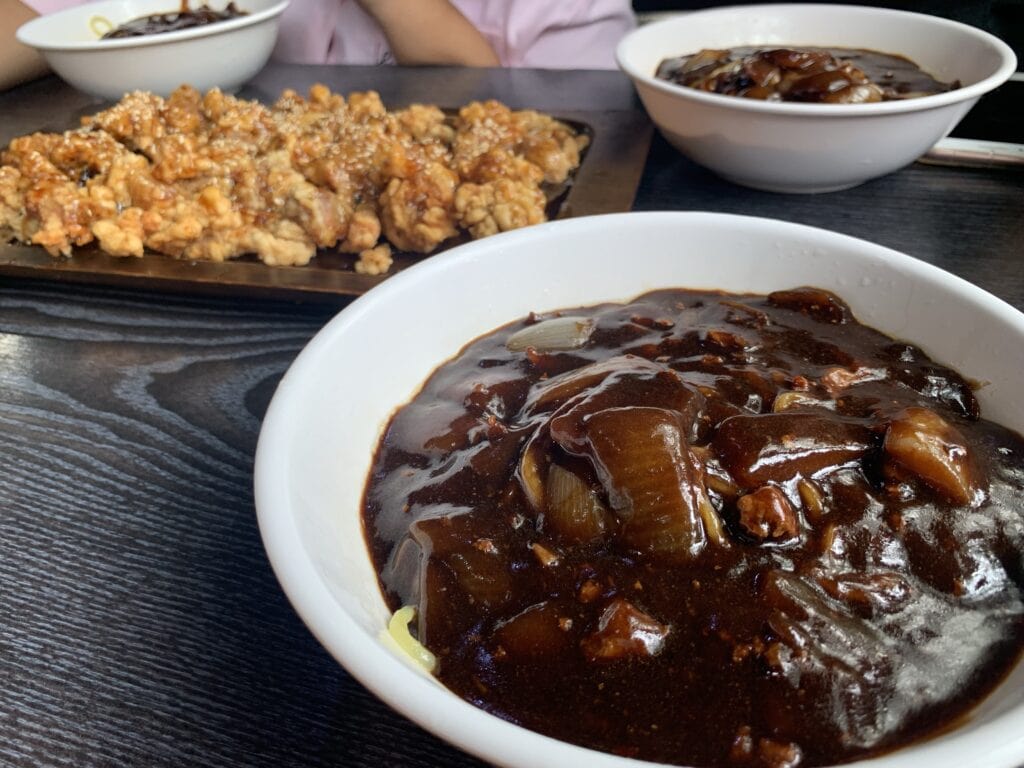 I especially love the chewy texture of the noodles when it absorbs the black bean sauce together with chunks of pork and cabbages. It's cheap, readily available (anywhere in South Korea), and gives a comforting feeling, like your favourite spaghetti when you were a kid, but with an Asian flavour. Ever since I came back from South Korea, I have craved for Jajangmyeon. However, I can't find a local restaurant near me that could satisfy my cravings. Written by Mikaela from The Low Maintenance Traveler
Buko Pansit of Negros – Phillipines
Buko Pansit of Negros Island in the Philippines is a delicious combination of coconut, spices and noodles.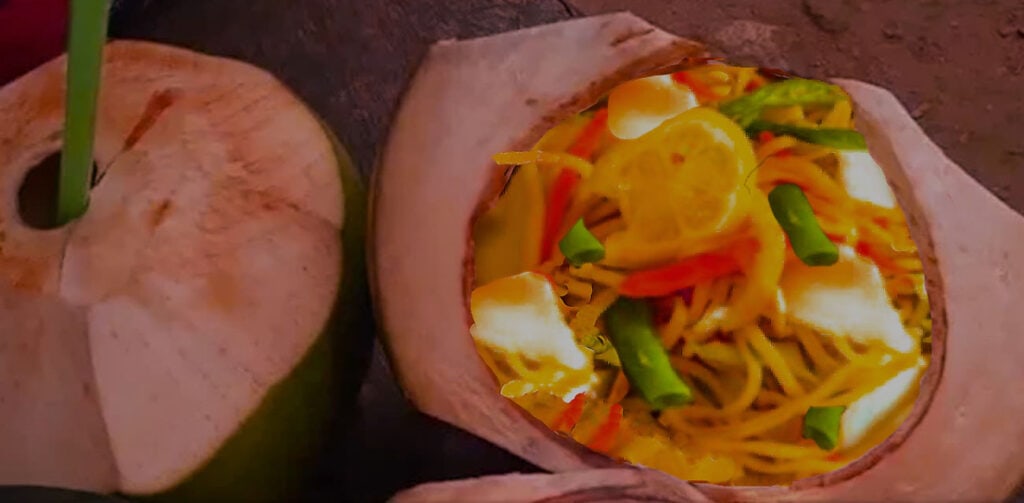 Buko or coconut is combined with cream and sweetener to produce a very cool fruit salad. This is then mixed with spices is now combined with thick canton noodles to make this sweet, savoury Buko Pansit. Written by Maria Elsa of Travelling Quote
Ramen Noodles – Japan
Japan are hard to beat when it comes to noodles as a staple in pretty much everyone's diet with 3 common varieties to choose from. These are Udon (thick wheat noodles), Soba (buckwheat noodles), Somen (thinner wheat noodles) and, the king of all noodles, Ramen (thin wheat noodles). So ramen will always be my go-to noodles because they're the most common at street level, but there are also just so many variations to choose from.
There are many variations of ramen noodle soup dishes to explore including 4 common broths; Shoyu (soy sauce), Miso (fermented bean paste), Shio (salt), and the king of all broths, tonkotsu (Pork Bone). And few noodle soups are more satisfying than a proper bowl of thick Tonkotsu Ramen noodles topped with big slabs of chashu braised pork belly (chashu men).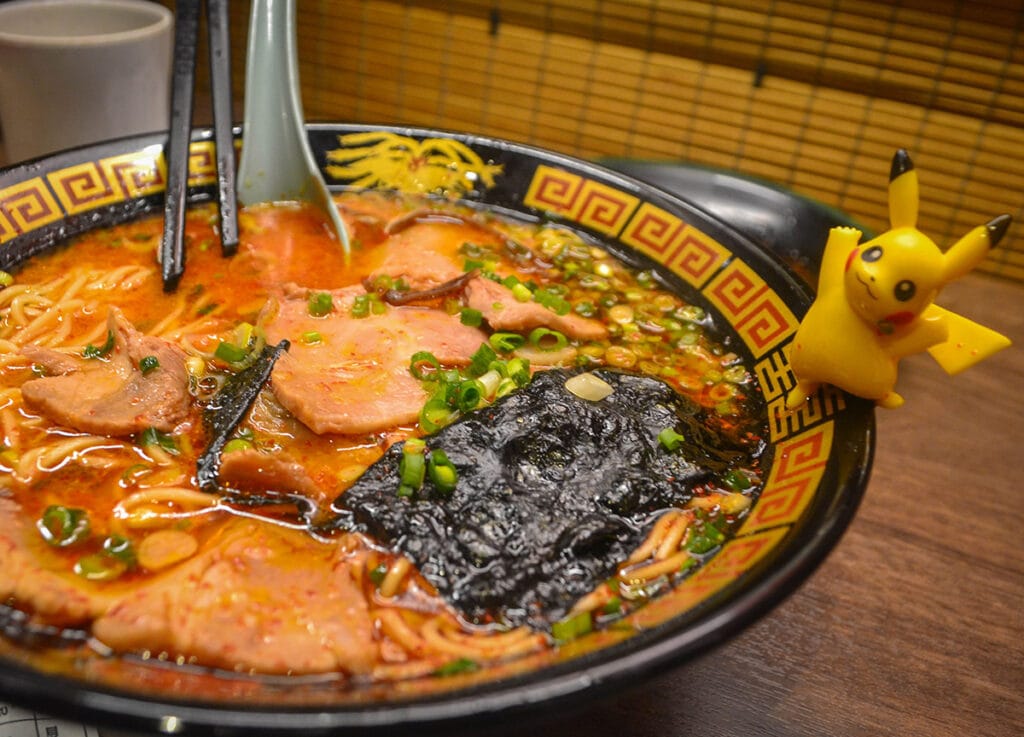 And in Japan, they are the most common fast food staple found everywhere. But Japanese ramen are probably more famous for their 'instant noodles' or 'instant ramen' as they're known in America or Pot Noodles in the UK, a Japanese invention back in 1958 by Nissin and Cup Noodles. Written by Allan of Bangor NI
Chowmein – China
When you grow up eating a particular dish in a country and move abroad, all those meals from your childhood end up becoming delicacies you'd travel miles for. Such is my relationship with chowmein, an Indo-Chinese stir-fried noodle dish that was invented in India.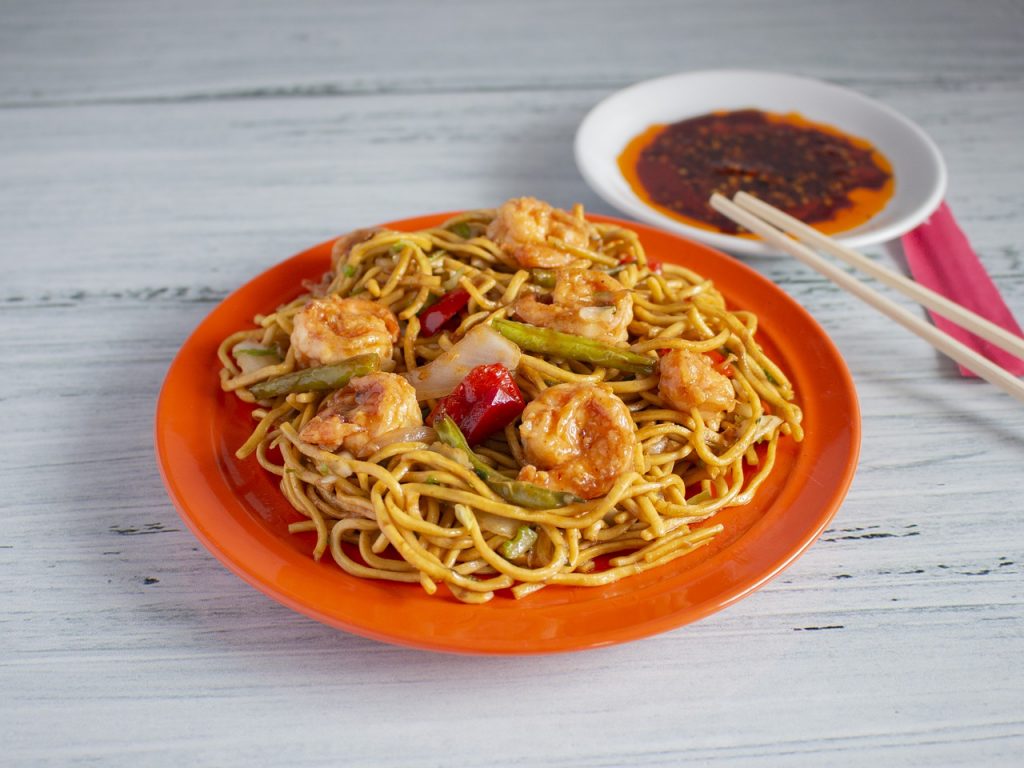 I first tasted this flavorful dish as a five-year-old, in a small Chinese restaurant near my home in Kolkata, India. East India has a very large migrant Chinese community. When they brought their cuisine with them, little did they know that their humble noodles would turn into a national favourite! Chowmein is a dish cooked in many Indian households as if it is a part of our cuisine.
Aside from it being a dish that I grew up eating, chowmein is the perfect balanced one-pot vegetarian meal for a spice lover. It transcends the boundaries between two countries and has evolved from being a Chinese family mainstay to a fancy Indian restaurant dish to being a part of so many childhood memories. Written by Supriya of Fun Travelog
Bún Dau – Vietnam
Vietnam is one of the best destinations for food lovers, especially if you like noodles. There are plenty of types of noodles available, with the most popular being Pho. Many travellers are not aware of Bún Dau, a unique kind of noodle.
Bún Dau is the white rice noodles that are commonly consumed in Vietnam along with vegetables, meat, tofu, eggs or seafood or usually a mix of all of these. Long strands of rice noodles are served as cakes, which are prepared by machines. These noodles are boiled in water or steamed, which are the most popular ways of cooking, unlike wheat or egg noodles that are fried.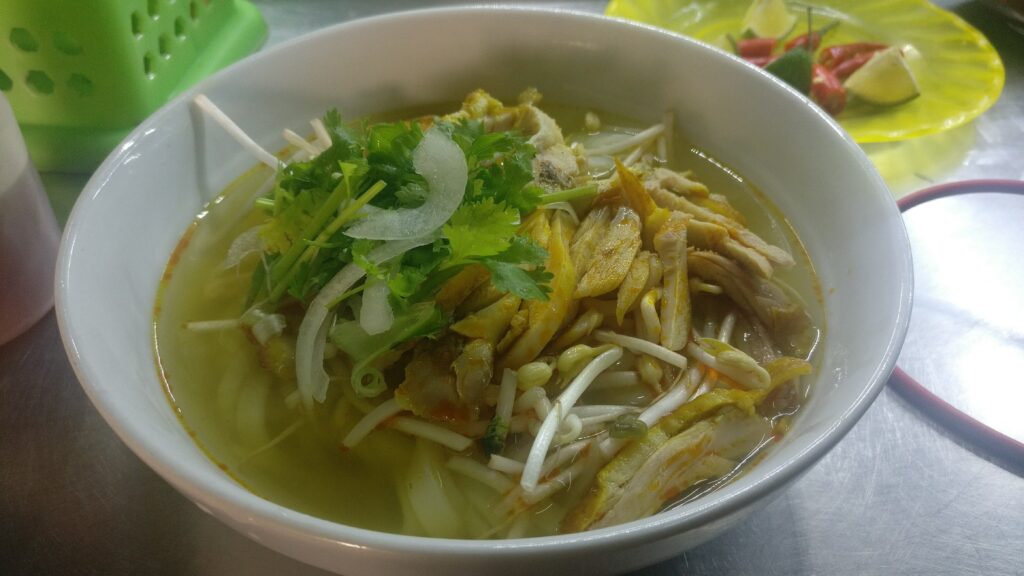 A variation in Bún Dau includes Shrimp paste cooked along with Rice noodles, which is popular in the southern part of the country. The Shrimp paste is what sets Bún Dau, apart as it adds a spicy/sour taste to the dish. I tried it several times while backpacking in Vietnam, and liked how it is done in Ho Chi Minh. The taste slightly varies from city to city, but it is considered to have originated in Saigon. Written by Reshma of The Solo Globetrotter
Black Ramen – Japan
When we recently visited Tokyo we went on a ramen tasting tour with Frank from Tokyo Ramen Tours, where we got to try six different kinds of ramen on small tasting bowls. We were able to try many different kinds of ramen, including the infamous black ramen, as well as several different types based on pork broth, seafood-based broths and more.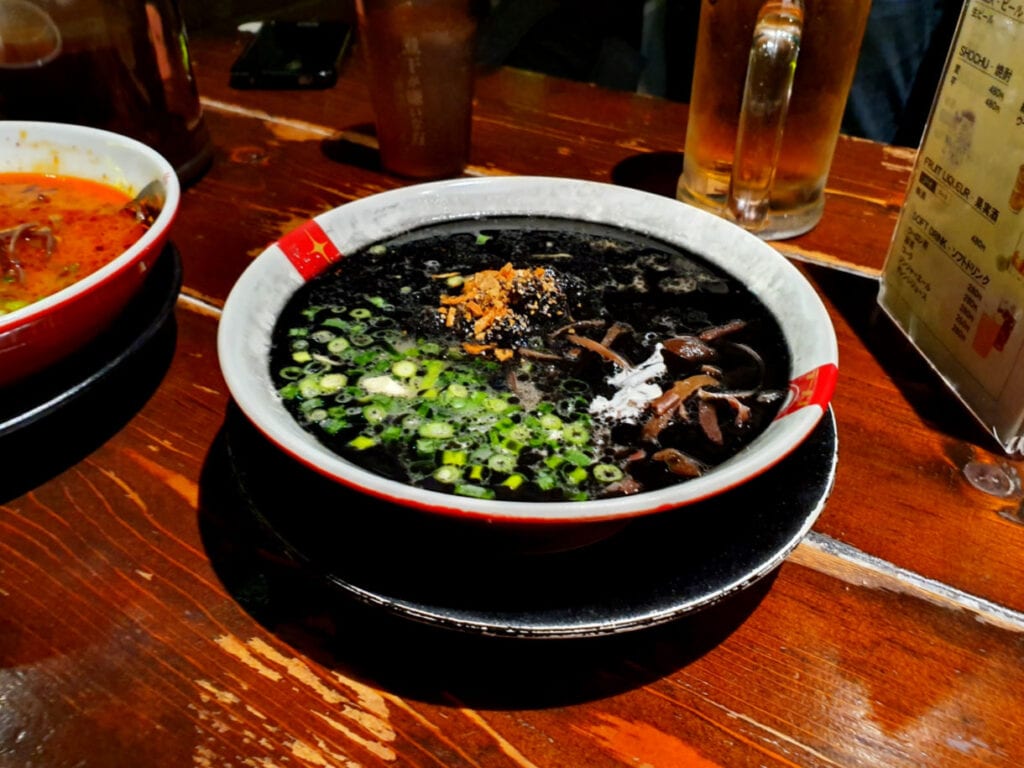 We went to three small ramen shops near the Shibuya Station area, and were pleased to find that the quality of ramen served was noticeably better than what is served in the more famous ramen chains such as Ippudo and Ichiran – we tried both chains as well during our visit to Japan!
In all of our ramen experiences fresh hand-cut ramen noodles were used – sometimes made by the ramen shops but also sourced from local ramen noodle suppliers.
The black ramen was unusual as squid ink was used to create the black ramen broth, which was also infused with garlic and yoghurt and topped with lovely pork slices – so quite an eclectic mix which was interesting to try. But I will comment that I did prefer some of the more traditional ramen flavours! By Anne Sutherland-Smith from the Pretraveller blog
Noodles of the Americas
Early Spanish settlers were among the first to bring pasta to America. Believe it or not, it was Thomas Jefferson that helped give pasta an initial push into popularity. During an extended stay in Paris from 1784 to 1789, Jefferson ate what he called macaroni back then, the word could have referred to any shape of pasta. He enjoyed the dish so much that he returned to America with two cases in tow. When his supply ran out, he sent for reinforcements via a friend from Naples.
We all know the traditional dishes that those in North America eat; chicken noodle soup, lasagna, spaghetti, and here are a few more unusual noodles dishes from the Americas.
Macaroni and Cheese – North American
Mac n Cheese is truly the pinnacle of Black American dishes and culture. Thomas Jefferson is credited with bringing macaroni and cheese to the Americas, but it was the work of his enslaved chef, James Hemings, that put the dish on the proverbial map and made it the truly celebrated dish of Americans to this day.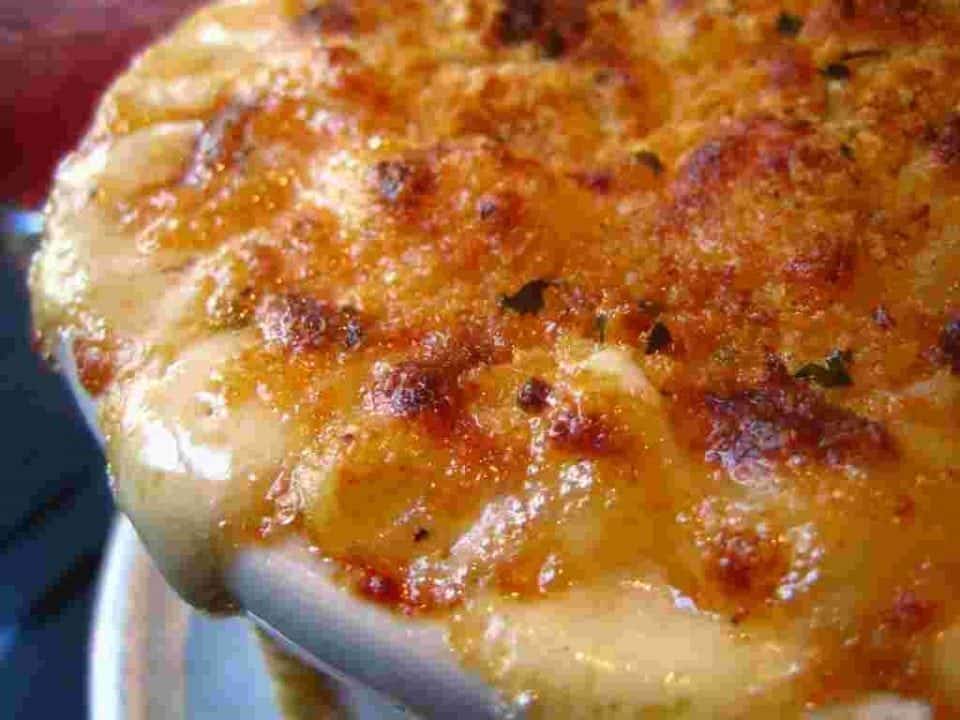 BBQ in the USA Where to find some of the best
Fettuccine Alfredo – North America
According to many people, fettuccine was born in Italy, in Rome. However, the truth is that fettuccine alfredo didn't take off in Italy as it did in the US and there's only one place where you can find it: Alfredo restaurant, in Rome. this simple pasta with cream butter and cheese was made to tempt the appetite of a woman suffering from morning sickness. These days it can be found with a wide variety of extras from chicken to vegetables.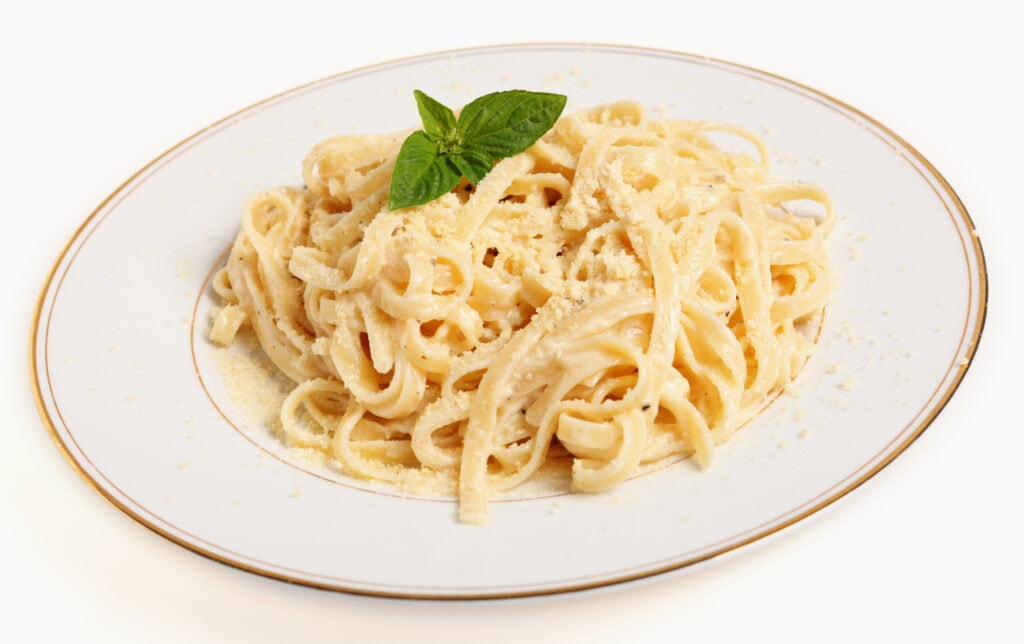 Tallarín Saltado – Peru
Peru's cuisine is popular worldwide and known as one of the best in South America. There are so many delicious dishes, even though some might believe that the Peruvian kitchen consists mostly of the national dish Ceviche.
For us, one of the best foods to eat in Peru is the dish Tallarín Saltado which can be translated to "Jumping noodles. " It is a variation of the popular Lomo Saltado dish. It consists of cut beef and noodles. The beef is marinated with soy sauce and fried with tomatoes and onions. While Lomo Saltado comes with rice, Tallarín Saltado is served with pasta (tallarines).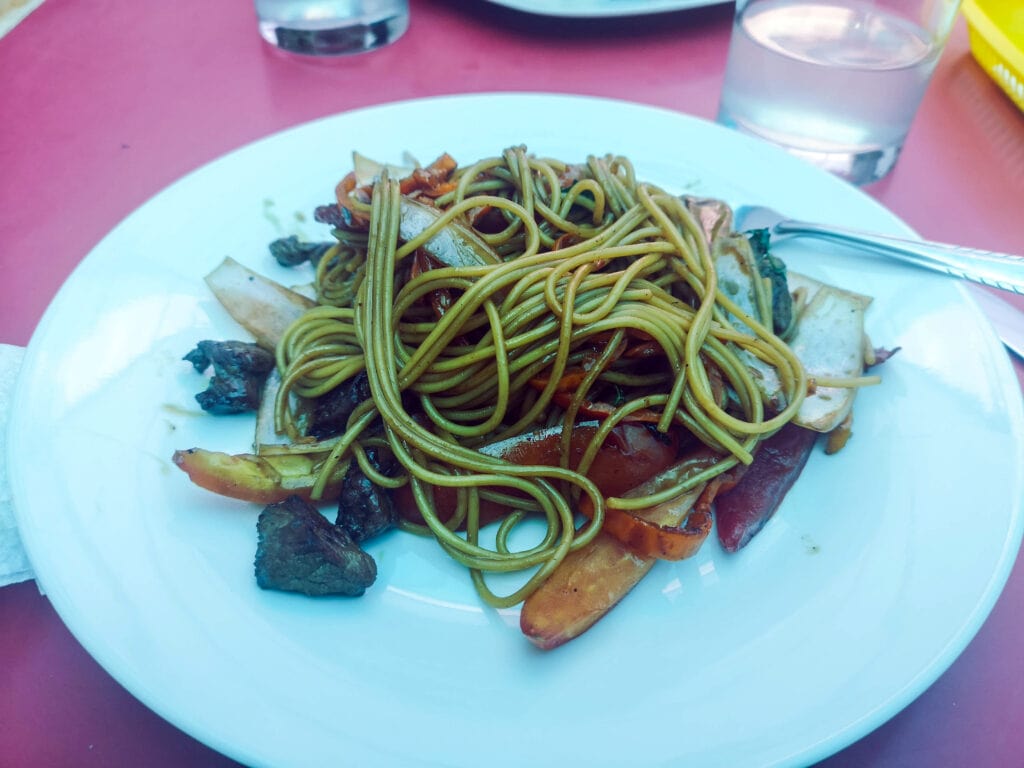 The dish goes back to a culinary tradition, in which Peruvian cuisine is mixed with Cantonese influences. These types of dishes are very popular in Peru and are called Chifa. Obviously, this kind of dish is very interesting, as Chinese and Peruvian cuisine doesn't seem to have much to do with each other at first glance. Despite everything, the fusion of the two was very successful and just tastes delicious.
No wonder Chifa cuisine has become so popular all over Peru. That's why today, you can try Tallarín Saltado in restaurants and kitchens all over Peru. The dish has become so popular that it is not only offered in the typical Chifa restaurants but also in traditional Peruvian restaurants.
For those who prefer not to eat beef, you can also find a version of this dish served with chicken, especially in tourist areas. Moreover, a vegetarian version is sometimes also offered and served with vegetables. Written by Vicki of Vicki Viaja
Chicken Noodle Soup – North America
I defy you to find a culture that doesn't have chicken noodle soup which many will say is the best noodle soup in the world. Chicken soup is the iconic symbol of Jewish cuisine. Because of the expense of good meat for the soup, this wasn't always a dish served often. However, there was one day a year when every family, rich or poor, prepared the soup: Yom Kippur, the Jewish Day of Atonement.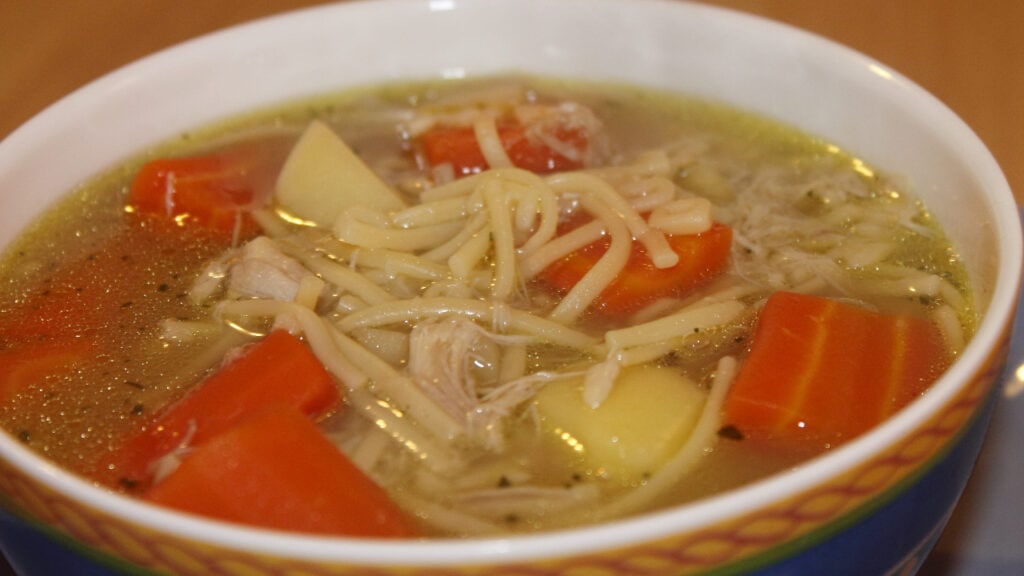 Pasta con salsa caruso – Uruguay
Uruguay is one of the Latin American countries with the most Italian influence. One of the dishes influenced by these traditions is pasta with Caruso sauce, which is made out of cream, nuts, mushrooms, ham, and cheese. It's typically served with the pasta of your choice.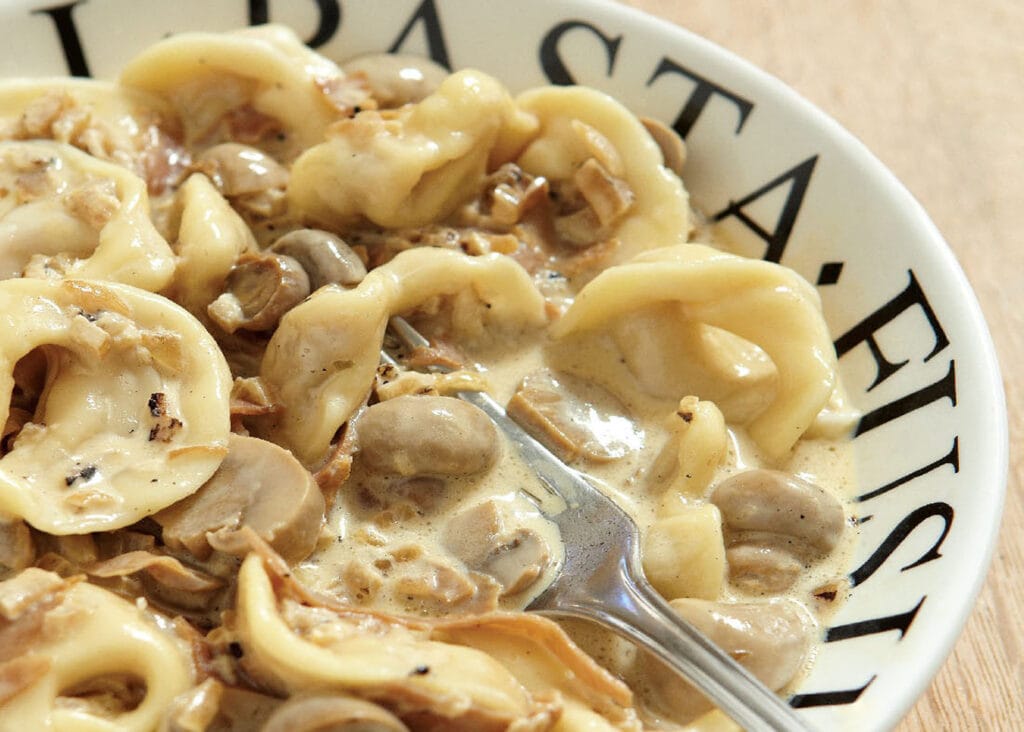 Sopa Seca de Fideo – Mexico
In Mexico, you will find sopa seca de fideo which translates to dry noodle soup. The noodles are very thin, fideo or vermicelli noodles, and are cut or broken into small pieces and then fried before being added to the other ingredients. Other ingredients including garlic, onions, peppers, and pasilla peppers are added to the broth with tomatoes. The noodles are added to the broth and the noodles absorb the flavours.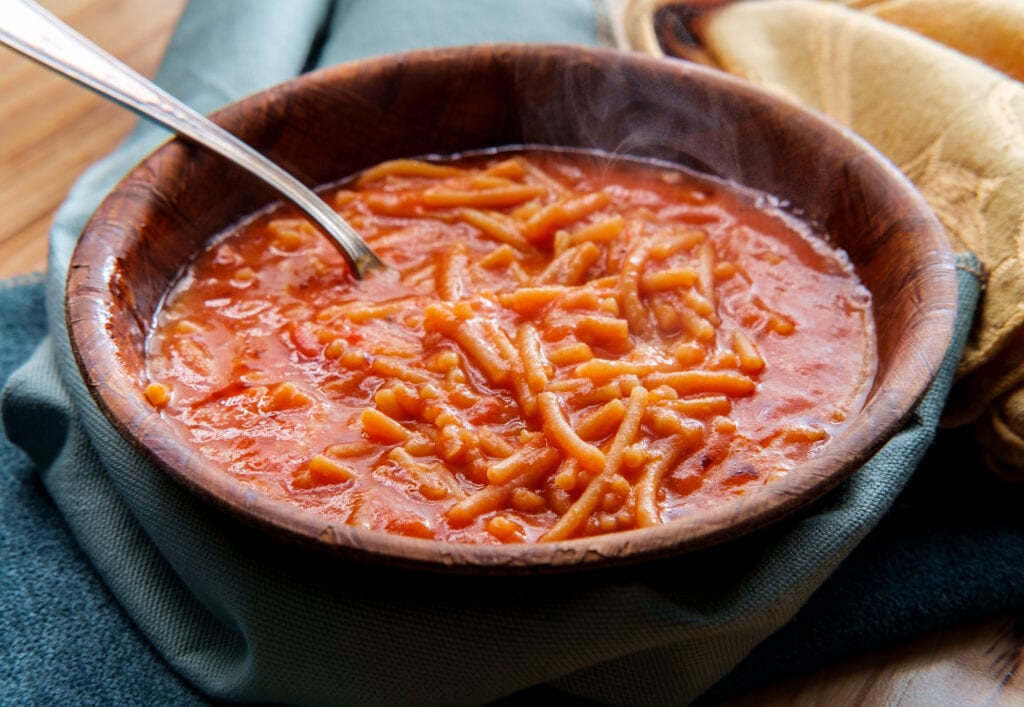 23 of the best Mexican Street Foods
A Guide to Mexicos Best Drinks
Yucatan Food – deliciously earthy, hot and smoky
Cincinnati Chili – USA
Cincinnati chilli is a weird mashup of a meat sauce spiced with cinnamon, nutmeg, allspice, clove, cumin, chilli powder, bay leaf, and unsweetened dark chocolate sort of like a Mexcian mole. The chilli is served on a bed of spaghetti topped with masses of grated cheddar cheese, and diced onions and beans. It is then served with oyster crackers and a hot sauce.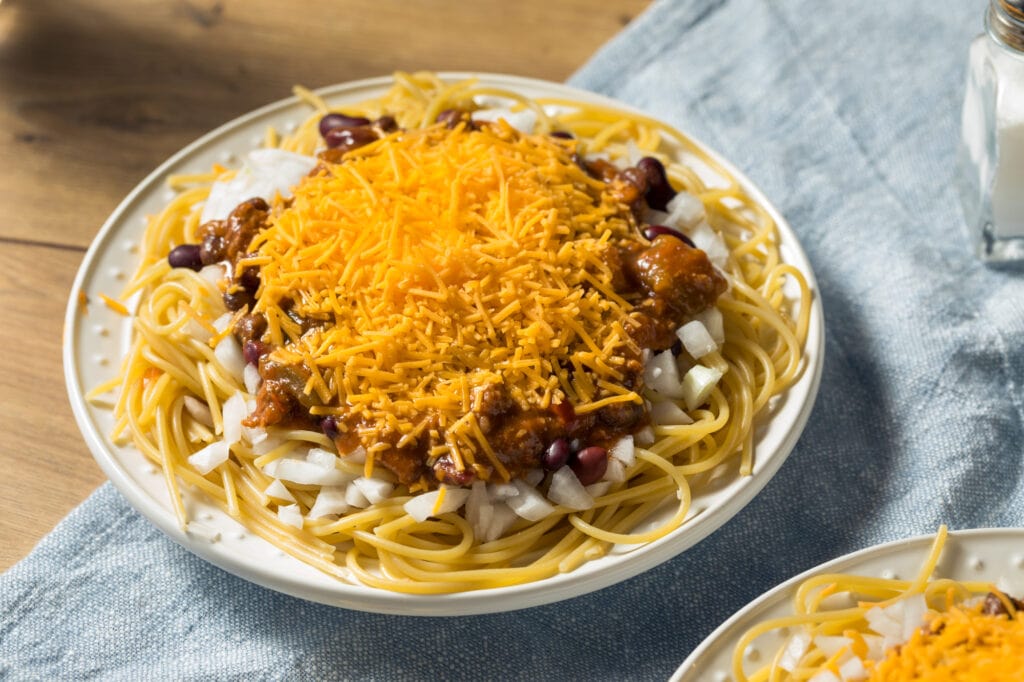 This is a mere sampling of the different types of noodles around the world. What a wonderful trip that would be to have noodles of every kind in every country of the world.
This article originally appeared in The World's Kitchens – The best Noodles around the world.
Other articles you may enjoy
42 best breakfasts in the world
Noodles vs Pasta – and the winner is?
Lebanese Food – 37 traditional Lebanese dishes
Guide to the deliciousness of East African Food
Best food Markets and food halls in Canada