Best BBQ in the USA 16 of the Best BBQ Joints across America
The debates are endless around the best BBQ in the USA. Starting from the wood the meats are cooked over, whether the sauce is on the side or basted on the meat and whether they are vinegar based or not what sides are traditional the choices are many. There is also the perennial debate about which state makes the best barbecue in the US.
Barbecue is an integral cuisine to Black history and, by default, American history. But its roots are traced back to the Indigenous Caribbeans. American barbeque was the work of the black slaves in the Southern USA.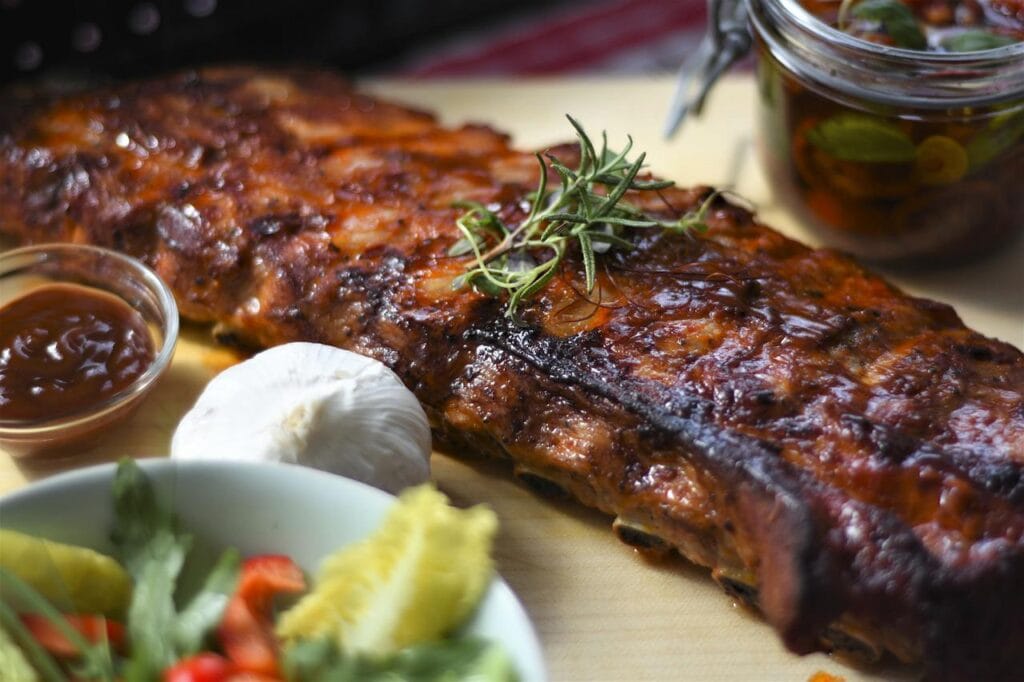 Michael Twitty, a food historian and author of the 2018 James Beard Foundation's Book of the Year "The Cooking Gene: A Journey Through African American Culinary History in the Old South," is an outspoken advocate for making sure the history of barbecue is not rewritten to downplay the contributions of those who crafted the art while suffering under oppression.
"If America is about people creating new worlds based on rebellion against oppression and slavery, then barbecue is the ideal dish: it was made by enslaved Africans with inspiration and contributions from Native Americans struggling to maintain their independence," Twitty wrote in The Guardian.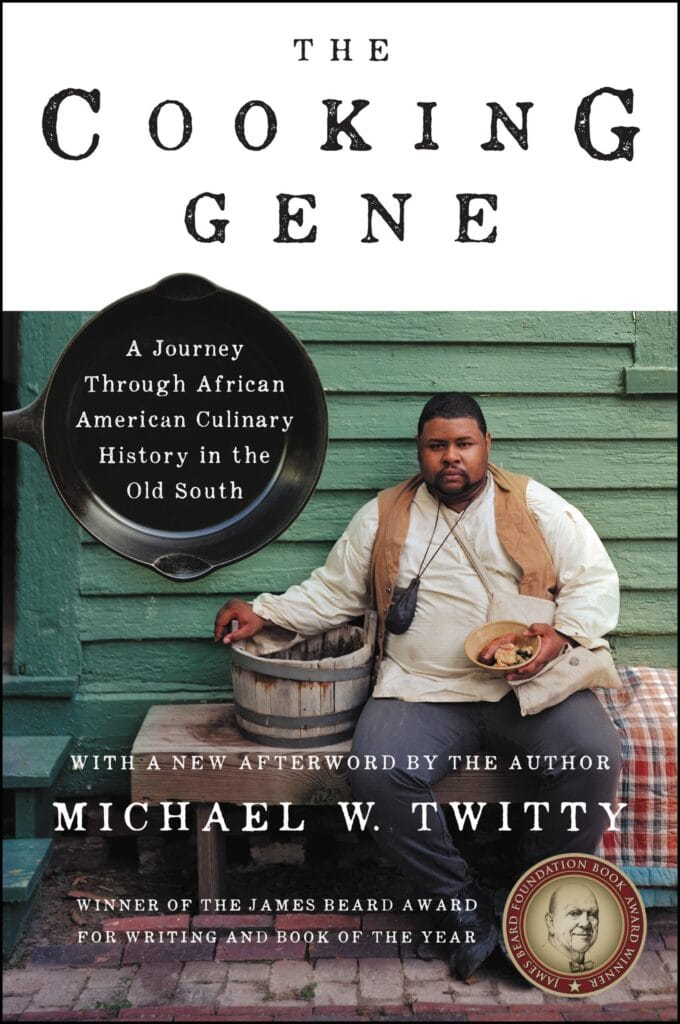 Because barbecue is a relatively simple process using wood or charcoal you really don't need anything fancy to build one. A pit dug in the ground, a metal grate or rack even a simple clay oven can be used to Barbeque. Around the world, most countries have their own version or style of BBQ and barbeque has evolved into a distinct food culture category.
We are as fond of our BBQs in Canada as they are in the USA and my dad used to barbecue even when it snowed – however, he usually liked his meats well done and back in those days nothing was smoked.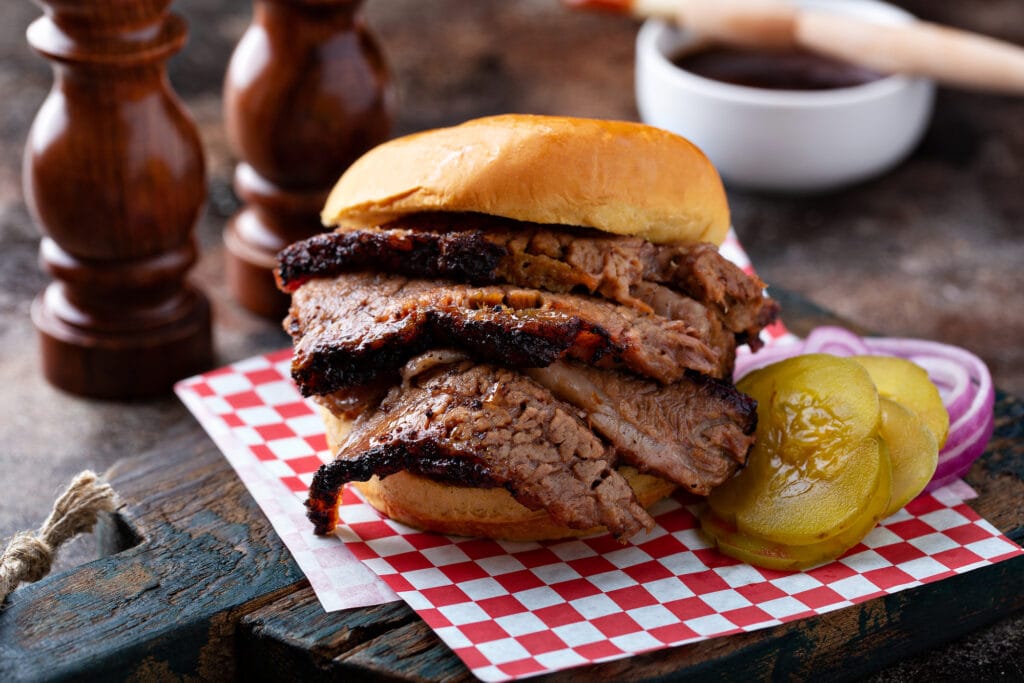 So what makes a good barbecue, well that depends but one thing you should know is what some of the differences are to find the best BBQ in the USA.
Xyuandbeyond is reader-supported. When you buy through links on our site, we may earn an affiliate commission. You can read my privacy policy here.
The 4 styles of Barbecue in America
Carolina style BBQ
South Carolina uses a vinegar-based sauce which came from the British love of the condiment and its ability to keep the meat juicy, but in South Carolina, they tend to prefer a mustard-based sauce that originated with the French and German immigrants.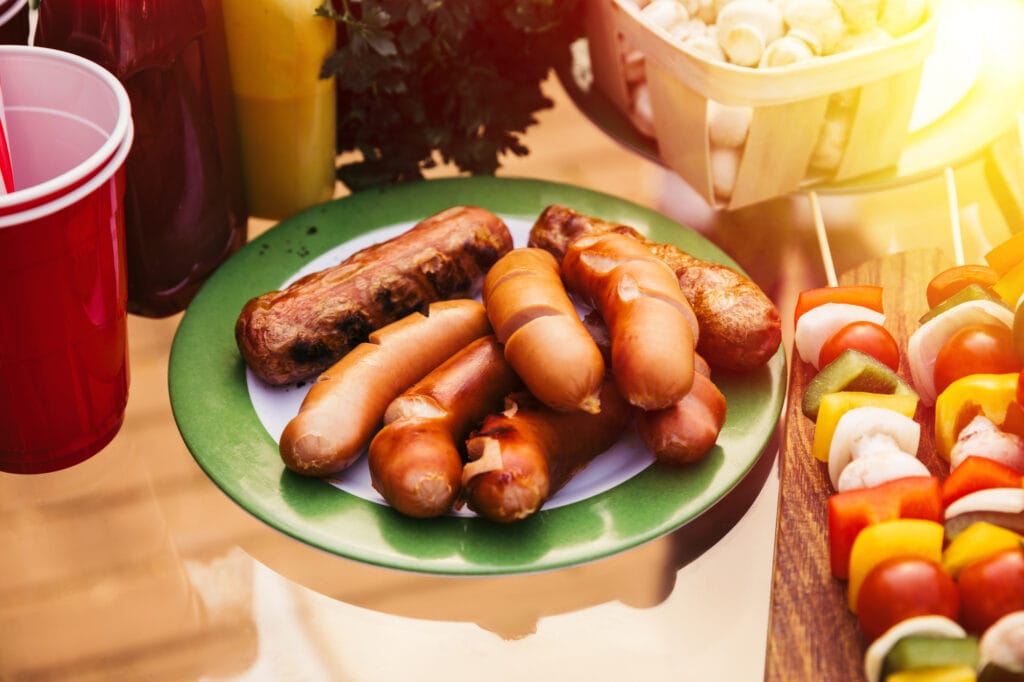 Texas style BBQ
Texas barbeque became dominantly beef-based thanks to the German immigrants that moved to the state to raise cattle. However, in Texan molasses was added to create a sweeter barbecue flavour and the meats are generally speaking grilled over mesquite giving the meat a distinctive flavour. Texas brisket is also unique to this area, the meat simply seasoned with salt and pepper is slow-cooked for hours and melts in your mouth.
Memphis style BBQ
Memphis style BBQ is mainly done with pork and it can be pulled or pork ribs. The other distinctive feature is the rub which is a dry rub massaged into the meat and containing dozens of different herbs and spices.
Kansas City style BBQ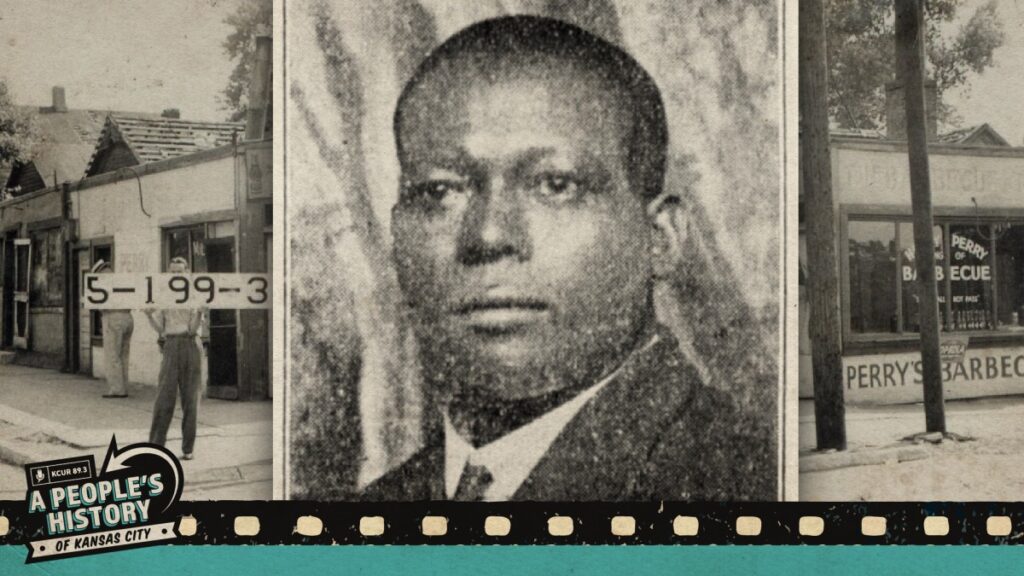 This BBQ style was born when a man called Henry Perry opened a barbecue restaurant. Perry preferred a sweet and spicy barbecue sauce. Kansas City-style sauces are sweet and thick. The recipe usually includes a base made with tomato and molasses, and you may find brown sugar as well. The sauce is cooked into the meat or brushed on immediately after cooking.
What is the difference between barbecuing, grilling and smoking?
Barbecuing, grilling and smoking are three of the most popular methods for cooking meat. Each cooking style gives the meat different flavours.
What Is Barbecuing?
Barbecuing uses indirect heat to slowly cook meat at a low to medium temperature. The meat is placed inside a BBQ where it's cooked using heat from burning wood or charcoal. Barbecuing cooks meat slowly, typically over the course of several hours, allowing for increased tenderness and better flavour. The meat or vegetables can be dry rubbed and then basted near the end of the cooking time so as not to burn the sugars in the sauce.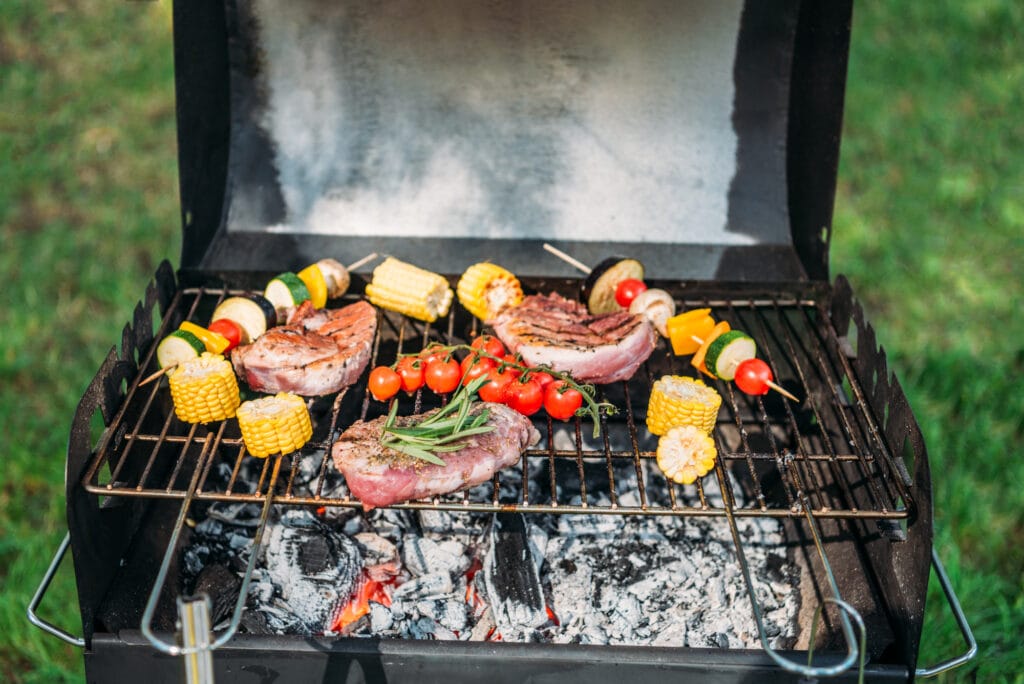 What Is Grilling?
Grilling is essentially the opposite of barbecuing. It involves the use of a grill to quickly cook meat at a high temperature using direct heat. Meat is placed inside the grill — on the grill's main cooking grate — where it's exposed to heat from either burning charcoal or gas heating elements.
Grilling doesn't offer the same tenderness as barbecuing and smoking. Since it uses high heat over a short period of time, grilling isn't able to break down tough cuts of meat.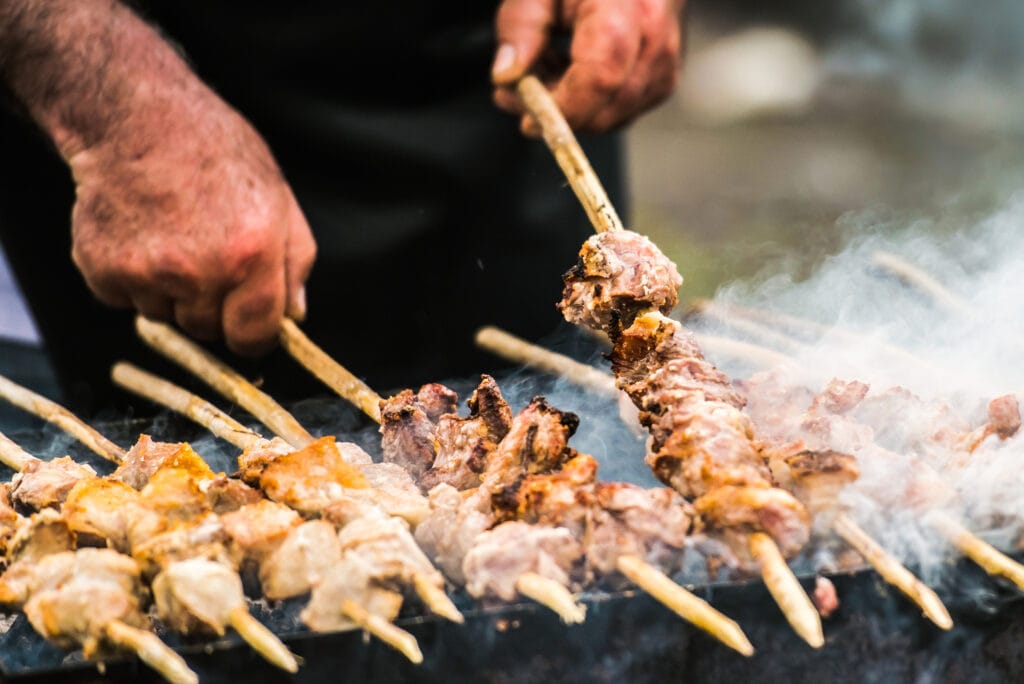 What Is Smoking?
Smoking is similar to barbecuing, with both techniques using indirect heat to slowly cook meat. Smoking is unique, however, because it relies on flavorful smoke to both cook and cure meat. The wood used depends on the Pitmaster it could be cherry, apple, walnut, pecan or a combination of a few or all. The slow cooking process which can take up to 30 hours or so infuses the meat with the flavoured wood smoke.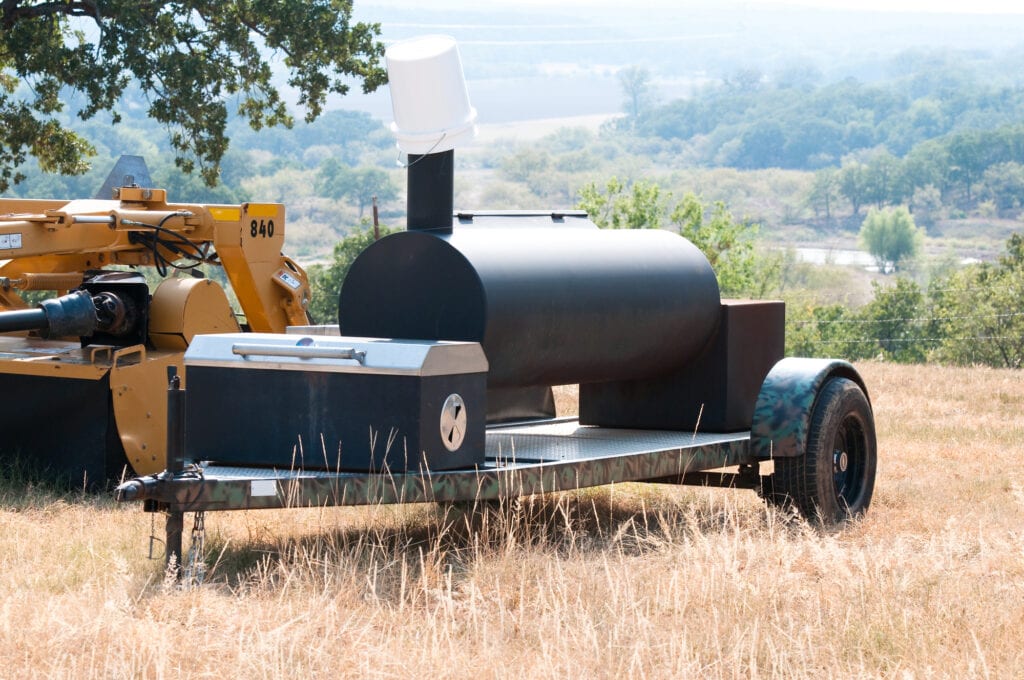 Smoking has been used as a curing process for thousands of years, and even today it's still commonly used for this purpose.
Cold smoking is a commercial smoking process that's performed in a smokehouse. Hot smoking, on the other hand, is a conventional smoking process that's performed using a grill or smoker.
With cold smoking, meat is exposed to a low temperature in with hot smoking meat is exposed to a higher temperature.
Traditional Bar-B-Q Sides
Barbecue sides are those side dishes that are almost mandatory when it comes to eating at a BBQ joint or at home.
Depending on where you choose to eat BBQ you will find sides such as Baked beans, hush puppies, corn on the cob, cornbread, fried okra, mac n cheese, and coleslaw.
16 of the best BBQ in the USA
Joe's Kansas City Bar-B-Que – Kansas City
Don't let the fact that this Kansas City barbeque gem was born in a gas station to deter you from stepping into the line that typically spills out the door and wraps around the building. Located at 47th and Mission on the Kansas side of Kansas City, Joe's Kansas City Bar-B-Que has grown into one of the top-rated barbeque restaurants in Kansas City.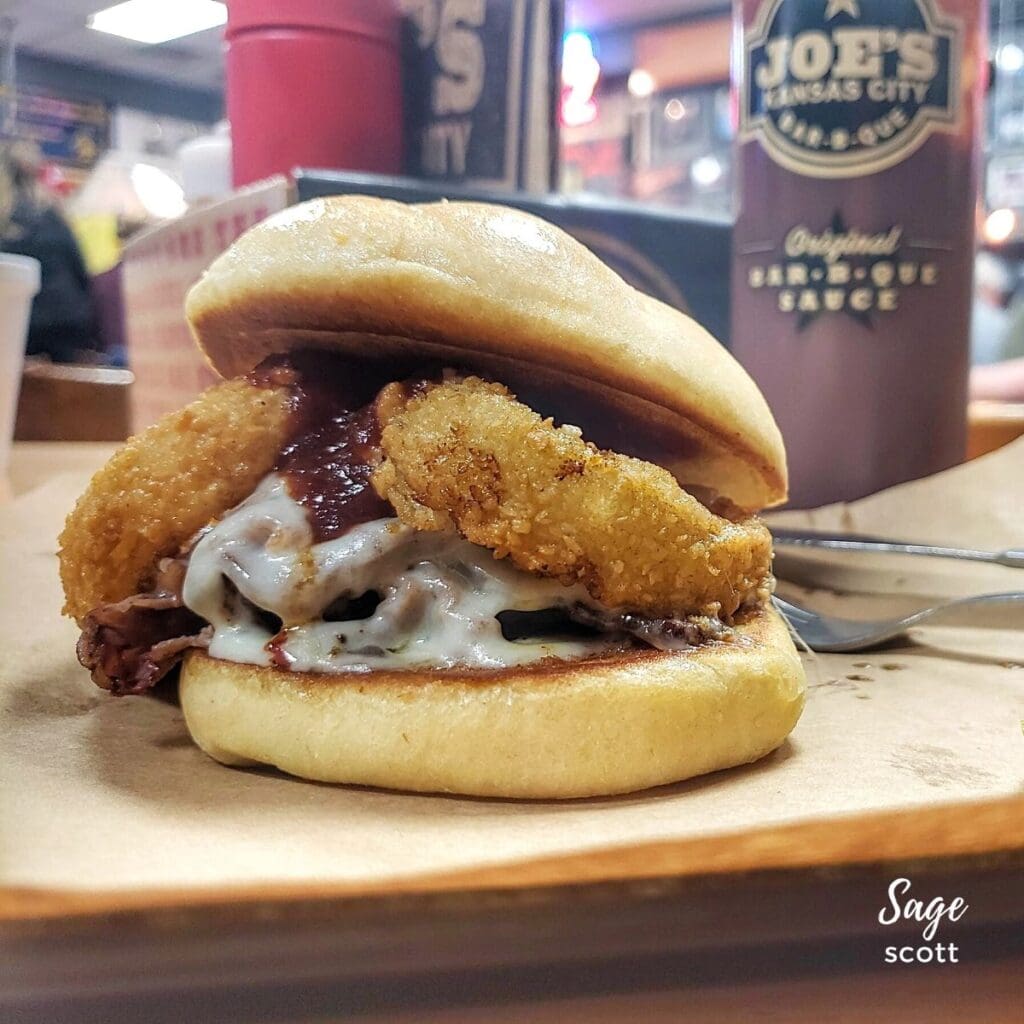 If you only get to visit Joe's once during your trip to Kansas City, then order the Z-Man. Made by topping thick slices of brisket with smoked provolone cheese, a couple of onion rings, and a bit of tangy barbeque sauce before placing it all on a Kaiser bun, this signature sandwich has landed coveted spots on both Thrillist and Zagat lists. And if you get to visit multiple times (or you just have the appetite of a Kansas City Chiefs linebacker), then you'll also want to try the burnt ends!
Pro Tip: Whether you spell the word synonymous with slowly smoked meat with a "c" or a "q" these tasty barbeque quotes will make your mouth water. Contributed by Sage of Everyday Wanderer
Opie's BBQ: Spicewood, TX
In the small town of Spicewood, about 45 minutes outside of Austin–give or take depending on traffic–you'll find Opie's BBQ sitting unpretentiously right off of Highway 71.
Step inside the metal building, and you'll be treated to some of the best barbecue in Texas, served up with the laid back vibes that the Texas Hill Country is known for.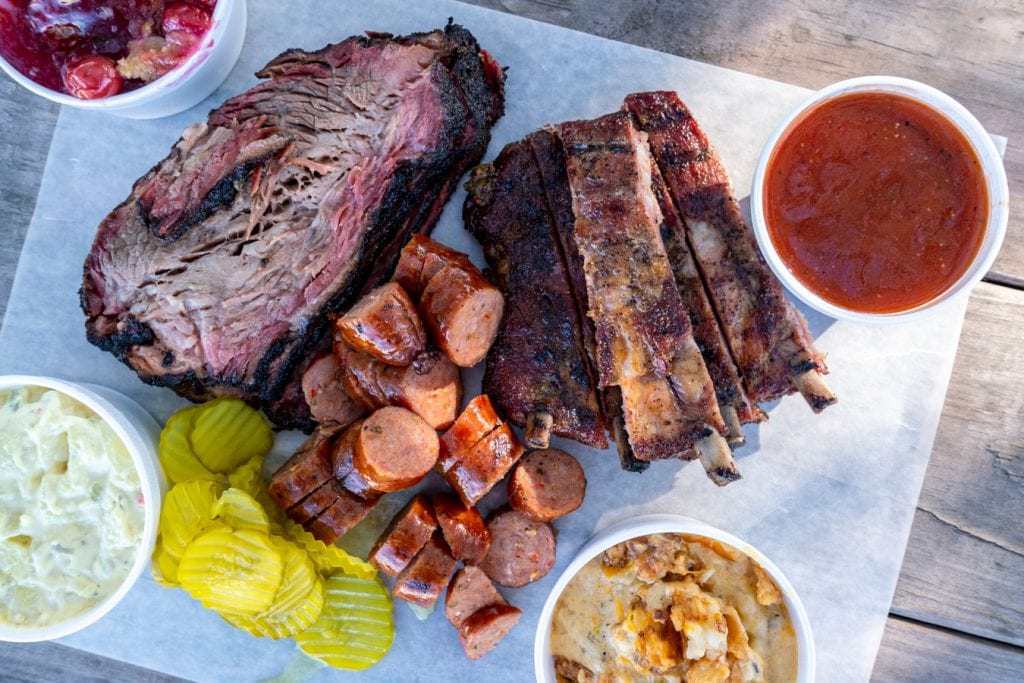 This is classic Central Texas barbecue, with meat served by the pound and sides served by the pint, and with sauce available (but not necessarily encouraged).
Be sure to try the brisket, the baby back ribs, and the sausage (the jalapeno sausage is particularly great).
For sides, you can't miss the tator tot casserole or spicy corn.
And, for dessert, a helping of the cherry cobbler is an absolute must.
At Opie's, you can either eat inside or outside on a group of picnic tables shaded by Texas Live Oaks.
Once you finish up, consider heading over to Pace Bend Park for a dip in Lake Travis or over to nearby Krause Springs to enjoy one of the best swimming holes in Texas! Contributed by Kate of Lone Star Travel Guide.
Clutch Roadhouse – LA
Clutch Roadhouse is a CaliMex take on barbecue, which is perfectly fitting for its location in the Venice neighborhood of Los Angeles. The great thing about Clutch is that the food is fantastic and it's a fun place to go out for dinner. Unlike most good BBQ joints, the atmosphere is awesome with great patio seating, TV's and a bar where you order.
We chose the Clutch Sample Platter which included all their signature meats and a few sides. The stand out by far were the mouthwatering Oak Smoked Wings. In a lifetime of eating wings all over the USA, these wings are a reason to visit Los Angeles. No joke!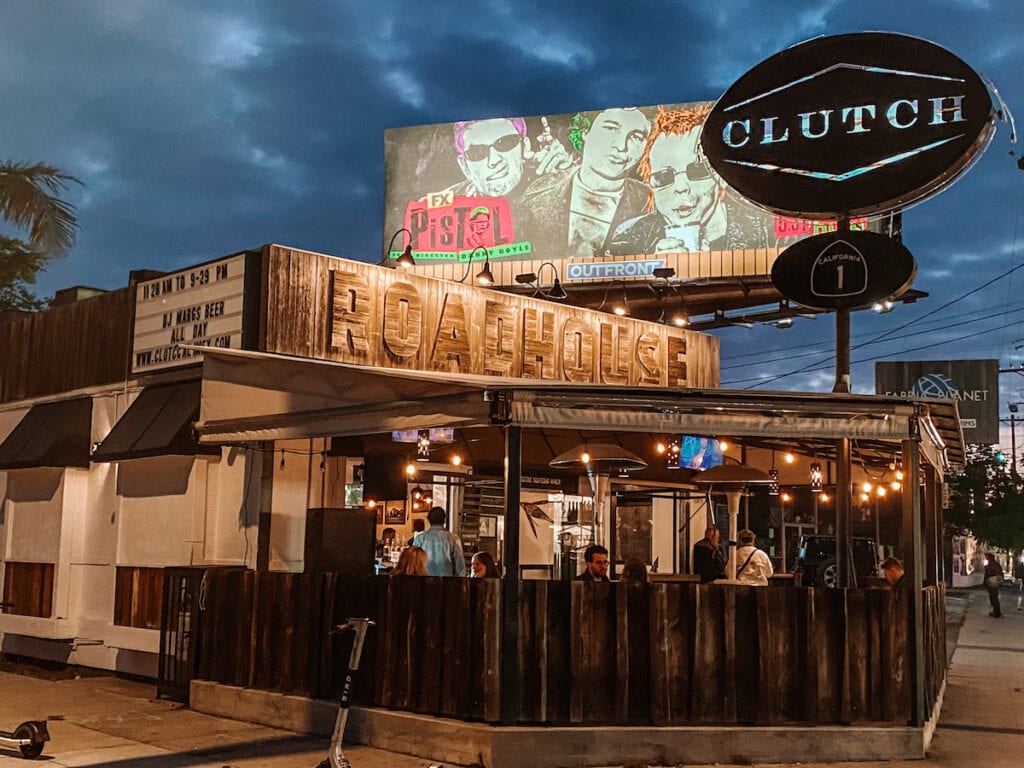 Also included in the platter – perfectly tender tri-tip, fall-off-the-bone, delicious ribs and pulled pork, that was good but not as stand out as everything else. People do love the pulled pork nachos though. For sides, we tried the Collard Greens with Bacon and the Street Corn on the Cob, which was very tasty!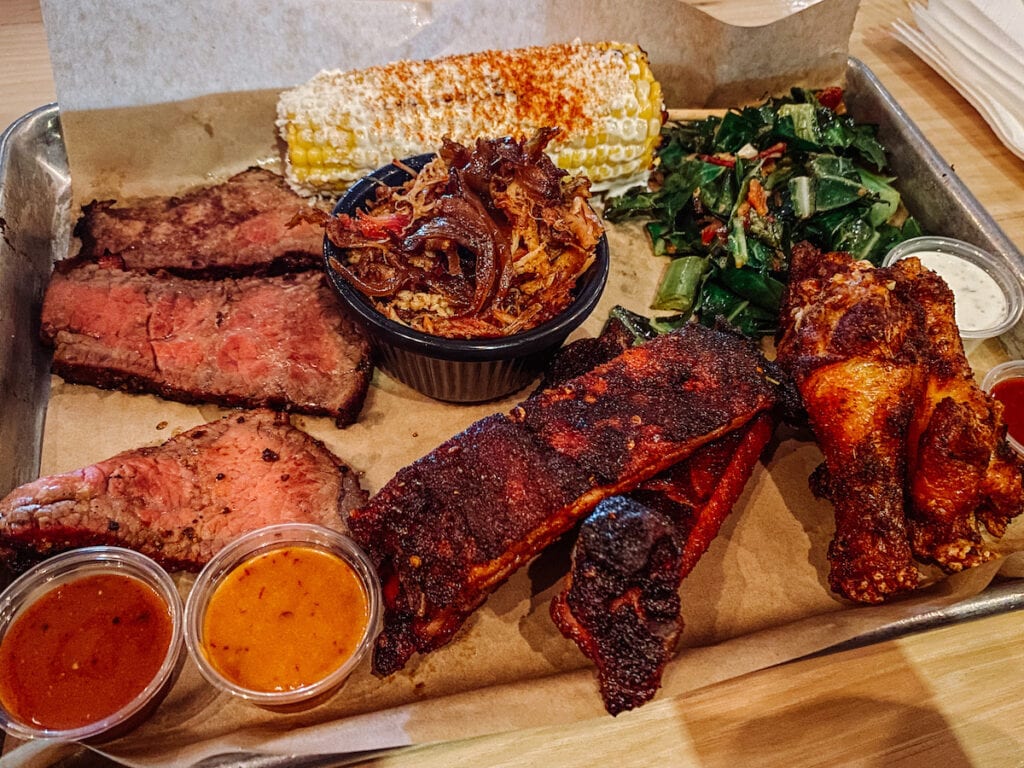 In addition to fantastic BBQ, they also serve delectable CaliMex dishes for breakfast, lunch and dinner. You'll want to eat here multiple times to try all of the amazing dishes. There's a good reason Clutch gets five stars! You'll find these delicious eats at 427 Lincoln Blvd, Venice, CA 90291. Recommended by Jenifer of The Evolista
Jones Bar-B-Q: Kansas
If you are a fan of Queer Eye you may remember Deborah and Mary from Jones Bar-B-Q in Kansas. Before getting into the business Mary was a nurse and Deborah was a postie.
Their skills were learned from their father who opened the first Jones Bar-B-Q in the 70's. Deborah, also known as "Little," is in charge of the smoker. Mary, whose family nickname is "Shorty," preps the meat, and handles the taste test, because consistency matters.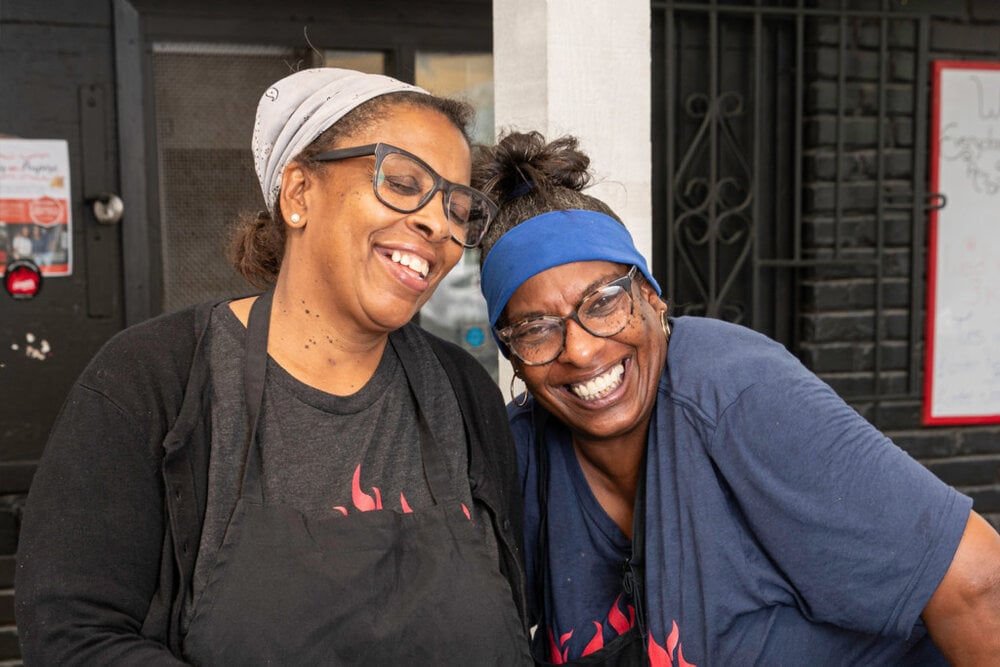 "Our motto is freshness, freshness every day. It has to taste that way today, tomorrow, next week," Mary said.
You can buy the Jones sisters famous BBQ sauces from their website. There are two sauces and a dry rub: Sweet and Tangy and Pineapple Coconut.
The sisters serve up a wide range of platters from slabs of beef, ham, turkey, rib tips and sausage and of course burnt ends. Plus there are sandwiches including brisket, homemade sausages and huge slabs of ribs.
Kreuz Market – Lockhart Texas
You can't talk about BBQ joints without a shout-out to the BBQ capital of Texas, Lockhart.
Lockhart is located less than 33 miles from Austin, making it an easy day trip or part of this epic West Texas road trip!
The town itself is pretty small, with a population of less than 14,000, and those lucky locals have a choice of the best BBQ in Texas from Black's BBQ, Smitty's Market, and Kreuz Market.
Blacks claim to be the oldest, but Kreuz Market proudly states it has been "smoking meat in Lockhart Texas since 1901".
The BBQ experience at Kreuz (619 N Colorado St, Lockhart, TX 78644) is pretty similar to others in Texas, where you can choose your meat and then move along to another station to select the sides to match, then grab some drinks and pay.
Kreuz has a canteen-like communal area with tables to dine at while eating your BBQ off trays with paper.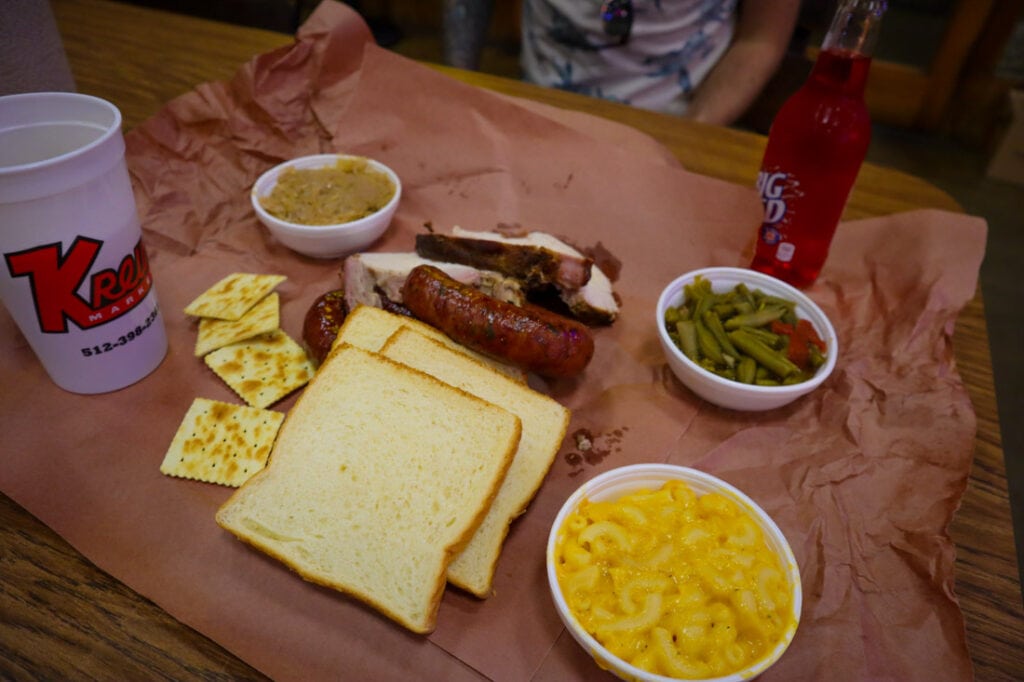 We ate smoked turkey, sausage, pulled pork, mac 'n' cheese, green beans, and bread and washed it down with a bottle of Big Red. Delicious. I'm honestly salivating writing this. Contributed by Gemma of Two Scots Abroad Travel Guides.
The District Smokehouse – Georgia
Georgia is known to have some of the best BBQ joints and southern comfort food in the USA. In fact, you almost can't go wrong at any Georgia restaurant serving up BBQ! The District Smokehouse restaurant located at the Plant Riverside District in Savannah, GA is no exception! The District Smokehouse is located right on the Savannah, Georgia Riverfront, and they have phenomenal BBQ!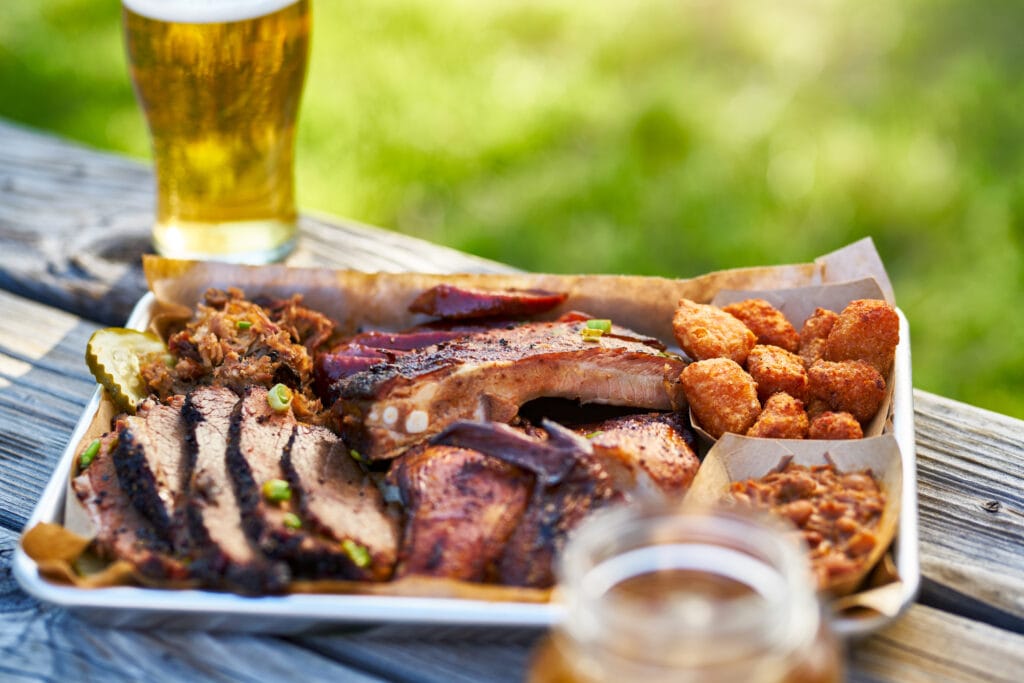 They are a permanent outdoor location with a bar and seating, or you can easily take your food to go. Also, this whole Riverfront area can get pretty lively at night, making it a really fun atmosphere to enjoy your meal. Therefore, you will definitely want to add a food stop at District Smokehouse to your Savannah itinerary!
During a visit, you can enjoy 3 of their different BBQ styles. First is their PRD Original which is a smokey BBQ style. They also have Carolina Mustard (tangy), Southern Hot (spicy), and their own house hot sauce. We enjoyed the Pulled Pork Sandwich with the PRD Orinignal BBQ sauce. The sandwich is huge with giant pieces of pork and comes with one side. We enjoyed their BBQ so much, that we went back the next night! Suggested by Sam Opp from Find Love & Travel
Sam's Bar-B-Que – Austin, Texas
The walls at Sam's are covered in headshots of celebs, shots of customers, posters and art covers the walls. Included in the fans of Sams were my husband's all-time favourite blues guitarist Stevie Ray Vaughn.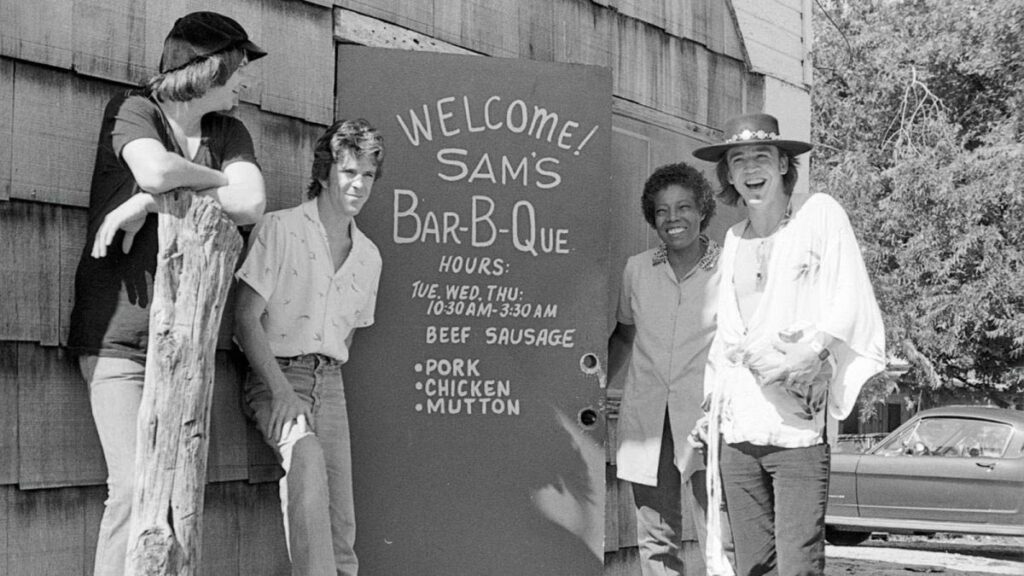 The legendary Sam's has been around since the 50's there have been troubled times such as when the restaurant burnt down and was rebuilt with community love.
The motto here is "You don't need no teeth to eat my beef". Serving up smoked brisket, sausages and ribs the sides include the ubiquitous mac 'n cheese and potato salad. The brisket is cut thick the pork ribs fall of the bone and all must be served with a traditional side.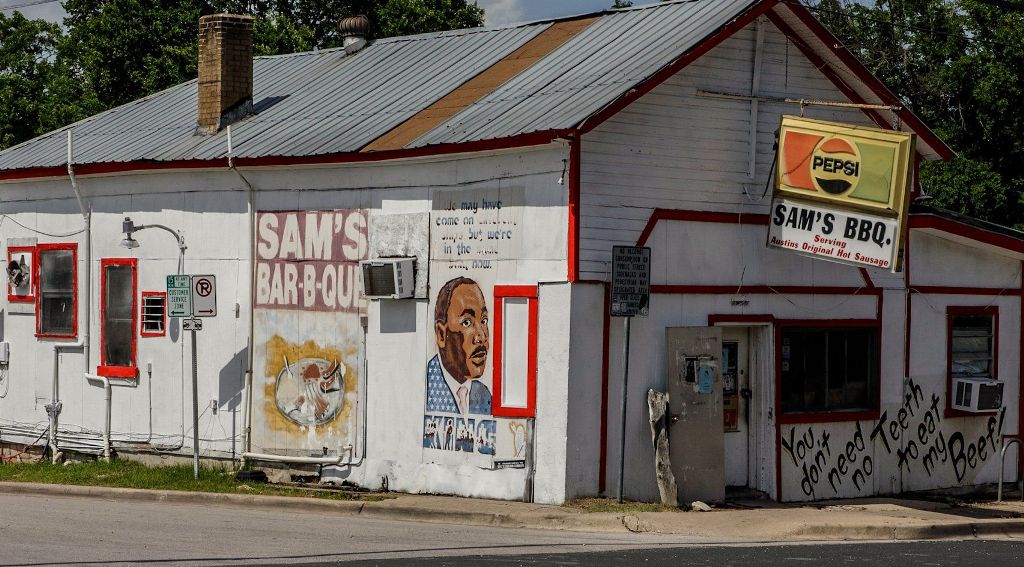 Rusted Silo – Indianapolis
If you're anywhere near Indianapolis, head to Rusted Silo Southern BBQ and Brewhouse for the best barbecue in the area. The pitmaster is a former Walt Disney chef, and like his previous employers, he and his wife have created an entire experience. Instead of specifying a style like Kansas City or Memphis, Chef Ecker simply bills it as Southern, cooking the ribs, brisket, chicken, and pork low and slow on a rotating grill they call the Ferris Wheel Of Meat. They're seasoned perfectly and the guest gets to choose the ‌sauce they prefer, including Alabama white, Kentucky bourbon, Carolina mustard, and Habanero bourbon.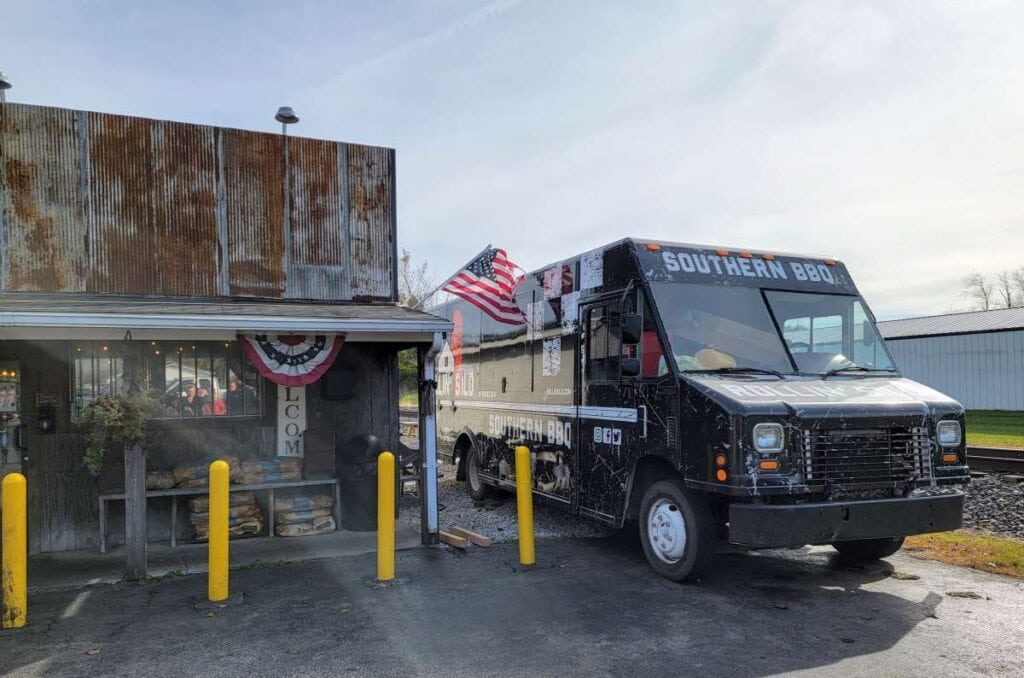 I've tried a little bit of everything, and I can verify there's a reason Rusted Silo's been named best barbecue in Indianapolis every year since they opened in 2018. It's located on the western side of the city in a small town called Lizton, and is in a shack that's literally by the railroad tracks.
Trains have been known to stop to pick up some ribs to go. They've also got an incredible selection of beers, with over one hundred choices, including several local brews. If you want delicious 'que, you can't go wrong with Rusted Silo. Contributed by Theresa of The Local Tourist.
Archibald's Bar-B-Q – Alabama
Archibald's Bar-B-Q with locations in Northport and Tuscaloosa has been on the BBQ scene since 1962 when the joint first started serving ribs. Archibald's was also inducted into the Alabama BBQ Hall of Fame
The meats are smoked with hickory and pecan and served with a vinegar-based sauce and everything is served with white bread to mop up all the juices.
Big Lee's BBQ – Ocala Florida
Made famous by Guy Fieri back in 2014 Rashad and Patrice Jones's Big Lee's BBQ have food trucks throughout Central Florida. Serving up everything from brisket to burnt ends you can also purchase their sauces and dry rubs.
Flame Tang is a traditional-style barbecue sauce with a sweet and tangy flavour, followed by a very mild kick. Serious Sauce is a creamy sauce with similar barbecue flavour notes, and a rich, full-bodied profile. The Sweet Heat Dry Rub and All Purpose Seasoning can be used on pretty much anything.
Jessie Ray's – Las Vegas
If you are passing through Las Vegas, Nevada then you must stop at Jessie Ray's for some Las Vegas-style BBQ. Jessie Ray's is a hole-in-the-wall joint with some of the most incredible BBQ in the USA! There are only a few tables in the restaurant so plan to have a decent wait time if you are visiting during peak times.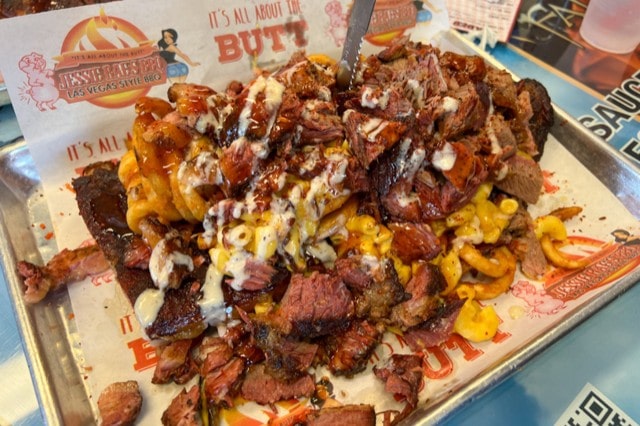 They are known for their meal "The Fortress" – an incredible feast of ribs, brisket, mac and cheese, waffle fries, and a hot link. This feeds 2-3 people easily and is sure to be a favorite!
If you are looking for smaller portions, I highly recommend the pork spare ribs or the brisket. Both are delicious options and the mac and cheese was our favorite side.
Jessie Ray's is one of our favorite restaurants in Las Vegas and is quite popular. They regularly sell out of favorites so go early in the day to avoid missing what you want. They are located just a few minutes off of the strip. We hope you enjoy it just as much as we did! Contributed by Janae | Adventures With TuckNae
Leatha's Bar-B-Que – Petal, Mississippi
Leatha's Bar-B-Que was founded in the mid '70s by Leatha Jackson who was called the BBQ Queen of Missippi. The joint is still family owned and rightly famous for its superb ribs both beef and pork.
Still smoking and using the family's famous recipes the joint makes amazing pulled pork sandwiches, sausage dogs and chicken. Sides include fried potatoes, potato salad, coleslaw and baked beans.
"The recipes and everything of that nature, everything is all the same," Brian Jackson said. "We're not going to change anything that my grandmother had.
Q39 – Kansas
If you're looking for the best BBQ spots across the USA, look no further than Kansas City, Missouri! The city has been famous for its BBQ since the 1920s. From smoked ribs to the best-baked beans money can buy, your taste buds will go crazy in KC!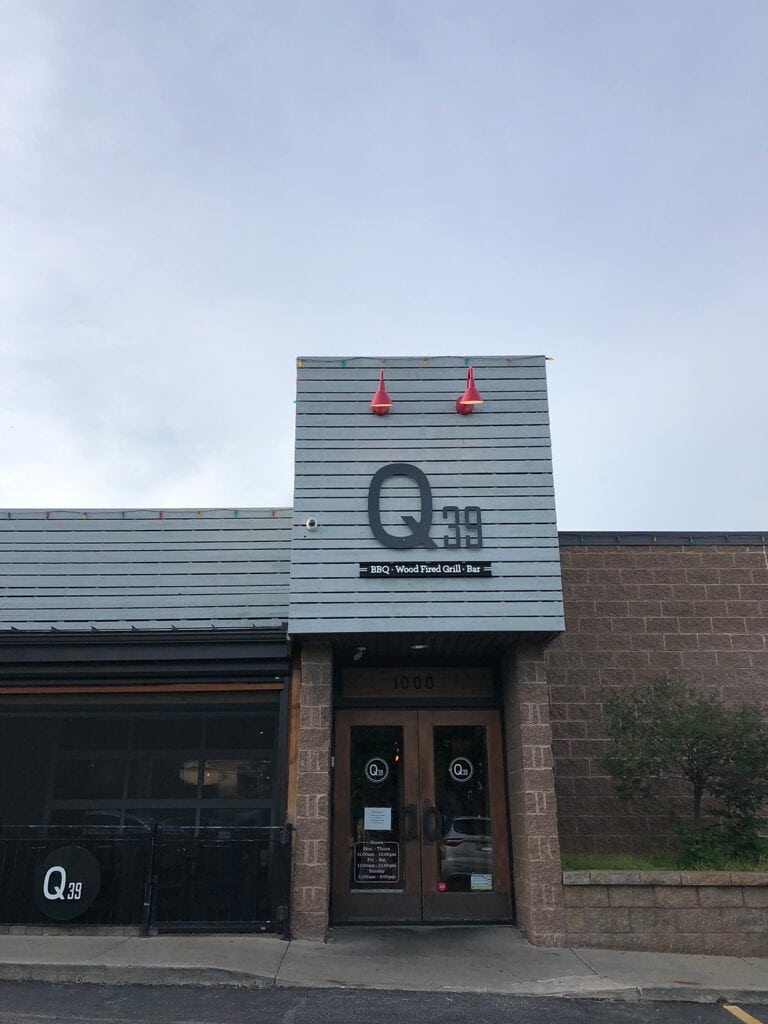 One of the best spots for BBQ in Kansas City is Q39. They have two locations – one in Midtown and one in Southern KC. They're known for their wings – and aptly call them "Best Wings on the Planet." Order includes 6 jumbo wings served in chipotle BBQ sauce – yum!
You simply can't go wrong with the burnt ends, either. Choose the Mr. Burns – which is basically like heaven in your mouth. It's burnt ends on a sandwich with pepper jack cheese, onion straws and a toasted bun. I was so busy devouring the delicious food at Q39 on a recent visit, I forgot to take a photo of it!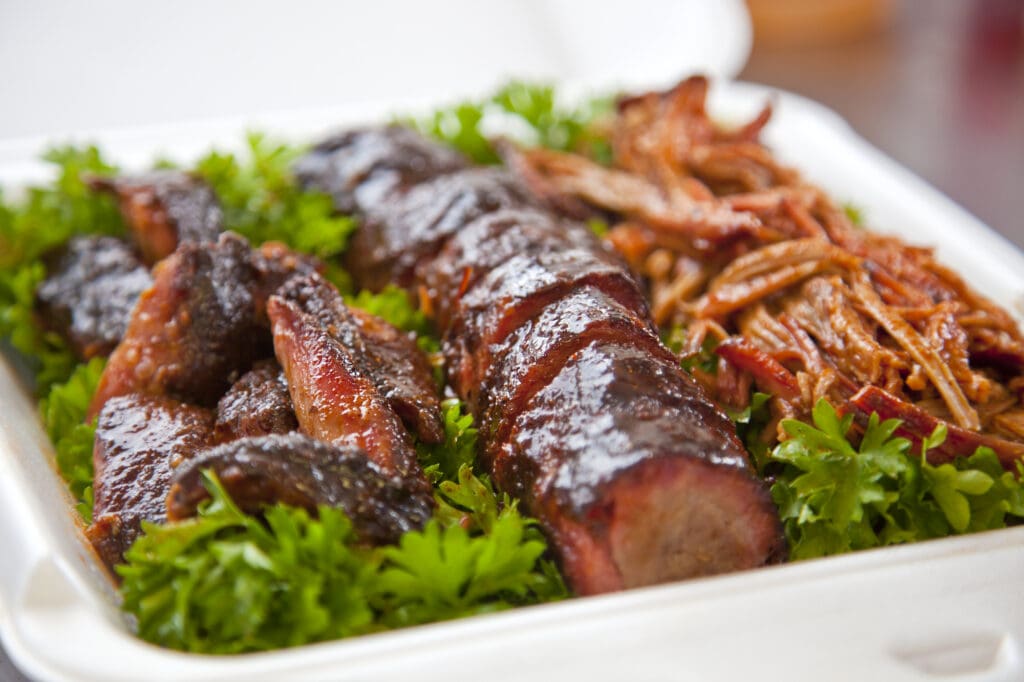 The food at Q39 is ala carte, so you'll want to add a side of apple slay, baked beans, seasonal veggies, salad or crispy fries.
Pro tip: you'll want to make reservations for Q39 or you may not get in! Recommended by Nikki of Inspired Routes
You know you can't go wrong looking for a BBQ joint when two travel writers rave about the same place.
Q39 – Kansas City
Although Kansas City barbeque can feature a wide range of meats – like pork, turkey, chicken, sausage, and even salmon – Q39 in Midtown is the place to go in Kansas City for beef. So if you don't order the brisket or burnt ends in some fashion you are missing out big time!
If you're craving a sandwich, try the Mr. Burns with cubed burnt ends, pepper jack cheese, and onion straws piled high on a toasted bun or the burnt end burger that tops an all-beef patty with sliced burnt ends, spicy pickle slaw, and classic barbecue sauce. Or go big with the brisket platter serving up a generous portion of brisket and burnt ends plus two tasty sides. For a brisket fix you can't get anywhere else, I recommend the brisket poutine that piles chopped brisket, white cheddar cheese curds, and gravy over a bowl of crispy French fries.
Pro Tip: No matter which dish you order and no matter how many of Kansas City's 100 barbeque joints you visit, you'll likely want to take a taste of Kansas City home, so check out these delicious food gifts from Kansas City for inspiration. Contributed by Sage of Everyday Wanderer.
Poogan's Smokehouse – Charleston
Poogan's Smokehouse in Charleston, South Carolina is the best place for Carolina BBQ which is all about slow-smoked pork. This quickly becomes evident with the sight of the large pig sculpture at the front door. Inside, the large open space is comfortable and inviting. You can start with a tasty cocktail, whisky flight, or one of the local beers on tap. Hold off on appetizers, go straight to the meals.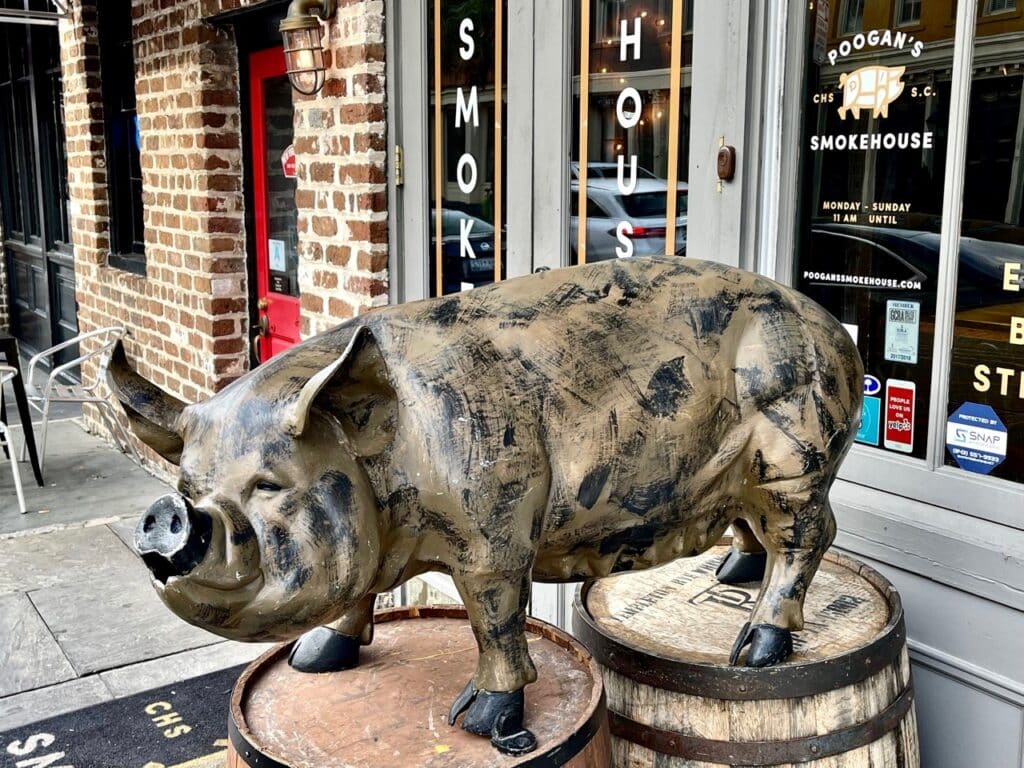 My husband ordered the 3-meat combo with ribs, sausage, and pulled pork; I just opted for the pork and that's what I would recommend. Everything else was good, but the pork was legendary. It's so good it should be on your U.S. food bucket list.
The moist meat has just the right amount of smoke and seasoning—I liked it without any sauce at all. Not a special request, you are in charge of your own sauce. On every table there are three choices of BBQ sauce: vinegar-based, tomato-based, and the South Carolina speciality, mustard-based. You should try all three, of course!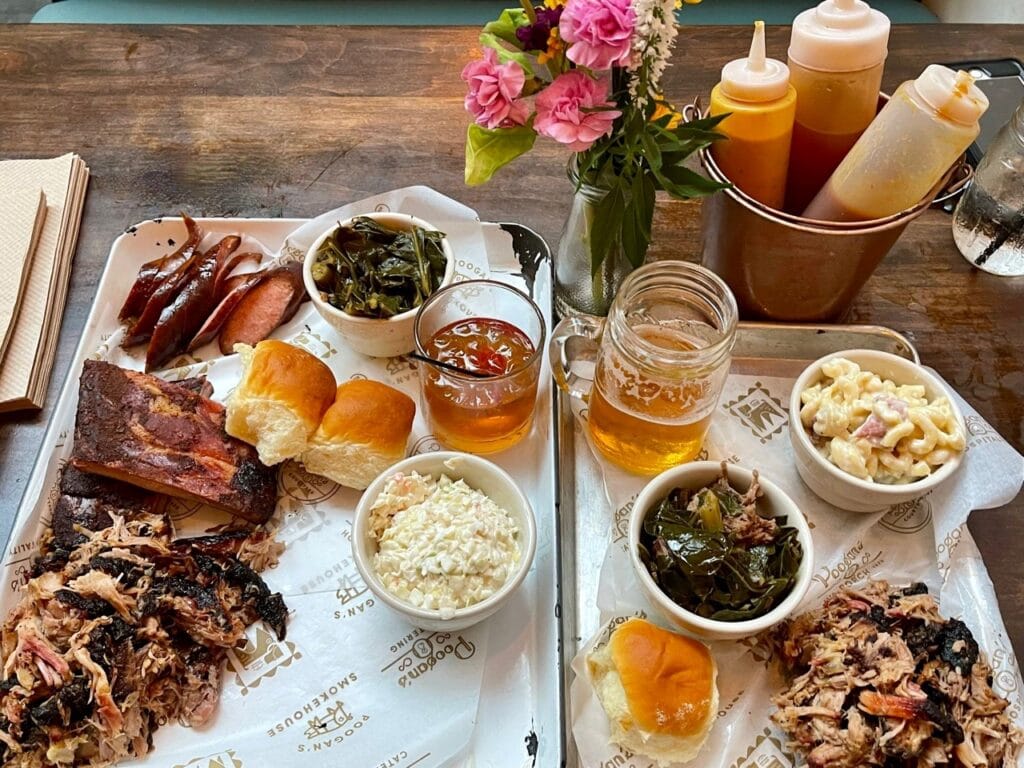 The meals come with Hawaiian buns if you want to make a pulled pork sandwich. These meals are large portions even with only one meat, so I skipped the roll and ate more sides. We enjoyed some of the best collard greens ever, coleslaw, and country ham mac and cheese (also a winner!). Contributed by Denise of Chef Denise.
Terry Black's – Austin
Widely known as one of the best BBQ spots in Austin, Texas, it's not often you can find Terry Black's without a line out its doors. Enjoy fun Austin activities before coming to Terry Black's at an irregular hour to avoid the crowds. This popular Texas BBQ joint serves its delicious cuisine cafeteria-style, with customers excitedly smelling the savory wafts first from the smokehouse just outside. To pass the time, Terry Blacks has two bar stops before you wind your way to the sides.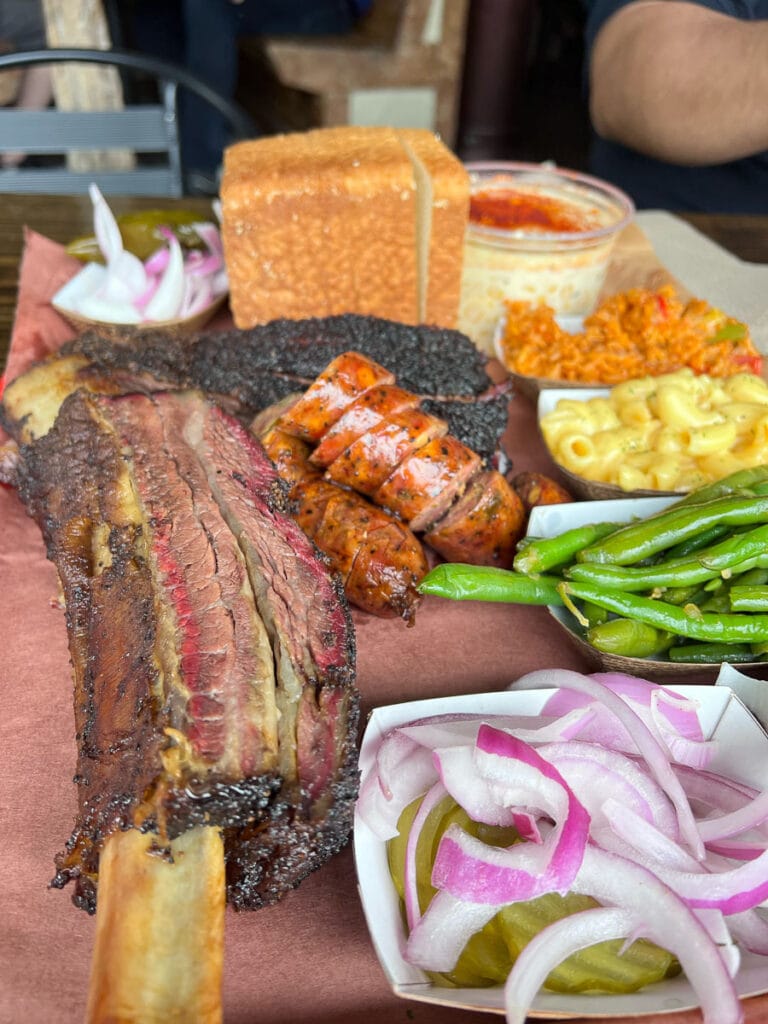 In single, pint, and quart sizes, choose comfort food and veggie favorites like Mac n cheese and creamed corn. Indulge in sweets like peach cobbler and banana pudding, or add cornbread to top your meal. Save enough space for the main course though!
Take your tray to the meat of your visit at Terry Black's. Decide from melt in your mouth brisket, rich (jalapeño cheese) sausage, tender beef and pork ribs, turkey, and chopped beef. If you can't decide which, try a bit of everything on the menu. Sold by the weight, select as little or as much meat in 1/3 lb, 1/2 lb, 3/4lb, and 1lb as you would like. The only exception is the ultimate Terry Black experience – beef ribs, which are sold by the rib. Contributed by Catherines of Nomadicated.
Finding the best BBQ in the USA may be a subjective thing but you can trust a food writer to help you find places you never heard of and learn more about barbecue.
Favourite Barbecue reads
African American Foodways: Explorations of History and Culture: Ranging from seventeenth-century West African fare to contemporary fusion dishes using soul food ingredients, the essays in this book provide an introduction to many aspects of African American foodways and an antidote to popular misconceptions about soul food. Individual chapters examine how African foodways survived the passage into slavery, cultural meanings associated with African American foodways, and the contents of African American cookbooks, both early and recent.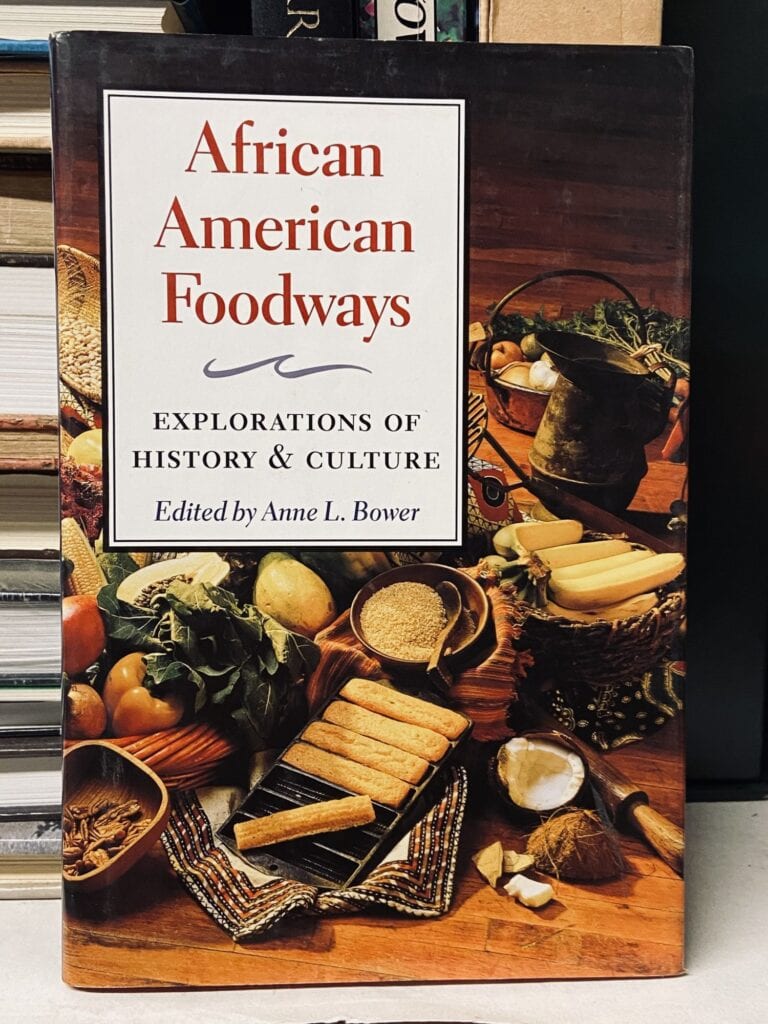 An Irresistible History of Southern Food: Four Centuries of Black-Eyed Peas, Collard Greens and Whole Hog Barbecue: Fried chicken, rice and gravy, sweet potatoes, collard greens and spoon bread – all good old fashioned, down-home southern foods, right?Wrong. The fried chicken and collard greens are African, the rice is from Madagascar, the sweet potatoes came to Virginia from the Peruvian Andes via Spain, and the spoon bread is a marriage of Native American corn with the French souffle technique thought up by skilled African American cooks.
Savage Barbecue: Race, Culture, and the Invention of America's First Food: In Savage Barbecue, Andrew Warnes traces what he calls America's first food through early transatlantic literature and culture. Building on the work of scholar Eric Hobsbawm, Warnes argues that barbecue is an invented tradition, much like Thanksgiving-one long associated with frontier mythologies of ruggedness and relaxation.
Rodney Scott's World of BBQ: In the first cookbook by a Black pitmaster, James Beard Award-winning chef Rodney Scott celebrates an incredible culinary legacy through his life story, family traditions, and unmatched dedication to his craft.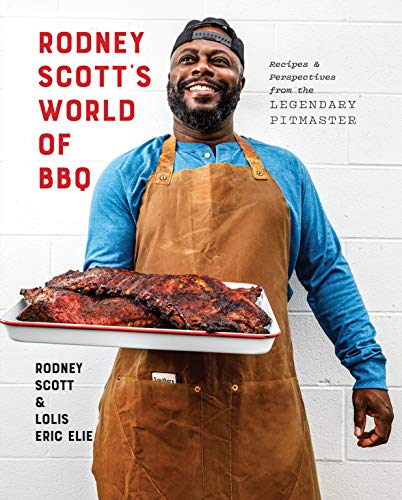 You may also like
UNESCO Intangible Cultural Heritage – food
38 of the best noodle dishes around the world
Weird American food – 32 dishes to try
World of Drinks – the weird and wonderful
42 best breakfasts in the world
Pin it to save it

Latest posts by Faith Coates
(see all)