The Ultimate Guide to Visiting Ephesus
Ancient Ephesus or Efes was the capital of Roman Asia Minor, and today it is the most impressive Classical site in Europe. With this guide to visiting Ephesus, you will be able to see all the major sites and enjoy them all with our best tips for visiting Ephesus.
Ephesus is an ancient city founded on the coast of what has become modern Turkey in around 3000 B.C. On the Royal Route of trade to the east and a prominent religious centre for both Pagan and Christian religions it is one of the greatest cities in history.
Ephesus was one of many Ionian cities built by the Greeks during the 2nd century BC on a hill known as the Ayasuluk Hill. Ephesus was the fourth largest city in the eastern Roman Empire, famous for its Artemesium, the Library of Celsus and its medical school. Ephesus is located in western Turkey near Izmir.
We actually took a cruise to Izmir and then hired a private guide to take us to Ephesus. This was a considerably cheaper way to visit Ephesus rather than book the cruise tours. As a bonus along the way we got to visit The Temple of Artemis and go on to see Mary's house in the hills of Turkey.
The Greek city-wall, that was erected under King Lysimachus and at least 9 kilometres long, was built in 3C BC. Today more than 3 kilometres of it is extremely well preserved on the Bulbuldag and can be seen on the way to the House of Virgin Mary.
BOOK YOUR FLIGHTS TO TURKEY NOW
What to see at Ephesus
Temple of Artemis
Temple of Hadrian
The Arkadian (Arcadian Way)
White marble Road
Church of Mary
Marble Road
Celsus Library
Terrace Houses and the Ephesus mosaics
Odeon
Great Theatre
Basilica of St. John and the Baptistry
Virgin Mary's House
Ephesus: things you need to know before you go
This is an absolutely huge and impressive site and it can be a bit overwhelming. We took a cruise to Izmir which was amazing and then took a private tour of the site with 6 others from the cruise ship. The tour guide was fantastic and he started our tour at the Lower Gate which is usually the exit area for the tour buses, so we managed to see most of the site without being overwhelmed with other tourists.
There are two entrance gates to Ephesus the Lower Gate which is the one we took is the nearest to Selcuk village and has a huge parking lot available for the tour buses and taxis and those that drive to the site. The Upper Gate is usually where the tourist buses drop off the visitors and then move to park by the Lower Gate.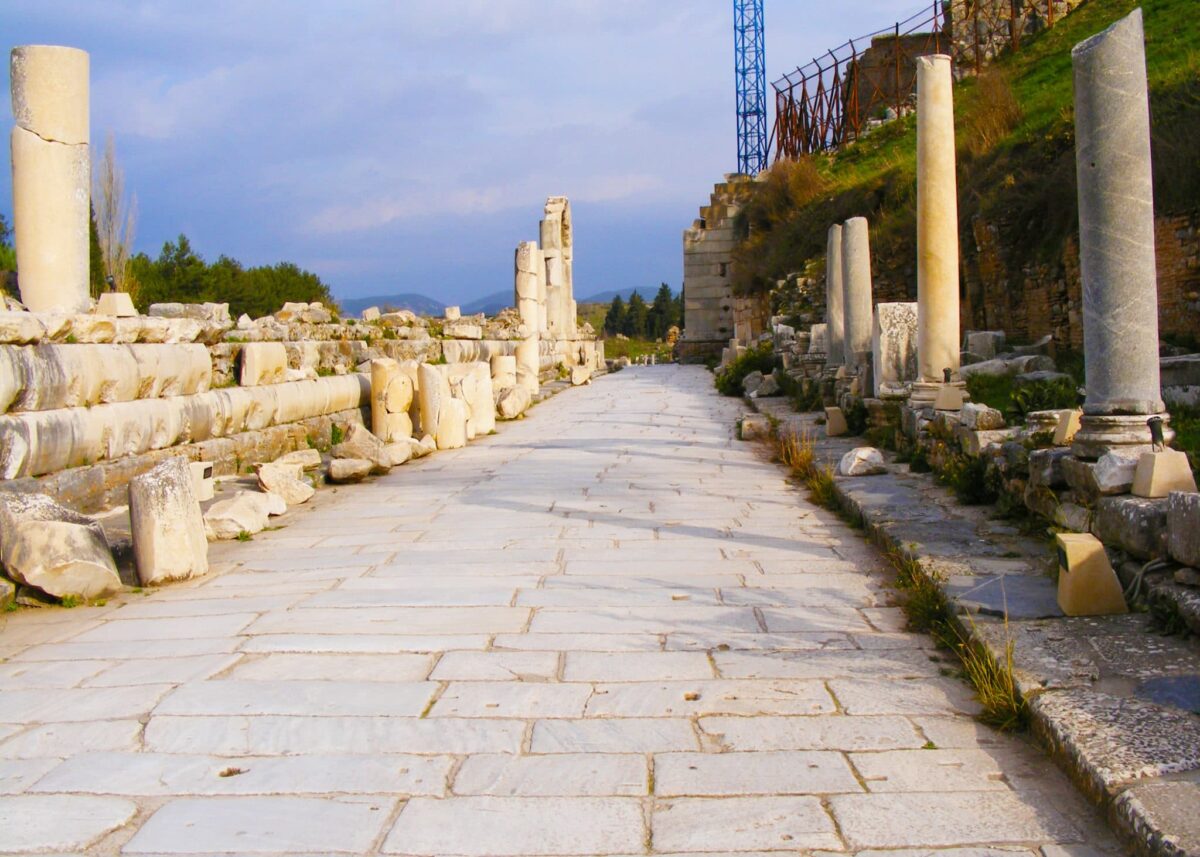 In starting at the Lower Gate this was how we managed to avoid the huge crowds. Given that it is a sort of uphill climb the Lower Gate is still an easy walk particularly if you arrive early in the day and even later in the day. There are paid audio guides available at both entrances and they are available in many languages.
Main sights of when visiting Ephesus Turkey
It was claimed by ancient writers that Ephesus was founded by the Amazons under their Queen Hippolyta at that time the location was right on the Aegean Sea around the 3rd to the 5th millennia. The initial location of Ephesus was a river bend that eventually became a full harbour near the mouth of the Kayster (Cayster) River.
The river frequently silted up over the years and became removed by around 5-6 kilometres from the sea. The silting did, however, create an incredibly fertile valley for current day farming. Walking the marble road of Ephesus you are literally walking in the footsteps of Antony, Cleopatra and Caesar.
On your way to the site of Ephesus, you will pass the Temple of Artemis. These days this is not much more than a total ruin but still, it used to be one of the 7 Wonders of the World. This was believed to have been re-built over 7 times according to Pliny. Originally the Mother Goddess (Kybele) cult was assimilated with the newly arrived Greeks who made up a new cult with their goddess Artemis.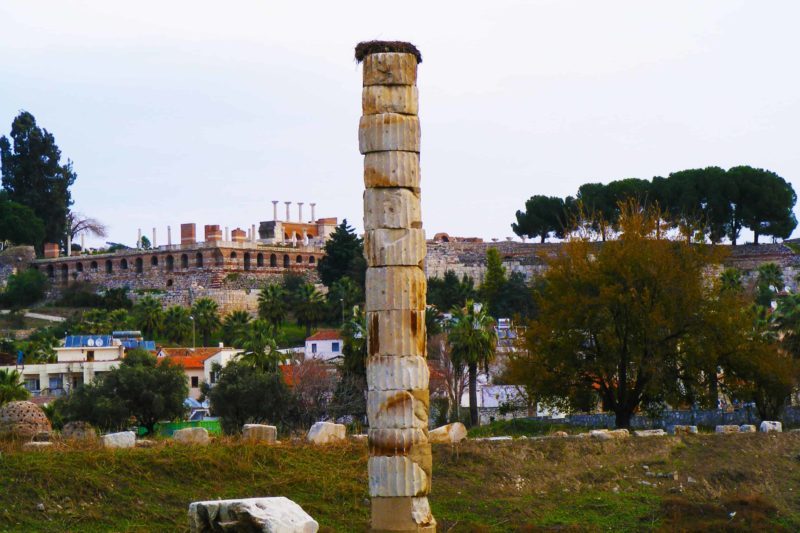 A temple was built by Croesus which was completed by 430 B.C. However, the magnificent building was burnt down by a lunatic who wanted to be famous, the temple burned the night Alexander the Great was born. The site is still visited to this day but much of the materials that went into the building of the great temple have been used in other monuments which are visible from the site.
Ephesus became a UNESCO World Heritage site in 2015 and you can learn more about these World Heritage Sites here on the blog Anything-Everywhere.
Around 10 BC Androclos was searching for a new location in which to site the city of Ephesus. Because of the man-made harbour and the flow of the river, backwashes caused the harbour to frequently silt up. It was written Emperor Hadrian cleared the harbour and when this was finished Ephesus was in a location that justified a great seaport.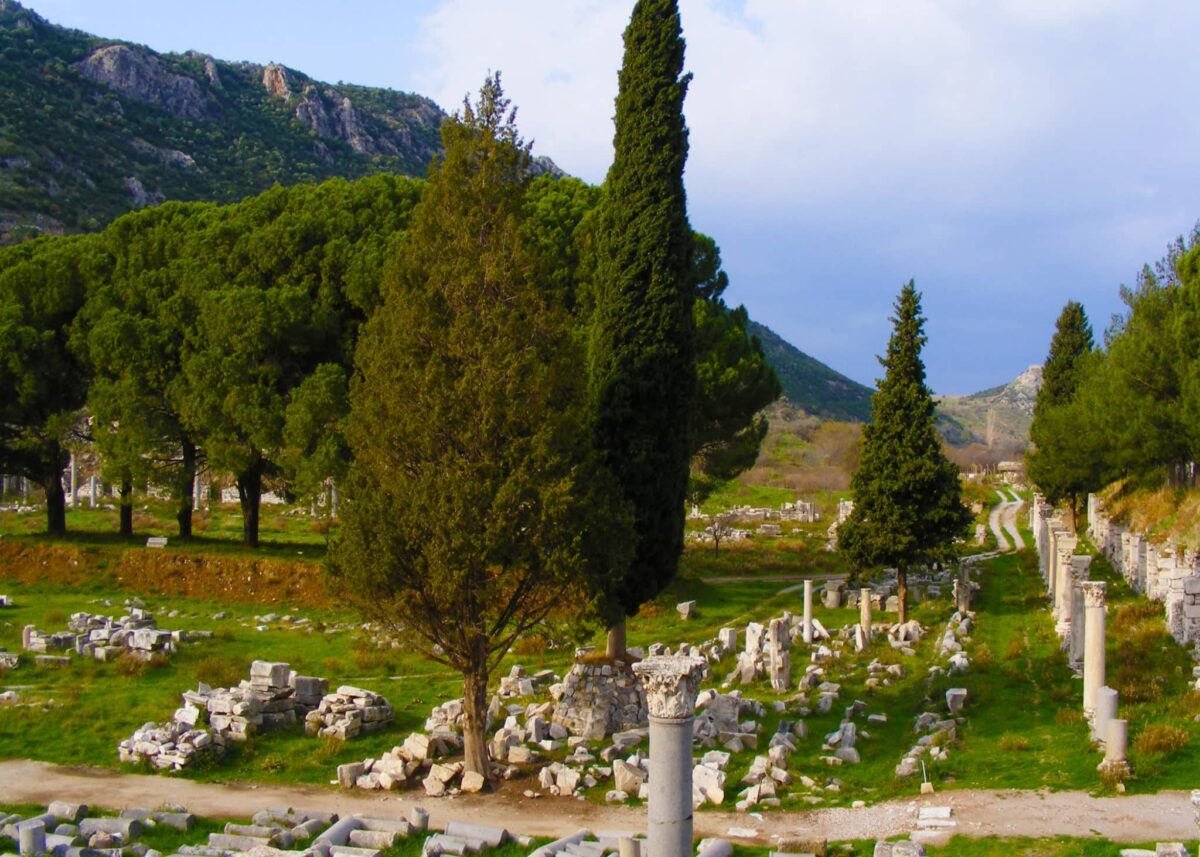 The city sat at the convergence of three land routes, going East, North East and North with a shipping lane from the north. It became a magnet for citizens from all over the known world. As its height, Ephesus was calculated to have around 250,000 citizens which put in around the 4th largest city in the World.
It became over time a magnificent City with its Marble Road, which was known as the Sacred Way and must have been a splendid place to live. Archaeologists have been excavating Ephesus for the last 140 years when a search for Artemis Temple was undertaken. The site spreads over approximately 12 kilometres only a 10th of which has currently been excavated.
The Highlights of visiting Ephesus Turkey
The Roman influence at Ephesus is the most apparent. With its Roman Baths, public W.C.'s with a full sewer system, the Library of Celsus, Basilica, and Odeon that seated 1400 spectators and a great theatre which seated 25,000 the ruins at Ephesus are an incredible step back in time. Walk the Sacred Way that Antony and Cleopatra strode on. The white marble road has been pieced back together over the past 100 years and remains a stunning reminder of the glory of this ancient site.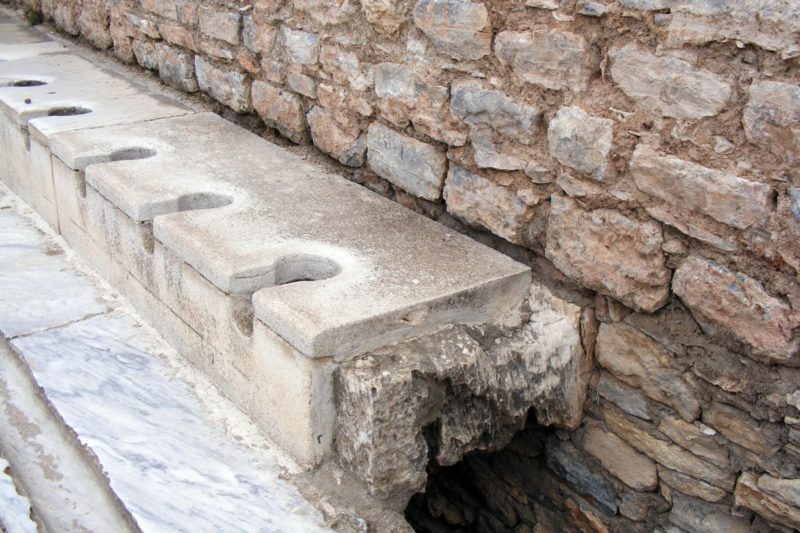 These latrines were public and a small fee was charged to use them. They were a part of the Scholastica Baths and they were located right beside the Temple of Hadrian. The toilets surrounded a pool and the structure had a wooden ceiling. Freshwater flowed through the gutters in front of the toilets to keep things "fresh" and clean.
The Arcadian Way
The Arkadiane was built to impress visitors to the great city of Ephesus. A collonaded marble road that connected the harbour and the theatre. It was built as a Greek City during the Hellenistic period and was a 530m long street that had 50 streetlights, shops and galleries.
The Arcadian Way was used as a ceremony road. It links the famous Royal Route to the sea and runs around 500 metres with galleries and shops either side the full length of the road.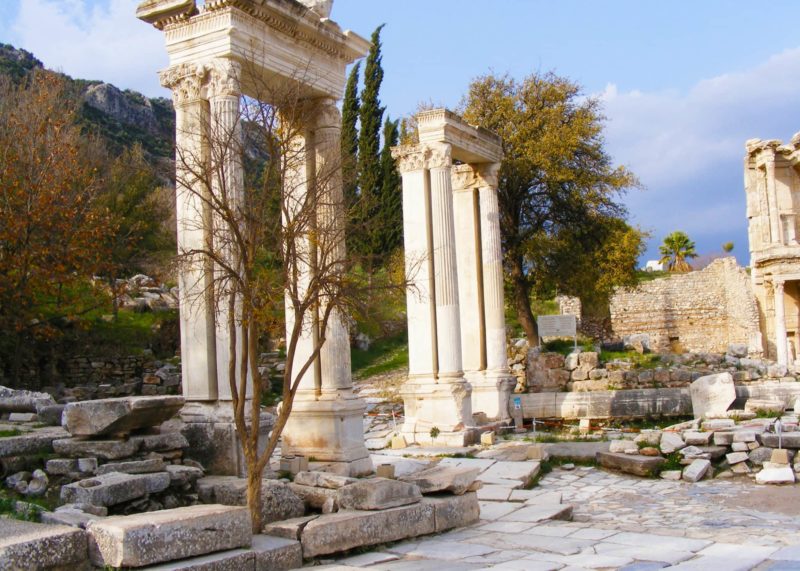 Marble Road
The Marble road is where Cleopatra and Antony walked the length of Ephesus. It leads to Hadrian's Gate and connects the Celsus Library to the theatre.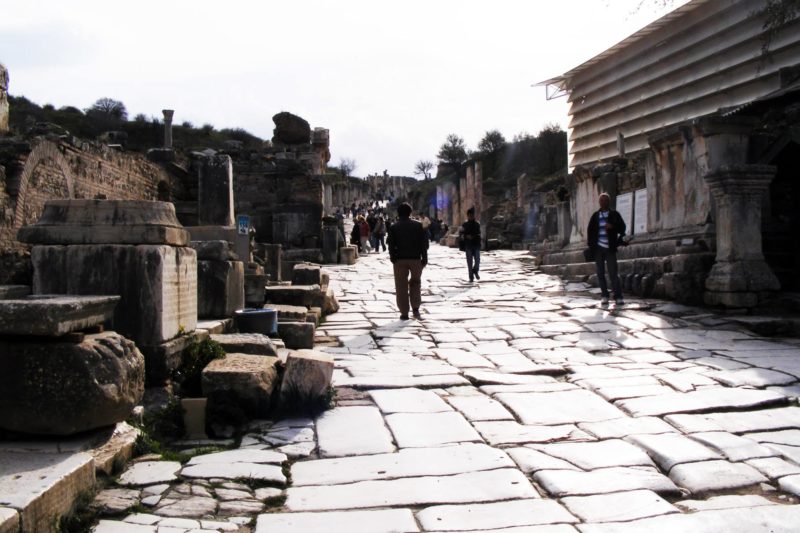 When visiting Ephesus it is on the Marble Road that you will see what is believed to be the oldest advertisement in history. The distinct imprint of a foot leads the way to a private house which was a hidden brothel. There is a cross, a woman, a heart, a library and a and a hole interesting ad no? There are lots of different interpretations of these images but you can pretty much guess at the meanings.
The Church of Mary
Early Christianity at Ephesus can be seen in the Church of Mary which is an ancient Christian Cathedral which was also known as the Church of the councils. It was called this because there were 2 religious councils of great importance held here.
It is believed that the church was built on the ruins of an earlier Roman basilica that had been abandoned around the 3rd century, known as the "Hall of the Muses". Around 500, the church was expanded into a monumental cathedral, whose apse and pillars partially still stand today on the site.
Make sure your guide and tour bus takes you to see Mary's House up in the mountains near Ephesus.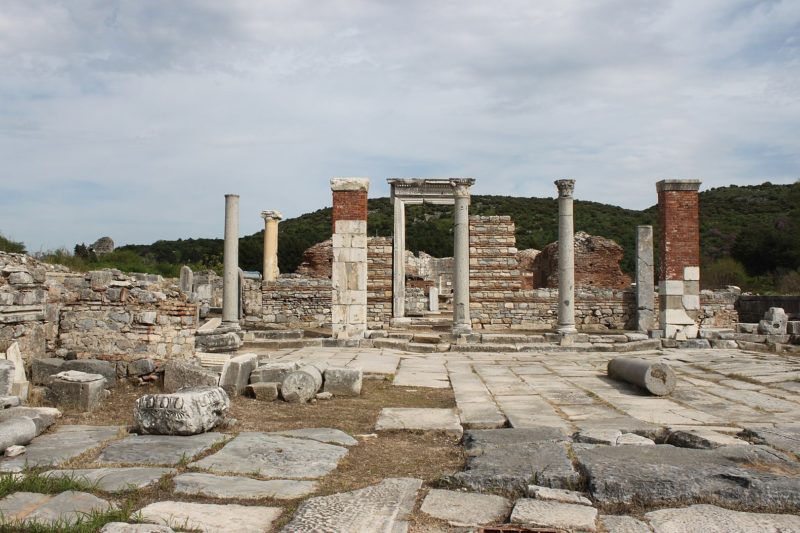 Celsus Library
This is the most iconic photographic image taken at Ephesus and the one most associated with Turkey. The Celsus Library was the third largest library in the ancient world, and it held up to 15.000 scrolls. The library building itself sits on top of Celsus's grave or sarcophagus which lays in the crypt below the building. The statues which can be seen in the various niches at the front of the library symbolize the "virtues" of Celsus and they are Valor, Wisdom, Knowledge, and Intelligence.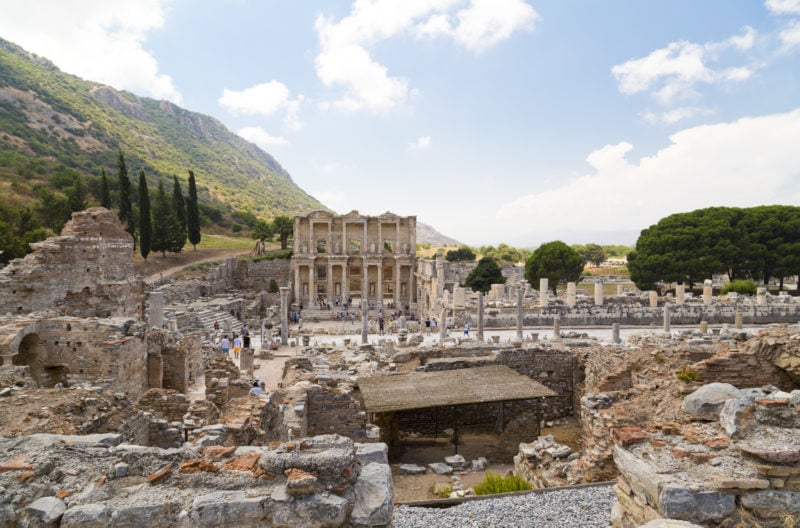 The Library of Celsus was cunningly built and designed to look far grander than its narrow lot would allow for. The double walls of the library were built to ensure good temperature control to preserve the scrolls. The walls and floors were faced with coloured marble and the lavish use of decorative wall friezes and ora.
The Terraced Houses
To visit the Terraced houses you do have to pay an extra entry fee. The houses are kept protected underneath a tented roof and many visitors to the site miss them as they are not on most regular tours. With their intricate mosaic floors that are as bright today as when they were first installed.
These houses were built during the Roman Period, with the oldest one dating back to the 1C BC. The houses had hot and cold water and even a heating system using clay pipes. There are 6 houses that are built over 3 terraces and excavations started on them around 1961.
The Odeon
Seat yourself in the Odeon and just feel the presence of those ancient people. Imagine looking out over to the Aegean Sea and in your view was one of the most glorious sites in the entire ancient world.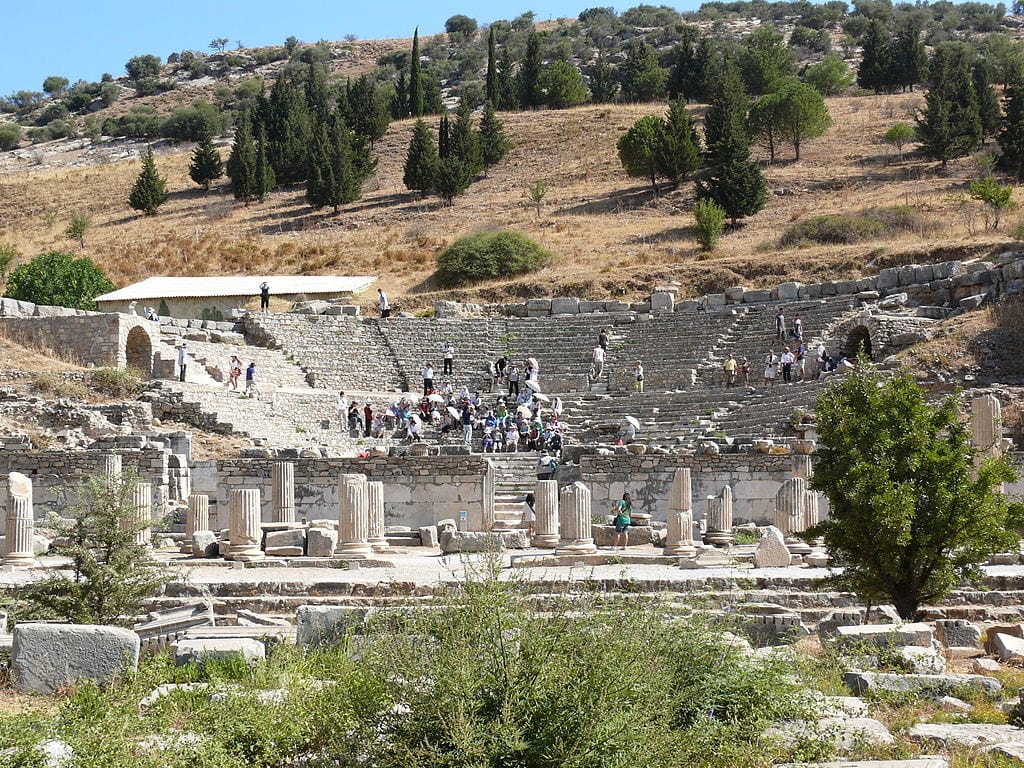 It had a capacity of 1500 spectators. It had 3 doors opening from the stage to the podium. The podium was narrow and one meter higher than the orchestra section. The stage building was two-storeyed and embellished with columns.
The Great Theatre
The most magnificent building at Ephesus is the Great Theatre. First built in the Hellenistic period which was the 3rd century BC. It was enlarged by the Romans and those are the ruins you see today.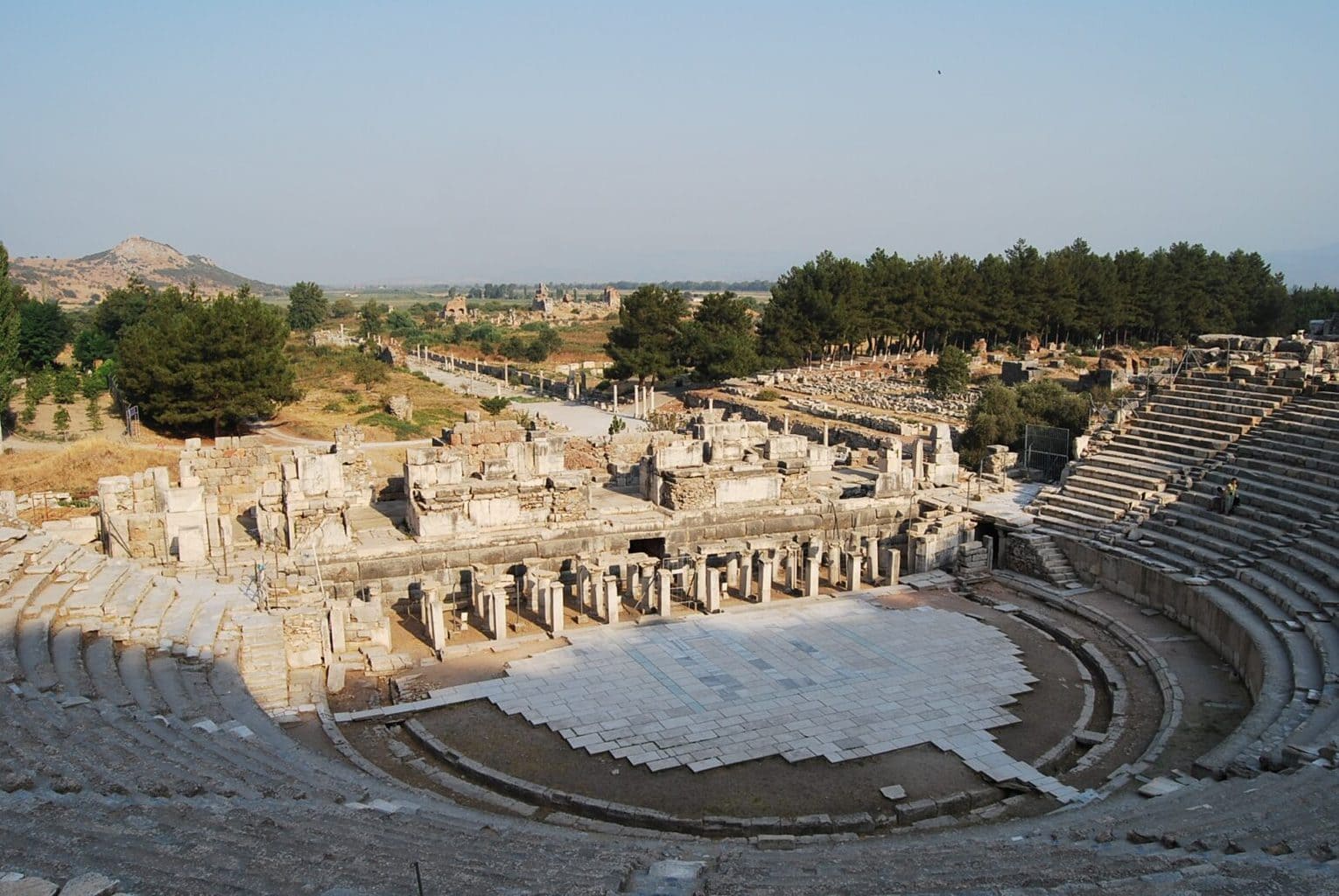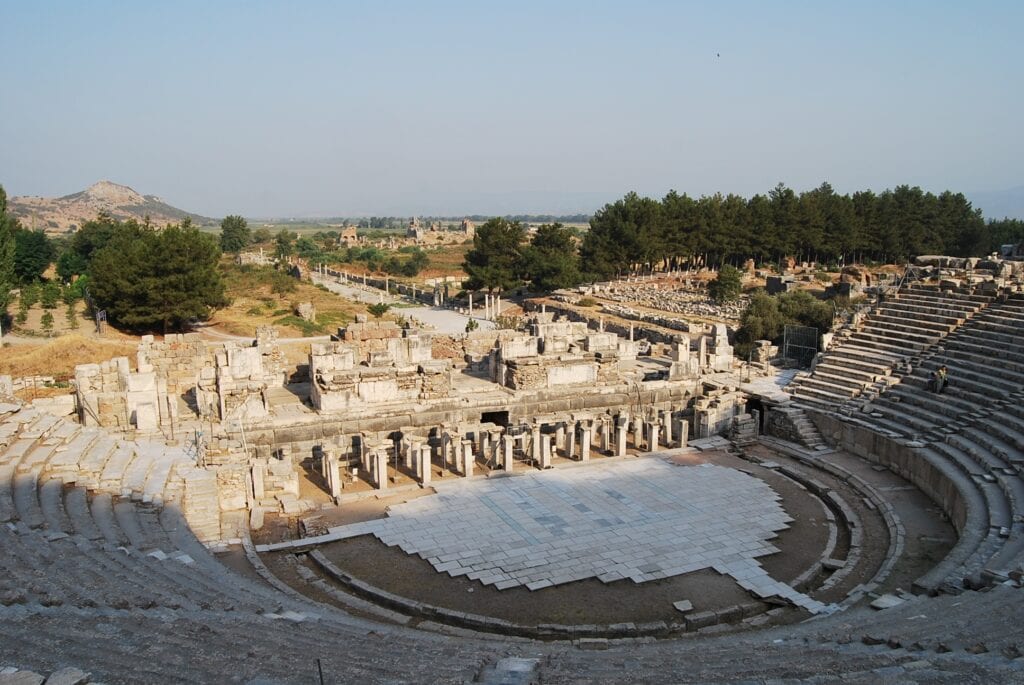 This theatre could seat over 25,000 people. There are three sections of seats during excavations marble pieces were found that were used as the backs of some seats reserved for the important folks and of course the Emperor's Box. In the lower section, Marble pieces, used for restoration, and the Emperor's Box were found. The seats with backs, made of marble, were reserved for important people.
Basilica of St. John and the Baptistry
When Christianity became the official religion of Rome this building was turned into a basilica and it was the first church dedicated to the Virgin Mary. Within the Basilica ruins, you will see the best-preserved baptistry in Asia Minor.

Up in the mountains near Ephesus, you can also visit the ancient site of what is considered the Virgin Mary's home.
Today you can find many of the archaic remains from Ephesus in the British Museum in London.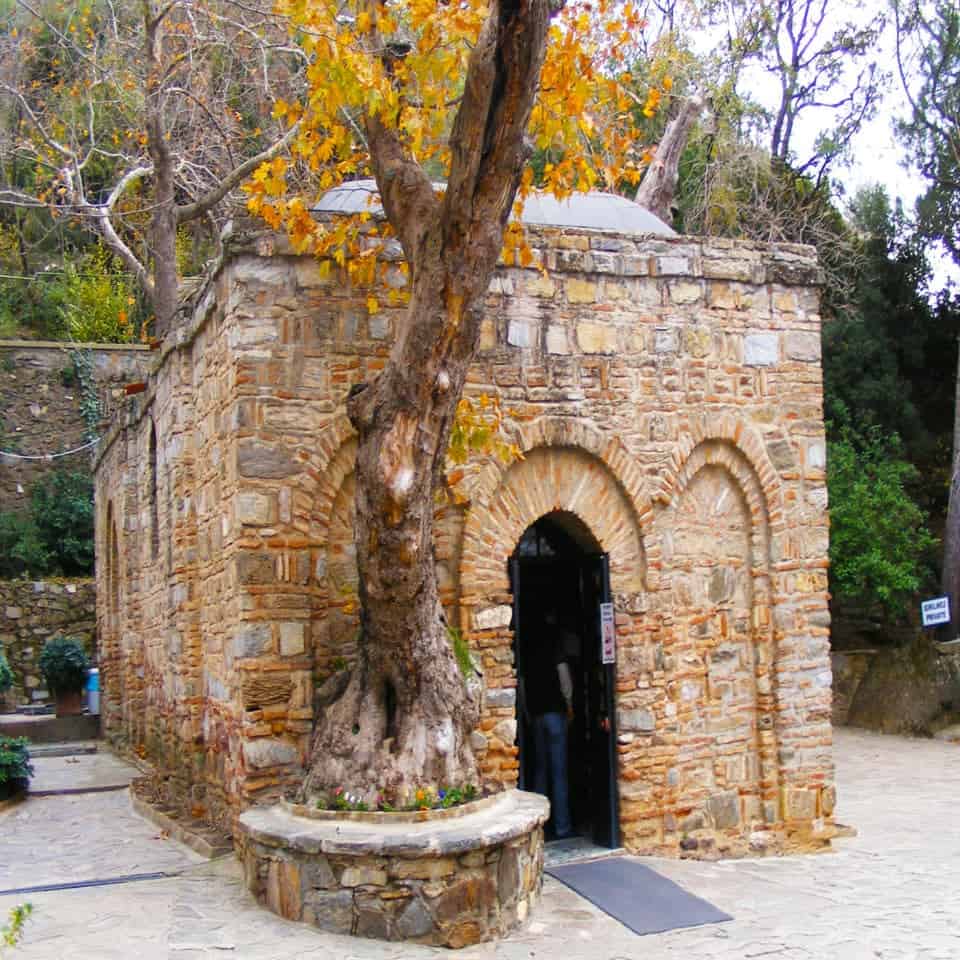 Turkey is a mecca for shopping, the bazaars and souks are irresistible. I came home with gorgeous leather jackets, spices and a ton of stuff. If you really want to learn what to buy when you visit Turkey I suggest you have a read of Lindsay's (at Carpe Diem Our Way) great article on What to buy in Turkey.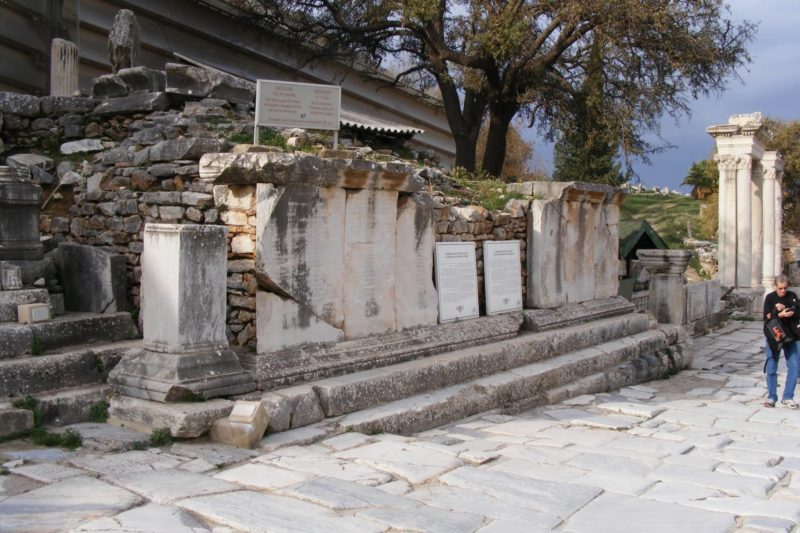 Turkey is a place that my husband and I absolutely loved and we cannot wait to get back there again. If you love Turkey and want to find some fabulous places to visit outside of Istanbul look no further than Melissa's article on 16 Wonderful Day Trips from Istanbul. I want to explore every single one.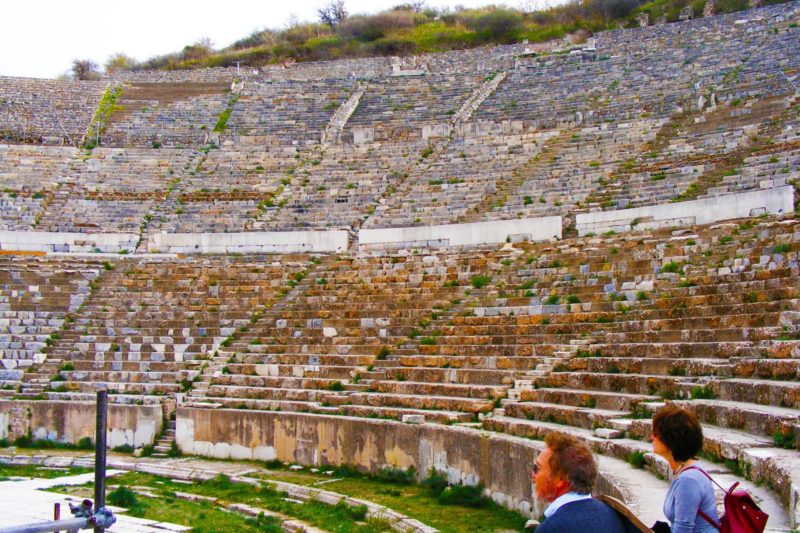 I travelled to Turkey via a Meditteranean cruise but many of my fellow writers head out from various points across Europe and in Verushka's case South Africa, here is a great post from her blog Tips for travel to Turkey some good research about what to expect, what to pack and much more.
What to pack for travelling to Turkey
Personal experience tells me that I need a carryon bag with those twisty wheels that go in all directions and has both carrying handles and a pull-out drag bar thingy. I want sturdy fabric, preferably in a day-glow colour so I can see the damn thing if I do have to check it. I also want soft sides that give a little – just in case. My recommended one? Well, I pick the azure blue Travelpro Maxlite 5 19″ Expandable International Carry-On Spinner. I know it's a mouthful but it is a great case and so far so good it's lasted me 5 years of repeated airport bashing.
Now this one may seem a little odd but I see a lot of N. Americans complaining that most hotels and B&B's in Europe and the UK don't have washcloths. Well, that's true I mean after all who wants to use a used washcloth. Take your own these are great quick-drying washcloths that are reusable and environmentally friendly.
Now if you are really concerned about the whole liquid issue why not take solid shampoo bars and body wash bars. These products are paraben and SLS free, TSA approved (so to speak) perfume-free and chemical-free. That makes them very environmentally friendly and they are so easy to use.
I love a multipurpose jacket Craghoppers 3 in 1 jacket. It's windproof, waterproof and breathable and has a drawcord at the waist which helps me look like I have one. It's not bulky and looks good even when not hiking.
Now you are going to need a 110v to 220v voltage converter so you can plug in hairdryers, phones, laptops or tablets and so on. My personal favourite and one that has lasted me 4 years is the Bestek Universal Travel Adapter.
Trust me on this one you will have more photos than you can store on either your phone or your camera and you don't want to be deleting any to take more before you get home.
This Ultra Scandisk chip will work under adverse weather conditions (we get a lot of those here) and keep your photos or drone footage totally safe. A flash drive for your Smart Phone or Android will also come in very handy.
I'm not going to recommend cameras or other types of photographic equipment such as a drone because – well because I am a crap photographer who uses a good cell phone for most of my photos. Now I want a drone but I have to admit I haven't bought one yet. So I was reading all kinds of reviews and know which one I want this a Holystone 1080P Drone….sigh if only. This has a huge flying time of 26 minutes.
This little beauty is a Lipstick-Sized Portable Charger, which is an absolute, must-have when travelling. I keep mine charged and then bring it with me just in case. There is nothing worse than running out of juice when you are snapping some of the best views ever. You will never be out of power with this charger.
A concealed travel pouch may be one of the most important items you bring with you on your trip to Ireland. This unisex RFID blocking concealed travel pouch is lightweight and comes in several colours. It has lots of organization to give you peace of mind. You can keep your most valuable documents safe and secure next to your body.
If you have a pouch already you may not want to or need to invest in a new one, like me. If it does not come with the RFID protection, these RFID sleeves would be handy to prevent identity theft. This configuration comes with enough passport and credit card sleeves that the entire family would be protected. They are slim too, so they will easily fit into your wallet.
If you are planning on taking a lot of pictures with your phone you will definitely want to consider an external charging battery. This Anker high-speed phone charging battery is the exact one I use. It can be used on a variety of phones.
I hate selfies but if you have to have one or if like me you have shaky hands the FugeTek Selfie Stick and Tripod has Bloothtooth connectivity so it is very easy to use. It is made of long-lasting aluminium and is very lightweight and easy to carry.
Don't forget to bring along a universal power adapter on your trip. This worldwide power plug is a great example and will charge your phone at the end of your busy days. And this world traveller adapter kit can charge several devices at the same time.
If you want to travel light and in Europe with paying extra for luggage you need packing cubes. These Bagail packing cubes are the exact ones I use whenever I travel.
This foldable water-resistant backpack is brilliant for making sure your things are protected and secure. I don't bother to carry a purse this is what I find works for me mainly because its "hands-free" and I can easily carry everything in it.
I love this antitheft backpack it looks good and doesn't look scruffy it has a grey finish and it fits my 15″ laptop perfectly.
I adore a scarf – when travelling light scarves can make or break your wardrobe. I always take around 5 with me to change up my outfits. I'm not exactly an "outfit" kind of person but when I want to cheer up my basic black, white and grey wardrobe a scarf fits the bill perfectly. In Turkey, if visiting mosques and sacred spaces you need to cover your arms so a scarf is a great help with that.
This lightweight cotton scarf comes in a huge variety of checks, plaids and stripes perfect for adding that little personal style to your travel wardrobe.
I do love a fancy embroidered scarf as well, it can be used as a shawl and I have this type of scarf in a few colours and I can use it as a shawl, scarf or headwrap with its beautiful embroidered flowers I feel a little more dressed up.
If you have an aversion to mixed fibre scarves and wraps why not go for an environmentally friendly hemp version? This type of scarf will last virtually forever and the colours it comes it will brighten every wardrobe.
Now I've had my eyes "done" – no it's not what you think I had cataracts quite bad ones in each eye. So it took 2 years on a waiting list to get them removed. Now I can actually see without glasses and I've worn them since I was 8 years old.
What I have noticed is that I react quite strongly to sunlight and my eye doctor recommended that I wear sunglasses whenever I'm out and in particular to make sure they are polarized. What a difference I got my Oakley's and haven't looked back and I can see stuff I never thought possible, when the glare of the sun reflects on the ocean or any kind of water I can actually see it's like a miracle.
I have many plans to visit Turkey again I want to see Istanbul and experience the beauty of the Bosphorus and eat lots of Turkish food. I want to explore the city and the bazaars, take a look at the incredible Hagia Sophia. We missed the Isa Bey Mosque sadly. This mosque was built using some of the columns from Ephesus.
We did see Isa Bey when we went to the site of the Temple of Artemis you can see it located just below the basilica of Saint John.
I have had Cappadocia and a balloon ride on my bucket list of travel for years now Susan the GenX Traveller managed to cram in this and a host of other amazing activities on her visit to Cappadocia 24 hours, caves, fairy chimneys, and hot air balloons.