Best things to do in Cappadocia in Winter
When you visit Cappadocia in winter it feels like stepping into another world. From the unique rock formations, incredible fairy chimneys and beautiful hot air balloons, this magical region should definitely be on every traveller's bucket list.
Winter happens to be one of the best seasons to visit Cappadocia and I was lucky enough to visit Cappadocia in December. Winter in Cappadocia when it is covered in snow, this mystical region is simply breathtaking. Do you dream of visiting Cappadocia in winter? Check out this 3 day itinerary and pack your bags for the trip of a lifetime..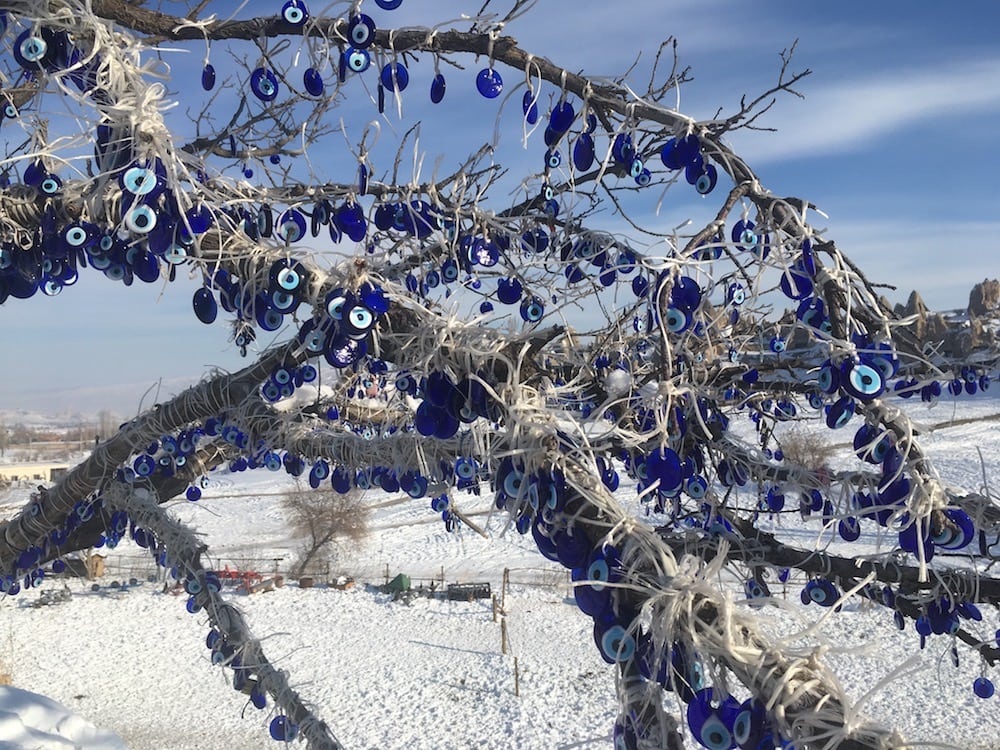 Xyuandbeyond is reader-supported. When you buy through links on our site, we may earn an affiliate commission. You can read my privacy policy here.
Travel to Cappadocia
Cappadocia is one of the most picturesque locations in all of Turkey and a very popular tourist destination and is easily accessible from anywhere in Turkey. Most people choose to stay in Goreme, the main city.
There are two airports in Cappadocia, in Kayseri and Nevsehir. Turkish Airlines and Pegasus offer daily flights from Istanbul, Antalya, and Ankara to both airports so getting there won't be too difficult.
However, the airports are located 1 hour away from the city of Goreme so you'll need to take a shuttle to go to your hotel. Most hotels offer the shuttle service to and from the airport for a low price, which I think is the easiest option.
If you're coming from Pamukkale, you'll have to catch a bus from Denizli (Pamukkale) to Nevsehir (Goreme) with Metro Turkiz. The journey is approximately 10 hours. Unfortunately, there are no direct flights from Pamukkale to Goreme.
In case you wouldn't want to fly, the same company also runs buses from Istanbul to Goreme. You can check the prices and availability directly on their website.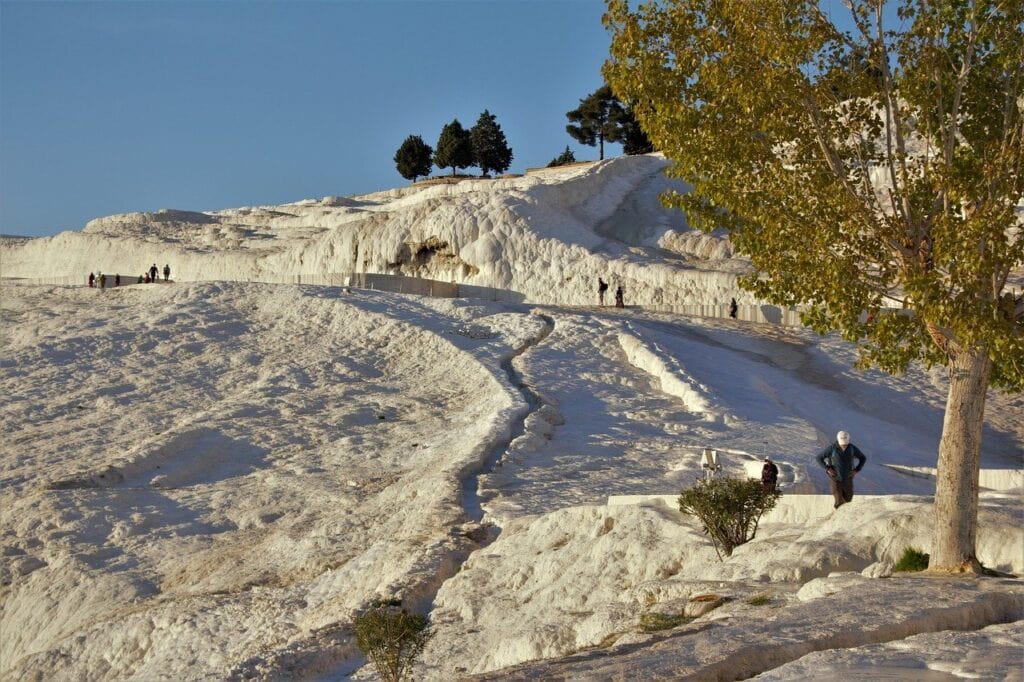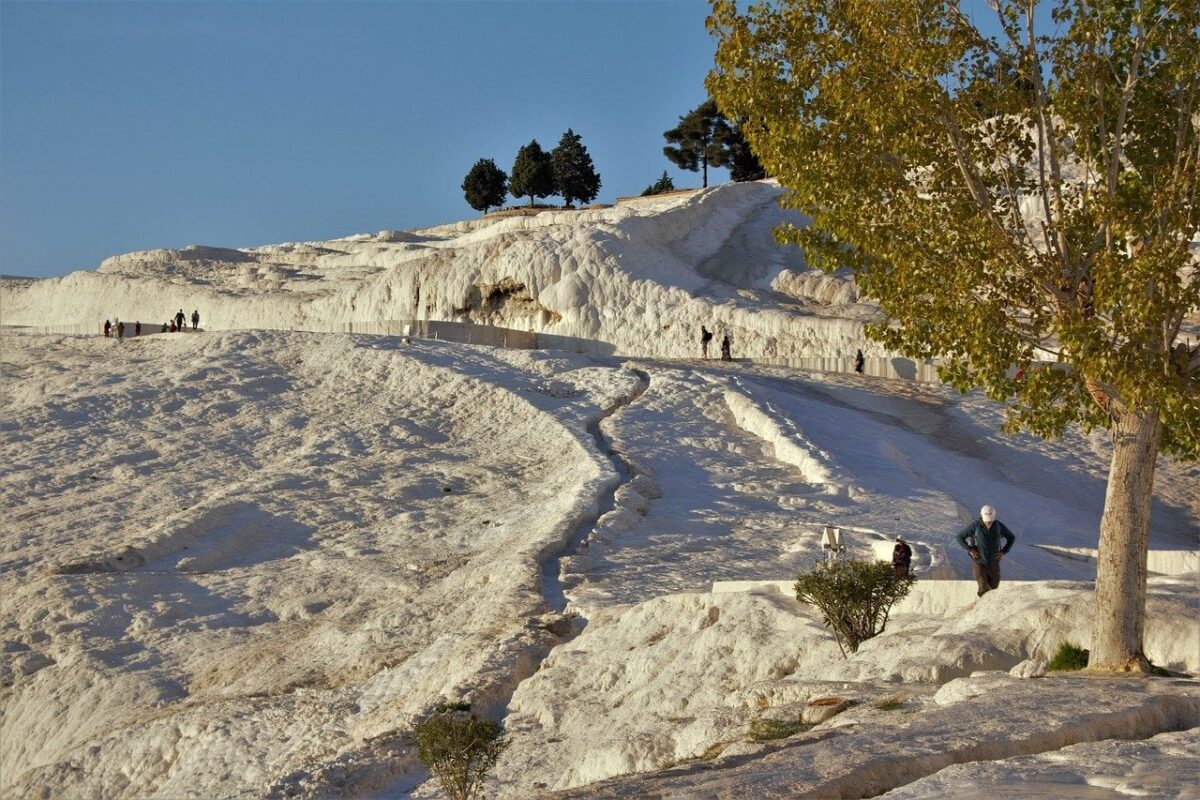 Getting around Cappadocia
There are several ways to get around Cappadocia. The easiest one is probably to rent a car, but you need to be a confident driver to drive in Turkey during winter. Turkish people drive on the right side of the road, as in North America.
But, you should know that most cars in Turkey use a standard transmission (stick), so don't forget to mention that you want an automatic car and make it very clear as automatic cars are not as common in Turkey as they are in the USA. There are several car rental agencies like Hertz, or Cappadocia Rent A Car where you can rent cars for as low as $30 a day.
If you don't want to rent a car, however, you can easily see the main attractions on foot or using the local buses. I personally love taking the bus, and in Turkey, it's pretty cheap. Another great option is to take a tour which will take you to all the main interesting spots.
Currency and budget in Cappadocia
Turkey has a relatively cheap cost of living compared to countries in Western Europe. And when you visit off-season, it's even cheaper. The currency used is the Turkish lira. You can travel to Turkey for $40 per day per person, and with this budget, you can stay in a comfortable hotel and eat at a restaurant every day. However, This budget does not include activities. Your biggest expense will clearly be the activities, so your budget for Cappadocia will really depend on what you want to do.
Is Cappadocia safe?
Goreme and Cappadocia have become really popular in the last few years, notably thanks to Instagram. The place is absolutely safe, and the Turkish are lovely. Like in many other countries, there are street hawkers in Turkey, but that's about it. Use your common sense, and you'll be just fine in Turkey and Cappadocia.
How to spend 3 days in Cappadocia in the winter
Cappadocia is a spectacular region with lots of natural wonders, and there are many things to see and do. I personally spent 3 days in Cappadocia, and I found this time to be just enough to see all the main attractions and do a couple of activities. Here is a sample itinerary for your winter trip to Cappadocia:
Take an air balloon tour
One cannot start a trip to Cappadocia without watching the balloons! Wake up for sunrise and go to your hotel terrace to watch the balloons go up above Goreme. Seeing the balloons is stunning, especially with the morning light. It's a beautiful moment you don't want to miss.
Taking a hot air balloon in Cappadocia may seem like a pretty cold way to spend a few hours but this is one of the best things to do in Cappadocia. A Cappadocia hot air balloon ride can be taken in winter but sometimes flights are cancelled because of the weather conditions. Don't forget to ask your hotel the night before if the flights are still on. By the way, you can also see the balloons in the afternoons. There is another flight around 2 pm or 3 pm. I watched both and preferred the sunrise one as the light is low and it just feels so special. No need to mention that a beautiful blue sky filled with colourful balloons is super Instagrammable.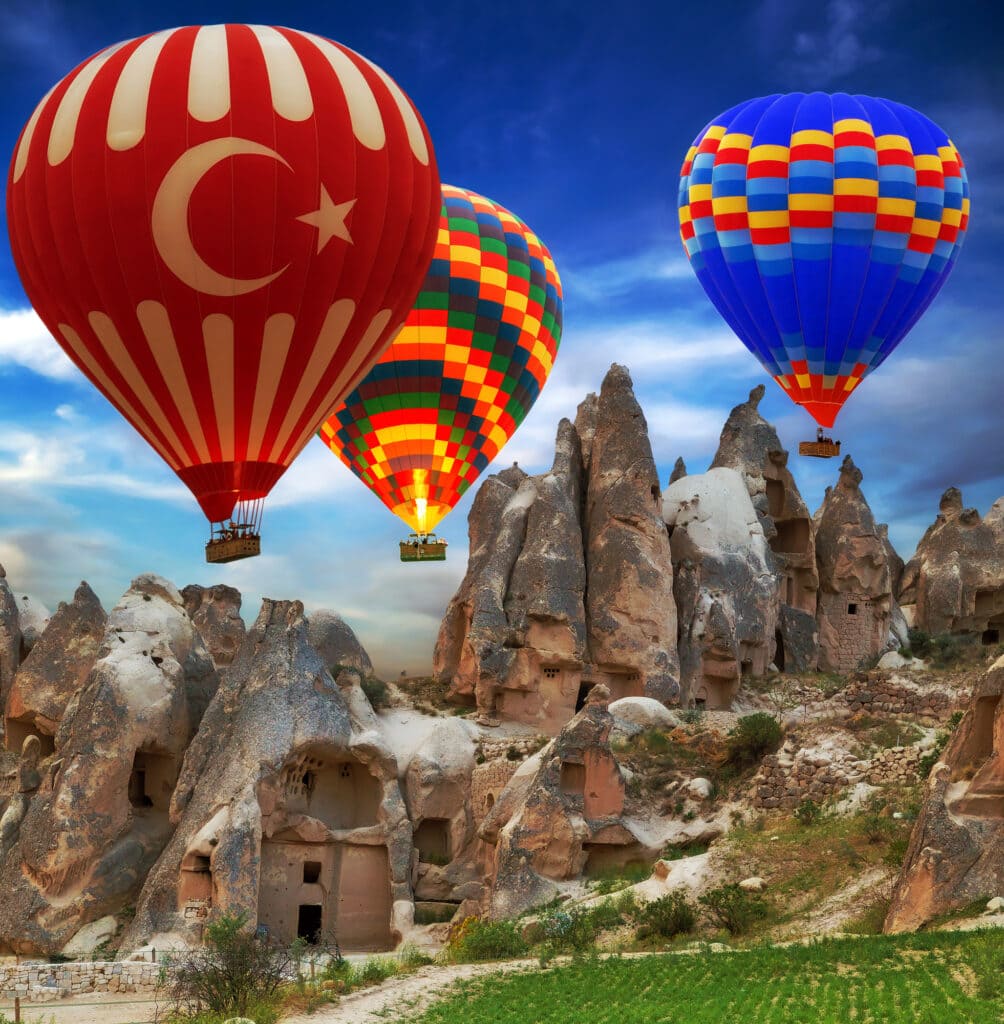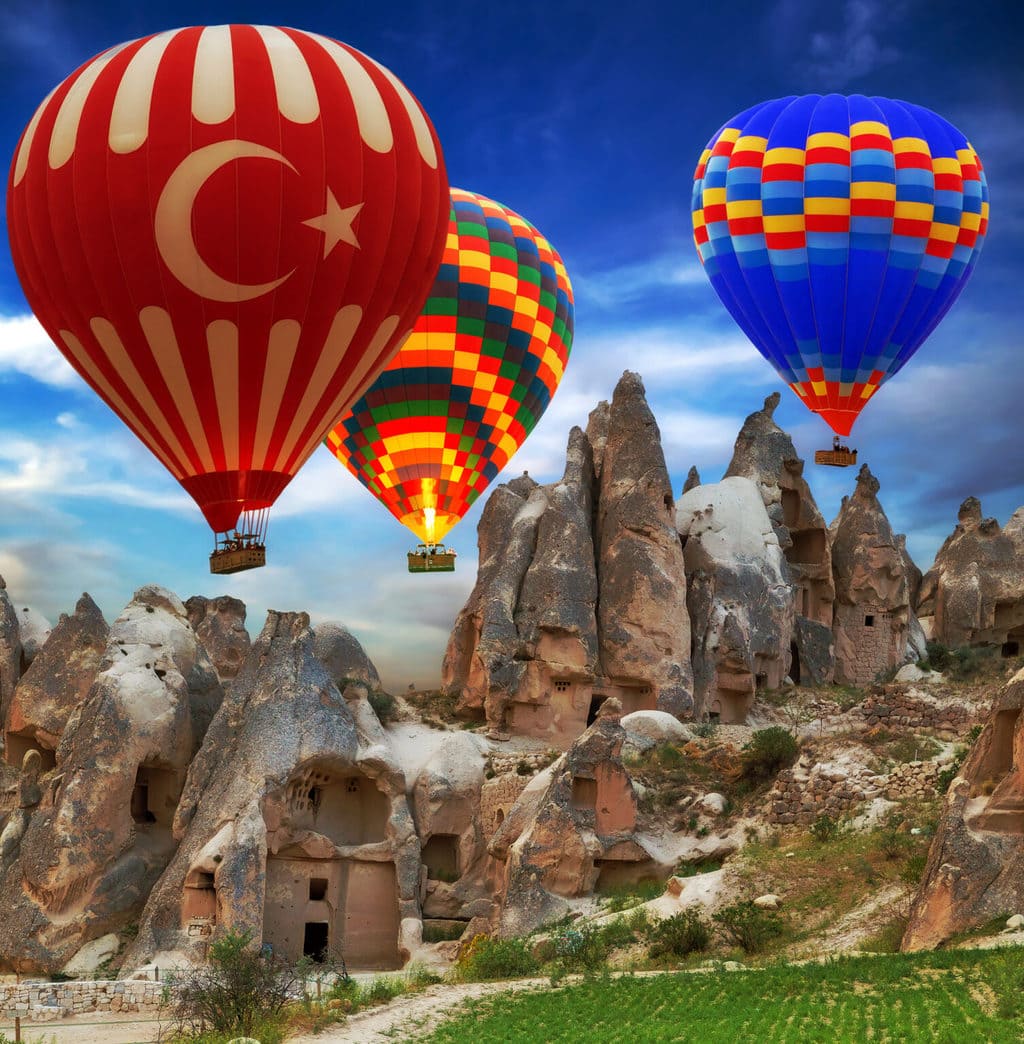 Göreme open air museum
After enjoying your first breakfast watching the balloons, head to the Goreme Open Air Museum, which is on the UNESCO world heritage list. The museum is only 10 minute walk from Goreme city centre. This incredible site is a religious complex where you'll find rock-cut churches with beautiful frescoes. Don't miss the nunnery, St Barbara church, the dark church and buckle church.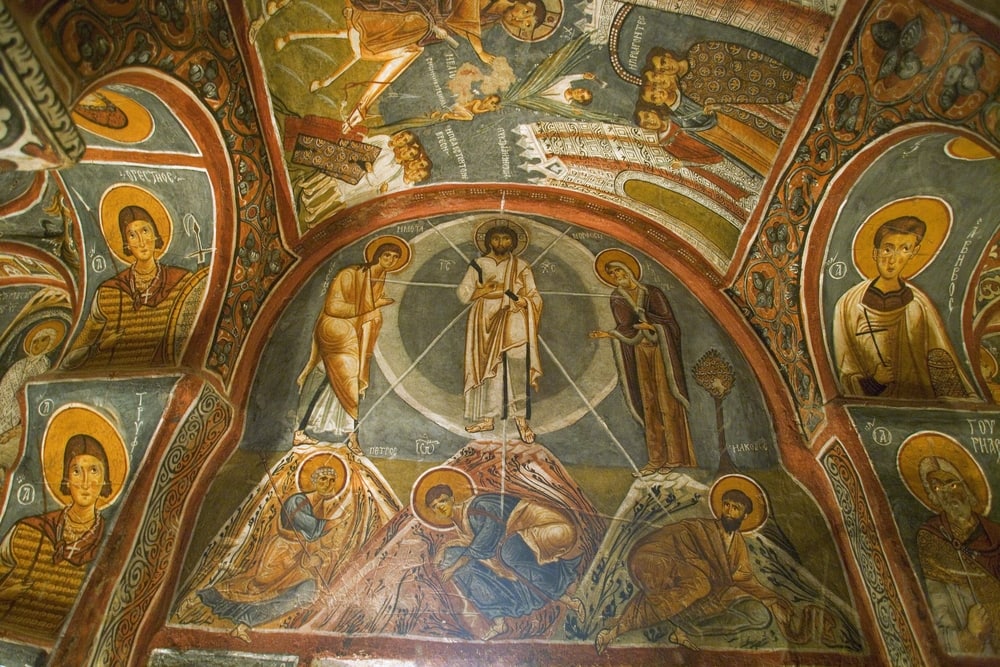 Allow a good 1h30-2h to visit this museum and enjoy the beautiful scenery of this incredible place. Don't forget to stop by the museum's shop before heading to your next activity. The entrance to the museum is 45 Turkish Lira per person plus an extra 15 Turkish Lira if you want to visit the dark church, which is a true work of art.
Visit Uçhisar Castle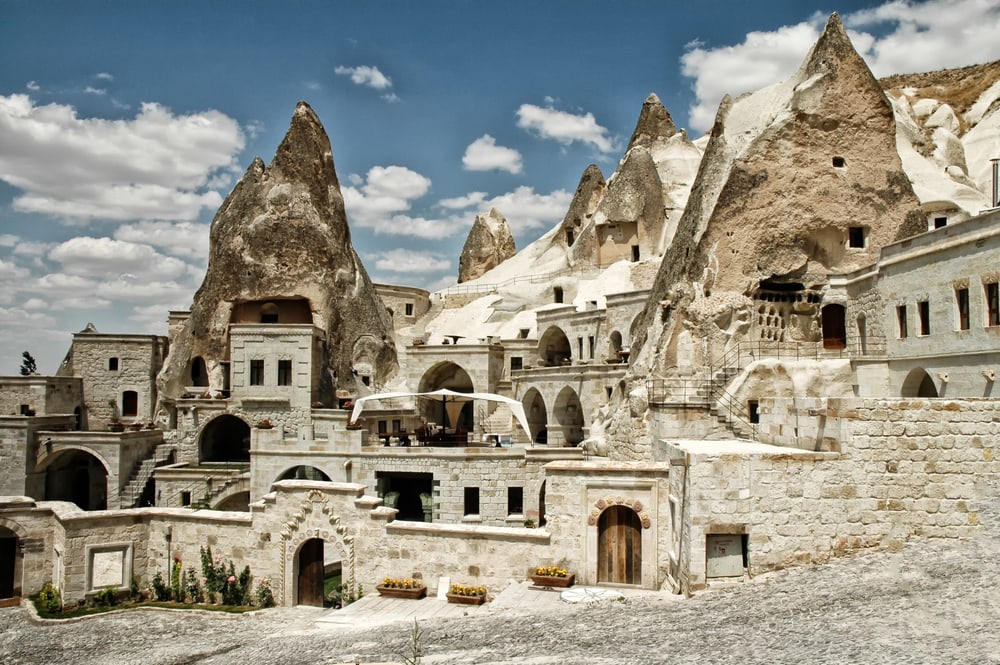 Uchisar castle is a short 10-15 min drive from Goreme. It's an amazing sight seen even from a distance, and while you're driving becoming more and more spectacular as you approach. Climbing it requires some effort and it may be difficult for those with walking issues as there are many uneven steps, rough terrain, and narrow passages, the views from top are amazing.
Fairy Chimneys of Goreme
In the Göreme National Park and the Rock Sites of Cappadocia a UNESCO World Heritage site you will find the fairy chimneys. Located on the central Anatolia plateau within a volcanic landscape sculpted by erosion to form a succession of mountain ridges, valleys and pinnacles known as "fairy chimneys" or hoodoos, Göreme National Park and the Rock Sites of Cappadocia cover the region between the cities of Nevşehir, Ürgüp and Avanos, the sites of Karain, Karlık, Yeşilöz, Soğanlı and the subterranean cities of Kaymaklı and Derinkuyu.
After lunch where you enjoy some delicious Turkish cuisine and coffee, take the bus direction Avanos and head to Pasabag to admire the fairy chimneys. You'll have to stop in Cavusin (approximately 10 minute drive from Goreme) where you will see the fairy chimneys next to the Cavusin church. Walk around the valley and enjoy the magical scenery.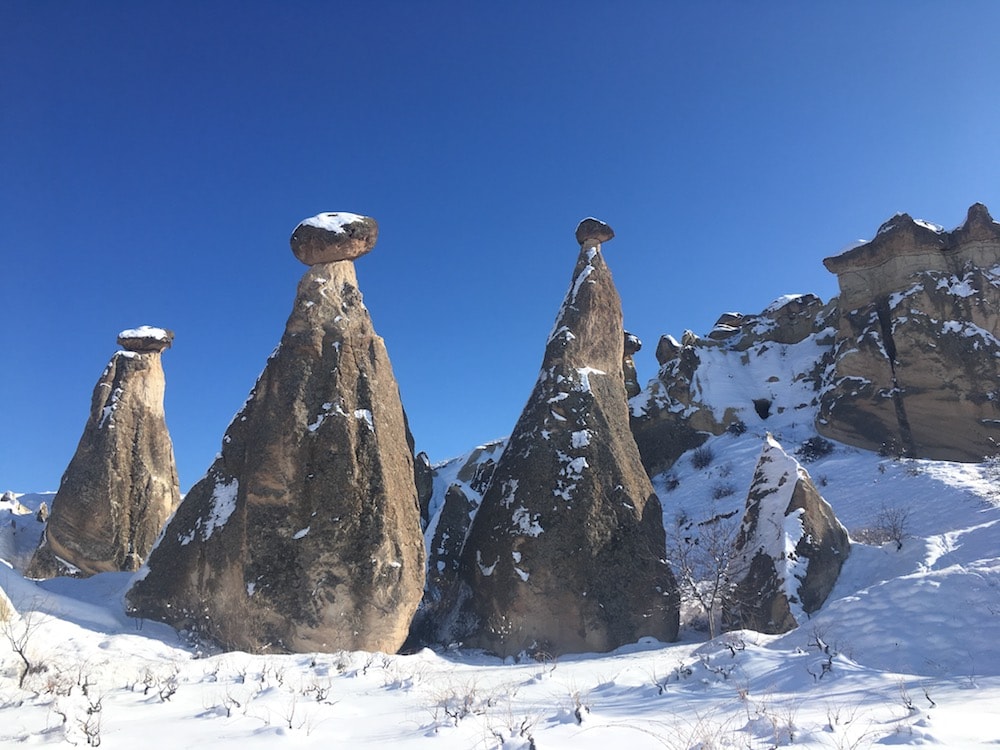 Cappadocia is like no other place in the world and when it's covered in snow, it's even more stunning. On your way back, you can stop at the Cavusin castle and walk back to Goreme through swords valley which is a 1-hour walk. You can also choose to go quad biking or horse riding.
Air Balloon Rides: Uçhisar and Goreme city centre
On day 2, take to the skies over the fantastic landscape of Cappadocia. From up there, you'll get to see the sunrise over the breathtaking valleys, and take pictures of the stunning landscapes and rock formations. hot air balloon flight over Cappadocia is a fantastic photo opportunity and also a magical experience you don't want to miss.
You should book your hot air balloon ride as soon as you arrive in Cappadocia. Like I said, sometimes flights get cancelled but if it happens, your flight will be reported to the next day.
After the flight, Head to Uçhisar for lunch and visit the famous Uçhisar castle. This centuries-old citadel is the highest point in Cappadocia so needless to say that the view over Uçhisar village and Goreme is stunning. Then, you can take a stroll around Uçhisar village and enjoy the beautiful shops selling traditional Turkish carpets, lamps, tea, coffee and other souvenirs.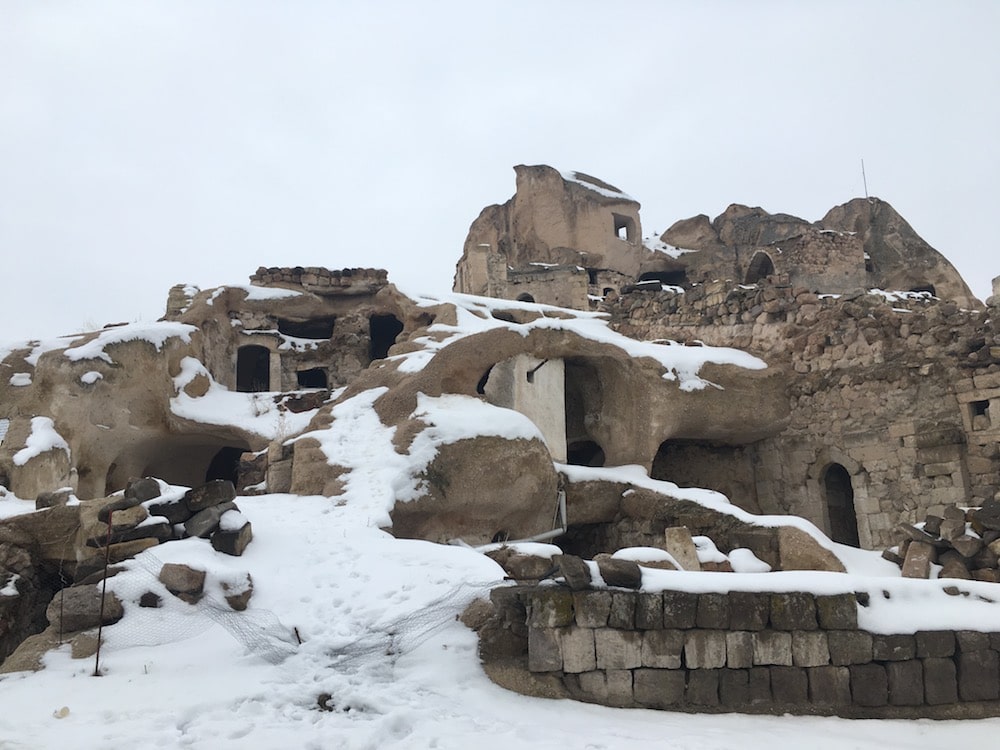 Go back to Goreme and explore the small city centre. There are many shops, restaurants, and cafes really worth looking into! At the end of the day, head up to sunset point to admire the view and catch the sunset. This is also a point where people go early in the morning to watch the balloons.
Indulge in a Turkish bath
Ürgüp City Bath and Hammam is the only historical bath in the Cappadocia region. There are modern hammam treatments and professional spa and massage services. There is also a domed cafe on the terrace. History indicates that it was built between 1726 and 1727 during the reign of Damat İbrahim Pasha. It is known as the "Greek Bath" because it was built in the neighborhood where the Greeks lived at that time.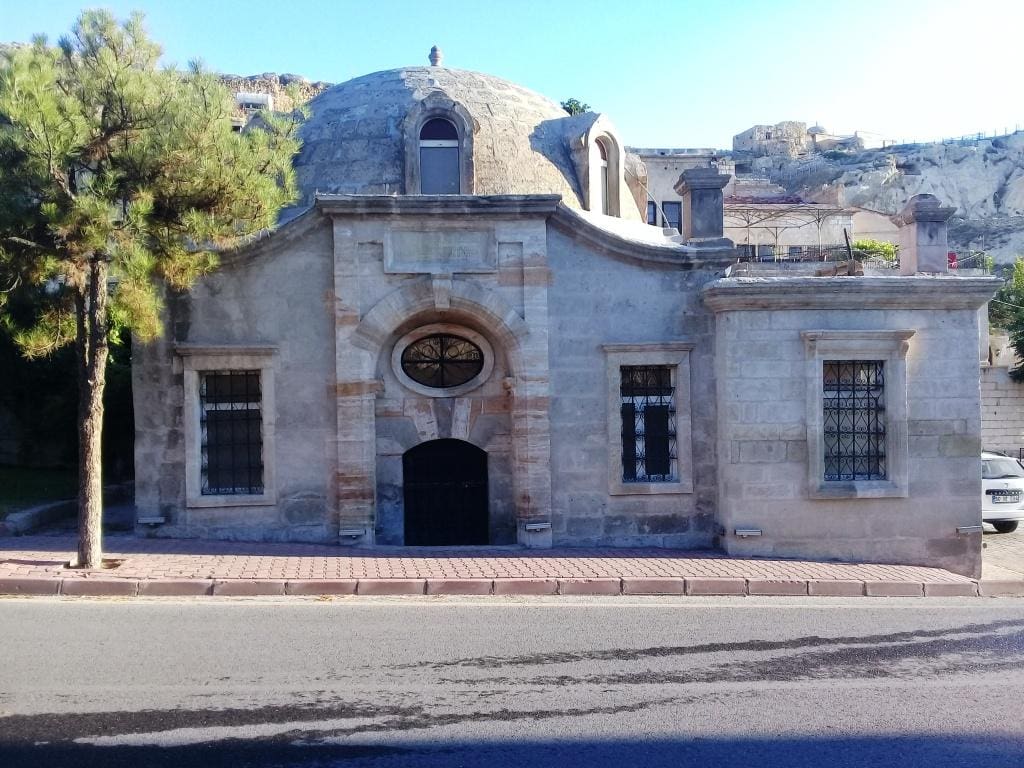 Touring Cappadocia in the winter
I think doing a tour is one of the best ways to enjoy the many region's beauties especially if you don't want to rent a car in Turkey. The day tours are quite affordable so don't hesitate to take at least one. There are a few tours you can choose from, the most popular ones being the Viator Green and Viator Red tours.
The red tour will take you to the Göreme Open Air Museum, Uçhisar, Avanos, Pasabag, Cavusin, and Devrent Valley. These places aren't very far from Goreme, and you can easily do most of these activities by yourself, which is why I suggest you take the green tour.
That's the one I did, and that's the most popular one. This tour will take you to several interesting places in Cappadocia, in and outside of Goreme. The tour itinerary is subject to change depending on the season and weather but mine was as follows:
Goreme panorama: A viewpoint where you can see the town of Goreme and its famous rock formations.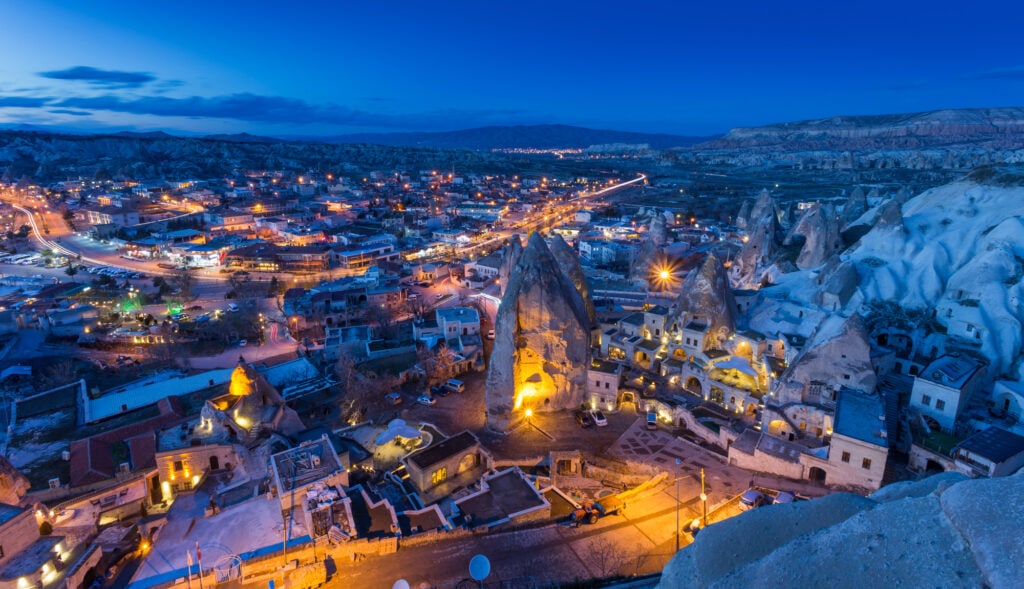 Underground Cities
Go deep underground to visit these magnificent cities! How deep you ask? So deep that even the deepest one hasn't been uncovered yet. Cappadocia currently has 36 underground cities, the largest of which, Derinkuyu, dates back to the 8th century BC.
Derinkuyu Underground city: There are a few underground cities in Cappadocia. I visited the Derinkuyu underground city, which is large enough to have sheltered 20,000 people. It's also the deepest cave-city in Cappadocia. This isn't the best activity if you're claustrophobic as the corridors are very small, but it's still amazing to see.
Selime monastery: This stunning place is like no other. The Selime monastery dates back to 8th and 9th centers and is one of the biggest religious complexes in Cappadocia. The monastery contains a beautiful church with rock columns, a kitchen, stables, chambers, and small corridors.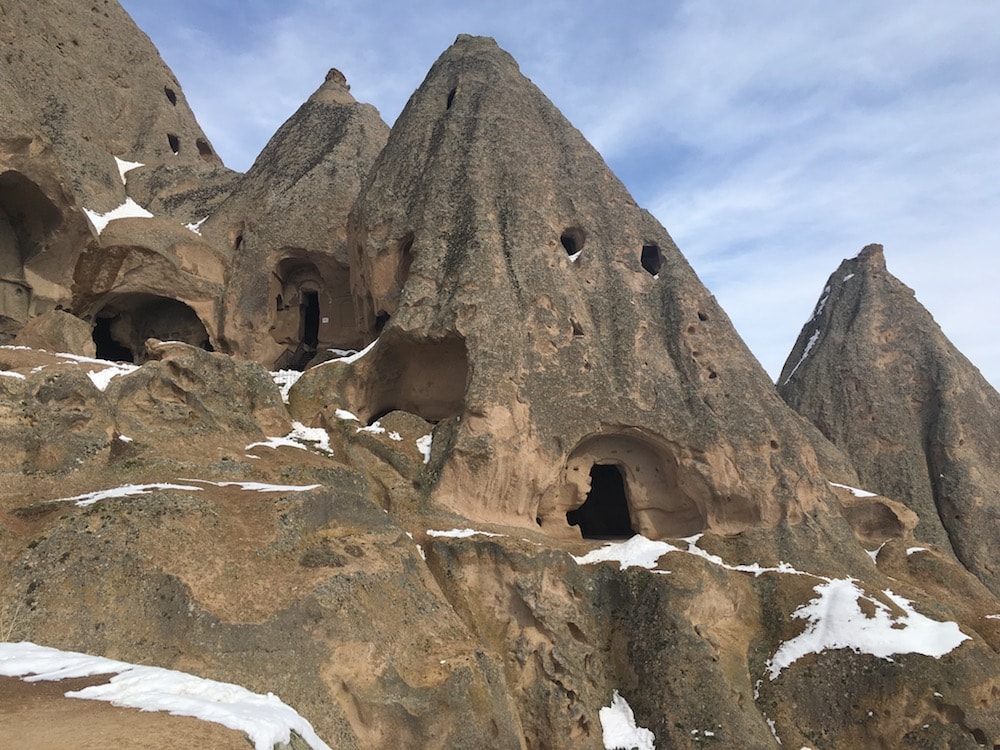 Ilhara valley: Ilhara valley is a stunning canyon located in the province of Aksaray. This breathtaking canyon is also home to incredible rock-cut churches.
Onyx shop: The tour takes you to a gemstone shop where you can purchase beautiful crystal jewellery made of different precious and semi-precious gemstones. Wearing jewellery is one of the best ways to use crystals, and it's the perfect opportunity to buy a beautiful souvenir from Cappadocia. In this shop, you can also discover zultanite, a very rare stone only found in Turkey.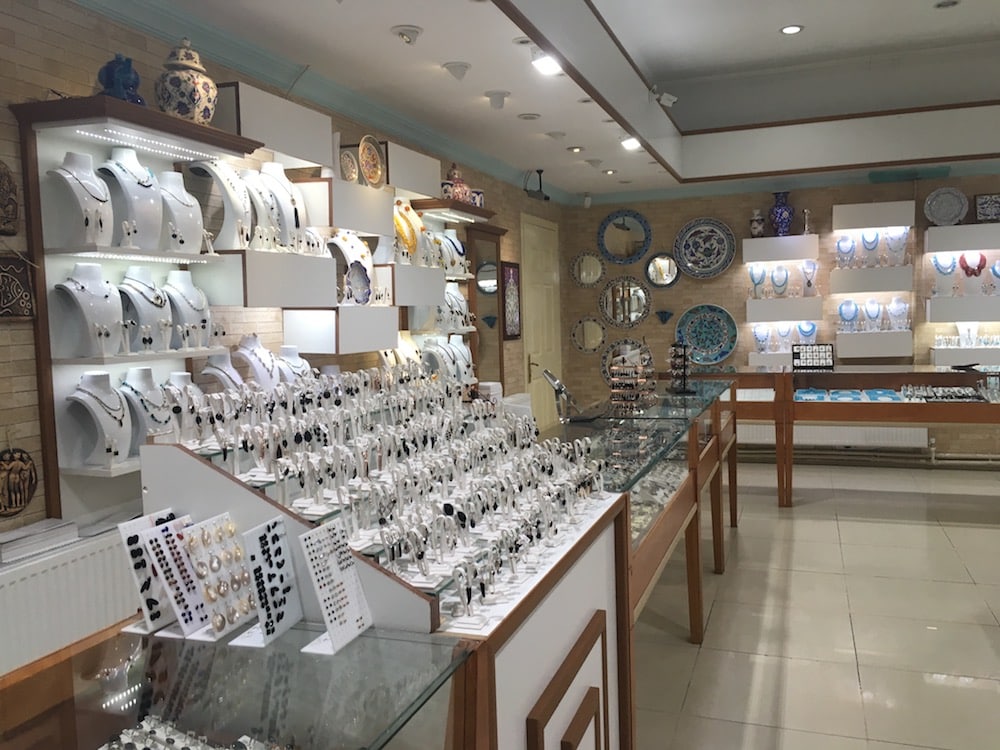 Pigeon Valley: Pigeon valley is the last stop of the tour. It's a viewpoint of a stunning valley where many pigeon houses are carved into the rocks. Pigeon Valley is another example of Cappadocia's incredible landscape.
The tours last all day from around 9 am to 6 pm and include lunch (but not drinks).
Hiking in Cappadocia in winter
Hiking in Cappadocia in winter can be hard. Everything is covered in snow and it's nearly impossible to walk in the valleys because you just can't see the trail. Honestly, I don't recommend hiking in winter. But if the trails are open when you go, you can try some of the most popular hikes in Red and Rose Valley, Love Valley and Devrent valley. These half-day hikes are all fairly easy when the path is accessible.
Where to stay in Cappadocia in winter
The choice of Cappadocia hotels is colossal, and all price ranges are available, from budget to luxury. The most famous hotel in Cappadocia is the Sultan Cave Suites hotel where literally everybody goes to have their Instagram picture taken on the terrace when the balloons are up in the sky. The Sultan Cave Suites is famous for its cave rooms which have the best views of Cappadocia.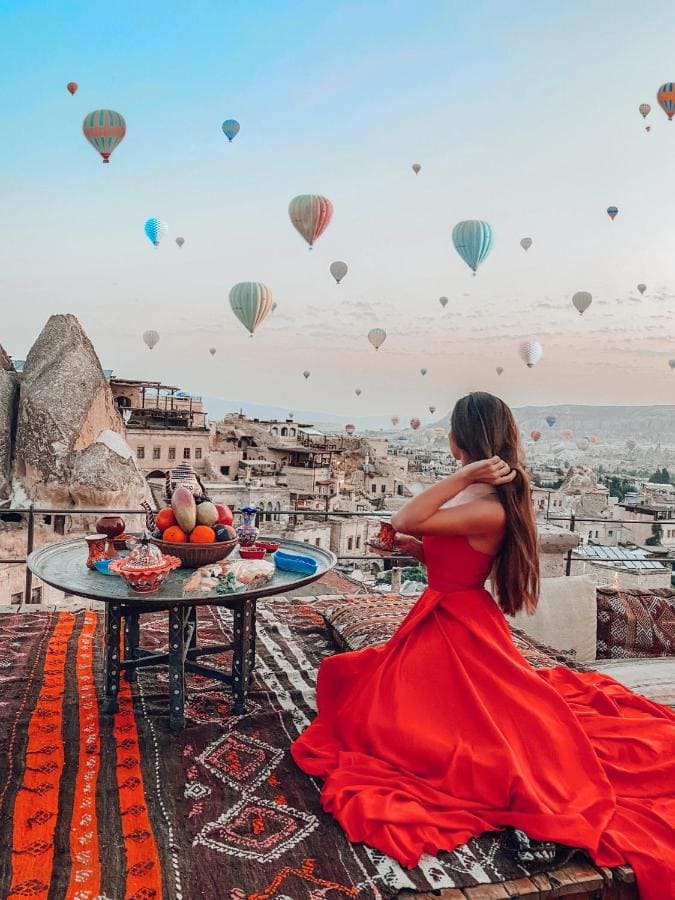 I personally didn't want to go to this hotel because it was too expensive for my tight budget and because I found a fantastic mid-range hotel with a great terrace.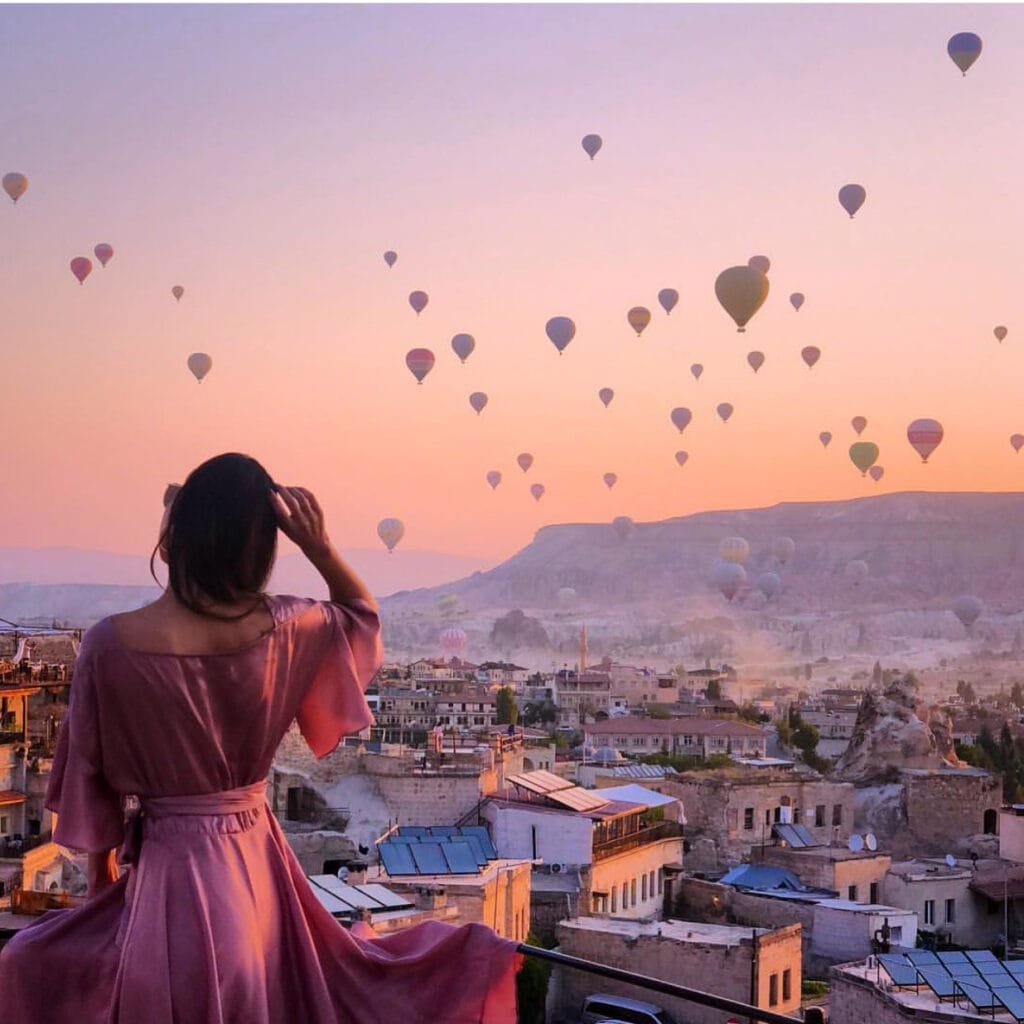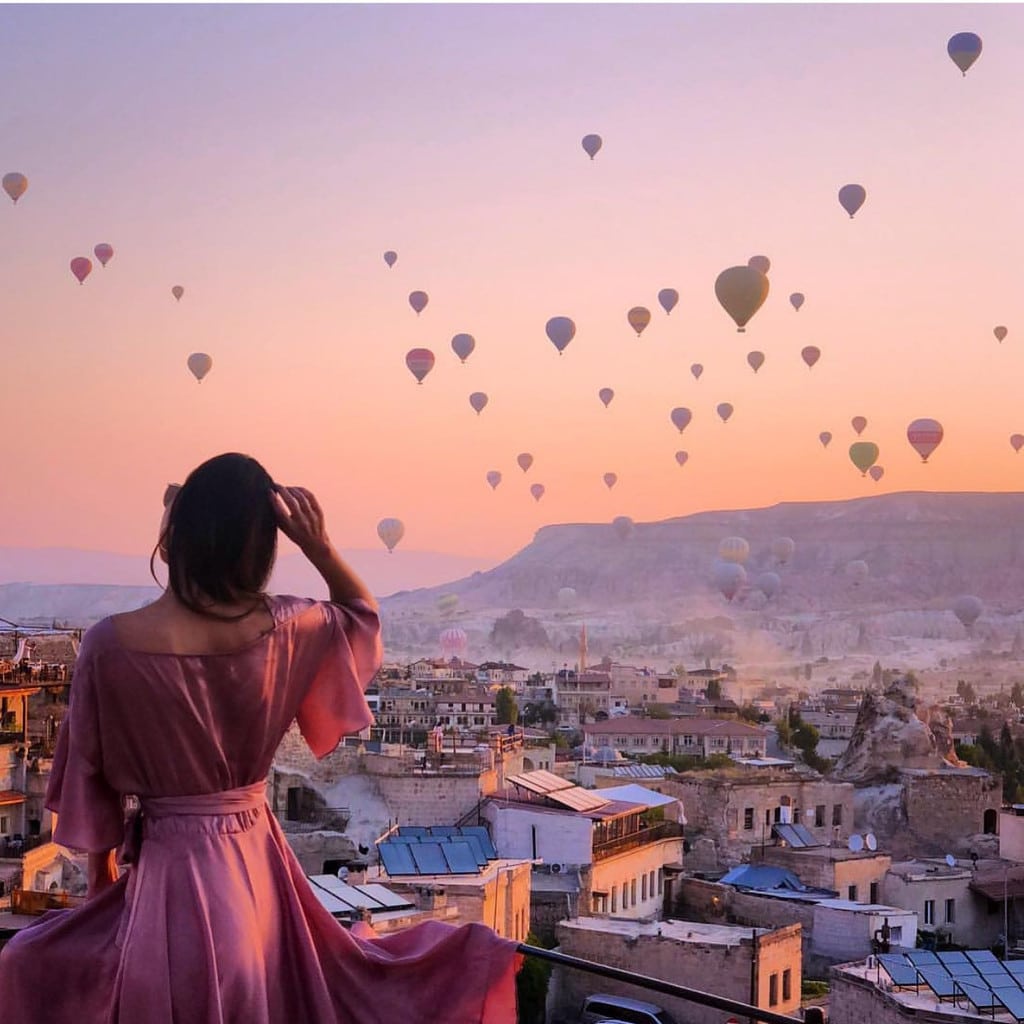 Obviously, the one thing you want your hotel to have is a terrace! So you can watch the balloons from up there. My boyfriend and I stayed at the Relic House hotel and had a fantastic time. The hotel is located right in the centre of Goreme. Has a great terrace and breakfast is included in the price. Our room was large, beautifully decorated and clean. If you're looking for a great mid-range cave hotel, head to the Shoestring Cave house. For an unforgettable experience, book a room at the Mithra Cave Hotel, one of the most luxurious hotels in Goreme.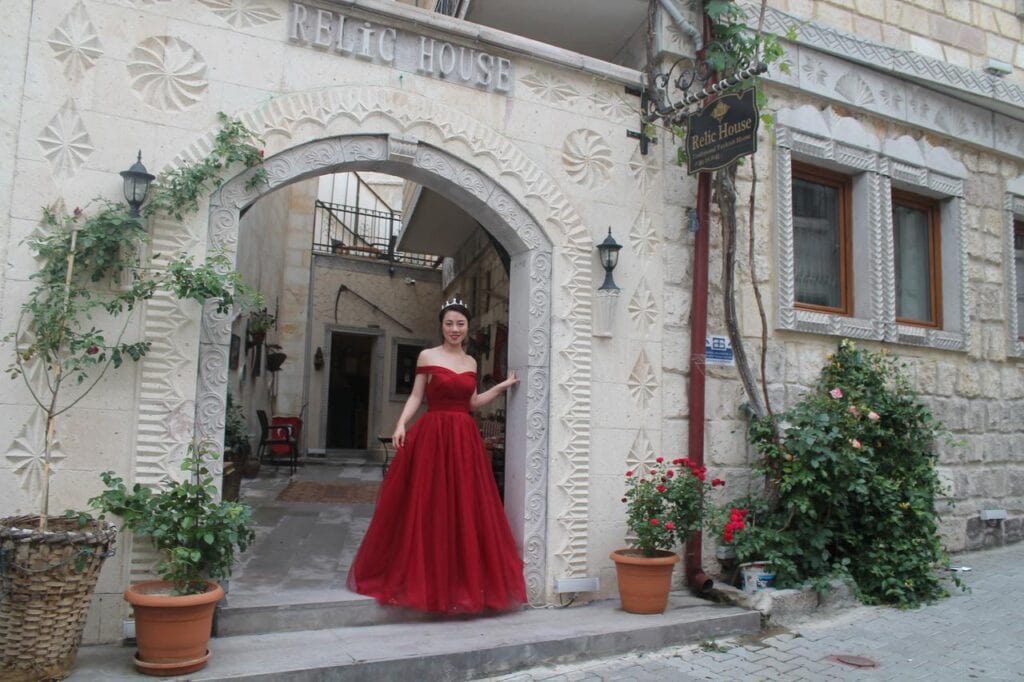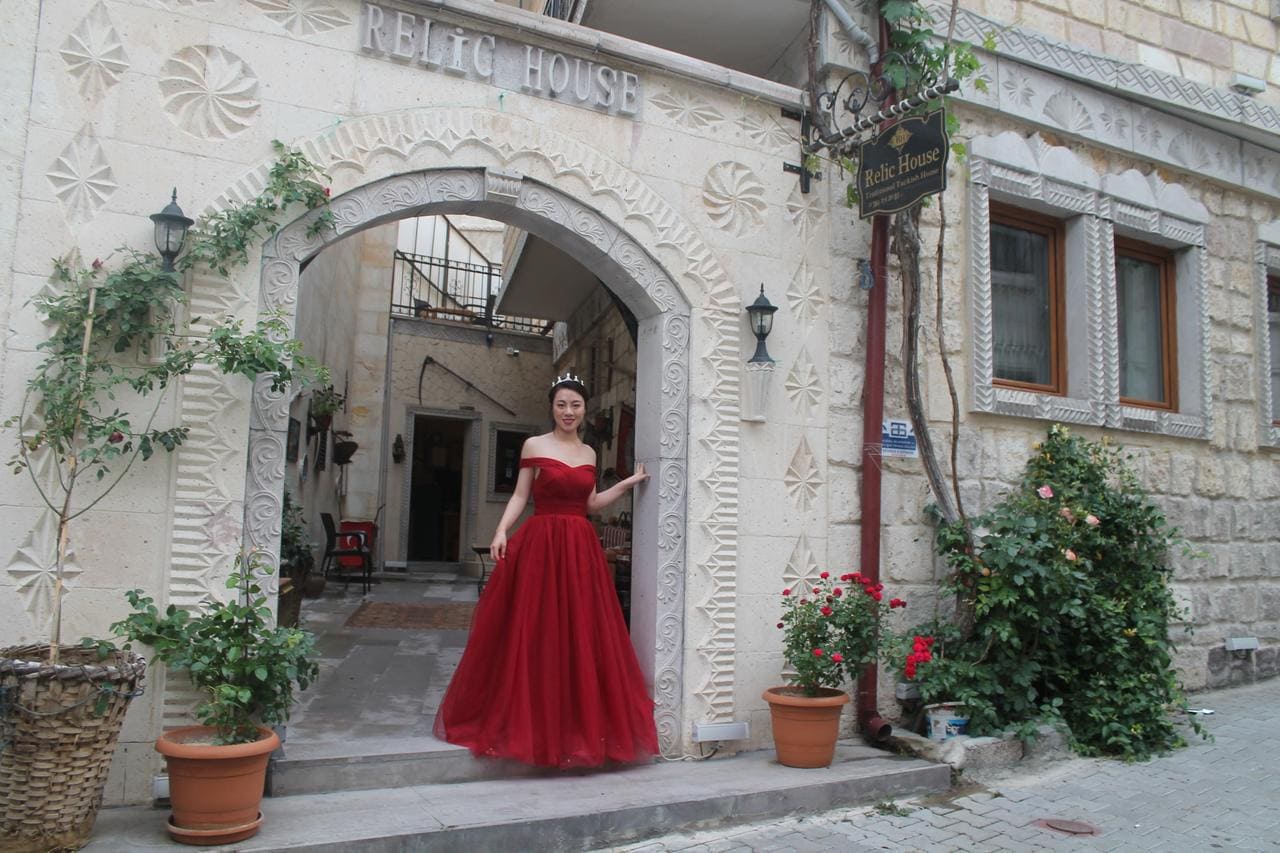 Where to eat in Cappadocia
There are plenty of restaurants to choose from in Goreme. From traditional Turkish food to Asian or European options, you'll most likely find something you love. Grab a bite at the trendy Sedef restaurant for some delicious local food. With its great ambience and amazing choice of dishes, the Kebapzade is one of the most popular restaurants of Goreme.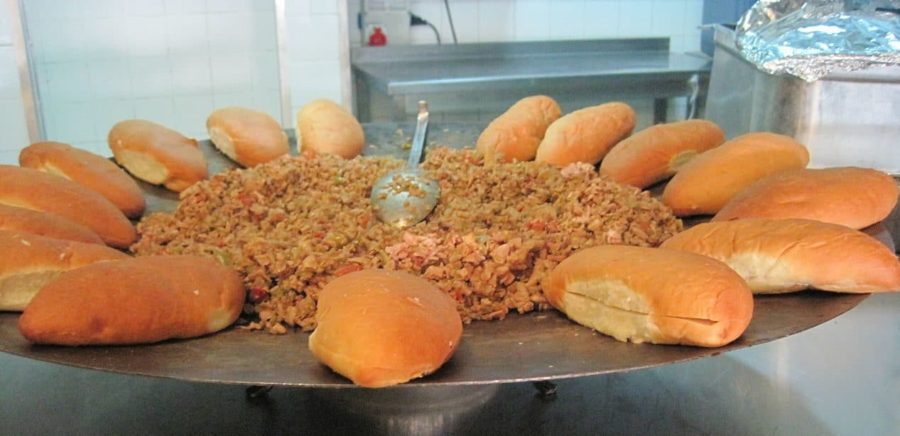 We also went to the Fat Boys cafe to eat some chocolate cake and warm up with traditional Turkish tea. For a quick bite, grab a Gozleme at the meeting point. Also, don't miss the Organic Cave Kitchen for the most amazing organic food in Goreme. Most restaurants offer vegetarian and vegan options.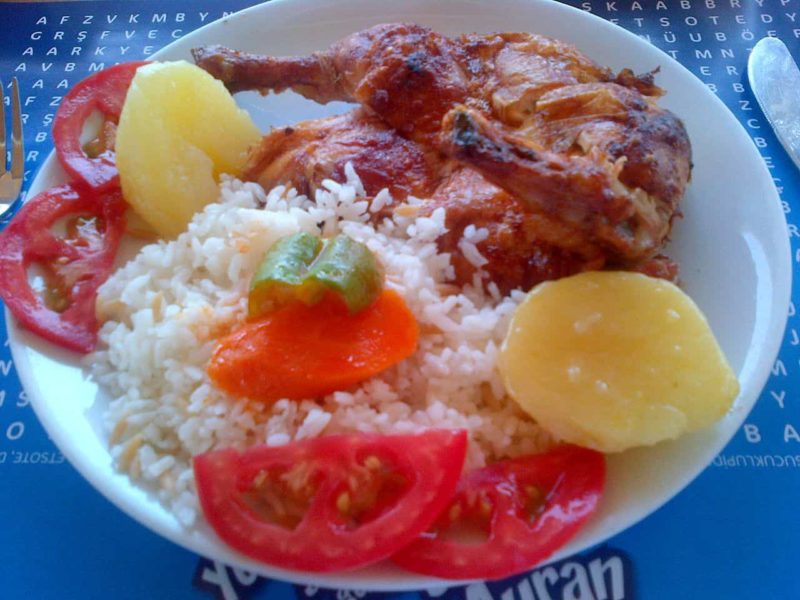 Why you should visit Cappadocia in winter
Visiting Cappadocia in winter is like stepping into a fairytale village, and in winter, it's even better! Here are just a few reasons why visiting Cappadocia in winter is the best choice you can make:
No crowds: I personally always travel offseason, because I do believe a horde of tourists can quickly ruin your holidays. I honestly can't imagine visiting Goreme in the summer. Our hotel manager told us it's absolutely crazy and the village's population triples during the summer months. In fact, you basically have the place to yourself in winter.
Snow: In winter, all the beautiful rock formations are covered in beautiful white snow. This makes the landscape absolutely magical and it's simply gorgeous. The weather is quite cold in winter, but the sun shines most of the time so you can still do many activities and be out all day. Know that in the summer months, it can get as hot as 40 degrees in Cappadocia, and it can quickly become unbearable to stay outside.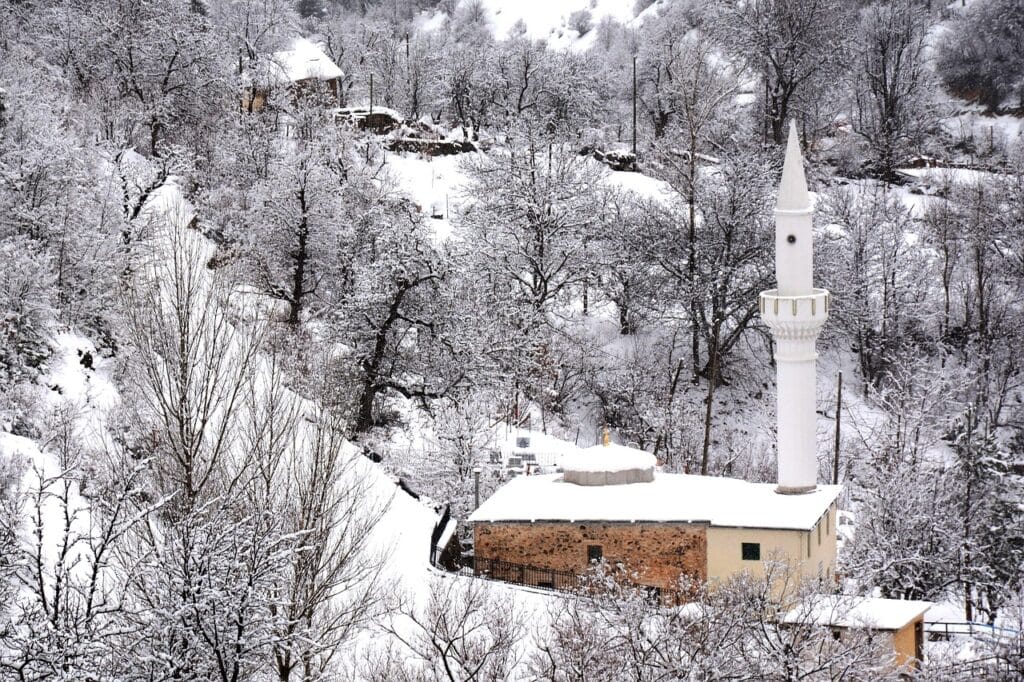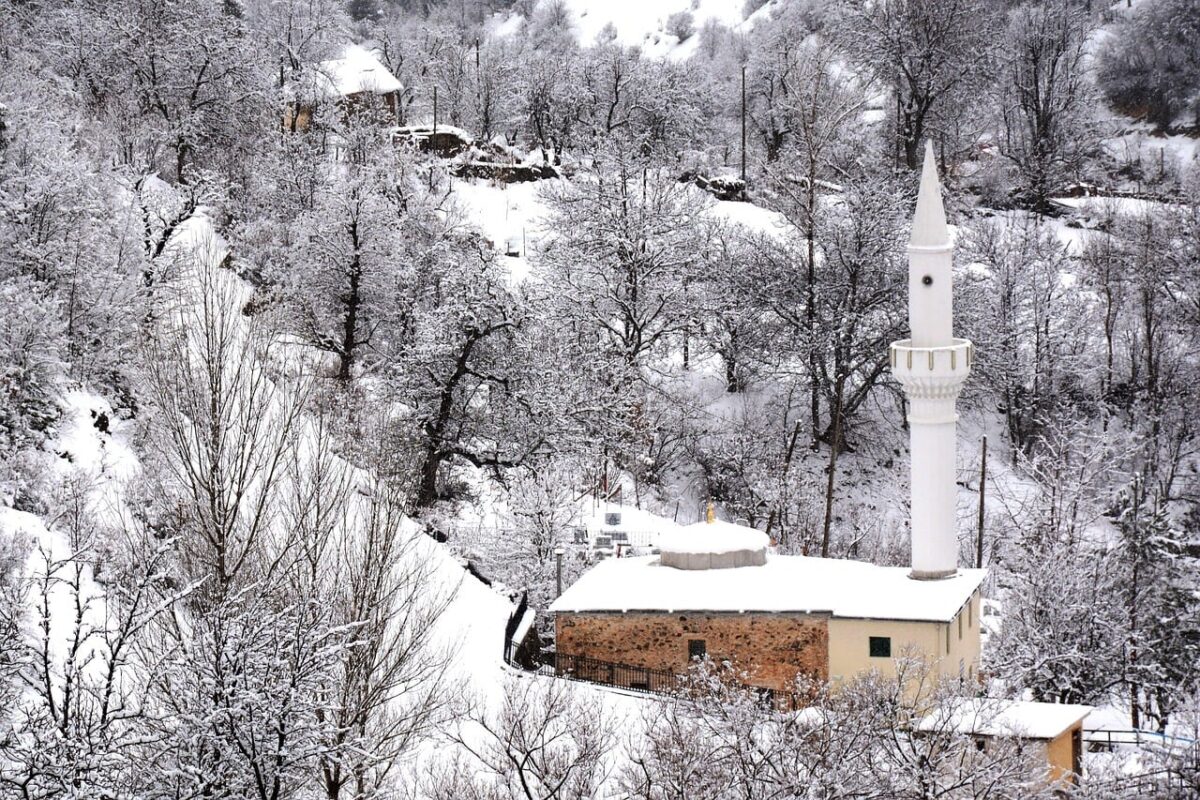 Low prices: Everything is cheaper in winter. By travelling off-season you'll get all the best prices on hotels (and all the choice you want), souvenirs can be hassled for close to nothing and even activities are cheaper. A hot air balloon ride is around $135 in winter and $180 in summer.
What to pack for Cappadocia in winter
Don't underestimate the cold in Cappadocia. As I said, winter in Cappadocia is cold and snowy, so you'll need warm winter gear. Here is a list of a few winter essentials for your trip to Cappadocia:
Winter boots
A good pair of warm waterproof winter boots are a must for Cappadocia in winter. The North Face makes some of the best winter clothes, and comfy boots from this brand will keep your feet dry.
Warm jacket
Enjoy spending time outside with a warm outerwear jacket. The Resolve 2 jacket is the best for every weather, from rain to snow. It'll keep you warm and dry on your adventure to Cappadocia.
Scarf, beanie and gloves
Perfect match to a comfy beanie, an infinity scarf would be a great addition to your look. You can also purchase touch-sensitive and anti-slip, which means you can use them on all your touch screen devices. They are a must-have for winter.
Why Visit Cappadocia?
Cappadocia during winter is a truly special place to visit and the snow capped rock formations make this a real winter wonderland.Cappadocia is definitely one of the most magical regions in the world. This spectacular place should be on everybody's bucket list and is absolutely worth a trip in winter. You can still do many activities and enjoy the stunning landscape without the crowds. Get yourself some comfy winter gear and head to Cappadocia for the adventure of a lifetime. Have you ever been to Cappadocia? Let me know in the comments below!
You might also like
Visiting the House of the Virgin Mary in Ephesus Turkey
The Sacred Temple of Artemis at Ephesus
Camille is a jewellery maker and blogger over at Crystal healing ritual. Dedicated to travelling sustainably, she has been roaming the world and living abroad for over 7 years. When she's not travelling, you'll find her hiking or reading a good book.