35 Amsterdam Tips for first time visitors
Are you planning on travelling to Amsterdam? I've been to this glorious city several times both flying in and driving from France where I'm currently housesitting.
I adore Amsterdam and have been to this gorgeous – and yes expensive city many times. The city is renowned for its bicycle culture, tulips and flowers everywhere, stunning canals and the food oh yes a great reason to visit Amsterdam – the food.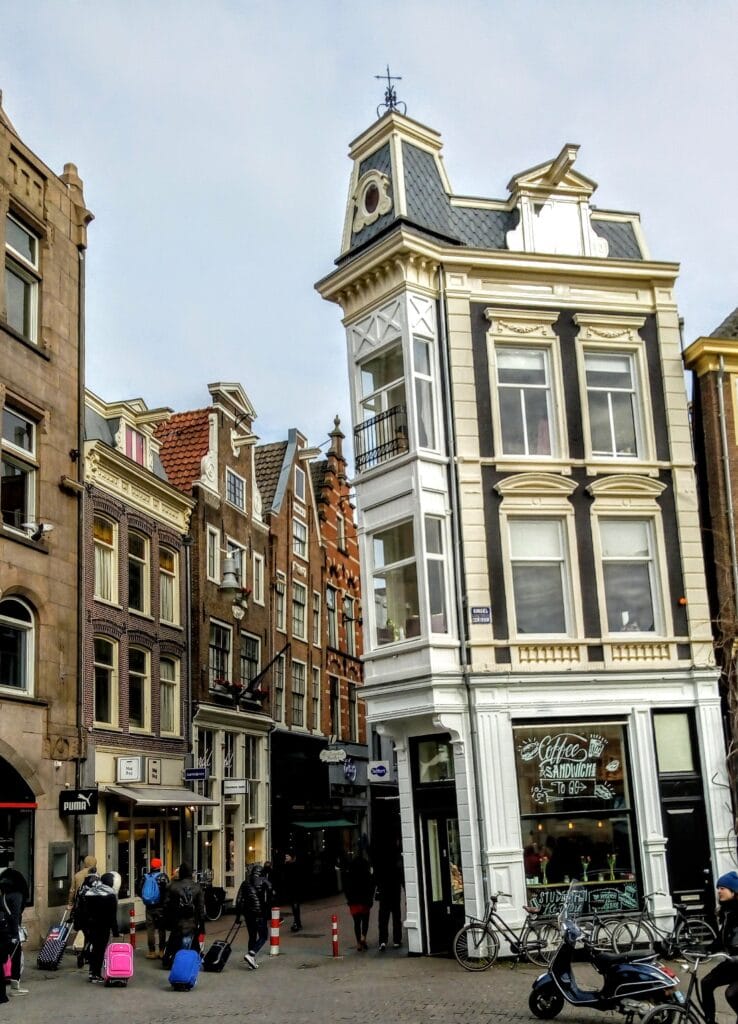 After visiting Amsterdam many times I have put together a list of my Amsterdam tips for first-time visitors. There is just so much to do in this City that everyone from senagers like my hubs and me to those with kids and you will no doubt have the best trip you can imagine.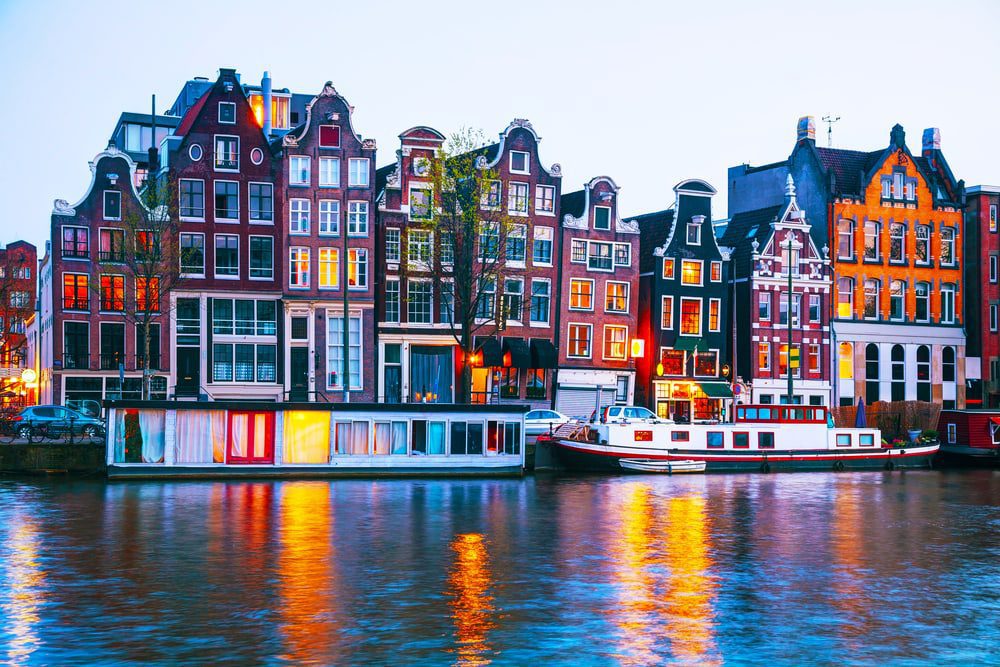 My first visit to Amsterdam was in the '80s and I have to say that some things have changed the lovely thing about this city is that it still remains an easy place to visit and get around in. I loved wandering Amsterdam's historic districts lined with gorgeous 17th-century canal houses and cobblestone streets, admiring the flowers blooming in baskets and bicycles, and of course the friendliness of the people.
Xyuandbeyond is reader-supported. When you buy through links on our site, we may earn an affiliate commission. You can read my privacy policy here.
When to visit Amsterdam
Well, that's a tough one because I've visited Amsterdam in all the different seasons and love it no matter what season. I've even enjoyed Amsterdam during the Beast from the East which was a viciously cold winter storm that kept us in the city for 6 days – it was glorious.
Obviously, one of the prettiest times to visit will be in the spring and summer when the flowers decorating virtually every surface will delight you with their colours.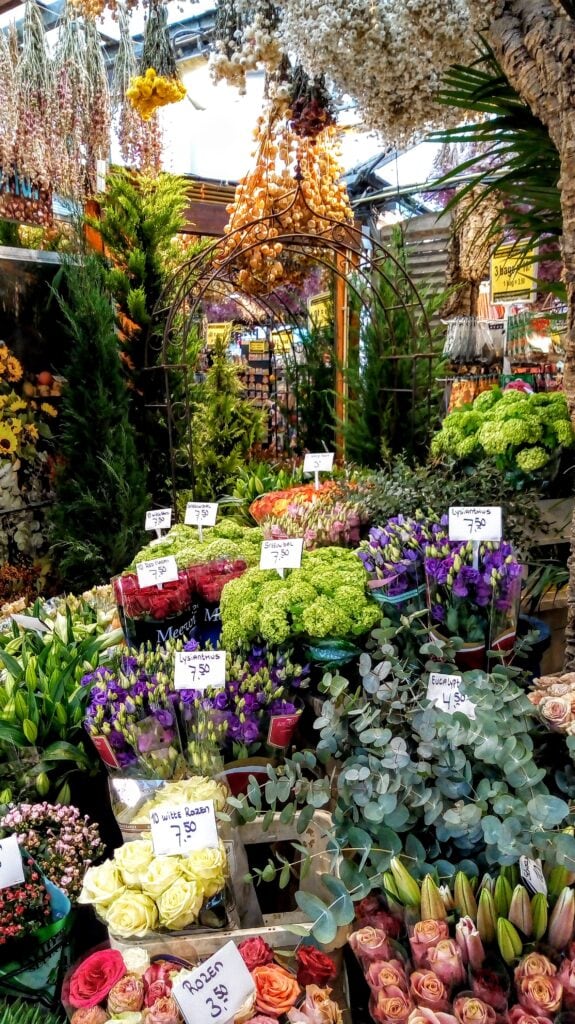 In the winter months if you are lucky the canals will be frozen and there will be some fantastic opportunities to actually skate on these beautiful waterways.
Since I'm sorta a cheap or rather budget traveller, and Amsterdam is a very expensive city I've figured out several ways to save money when visiting Amsterdam so hopefully my Amsterdam tips will save you some money and more importantly time so you can be sure to visit everything on your bucket list.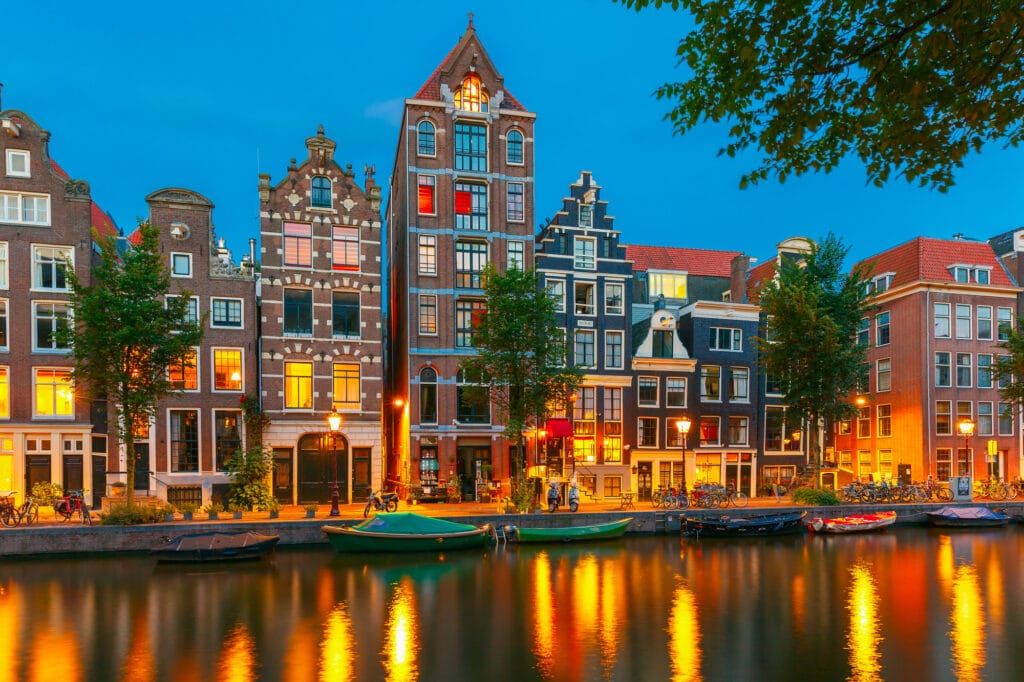 Amsterdam Travel Guide – Best Amsterdam locations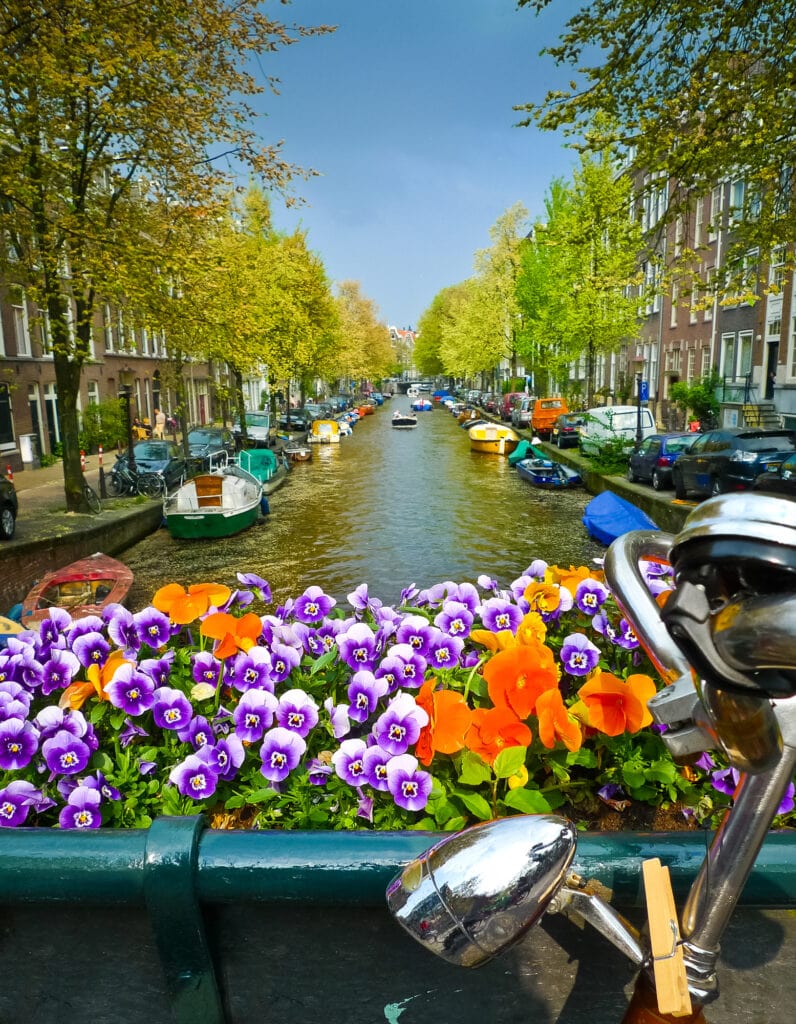 Over 4.5 million tourists visit Amsterdam in a year, now that has changed somewhat with the state of the world these days but Amsterdam is still one of the most visited places in Europe.
As a result, Amsterdam is one of the most expensive cities to visit in Europe and accommodation can be brutally expensive. The local government attempted to ban Air BnB as apparently one in 15 dwellings in Amsterdam showed up on online rental platforms such as Airbnb last year which makes it very difficult for locals to find affordable rentals.
However, the law was struck down and in certain areas of Amsterdam, citizens are allowed to rent their homes for up to 30 nights per year to a group of no more than four at a time. Personally, I would avoid areas like Dam Square and De Wallen as they are packed with tourists and quite expensive.
The iconic tall houses of Amsterdam make for characterful accommodation, but they come with some limitations such as no elevators and lots of stairs. There may also be no outdoor space. Like most European cities you will find lower prices on accommodation during the weekdays, expect much higher prices on the weekends. Amsterdam is after all known as the place for a weekend getaway. Figuring out where to stay in Amsterdam can be tricky so here are descriptions of the neighbourhoods to choose from.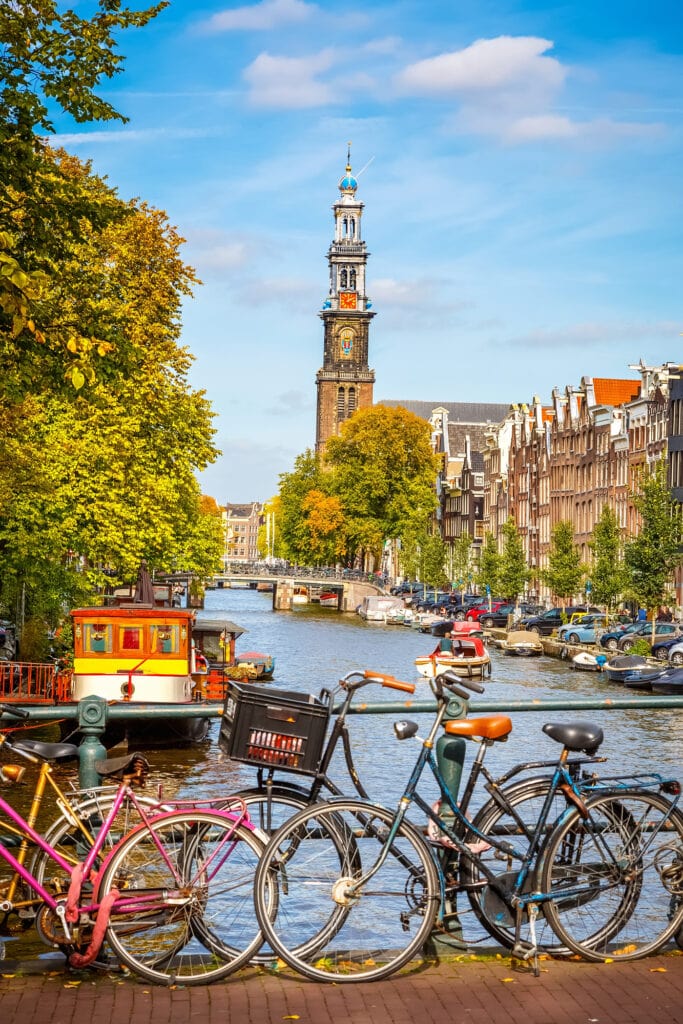 Areas to stay in Amsterdam
Centrum – City Centre
Usually an area I would recommend staying away from because of the expense but you can often find a bargain by checking out various booking platforms.
We stayed at the stunning Albus Hotel Amsterdam City Centre and the Flower Market and Rembrandt Square are a 3-minute walk away. This place was on the public transportation line and there are dozens of restaurants and cafes nearby within walking distance. It is also within walking distance of pretty much all the sites to see in the central area of Amsterdam.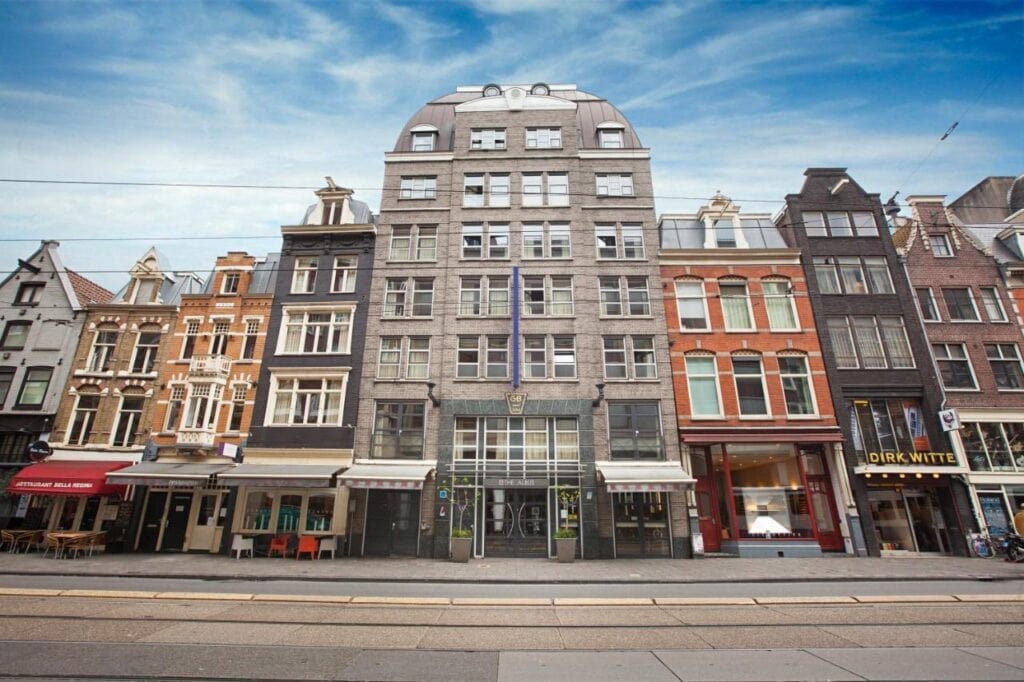 This is an environmentally friendly hotel of 75 rooms, all equipped with a Nespresso® machine, design furniture and modern wooden floors. Modern bathrooms with rain showers and a fluffy bathrobe, there is free wifi and a good breakfast buffet.
Jordaan
My favourite area of Amsterdam to stay in but it can be expensive. Jordaan is closest to the city centre and it makes exploring Amsterdam really easy as everything is pretty much within walking distance. The Jordaan is also great for shopping, fabulous little bistros and trendy bars.
I recommend the Hotel Wiechmann in the Jordaan area which is very reasonably priced. The hotel consists of three canal houses turned into a simple family-run B&B. Comfortable, breezy rooms with modern bathrooms and a complimentary delicious breakfast. Steep stairs lead up to rooms, some with canal views, which offer central and there is a charming self-service breakfast room.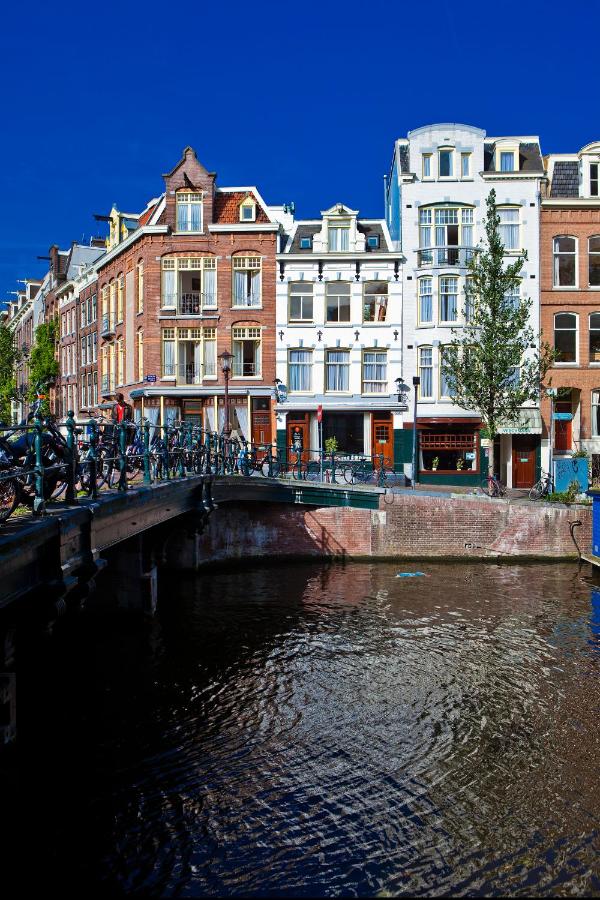 Amsterdam Oud-West.
The "old west" part of Amsterdam is a lovely quiet multicultural part of the city with lots of great bars and restaurants.
The Leonardo Hotel Amsterdam is located in a quiet residential area, only 350 m from Leidseplein. Leonardo Hotel Amsterdam City Center offers free Wi-Fi and rooms with cable TV, less than 5 minute's walk from Vondelpark.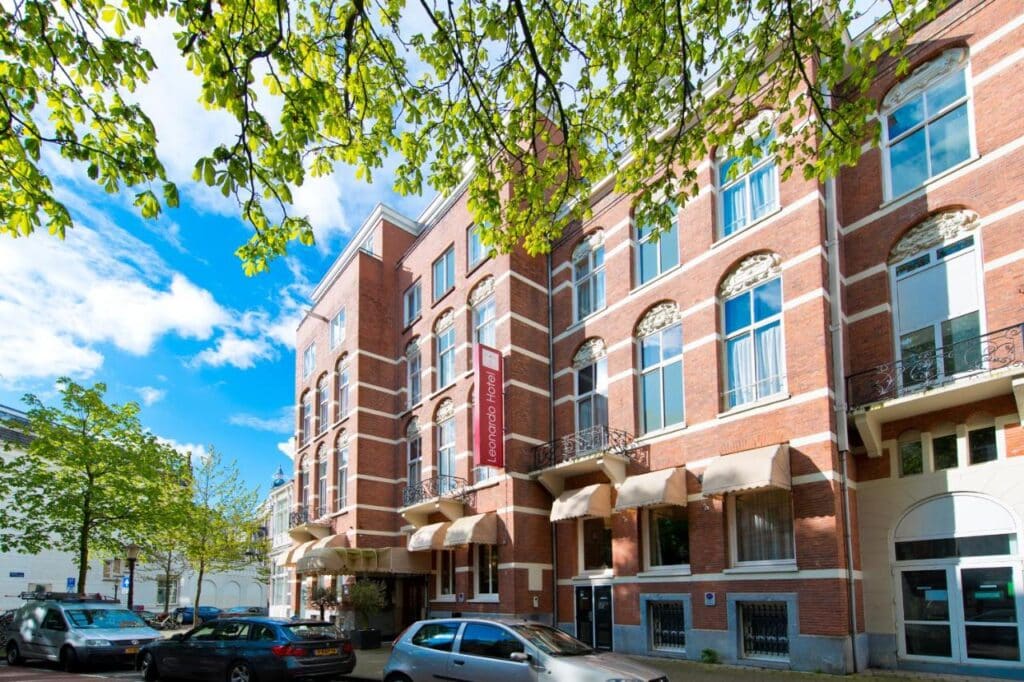 Leonardo Hotel Amsterdam City Center is a 5-minute walk from the famous P.C. Hoofdstraat shopping area. Museumplein, featuring the Van Gogh Museum and Rijksmuseum, is 750 m from the hotel.
Amsterdam Oud-Zuid
This is the area at the edge of the old south of the City here you will find the Rijksmuseum, the Heineken Experience, and Albert Cuypmarkt. This is a good area if looking for some clean and budget-friendly accommodation.
Max Brown Hotel Museum Square lies around the corner from the famous Vondelpark, right in Amsterdam's chic museum district. It offers compact, boutique-style rooms with flat-screen cable TV and private bathrooms. Free Wifi is available in all areas of the hotel.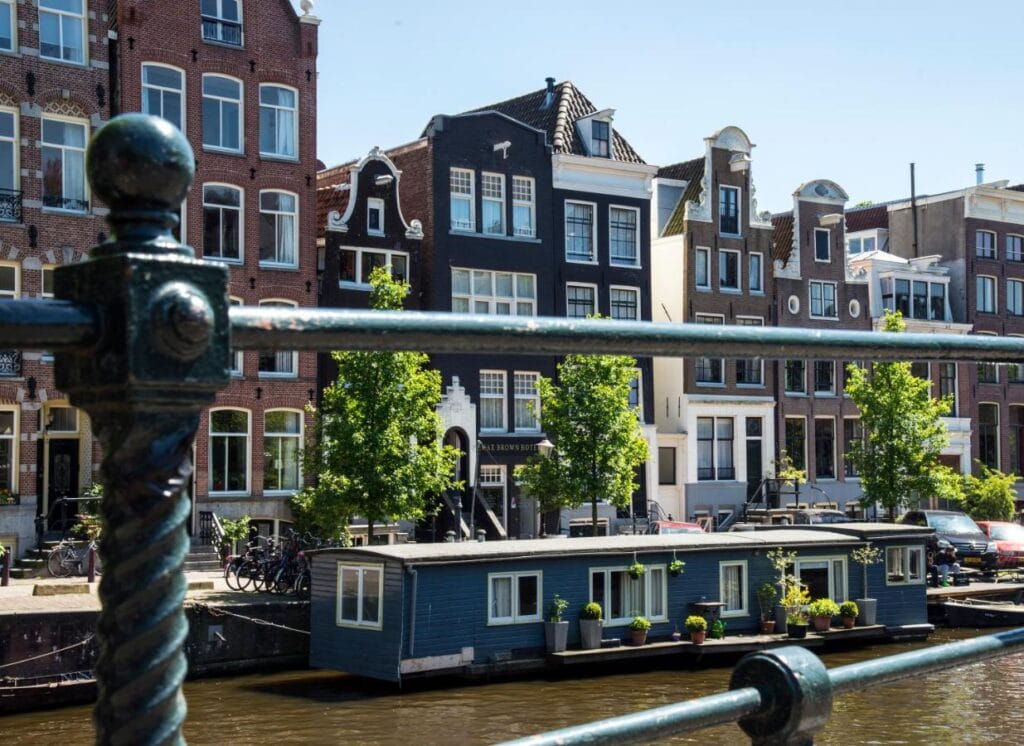 Various tourist highlights are in the vicinity of Max Brown Hotel Museum Square. There are the Rijksmuseum and Van Gogh Museum around the block. The prestigious P.C. Hooftstraat shopping street is 100 m away as well.
De Plantage
Located just east of the city centre, De Plantage is Amsterdam's cultural garden packed with attractions in a very walkable area. Amongst the theatres, concert halls and public parks, you'll find institutions dedicated to fine art, Jewish culture and natural history including Artis Zoo, the botanical gardens, the Hermitage and the Jewish Historical Museum.
A good budget choice the 2-star Hotel Plantage is located opposite the Artis Zoo and offers free Wi-Fi. Each room has double glazing and light-proof curtains for a peaceful sleep. Hotel Plantage does not serve breakfast, but there are a large variety of restaurants and cafés in the surrounding area. Fresh coffee and cold soft drinks are available 24 hours a day in the lobby.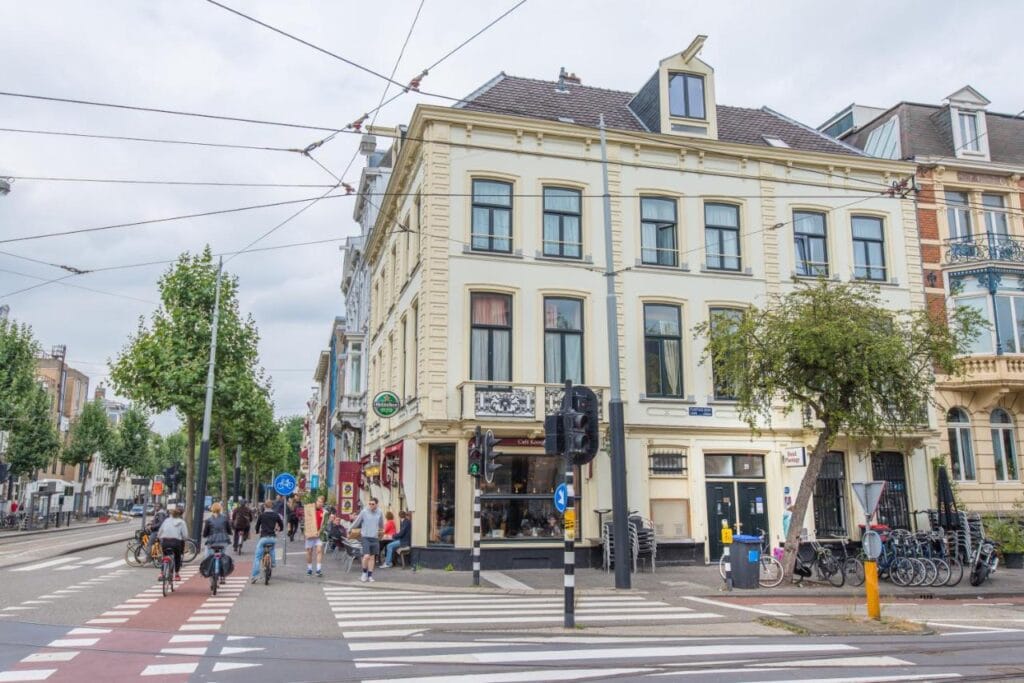 The Plantage Kerklaan tram stop is located opposite the hotel and offers access to Amsterdam Central Station with tram 14. The Red Light District is a 15-minute walk away.
Westerpark
Adjacent to the centre lies the lively Westerpark neighbourhood, part of Amsterdam West. Home to a stunning park, that combines beautiful greenery with the wealth of cultural goings-on at Westergas, this lively neighbourhood is home to a varied mix of independent shops, old-school street markets, shiny new restaurants and traditional brown cafés.
Set in Amsterdam, 2.9 km from Royal Palace Amsterdam, Eco House Boat features rooms with river views and free WiFi. The property is around 3.3 km from Anne Frank House, 3.9 km from Flower Market and 4 km from Rembrandt House. The property is situated 5 km from Museum Ons' Lieve Heer op Solder and 5 km from Beurs van Berlage.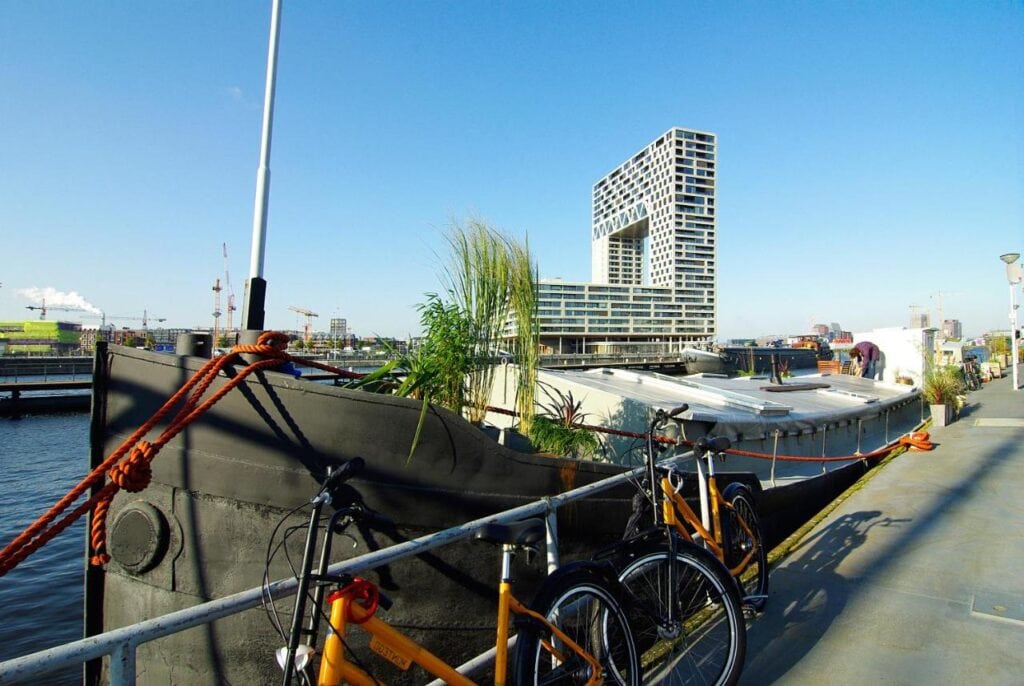 Guest rooms at the guest house come with a seating area. All guest rooms feature a private bathroom, a hairdryer and bed linen.
Eco HouseBoat offers a sun terrace. Guests at the accommodation will be able to enjoy activities in and around Amsterdam, like cycling.
I Amsterdam City Card – Amsterdam Travel Tips
The I Amsterdam city card is a really good buy as it includes all of Amsterdam's public transportation which is just so easy to use and most of the top museums are free with the card. You can buy a card that is valid for 1 to 4 days and a 24-hour card is for € 65 euros and a 4-day card is for € 120 euros. It also includes a free canal cruise, bicycle rental and many free tours and discounts in many restaurants.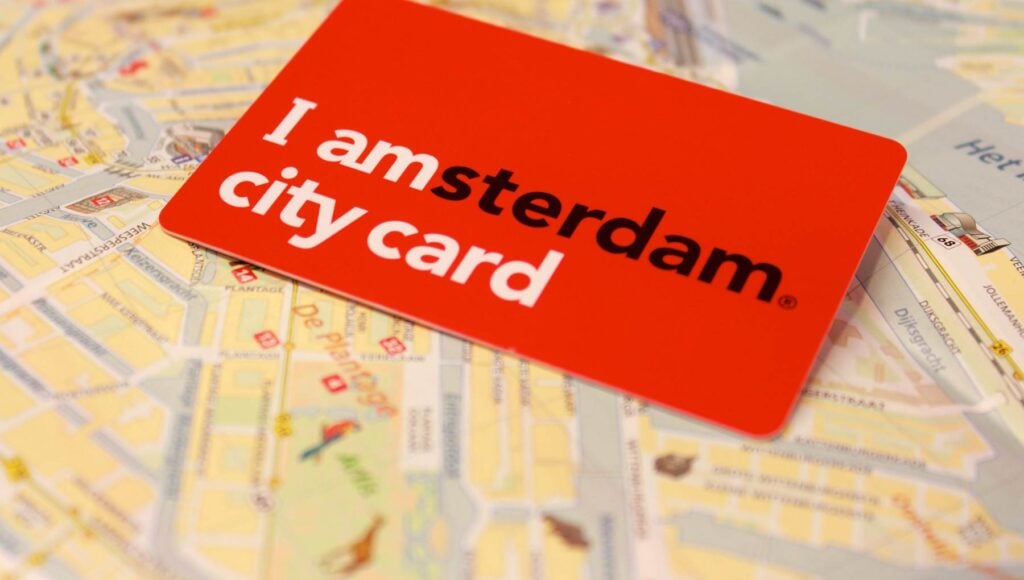 Or you can buy a simple transportation card the GVB which is only for public transportation.
Amsterdam tours
Get your Guide has so many tours in Amsterdam that it can be difficult to pick from but they also sell skip-the-line tickets which are brilliant and I have used them in many cities including Amsterdam. Here's just a small sample of their Amsterdam tours.
Hop On Hop Off bus and canal boats in Amsterdam
Because it was winter and decidedly freezing we decided to purchase a combined hop-on hop-off bus ticket and a canal cruise for € 36 euros. We love these ways of getting around a city because it allows you to get your bearings, and figure out what you want to explore more in warmth and comfort.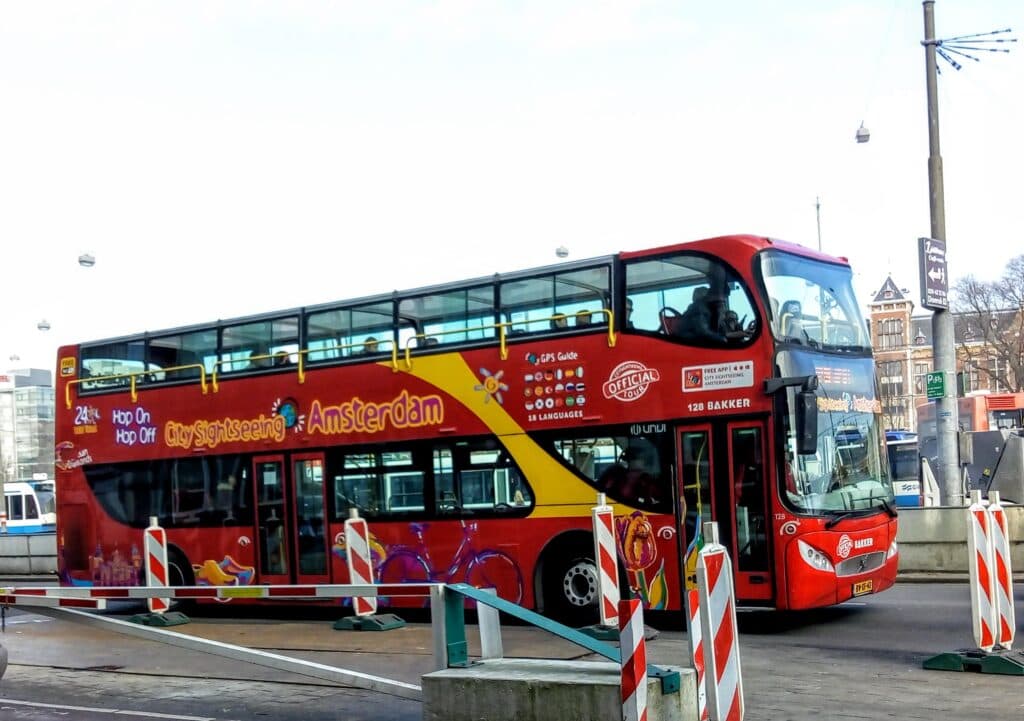 The buses and boats used by Hop On Hop Off Amsterdam have GPS audio commentary in 18 different languages, which will give you all the information you need about the sights. They are also equipped with panoramic windows so you don't miss a single thing while travelling. Free Wi-Fi is available and the routes have been carefully designed to get you from A to B as efficiently as possible.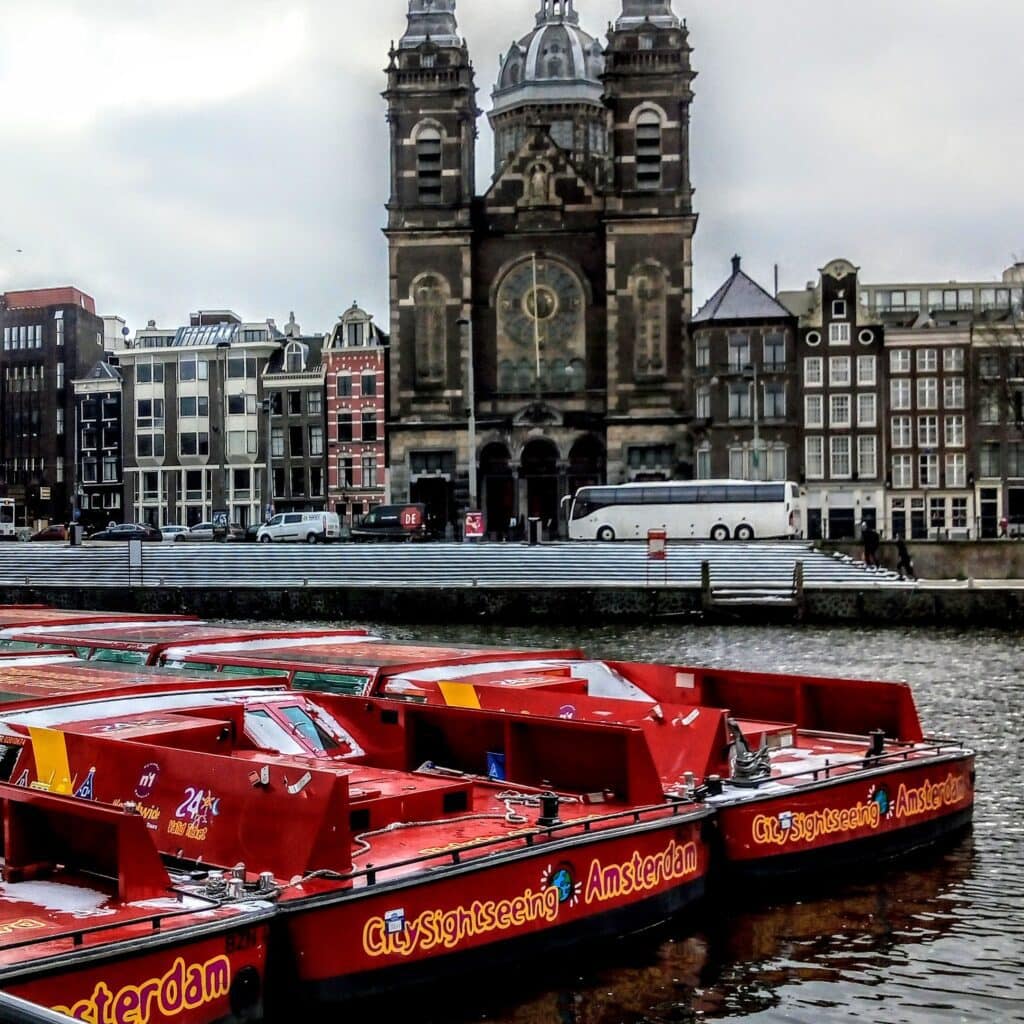 Hop On Hop Off Amsterdam covers all of the city's major points of interest. The best thing about Hop On Hop Off Amsterdam is that if you suddenly see something that you would like to explore further, you can just hop off and check it out! And when you want to keep moving, you just catch the next boat or bus. Another benefit of Hop On Hop Off Amsterdam is that you won't lose time walking everywhere or have to deal with the confusing (and expensive) public transport system. Hop On Hop Off Amsterdam is the best way to explore Amsterdam.
Tips on what to see in Amsterdam
Canals of Amsterdam
The Canal Ring in Amsterdam was recognized by UNESCO as a world-acclaimed monument in 2010. The city has 165 canals and 1,281 bridges. They originated in the 17th century when Amsterdam was looking for a way to transport food and other goods to the city centre as quickly and efficiently as possible, while simultaneously controlling the water and keeping potential enemy armies at bay.
The result is a beautifully designed and structured maze of canals that give Amsterdam its unique character. The canals are icons of the capital city, which is why Amsterdam does its utmost to maintain and protect them.
Museums of Amsterdam
Amsterdam is home to over 50 museums here are some of the most visited and popular a great way to use your I am Amsterdam Card which includes the entry fees.
Rijksmuseum
One of Amsterdam's most impressive and popular museums, the Rijksmuseum boasts a diverse collection steeped in more than eight centuries of history. Visitors can expect to see works from all the Dutch Masters of the 17th century: Rembrandt, Vermeer and Van Gogh.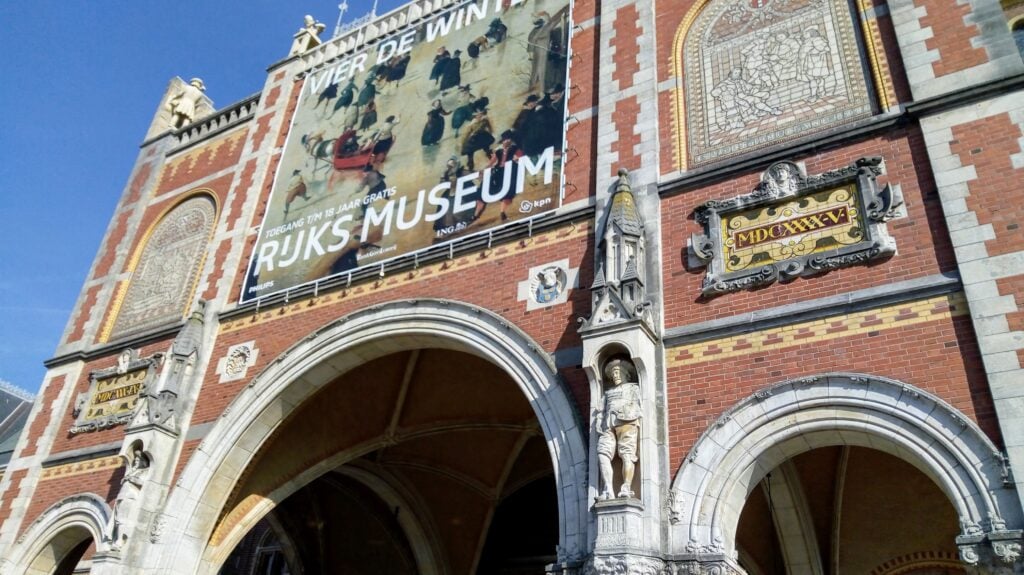 Stedelijk Museum of Modern Art
A visit to the Stedelijk Museum takes you on a journey through 150 years of art, including the best modern art in Amsterdam. Iconic works by Karel Appel, Koons, Matisse, Mondrian, Picasso, Pollock, Gerrit Rietveld, Warhol and many others can be seen here.
Anne Frank House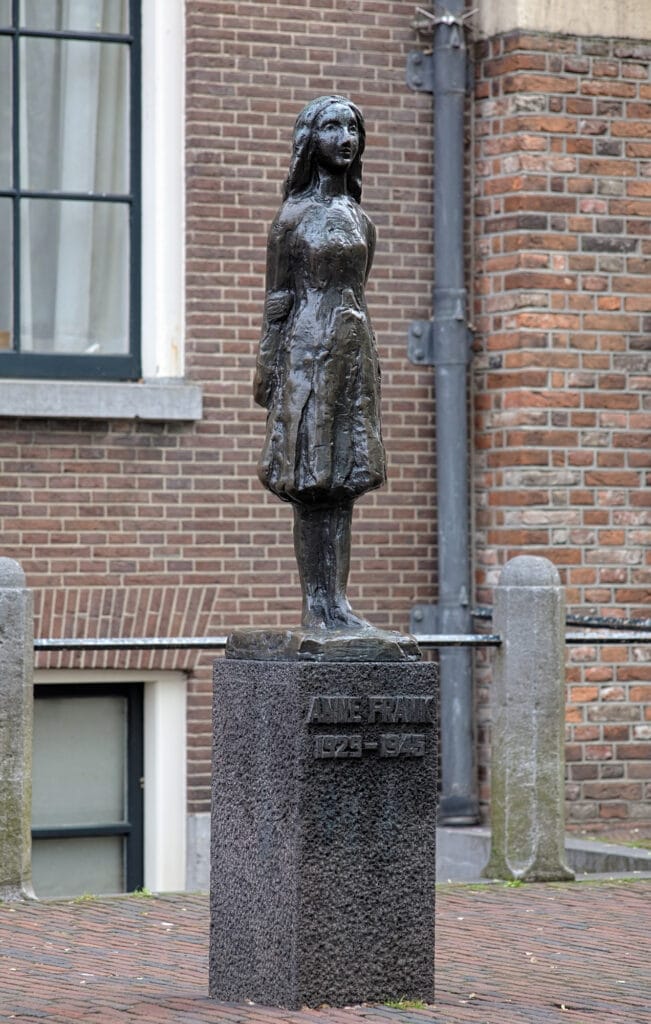 The Anne Frank House at Prinsengracht 263 in Amsterdam is where she lived in hiding with her family for more than two years during World War II before being found and transported to Auschwitz. The original house has now been enclosed in a protective building shell that contains exhibits and the original house. Now converted into a museum it contains a sobering exhibition about the persecution of the Jews during the war.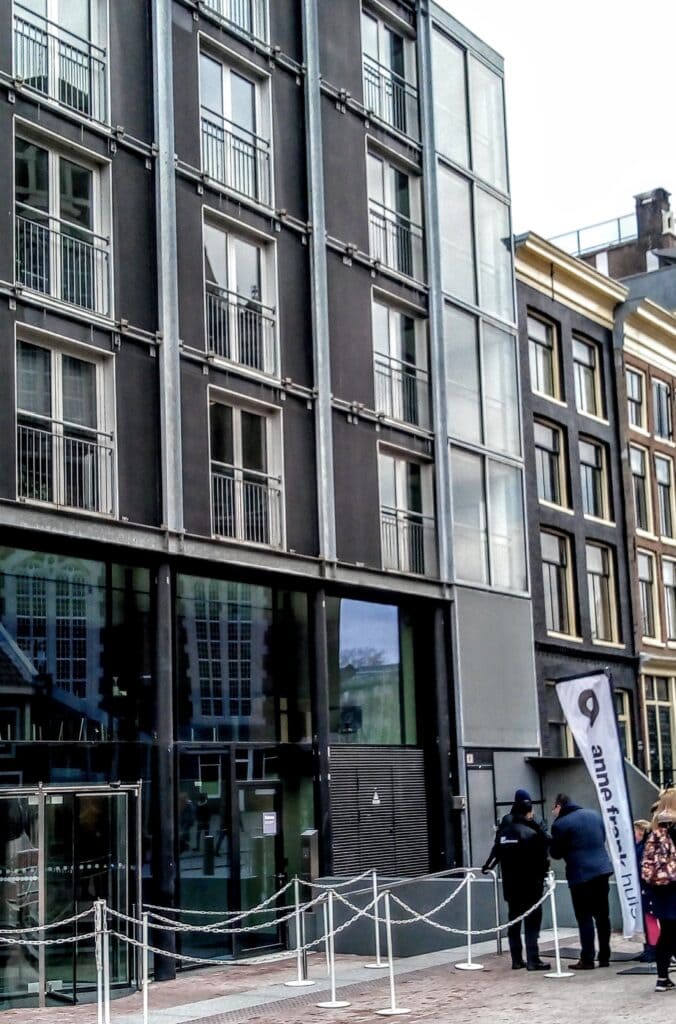 Van Gogh Museum
The Van Gogh Museum in Amsterdam is one of the most popular museums in the world because it houses the largest collection of works by Vincent van Gogh – more than 200 paintings, 500 drawings and 700 of his letters.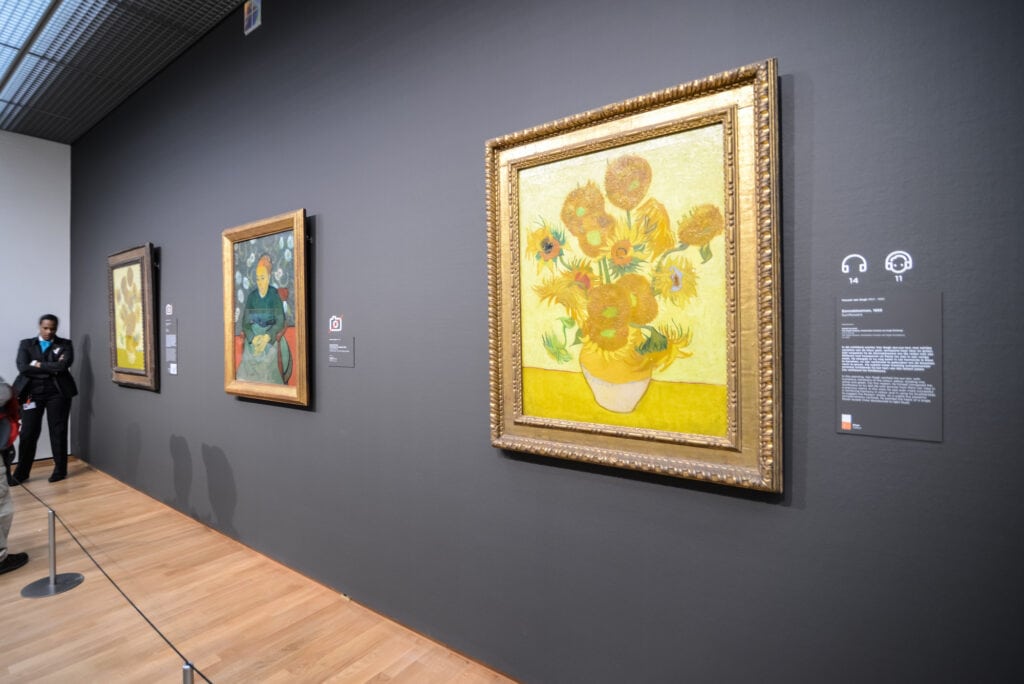 Foodie tips for Amsterdam
Brown Cafes
Want to check out an Amsterdam institution look for the Brown Cafes. The brown café is an integrated part of Dutch culture, a place where people go for a drink after work or to chat with friends on the weekend. They are great to unwind and relax. Most brown cafes serve beer and wine, as well as jenever, which is where gin comes from. Bring some cash with you; most do not accept credit cards.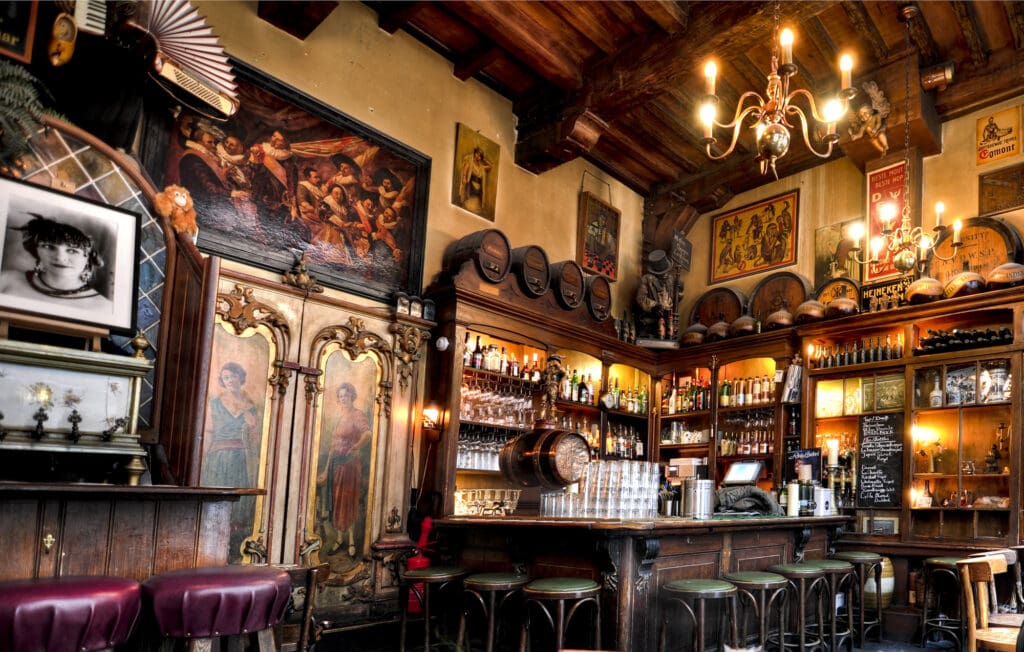 Head to De Hallen
Home to the Filmhallen arthouse cinema complex a, boutique hotel, independent creative outlets a weekly indoor craft market, and the fabulous FoodHallen this historic former tram depot has quickly become one of Amsterdam's most popular cultural hotspots.
The absolutely brilliant Foodhallen; is an indoor food market lined with stalls of top-notch street food from some of Amsterdam's most respected kitchens, as well as plentiful bars and seating areas.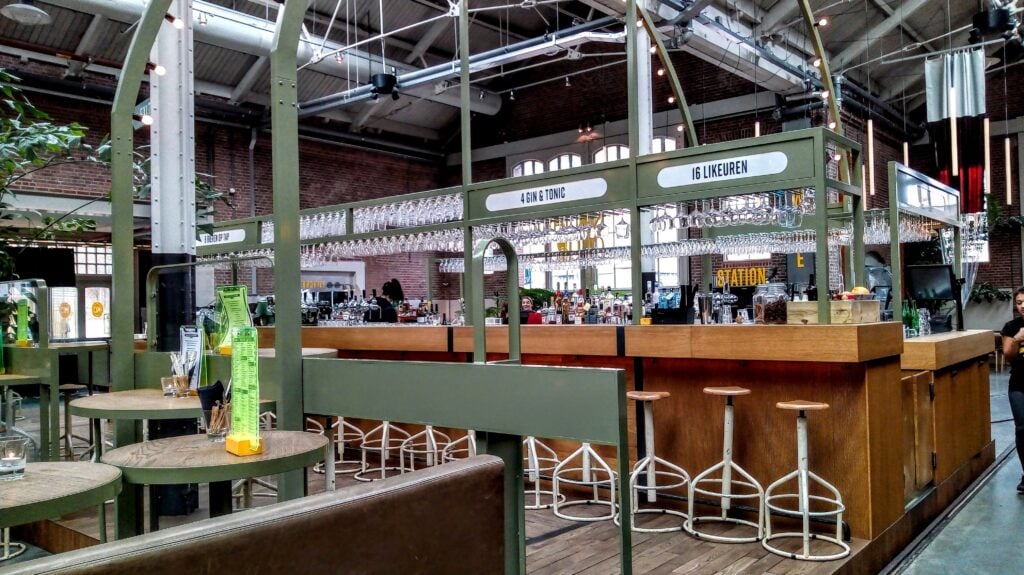 The ultimate foodie experience at De Hallen you can enjoy cuisine from Japanese to South American. The Hallen is a huge building full of what is essentially street food booths.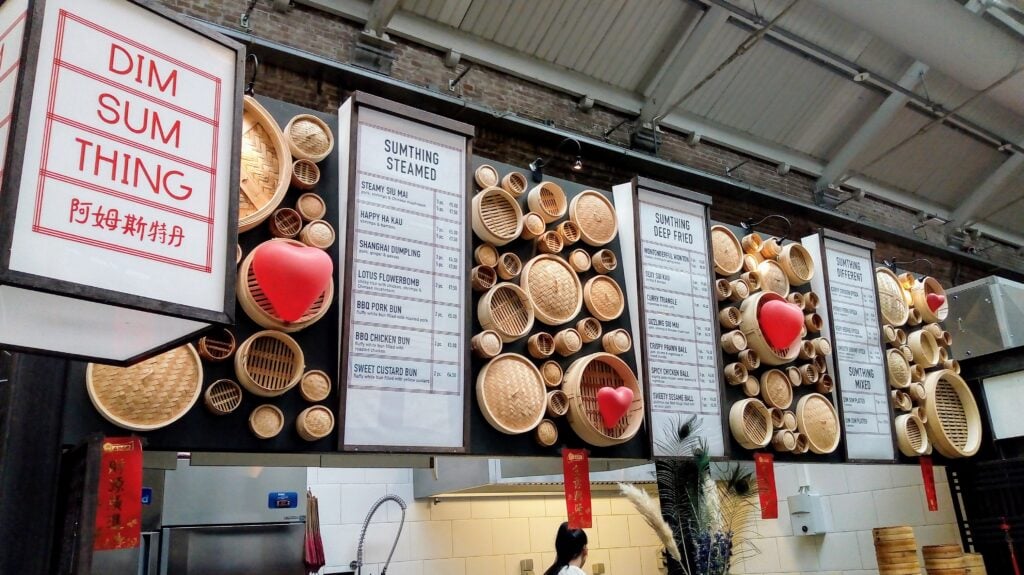 We indulged ourselves in spring rolls, smoked fish, herring, bitterballen and much more at the Foodhallen.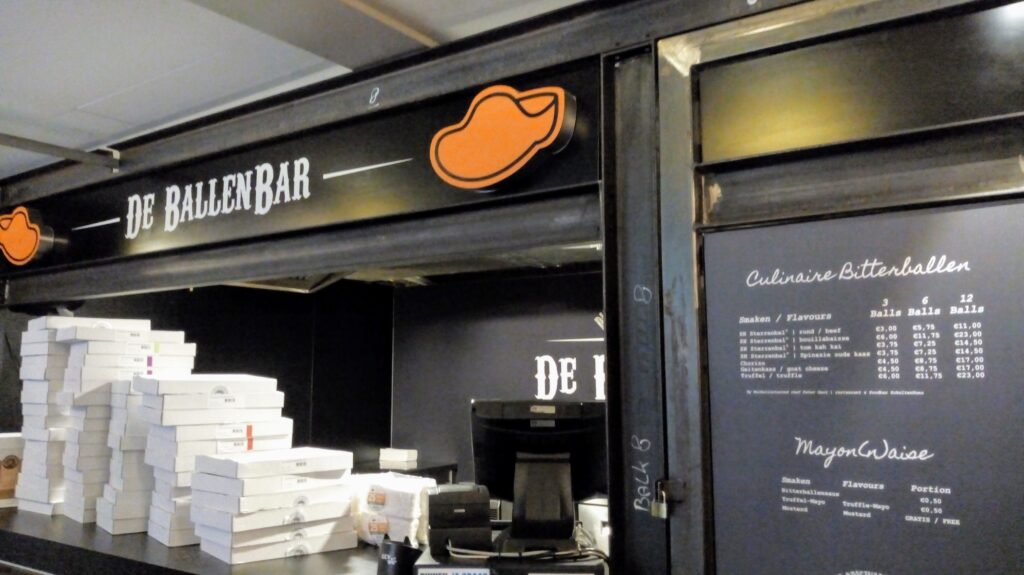 Indonesian cuisine in Amsterdam
Until 1949 Indonesia was a colony of the Netherlands in the 1600s, the Dutch East India Company (VOC) began colonizing parts of Indonesia. After the abolition of the VOC in 1796, the Dutch government gained control over Indonesia, which was then referred to as the Netherlands East Indies.
The colonization of Indonesia, which was motivated by Dutch economic interests, was portrayed as a "civilizing mission," that is, the notion that Indonesians were primitive and backward and that the Dutch, as Europeans, would civilize and modernise them.
The Dutch who worked in Indonesia brought back with them their favourite dishes and the Indonesians that came to the Netherlands after WWII brought their culinary delights with them. From this time onward restaurants serving rijsttafel were set up and the Dutch adored them.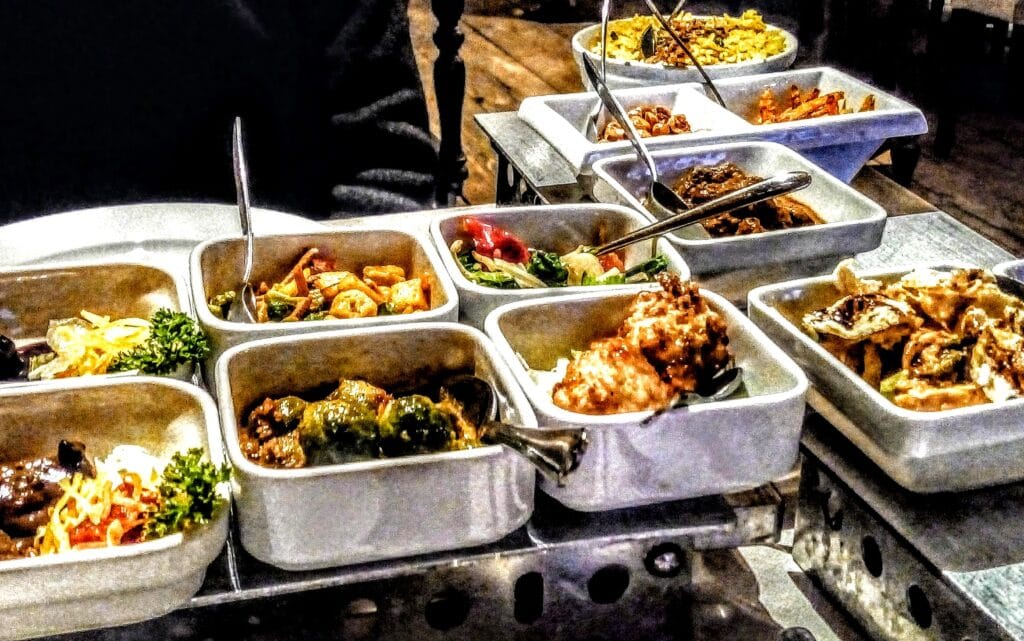 I grew up with a lot of Dutch kids in Canada and it was a treat to head over to their house for dinner and experience Nasi Goreng, Bambi, and rijsttafel. Of course, I also indulged in many other traditional Dutch foods such as bitterballen, ollie bollen, Stampfpot and many more. You can read all about Dutch foods here.
The food you have to try in Amsterdam
Okay, so we all know French fries but make sure you take a moment to stop at a hole-in-the-wall French fry place. These fries are triple fried, never frozen and served in a cone with mayo, or spicy sauce, truffled mayonnaise or curry sauce – an absolute addiction.
If you want to order Dutch fries just like a local, here are some things you can request: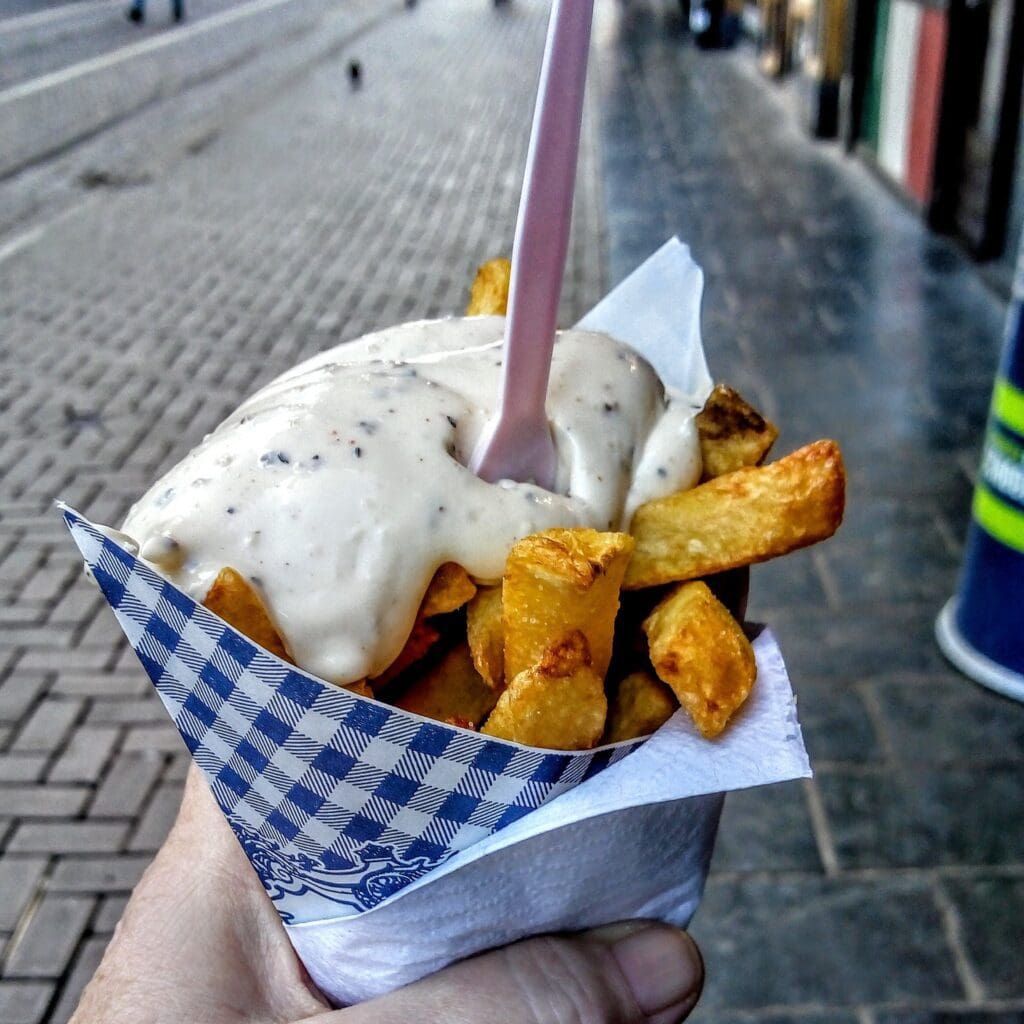 Patat zonder — fries without. Fries, fries, and more fries with zero sauce.
Patat met — fries with mayonnaise. Easily the most popular, this is fries just with mayonnaise. They don't even have to say the mayo part — just "fries with" and that's all the fry artist needs to know.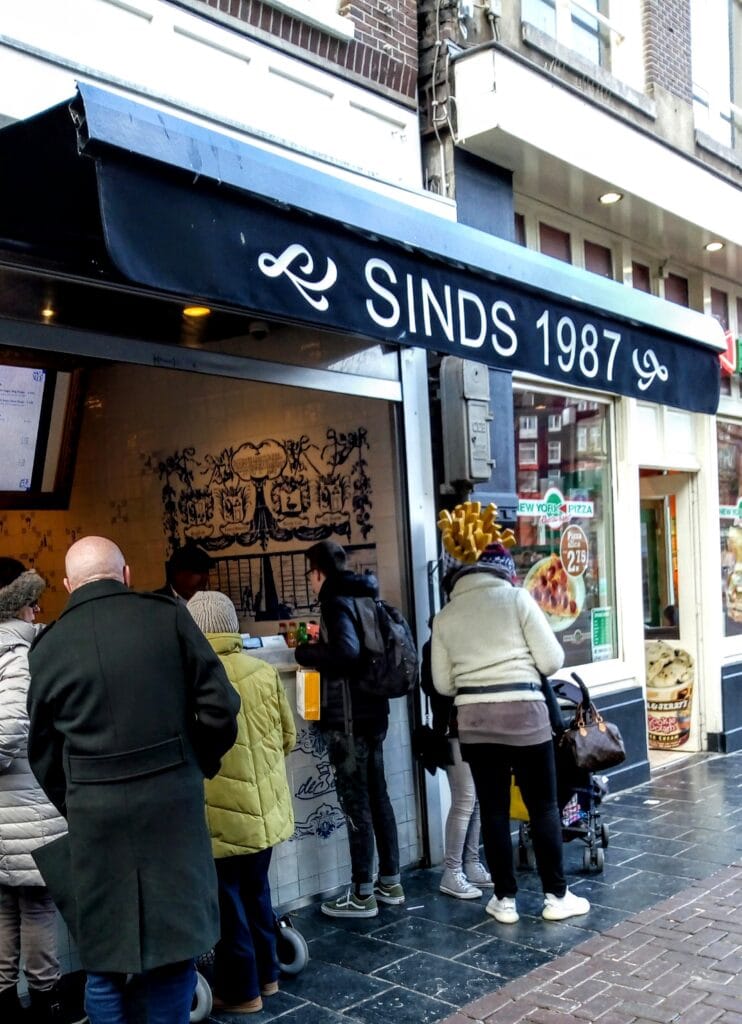 Stroopwafels are another famous Dutch treat a superthin wafer sandwiched with caramel is the traditional stroopwafel but you can also find them dipped in chocolate, marshmallows and sprinkles.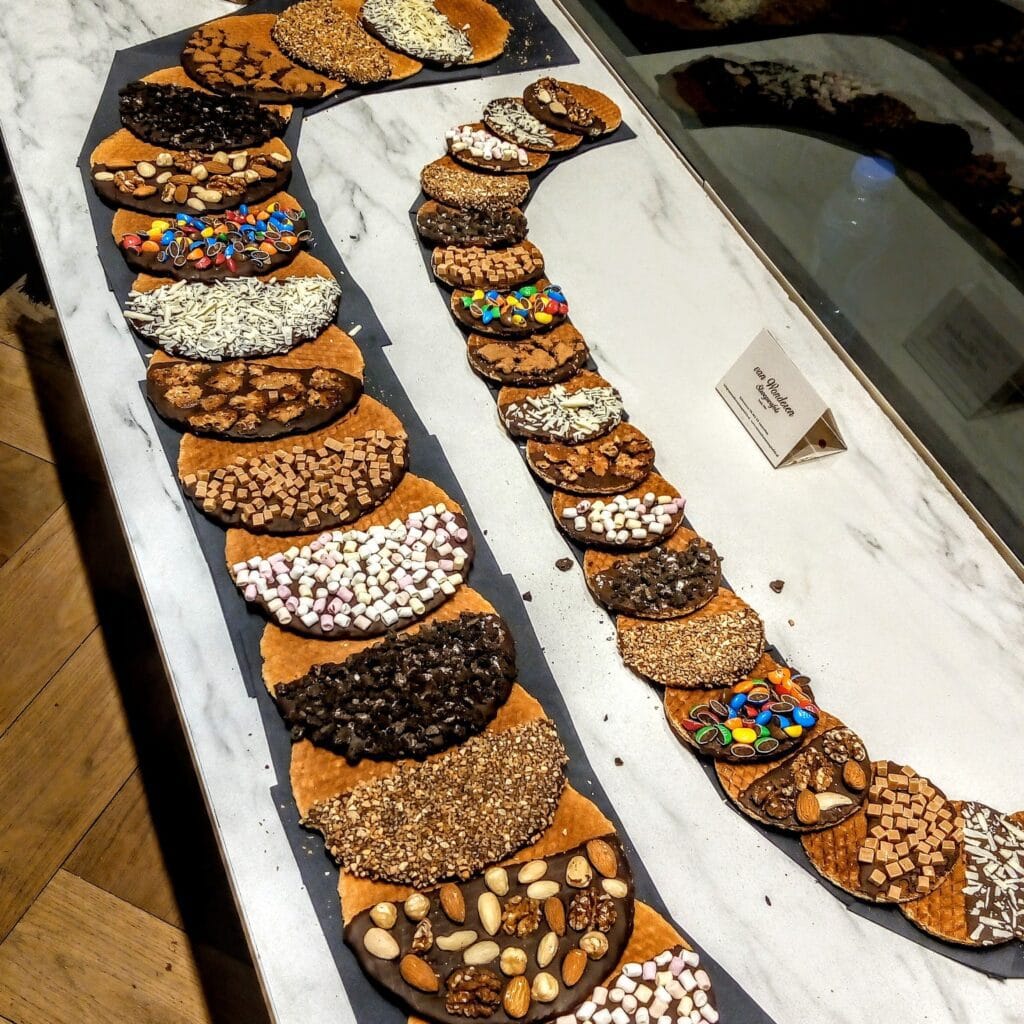 Herring that famous Dutch fish, is served very simply raw with onions and mustard. Head to the Albert Cuyp Market (De Pijp) If you only visit one street market while you're here, make it 'the Cuyp'.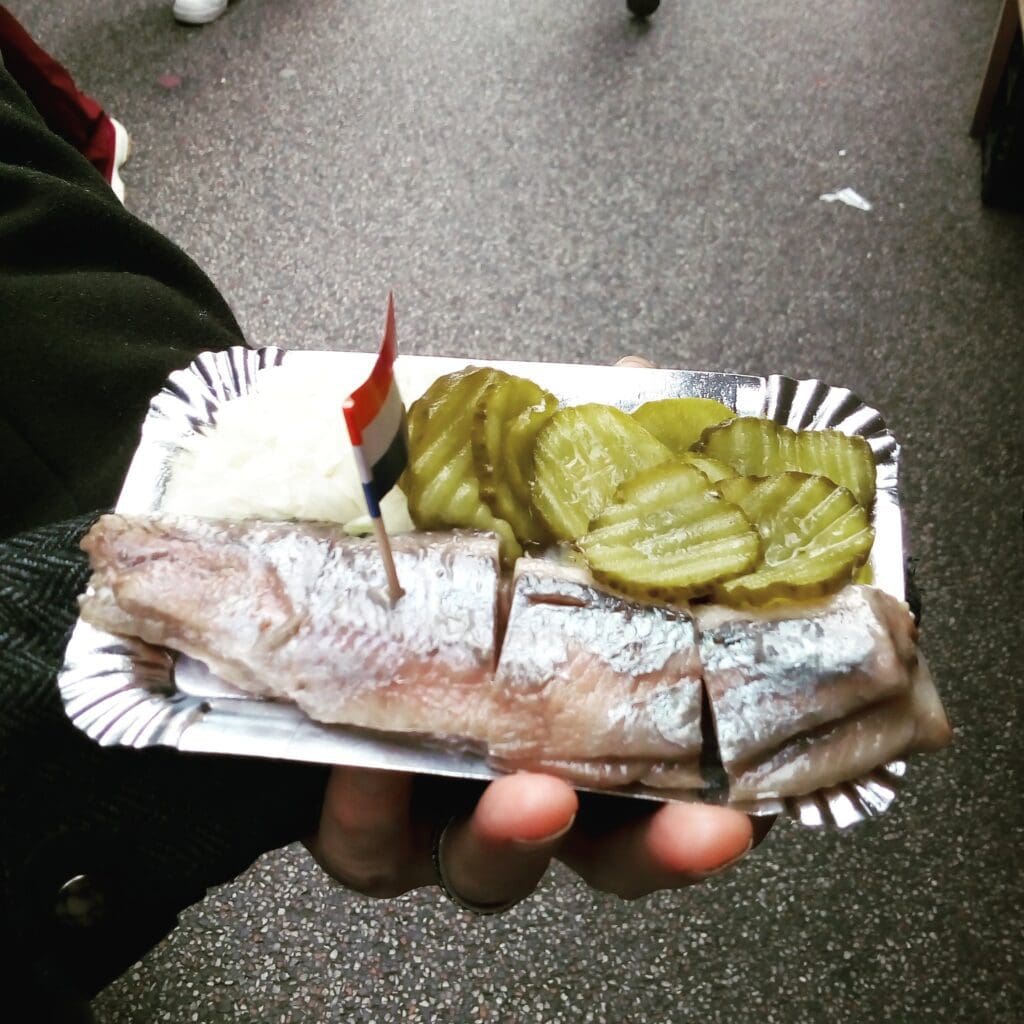 Bitterballen is plump rounds of deep-fried meatballs the equivalent of tapas and served with mustard and a biertje (beer).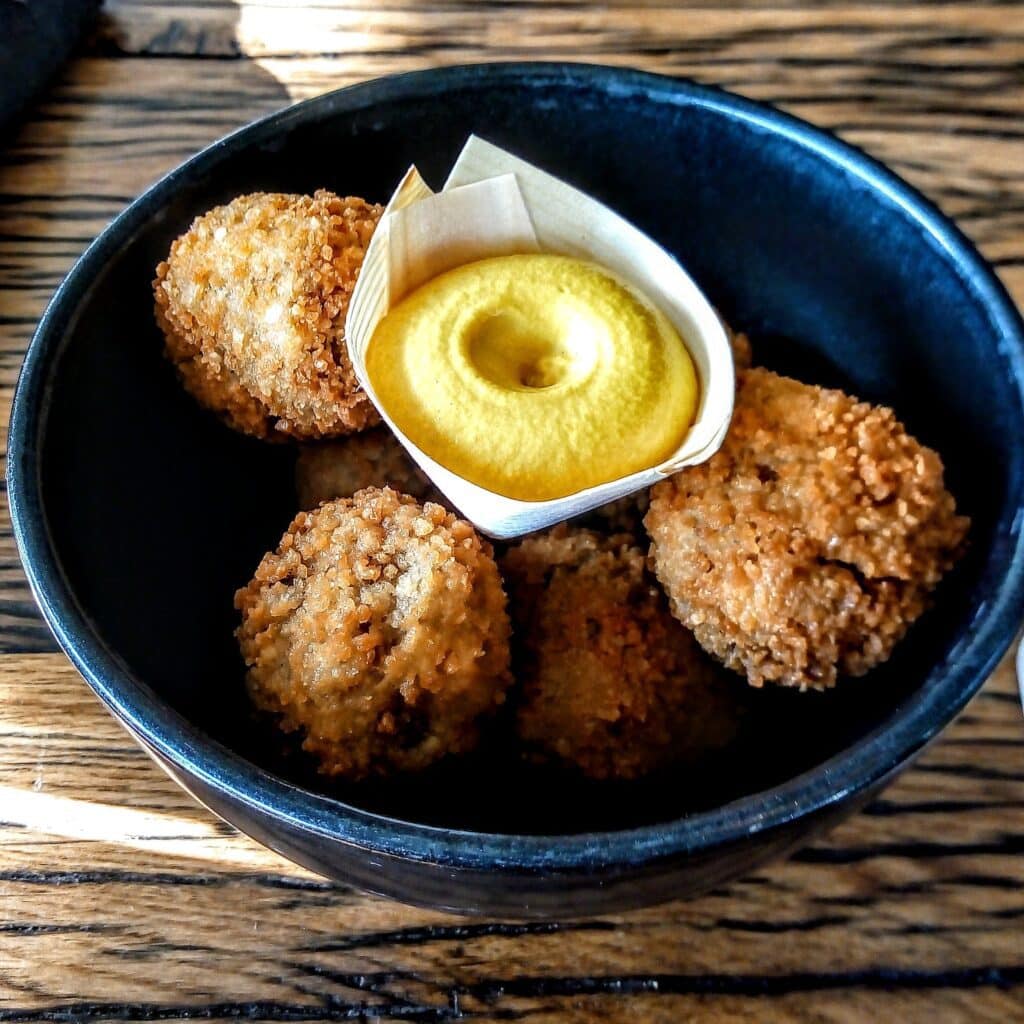 Poffertjes are a little pancakes, almost. They are puffier and fluffier and sit in a pile coated with powdered sugar. They are a yeast-based type of pancake but made with buckwheat. They are usually served with butter and powdered sugar but you can add strawberries and whipped cream or syrup if you like. A decadent treat to be nibbled on when walking through one of the markets in Amsterdam.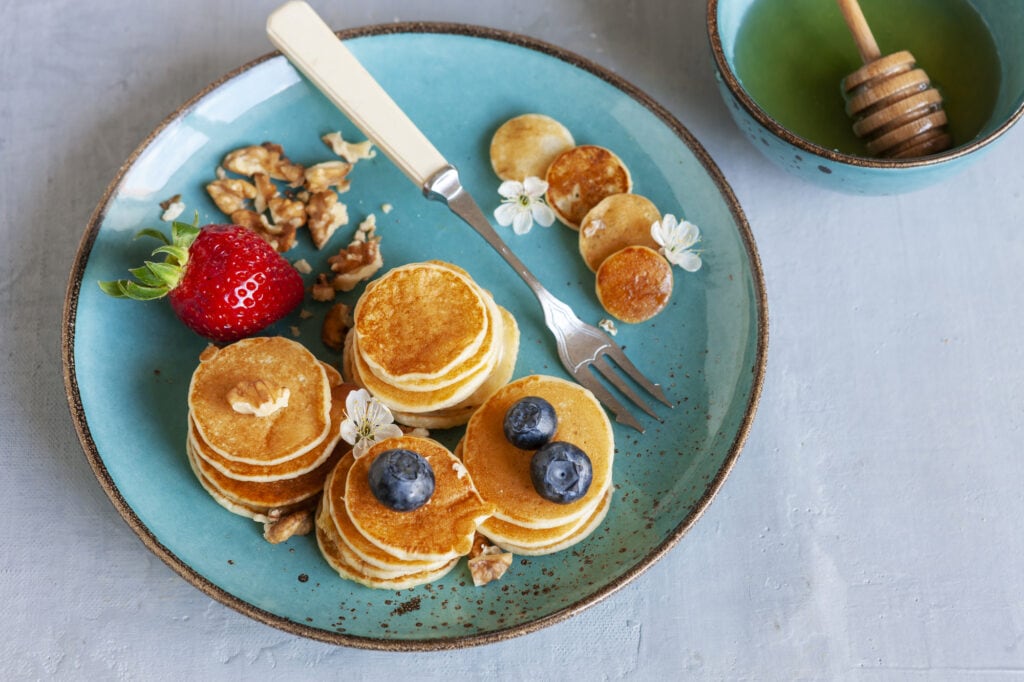 Kibbeling is deep-fried pieces of fish in batter that are served with garlic mayonnaise or tartar sauce – highly addictive.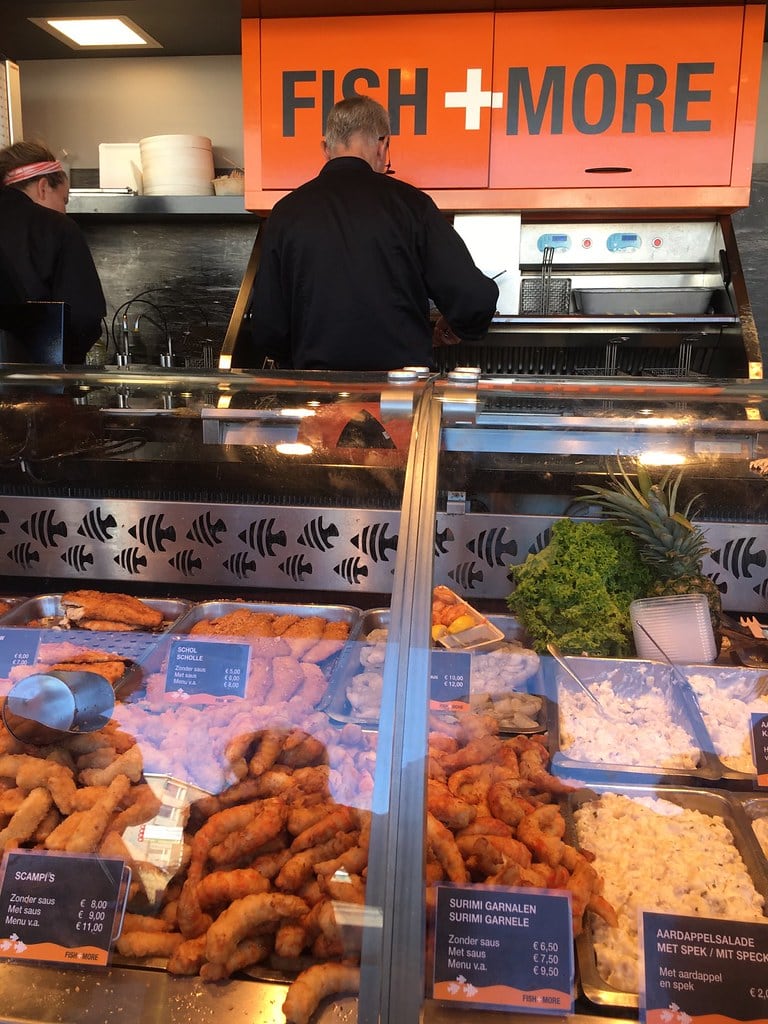 The street meat of Amsterdam is known as Frikandel. This skinless, deep-fried sausage combines chicken, pork, and beef and is eaten either on a roll or simply sliced and served with any of the sauces the vendor may have from Ketchup and onions to mayo.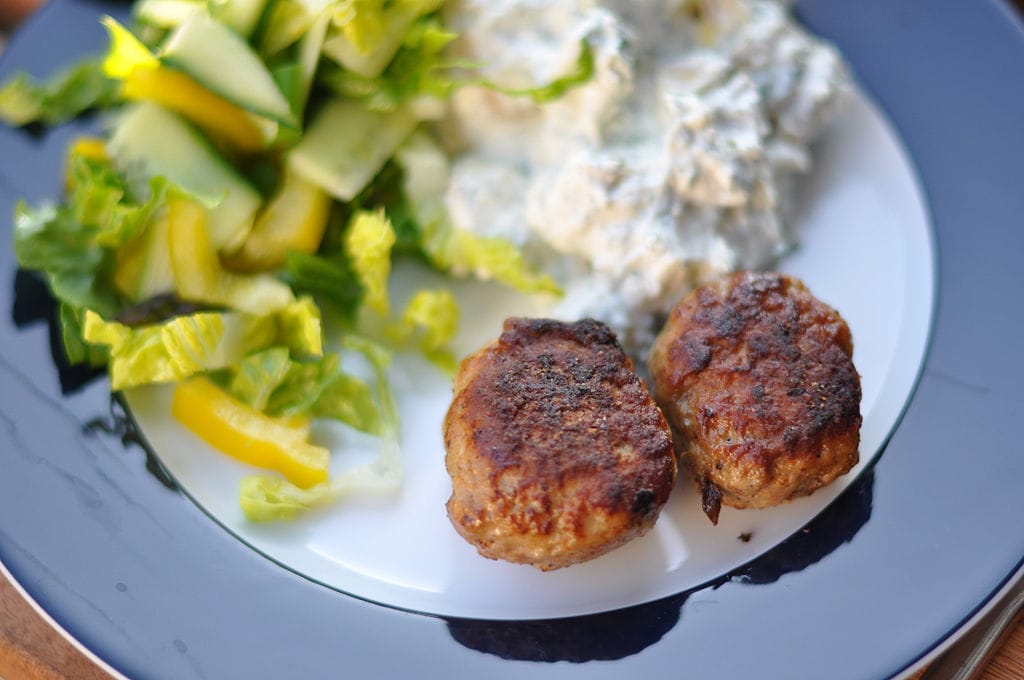 It wouldn't be a trip to the Netherlands without trying some cheese or visiting any of the dozens of cheese museums dotted around the city. The Dutch have been making cheese for over 1600 years and after all that time they have become pretty good at it. You can get your fill of cheese in a day by simply walking into any cheese shop (trust me there are lots of them) and tasting your way through samples of some of the best Edam and Gouda cheese you have ever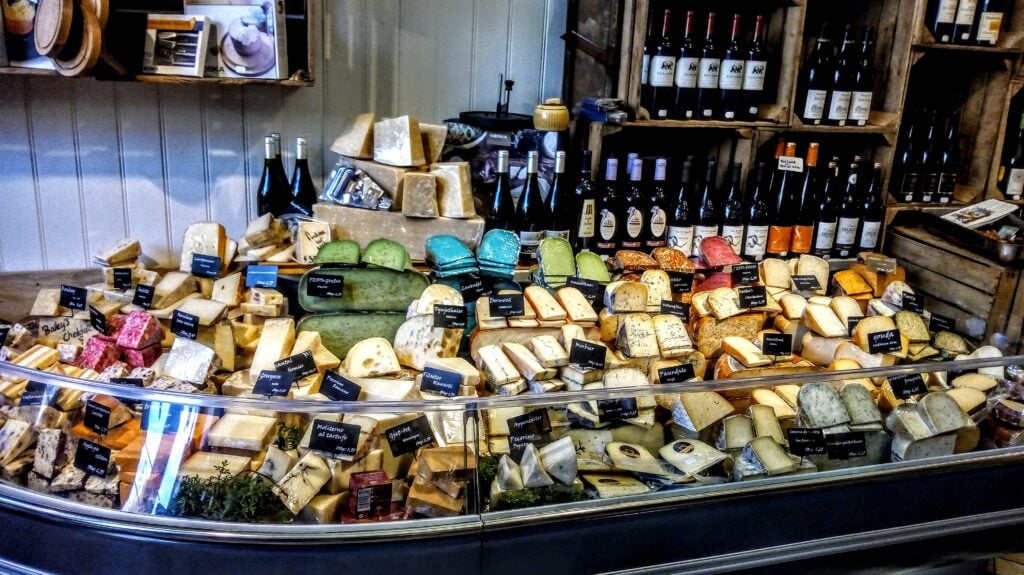 Learn the difference between a Coffeeshop and a cafe
Amsterdam is of course the highlight of many a backpacker's journey fresh out of college or university primarily because it is legal to smoke weed in the Netherlands. These are not the dens of iniquity many older folks think of but bright friendly cafes where folks indulge in a little smoking of marijuana but not cigarettes. I have a recent guide to the top 10 Coffeeshops in Amsterdam if you want to check it out.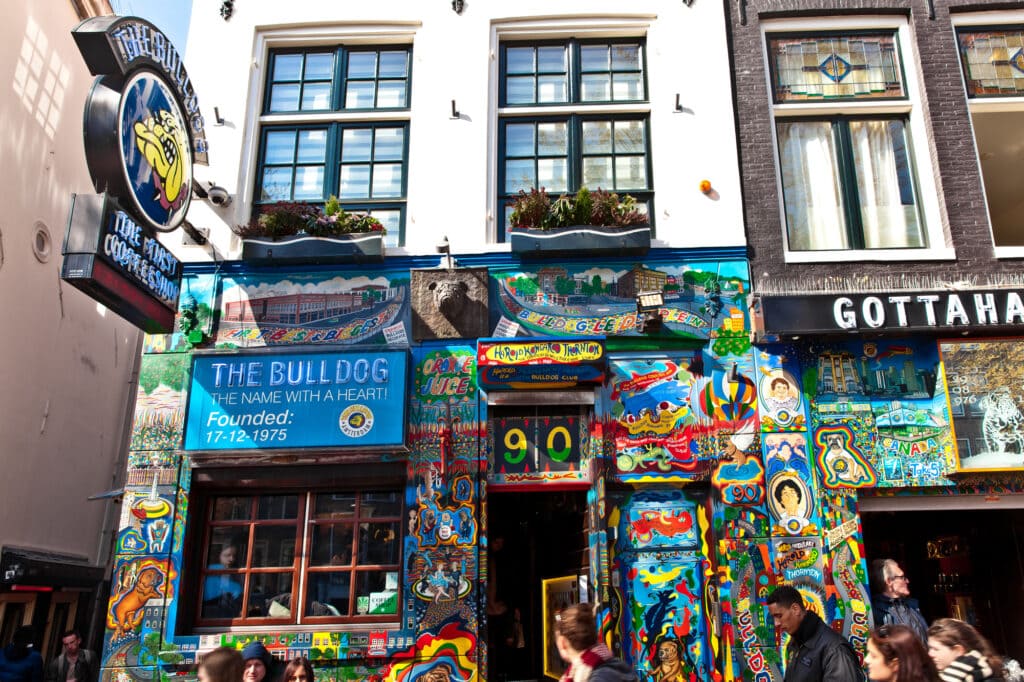 Beer in Amsterdam
Instead of touring the Henekin brewing facility why not take a tour of a microbrewery the beer is much better. If you tour Brouwerij 't IJ the only windmill and brewery in Amsterdam a glass of Flink or Zatte is included in the price of the ticket. You can also stop for some bitterballen and beer in the attached restaurant.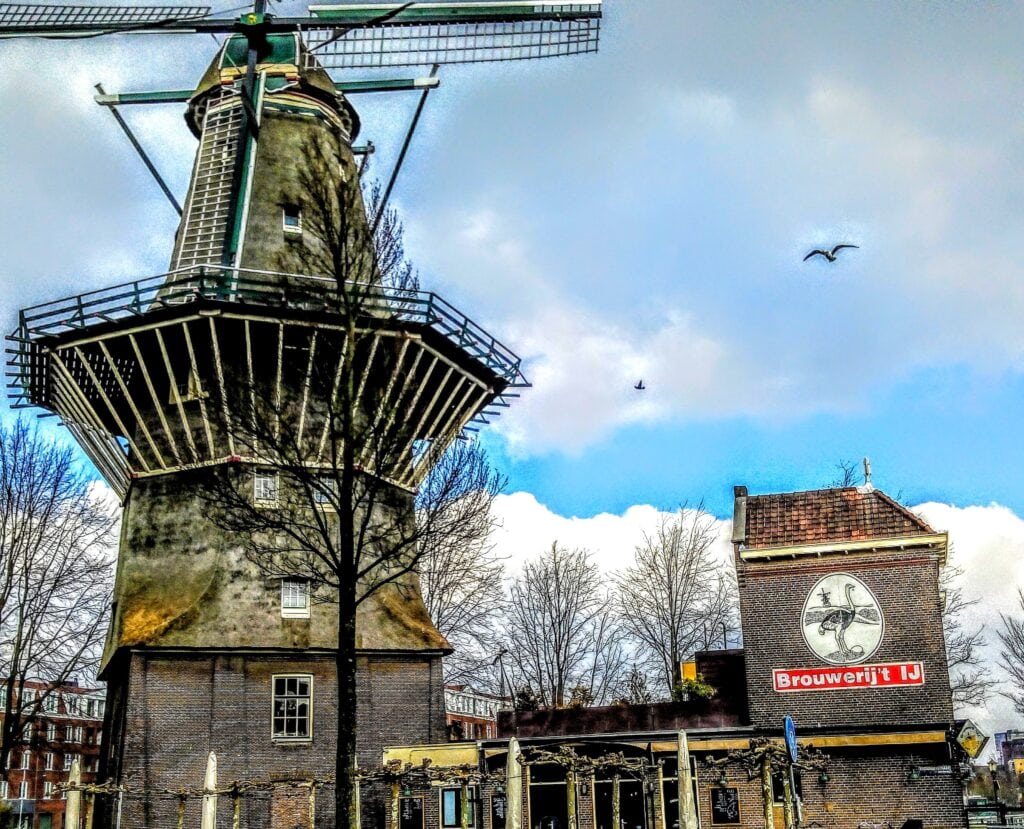 Markets and Street food in Amsterdam
I love a market and believe that it is in the markets of a place where you can learn about the country you are visiting customs and culture.
The Albert Cuypmarkt is the biggest outdoor market in Europe and here you can find anything and everything. This is where to go to get the best stroopwafels in Amsterdam.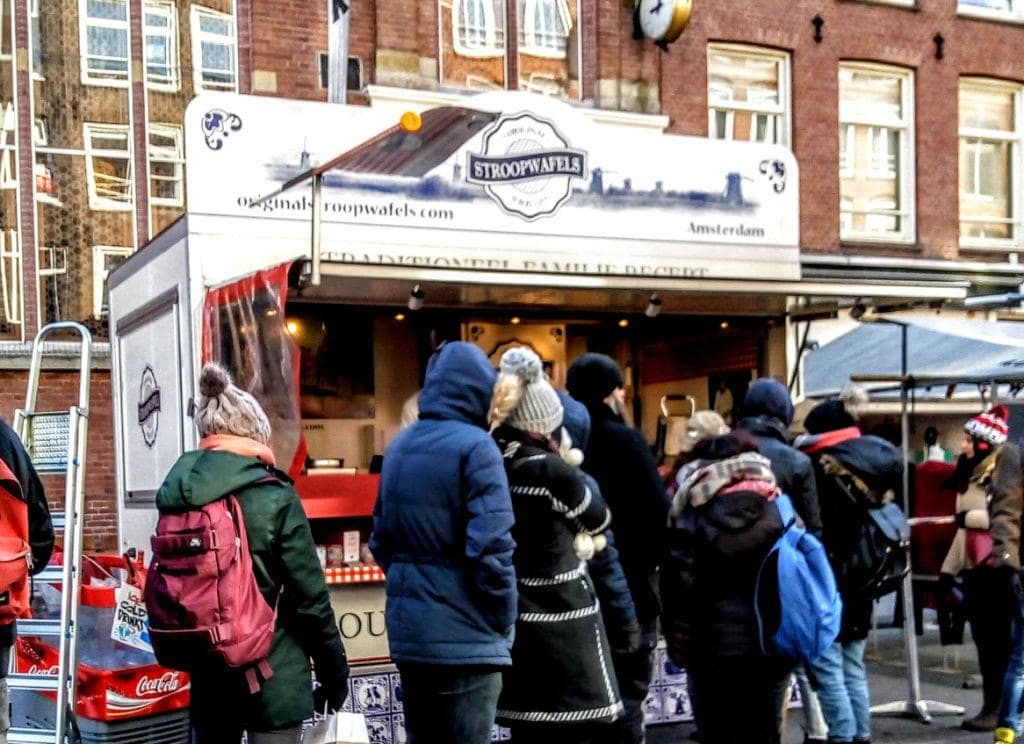 The Noordermarkt takes place on Mondays and Saturdays and is a tradition that originated in the seventeenth century.
On Saturdays there are 3 markets in one:
– on the left side is the Boerenmarkt farmer's market
– on the right side is the Noordermarkt selling antiques, books, vintage clothing, jewellery, fairtrade bags and many various unique products
– and around the corner is the Lindengrachtmarkt
On Monday mornings (9 am till 1 pm) the stands on Noordermarkt sell antiques, books, jewellery, vintage clothes and a wide variety of interesting and collectable goods.
Amsterdam tips – what to see in and around the city
The Red Light District
Many tourists want to visit the Red Light District of Amsterdam because of the window "displays" and the fact that sex work is legal. If you plan to take a peek remember that it is illegal here to take photographs or videos. If you get caught doing this you are in for a very big fine. This is done to protect the women who work here.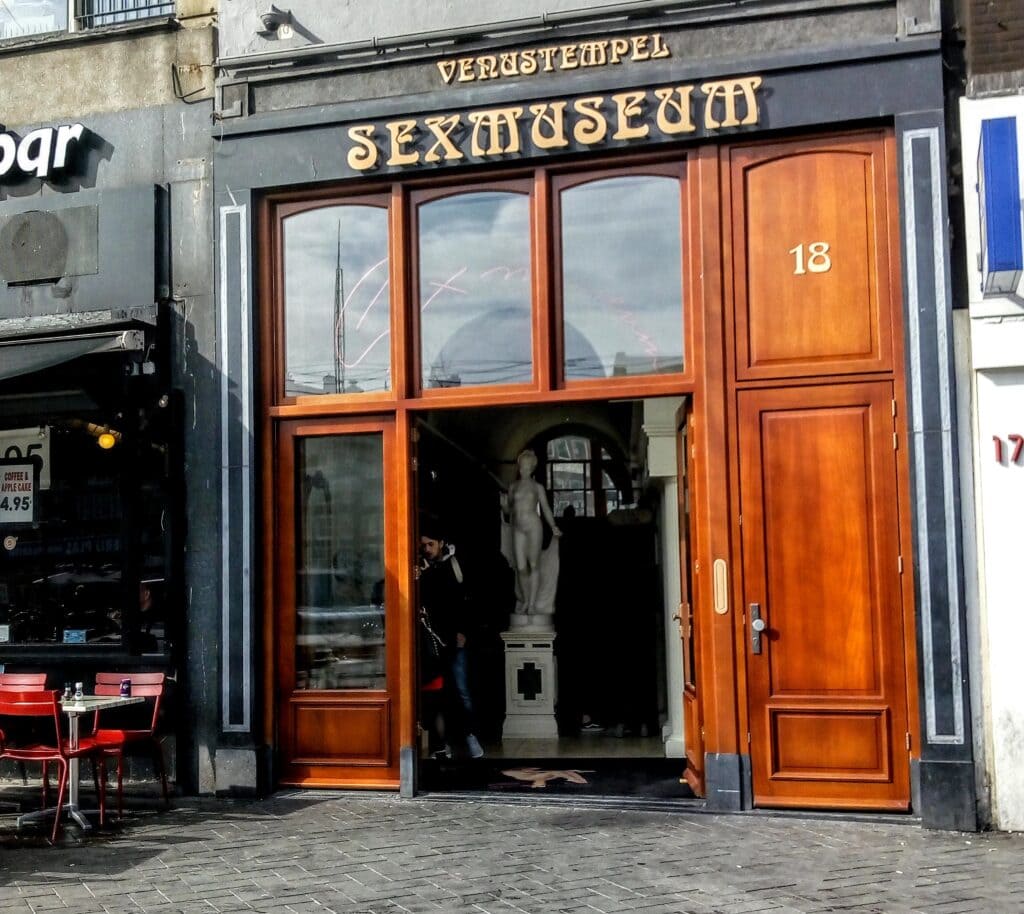 Historic sights on Dam Square
Dam Square is the historic heart of Amsterdam in 1270 a dam was built in this spot in the river Amstel and Dam Square was once the central marketplace of Amsterdam.
Towards the end of thousands of citizens were waiting for Canadian troops to arrive on the Dam square in Amsterdam. The German occupiers watched as the crowds celebrated the imminent arrival of the Canadians and began machine-gunning the crowds.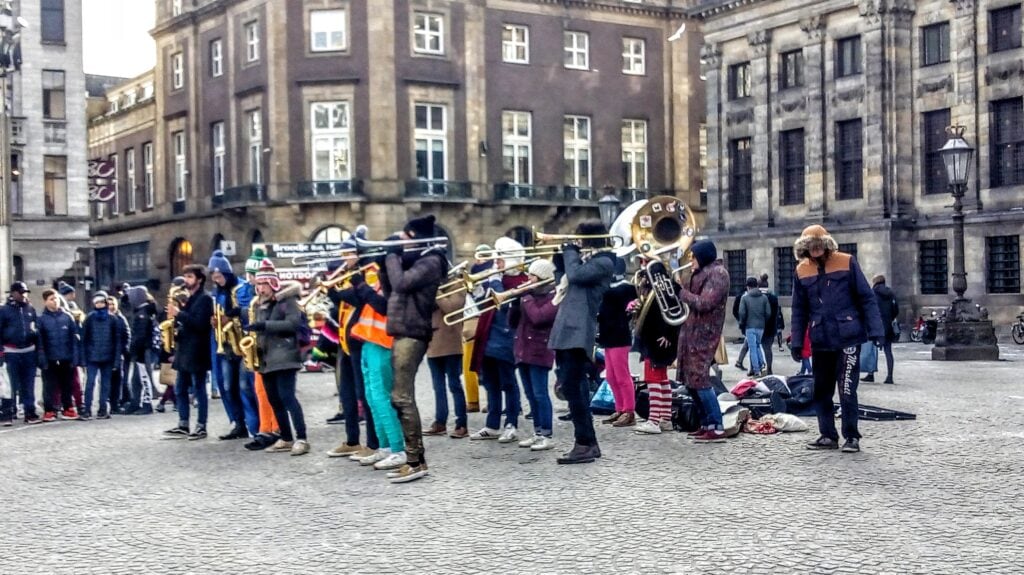 A member of the Dutch resistance climbed into the tower of the royal palace and started shooting at the Germans but a Resistance Officer and a German Commander approached the Germans firing and convincing them to surrender. 120 people were badly injured and 22 were pronounced dead.
Dam Square is dominated by the Royal Palace and the Nieuwe Kerk Amsterdam. Nearby you can find the red light district and the narrowest house in Amsterdam. Behind the Palace is the stunning shopping mall Magna Plaza.
Dam Square the Royal Palace
The Royal Palace (Koninklijk Palace) is no longer home to the royal family but the building is still used to hold official receptions and many events and festivals take place in from of the Palace.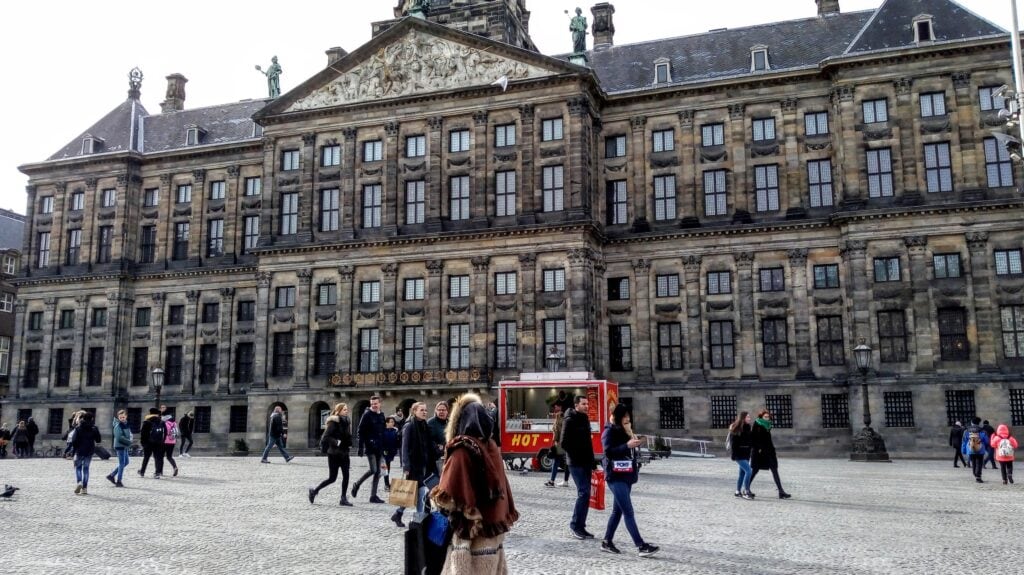 Madame Tussauds & Nieuwe Kerk
You will also spot the Madame Tussauds Museum here and the New Church (Nieuwe Kerk) which is often used for important art exhibitions.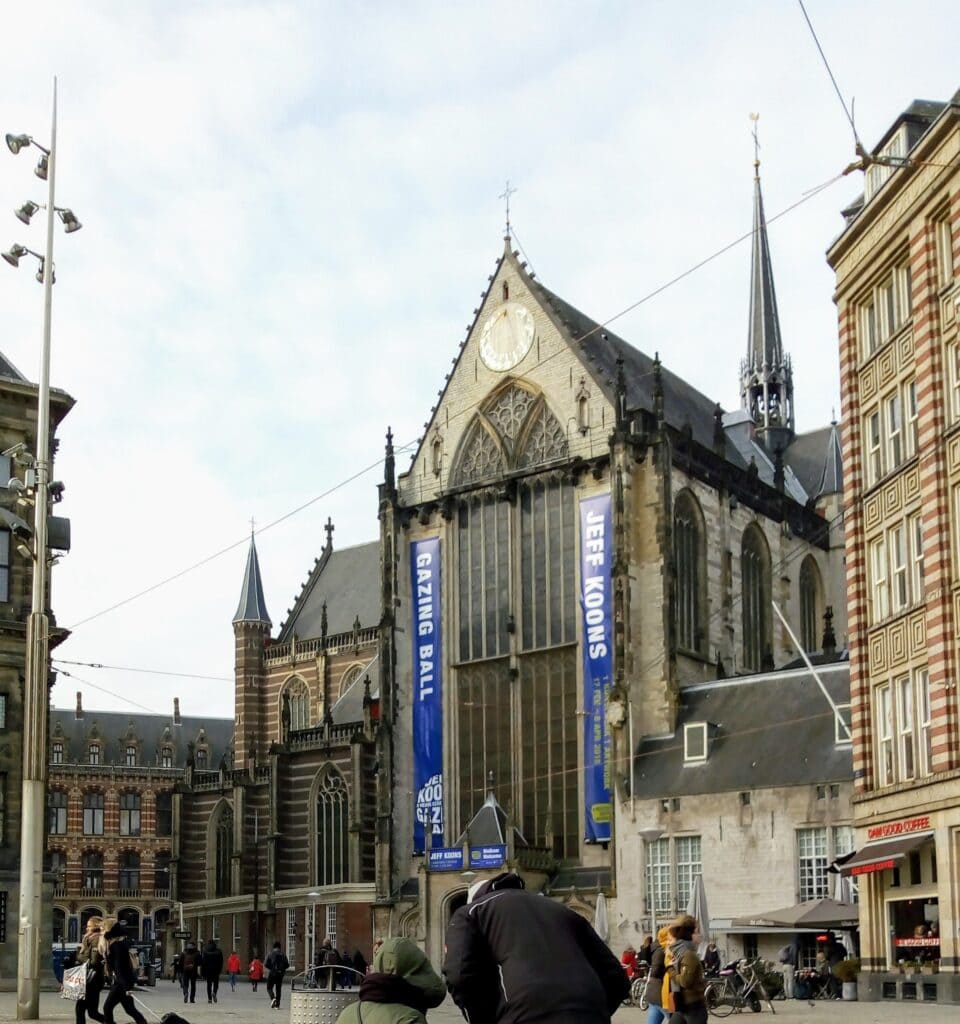 Dam Square monument
On the south side of the square stands the National Memorial statue, built to remember the Dutch soldiers and resistance fighters who died during WWII. The monument contains soil from all of the Netherlands provinces and the Dutch East Indies to honour the freedom fighters.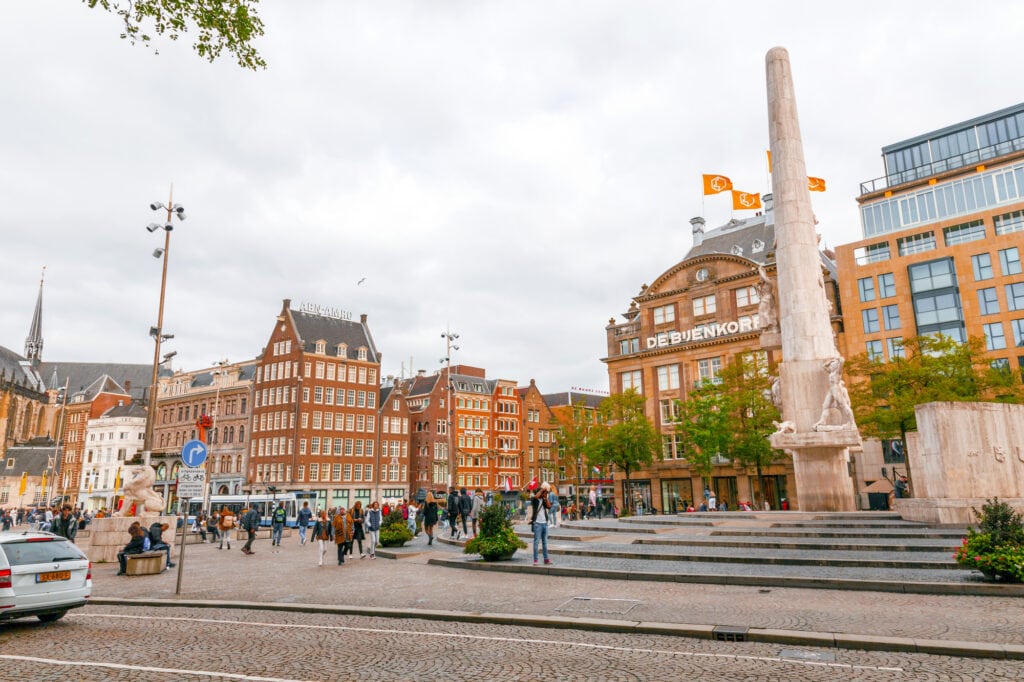 The Hofje – Hidden Courtyards of Amsterdam
You may end up wandering in error into one of the hidden courtyards or hofje in Amsterdam these were built beside the almshouses which were sanctuaries for the elderly. A hofje is a small courtyard built in the centre of small apartments.
The most famous of all courtyards in Amsterdam is the Begijnhof, which dates back to the 14th century. It is located in the buzzing heart of the city adjacent to Spui square.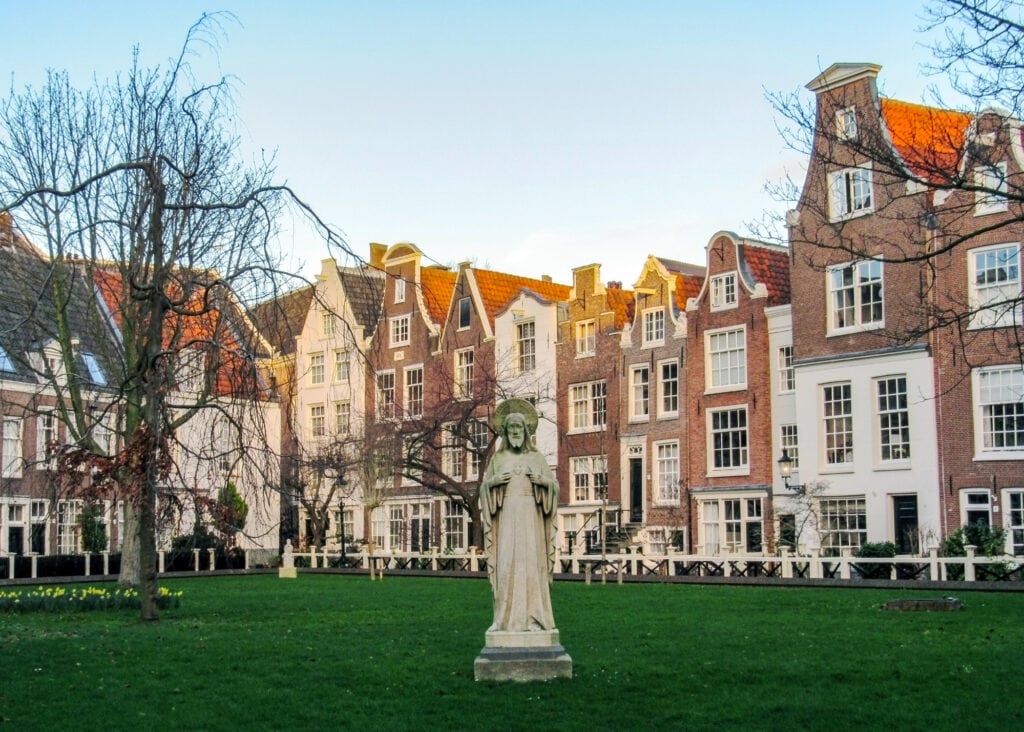 This courtyard was originally inhabited by Begijntjes (Beguines), religious women who didn't want to enter a convent.
The Jordaan neighbourhood has a high concentration of hofjes and a fine example of one of these courtyards, and one of the largest of Amsterdam is the Karthuizerhof.
It was built in 1650, and listed on the inside of the gate are the names of charitable donors who made it possible for the city to build the house.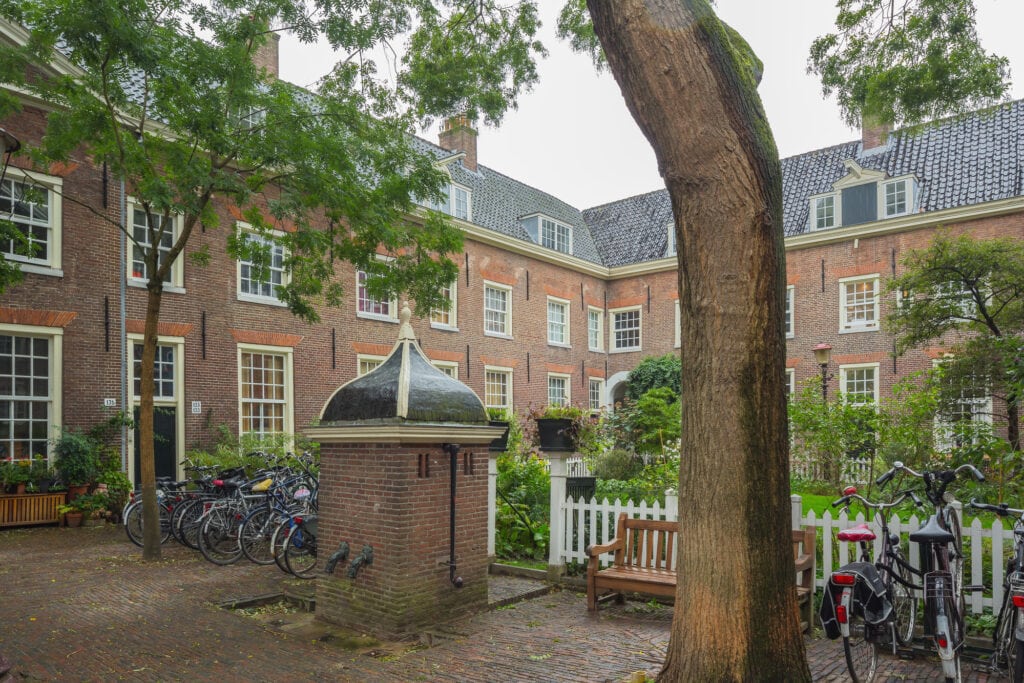 Hofje van De Zeven Keurvorsten from 1645 was intended for poor, elderly Roman Catholic ladies of impeccable behaviour
Suyckerhoff-hofje from 1667 was built for Protestant elderly women and widows.
You can take a walking tour of some of these Hofjes in the Jordaan area which has the highest concentration of these Hofjes.
Cycling in Amsterdam
There are more bikes in Amsterdam than residents and you have to be careful walking in Amsterdam as the bikes come whizzing by you. The red lanes are specifically for cyclists and you can't mistake them for a sidewalk so be careful.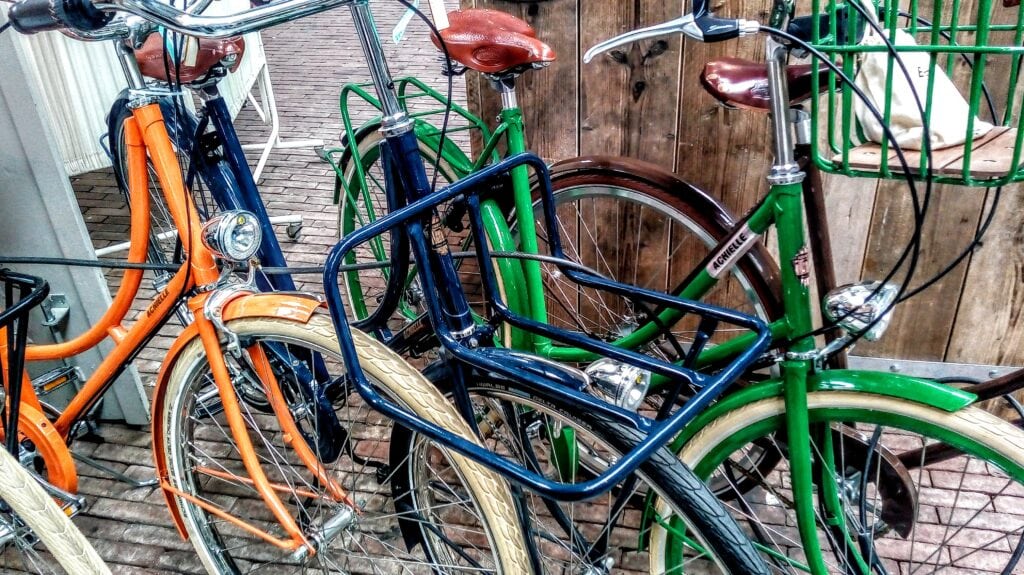 Amsterdam offers many opportunities for renting a bike and touring the City. So book a bike tour and watch out for the brakes, remember those pedal breaks you had on your bike as a kid? That's what is common in Amsterdam so no hand brakes.
Getting to Amsterdam
We flew into Schiphol Airport and took the train to the City Centre Centraal Station which is literally in the centre of everything. it was super easy to follow the signs and get on board the train. The journey to the centre took 20 minutes and there is a train every 10 minutes between 1 and 5 pm, the cost was EUR 4.50. From Centraal pretty much everything is within walking distance and you will spot the tourist office right across from the station if you want to check on what to see in Amsterdam.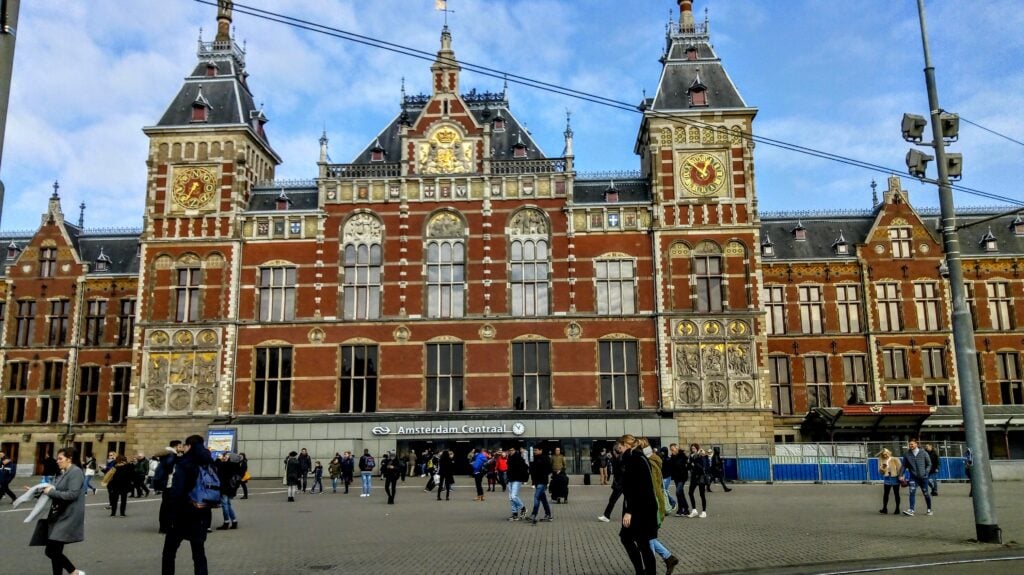 There is also a bus service from Amsterdam Schiphol airport to Museumplein, Rijksmuseum, and Leidseplein. It is called Amsterdam Airport Express and it is more expensive than the train. The bus costs EUR 6.50 for one way.
Amsterdam tips to make your trip easier
It's safe to drink tap water in Amsterdam and there are 500 or more drinking fountains where you can fill up your water bottle. Be careful in restaurants though if you just want tap water to drink in some venues we were told they won't serve it and you have to buy expensive bottled water.
Tipping in Amsterdam is not expected but it is a nice thing to do. Simply leave a few euros or round up your bill by 10%.
I love just wandering in Amsterdam in the spring and summer the city is a blaze of colour with flowers everywhere and events, celebrations and festivals taking place in many of the squares. In the fall and winter months, you can enjoy the place when it is less crowded and if you are lucky you may get to skate on one of the canals.
you might also like
Best Cities to visit in the Netherlands
My Move to Europe – 23 personal stories
148 National Dishes of countries around the world