Camden Town: All the cool things to do in this eclectic neighbourhood
Finding things to do in Camden Town in London and visiting Camden Markets was a bucket list item of mine for many years. Living in London for 10 years I never once made it to the Camden area. Back in those days, it was a little rougher and filled with some intimidating characters. The creative heart of Camden is of course the market where you will find plenty of things to do in Camden.
It was those characters that made Camden Market London the place that it is today. Whether you're an old punk into goth or retro – as in those '70s style platform boots or steampunk Camden Market has it all. It's only one of many street markets in London but it has the punkiest style for sure.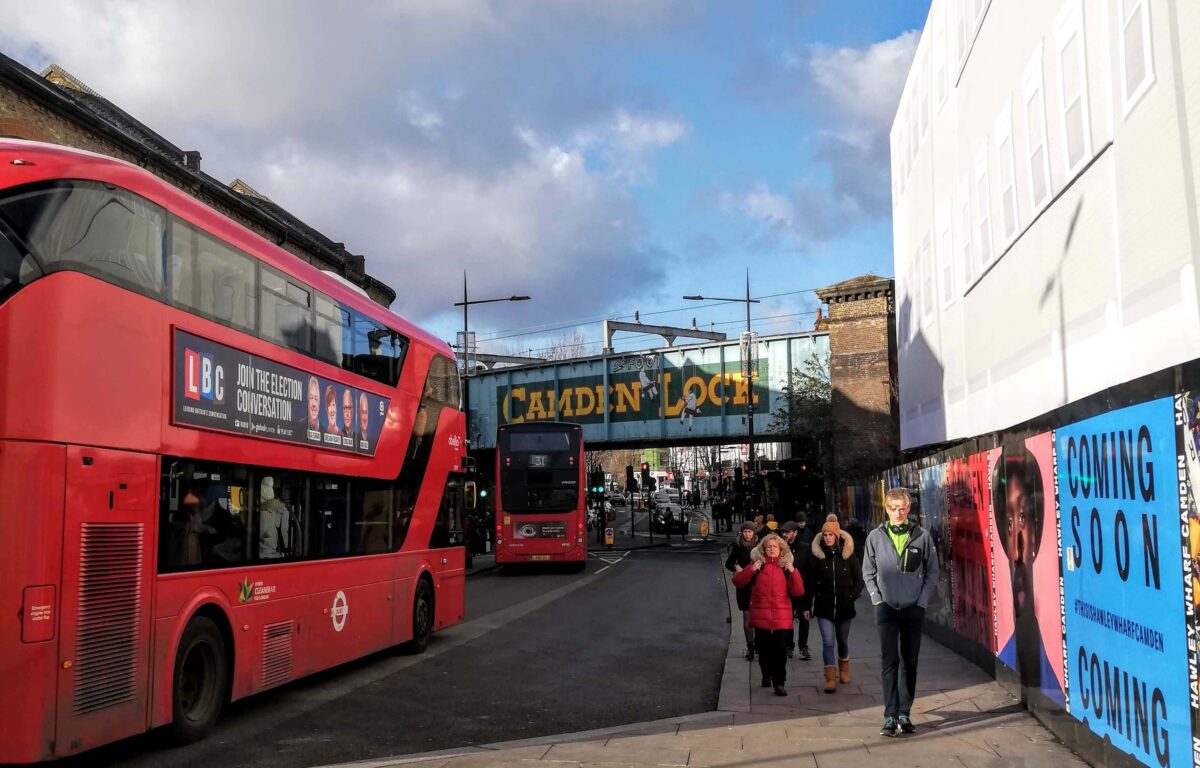 Camden Town, London is a haven for art, culture, and alternative lifestyles. The neighbourhood is renowned for its eclectic attractions and at the heart of Camden Town is the iconic Camden Market, a sprawling maze of stalls offering an incredible array of fashion, crafts, antiques, and international cuisine.
Camden Lock, with its picturesque canal and charming narrow boats, makes for lovely peaceful walks along the Canals. If you are a music fan head to famous venues like the Roundhouse and Electric Ballroom to catch live performances by both established and emerging artists. The area's street art scene is also legendary, with eye-catching murals adorning the walls at every turn. Whether you're seeking unique shopping experiences, culinary adventures, or a glimpse into London's alternative subcultures, Camden Town is a must-visit destination that never fails to captivate and inspire.
2 Days in London – how to spend your time and what to see
This post most likely contains affiliate links to things such as tours, transport, accommodation, products & amazon associate links. I may receive a small commission if you use the links which costs you no extra but helps keep this blog going.
Where is Camden Town?
Camden Town often shortened to Camden, is in the London Borough of Camden, around 2.5 miles (4.1 km) north of Charing Cross.
Things to do in Camden
Find Street Art in Camden
One of the really cool Camden things to do is look for amazing street art. Camden is known as an artsy and creative hub, so it should come as no surprise that its walls and streets are home to some pretty damn cool street art.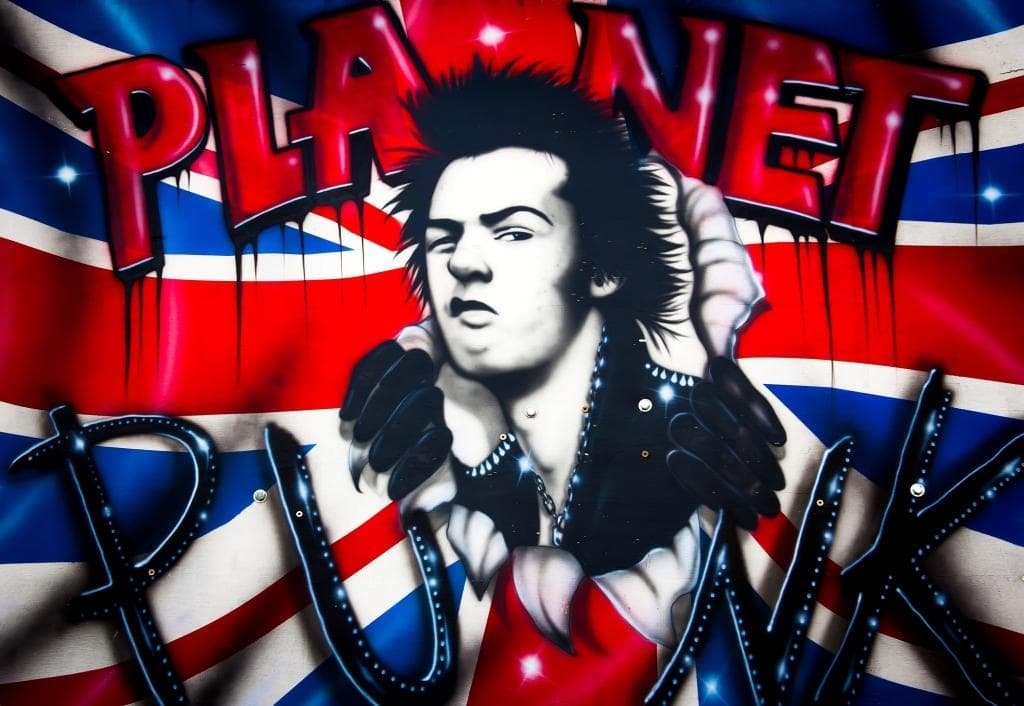 Visit the Amy Winehouse Statue
Camden Lock Place has a few other claims to fame as well. Amy Winehouse once worked on a stall in Camden Market and there is a statue commemorating her. The famous Roundhouse has presented some of the greatest musical acts in the world like The Doors, Jimi Hendrix and Prince.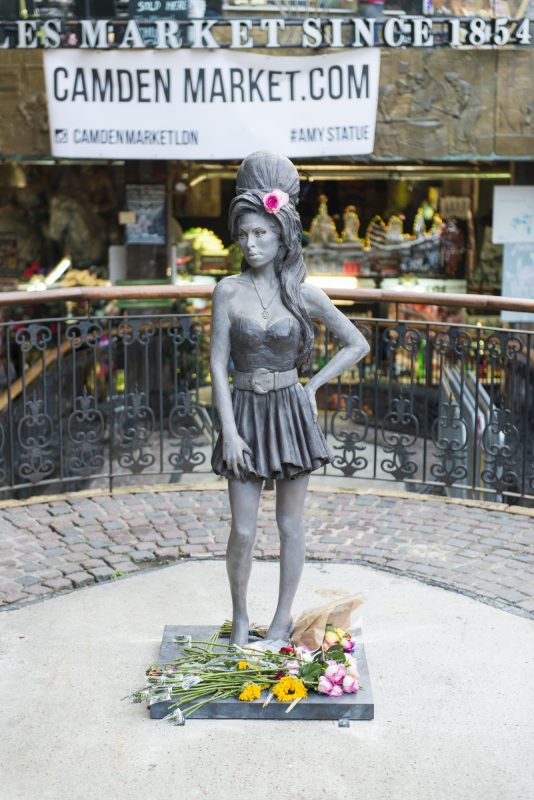 What to do in Camden – Visit Camden Market
Camden Markets Hours
EVERY DAY: 10 AM -LATE, including bank holidays, times may vary for each business. Camden Market is open on Sundays.
Camden Markets Tips
Keep your purse or wallet close by the area is ripe picking for by the always-present pickpockets of London.
The best time of day to visit the Camden Town Markets is between 10 am and 11 am the stalls are beginning to open but the crowds haven't arrived yet.
Bargain with the stall or shop owners everyone seems to be open to a deal and trust me they will try to rip you off so if you don't like the price walk away and check out another location.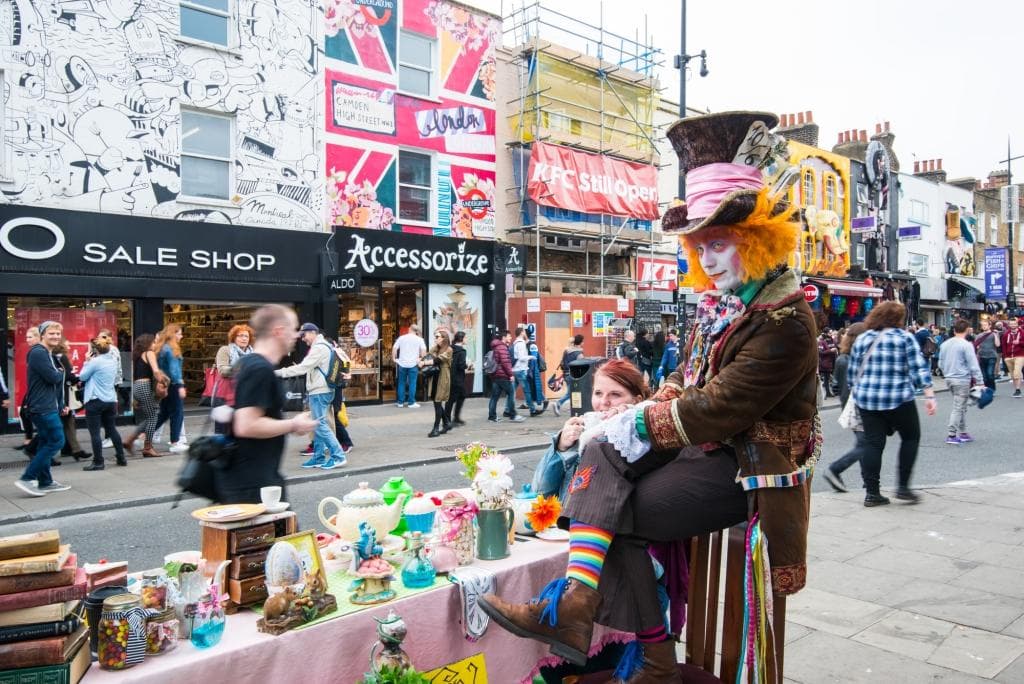 Camden Market Map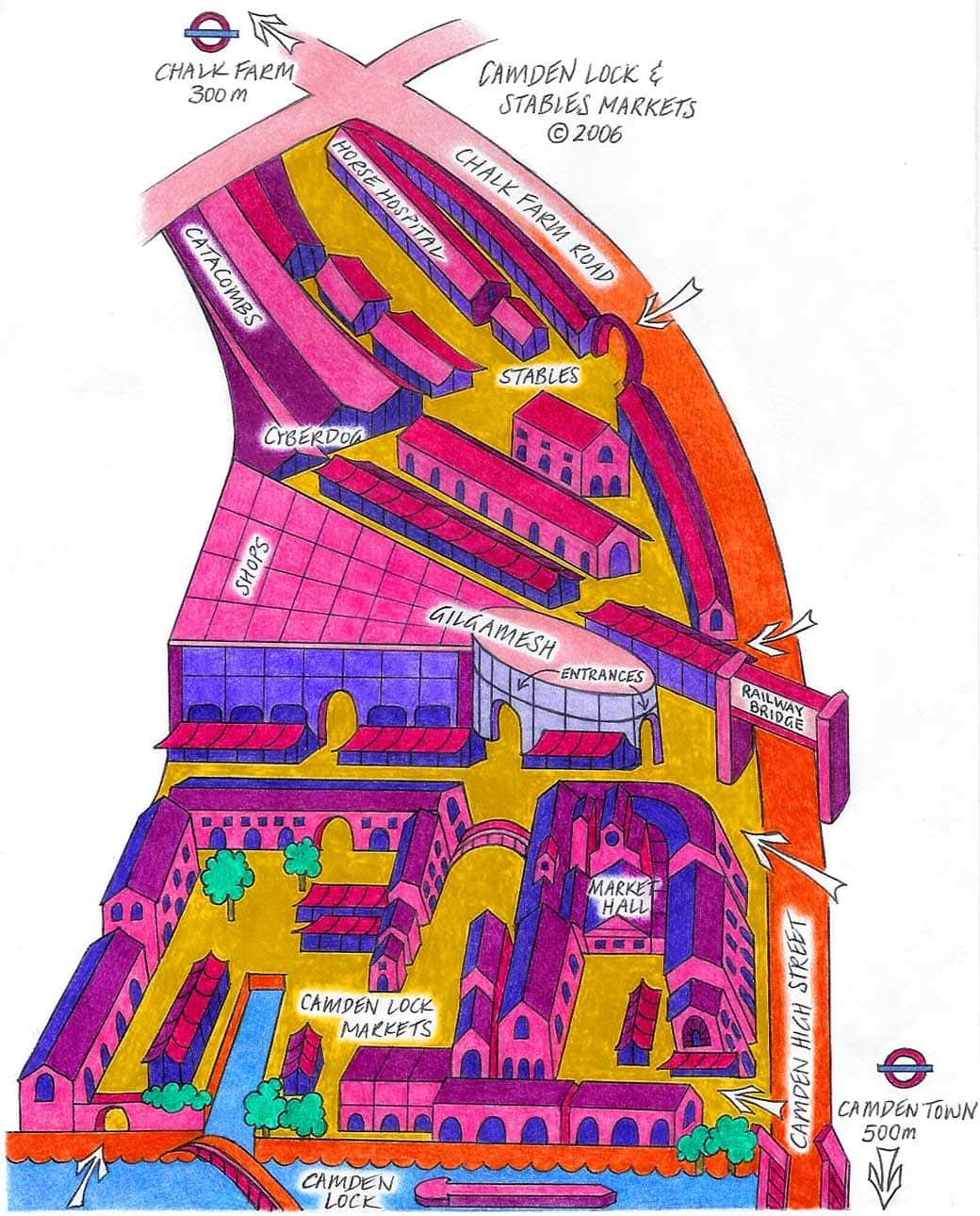 Camden Town History
Camden Lock
Camden Lock doesn't actually exist; the name refers to an area of the market next to three waterways with dual locks built in the 19th century as part of the Regent's Canal; Hampstead Lock, Hawley Lock and Kentish Town Lock.
The area around Camden Lock was originally industrial and agricultural before the 1800s. It wasn't until the early 70s that the vacant industrial buildings were going cheap and began to be rented by artists, musicians and various workshops. By the early 1970s, the canal trade had ceased and in 1974 a temporary market was established. Soon after a weekend market began with a focus on art, clothing and food. It wasn't until the mid 90's that the three other markets were added near Chalk Farm Road. In the 90's many of the areas were converted to open markets and named Camden Lock Place.
in 1991 a three-storey indoor market hall designed by architect John Dickinson was opened on the site of the first outdoor market. In 2006, a large indoor market hall was constructed in a yard between the Camden Lock Market and the Stables Market that was previously used for open-air stalls.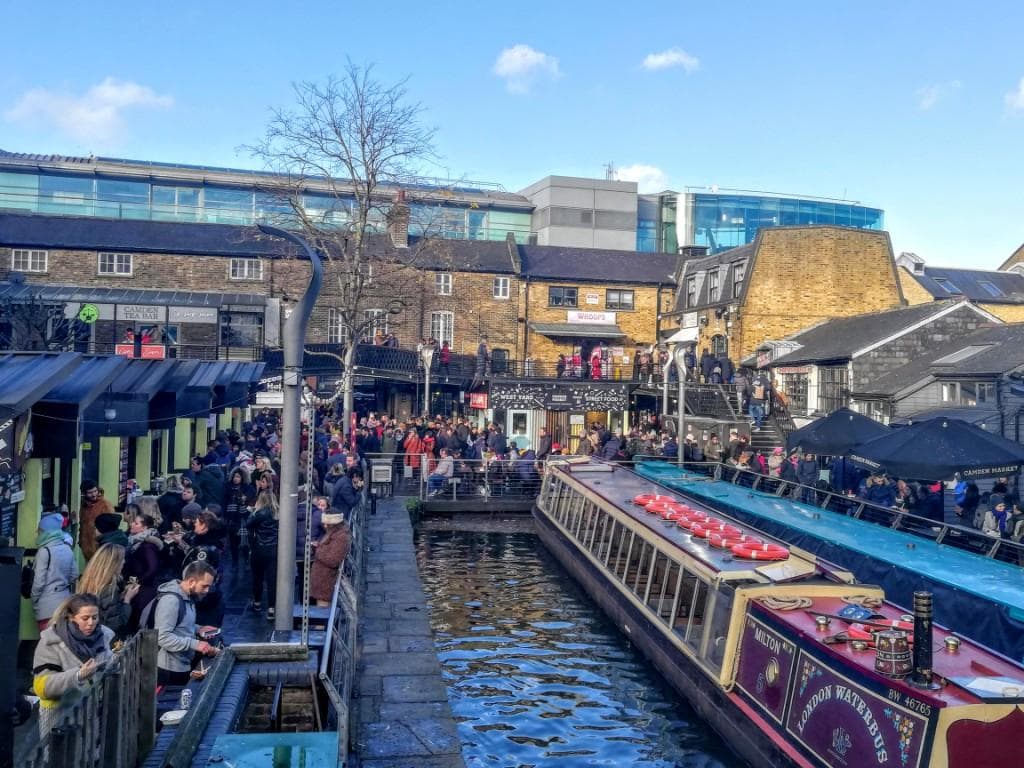 In the 19th century when "mother's ruin" (gin) was the painkiller of choice the area around Camden Lock was loaded with gin warehouses and distilleries. According to the records, a train loaded with gin left Camden every day for the far corners of the world. Although most of those gin palaces closed gin production is now returning to the area with the launch of Half Hitch Distillery.
Explore the Six Camden Markets
The six Camden Markets have their own distinct characteristics. There appear to be no limitations on what you can sell, eat or buy at the markets. from its start as 16 market traders, the Camden market has grown to more than 1,000 market stalls and shops in six main markets and small clusters of stalls in branches in courtyards and side streets.
In 2016, Urban Markets Company acquired Camden Lock and paid between £300m and £400m for the one-acre site. Camden Lock Market area is set to have a £20 million makeover to transform it into a traditional arts and crafts centre for Londoners.
Go shopping at Camden Locks Market
One of the best places to go in Camden is the Camden Locks market which is also London's biggest with over 1000 stalls and it's open 7 days a week. The Camden Lock markets are actually six distinct markets and pull in over 100,000 tourists every weekend and I think I was bumped into by most of them.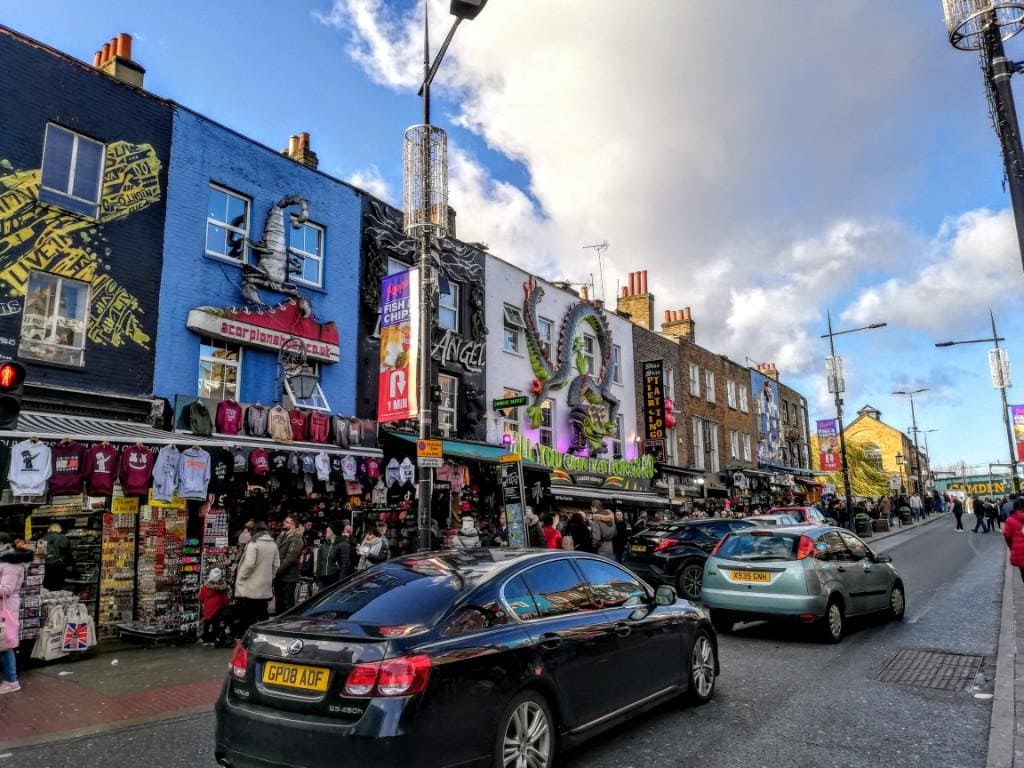 Camden High Street is the main road and where you will land when exiting the tube station. Turn right and follow the crowds down Camden High Street where you will see the ultra-cool facades of some of the shops and restaurants.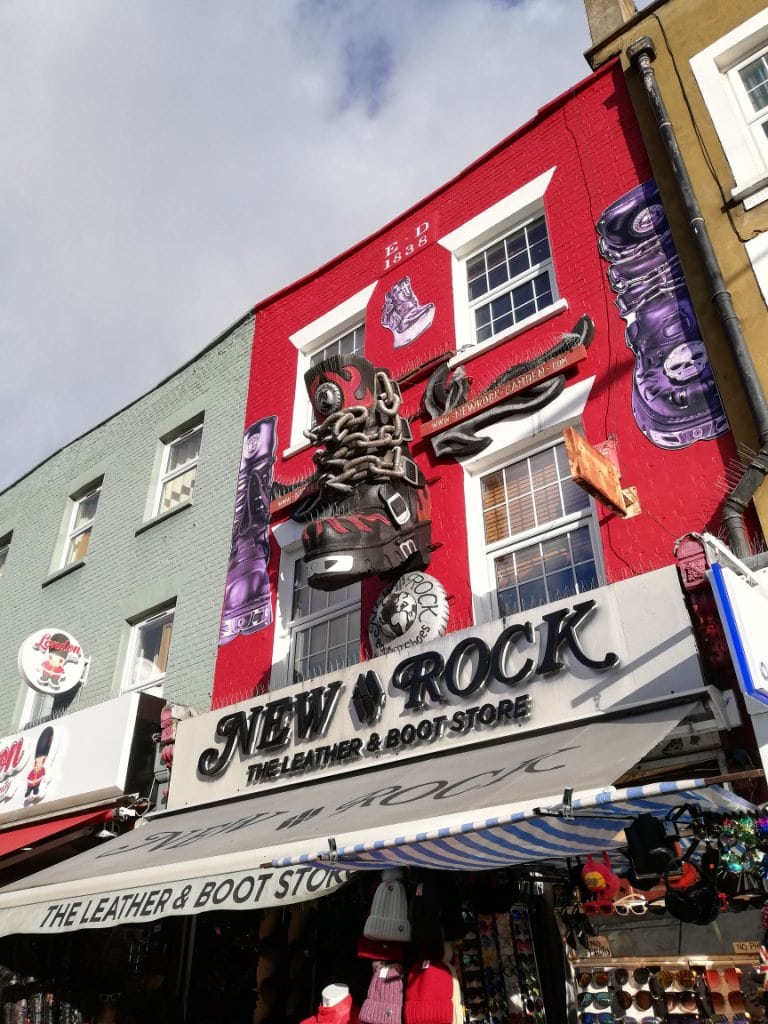 A little way down you will spot the Inverness Street market on the left and if you keep on going you will soon see the famous Camden Lock sign on the steel byway above the streets. So cross the road and head into the masses to experience Camden Market.
Looking for an escape from London? Here are some great tips for weekend trips.
Camden Stables Market
This is where you shop for retro and vintage pieces. Camden Stables is a network of stable blocks, horse tunnels, tack rooms, saddler's workshops and a horse hospital that were once on the site now known as Camden's Stables Market. Camden Stable Market is a winding row of shops between Stables Yard and Horse Tunnel Market are filled with a broad range of independent small businesses. You'll spot one of the oldest Camden Market traders Fleming Antiques as well as a community-driven clothing shop, Clime-it Brothers.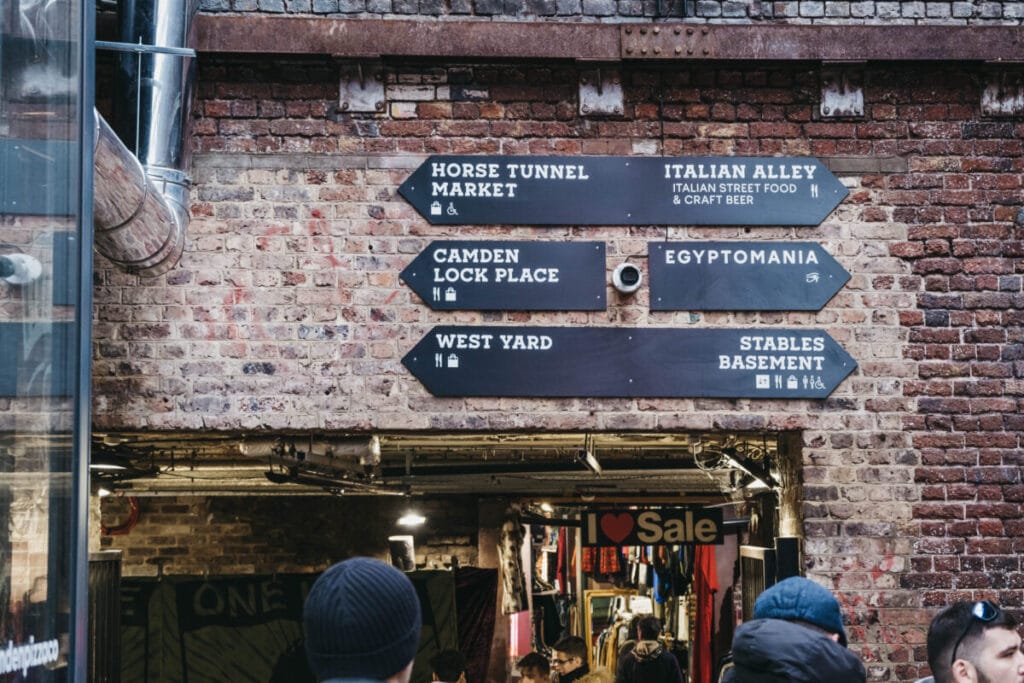 The Camden Market Stables are well known for their vintage and gothic clothing shops and stalls. There are over 700 shops to choose from here so the pickings are unlimited. The market is located in the historic former Pickfords stables and horse hospital which served the horses pulling Pickford's distribution vans and barges along the canal.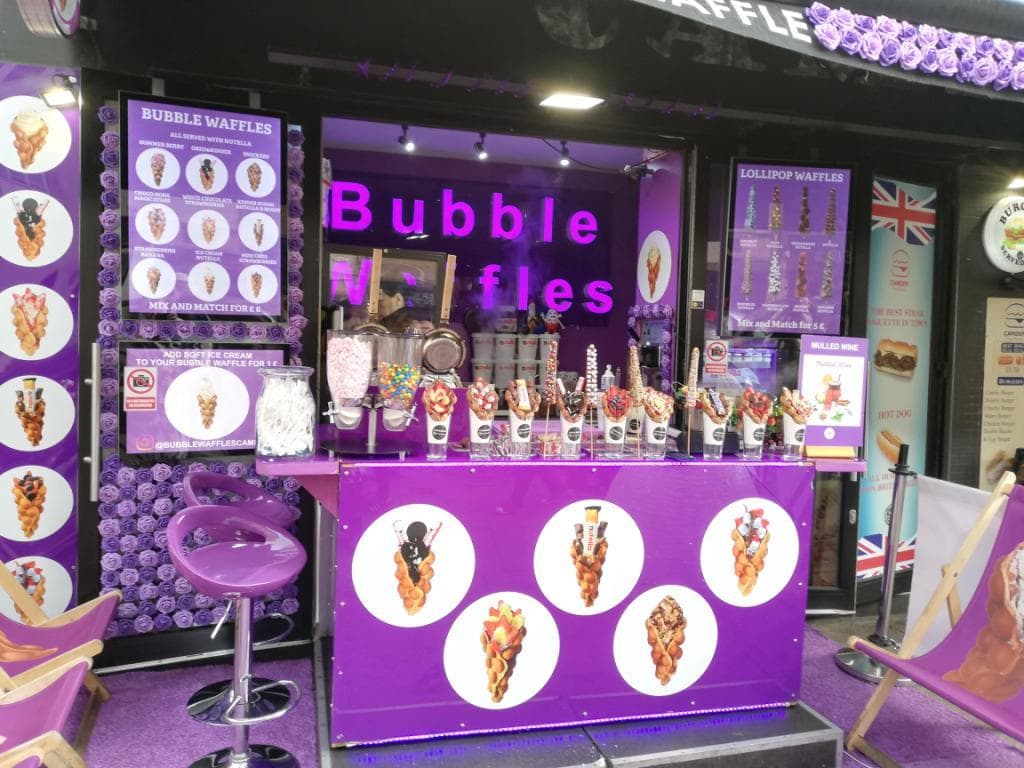 No chain stores in the Stables Market (not allowed) and there is a mixture of both indoor shops and stalls many of which can be rented for the day.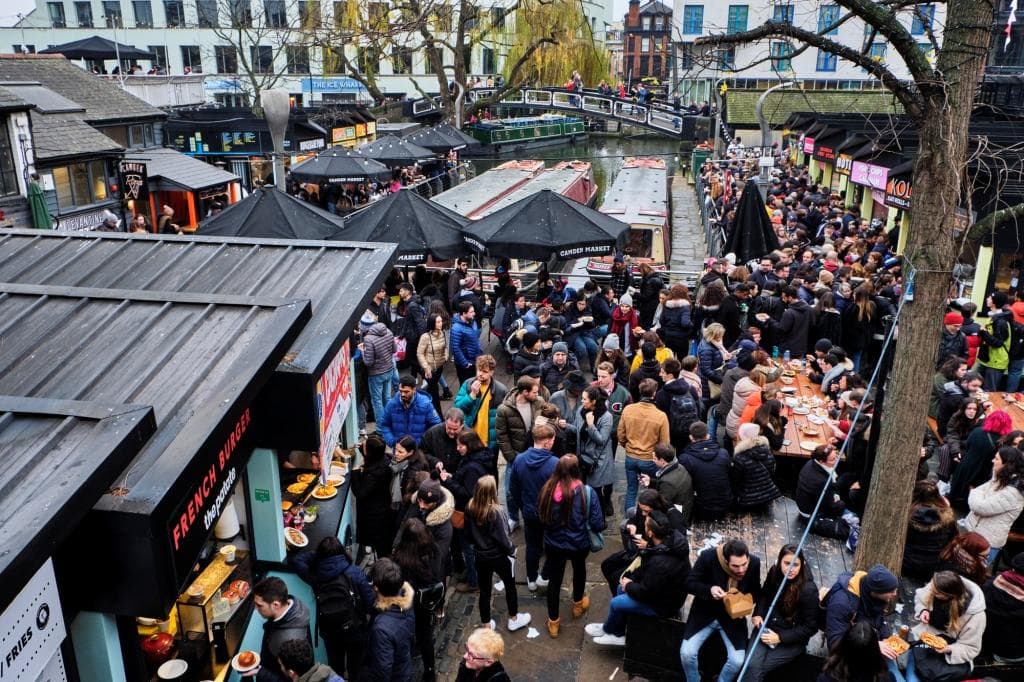 Buck Street Market
Buck Street Market is on Camden High Street and it focuses on clothing of every kind and colour. This market is entirely outside and contains over 200 stalls through several side alleyways. This is closed temporarily for renovations to the Tube Station.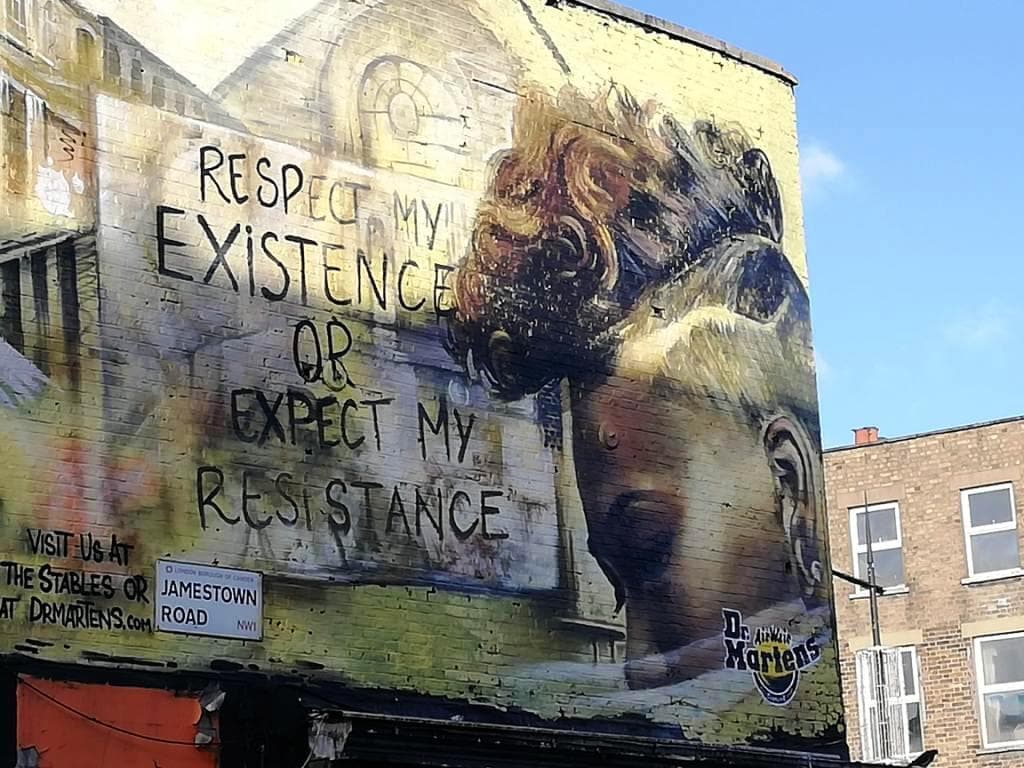 Inverness Street Market
Inverness Street Market is a more "typical" London street market. There are fruit and veg vendors, a huge variety of speciality shops and lots of cafes to stop for a people-watching coffee or tea. This is one of the original areas of Camden Market and has been around since the early 1900s to serve the local community.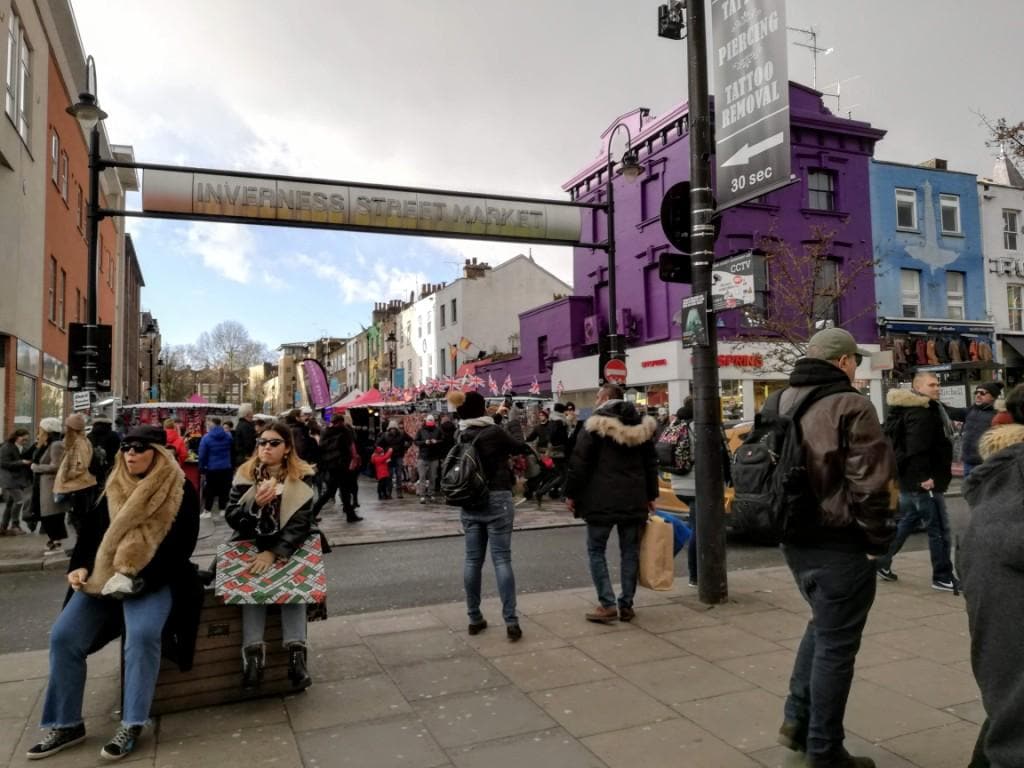 Hawley Wharf
Originally known as Camden Lock Village the market was devastated by fire on 9 February 2008 it re-opened after the fire in 2009 and was closed again in 2015. These days the area is known as Hawley Wharf which has a four-story covered building with over 150 shops and cafes, offices and housing.
Set beside the Regent's Canal towpath is Hawley Wharf formerly Camden Lock Village. These are covered markets packed with really interesting stalls and shops. From some of the finest and most sartorial of menswear boutiques to handmade jewellery and crafts and of course fabulous food.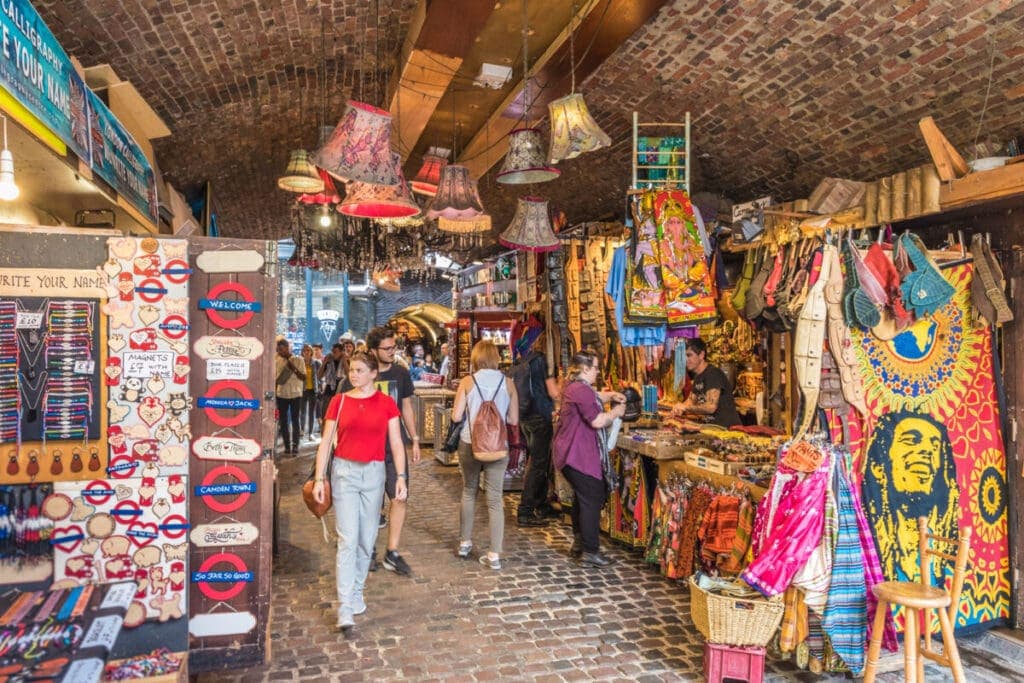 There is also a large selection of fast food stalls. In 1991 a three-storey indoor market hall designed by architect John Dickinson was opened on the site of the first outdoor market. The market was devastated by fire on 9 February 2008 and it did not reopen until May 2009 with a new entrance near the railway bridge.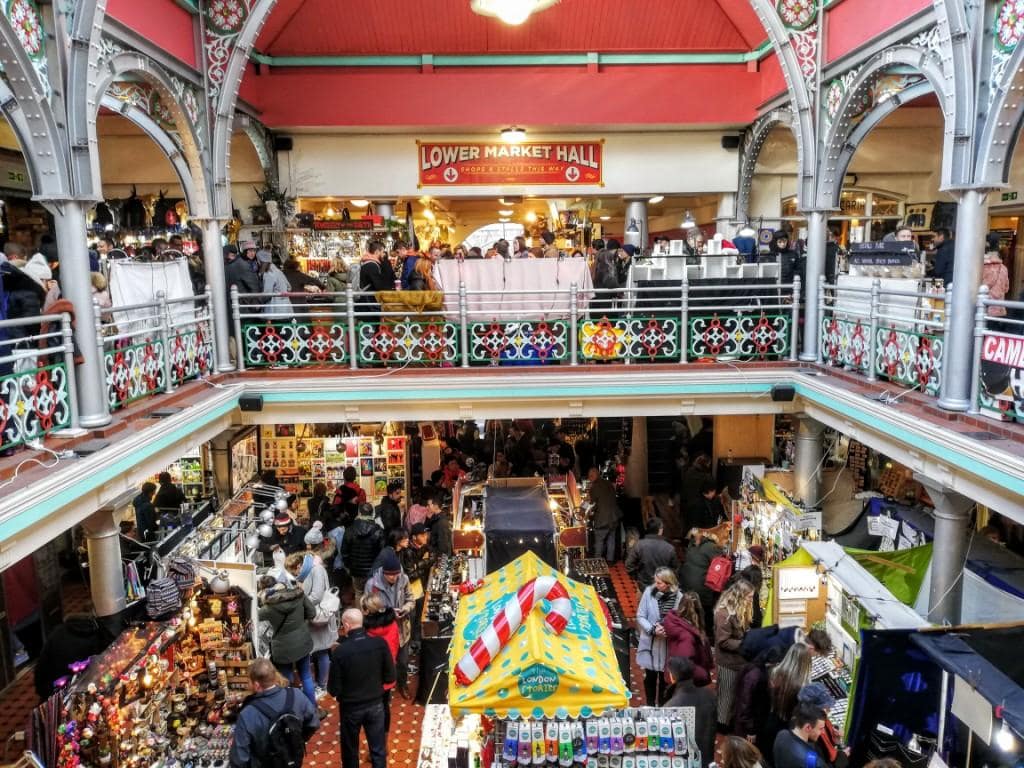 Camden High Street itself is an incredibly crowded and popular shopping street. Packed full of independent retailers with some highly decorated shop fronts it is very instagrammable.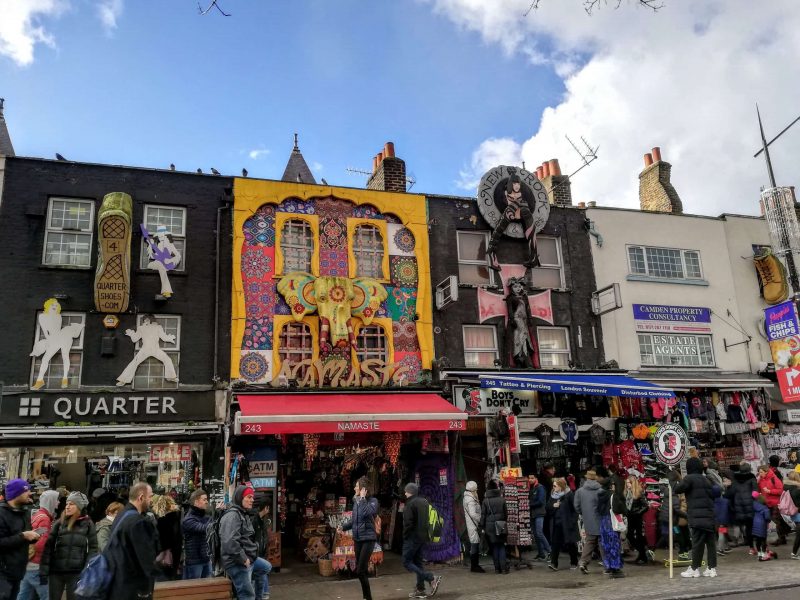 As a matter of fact, no Camden Town photo collection would be complete without a shot of the brightly decorated elephant at the Namaste Indian Restaurant.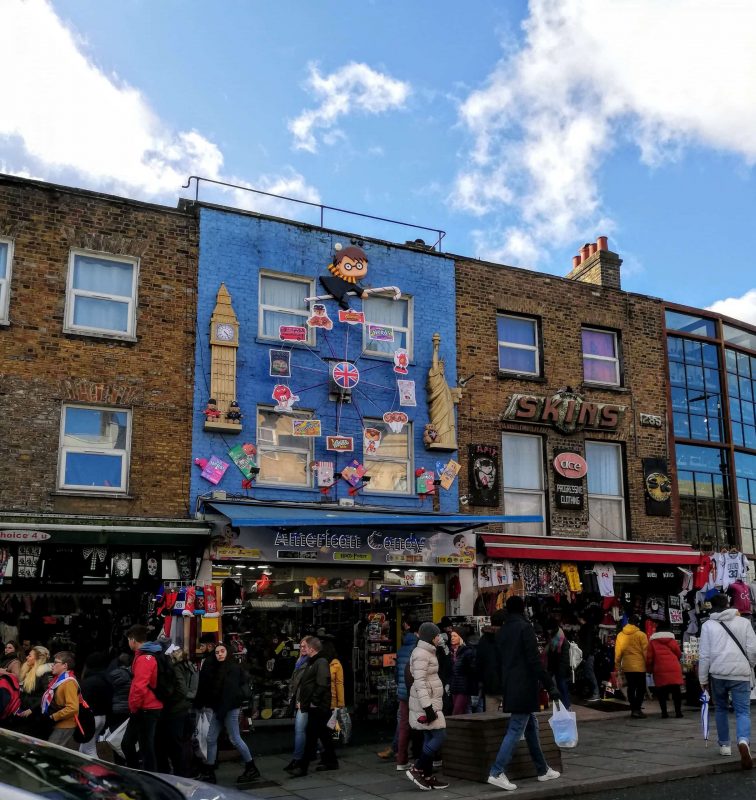 Camden Market Antiques
There are some top-notch antique dealers in Camden Market for those looking for something really interesting to take home. Examples include John Brady Antiques which specializes in vintage china and trinkets. Retro Collectibles abound at Monkey's Emporium where you can find those action figures like the Teenage Mutant Ninja Turtles to Skeletor and He-Man.
Camden Retro Signs can keep you supplied with wall decor for the next 10 years. From vintage marketing ads to rock and roll signs, it's all here.
Vintage Curiosities has everything from well-travelled (restored) suitcases, festooned with stickers that tell their story, to cricket bats to antique cameras, you'll be able to pick up conversation pieces and knick-knacks galore at this small but densely packed stall.
Flemings Fine Antiques is Camden Market's trusted buyer and seller of antiques. The shop carries a huge range of small decorative items, collectables, furniture and design classics from bygone eras. The stock is ever-changing, so frequent visits are a must.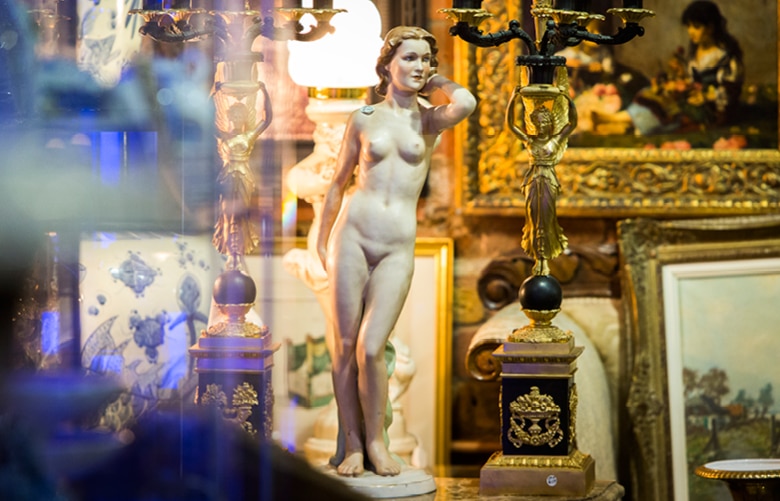 Camden Market Vintage Clothing
There's everything vintage here from shoes to watches to specialists in 1950's clothing. Including the following shops.
Time Tunnel Vintage specialises in a variety of clothing from the 00s-90s with a strong focus on motorcycle jackets, denim, military, English traditional and youth culture items.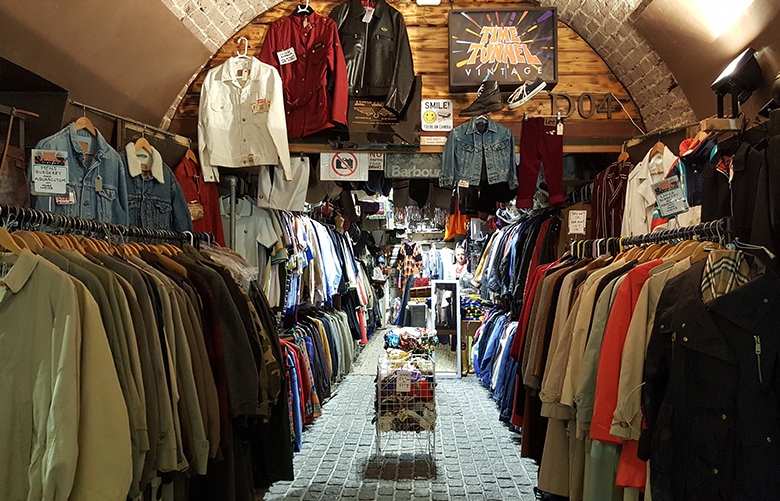 Vintage Planet has been trading in the market for well over a decade, each of Vintage Planet's items is handpicked, resulting in a store piled high with the coolest and best quality European vintage fashion and accessories for both men and women.
Camden Vintage stocks everything from Burberry trench coats to classic Barbour jackets, original Ray bans, gorgeous silk Hermes bags, scarves and much, much more.
What to do in Camden (besides shop)
The Vagina Museum Camden
There is a penis museum in Iceland. Which is pretty cool. But there is no vagina equivalent anywhere in the world. Florence and Zoe were pretty miffed when they learnt this but thought, there was only one way to rectify this, by starting the world's first bricks-and-mortar museum dedicated to vaginas, vulvas and the gynaecological anatomy.
Launched in 2019 theVagina Museum will be hosting comedy shows, theatre plays and conversations all about the vagina.
Primrose Hill
Primrose Hill Park is around a 10-minute walk away from Camden High Street with incredible panoramic views over London Zoo and Regent's Park. A great place to chill out after the market. Grab a picnic and head to the park.
One of the highlights of Primrose Hill is the lovely (and expensive) pastel houses around it, and especially at Chalcot Crescent and Chalcot Square.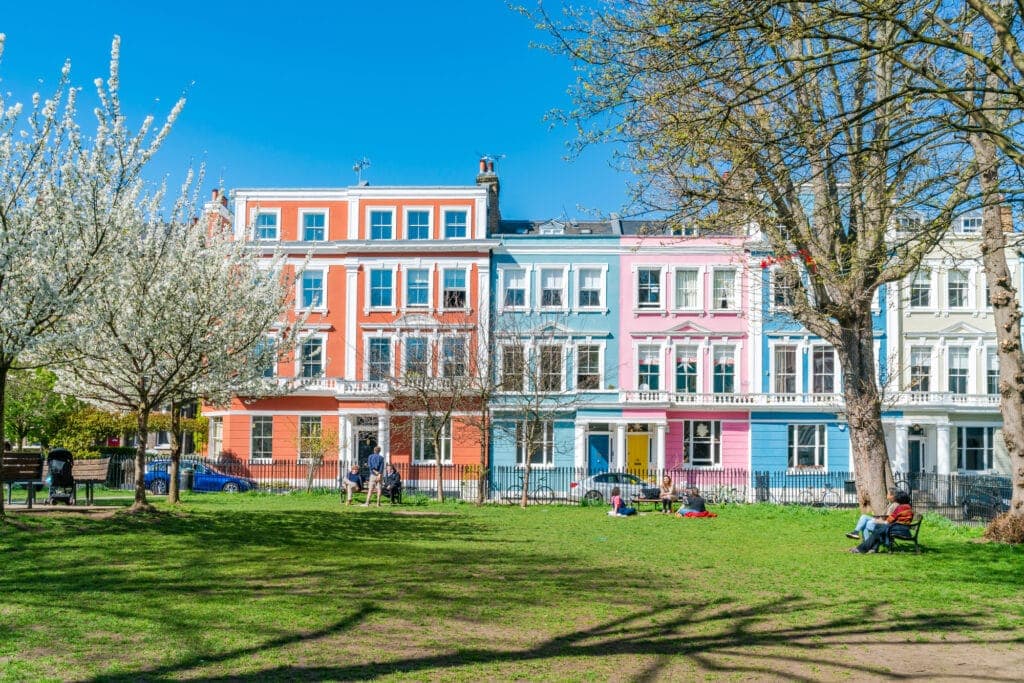 Things to do in Camden at night – Camden Market Pubs
Camden Market at night is a grand place to hang out. Its many pubs and nightclubs make it suitable for every age.
An iconic Camden Town landmark, at Dingwalls you can bask in the British punk music history and stand in the very spot where it all began. Make sure to accompany your awe whilst digging into some classic pub grub or a full English to get your morning going along with a traditional drinks menu including bespoke cocktails and wines and spirits.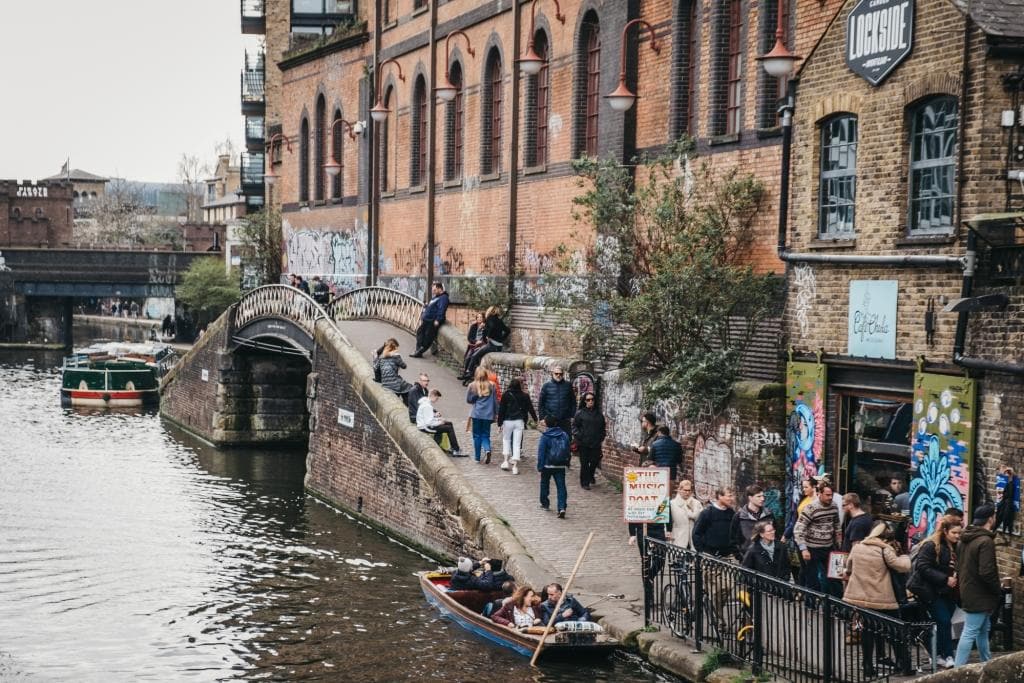 Small on production but big on taste, Half Hitch gin is flavoured with botanicals including Malawian black tea and Calabrian bergamot. The tipple was invented by North Londoner, Mark Holdsworth who decided to go it alone after 15 years at Bacardi. Bringing Camden's forgotten gin history back to the Market, where it's distilled in the shop in a copper pot named 'Smithy', you can see the spirit being made, grab a free taster and buy yourself one of the beautiful glass bottles.
Overlooking Camden Market's West Yard and the picturesque Regents Canal, Lockside Camden is the perfect setting for anything from lunch with friends and family, to a romantic dinner for two and anything in between. Their Evil Twin kitchen serves up outstanding food (including plant-based options) and their mixologists create cocktails that are out of this world. Expect music from Latin Beats, Hip Hop and RnB to 90s party classics, Funk, Soul and Rock, keeping you dancing late into the night.
Music Venues in Camden
The Roundhouse
The Roundhouse has played host to music legends such as The Doors, Jefferson Airplane and Jimi Hendrix. The Roundhouse was built in 1847 and got its name from the turntable that was used to turn the trains around.
The Roundhouse supports young artists and has in-house programs and events artists in residence and even a co-working space.
Koko – Camden Market Fire
Koko is another legendary music venue that was closed for a massive refurbishment. Previously known as the Camden Palace and Camden Hippodrome it has been a leader in the music scene for decades. The Clash, Ed Sheeran, Madonna and even the Stones have played here. Sadly in January 2020, a fire struck and the dome of the roof of Koko was destroyed. They are carrying on though and hope to have the venue up and running again as soon as possible.
Places to go in Camden – Food in Camden Town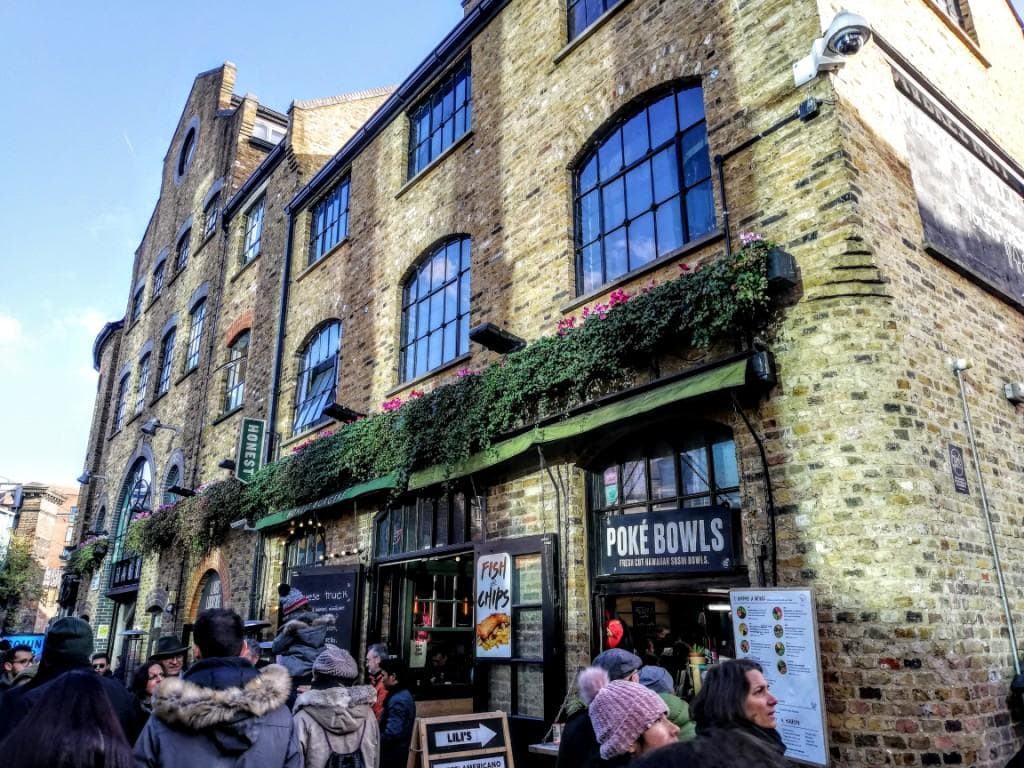 Camden Market's best fish and chips are said to be found at Poppie's Fish and Chips. Right in the heart of Camden Town Poppies is designed to look like a 1940's cafe they even have a live performance lounge upstairs.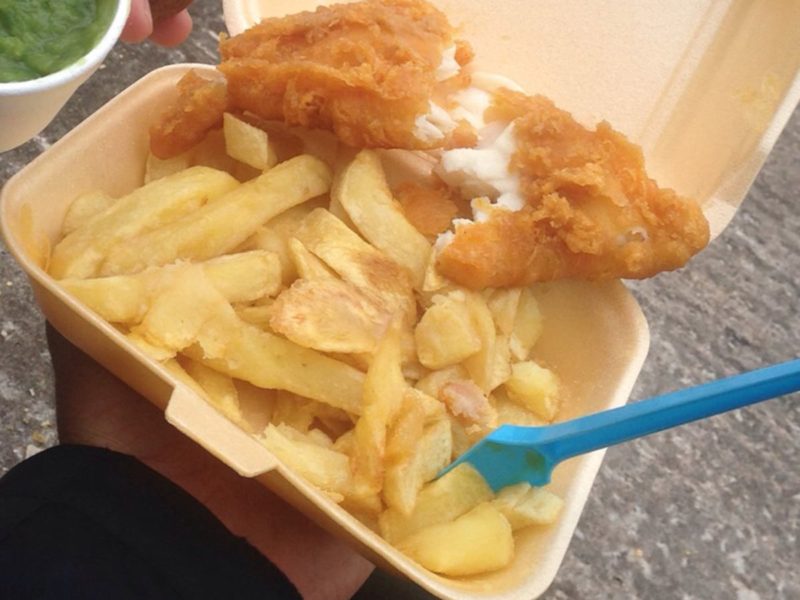 Don't forget to check out Olie Baba's home of halloumi fries – unbelievably good this deep-fried cheese with trimmings will delight everyone's palate.
For the vegans, Magic Falafel will tempt you with some of the best falafel I've tried in years. Light fluffy pitas surround the magic sauce, tender moist falafels and all the trimmings you need.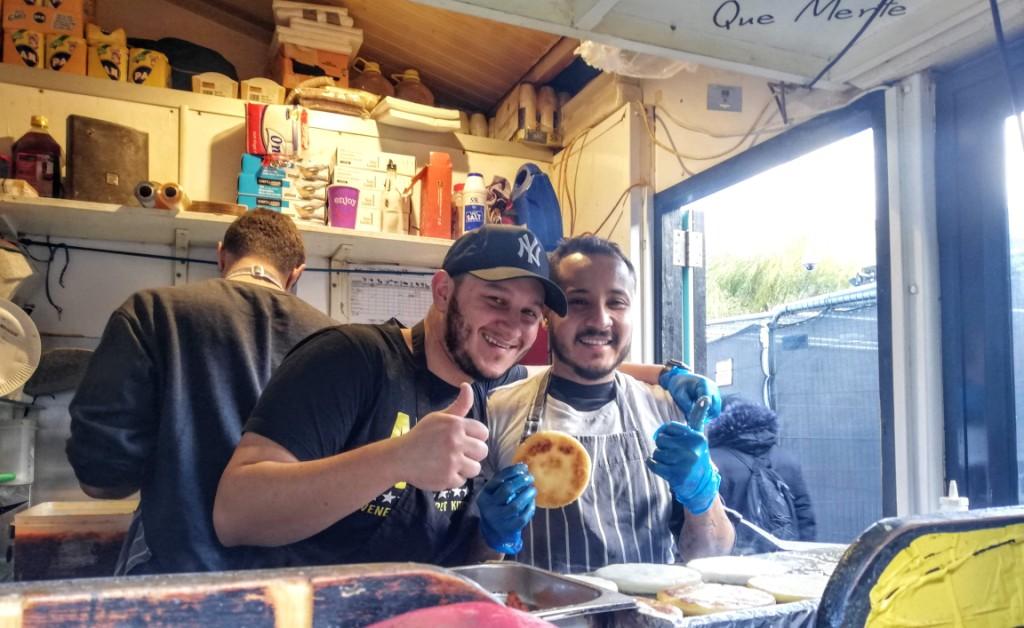 We also ate at the Arepazo Bros stall, arepas are a traditional Venezuelan food made from corn flour, and 100% gluten-free. At their stall in Camden, you'll find 4 different options: the Pabellon, which is filled with shredded beef, melted cheese, black beans, plantain, avocado and pico de gallo; La Cartelua, like the Pabellon but with chicken. They also have a veggie version called the Domino. We added Plantain Fries to our arepa and I have to say I've eaten a few arepas in my time and these were hands down the best.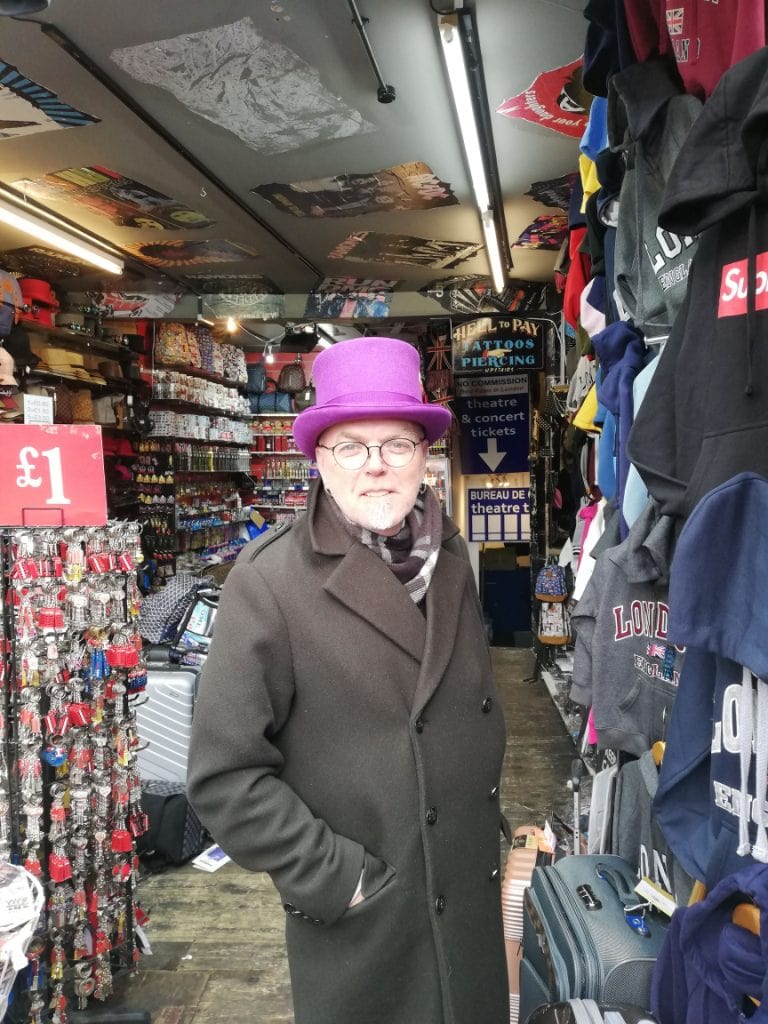 Tours in Camden Town
Camden Pub Crawl
Experience the wild side of Camden — one of London's most eclectic neighbourhoods — on a 4-hour bar crawl, designed to delight party animals and lovers of alternative nightlife. Alongside fellow revellers, you'll visit five popular Camden haunts and enjoy a free shot in each venue. Receive discounted drink details and let a professional photographer capture fun-filled moments throughout the evening. 4-hour Camden bar crawl in London Ideal for party animals and lovers of alternative nightlife Visit five of Camden's most lively and popular bars Enjoy a free shot and discounted drinks in each venue Let a professional photographer capture fun-filled moments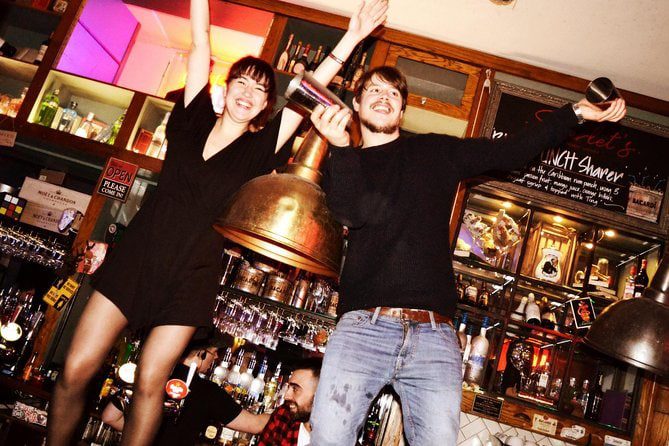 Crowded markets and dodgy souvenir t-shirts aren't the only things Camden has to offer. This self-guided audio tour takes you through the hustle and bustle and into some of the less well-trodden parts of Camden's past and present, from old graveyards to modern street art and the occasional poem from your local resident guide.
Get to know this legendary area a little better and enjoy a leisurely stroll from the densely populated centre through to the laid-back green spaces. You'll discover some of the interesting histories that make this corner of London so unique, and you'll encounter some of the quirky characters and take in the scenic views. And, because it is Camden, after all, it's a chance to check out some of the places that make it such a nightlife hotspot!
Book your Cultural Camden Tour
Private Camden Market Walking tour
Camden, the quirky district of the capital, is known for its "alternative" cultures. From his working past to his key role in the music scene, discover its rich history with a local guide.
Book your Camden Market Walking tour
Where to stay in Camden Town
HOLIDAY INN LONDON – CAMDEN LOCK
Very affordable at around $160.00 per night all the usual amenities and a great location.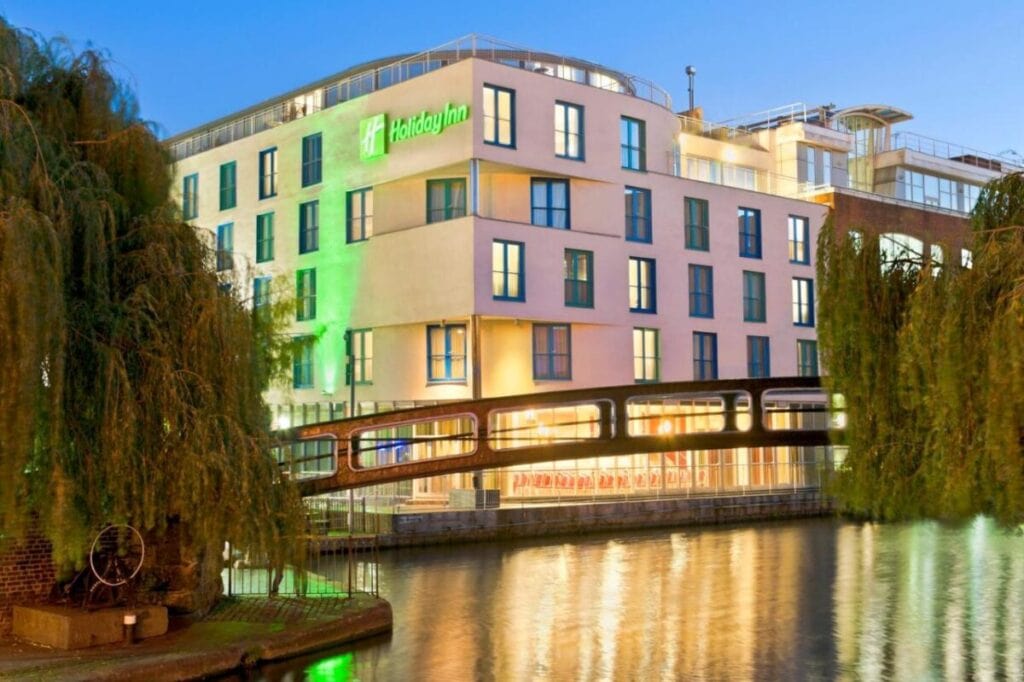 HOSTEL 1
A traditional hostel above a pub, mixed dorm rooms only great reviews.
ST CHRISTOPHER'S INN
St Christopher's Camden is situated above Belushi's bar which features drink deals and homemade burgers. Mixed dorms, female-only dorms and private rooms with twin beds are available. Shared bathrooms and free wifi in public areas.
Book St. Christopher's Inn now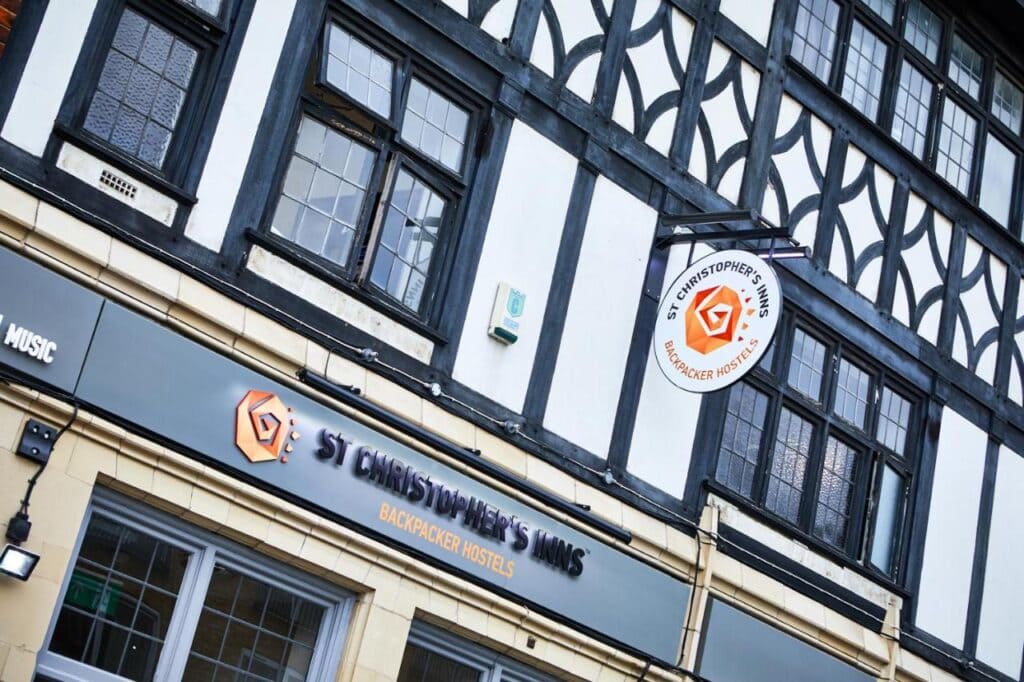 YORK & ALBANY HOTEL
A very luxurious boutique hotel situated above a Gordon Ramsay restaurant all the mod cons and averaging around $450 a night.
Book your luxury stay at the York & Albany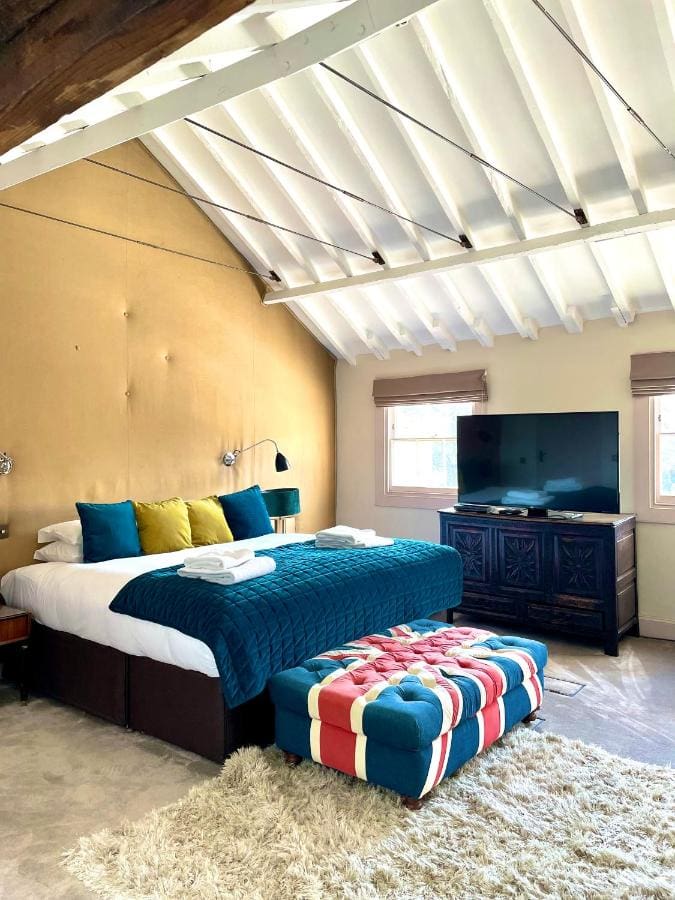 Getting to Camden Market
Camden Town Tube Station
Getting to the Camden Market Tube station is easy and the nearest stations to Camden Market are Camden Town, Chalk Farm, or Kentish Town. Check the stations for warnings before you go. The day we went to the Camden Market underground had technical difficulties and none of the escalators or elevators was working. This meant a spiral staircase with 98 steps down to the trains.
By Bus
From the West end of London, you can get to Camden Markets via routes 24, 29 and 134.
By Car
All I can say is Don't parking is brutal if you can find any at all.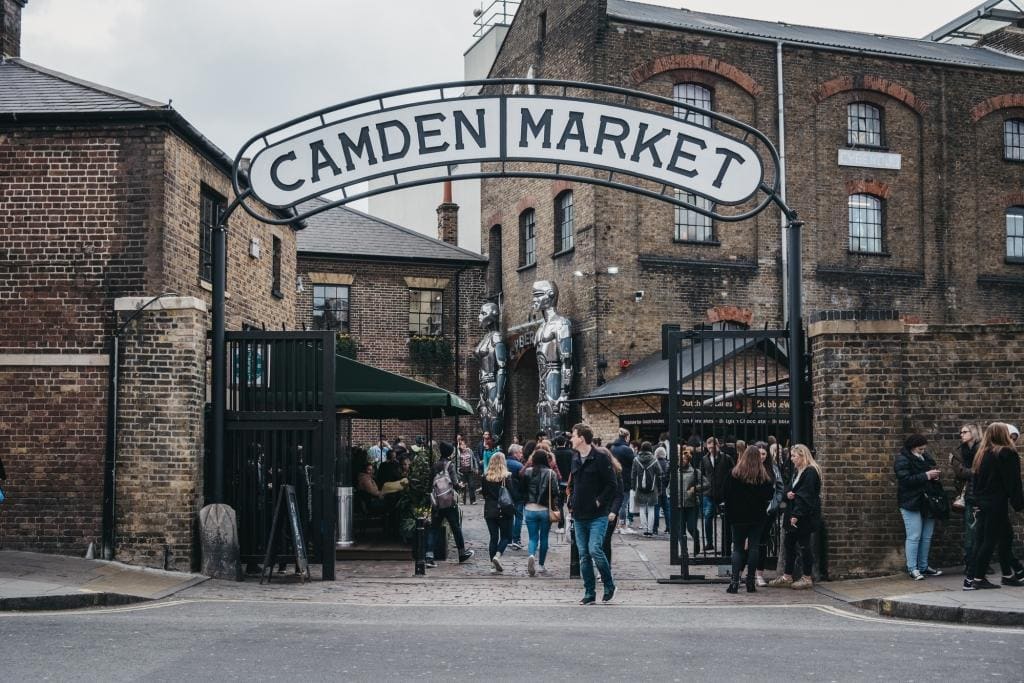 How to visit London's famous Abbey Road home of the Beatles recording studio and that famous crosswalk
Visiting the vibrant attractions of Camden Town is an experience that promises to leave a lasting impression. With its eclectic mix of markets, live music venues, and street art, this neighbourhood offers a unique and unforgettable adventure. Exploring the bustling Camden Market, indulging in diverse culinary delights, and immersing yourself in the lively atmosphere of the area gives you a chance to see the real London. It's a place where creativity thrives, and every corner tells a story.
Have you been to Camden Market? What did you buy?
A few more articles to read on London
Borough Market London the best gourmet Guide for foodies
Leather Lane Market London a Delicious street food hub
What to see, do and eat in Chinatown, London England
The 7 Best Places to See Street Art in London
Christmas in London 2022 | all the best things to do
16 Fabulous food street markets in London
Hidden gems of London and off the Beaten Path sites
Pin it to save it