28 of The Most Beautiful Bookstores in Europe
I am an obsessive reader and can go through a minimum of 2 books per week and sometimes more. I am also obsessed with bookshops and bookstores in Europe. The beauty and history imbued in the shops and their shelves pull one in and compel you to spend hours searching the shelves for reading material.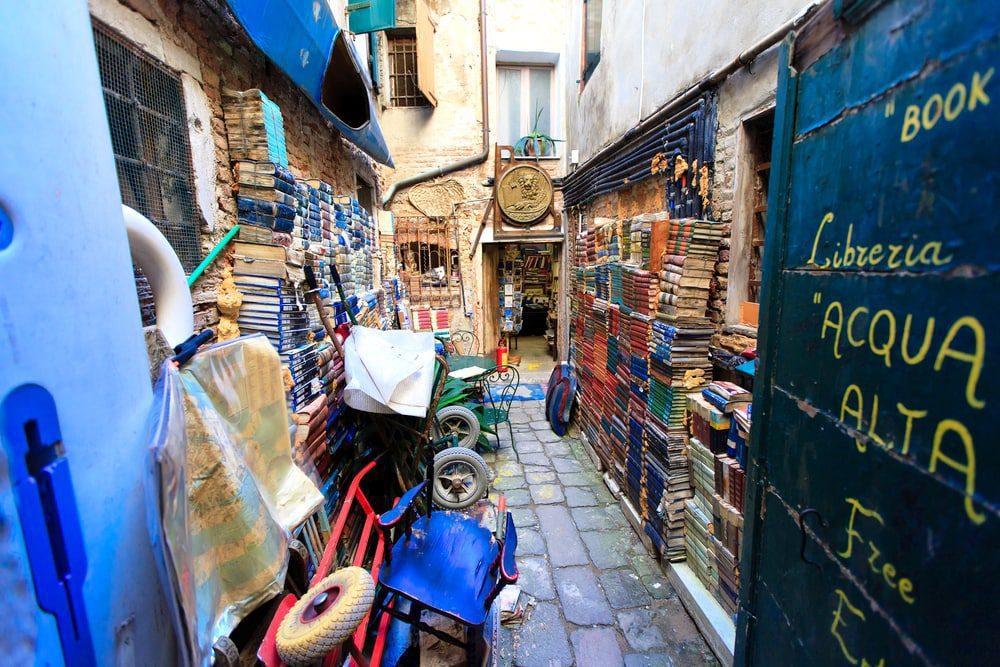 If you're a book lover planning to explore Europe, then you're in for a treat! The continent is home to some of the most beautiful and picturesque bookstores that are sure to make your reading experience even more memorable. From cosy independent boutiques to grandiose libraries, Europe has it all. So, whether you're looking for a quiet corner to lose yourself in a novel or just want to soak up the atmosphere of these stunning stores, we've got you covered. Join us as we take a tour of some of the most beautiful bookstores in Europe that are sure to leave an indelible impression on any bibliophile.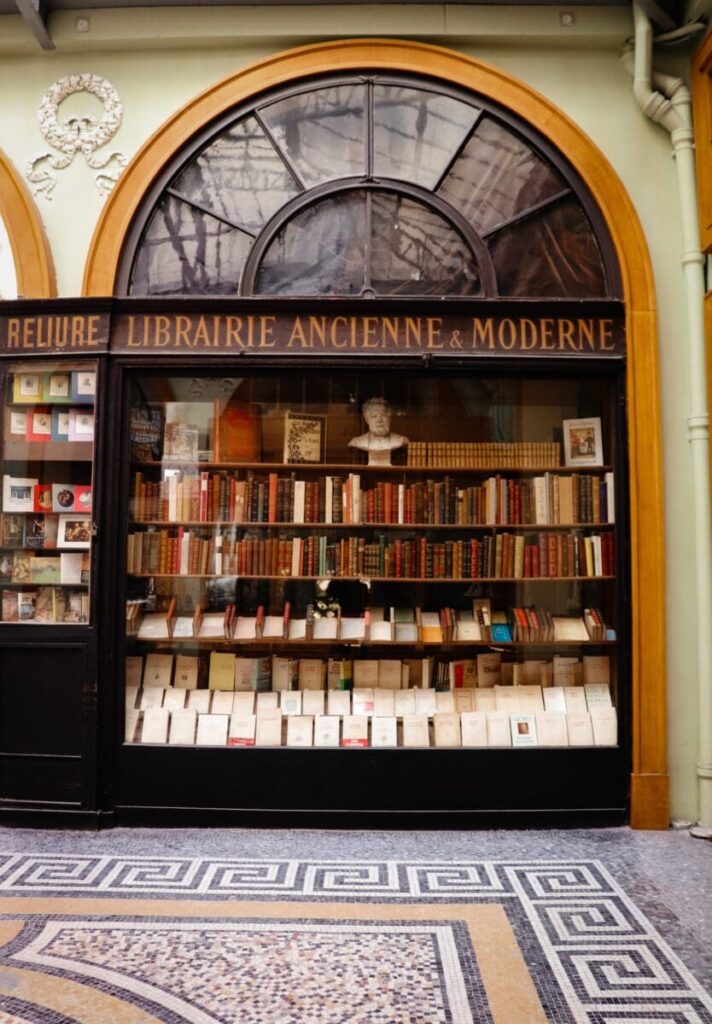 Compiled with the help of my bibliophile friends this is my list of the most beautiful bookshops in Europe.
Beautiful Bookstores in Europe
Xyuandbeyond is reader-supported. When you buy through links on our site, we may earn an affiliate commission. You can read my privacy policy here.
Beautiful Bookshops in France
Shakespeare & Company, Paris, France
Shakespeare and Company is a famous English bookstore in Paris with views of the Seine and Notre Dame. The building was originally a monastery dating from the 17th century but there is little of that to be found. The building itself is a major tourist location so you will find yourself neck-deep in cruisers and tourists following their guides with flags. There is a café attached to the bookshop where you can grab a coffee and a muffin for breakfast before you begin your day.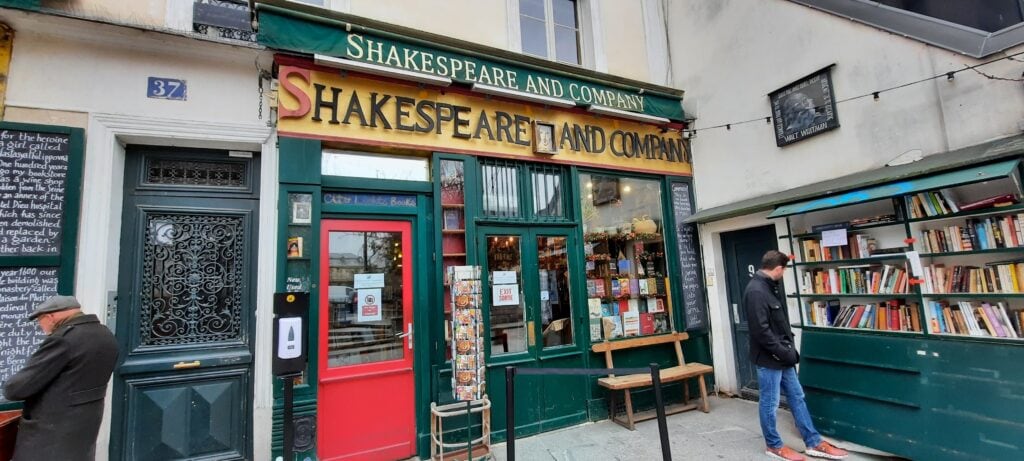 The interior is pretty jumbly with tiny rooms filled with books on poetry, travel, great literature and some absolute crap. The two floors of books though give you a feel-at-home vibe and you want to sit on one of the comfy chairs and just leave the world behind.
The Abbey Bookshop, Paris, France
I had to visit this Bookstore as it is Canadian owned lol and they have over 40,000 titles in-store, the books spill out onto the street and are stacked from floor to ceiling.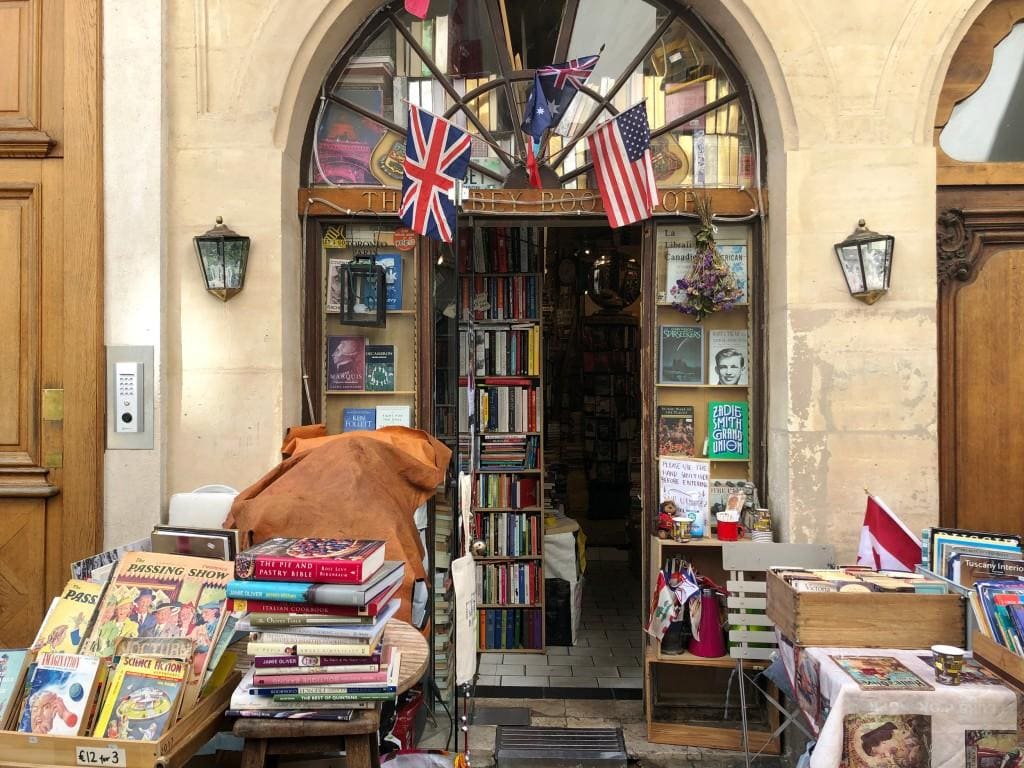 The Abbey is found on a small lane in the Latin Quarter on rue de la Parcheminerie originally named rue des Escrivains for the scribes and scriveners who were the heart of the Parisian book trade
The store has been a gathering place for English-speaking immigrants for over 20 years. The building is the 18th-century Hotel Dubuisson and is a historic monument thanks to its beautiful façade and carved doors.
A second-hand book market, Vieille Bourse, Lille, France
In the heart of the old town of Lille, on the edge of the beautiful Grand Place, stands an ancient building known as the Vielle Bourse. This gorgeous edifice was built in 1623 and used to be the stock exchange in the centre is a courtyard that you enter through one of four arched doorways. The walls are covered in friezes and sculptures and the Grand Place has a few boutique shops and grand apartments within it.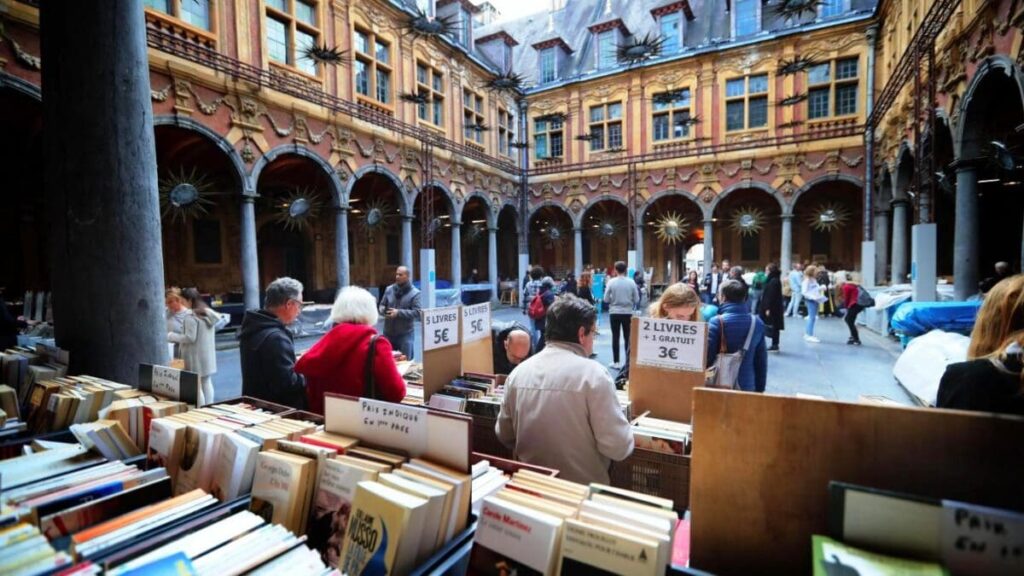 Every day but Monday and Sunday there is a second-hand book fair and the stalls line every inch of the covered walkway of the courtyard. Here you will find every conceivable book you could desire they are mainly French but you will find some other languages as well.
Used Book Market Georges Brassens, Paris, France
The Old and Second-hand Book Market runs every weekend in the Georges Brassens park in the 15th arrondissement of Paris.
It was developed in 1987, within a historic site: a pavilion built between 1894 and 1897 by the architect Ernest Moreau. Every weekend it brings together around fifty booksellers whose wares range from historic, vintage and modern French works.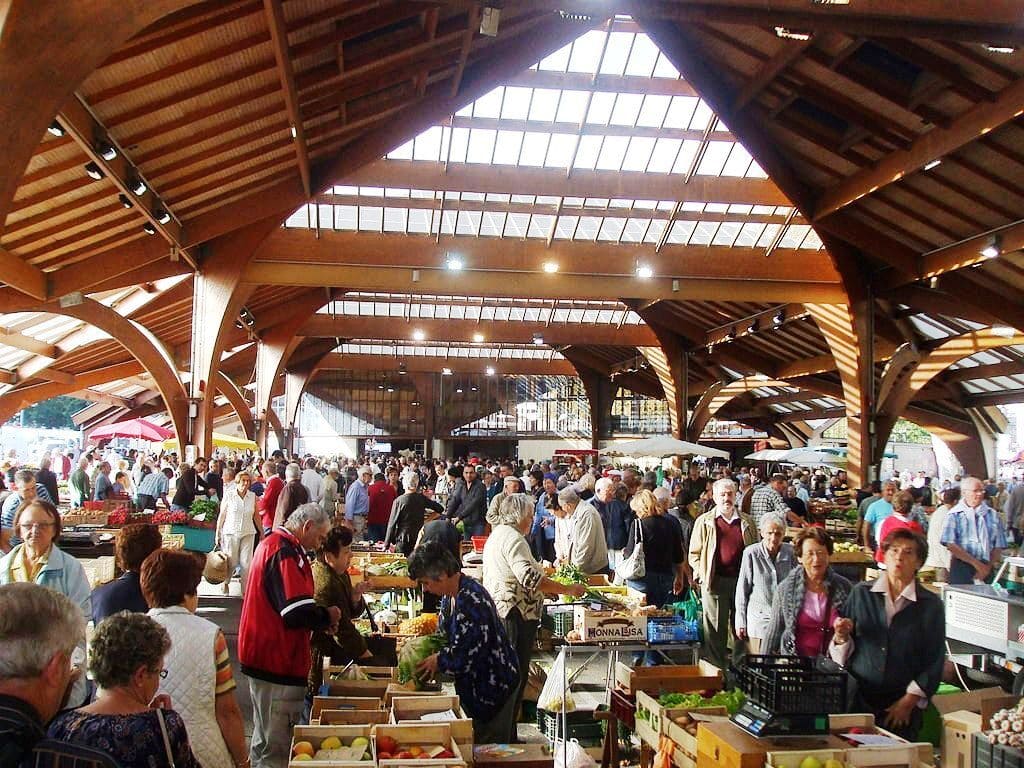 The Marché du Livre regularly organizes cultural events around literature, history and music with meetings, exhibitions, shows, and book fairs.
Librairie Jousseaume, Paris, France
Librairie Jousseaume is a bookstore in what is considered one of Paris' loveliest covered passageways, Galerie Vivienne. Galerie Vivienne was created in 1826 and with its neoclassical decor, mosaic floor and cupola it quickly became Paris' most beautiful covered passageway. Located in the central 2nd arrondissement, the gallery has been listed as a historical monument since 1974.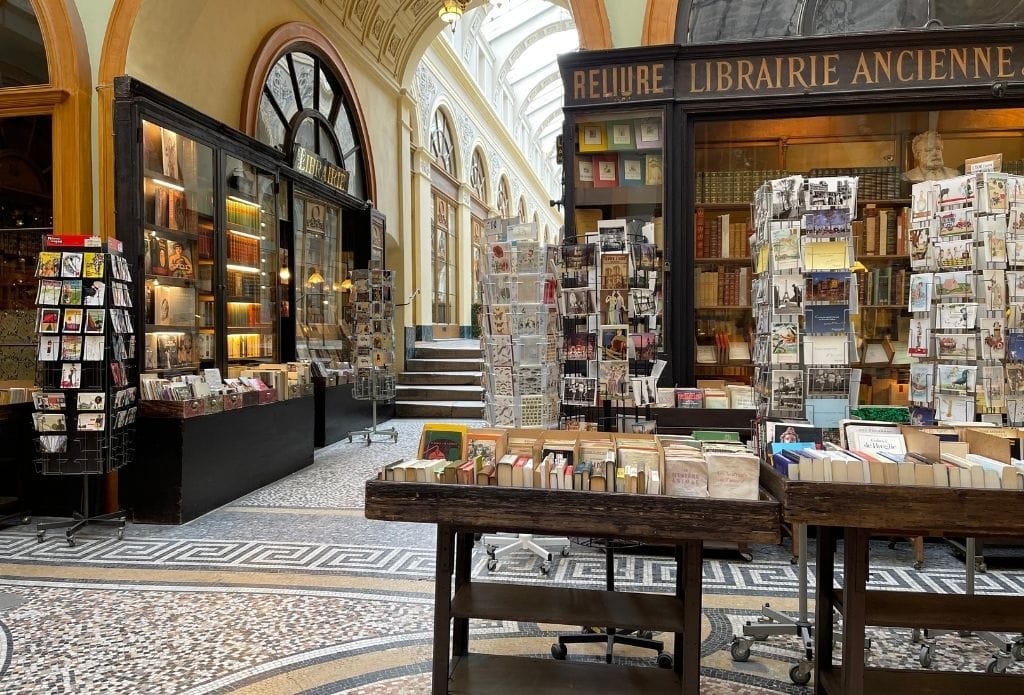 The bookstore was one of the original tenants of Galerie Vivienne and today it is still owned by the same family. The name of the first store was Librairie Petit-Siroux and you can still see this original name above the store's window. Librairie Jousseaume is in fact made up of two shops which face each other at the point.
The smaller of the two stores feels like an old study the shelves are filled with old books there is a chandelier throwing off a soft golden light and the scent of woodsmoke, and old books imbue the air.
Climb the narrow wooden spiral staircase to a collection of paperbacks on the mezzanine. This shop is a bibliophile's dream come true.
Pros and Cons of Living in France
Beautiful bookshops England
Word on the Water, London
As the only 'Bookbarge' in London Word on the Water is absolutely chock full of books and is open seven days a week. Word on the Water is found not far from Kings Cross Station close to Granary Square on the Regent Canal.
Every conceivable nook and cranny of this 100-year-old Dutch barge is stacked with new and used classics, cult, and contemporary fiction and a large range of children's books.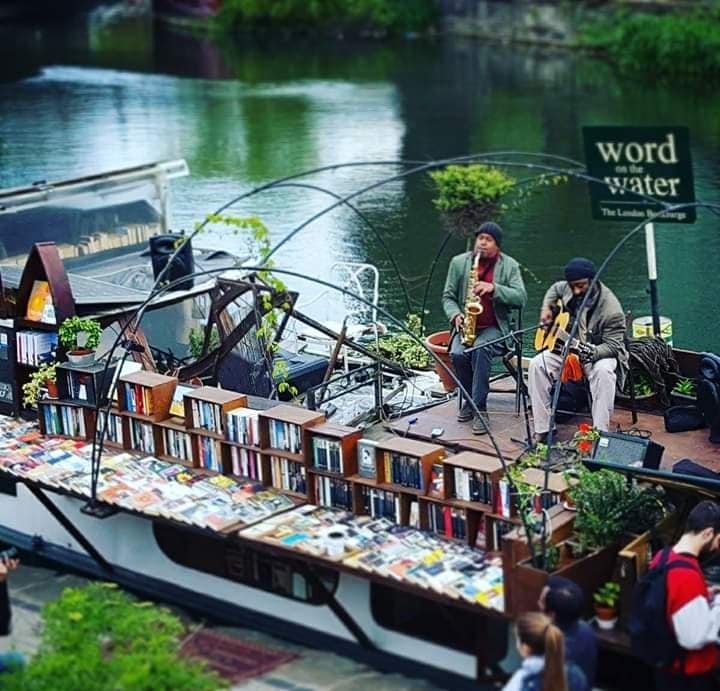 Word on the Water runs talks on art, technology, feminism and politics. Musicians and performers also make use of the barge's roof stage and solar sound system for open mic sessions and there's even an occasional poetry slam!
The Sanctuary Bookshop, Lyme Regis
The Sanctuary Bookshop is a strange but fascinating store and has an eclectic selection of books, magazines and ephemera within its 10 rooms over 4 floors. The owner is said to be a tad surly and doesn't like credit credits but that is to be expected from a true bibliophile.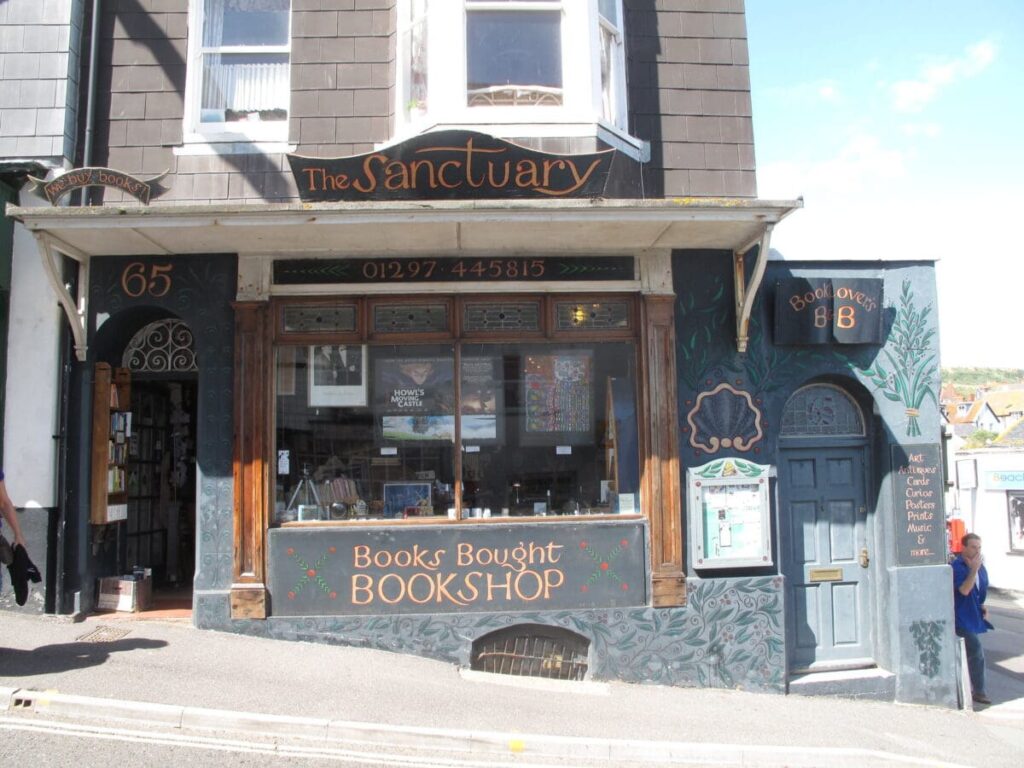 Daunt Books, London
An incredible bookshop located on the Marylebone High Street branch was an Edwardian bookshop reputed to be the first custom-built bookshop in the world. Complete with William Morris prints, long oak galleries, and extraordinarily beautiful skylights and stained glass.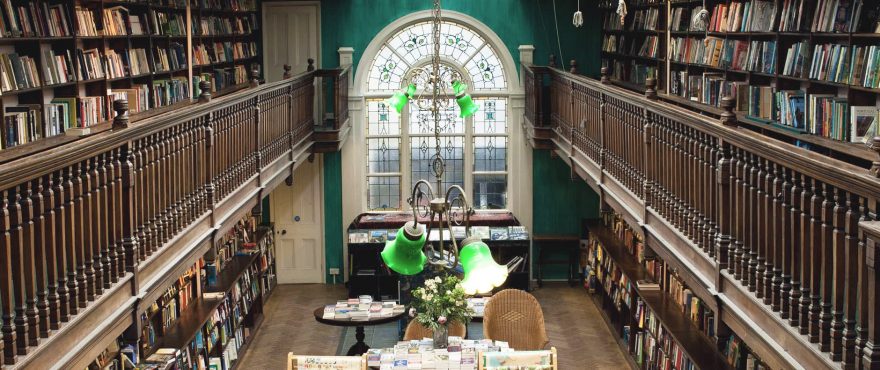 The shop was bought by James Daunt and renamed Daunt Books in 1990. It now focuses on first-run titles with a speciality of travel-related books and materials.
Jarndyce Antiquarian Booksellers, London
Jarndyce Antiquarian Booksellers was established in 1969 and are the leading specialists in 17th, 18th, and particularly, 19th century English Literature & History. Located in Great Russell Street opposite the British Museum in a building from 1730.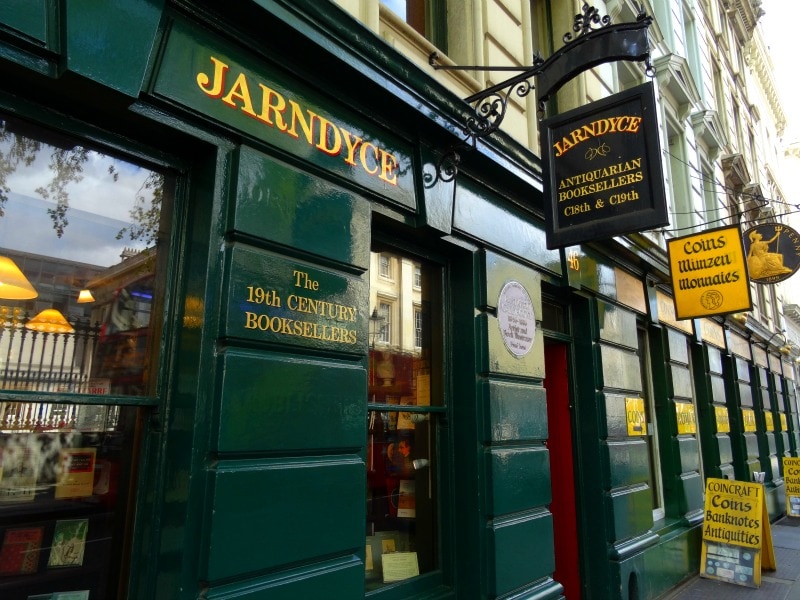 It has been a bookshop for over 120 years and retains many period features. The ground floor has been renovated to recreate a 19th-century bookshop within an 18th-century building, incorporating panelling, a working fireplace and an original wooden floor.
Hatchard's, London
Hatchard's is over 200 years old and was founded in 1797 with over 5 floors of books, magazines and ephemera. Hatchards Bookshop was founded by John Hatchard and holds three Royal Warrants.
It is a beautiful five-storey bookshop on Piccadilly, located next to Fortnum and Mason and opposite the Royal Academy. Hatchard's was Oscar Wilde's favourite bookshop and he actually signed copies of his books in 1890.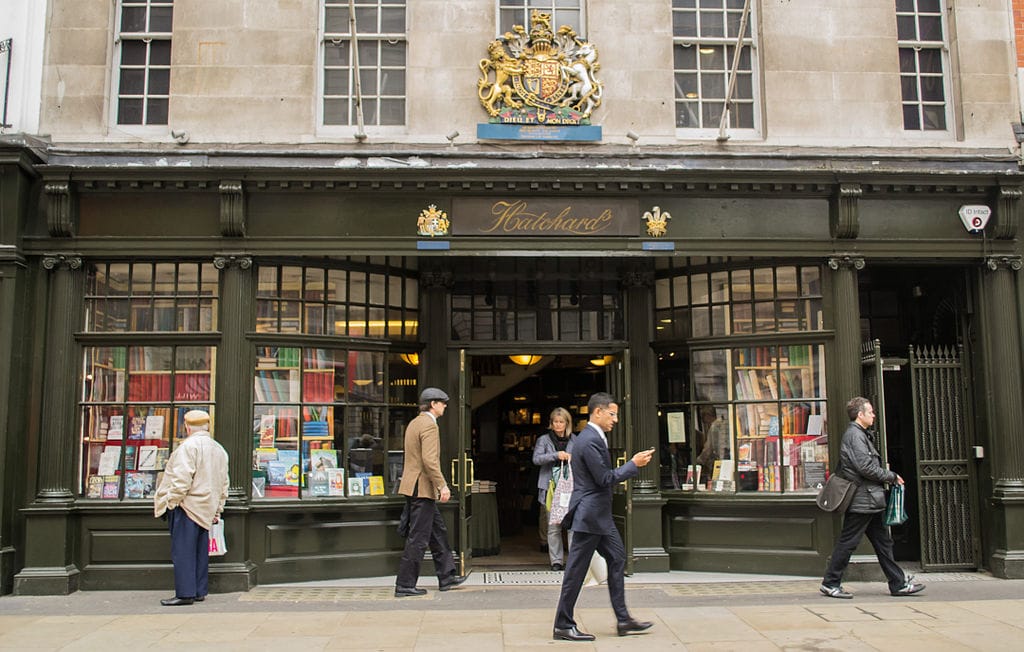 Booth Books, Hay-on-Wye, Wales
Hay-on-Wye in Wales is known the be the secondhand book capital of the World and is host to the annual Hay Literary Festival the biggest book festival in the world. It is housed in a historic building set in the Welsh countryside it has every genre of book you can think of as well as a cinema and café as part of the building.
Booth Books was founded by Richard Booth, who began the whole Hay book-town phenomenon and once declared himself King of Hay.
Pros and Cons of Living in the UK
Beautiful bookshops Scotland
Leakey's Bookstore, Inverness
A trip through the Scottish Highlands and staying in Inverness is a book lover's dream when you pop into Leakey's Bookstore in Inverness. The bookshop is a sprawling 100,000 book emporium located in an old Gaelic church that dates to 1797.
To get to the second floor there is a wrought iron spiral staircase where you can snuggle up with a book in the toasty warmth of the wood-burning fireplace below.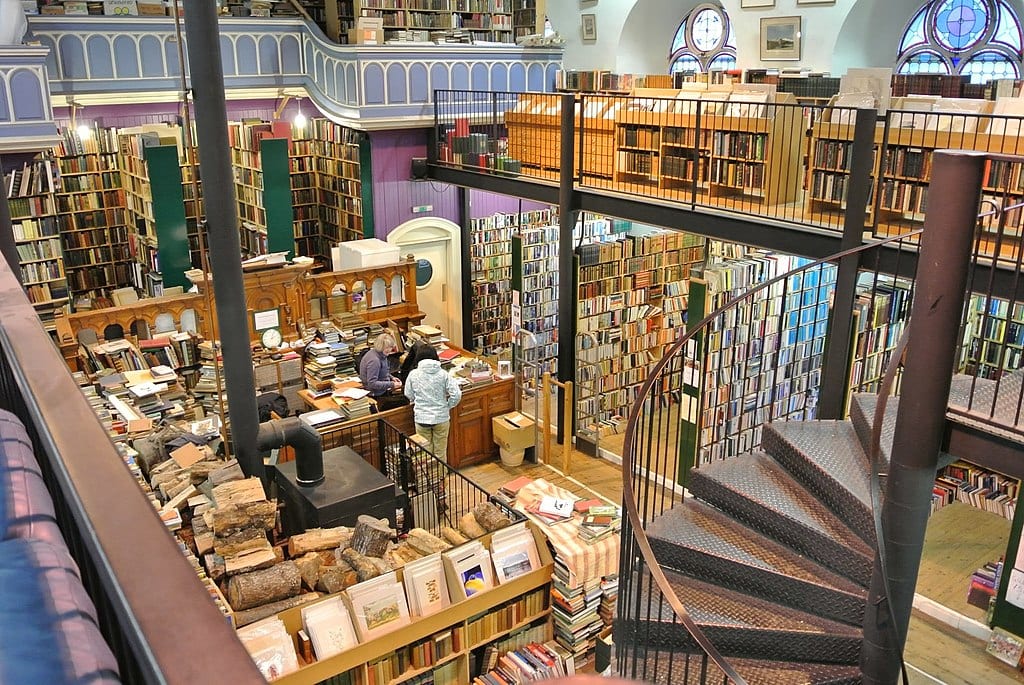 The Bookshop, Wigtown
The Bookshop is Scotland's largest second-hand bookshop with over 100,000 books and it was established 50 years ago – the oldest bookshop in Wigtown, Scotland's National Book Town in the Dumfries Region. This place feels totally magical with books absolutely everywhere! Every space has been maximised to showcase books in their finest form. This place is definitely worth a visit if you love books!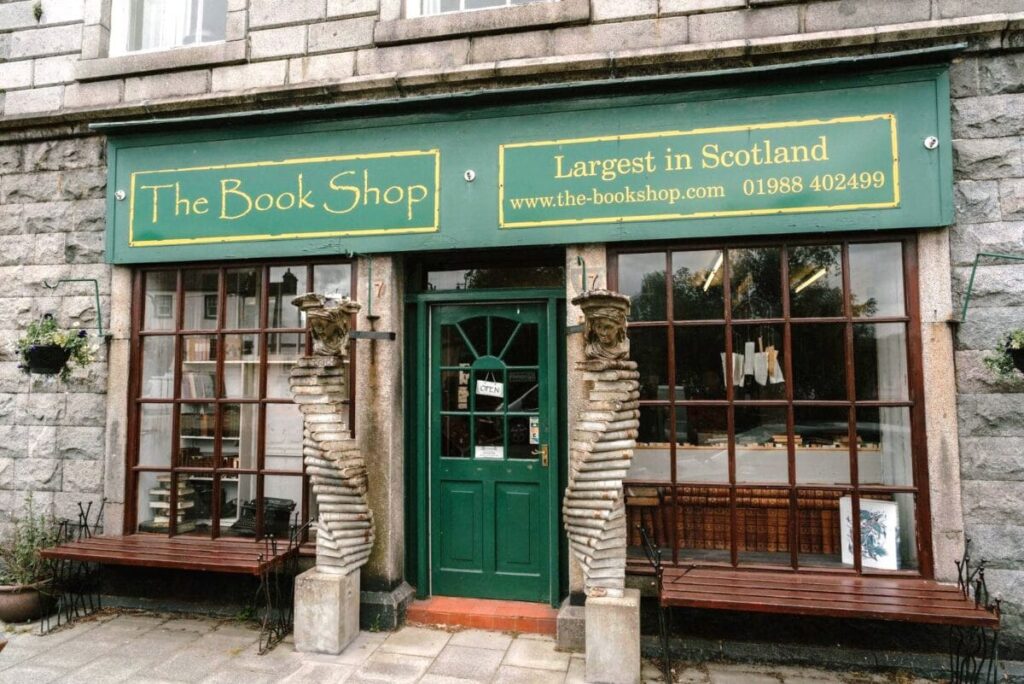 Beautiful bookshops in Ireland
Bridge Street Bookshop, Wicklow Town
The family-run Bridge Street Bookshop in Wicklow has been in business since 1999. Its beautiful storefront and busy interior have tourists flocking to it in the summer months and a steady local trade, with children especially catered to.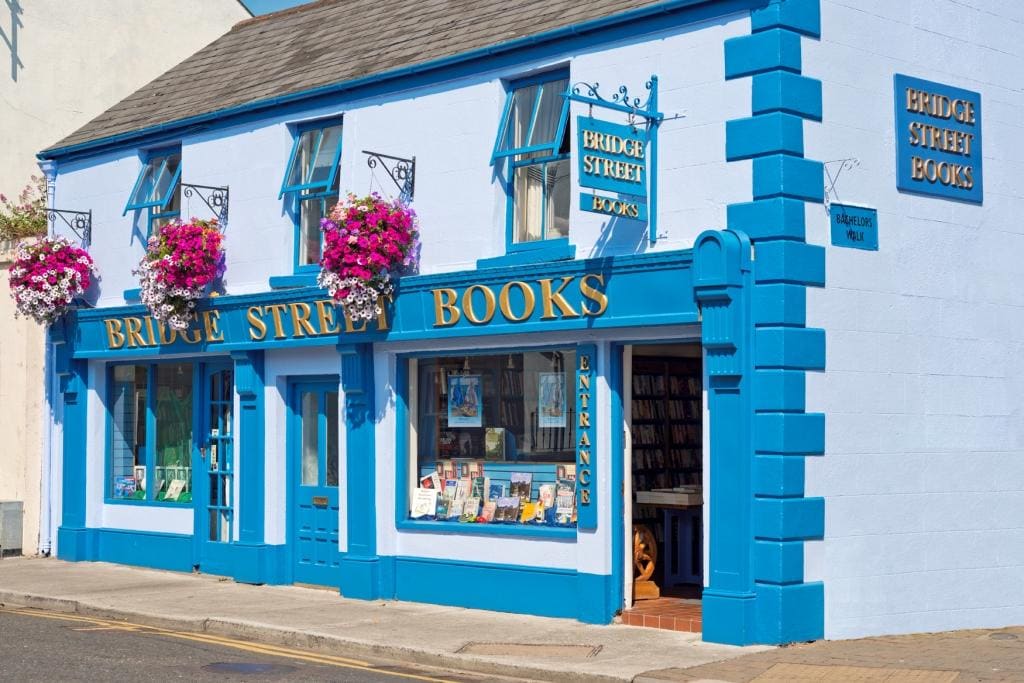 Liber, Sligo
In Sligo, head for LIBER, an independent bookshop run by the Caliendo family who have owned the premises for almost 100 years. Find carefully curated new titles, a strong poetry selection, as one might expect in Yeats country, and lots of good books for children.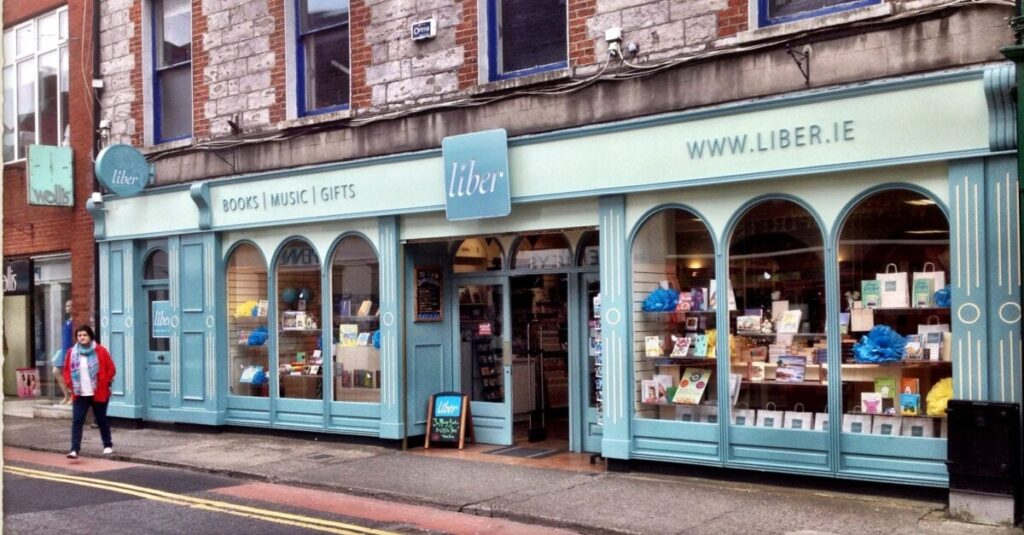 Books Upstairs, Dublin
 Dublin's oldest independent bookshop was founded in 1978. The shop is stocked with books focused on literature, history and politics, and the underrepresented areas of philosophy, literary criticism, psychology, feminism, and gay literature. Today the bookshop is within a beautiful Georgian building and has expanded to include a secondhand book section. 
Winding Stair Bookshop, Dublin
The Winding Stair Bookshop is one of the oldest surviving independent bookshops in Dublin. The bookshop has a unique atmosphere; a relaxed haven in the centre of the bustling city. The front part of the shop holds new books, while the smaller section at the back of the shop holds second-hand books.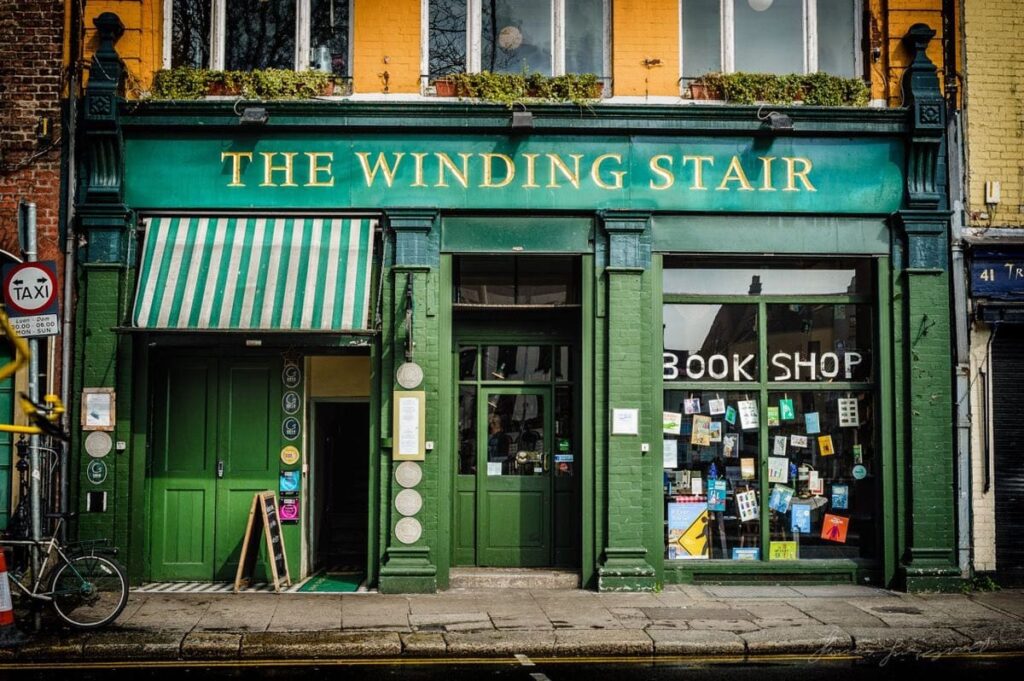 There are great views over the River Liffey and a lovely café up the 18th-century staircase that serves great Irish food and fine wines.
Charlie Byrnes Bookshop, Galway 
Established in 1988, Charlie Byrne's bookshop houses more than 100,000 new, bargain, secondhand and antiquarian books. You will find Charlie Byrne's Bookshop just off Shop Street on Middle Street and it is here you will be in awe of their selection of 10,000 books to select from. In the warren of rooms, you will find every genre of fiction and non-fiction you can imagine.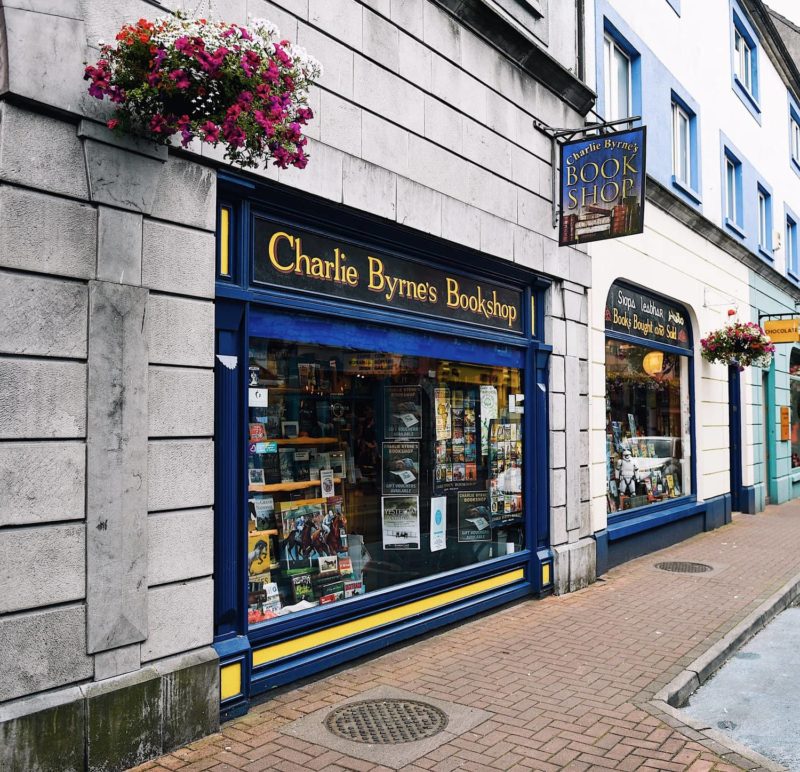 Beautiful Bookshops in Europe
Ler Devagar, Lisbon, Portugal
Ler Devagar which means 'read slowly' in Portuguese is touted as the 'coolest bookshop in the city'. A modern shop the store was once a printed press and there are many reminders of this placed around the store, along with a cool bicycle sculpture.
This is a large industrial building that has been re-purposed with thousands of books and a café to enjoy a pastel de nata and coffee.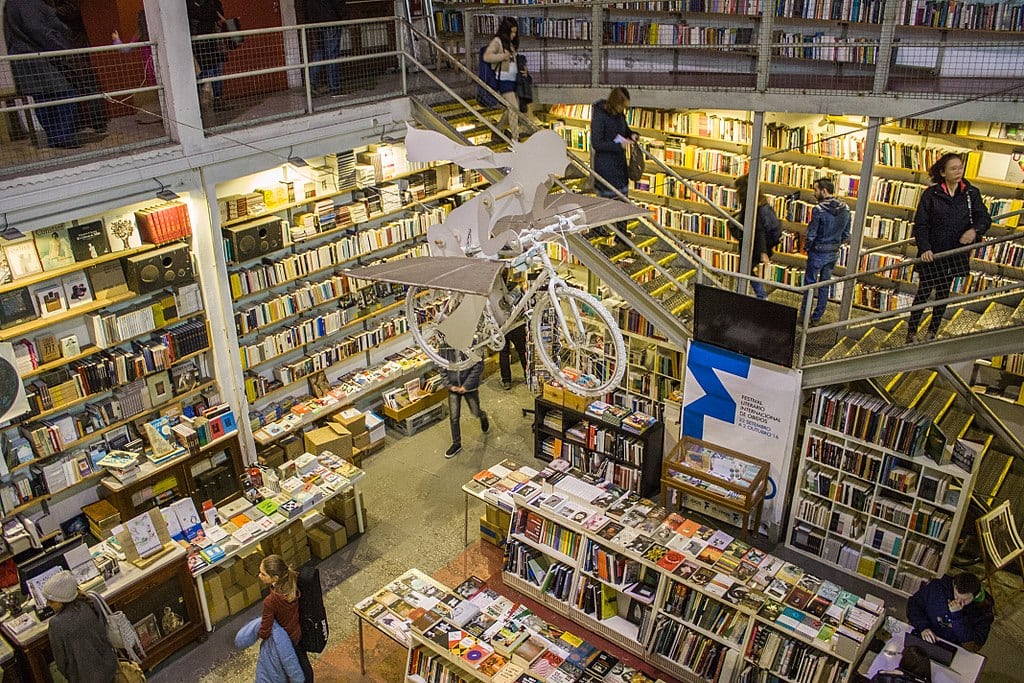 Livraria Bertrand, Lisbon, Portugal
Opened in the Chiado district the original shop was opened in 1732 over 300 years ago. Where the store is located now, west of the Alfama in Chiado is not actually the original location. The original store was destroyed in an earthquake in 1755 which forced the owners to relocate and set up shop somewhere more stable.
The Guinness Book of World Records says that this is the 'Oldest Operating Bookshop'.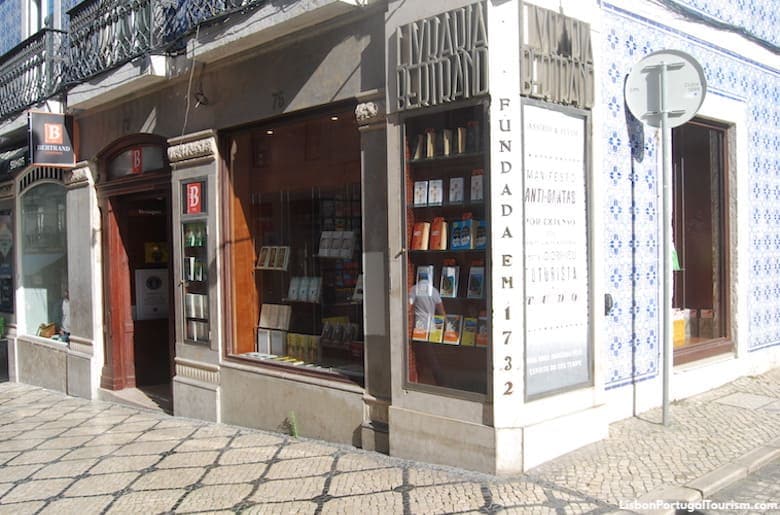 Livraria Lello e Irmao, Porto, Portugal
According to the rumours, this is J.K. Rowlings favourite inspirational place for her Harry Potter books. Apparently, she lived in Porto for 10 years as an English teacher.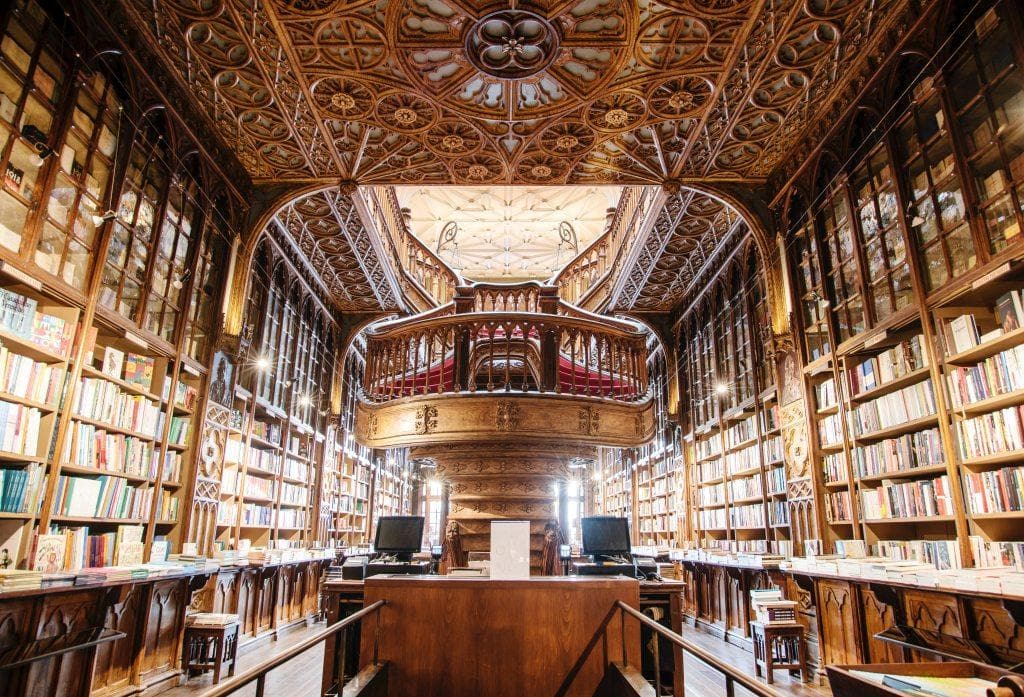 This gorgeous bookshop was founded in 1906, and it features an exquisite wooden stairway and stained glass ceiling containing the bookstore's motto 'decus in labor', meaning 'there is honor in work'.
Portugal Travel Guide – 27 must-visit places
Libreria Acqua Alta, Venice, Italy
This is one of the unique bookshops in the world because all the books are piled up on shelves, bathtubs and gondolas to protect from the Venice floods.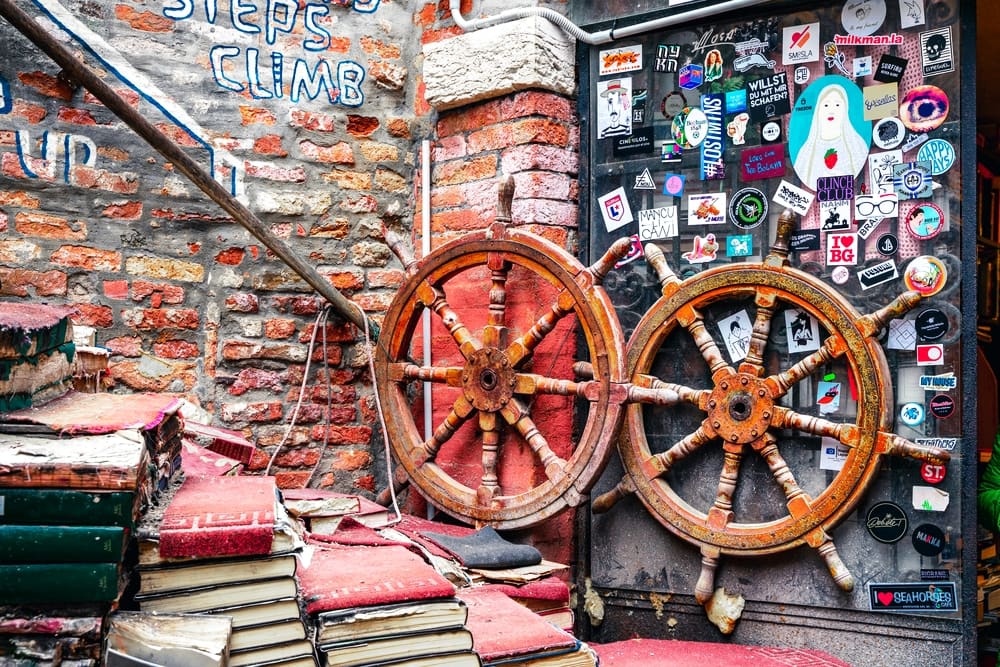 The interior complete with cats is filled with books on art, culture and Venetian history, other rooms have bestsellers, comics and literary treasures. Out the back, there is a porch with a staircase made from outdated books and its short climb up reveals stunning views of Venice's canals.
Laie Librería Café, Barcelona
An institution in Barcelona this lovely bookshop not only has a lower floor packed with books but a secret terrace out back where you can curl up with your books. Upstairs there is a well-known and popular café and restaurant with gorgeous cakes and great coffee to indulge in.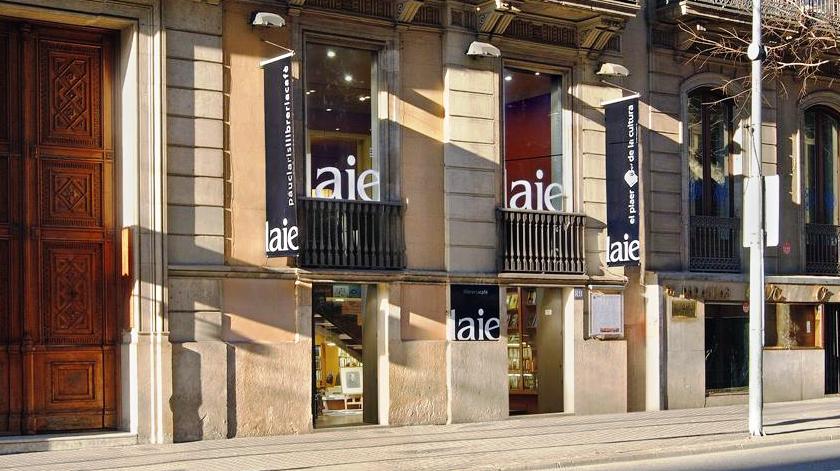 Looking for Gaudi in Barcelona
San Ginés Book Shop, Madrid
One of the oldest bookshops in Spain, dating back to the 17th century when the bookseller of record was noted as Diego Logrono in 1650.
You will find the little gem located between Calle Arenal and Calle Mayor, in the picturesque Pasadizo de San Ginés, alongside the parish of the same name and the most famous chocolate shop in Madrid Chocolateria de San Gines.
San Gines features an impressive collection of old, second-hand books and real antiquarian bargains.
Oudemanhuispoort, Amsterdam, The Netherlands
The Oudemanhuispoort or 'Old Man's House Gate' is a covered walkway near the Faculty of Law of the University of Amsterdam where second-hand textbooks, prints and sheet music are sold.
The history of the walkway extends back to the middle ages when it was a convent when the Netherlands converted to Protestantism in the 1500s the convent became an almshouse for the poor elderly.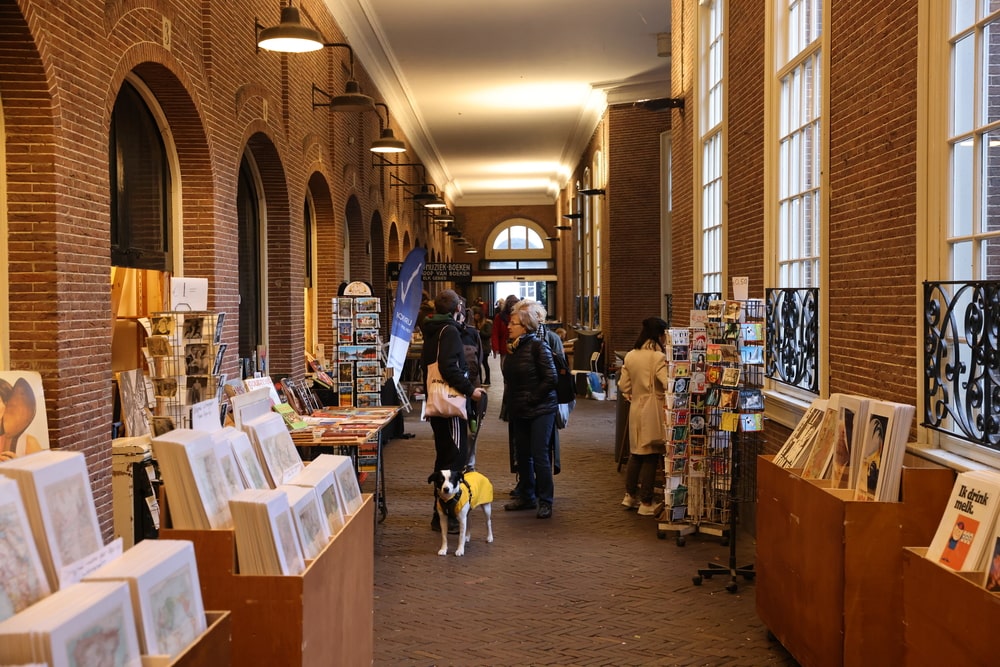 Over the years the Oudemanhuispoort has become many things and eventually a used book market by the 1940s the trade was mainly carried out by Jewish booksellers. After 1941 most of the Jewish merchants were sent to German Concentration Camps.
Selexyz Dominican Church, Maastricht, The Netherlands
Dating back to the 13th century, this former Dominican church until Maastricht was invaded by Napoleon in 1794 since that point it has been briefly used as a parish, then a warehouse, then an archive, then a giant parking lot for bicycles and finally made over into a bookstore.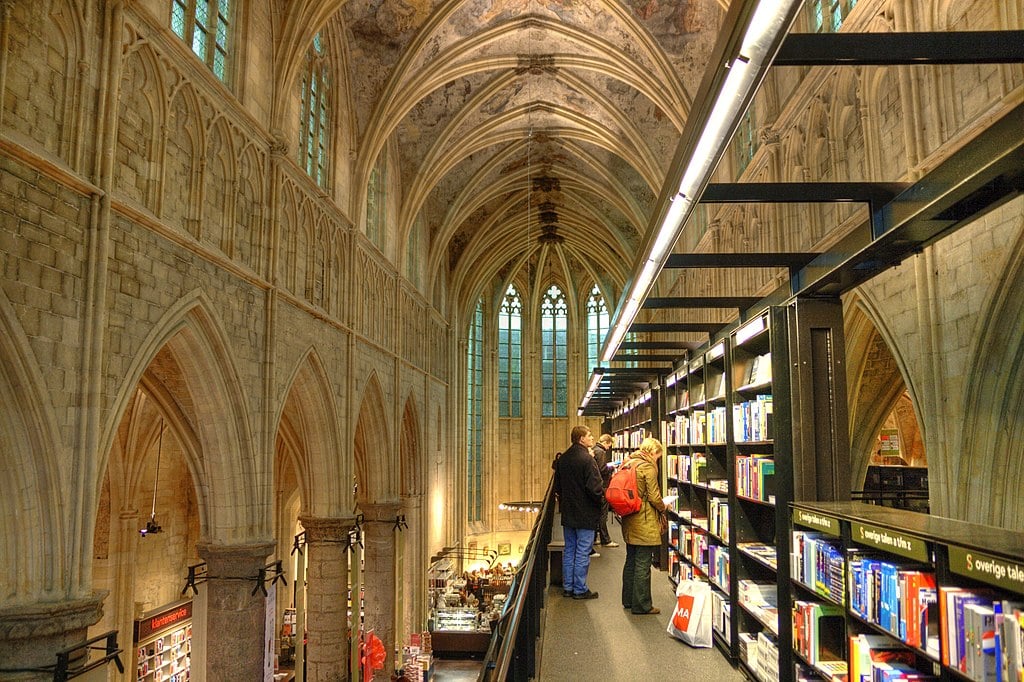 You will get a smile out of the cross-shaped reading table and at the back of the church is a café. The books do include a section of English language volumes.
Cook & Book Brussels, Belgium
Cook & Book is a combined bookshop and restaurant located in Brussels, Belgium. There are two separate buildings which contain 9 rooms each of them houses a different selection of books and each has its own eclectic décor.
One of the rooms contains an entire English section and is decorated as an old-school British Library – other sections include fine arts, music, general fiction, children's literature, cookbooks, travel, graphic novels and lifestyle.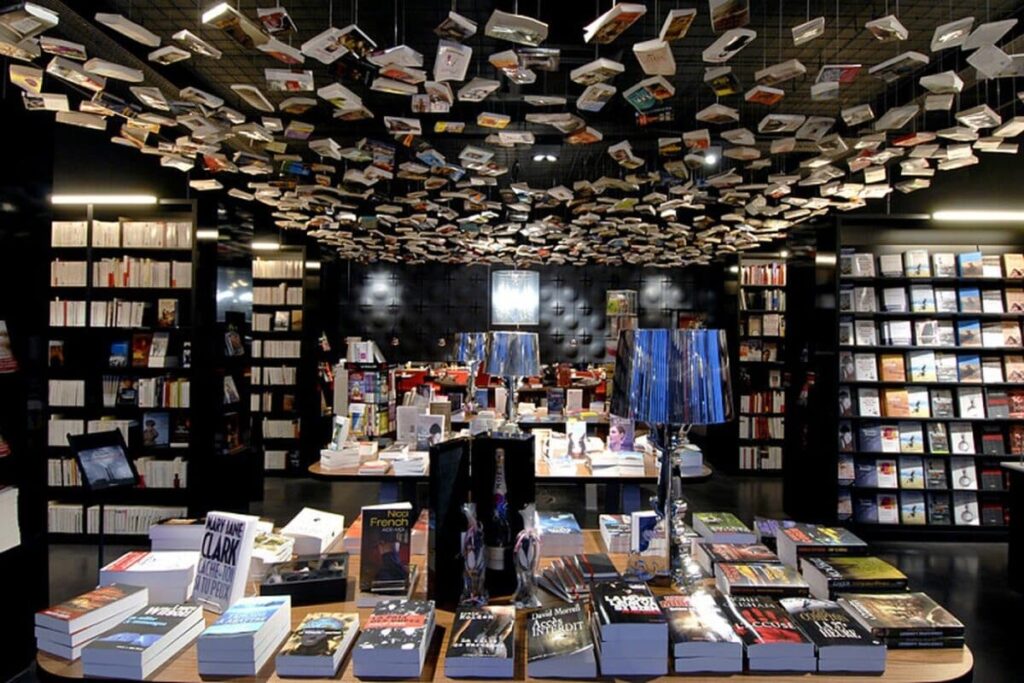 In addition to the nine rooms, there is a terrace (where you can of course read or eat – or both) and a playground for the children.
Atlantis Books, Santorini, Greece
Founded by a couple of American friends this bookshop is found in the heart of Santorini. The bookstore opened in the spring of 2004 with the "hope of bringing great art, literature, and conversation to one of the most beautiful environments in the world".
Cărturești Carusel, Bucharest, Romania
BUILT in 1903 by a wealthy family of Greek bankers in Romania, this stunning building was confiscated by the Communist regime in the 1950s. At that time it turned into a general store and was later abandoned when communism collapsed.
The grandson of the original banker fought for 24 years to return the building to the family and finally won his case in 2007. He then transformed it into the Cărturești Carusel ("Carousel of Light") bookstore that stands today.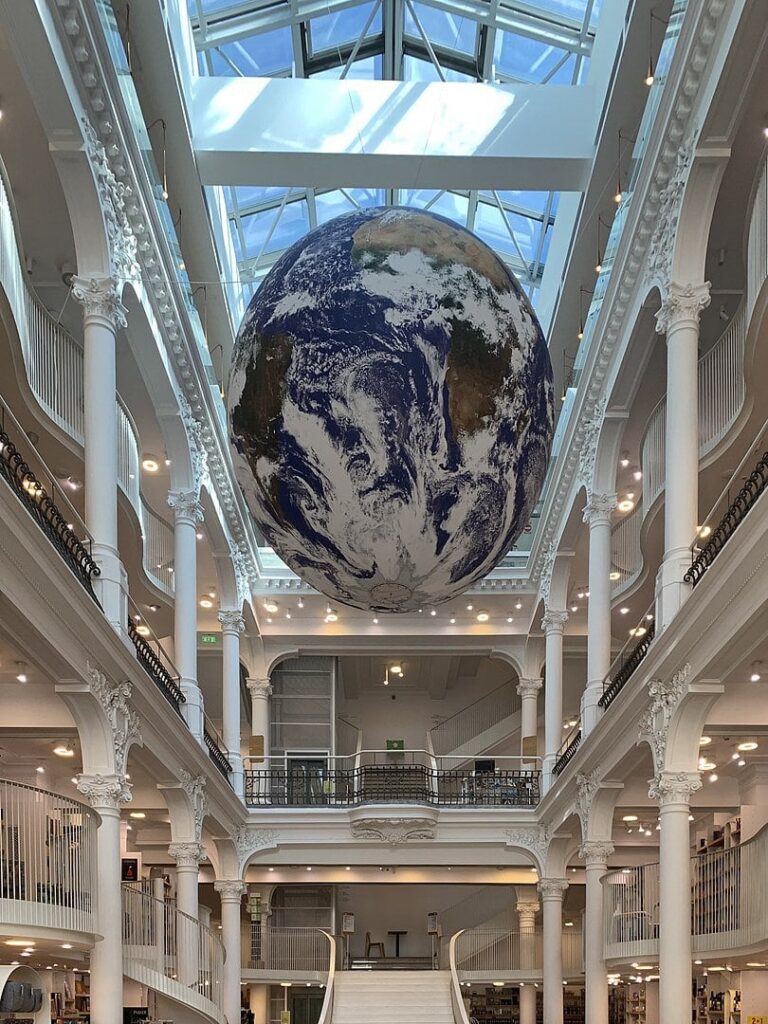 This beautiful European bookstore has over 10,000 titles over 6 floors surrounded by light from the skylights. In the basement, you will find multimedia items and on the ground floor, there is a souvenir shop. The fifth floor is a gallery for local artists and on the top a lovely relaxing café.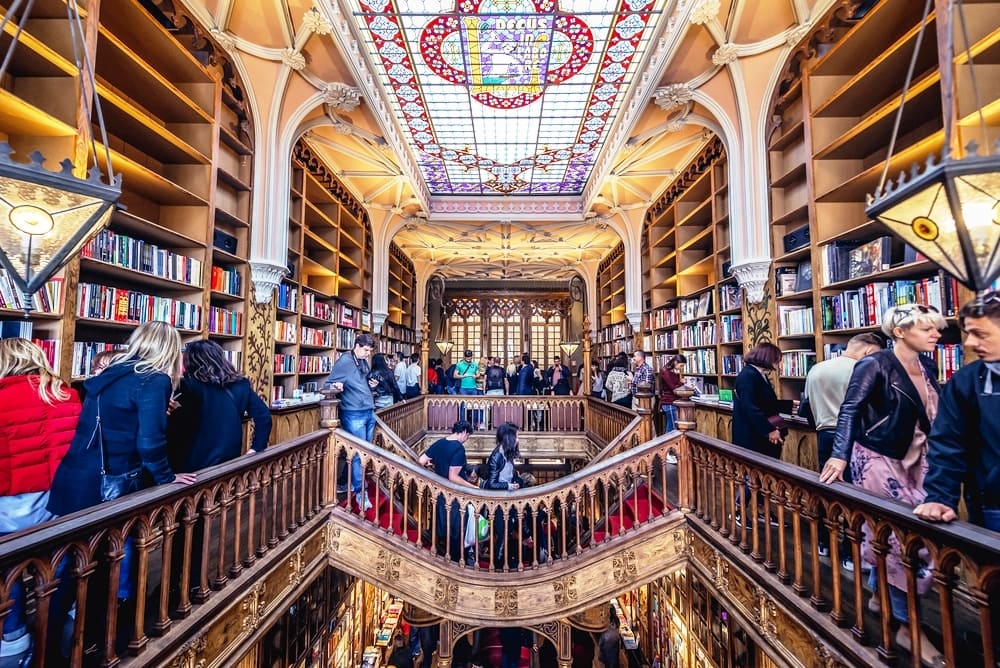 Europe is home to some of the most stunning and unique bookstores in the world. From the grand architecture of Livraria Lello in Porto, Portugal, to the cosy charm of Shakespeare and Company in Paris, France, these bookstores offer not only a vast selection of literature but also an immersive experience for book lovers. Whether you're looking to escape into a good novel or simply explore beautiful spaces filled with books, Europe's many enchanting bookstores are sure to delight you. So next time you're travelling through Europe, be sure to add these stunning literary destinations to your itinerary!
Pin it to save it