29 Most Beautiful Cities in the UK
For first-time visitors to England, London is the largest city in England and the one everyone heads to first. But where are the best English cities to visit when you've seen London?
The entire country is called the United Kingdom or Great Britain. Within that framework are the individual countries of Scotland, N. Ireland, England and Wales. You could literally spend a lifetime exploring the United Kingdom but if you want to find the most beautiful cities in the UK to visit outside of London this list is put together by locals and visitors who have been to England many times.
There are lots of positives about living in England but sometimes difficult to know what other cities in England can you explore that will delight you as much as London? Here are 29 of the best cities in the UK to visit.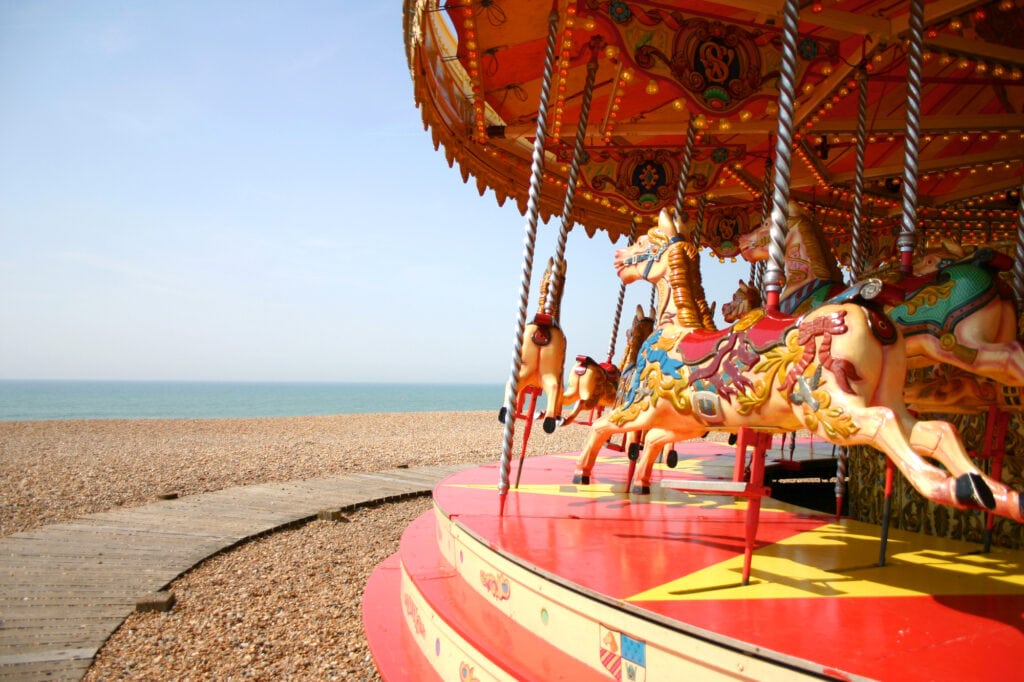 Beautiful cities in the UK
This list of the best 22 cities in England to visit is a collaboration by both locals and travellers who visit their favourite cities in England to give you inside tips on what to see in their favourite cities.
There are always legends and tales associated with cities in England. But sometimes you have to dig a bit deeper. For example, legend has always said that Robin Hood was in Nottingham, but early tales place him in Barnsdale Forest in West Yorkshire, with the first mention being in the 15th-century ballad, 'A Gest of Robyn Hode'.
Many of the castles guarding English cities were built by William the Conqueror who was from Normandy France. In fact, the Queen's favourite in Windsor was a Norman Castle.
Not only are these England's best cities but they will give you a taste of the whole country. England is as varied as any other country but if you stay in London you won't get to experience a taste of the entire country and to truly see England that is a must-do. One of the best times to visit England and the UK is at Christmas time, not only is the shopping superb but you can visit some fantastic Christmas Markets both in London and the rest of England.
Christmas in London all the best things to see and do
Xyuandbeyond is reader-supported. When you buy through links on our site, we may earn an affiliate commission. You can read my privacy policy here.
22 best UK cities to visit
Bath
One of the best cities to visit in England is also one of the most beautiful cities in England. Bath is the only English city that's been designated a UNESCO world heritage site in its entirety, Bath is well worth a weekend visit while exploring the country.
Every corner of Bath has a story to tell; here you can learn about Roman history while strolling down Georgian streets and admire an Abbey restored in Tudor times before walking to the Grade 1 Heritage Listed station that was built by Brunel in Victorian times.
Possibly the most famous Roman centre in the country, and the attraction that gave Bath its name, the Roman Baths in the care of the National Trust are a must-visit while in the city. You can visit the Bridgerton filming location the Royal Crescent with its 18th-century grand homes. Stroll Victoria Park or visit the Jane Austen Centre.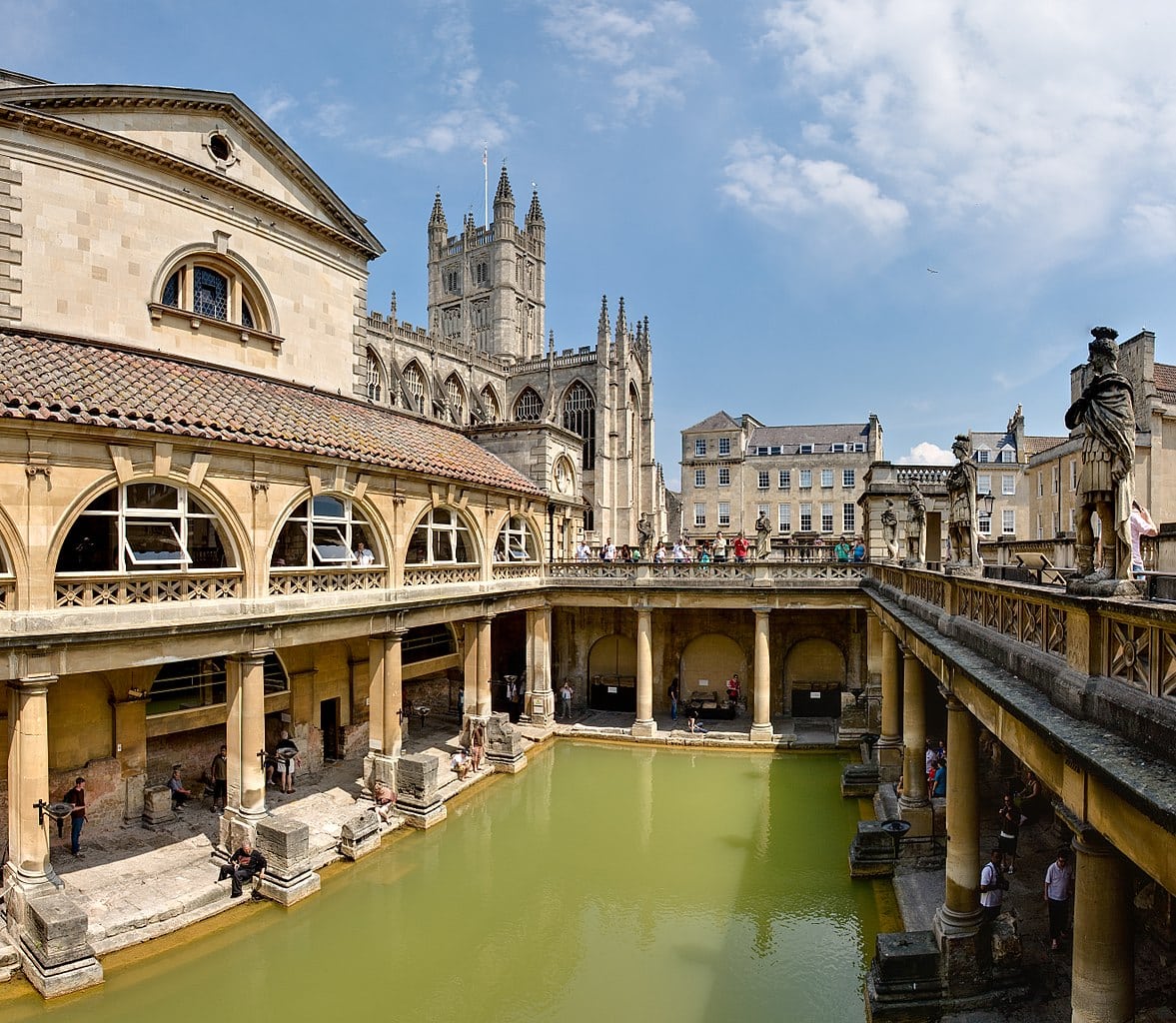 Best Place to eat in Bath: Sally Lunn's – Famed for its sticky buns, the 'Sally Lunn bun'. A type of brioche spread with butter or cream, it is made to a recipe legend says was brought to the country by a French emigrant in the 17th century.
Best Place to stay in Bath: Perfect for those who want the ultimate pampering weekend, The Gainsborough Bath Spa is the only hotel in the country with a spa with naturally heated water.
Brighton
Located on the south coast, in the county of East Sussex, the popular seaside town of Brighton has a lot going for it.
For a modest-sized city (with a population of a little under 300,000), Brighton has an excellent range of live music venues, theatres, bars, inventive restaurants, striking architecture, amazing street art, independent shops, and many other things to see and do.
Brighton is also only an hour from London by train. In fact, it's so popular with Londoners (many of whom end up moving here for a higher quality of life) that the city has earned the nickname "London-on-Sea".
Brighton's natural setting is also fantastic. As well as being next to the sea, the city is also a stone's throw away from the picturesque and tranquil South Downs National Park. It's quick and easy to get from the centre of the city to the South Downs, where there are many excellent walking trails and beauty spots.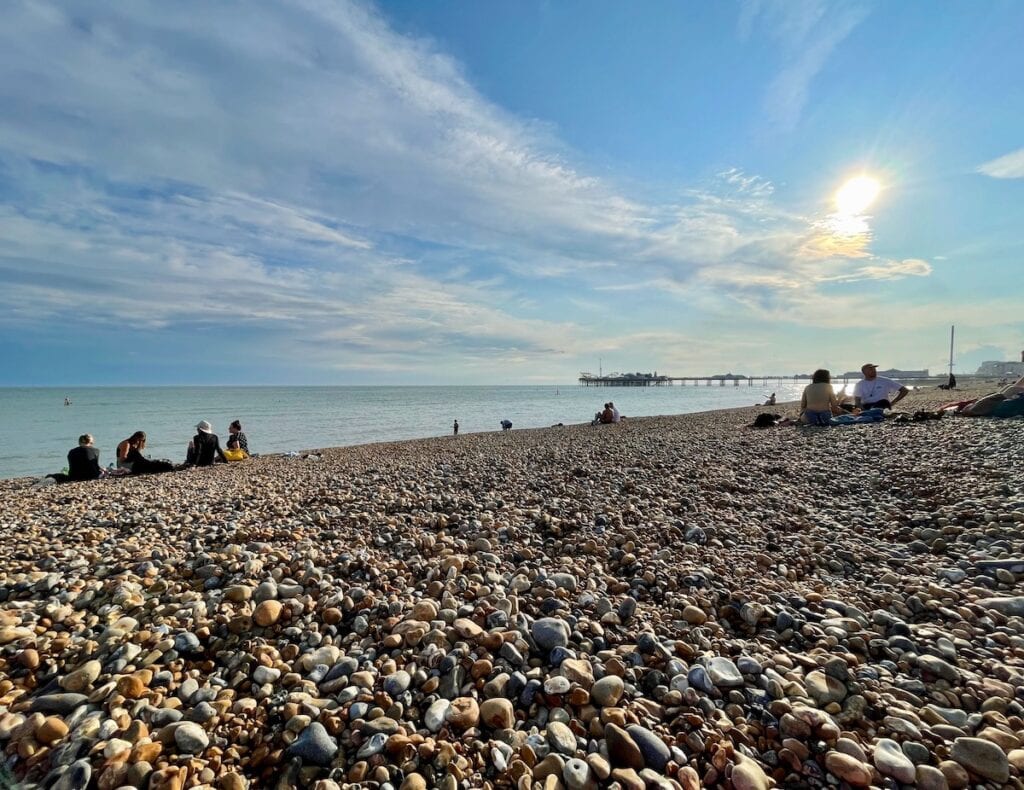 The Brighton Festival is a huge multi-arts festival that lasts for most of May each year. It showcases a wide range of talent, including live music, art, dance, theatre, photography, food, and more.
The city really comes alive throughout this time, and the atmosphere is electric.
Brighton has long been known as an open-minded, forward-looking place. There's a large and thriving LGBTQ+ community, and Brighton Pride is the most popular Pride event in the UK, drawing hundreds of thousands of attendees from all over the country.
Even if you can't make it here for the Festival, the city hosts a large number of creative and cultural events throughout the year. There's always something going on here.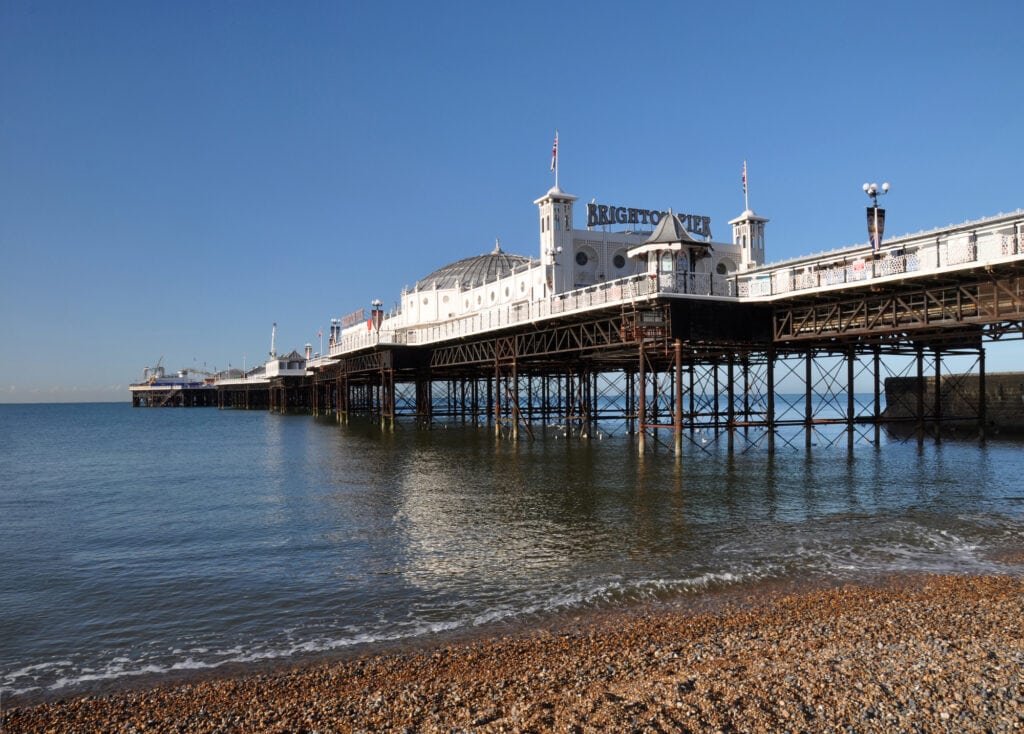 Finally, the thing I love most about Brighton is just the general vibe of the place. The people are (mostly) friendly and approachable, and it's super laid back. In the evening, you can take a few drinks to the beach, watch the sun setting over the sea, and strike up a conversation with just about anybody. It's a fantastic place. Even if you can't make it here for the Festival, the city hosts a large number of creative and cultural events throughout the year. There's always something going on here.
Best place to eat in Brighton: Due South this is an amazing restaurant serving inventive dishes, prepared using fresh high-quality ingredients, cooked over a natural wood fire.
Best place to stay in Brighton: A Room With A View. Their rooms are tastefully decorated, extremely comfortable, and have stunning views out to sea. Contributed by Alex from Just Go Exploring
Belfast, Northern Ireland
Belfast Northern Ireland is an extraordinary city since the Peace Accord gave it some stability and allowed the City to grow and attract tourism to help boost its economy. Attractions in Belfast are easy to get to and this is a really easy city to travel around either on foot or public transport.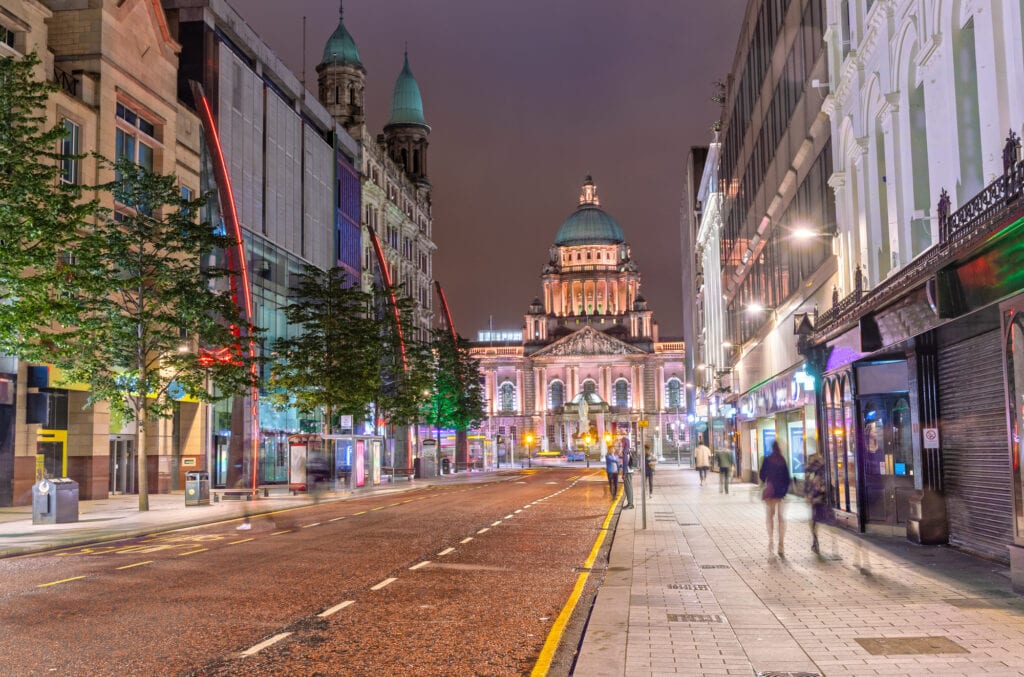 Clearly, Belfast has been phenomenally successful at bringing in visitors to the city through the history of the Titanic and of course the Game of Thrones phenomenon. However, there is much more to the city than these Belfast tourist attractions.
One of the top things to do in Belfast is to take a walking tour of the best tourist attractions in Belfast and these can be seen on free walking tours of the City along with Political Tours, Pub Crawl tours, and as they say in their own words "discover the city with local experienced and the best-looking guides in Ireland." How can you pass up things that are free in Belfast?

Where to stay in Belfast: I would also highly recommend the Merchant Hotel if you want a luxury stay in a 5-star Grade I listed building dating back to 1860. Located in the Cathedral Quarter you will find the Merchant is within walking distance of many of Belfast's finest restaurants and bars.
Where to eat in Belfast: Darcy's Belfast is a family restaurant with loads of traditional Irish food and a brilliant Sunday roast menu.
Derry, Northern Ireland
The historic walled city of Londonderry is often overlooked and extremely underrated for folks visiting Ireland and yet it is one of my favourite cities in the country.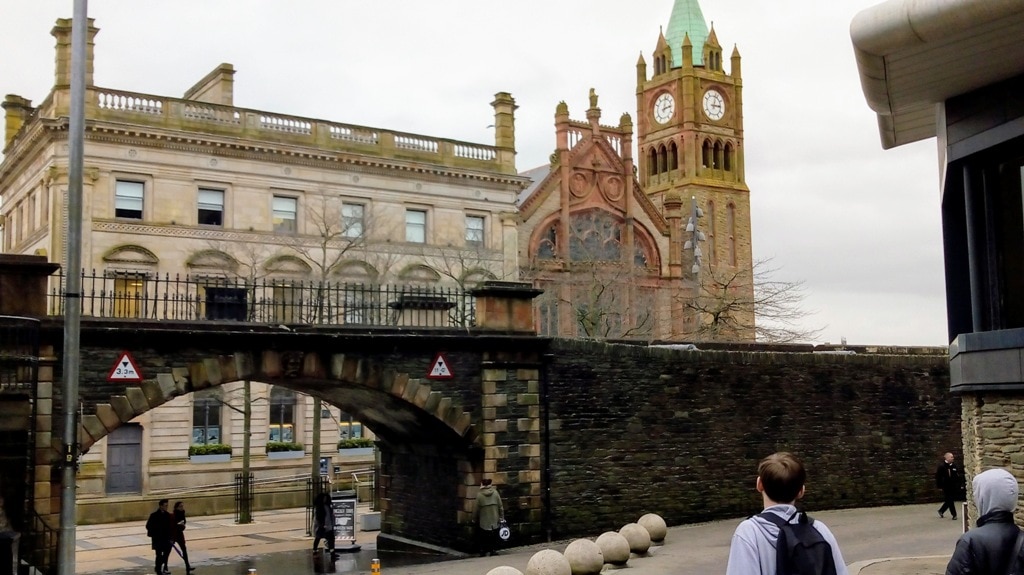 Derry is the second biggest city in Northern Ireland and is located in County Derry which borders Donegal and has close ties to the County. Its name Derry comes from the Irish word Daire which means oak forest. Derry is the only remaining intact walled city in Ireland. The old city which is walled is on the west bank of the Foyle River and is spanned by two bridges for vehicles and the pedestrian bridge named the Peace Bridge.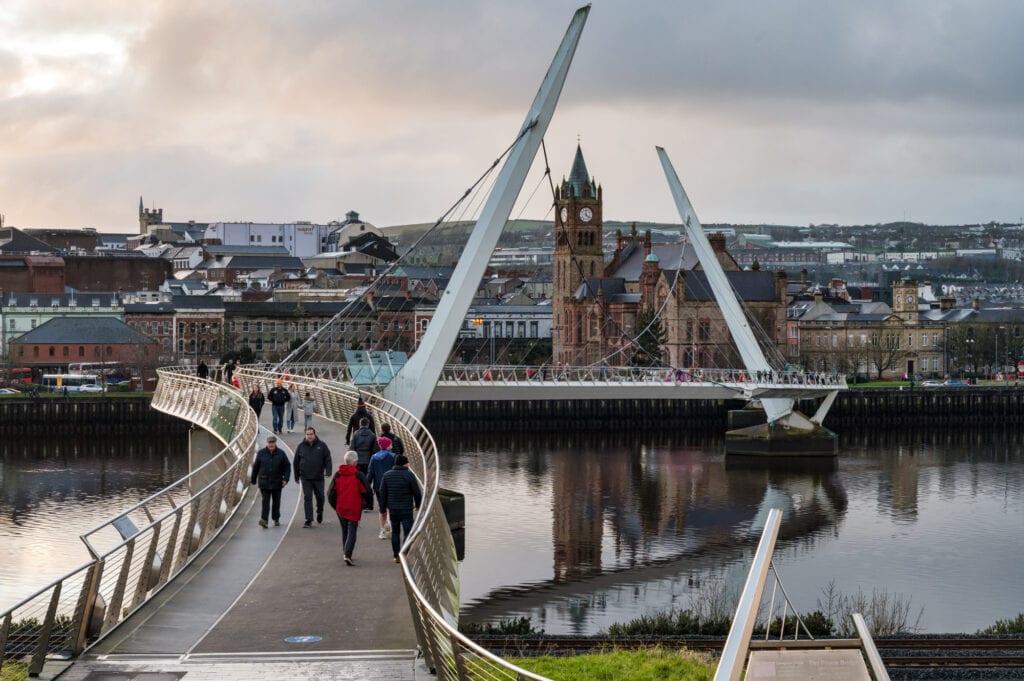 There is a lot to see and do in Londonderry Ireland, the city holds a lot of history from the ancient oak forests that were plundered by the British to the Troubles and Civil Rights marches and the best city walls in Ireland.
Where to stay in Derry: We stay in the ideally located City Hotel Derry which is very close to the Derry City Centre and we were very pleased with the location it was absolutely perfect for walking around Derry. The hotel has private parking below and we were able to leave our car there for the whole time we were there.
Where to eat in Derry: Browns Bonds Hill this Michelin-recommended offers the best seasonal dishes with fresh local produce. The cocktails are created in-house and expensive but superb.
It offers seasonal dishes, the freshest local produce, superb speciality cocktails and an unrivalled ambience.
Your culinary experience at Browns Bonds Hill will be excellent, but you can already assume that given they are recommended by the prestigious Michelin Guide every single year – now that is saying something!
Inverness, Scotland
Deep into the Scottish Highlands, you'll find the idyllic cathedral city of Inverness. This delightful, green place is one of Scotland's gems.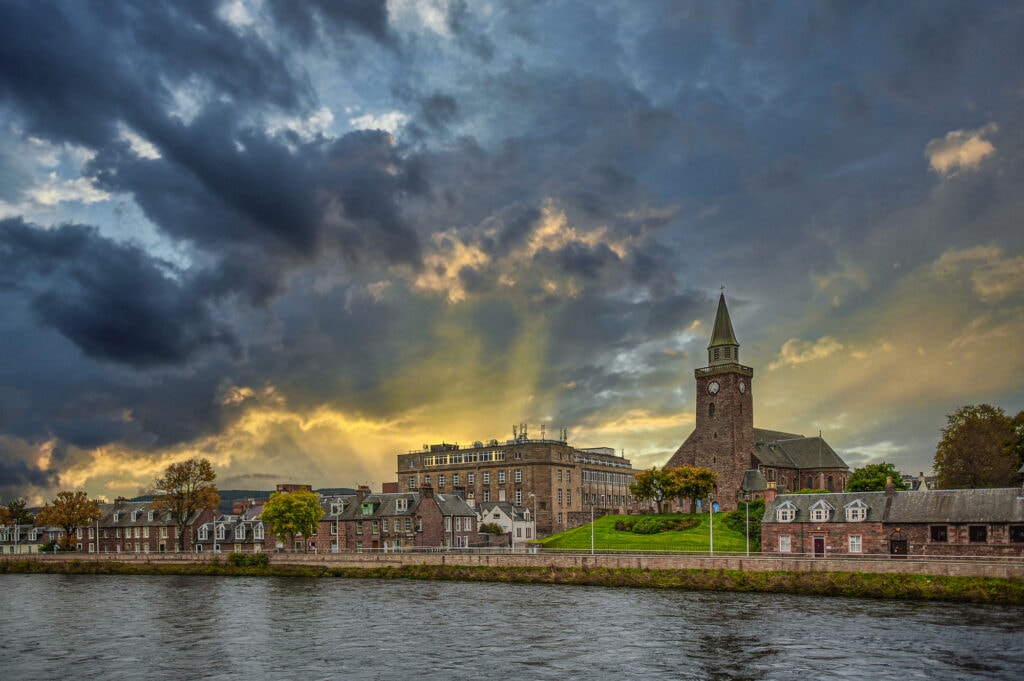 Take a boat out on the river, and sail through scenic spots like the Ness Islands. Awe at grand buildings like Inverness Castle and St Andrew's Cathedral. Don't forget to visit the infamous Culloden Battlefields.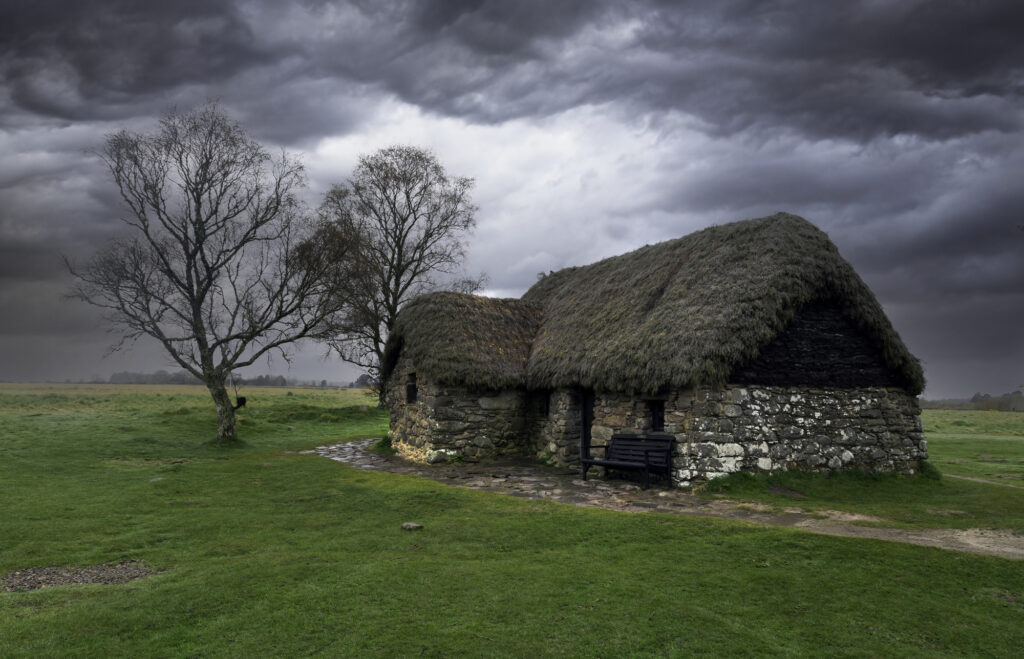 If you're really feeling adventurous, take a guided tour out onto Loch Ness, and see if you can spot the fabled Loch Ness Monster lurking beneath the surface!
Best Place to Eat Inverness: Embracing the very best of Scottish craft brewing and distilling, combined with a fantastic menu of traditional Scottish food, local and seasonal dishes, MacGregor's Bar is one to visit.
Best Place to stay in Inverness: The Culloden House Hotel is one of the best hotels in Inverness with luxurious rooms and beautiful gardens for you to explore. Even if you are not planning on staying at Culloden, it is a great place for lunch or dinner and they serve amazing afternoon teas in the lounge in front of the fireplace.
Bristol
If there's a fun and exciting city in England, it's Bristol. The city's centre is lively and vibrant, while the scene for art is awe-inspiring. Bristol is situated in the rolling hills of the South West of England. The name Bristol comes from "Brigstow", meaning "place by the bridge".
Today one of the most popular Bristol tourist attractions you can visit is the Clifton Suspension Bridge, which has a great view over the city.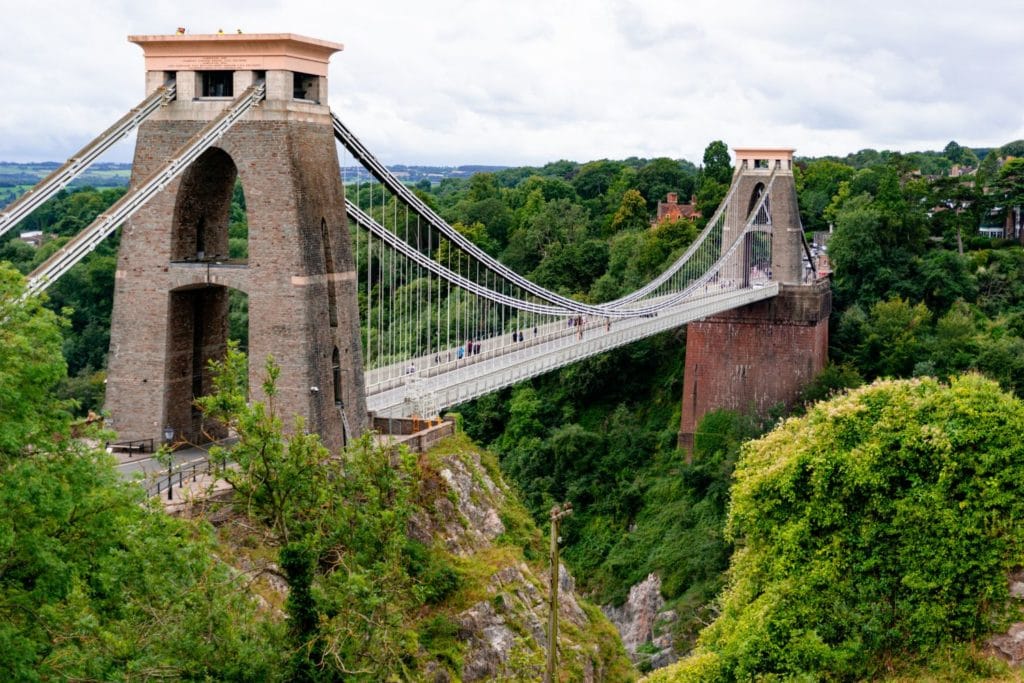 Bristol is known as one of the best cities in England, and there are many fun, exciting and free things to do in Bristol.
Also, the city is the birthplace of one of the most acclaimed contemporary artists – Banksy. Therefore, you can expect Bristol to be colourful, and you may even find his artwork dotted across the city. There is plenty to do and see that you can easily have a wonderful trip to Bristol.
You should head to the M Shed, St Nicholas' Market, Bristol Cathedral, the harbourside and the Museum and Art Gallery.
In addition, an event that is highly rated and not to miss is the Bristol Balloon Festival in August. Hundreds of balloons are gathered in Ashton Court and launch massive colourful swarms of balloons between dawn and dusk.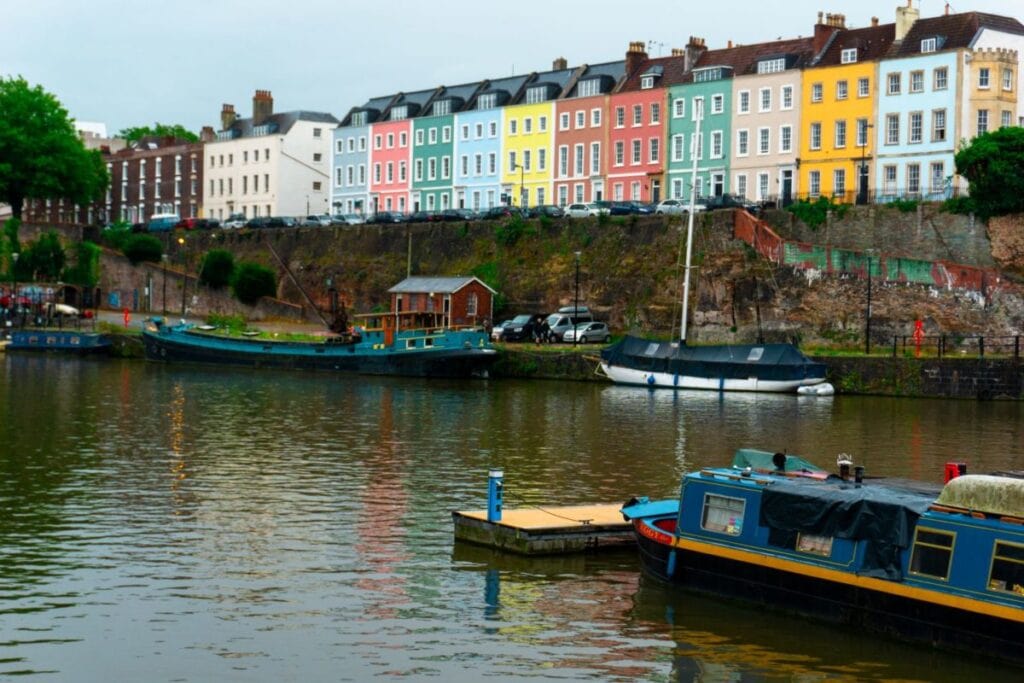 Where to eat in Bristol: You can eat and drink at the shipping containers known as Cargo near the M Shed, which was recently revamped and serves food from some of the best eateries within the city. You can choose from various diverse eateries located in trendy and urban areas of town. Pizzarova and Wild Beer were particularly good.
Where to stay in Bristol: You can stay at The Bristol Hotel on the quayside of the Floating Harbour. It is 10 minutes walking distance, close to Brunel's SS Great Britain. The hotel has elegant rooms (some with views of the city), free internet access and an on-the-water restaurant. You can stay here because it is close to everything you could want to do on your city break. By Rachel from Average Lives.
Portmeirion, Wales
Nestled on the northwest coast of Wales, Portmeirion is a purpose-built village modelled on Italy. It was built by Sir Clough Williams-Ellis between 1925 and 1975. Visitors to Portmeirion must pay an entry fee or if they stay overnight in the village the fee is waived and they can explore the whole village when the gates are closed without hordes of tourists.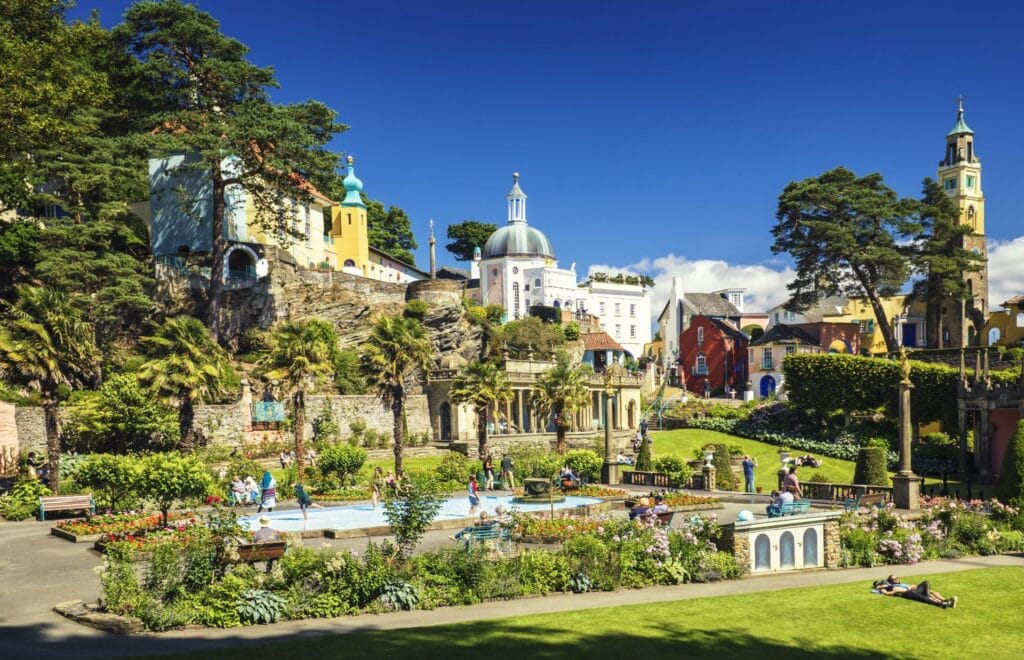 Portmeirion was featured in the 1960s cult show The Prisoner and you will see many areas featured in that TV show. The village has some lovely shops where you can buy the famous Portmeirion pottery.
Where to eat in Portmeirion: Portmeirion has two full-service restaurants and several cafes. The Hotel Portmeirion does fabulous High Teas and Sunday roasts. Castell Deudraeth restaurant serves great traditional Welsh dishes all made from local produce.
Where to stay in Portmeirion: The Hotel Portmeirion and Castell Deudraeth are the two luxury hotels you can stay at in Portmeirion.
Broadway
Broadway is a village located in the Cotswolds, about two hours northwest of London. It's one of the larger villages in the Cotswolds, making it the perfect home base for exploring this idyllic region of rolling green hills. It's also a popular stop for those hiking the Cotswold Way. Broadway features dozens of yellow limestone cottages, ancient walnut trees, upscale boutiques, and several excellent restaurants.
It's believed that Broadway began when the nearby abbey was chartered by King Edgar in 972. As a major stagecoach stop, Broadway was bustling from the 11th through the 19th centuries.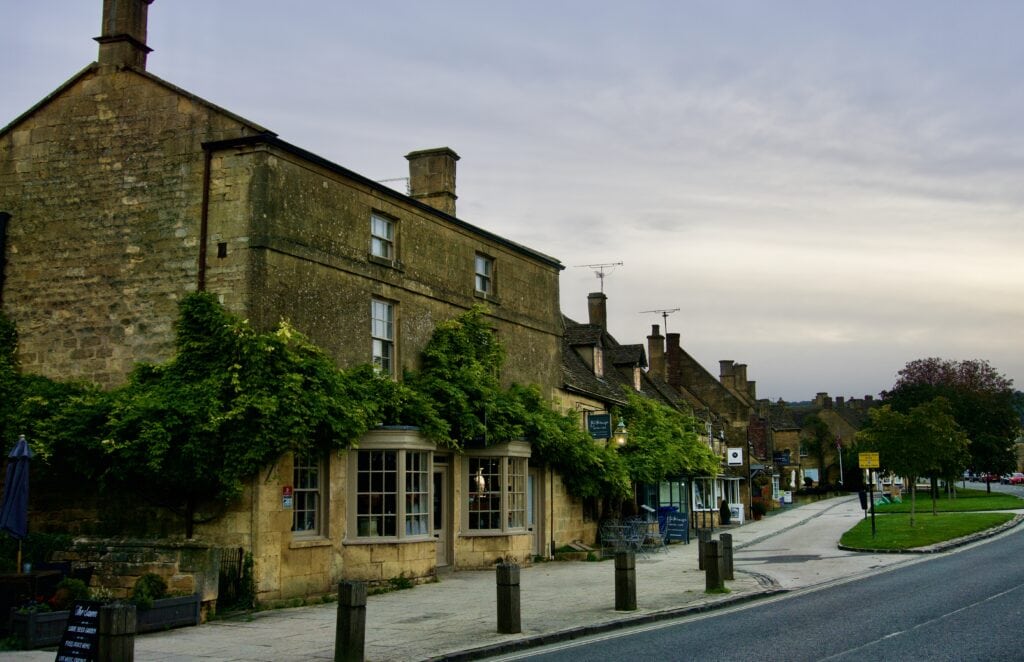 With the introduction of rail service throughout England, Broadway became much quieter. That resulted in its attraction for artists. Today one of its most popular places is the Broadway Museum and Art Gallery featuring many of the region's top artists.
Broadway Tower Country Park is probably the best-known attraction featuring a historic monument, a herd of red deer, shops, and a restaurant. In the summer there are lavender fields to be explored as well.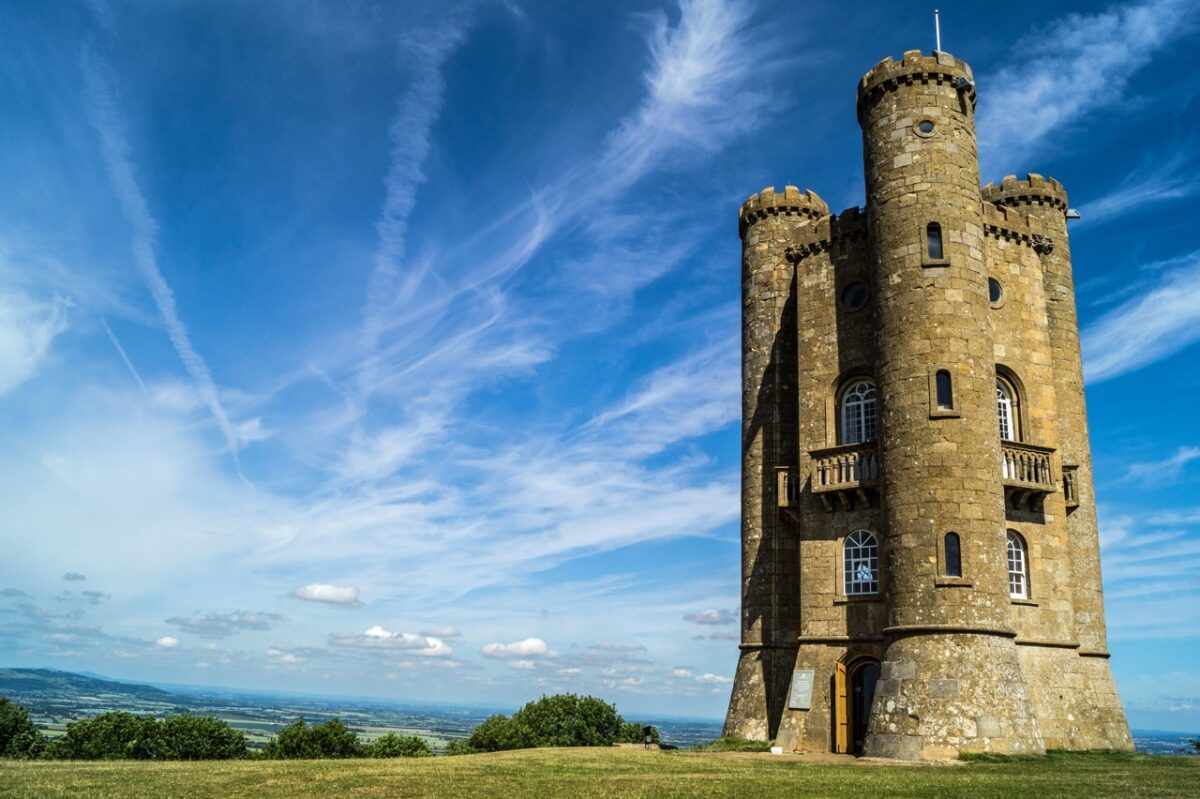 Where to eat in Broadway: For the quintessential English meal be sure to head to Russell's Fish & Chips, located inside a classic Cotswolds Stone house.
Where to stay in Broadway: There's no better place to stay than the Olive Branch Bed & Breakfast, just a short walk outside the village centre. Contributed by Wendy Lee Empty Nesters hits the road
Cambridge
One of England's oldest cities – and famously home to one of the oldest universities in Europe – pretty Cambridge isn't just for students. Set in East Anglia, around an hour from London by train, it's perfect whether you fancy a leisurely boat ride on the river, wandering the historic streets, visiting museums or as a base to explore some of the local area (picturesque Saffron Walden in Essex is nearby, as well as Ely with its famous cathedral).
You can't visit without taking in some of the university buildings and the city's history: you'll find plenty of tours to choose from including free walking tours, self-guided audio tours and ones run by former students.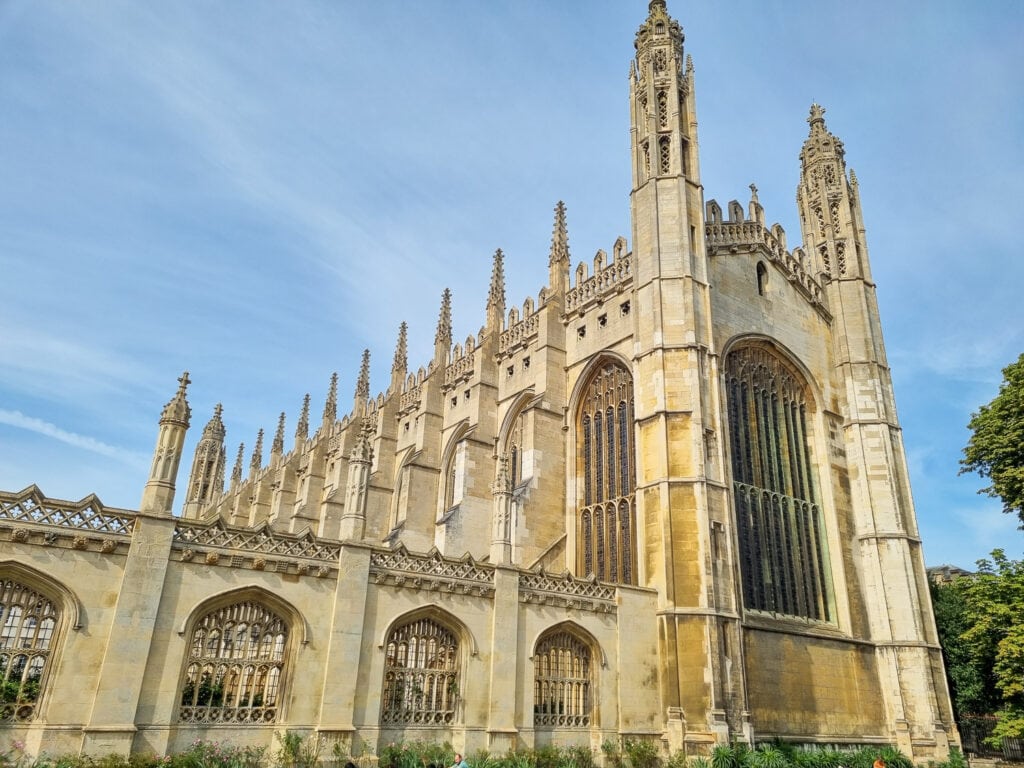 Finish by climbing St Mary's Tower for the fantastic views.
Save some time for a punting trip along the River Cam as well: perfect on a sunny summer's day, it's still fun wrapped under a blanket in chillier weather. If you don't fancy doing the work yourself, you can hire punts with a guide as well.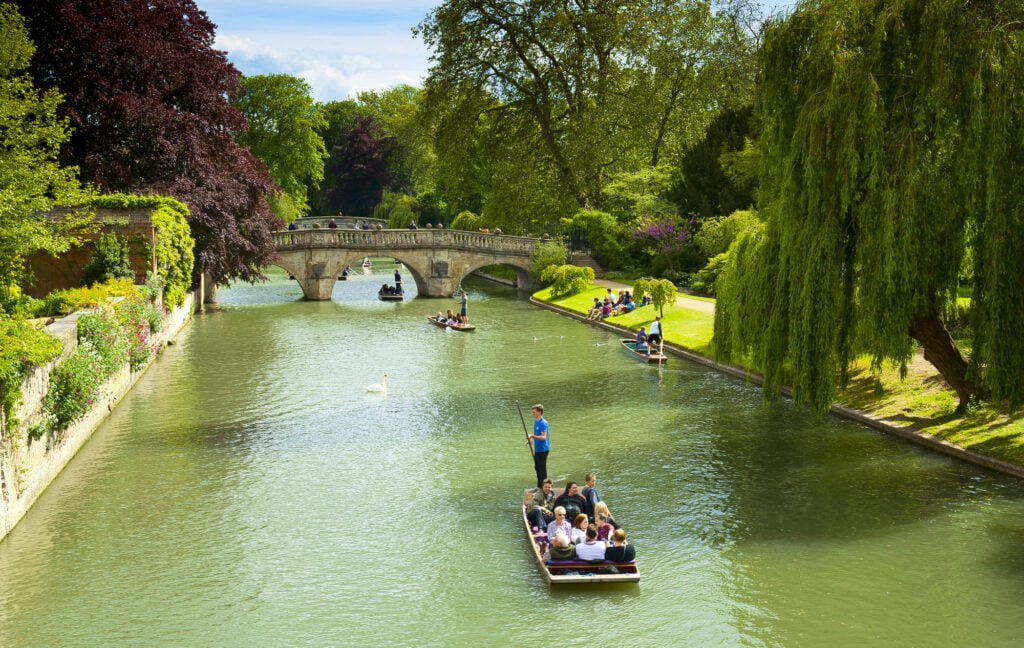 Containing art and antiquities from different cultures around the world, the Fitzwilliam Museum is unmissable – and even better, it's free to enter, as well as winning awards for accessibility.
If you love the natural world, the Museum of Zoology contains specimens found by Darwin (while the Sedgwick Museum of Earth Sciences has prehistoric creatures too), and the Museum of Archaeology and Anthropology looks back over two million years of human history
Where to eat in Cambridge: You'll find some great places to eat as well, from traditional English pubs to Michelin-starred Midsummer House and street food, like the ever-changing pop-ups of Food Park.
Treat yourself to afternoon tea at Fitzbillies too, founded in 1920 and famous for its sticky Chelsea buns, or one of the quirky ice cream flavours from Jack's Gelato, with options like yuzu sorbet alongside dark chocolate and sea salt.
Where to stay in Cambridge: You can even theme your stay around university history: at The Fellows House – part of the Curio Collection by Hilton – everything from room types to cocktails are inspired by Cambridge's most famous alumni and it's around 10 minutes walk from Jesus Green and the city centre. Contributed by Cathy of Mummy Travels.
Canterbury
Canterbury is an adorable market city in southeast England, between London and Dover, most famous for its cathedral and for being the protagonist of the Canterbury Tales, a collection of twenty-four stories written by Geoffrey Chaucer all the way back in the 14th century.
Nestled in the county of Kent, Canterbury can be reached from London St Pancras in less than an hour. However, trains leave from other London stations as well and some of them take almost double.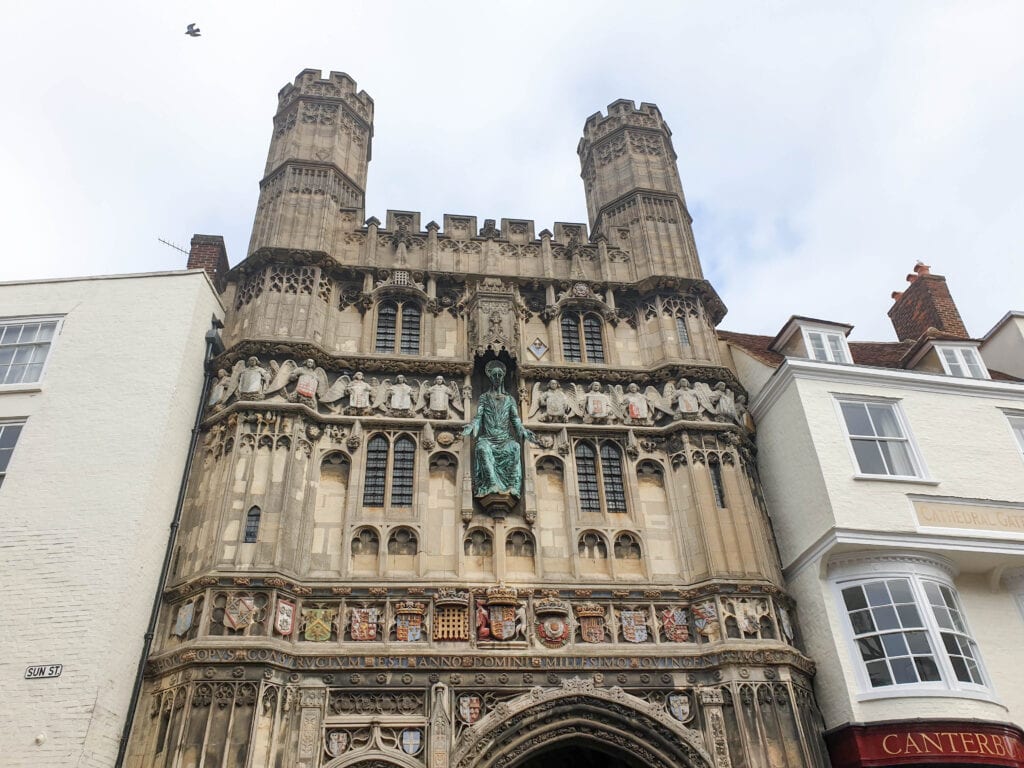 So when planning your day trips from London, it's best to check train schedules twice and arrive at the station with plenty of time in advance, so you won't end up stuck on a train for longer than expected.
Among the top attraction in this UNESCO World Heritage City, besides the cathedral, are the Westgate Garden, one of England's oldest parks, and the Marlowe Theater, named after the playwright Christopher Marlowe, one of the most famous Elizabethan playwrights, alongside Shakespeare.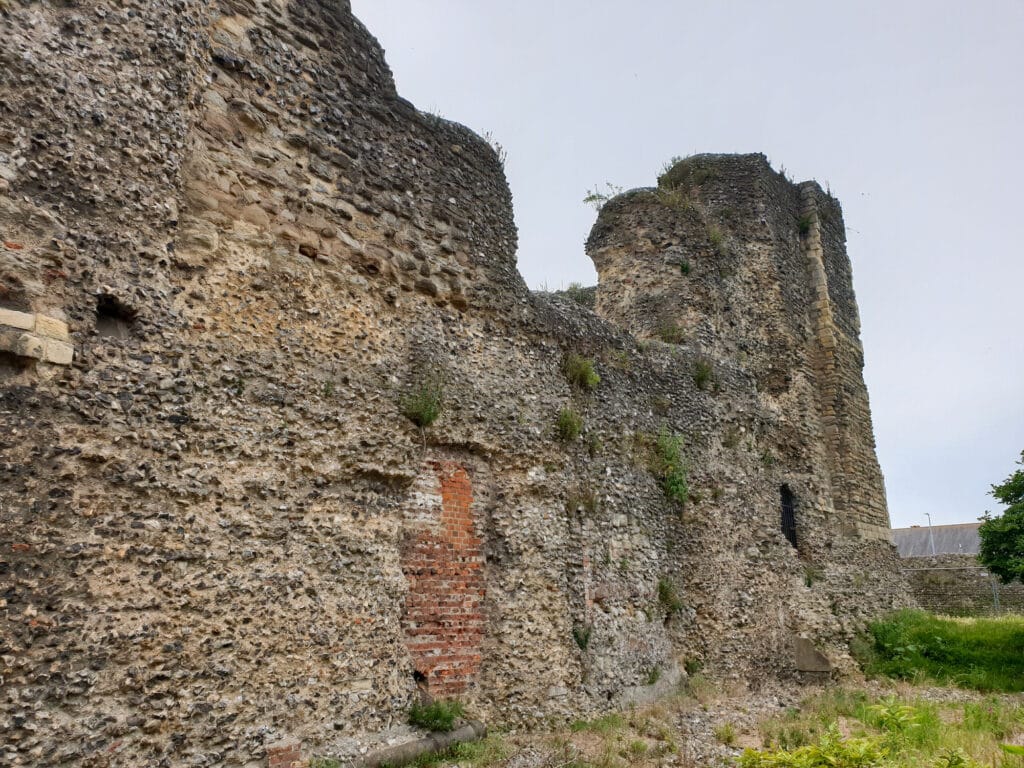 Canterbury is a pretty city that managed to preserve much of its medieval charm intact. So it's just perfect if you want to stroll around, go shopping, get lost on purpose and enjoy a drink in one of the many local pubs.
Where to stay in Canterbury: Of course, if you'd like to spend the night in Canterbury, the Ebury Hotel Cottages and Apartments is set within a Victorian townhouse and only a few minutes from the centre and the nearly 1,500-year-old cathedral.
Where to eat in Canterbury: For an Insta-worth lunch that's not only pretty but also healthy, stop by Kitch. Their menu is crammed with homemade soups, quinoa dishes, and delicious turmeric, matcha, and charcoal lattes.
For later on in the day, if you fancy something a little different, stop by The Lady Luck, a rock n' roll bar in the heart of the city known for their live shows. Contributed by Laura of Travelers Universe.
Chester
If you want to visit one of the most charming medieval cities in England which is just a short drive from beautiful beaches and waterfalls in Wales, look no further than Chester.
This city is situated along the River Dee which starts in Snowdonia National Park in Wales and continues via the cathedral city – Chester.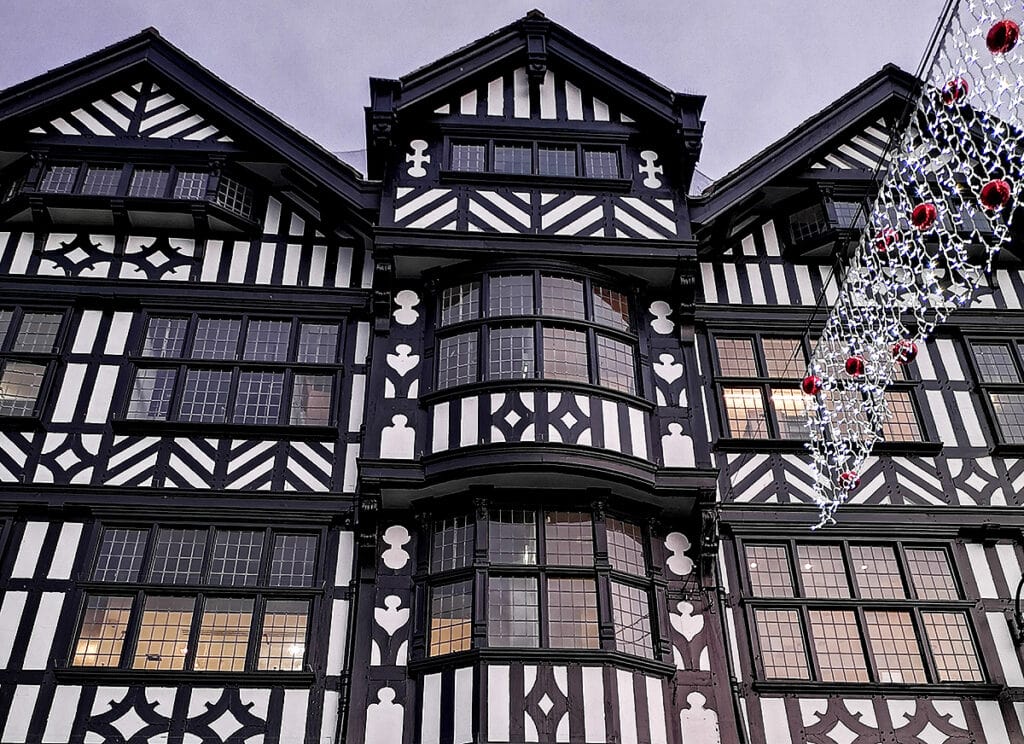 One of the best things to do in Chester is a city cruise which will allow you to admire this incredible city from the water. Sailing under the Queen's Park Suspension Bridge which reminds me of London Bridge is an amazing experience when visiting Chester.
However, you cannot also miss the Roman Amphitheatre or Chester Cathedral which are the top attractions in the city. Then, walk around Chester city walls which are one of the best-preserved in the UK. You will also love all black and white buildings which make Chester stands out among the other cities in the country.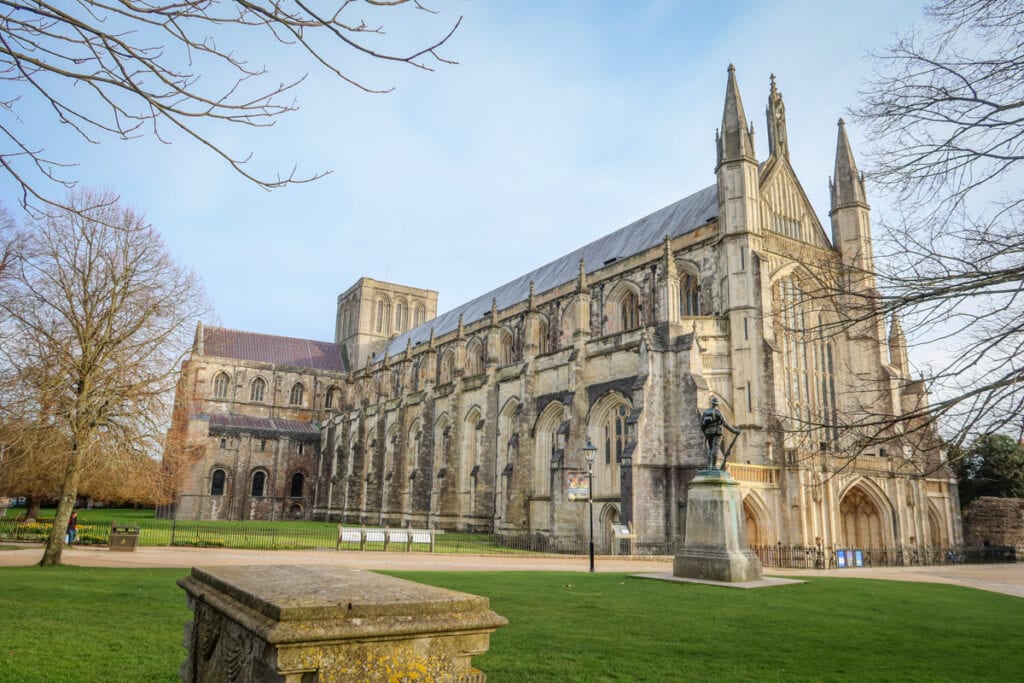 There are many riverside cafes and restaurants where you can relax on rainy days and still admire beautiful views. One of the best in Hickory's Smokehouse Chester, which is located between Chester Roman Gardens and River Dee.
The city is walkable so it is easy to see many amazing places on a day trip such as Chester Roman Amphitheatre or Grosvenor Park. However, if you would like to stay longer in the city, choose one of the 5-star award-winning hotels like The Chester Grosvenor.
Chester is also a great place to visit on a day trip from Liverpool or Manchester. Within less than 1 hour drive, you will get to one of the most vibrant cities in northwest England. It has many amazing shops where you can find everything from clothes, and books to indoor plants. Chester is undoubtedly a shopping paradise with plenty of independent businesses which makes this city so unique!
Where to eat in Chester: Chester brewery Spitting Feathers has turned an atmospheric Jacobean hall into a real ale pub, with dishes such as braised beef and pork & apple sausages with mash and onion gravy, or beer battered haddock with chips. Local ingredients are key.
Where to stay in Chester: The Chester Grosvenor offers the ultimate traditional, luxury hotel experience. Firstly it looks the part, with a half-timbered facade. Added to that you have over twenty years of Michelin starred cooking, a comprehensive spa and modern, yet elegant interiors. It's also right in the centre of town, so it's one of the best places to stay in Chester if you're just here for a short break. By Paulina from ukeveryday
Leeds
Leeds, located in West Yorkshire, is a great destination to visit as a city break as there are plenty of things to do in the city centre as well as its surroundings. Some unmissable attractions in Leeds for art lovers are Leeds City Museum and Leeds Art Gallery which is connected to the city's main library.
If you prefer shopping, the shopping options in Leeds are endless. In the city centre, you'll find Leeds Trinity and Victoria Leeds with numerous high street brands. However, if you love supporting local small independent shops, head to the arcades and the Corn Exchange.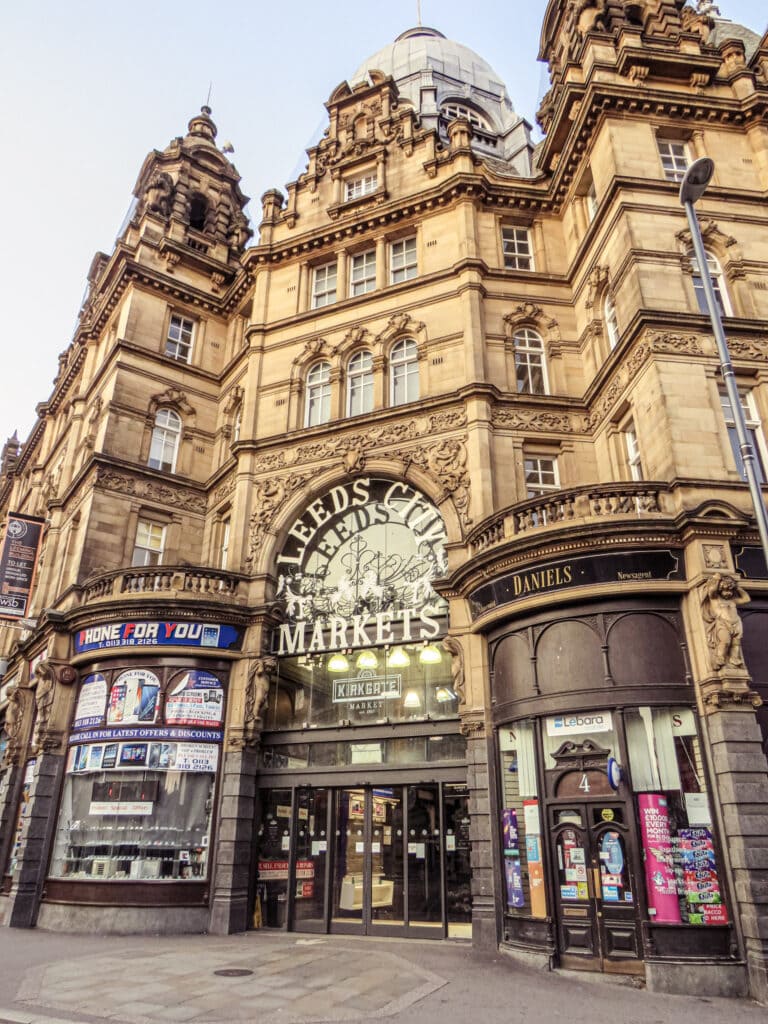 Outside the city centre, there are beautiful parks you may want to check out. For example, Roundhay Park is one of the biggest city parks in Europe. It has a lovely lake, walking trails and a cute cafe overlooking the lake.
Some of the best things about the city are that most attractions are close to each other so you don't need to use public transport, and there are plenty of free activities to do in Leeds.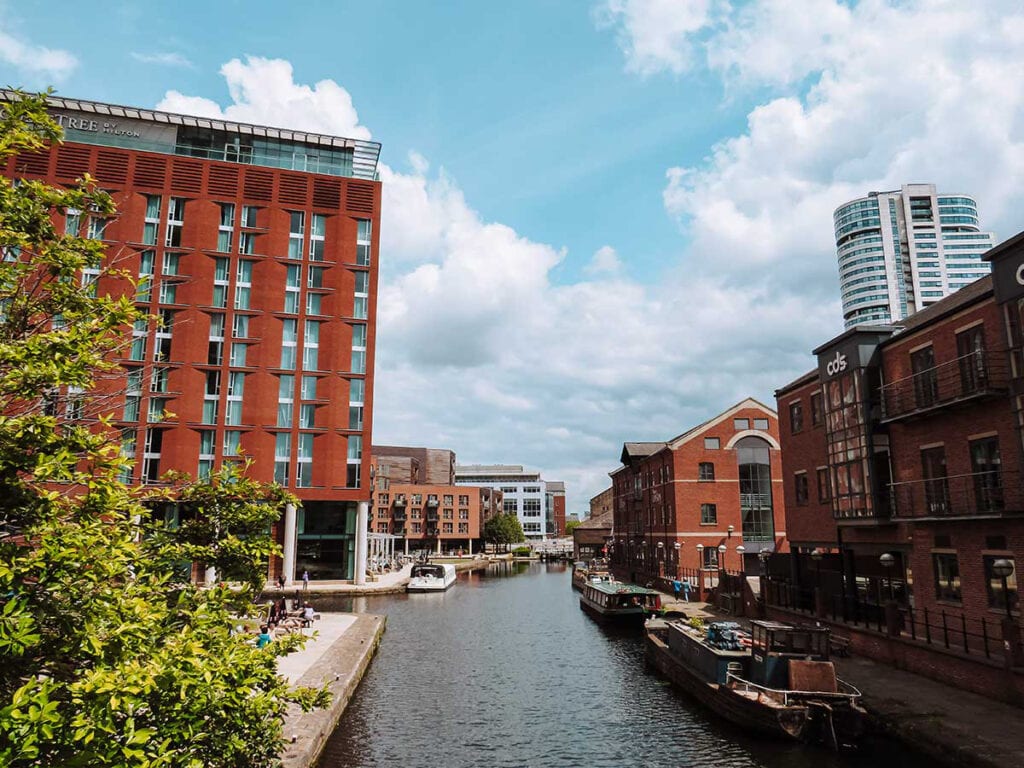 Where to eat in Leeds: If you are in Leeds in summer check out ChowDown an open-air street food market. Its mix of weekly changing street food traders, cocktails and craft beer serves up a vast variety of specialities from Sri Lankan to Middle Eastern. Many cafes serve delicious breakfasts and brunch. IF Call Lane is one of the best places to have breakfast – delicious eggs benedict, breakfast burrito and pancakes.
For a quick lunch, visit Leeds City Market or Trinity Kitchen which is home to many stalls with different types of food (Mexican, Asian, etc.)
Elsewhere in Leeds, street food fans should also check the indoor hubs, Assembly Underground and Trinity Kitchen, as well as the permanent Vicar Lane home of one-time truckers Pizza Fella, purveyors of outstanding wood-fired pizza.
Where to stay in Leeds: If you are staying in Leeds for longer than a day, The Queen's Hotel and Dakota are excellent options. Both are in the heart of the city and provide outstanding service. For a more budget-friendly option, EasyHotel is for you. By Cristina of My Little World of Travelling
Lincoln
Lincoln England is a cathedral city and the county town of Lincolnshire in the East Midlands. Its origins can be traced back to the Iron Age, but it first came to prominence when it was settled by the Romans who built a fortress there.
Today, Lincoln's rich history and architectural landmarks are just one reason to visit. You can see probably one of the most famous documents in the world the Magna Carta at Lincoln Cathedral.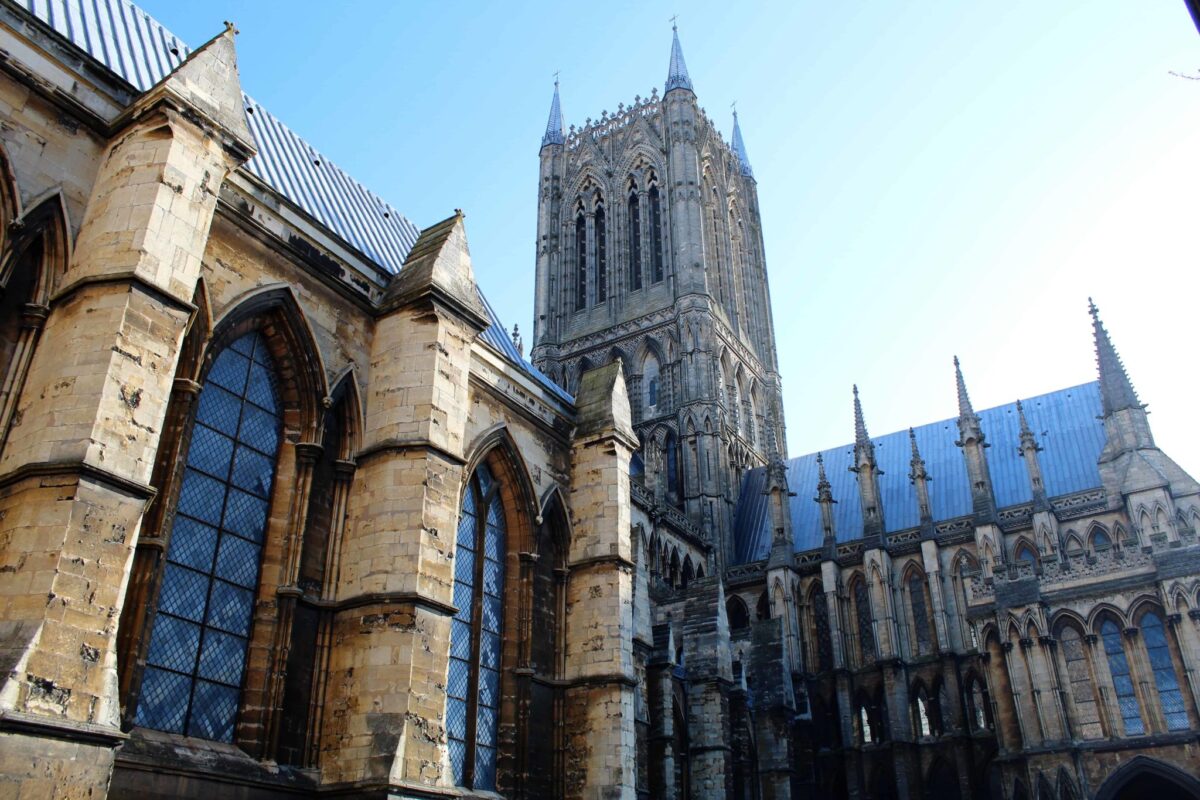 Visit Lincoln Castle where you will find law courts which are still in use today, and a three-storey stone prison built in 1787 and used until 1868.
The prison is home to a 19th-century chapel with individual enclosed seats, the only one of its kind remaining in the world. As you walk around the prison, it might start to feel a little familiar. It has been used several times as a film location, most recently for Downton Abbey.
Undoubtedly, Lincoln's main attraction is its cathedral, built in the 11th century in the English Gothic style. It stands on a hill, the highest point for miles around (Lincolnshire is famous for being flat.)Today, it is the third-largest cathedral in the UK after St. Paul's in London and York Minster.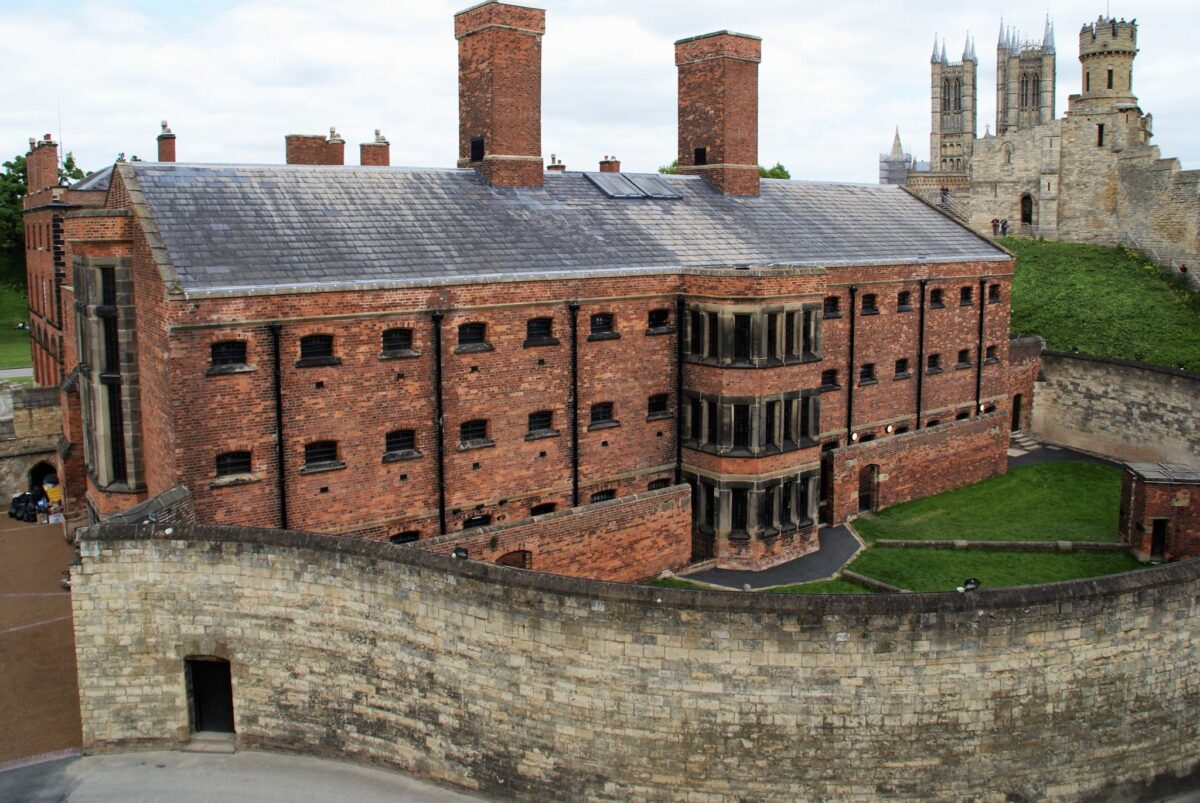 Where to eat in Lincoln: Stokes High Bridge Café – The High Bridge, built over the River Witham in around 1160, is the only Medieval bridge in England with houses still on it. Stokes High Bridge Cafe Lincoln is steeped in history and has been standing since 1540. Soak up the atmosphere as you sample a delicious brew, a mouthwatering afternoon tea or a lovingly prepared meal all served by friendly staff in their authentic workwear and period dress.
Where to stay in Lincoln: Washingborough is a family-run Georgian manor set in secluded grounds only 4.8 km from Lincoln and has an AA rosette award for its food. Free WiFi and free private parking are available. Washingborough Hall Hotel is a beautiful Grade II listed manor. It is over 300 years old but has many modern comforts.
Liverpool
Mention Liverpool and most people instantly think of The Beatles and Liverpool Football Club. However, there is a lot more to the UK's fifth-biggest city with a seamless mix of hipster hangouts and beautiful heritage precincts.
Liverpool is a maritime city in northwest England and has several well-preserved and historic buildings in the heart of the city centre, many of which have been granted World Heritage Status by UNESCO. Highlights include the famous Royal Albert Dock Area and the cobbled William Brown Street in the Cultural Quarter.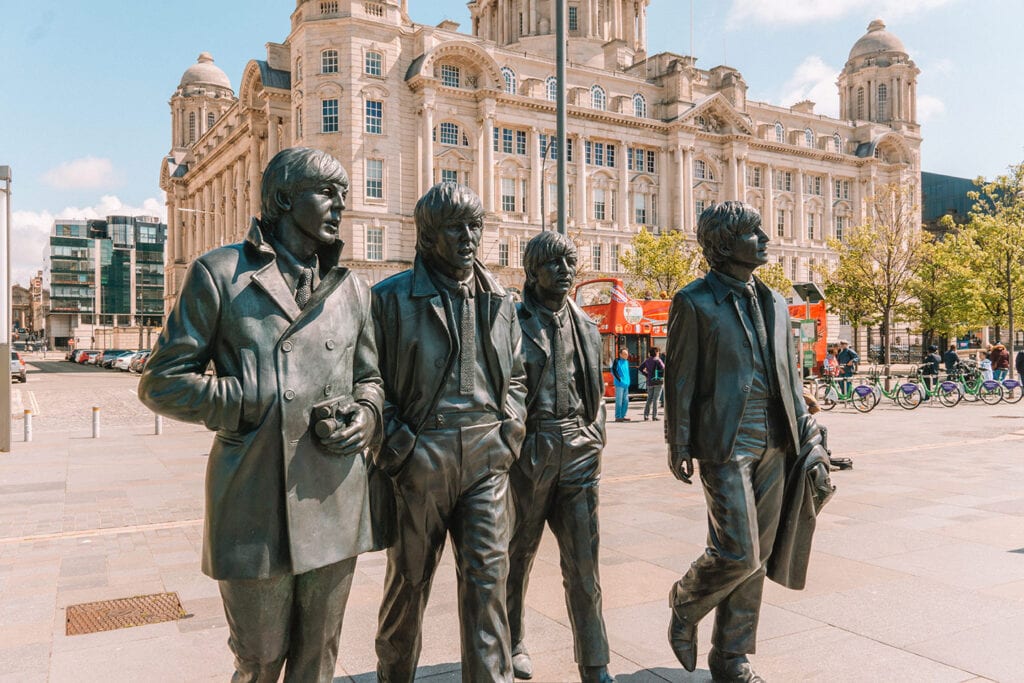 For fans of culture, there are plenty of Liverpool attractions worthy of a visit – the popular Tate Liverpool gallery is located in a Grade I listed building in the Albert Docks, whilst the Museum of Liverpool is the world's first national museum devoted to the history of a regional city (entry is free).
If you are looking for a more vibrant and urban neighbourhood then the Baltic Triangle (known as the 'Creative and Digital Quarter') is a historic area spread over several city blocks. Here you'll find cafés, bars and restaurants, as well as vintage markets and colourful street art murals.
If you have a head for heights, there is a new observation deck that has recently opened at the top of the iconic Liver Building offering amazing panoramic 360° views across Liverpool from the 15th-floor viewing platform.
Liverpool is pretty easy to reach by public transport and there are regular trains and coaches that run to the city from all over the country. There is also a small international airport.
Where to eat in Liverpool: Stop by Cains Brewery Village for some great craft beer and the Baltic Market for delicious street food.
Where to stay in Liverpool: One of the best places to stay in Liverpool is the stylish Titanic Hotel Liverpool – a converted 19th-century warehouse located at Stanley Dock, just a few minutes walk from many major attractions. Contributed by Caroline CK Travels.
Manchester
"When looking to visit Great cities in England to visit you can not afford to miss out on Manchester. Many people consider it the capital of the north and aside from being known as the birthplace of the industrial revolution, it is famous for its musical history with legendary bands such as Oasis and the Stone Roses which remain popular icons.
What makes the city great though is its ability to innovate and create new opportunities. If you love urban getaways, Manchester offers everything from cultural attractions to nightclubs, shopping centres, and restaurants all to suit its eclectic mix of visitors.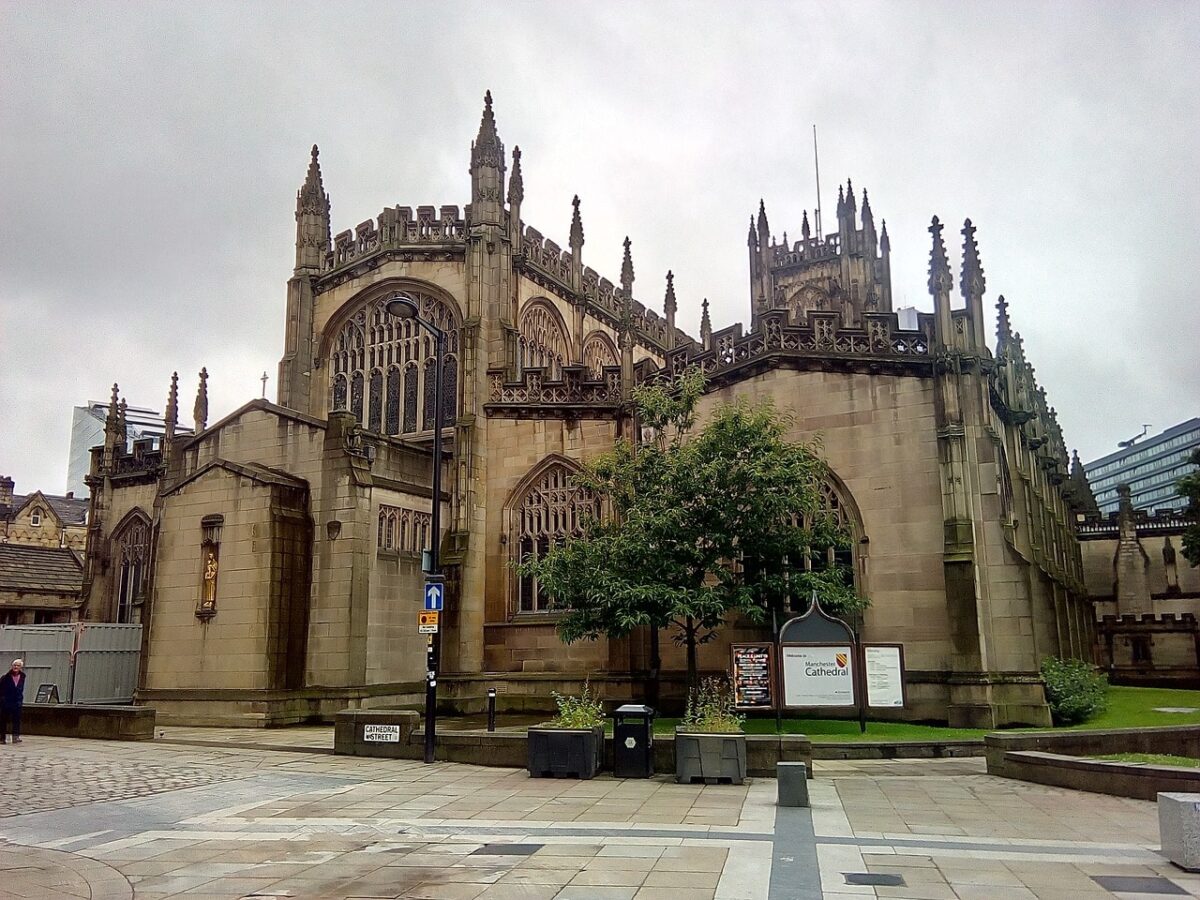 The northern quarter is an absolute must-visit along with the Manchester Craft and Design Centre which is home to over 30 independent craft stalls under one roof.
When wondering what to do in Manchester for free you can take a short walk from the Piccadilly Gardens area where you'll edge out of the city centre, towards Oxford Road where you'll reveal yet another cultural gem.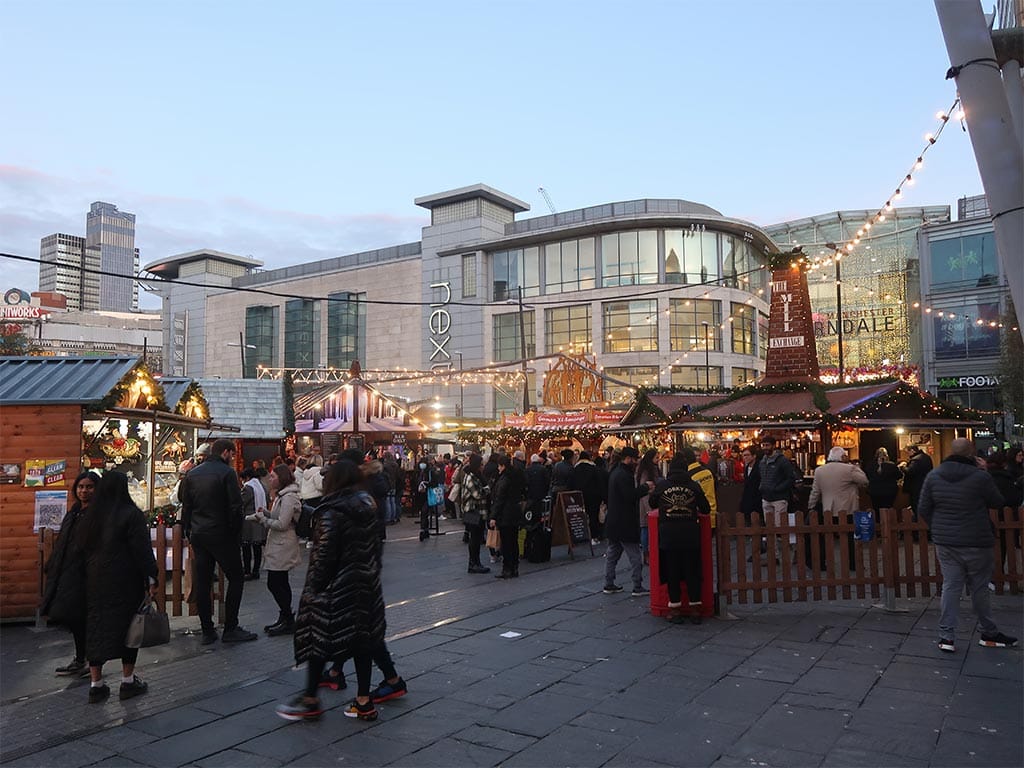 Known for its university and exuberant student vibe you can experience everything from theatres and museums as well as my favourite hotel: The Kimpton Clocktower, which is situated just a 2-minute walk from Manchester's Oxford Road train station.
Where to eat in Manchester: With a short 10-minute walk, you can get to Tattu Manchester: a restaurant that is becoming popular for its exquisite food menu. People visit from all over the UK to eat there and experience the highly modernized Chinese cuisine on offer.
Where to stay in Manchester: The Kimpton Clocktower hotel is a terracotta Grade II–listed building with a history dating all the way back to 1890. When on the lookout for ideas for the evening, a stay at the Kimpton ensures you are perfectly positioned for a night of fun on the town. All in all, there are so many reasons to visit Manchester and now you should be fully equipped to explore some of the city's best attractions. Contributed by Dan from Urban Abroad
Newcastle
Located on the Northern bank of River Tyne in North East England, Newcastle, also known as Newcastle upon Tyne, is famous for its beautiful bridges, riveting history, football, delicious food, museums and vibrant nightlife.
A mix of old and contemporary, Newcastle is undoubtedly one of the best cities in England. There are plenty of historical and cultural things to do in Newcastle to make you fall in love with this wonderful city.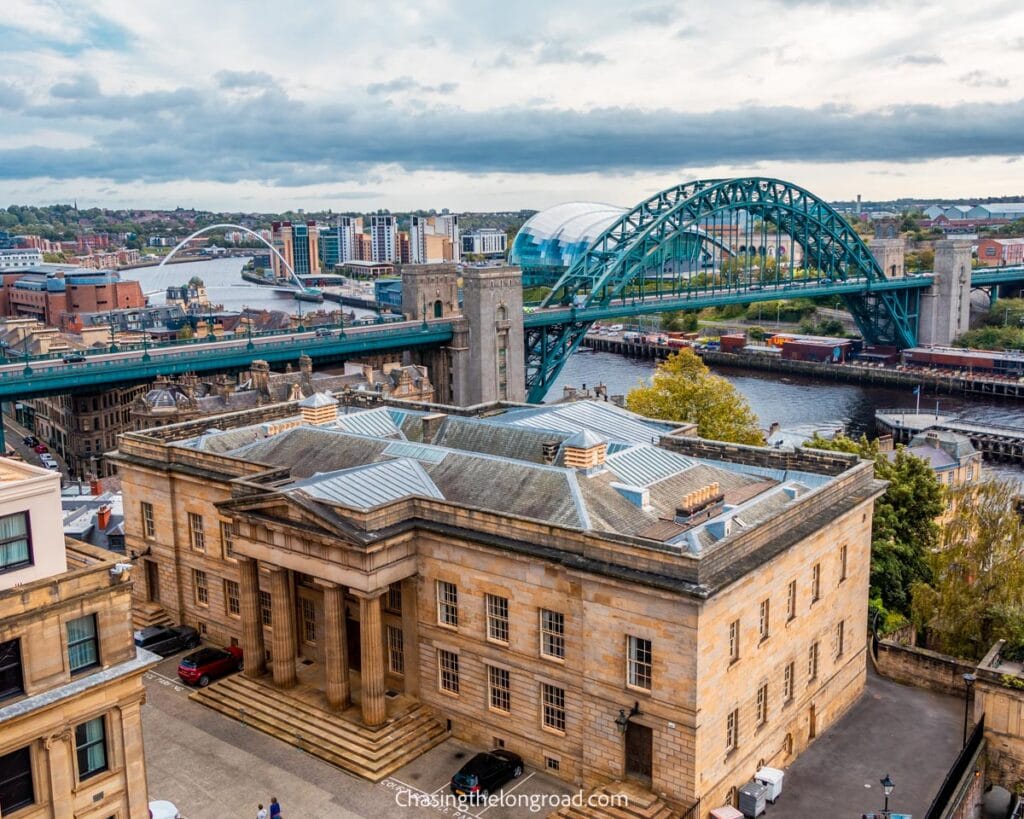 Admire the spectacular architecture of the iconic Tyne Bridge. Built in the early 20th century, Tyne Bridge spans over the River Tyne and connects with the nearby town of Gateshead. Take a wander along the bridge. From there, you will get an excellent view of the city skyline and the other bridges over Tyne.
Next, visit the historic Newcastle Castle, after which the city is named. Take a look inside this medieval Norman fortress. You can explore the castle's narrow passageways, chambers, dungeons and prison cells.
After that, meander around the historic Grainger Town to appreciate the beautiful architectural buildings and the elegant streets of the city.
Considered to be one of the finest streets in England, the bustling Grey Street has an array of shops, restaurants, galleries and cafes.
Ride a bus to visit the famous sculpture of the Angel of the North. Built by Antony Gormley, this large angel structure is 20 metres tall with a wingspan of 54 metres. The Angel of the North is an icon of North East England and a must-visit attraction from Newcastle.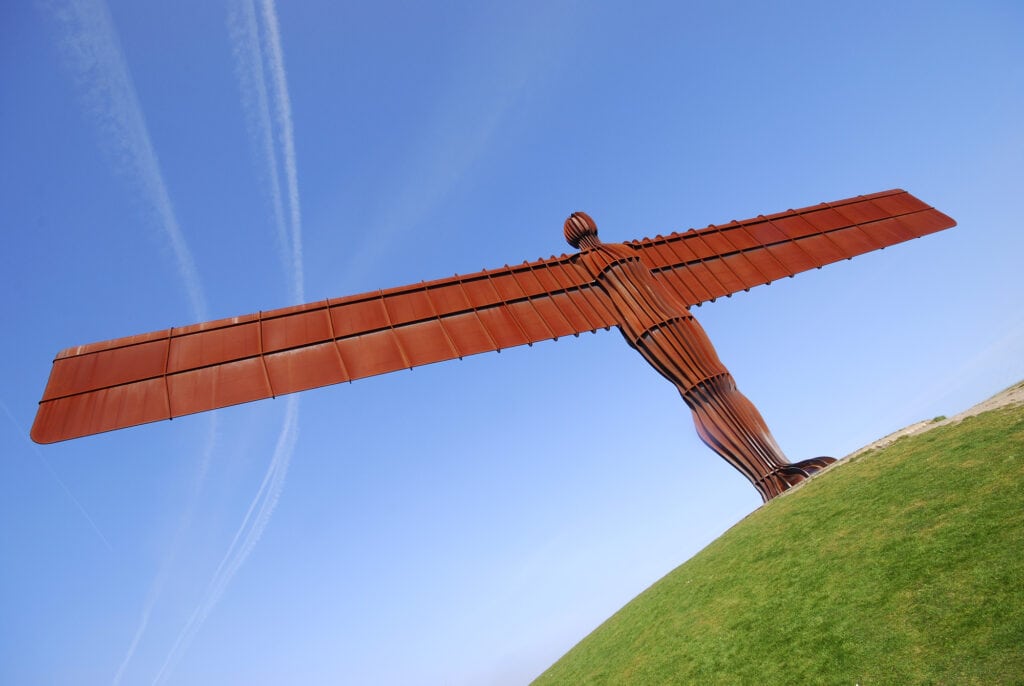 The Hadrian's Wall Path, a UNESCO World Heritage site, runs through this city. There are many free museums around Newcastle. You can see an impressive display of historical objects from Hadrian's Wall at the Great North Museum: Hancock. Art lovers will find the BALTIC Centre for Contemporary Art and Laing Art Gallery particularly interesting.
Where to eat in Newcastle: For some delicious lunch and dinner, we would suggest the Blackfriars Restaurant, which dates back to the 13th century.
Where to stay in Newcastle: We would recommend staying at Maldron Hotel Newcastle. Located at the heart of Grainger Town, all the city attractions are within walking distance from the hotel. Contributed by Moumita and Sankha of Chasing the Long Road
Norfolk
Head to East Anglia to visit Norwich, which used to be England's second biggest city after London. You can spend time exploring the historic city centre and enjoy the beauty of the Norfolk Broads, one of the UK's National Parks.
Norwich is the only city in the UK in a National Park, you don't have to go far to get to the Broads, a network of rivers and lakes. The best way to explore it is by hiring a boat. You don't need any previous experience as the speed limits are low to protect the reeds. If you need a break from the water, stop at one of the charming villages.
While in Norwich, you must visit Norwich Cathedral. It's one of the finest examples of Romanesque architecture in Europe and the most complete Norman Cathedral in England. You can go inside for free.
Just a short walk from the Cathedral, you will find Elm Hill, arguably one of the prettiest streets in England.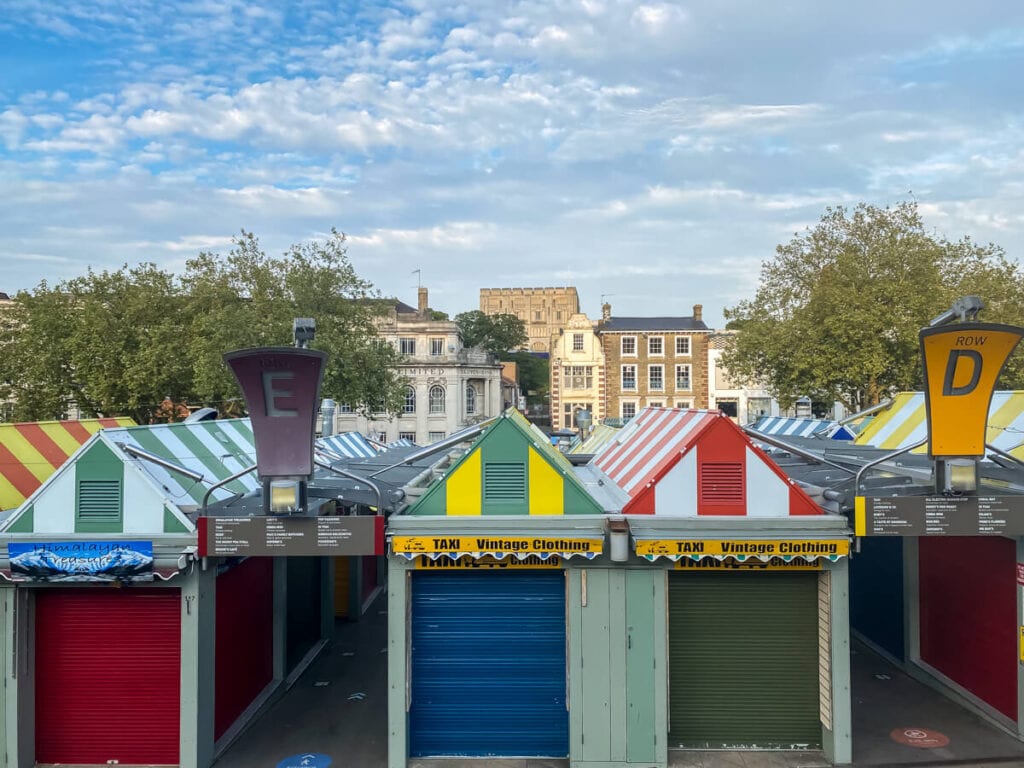 You can't miss the bright colours of Norwich Market, one of the largest and oldest outdoor markets in the country. From Norwich Market, you can see Norwich Castle, which has a museum inside.
Speaking of museums, it is worth venturing outside the city centre to check out the diverse collection at the Sainsbury Centre for the Arts on the University of East Anglia campus. Both the permanent collection and sculpture park are free to visit.
Where to eat in Norwich: Norwich is also a good destination for foodies. If you don't mind splurging, you should go to Benedicts, which is run by Chef Richard Bainbridge who you have probably seen on TV. Alternatively, head to xo Kitchen, Gem of Norwich, or Benoli.
Where to stay in Norwich: When it comes to places to stay in Norwich, the best option is the Assembly House. It's a historic building with some parts dating back to the 13th century, but it is well-maintained. You can't beat the location or their afternoon tea. Contributed by Anisa of Norfolk Local guide.
Oxford
Oxford – the city of dreaming spires, just the name conjures up strolls through the hallowed halls of learning, punting down the river, exploring all the Harry Potter or Discovery of Witches sites.
Beyond Oxford University and its stunning buildings, and Harry Potter vibes it is a city filled with world-class museums, brilliant pubs, and great sites to explore.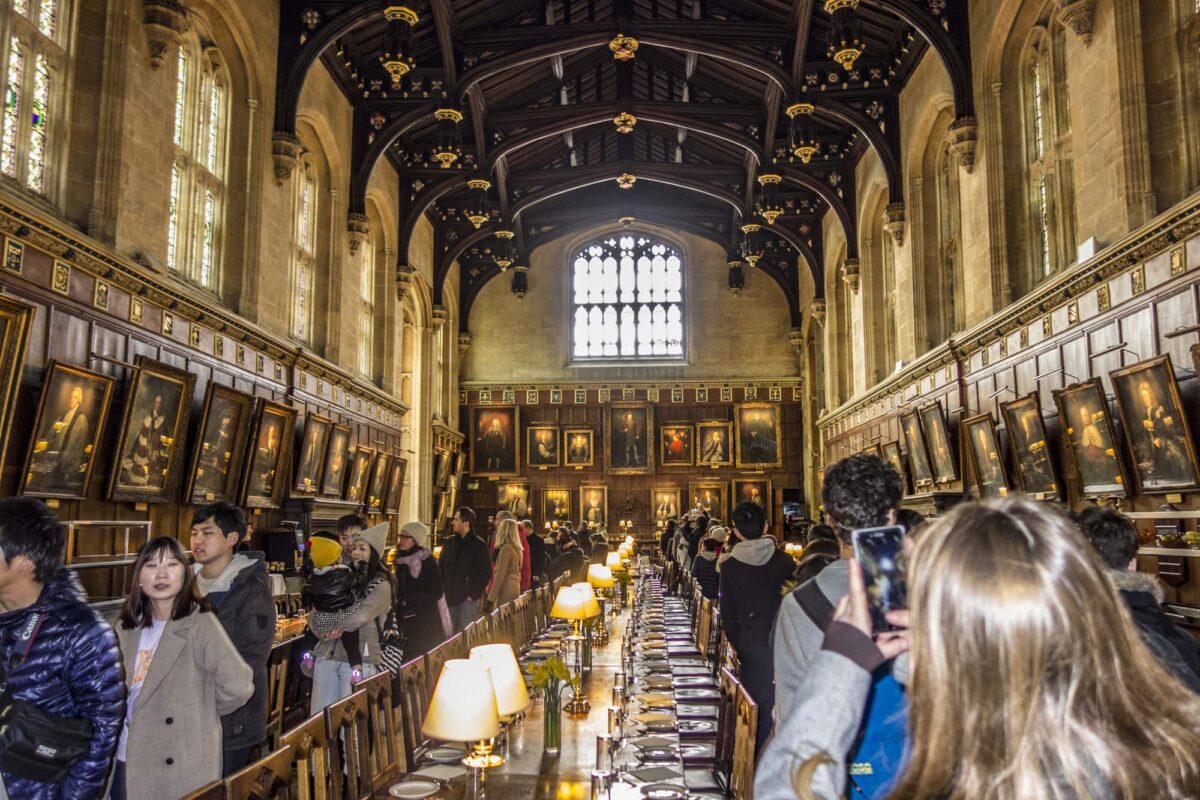 The Bodleian Library is, of course, one of the most famous libraries in the world Did you know that the library keeps a copy of every single book printed in the UK? The Bodleian is home to the Gutenberg bible, J.R.R. Tolkien's watercolours for The Hobbit, Shakespeare's First Folio, and four thirteenth-century copies of the Magna Carta.
An iconic site from Oxford is, of course, the Bridge of Sighs. Supposedly built to replicate the famous bridge of the same name in Venice it actually bears a closer resemblance to the Rialto Bridge.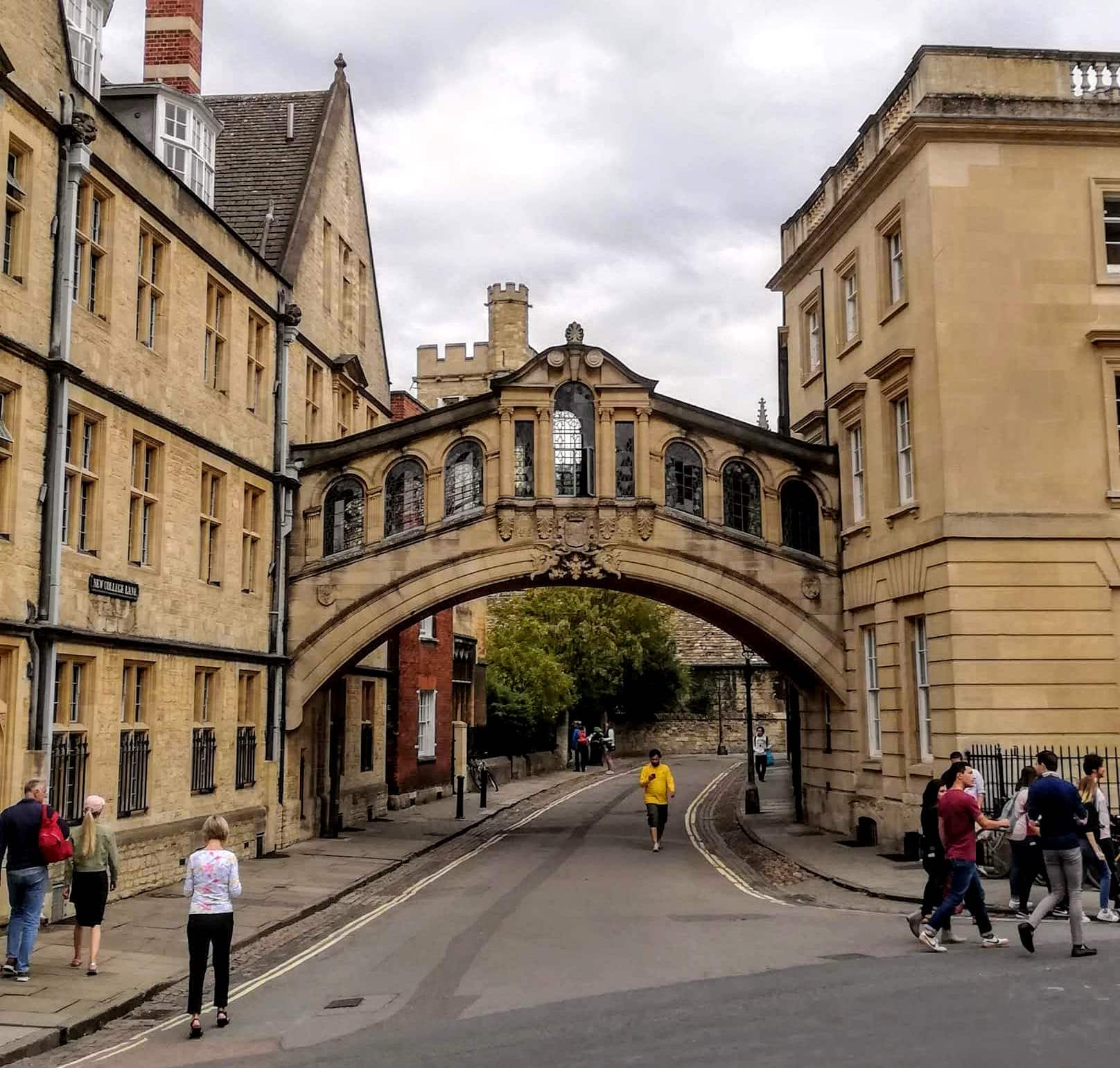 Oxford has a great selection of both chain stores and small speciality shops. If you are a Harry Potter Fan you will find plenty to buy here from a range of Potter-themed stores. There are also some amazing bookstores and of course, Alice's Shop which is an ode to Alice in Wonderland.
The Oxford Canal is a fabulous 5-mile walk and if you stroll down to the Magdalen Bridge Boathouse you can partake of that ultimate English pleasure a punt on the water.
Where to eat in Oxford: The Grand Café – Grand indeed this was England's first coffee house according to Samuel Pepys. Now you can enjoy high tea and cocktails in this tiny little cafe. Serving breakfast, lunch and high teas the range of great baked goods is overwhelming.
Where to Stay in Oxford: Malmaison this converted Victorian prison is now a stunning boutique hotel offering unique luxury accommodations in historic Oxford. Spend the night in a converted cell complete with luxurious additions.
Portsmouth
Portsmouth is a great city to visit. It's rich in maritime history, and its location on the English south coast means that you can easily combine a cultural visit with a day out at the beach. There's something for everyone here.
One of the main attractions is the Portsmouth Historic Dockyard. It contains a number of different attractions showcasing the city's role in maritime history, both past and present – you could easily spend a day here.
You can climb onto HMS Victory, the flagship of Lord Nelson and a prominent player in the Battle of Trafalgar that defeated French and Spanish naval forces in 1805. Next to HMS Victory is the Mary Rose Museum.
This is dedicated to the ship of the same name that sank in the 16th century whilst defending the country against the French. In 1982 the hull of the ship was famously raised from the seabed. You can see the remains in the museum and learn about her preservation.
There are also several other museums to visit and other ships to explore. And for children, there is a Laser Quest and a Horrible Histories Pirates exhibition.
Depending on which ticket you purchase you can hop onto a harbour tour. This is a perfect way to see the dockyard area from the water: you go past many different types of ships and get to look out to Portsea Island with its castle.
There's also an uninterrupted view of the Spinnaker Tower from the boat, another of Portsmouth's main attractions. At 170 metres high, the Spinnaker can apparently be seen from over 23 miles away.
You can go up to the observation decks to experience panoramic views of the surrounding area and from the glass Sky Deck, you can look directly down to the sea below.
For more history, there is the D-Day Museum situated towards Southsea Beach. This is worth visiting to learn more about the invasions during the Second World War. Its location means you can also visit Southsea Castle and the South Parade Pier with its small amusement park and eateries. And maybe have an afternoon on the beach!
The Spinnaker Tower is in Gunwharf Quays, a modern shopping mall with many bars and restaurants. You can shop, eat and stay here (the Holiday Inn Express is situated right in the centre of the mall).
Where to eat in Portsmouth: Within walking distance of the Queens Hotel head to the Briny Restaurant a wonderful eatery overlooking the sea.
Where to stay in Portsmouth: If you'd prefer to stay nearer to Southsea Beach, there is the Queen's Hotel, an impressively large and historic building in an area that makes it ideal for combining a trip to the dockyard with some sea air. Contributed by Emma of Travel on a time budget.
Scarborough
Scarborough North Yorkshire was one of my favourite places on the coast. It has all the traditional seaside attractions and activities from donkey rides to the penny arcade and some phenomenal seafood.
Scarborough was originally a Roman signal station in 370 AD, and then in the 10th century, it became a Viking settlement. By the 12th century, a Norman Castle was built on the headland.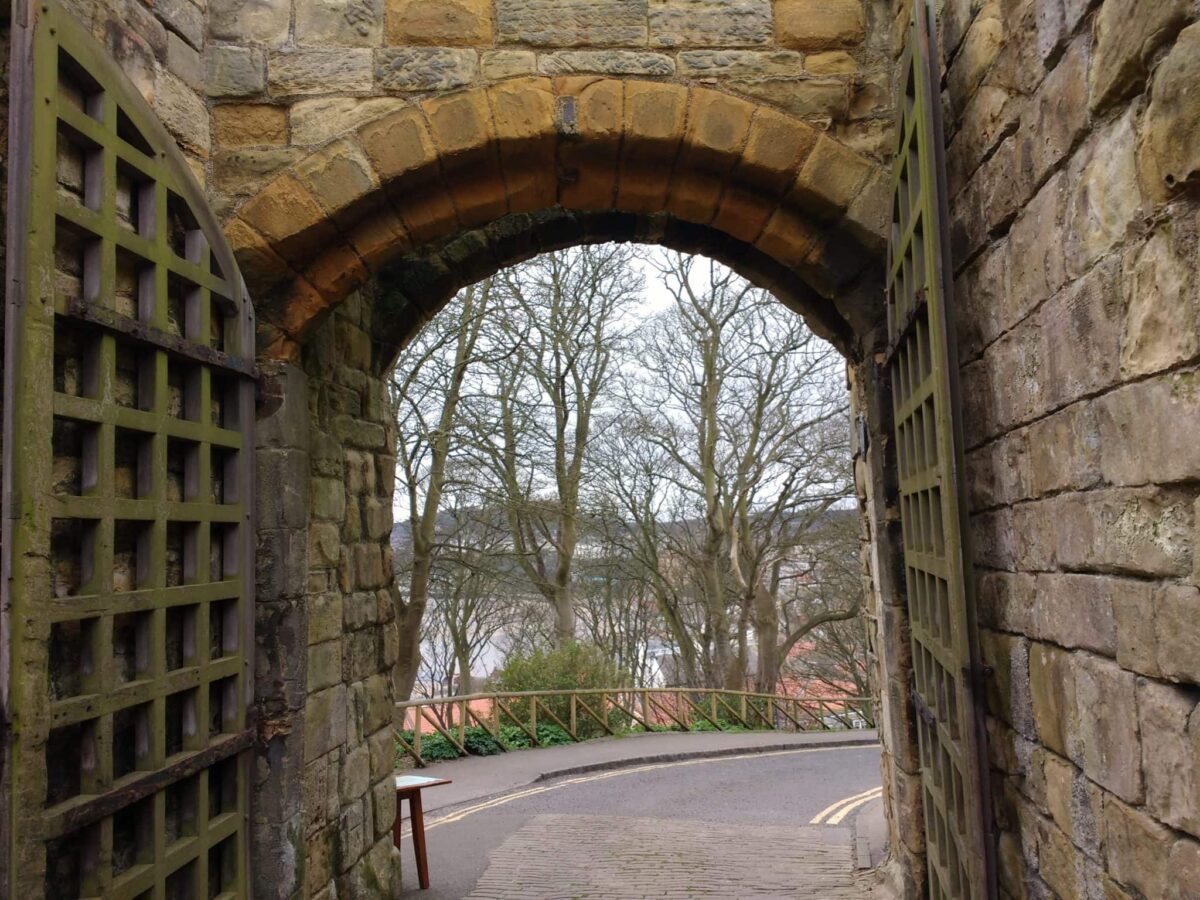 Dominating the headland – Scarborough Castle is one of the first things you notice when arriving in the town. The massive tower was built between the years 1150 and 1169 by King Henry.
If you are up visiting the Castle stop by St. Mary's Church where one of England's greatest writers Anne Bronte is buried.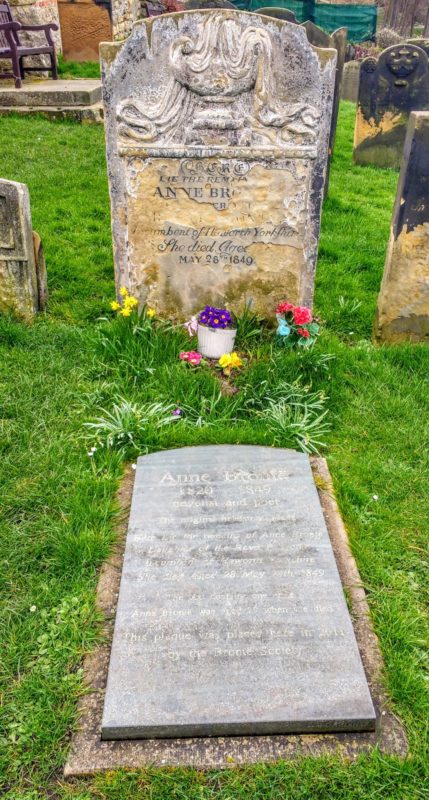 South Bay in Scarborough was the original settlement of the area and today forms the old town. This is the main tourist area with lovely beaches tons of penny arcades and children's amusements.
The Victorian Cliff Tramway is a funicular railway that links the Spa complex with South Cliff, 200 ft above the South Bay. This is the oldest surviving Tramway Company in the UK.
Where to eat in Scarborough: The Lifeboat Fish bar in South Bay is a cosy, family-run cafe serving traditional British fish and chips. Portions are generous, and you can choose from either cod or haddock, which come scalding hot in a crisp batter. The chips are always perfectly cooked – fluffy inside and crispy on the outside, and not at all greasy.
Where to stay in Scarborough: Tall Storeys is located just steps from the harbour in a Grade II listed building there are five rooms you can rent and you can also enjoy a great English Breakfast all within walking distance of everything Scarborough has to offer.
Sheffield
If you're looking to visit one of the great cities of England, be sure to consider Sheffield, South Yorkshire. Sheffield is an old industrial city that is known as the Steel city for its specialism in stainless steel.
Once a mining community, Sheffield has been redeveloped into a thriving cosmopolitan city centre and is one of the biggest cities in England. Home to two prominent universities, Sheffield is also a hit with students. The nightlife attracts revellers from around the UK, most of whom flock to West Street for the late-night bars or Devonshire Street for a quirky and alternative atmosphere.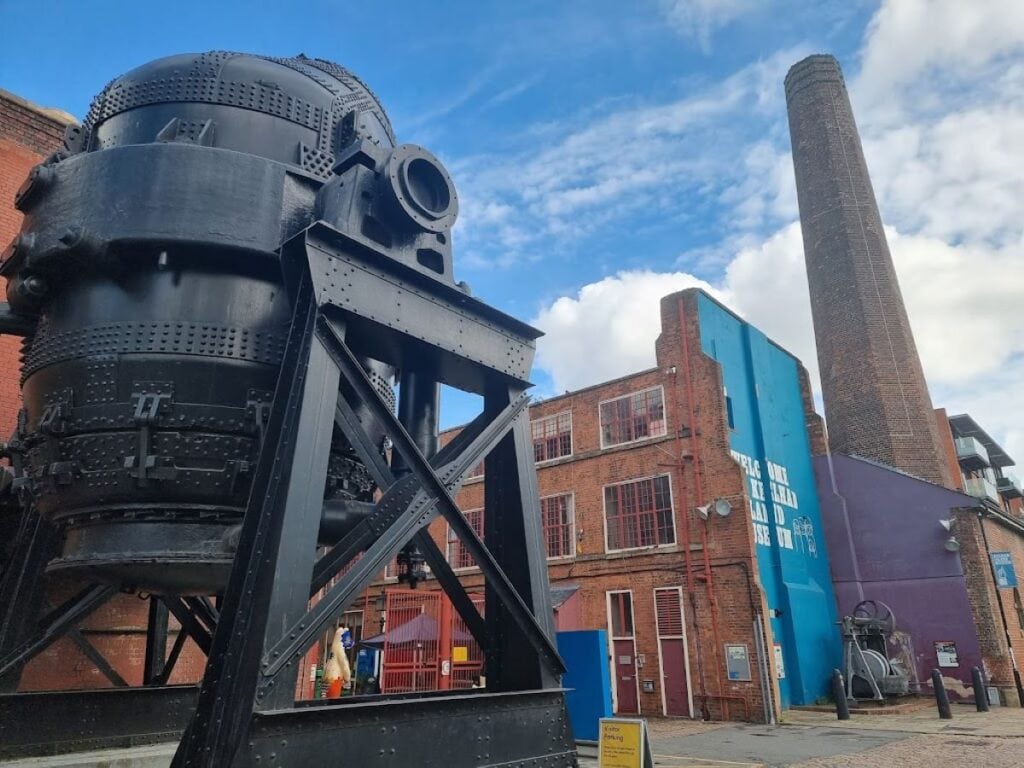 A great feature of Sheffield is the number of green spaces throughout the City. From the tropical winter garden in the town centre to the flora and fauna of the botanical gardens on the outskirts, there are many beautiful spots to enjoy the scents of nature.
There are also many public parks and woodlands, so you are spoilt for choice. Sheffield even has the vast beauty of the peak district on its doorstep. In a mere 15 minutes, you can be rambling through the countryside or exploring a local village.
There are many fun things to do in Sheffield and the handy tram service makes it easy to get around. There are two large shopping centres, Meadowhall and Crystal Peaks that are worth a stop if you need some retail therapy. Centertainment is also a popular venue as it homes cinema, restaurants, bowling and crazy golf and it's also next door to the Sheffield Area that hosts big music events and ice hockey.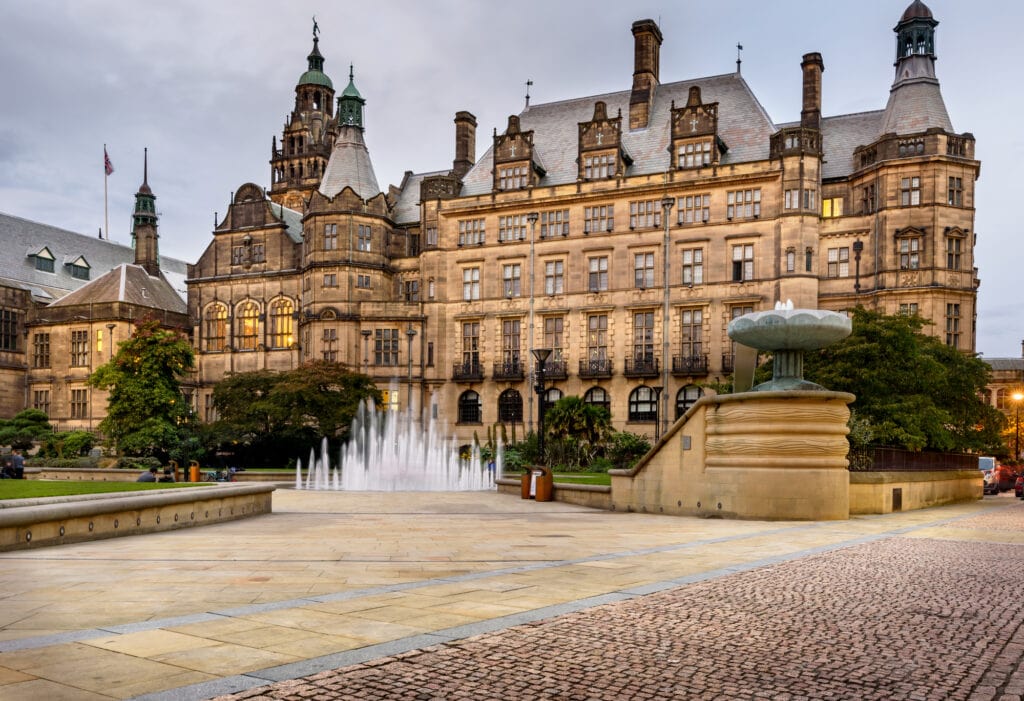 Sheffield is good to visit all year round, but in summer you will see community festivals like peace in the park pop up, to bigger events like the Tramlines or Bassfest music festivals. There are also annual Oktoberfest events and Christmas markets to turn the city centre into a thriving, fun-filled destination. Recommended by Kerry Hanson from VeggTravel
Where to eat in Sheffield: One of the coolest places to eat in Sheffield, Cutlery Works is not just the largest food hall in the city, it's the biggest in the whole of northern England. Head over to Neepsend Lane where the former factory is housing a whole load of excellent independent vendors, from artisan chocolate makers to sandwich connoisseurs.
Where to stay in Sheffield: The Florentine is a charming pub with rooms not far from the city centre. It offers eleven smart contemporary rooms with luxury accessories, excellent food in the restaurant and a great bar. The location gives great access to both the Peak District and Steel City – making this a convenient stay
Southampton
For a great city to visit in England, make your next trip to the Southern United Kingdom location of Southampton. It's easily reachable from many travel hubs, such as only being 1.5 hours away from London by train. By car, Southampton is an easy 1 to 1.5-hour drive from cities such as Bristol, Bath, Oxford and more. It's also easily reachable from the beautiful Isle of Wight with a 45min boat trip.
The first thing that comes to mind about Southampton is the shopping. There are two huge, indoor shopping malls in the city centre, one called Marlands and the other called Westquay. These are both perfect for those who love a shopping trip. You can find all top brands here but the best part is that there are lots of local boutiques that you would not necessarily find elsewhere.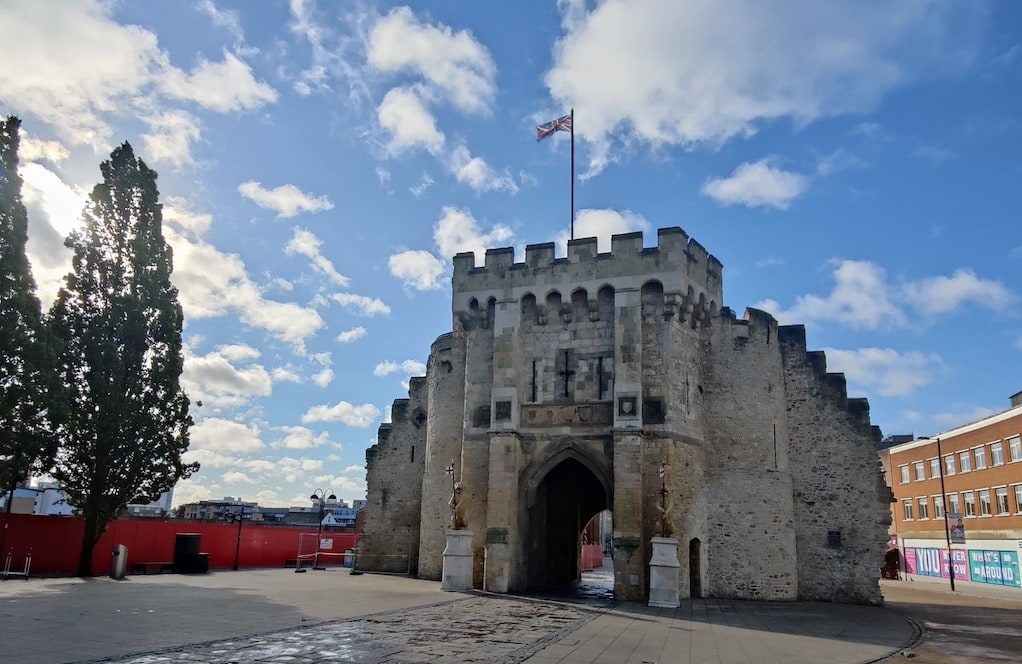 If you end up visiting while it's raining and don't want to shop, head to a local museum. Southampton is known as the place where the Titanic left the port, with the Titanic Story being a perfect place to stop if you want to learn more about the history.
Other museums include the Solent Sky Museum, SeaCity Museum and The Brickworks Museum.
Where to eat in Southampton: Once you get hungry, you can head to one of the cheap eats at the top of the Westquay Shopping Centre, where you can find all the usual takeaway and snack places. Else a personal recommendation is to reserve a table at the Coriander Lounge Indian Restaurant. It is one of the best Indian restaurants I've personally enjoyed in England.
Where to stay in Southampton: For a relaxing stay after a long day, sleep at the Leonardo Royal Southampton Grand Harbour hotel. It's just a 15-minute walk from the city centre and has large rooms and lots of daylight. The room I personally stayed in was also very clean with a comfy bed, just what you need after a long day. Written by Zoe from Together In Transit
Truro
Truro is located in the Cornwall Area of Outstanding Natural Beauty. That's right. A city in an AONB. England's most south-westerly city is also the only city in Cornwall and averages 1745 hours of sunshine a year, and that alone should make it a great city to visit in England!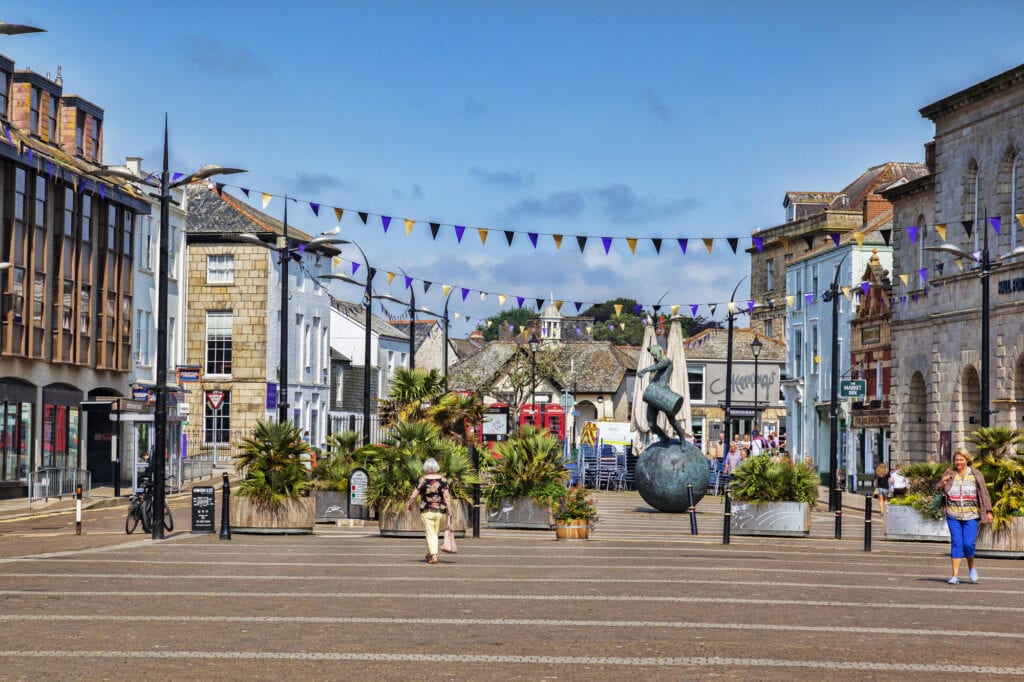 Truro has a population of around 20,000 and is the perfect English city to visit for outdoor lovers and those who enjoy watersports, beaches, and gardens. You won't find the crowds here that you do in other cities, nor in other parts of Cornwall.
One of the top things to do in Truro is to visit the stunning cathedral here, one of only three in England with three spires, and Truro's great location makes it easy to visit some of Cornwall's magnificent gardens, like Trelissick, which is less than 5 miles away.
That's also where you'll find the closest beach too. Transport links are fabulous here, there's a train station and a great bus service for national and local transport – which makes it easy to walk parts of the South West Coast path, which passes close by.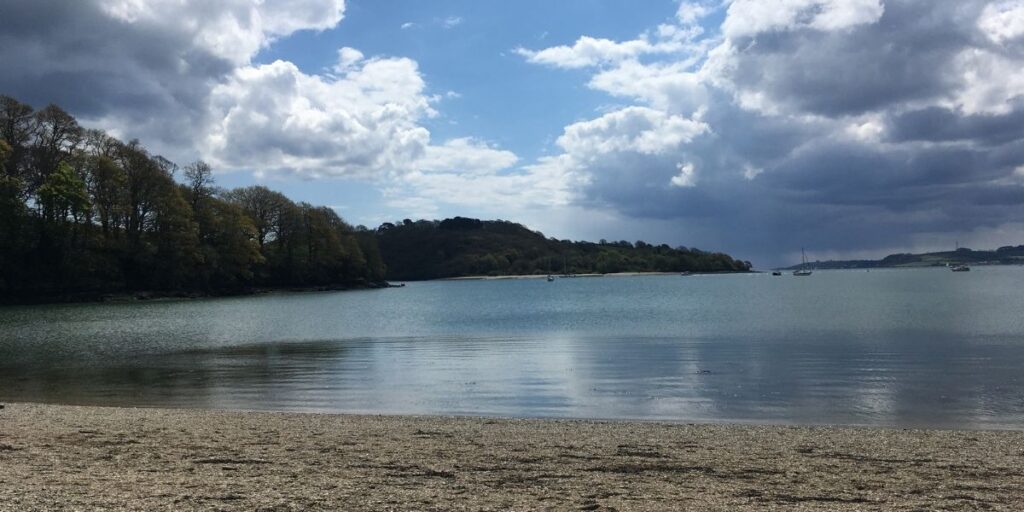 Where to eat in Truro: Be sure to visit the iconic Cornish Brewery, Skinners for a pint, and as you're so close to the coast, head to Sam's in the City for great fish and seafood dishes and lovely Cornish Pasties.
Where to stay in Truro: For accommodation, head to the Grade II listed, four-star Alverton Hotel, which is just a 10-minute walk from the Cathedral. Contributed by Sarah of Cornwalls Best.
Whitby
Whitby is a charming town, situated right on the coast it has a long maritime history and a distinct air of mystery thanks to the presence of the Whitby Abbey ruins looming over the town from the windswept heights of the headland.
Whitby was founded in around 656 when the Christian King of Northumbria founded the first monastery under the abbess Hilda. This monastery was destroyed by the Vikings and it wasn't until 1078 that another was founded. It was around this time that Whitby got its name which came from "white settlement" in old Norse.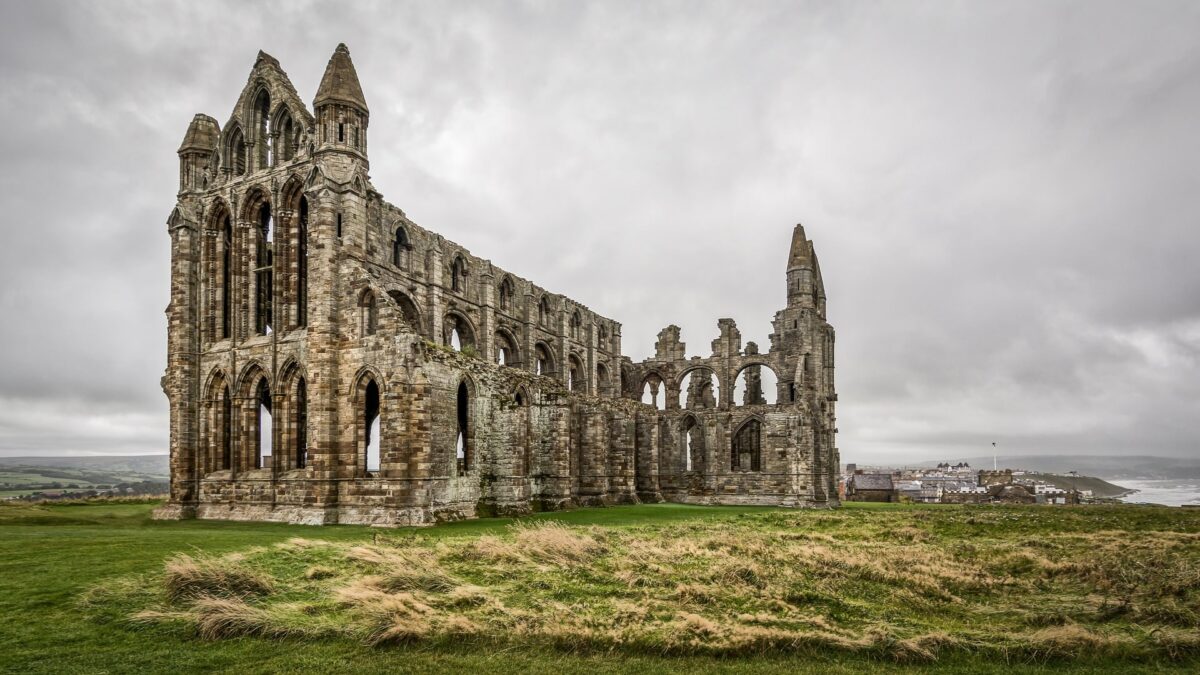 Bram Stoker was visiting from his home in Ireland and was so taken with Whitby Abbey it became the inspiration for his eponymous work Dracula.
If you start your visit to Whitby at the Abbey you can climb down the 199 steps besides St. Mary's Church or up the steps to Whitby Abbey whatever you feel capable of. You can also drive or take a bus to the small parking lots at Whitby Abbey if you can't do the steps.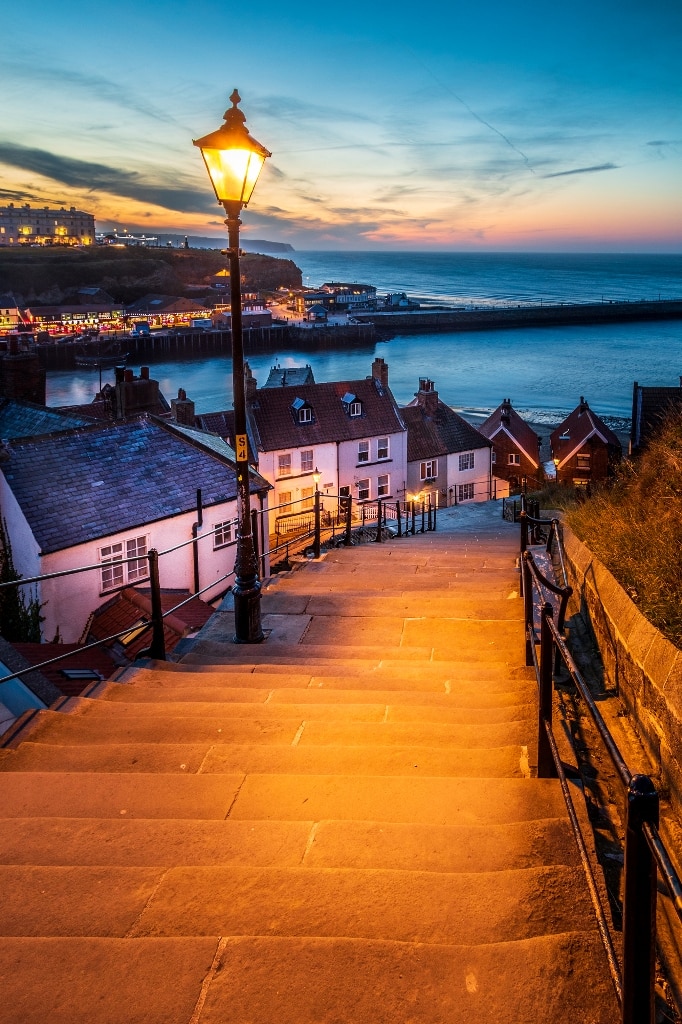 Whitby is also famous for being the place where Capitain James Cook did his apprenticeship. Captain Cook is the man famous for being the first point of contact Europeans had with Australia and Hawaii and of course the first circumnavigation of New Zealand.
The Captain Cook Museum is in a historic building on the harbourside and is the oldest surviving building in Whitby that has a direct connection to Cook.
Where to eat in Whitby: A visit to The Magpie Café is a 'really must do' when visiting Whitby. throughout Yorkshire (and beyond) to be one of the finest fish restaurants the area has to offer.
Where to stay in Whitby: Fancy a bit of luxury for your stay in Whitby? Then the Raithwaite is just the excuse you've been looking for. The 80-acre estate with its landscaped grounds is located in the coastal North Yorkshire countryside only 5 minutes from Whitby.
Winchester
Take a step back in time to historic Winchester. Located an hour's train ride away from London in Hampshire, this charming city makes for a perfect weekend getaway.
A statue of King Alfred the Great welcomes new arrivals in the town square. The monument reminds visitors that Winchester used to be the capital city – long before London held this distinction. Alfred served as the King of Wessex before going on to become King of the Anglo-Saxons in 886.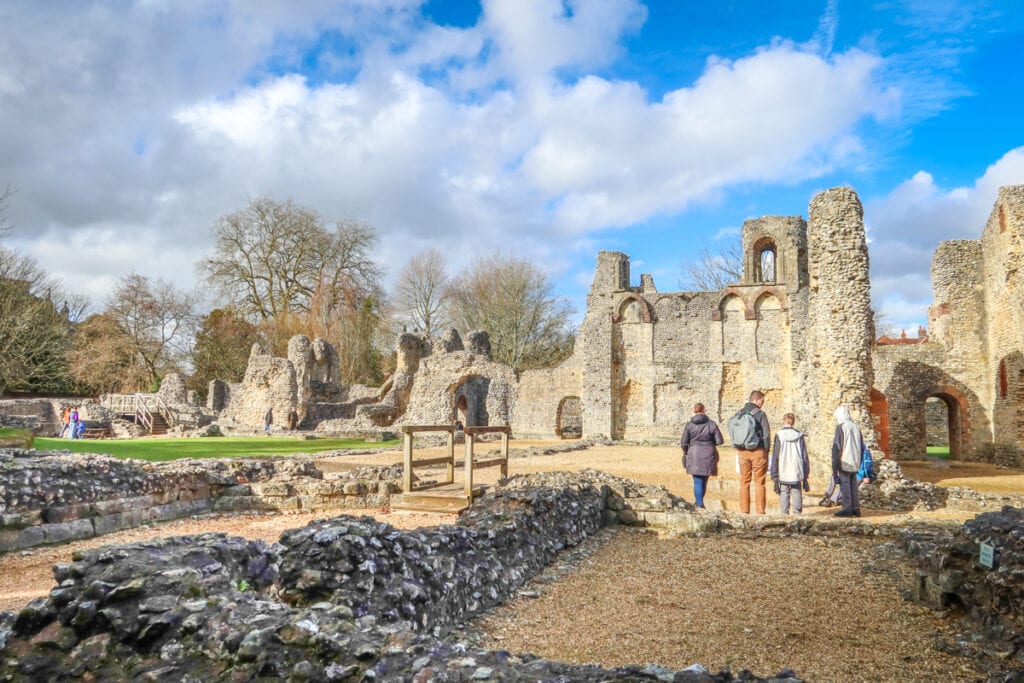 One of Winchester's must-see attractions is the Winchester Cathedral. This magnificent gothic building is the longest medieval cathedral in the world. While a church of this magnitude may seem out of place in a town of this size, it demonstrates Winchester's historical significance.
Highlights of the Winchester Cathedral include Jane Austen's monument and gravestone, along with a shrine to St. Swithun.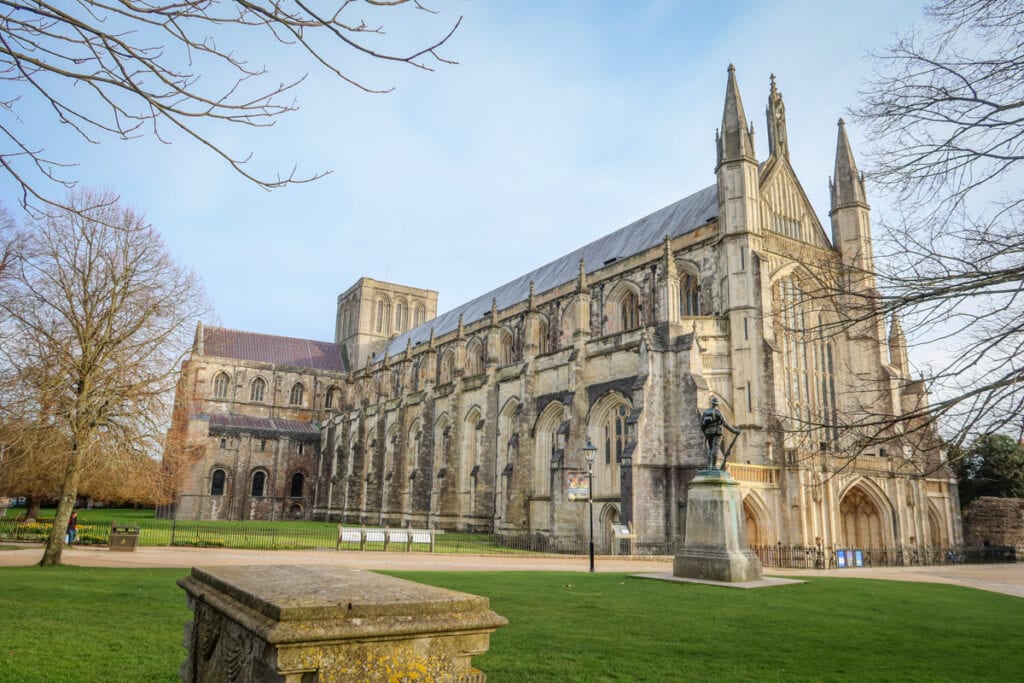 Other landmarks nearby include Winchester College, Wolvesey Castle and Winchester Palace. All that remains of the palace these days is the Great Hall. Here visitors can see a round table constructed by King Henry VIII to celebrate the legendary King Arthur and his heroic knights.
Once you've tired of immersing yourself in Winchester's past, lace up your walking shoes and go for a stroll. Winchester's location near South Downs National Park makes it a great destination for a walking holiday.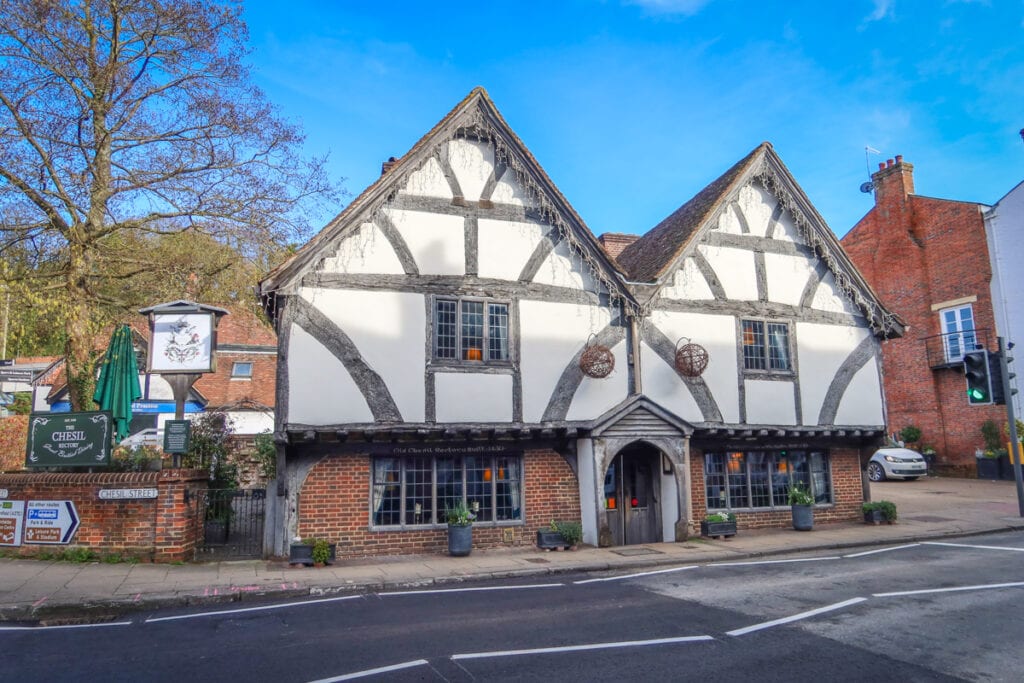 Various walks in Winchester showcase the idyllic water meadows of the River Itchen (beloved by John Keats) and rolling hills of the South Downs.
Where to eat in Winchester: During your stay in Winchester, be sure to stop by the Chesil Rectory for lunch or dinner. Originally constructed in 1425, the restaurant's building is the oldest commercial property in Winchester. Now it is a stylish upscale pub that serves a selection of high-end traditional favourites.
Where to stay in Winchester: The Winchester Royal Hotel is a well-loved and economical accommodation only minutes away from the Cathedral that makes for a great base of operations during your stay. Contributed by Katy of A Rambling Unicorn
Tenby, Wales
Tenby in Wales is a town dating back over one thousand years and still retains much of the 13th-century medieval town walls along with the Five Arches Barbican gatehouse, St Mary's Church dating back to the 15th century and the National Trust's Tudor Merchant's house, a popular tourist spot and the oldest standing building in Tenby. Aside from these, you can also visit the ruins of Tenby Castle and, if the tide is low, you could visit St Catherine's Island with its 19th-century fortification, although the fort itself is closed to the public.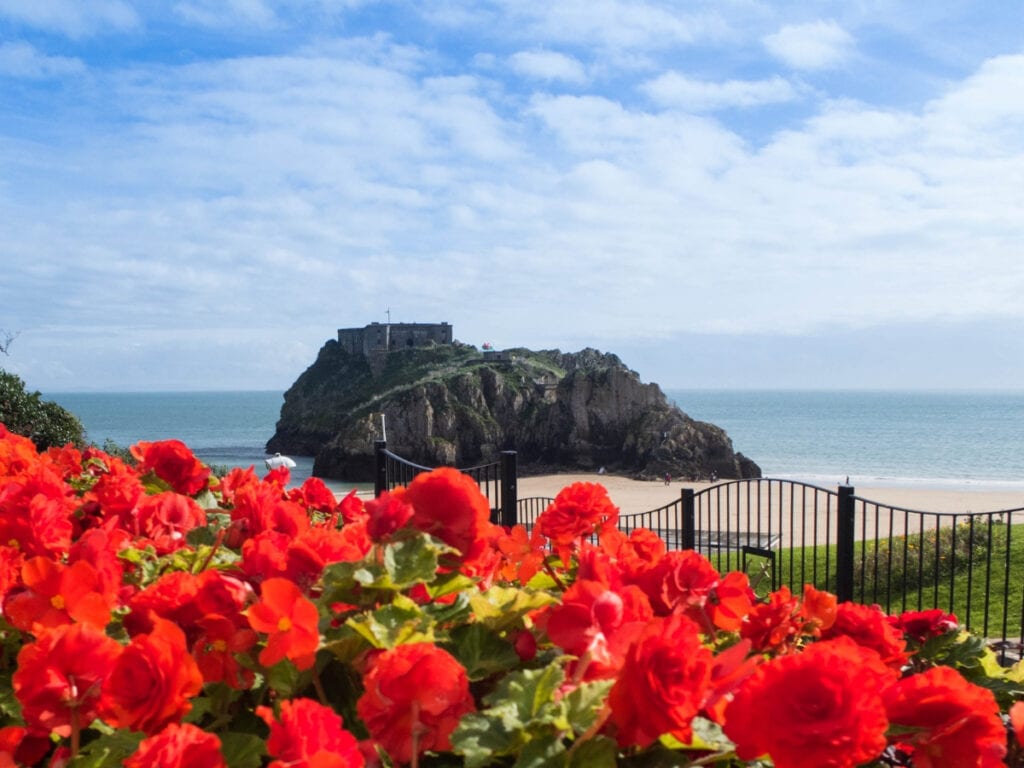 Where to eat in Tenby: D Fecci & Sons fish and chips is an institution around Tenby unrepeated anywhere else in the area. There is nothing more that says seaside than a piece of cod wrapped in batter, showered in salt and doused in vinegar, and eaten out of paper wrappings. But for those that like a more refined environment, they do have a restaurant so you can enjoy their fabulous fish and chips with a good cup of tea.
Where to stay in Tenby: Whether you're looking for a relaxing break or celebrating a special occasion, the Giltar Hotel have a warm welcome waiting for you. Their beautiful Victorian Hotel is situated on the Esplanade in Tenby, Pembrokeshire overlooking South Beach, with stunning views of the monastic Island of Caldey.
York
York is an amazing city to wander and I highly recommend spending 2 days in York and simply soaking up everything there is to do.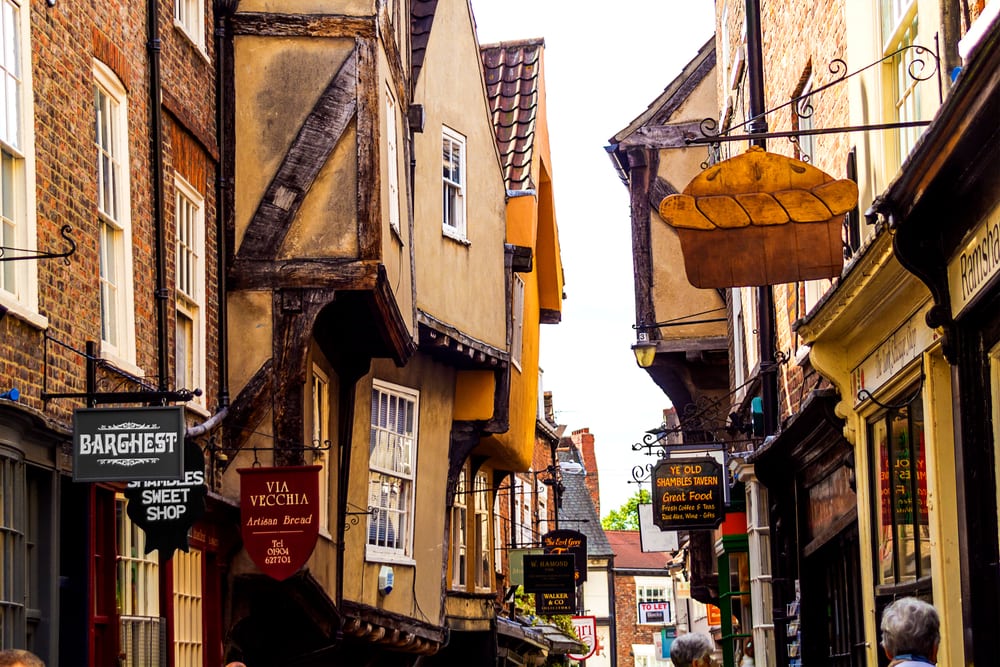 At the heart of the city lies the Shambles a maze of narrow twisty lanes at the heart of the Shambles is the actual lane called The Shambles and it is the best-preserved medieval street in the world.
York Minster is a stunning cathedral dating back to the seventh century. Step inside and admire medieval stained-glass windows, carved stone and sparkling artefacts. Climb all 275 steps up to enjoy the view from the highest point in York.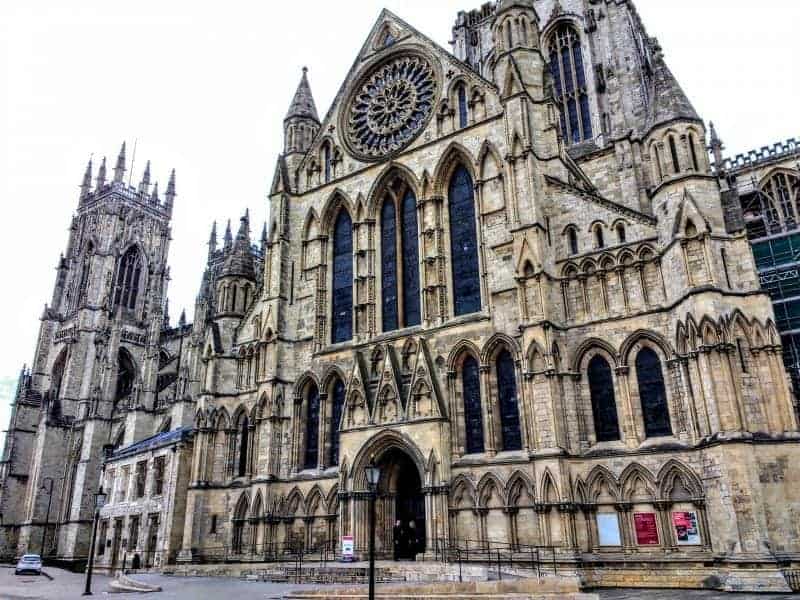 If you love Vikings you must head to Jorvik which was the Viking name for York this attraction gives a snapshot of what Viking life would have been like. Or head to the York dungeon where you can explore the grizzly path of York's history.
In the centre of York you can climb the ruined Clifford's tower over the years it's been a royal mint, a medieval stronghold and a garrison in the Civil Wars. A roof deck gives unrivalled views over York's historic skyline.
Where to eat in York: Gert & Henry's the Shambles – What a beautiful old building, Gert and Henry's is timber-framed and dates from the 1600s. It has been a restaurant since 1929 and it serves classic English food.
Where to stay in York: Gray's Court between York Minster and the walls, with a history dating back to the 11th century. With views across York's medieval walls, Grays Court is a beautiful historic house and was once home to King James I.
Edinburgh, Scotland
Edinburgh, the historic capital of Scotland, is home to historic sites, modern restaurants, pubs, and nature. Although Edinburgh is on many travellers' radar, it isn't as bad as Paris or London for massive crowds of tourists though during the Fringe it is jam-packed with visitors.
A visit to Edinburgh is perfect for travellers looking for a low-key, historic, culture-filled city. You also can't go wrong finding amazing Harry Potter sites to visit when in Edinburgh, visiting the Fringe Festival or the many historical sites in the City.The Royal Mile is the beating heart of Edinburgh's Old Town. At the bottom, it begins at the Palace of Holyroodhouse and goes up to Edinburgh Castle.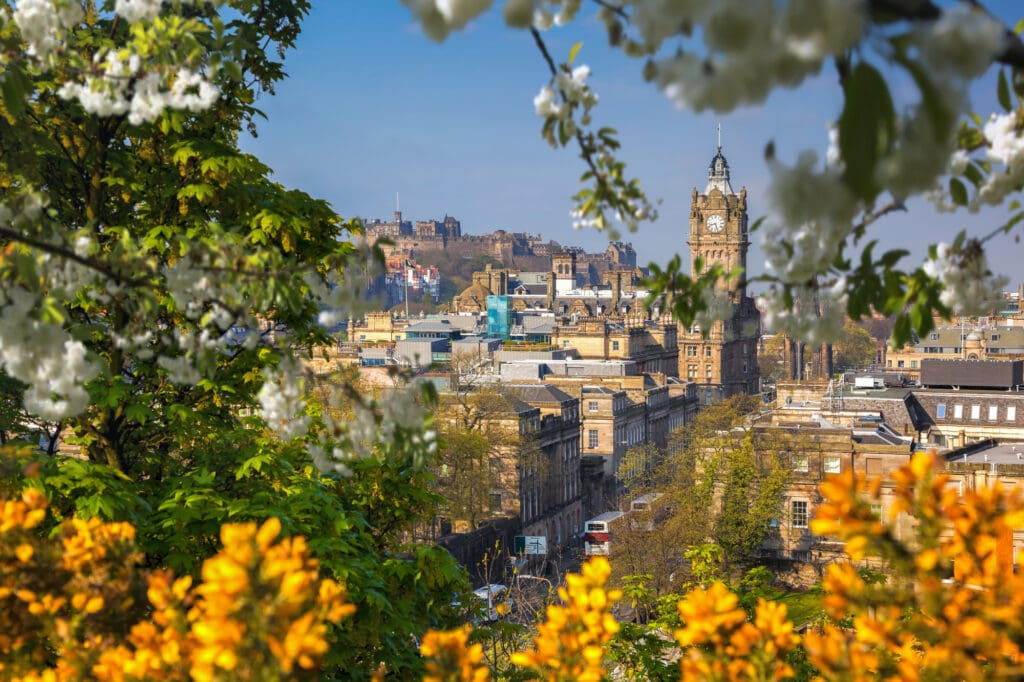 Edinburgh Castle dates back to the 12th century and has a long, crazy history. The castle holds the Crown Jewels of Scotland among other historic artefacts and the National War Museum of Scotland.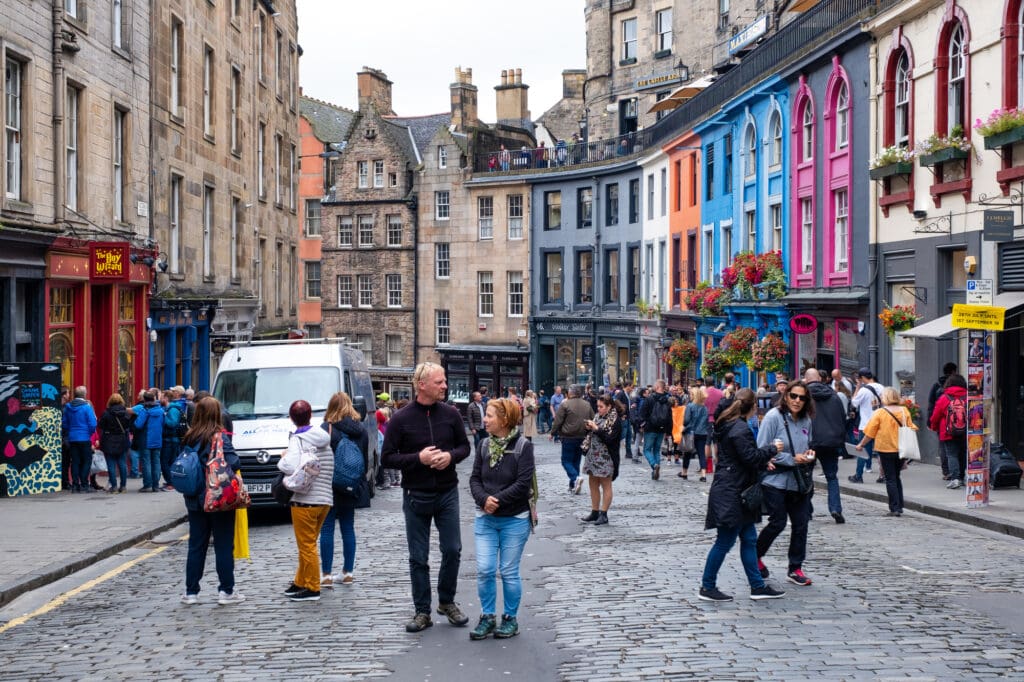 In the heart of Edinburgh's historic old town, behind the castle, Grassmarket is one of the most vibrant, picturesque and lively areas of the city. A paradise of designer shops, funky merchandise, artists, bars and restaurants the Grassmarket is simply bursting with some of the best shopping Edinburgh has to offer. The area is well known for being home to some of the best restaurants in Edinburgh as well as some of the most animated and eclectic bars.
Where to eat in Edinburgh: For very special occasions choose Number One, a 4 AA Rosette Restaurant where modern Scottish cuisine meets world-class service. Scottish cuisine is fashioned using seasonal ingredients carefully sourced and fuses these ingredients with a modern flair.
Where to stay in Edinburgh: The Scotsman Hotel overlooking Carlton Hill, Princes Street Gardens and Waverley Station, the 4-star Scotsman Hotel was originally built in 1905. This majestic, listed building was once The Scotsman newspaper.
There you have it 22 of the best cities to visit in England – you are spoiled for choice with the best UK cities to visit do you have a favourite city in England to visit?
You might also like
23 Stunning English Manor Houses
Uffington White Horse, England's mysterious chalk figure
28 things to do in Stratford upon Avon
38 Seaside towns in the UK to visit
17 of the Prettiest Cotswolds Villages
Escaping London for the weekend