Ultimate 2 Days in Dublin itinerary
Dublin, the capital of Ireland, is a city that captivates visitors with its rich history, vibrant culture and friendly locals. With so much to see and do in this lively city, it can be hard to know where to start when planning your trip. Whether you're a first-time visitor or a seasoned traveller, spending two days in Dublin is an ideal way to experience some of the city's most iconic attractions while also discovering hidden gems that only locals know about. From historic landmarks and cultural hotspots to trendy neighbourhoods, fantastic coffee shops and cafes and delicious foodie spots, here's everything you need to know for your perfect trip to Ireland.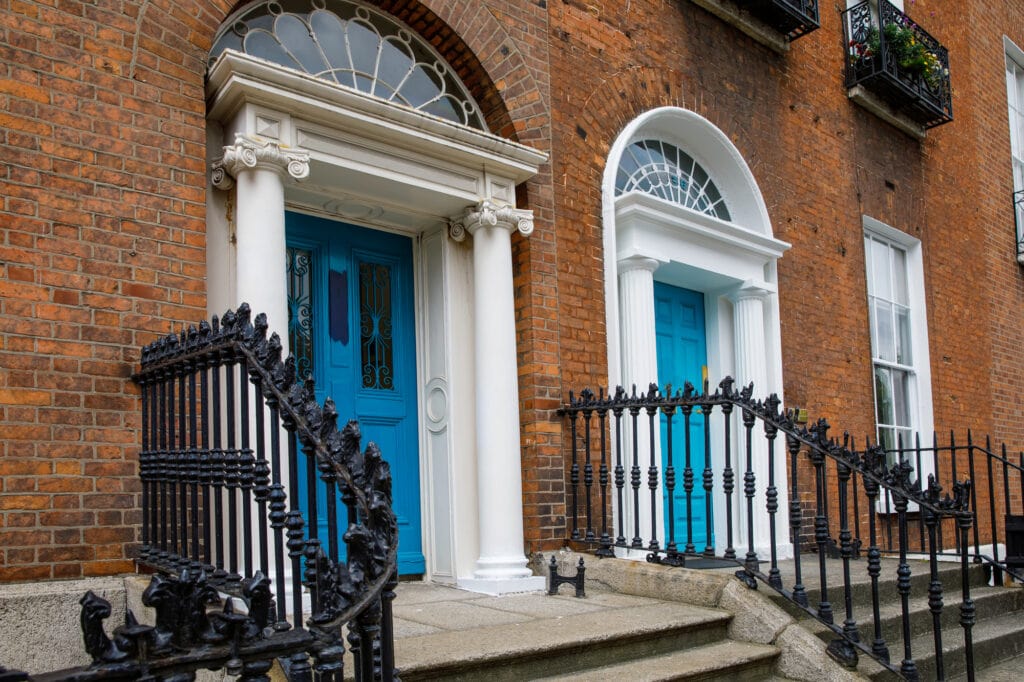 15 Dublin Don'ts – a little bit of Irish craic for you
If you're headed to Ireland and plan to spend a week or more on the Island you will probably land at Dublin Airport and I highly recommend spending only 2 days in Dublin. While Dublin isn't as fevered pitched as London, or as romantic as Paris (many would disagree with me there) it is a truly gorgeous not-to-mention historic city to enjoy. Dublin's attractions do bring in lots of tourists – look at St. Patrick's Day for example. Dublin is a city that is packed with interesting things to do.
Are you spending 2 days in Dublin Ireland and looking for a what to do in Dublin for a weekend? This 2 days in Dublin itinerary will give you lots of ideas on how to spend your precious weekend.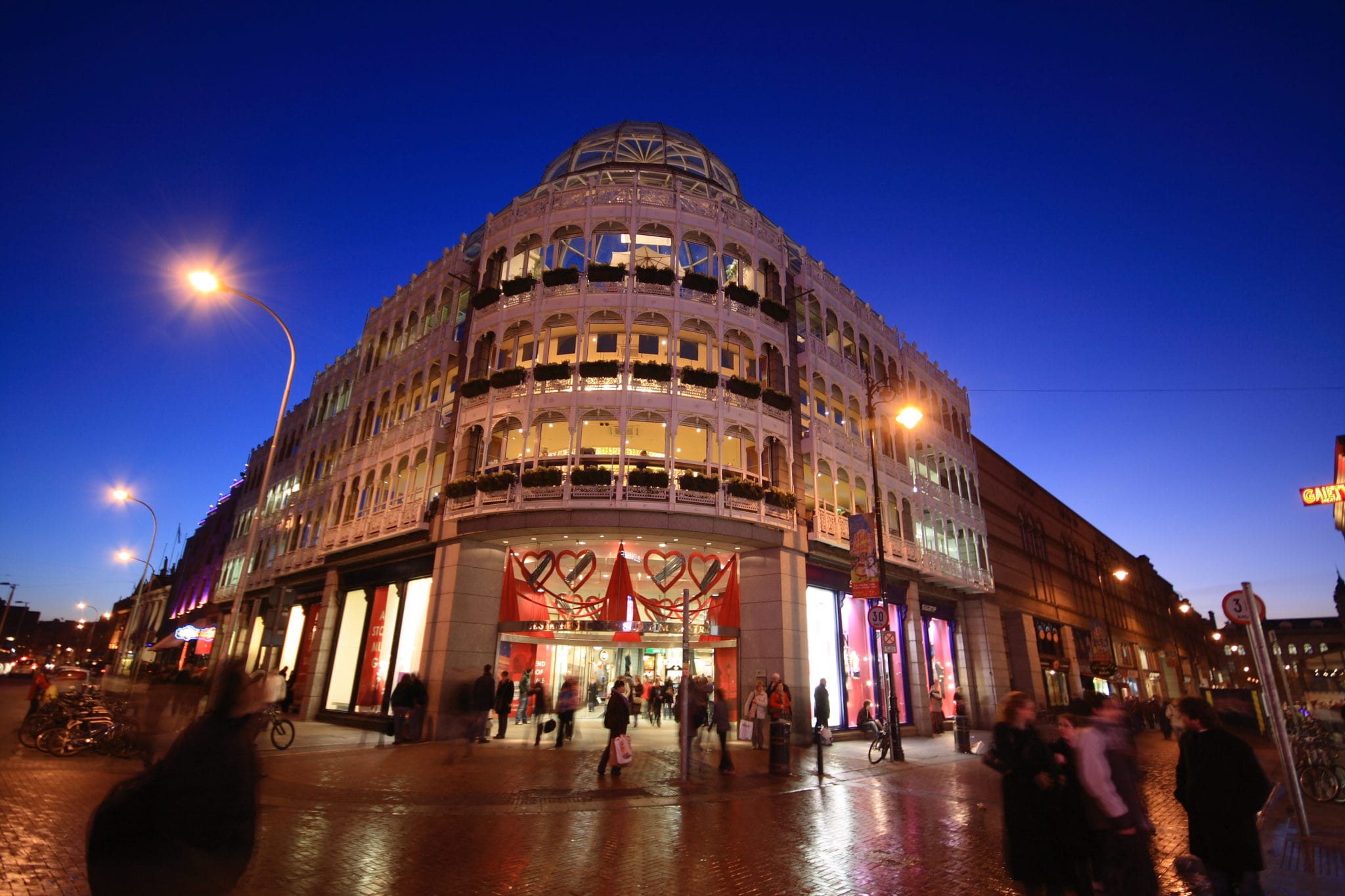 Are 2 days in Dublin enough? If you are planning a visit to Ireland then two days in Dublin will be the perfect amount of time to visit the major sites. Dublin is not a large city and most of its highlights can easily be seen in two days.
Is Dublin worth visiting? Absolutely Dublin is worth visiting, after all, you can't visit Ireland without seeing all the sites that made Dublin famous like the Liffey Ha'Penny Bridge, The Post Office, Temple Bar, the statue of Molly Malone just to name a few.
Is is possible to do Dublin in a weekend? Yes absolutely a weekend in Dublin is almost the perfect amount of time to enjoy the great pubs, brilliant food including a full Irish breakfast and some of the cultural highlights and historic sites.
How to spend 2 days in Dublin
If you are headed to Ireland and have only had two days in Dublin to cram in all the sights and want some craic in the pubs then this is the place for you. Dublin is a bustling energetic city and it is quite small so very walkable. I believe anytime is a good time to visit Ireland but you should be aware of the weather and that we have 4 seasons in one day so take an umbrella and make sure you have good walking shoes. I recommend staying with the Dublin 2 postal code area where you will find most things to do in Dublin city centre.
Dublin is a vibrant and amazing city one minute you can be enjoying the peace in a city park the next having a pint of the black stuff and listening to traditional Irish music. Whether you are planning to spend several weeks in Ireland or simply a weekend in Dublin this guide will come in handy and give you ideas from visiting heritage sites to the pubs to have a pint in and enjoy the craic.
This itinerary contains affiliate links. That means we earn a commission when you use the links on this site. You don't pay anything extra. If you'd like to learn more about how this works, you can read more under our Disclaimer page.
Visit Dublin: How To Get To Dublin
Many arrive at Dublin International Airport and plan to rent a car to travel around Ireland. However, if you are only spending 2 days in Dublin you obviously won't need a vehicle and getting from the airport into the centre of Dublin is pretty easy with local transport. The airport is about 6 miles or 12 km from the City Centre. There are 4 ways to get to the centre of Dublin. If you land in Belfast Northern Ireland, Dublin is only an easy 90 minute drive.
You may also want to take a look at what is the best time to visit Ireland. The weather changes aren't that dramatic but it can get cold here and well it's always 4 seasons on one day.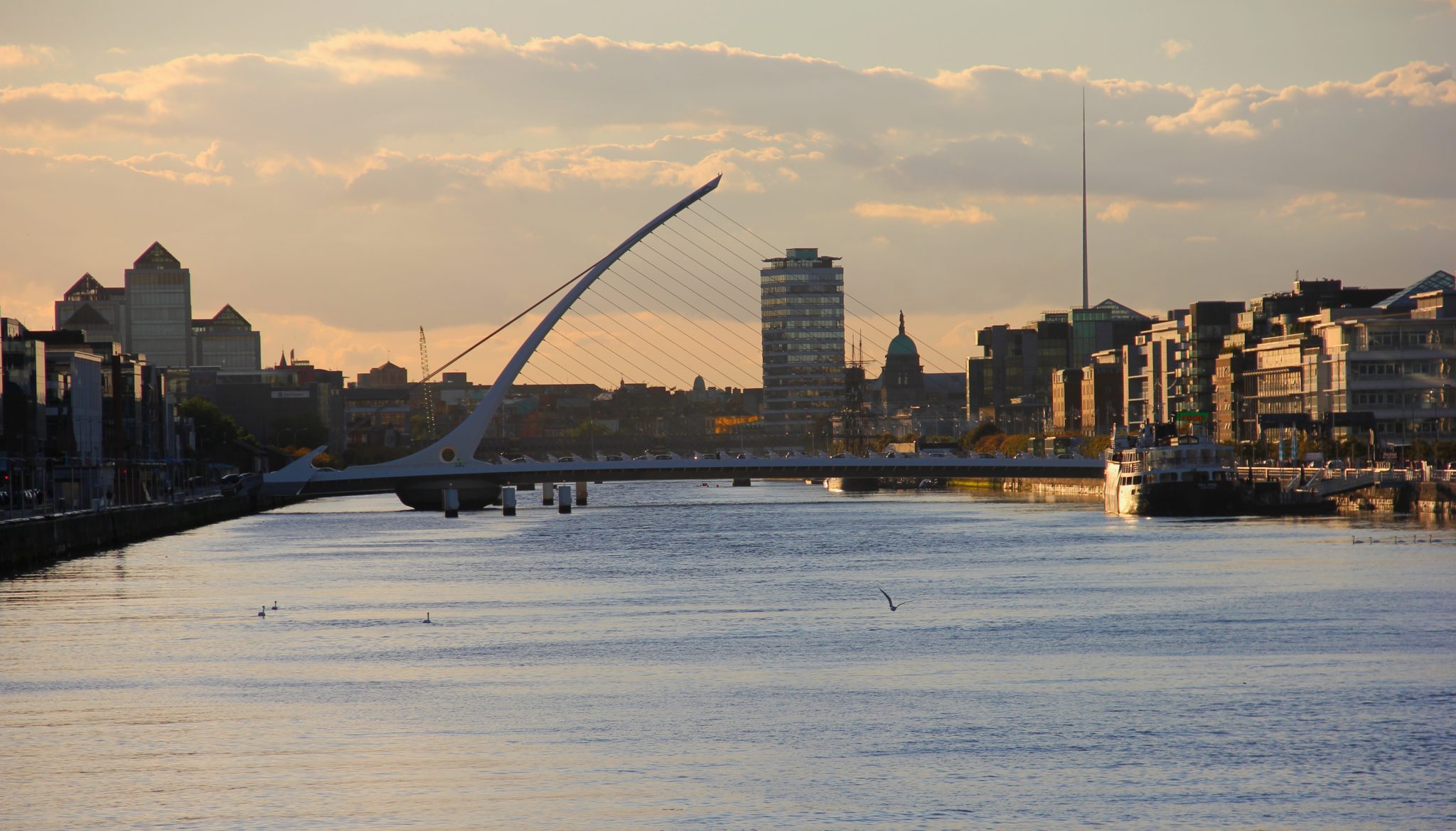 Tips for visiting Dublin – the best two days in Dublin
Taxi's to Dublin City Centre
Uber is NOT available in Dublin but you can use the My Taxi app to get a taxi to where you have booked your accommodation. This will be somewhat expensive though at around €30 Euros. So if you don't want to spend that kind of money and save it for your adventures in Dublin take the local bus.
I recommend picking up a Leap Visitor Card at the airport. The best way to get around on your two days in Dublin. This will allow you to get to all the top things to do in Dublin.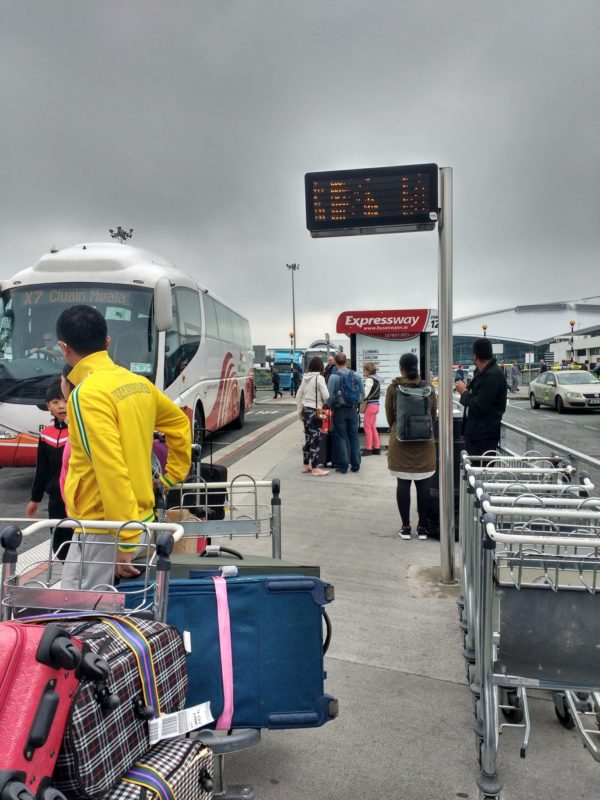 The Leap Card will allow you to use the Dublin buses and the trams in Dublin. For your two days in Dublin, a Leap Card can be bought at the Airport or at some selected DART lines throughout the City. You can also purchase top-ups for your Leap card through the Android or Apple apps on your phone. The cost for an adult Leap card is 24 hours €10.00 or a 3 day (72 hours) €19.50.
Express Public Buses Airlink
Get Tickets: Airlink Express: Dublin Airport to Dublin's City Center
The Airlink Express route 747 will get you to the centre of town and you have a few stops to choose from. So pick the one closest to your hotel and grab the Airlink. Cost of the Airlink is €6 one-way for adults. These buses run every 15 minutes or so and go to Dublin's main bus station Busaras, then to O'Connell Street in the city centre and finally to Heuston, one of Dublin's main train stations. You can catch the Airlink bus just outside Terminal 1 Arrivals level. Look for the big green buses which will be to the left of the Arrivals exit.
Express private coach (Aircoach)
Aircoach is a privately-operated, 24-hour coach service that takes folks from the airport to the city centre. The Aircoach that goes to Dublin city centre is number 700. The Aircoach departs every 15 to 30 minutes depending on the time of day. The Aircoach stops just outside the Terminal 1 arrivals level and outside the main door of the Terminal 2 departures level. The adult fare from the airport to Dublin city centre (O'Connell Street) with the Aircoach is €7
Public bus (Dublin Bus)
The Dublin Buses are easy to recognise they are double-decker yellow with blue stripes. The main bus to Dublin is #41. This bus stops at Terminal 1, usually every 10 minutes during peak hours and 30 minutes during non-peak hours. with yellow with blue strips along the bottom, although sometimes Dublin Buses are used to display advertising, usually on the rear.
O'Connell Street is the main stop from where you can find your hotel or accommodations. Make sure you get the 41 bus that is marked Lwr Abbey Street via Aerfort. Keep in mind you must pay cash on the buses the driver cannot give change so pick some up when you hit the ATM.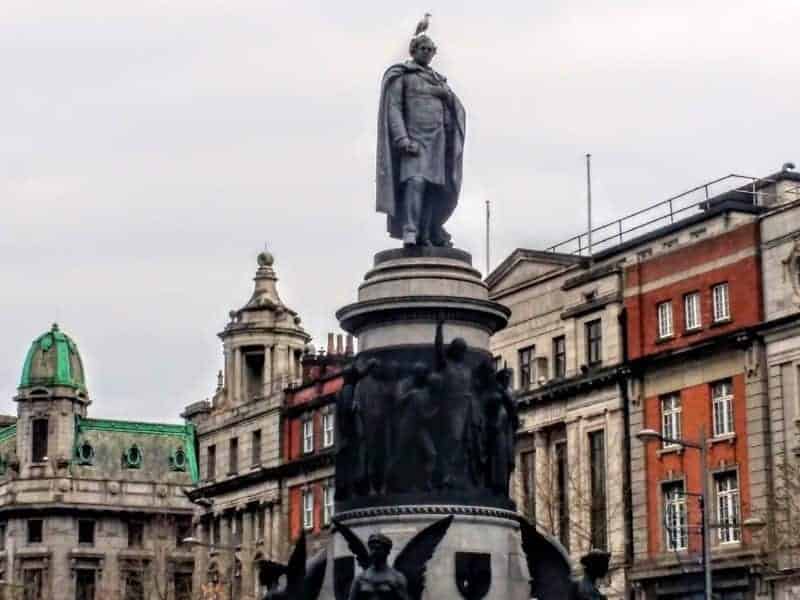 There is another Dublin Bus that comes to the airport and this is #16. This route stops in the city centre (O'Connell Street) then crosses the River Liffey and continues through the southside suburbs. If you get this bus make sure you ask the driver to let you off on O'Connell street. You can catch the Dublin bus just outside Terminal 1 Arrival cost will be €3.30 and remember the exact coins will be needed.
2 days in Dublin: How To Get Around Dublin
I always highly recommend a Hop On Hop Off Bus Tour to familiarize yourself in a new city, particularly where you are only spending two days in Dublin or any other city for that matter. Dublin City Centre is easy to walk and most sites you may want to visit are within an easy stroll.
Best time to Visit Dublin
I'm a great believer in visiting during the shoulder season. If you are making a trip to Dublin and only have a few days the less tourists the better. Dublin is a major city and the sites are open all year round so no worries about visiting during the off-season either.
Hop on Hop off buses in Dublin
There are two types of HOHO buses in Dublin and here are the major differences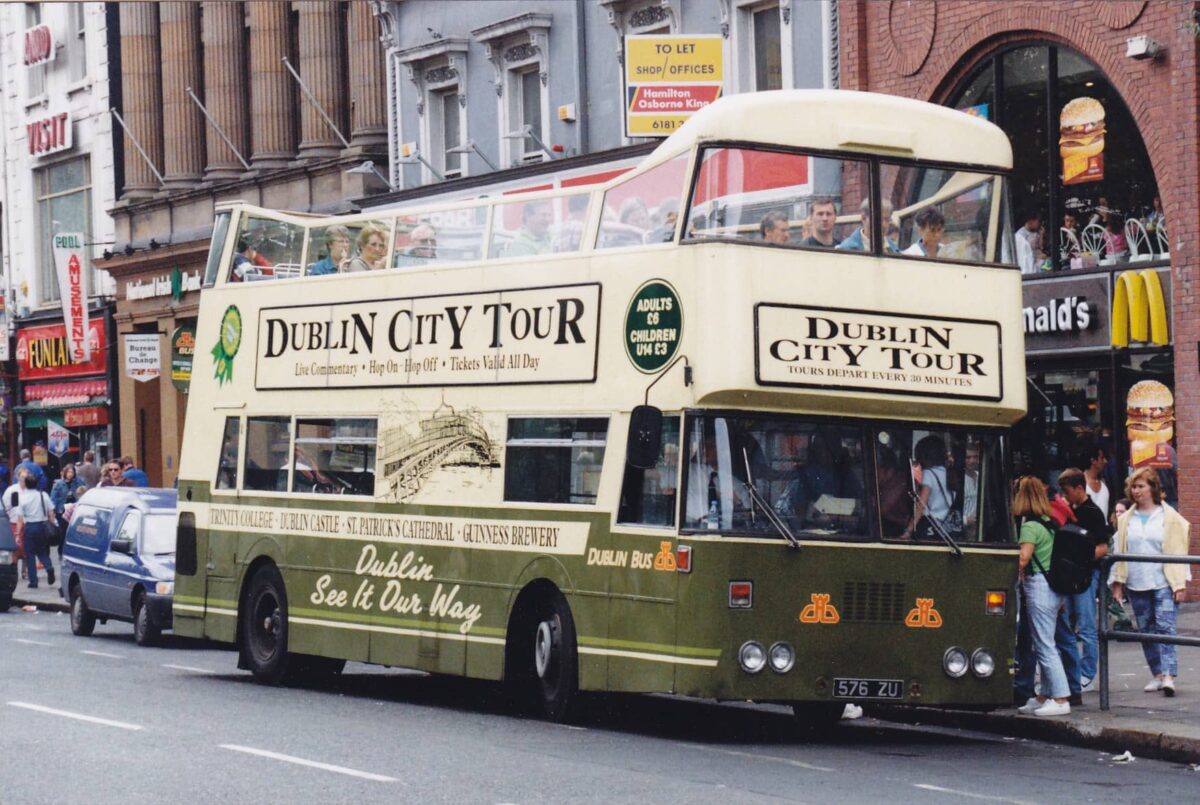 Big Bus Tours
Riders can visit 36 different stops spread across the two routes offered by Big Bus Dublin. Unlike the other bus tour, companies Big Bus Tours have live commentary in English which you won't want to miss and will have you in stitches by the end of the tour. Each ticket includes 2 children's tickets and a free walking tour ticket.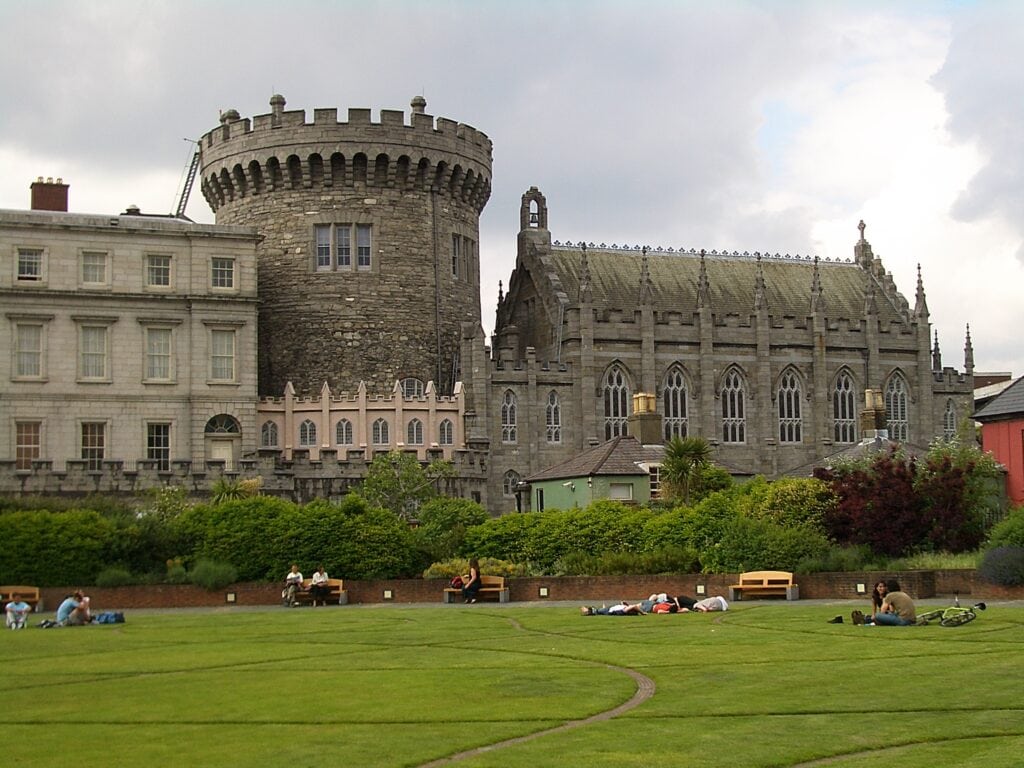 As if that weren't enough, you can also use your tickets on either Big Bus or City Sightseeing buses. Now you can buy a 24-hour ticket for €20 which includes that free walking tour.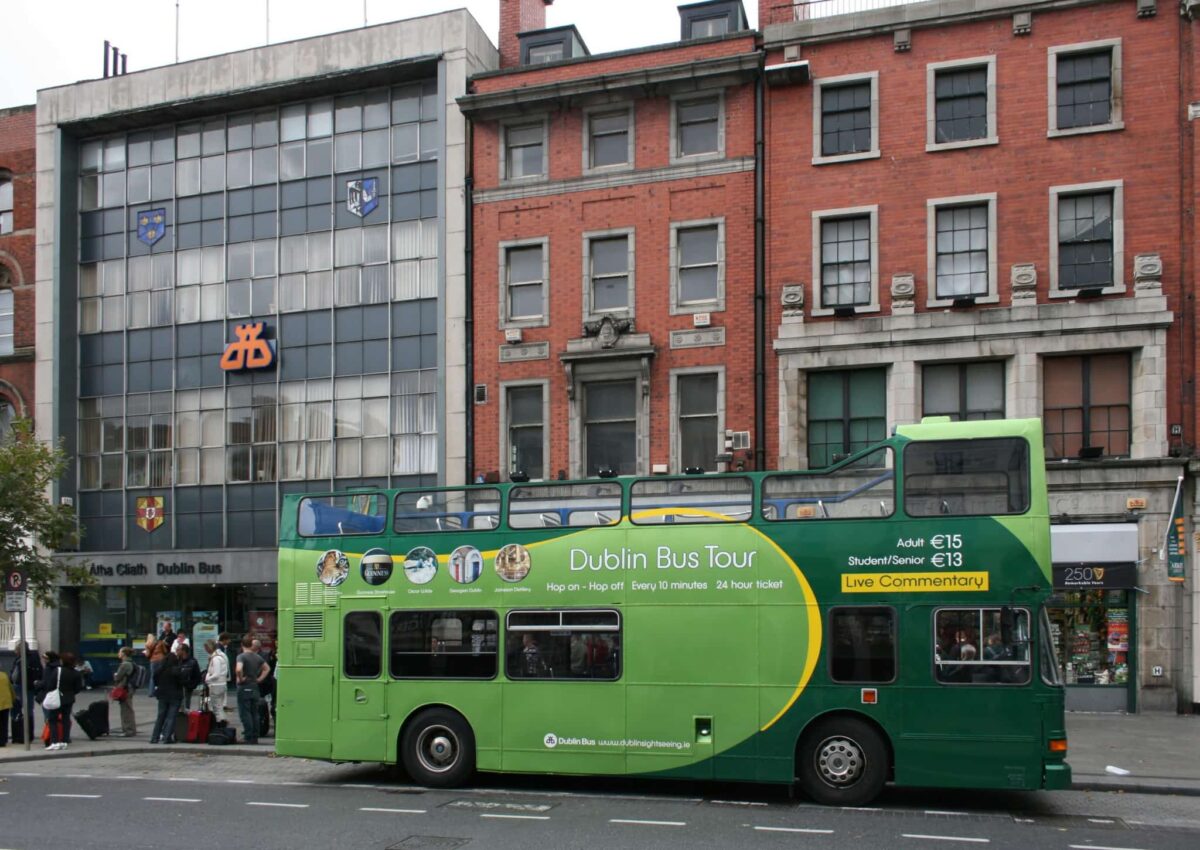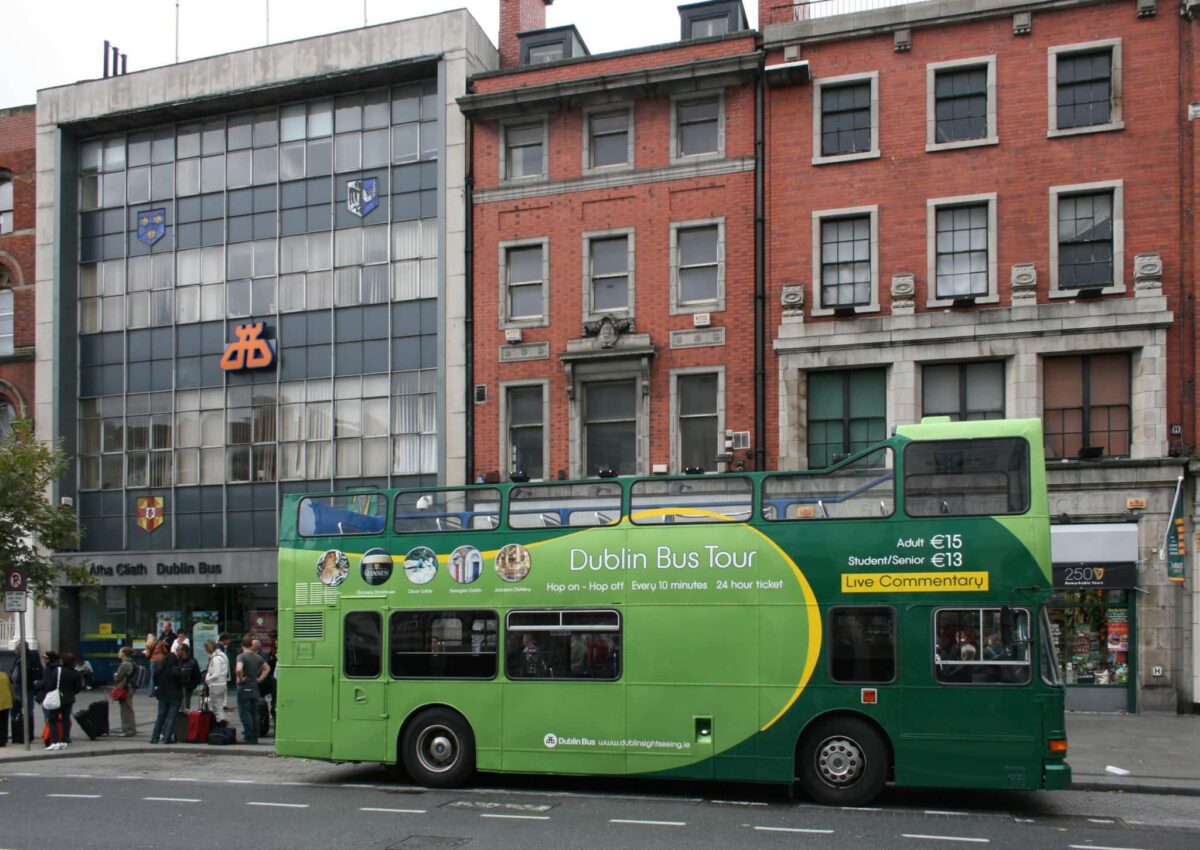 City Sightseeing
I've taken many a City Sightseeing bus from New York to York in England and when it comes to the Dublin bus tours they have a great selection of 30 stops. The best part is that you can use your Big Bus ticket on the City Sightseeing buses as well.
So for your 2 days in Dublin, you can see sites such as The Guinness Storehouse, Phoenix Park, Dublin Castle and more. Live commentary is provided on their Blue route while audio commentary in 8 different languages is available on every third Red Route. The cost of a ticket is €22/Adult.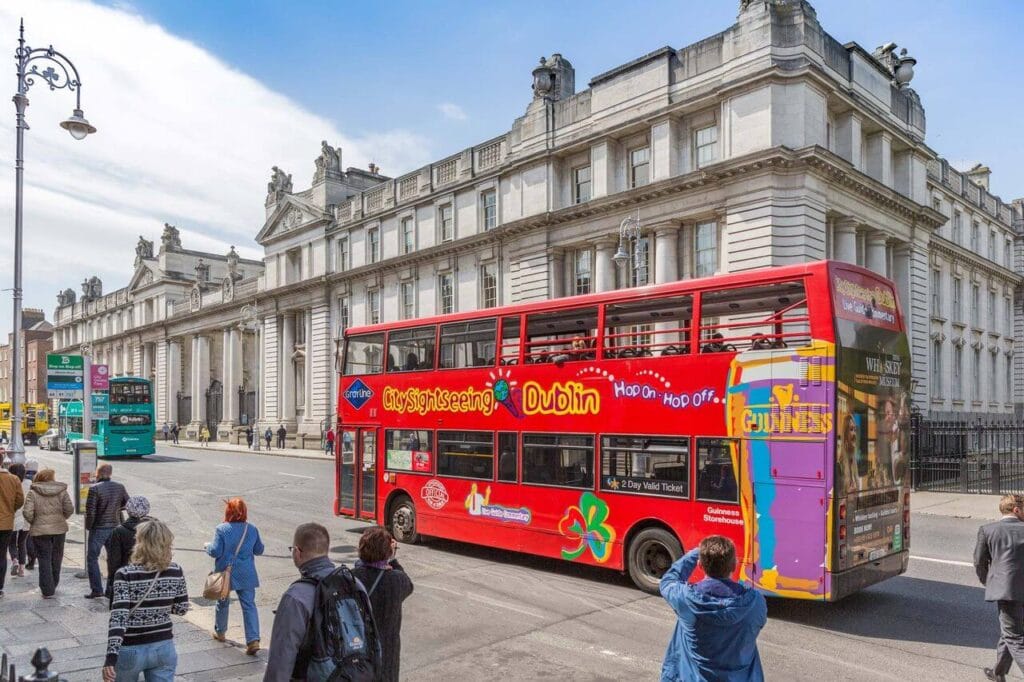 Public Transport in Dublin
Dublin Bus
The Dublin bus network is pretty comprehensive and all routes go through the City Centre. You can use the Journey Planner to find your nearest bus stop and figure out your destination. Remember though if you haven't bought a Visitor Leap Car which is valid for up to 72 hours you must pay the exact cash amount.
Tram (LUAS)
Luas literally means 'speed' in Irish. There are two tram lines, which cross the city. A Red Line and a Green Line these lines do pass some major sites you may want to see and you can use your Leap Card on the Tram.
DART Rail Line
DART stands for 'Dublin Area Rapid Transport' the DART is a great way to get out of Dublin and see the coastline. The DART runs from the northern areas of Howth and Malahide through the city centre to Blackrock and Greystones. Again you can use your LEAP card on the DART.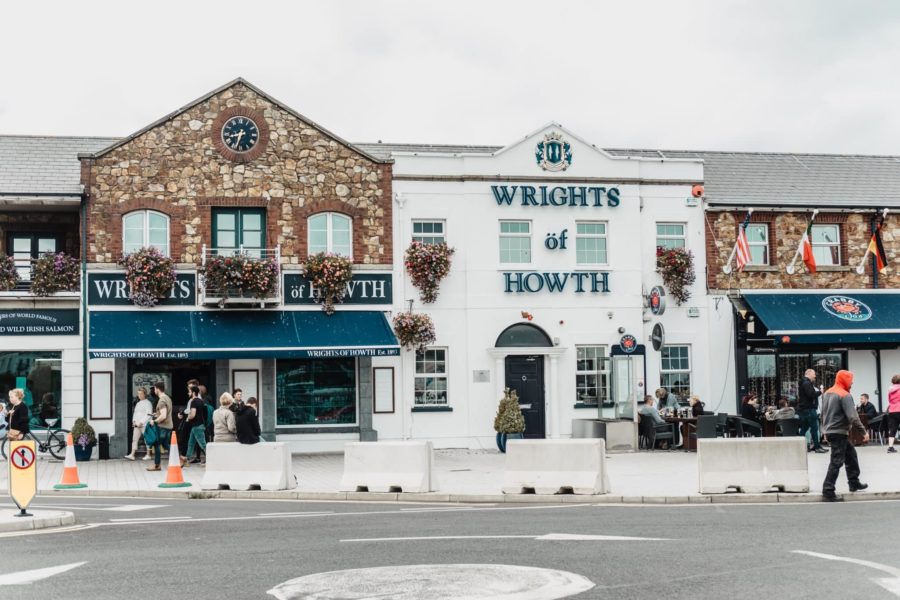 Bicycle
Fancy something a little more eco-friendly then you might want to bike around the city. Dublin Bikes are a public bike-rental service. This is a great way to explore the hidden corners of Dublin. You can rent one from dozens of terminals dotted around the City Centre and inner-city suburbs. You can get 3 days for €5 which can be purchased at one of the many Terminals around the city.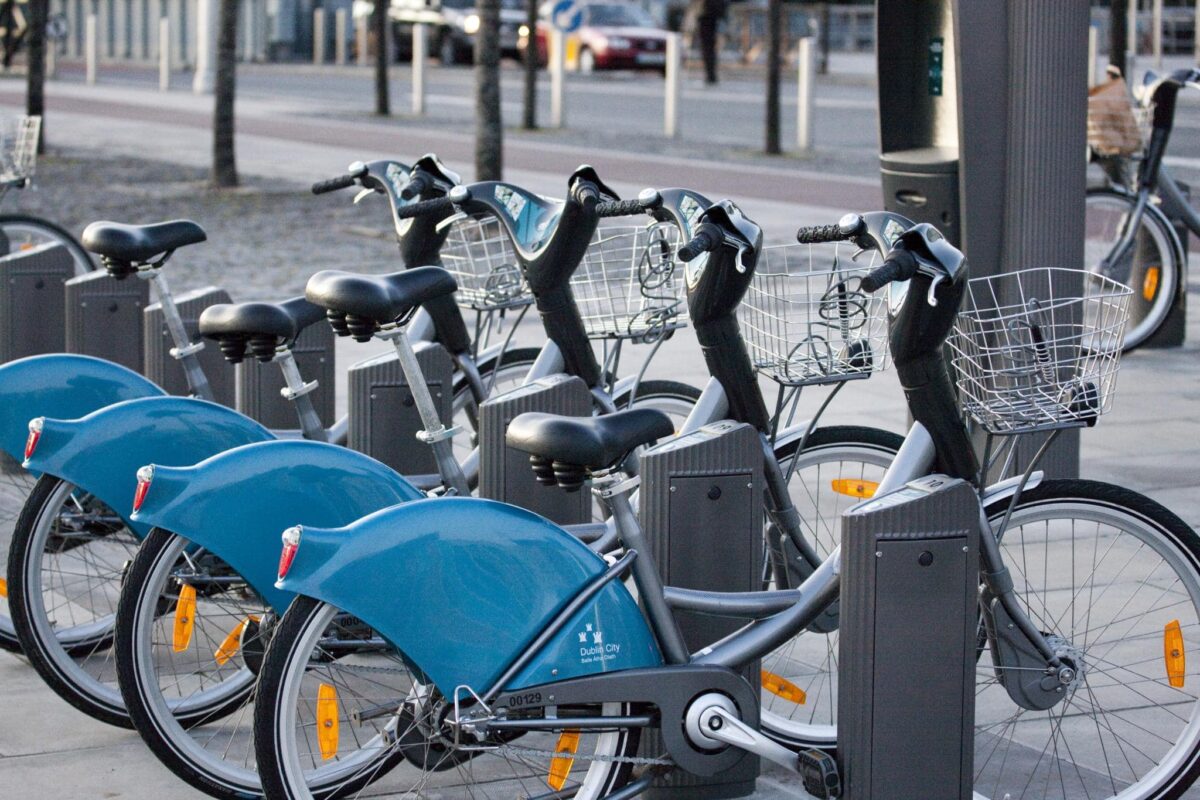 Dublin pass 2 day itinerary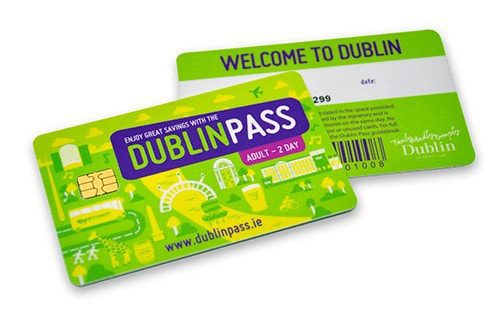 Is the Dublin pass worth it? With this itinerary spending two days in Dublin, you could buy a Dublin Pass which is useful and costs only €86 if you see all of the sites on the list here you will save at least €25 euros which is worth it. The pass includes free entry to over 30 of Dublin's most popular tourist attractions, which we think makes for a great day out. Not everything in that itinerary is included in the Dublin Pass, but the attractions which are included are
EPIC The Irish Emigration Museum (€16.5)
Jeanie Johnston Tallship & Famine Experience (€11)
Dublin Castle (usually €8, free in 2021)
Christ Church Cathedral (€8)
Discounts and exclusive offers at 20 extra venues, only available to Dublin Pass holders
Fast Track Entry at selected top Dublin attractions to skip the queues
Dublinia (€12)
Guinness Storehouse (€26)
Hop on Hop off bus (€29)
The Dublin Pass is a great deal if you want to see some of the most popular attractions within your 2 days in Dublin. Several sites have a fast pass entrance which means you get to beat the crowds and line ups which is brilliant. A one-day pass will cost you €62.00.
What to do in Dublin for 2 days: things do on your Dublin Weekend
Christ Church Cathedral
When putting your bucket list together of what to see in Dublin in 2 days you need to add one of Ireland's most historic and sacred places – Christ Church Cathedral. Located in the heart of Dublin city centre, Christ Church was originally a Viking church and has been welcoming pilgrims and visitors for almost 1,000 years. This is an Anglican cathedral with a tiled medieval floor, vaulted ceilings and a stunning nave.
Take a tour of the Cathedral to find the crypt, the city's oldest working structure, or climb into the belfry and discover its world-famous bells. Other hidden treasures are waiting to be discovered: Strongbow's final resting place, the heart of St. Laurence O'Toole, a rare copy of the Magna Carta and the famous mummified cat and rat.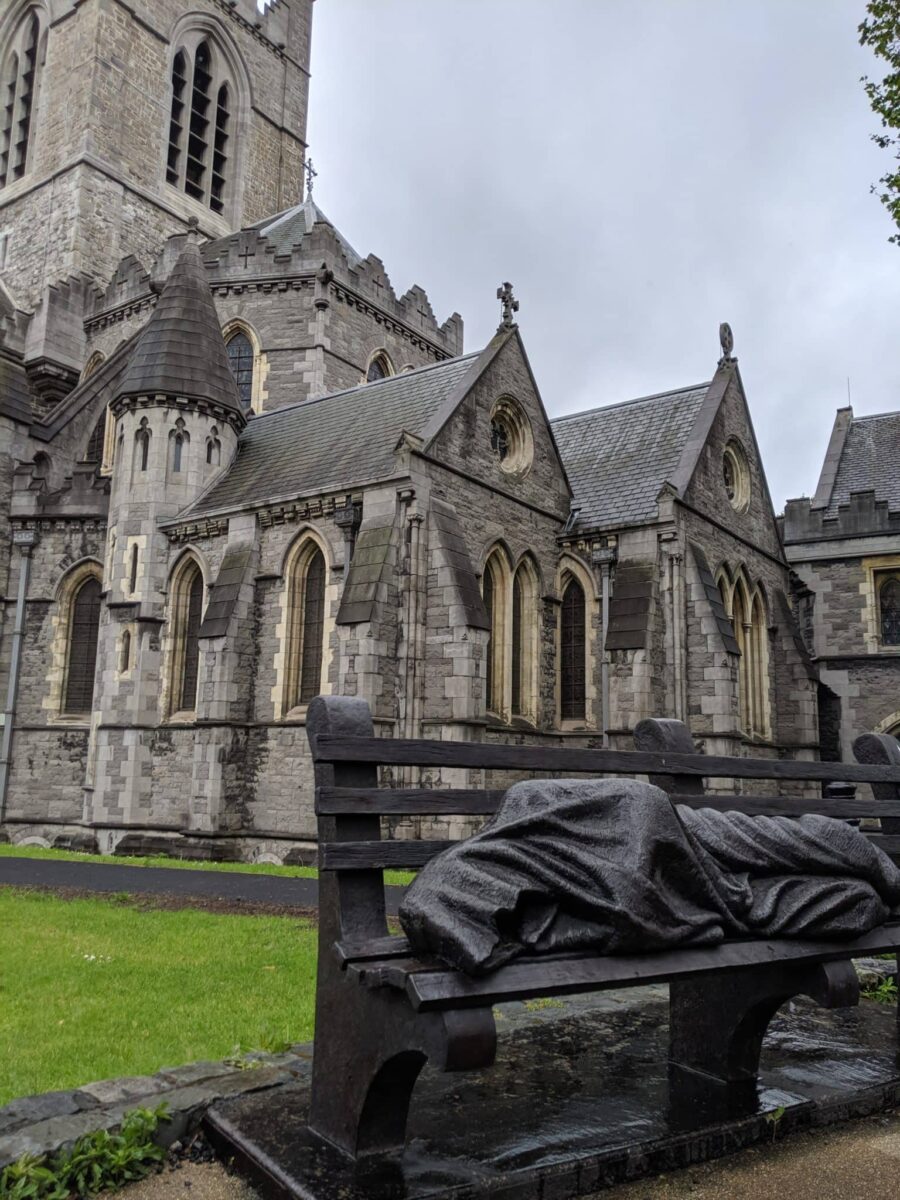 St. Patrick's Cathedral
One of the best things to do in Dublin is to visit Saint Patrick's Cathedral the National Cathedral of the Church of Ireland. As the largest cathedral and one of the most important pilgrimage sites in Ireland, Saint Patrick's has been at the heart of Dublin and Ireland's history and culture for over 800 years.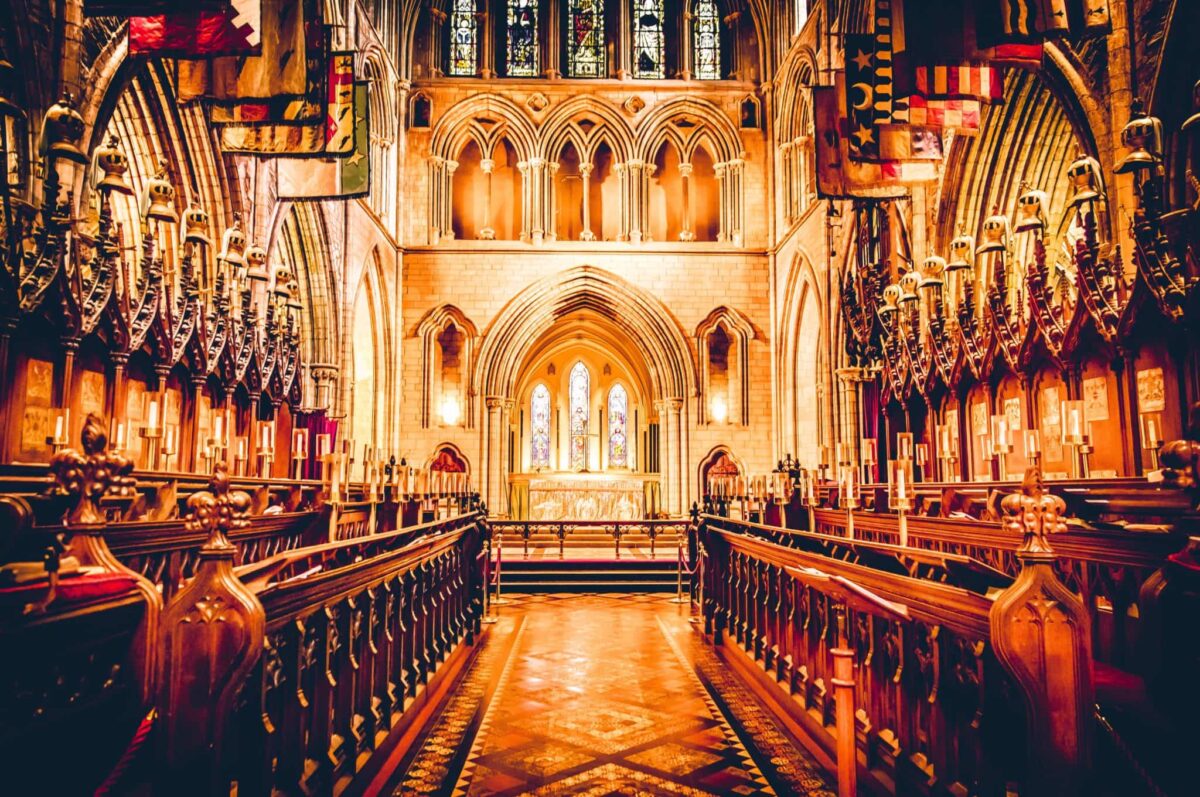 Kilmainham Gaol Museum
The history of Dublin includes the infamous Kilmainham Gaol Museum is the place where the Irish rebels were incarcerated. Accused of many crimes including the 1916 Easter Rising it was at Kilmainham that many lost their lives to a British firing Squad.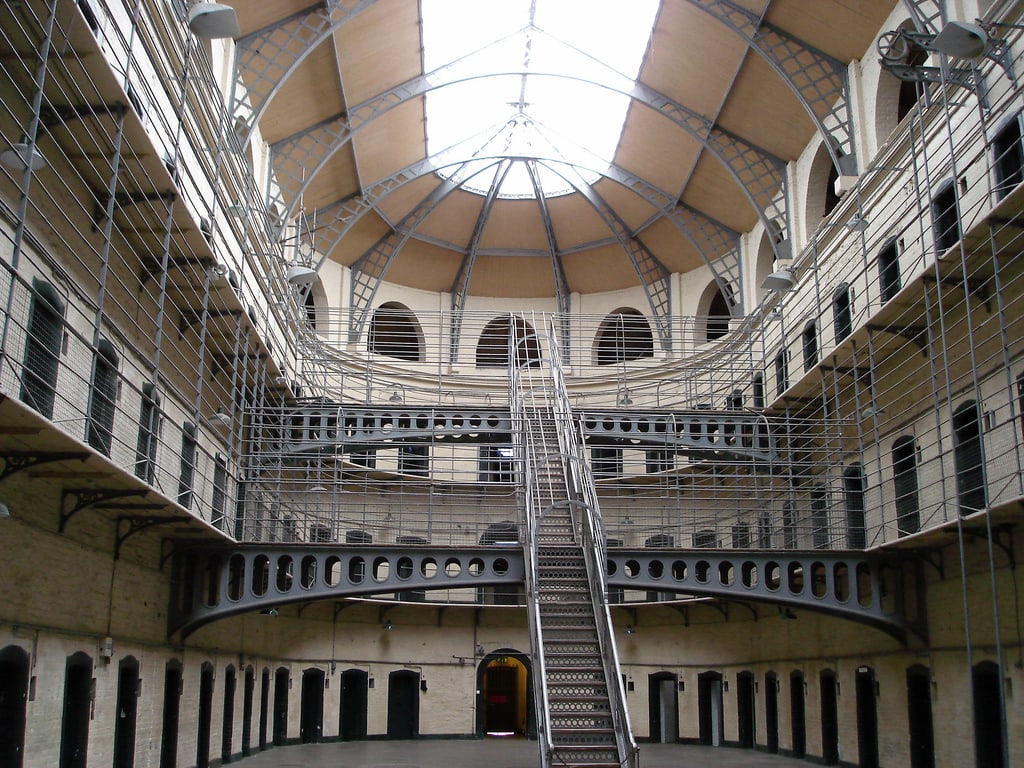 Your Dublin Pass will cover the entry fee with no waiting in line and entry to the Museum. The tour is absolutely fascinating and will give you a real overview of Irish history.
Guinness Storehouse
Your visit to Dublin may include the Guinness Storehouse and I have to include this one as it is one of the most visited attractions in Ireland. Touring the Guinness Storehouse is a rite of passage for anyone visiting Dublin. You will get one free drink and a fabulous view of Dublin from the Gravity Bar.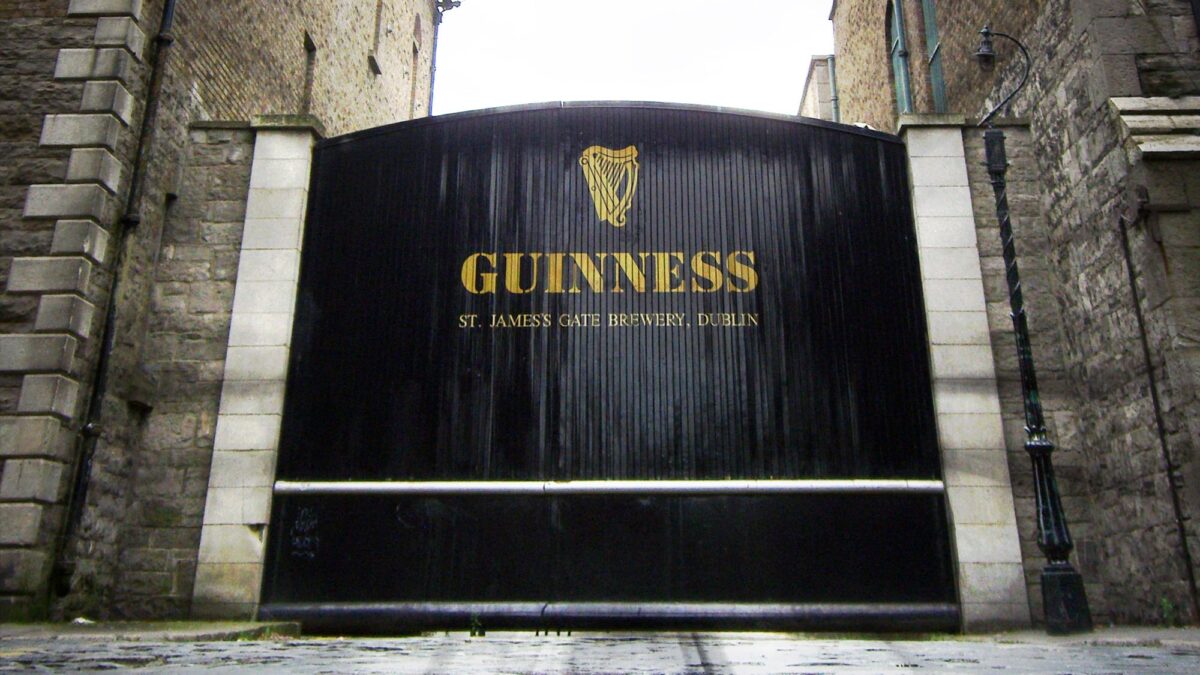 The tour is not of the brewery it is information panels and displays that describe the history of Guinness in Dublin and the pints upstairs in the Gravity bar are expensive after you get your first free and learn how to pour a pint of the black stuff.
Jameson Distillery Tour
The Jameson Distillery Bow St. carries on this ambition through the fully hosted Bow St. Experience, the distillery tour which has a firm focus on immersive storytelling. You'll be invited to touch, smell, and most importantly, taste Jameson in the original Bow St. Distillery buildings.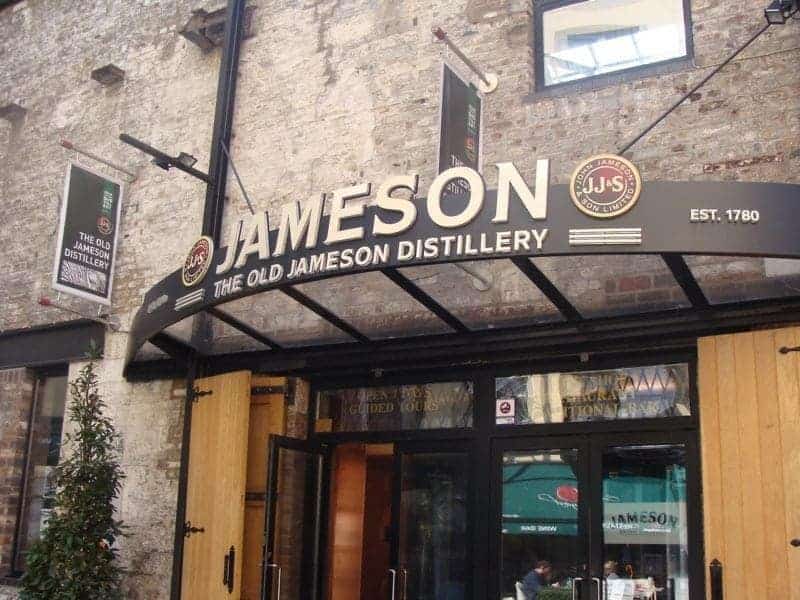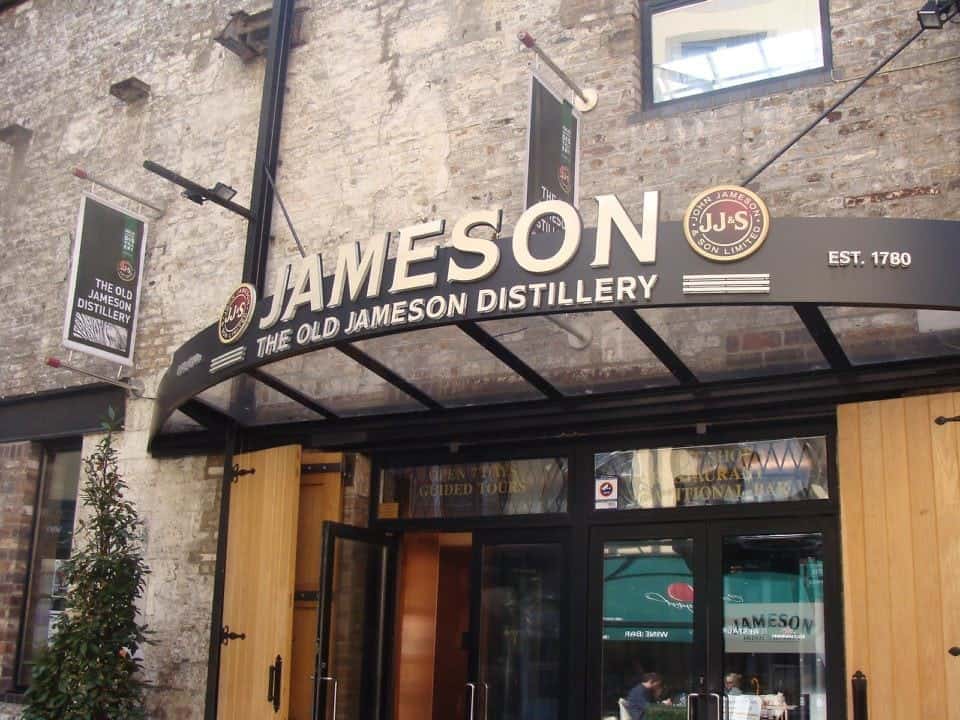 Jeanie Johnston Famine Ship
Learn about the Famine era and life on deck on this iconic tall ship. Take a guided tour and discover another side to Dublin's multi-faceted past, the poverty-stricken Irish emigrants and the sailing industry of the 19th century. You'll be amazed at how this life-size replica takes you back in time, it is a spitting image of the original that sailed in the mid-1800s.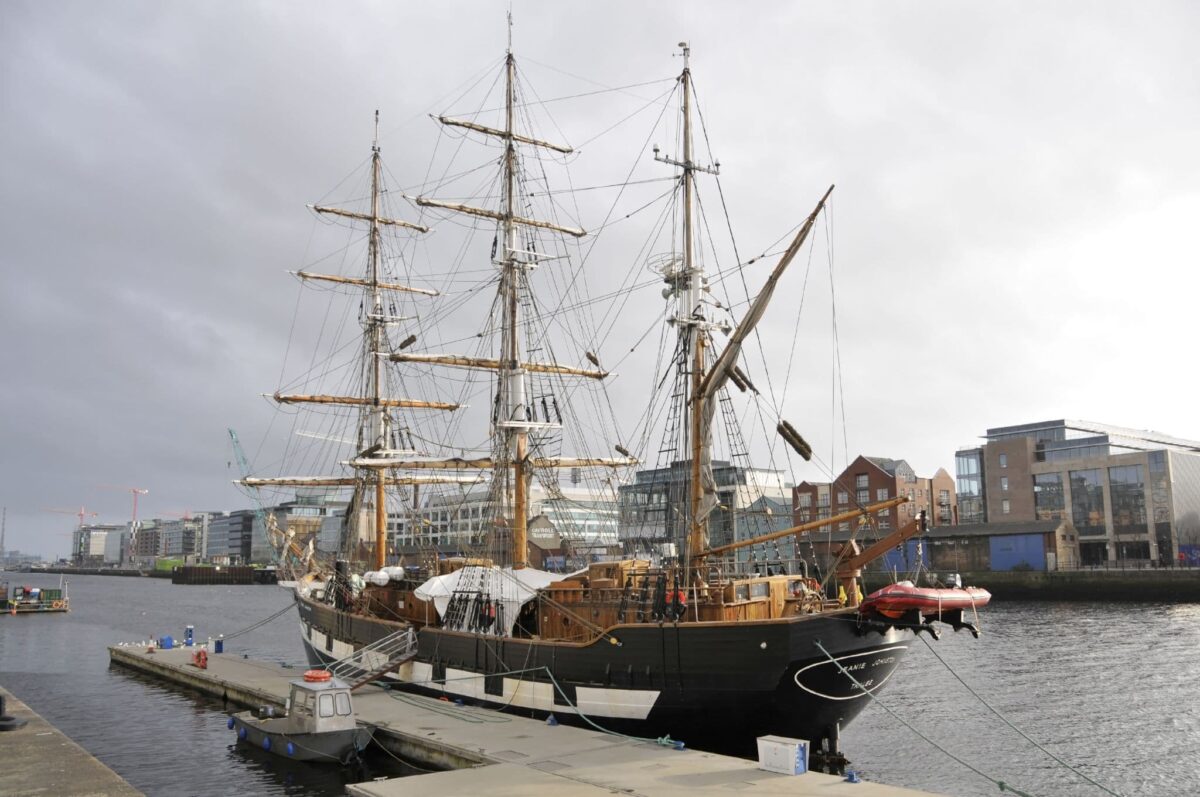 These are a mere few sites you can see when spending 2 days in Dublin. There are dozens more to take in. If you are attempting to visit various places in Ireland I would carefully pick and choose what you want to see and then spend only 2 days in Dublin before you head out to see the rest of the country.
5 Free museums in Dublin
National Library of Ireland is an amazing resource for learning about Dublin's history and your own family genealogy. The library has guided tours and lots of information on finding your Irish family.
The Natural History Museum involves exhibits on Irish fauna and flora as well as mammals found in Ireland. Discover skeletons and stuffed specimens of non-Irish animal species, from elephants to whales.
Hugh Lane Gallery houses the foremost public collection of contemporary art in Ireland; the gallery also has a dynamic temporary exhibitions programme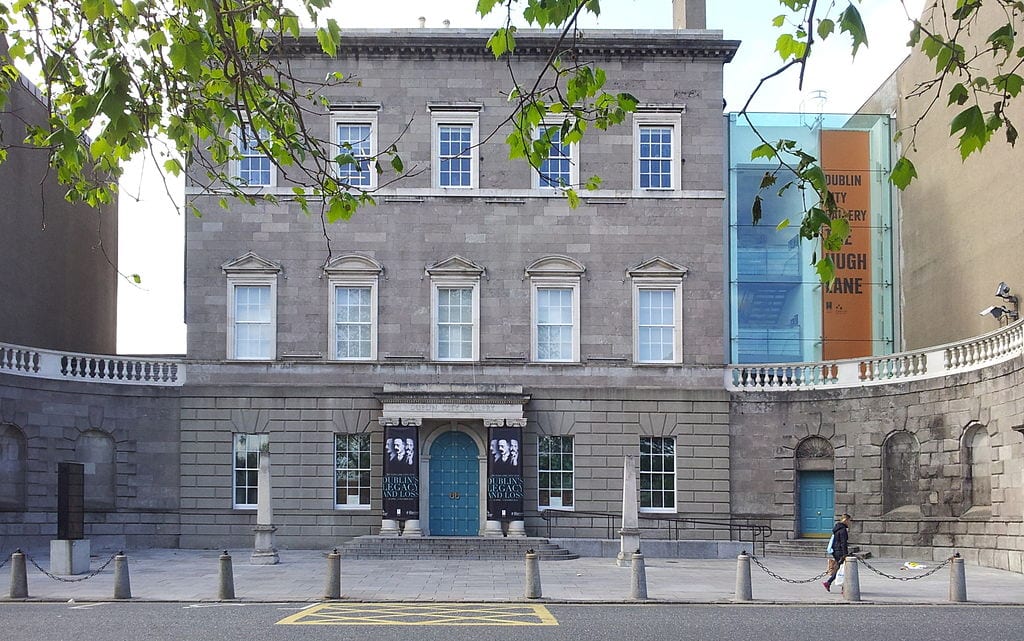 The Chester Beatty Library displays the impressive collections of Sir Charles Beatty who made his wealth in mining. The treasures are displayed in two collections, "Sacred Traditions" and "Artistic Traditions." The Museum is located near Dublin Castle.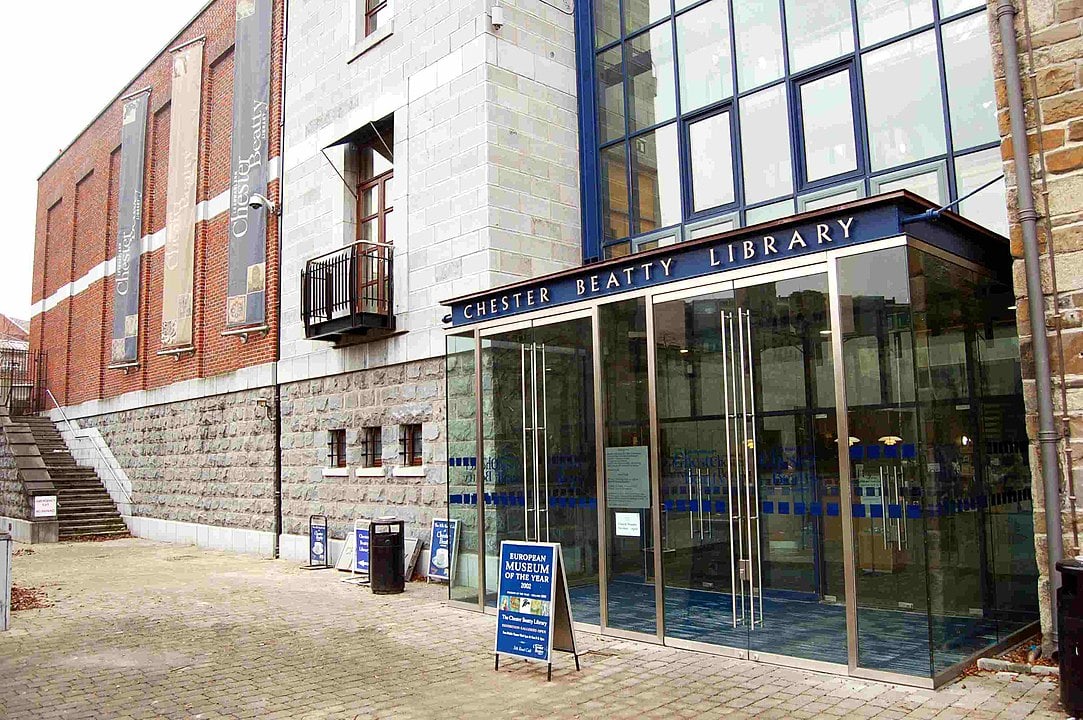 National Galleries: The National Gallery of Ireland and the Irish Museum of Art are both free and include a wide selection of art and sculpture from the 14th to 20th centuries. If you prefer modern art then the Irish Museum of Art will be your happy place.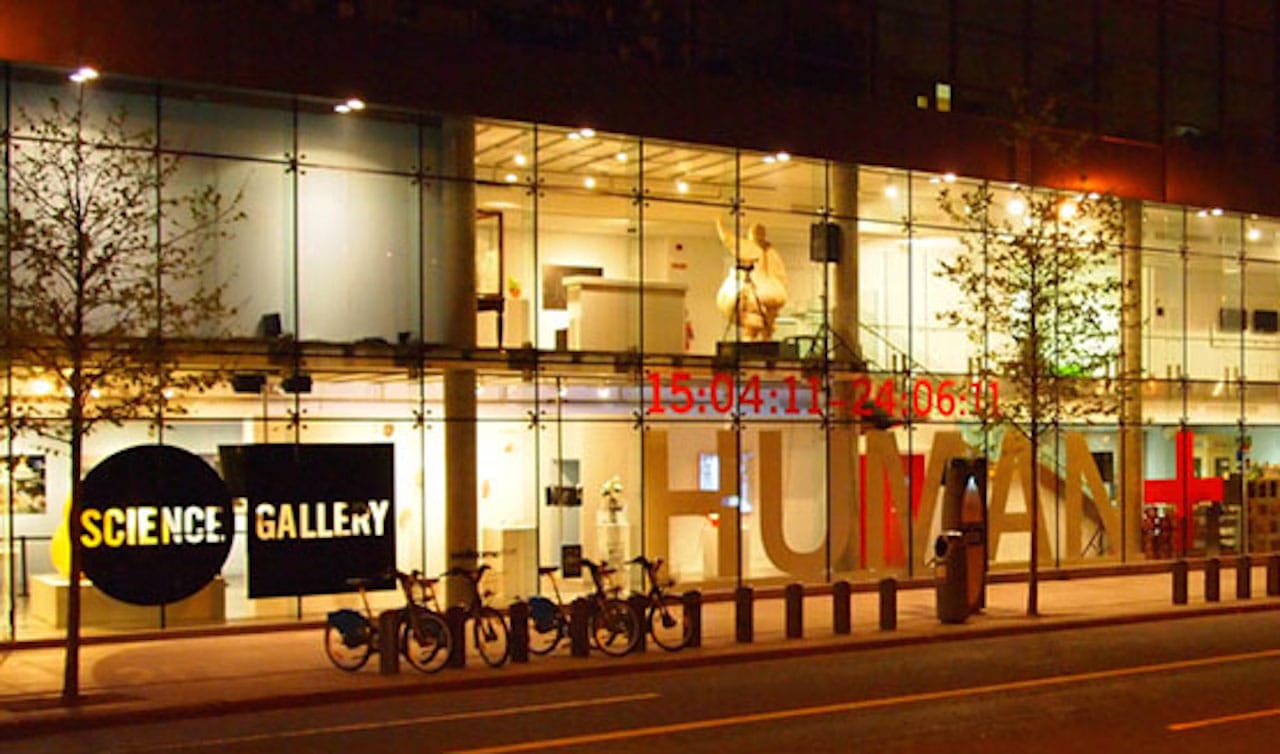 Botanic Gardens
The Botanic Gardens just north of Dublin's city centre and near Glasnevin are a must-see for visitors. With amazing plants growing inside and outside the large glasshouses, it's perfect for any kind of weather and any time of year! The gardens are right beside the Glasnevin Cemetery and hold the dubious honour of having a larger population of residents than Dublin City currently has.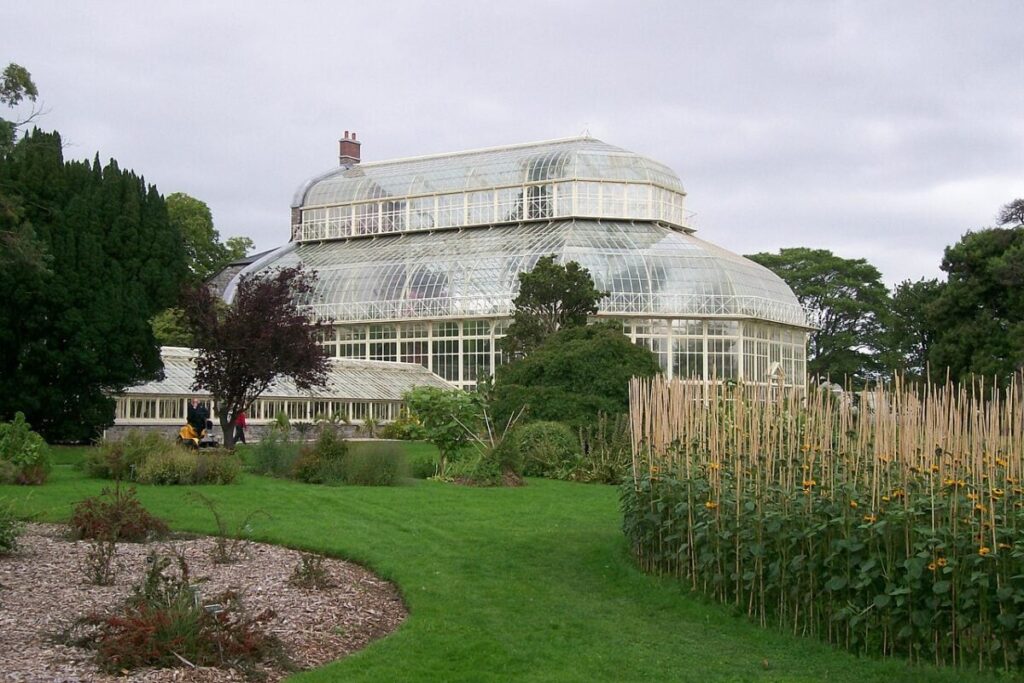 Glasnevin Cemetery
If you are trying to trace your Irish ancestors or simply visit the graves of some of Dublin's famous and infamous a trip to Glasnevin is in order. There are fee-based walking tours and an entry fee to the Museum but the Cemetery is free and there are maps to show you where some of Dublin's famous are buried. You should also drop in for a pint at the Gravediggers pub around the corner for some very Irish company.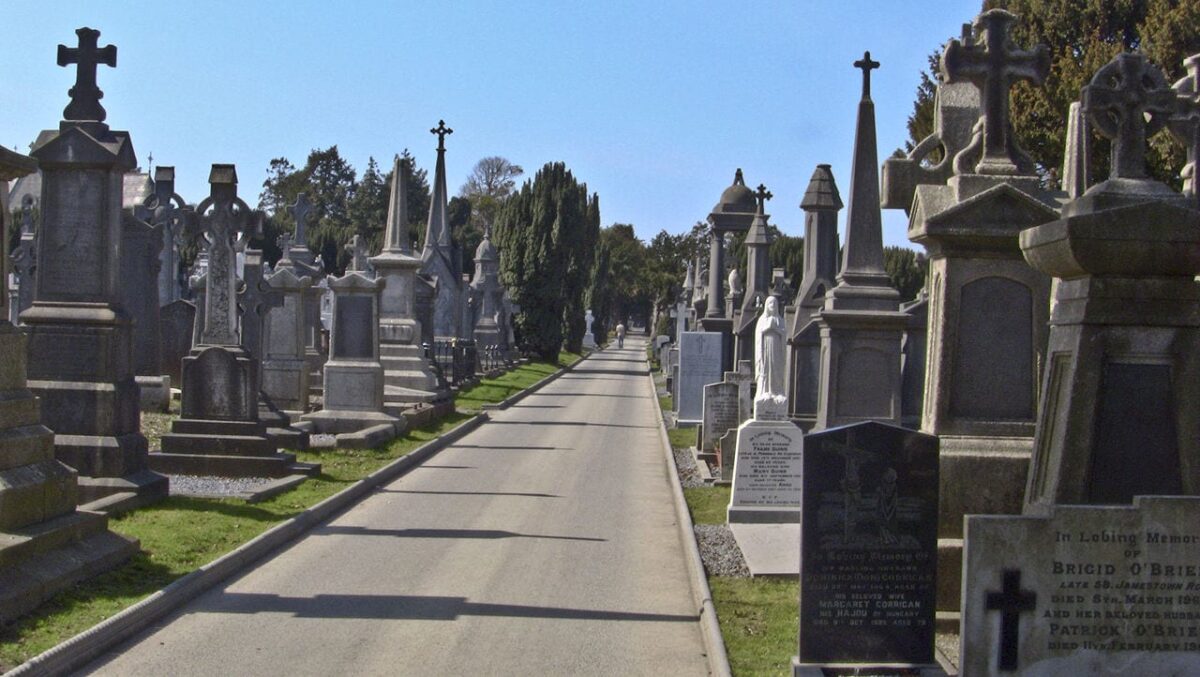 The General Post Office
One of Ireland's most famous buildings the Post Office on O'Connell Street was the centre point for the great 1916 "Rising" during the fight for independence. You can wander through the Post Office and don't forget to check out the bullet holes on the outside columns. There are interpretative panels that explain the events of 1916 and there is an option of a paid admission and tour.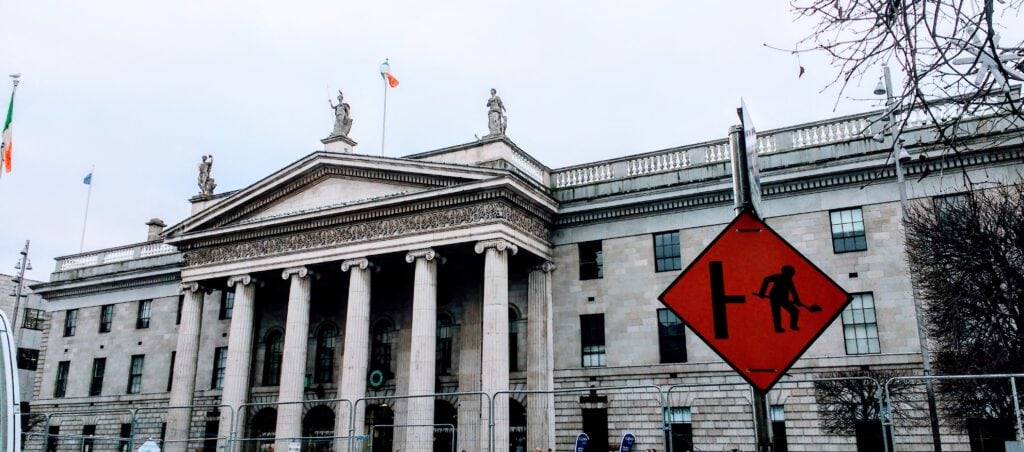 Molly Malone Statue
The statue was located on Grafton street but was moved a few years ago to make room for the construction of the LUAS track. The statue is located on Suffolk Street, in front of the Tourist Information Office.
Molly was not a real person the song that makes her famous is an old one is a story made up of a fishmonger who sold her wares on the streets of Dublin and died young of a fever. In the 20th century, a legend grew up around the fictional Molly when the Dublin Millennium Commission endorsed in 1988 claims made for a Mary Malone who died in 1699 and they declared the 13th of June to be "Molly Malone Day".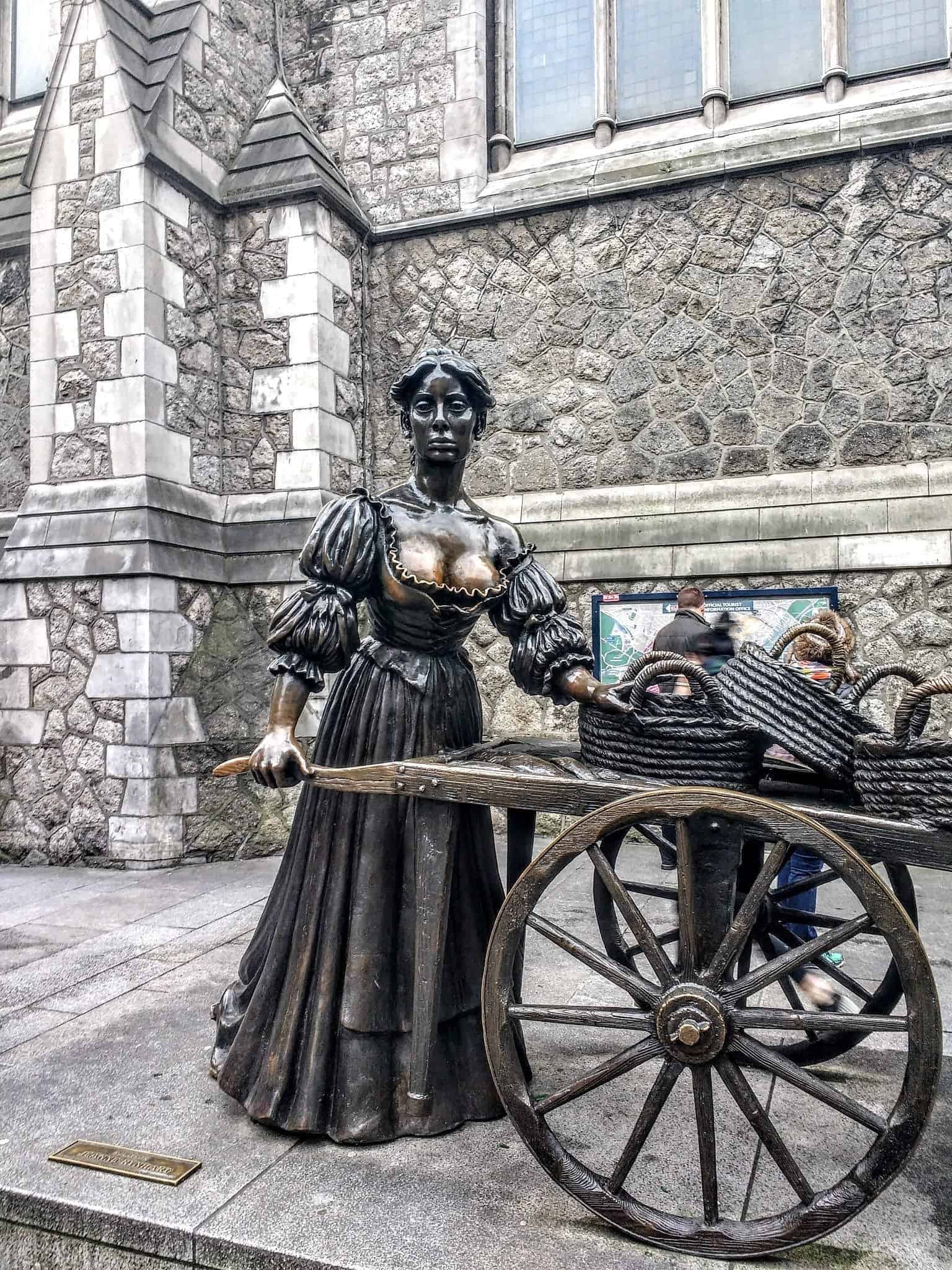 You will probably be introduced to the Molly statue by the guides on the HOHO buses as the "Tart with the Cart" of the "trollop with the scallops". The fact that the statue has a low-cut dress has led to what is known here in Ireland as being "handsy" rubbing the statue's breasts for good luck.
Temple Bar District
An immensely popular spot with tourists Temple Bar is a complete rip-off zone. Feel free to wander the streets and soak up the vibe of the area as it is very popular. However, getting a few drinks in one of the pubs will set you back a pretty penny.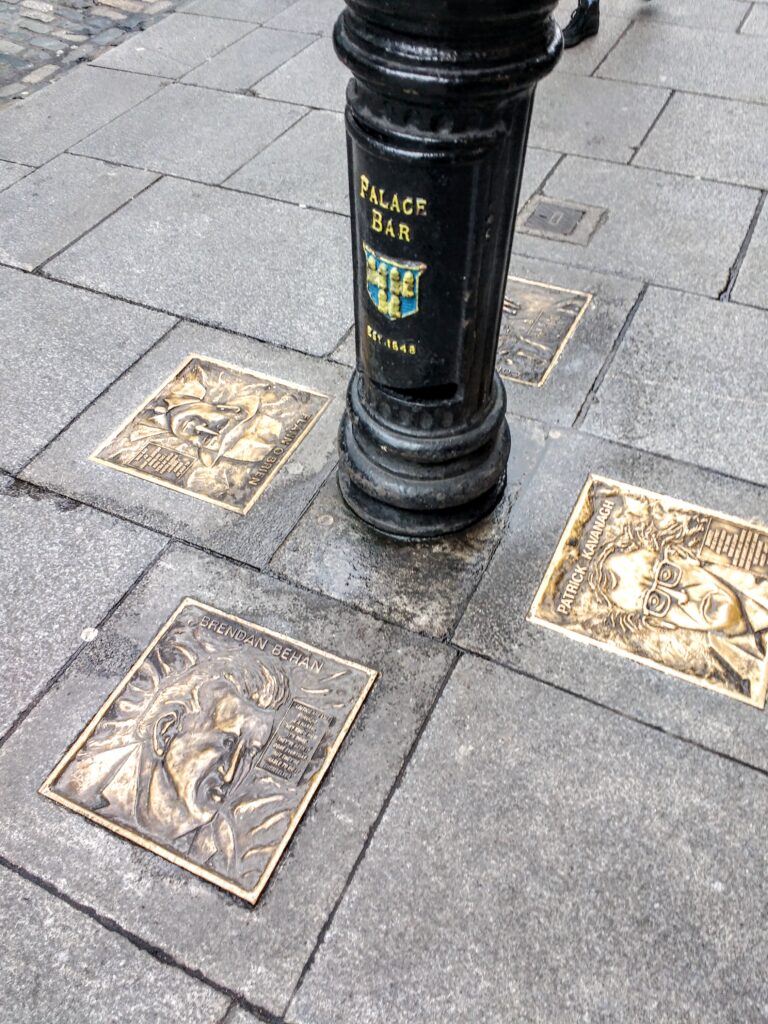 The Ha'Penny Bridge
Just down from the Temple Bar area, you will spot the Ha'Penny Bridge crossing the Liffey. It got its name because they used to charge a ha'penny for pedestrians to cross the Liffey. These days it is one of the most iconic sites in Dublin.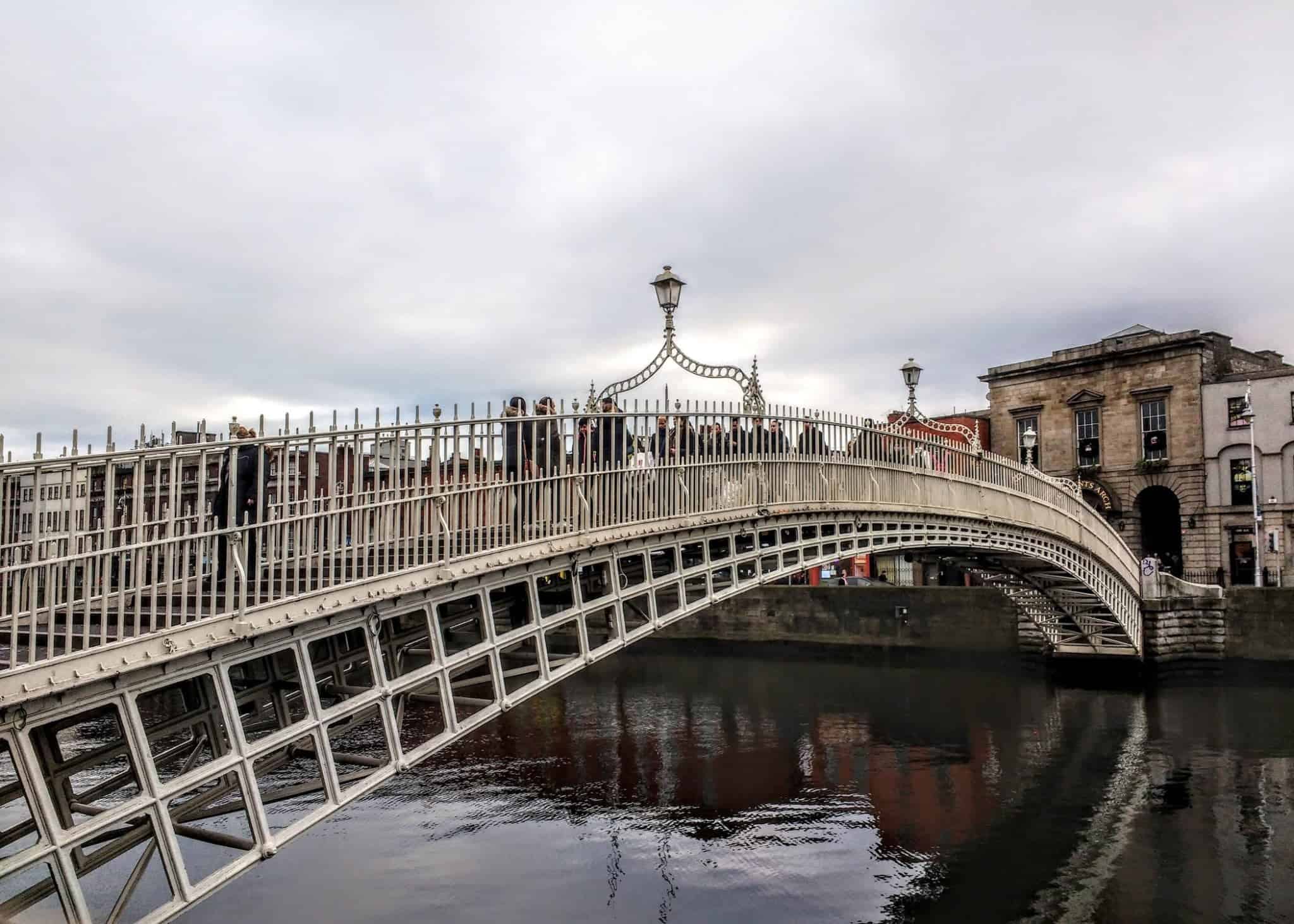 St. Stephen's Green
Gorgeous green space in the centre of the City has a complex and eventual history starting with its beginnings as a church area for those with leprosy to The Beaux Walk situated along the northern perimeter of the park became a popular location for high society to promenade.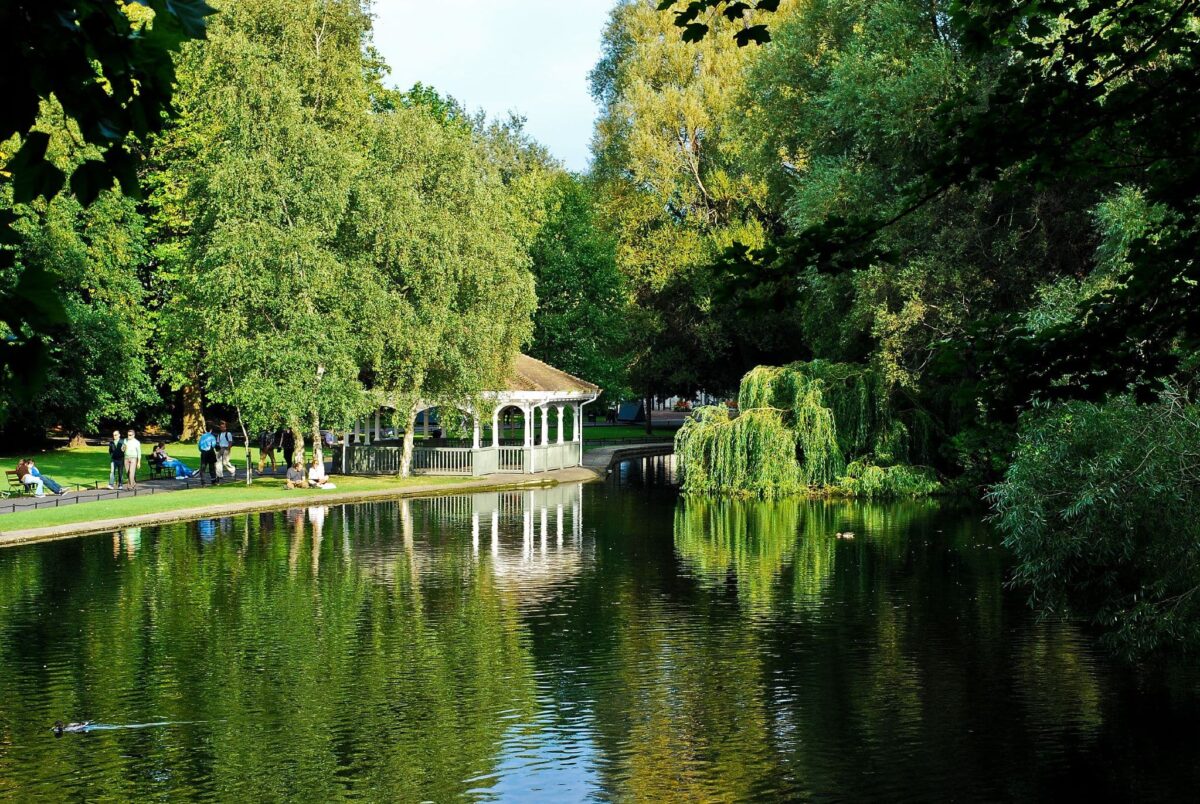 The park contains a large number of important sculptures and includes a playground and a garden for the visually impaired. Many species of birds and plants also call the park their home.
Trinity College Dublin
Situated right in the middle of the city alongside Grafton Street, Trinity College has hosted renowned playwrights including Samuel Beckett and Oliver Goldsmith. The book of Kells and the old library are the main attraction of Trinity College, but you can wander the grounds at no charge.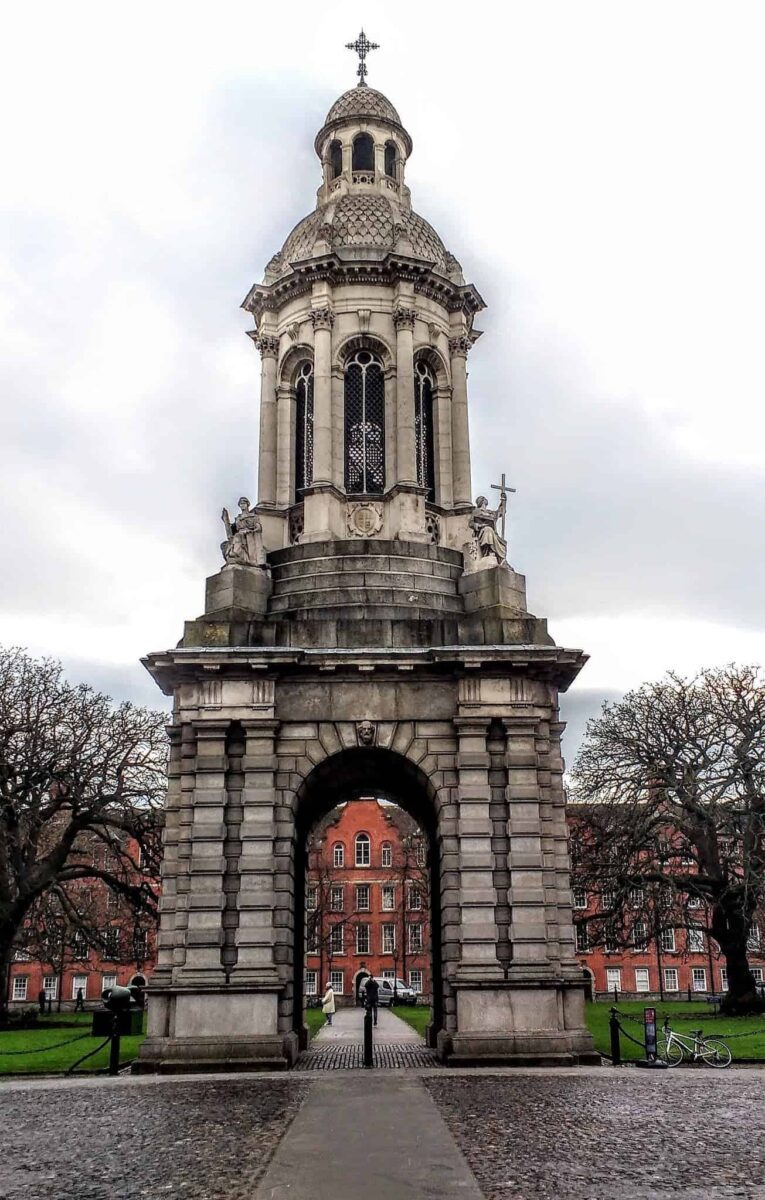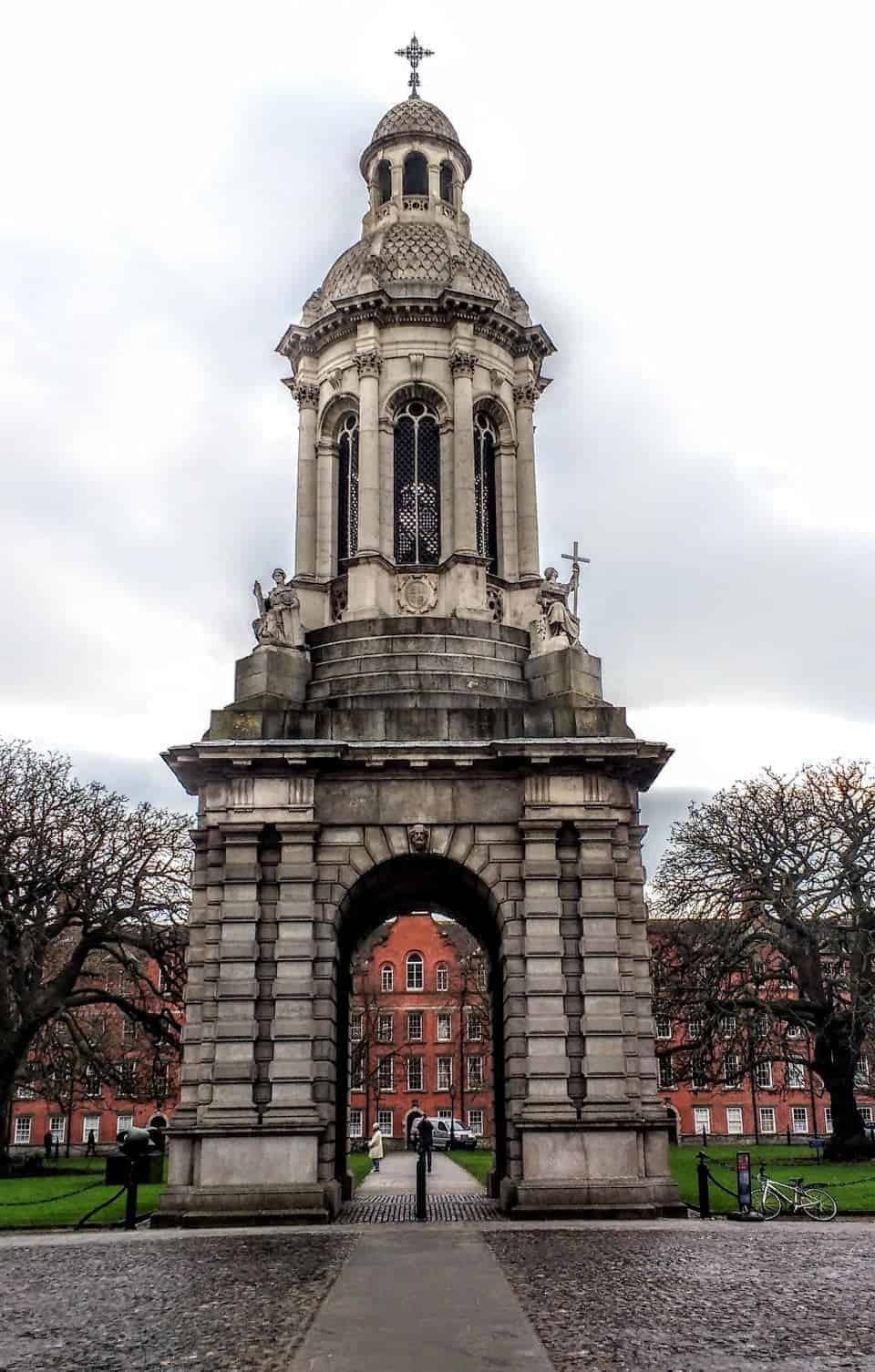 The Book of Kells
Your 2 day Dublin itinerary should include seeing the Book of Kells be aware that you may not be able to see the illuminated pages. They turn over the pages every day and many of the plates in the book are not illustrated it costs around €10 fee to see the Books and you may be very disappointed.
In 2023 the precious 9th-century book will be transferred temporarily to another landmark building, the college's Printing House, which is being renovated for the purpose.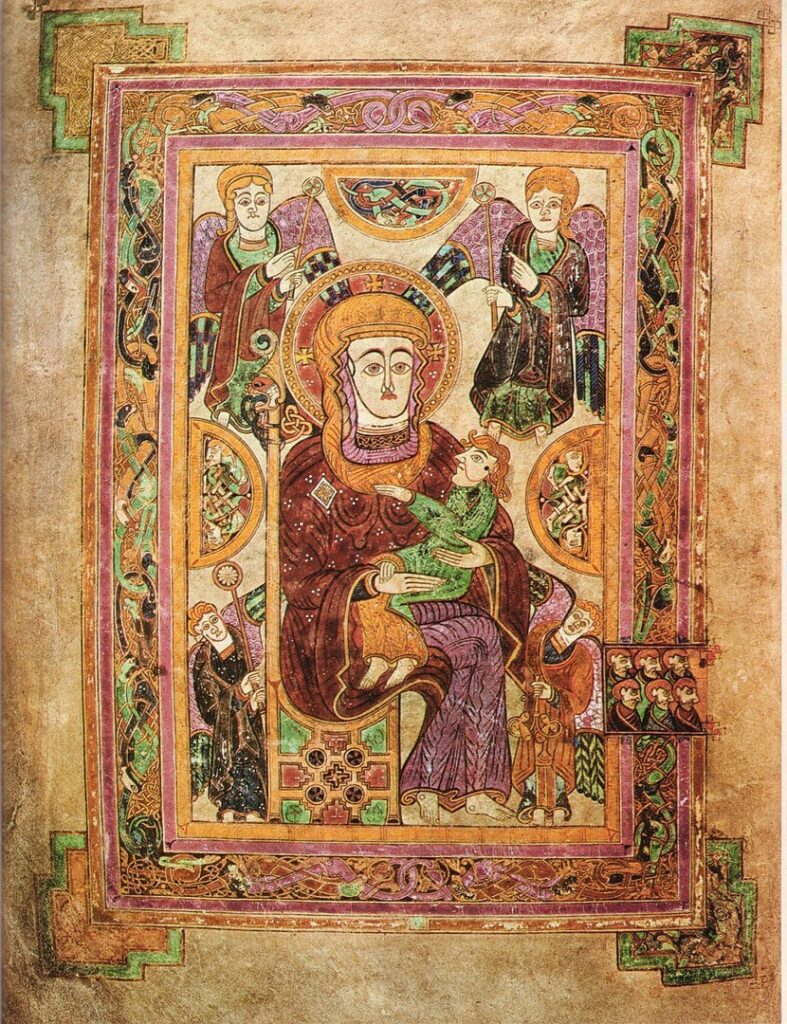 The €90m restoration of the Old Library, a globally renowned cultural landmark, is due to start next year and is expected to take about five years.
You could also visit the actual Village of Kells where the great book was found. There is a copy of the book in the church that is quite beautifully done and the Celtic cross grave markers are pretty impressive.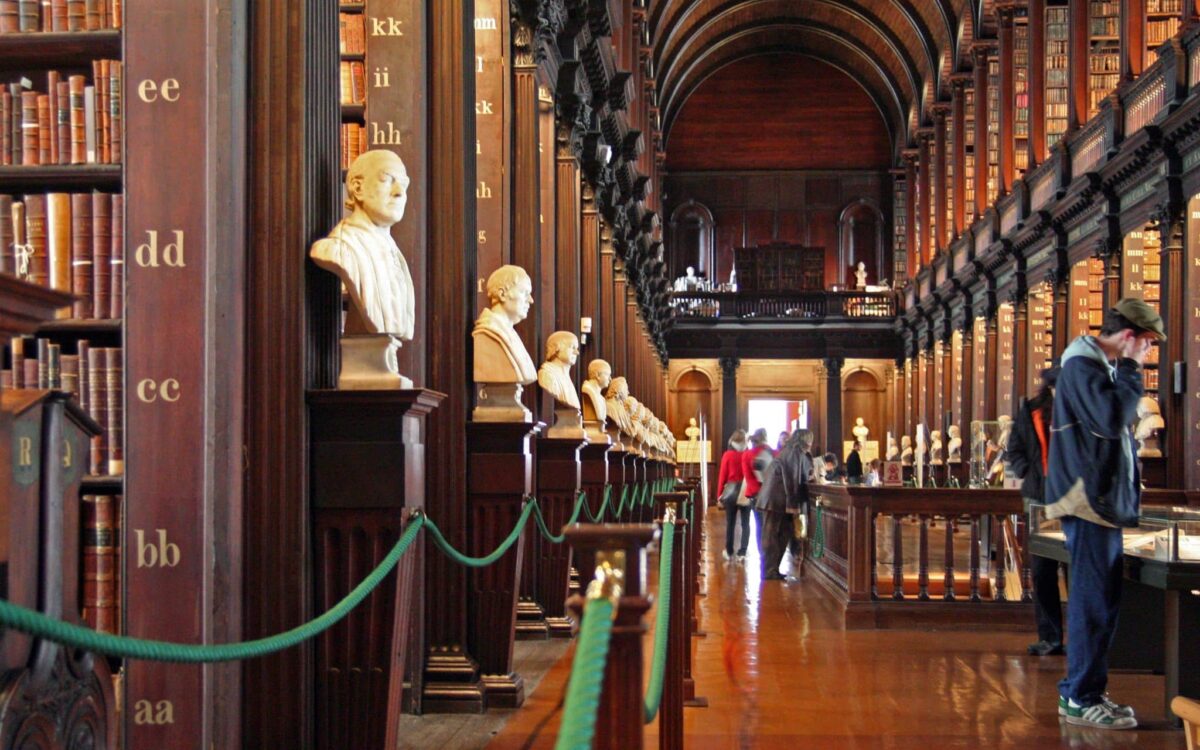 Tip for seeing the Book of Kells and the Old Library for half price
Visit 30 minutes before the library closes. Visit the website for details as to closing time as it can vary.
Phoenix Park
Phoenix Park is an oasis in the middle of a bustling city. One of the largest parks in Dublin it covers over 7210 hectares. There are stunning monuments and statues, herds of deer, a fairy walk and benches to sit and people to watch. The park is also located near the Dublin Zoo which you do have to pay for.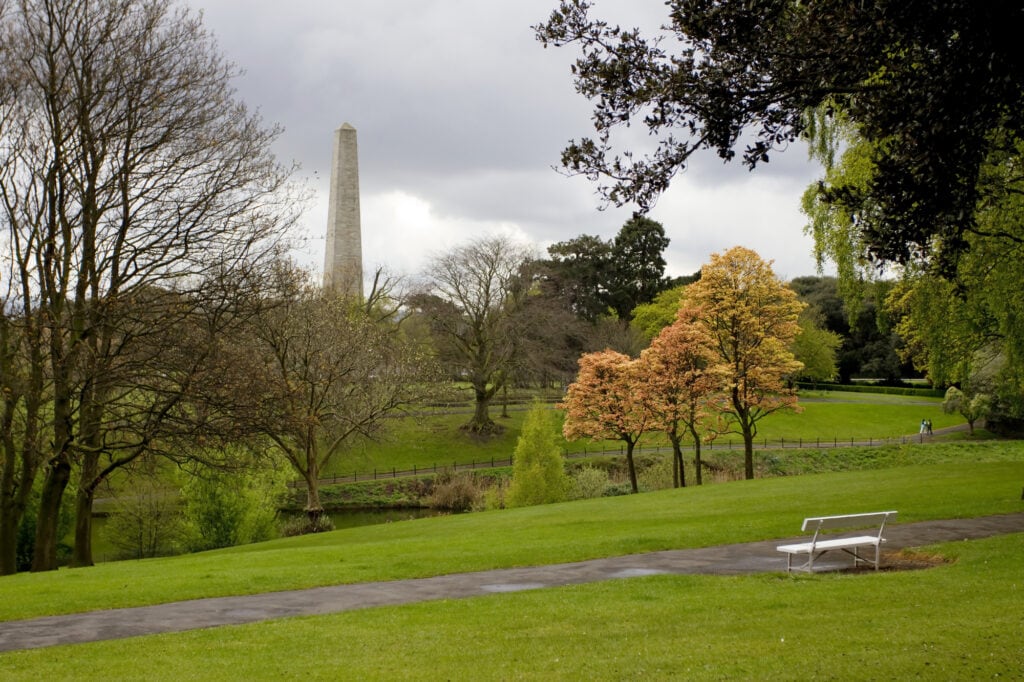 Georgian Dublin at Merrion Square
World-famous for its Dublin Doors and its reputation as one of the best places in Dublin to live, Merrion Square is the biggest Georgian Square in the city. Centred around a park you will see some beautiful examples of Georgian design in the redbrick townhouses. The park itself has a number of statues including a lounging Oscar Wilde who lived on the square back in the 1800s.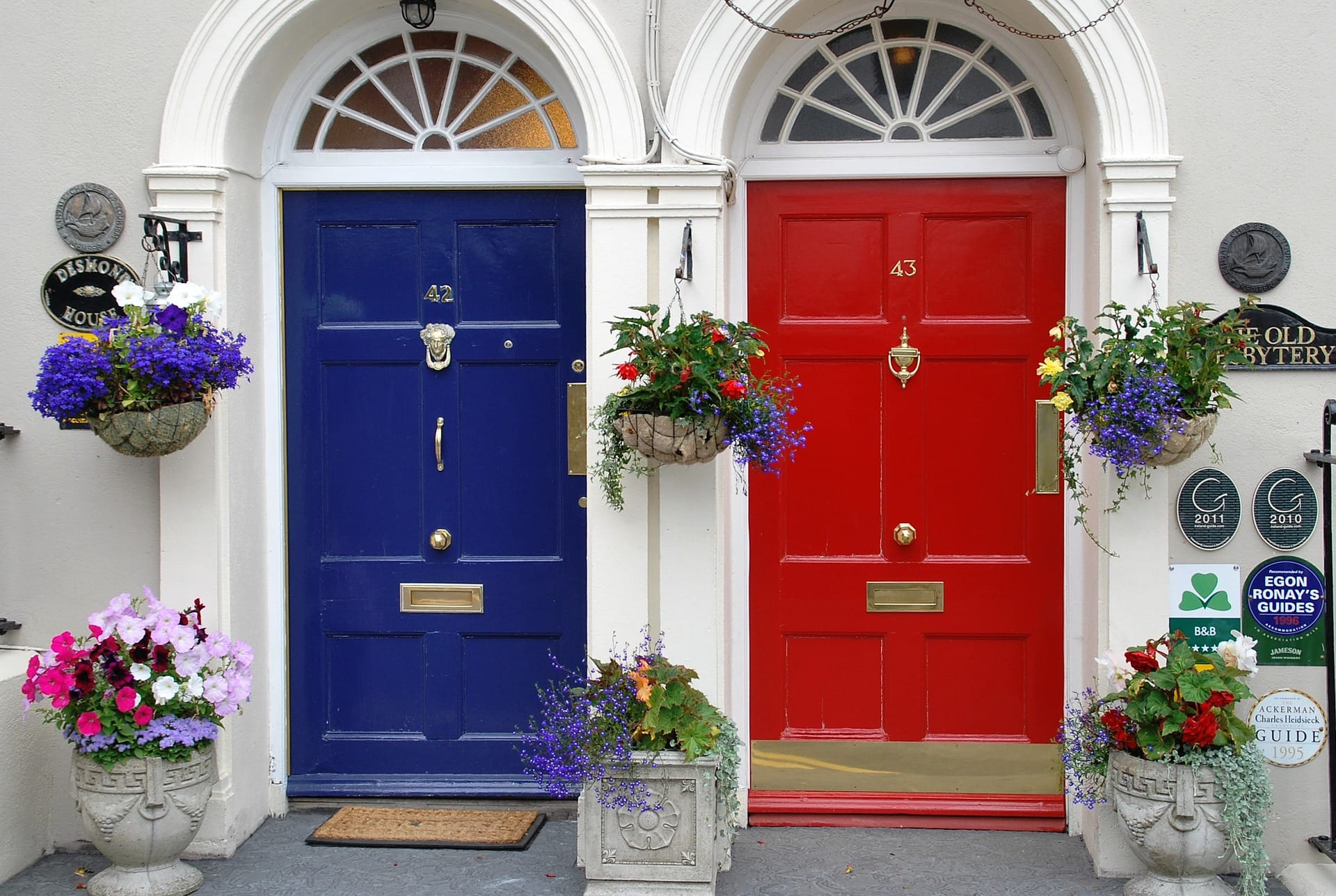 Free walking tour of Dublin
Tips-based tours are offered by several groups throughout Dublin. Essentially these "free walking tours" work on the premise that you enjoy yourself on the tour and your Guide's information and their patter that you will reward the guides accordingly. They usually last around 3 hours and you get to see some of Dublin's iconic sites (from the outside) such as Dublin Castle, Christchurch Cathedral, Temple Bar and plenty more.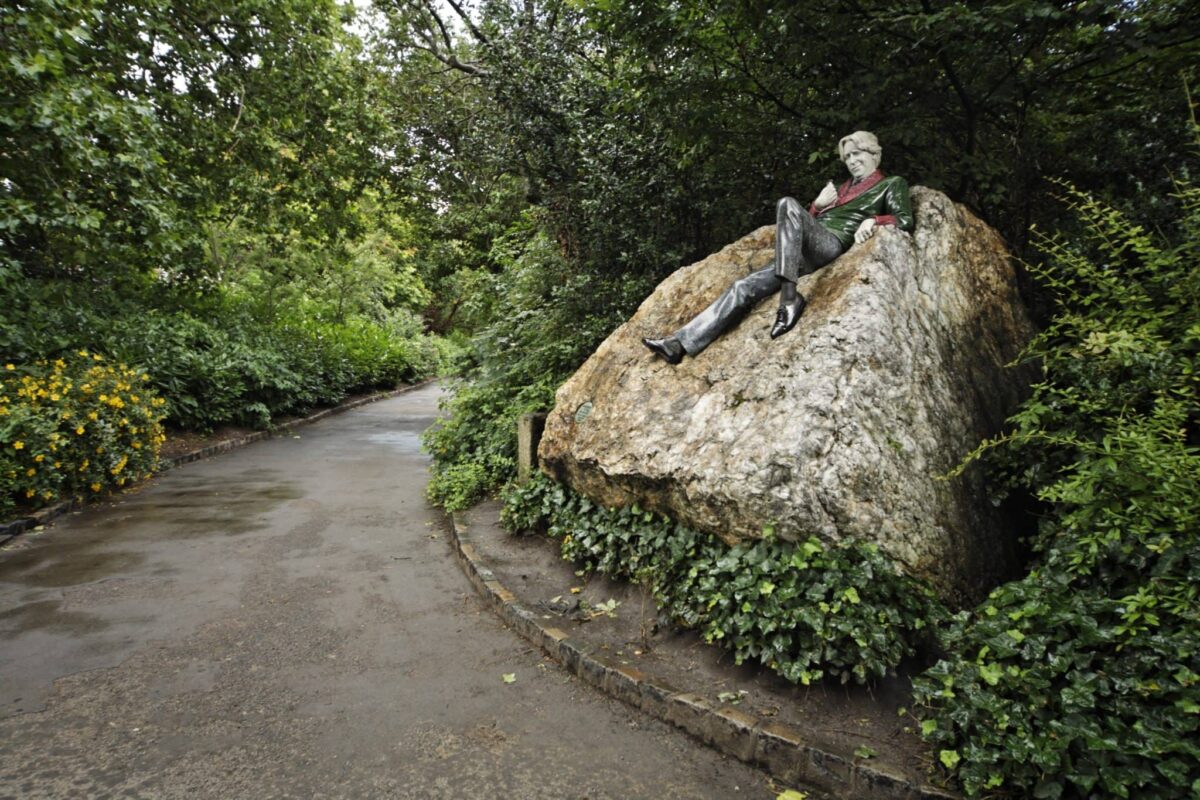 Restaurants in Dublin
There are some fabulous places to eat in Dublin but try to avoid Temple Bar as it can be very overpriced and not great food. Don't be worried about food allergies or food sensitivities Ireland's laws ensure that all ingredients must be clearly accessible.
Temple Bar is a great place to get some brilliant photos of popular and famous pubs and simply people watch.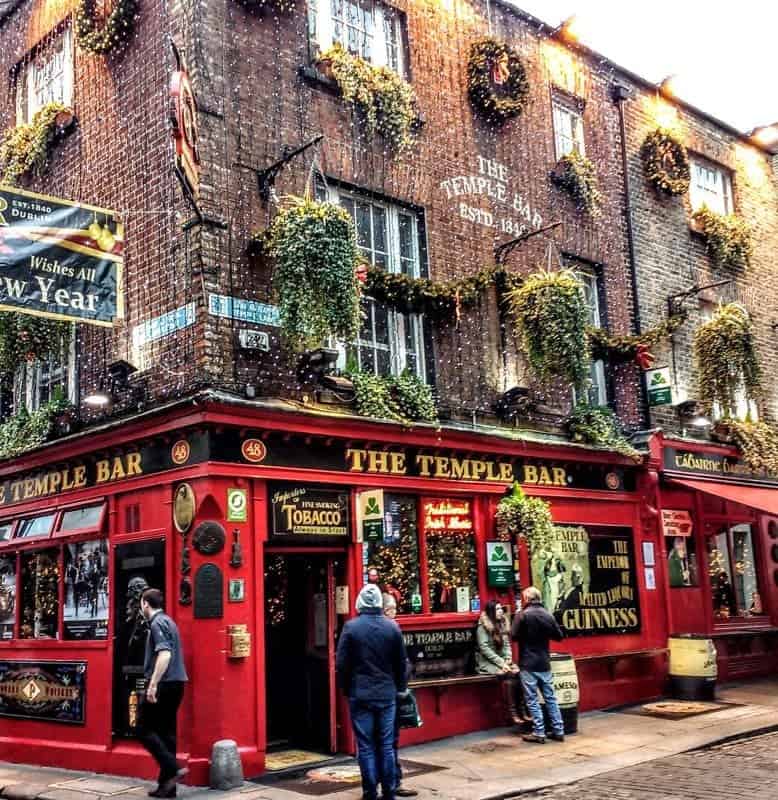 Govindas
Govindas is An amazing place with 3 locations completely vegetarian and well known for excellent tasty food and great for the budget, there is also plenty to choose from for vegans on the menu as well.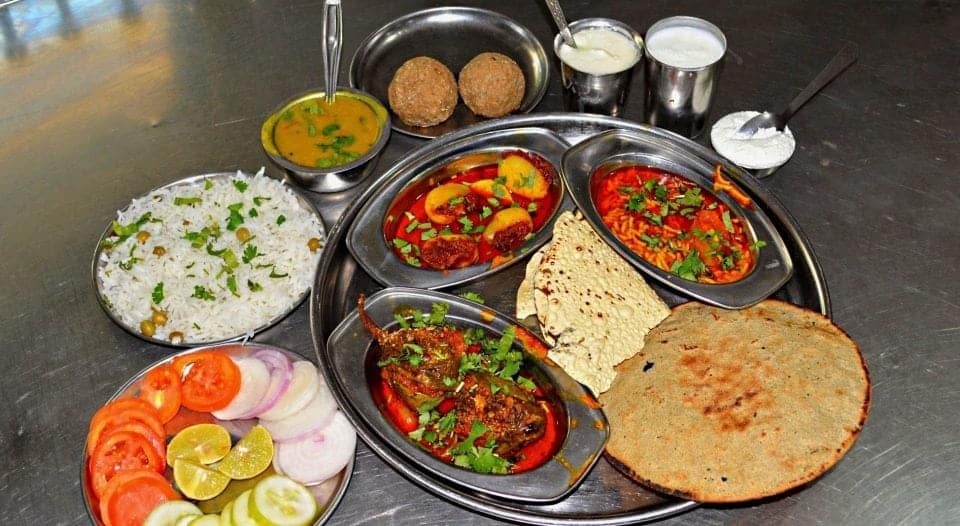 Kingfisher
The Kingfisher this Cafe feeds the crowds from nearby Croke Park, very handy place to have a real Full Irish if you're in store for a day of shopping. A Dublin tradition with big crowds and even bigger breakfasts. They also have boutique accommodation and self-catering as well.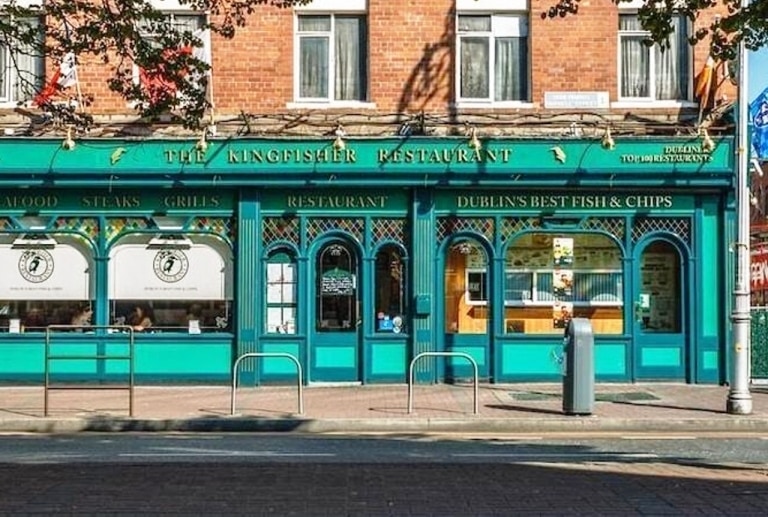 Matt the Rashers
Matt the Rashers is probably the most famous full Irish in the city, Matt The Rasher is popular with Dubliners in the know. Cheap and cheerful the place does get packed out so be prepared to queue. The recently opened location in Clondalkin (a suburb of Dublin) is also wildly popular.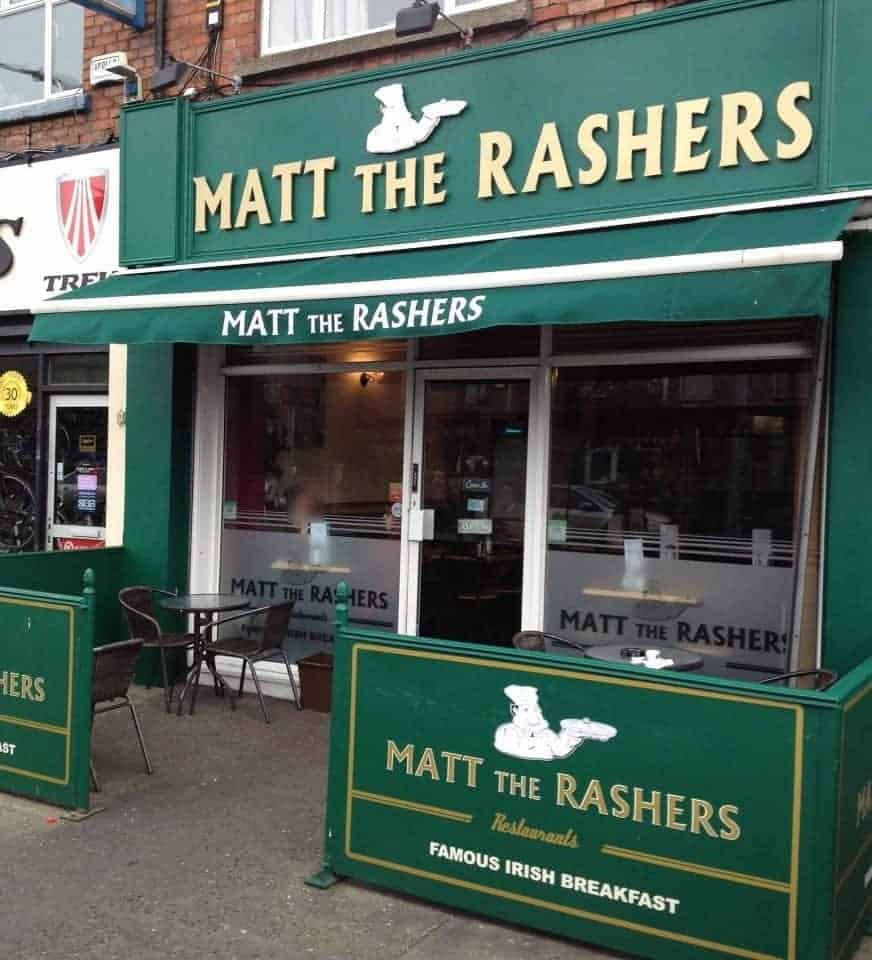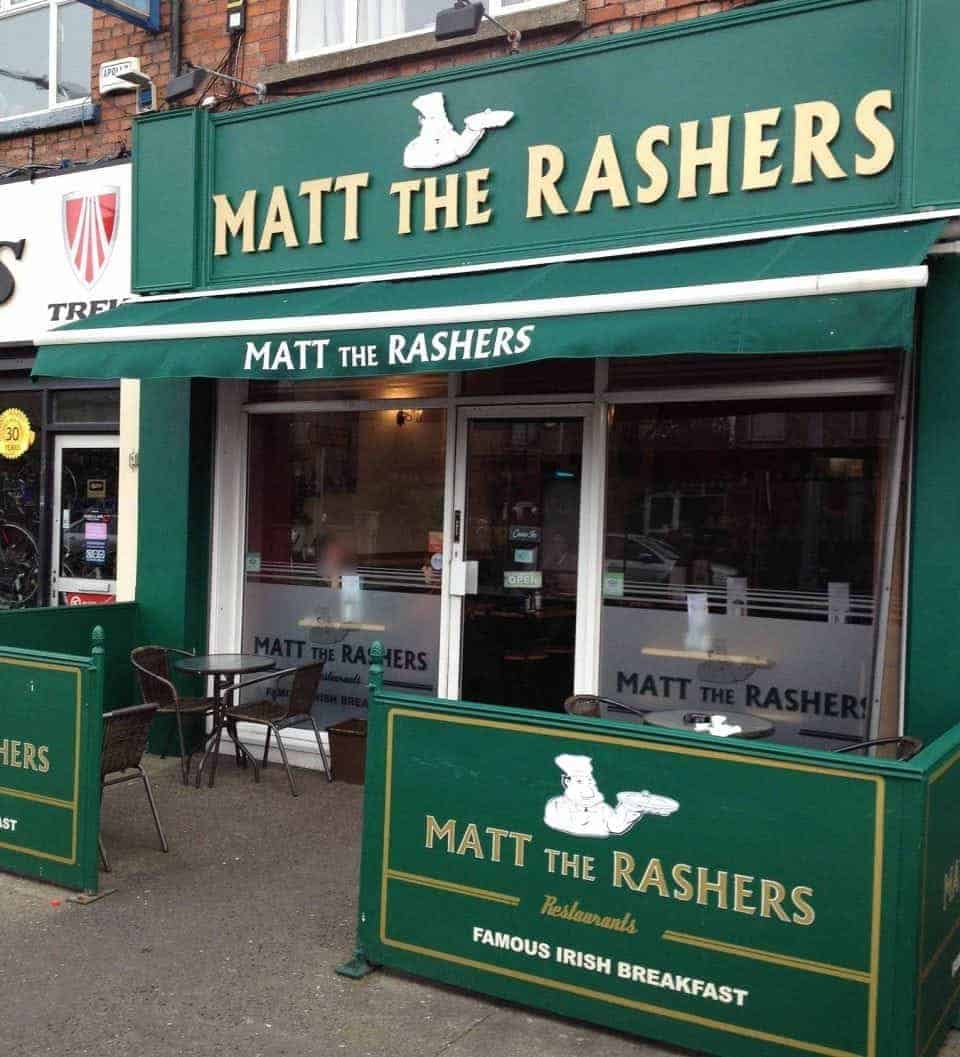 Free Traditional Music sessions in Dublin
So many pubs so little time but you have to find a great pub or two when in Dublin for your 2-day Dublin itinerary and here's a selection.
O'Donoghues
Home of The Dubliners, O'Donoghues is perhaps the greatest, traditional Irish pub in Dublin. Always busy, especially when Ronnie Drew and the Dubliners would come and play, for free, with other local musicians.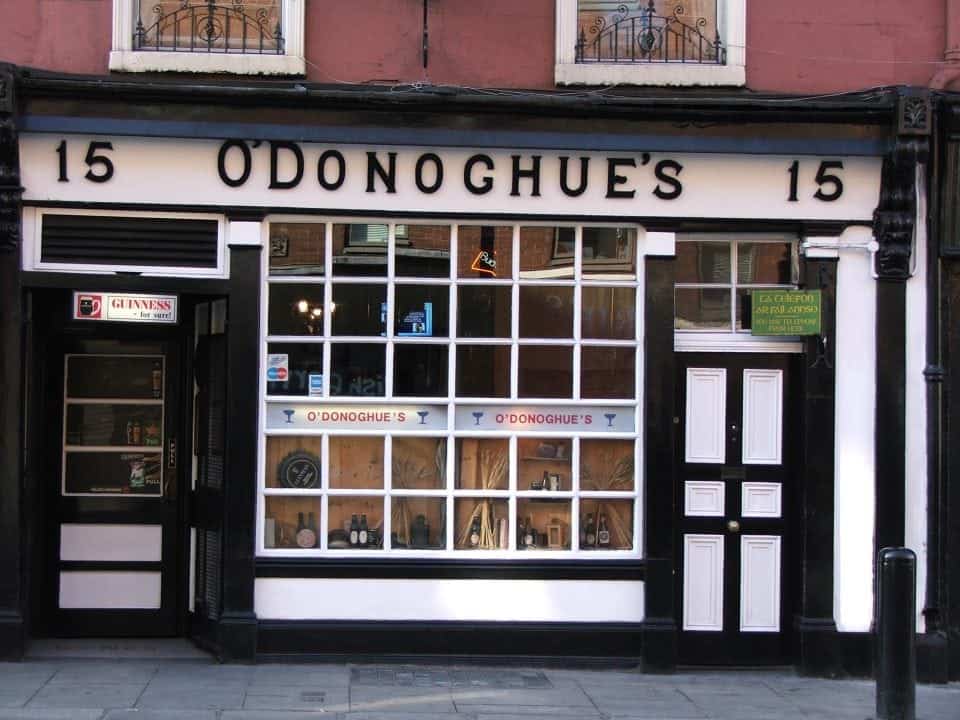 O'Neills
O'Neill's has traditional Irish music sessions but also Irish dancing, jigs, reels and all sorts of mischief and fun. The food is pretty excellent too.
Kehoe's
John Kehoe's has been around since 1803 and it always looks the same – it never changes. Ever. That means it's completely authentic, unspoilt and brimming with atmosphere and tradition. A trad session here is usually small but absolutely fantastic.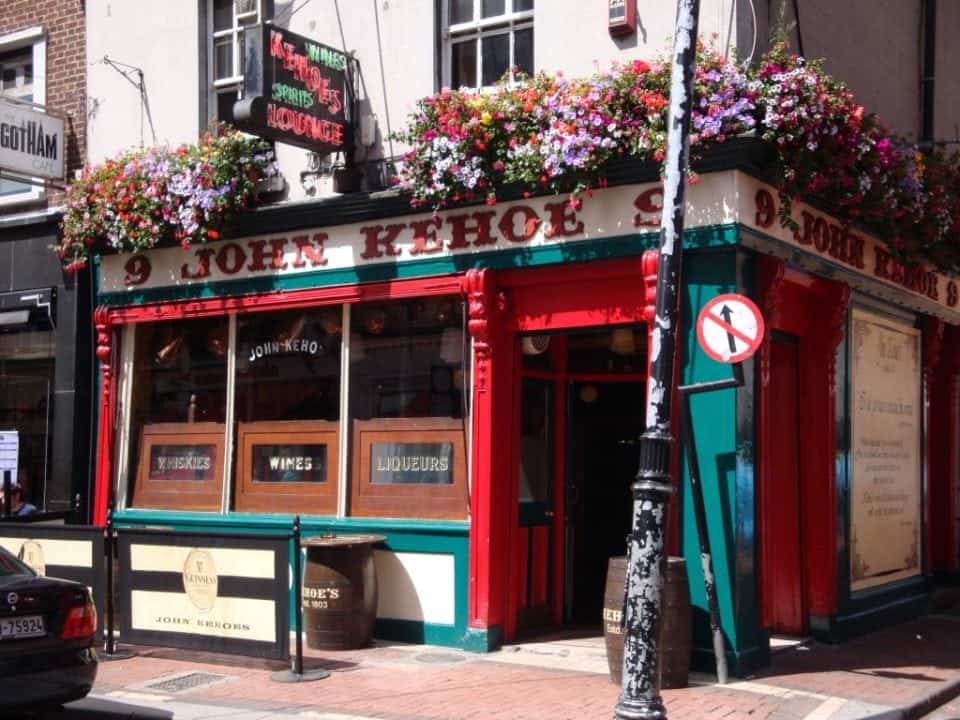 Gogarty's
The Oliver St John Gogarty, or just Gogarty's, is in Temple Bar and has live Irish music and ballads every single day of the week, all afternoon and into the night. That's upstairs. Downstairs, other sessions can spark up at any time. Enjoy the very best of live traditional music every day from 1 pm till 2.30 am, cocktails will set you back around €10 euros each and a pint around €9 rather ridiculous prices to be honest.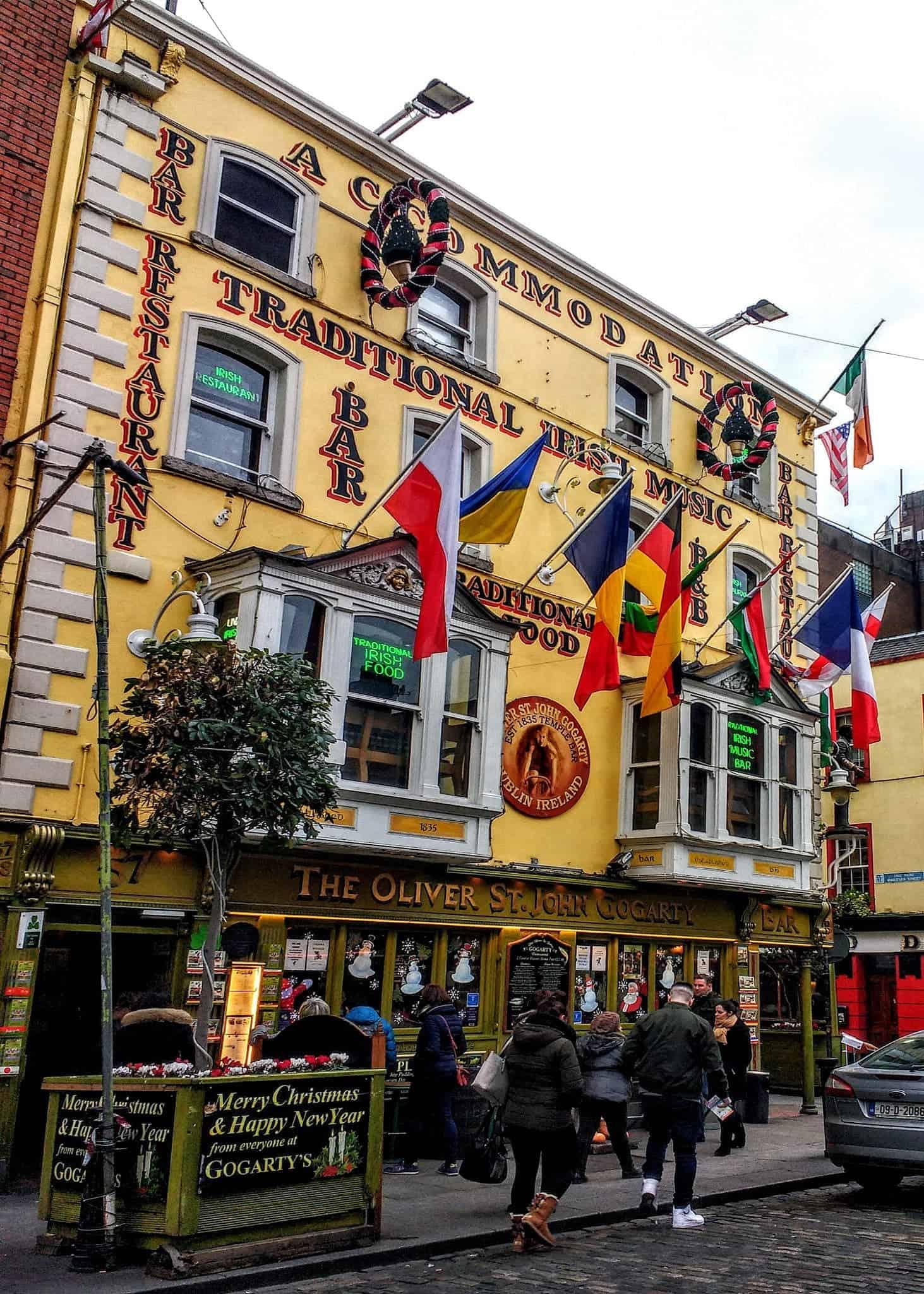 The Cobblestone
This is arguably the best pub in Dublin for live traditional Irish music sessions. The Cobblestone is in Smithfield, near the Jameson Distillery and across the river from Guinness's. The owner has made sure he has the best musicians in the city and you'll be impressed every night of the week and all afternoon at the weekends.
Your hotel in Dublin
Word of advice here don't attempt to stay in Temple Bar the noise and the extortionate pricing will ruin your trip. There are no castles in Dublin itself but if you want a Castle Stay here are a few on the outskirts of Dublin.
Where to stay in Dublin
Harding Hotel
Overlooking Christ Church Cathedral, Harding Hotel is located beside Dublin's Temple Bar district. It offers spacious rooms with free Wi-Fi, a bistro-style restaurant and a lively bar. A simple budget hotel with a good rating from its guests.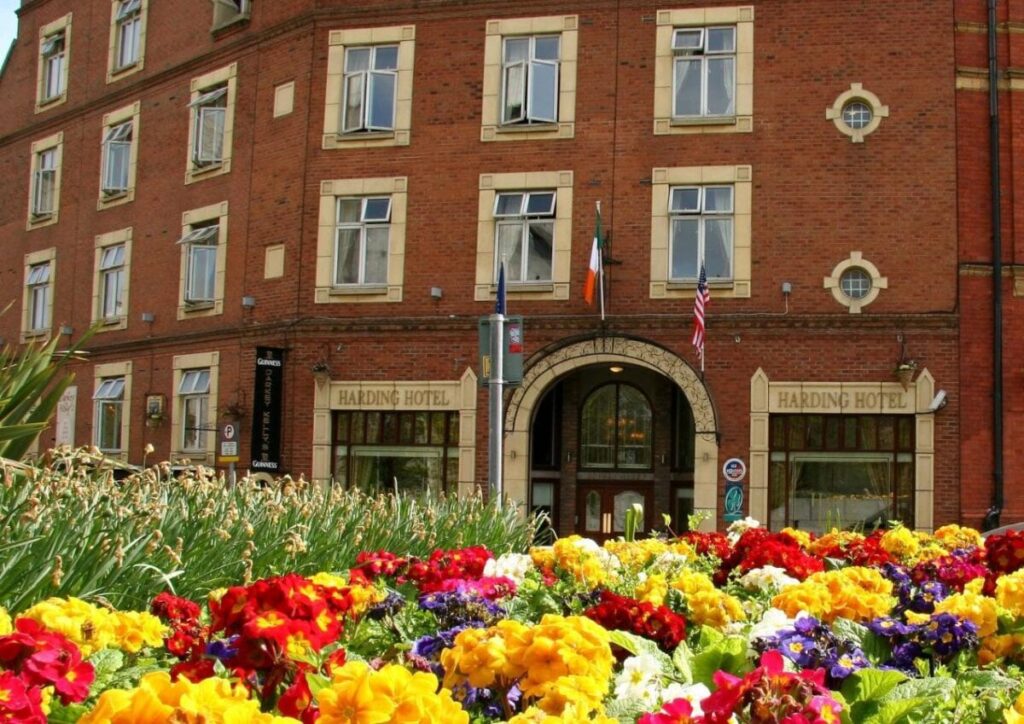 The Fitzwilliam Hotel
Fancy a luxury splurge then the Fitzwilliam is for you. In central Dublin, The 5-star Fitzwilliam Hotel offers luxurious accommodations. Guests can enjoy the restaurant and bar There is a gym, and the hotel's interior design is by Sir Terence Conran. The city's Temple Bar area is just a 5-minute stroll away, as is Trinity College. The Fitzwilliam is just 9.7 km from Dublin Airport and Heuston Train Station is 2.4 km away.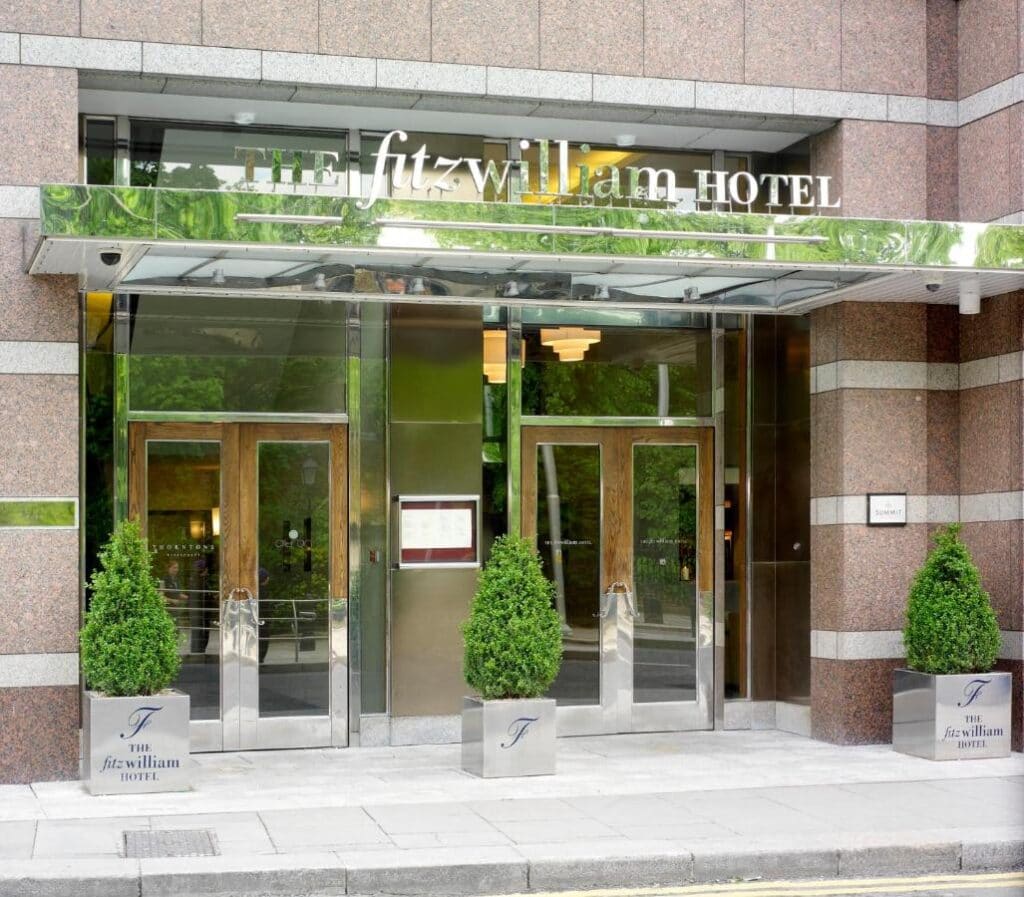 Staycity Hotels – St. Augustine
With balconies overlooking the city or the courtyard, Staycity Aparthotels Saint Augustine Street provide stylish accommodations in the heart of Dublin. Close to Christ Church Cathedral, Temple Bar is a 5-minute walk away.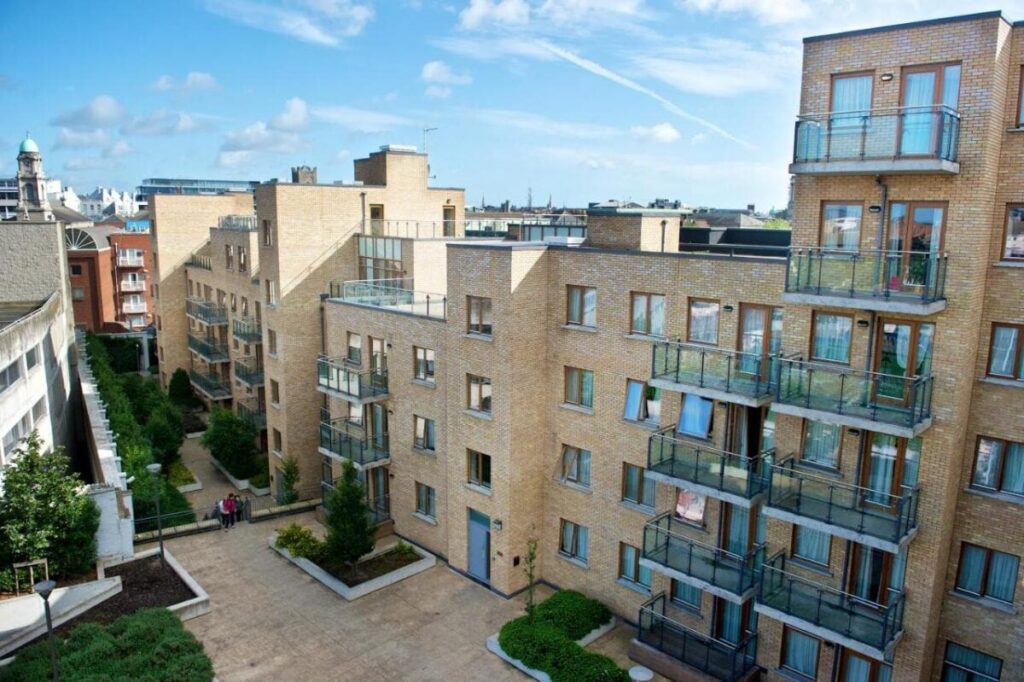 Hotel St. George by Nina
Located at the top of O'Connell Street, The Hotel St. George is in the heart of Dublin city centre, within 200 m from the shopping district of Henry Street. With free WiFi, bedrooms also have private bathrooms. Hotel St. George is within a 15-minute walk from landmarks such as Trinity College, Temple Bar, Grafton Street and Croke Park. The Dublin Airport Shuttle stop is just 2 minutes from the property and Dublin Airport is 5 mi away.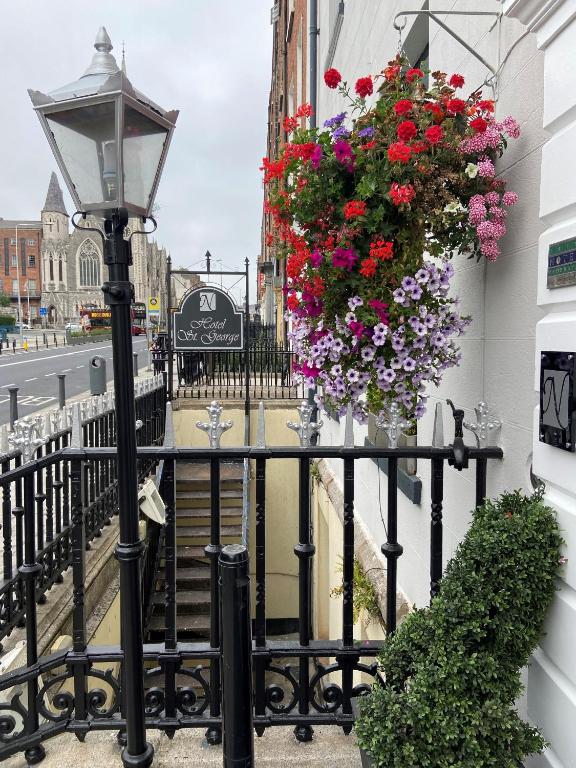 Castles to stay near Dublin
Clontarf Castle Hotel
Dublin is a little short on castles within the city the two best castle in Dublin are just outside of the city. The original Clontarf Castle dates back to 1172 but the "newer" building is significantly younger. Located in the seaside village of Clontarf which is just north of Dublin's city centre and a few miles from the Dublin Airport it is located in a quiet and peaceful setting.
Clontarf Castle has seen a lot of history in its day from the Templar Knights to the Cromwellian conquest and of course the Rising. Irish chieftain Brian Boru gave the Vikings one of their rare defeats at the former port of Clontarf in 1014.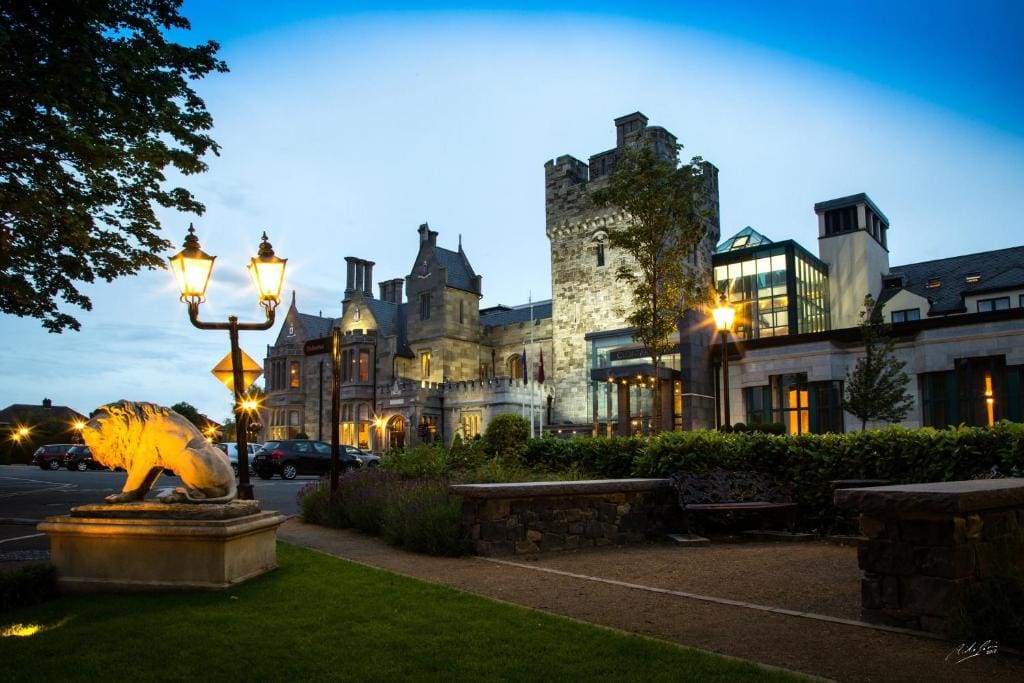 Regarded as one of the greatest composers of the Baroque era, Handel was a regular guest at the castle during the Dublin premiere of his famous work Messiah.
Captivated by Dorothy "Dolly" Vernon, the lady of Clontarf Castle's charms, Handel would compose Forest Music in her honour.
Given its proximity to Dublin, there is a plethora of things to do in the area. Take a ride into Dublin and enjoy all the off the beaten path sites. Hang out in some pubs for trad music. Or simply wander around the lovely village of Clontarf. Just a short walk away from Clontarf Castle Hotel sits an elegant townhouse with a bright red door. This is the birthplace of Bram Stoker the author of Dracula.
A deluxe bedroom ranges from €159.00 including breakfast to €299.00 for a Queen boutique suite.
BOOK YOUR STAY AT CLONTARF CASTLE NOW
Luttrellstown Castle Resort
Lutrellstown Castle Resort is only around 30 minutes outside Dublin and is a true 5* experience. It is a Castle that is for hire on an exclusive basis and it is set within 560+ acres that includes a championship golf course. The Castle dates to the 15th century and it is believed that Sir Henry Luttrell seized the estate in 1436, during the reign of King Henry VI.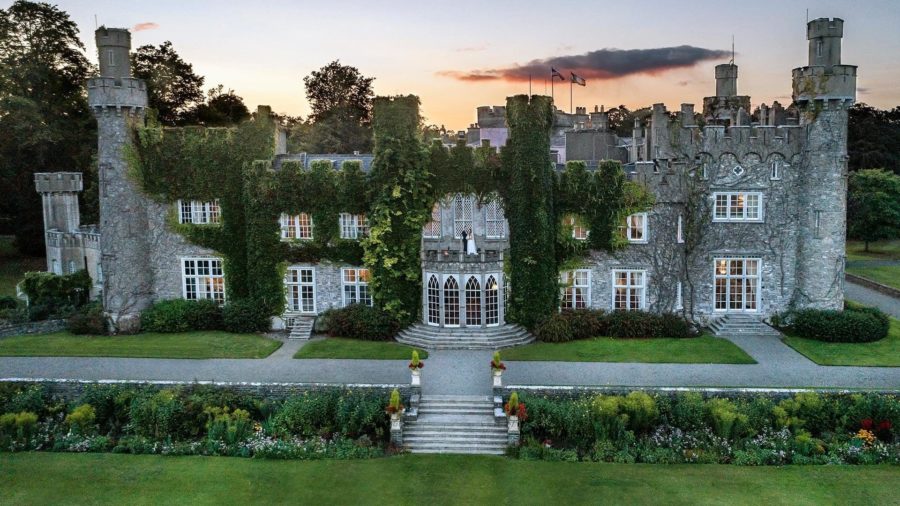 Over the years many notable celebrities and members of the royal family have spent some time at Luttrellstown Castle. The Grand Duke of Luxembourg, Prince Rainier and Princess Grace of Monaco, Fred Astaire, Douglas Fairbanks, Queen Magrethe II of Denmark, Paul Newman and Ronald Reagan have all stayed in this stunning Irish castle. More recently, the world's media descended on Luttrellstown Castle Resort in 1999 for the fairy-tale wedding of David and Victoria Beckham.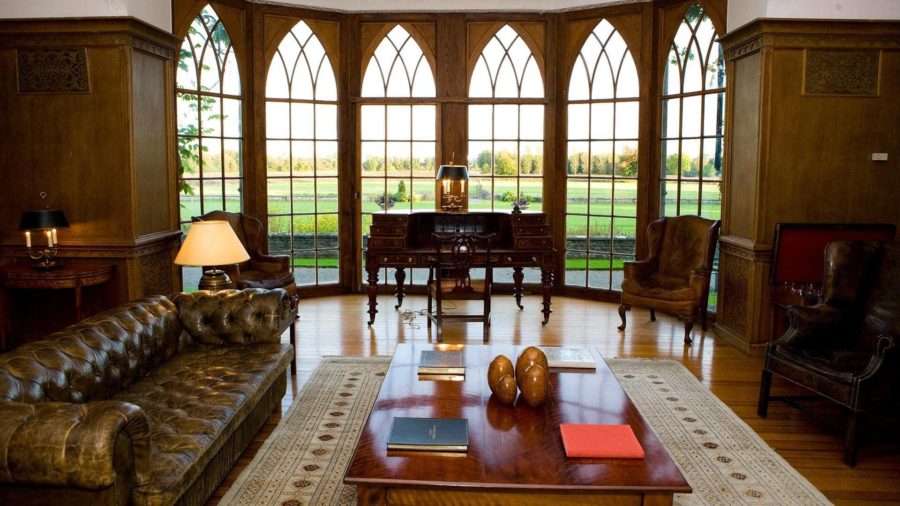 Luttrellstown Castle with its 11 bedrooms and bridal suite range from €55000 – 55000 per week. Rentals are from Saturday to Saturday only.
Spending two days in Dublin is a perfect way to explore the city's rich history, culture, and natural beauty. From exploring iconic landmarks like Trinity College and St. Patrick's Cathedral to indulging in traditional Irish cuisine and lively nightlife, there is something for everyone. Visitors can also escape the hustle and bustle of city life by taking a stroll in one of Dublin's many parks or enjoying a scenic boat ride along the River Liffey. With so much to see and do, it is no wonder why Dublin continues to be a popular destination for travellers from all over the world.
What have you discovered on your 2 days in Dublin itinerary that you think folks should know about? Let me know in the comments I would love to hear your discoveries.
Rest assured this will give you a tiny taste of Ireland and you will be back for more.
Here are a few more articles and day trips from Dublin that will inspire you to visit Ireland again.
101 Landmarks in Ireland to see
How to visit Newgrange Ireland: A Sacred site
How to visit Monasterboice the finest High Crosses in Ireland
36 Brilliant things to do in Kilkenny
Ireland's Ancient East – an epic road trip
Essential guide to the Cliffs of Moher in Ireland
15 Dublin Don'ts – a little bit of Irish craic for you
Ultimate Wild Atlantic Way Route
Food tours in Dublin you might enjoy
Dublin Coastal Craft Beer and Seafood Trail with a Local
Known for its bounty of seafood, bars, restaurants and, importantly, beer, the small historic fishing village of Howth is perched on the coast just a short drive from downtown Dublin. Join in a guided half-day tour, featuring a freshly-caught two-course seafood lunch and a selection of North County Dublin's finest craft beers. With this tour, discover the rich Norman and Viking history of medieval Ireland. Discover some of Howth's less-known eateries and bars, popular with locals Sample Ireland's freshest seafood: Dublin bay prawns, Oysters, Gambas, and more Hear of Norman and Viking invasions and discover legends from 12th-century Howth Walk across Howth Harbour and watch fishing boats return with the latest catch

Read more about Dublin Coastal Craft Beer and Seafood Trail with a Local
Delicious Dublin Food Tour
Discover Dublin's burgeoning culinary culture—and visit a number of the city's characterful eateries—on this small-group walking tour. Be sure to arrive hungry: this lunchtime tour kicks off in the late morning, and includes a number of samples. Try local cheeses and chocolates, drop by bakeries and food halls, and head off the tourist trail when you visit venues that locals love. As you go, learn more about Ireland's gastronomic history. Small-group walking food tour of Dublin Enjoy numerous samples of local dishes Get off the tourist trail and see another side of the city Learn all about Ireland's rich food culture from your guide

Read more about Delicious Dublin Food Tour
The Irish House Party Dinner and Show Dublin
Immerse yourself in a night of traditional food and entertainment at the Irish House Party in Dublin. You'll experience one of the city's best ways to spend an evening at this dinner-and-show event complete with authentic Irish fare, diverse music, dancing and storytelling. Enjoy some traditional Irish food like Guinness stew and Baileys-infused chocolate cake, and sing and dance the night away with a talented group of performers.

Read more about The Irish House Party Dinner and Show
Traditional Irish Night Show Ticket in Dublin with optional Dinner
Enjoy an evening of traditional Irish food, music and dance with an Irish show at the Belvedere in Dublin. Get set for a night of non-stop entertainment as professional Irish folk musicians and dancers take to the stage to perform Irish dances, jigs and reels. Tuck into a delicious 3-course dinner of typical Irish cuisine, sip a pint of Guinness (own expense) and maybe even get up on stage to try your hand at Irish dancing.

Read more about Skip the Line:Traditional Irish Night Show Ticket in Dublin with optional Dinner
Dublin Secret Food Tour w/ Private Tour Option
Eat like a true Dubliner on this small-group Dublin food tour. With your guide, seek out authentic pubs, cafés, food shops, and markets, and savor Irish specialities including a traditional breakfast, artisanal cheeses, ice cream, and more. Pair your tastings with an Irish cream liqueur and another tipple, and admire some of Dublin's hidden gems and learn about its culinary heritage as you eat and explore. Tour is limited to 12 or fewer.

Read more about Dublin Secret Food Tour w/ Private Tour