Where is the famous Abbey Road crosswalk?
Abbey Road in London is the most famous crosswalk in the world otherwise known to fans as the Beatle's Crosswalk featured on the Abbey Road Album of 1969. I am old and admit to being a massive Beatles fan when I was younger but I missed out on the hype and the beginnings because – well because I'm not that old.
As a teenager I collected all things Beatle, by that time, of course, they had aged and split up and yet were still iconic for almost all generations. I worked at a record store as a teenager and had always felt that one day I would visit Abbey Road Studios and see that famous Abbey Road London location.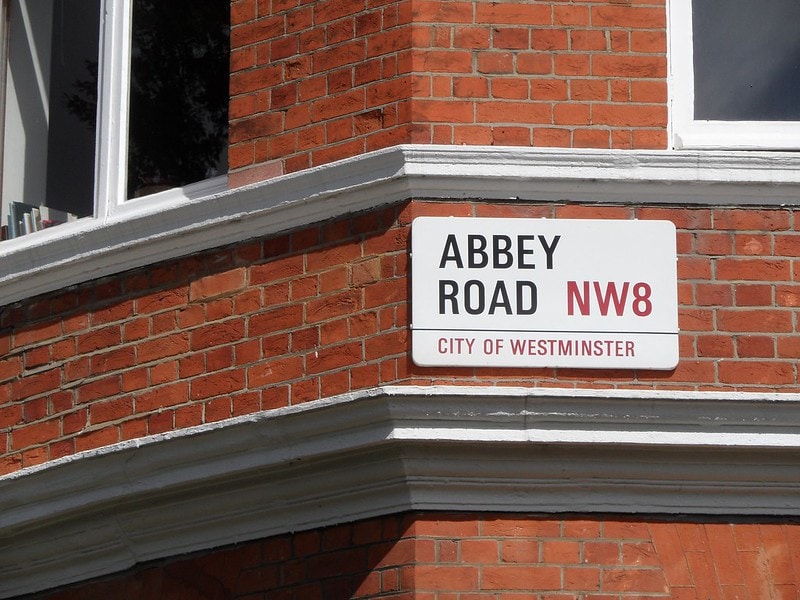 Abbey Road, London postcode
Abbey Road in London is best known for its recording studios – and for The Beatles Abbey Road album that took its name from the address. The album's iconic cover photograph shows the band members on a zebra crossing in Abbey Road.
Artists who have recorded at Abbey Road in London include Kanye West, Florence and the Machine, Pink Floyd, Fela Kuti, the Zombies, Michael Jackson, James Blunt, Queen, Lady Gaga, Miley Cyrus, U2, Stevie Wonder, Ella Fitzgerald, Mary J. Blige, Duran Duran, Oasis, Kylie Minogue, and Green Day. The Beatles themselves recorded their last Album – The White Album at Abbey Road Studios.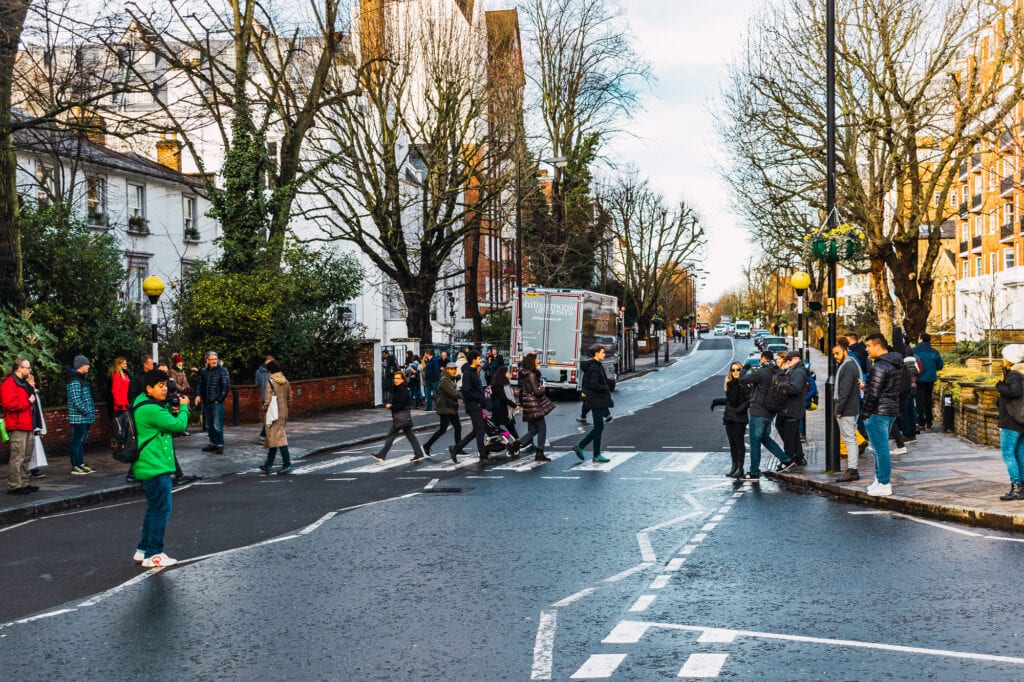 In December 2010, the BBC reported that "The original zebra crossing, where the photograph was taken, was moved several metres for traffic management reasons more than 30 years ago, and no original features remain."
Xyuandbeyond is reader-supported. When you buy through links on our site, we may earn an affiliate commission. You can read my privacy policy here.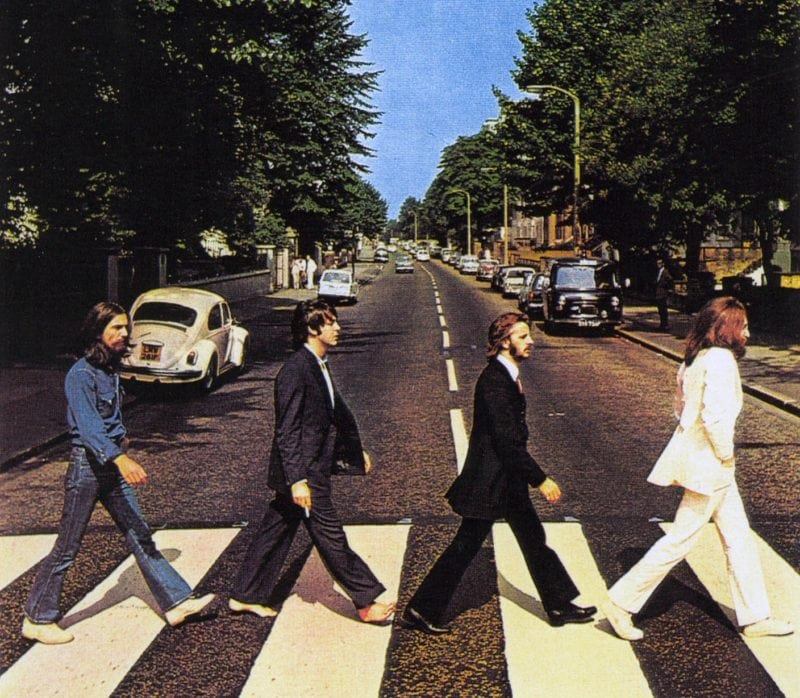 The famous album cover of the Beatles, George Harrison, Paul McCartney, Ringo Starr and John Lennon crossing Abbey Road crosswalk.
Many dispute this claim and have studied photographs that "proves" to them that the Abbey Road crosswalk has never been moved. I don't care personally it was enough to be in the area and know that the Beatles had been there.
History of Abbey Road in London
Back in the day, Abbey Road was a dirt track through Northwest London to central London and over the years when the Lord's Cricket Ground was built this became a well-known area.
In 1929 EMI bought a townhouse at 3 Abbey Road and transformed it into the world's first custom-built recording studio. In 1931 the studios opened with Sir Edward Elgar conducting an orchestra playing his piece "Pomp and Circumstance".
Artists who visited and recorded at Abbey Road in London before WWII included Fats Waller and Fred Astaire.
During World War II the BBC and British Government used Abbey Road studios for BBC broadcasts and their propaganda recordings. Artists who recorded here during that time included Glenn Miller and Dinah Shore.
Abbey Road in London – the Beatles
In 1969, the Beatles' arrived to record their latest album with George Martin. This album which became "Abbey Road," was their first album to be recorded in stereo. The final mixing of this iconic album was on August 20th when all four of them were together for the last time in a recording studio.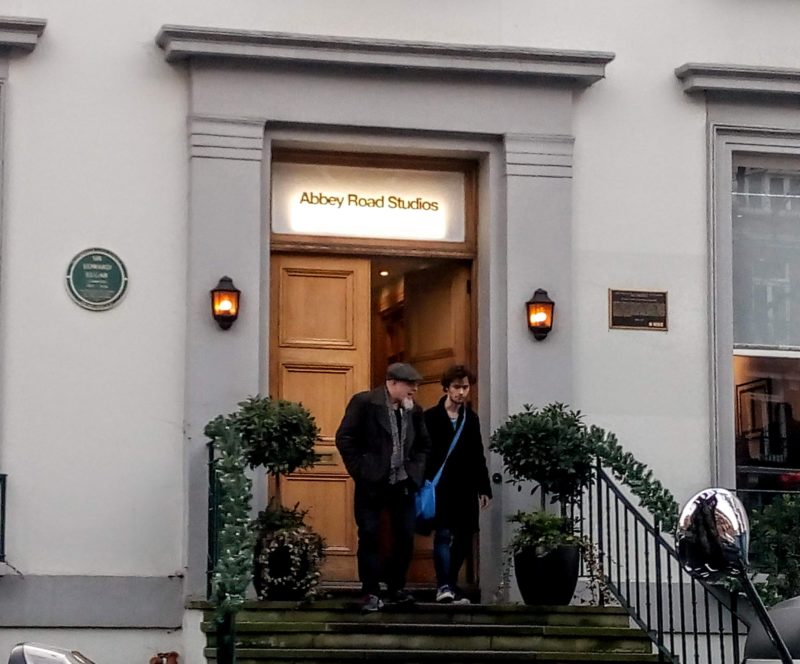 The crosswalk shown on the cover is known here in the UK as a "zebra crossing" and it became so well known and such a tourist destination that in 2010 this stretch of Abbey Road was given Grade II listed status by English Heritage. This essentially means that the site has legal protection and historical importance and can never be removed.
Every three months the council repaints the crossing to keep it in good shape for those of us who want to repeat that iconic photo – crossing the street.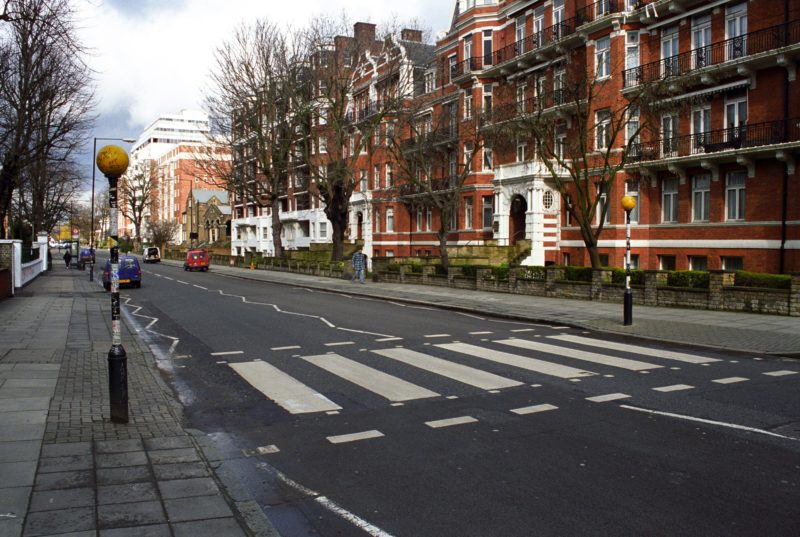 You will see the actual street sign for Abbey Road has been moved much higher than most signs. This is because the public repeatedly defaced the sign and the council kept having to replace it over the years. When it wasn't stolen by the public that is.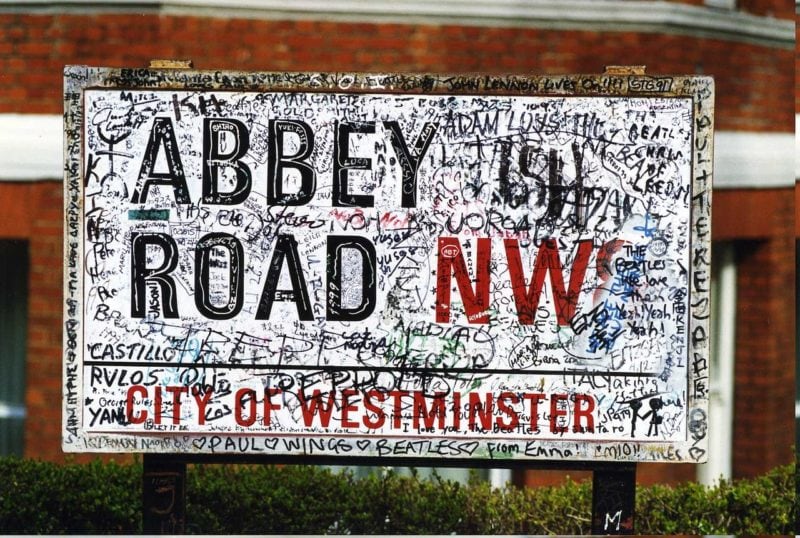 The front walls of the Abbey Road Studio is still covered in graffiti left by tourists from around the world hoping to leave a little bit of themselves in this famous environment.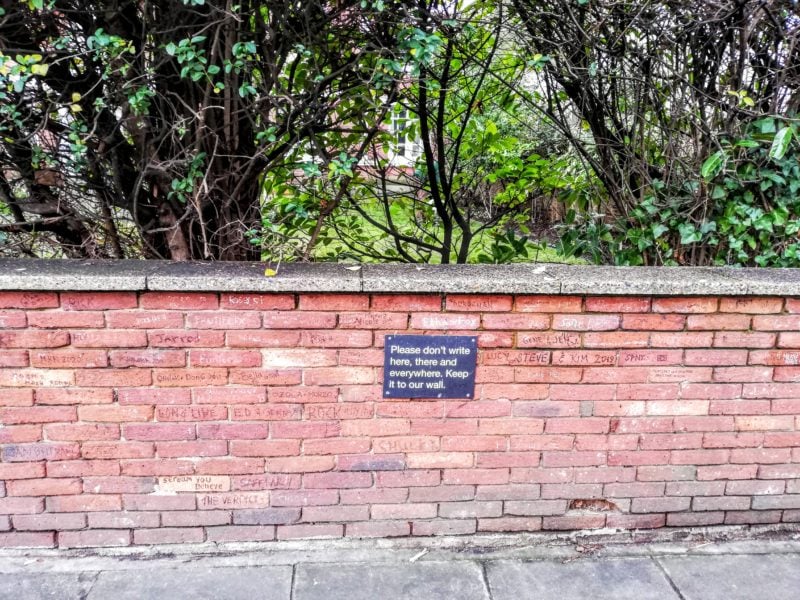 However, the front gate that surrounds the Abbey Road studios is still covered in graffiti left by visitors from around the world, looking to leave a footprint of their visit to this world-known recording location.
Abbey Road London map
Abbey Road London directions
Abbey Road is located in the St. John's Wood area of North London. From central London, you can either take the tube or bus to the location.
Abbey Road tube station – The Tube station to aim for is St. John's Wood when you exit the station you will be standing on the northeast corner of Grove End Road and Finchley Road. Head down Grove End Road and make a right turn onto Abbey Road. You will spot the Abbey Road Studios and the infamous crossing right in front of you.
If you are in central London take a 139 or a 189 bus which lands you right at the spot to see the crosswalk and the Abbey Road Studios and Shop. You can't miss it as you will see the crowds of people holding up traffic to get their Instagram shots.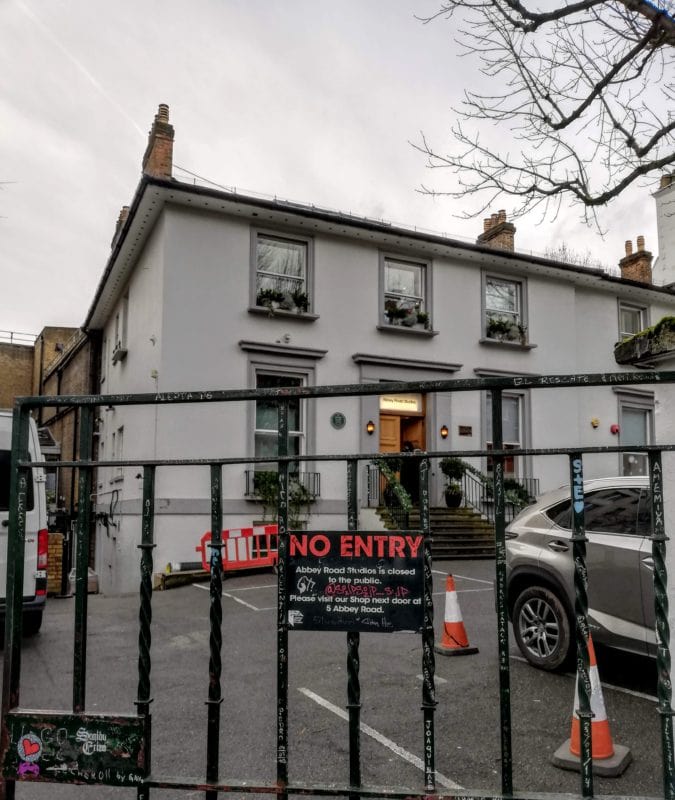 There are also daily guided bus tours that stop at the Abbey Road Crosswalk.
There are no places particularly close to Abbey Road London to grab a coffee however at the St. John's Wood Tube station you will find a cafe and gift shop that sells a lot of Abbey Road London and Beatles memorabilia. There you can have some traditional British grub and a cuppa.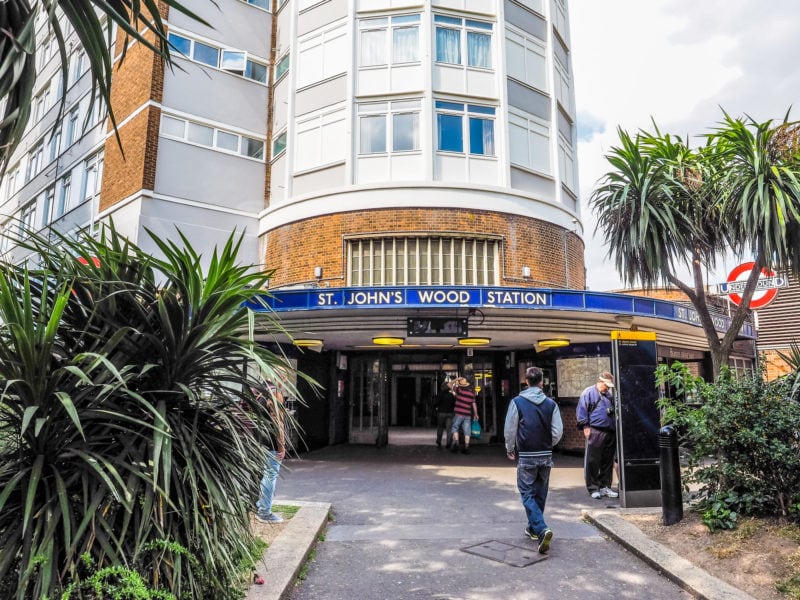 Best Times to Visit Abbey Road in London
Abbey Road is a major public road and full of traffic. The best times to come and visit are after rush hour so avoid the hours between 7 am and 9 am and 4 pm-6 pm on weekdays. On weekends getting there early at 7 am is good as too few tourists will be about and the traffic is minimal.
If you let your friends know what time you will be in the area they may be able to see you on the Abbey Road Camera which streams a live feed all day every day from the iconic spot.
Abbey Road Gift Store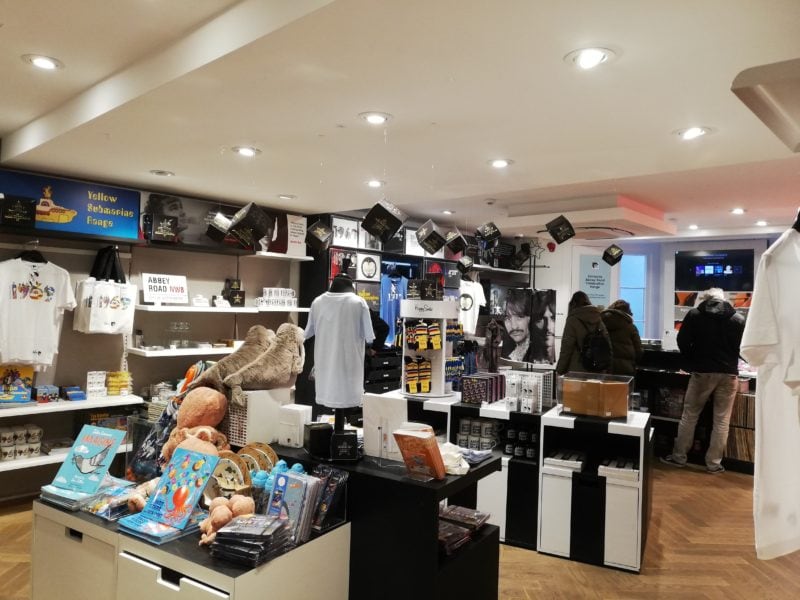 The Abbey Road London Gift Store can supply your every Beatle need from keychains to albums and t-shirts. You can find tech equipment expensive drum sticks and some beautiful collector books.
Check out the Abbey Road Cam which is live every minute of every day.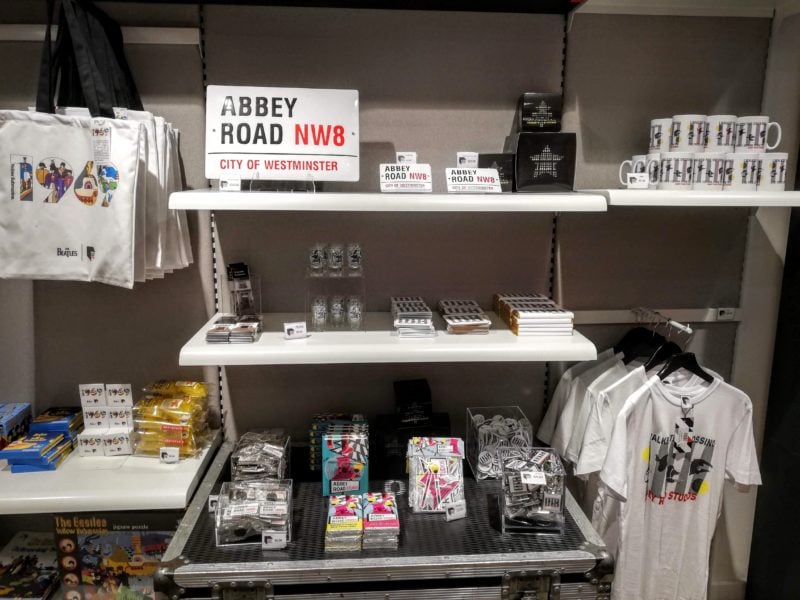 Abbey Road in London is just one of the iconic sites you should take a moment to visit. Don't forget to go and see the Tower of London, the Parliament buildings or how about a visit inside Buckingham Palace?
I shall also encourage you to explore the afternoon tea ritual in London where you can have a blast at many themed afternoon teas.
What interesting and out-of-the-way places have you been to in London? Did you make it to Abbey Road?
You might also like Ultimate tips for visiting the Houses of Parliament & Big Ben or how about Visiting St. Paul's Cathedral & what to see inside.
Want to read more about travelling in England?
Chinatown exploring the vibrant heart of London
Things to do in Notting Hill London's prettiest neighbourhood
Cool things to do in Camden Markets London
16 Fabulous food street markets in London
Best things to do in Covent Garden Market London
Guide to the London Eye – the giant Ferris Wheel in London

Latest posts by Faith Coates
(see all)