The Ultimate Guide to a Norwegian Fjords Cruise
I have always wanted to visit Norway and admire its beautiful Fjords. I was not sure what was the best way to enjoy all the incredible wonders this landscape offers. Passing in front of my favourite travel agency I noticed a Norwegian Fjords Cruise offered by P&O company. It did not take me long to decide this was the company I was going to enjoy my Norwegian Fjords cruise with and I have to be honest, it was one of the best decisions I have ever made!
If you want to know everything about cruising to the Norwegian fjords read this article and you will not be disappointed. I will definitely answer all your questions and probably will also convince you to embark as well! Don't believe me? Well, keep reading and we will see who is right.
Cruising to Egypt and visiting Alexandria
General cruise description
P&O Azura Boat description
The cruise to the Norwegian Fjords I joined took place on one of the biggest ships of the P&O cruise fleet company: Azura. This gigantic 290 meters' length ship entered service in 2010 and can have up to 3100 guests and 1250 crew members. Moreover, Azura has 14 living Decks and offers different accommodation options at varying prices.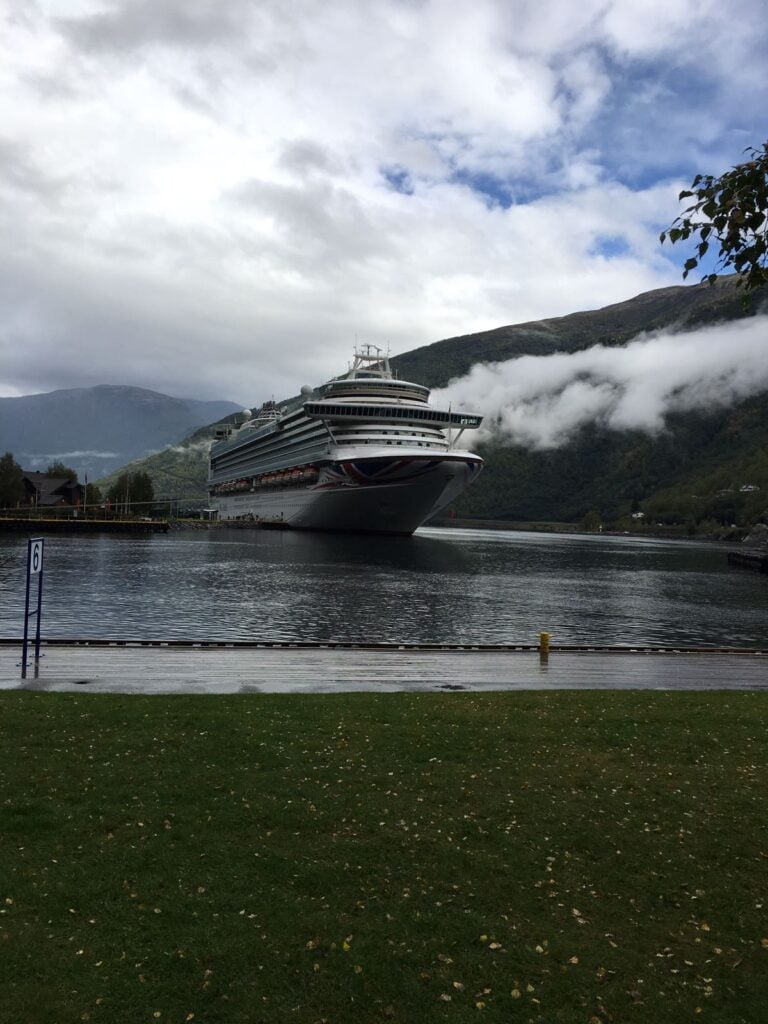 Cabin description
The cabin we slept in was a balcony one on Deck C. All the cabins are fully air-conditioned and have a king-size bed. Bathrooms boast a hairdryer, bath with shower or shower only. There is a chair and table, TV, and telephone, a writing desk, and a safe. Also, there are a refrigerator and tea/coffee making facilities. Floor-to-ceiling sliding glass doors lead to your balcony with recliner chairs and a table.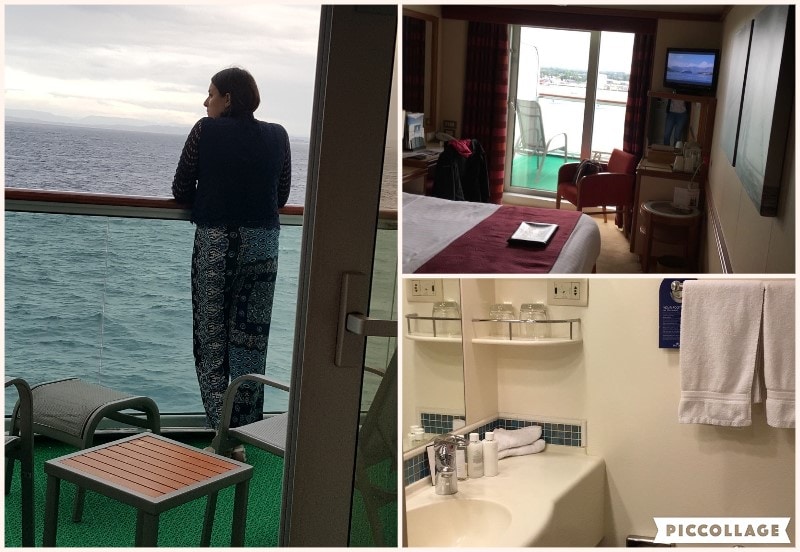 The price for a 7 nights' cruise in a balcony cabin starts from £849 with a flight per person.
The ship includes 3 other types of cabin:
Inside cabin: no windows are available in these rooms and are smaller than the rest of the rooms. The price for this cabin is obviously cheaper, from 749£ with flight.
Sea view cabin: with one non-opening window. The size of the room is similar to the inside cabin one. Price starts from 749£ with flight.
Suite: This is the biggest option available on Azura. In fact, the room has got a walking-in area and a living room area with a sofa. Moreover, suites have an optional butler service, magazine and newspaper selection, atlas and binoculars, plus fruit basket, mineral water, flowers, Champagne, and chocolates on arrival. The price for a suite starts from 1149£ with flight.
Food and drinks on board
The food we had on Azura was the best out of all cruises we took part in. There are many different options you can choose from, each is open at different times and offers various culinary options. For these reasons, I classified them into the following categories: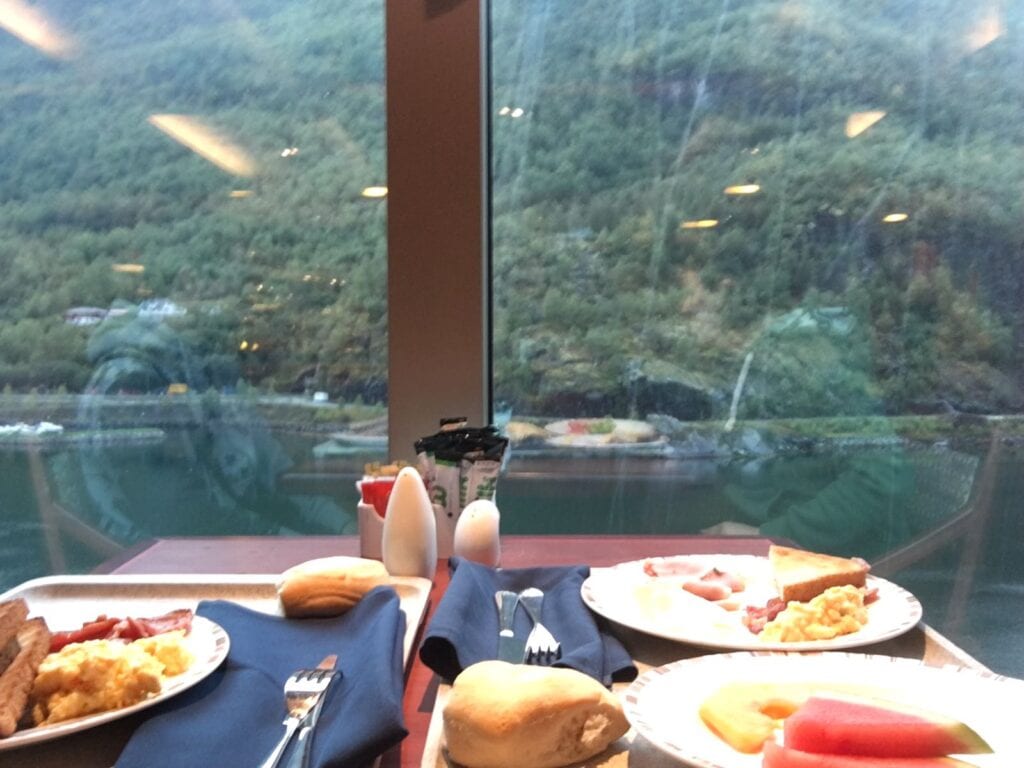 Informal restaurants
those are the options of food you can find all day and night. These restaurants are included in the price and do not require extra fees. Most of the restaurants close at midnight, but the room service is available 24/7.
Venezia Buffet: offers breakfast, lunch, and a special menu every evening for dinner. (eg. Italian day, Greek day, Mexican day, etc.) The food is always well presented and tasty. The choice is large and you can always find your favorites on the menu.
Poolside pizzeria and grill: if you do not want to leave the poolside and enjoy a freshly made snack you can go to one of them. They offer stone-baked pizzas, Juicy burgers, and delicious hot dogs. These quick bites are ideal for all the family and are available throughout the day.
Beach house (dinner only): some offers of this restaurant may require some extra fee, but most of the menu is included in the price. (Sample of menu photo) Inspired by South American, Caribbean, and Stateside cuisines, it offers hearty dishes and comfort-food favorites. If you are a fan of BBQ here you can delight yourself with the steaks, ribs, grills, and burgers, hanging kebabs, and a range of sharing dishes. Don't forget to save space for the desserts too!
Many more: there are different kiosks all around the boat that sells ice cream, sweets of all sorts, sushi and do not forget the cabin service that allows you to enjoy delicious food in the complete comfort of your cabin, and it is 24/7!
Formal restaurants
If you would like something a bit more fancy these dining options can be perfect for you. Be aware that some options on the menu may require an extra fee.
Peninsular Restaurant and Meridian Restaurant (from 6 pm to 9:30 pm): when booking your cruise, you can choose to have an early or late turn. The restaurants offer 2 'black tie' nights with a smart dress code. Also, the crew entertains the guests with songs, dances, and activities during the meal.
Sindhu: Amazing Indian restaurant – make sure to book in advance.
The Glass House: a winery. If you're looking to match your chosen wine with your food you've picked the perfect place, as you'll find helpful pairing suggestions in the menu.
Chic/special occasion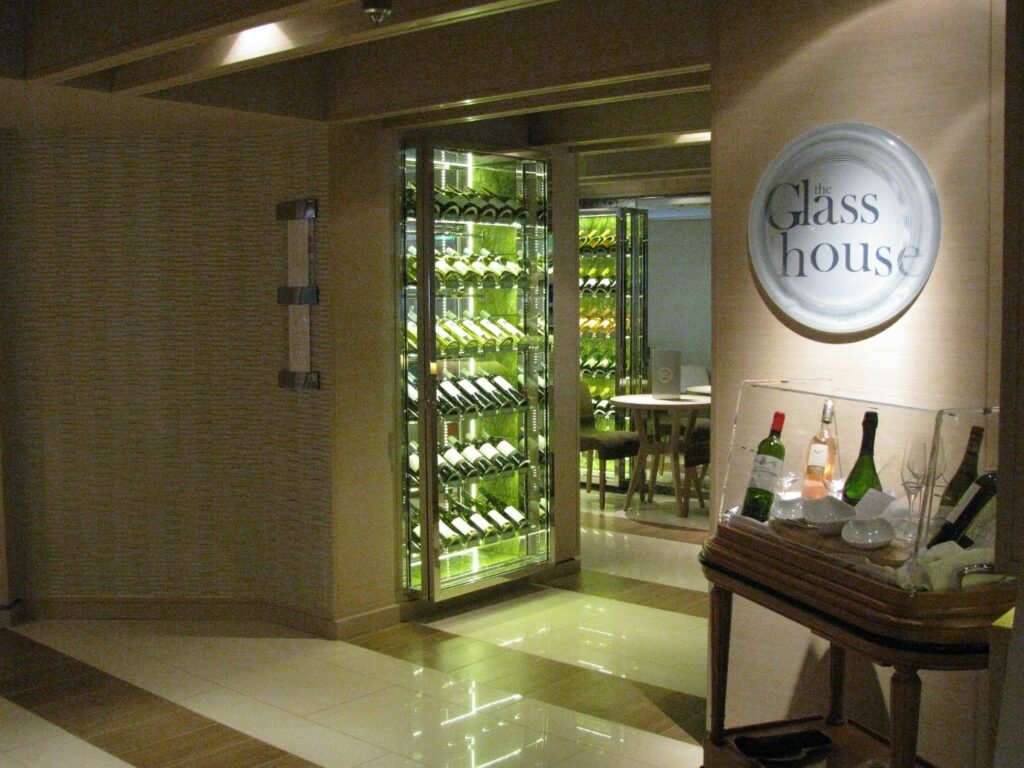 Epicurean Restaurant: the chicest restaurant on the ship. A formal dress code is mandatory and the experience is not included in the price. Quite a small place, you will need to book in advance. It has got a beautiful window from where you can admire the sunset while leaving the shore. An unmissable food experience if you love high-quality meals. The price for the meal is from £45 pp, wine not included (quite expensive, but it absolutely worth every penny).
Lovely night at the epicurean! Yummi food!
Drinks on board a Norwegian Fjords Cruise
There are many options available, but all drinks are not included in the price. I would suggest anybody purchase a drinking package with either alcoholic or not drinks, it will save you a lot of money in the long run! Here is the list of all the bars and cafés you can find onboard Azura:
Java with Costa coffee (informal).
Breakers bar: poolside bar and cocktail (informal).
Blue Bar: classic and contemporary cocktails (informal).
The Glass House (see above – formal).
Planet Bar: or great cocktails, incredible live music, and a unique audio-visual plasma wall screen showcasing iconic world wonders (formal-chic).
Manhattan/Malabal/Brodie's: drinks with entertainment (informal – see activity onboard).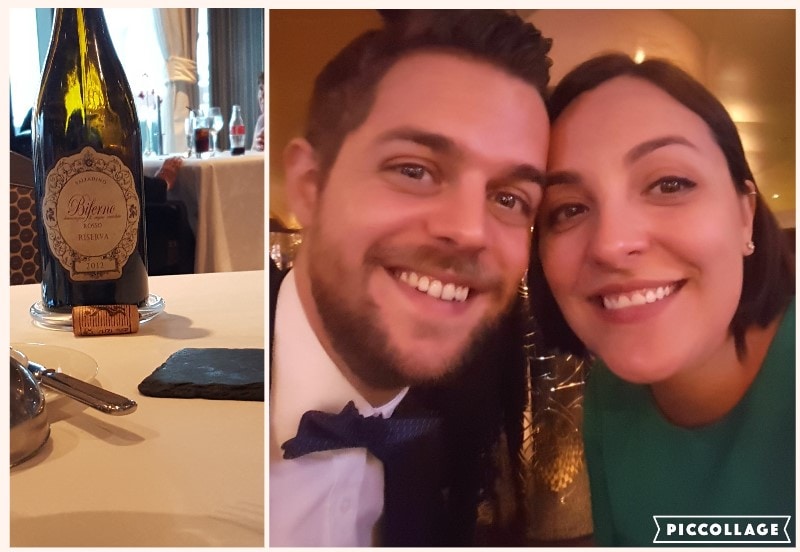 Activities onboard a Norwegian Fjords Cruise
There are literally countless things to do on the ship on sea days, depending on what you are up to.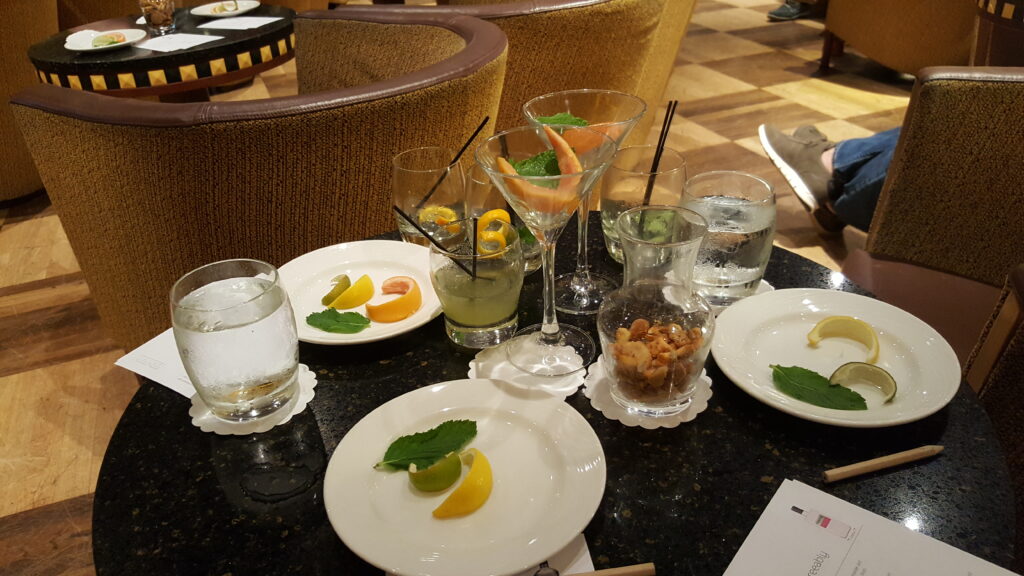 For example, if you want to relax you can go to the Spa centre and get a massage or a wellness treatment. Otherwise, you can spend your day by the pool enjoying delicious drinks. You can also decide to burn some calories at the fully equipped gym on the highest deck onboard.
On the other side if you are looking for some great entertainment you can choose from multiple options as listed below:
The Playhouse Theatre: with cabaret performances, stand-up comedy, interactive game shows, quizzes, aerial flying acrobatics, and talent shows, it's sure to be an evening to remember. It can hold up to 800 seats and there are shows before or after dinner.
Manhattan Show Lounge: it offers cabaret performances, fun quiz shows, tribute acts, family shows. You can enjoy it while sipping delicious cocktails served directly at your table. Furthermore, if you want to enjoy a night at the disco the lounge remains open until 3 am and allows you to dance until you fall!
Malabar: offers cabaret performances as well alongside piano recitals, bands, and dancing.
Brodie's: it is a smart London-style pub. Here you can taste the finest beers, ales, and ciders.
SeaScreen Open Air Cinema: on the pool deck, right above the swimming pool, a giant screen will show you a variety of classic films, family favorites, and the latest blockbusters. There are 2 projections per day, one in the afternoon, usually more family-friendly, and one in the evening.
Casino: where you can enjoy playing poker, roulette, and slot machines.
The gallery: in the center of the boat there are 4 floors filled with your favorite clothing and accessories brands where you can buy everything from the latest collections (most items are tax-free!).
The reef: under 18yo age-specific club and a night nursery. Kids can spend an amazing time in a safe environment while their parents enjoy the activities for adults.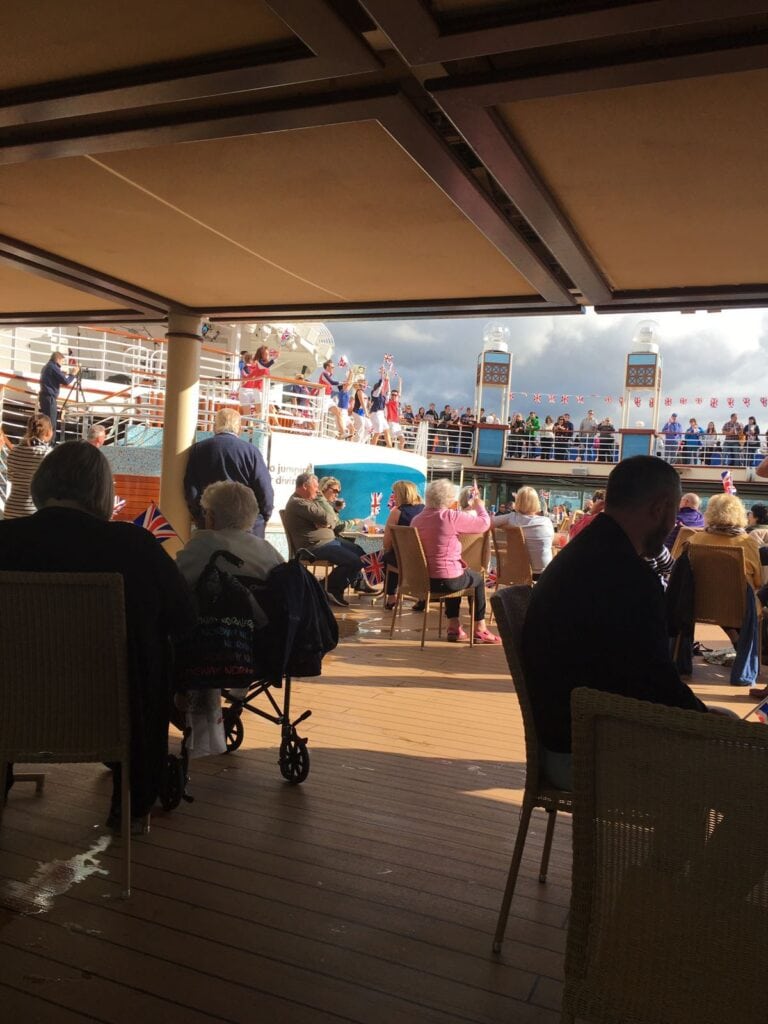 Norwegian Fjords Cruise in detail
We booked the Norwegian Fjords cruise through a travel agency as it was the first time. I have to say it was quite easy this way because everything was planned and explained to us. However, if you do not want to do it, you can easily book your cruise on the P&O website as it is quite straightforward.
Pre-departure operation
Before you leave your home you need to make sure to have some essentials ready in order to go through the embark smoothly.
Pack your bag
We cruised in September and the weather in Norway around that time is often cloudy and it can rain a lot. Temperatures can vary from 7.5°C to 15.1°C, also be aware that different latitudes have different temperatures: the higher you go the colder will be. In detail, it can be quite cold in the morning and evening and warmer during the day. Make sure to pack things to dress up in layers for the excursions days and general life on the boat.
Because there are two black-tie dress code nights onboard, be sure to pack a couple of dresses and fancy looks to be at your best! I remember when I was on board that most of the people dressed very well in the evening and it felt like being part of a ball! I felt a bit underdressed at times, but again it is not mandatory, it is just that people like to look smart!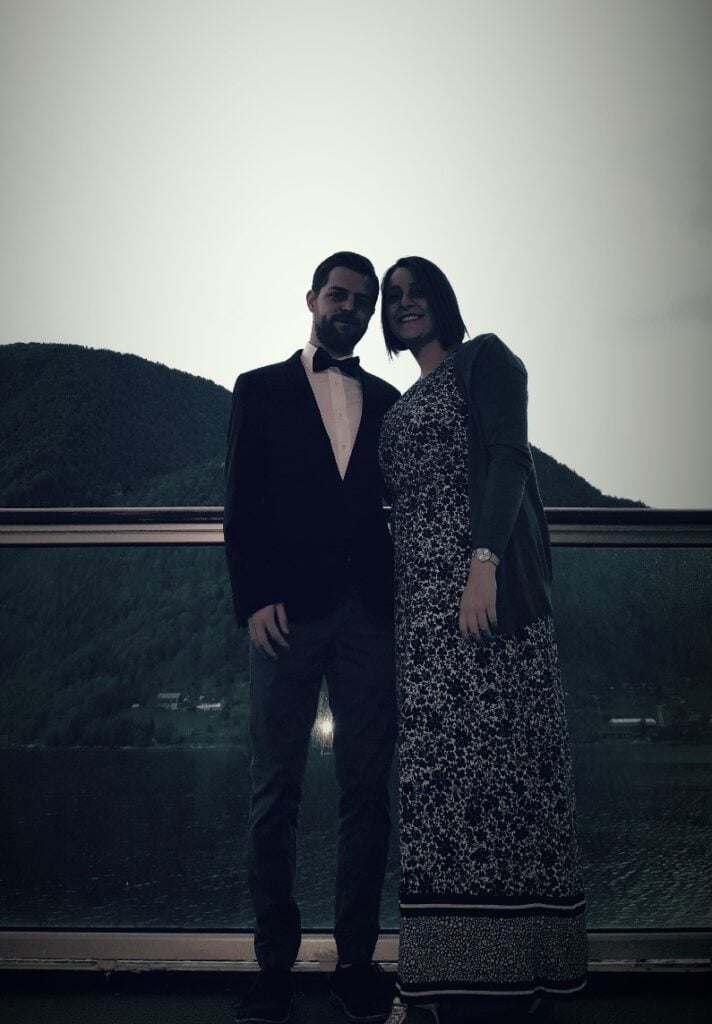 One last thing about your luggage is to make sure to attach the label the company asks you to download and print. This will make everything easier for the workmen to embark on it and send it directly to your cabin.
Documentation
Make sure to have your ID document and your booking number when approaching the check-in crew, it will speed up the procedure. The embarkation procedure usually starts around 2 pm, try not to get too early to the dock or you will have to wait! (I am speaking from personal experience!)
Also at the check-in, you will be given your magnetic card: guard it with your life! Because for the following 7-8 days, you will do everything with it, from paying for drinks to entering your cabin.
Prepare to fly to the departure point
The Norwegian Fjords cruise leaves from the Southampton Port and, unless you are from somewhere near you will have to fly there. Be sure to print your flight tickets and put labels on your check-in luggage. I did fly from Belfast Int. The airport and the flight were 1 hour long with FlyBe company. Because the flight was so short we left the house in the morning and it was enough.
But, if you travel from far away I would suggest looking for overnight accommodation to start your cruise fresh and rested. There are different places you can stay really close to Southampton port, check them out on Booking dot com.
Transfer to the dock
The cruise company offers transport from your hotel or when the flight lands in Southampton and it will take you directly to the embarkation dock. The service is included in the price and is super convenient!
The trip
On the Norwegian Fjords, 7 nights cruise you will visit 4 ports; we spent around 6-8h in each one. I am now going to describe the ones we stopped in, but other ports are also available or the itinerary can change due to weather conditions or other factors. If you would like to see other docks, you can go on the P&O website.
Also, I am going to describe the activities I took part too, but those are not the only ones available. Moreover, you can choose from activities offered by P&O or you can plan your own excursion. If you are looking for great and cheaper tour options not offered by the cruise company, you can use Get Your Guide. But, be sure to get back on board in time because the ship will not wait for you if you are late!!
We left on Saturday afternoon and, after the first day cruising at the sea, we visited the following places:
The gateway to Norway's spectacularly scenic fjordland, Stavanger is also a town with its own rich heritage as it is regarded as the 'Cradle of the Vikings'. this is where you can experience locations such as Hafrsfjord, where Viking King Harald Hårfagre defeated the last of the regional princes and united Norway into one kingdom.
The ship docks right next to Gamle Stavanger, the old quarter, with its collection of 200-year-old white-painted wooden cottages, a 12th-century cathedral, markets, craft stores, and art galleries.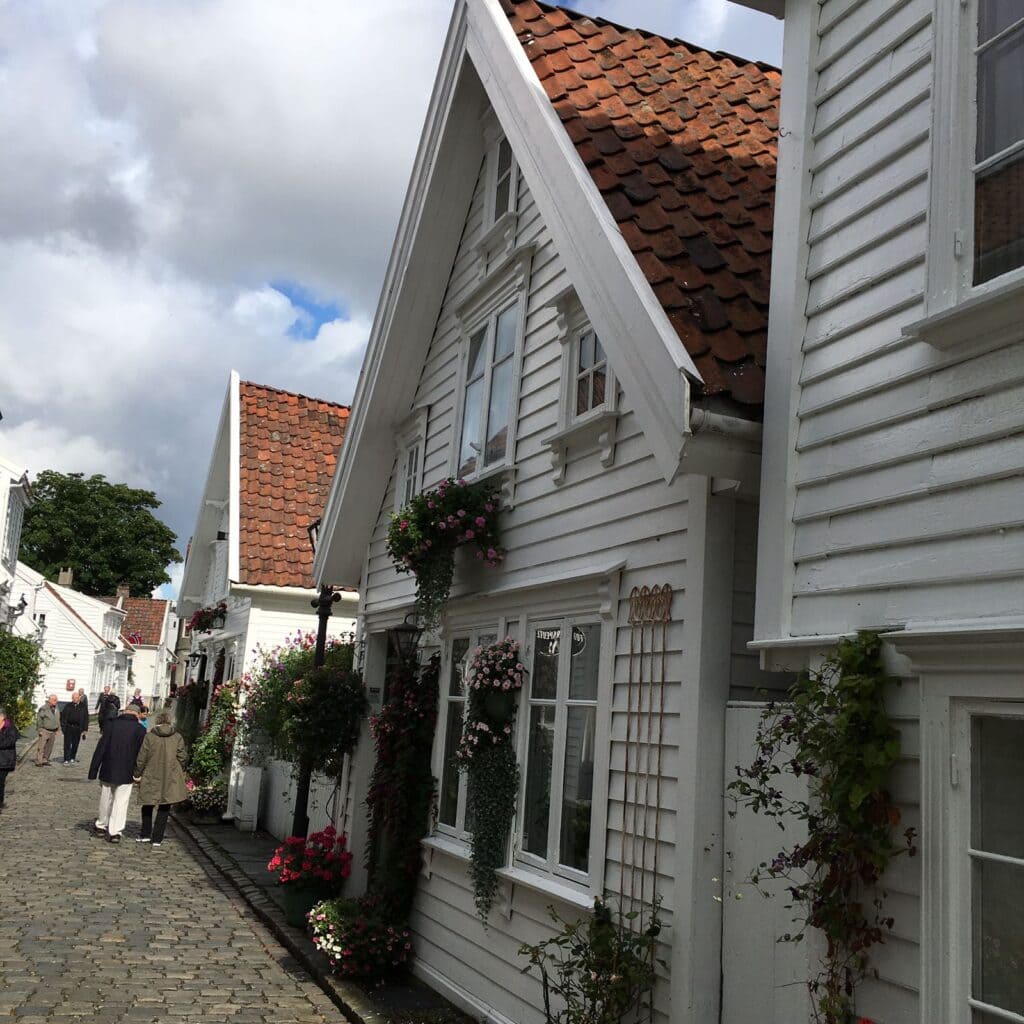 Moreover, with a 1 1/2 hour bus tour, you will be able to admire the breathtaking natural beauty, crashing waterfalls, and head-spinning vertical drop. The price for the guided bus tour of Stavanger is around 30£pp.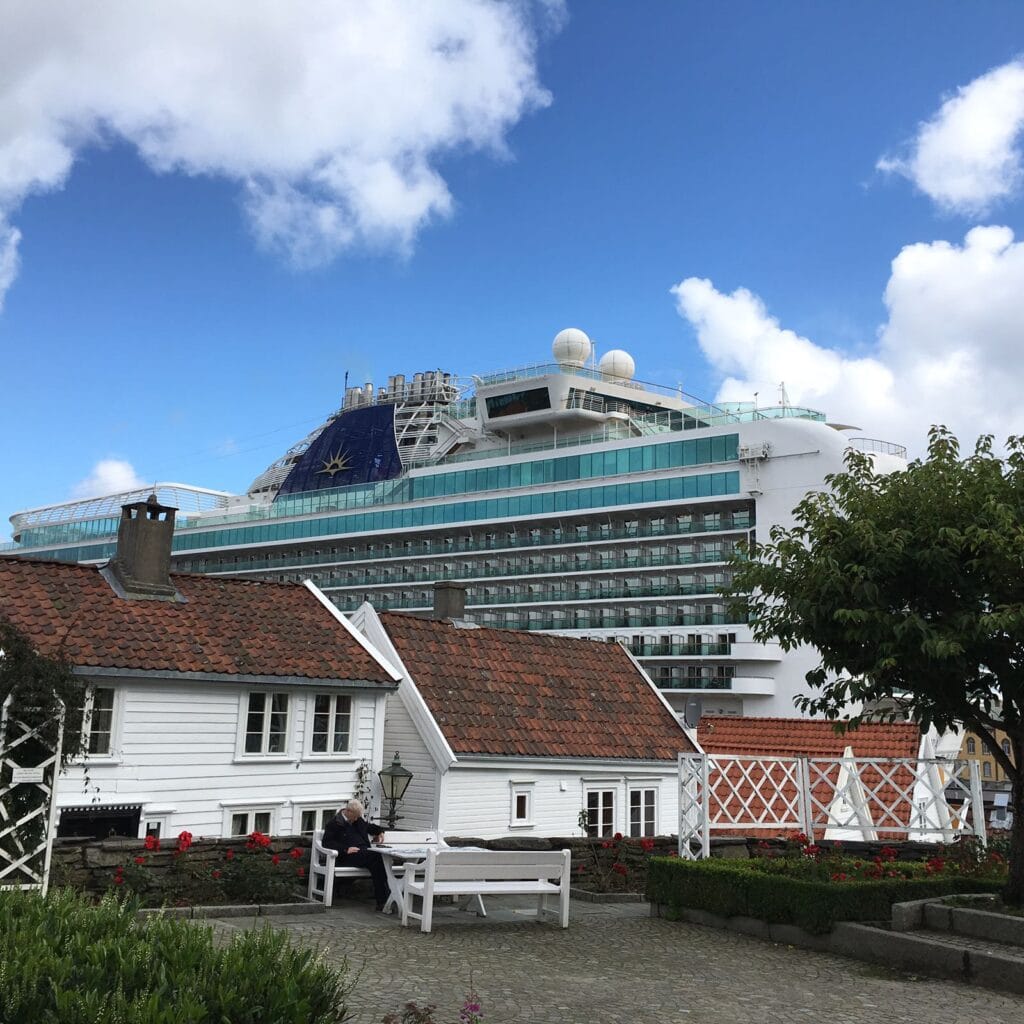 For a dramatic photo op, head for the Swords in Rock or Sverd i Fjell monument at the edge of town, commemorating the 872 battle which led to creating Norway as one kingdom. Three vast bronze swords stand firm in the rock at the water's edge.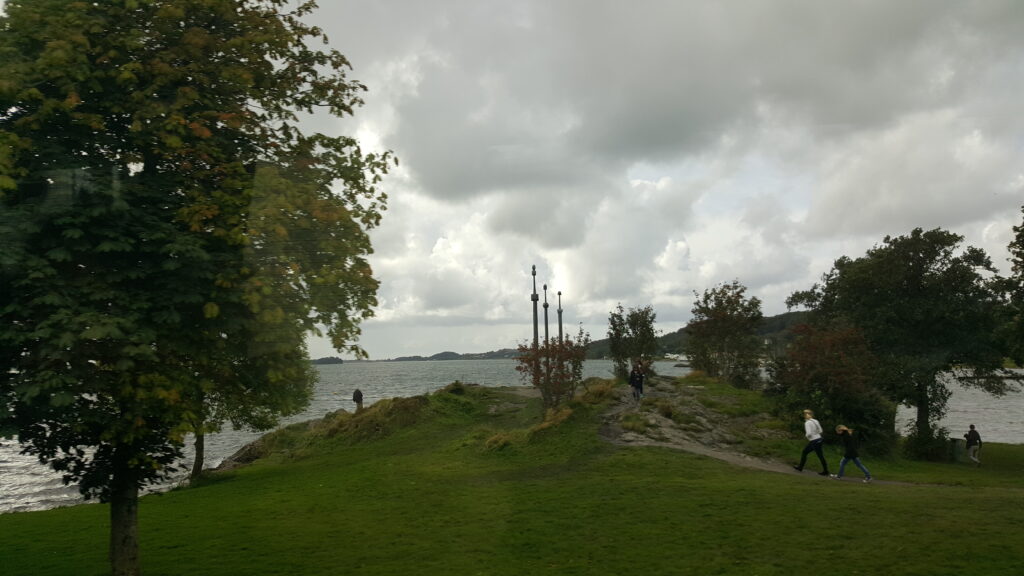 Furthermore, you can find out about more Viking antics in Stavanger's Museum of Archaeology. The ticket's price for an adult is around 9£.
Olden is a peaceful town nestling at the southern end of one branch of the beautiful Nordfjord and at the entrance to the gorgeous Oldedalen Valley.
Olden is the house of some of the biggest glaciers in mainland Europe. I went to visit the Briksdal glacier located inside Jostedalsbreen National Park. It was amazing despite the fact that its dimensions have reduced drastically due to global warming.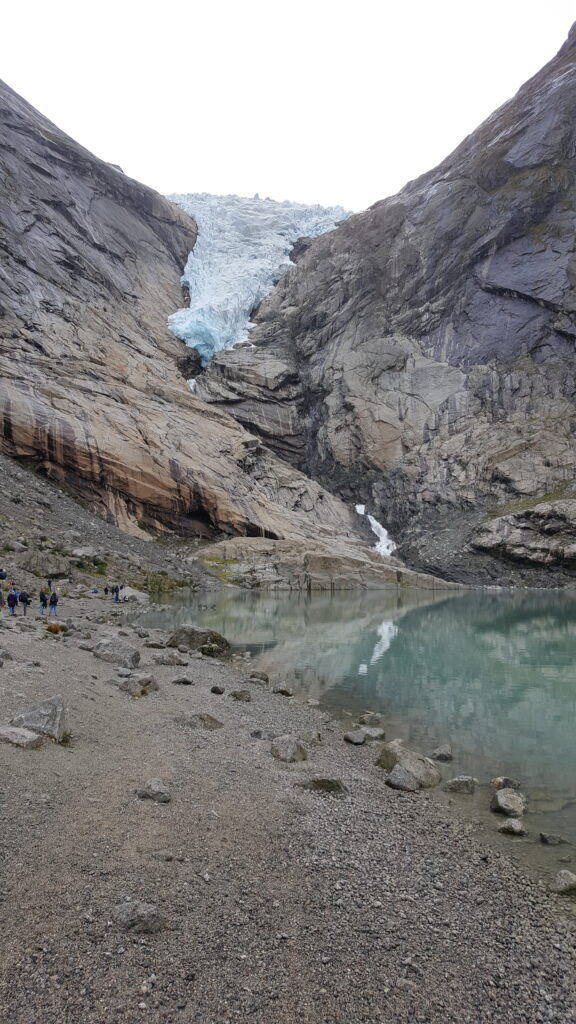 You can reach the entrance of the park by bus then you will have to walk for about 30 minutes. The walk is not strenuous or too steep, but if you have difficulties walking for such a distance there is car transport that can take you up to the glacier.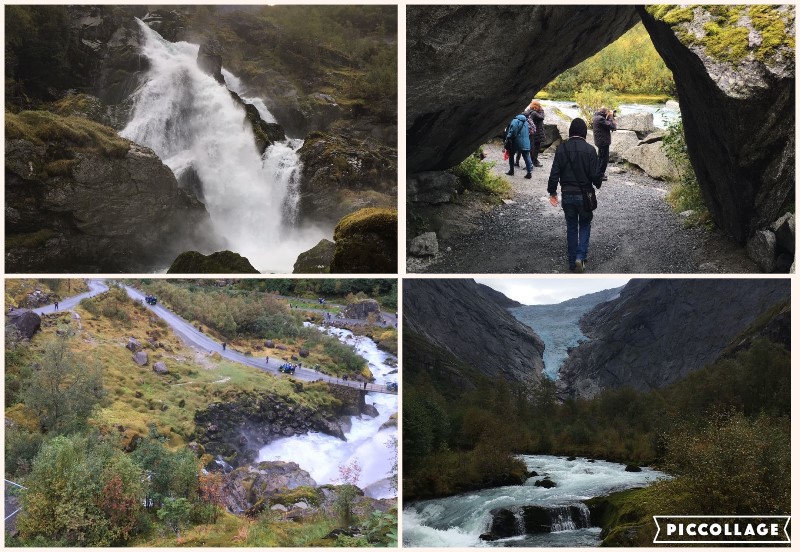 On the way back to the cruise ship we had the chance to admire many waterfalls and we also stopped at a scenery point with the amazing crystal clear Olden lake. It was absolutely breathtaking!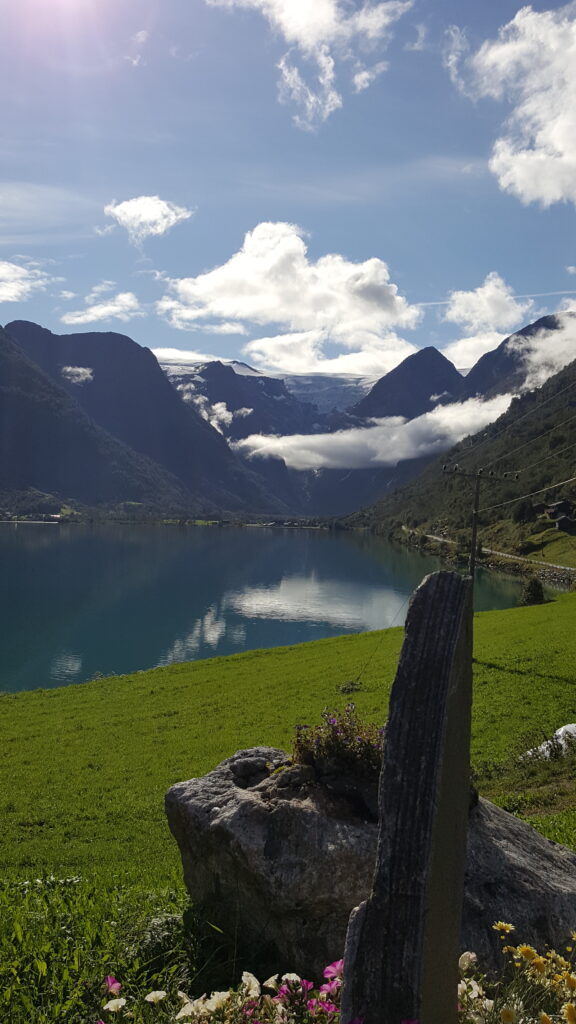 The price for the tour (offered by the P&O Cruise company) was around 65£ pp for a 5 hours trip. The money we spent on this tour was absolutely worth it, one of the best experiences of my life!
To reach the tiny village of Flam you will sail through Norway's beautiful Sognefjord, the worlds' longest and deepest fjord, which is one of the most memorable cruise experiences.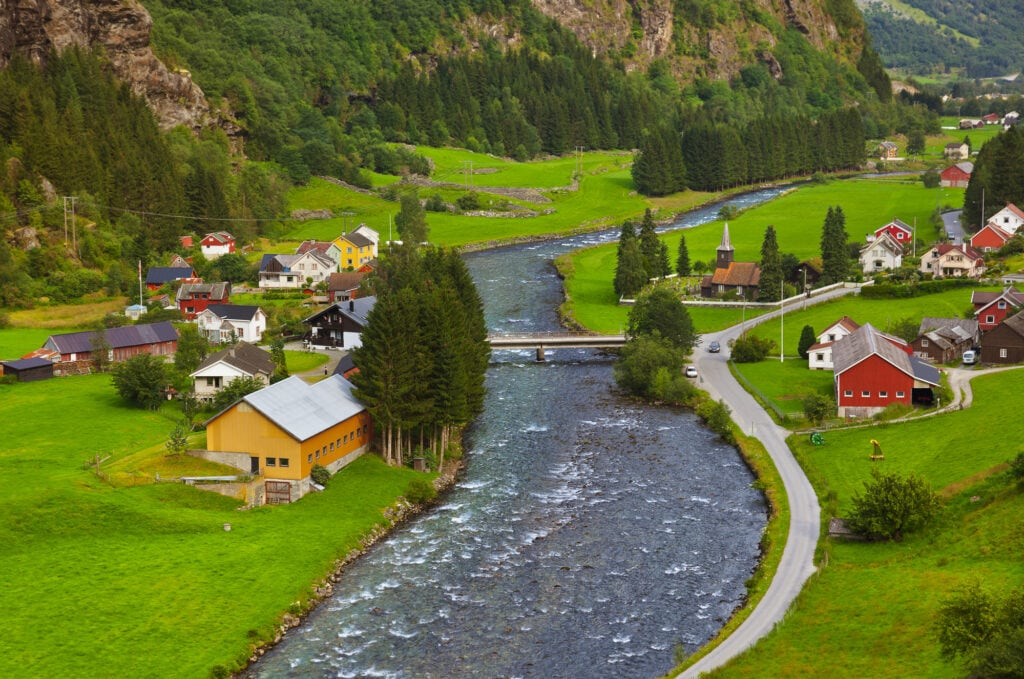 Once arrived we took a bus which took us through the fantastic scenery of Norway countryside. We then reached a delicious mountain lodge called Østerbø Fjellstove, where we enjoyed delicious homemade waffles and jam.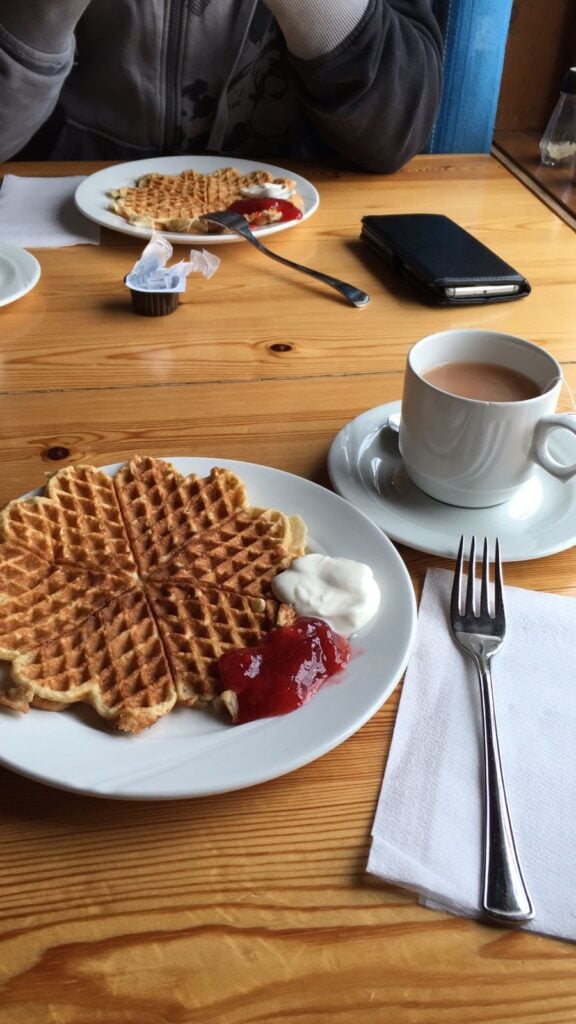 The price for this experience was around 40£ pp for 2 hours tour. We chose it from the options offered by P&O.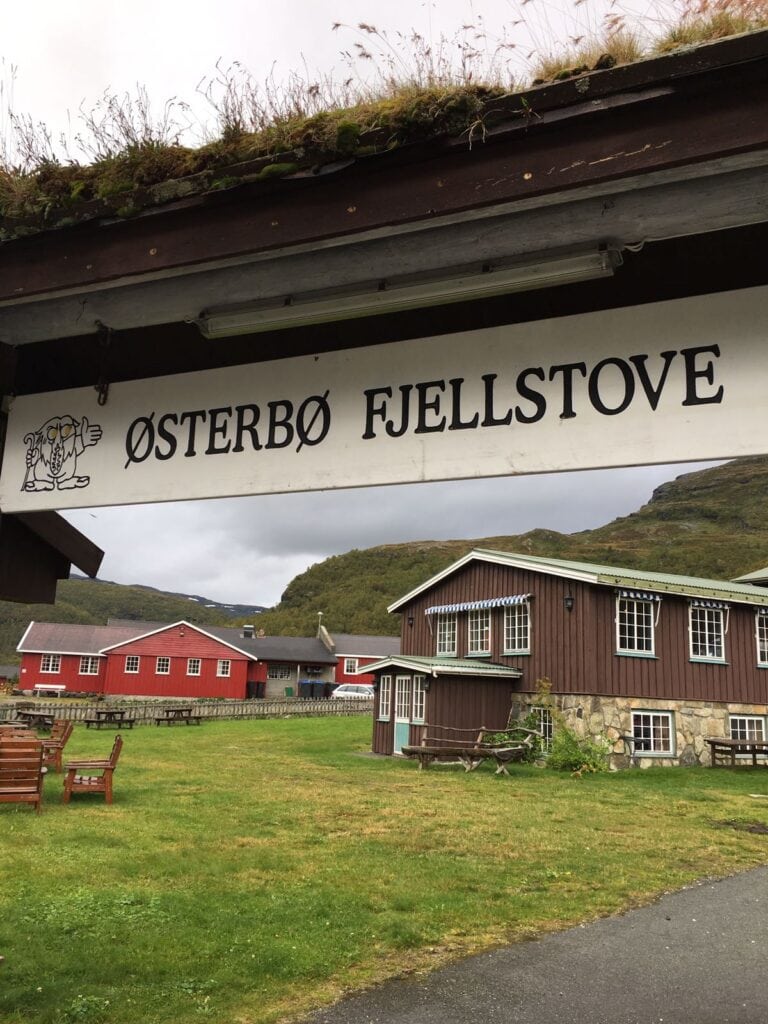 Once back to the dock we had the chance to visit the Flam Railway Museum about the world's steepest railway. The museum gives you insights into the hardworking people who built this masterpiece of engineering, that rises more than 2,845ft above sea level in just 12 miles.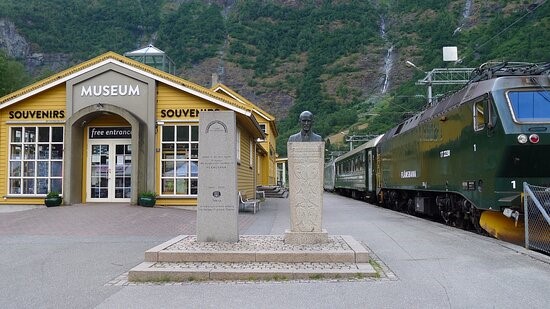 To travel by train along the 20km trail and back the ticket is about 45£ pp. The museum is Free!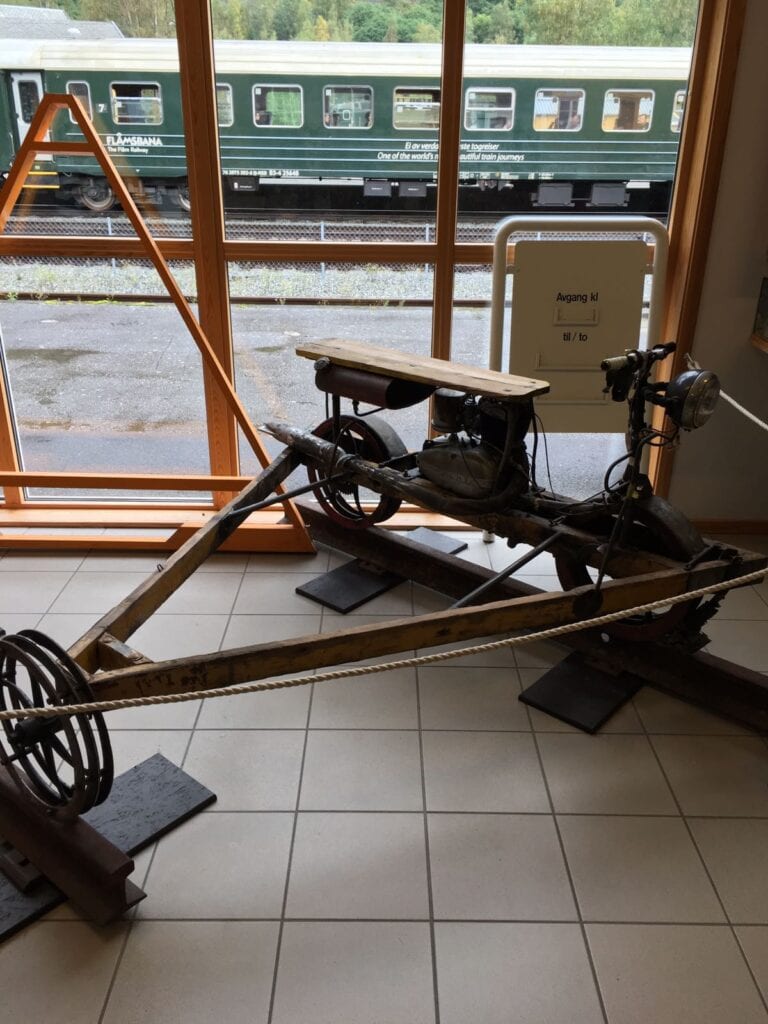 Bergen is Norway's second-largest city and its port nestles amongst the impressive mountains along Norway's western coastline.
For this port to we choose an excursion from the P&O options. As soon as we disembark we meet our guide and walk to a World Heritage Site: a collection of 11th-century wooden buildings along the harbourfront. In detail, most of the 60-odd buildings standing today are about 300 years old. They're now home to bijou galleries, cool cafés, and charming boutiques.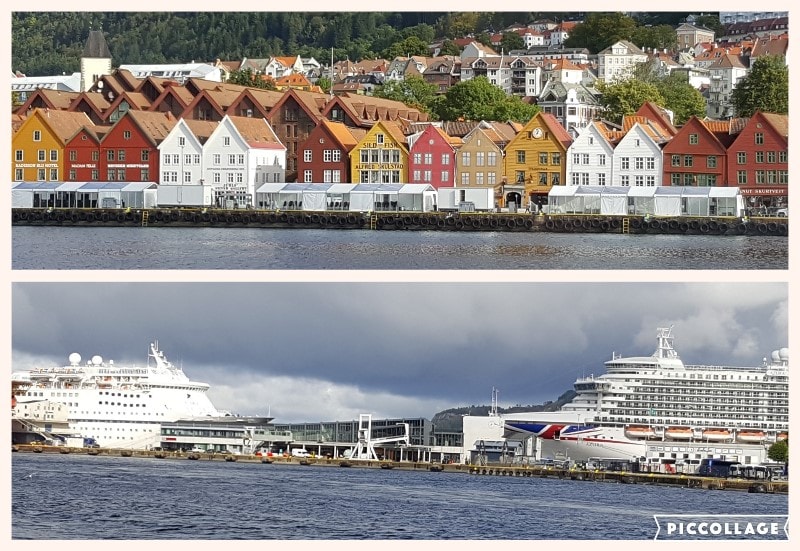 After that, we took the funicular railway to the top of Mount Flyen, which overlooks both Bergen and the surrounding region. The view was simply unforgettable, look at the pictures!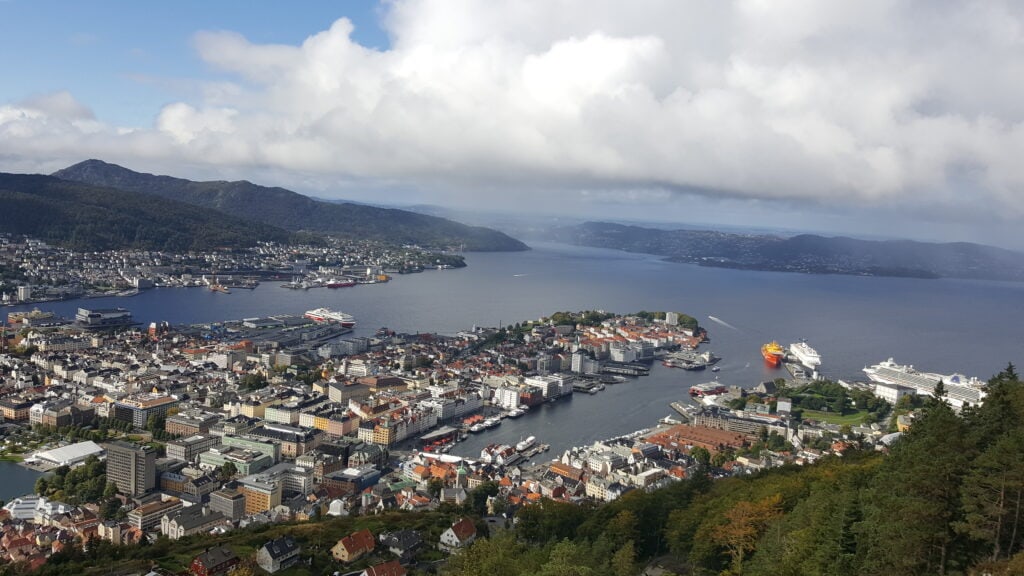 The rest of the time spent in Bergen allowed us to walk around the characteristic town and visit the famous Bergen fish market.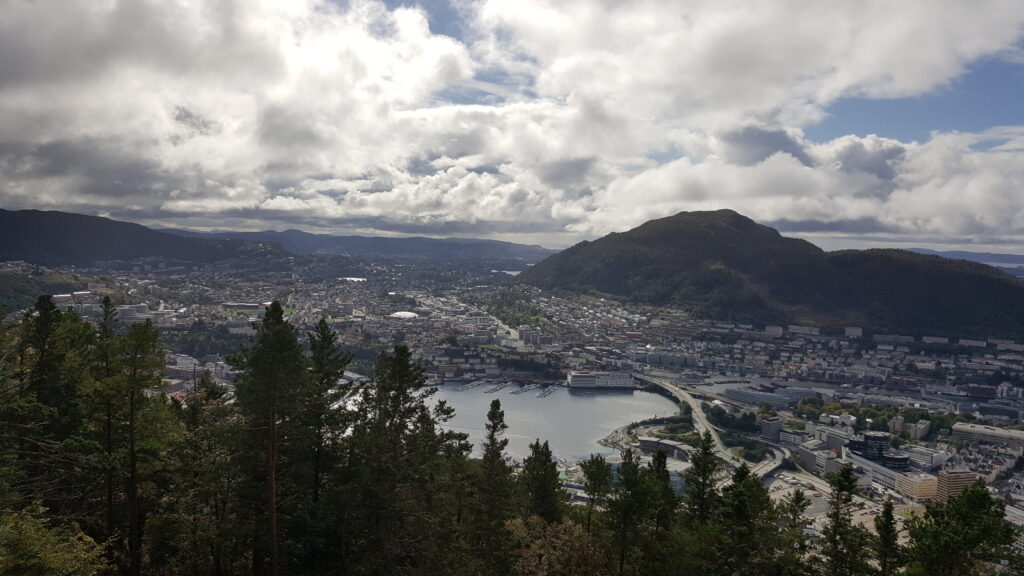 The price for this tour was about 250£ pp and it did last for 5 hours.
Then, after another full day cruising on the sea on Friday, we arrived back in Southampton on Saturday morning.
Final considerations
Pros
Embarking on Norwegian Fjord Cruise is probably the best way of admiring the spectacular scenery with a 360 degrees view. You are literally navigating through these amazing cliffs, waterfalls, and glaciers and it is something you really cannot experience in any other way.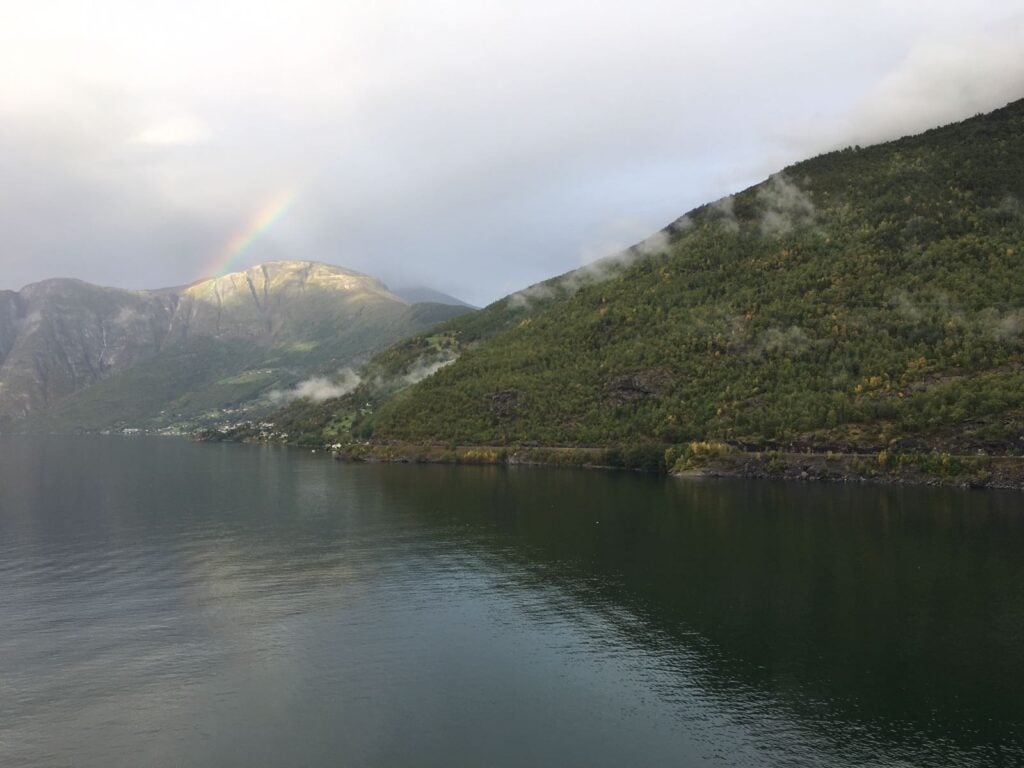 Also, cruise life is amazing! You get spoilt from the moment you embark to the moment you arrive back at the last port. The food on the cruise is amazing and the entertainment is unbeatable. It really is a great way to enjoy the comfort of a resort-style hotel and still be able to visit many different places.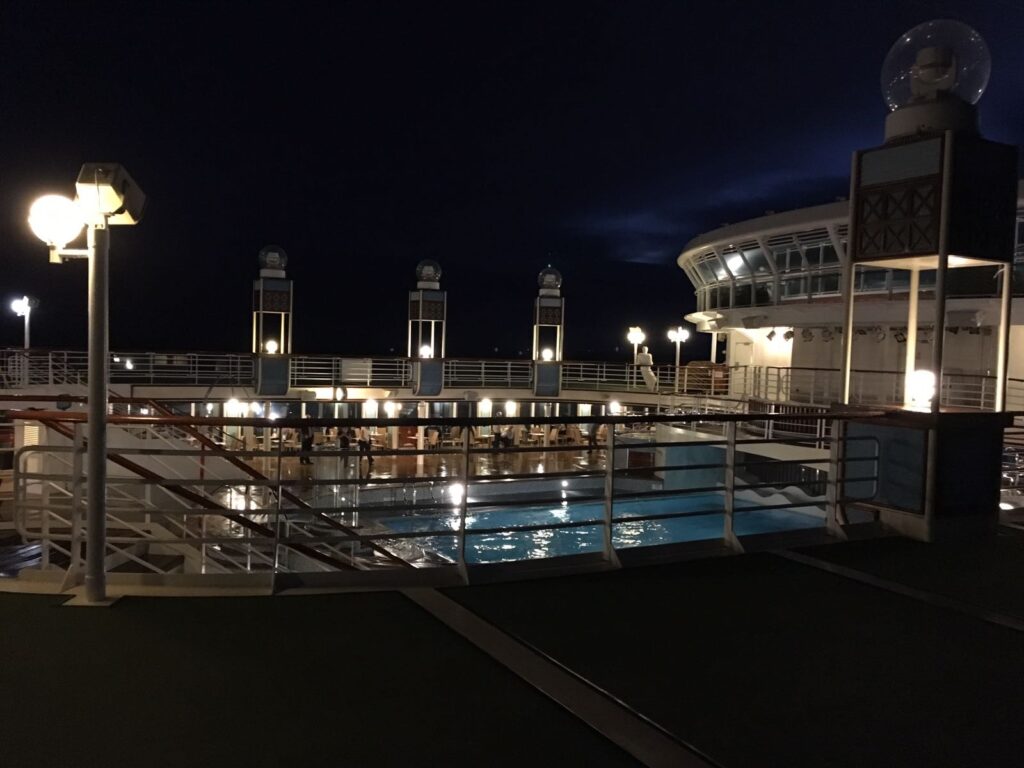 It is incredible thinking that you go to sleep and in the morning you will be in another amazing angle of paradise in the amazing Norwegian Fjords. I would surely recommend to anybody to try cruising once in their life and they will not be disappointed!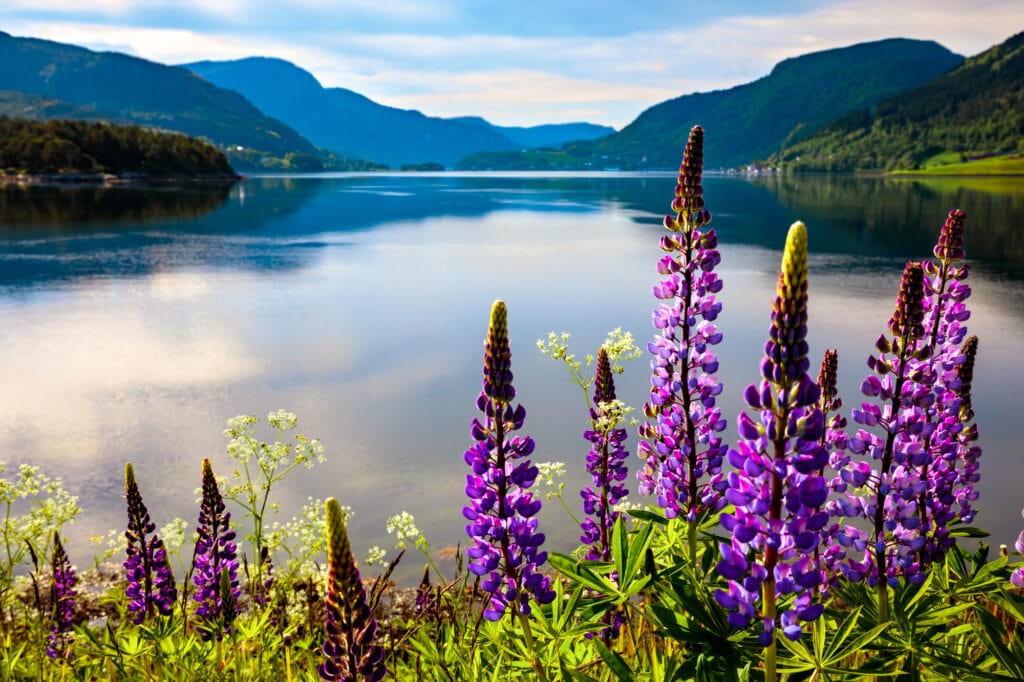 Cons
If you think about a cruise you probably imagine yourself at the poolside sunbathing and enjoying fresh cocktails, but it is not exactly like that in a Norwegian Fjords Cruise. In fact, the weather is really unpredictable and it can rain a lot.
As mentioned above we went at the beginning of September and we rarely saw the sun, also the temperature was quite low. Anyway, we managed to enjoy the pool deck by lying with a blanket or taking a dive in the heated Jacuzzi.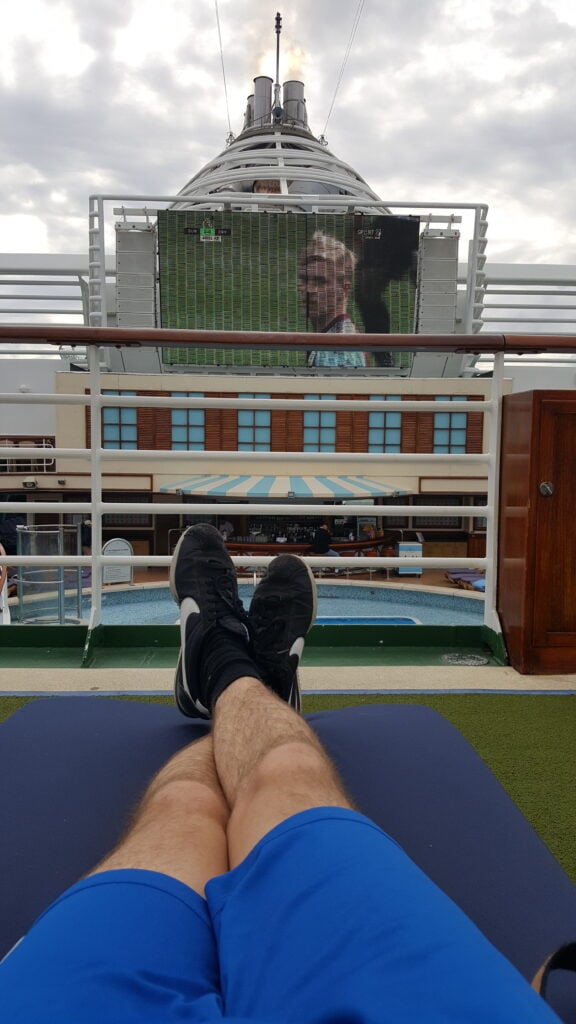 Also, because this cruise is not all about fun and party, the guests are around 45-50yo or older. I and my boyfriend were some of the youngest on board. There were few families, but not as many I would encounter on a Caribbean cruise for example.
Another con could be the price – it is quite expensive, I am not going to deny it, but if you consider all the things you get included in the price, it may be money worth spending.
I could not be more enthusiastic about taking a cruise anywhere around the world because it is simply an amazing experience! Moreover, if you love the idea to visit Norway in a more unusual way the Norwegian Fjords Cruise is definitely something you should go for!
I hope you all enjoyed reading this and you are inspired by my cruise tips!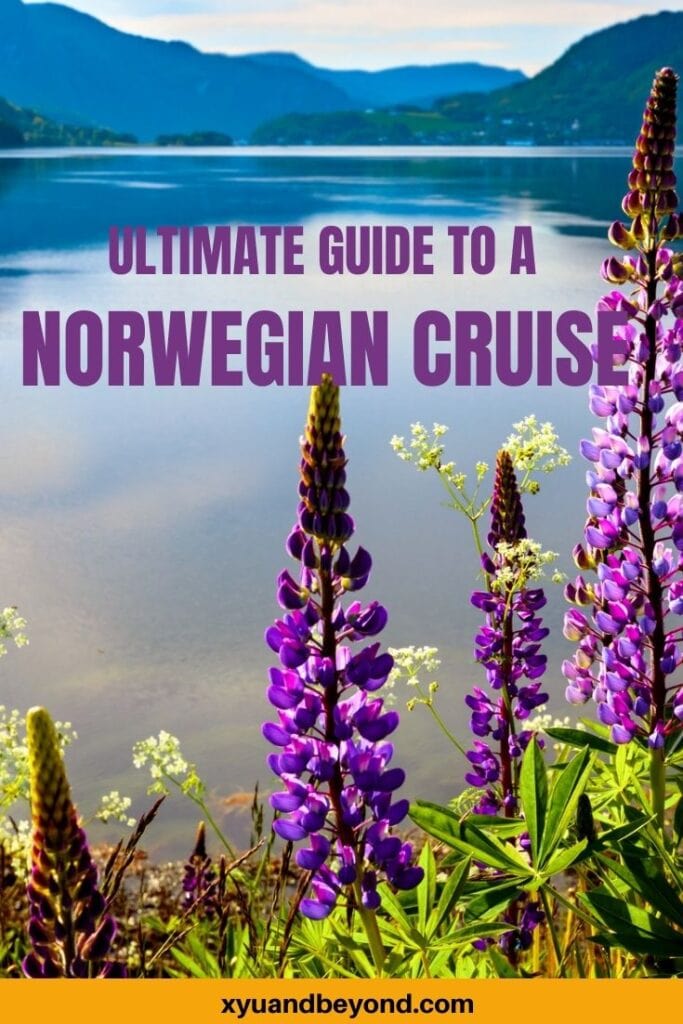 Latest posts by Faith Coates
(see all)