All the Best Things to Do in Anglesey: A Comprehensive Guide
I first visited Anglesey on a camping trip a couple of years ago and I've been fascinated by this stunning island ever since. Ynys Môn as it's known in Welsh, is the largest island in Wales and the eighth largest in the United Kingdom.
Anglesey, which is separated from the mainland by the Menai Strait, is famous for its stunning scenery, beautiful beaches and amazing coastline.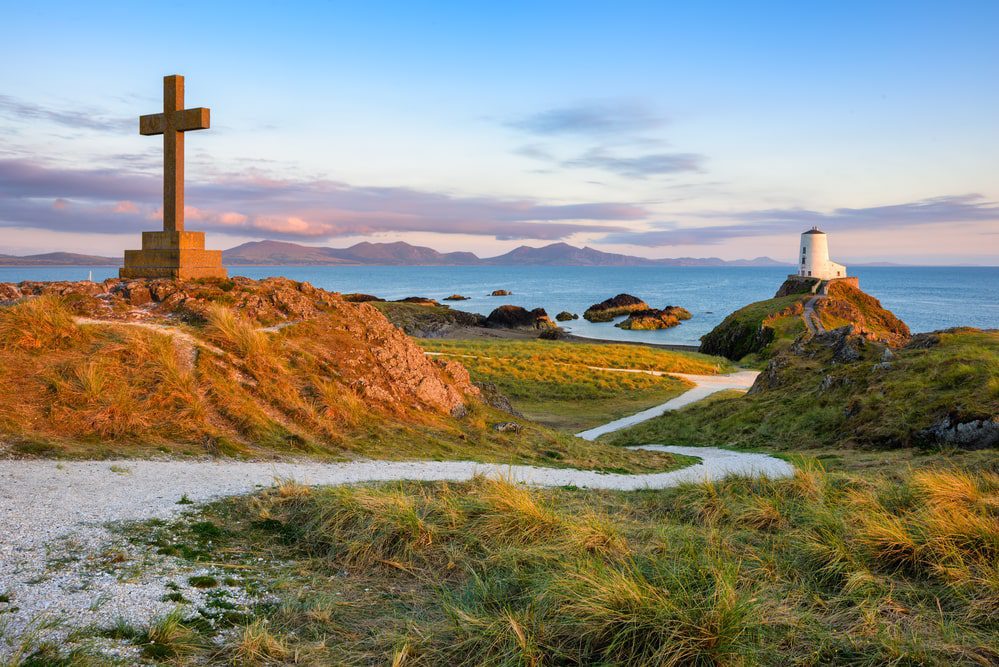 The north coast of Anglesey is rugged and wild and characterised by high cliffs, crashing waves and sea stacks.
The south coast is much more gentle and features some of the best beaches in Wales. Lined with quaint villages and finishing ports such as the village of Rhosneigr, the south coast is perfect for those seeking to relax and unwind.
In this article, I'm going to share with you my favourite things to do in Anglesey!
Xyuandbeyond is reader-supported. When you buy through links on our site, we may earn an affiliate commission. You can read my privacy policy here.
15 of the Best Things to do in Anglesey Wales
Holy Island
Holy Island is on the west side of Anglesey, a larger island off the west coast of Wales. This is the most western point of Wales and it looks towards Dublin, Ireland.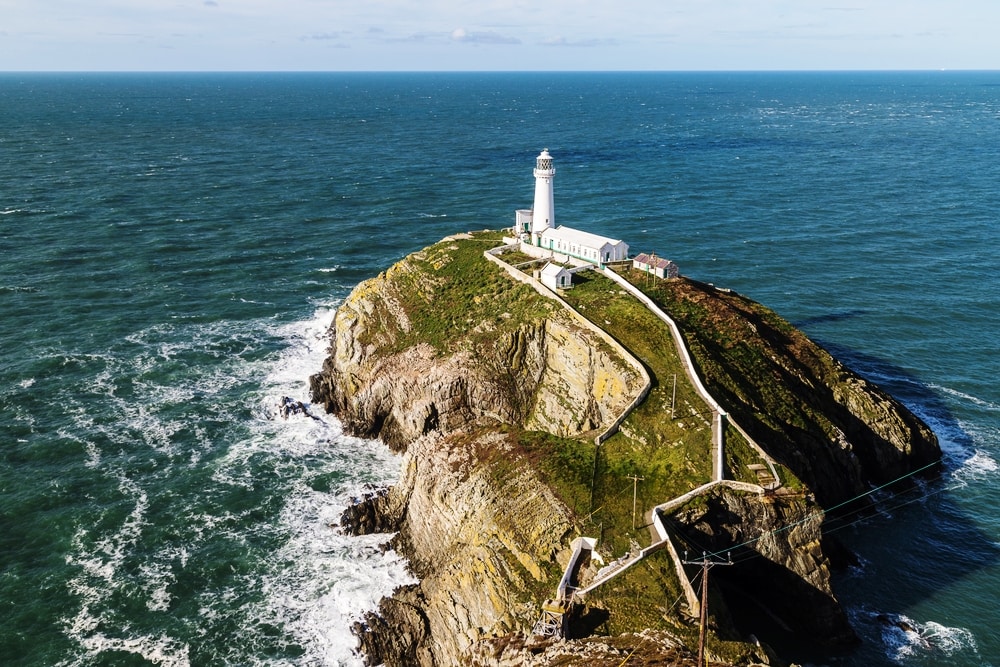 Measuring only 15 square miles it is called Holy Island because of the large amount of standing stones and burial chambers on the island. The circular walk around Holy Island, Anglesey, is one of the best sections of the Wales Coast Path to hike. With a dramatic coastline, this is a walker's paradise. The walk passes the port of Holyhead and its breakwater, one of the longest in Europe before heading up Holyhead Mountain, which is the highest peak in the county of Anglesey.
Menai Suspension Bridge
Anglesey is separated from mainland Wales by the mile-wide Menai Strait and it can be reached over the Menai Suspension Bridge. From the minute you cross one of the bridges you'll see stunning landscapes, unspoilt coastlines and picturesque towns and villages that are just waiting to be explored.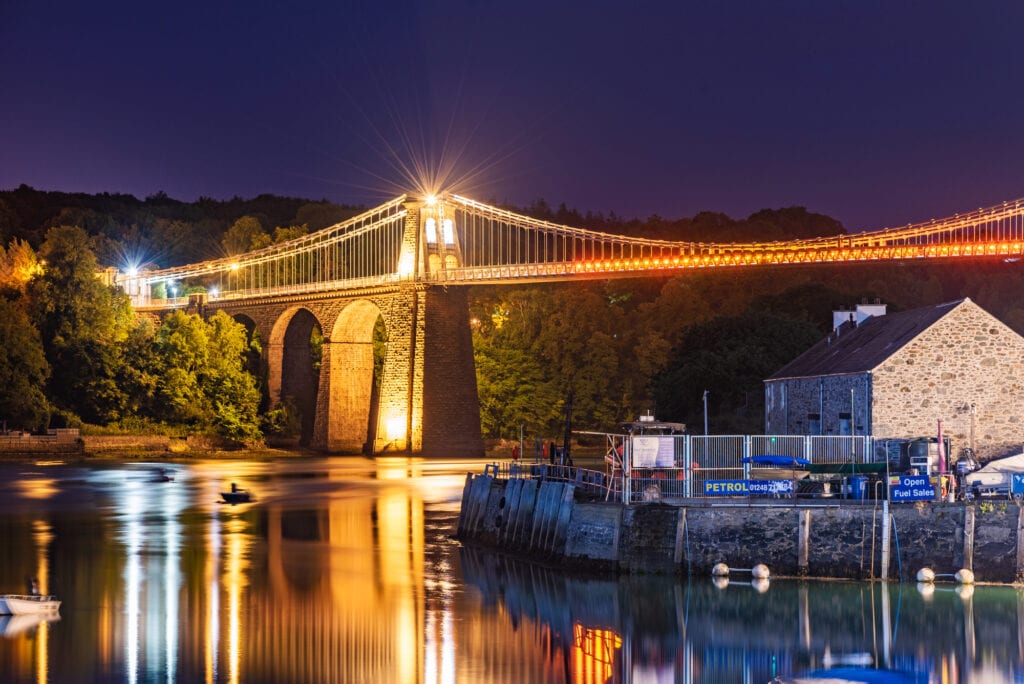 Beaumaris Castle
Beaumaris which is French for fair Marsh is part of the UNESCO heritage site that includes Beaumaris Castle.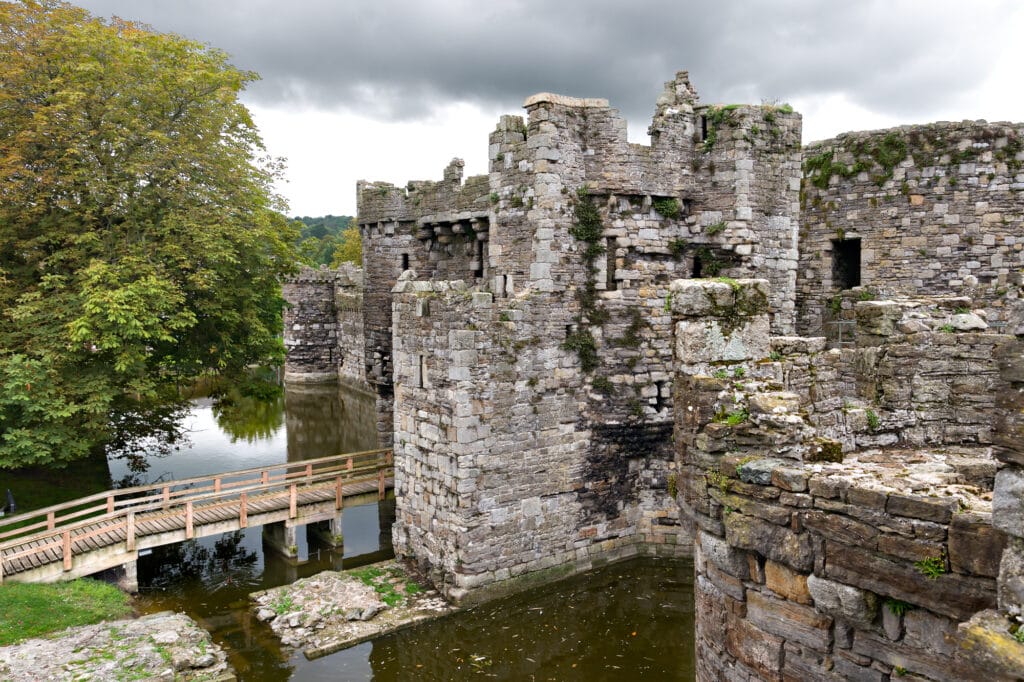 Built by Edward I this castle was to be his crowning glory but it was never finished. The castle featured the best of medieval defensive designs with its round towers, inner and outer circuit walls, massive towered gates and a fortified dock. Beaumaris Castle is considered one of the finest surviving examples of a concentric medieval castle.
Climb Down to South Stack Lighthouse
South Stack lighthouse sits perched on a rock off the west coast of Holyhead Island in Anglesey. One of the most famous lighthouses in the UK, it's a great way to spend a day in Anglesey and can be combined with one of my other favourite things to do, puffin spotting at the RSPB Reserve.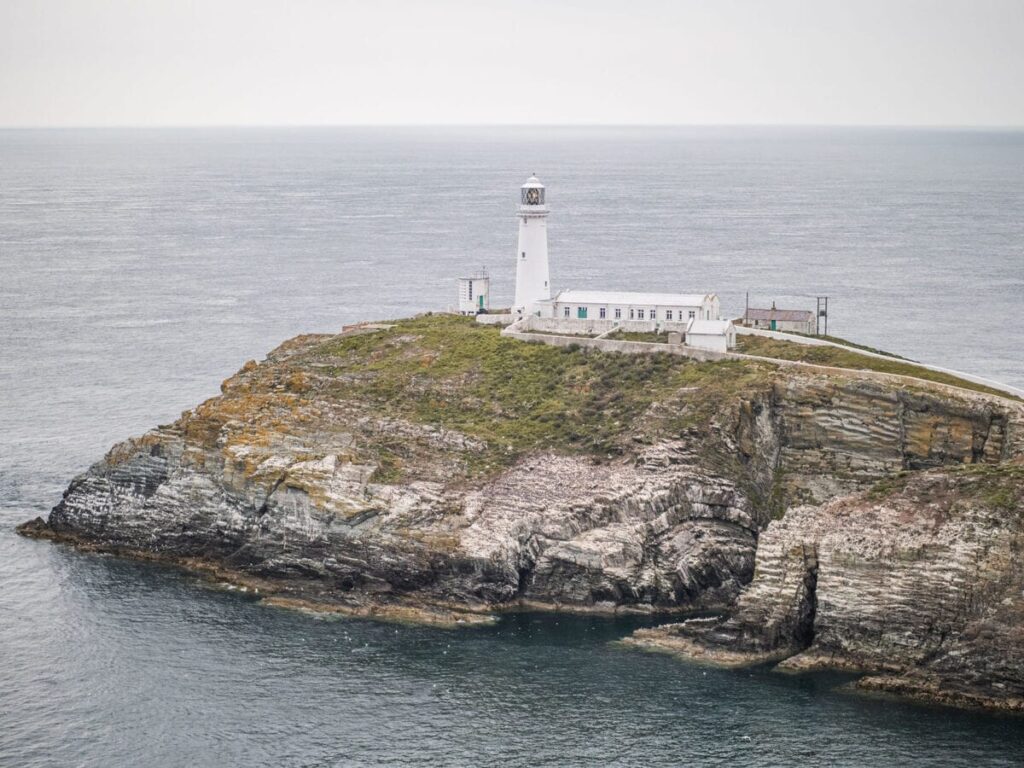 The walk to the lighthouse from the RSPB reserve car park is only 1 mile and features a fun iron bridge across to the lighthouse. The walk does involve walking down a total of 400 steps to the lighthouse and then back up them again at the end. Whilst I loved the walk, after all those steps, I was certainly ready for tea and some cake at the cafe on my return to the carpark!
South Stack lighthouse is a working lighthouse and the best part is you can go inside! Tickets are £7.50 per adult and £3.50 per child, with a concession fee of £6. It's open 10 am to 5 pm from Saturday through to Wednesday as long as the weather is okay.
Make sure to take your camera as there are lots of great photo opportunities!
Plas Newydd House and Gardens
Plas Newydd Anglesey is the family home of the Marquis of Anglesey. The house is an elegant 18th-century mansion designed by James Wyatt in a mix of Classical and Gothic styles, built around a 14th-century hall. The most remarkable feature is a huge mural painted by artist Rex Whistler who was a regular visitor to the house in the early 20th century.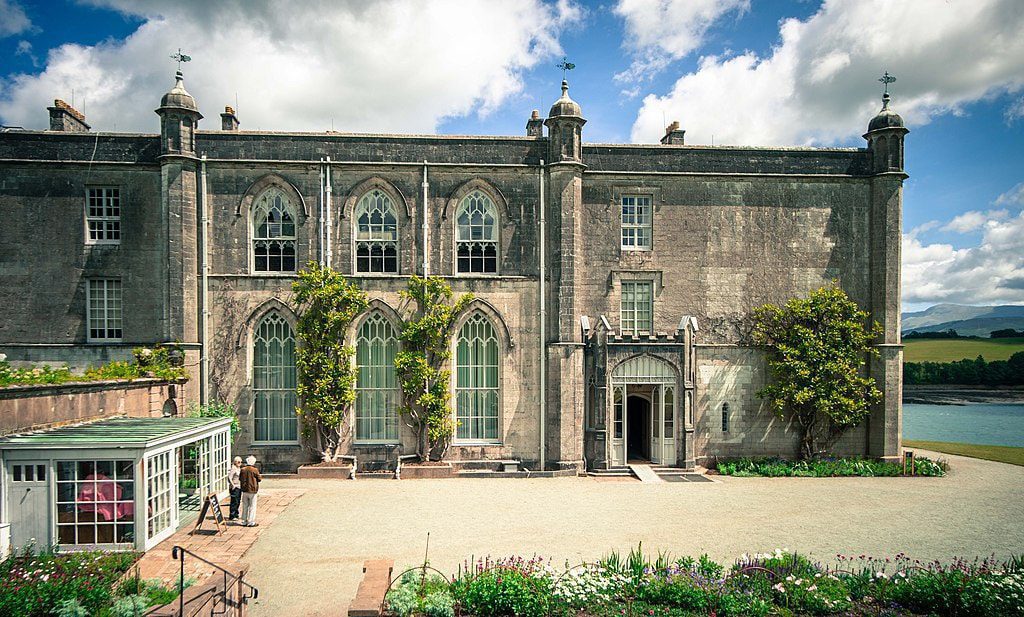 Outside there are gardens with panoramic views across the Menai Strait towards the mountains of Snowdonia – and also an Australian arboretum.
Plas Cadnant Hidden Gardens
Described as one of North Wales's best-kept secrets is the hidden world of Plas Cadnant Gardens, situated at the side of the Menai Strait, hidden from view near Menai Bridge on the Isle of Anglesey.
Former owners of Plas Cadnant were related to the Tremayne family of Heligan House, now famous for its Lost Gardens.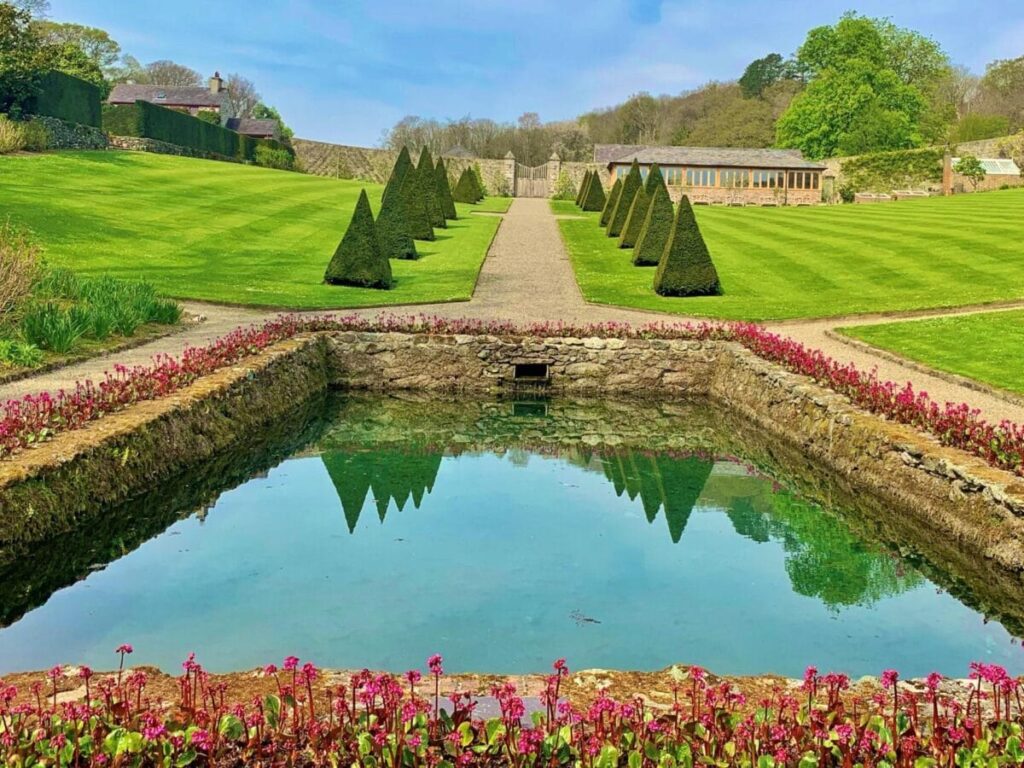 Three different gardens have been discovered, including an unusual walled garden with curving walls and a pool, a secret valley garden with three waterfalls and a river, and an upper woodland garden with stone outcrops and the remains of a 19c. folly.
Visit the Mysterious St Patrick's Cave
I've always enjoyed exploring caves! They give me an insight into the history and culture of a particular region, as many caves were used by humans in the past for shelter, rituals, and other purposes. The UK has some amazing caves such as the famous Thor's Cave in the Peak District.
In my opinion, the best cave to visit in Anglesey is St Patrick's Cave, located on the coast, near the village of Llanbadrig.
According to local folklore, Saint Patrick, the patron saint of Ireland, took shelter in the cave after being shipwrecked off the coast of Anglesey in the 5th century.
Apparently, on visiting the cave, the Dalai Lama said it was the most peaceful place on earth!
Start off at the small car park at the side of the road near the cave and around the corner from Saint Patrick's Church. There is a steep but well-marked path down to the cave. The path can be slippery so be careful as you make your way down to the cave and take a torch as the cave is dark.
Eat Fresh Lobster at Church Bay
Church Bay is a picturesque bay on the northwest coast of Anglesey with a beautiful sandy beach in front of tall cliffs. The area also has some fantastic cafes and restaurants in the vicinity as well as great accommodations and campsites, making it a good base for exploring Anglesey.
One of my favourite things to do in Church Bay is to eat fresh local lobster at the Lobster Pot or Wavecrest Cafe.
The Lobster Pot Restaurant is extremely popular so it's worth booking a few weeks in advance of your trip to be sure to get a table.
As I'm not always that organised, I often end up going to Wavecrest Cafe instead which doesn't require booking as it is more of a cafe style. They also serve fresh lobster which has been caught in Church Bay. As well as lobster, they do an opulent homemade strawberry and cream scone which is hard to resist.
Just over the road from the cafe, they have picnic benches on the grass where you can enjoy your food, great views of the ocean and the refreshing sea breeze. Wavecrest Cafe in Holyhead is currently open Thursday – Saturday from 12 – 5 pm.
After you've eaten it's just a 5-minute stroll down to the beach where you can sunbathe or just wander along the coastline.
Enjoy some traditional Welsh food: 25 Best Welsh Dishes
Spot Puffins at the RSPB Reserve
Viewing puffins at the RSPB reserve in Holyhead or Puffin Island as it's nicknamed has to have been one of my favourite wildlife experiences in the UK!
Once you're parked up at the South Stack Cliffs RSPB Reserve car park, it's a short 5-minute walk to the viewing point for the South Stack Cliffs which are filled with a vast array of birds who visit and nest on the cliff faces during the spring and summer months.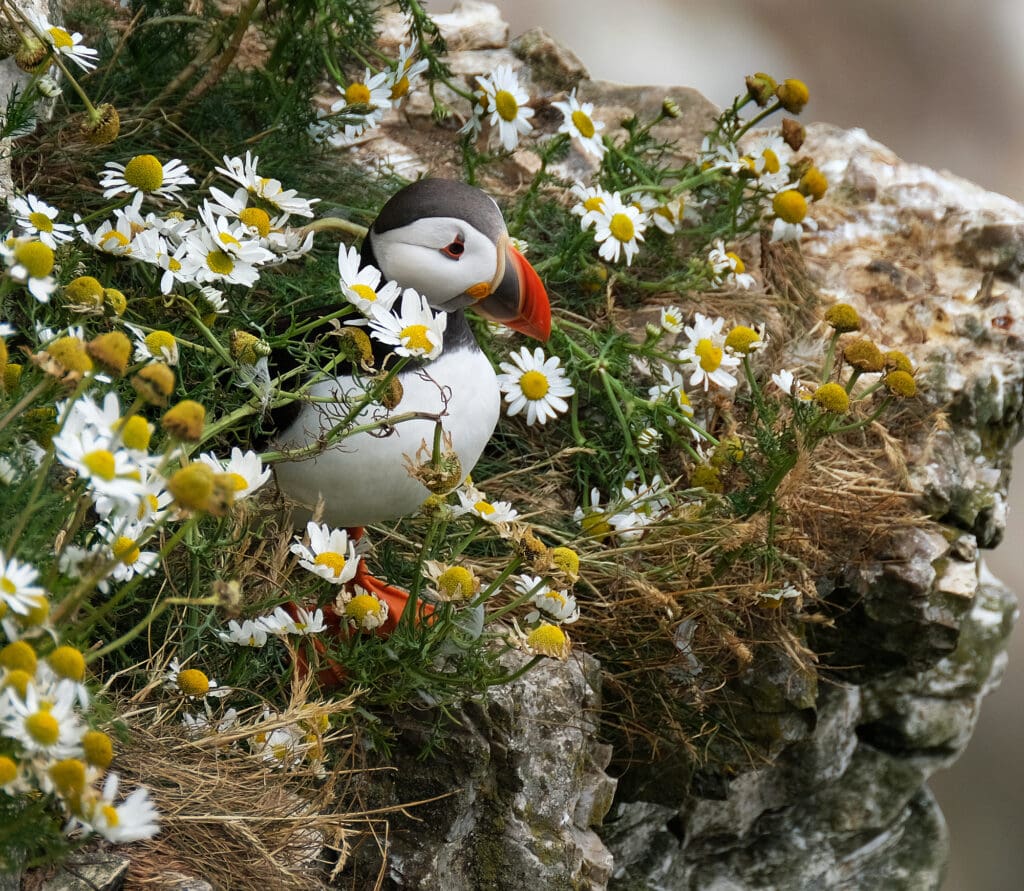 I found the puffins quite comical birds to watch with their short stubby legs, large orange beaks and the endearing way they waddle around.
Sadly due to climate change and overfishing, they are listed as 'vulnerable' on the IUCN Red List, and their population has declined by over 30% in the past 30 years.
However, conservationists in the UK including the RSPB are working to protect these amazing birds and ensure their survival. Puffin numbers at South Stack Cliffs have grown from a low point of only a few breeding pairs to over 100 pairs of puffins in 2023.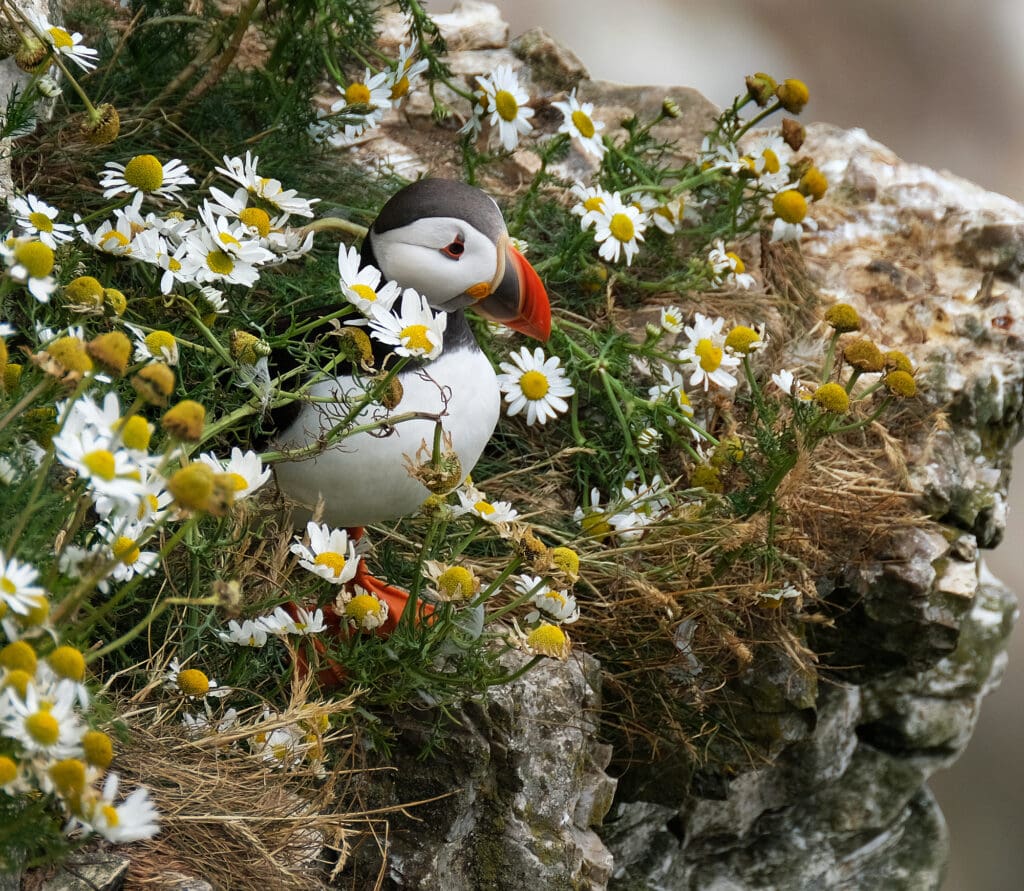 Make sure to take a set of binoculars or ideally a spotter scope to get a good view of the puffins as they can be hard to spot at first. A little trick I found was holding my phone camera over the posterscope viewer allowed for some great pictures.
The best places to find Atlantic puffins in Ireland
Walk Over Anglesey's Rhuddgaer Stepping Stones
There are many amazing stepping stones in the UK including the famous Chee Dale Stepping Stones in the Peak District and the stepping stones at the Devil's Punchbowl in Surrey.
I love stepping stones so I was delighted to discover that Anglesey has a giant set of stepping stones as well. These monstrous stepping stones are located between the villages of Dwyran and Newborough in the south of Anglesey.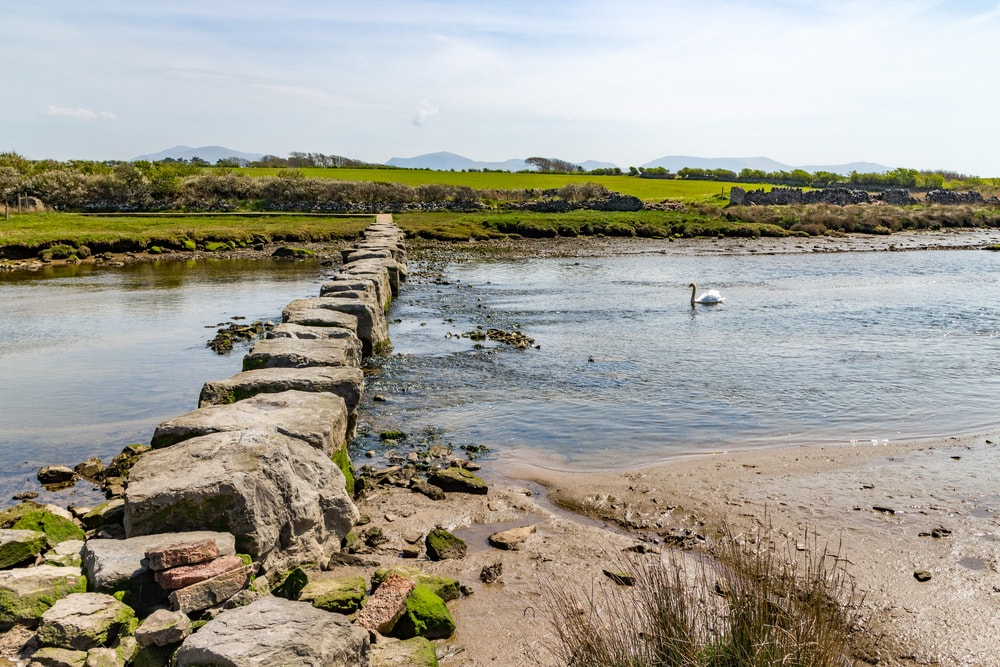 The stepping stones form part of the Anglesey Coastal Path and enable walkers to easily cross the Afon Braint tidal river.
There is a bit of mystery around the origin of the Rhuddgaer Stepping Stones which adds to their appearance. Some sources suggest that the stepping stones appear on maps dating back as far as the 19th century. However, it's also thought that they were much smaller originally and later replaced by the giant stones which exist today, however, no one seems to quite know how by who!
The stones are a little challenging to cross due to their size and spacing so exercise caution when crossing and wear suitable footwear. Try to avoid wet periods when the stones can become quite slippy making the crossing more difficult.
Camp Within Anglesey's Picturesque Wilderness
Holiday accommodation in the UK can be expensive but that's no excuse not to visit Anglesey for a long weekend as there are loads of excellent campsites to choose from. Camping is not only cost-effective but helps you immerse yourself in nature and really unwind.
There are a range of different campsites to choose from starting from the most basic pitches without any facilities such as power all the way through to luxury campsites which include swimming pools, restaurants and bars.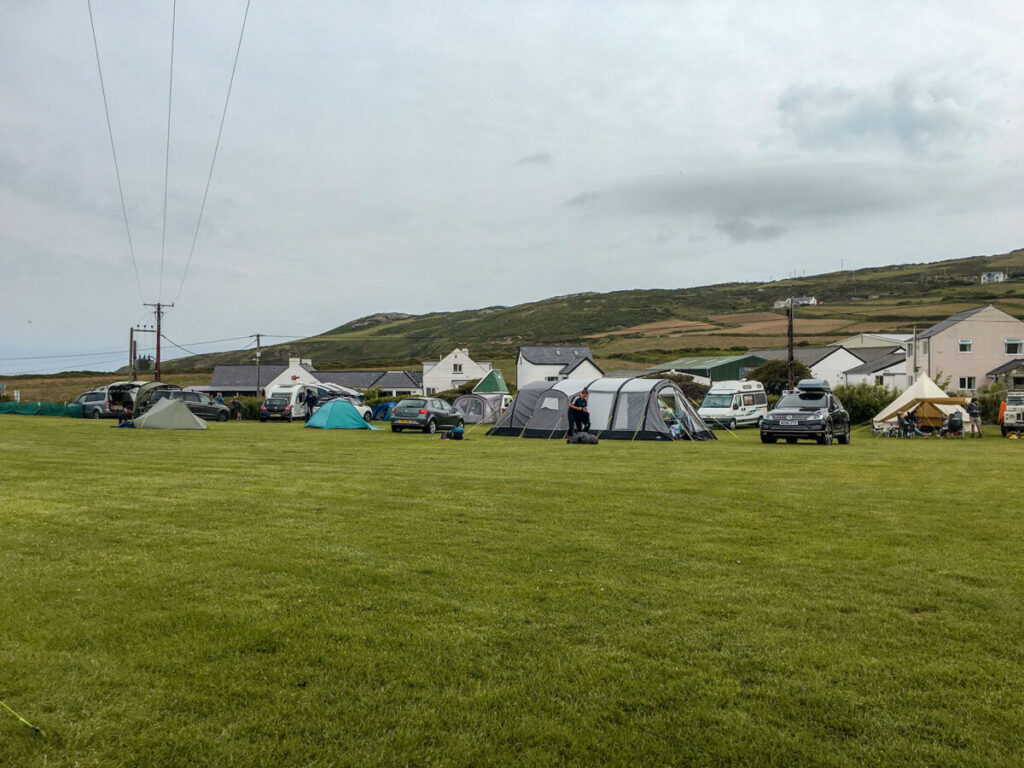 I tend to opt for a basic campsite near a beach and get a pitch with a power hookup which allows me to have a great camping experience without too much cost.
Church Bay Cottages & Campsite is my favourite campsite. Not only can you hear the waves crashing whilst you sleep but one night I received a visit from three noisy hedgehogs! I unzipped my tent to see what all the raucous was about and found the three adorable balls of prickles just outside my tent.
Ever since lockdown, staycationing has become more popular with more Brits than ever. Due to this, campsites are busier than they used to be and it's recommended to book your pitch well in advance, especially in the summer months.
Visit one of Anglesey's Amazing Beaches
There are over 17 fantastic Anglesey beaches which offer a variety of activities including sunbathing, swimming, surfing and fishing.
One of my favourite beaches is the popular Benllech Beach, located in Benllech village on the east coast of Anglesey. Boasting golden sand and clear blue water, this is a great beach for sunbathing. You can also take a dip in the sea to cool off as the sea is safe for swimming.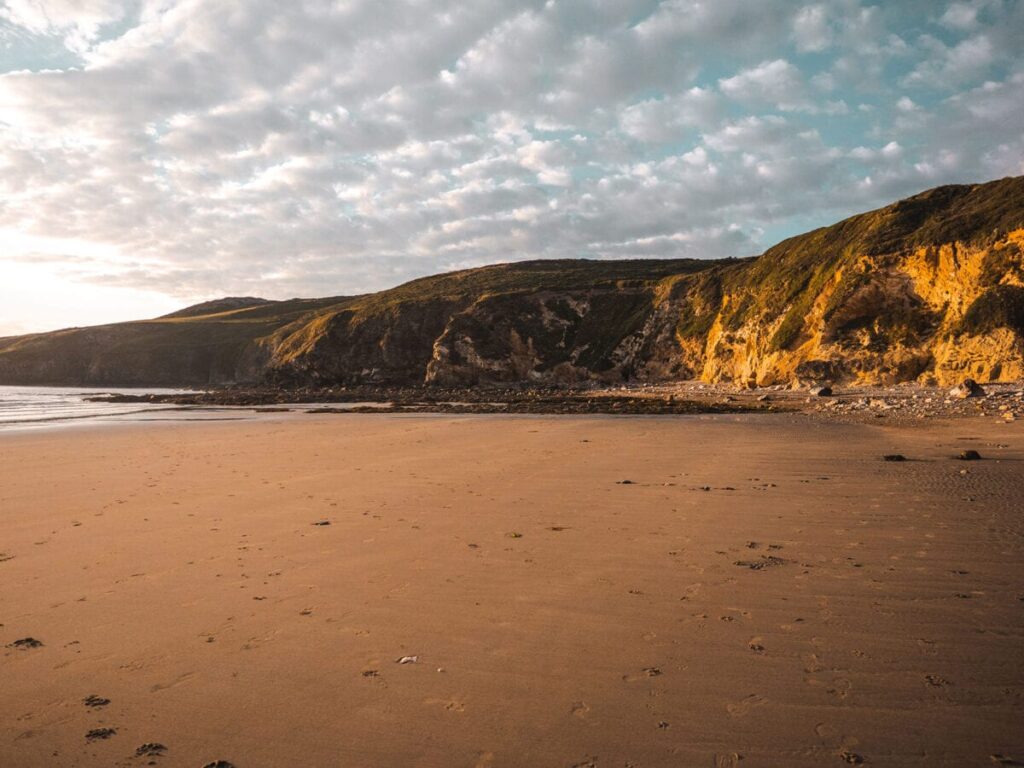 Another of my favourite beaches is Porth Swtan (Church Bay) Beach in the northwest coast of Anglesey. The beach is quieter than some of the other beaches and unspoilt. Although there is a lack of services, it provides a more natural feel which I love. There is a combination of sand and pebbles with cliffs providing an impressive backdrop. If you fancy a walk, you can access The Isle of Anglesey Coastal Path from a footpath running off the beach.
For surfers, Rhosneigr or Trearddur Bay are the beaches to visit. Rhosneigr, located on the west of Anglesey is the winner of the Green Coast seaside award. Trearddur Bay is a sandy beach with a protected bathing area and lots of facilities.
Walk to Llanddwyn Island
Technically Llanddwyn Island is actually a peninsula and is only an island during high tide. Llanddwyn can be walked to from Newborough Warren Beach on the southwest side of Anglesey.
Llanddwyn Island is most famous for its connection with Saint Dwynwen the Welsh Patron Saint of Love. According to legend, Dwynwen, was a 5th Century princess, one of 24 daughters of the Welsh King Brychan Brycheiniog.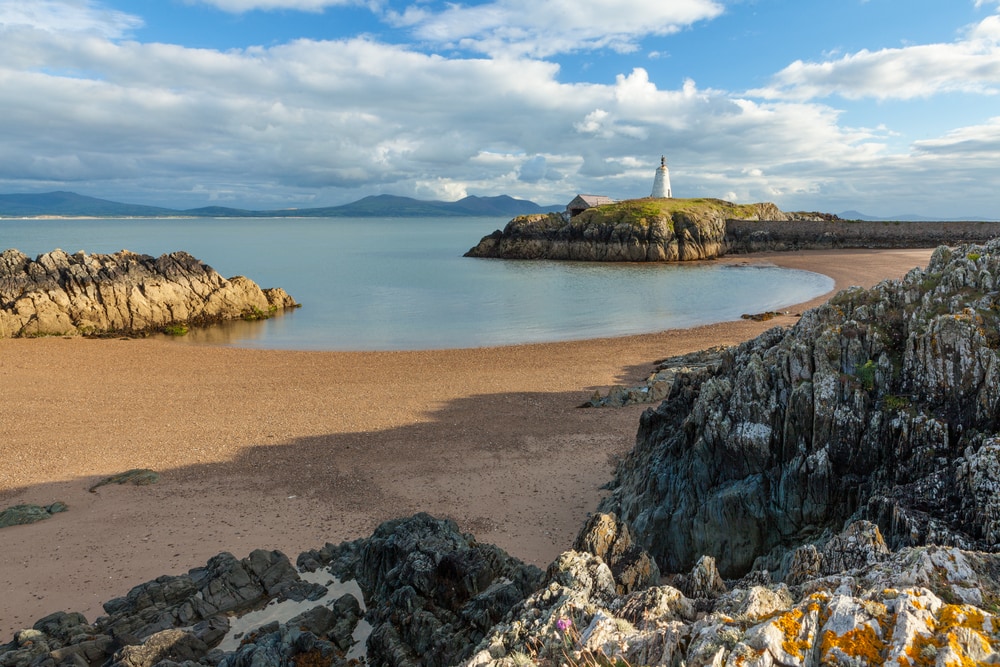 Locals here still celebrate Saint Dwynwen, and at low tide, a path across a neck of sand from Anglesey leads onto uninhabited Llanddwyn where her religious cult was born.
Amlwch Copper Kingdom at Parys Mountain
During the Bronze Age, perhaps 4,000 years ago the Amlwch area was where copper mining began. After the 1760s, this small corner of Wales became the cauldron of the Industrial Revolution. Parys Mountain briefly produced more copper than any other mine in the world.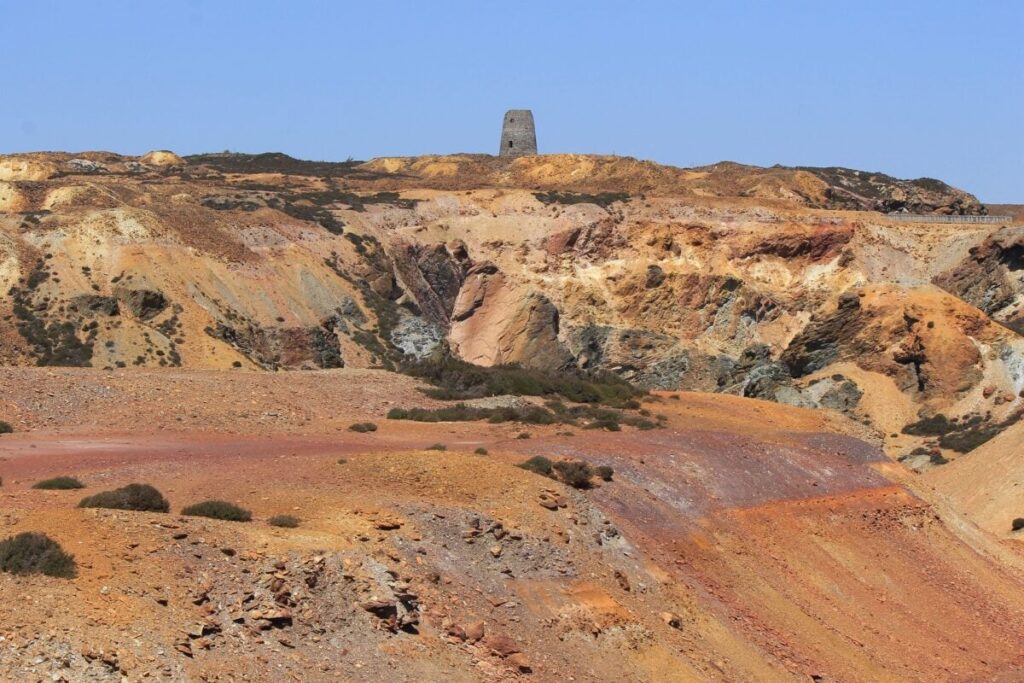 The copper from this mine coated the warships of the Royal Navy at Trafalgar in 1805.
Copper was mined at Parys Mountain and then taken down to Amlwch Port where it was further processed and then shipped around the world. The Copper Kingdom Centre based in Amlwch Port tells the story of copper mining in the area.
The World's Longest Place name
Finally, one of the world's most famous photo ops is on the railway platforms of the town with the world's longest place name: Llanfairpwllgwyngyllgogerychwyrndrobwllllandysiliogogogoch.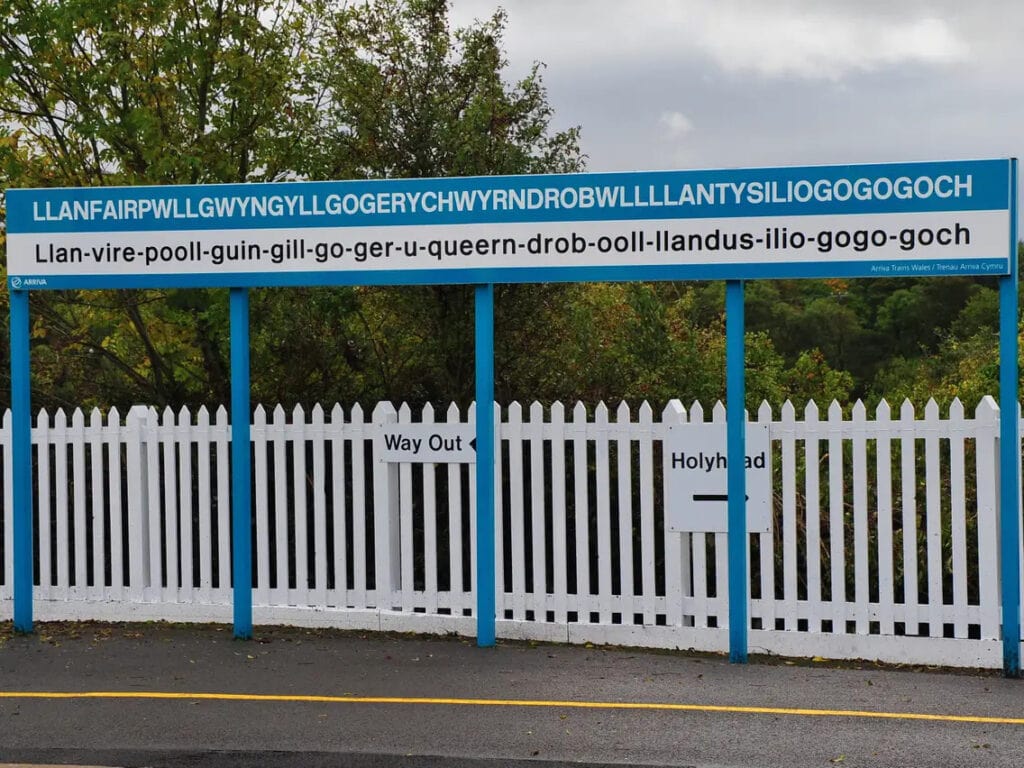 As you can see, there are so many beautiful things to do in Anglesey! From scenic beaches to long coastal walks, getting up close with native wildlife and exploring historical monuments, there really is something for everyone on this stunning Welsh isle.
With a large number of great campsites across Anglesey, it can make a very cost-effective holiday and somewhere I know you'll keep going back to again and again.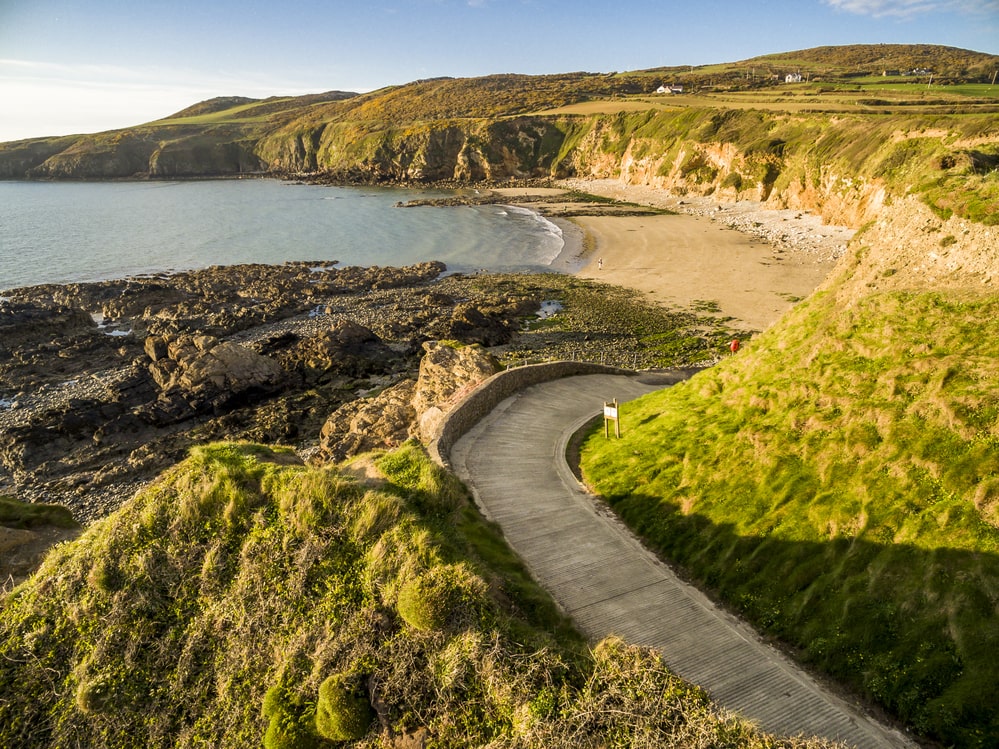 Anglesey is a hidden gem that offers visitors a one-of-a-kind experience. With its breathtaking scenery, rich history, and unique culture, there is something for everyone to enjoy on this beautiful island. From exploring the stunning beaches and coastal paths to discovering ancient monuments and learning about the local wildlife, Anglesey has it all. Whether you're looking for a relaxing getaway or an adventure-packed holiday, Anglesey is the perfect destination to escape from the hustle and bustle of everyday life. So why not take a trip to this enchanting island and discover everything it has to offer? Trust us; you won't regret it!
Pros and Cons of Living in the UK
Pin it to save it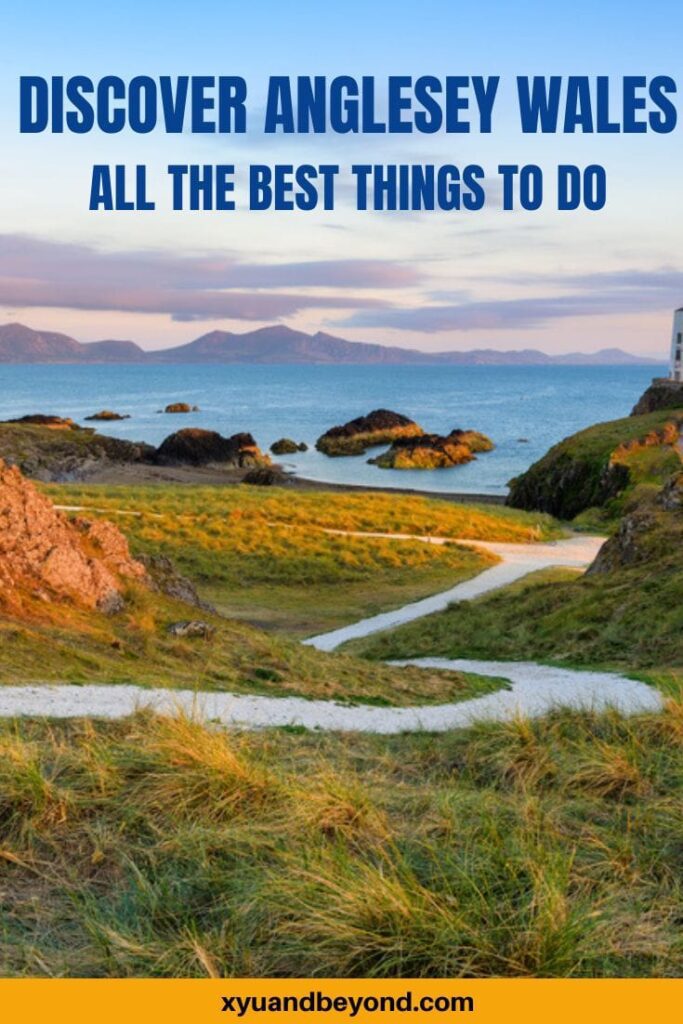 Latest posts by Faith Coates
(see all)