Cooking Class in Tuscany with a private Chef
If you love food then I will bet that you have wanted at some point in your life to travel to incredible Tuscany. Cooking in Tuscany is the dream of many of us obsessed with Italian food and combining a cooking class with a private Chef and touring the outstanding countryside of Tuscany is a lifelong dream.
Tuscany's unique and diverse beaches and coastlines make this area of Italy exceptional and the landscapes, history, art and its influence on culture as the birthplace of the Renaissance are indisputable.
What is Tuscan food?
Many think that Tuscan food is the same Mediterranean style that is popular in the rest of Italy, or Spanish and the French Med. But Tuscan food is totally rooted in Italian influences. The Tuscan flavour profile includes aromatics like garlic, onion, red bell pepper, spicy pepper flakes, lemon zest and of course bright fresh lemons themselves.
Tuscan cooking is based on simple clean foods that won't be covered in heavy sauces. Unlike Northern Italy, the Tuscans use olive oil, not butter. Beans are a staple of this region as are herbs such as sage, basil and rosemary.
Grilling over vine embers and chestnut is the way it is done here and you must have heard of a Florentine steak. This is a steak grilled flat over an open fire, in a tradition that dates back to the Etruscans.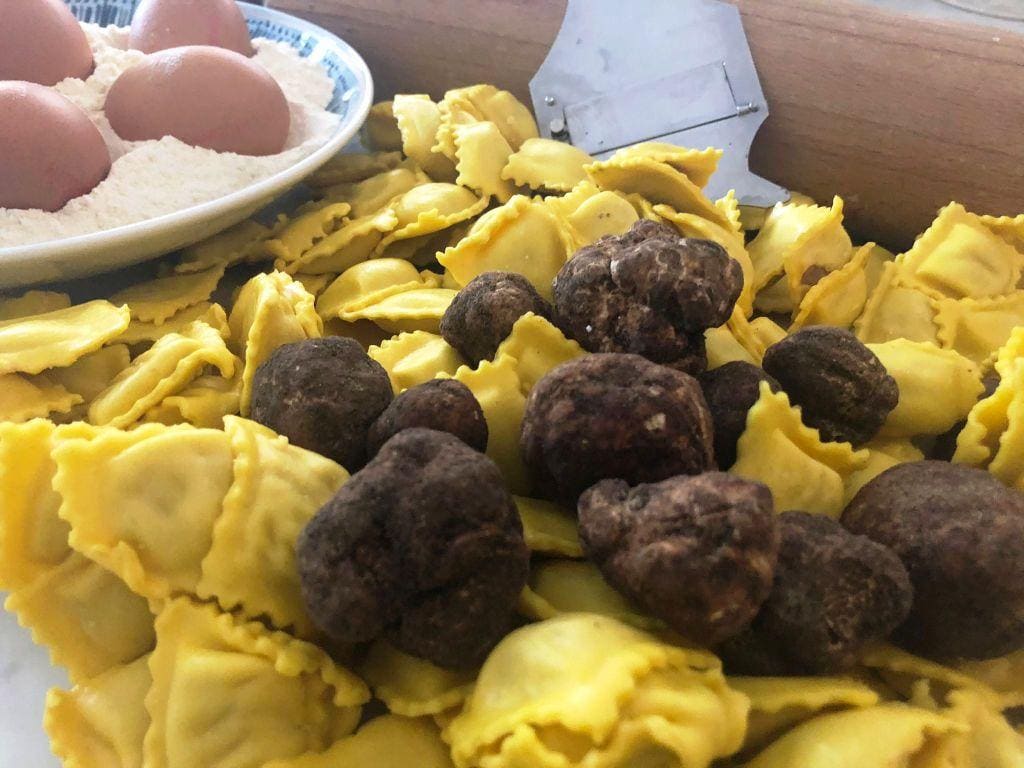 You can't talk about Tuscan food unless you mention the wine. Famous for its Chianti, Vino Nobile di Montepulciano, Morellino di Scansano, Brunello di Montalcino and white Vernaccia di San Gimignano.
These are your under-the-Tuscan sun moments visiting the charming Medieval village of Montalcino and the historical cities of Tuscany.
Sitting at a groaning dining table with a glass of red wine in hand and looking out to views of Tuscany's ancient landscapes with sunflowers as far as the eye can see cypress-lined lanes, gently rolling hills and vineyards that cover miles and miles of the land. The Tuscan light makes the stunning views glow and give your photos that dreamy Renaissance atmosphere and a private chef creates dishes you have dreamed about for years.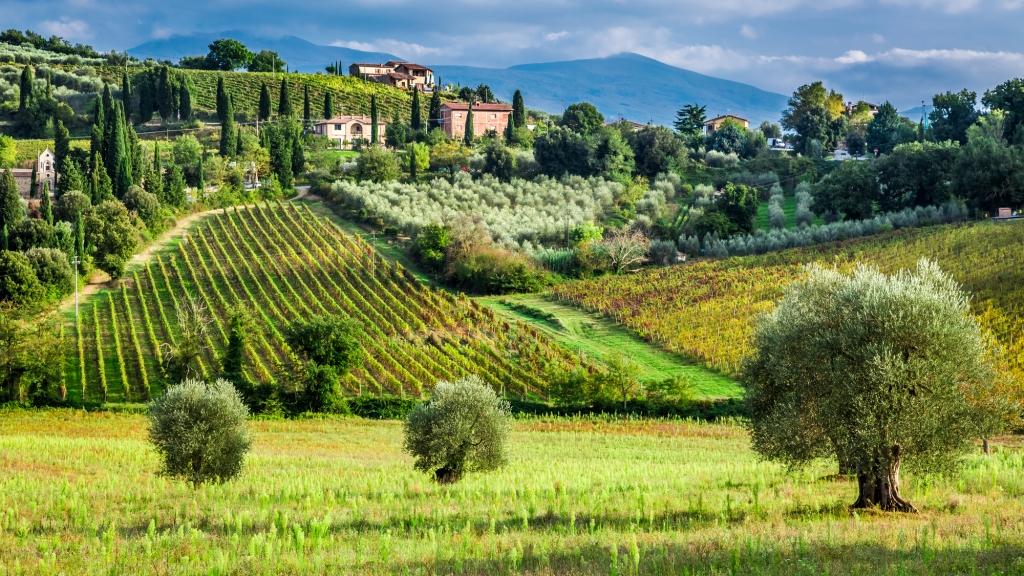 Cooking Class in Tuscany with Liliana
This is a story about cooking in Tuscany with a local private Chef the experience of a lifetime. Liliana Stredie lives, works and cooks exactly between Siena, Arezzo and Florence in Cavriglia a Chianti region.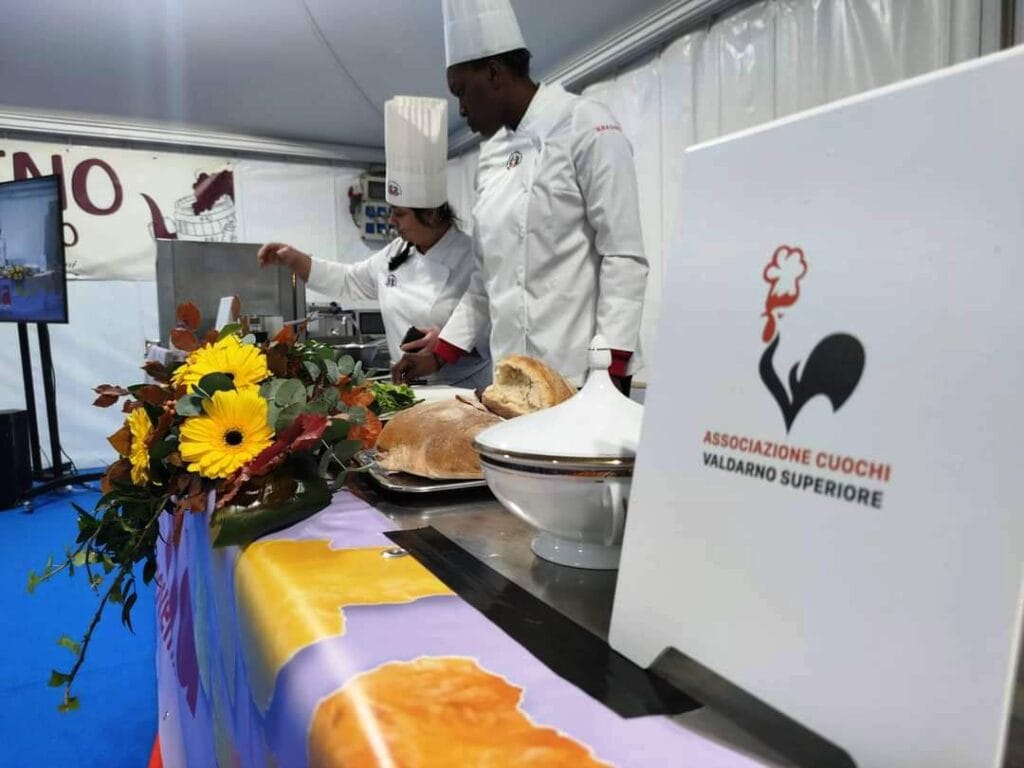 Liliana has participated in many cooking demonstrations and has won many accolades in her career. Liliana not only works at the Maninpasta restaurant in Arezzo creating stunning pasta she was a finalist of Extracuoca 2021. Liliana will create Tuscan cooking classes for you that can be taught in your Tuscan villa or she can come to you as a private Chef and create those Tuscan specialities just for you and your guests.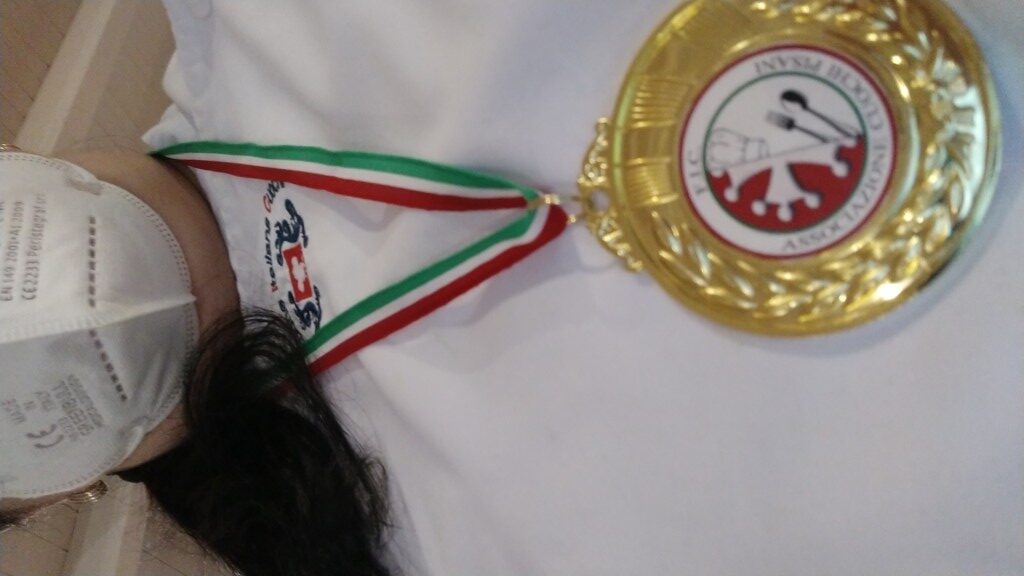 At the Unione Regionale Cuochi Toscani in English, the Regional Union of Tuscan Chefs Liliana won gold with her White Calf Stracotto Sangiovanese with a puree of zolfini beans.
At the Associazione Cuochi Pisani in English, this would be the Pisani Cooks Association Liliana won first prize for her delicately flavoured pasta fillings.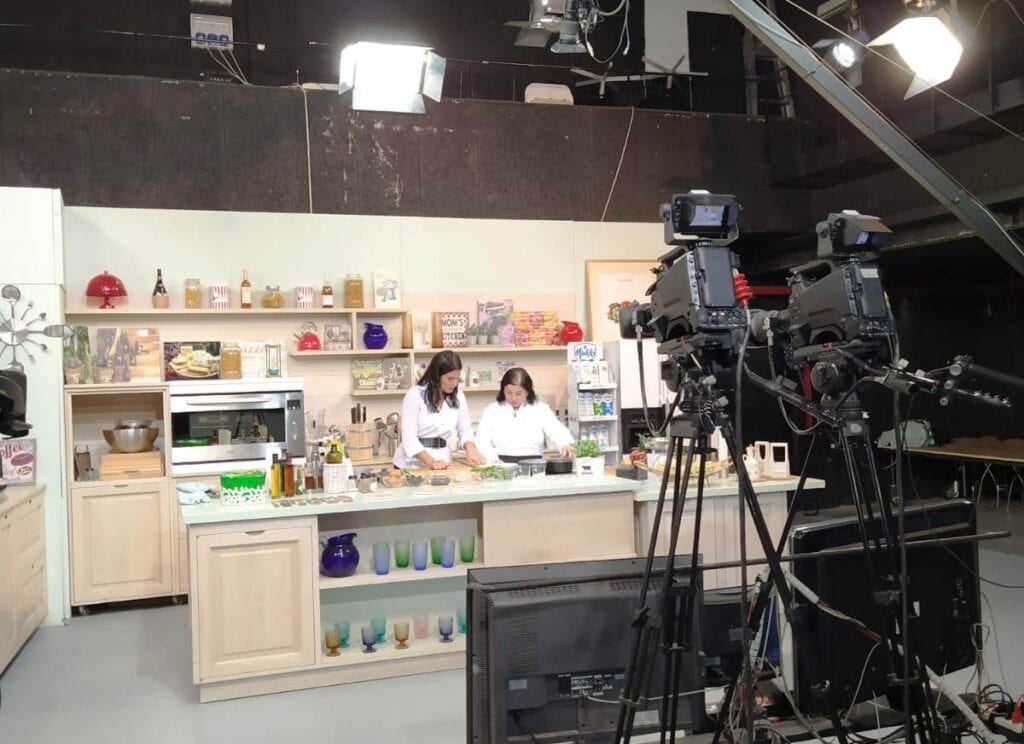 Here is what Liliana has to say
My name is Liliana Stredie and I am a private chef in Tuscany, Italy. My life is made up of an intertwining of passions: cooking, nature, literature, poetry, chemistry and psychology. They are all linked together and form ME.
I am an innate optimist; I always see the good parts in things and in people. Throughout my career, I have met so many great people from all over the world. For me cooking is love, it is a continuous giving and receiving of happiness.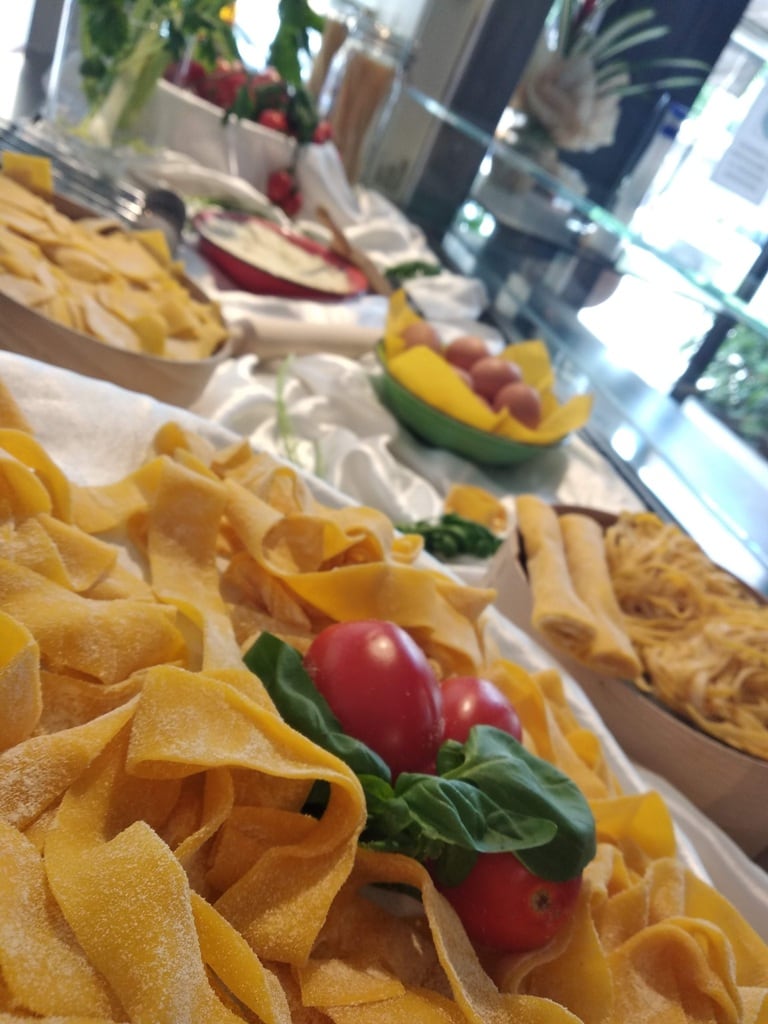 I live in Chianti which is the gem of Tuscany and with its rolling hills covered with vineyards and olive trees, its imposing mountains, make anyone who arrives here fall in love forever. My kitchen is made of fresh seasonal products, fresh bread and freshly made pasta. I love to make pasta; I think that flour runs in my veins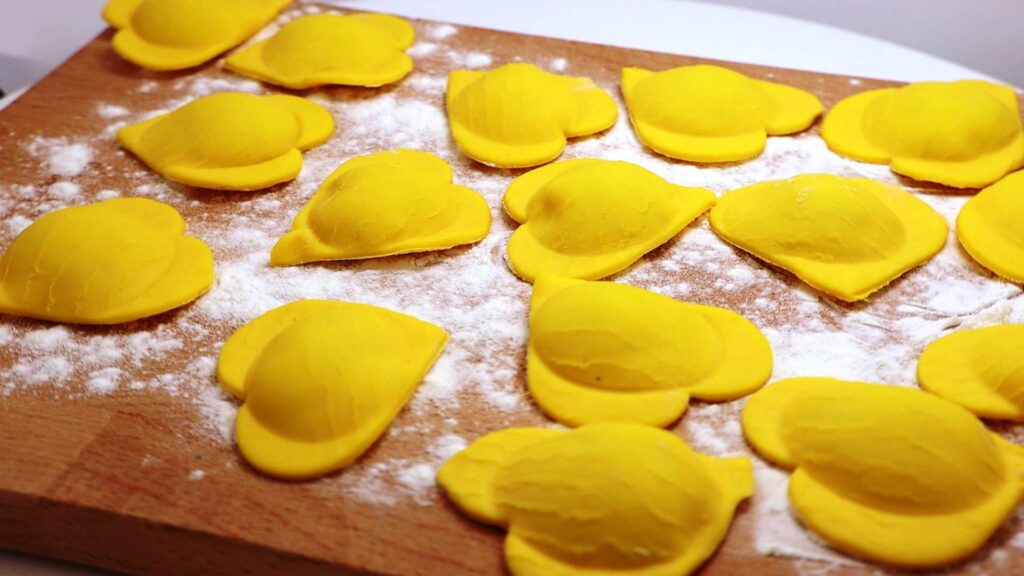 Among my joys is my garden from which I collect vibrant vegetables, my hens that make fresh eggs daily and herbs that add that Tuscan flavour to every recipe. I am a happy farmer Chef and I would love to share all this with you!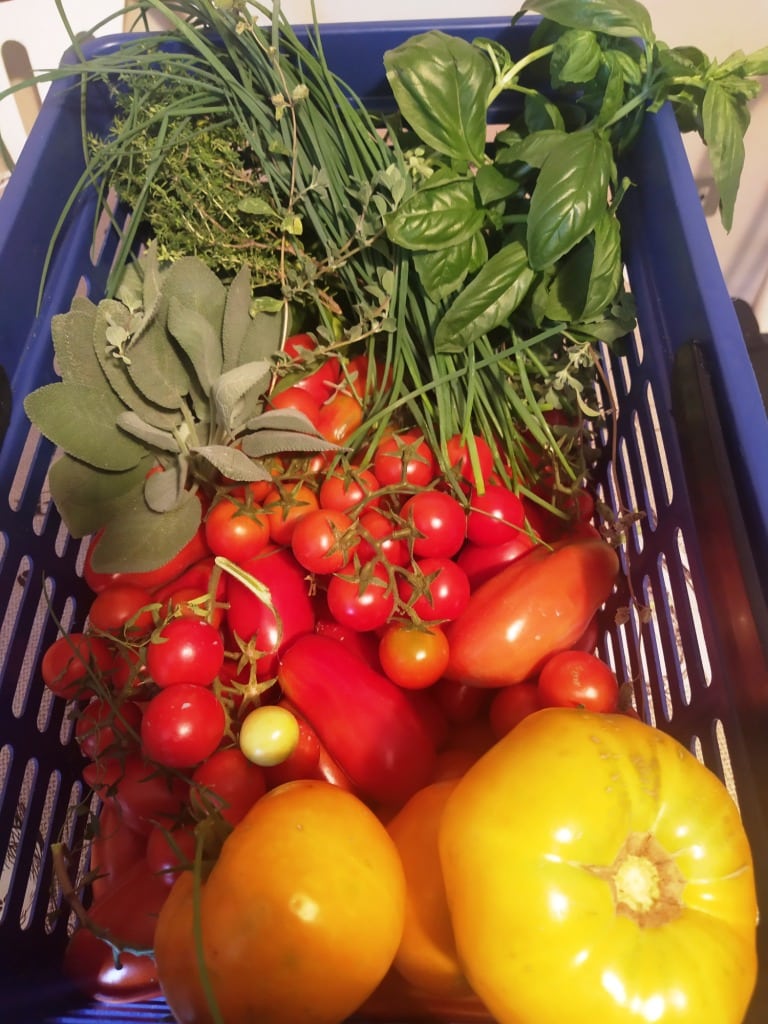 I love my job! I accompany groups of guests to the accommodations they choose to spend their holidays at. I cook for them, and we do cooking classes together, we choose the perfect menu together, like in a big family.
When was your love for cooking born?
I've always been cooking in my family. I grew up in the country and I remember my mom taking me to the garden to get vegetables, to the chicken coop for eggs. We cooked every day what nature gave us. I used to go with my grandparents to make flour with our own wheat, and olive oil from our trees. Slowly, growing up, I started cooking for my family. I was and still am very curious about the products from production to the table. I love knowing what I use in my recipes, where it comes from and always looking for the best possible ingredients.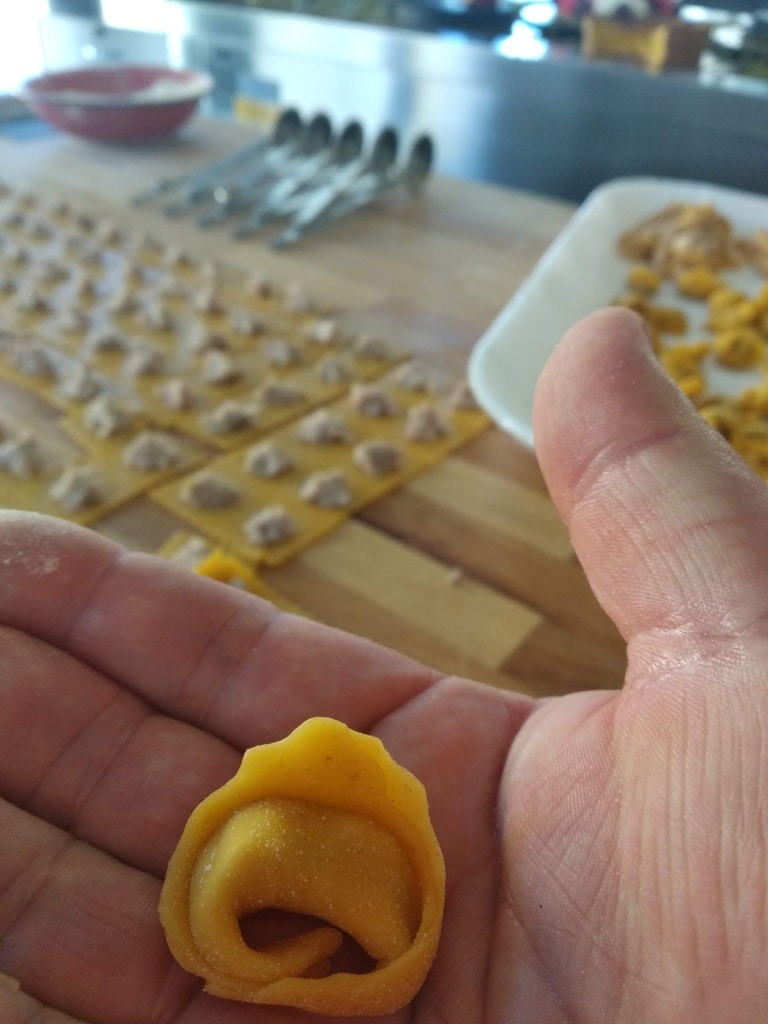 What do you like to express through your dishes?
Eating is not just fulfilling a need, it is an all-around experience: I hope to include in my food memories, emotions, feelings and the culture of Tuscany. My dishes are like this and what I love the most is knowing the history of every dish I cook or eat.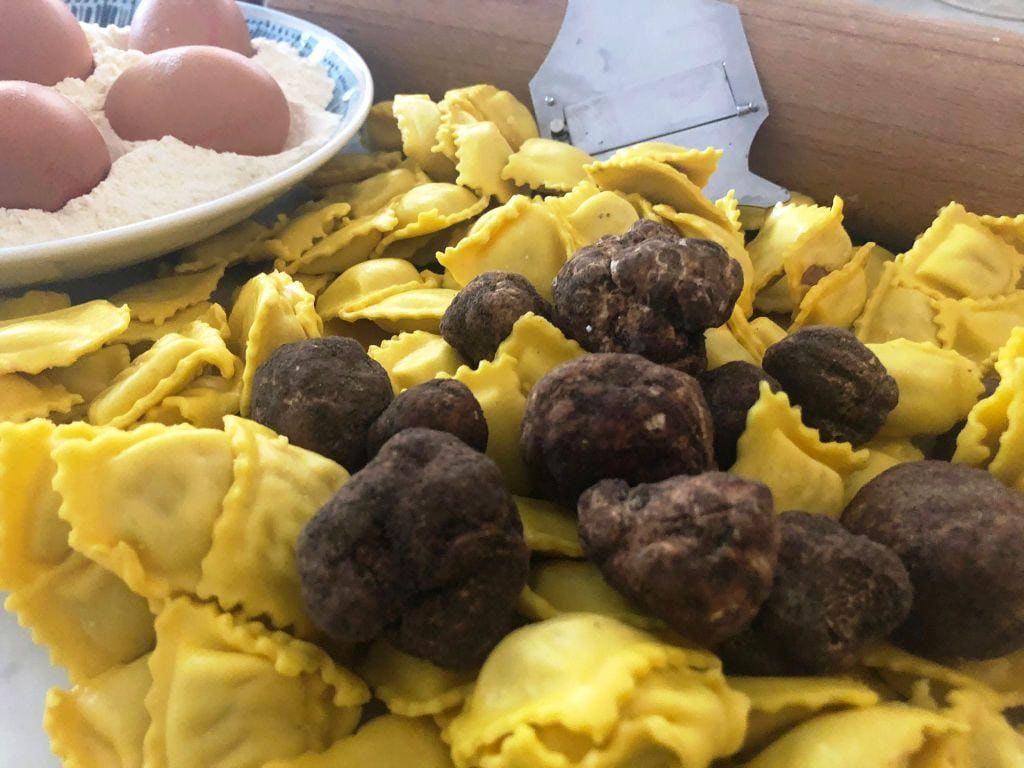 How do your cooking classes work?
So, my courses are structured like this: let's choose what you want to learn together. Usually, we cook a whole menu, from appetizer, first course, main course and dessert.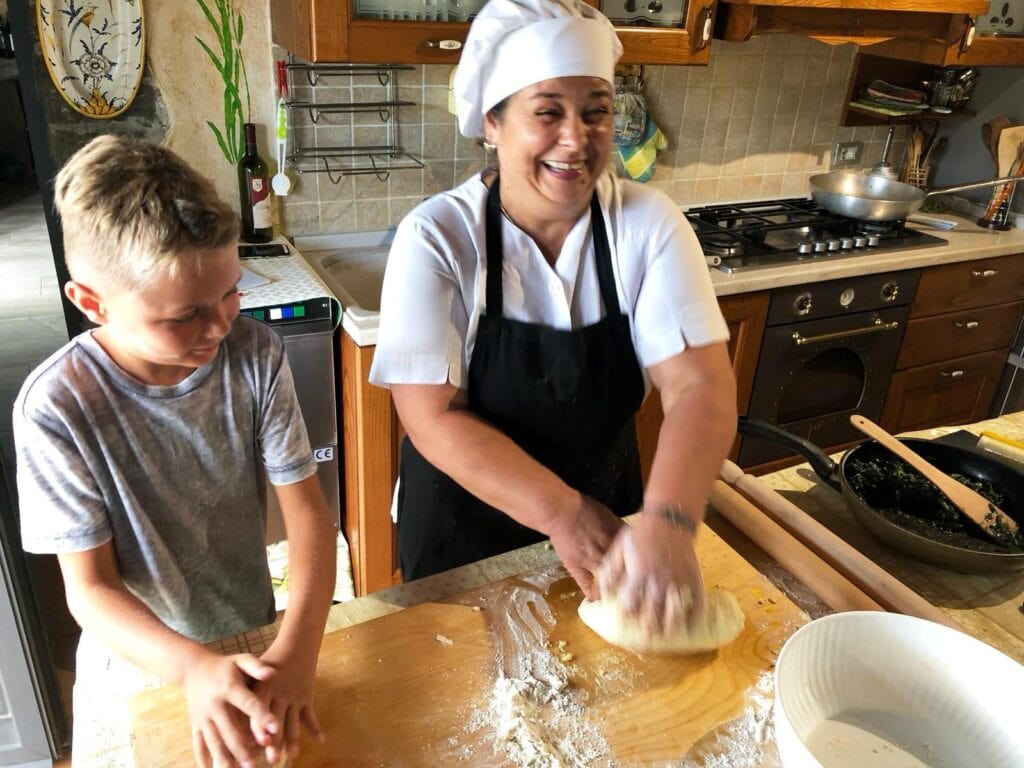 I do the shopping, we do the lesson together then we sit down to eat what we have cooked together. Then I take care of arranging the kitchen and dining room.
I can help find accommodation, even if it is not my main activity but I know and am in contact with many people that do this. I come to you during your stay and work with you in the kitchen of your accommodation or find a kitchen for us to work in.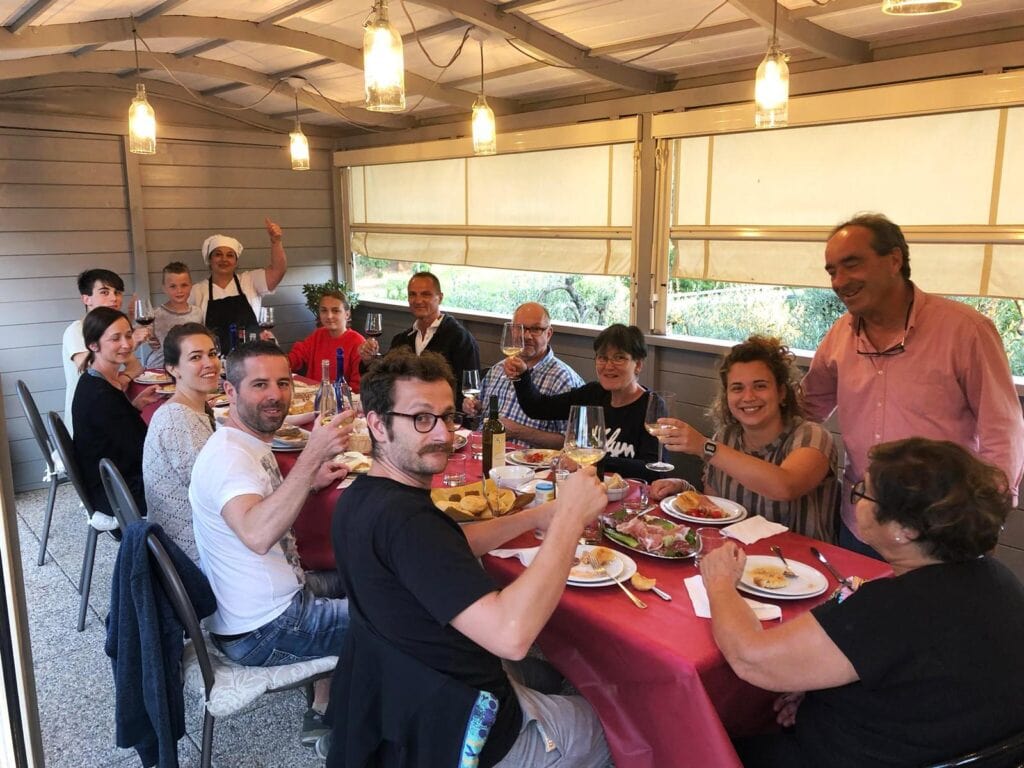 A good reason for taking your class in your holiday home or kitchen means that you can stay at home; you can drink wine without having to drive and rest after dinner. It is a much more comfortable ambience.
Cooking classes start from 2 people up to 12 people. For larger groups, it is usually organized in shifts on different days and cooking for everyone.
A private chef in Tuscany
Apart from the cooking classes, I cook for guests on the days they choose, for example, I have a group of 18 people for a week, and they ask me for 6 dinners, 3 lunches and all breakfasts. I will work with the guests to choose the menu and then arrange for the ingredients to be purchased. I will then come to the guest's holiday homes and prepare the meals for them and their families. The meals can include wine and beverage choices.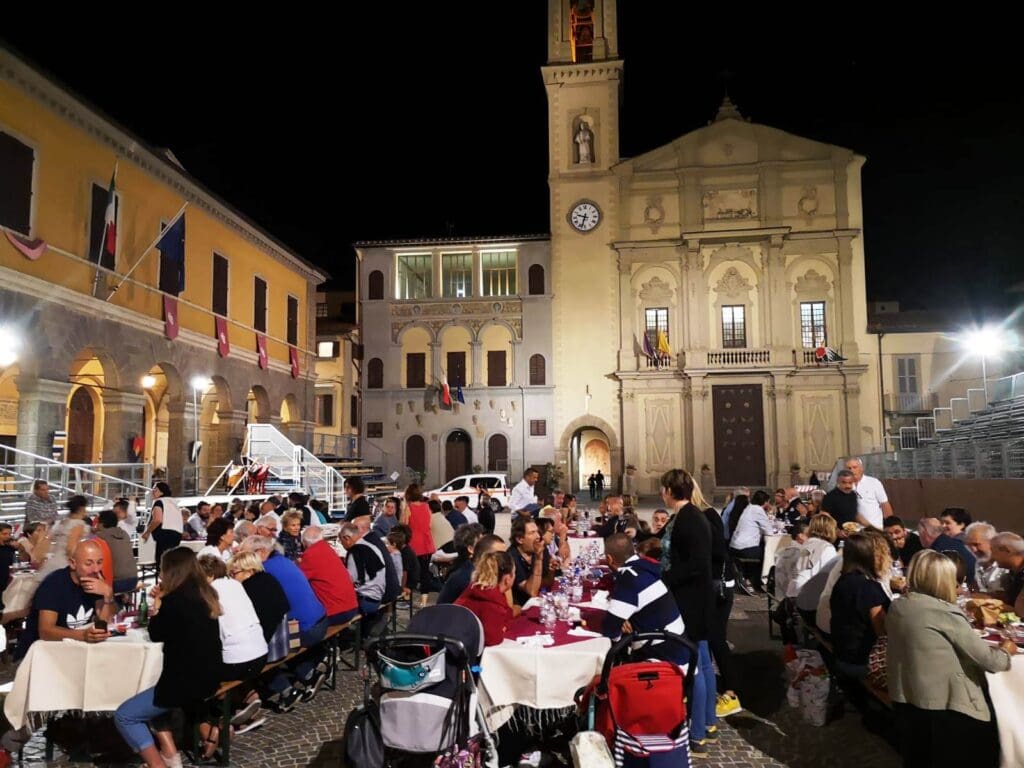 If you would like to contact me to arrange your Tuscan holiday feast you can email me at [email protected]. You can also like my Facebook page and soon there will be a website dedicated to Tuscan cooking classes.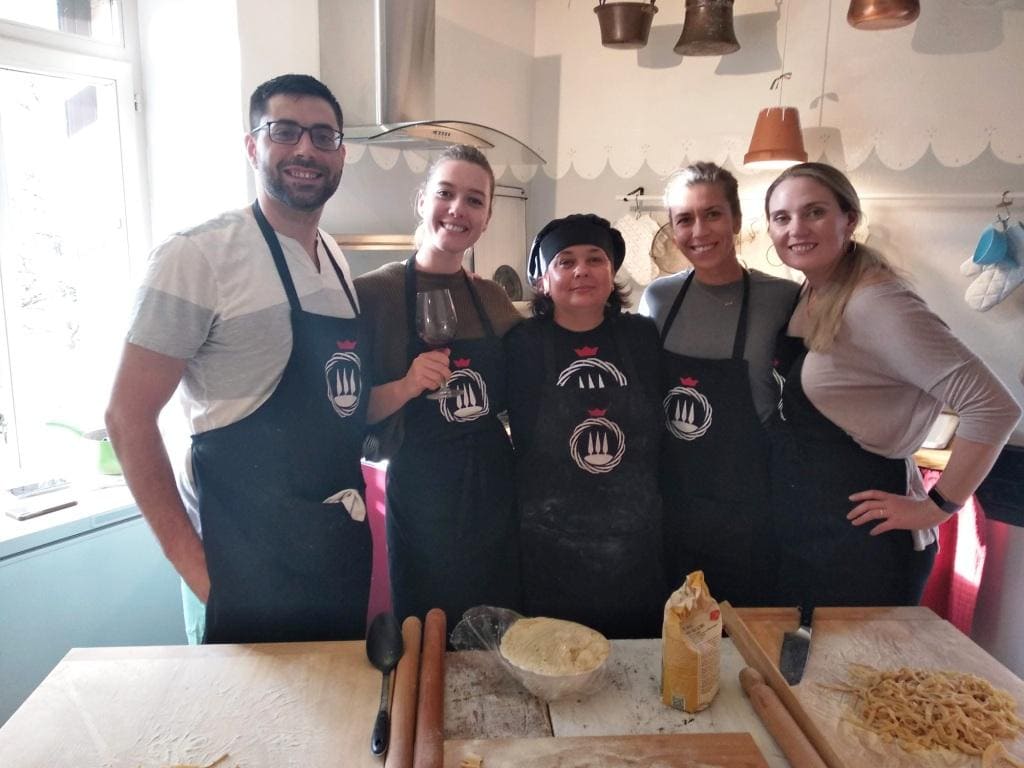 Cooking vacations in Tuscany will appeal to the whole family. Your Tuscan cooking class will include whatever you want it to include from pasta-making classes to what Tuscan wines to drink with your foods, a private cooking class will focus on what you want to learn and you will go home with skills you never knew you had.
You might also like to read
Dining in Italy – 19 Do's and Don'ts
23 types of flatbread to try when travelling
Magnificent Calabrian destinations in 5 days
Cinque Terre Villages Italy – Things to do
What to eat in Rome and 27 places to find it
Pin it to save it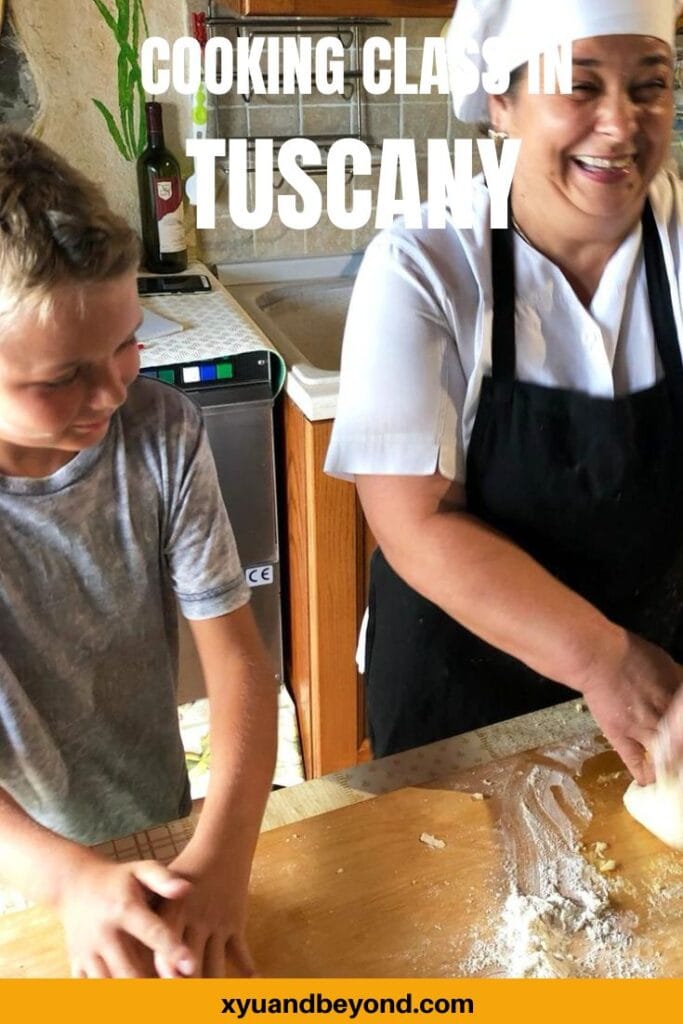 Latest posts by Faith Coates
(see all)