41of the Best food markets and food halls in North America
I've said it before and I'll say it again I LOVE food markets and food halls. To me, they are a microcosm of a community and I will seek them out wherever I travel. I guess you can call me a food tourist or a gastronomic explorer or for short a mad foodie. I will find a food market, food hall or food experience anywhere and it is the first thing on my list for a new trip.
So I've put together a great collaboration for all the best markets in Europe and here is a new collaboration for all the best food markets and food halls in North America. In this article, I called upon my fellow travel bloggers to report on their absolute favourite food markets and food halls in North America which includes the United States, Canada and Mexico. Let's clarify a little here since many folks don't know the difference between a Farmers Market, a Food Hall and a Food Market.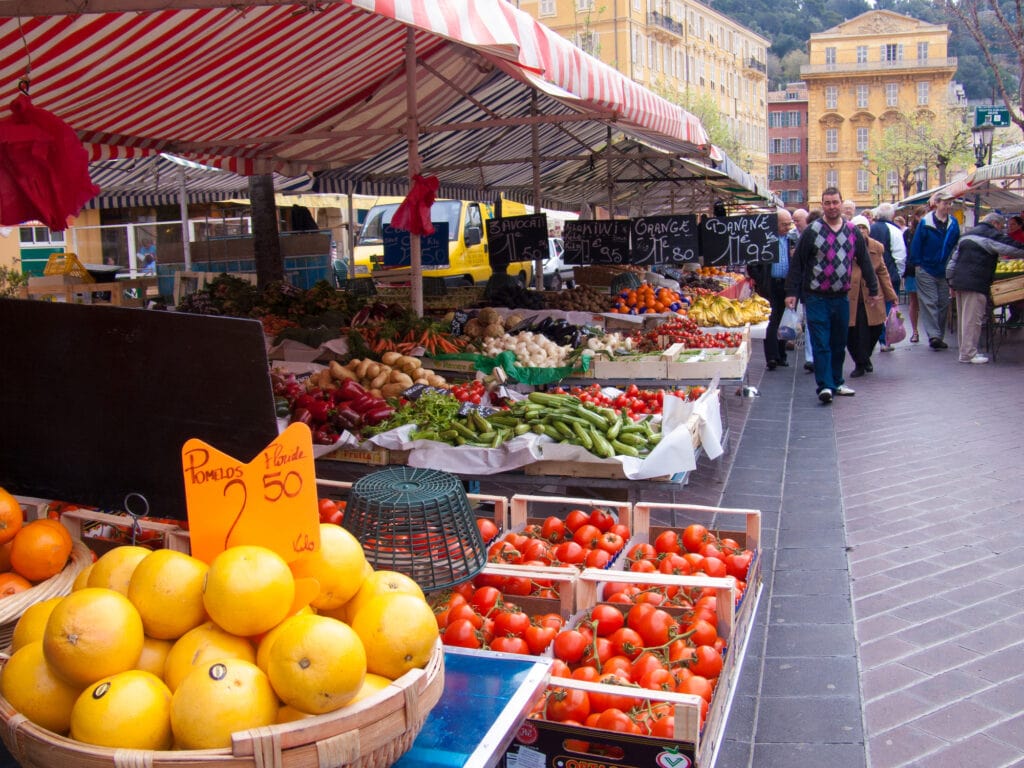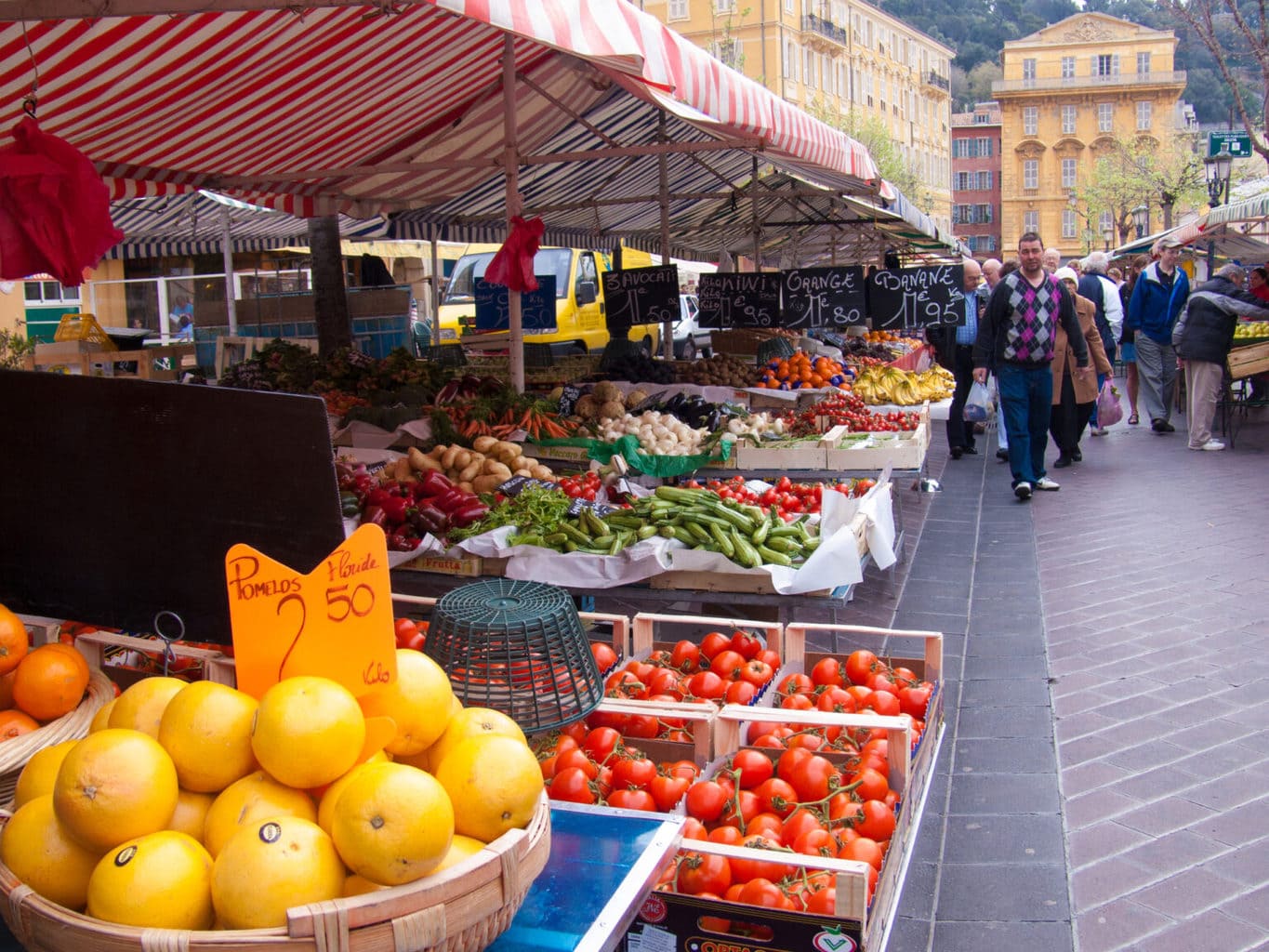 What is a farmer's Market?
According to the farmer's market coalition, A farmers market is a public and recurring assembly of farmers or their representatives selling the food that they produced directly to consumers. By cutting out middlemen, farmers receive more our food dollars and shoppers receive the freshest and most flavorful food in their area and local economies prosper.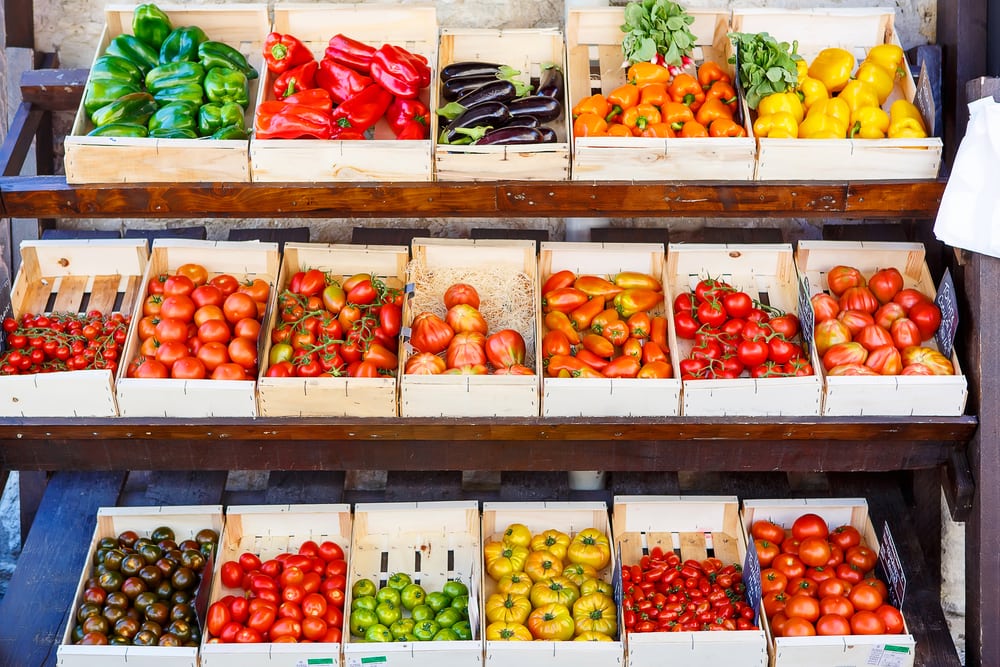 What is a food Hall?
According to Wikipedia Unlike food courts made up of fast-food chains, food halls typically mix local artisan restaurants, butcher shops and other food-oriented boutiques under one roof. The concept is fairly common throughout Europe and Asia. The most famous food halls are those in London including Harrods and Fortnum and Mason, featuring piles of confections, row upon row of boxes of tea, cases full of cheese, and tins of fish and meat, with sit-down restaurant counters where you can enjoy some of the world's best food. There's also the Food Hallen in Amsterdam which is incorporated into a complex with movie theatres, independent shops and speciality stores.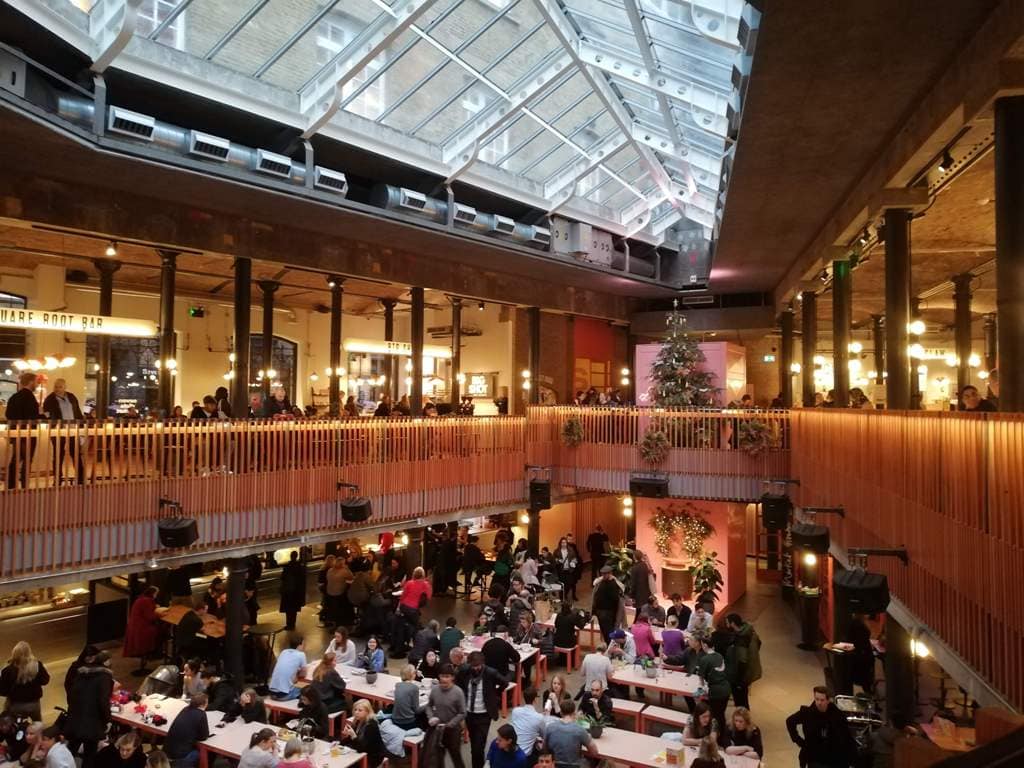 What is a Market?
Well, you can use the traditional explanation that is a market is a physical place where we go to buy food or other products, or for the small farmer or produce grower, the local gathering where they sell their produce. Over the years, these have included flea markets, antique markets, street food markets and food markets. All over the world, you can find famous markets selling virtually everything to everyone. So this article includes a bit of everything that travel writers consider the best food markets and food halls in North America.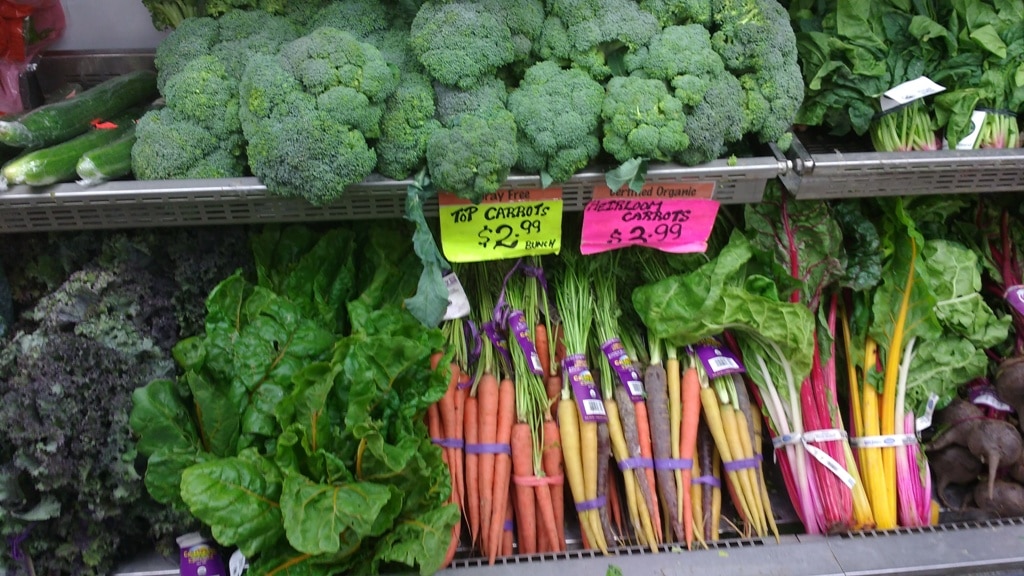 Best food markets and food halls in Canada
These are some of the biggest markets in North America which includes Canada, Mexico and the United States.
Le Central Food Hall – Montreal
Is located in Montreal and a brilliant place to enjoy food from classic Neapolitan pizzas to traditional and new poutines, Tapas, pastille and fabulous South Asian foods. You don't need to make a reservation and you can enjoy some gastronomic creativity and discover new Chefs, brewers, organic wines, cocktails and more. A place to simply try new things and discover new culinary journeys.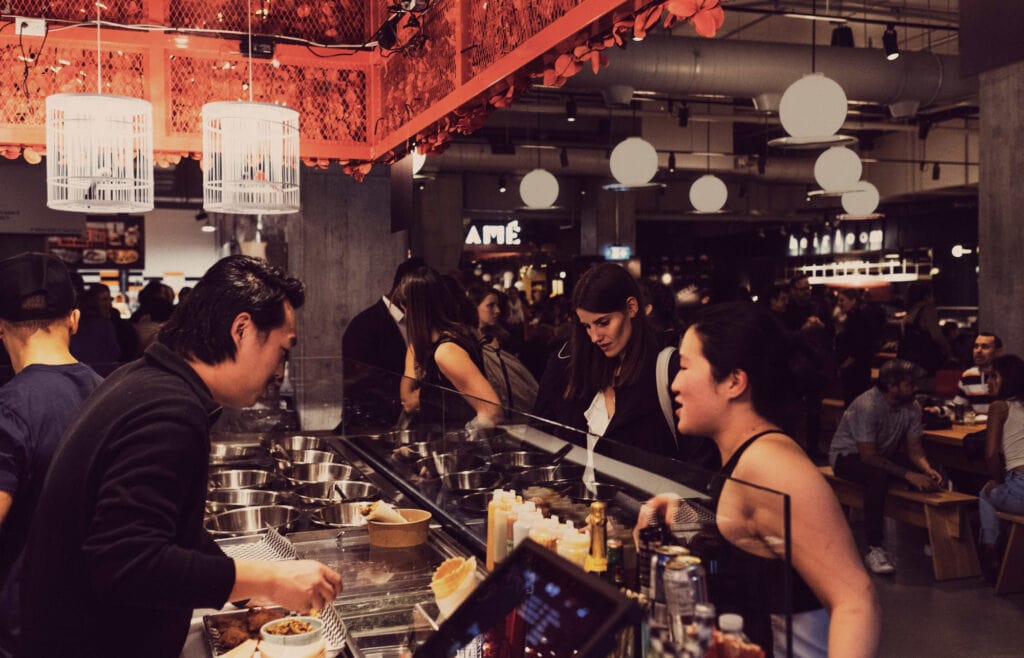 Time Out Market – Montreal
The Time Out concept was launched in Portugal in 2014, and launched inside the city's historic market, Mercado da Ribeira. The Montreal location is the 5th food hall launched by Time Out. Spread across 40,000 square feet, the cultural and culinary destination packs 16 eateries, three bars, a demo kitchen, a cooking school, and a retail space, in addition to cultural spaces for art installations, music, and more.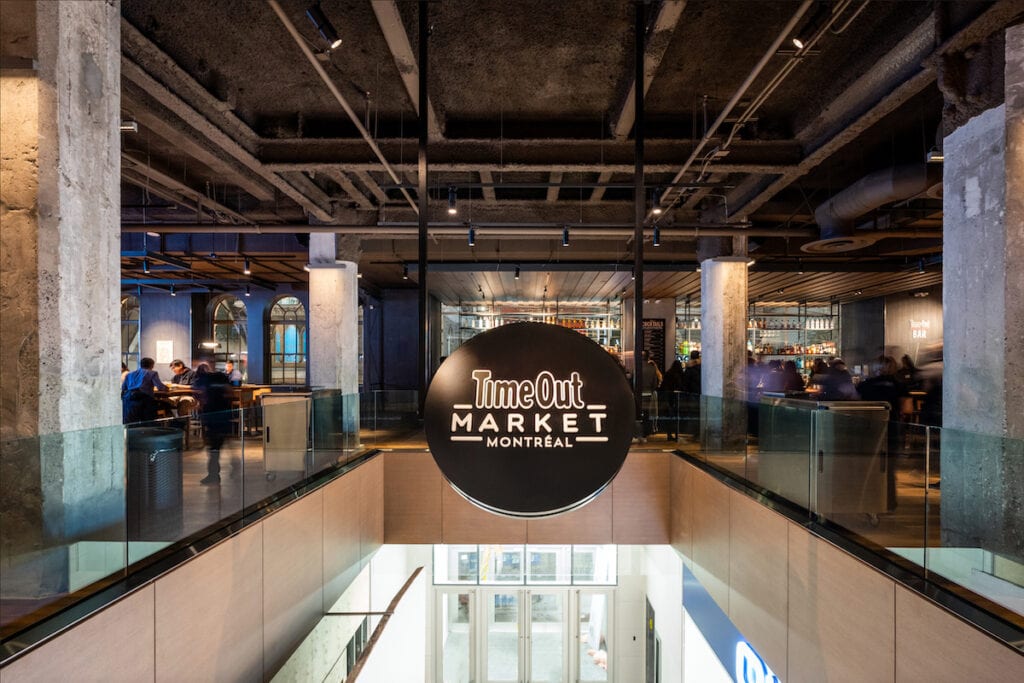 Marche Atwater – Montreal
When it comes to seasonal markets, you get the best of both worlds at Marché Atwater. This famous Montreal market is located in the city's Southwest borough – a go-to place for us locals to enjoy a relaxing day far from the hustle and bustle, and closer to the calming ambience of the Lachine Canal.
With its stunning Art Deco architecture, Marché Atwater is open year-round, from 9 a.m. to 5 p.m. on weekdays, and from 9 a.m. to 5 p.m. on weekends. It is easily accessible both by public transportation and by car. The Atwater Market is truly a haven for anybody in search of fresh, seasonal foods. With its abundance of produce, meat, cheese, and local restaurateurs, there is something for everyone!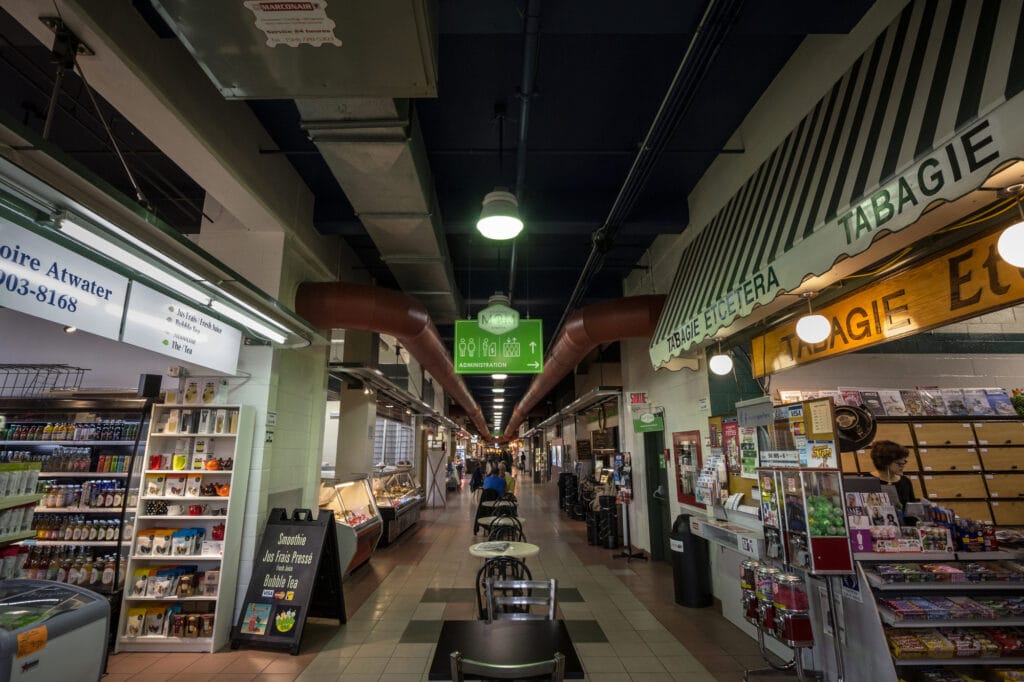 A combination of outdoor and indoor, the market allows visitors to shop in comfort under its sheltered walls during the winter season, which is then removed at the beginning of Spring as the weather warms up. What truly sets Marché Atwater apart is its insistence on celebrating every season in the most joyful, welcoming, and fun way possible! Workshops, culinary demonstrations, a Christmas Village – you can find it all.
My personal favourite time to visit the market is during the cinq à septs, which is French for Happy Hour. If you've ever been to Montreal, you know how uplifting the city's atmosphere can be in the evenings! And if you're up for a truly local gastronomic experience, be sure to pay a visit to one of the city's finest Mediterranean restaurants while you're there! Contributed by Palo of Moons and Roses.
Le Grande Marche – Quebec City
The Grand Marché de Québec is a new destination to discover when visiting Quebec City. It's open all year round, even in the cold Quebec winters. It runs daily from 9:00 AM to 6:00 PM (5:00 PM during the weekend). There's a paying parking lot right in front, but they offer 2h free with a validated ticket.
At the Grand Marché de Québec, you'll discover local producers from all across Quebec. From cheese producers to local breweries, wineries and honey producers, you'll find something you'll love. Plus, there is a great selection of flowers, chocolate and coffee. Depending on the seasons, you'll find fresh fruits and veggies.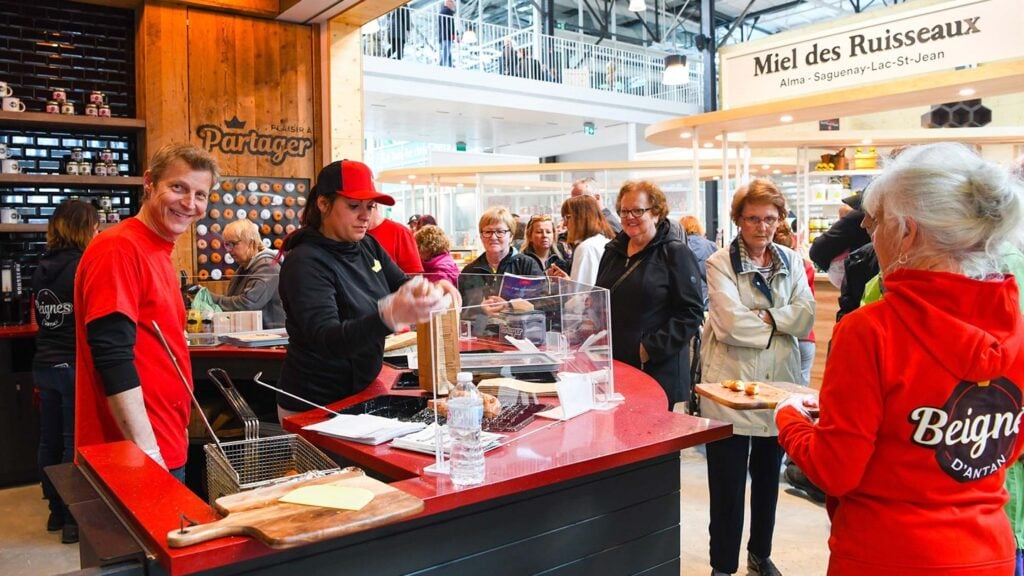 Make sure to try the delicious strawberries from Ile d'Orléans if you're visiting in season. There are also a few cafés, small restaurants and freshly pre-made meals. Not only will you find lots of goodies, but the atmosphere is also great. There is a family zone where kids can play safely. Some special activities are also organized to learn about farming, food and cooking. While most of the vendors are indoor, there is plenty to do outside.
You'll find picnic tables, benches, trails and an amazing kids' playground. Start your visit inside with some tasting. Then, grab a few products for a picnic feast and head outside to eat them quietly. Contributed by Emilie of Love Life Abroad
Best Food Markets & Food Halls in Toronto
St. Lawrence Market
I love St Lawrence Market in Toronto; it's a bustling modern-day farmer's market and much more and is the best place for a gourmet hound to hang out in. The Market's vendors include the best Montreal-style bagels, Canadian cheeses, beans, grains and pulses straight from the prairies, seafood and meats fresh from the sea and farm. The Upstairs Gallery and exhibits display the history of Ontario through artefacts, art and museum exhibits. Market hours are as follows: Farmer's Markets – Saturdays – 5 am to 3 pm, South Market: Tuesday to Friday – 9 am to 5 pm, Saturday – 5 am to 4 pm.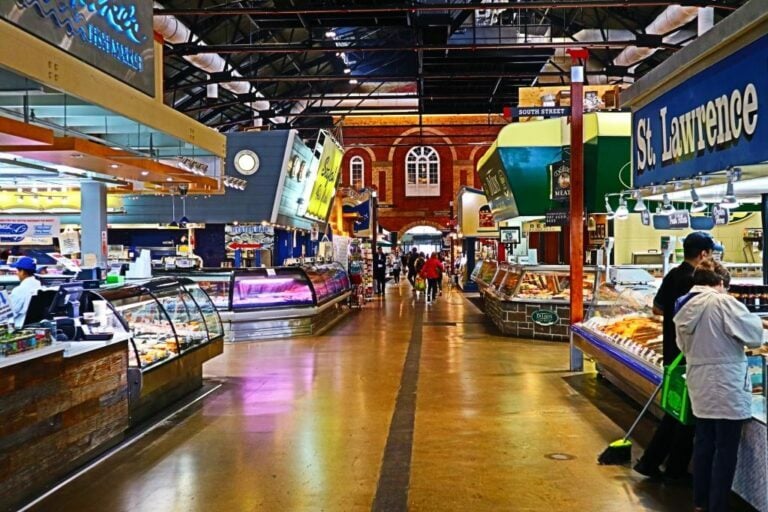 World Food Market
For a multitude of flavours from around the world, Toronto's World Food Market is the place to go. With more than 18 vendors selling everything from dosa and falafel, to sangria and biryani, there are enough eats to satisfy, no matter what you're hungering for.
Afro-Caribbean Farmer's Market
Located on Eglinton Ave. W., in Little Jamaica, Toronto's Afro-Caribbean Farmer's Market is scheduled to run every Sunday from July to October. Offering a range of products from the Caribbean islands and continental African countries, this is also the spot to source baked goods, bread, fresh juices, and more from local, Black-owned businesses.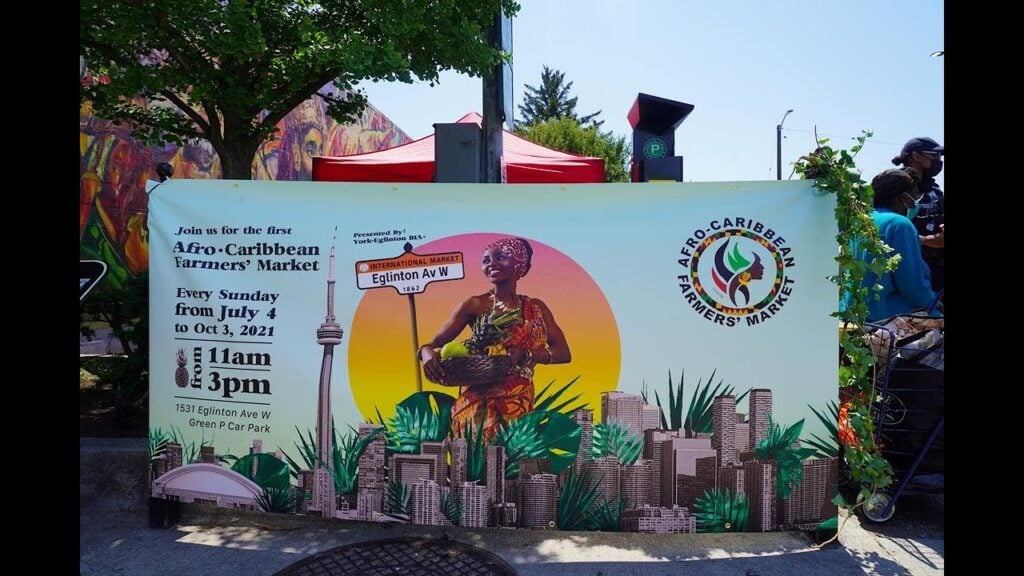 Kensington Market – Toronto
Kensington Market is not so much a market as an experience. Kensington Market is an open-air food and clothing market in downtown Toronto. This multicultural marketplace is known for its independent spirit, colourful shop fronts, vibrant murals, charismatic locals and people-friendly Pedestrian Sundays events. It's a bohemian area where you can buy from independent local shops and it is open all week.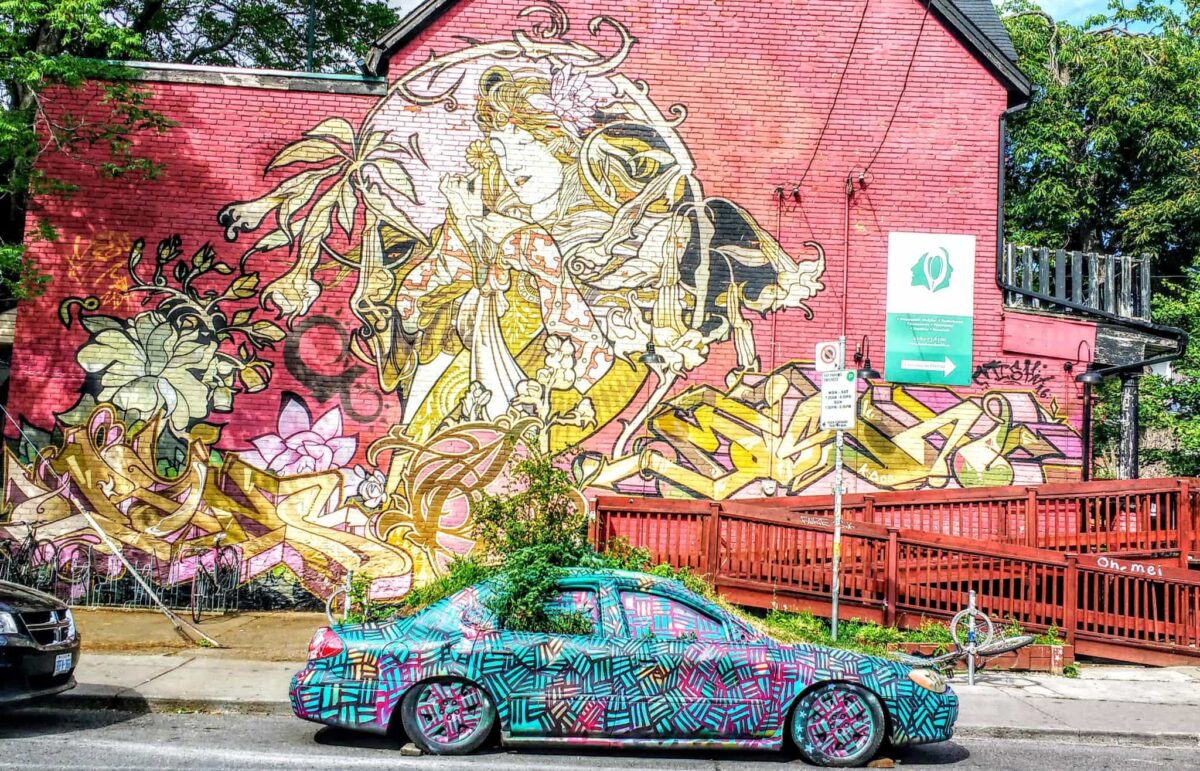 Food Halls and Food markets the rest of Canada
Byward Market – Ottawa
ByWard Market is one of Canada's oldest and largest public markets. While the outdoor market runs from May to October, the indoor vendors and artisans are open 363 days a year, closed only on Christmas and New Year's Day.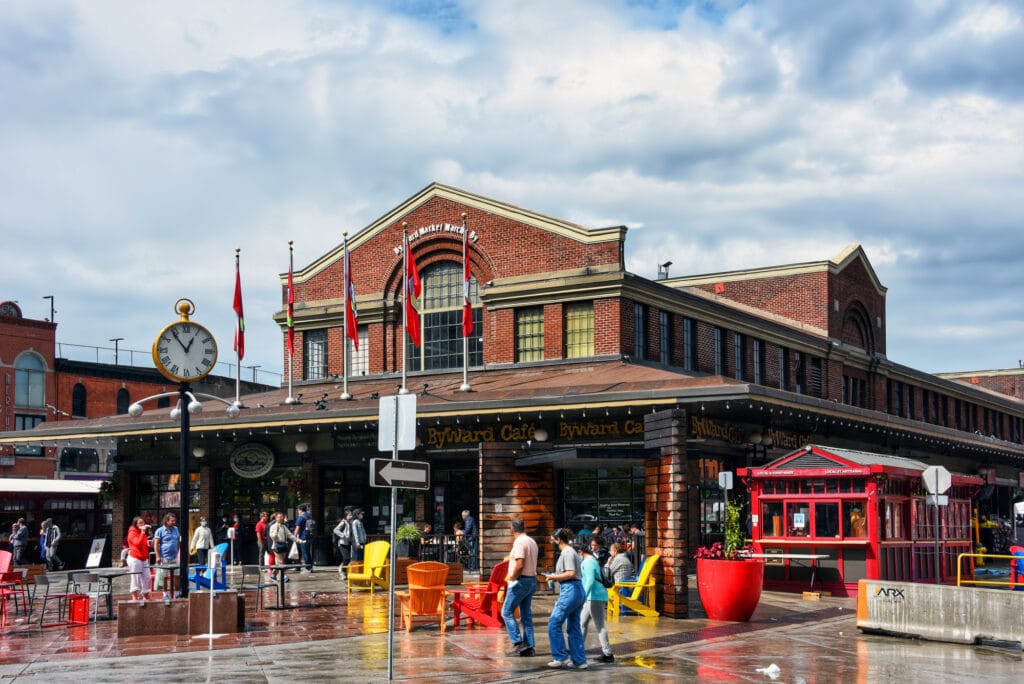 The ByWard Market Square is home to indoor food vendors and unique shops, as well as a year-round outdoor market brimming with artists' handcrafted goods, seasonal fresh farmers' produce and flowers. Once inside the main part of the building, look up to see the large paper mâché sculpture hanging from the ceiling.
Try some Beavertails one of Canada's great traditional foods when you hit the market.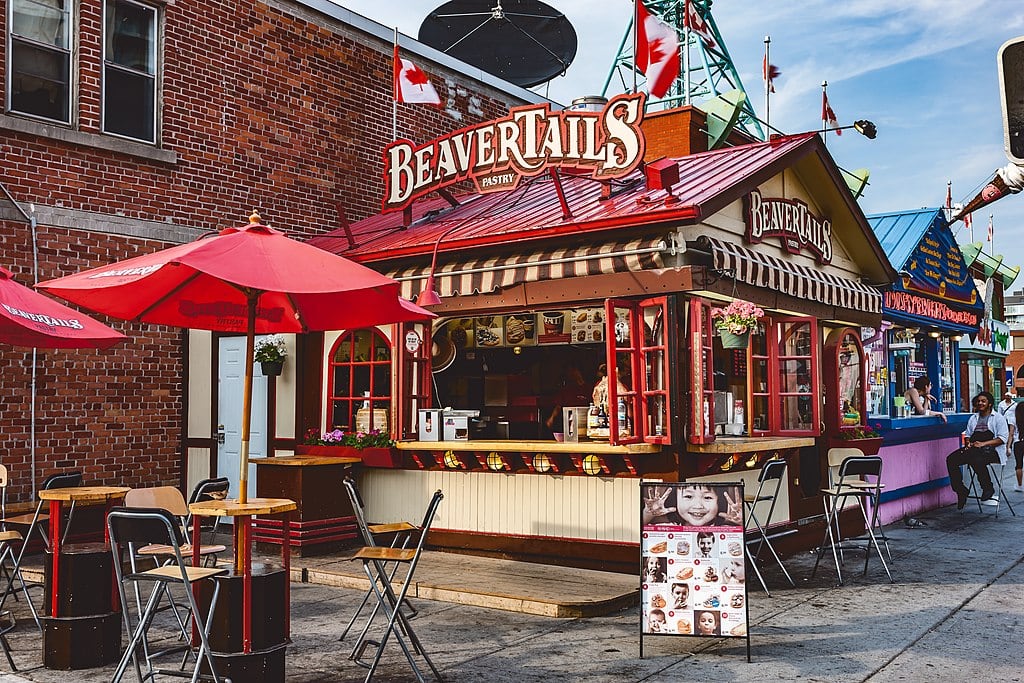 St Jacobs Market – Ontario
With over 250 vendors in three main buildings and an outdoor area, St Jacobs Market is known as the largest year-round farmers' market and flea market in Canada! Established by just 8 farmers in 1975, this indoor and outdoor farmers' market has grown exponentially and now has hundreds of local vendors offering goods ranging from fresh
fruit and vegetables, preserves, meats and cheeses, maple syrup, home-baked goods, local crafts, home furnishings and more. St Jacobs is home to the largest population of Old Order Mennonites in Canada, and if you're lucky you'll see farmers on roads travelling to the market delivering their goods by horse and buggy.
There are tons of options for ready-to-eat food prepared on-site, from sausage on a bun, falafels, sushi, souvlaki, pizza and much more, but be sure to save room for the apple fritters! For those looking for more than just a farmers' market, visit Market Road Antiques at the same location!
This 20,000 square-foot indoor antique mall has over 100 antique dealers featuring furniture, estate jewellery, collectables, vintage clothing, art, books, and much more with new items arriving daily. Tie in your visit to St Jacobs Market with a trip to the charming town of Elora, just 20 minutes down the road, to enjoy some craft brews, beautiful architecture, hiking, eclectic stores and more.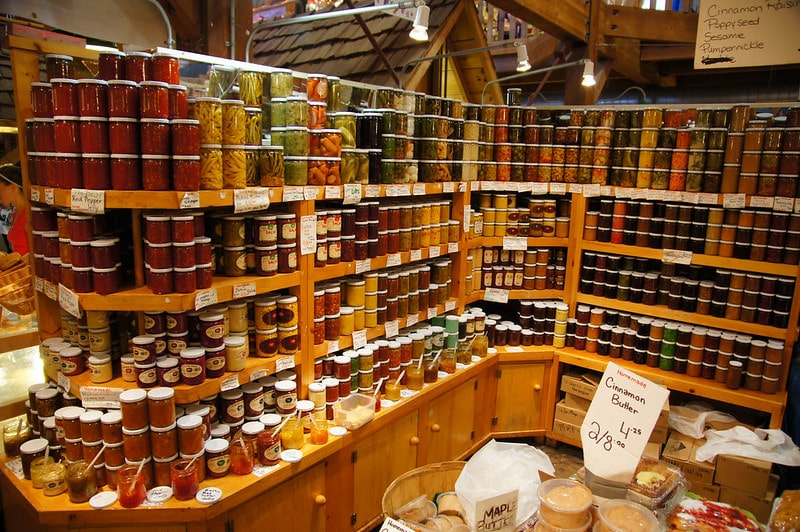 St Jacob's Farmer's Market is open Thursdays 8 am – 3 pm and Saturdays from 7 am – 3:30 pm year-round and is open Tuesdays during the summer. Market Road Antiques is open seven days a week year-round from 10:00 am – 6:00 pm and St Jacobs Outlets is open Monday – Friday 10:00 am – 6:00 pm, Saturdays 9:00 – 6:00 pm and Sundays 11:00 – 6:00 pm. Parking is free! Recommended by in Search of Sarah
Kingston Public Market
This farmer's market began in 1801 and is Ontario's oldest market and has played a major role in the country and community since its inception. Did you know that the proclamation of Confederation and the formation of the Dominion of Canada took place in Kingston Market Square? The market is located in Kingston's historic downtown, right behind City Hall, and is open Tuesday, Thursday, and Saturday, April through November. The market hours are from 9 am – 6 pm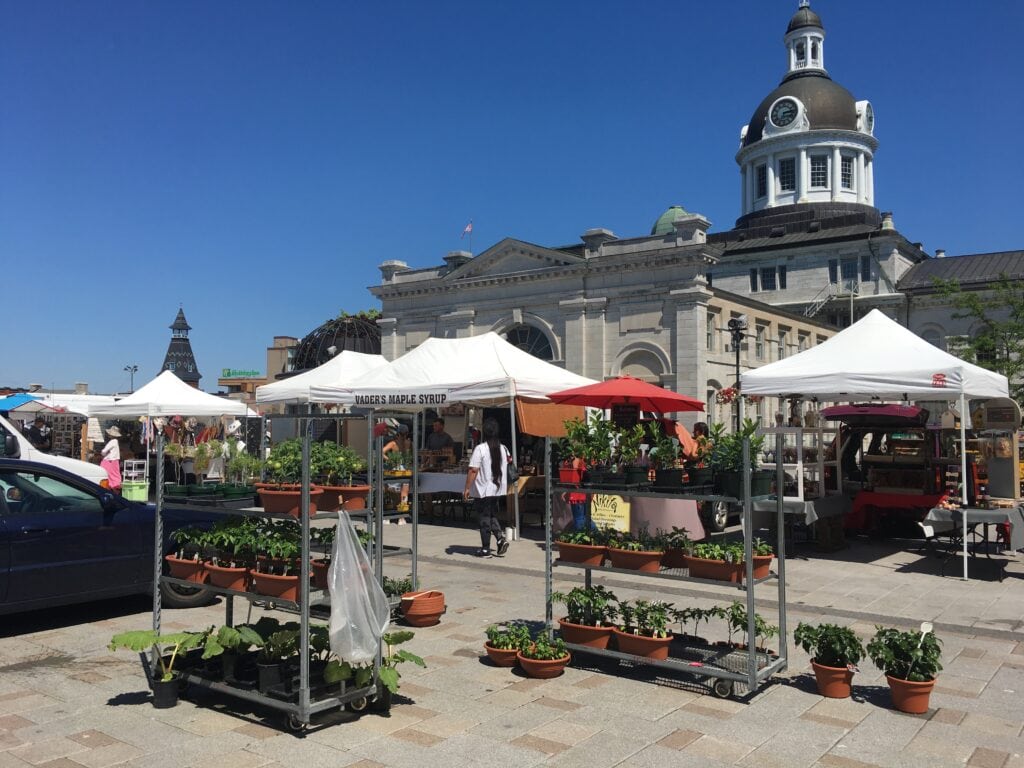 Inglewood Night Market, Calgary AB
Nestled amongst one of the trendiest and eccentric neighbourhoods in all of Calgary, Alberta is where you'll find the esteemed Inglewood Night Market. It's here – typically held right in the middle of the streets – that you'll find a modern, curated marketplace of 100+ vendors that attracts locals like no other!
The Inglewood Night Market typically occurs every second Friday (though their confirmed dates and times are always updated on their website, based on season) and operates between the hours of 5PM-11PM near 9th Ave & 10th Street; making for a perfectly walkable evening through plentiful booths and seated entertainment areas. Consisting of local talent, you can expect an abundance of fresh musical or dance performances, homemade and handcrafted goods, vintage finds and artisanal bites/brews that'll keep you coming back for more.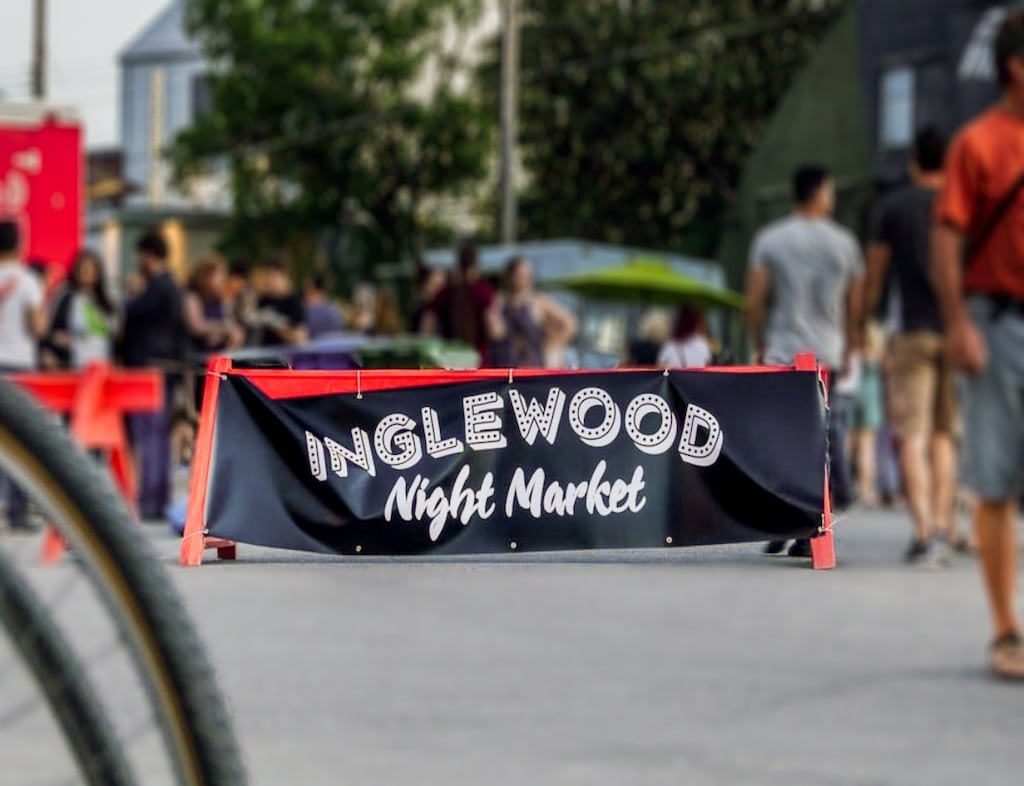 While a huge draw to the Inglewood Night Market is its lively beer gardens, note that this is a family-friendly affair and all ages are welcome and encouraged to attend. Just ensure to plan accordingly for the weather – as in true Canadian fashion – this market is a go whether in rain or shine and makes for a great way to experience some of Calgary's vibrant culture and best kept secrets. Submitted by Natasha Karcz from Planes, Trains and Karcz
Salt Spring Market – Salt Spring Island, B.C.
Salt Spring Island, part of British Columbia's Gulf Islands, is known as Canada's "Island of the Arts,". On Saturdays, from the start of April to the end of October, over 140 artists and food producers display their art and products at Centennial Park. Everything sold at this market must be made, baked or grown by the vendors —the market calls it "The Homespun Guarantee." On Tuesday afternoons from June until October, there is a food-and-vegetable-only market (plus flowers), featuring local organic farmers.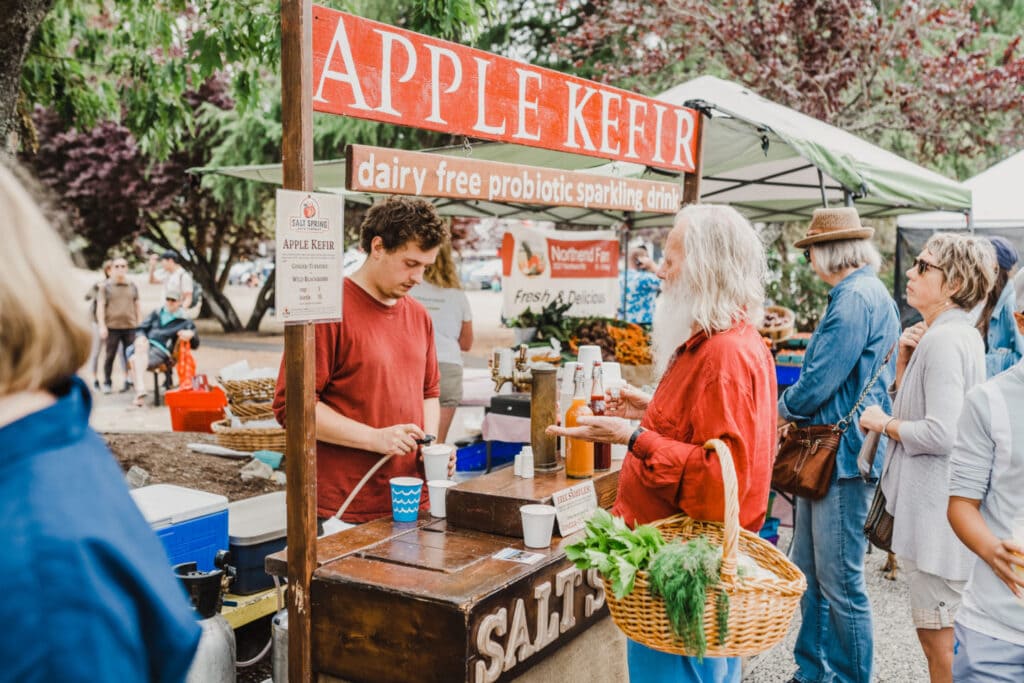 St. Albert's Farmer's Market – St. Albert, AB
St. Albert's Farmers' Market is the largest outdoor farmers' market in Western Canada. It's open every Saturday from June to October, and during market days, all of downtown St. Albert is transformed into a unique outdoor social and shopping space. The market features live music, food trucks and over 250 vendors who sell a variety of products from fresh produce, to shoes.
Old Strathcona Farmer's Market – Edmonton
Old Strathcona's mission is "We make it, we bake it, we grow it and we sell it," no re-sellers are allowed. Everything here from cheese to vegetables to woollen items, artwork, and fruit wines is all made by the vendors. A must-try is the green onion pancakes but get there quickly the market is only open on Saturdays from 9-3.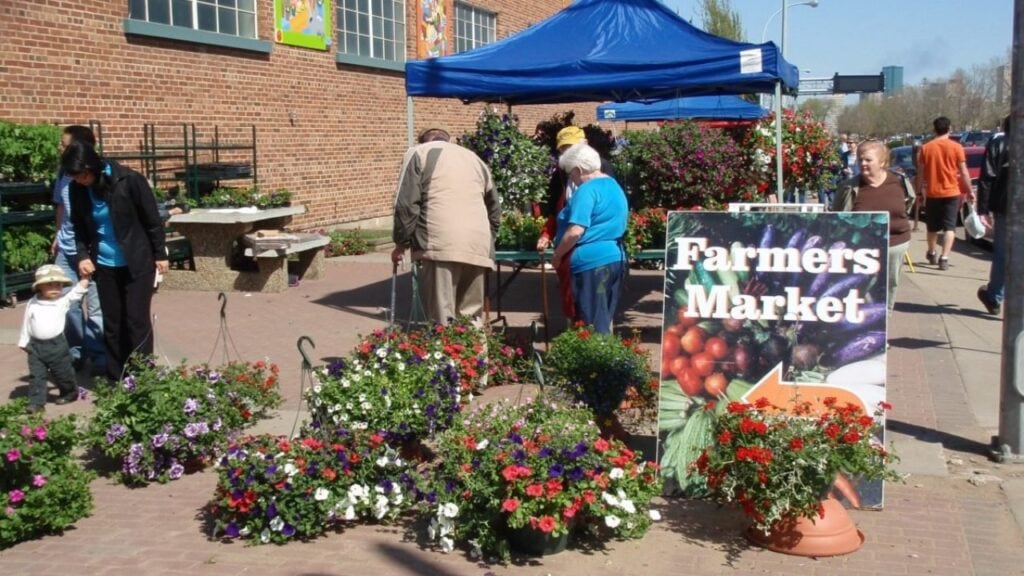 Richmond Public Market – Richmond, BC
Richmond Public hides some delectable bounty inside its walls. On the first floor, there's a public market with a butcher shop that also serves Cantonese barbecue; and on the second floor, there's a great selection of Asian food stalls. Expect to find vendors selling hand-made dumplings and hand-pulled noodles bathed in a delicious broth, as well as bubble tea shops and rice or noodles dishes. Best of all, many of these stalls are family-owned and operated. Open Monday through Sunday 9 till 6.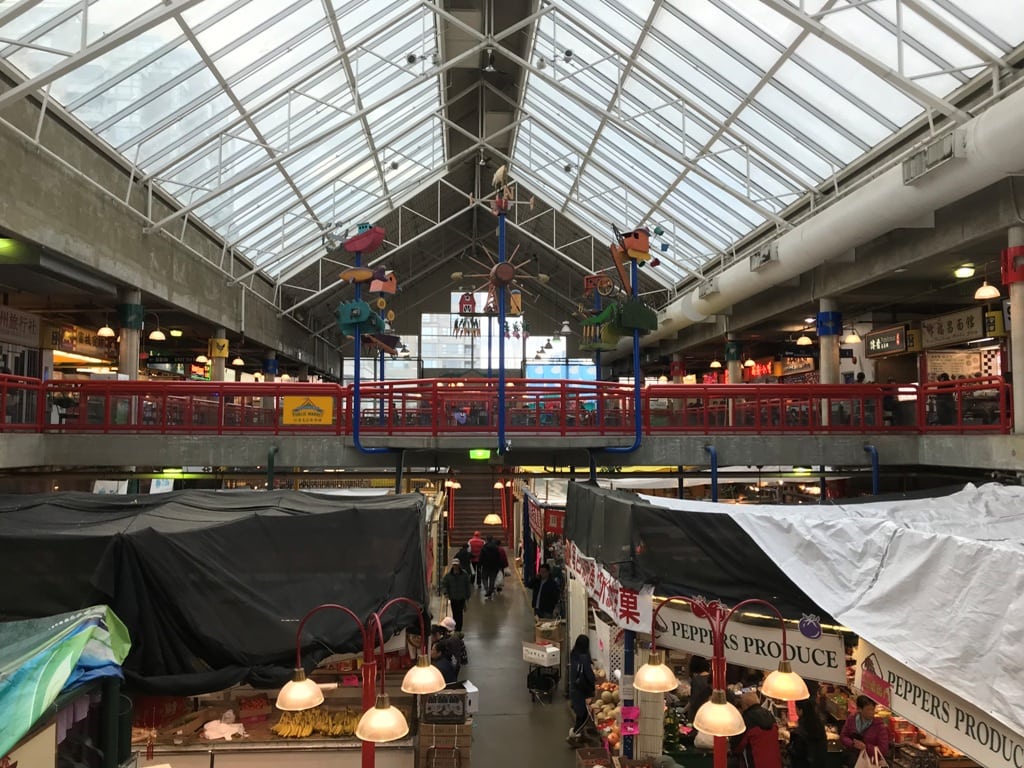 Granville Island Market – B.C.
One of the best things to do in Vancouver, well known for being a foodie city, is to spend an afternoon walking around Granville Island Public Market. With some of the best produce, freshest fish and meat, and the most delectable desserts, Granville Island is not only the best market in Vancouver but one of the best markets in North America.
Although not technically an island, Granville Island is surrounded almost entirely by the busy waters of False Creek. Take a bus from downtown or get some spectacular views as you walk to it over the Granville Street bridge. But for a unique way to get there, hop aboard one of the little water taxis that regularly go between the island the mainland part of downtown.
Granville Island is home to many independent local stores, a brewery and a couple of the best restaurants in Vancouver. But it's the public market that makes the island famous. Inside are over fifty market stalls, some selling the freshest local ingredients that will elevate any meal, and others serving hot and cold takeaway food options.
Dine inside the market or take your food outside and eat while watching the boats go up and down False Creek. Just remember to protect your food from the ever-hungry seagulls. The Stock Market sell some of the best soups – perfect in the winter months – and Zara's Deli has some of the best fresh pasta in Vancouver. When it's time for dessert there's nowhere better than Stuart's Bakery or Lee's Donuts. Contributed by Emma of Forever lost in travel.
Avenida Food Hall & Fresh Market – Calgary
The Avenida Food Hall & Fresh Market is 22,500 square foot space that features 42 vendors and restaurants. One of the vendors has 32 separate vendors within. It's called The Mercantile and it's a replication of an old-time general store. It's a bit of an incubator to help start-ups and people just finding their way in the market business and hopefully what it does is produce new, longer-term vendors as time goes on," said Ken Aylesworth, General Manager of Avenida.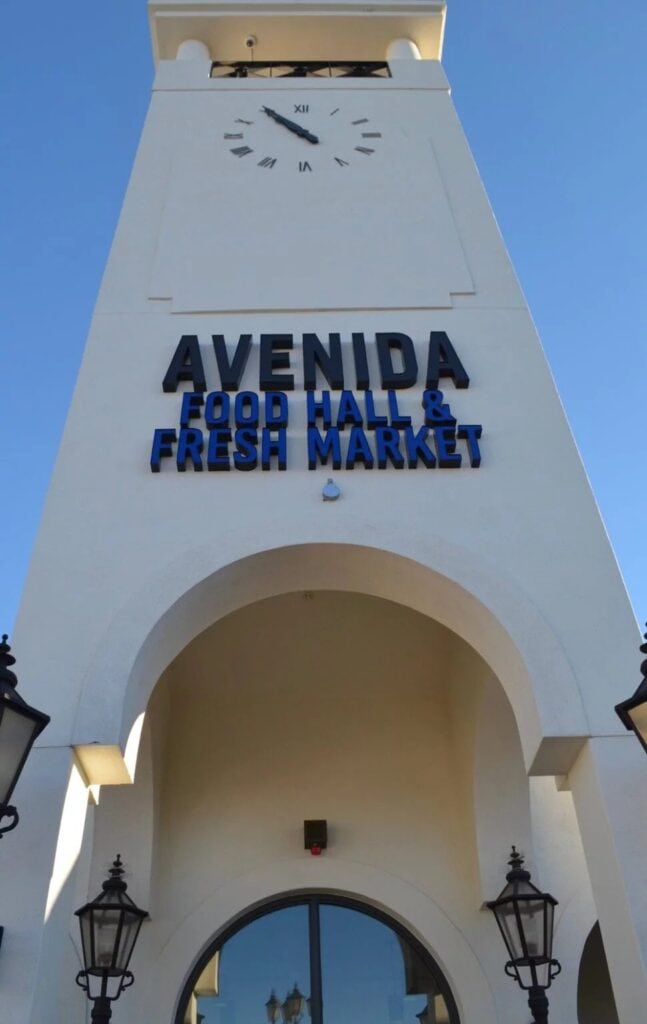 The Forks Market – Winnipeg
Located in the heart of Winnipeg, Manitoba, The Forks is an incredible place to visit for both the locals, as well as tourists. And the Forks Market, filled with its unique shops, restaurants, and attractions, is definitely one of the best markets in North America. Named for the point where the Assiniboine and Red Rivers come together, The Forks has served as an important meeting place for over 6,000 years.
Once used as horse stables and haylofts in the height of the railway days, the Forks Market is now one of the most popular places to gather and share a meal in the area. Not only can you find an eclectic selection of food from all over the world, but you can also find speciality shops, cafes, bakeries, and food stands, enough to tantalize even the fussiest of tastebuds.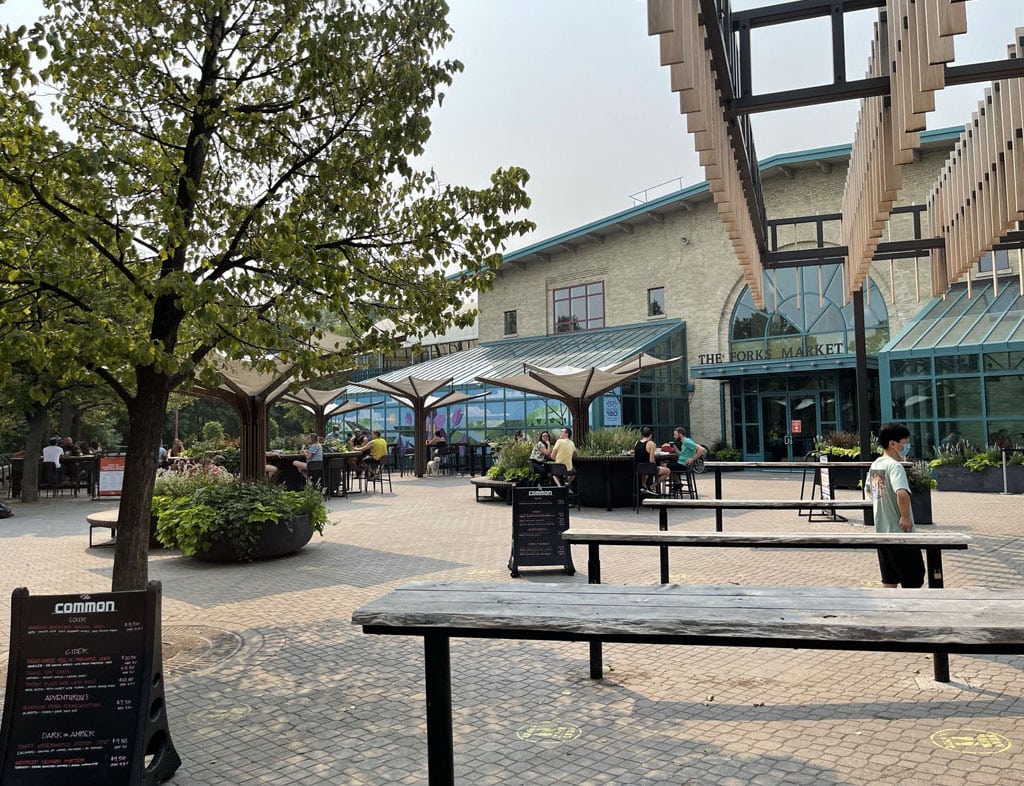 Grab a hotdog from Wienerpeg, an incredible curry from Taste of Sri Lanka, or some Greek food from Zorba's. But DO NOT leave the Forks Market without trying one of the legendary whole wheat cinnamon buns from Tall Grass Prairie Bread Co. You're welcome! If you are visiting during the warmer months, head outside to enjoy your feast along the Assiniboine River.
In the evening, the outdoor seating area comes alive with lights, as well as live music or DJs on the weekends. If you're looking for a great shopping experience, head across the common to the Johnston Terminal. Once a railway warehouse, this four-story building is now filled with cool boutiques, stores, antique shops, and more restaurants. The Forks Market is open seven days a week, from 7 am until 11 pm. Contributed by Marianne The Journeying Giordanos.
Best food markets in US
El Mercado – San Antonio, Texas
"If you want to experience some of the best things to do in San Antonio then you'll also uncover one of the best markets in North America. After all, San Antonio is home to El Mercado or San Antonio Market Square. It's a lively place that is brimming over with local, American Southwest/Mexican-inspired shops that sell fresh produce, delicious Mexican fare, amazing Mexican curios, and truly unique souvenirs.
So, be sure to explore this incredible, three-block area and visit the Farmer's Market, Produce Row, and El Mercado too. If you're lucky, you might even see local artisans at work before you finish shopping and head into Mi Tierra Cafe y Panaderia for some authentic, Tex Mex cuisine. Not only is this restaurant open twenty-four hours a day, but the interior is filled with incredible stars, twinkling lights, and other decorations that make it feel like Christmas in here all year long.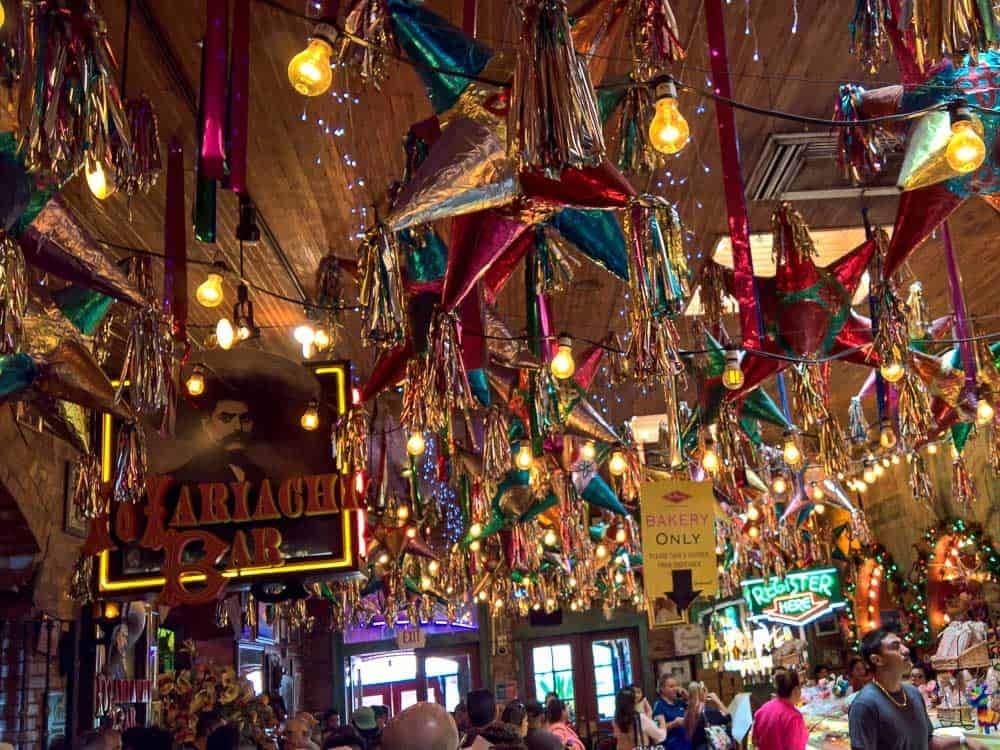 If you can, order the Deluxe Mexican Dinner and enjoy classics like ribeye steak ranchero, cheese enchilada, crispy beef taco, tamal, Spanish rice, guacamole, and refried beans and while the hours for many of the shops in the area vary, Market Square as a whole is typically open daily from 10:00 am to 8:00 pm from June through August. Then, at any other time of year, the shops here typically close around 6:00 pm." Contributed by Ketki of Enchanting Texas.
Original Farmer's Market – West Hollywood
Wish to eat some tasty ethnic food in Los Angeles? Or want to get delicious bites of the finest Texas-style BBQ in LA? Head to the Original Farmers Market south of West Hollywood.
It's not a secret that LA's Original Farmers Market is one of the best markets in North America. It's a food institution and a landmark of Los Angeles.
This historic market traces back to 1934 when farmers sold their fresh produce from the trucks parked at-that time field in Fairfax, LA. Today's Original Framers Market is a top food destination in Los Angeles. It's an open-air market with over 100 vendors that sell a range of various foods: from fresh produce to gourmand dishes. The market has groceries, restaurants, and speciality foods shops. But the market is best known as the place where you can get some of the very best bites of the American cuisine and the ethnic cuisines of various immigrant communities of LA.
The market offers the tastiest flavours of the ethnic cuisines of LA. Think of the best Japanese sushi in the city, Middle Eastern falafel, Greek gyros, Italian pizza and pasta dishes, Mexican burritos and tacos, Brazilian grill, and French wine and cheese. You can get them all at this iconic LA market! But, If you are after some great groceries, no worries! You can find fresh farm produces (organic vegetables, organic fruit), meat, poultry, and exotic spices there.
So, it's not a wonder that Original Farmers Market is a favourite food destination of Angelenos. The Original Farmers Market in Los Angeles is a true food wonderland!

Original Farmers Market is located in the eclectic Fairfax neighbourhood, south of West Hollywood, and one of the best areas to stay in Los Angeles. It's open seven days a week from 10 am to 8 pm (Fri -Sat from10 am to 9 pm). Contributed by Milijana Gabric of World Travel Connector
Eastern Market – Detroit, Michigan
One of the best things to do in Detroit is to wander the historic Eastern Market—no trip to the Motor City is complete without experiencing the market's lively personality. Year-round on Saturdays (as well as Sundays and Tuesdays in the summer – early fall), the six-block public market is alive with street music, farmers and vendors selling fresh produce, artisanal and local foods, flowers, and much more.
It is also a great spot to test out local cuisine from established businesses to pop-ups and food trucks—the best vegan tacos in Detroit are at Rocky's Road Brew (their food truck is usually at the Saturday market). There are many speciality markets and events throughout the season, but the one you can't miss is Flower Day!
The Sunday after Mother's Day, the market explodes with beautiful blooms—whether you're looking for a flat of petunias or cactus for your desk, Eastern Market will have it! Just make sure you arrive early for the best deals and parking. After exploring the market, make sure you wander the adjacent side streets and check out loads of antiques, vintage clothing, craft brews, art, and more. Contributed by Rebecca of Veggies Abroad.
Reading Market – Pennsylvania
Located in the heart of the city of Philadelphia, Pennsylvania on North 12th Street is the Reading Terminal Market, one of the oldest and largest public markets in North America, and a must-visit in Pennsylvania. In operation since 1893, the market derives its name from the Reading Railroad Company which owned the building under which the market was first located.
Today, you can walk in right off the street and browse over 80 individual stalls, two of which are descended from original merchants. Take time to explore the aisles with stands selling everything from kitchenware, Amish made quilts, fresh flowers, and plenty of food items to eat there or take home. Without question, most people come to eat, and with good reason.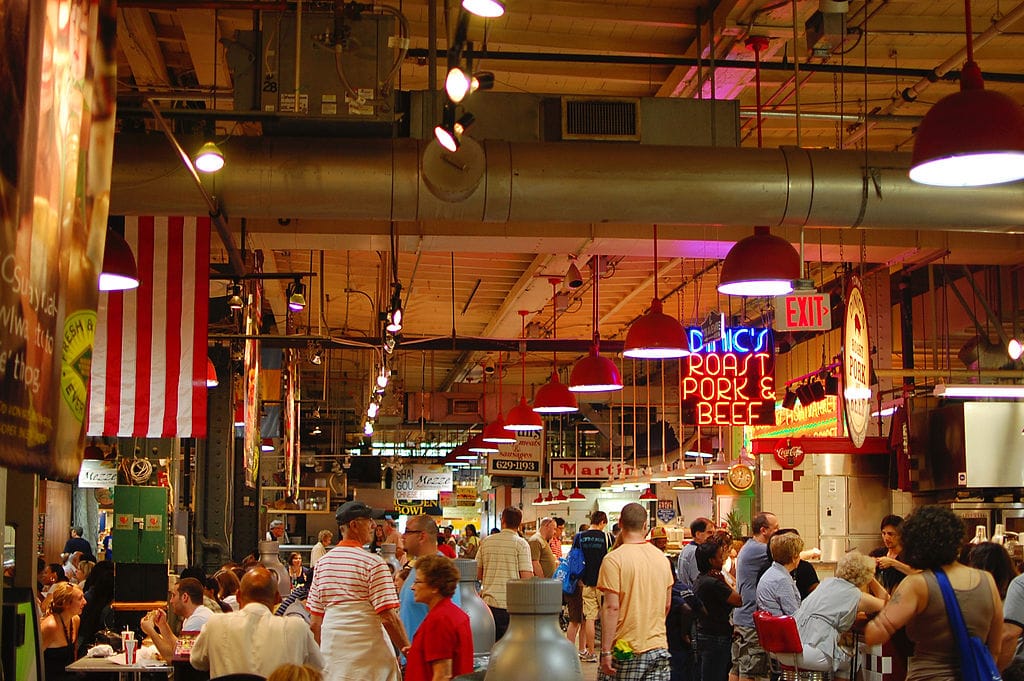 The number of different cuisines under one roof is amazing. You'll find soul food, Asian, Middle Eastern, and of course traditional Pennsylvania Dutch foods and local favourites like the Philly cheesesteak and Dinic's roast pork sandwiches. There's even a fresh oyster bar. And you can't leave without having a traditional Philadelphia soft pretzel.
Stands in the market also offer locally sourced fruits and vegetables, meats and poultry, fresh seafood, cheeses and cold meats, lots of baked goods, and a cannoli stand that fills the pastry shell while you wait. Now that's fresh! You'll find sit-down eateries scattered all through the market. We love this lively place. Give yourself time to browse, and most importantly, bring your appetite. Contributed by Lori of Travlinmad.com.
Milwaukee Public Market
Situated in downtown Milwaukee, Milwaukee Public Market has been a bustling spot for food and local products in Wisconsin. It is one of the unique food destinations which has been listed as the top public market in the country.
The public market has been attracting millions of visitors from around the world since 2005. It offers a unique food haven for food lovers. Travellers can grab a variety of cuisines and high-quality ethnic and artisan products. The freshly prepared food and beautifully structured small stalls are sure to give you a great shopping experience.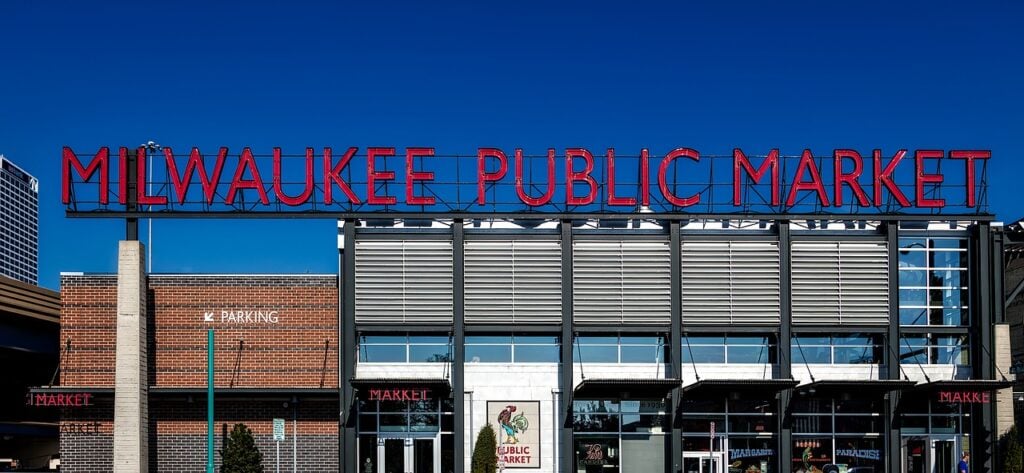 The great part about Milwaukee Public Market is that it is indoors and you can shop without the fear of heat or rain. Plus, you can find more varieties on different floors. On my visit, I found a great place named Palm Garden on the second floor and also brought some goods home. I found Milwaukee Public Market to be a perfect place for all kinds of appetites. Whether you wish to have breakfast, lunch, or dinner; there's everything to enjoy.
Along with its 18+ speciality food vendors, the market also hosts cooking classes in The Madame Kuony Demonstration Kitchen. The place has become a culinary destination since its opening and is now known for food as its speciality. It attracts local to international visitors, from family to friends.
You can also bring your pet on this excursion, after all, there are a lot of pet-friendly hotels in Milwaukee like The Pfister Hotel. Contributed by Paulina of Paulina on the Road.
West Side Market Cleveland
The West Side Market in Cleveland, Ohio, is a fantastic and historic North American market to visit. Some of the best local items include homemade perogies, varieties of hummus, speciality cheeses, and baked goods. During the summer months when the best produce is in-season, these speciality vendors have nearly everything you could think of when it comes to fruits and vegetables.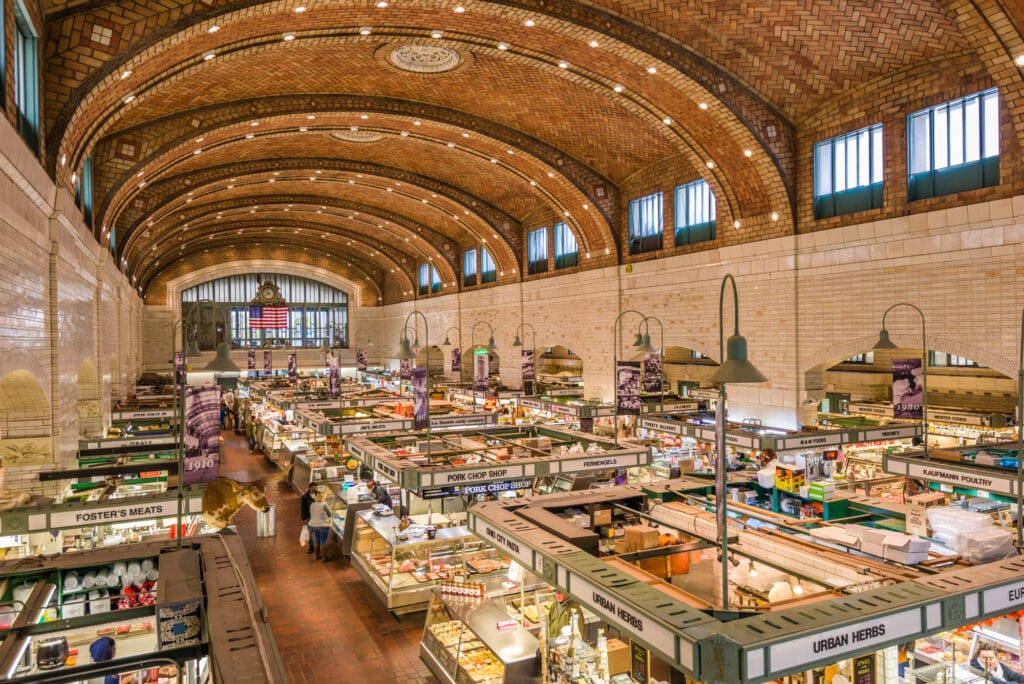 While many of these food options are meant to be prepared at home, there are a few great options to consider if you'd like to eat on-site. The Market Cafe serves delicious breakfast and lunch options, and it's always filled with people scarfing down sausage gravy or chicken and waffles. The Pizza Bagel Lady serves delicious and popular bagel sandwiches with various toppings. In the mood to try something a little more uncommon? The Kim Se Cambodian Cuisine booth will definitely not disappoint.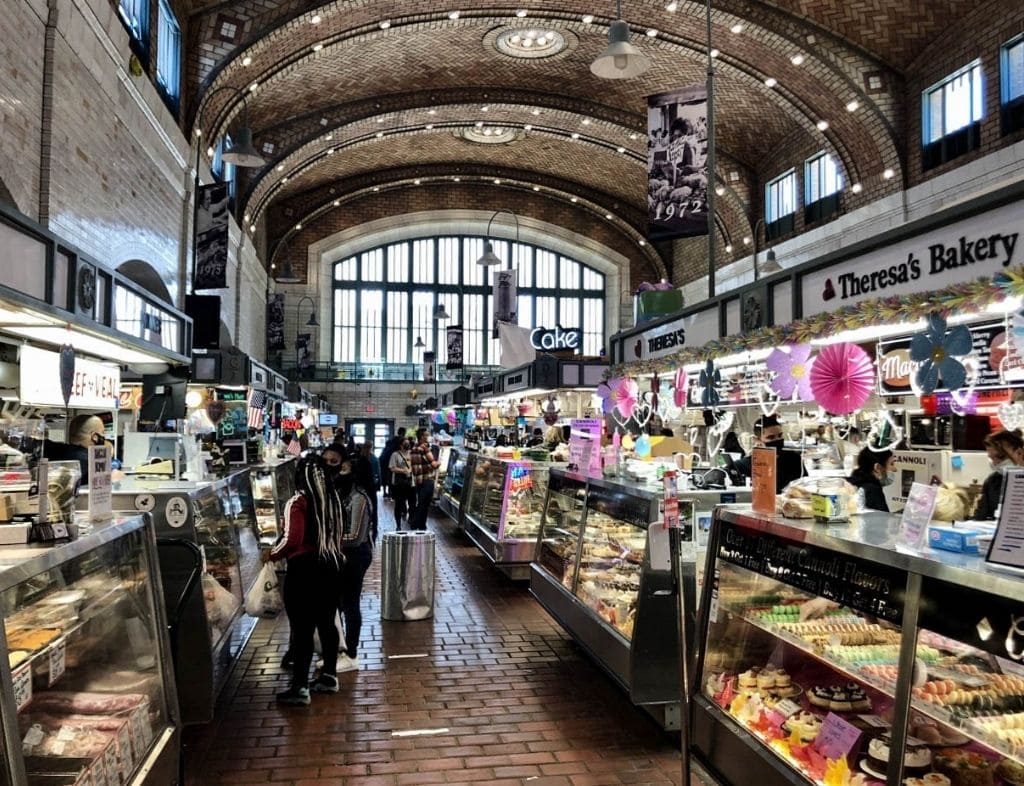 Most of the market is indoors, especially the more permanent indoor stalls, and they can be visited year-round. Hours of operation include Mondays, Wednesdays, and Fridays from 8 am to 5 pm, Saturday from 7 am to 5 pm, and Sunday from 10 am to 4 pm. Contributed by Samantha of PAonPause.com
Chelsea Market – New York City
If you're looking for one of the best markets in North America, you can't beat New York City's famed Chelsea Market. After all, this famous indoor market sits inside a historic brick building on Ninth Avenue and is home to a wide variety of food stalls, retail vendors, and grocery stores that are beloved by locals and tourists alike.
So, stop by today and shop for some of the best souvenirs in NYC from independent boutiques like Posman Books, Pearl River Market, and Chelsea Market Baskets. In particular, Artists and Fleas features several small businesses that sell a wide variety of handmade clothes, jewellery, and art pieces that can only be found in NYC.
Next, try some of the insanely awesome culinary delights on offer here, including my personal fave, Takumi Taco. Trust me, the food is incredible and unlike anything you've ever tasted since they serve Japanese inspired Mexican food. Order their spicy tuna or braised short rib tacos and then head over to Fat Witch Bakery to get a decadent brownie for dessert.
Otherwise, you could always enjoy some classic American fare at Creamline instead and order rich dishes like their griddled PBJ (my fave) or their epic, honey butter chicken sandwich. And while you can visit any time daily between 7:00 am and 2:00 am, or between 8:00 am and 10:00 pm Sundays, try to time your visit for a quiet, weekday afternoon so that you can avoid the crowds of people that regularly inundate the market on the weekend. Contributed by Kelly of Girl with the Passport
Union Square Market, Manhattan
The Union Square Market in Manhattan is open year-round and New Yorkers go there for fresh bread, cheese, jams, and vegetables. Plant lovers flock to the market to visit a couple of stands in the hopes of finding a rare houseplant for a bargain price. Many Hudson Valley farmers and artisanal makers set up shop to sell small-batch whiskey and gin, smoked meats, and pickles.
Undeniably the open market is an Instagrammers heaven with colourful stalls, some artwork, and a multitude of cute dogs who just want to be petted, especially in the winter when they are clad in their winter coats. A favourite of mine is the lavender stall and it always brings a smile to my face whenever I smell the fragrant flowers while walking through the park.
The market started in 1976 at Union Square Park which has been a green space in New York City for almost 200 years. Aside from the green market which is open four days a week, a Christmas market opens from mid-November until December 24th. It is a great place to buy NYC souvenirs and one-of-a-kind gifts for loved ones.
During the Spring there are bouquets of flowers across different stalls while in the Fall bouquets of dried flowers are just begging to be brought home. The prices may be on the higher side but, hey, it's NYC and it isn't surprising to shell out 20 dollars for a tiny artisanal bottle of gin or five dollars a pound for vegetable. Mon, Wed, Fri–Sat: 8:00 AM–6:00 PM Recommended by Kelly of Travel New York Now.
Eastern Market, Washington
Just a couple blocks away from the US Capitol is the Eastern Market of Washington, DC. The market has been part of the Capitol Hill neighbourhood since 1873.
Inside, stalls are full of fresh fish, meat, cheese, and baked goods while outside more fruit and vegetable stalls line the building. For those that love flowers, numerous stalls are bursting with colours and bouquets ready to be taken home. The Market Lunch is a cash-only counter with an amazing brunch menu. There is usually a line, so it's best to come early! The market anchors other shops and restaurants in the neighbourhood and on weekends there is an outdoor flea market, the Capitol Hill Flea Market. The stalls are full of artisanal soaps, works of art, and cute clothes. I bought a pair of fingerless gloves made of alpaca wool from Peru the last time I was in town.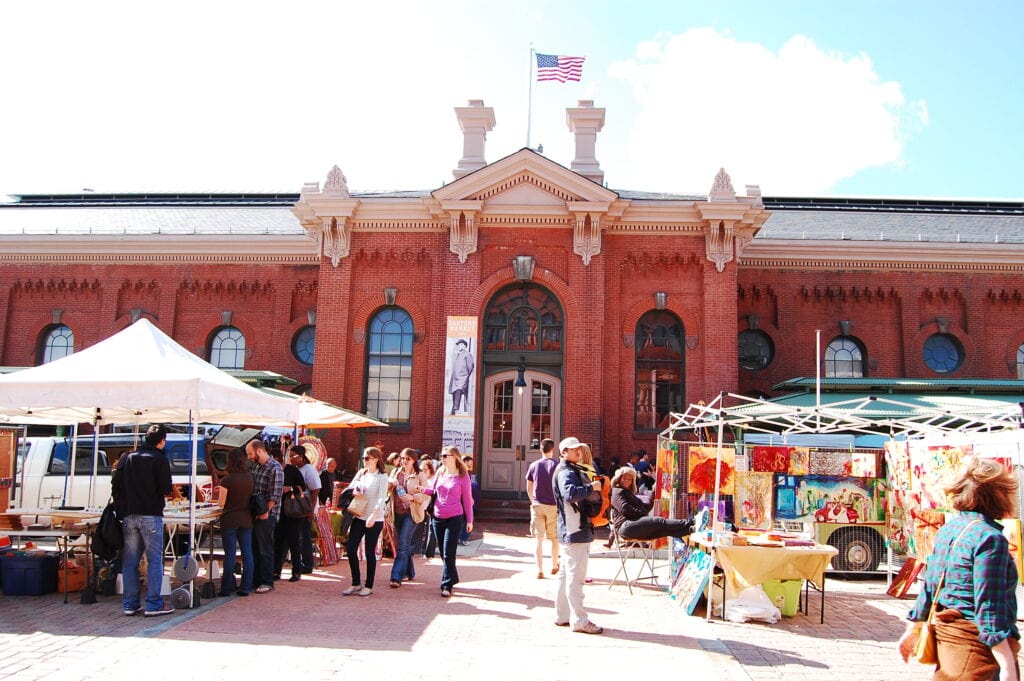 A visit to the market is perfect for an easy Saturday starting with brunch and then walking through the market, the flea market, and a myriad of other stores that are just outside in the neighbourhood. If this is a stop for a day of exploring DC, then you can easily walk to the US Capitol to snap a photo or two and then move onto The Mall, all of the Smithsonian museums, and the Lincoln Memorial down by the Potomac River.
Hours of Operation Indoor Market: Tuesday to Sunday – 9am – 5pm Outdoor Markets: Tuesday: 12pm – 4pm Saturday and Sunday: 9am – 3pm Monday – Closed. Eastern Market, Washington DC Recommended by Bernadette of Live a Relaxed Life
Ferry Building Markets, San Francisco
Located within the famed Ferry Building on Pier 41, this landmark has been open since 1898. And the iconic market held here has been running every Tuesday, Thursday, and Saturday since 1992. It's in fact one of the largest farmer's markets in the United States and on the days listed above the plaza surrounding the Ferry Building is transformed with a myriad of stalls selling everything from ice cream to coffee to empanadas!
We loved visiting here during our 5 days in San Francisco recently and some of my favourite stalls included El Porteno Empanadas for yummy handmade Argentinian empanadas and Daily Driver for San Francisco's famed bagels. But the biggest lines seemed to be for Blue Bottle Coffee, Donut Farm, and Humphry Slocombe for their delicious ice cream.
What's great too is there's plenty of seating both indoor and outdoor. Interestingly, many of the best Chefs in the city come here to buy fresh produce to use on their menus that night. My top tip is to get here early, as this market can get very crowded! Would you believe over 40,000 people visit this market every week, and of course, Saturday is the busiest day.
If you're still feeling hungry after eating your way around the market you can walk a few steps to restaurants like the Slanted Door which serves up authentic Vietnamese street food and Hog Island Oyster Brewing Company both of which are located within the Ferry Building itself. The Ferry Building Market is open every Tuesday and Thursday from 10 am – 2 pm and on Saturdays from 8 am – 2 pm. Contributed by By Aimee of Snap Happy Travel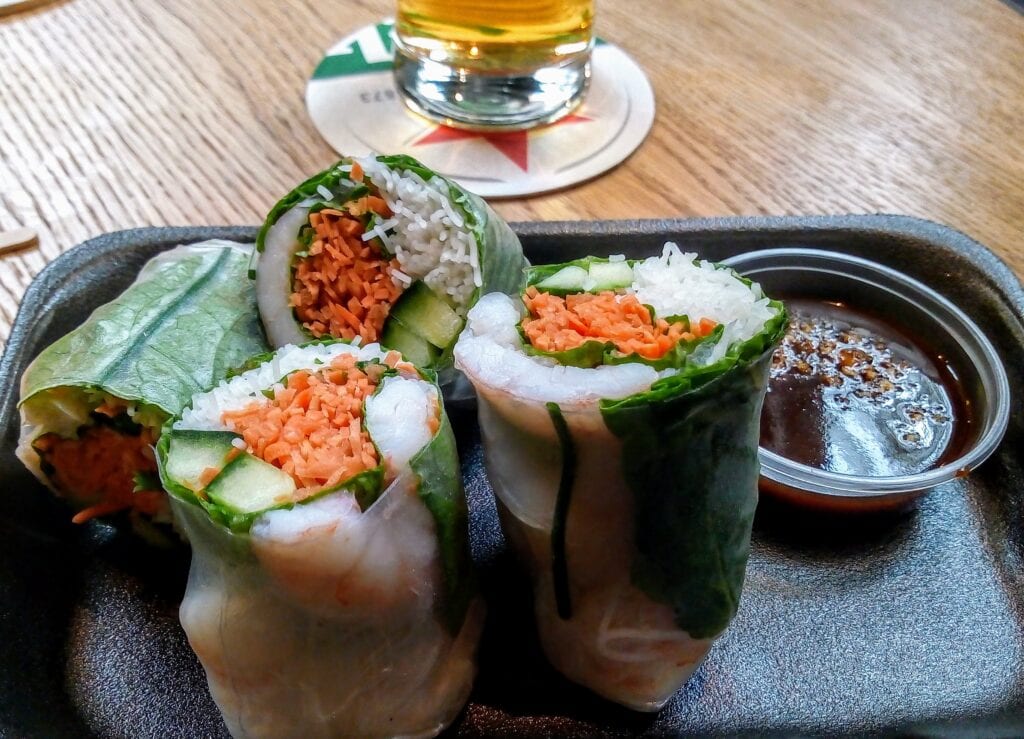 Chicago French Market
The Chicago French Market may be a newer indoor food market in North America, as it was founded in 2009, but it features over 30 local vendors selling anything from fresh produce and cheese to even food from around the world. What is so great about this hidden gem market in Chicago is the variety of food available as well as the fact that you're supporting local businesses while you're there!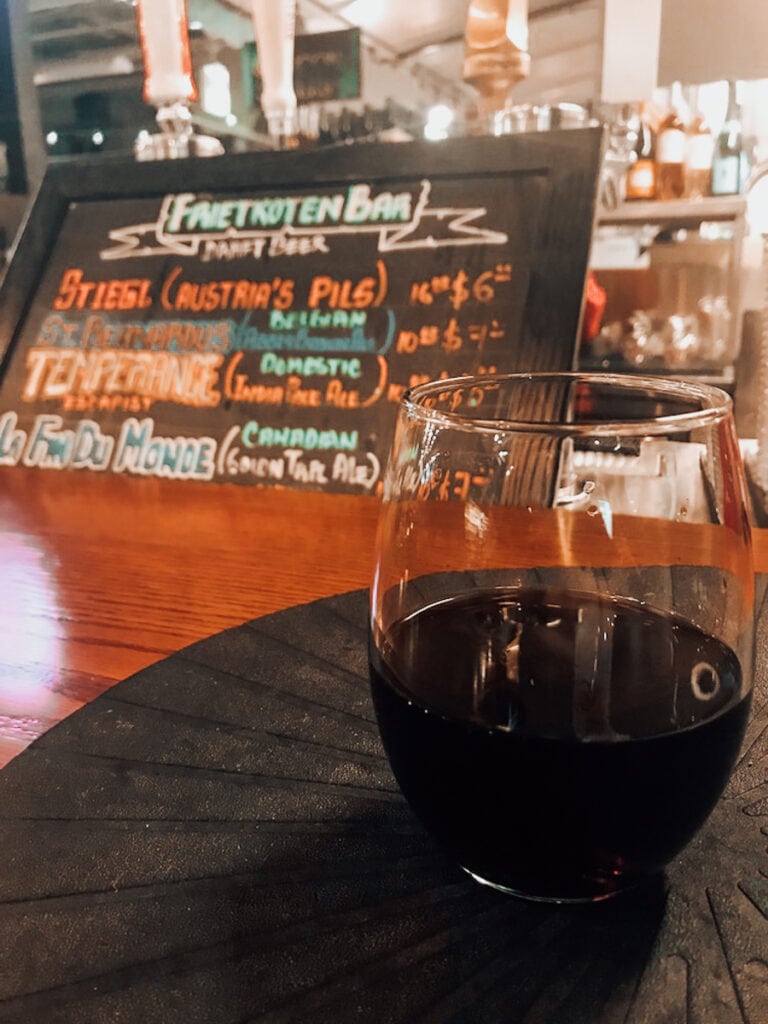 The indoor market and food hall is open year-round, and there is something to suit anyone's tastes from crepes to burritos and even Italian street food to Hawaiian poke. For a lovely place to visit during a few days in Chicago, some must-try food stands include restaurants like B.I. Tea & Dim Sum selling delicious bubble tea and buns, Lito's Empanadas, and Frietkoten, a Belgian beer and frites place.
There is ample seating in this indoor market, perfect for a leisurely lunch and the chance to try as many stands as possible. If you'd prefer to pick up some fresh produce, then there is a market selling produce inside as well. The market is located in the West Loop part of Chicago and is open on Mondays from 7 am-5:30 pm, Tuesdays-Fridays from 7 am-6:30 pm, and Saturdays from 9 am-4 pm. Contributed by Kat of World Wide Honeymoon
San Pedro Street and Food Market – Monterrey
There are many things to do in Monterrey, one that I enjoy the most on a monthly basis is the San Pedro Street and Food Market. It is located outdoors in a big park in the upscale area of Monterrey, San Pedro. The market is usually on the 2nd weekend of each month, however with covid-19 they can change the days a bit more often.
There is an Instagram account dedicated to this street market so you can follow and find the dates easily. The market is open Saturday and Sunday of the designated weekend from 10 am to 8 pm. Usually each month there is a general theme for example, Halloween, Christmas, fashion and plants. In general, there are stalls for pet adoption, clothing, handicrafts such as jewellery, home décor, novelty items, and snacks.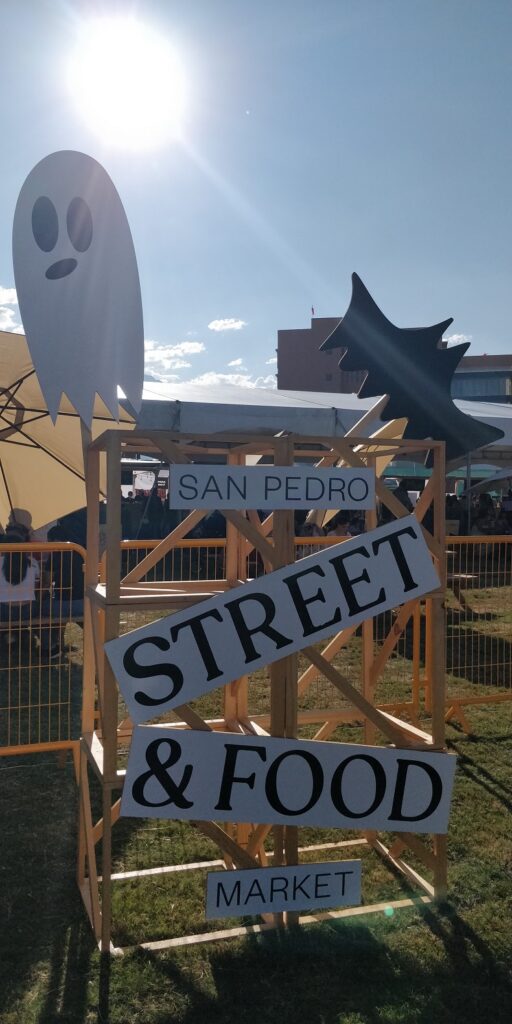 There is also a separate area for food and drinks which is a great outdoor spot to spend the afternoon with friends and family. The food options include tacos, pizza, and grilled meat (carne asada). Tacos and carne asada are typical dishes in Mexico. For me, the best part is buying a refreshing drink to enjoy with company. In this food and drinks area, there is also music which makes it a great vibe and a seating area to unwind and enjoy the chill atmosphere. Contributed by Venaugh of Venaugh.com.
Rose Bowl Flea Market – Los Angeles
If you're looking to score some amazing deals on antiques and vintage finds, the Rose Bowl Flea Market is the place to be. This massive, open-air market takes over the Pasadena Rose Bowl parking lot every second Sunday of the month, attracting sellers and buyers from all over Southern California. Established in 1968, the market is celebrating its 54th year. You'll find it at the iconic Rose Bowl Stadium, right near the Arroyo Seco Parkway, one of the most scenic drives in Los Angeles.
It's the perfect place to soak in the laid-back SoCal atmosphere and spend a day shopping and people-watching. With more than 2,500 vendors hauling in everything from old records, dusty knickknacks, handmade jewellery, unique home decor, clothing and more – there's something for everyone at the Rose Bowl Flea Market. The colour-coded map divides the shopping areas by type of merchandise, both old and new, to make it easy to find your treasures.
Entry is $20 for VIP starting at 5 AM, $14 at 8 AM and $10 per person general admission from 9 AM – 3 PM, kids under 12 are free. Early birds have access to the best stuff. You must pay in cash, show ID and proof of vaccination or a negative PCR test and wear a mask while shopping. Limited food and drink options are available but you can also bring your own. So if you're in the area, be sure to stop by one of the best markets in North America – you'll definitely leave with a few new treasures! Contributed by Jenifer from The Evolista.
Grand Central Market – L.A.
LA Grand Central Market is a top Los Angeles hub of multicultural street foods and shops that have been open since 1917. It has become a part of the city fabric and a testament to our love of food. Every person who either lives in L.A. or visiting should make an appearance here at least once. Perfect for breakfast, lunch, and dinner this place has it all. Don't be overwhelmed with all the sights and smells.
It's a food lovers paradise. Mexican, Chinese, Thai, Salvadorian, American, Italian, Japanese, Seafood, Fusion, Dessert. There is an option for everyone. This place also has a small market for fresh ingredients. You'll find fresh fruits and vegetables, even multiple spices for your own meals back home. Grand Central is a mix of indoor and outdoor seating. It may remind you of underground areas you may find in Chicago or New York.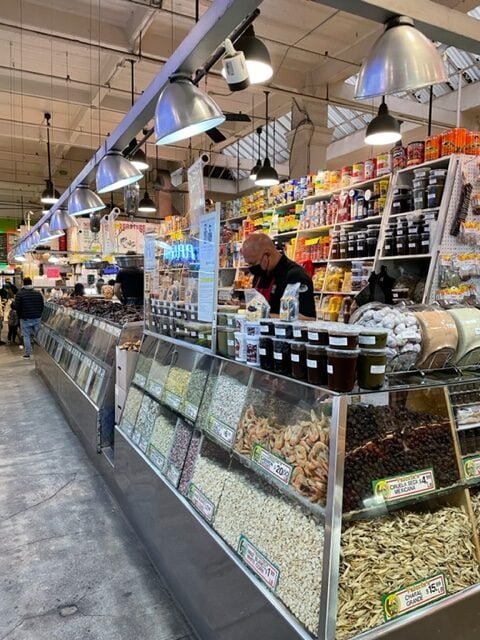 Tip: Go to the bottom level where you will find a small flea market. Vintage clothing, aromatics, and jewellery. Pick up a small gift or souvenir for your friends and family back home. As a Los Angeles native, I make it a point to eat there at least once every 2 weeks. With the wide variety of options, I change it to a different cuisine each time and still haven't eaten at all the locations. If you're only passing through the city for a day or two just choose whatever you are in the mood for. Don't miss out on these culinary delights. Their hours are 8 am to 9 pm Monday – Sunday. Contributed by Nicholas from The World Overload.
Pike Place Market – Seattle
One of the absolute best public markets in the US is Pike Place market a local public market in Seattle established in 1907 and one of the oldest markets in the United States. Your trip to Seattle can not be completed without visiting this market. Pike Place Market is popular for its flying fish and is the main attraction of Seattle downtown.
Pike Place Market stretches across a nine-acre historic district and is open all year round. This market offers fresh seafood, craft, bakeries, restaurants, and much more. One of the greatest attractions is Starbucks, as Starbucks originated in Seattle, and you will find the oldest Starbucks in the market. I highly recommend trying chocolate croissants and macaroons in La Panier French bakery and don't miss out on trying sweet and savoury piroshki from authentic Russian bakery Piroshky – Piroshky. The chocolate cream hazelnut roll is one of my favourites from Piroshky.
Pike Place chowder is one of the best places to have chowder; New England clam chowder and seared scallop chowder are some of the popular ones. Enjoy the freshest donuts coming out of the machine by the Daily Dozen Doughnut Company.
You can also buy speciality food from various stores and fresh flower bouquets for your loved ones. Also, don't miss seeing the flying fish and taking pictures with Rachel the Piggy Bank, which helps to contribute to the market. Don't leave Pike Place Market without visiting the infamous gum wall! There are a number of places where you can eat Italian, Chinese, Mediterranean and European cuisines. Some restaurants open till 2 am. REcommended by Urvi of Urvi's Travel Journal.
The French Market – New Orleans
The French Market is an open-air market and a series of buildings covering six blocks in the popular French Quarter of New Orleans. The French Market is open from 10 am through 4 pm every day. The French Market begins at the iconic Café du Monde.
Here you can indulge in their famous beignets and a cafe au lait. Beignets are absolutely delicious and a must-eat treat while in New Orleans. While you are eating beignets, enjoy listening to street performers playing jazz music. In this series of buildings, there are many great stores to step in and browse including pralines shops, art galleries, toy stores, and souvenir stores.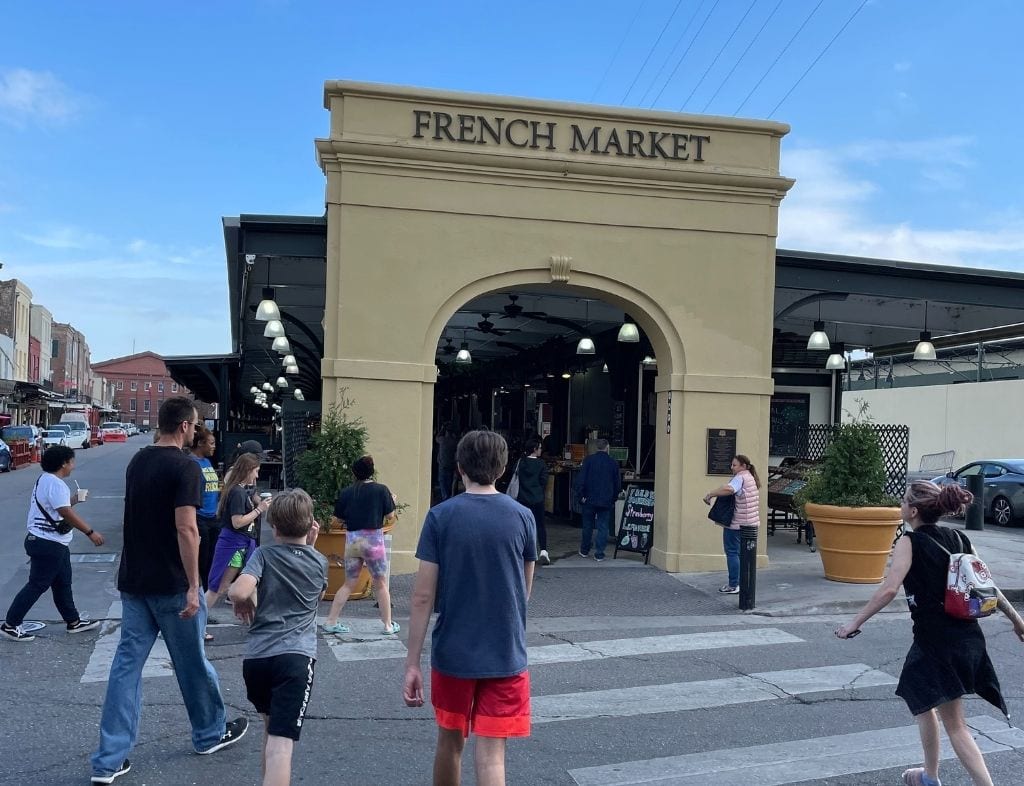 New Orleans is famous for its pralines, so you must purchase some while here. Step into one of the art galleries and admire the beautiful art including prints of the beautiful French Quarter. The farmer's market and flea market are located in an outdoor open-air market. Here you can get a taste of New Orleans and try some foods such as jambalaya, muffuletta, and alligator! Yes, alligator! Try alligator on a stick or an alligator burger. The flea market has just about any kind of souvenir you can find to bring home, including t-shirts, jewellery, handbags, soaps, crafts, and toys. Contributed by Kim of the Travelling Swansons.
Lexington Market – Baltimore
Lexington Market was founded in 1782 making it the oldest public market in the United States. The market has undergone a $40 million renovation and it is scheduled to be opened in early 2022. This is the place that foodies come to try the eponymous Faidley's crab cakes or a Baltimore Berger cookie. There are 75 vendors selling fresh produce, seafood and desserts. The market is open from 8 to 5 pm Monday through Saturday.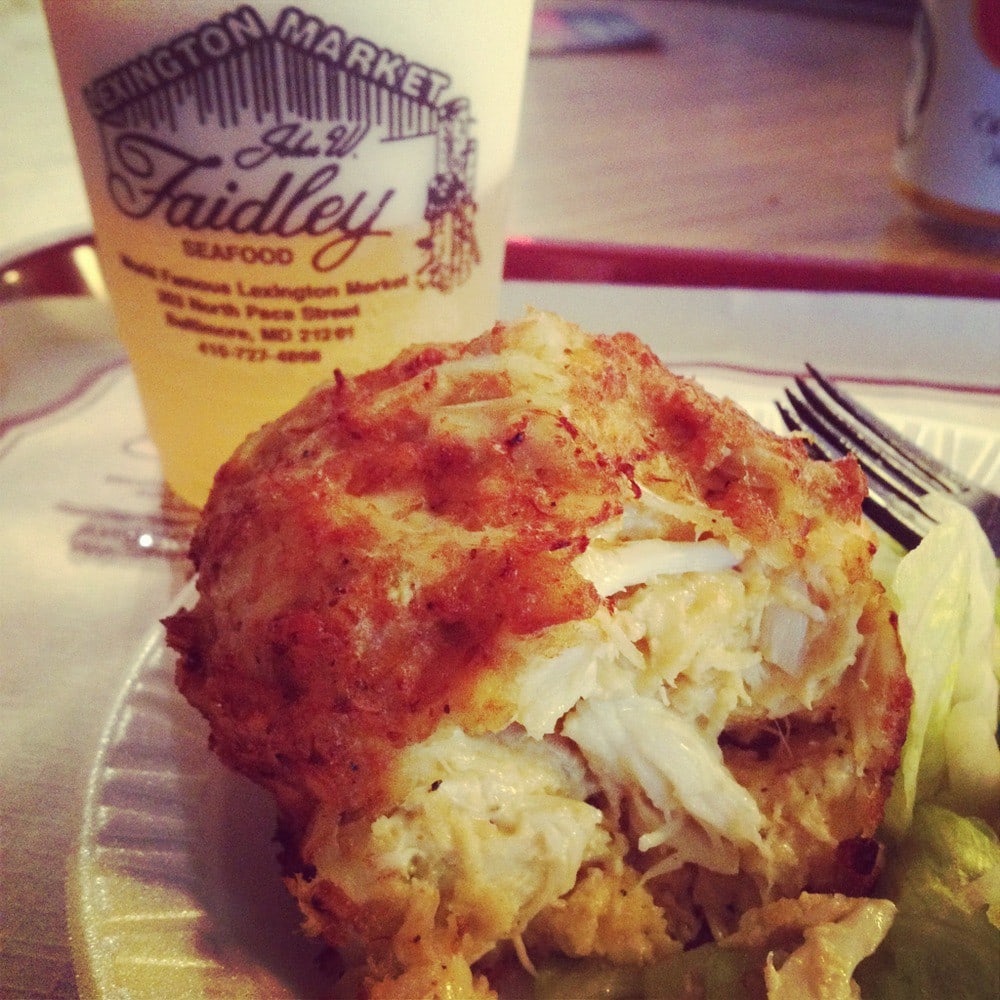 Heights Public Market & Food Hall – Tampa
Armature Works is a brilliant food hall in Florida with some fabulous culinary offerings from Ramen to Cuban to bao buns. Called the Heights Public Market it is a food-lovers dream set in a 22,000 sq-ft industrial market. It features an open floor plan with communal seating surrounded by restaurants showcasing the top chefs and restaurateurs in the Bay Area. Heights Public Market also includes a "Show + Tell" workshop that hosts an array of events such as cooking classes, wine tastings and pop-up dinners in collaboration with market tenants.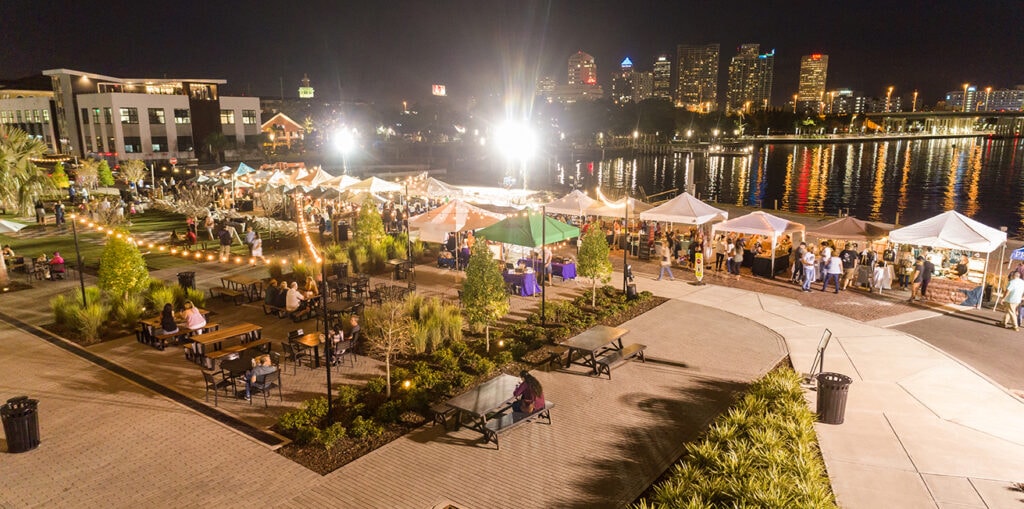 Best food markets in Mexico
La Cruz de Huanacaxtle Sunday Market – Riviera Nayarit
La Cruz de Huanacaxtle Sunday Market is one of the best markets in this region of Mexico, attracting tourists from all over the Riviera Nayarit and South of Puerto Vallarta. It started in 2009 as an idea among neighbours to promote community development in La Cruz and has since grown to a large market with over 200 vendors.
It's an open-air market that takes place on the Marina, with gorgeous views of the water and boats. They also have a live band playing music, which adds to the wonderful ambience.
You can find local vendors selling everything from high-quality crafts, jewellery, pottery, cigars, and clothing to freshly baked bread and organic groceries at the market. It's the perfect place to find local souvenirs to take home or fresh produce if you're living in the region.
At the end of the market on the point of the jetty, there's a wide selection of food vendors where you can find cuisine from all over the world. I tried some Mexican vegetarian empanadas, which were fantastic.
The market is open every Sunday, November to April from 9 am – 2 pm. Rember to bring a reusable bag, sun protection, and cash as there are no ATMs inside the marina. A visit to the La Cruz de Huanacaxtle market is the perfect way to spend a Sunday morning! Contributed by Lora of Explore with Lora
Mercado de Artesanias de Santo Domingo – Chiapas
Mercado de Artesanías de Santo Domingo in San Cristobal De Las Casas is one of the best places to get authentic souvenirs and artisan artworks in Chiapas. Located just a short distance from the city centre, it's a perfect place to buy traditional Chiapaneco textiles such as blouses, dresses, handmade embroidery, hats, jewellery as well as home goods such as table cloths, cookware and so much more.
The market has mostly indigenous artisans from the highland villages surrounding San Cristobal who come here daily to sell their arts and crafts. The best part about buying these products is that your money supports local communities. When you visit this market, make sure to bring enough cash, as most artisans accept only cash payments. You can easily spend a few hours shopping around this colourful market, as there's so much to see here! And the best part is that there are so many bargains here – unlike third-party vendors or regular stores, local artisans sell their goods at very fair prices.
As you walk along the rows of colourful souvenirs and textiles, you will also get to see the 16th century Templo San Domingo. This ornate baroque church is one of the most beautiful buildings in San Cristobal, and although it has been closed and fenced off because of the earthquakes, you can still admire it from the outside.
No matter how many days you spend in San Cristobal de Las Casas, make sure to visit Mercado de Artesanías de Santo Domingo. The market is open daily from 9 a.m. – 8 p.m. Contributed by Daria of the Discovery Nut.
Mercado Hidalgo – Tijuana
Colourful candy-filled piñatas, fresh coconuts sprinkled with lime and chile, and traditional stone molcajetes fill the vendors' stalls at Mercado Hidalgo in Tijuana, Mexico. There are many fun things to do in Tijuana, but browsing the fascinating variety of exotic produce and Mexican handicrafts at this central market is one of the best cultural experiences in town.
The market was founded in 1955 and is located in the heart of town in a two-story building with a large courtyard in the centre. It's open daily, from 6 am to 5 pm and is semi-outdoors. Most of the shops have a completely open side facing the courtyard, while some are hidden away in interior passageways – a great place to get lost and find some hidden treasures to take home.
Mercado Hidalgo specializes in selling fresh produce, medicinal herbs, local cheeses, party supplies, and traditional Mexican handicrafts. It's also home to plenty of food stands selling everything from local dishes, like tacos de Asada, to culinary specialities, like tlayudas, from regions as far away as Oaxaca.
We enjoyed sampling the local Real del Castillo cheese at Cava de Queso — the rosemary one is addicting — and eating fresh tortillas and grilled prickly pear cactus topped with melted cheese and salsa at La Poblana. Make sure to try the fresh fruit cups (a typical Mexican snack) with mango, pineapple, and cucumber, or an agua fresca (fresh fruit water). Either one makes for the perfect snack while strolling around this traditional Mexican market in Tijuana. Contributed by Kristina from Off Path Travels.
Lucas Galvez Market – Merida, Mexico
The Lucas Galvez market is absolutely huge and has specific areas for flower vendors, fruit and veg, meat and fish and a separate building for the handicrafts. It is open every day of the week from around 8 am until 4 or 5 including Sundays. The artisan market does not tend to be fully open on Sundays though.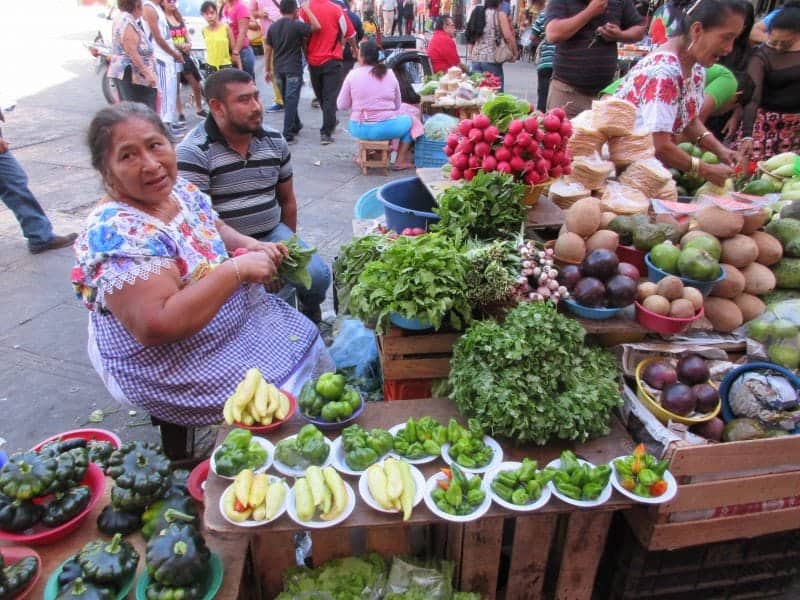 Marquesitas are a favourite Meridan snack. It is a crepe and the most popular is filled with Nutella and cheese. You should also try some elotes this is grilled, then smothered in butter and mayonnaise and then rolled in a cotija cheese which has a taste similar to parmesan. The corn is then sprinkled with chilli powder and salt and a squeeze of lime – very addictive.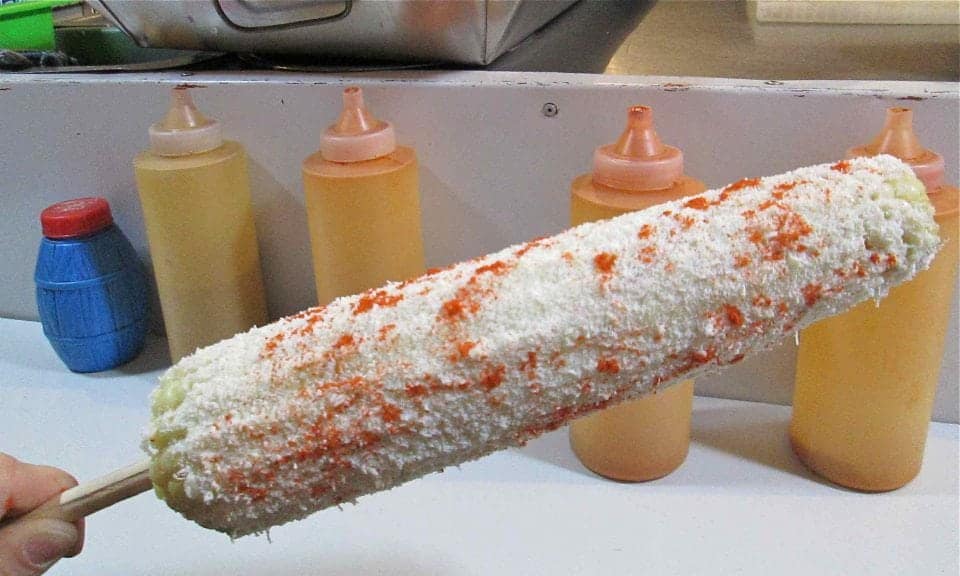 20 de Noviembre Mercado, Oaxaca
One of the best markets in Oaxaca this sprawling market in the centre of Oaxaca City, Mexico is one of the most visited due to its convenient location. It's actually located right next to another market, Benito Juarez, which is known for selling clothing and other artisanal products. In fact, it becomes hard to tell where one market begins and ends. But you'll know you're in the market area when the sidewalks start to show more signs of life. People and stalls spill out from the enclosed market walls into the surrounding streets.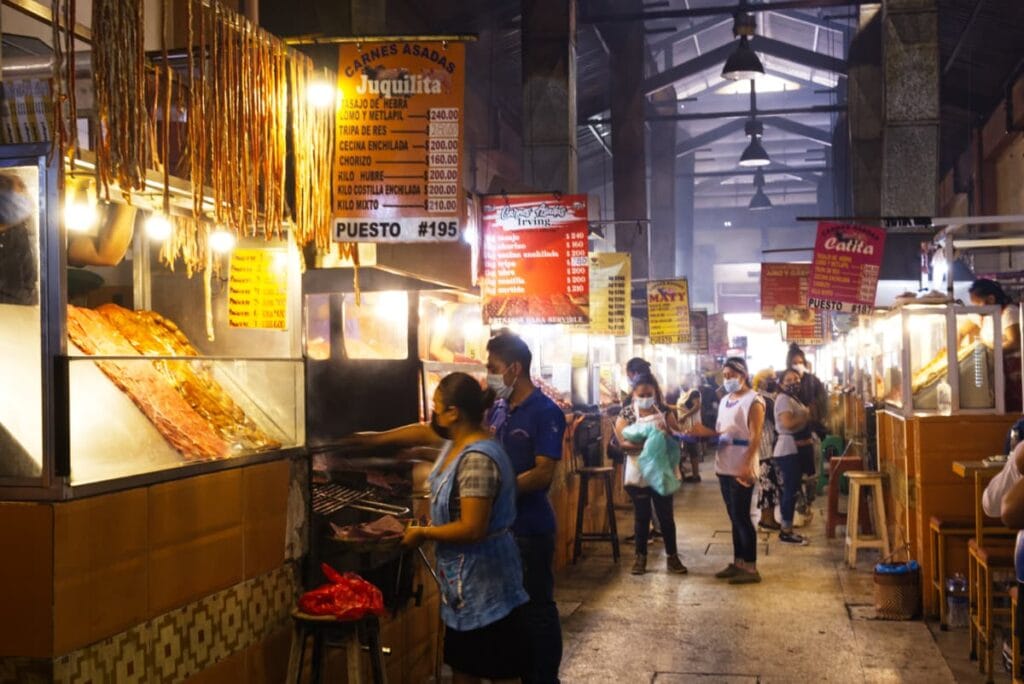 From large tlayudas to toasted grasshoppers, the 20 de Noviembre Market, is a place to taste Oaxaca's regional specialities. In fact, one of the top things to do in Oaxaca City is to explore the markets and eat lunch. A favourite spot to eat is the smokey meat hall where fresh pieces of tasajo, chorizo, and cecina are sold by the kilo and cooked on the nearby grills. After choosing a plate of mixed meats, find another stand selling small plates of accompaniments – grilled onion, nopal cactus, guacamole, salsas, and more. Everything is served together with tortillas so that you can make your own tacos. The market is open every day from 7 am to 9 pm. It encompasses so many city blocks, you'll surely stumble upon it during your stay.
Obviously, there are many more food markets and food halls in North America than are listed here so if you have a favourite tell us in the comments below.
You might also like
Weird American food – 32 dishes to try
World of Drinks – the weird and wonderful
Indigenous foods around the world
UNESCO Intangible Cultural Heritage – food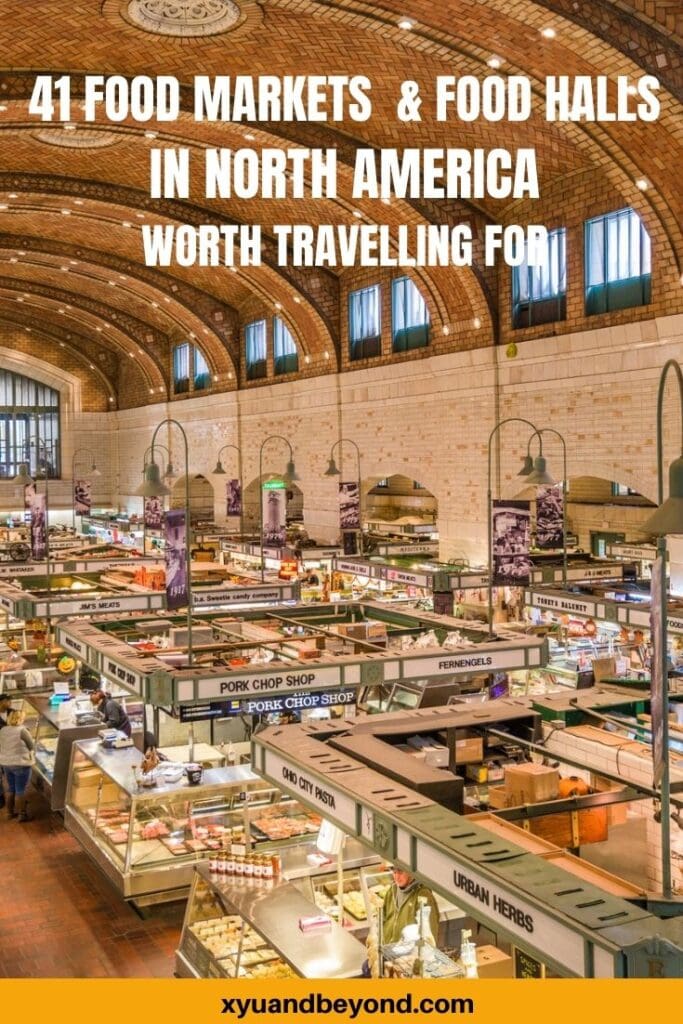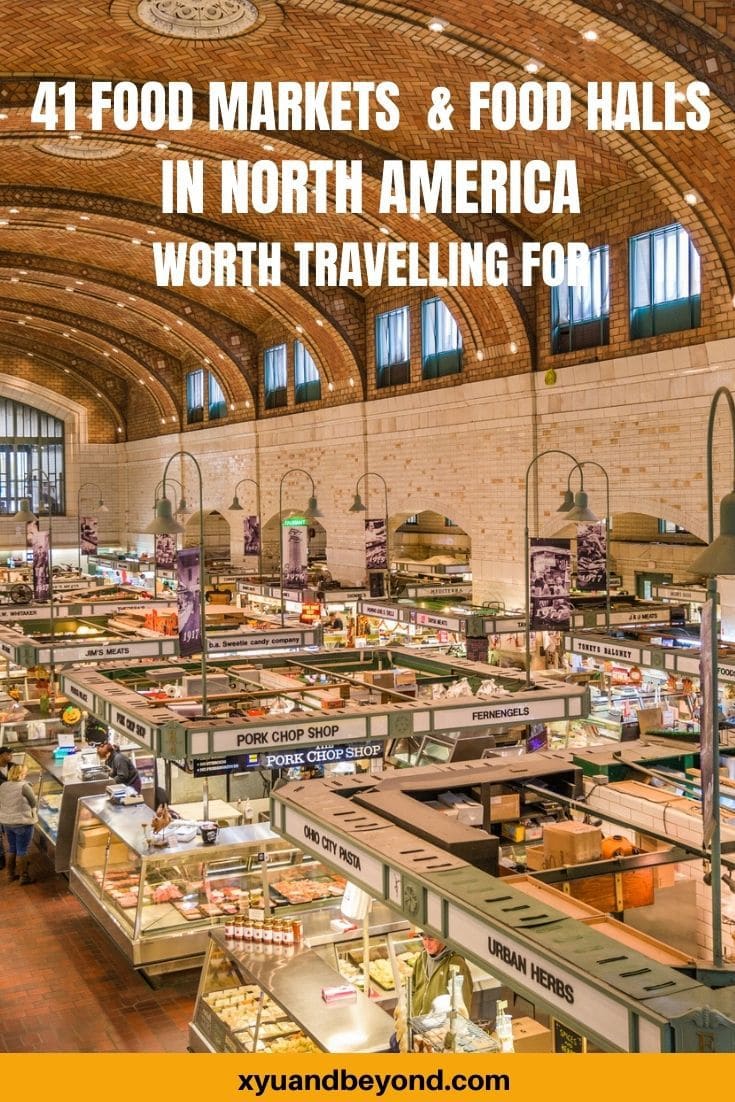 Latest posts by Faith Coates
(see all)