Things to Do In Quebec: 29 Places to see in Quebec City
I think every kid who grows up in Ontario will visit Quebec City at some point in their education. After all, Quebec is a major component of Canadian history. We all made our lists of things to do in Quebec City and at that time one of the major things was to eat in a French Restaurant and enjoy that quintessential French dish of Coq o Vin and a glass of red wine. of course we were only 13 years old lol.
In our Canadian history classes, we learnt that the French mariner Jacques Cartier from St. Malo was the first European to navigate the St. Lawrence River in the mid-1500s and it was his exploration that laid the foundations for the French claims to North America.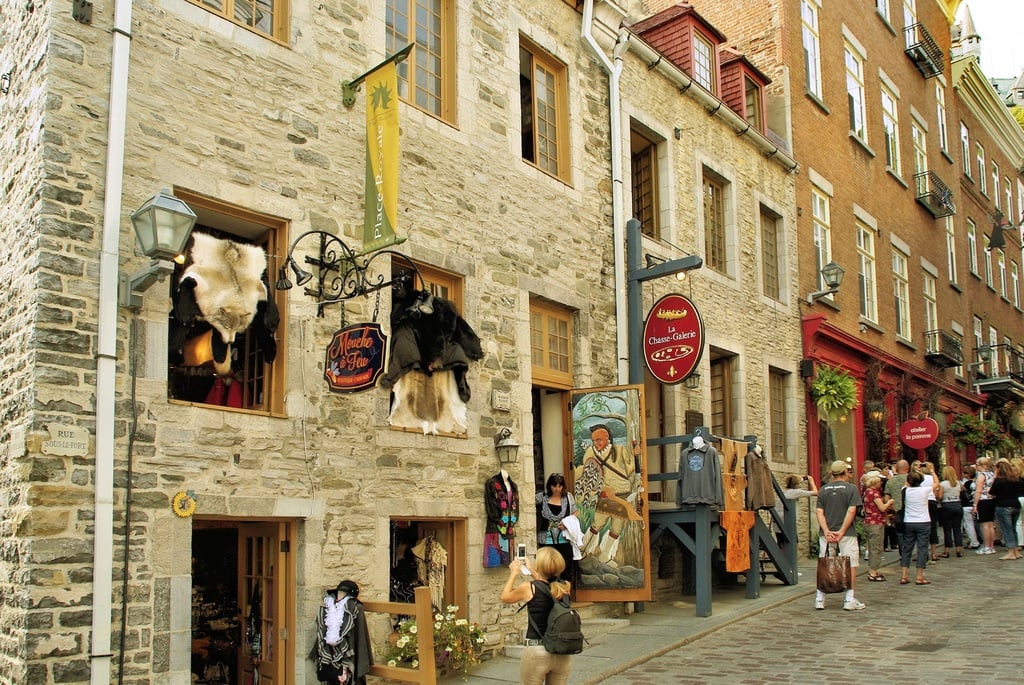 Quebec City itself was founded in 1608 by the French explorer Samuel de Champlain. Quebec is the only walled city in North America and a UNESCO World Heritage Site. The Upper Town built on a cliff looks upon the St. Lawrence Seaway commanding views for miles. At around 2.8 miles in length, the fortifications of Quebec make it the only walled city north of Mexico.
Part of a defense system built between 1608 (when Samuel de Champlain founded Quebec) and 1871, by French then British and eventually 'Canadian' forces, you can walk these walls on your own or take a tour to learn their history. Plus, you'll enjoy the views on either side: the historic city within, and the St. Lawrence River beyond
Due to its location on Cap Diamant, the steep and many stairs connecting Old Town and Lower Town can be demanding for those with mobility issues. Lots of stairs rising up 195 feet can be difficult to navigate but there is an option.
Xyuandbeyond is reader-supported. When you buy through links on our site, we may earn an affiliate commission. You can read my privacy policy here.
Map of Quebec City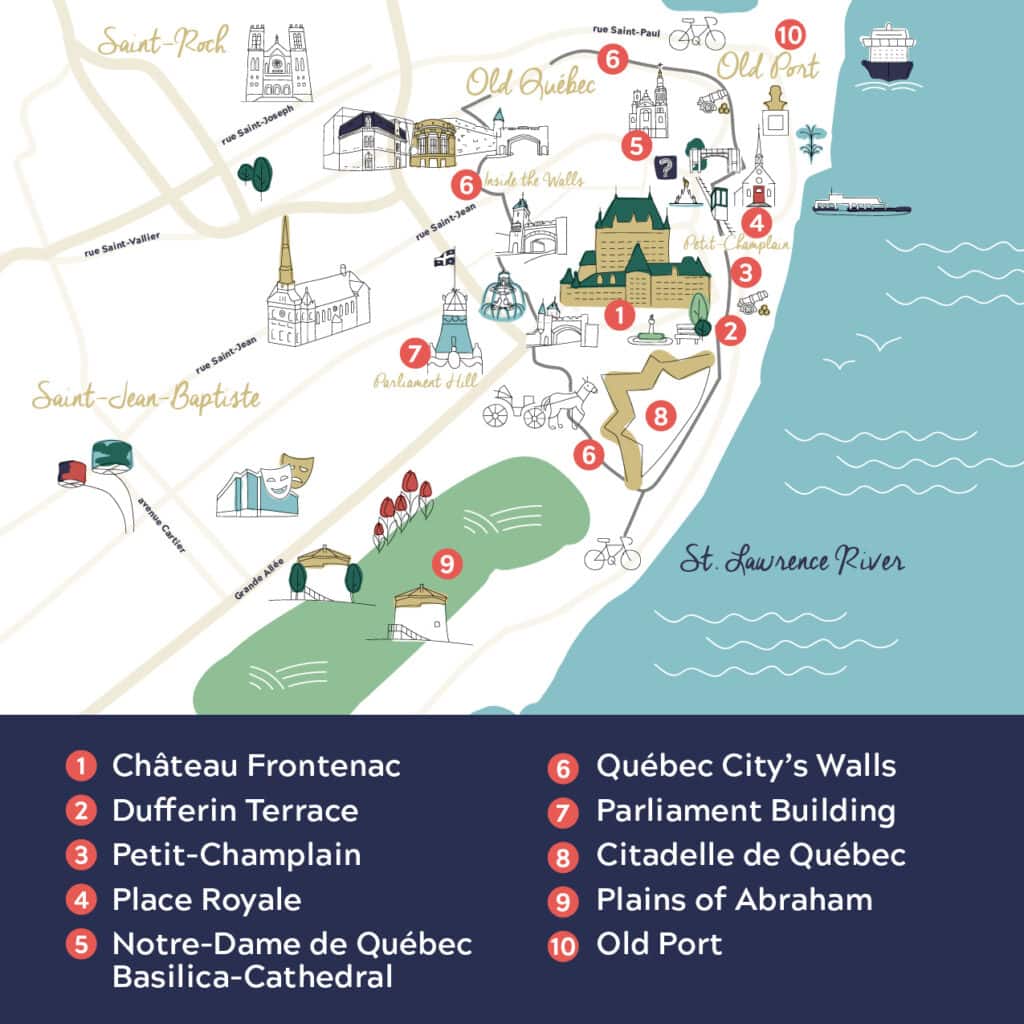 29 Fabulous things to do in Quebec City
Old Québec Funicular
One of the best things to do in Quebec City is take the Old Quebec Funicular. Since 1879 a funicular rail car has connected the two sections of Quebec City, Lower Town and Old Town.
Upper Town is where the most important government buildings are the Hotel de Ville or City hall is in Old Town along with many religious buildings. Old Town is also where many of the rich folk of Quebec City settled. It is in Old Town where you will find the famous Fairmont Le Chateau Frontenac.
The journey is short, ascending only 59 meters (195 feet), it's a scenic ride that costs just $4.00 and will save you some steps. The funicular is a direct link between the Old Port or Petit-Champlain and Dufferin Terrace near the Fairmont Le Chateau Frontenac.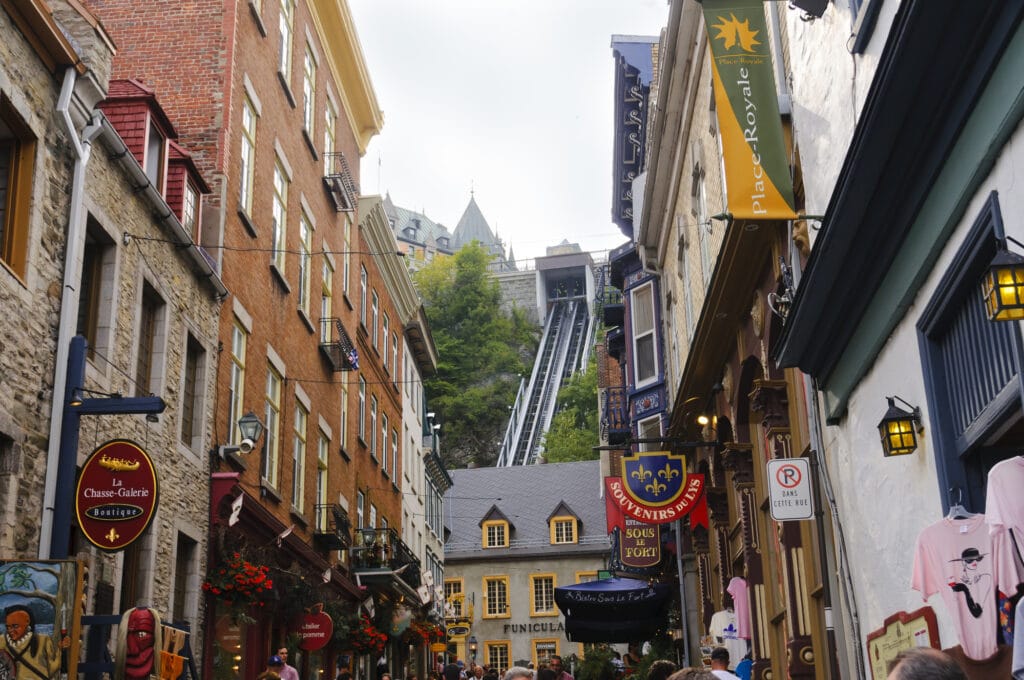 Escalier Casse-Cou – Breakneck Steps
One of the many places to visit and climb are the Breakneck Steps. These steps are the oldest in Québec City and date back to the beginning of the French colony. The 59 steps connect côte de la Montagne to rue du Petit-Champlain and are picture postcard perfect.
There are just so many beautiful things to do in Quebec City, as Canadians it was probably our first taste of Europe because you couldn't find a more different city to visit in Canada. It retains its French style and attitude along with its architecture and ancient ramparts.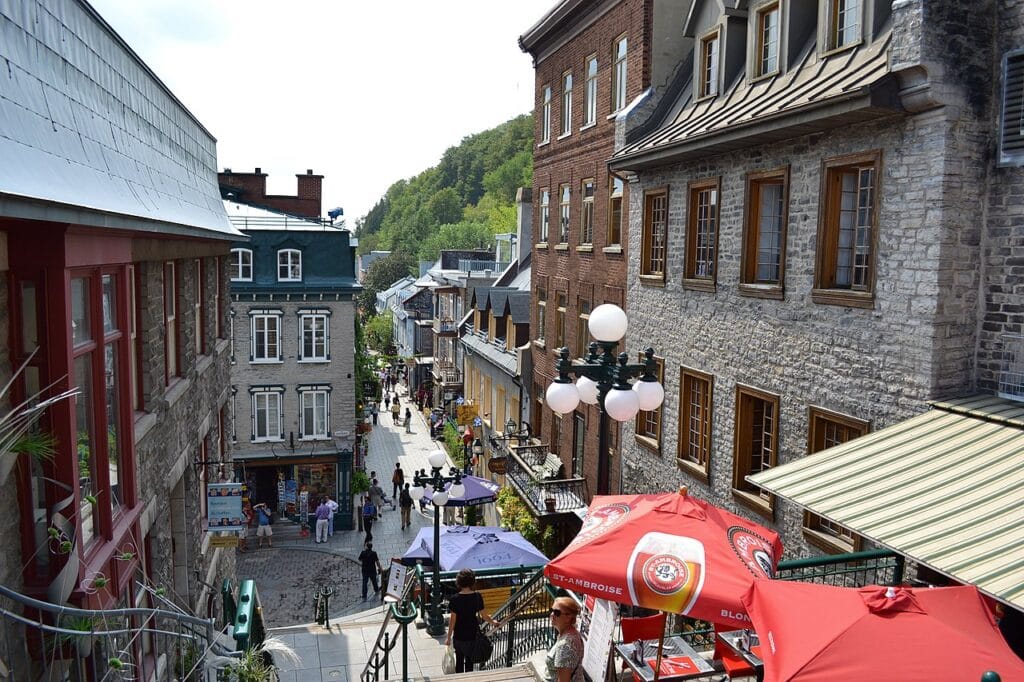 Walk Through History On A Quebec Old City Walking Tour
Explore historic Old Québec City on this walking tour. Visit many of Québec City's top attractions in the Upper and Lower Town districts—like the Fortifications of Québec, Citadelle of Québec, Notre-Dame-des-Victoires Church and many more. Discover Québec City's history from 1608 to the present day and get to know this UNESCO World Heritage site, with educational and entertaining commentary from a professional tour conductor. Walking tour throughout historic Old Quebec City Visit to Upper Town and Lower Town Entertaining and informative commentary Licensed and professional guide
Read more about Quebec City Walking Tour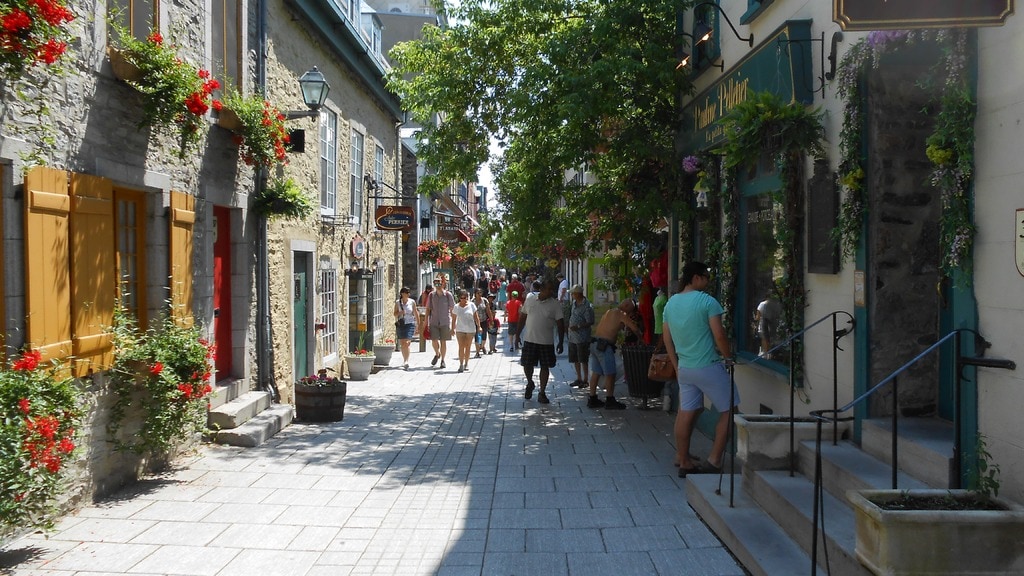 Evening Gourmet Tour 5 Course Dinner – History and Food in Old Quebec City
Immerse yourself in French-Canadian history and devour culinary delights on this gourmet food tour of Québec City. Meet your guide in the centre of Old Quebec and set out on foot to discover historic sights like Notre-Dame de Quebec Cathedral, Québec City Hall, and Royale Square. Follow your guide to some of the city's top restaurants as you indulge in a 5-course tasting menu that includes organic charcuterie, wine pairings, and a classic flambé prepared right at your table.
Group size is limited to 10 for a more personal experience. Ideal for couples—discover historic Québec in the romantic early evening Indulge in a 5-course tasting menu including amuse-bouche, charcuterie, and flambé, with wine pairings Learn about French-Canadian history from your knowledgable guide Small-group tour ensures a more intimate experience
Read more about Evening Gourmet Tour 5 Course Dinner – History and Food in Old Quebec City
Explore Lower Town Quebec City
The lower town district of Petit Champlain has a romantic French ambience with cobbled streets and stone buildings that scream romance. This is the home of the original New France colony and many of the buildings date back to those times.
Rue de Petit-Champlain is called North America's most beautiful street with its quaint boutique shops, Narrow streets, unique boutiques, ornate decorations, and charming bistros – the lower town district of Petit Champlain has a romantic atmosphere that would put many European villages to shame.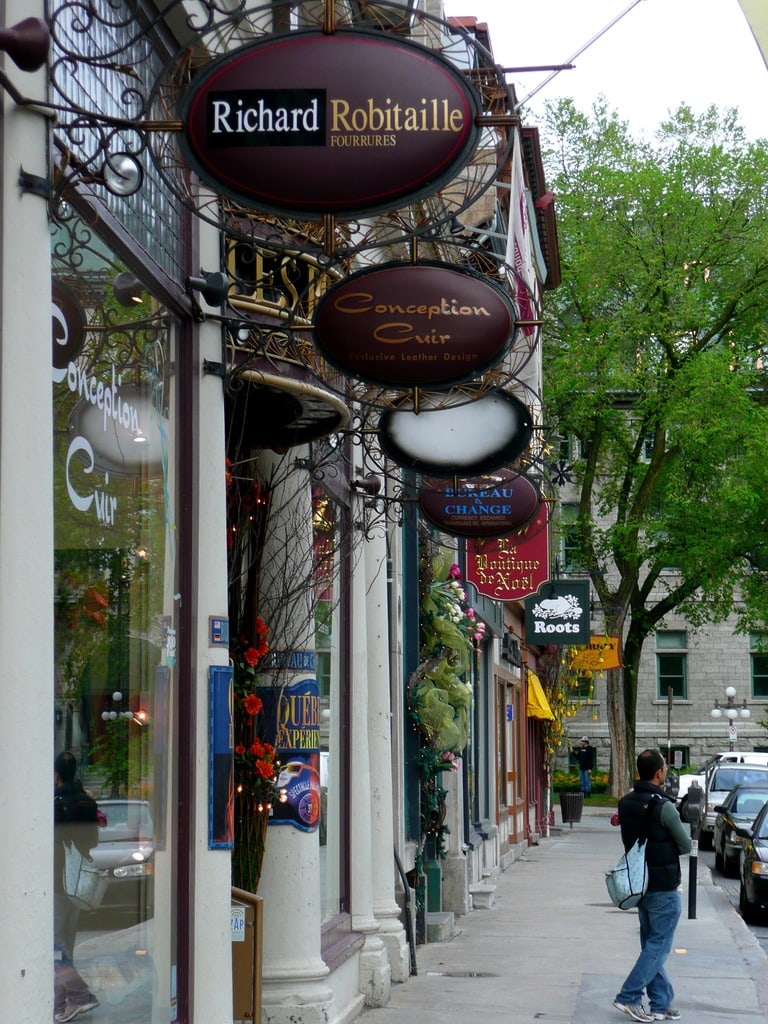 Musée De La Civilisation
This museum is close to Place Royale and is well known for its sense of humour with its exhibitions and displays. For example, currently, there is the Oh Shit exhibition and as the museum says there is so much to be said and learned about this universal organic matter! Everybody has to go, regardless of their social ranking, their gender or beliefs!"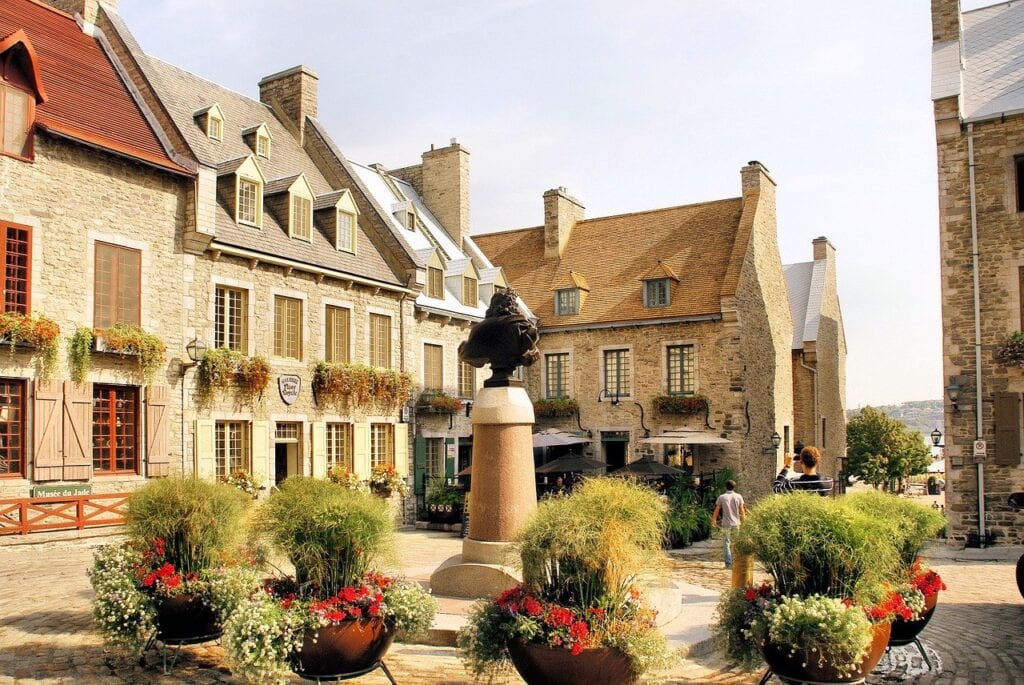 The Quebec City Ferry
Located near Musée de la civilisation and the Petit-Champlain District, the Québec–Lévis ferry is conveniently located and easy to get to, no matter what your mode of transportation. You can even leave your car in one of the nearby public parking lots and take the ferry on foot, if you like. If you go by car, you can take a one‑way ticket and come back to Québec City via the Pierre Laporte Bridge and Boulevard Champlain, which will reward you with some gorgeous views of the river.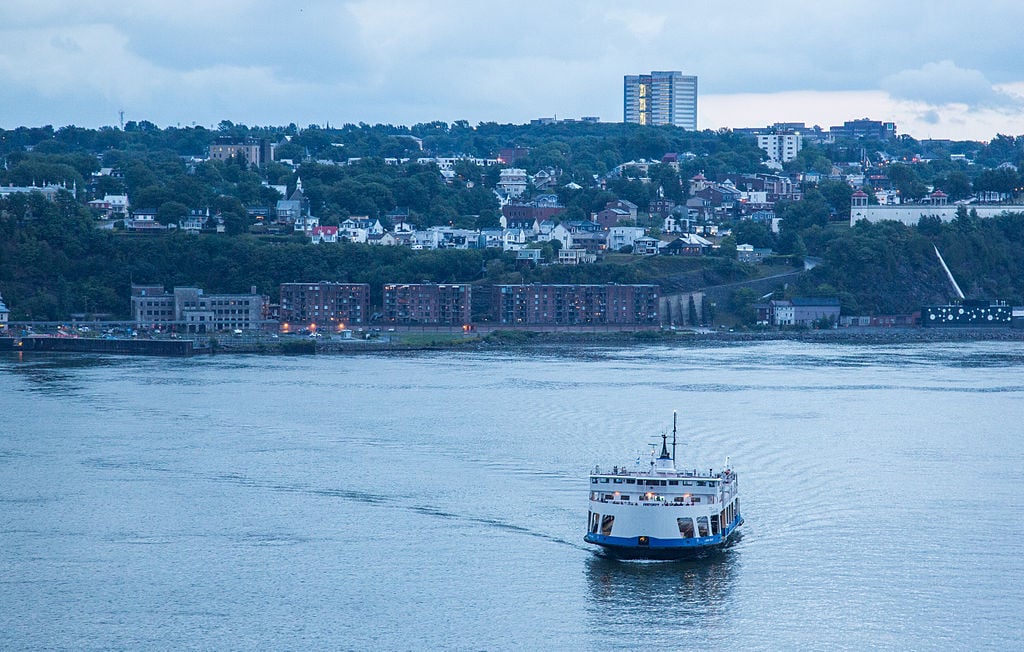 Notre Dame des Victoires Church
Place Royale, within Old Quebec, stands in for Montrichard, and the church in the background of the arrest scene is Notre-Dame-des-Victoires. This was the church used in the movie Catch me if you Can starring Leonardo Dicaprio and Tom Hanks.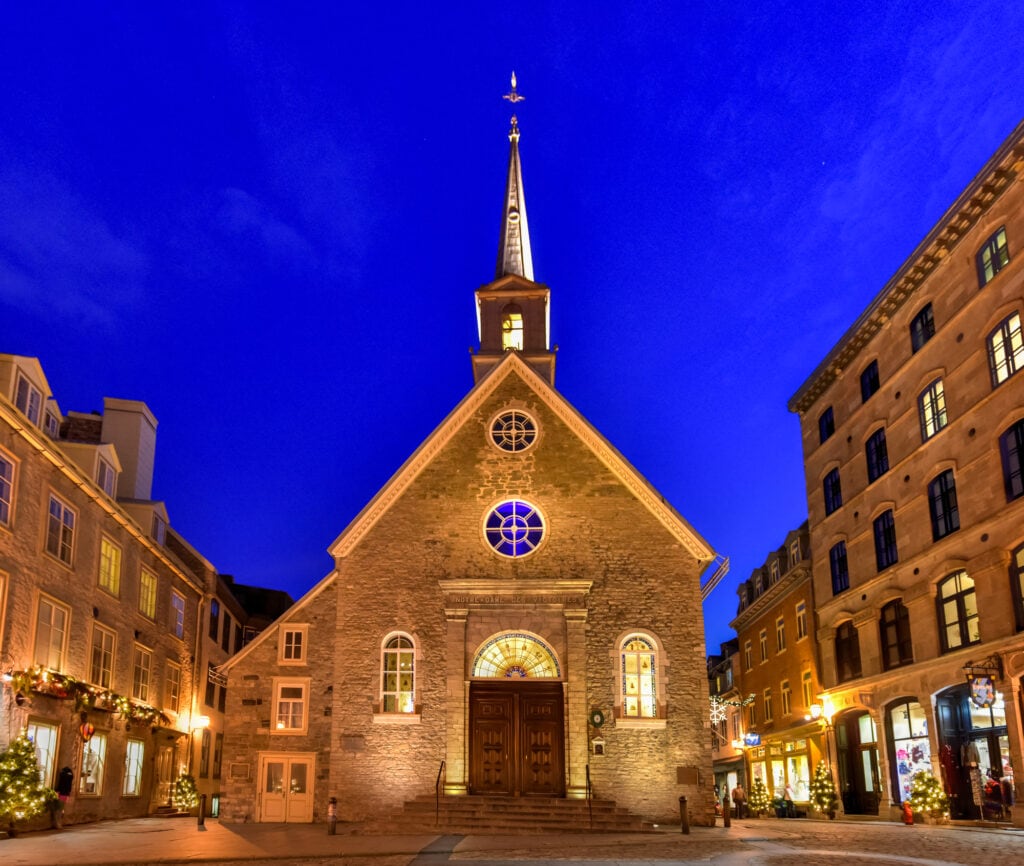 The Royal Battery
The British wanted to claim the new world and Quebec City was a target in the 1600s the British attempted to take the City. Due to this, the French constructed the Royal Battery along the river's edge to protect the city from being attacked along the St. Lawrence River.
This defensive system is a stone semi-circle built in 1691 that was used by the French soldiers during the siege of Québec City in 1759.
Restored in 1977, this structure comprises four stone walls, 14 embrasures, reproductions of cannons and interpretation panels. The entrance is on rue Sous-le-Fort in the Petit-Champlain district.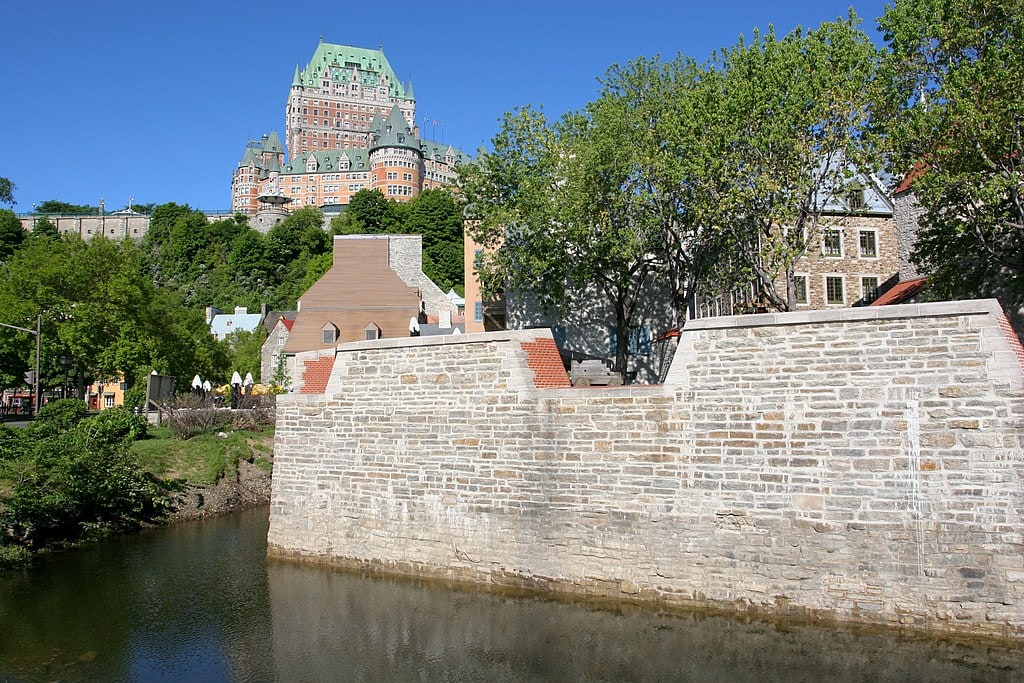 Maison Chevalier
Maison Chevalier was built in 1752 by Jean-Baptiste Chevalier at that time the building was right on the river and boats could land just in front of the house. Since he was a ship owner and trader this was quite convenient.
The Maison was heavily damaged during the British attack on Quebec in 1759 and rebuilt a few years later. In the 19th century, it was turned into a coaching Inn and renamed the London Coffee House you can see the name on the outer walls of the house.
Today Maison Chevalier located in the heart of Old Quebec, offers exhibitions and activities and is managed by Musée de la Civilisation, which uses it to present historic exhibits and recreations of historic interior decors.
Marche du Vieux Port
Everyone who knows me or reads my blog knows that I do love a market and Quebec City's Marche du Vieux Port is no exception. A fabulous farmer's market under cover where you can buy all kinds of goodies made in Quebec. Make a stop and try the Maple Cones which are tiny icecream cones stuffed with Maple taffy and maple butter they make your teeth ache but are oh so good.
Plains of Abraham
If you continue walking down Champlain Street you will eventually come to the Plains of Abraham Quebec City's national park which is like Hyde Park in London and Central Park in NYC.
The park itself is 98 hectares that extend westward from the Citadelle of Quebec and the walls of Quebec City along a plateau above the Saint Lawrence River and forms a part of The Battlefields Park.
Site of major battles, the Battlefields Park includes the Plains of Abraham and Des Braves Park. This historic site was the theatre of a defining battle in North American history: the Battle of the Plains of Abraham, where the British defeated the French in 1759, ensuring the conquest of New France.
Plains of Abraham Museum
The Plains of Abraham Museum is the gateway to the Park, offering exhibitions, activities, services and all information for your visit. The Plains of Abraham Museum commemorates this event through an exhibition that re‑creates the battle with an immersive projection and a collection of original artefacts and reproductions that visitors are free to touch.
Musée National des Beaux-Arts du Québec
Located in the Plains of Abraham, the Musée National des Beaux-Arts du Québec is a complex that displays the history of Quebec art from the 17th century to the modern-day.
The Joan of Arc Garden
The Joan of Arc Garden is found within the Plains of Abraham park where a statue and gardens were created to commemorate the French heroine.
The Joan of Arc Garden is built slightly below ground level, as a sunken garden, combining the French classical style with British-style beds, all surrounded by bushy hedges and flanked by a row of Scotch elms. Two-thirds of its contents are perennials, lending the garden an air of spontaneity and naturalness.
Exploring Upper Town Quebec City
It was Champlain who chose Cap Diamant as the site for his Fort Saint Louis in 1608. This over time became and stayed the city's administrative and military centre.
Most of the buildings date to the 19th century, although some 17th and 18th centuries remain as well. In Upper Town you will find the Quebec City Hall (Hôtel de Ville), the Séminaire de Québec, the Ursulines Convent, and the Augustinian Monastery and l'Hôtel-Dieu de Québec and the world-famous Château Frontenac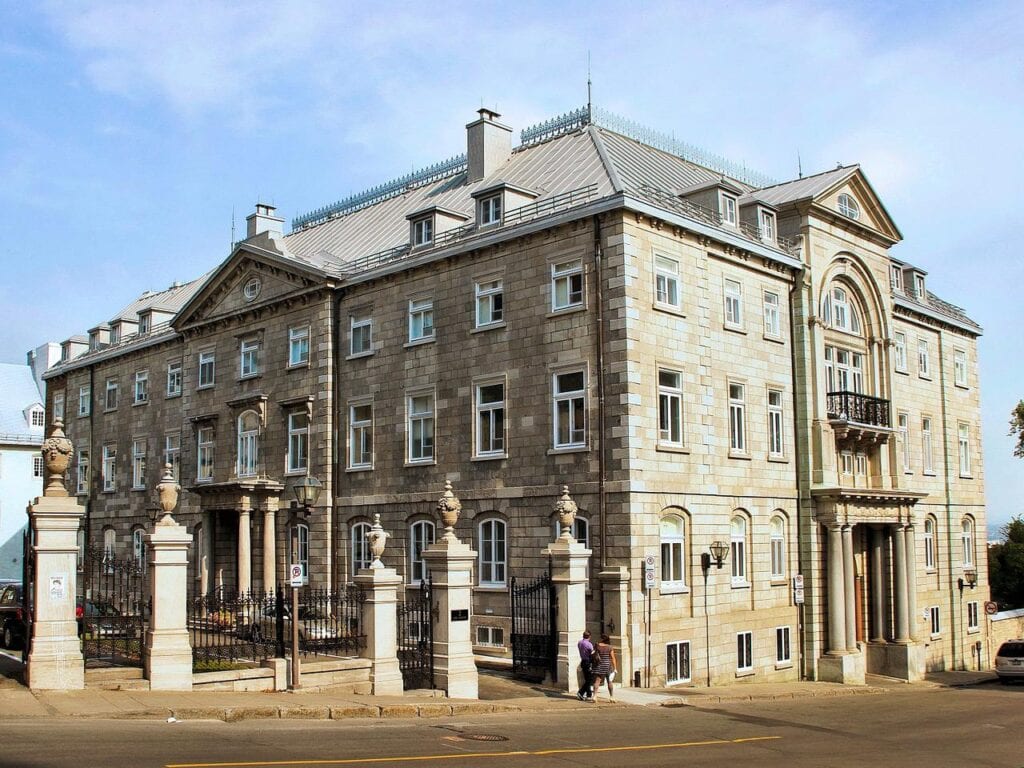 The Hotel Fairmont Château Frontenac
The Château Frontenac is an excellent example of the grand hotels developed by railway companies in Canada in the late 1800s. Considered the world's most photographed hotel, it was designated a National Historic Site in 1981.
The Chateau is located within the city walls and has recently undergone a multi-million dollar renovation and is a fabulous place to stay in the off-season when room rates are a little more reasonable.
Guided tours are always available, but who wouldn't want to stay at the same hotel that many famous names have rested at. The Chateau was host to American President Franklin Delano Roosevelt, British Prime Minister Winston Churchill, and Canadian Prime Minister William Lyon Mackenzie King discussed strategy for World War II.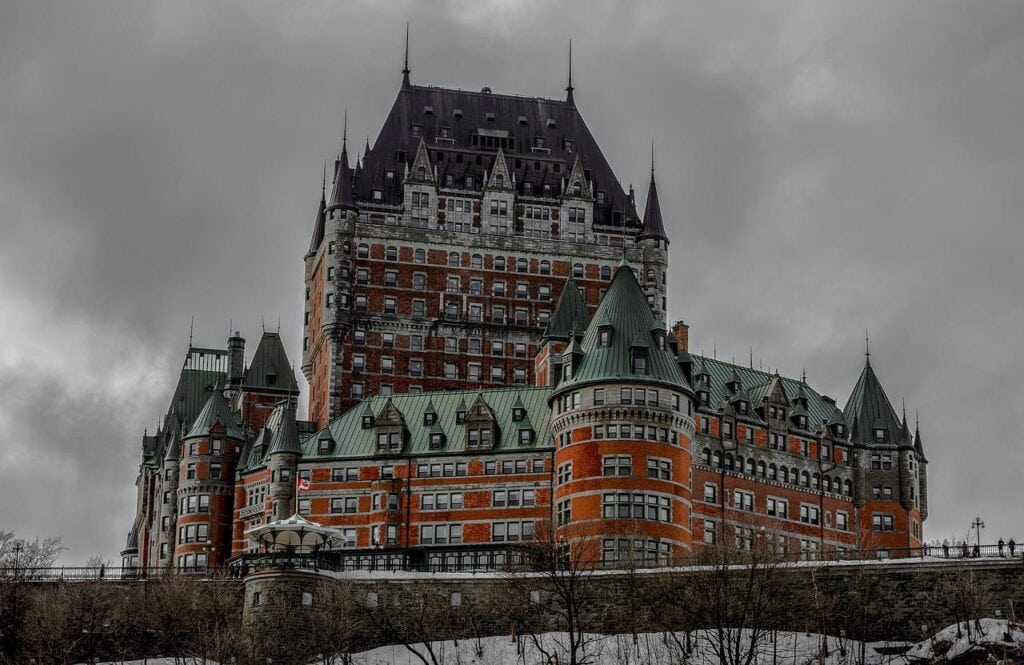 Guided Tour of the Fairmont Le Château Frontenac
Tread among the rich and famous on this 1-hour tour of the Fairmont Le Château Frontenac in Quebec City. A knowledgable local guide, interpreting a historical character, will lead you through one of Quebec's most iconic buildings, which has hosted numerous dignitaries throughout its history.
After meeting at Dufferin Terrace (next to Château Frontenac) you'll get a primer of the outside of the building before heading inside to see the rest. A small-group tour ensures a more personalized experience. A 1-hour tour of the Fairmont Le Château Frontenac in Quebec City Learn about the building's history from a local guide interpreting a historical character Chose from several convenient tour times throughout the day Tread in the footsteps of famous dignitaries
Read more about the Guided Tour of the Fairmont Le Château Frontenac in Quebec City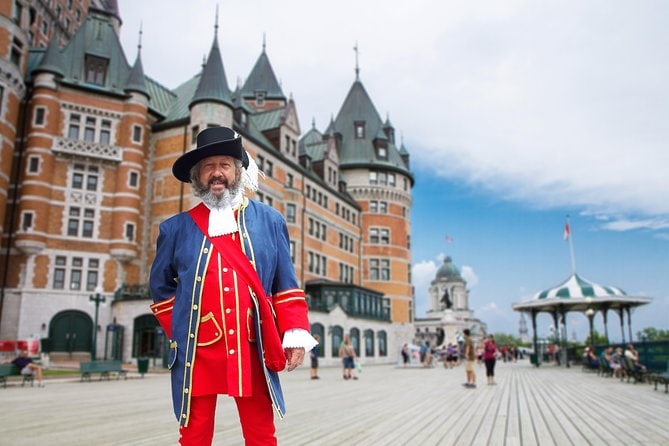 La Citadelle de Québec
Home of the Royal 22nd Regiment, La Citadelle de Quebec is both a national historic site and an active military base that sits atop Cap Diamant.
While visiting Québec City in 1842, Charles Dickens wrote that it had become "The Gibraltar of North America". The Citadelle offers regular tours of the facility along with special displays and permanent exhibitions.
See the Changing of the Guard at Citadelle de Quebec
The Changing of the Guard has been a tradition at the Citadelle of Québec since 1928. The ceremony features soldiers of the Royal 22e Régiment decked out in their scarlet regimental dress and bearskins as the "new guard" relieves the "old guard" after 24 hours of sentry duty at the Citadelle's entrance.
It is based on the Changing of the Guard at Buckingham Palace and is the only such ceremony in the province. The Changing of the Guard takes place daily at 10 a.m. in summer on the Citadelle's parade grounds.
Quebec Parliament Buildings – Place de l'Assemblée-Nationale
Inspired by the Louvre the Parliament building is a four-winged structure and home to the National Assembly of Quebec. There are free guided tours available at selected times.
The Tourny fountain designed in 1855 in France sits in front of the Parliament and was a gift from La Maison Simons a Quebec fashion house to celebrate the 400th anniversary of Quebec. The fountain originally stood in Bordeaux, France a city twinned with Quebec.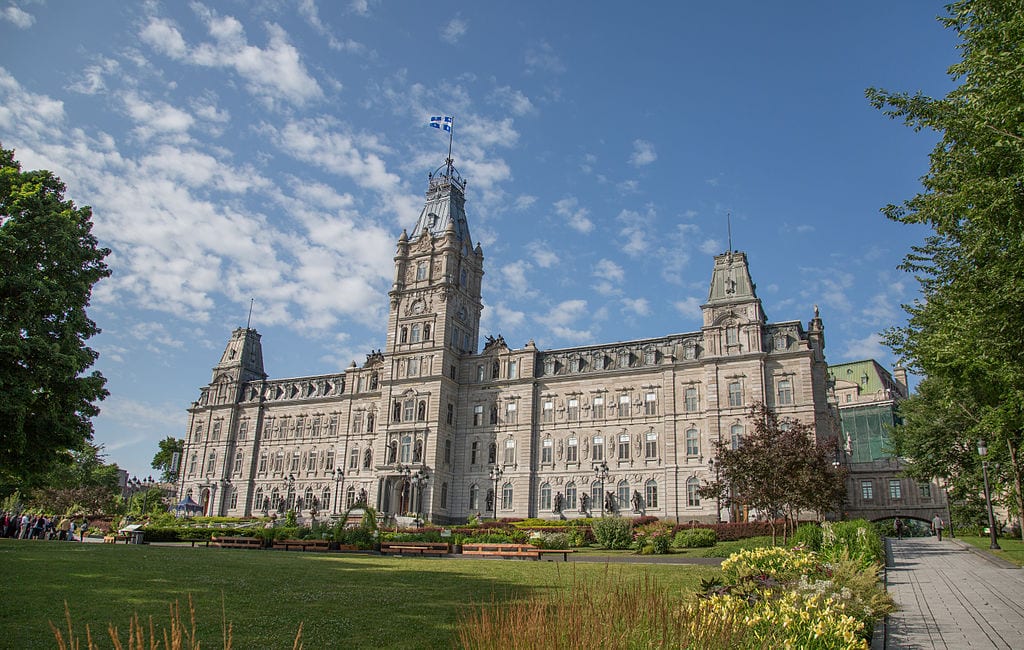 Musee du Fort
Located in front of the Chateau Frontenac you will find the Musee du Fort, which has presented a brilliant sound and light show on the military history of Quebec since 1965.
They also do historical reenactments, and they boast a large-scale model of the area complete with an interactive quiz experience.
La Promenade des Gouverneurs
La Promenade des Gouverneurs is a wooden boardwalk that runs from the Chateau Frontenac to the Plains of Abraham. There is a staircase that goes to the Plains and in front of the Chateau that takes you down to the Old Town.
The promenade is elevated above the St. Lawrence River and weaves its way around the Citadel walls and gives you jaw-dropping views of Quebec City and the St. Lawrence seaway.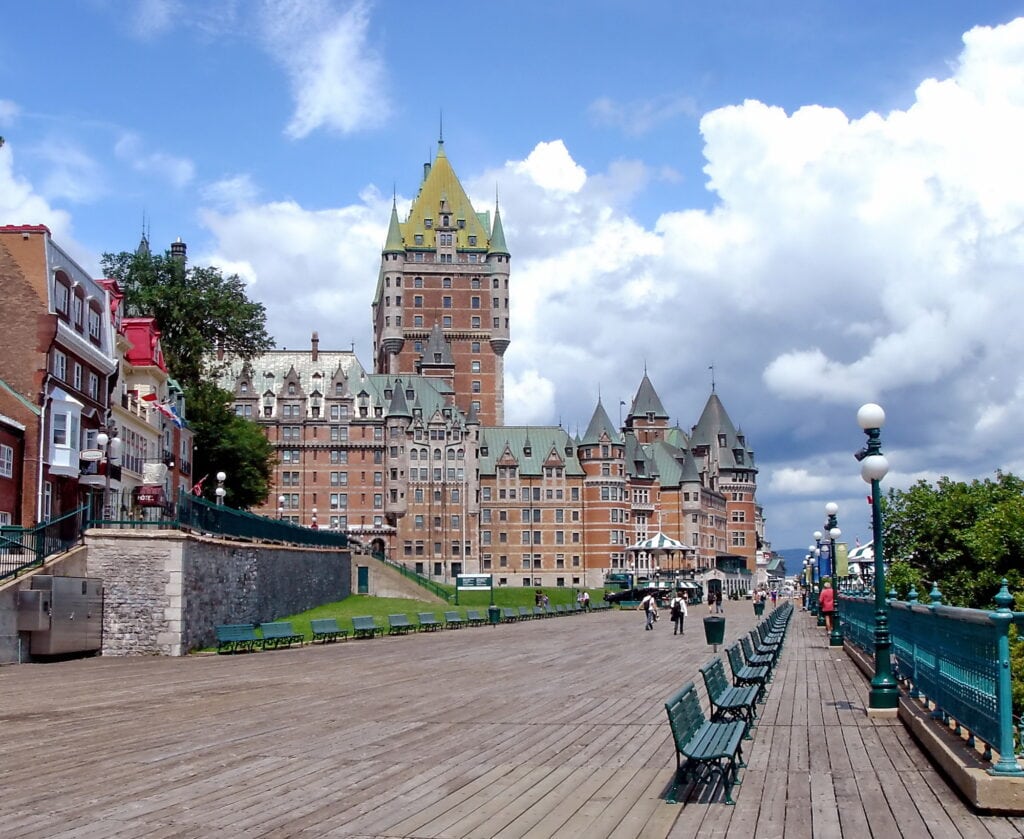 Basilique Cathedrale Notre Dame de Quebec
Restored a number of times over the last few centuries, the beautiful Basilique-Cathedrale Notre-Dame-De-Quebec is home to a number of beautiful works of religious art.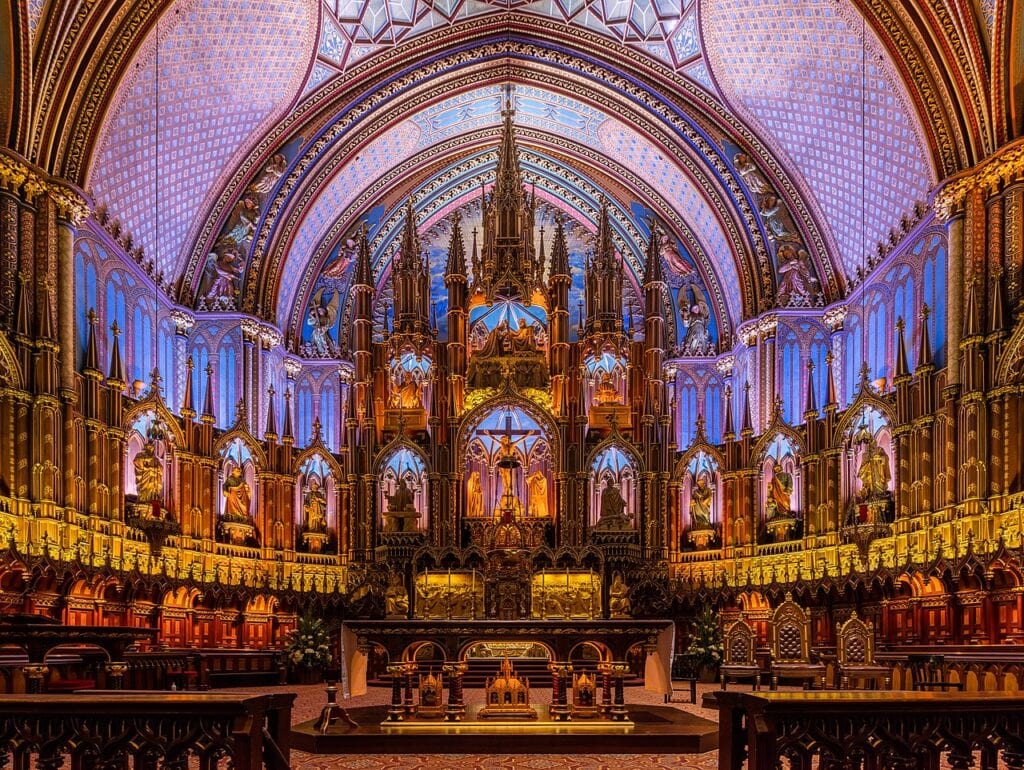 Rue Saint-Jean
Rue Saint-Jean is one of the oldest streets in Quebec and home to some of the best restaurants in Quebec City. The street begins at the Notre-Dame de Québec Basilica-Cathedral in the heart of Old Town.
It was laid out in the 17th century to connect a country estate to the city. Today it's also one of the city's liveliest shopping areas.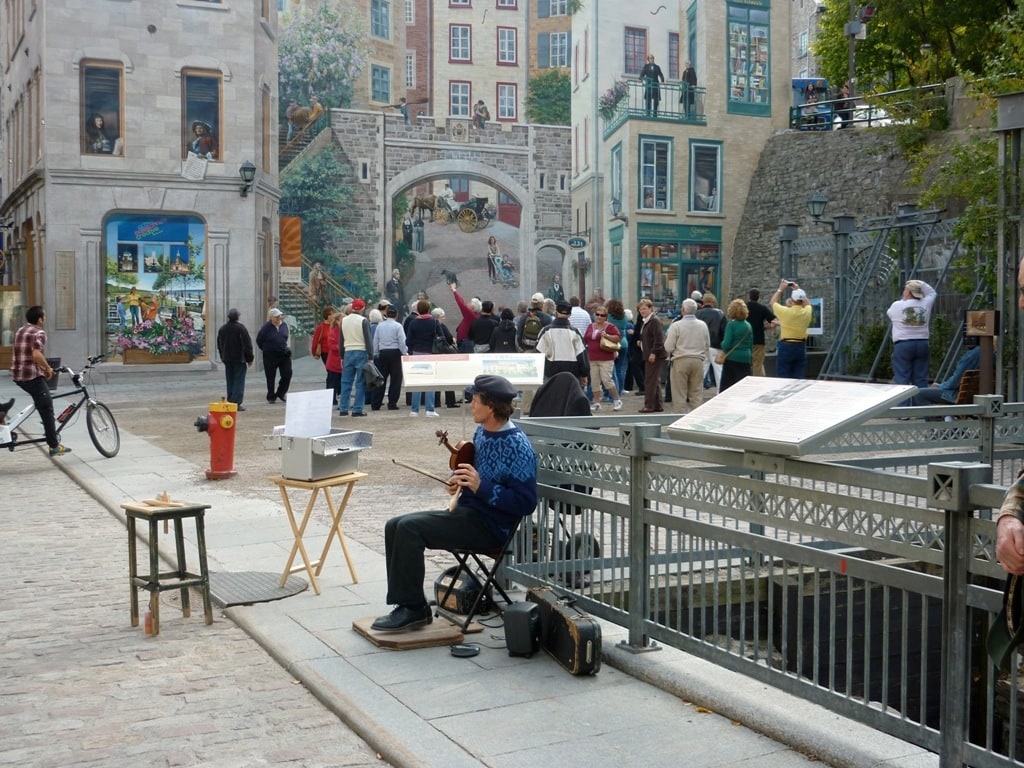 Le Monastere des Augustines
An Augustine monastery that was the first hospital in North America that is now a wellness centre and hotel.
There is an onsite Augustine museum and heritage centre, with a collection of some 40 000 artefacts! The Museum walks you through the history of the Augustinian nuns in Quebec with displays, religious texts and exhibits.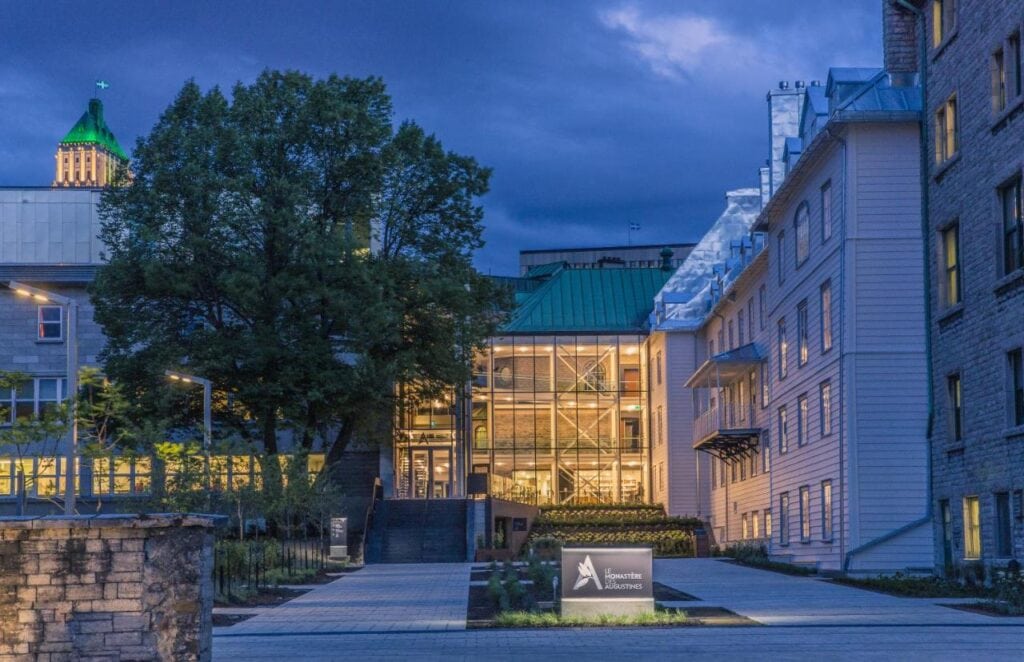 The hotel is an absolute haven where you can attend classes or retreats for yoga, and meditation, or you can learn all about eating healthy, take a massage, or visit a reflexologist. There is a restaurant that serves organic meals all made with locally sourced ingredients and Quebec specialities.
Book a relaxing day at Le Monastere des Augustines
Observatoire de la Capitale
If you want some absolutely incredible views of the city make sure you climb up to The Quebec City Capital Observatory. Ride the elevator up the Marie-Buyart Building to the 31st floor where you will have stunning views of not only the city but the surrounding landscape from the Saint Lawrence to the Laurentian mountains on a clear day.
Quebec Winter Carnival
The ultimate goal for anyone in Ontario who reached 18 was to head to the joys of the Quebec Winter Carnival. We had to go and dance with Bonhomme, Canada's Frosty the Snowman. He stands 7 feet tall, loves to dance and is the official representative of the carnival. You can't miss him with his favourite red toque (hat) and a traditional Quebecois red sash.
Each year Bonhomme opens the festival and the resulting celebrations that include: fabulous ice sculpting competitions, unique art installations, parades, food, tobogganing, parades and a real party atmosphere for the whole family.
The Carnival lasts 4 days and is held during the month of February to brighten a horrible winter month in Canada.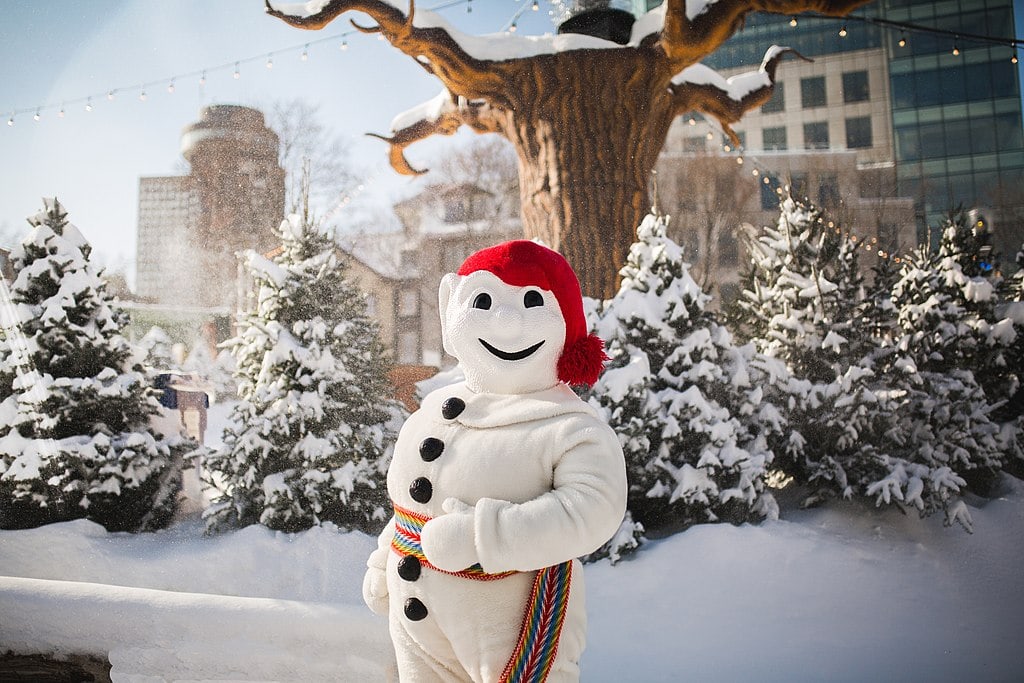 Quebec City in the winter
You cannot beat Quebec City at Christmas with its twinkling lights everywhere, all surfaces decorated, Xmas trees on every corner and some of the best shopping in Canada.
From the end of November until January, Quebec City will give you that olde English vibe with one of the best Christmas Markets in North America the Marché de Noël Allemand de Québec.
This month-long market offers free activities and is styled after the fabulous German markets in Europe. It has over 90 exhibitors, and loads of special events and makes Quebec City a magical Christmas destination.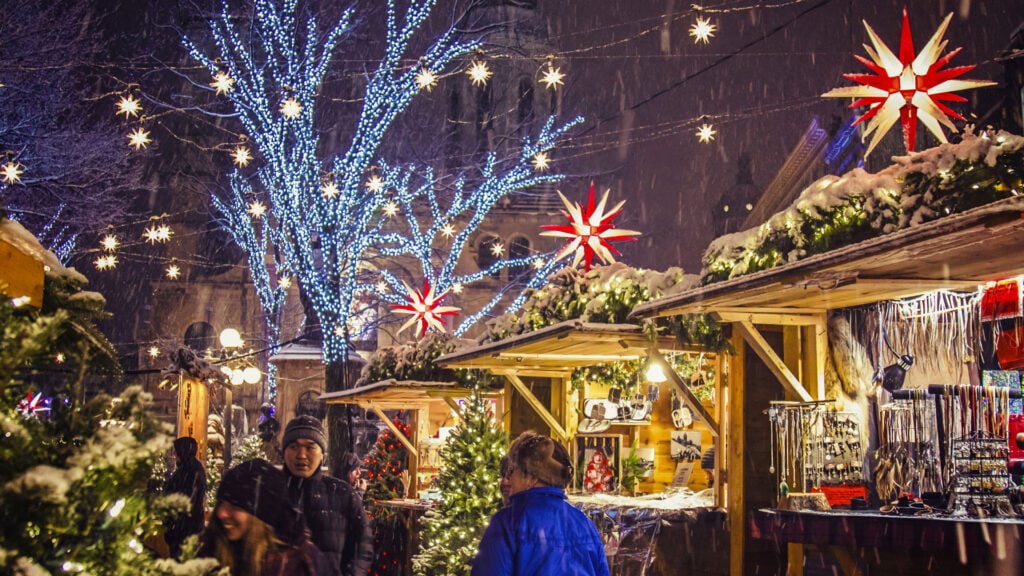 Where to Eat Quebec City Restaurants
If you are looking for a super version of Canada's National Dish Poutine this can easily be found in Lower Town. Not only poutine though you will discover all manner of fine dining, casual cafes, coffee shops and French-style terrasse bistros where you can dine outside.
Nina Pizza Napolitaine (multiple locations)
A true Italian pizza experience the outstanding pizzas spend a total of 90 seconds in a wood-fired oven before reaching your plate. Simply and pure ingredients top a base that will delight you. The place is kid friendly and serves some amazing burrata dishes and lovely cocktails.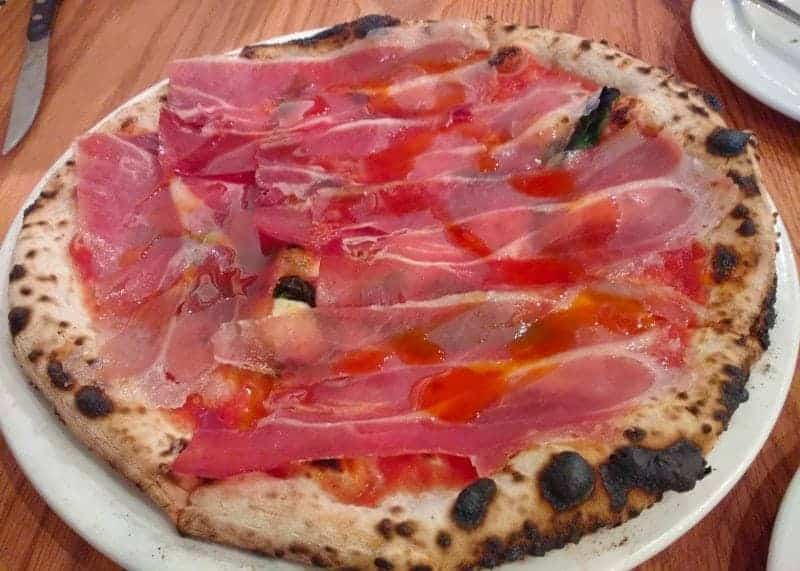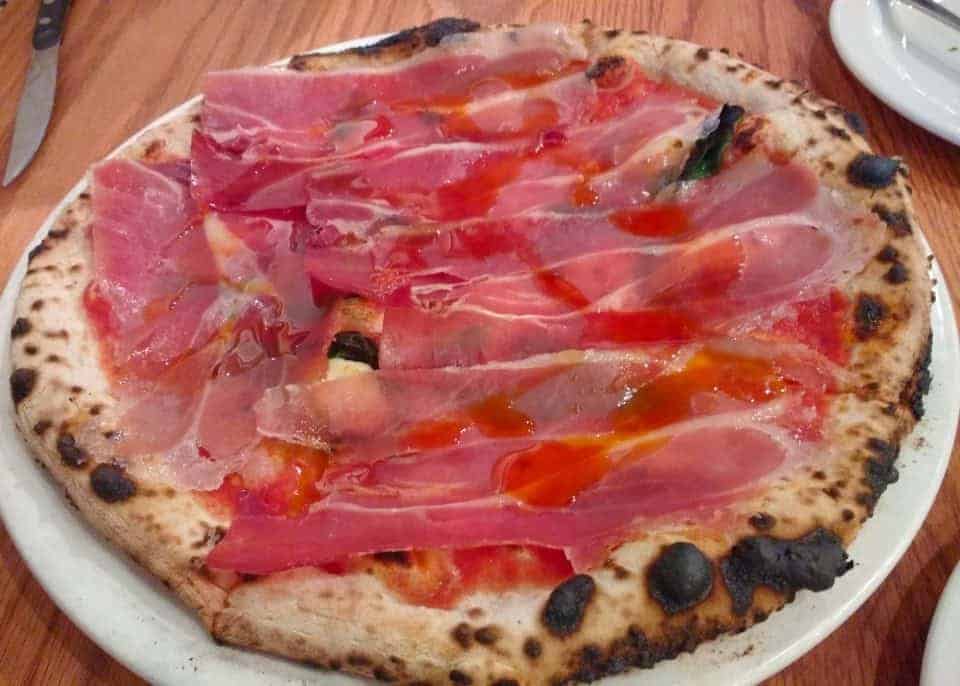 Hortus is rightly famous for its sustainable approach to the food it serves. There is a rooftop garden and beehives that feature in many recipes, and every ingredient used is traceable and 90% certified organic.
Le Pied Bleu celebrates the nose-to-tail of the pig, featuring charcuterie that puts the French to shame with a world-renowned blood sausage – Boudin Noir, classic French terrines, pâtés, and sous-vide dishes, all inspired by Quebec's terroir.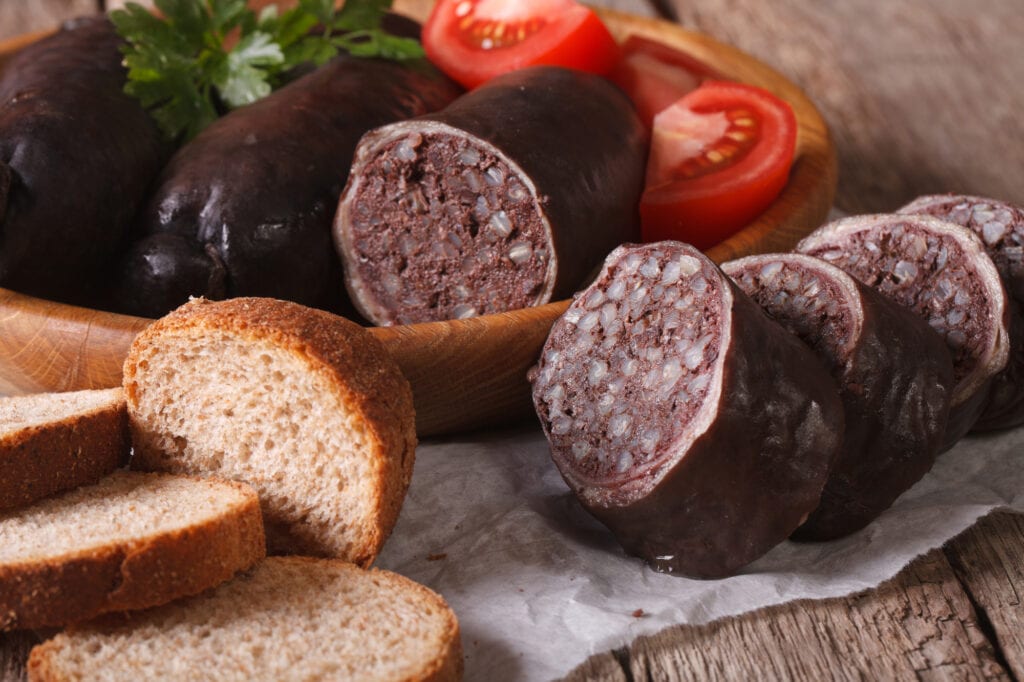 Young and incredibly talented chef Elliot Beaudoin offers a very personal interpretation of Quebec cuisine and thrives with ingredients that are fresh and local. Greatly inspired by the foods of Japan and elsewhere in the world, chef Beaudoin dishes unique flavour combinations for a modern take on Quebec's roots.
Set in a former general store founded in 1860 of the same name, you feel like you have travelled back to the past. Brunch is a must here, particularly when enjoyed with a side of homemade Boudin.
A phenomenal vegan restaurant serving seasonally inspired dishes, soups and desserts to die for.
Things to do outside Quebec City
Hotel de Glace
See North America's only ice hotel located a few minutes from downtown Quebec City there are massive interior snow vaults, ice sculptures, and 44 hotel suites ready to receive guests seeking to sleep in a winter wonderland. Hôtel de Glace, is rebuilt every year in a new theme and boasts dramatic décor. Sit and sip a cocktail served in a glass made entirely of ice and learn how this amazing structure is made. Sit and sip a cocktail served in a glass made entirely of ice and learn how this amazing structure is made.

Read more about Hotel de Glace Tour Ticket and Optional Cocktail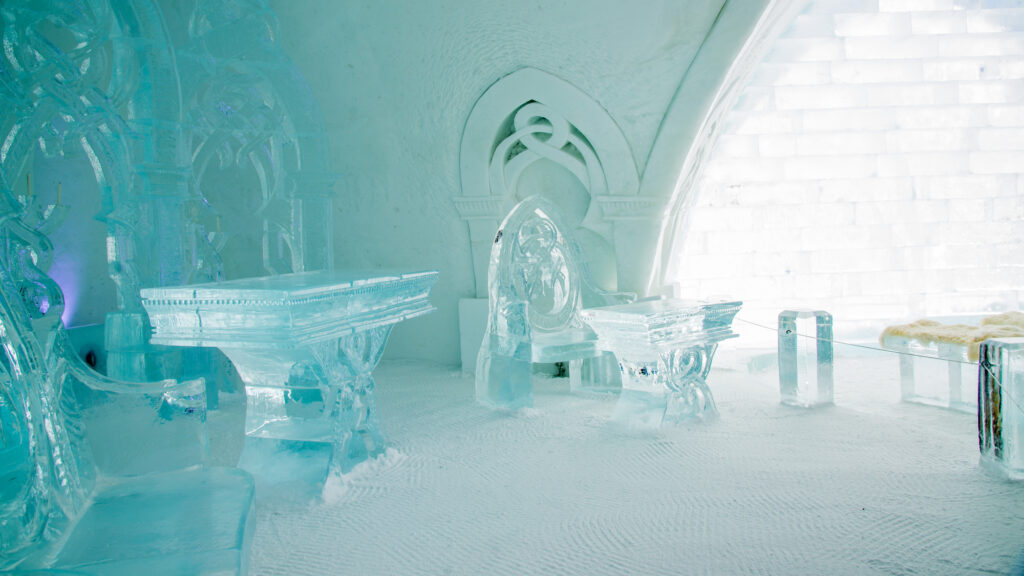 Montmorency Falls – Parc de la Chute-Montmorency
Montmorency is simply breathtaking, 30 metres higher than Niagara Falls and you can ride the cable car up and down the cliff to see this thundering rush of water. I have to admit as a kid it wowed me even more than Niagara. Even more exciting is the zipline. Perched at the top of the cliff and stretching some 300 metres, the zipline enables people to cross Montmorency Falls cove, before landing near La Baronne observation deck.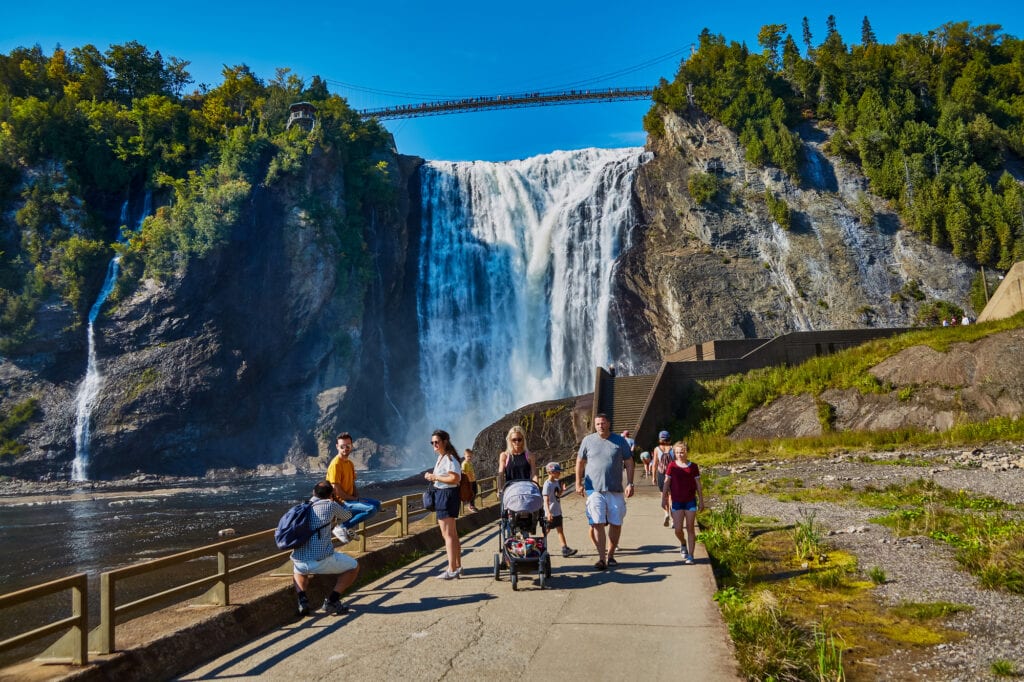 Basilica of Sainte Anne de Beaupre
Sainte-Anne-de-Beaupre is a small town close to Quebec City near the Falls where you have to visit the Basicilica a replica of the Scala Santa of Rome and it is dedicated to Saint Anne the grandmother of Jesus.
The entire ceiling mosaic of the Basilica describes the life of Saint Anne. At the heart of the apse, just above the main altar, you will see Saint Anne, the Virgin Mary and the child Jesus.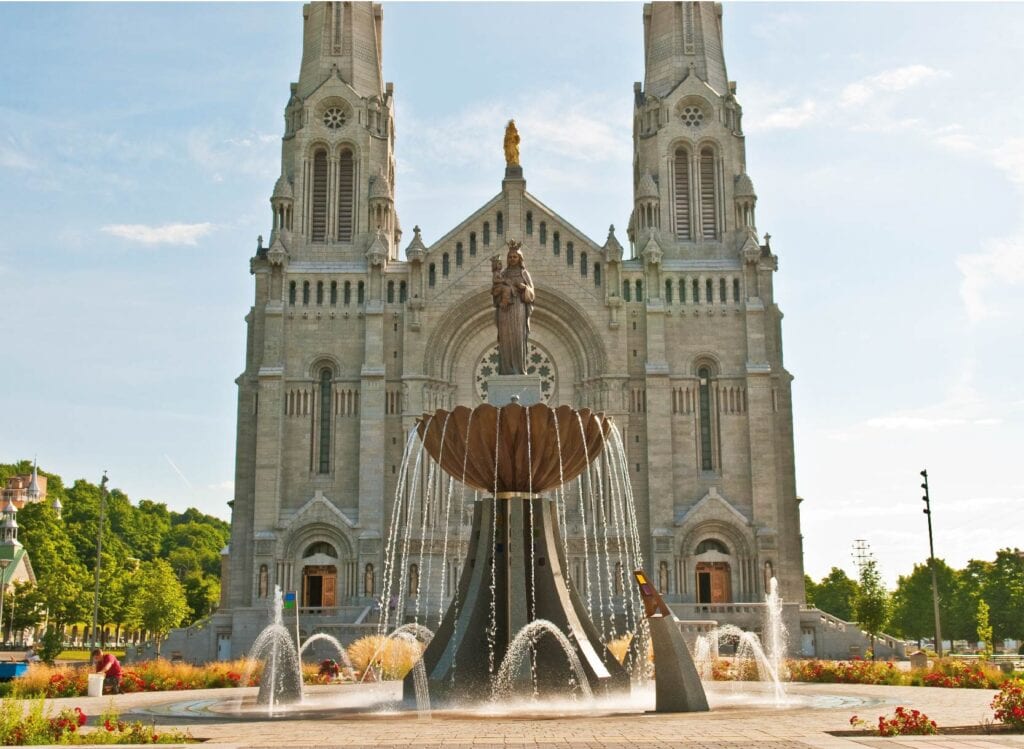 The Wendake Adventure
The native Huron-Wendat culture continues to be preserved and promoted at Wendake Nation in Quebec.
The descendants of the powerful Huron-Wendat nation live in Wendake, one of the only Amerindian villages located in an urban environment in Canada. Wendake has long been a cultural, political and economic centre for the Indigenous peoples of Quebec. Over the past few years, the Huron-Wendat community has worked hard to promote its heritage and has developed the cultural tourism section by creating a major heritage site that allows tourists to come and learn about the First Nations people of Canada.
How to get to Quebec City
Quebec City does have an International airport the Jean-Lesage International Airport, however, it is unlikely that in flying into Canada that this is the airport you will land at. More than likely you will fly to Toronto or Montreal which are the larger airports for international tourists.
You can fly from any of these airports and the Billy Bishop airport in the City of Toronto to Quebec City in just under 2 hours.
Taking a bus or train from Toronto will involve stops and changes and take around 9 hours. Your best bet is to rent a car and drive which will also be a 9-hour or so drive.
Where to Stay in Quebec City
Chateau Frontenac
Situated in Old Quebec, the Chateau Frontenac property boasts views of the St. Lawrence River. On-site restaurants offer a variety of dining options, from classic to regional dishes. Montmorency National Park is a 2-minute drive away.
Guests of the Fairmont are welcome to enjoy the indoor pool, hot tub and steam rooms. A fitness room, business centre and concierge services are also available. Guests can enjoy a variety of treatments at the Spa du Château, the on-site spa.
Chateau Laurier
The Chateau Laurier is located in Old Quebec, about a 15 minutes walk from the St Lawrence River, next to the Plains of Abraham and the Citadelle of Quebec City. It features an indoor saltwater pool and an outdoor hot tub in an inner courtyard.
Les Lofts de Buade
Les Lofts is an entire luxury apartment that sleeps 2, with a well-equipped kitchen and is centrally located near the Fairmont Le Chateau Frontenac is 200 m from Les Lofts de Buade, while Terrasse Dufferin is 300 m from the property. The nearest airport is Québec City Jean Lesage International Airport, 15 km from Les Lofts de Buade.
As you can see there are many things to do in Quebec city – what are you adding to your bucket list?
You might also like
Indigenous foods around the world
16 Free Things to Do in Niagara Falls, Canada (From a Local)
10 Most Haunted Places in Canada
Only in Canada, eh? 17 Things to Know about Canadian Culture
22 Food Trucks across Canada to try
11 Memorable things to experience in Toronto Canada
pin it to save it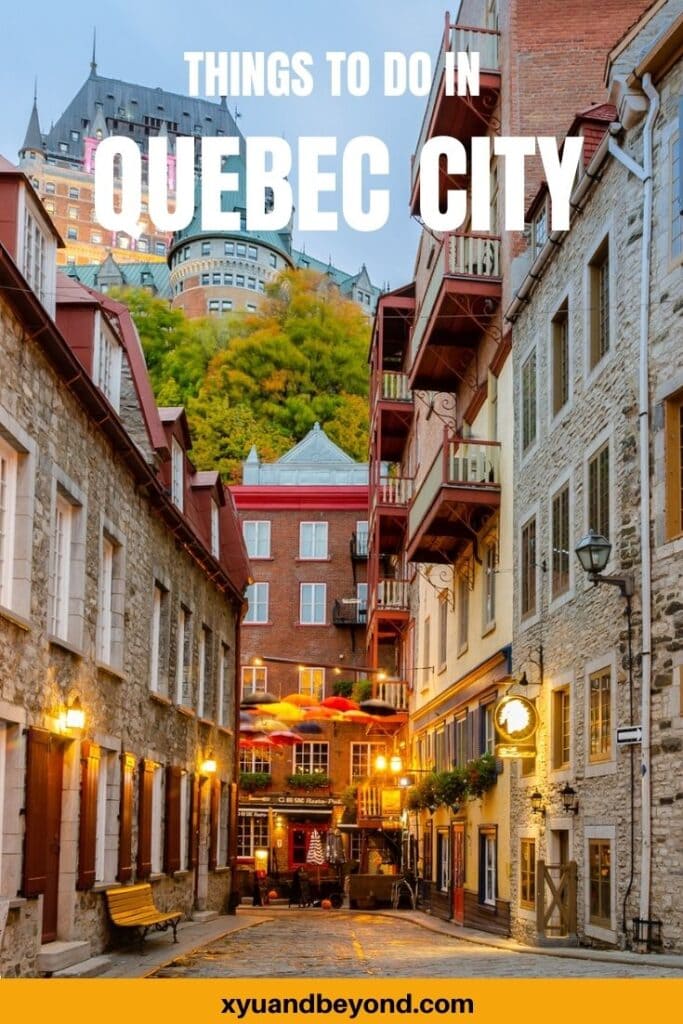 Latest posts by Faith Coates
(see all)