22 Fabulous Food Trucks across Canada to try
I can't think of anyone who doesn't love a food truck, except perhaps the very early boomers who still believe in cutlery. Personally, I am a huge fan of food trucks and will search them out whenever I can.
It cannot be easy to operate food trucks in Canada thanks to the weather. I would think in many places the food trucks can't be open due to snow and intense cold. So I truly admire those Canadian food trucks that keep going when they can.
Despite the weather, food trucks can be found operating all across Canada and can be found all over the world. They appear at festivals, special events, fairs and holidays. Have you got a favourite food truck?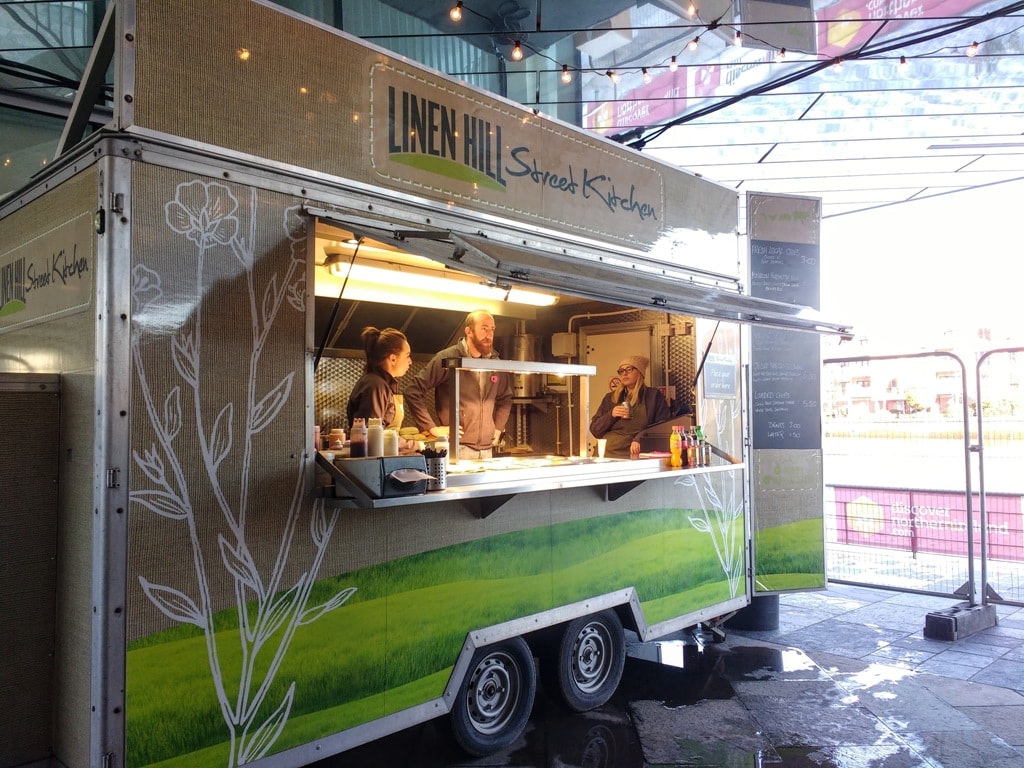 Food Trucks in Canada
Hiawatha's Food Truck – Manitoulin Island
Located on Manitoulin Island in Ontario, Hiawatha's Food Truck is a definite must-do when visiting the area. The owner, Hiawatha Osawamick, prides herself on being able to serve healthy food to her community quickly.
You can find Hiawatha's Food Truck at 1900 Wikwemikong Way. The truck is parked in a field on Monument Hill next to the Zipp Thru Gas Bar, just south of the village of Wiikwemkoong.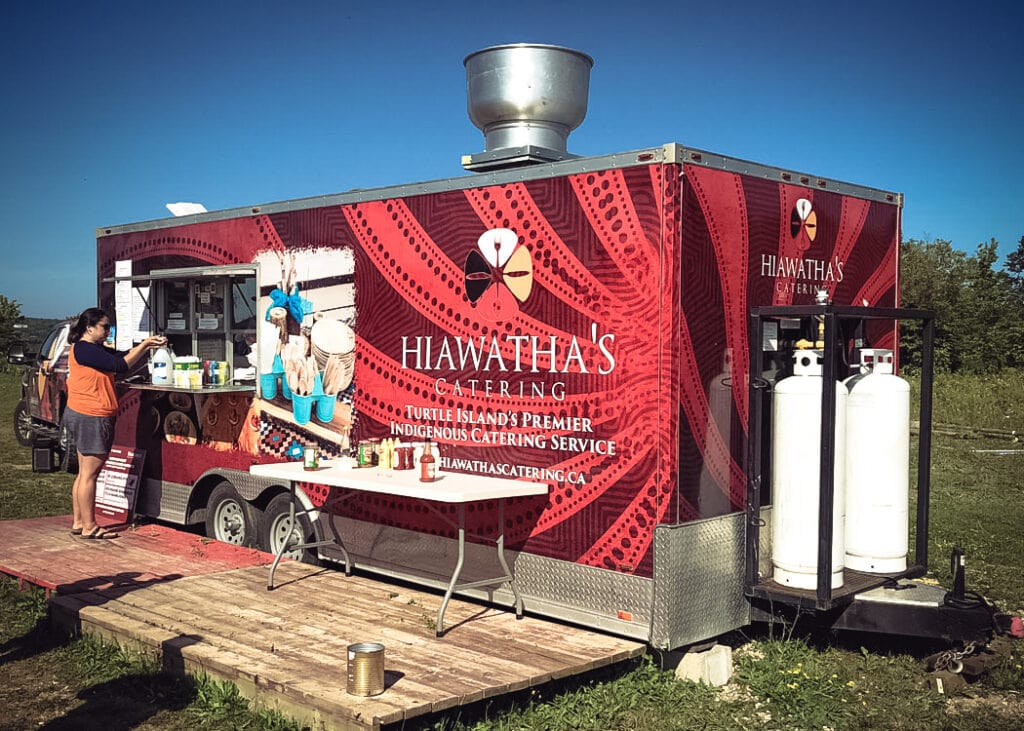 There are picnic tables set up for those who prefer to eat on-site, or you can choose to have your food to go. Hiawatha's is extremely popular, so don't be surprised when you see a ton of cars and a pretty long lineup. But is it ever worth it!!
You will find amazing food at reasonable prices. The menu at Hiawawtha's is focused on traditional Indigenous meals like fish, wild rice and game meat in addition to typical food truck fare like fries and poutine.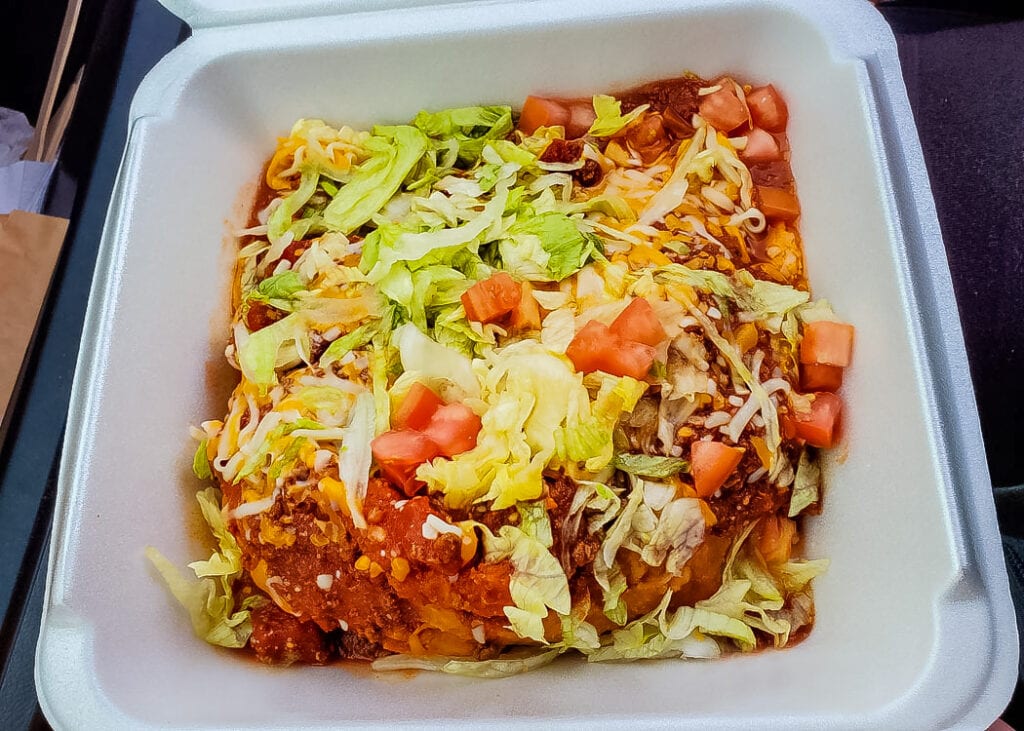 During our visit to Hiawatha's Food Truck, we ordered the Bison Nish Noodle. This incredible dish was made up of roasted bison, veggies, rice noodles smothered in a honey glaze sauce, and a slice of maple butter baked bannock (Indigenous bread) on the side.
We also gave the Nish Tacos a try. This dish was made up of skaan (scone), minced beef, cheese, lettuce, and tomato. Absolutely delicious!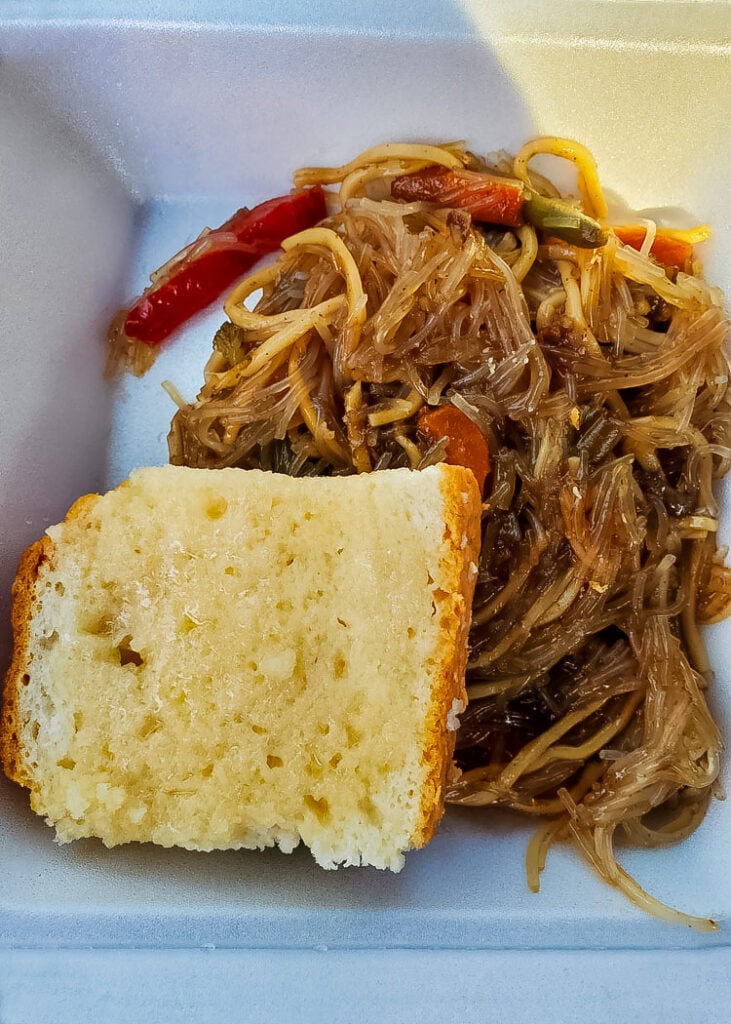 The flavours were rich and the veggies fresh. The warm bannock was soooo good!! Although the menu items change daily, you really can't go wrong with anything that is on offer at Hiawatha's!
Hiawatha's food trailer is open seasonally from 4 to 8 pm on Wednesday to Sunday. Contributed by Marianne of The Journeying Giordanos.
Around the World in 80 Tacos – Barrie, Ontario
One of the best food trucks in Canada can be found in Barrie, Ontario! For those who don't know, one of the top things to do in Barrie is eat! The city has a wealth of great restaurants and almost of dozen fabulous food trucks, but one stands out among the rest.
Around the World in 80 Tacos is a must-visit for any foodie travelling through Barrie. You can find the food truck at 140 Vespra Street, which is less than a five-minute drive from downtown Barrie. You can also sometimes find it located along the lakeshore.
Around the World in 80 Tacos specializes in yes, tacos! The owner and chef, Troy Salazar, has over 20 years of cooking experience and wanted to create something new to the food truck scene. So, he created his bright blue food truck and a menu of gourmet tacos representing cuisine from around the world. These tacos are made with fresh ingredients and there's something on the menu for everyone! Whether you're vegetarian or looking for something spicy, there's a taco for you! A few crowd favourites include the Greek Tacos and the Teriyako Tacos.
Why is it one of the best? The price is great! At two tacos for $15, you're getting a big, fresh meal that's budget-friendly. Plus, they offer various deals, like taco Tuesday and more! Stephanie from The World As I See It
Ol School Donuts – Dartmouth NS
You'll find Ol School Donuts in a bright red school bus that's been redone into a mobile donut bus. Selling old fashioned donuts just like Granny used to make, you'll not only get amazing tasting donuts, but also fantastic service. It's one of the best places to eat in Dartmouth if you're looking for a tasty snack!
Freshly made, these mini donuts come in a pack of ten with options of two different toppings – for only $6! There's also a party box of 36 donuts available for $20.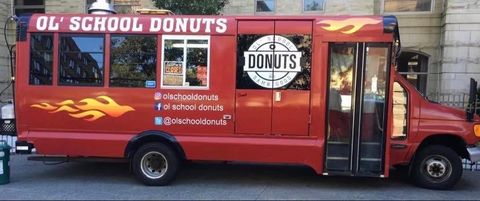 While any donut is pretty tasty, the ones from Ol School Donuts have a perfect texture; slightly crisp on the outside and airy on the inside. They almost melt in your mouth! Topping are sweet and decadent, but oh so worth it!
Thinking outside the box with flavours such as caramel skor, cherry chocolate, and peanut butter cup to more traditional donut flavours like Boston crème, there are plenty of options to choose from.
The caramel skor is a delicious combo of chocolate drizzle and crushed skor bar – if you're a chocolate fan, this one is for you!
You can find Ol School Donuts every weekend from 12-4 pm at Dartmouth Crossing in the Canadian Tire parking lot, but they are sometimes on the move and this food truck is worth tracking down wherever they may be! Where else can you get amazing donuts at that kind of price?? Contributed by Erin of Wanderlust with Kids.
Tacofino – Vancouver
One of the most genius combinations for food trucks in Canada has got to be surfing and burritos. Tacofino is a food truck in Tofino, British Columbia, serving up the best tacos, burritos, and chips at lunch to the dawn patrol surfers out on the morning waves.
With 13 locations spread out between Vancouver and Vancouver Island, we ate at their original location (Tofino) during our Vancouver Island road trip.
To find the food truck, drive 5 minutes south from Tofino on the Pacific Rim Highway (Hwy 4). Turn left into a parking lot that includes Beaches Grocery, Wildside Grill, and Tofitian Cafe. It's located in the back of the parking lot, with plenty of spaces. You can order at the window and eat and their outside picnic tables or take food back to your car if it's raining.
We tried both the burritos and the gringas (a smaller burrito), which included meat, sour cream, salsa, cabbage, chipotle mayo, and guacamole. While everything on their menu is tasty, their signature dishes are their tacos. You order them in singles, which means you can mix and match up to 3-4 to make the perfect meal combination. Visitors should definitely try their Fish Tacos or Tuna-Ta Taco. Given their location, you know their seafood is incredibly fresh, probably delivered to the food truck that very day! Costs range between $6-$8 for single tacos, $13-$15 for burritos, and $6-$8 for gringas. Contributed by Emily of the Mandagies.
Rick's Good Eats – Mississauga, ON
How could you ever pass up a fusion feast of innovative homestyle Punjabi-Canadian cuisine, always with a fusion twist. From gourmet samosas, like the Butter Chicken Samosa, Jerk Chicken Samosa, a vegan Dosa Potato Samosa. Also on the menu are desserts, like the Ras Malai Cheesecake Samosa dusted with cinnamon sugar.
Or how about the tempting Loaded Fries that are a top seller and are fully loaded in either Butter Chicken or Shahi Paneer along with many other fixings. Something else to look out for is their Tandoori Fried Chicken, which is 24-hour marinated, double-fried, coated in two sauces and served on Masala Fries––this dish was the winner at the Fried Chicken Festival in Mississauga.
Cheese Boutique Food Truck – Toronto, ON
I've been a Cheese Boutique fan for many years and heard about their food truck through friends of mine. Thanks to the recent world situation the folks at the Cheese Boutique have changed up their food truck to hosting various chefs from across the GTA.
The takeover involves different GTA restaurants serving up some seriously great eats. Some of the takeovers this past summer included the teams from The Chicken Cartel, Stush Patties and Rodie -AKA the Marben Restaurant folks in Toronto.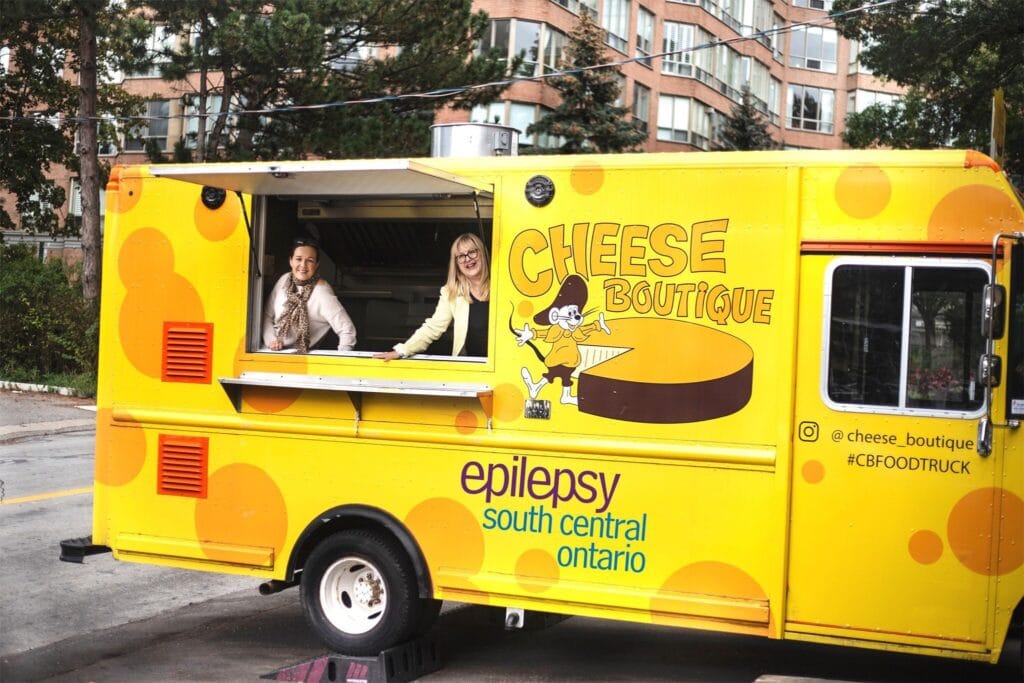 Jerk Brothers – Toronto, ON
Offering the best in Caribbean flavours in Toronto the Jerk Brothers now have 3 food trucks. Expect traditional Jamaican staples when you go: jerk and curry chicken and jerk poutine Jamaican patties, oxtail and fried plantains to name a few. You can even hire their truck for your wedding.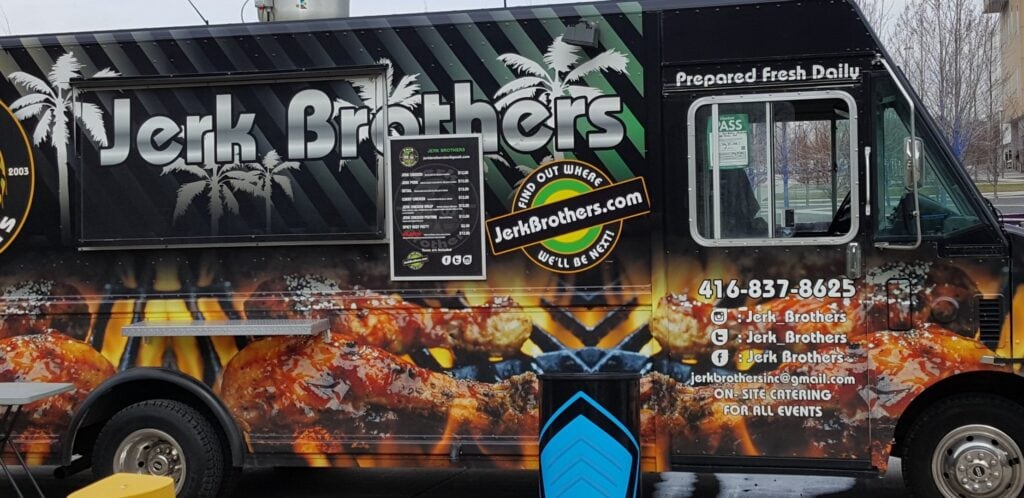 Mr. Pierogi
Mr. Pierogi is a food truck that specializes in one thing and one thing alone: pierogis. At Mr Pierogi, they stick to traditional preparation methods of pierogi stuffed with cheese and potato each dish has a unique twist. There are 20 different toppings including Butter Chicken, Greek, Poutine and Taco to name a few.
I must not forget the sweet ones as well how about Caramelized Apple? With its sweet cottage cheese, berries and whipped cream these are massively addictive.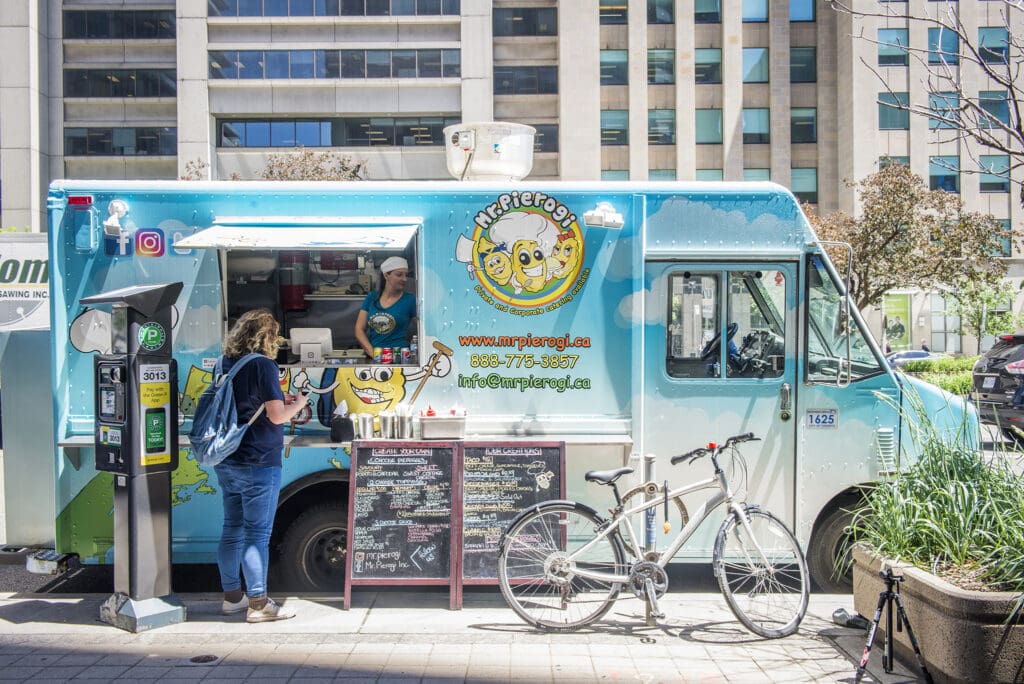 BeaverTails – across Canada
I've seen the Beaver Tails trucks at virtually every festival I ever attended. A Beaver Tail is a delicious deep-fried big flat piece of soft and crispy dough served with a multitude of toppings. Flavours include cinnamon sugar, chocolate banana, apple cinnamon and maple butter.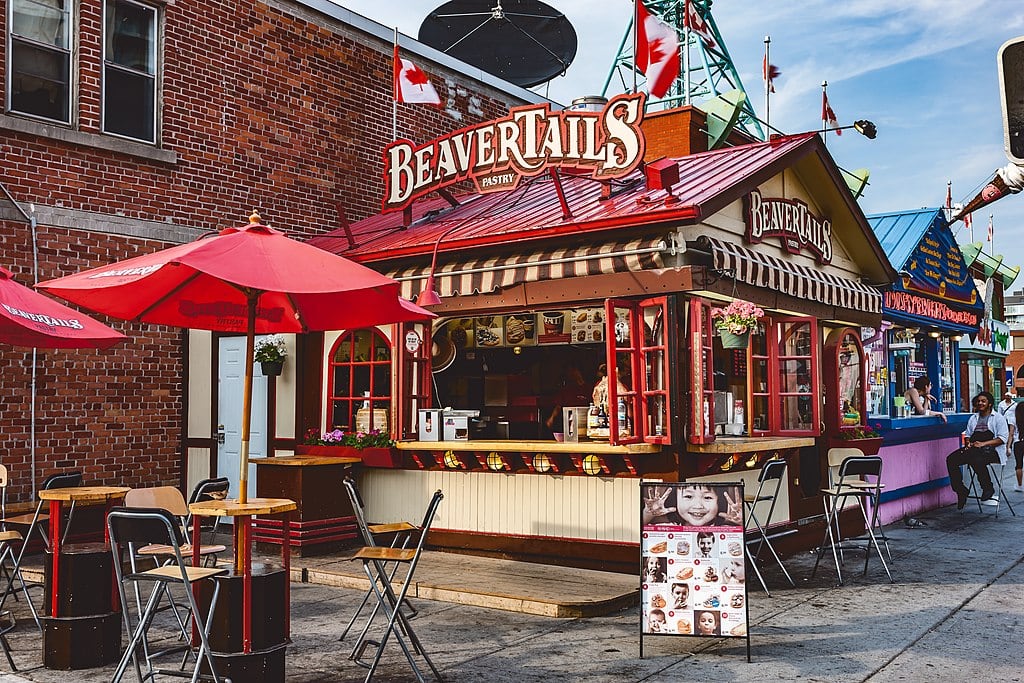 Bangkok Thai Food Truck – Moncton, NB
If you've got a craving for Thai food and you're on the go, seek out this truck that roams the Maritimes. After moving to Canada from Thailand over a decade ago, owner Jariya O'Brien started selling Pad Thai and spring rolls at a local market as a hobby. As popularity grew, the chef's small operation grew into that now offers various dishes.
Goodah Gastro – London, ON
The goal; the mission; the purpose…To provide Londoners with gourmet grilled cheese sandwiches made from quality cheeses, fresh-baked breads, and other locally sourced ingredients.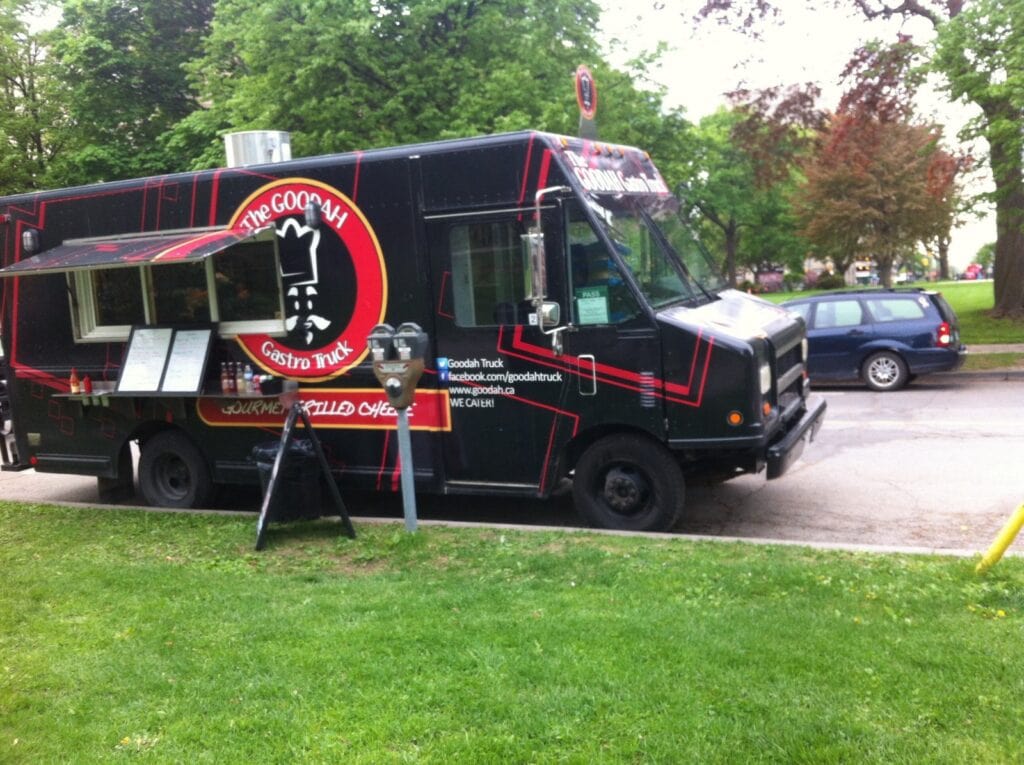 Tikka Tomato – London, ON
Tikka Tomato creates and serves flavourful, high-quality Indian eats. Their flavour combinations are inspired by the culinary traditions of Indian, Canadian, European, and beyond.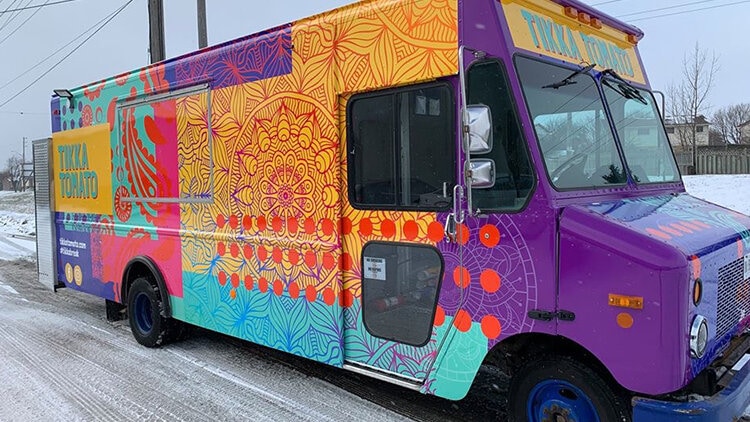 Big Daddy Bacon – London, ON
Big Daddy Bacon has a passion for Bacon! Their mission is to serve bacon lovers everywhere. Homemade Smoked Back Bacon and Legendary "Bacon Shots" are hot menu items.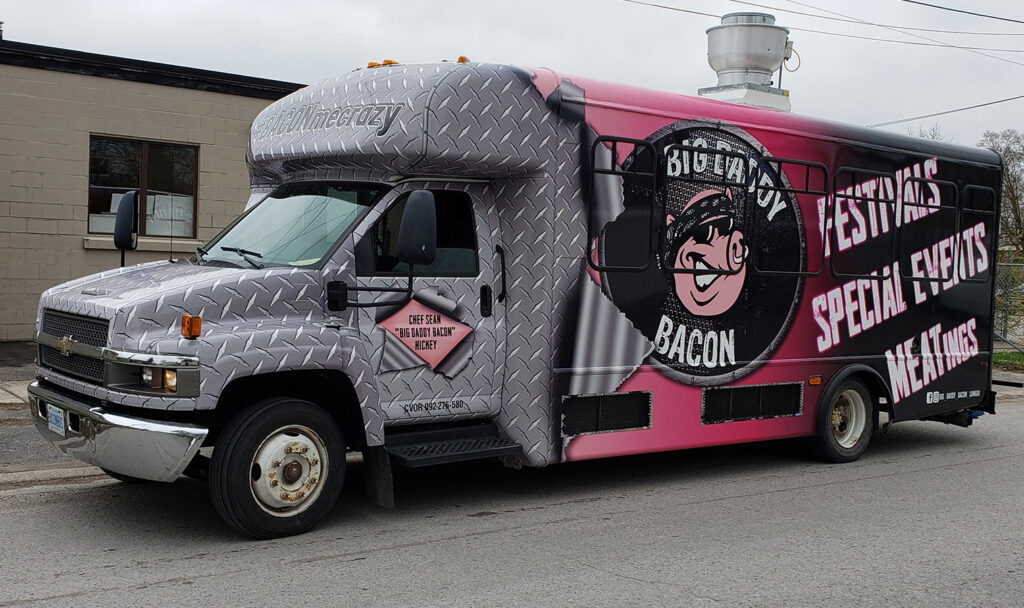 Randy's Roti – Hamilton & Toronto
Randy's Roti is one of the few places I know near my hometown that serves Doubles. Delicious food in the Hamilton and Toronto areas, serving classic Indian and North American dishes, with halal and vegetarian options. Try the poutine, roti, and more!
By the way, Doubles are a Caribbean treat that is 2 flat round flatbread type of dough that is fried and filled with curried chickpeas and chutney.
Kathi Roll Eatery – Brampton and GTA
Kathi rolls are essentially wraps made with griddled Indian flatbread stuffed with richly marinated meats and an egg. As Indian food is known for its robust, aromatic spices, each and every menu item at this truck is packed with flavour. In addition to all things kathi roll, you'll find a bounty of Mexican-Indian fusion foods here.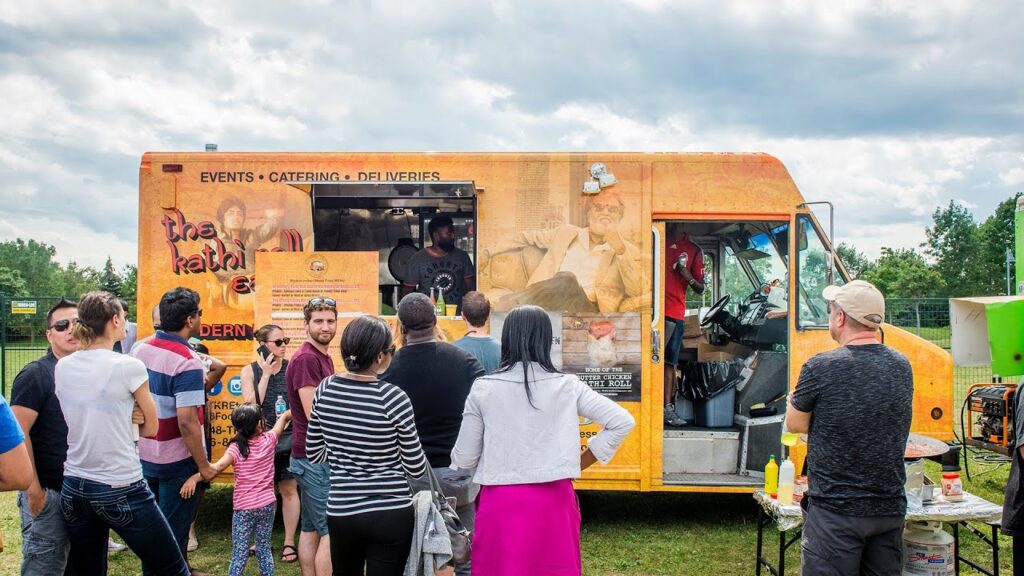 Big Boy Baos – Newfoundland
You might be wondering, what is a bao? Well, it's a type of Chinese bun that has a very unique texture when compared to your average loaf of bread. They usually have some kind of filling, but Big Boy Baos splits theirs open and creates a burger-like snack, among other things.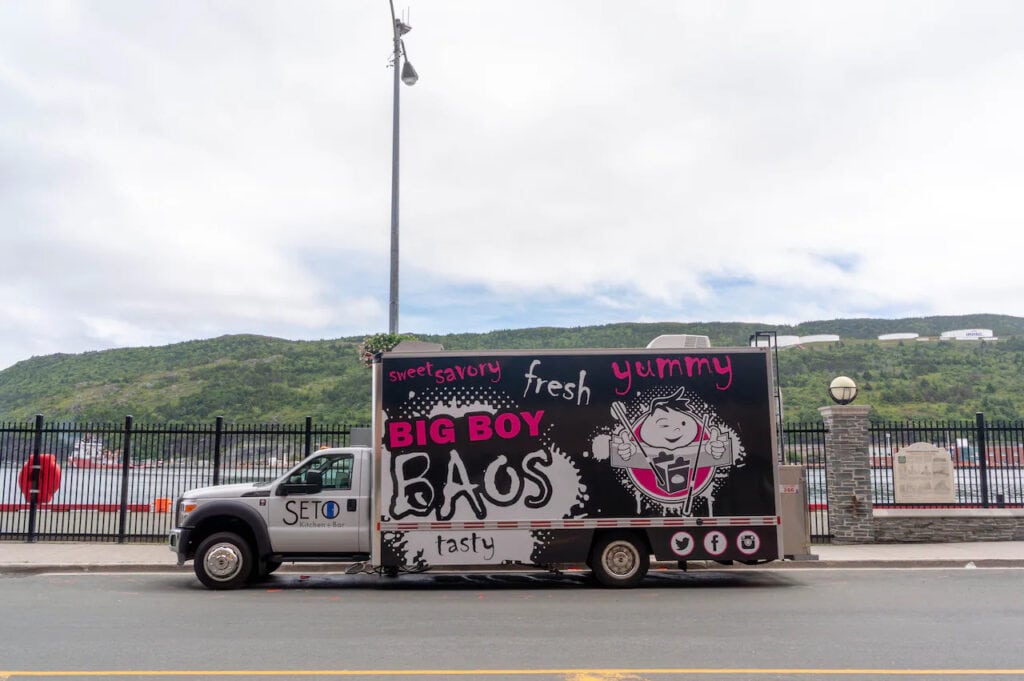 Saga Cuisine Nomade – Quebec
You will find the Saga Cuisine Nomade around the streets of Old Quebec city. This is Wendake First Nations indigenous food from the much-acclaimed Wendake dining spot, Restaurant Sagamité. They offer wood-fired game meats enhanced with the traditional "Three Sisters": Squash, corn, and beans. Tuck into the deliciously gamey elk burger or Guineafowl poutine with crispy fried onions sprinkled on top. Or try the favourite: a venison burrito, a familiar dish packed with delightfully unusual flavours.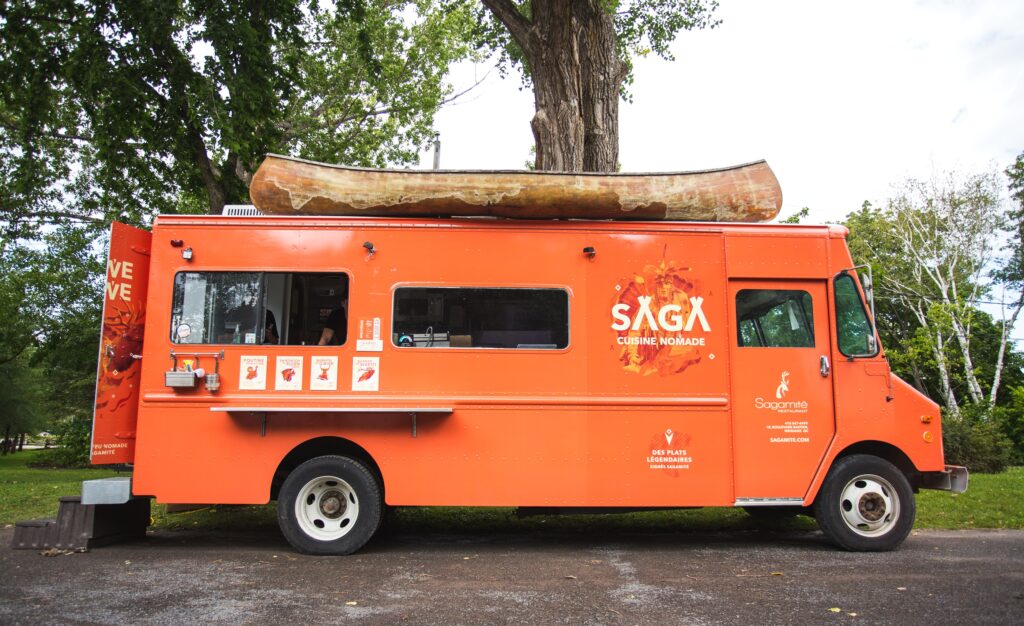 Rebel Melt Food Truck – Saskatoon
Rebel Melt Food Truck is a family-owned food truck serving in Saskatoon city. The food truck serves delicious street dishes and handcrafted beverages. They make their food from scratch and use only premium quality products. Rebel Melt delivers fresh-made hillbilly-inspired grilled sandwiches and other yummy vittles.
Their famous dish, The Pickled Melt, comprises Mozza & double cheddar with tangy, and crispy breaded dill pickle spears in the middle. Just taste their The Rebel Melt, which contains their award-winning signature 'sammich' loaded up with crispy bacon and smoked gouda.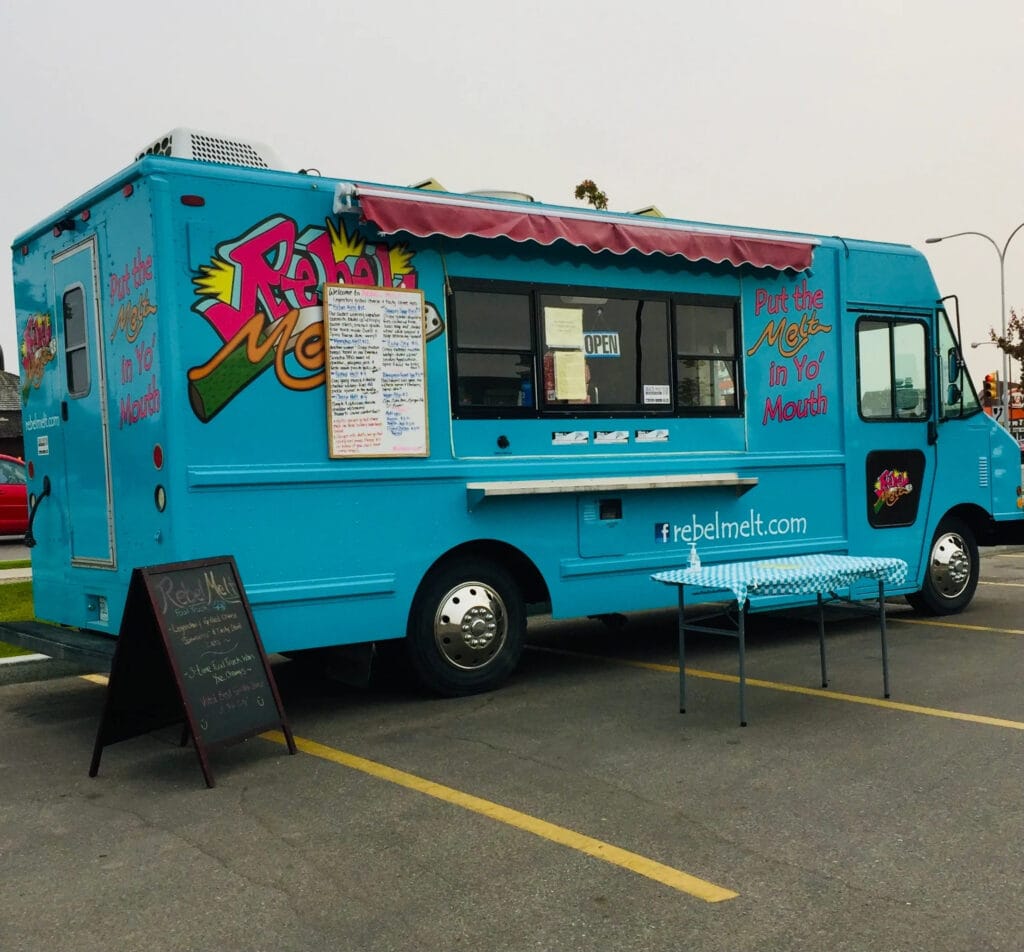 SAJetarian – Vancouver
The folks at SAJetarian are, as the name would imply, all about saj. What is saj? It's a foldable Middle Eastern bread with a mild taste that pairs perfectly with nearly everything, making it a great accompaniment to a wide range of meals.
Saj comes served up in a variety of dishes here. You can grab it slathered in hummus, smothered in melted cheese, or dipped in a tart strained yoghurt. Have a saj wrap, stuffed with a variety of tantalizing ingredients. From ground savory chicken to garlic cucumbers to a traditional Middle Eastern coleslaw.
Mr Bannock – Vancouver
Mr. Bannock owned and operated by Chef Paul is a trained Chef from the Squamish nation who has been specializing in Indigenous Cuisine since 2010.
Paul says "I take a lot of pride and joy in sharing Indigenous-fusion cuisine, using traditional ingredients from the Squamish First Nation — such as juniper berries, smoked wild salmon and meats — and traditional methods, such as clay and stone baking." Currently, Mr Bannock is working up a new menu for launch in spring 2022.
Little Truck on the Prarie – Calgary
Lil' Truck On The Prairie has been around since 2017 serving an eclectic menu of casual-gourmet food. At the truck, you'll find delicious, unique menu items made from fresh, locally sourced, ethically raised ingredients. Must-tries include the Bison Burger or how about Beer Mac 'n Cheese? You can also have Duck fat fries or roasted chicken on a biscuit.

Mi Corazon, Montreal, QC
What's better than Mexican street food at its finest? Vegan-Fusion Mexican street food it's finest – that's what! Montreal's Mi Corazon has stolen the hearts of foodies since 2015 when owner-chef Rafael Martinez first came on the scene. Almost everything is made in-truck and uses some of the finest ingredients and flavours to represent the diverse regions of Mexico, mixing into local favourites – like poutine.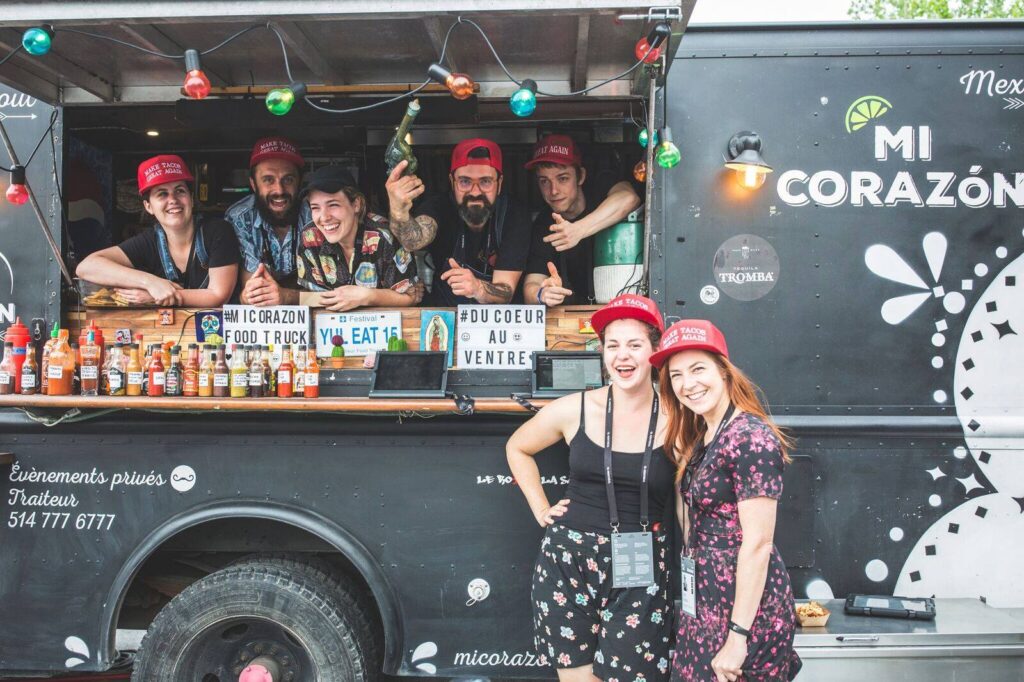 If you know of more food trucks across Canada that you would recommend let me know and I will add them to the list.
You might also like
Two of the best Pizzas in Toronto Canada
148 National Dishes of countries around the world
Only in Canada, eh? 17 Things to Know about Canadian Culture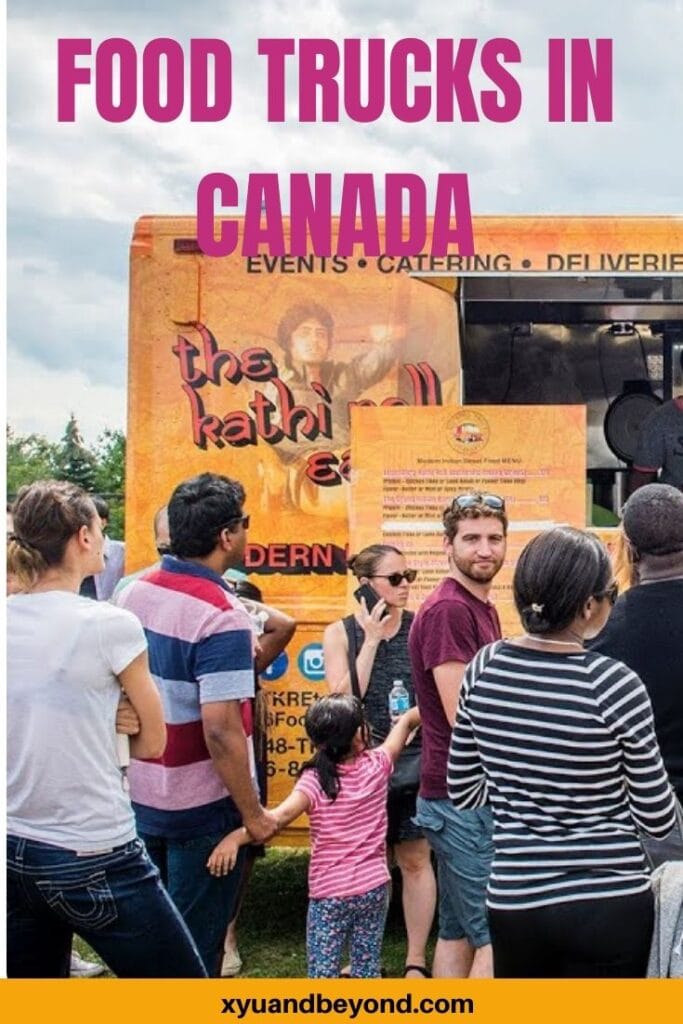 Latest posts by Faith Coates
(see all)