21 Best food markets in Canada
Yes, I'm a food tourist and no matter what country I travel to I will always scope out a food market or food hall to ensure I don't miss the best food in that area. Finding the best food markets in Canada – my home country is one of my absolute favourite things to do.
I believe that food markets in particular Farmer's Markets are a microcosm of a community and can teach you everything you need to know about a particular culture.
The new Food Hall trend is definitely one I can get on board with. Food Halls are a perfect way to introduce hungry customers to new cuisines, fusion foods and multi-cultural foods in an affordable way. That's affordable for both the vendor and their customer.
Let's clarify a little here since many folks don't know the difference between a Farmers Market, a Food Hall and a Food Market.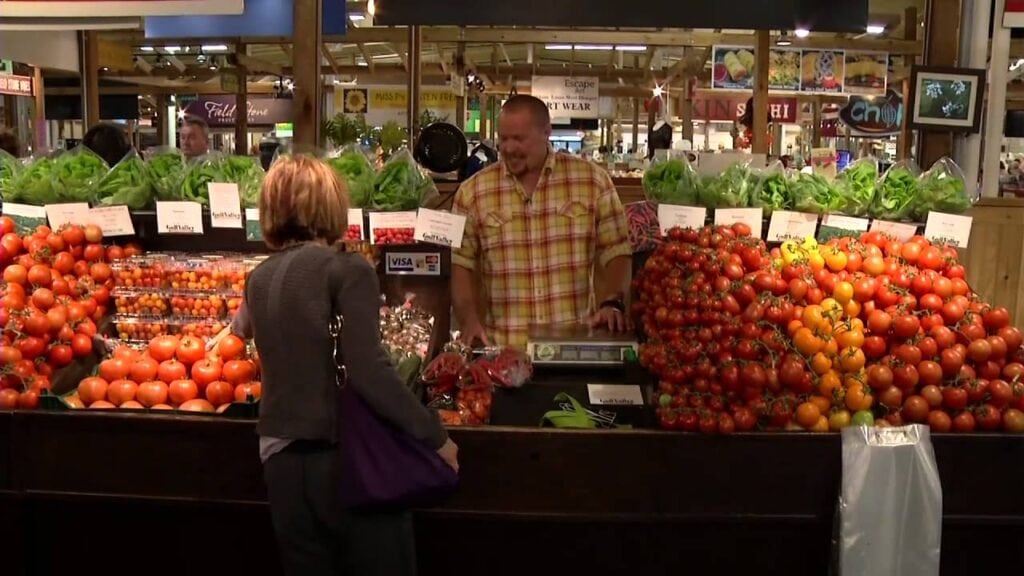 What is a Farmer's Market?
According to the farmer's market coalition, a farmers market is a "public and recurring assembly of farmers or their representatives selling the food that they produced directly to consumers". By cutting out middlemen, farmers receive more our food dollars and shoppers receive the freshest and most flavorful food in their area and local economies prosper.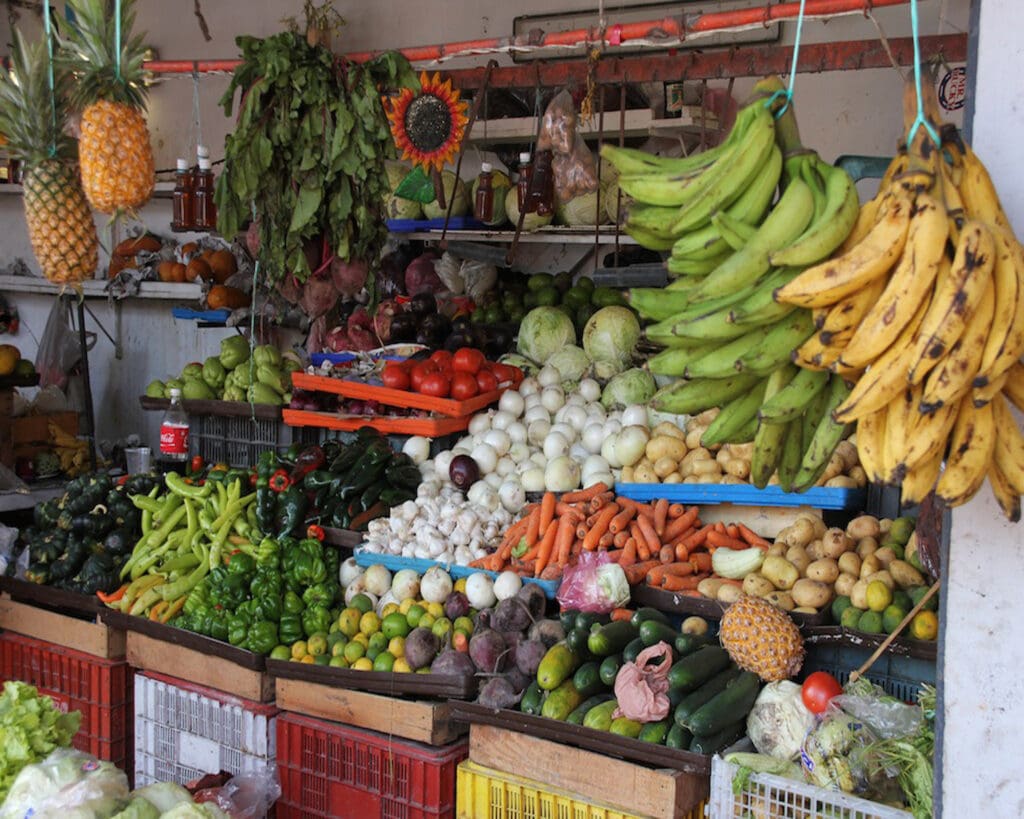 What is a Food Hall?
According to Wikipedia – Unlike food courts made up of fast-food chains, food halls typically mix local artisan restaurants, butcher shops and other food-oriented boutiques under one roof.
The concept is fairly common throughout Europe and Asia. The most famous food halls are those in London department stores like Harrods and Fortnum and Mason, featuring piles of confections, row upon row of boxes of tea, cases full of cheese, and tins of fish and meat, with sit-down restaurant counters where you can enjoy some of the world's best food.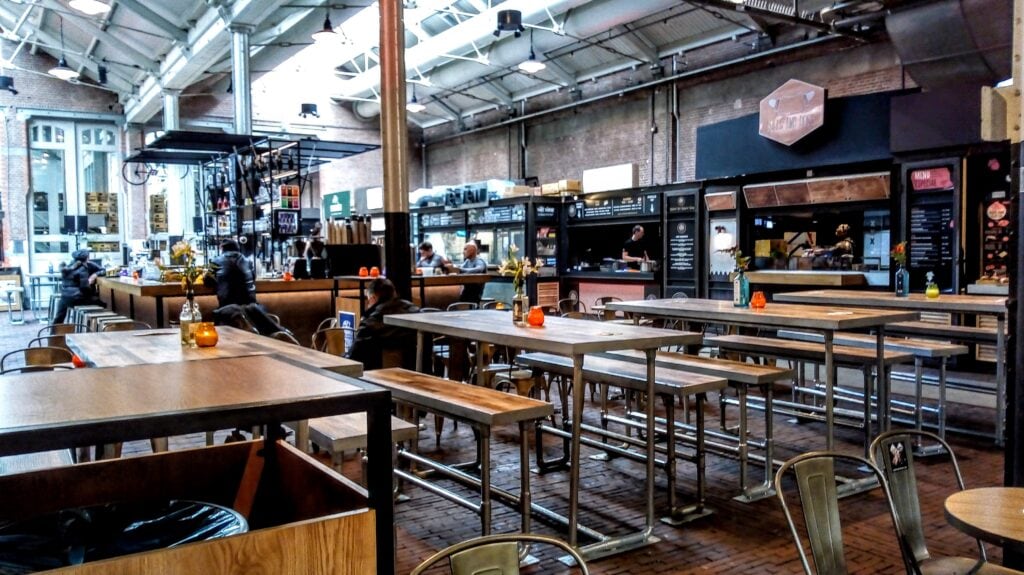 What is a Market?
Well, you can use the traditional explanation that is a market is a physical place where we go to buy food or other products, or for the small farmer or produce grower, the local gathering where they sell their produce.
Over the years, these have included flea markets, antique markets, street food markets and food markets. All over the world, you can find famous markets selling virtually everything to everyone. We have some of the best food markets Canada – many focus on presenting fresh locally grown products and crafts.
So this article includes a bit of everything that travel writers consider the best food markets and food halls in North America.
21 Best food markets in Canada
Food markets and food halls in Quebec
Le Central Food Hall
Is located in Montreal and a brilliant place to enjoy food from classic Neapolitan pizzas to traditional and new poutines, Tapas, pastille and fabulous south Asian foods. You don't need to make a reservation and you can enjoy some gastronomic creativity and discover new Chefs, brewers, organic wines, cocktails, flavoured gins and more. A place to simply try new things and discover new culinary journeys.
Time Out Market
The Time Out concept was launched in Portugal in 2014, and launched inside the city's historic market, Mercado da Ribeira. The Montreal location is the 5th food hall launched by Time Out.
Spread across 40,000 square feet, the cultural and culinary destination packs 16 eateries, three bars, a demo kitchen, a cooking school, and a retail space, in addition to cultural spaces for art installations, music, and more.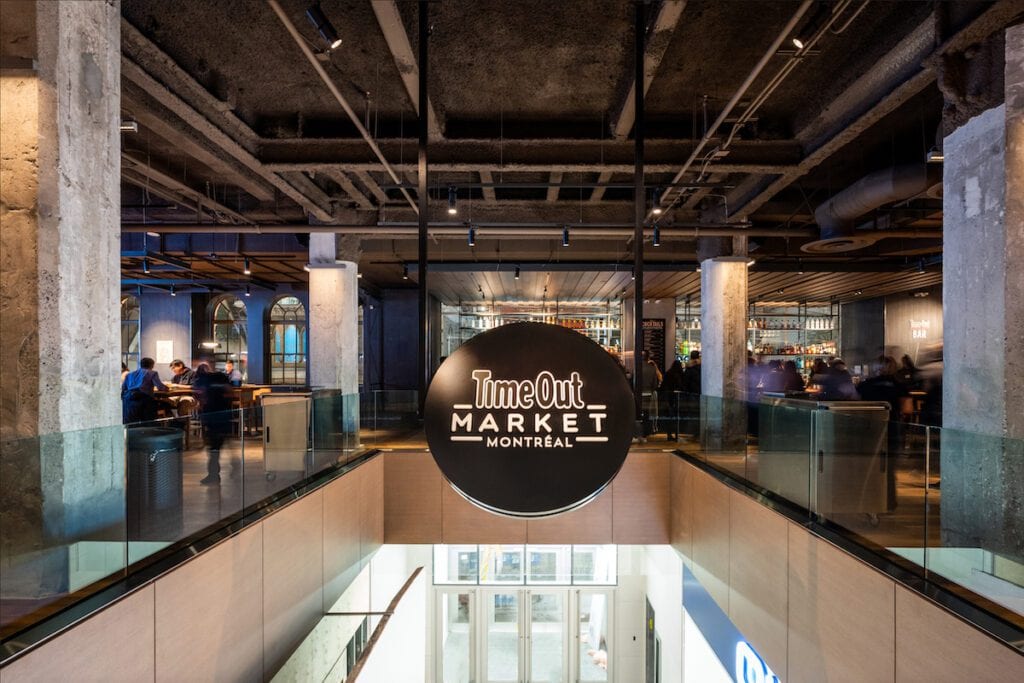 Marche Atwater – Montreal
This is one of Montreal's favourite markets and it is open year-round, from 9 a.m. to 5 p.m. on weekdays, and from 9 a.m. to 5 p.m. on weekends. The Atwater Market is the place to head to for fresh, seasonal foods.
The outdoor season begins with the arrival of the first horticulturalists, followed by market gardeners. Then, in an atmosphere redolent with the scent of flowers, herbs and other typical market aromas, you can stroll through the various outdoor aisles and see vendors new and old.
During the summer season, be sure to visit the Pôle des saveurs, a focal point for innovative and tasty fast food. Its restaurateurs offer Vietnamese and Reunion Island cuisine, barbecue, tapas, ice cream and other refreshments. Set yourself down at one of the picnic tables at the Pôle, or on the large patio facing the Lachine Canal and let your tastebuds be tempted.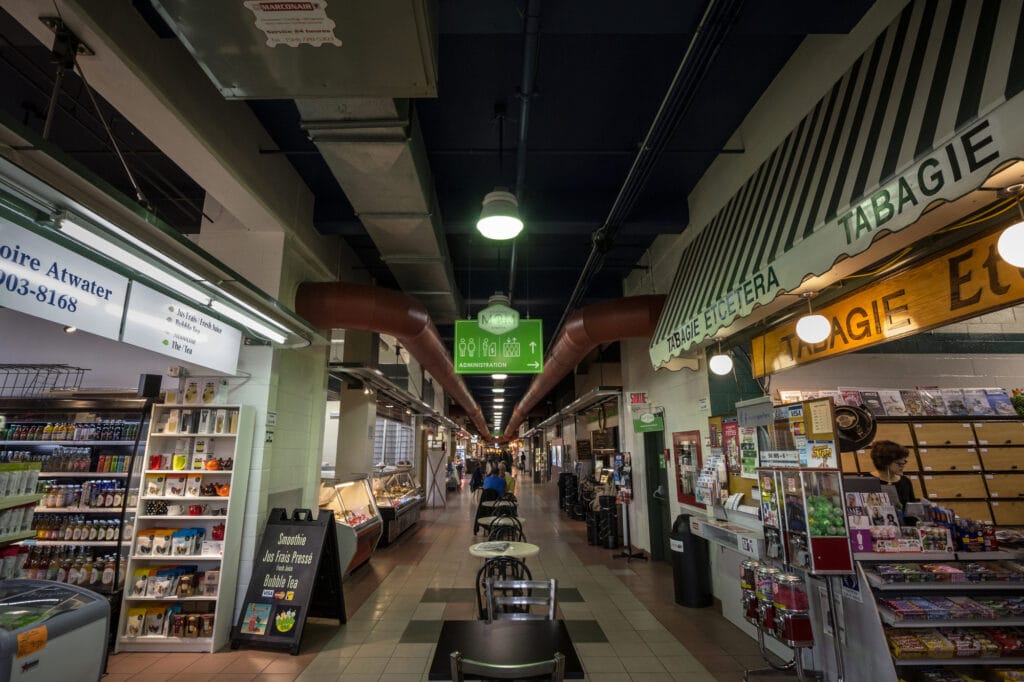 Le Grande Marche – Quebec City
As Québec City's newest gourmet food destination, Grand Marché gives visitors a unique opportunity to interact directly with over a hundred producers and processors from the region.
Inspired by the world's most iconic markets, Grand Marché de Québec has something for everyone thanks to its wide variety of exceptional products and diverse activities available to the public. The market is located in the heart of the city and is a must-see destination for those looking to try the local cuisine.
The smell of freshly ground coffee and warm baked bread wafts through the air as enthusiastic producers call to each other down the aisles of colourful fruits and vegetables picked that morning—visiting Grand Marché de Québec is an authentic experience unlike any other. Monday to Friday: from 9 a.m. to 6 p.m. and Saturday and Sunday: from 9 a.m. to 5 p.m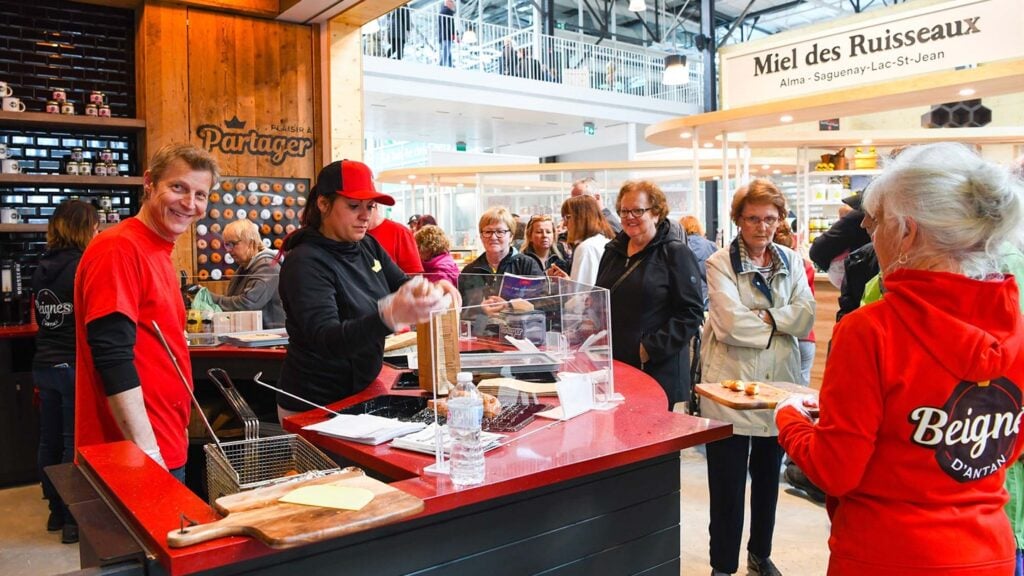 Food Markets & Food Halls in Toronto
St. Lawrence Market
I love the St Lawrence Market in Toronto; it's a bustling modern-day farmer's market and much more and is the best place for a gourmet hound to hang out in. The Market's vendors include the best Montreal style bagels, Canadian cheeses, beans, grains and pulses straight from the prairies, seafood and meats fresh from the sea and farm.
The Upstairs Gallery and exhibits display the history of Ontario through artefacts, art and museum exhibits. Market hours are as follows: Farmer's Markets – Saturdays – 5 am to 3 pm, South Market: Tuesday to Friday – 9 am to 5 pm, Saturday – 5 am to 4 pm.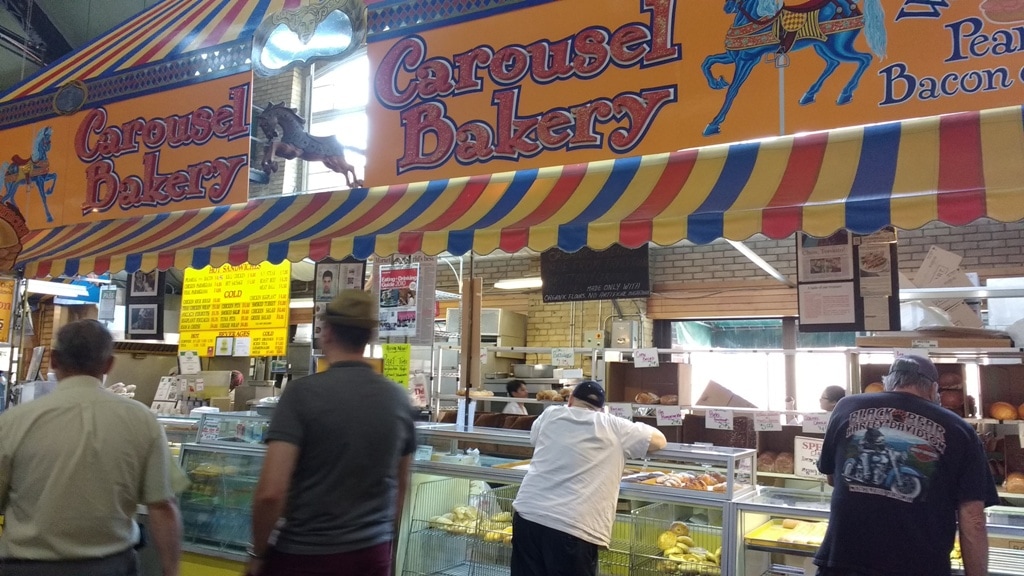 World Food Market
For a multitude of flavours from around the world, Toronto's World Food Market is the place to go. With more than 18 vendors selling everything from dosa and falafel, to sangria and biryani, there are enough eats to satisfy, no matter what you're hungering for.
Afro-Caribbean Farmer's Market
Located on Eglinton Ave. W., in Little Jamaica, Toronto's Afro-Caribbean Farmer's Market is scheduled to run every Sunday from July to October. Offering a range of produce from the Caribbean islands and continental African countries, this is also the spot to source baked goods, bread, fresh juices, and more from local, Black-owned businesses.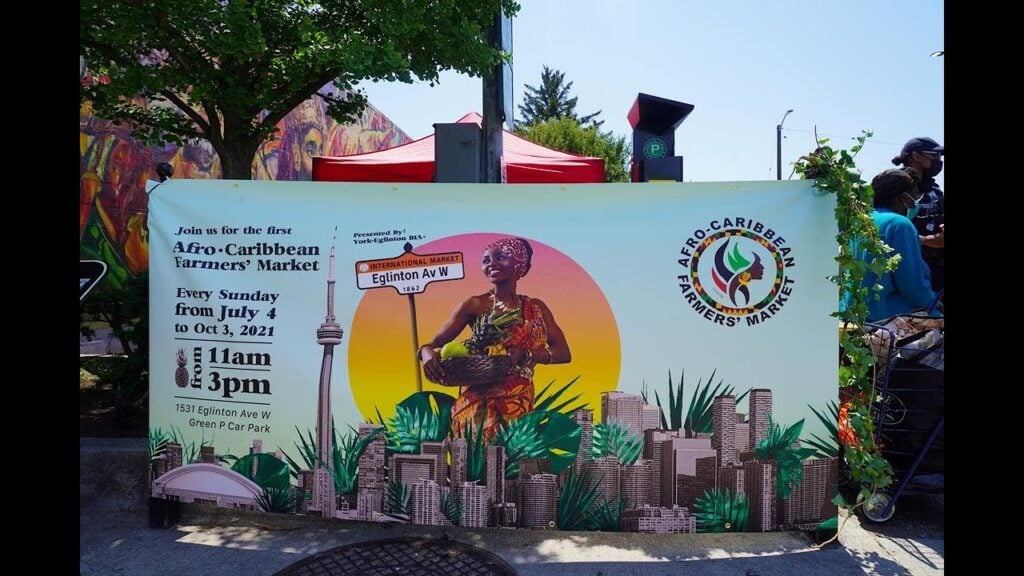 Kensington Market
Kensington Market is not so much a market as an experience. Kensington Market is an open-air food and clothing market in downtown Toronto. This multicultural marketplace is known for its independent spirit, colourful shop fronts, vibrant murals, charismatic locals and people-friendly Pedestrian Sundays events. It's a bohemian area where you can buy from independent local shops and it is open all week.
Food markets and food halls Canada
Byward Market – Ottawa
Byward Market is one of Canada's oldest and largest public markets. While the outdoor market runs from May to October, the indoor vendors and artisans are open 363 days a year, closed only on Christmas and New Year's Day.
The Byward Market Square is home to indoor food vendors and unique shops, as well as a year-round outdoor market brimming with artists' handcrafted goods, seasonal fresh farmers' produce and flowers. Once inside the main part of the building, look up to see the large paper mâché sculpture hanging from the ceiling.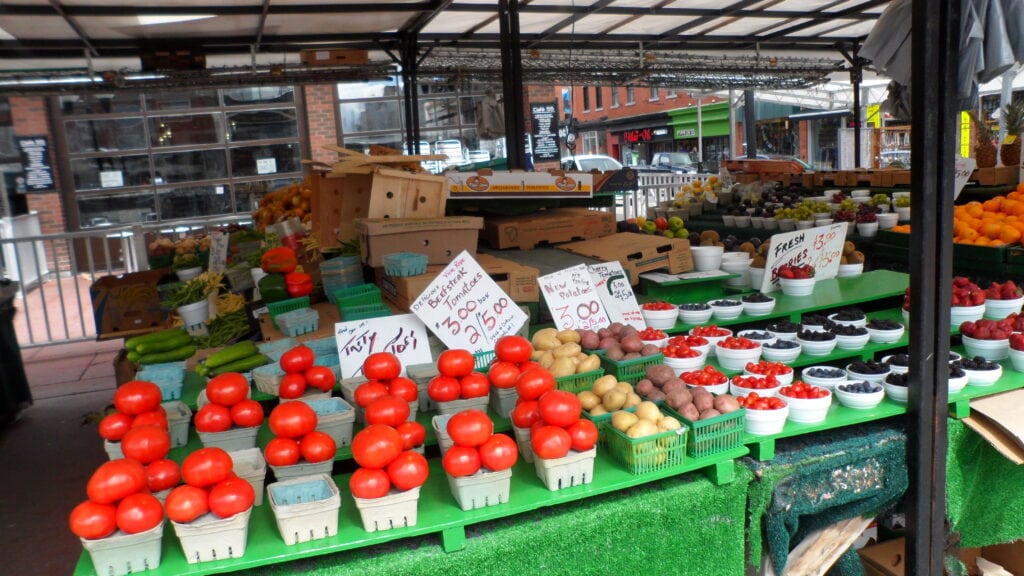 Try some Beavertails one of Canada's great traditional foods when you hit the market.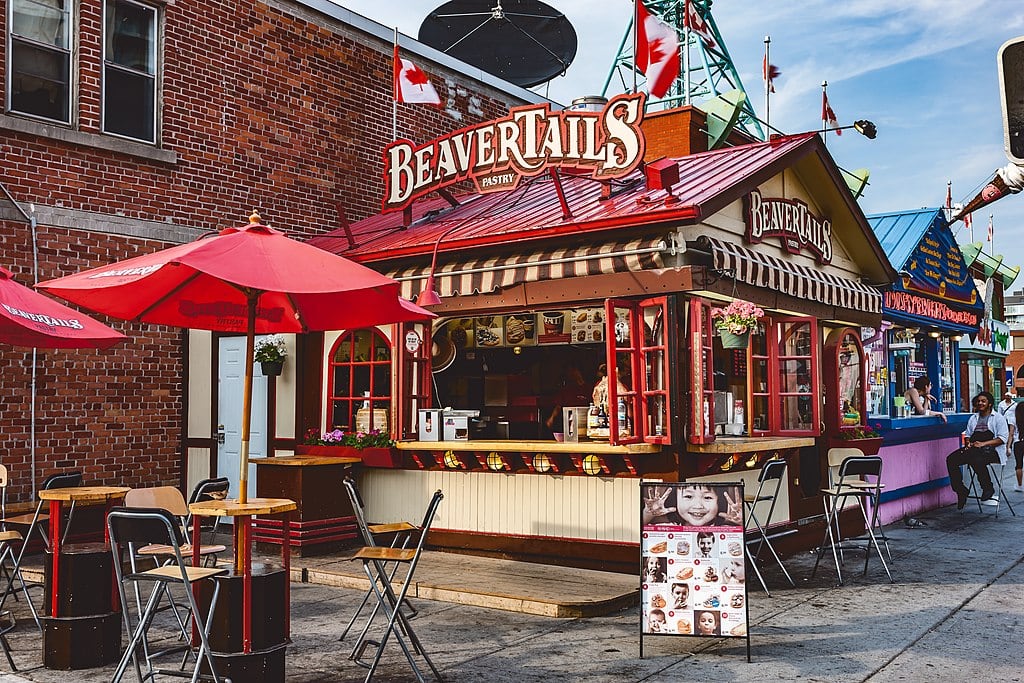 St Jacobs Market – Ontario
One of my all-time favourite markets in Ontario we often made a trip there on the weekends from our hometown. St. Jacob's has over 250 vendors within its indoor and outdoor marketplace. The market itself began in 1975 and became a showcase for local farmers and a great deal of the local Mennonite population not only shops here but also sells products here.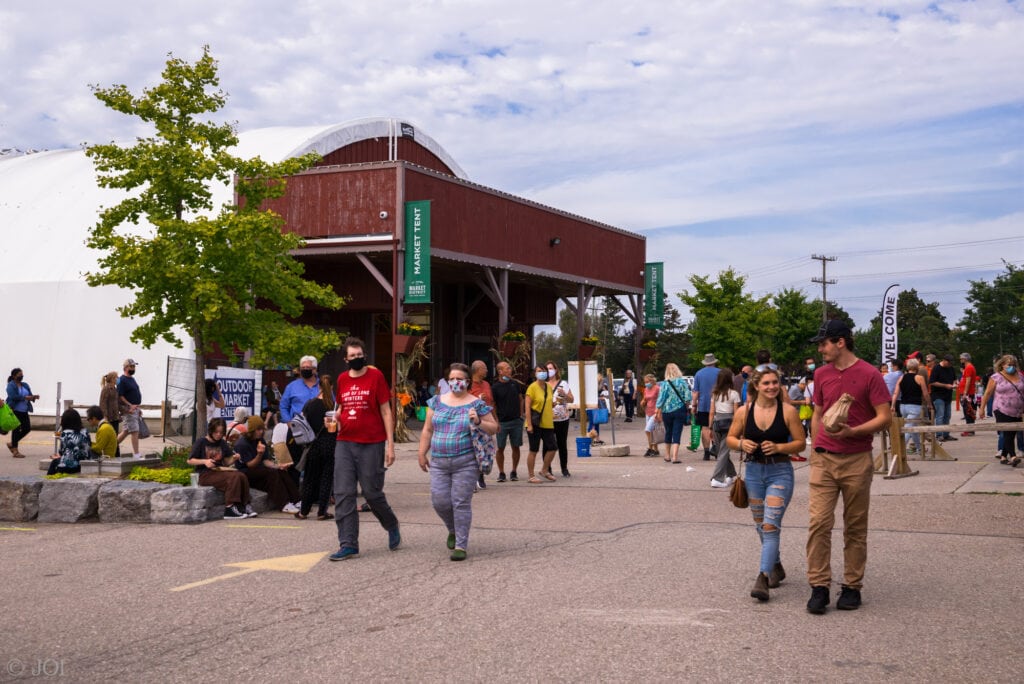 At St. Jacob's Market, you can buy sinfully delicious German pretzels, hand-knitted baby clothes, locally made cheeses, maple syrup, fresh local fruit and vegetables and a huge variety of organic produce and products.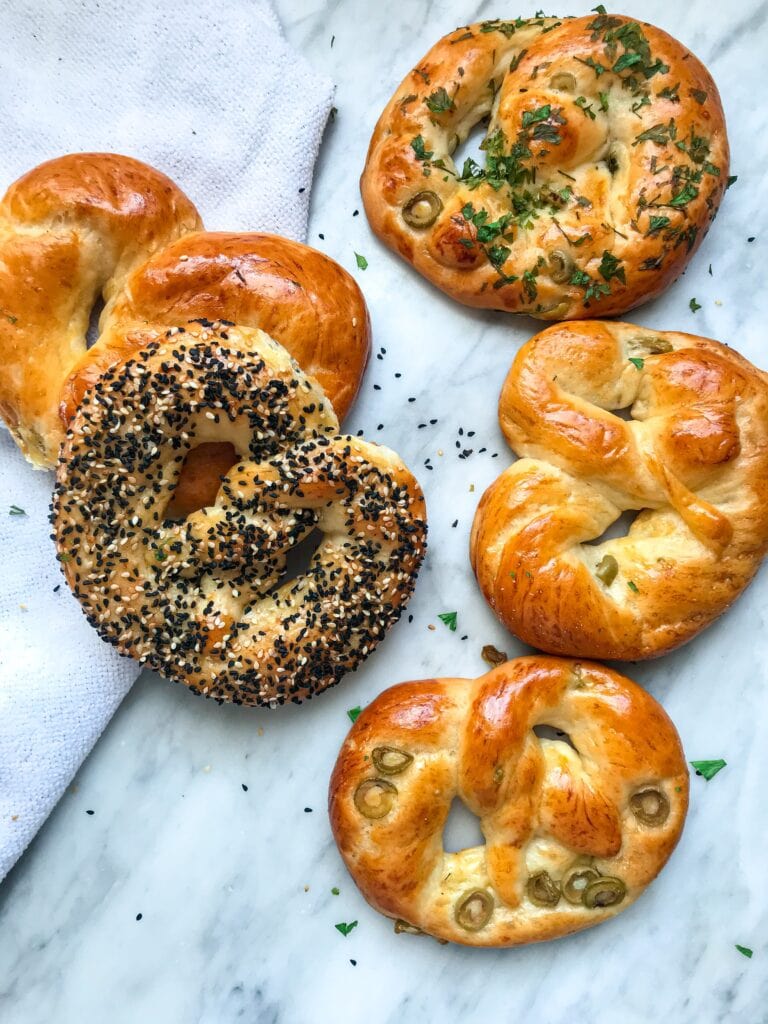 You can also grab some fantastic antiques at Market Road Antiques in the same area which is a 20,000 square foot indoor antique mall. St Jacob's Farmer's Market is open Thursdays 8 am – 3 pm and Saturdays from 7 am – 3:30 pm year-round and is open Tuesdays during the summer.
The Market at Western Fair – London
Confession I lived in London, Ontario for many years and it was a great day in East London when this market opened. Over the years it has become the destination of choice for locals, cooks, chefs and visiting food tourists. The market showcases a wide variety of artisanal products and seasonal locally grown ingredients.
The Market is home to 100+ permanent vendors. On the ground floor, you will find pretty much everything you could wish for in a market. There's fresh-baked bread including plenty of gluten-free.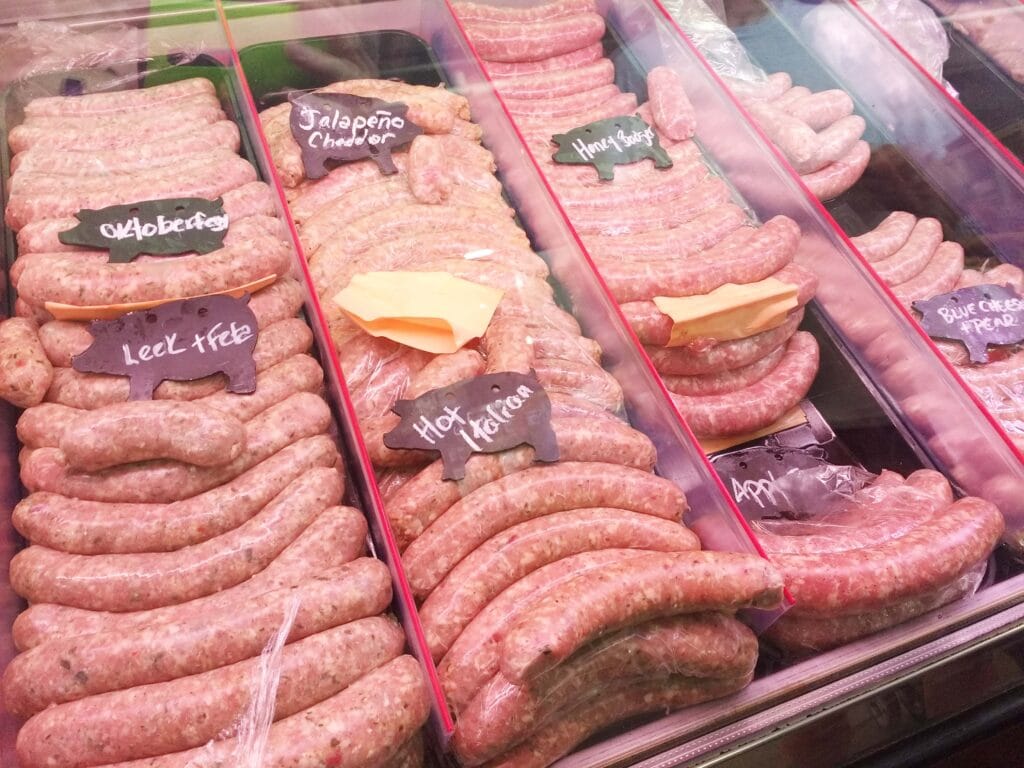 Sausages like you have never seen before, coffee to keep you going, fresh vegetables and meats from the local Mennonite communities, Nepalese momos, South American papusas, and plenty more. Come hungry. Open year-round, Saturdays 8:00am-3:00pm & Sundays 10:00am-2:00pm.
Welland Farmer's Market
This is a year-round market that has been in operation since 1907 and is the largest market in the Niagara region. Not only does it have vendors, but it has outdoor space featuring live local entertainment. Located on 70 Young Street (between Young and Division Streets) and is open on Saturdays from 7 am to 12 pm.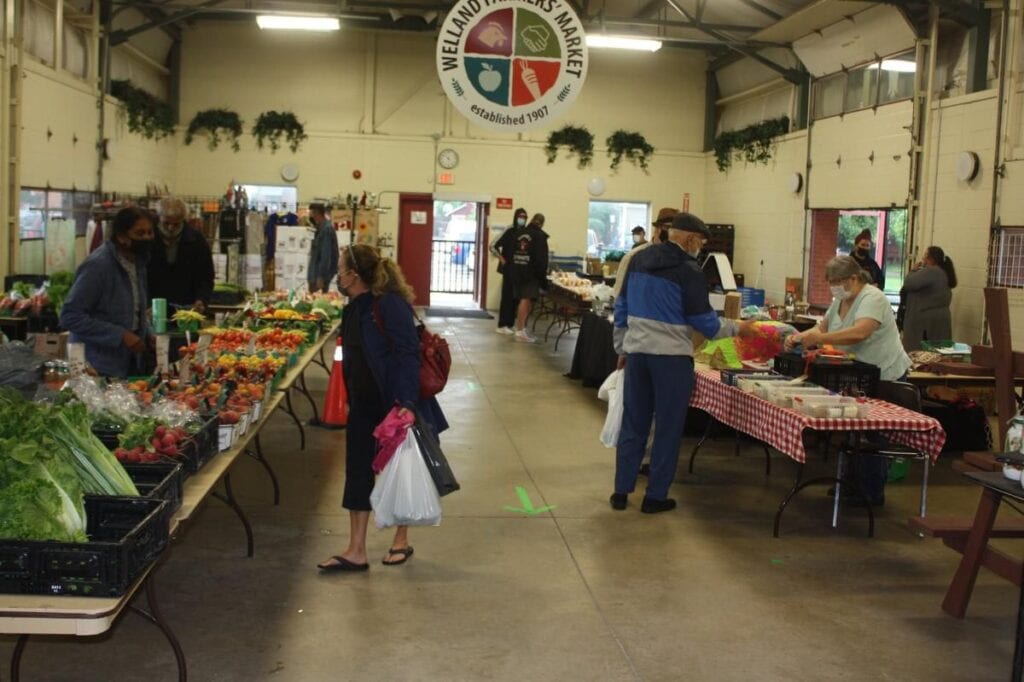 Kingston Public Market
This farmer's market began in 1801 and is Ontario's oldest market and has played a major role in the country and community since its inception. Did you know that the proclamation of Confederation and the formation of the Dominion of Canada took place in Kingston Market Square? The market is located in Kingston's historic downtown, right behind City Hall, and is open Tuesday, Thursday, and Saturday, April through November. The market hours are from 9 am – 6 pm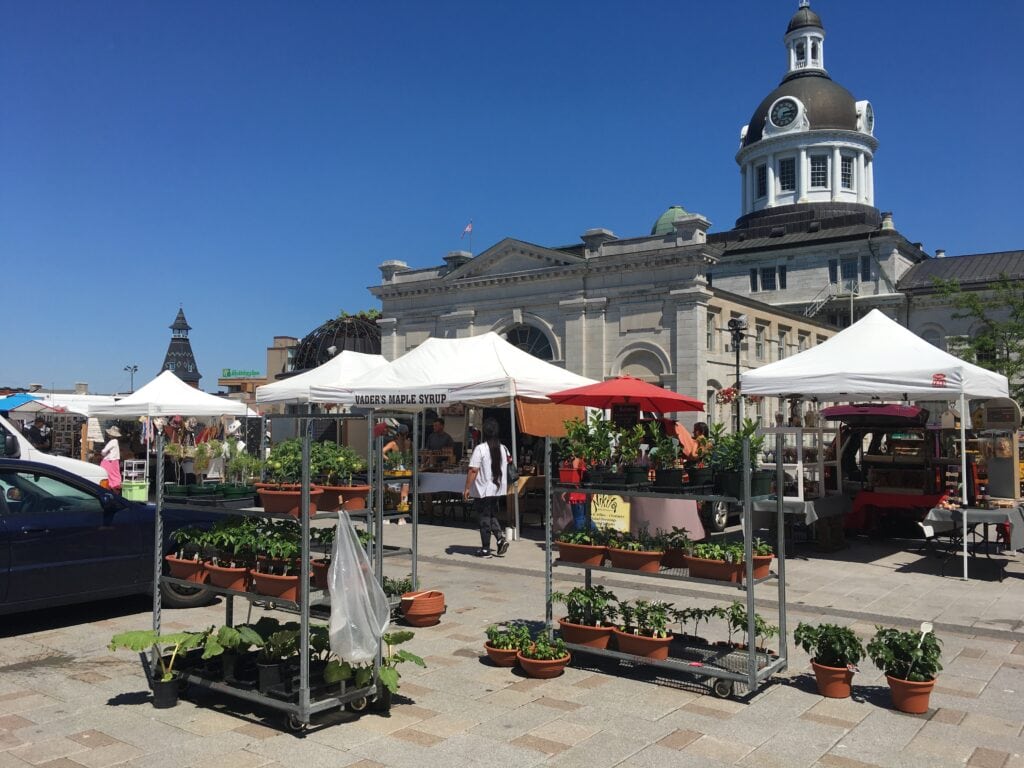 Inglewood Night Market – Calgary
The Inglewood Night Market is a modern-day market that occurs every second Friday in the summer months in Calgary Alberta. The market focuses on locally sourced and handmade vendors selling diverse goods; from handmade crafts to vintage clothing, antiques and collectables, artisan eats, BBQ and more. The spring & summer markets are outdoors
You'll also find food trucks, singer-songwriters, bands, dancers, outdoor seating, a family-friendly licenced area and other fun things to check out!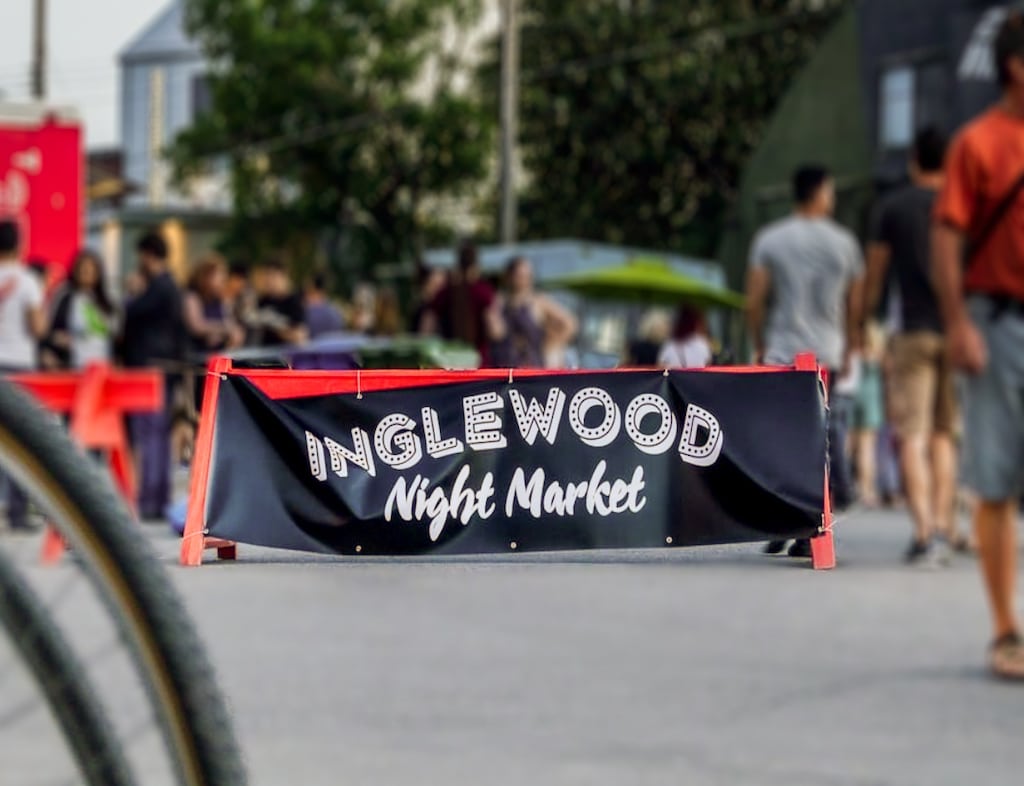 Salt Spring Island Market – Salt Spring, B.C.
Salt Spring Island, part of British Columbia's Gulf Islands, is known as Canada's "Island of the Arts,". On Saturdays, from the start of April to the end of October, over 140 artists and food producers display their art and products at Centennial Park. Everything sold at this market must be made, baked or grown by the vendors —the market calls it "The Homespun Guarantee." On Tuesday afternoons from June until October, there is a food-and-vegetable-only market (plus flowers that are edible), featuring local organic farmers.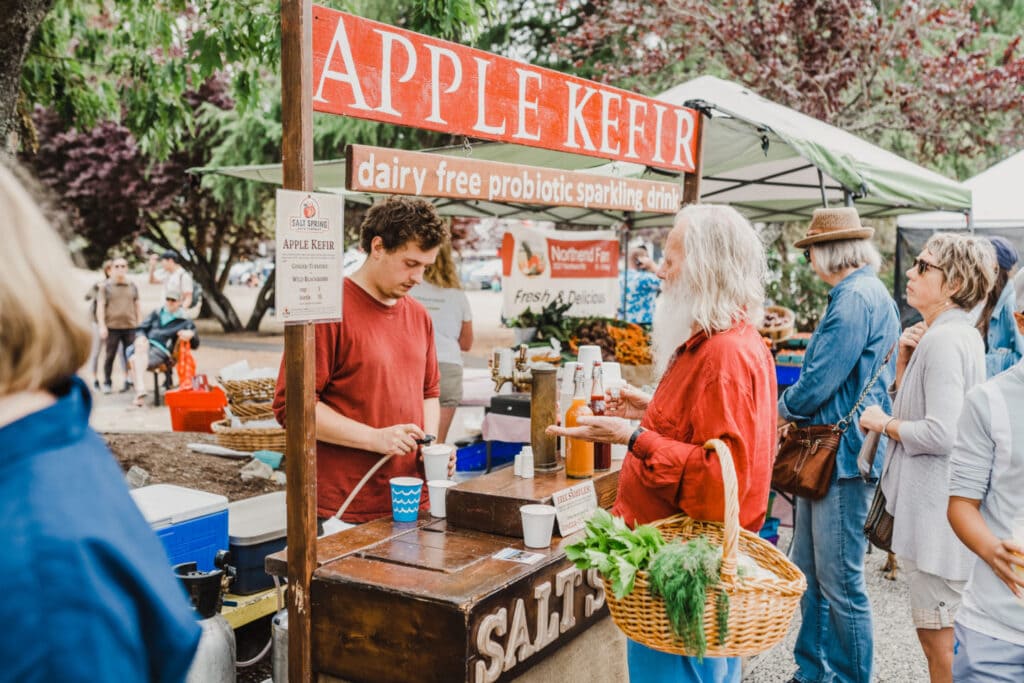 St. Albert's Farmer's Market – St. Albert, Alberta
St. Albert's Farmers' Market is the largest outdoor farmers' market in Western Canada. It's open every Saturday from June to October, and during market days, all of downtown St. Albert is transformed into a unique outdoor social and shopping space. The market features live music, food trucks and over 250 vendors who sell a variety of products from fresh produce, to shoes.
Old Strathcona Farmer's Market – Edmonton
Old Strathcona's mission is "We make it, we bake it, we grow it and we sell it," no re-sellers are allowed. Everything here from cheese to vegetables to woollen items, artwork, fruit wines are all made by the vendors. A must-try are the green onion pancakes but get there quickly the market is only open on Saturdays from 9-3.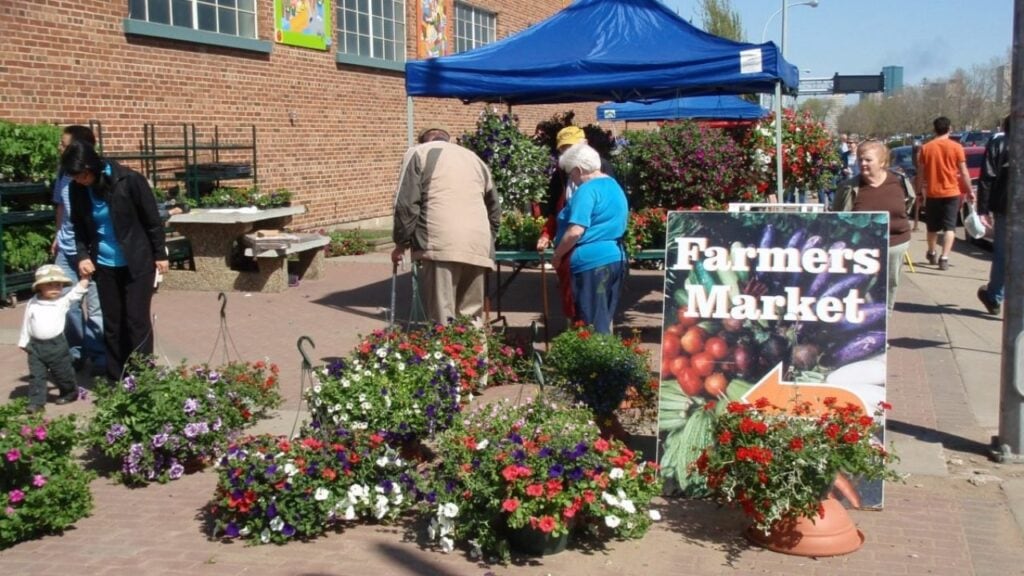 Richmond Public Market – Richmond, BC
Richmond Public hides some delectable bounty inside its walls. On the first floor, there's a public market with a butcher shop that also serves Cantonese barbecue; and on the second floor, there's a great selection of Asian food stalls. Expect to find vendors selling hand-made dumplings and hand-pulled noodles bathed in a delicious broth, as well as bubble tea shops and rice or noodles dishes. Best of all, many of these stalls are family-owned and operated. Open Monday through Sunday 9 till 6.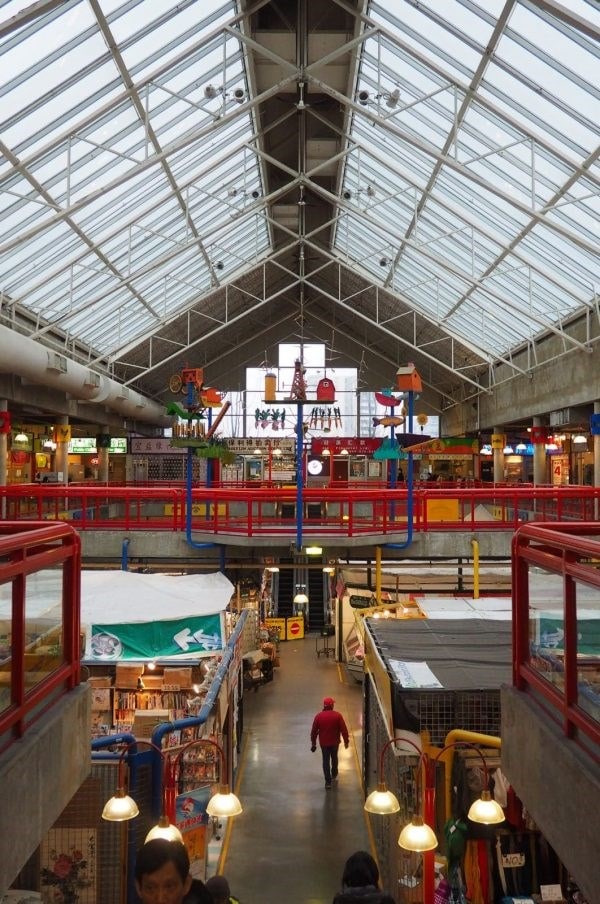 Granville Island Market – BC
Granville Island Market in British Columbia opened in 1979 with just over 20 full-time vendors, today in 2022 there are over 50. Granville Island is home to more than 300 businesses.
Today, industry on Granville Island has changed with the times and there are several Indigenous-owned galleries and stores. What hasn't changed is that Granville Island residents are still proud to work and play on territories that are the ancestral lands for all Indigenous three nations, the xʷməθkwəy̓əm (Musqueam), Skwxwú7mesh (Squamish) and Səl̓ílwətaʔ/Selilwitulh (Tsleil-Waututh).
The famous Public Market is open daily from 9 am to 7 pm and is home to more than 50 independent food purveyors and contributes to the Island's appeal as a renowned culinary destination. In the Net Loft Shops and Railspur District, many of Canada's best artists and designers can be found. Granville Island is home to many cultural venues and hosts numerous performing arts and cultural festivals year-round.
Avenida Food Hall & Fresh Market – Calgary
The Avenida Food Hall & Fresh Market is 22,500 square foot space that features 42 vendors and restaurants. One of the vendors has 32 separate vendors within. It's called The Mercantile and it's a replication of an old-time general store. It's a bit of an incubator to help start-ups and people just finding their way in the market business and hopefully what it does is produce new, longer-term vendors as time goes on," said Ken Aylesworth, General Manager of Avenida.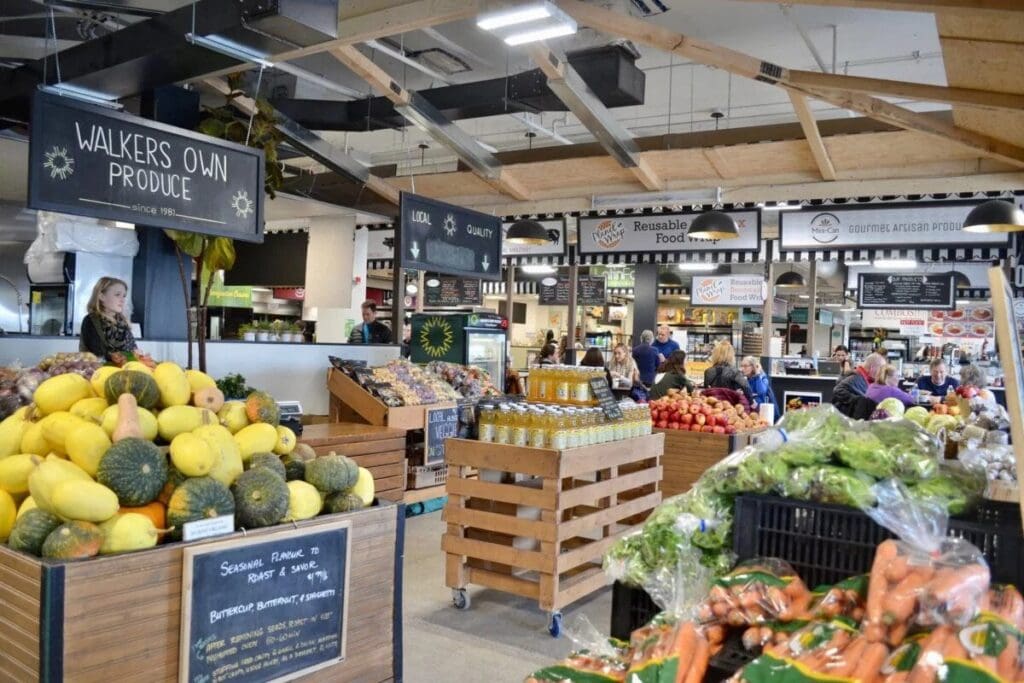 The Forks Market – Winnipeg
The Forks Market can be found in the heart of Winnipeg and is named for the point where the Red River and Assiniboine come together. The Forks was designated a National Historic Site of Canada in 1974 due to its status as a cultural landscape that had borne witness to six thousand years of human activity.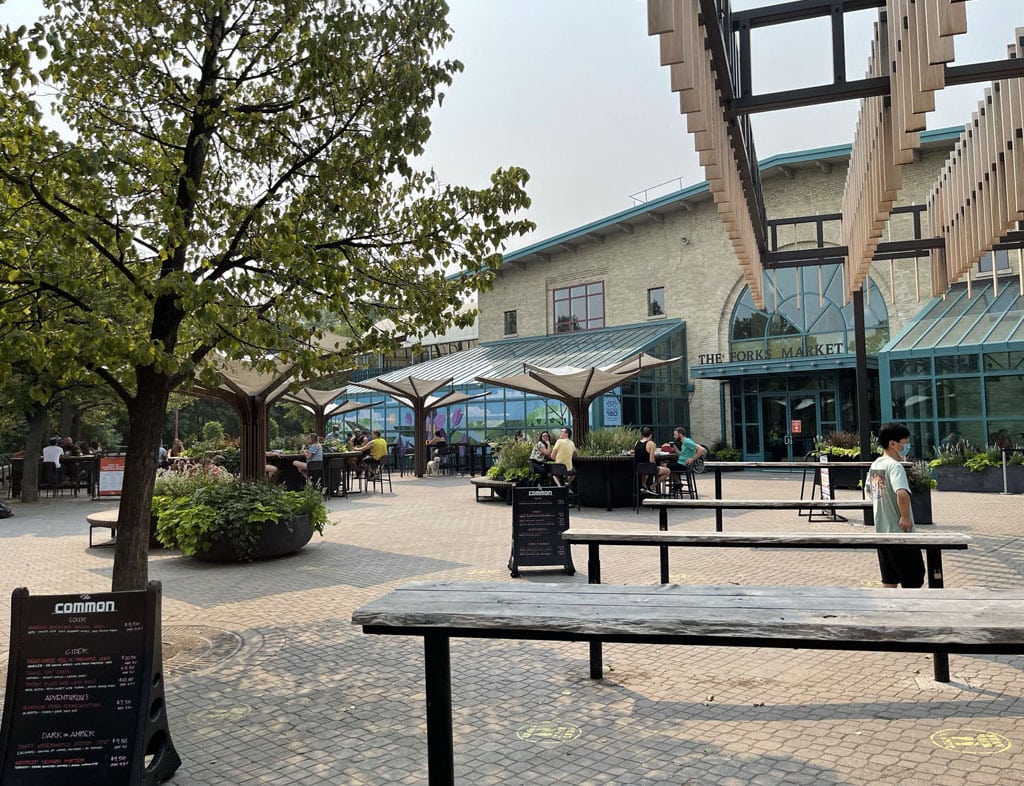 It encompasses an interpretive park, revitalized historic and new buildings, skateboard park, and historic port and offers a host of year-round outdoor and indoor attractions. Not only can you find an eclectic selection of food from all over the world, but you can also find speciality shops, cafes, bakeries, and food stands, enough to tantalize even the fussiest of tastebuds. From Bindy's Caribbean Delights to Danny's All Day Breakfast it all can be found at The Forks. The Forks Market is open seven days a week, from 7 am until 11 pm.
There you have 21 of the Best Food Markets and Food Halls in Canada. Do you have a favourite food market in Canada or anywhere in the world?
You might also like
148 National Dishes of countries around the world
Pros and cons of living in Canada by a Canadian Immigrant
22 Food Trucks across Canada to try
11 Memorable things to experience in Toronto Canada
47 of the best traditional Canadian foods
Only in Canada, eh? 17 Things to Know about Canadian Culture