Grey Abbey an evocative ruin in Northern Ireland
The Greyabbey, or Grey Abbey can be found next to the village of Greyabbey in County Down, Northern Ireland. It is an evocative ruin that the village has fought hard to maintain and create a beautiful attraction for visitors to the village.
There is no charge to visit Grey Abbey and if coming to see it you should stop in Greyabbey village to enjoy some fantastic local hospitality and antique shopping.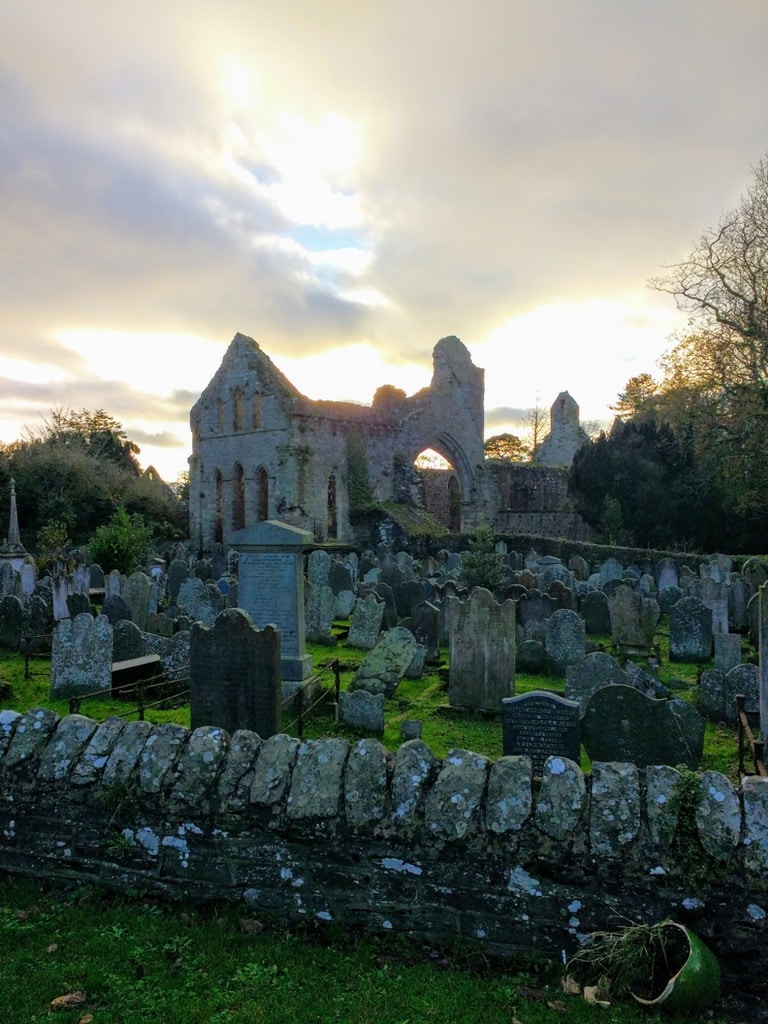 History of Greyabbey
Grey Abbey is a ruined Cistercian priory that is the only Abbey in Ireland founded by a woman – John de Courcy's wife Affreca. Affreca de Courcy or Affrica Guðrøðardóttir was a late 12th-/early 13th-century noblewoman. She was the daughter of Godred Olafsson, King of the Isles, and a member of the Crovan dynasty. In the late 12th century she married John de Courcy. Affrica is noted for religious patronage in Northern Ireland.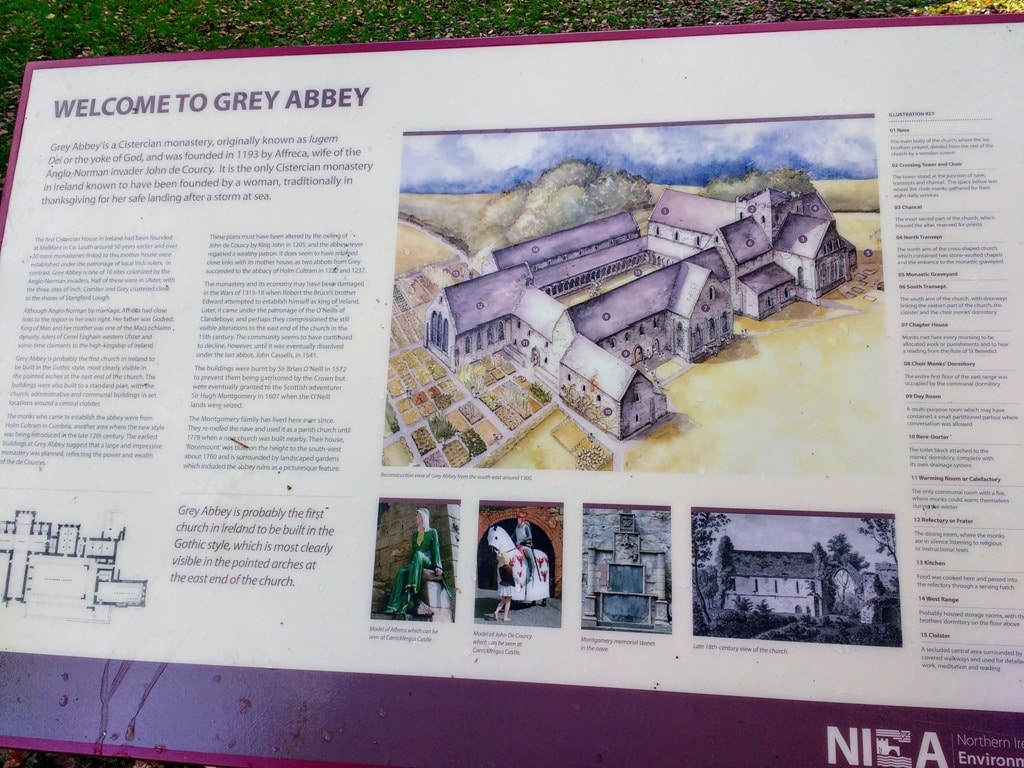 Guðrøðr Óláfsson was a twelfth-century ruler of the kingdoms of Dublin and the Isles. The Isles consisted of the Isle of Man, the Hebrides and the islands of the Firth of Clyde from the 9th to the 13th centuries AD. Historians believe that John de Courcy's success in Ireland was due to Affreca's family dynasty which was related to the Corovan dynasty through her father.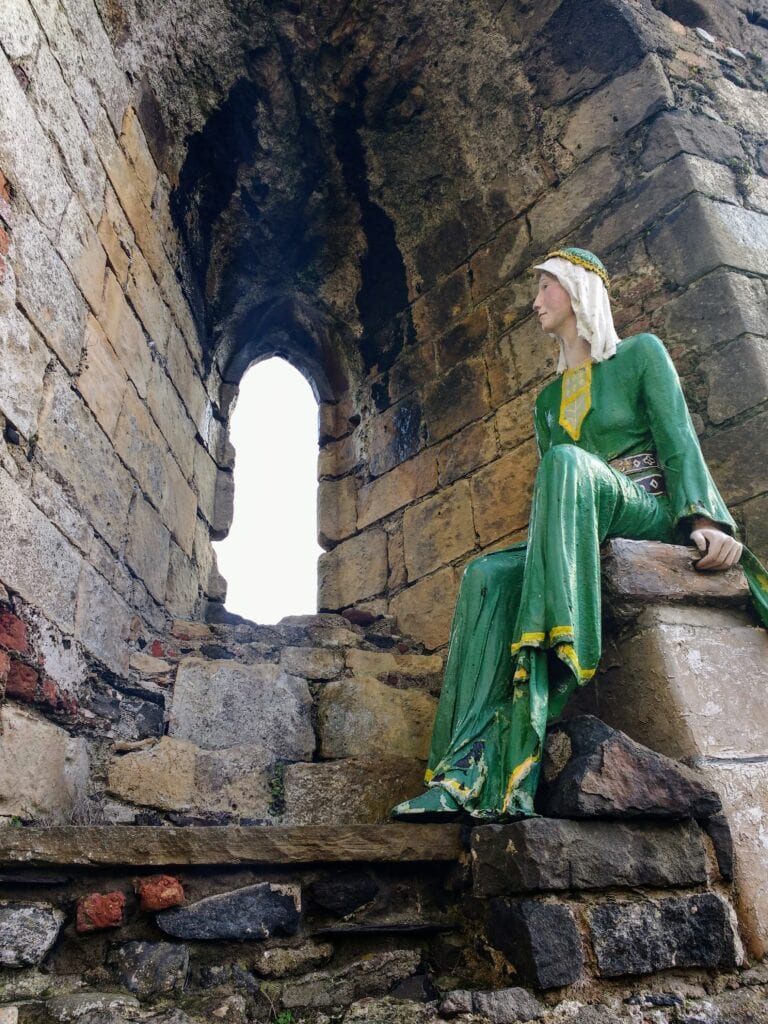 Affreca established Grey Abbey according to legend to give thanks to God for saving her during a particularly perilous crossing to Ireland. Affreca and de Courcy also built Carrickfergus Castle.
Grey Abbey is a, now ruined, Cistercian priory built in 1193 and is one of Ireland's most impressive examples of early Gothic architecture. The Abbey was known as Lugem Dei in Latin and translated to "Yoke of God". Eventually, the Abbey became known as Grey Abbey due to the monks' habits which were of unbleached linen and greyish white colour.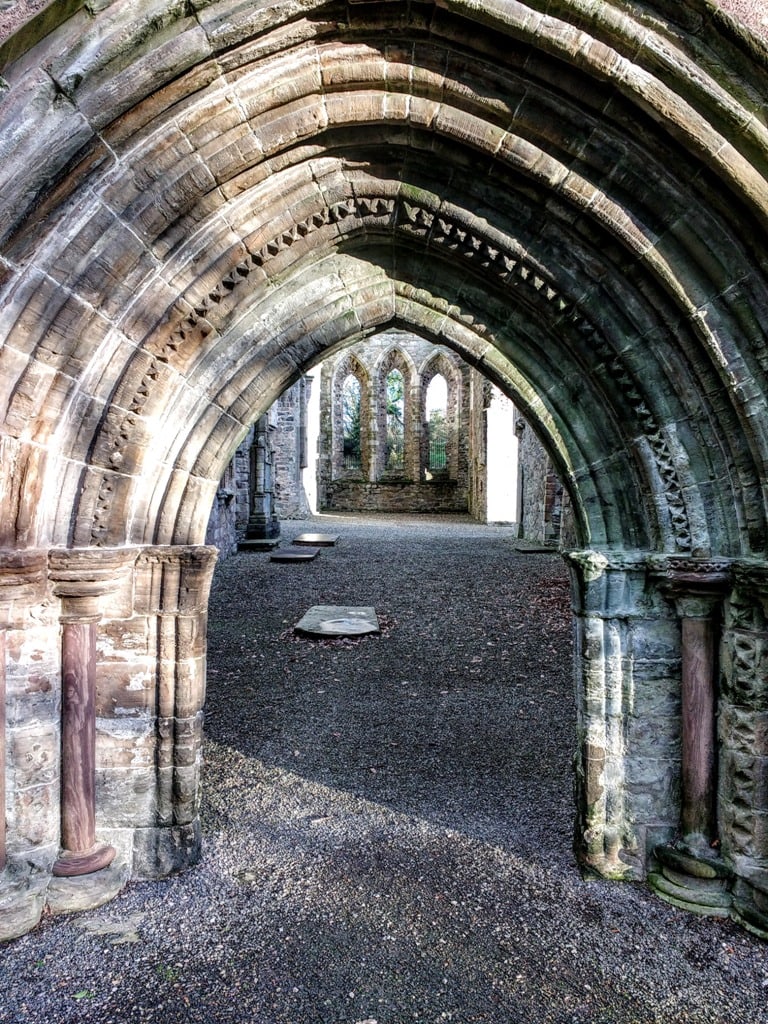 Along with Inch Abbey, Greyabbey is the best example of Anglo-Norman Cistercian architecture in Ulster and was the daughter house of Holm Cultram (Cumbria). Poor and decayed in the late Middle Ages, the abbey was dissolved in 1541 but in the early 17th century was granted to Sir Hugh Montgomery and the nave was refurbished for parish worship until the late 18th century.
The remains, in the beautiful parkland setting of the nearby grand house of Rosemount, consist of the church with cloister and surrounding buildings to the south. There is a small visitor centre with displays at the entrance and a reconstructed medieval physic (herb) garden.
Planning a dream trip to Ireland? Everything you need to know
Architectural Design of the Grey Abbey
Greyabbey is of great significance since it is the first building founded with a gothic design in Ulster. It is the first fully stone church in which every window arch and door was rather pointed than round-headed. It kept its design nearly until the tower and chancel were raised in height in the 15th century.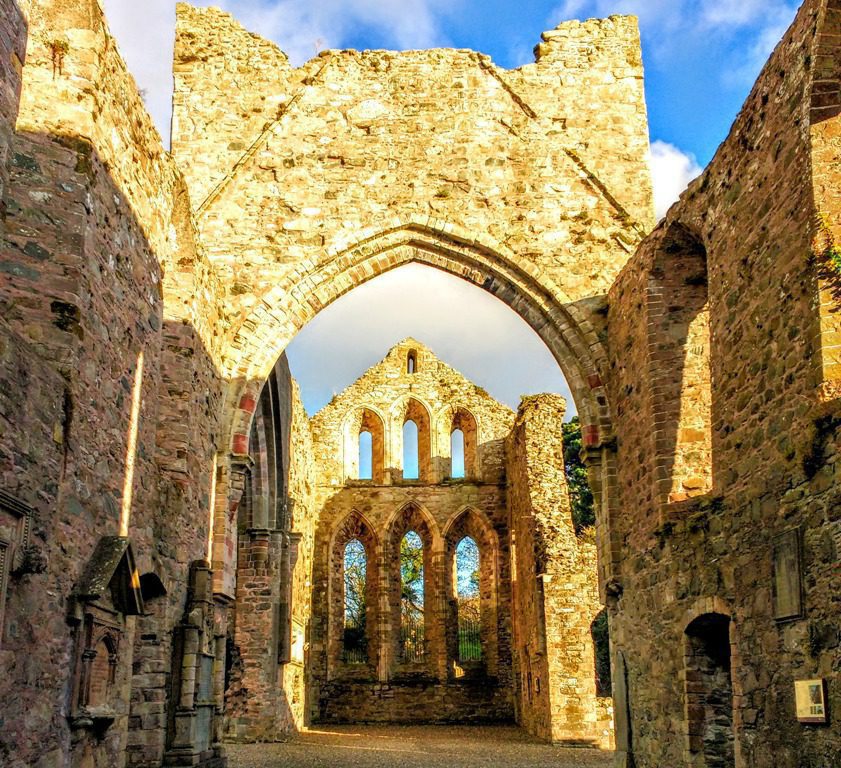 In 1634, an old writer of the parish of Greyabbey said that it contained:
"a double-roofed house, and a baron and flower flankers, with baking and brewing houses, stables and other needful office houses; they are built after the foreign and English manner, with outer and inner courts walled about, and surrounded with pleasant gardens, orchards, meadows and pasture enclosures, under view of the said house, called Rosemount, from which the manor taketh name".
Grey Abbey Ruins
During the wars of 1315–1318 when Edward, Robert Bruce's brother, attempted to seize the throne of Ireland, Greyabbey was probably damaged. Later in 1572, the Abbey was partially destroyed by Sir Brian O'Neill in 1572, to prevent Elizabeth the first garrisoning troops there.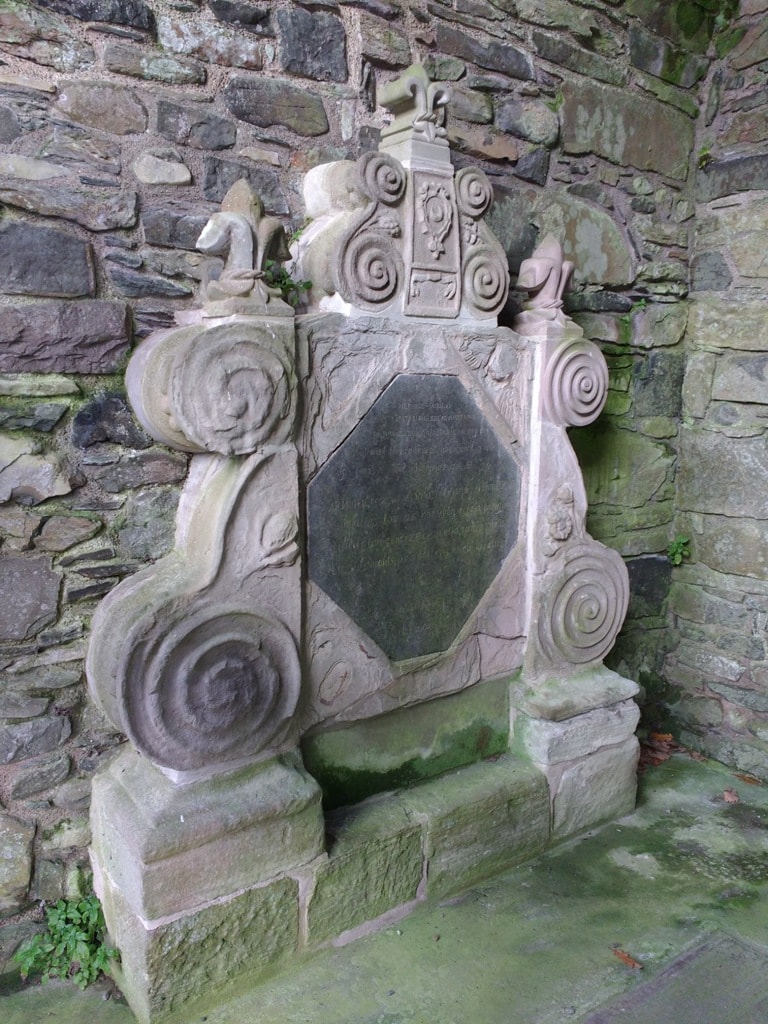 Saving Grey Abbey
In the early 1900s, the Ministry of Public works carried out some conservation work and added buttresses to the southern side of the nave to prevent it from collapsing.
Fitted inside a pointed arch and flanked by detached colonettes, the abbot's seat has been preserved. There are also a few of the rare corbel tables in Ireland at Greyabbey that were put after the roof was raised, probably in the early 15th century. They are carved with oak leaves, animal heads and human figures.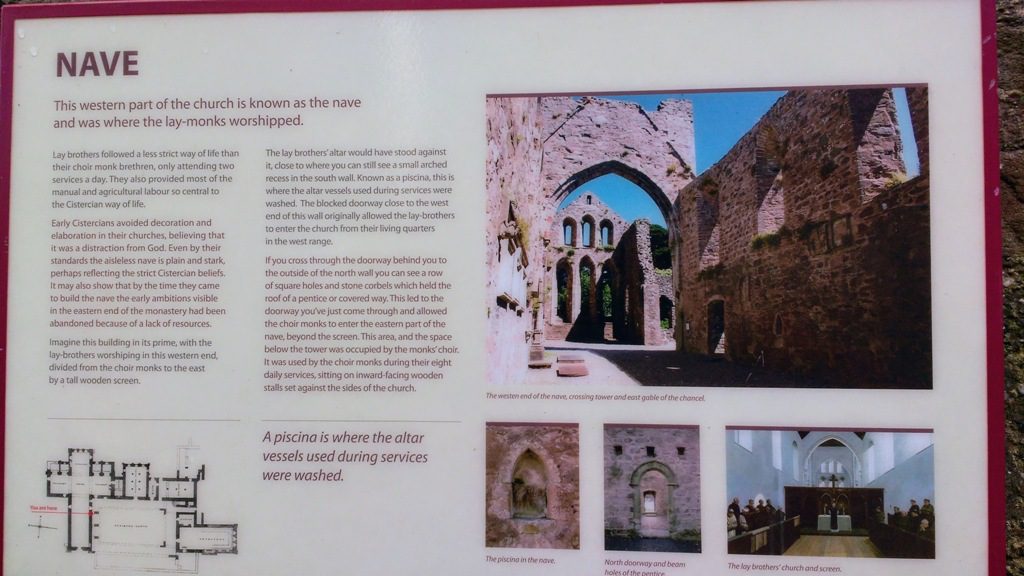 Greyabbey Physic Gardens
Medieval abbeys and monasteries usually kept within their grounds an area for the cultivation of herbs and plants which could be used to produce medicines. They would also have included plants which could be used for colouring wools and other fabrics. The Grey Abbey Physic Garden is a reconstruction of such a garden and contains approximately 40 herbs and plants believed to be grown by the Cistercians.
At the Garden, visitors can learn about some 40 herbs that are used for culinary, fabric colouring, magical and healing purposes.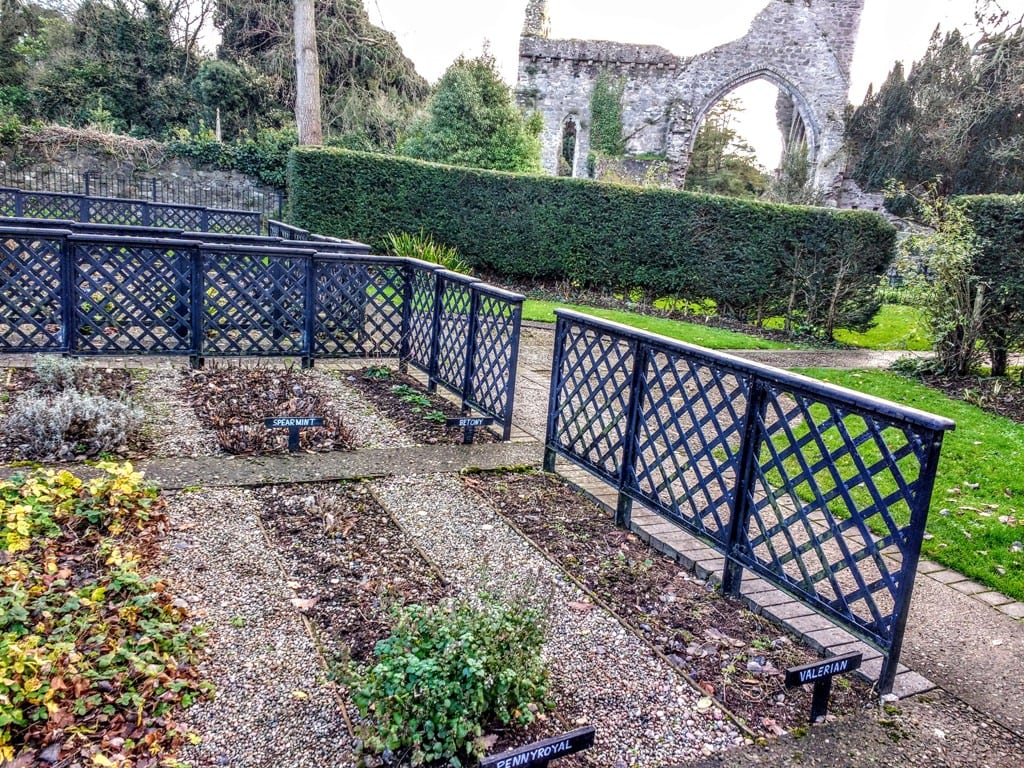 A Visitor Center is now open at Grey Abbey where you can learn about the history of the Abbey and its monks. For children, there are monks' costumes to dress up in and puzzles to solve. The Centre has also created a small kitchen garden where children can learn about growing flowers and vegetables. The Visitors centre is open from February to November on Saturdays and Sundays from 1.00 pm to 4 pm.
What to see in Greyabbey Village
Greyabbey village is one of the little hidden gems in Northern Ireland. Here you will find some fantastic antique shops, lovely little cafes and a quiet friendly village. And yes the village name is spelt Greyabbey and the ruined priory is Grey Abbey.
The Angus Farm Shop is a boutique butcher's shop providing high-welfare meat and all their meats are produced on the home farm on the shore of Strangford Lough.
Drop by the Hoops Courtyard which is accessed through an arched gateway Hoops Courtyard showcases a myriad of Antique, Jewellery, Collectables, Crafts, and Curio Shops and a Cafe.
The Old Courthouse is one of Greyabbey's oldest and most historic buildings. It was here that countless poor souls were dealt with by the harshest of laws for even minor wrongdoings. Cold and austere, a visit to the building in the 1800s would have struck fear into both law-abiding and less desirable locals alike. The historic setting is the perfect backdrop for the mix of modern and vintage items, each unique and desirable, seamlessly blending contemporary and antique in a timelessly elegant mix.
The Villagers Greyabbey is run by a local couple Ron and Nanda, the fantastic food here has a traditional Dutch influence inspired by Nanda. Using only the best of fresh local produce the food is prepared on-site and always sure to please, treat yourself to one of the house specialities, or simply pop in for the most delicious freshly brewed tea or ground coffee with freshly made danish pastry scones and cakes.
Grey Abbey House specialises in hosting historical, architectural and horticultural groups and is able to provide lunch, tea and dinner by arrangement. Overlooking Strangford Lough on the Ards Peninsula Grey Abbey House and its gardens benefit from a temperate climate which supports a plethora of unusual flora and fauna
Grey Abbey Bay where an Archaeological study of the area discovered an ancient dugout canoe in Greyabbey Bay dated to be some 4500 years B.C. That makes it older than the pyramids of Egypt! Remains of medieval fish traps can also be found in the bay dating from the 8th to 13th Centuries. One of the islands in the bay "Chapel Island" has the remains of what is believed to be an Anglo-Norman church possibly related to Movilla Abbey in Newtownards or Nendrum.
If you fancy a lovely meal head to the Wildfowler Inn, the Inn provides locally sourced food in a creative manner complimented with a wide selection of wines, beers and spirits along with artisan local craft beers.
How to get to Grey Abbey
The village of Greyabbey and Grey Abbey itself is around a 45-minute drive from Belfast. The distance from Greyabbey to Belfast is 24.5 km in a straight line and I would recommend renting a car in Northern Ireland that will allow you to see many more interesting sites.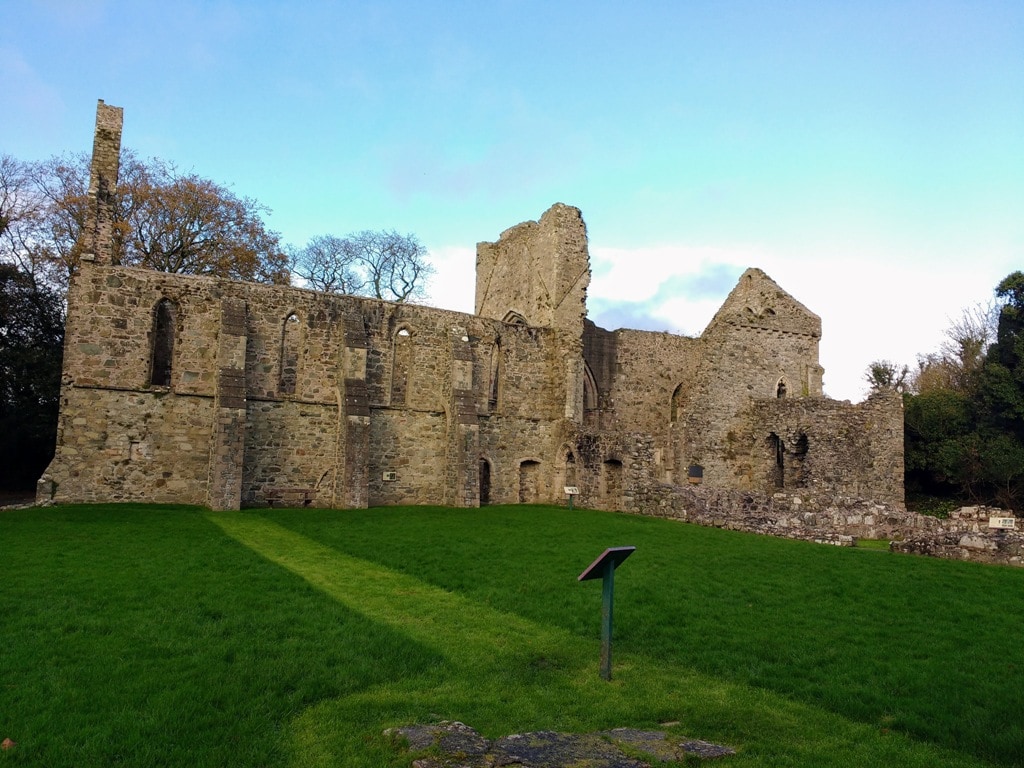 Essential guide to renting a car in Ireland
I find medieval history fascinating and visiting these ancient abbeys in both Ireland and the UK are a chance to absorb the atmosphere and feel like you are stepping back in time – I don't think I would have wanted to live in those times a bit to rough and smelly for my first world tastes lol, but I hope you enjoy these short articles on historic places.
You might also like
101 Landmarks in Northern Ireland
Planning a dream trip to Ireland? Everything you need to know
53 Ultimate Ireland travel tips
10 Game of Thrones Doors Northern Ireland to visit
Epic Game of Thrones Ireland road trip
Dunluce Castle Ireland – a romantic Irish ruin
Mellifont Abbey and the legend of Ireland's Helen of Troy
Visiting Jerpoint Abbey Kilkenny
Medieval Ireland – the Crusaders in Limerick
101 Landmarks in Ireland to see
Pin it to save it

Latest posts by Faith Coates
(see all)