13 most overrated tourist traps in Ireland
That rush of excitement you get as you know your trip to Ireland is getting closer. The intensity of planning your Irish itinerary. Do you go west to the Wild Atlantic Way, how long should you stay in Dublin?
Don't get me wrong I adore Ireland but I know as in any country in the world there are places that are simply overrated tourist traps and places to avoid and Ireland is no exception.
A tourist trap is called a "trap" for a good reason often it is overhyped, exaggerated and an awful disappointment once you get there. It's also a very personal thing what I consider an Irish tourist trap is something you might head for because you heard someone else loved it.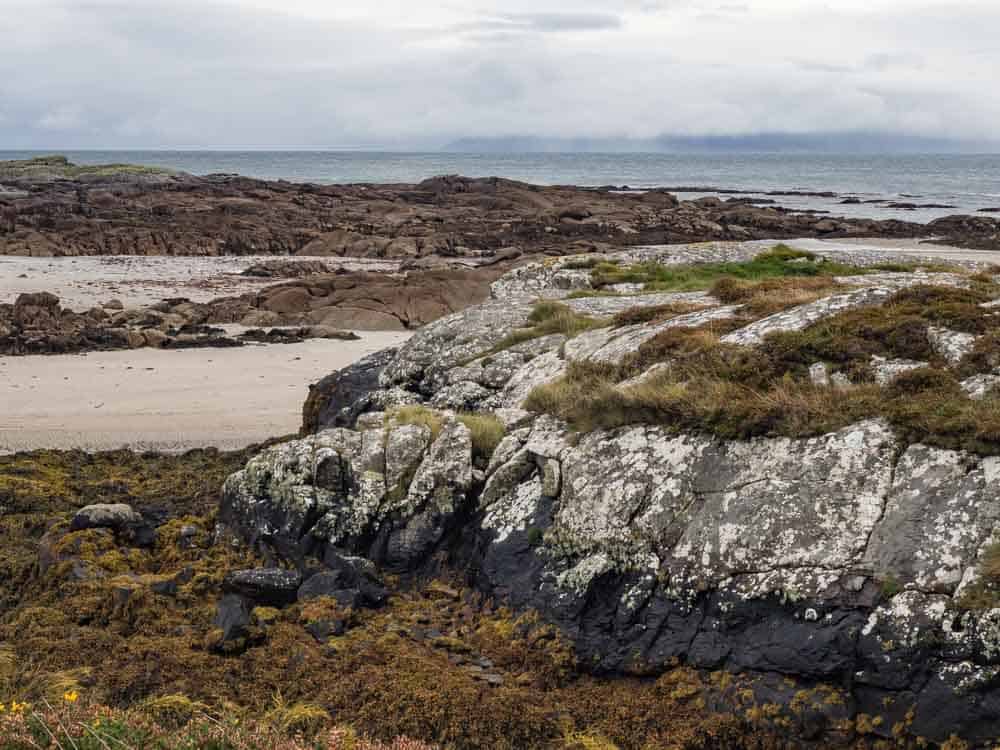 Xyuandbeyond is reader-supported. When you buy through links on our site, we may earn an affiliate commission. You can read my privacy policy here.
If you planning your visit to Ireland and you want to find some alternatives to the overhyped and over-exaggerated Irish tourist traps this list will give you some brilliant alternatives to plan for.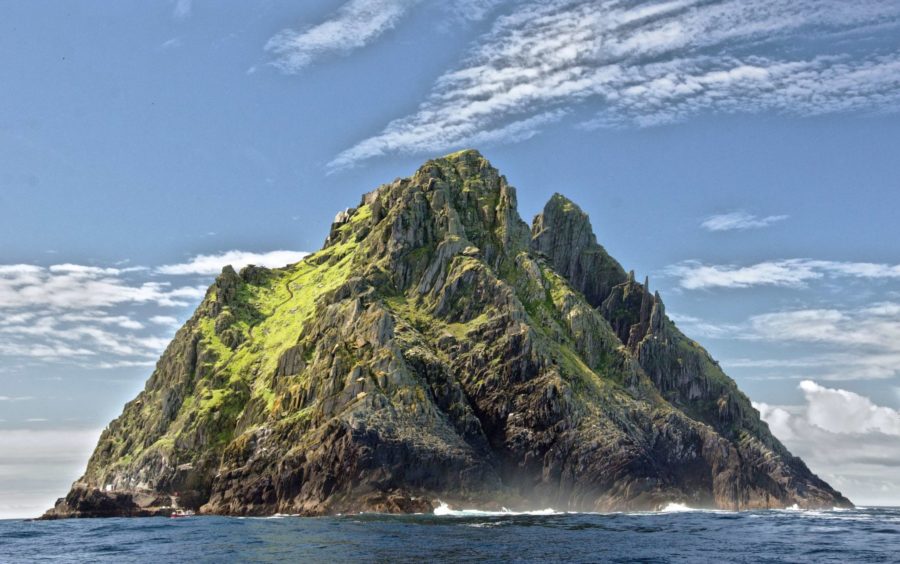 It's also good to keep in mind that you don't want to get ripped off at Irish tourism sites and you need to know what the locals know to find valuable tips when touring Ireland. Some sites are simply over-touristed and becoming dangerously close to environmental damage.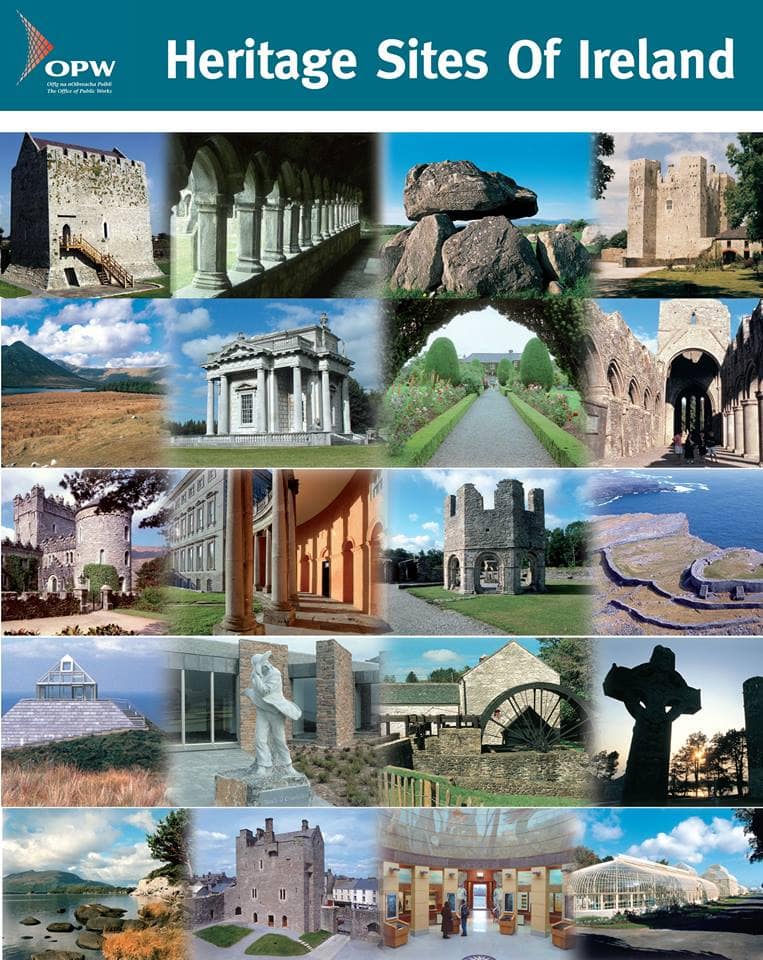 Tip:
#1 The OPW (Office of Public Works) offers free entry to many Irish heritage sites on the first Wednesday of each month.
#2 Buy a British Heritage card they now have a partnership with Irish heritage and you can see sites in both Northern Ireland and in the ROI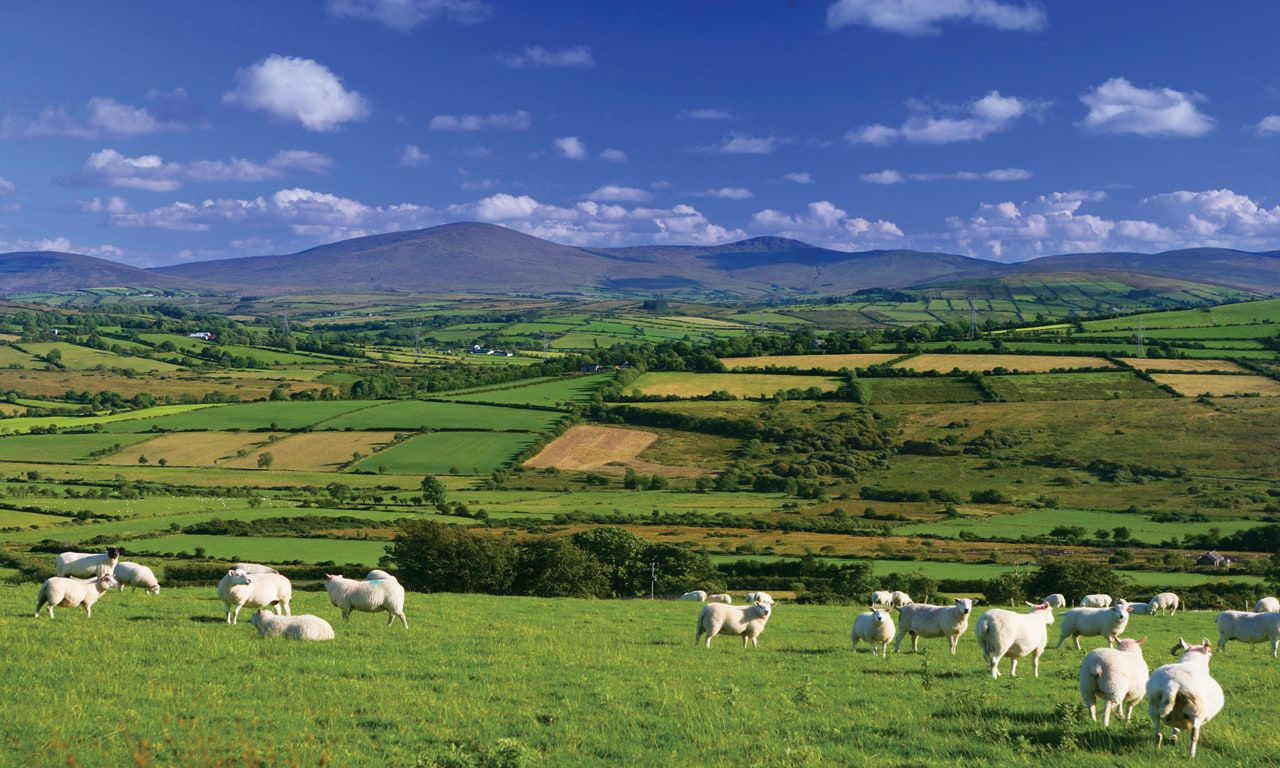 Tourists simply have to head to the Cliffs of Moher, check out Temple Bar in Dublin and kiss the Blarney Stone. Really though do you want to kiss a thing that countless others have kissed before you? Do you want to pay over the top for a beer even if it is a Guinness?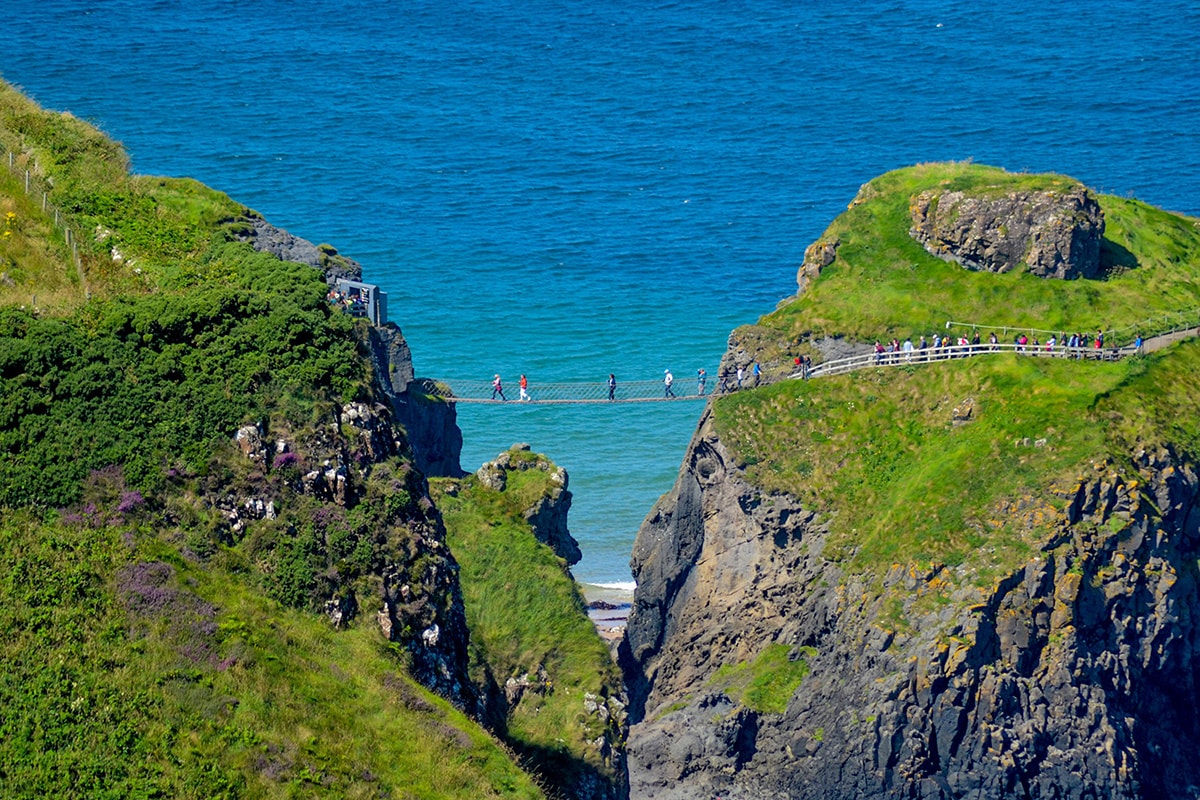 These are 13 of the most overrated tourist traps in Ireland and I'm sure there are countless more, but like any country that is finding its feet with tourism, you will discover the weird and wonderful.
13 tourist traps in Ireland & their alternative
Exploring the non touristy things to do in Ireland unveils unique authentic experiences beyond the tourist trail. Venture into the rugged landscapes of Connemara and lose yourself in the tranquility of its lakes and mountains. Wander through quaint villages like Adare, where thatched cottages exude charm, or delve into history at the Rock of Cashel's ancient ruins and Hore Abbey across the road.
For a taste of local flavors, explore farmers' markets like Cork's English Market, or Limerick's Milk Market which offer a glimpse into Ireland's culinary heritage.
Guinness Storehouse Dublin
For the past several years, the Guinness showcase has been the country's top visitor attraction and it has become synonymous with Ireland with tourists pouring into the place to learn to pour.
The Guinness Storehouse tour costs FROM €18.50 if booked online or €25.00 if buying a walk-up ticket. Okay, so it does include a ridiculously expensive pint of the black stuff.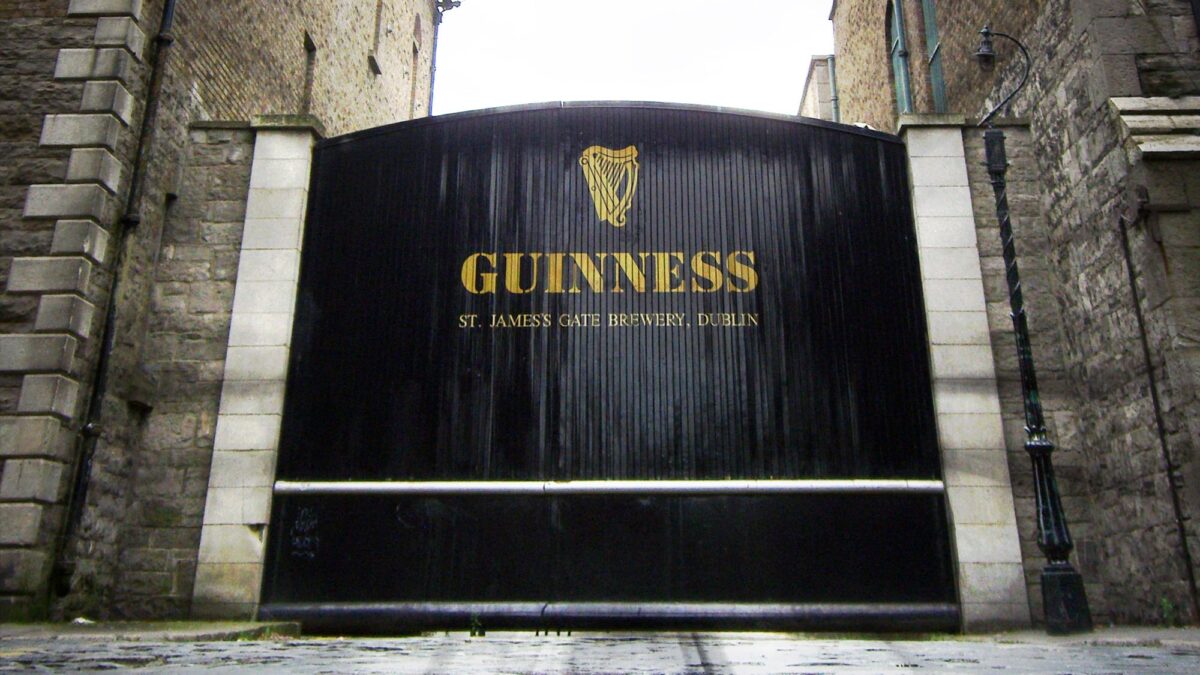 However, the Guinness storehouse is not about seeing how the stuff is brewed it's about walking through a sort of museum with video displays, photographs and ephemera all about Guinness. Then you head up to the Sky bar (which I will admit has some stonking views of Dublin) to learn how to pour a pint and drink one.
The wait in line can run over an hour in the summer months and then your visit is an overcrowded nightmare of people pushing and you can't hear the bartender when you attempt to get the cheap paper certificate that you officially learned how to pour a Guinness.
Go here instead
Teeling Distillery Tour
The Teeling tours are all fully guided and you get to see the complete whiskey-making process including some gorgeous copper stills that have returned to Dublin. At the end of the tour, there is a whiskey tasting with a selection of options. Oh, and the cost of admission is from €15.00. You can also take part in "experiences" such as the Single Malt Experience which costs €50.00.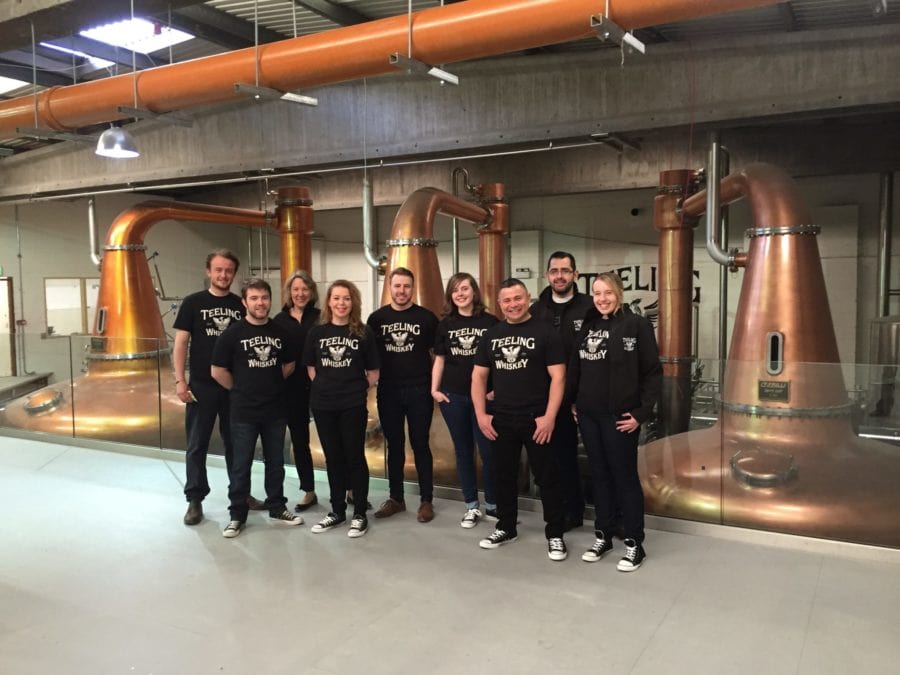 This is a small group guided tour that finished with a tasting of Teeling Single Malt, Brabazon Series 1, Revival Vol. V & 23-Year-Old Single Cask whiskeys. They do get booked up very quickly in the summer months so don't take a chance and book online.
Titanic Belfast
I tried, I really tried to love this attraction in Belfast, after all, shipbuilding is the very cornerstone of old Belfast's prosperity. Not that it lasted of course and there is really nothing left to see at the docks where the Titanic exhibition now stands.
The Titanic Experience has nine interactive galleries tour, and it is self-guided. In the summer months, it is an absolute crush and you are pretty much pushed from pillar to post with no time to really read or see any of the exhibits. The Exhibit does not include anything from the actual Titanic but is simply a museum relating the facts about shipbuilding in Belfast and the building of the great ship itself.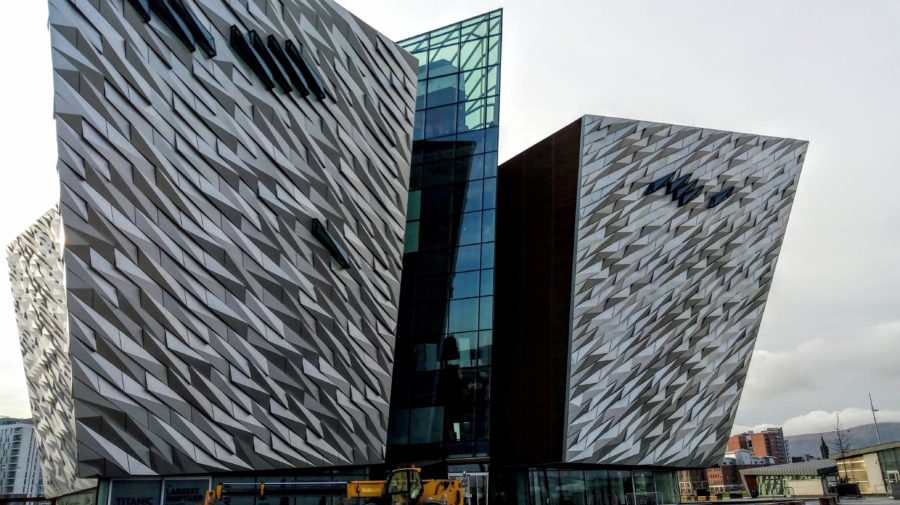 If you have seen some photos online of the Grand Titanic Staircase the tour does NOT include this but you can book a very expensive Sunday Afternoon tea at £28.50 each to indulge in a few overrated finger sandwiches and some tea and cakes to be able to take your selfie on the replica of the grand staircase.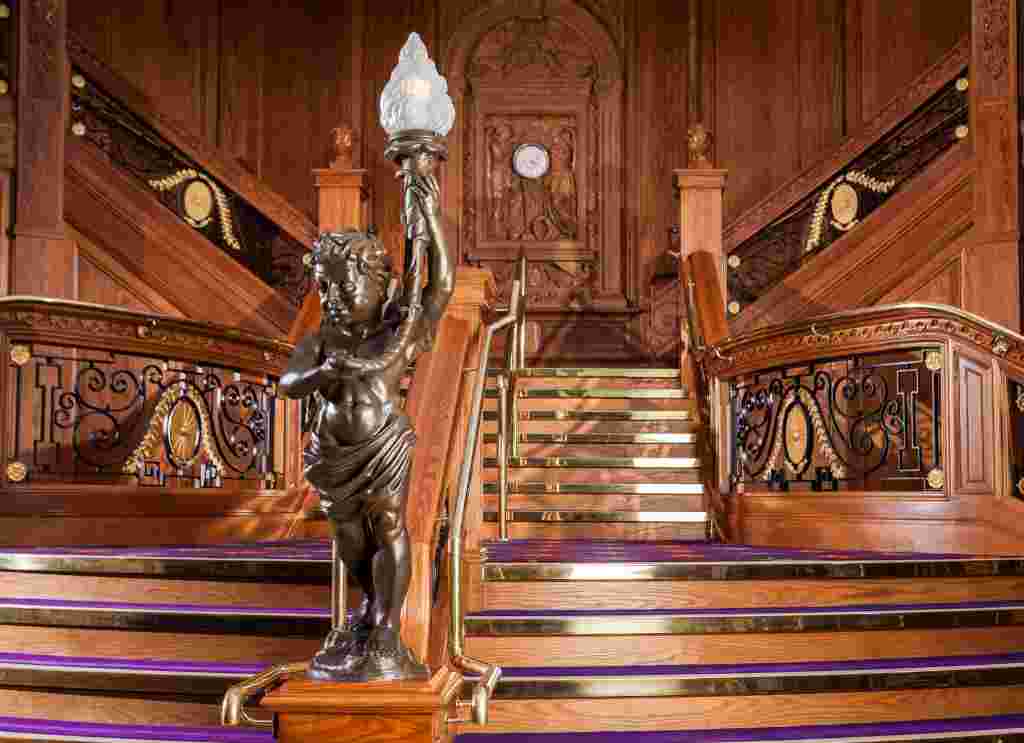 For an entry fee of £19.00, it rates a 5 out of 5 for overrated Irish tourist attractions.
Go see this instead
Crumlin Road Gaol
Crumlin Road Gaol has been an integral part of Belfast's history for over 150 years. There are a variety of tours you can take from a Ghost Walk to Victorian Tour and a Paranormal Tour.
The guided tour costs £12.00 if you are a walk-up or if you book online £9.00, fantastic value I assure you. The tour takes you through the footsteps of over 25,000 prisoners.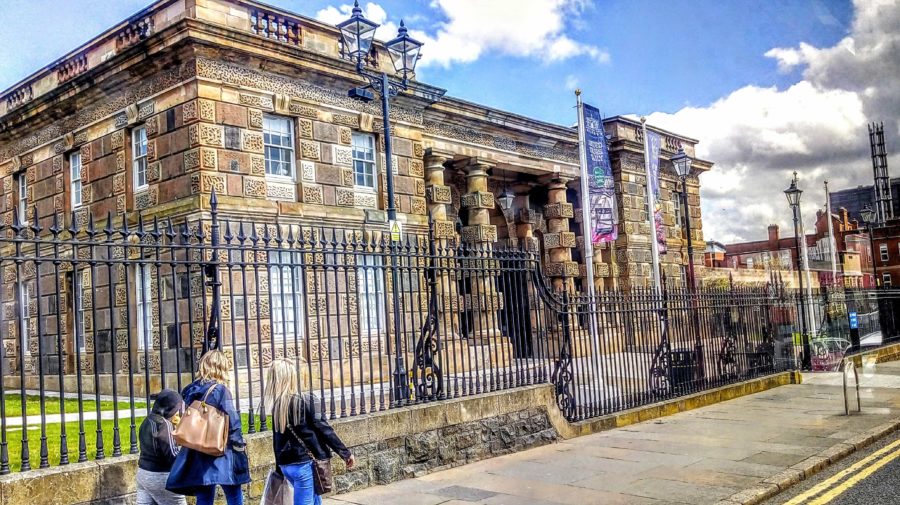 It's a pretty extensive tour and gives you a view of the Gaol's history including when women and children were imprisoned, the executions that were carried out, and its more recent history during the "Troubles" and why the decision was taken to close the prison.
They will cover all aspects of the Gaol from the Tunnel linking the courthouse on the other side of the Crumlin Road to the Hanging Cell, the Historic Holding Cells, Centre Circle, C-Wing and Graveyard.
Cliffs of Moher
This one I know will cause lots of controversy. Now I'm not saying the Cliffs of Moher aren't magnificent. What I am saying is why are you paying to see a natural wonder? Cost to see the Cliffs of Moher is €8.00. If you want to climb O'Brien's Tower at the Cliffs there is an extra charge of €4.00. There is a large car park at the Cliffs and all-day parking here is included in the price of a visitor centre ticket. There are free ways to see the Cliffs of Moher unless of course, you love a Visitor's Centre.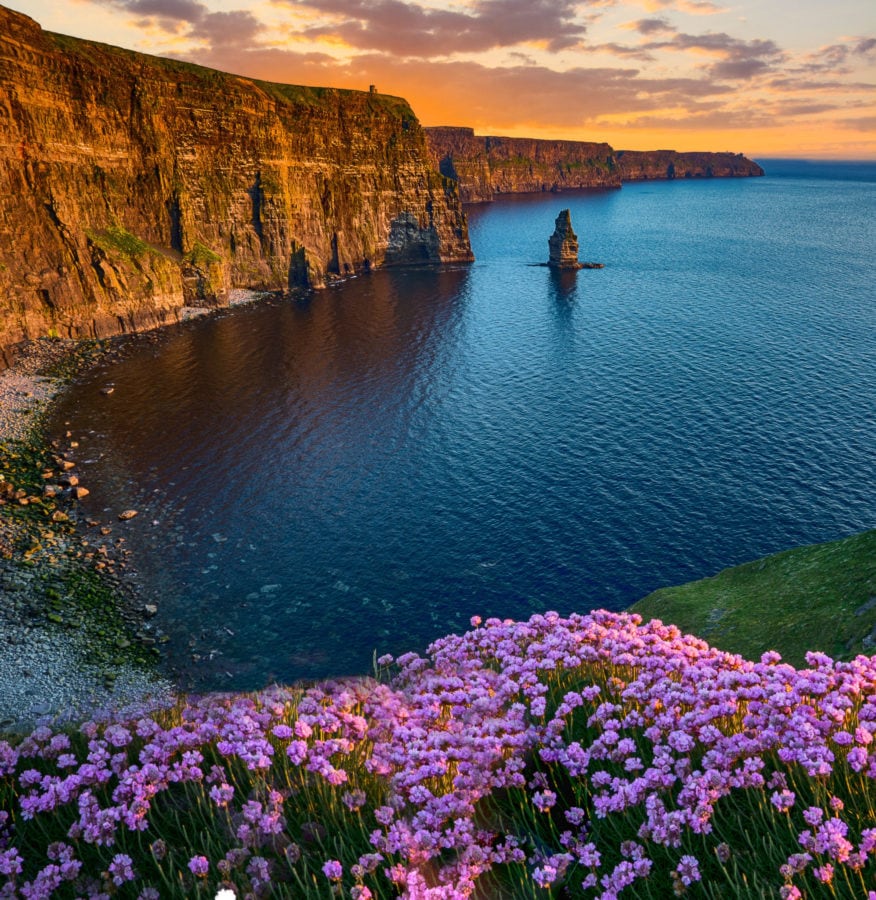 If you want to see puffins in Ireland check out some of the boat tours of the Cliffs of Moher.
See this instead
Two places I highly recommend that are free is the Loop Head Peninsula, County Clare and Slieve League in Donegal.
Loop Head Cliffs
If you are seeking a less touristy route than the Cliffs of Moher you should give the drive around Loop Head Peninsula a try. Isolated, raw and beautiful the Loop Head cliffs are just as stunning, the views are free and the outlook can be photographed in all its stunning glory with nary a tourist in sight.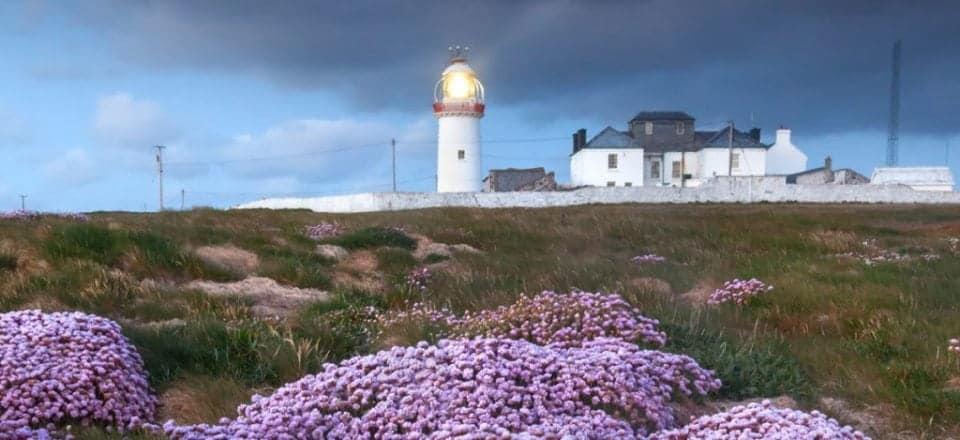 Slieve League – Donegal
Slieve League is believed to be the highest in Europe and offer absolutely spectacular views. There are several ways up the mountain. In season there is a shuttle bus to take you to the top viewing point, but during quieter seasons you pass the second parking lot and enter the trail by car through the gate, simply close the gate behind you and drive up to the viewing point. Oh, and it is absolutely free.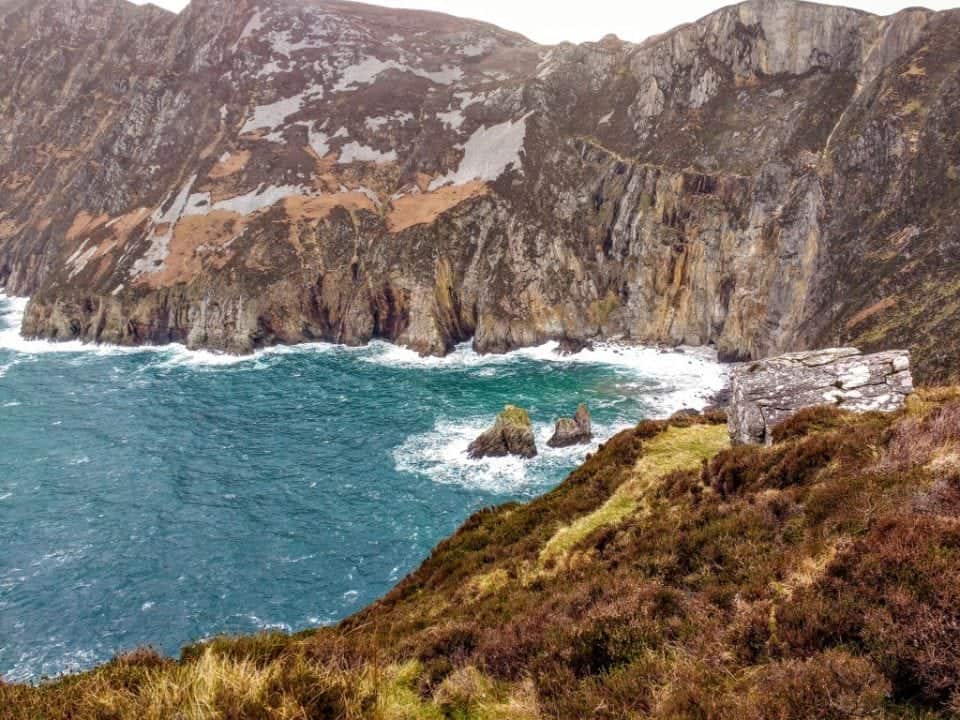 Galway City
Apologies to all who love Galway City but I just couldn't love it. Other cities in Ireland hold much more appeal. I know everyone says to go to Galway for trad music but to be honest, Donegal Town and the whole County is much better. Galway City's Shop street is dirty, crumbling and in dire need of repair. The area looks dingy and rundown not a city at its finest.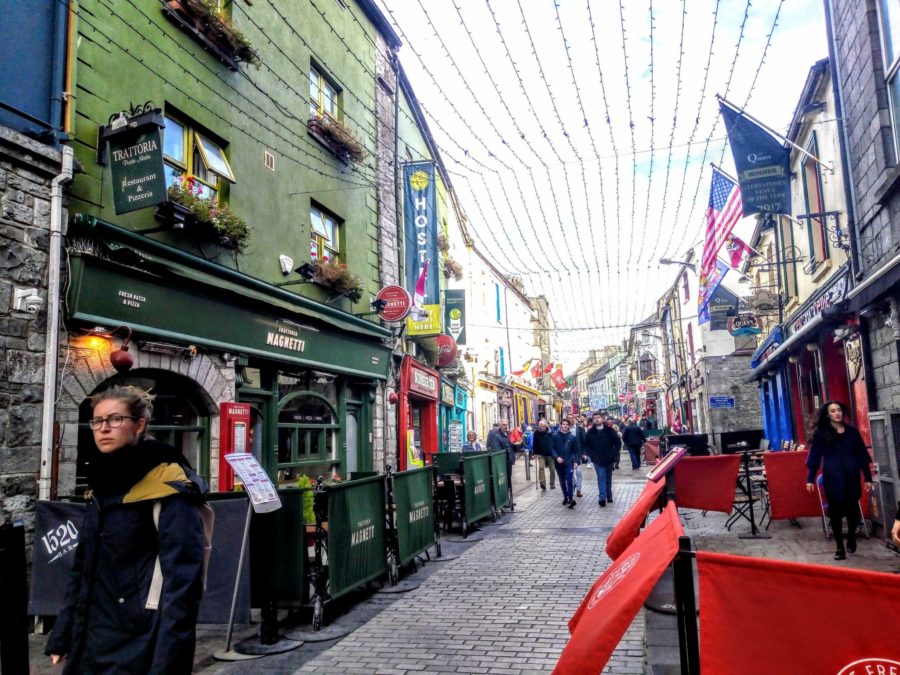 There are however a plethora of "Irish gifts" to be had, most of which are not made in Ireland although you can buy an "authentic" Claddagh ring here. The colourful shop fronts do make for great Instagram posts as well so if that's all your looking for then, by all means, go to Galway but I can't help but think it's an overrated tourist trap in Ireland sadly.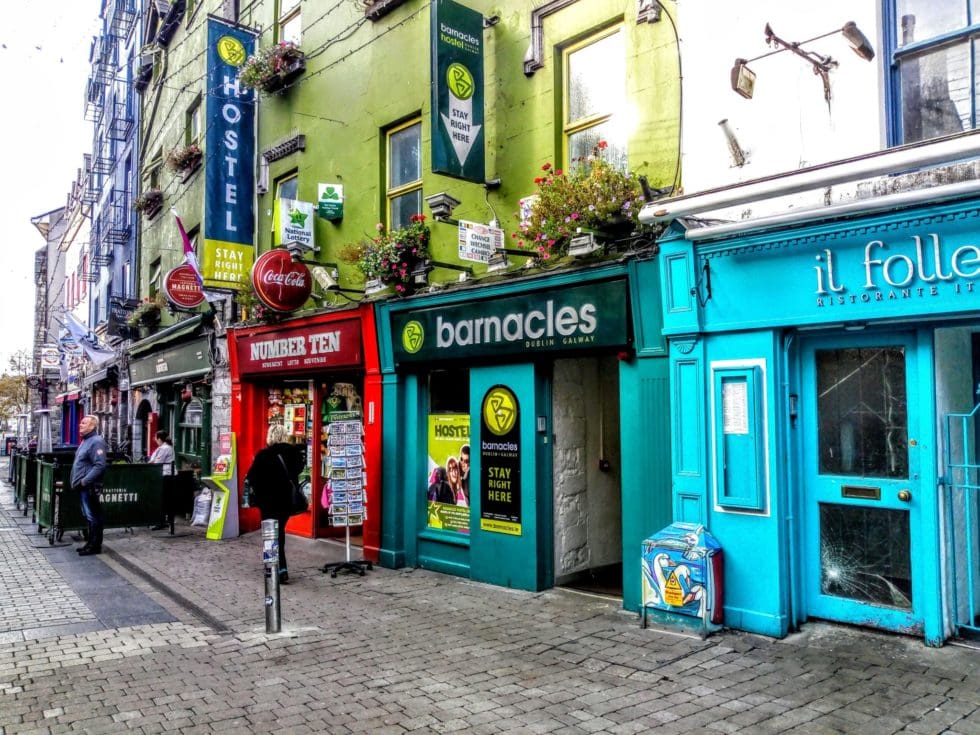 The central area where all the "action" is was a terrible place to spend the night. Way overpriced for second rate accommodation. Noisy as all hell with drunken students barfing everywhere – not pleasant. These days ructions are happening as well over the buskers in Galway some of which are simply superb. Things like drum kits, amplification and backing tracks are banned and the buskers are up in arms.
Go here instead
Cork
Cork is fabulous a lively young town with a great vibe. The English Market is foodie heaven and the small independent shops sell some pretty cool stuff you won't find anywhere else.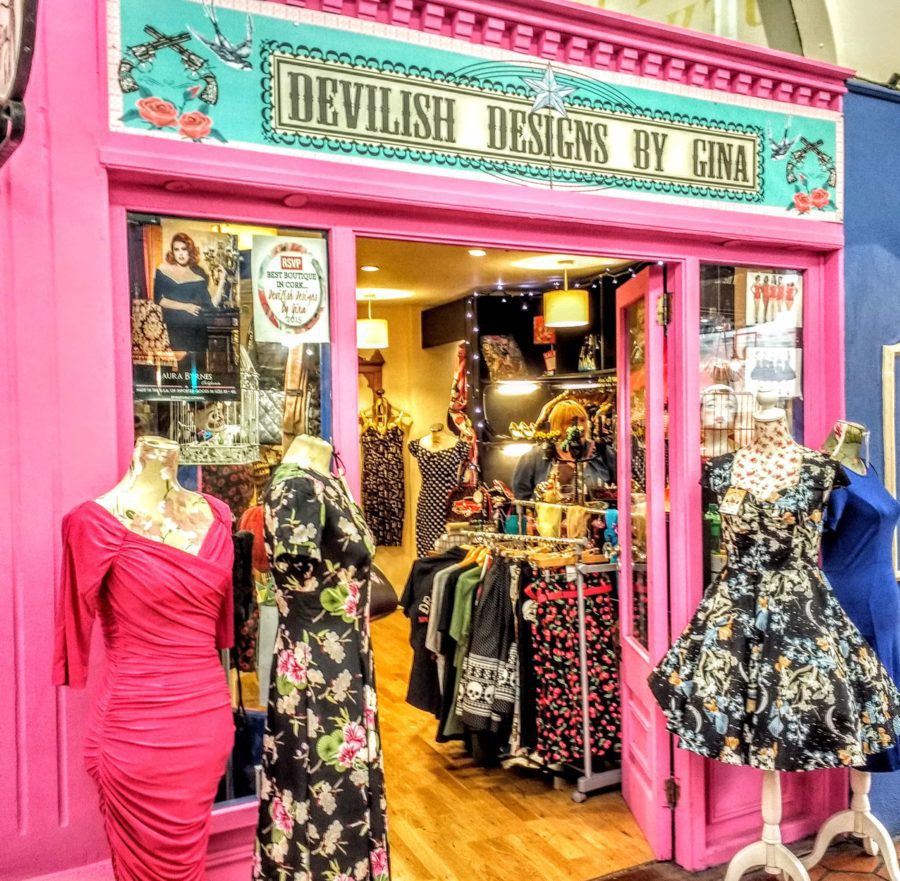 The streets are clean and there is a great choice of shops from big chains to small Irish independent stores.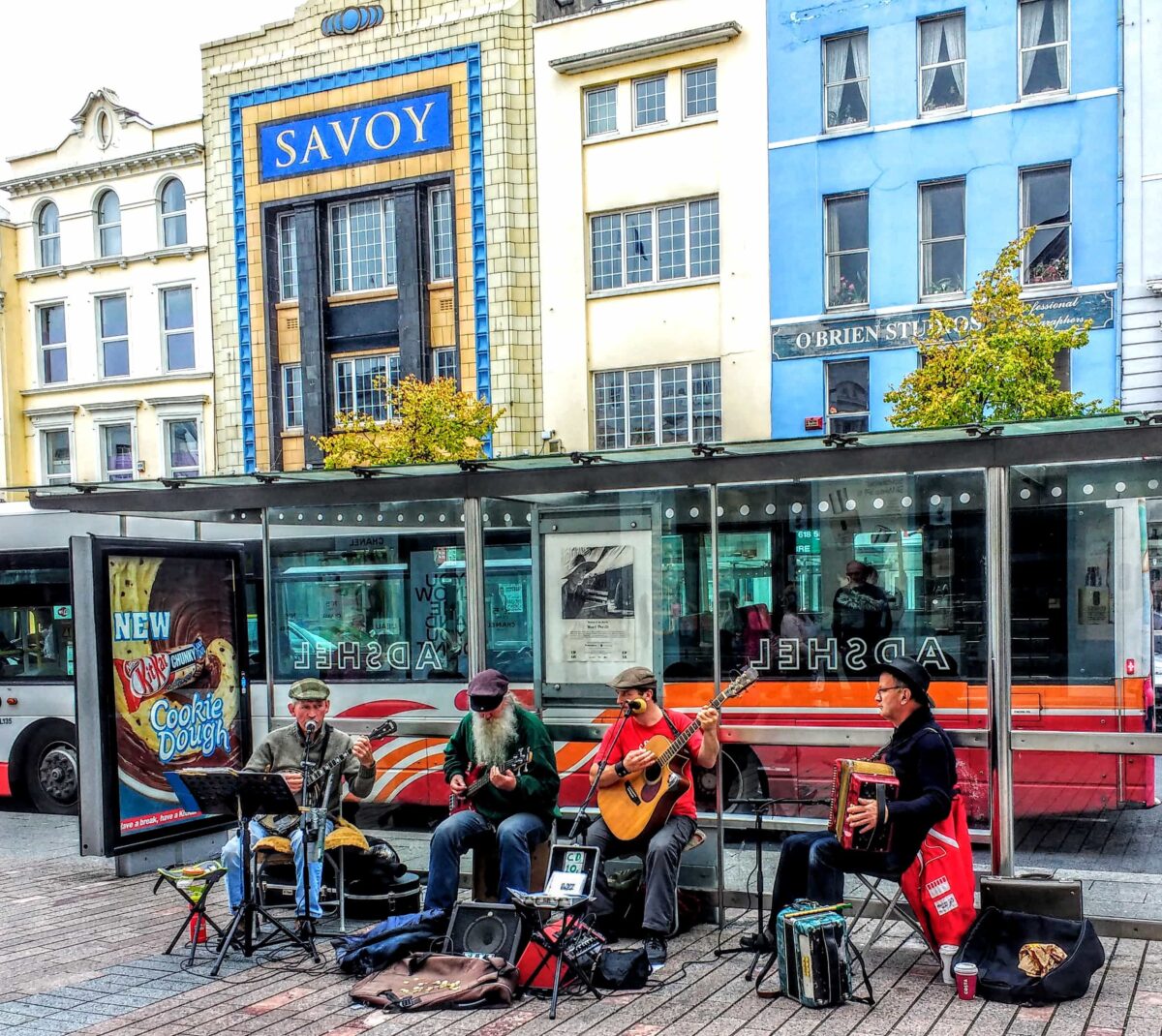 The busking is great fun and there are some very talented people playing in the streets. The restaurant and cafe life is brilliant.
There are literally dozens of smaller beautiful towns and villages to visit that aren't Irish tourist traps. Get in your car and just drive – you'll find them.
Kissing the Blarney Stone
I cannot imagine kissing a stone that locals are said to have peed on. I know that's probably an urban legend but still. Hiking up narrow, dangerous steps so dangerous in fact some people have been known to slip and break limbs. In fact, one American was so badly hurt when he slipped he sued the Castle.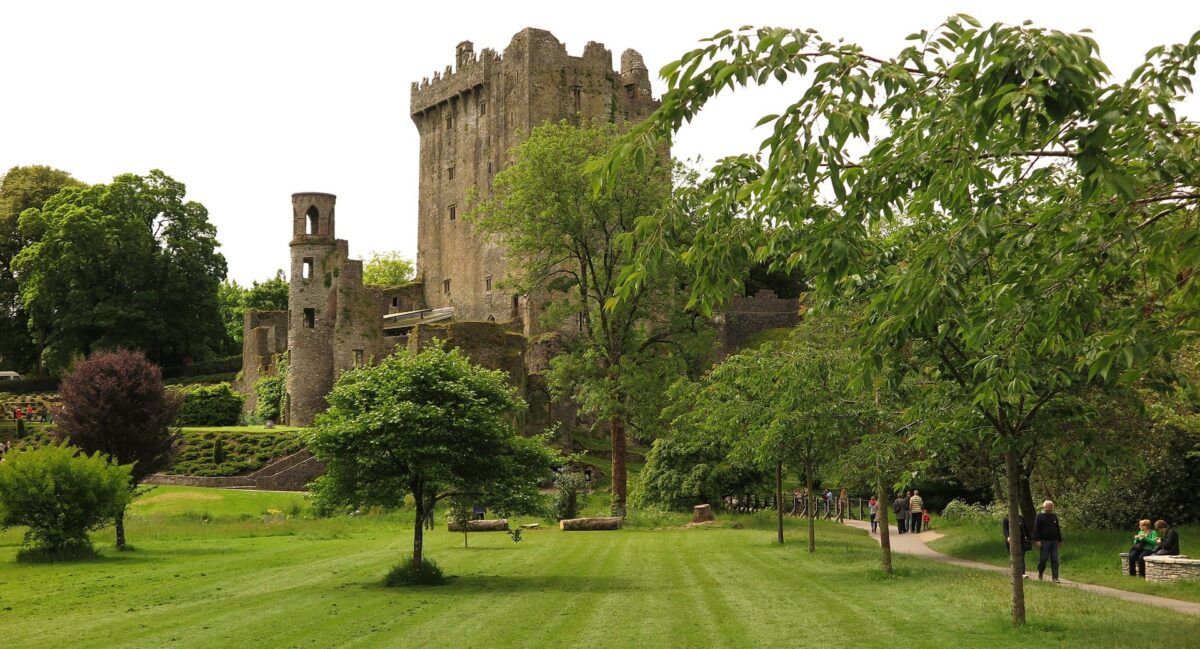 The stone itself is an exercise in vertigo and although you have help to bend over backwards to kiss the damn thing it just doesn't appeal. If you are mobility challenged trust me you won't make it up there so don't bother. Entry fee is €16 online or walk-ups €18.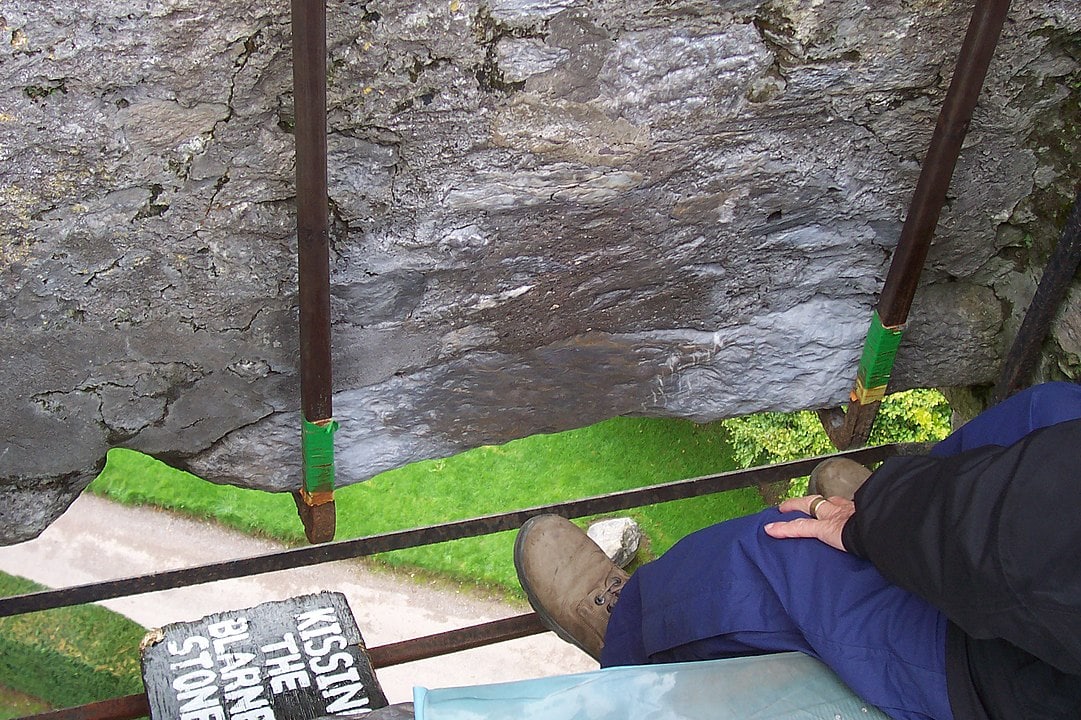 See this instead
Bunratty Castle and Folk Park
The Castle and the folk park are brilliant, don't bother with the whole rather overpriced Medieval Feast. Any Medieval Feast is not truly medieval food and really cheesy with bad acting and even worse ambience.
Having said that the Castle is cool and the cost is The Castle and Village cost is €15.25 per adult and €10.50 per child. The Castle does hold Ireland's most impressive and extensive collection of medieval furniture in the country which is on view in the Castle.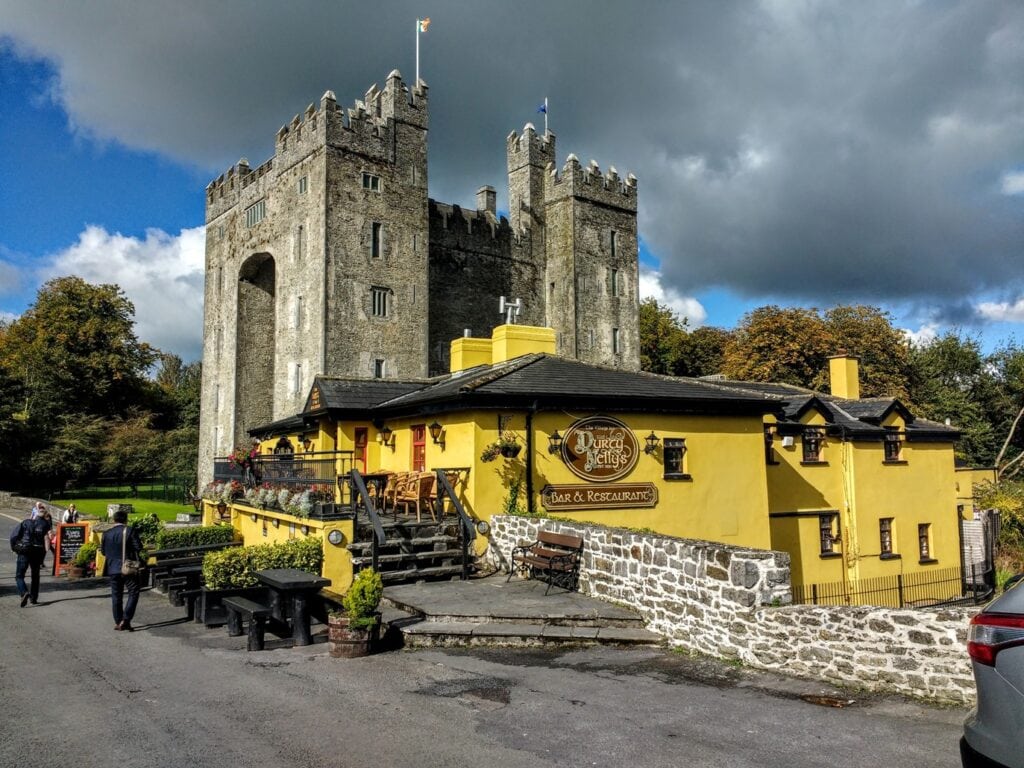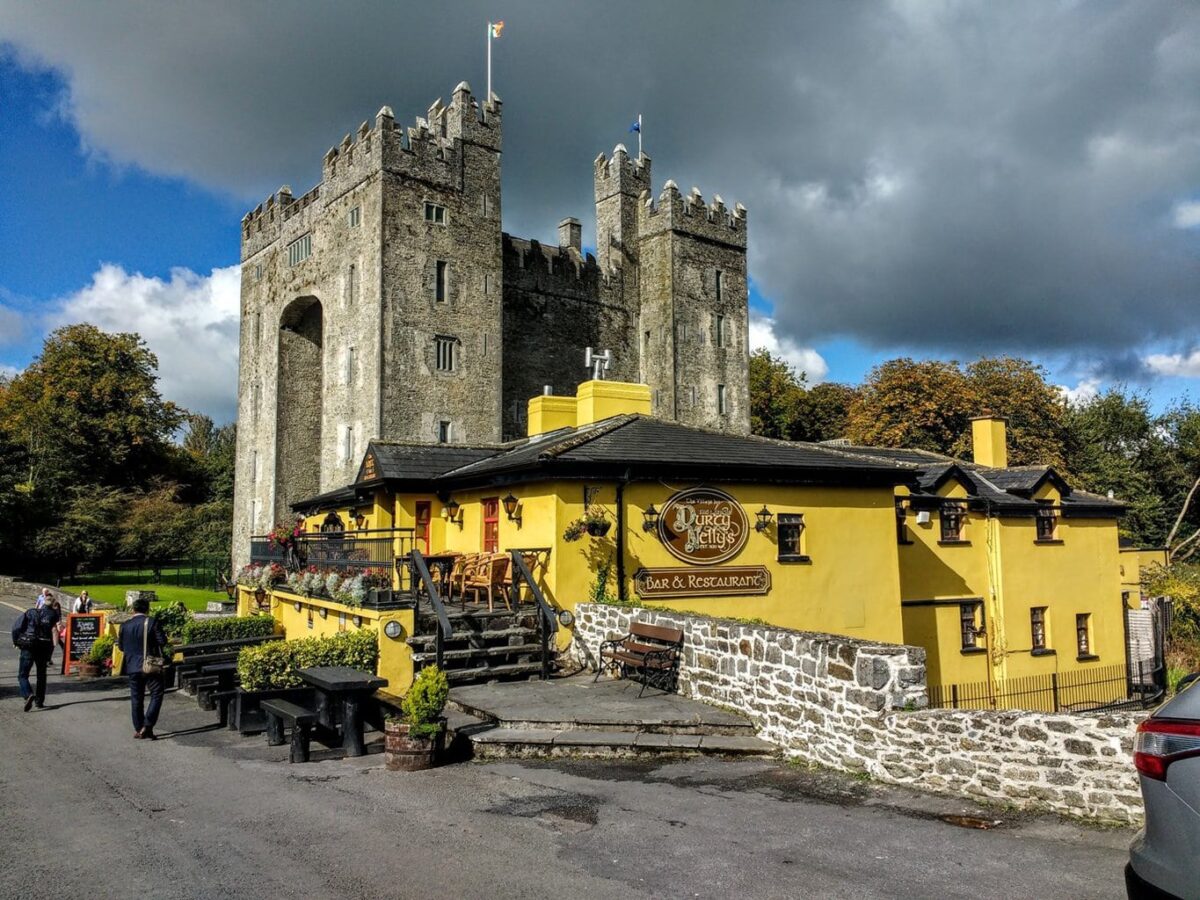 Visiting the Bunratty Folk Park is a real treat, set over 26 acres this amazing park includes over 30 buildings, a living village and a rural setting. There is a children's play area, Gypsy caravans, and a Fairy Village. The interpreters are great and can answer virtually any question and they do love a chat.
Durty Nellies is just outside the castle and is a great place on a sunny day for a pint and a Ploughmans. I would also recommend other Castles like Birr Castle in Offaly or Carrickfergus in the North of Ireland. There are thousands of castles in Ireland (some of which are haunted) you can visit and some you can even stay in.
Temple Bar Dublin
If any place deserves an overrated designation its Temple Bar. Smack dab in the centre of Dublin and the first place tourists head to for selfies and insta posts Temple Bar is dirty, crowded and so overpriced it could induce heart attacks. There is better food elsewhere, cheaper pints, they average around €8, and much better music to be had.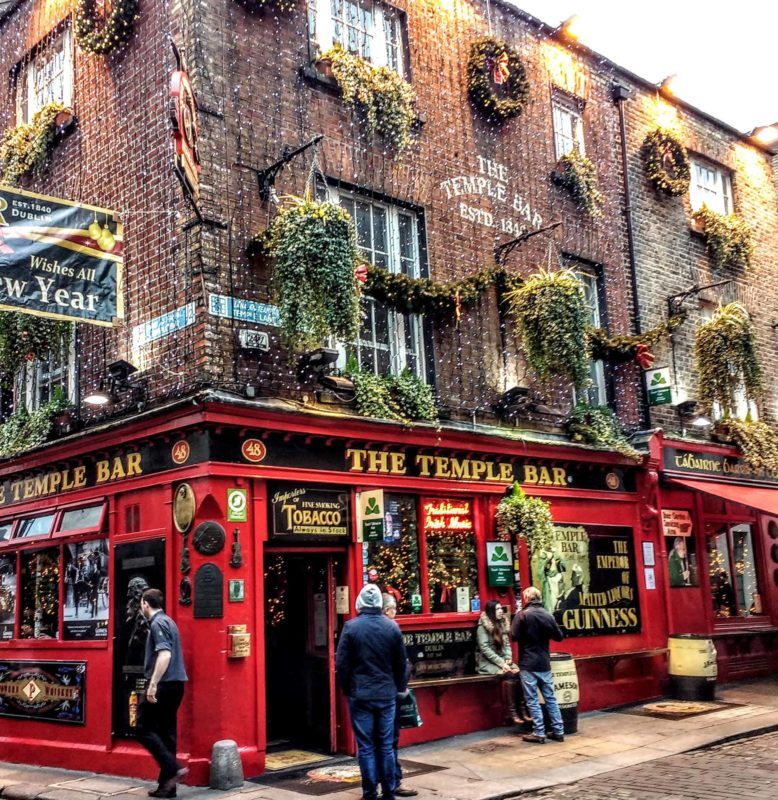 Try this instead
O'Donoghues Pub
O'Donoghues one of the most famous pubs in Dublin. A pub popular with both locals and tourists this one is famous for being the "home" pub of the Dubliners and the best place for authentic trad music. This is one of the absolute best pubs for music in Dublin.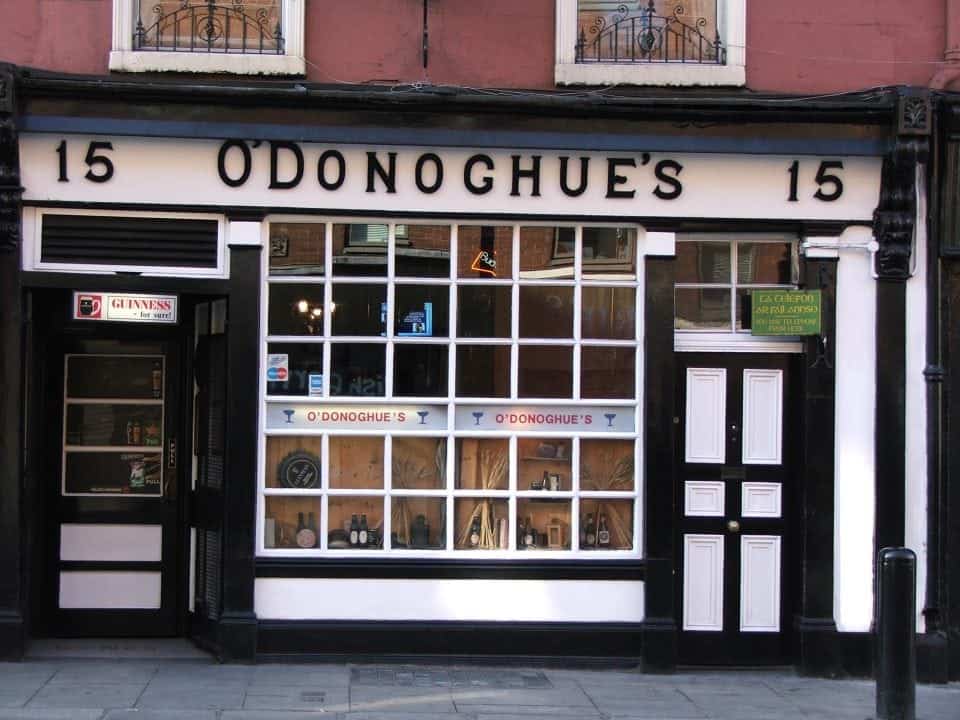 Malahide Castle Dublin
Malahide Castle dates back to the 12th century. It sits in an estate of over 260 acres which has fairy gardens, play areas, forest walks and a walled garden.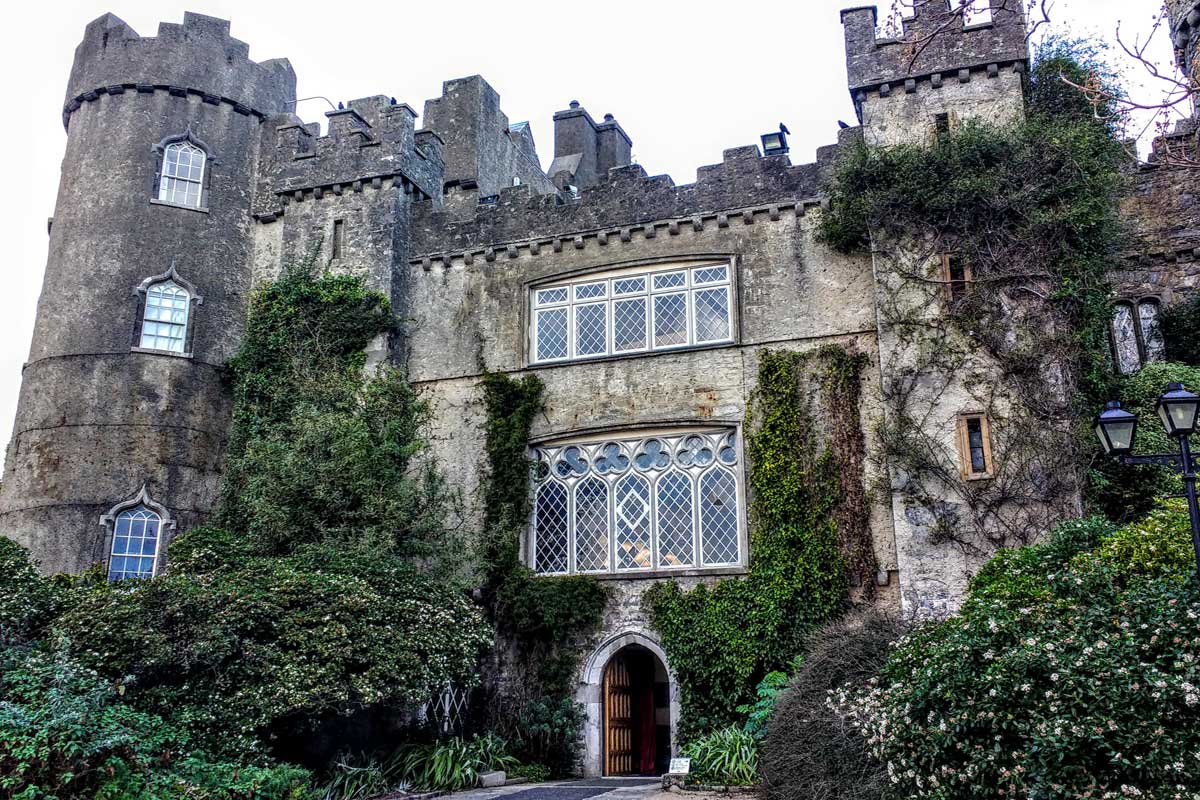 Beautiful from the outside we heard nothing but tourists complaining how expensive the tour was (Adult online) €12.60) and how little you got for your money. It was a guided tour but rather lacklustre was the word of the day.
Choose this instead
Powerscourt House & Gardens
Not exactly a castle but a pretty damned impressive country house estate. The Powerscourt Estate and Gardens are located 20 minutes south of Dublin Located in County Wicklow and set within some of the most stunning views in the east of Ireland. Powerscourt was originally a 13th-century castle whose original owner was a de la Poer (anglicized as Power).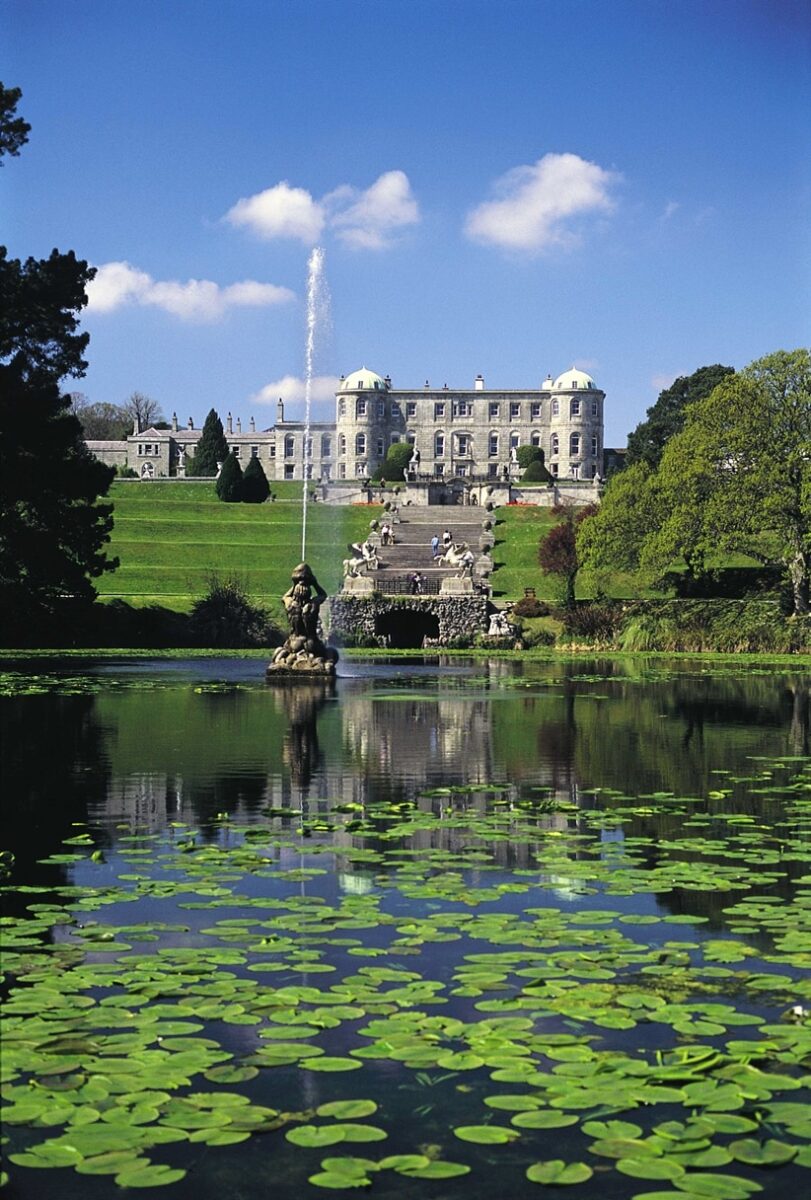 In 1974, a major refurbishment of the house was completed in preparation for it joining the gardens as a visitor attraction but unfortunately, a fire broke out and by the morning, the main part of the house was a roofless shell.
No one was injured, but all of the principal reception rooms and bedrooms were destroyed. In 1996, the house was re-roofed and was opened to the public.
The Gardens at Powerscourt are the great attraction of the place. With stunning views of Sugarloaf Mountain, they stretch over 47 acres and offer a breathtaking blend of formal gardens, statuary, fountains, lakes, Japanese gardens, a Pet Cemetery, the Pepperpot Tower, sweeping terraces, secret hollows and rambling walks.
Entry tickets to the gardens are Adult: €10.50 and to see the Waterfall that featured in the HBO series Vikings the cost is an extra Adult: €6.00.
Book of Kells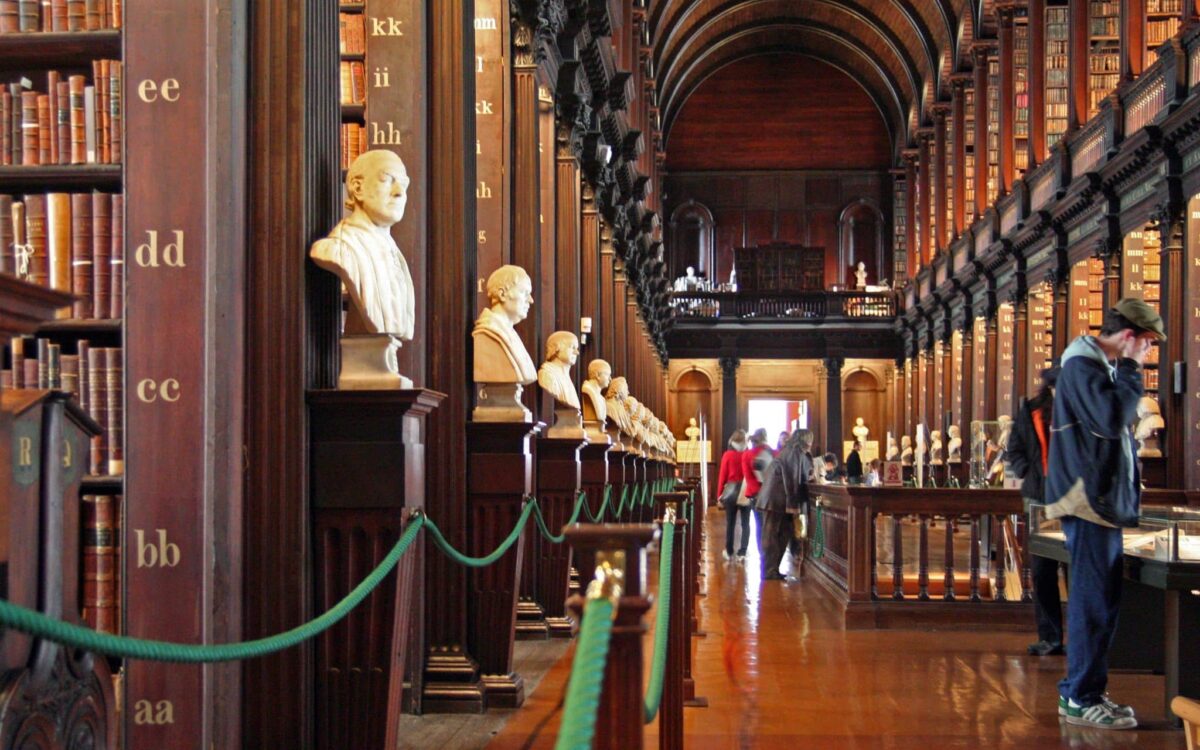 Everyone, even me wants to or wanted to see the Book of Kells at Trinity College. However, having done it once it just wasn't worth the €13 euros per adult for a tour of the Old Library.
The Old Library was pretty interesting I have to say. With the Book of Kells, there are two volumes that are on display. One will be open at a page showing one of the major texts contained in the Book of Kells, and another will show you a typical page of lavishly ornamented text.
You wait in line for around an hour but book your tickets online or you just might not get in.
Go see this instead
Replica Book of Kells in Kells
The actual Book of Kells was found in Kells, Quel surprise! There is a replica of the book that you can see in the church at Kells absolutely free and trust me you won't be able to tell the difference.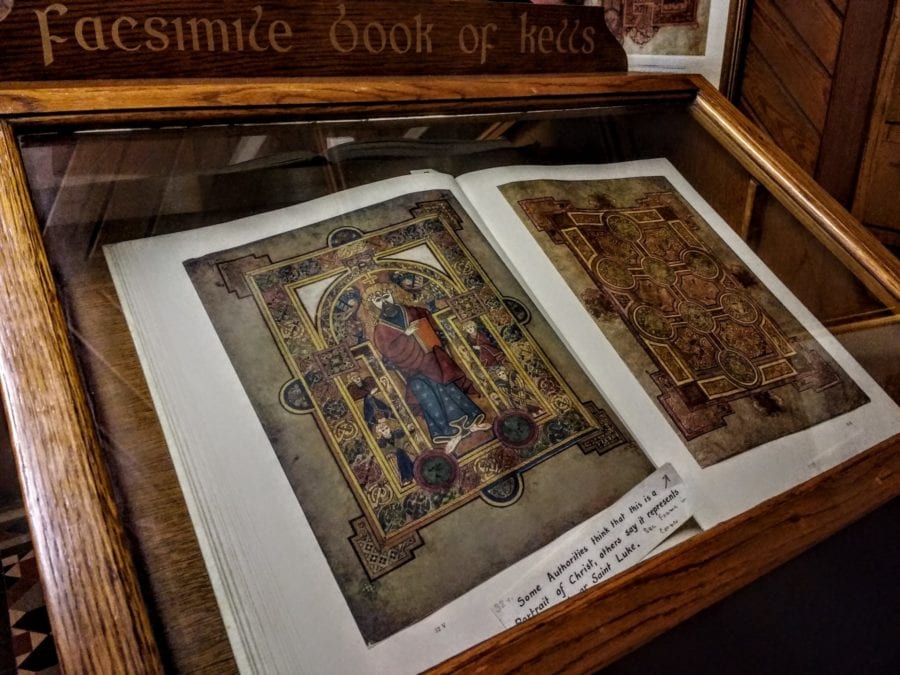 The big advantage of heading to Kells itself is that not only can you see the replica and you will see 4 pages and there are some fine Celtic Crosses and the remains of a Norman Tower in the graveyard. Kell's round tower is roofless and stands at over 25 metres and in 1076 Murchadh Mac Flainn, who was fighting for the High Kingship of Ireland, was murdered in the tower.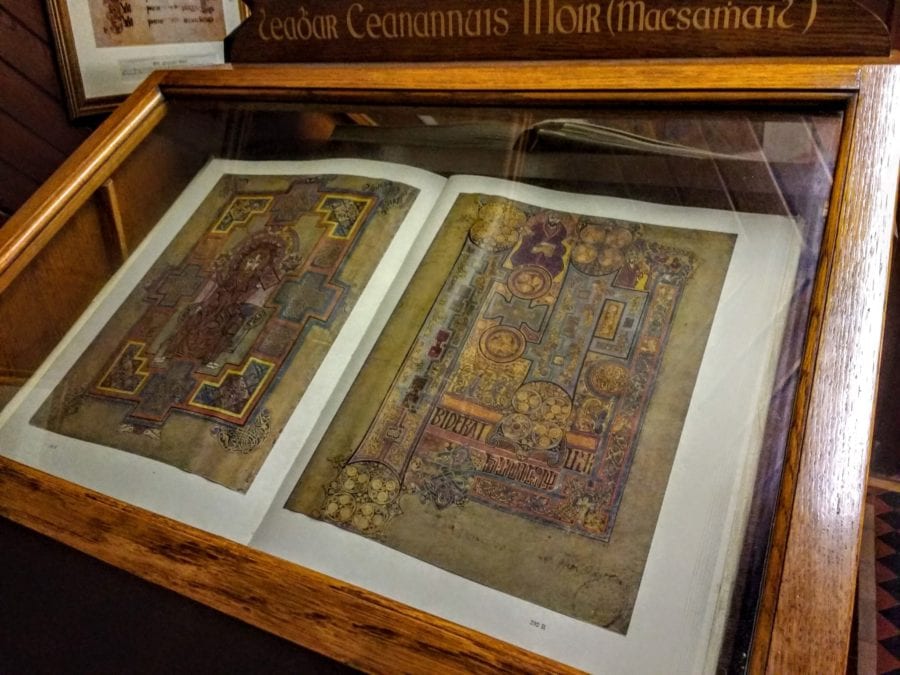 From Kells, you can head out to Monasterboice which is a simply stunning sight in the Irish countryside. Monasterboice is home to Ireland's finest high crosses.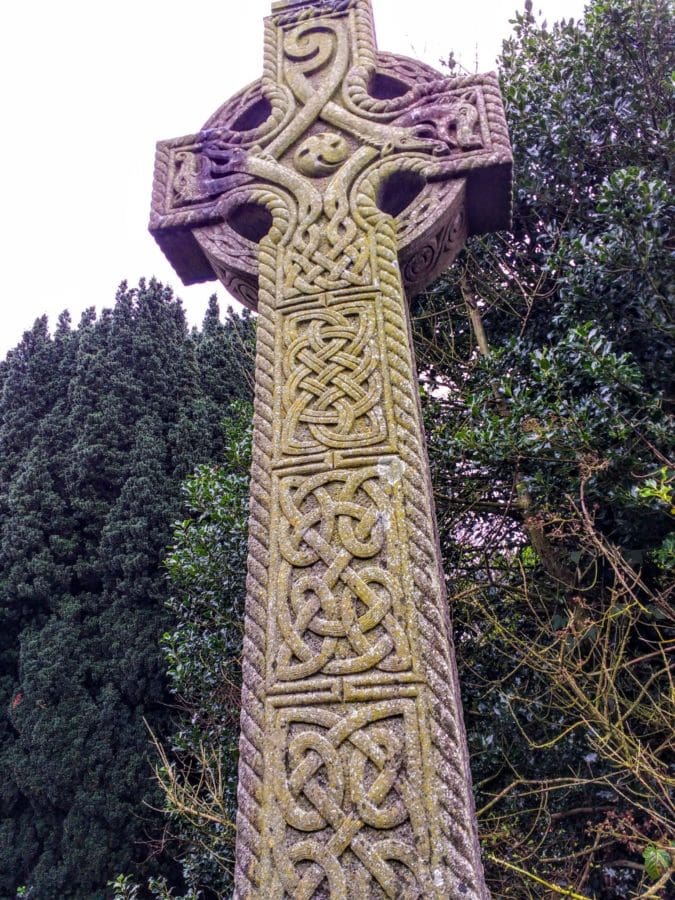 Butter Slip Kilkenny
Named as one of the oldest Medieval alleys in the world Butter Slip in Kilkenny was a dark cool alley where the butter merchants could sell their wares. The Shambles in York is far more atmospheric than Butter Slip.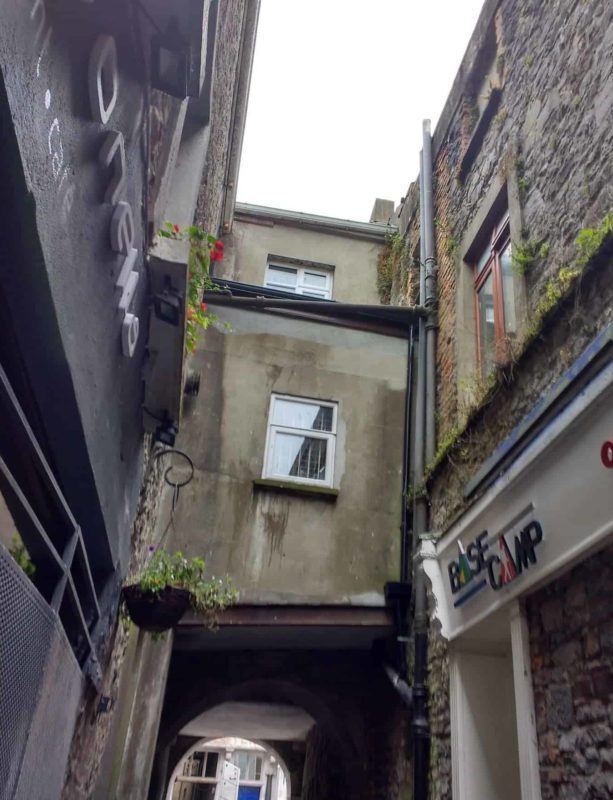 I know I'm a massive history nerd but this alley just didn't instil in me any sense of awe or history at all. It is now still a dark slippery alleyway with some shops and restaurants. The Kilkenny Medieval Mile is much more impressive than Butter Slip would have you believe.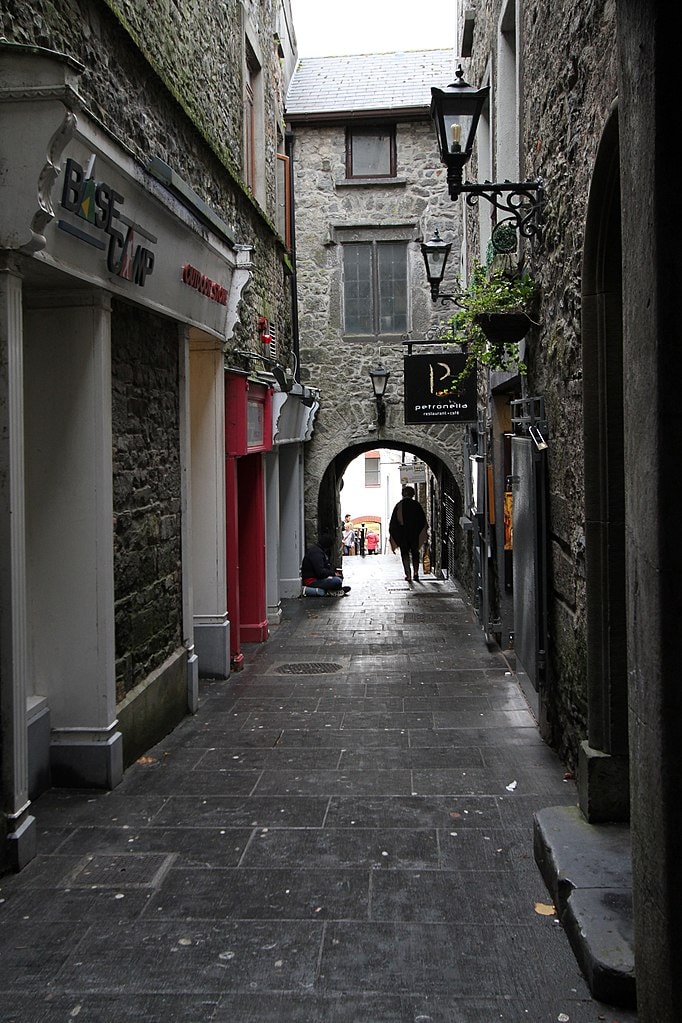 Choose this instead
Fethard
I loved discovering Fethard in Tipperary it has the most complete medieval town wall in Ireland. It retains 90% of its original length of 1100 metres. With ruins dating to the 13th century, I advise you to go find the Sheela na gigs.

The ruins include several fortified tower houses to the 13th century Holy Trinity Church, the nearby 17th century Town Hall and the 14th century Augustinian Friary with its heraldic images.
The Town Wall dates from 1292 when King Edward I of England made provision to the burgesses of Fethard for 'the inclosing of their village and the greater security of Ireland.'
Father Ted's House
A Father Ted fanatic who must see the house? The house itself is located near the Burren in County Clare and the homeowners offer a chance to enter the house and have tea with them for €10.50. I found this a tad embarrassing as the interior of the house was never used in the filming and the homeowners were also not involved in any way really.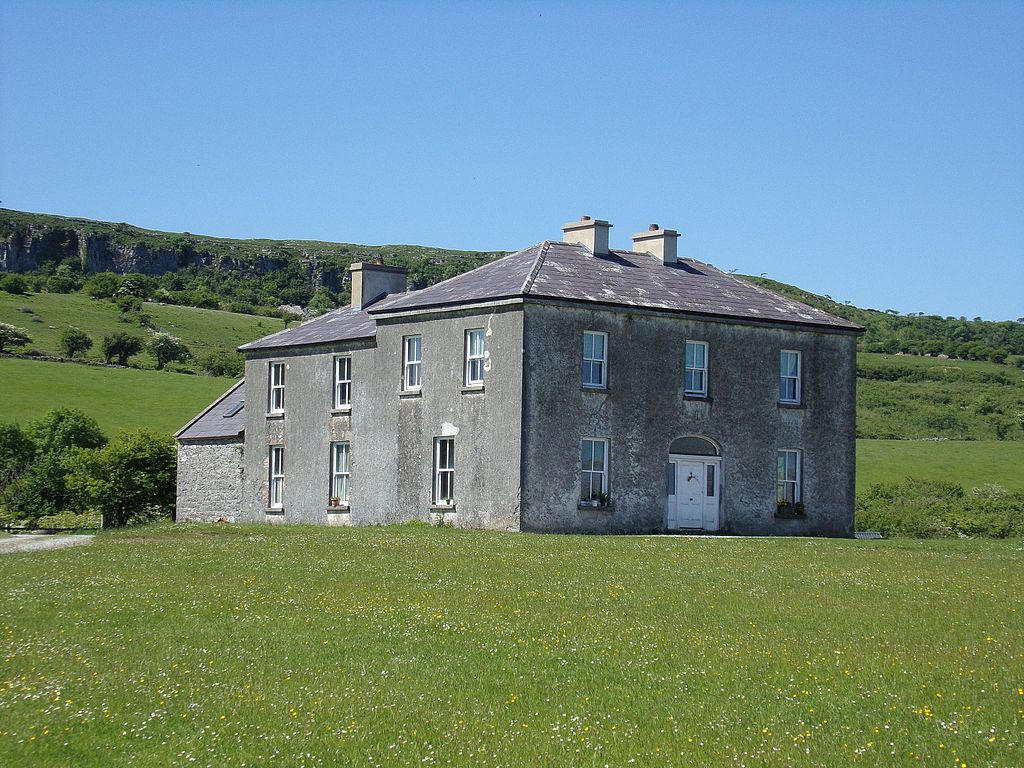 Better to simply take yourself from the outside as the exterior of the house is all that was used in the filming of the series.
See this instead
Game of Thrones or Vikings Filming sites
Game of Thrones filming sites in Northern Ireland is one option and there are many of them as well as the Tour of Doors. The TOD are doors carved from the trees that fell in a brutal storm at the Dark Hedges. These gorgeous doors are now displayed in local pubs and restaurants across N. Ireland.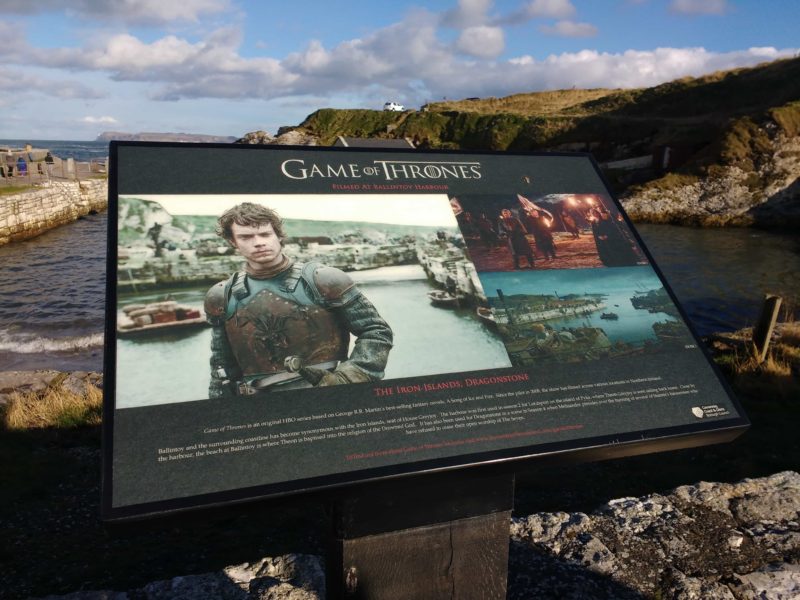 Or how about touring the Viking's filming sites? HBO's epic Vikings drama with Ragnar and Lagatha was filmed mainly at the Guinness Estate in Wicklow and offers some unparalleled Irish scenery.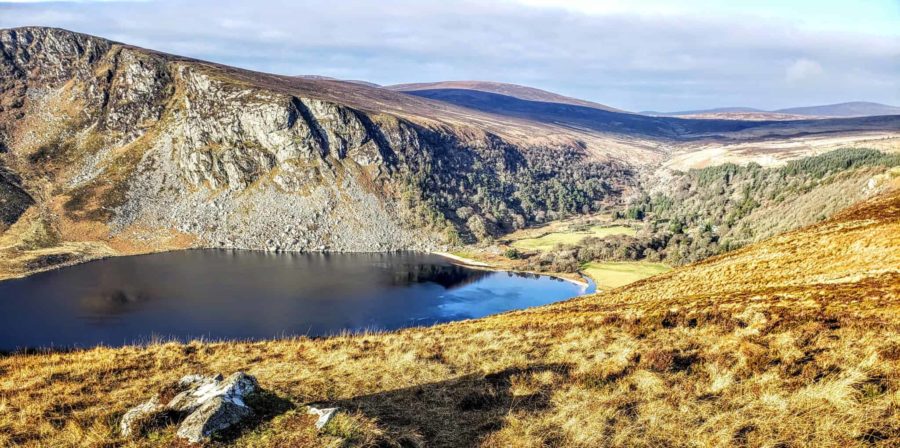 Grafton Street Dublin
Sadly Grafton street is now home to many a big box store it has lost a ton of charm since the Celtic tiger crashed. There are still buskers a plenty and if you are in Dublin at Christmas go catch Glen Hansard busking with other celebs on Christmas Eve to raise money for the homeless.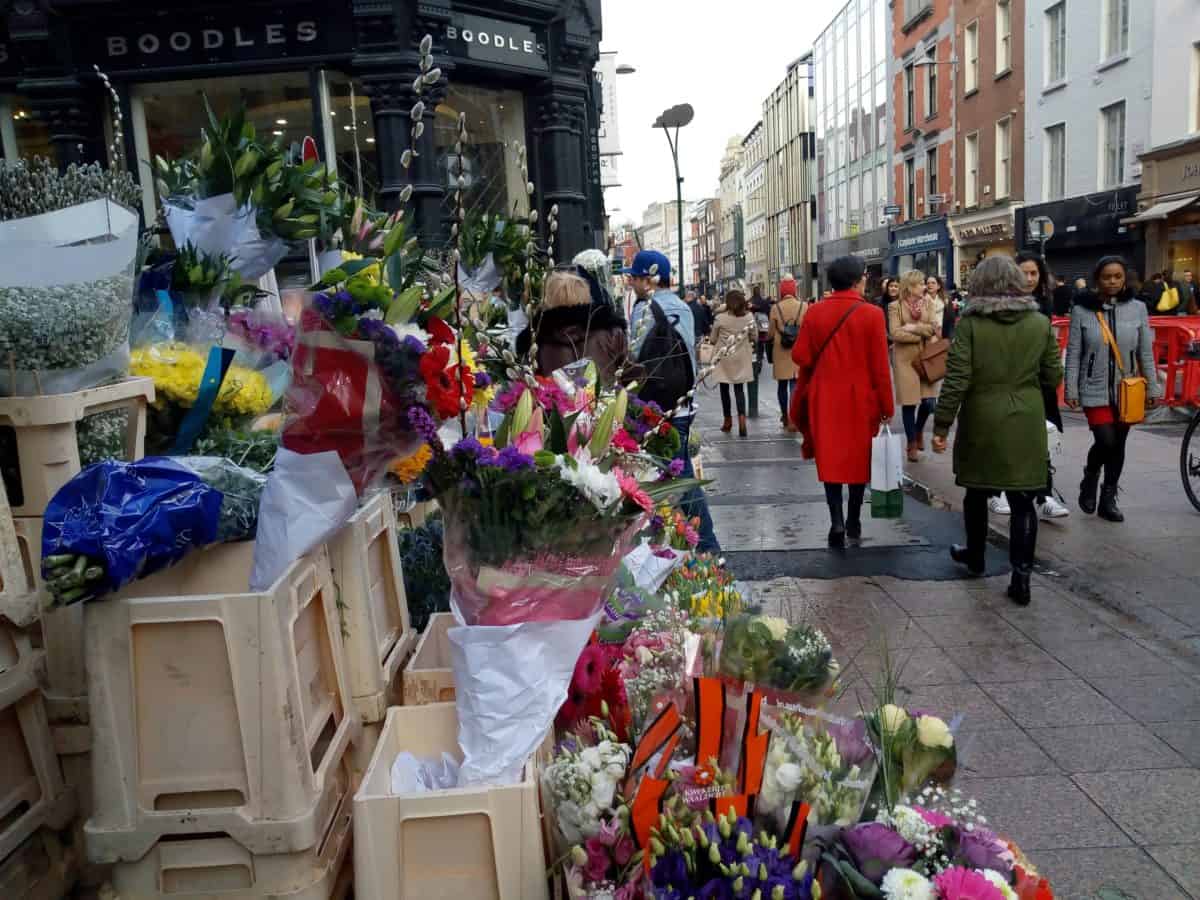 The Street has become rather run down and grubby over the years and is not a great place for shopping anymore and many of the original shop owners like Knobs and Knockers have had to move to cheaper locations.
Shop here instead
Creative Corner Dublin
The Creative Corner is an area stretching from South William Street to George's Street, and from Lower Stephen's Street to Exchequer Street.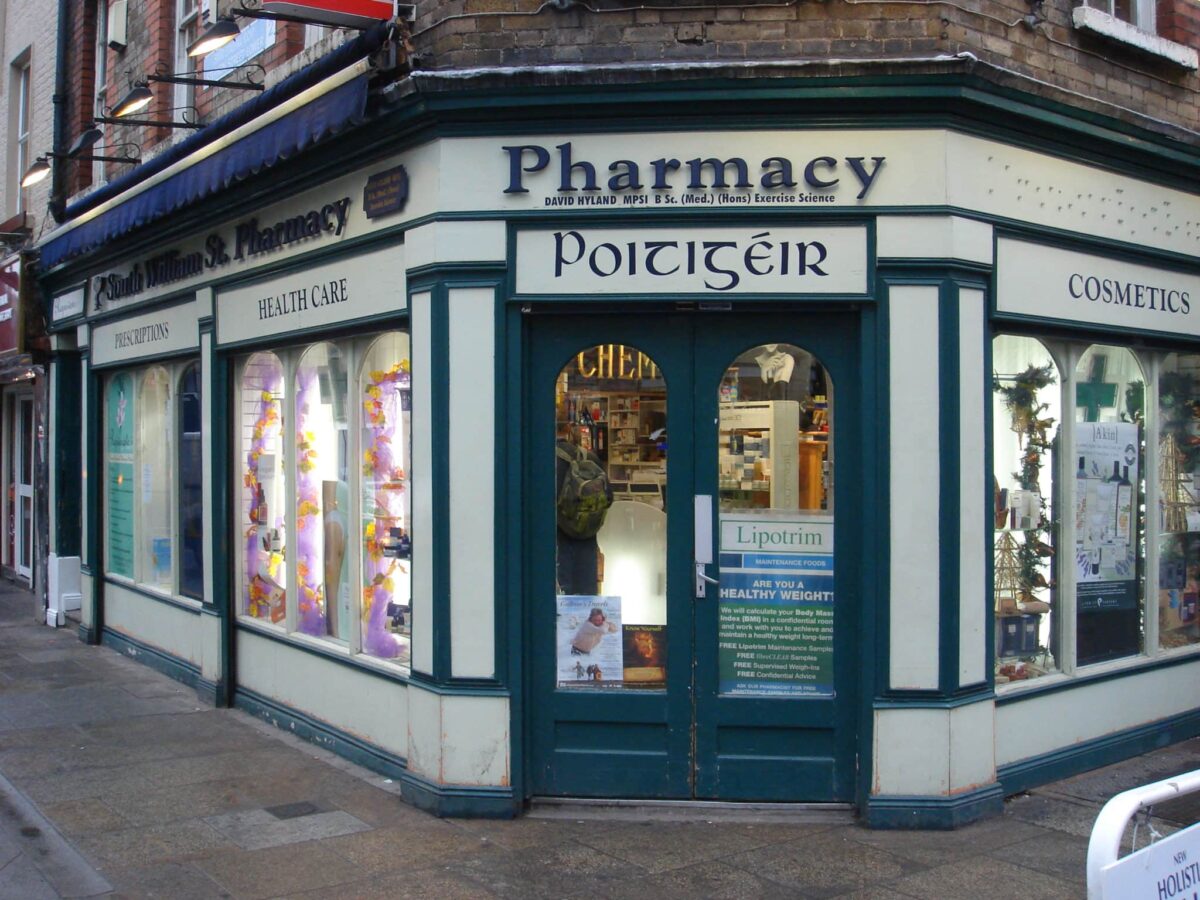 The area has a long-standing history dating back to the 18th century of specialist design and hosts exceptional artisan boutiques, studios, cafés and restaurants. It is home to an eclectic mix of shops, cafés, galleries, restaurants, creative businesses and plenty more.
Howth Village
Howth is located just south of Dublin and is an easy ride on the Dart. Called a "quaint seaside village" I found nothing particularly "quaint" about it.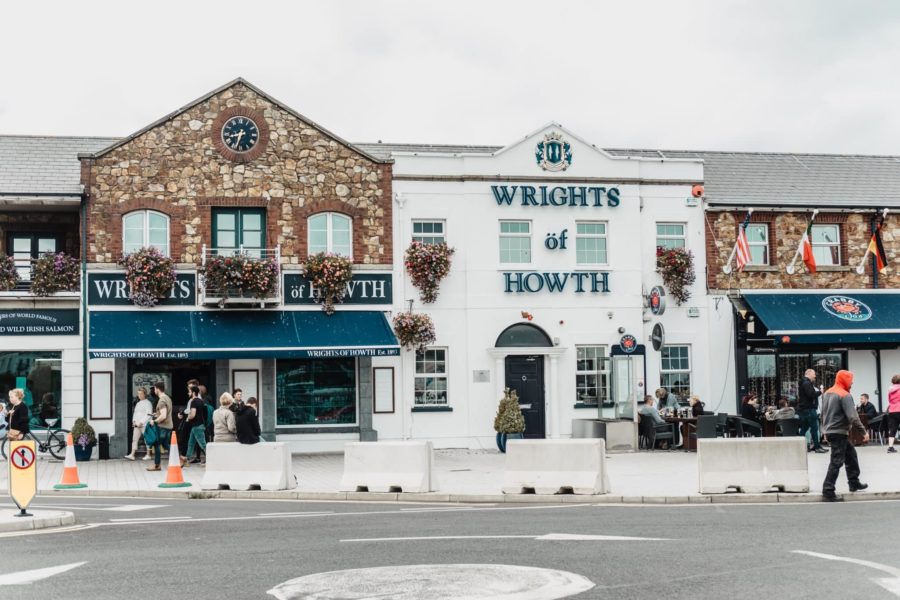 We actually went to visit the Howth Market reputed to be the best around, well if that's the best I can't imagine the worst. The town is okay but the restaurants serving fish and chips are really overpriced. The harbour is sort of attractive in a fishy-smelling, bird-avoiding way. Nothing much to see here, to be honest.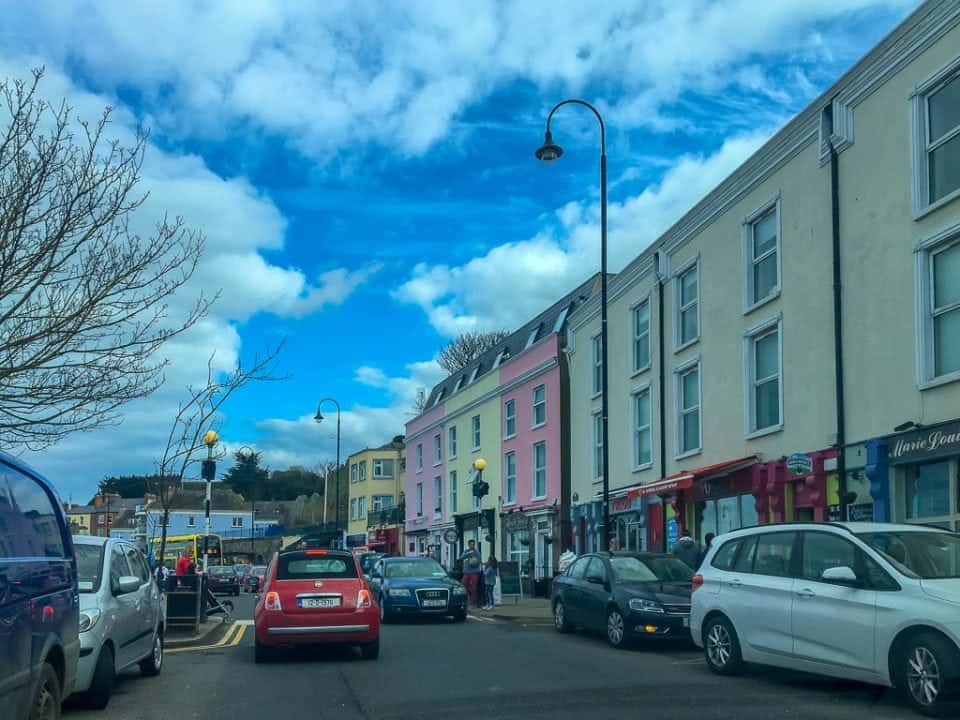 You know it's pretty bad when a place classes beauticians as tourist worthy. On the other hand, the Howth cliff walk which is free and takes around 2 hours will blow the cobwebs and city dust out of your head. This is pretty spectacular, with views of the crashing Irish sea, birds reeling overhead and a few great pubs to visit for refreshments.
Visit here instead
Carlingford
There are dozens of quaint Irish villages and beautiful towns to visit and Carlingford is but one of them. Carlingford is absolutely one of the prettiest places in Ireland. Right beside the fabulous Carlingford Fjord which makes a natural border between the Republic and N. Ireland.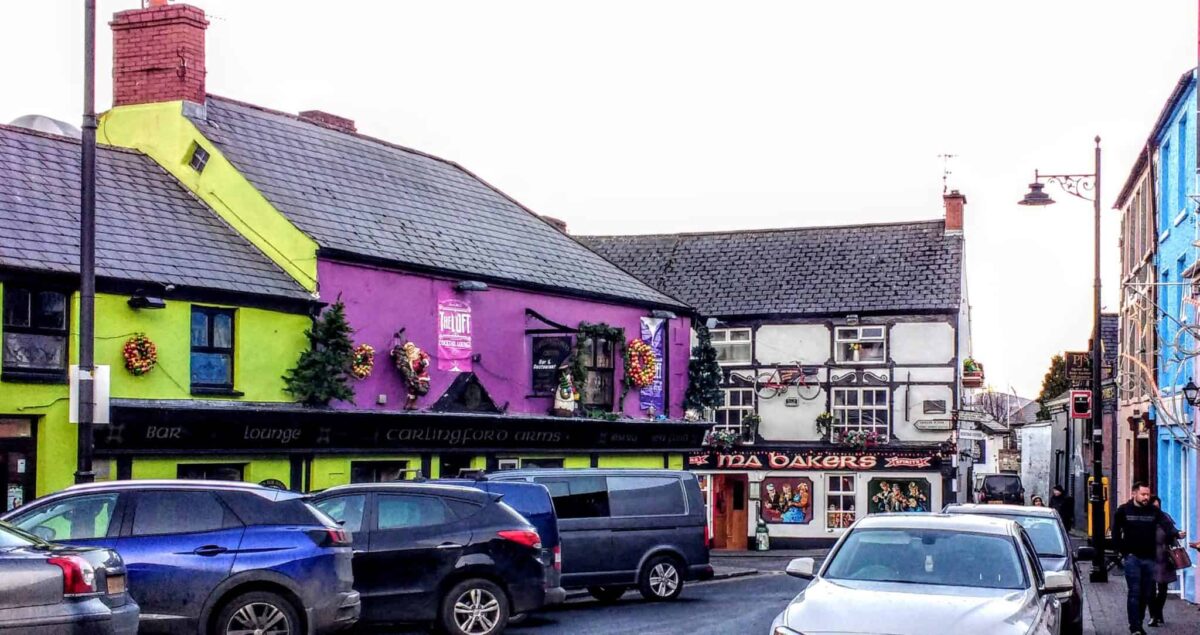 Carlingford is a feast of pretty coloured houses side by side with medieval ruins.
Carlingford was a favourite with C.S. Lewis, of Narnia fame who grew up here. Lewis said, "That part of Rostrevor which overlooks Carlingford Lough is my idea of Narnia."
Iconic Irish Statues to see
The Big Fish in Belfast, Molly Malone in Dublin, and the Spire here are just a few that aren't worth going out of your way to see but you may see in passing. At the very least none of these types of tourist traps in Ireland require an entry fee.
Molly Malone Dublin
Molly Malone in Dublin as you can see her breasts are rubbed into a different colour by tourists making a wish – I just don't get that. What I do love is the Irish nicknames for Molly. The tart with the cart, The dish with the fish and The dolly with the trolley.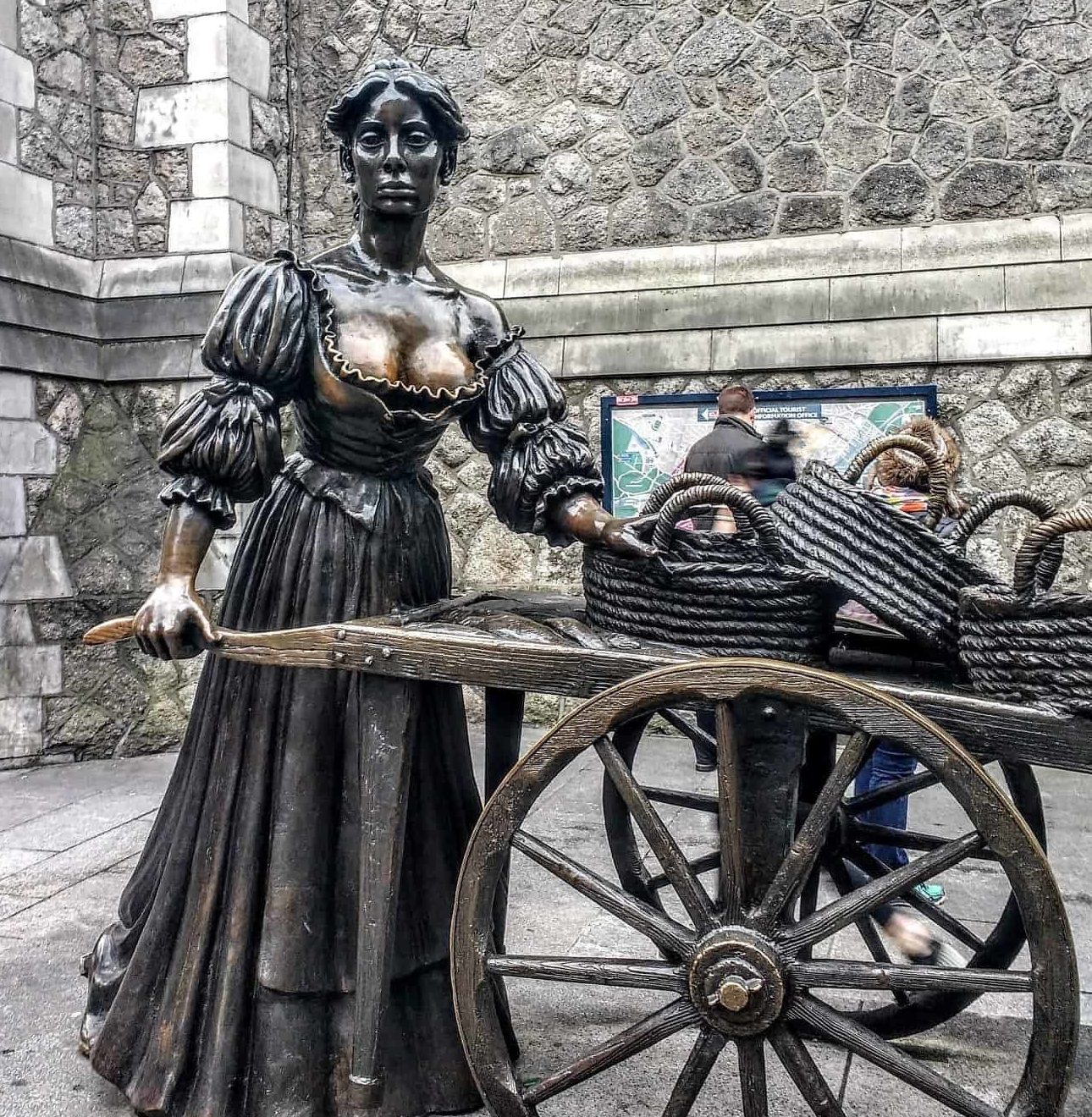 The Spire Dublin
I have no clue what the Spire is meant to be but apparently, it was the winner of a contest to replace Nelson's column which was blown up and left a gaping space. Dublin City council says this about the Spire.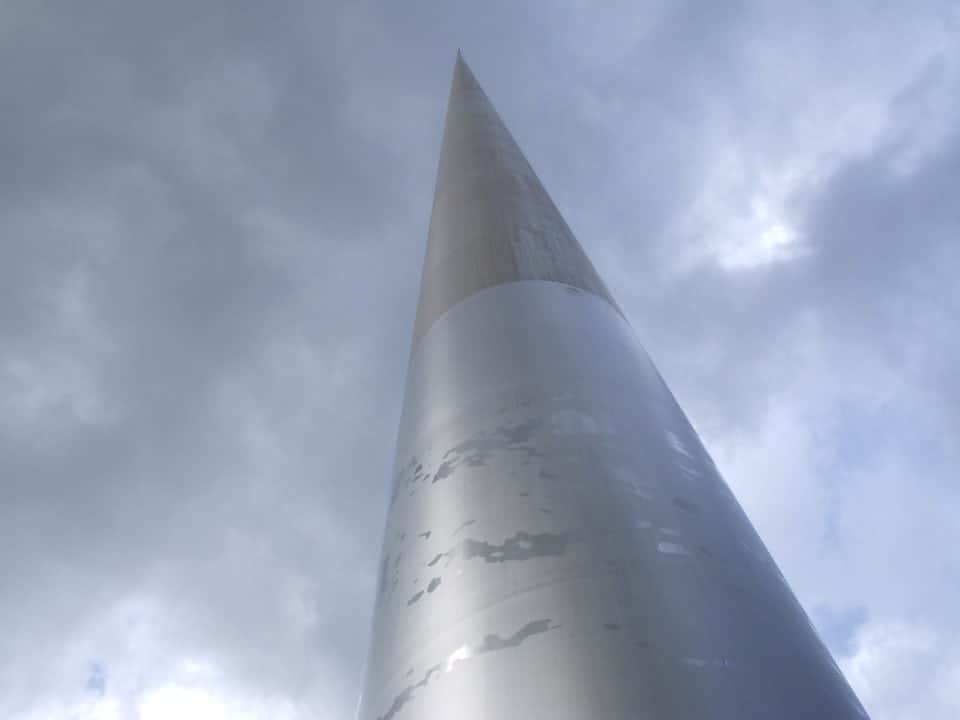 "The base is gently lit and the tip illuminated from a light source within to provide a beacon in the night sky over Dublin."
Dubliners call it one of these many nicknames
The stiletto in the ghetto
The pole in the hole
The rod to god
and the Stiffy by the Liffey
In Belfast, we have another range of apt nicknames for public statuary. Those iconic pieces of art that the Irish so love to give a nickname to.
Rise
A large sort of mesh ball supported by metal rods near Falls Road Belfast with the nickname – The Balls on the Falls or the Westicles.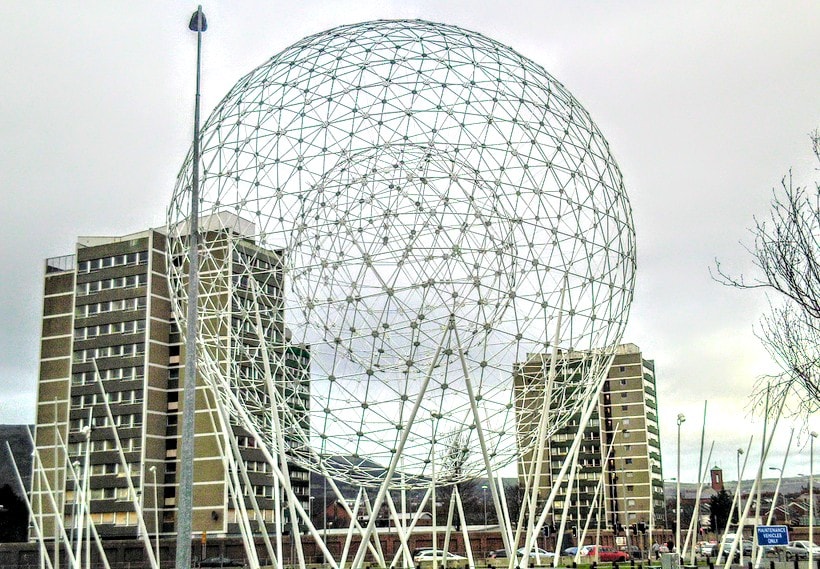 Beacon of Hope
The second-largest piece of public art in Belfast and her nicknames include; Nuala with the Hula, the Belle on the Ball, the Thing with the Ring or the Angel of Thanksgiving.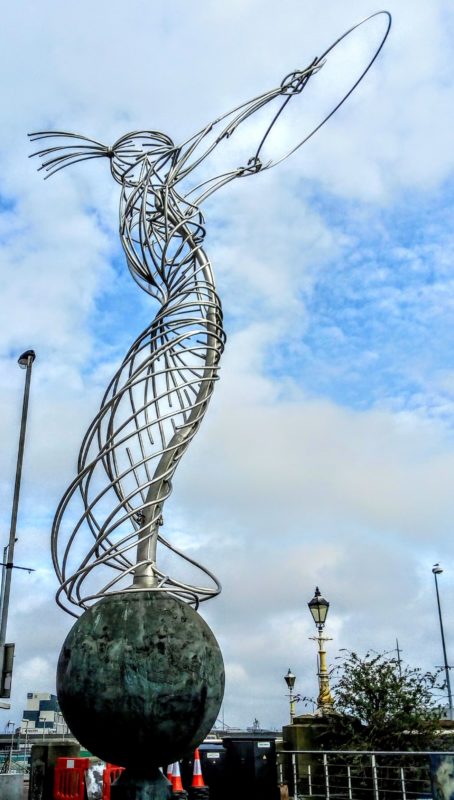 The Salmon of Knowledge
And of course, the iconic Big Fish Belfast whose real name is the Salmon of Knowledge which at least relates to an old legend about a knowledgable fish who lived in the Boyne River.

Go see this instead
Kindred Spirits in Cork
During the dreadful famine era, the Choctaw first nations people of the US donated money to the feeding of the Irish people in Ireland. This extraordinary generosity was incredible given what they had suffered on the Trail of Tears.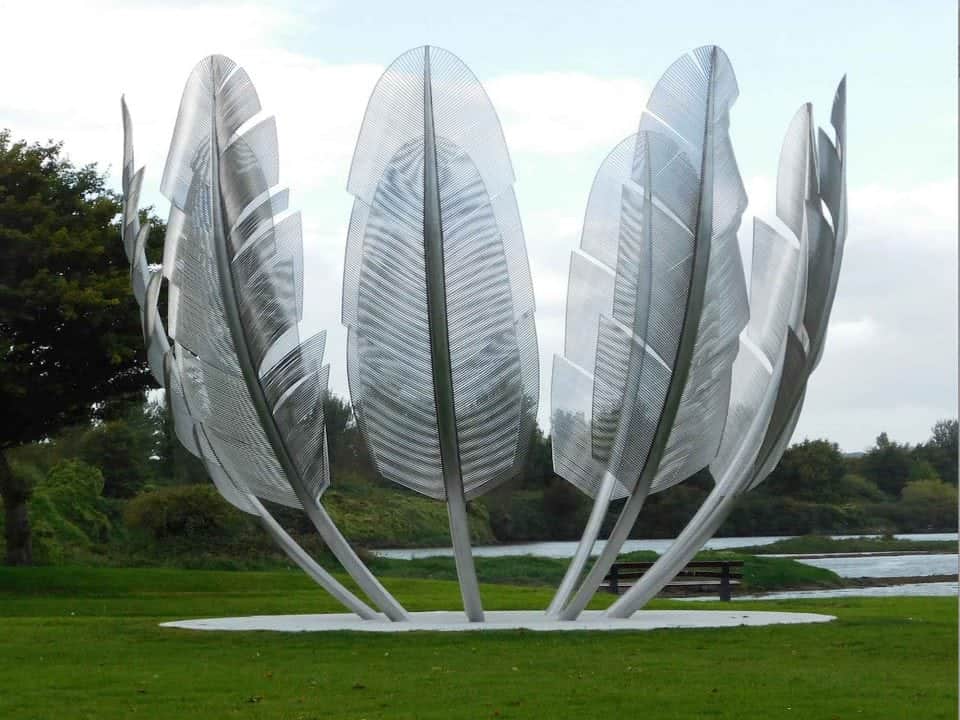 A beautiful memorial sculpture was commissioned in 2014 to commemorate this great debt owed to the Choctaw Nation. This piece is in the shape of an empty bowl signifying the 'soup pots' that were the only food relief given to the Irish during the famine surrounded by Eagle Feathers as a symbol of the Choctaw Nation. The Sculpture can be seen at Bailic Park, in Midleton, Co Cork.
Coffin Ship in Murrisk
Or how about the "Coffin Ship" that sits below Croagh Patrick in Murrisk, Mayo.
This is an incredibly evocative piece of work that haunts you for years after you see it.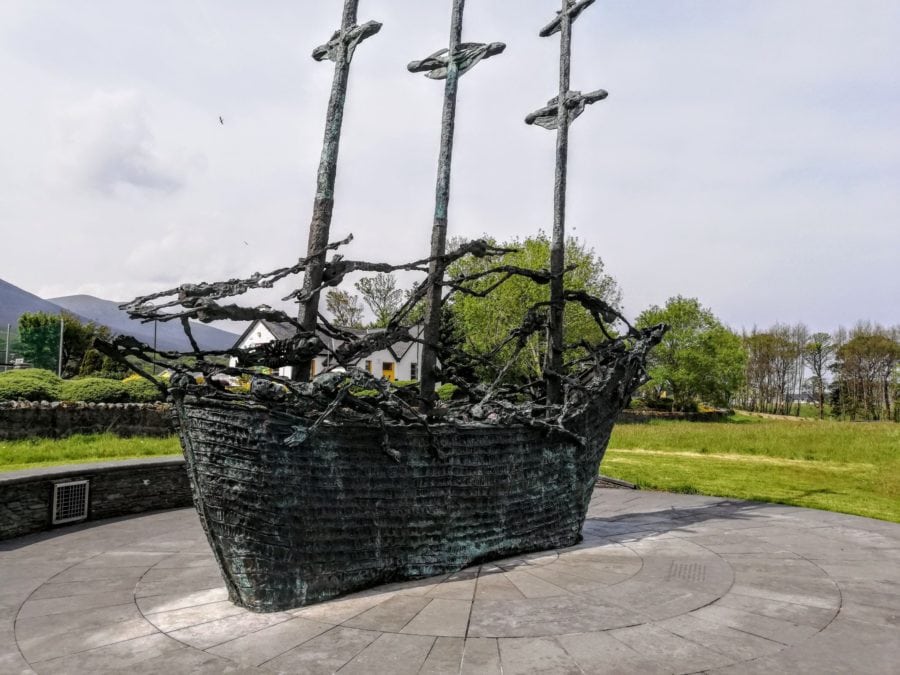 If you are visiting Ireland stay away from the tourist traps or simply visit them quickly to say you've been there and move on to the incredible countryside. Take in some of the off-the-beaten-path sights to see and tell your friends about all the new things you found that virtually no one else has seen yet.
What's your favourite Irish memory or non-tourist trap to visit?
You might also like
Planning a dream trip to Ireland? Everything you need to know
Travelling in Ireland without a car
Unique Gifts from Ireland – 32 of the best souvenirs of Ireland
Ultimate guide to Glendalough Ireland an ancient monastic heritage