Travelling Ireland without a car: Tips from a local
Can You Travel Through Ireland Without a Car? Ireland, the land of ancient castles and rolling green hills is a place that captures the hearts of everyone who visits. But what happens when you want to explore this enchanting country without the convenience of a car? Is it even possible to experience its magic on foot or by public transport? The answer is yes, and you can embark on your travel in Ireland without a car and let yourself be swept away by its rugged coastline, charming villages, and warm hospitality.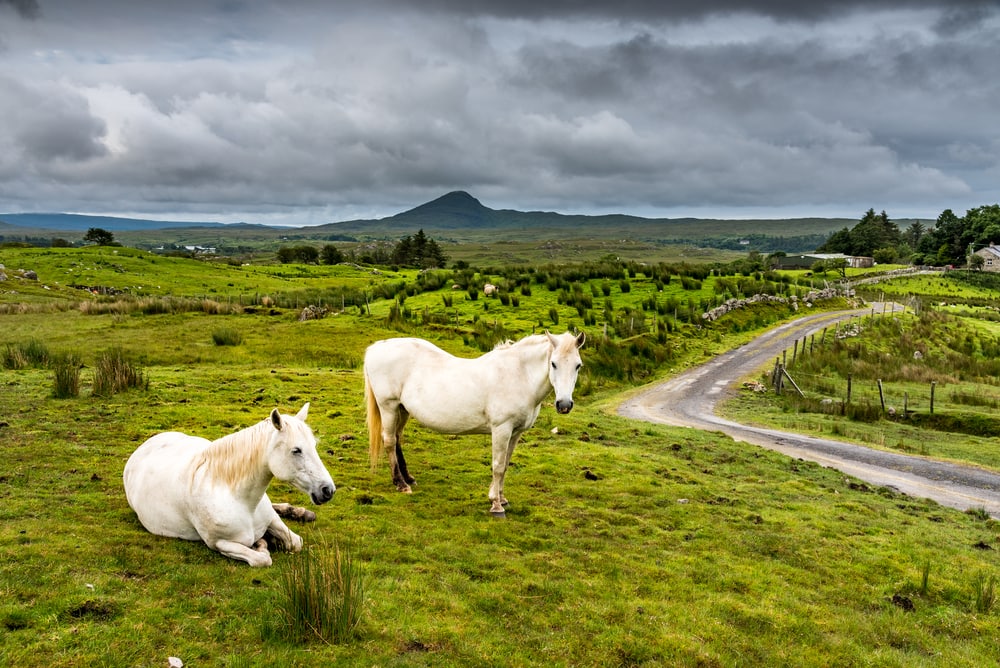 Is is possible to travel Ireland without a car? Absolutely planning a trip to Ireland can be accomplished without renting a car but careful planning needs to take place first before you head to Ireland. Traveling in Ireland without a car is possible you just need to plan carefully to take into account the limitations of buses and trains. Public transportation in Ireland is not great although you can get to the major cities by bus or train but the sites you may want to see will be another story. The best way to travel Ireland if you want to see incredible landscapes, head to hiking trails and visit small beautiful villages is to rent a car. However, those small roads, roundabouts and driving on the other side of the road can be intimidating.
It is important to note that there are situations in which having a car is vital. For example, if you decide to go hiking in Ireland, although it is an excellent way to get around Ireland, the trailheads and starting points for hiking may be situated in remote, countryside towns with no available public transportation. Similarly, there might be a limited number of taxis in these areas, which can make it challenging to reach your starting point or arrange for a pickup at the end of your hike.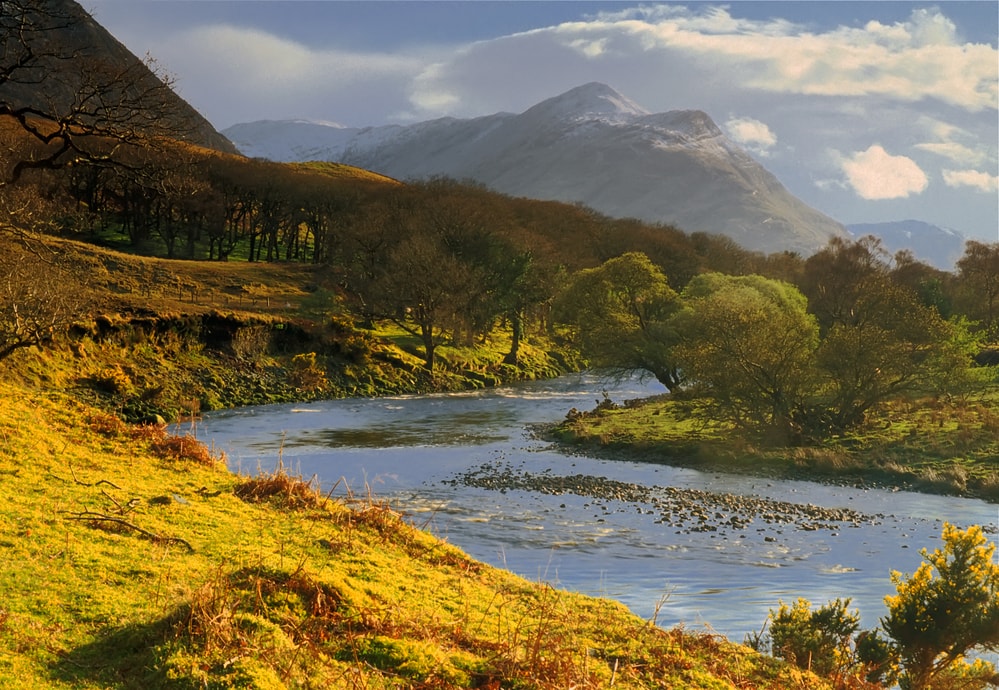 Renting a car in Ireland Essential guide to renting a car in Ireland
Travel around Ireland without a car
To get around Ireland without a car the first thing to do is make up your bucket list of places you want to visit in Ireland. Many of the exciting sites in Ireland are only reachable by car or by tour if you are not driving yourself.
Once you have your bucket list together you can then start to plan your Ireland itinerary using Ireland's public transportation network which will include trains, buses and private tours.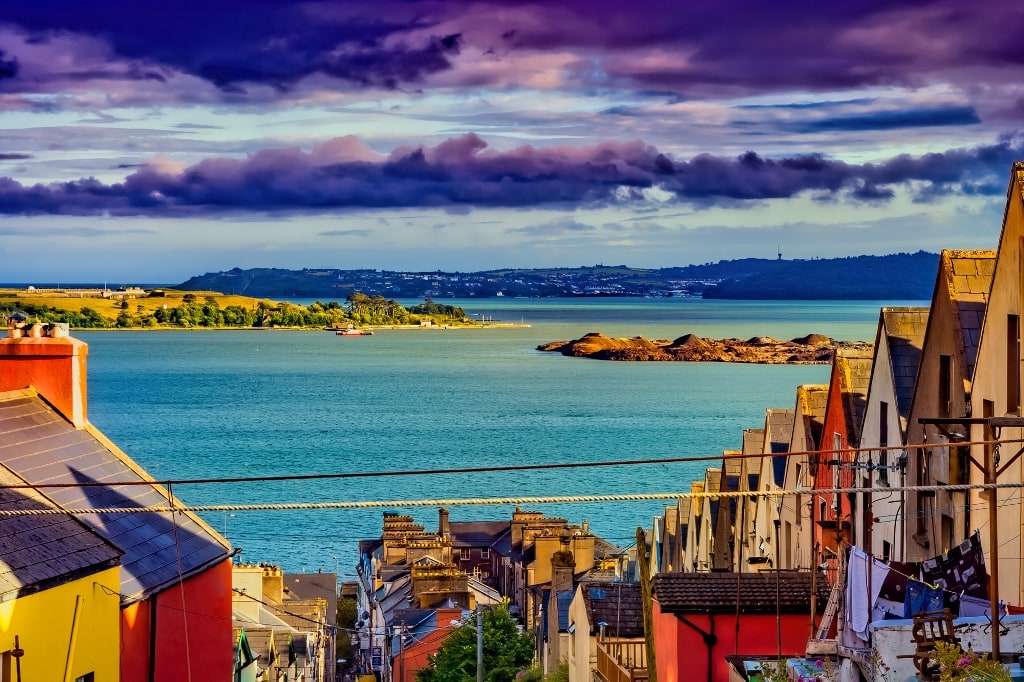 Xyuandbeyond is reader-supported. When you buy through links on our site, we may earn an affiliate commission. You can read my privacy policy here.
Ireland by train and bus
What is the best way to travel around Ireland? Travelling Ireland by bus and train is possible but keep in mind the trains are limited and will only travel to major cities and you may need a combination of public transport both buses and trains. For example, if you want to head to Donegal it would either be a bus journey from Dublin Airport or a train to Sligo then a bus to Donegal Town. There is a direct train departing from Dublin, Drumcondra and arriving at Sligo. Services depart every two hours and operate every day. The journey takes approximately 3h 6m.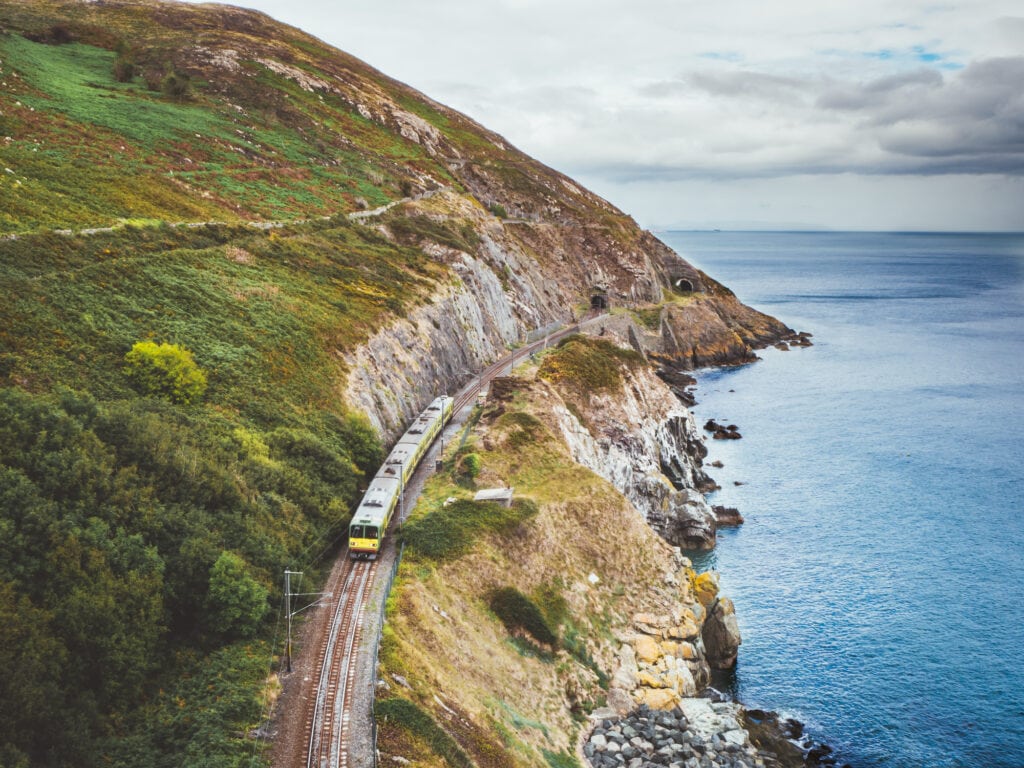 Time is another area you have to factor in. While the train to Sligo as in the example above takes around 2.5 hours then add on the bus trip time which is around another hour or so not including waiting for the bus. But if you took a bus from Dublin airport you would have one journey to Donegal Town taking around 3.5 hours depending on traffic and stops.
The other disadvantage of trains is that they don't make stops at historical sites or places that you might want to visit in Ireland.
This is why I say carefully figure out your Irish itinerary and where you want to go before you get here so you can plan your Irish public transportation route or book a tour to get you to a specific site.
Book your Irish train tickets here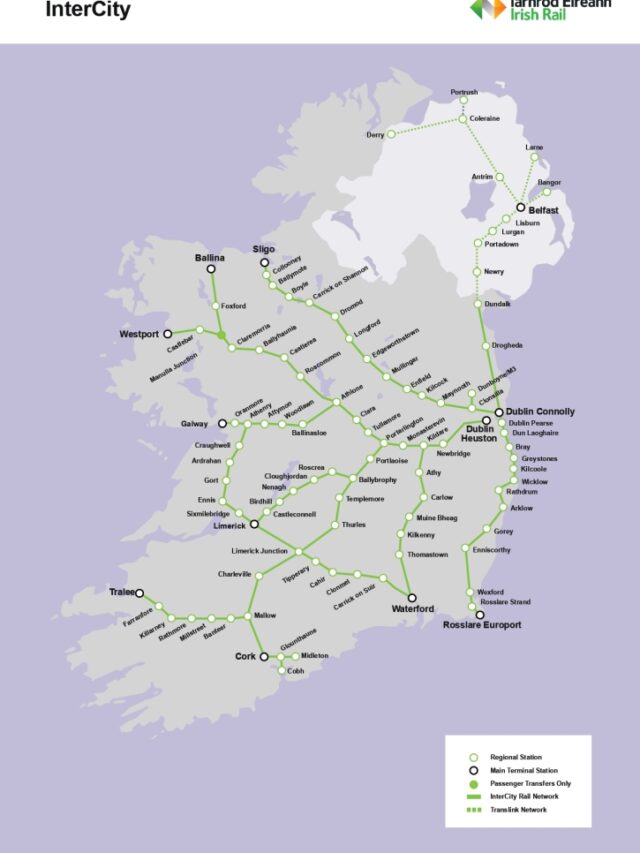 Travel Dublin without a car
To be honest with you both Dublin and Belfast in Northern Ireland are well served with buses and getting around each city is simple not to mention the fact that both are very easy to walk around. If you spend a few nights in Dublin you will not need a car to explore the city. This example of an Ireland itinerary without a car demonstrates that you can explore numerous major cities and landmarks in Ireland using public transportation. By utilizing a mix of bus and train travel, you can easily access main cities and towns as your base, and then venture out on shorter trips to visit less accessible attractions.
From Dublin, you can jump on the coastal Dart train to visit the beautiful villages along the coast like Howth and Dalkey. There is an extensive public bus network to travel the city and suburbs. If you are here for a few days then the best value across bus and rail options is the Leap Visitor Card.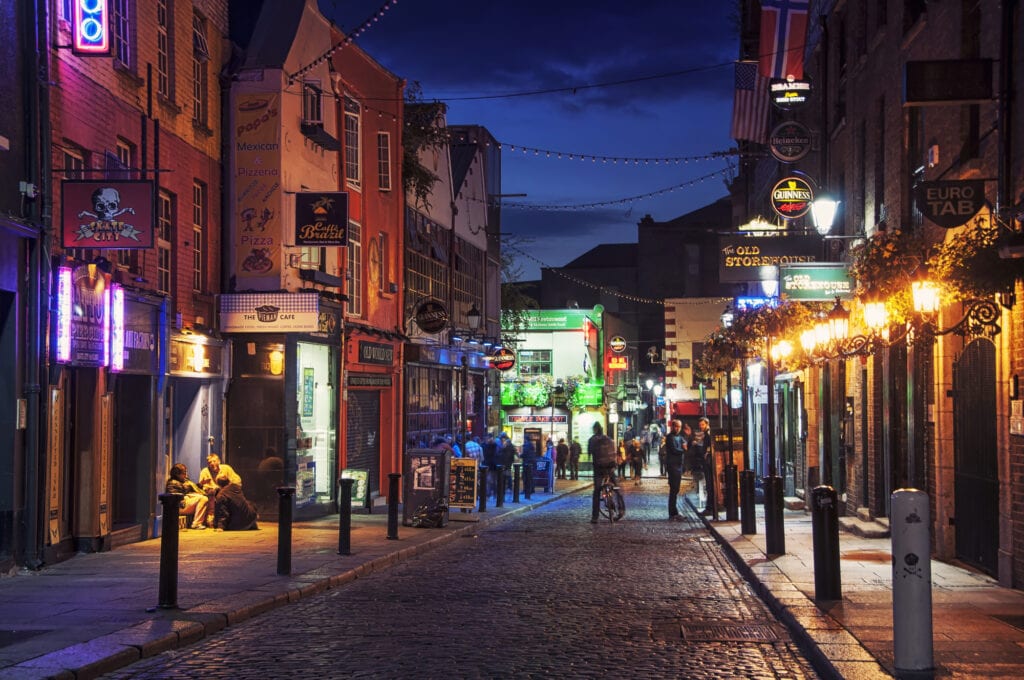 The Leap Visitor Card is the most convenient public transport card available for tourists and visitors to Dublin. Get unlimited travel over your selected period on Dublin Bus, Go-Ahead Ireland routes in Dublin, Luas, DART and Commuter Rail. You can even travel to and from the Airport at the start and end of your trip without any additional charge. Leap Visitor is not valid on the Hop on/Hop off tour or other special tour services and cannot be used on Bus Éireann services.
Why not download the official Transport for Ireland Journey Planner to view all of Dublin's transport options? It's completely free and covers buses, Luas, taxis, ferries and even walking!
How to get around Ireland without a car
Day trips from Dublin without a car: Newgrange, Tara, Glendalough, Powerscourt
Dublin to Newgrange
How far is Newgrange from Dublin? The drive to the Brú na Bóinne Visitors Centre where Newgrange is accessed is relatively easy from Dublin by car. The drive from Dublin takes around 40-45 minutes. There are no buses from Dublin to Newgrange and the centre however there are many tours that will take you to the area and include other stops along the way including Monasterboice and Kells. The cost is around €35+ and will take up a whole day.
The visitor centre is served by Bus Éireann route 163, running between Drogheda Bus Station and the visitor centre but there are only 2 runs per day and the bus doesn't run on Sundays except during July and August. The first departure from Drogheda bus station is at 11:15 am, while the second (and final) is at 14:45pm.
You could also take the train from Dublin to Drogheda and then the bus to the Visitor Centre. You could also take a taxi from the station to Newgrange.
Read about Newgrange here – Best tips on visiting the awesome Newgrange Tombs in Ireland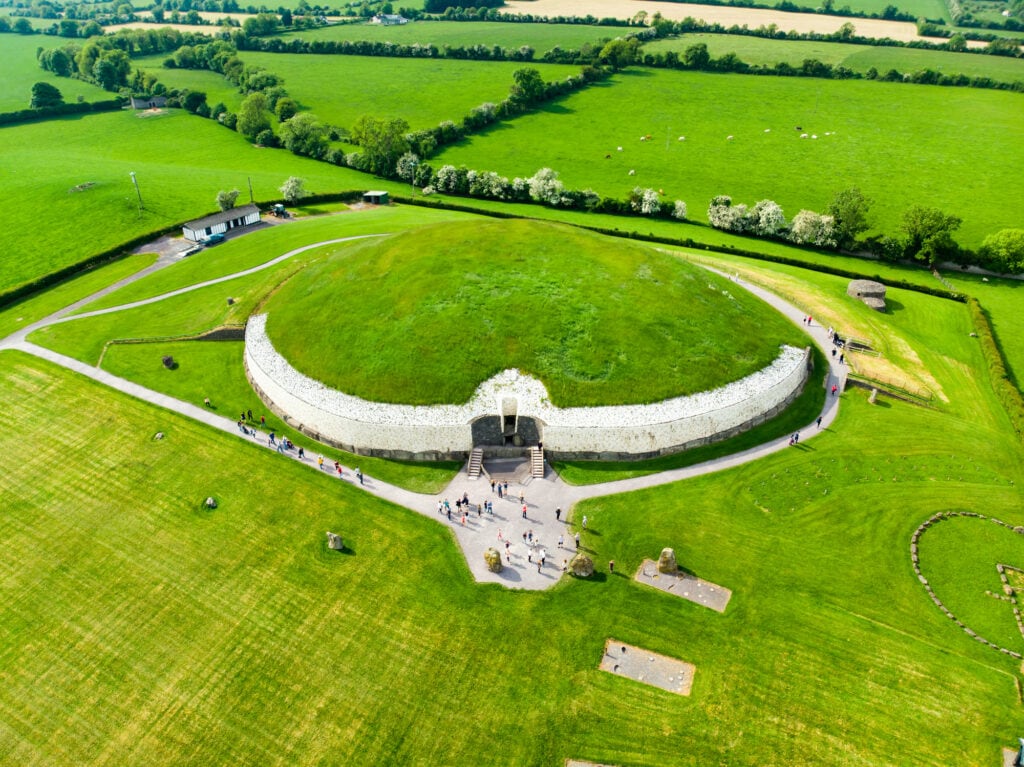 Dublin to the Hill of Tara
Bus Eireann's Navan bus 109 will leave you on the main R147 road, about a 10-minute walk from Tara.
Read about the Hill of Tara here – Mystical Hill of Tara Ireland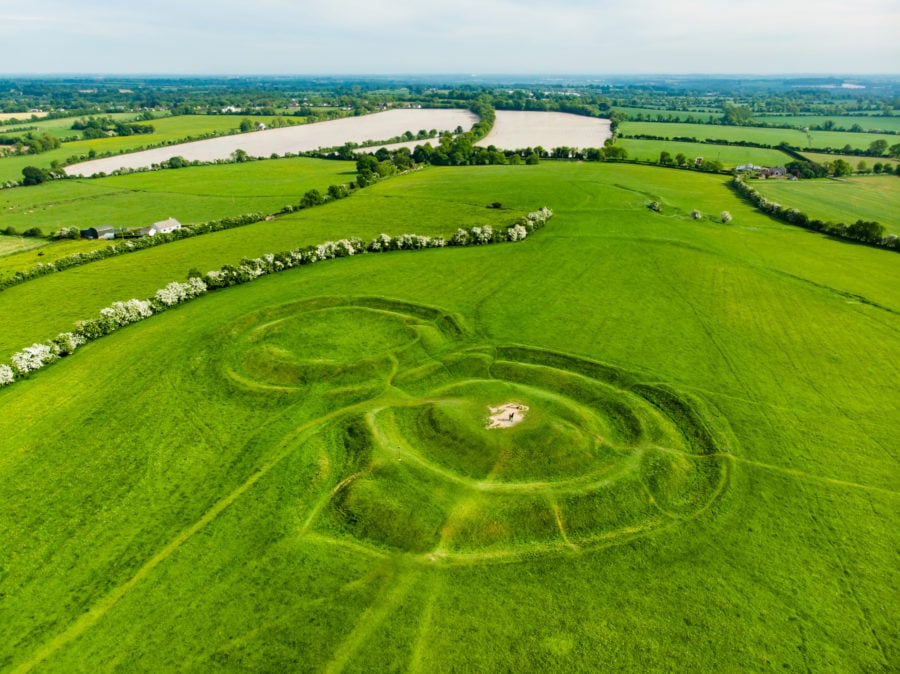 Dublin to Powerscourt
The closest public transportation to the Powerscourt Estate is the 185 and 44 bus services which leave visitors in Enniskerry village in County Wicklow.
This is a short walk from the Estate (approximately 25 minutes, wear comfortable shoes). Bus timetables are available here.
The nearest DART station (rail) to the Estate is Bray, County Wicklow which connects the 185 bus with Dublin City Centre. The rail line runs along the coast of Dublin, from Malahide and Howth southwards as far as Greystones, County Wicklow. Full timetables for the DART are available here.
There is no public transport to Powerscourt Waterfall. It is 6km from Powerscourt Gardens.
Read about Powerscourt here – Visiting Ireland's Magnificent Powerscourt Estate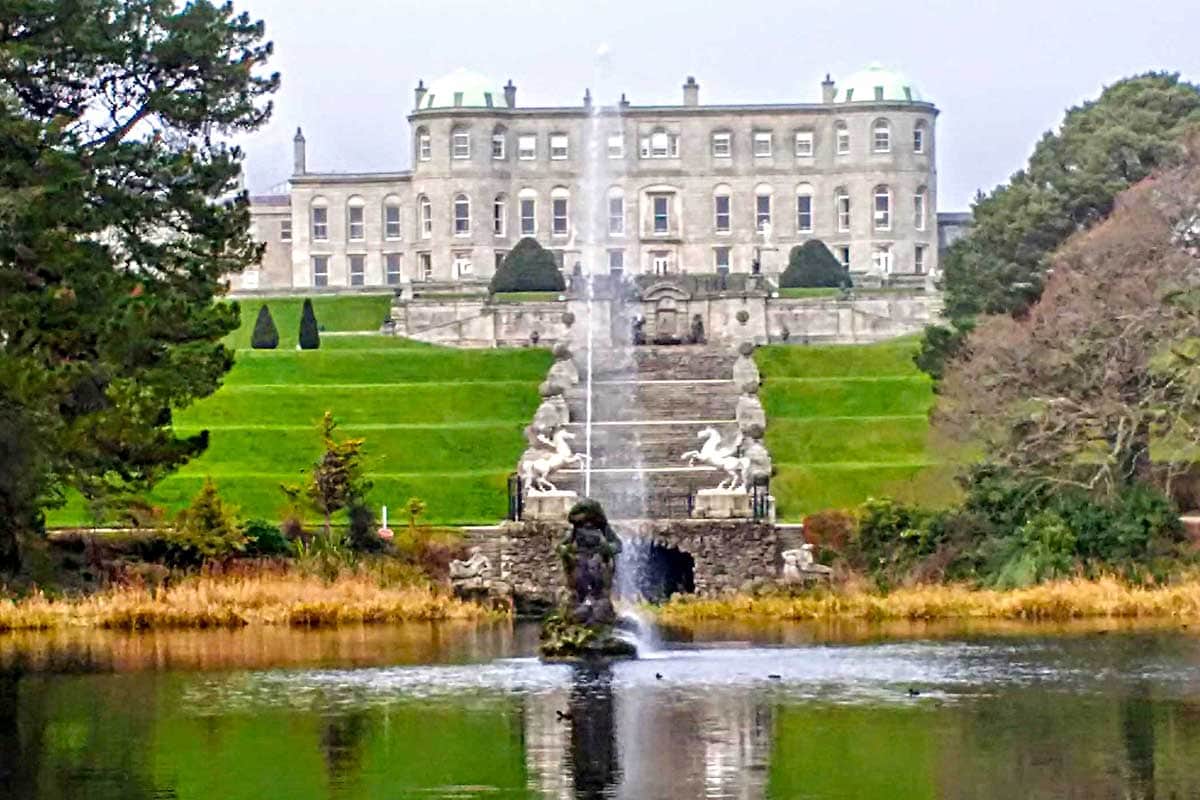 Dublin to Glendalough
Glendalough is located in the Wicklow Mountains, and there is no train service to the site the best ways to get there are by private car, bus or coach tour. While Glendalough is a fascinating place you should plan to spend the whole day as the one private bus service available – St Kevin's bus, leaves Dublin every day at 11.30 and brings you to the Glendalough Visitors centre and comes back at 4.30 pm.
Read about Glendalough here – Ultimate guide to Glendalough Ireland's ancient monastic heritage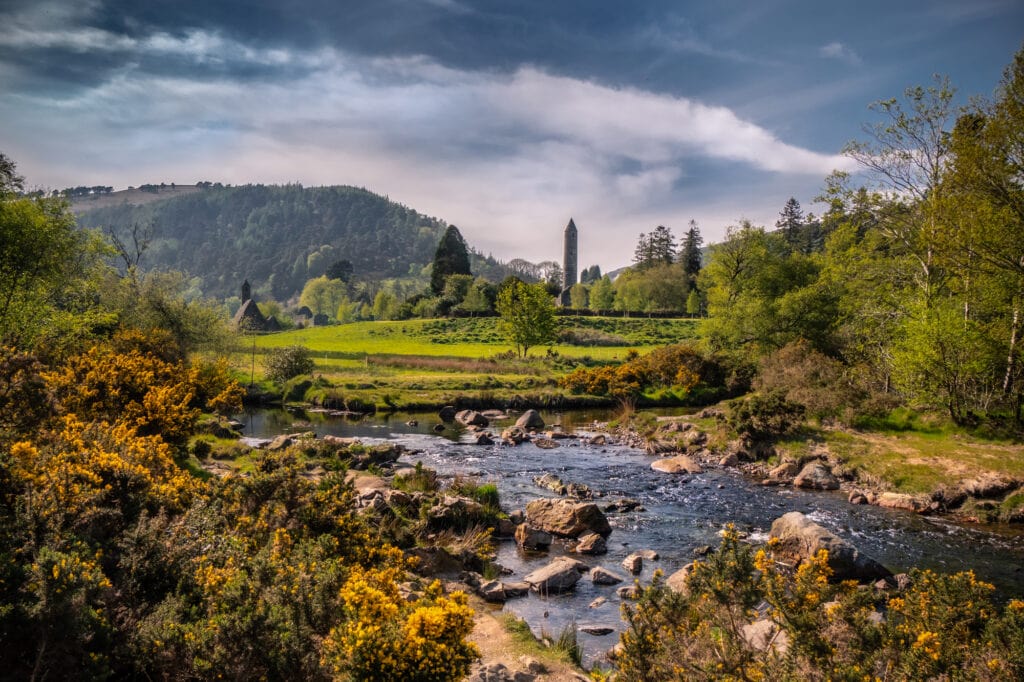 Aran Islands, Killarney, Dingle without a car
Aran Islands without a car
To get to Galway take the train from Dublin and then arrange a tour with Aran Island Ferries they have a shuttle bus from Galway and passengers can enjoy tea, coffee, snacks and full bar facilities during their 40-minute journey.
The daily shuttle bus service departs from Galway city (Queen St.) to the ferry terminal in Rossaveel.
Read more about Ireland's Island here – 36 Islands of Ireland – the ultimate guide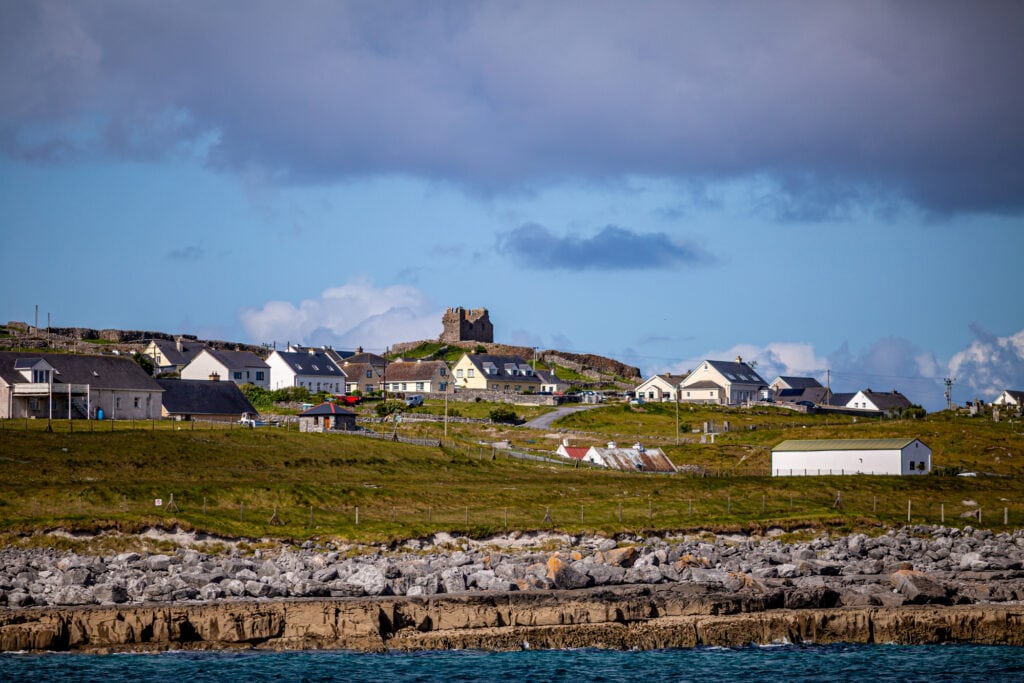 Killarney National Park without a car
There is no direct train to Killarney so you would have to take the train from Heuston Station to Mallow and from Mallow to Killarney. The train stops in Anabella just outside Mallow in County Cork.
Once you arrive in Killarney there are two shuttle bus services to the Killarney National Park the Killarney Shuttle bus does day tours in Killarney. The shuttle visits Ross Castle, Muckross Abbey, Muckross House and Traditional Farms, Torc Waterfall and Ladies View. Pickup is possible from your Hotel. The Shuttle bus makes 2 trips daily to the Gap of Dunloe starting from the Tourist office.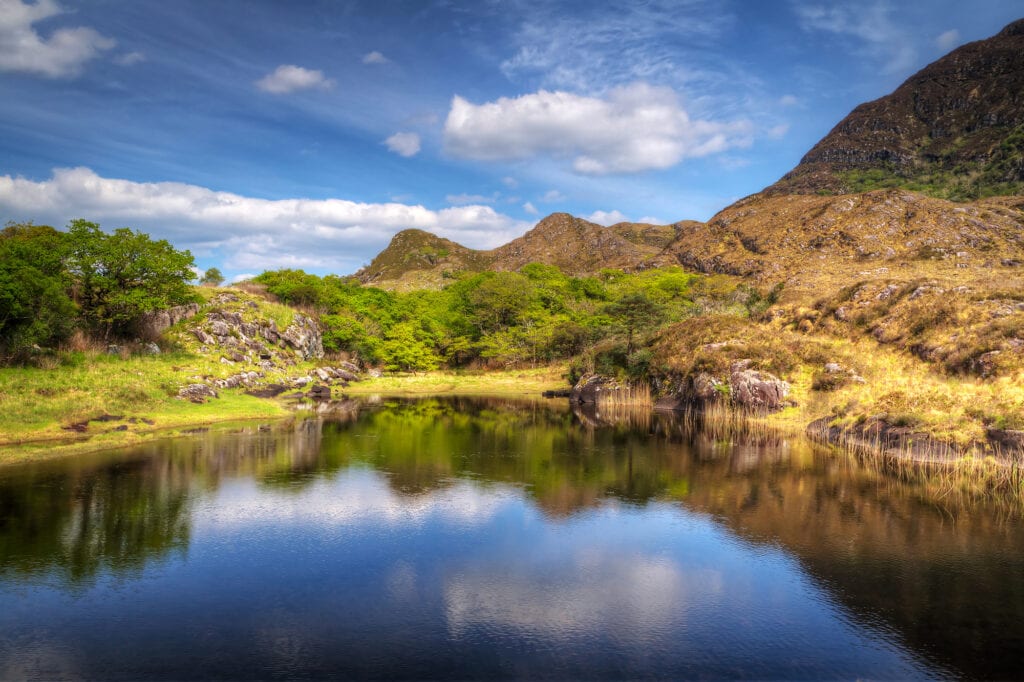 The Killarney Tour is a tour of the world-famous Ring of Kerry a luxury maximum 29-seat bus travels around the 180km circuit of the county's famous Ring of Kerry.
Take a traditional Jaunting Car these are available from Killarney Town Centre once you arrive and they will take you through your chosen route of the Killarney National Park.
Read more about Killarney here – All the best things to do in Killarney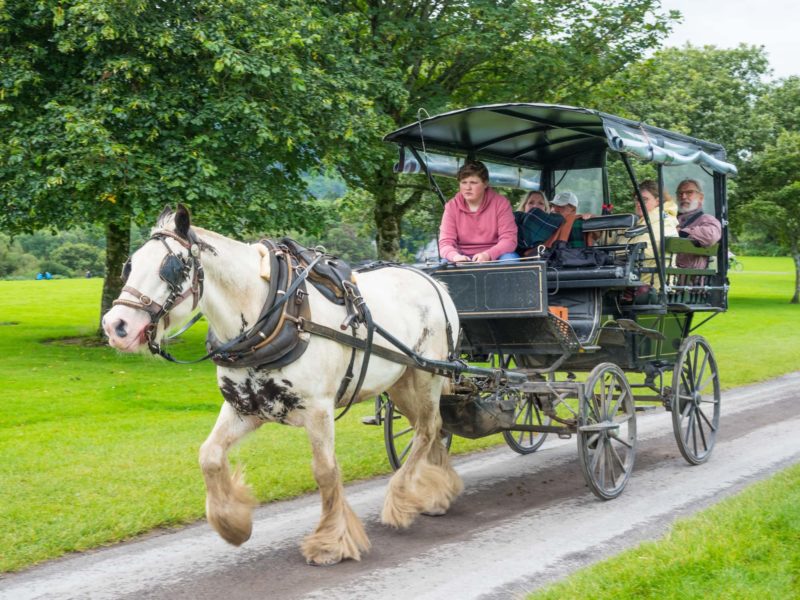 Dingle Peninsula without a car
You can get a train to Cork from Dublin and then change trains to Killarney. The train runs 5x per day and takes around 1 hour 15 minutes.
Bus connections to Dingle are from outside Tralee Station and the journey time is 1 hr. Once you are in Killarney you can book a bus tour of the Dingle Peninsula.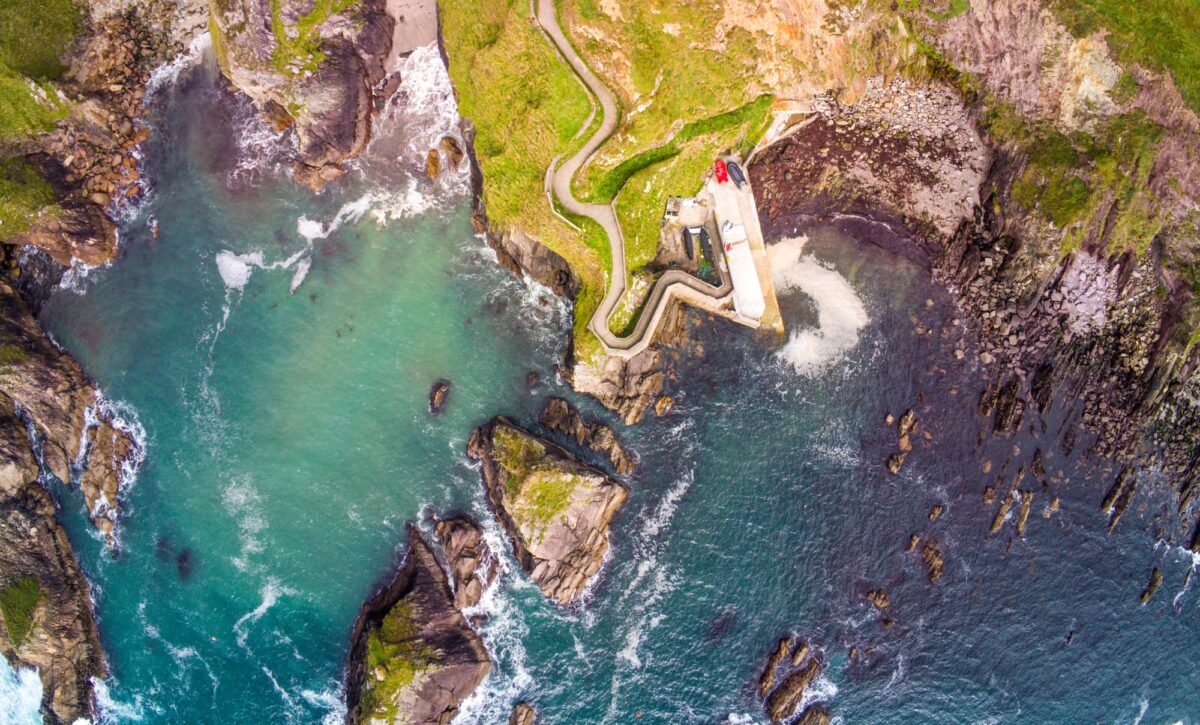 Guided Tours or Ireland from Dublin
2-Day Cork, Blarney Castle and Ring of Kerry Rail Trip from Dublin
Enhance your experience of Ireland's stunning coastal scenery on a relaxed 2-day trip to Cork and the Ring of Kerry from Dublin. Travel through Ireland's beautiful countryside and visit iconic attractions like Blarney Castle, home to the famous Blarney Stone, and the gorgeous Dingle Bay. Enjoy an overnight stay in the convivial town of Killarney; revitalize with a fulfilling full Irish breakfast; and learn about the rich culture and history of the region from a professional guide.

Read more about 2-Day Cork, Blarney Castle and Ring of Kerry Rail Trip from Dublin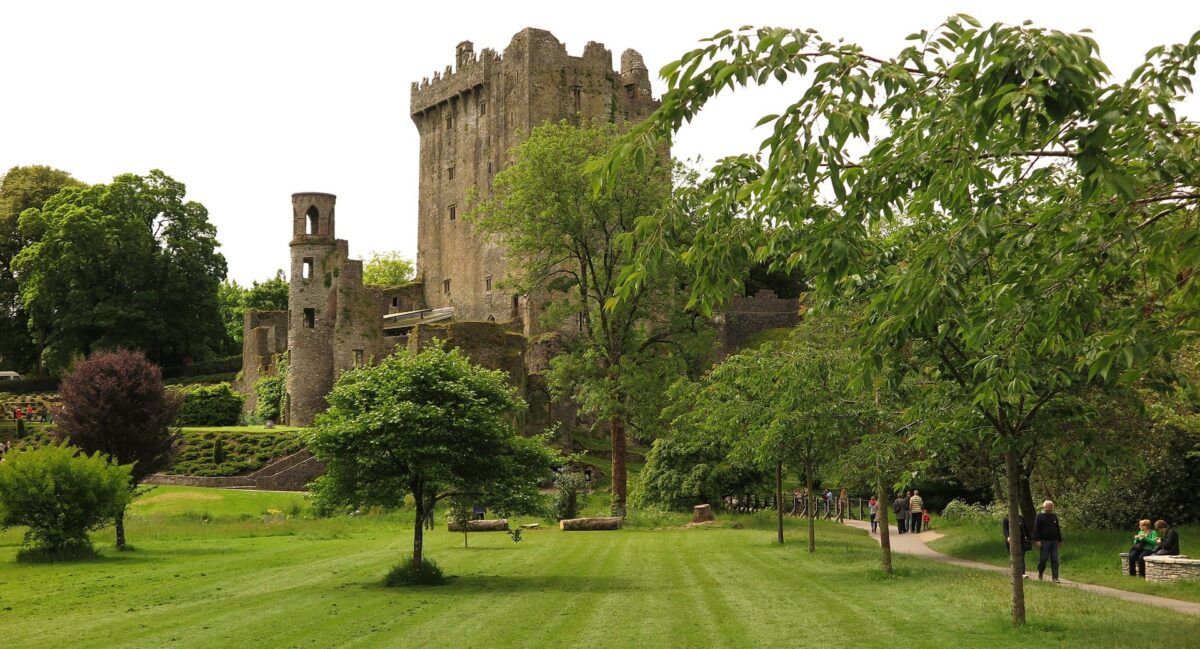 Full-Day Tour of the Dingle Peninsula, Slea Head, and Inch Beach
Experience the rugged beauty of Ireland's southeast coastline on a coach tour of the Dingle Peninsula and Slea Head. From Killarney, travel through scenic mountain regions and along Ireland's rocky beaches. Spot ancient huts and historic buildings such as the Gallarus Oratory, visit Dingle Town and get a splendid view of Slea Head—the most westerly point in Europe.

Read more about the Full-Day Tour of the Dingle Peninsula, Slea Head, and Inch Beach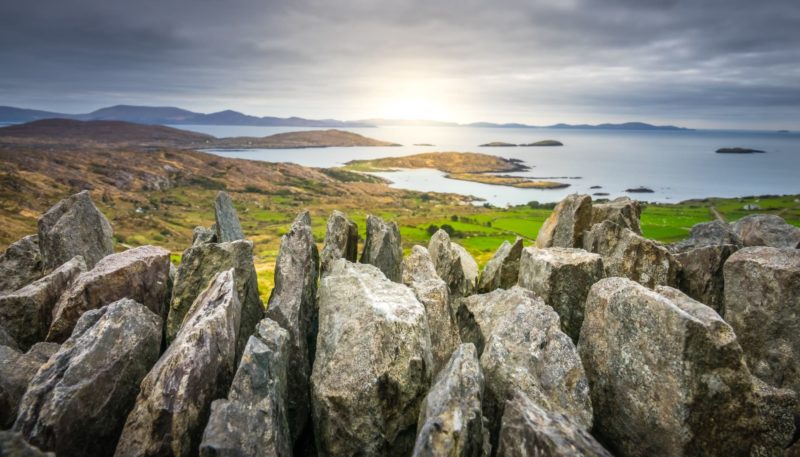 Dublin to Galway, Limerick, Dingle, Waterford, Sligo, Wexford, and Rosslare by train
8 train routes are operating out of Dublin. They include the following:
How to get to Cork
Dublin (Heuston Station) to Cork (Kent Station)/Cork to Dublin – the average journey takes approximately 2 hours and 40 minutes.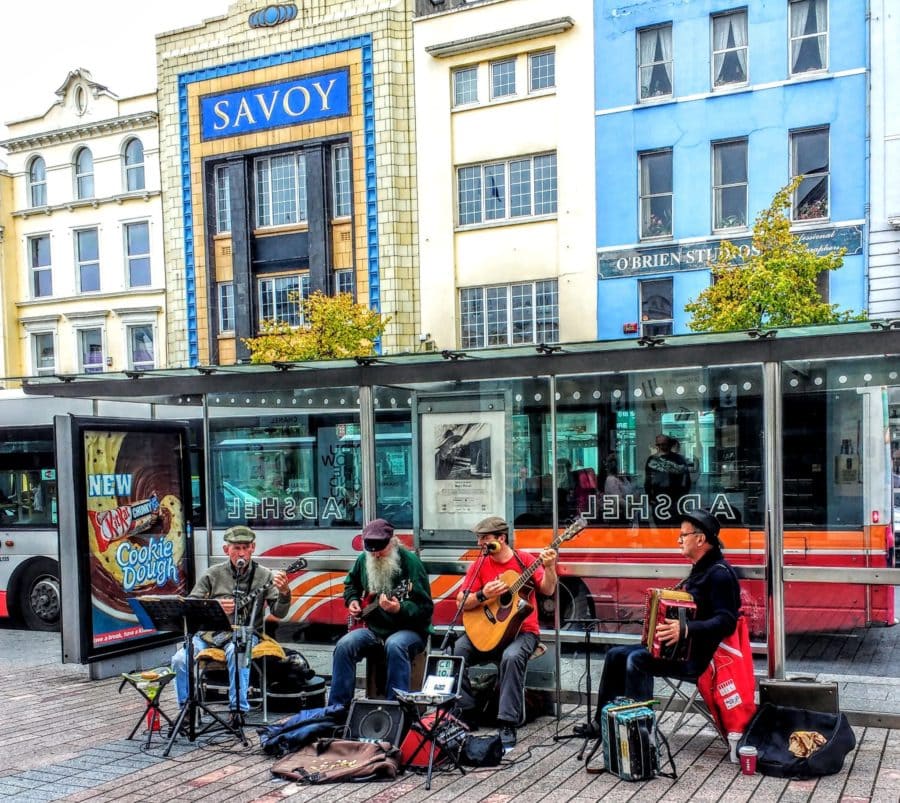 How to get to Dingle Ireland
There are regular trains from Heuston to Tralee, which take approximately four hours. From Tralee station, you can get a bus direct to Dingle town, which takes an hour.
How to get to Limerick
Dublin (Heuston) to Limerick Colbert Station/Limerick to Dublin – takes approximately 2 hours.
How to get to Galway
Dublin (Heuston) to Galway (Ceannt Station)/Galway to Dublin – average journey time is between 2 hours and 11 minutes and 2 hours and 37 minutes.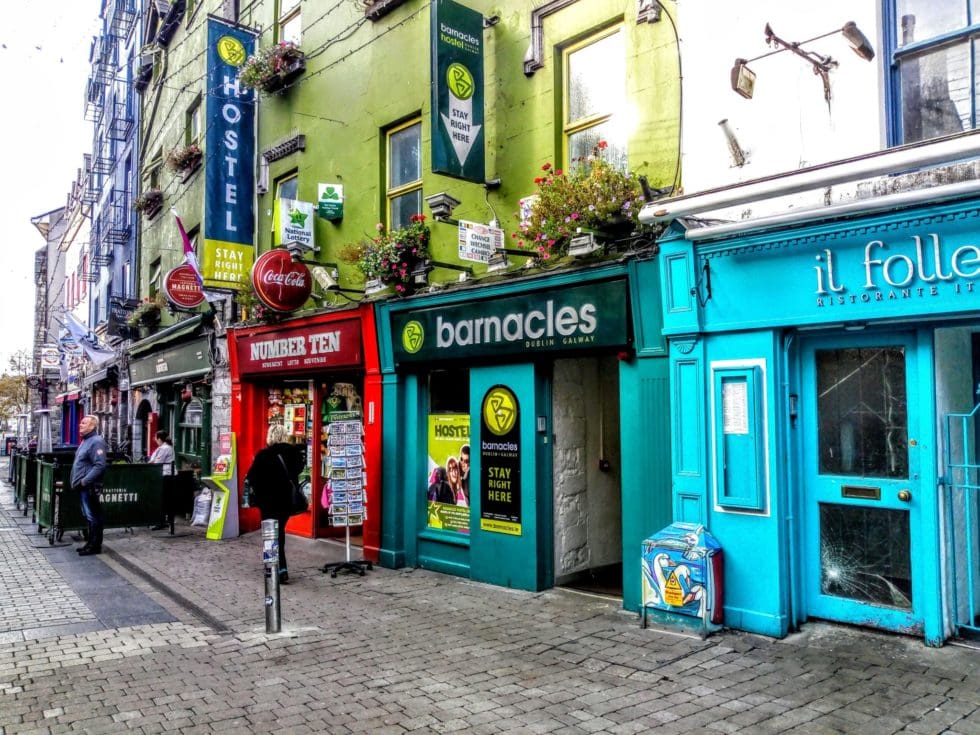 How to get to Tralee
Dublin to Tralee (Casement Station), Co. Kerry/Tralee to Dublin – this is not a direct route.
How to get to Waterford
Dublin (Heuston) to Waterford (Plunkett Station)/Waterford to Dublin – the journey ranges from 1 hour and 48 minutes to 2 hours and 20 minutes.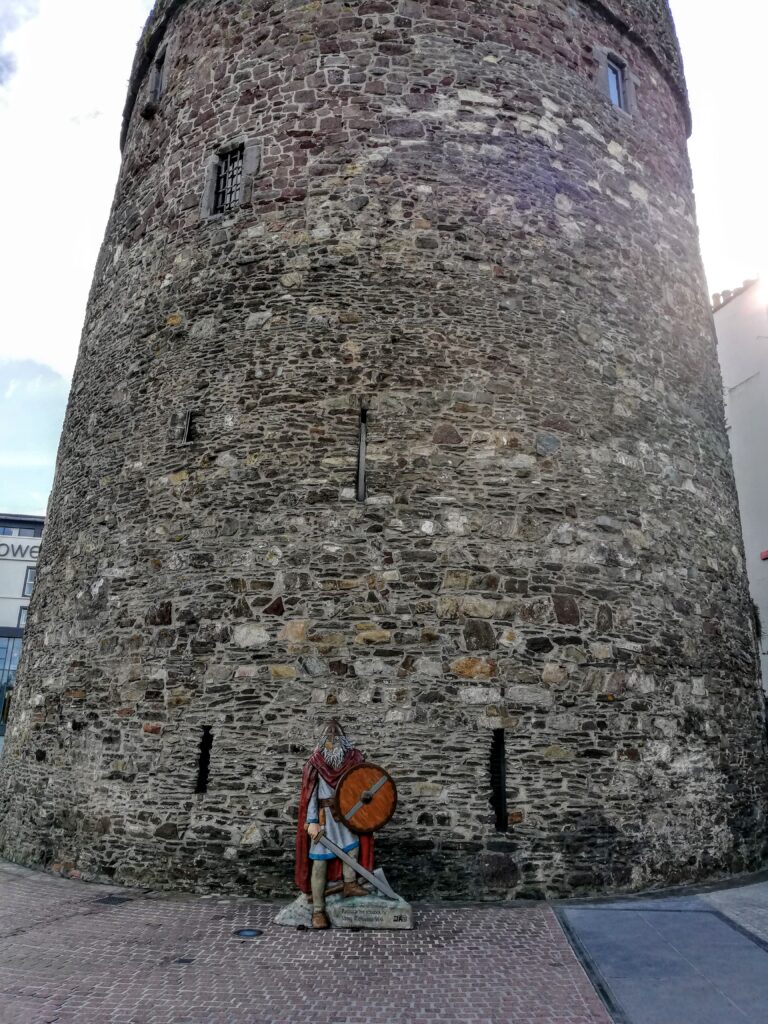 How to get to Westport
Dublin (Heuston) to Westport/Westport to Dublin – the average journey is between 3 hours and 6 minutes to 3 hours and 44 minutes.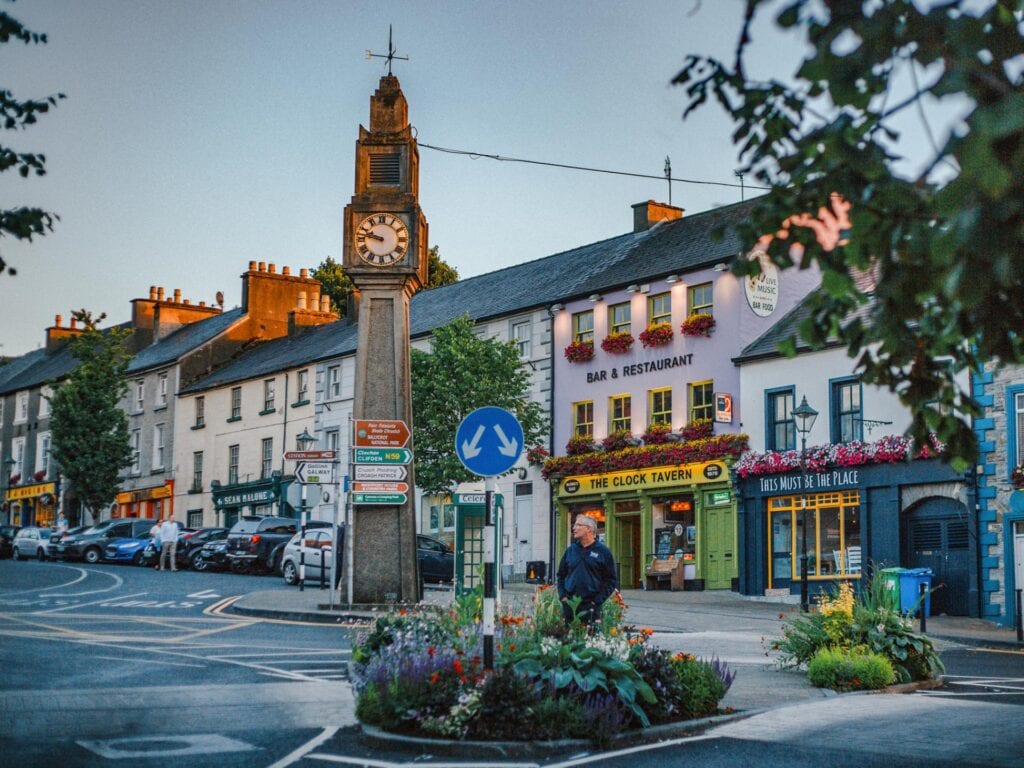 How to get to Rosslare
Dublin (Connolly Station) to Rosslare Europort/Rosslare to Dublin – approximately 3 hours.
How to get to Sligo
Dublin (Connolly) to Sligo (MacDiarmada Station)/Sligo to Dublin – takes approximately 3 hours and 20 minutes.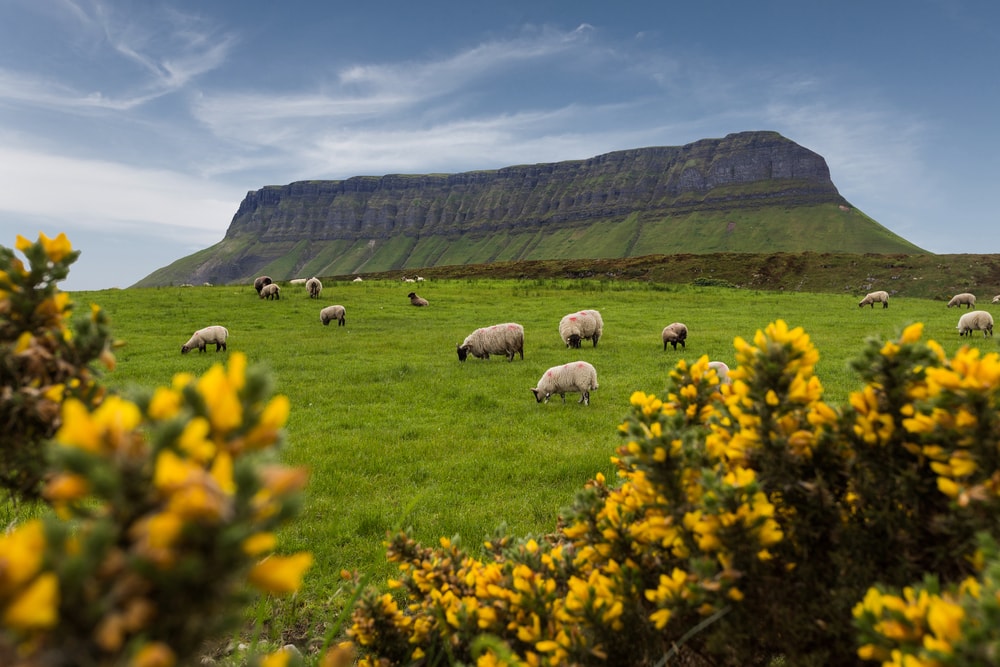 Bus Transportation across Ireland
If you want to see the more rural parts of Ireland without renting a car, it is best to take a bus. Bus Eireann operates buses all across the country, reaching the most rural of places but don't forget to calculate the times including getting to the bus stop, travel time across the country and then the return trip.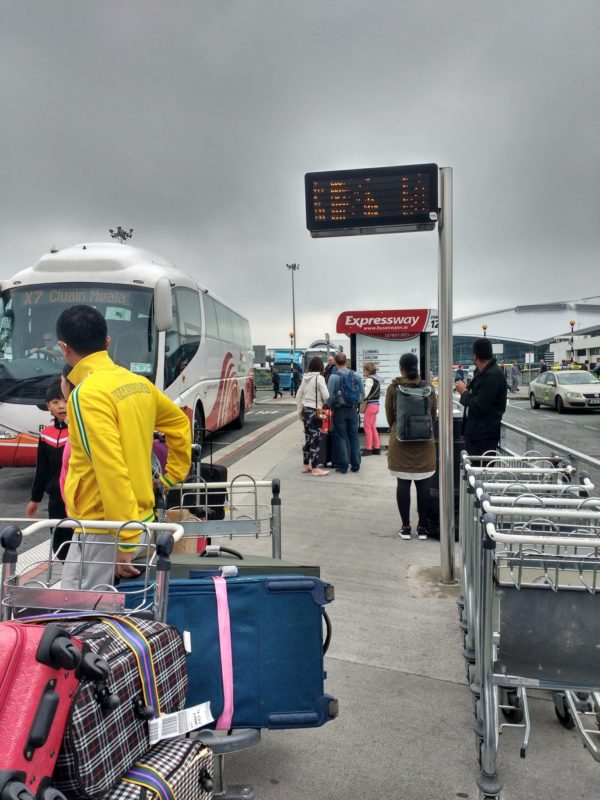 A day return travel pass is valid for both outbound and return travel within 24 hours. A monthly travel pass can also be purchased, which is valid for outbound and return travel within one month.
Bus Eireann also offers a 10-journey travel pass, which can be purchased online and on the bus. This pass is valid for 10 journeys between two points, all taking place within 7 consecutive days. You can find more information about this pass and other travel options on the Bus Eireann website.
Another way of seeing Ireland is to use Go Bus. They offer around 20 return routes starting in Dublin to the Dublin Airport, Galway, Cork, and Ballina in Mayo.
TFI Local Link
TFI Local Link bus services connect communities throughout rural Ireland as part of the TFI Public Transport Network. TFI Local Link bus services are affordable and available for anyone wishing to travel to or from their local town or village.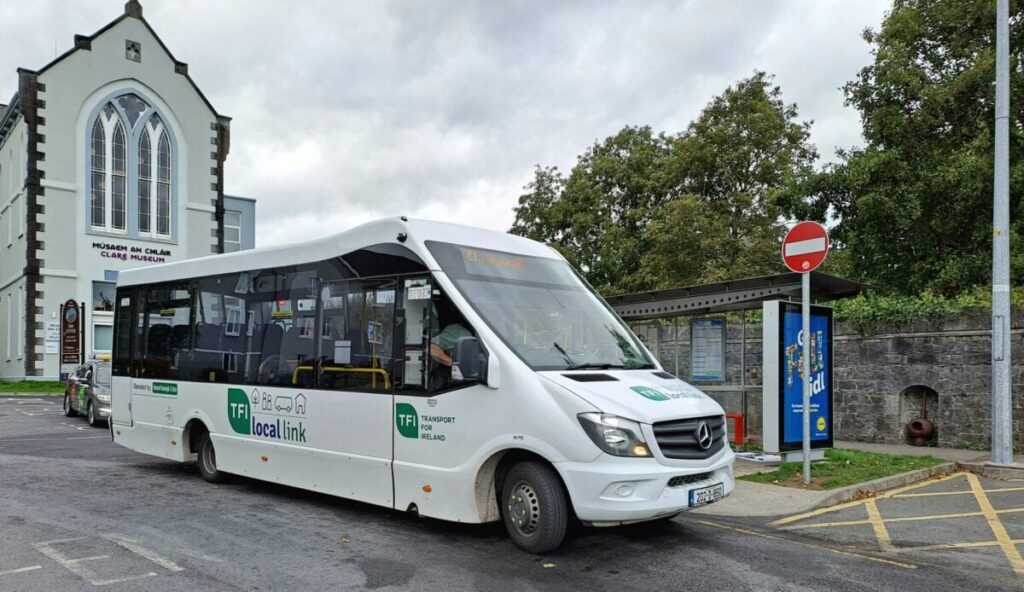 Regular Rural Bus Services
TFI Local Link Regular Rural Bus Services operate on a fixed route between towns and villages and have a scheduled timetable. Regular Rural Bus Service timetables are designed, to maximise connectivity with Bus Éireann, commercial bus services and Iarnród Éireann networks to facilitate passengers who may need to connect to the national TFI network.
These services are frequently used by local residents, commuters, students and tourists. Click here for Regular Rural Bus Service Timetables
Day trips from Dublin by train
If your bucket list includes the Ring of Kerry or touring Game of Thrones sites like the Giant's Causeway in Northern Ireland, visiting Kilkenny and seeing the Wicklow Mountains, or touring the Wild Atlantic Way you may want to take advantage of Railtours Ireland day trips from Dublin.
You catch an early morning train from Dublin to whichever city is closest to the Irish tourist attraction and when you arrive you take a guided coach tour around your destination. The tours include stops for lunch as well as photo opps and then returns you to Dublin in the evening. They also offer longer tours of Ireland as well. Book online at railtoursireland.com.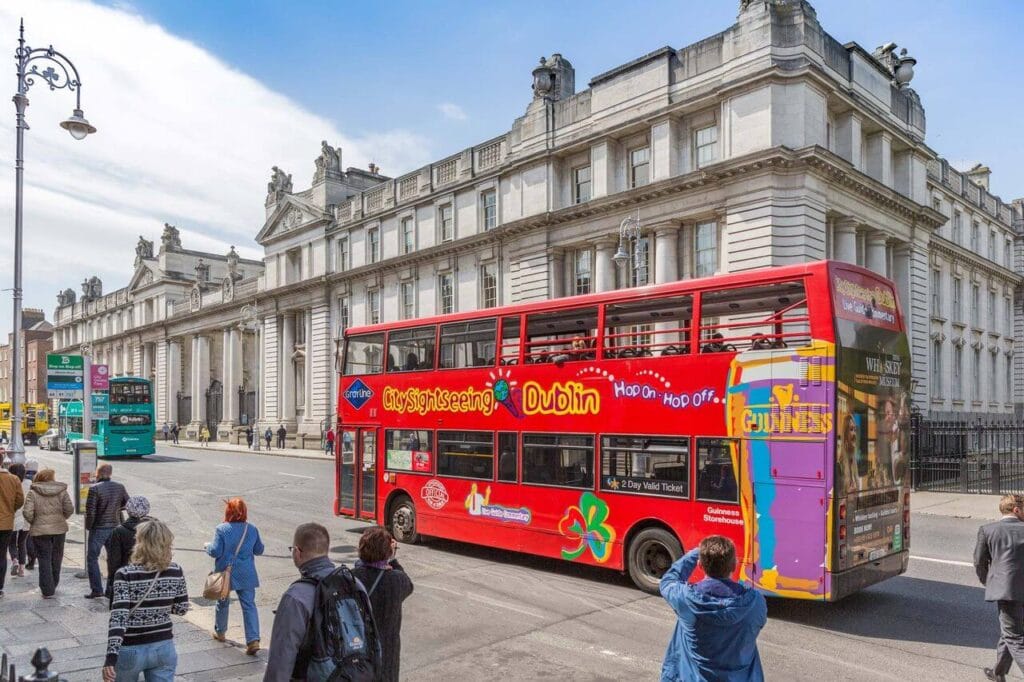 Travelling Northern Ireland without a car
How do I get from Dublin to Belfast without a car? There is a direct train from Dublin to Belfast that departs from the Gresham Hotel and arrives in Belfast at Belfast City Centre the Lanyon Place station. This station is a short walk to the Titanic Quarter or to St. George's Market and an easy location to grab a Belfast bus to the centre of Belfast. This train takes around 2 hours to get to Belfast from Dublin. You can buy your tickets at www.irishrail.ie and one-way or return tickets starting in Belfast at www.translink.co.uk/Services/NI-Railways.
Belfast to Derry without a car
Michael Palin said that the train ride from Belfast to Derry along the Causeway Coast is "one of the most beautiful train journeys in the world". This glorious train journey starts in Coleraine and carries along the Causeway coast through a variety of Victorian tunnels, to Derry and back again.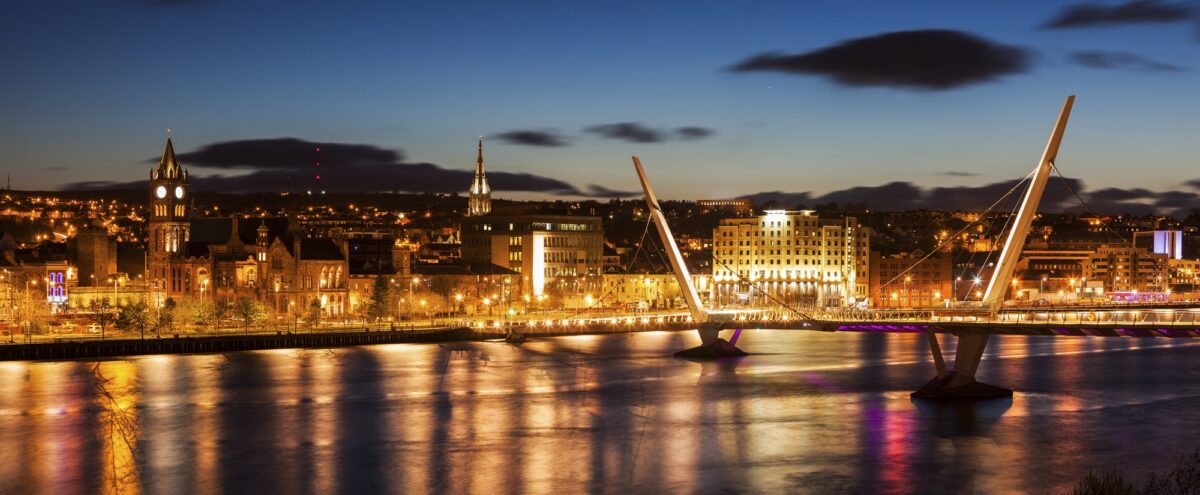 NI Railways Travel Connections leaves from Great Victoria Street station and heads to Coleraine where you would change trains to the Derry-Londonderry rail line.
There is a direct bus departing from Belfast City Centre, near the Jury's Inn and arriving at Derry, Guild Hall. Services depart once daily and operate every day. The journey takes approximately 1h 30m from the Derry Buscentre, Translink UK runs the 234 lines to Coleraine, stopping at many of the highlights along the way.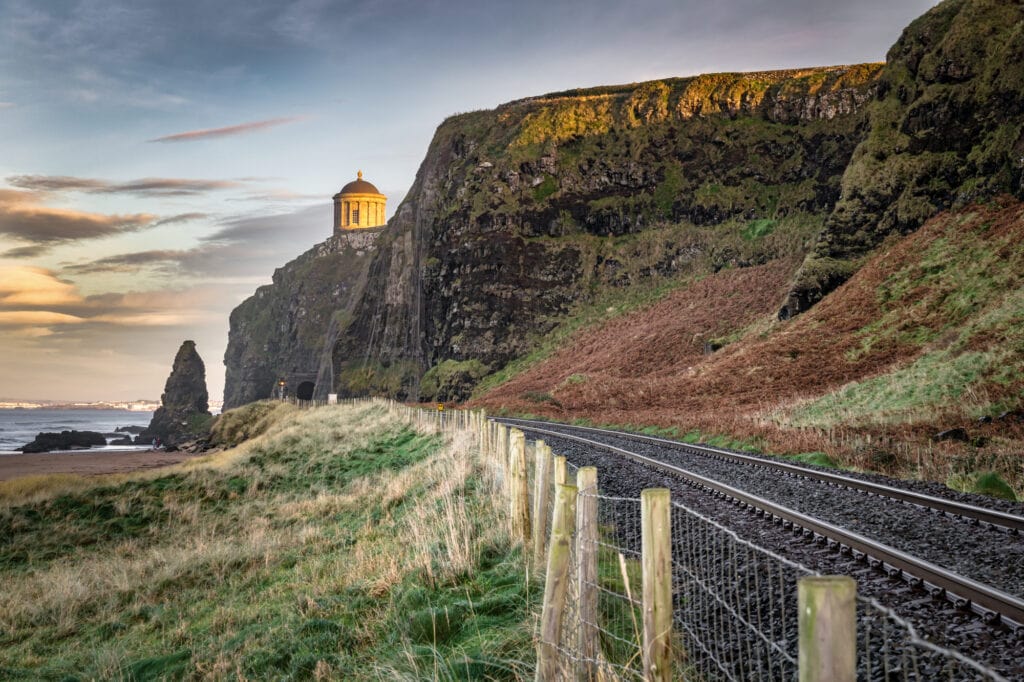 Irish train deals for adults from Dublin
As a tourist, you can book one of three travel deals operated by Irish Rail in the Republic of Ireland. They include the following:
The Trekker Four-Day Ticket is only available only at train stations across the country. Four days of unlimited travel on a train in Ireland will cost you €110 from the date when the ticket is issued. This price is for one adult only and must be purchased at the station.
Irish Explorer Rail only offers customers 5 days of unlimited travel out of 15 consecutive days on all Iarnród Éireann services in the Republic of Ireland for only €160 for an Adult and €80 for a child.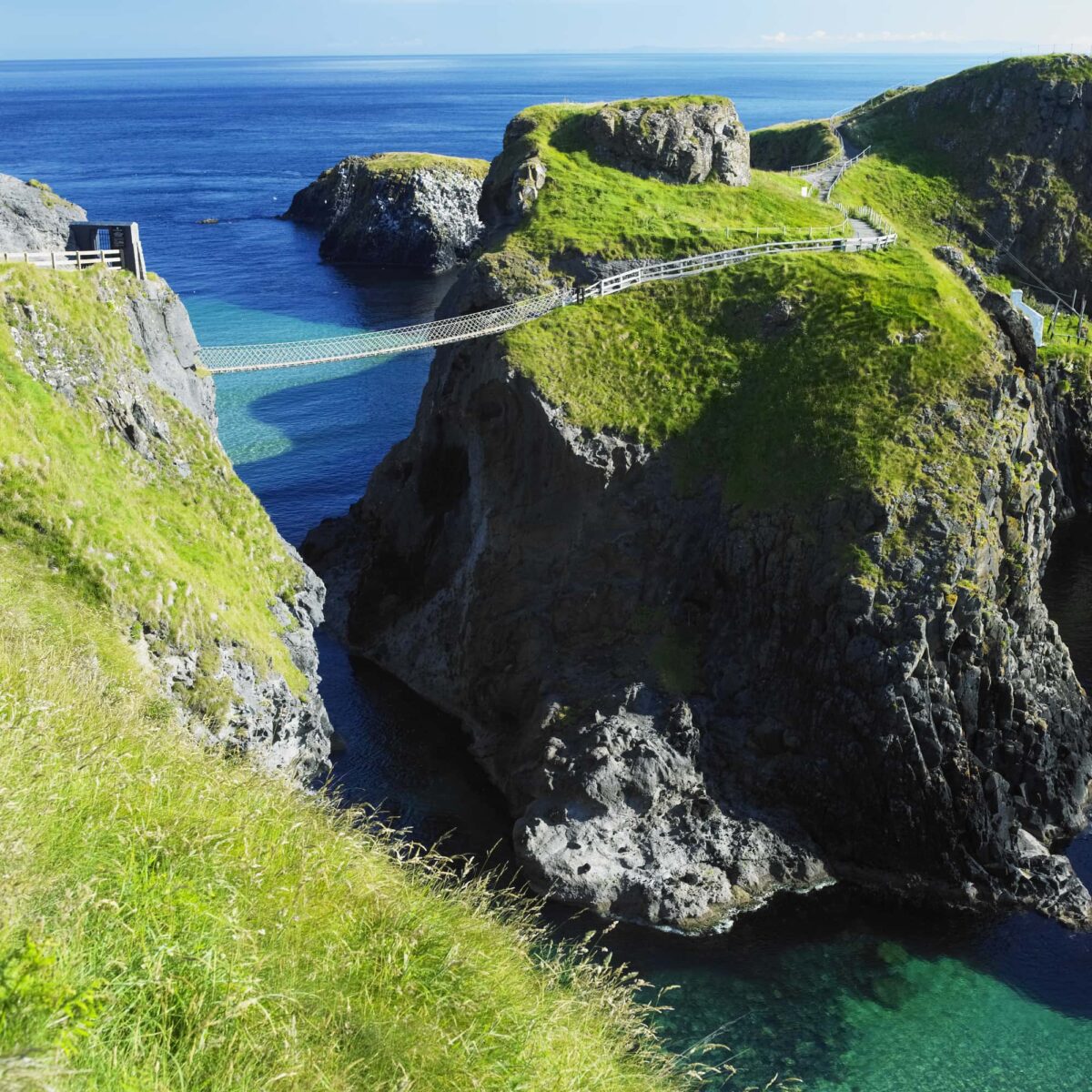 Train Travel In Northern Ireland
With Translink, the service operated in Northern Ireland you have a choice of travel-saver tickets you can purchase.
Belfast Visitor Pass
The Belfast Visitor Pass is the perfect ticket to get around Belfast & enjoy all the city has to offer. They have teamed up with Visit Belfast to give Belfast Visitor Pass users discounted tours, attractions and more. The Pass covers all Metro and Glider bus services in Belfast, NI zone 1 railway trips, and Ulsterbus within Belfast but this does not include the International Airport.
The Belfast Visitor Pass also offers you many discounts and special offers at restaurants, attractions, activities and tours around Belfast. Purchase your Visitor Pass and find more information here. Adult fares are, 1 day: £6, 2 days: £11 and 3 days: £14.50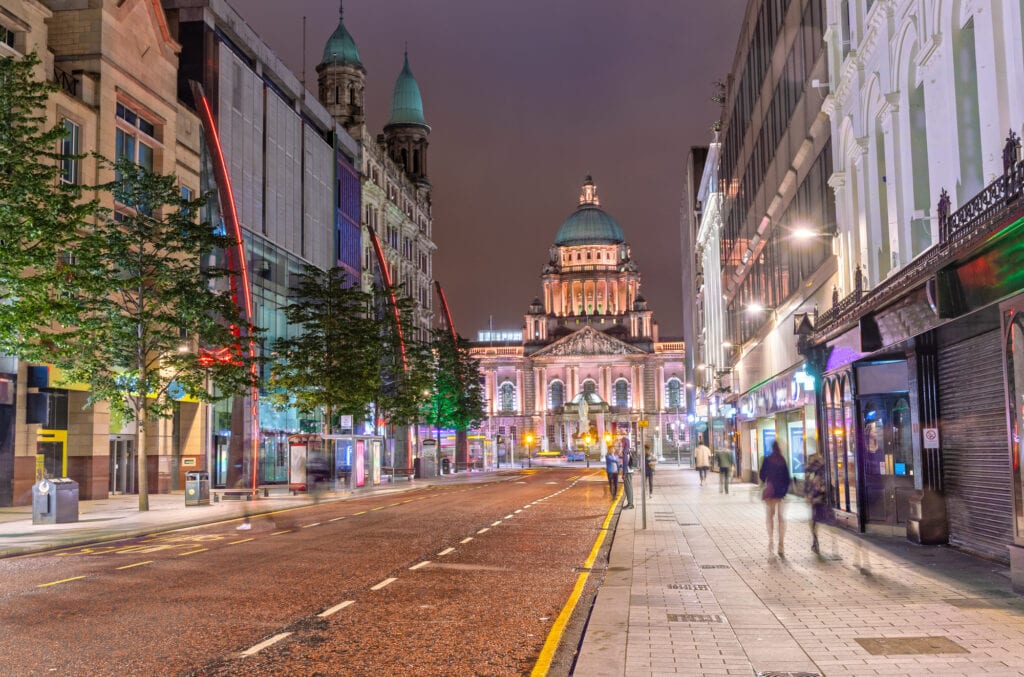 Tours in Ireland when you don't have a car
These are some of the best ways to see Ireland without a car it will be a combination of train and bus travel or to make your Irish itinerary without a car plan on some great arranged-for-you tours.
Game of Thrones™ Filming Locations and Giant's Causeway from Dublin
Discover sites made famous in television's 'Game of Thrones,' including the mighty Giant's Causeway on this full-day tour from Dublin. Travel in comfort aboard an air-conditioned coach and listen as your guide fills you in on 'Game of Thrones' filming tales as you stop at the sites like Dark Hedges and the Antrim Coast. You also stop in Belfast, with ample free time to explore the Northern Ireland capital.

Read more about Game of Thrones™ Filming Locations and Giant's Causeway from Dublin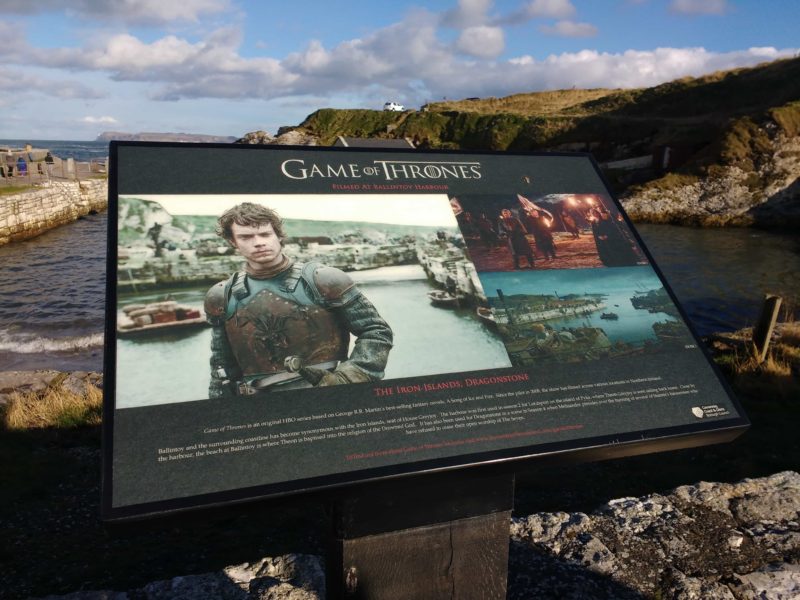 Blarney Castle Day Trip from Dublin
Enhance your experience of Ireland with a full-day excursion to three of the country's top attractions. From the comfort of a luxury coach, travel through the Irish countryside to visit Blarney Castle, famed for the enchanting Blarney Stone, which grants those who kiss it the gift of gab. See, too, Cahir Castle and the Rock of Cashel Cathedral and gain insight into the region's rich heritage from your guide.

Read more about Blarney Castle Day Trip from Dublin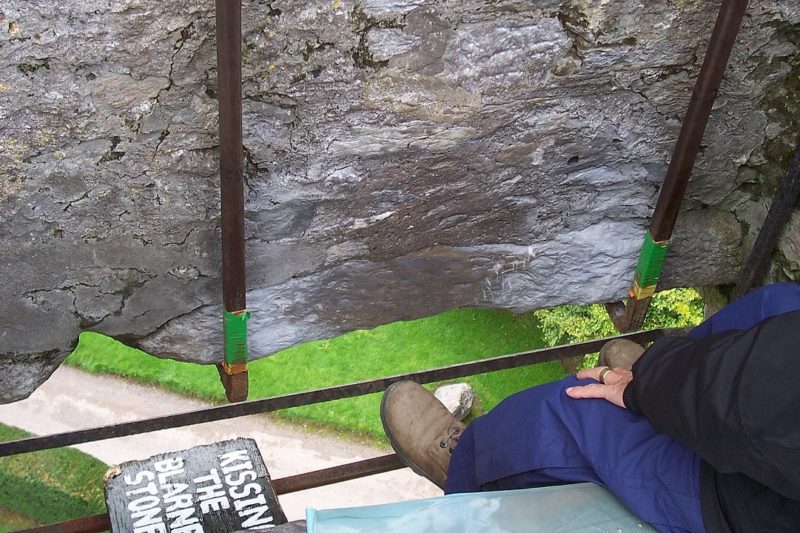 Kilkenny, Wicklow Mountains, Glendalough, Sheep Dog Trials, Day Trip from Dublin
Break from Dublin for a tour of medieval Irish architecture and folklore in Kilkenny and Glendalough. Aboard a luxury coach, take a day trip to the top sights in southeast Ireland from Kilkenny Castle to the Wicklow Mountain National Park and Glendalough's medieval monastic settlement. This tour also includes a stop at the foot of the Wicklow Mountains, where you'll be able to see border collies and corral sheep across the fields.

Read more about Kilkenny, Wicklow Mountains, Glendalough, Sheep Dog Trials, Day Trip from Dublin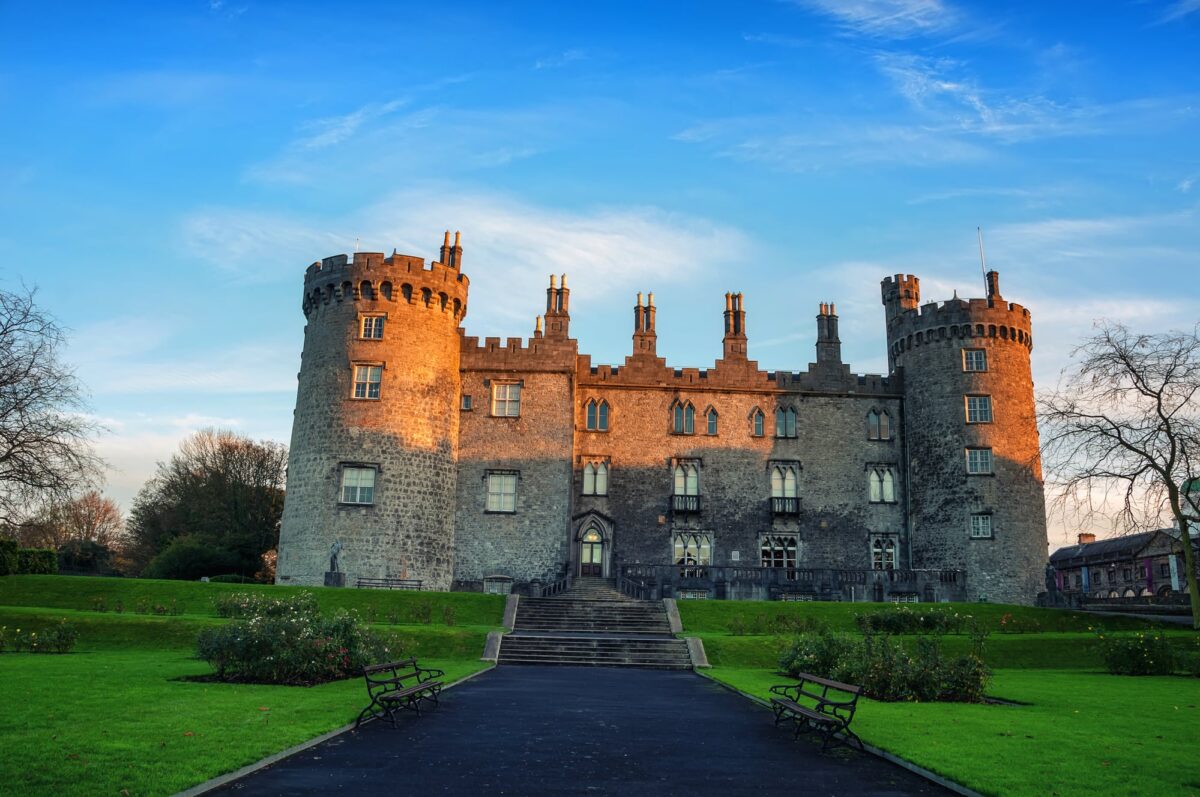 Cliffs of Moher Tour Including Wild Atlantic Way and Galway City from Dublin
Escape the hustle and bustle of Dublin in favour of the rugged coastal splendour of the Cliffs of Moher and Galway City on an enriching full-day excursion from the Irish capital. From the comfort of a luxury coach, admire the stunning Irish countryside and travel along the Wild Atlantic Way to the incredible 700-foot-high Cliffs of Moher. Browse intriguing exhibitions in the visitor centre; marvel at the lunar limestone landscape of Burren, renowned for its rare flowers; and absorb the cosmopolitan charm of Galway City during some leisurely free time.

Read more about Cliffs of Moher Tour Including Wild Atlantic Way and Galway City from Dublin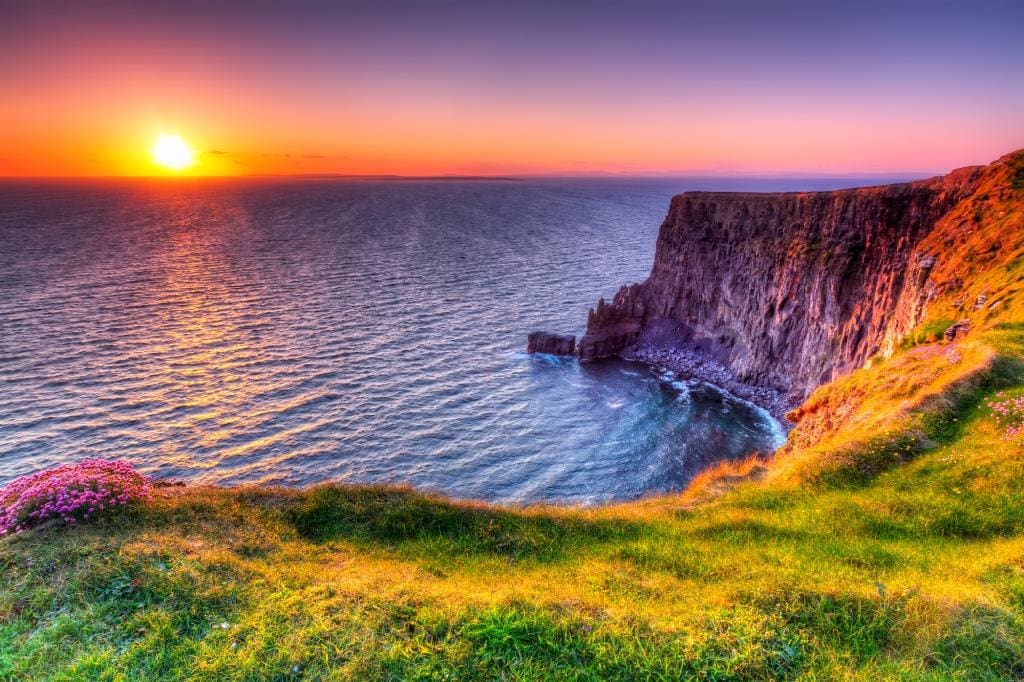 Read more about the Cliffs here Essential guide to the Cliffs of Moher in Ireland
Read more about Galway here 27 Things to do in Galway in 2 days
Northern Ireland Highlights Day Trip Including Giant's Causeway from Dublin
Explore Northern Ireland's biggest draws—Belfast, Giant's Causeway and the Carrick-a-Rede Rope Bridge—on a day trip from Dublin. In a traditional black cab in Belfast, you'll explore sites of the capital's conflicted history: the mural-strewn streets of the Falls and Shankhill neighbourhoods and the Belfast Docks. Then course along the Antrim Coast to experience one of Ireland's great geological marvels, the UNESCO–listed Giant's Causeway, followed by a stop at the Carrick-a-Rede Rope Bridge. Marvel at the surrounding headlands and Mussenden Temple which were also used as a filming location for many "Game of Thrones" scenes.

Read more about Northern Ireland Highlights Day Trip Including Giant's Causeway from Dublin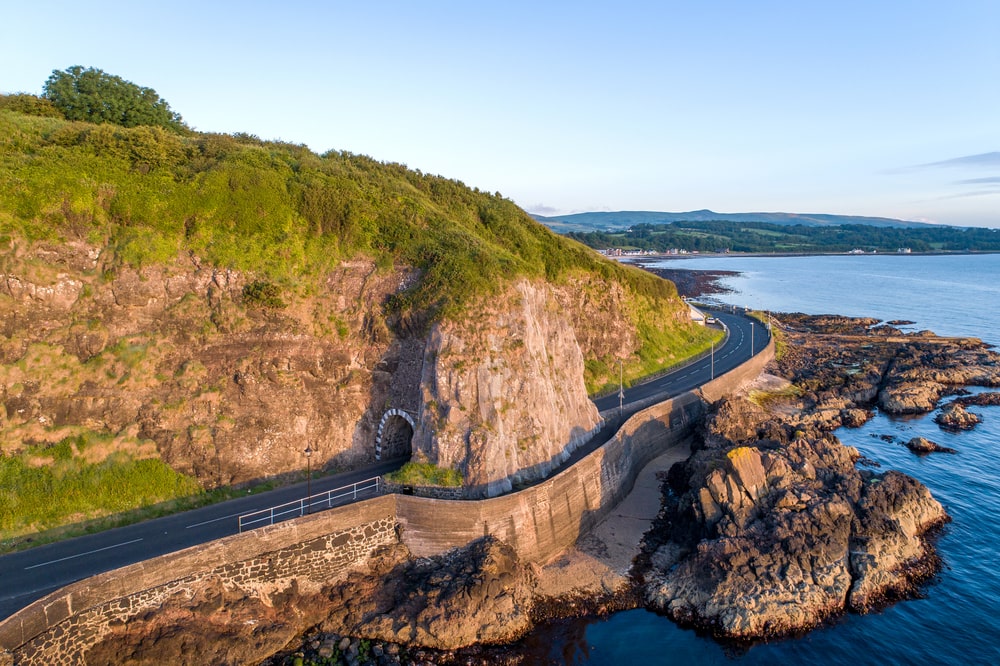 Read more about the Causeway here What is the best Causeway Coastal Route Itinerary?
Exploring Ireland without a car is not only possible but also an adventure waiting to be had. From discovering hidden gems in small towns to experiencing the stunning natural beauty of the Irish countryside, there are endless opportunities for those who choose to travel by foot, bike or public transportation. With a little bit of planning and an open mind, visitors can enjoy all that Ireland has to offer without the stress of navigating unfamiliar roads or worrying about parking. So go ahead and leave the car behind – you never know what kind of unforgettable experiences await you on your journey around Ireland.
Let me know in the comments below if you're thinking of traveling around Ireland without a rental car, and how you found the best way to get around.
You might also like
101 Landmarks in Northern Ireland
Ultimate Wild Atlantic Way Route
Ireland's Ancient East – an epic road trip
35 of the Coolest & Unique Places To Stay In Ireland

Latest posts by Faith Coates
(see all)