Northern Ireland's rope bridge Carrick-a-Rede
Northern Ireland's famous rope bridge Carrick-a-Rede is that bridge that anyone wanting to visit Ireland would love to cross. Its breathtaking views and stomach-churning height is a must-do for those brave enough to try it. The Carrick-a-rede rope bridge is located on the Causeway Coastal Route of Northern Ireland near Ballycastle. The name comes from the Scottish Gaelic 'Carraig-a-Rade' meaning "The Rock in the Road". It was named this by the fisherman who caught Atlantic salmon from the Island in 1755.
If you are planning a visit to the Causeway Coast this is bound to be one of your bucket list items. Crossing the Giant's Causeway and the Carrick-a-rede Rope Bridge is a dream come true for many visitors. Other sites of interest on the route include Dunluce Castle, the Giant's Causeway, Mussenden Temple and if you plan on going to Derry check out the Stairway to Heaven if you love a long walk up a lot of stairs.

60 Best Northern Ireland tourist attractions
Xyuandbeyond is reader-supported. When you buy through links on our site, we may earn an affiliate commission. You can read my privacy policy here.
What is the Carrick a Rede rope bridge?
The bridge itself is a crossing between N. Ireland to the Island of Carrick-a-Rede. It is made of planks, wire, rope and netting suspended 100 feet in the air and crossed 60 across the water to the Island. The rope bridge is maintained and managed by the National Trust which ensures that the bridge is safe to cross.
101 Famous landmarks in Northern Ireland to visit
How to get to the Carrick-A-Rede Rope Bridge
The drive from Belfast is an easy 1 hour or so journey and I recommend driving the Nine Glens of Antrim to see some of the spectacular Irish forests, waterfalls and just jaw-dropping beauty of this beautiful coastal scenery.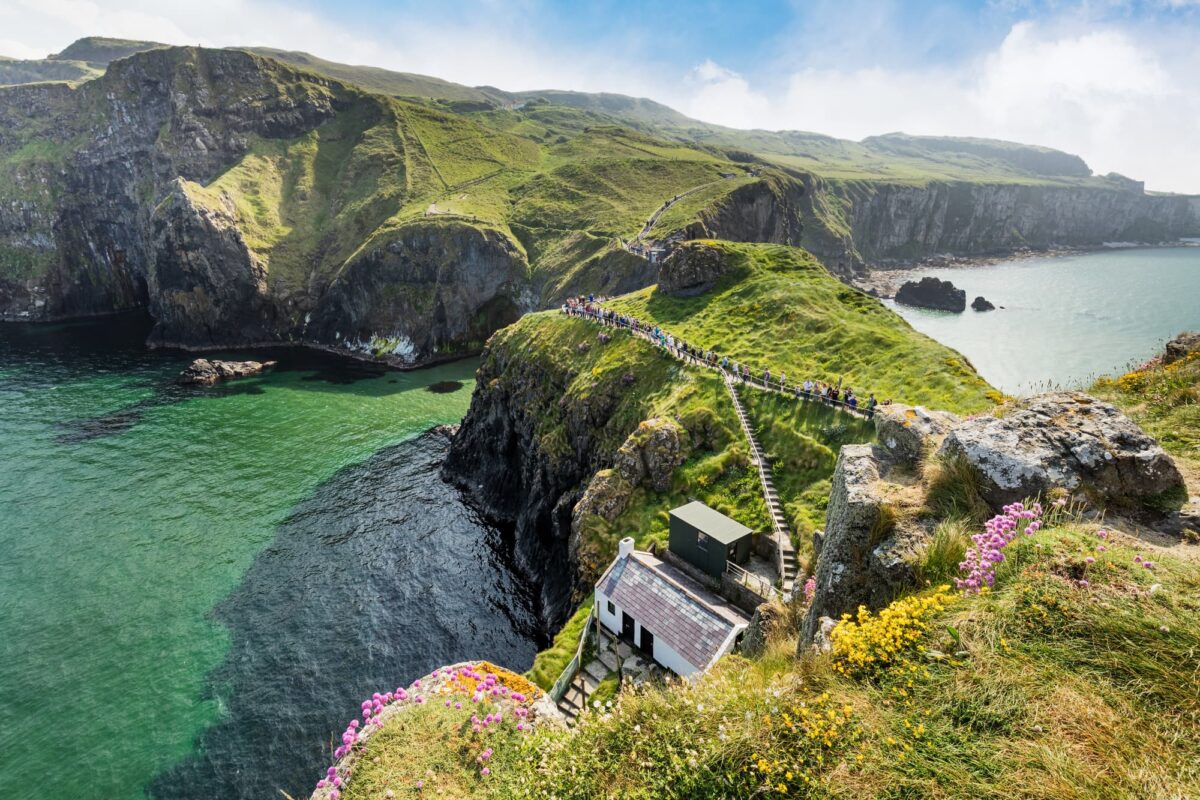 If you want to take public transport to Carrick-A-Rede's rope bridge it's a little trickier. You would have to get the train from Belfast to Coleraine and from there take 1 of two buses that go near the Rope Bridge, there is however a 20-minute walk from the bus stop to the Bridge.
Is Carrick-a-Rede Rope Bridge safe?
Absolutely beyond a shadow of a doubt. The Bridge is carefully maintained and no crossings are allowed on bad weather or windy days. The bridge is very "bouncy" which can be a bit nerve-racking. There are two wooden planks that are laid across a series of woven wire supports. If you slip you could cause an injury and I would not recommend the walk across the bridge if you have any mobility issues, fear of heights or have balance problems. I also wouldn't suggest you take children under the age of 8 across even though there are no age limits.
Top tips for visiting the Carrick-a-rede Rope Bridge
Parking at Carrick-a-Rede
There is a large free parking lot that sits behind the small cafe and gift shop at Carrick-a-rede. The shop makes a great place to pick up some postcards and trinkets to take home. You can also get a snack and a cup of coffee to steel your nerves before crossing the bridge.
History of Carrick-a-Rede Rope Bridge
It was in 1755 that the first rope bridge to Carrick-a-Rede Island was constructed in an effort to reduce reliance on boats to reach the island. From 1755 to 2002 the salmon were caught from the island but pollution and overfishing sealed to the demise of the fishing trade from the island.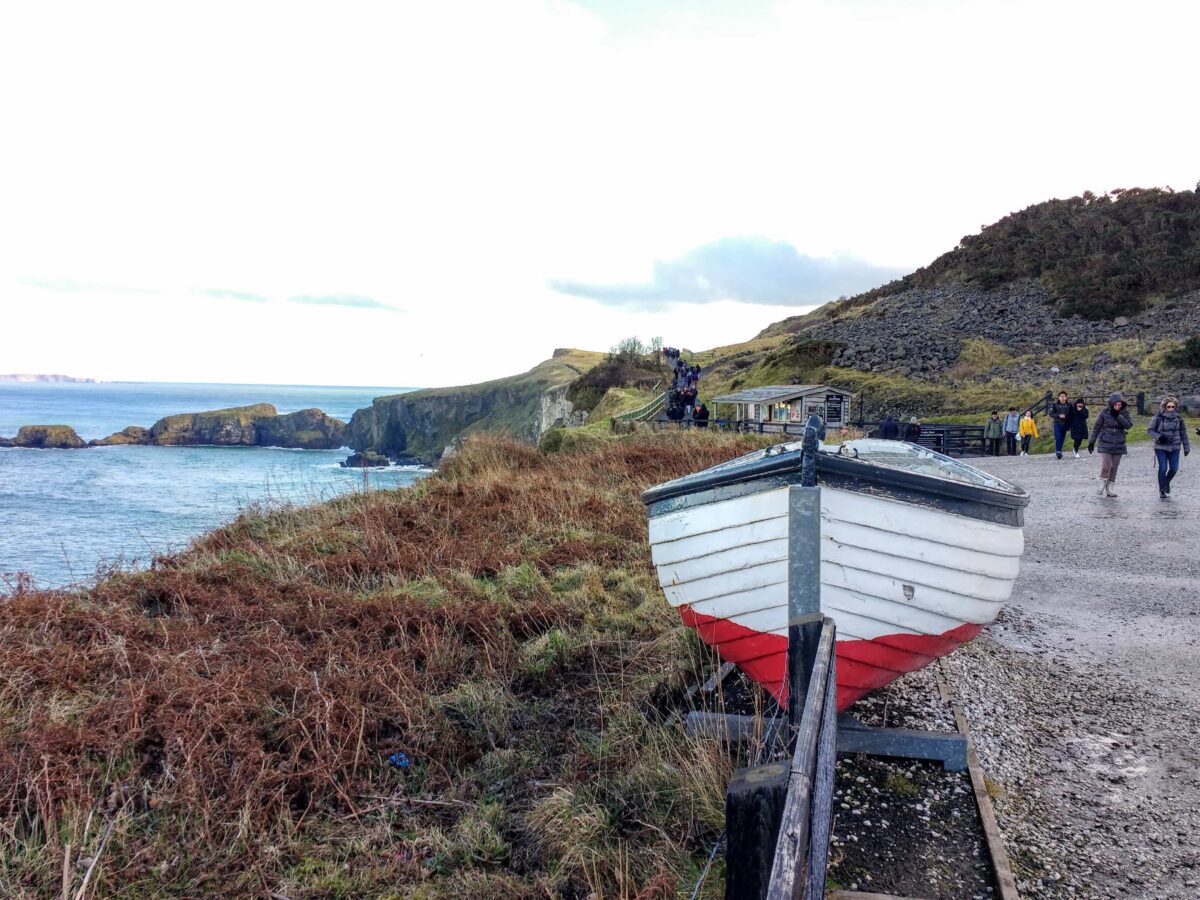 The last fisherman on Carrick-a-rede was Alex 'Achi' Colgan, he had worked the fishery there for over 30 years with his Uncle. Now over 80 he says "it was the hardest salmon fishery on the coast, but we caught up to 250 plus a day".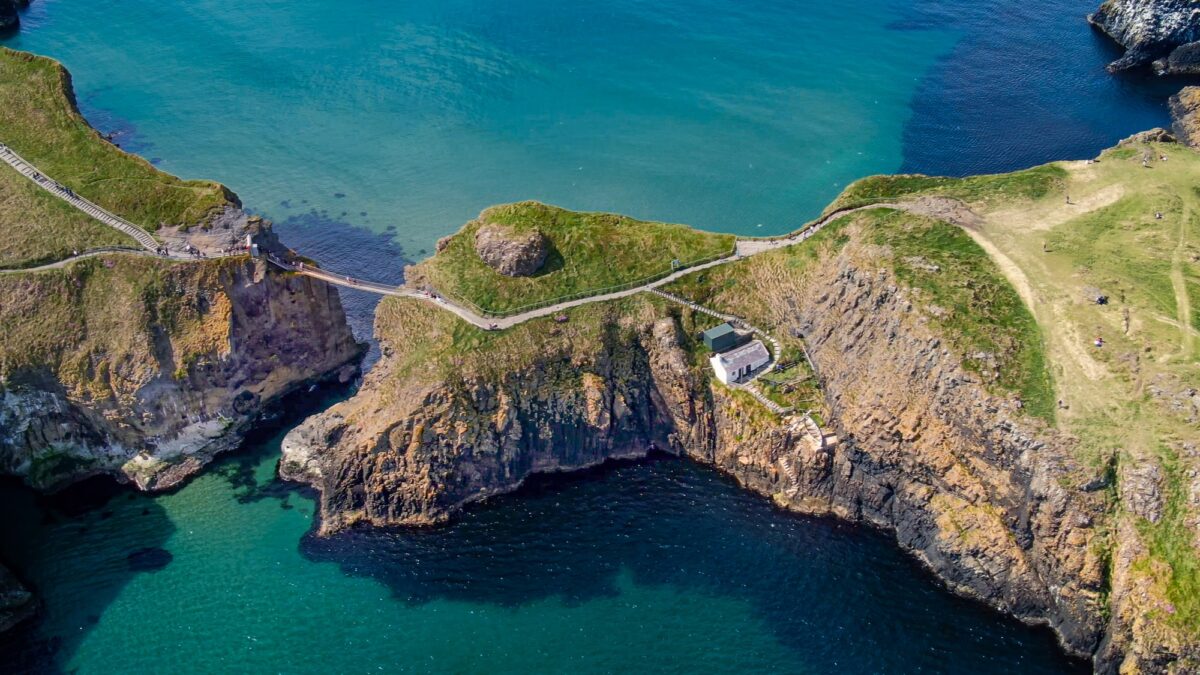 How to get tickets to cross the Carrick-a-Rede Rope Bridge
In the summer months when tourism is at an all-time high, you should try to purchase your tickets in advance. Tickets are timed for your crossing as the bridge can get over 2000 visitors a day. Tickets are limited so I recommend booking them online at the National Trust. You will receive an email and you can pick up your printed ticket at the site.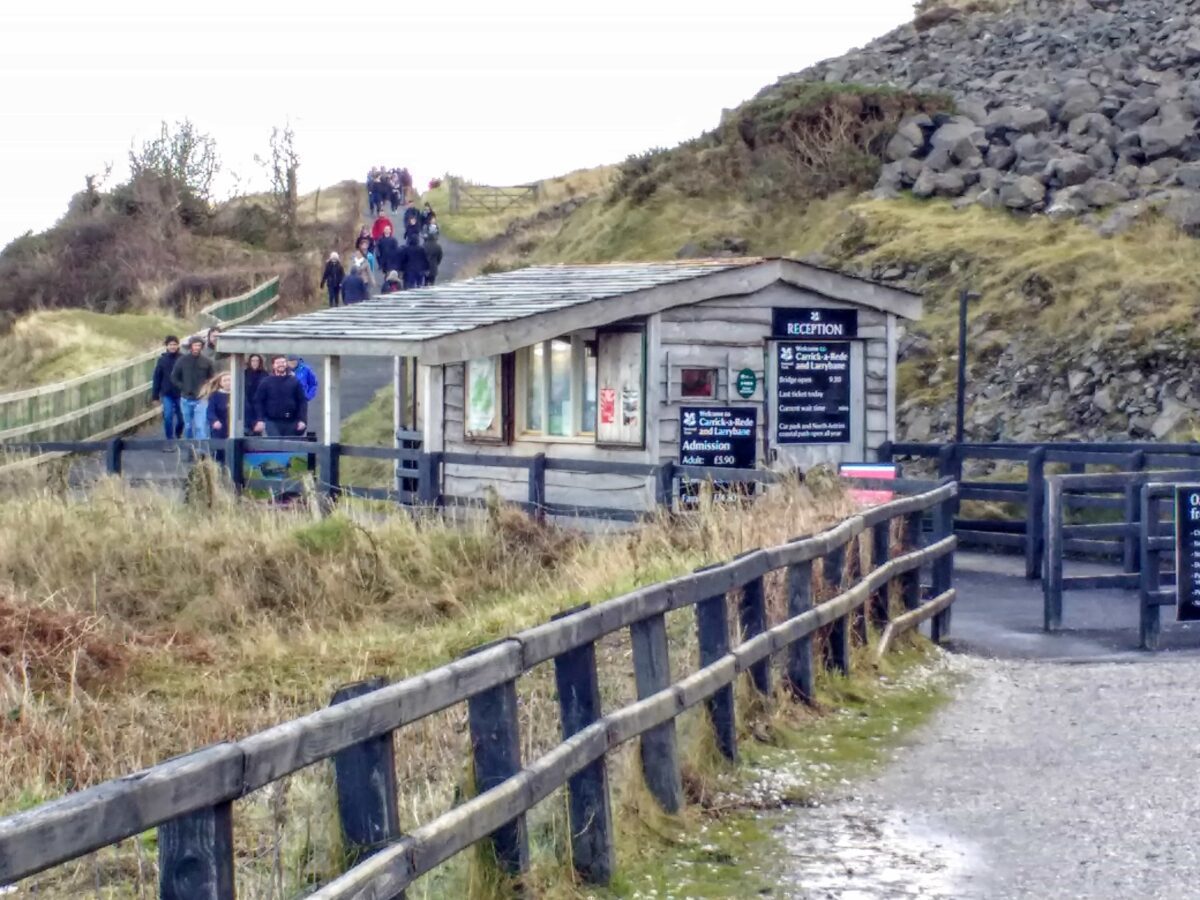 You don't have to cross the bridge but you can walk up the coastal path to the viewpoint for free.
How much does it cost to cross Carrick a Rede rope bridge?
Adult tickets cost £10.00 and tickets for children from 5 and up to 17 are £5 a Family ticket costs £25.00. You can also use your National Trust Card to access the site for free.

I have always enjoyed driving the Causeway Coastal route there are just so many places to drop by and visit and I recommend doing a Game of Thrones tour with a tour company or simply driving it yourself. There's loads of parking on the Coast.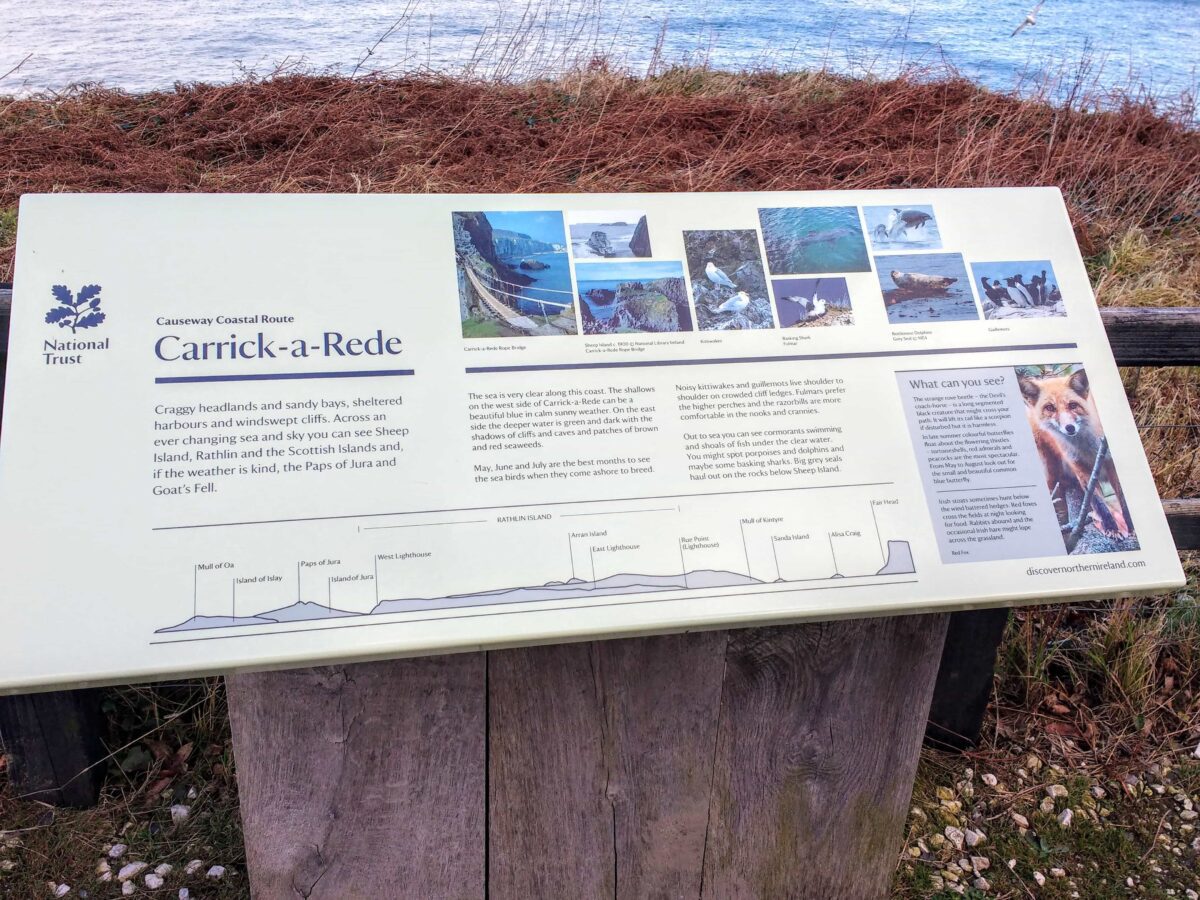 101 Landmarks in Northern Ireland
How long is the walk to Carrick a Rede rope bridge?
From the parking lot, it will take you around 20-30 minutes to walk to the viewpoint at Carrick-a-rede that's about 1km. For most people, the walk isn't difficult but if you have any mobility issues I wouldn't recommend it. The pathway is gravel and there are some small inclines and there are then 30 steep steps down to the bridge entry.
I also wouldn't advise taking small children who have a habit of darting off to see things or little ones in a stroller that won't be able to handle gravel paths. As you can see from the photos in the article the paths can be quite steep and there is only ropes to fence off the path.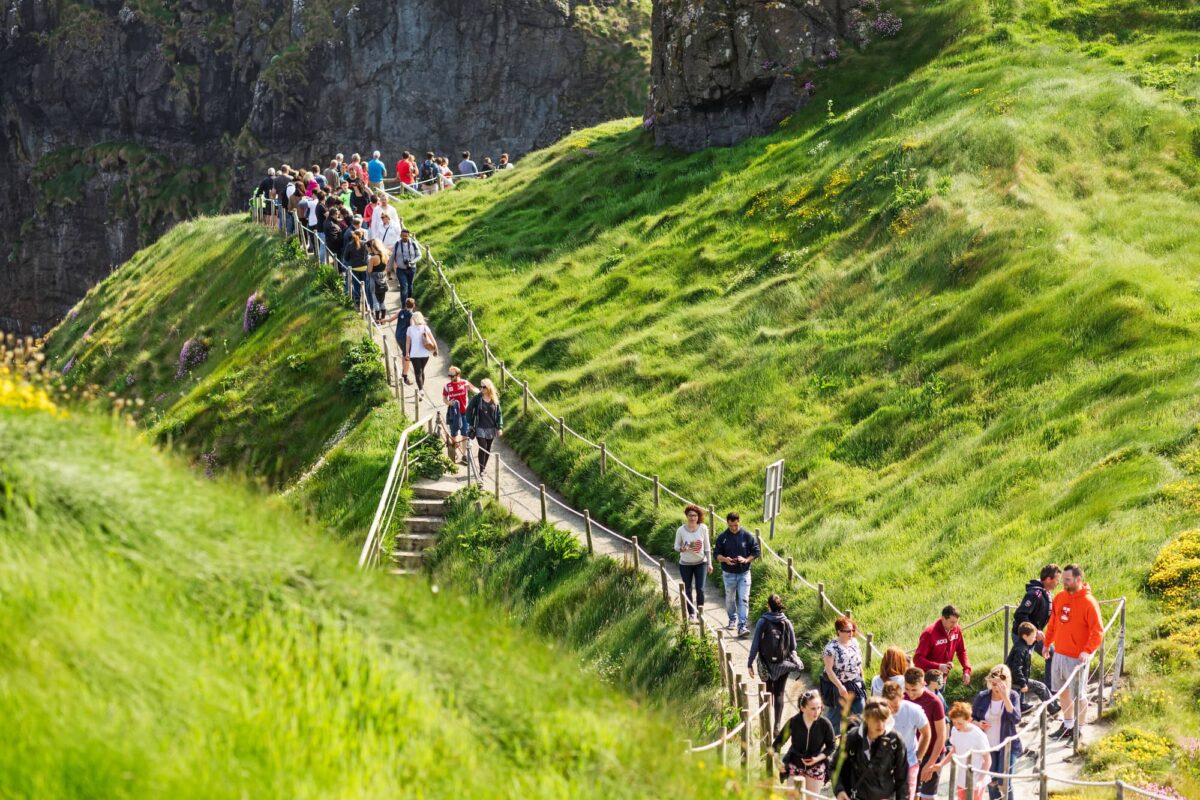 Is the Carrick-a-Rede rope bridge safe?
The bridge is perfectly safe and the views are simply outstanding but is can be very scary particularly if you are crossing in wet weather – and remember this is Ireland. The rope bridge is made up of 2 planks that lie across the woven wires and net with a rope handrail. There are no age limits for crossing to Carrick-a-Rede Island.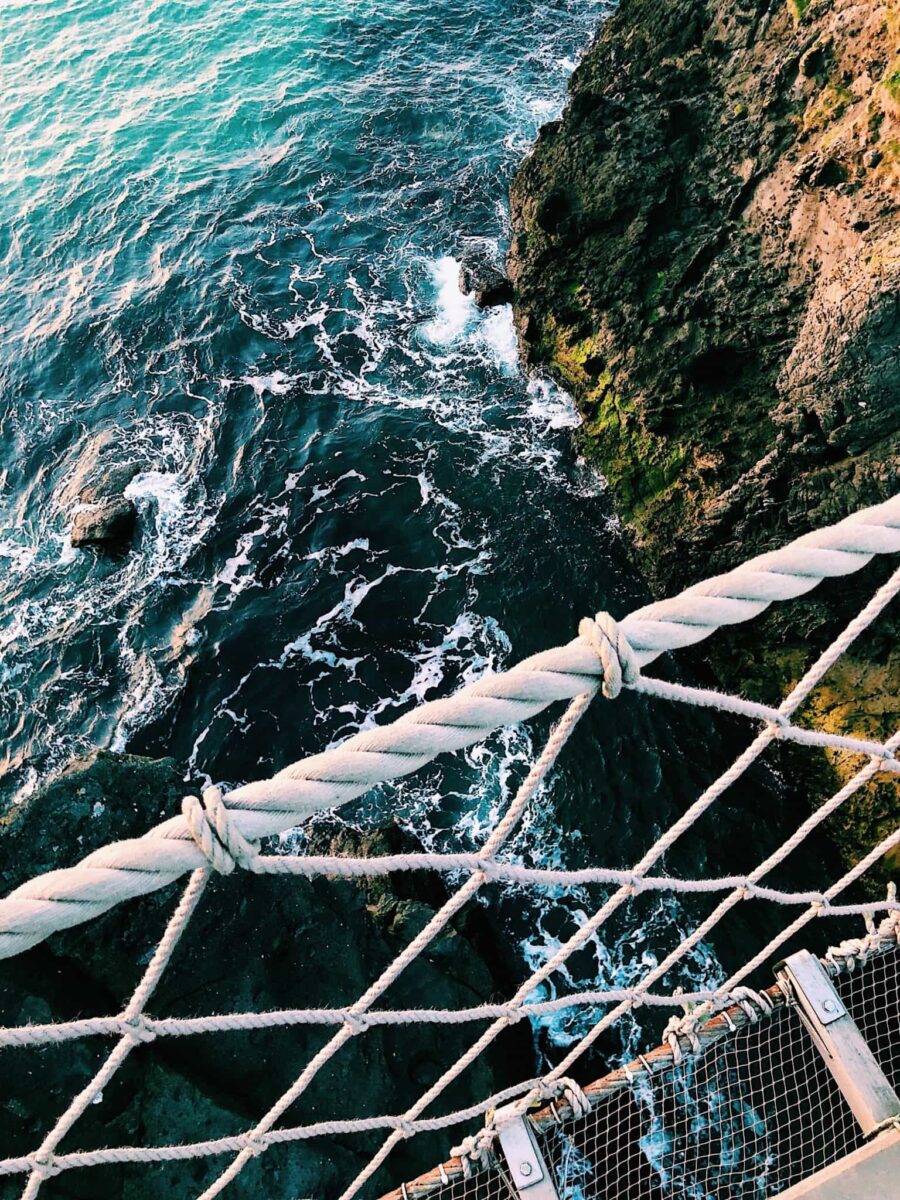 What to see on Carrick Island
Once you cross the Bridge you will spot the Salmon Fishery and the newly restored Fisherman's cottage and ice house. This restoration was done by the National Trust and the North East Region Local Action Group working together to ensure that the history and traditions of a once-thriving industry will be remembered.
There is a guided tour of the Fisherman's cottage with interpretation and oral history that allows you to learn about the impact of this salmon fishery on local life.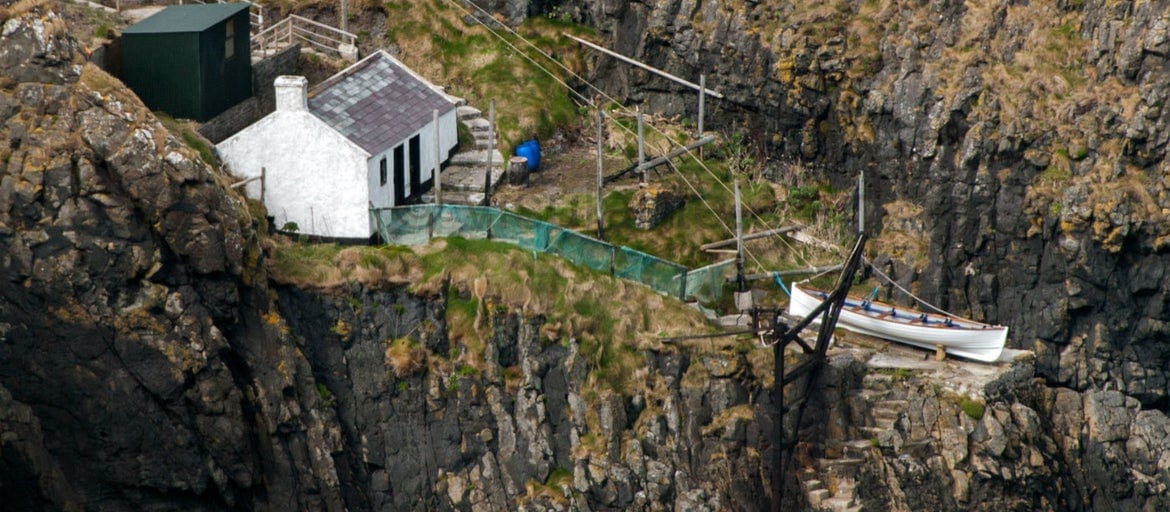 You will find guide ropes around the Island which outline the "safe views" so don't be stupid and attempt to take selfies from dangerous viewpoints. When you return to the bridge you will more than likely have to wait your turn to cross back.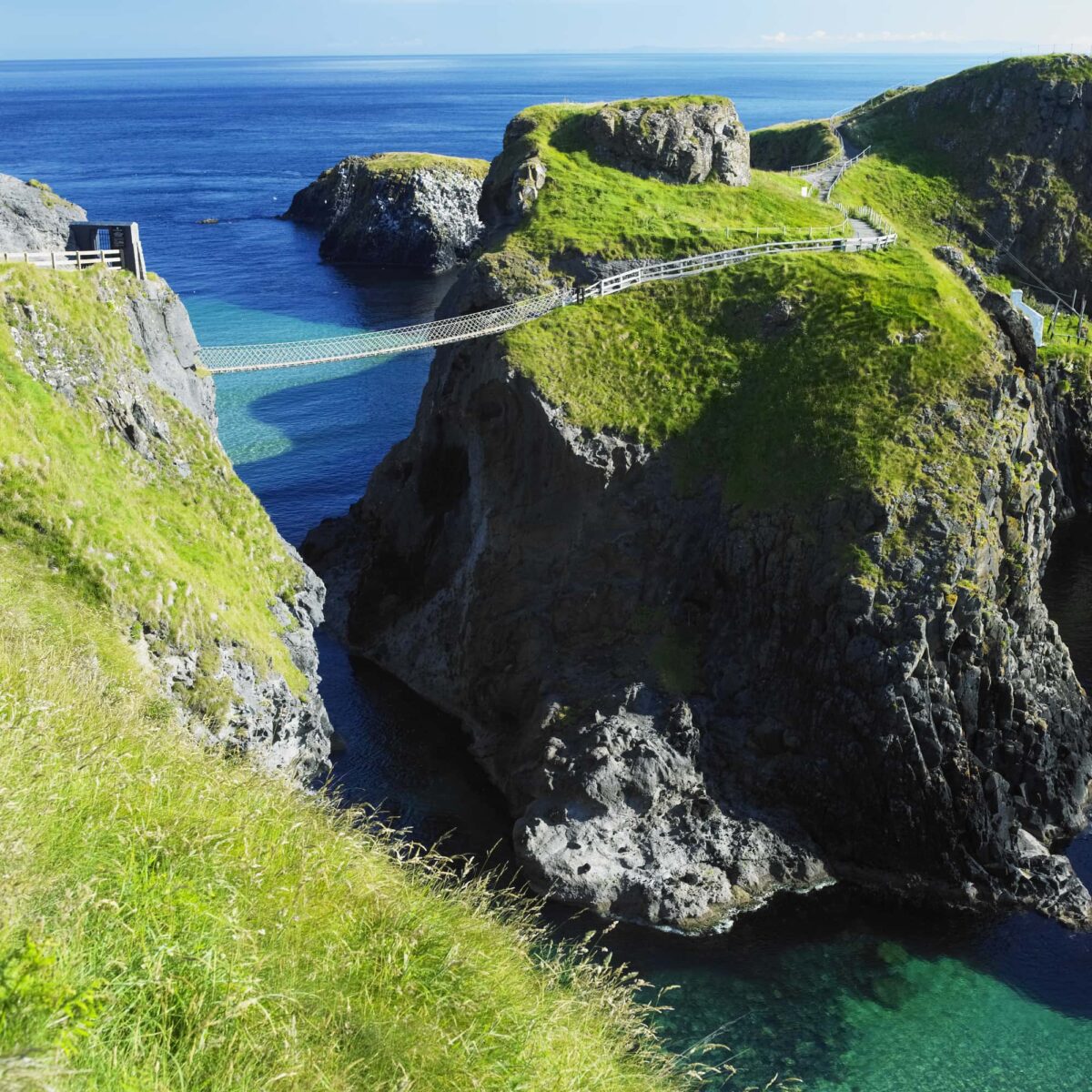 If you would like to experience some more outstanding views take the trail to the left of the steps which circle past the bridge there you will find the viewpoint. Don't forget to get your official "over the Bridge" certificate before you leave.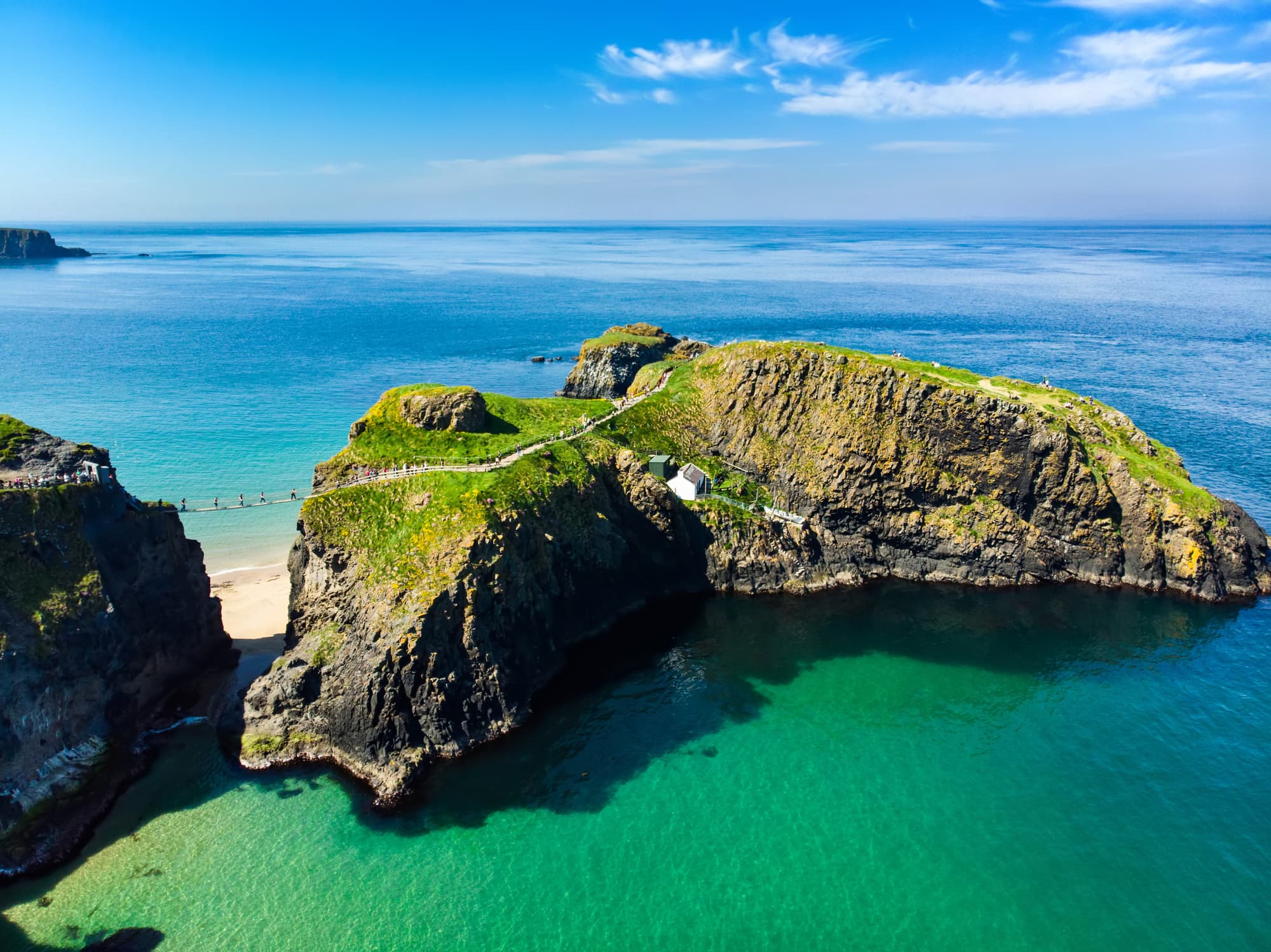 Where to stay on the Causeway Coast
My absolute favourite place to stay when I visit the Causeway is Ballycastle. I've done fabulous food tours in Ballycastle and stayed in several BnB's that I just love.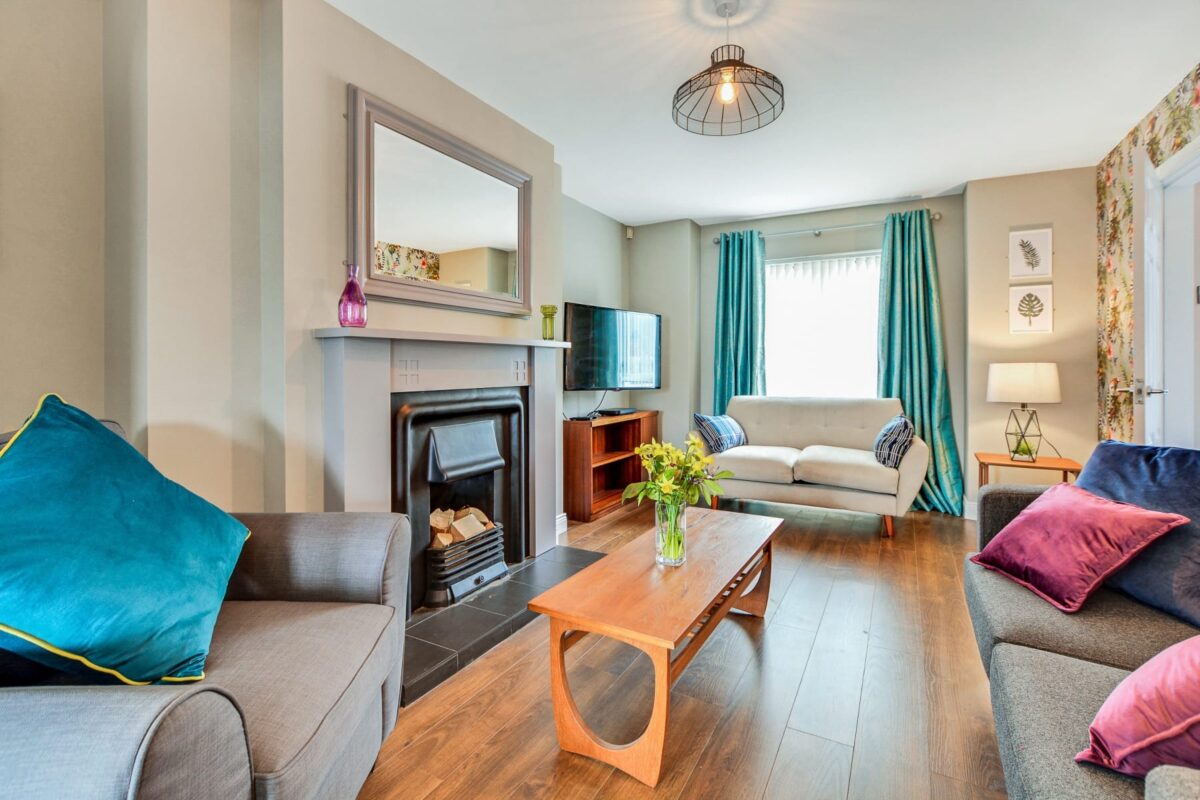 The first place I highly recommend for large groups and families is the Abbey Movie House. We stayed at this lovely terraced house when we last visited. The house sleeps up to 10 people and is fully equipped with all the conveniences and a superb media room.
BOOK THE ABBEY MOVIE HOUSE NOW
My other favourite place is the Old Manse. I just love this fabulous old manor house with its gorgeous rooms filled with antiques and soft downy bedding. We had a room with a little balcony of the sitting room which was brilliant to watch the sunset. The breakfast was also superb.
Your Ultimate What to Pack for Ireland Guide
Packing for Ireland starts with the luggage you choose, not only that but the luggage needs to be able to work on all airlines as a carry-on. Here in Ireland, most people will travel via the cheapest airlines.
It's cheaper to fly to other areas of Europe than it is to drive or take the train. Since public transportation in Ireland is great in the cities but abysmal in rural areas, you also don't want to be dragging massive suitcases around with you. Size also matters when attempting to crush giant suitcases into the tiny little car trunks that you get when you rent a vehicle here.
It's not like packing for Ireland is a chore, the clothes here are pretty casual and jeans go with everything. They consider it rude to wear a baseball hat or any kind of hat inside. That, in particular, demonstrates your "American" identity.
12 Must have items when packing for Ireland
We all know the rules for liquids and stuff in suitcases, but I say to hell with it bring your favourite face cream and you can pick up what you need in Ireland so cheaply you won't worry about it. Or get some of those solid shampoo and shower bars. Some folks recommend a first aid kit but again why bother I mean really a pack of Ibuprofen here costs around €1 for 12 so why take up the room.
They don't have drugstores like those that you do in N. America so you won't find a Shoppers or a Rite Aid. In some major cities, you may find a Boots but it does tend to be a UK brand. Most pharmacies here are called Chemists and you will find everything you need. Don't expect to be able to pick up aspirin and the selection of non-prescription remedies in a grocery store they tend to carry just a few items.
I would strongly advise getting your phone unlocked before you leave if it is not already. Load your phone with What's App and you can call anytime to anywhere free of charge. When you arrive, pick up a SIM card at the airport 3IE is brilliant, €20 all you can eat data and it's good for a month and the coverage is excellent. So save yourself that stupid $10 a day from your N. American phone service that is simply outrageous. Just remember to keep your SIM card in a safe place so when you return home you can pop it back into the phone.
#1. What to pack for Ireland – a great carryon bag
So, personal experience tells me that I need a carryon bag with those twisty wheels that go in all directions and has both carrying handles and a pull-out drag bar thingy. I want sturdy fabric, preferably in a day-glow colour so I can see the damn thing if I do have to check it. I also want soft sides that give a little – just in case. My recommended one? Well, I pick the azure blue TravelproTravelpro Maxlite 5 19″ Expandable International Carry-On Spinner. I know it's a mouthful but a great case.
#2 Taking care of the personal
Now this one may seem a little odd but I see a lot of N. Americans complaining on the Irish forums that most hotels and B&B's don't have washcloths. Well, that's true I mean after all who wants to use a used washcloth. Take your own these are great quick-drying washcloths that are reusable and environmentally friendly.
Now if you are really concerned about the whole liquid issue why not take solid shampoo bars and body wash bars. These products are paraben and SLS free, TSA approved (so to speak) perfume-free and chemical-free. That makes them very environmentally friendly and they are so easy to use.
Next, for me are the all-important shoes. I want shoes that are well made comfortable and above all will last for a while and can be used for a lot of walking. Most people want to know if they should bring hiking boots, dressy shoes and runners but really try and make one pair do you the entire trip. Unless of course, you are a hiker and avid walker then you will need some great hiking boots but I suggest you wear them on the plane and put your less heavy day time shoes in your case.
#2 Keeping your feet warm and dry
The ones I do like are Timberland walking boots, waterproof and comfortable but not only that a little stylish and can be worn when strolling through Dublin with a pair of Jeans or on the Cliffs of Moher in the rain and fog.
Most of the types of weather you have to watch out for here in Ireland is wet, wetter, and damp. But I am also a believer in making a coat do double duty so I won't buy a parka style or one of those coats that just won't work over a nice outfit if I'm going out.
# 3 Packing A Windproof Jacket Will Save You In Ireland
I love my multipurpose Craghoppers 3 in 1 jacket. It's windproof, waterproof and breathable and has a drawcord at the waist which helps me look like I have one.
It's easy to use (the inner coat zips out easily) and although not light, it isn't bulky which for those of us carrying their own bulk is perfect. The fabric is called Texapore Cotton Touch, which has a high proportion of organic cotton.
The attention to detail is really impressive with a load of pockets. It is stylish and yet practical and the cost is good, as the coat will last for years. It also comes in a nice navy colour so much better than boring black my wardrobe staple.
#4 What power adaptors to pack for Ireland
Now you are going to need a 110v to 220v voltage converter so you can plug in hairdryers, phones, laptops or tablets and so on. My personal favourite and one that has lasted me 4 years is the Bestek Universal Travel Adapter.
It has 4 ports for charging tablets and phones and a UK/AU/US/EU worldwide plug adapter, so bloody useful. It's more expensive than most but well worth the price.
# 5 Don't forget a power bank
Okay now, this one is going to be more important than you can believe. I have the Anker portable charger which I love, super quick and works on most of my electronics. Anker is ultra-light, portable and works under any situation.
# 7 Bring lots of photo storage when packing for Ireland
You are also going to need memory cards, trust me you will have more photos than you can store on either your phone or your camera and you don't want to be deleting any to take more before you get home.
This Ultra Scandisk chip will work under adverse weather conditions (we get a lot of those here) and keep your photos or drone footage totally safe.
A flash drive for your Smart Phone will also come in very handy. The Amazon picture keeper comes with a flash drive but its also a software package that finds all your photos from your computer, laptop, or tablets.
# 7 Bring your drone to Ireland
I'm not going to recommend cameras or other types of photographic equipment such as a drone because – well because I am a crap photographer who uses a good cell phone for most of my photos. Now I want a drone but I have to admit I haven't bought one yet. So I was reading all kinds of reviews and know which one I want this a Holystone 1080P Drone.…sigh if only. This has a huge flying time of 26 minutes.
Now if you have a drone it can be flown most places in Ireland. If you plan to fly above 15 meters (49 feet) and your drone weighs more than 1 kilogram (2.2 pounds) you must register your drone. You can register on the IAA's website here. Registered drones may not be flown above 120 meters (394 feet). Registered drones may not weigh more than 25 kilograms (55 pounds). Drone pilots must maintain a direct line of sight with their drone during operations, and may not fly more than 300 meters (984 feet).
#8 What camera to pack for Ireland
I do have a camera, which I really like, but it's a simple Canon Elph that takes great pictures and also has video capabilities, it takes 20-megapixel photos and has that whole touch another device exchange thing. I love it, takes great photos, is nice and small, fits into my purse, and does everything I need it to do.
#9 Making your packing for Ireland easier
You cannot pack properly without packing cubes the reduce the size of your stuff substantially and come in so damned handy for organizing. These Tripped Travel Gear are the ones I like. Lightweight, ripstop nylon virtually indestructible.
#10 Get a waterproof phone case to pack for Ireland
I would recommend a Universal Waterproof Phone Case this is great you can still use your phone's touch screen and camera and yet it keeps your phone nice and clean – safe from rain and that Irish mist. If you drop it, you won't get it dirty and wet and you will be good to go.
#11 Bring a portable charger
This little beauty is a Lipstick-Sized Portable Charger, which is an absolute, must-have when travelling. I keep mine charged and then bring it with me just in case. There is nothing worse than running out of juice when you are snapping some of the best views ever. You will never be out of power with this charger.
#12 Pack a windproof umbrella
Here in Ireland a Windproof Umbrella will save your hair and clothes and is a requirement. I really like this small portable travel umbrella. It's windproof, waterproof, and folds down super small and will fit into any purse or suitcase.
#13 Don't forget a great flashlight
I never would have dreamed of bringing a flashlight with me to Ireland, but when it's dark here man it's freaking dark. So one night we wanted to go and see the Northern Lights up in Donegal but we didn't have a torch. Shopping for one here in Ireland became a journey to 5 stores and each one more expensive than the last. This torch is perfect it has 5 modes, is rechargeable, super lightweight and waterproof you couldn't ask for more.
So when are you making your dream trip to Ireland?
More stories to read about N. Ireland