Ultimate guide of 29 things to do in Tipperary
Tipperary Ireland is a must-do when in Ireland. There are many hidden places to visit in Tipperary which sits at the heart of Ireland's Ancient East and includes some amazing heritage sites such as the Rock of Cashel and Hore Abbey. In this article, you will find 29 things to do in Tipperary and hopefully, you will visit the County and find many more.
Tipperary is located in Munster in – well Tipperary County. Tipperary Ireland was established in the early thirteenth century, shortly after the Norman invasion of Ireland. Tipperary and the famous Rock of Cashel are around 2 hours from Dublin. Tipperary things to do and see obviously include the Rock but there are so many tourist attractions in Tipperary it will keep you and the family busy for days.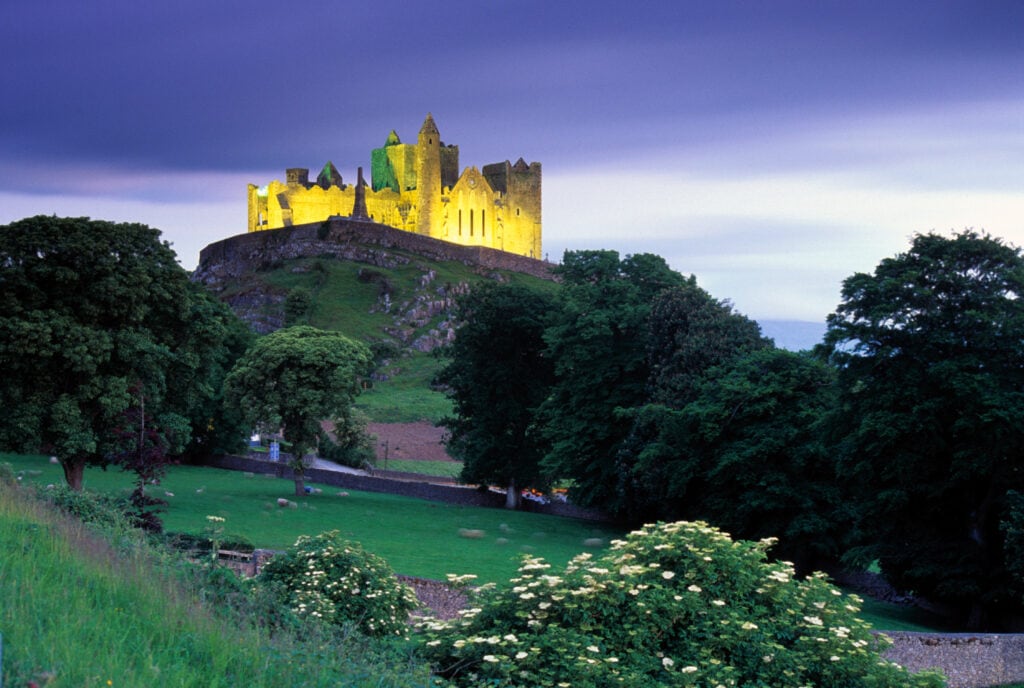 What is Tipperary famous for?
Almost everyone knows the Tipperary song It's a long long way to Tipperary. Tipperary was immortalized in this song during the First World War by soldiers from the Connaught Rangers who were heard singing it during their march to Boulogne, it then spread to other troops and became an anthem about longing for home. Written by Jack Judge who was originally from Tipperary and Harry Williams it was first sung on the music hall stages in 1912.
Is Tipperary worth visiting?
Co Tipperary has been named one of the best global destinations for foodies in 2022 by Condé Nast Traveller and the County has much more to offer from castle ruins to stunning mountain views, its legendary uprising history and its friendly folk and great pubs.
Planning a dream trip to Ireland? Everything you need to know
Where is Tipperary in Ireland?
Co Tipperary is about the same distance from Cork, Limerick, Kilkenny and Waterford—all about one hour by car. Dublin, Killarney and Galway are about two hours away but Dublin, being so much larger than the other cities, can take up to another hour depending on where in the city you need to get to.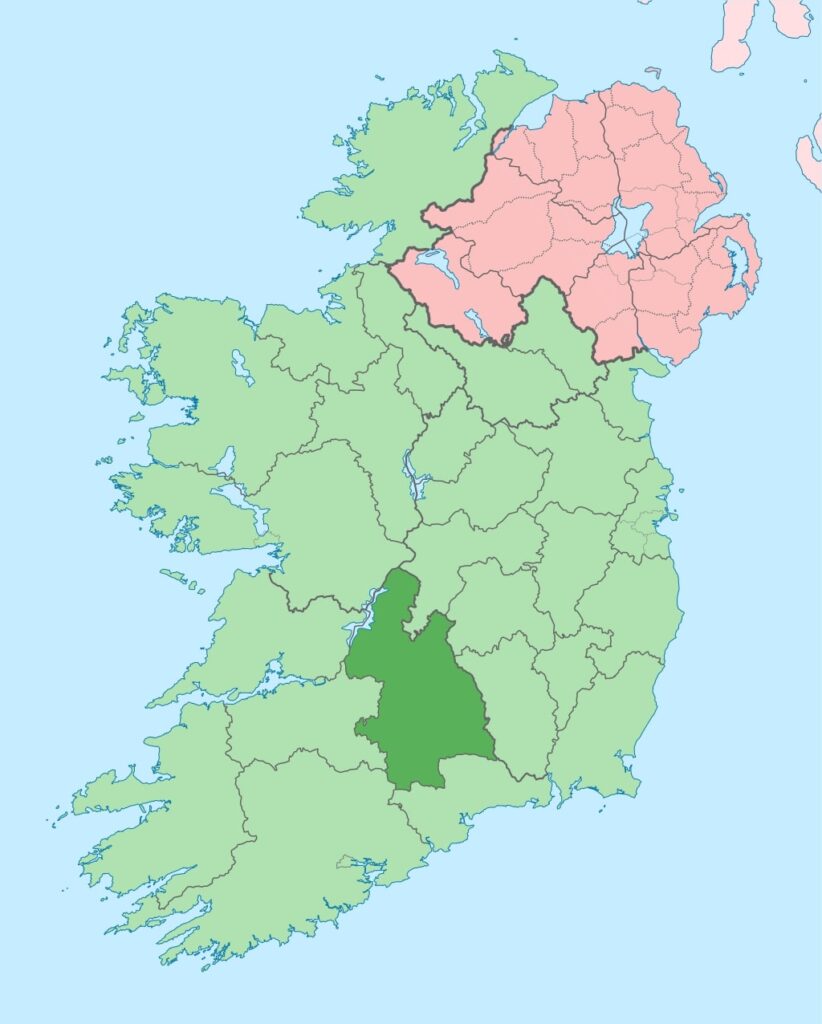 53 Ultimate Ireland travel tips
How to get to Tipperary
The best way to get from Dublin to Tipperary is to train which takes 2h 43m and costs 20€ – 27€. Alternatively, you can bus it from Dublin or Dublin airport, which costs 19€ – 28€ and takes 4h 30m. If you have rented a car – which by the way is the best way to see Ireland outside of Dublin the drive is an easy one and takes about 2 hours.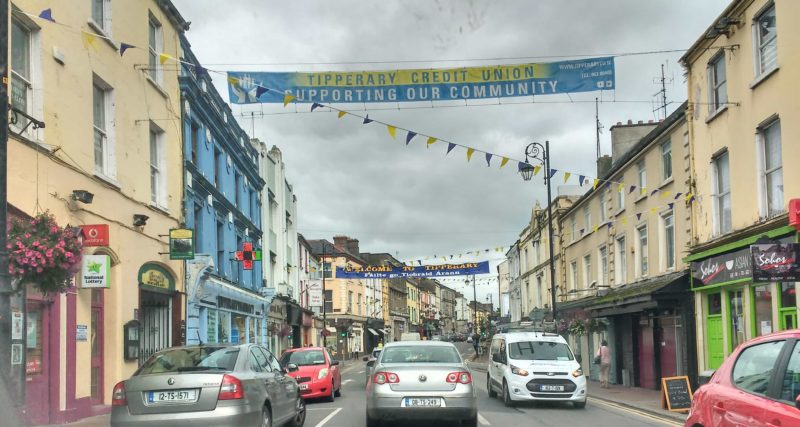 Tipperary county is quite large and is divided into the North and South regions and it is completely landlocked, but it does have immense mountain ranges (Galtees, Knockmealdown, the Arra Hills and the Silvermines). The river Suir runs throughout the southern end of the county and the Shannon in the northern end runs into Lough Derg. The Golden Vale runs through the centre of County Tipperary and is an incredibly fertile agricultural region.
Map of Tipperary
The largest towns are Clonmel, Nenagh and Thurles and they offer a variety of reasons to visit. Of course, there's also Cashel where you find the Rock of Cashel and Tipperary town Ireland – fondly known as Tip Town which is close to where we were housesitting and Caher where you will find a castle and the Swiss Cottage. Tipperary is often only seen by tourists visiting the Rock but there is a lot more to see in Tipperary than you first think.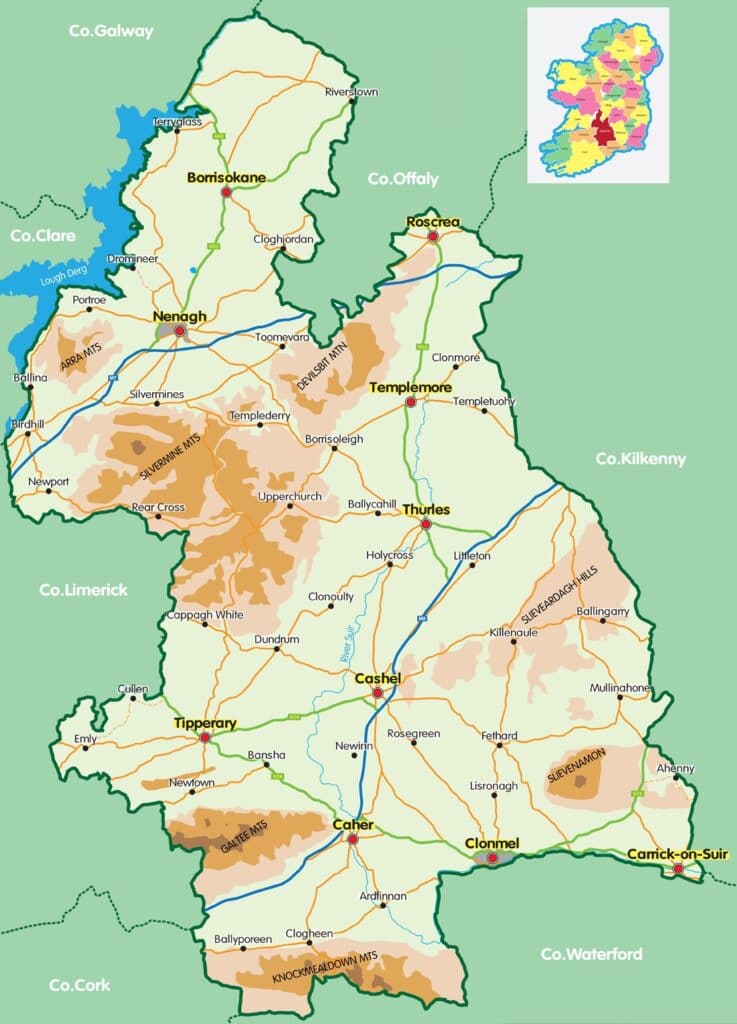 What does Tipperary mean in Irish? Tipperary comes from the Irish Tiobraid Arann, meaning "well of the Arra"—a reference to the river which flows through the county.
Haunted castles you can visit and some you can stay in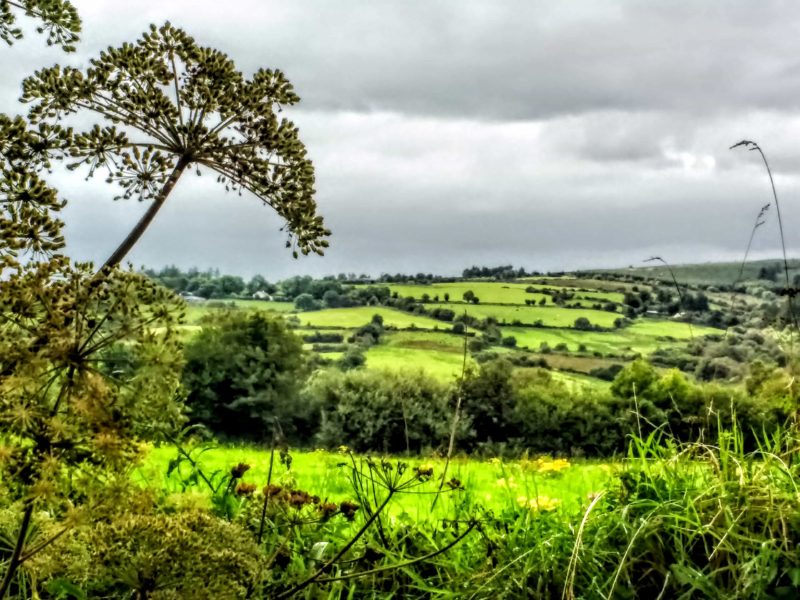 Tipperary is redolent with history, around every turn there is an ancient Abbey or monument, and places dedicated to IRA warriors, Norman Barons, Priests, Saints and sinners. Just getting in the car and driving will allow you to experience all that Tipperary has to offer. Most of these ruins and places to visit are free, even Cahir Castle and Swiss cottage are available to tour free, usually on Wednesdays, the fee is waived.
Xyuandbeyond is reader-supported. When you buy through links on our site, we may earn an affiliate commission. You can read my privacy policy here.
Things to do in Tipperary
Solohedbeg
One of the most historic places in Tipperary hidden down a little road is the place that sparked the revolution of Irish independence.
"Seventy-eight years ago on a quiet Tipperary roadway, the first nationalist revolt against the British Empire this century was started by a small band of armed men from townlands and villages—Donohill, Solohead and Hollyford—in the vicinity of Tipperary Town. The Soloheadbeg ambush shook British rule in Ireland and sparked a controversy which can be heard to this day." The memorial is on an unnamed road that is signposted on the road to Limerick.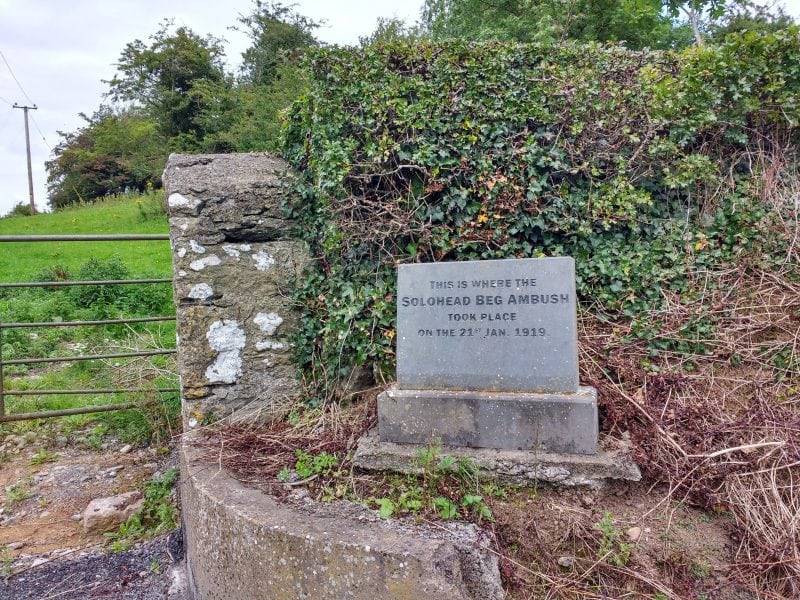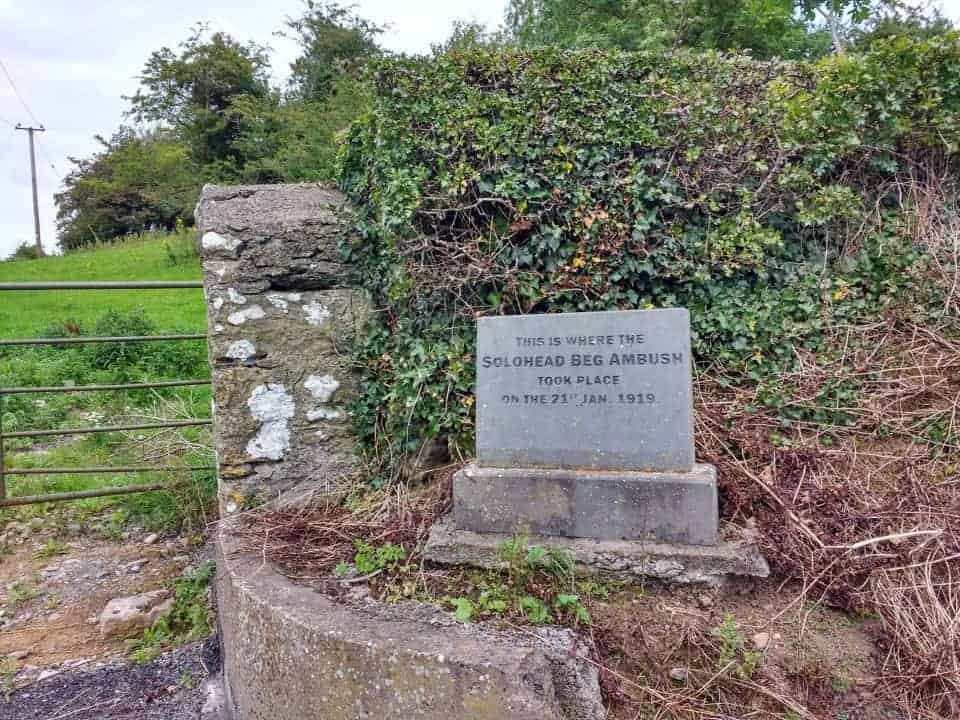 Sinone or Synone Castle
Is a circular tower, known in Gaelic as Farrin-a-Urrigh and history tell us that many of Strongbow's forces in retreat from Cashel were attacked and buried there. Human bones are frequently dug up near the tower and a few years ago a large helmet was discovered. Synone Castle used to be the residence of the Butler family and Cromwell is said to have attacked it at some point. (Photos from Irish Antiquities)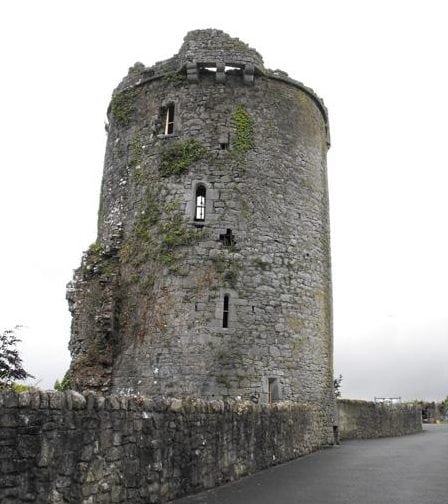 Brú Ború Cultural Centre
An affiliate of Comhaltas Ceoltóirí Éireann, Brú Ború Cultural Centre located at the base of the Rock of Cashel is the perfect place to catch impressive theatre performances, a local comic or most often, beautiful traditional music and Irish dancing. In the centre's subterranean chambers, seven metres underground you'll find the 'Sounds of History' exhibition which echoes Ireland's past through a magical journey touching on our rich Irish culture. It is located at the foot of the Rock of Cashel.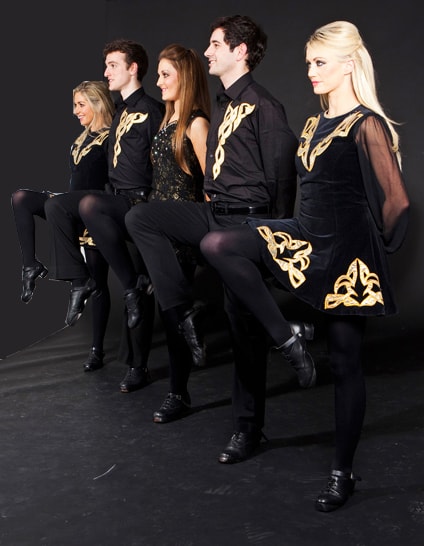 Cashel Folk Village
Located in Cashel on Moor Lane, a mere 250 meters from the iconic Rock of Cashel, the Cashel Folk Village Museum is a hidden treasure brimming with historical significance. Despite its small size, the museum has captured a wealth of history within its walls. Encompassing artifacts and exhibits that include the Great Famine, the 1916 Rising, and the War of Independence, the museum also contains ancient forge, a wishing well, a tinker's caravan, and a Penal Chapel.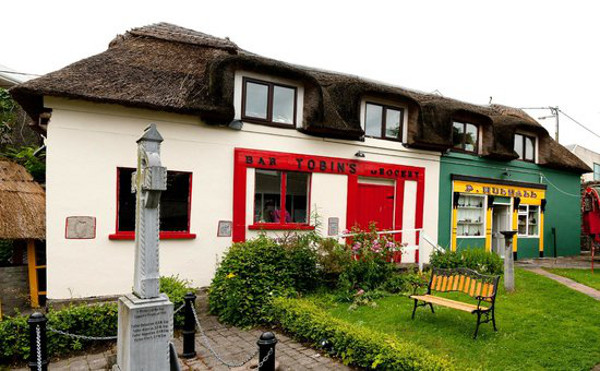 Roscrea Castle
In the heart of Roscrea in County Tipperary, one of the oldest towns in Ireland, you will find a magnificent stone motte castle dating from the 1280s. It was used as a barracks from 1798, housing 350 soldiers, and later served as a school, a library and even a sanatorium.
Originally it was wooden and built for protection purposes in Motte and Bailey style but in 1281 the castle as it stands today was rebuilt. It contains a gate tower, two corner towers and curtain walls.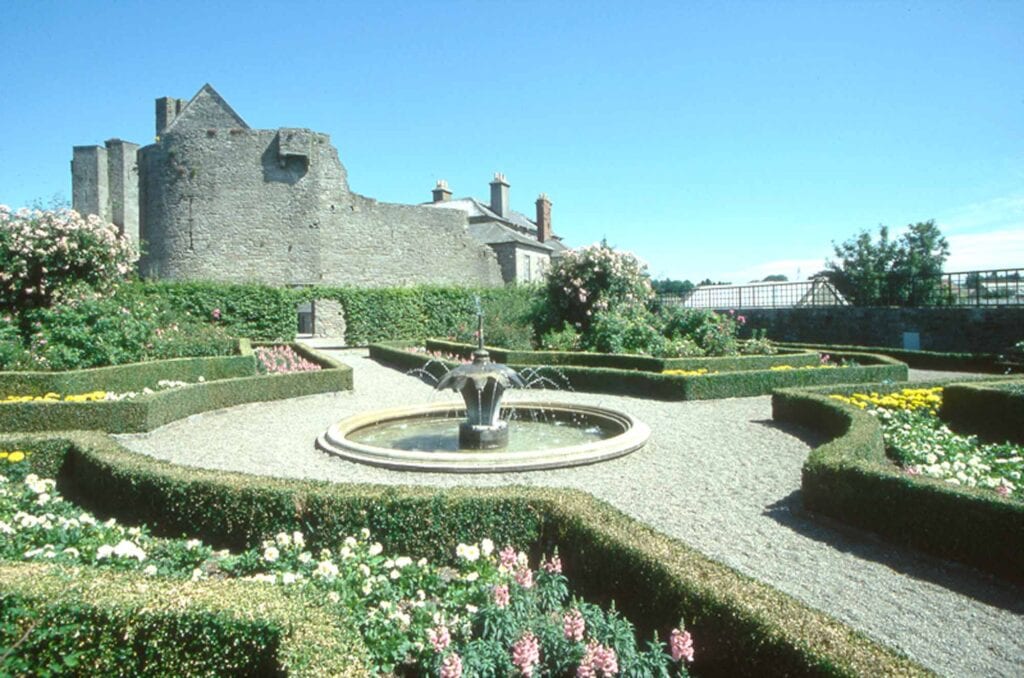 Damer House
Sharing the grounds of the Castle is Damer House. Over the years is has served as a school, sanatorium and military barracks. its architecture is pre-Palladian which is very rare in Ireland and contains a refurbished mill, original St. Cronan's high cross and pillar stone, a stunning central staircase and a carved stone entrance.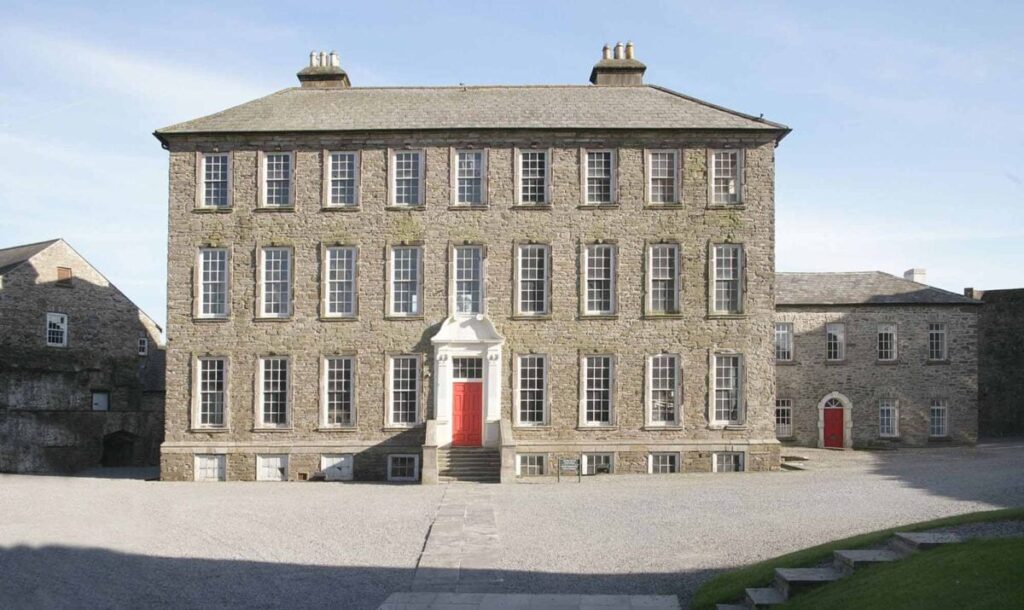 The Butler Manor House, Ardmayle
Near the River, Suir stands the remains of a large Manor House. Built in the Tudor style by the Baron of Adrmayle (also a Butler) it has a history of warfare and was nearly totally destroyed by the Williamite army in the late 1600s. (Photos from Irish Antiquities)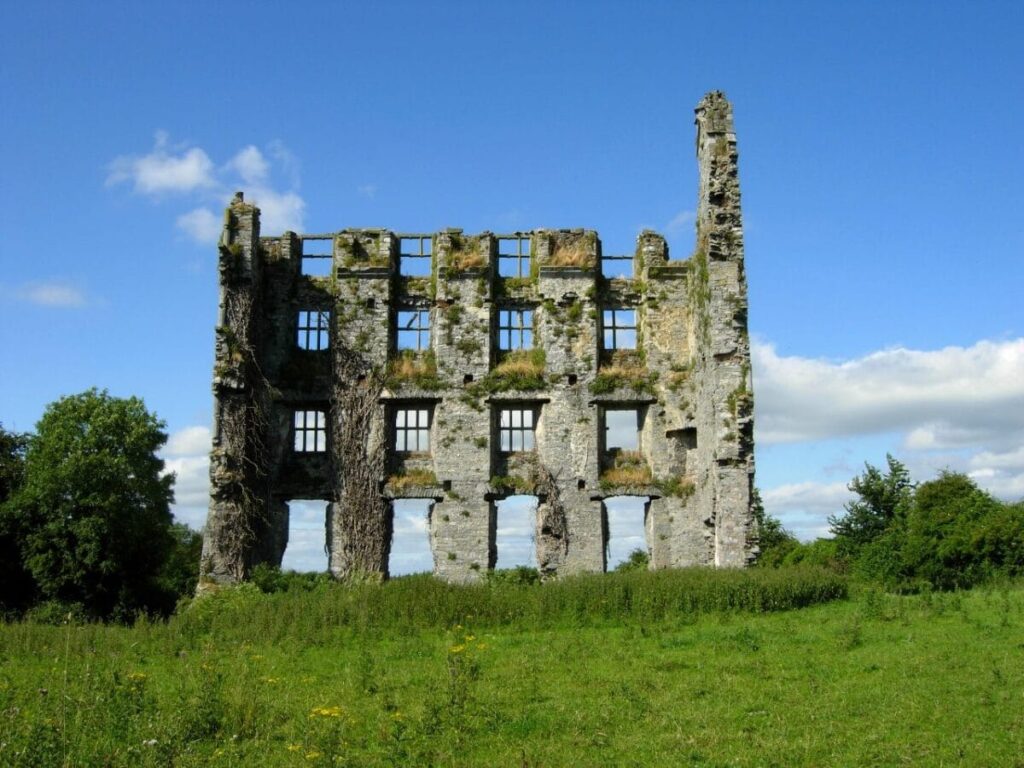 Devil's Bit Loop
Legend has it that the devil took a bite out of the mountain during a fight he lost with Saint Patrick and broke off a tooth while doing so, and so the Rock of Cashel was created. The summit of Devil's Bit Mountain stands at 478m and you can enjoy views of eight surrounding counties from the top. Adventure through forests and along hillside paths on this 5km looped walk before making your way to the summit for the most breathtaking views.
Golden
The village is situated on the River Suir and sits between Cashel and Tipperary town. In older times the village was known as Goldenbridge and there is extensive evidence of medieval and 17th-century settlements along the river. The bridge over the river was built around 1690 and the ruined castle nearby holds a monument to Thomas McDonagh who was a Leader of the Easter 1916 Rising and a Tipperary-born poet.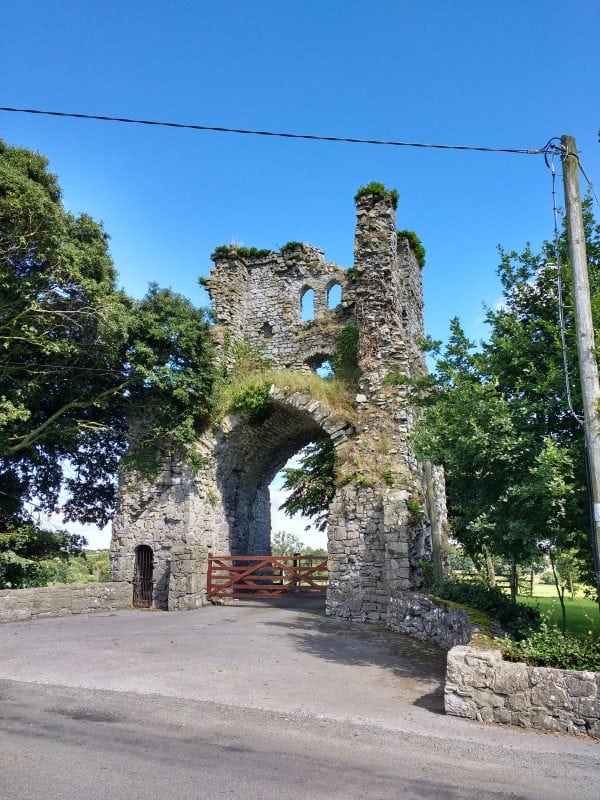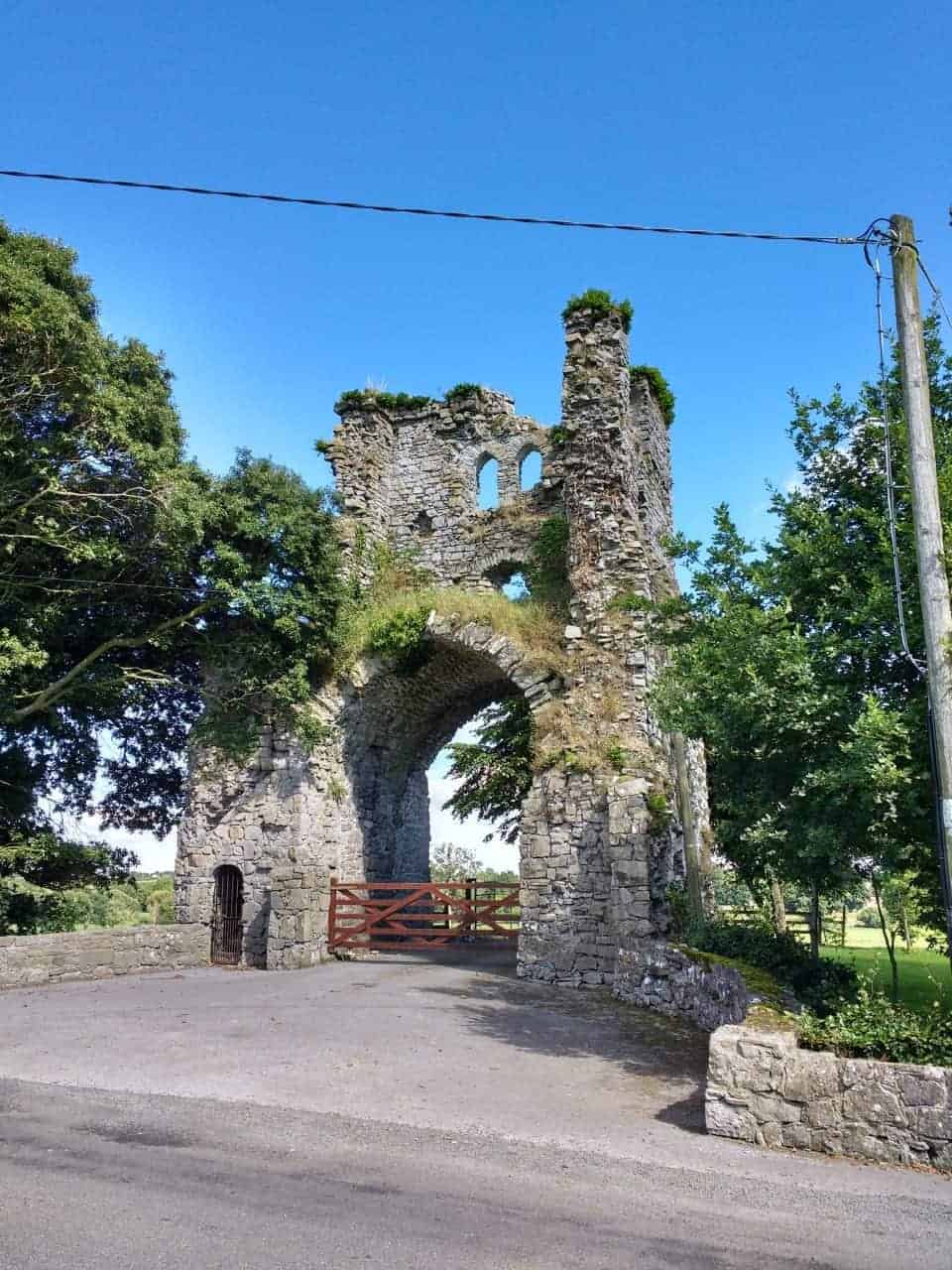 Athassel Abbey
A mile south of Golden, on the banks of the Suir, are the wonderful remains of Athassel Abbey, the largest Augustinian abbey in Ireland. It was founded in the early century and is still largely intact, with a small bridge and a gatehouse leading into the abbey itself.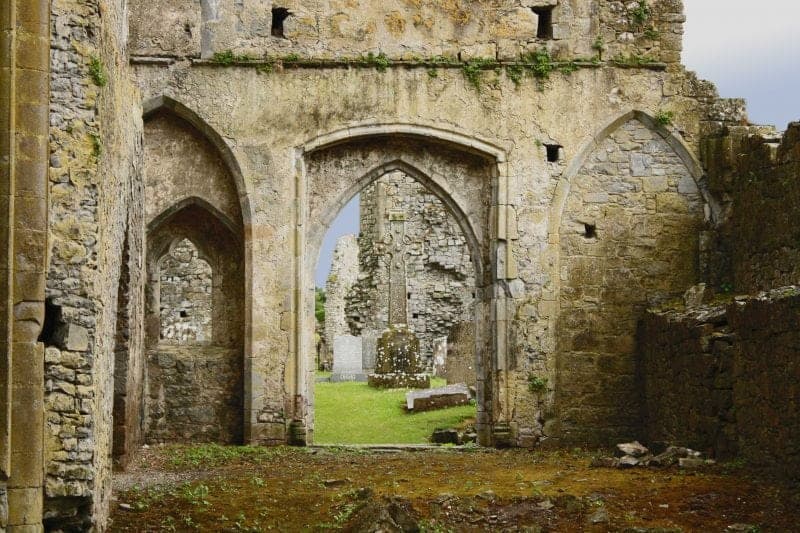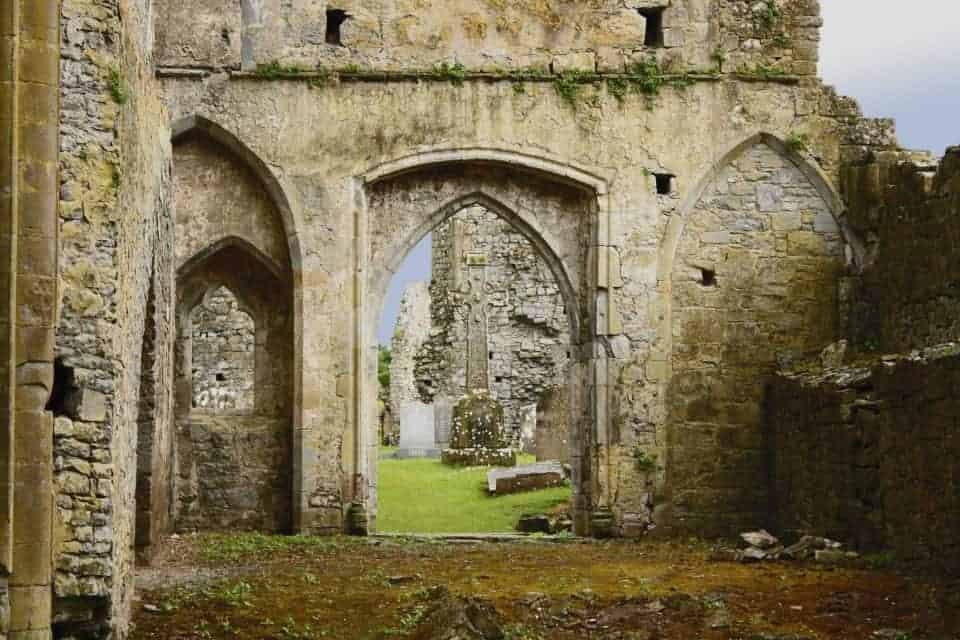 Cahir Castle
One of the best things to do in Tipperary Ireland is visit an ancient castle and Cahir (which is pronounced as care) is a unique Medieval town with an astoundingly beautiful castle situated on a tiny island in the Suir River. It was built in the 1100s and is one of the largest castles in Ireland. There isn't much furniture in the castle but it is a fascinating tour and you can see things like the old portcullis and its mechanism and go up to the higher floors and see out to the town and across the river. The cost for a tour of the castle or simply to go around yourself is around €5 Euros but on Wednesdays, the Trust opens the Castle for tours for free.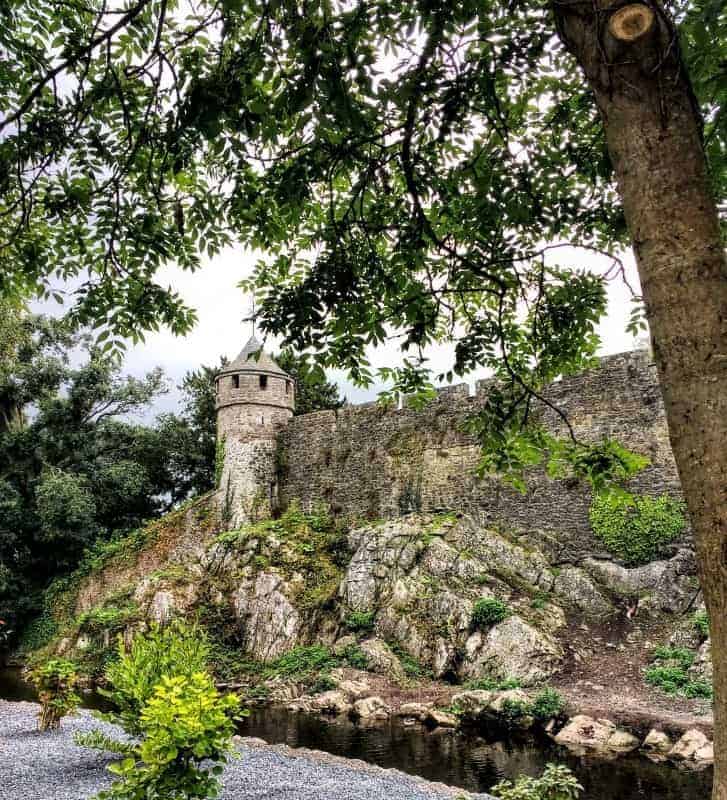 Swiss Cottage
Cahir is also home to the Swiss Cottage which was built in the 1800s as a country retreat as the style is known as "Cottage Orne" which really means ornamental. It is believed to have been designed by the famous architect John Nash. The cottage is quite lovely with its thatched roof and climbing flower trellises. It was left to rack and ruin for years but has been renovated and refurbished in the 1980s.
It is surprisingly small with only 2 rooms up and 2 rooms down, but the basement hides the kitchens and the servants' rooms. The cost to view the cottage and have a tour is €4 Euros, but on some days the Trust has free entry so keep an eye out for that and you can visit the Cottage and Cahir Castle for no charge.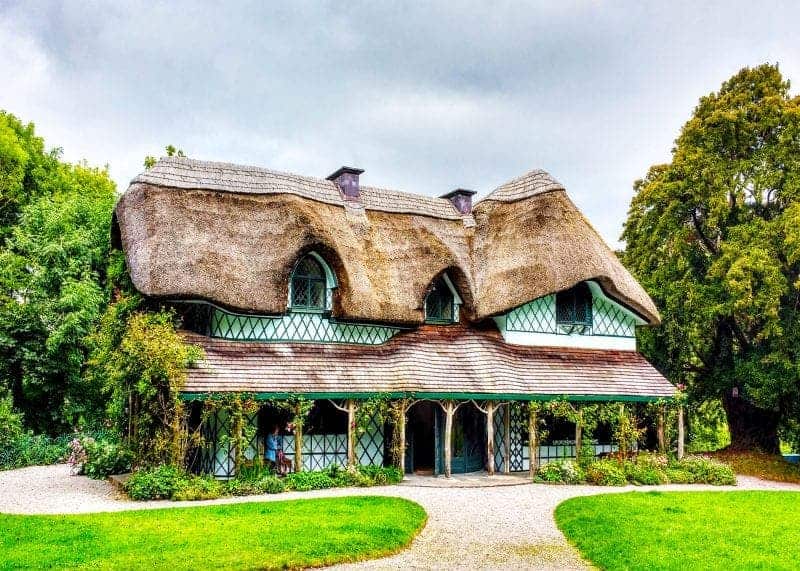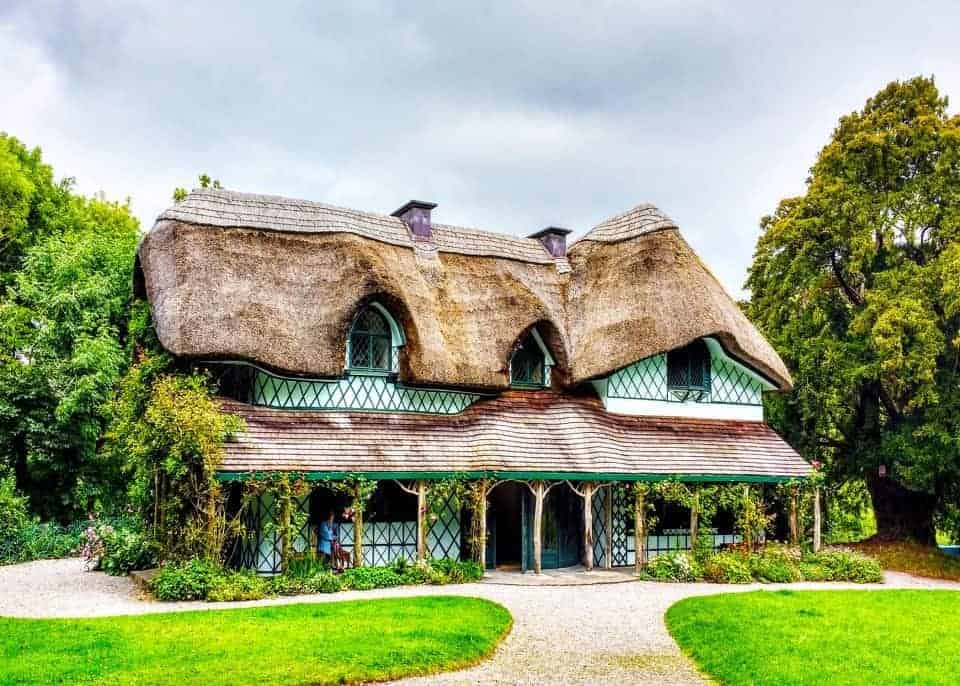 Ardfinnan
Ardfinnan Castle was built by King John around 1186 to guard the river crossing. The 14 arch bridge was started soon after the castle was completed. The castle has a long and varied history of owners and is inhabited, but it is not open to the public.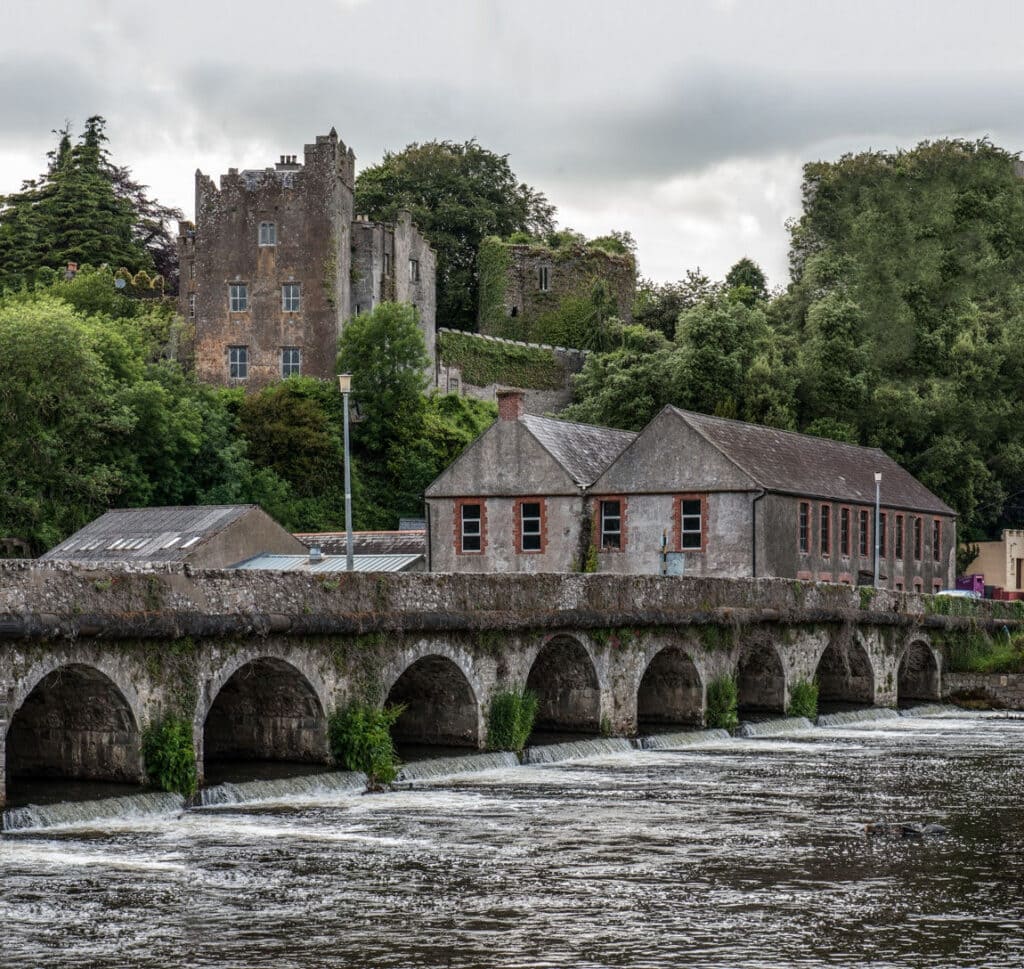 Lisronagh Castle
Lisronagh has been inhabited since at least the medieval period and was held by the Anglo-Norman de Burgh family from the time of Henry II. A rare surviving document, the rental of the manor of Lisronagh, dates to 1333 and describes the local lord's landholdings, the rents owed by local tenants, and the rights which the village's inhabitants possessed. The powerful Butler family built a tower house in the village in the 16th century, which is now a ruin.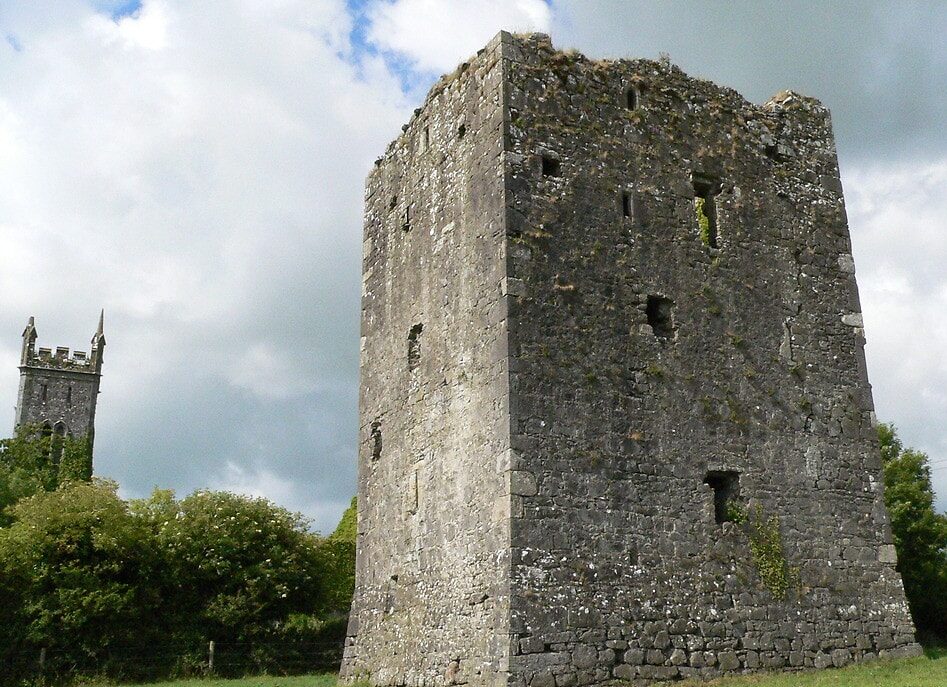 Clonmel
Clonmel was founded early in the 13th century and by 1328 had become the headquarters of the Palatinate, an administrative area controlled by the Earls of Ormond. One of Clonmel's finest buildings, the Main Guard, was built in the 17th century as a courthouse for the Palatinate.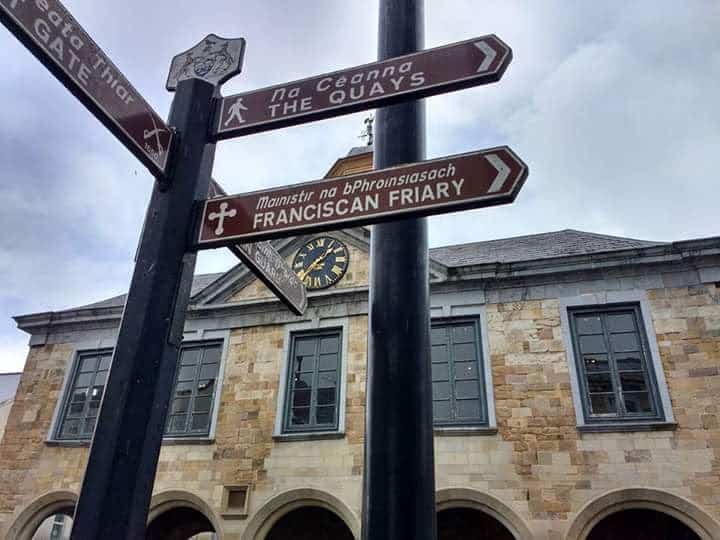 Check out Birr Castle just up in Offaly to see a Game Fair everyone from Tipp heads up there for the event
Kilsheelan
The ruins of a 12th-century church are incredibly atmospheric, the sign says Saint Cillian worshipped here.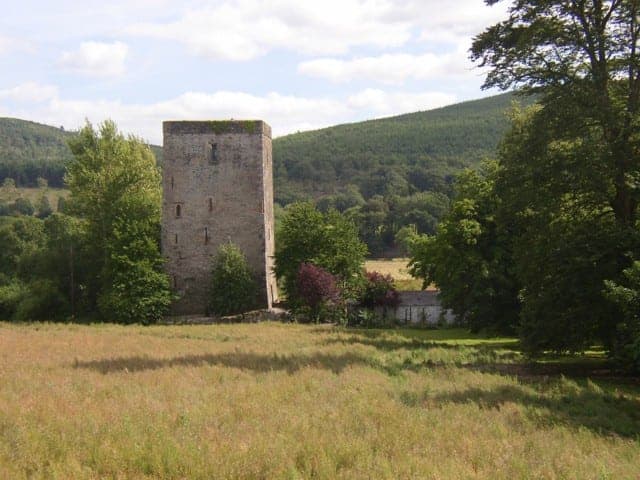 Ahenny High Crosses
A splendid example of early Christian art and craftsmanship, these 8th-century High Crosses are ornately carved with intricate Celtic designs. The base of each cross has carved figures depicting Biblical scenes including Daniel in the Lion's Den and Adam naming the animals.
Both crosses are made of sandstone and stand over 3 metres high. The Ahenny crosses are part of the Ossory group of High Crosses; Ossory was an ancient kingdom that straddled Tipperary and Kilkenny. They are evidence of a monastic settlement at this site. Situated to the east of Slievenamon Mountain, about 5 miles north of Carrick-on-Suir, Ahenny High Crosses are located in Kilclispeen graveyard.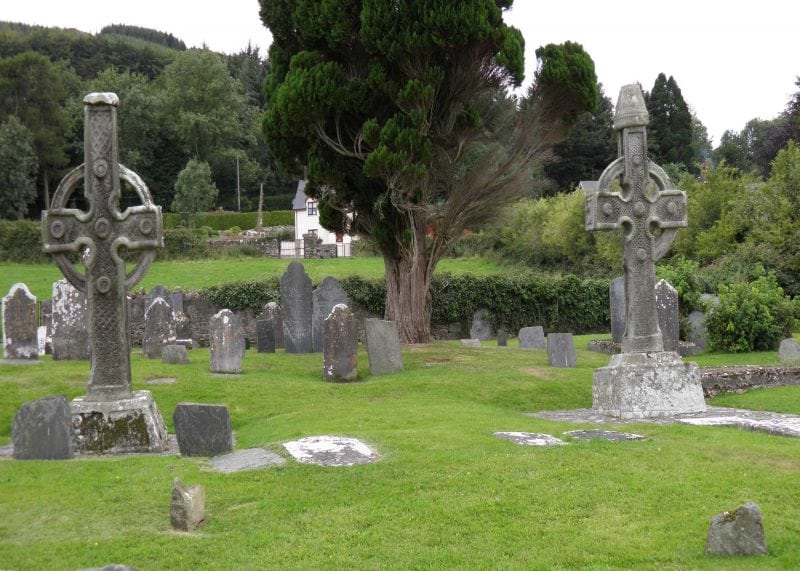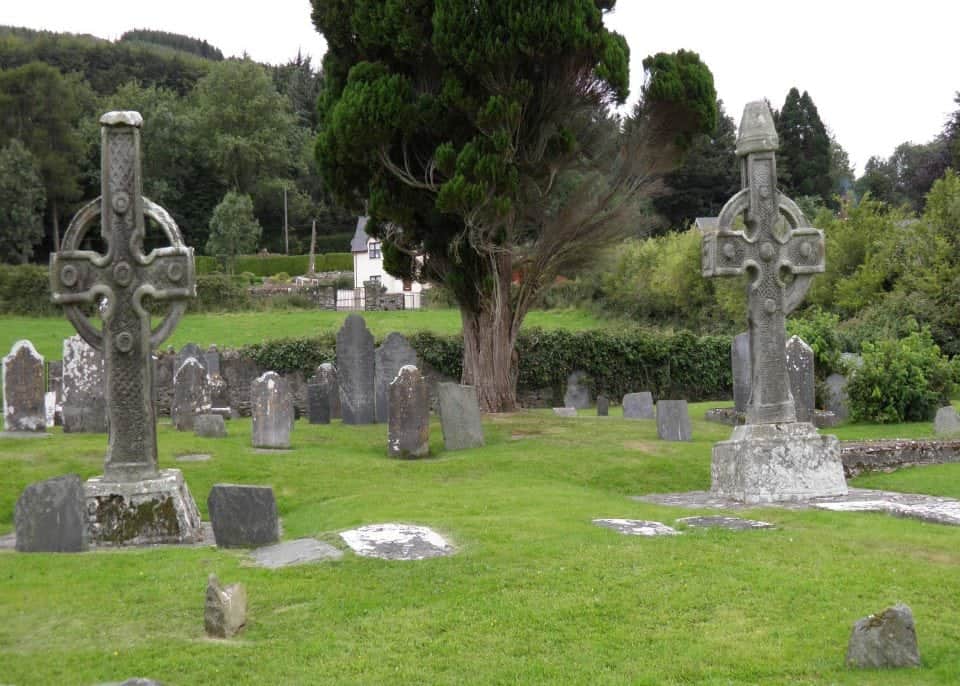 Holycross
Another medieval bridge, that at Holycross, forms the boundary between North and South Tipperary and also served another Cistercian foundation, Holycross Abbey, the church of which has been restored and is still a popular place of worship.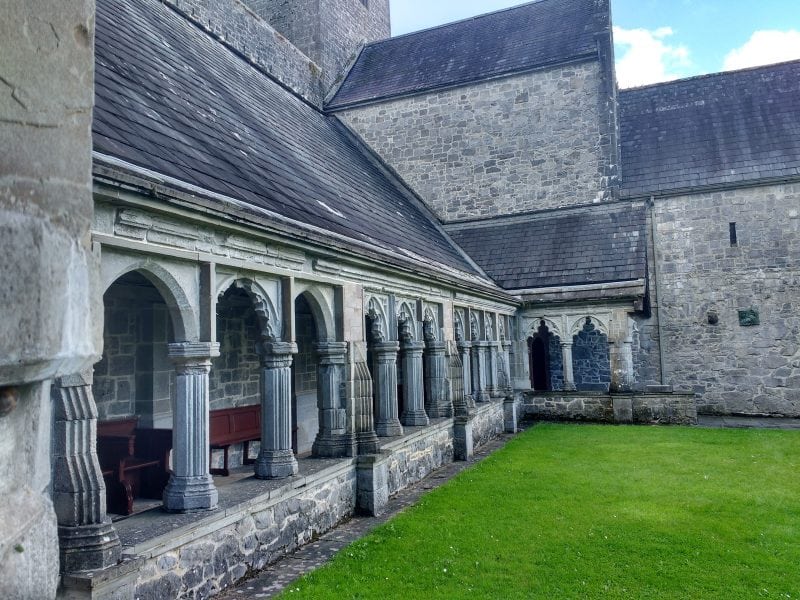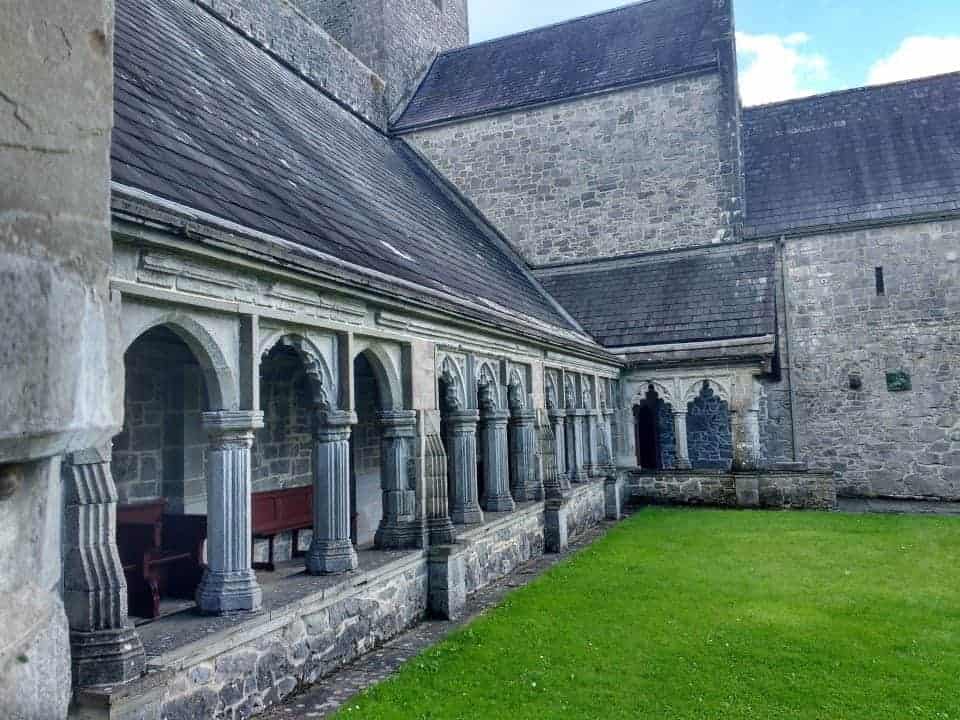 Moor Abbey
In the beautiful Glen of Aherlow, looking out to the stunning Galtee Mountains are the ruins of Moor Abbey. This Franciscan friary was founded in the 13th century by Donnchad Móir Ó Briain, King of Thomond (1210-1242).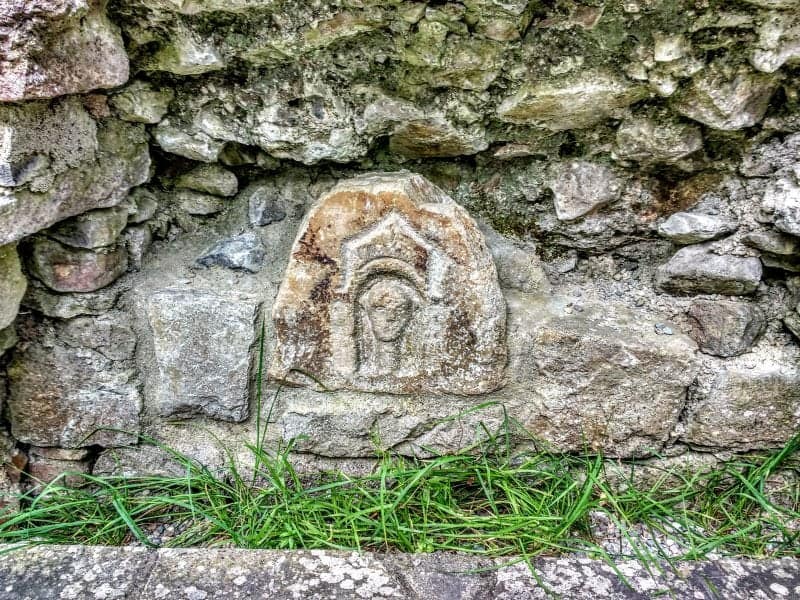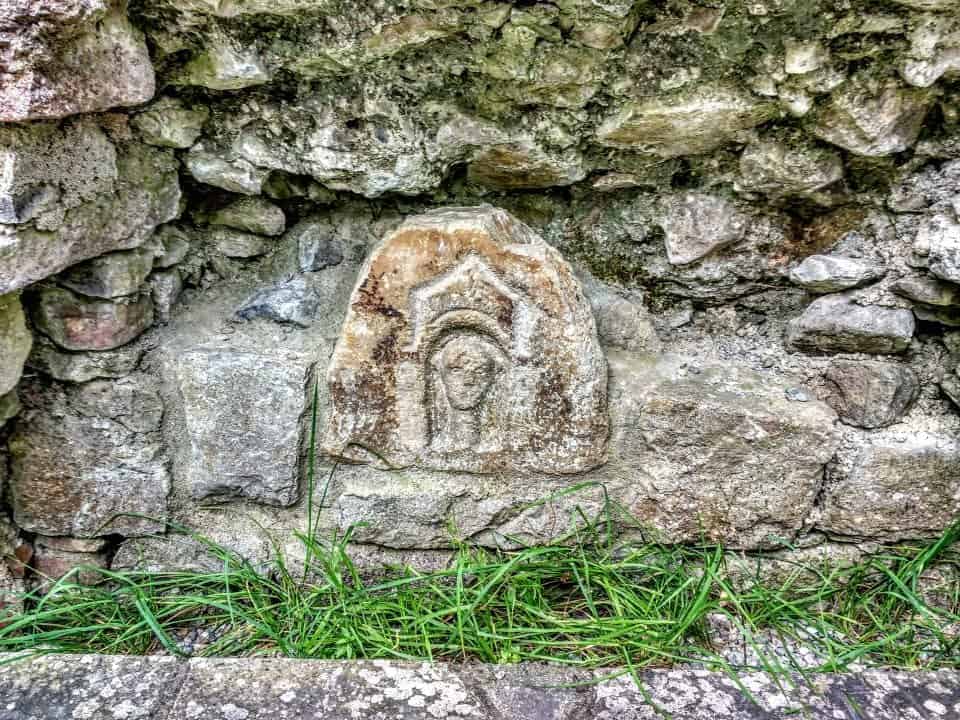 Giant's Gravestone
There are several legends associated with the pillar stone. The hill where the stone is located is said to be where Finn MacCumhaill obtained his ability to prophecy and another legend says that the stone was thrown from the top of the Slievenamon mountains by a giant. The pillar stands around 3 metres high and has crosses engraved on either side of it.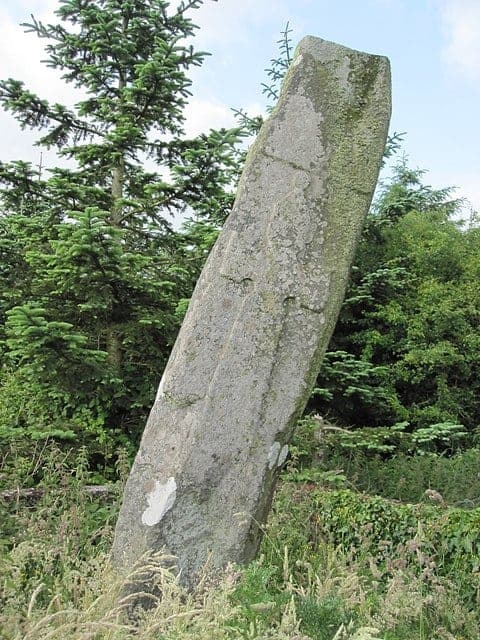 Cashel Palace Hotel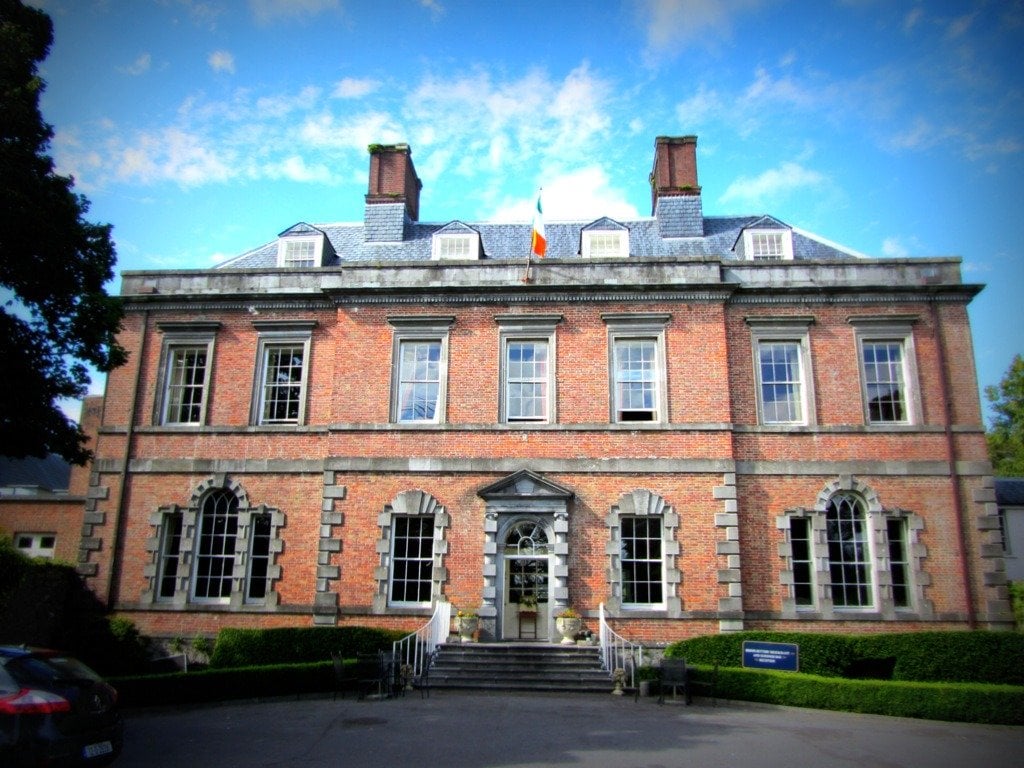 This is a famous historical building due to its architecture. It dates back to 1730 and is now a luxury hotel situated on approximately 25 acres It is classified as a cross between an Early Georgian and Queen Ann style with unusual features such as a red-brick setting to the front and limestone at the back of the building.
Beautiful gardens lie at the rear of the building and there are charismatic mulberry trees dating back to 1702. Luckily one can now stay here and embellish the historical ambience.

Ormond Castle
Known as the best example of an Elizabethan manor house in Ireland, Ormond Castle was built by the 10th Earl of Ormond in the 1560s. An architectural showpiece you can explore the two 15th-century towers and the country's only unfortified surviving since that period. Within its walls, you'll find incredible decorative plasterwork and a magnificent long gallery to explore.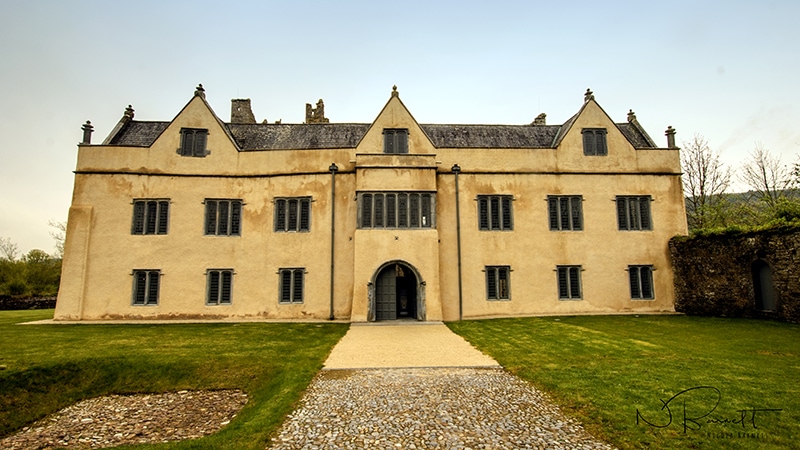 Mitchelstown Caves
One of the cool things to do in Tipperary for families is to explore the three massive caverns filled with dripstone formations, stalactites and stalagmites that make up this world. Picnic outside these beautiful caves with views of the Galtee Mountains before or after your tour underground.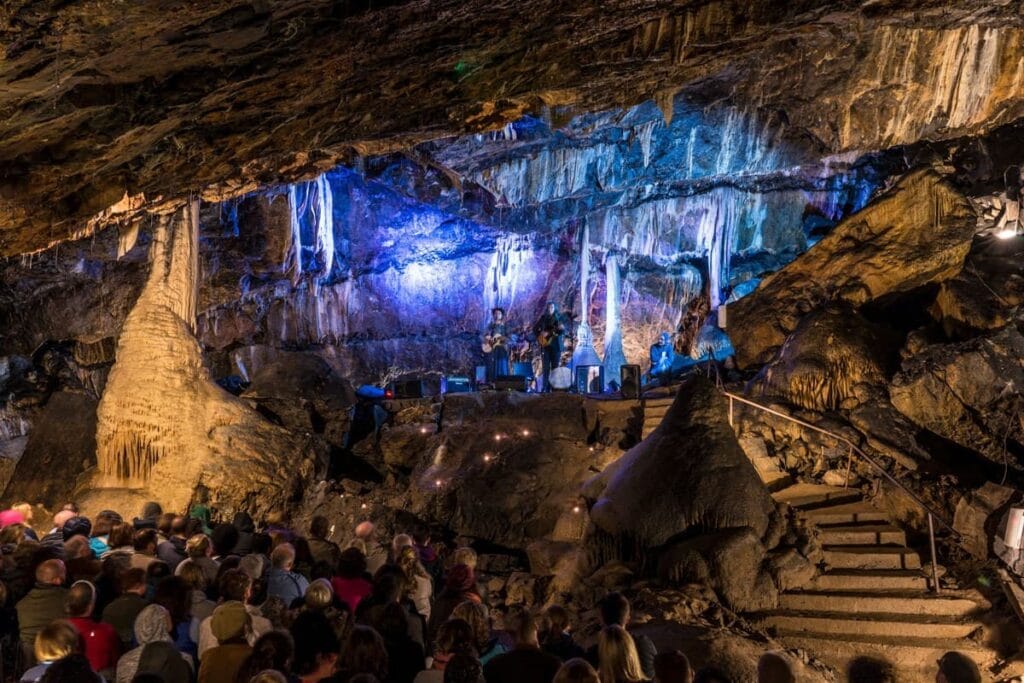 River Suir
In the Centre of Ireland within Tipperary lies some of Ireland's best fishing. The River Suir is said to have the best salmon fishing extending from Ardfinnan to Carrick-on-Sur. According to Ireland's fly fishing organization "when conditions are right, it gets a good run of 12 – 18 lb salmon."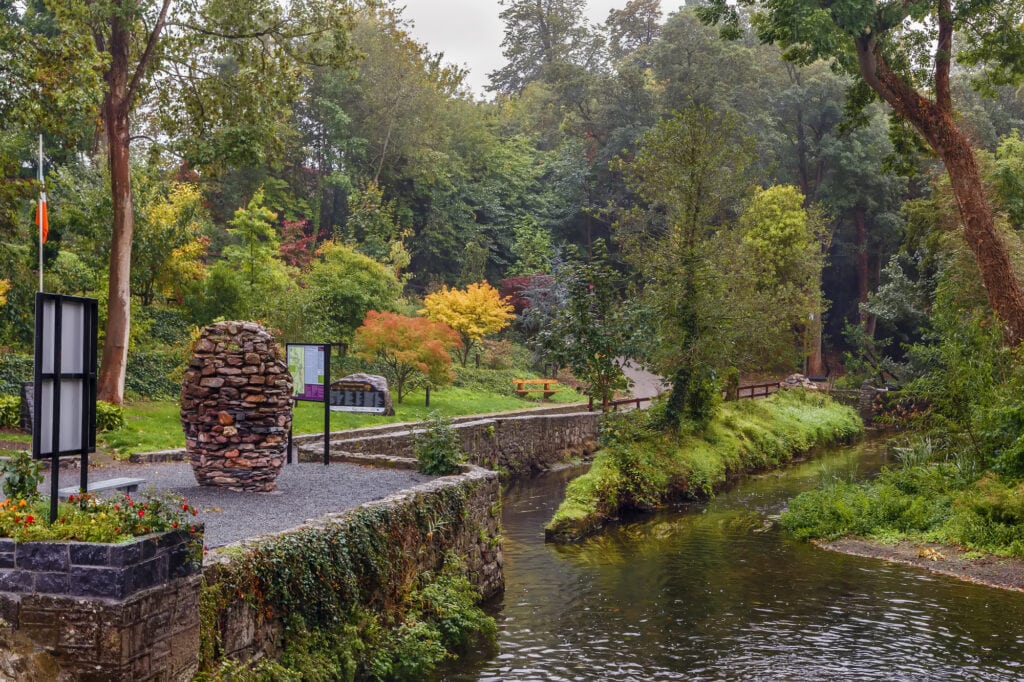 St. Patricks Well
Located near Marfield Village outside Clonmel and in the centre of a small pond, you will find an ancient Celtic Cross near a fresh spring well. The old church on the site dates back to the 17th century.
A popular pilgrimage site St. Patrick's Well is said to be Ireland's largest holy well.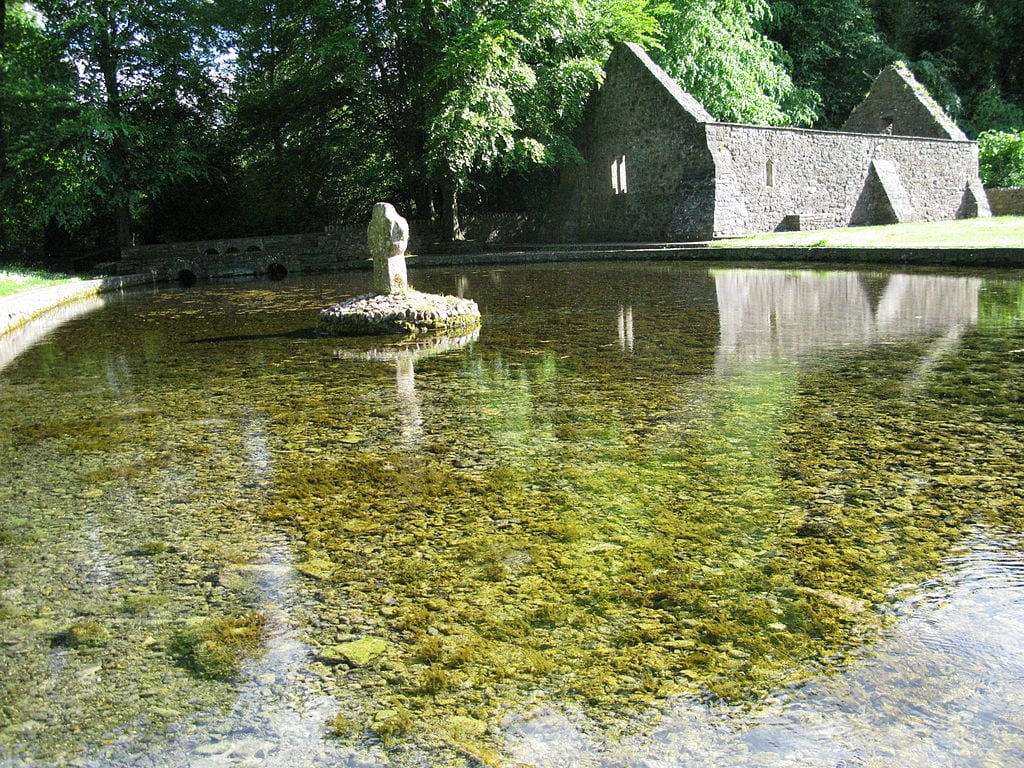 Glen of Aherlow
Stunningly beautiful, Tipperary's Glen of Aherlow's sweeping vistas are as many shades of green as you can count. The Glen is a fantastic destination with activities that range from walking, cycling and horse riding, 4 golf courses and the outstanding Mountain Bike Trail in Ballyhoura. There is fishing for perch and brown trout in the River Aherlow speciality fishing tours, guided walks and breathtaking scenery.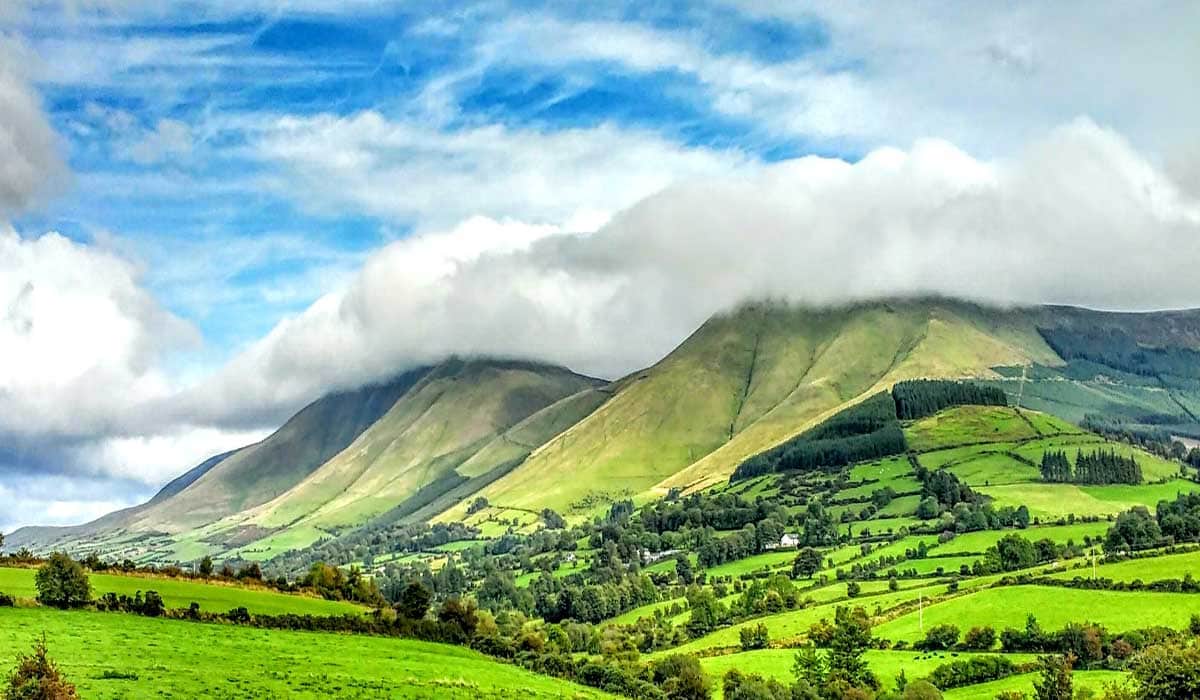 The Galtee Mountains
Stretching across the Golden Vale the Galtee Mountains stand over 3000 feet nestled within the Galtees is the stunning Glen of Aherlow. Here you will find beautiful loughs including Bohreen, Musky and Curra. Here you will find holy wells such as St Pecaun's Holy Well and St Sedna's Well in Clonbeg Churchyard.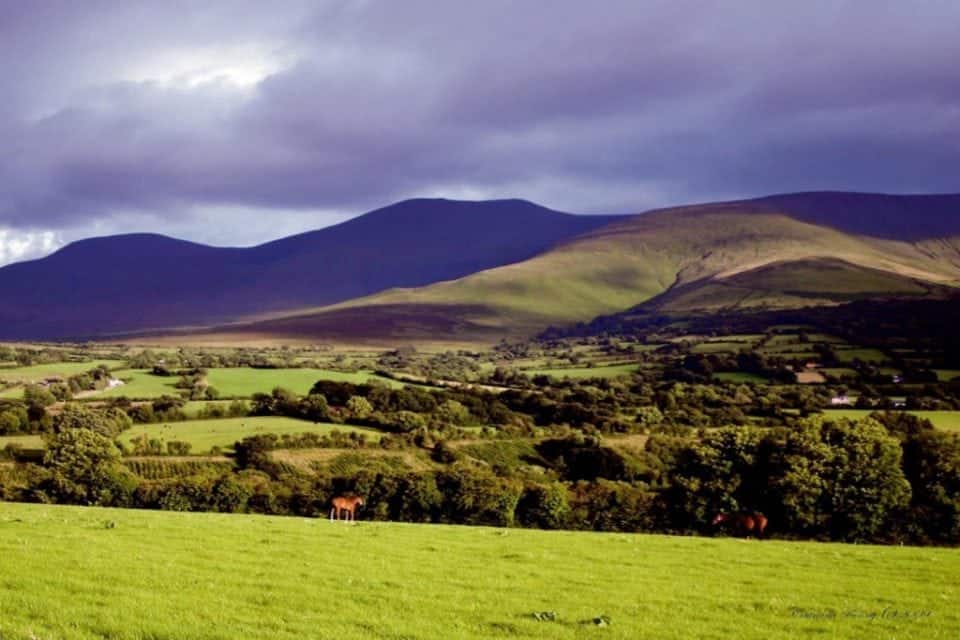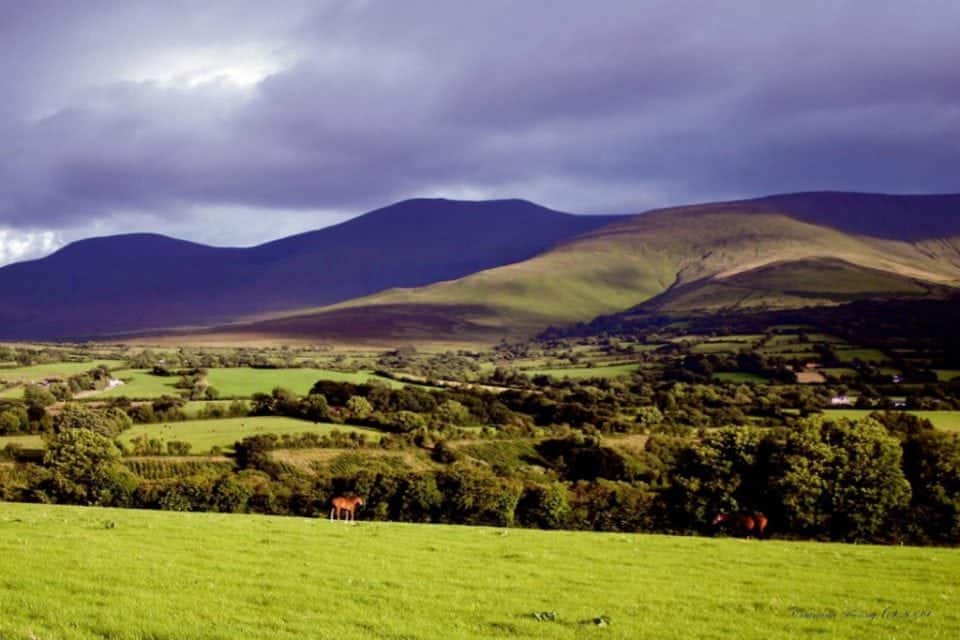 Rock of Cashel and Hore Abbey
Last but not least most people come to Tipperary to visit the Rock of Cashel. The Rock rises up out of the landscape as you approach it placed high on top of limestone outcrops where it oversees the fertile landscape of Tipperary. Resolute stonewalls circle a round tower, a 13th-century Gothic cathedral and an exceptional 12th-century Romanesque chapel containing some of Ireland's oldest frescoes.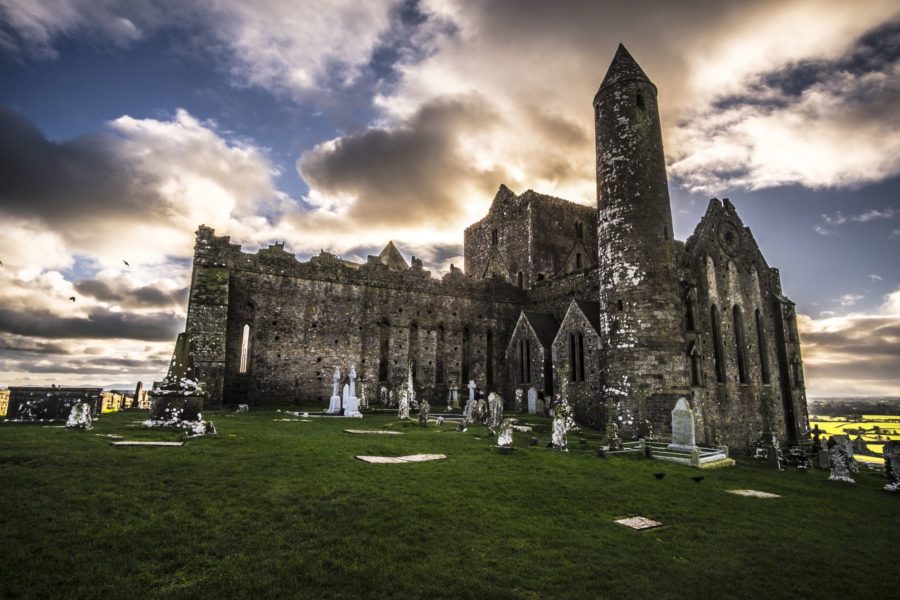 Jim O' The Mills
A must when visiting Ireland is a trip to a traditional pub that plays live music. Voted the best pub in Ireland you must head to Jim O' The Mills. Only open on Thursdays with one tap and bottled beer. This pub is where you go to hear the best of Irish traditional music.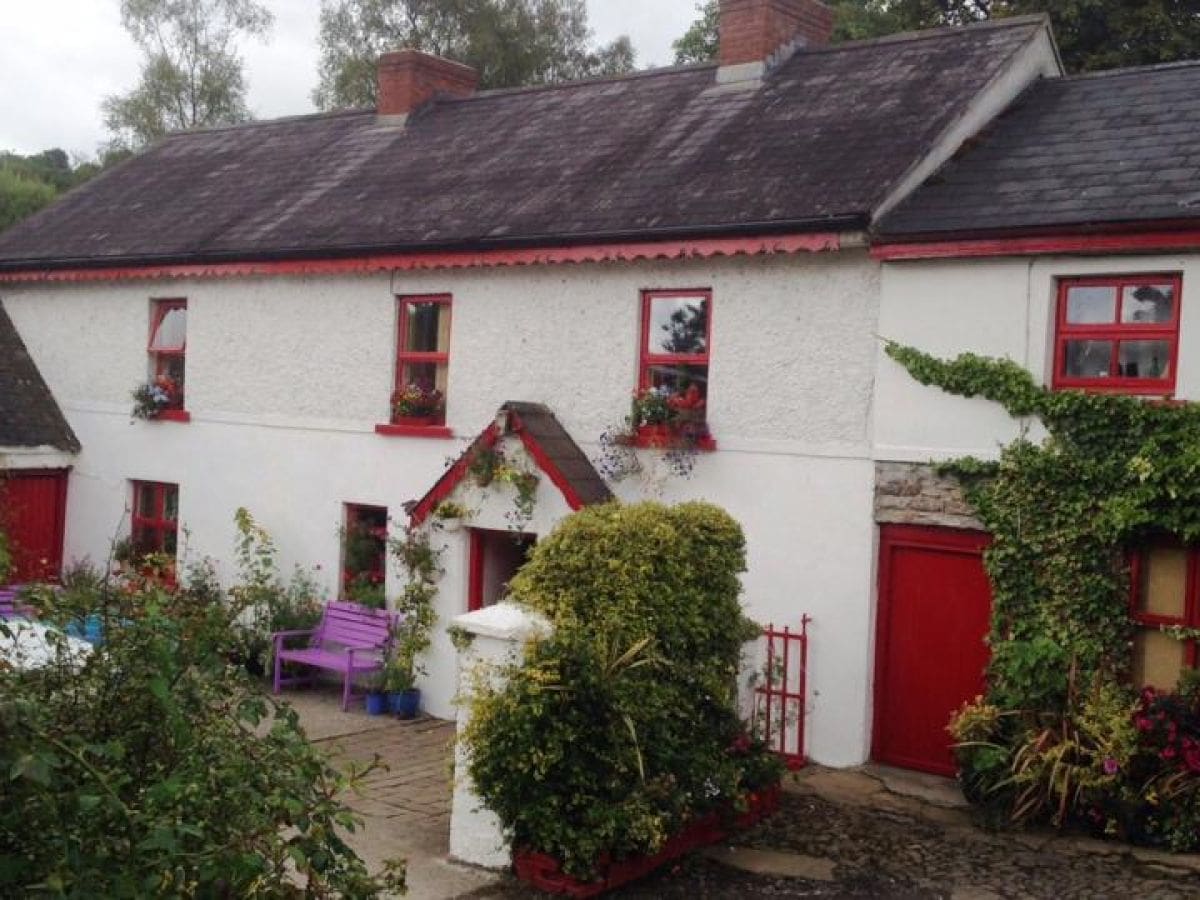 Knockmealdown Mountains
Located in South Tipperary with the highest peak of only 794 metres the Knockmealdown mountains make for a perfect hike and climb.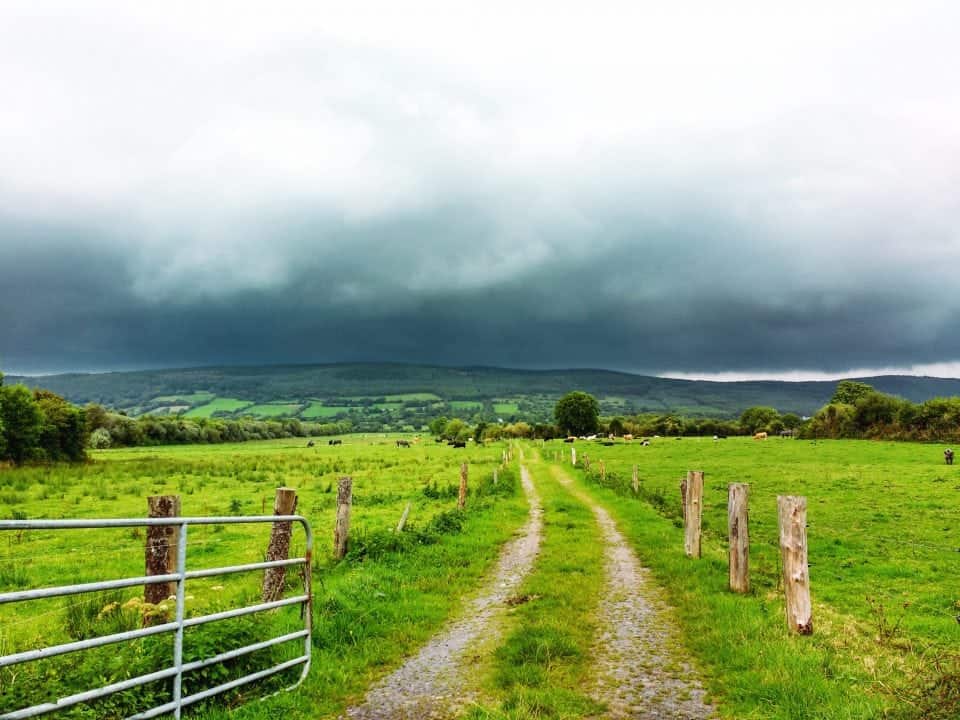 If you plan to stay in Tipperary there are several options you can either rent a traditional Air BnB Cottage complete with a thatched roof and unbeatable views, or you can go glamping which is very popular. If you want a unique stay why not rent a private self-catering castle or stay in a luxury castle and spoil yourself?
Packing for Tipperary
When you visit Ireland you may want to know what to pack personal experience tells me that I need a carry-on bag with those twisty wheels that go in all directions and has both carrying handles and a pull-out drag bar thingy. I want sturdy fabric, preferably in a day-glow colour so I can see the damn thing if I do have to check it. I also want soft sides that give a little – just in case. My recommended one? Well, I pick the azure blue TravelproTravelpro Maxlite 5 19″ Expandable International Carry-On Spinner. I know it's a mouthful but a great case.
Now this one may seem a little odd but I see a lot of N. Americans complaining on the Irish forums that most hotels and B&B's don't have washcloths. Well, that's true I mean after all who wants to use a used washcloth. Take your own these are great quick-drying washcloths that are reusable and environmentally friendly.
Now if you are really concerned about the whole liquid issue why not take solid shampoo bars and body wash bars. These products are paraben and SLS free, TSA approved (so to speak) perfume-free and chemical-free. That makes them very environmentally friendly and they are so easy to use.
I love a multipurpose jacket Craghoppers 3 in 1 jacket. It's windproof, waterproof and breathable and has a drawcord at the waist which helps me look like I have one. It's not bulky and looks good even when not hiking.
Now you are going to need a 110v to 220v voltage converter so you can plug in hairdryers, phones, laptops or tablets and so on. My personal favourite and one that has lasted me 4 years is the Bestek Universal Travel Adapter.
Trust me on this one you will have more photos than you can store on either your phone or your camera and you don't want to be deleting any to take more before you get home.
This Ultra Scandisk chip will work under adverse weather conditions (we get a lot of those here) and keep your photos or drone footage totally safe. A flash drive for your Smart Phone or Android will also come in very handy.
I'm not going to recommend cameras or other types of photographic equipment such as a drone because – well because I am a crap photographer who uses a good cell phone for most of my photos. Now I want a drone but I have to admit I haven't bought one yet. So I was reading all kinds of reviews and know which one I want this a Holystone 1080P Drone.…sigh if only. This has a huge flying time of 26 minutes.
This little beauty is a Lipstick-Sized Portable Charger, which is an absolute, must-have when travelling. I keep mine charged and then bring it with me just in case. There is nothing worse than running out of juice when you are snapping some of the best views ever. You will never be out of power with this charger.
Here in Ireland a Windproof Umbrella will save your hair and clothes and is a requirement. I really like this small portable travel umbrella. It's windproof, waterproof, and folds down super small and will fit into any purse or suitcase.
I never would have dreamed of bringing a flashlight with me to Ireland, but when it's dark here man it's freaking dark. So one night we wanted to go and see the Northern Lights up in Donegal but we didn't have a torch. Shopping for one here in Ireland became a journey to 5 stores and each one more expensive than the last. This torch is perfect it has 5 modes, is rechargeable, super lightweight and waterproof you couldn't ask for more.
So, there you have it folks. Tipperary may be small in size, but it's certainly big on things to do. From exploring ancient castles and picturesque gardens to indulging in some of the best local cuisines, this county has something for everyone's taste buds. Whether you're a history buff or an adventure seeker, Tipperary is sure to leave you with unforgettable memories that will last a lifetime. So what are you waiting for? Pack your bags and head to Tipperary – the land of craic and ceol (fun and music) awaits!
So what are the best things to do in Tipperary that you found? For me, Tipperary was a knock-me-down place for nature and scenic views and cows, lots and lots of cows lol.
You might also like
The Rock of Dunamase – visiting these magnificent ruins
Fethard – Ancient Walls and Sheela na Gigs in Tipperary
37 Fascinating things to do in Meath
Travelling in Ireland without a car
Visiting Jerpoint Abbey Kilkenny
The Celtic Cross – 16 Important Celtic Cross sites in Ireland