The Perfect Ireland Road Trip Itinerary
It's not easy to plan the perfect Irish road trip, there is just so much to see and do around the country that you can spend way too much time planning and still not get to see what's on your bucket list. It doesn't help to try to plan your road trip to Ireland when you don't know where to stay or the distance to get there.
Planning the perfect Ireland road trip itinerary does not have to be stressful or overwhelming. It doesn't matter whether you are visiting Northern Ireland to see the Game of Thrones sites or planning to do your Ireland road trip across the Republic. One thing you can be sure of Ireland will steal your heart.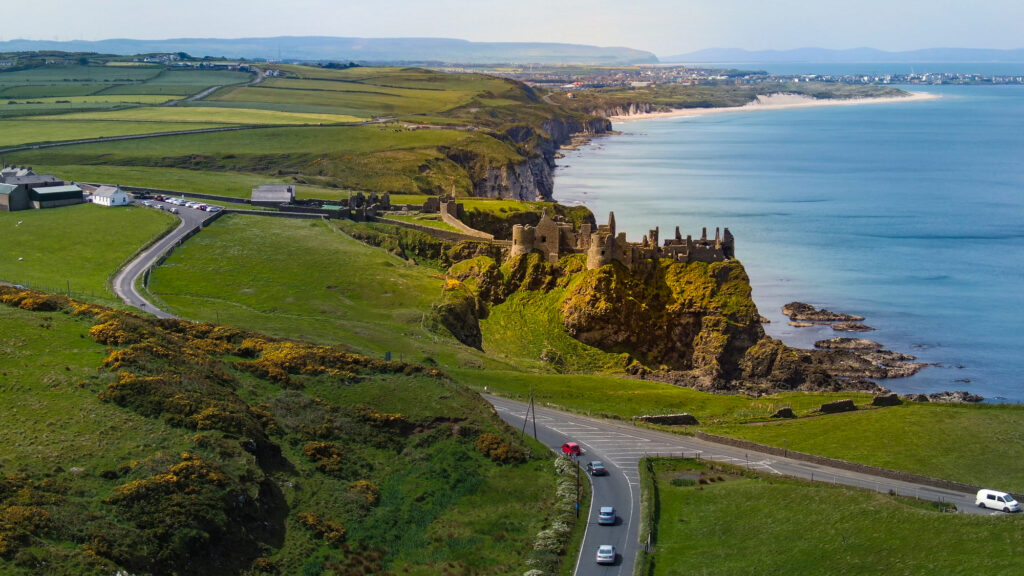 We have explored Ireland from top to bottom and have yet to be disappointed by a single place! Ireland is a country where you will feel immediately at home and want to come back time and time again. This stunningly beautiful and haunting country offers something for everyone and this ultimate Ireland itinerary hits all the high points with a 2-week road trip Ireland Itinerary.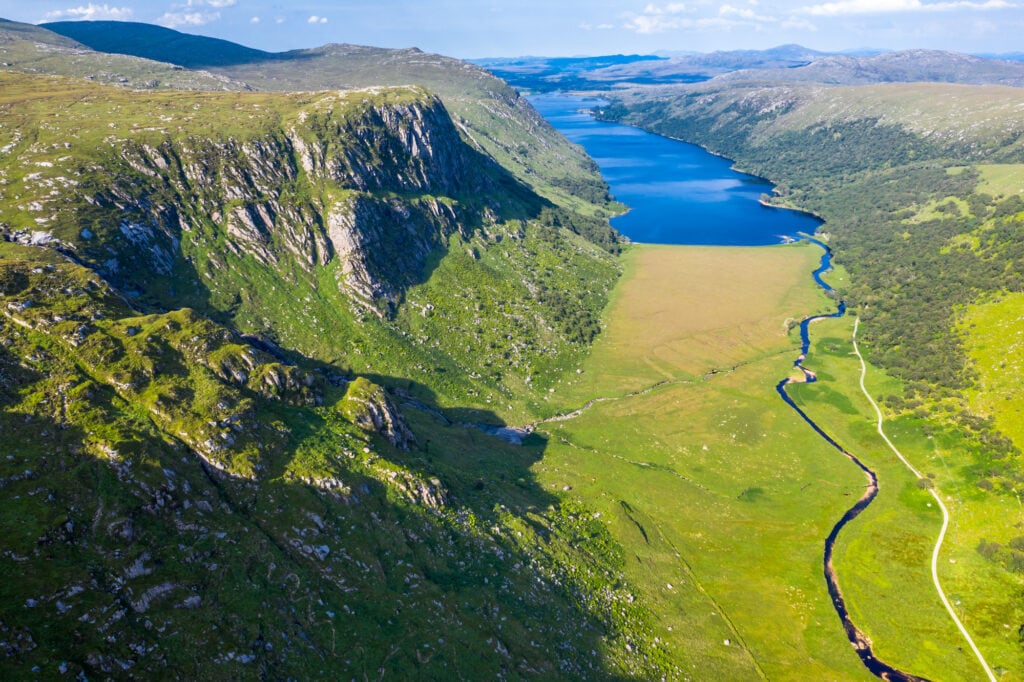 To plan a route around Ireland you need to have an idea of what you want to see. Are you interested in traditional music and want to get into as many pubs as possible? Are you all about landscapes, seascapes and the natural environment? Do you want to visit beautiful towns and villages and inhale Irish culture?
I recommend staying in self-catering accommodation where you can prepare your own road trip food to take with you. Not only will this save money but it also saves time when you find stops to see and there is nowhere nearby to grab a meal or a snack.
A road trip to Ireland will be the dream of a lifetime and even though you may only have two weeks this Irish road trip itinerary will keep you coming back for more. This particular Irish itinerary has you visiting some of the most iconic Irish sites and enjoying some great craic in the pubs with traditional Irish music sessions.
Planning the perfect Ireland road trip itinerary doesn't have to take all your time or be super stressful. It doesn't matter where or what you decide to visit in Ireland but I will suggest places that allow you to get a great taste of this amazing island including seeing the must-do's in Northern Ireland.
I have lived in Ireland now for 5 years, and visited many times over the years and have spent hundreds of hours exploring Ireland from the top in Donegal to the bottom of the country to Cape Clear in Cork. This two-week ultimate Ireland itinerary hits all the spots I know you want to see.
Want to travel to both Ireland and Scotland? This itinerary could be helpful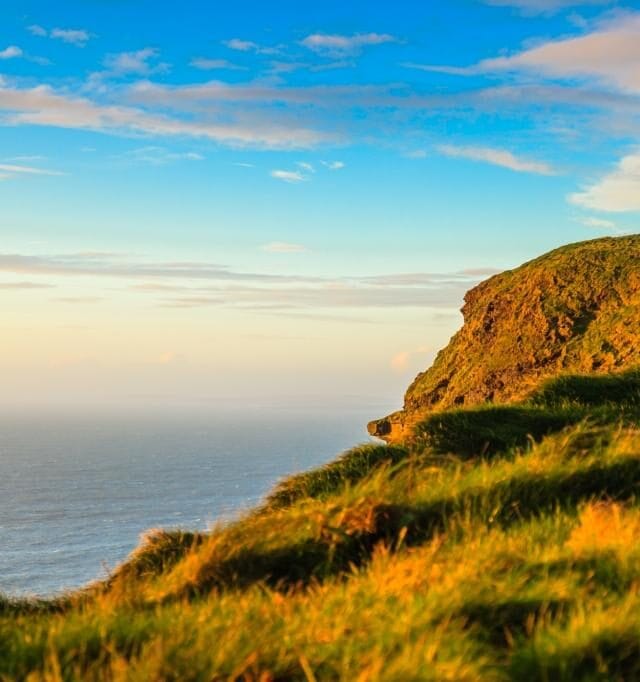 My Ireland road trip itinerary is written in a counter-clockwise manner around the island and assumes you are landing in Dublin and want to explore the City for a few days.
For this Irish road trip, I am working on the basis of a two-week visit but you can adjust it as you need depending on how much time you are planning a trip to Ireland. No matter how long you are here for your Ireland road trip will not disappoint you that I can guarantee. Throughout the article, you will see some bright blue links that will take you to other articles and stories about the various places on your Irish road trip that I recommend these will open up in a new tab so you don't lose your place.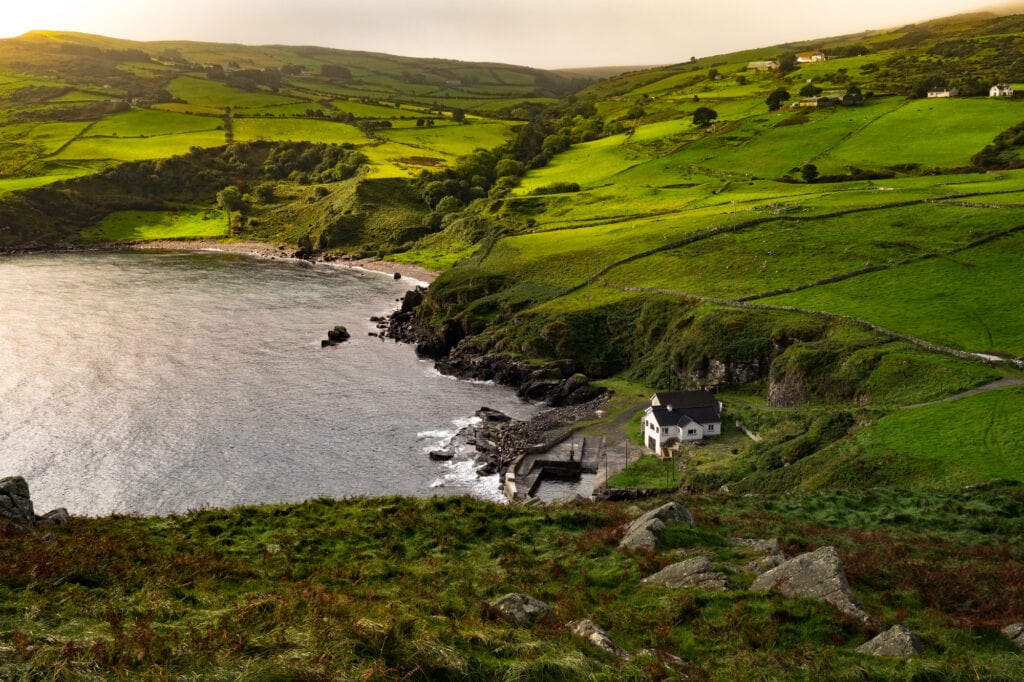 Your Irish Road trip begins in Dublin
Your flight will usually leave North America in the evening and arrive in Dublin early morning. Try to sleep on the flight so you can keep jet lag minimal. Once you get out of the airport you can find public transit (bus) to the centre of Dublin or depending on how tired you can grab a cab.
This article will tell you how to get from Dublin airport to the centre of Dublin and your hotel.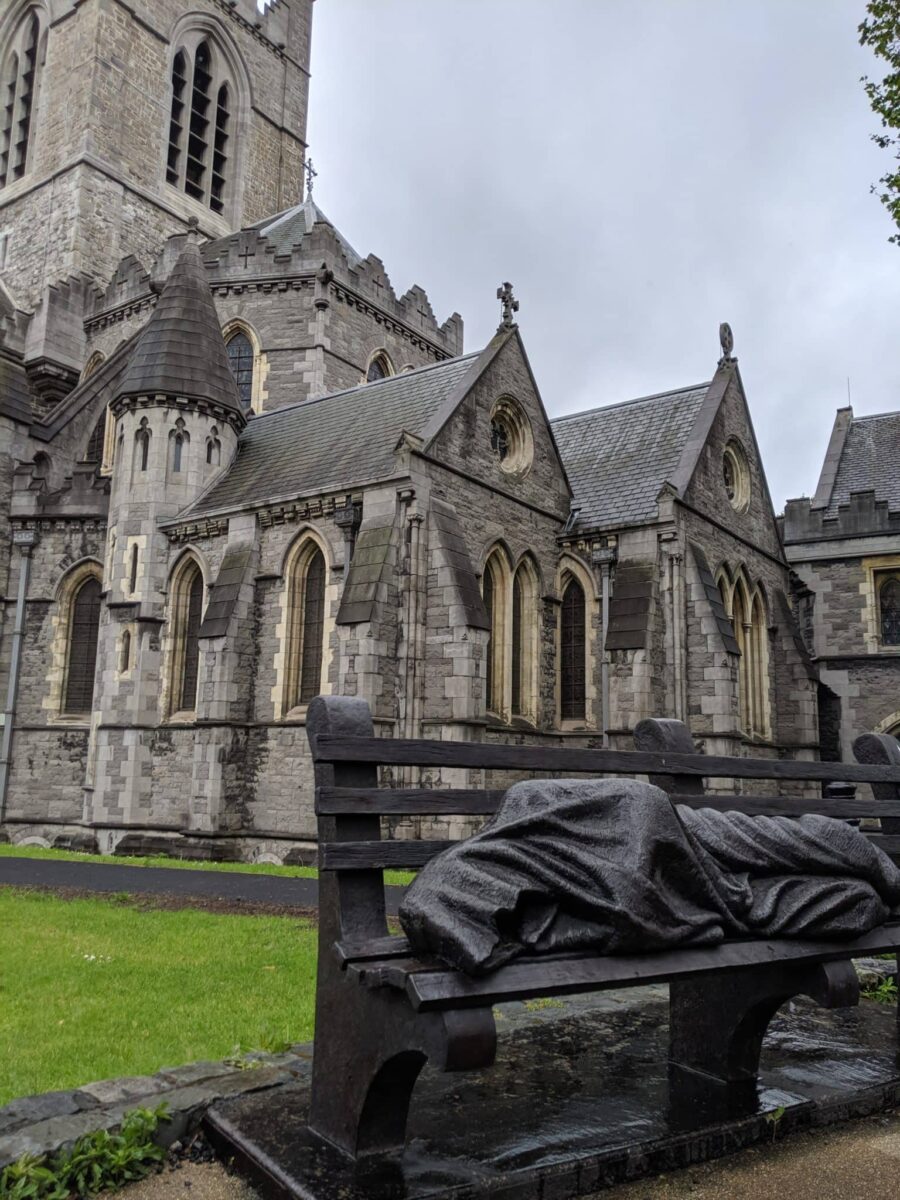 TIP
Change your watches on the plane to Irish time so that you become accustomed to being in a different time zone. When you land in Ireland to begin your Irish road trip don't head to a hotel to sleep just relax and go with the flow on Irish time.
Book your Dublin hotel for 4 nights and once you get to Dublin head to the hotel and if it's before check-in time leave your baggage with them and head out for breakfast, coffee or lunch whatever time it is. I didn't get into where to eat as so many things have changed since the pandemic but ask at your hotel where they recommend or if in a café ask the staff for suggestions for dinner.
Try to just walk around and site see in Dublin you can head to actual places you want to see the next day. You just want to relax and enjoy where you are this day as you will be somewhat tired. So just wander and enjoy Dublin.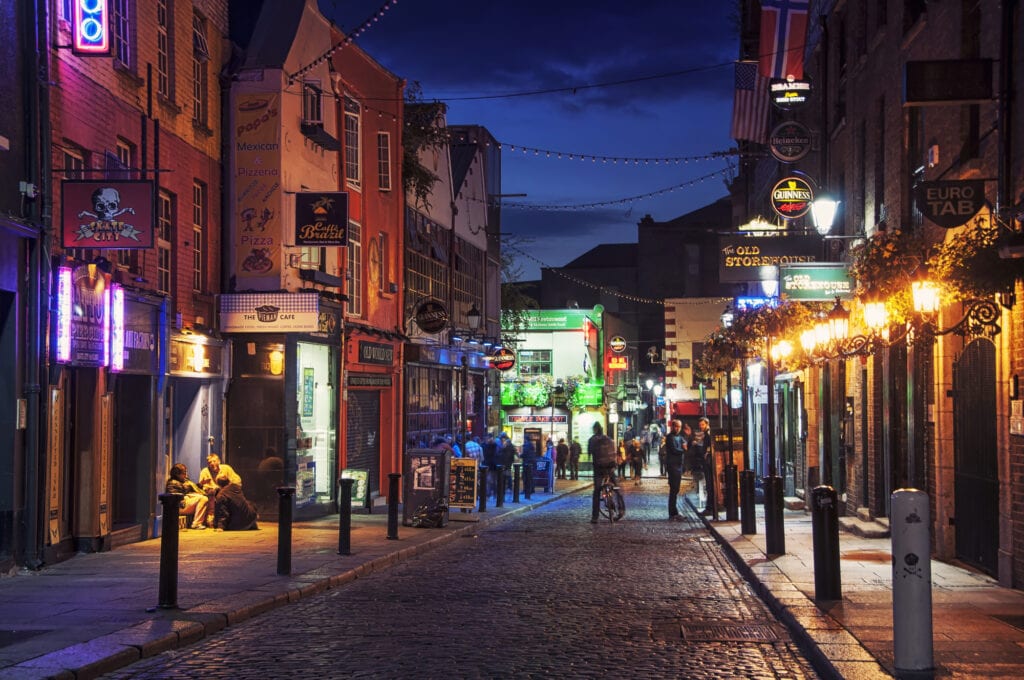 Your road trip Ireland begins
Things To Do In Dublin Day 1
I will recommend a few things to do in Dublin and list a few articles which you can read to see some Dublin do's and Don'ts as well as some off the beaten path sites.
Everyone wants to wander Temple Bar although it will be tourist hell it is a must-see with some great photo opps. Why not wander around and find a place for lunch.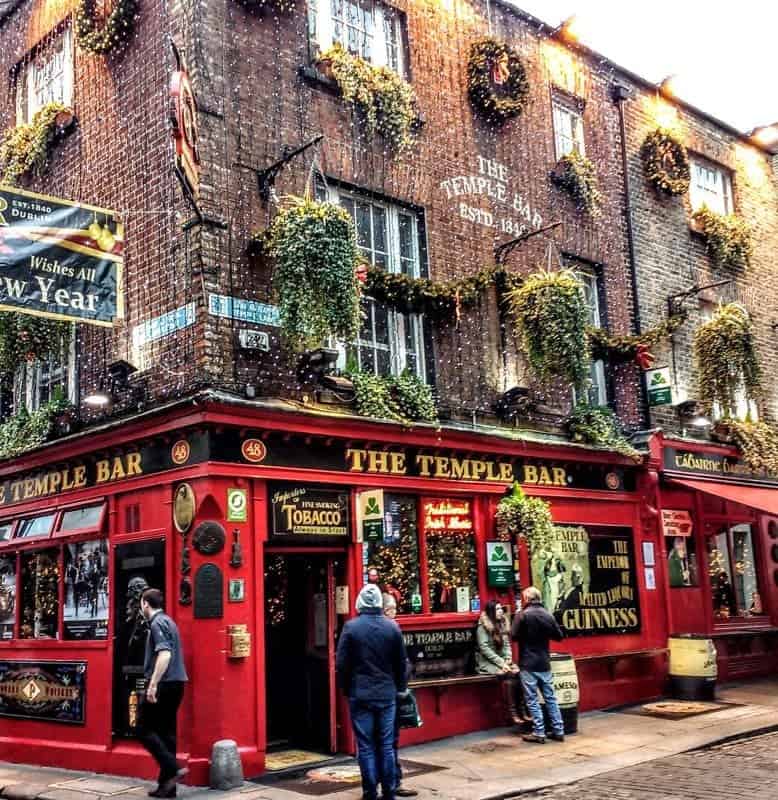 After lunch and wandering through Temple Bar go find the Molly Malone statue. It's on Suffolk Street which is around a 10-minute walk from Temple Bar. After that head towards the Liffey and the Ha'penny bridge for those iconic photos.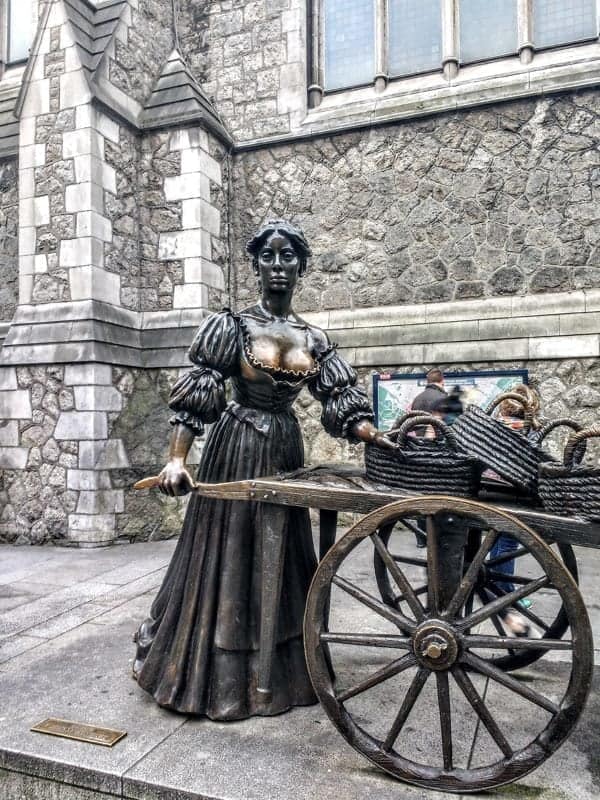 From here you can take a walk down O'Connell Street and check out The General Post Office
One of Ireland's most famous buildings the Post Office on O'Connell Street was the centre point for the great 1916 "Rising" during the fight for independence. You can wander through the Post Office and don't forget to check out the bullet holes on the outside columns. There are interpretative panels that explain the events of 1916 and there is an option of a paid admission and tour.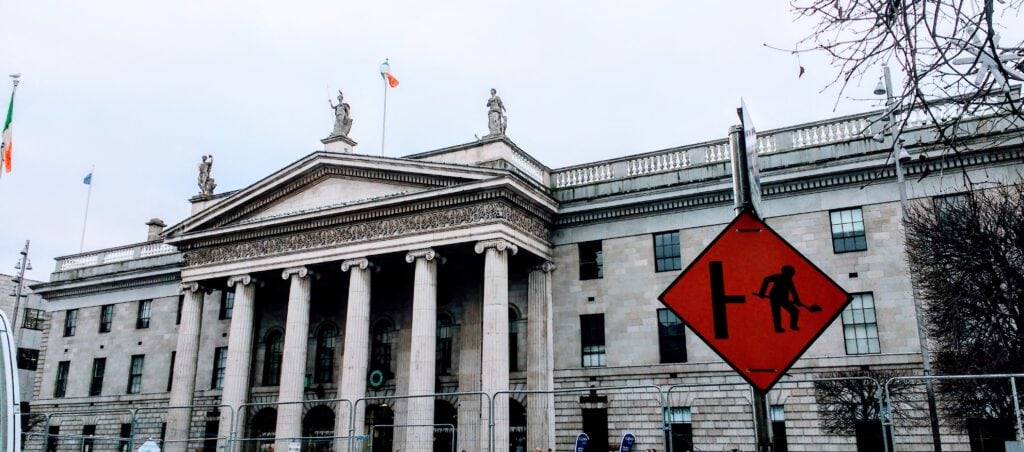 Dublin Day 2
You can take in a couple of iconic sites such as the Book of Kells at Trinity College and the Guinness Storehouse or simply wander around Dublin to see some off the beaten path places.
You can book tickets for Trinity College and the Book of Kells but keep in mind that the queues are very long and you may not get to see one of the illustrated pages as they are turned every day.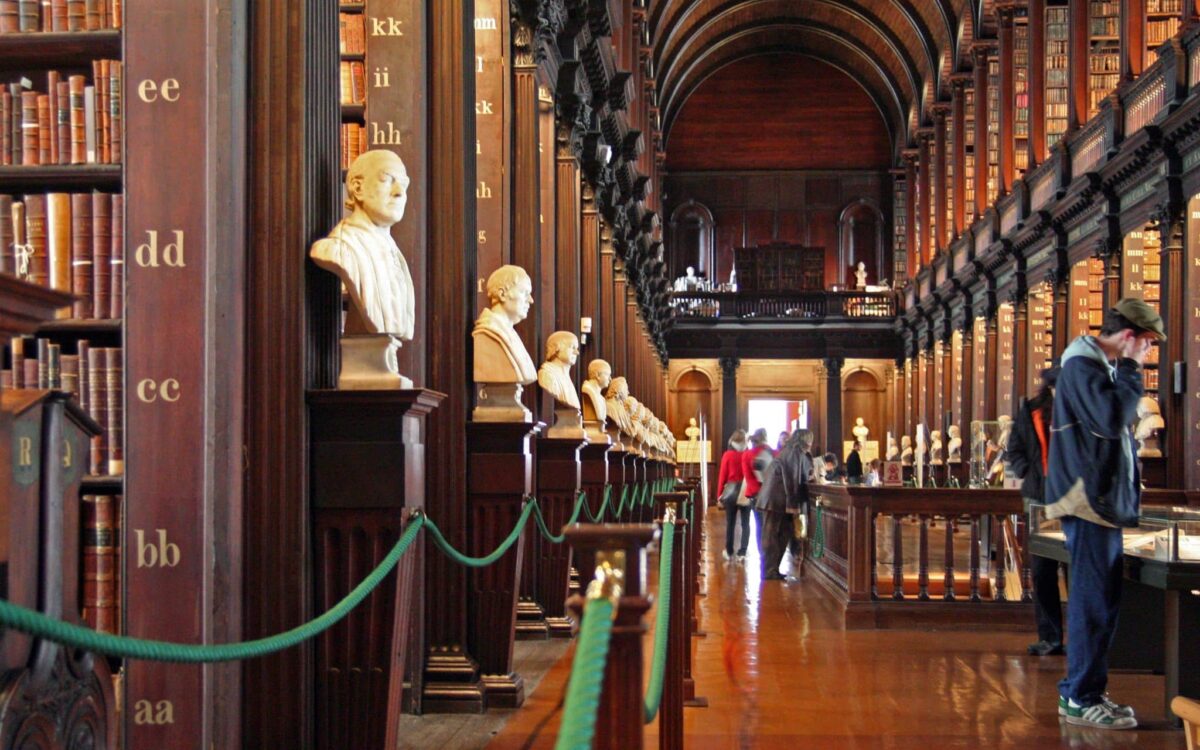 The Guinness Storehouse Not a particular favourite of mine since you don't actually get to see any brewing going on it's more of an interactive display and then up to the Sky Bar. The Sky Bar does have amazing views over Dublin and you get a free pint with your entry fee and learn how to pour a Guinness.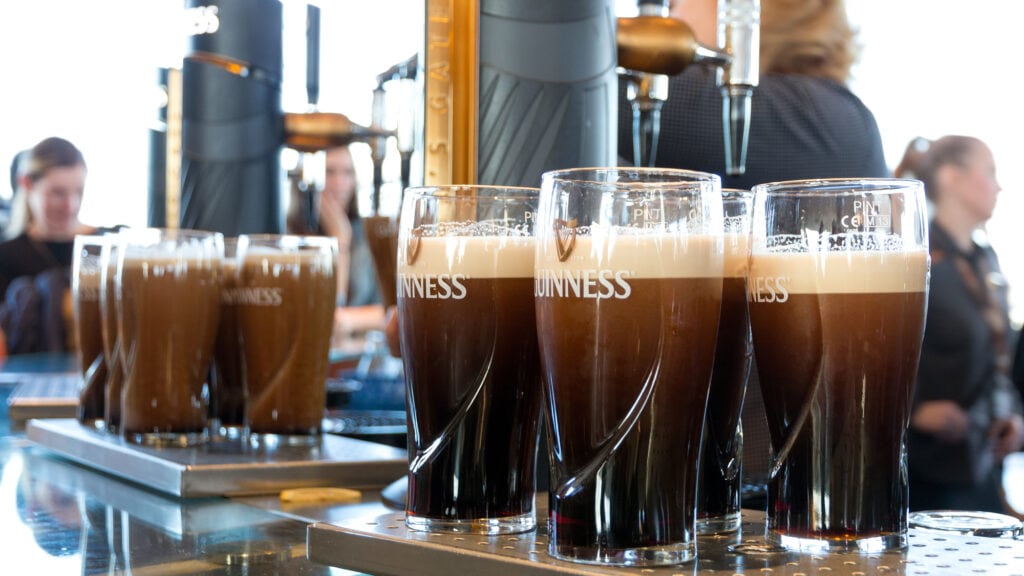 Traditional things to do in Dublin
Pubs in Dublin to check out
O'Donoghue's – check out the walls with photos of the various musicians who have played here, including Christy Moore and Phil Lynott. Live music seven nights a week and a truly authentic atmosphere.
Described in its own words, The Cobblestone is a 'drinking pub with a music problem' located just around the corner from Jameson's Distillery. Music most nights as well as "turn up and play nights"
The Brazen Head by the banks of the River Liffey is less than ten minutes' walk away from the Cobblestone. Serves up traditional Irish food and music. Usually packed with tourists I have to say but claims to be the oldest pub in Ireland (1198) with music every night. It's some good craic tourists or not.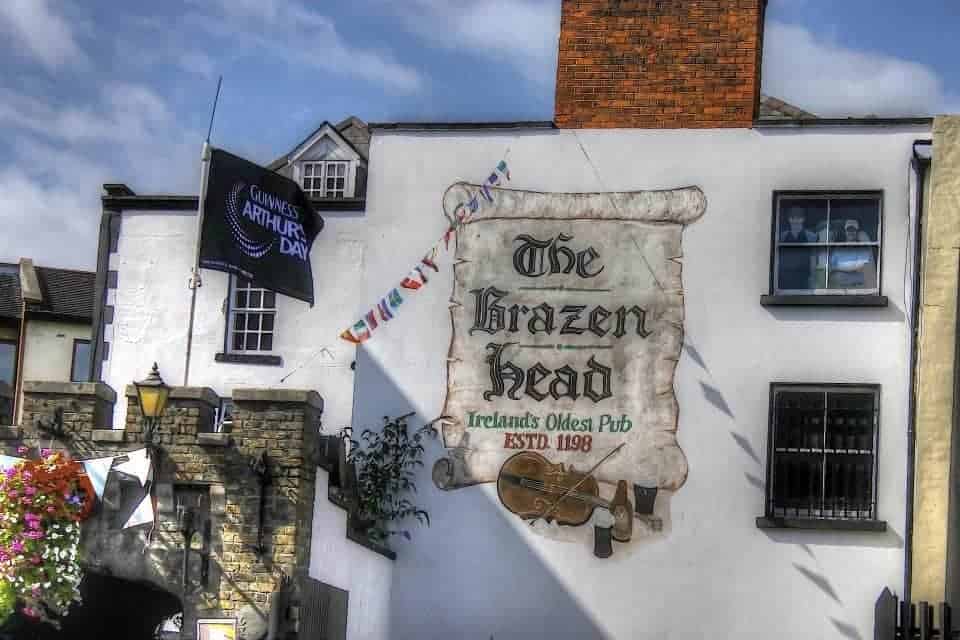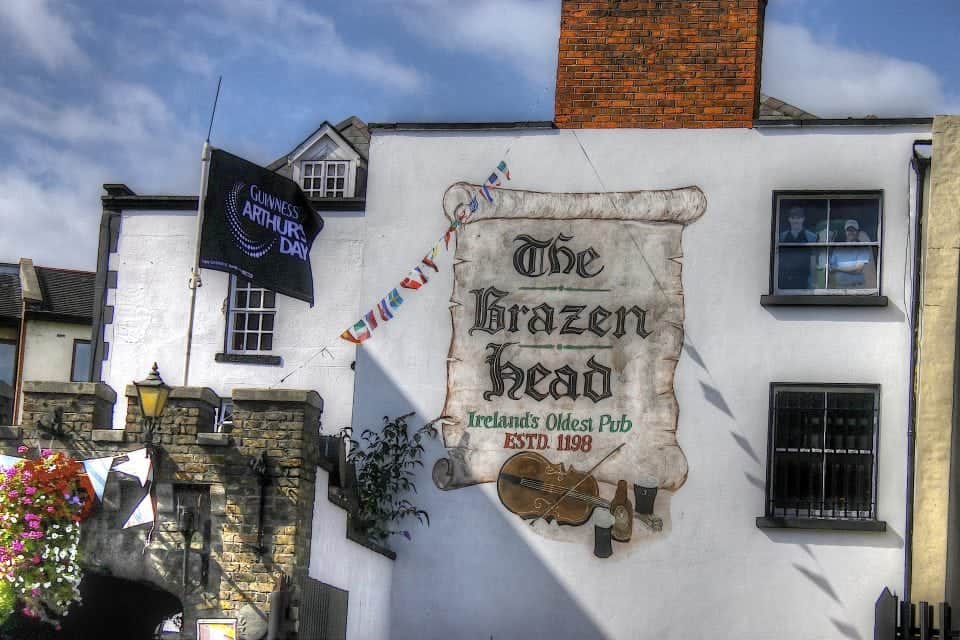 Where To Stay In Dublin On Your Ireland Road Trip
You don't want to stay in Temple Bar too touristy and too expensive but definitely visit the lively and pretty area.
Wynn's Hotel in the heart of Dublin is located 5 minutes' walk from Trinity College, Temple Bar and Henry Street. It offers an elegant restaurant, rooms with free Wi-Fi. Cost around €206 per night but includes a full Irish breakfast.
Maples House is located near Glasnevin Cemetary a quiet area but very pretty and easy to get into the city from there is a bus stop nearby room rates average around €90 a night. It's also cool that it is near Glasnevin as this is a place you can make a quick visit to and see some great Irish heroes and their resting places. You can also trace your family heritage here at the Ancestry centre.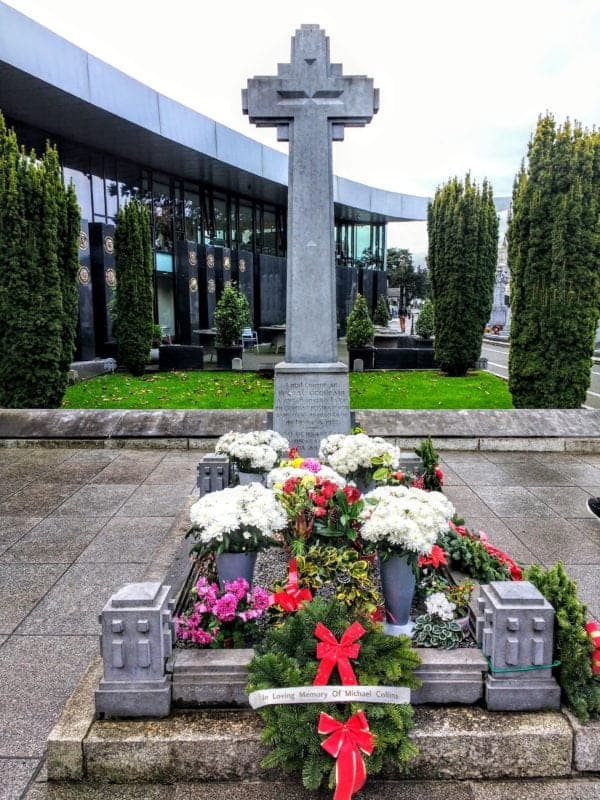 Dergvale Hotel is near O'Connell Street, Temple Bar, Trinity College, Dublin Castle, Guinness Storehouse, Grafton Street and Henry Street for shopping, theatres, museums and restaurants. A continental breakfast is included in the price. Averages around €100 per night.
Day 3 on your Irish road trip
From Dublin you could consider doing a tour of Wicklow and Kilkenny on the same day this can be arranged with Wild Rover Tours – the tour includes entry fees and getting to the Wicklow mountains and Glendalough is impossible on public transport. The added bonus is that this tour includes a trip to Kilkenny and the cost is 35 euro each it's a long day but well worth it.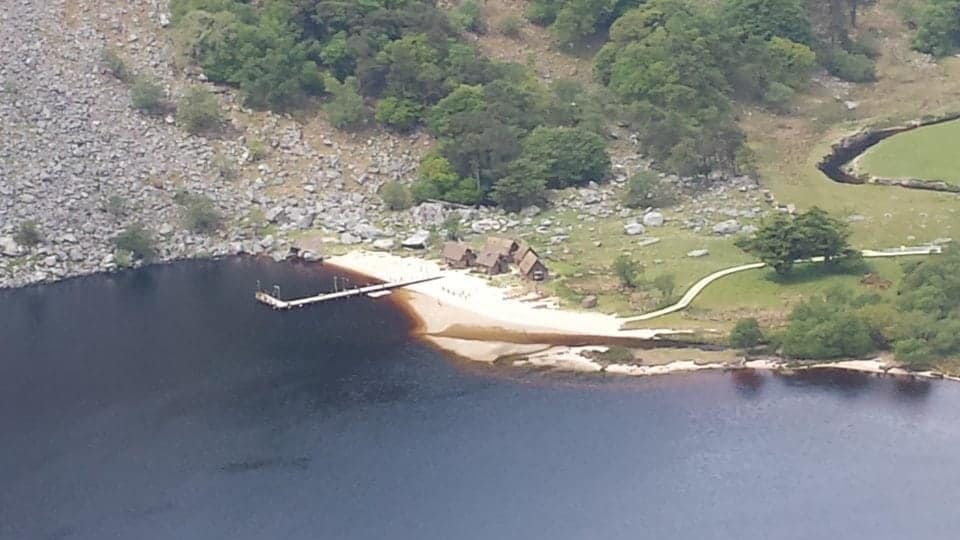 You will pass through the Wicklow Mountains and see the Guinness lake from a distance of course (it's where Vikings were filmed), then the Glendalough national park and the ruins of the monastery are just breathtaking.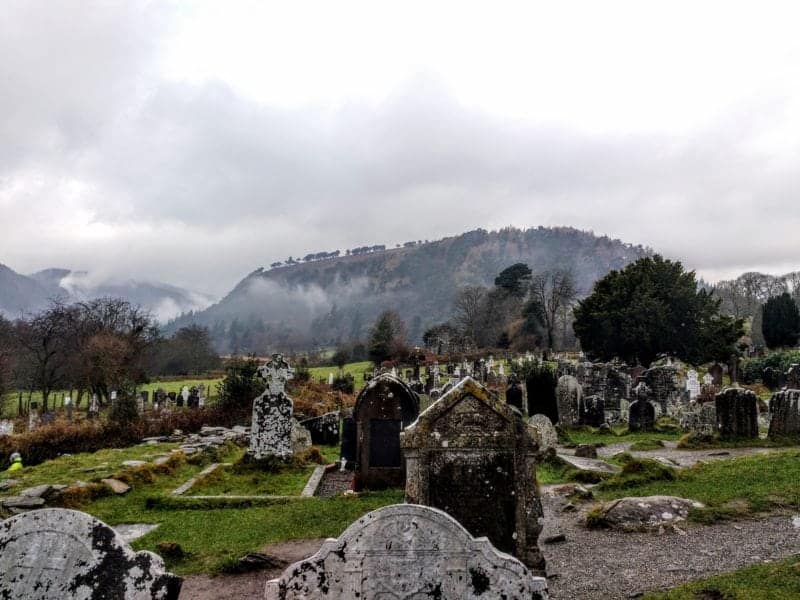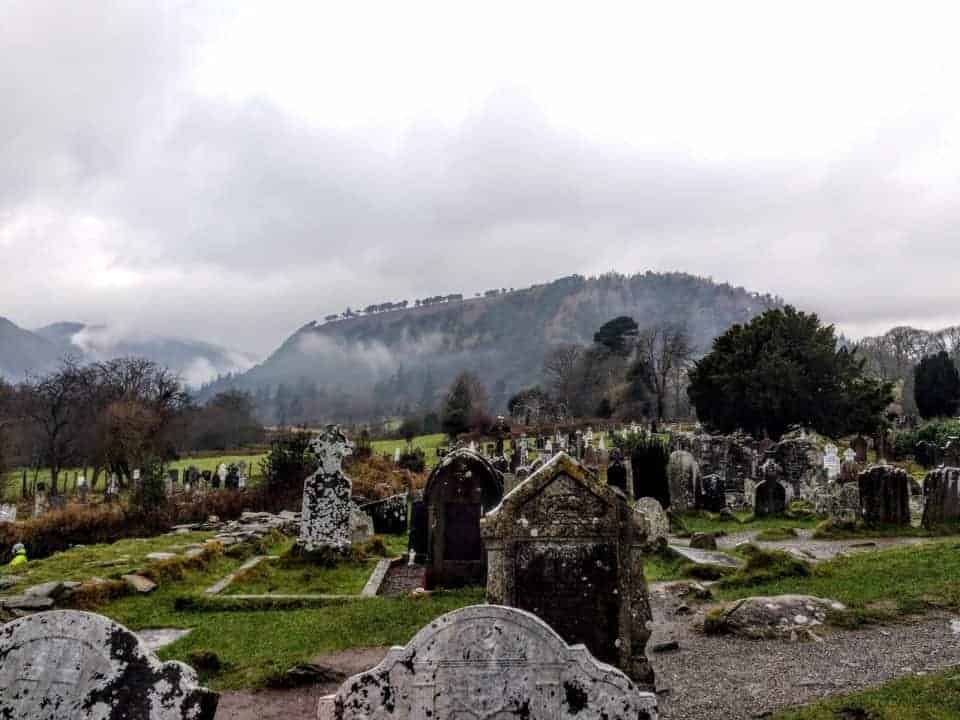 Read Visiting Glendalough here
Kilkenny should be on everyone's Irish bucket list now you can get to Kilkenny easily from Dublin if you don't want to do the tour. Getting there is pretty easy it is around an hour and a half drive from Dublin. You could spend the day just touring Kilkenny if you want but you may miss out on glorious Wicklow.
You can catch a train from Heuston Station in Dublin to Kilkenny's Macdonagh Station at a cost of around €13 euros return for one person. The train journey is also very fast and only takes an hour and a half.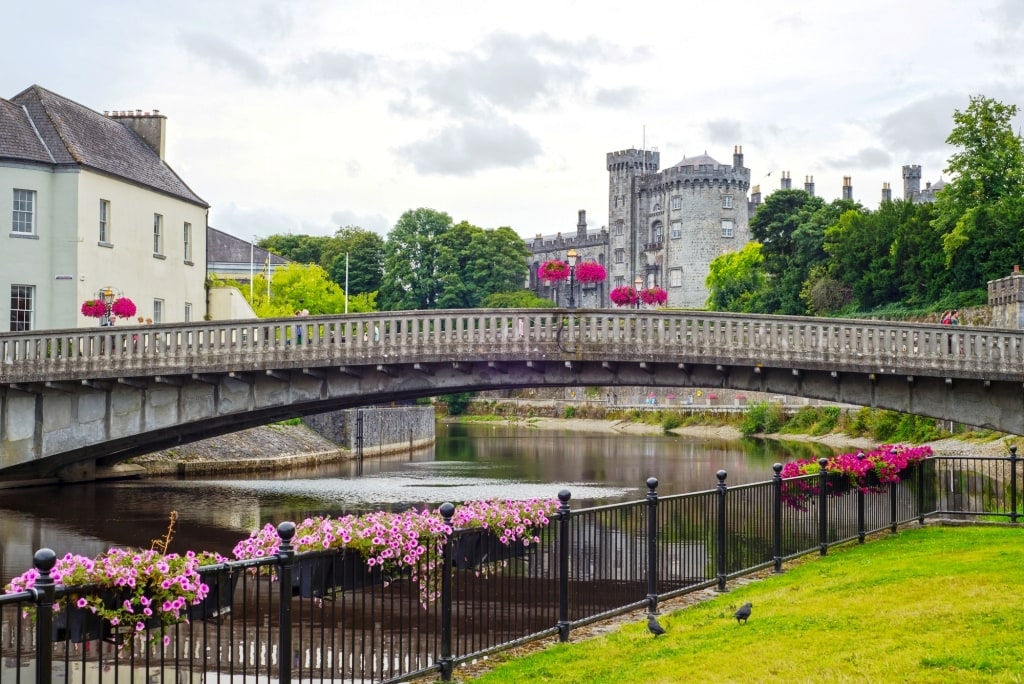 The City is known for its Medieval Mile and also as the Marble City because of its distinctive black marble. When walking the Mile you will see medieval slipways or alleys, a Tudor Inn, a Dominican Abbey and a fine example of a 17th-century merchant's house and the only example of its kind in Ireland.
Articles to read on Kilkenny
Tips for visiting Kilkenny Castle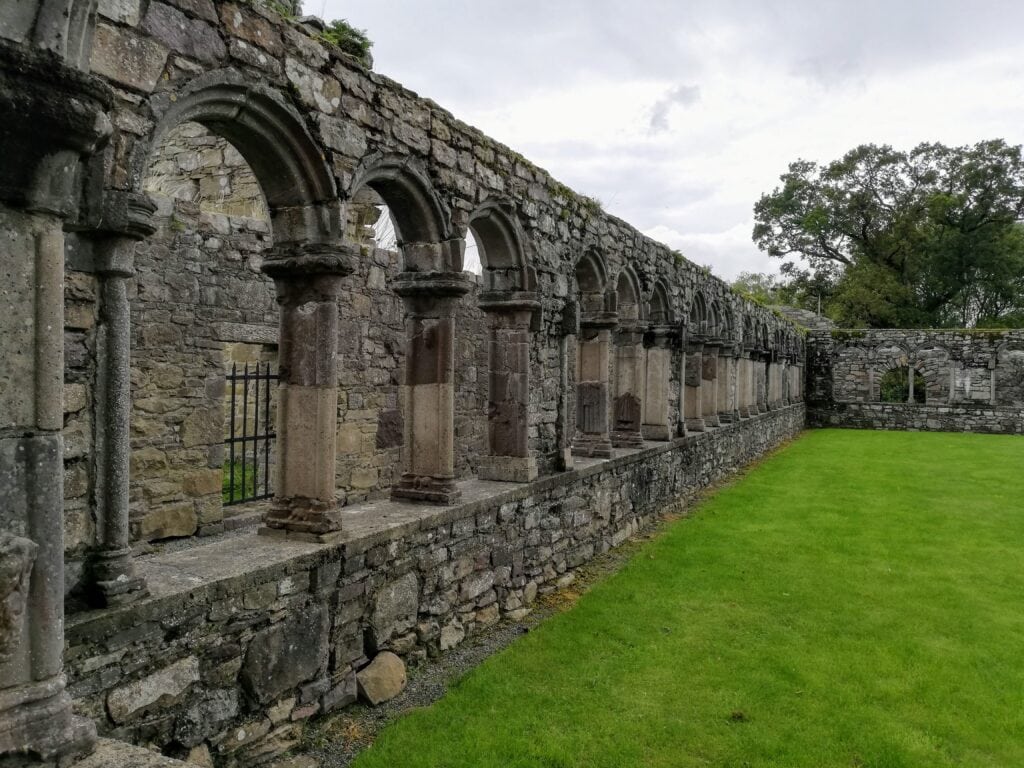 Day 4 & 5 Road trip to Belfast and the Causeway Coast
Take the early train from Dublin to Belfast (it takes around 2.5 hours) and stay at a central location in Belfast like the Jurys Inn. I recommend staying overnight in Belfast and doing a superb tour of Belfast in a Black Taxi. You could do this in the morning and explore Belfast for the rest of the day.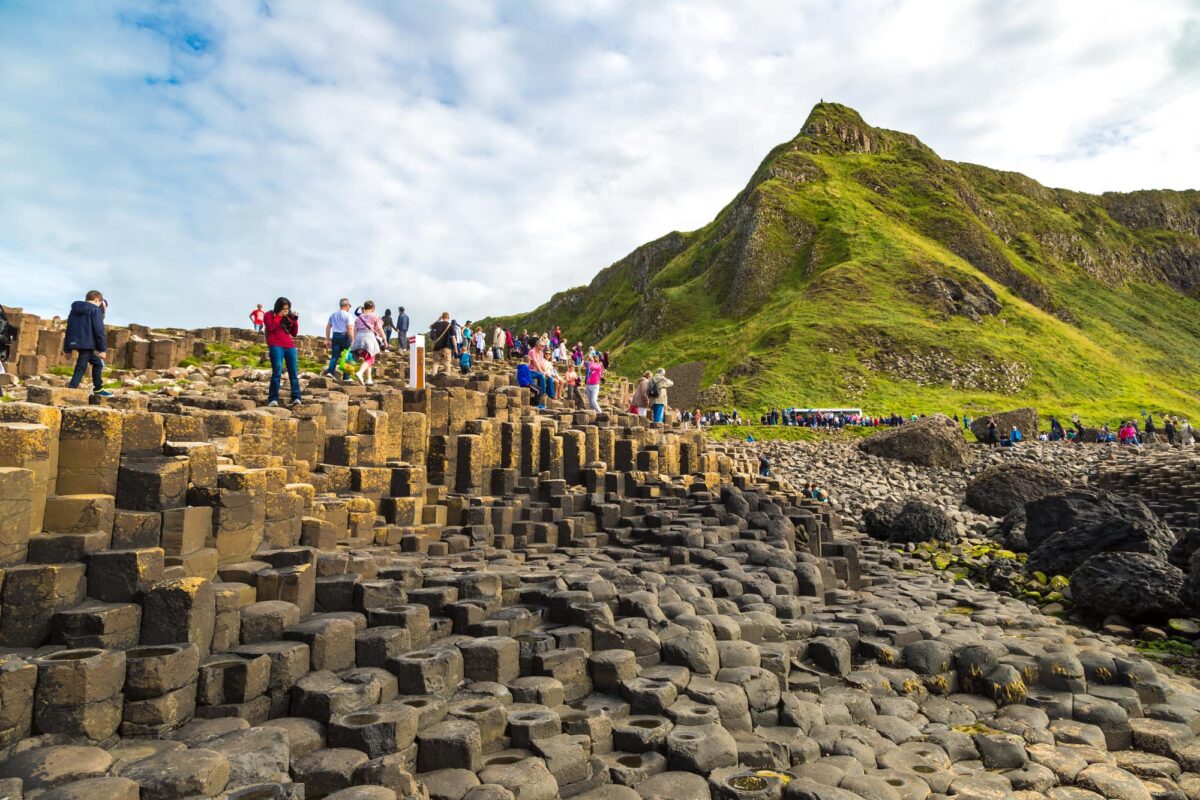 This tour will take you on a personalized tour of the Peace Wall, the murals and areas known for The Troubles. I cannot recommend this tour enough the drivers are non-biased and so informative but they also enjoy a laugh and in typical Irish fashion you will hear stories, legends, myths and tales that will make you cry.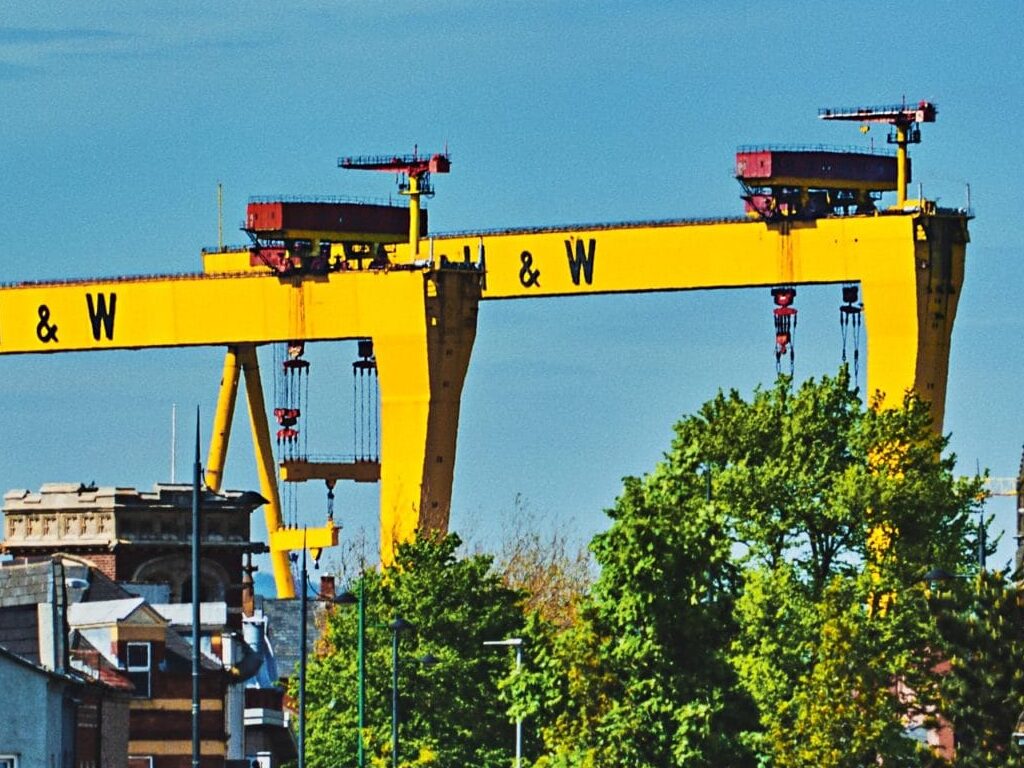 If you plan to stay overnight in Belfast the next day you could make a choice of tours. If you are a Game of Thrones fan you could take a brilliant tour with the same guides that ferried the cast and crew to the filming locations. The Game of Thrones tour will take you around sites like Dunluce Castle, the Dark Hedges, the Cushendun Caves, and much more.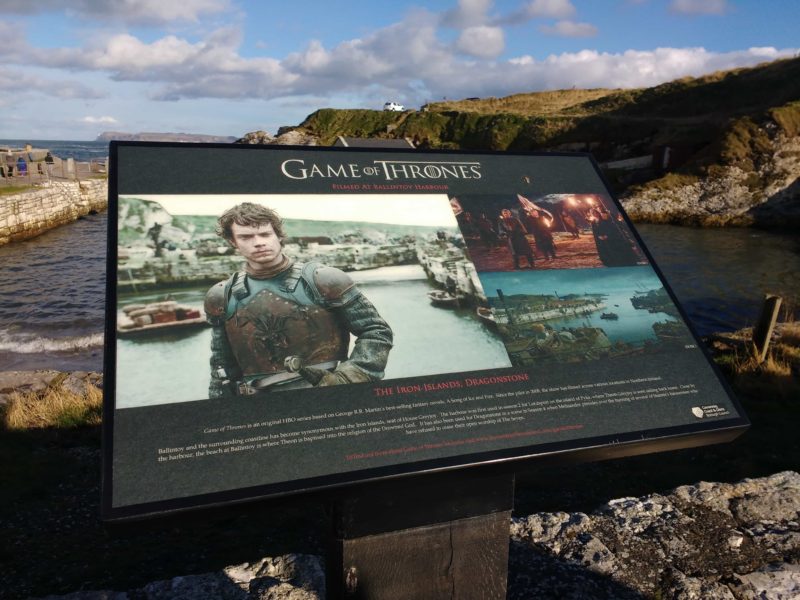 How about a Giant's Causeway tour will allow you to see the Giant's Causeway, and Bushmills, and you can cross the Carrick a Rede rope bridge if you dare.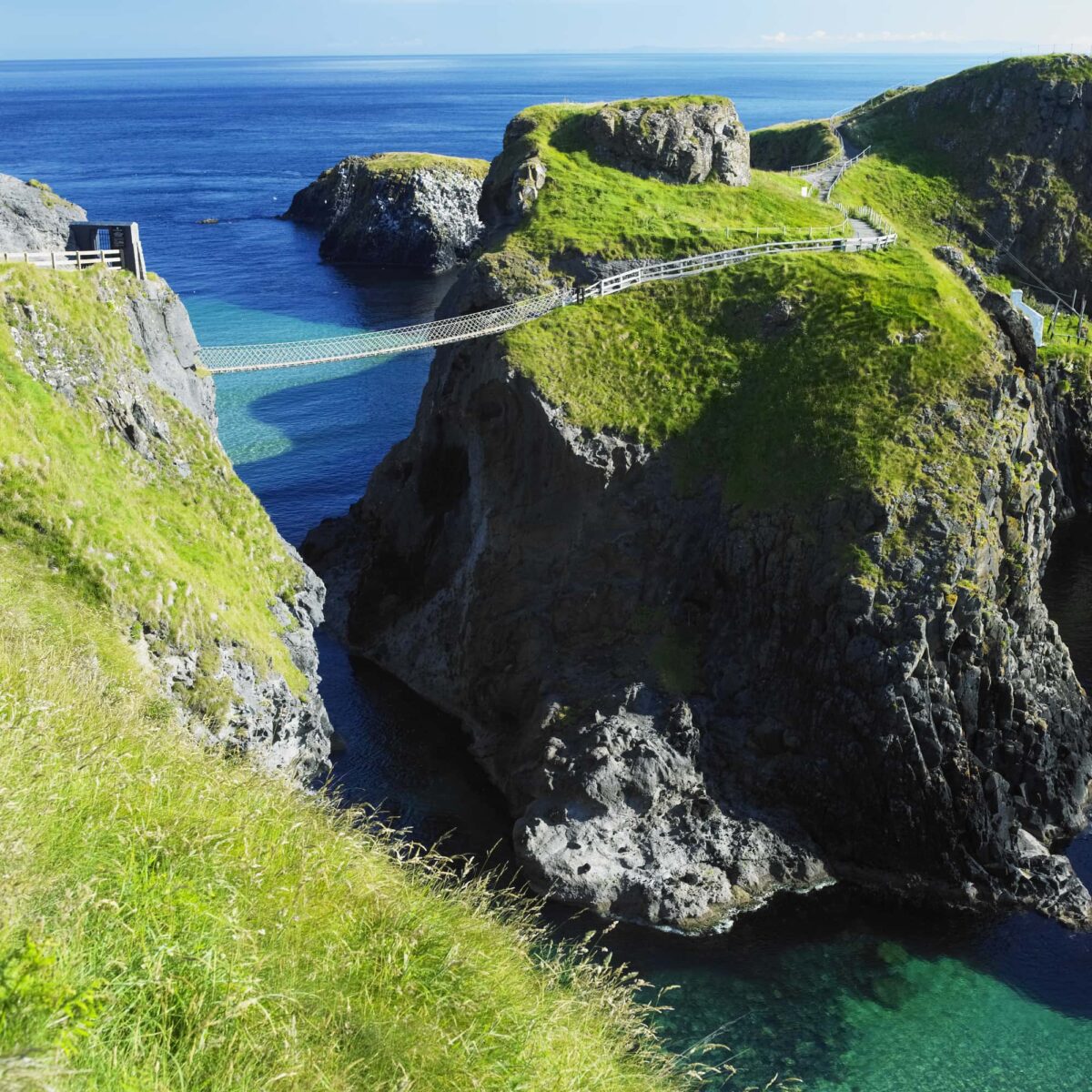 Check out these articles to see some photos and help you pick the tour you want to take.
Game of Thrones filming locations
Now you can either stay in Belfast another night and take the early morning train back to Dublin or you can head back to Dublin and stay overnight there. You can then pick up your rental car and head out on the next leg of your road trip in Ireland.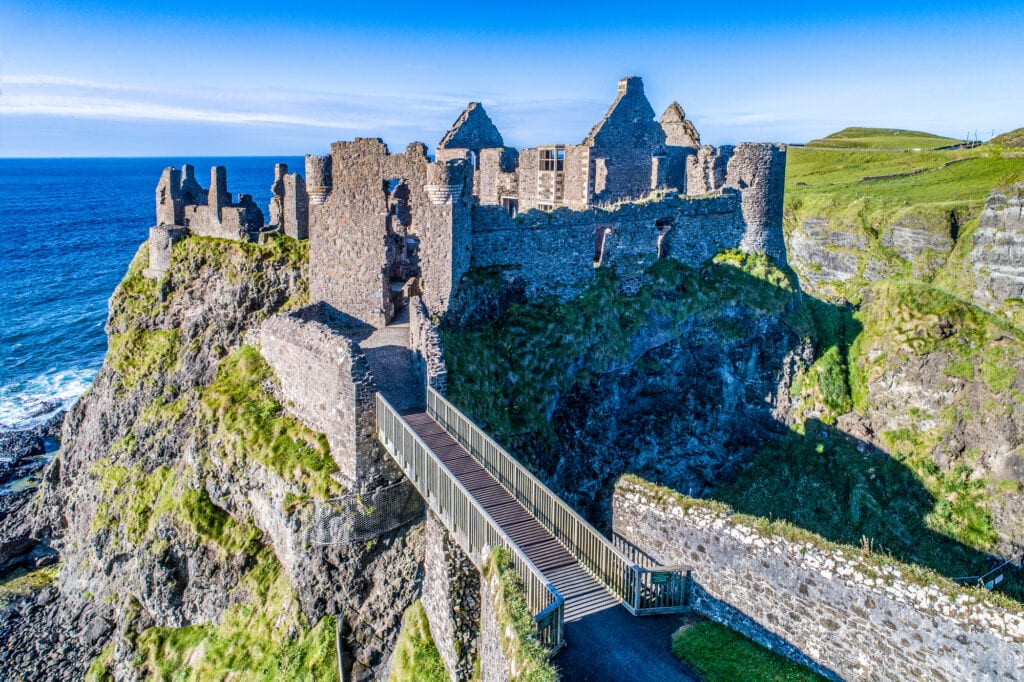 Touring Ireland by Car
I can't say this enough – rent a car. I know it can be expensive here to rent a car but trust me you won't regret it. Public transport here can be unreliable and difficult to find. Most of the major cities will have buses and some have trains to major destinations but much of the real Ireland is off the beaten path and you need to be driving to see it.
Sure you could take a bus to places but you would spend literally days and days of your Irish holiday getting from place to place. For example, it usually takes around 4 hours to get from Dublin to Donegal or 3.5 to get from Dublin to Belfast.
Days 6 and 7 – head to the Rock
My Irish Cousin is the person to rent a car from in Ireland they can either bring the car to you or you can meet them at your choice of location and pick up your car in the early morning. The pricing is all-inclusive (except gas) and he is great for advice and information.
Rent a small economical car and they do have automatics if you want, insurance and all that are brutally expensive here but his pricing includes everything no surprises and many don't. It's well worth it to rent a car outside Dublin as public transport is virtually non-existent to many places outside of the major cities.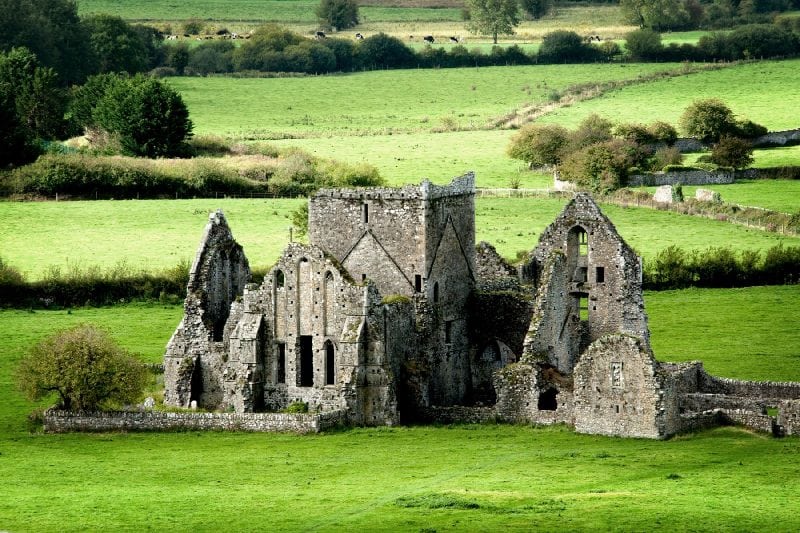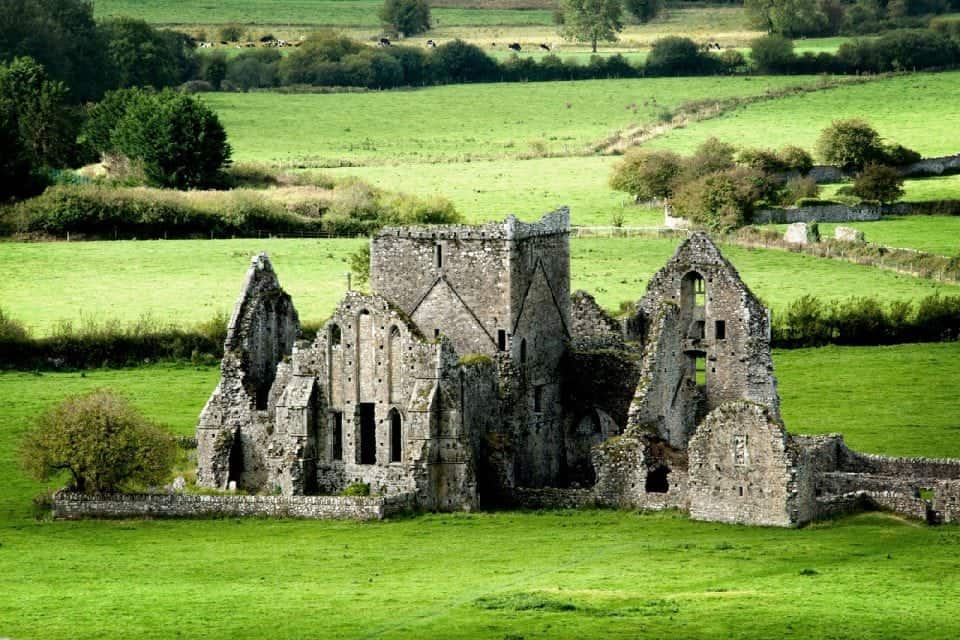 Read this – How to rent a car in Ireland
Set out from Dublin with your rental car and head towards the Rock of Cashel. The Irish stud is about an hour's drive from Dublin city centre, and from here the Rock is around an hour's drive. So you could spend the morning at the National Stud and the afternoon at the Rock leaving plenty of time to drive onto Cork later in the day which will take around an hour.
The Irish National Stud & Gardens in Co. Kildare is located about an hour's drive from Dublin. The Stud celebrates Ireland's love of horses and horse breeding. If you get lucky the stables may be open to seeing the horses up close and in the spring during the foaling time you may see a baby future race winner.
The Japanese Gardens at the Stud offer some beautiful walks and there is a local cafe for some great tea and cake afterwards.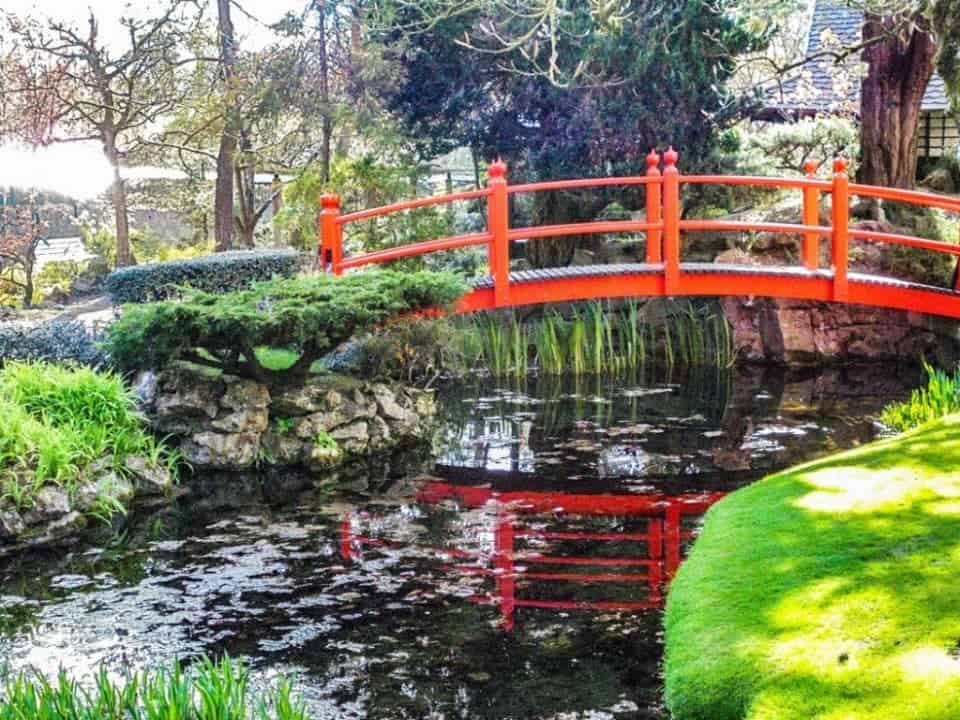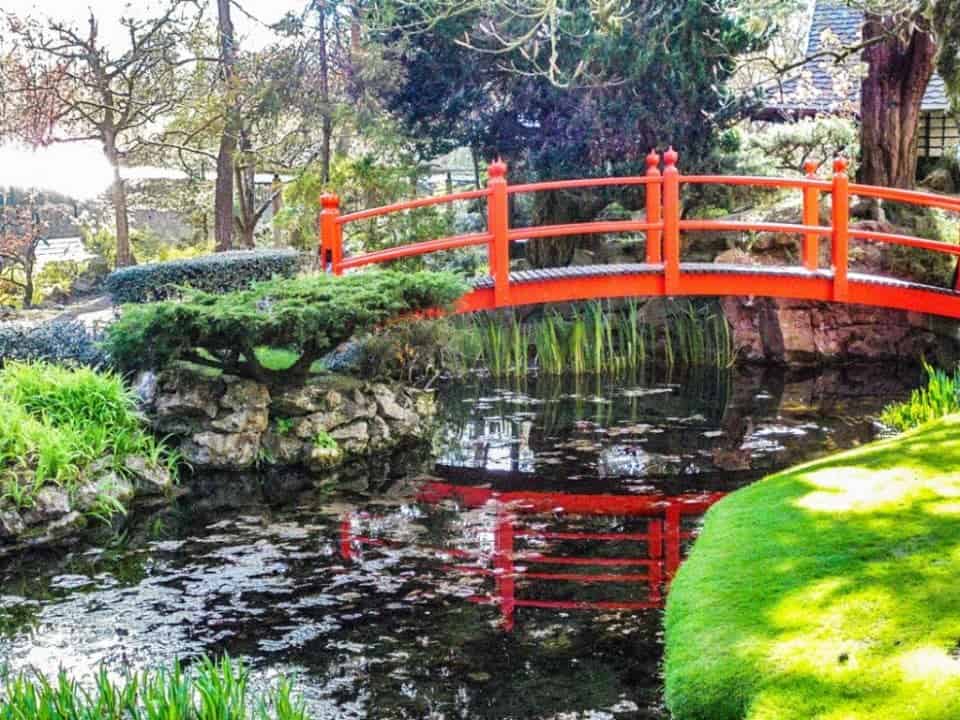 So on the drive stop at Cashel to view the Rock and have lunch in Cashel which is a tiny little town but has some great places to eat. It will probably take a couple of hours to visit The Rock and then a walk over the road to see the ruins of Hore Abbey.
Here is an article on the Rock and what to expect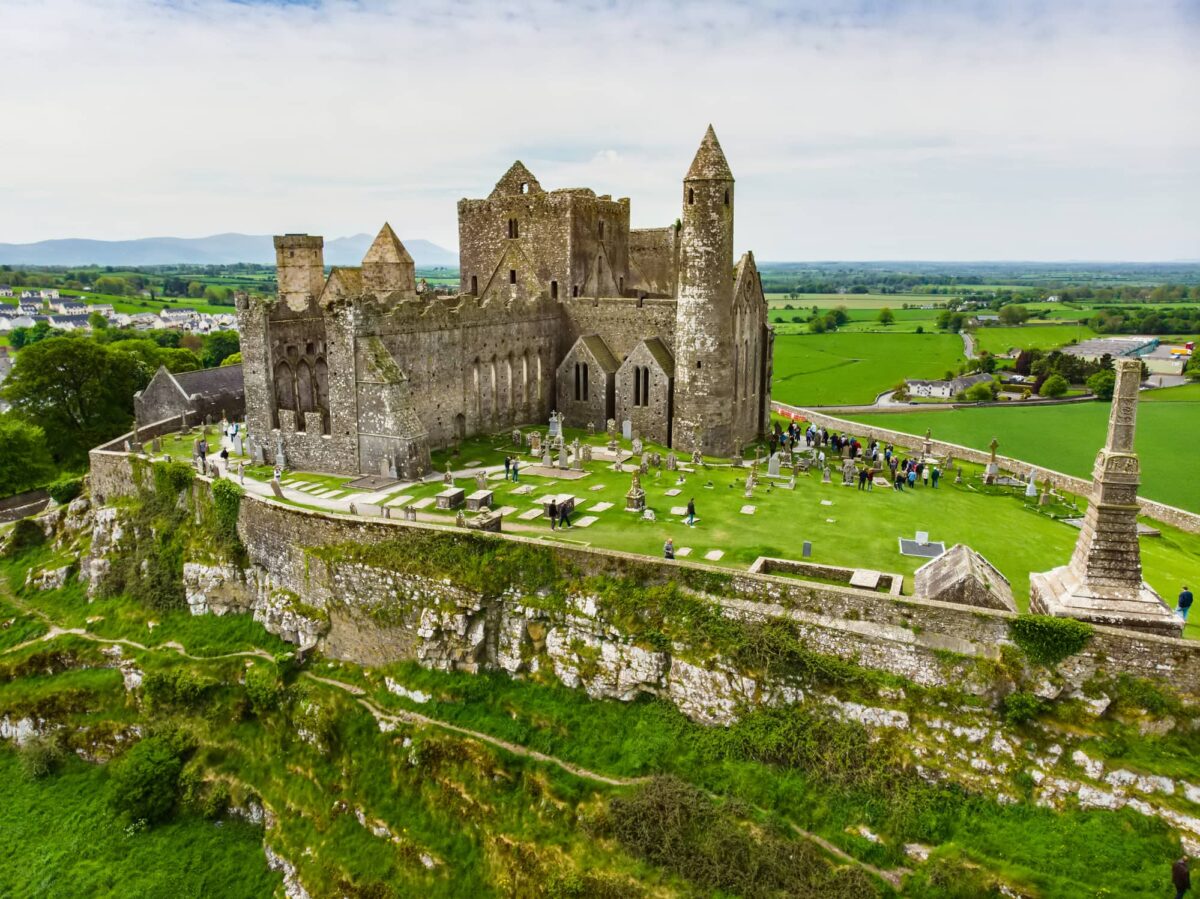 Then head on down to Cork to your hotel/BnB for the night. Cork is a great city, clean, with a very young vibe. If you have time and love a market check out the English Market you can pick up street food here or a snack and it is a beautiful place to visit. While in Cork head to the Sin É pub the most traditional pub around, with music 7 nights a week. Here's what they say about themselves
"Traditional music has always been played at the pub, even when it was seen as uncool in the 1950s, 60s and 70s; and unlike the tourist sessions that pop up in other pubs during the summer, the Sin É has had live Irish music every week for over 50 years now. We host a Trad Session 7 nights a week at 7 pm – truly a must for any music fan! The best of Irish is always heard every Tuesday at 9.30 pm as well as Fridays and Sundays at 6.30 pm, whatever night of the week you arrive – good music is guaranteed"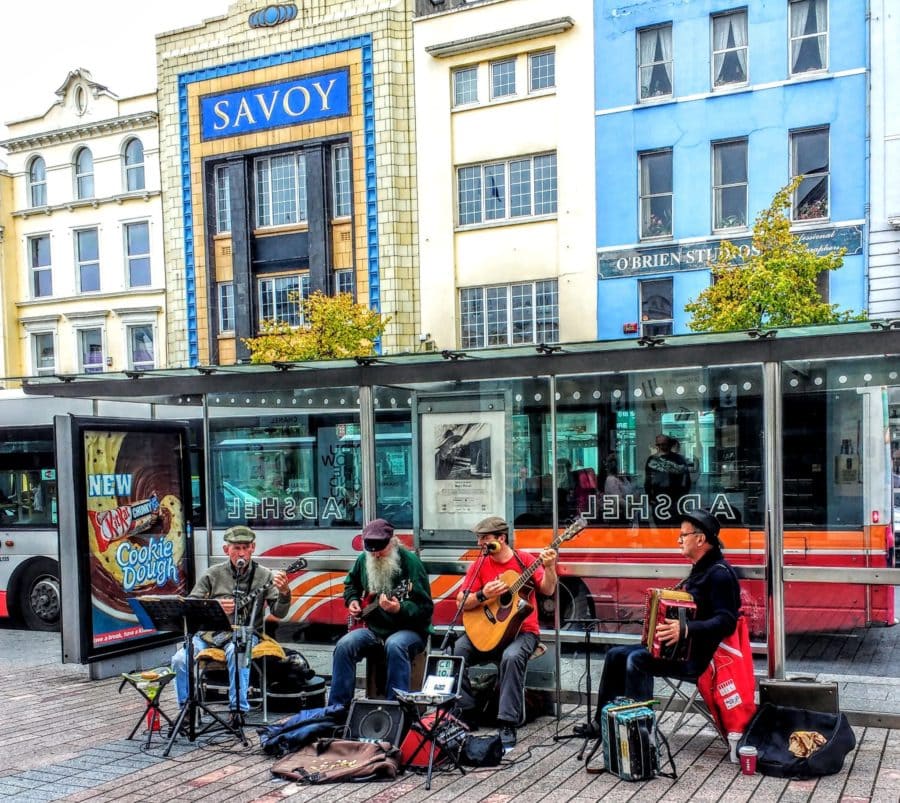 Where to stay in Cork
Here's a couple of places, you will need to make sure there is parking for the car, and you don't want to be too far from the centre of town so you can park and walk.
Hotel Isaacs is originally an Edwardian tobacco factory, now a boutique hotel, set in the heart of Cork. Averages around €139 a night.
Jurys Inn Cork is located on Anderson's Quay overlooking the River Lee. Jurys is a 5-minute walk from Kent Station and offers a bar, restaurant, and 24-hour reception. Average €124 a night
Day 8 Cork and Killarney
Leaving Cork and heading to Cobh spend the morning exploring Cobh, around a 30-minute or less drive from Cork. Blarney Castle is about 25 minutes from Cork and if you have some time you can visit the castle and kiss the Blarney Stone.
Then I would head to Killarney where you can stay for two nights and do the Ring of Kerry and the Dingle Peninsula, you could do an evening tour in Killarney – it starts at 4.15 and tours various places the cost is around €35 but includes the jaunting car, tour guide a beer and pizza. Or you could simply check into your hotel and then enjoy the pleasures of Killarney and then do a jaunting car tour the next day.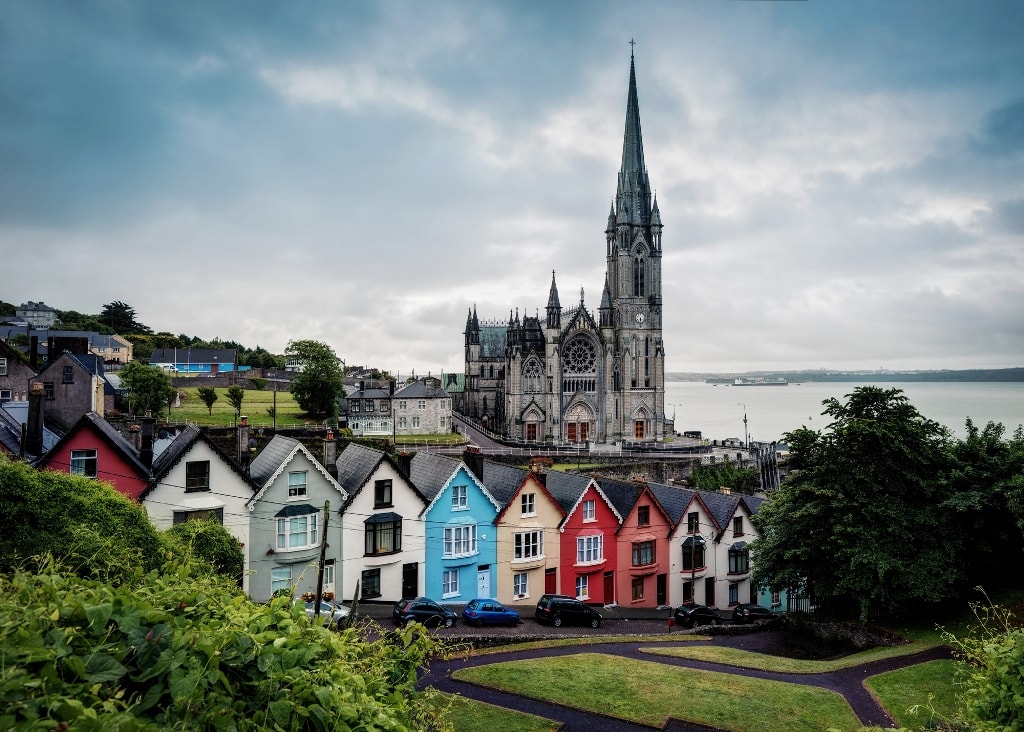 What to see near and in Killarney
Day 9 – Killarney, Ring of Kerry and Dingle
If you don't do the jaunting car you can simply drive the Ring of Kerry and visit the Killarney National Park or at least as much of it as you can before heading back to your hotel and the next day driving up and around the Dingle Peninsula. On the Ring of Kerry you will see Skellig Michael from the shore and if the weather is good you might have time to take the boat out to the islands although this would take up a great deal of your time.
Try to fit in the Slea Head Drive this is a loop that starts and ends in the town of Dingle. It offers stunning cliff views, Star Wars movie locations, mountains, charming villages, and jaw-dropping views for miles.
Tips for driving the Ring of Kerry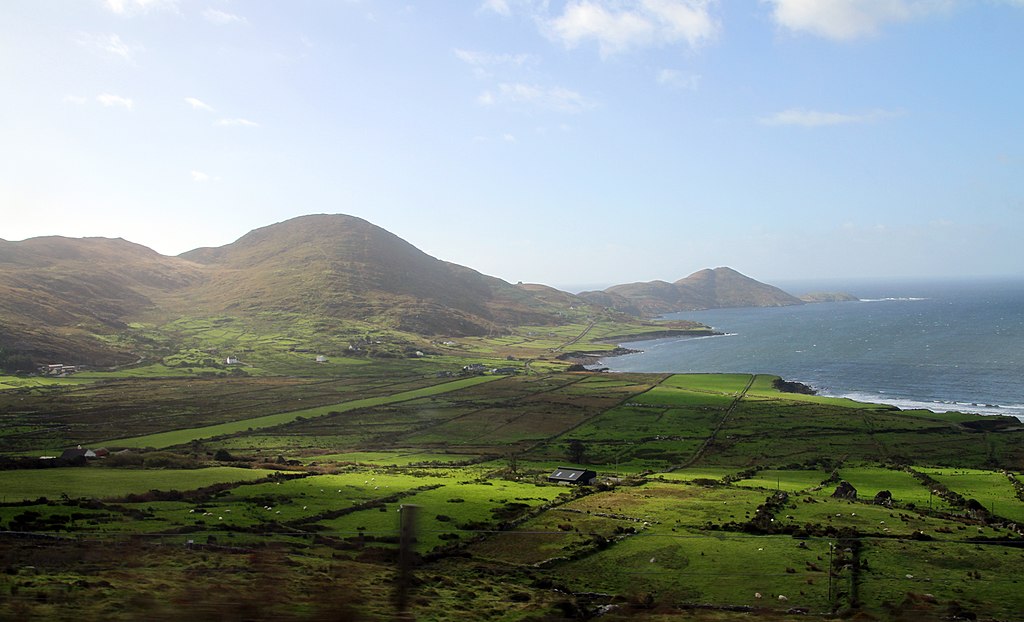 Where to stay in Killarney
Murphy's of Killarney is in the heart of Killarney, close to rail and bus services and shopping areas. Around €100 a night
The Old Weir Lodge on Muckross Road, this highly acclaimed guest house boasts a wonderful location just 10 minutes walk from Killarney town centre. €140.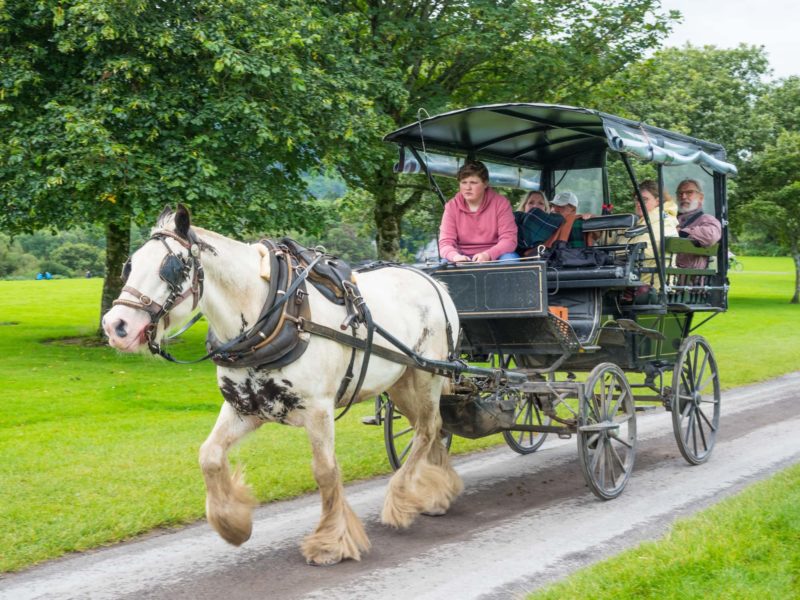 Day 10 – Bunratty Castle and the Cliffs of Moher
Bunratty is my favourite castle, lots to see with an Irish folk village on the grounds with original houses brought in that were going to be torn down. The castle is pretty cool and you can have a pint in Durty Nellies just outside the castle.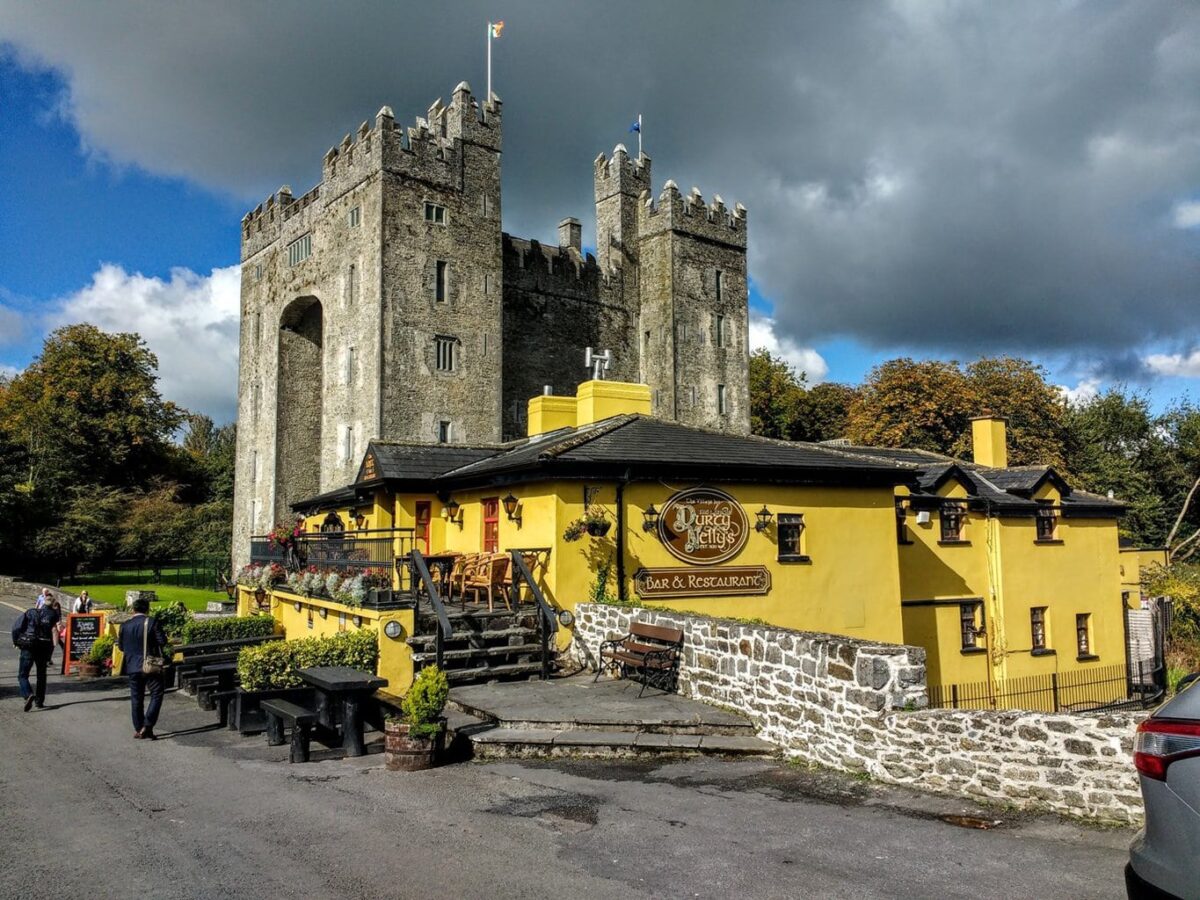 A must-see is the Cliffs of Moher they can be full of tourists but it's almost mandatory to visit.
Visiting Bunratty Castle and having a pint at Durty Nellies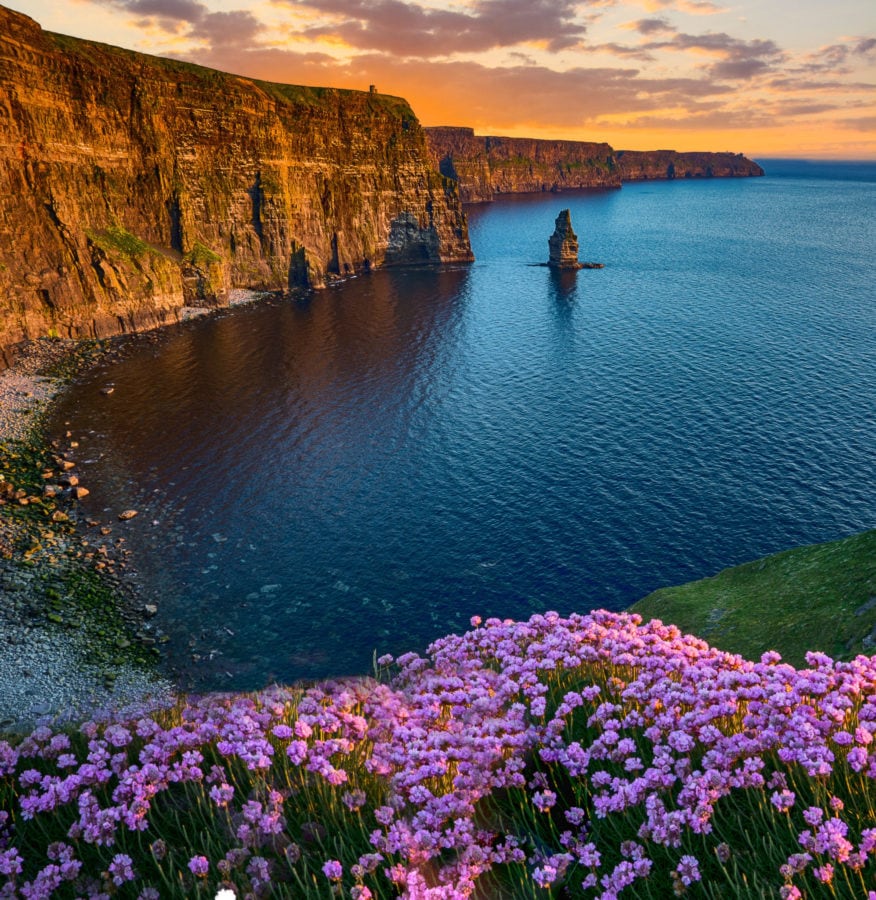 Day 11 – Galway
This article has a myriad of ways to spend 2 days in Galway, it has places to stay listed, where to eat, where to hear trad music, shopping, museums and more.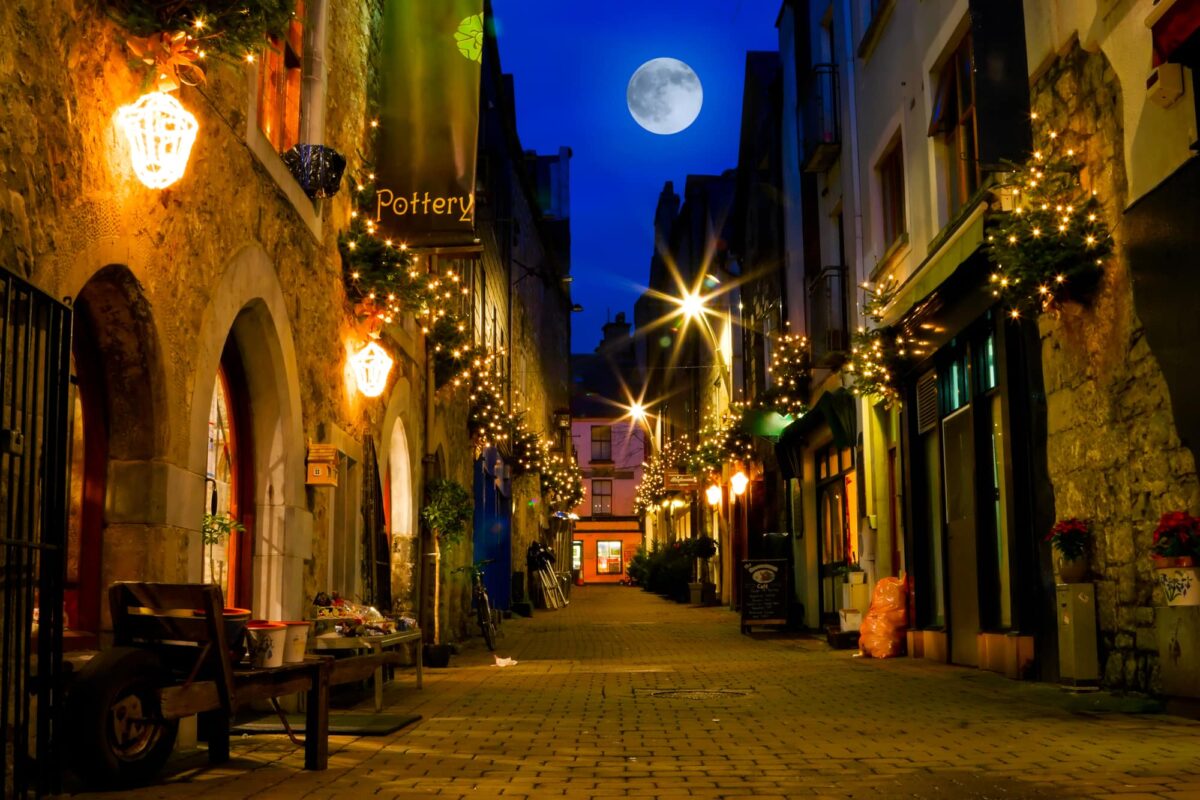 Day 12 – Athlone or Westport
I put Athlone on the itinerary as a visit to Sean's bar is again almost mandatory. They say it's the oldest in Ireland (900AD) but that is always up for debate. You could always skip this and stay an extra day in Galway, which you might need with a pub hangover.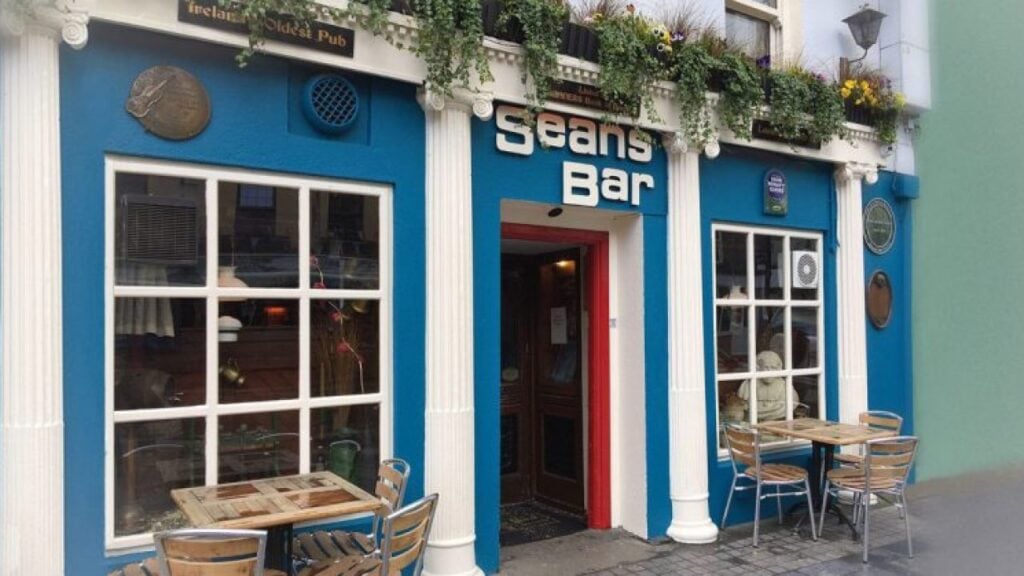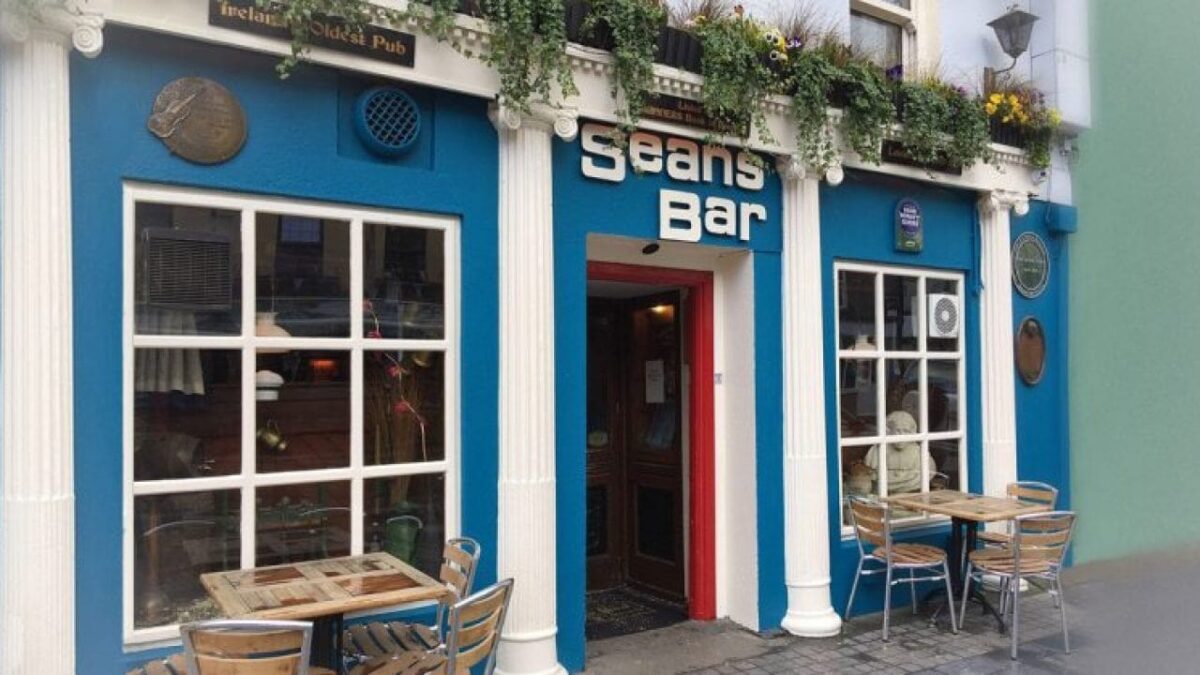 If you are in Athlone for food head to Murphy's Law the food is great. There's not a lot to do here but there are a couple of castle ruins to visit and Athlone is around an hours drive from Galway.
I love Westport – at an hour from Galway this place is gorgeous it's where Grainne – Ireland's pirate queen hails from there a pretty town centre or you can stay overnight at Clew Bay which is fantastic.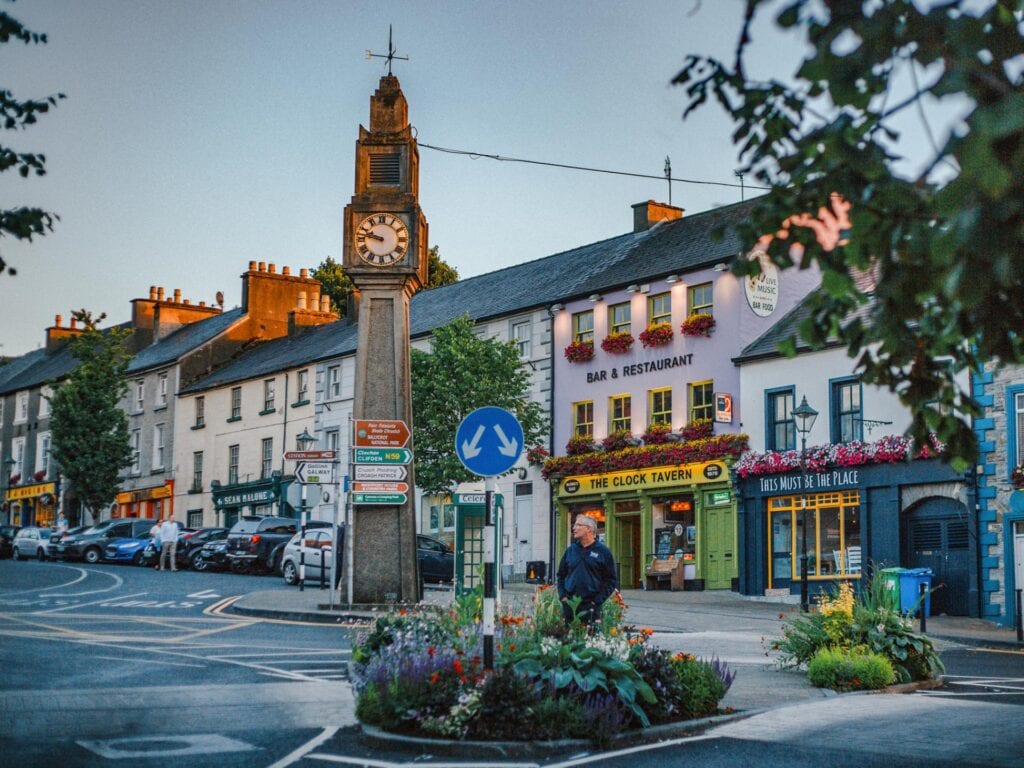 There's a restaurant there called the Two Towers that serves the freshest seafood I've ever eaten and a great value beautiful hotel/BnB called the Ardmore to stay at. You can climb Croagh Patrick, visit Achill Island, hit Matt Molloys for some music or wander the Greenway.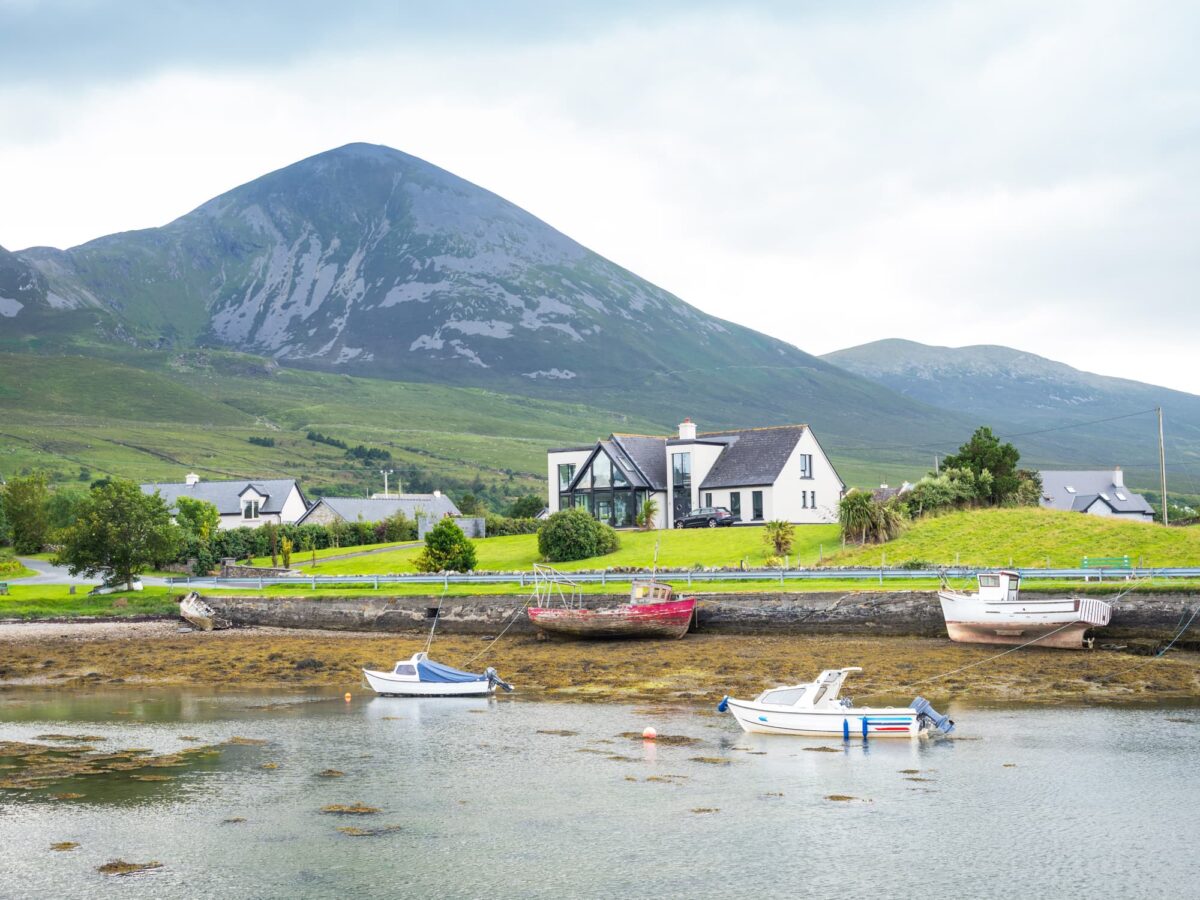 Westport Ireland – home of the Pirate Queen
Day 13 – Newgrange and the Hill of Tara
It's around a 3-hour drive from Westport to Newgrange so takes up a good part of the day but the scenery is pretty damn good on the way and a visit to Newgrange is incredible the guides are amazing.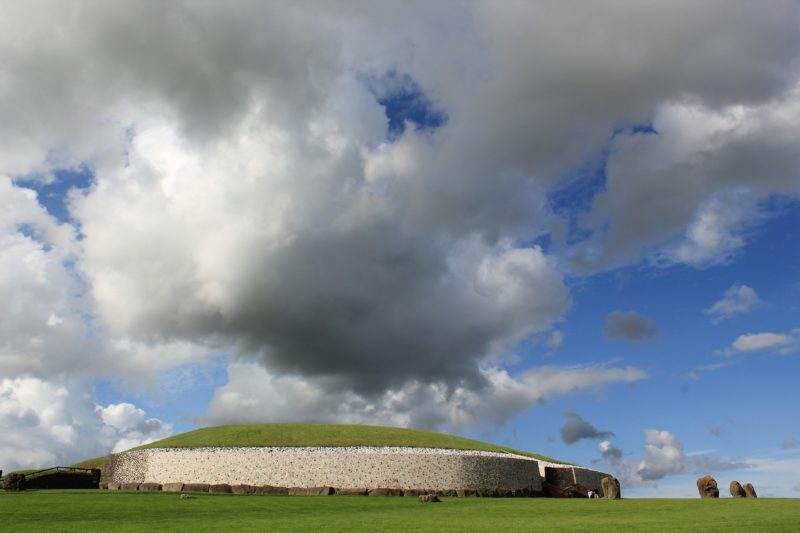 Very close to Newgrange is the Hill of Tara, and the village of Kells where you can see a copy of the book of Kells which was originally discovered here after coming from Lindisfarne. The one in Trinity Library takes hours as there are so many tourists lining up for tickets. The Kells one is virtually unknown. You could also visit Monasterboice which is about a half-hour away and stunning with its oldest celtic crosses set in a graveyard in the heart of the country.
Best tips on visiting the awesome Newgrange Tombs in Ireland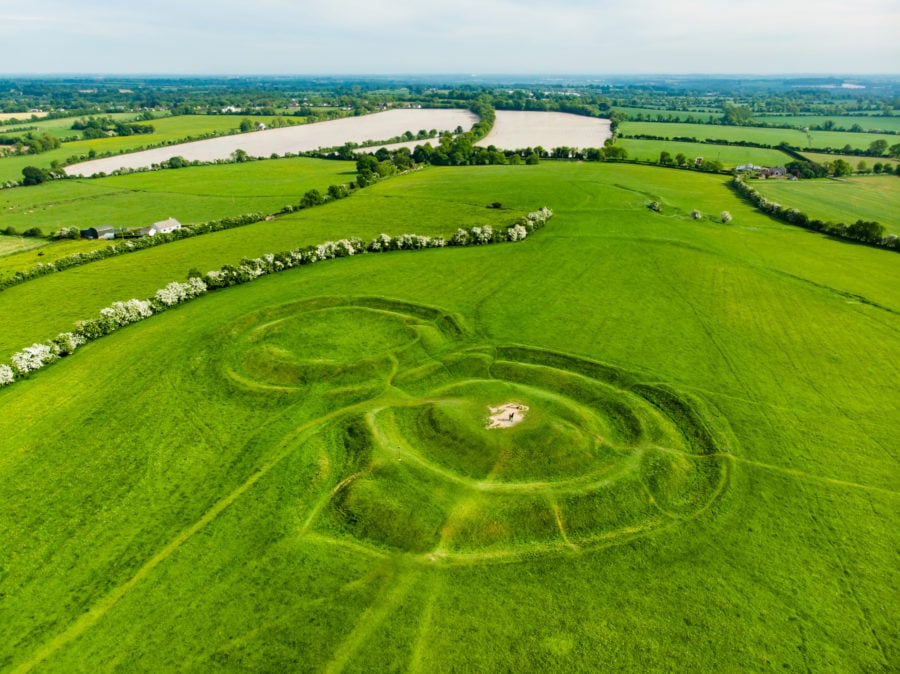 At this point, it would be best to head to a hotel near the airport for the night as your flight will leave in the morning (more than likely). We stay at the Glenmore which is very nice and has an airport shuttle at a small cost. You get a continental breakfast and the hotel is around 5 minutes walk from pubs and restaurants in Swords so very close. Malachy from My Irish Cousin can arrange for the car to be picked up from there.
Day 14
Airport and home – flights usually leave during the day so they arrive in North America in the early evening.
101 Landmarks to visit in Ireland
101 Landmarks in Northern Ireland to see
Ireland Road Trip Maps
In case you want to see what it all looks like on paper, here is your Ireland road trip map! Because of the way Google maps work I couldn't put the two maps together. These two maps will show you the basic route for your Ireland Road Trip.
Map 1 – Dublin to Galway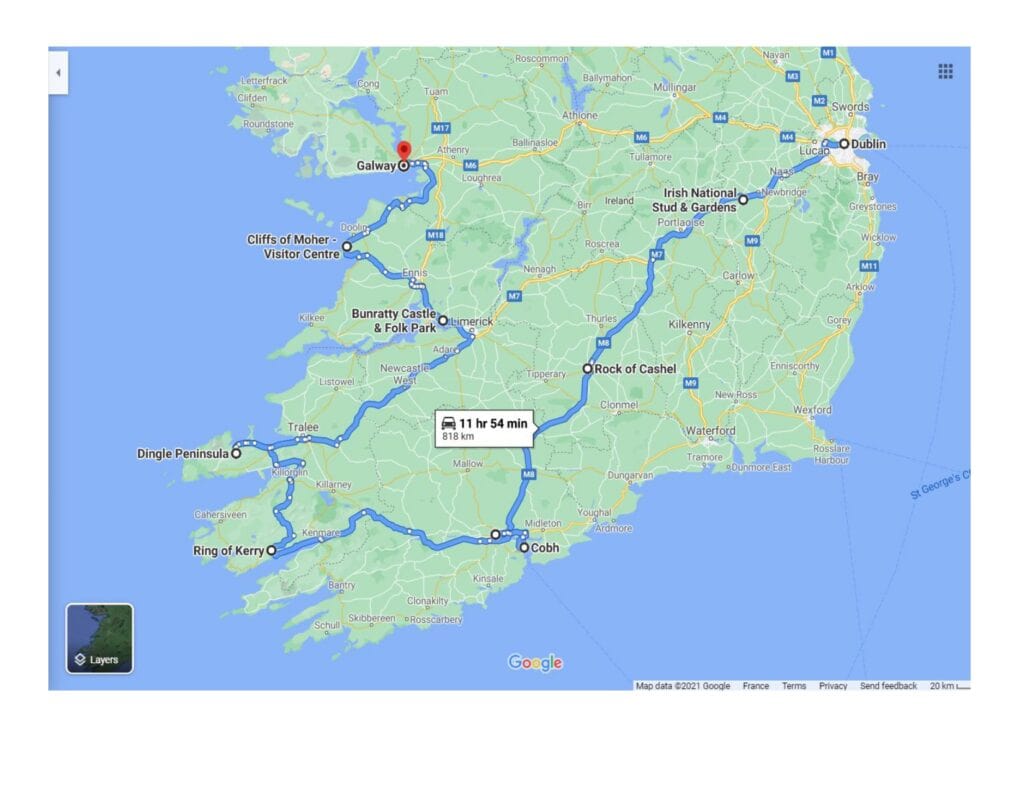 Map 2 – Galway back to Dublin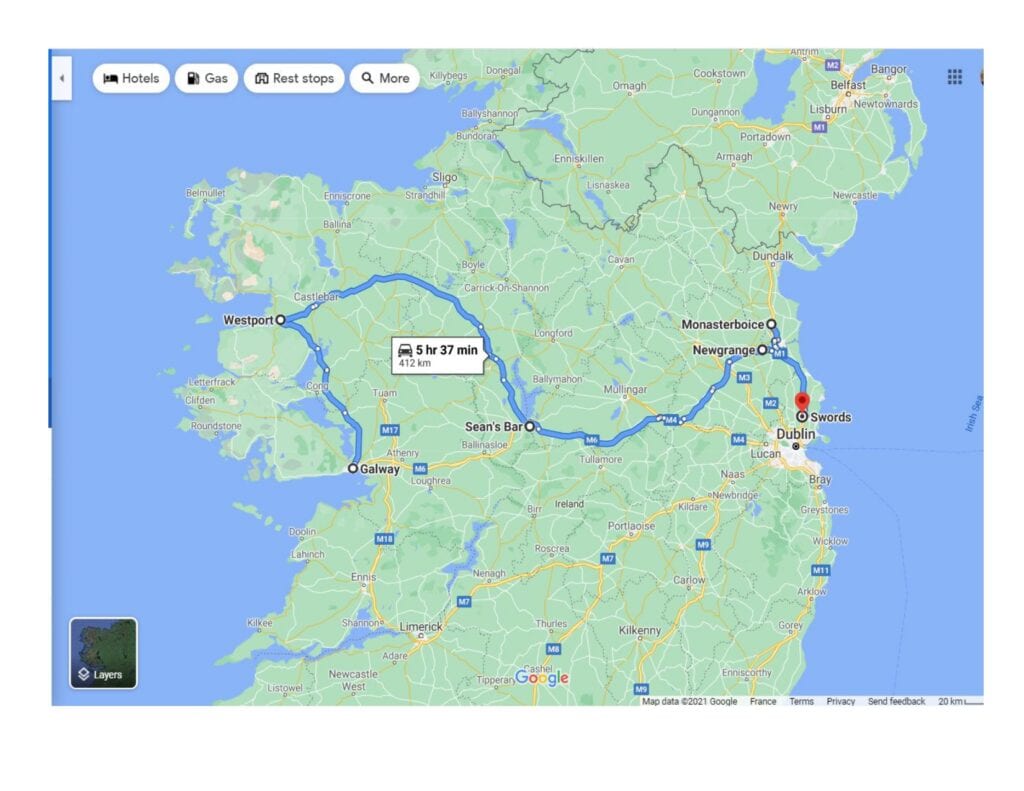 This road trip in Ireland sadly misses Mayo, Sligo and Donegal which you will just have to do on your next visit to Ireland – trust me you will be back. It does however showcase some of the must-sees including tourist sites and lesser-known attractions in Ireland. There is something for everyone in this Irish itinerary.
More articles to read before visiting Ireland
27 Things to do in Galway in 2 days
101 Landmarks in Ireland to see
Ultimate Wild Atlantic Way Route
Ireland's Ancient East – an epic road trip
Ancient Ireland 30 sacred places
Cool things to do in Dublin off the beaten path Ireland
Ultimate Ireland Road Trip Itinerary in 14 days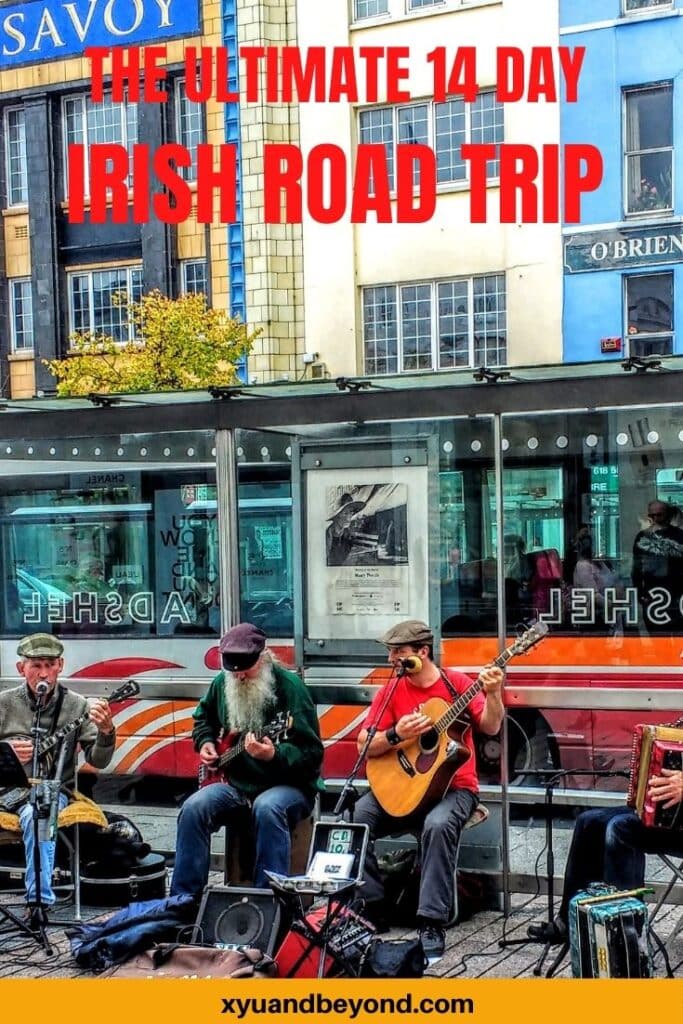 Latest posts by Faith Coates
(see all)