18 of the best things to do in Cobh Ireland
Cobh, Ireland is a small village on the shores of the Atlantic in Ireland. Its history is deeply linked with those who emigrated from Irish shores to the new world. Even into the '60s, and '70's the Irish were leaving Ireland for a better life. My husband and his family left Cobh in 1965 to come to Canada and his ticket is still attached to his birth certificate.
Cobh is one of the places that many tourists have on their Irish bucket lists to visit as their relatives probably left here when they emigrated during the famine years. There are many things to do in Cobh including searching for the records of your ancestors that emigrated to Canada or the USA and even Australia. There are many free things to do in Cobh as well and the best is simply just walking the town and finding places to sit and chat with the locals.

Cobh makes a perfect day trip from Cork and you can enjoy the fascinating Cobh Heritage Centre, talk an uphill walk to the Cobh Cathedral and check out the colourful houses, enjoy sailing on the bay, and learn about the tragedy of the Titanic. Best known as the last port that the Titanic sailed from Cobh is full of history, both of that famous ship and its last voyage and Cobh's long maritime history.
FAQS – Things to do in Cobh Ireland
How to pronounce Cobh Ireland?
What does Cobh mean?
The port, which has had three names was first called "Cove" in 1750. It was renamed by the British as "Queenstown" in 1849 to commemorate a visit by Queen Victoria to Ireland. In 1921 when the Irish Free State was established the name was changed to Cobh, in its Irish form.
Did the Titanic sail from Cobh?
On the 11th April 1912, the newly built Titanic called to the port of Queenstown (now known as Cobh) on her maiden voyage.
Is Cobh worth visiting?
I have to say a very strong absolutely to this question. With its links to Titanic and the great Irish diaspora, beautiful little houses, and friendly pubs with traditional music Cobh is a joy to visit.
How far is Cobh from Dublin?
Cobh is around a 2.5 hour drive from Dublin.
Map of Cobh Ireland
Planning a dream trip to Ireland? Everything you need to know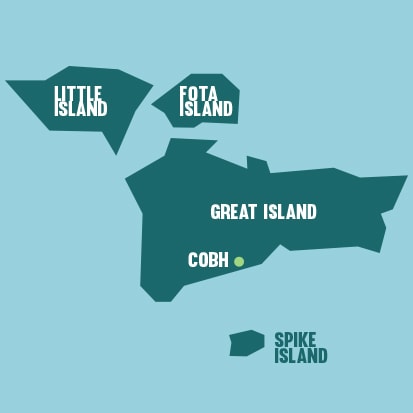 Cobh is actually on an Island called Great Island in Cork Harbour, which is the second-largest natural harbour in the world. You can reach Cobh by road bridge, train, bus or car ferry.
Xyuandbeyond is reader-supported. When you buy through links on our site, we may earn an affiliate commission. You can read my privacy policy here.
53 Ultimate tips for travel to Ireland Céad Míle Fáilte
Cobh what to do
Make sure you take a Titanic Trail walking tour – it's a walking tour that takes you through the history of Cobh, revealing locations and incidents directly connected to the Titanic and many other aspects of Cork harbour history and Irish heritage.
How do I get to Cobh?
Getting to Cobh from Cork
Cobh is in County Cork and there is a train from Dublin to Kent Station where you can get the train to Cobh. You can also take Bus Eireann to St. Patrick's Quay where you will transfer to another bus to Cobh. Getting from Cobh to Cork City and vice versa is actually quite easy and can be done in thirty minutes or less. Cobh train station is less than a five-minute walk from Cobh town.
If you have rented a car for your stay in Ireland, then it's easy to drive and not have to worry about following a transportation schedule. However, if you don't have a car, you can easily travel to Cobh by train which only takes about 25 minutes. The train leaves every hour (sometimes every half hour depending on the season and time of day).
Getting to Cobh from Dublin
From Dublin to Cobh is pretty easy just hop on one of the many Dublin to Cork buses and the trip takes around 3.5 hours. Or take the hourly train from Dublin and arrive in Cork in 2.5 hours. From there, take the train or bus to Cobh.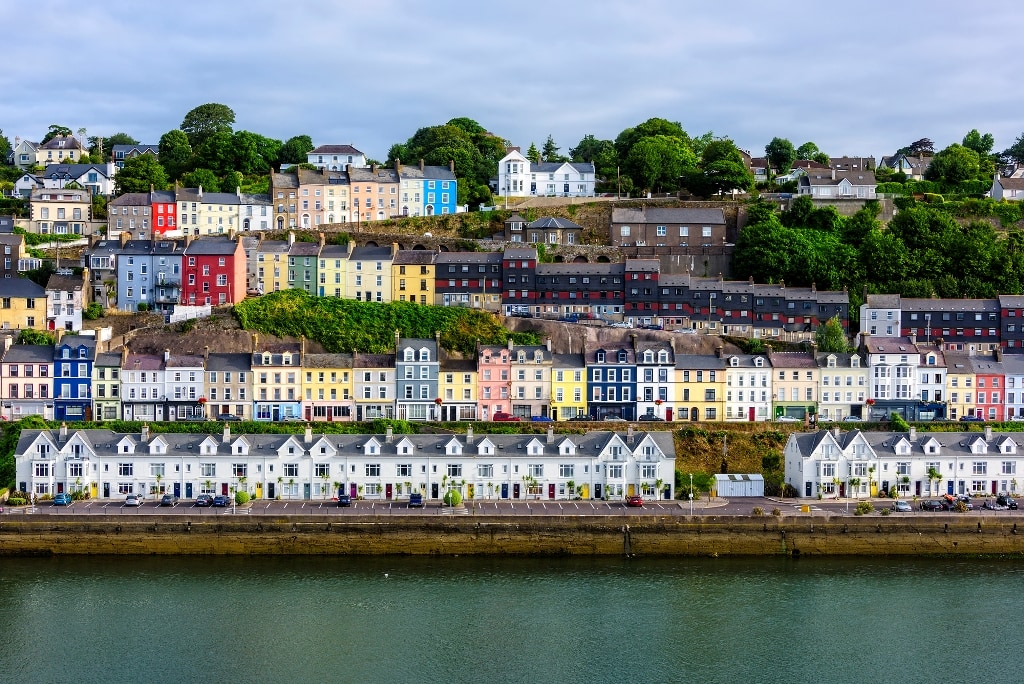 Cobh is easily explored by walking but there are some steep hills and climbs to get some of those wonderful photos of the colourful houses and St. Colman's Cathedral.
Of course in Ireland, the best way to see the more remote parts of the country and take you less travel time is to rent a car.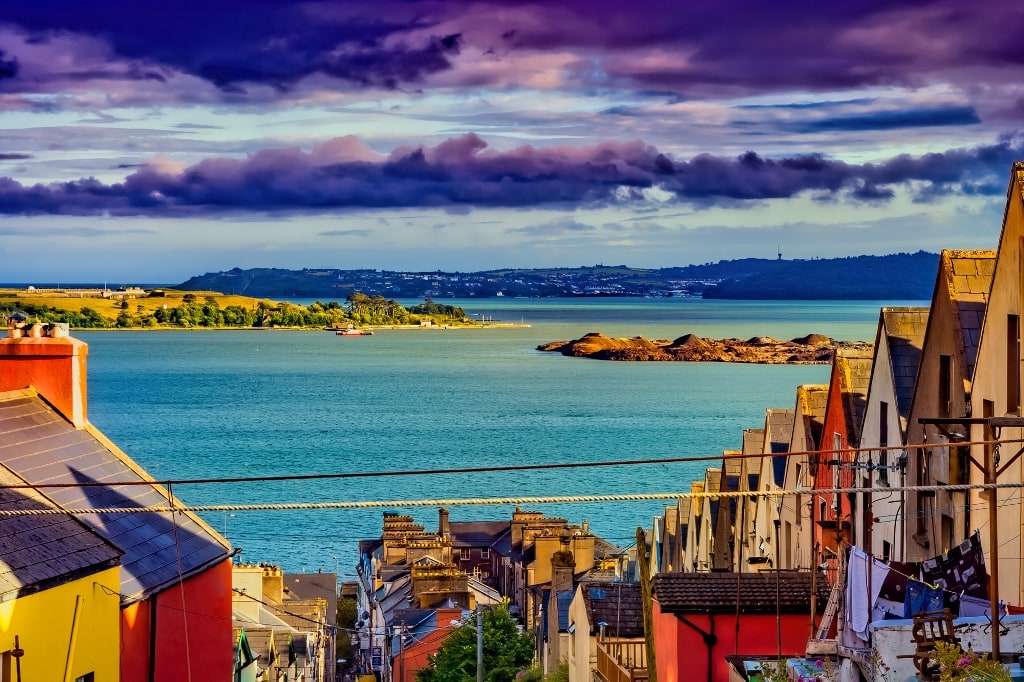 How to get around Cobh
Cobh is a very walkable small village, but it is very steep and hilly so if you have issues with mobility you need to take care but there are solutions.
Cobh Road Train
This cute little train is similar to the one in Kilkenny. It is brilliant for both youngsters and those with mobility issues who may struggle with the hills. The trip lasts around an hour and includes a great local commentary from the driver and two photo stops. There are 8 trips per day that leave from the Titanic building and the route covers all the things to see in Cobh. The cost of the train is Adult – €8.00 Child – €5.00 Family – €20.00 (2+2).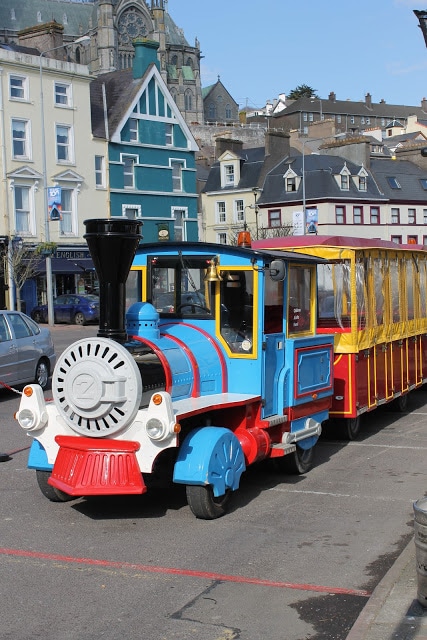 What is Cobh famous for?
Famous for being the final port of the Titanic before it set out on the infamous voyage and met an iceberg. Cobh is also the resting place of those who drowned aboard the Lusitania.
Cobh was originally known as Cove as in the Cove of Cork but it was changed to Queenstown in 1849 after a visit from Queen Victoria. After the foundation of the Irish Free State in 1922, the town reverted back to its current name of Cobh.
Cobh harbour also contains Ireland's only cruise terminal and as a result, has seen many tourists pass through the Village when visiting Ireland.
If you are of Irish descent there is a good chance that your family's ancestors left from Cobh as it was the departure point for 2.5 million Irish people who emigrated to North America between 1848 and 1970.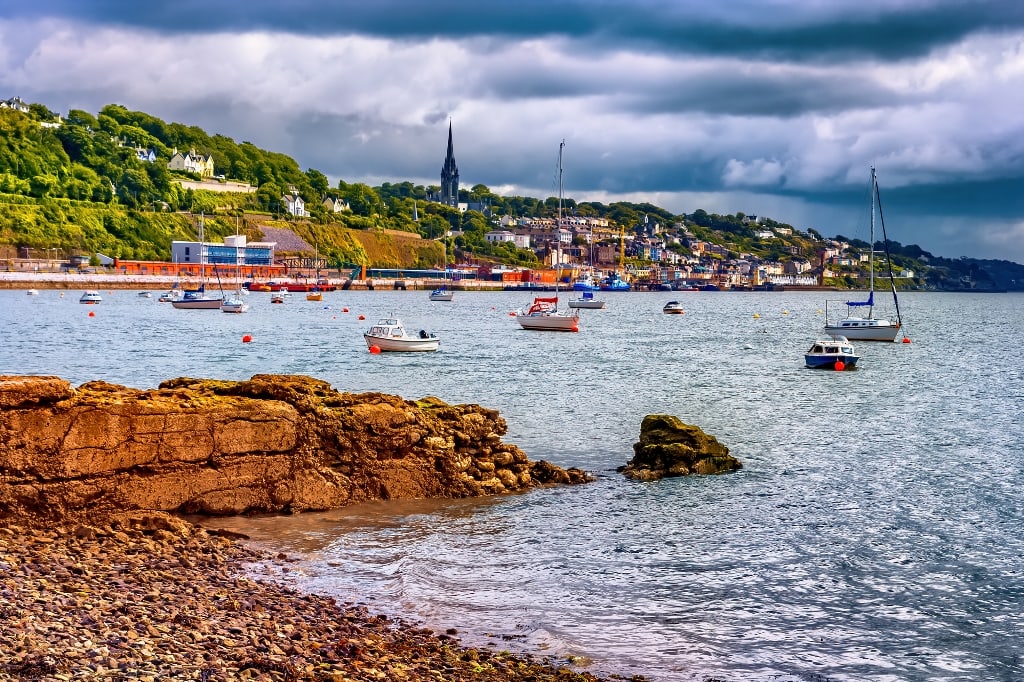 Things to do in Cobh Ireland
Given its history of emigration and being a port Cobh has a lengthy and interesting history you can explore when visiting. Here is a list of things you might want to visit when in Cobh.
Spike Island Tours
One of the best things to do in Cobh Ireland is to tour Ireland's former penal colony where convicts were put when waiting for transport to Australia (known as Van Diemen's Land then) and Barbados. Centuries before it became a penal colony it was the site of a monastic settlement during the 7th century. Used by smugglers in the 18th century it was turned into Fort Mitchel which was a defence against raiders as the Island is situated in a very strategic place in Cork Harbour.
The island was a prison to rebels during the Irish War of Independence and even held IRA inmates up until 1985 including any rebels from the IRA during the Irish War of Independence. On Saturday, August 31, 1985, the prisoners rioted but due to the fact that the "prison" was set up with dormitories instead of cells, the riot was difficult to bring under control.

After the riot the prison was rebuilt with cells it was closed in 2005 and eventually, the Department of Justice handed the island over to Cork County Council which turned it into a tourist attraction.
Displays and interactive exhibits tell the history of the Island from monastery to prison with photographs, video stories, and exhibits of the various artefacts.
The star-shaped Spike Island Fortress held over 2300 prisoners. It was the largest prison in the world at the time and there has never been a larger prison in Ireland or Britain before or since. Reached by ferry from Kennedy pier, the cost of the Ferry and Tour is Adult €20.00 Child €11.00. You should allow at least 3 hours for the trip and tour and there are facilities on the Island with a café and shop to visit.
Port of Cobh and Cork Harbour
While you are down on the waterfront after your visit to Spike Island take a moment to enjoy the stunning views of Cobh. Look for those iconic colourful houses that wind their way up the Cobh hills and spot St. Colman's Cathedral as it towers above the town.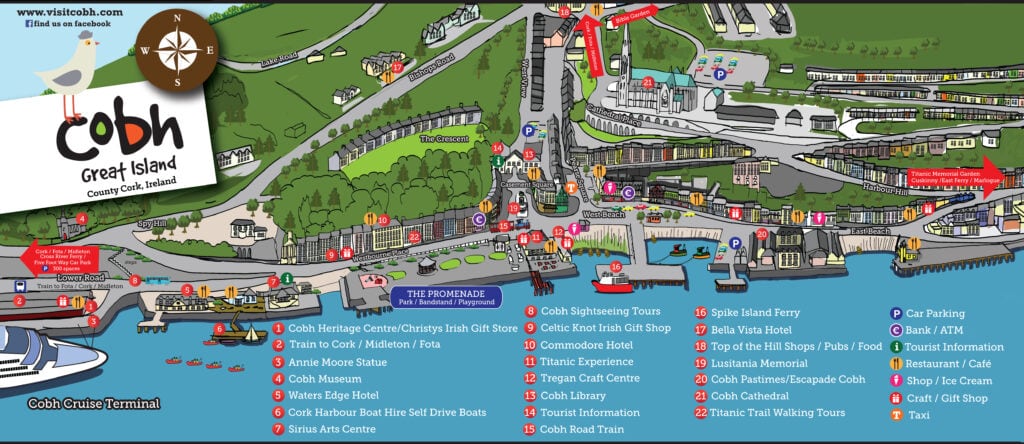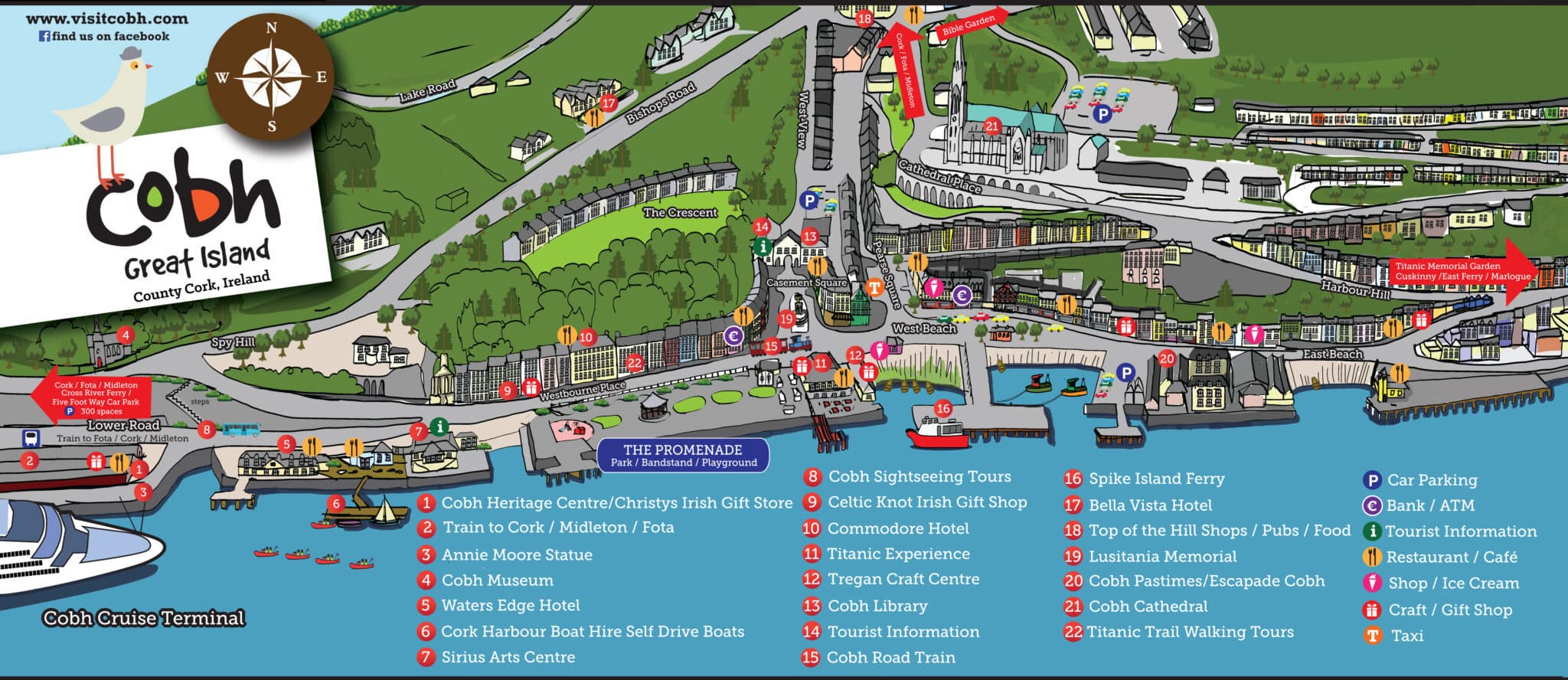 Cobh locals will proudly state that Cobh has the 2nd largest natural harbour behind Sydney. However, researchers and others state that this may not be the truth but more Irish storytelling.
The Black Railings
The Black Railings are a famous viewpoint in Cobh and are found near the top of Lake Road. You can get there on the Little Train and take some grand photos of those incredible views.
Kennedy Park
Kennedy Park is pretty obviously named after US President John F. Kennedy who visited the area in 1963. The Park overlooks Cork Harbour and has stunning views of the area. You can take a slow stroll around the harbour which features a kid's playground, memorials, and the Navigator statue. The 7.5-acre park is situated between Victoria Road and Monahan Road. Near to the train station and titanic experience.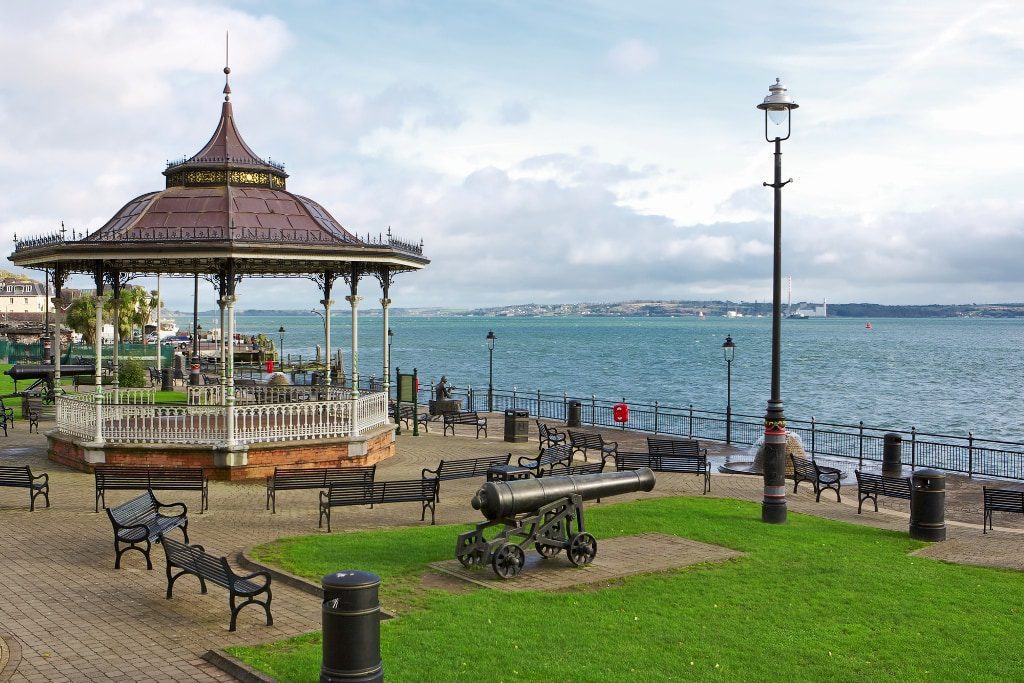 Cobh Heritage Centre – Queenstown Story
Many passengers to places like the US, Canada, Australia, New Zealand, and the Caribbean left their lives in Ireland and sailed from Cobh. The Titanic was not the only ship to sail from the port. There were those escaping the potato famine, convicts, indentured servants, and over the years those who believed that an escape from Ireland meant bringing up their families in worlds where the streets "were paved with gold".
At the Cobh Heritage Centre, which is located in a restored Victorian railway station, you will learn all about these folks who left their homes either by force, choice, or no choice. There are guided tours within this small museum where you will learn the depth of history in Cobh. You will also find a gift shop and restaurant to take a break-in.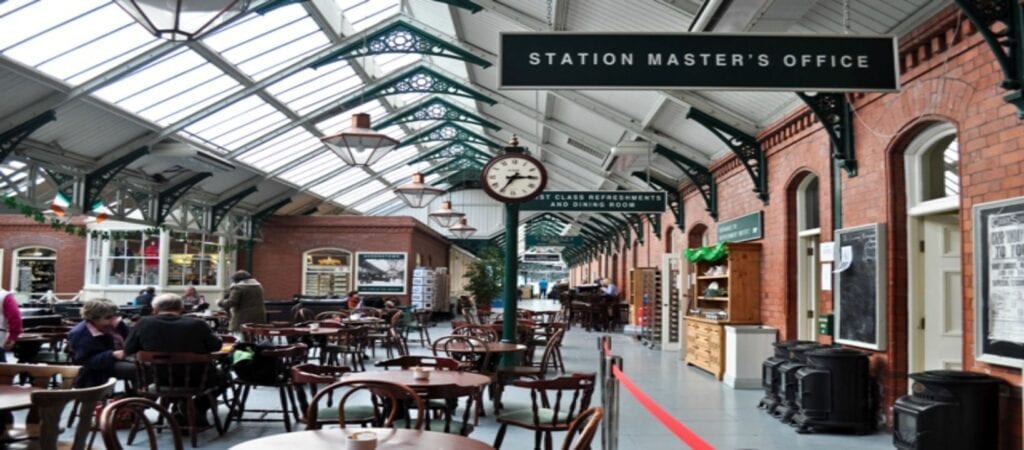 At the Cobh Heritage Centre, you will also find a genealogist who will help you trace your own family history (please book in advance) and assist you in finding out more about your family's Irish ancestry. This was one of my favourite things to do in Cobh.
Titanic Experience Cobh Ireland
One of the top things to do in Cobh is to discover the Titanic Experience story. Once the original White Star Line Ticket Office, which was the departing point for passengers of the Titanic the offices have been converted into the outstanding Titanic Experience. This museum will take you on an interactive tour of the Titanic's journey and its tragic ending. I actually enjoyed this more than the Titanic Exhibition in Belfast.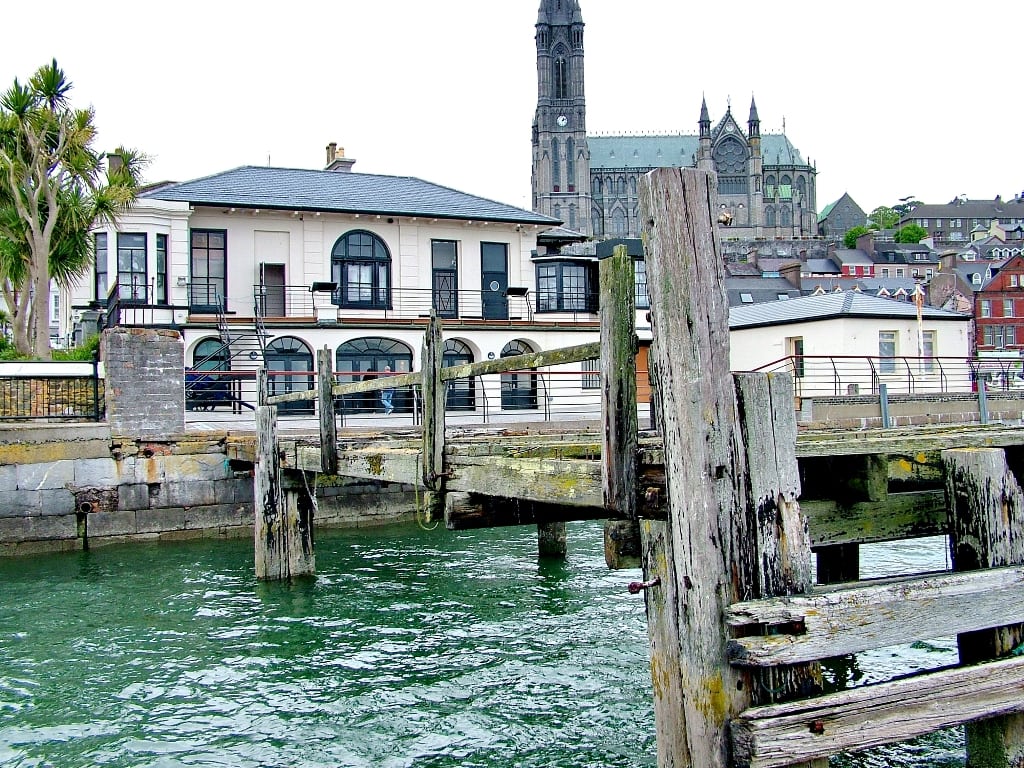 You are given a boarding card with the details of one of the 123 passengers that boarded the boat that fateful day and take a virtual journey from Heartbreak Pier where the passengers departed. You will learn what the conditions on the ship were like depending on who you were and how much money you had. At the end of your journey, you will see if your passenger survived (only 44 did) and what happened to them.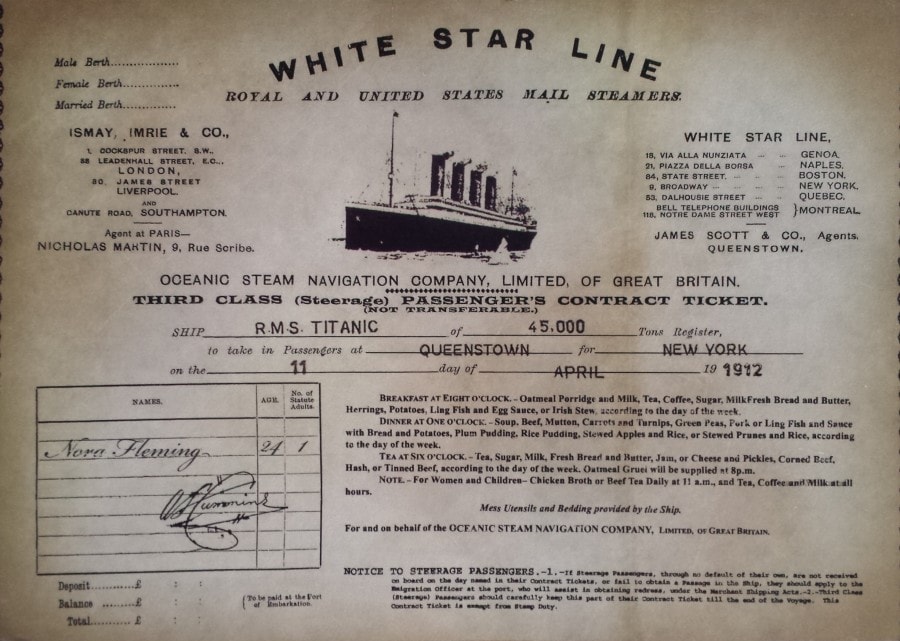 The Titanic Memorial Garden
The Titanic Memorial Garden overlooks the beautiful harbour of Lower Cork, and its breathtaking view of the sea and approaching boats. The memorial is a series of engraved glass panels bearing the names of the 123 passengers who boarded the Titanic and those that survived.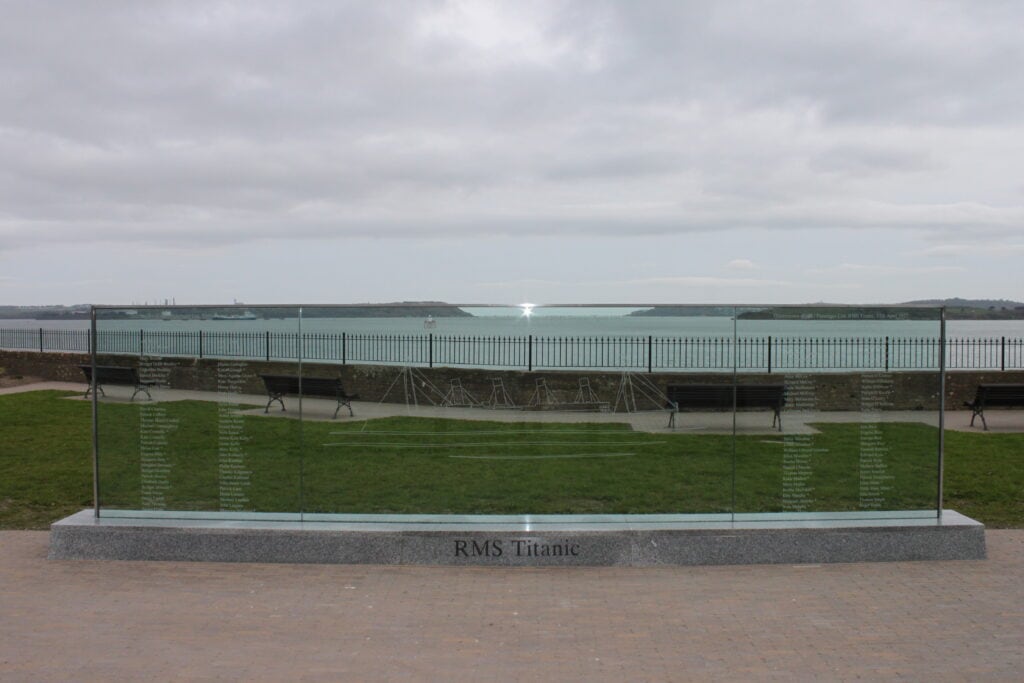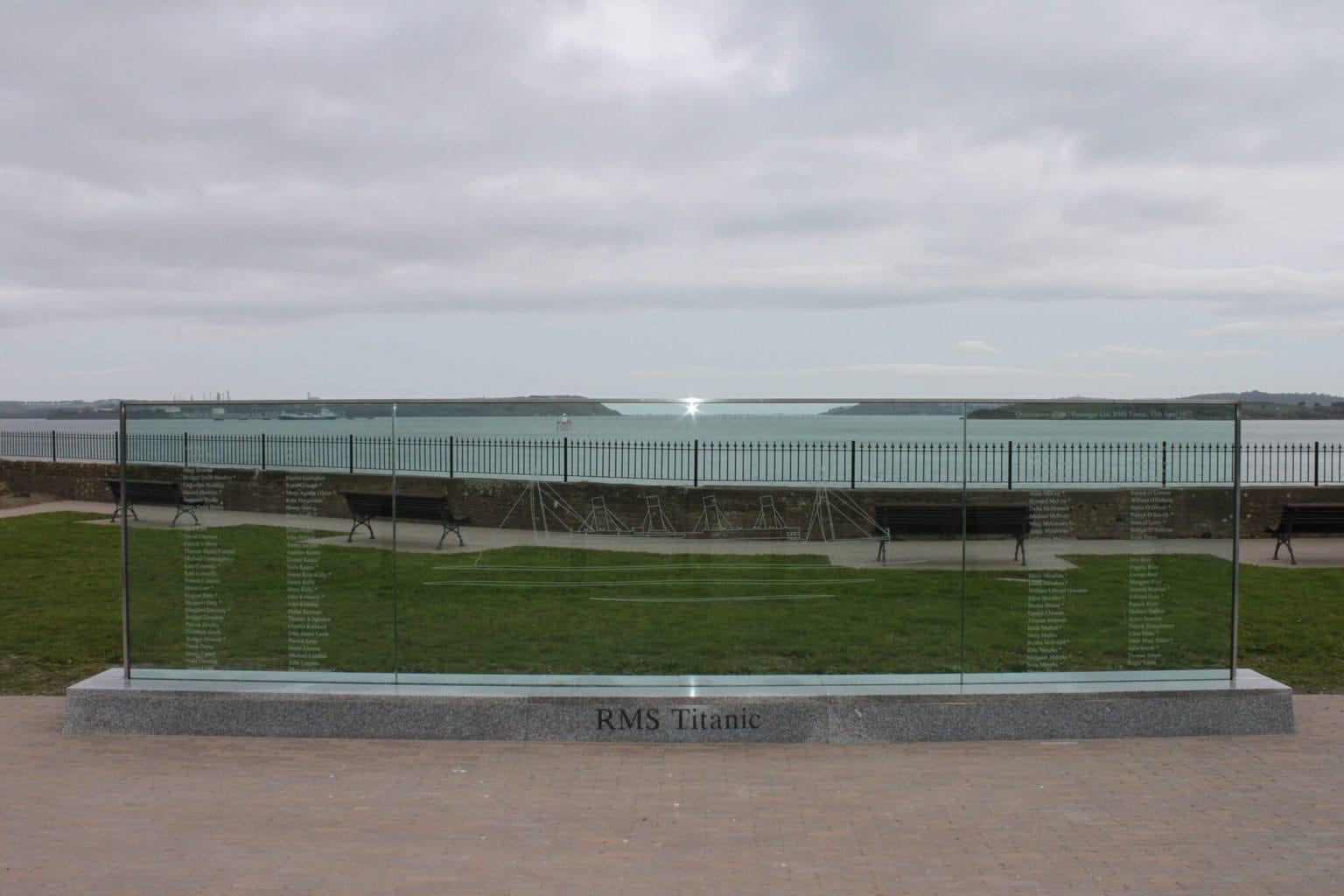 Titanic Cemetery Tour
Cobh's intriguing history with the Titanic means that it has several ties to the ship, one of them being a graveyard for its passengers. Cobh has a mass gravesite of some of the victims of the Titanic, which you can see during one of Cobh's Titanic cemetery walking tours.
Lusitania Memorial
The "Lusitania" set sail from New York on 1st May 1915 headed to Liverpool with 1962 people on board. On the 7th of May, she was torpedoed by a German Submarine off the Irish coast.
The ship sank in 18 minutes and 1198 people were lost. Most of the 764 that were saved landed at Cobh together with many of the dead.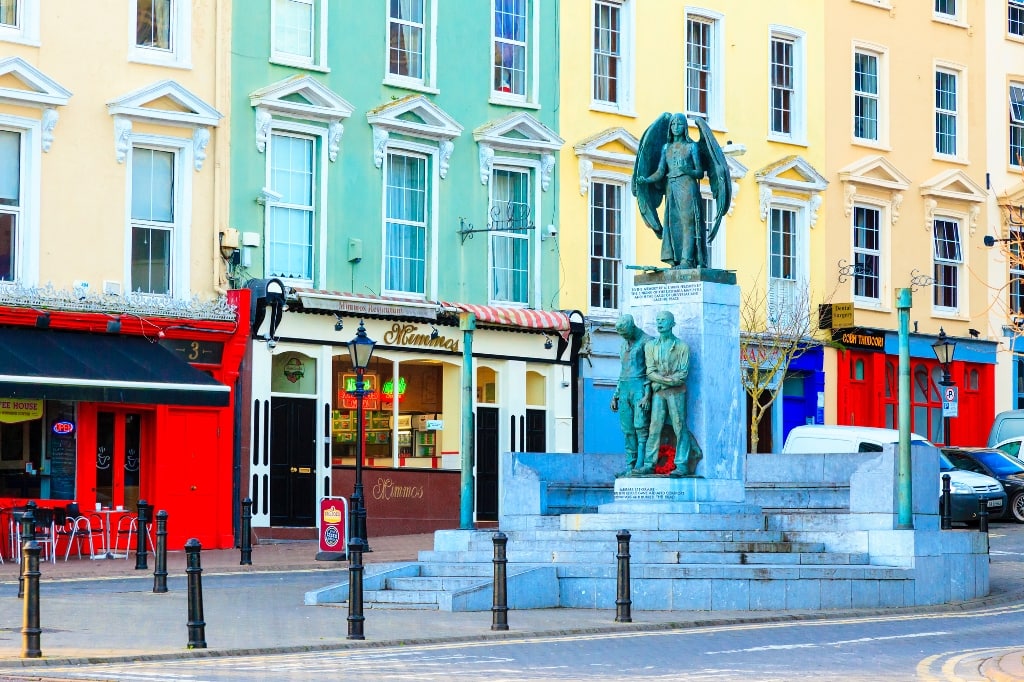 The Lusitania sank in just 91m (300 ft) of water. A flotilla of rescue boats was launched and 761 people were saved. The majority of the 1,198 passengers who lost their lives were never recovered.
Nearly three days after the sinking of the Lusitania 150 of her victims were buried in mass graves in the Old Church cemetery, 1 mile north of Queenstown. 80 of them were never identified.
Annie Moore Statue
Annie Moore was the first person to pass through emigration at Ellis Island in New York Harbour. Annie was 15 years old and originally from Cobh, she arrived at Ellis Island on New Year's Day 1893.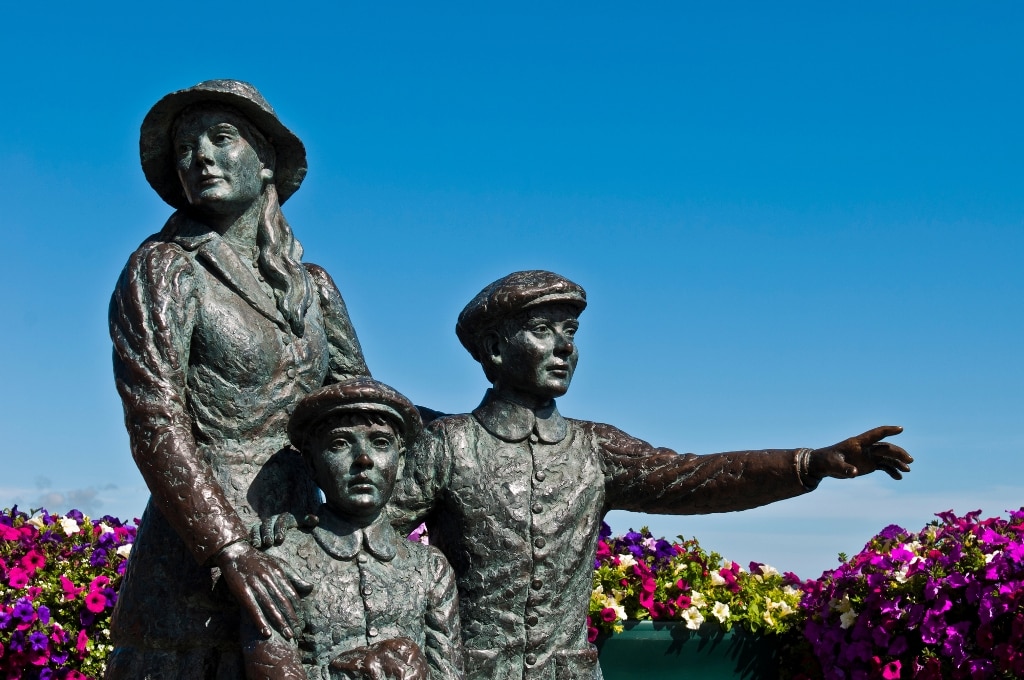 Annie's statue can be seen just outside the Cobh Heritage Center. She stands with her arms around her brothers and stands as a memorial to the millions of Irish who crossed the sea to North America.
The Cobh Museum
Overlooking Cork Harbour the museum's exhibitions reflect the cultural, social, and maritime history of Cobh and the Great Island. Formerly known as Queenstown, Cobh has a long maritime history and is known throughout the world for its association with emigration and was the last port of call for the RMS Titanic.
There is a small genealogical reference section in the museum where visitors can do their own family research.
St. Colman's Cathedral
It is a very steep walk from the harbour up to St. Colman's Cathedral which frames many of those iconic Instagram shots from Cobh but it must be done if you want a great photo opportunity.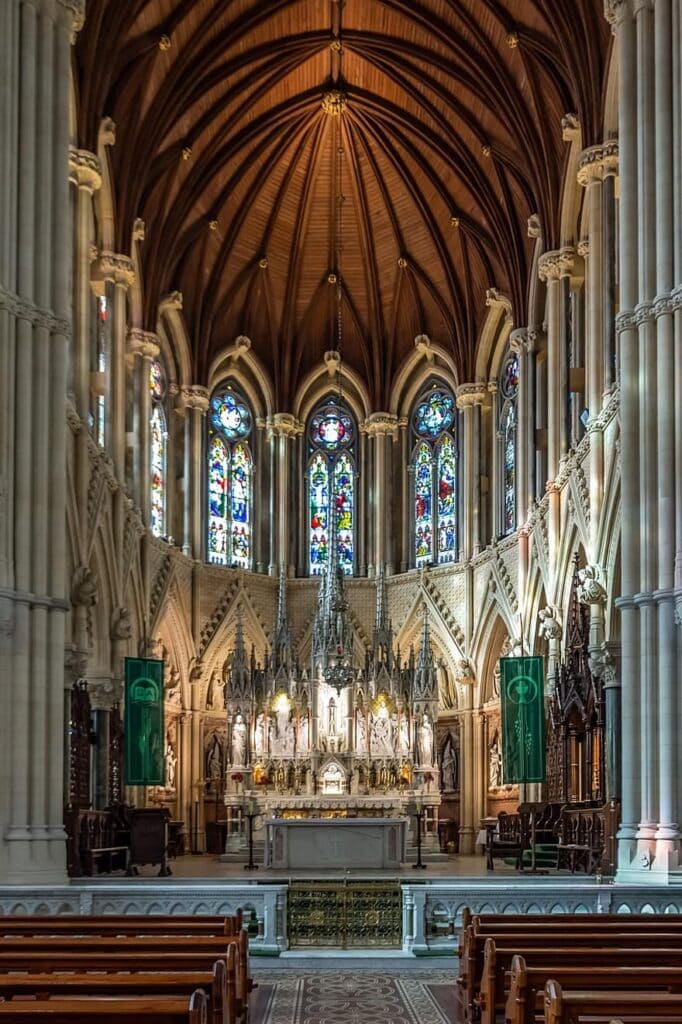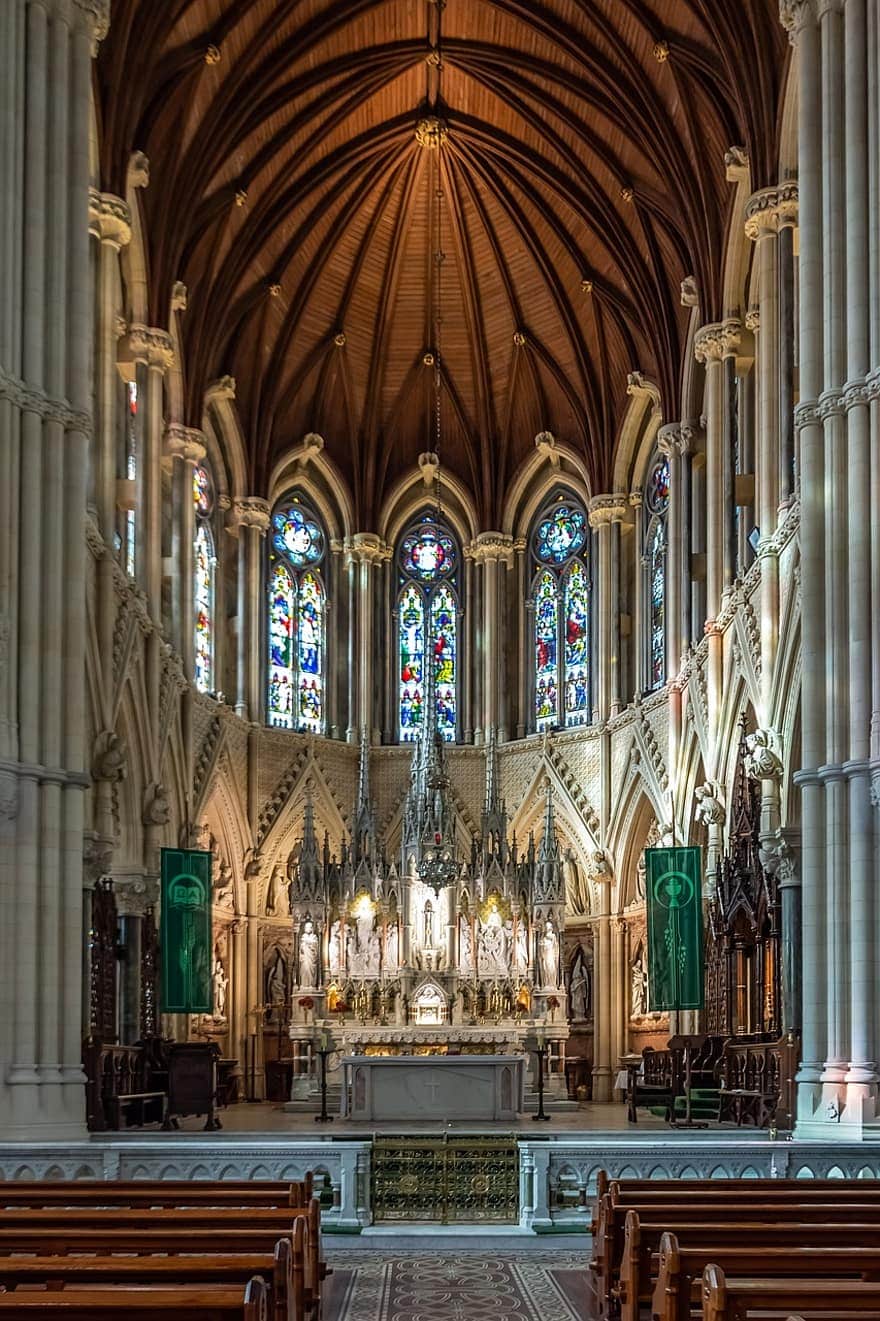 The Cathedral is fairly new all things considered. Construction began in 1868 and took 47 years to build. It's a brilliant example of neo-Gothic architecture and has extraordinary features, such as a bell weighing 3.6 tons with a carillon of 49 bells and an organ with 2,468 pipes. It is dedicated to St. Colman who founded the diocese in 560 AD, St. Colman was the poet/bard to the King of Munster at the Rock of Cashel.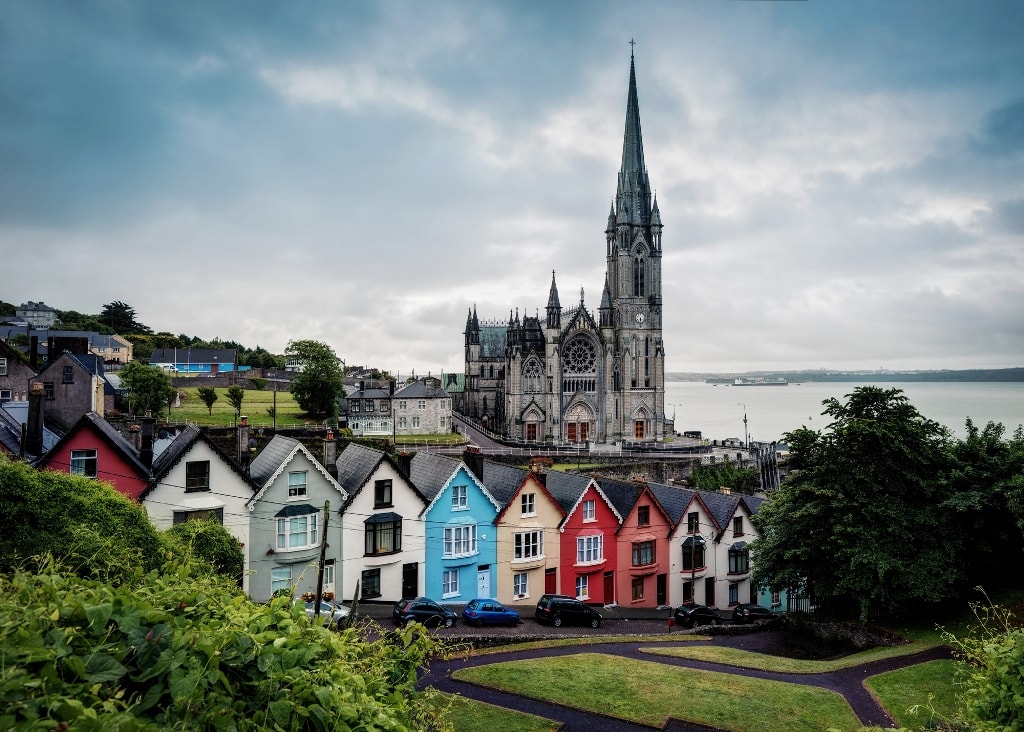 Entry to the Cathedral is free but please make sure you observe the rules as this is an active church and there may be folks praying or other services taking place.
Cobh's Deck of Cards
The "Deck of Cards" Houses are a row of 23 homes on West View, Kilgarvan they "stack" up the hill like a deck of cards. The homes, built in 1850, are one of Cobh's most recognizable features and the place of many an Instagram post.
For the best shot, you can take your photos from a small park across the road from the houses. If you want to get a shot of the iconic view of the houses with the St. Colman's Cathedral and the harbour you need to head up to Spy Hill.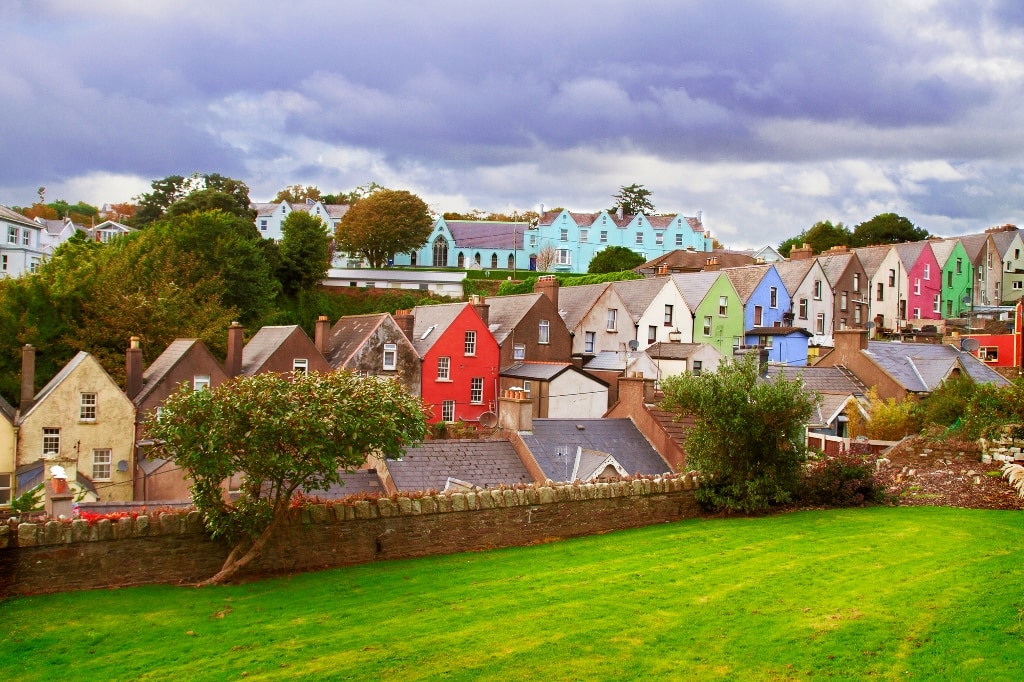 Once you reach Spy Hill you will find lots of street parking. Walk in the direction of the Deck of Cards along the stone wall on the street over the stone wall you will see the top of the Cathedral.
Do not climb the stone wall but you should be able to reach over it to take that iconic photo. If you are too short find a taller person to reach up to take your photo.
Cobh Town Centre
The perfect place for a wander and a chance to shop in some of the unique Cobh shops. Stop by Tregan Craft Centre for some quality Irish gifts and goods. Turkish Delights specializes in lighting imported from Turkey (not the sweet snack that we all love). When you have done shopping head to one of Cobh's pubs for a Murphy's a Guinness or a wee dram of Whiskey.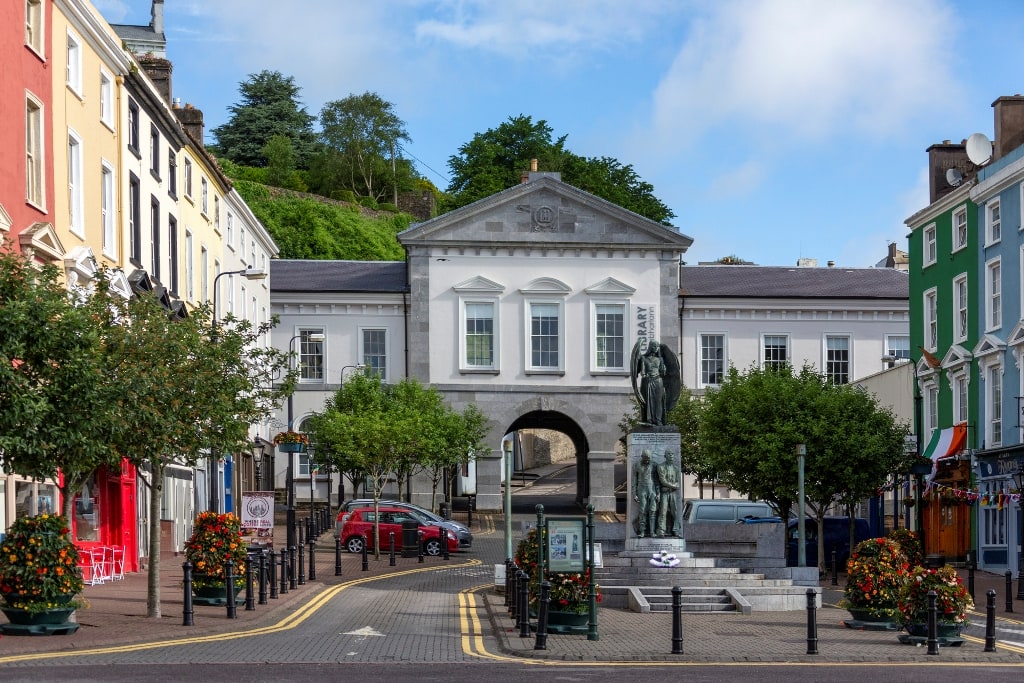 Cobh's Pubs
Some of the best pubs in Cobh include the Quays Bar and Restaurant which is a local legend. An outdoor patio on the water and a large grill where you can watch your order being prepared. Many pubs in Cobh feature trad music some of the best are Kelly's Bar, The Roaring Donkey, and The Rob Roy.
Laurel & Hardy in Cobh
For the citizens of Cobh, September 9, 1953, will always be special. This was the day that Laurel and Hardy landed in Cobh to the great delight of the citizens. They were greeted by the sound of St. Colman's Carillion.
"The docks were swarming with many hundreds of people. 'It's strange, a strange thing,' Stan says in recalling that day, 'our popularity has lasted so long. Our last good pictures were made in the thirties, and you'd think people would forget, but they don't. The love and affection we found that day at Cobh was simply unbelievable.
There were hundreds of boats blowing whistles and mobs and mobs of people screaming on the docks. We just couldn't understand what it was all about. And then something happened that I can never forget. All the church bells in Cobh started to ring out our theme song, and Babe looked at me, and we cried. Maybe people loved us and our pictures because we put so much love in them. I don't know. I'll never forget that day. Never".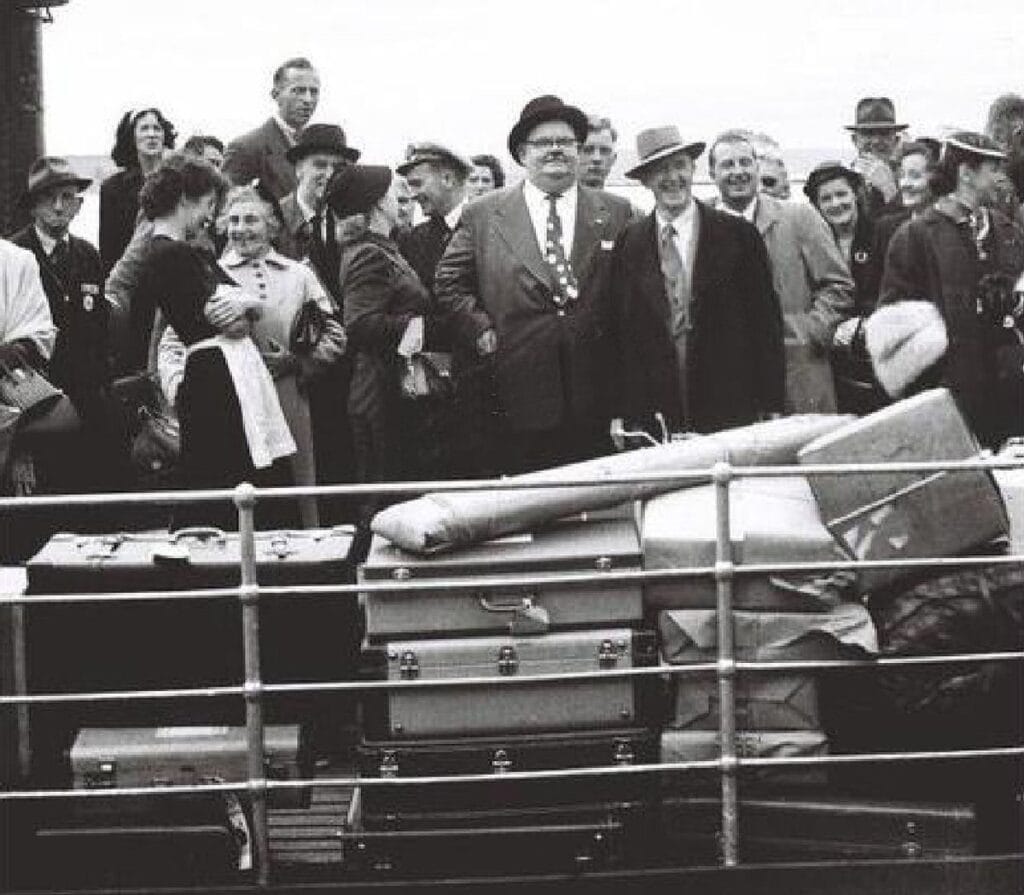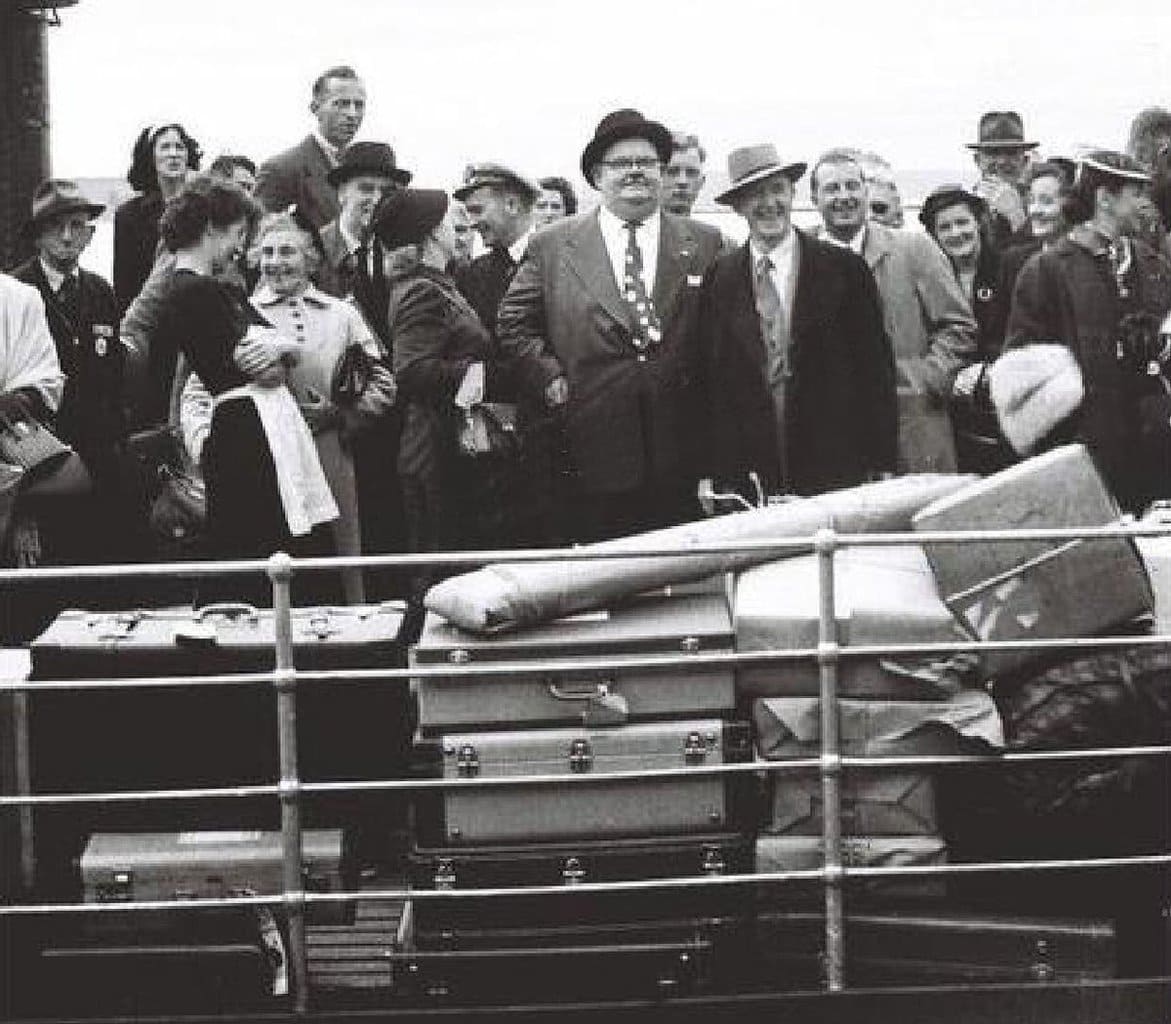 Fota Wildlife Park
Not exactly in Cobh but a short drive away near Carrigtohill Fota is a fantastic place to take the kids. There are animal feedings where you can watch the keepers feeding the penguins, seals, and gibbons and the kids get to experience wild animals in a very natural setting.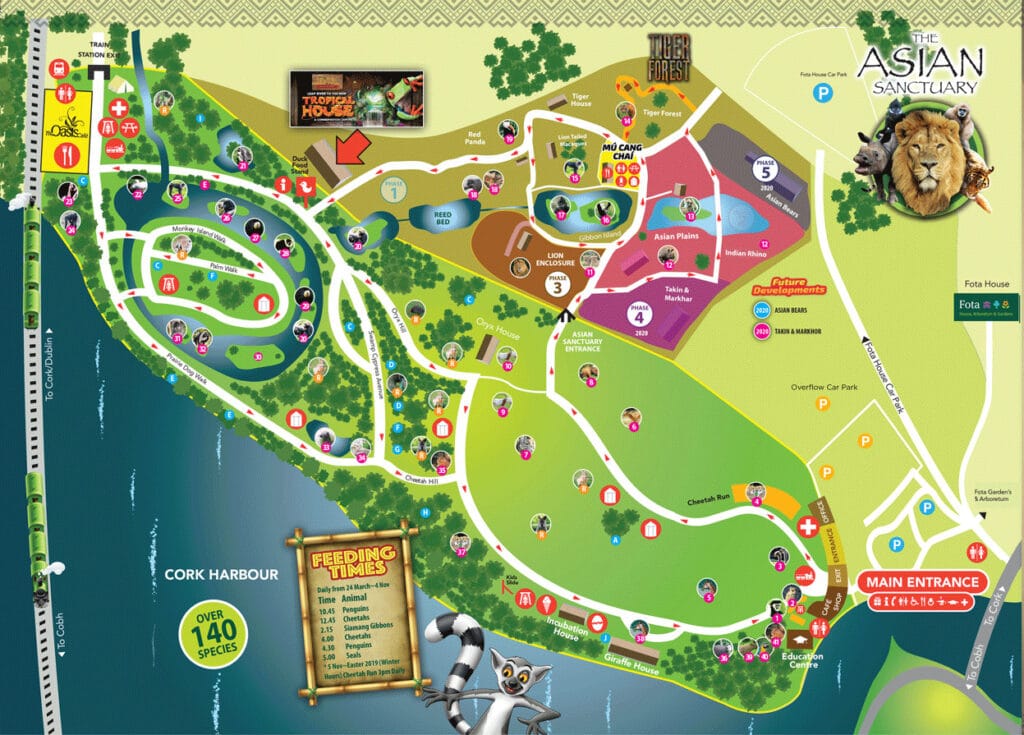 Golf
For those who are golf obsessed you want to check out the Cobh Gold Club. This is a 9-hole course that opened in `987 and was created by the locals that has become the highest-rated course in Cork County.
Where to stay in Cobh
Cobh is an absolutely perfect day trip but if you plan to hit the pub and enjoy some trad music and dancing you may want to plan to stay a night. Here are my recommendations for some great hotels.
The Commodore Hotel
The Commodore Hotel is located on the seafront, overlooking Kennedy Park. It was built in 1854 and opened as the Queens Hotel the name commemorated Queen Victoria's visit to Ireland. There are incredible views of the Harbour, a restaurant within the hotel, and free wifi.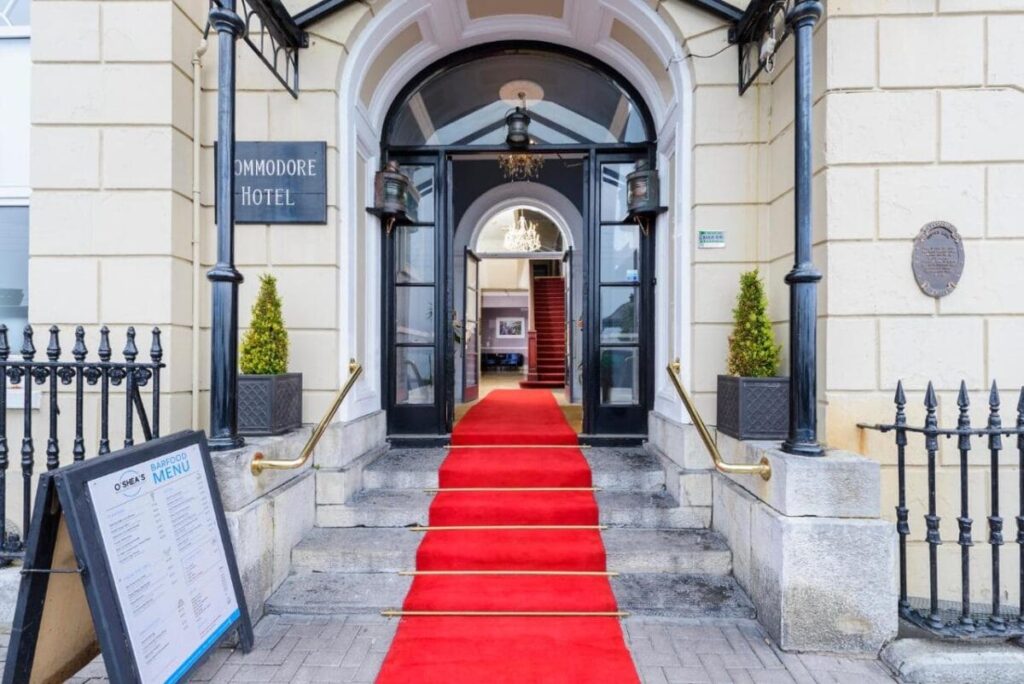 Situated on the seafront, The Commodore is within 300 m of the Cobh Heritage Centre and the Lusitania Memorial. Cork International Airport and the city centre are a 30-minute drive away and Blarney Castle is just 40 minutes away.
The Waters Edge
The Waters Edge is only 200 m from Cobh Train Station. It offers spacious rooms, free parking, and a bistro-style restaurant that overlooks Cork Harbour. There is a restaurant on the premises serving local specialities (think seafood) as well as a bar. Centrally located near the Titanic Centre and the Cathedral of St. Colman is only a 10-minute walk away.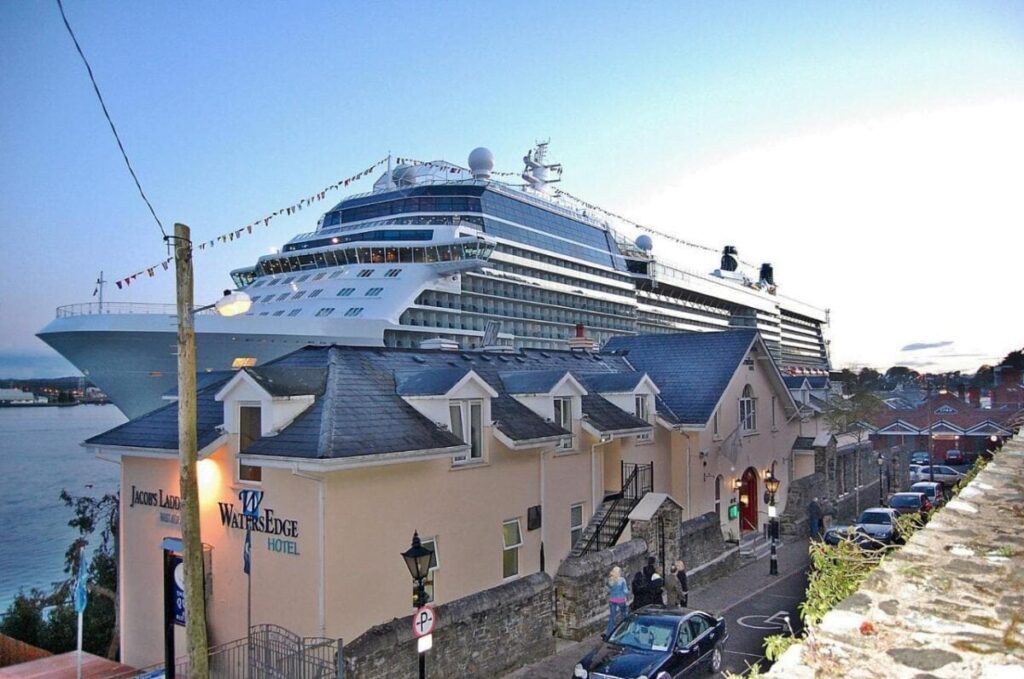 Bella Vista Hotel and Self-Catering Suites
This charming family-owned hotel overlooks the harbour and gives you a great lookout over the water. Bella Vista Hotel is a five-minute walk into town and is just down the road from the Deck of Cards Houses, St. Colman's Cathedral, and Cobh Heritage Center, putting you in the best position possible to enjoy all the fun things to do in Cobh. Your stay includes free wifi, free parking, and a Continental Restaurant known for its delicious buffet breakfast. This hotel is also pet-friendly, a great option if you have an animal travelling companion with you.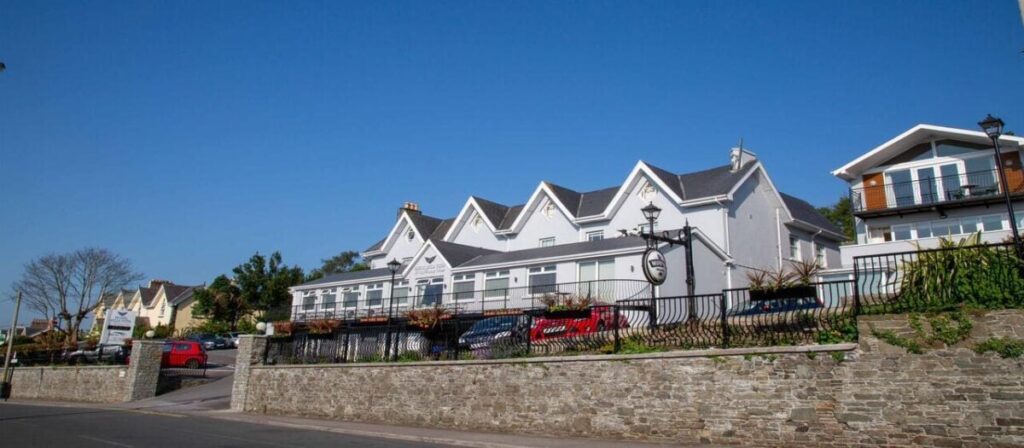 I hope this article on what to do in Cobh Ireland helped you enjoy your stay and that you got a chance to take on this list of 18 of the best things to do in Cobh. Make sure Cobh is on your bucket list as it has many cool things to do and lots of history to learn. Not only that but perhaps you can find out your own family's Irish history on your visit to Cobh.
You might also like
101 Landmarks in Ireland to see
101 Landmarks in Northern Ireland
Ireland's Ancient East – an epic road trip
Ultimate Wild Atlantic Way Route
37 Fascinating things to do in Meath
Essential guide to renting a car in Ireland
Best tips on visiting the awesome Newgrange Tombs in Ireland
The perfect Ireland and Scotland Itinerary

Latest posts by Faith Coates
(see all)