Best places to visit in South East Ireland
A great base from which to see places in Ireland is Dublin. If you want to explore more on your east coast of Ireland road trip you need to head south. Ireland's Celtic Coast is a part of Ireland's Ancient East but with a focus on the South East Coast of Ireland. Don't be afraid to rent a car, driving is not all that tricky on the other side of the road and you will quickly become accustomed to it.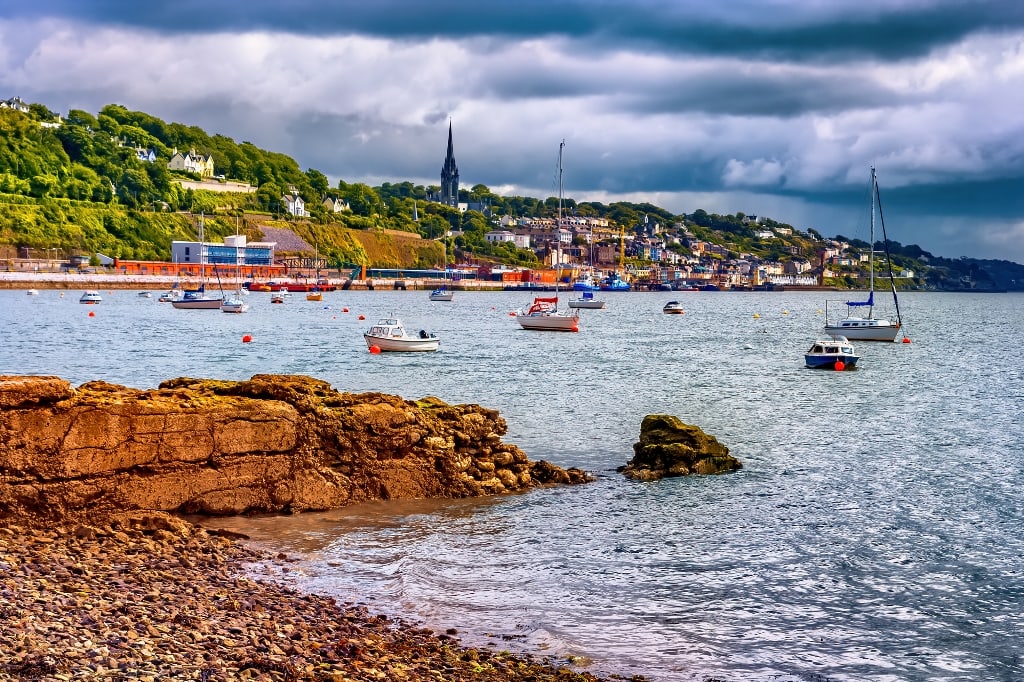 The area to the south of Dublin running along the east coast contains some of Ireland's most breathtaking scenery. From the Hook Peninsula to Glendalough and Ireland's oldest city Waterford. The South-East coast of Ireland includes Wicklow, Waterford, Wexford and East Cork.
Planning a dream trip to Ireland? Everything you need to know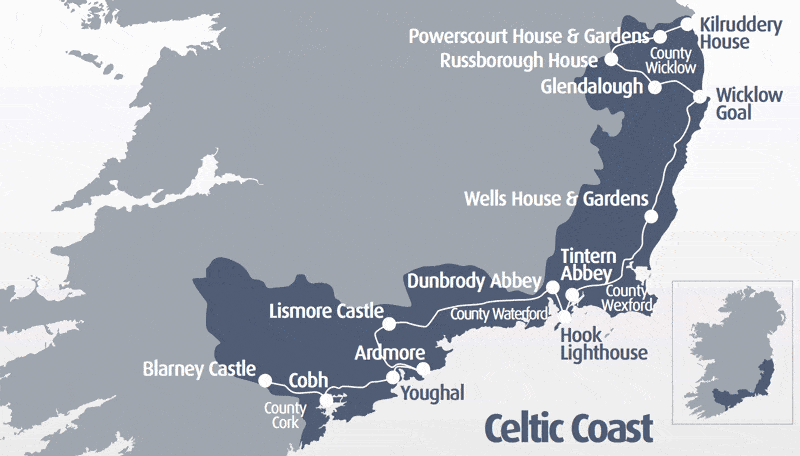 South east Ireland a road trip on the Celtic Coast
This area is one of the easiest places to road trip in Ireland due to its proximity to Dublin. The East Coast has much to offer and many hidden gems that tourists may have missed on previous visits. From stunning natural scenery to wild camping, ancient megaliths and literally 5000 years' worth of history it is a part of Ireland that needs to be discovered.
The East Coast area runs along the southeast of Ireland and it is a mecca for history buffs, bird watchers (puffins), archaeologists, pagans and the like. So this is where your Ireland road trip begins.
Xyuandbeyond is reader-supported. When you buy through links on our site, we may earn an affiliate commission. You can read my privacy policy here.
Should you buy a Heritage Card?
Top sites to visit on the south east Coast of Ireland
Howth Village
When you think of Dublin a few things come to mind: pubs, Guinness Storehouse, Trinity Library and a few other popular attractions within the city. What most don't know is that there is much more to discover less than an hour away.
One of those places is the charming fishing village of Howth. It is only 45 minutes north of Dublin's city centre by car, without traffic, or 30 minutes by DART; Dublin's electric rail system.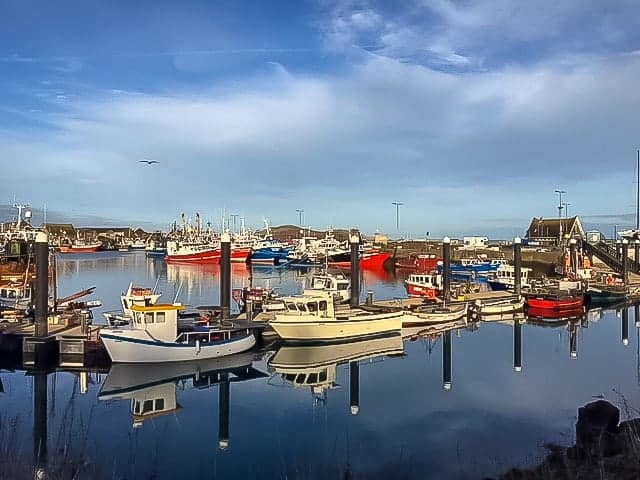 If you happen to be in South Dublin and don't mind taking a longer scenic route you can also hop on the Dublin Bay Cruise, which departs from Dun Laoghaire.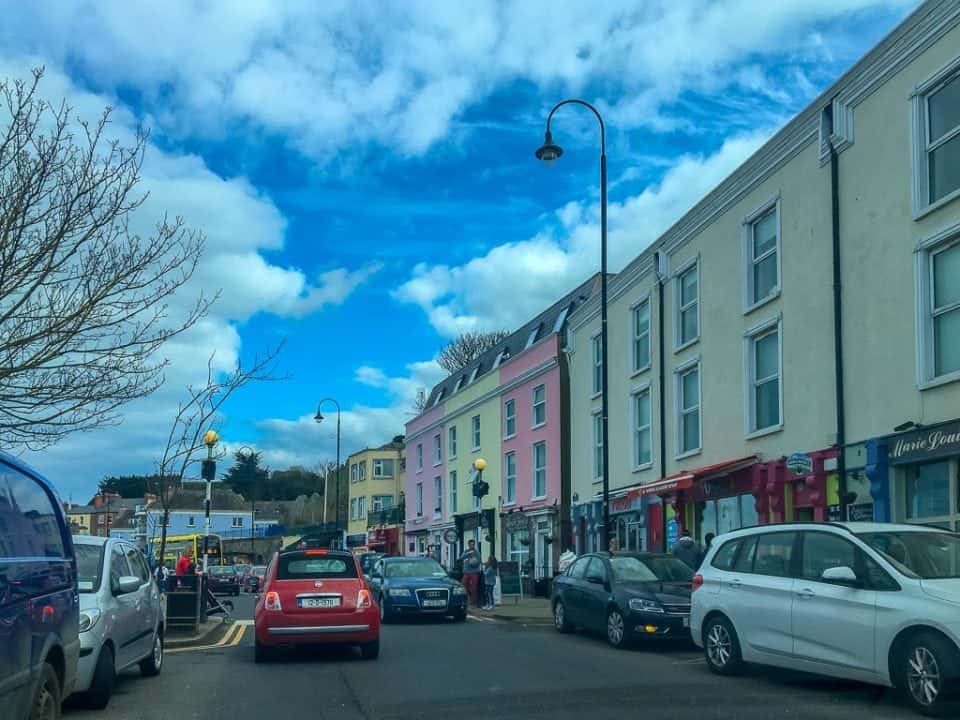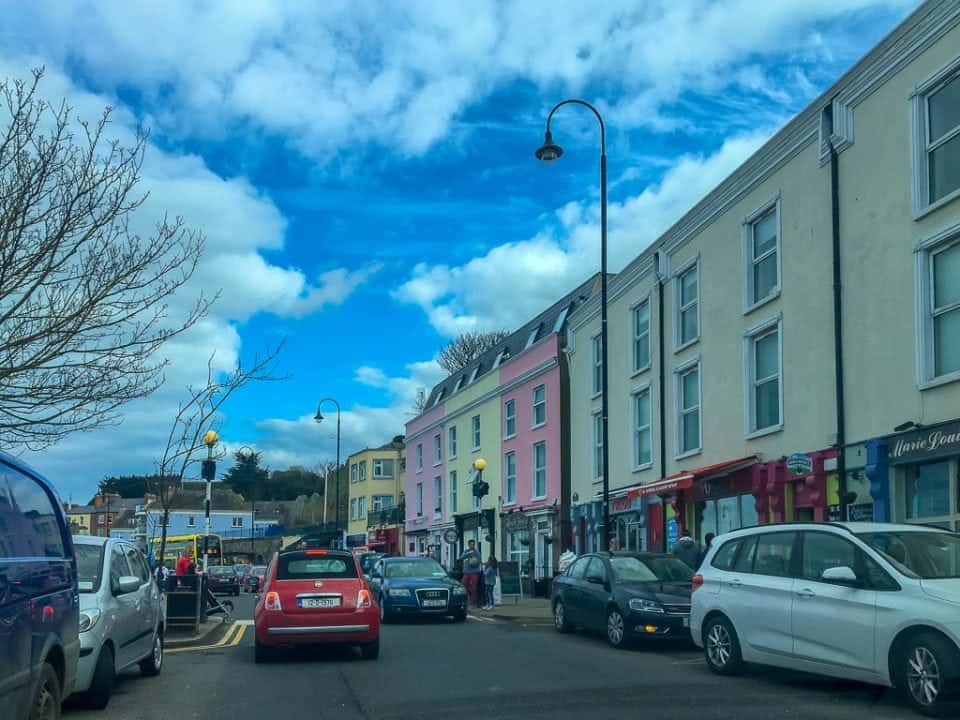 Once you arrive, you can head straight to the Howth Cliff Path Loop walk, which starts at the DART train station. This is a moderate hike, which spans 6 to 10 km, about 2-3 hours long; depending on the loop you choose to take. The scenery is breathtaking, and it is known as one of Ireland's best coastal walks.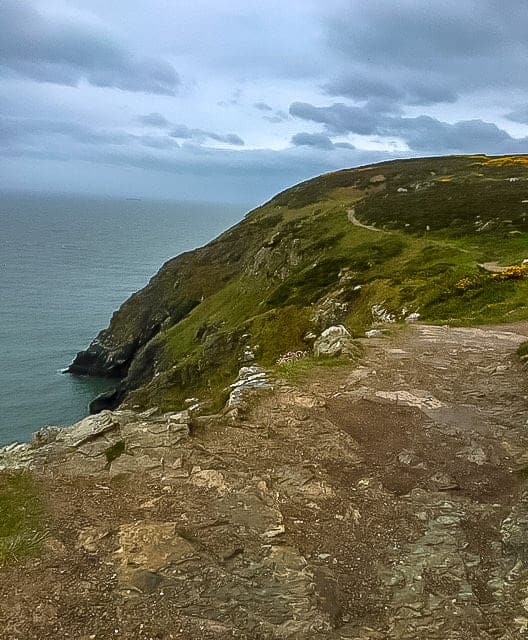 After working up an appetite from the hike, you can head back into the centre Howth for some fish and chips and a pint of Guinness at Beshoffs The Market. No meal is perfect without dessert! Make sure to stop by Howth Market for the best churros in Ireland! The market stalls are only open on weekends from 9 am to 6 pm but if you happen to be there during the week there are four permanent retail units, one of which sells gelato.
Killruddery House
Dating from the 17th century but extensively remodelled in 1820 in Elizabethan style this magnificent 800-acre estate in Wicklow is now a sustainable bio-diverse farm that includes a flowering woodland, 17th-century gardens a high-hedge Sylvan Theatre, ponds and a walled garden.
Kilruddery house is owned by the 15th Earl and Countess of Meath. It is used primarily as a country house, garden and farm.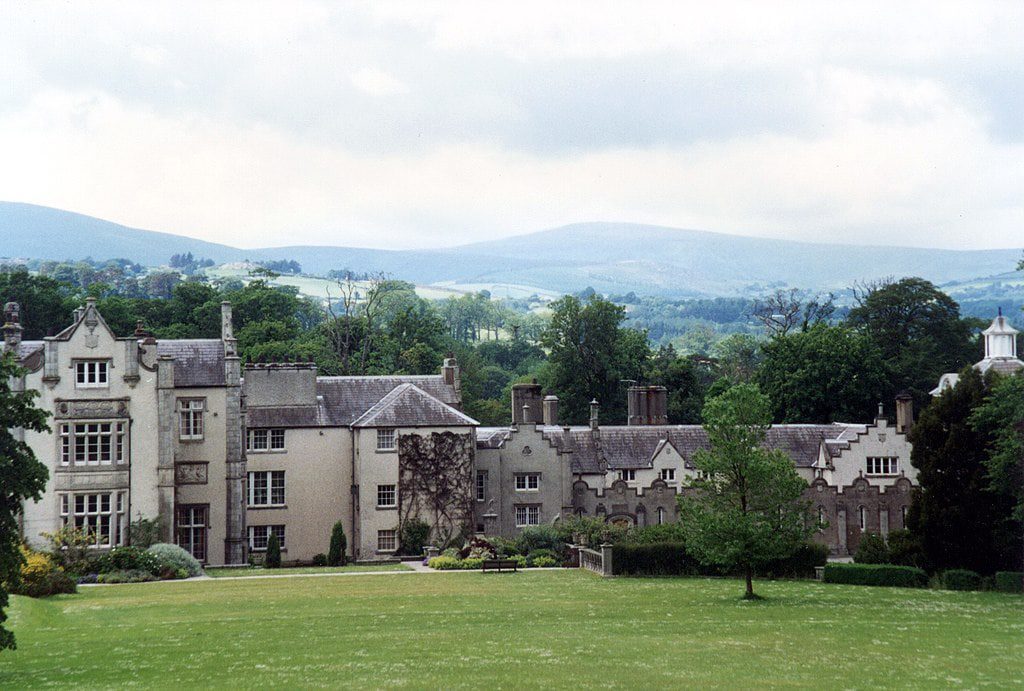 Located on the outskirts of Dublin, Killruddery has been used as a shooting location for both movies and TV series, including My Left Foot, Far & Away, Excalibur, The Tudors, Angela's Ashes, Camelot, Becoming Jane, Ella Enchanted, and The Count of Monte Cristo.
Powerscourt House & Gardens
One of the must-sees when visiting Ireland is the magnificent Powerscourt House and Gardens. Just south of Dublin in Wicklow, it's an easy drive and there are many bus tours to the area. It only takes about an hour to drive to Powerscourt from central Dublin and it is very easy to find.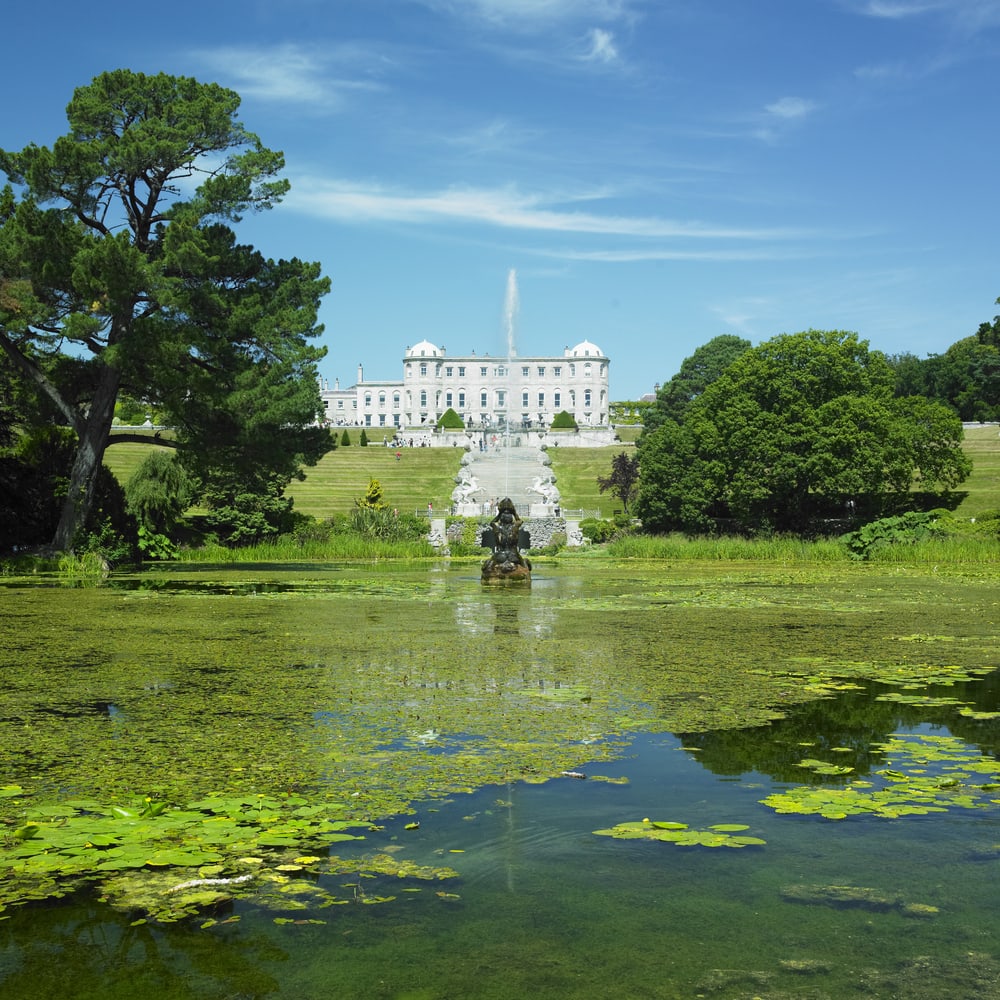 Located in County Wicklow and set within some of the most stunning views in the east of Ireland. Powerscourt was originally a 13th-century castle whose original owner was a de la Poer (anglicized as Power).
The Gardens at Powerscourt are the great attraction of the place. With stunning views of Sugarloaf Mountain, they stretch over 47 acres and offer a breathtaking blend of formal gardens, statuary, fountains, lakes, Japanese gardens, a Pet Cemetery, the Pepperpot Tower, and sweeping terraces, secret hollows and rambling walks.
Russborough House
Russborough was built between 1741-1750 and is regarded as one of Ireland's most beautiful houses. It has magnificent views of the Blessington Lakes and the Wicklow Mountains.
In 1978 Sir Alfred Beit opened the house for guided tours and there have been over 1 million visitors since. The house which is beautifully maintained and lavishly furnished contains fine furniture, tapestries, carpets, porcelain, silver and much of the Beit collection of paintings. It also has beautiful ceilings, plasterwork and a fine mahogany staircase.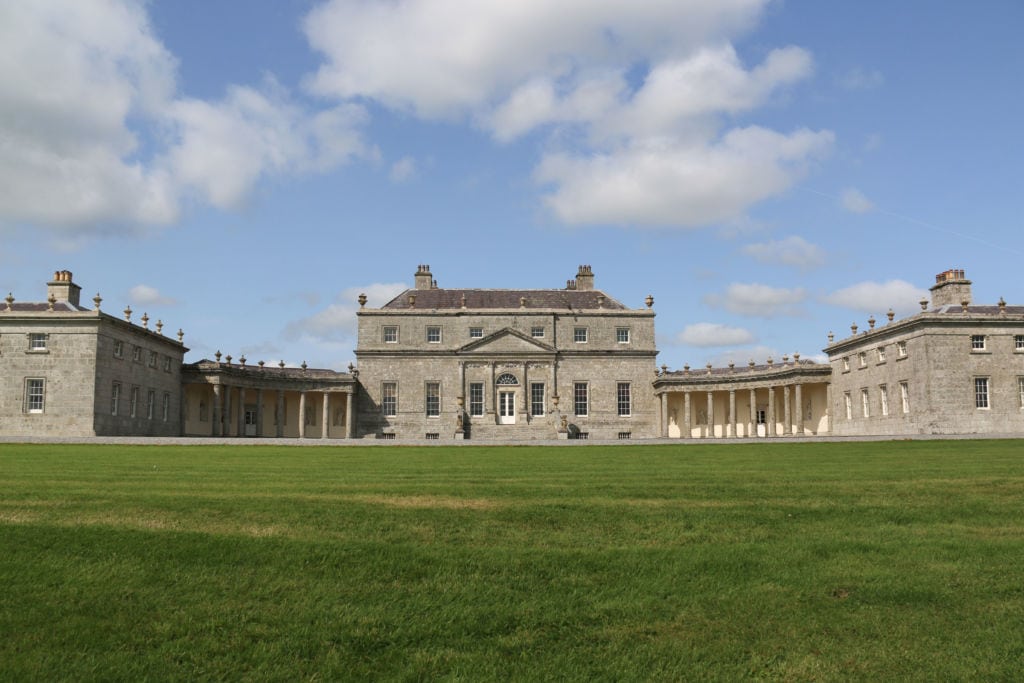 Glendalough Monastic City
Tucked into an ancient valley in the Wicklow mountains are the remains of Glendalough, an early Christian monastic settlement founded in the 6th century by St. Kevin. One of the most beautiful places in Ireland according to Lonely Planet.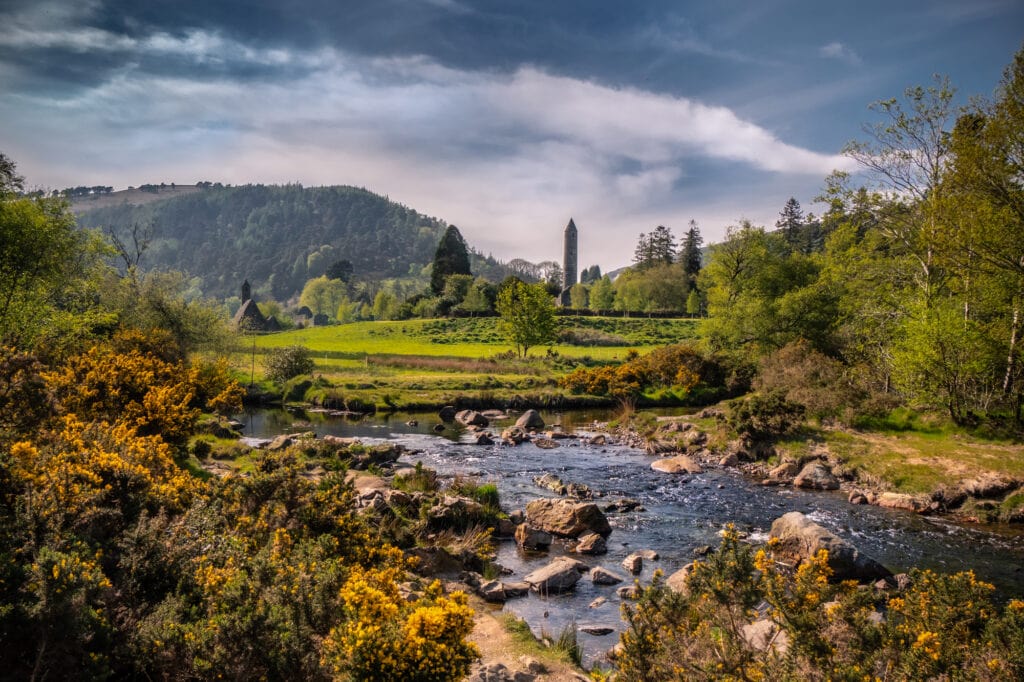 One of Ireland's most important monastic settlements the site is mysterious and evocative with its Celtic crosses, gravestones, ancient chapel and stone buildings.
Glendalough National Park
Within Ireland's Ancient East lies the Wicklow Mountains National park and the Glendalough monastic site, in the Glendalough National Park with its two freshwater lakes and a river flowing throughout.
Glendalough's walks and lakes are jaw-droppingly beautiful. An area of outstanding natural beauty is it also home to one of the most important historic sites in Ireland. The early Christian monastic settlement founded in the 6th century by St. Kevin, and known as Glendalough. If you love a good hike this is a great place to start your Ireland road trip.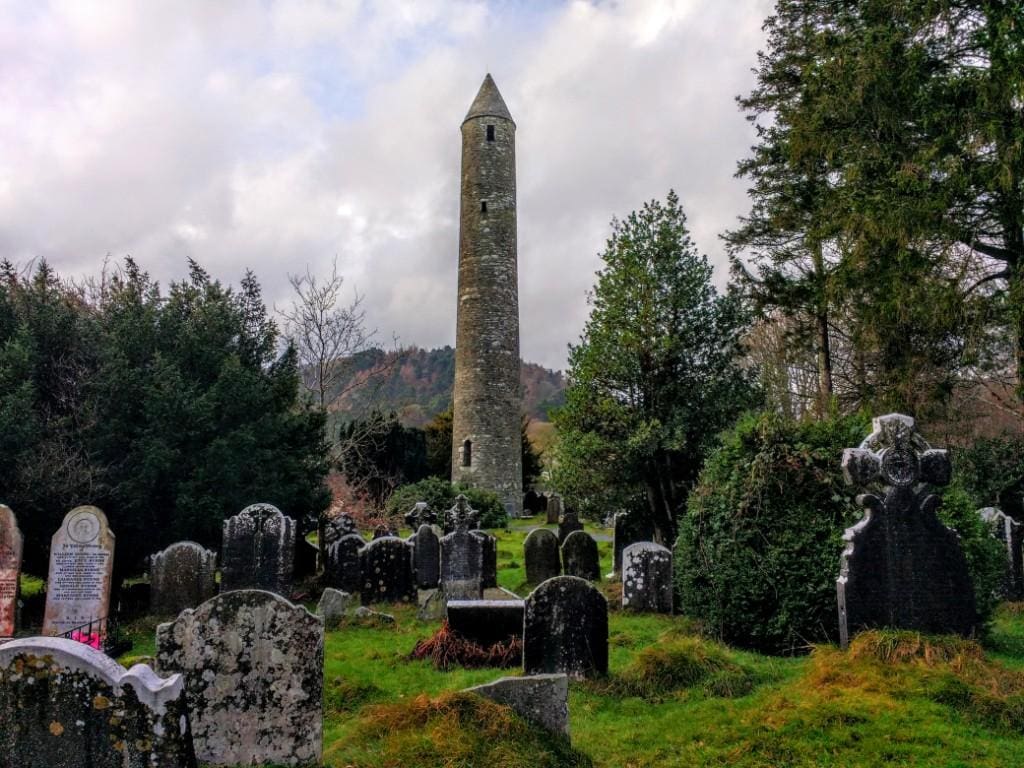 An eerie tale surrounds the Piper's Stones of Athgreany, County Wicklow. History tells us that this circle of stones was erected in the Bronze Age for an unknown purpose. According to local legend, a piper was leading a group of dancers and singers celebrating the Sabbath or perhaps a pagan festival. These folks were apparently turned to stone for "disrespecting" the holy day. I wonder who spread this rumour???
Wicklow's Historic Gaol
Wicklow Gaol is a former prison, located in the town of Wicklow, County Wicklow. There was a prison on the site from the late eighteenth century up to 1924. Prisoners were held at Wicklow Gaol during the 1798 Rebellion and the Great Famine, and many were held there prior to penal transportation.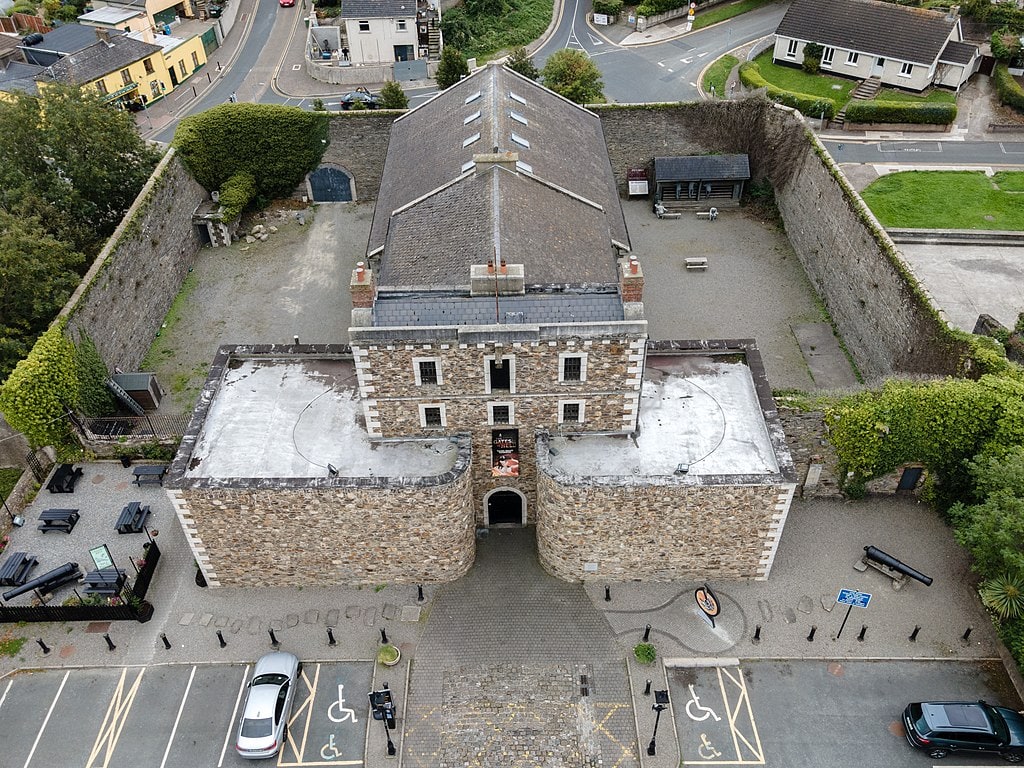 The heavily-fortified prison also served – as a stronghold for British forces in the county and a place to hold suspected Republicans. Most of the nearby RIC barracks had been wiped out in an effective IRA guerrilla campaign, forcing British troops and RIC into larger towns like Wicklow.
Wells Country House & Gardens
Explore 450 acres of enchanting woodlands & gardens, including fairy & Gruffalo walks, an animal farm, a playground, Mogue's walk & much more. Stop off at the craft courtyard for a spot of shopping and you can even book a stay at one of the cottages.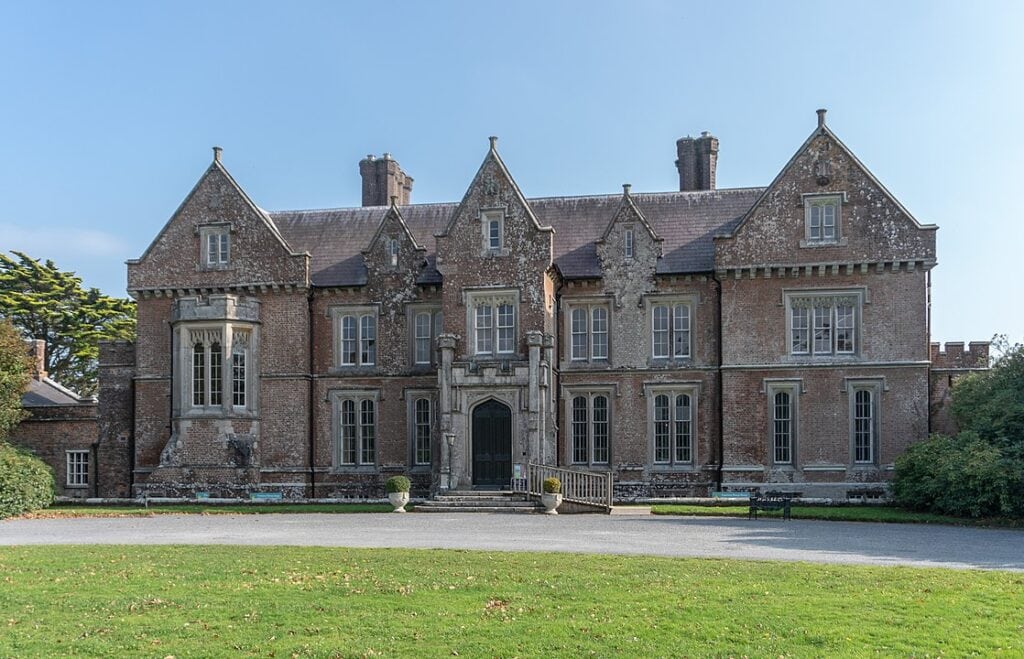 The 17th-century Victorian House has a history dating back to the days of Cromwell and the famine. Stroll the formal gardens and arboretum, and enjoy a picnic on the terrace and lawns! You can tour the 6 ground-floor rooms of the house and hear the story of Lady Frances' and Charles Mervyn Doyne. Take in the gorgeous grounds or do a spot of 3D archery.
Tintern Abbey
Tintern Abbey is located a few miles from Wexford and yes it gets its name from the famous Tintern Abbey in Wales. Legends say that when the Earl of Pembroke encountered a life-threatening storm during a sea voyage, he vowed to establish an abbey if he reached land safely. The abbey is often referred to as Tintern de Voto, or Tintern of the Vow as a result. It was inhabited by Cistercian monks from a larger abbey at Tintern, Wales, of which the Earl was also a patron.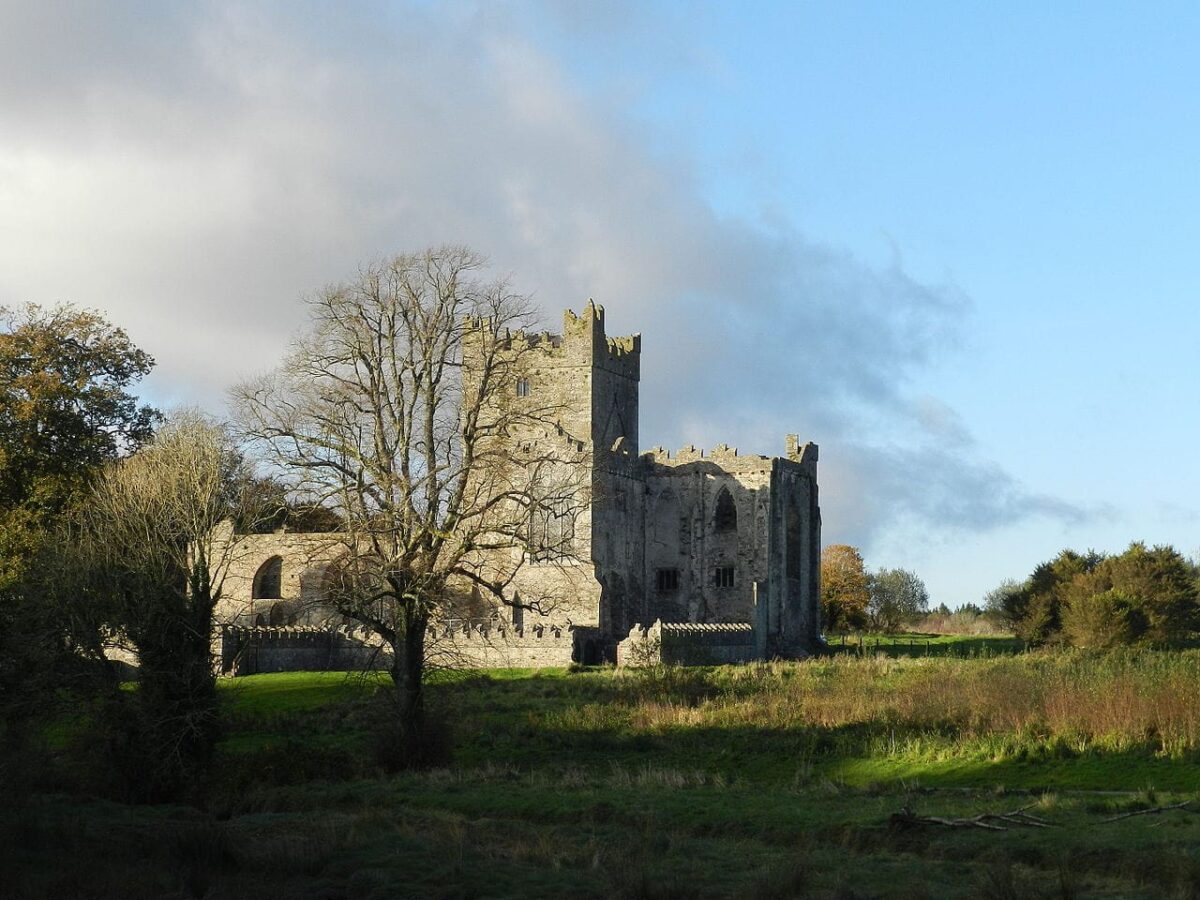 Lough Tay in the Wicklow Mountains
About one hour south of Dublin, you'll find the Wicklow Mountains National Park where the landscape changes dramatically. There are many hiking trails in the area where you can enjoy the magnificent scenery. This is where the HBO show The Vikings was filmed.
If you are a P.S. I Love you fan, I recommend beginning your journey at the famous Ballysmuttan Bridge; this is the bridge where Holly met Gerry in the movie! It is important to note that the bridge was rebuilt in 2011 after a major flood so it looks very different from what you see in the movie.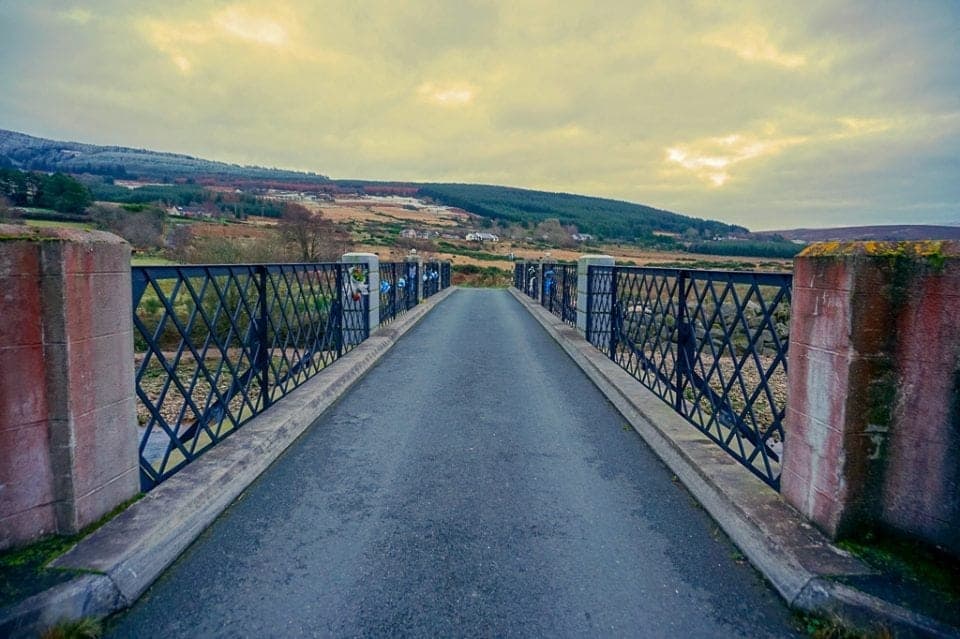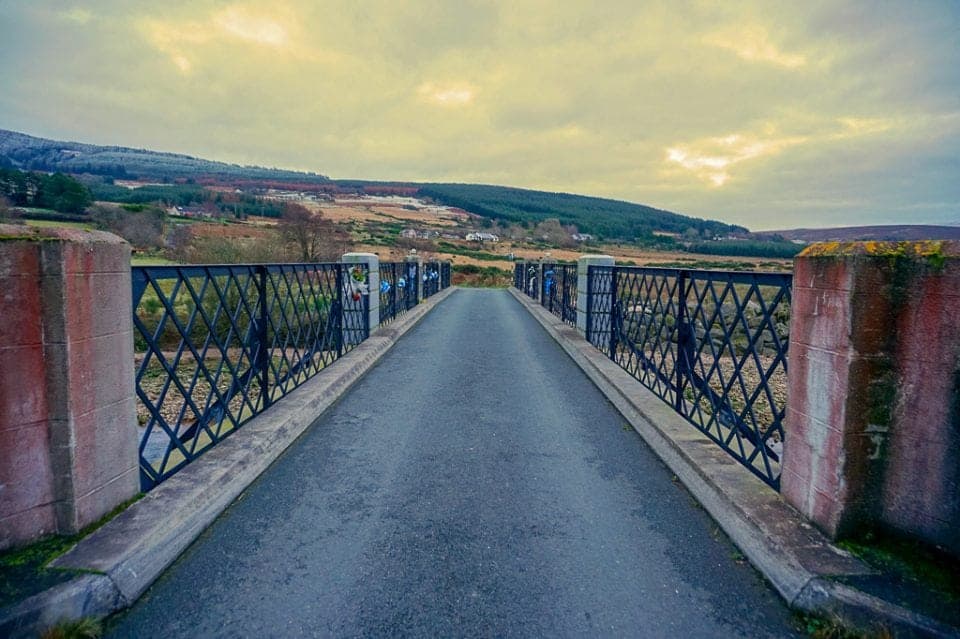 You can then drive towards Sally Gap where you'll get spectacular views of the Wicklow Mountains. One of the recommended stops is Lough Tay, also known as Guinness Lake because it looks like a pint of Guinness! Its brown colour and the white sand shore is a perfect replica of the famous Irish stout.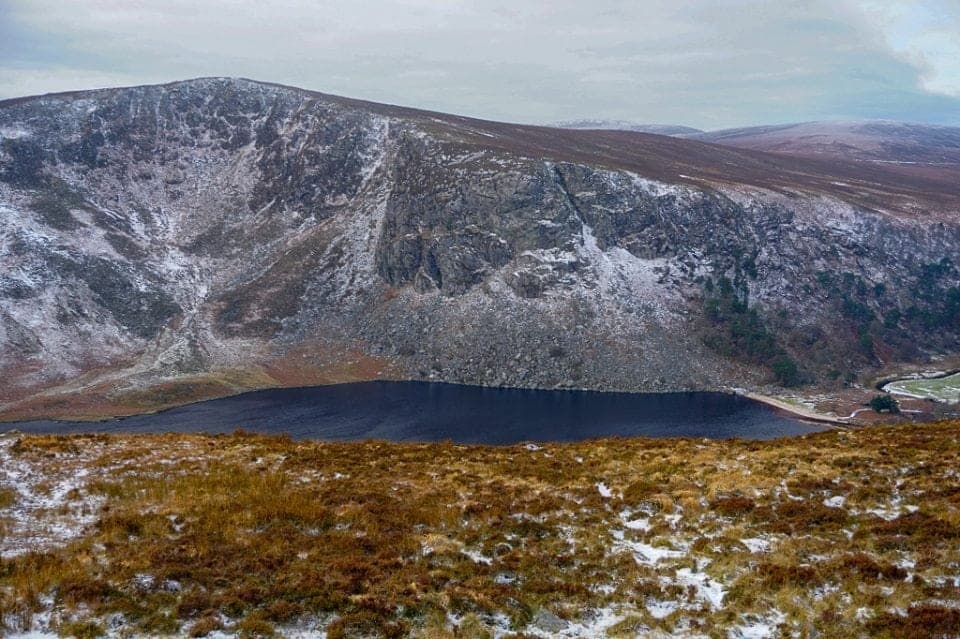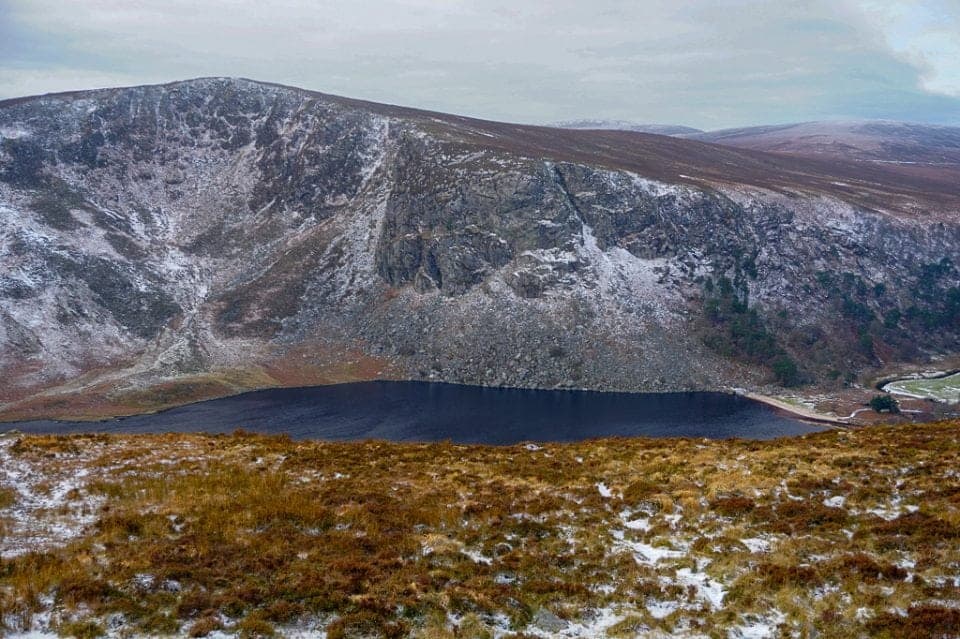 What's even more interesting is that the Guinness family owns part of an estate that forms the northern coastline. For the best view of the lake, take the R759 and stop at the Lough Tay Viewing Point. Lough Tay can also be viewed by following a hiking trail that begins at the Ballinastoe Car Park. Leave your car and hike towards Lough Dan, another lake, where you can partake in a variety of activities like orienteering, rafting and mud run. The hike to and from the car park is approximately 4 hours. Contributed by Travel like a Chieff.
Wicklow Mountains
The Wicklow Mountains form the largest continuous mountainous area in Ireland. They occupy the whole centre of County Wicklow and stretch outside its borders into Counties Dublin, Wexford and Carlow. Wicklow Mountains National Park is situated just south of Dublin. The Park covers 20,000 hectares of mountain scenery that provide some awe-inspiring views. If you love hill-walking you must visit the Wicklow Mountains there is no entry fee except for parking at Glendalough where you can follow the walks.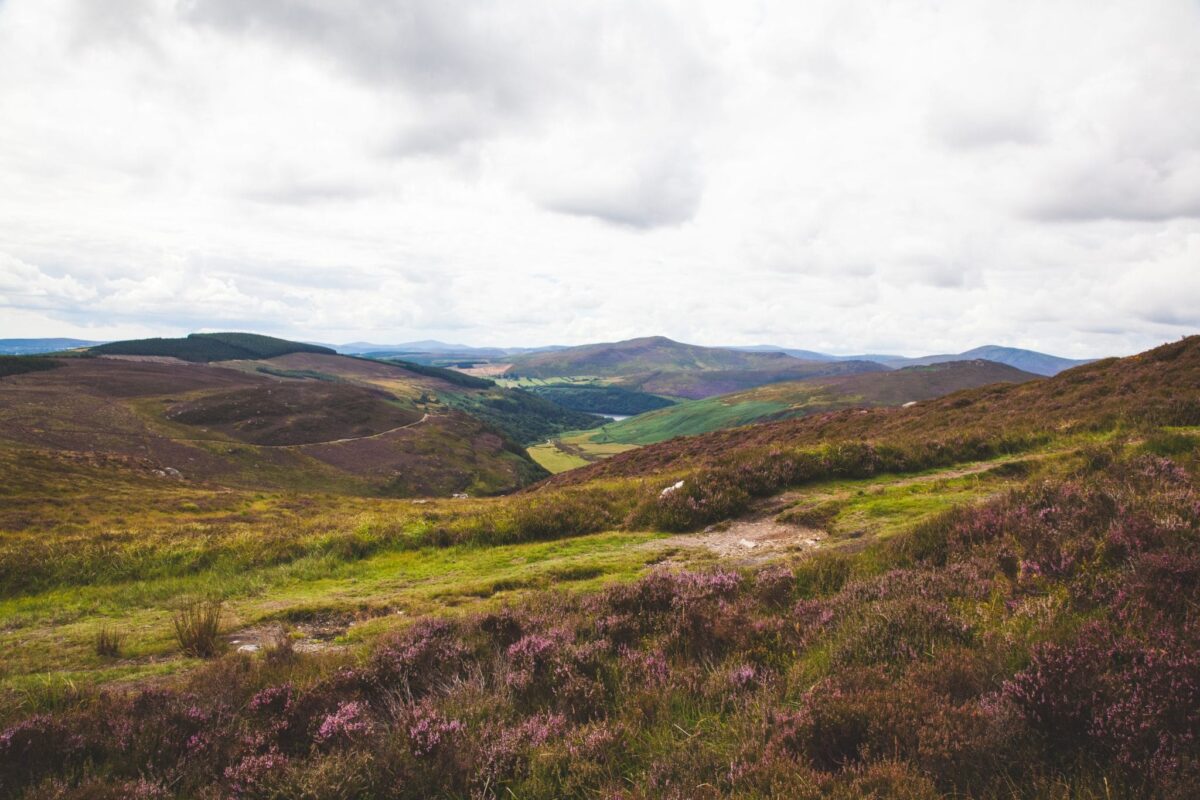 Dalkey
Dalkey is a very wealthy suburb of Dublin, these days it is rather crowded with the celebs that live there. Bono and the Edge, Neil Jordan (Director of The Crying Game) Enya and more all call Dalkey home. You could bump into any of them or the celebrity visitors whilst downing a pint in the famous Finnegan's pub. The village is very small and compact with lovely sea views and has always been a popular place for Dubliners to have a day at the beach. Lots of great ice-cream vendors and fish and chips with gorgeous scenery.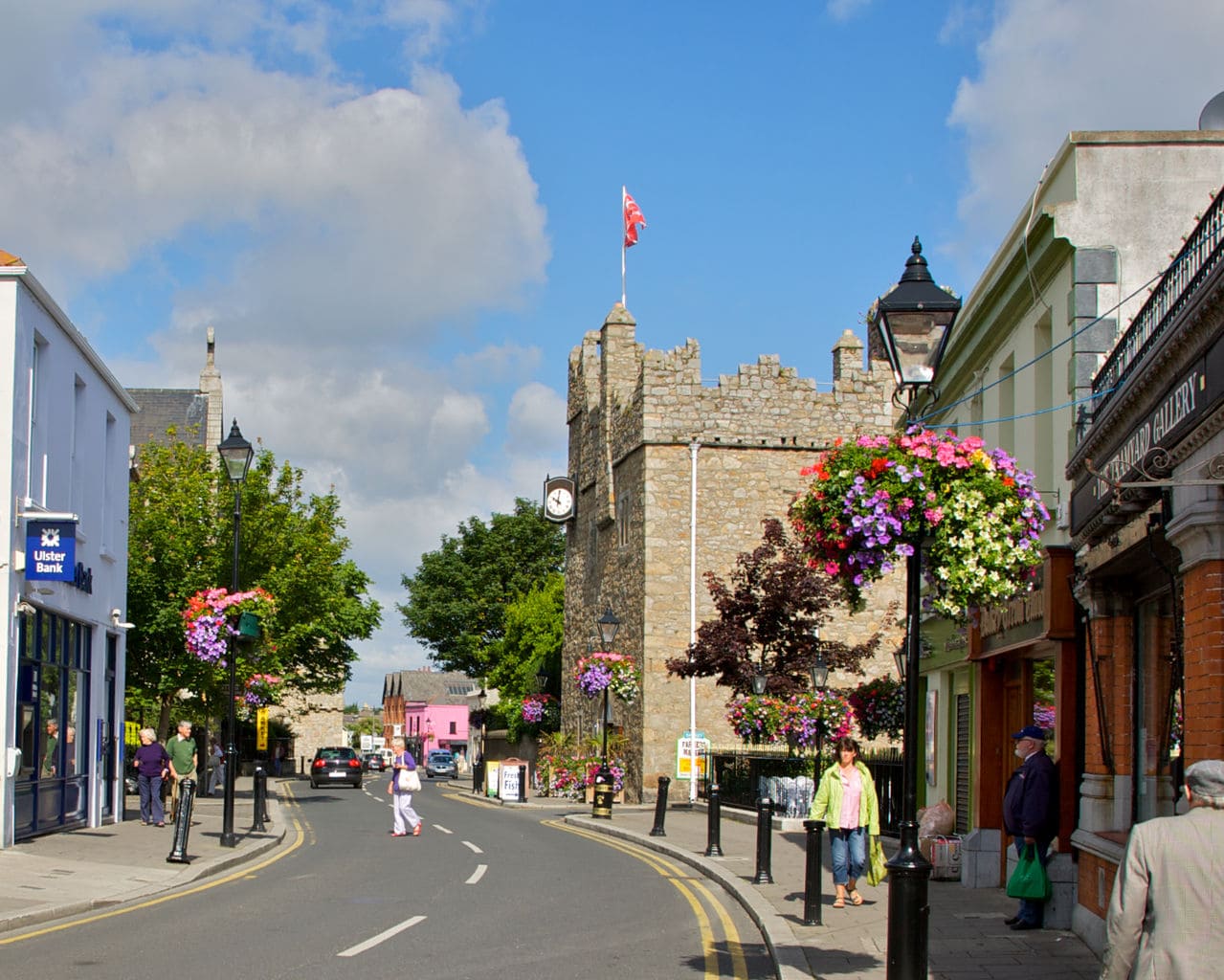 Take a trip out to Dalkey Island when you visit it's only 5 minutes by boat from Coliemore. The island is not lived on but it's home to wild goats, and thousands of seabirds and the seals often rest there with their babies. Its history though is fascinating from being a holding place for Viking prisoners and home to St. Begnet the patron saint of Dalkey its history goes back hundreds of years. of Dalkey Castle and Heritage Centre, which details the area's rich literary heritage.
Dalkey is where Matt Damon stayed during the lockdown of 2020 and the villagers protected him from prying paparazzi. That's what Ireland is all about – from Sarah Jessica Parker in Donegal to Matt Damon in Dalkey Ireland protects you.
Dun Laoghaire
Dun Laoghaire is a nice small town with a fantastic harbour, but it wasn't always this way. Back in 1807, there was a terrible storm that destroyed much of the town and roves two ships onto the rocks where 400 people died. Since that time, a harbour was built with 2 massive granite blocks supporting the piers.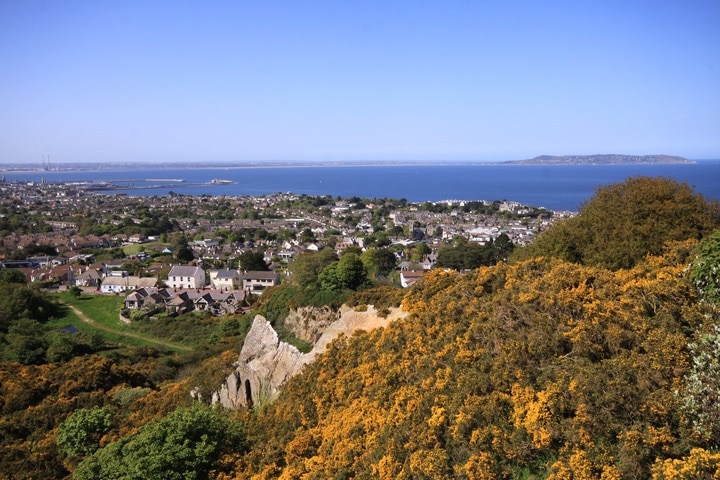 The harbour makes a great place to view Dublin Bay in all its glory. Don't forget to grab a 99 Ice cream from Teddy's, which has been in Dun Laoghaire since 1950.
Hook Head, Wexford
The Hook Lighthouse in County Wexford has stood guard over the area for over 800 years. It is the oldest intact operational lighthouse in the world; Lonely Planet calls it the "flashiest in the world". If you can manage it, you can climb the 115 stairs up to the top for absolutely stunning views out to sea and across the Waterford Estuary. Occasionally whales can be seen in the area and there are whale-watching tours available.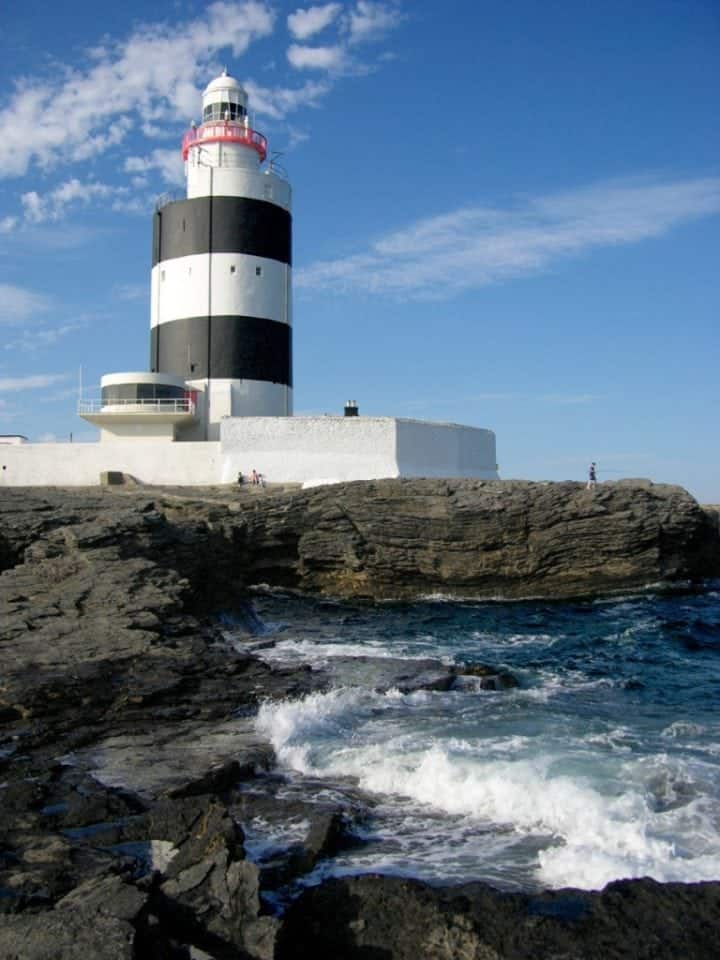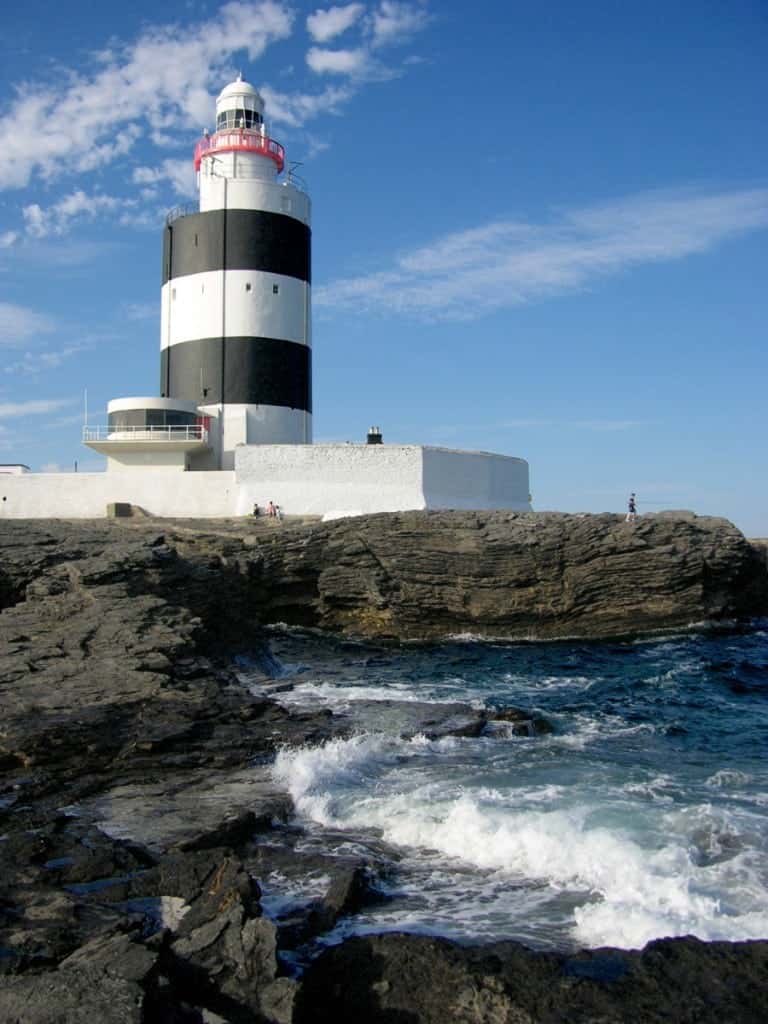 Curracloe Beach, Wexford
Curracloe beach is a 7-mile-long stretch of soft sand and it's a wonderful place to find some colourful shells. This beach starred in the movie Saving Private Ryan with Goldie Hawn and it is packed in the summer with the Irish grabbing what sun they can.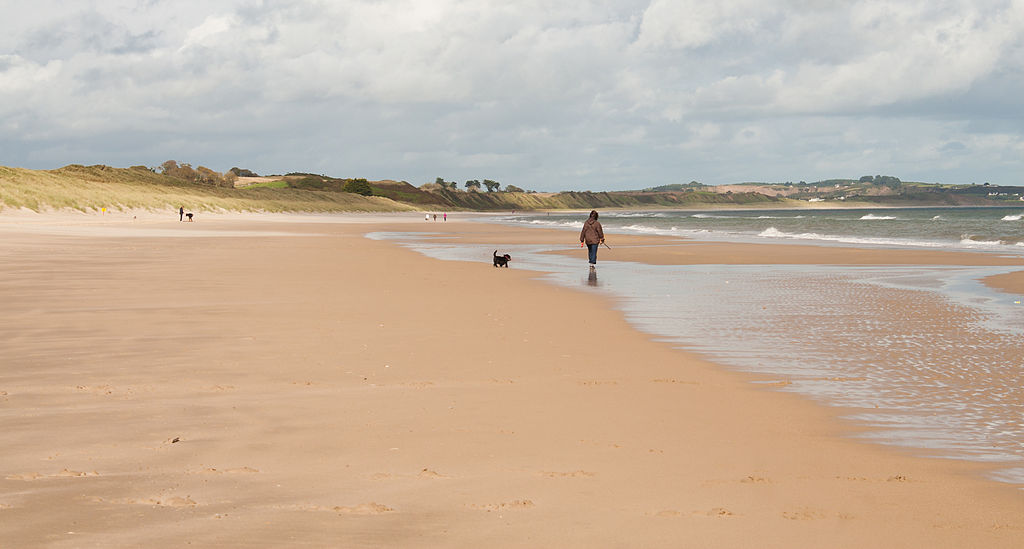 Irish National Heritage Park
What I love about this Park is the types of classes they run, you can learn how to lime-wash stone, build a stargazing chair; learn about foraging do some axe throwing. All pretty cool courses that you can sign up for.
The Irish National Heritage Park is located on the banks of the Slaney River and it's around 3 miles from Wexford. There's an outdoor museum covering 9000 years of Irish history with re-enactments and costumed interpreters. You can actually stay overnight with the family in a ring fort. There's a fantastic award-winning restaurant the 'Fulacht Fiadh' which overlooks the crannog and lake. A great little gift shop, play area for the kids an absolute must-do when in Ireland's Ancient East.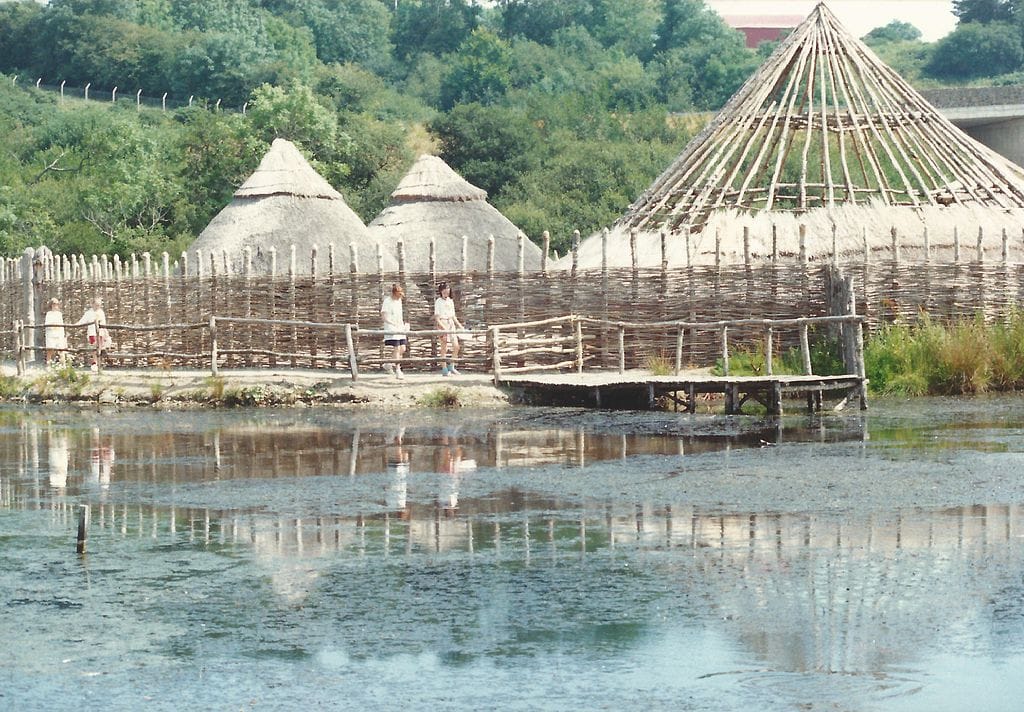 Dunbrody Famine Ship
If you are in Wexford head towards New Ross where you can tour the Dunbrody Famine Ship. This authentic replica of an emigrant ship from the 1840s highlights a desperate era when the potato famine created havoc and devastation throughout Ireland.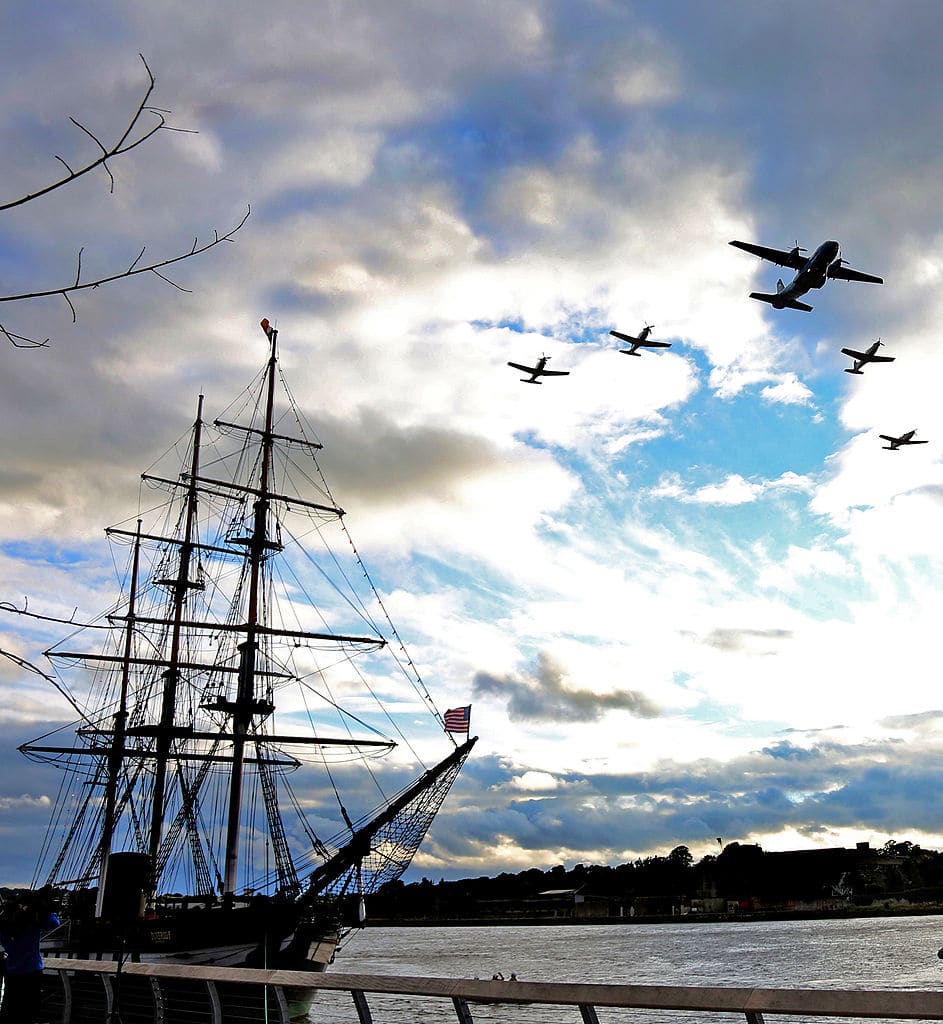 The Dunbrody is a magnificent three-mast barque, that re-enacts the 4-5 week-long trip to New York, with guides and costumed actors telling the story of the horrendous conditions of the ship and the hope of the immigrants willing to brave the Atlantic for a new life.
Dunbrody Abbey
Dunbrody Abbey was founded in 1170 on the instructions of Strongbow, by Herve de Montmorency (his uncle), after the Norman invasion of Ireland. It was completed circa 1220, but additions may have continued for some time. Herve de Montmorency made a grant of the lands to the monks of Bildewas in Shropshire (England), on condition that they should build the Abbey, for some monks of the Cistercian, or White Order (they wore white robes), and upon condition that there should be a Sanctuary in the Abbey for all malefactors.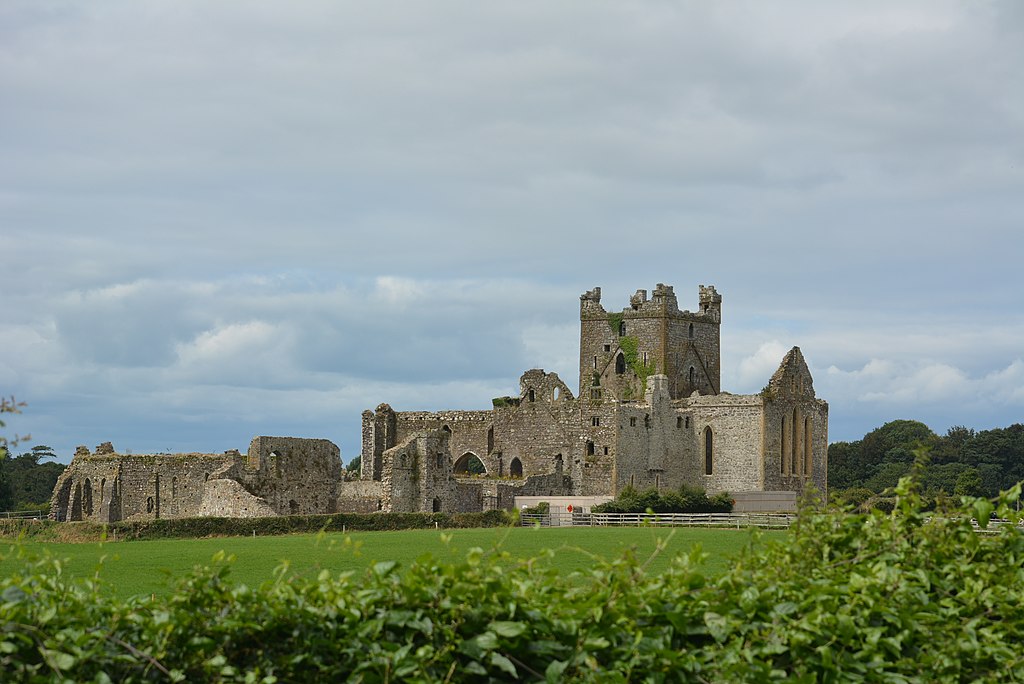 With the historic Abbey, the Tea Rooms and the Craft Shop for those wishing to relax, as well as the Maze/Pitch & Putt for the more actively minded, this location has proved extremely popular with visitors of all ages. Set in a rural area the Visitor Centre has an atmosphere of tranquillity and is safe for families with children.
Waterford City
It's Ireland's oldest city, and despite boasting a history of over 1,000 years. Its history covers years of Viking rule, Norman buildings and castles and of course the world-famous Waterford Crystal. The world-renowned Waterford Crystal has been in operation since 1783 creating some of the world's finest crystal wares.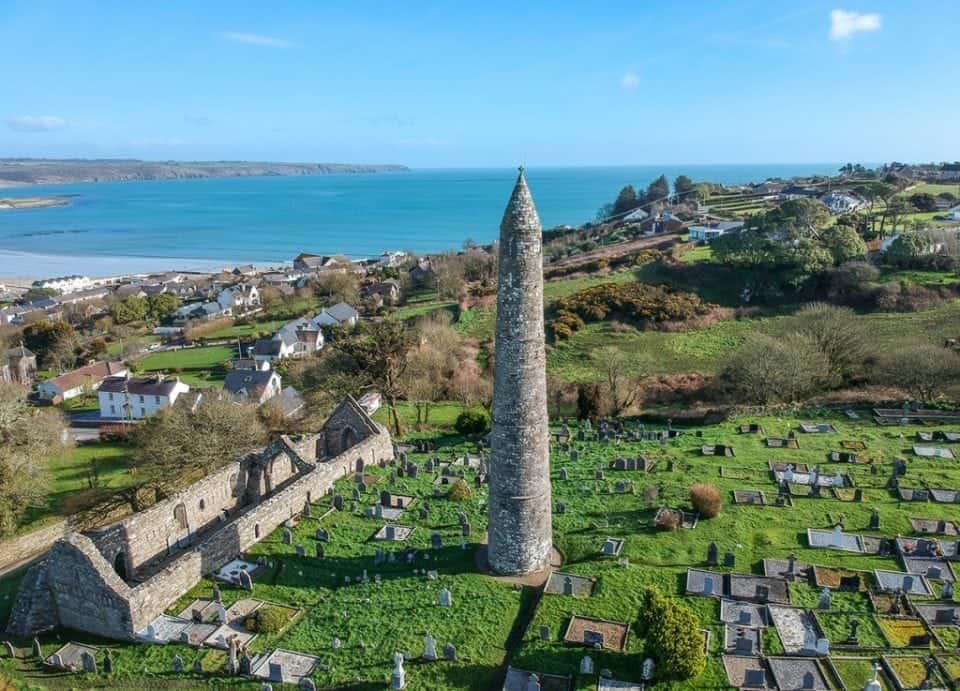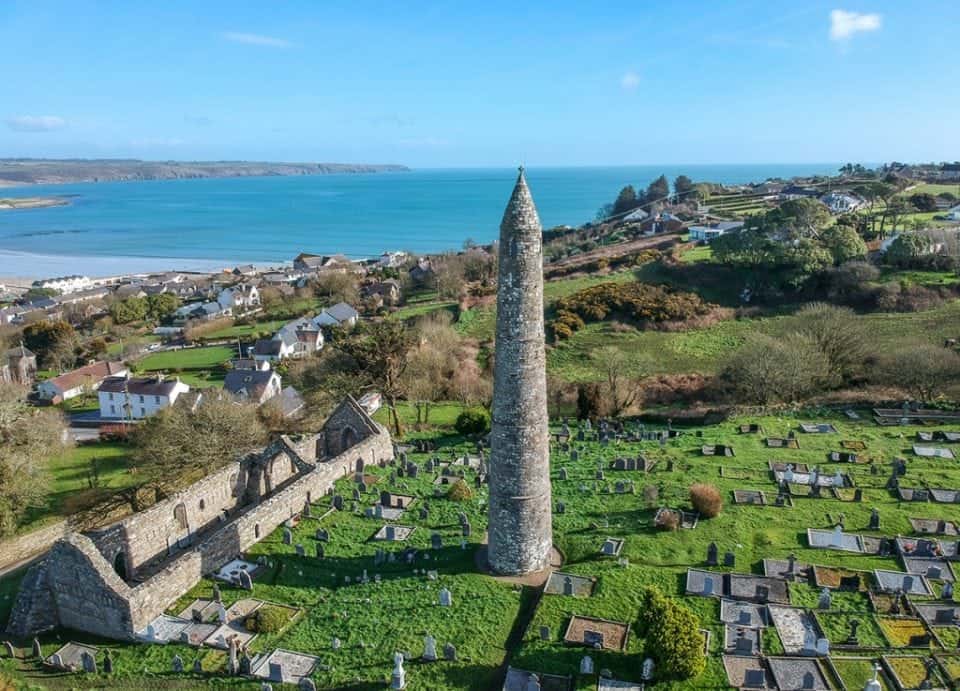 In the Centre of Waterford sits the massive stone fortress of Reginald's Tower, named for Waterford's founder Ragnall. The tower displays contain some ancient metalwork that includes the magnificent Kite Brooch. You can climb to the top of the tower through a very narrow spiral staircase and glimpse some fabulous views over Waterford.
Close by, the Medieval Museum displays its own treasures, including the Great Charter Roll of 1373, which depicts Waterford as it was in the medieval ages, and the Cloth-of-Gold vestment, woven in Florence, embroidered in Bruges. Finally, the Bishop's Palace is an elegant townhouse where you can discover another age of Waterford, the Georgian period.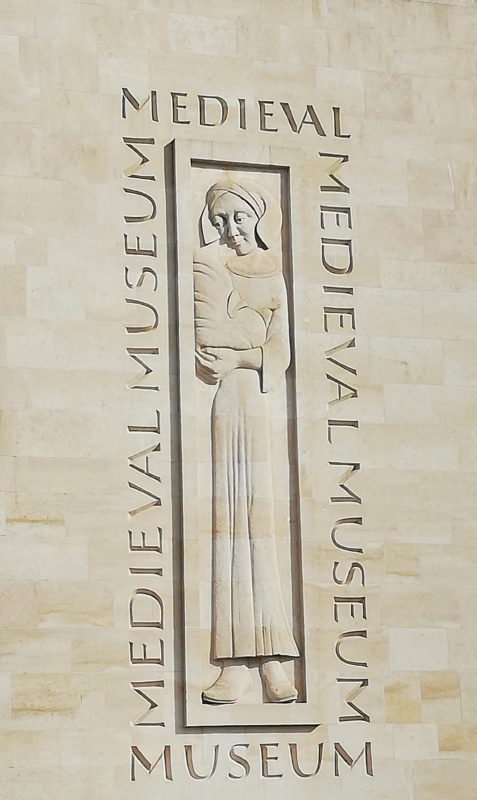 Waterford would easily be the largest city (outside of Dublin) on Ireland's Ancient East, and it is also the oldest surviving city of Ireland (founded in the 9th century AD by the Vikings) meaning there are many historical sites to explore within the city. Or maybe just enjoy the serene scenes of Waterford Harbour. But for me, the real beauty of Ireland's Ancient East comes in the landscapes, and while I may base my stay in the city centre for a night or two, much of my time would otherwise be spent exploring the surrounding countryside of Waterford.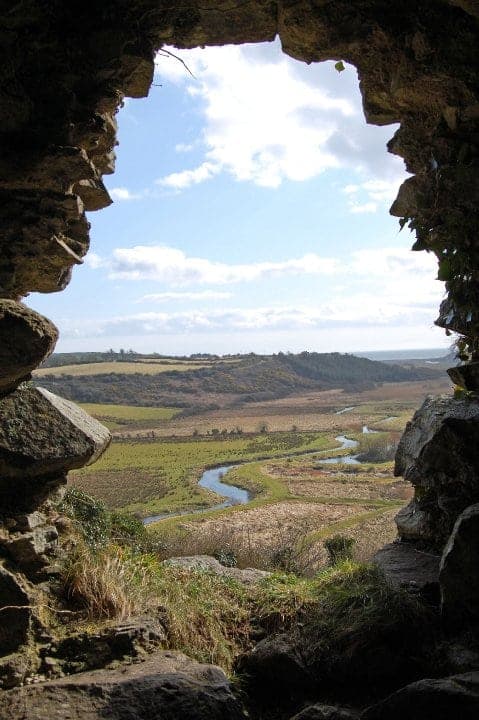 A great spot to start here would be Dunhill Castle, a small fort located in the nearby hilltops, which overlooks the River Anne as it twists and turns towards the coastlines of the not-so-far Copper Coast (a UNESCO Global Geopark). Because Waterford not only has a Historical interest in Ireland's Ancient East, but it also shares wild and rugged coastlines and is really rather unfortunate to be left out of Ireland's Wild Atlantic Way. Because the coastlines do share the same natural beauty as those on the West Coast, and in many ways share the best of both sides.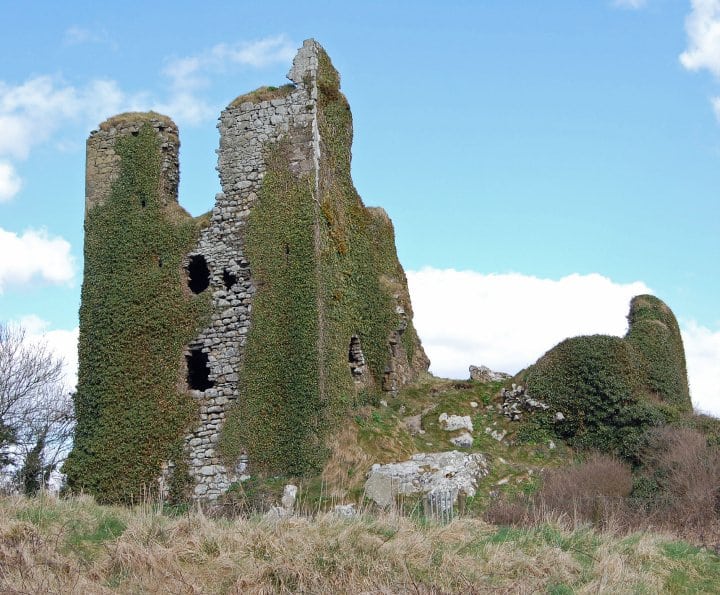 The south coast is also well worth the journey, and a good base here would be the seaside resort and fishing village of Ardmore, which is famous for the Ardmore Cliff Walk and historical trail. It's one of the main tourist attractions in the county. Also the Cliff House Hotel in Ardmore shares probably the best sea views of any hotel in Ireland, along with one of Ireland's eight Michelin-starred restaurants. Waterford is without a doubt one of Ireland's lesser-known gems. by Allan of LiveLessOrdinary
East Cork
East Cork lies in southwest Ireland, in Ireland's largest county. East Cork contains one of the world's largest natural harbours, Cork Harbour; it has a coastline stretching from Cobh to Youghal
Here you will also find those picture-perfect small towns and villages, old castles and monasteries and stunning nature walks and hikes. Towns in East Cork are steeped in history. For example, the Titanic made its last stop in the town of Cobh before its fateful voyage. Old-time charm can also be found in Youghal or Midleton, where you can visit the Old Jameson Distillery where you can enjoy a tour and a whiskey tasting.
East Cork is a birdwatcher's dream come true and wildlife that is even more exotic can be found at the Fota Wildlife Park. The park concentrates on the core values of conservation, education, research and entertainment. It's a fabulous place to see free-ranging wildlife and learn about the work done to save species, conserve the environment and explore a variety of Park adventures.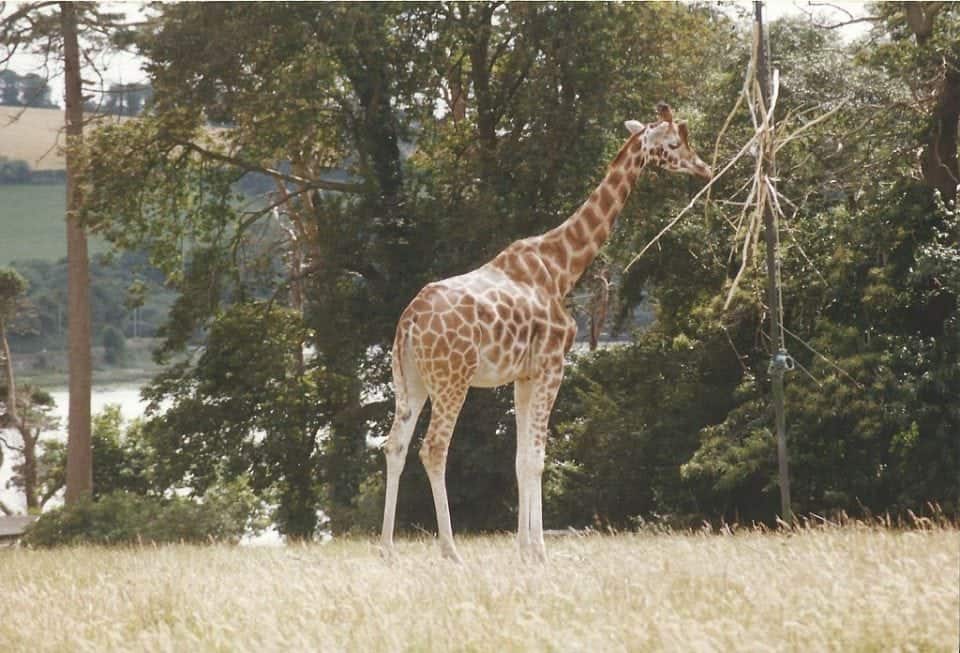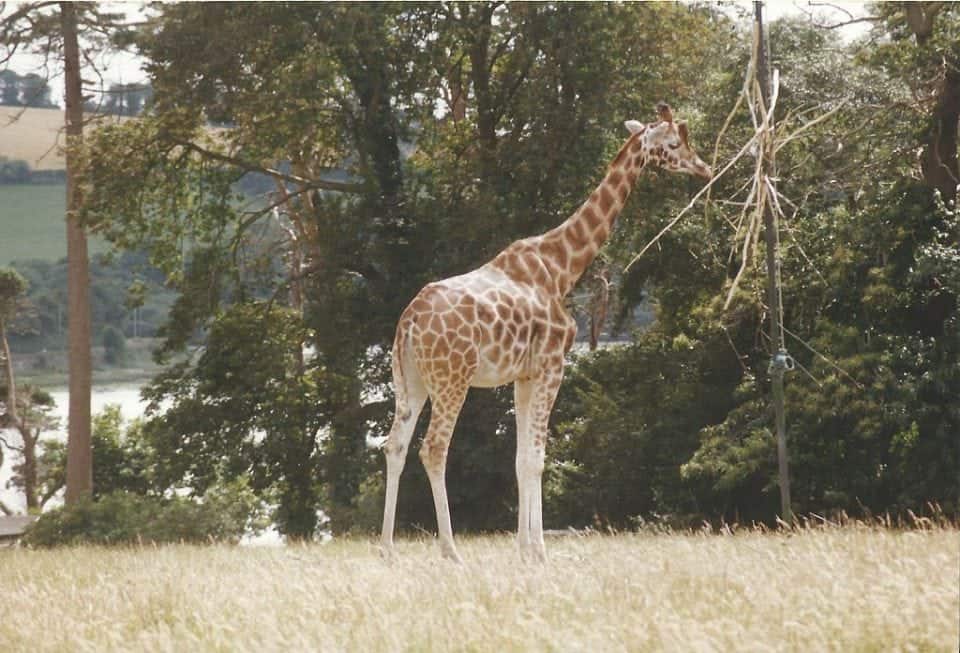 For Foodies, Cork is the epicentre of the Irish food movement. This is where the world-famous Ballymaloe Cookery School is located and you can take a variety of cooking classes here. Don't forget to visit the famous Cork English market as well it is truly foodie heaven.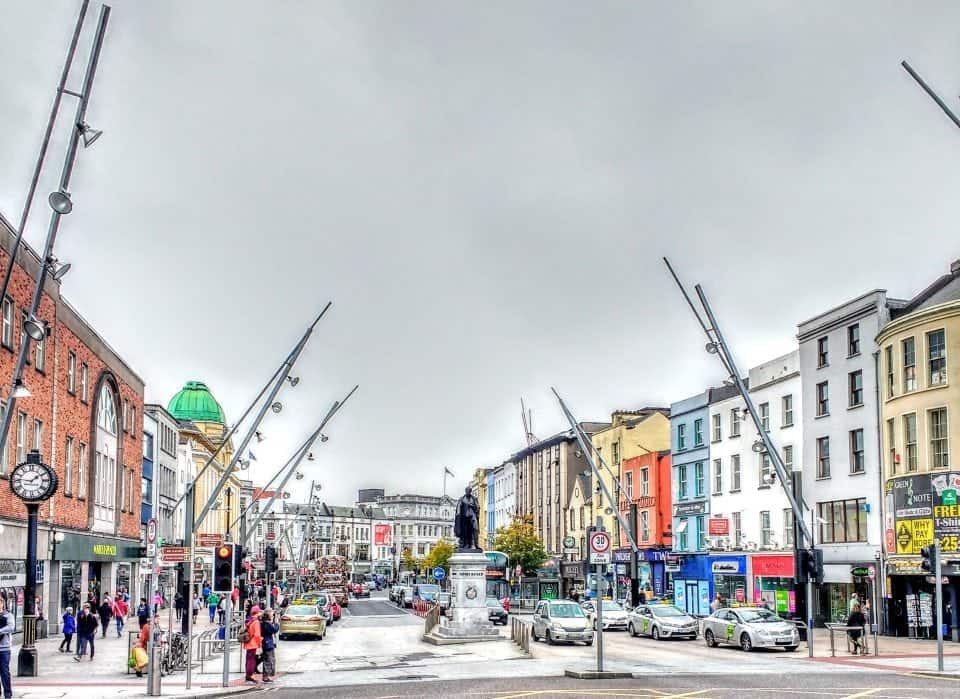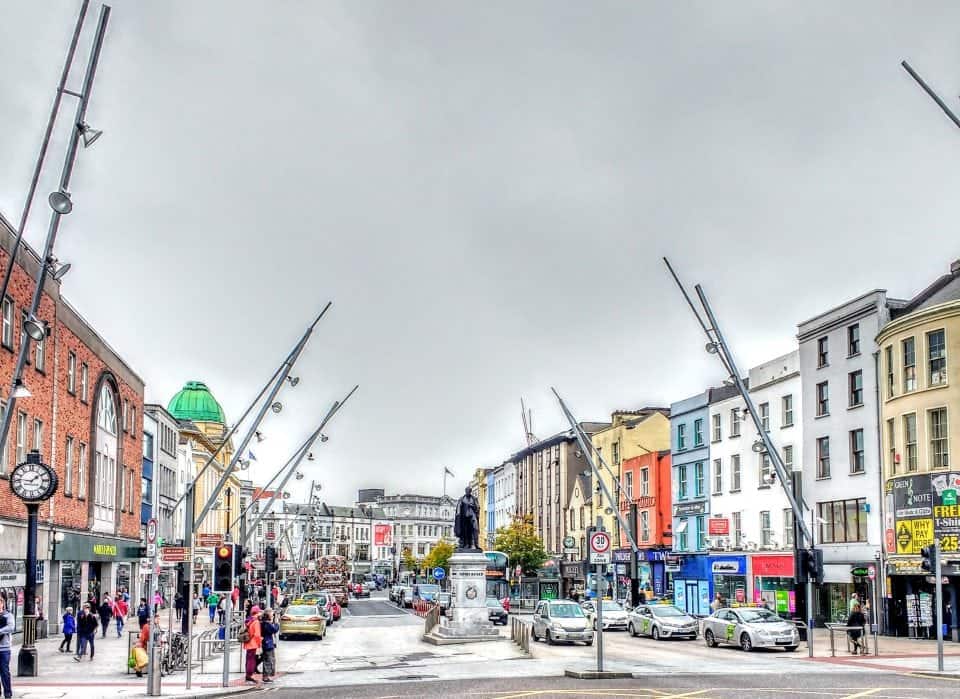 Camden Fort Meagher is located in Crosshaven on the Cork Harbour and it is internationally recognised as being "One of the finest remaining examples of a classical Coastal Artillery Fort in the world". For almost 400 years, the fort played a key role as a strong strategic position for the defence of Ireland, the west coast of England and Wales. During the season, the Fort has a series of re-enactments highlighting the different eras of the Fort's history. The area has some of the most stunning views of Cork Harbour and you can take guided tours of the Fort and its underground tunnels and magazines.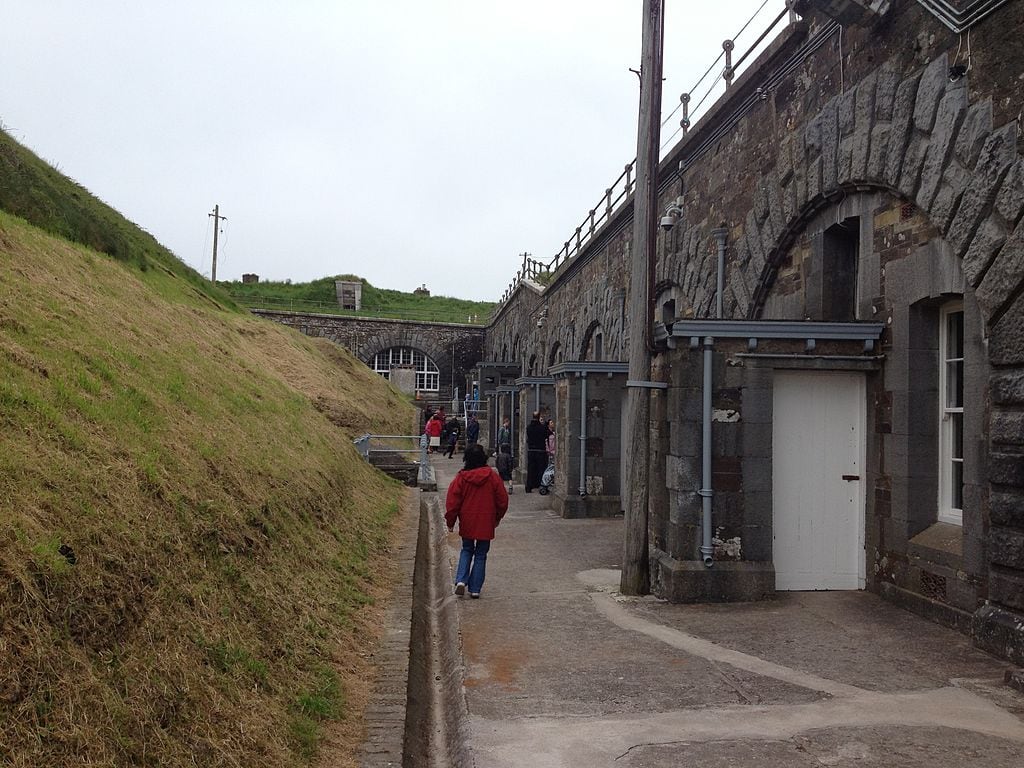 Ardmore
Ardmore is a pretty seaside village in County Waterford near Youghal. It is thought to be the oldest Christian settlement in Ireland.
According to legend, Saint Declan lived in the region in the early 5th century and Christianised the area before the coming of Saint Patrick.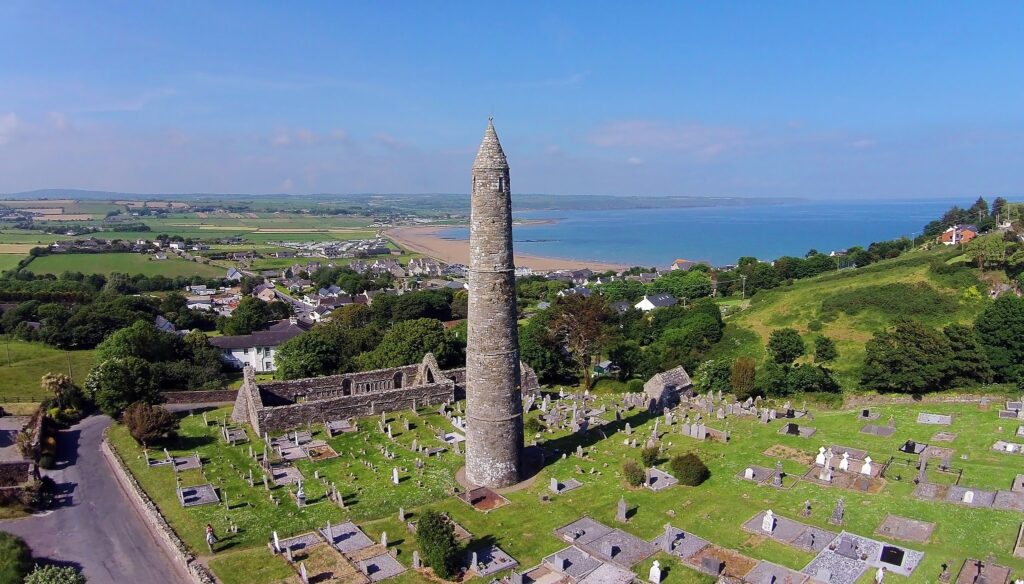 In September 2014, Ardmore was included on a shortlist of Ireland's top tourist towns and it is home to the Michelin-starred restaurant, The House, at the Cliff House Hotel.
Youghal
Youghal is chock full of characters and history. Highly recommended is a visit to Moby Dick's Pub, the location and local headquarters of the 1954 John Huston film of the same name.
Once you have slaked your thirst at Moby Dick's head over to the Youghal Visitor Heritage Centre to get a snapshot of Youghal over the centuries. Grab yourself a copy of the 3 D Heritage Map of Youghal – this map indicates the many interesting heritage sites in Youghal and gives you a brief history of each location.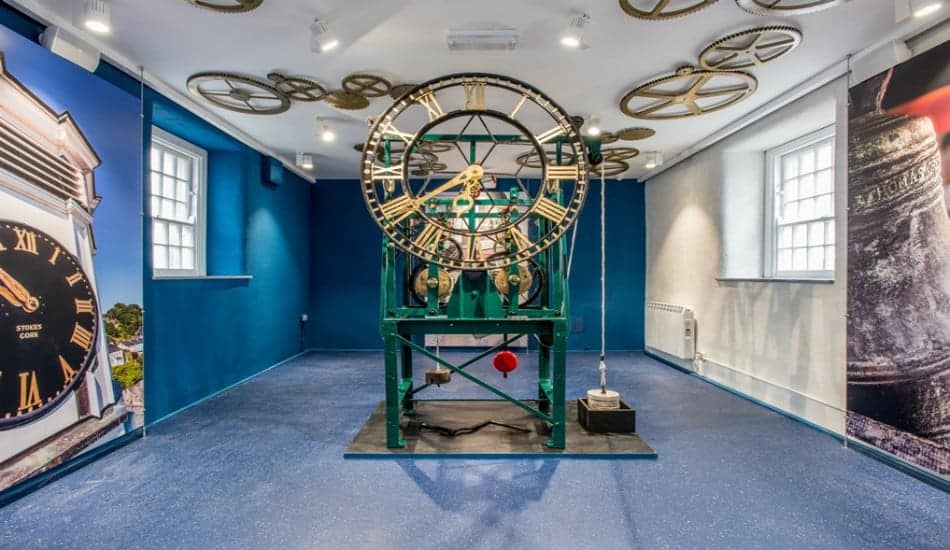 You can't help but notice the iconic Youghal Clock Gate Tower while you are in this area. A visit to Youghal Clock Gate Tower is an experience in "Time" with the best storytellers journeying with you through four floors of stories, stories about people, place and time.
Town Crier, Clifford Winser conducts walking tours of Youghal taking you to all the significant historical landmarks and telling the stories of Youghal. The tour ends in the Raleigh Quarter, where Sir Walter Raleigh lived and was at one time the mayor of Youghal.
Lismore Castle
A gorgeous medieval castle in the Waterford countryside dates back to 1170. It is a private castle that you can rent for special occasions like weddings or family events. Lismore Castle has an extraordinary history: from walls marked by Cromwellian cannonballs to the days it was owned by Sir Walter Raleigh -the man who brought potatoes and tobacco to Ireland – to Cecil Beaton, Lucian Freud, Fred Astaire and JFK, all of whom slept a night or more in this private castle on the banks of the River Blackwater.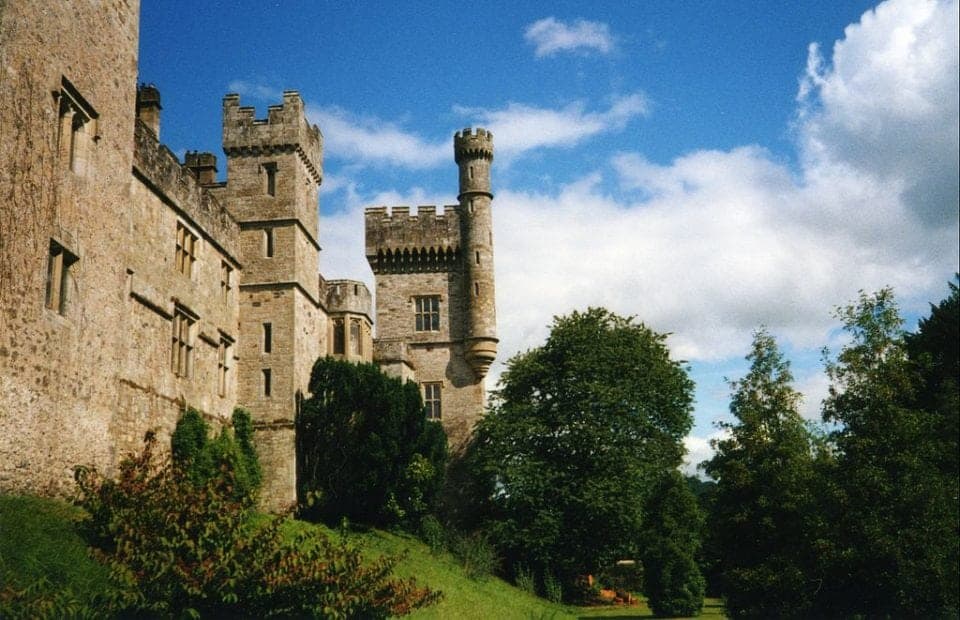 Cobh
Cobh (pronounced 'cove') is a charming waterfront town, and one of the most "Instagrammed" in Ireland. It is located on a shimmering estuary, dotted with brightly coloured houses and overlooked by an impressive cathedral.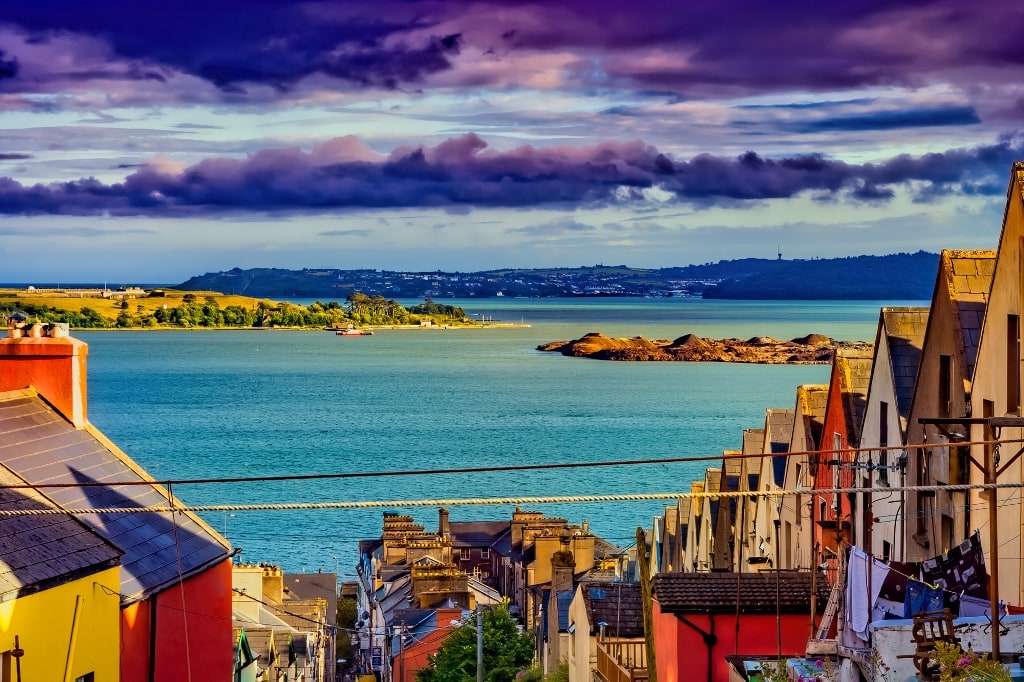 During the famine years, over 70,000 people left Ireland through Cobh in order to escape the ravages of starvation. Cobh was also the final port in Ireland before heading off for New York for the Titanic and you can learn more at the Cobh Titanic Experience. Infamously Cobh is also, where my hubs and his family departed for Canada in 1965.
The Cobh Heritage Centre is a museum attached to Cobh railway station, it traces the steps of thousands of Irish immigrants who left Cobh (then Queenstown) to seek a better life abroad.
It provides information on life in Ireland through the 18th and 19th centuries, the mass emigration, the Great Famine, and on how criminals were transported to Australia for petty crimes.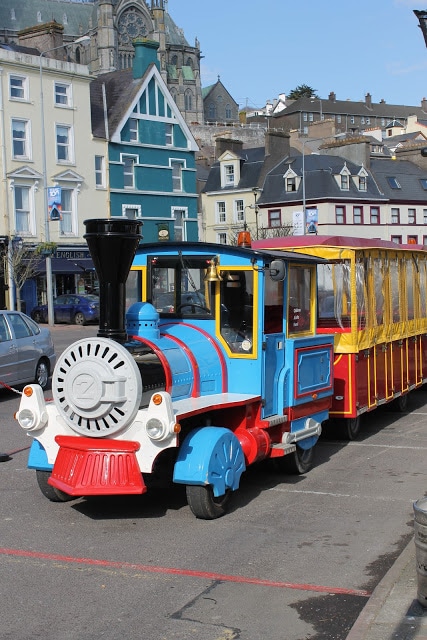 This is a great area to begin touring Ireland by car, there is just so much to see and you will enjoy your Ireland road trip immensely with visits to castles, pubs, medieval towns, neolithic sites and just enjoying your Ireland Itinerary. If you plan to rent a car and I highly recommend it you need to read Here are some great tips for renting a car in Ireland for your road trip by Expert Vagabond.
Loftus Hall, Co. Wexford
One of Ireland's most haunted buildings the Hall stands stark and lonely on the wild Hook Peninsula very close to the Hook Lighthouse. The Hall was built in the mid-1300s during the time of the great plague.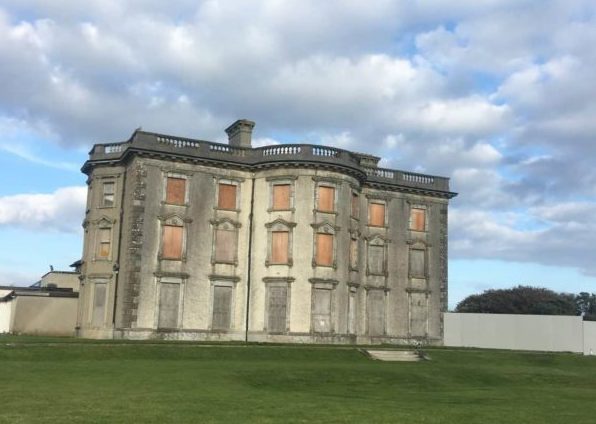 Local legend says that the mansion is haunted by both the devil and by the ghost of a young woman. The young woman it is said was the daughter of the Hall and during a game of cards one night the stranger they had given shelter to during the storm was seen by her to have cloven hooves for feet. Upon spotting this the stranger rose from the table and flew out of the ceiling of the Hall. The young lady was sent into a state of shock and died shortly after to haunt the Hall forever.
Blarney Castle
Probably one of Ireland's most famous landmarks the legend of the Blarney Stone is one that many tourists pilgrimage to. Not my idea of fun as you have to hike up many stairs and then take care that someone has a good grip on you as you literally bend over backwards to kiss the stone. But it does seem to be high on many a bucket list.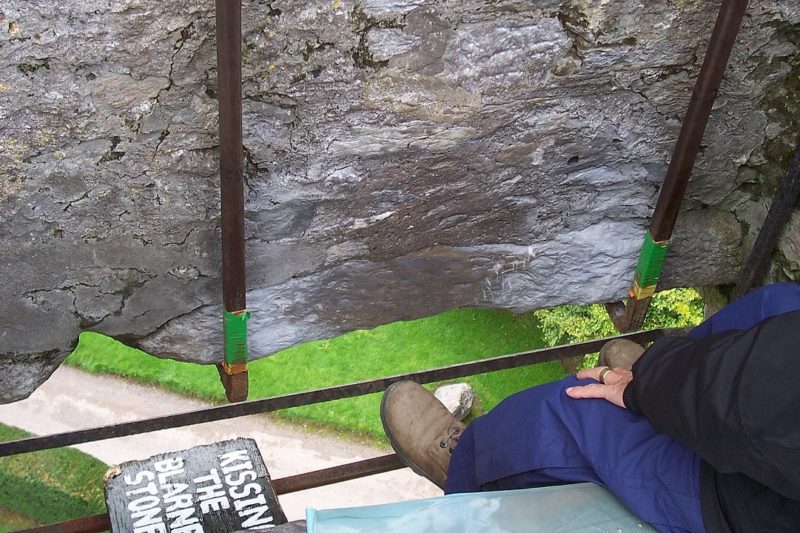 Blarney Castle in Co. Cork was originally built as a stone castle in 1210. The present-day construction was completed by Dermot McCarthy, King of Munster in 1446 and is one of the strongest surviving tower-houses in the country.
What areas of South East Ireland are your favourite?
Are there places that should be on this list that I missed? If you want to write about a place you have visited please feel free to contact me and I will add it with your photos and links to your blog and SM channels.
Hope you enjoyed your visit to Ireland's Celtic Coast and your Ireland Road Trip if you want to create an Ireland Itinerary and need some more information just let me know and I will try to help.
You might also like
Ireland's Ancient East – an epic road trip
Ultimate Wild Atlantic Way Route
Ring of Kerry Ireland the ultimate driving guide
The Rock of Dunamase – visiting these magnificent ruins