Irish culture and traditions
The culture of Ireland is rich, and diverse, it includes myths, literature, music, dance, art, food, and language and it is deeply embedded in modern Ireland. The first people arrived in Ireland about 9,000 years ago (around 7000 BC). We now call them Stone Age people because they used stone tools for their farm work and for hunting.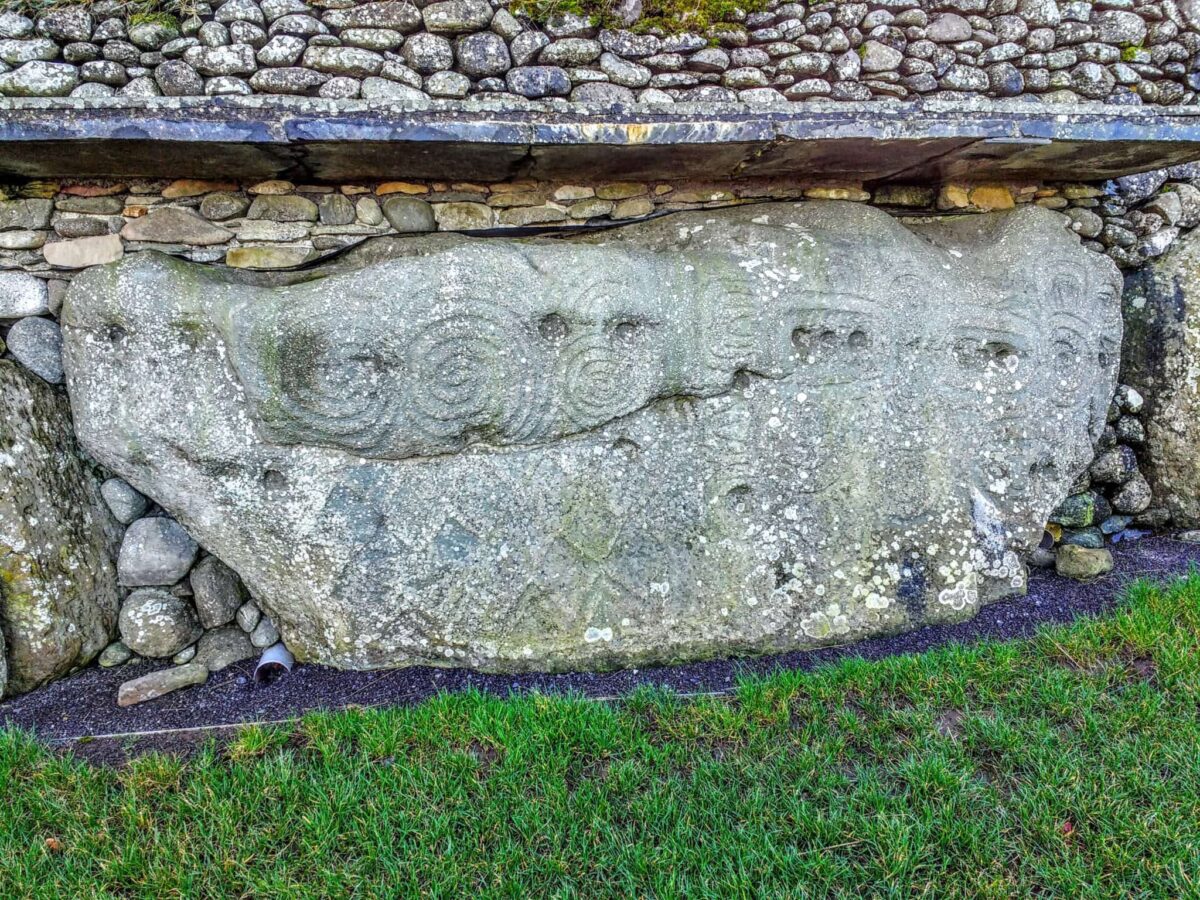 It was originally believed that the Irish culture was Gaelic but ten years ago the remains of three humans, were found behind McCuaig's Bar in County Antrim, Northern Ireland. DNA research indicates that the three skeletons found behind McCuaig's are the ancestors of the modern Irish and they predate the Celts and their arrival by 1,000 years or more.
Over the centuries Irish culture and traditions were deeply influenced by the English Tudors, the Scottish Plantation and of course the Vikings who landed in Dublin.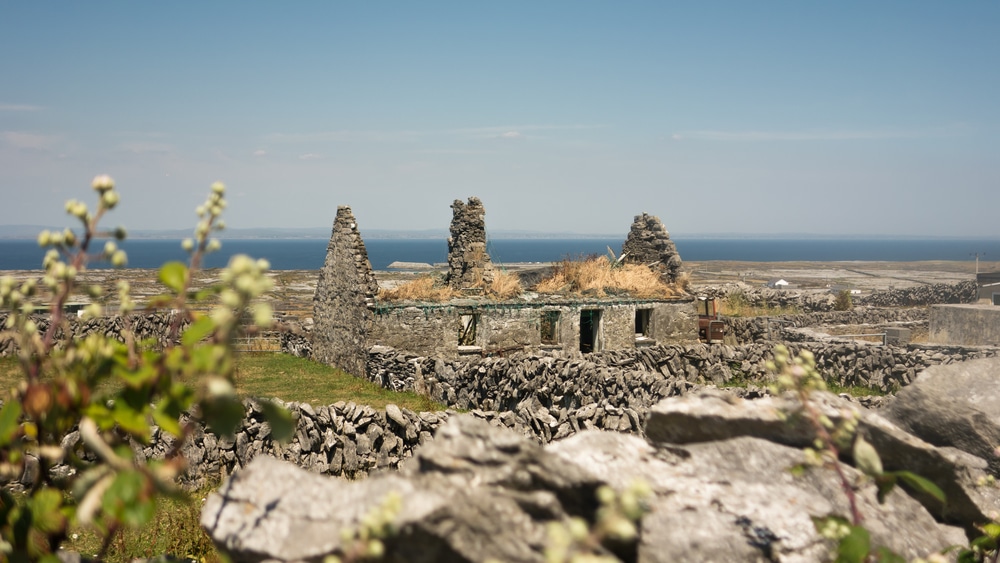 Usually the first thing that tourists and visitors to Ireland notice is the famous Irish hospitality. Welcoming strangers with a "Céad Míle Fáilte" (a hundred thousand welcomes), this hospitality is obvious in the friendly pub conversations the customer service in shops and the banter of the Irish everywhere in Ireland.
Today there are many traditions that vary from Northern Ireland to the Republic of Ireland. Religion has played an important part in these divisions because both Protestants and Catholics have their own customs and traditions. These have often been blended with Gaelic Irish and Scottish Irish customs.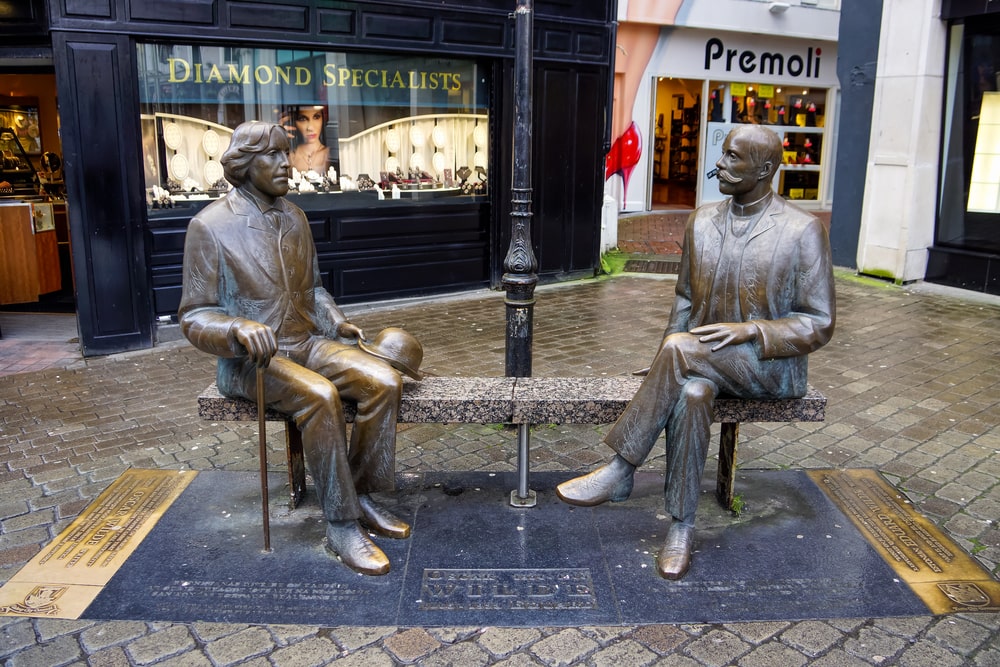 Xyuandbeyond is reader-supported. When you buy through links on our site, we may earn an affiliate commission. You can read my privacy policy here.
Let's explore some interesting and unique Irish Traditions.
Irish Festivals and Celebrations
The Irish people have a deep love of celebrations, and all year round, the country bursts with vibrant festivals and events. Throughout the year, Ireland and the Irish celebrate numerous traditions and festivals that reflect its cultural heritage. These observances are spread across different months, combining elements of Celtic and Christian traditions, including the much loved Celtic seasonal celebrations.
Beltane
Beltane is celebrated on the 30 April–1 May, this is an ancient Celtic Festival that celebrates the Gaelic May Day. It is traditional to light bonfires and take part in special rituals to protect the livestock and crops.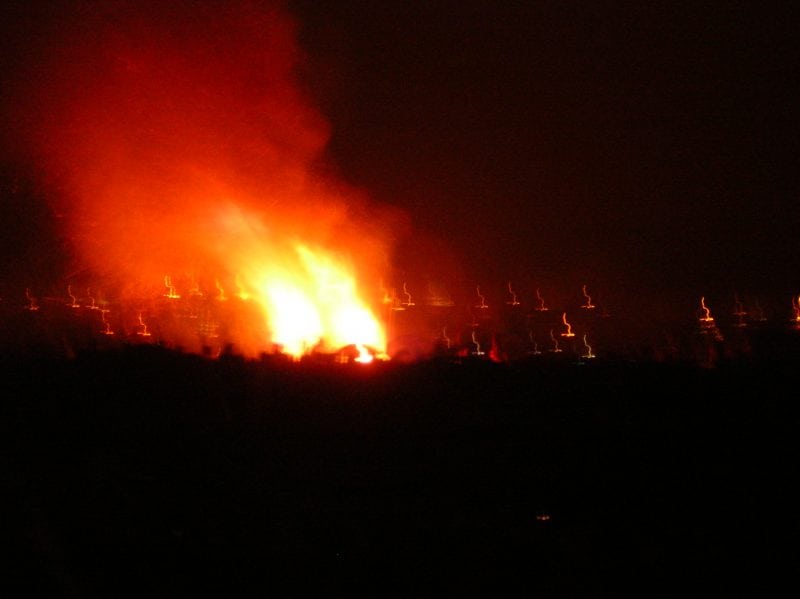 Bloomsday
Bloomsday was first celebrated in 1954 and these days it takes place on June 16th. It celebrates the work and life of the Irish writer James Joyce and the date of his novel Ulysses. Fans of Joyce dress in period clothing, retrace the steps of the novel's characters in Dublin, and attend various literary events.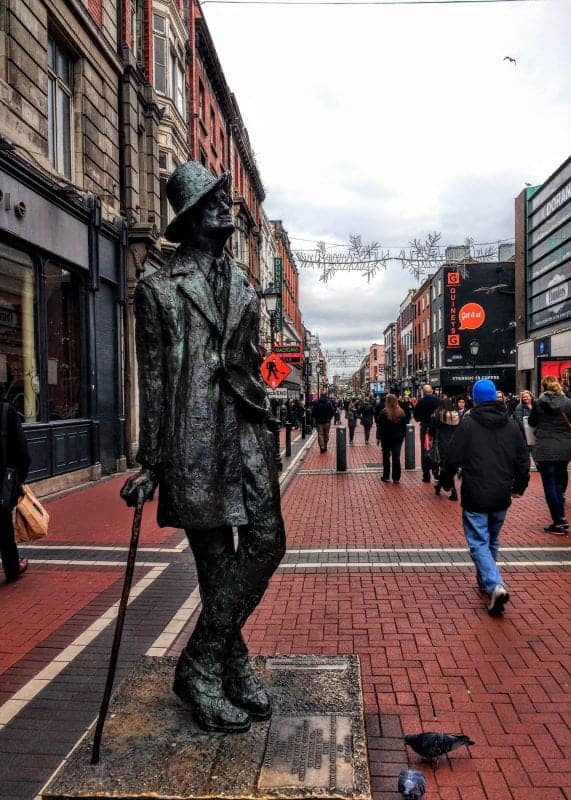 An Irish Christmas
Christmas like the rest of the Christian world Christmas in Ireland celebrates the birth of the baby Jesus. Irish Christmas traditions include a candle in the window, holly for decorations and lots of traditional Irish food. The greeting for "Merry Christmas" in Irish is "Nollaig Shona Duit," pronounced "null-ig hun-a dit."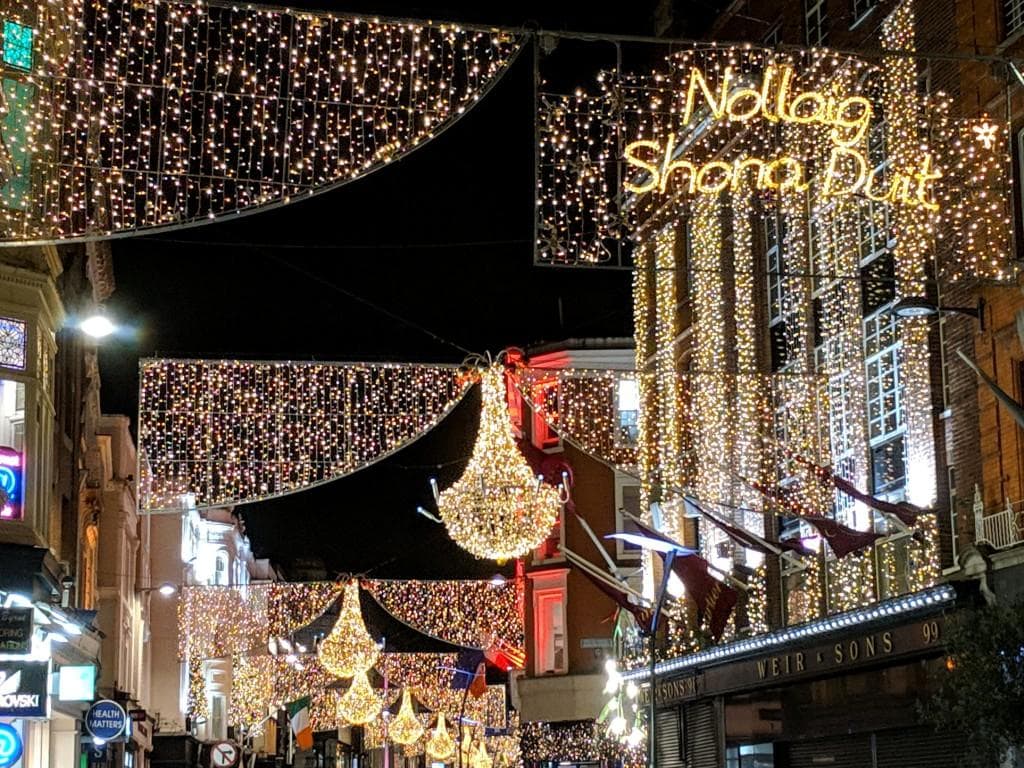 Easter Rising
The Easter Rising is celebrated in late March early April and commemorates the 1916 Easter Rising the flashpoint for the fight for independence from British rule.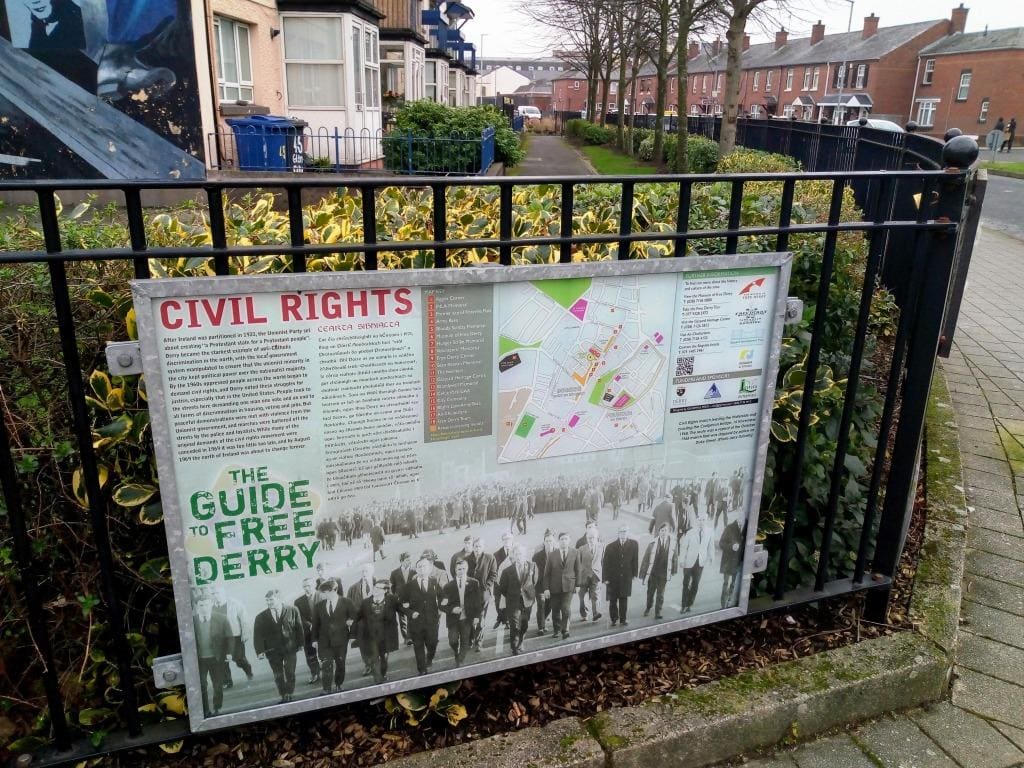 Imbolc – St. Bridgid's Day
Imbolc is celebrated on 1–2 February and is also known as St. Brigid's Day an Irish patroness, marks the beginning of spring. The day includes feasting, spring cleaning, and making Brigid's crosses with rushes. Traditionally, people create "St. Brigid's crosses" from reeds or rushes, which are then hung in homes to bring blessings and protection.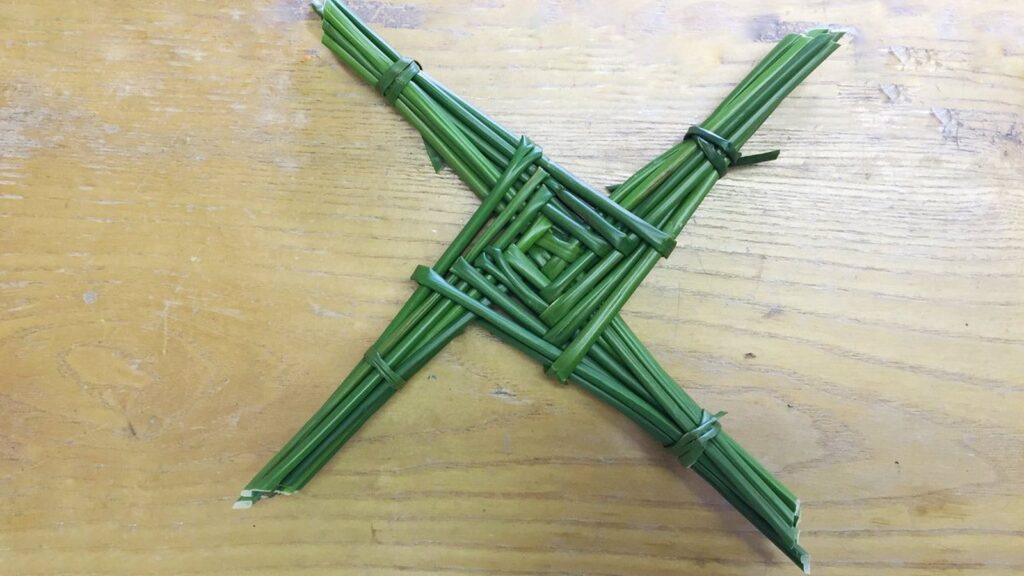 Lisdoonvarna Matchmaking Festival
This takes place in Lisdoonvarna, County Clare where the Cliffs of Moher are found, every year and is the largest matchmaking event in Europe. At this event, singles meet potential partners through dances, music, and various social gatherings.
Lughnasadh
Lughnasadh is a celebration of the harvest season and the slide into winter. It takes place on August 1st and involves harvest feasts (much like the North American Thanksgiving holiday). There are fires, dancing, games and lots of music.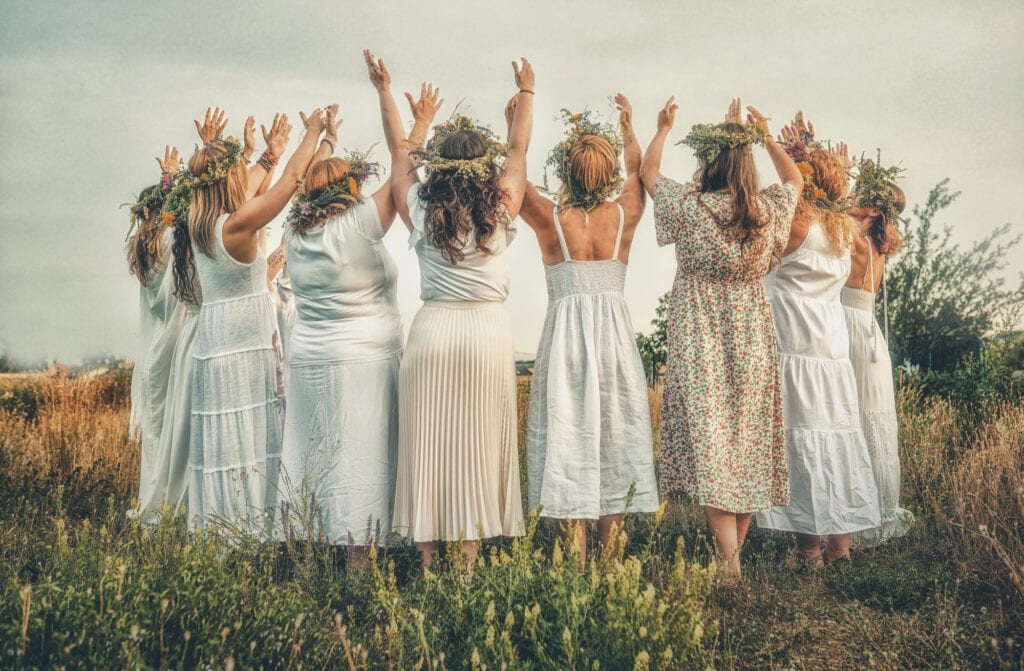 Samhain – Halloween
Samhain is, of course, the precursor to Halloween and it is the rituals of Halloween are from the traditional Samhain rituals that have been folded into our Halloween celebrations. Some will know the ancient Irish roots of the candy-filled fun night, many won't. Samhain or Halloween originated here in Ireland. Halloween in Ireland is a time of feasting, special events, parades, and good craic.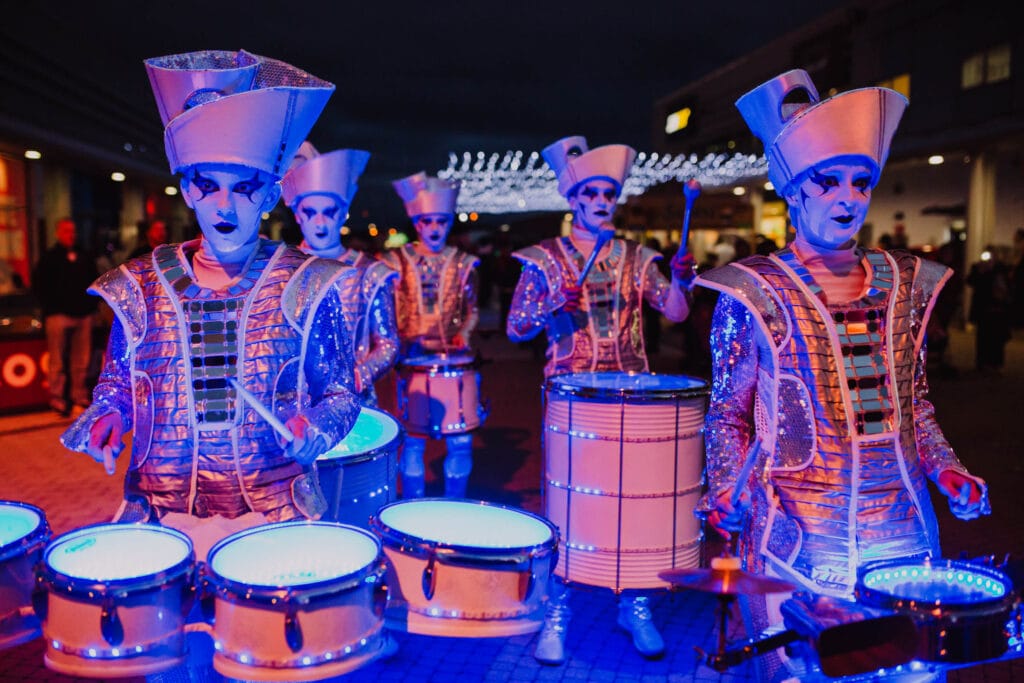 Shrove Tuesday or Pancake Tuesday
Nowadays the majority of Irish people do not fast during lent, but they may give up one particular item such as sugar or booze for lent. Pancake Tuesday is every kid's excuse to have stacks of pancakes – not the thick American kind but the French crepe kind. Shrove Tuesday marks the beginning of lent the 40 days and nights that Jesus fasted in the desert before Easter.
All the ingredients that wouldn't keep for 40 days were used and eaten which gave us the pancake, eggs, milk, butter and flour combined and served usually with lemon and sugar.
St. Patrick's Day
St. Patrick's Day is celebrated on the 17 March, it was begun to celebrate the day St. Patrick brought Christianity to Ireland. These days it simply celebrates all things Irish and is found all over the world. The festivities include parades, traditional music, Irish dancing, and wearing of the green.
In Chicago it's celebrating by dying the rivers green, throughout North America it heralds a night of heavy drinking of green beer.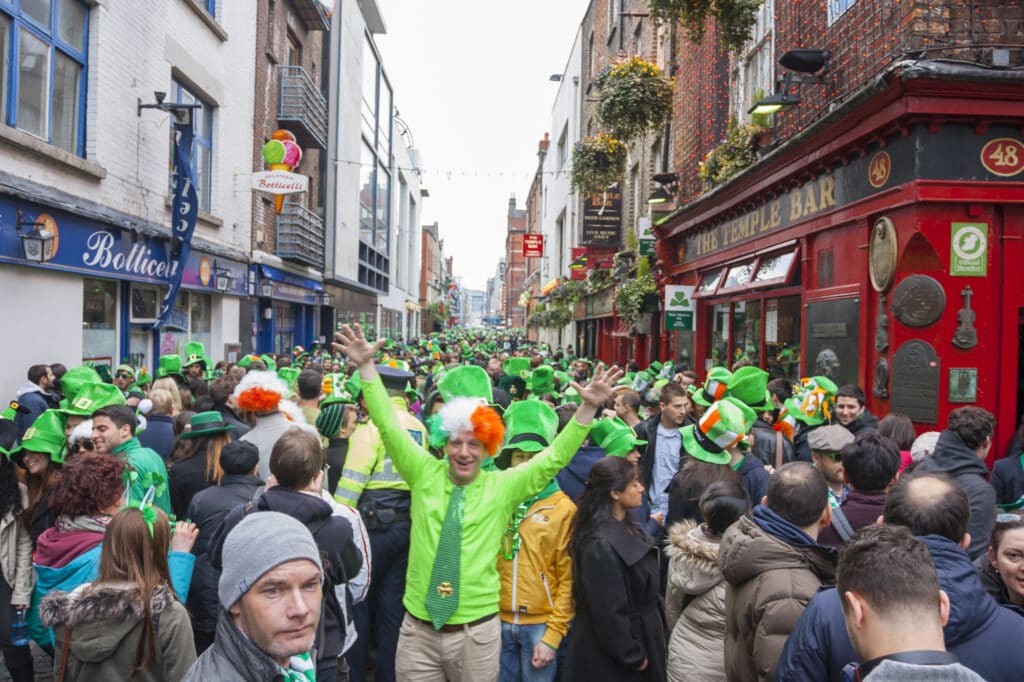 Women's Christmas – Little Christmas
Women's Christmas or Little Christmas is known by many names, including the Epiphany, Three Kings' Day, or the 12th Day of Christmas. January 6th was first celebrated as a feast day in the 4th century to commemorate Jesus' introduction in human form. Here in Ireland, the day is used to celebrate the women who have worked so hard to make the holiday season memorable for their families and communities.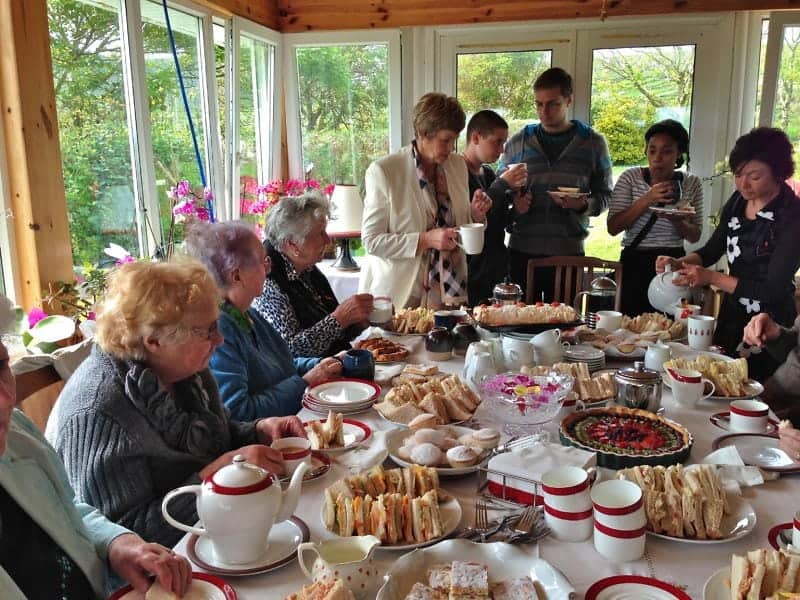 Irish Christmas traditions
12 Pubs of Christmas
One of the newest "traditions" is the 12 Pubs of Christmas. This "tradition" has been developing over the past few years. It may appear to be a millennial party but in Ireland, everyone joins in for the craic. Young and old alike you select your ugliest Christmas Jumper (also known as a sweater, cardigan, or sweatshirt).
We are talking jumpers that are simply hideous with lights, velcroed Santas, real candy canes, and the like. The idea is to hike between 12 different pubs in your area and drink a full round in each pub. There are strict rules to abide by when visiting each pub.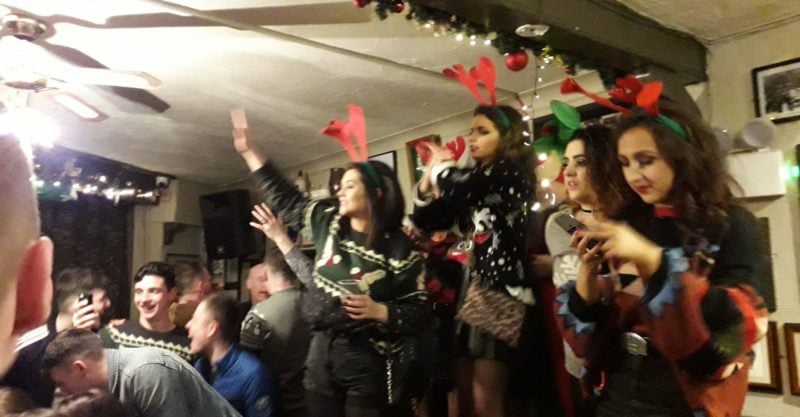 Living Crib
The Live Animal Crib is a central part of the pre-Christmas experience in Dublin. It also allows children to see animals in a traditional Nativity scene.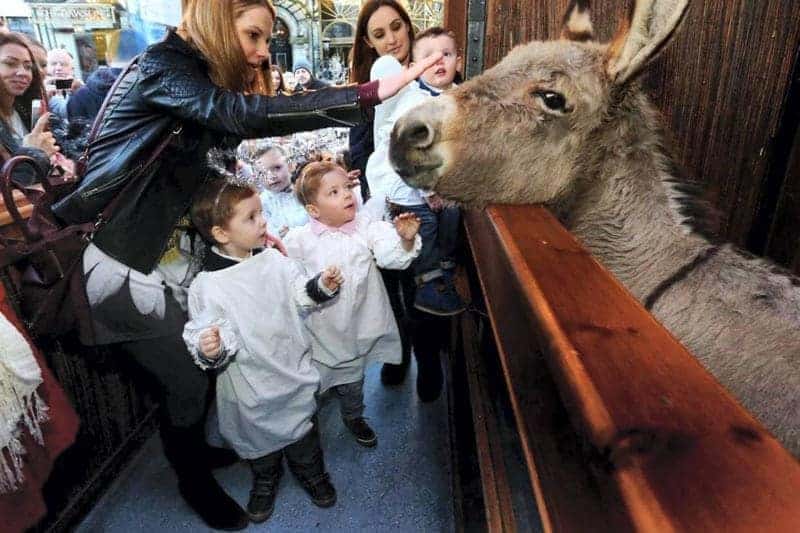 The Late Late Toy Show
This show aired in the 1970's and is broadcast on the first Friday of December. An Irish tradition many of us grew up watching it and using it to determine what we wanted Santa to bring us.
Wren Day – St. Stephen's Day
Wren Day is held on December 26th the Wren Boy Procession takes place on St. Stephen's Day (Boxing Day to us N. Americans) and there are parades around the country. This Irish tradition is making a comeback in some urban areas and there are many legends surrounding the "wren boy".
It's an odd celebration or commemoration – the Wren Boys dress up in old clothes, blacken their faces with coal and parade around with a dead wren (in effigy these days). The poor wren was hunted and killed then paraded around on a pole with a holly bush and the dead wren.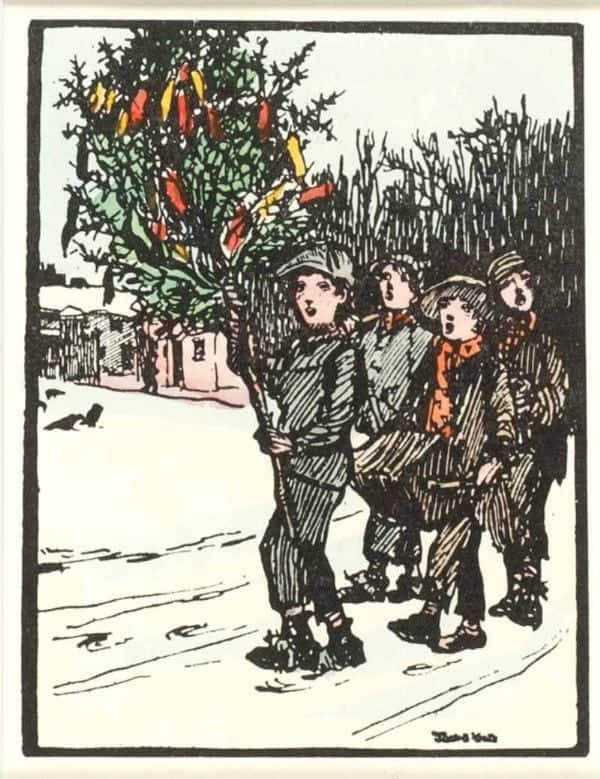 Irish wedding traditions
Getting married in Ireland is a dream for many Canadian or American. Imagining yourselves in front of a glorious Irish castle or at the edge of the world where the sea meets the sky.
Shamrocks and Horse Shoes
Shamrocks may decorate everything from cakes to silver charms and Irish brides once carried a real horseshoe down the aisle, open side up, so the luck would never run out.
Hand fasting is an ancient Celtic tradition that dates back 2,000 years. The ceremony was an engagement or commitment ritual allowing the couple to live together for a year and a day to see if they were compatible; if they were not, they could merely separate.
The Claddagh Ring
You may want to have a Claddagh ring for your service. The Claddagh was designed in the 16th Century by a master goldsmith, Richard Joyce, as a wedding ring for his wife. The ring takes its name from the area of Claddagh in Galway City, which was once a tiny fishing village. What the Claddagh Ring means Love, Loyalty & Friendship.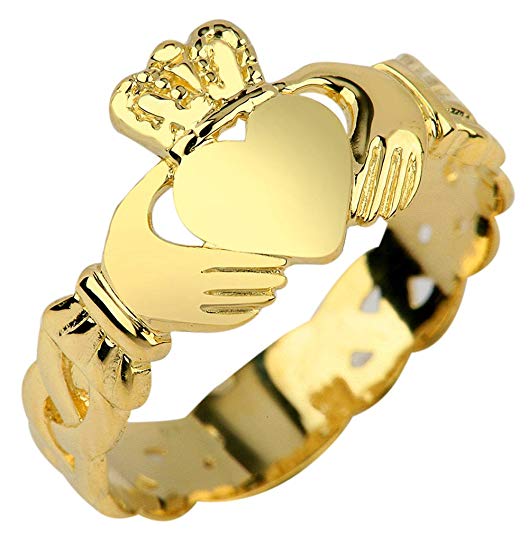 Bells
Ringing the bells after a wedding was thought to scare away any evil spirits that might ruin the marriage. Tiny bells are often given as a charm to the bride and the gorgeous Irish bells flowers are often used in floral arrangements or the bouquet for good luck.
Linen Handkerchief
A traditional white linen handkerchief usually with shamrocks embroidered on it is an old tradition and considered a lucky talisman. In Ireland the handkerchief is later used in a bonnet for a child's christening.
Irish folklore
Ireland remains immersed in ancient folklore and mythology, handed down through countless generations. Tales of legendary creatures like leprechauns, fairies the sidhe, Tuatha de Danaan and banshees infuse Irish culture with a sense of mystery. Across the Island, one can discover an array of ancient sites, including Newgrange and the Hill of Tara, each carrying its own mesmerizing legend.
Giant's Causeway
Fionn mac Cumhaill, or Finn MacCool, was a mythical hunter and warrior who built the Giant's Causeway so he could walk to Scotland. Once there, he bested an ugly Scottish Giant, picked up part of Ireland, and flung it at him. That is how the Isle of Man was created.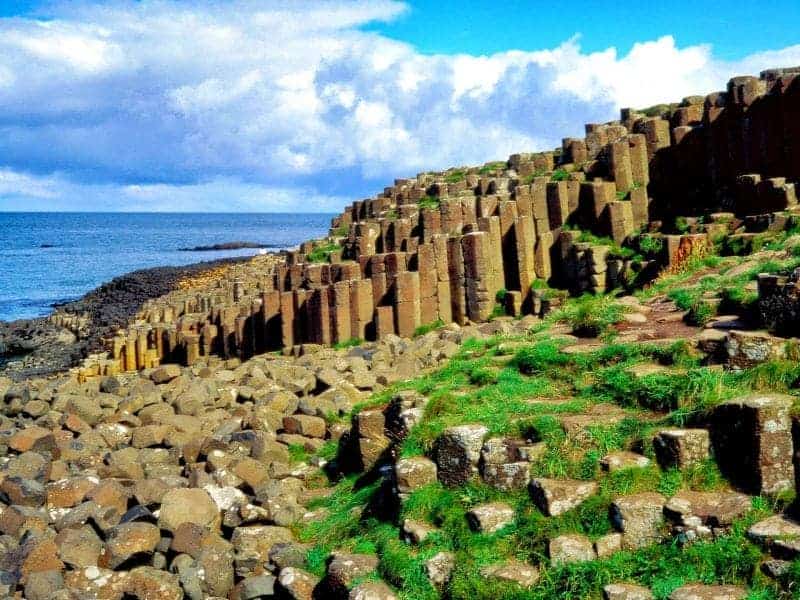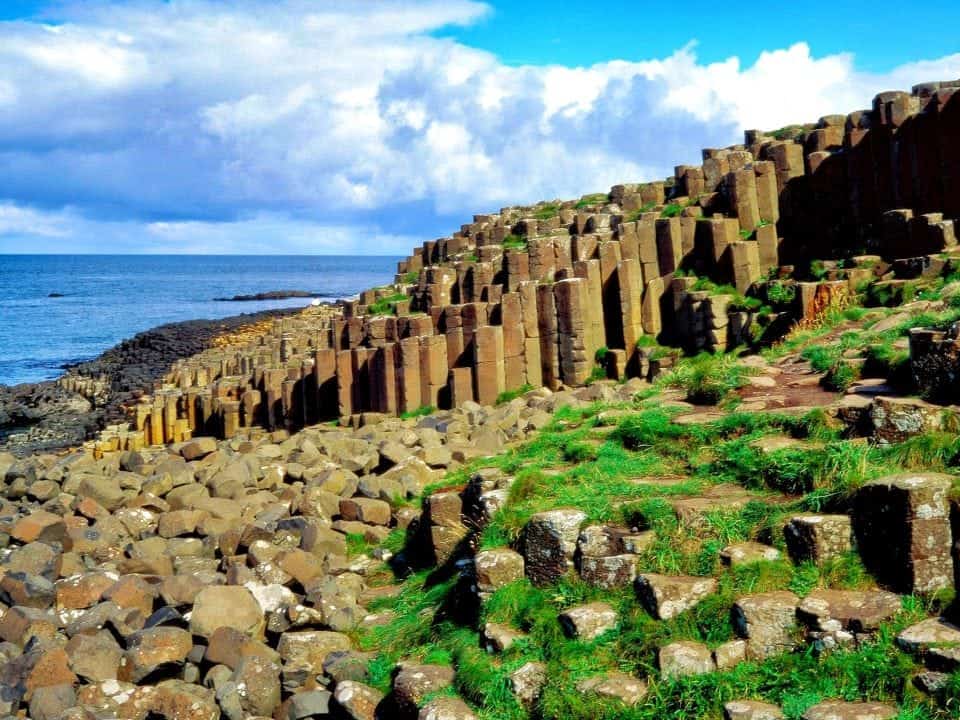 Irish legends – Leprechauns
The stories about Irish leprechauns have their origins in Irish folklore and mythology, which have been passed down through generations. Leprechauns are a type of fairy or mythical creature in Irish folklore, known for their mischievous nature and their reputed pot of gold at the end of the rainbow.
The word "leprechaun" is derived from the Irish word "leipreachán," which itself may have its roots in the Old Irish "luchorpán," meaning "small-bodied fellow." These diminutive beings have been a part of Irish storytelling for centuries. You can even visit the Leprechaun Museum in Dublin.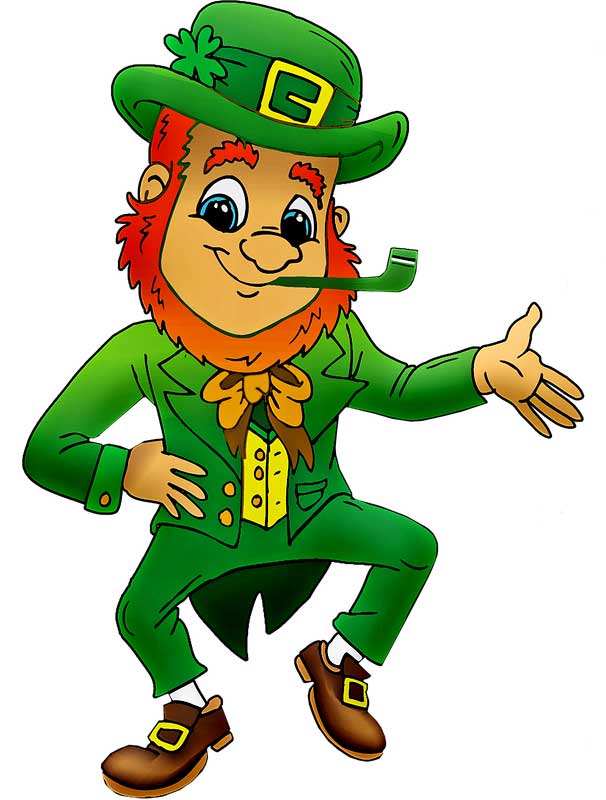 Irish Witches
Ireland's folktales are full of stories about the Cailleach or the Celtic witch. She would descend from the mountains at Samhain to rule the land until Beltaine.
Cailleach means "Old Wife" and she is one of the great Celtic ancestors, the Cailleach was the goddess of the cold and the winds. Sometimes known as the Veiled One or the Queen of Winter, the Cailleach determined the winter's length and harshness. She is both divine hag and creator deity.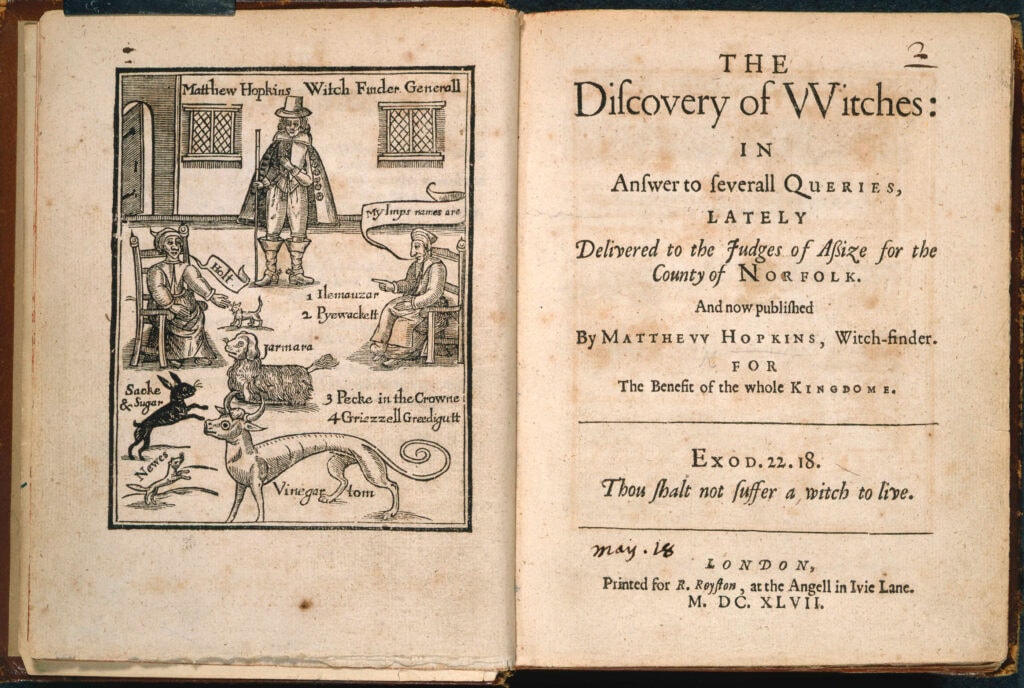 Butter Witches
The first Celtic witches in Ireland were known as butter witches. Butter witches were supposedly responsible for attacks on livestock and stealing milk and dairy products. These Irish witches were always female but they were easily dealt with through charms or counter magic. They were also only thought to be active on Beltaine around May Day and May eve.
Irish Fairies
Traces of Irish Fairies exist everywhere in Ireland. From fairy forts to fairy mounds, forests and trees the Irish have a great deal of respect and love for Irish Fairies and Irish fairy tales.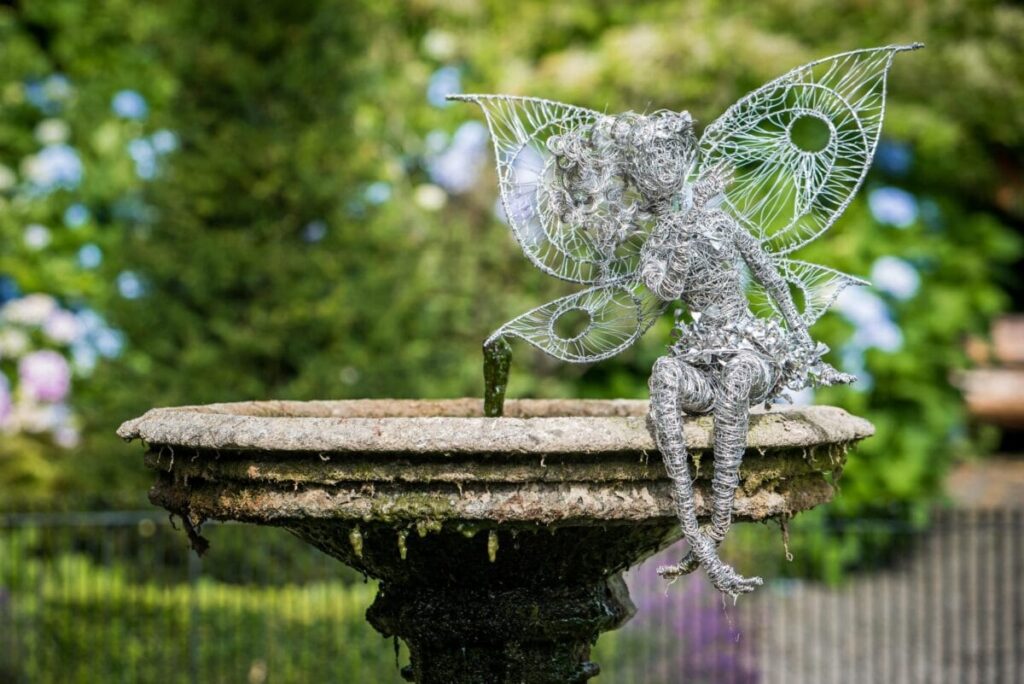 Fairy Forts
Fairy forts of Ireland have existed for millennia and have long held the imagination of folks worldwide – the Irish themselves are not exempt from the magic of fairies and Celtic folklore is full of tales of legendary fairies. In fact, many would say that fairies were born in Ireland.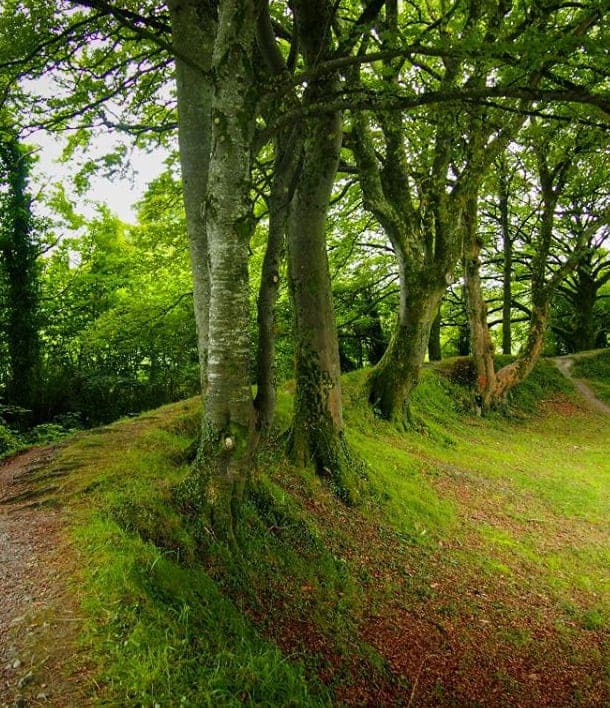 Puck Fair – Ireland's Oldest Festival
Numerous legends abound, proposing diverse origins for the Killorgin Puck Fair, some remarkably imaginative. There is no written documentation on the fair but it is believed that the Puck Fair predates written history. The most common theory simply suggests that it is linked to pre-Christian celebrations of a fruitful harvest and that the male goat or "Puck" was a pagan symbol of fertility, like the pagan god Pan.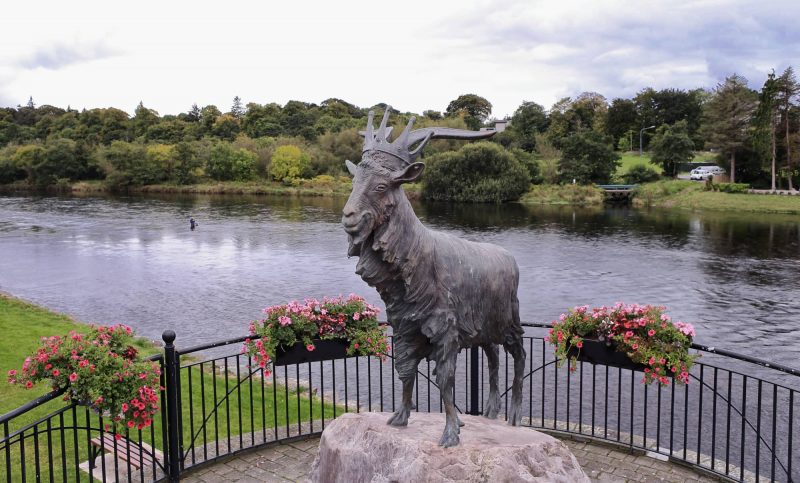 Every year a goat-handler goes up into the mountains to catch a goat. The goat is brought back to the town and the Queen of Puck, traditionally a young schoolgirl from one of the local primary schools, crowns him King Puck. This signifies that the festivities may begin! On the 3rd day, he returns to his home in the mountains.
The Irish Language and the Gaeltacht
English is the dominant language in Ireland in both the North and the Republic. These days Irish Gaeilge (one of the oldest living languages in Europe) is becoming more popular in the North and is taught in all schools in the Republic as it is part if the Irish national identity and the national and first official Language in the Republic.
The Gaeltacht is a region of Ireland where Irish is the main language spoken and used everywhere. These areas are found usually along the Wild Atlantic Way in Galway, Connemara, Mayo, Kerry, Cork and Donegal. However you will see Gaelic signs all over Ireland.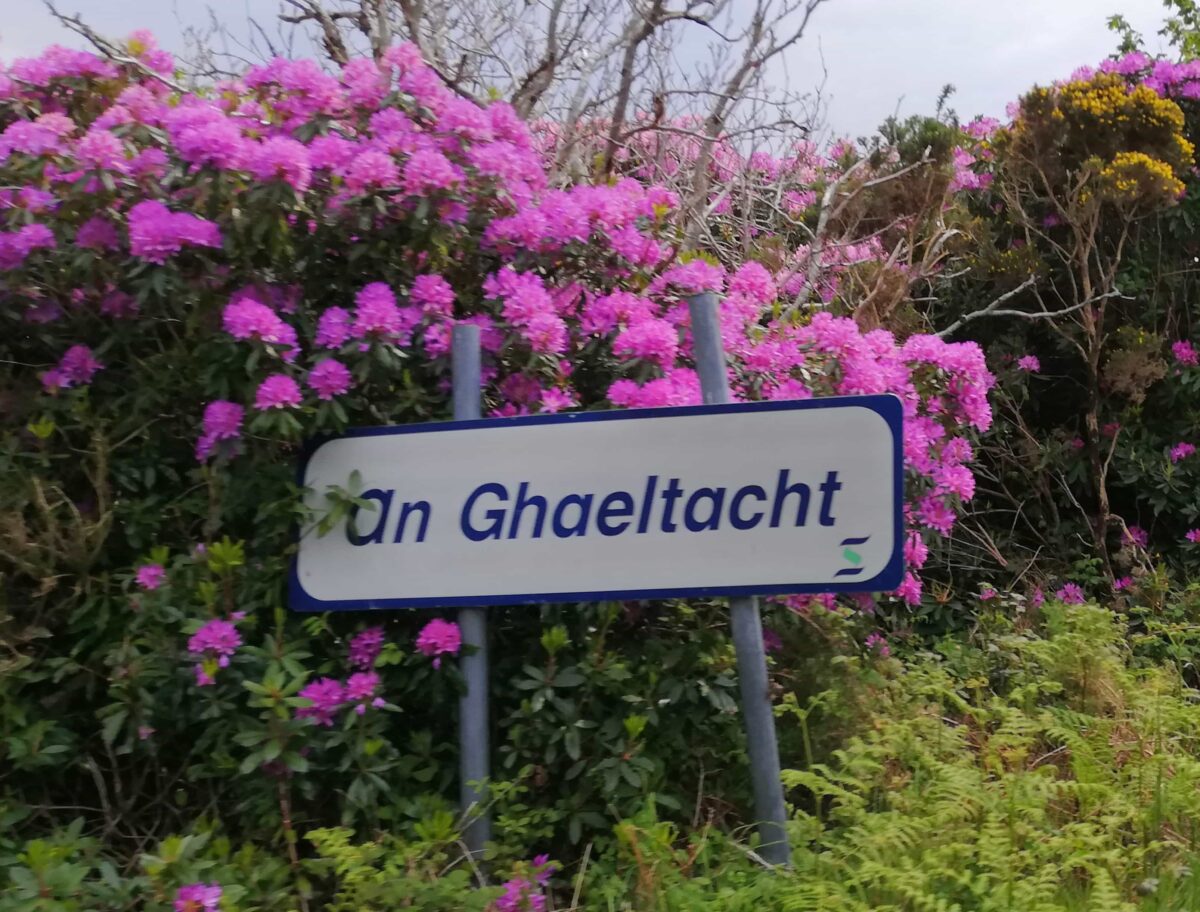 Irish Dance traditions
Irish Dance Traditions I don't think there is a soul in the world who doesn't know River Dance and its iconic Lord of the Dance. A global sensation since its first appearance in the Eurovision Song Contest Riverdance has captivated the world with Irish dance and music.
Irish Step-dancing, is characterized by intricate footwork and vibrant beautifully embroidered costumes. Many of the costume designs are taken from the illustrated Book of Kells with their intricate embroidery.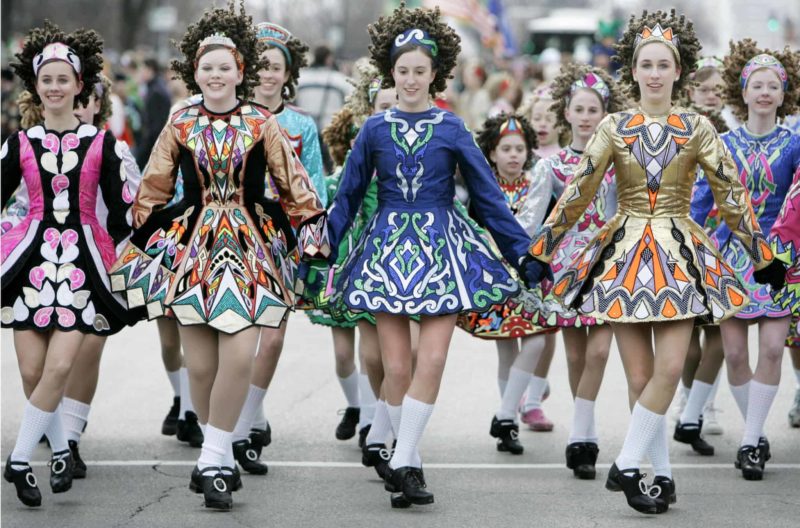 Irish Traditional Music
Traditional Irish Music is what many tourists come to find in Ireland. Handed down from generation to generation music bound the community together. The main form of entertainment and sometimes a means of passing on Irish history through Rebel songs Irish music are loved around the world.
If you ever visit Ireland, you'll find that in many pubs sessions of traditional music are played on a regular basis. These music sessions usually include a variety of skilled musicians playing on instruments such as the fiddle, tin Whistles, squeezebox and more traditional Irish instruments like the Irish harp.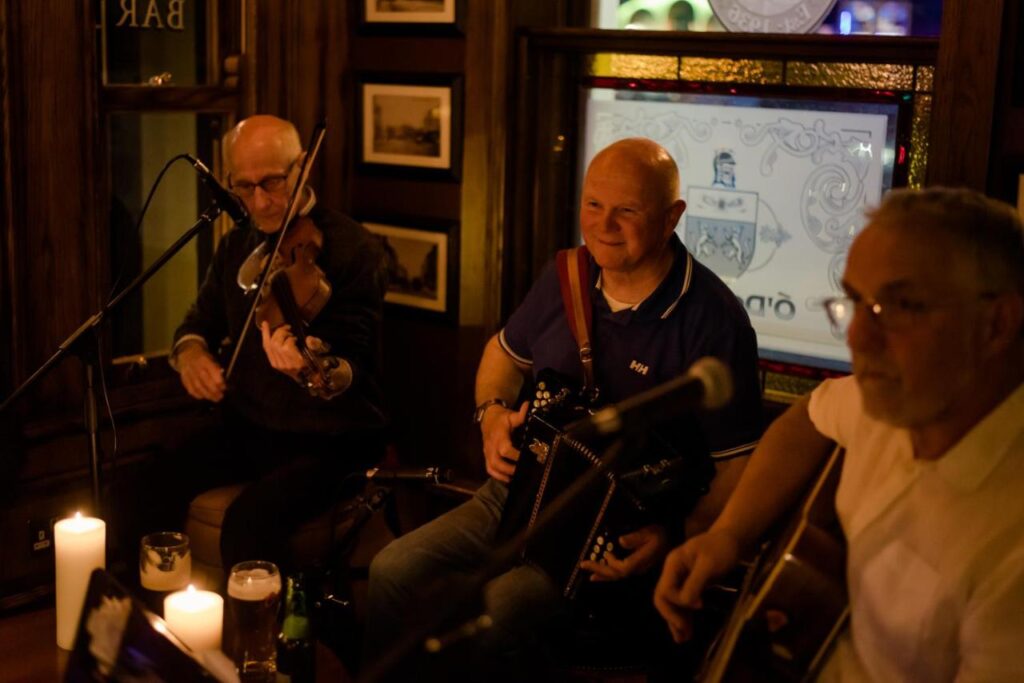 Pub Culture
Whether you're in the Republic or Northern Ireland, pub culture is one of the country's defining customs and characteristics. In most towns, villages and cities you will be spoiled for choice when finding a pub.
Pub Culture is such that unlike bars and clubs in North America all ages gather in the pubs, from 18 to 80 everyone is welcome and every chats and trades banter and enjoys the craic together.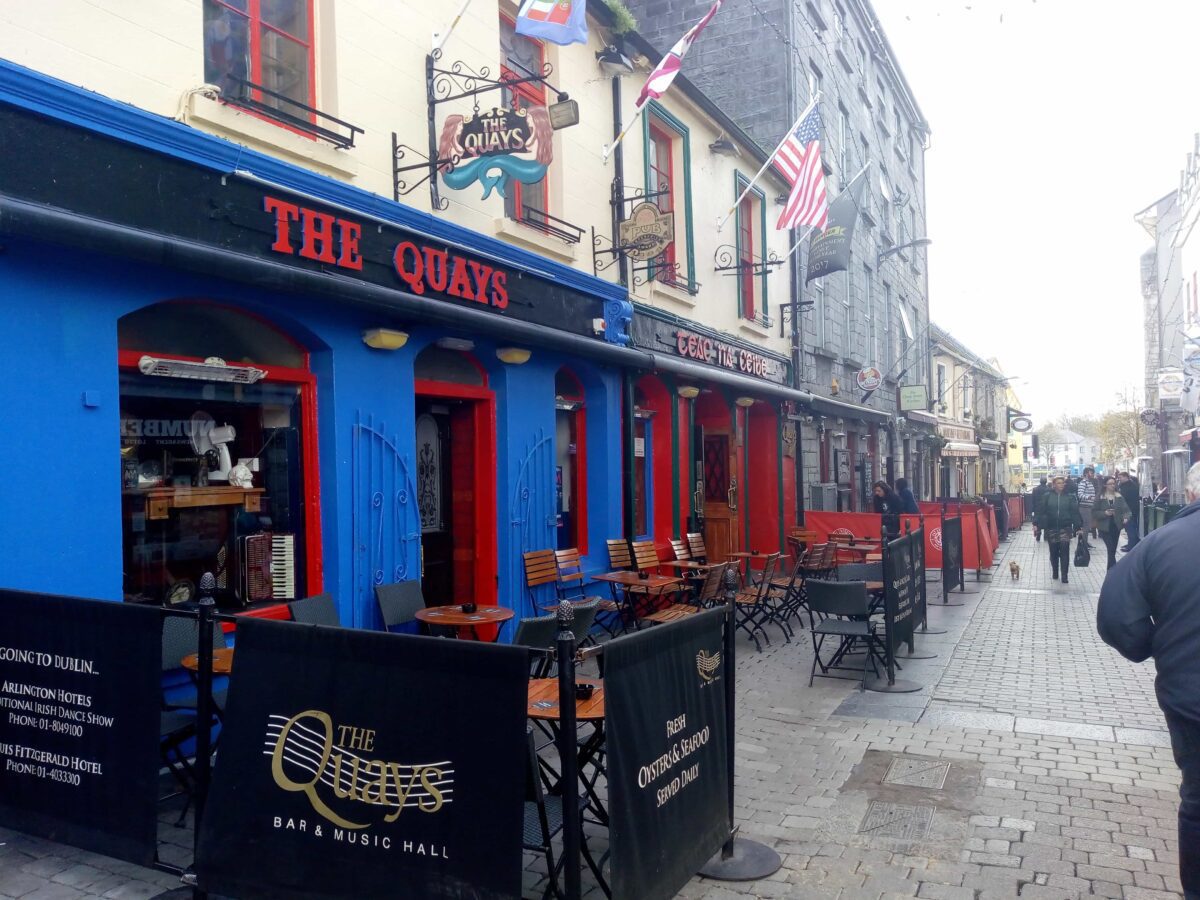 Craic and the Use of Humour
The word 'Craic' simply means having fun. Usually this fun incorporates a lot of banter and taking the mick which simply means teasing or making fun of anyone and everyone. This sense of humour or slagging off your mates is pretty unique to Ireland and the British Isles. Don't get offended if the fellas down the pub make fun of your bald head or your ugly shoes that means you're welcome in Irish.
The seancaithe and scéalaí – Irish storytelling
The island of Ireland is famed throughout the world for the art of storytelling and this tradition in Ireland has carried on for centuries. The seancaithe and scéalaí, the tradition bearers and storytellers, passed the Irish myths and legends down through the generations. Songs were created from these stories and the history of the Irish preserved within the words.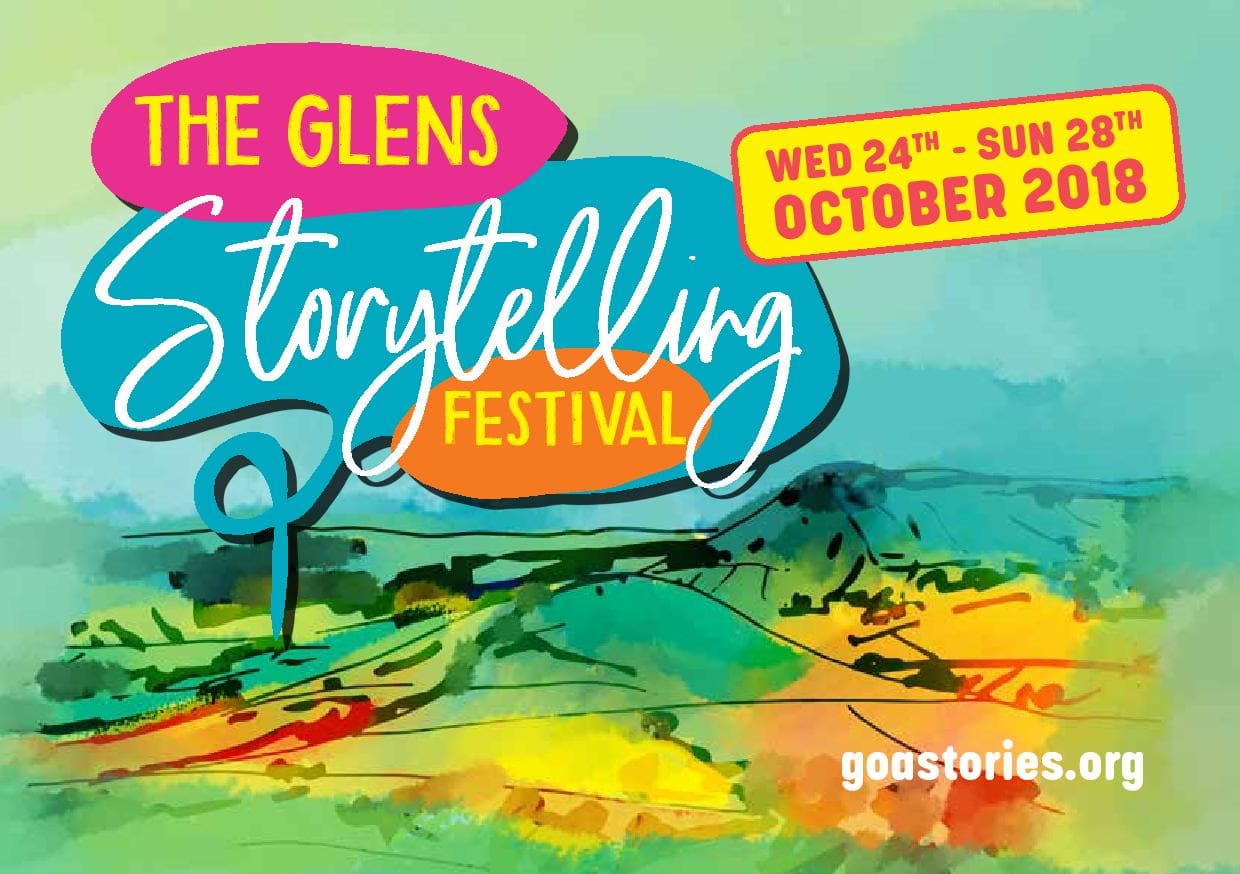 Irish Literature
Ireland's literary heritage descends from the Irish traditions of the seancaithe and scéalaí. These ancient story tellers evolved into the great writers of the world. Ireland gave birth to James Joyce, W.B. Yeats, Samuel Beckett, and of course there's Bram Stoker, Oscar Wilde and Seamus Heaney.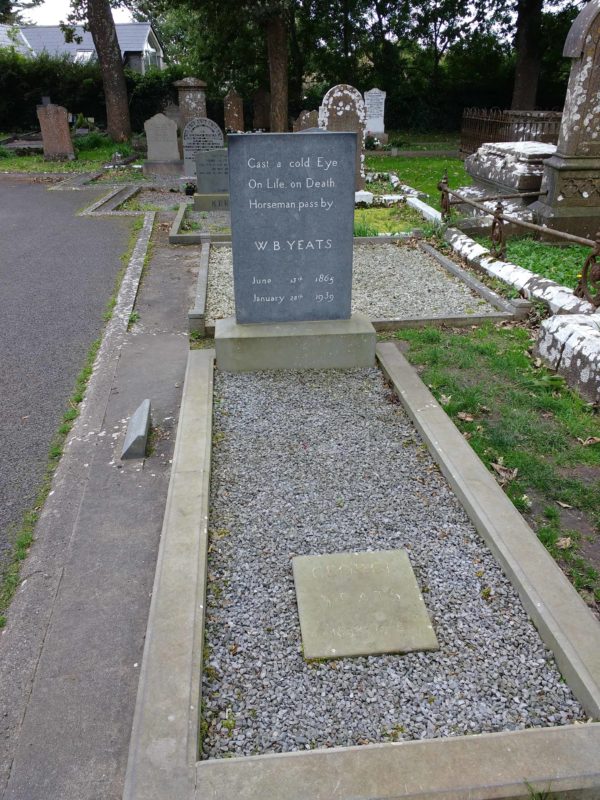 There is also the ancient tradition of illuminated manuscripts such as the book of Kells telling the biblical stories. The ancient Celtic Crosses at Monasterboice and other Irish historical sites that were used to give the people bible stories carved in stone.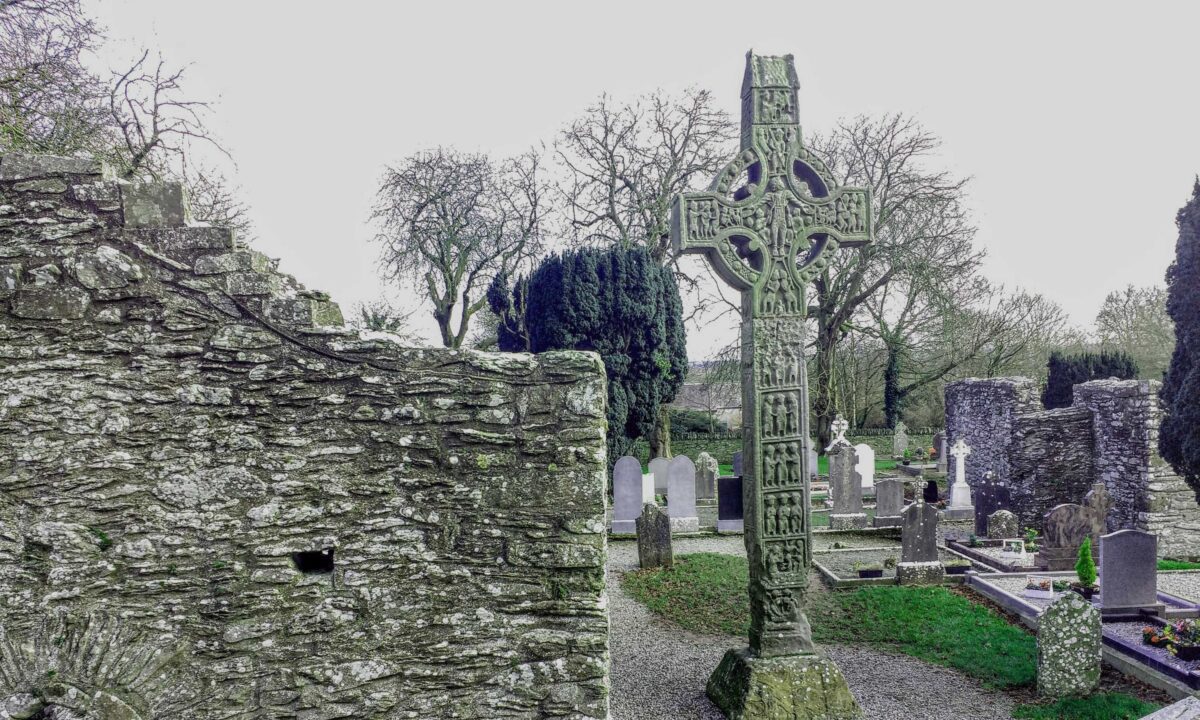 Irish women writers, such as Edna O'Brien, Anne Enright, and Sally Rooney have also made a great impact on the literary world. Writers such as Emma Donoghue, C.S Lewis of Narnia fame, and Frank McCourt of Angela's Ashes and the inimitable Roddy Doyle.
Irish Food
Presently, world-renowned chefs are taking traditional Irish dishes, like stews and colcannon, and giving them exciting makeovers. They are also pioneering a fresh wave of Irish cuisine, embracing locally sourced fish, shellfish, vegetables, herbs, seaweed, and beef in their culinary creations.
The potato, though not native to Ireland and introduced in the 17th century, has become a profound symbol of the country because of the Potato Famine.
The potato's significance is deeply rooted in Irish culture, especially during the horrific period of the Great Potato Famine in the 19th. When the potato crop failed, it resulted in widespread hardship and prompted mass emigration among the Irish community.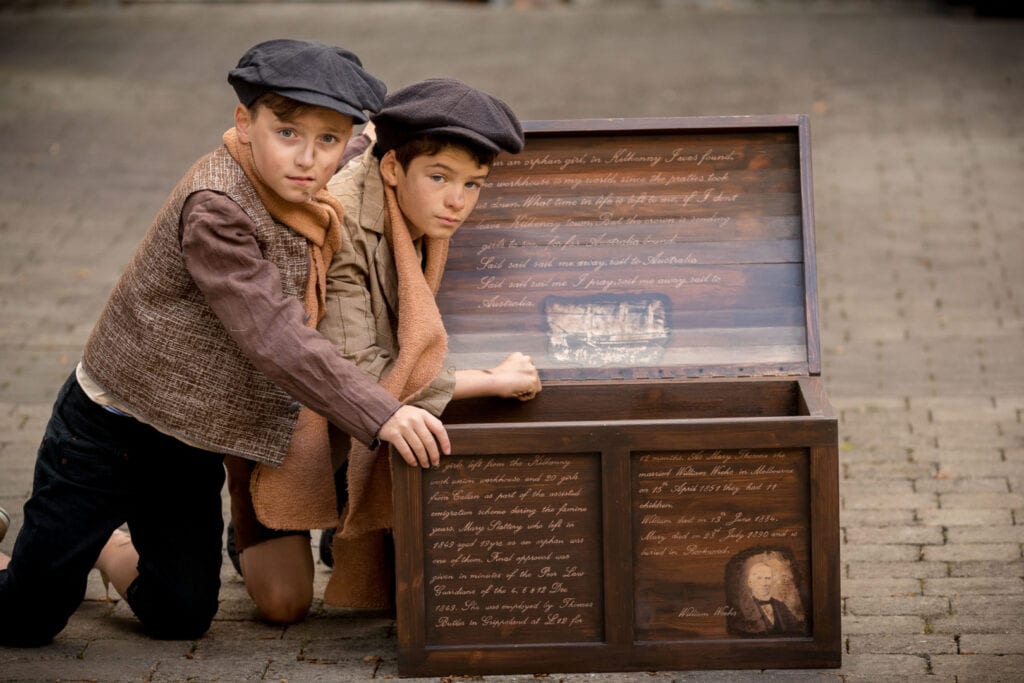 Irish Stew
The national dish of Ireland is of course the Irish Stew. Made with mutton or lamb, potatoes, carrots, turnips (swede) and onions.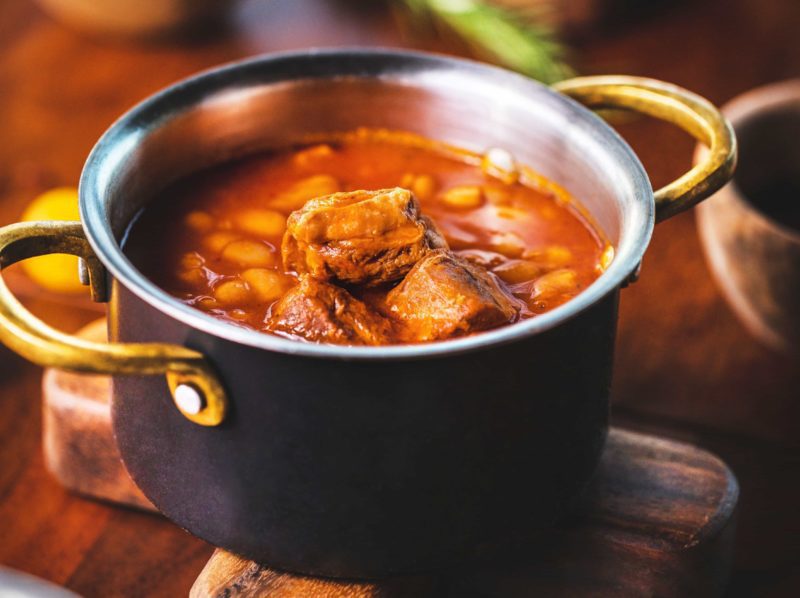 Irish Traditional Soda Bread
Soda bread is a simple classic and nearly every family in Ireland has their own unique recipe. The history of making soda bread began for practical purposes. The first people to actually use soda were the Native Americans and it was introduced to Ireland by the British.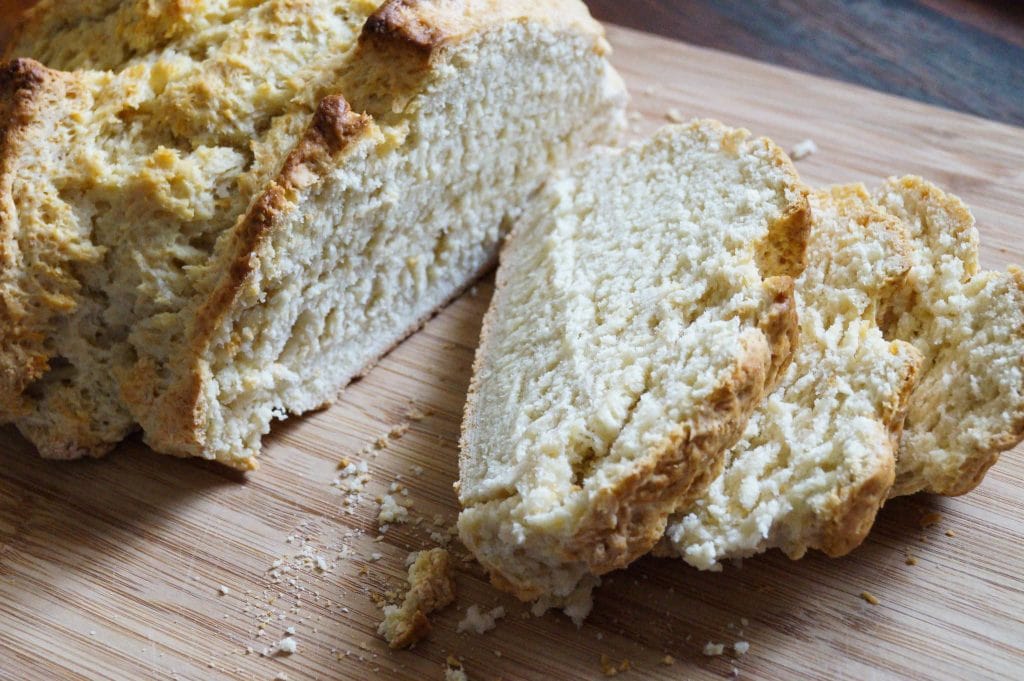 A Full Irish Breakfast
You simply can't beat an Irish Fry or traditional Irish breakfast. Your plate is loaded with bacon, sausage, eggs, mushrooms, grilled tomato, boxty or fry bread and of course served with Irish Tea and Soda Bread.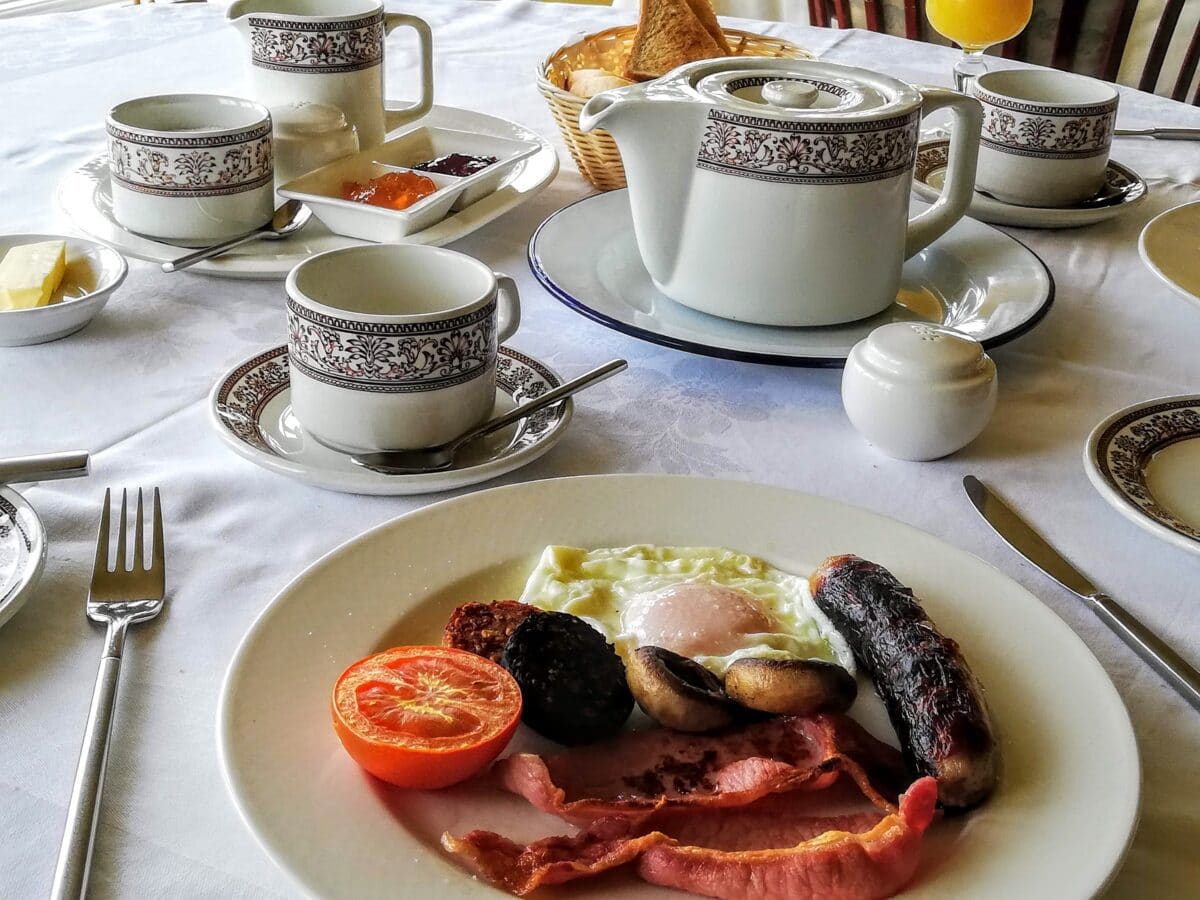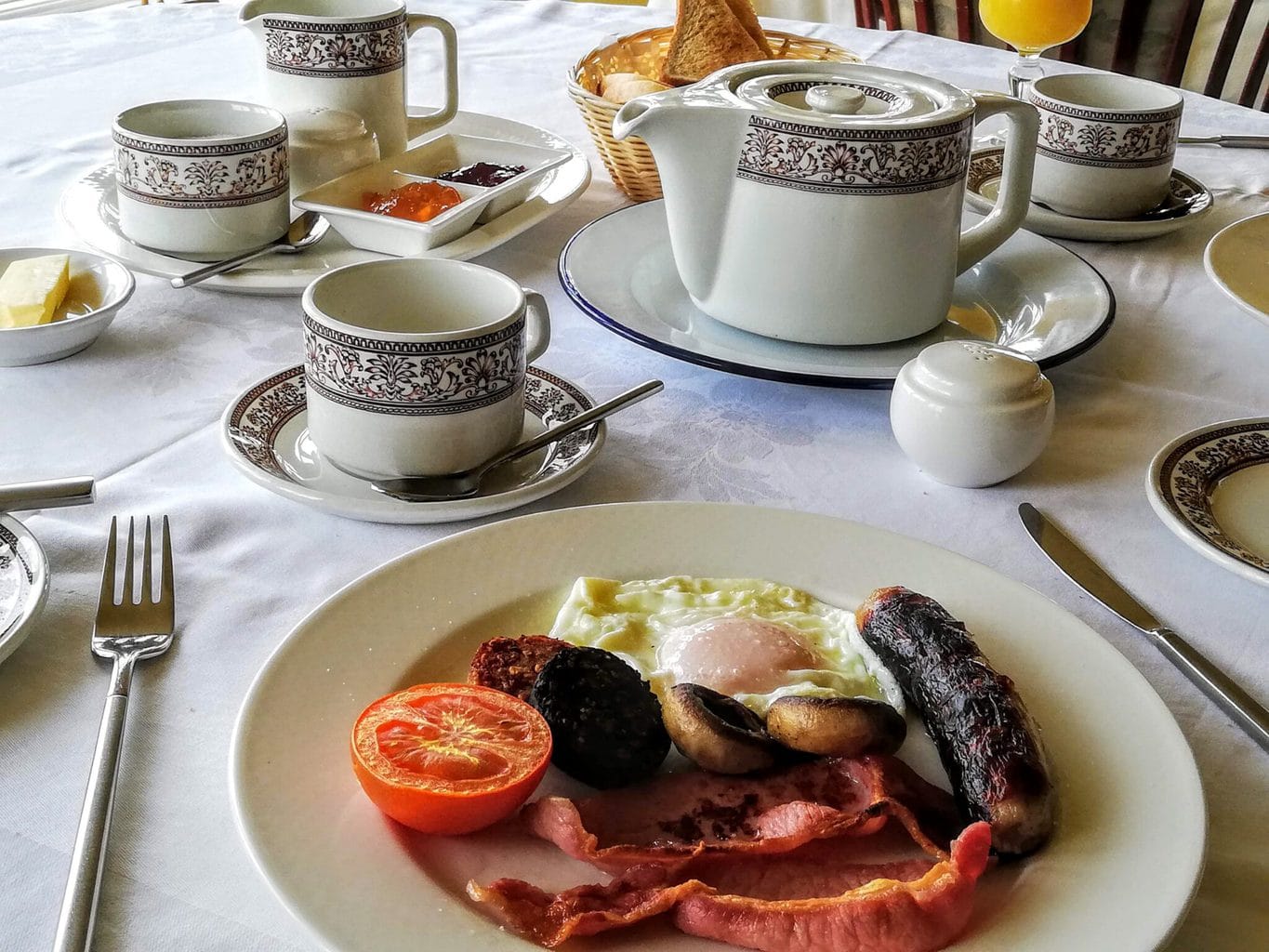 The Breakfast Roll
Essentially a full Irish breakfast sandwich using a long roll or a bap a great way to take your breakfast on the run.
Boxty
Boxty, also known as potato cakes or potato bread is a mixture of mashed potatoes, salt flour and butter that is fried in a pancake-like batter.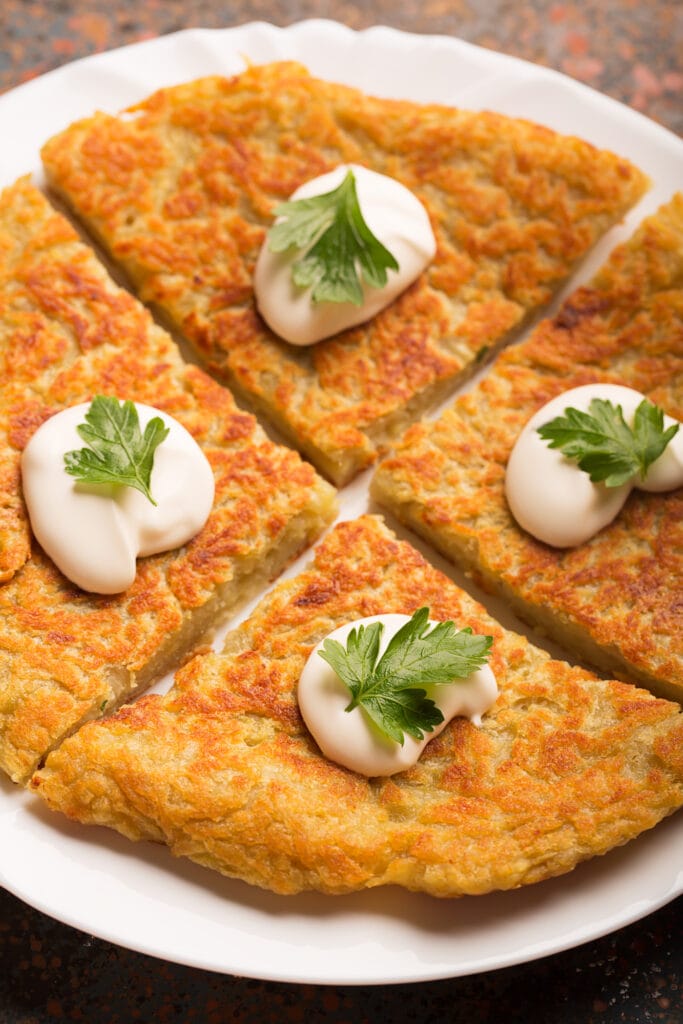 Bacon and Cabbage
An Irish tradition Bacon and Cabbage are boiled together in a pot and accompanied by boiled potatoes, turnips and carrots as well as a parsley sauce.
Baírín Breac or Barmbrack
A cake of bread mixed with fruits and spices, "Brack" as it's colloquially known is often enjoyed with a cup of tea. It is eaten all year round, but has its own Halloween Tradition.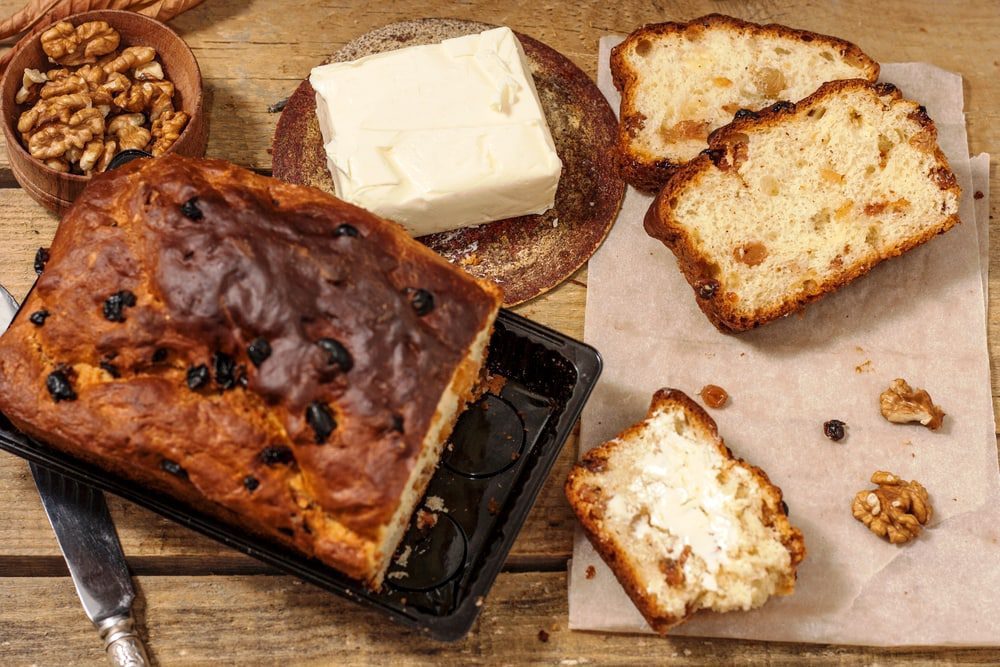 Seafood
From Cod, Salmon and Oysters, fresh seafood is never too far away. With so many coastal towns along the Wild Atlantic Way, you will find classic fish and seafood restaurants. Then there's the famous Dublin Bay prawns and the Northern Ireland town of Portavogie and its prawns and herring.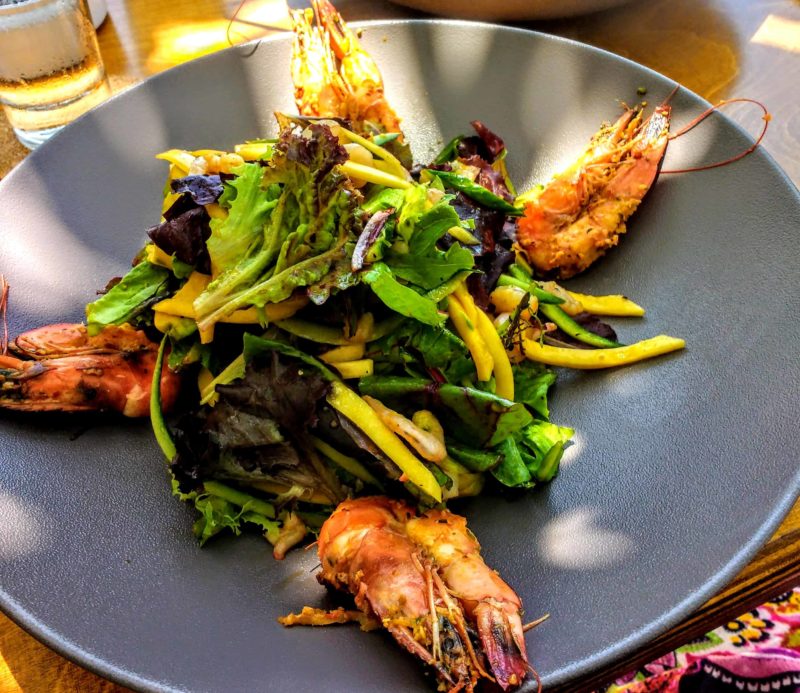 Irish Slang
Irish slang is a language all to its own. From the North to the ROI Irish slang can go over your head in an instant and you stand there with no clue as to what is being talked about. The Irish have a way with words and Irish terms and funny Irish sayings have been handed down from generation to generation. Irish idioms like "Jesus, Mary and Joseph" or "hand us the wooden spoon" are terms most of us Irish have heard at some point in our lives.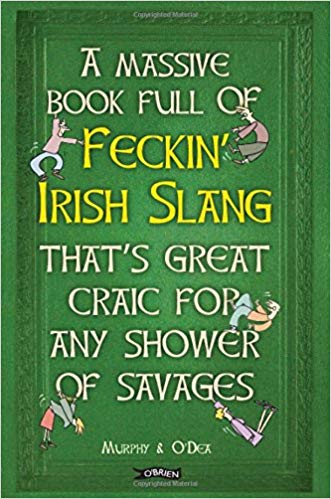 Cead Mile Failte (kayd MEE-luh FAHL-cheh) is the ancient Irish phrase of one hundred thousand welcomes.
Banter is the backbone of Ireland's identity and it is all over Ireland, the banter, the craic, having a good chat and a laugh
Sláinte (slahn-chae] is an Irish expression that derives from the Old Irish word slán, meaning "healthy," used mostly as a toast.
Up to high doh: She's up to high doh as in very excited – either high doh angry or high doh really happy about something.
Eejit (ee-juht): a friendly way of saying someone is acting like a fool.
It's baltic: it's bloody cold or freezing
Traditional Irish Sports
As a way of preserving and promoting Irish sports, the Gaelic Athletic Association (GAA) was established in 1884 and throughout Ireland they monitor sporting events and ensure Irish traditions are upheld. Sports that are unique to the Irish include Gaelic games which compromise of Gaelic & Ladies Football, Hurling, Camogie, Rounders and Handball.
Gaelic Football
Gaelic football in Ireland consists of a team of 15 men playing against another team on a grass pitch. In Irish football you can use your hands just as well as your feet to move the ball.
Hurling
The game of Hurling goes back thousands of years and is sort of similar to Gaelic Football with 15 players but it is played with a Hurley stick and a small leather ball called a sliotar.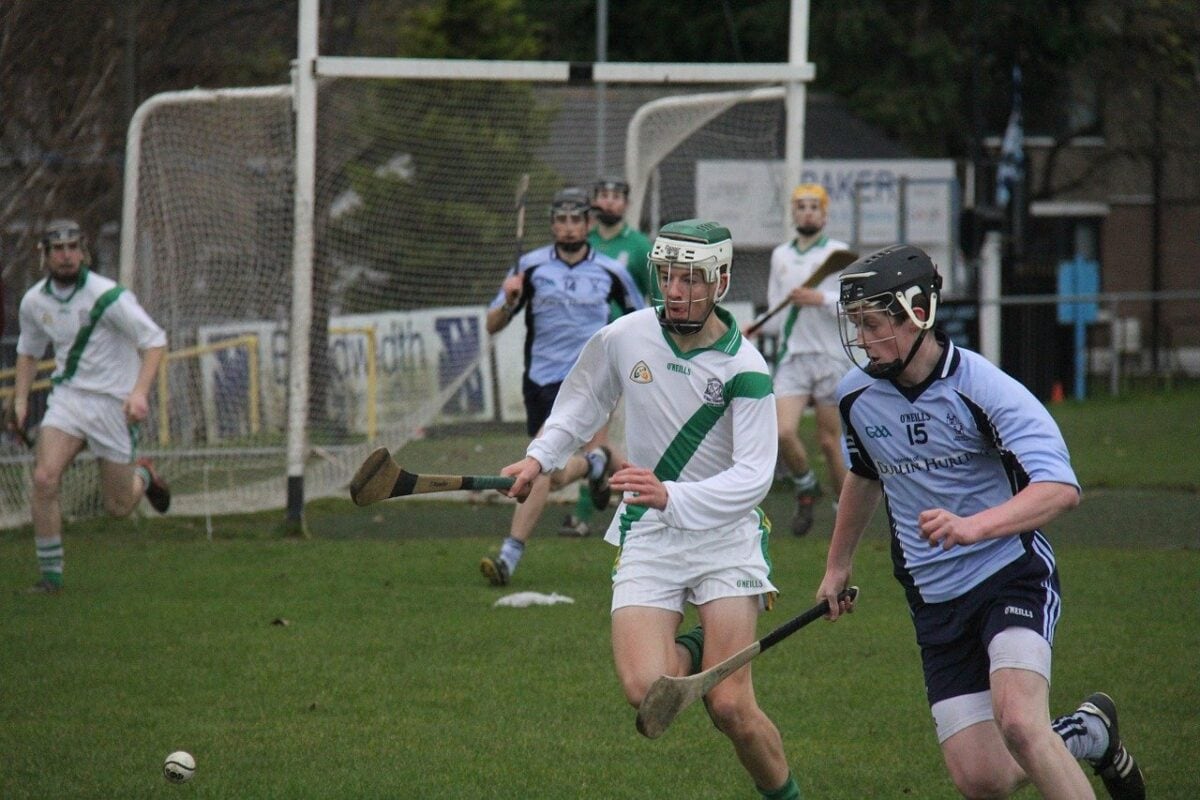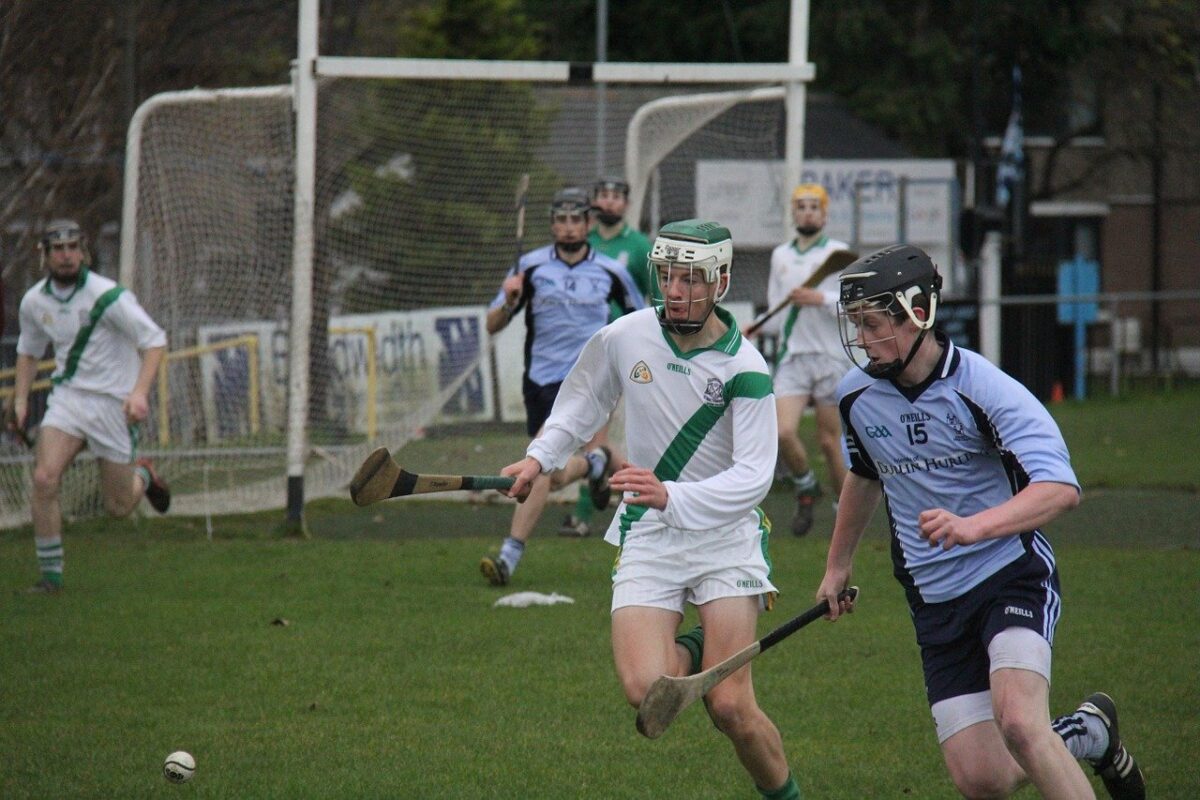 Rounders
Rounders is sort of like America baseball and it is thought that this is where baseball actually originated.
Irish Pilgrimages
Religion has been animportant part of Irish society since ancient times and is the backbone of many aspects of Irish culture. Many ancient Irish traditions have been incorporated into both the Catholic and Protestant religions in both Ireland and Northern Ireland.
The pilgrimage of Croagh Patrick
Every year, thousands of people make the arduous, pilgrimage to the peak of Croagh Patrick in Westport Ireland. The climb is in order of the patron saint of Ireland Saint Patrick and it takes place on the last Sunday in July. Many aspects of Irish identity today are linked to pagan and Christian traditions of ancient Ireland and if the Irish can't make it to Croagh Patrick they take part in hill and mountain climbs across Ireland.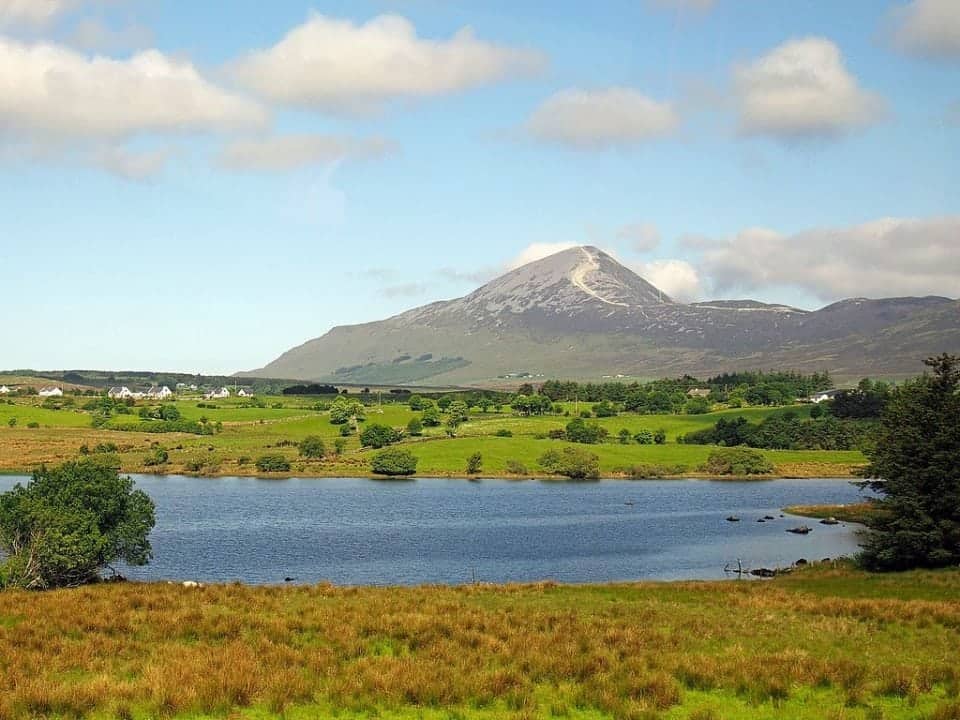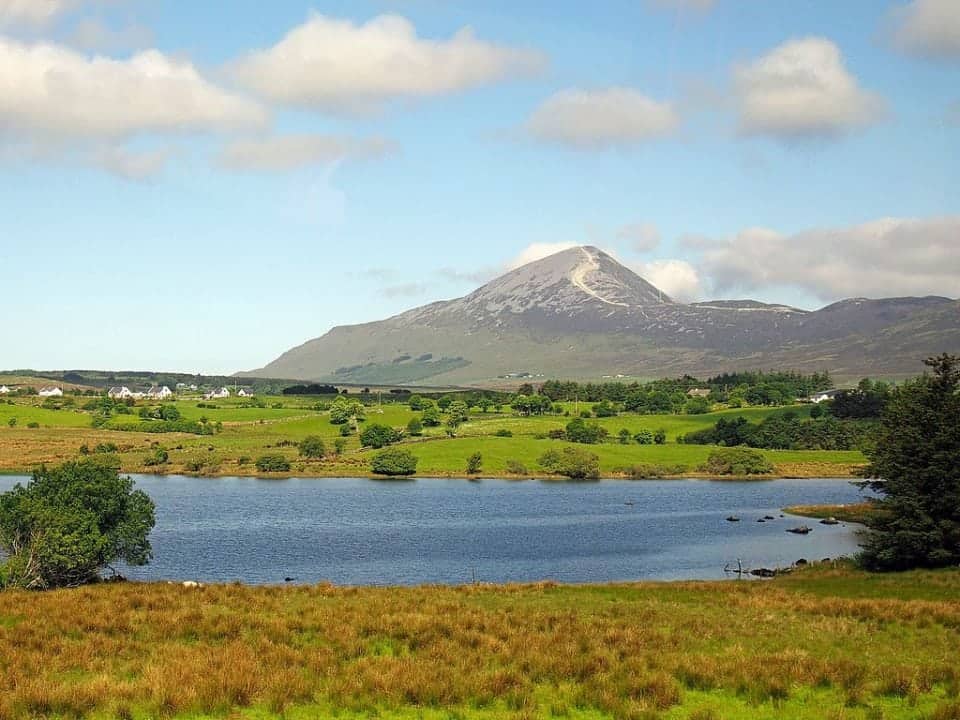 Knock Shrine
In 1879 a miracle was witnessed at the Church in Knock where a heavenly vision of Mary appeared in a brilliant white light on the gable end of the parish church.
Knock Shrine was officially recognized as an international Eucharistic and Marian Shrine by Pope Francis, through the Pontifical Council for New Evangelization in March 2021.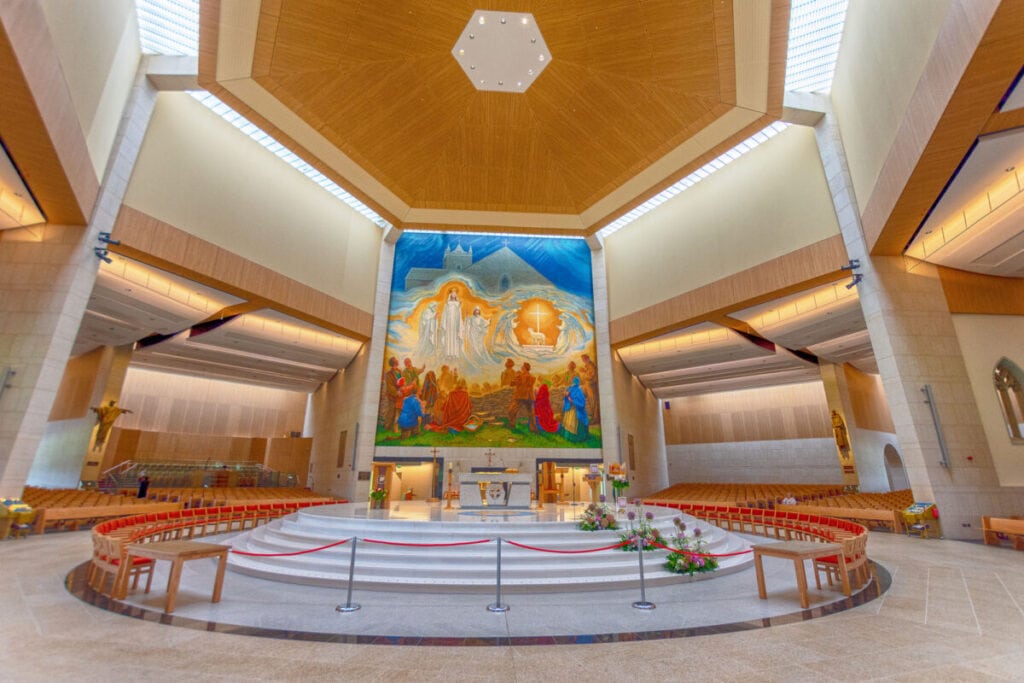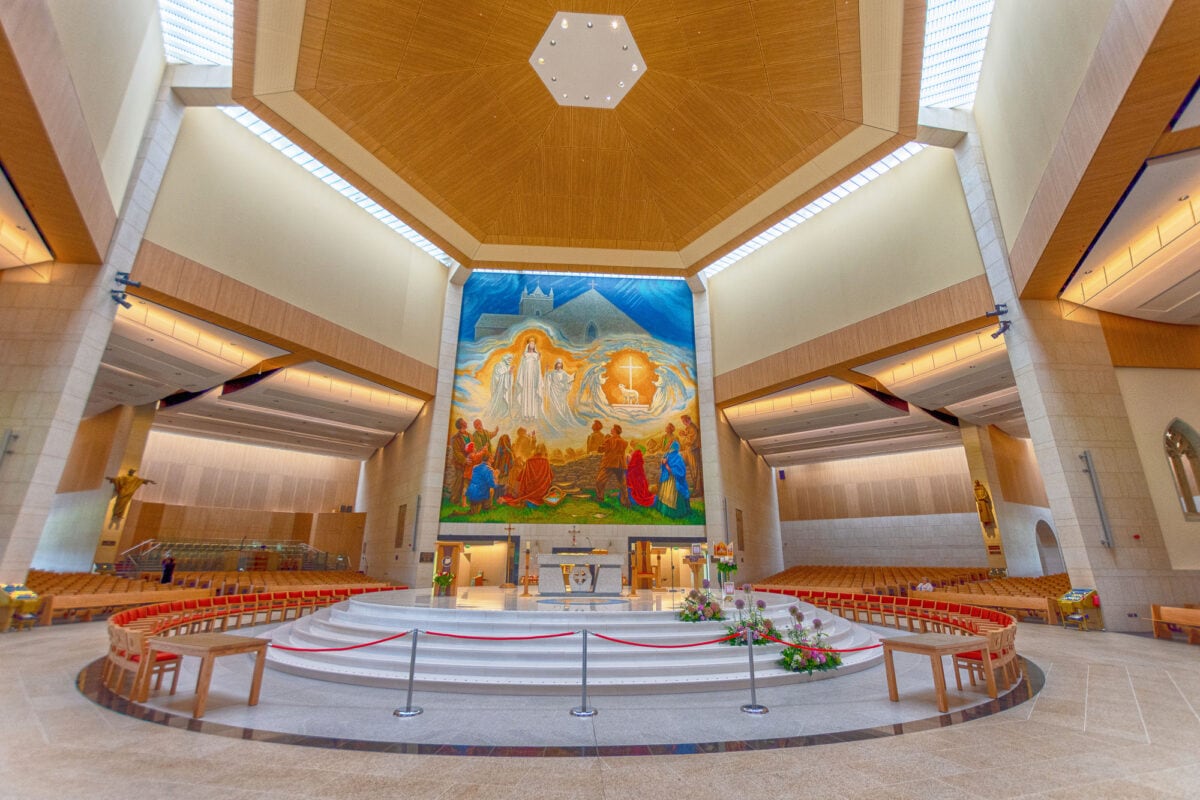 Irish Tradition and Symbols
The Shamrock
Probably one of the most traditional Irish tattoos is the national flower of Ireland but many confuse the Shamrock with a 4-leaf clover which is said to be good luck. The shamrock is a variety of clover and it was an important symbol to the Druids because of the three heart-shaped leaves. The Celts believed that everything that is important in the universe comes in three.
Irish Harp
The national emblem of Ireland, the Irish Harp is another widely recognized Irish symbols. Even Guinness uses it as their logo and it can be found on our Irish coins. The harp is an important symbol in Ireland as it personifies the spirit of the people. In the 16th century, the Brits were so threatened by the use of this symbol that they ordered all harpists where to be executed and the harp burnt.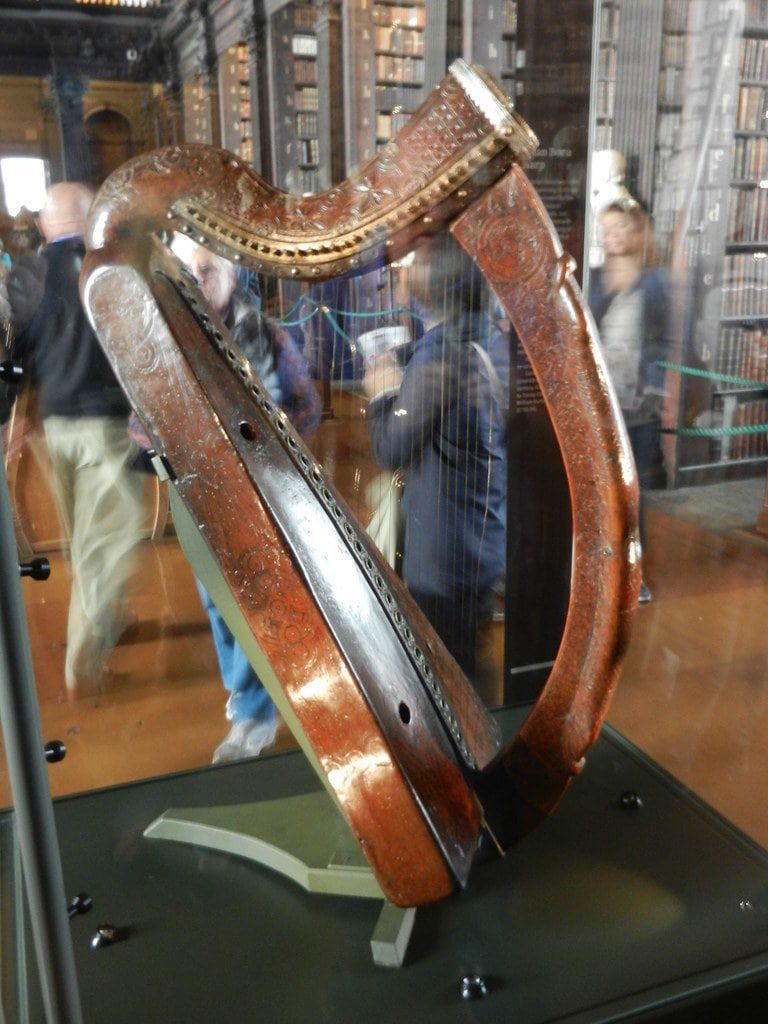 The Dara Knot
The most sacred tree in the Celtic universe was the Oak and Dara comes from the Irish "doire" which means oak tree and was a powerful symbol of strength in the Druid culture. The Druids and the Celts believed that trees were connected to the spirit world and were an entryway into the lands of other spirits.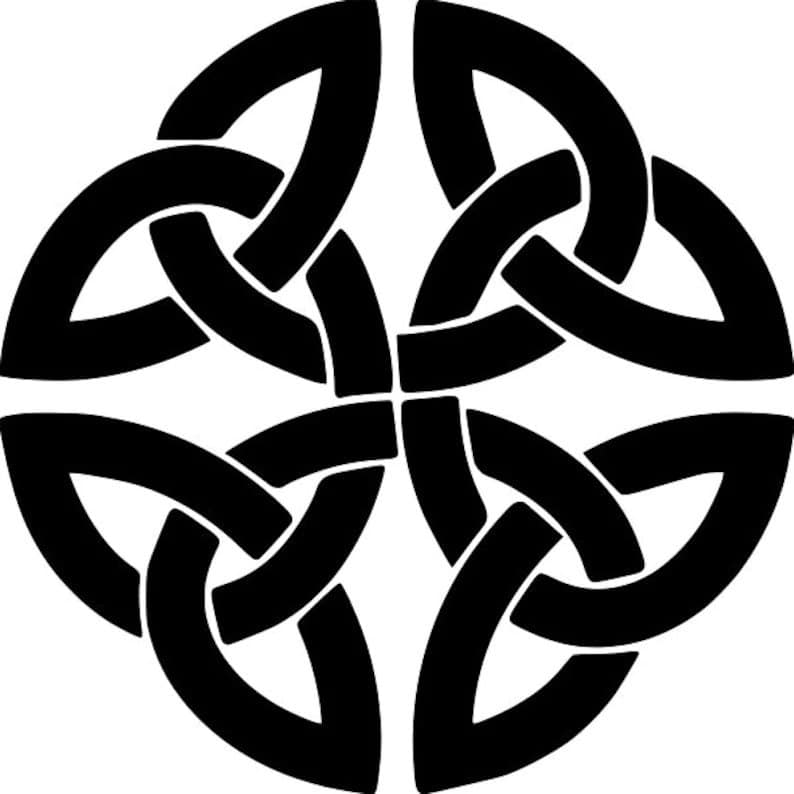 The Tree of Life – Crann Bethadh
The tree of life symbolizes the connection between heaven and earth and it is usually represented with intertwining branches and roots within a circle of Celtic knot work. The Celtic name for the oak tree is Daur, which is pretty obviously referring to Door, and it was the door to the underworld or Fairy realm. This is a very popular ancient Irish tattoo.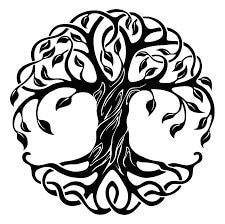 Triskele
The Triskele is an ancient Celtic symbol dating back to the Neolithic era and it can be seen carved into the stones at Newgrange. Thought to represent many things within Celtic culture including the motion of the universe and its energies, life, death and rebirth, mother, father, child, past, present and future. Some believe it is a Celtic female symbol for maiden, mother, and crone and is a Celtic symbol of female power.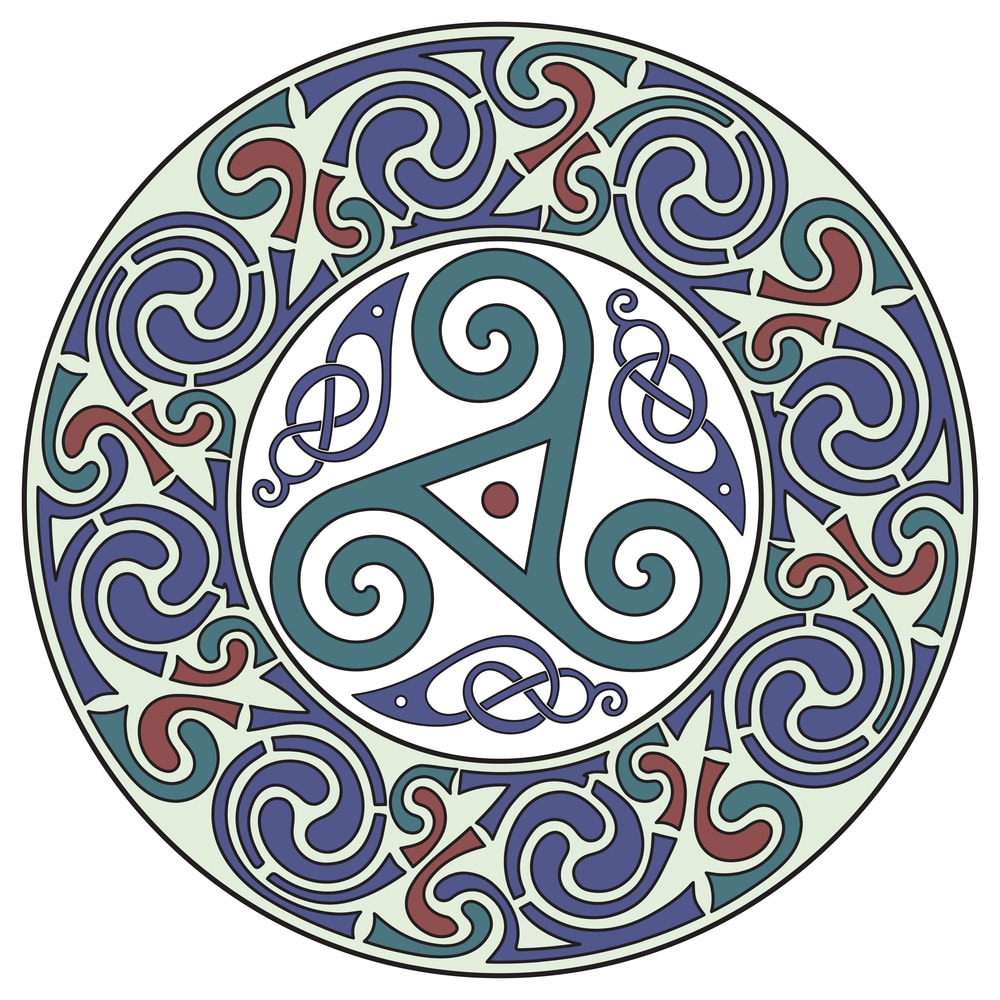 Final Thoughts on Ireland traditions
There are many Irish traditions and customs that are unique to Ireland, some of these traditions are known all around the world. I hope you enjoyed the guide to some famous Irish traditions and their origins. Do you have any favorite Irish traditions?
Pin it to save it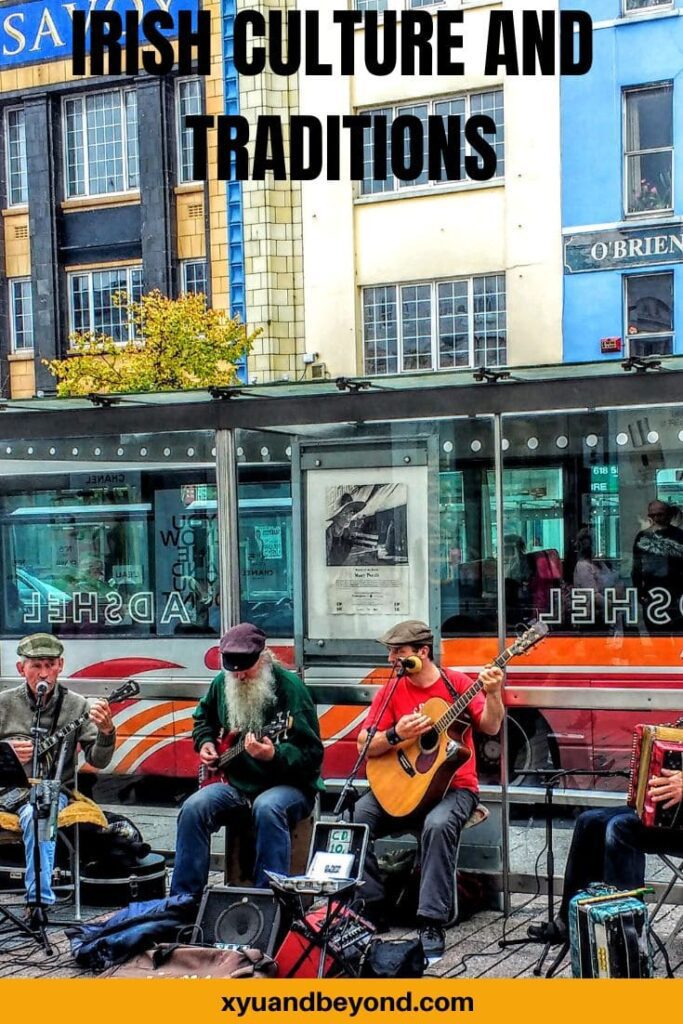 Latest posts by Faith Coates
(see all)