Essential guide to renting a car in Ireland
Planning a trip to Ireland? Then renting a car in Ireland is an absolute must – to truly see this amazing country you need to drive it. Car rental in Ireland will get you to all the places that it takes hours to arrive at via train or bus. It will also allow you to visit areas that no public transport can get to and that's a lot of places in Ireland.
Renting a car in Ireland opens up a world of possibilities for exploring this enchanting country at your own pace. With its breathtaking landscapes, historic castles, and charming villages, Ireland is a destination that begs to be explored by road.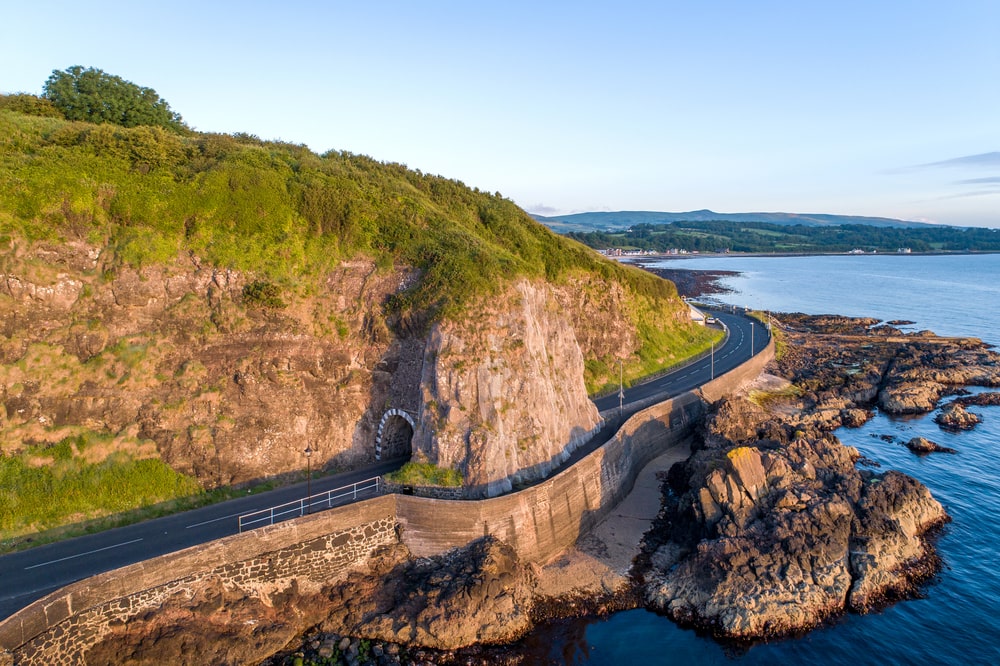 Whether you plan to embark on a scenic coastal drive along the Wild Atlantic Way, Ireland's Ancient East or venture into the lush green countryside, a rental car provides the freedom and flexibility needed to fully immerse yourself in its beauty and culture. From the busy and narrow streets of Dublin to the rugged cliffs of the Cliffs of Moher, renting a car allows you to discover Ireland's hidden gems and experience its unique charm.
However, before embarking on your road trip adventure, it is important to familiarize yourself with the rental process in Ireland. Understanding the rules of the road, insurance requirements, and the various rental options available will ensure a smooth and hassle-free experience.
So, whether you're planning a short city break or a longer exploration of the countryside, renting a car in Ireland is the perfect way to create unforgettable memories and discover all that this magnificent country has to offer.
What's it like to rent a car in Ireland
If you want to see the 'real' Ireland you need to go off the beaten path and explore some of the tiny country roads and non-touristy areas. The only way to do that is to rent a car and go exploring. Google will get you lost a few times and those are usually the times you will see Ireland at its best.?
One of the most common questions I get asked is how to rent a car in Ireland as an American? Well, it's just as easy as handing over your license and your credit card. You do not need an International License regardless of what State you have a license from. Insurance coverage for your rental car in Ireland is another complicated story. Insurance in Ireland adds a great deal of cost and most car rental companies don't tell you that information until you go to book the vehicle.
Do I need a car in Ireland?
Many of Ireland's smaller counties, villages, and towns do not have great public transportation. Trains across Ireland have been removed over the years and for example, you can't take a train to Donegal you would be reliant on buses.
Taking a bus (which I have done many times) from Dublin airport to Donegal town takes a minimum of 3 hours, and from Galway to Donegal is over 4 hours.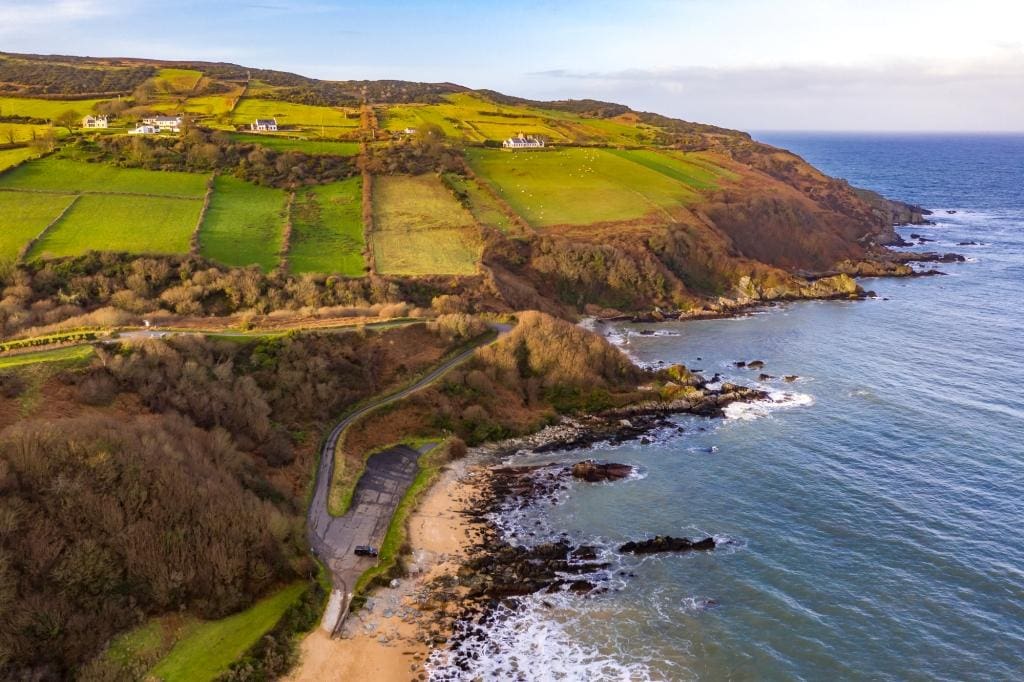 It can be terrifying getting in a car that you have never driven before particularly when that car will have a right-hand drive and is a manual transmission (or stick as we say in Canada). You can rent a car with an automatic transmission but it will cost extra.
Don't be afraid because it won't take you very long to get accustomed to driving here. The pedals are in the same place you are just using your left hand instead of your right but since you always drive with the middle of the road on your side of the car it will feel fine.
I recommend taking a few turns around the parking lot before you get on the roads to give yourself the confidence to drive. All the road signs are in English, the only thing you might have to get used to is the abundance of roundabouts.
Roundabouts can be scary but if you follow the line of traffic and always signal right and approach in the right-hand lane. Keep to the right on the roundabout until you need to change lanes to exit the roundabout. signal left after you have passed the exit before the one you want.
60 Best Northern Ireland tourist attractions
How to rent a car in Ireland what you need to know before renting a car
Do you need a car in Dublin? First, you need to decide which airport you are flying into and of course the dates of your trip. If you are flying into Dublin airport and planning to stay in the city to explore Dublin you will not need a car. Traffic in Dublin is very heavy and it can be a bit unnerving. Car rental in Ireland will get you to all the places on your Irish bucket list.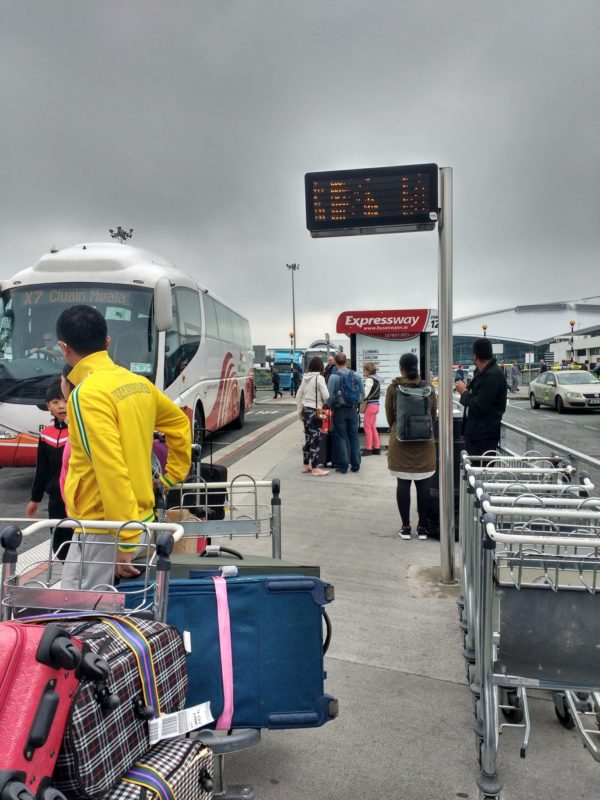 Northern Ireland car rental is just as easy you can pick up your car at Belfast Airport but if you don't want to drive in Belfast simply arrange for pick up when you are leaving the City. Planning your rental car pick up at the airport If you arrive at Dublin airport you will probably take around an hour to get through customs and get your luggage so book your car rental pick up for at least an hour after landing.
Many car rental companies will charge extra if you plan to drive your car in Northern Ireland or if you rent from Belfast airport and plan to drive into the Republic. Make sure that your rental agreement allows you to drive in both countries before you take the car.
When departing from Dublin airport arrange to drop the car off at least 3.5 hours before your flight. The rental car drop off is usually a shuttle bus ride away from the airport but a shuttle is free from the car rental agency. If coming into Shannon or Belfast the journey out of customs and luggage pick up will be much faster as they are smaller airports.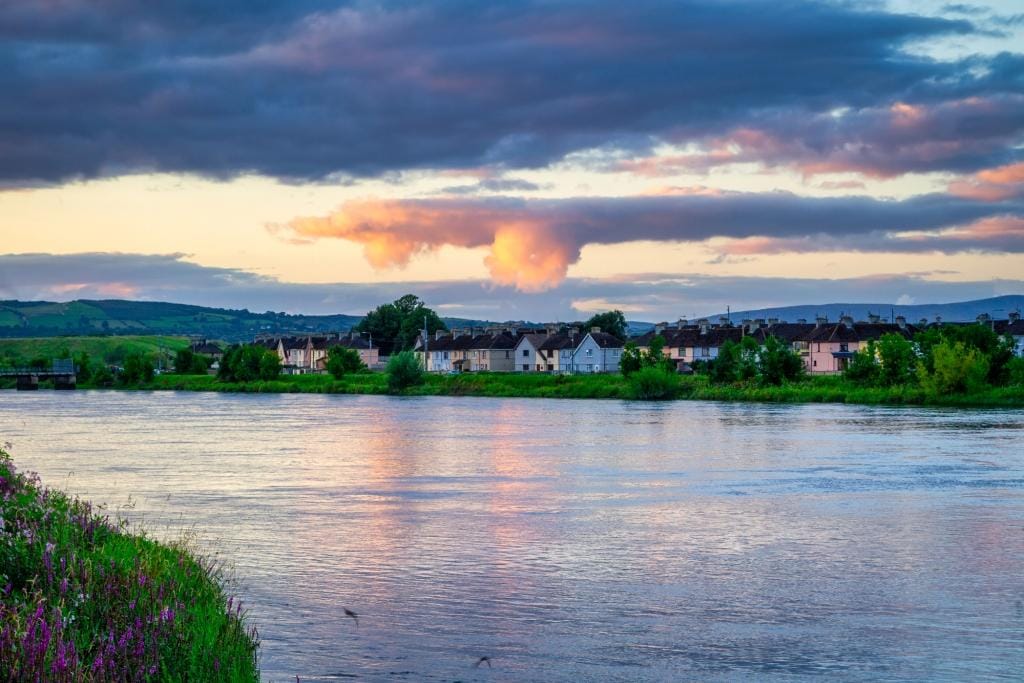 You can usually book your car rental for pick up 30 to 45 minutes after your arrival. If your flight leaves from Shannon you will need 2 to 2.5 hours prior to boarding as most international flights require a 2-hour pre-boarding wait but again the shuttles from the car rental agencies are available and free.
TIP Make sure you check the car rental booth times for opening and closing. Many times I've been in the airport a few hours before they open and after they have closed.
101 Landmarks in Northern Ireland
Is there such a thing as cheap car rental Ireland?
While some car rental agencies have a 'best deals' mentality the truth is that there really is no cheap car hire in Ireland. Since the pandemic make it very difficult to purchase new cars the car rental industry has massively put the prices up for car rentals in Ireland. Not only that but the car insurance rules in Ireland are pretty punitive and make car rentals bloody expensive.
Can I take a rental car from Belfast to Scotland? Or from Ireland to England or Wales?
Yes you can you would have to make arrangements with the car hire company an I know my Irish Cousin allows this, but check on the rates and cost if you want to leave the car in a different country.
How long should I rent a car in Ireland for?
Well, that depends on your planned trip. If you are spending a few days in the city of Dublin don't take a rental car to your hotel. Arrange for the car to be dropped off or you can pick it up in the city at the rental agency. If you plan on returning to Dublin to catch your flight home make sure you follow the advice above on returning your vehicle.
IF you plan on flying out of a different airport don't forget to make arrangements with the car rental agency as they will more than likely charge for a different drop-off point. TIP When booking your accommodation on your driving tour make sure your hotel or BnB has parking space for the vehicle.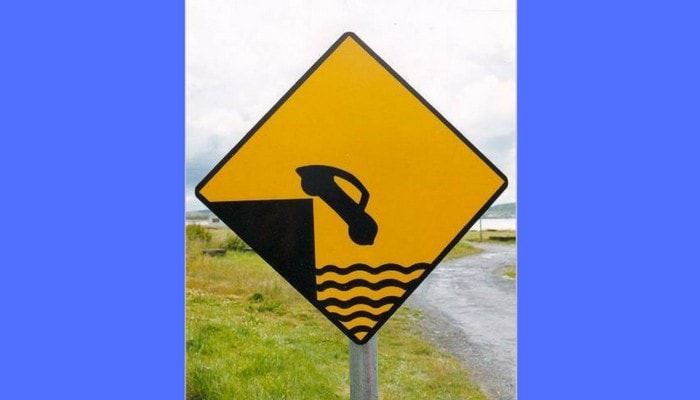 Irish Car Rental Companies
Here in Ireland you can rent from all the major car Companies as follows:
Hertz Car Rental Ireland: Get a quote and rent a car across Ireland from Dublin, Cork, Shannon, Knock, Kerry, Belfast, and more.
Enterprise Car Rental Ireland: Locations are all over Ireland and Northern Ireland.
Dooley Car Rental Ireland: Car rentals offered throughout Ireland and Northern Ireland
My Irish Cousin: My preferred car rental company as all the charges are in the quotation and there are no hidden costs not to mention the superb customer service offered.
There are really no other rent a car alternatives in Ireland if you are in a major city or headed to a major city you may be able to find a lift with car pooling services. Similar to Blablacar, it will allow you to register, and to directly contact drivers wishing to share their car during the journey. Otherwise you are looking at public transport and the travel time needs to be taken into consideration when planning your trip as it can take ages.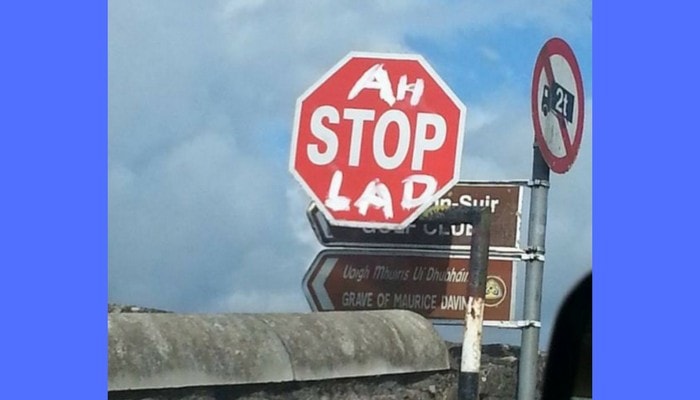 Car Rental at the airport
Car hire Dublin Airport
I would recommend if flying into Dublin you rent a car from Dublin Airport unless you are staying in Dublin itself. Most people will advise you not to drive in Dublin; however, we found it a pretty easygoing city to drive in after being in major cities like Toronto.
The most difficult thing about driving in Dublin is the smaller streets and confusing directions but that happens virtually everywhere here. Oh, and by the way, it is called Car Hire at Dublin Airport and most areas of Ireland. If you do plan to stay in the City have the car hire company bring the car to you or plan to pick up the car at the rental location.
Car Hire Shannon Airport
Shannon's car rental is relatively straightforward. If you are flying into Shannon, it will be much easier to rent a car at the airport and drive directly to your destination, as the transport links are more difficult than at Dublin airport. Shannon airport is a smaller centre to fly into with all the usual amenities and there are buses from the airport.
Shannon is a great airport to arrive at if you plan to drive the Wild Atlantic Way and see sites like the Ring of Kerry, Tralee, Dingle, and Cork area going south or more northerly to Sligo, Donegal, and Galway. You can also rent a car from Galway or any other location if you plan to get there by public transport and drive from that point. The major car rental companies are based right in the airport or you can take a Bus Eireann to most major cities in Ireland.
Car Rental Northern Ireland and Car Rental Belfast
Belfast is also an easy airport to rent a car from although slightly different rules will apply when driving in Northern Ireland as it is governed by the UK. Again you don't have to drive into Belfast itself from the airport you can also have a car brought to you or pick one up at the car rental offices.
Belfast itself is a very easy city to drive in although there are a lot of one-way streets to watch out for and parking is not easy. Depending on which car rental company you choose the pricing will be different and charges may apply to be able to drive the vehicle in the Republic of Ireland.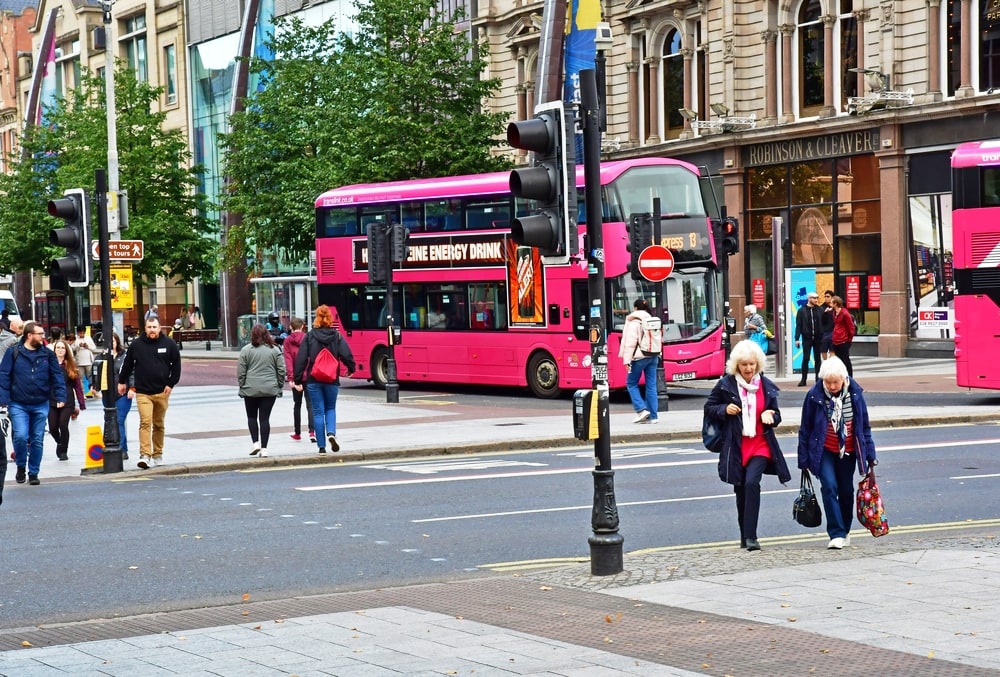 How to rent a car in Ireland
Number of Drivers
You can have 3 named drivers for your rental car and each driver has to present their license to be noted on the record. Be aware if the driver is under 25 or over 75 there will probably be insurance surcharges which could be up to €25 euros per day.
Age of Drivers
For many car hire companies there is an upper age limit – the minimum age in Ireland to rent a car is 21 and if you are under 25 there will be an insurance surcharge which could be €25 Euros or Sterling a day. If you are over 70 the same kind of charges will apply. If you are over the age of 75 there will be some age restrictions depending on the rental agency. So check with your car rental agency to double-check as your rates may be higher.
Renting a car in Ireland – Manual transmission vs. Automatic transmission
Automatic cars are available to rent in Ireland however they will come at an extra cost. The premium usually adds on an extra €100 euros, if it makes you feel more comfortable driving then you should pay the extra.
Diesel vs. Gas Vehicles
Diesel is very popular in Ireland and the price at the pump is sometimes a little cheaper than petrol (gas). Usually, when you ask for a diesel engine you will have to sign a document saying you are aware that it is diesel and confirm that you know this and won't put petrol in the tank.
Do I use GPS or Google Maps in Ireland?
This will really depend on what you are accustomed to. Here in Ireland our personal experience is to use Google Maps because we know how to work the phone to do this. We have never used GPS and since there is an extra cost sometimes for this we just don't bother.
What Car size should I rent in Ireland?
In Ireland, size matters and I would strongly recommend that unless you have years of experience driving on what you might call 'the wrong side of the road' get a small manageable car. The roads can be tiny and in many cases, you will think it is impossible for 2 vehicles to get down the same road but here in Ireland, anything is possible.
Are Booster seats & child car seats available?
Child seats and baby seats are available to hire by prior notification at an additional cost per rental. Baby seats are NOT available for rental for children under 6 months old. Many airlines will let you bring your child's car seat/carrier for free.
Can I drive my Northern Ireland car rental to the Republic of Ireland?
Yes absolutely just remember to notify your car rental agency that you plan to travel in the ROI.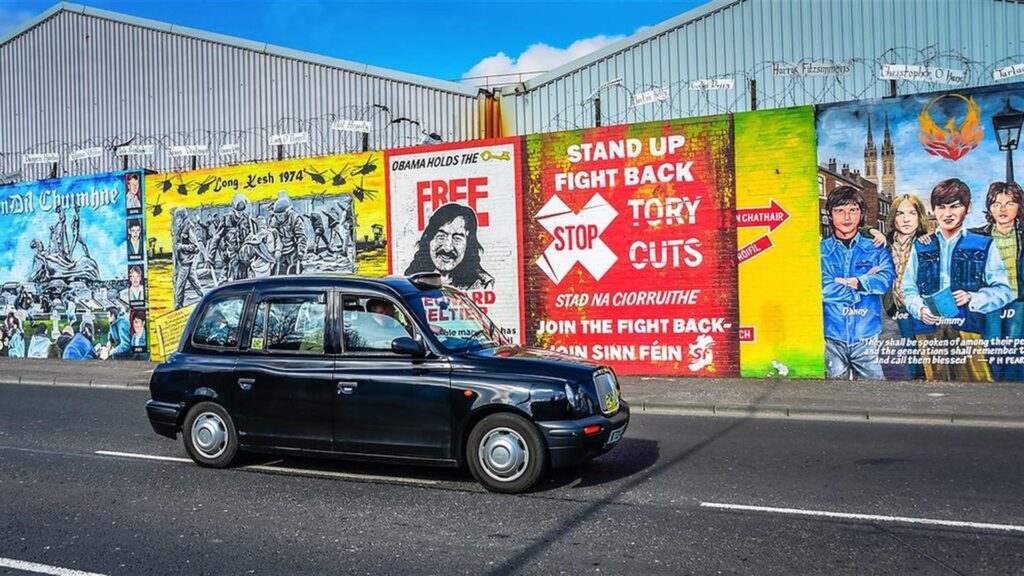 Cost to rent a car in Ireland
Car rental prices in Ireland can appear to vary greatly so make sure you do your research and get your quotes in writing from each company. Then you can compare the cost of the rentals. Don't be fooled by what appears to be cheap rentals they hide a lot of hidden costs.
Make sure you have arranged the car rental for the correct dates and ensure the rental booth will be open at the time of your arrival to be able to pick up the car.
Tips to save money on Car Rental in Ireland
Don't rent a car to drive in Dublin
Rent a manual (stick) car but not if you can't drive one.
Rent the smallest car that will fit you and your family or friends including their luggage).
Return your car to the same location you rented from
Average Ireland rental car costs for 2023
Car rental prices have skyrocketed here in Ireland and it is the most expensive country in Europe to hire a car in. Here are some average weekly rental car costs in Ireland for 2023, they are rounded up and you can see the various pricing for manual and automatic cars.
Price also depends on when you are visiting as cars will be a little more expensive during the tourist season, these prices include the CDW. The average cost per day is likely around €50 Euros.
May Small compact car €290.00 4 door car €441.02 Automatic €680.00 SUV €550.00 Automatic €790.00
July Small compact car €400.00 4 door car €700.00 Automatic €800.00 SUV €800.00 Automatic €1000.00
October Small compact car €400.00 4 door car €500.00 Automatic €650.00 SUV €600.00 Automatic €650.00
As you can see there is a substantial difference when you rent an automatic and when you add in all the extras like Excess CDW. The rentals shown above are for 7 days.
Car insurance Ireland – explanation of insurance costs
Collision damage waiver (CDW) or Limited Liability Insurance
CDW or LLI is a legal requirement when renting a car in Ireland and it is included in every car rental. You can decline this if your credit card covers this basic insurance. This basic insurance helps to pay any damages caused to another person's property if you are at fault in an accident. It does NOT cover the damage to your rental car or to you and your family if you have an accident.
Because this is 'limited liability a car rental company will not let you rent a vehicle without additional coverage. This is where it gets expensive and what a lot of car rental companies don't tell you. If you decide to opt out of the additional insurance covers a very large hold will be placed on your credit card to cover any potential damages. This hold can range from a few thousand up to €8000 euros.
Super CDW or Excess Protection
This type of insurance is sold as complete coverage and supposedly covers all damages to the vehicle and to the people. It is paid at a daily rate; it may also include theft of the car but not your personal belongings. No credit card deposit is retained because in the event of an accident or a problem the car rental company will pay for almost everything.
By purchasing this extra insurance your liability for the vehicle will be down to €0.00-€300 which depends on the deductible chosen. The rental agencies are not great at explaining the full ramifications of this and they do like to hide it. Often this still doesn't cover things like tires, and windows. A lot of people are fooled into purchasing this but you can bypass this very expensive option but a massive hold will be put on your credit card.
Tip: You can purchase CDW Excess at most Irish car rental websites in advance – check that the site ends in .ie not .com to ensure it is an Irish company.
Roadside Protection
Roadside Protection is essentially another way for car hire agencies to extract more money from you. RP covers the tires, windows lost keys, and the call-out charges for tow trucks and roadside assistance coverage
Credit Card Insurance
Every car rental company in Ireland (both North and South) will accept credit cards like MasterCard or Visa. If you rent a car in Ireland make, sure the credit card holder is either yourself or with you when you pick up the car and return it.
Unfortunately, most North American credit card car rental insurance is not acceptable in Ireland. There are two exceptions The World MasterCard and a Chase Sapphire Credit card, several more credit cards are now covering Ireland.
For instance, the Costco Card from both the US and Canada will now cover insurance.
However, you should make sure you will be covered by contacting the credit card companies and asking them to provide you with an email or a letter stating that and take that letter to Ireland with you – get the letter at least 2 weeks before you leave.
Beware that if you use this option you will get a hold charge on your credit card for up to $5000. The same conditions can apply to rent a car in Northern Ireland make sure your credit card company will cover the excess and you have a letter from them to support that. Double-check with the car rental agency which credit cards they accept for this.
Best rental car company in Ireland – My Irish Cousin car rental
The absolute best way to rent a car in Ireland is with my favourite company and the only one I recommend My Irish Cousin, the rate quotes at this company include all the necessary insurance including roadside insurance for damaged tires, windscreens and so on. You still need to notify them if you intend to take the car into Northern Ireland or drop it off in a different location.
What I love about My Irish Cousin and their car rentals is that they have over 20 locations and 5 airports to rent a car from. They also include all the insurances in the price, and they have roadside assistance if you get into an accident. My Irish cousin is easily the best place to rent a car in Ireland they want to make your holiday in Ireland as easy as possible and to that end, they add lots of value to their car rental business.
At My Irish Cousin, you can also get a great deal on a SIM card when you rent a car and it will only cost you €20 euros. They also have a great tour itinerary planning service for only €70. Their rates include all the following:
Tyres (not only replacement but repair) and Glass are covered.
No Deposit or hold on Credit or Debit card.
Full Roadside Assistance is provided.
No need to take photos or videos when you collect or return your car, you're fully covered!
No Excess, No Deductible.
No additional charge for different location pick up
You can drive the vehicle in Northern Ireland at no extra charge
Tips for Driving in Ireland
How to use a roundabout
Who has right of way on a roundabout in Ireland? You always yield to traffic that's already on the roundabout and traffic coming from your right. Don't enter the roundabout until it's clear from your right – this may mean waiting until someone is exiting onto the road you're waiting to enter from.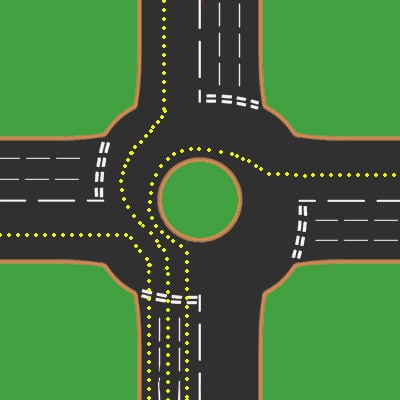 Toll Roads in Ireland
Ten of Ireland's eleven toll roads have regular barrier toll plazas which means you can pay in cash or debit/credit card at the barrier. The M8, Limerick Tunnel and the East Link Bridge require a cash payment. The M50 is the only toll road you don't have a barrier so you may not notice that you do have to pay. There are no toll roads in Northern Ireland.
BEWARE: The M50 toll road that goes around Dublin is a barrier-free toll, this means that you don't pay on the road but you MUST pay before 8 pm the next day. This can be done by an app on your mobile or via computer and at most gas stations with a Payzone sign. There are no toll roads in Northern Ireland.
Driving Disabled Blue badge parking
There is a Reciprocal agreement between the EU and the USA and Canada whereby EU parking disks are valid in all EU Nations, USA and Canada. Therefore US and Canadian disks are also acceptable in EU countries. If you are at all concerned then Email the Irish Wheelchair Association at – [email protected]. or the Disabled Drivers Association at – [email protected].
Disability has been a problem but there are now options to rent Adapted and Wheelchair friendly vehicles. In the West of Ireland, try Freedom Mobility which is based in Mayo and Oranmore whilst Motability Ireland and Vantastic are Dublin based.
Gas (petrol) in Ireland
Gas or petrol is expensive in Ireland (very similar to Canadian prices per litre). The average current price ranges from €1.49/litre to €1.60 a litre depending on which area you are in. However, the cars are really good at conserving gas and the drives are not as long as they are in N. America.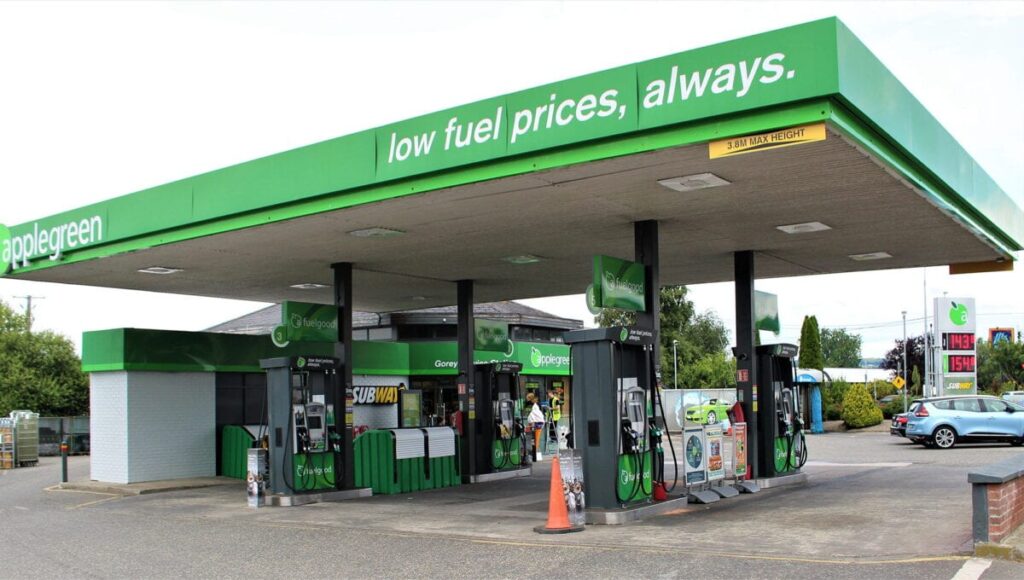 There are only two types of fuel available here petrol/gas or diesel so make sure you use the correct one to fill up. Check your rental car's fuel return policy. We had a small hold put on the car rental we used for fuel but it was returned to us around a week after we turned the car in with the gas tank full.
Long term car rental in Ireland
You can rent a car long-term in Ireland if you plan to be there over 29 days. Sixt is one of the Rental Car companies that do this.
Car Rental Tips for Ireland
Make sure the rental agency has your flight number and time of arrival. If the plane is delayed, they may give away your vehicle after a two-hour wait. We were delayed but fortunately, the rental desk was at the airport so they were aware of our delay.
Air-conditioning….bwahahahahahah sorry most modern cars do have it and with climate change we can get some pretty warm days in Ireland.
Pack very light most small cars here will only fit two carry-on bags in the boot (trunk). If there are only two of you that's okay excess luggage will fit on the back seat.
Make copies of your reservation and the total cost you expect to pay and take them with you.
Make sure you check the car thoroughly before you leave the rental agency. Take photos (unless you rent from My Irish Cousin) and ensure any dings and scratches are marked on the agent's forms. Take the photos with a date stamp. Get a copy of that diagram from the agent before you leave.
When you return the car, follow the exact same procedure to ensure you have covered all your bases and won't get dinged for more money. If it is dark, borrow a flashlight and go over the car. If you have purchased the excess CDW from either the agency or an outside source, you should be fine for any minor damage.
These simple tips and checks should be done before you drive the car off the lot.
Tires – make sure they are fully inflated and don't have any bare patches. Don't forget to check the spare tire and ensure all the tools are there in case you get a flat.
Safety gear – make sure the car has the correct safety gear like flashers, cones or whatever is required in the case of a breakdown and get the information you need in case a breakdown happens.
Lights & Windscreens – make sure the lights are all in working order and that the windscreen wipers are adequate with plenty of cleaner. Check for tiny dings or cracks in the glass.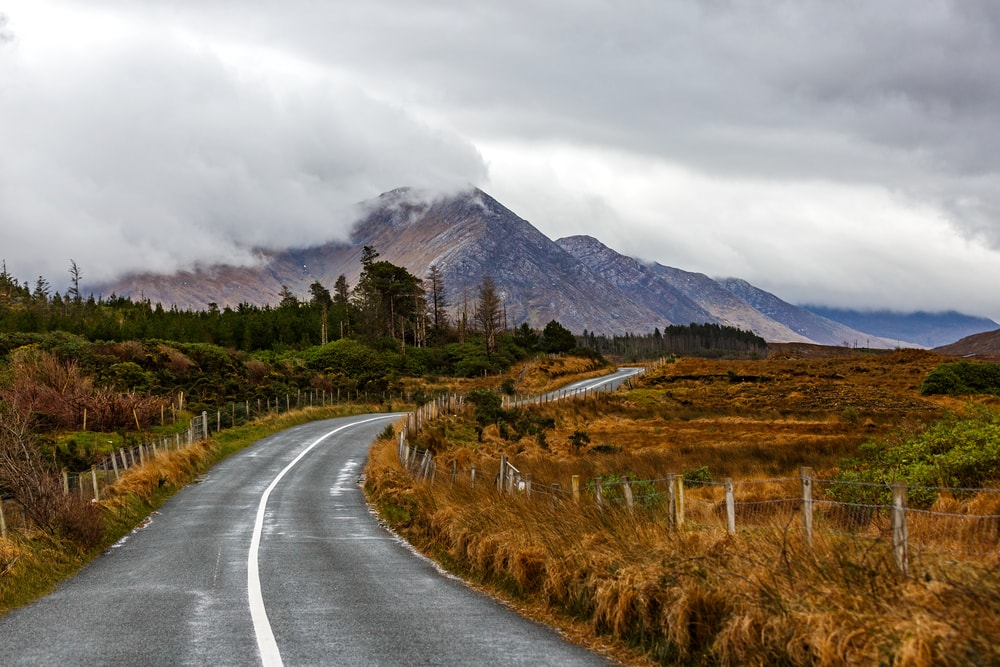 What to do if you get in an accident with a rental car in Ireland?
Being involved in a car collision can be traumatic and as with any road traffic incident, you should prioritise your health. If anyone is injured, call for medical assistance. If you're uninjured or have received medical attention, you can then document the event. After an accident with a rented car, you should:
Exchange personal details with the driver who caused the accident
Get the driver's insurance details
Get the rental car company's details
Note the vehicle's registration, make and model
Take photos of the scene and its location
Get contact details of any witnesses
Report the accident to Gardaí
Report it to your car rental company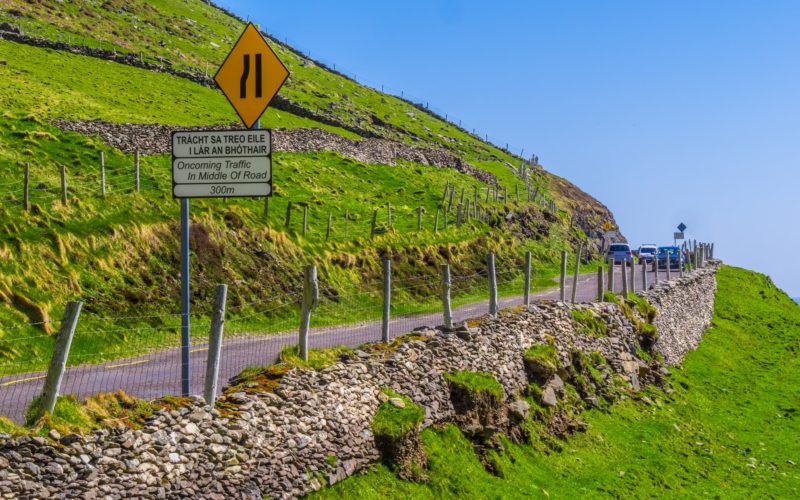 Renting a Car in Ireland FAQs
Can I rent a car in Ireland under 25? Yes, this is possible but it will incur extra charges.
Can you rent a car in Ireland with an American license? Holders of US, Canadian, Australian and All EU member states are NOT required to supply an International Driving License (IDL). An International Driving License (IDL) is required if your national driver's license is not in English. International driver's licenses MUST BE accompanied by the original domestic license of the driver.
Can I Rent a car in Ireland if I'm over 75? Yes, you can but again it will incur extra charges.
Can you drive a rental car from Ireland to England or Scotland? Yes, this is possible but keep in mind it will cost extra and you may get charged for a different drop-off point. I would suggest if you want to follow an Ireland to Scotland or England itinerary take a cheap flight out of Ireland to your eventual destination.
Can you rent an automatic car in Ireland? Yes, no problem with renting an automatic but you will pay more.
Is there a cheap car rental in Dublin? The short answer is no, most car rental places are pretty much the same price and if you see one offering cheap rental cars don't believe it. There are really no cheap ways to rent a car in Ireland. You may be able to get a reduction in the insurance cost but you will have to ensure your credit card can take a large hold.
Renting a car in Ireland as an American? You won't need anything special other than your driver's license. Pretty much anyone from anywhere (depending on age) can rent a car in Ireland as long as you have a valid driver's license.
Can I drive my Irish car rental to Northern Ireland? Check with your car rental company there can be a surcharge added to your rental costs.
Q: What is car rental insurance and do I need it in Ireland?
A: Car rental insurance is a type of coverage that protects you in case of accidents or damages to the rental vehicle. In Ireland, it is highly recommended to have car rental insurance, as it is a mandatory requirement by law.
Q: How can I find car rental companies in Ireland?
A: There are several car rental companies in Ireland that offer their services. You can easily find them by searching online or through travel websites.
Q: What are the requirements for renting a car in Ireland?
A: To rent a car in Ireland, you must have a valid driver's license, be at least 21 years old (some companies require drivers to be 25 or older), and have a credit card for the security deposit.
Q: Is it necessary to book a car rental in advance?
A: It is highly recommended to book your car rental in advance, especially during peak tourist seasons. This ensures you have a vehicle available and can often save you money.
Q: Do I need travel insurance if I am renting a car in Ireland?
A: While travel insurance is not specifically required for renting a car in Ireland, it is always a good idea to have travel insurance that covers medical emergencies, trip cancellations, and personal belongings.
Q: How can I get the best car rental deal in Ireland?
A: To get the best car rental deal in Ireland, it is recommended to compare prices from different rental companies, book in advance, and check for any special promotions or discounts.
Q: What type of car should I rent for my Ireland road trip?
A: The type of car you should rent for your Ireland road trip depends on your preferences and the number of people traveling. It is recommended to choose a car with enough space for your luggage and comfortable seating.
Q: What is the cost of car rental in Ireland?
A: The cost of car rental in Ireland varies depending on factors such as the duration of the rental, the type of car, and the rental company. It is recommended to compare prices and read the terms and conditions before making a reservation.
Q: How do I return my rental car in Ireland?
A: When returning your rental car in Ireland, you should follow the instructions provided by the rental company. Most rental companies have designated drop-off locations at airports or other convenient locations.
Q: Do I need car rental insurance if I already have travel insurance?
A: While travel insurance may provide some coverage for rental cars, it is important to check the terms and conditions of your policy. Car rental insurance in Ireland is recommended to ensure you have adequate coverage for potential damages or accidents.
As a Canadian or American renting a car in Ireland can be a daunting process the insurances get confusing and then there is the uncertainty of driving a stick shift on the 'wrong side of the road and with a different hand to shift with. But the only way to see the country properly is to rent a car in Ireland.
The best way to see Ireland without a car means planning your Irish itinerary using public transport. Here are some tips from a local on how to visit Ireland without renting a car. Travelling Ireland without a car: Tips from a local
More articles to read before visiting Ireland
27 Things to do in Galway in 2 days
The Burren Ireland a surreal landscape
101 Landmarks in Ireland to see
Ancient Ireland 30 sacred places
Ultimate Ireland Road Trip Itinerary in 14 days
Pin it for later